We travel again across the vast ocean to gaze upon yet another intriguing varied assortment of gorgeous fare with disparate inspiration, which continues to remind us why we are ever enamored of fashion. A feast for the eyes thanks to a myriad of astonishing colors in a Birds of Paradise color palette and every sumptuous fabric one might imagine fashioned into a mind bending show. The unstoppable talent of these designers is on display, as they continue to change their techniques and styles with new and amusing iterations. Although each collection is separate and distinct with respect to its compatriots, a common thread of vibrancy, unbridled exuberance, and lush extravagance continues to amaze.
ANTONIO BERARDI:
Berardi is a master of amalgamating sleek architectural silhouettes with sumptuous fabrications in alluring and regal colors resulting in a dashing display of flattering concoctions. There is no more luxurious fabric than duchesse satin, and no one can sculp this delicious fabric as Berardi can. This must be the season of the dress and Berardi provided some of the most striking of fall winter, with the torso hugging varieties for any high end soiree one might imagine in cocktail and floor lengths. This for the drama queen who wants to make an entrance and exit with all eye balls popping and tongues wagging. Though this collection catered to the lover of the frock, the occasional coats were modern, cool, and thank heavens wearable.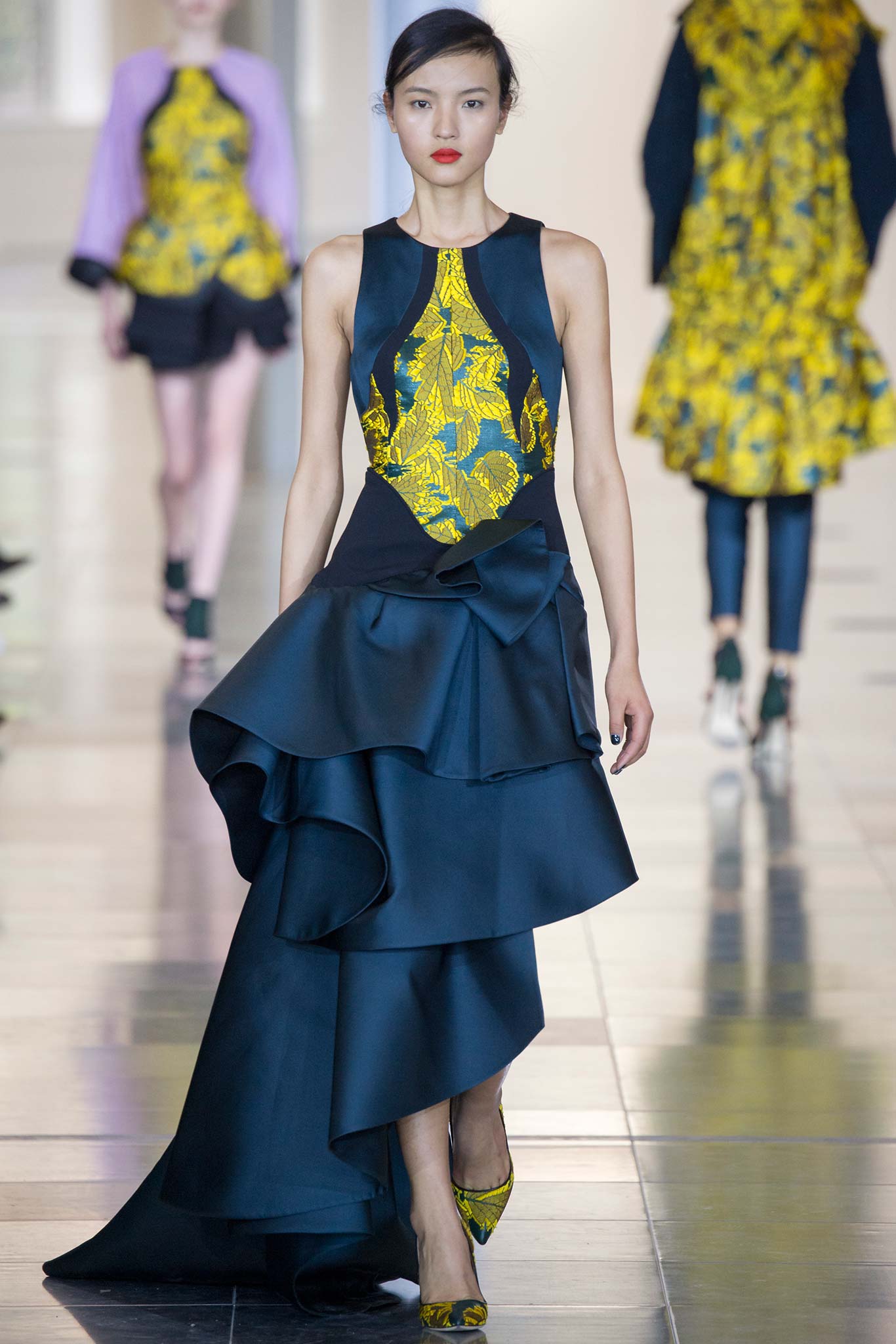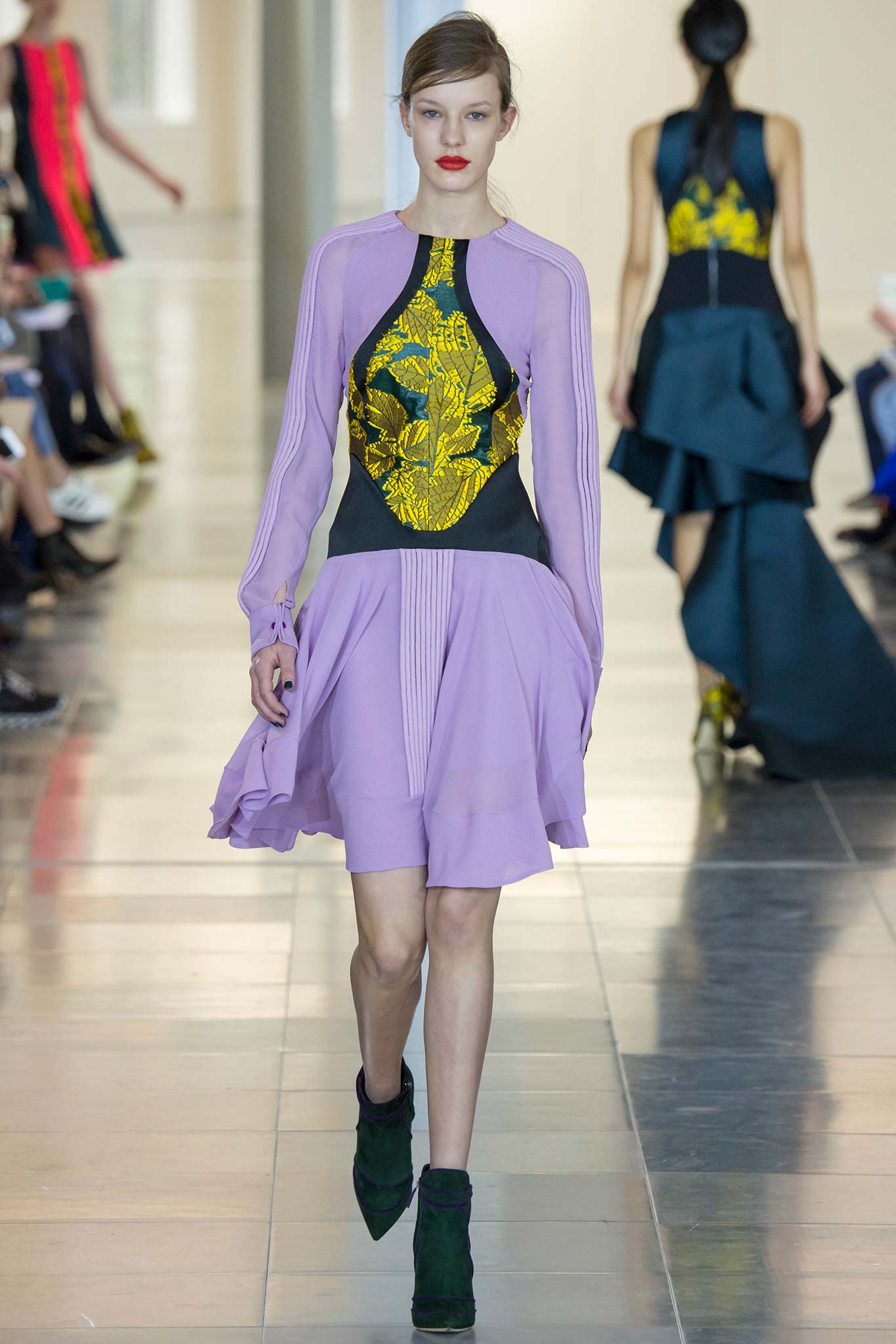 Sweet and feminine what with the lavender color and diaphanous chiffon, yet given an edge with the leaf motif corset factor, a sort of armor for the new age. And the cuffs provide a sort of masculine counterpoint.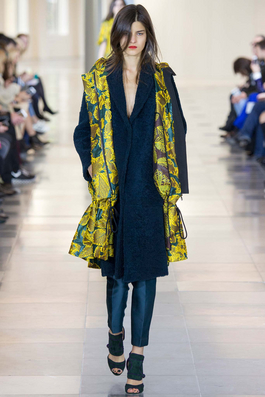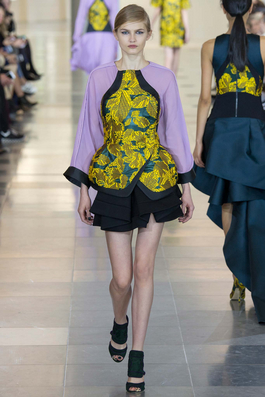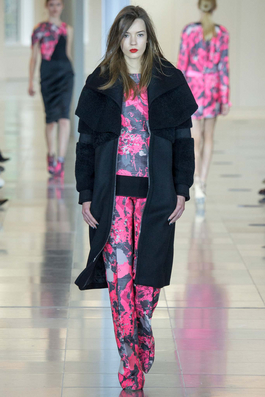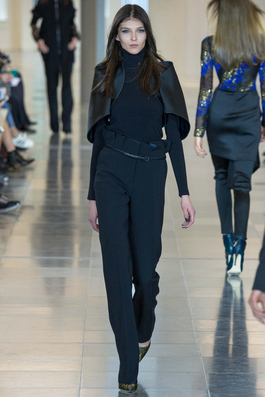 The non fussy stream lined coats can go anywhere with anything, but can tone down the neon pink jacquard as needed.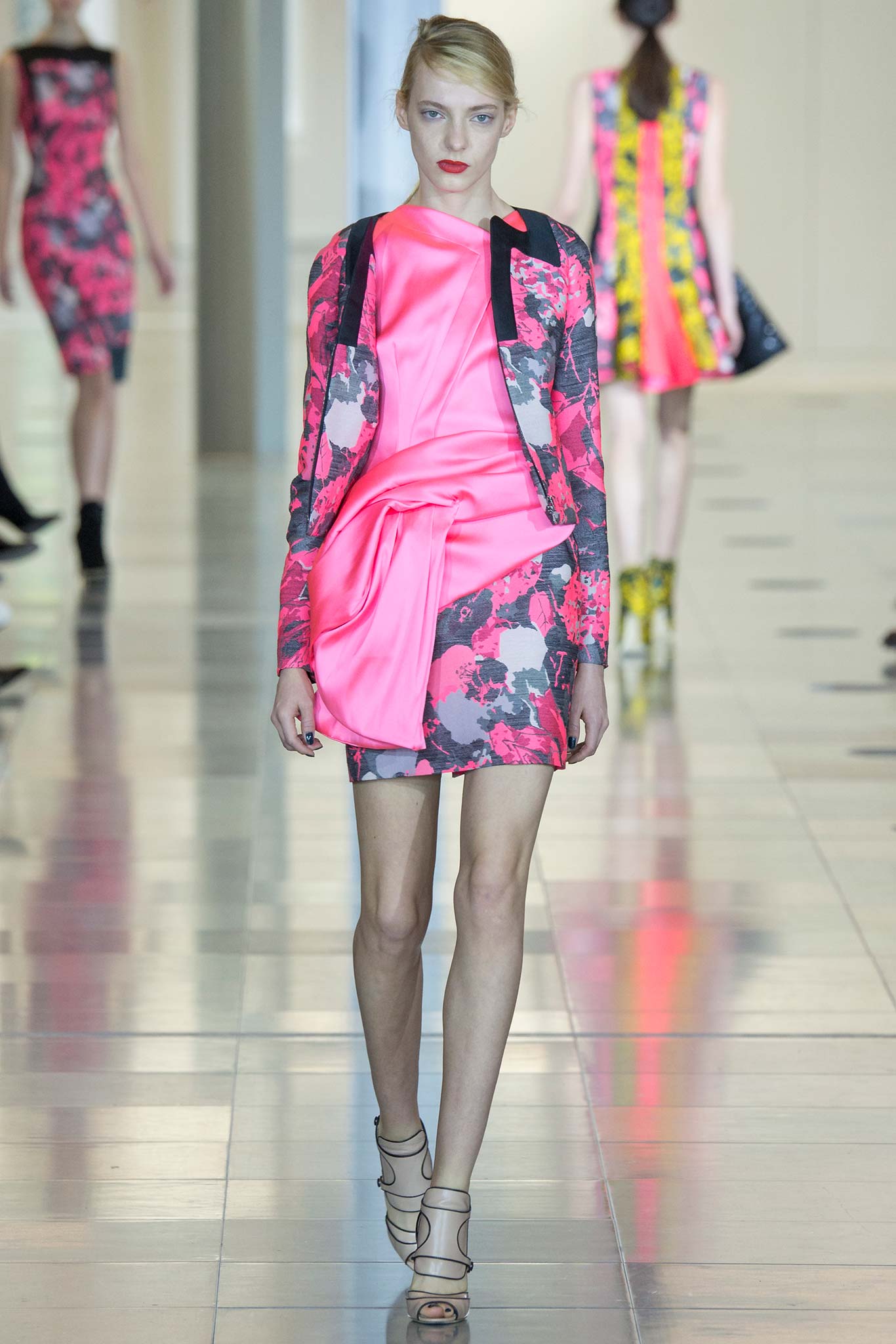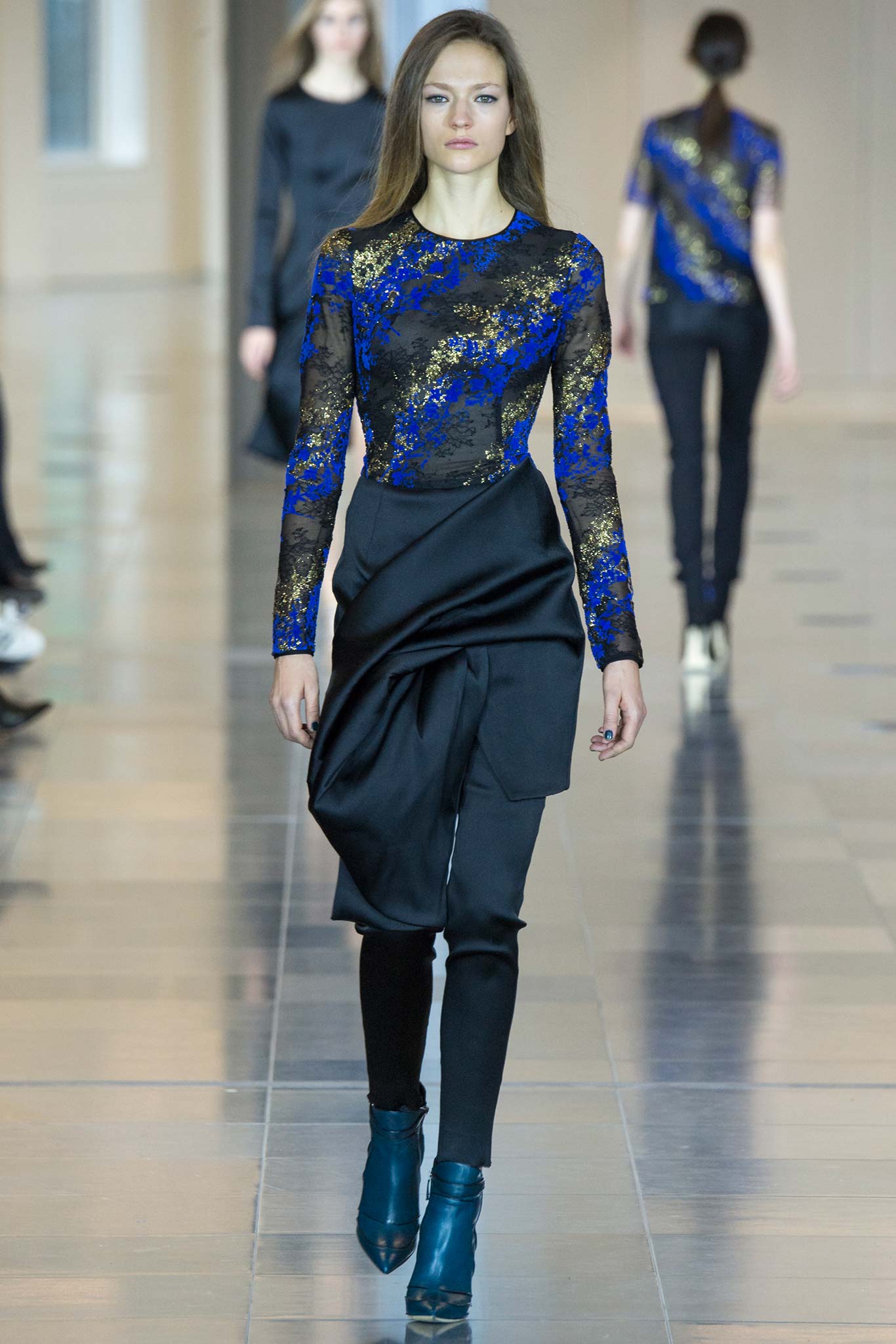 I love the idea of the matching fitted leggings under the skirt. Only the bold can pull of this kind of a look, but its pragmatic in lands where showing too much skin is a definite no-no.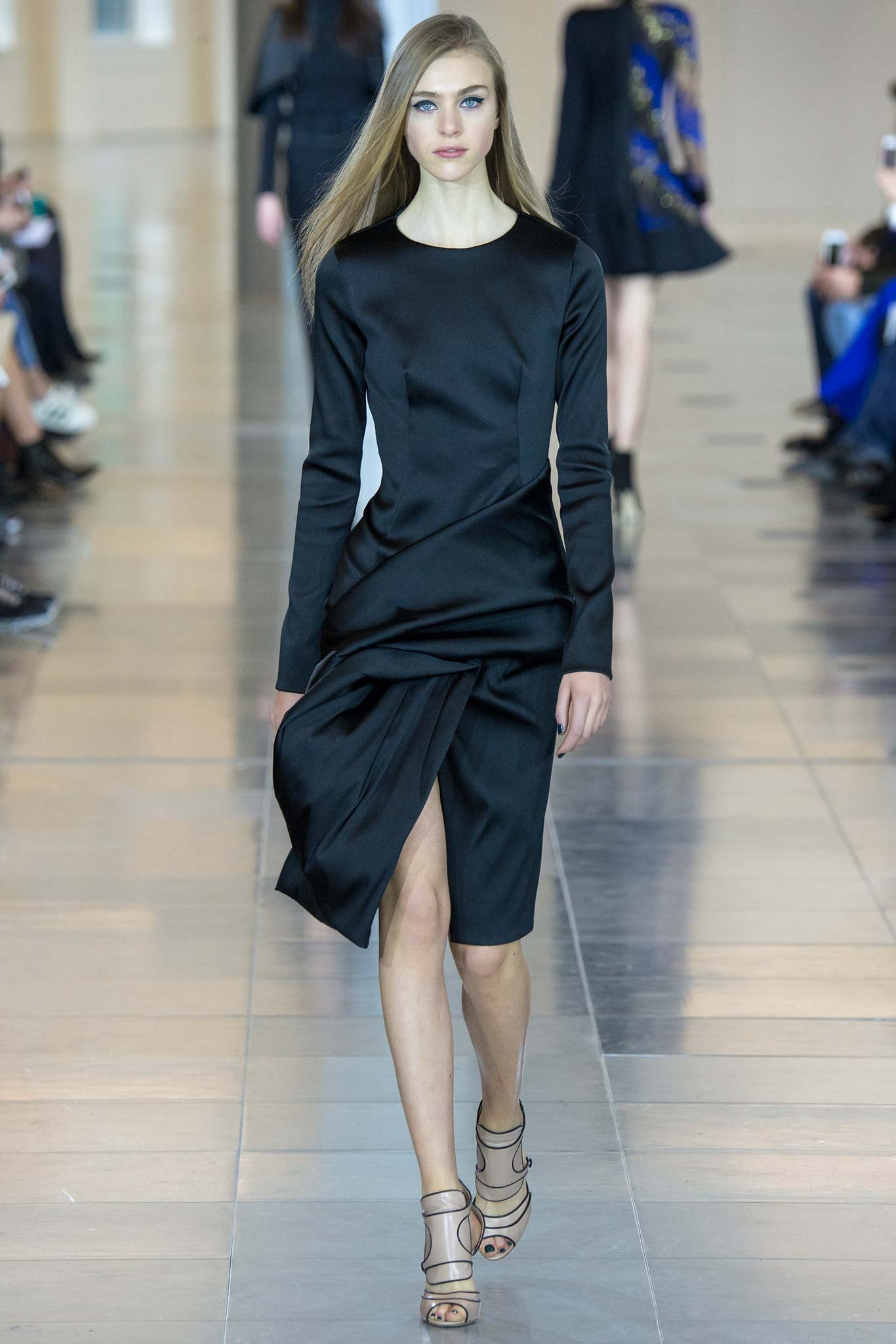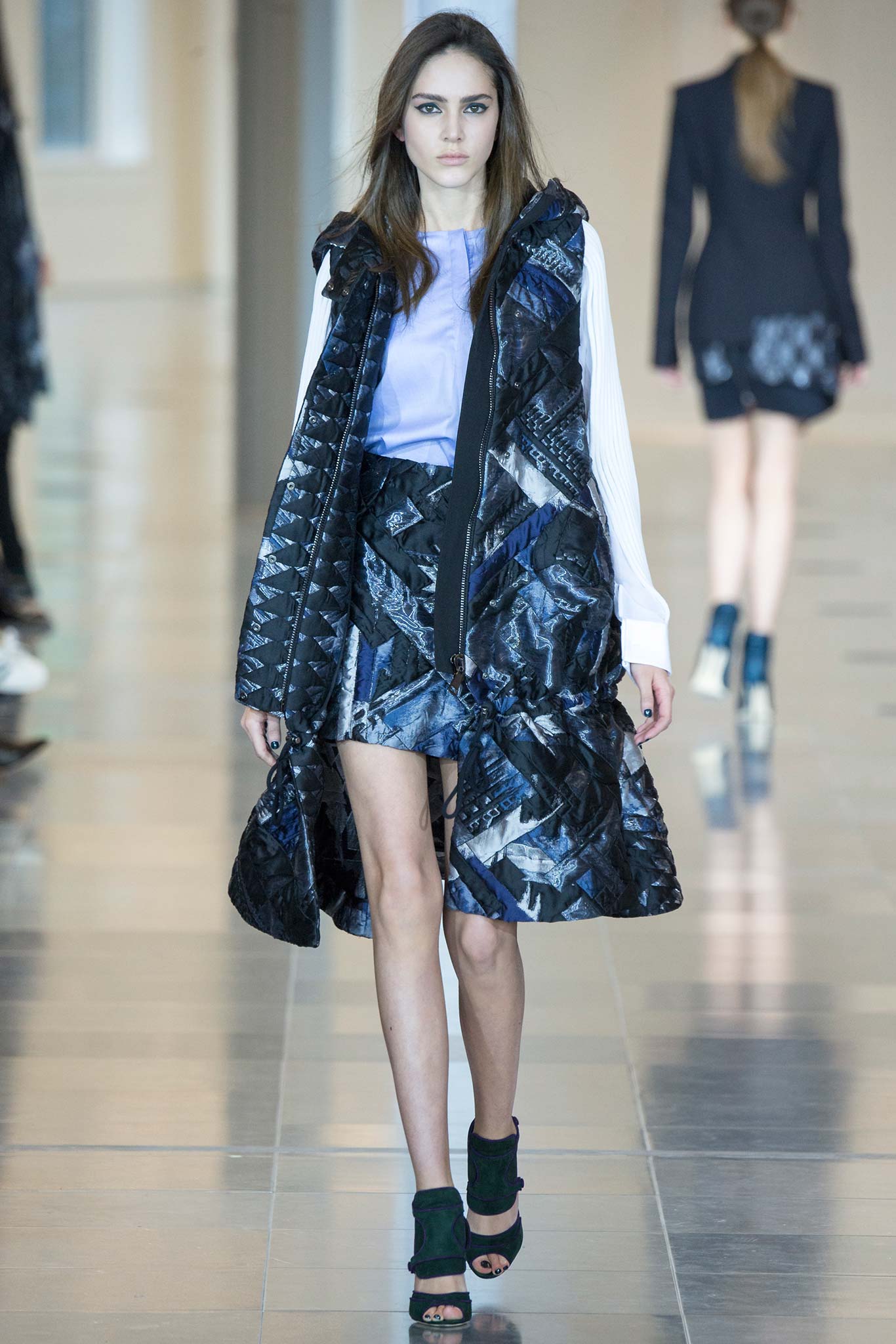 The vest, incredibly versatile, even when constructed from patchwork silk, and inclusive of a peplum. This is capacious enough to throw over a fitted suit, but would spice up a casual outfit of jeans and long sleeved tee.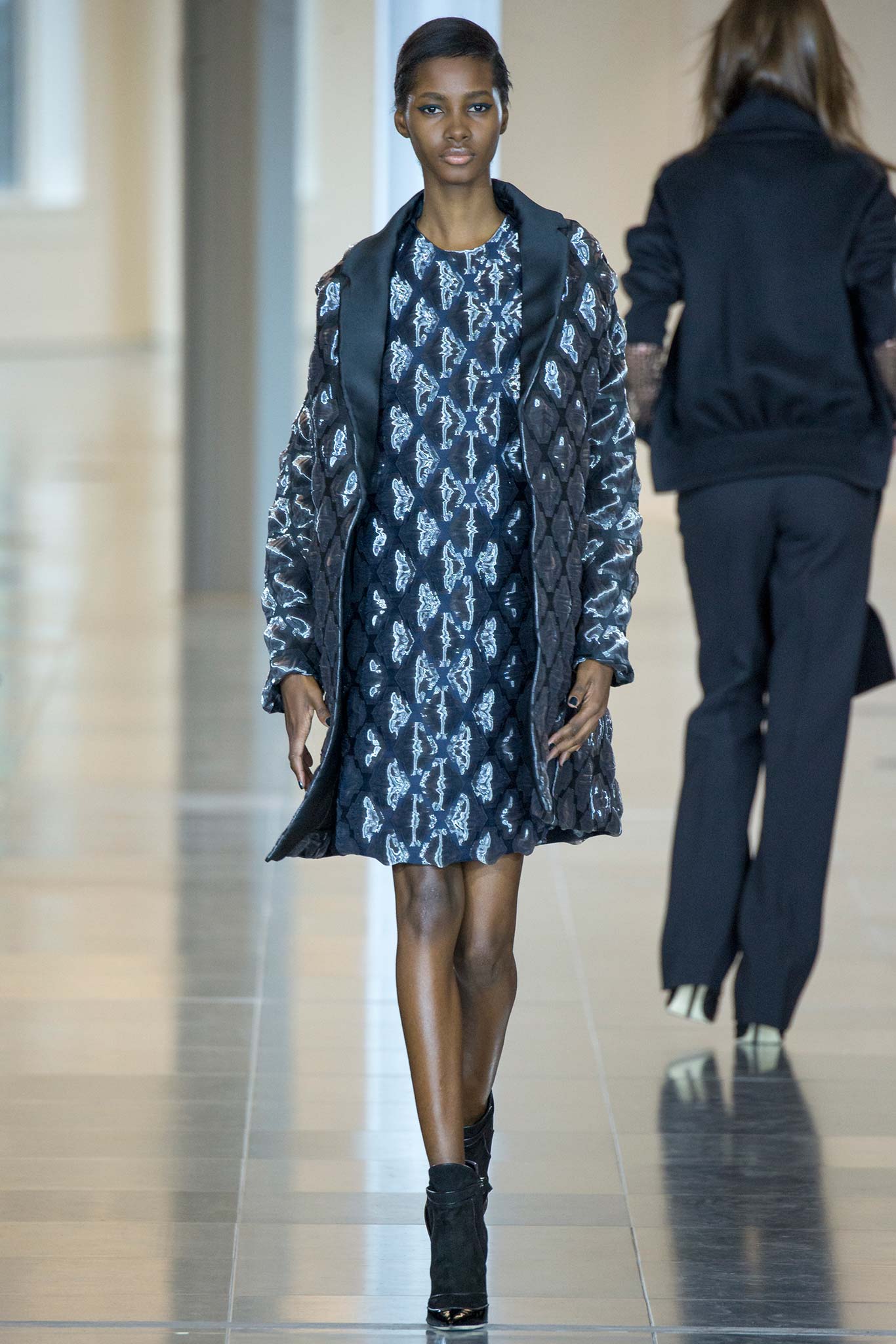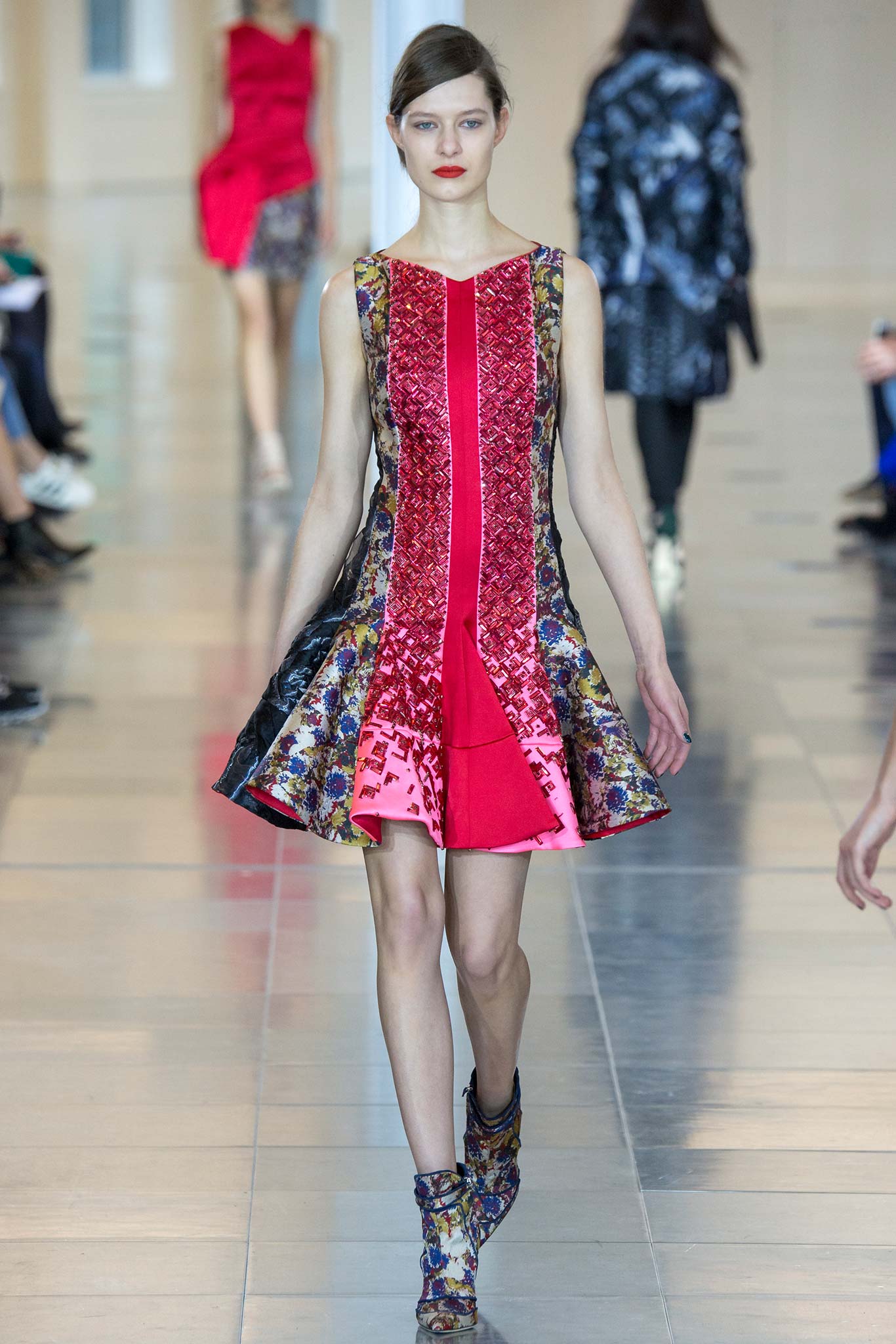 Good Lord this is gorgeous, with the fitted bodice, multicolored duchesse satin with just enough bugle beads for visual interest, not so many that visions of a circus refugee are conjured.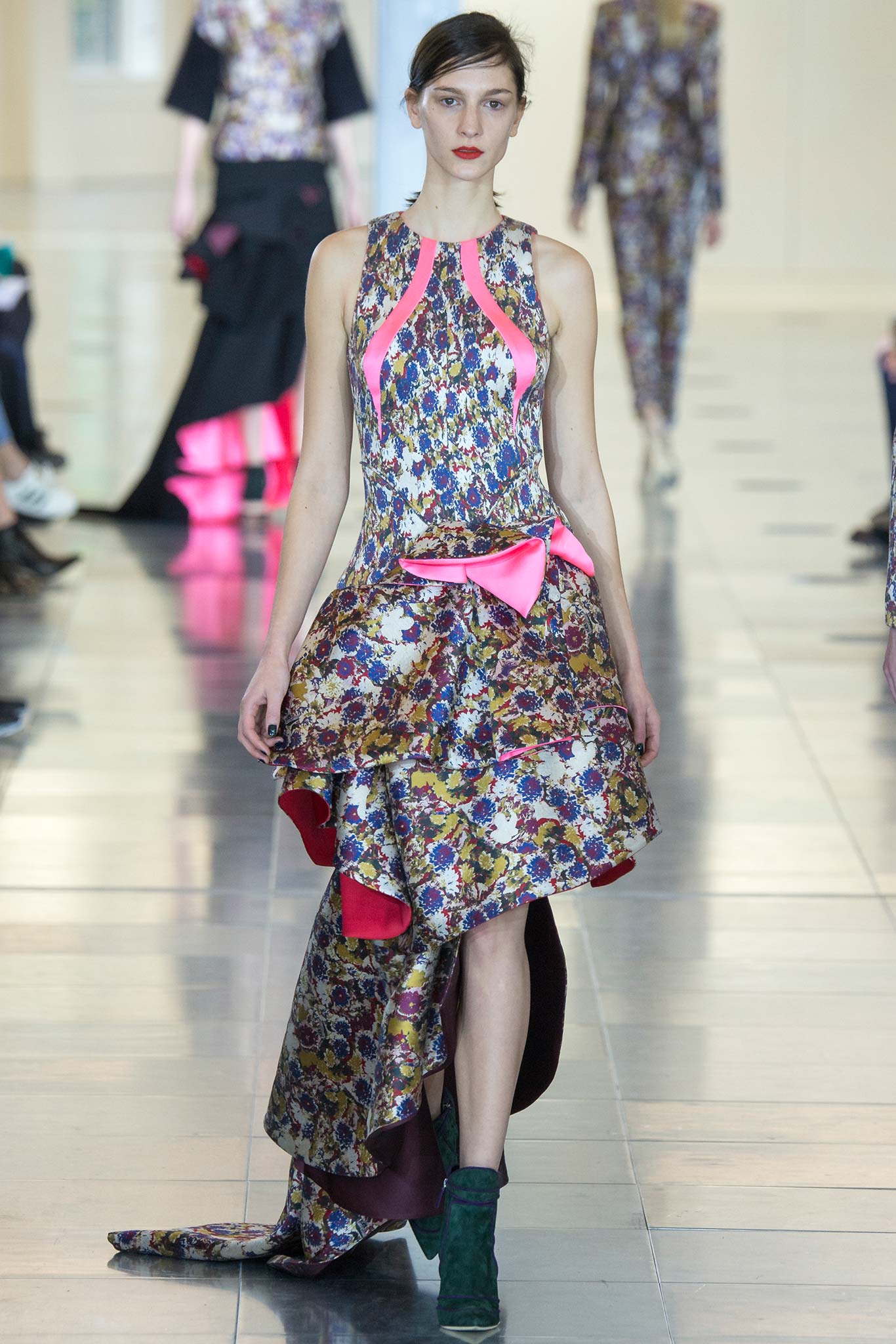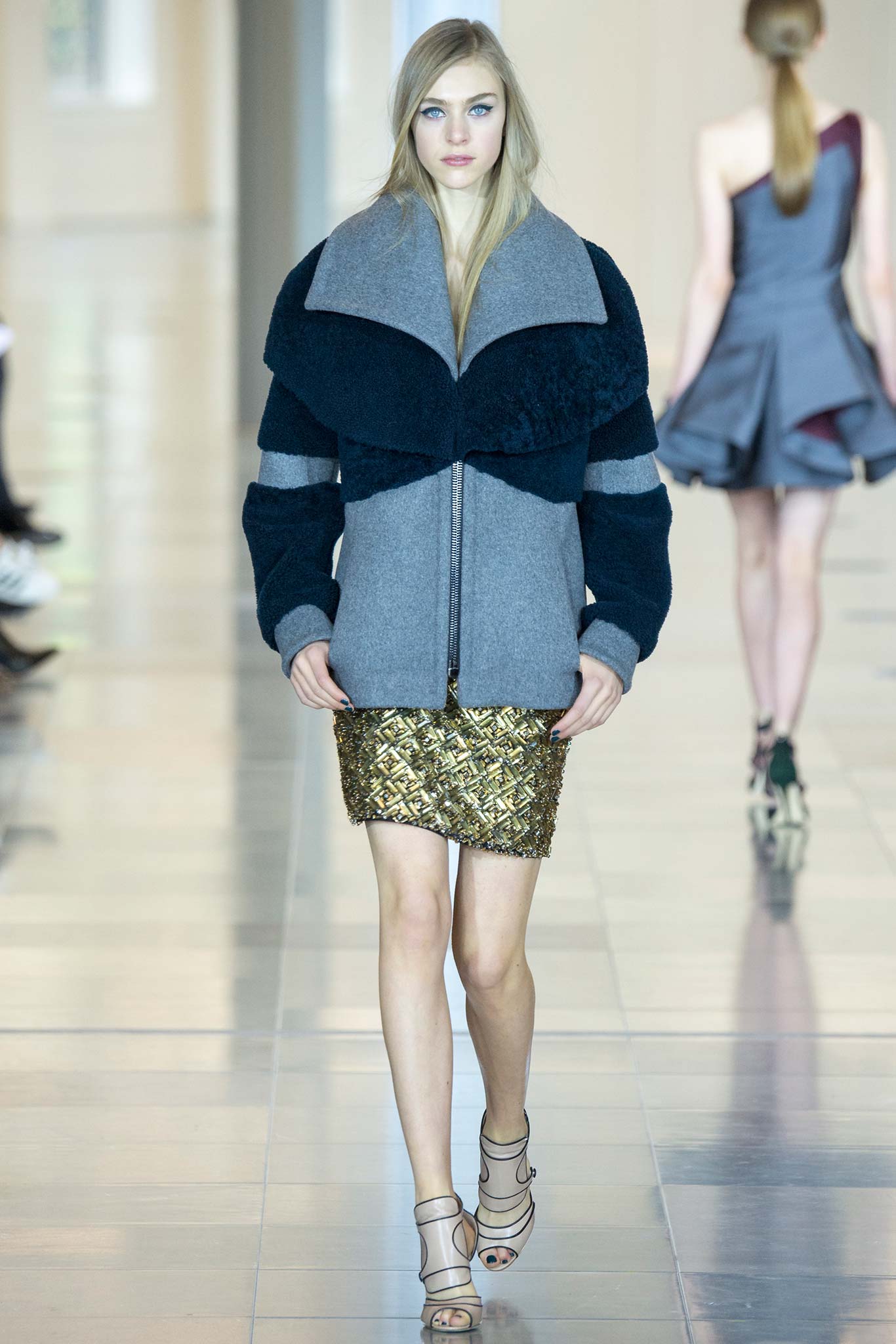 Mixing a casual outerwear jacket with funky shearling detail with an embellished metallic mini is happily ironic.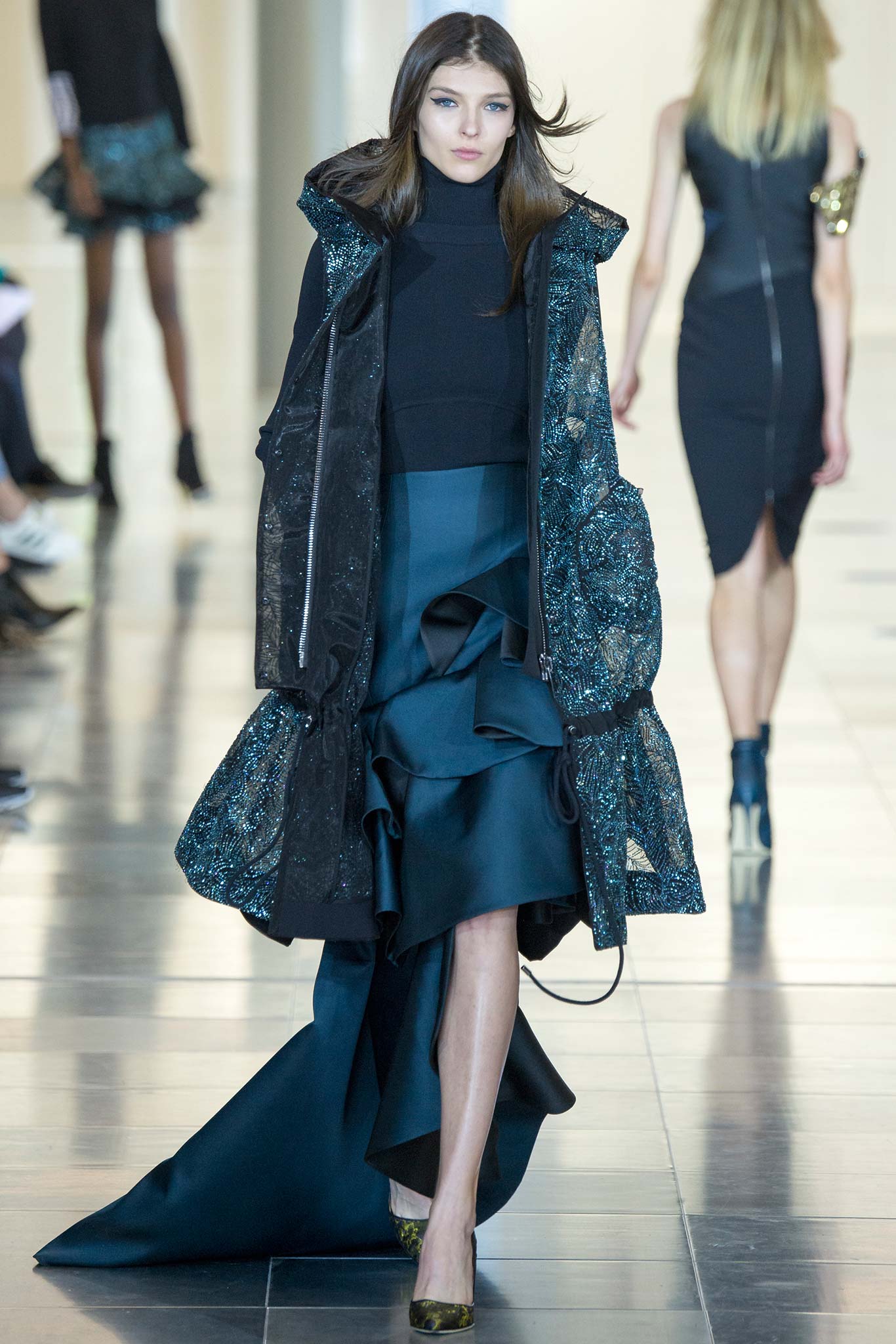 Some might recoil from too many ruffles and peplums, but the combination is like the variations on a theme expressed in a symphonic movement.
MARY KATRANTZOU:
Katrantzou has continued to astound all interested by bringing some of the most eye catching fabrications and patterns with embellishments galore in perpetually spell binding collections. If in doubt, check out her Spring collection. Here she graces us with mod separates infused with a devil may care Austin Powers vibe. The spiky ornamentations add an avant-garde flourish and bring to mind those "avant-garde" challenges from Project Runway, although clearly, these standouts were not fashioned from the random shelf dwellings at ACE Hardware.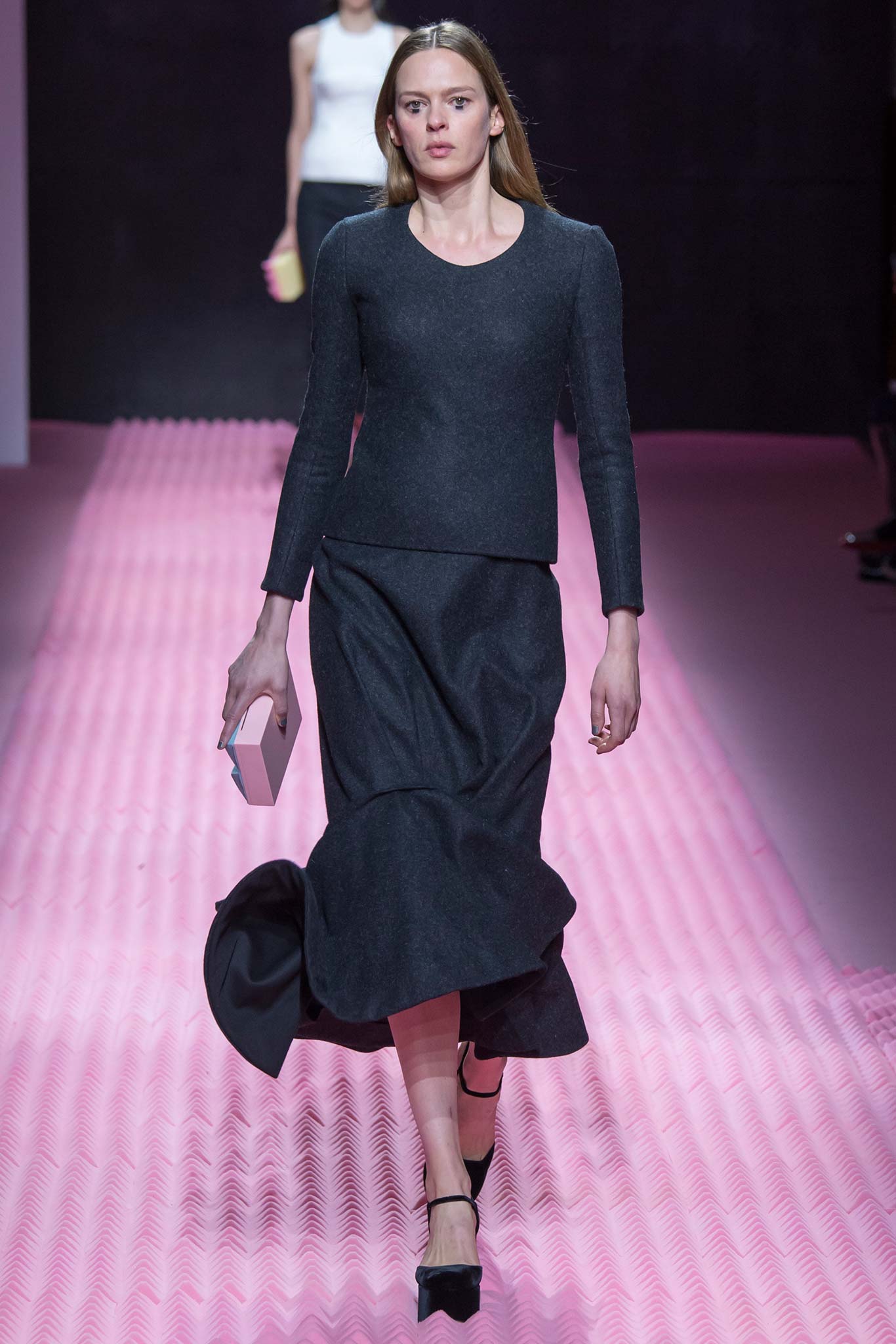 One of the few toned down pieces in a series of VA-VA-VOOM participants. This is a new kicky version of peplum. The neutral color dampens the theatricality.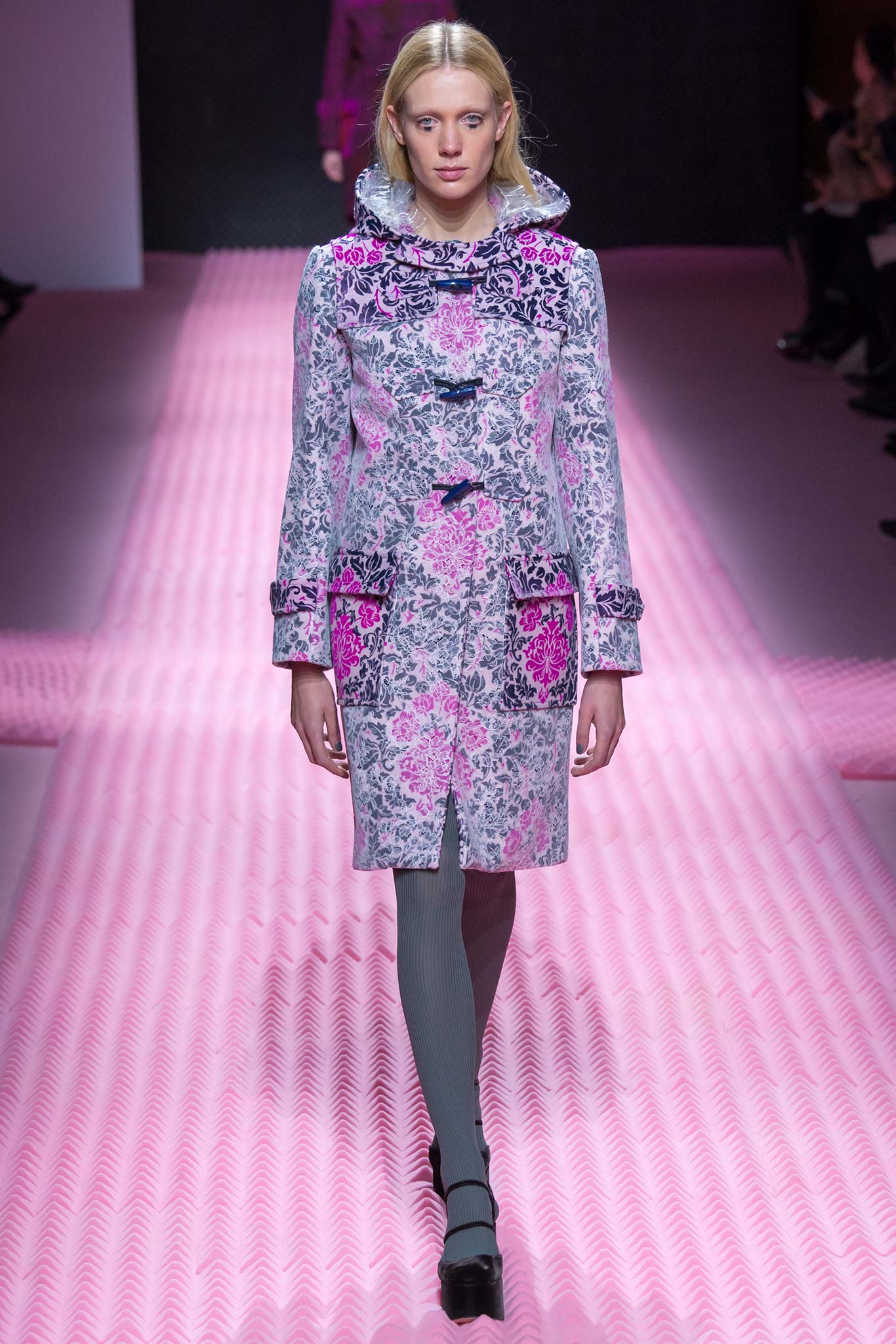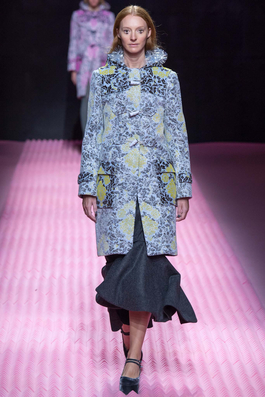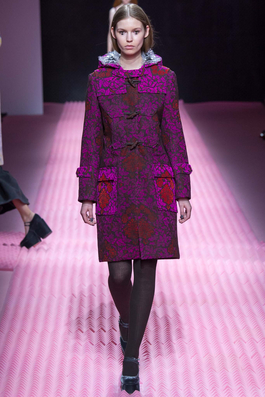 Toggle coats are apparently the new trench and emanate a college preppy vibe. The usual can always be elevated by deep pinks and pastels and of course a floral motif.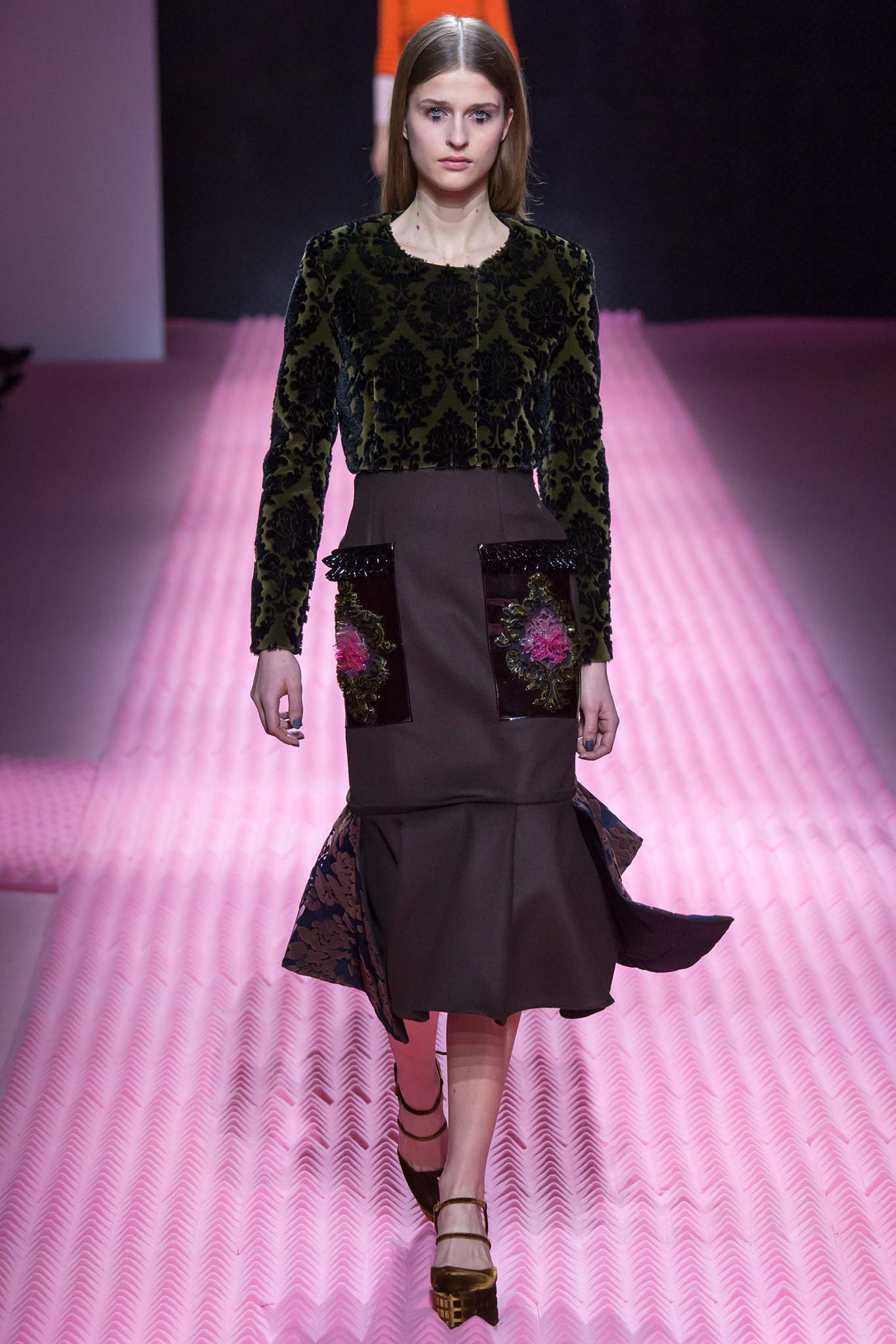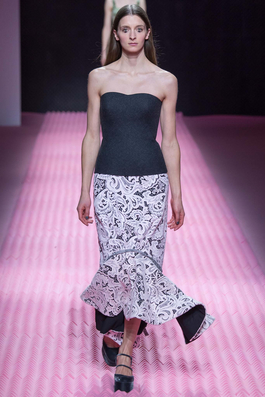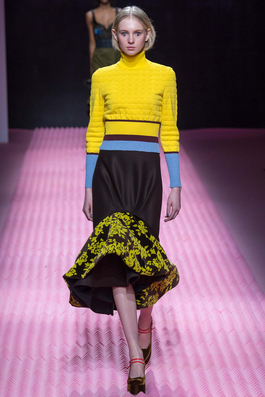 The peplum patrol continues with a dash of flamenco.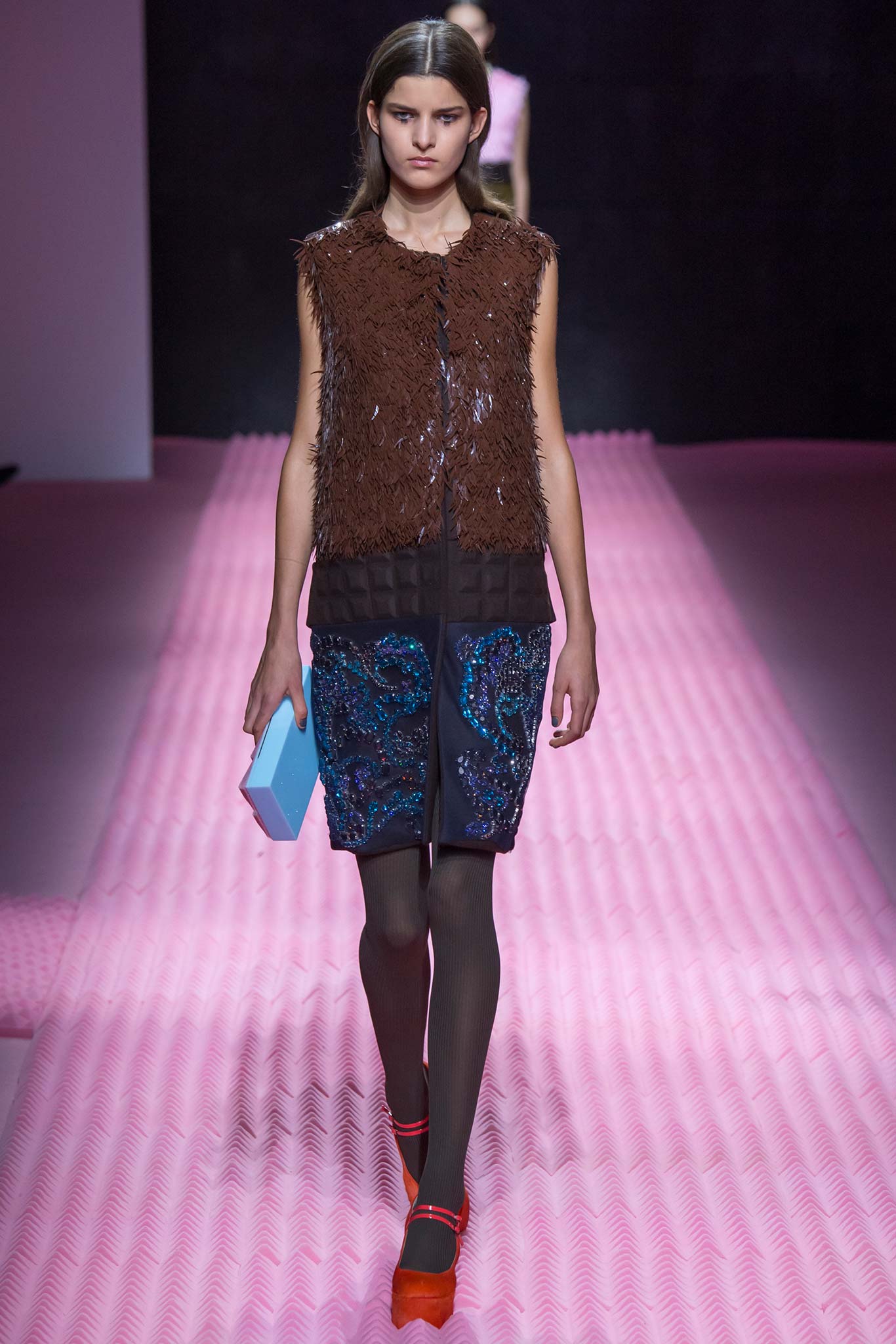 Now THAT is a vest! Those are some hearty embellishments, with the coalescent brown reflective pailettes simulating the look of a rainforrest inhabitant. KA-CHING!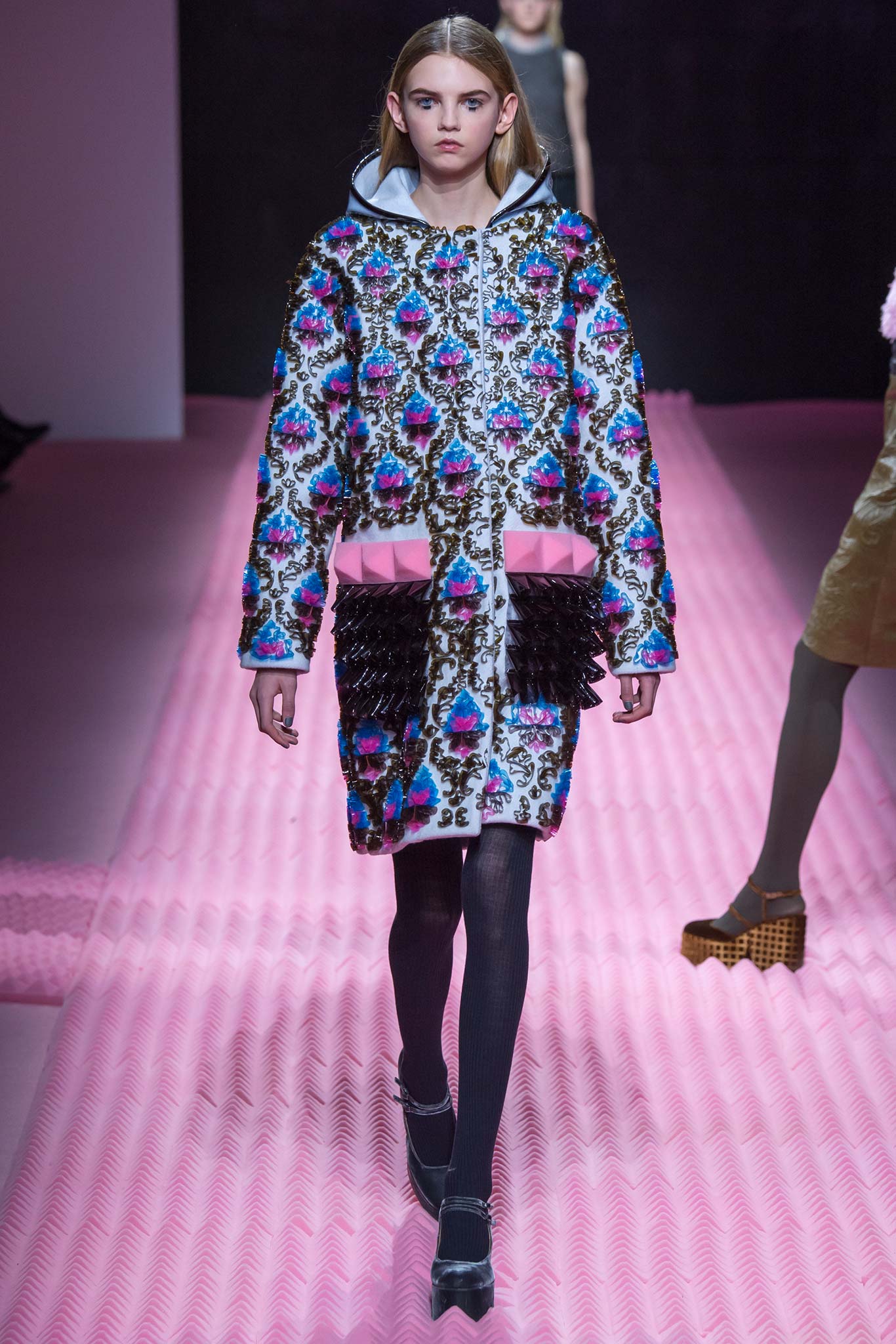 How old is that model? Twelve? Well, no matter, the coat is as they say FABULOUS, with a workable silhouette for anyone, unusal (and tres cher) by virture of the wacky adornments.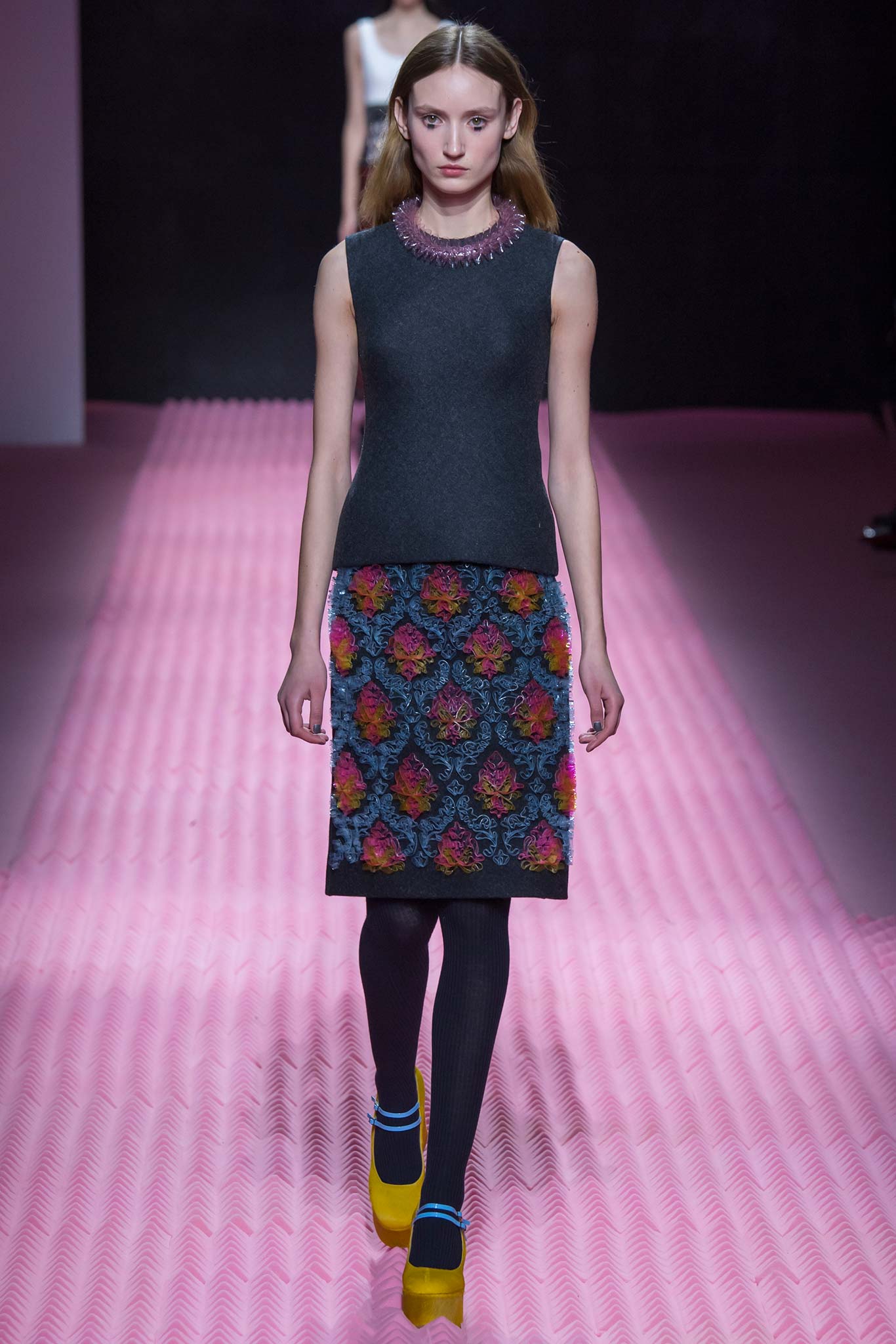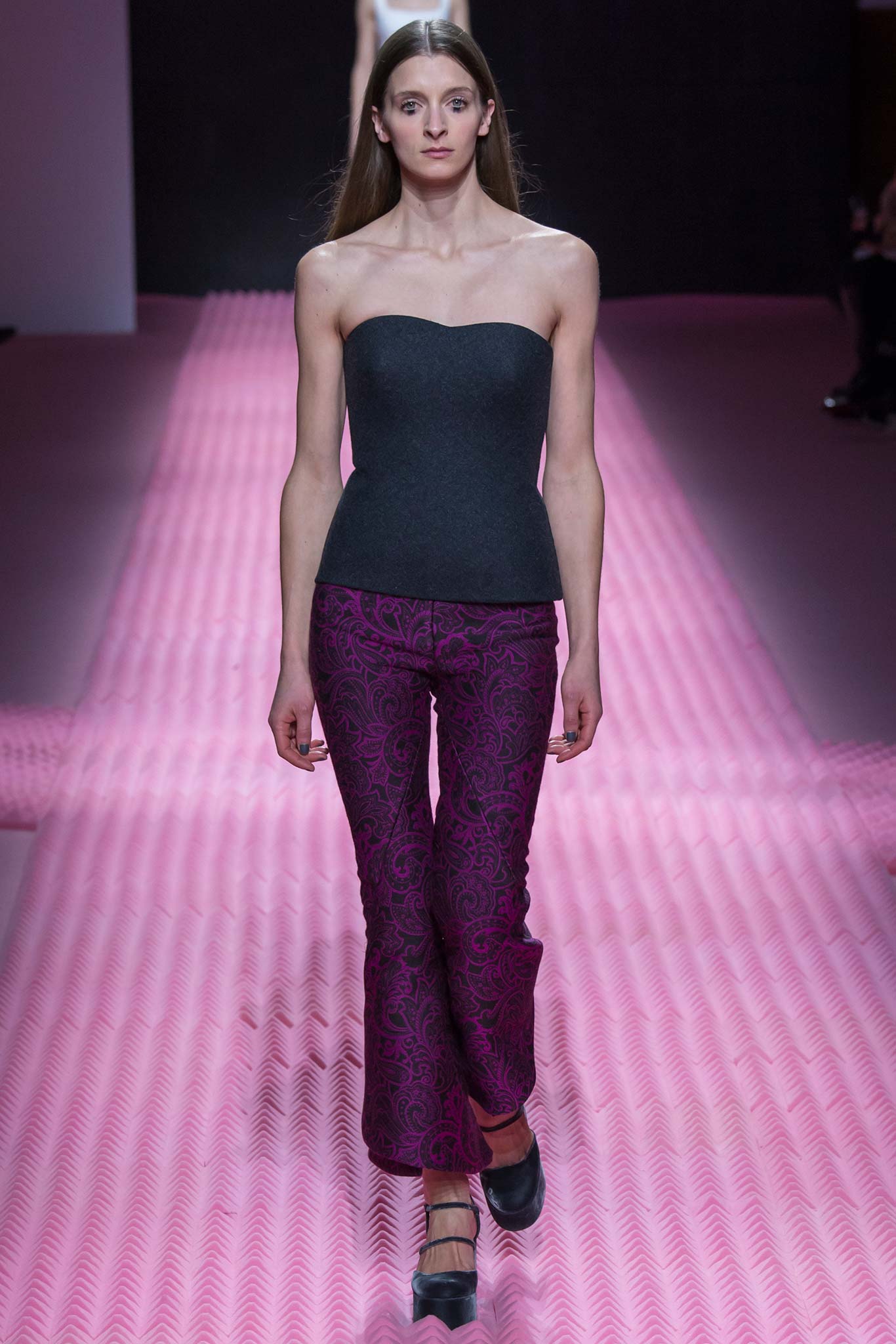 These pants call for some 60's era "these boots are made for walking" Nancy Sinatra GO-GO boots.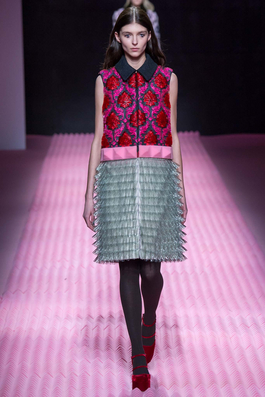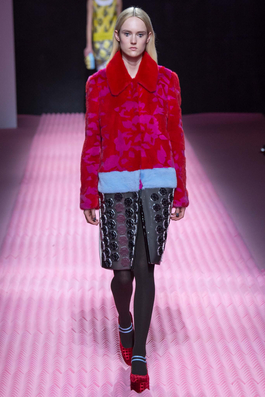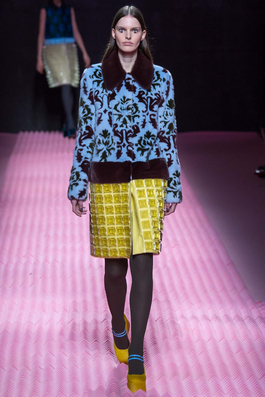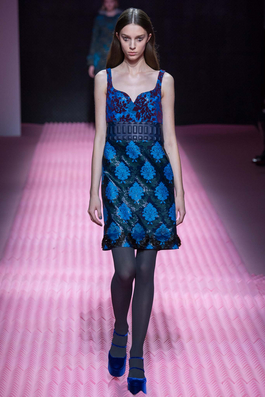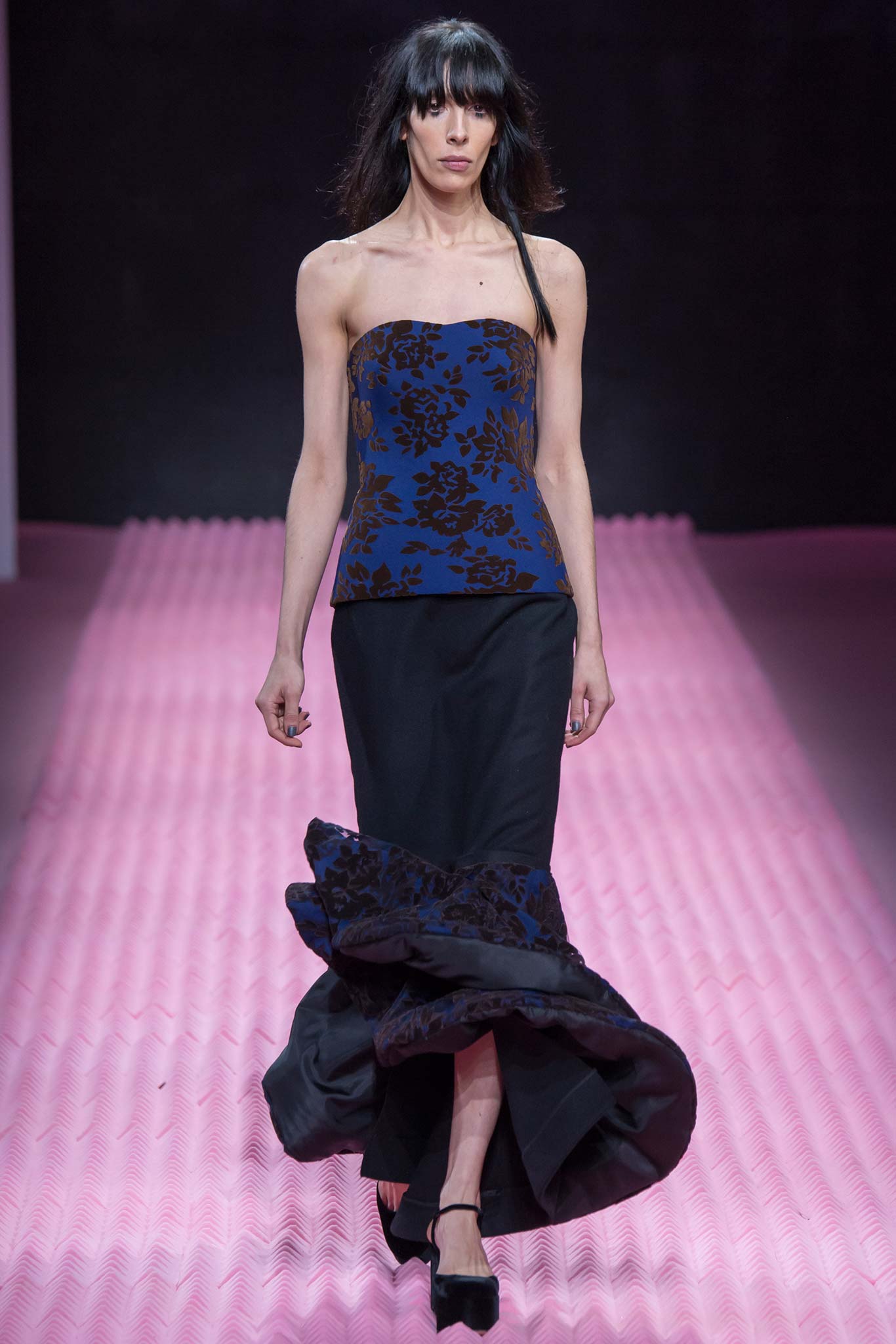 TEMPERLEY LONDON:
Ahhhh, at last a fine display of layered finery to include palazzo pants, vests, and kimono inspired style jackets in jacquards and flowy silkens forming a wondrous homage to old style glamour harkening back to the Orient Express and the 20th Century limited era, the glory days of the Railroad. One might imagine the passengers in these ensembles as they traversed the famous red carpet, on their way to their upscale compartments, anticipating the trip from Paris to Istanbul or New York to Chicago. The layering of varied and sumptuous fabrics cannot help but culminate in fashion drama, but the components can certainly stand on their own. Cases in point, a long black vest with shearling detail and an off white sweater laden with little balls.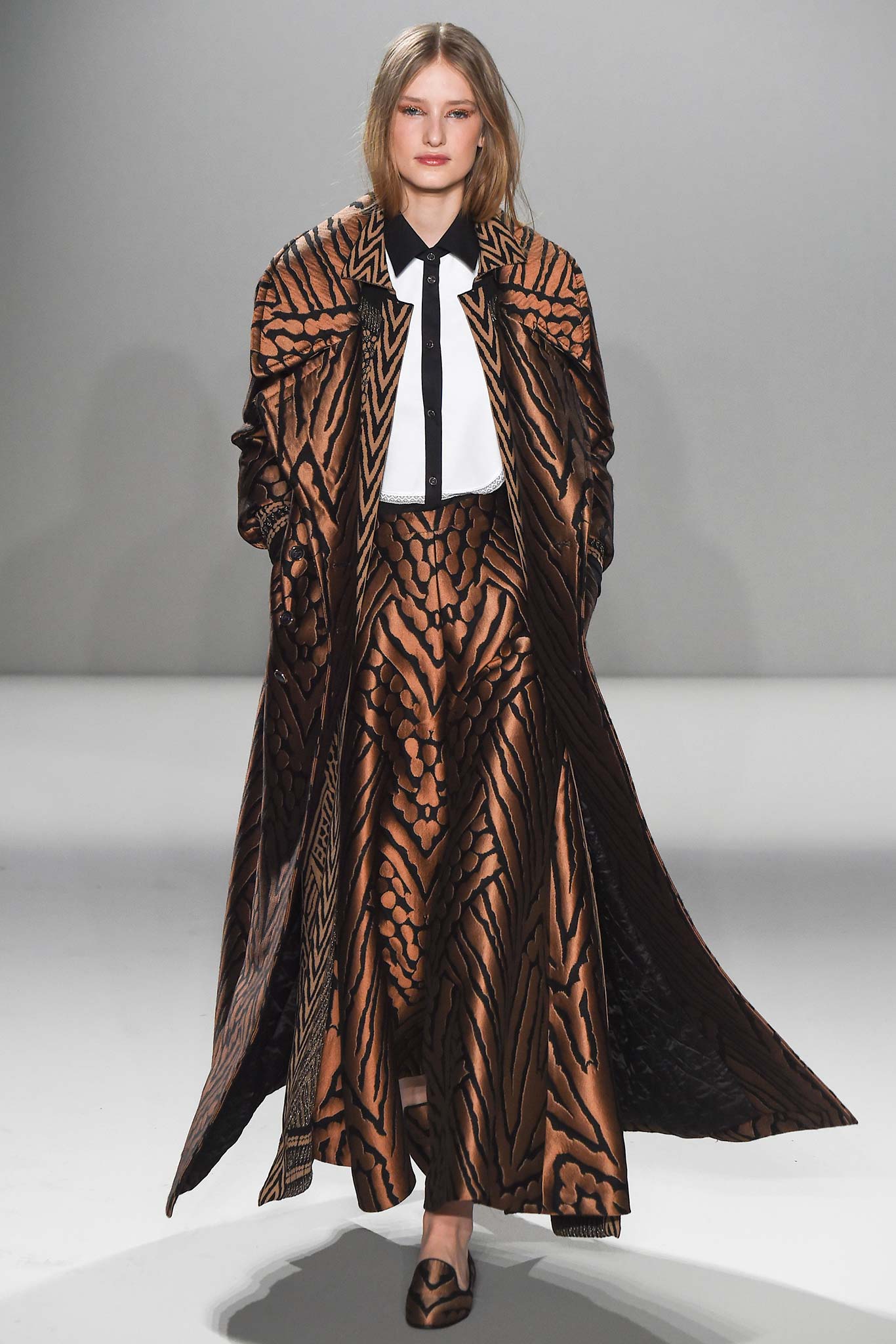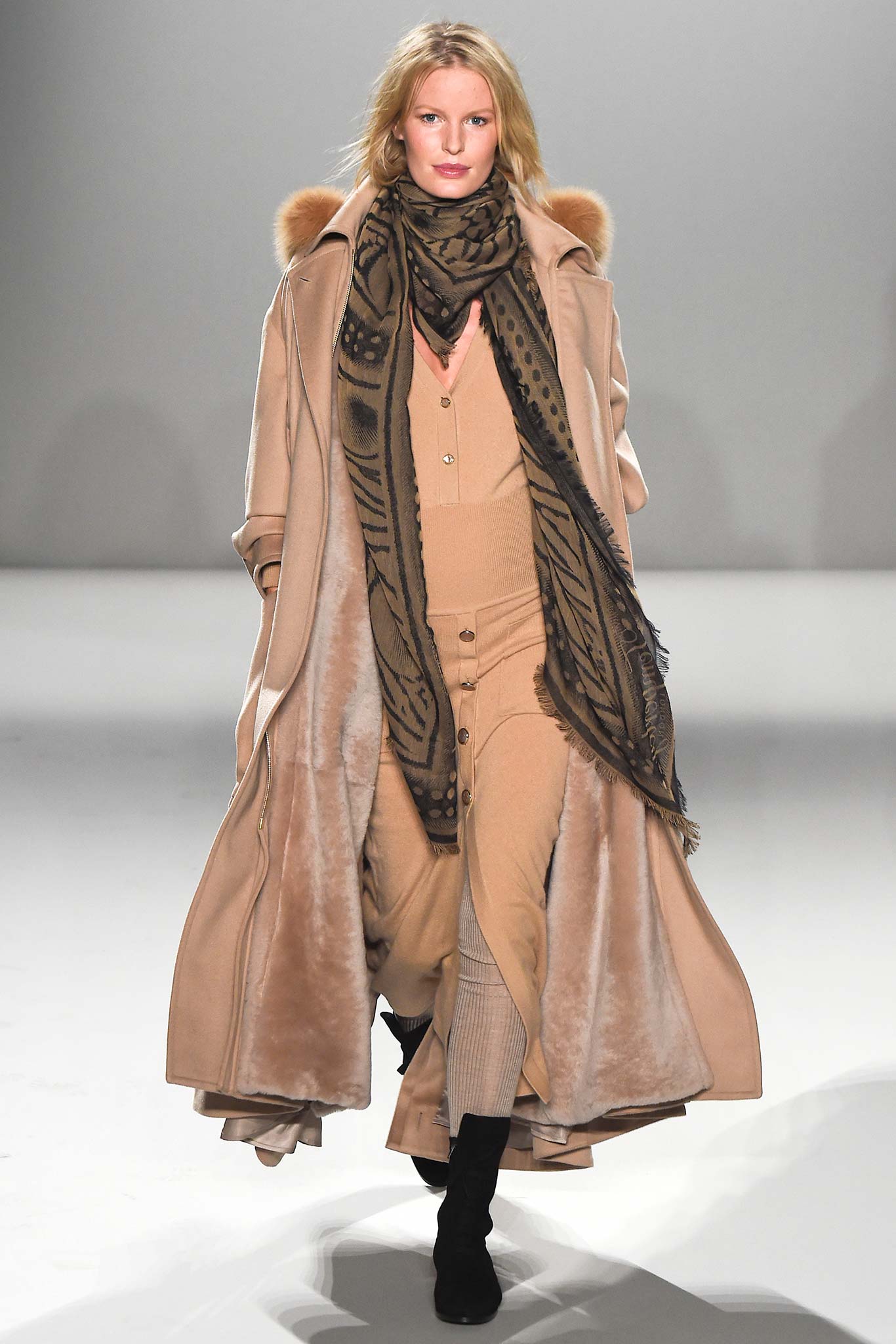 Now THIS is how you layer! Perfect for traveling, to the desert, anywhere in the fall season, or San Francisco in the summer.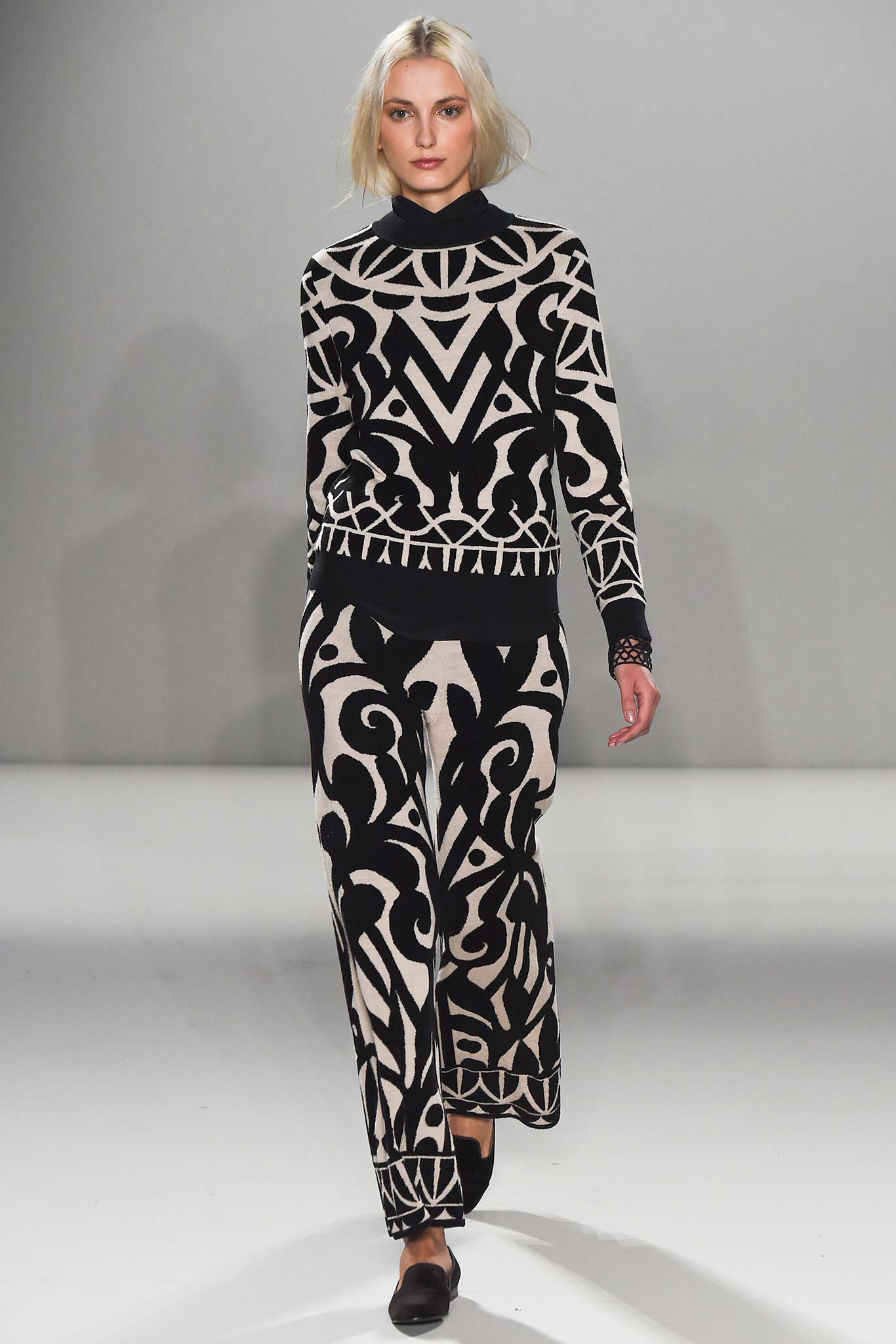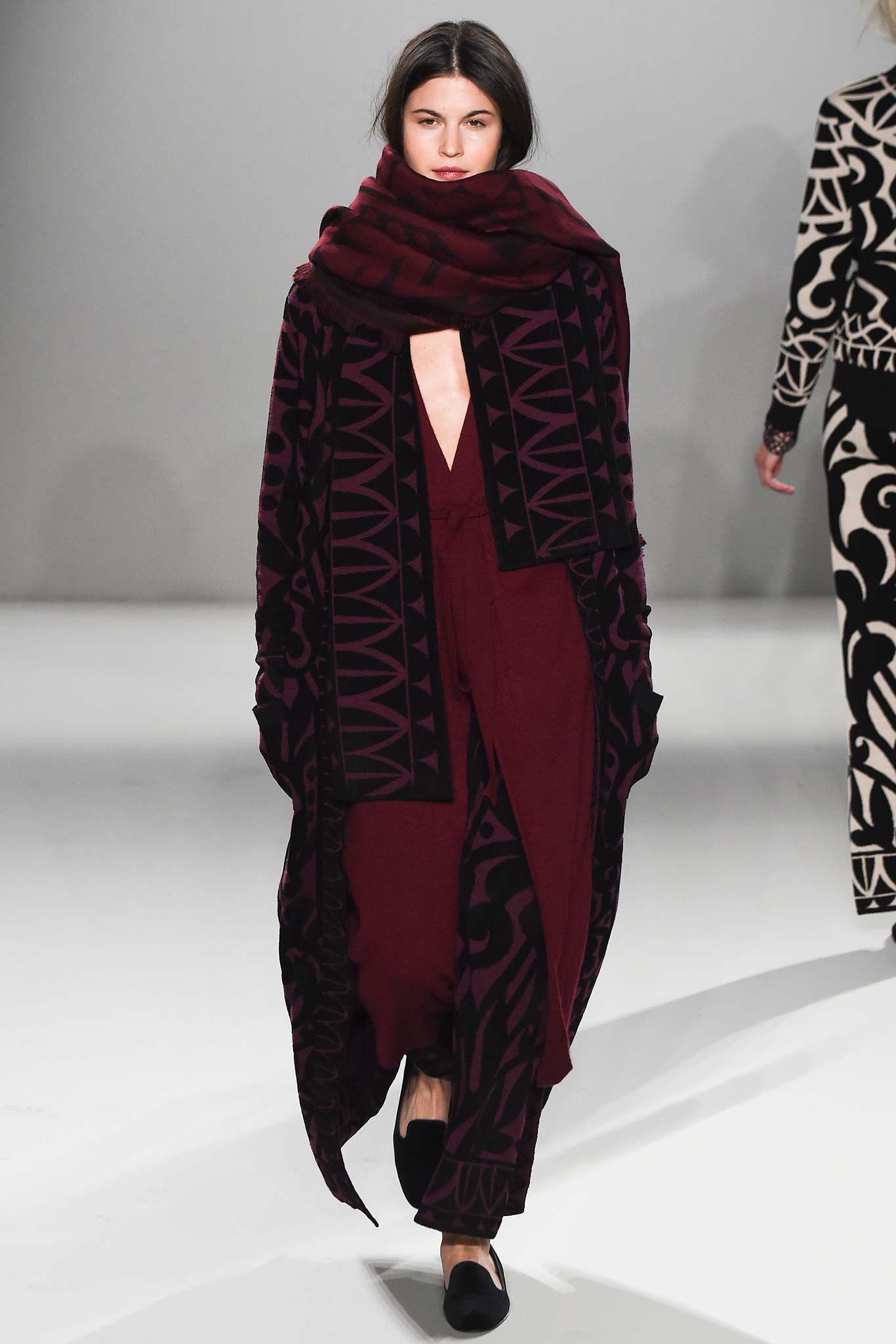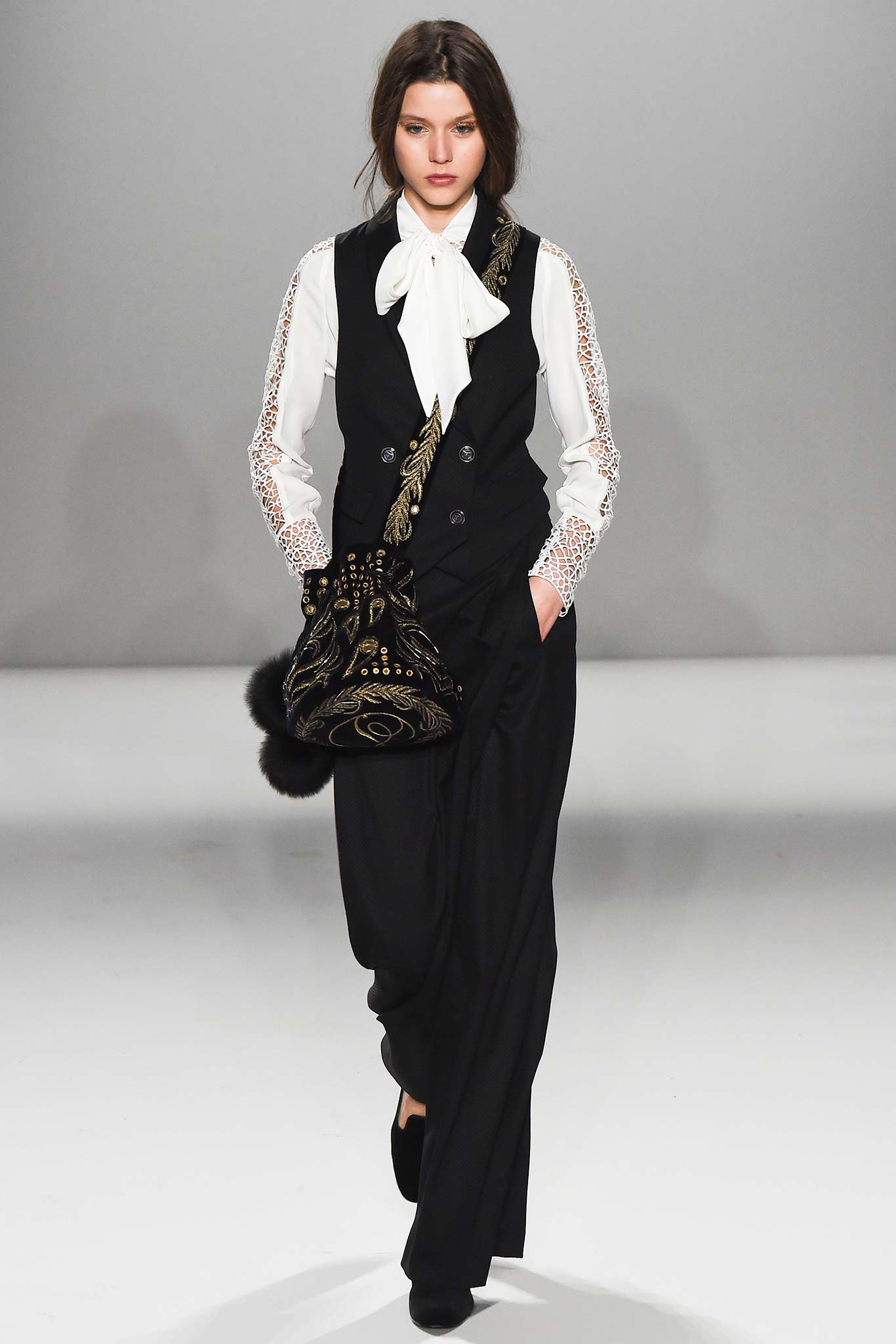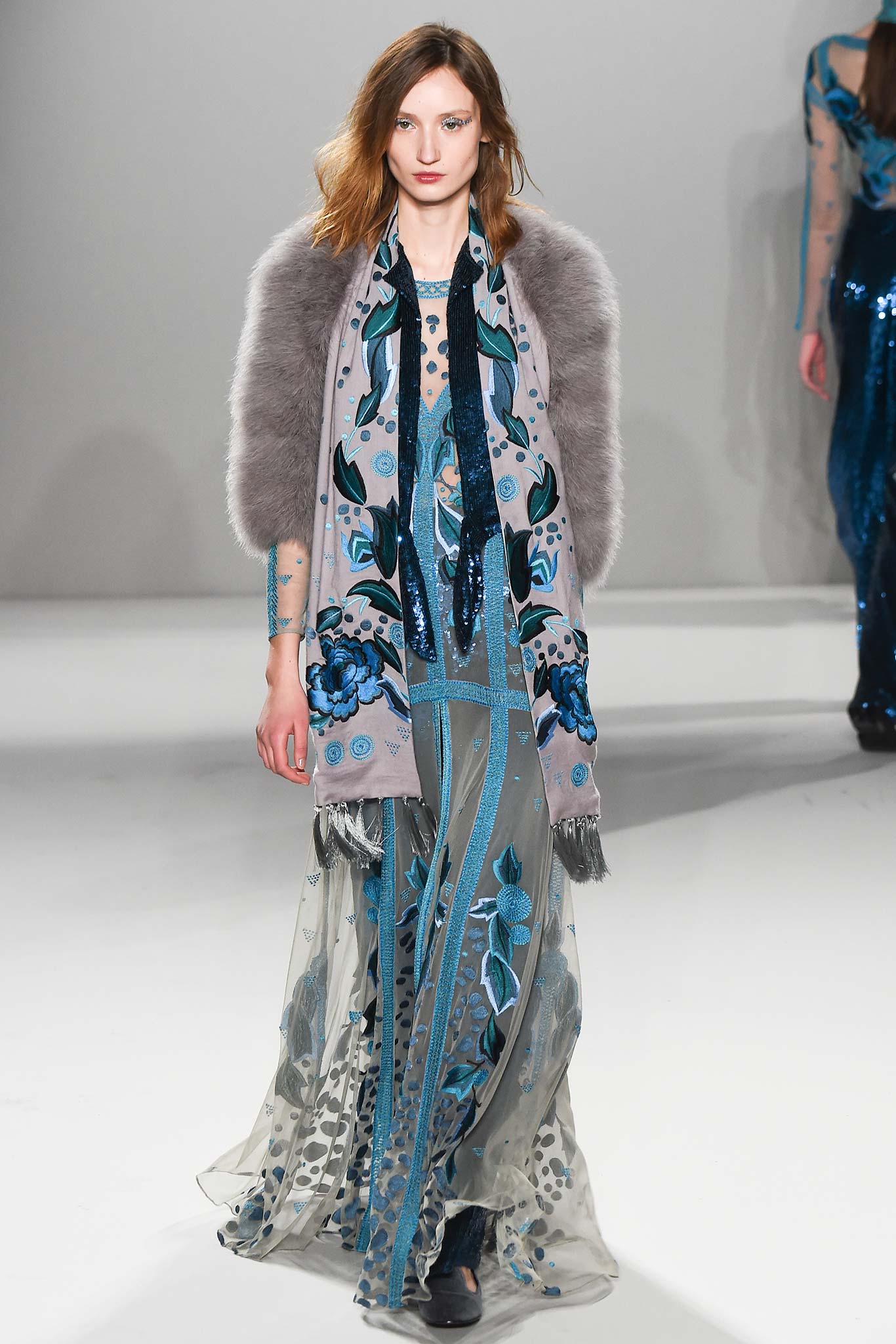 These two ensembles bring back memories of one of my favorite movies, "Murder on the Orient Express" by Sidney Lumet with the wonderful Albert Finney as Hercule Poirot. Worth a look if you've never seen it!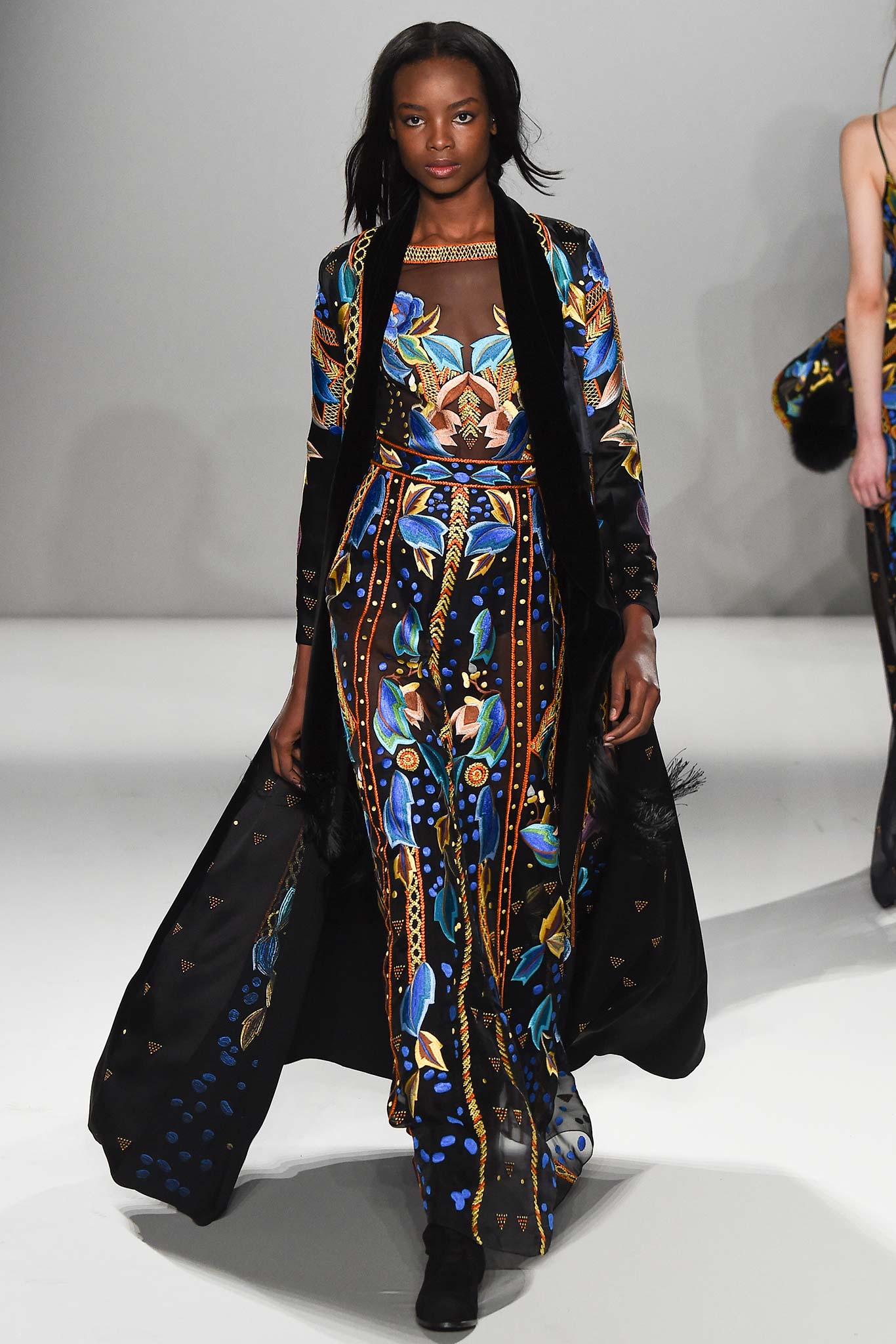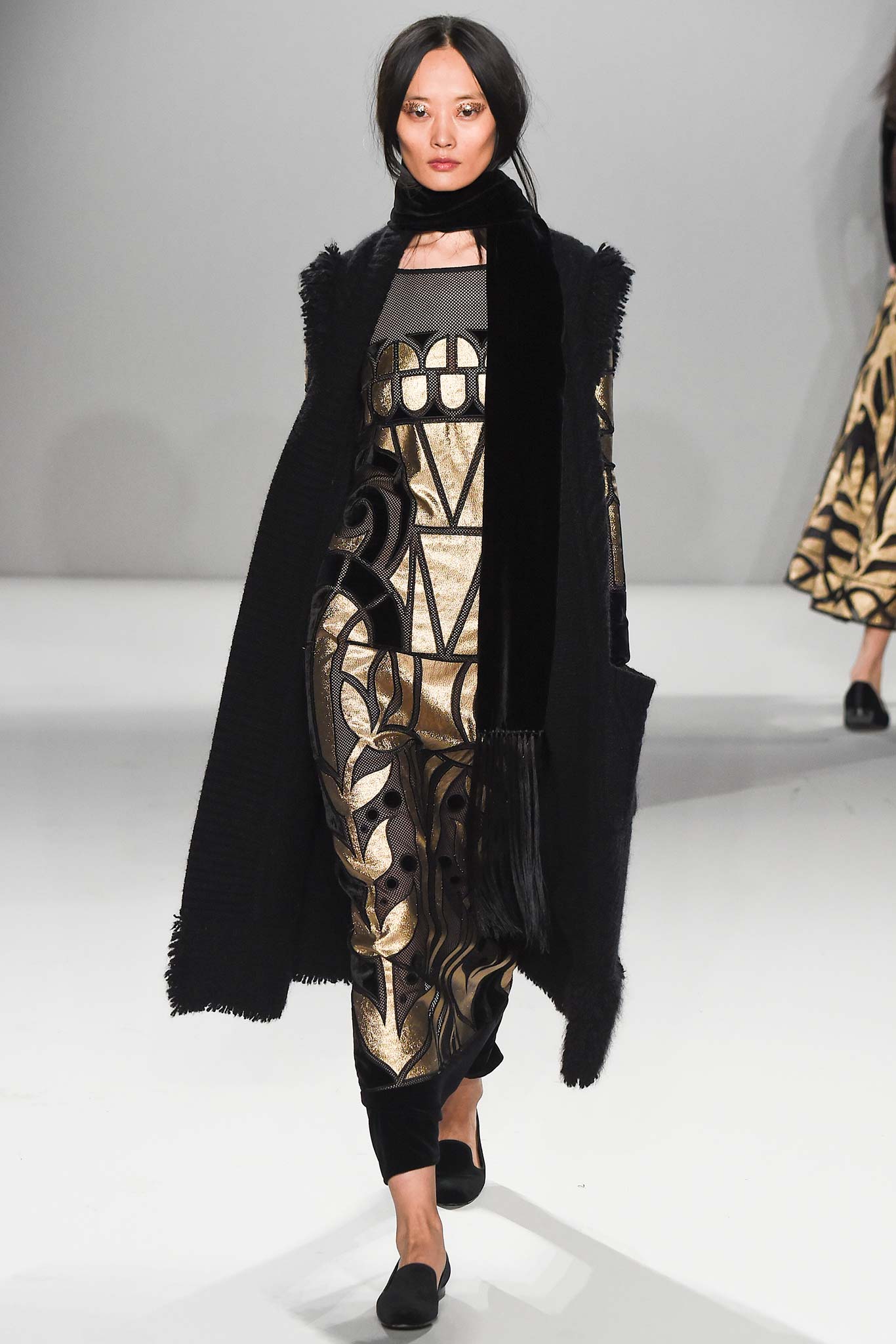 Art Deco anyone?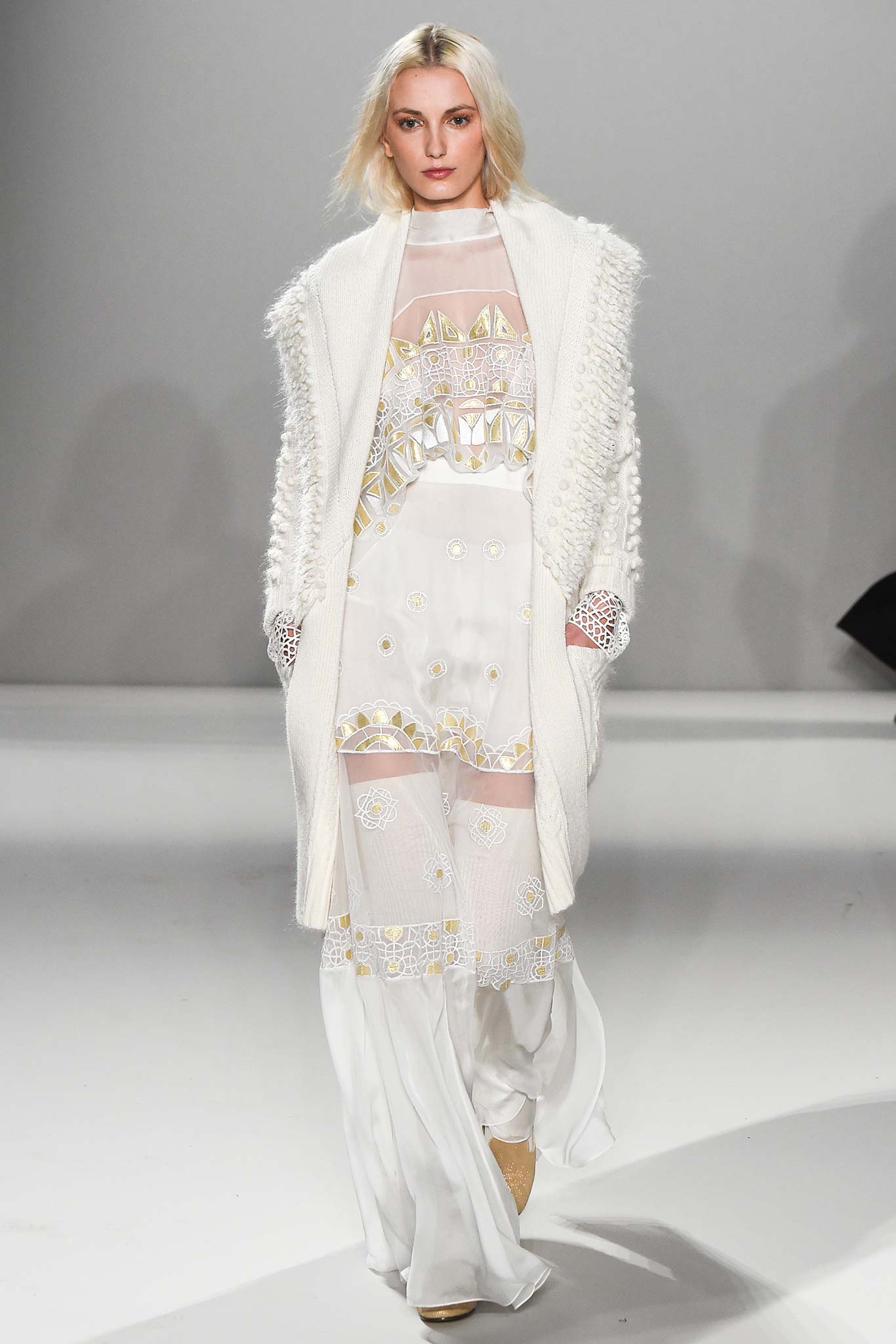 MATTHEW WILLIAMSON:
Another satisfying series of coats, slacks, and dresses blending 60's mod, 70's upscale flower child, and old school glamour. Mixed jacquards, luscious flowing charmeuse and chiffon are on the scene with various degrees of ornamentation to keep one swathed in beauty whether tooling around the town or at a gala affair. The floral motifs are rife on the runways these days, and happily so as they provide a constant reminder of the inherent beauty of the world around us. Here we have the recurring theme of the Morning Glory to satisfy our love of nature sensibilities.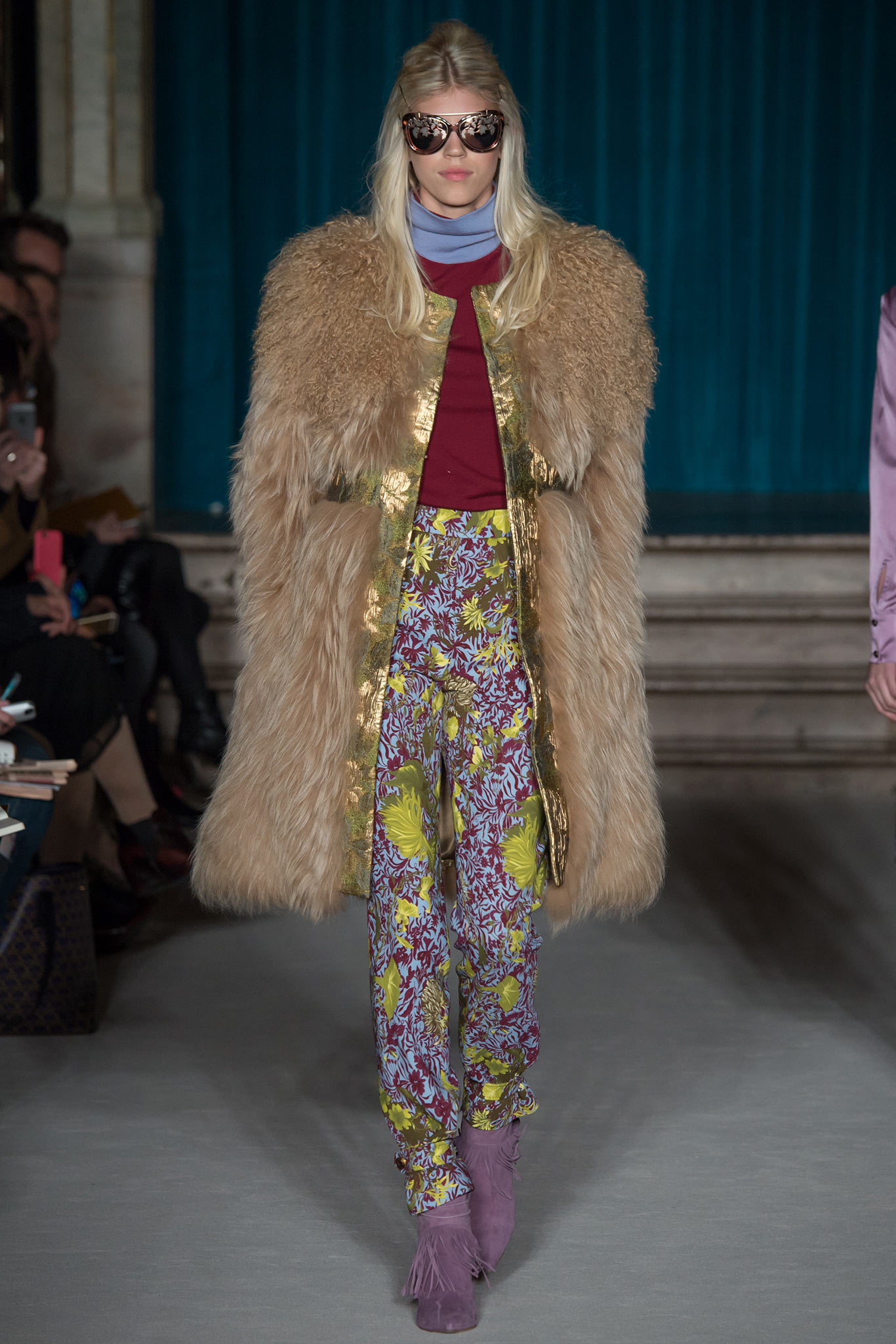 And the Mongolian lamb makes a welcome appearance to add some ahem, heavy whimsy to the ensemble.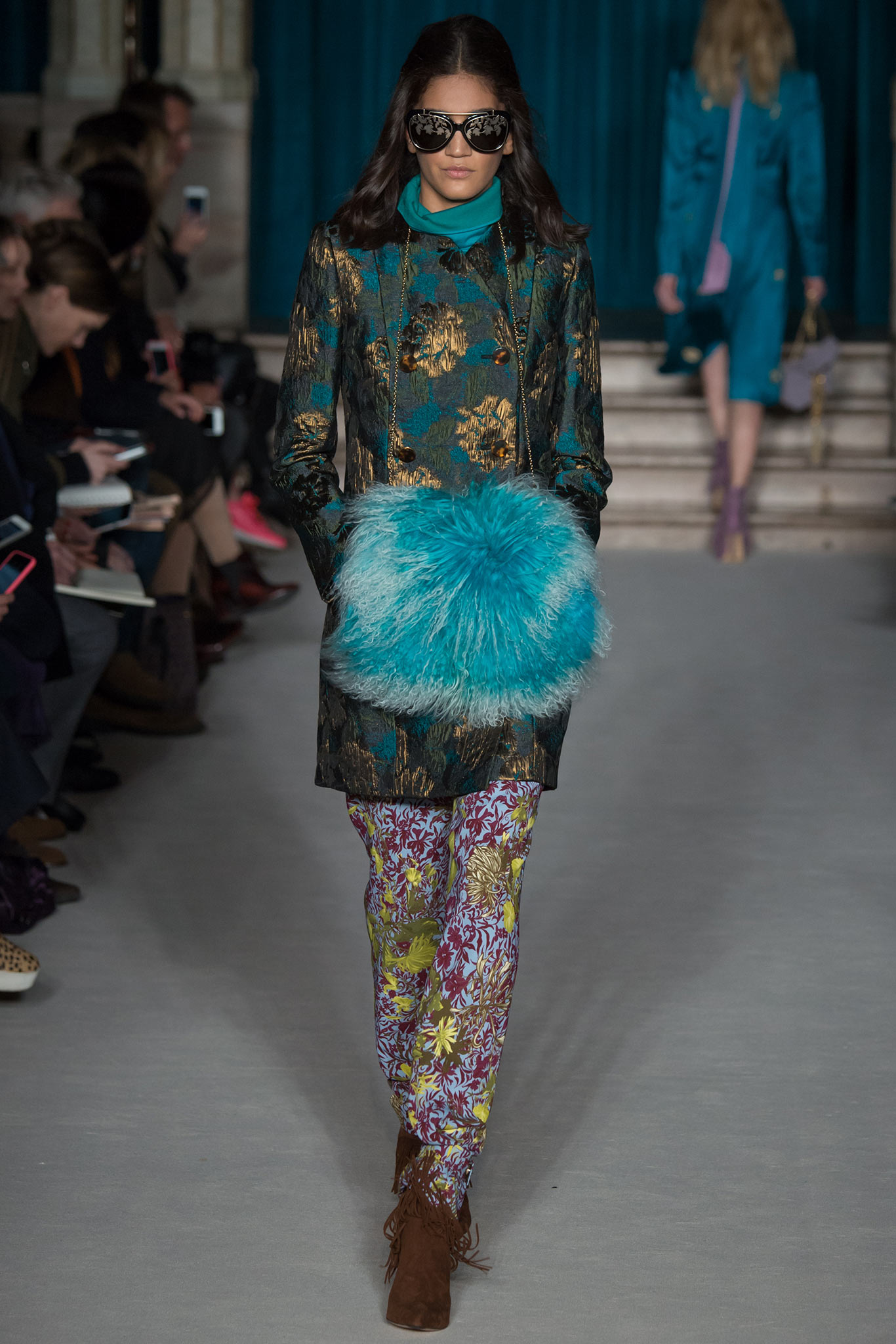 Just a touch of Mongolian in a vibrant turquoise muff, when the gloves go missing.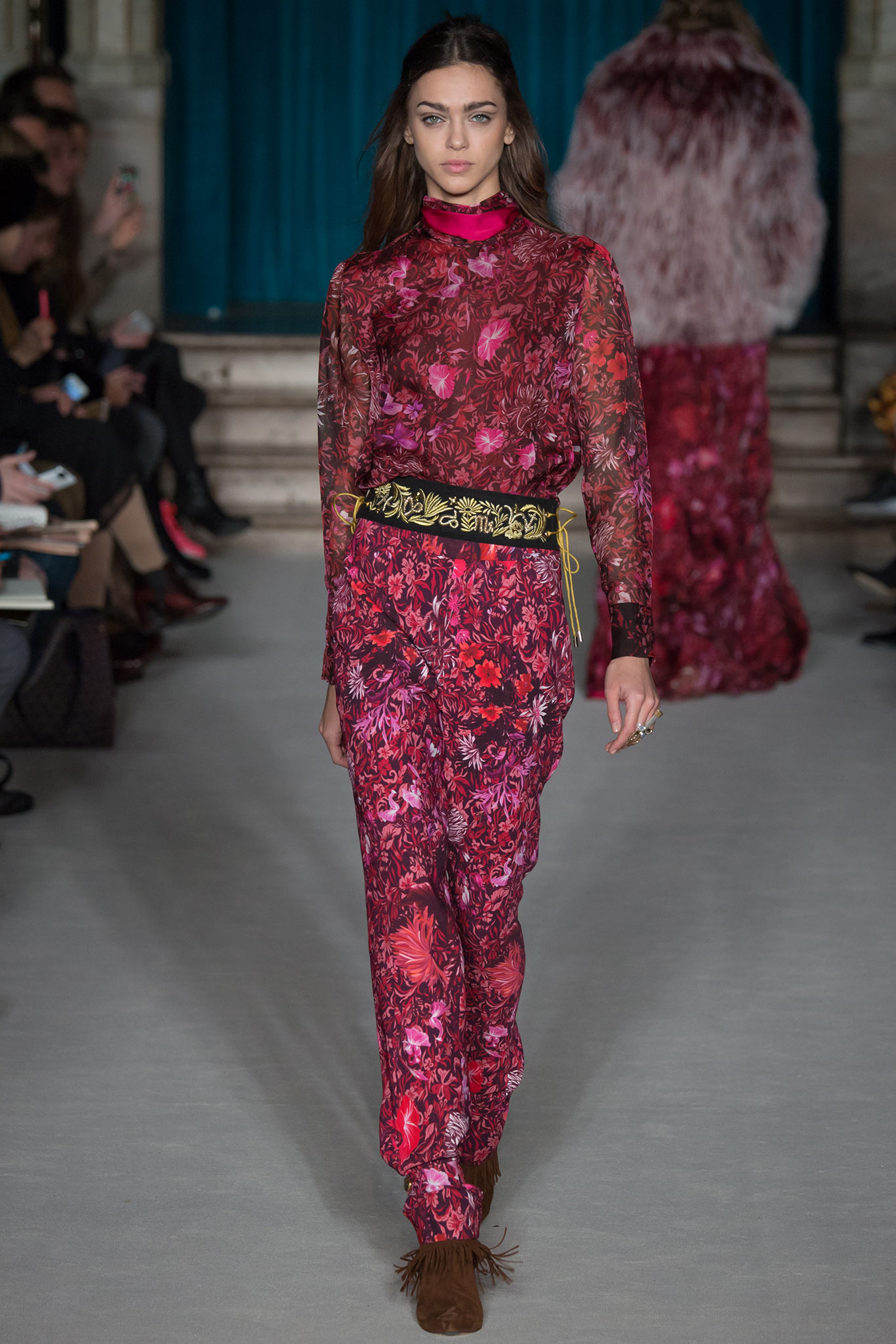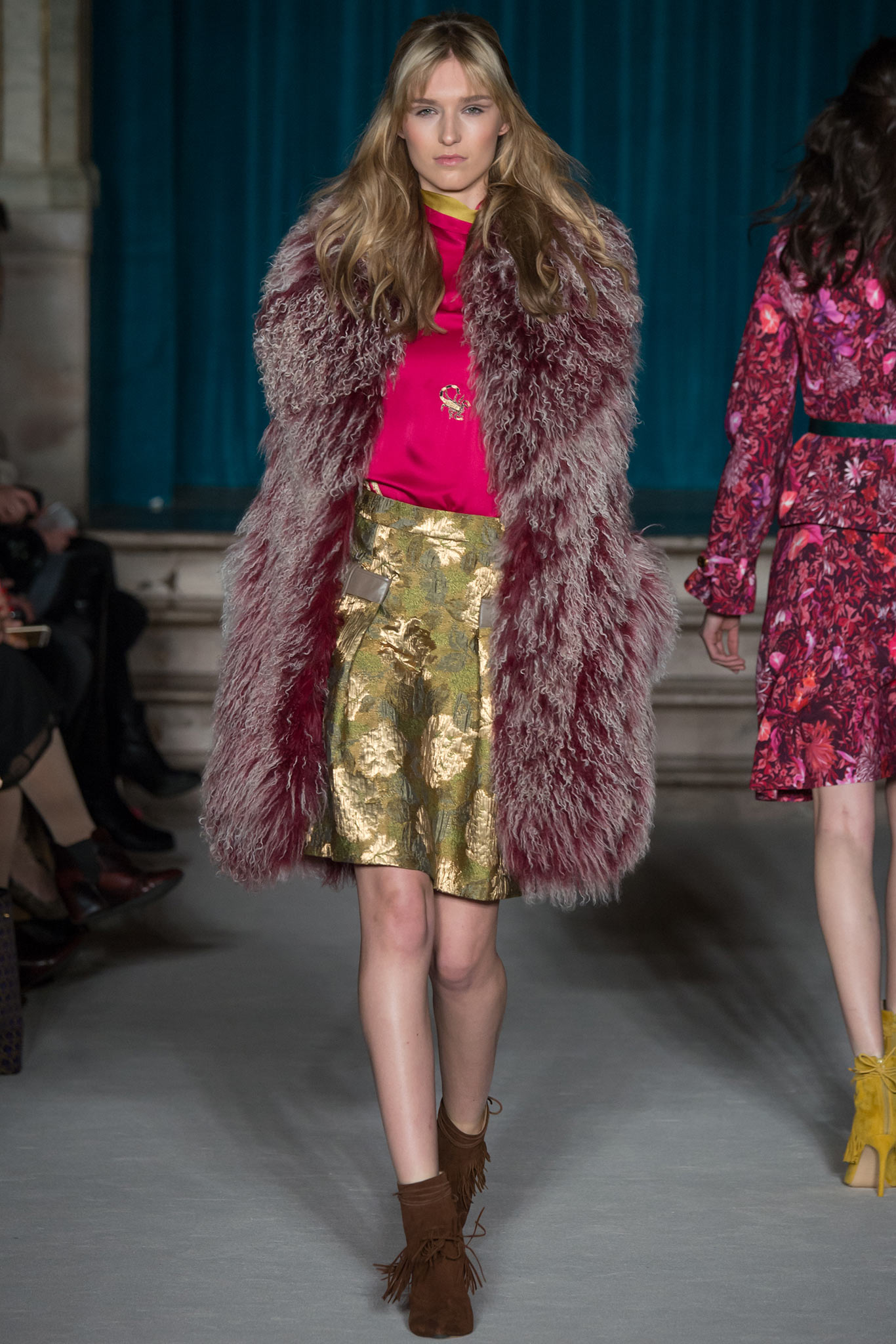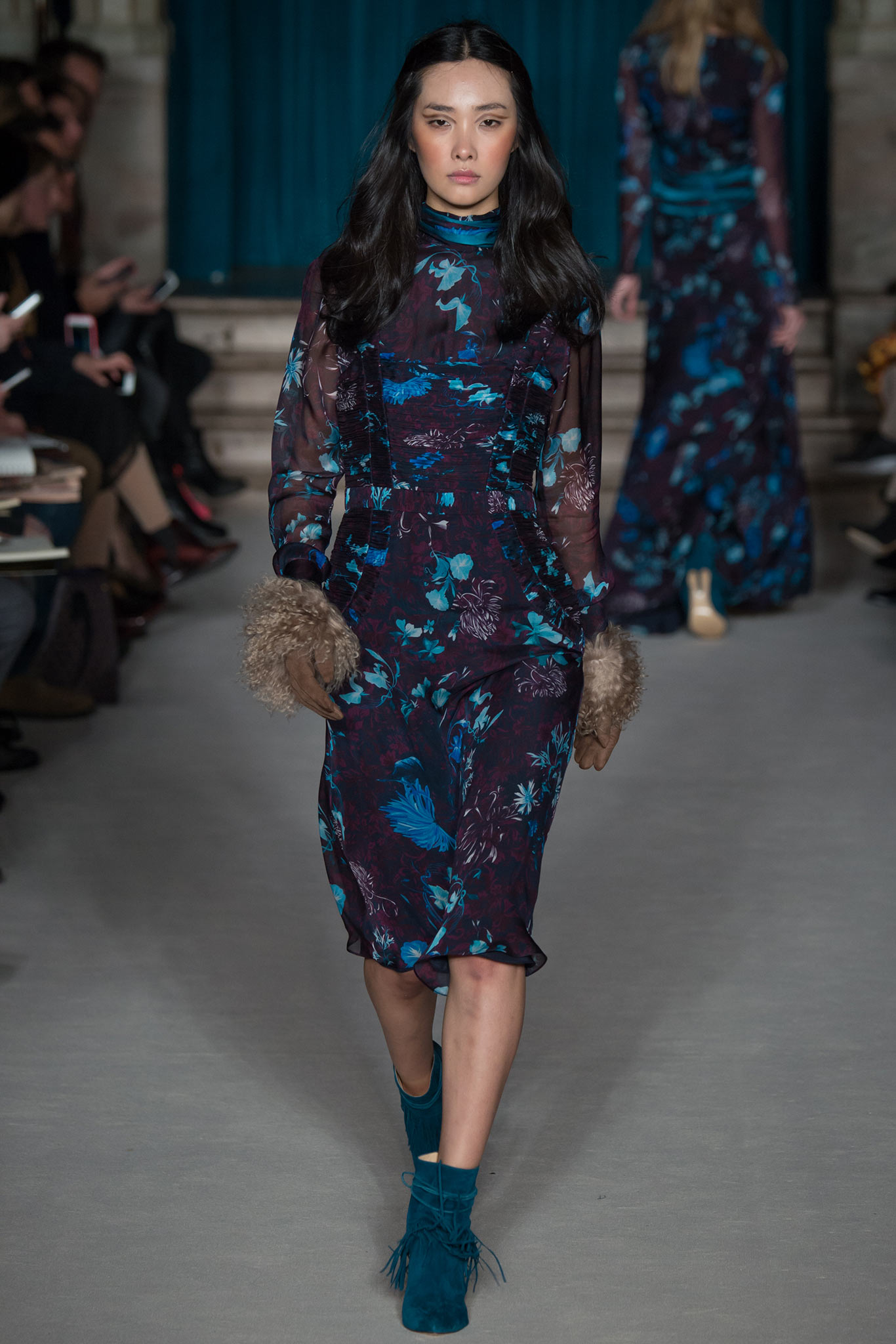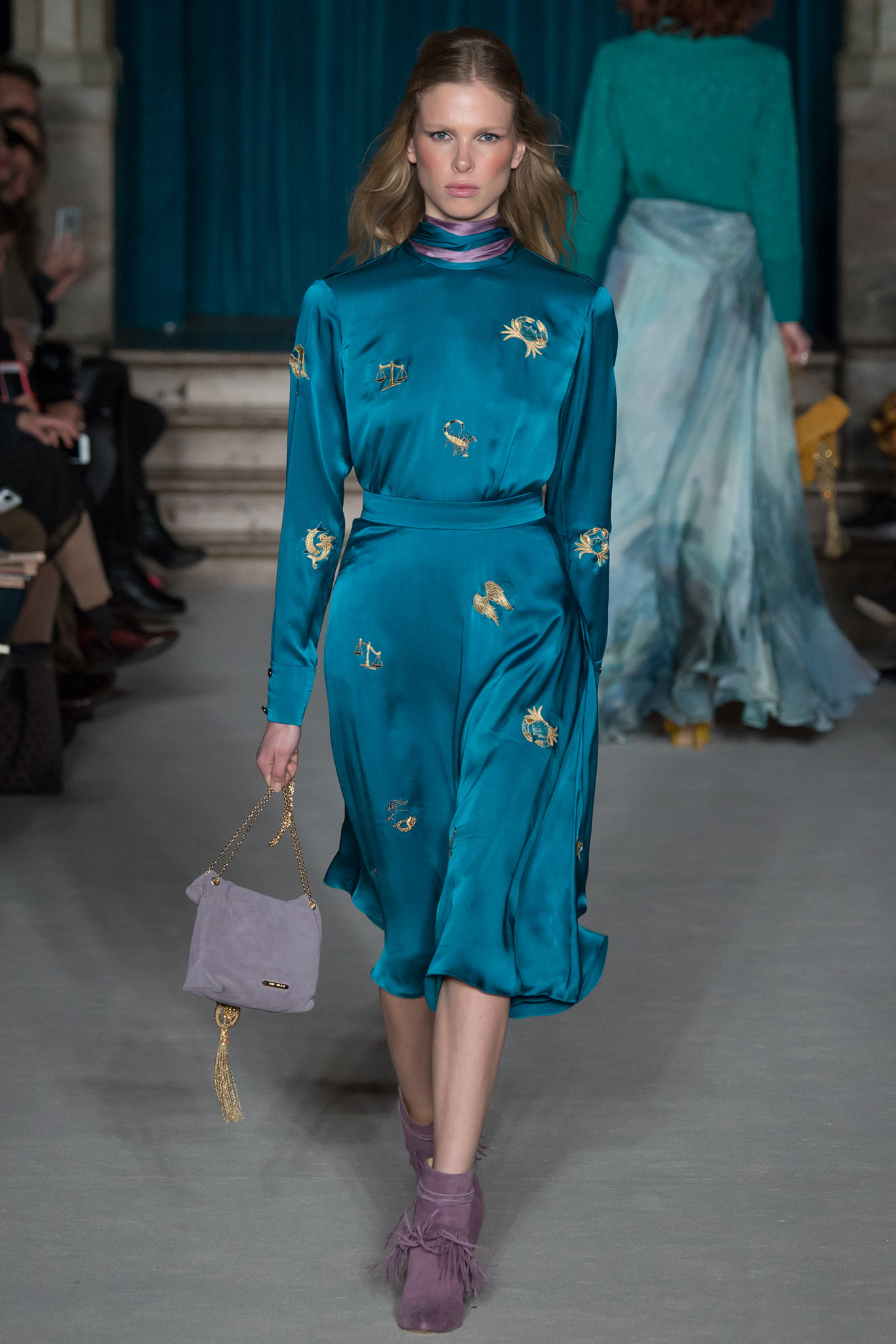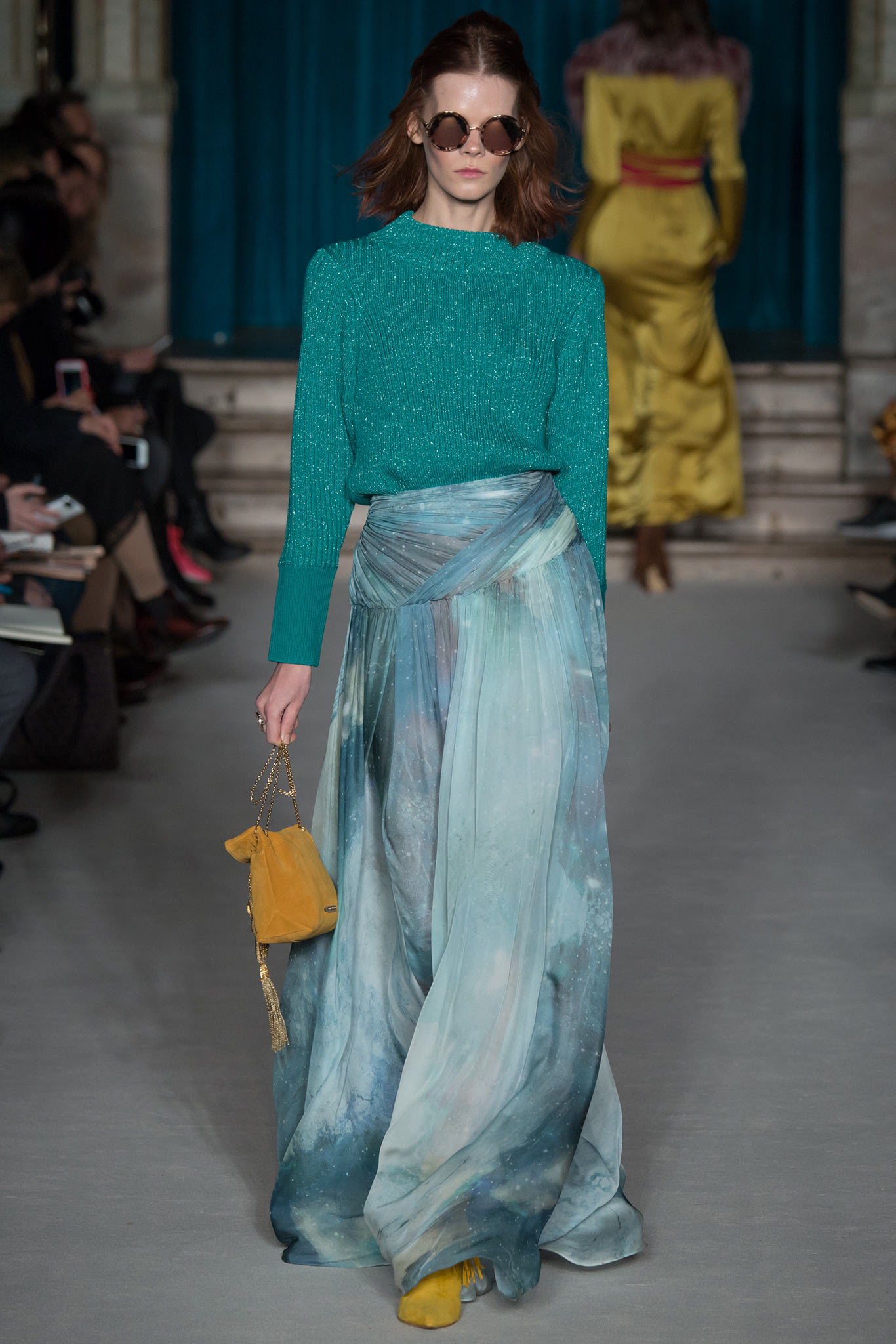 The intergallactic vibe is a welcome addition to any collection. This ethereal floor length skirt is set off well by the shimmery green fitted sweater.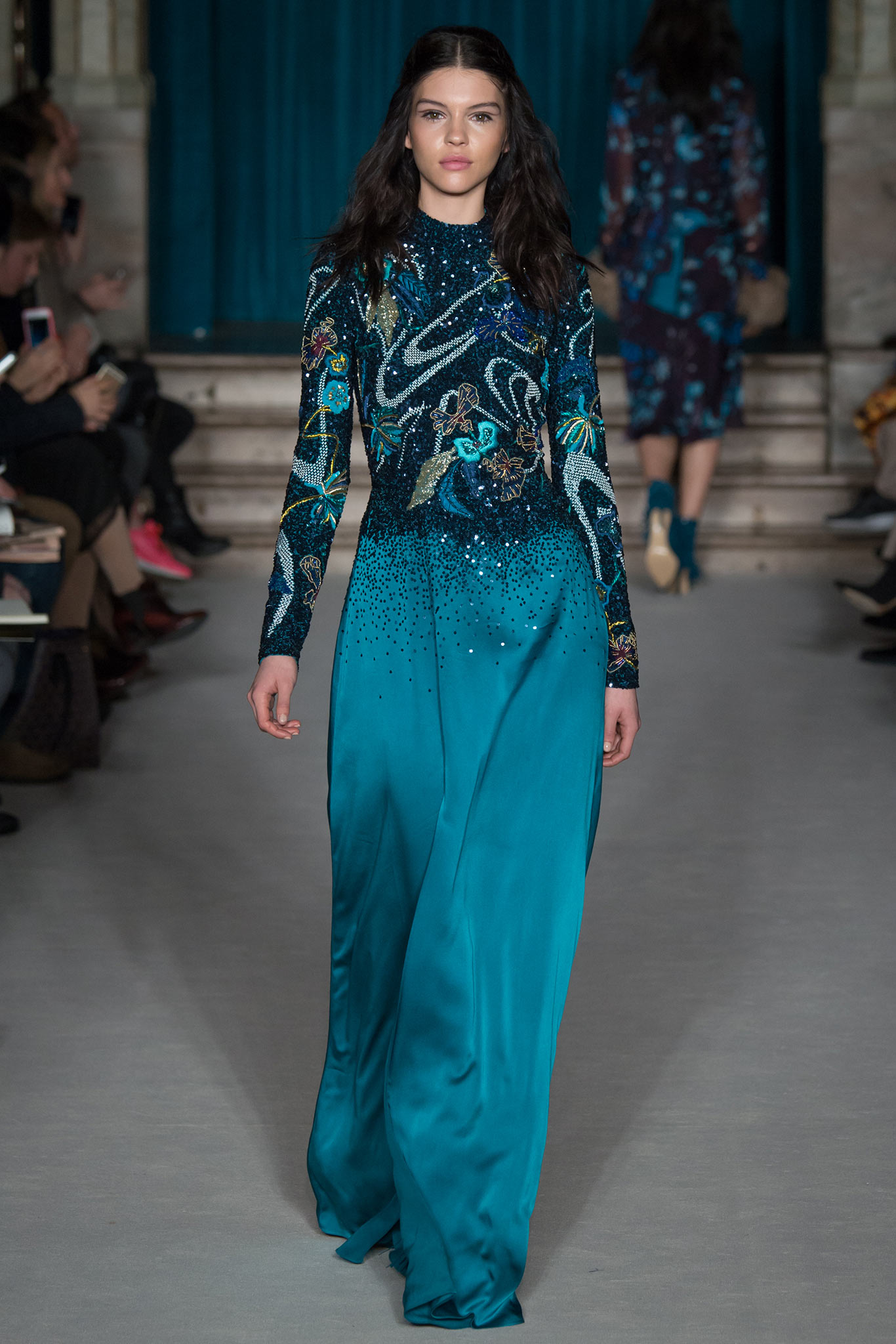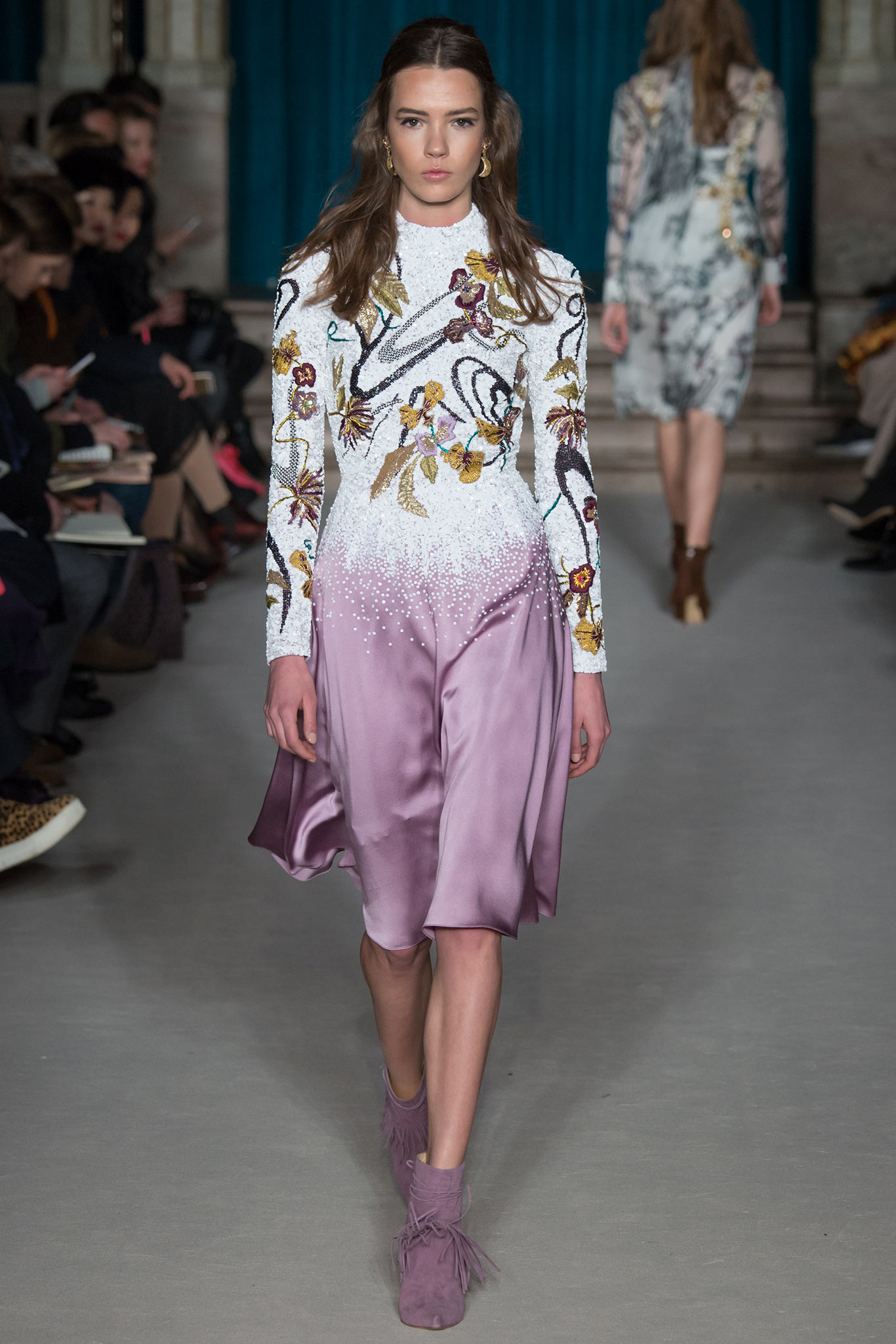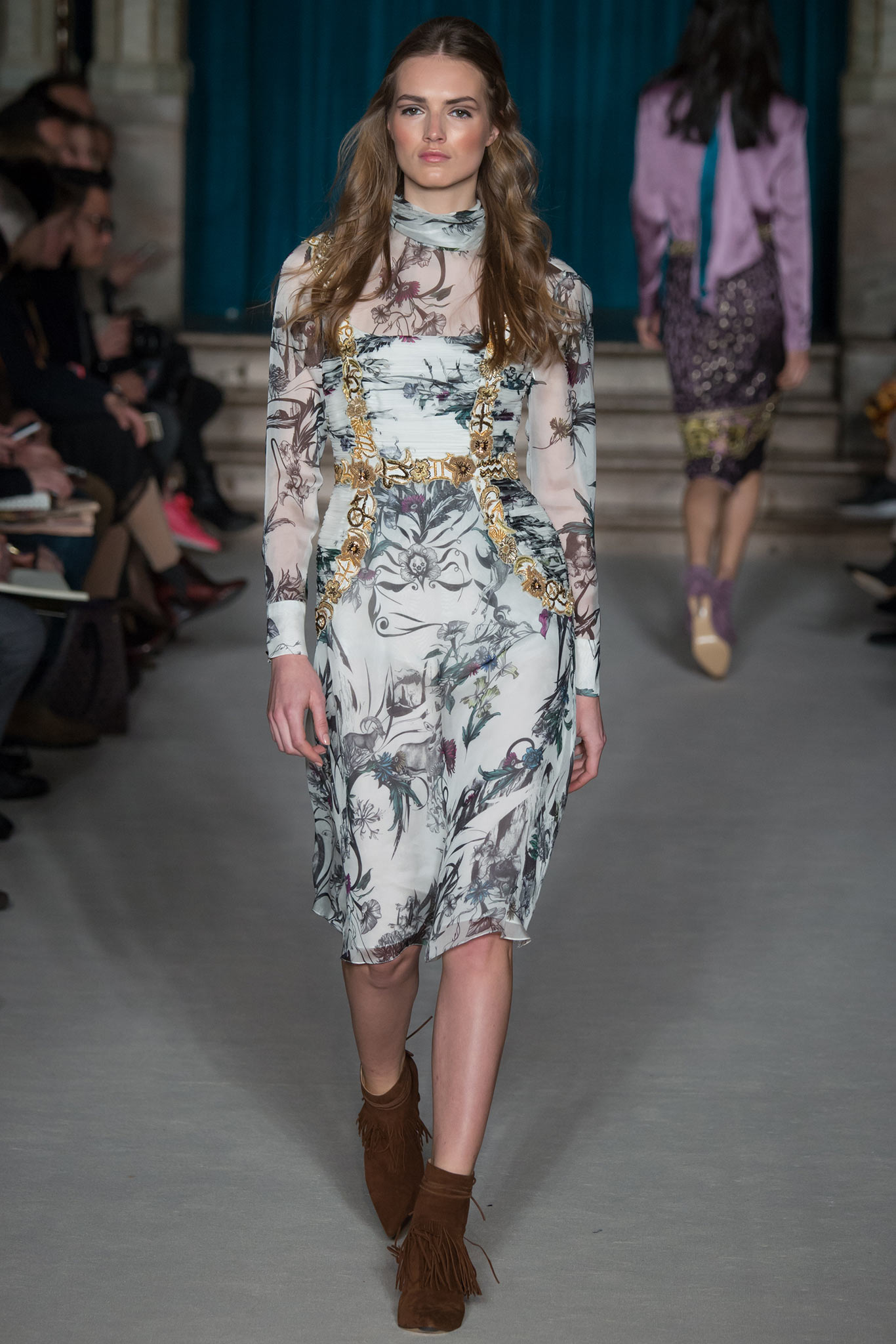 Lightweight beauty to make a lasting impact at any gathering, with just enough rouging and embellishments to be intriguing and alluring but not over the top hoochy or trite.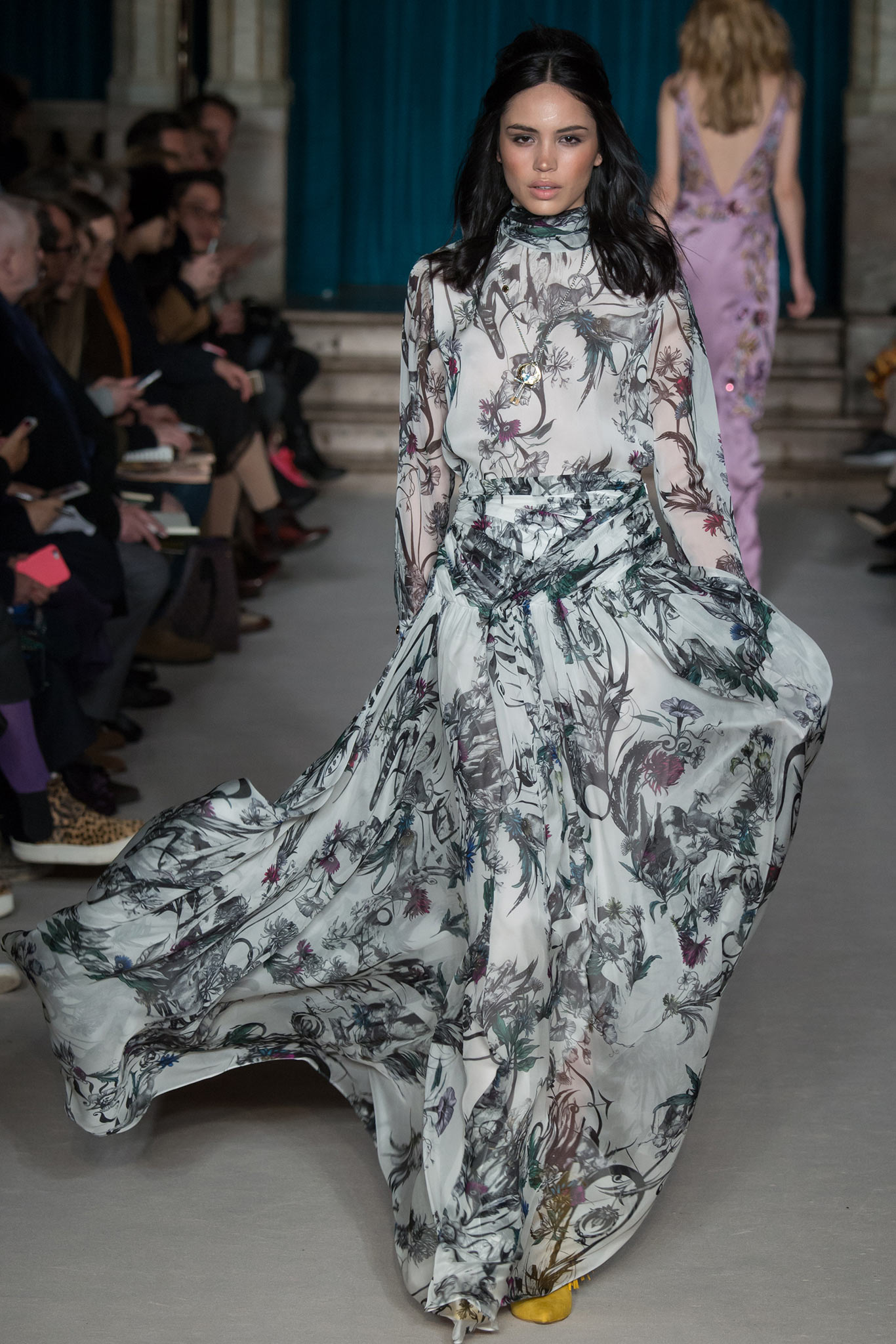 The classic showstopper to top off a fun, festive assortment, windblown chiffon with forrest motif. One might imagine Guinevere in this beauty during her time at Camelot.
AMELIA WICKSTEAD:
While many in the fashion world remain ever enamored of all things floral and bohemian, Wickstead captivates with more pared down entries in 40's and 50's silhouettes which accentuate the female form in a more conservative yet still engaging way, with pinched in waists and flared skirts. Everything is covered, but there is no doubt that two X chromosomes dwell beneath. The dreamy pastels provide a calming respite from life's drama and will always be in style. One might imagine Katherine OR Audrey Hepburn in these fetching wearable creations.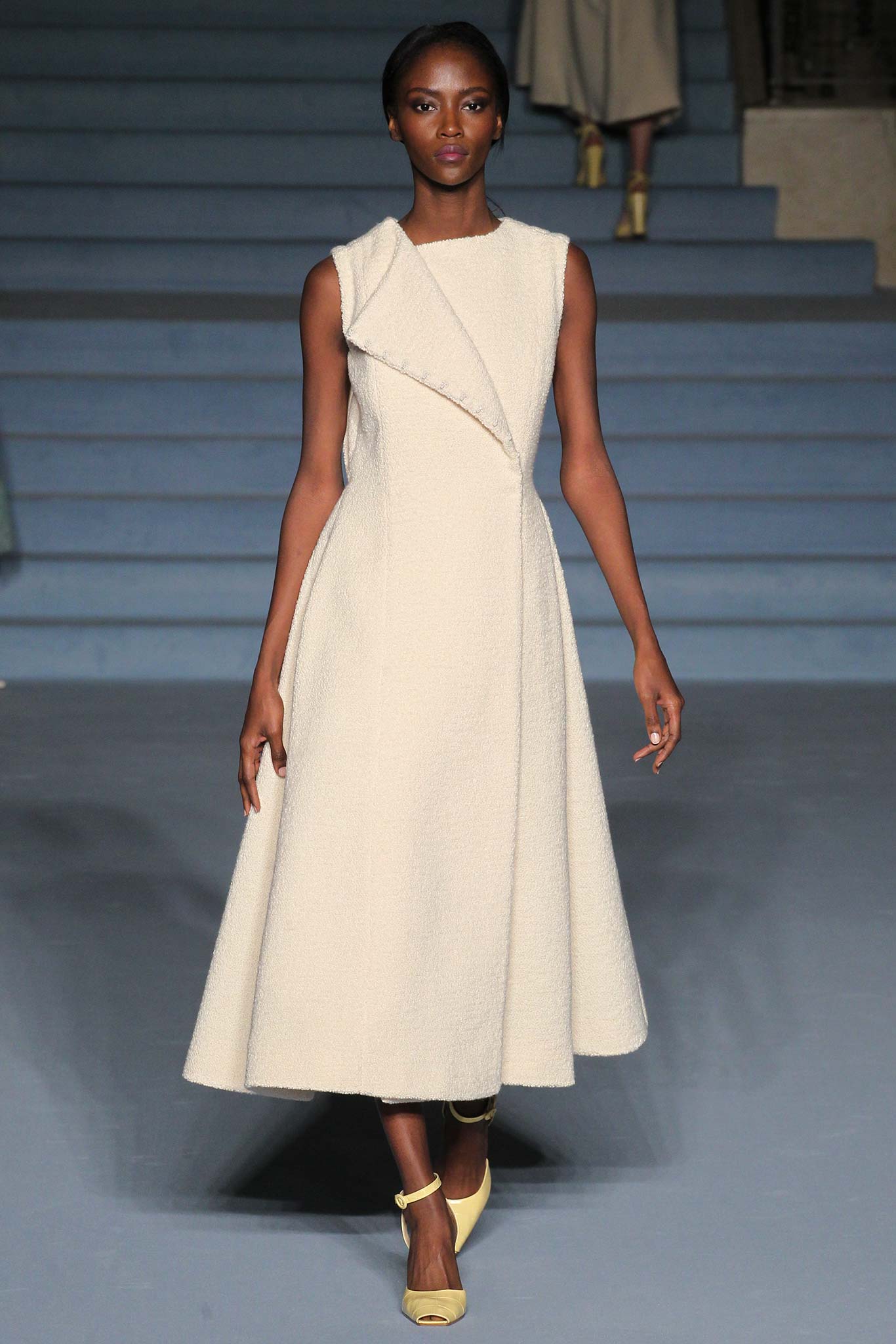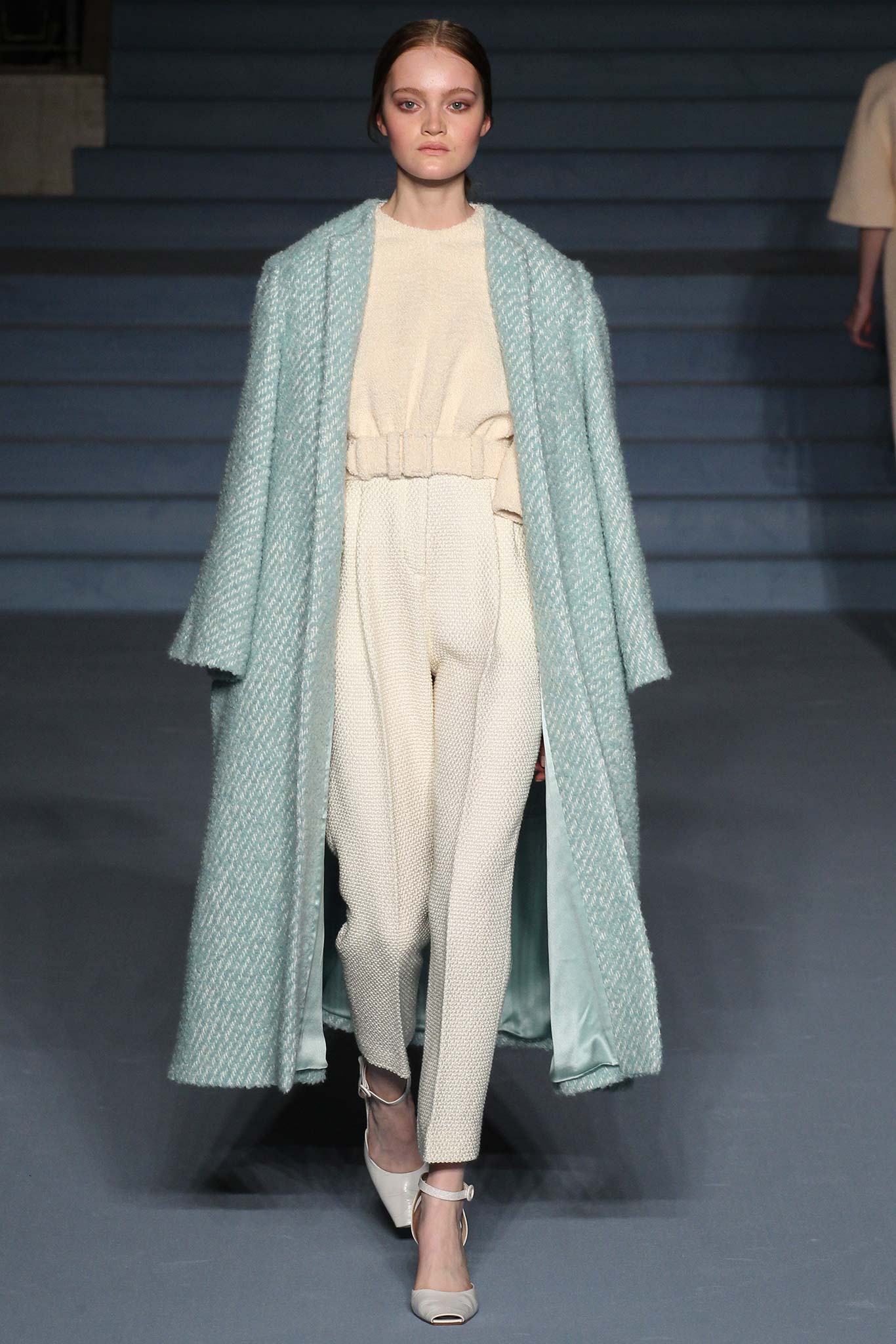 The pieces in this collection are akin to a multiflavored sherbet desert without the annoying insulin surge. This seafoam green jacket with tonal charmeuse lining is delectable.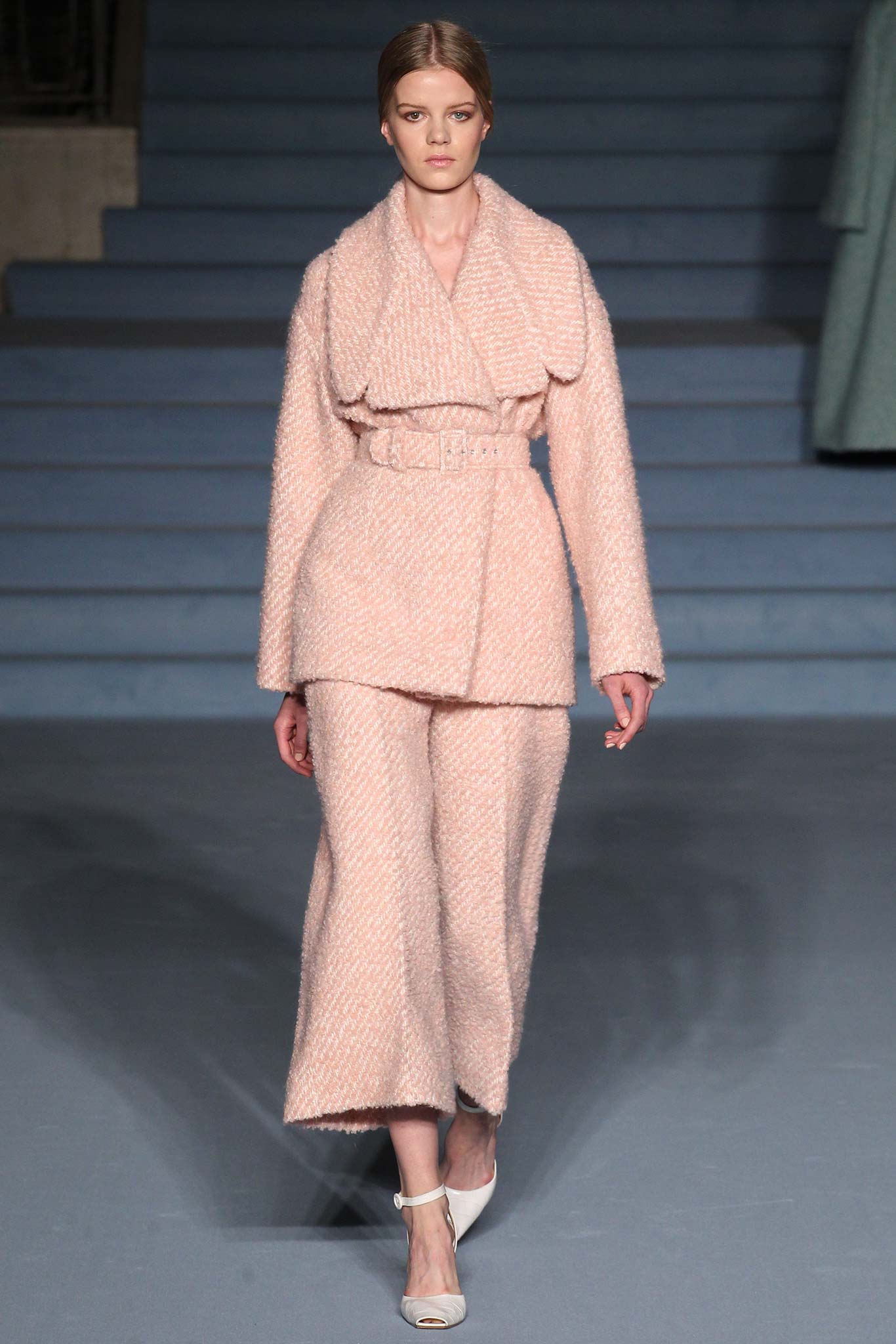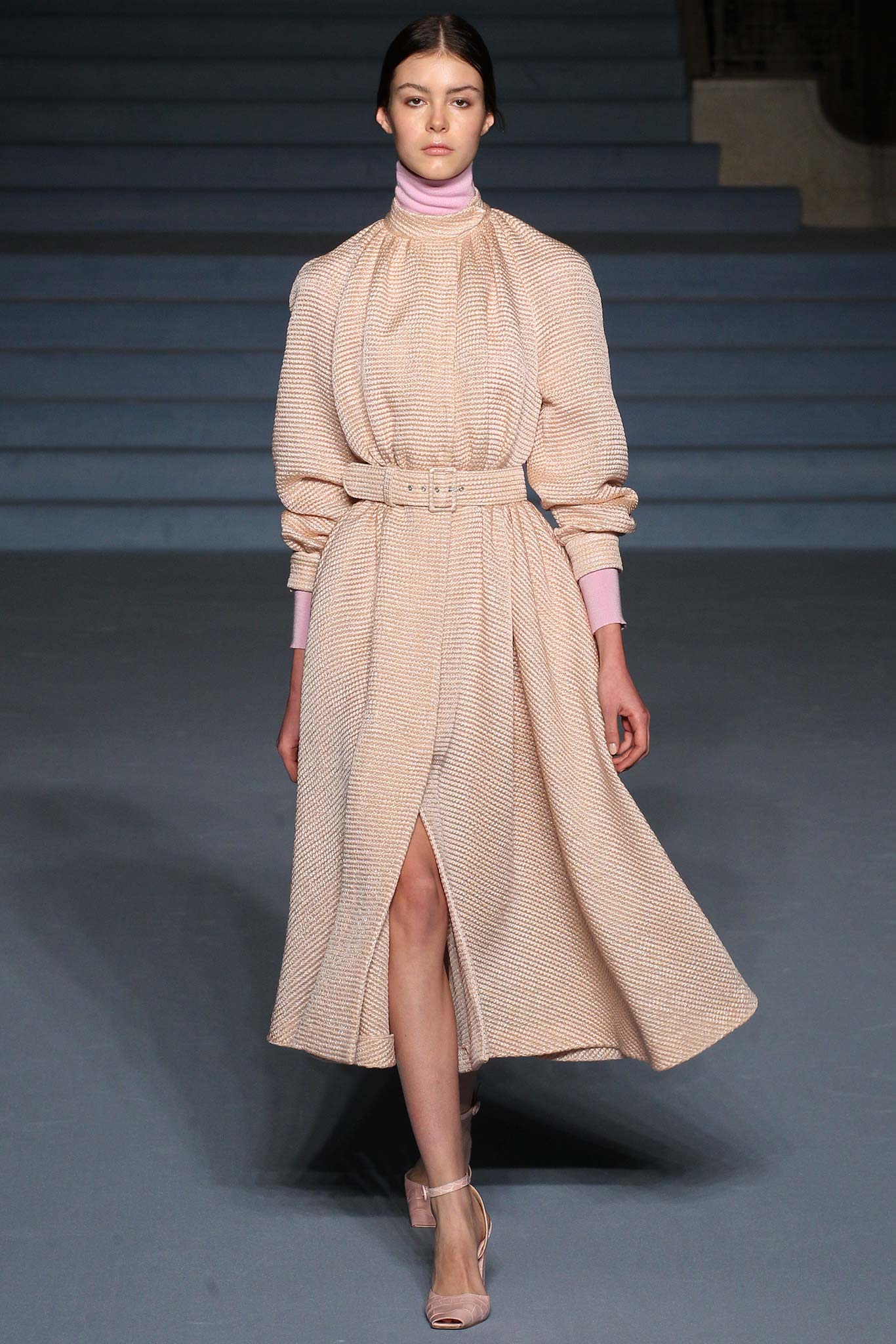 Interesting engaging fabrication in flattering form, with just a hint of pink in the underpinning.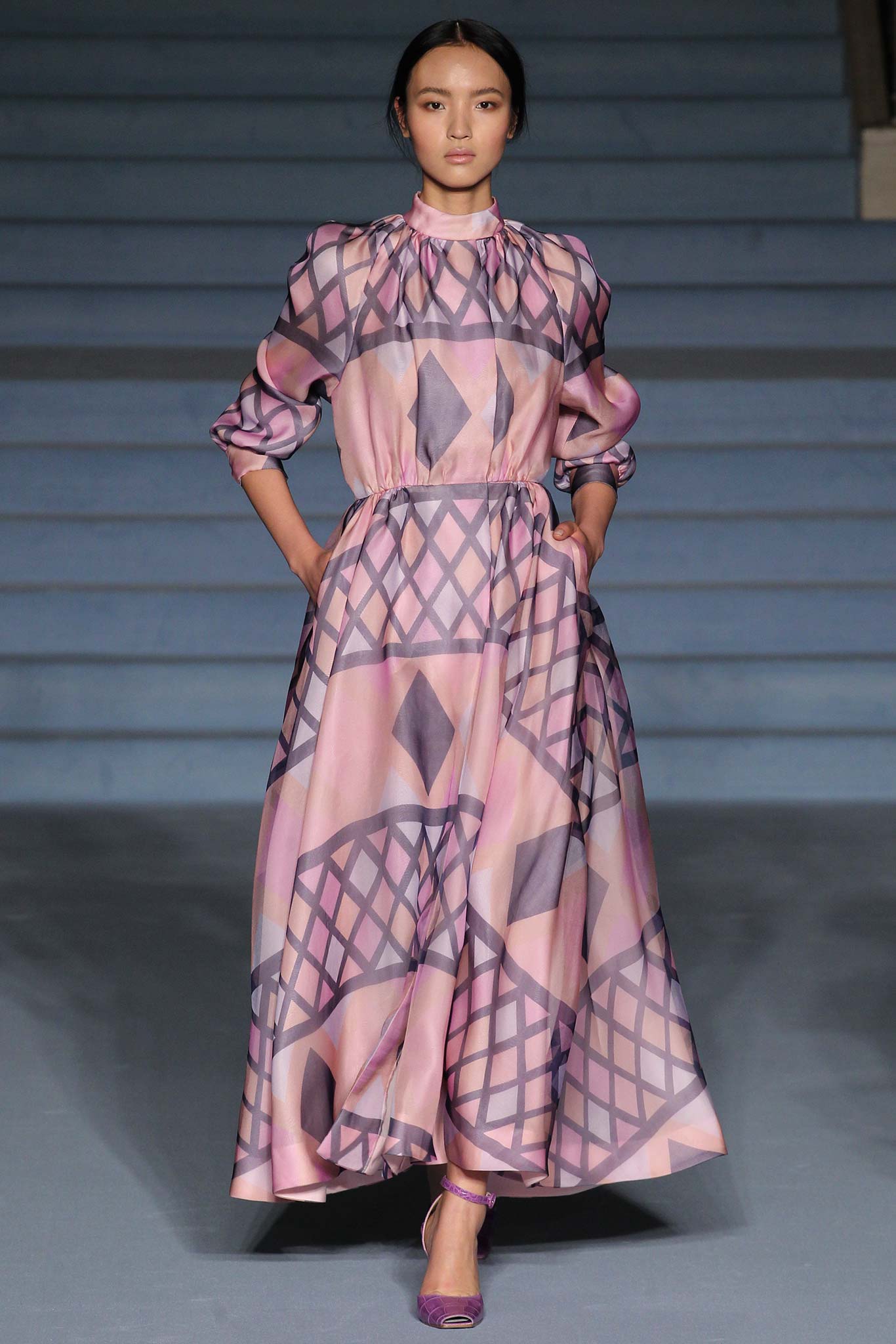 Yummy, pink and purple in a harlequin inspired organza dream, perfect for opening night at the Opera, and especially if Rigoletto is on the program.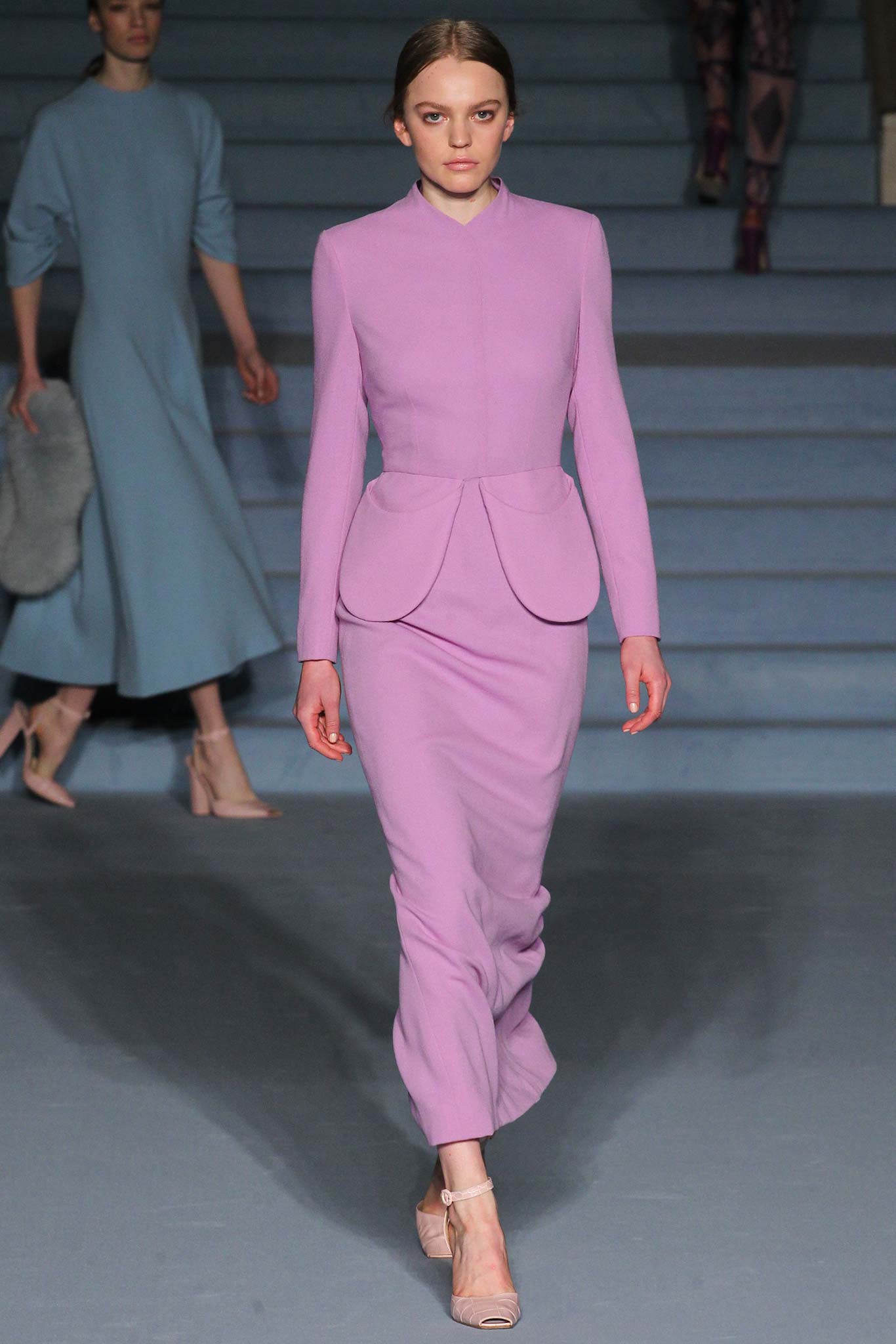 A lilac dream, semi spartan in a form flattering silhouette with some slim outer pockets for added whimsy.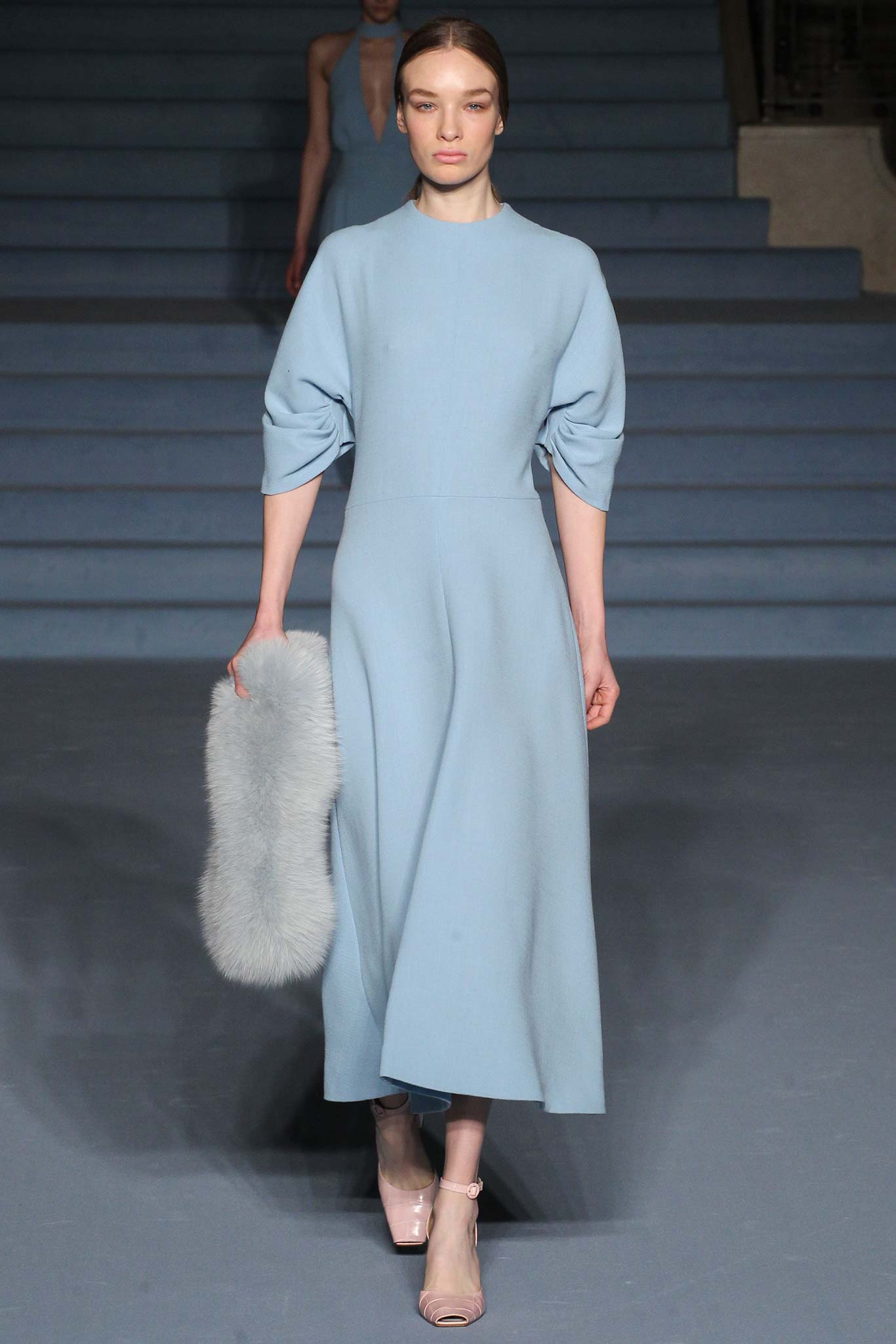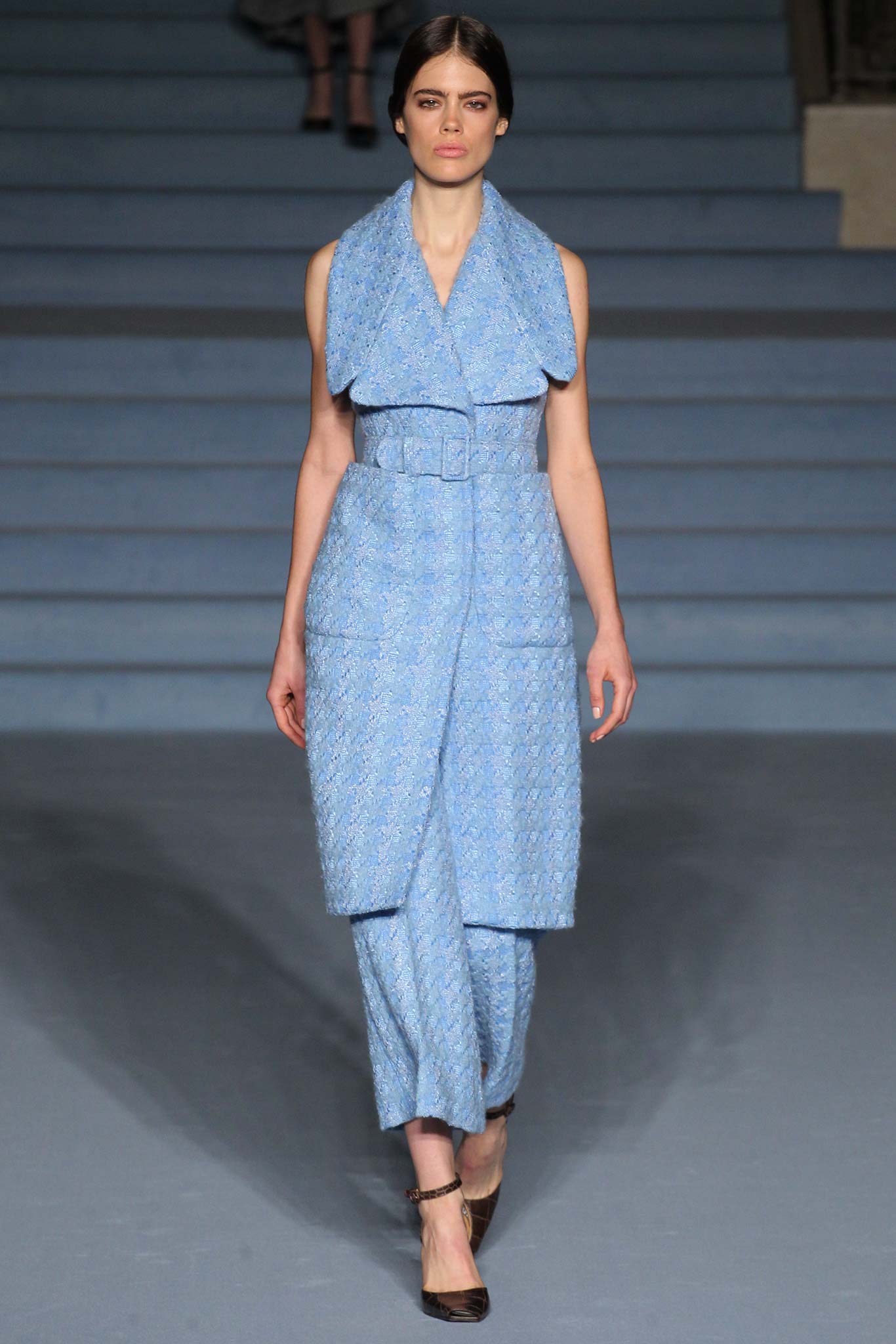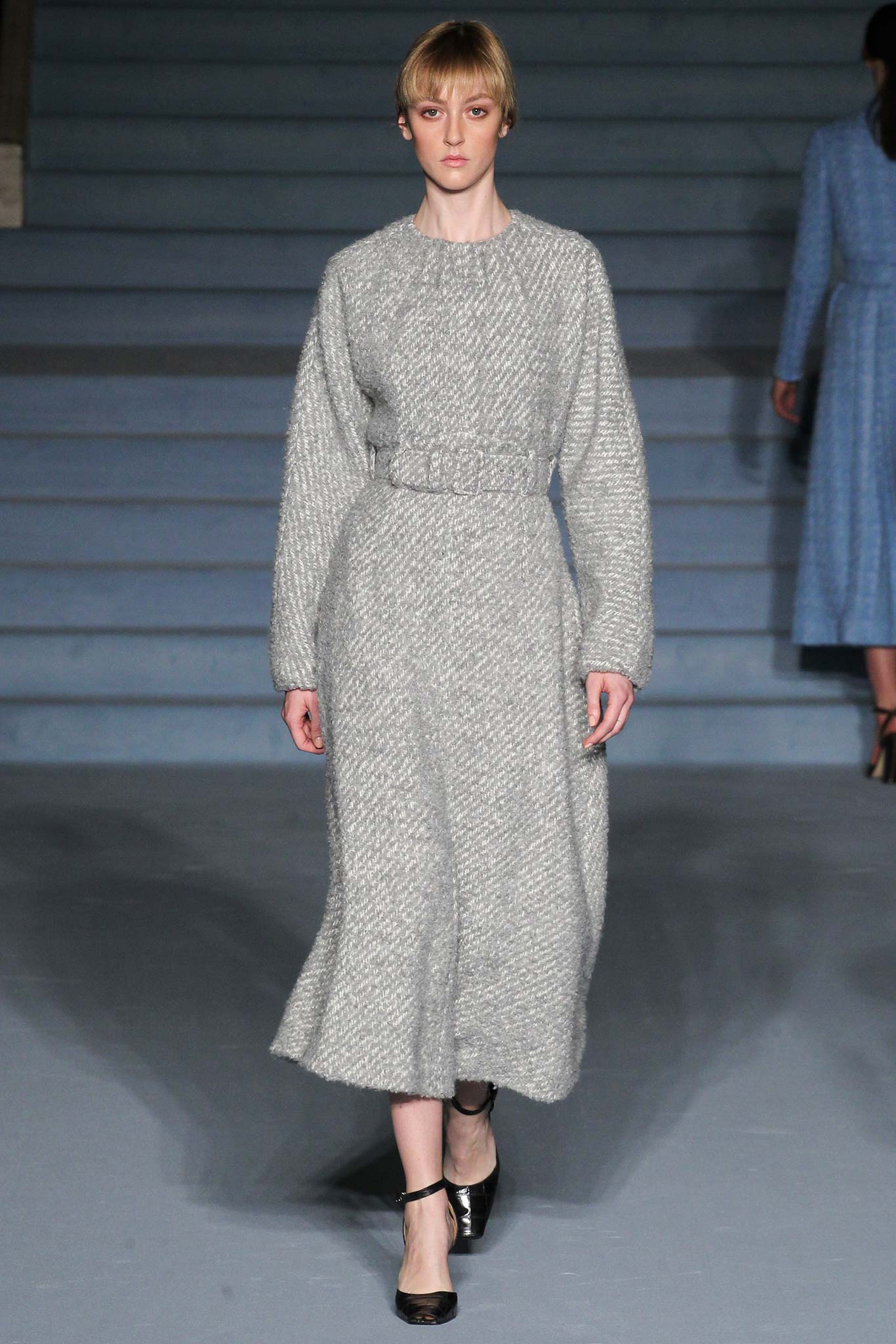 The light gray is a wonderful neutral that can serve as a canvas to be decorated at will by scarves, and broaches and many strands of pearls. A nice option when black seems too dreary.
GILES:
One of the more theatrical of designers who really puts on a show, and as per usual, there is never a dull moment. There is a dark Adam's family gothy vibe to this display with some low level bondage and into the woods feel as well. Of course the styling, including the makeup, will affect the overall impact and attitude of any collection. Black lipstick and nail polish cannot help but bring to mind a vampiric spirit. The high ruffled Elizabethan collars provide a structured "buttoned up" regal counterpoint to the darker underworld components. The coats and capes are some of the most outstanding on the catwalk what with the duchesse fabrication and whimsical and surreal patterns. For the rebel and lover of high fashion.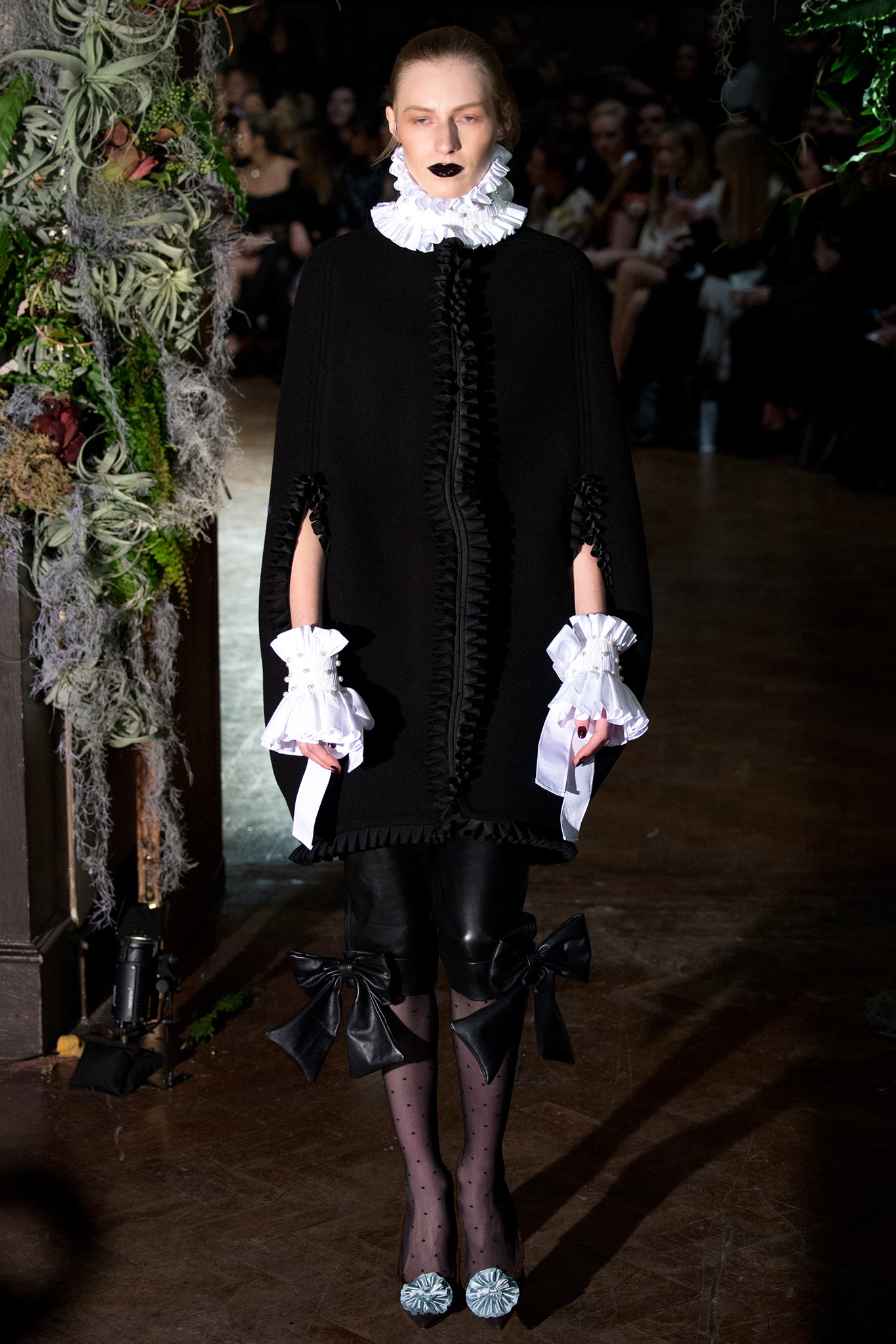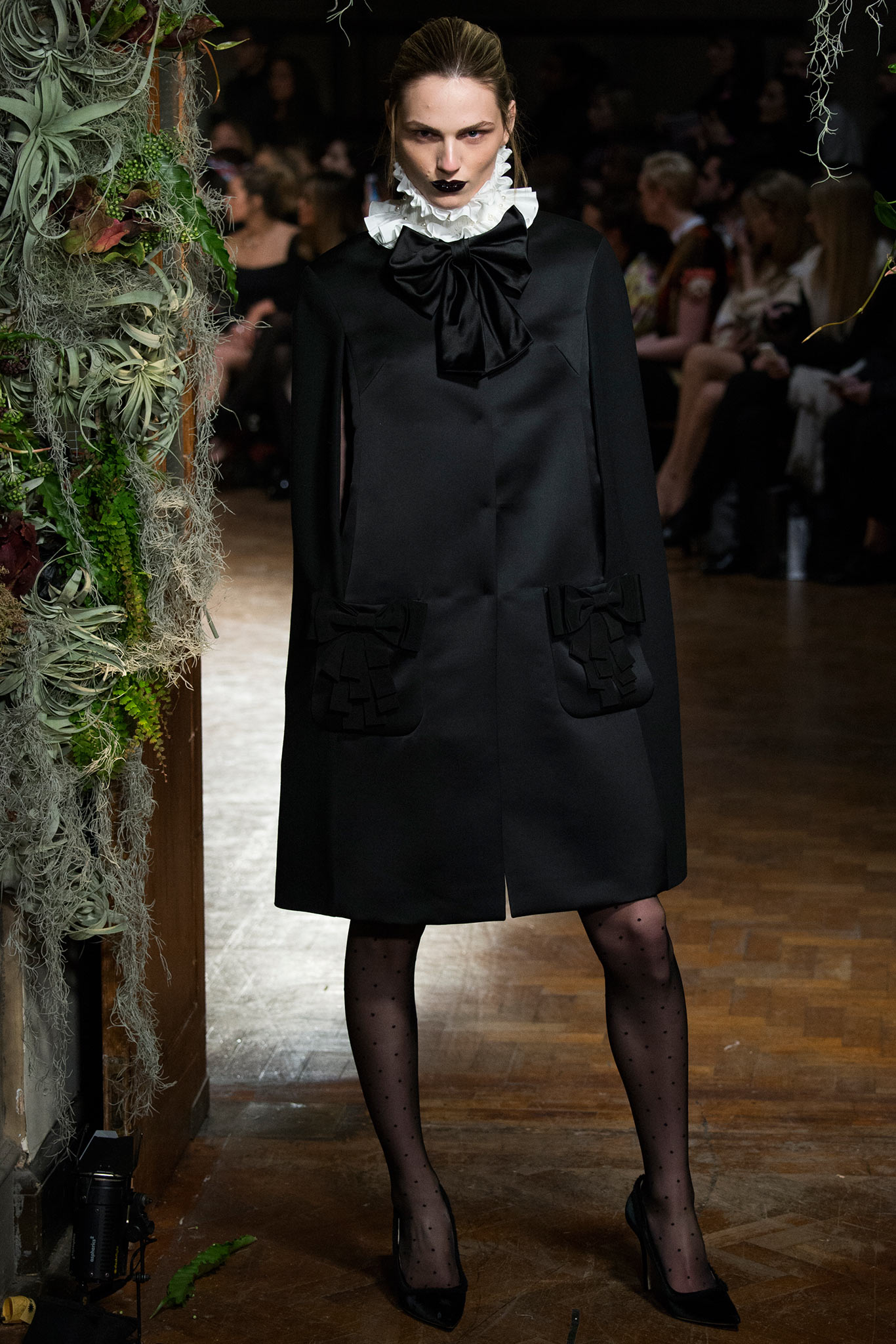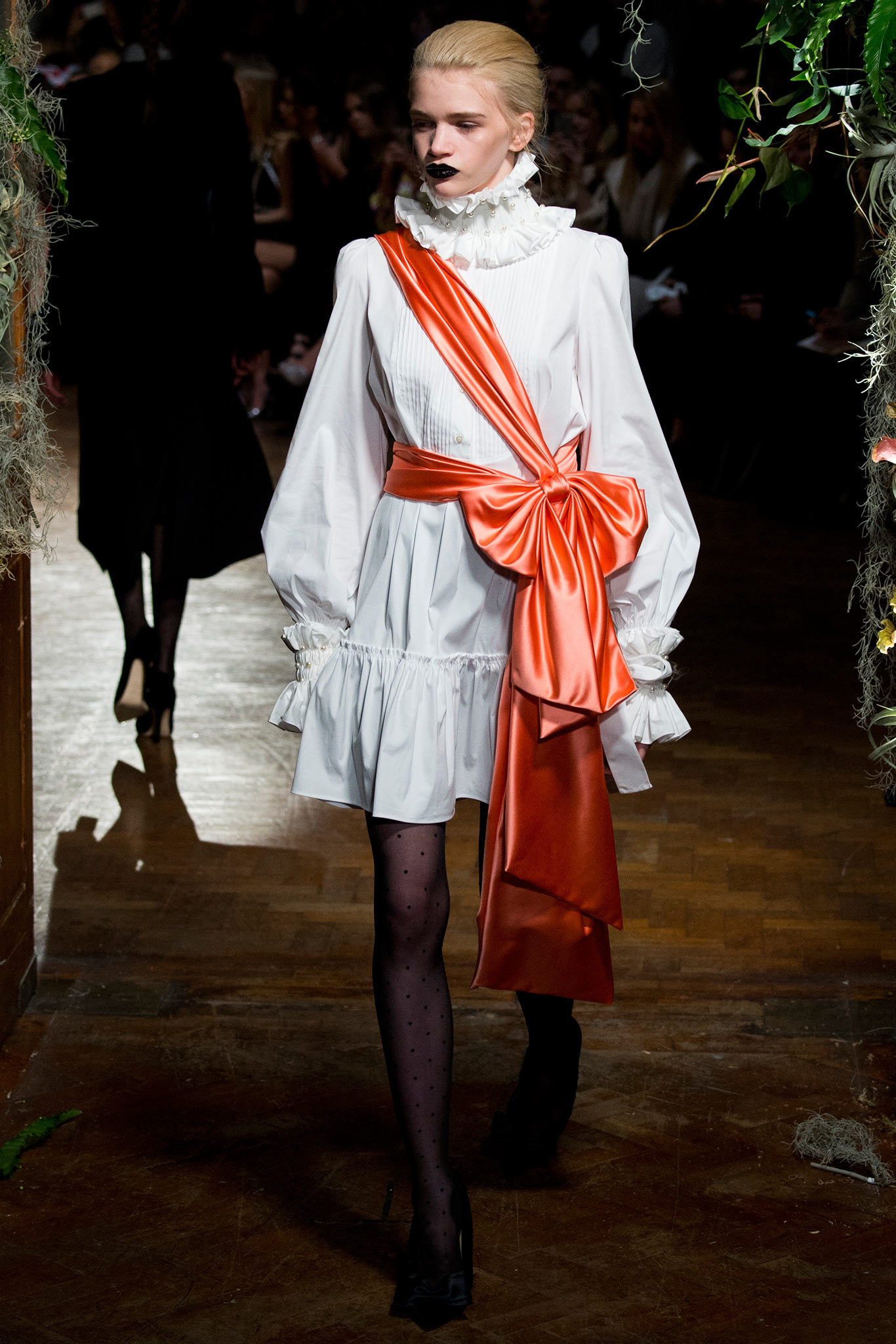 The perfect modern rendition of an 18th century men's nightshirt, wear as a dress or a tunic. Wear over leggings with legions of pearls.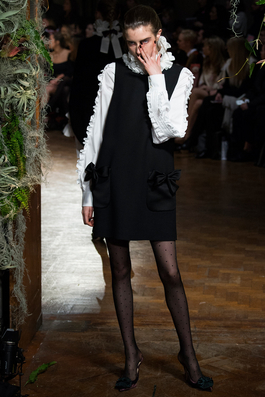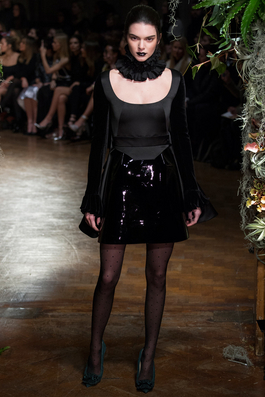 That white blouse is a stunner and would glam up and give new life to any black sheath shoved in the corner of a closet or dresser drawer. As for the mini next door, throw on a T-shirt and flats and go from bondage to cool casual.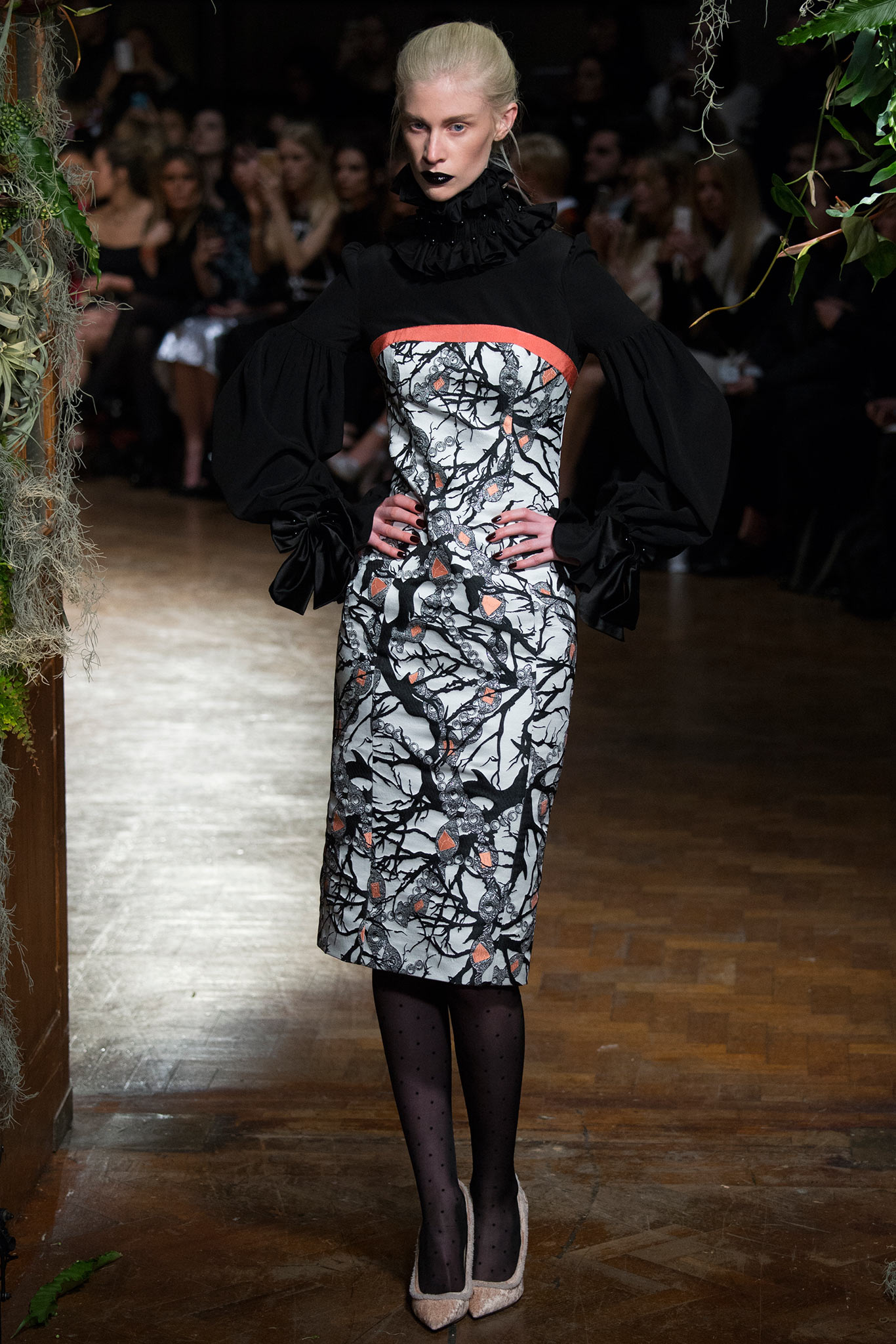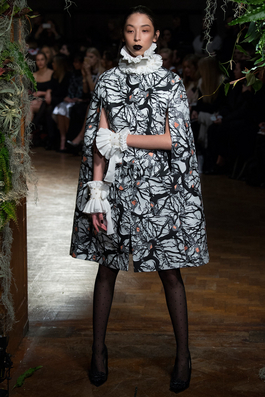 These removable cuffs are genius, a marvelous addition to a random sweater set or any long sleeved dress. Replaces bangles and such. Instant theatricality.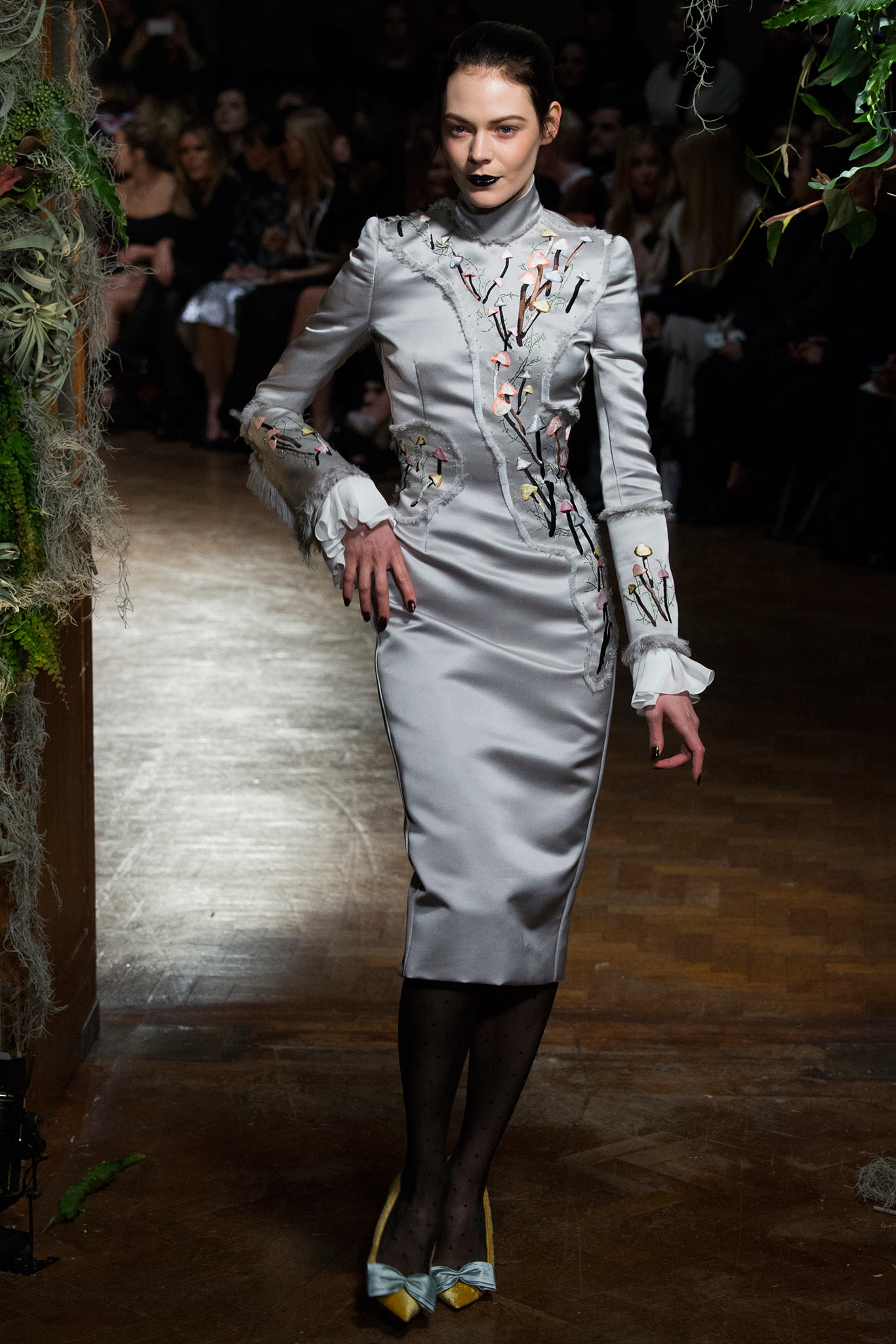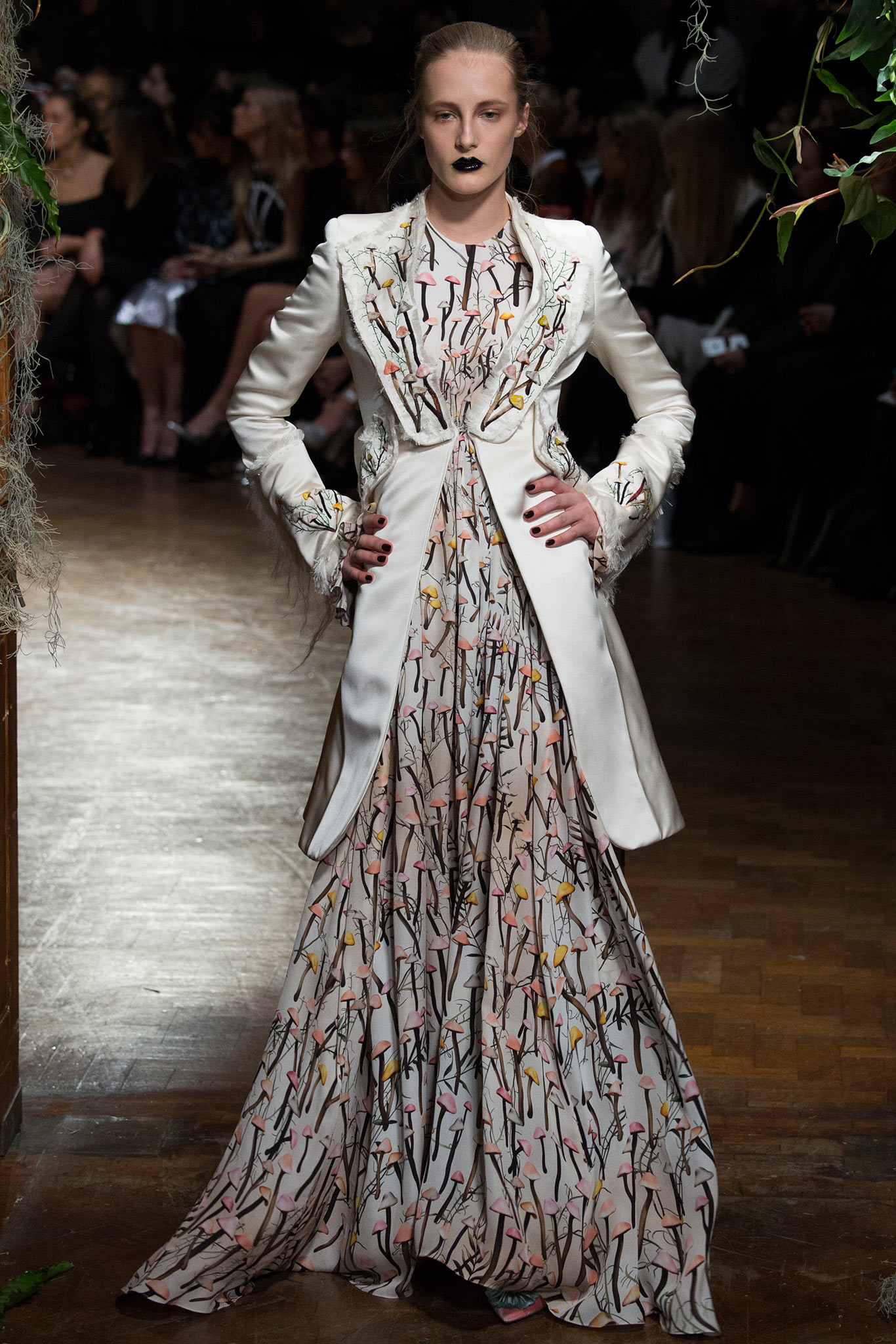 Mushrooms and duchesse satin, a winsome combination.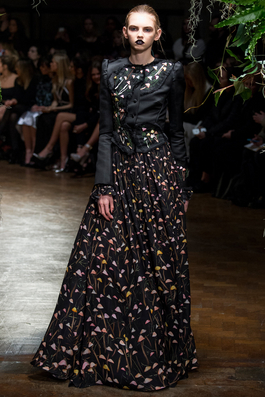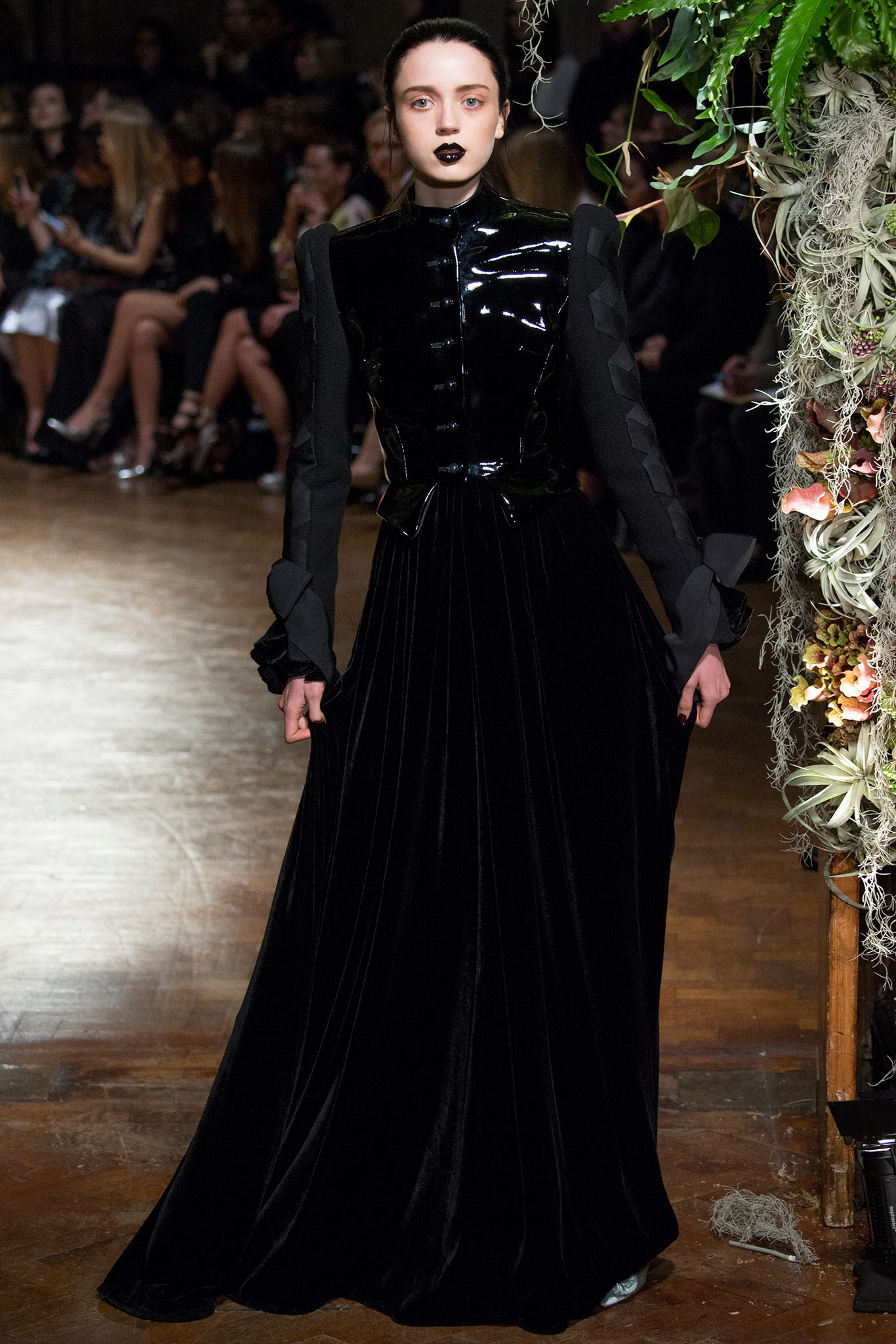 Definitely more entertaining than those Twilight movies…..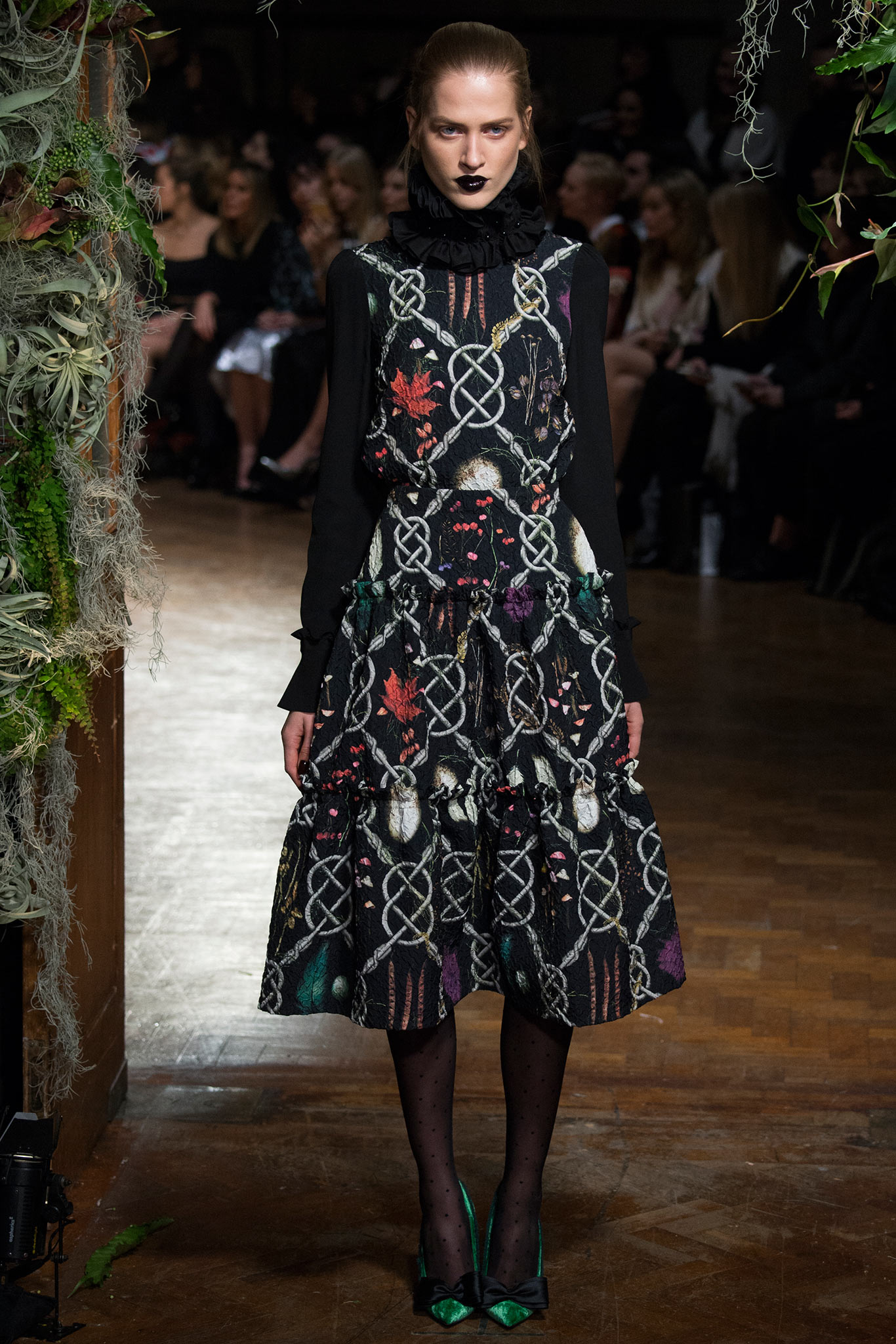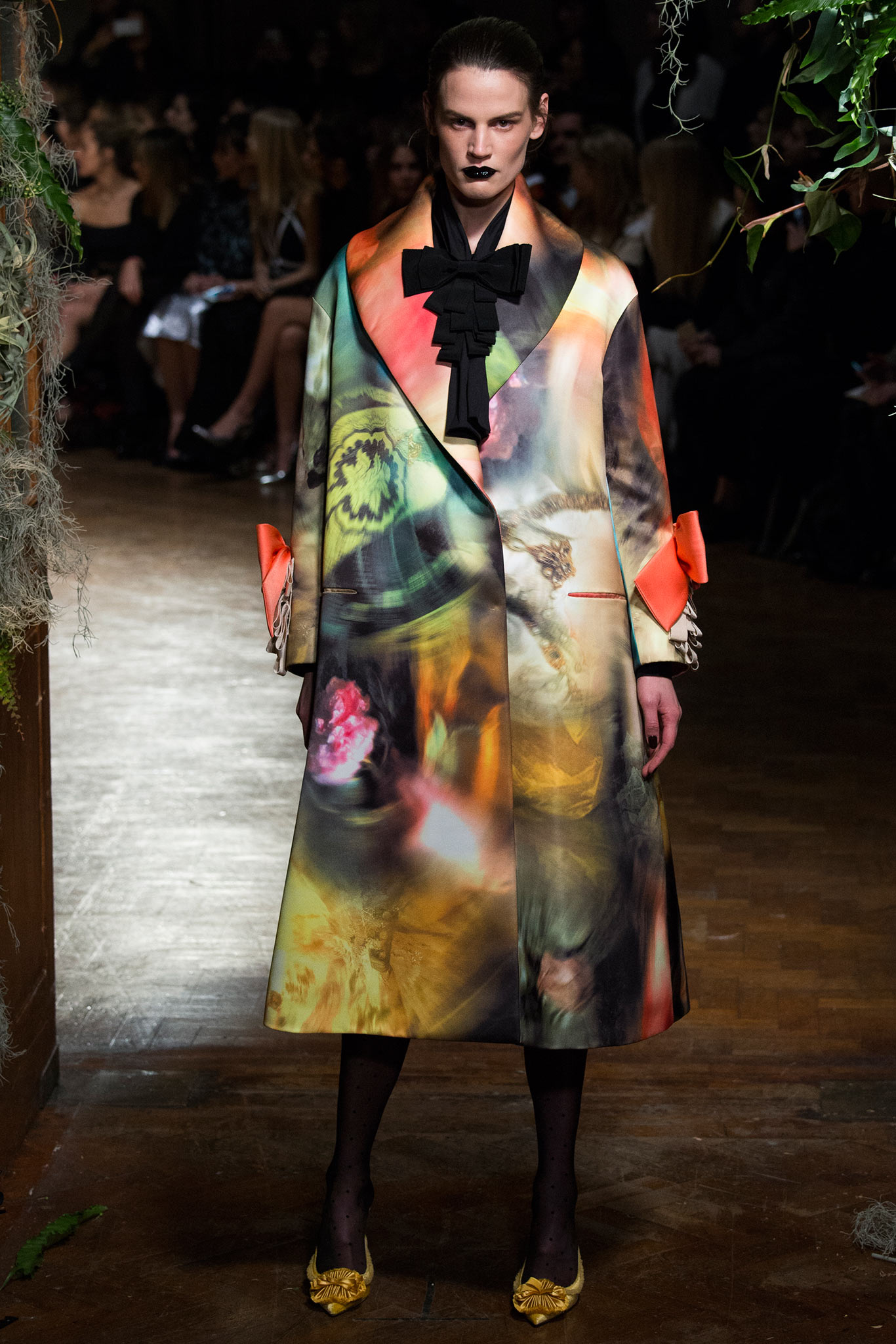 The perfect Opera coat to be thrown over a host of evening attire including satin tuxedo pants. No need for embellishments here as the pattern is so beguiling.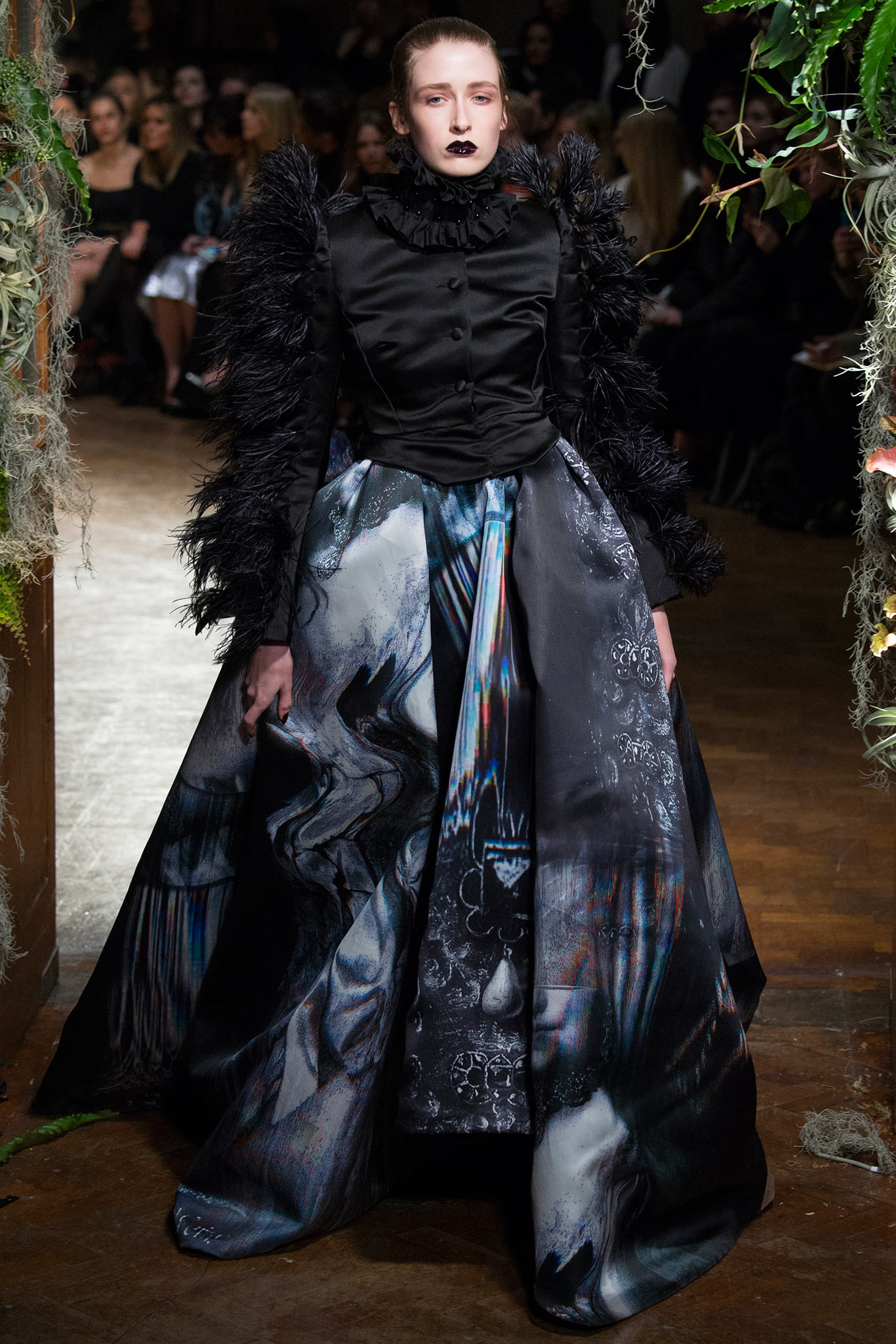 Just wow! Fitted black duchesse satin jacket with corset effect with feather detailing and full length organza ball gown emblazoned with a surrealistic print. Of course deep scarlet red lipstick would be in order as a contrast to all the black. The Black Swan would be fitting for a Ballet opening.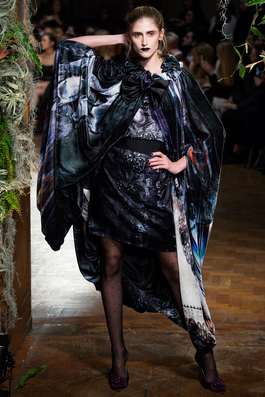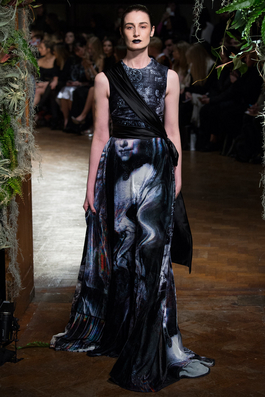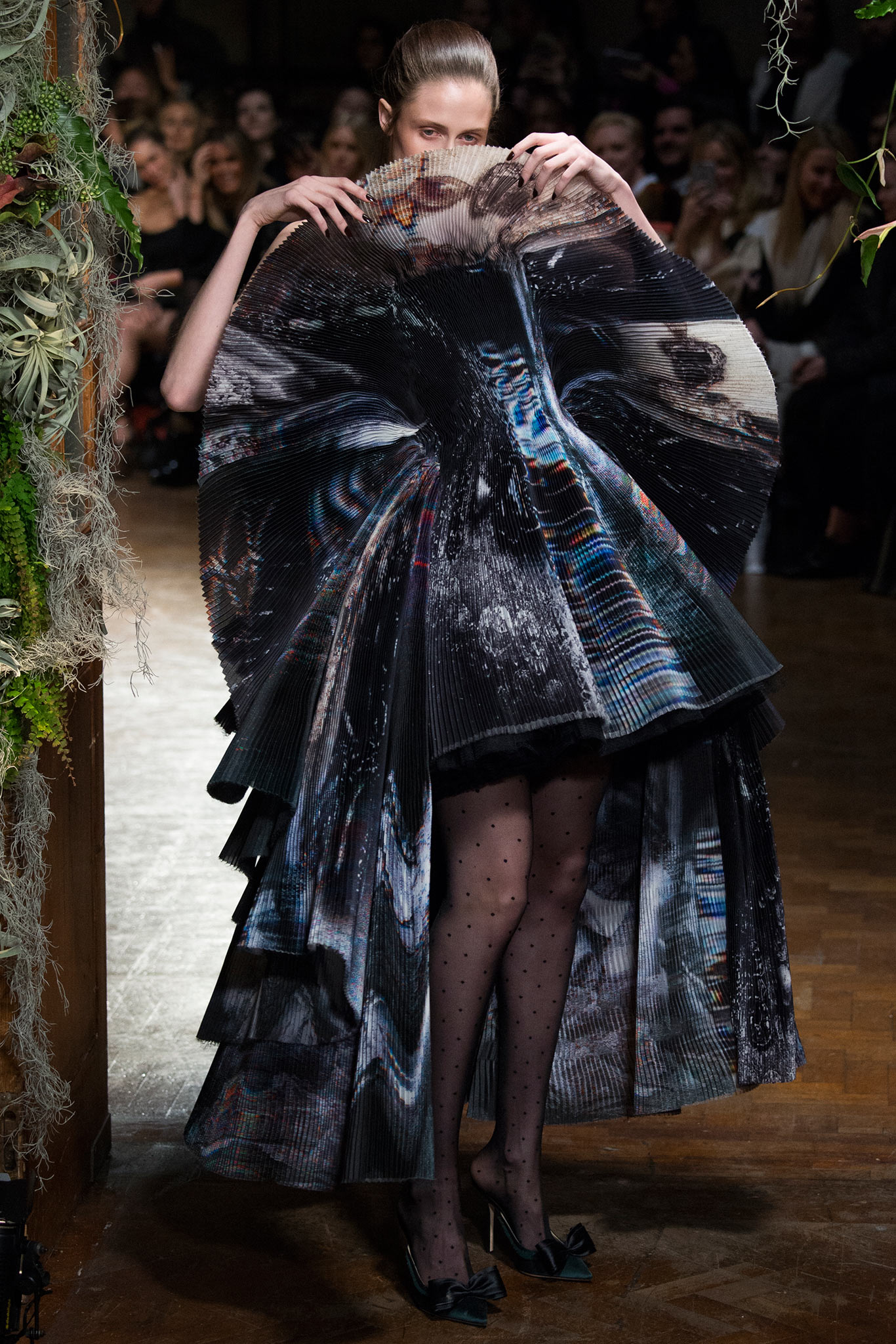 The Japanese have nothing on this guy when it comes to busting out the unusual and avant-garde, definitely not for the faint of heart.
S H A Z Z A M! Another audacious array of covetable fare…...
Now to Milan!
Images brought to you by www.style.com