Anyone searching for unbridled exuberance and unmitigated charm need look no further. In Alessandro Michele's Gucci, a treasure trove of fresh creations abound. This isn't Tom Ford's glam vixen or Frida Giannini's spirit of Jackie O. Rather, Michele presents an eclectic potpourri of bright, bubbly, and unexpected pieces that speak to the inner child in us all. Many colors from the Crayola box are represented in a host of silks, laces, jacquards, and knits. The running theme of insects, to include the oh so precious BEE, lizards, and birds adds to the overall zest and whimsy of the collection.
There are hat tips to the ubiquitous 70's zeitgeist with flared pants, grand lapels, and midi dresses which trot side by side with the ultimate in feminine finery to include Chinoiserie elements, duchesse satin, and every ruffle one might imagine. Deep serious colors comingle with cheerful pastels. Green and pink factor heavily in the collection, and harken back to the iconic Gucci stripes we all know, and could certainly assuage the angst of those unsettled by the new style paradigm at Gucci. A version of the old school loafers with GG accents are more than just a bit player in the revue.
Akin to the runway extravaganzas typically brought forth from Dries Van Noten and Dolce & Gabbana, a joie de vivre essence is infused throughout the collection, a veritable feast for the eyes.
I stumbled by Saks yesterday to pick up a Dries top, and managed to fall down the Gucci Rabbit hole after glimpsing the fall winter and resort wonders gracing the racks. And let me say that the pieces are more glorious in person, and IMPECCABLE. A black jacket with a flamboyant Mongolian lamb collar festooned with innumerable crystals and doodads just about sent me over the edge.
From Milan Fashion Week----ENJOY.
GUCCI (ALLESANDRO MICHELE):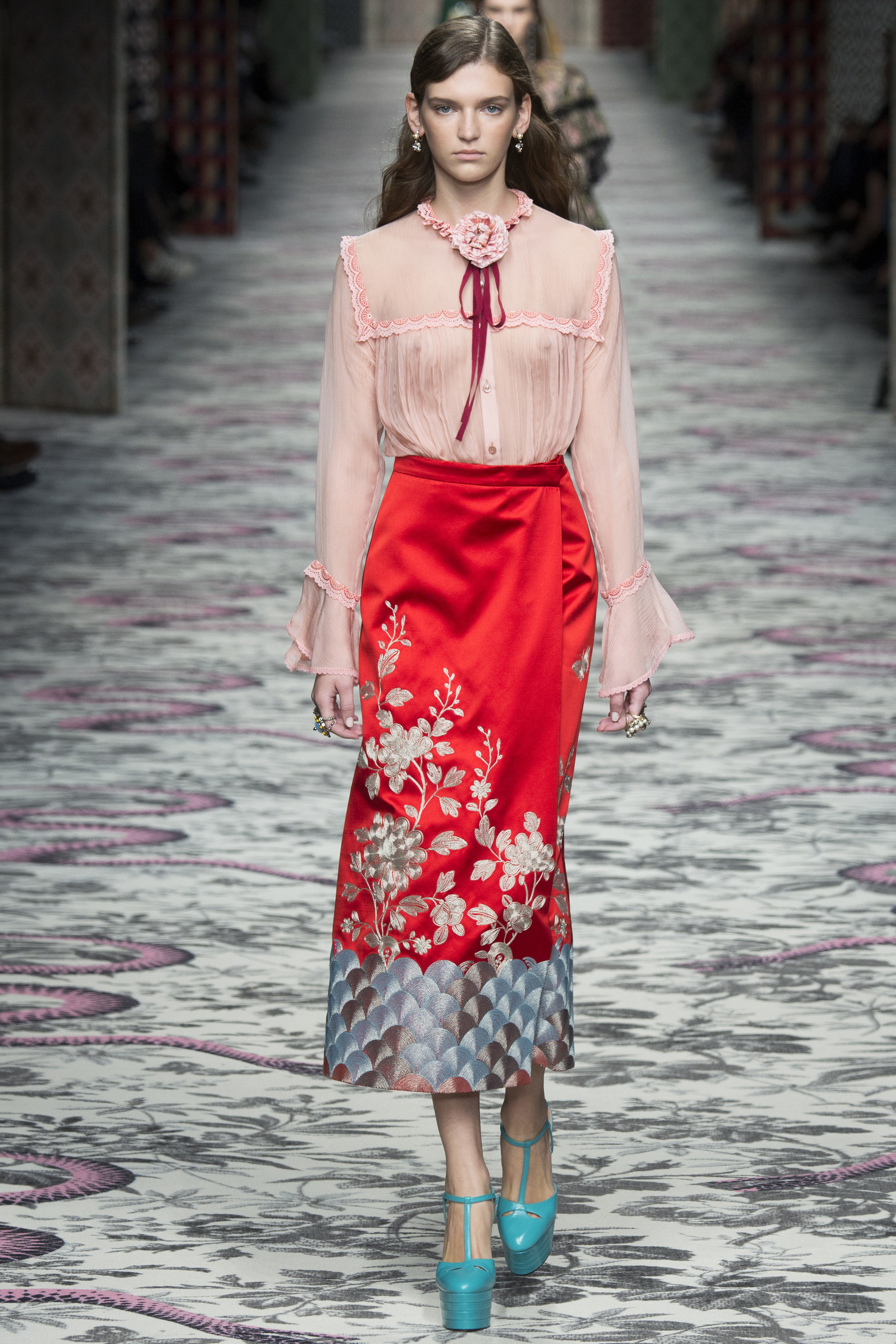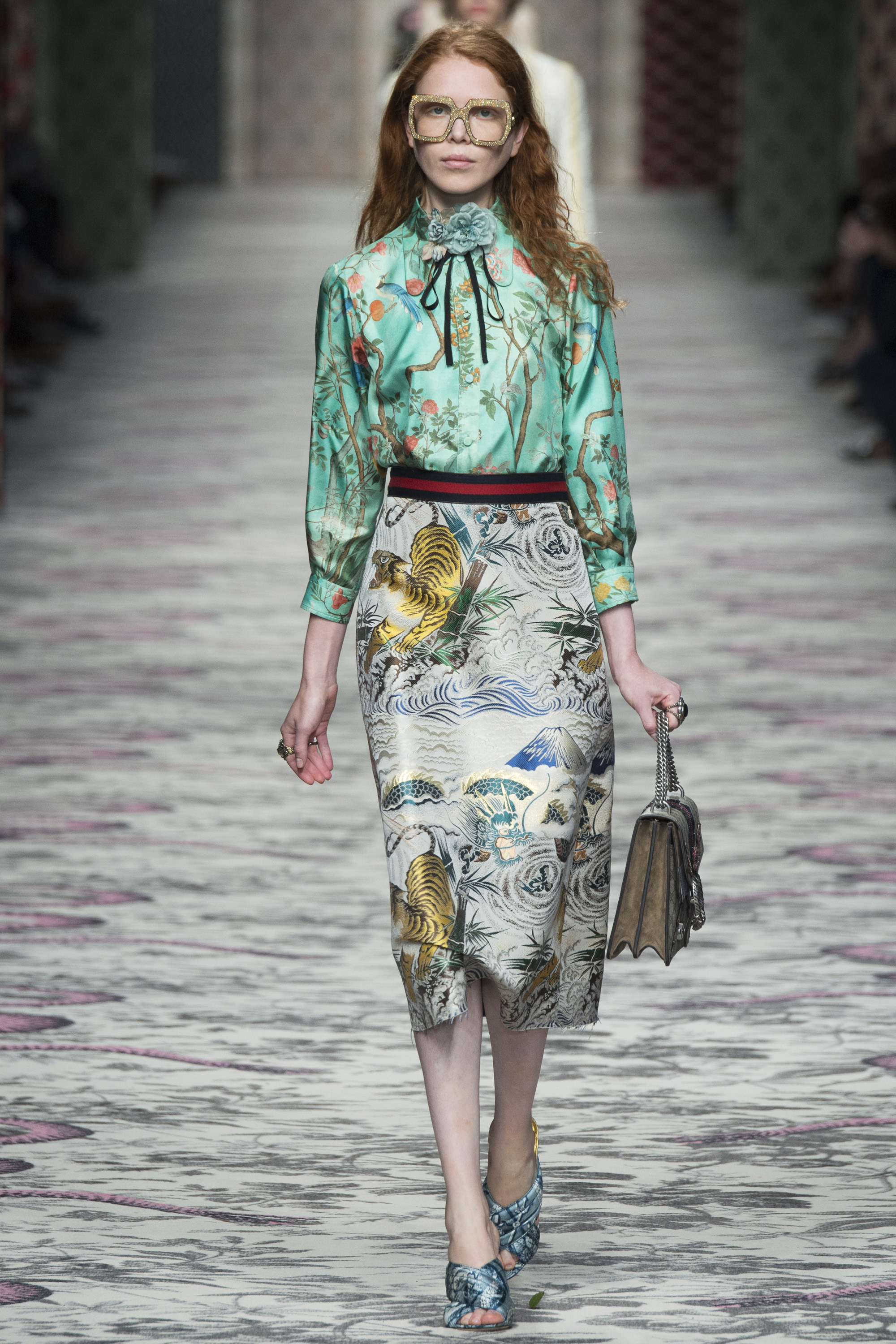 And like Dries Van Noten, Michele includes the ever so spicy and beguiling Chinoiserie contingent. Always in style, always captivating.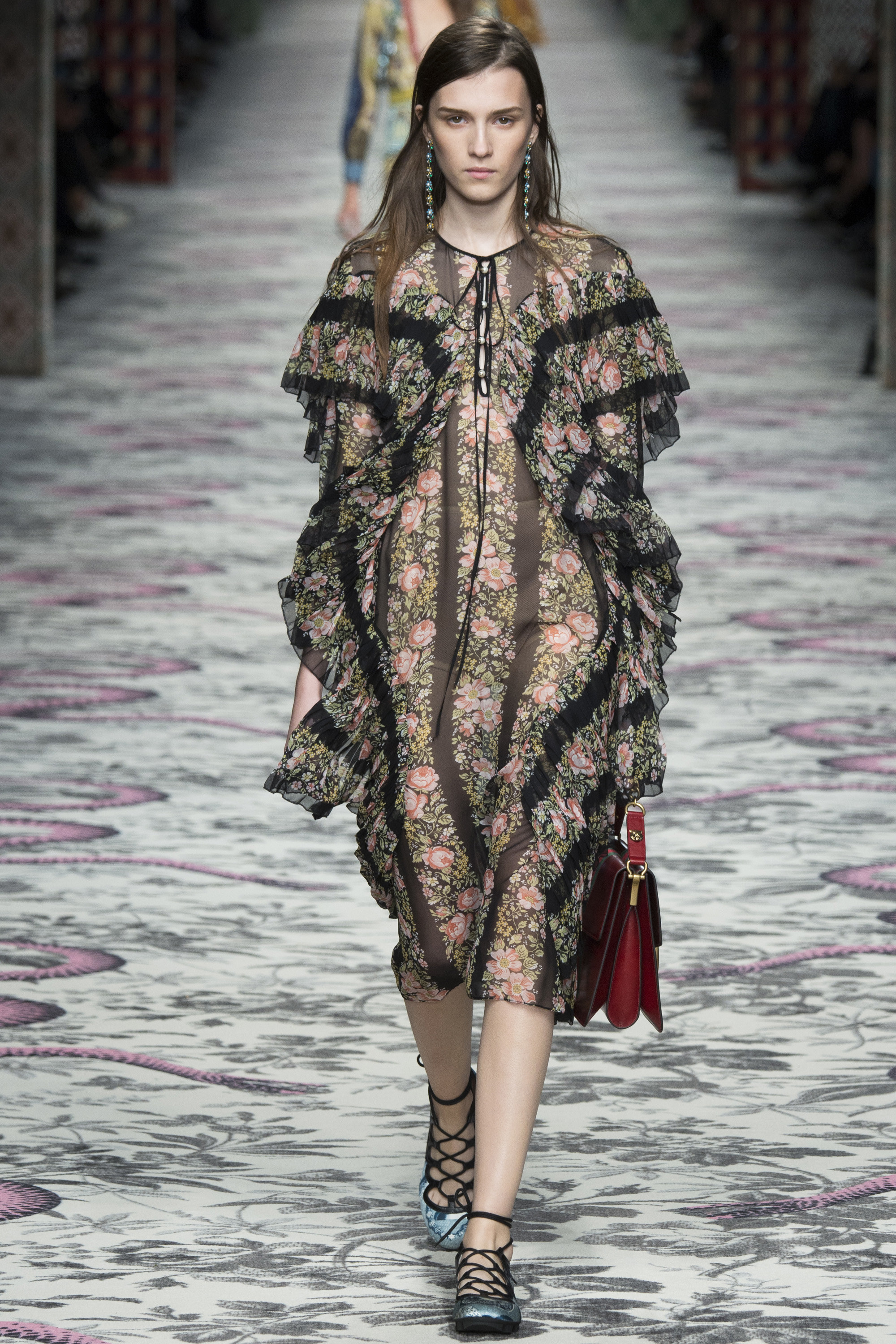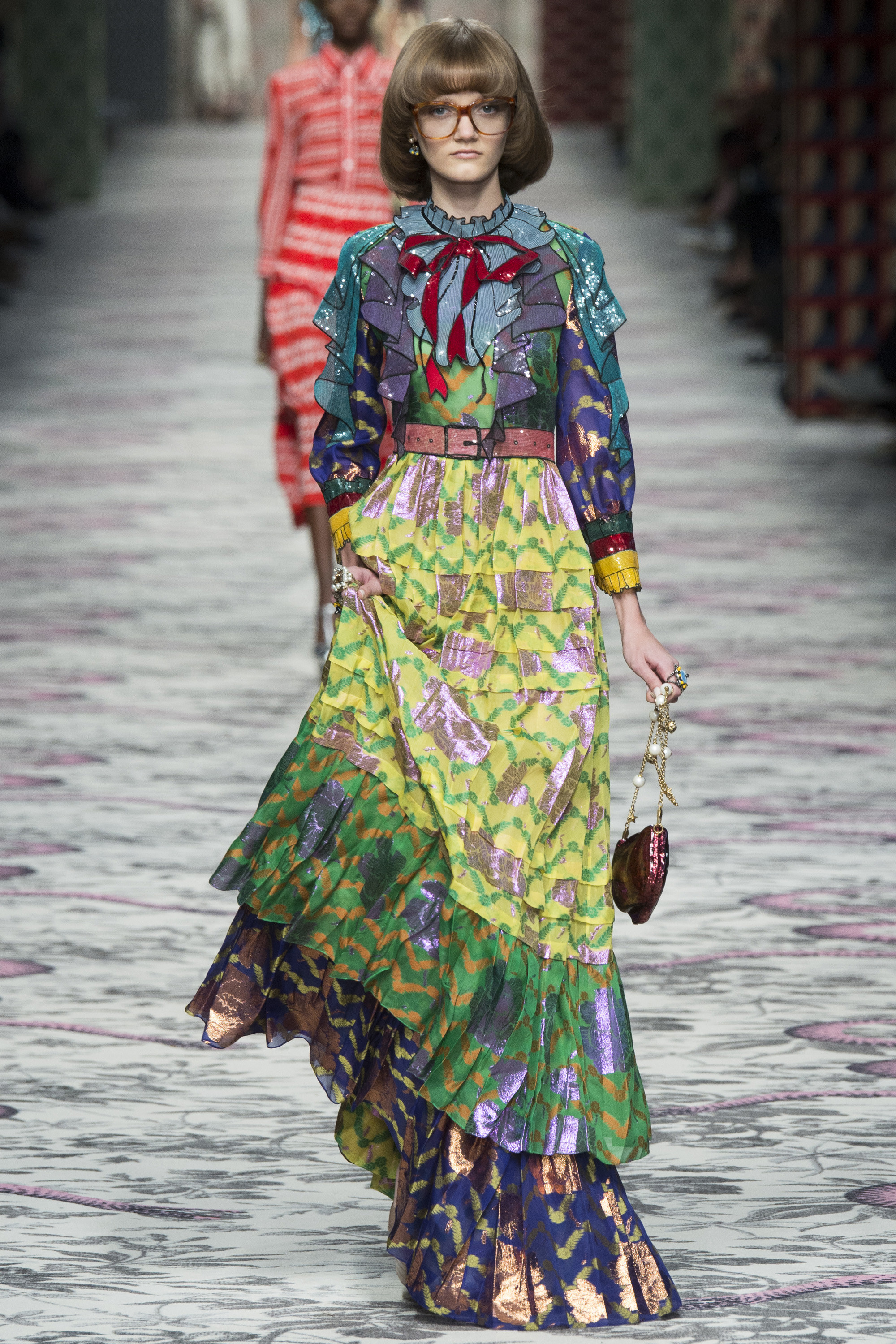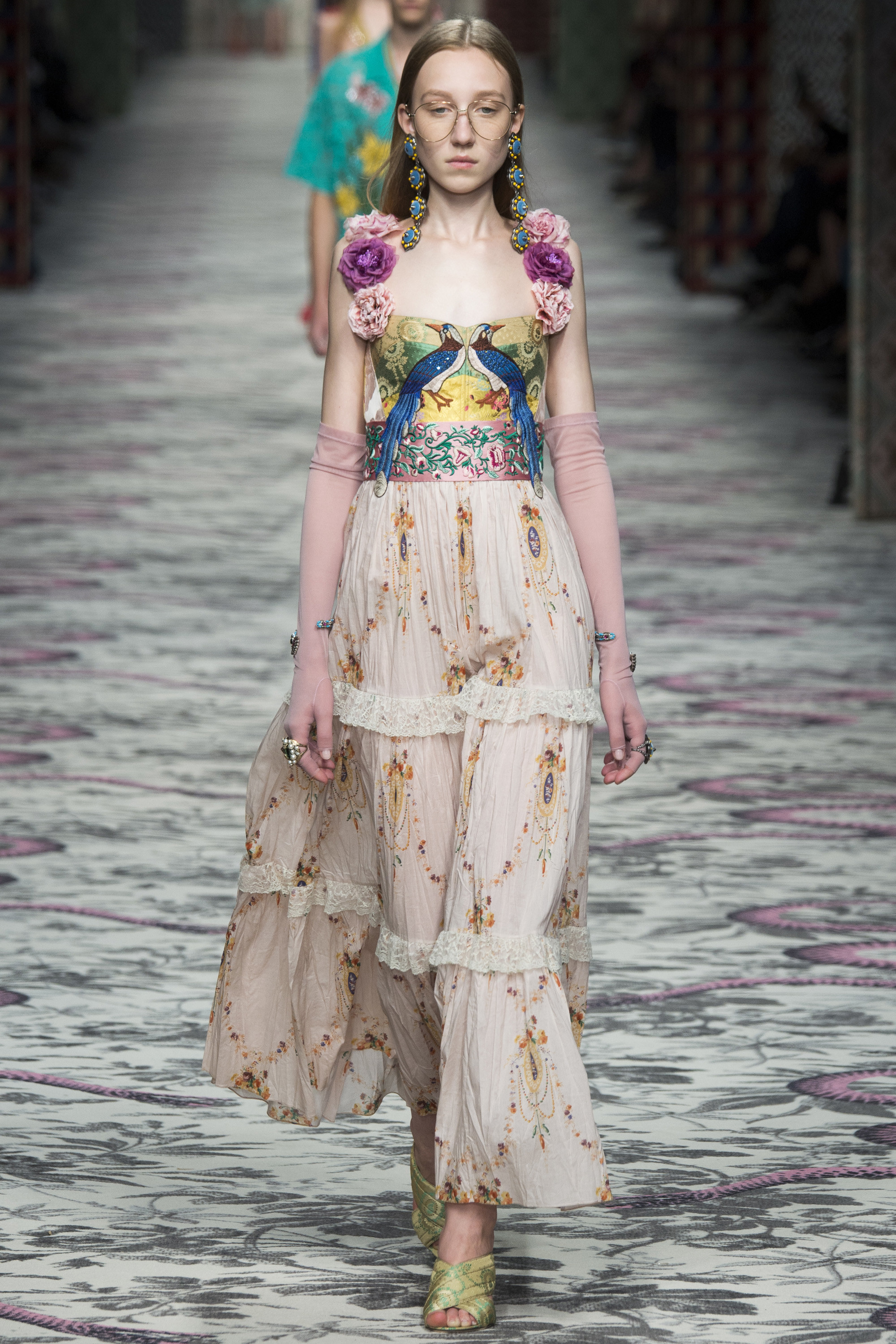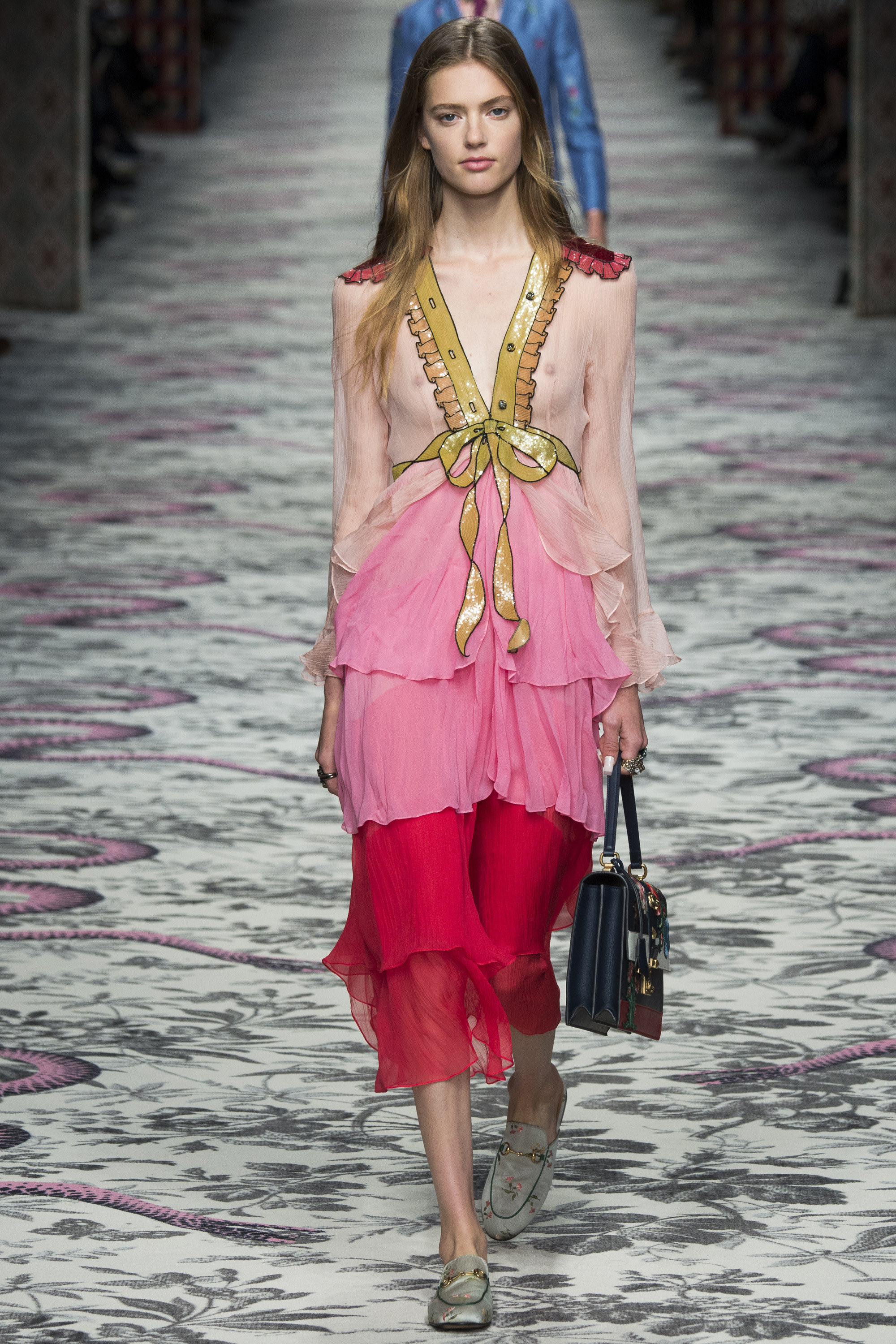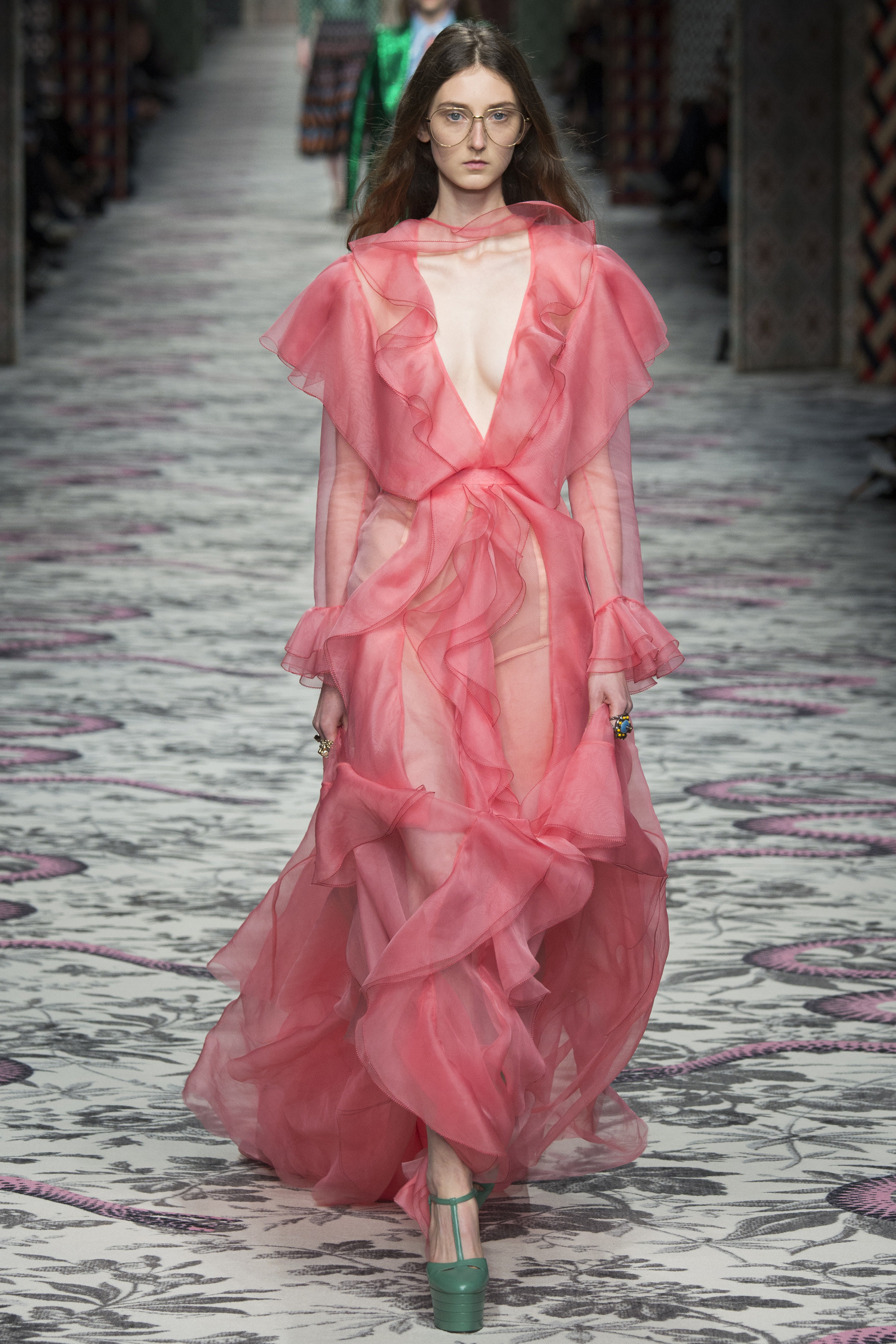 RUFFLES in many permutations grace this runway, with elements of boho, folkloric, and gypsy, glam-ed up with sequined bows and luxurious fabrications. These are exquisite pieces with intricate details, and yet they maintain a welcome nonchalance.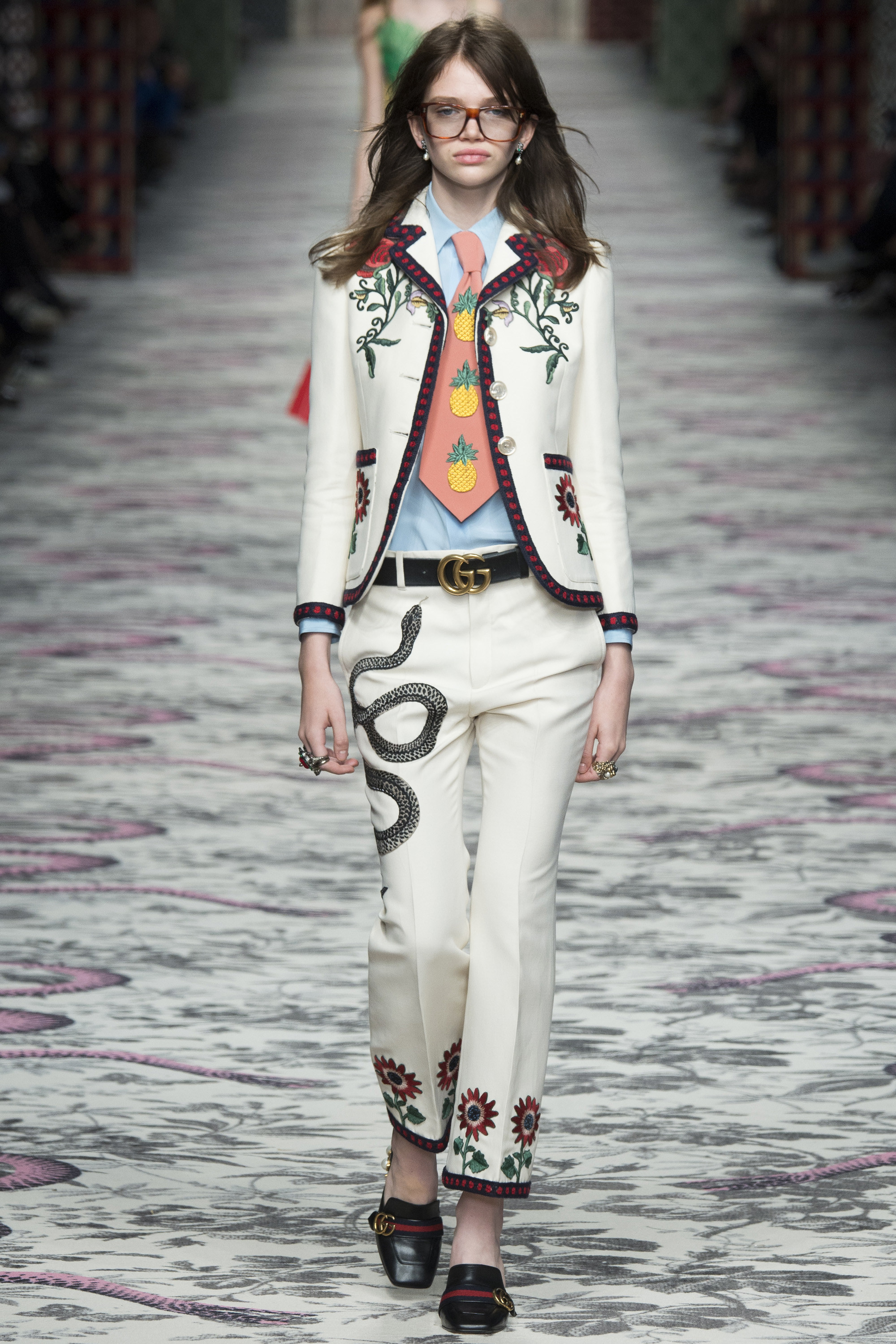 Serpent in the garden of Eden. Heh.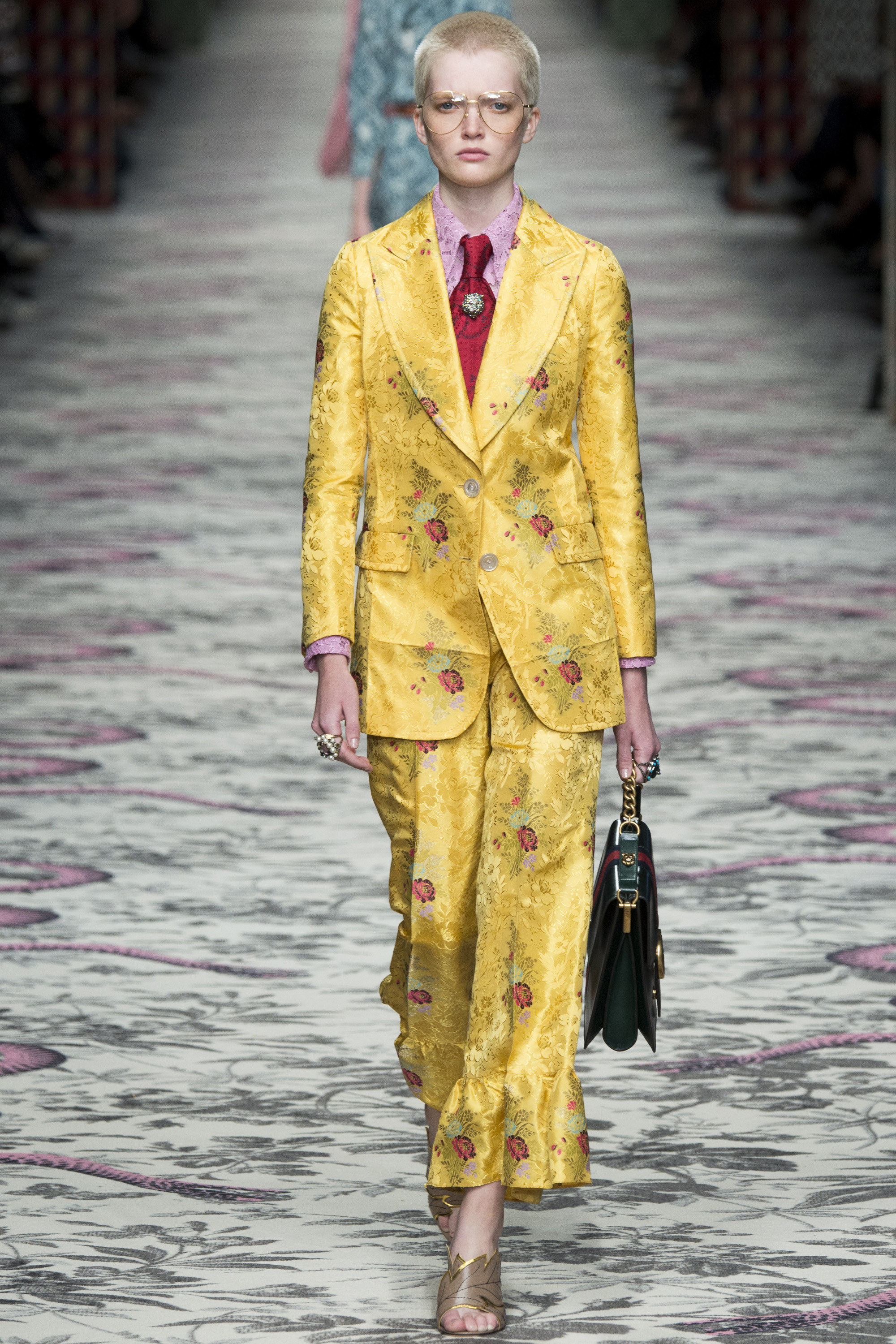 A new take on Menswear inspired togs....check out the ruffled pant hem. Adorable without being saccharin. Upscale funk.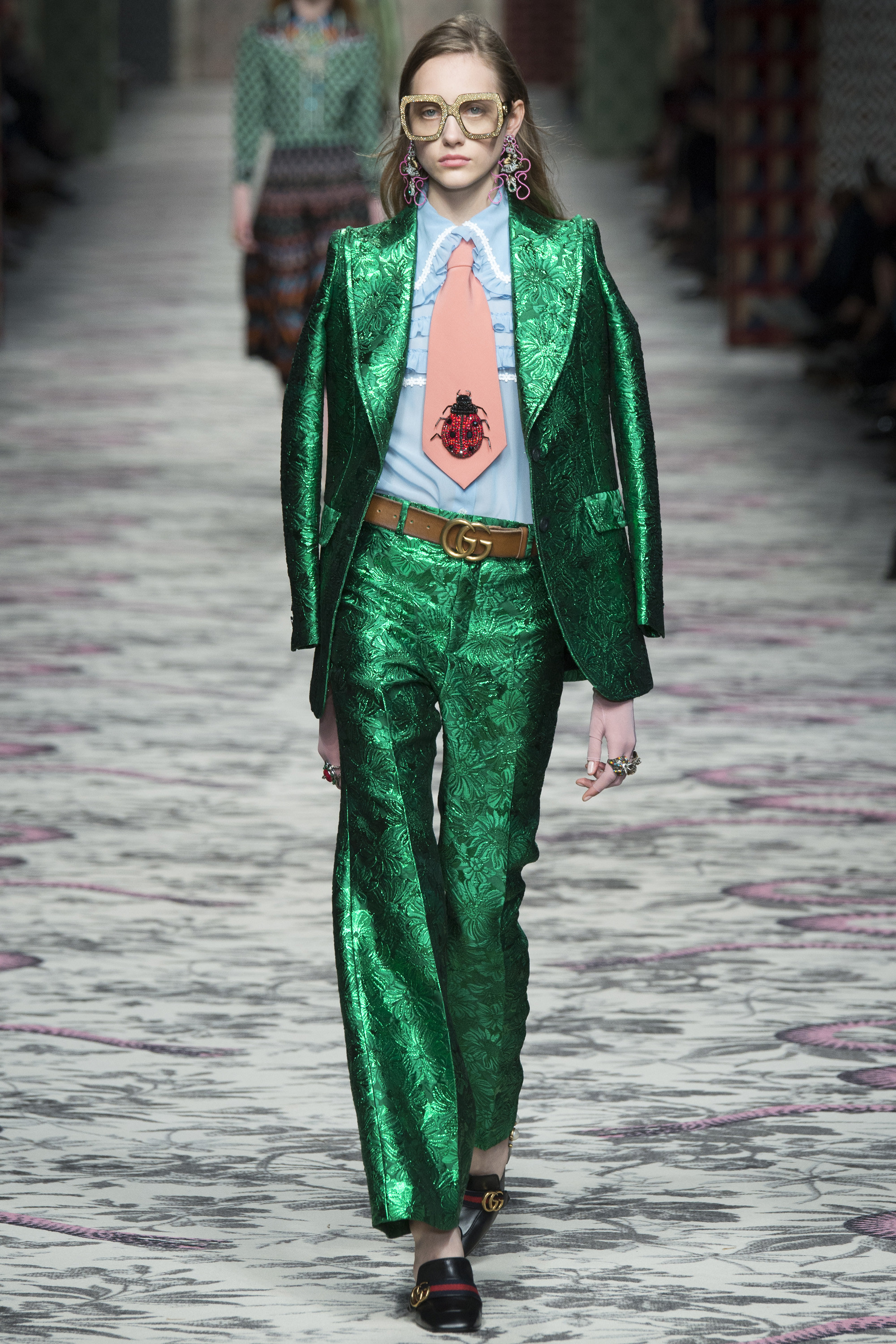 Oooooh, a deep yet bright, luscious green with the flamboyant lapels. Looks like something my childhood Barbi would have worn. Sign me up!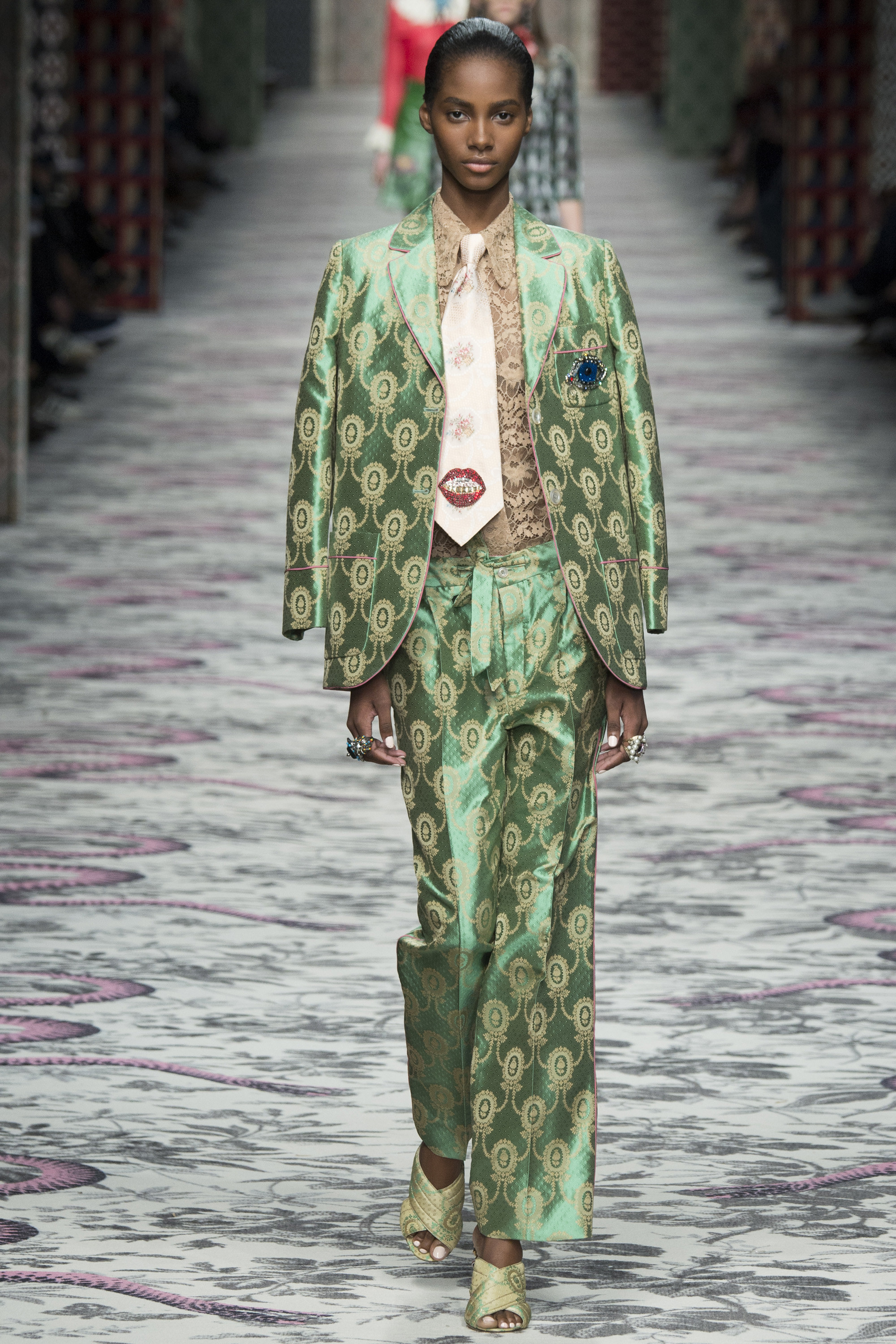 The suits are fabulous, however, the jackets can stand alone, to be thrown over jeans and such. The wide embellished ties bring some Annie Hall into the mix. And who doesn't love a Ladybug?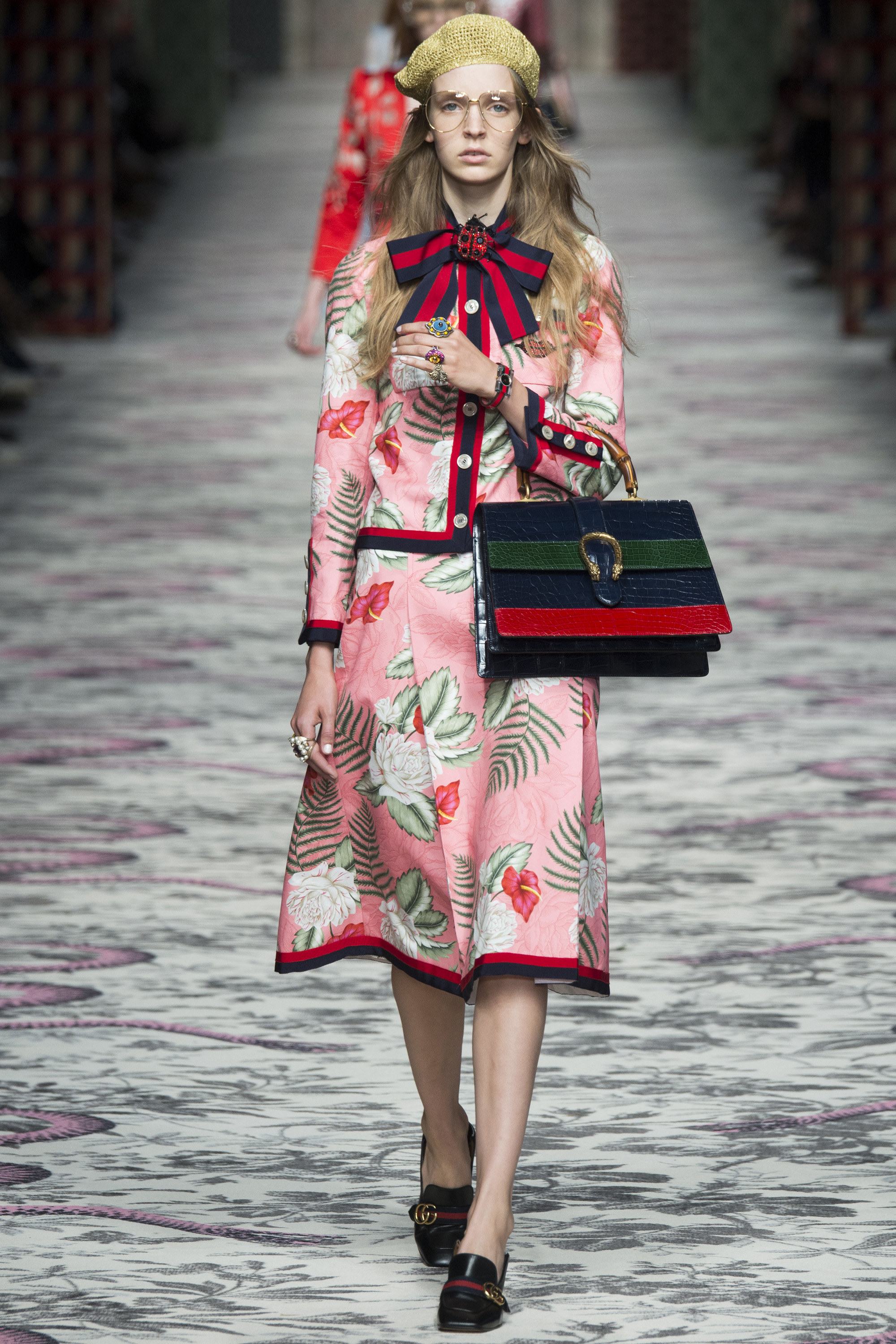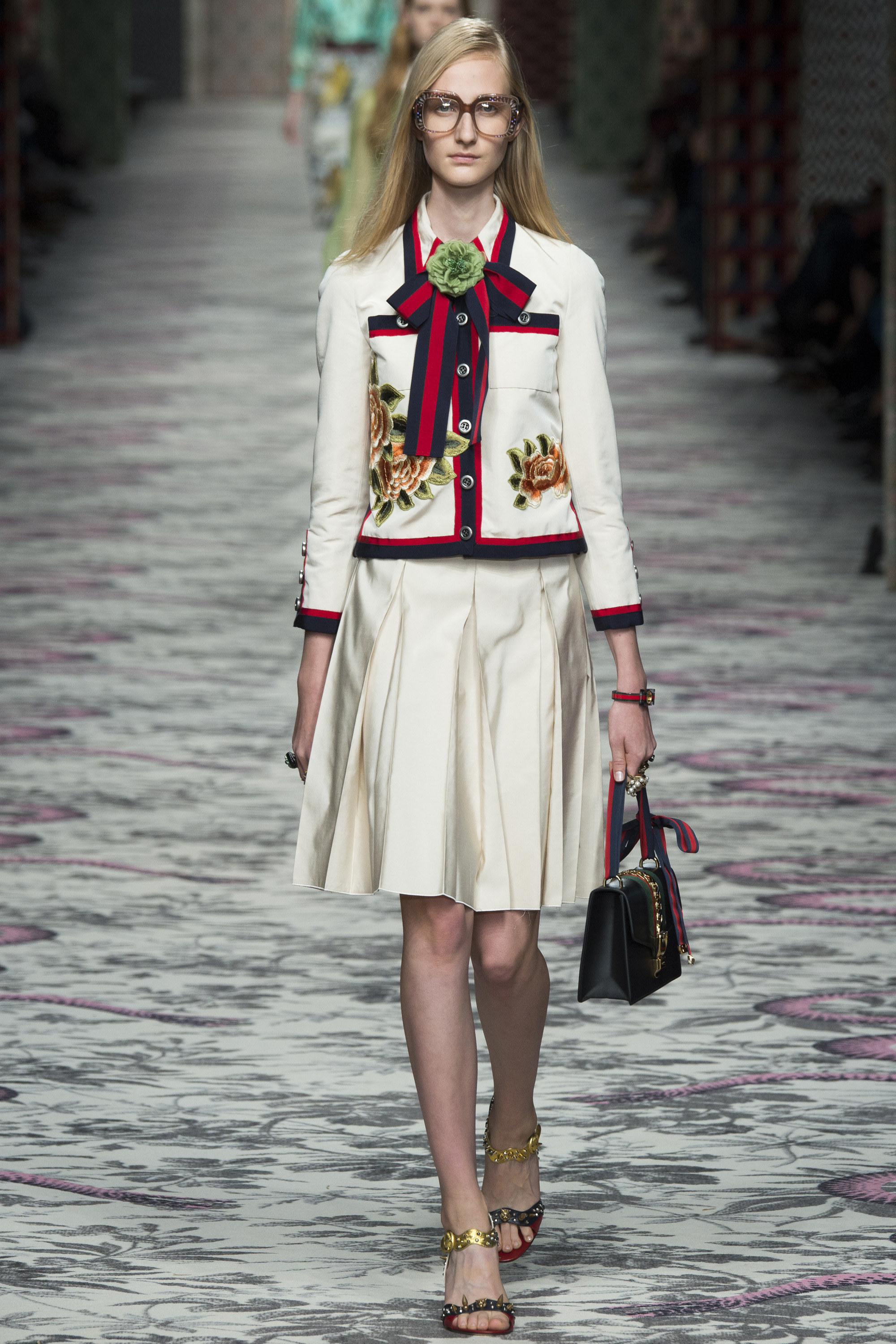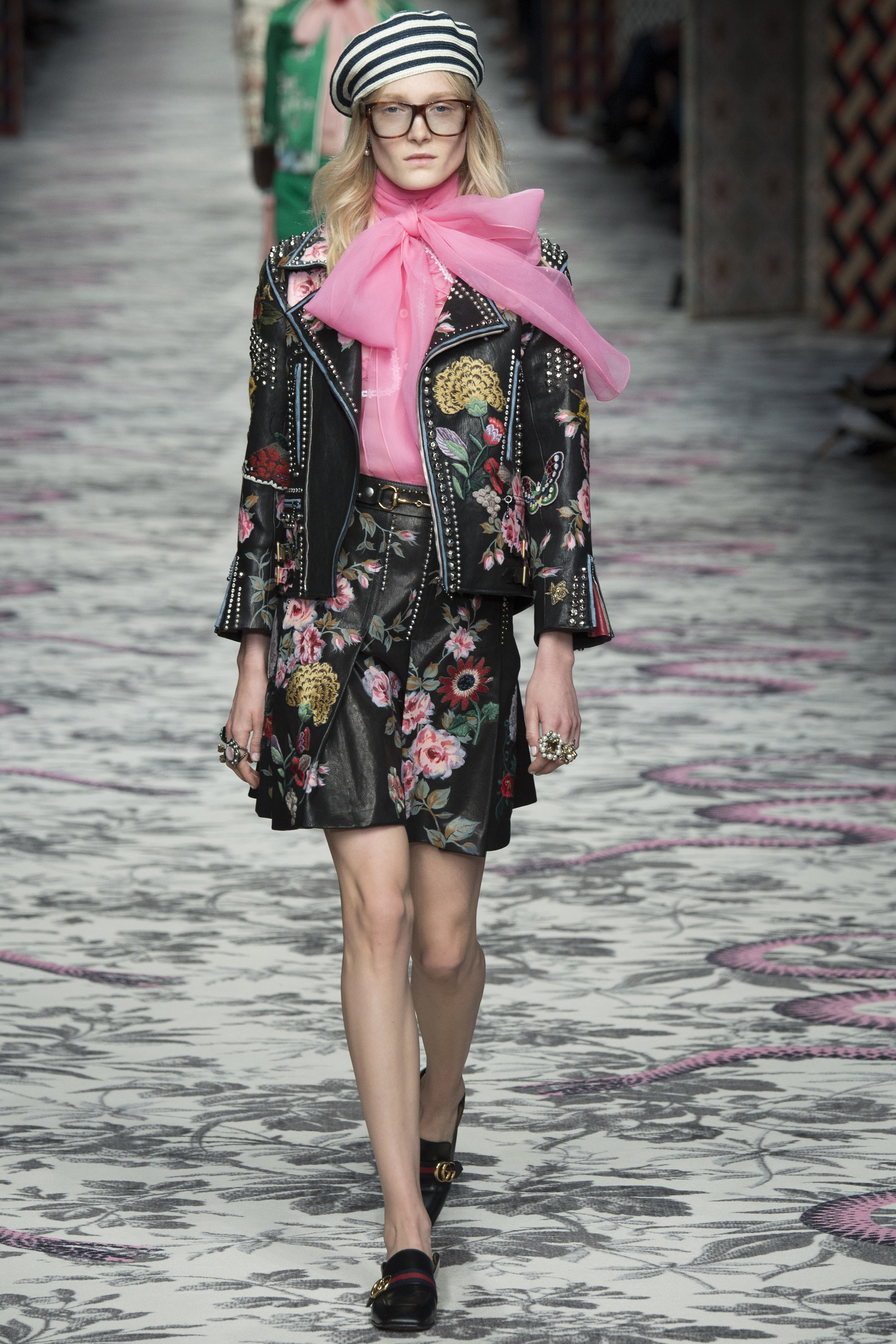 New kicky takes on the jacket skirt suit, for those not in the mood for Chanel tweeds (different threads for different tastes). This delicate flower reflects the pinnacle of lady like leather, thanks to coalescent florals.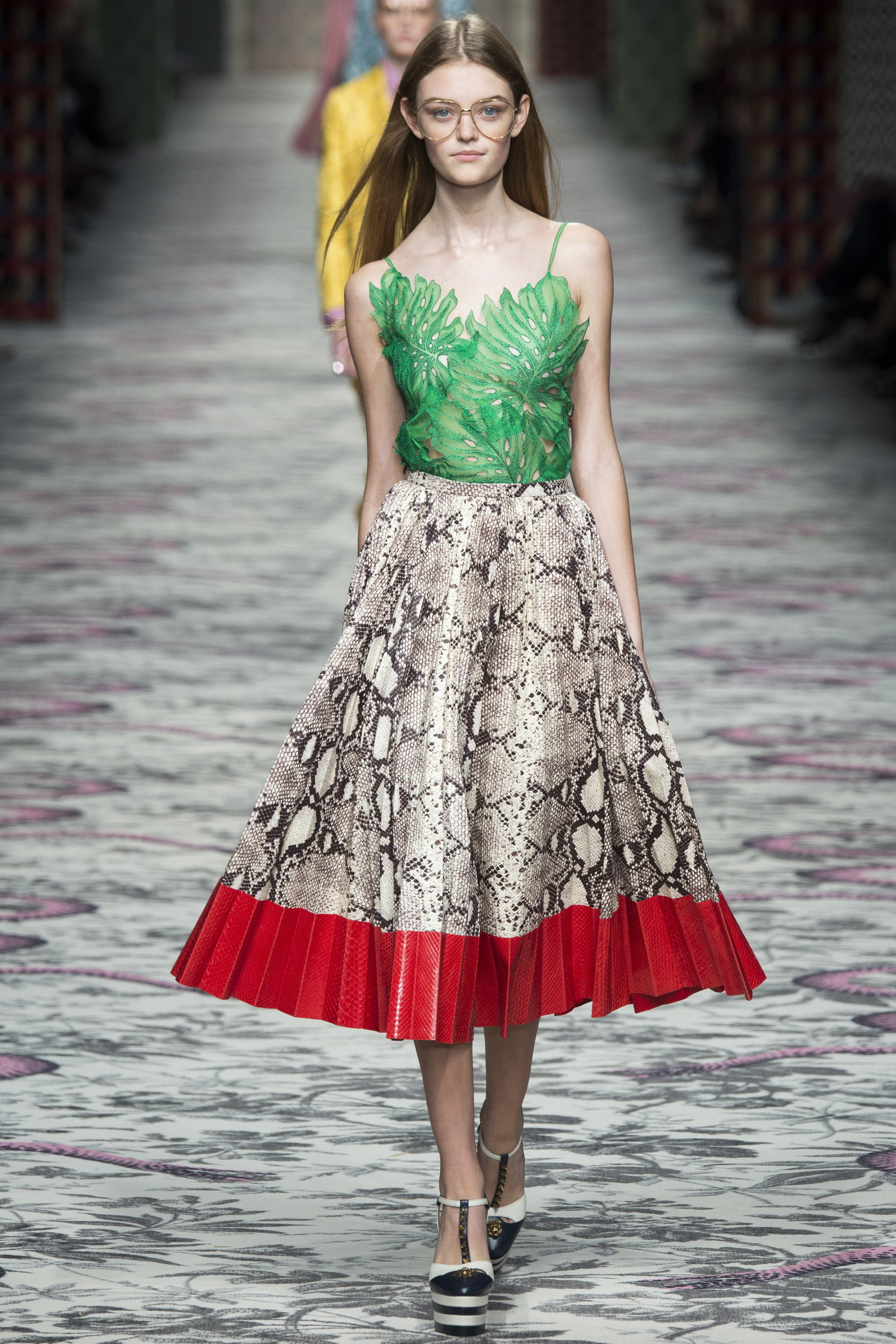 The curious contrasting colors and patterns stimulate every cone in all eyeballs and add to the overall appeal of this winsome collection.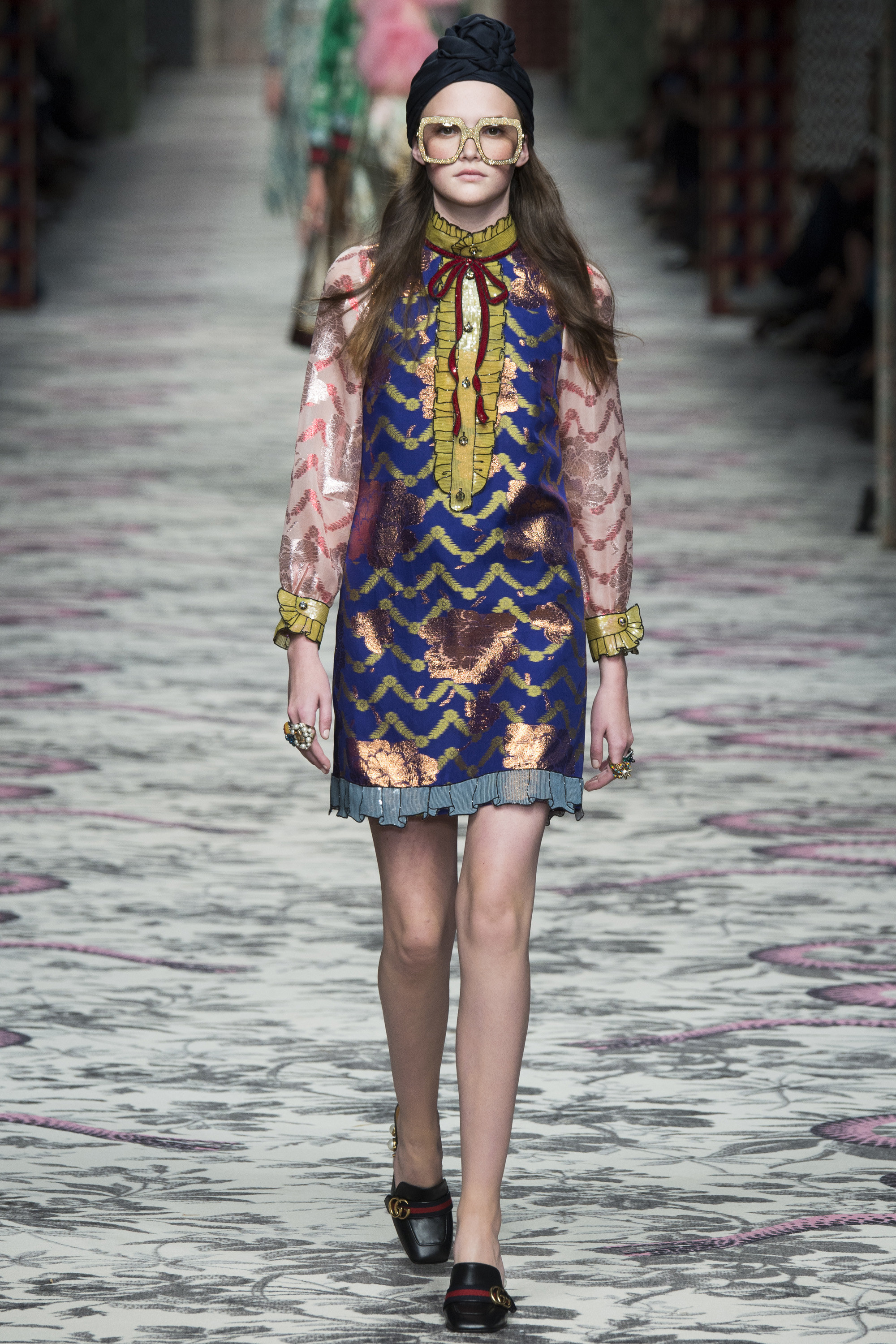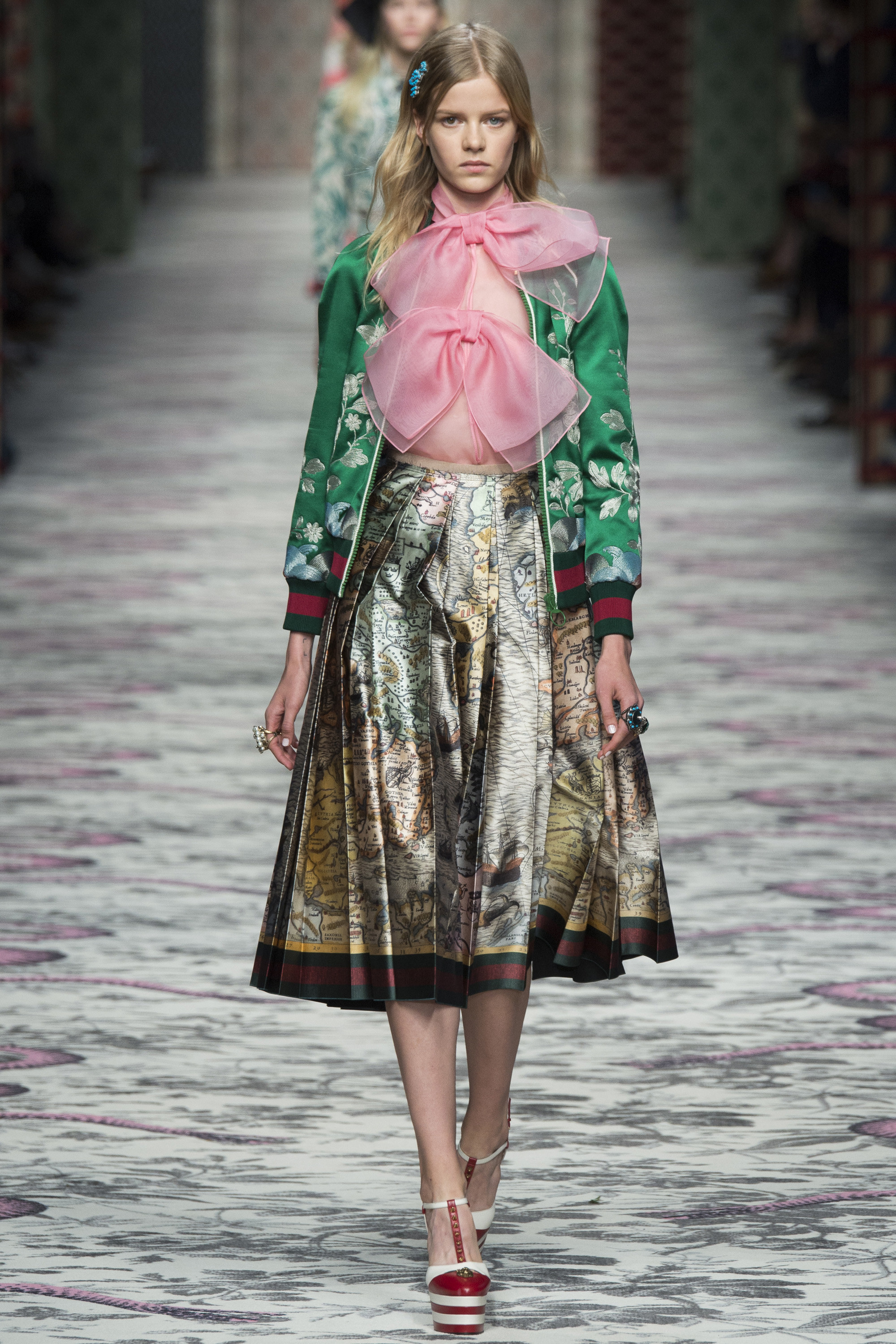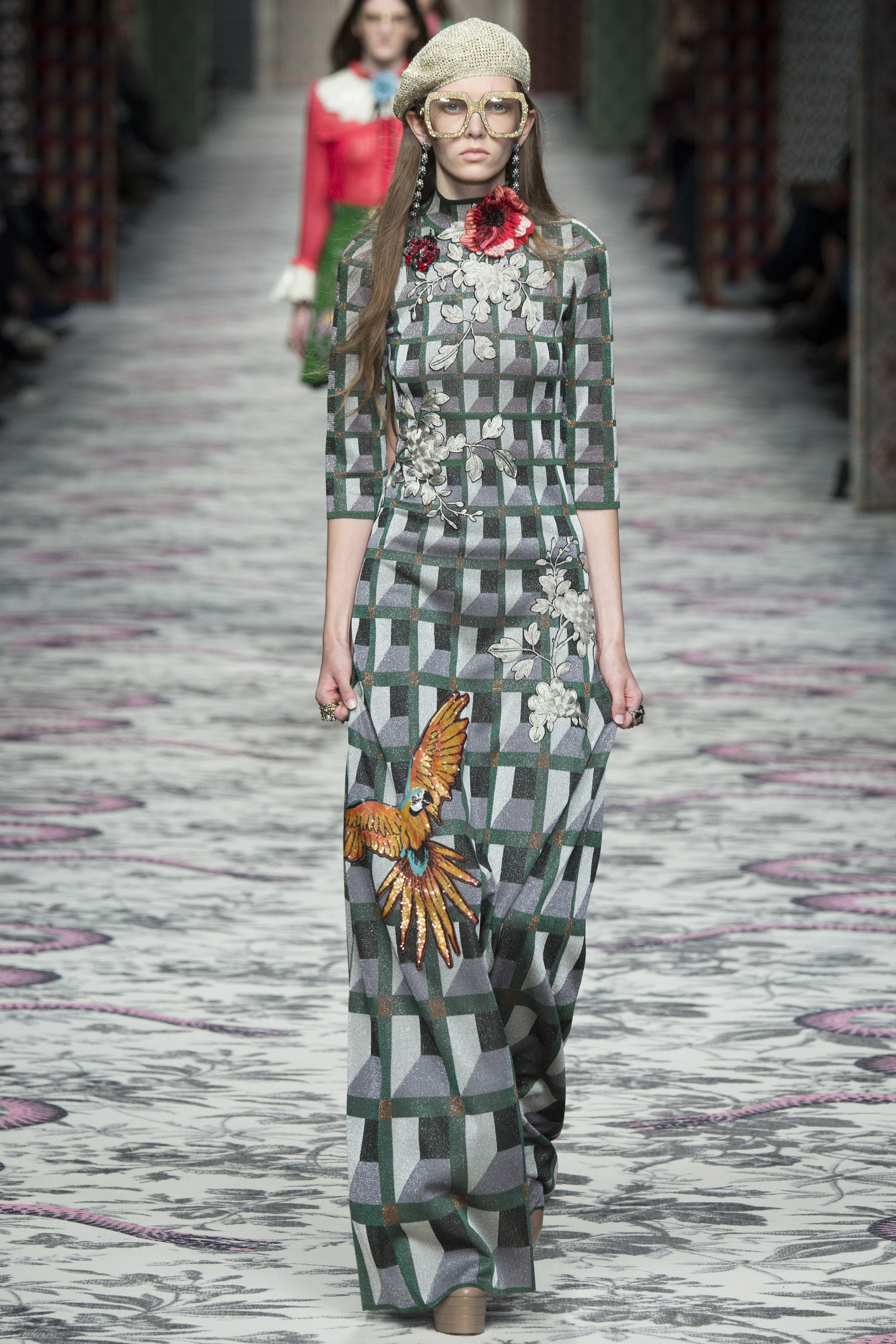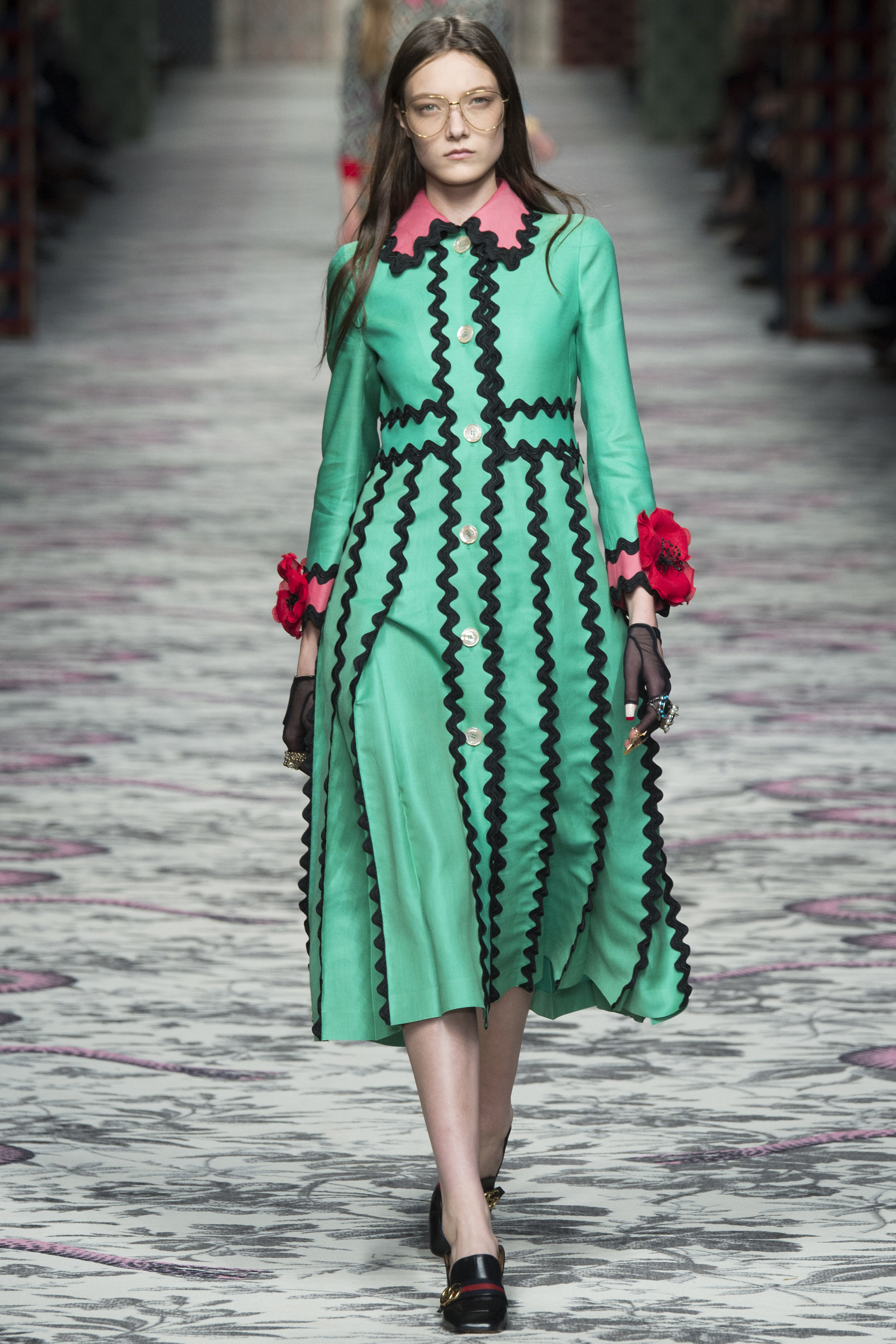 So much green, reminding one of endless spring foliage.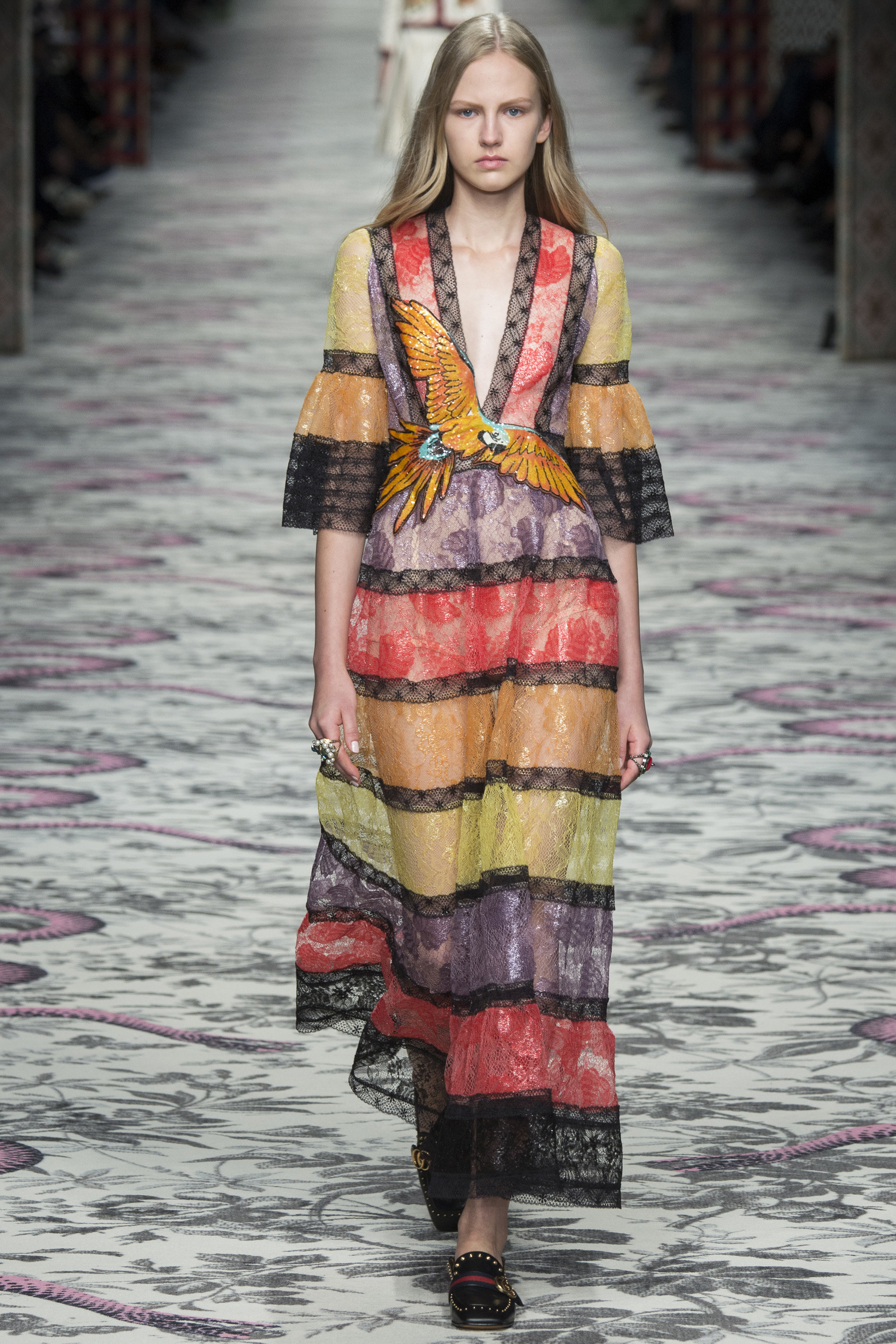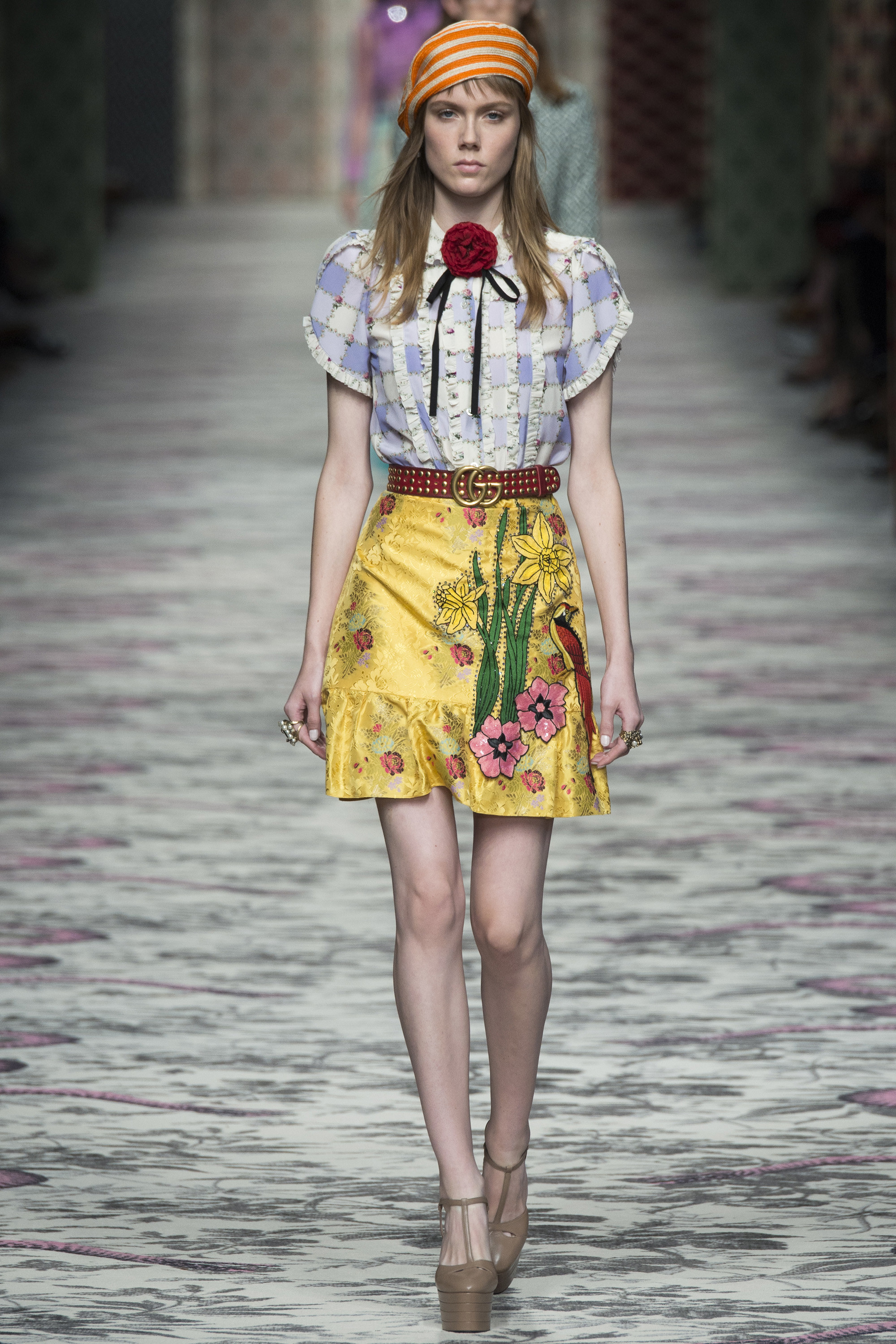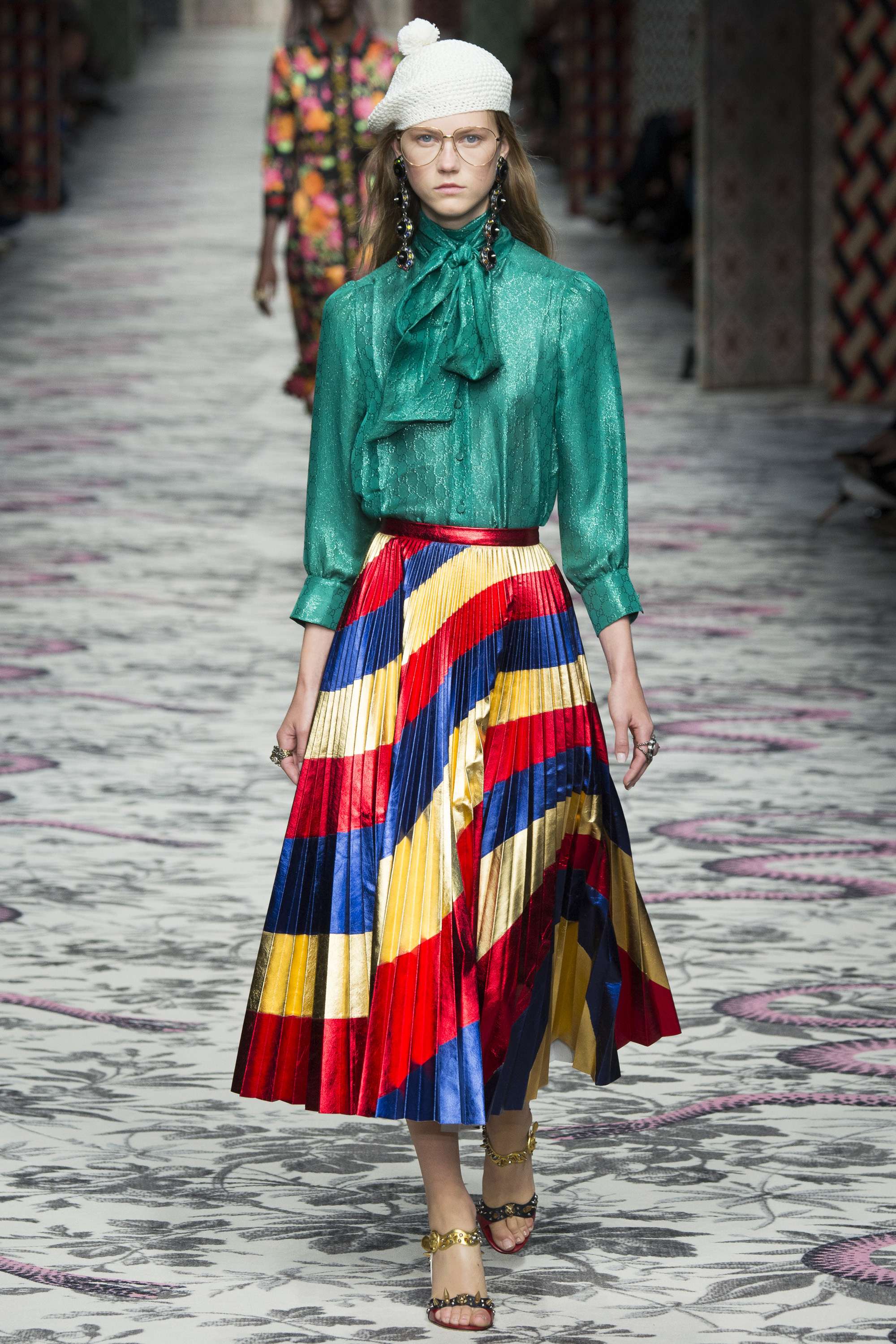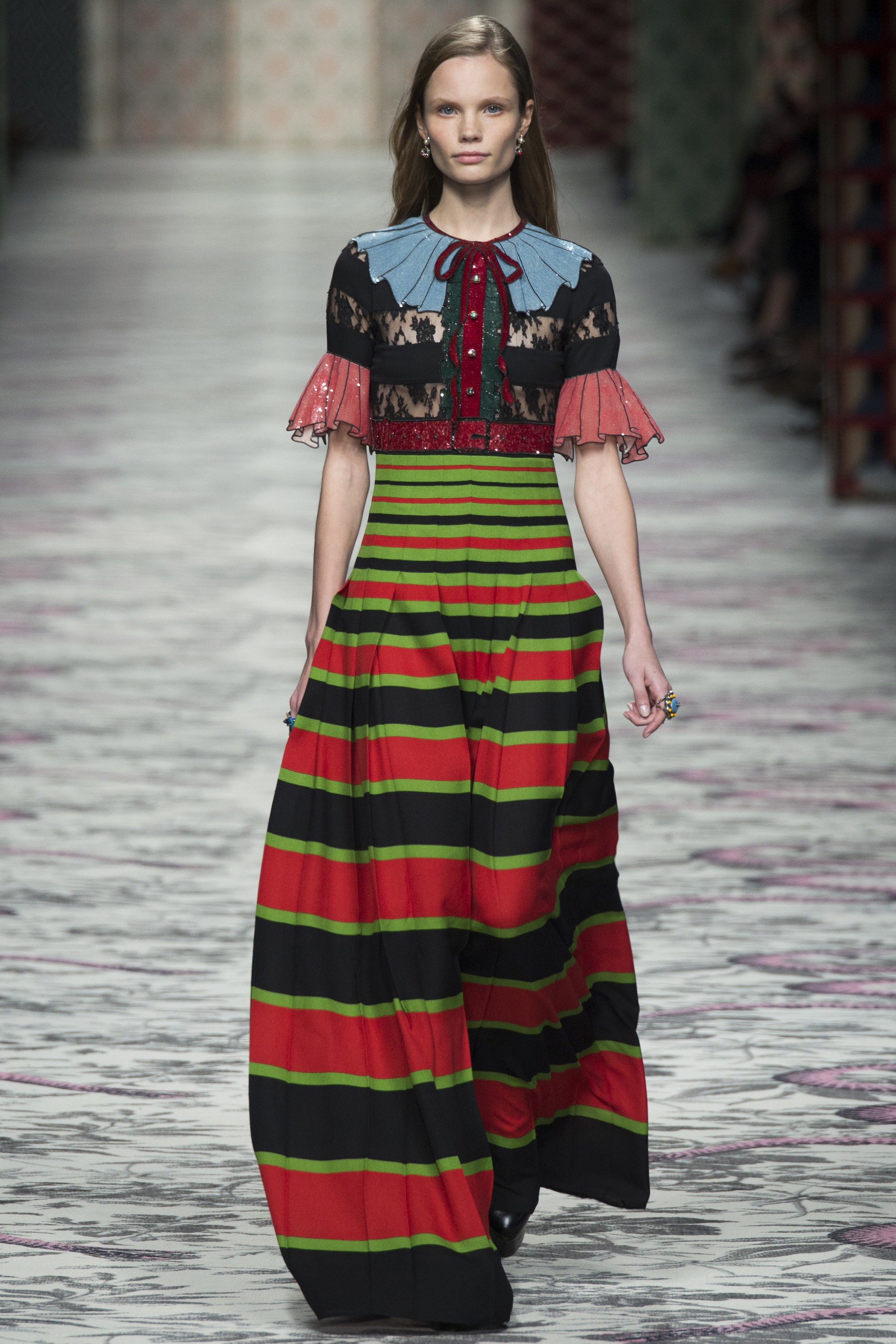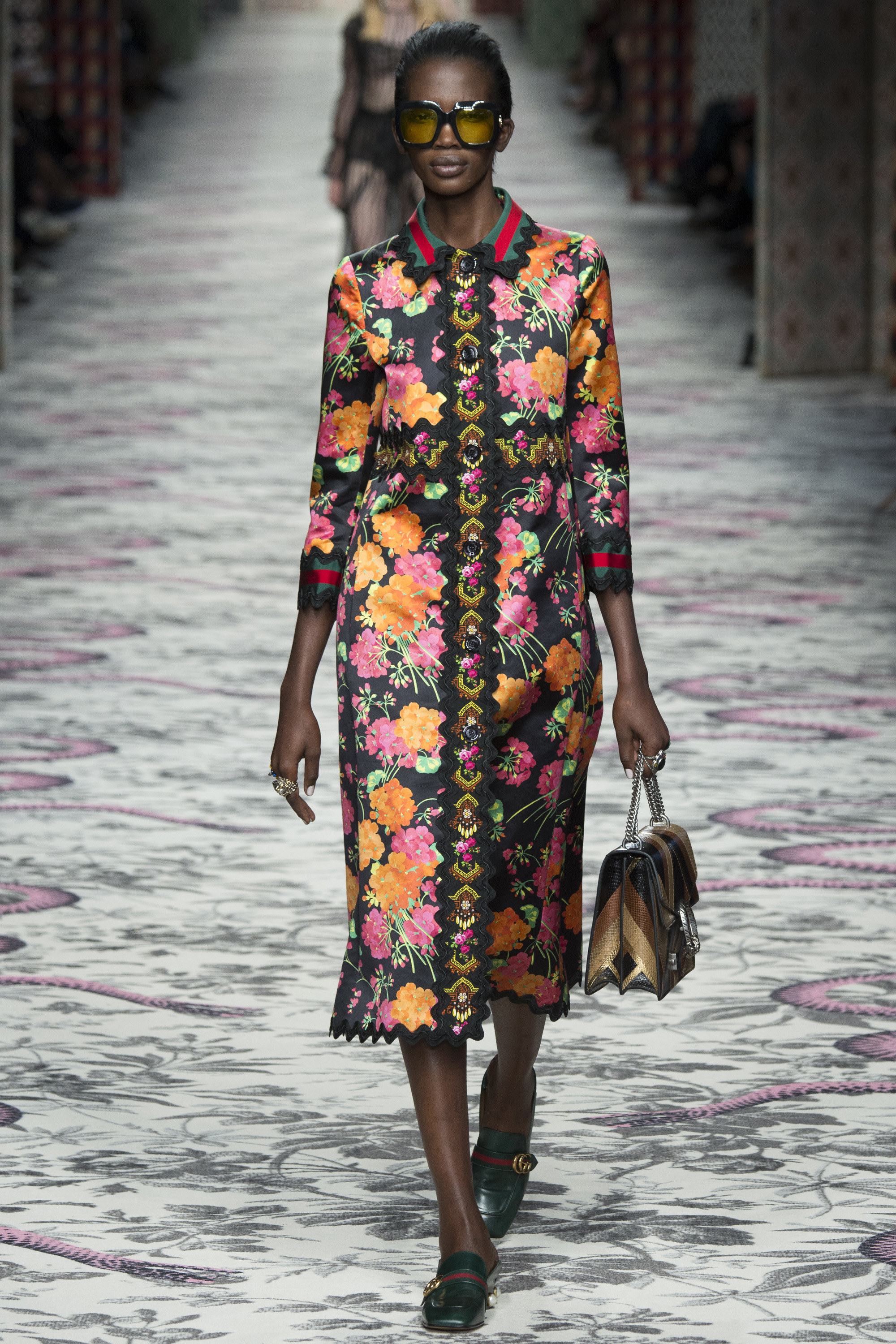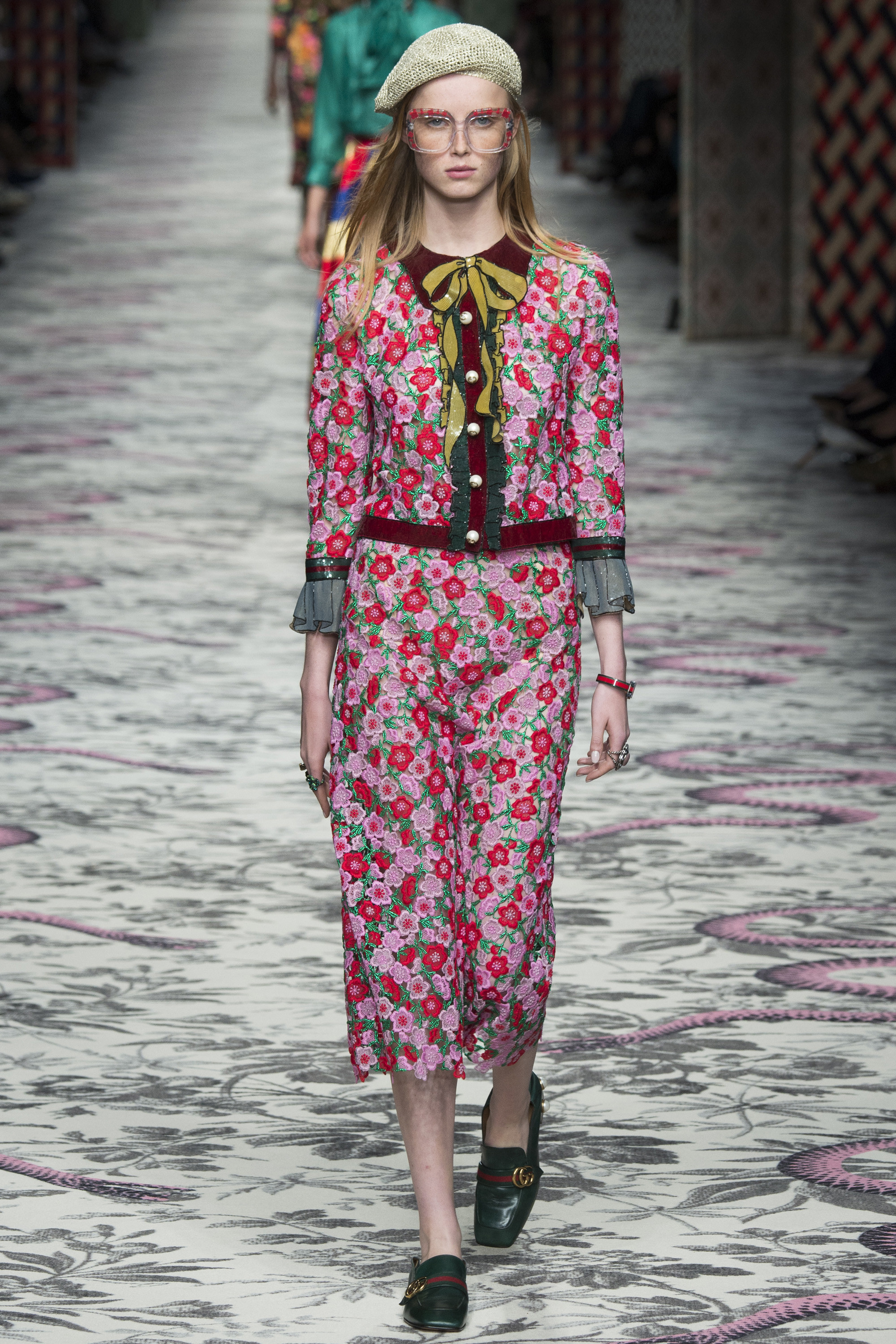 Fanciful frocks for all tastes. Striped pleated leather, lacy bohemian, flowers upon flowers, ruffles and sequins, guipure lace, short, midi, like a veritable Baskin-Robbins of pret-a-porter! What more could one ask of any collection?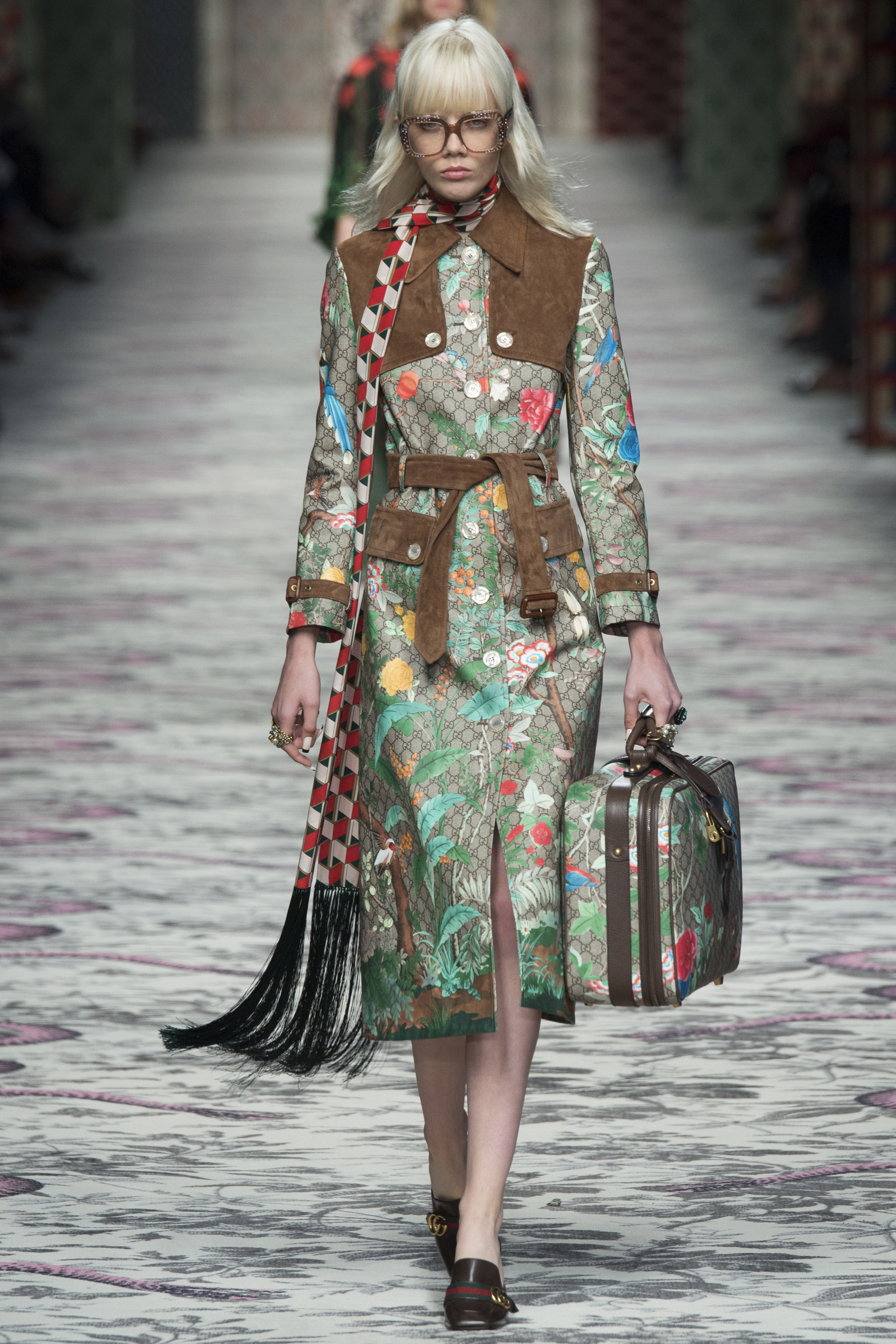 The classic trench done Michele style, but with the iconic touches for those who care about such things.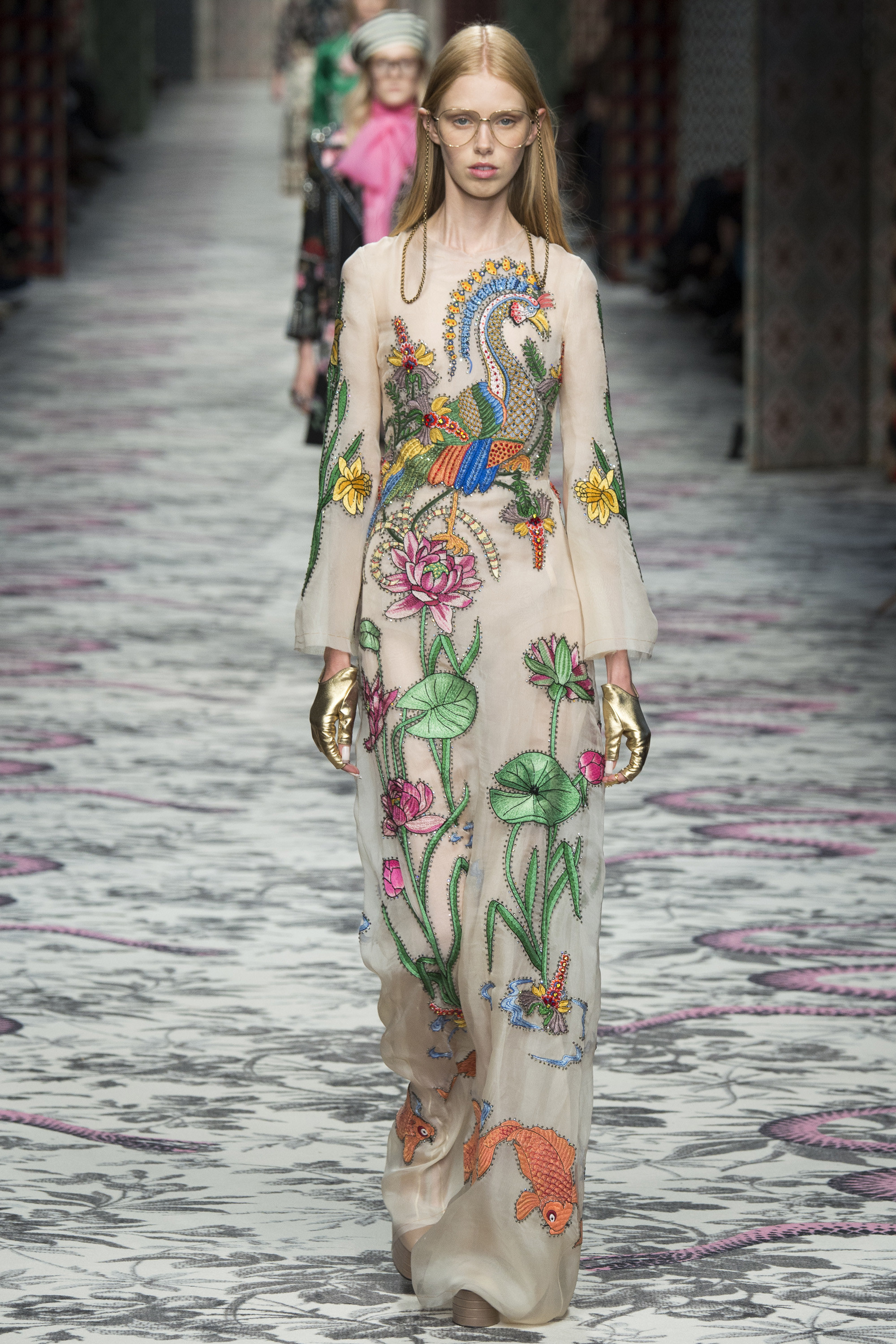 And, the CHERRY ON THE SUNDAE? The perfect flowy, embellished stunner for red carpet purposes.
To the new Darling of the fashion world, Alessandro Michele, and his vast talents!
Runway images care of www.vogue.com