As a litany of ready to wear concoctions continue down the runways on our Eastern shore, we are again acquainted with the fresh and the familiar, with a constant stream of eclectic wares ranging from the pragmatic but always engaging to the audaciously opulent. The tried and true silhouettes are refashioned in luxurious and intriguing fabrications and made glorious with festooning in various degrees. Another wonderful potpourri of wearable finery is a testament to the collective genius of our American purveyors of fashion.
DELPOZO:
Since I started paying attention, I have been captivated by the styles unique in design with fanciful fabrication and vibrant eye catching colors. This collection is over the moon stellar, akin to opening up the jewelry box of a royal. The entries are modern and architectural but simultaneously sweet and fanciful. And MANY colors from the Crayola box make an appearance in a tour de force performance.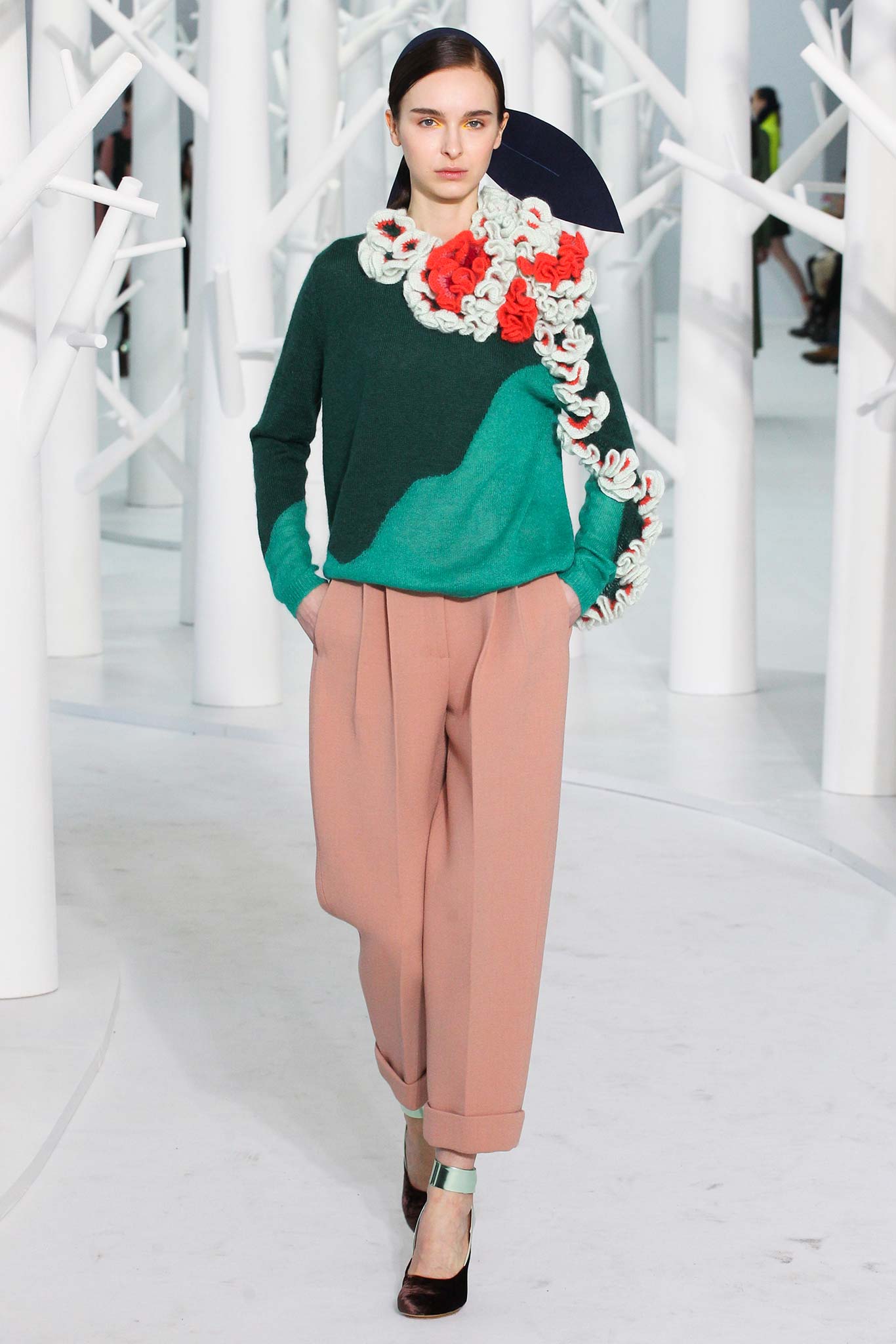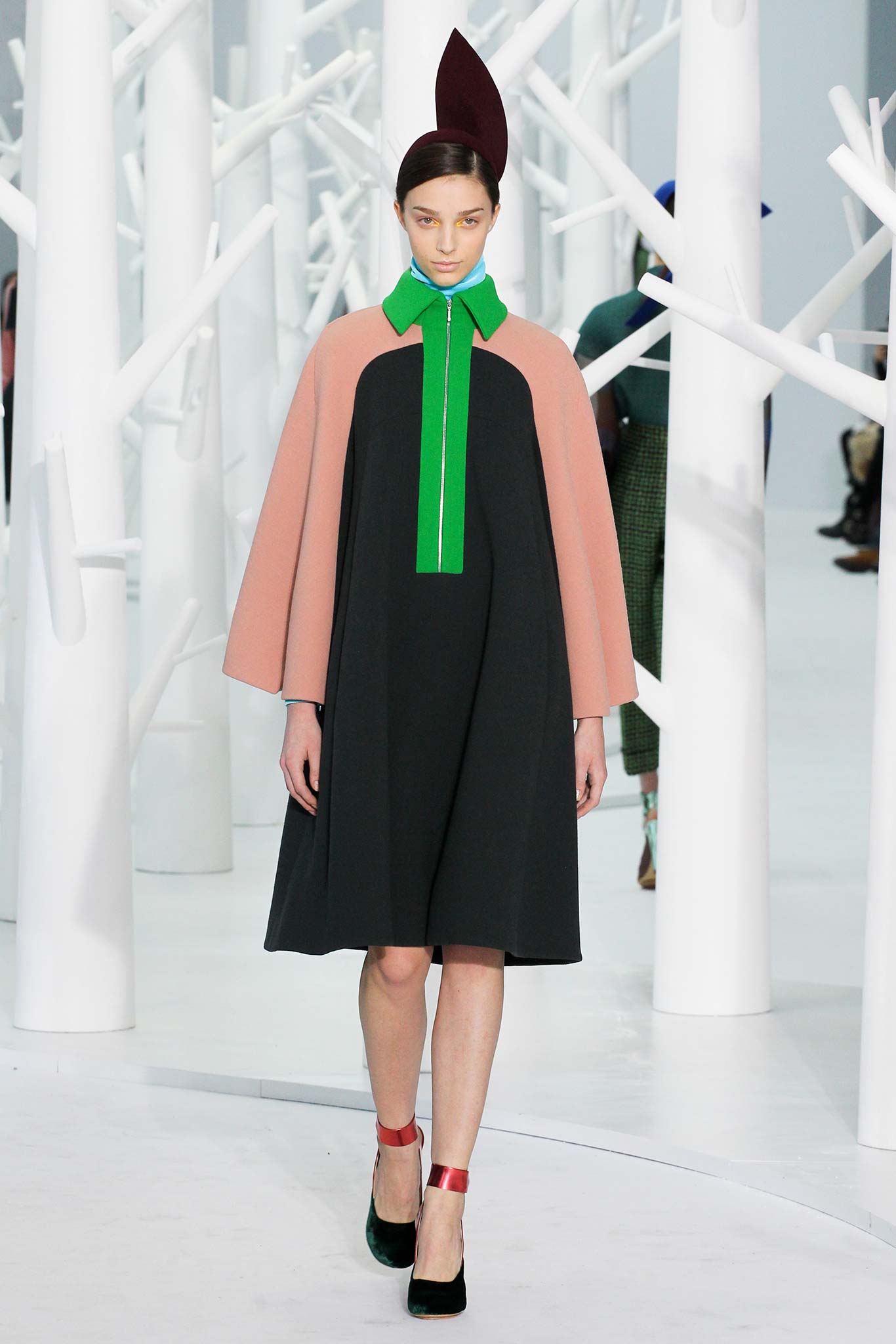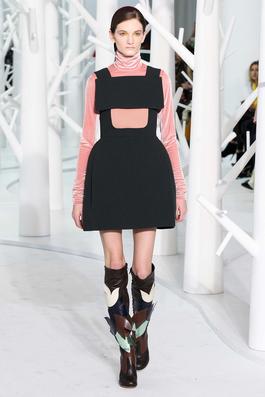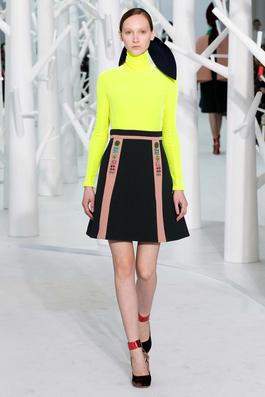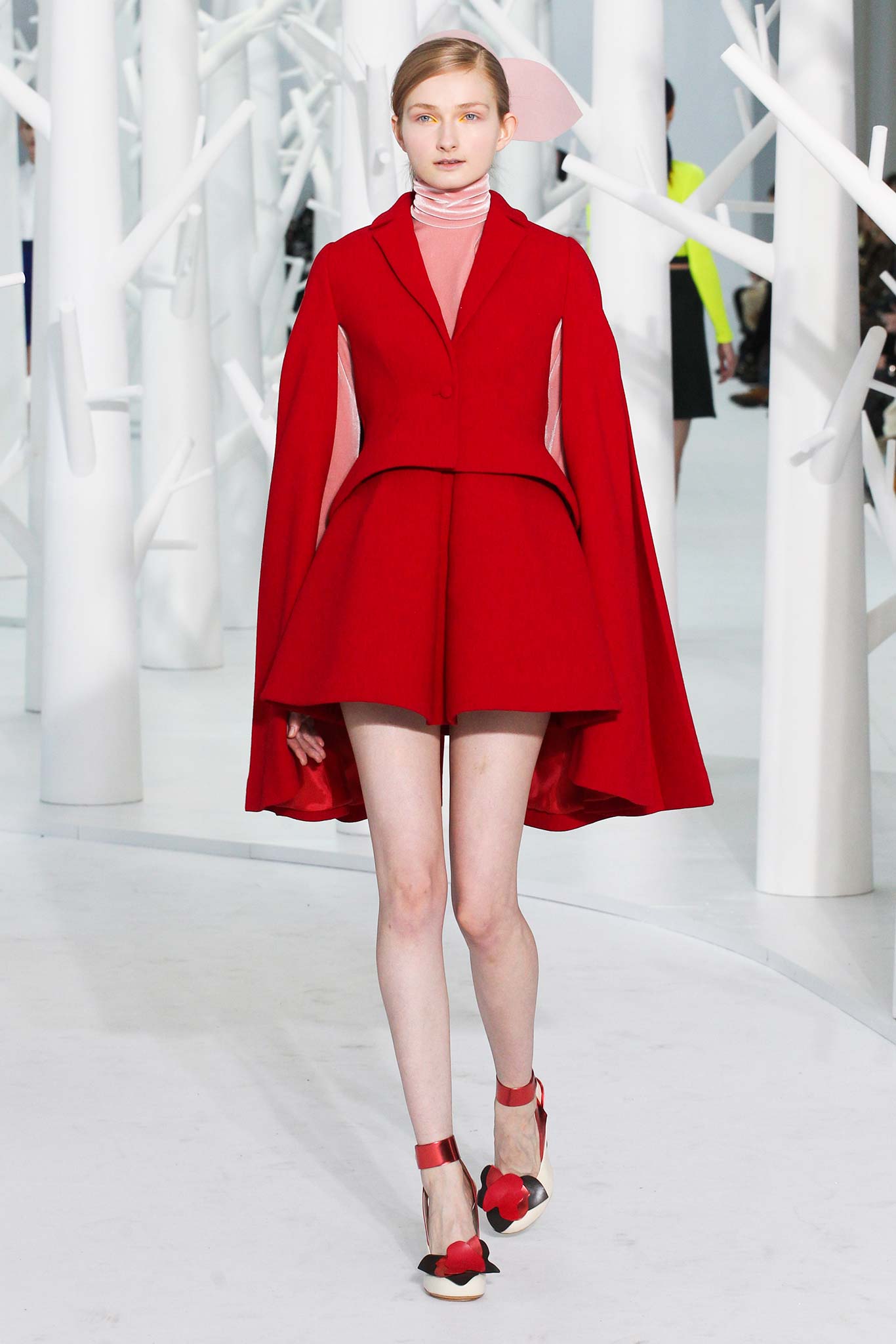 Little Red Riding Hood will be warm and stylish when cruising off to Grandma's house.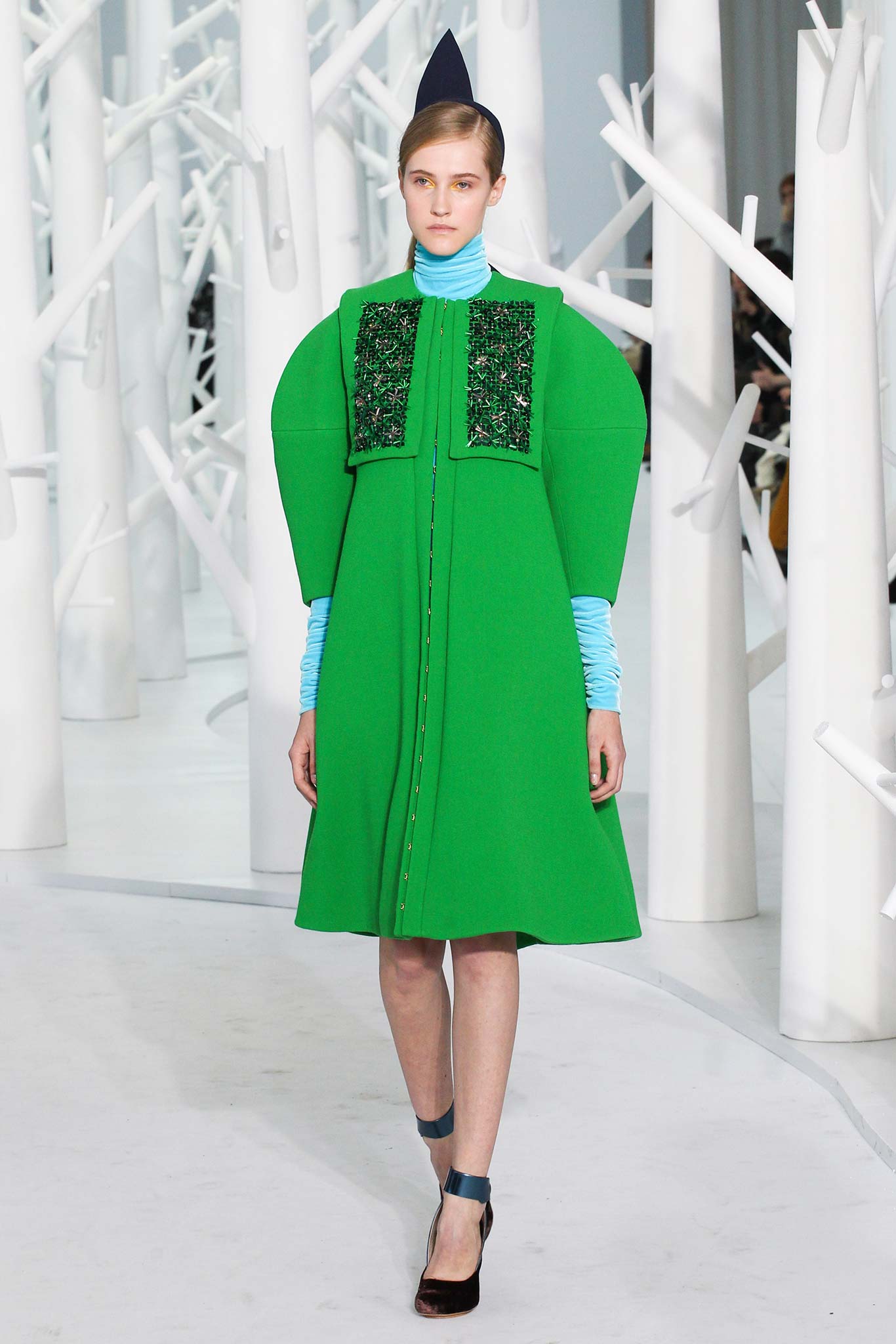 A running theme in the collection are the puffy but tapered sleeves for tempered theatricality.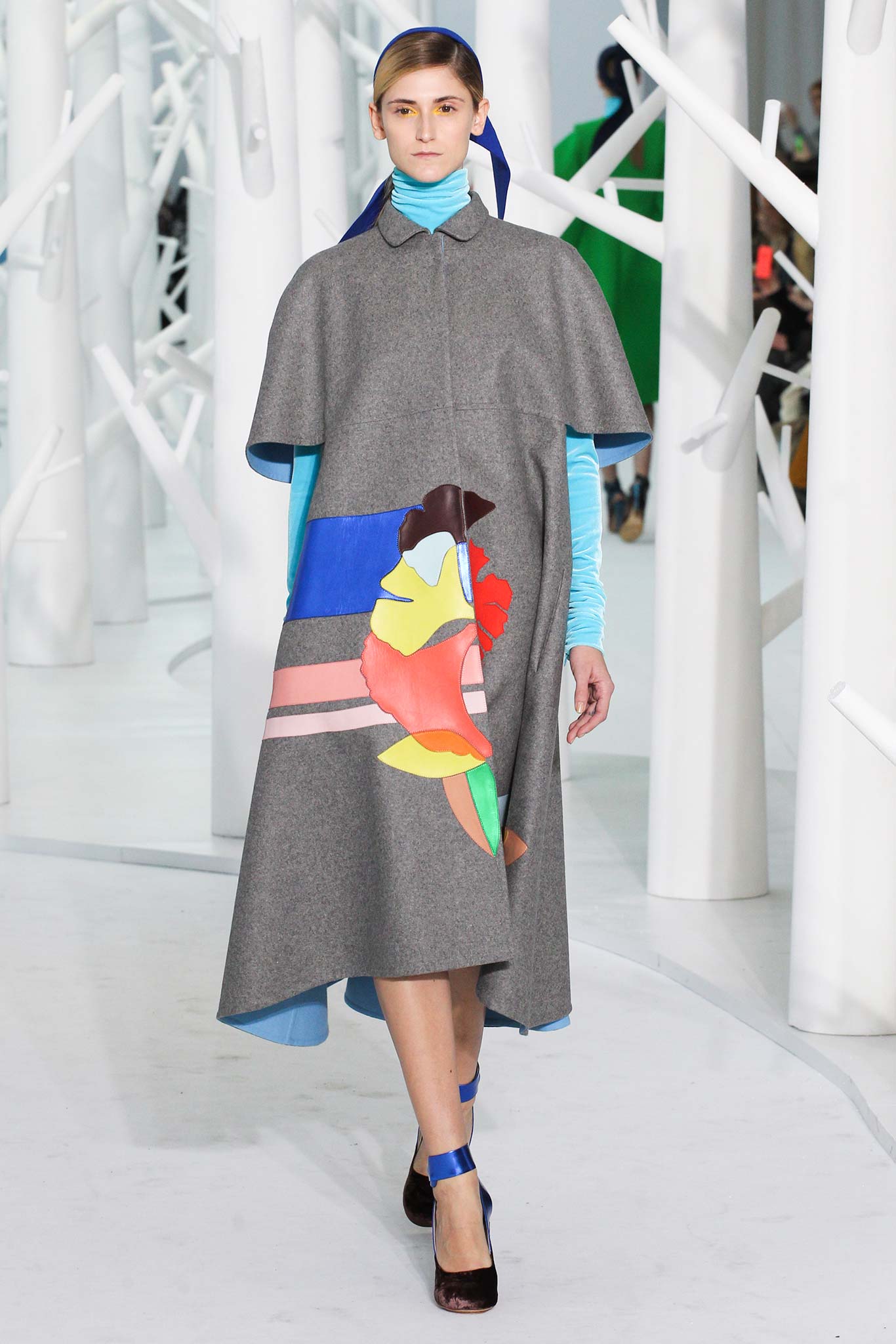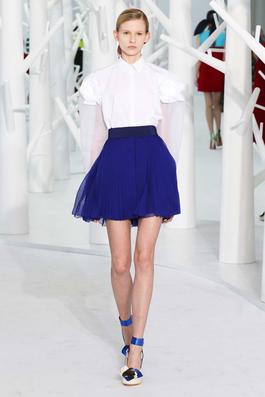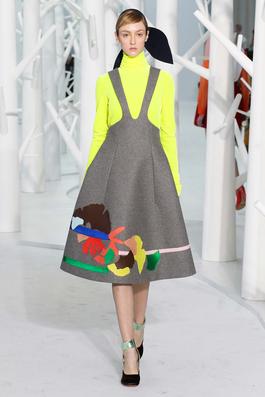 A new modern take on the jumper. A ruffled white blouse would also be a good match.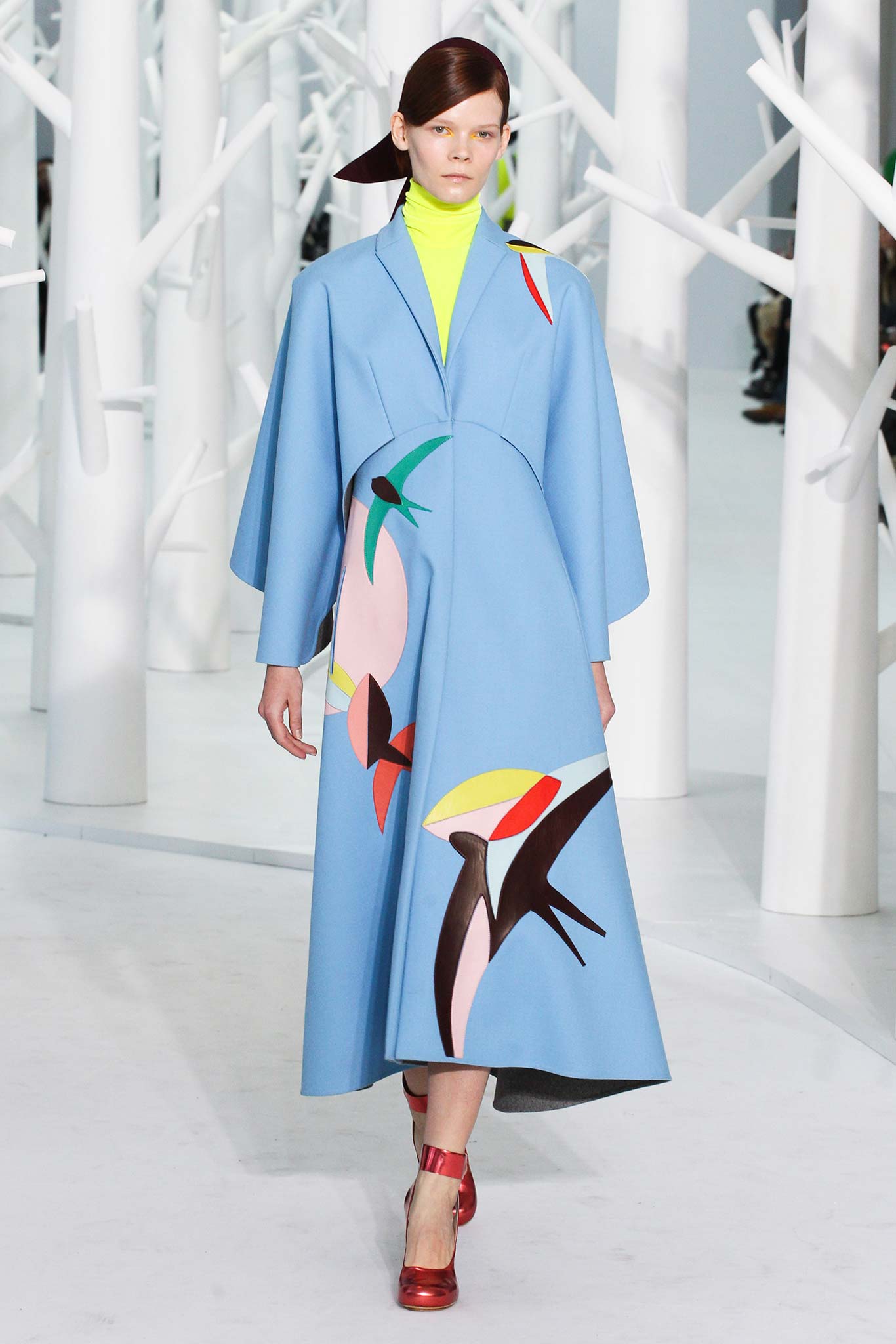 Welcome whimsy with the Swallow motif adds to the overall charm of this engaging blue jacket.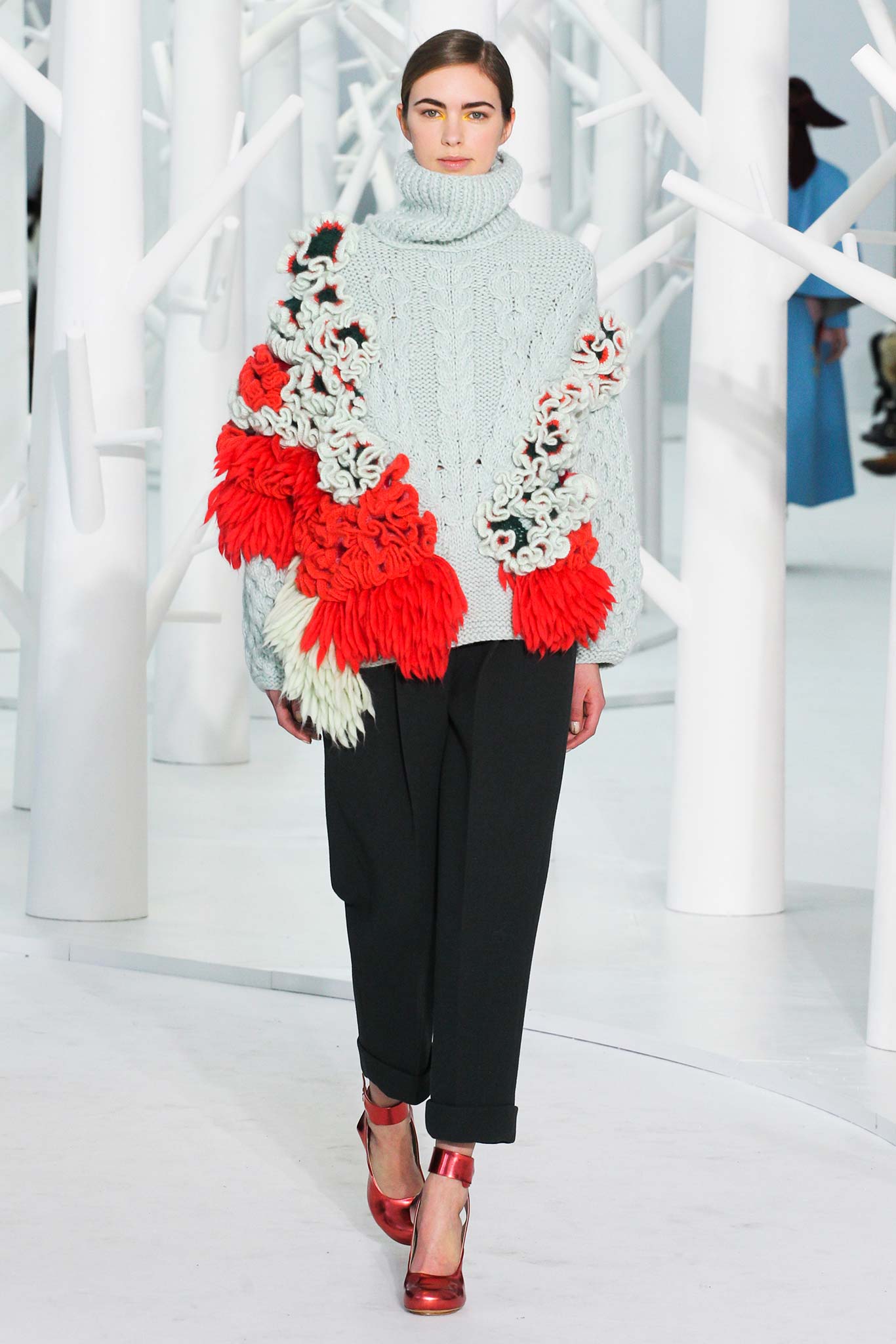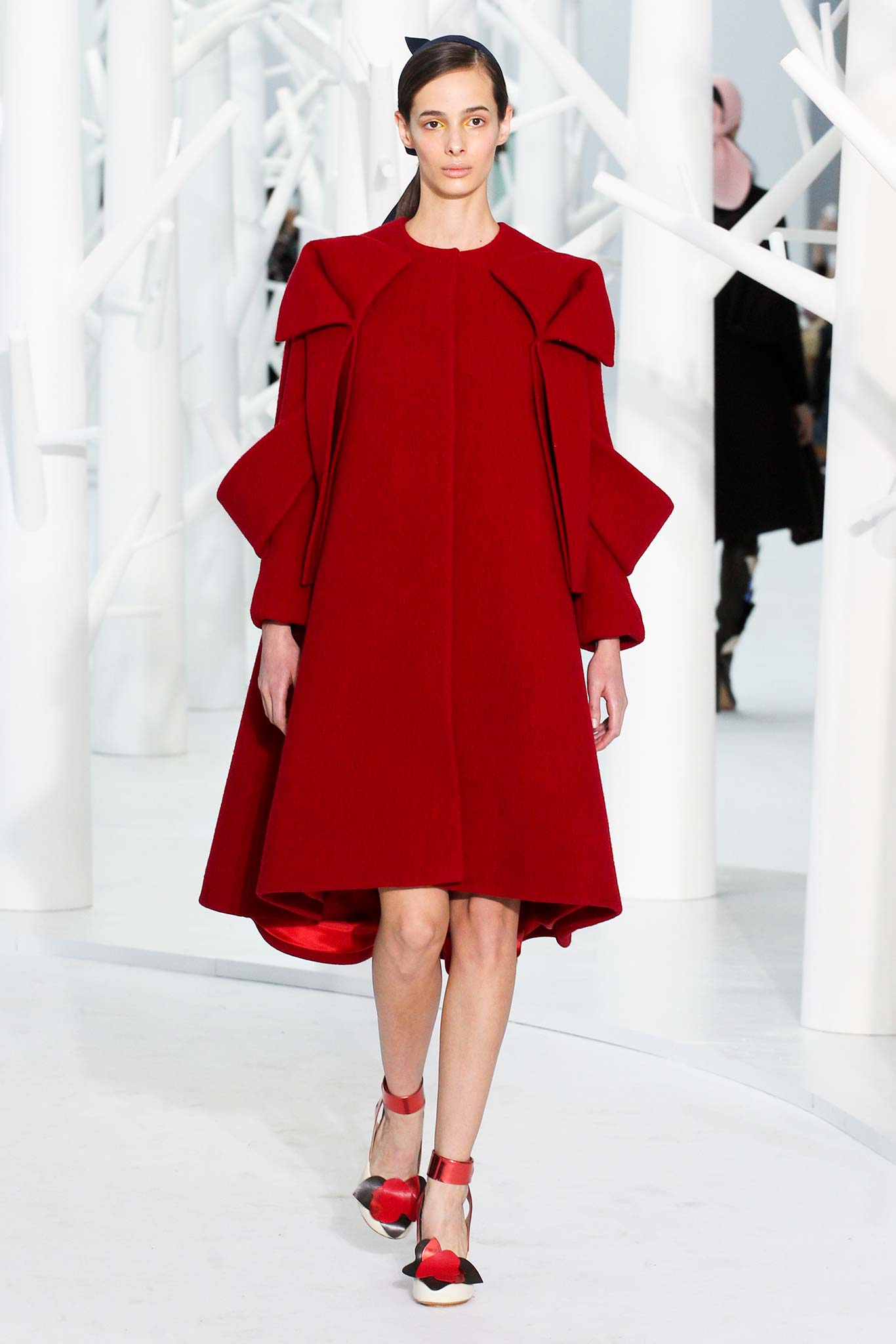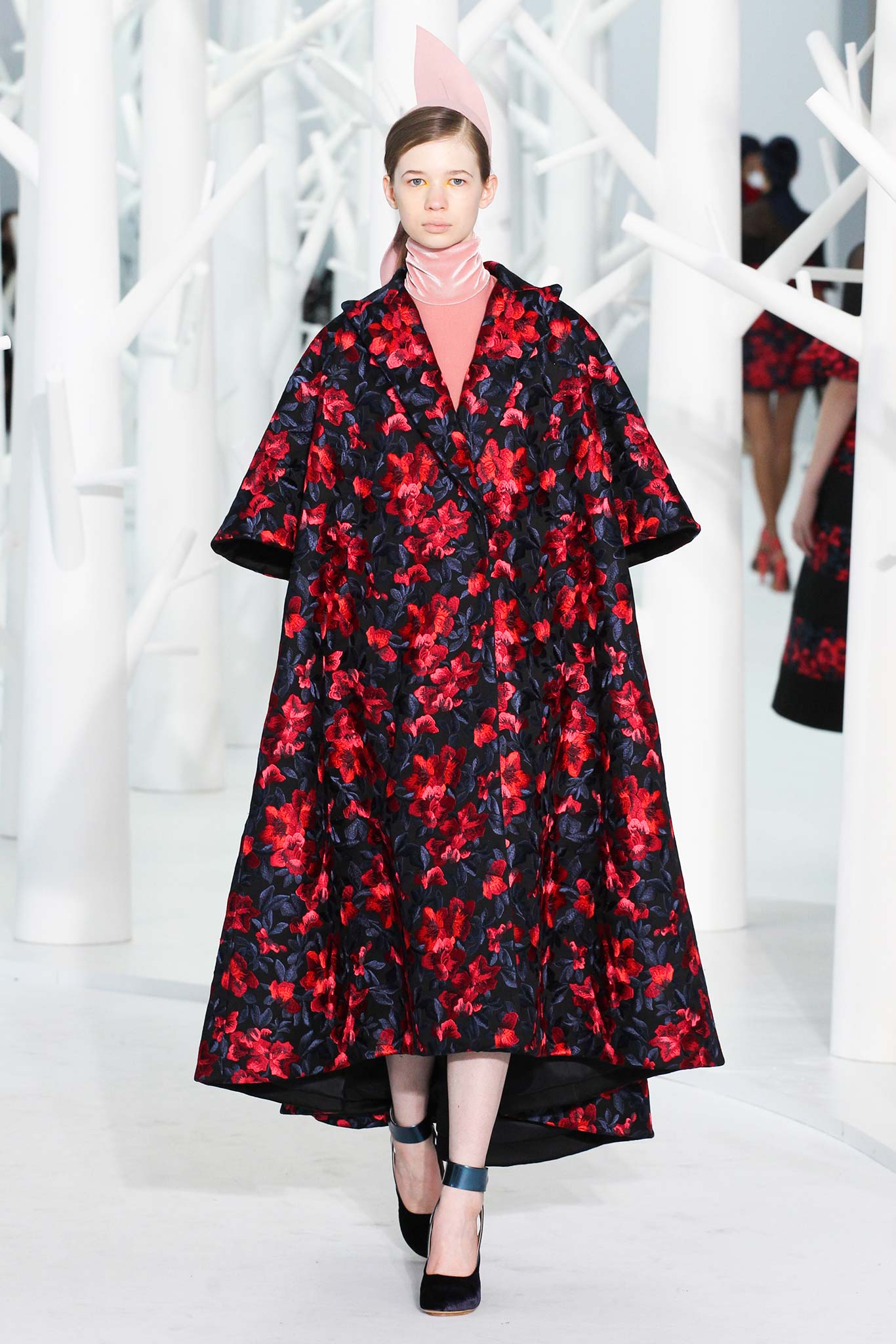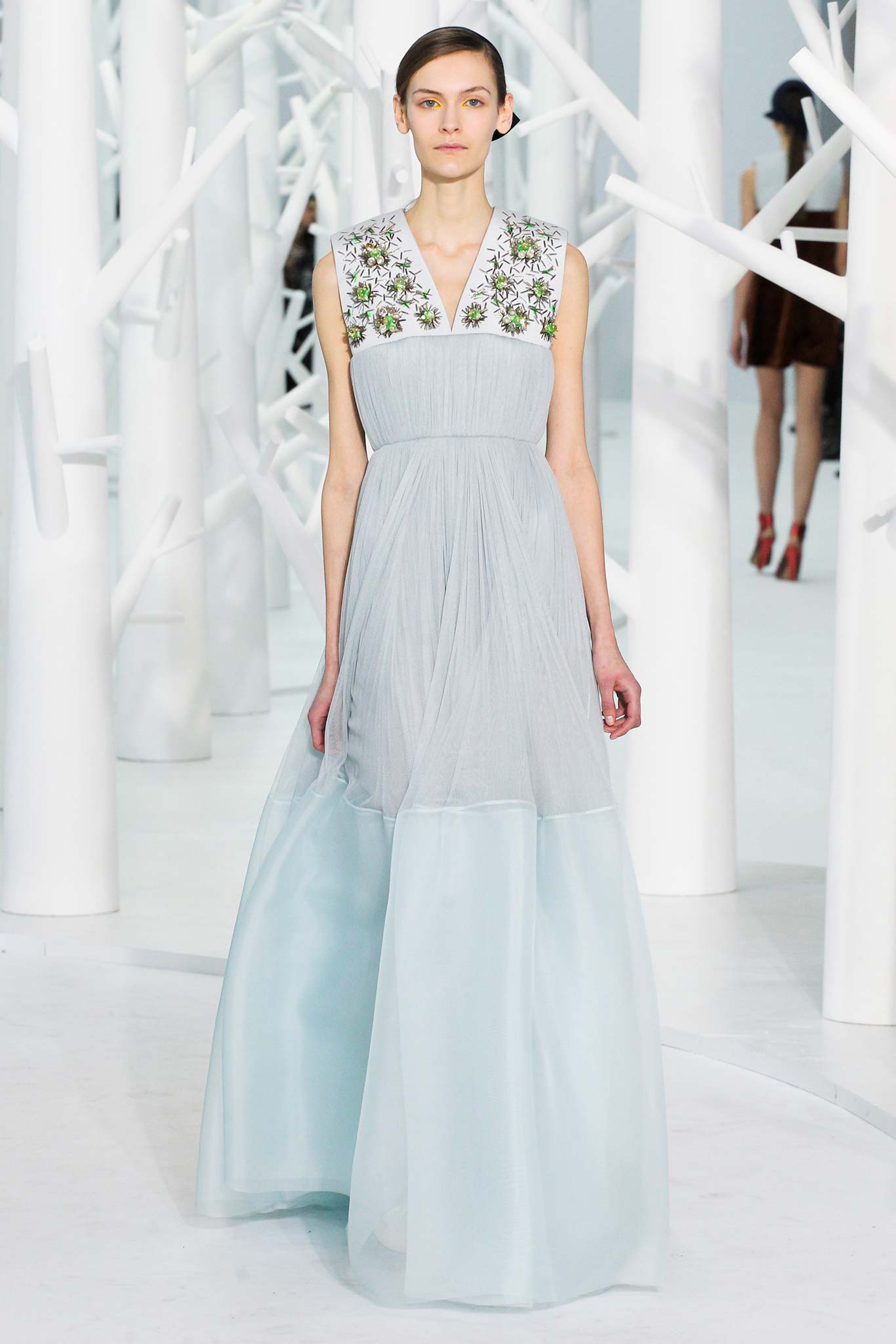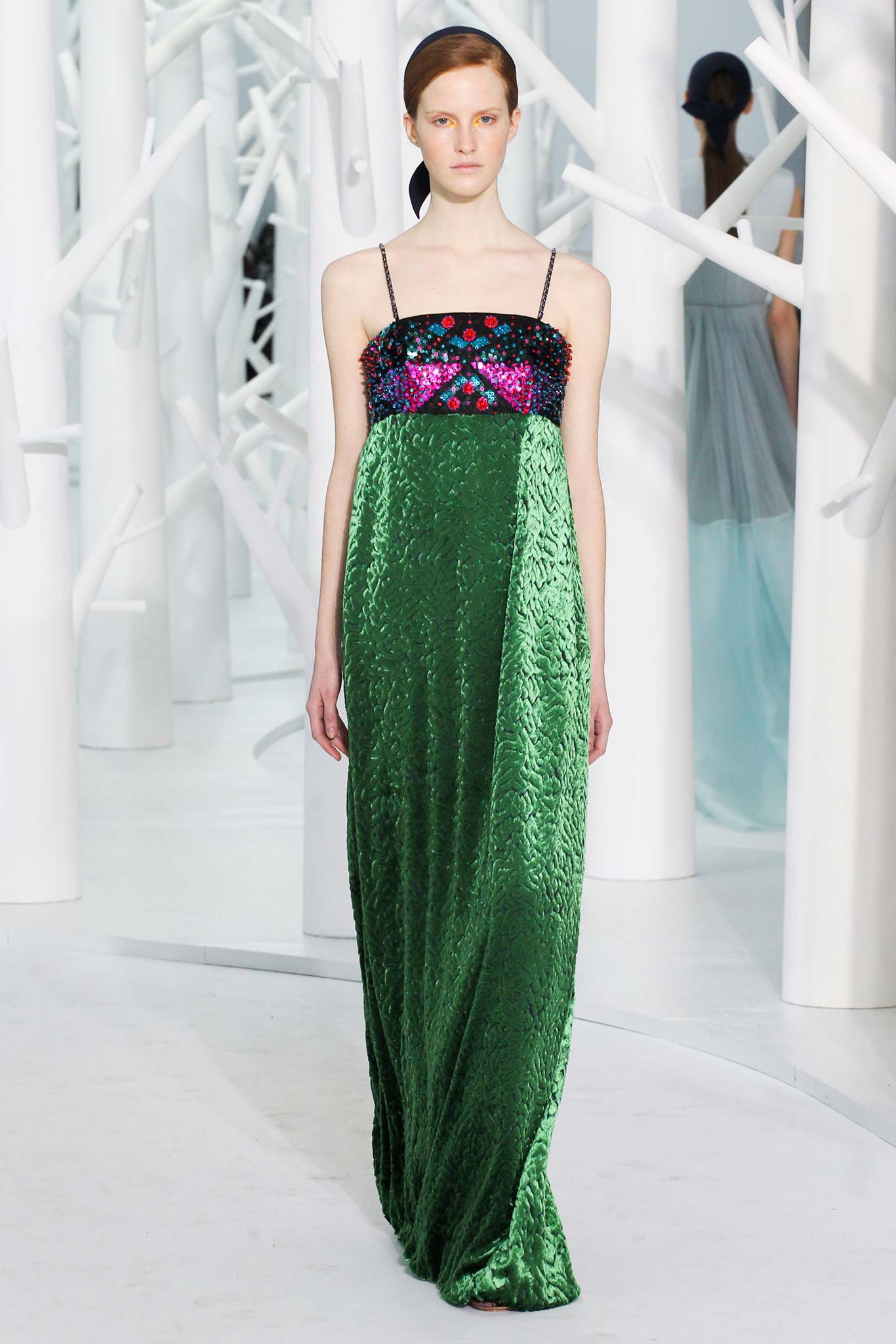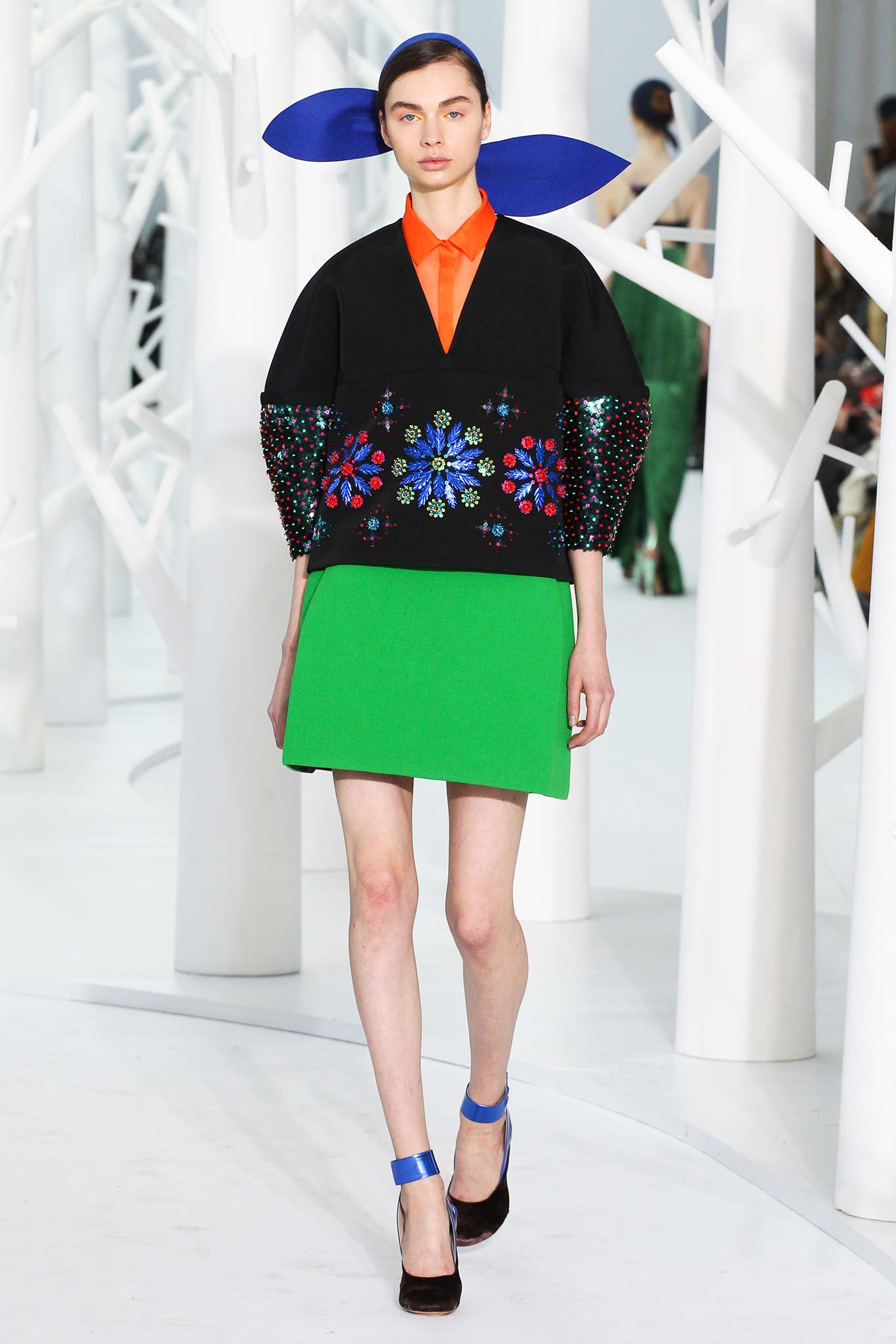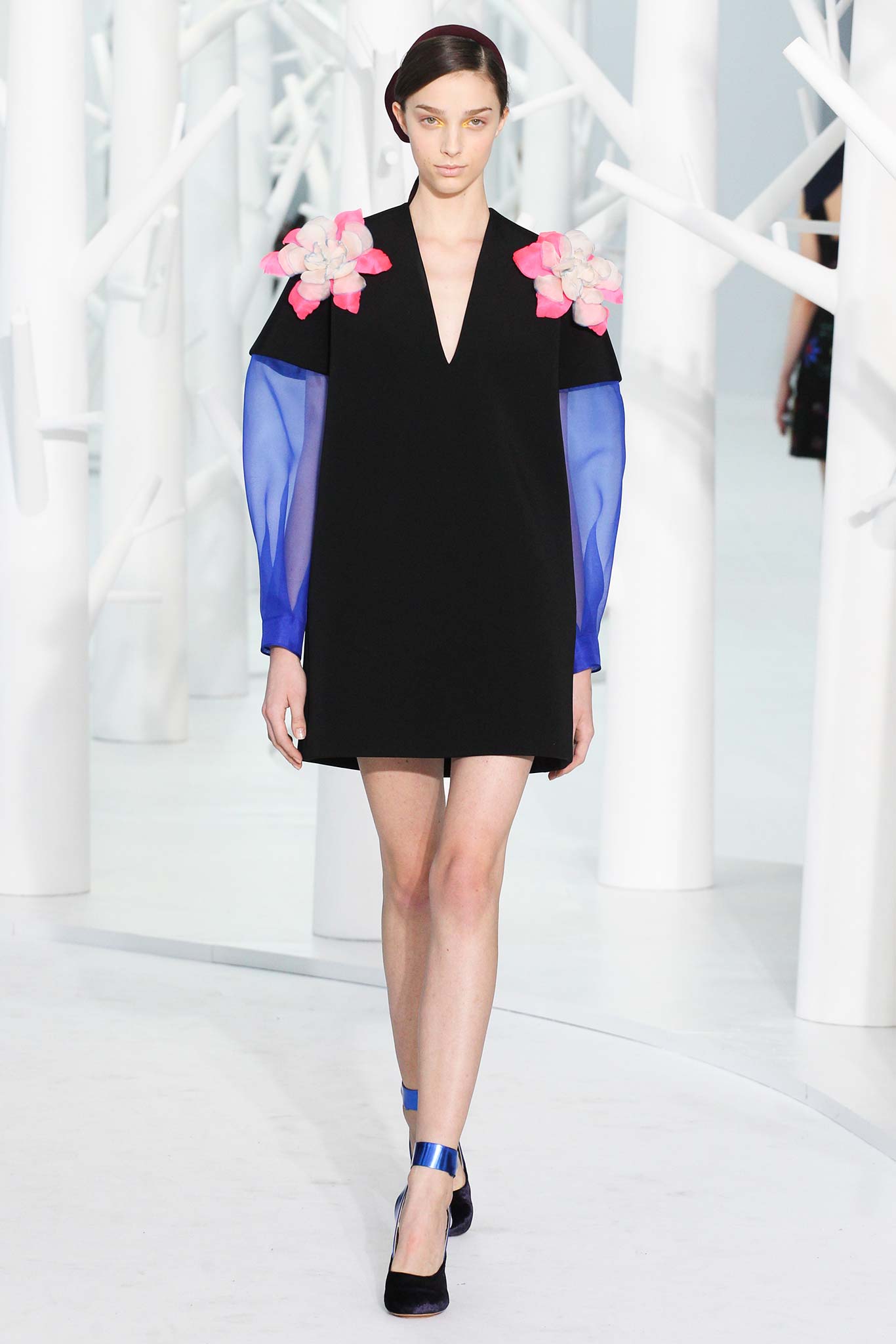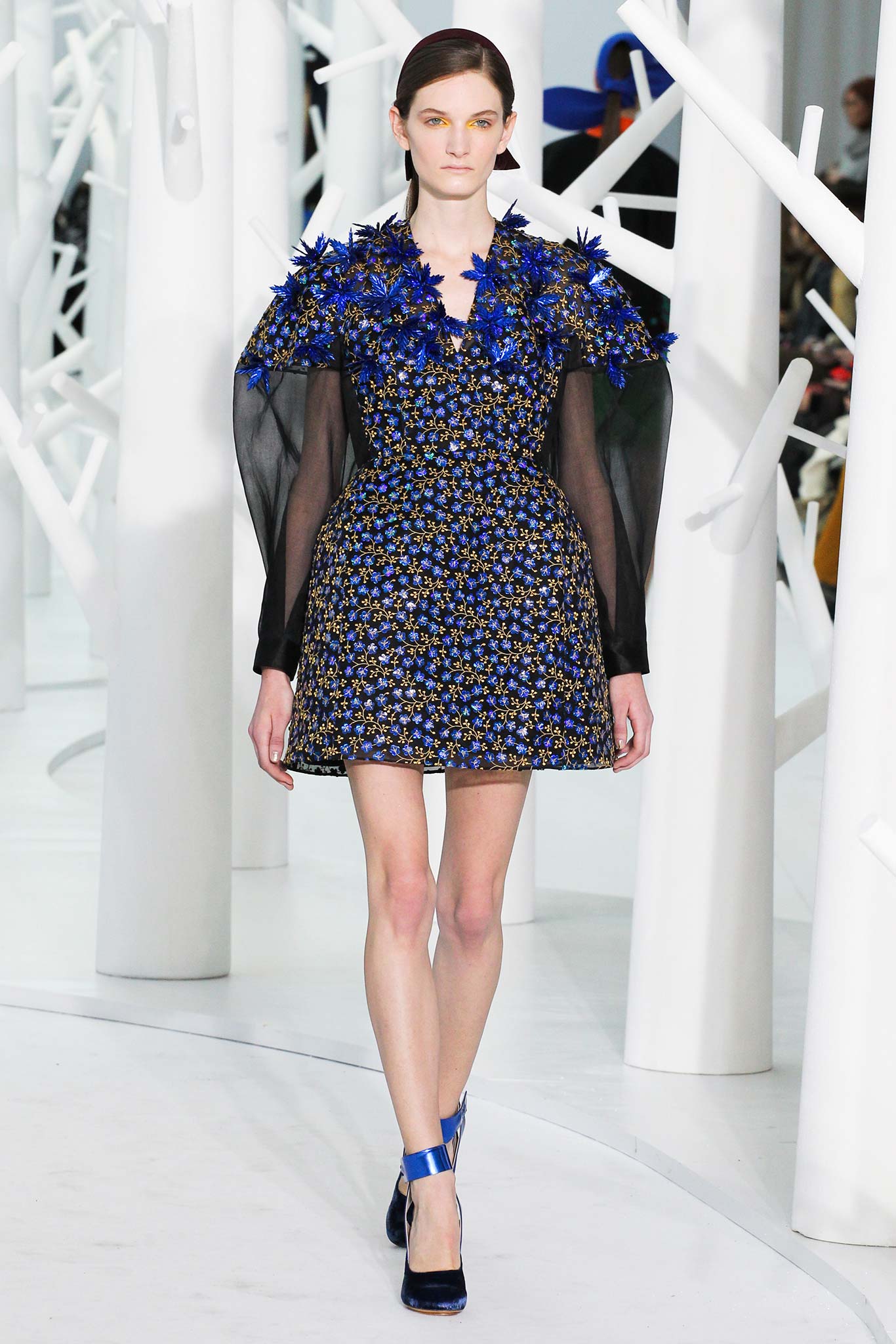 Ok, WHAAAAAAAAT? My eyeballs just popped out of their sockets. It isn't just the extravagant puffy sleeves and cerulean blue embellishments, its the overall impact which brings to mind a Bird of Paradise in full plumage.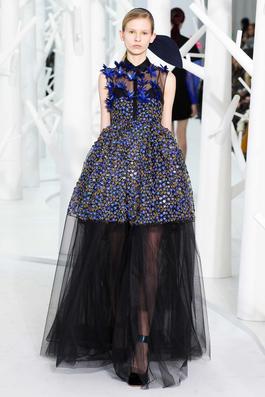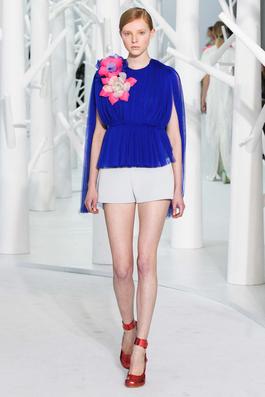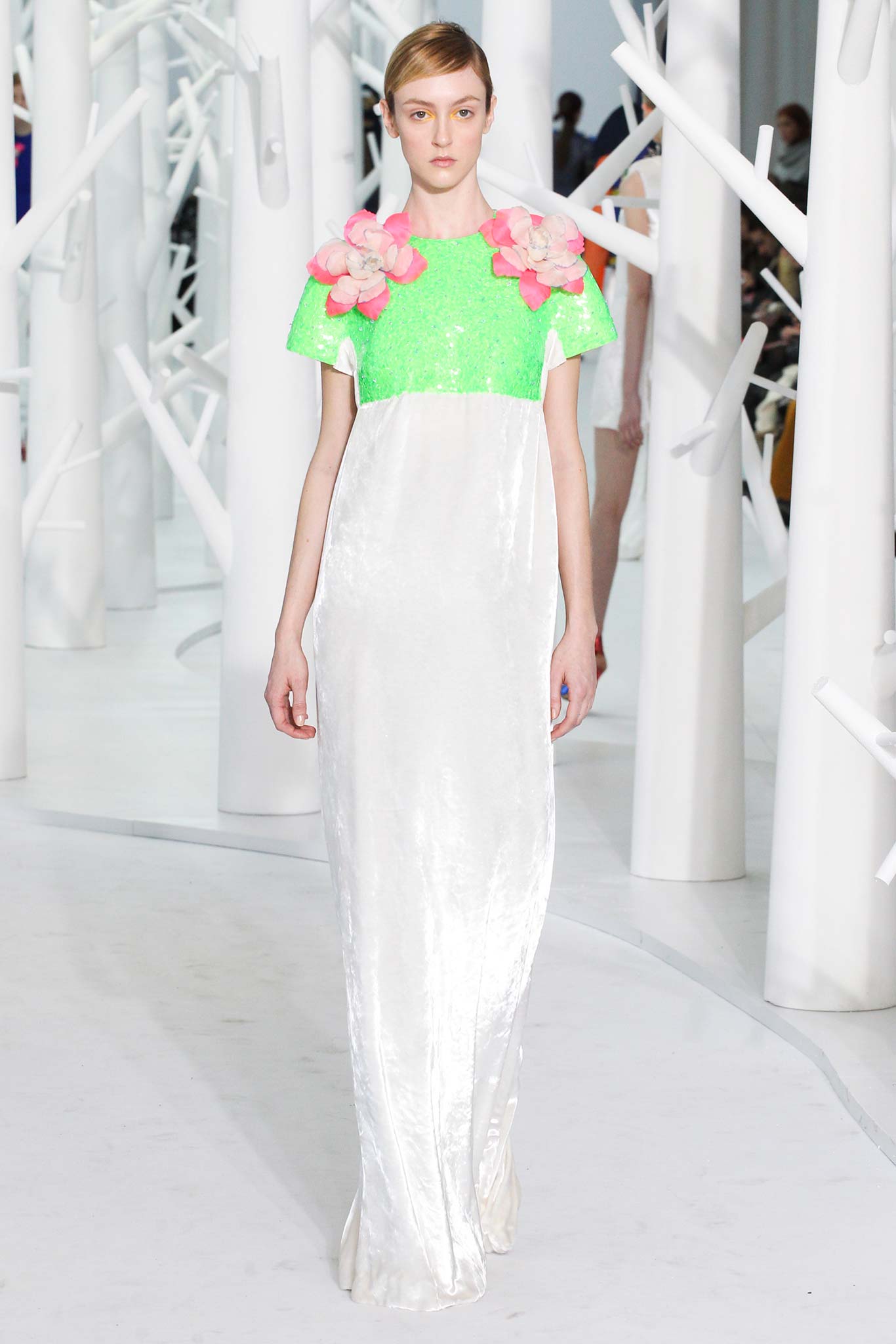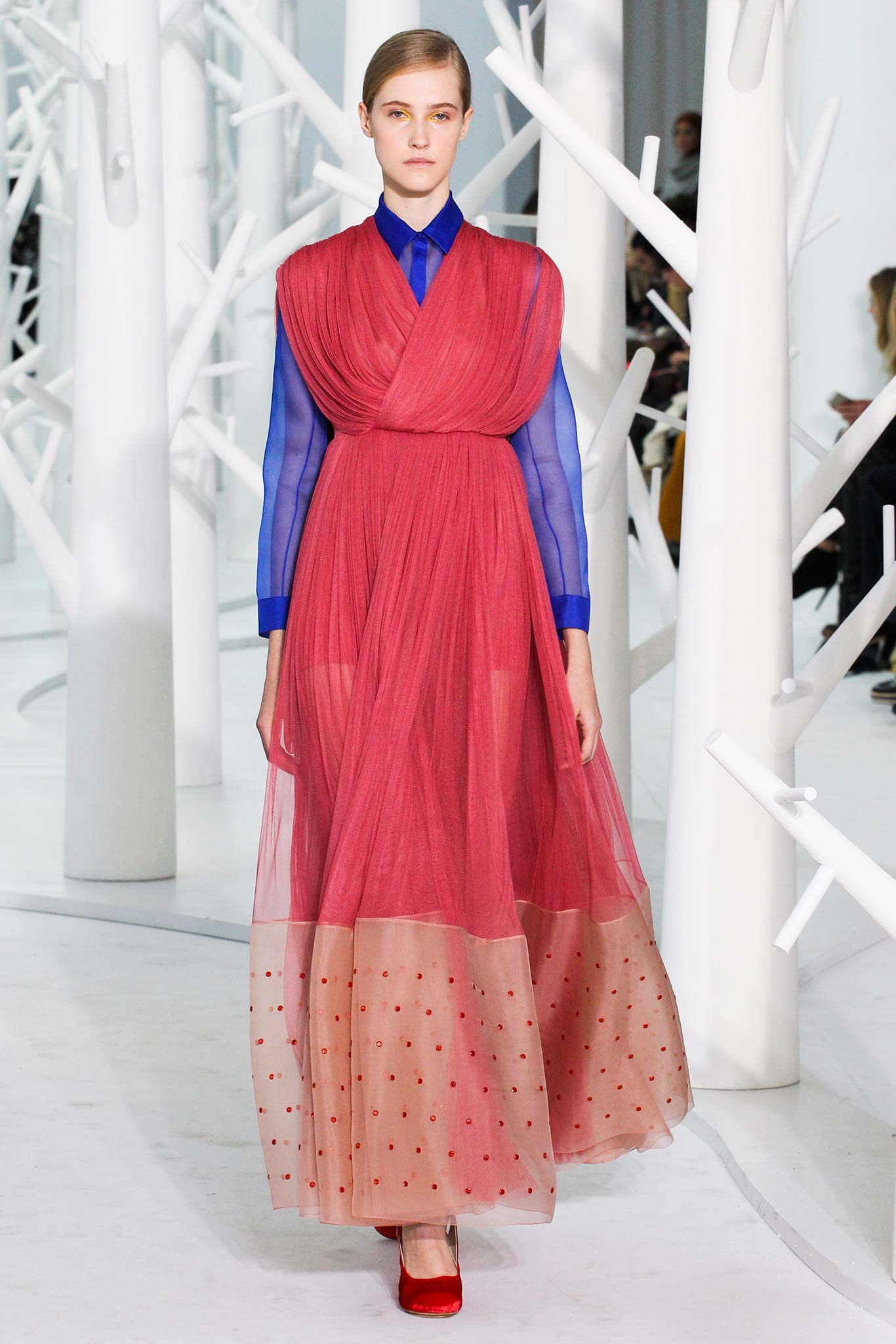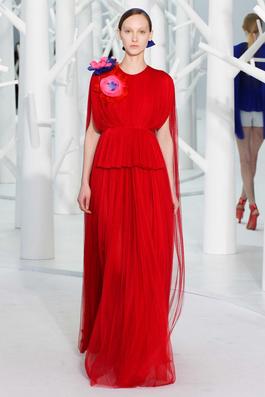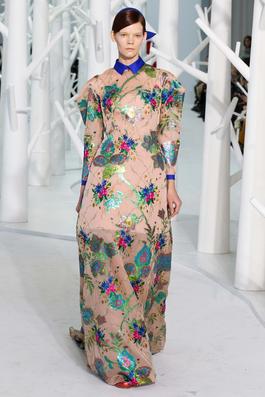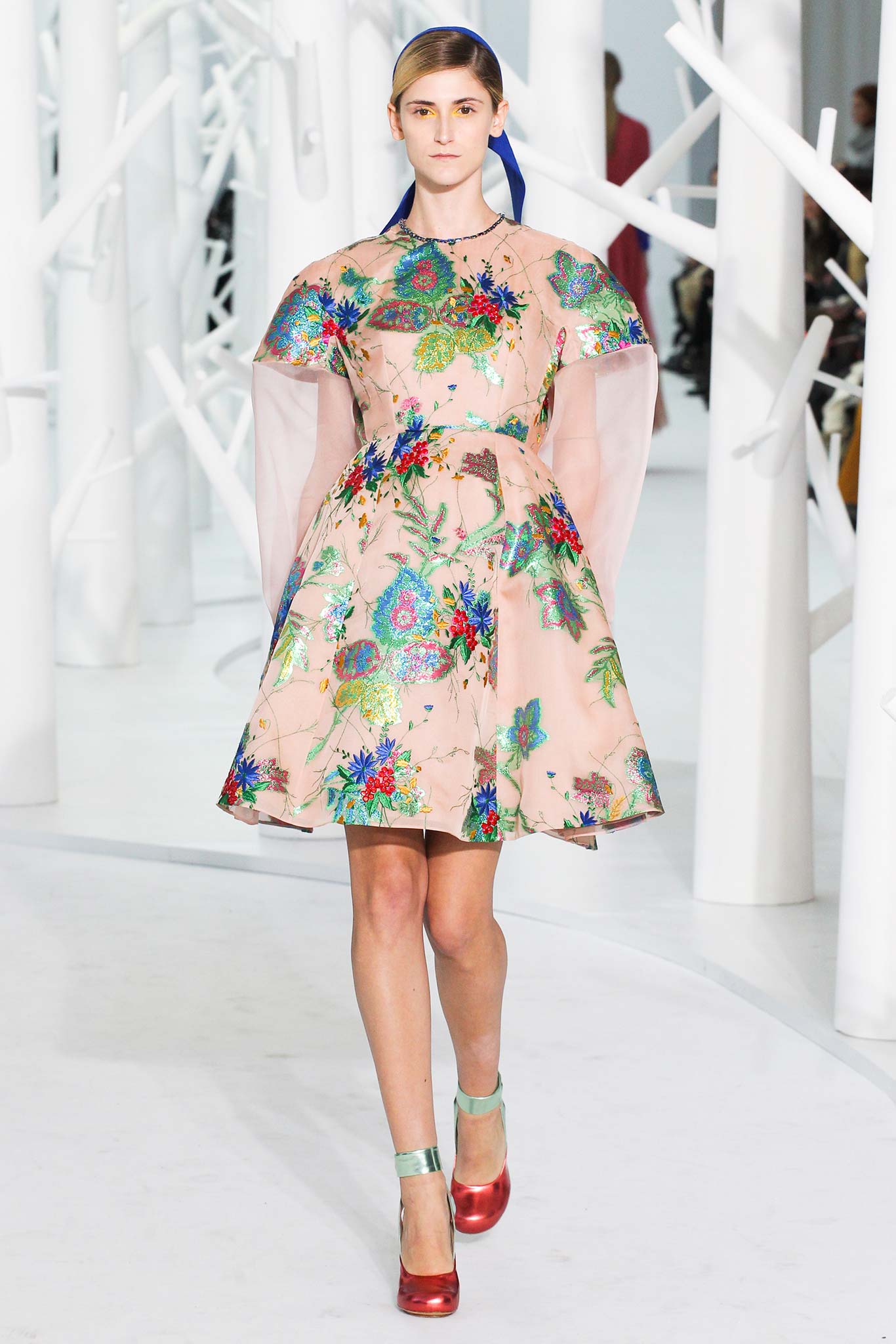 Of ALL the dresses I've observed strolling down the runways, especially knee length, this is one of my ALL TIME favorites. The fabrics, embellishments, silhouette. Definitely for a Cinderella moment. No one does embroidered organza chinoiserie inspired finery as does Delpozo.
These spritely fashions I'd imagine lining the yellow brick road on the way to Oz......
J CREW:
I remember in days gone by that J Crew was a notch above the local Gap in rendering casual togs and such, with an infusion of upscale prep. The clothes were happy and peppy, and well, affordable to a Radiology fellow on a budget. Well, its seems that several evolutionary rungs have since been scaled, with fresh wearable separates that could happily comingle with anything else sashaying down the runways.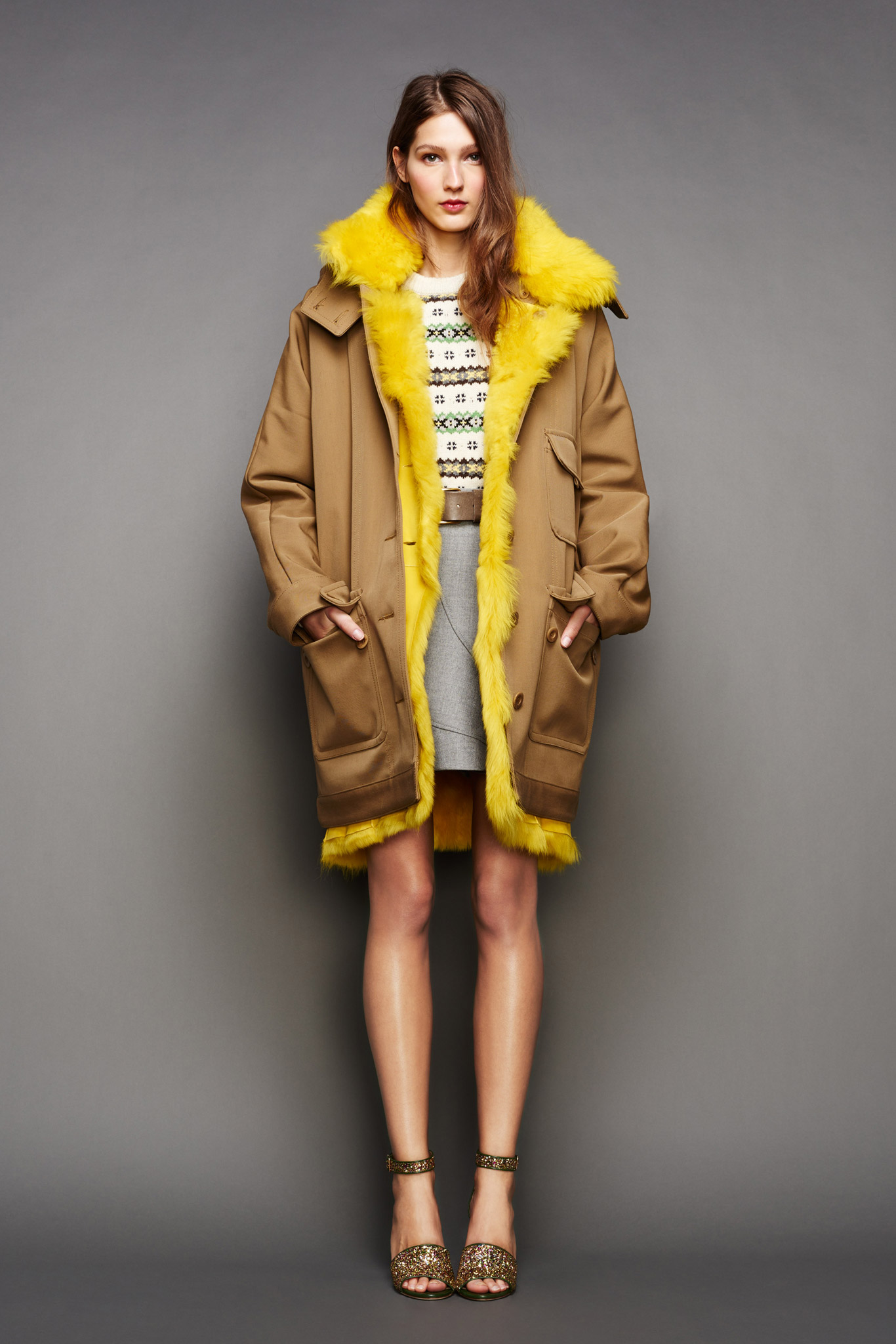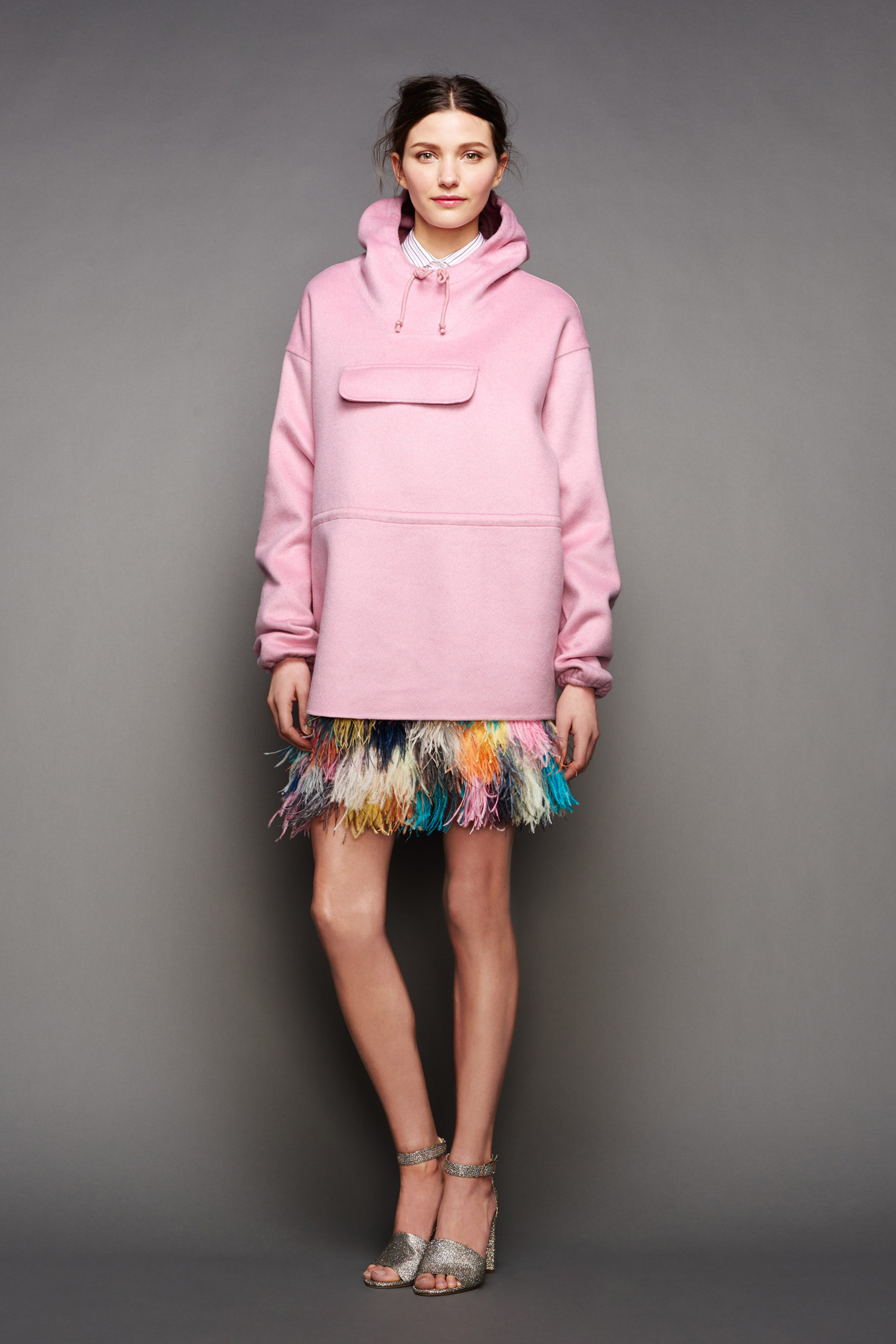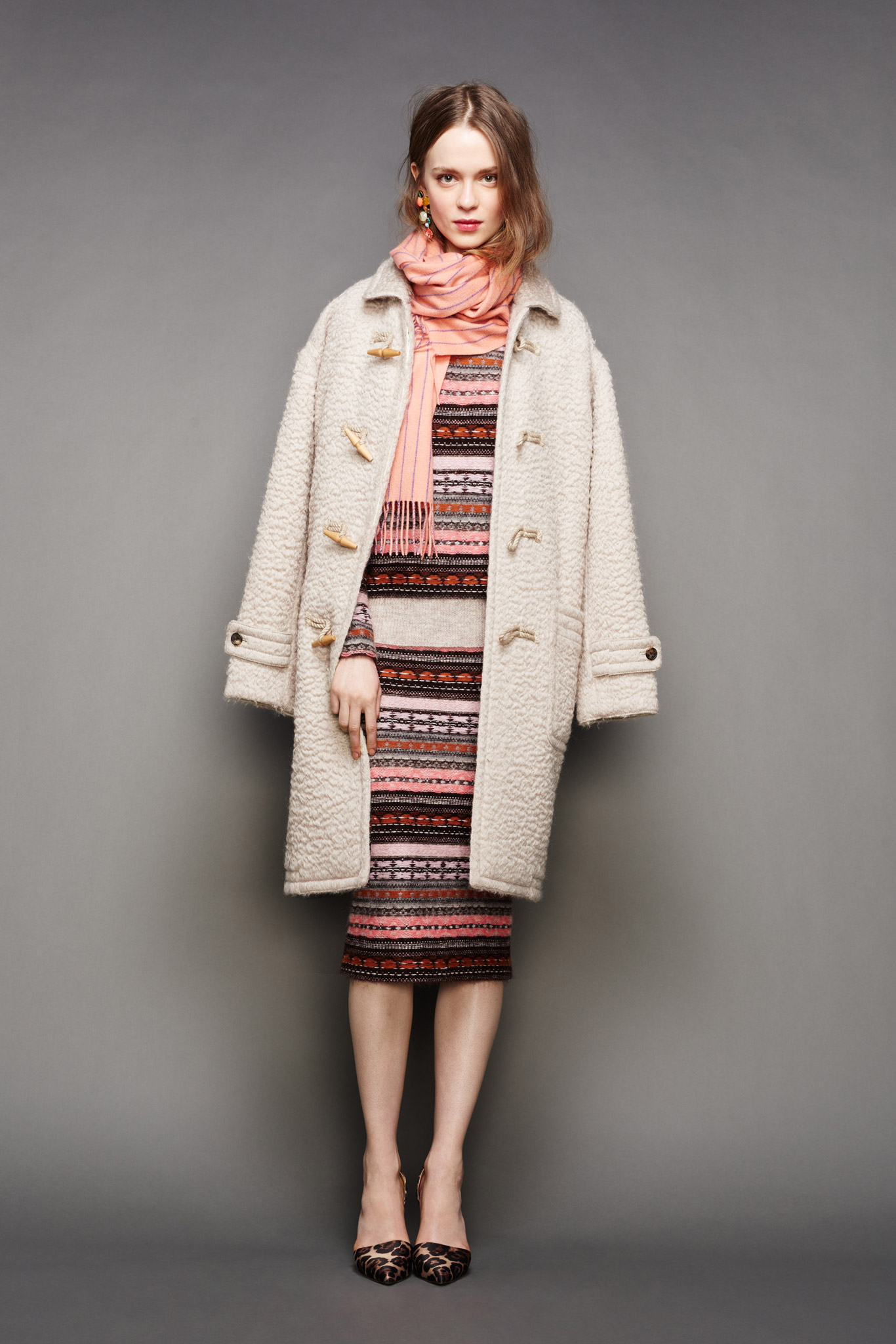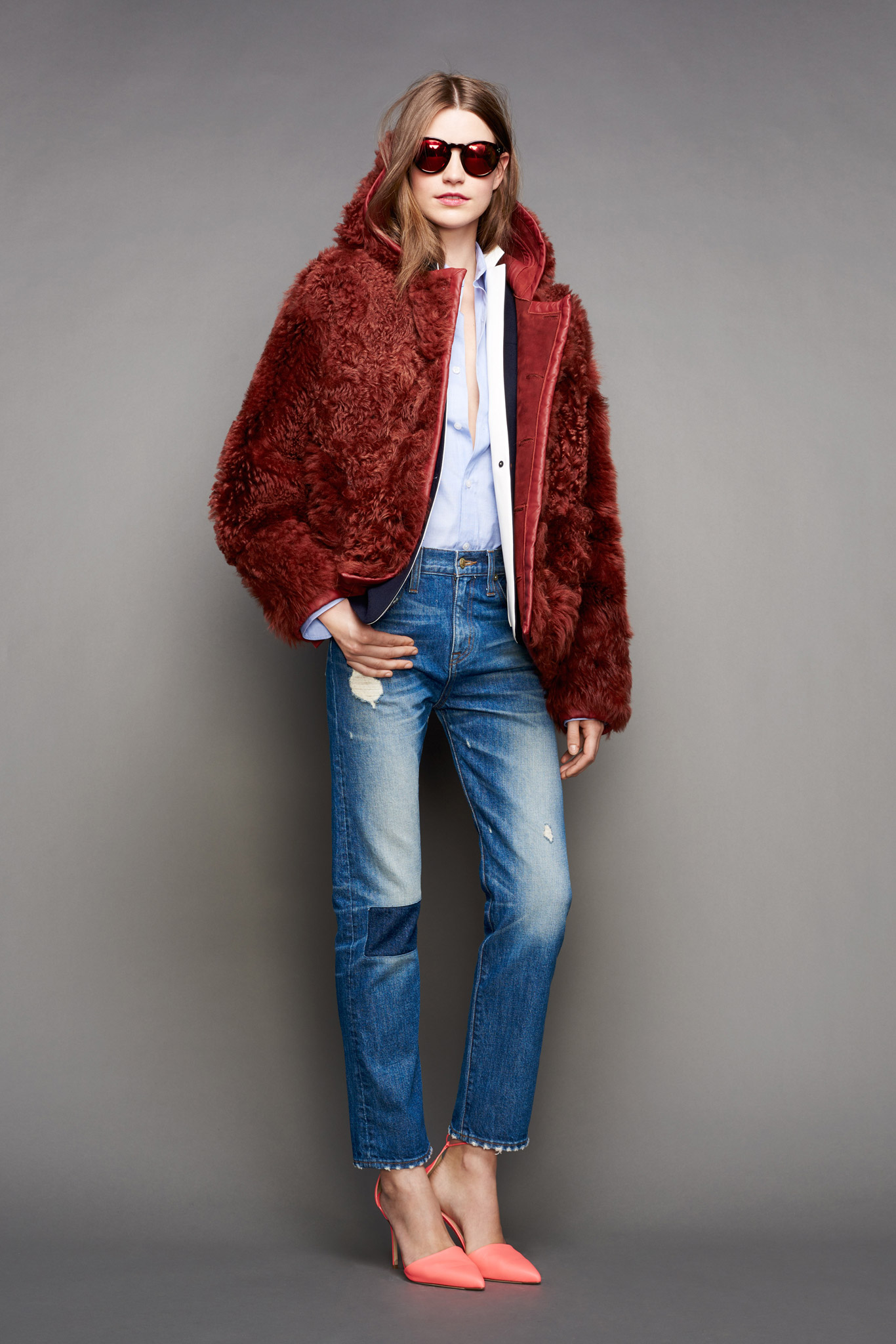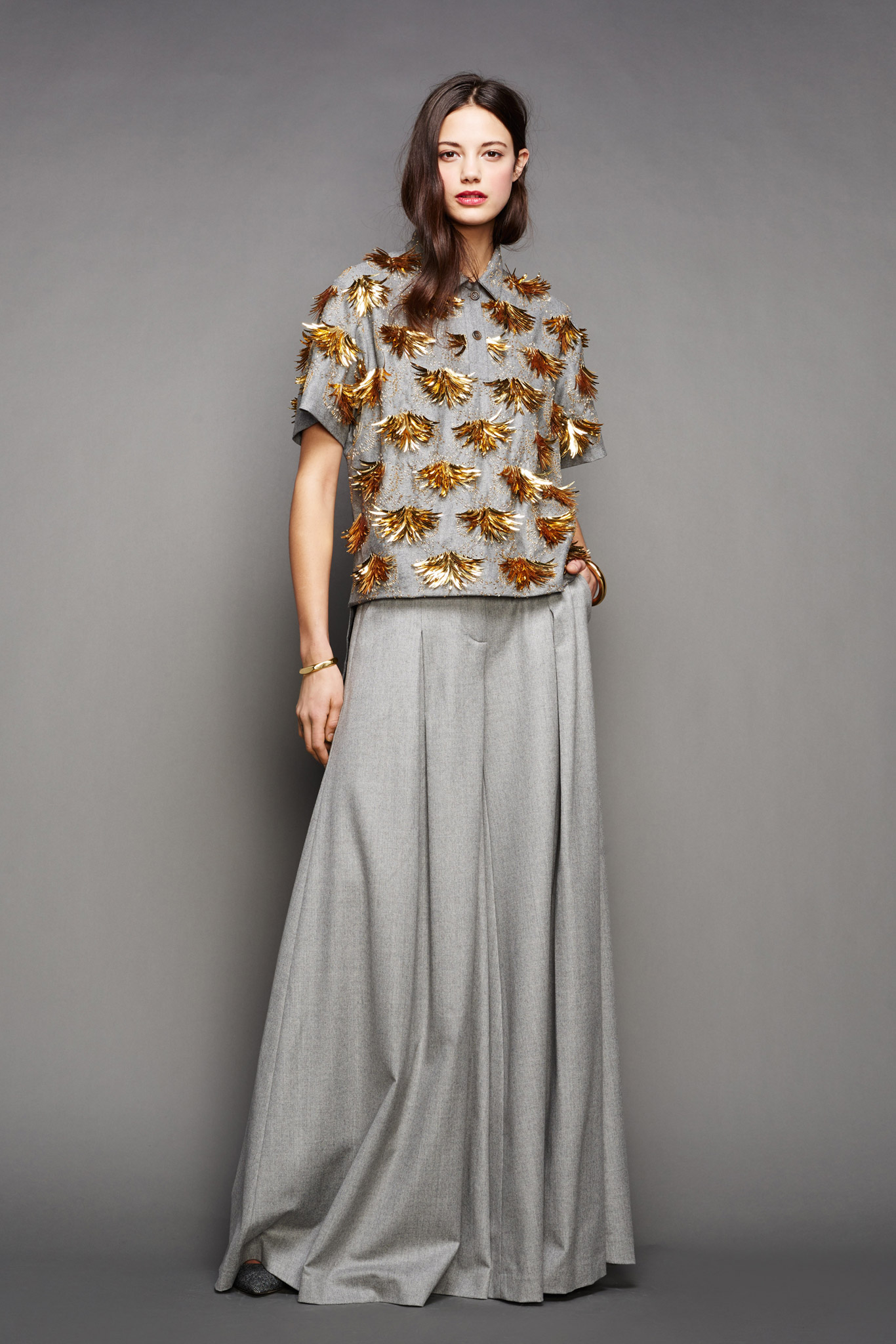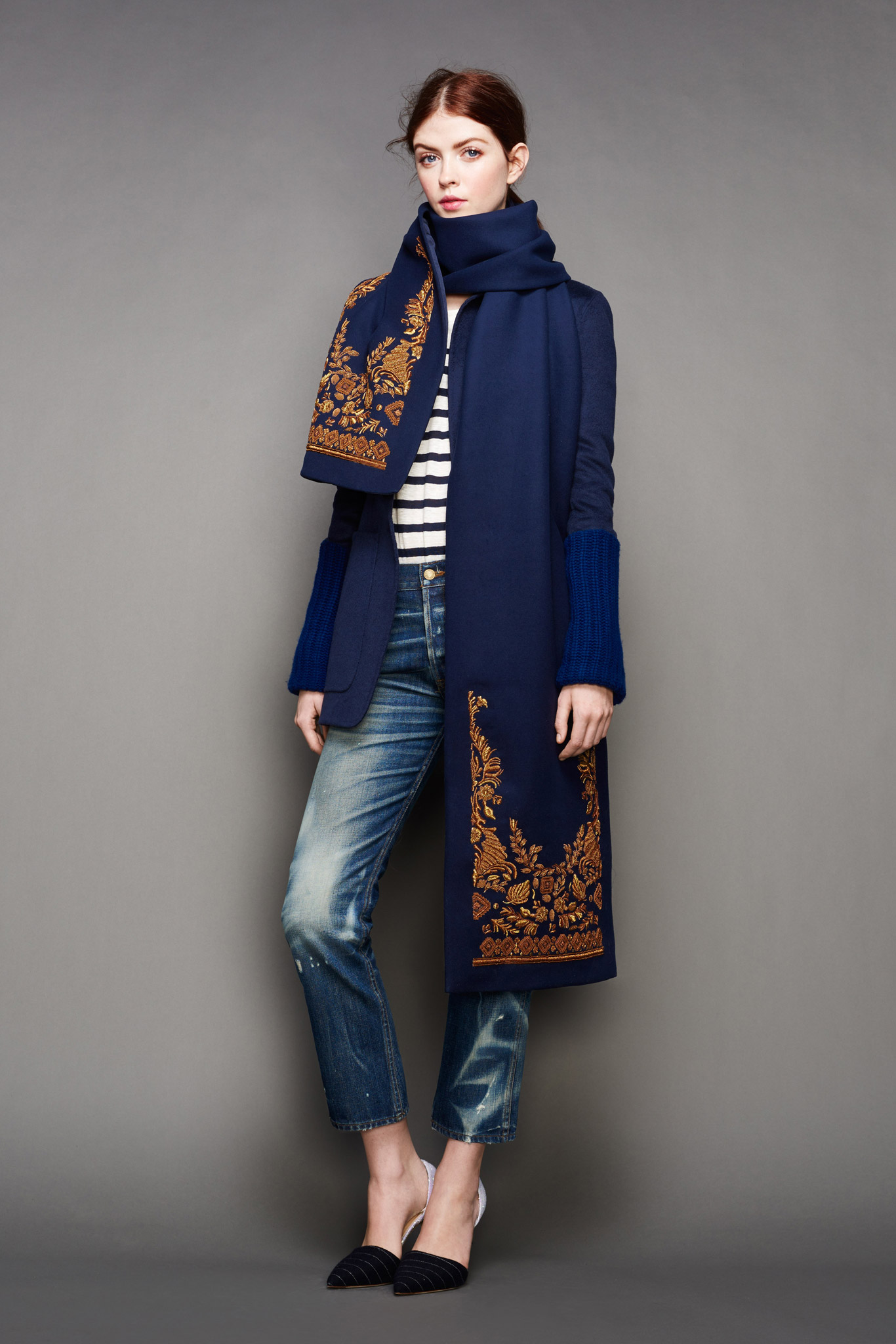 This illustrates how much just an embellished scarf can elevate an outfit beyond the usual and expected. If you cannot abide a fully emblazoned blazer, just keep a gussied up scarf at the ready to add pizzaz to any outfit.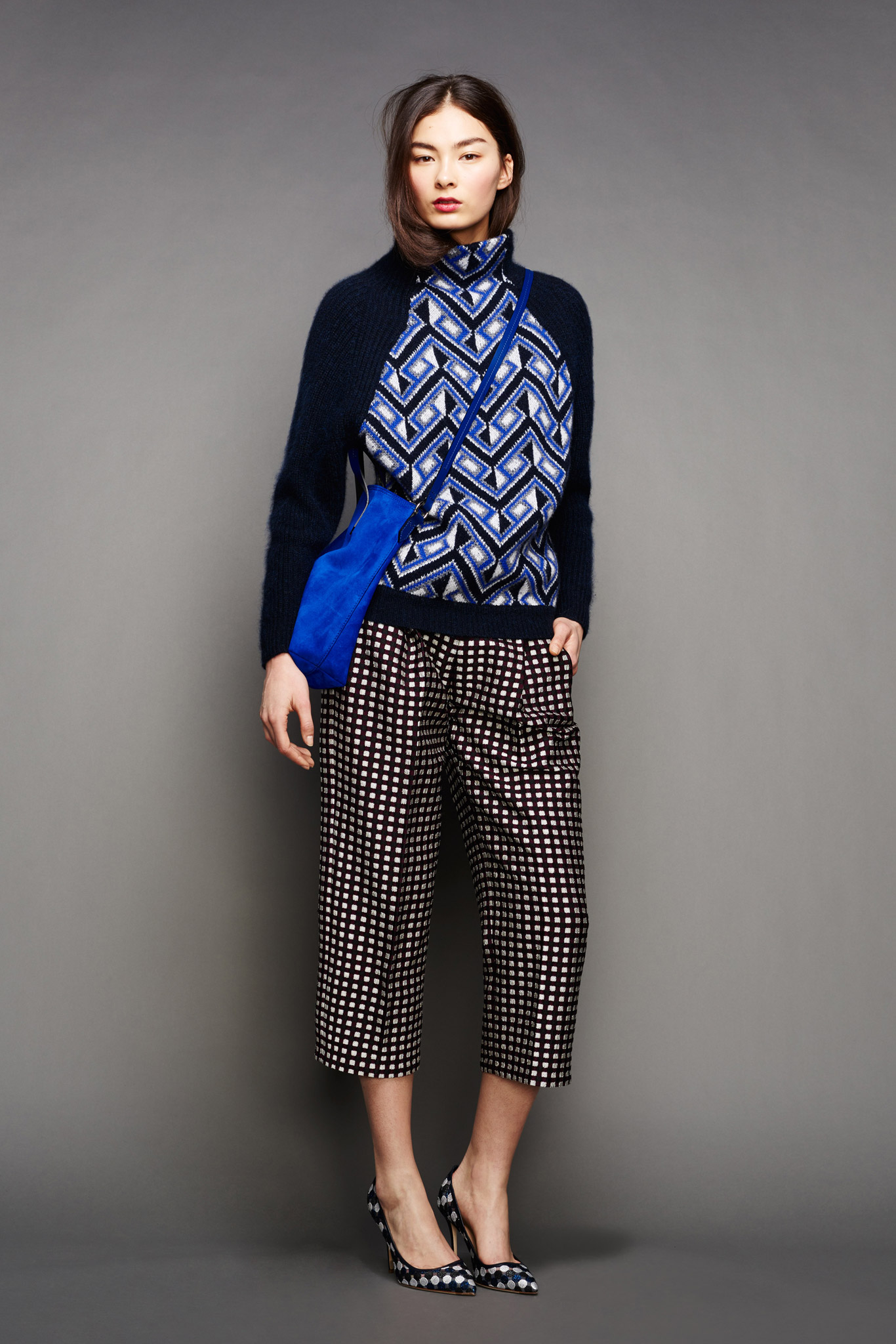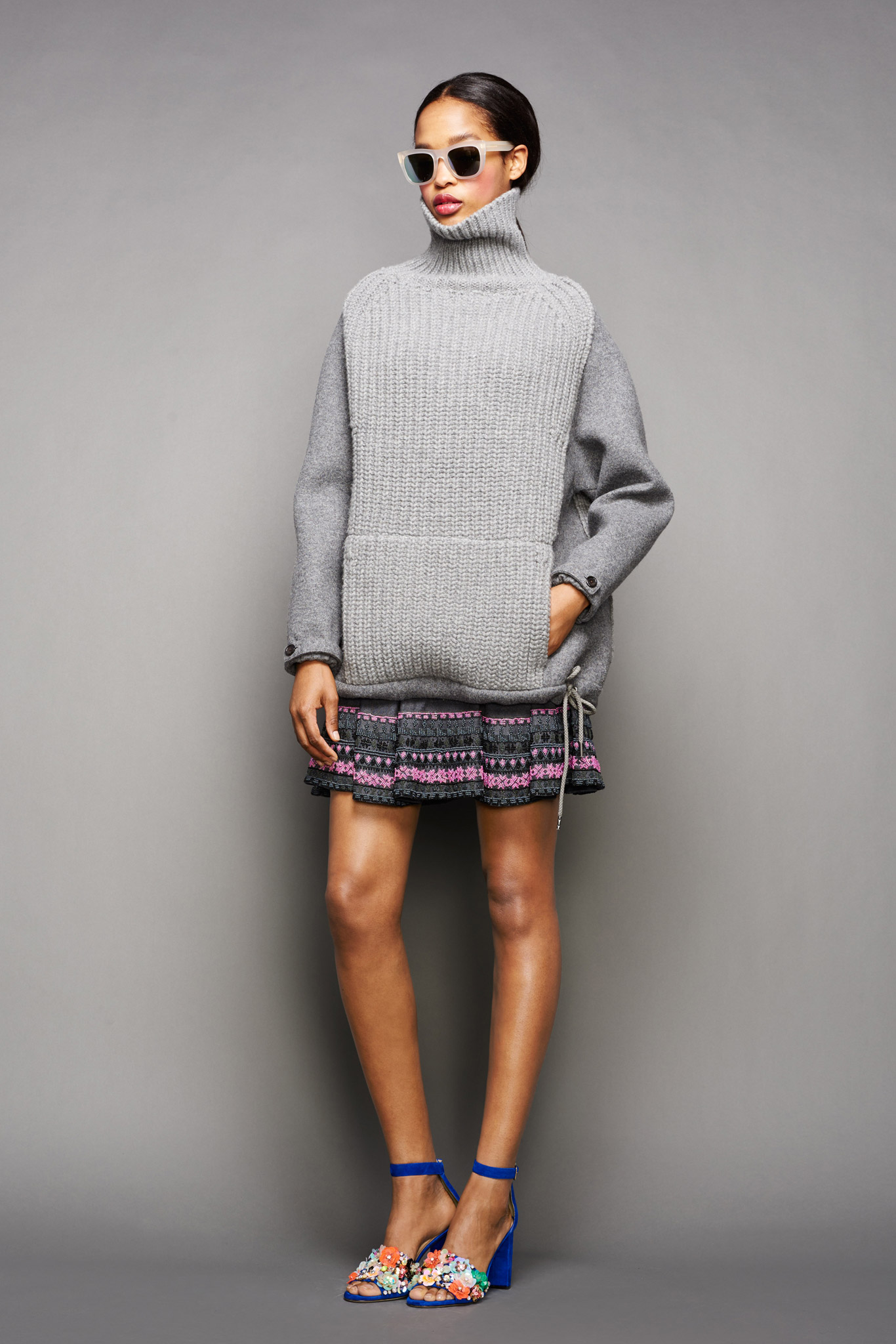 Like the outfit, A D O R E the shoes! Coalescent floral embellishments make up the perfect garden party shoe.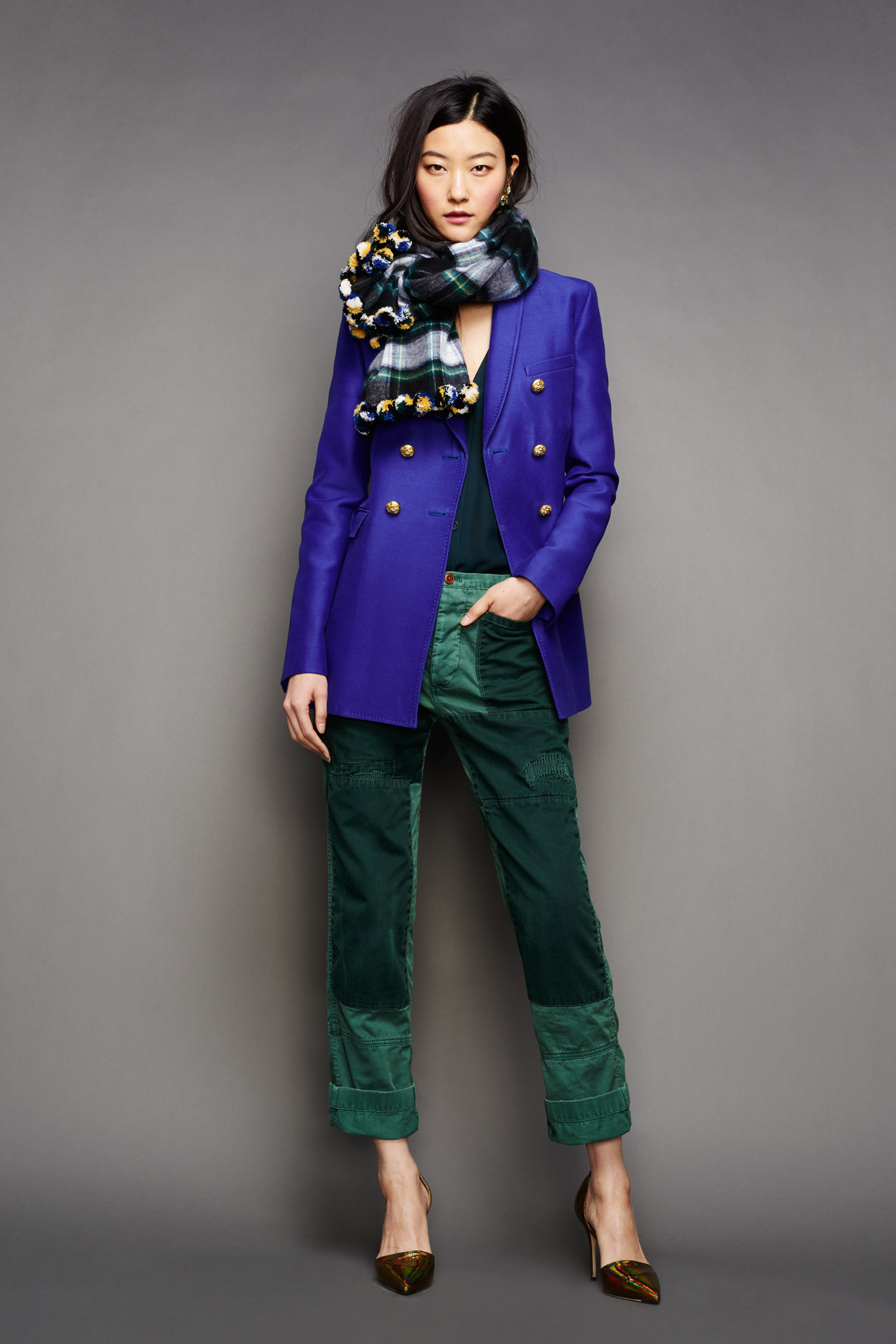 I like the approach of mixing and matching many different textures, colors, and motifs, to spice up and lighten an outfit. Life is serious enough, fashion should often be F U N. And sure, the jeans fancy pump (or stiletto) combination is nothing new, but it still seems relevant.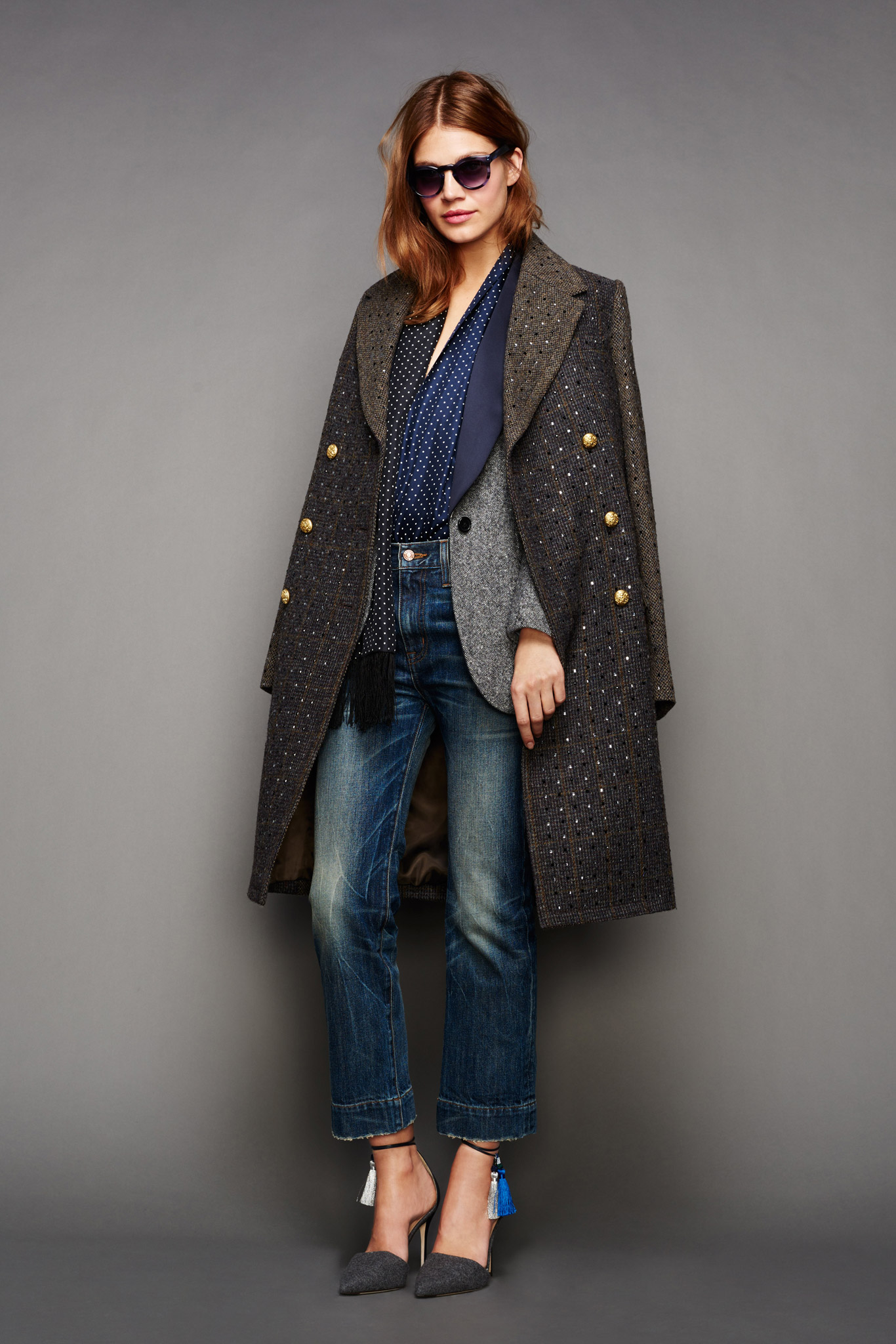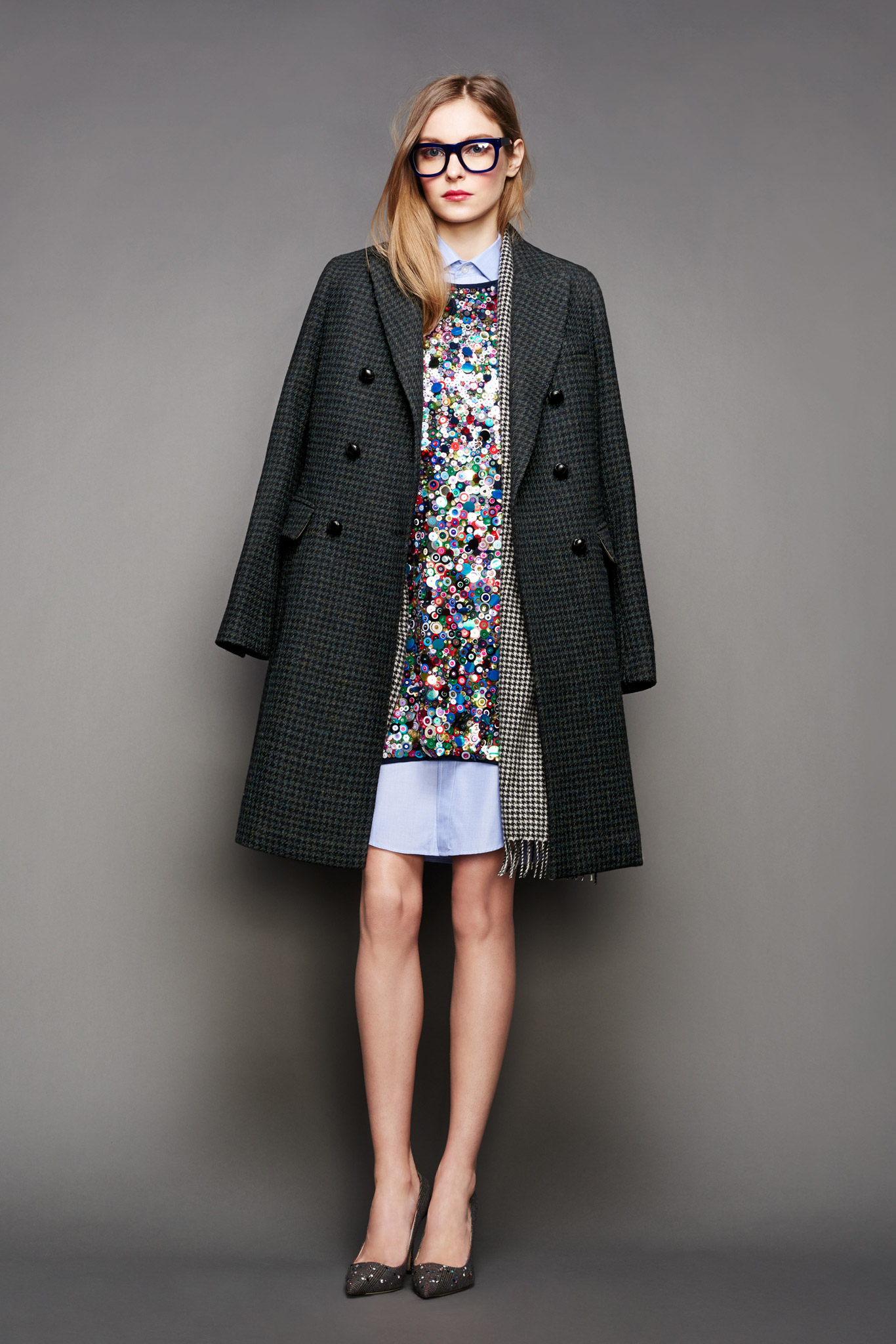 HONOR:
A brief sojourn through the enchanted forrest composed of lovely romantic pieces, with a recurring fawn theme. No need to overwhelm one's collection with an endless homage to Bambi, just one piece needed to provide requisite whimsy.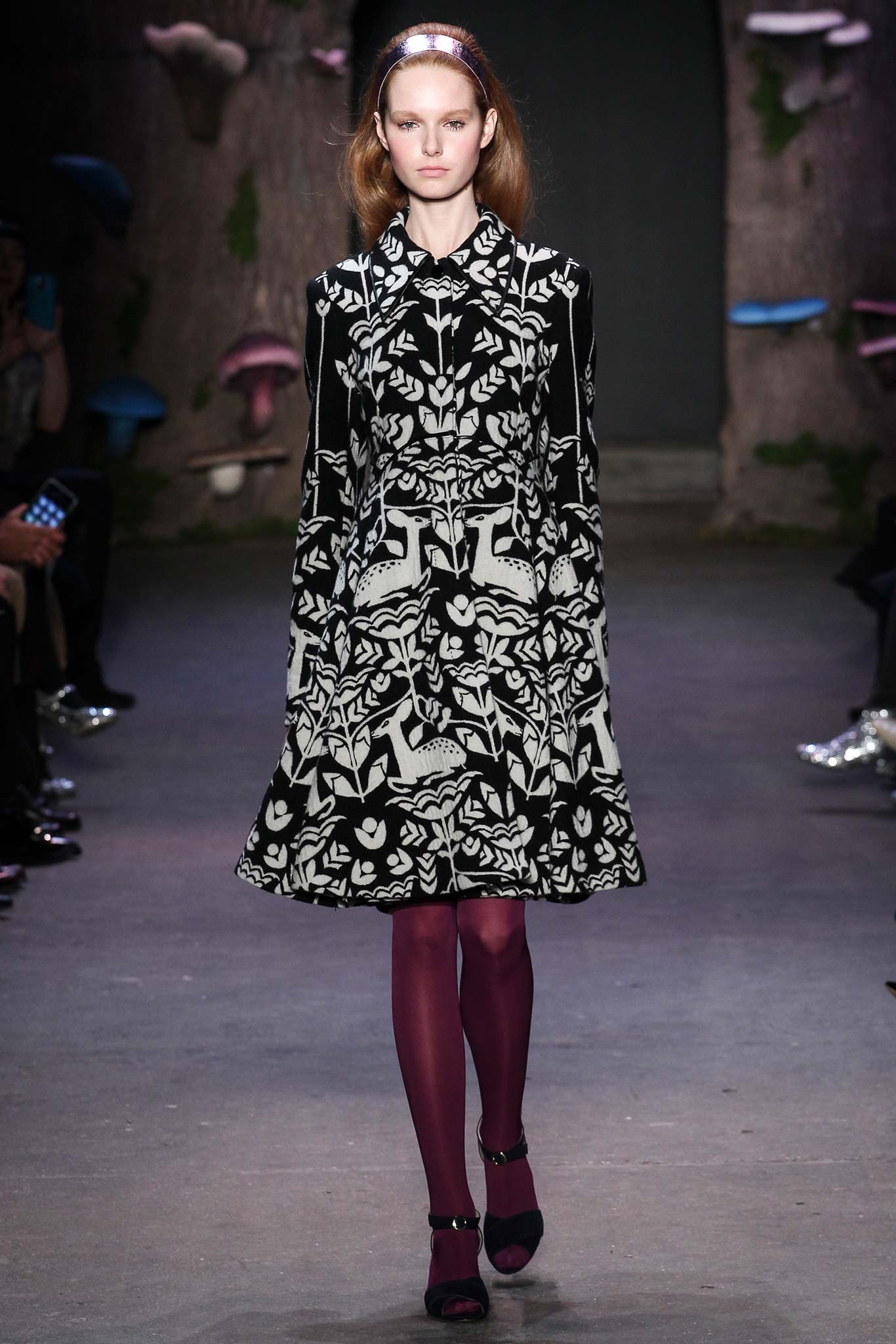 Many of the pieces in this collection are for evening affairs and special events, unless chiffon and full length gowns are a mainstay at your place of work, but this first look is more casual and would work for any casual romp.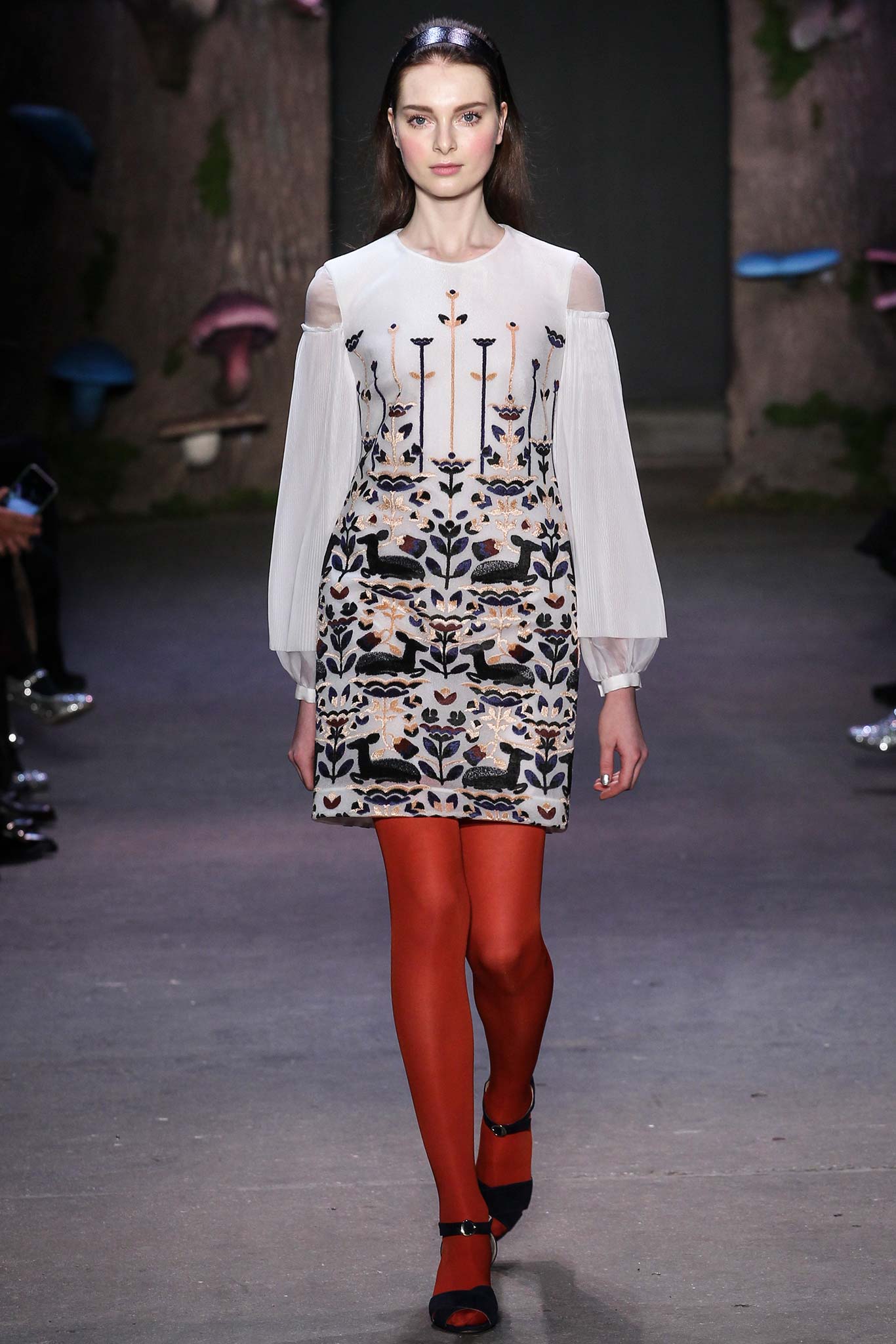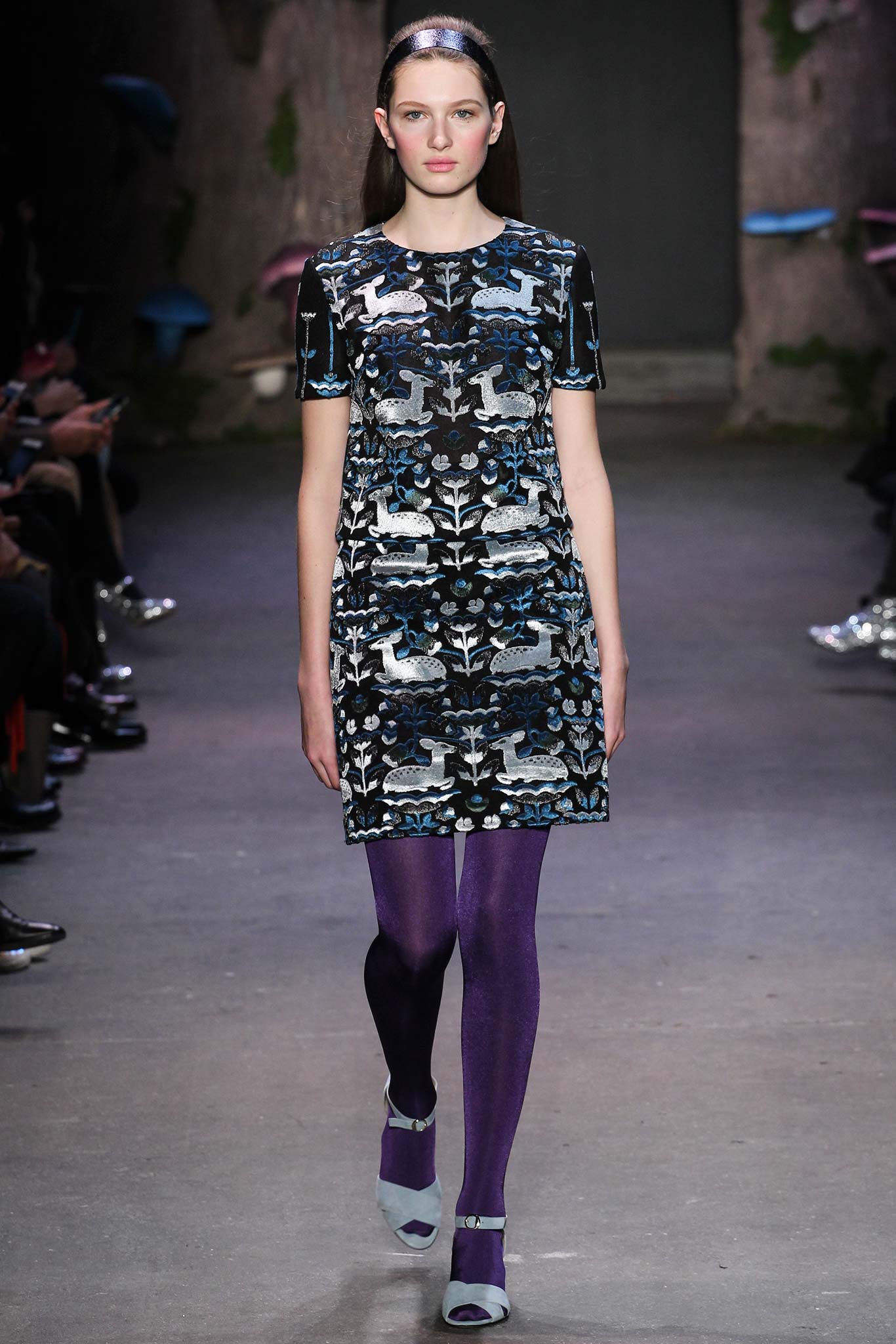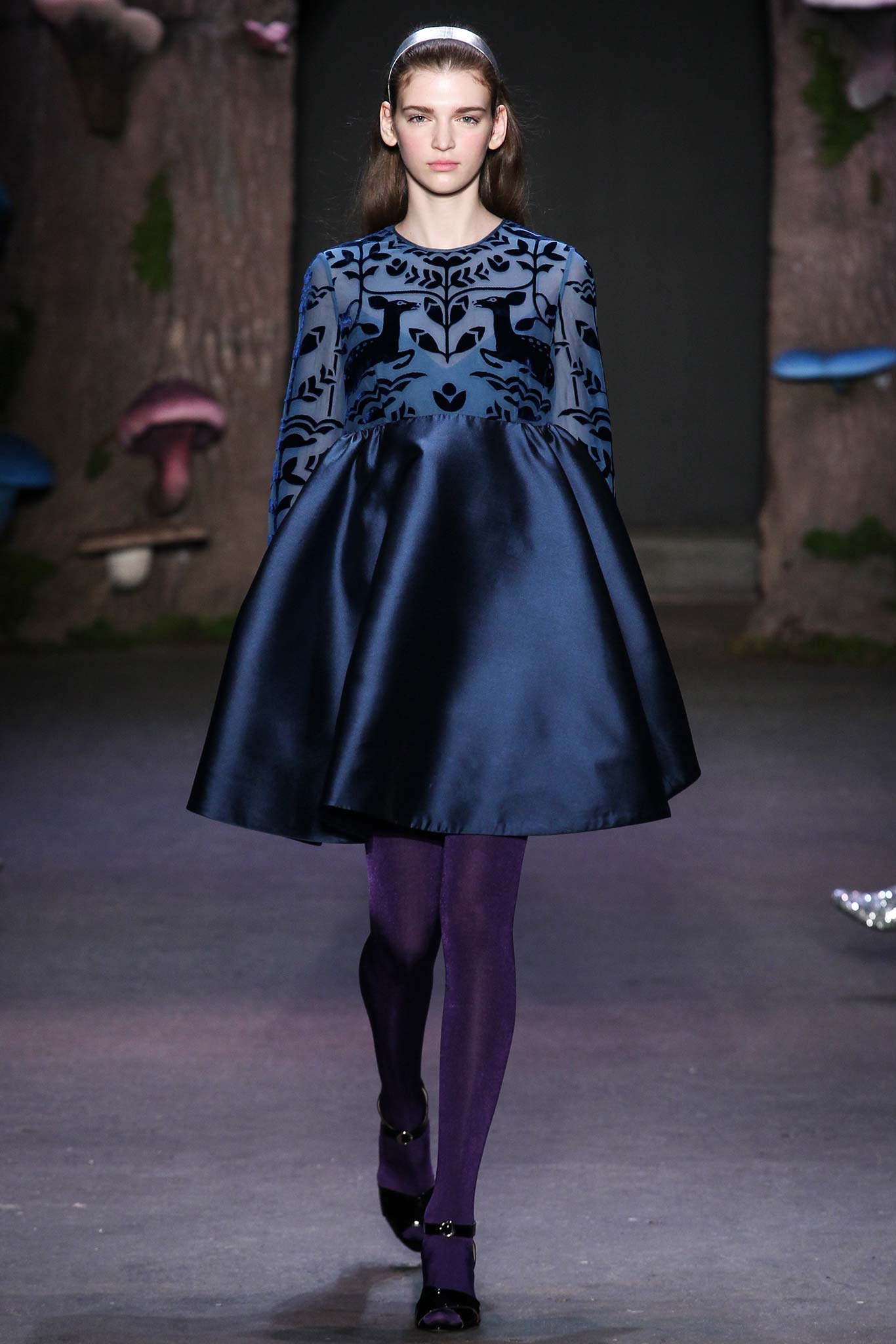 For the young at heart, and those gifted with the great gams.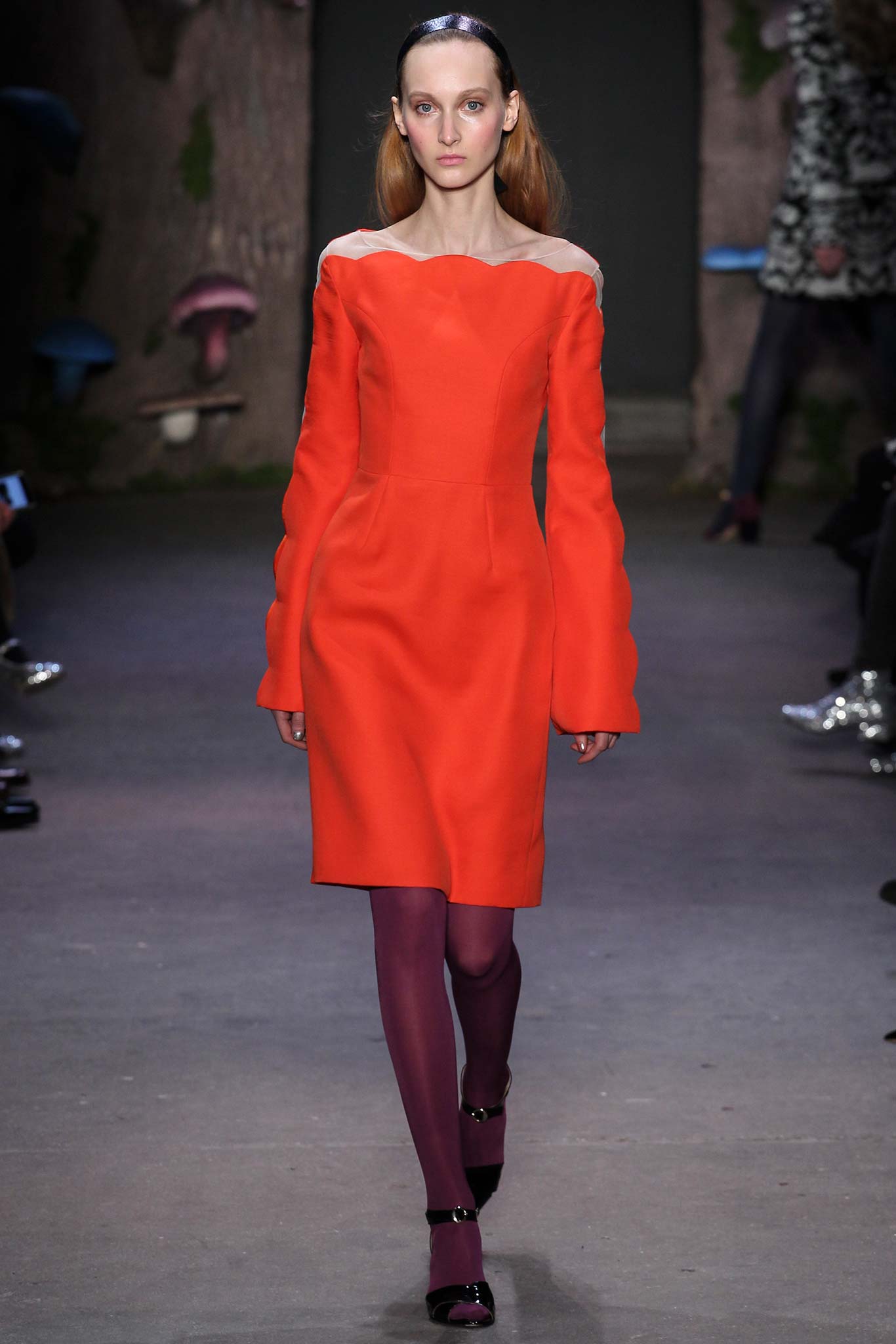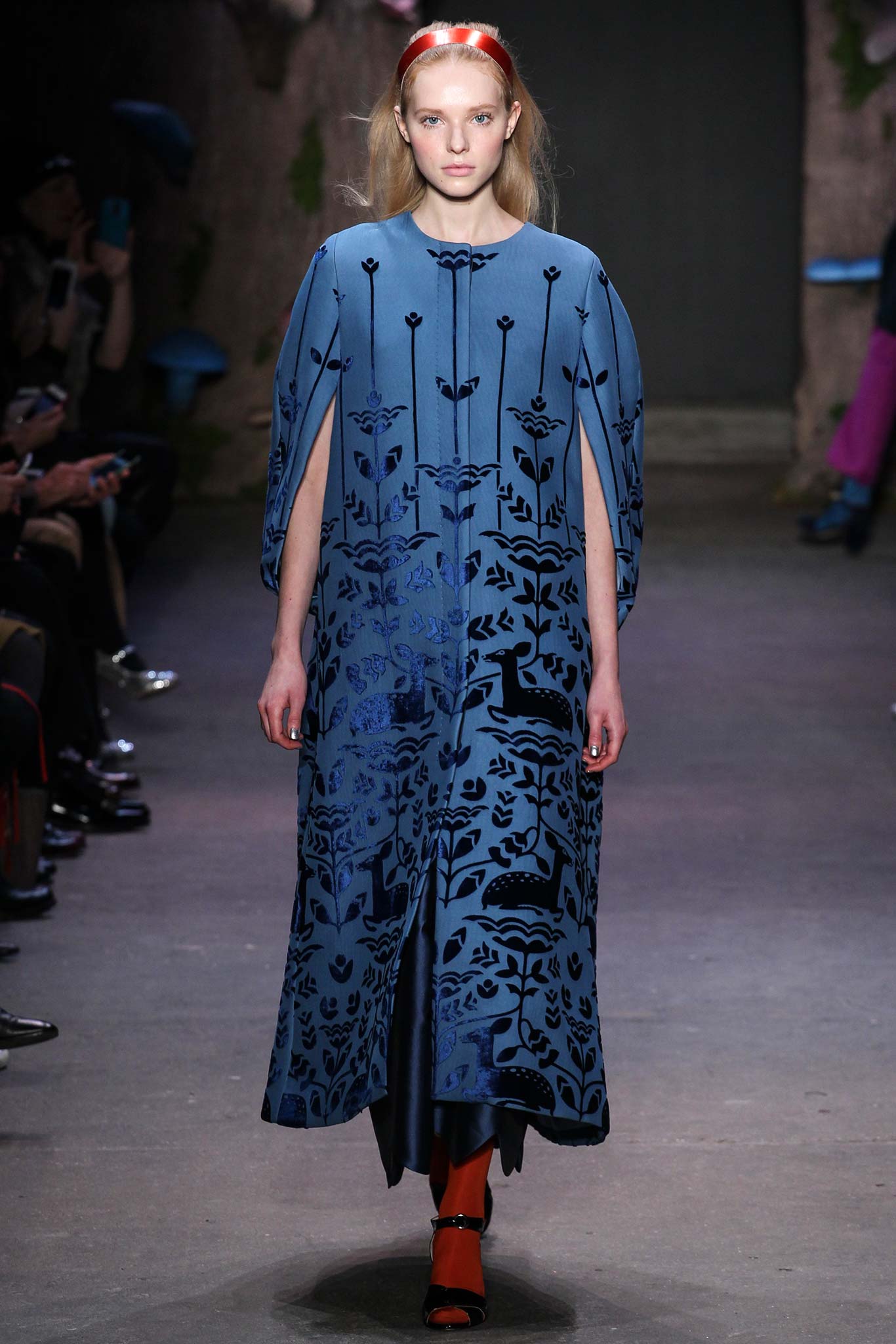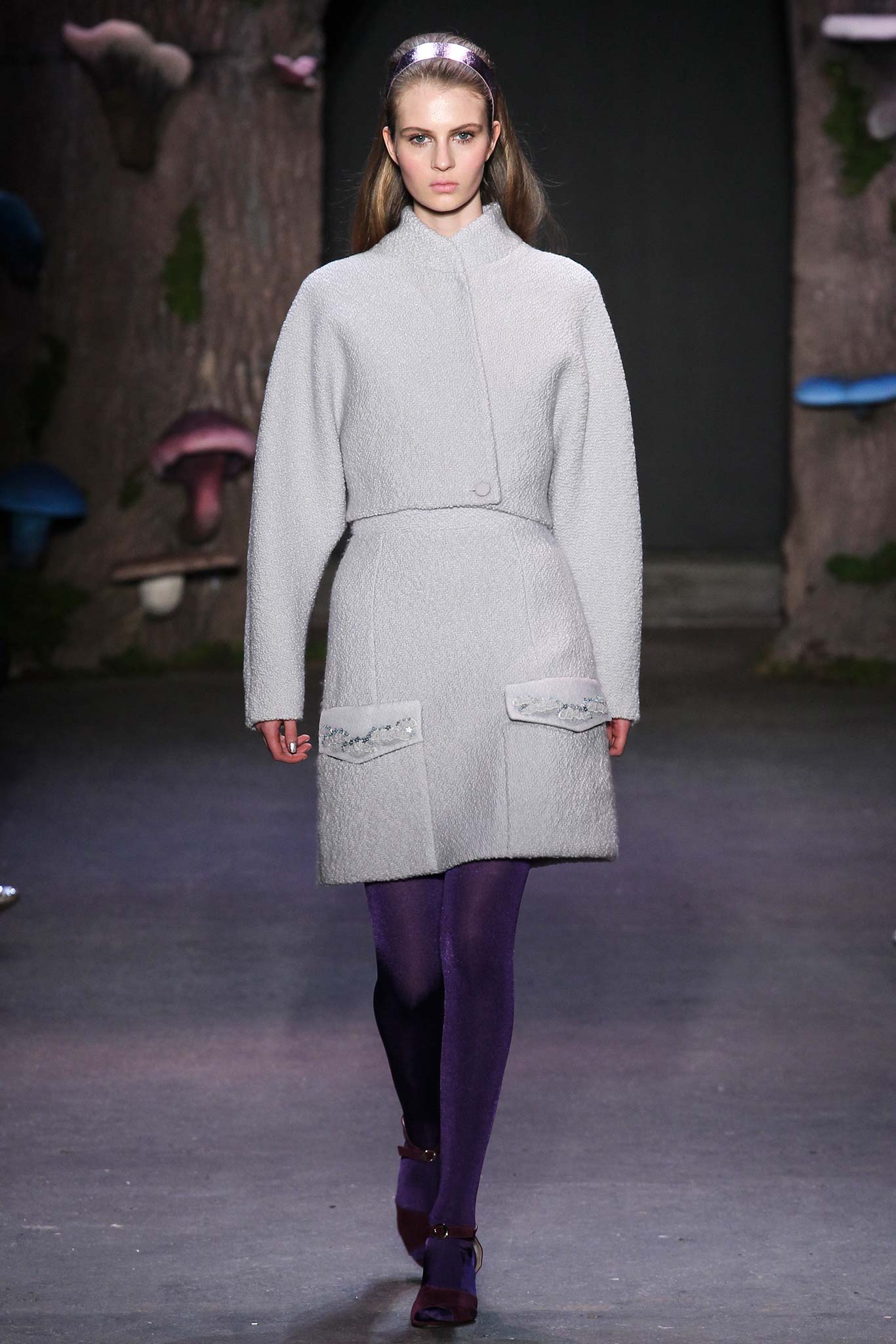 This dove gray suit is sweet, feminine yet substantial and striking in its simplicity. Reminds me of something that would show up on a Hitchcock heroine. Top off with tonal hat and gloves.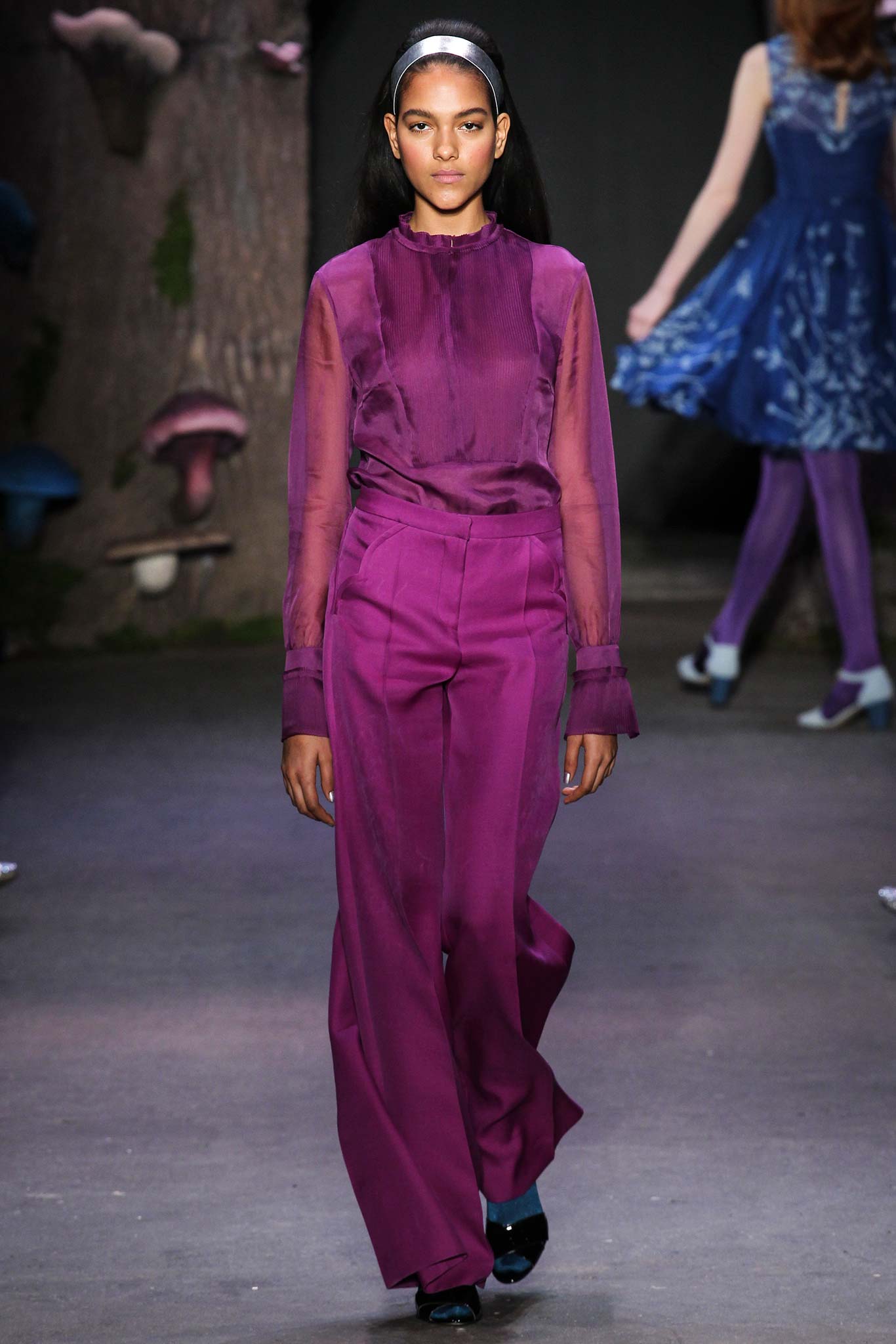 Throw a velvet tuxedo jacket over this ensemble for a clever take on gala affair ware. Any version of fuchsia or raspberry trumps white cotton shirt for dramatic effect.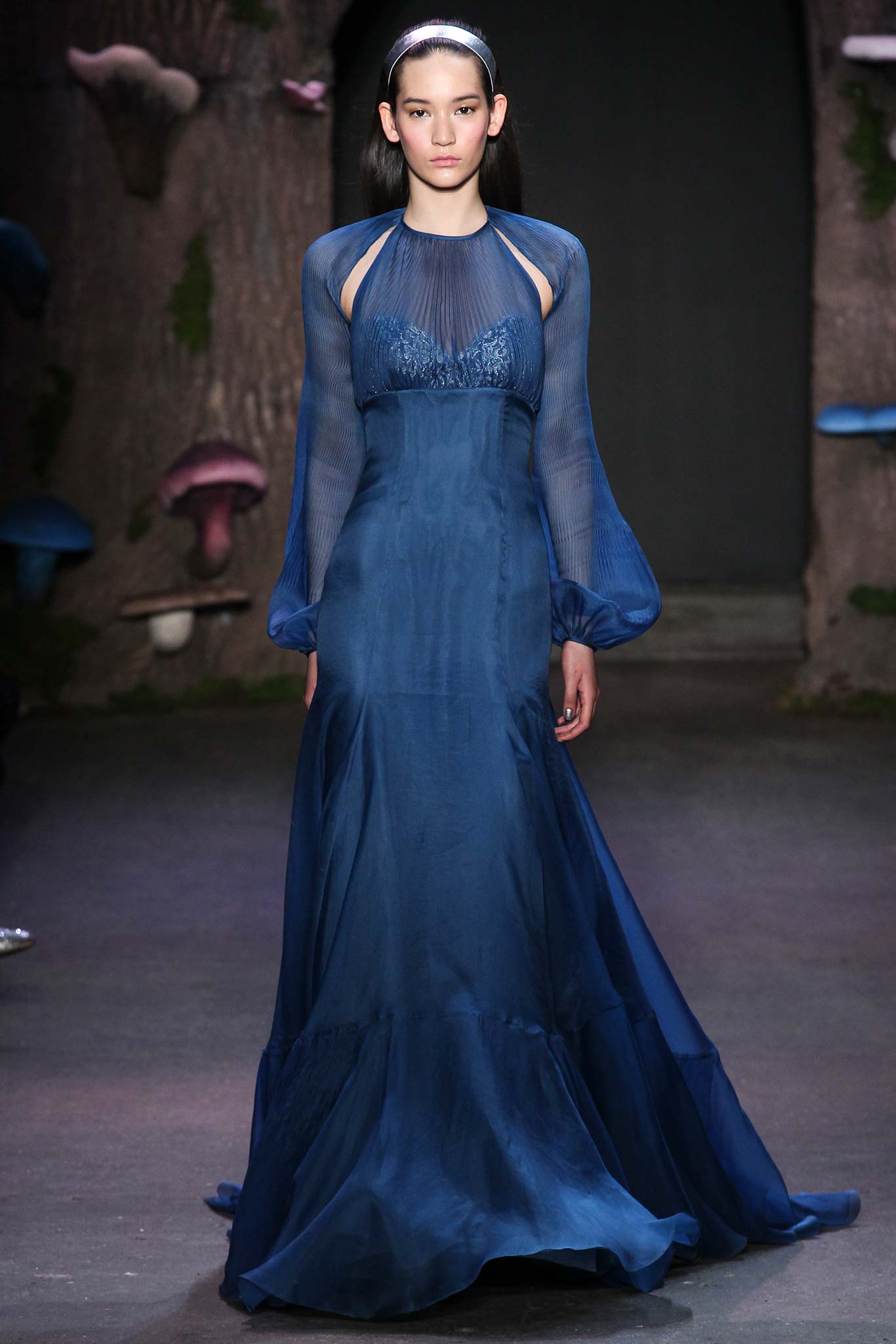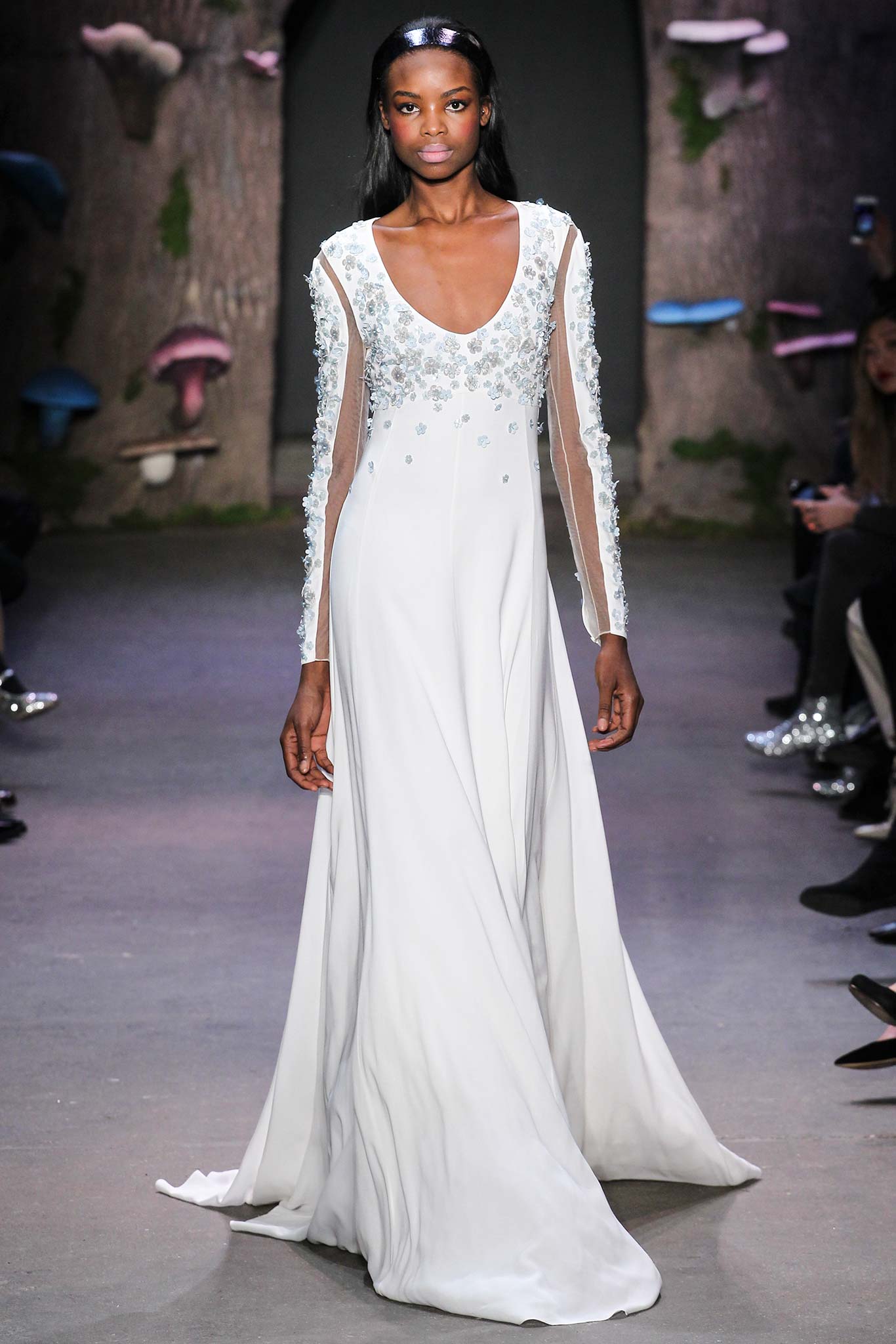 NICHOLAS K:
A sort of shout out to Amelia Earhart with the leather helmets and leather jackets, with a constant theatrical flare what with the asymmetric capes and layers upon layers. All versions of ponchos, capes, and alternative coverups are in these days and provide just another option to keep our décolletage under wraps.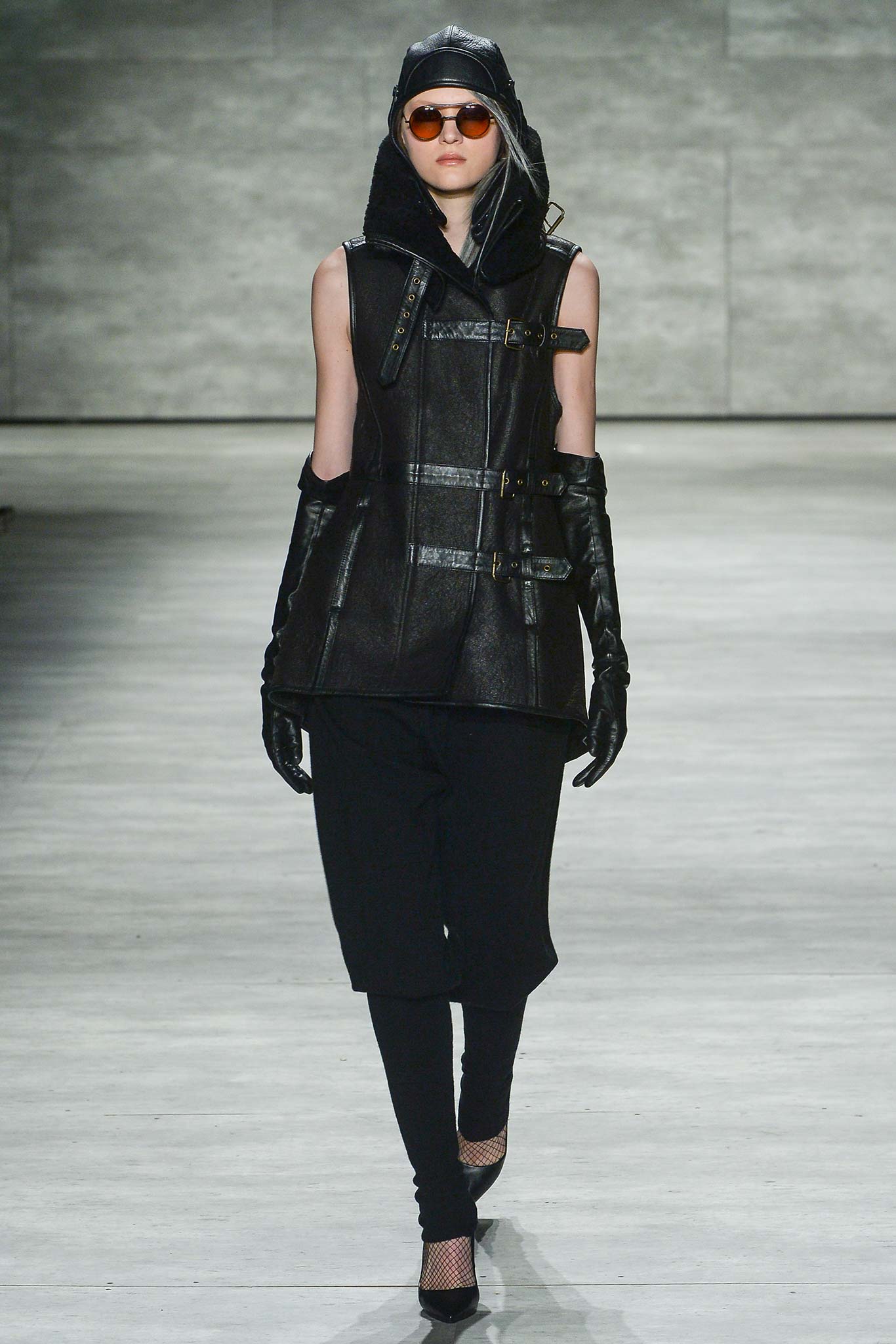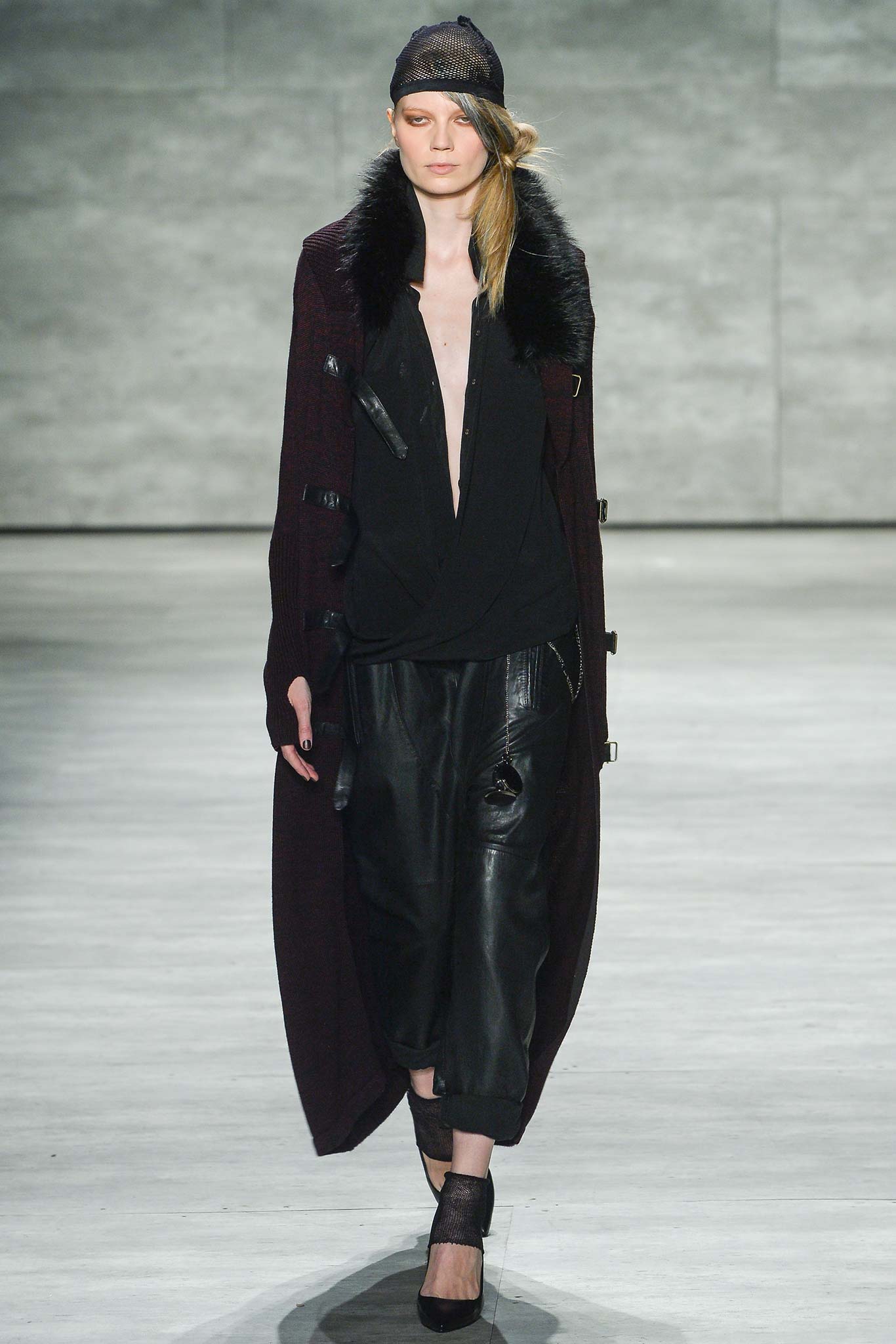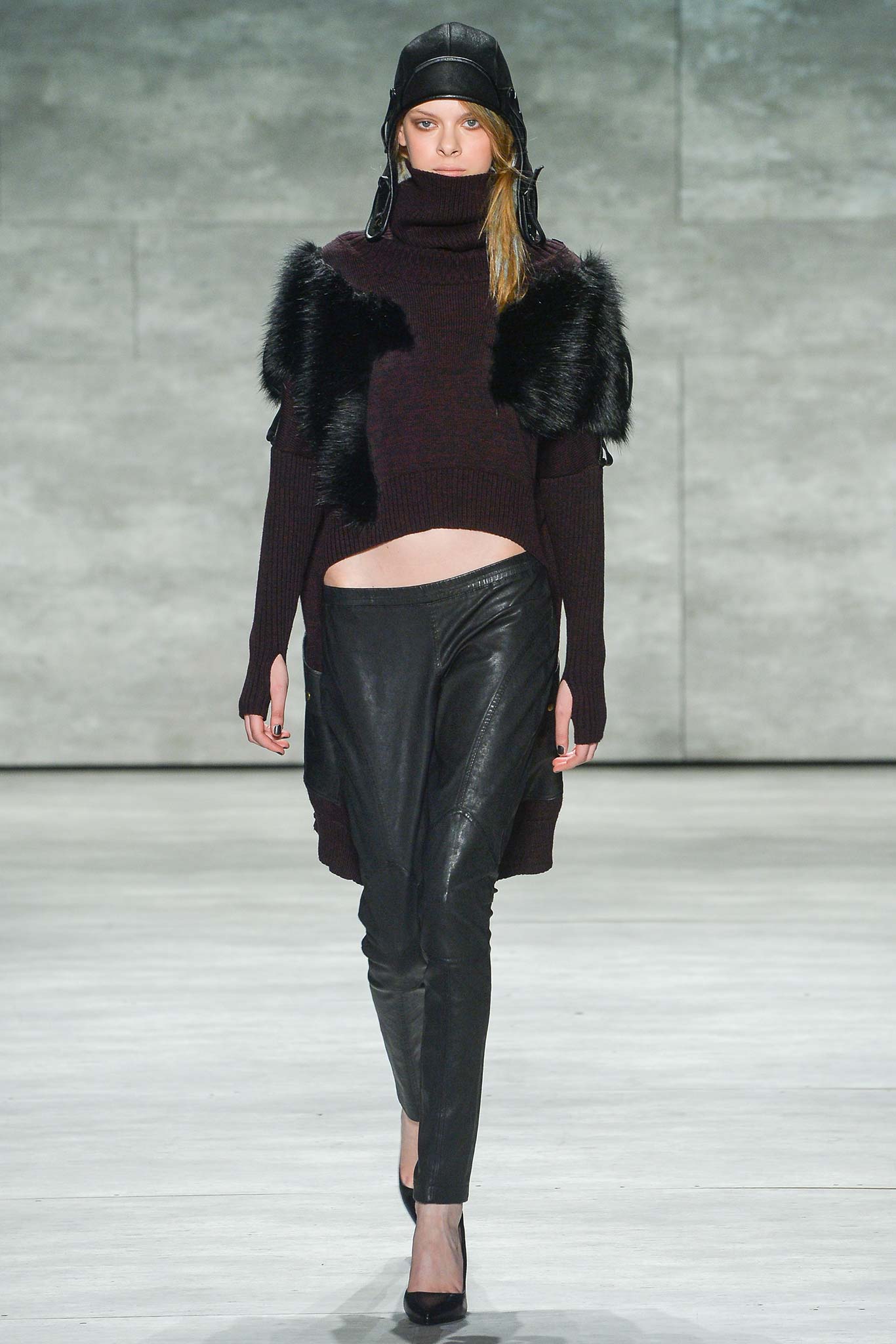 Unless a strict Vegan, leather leggings are a pragmatic staple to carry one through the seasons and the years. They can be thrown under anything, from a J Crew sweater to a Chanel bejeweled jacket. A benefit above and beyond staving off wind chill is the Spanx effect, and who amongst us doesn't need this from time to time?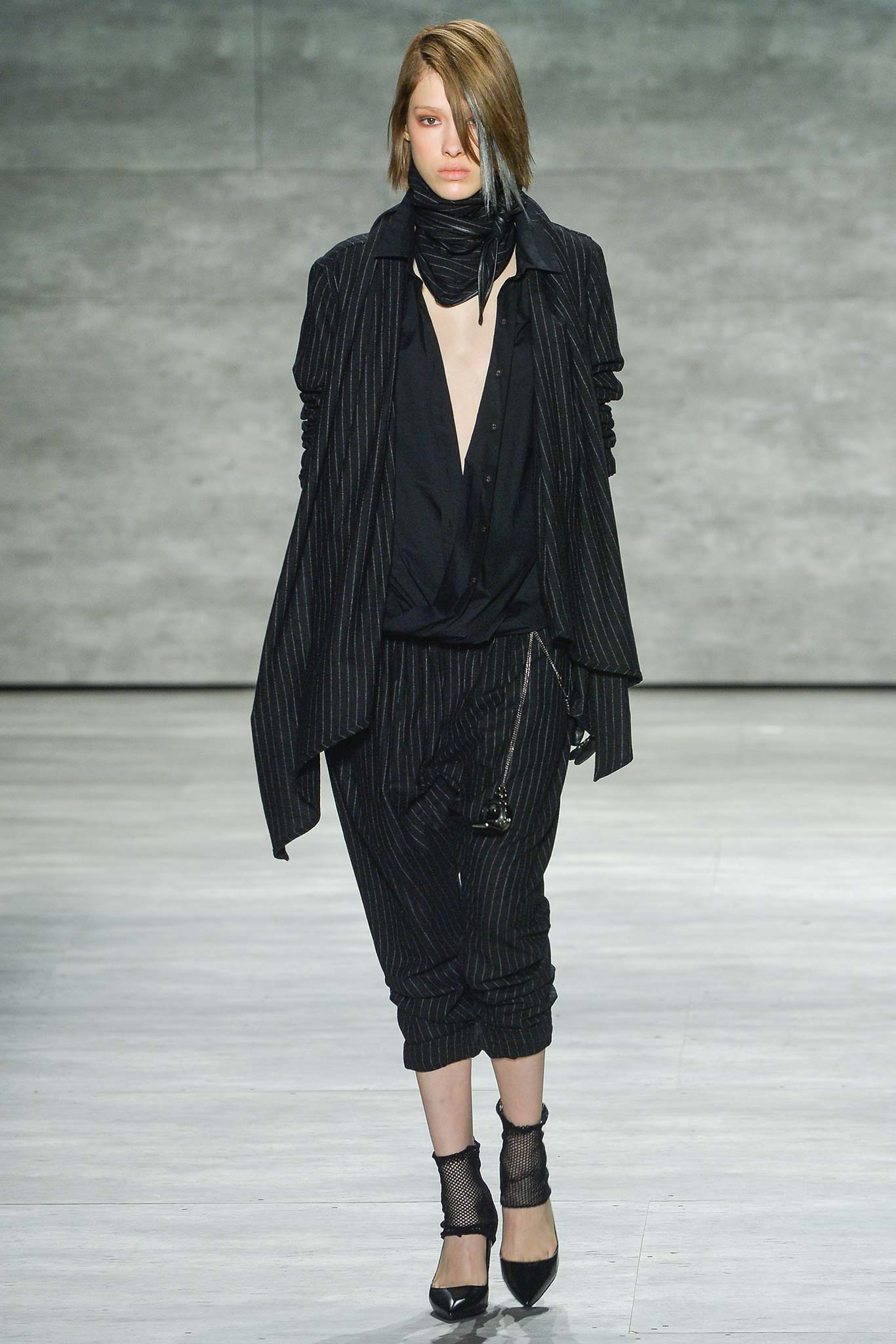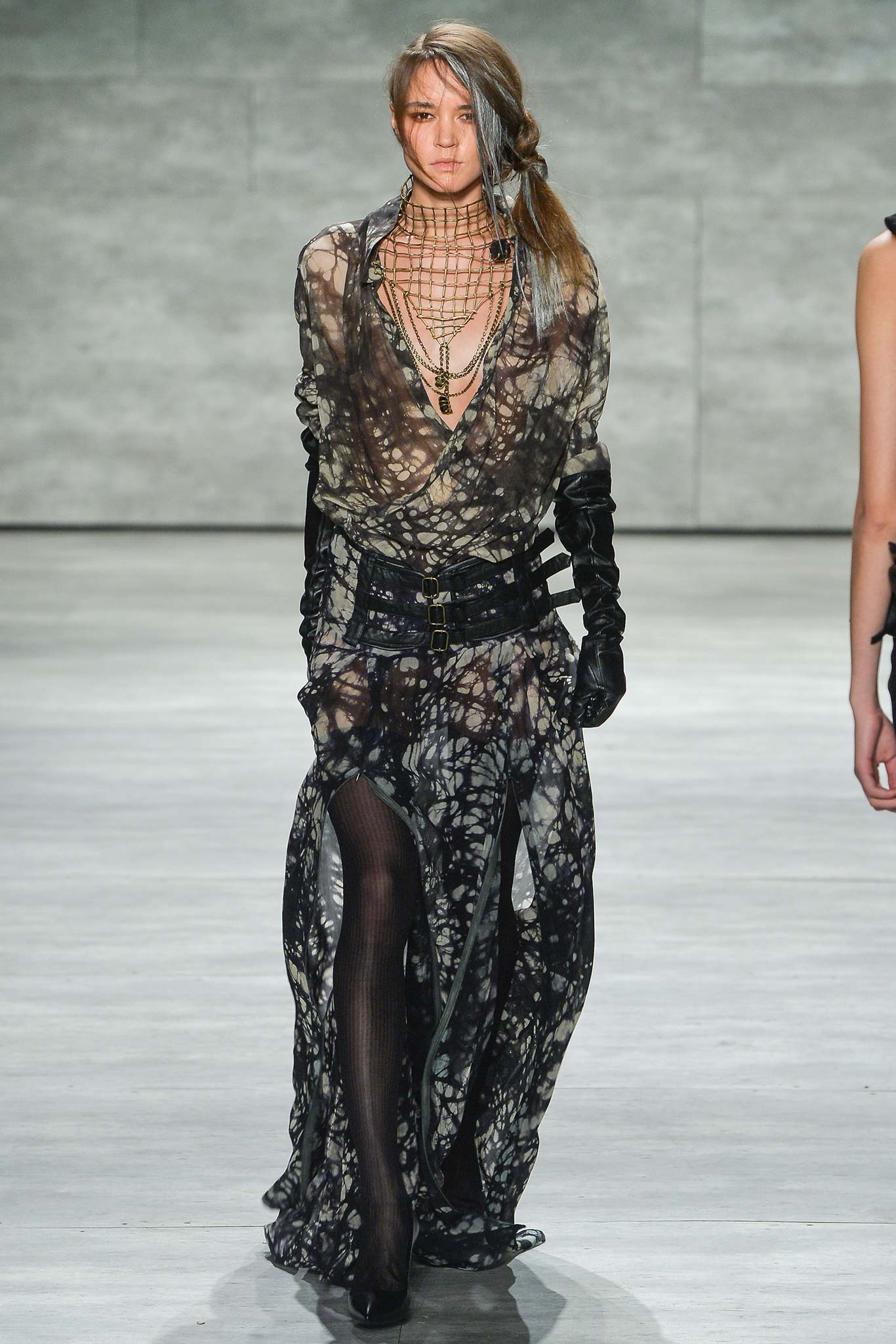 For the renegade on the runway.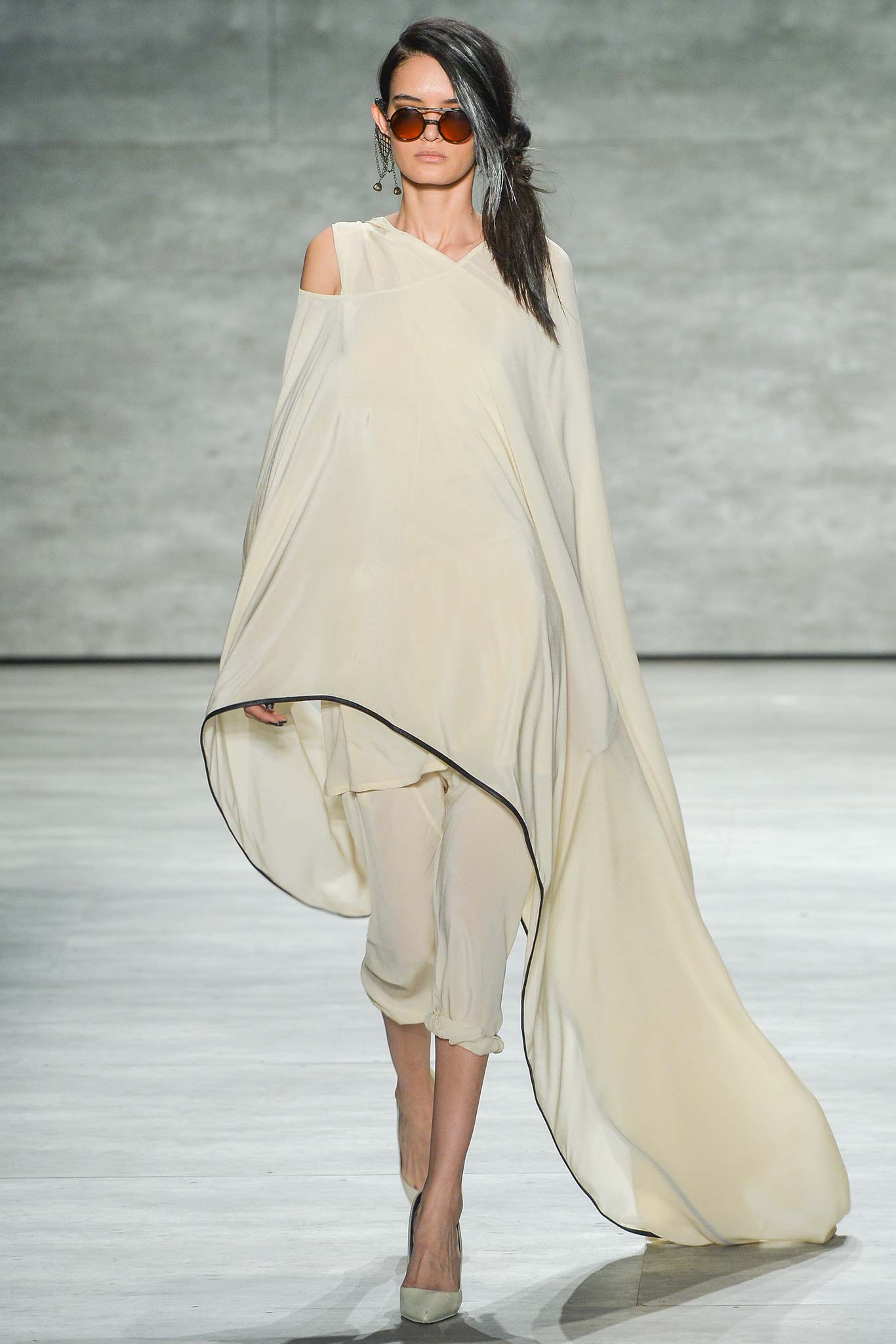 For the hip jet setter when tooling around yacht decks and beaches.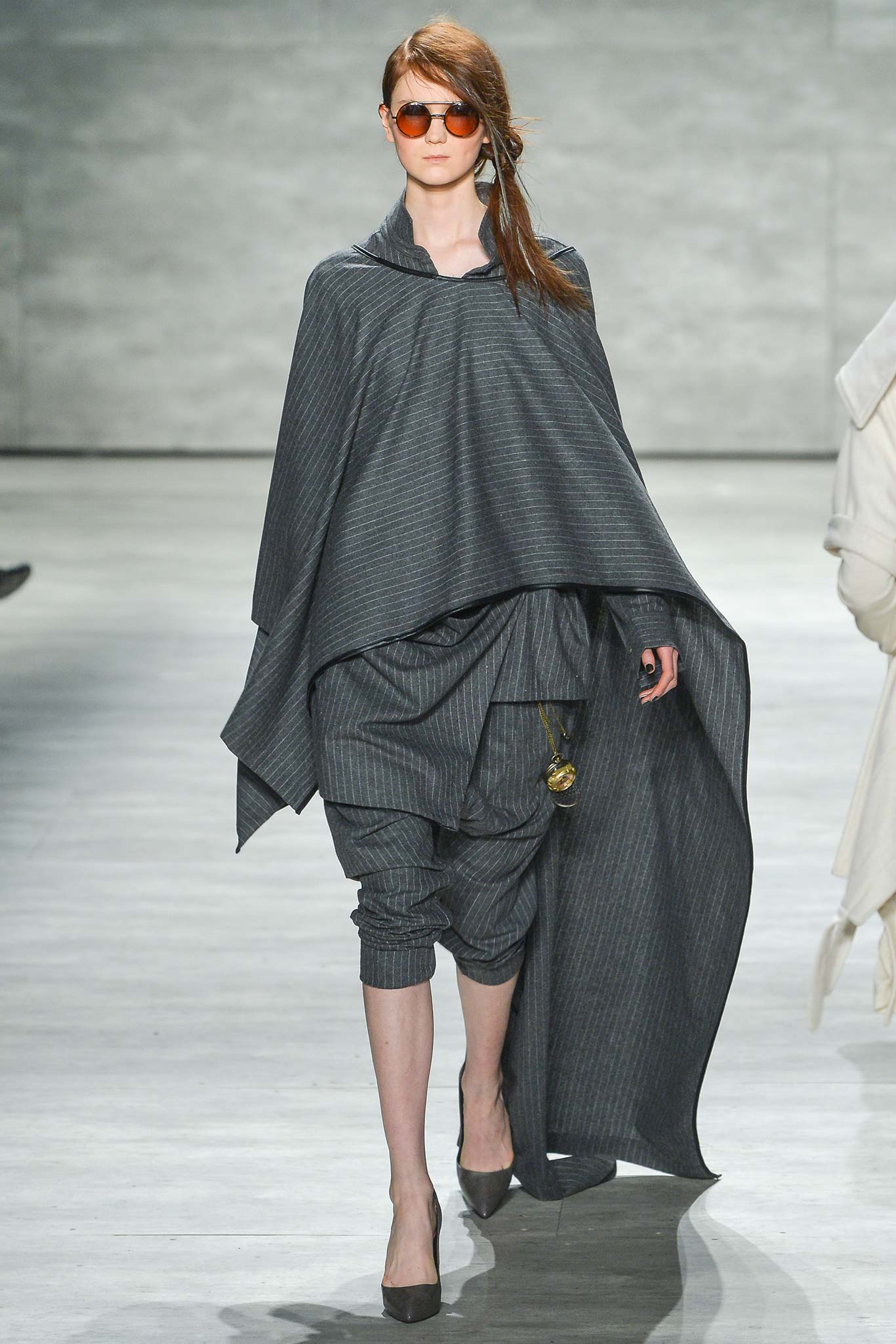 This may present too many layers for some, however, you could take this outfit, one of the long coats, the leather leggings, some jeans, a couple of T-shirts and some lug sole boots and you're ready for a sojourn anywhere. Oh, and the scarf of your choice, maybe even Hermes silk with animal print to mix things up. You'd be chic on the streets of Paris, and ready for a Camel ride through the Sahara.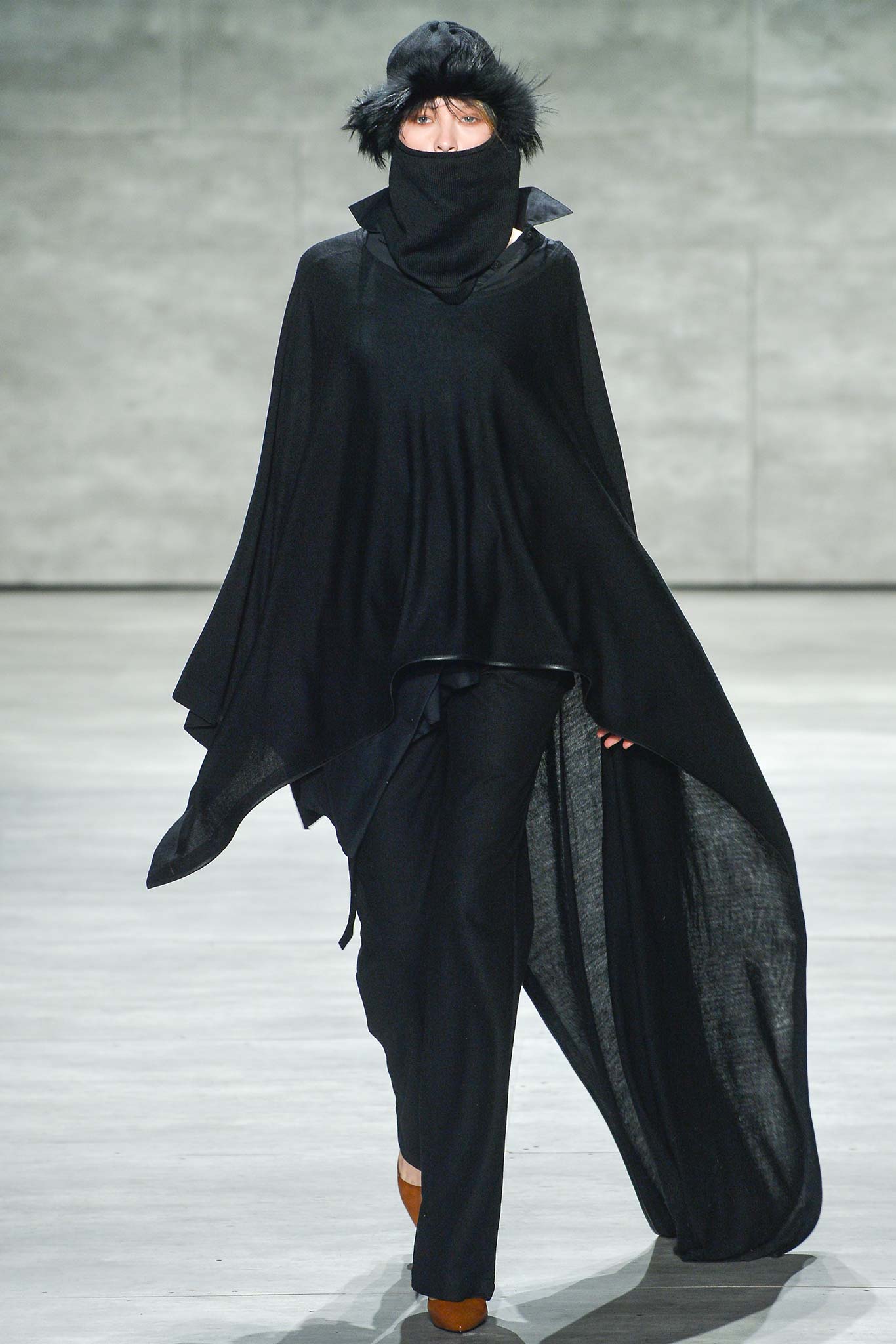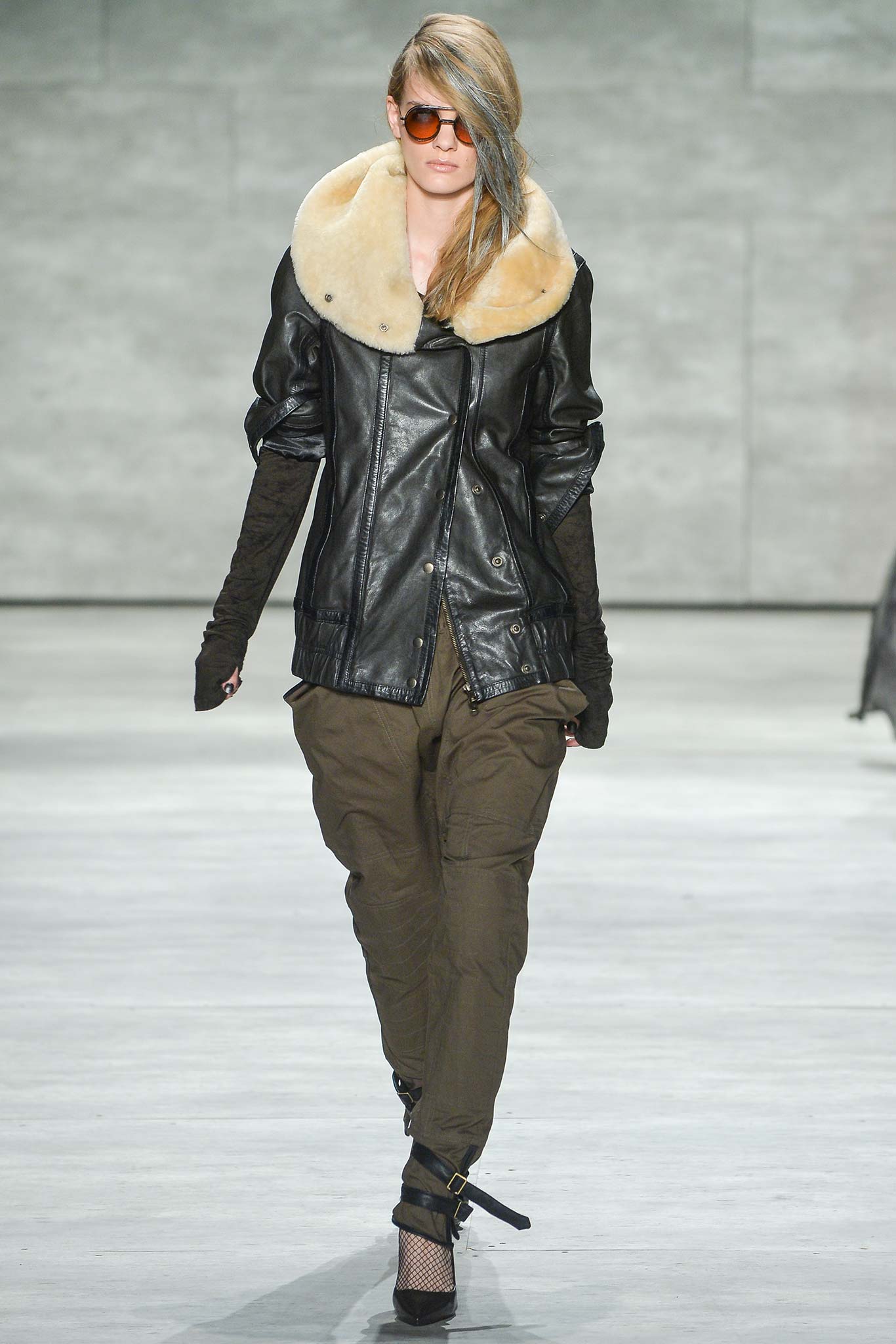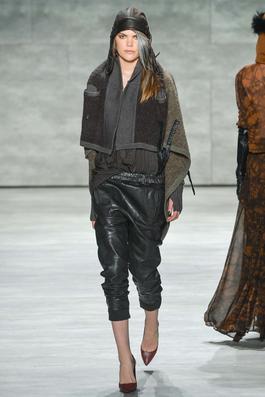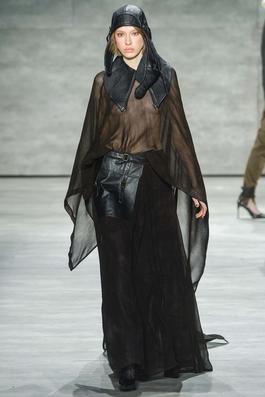 I am a big fan of COLOR, but I must admit to being captivated by the darker post apocalyptic Mad Max at the Thunderdome vibe emanating from these pieces.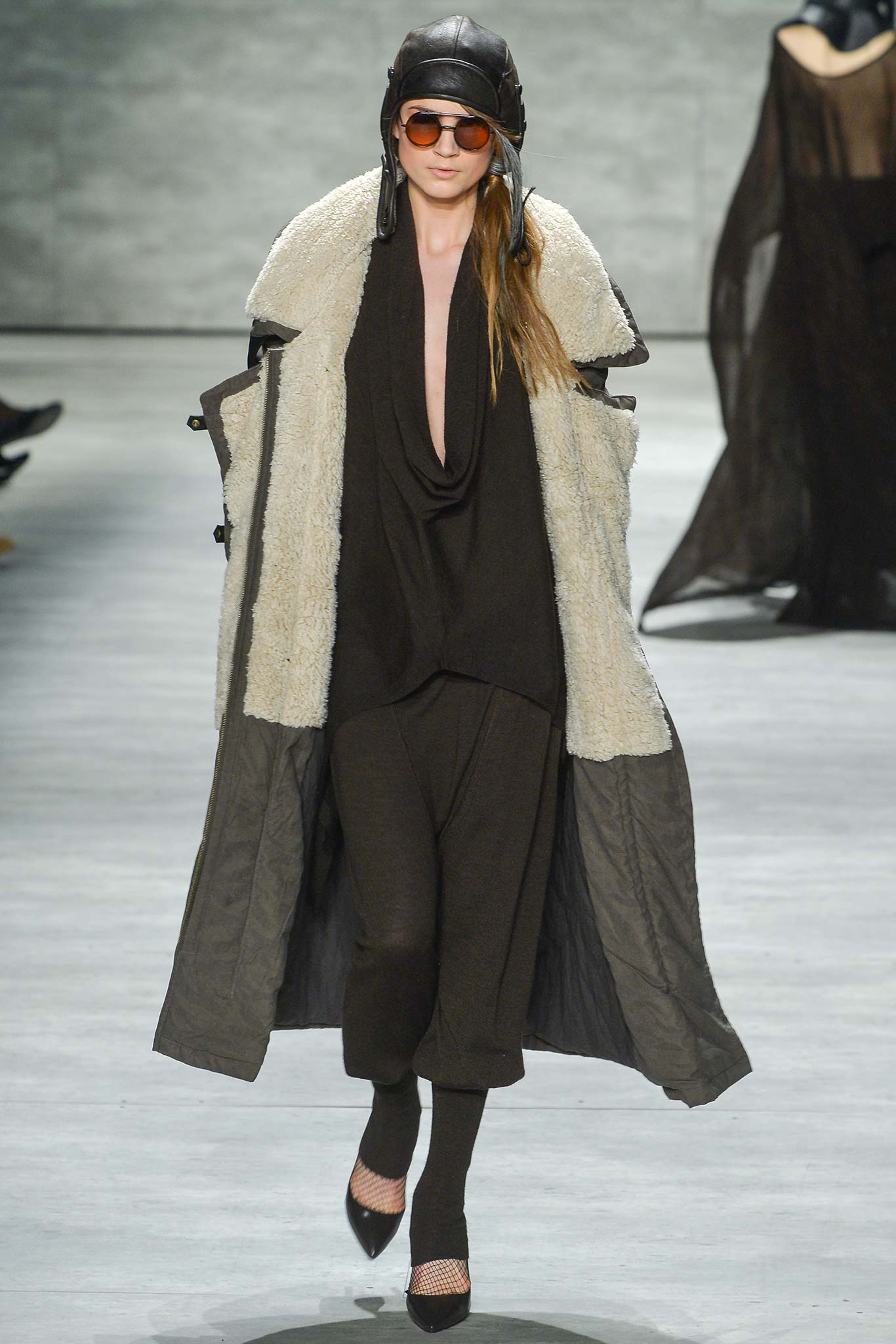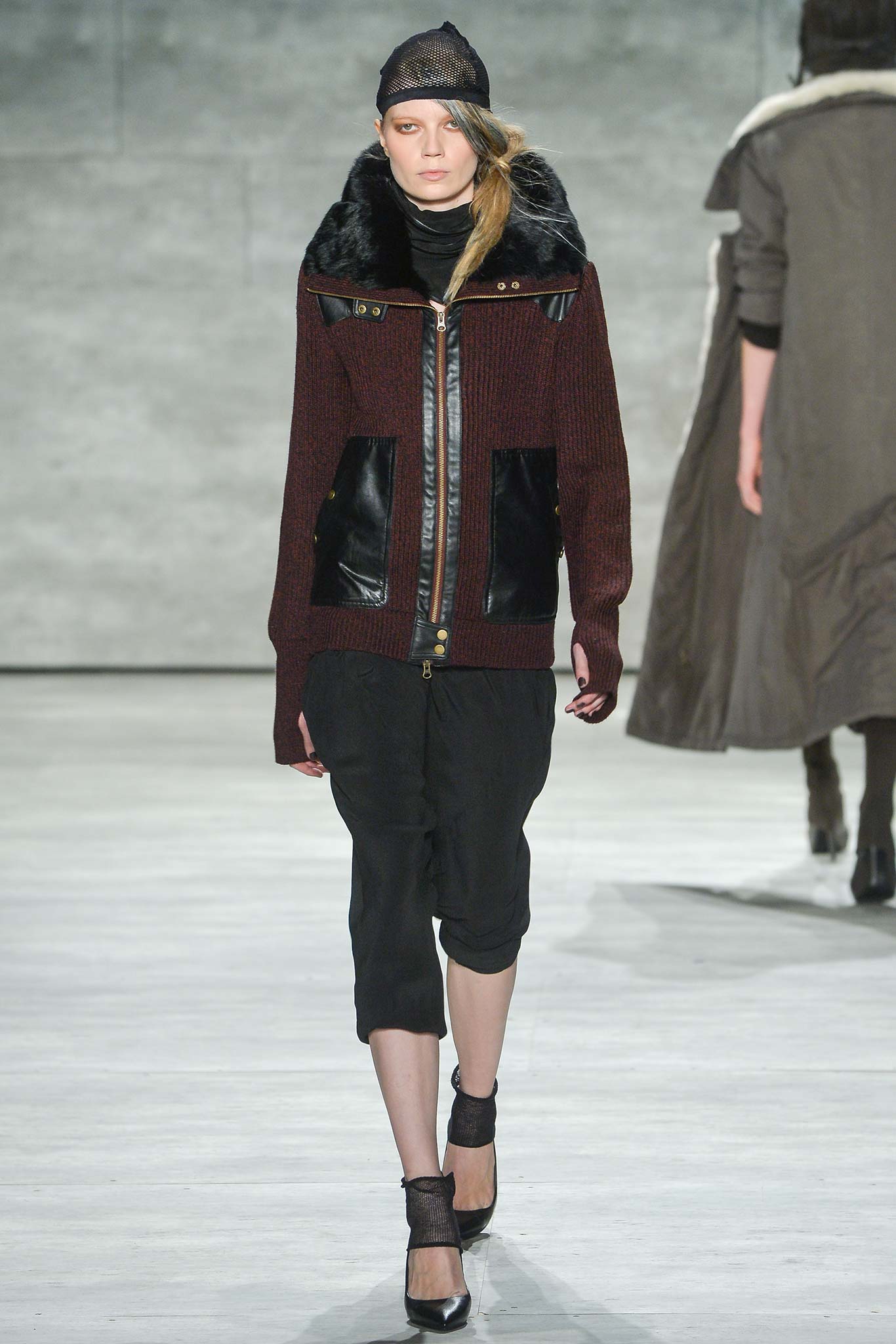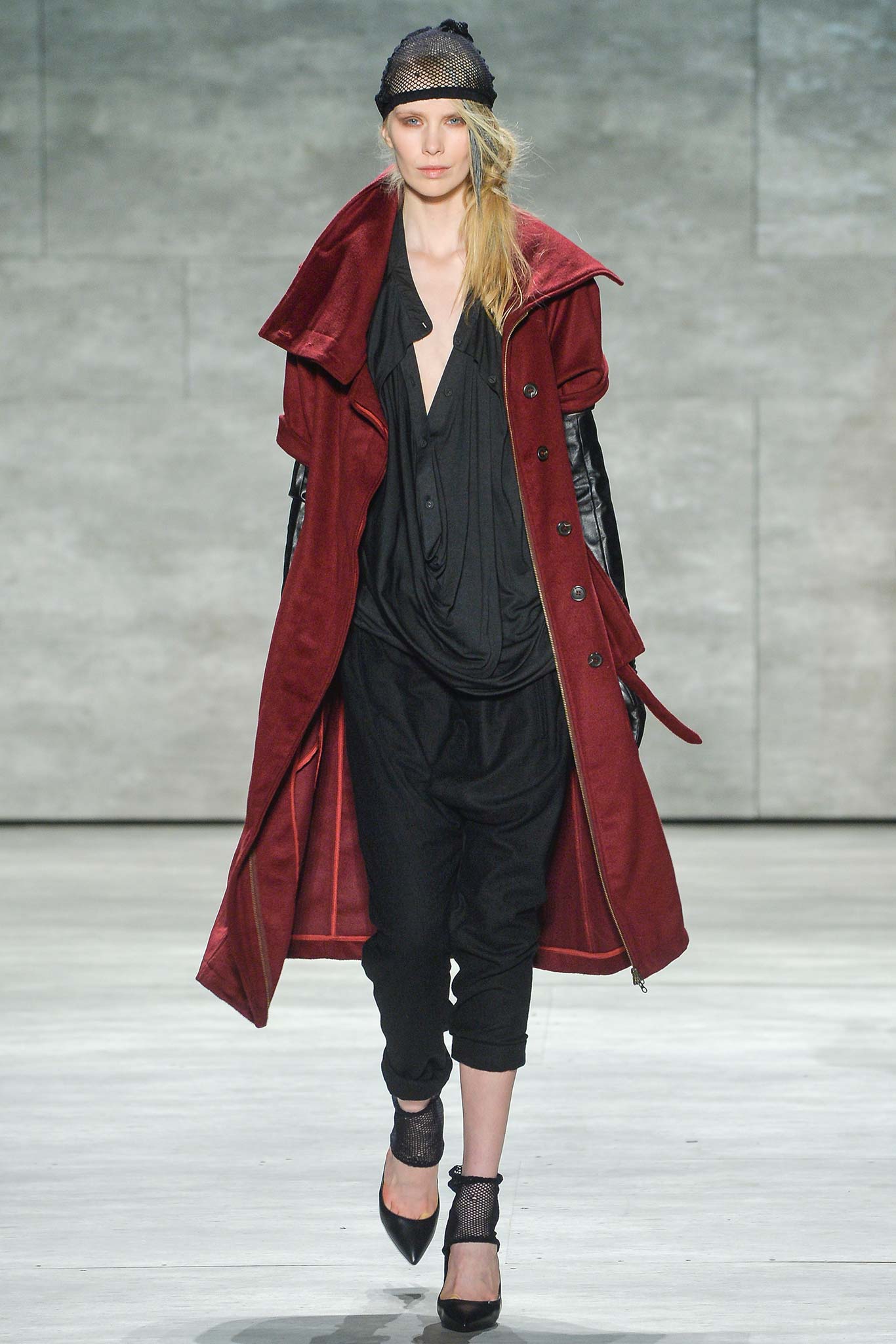 If the leathers and layers are not for you, give a go at one of these easily wearable comfy funky jackets or coats. Of course, the triumvirate of coat, leather leggings, and motorcycle boots (think Chanel who makes a workhorse yet chic variety), would be smashing.
MARC JACOBS:
The erstwhile creative director of women's ready to wear at power house Louis Vuitton is BACK BABY! I personally liked his fall winter 2014 collection and was mesmerized by his spring homage to military attire. But this collection? This is really quite spectacular in that it combines both toned down and more full fledged opulence in wearable Mad Men like silhouettes. Jacobs employs the wizardry utilized during his 16 year tenure at LV, and I for one am over the moon about it! The modern wacky patterns, mixed fabrications, and a slew of embellishments in just the right places, turn this collection into a jaw dropping spectacle. The big collars, substantial round buttons, and jackets galor, are vintage Jacobs. He includes a variety of skirts in varying lengths, with dramatic floor length versions to be paired with the bedazzled woolen and jacquard coats. Not that it matters, but the styling is always impeccable and aesthetically appropriate, never distracting in a bad way, with gorgeous footwear and gloves to glam things up.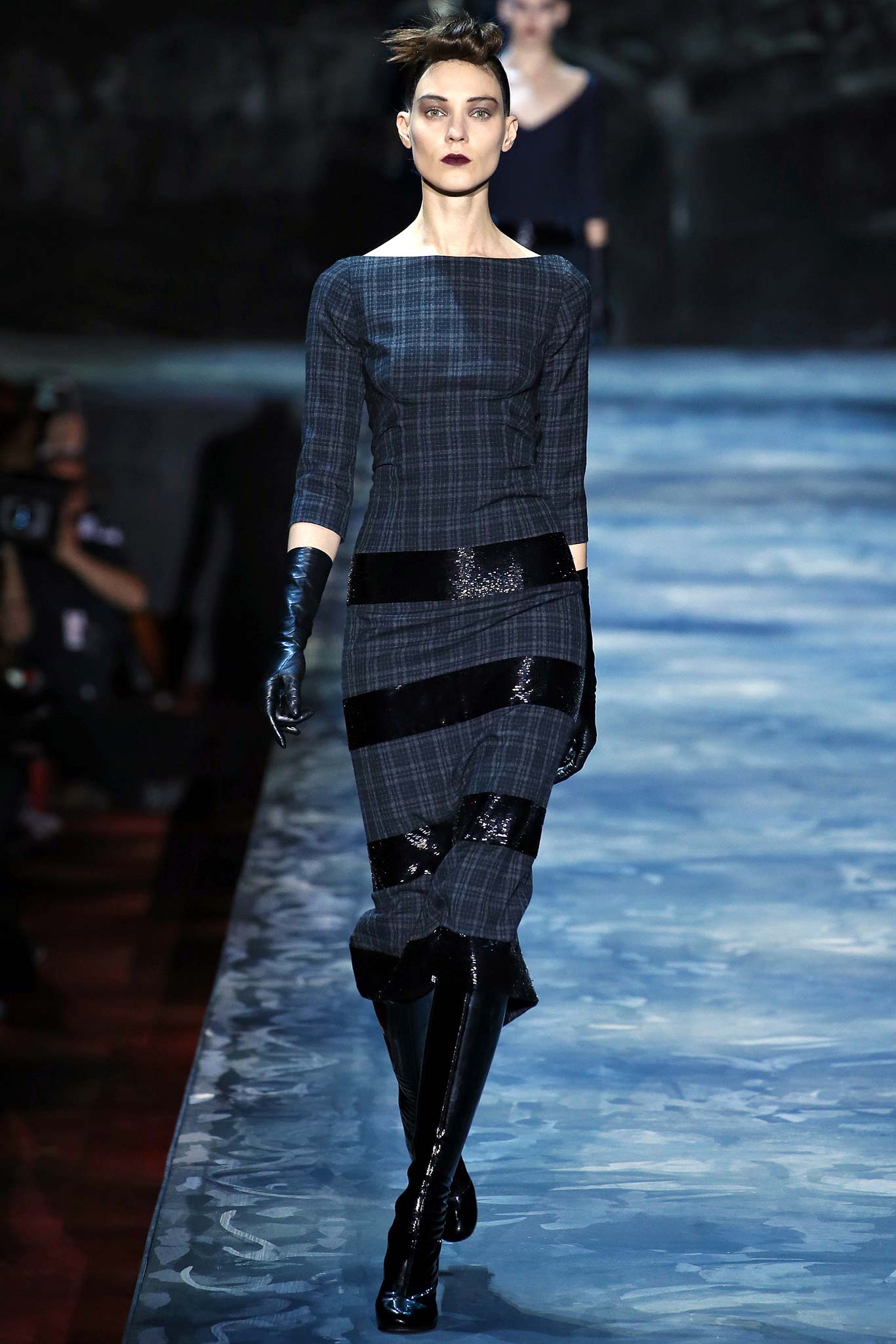 Embellishments are a staple in his bag of tricks, and how can that ever be a bad thing?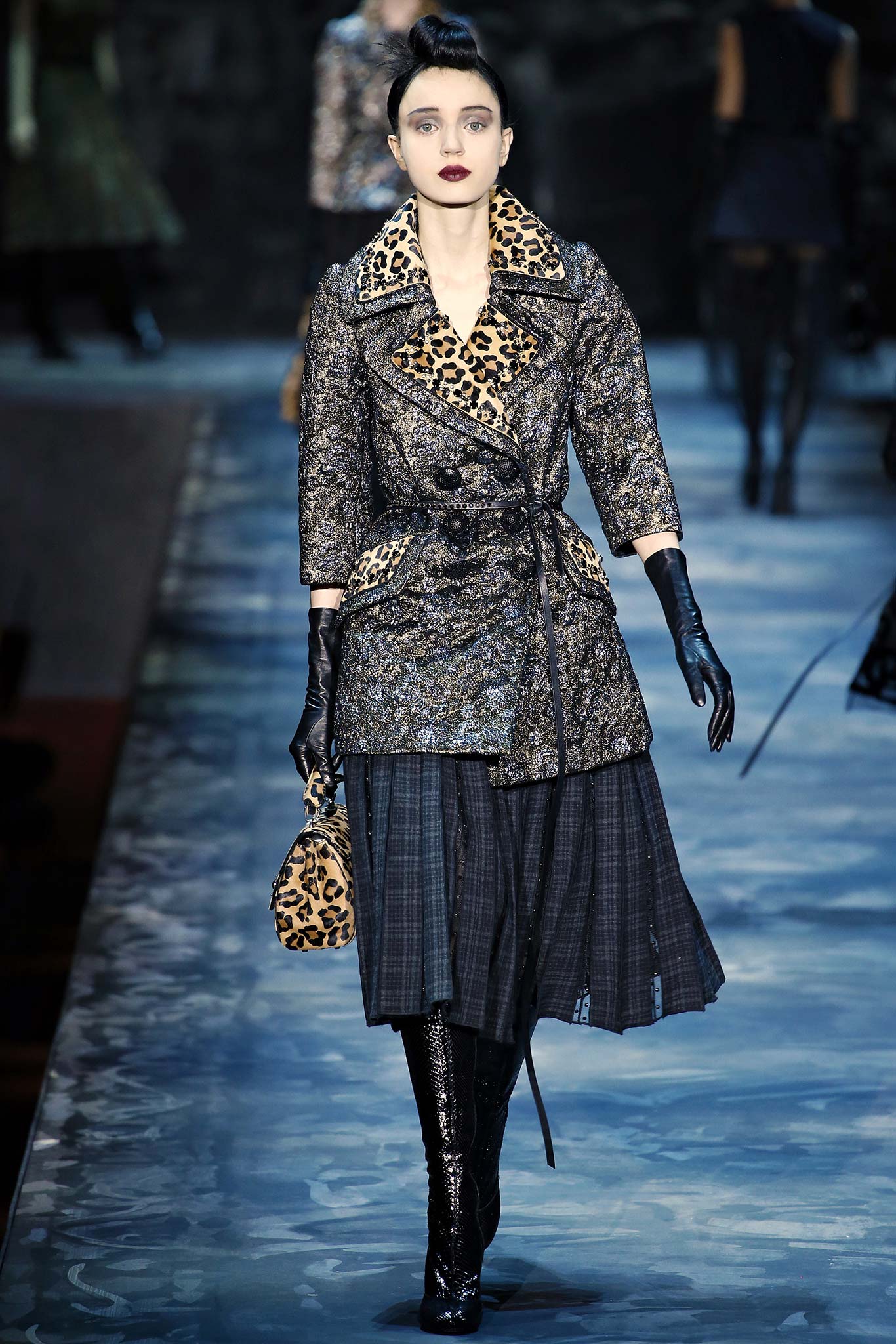 When just a hint of Leopard will do.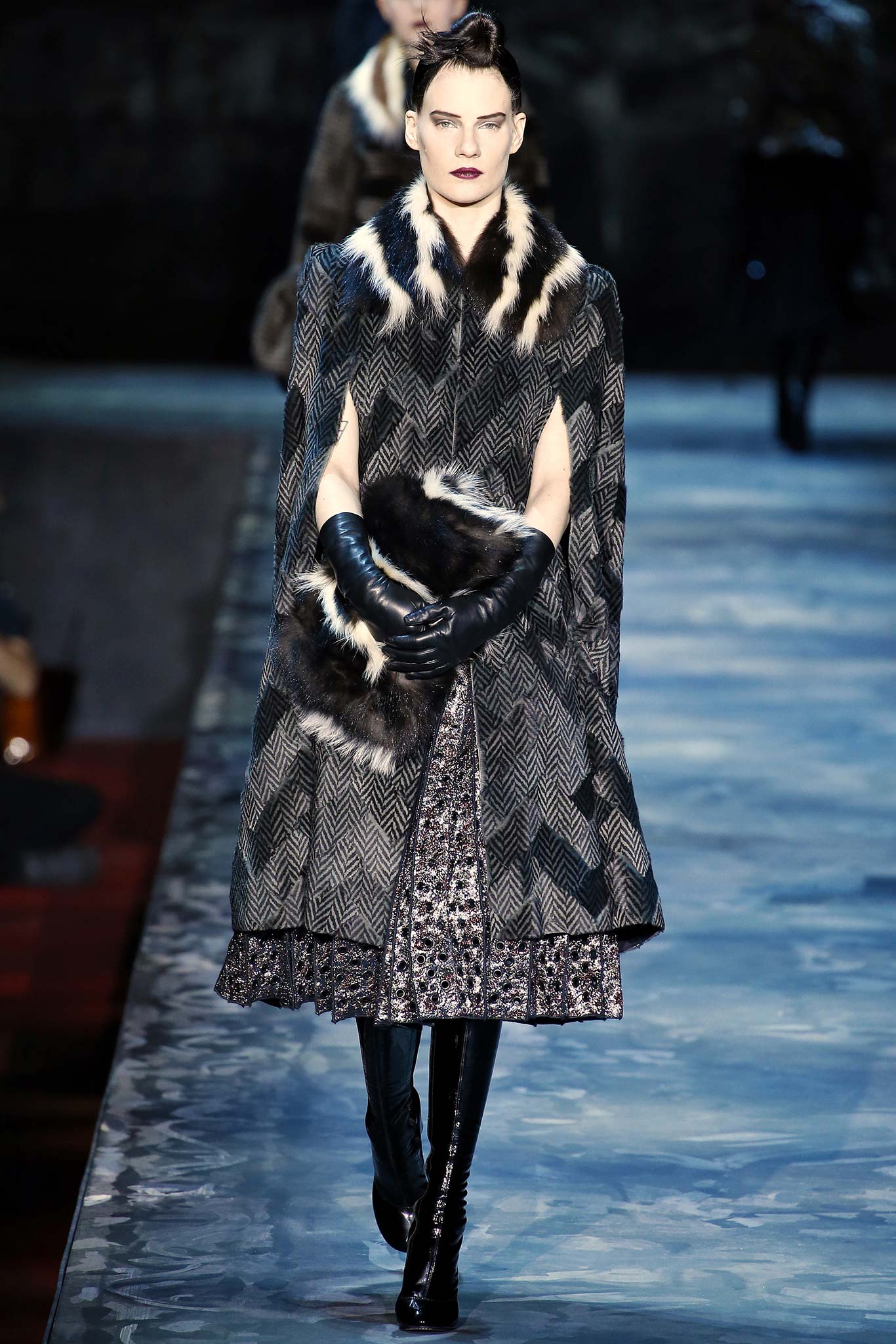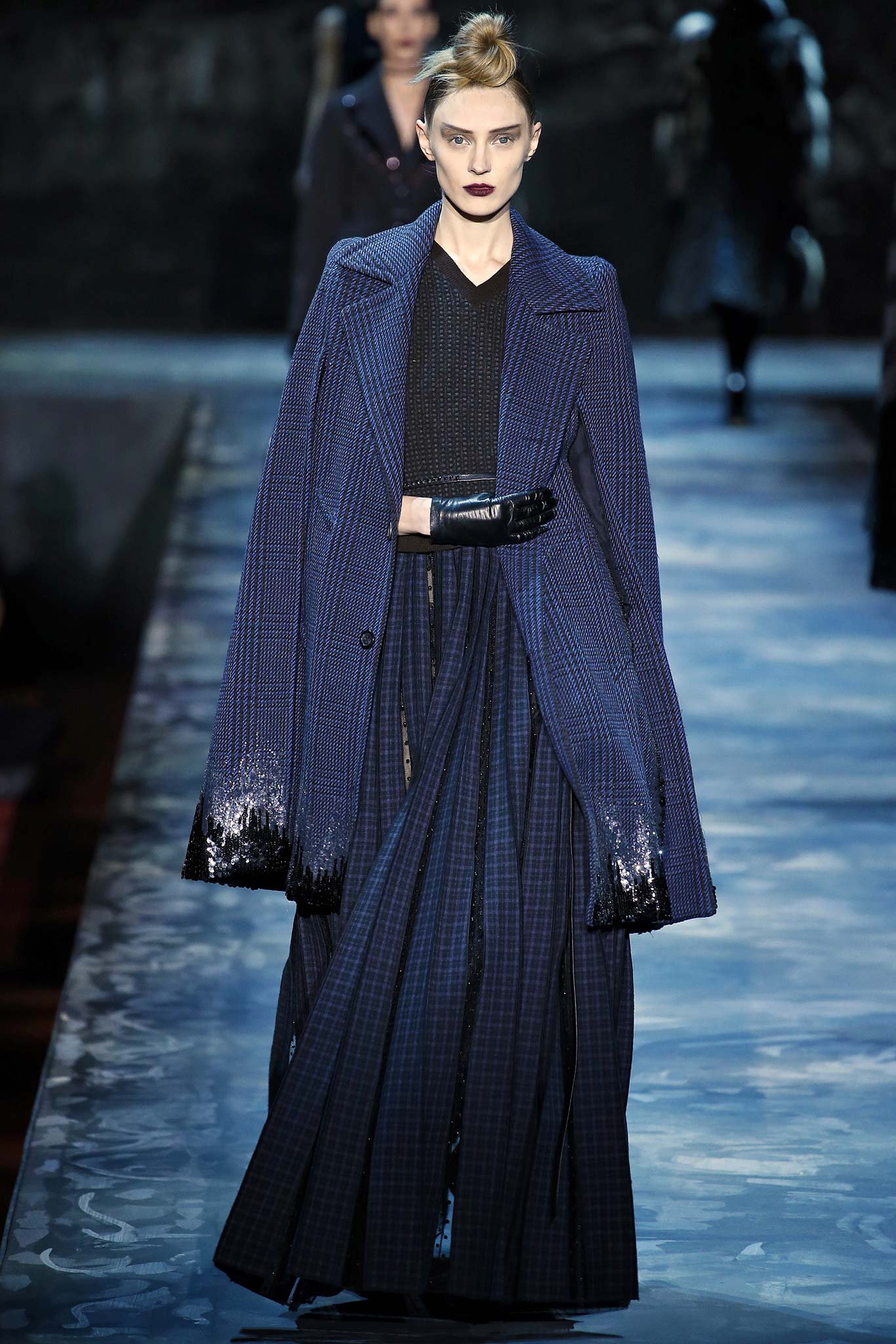 One of my favorites, harkens back to his last fall winter for LV, 2013.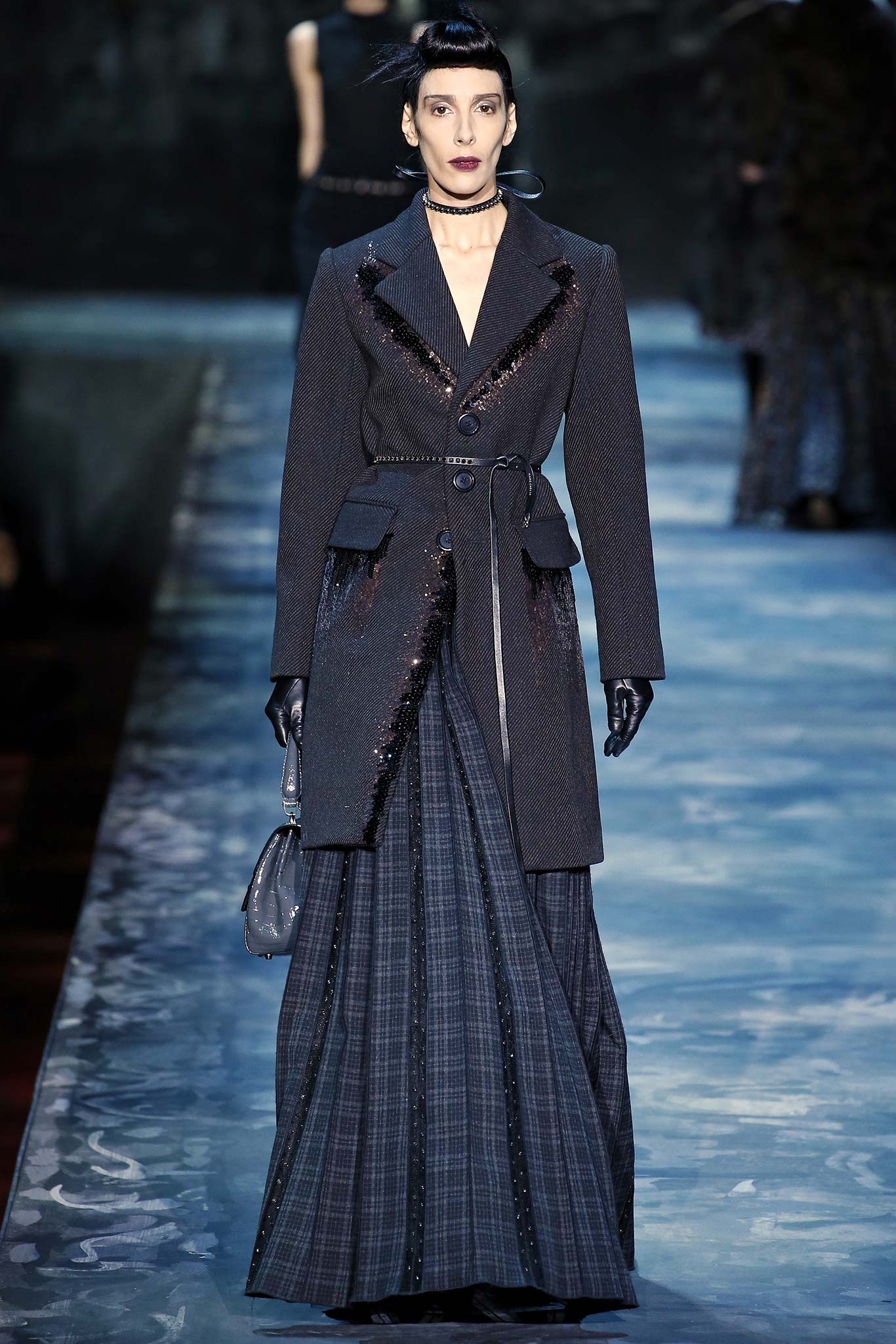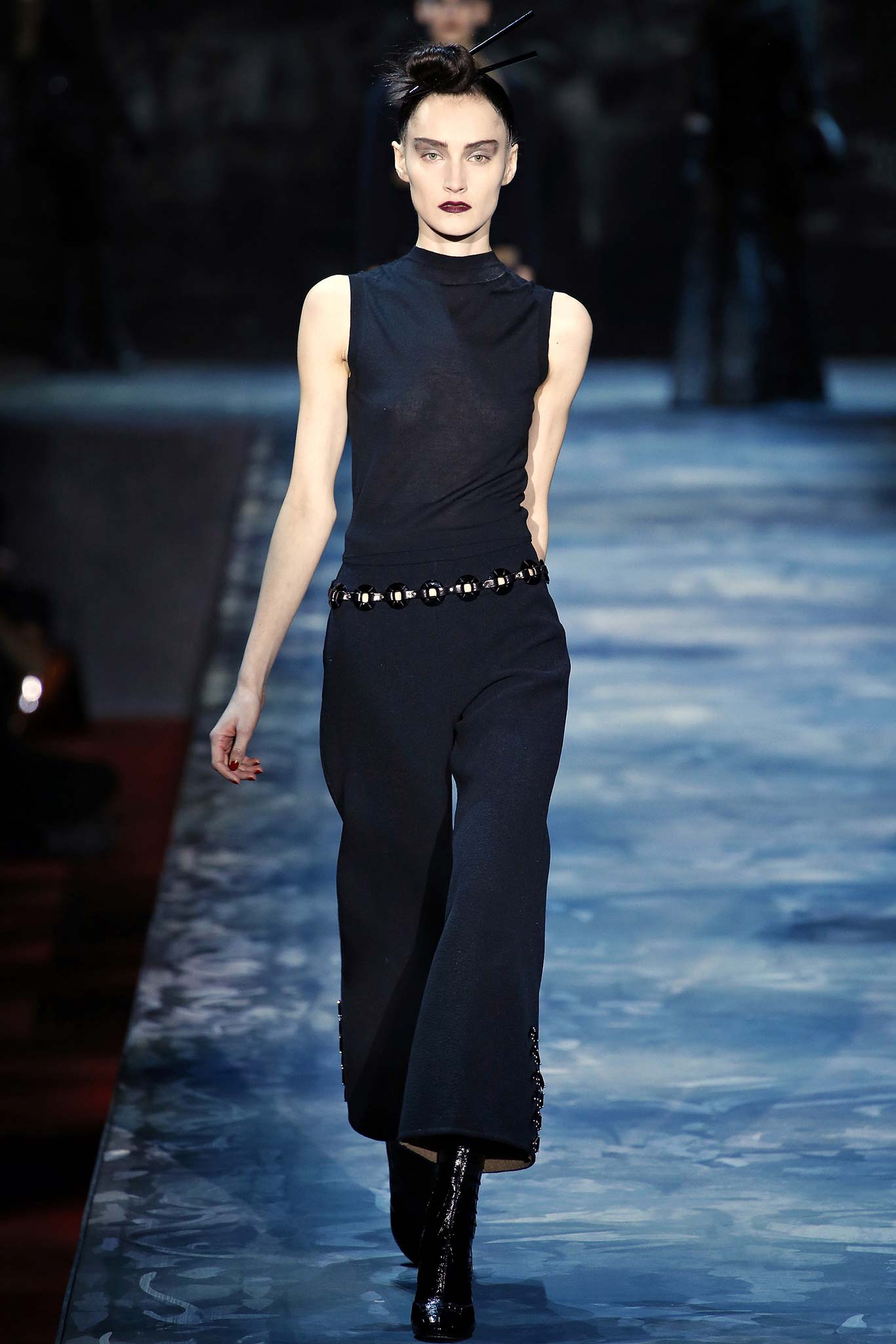 About as spartan as Jacobs gets, thank goodness, yet still lux.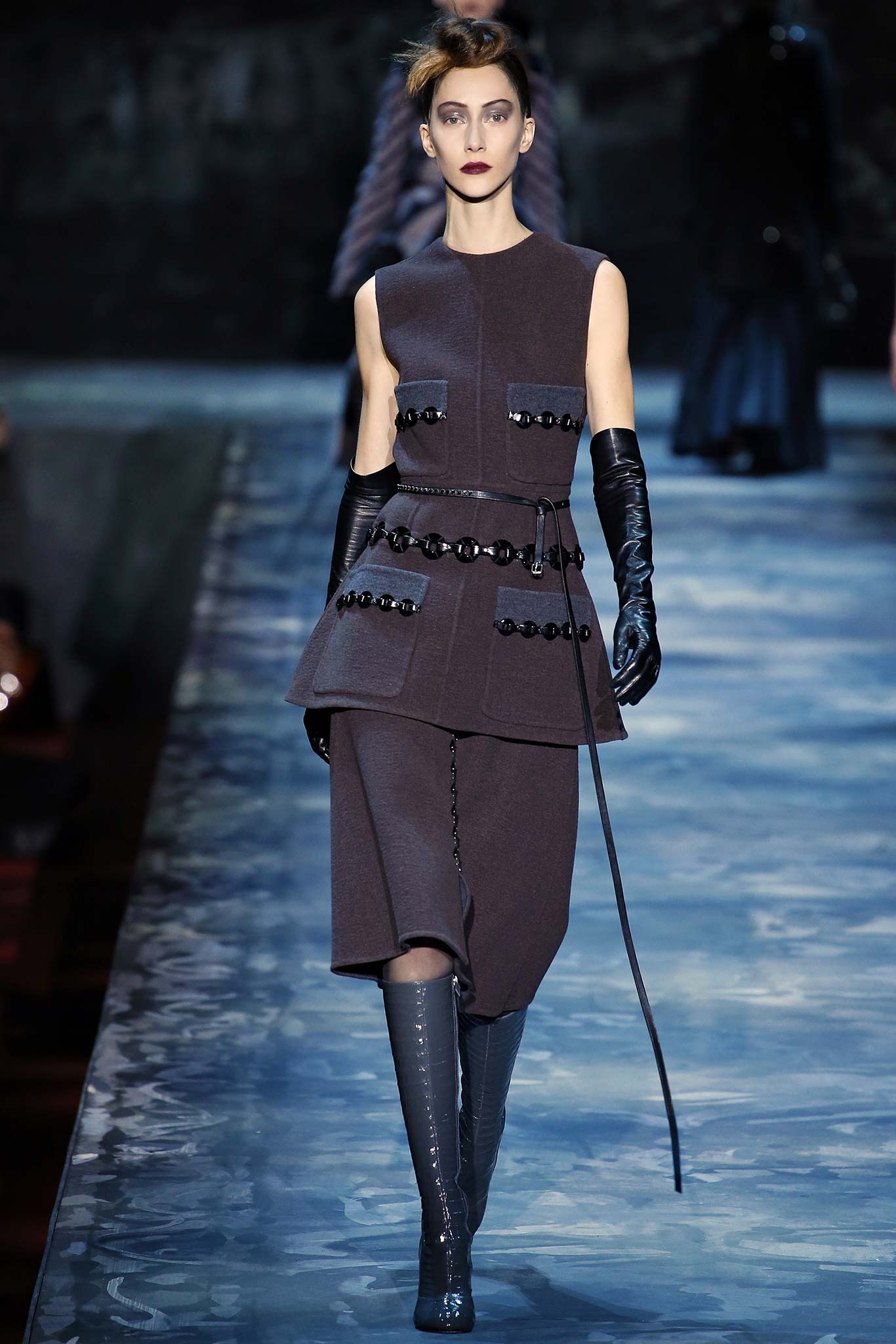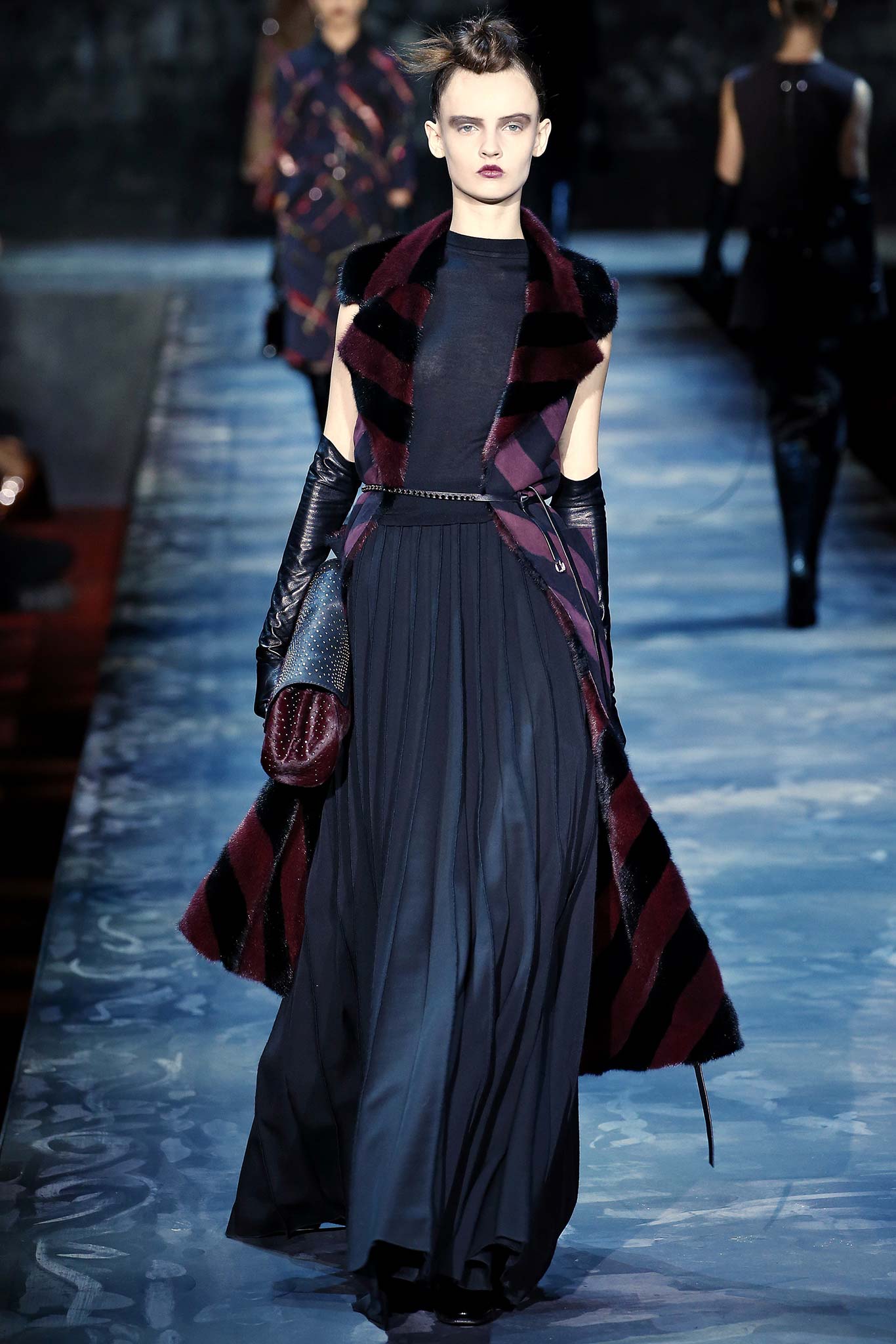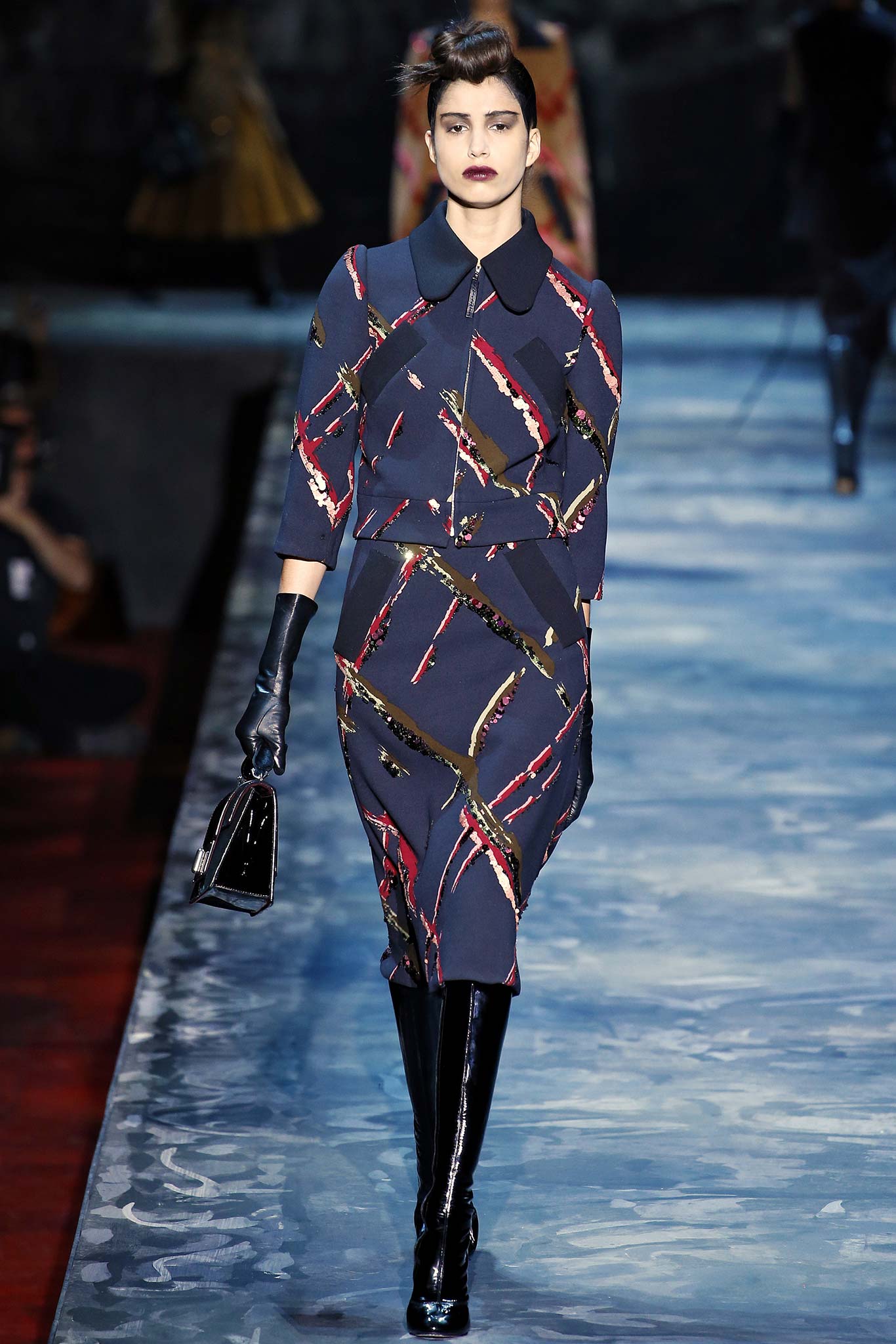 Even the suits are modern and sumptuous to be worn as is or as separates. Modern art.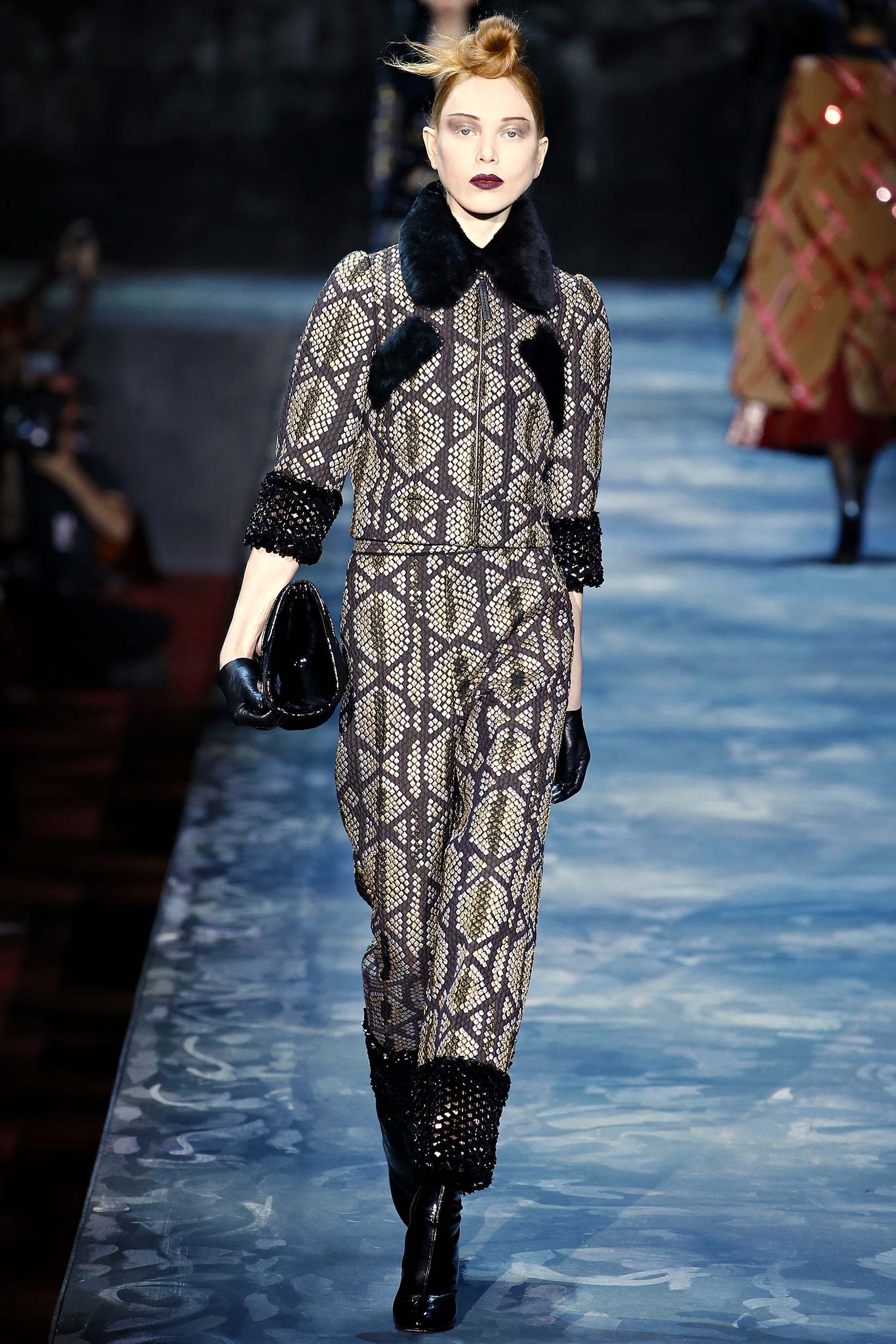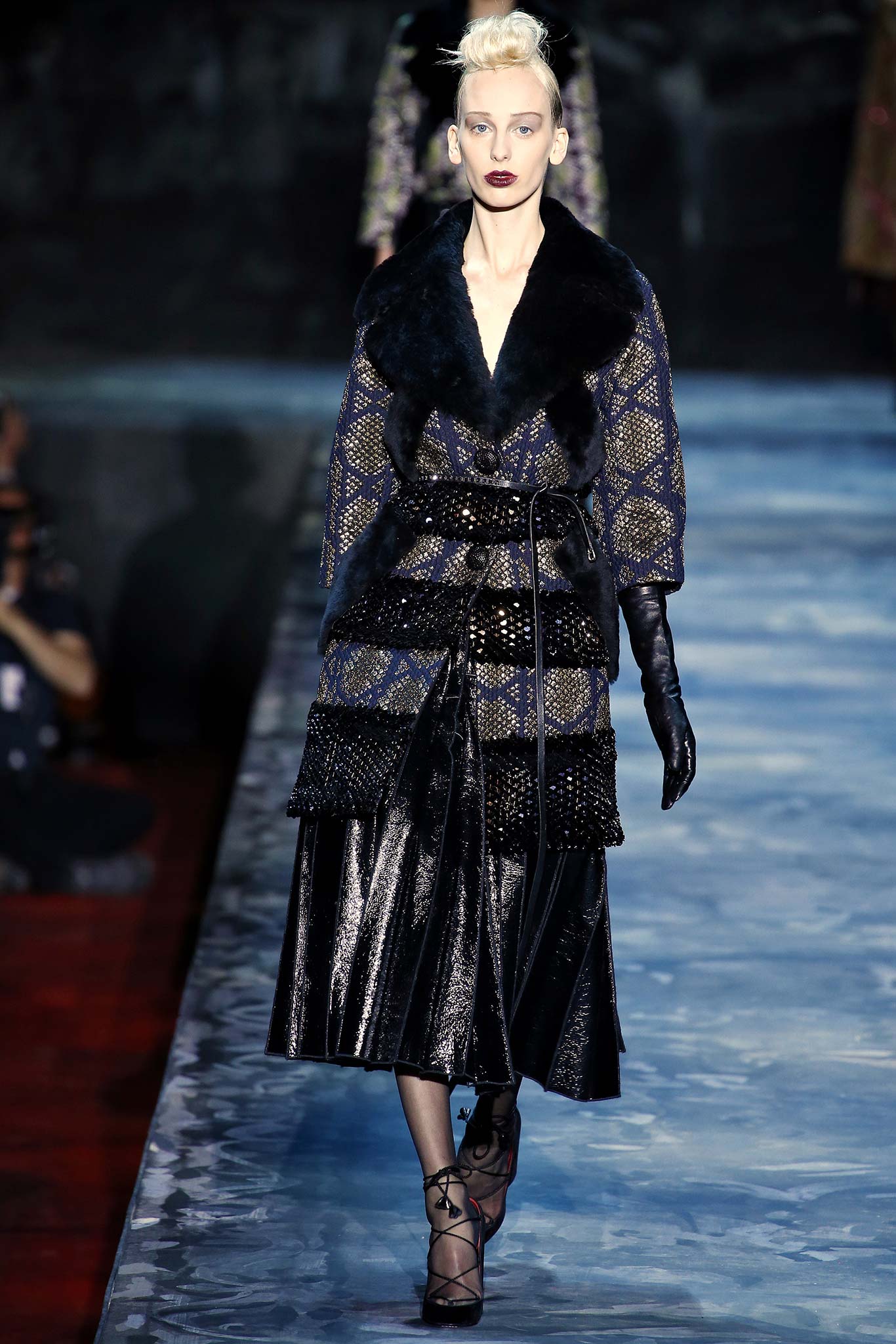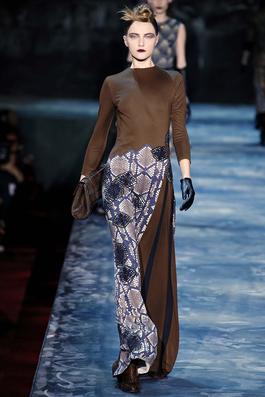 Jacobs is even able to infuse some Reptile into the mix in a creative ingenious fashion.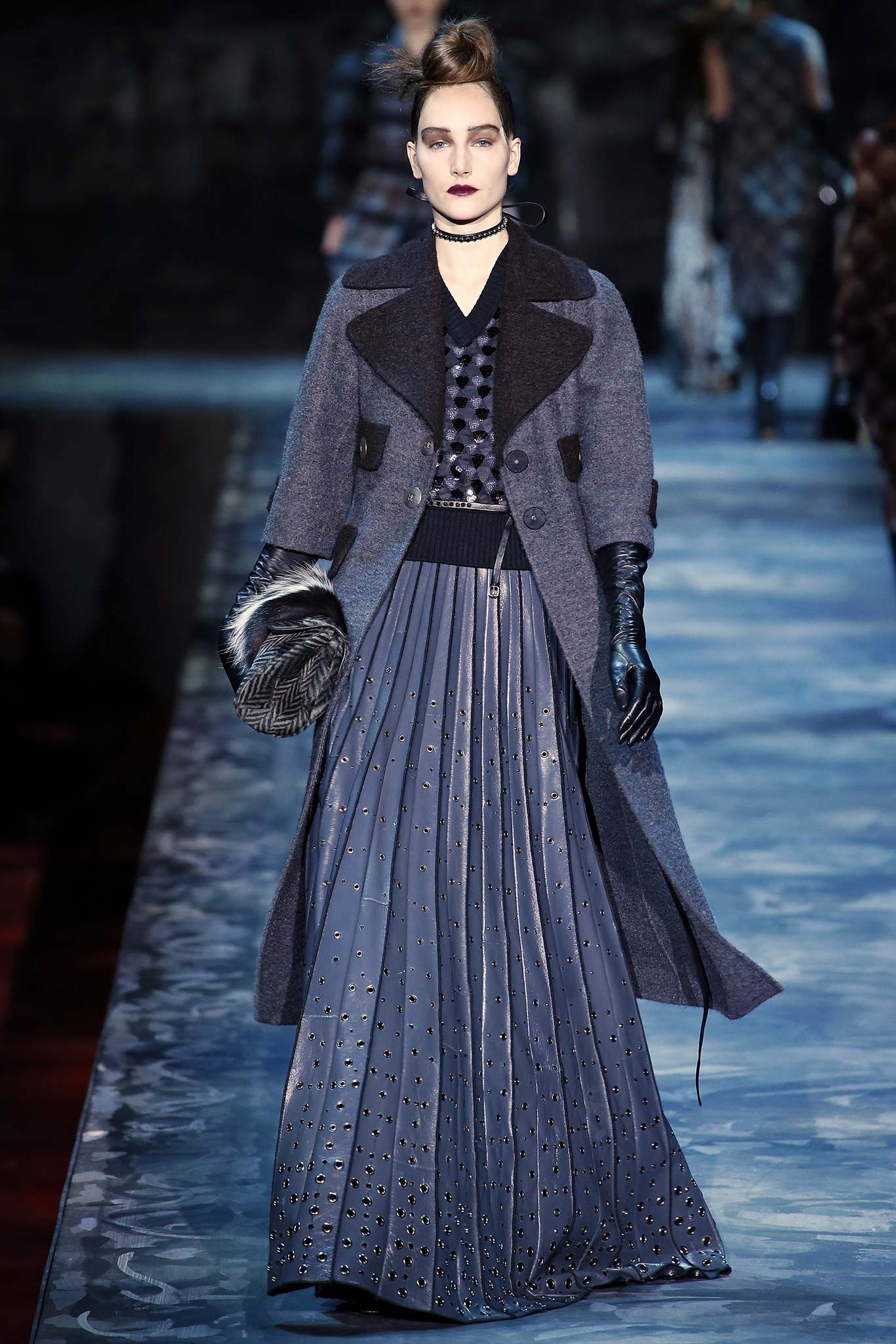 Nobody but Jacobs would even dare try a floor length pleated leather skirt with 5000 grommets.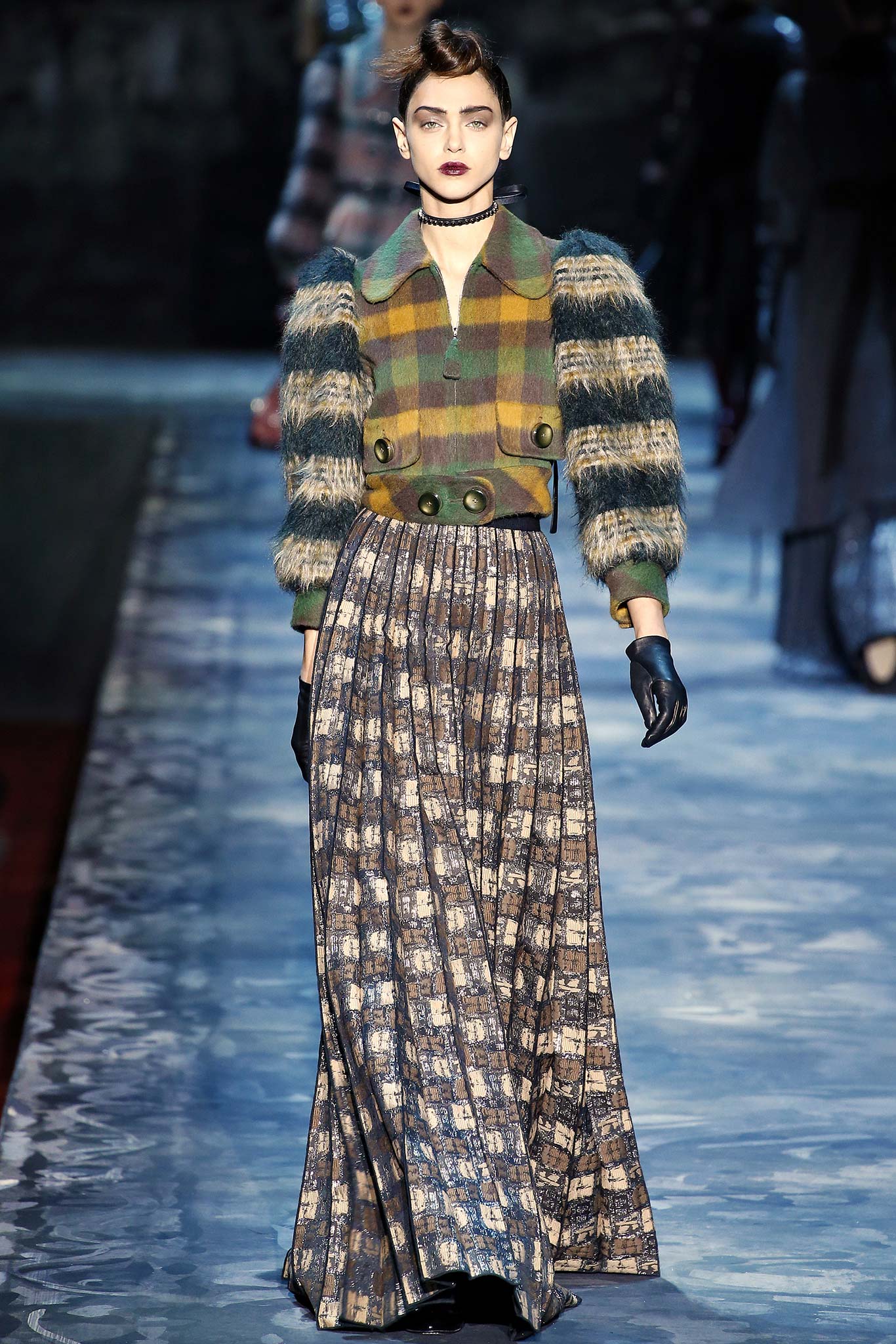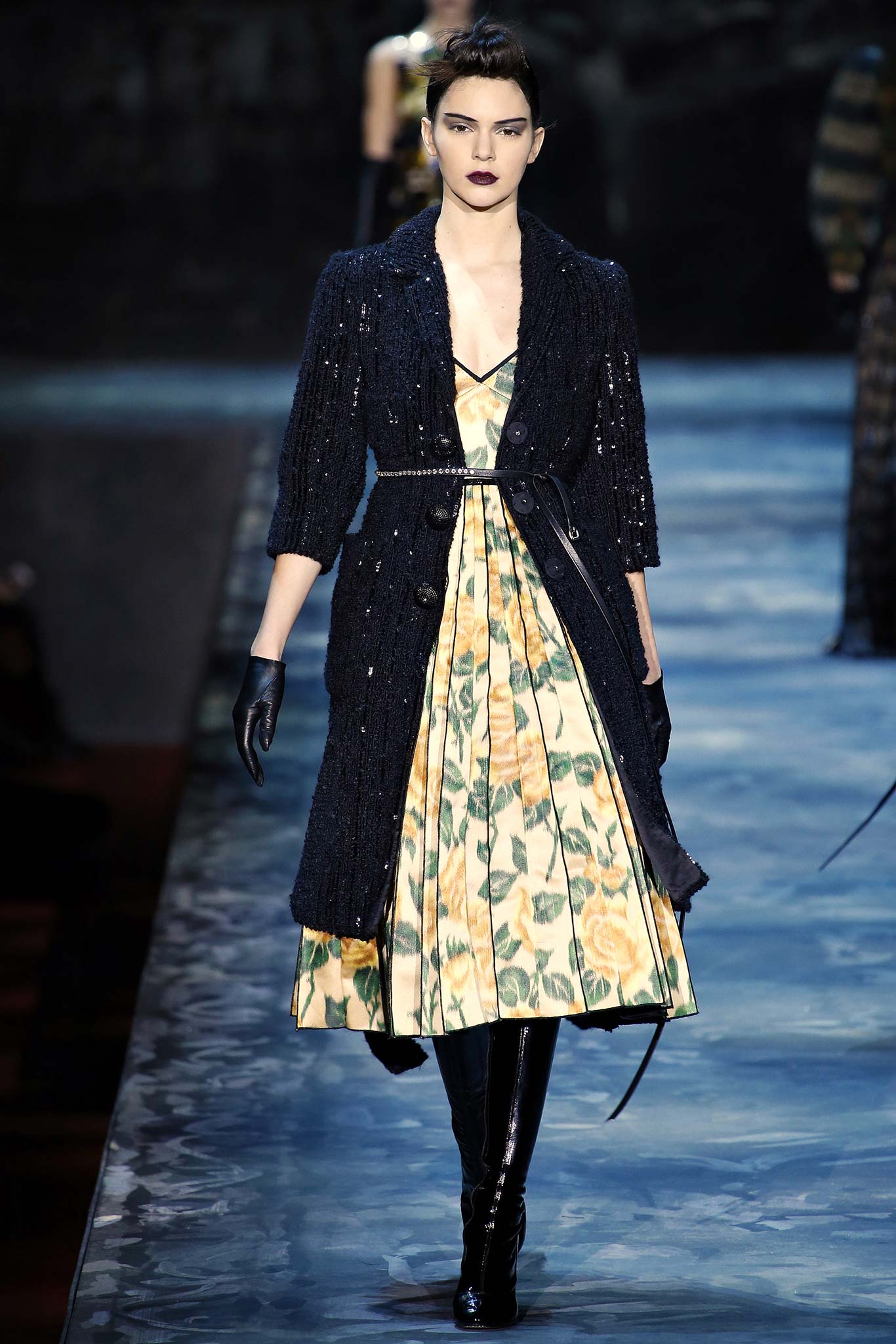 A good example of how a darker simple topper, made slightly flamboyant with the scattered sequins, and a sweet yet vibrant floral frock can happily coexist. They temper each other.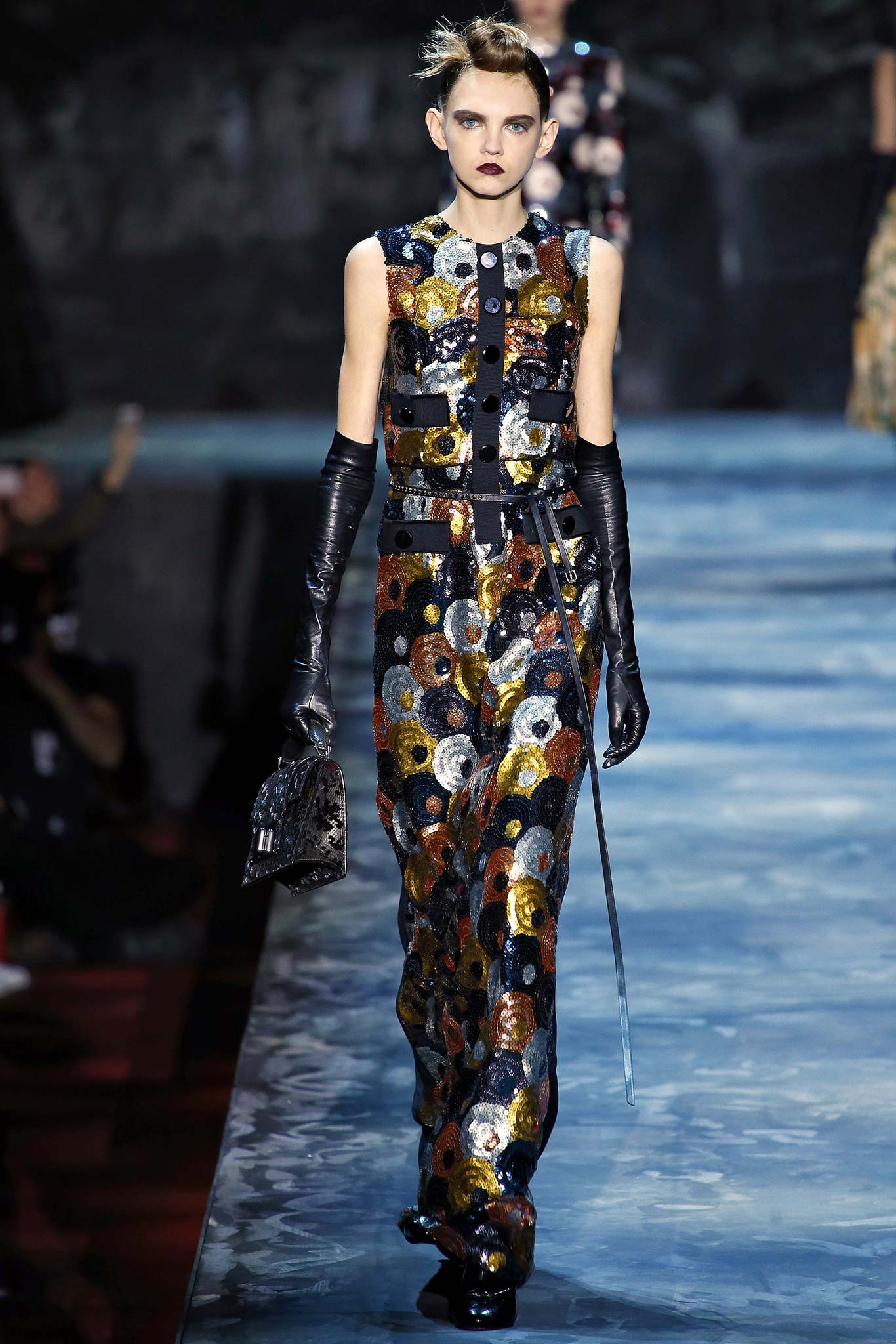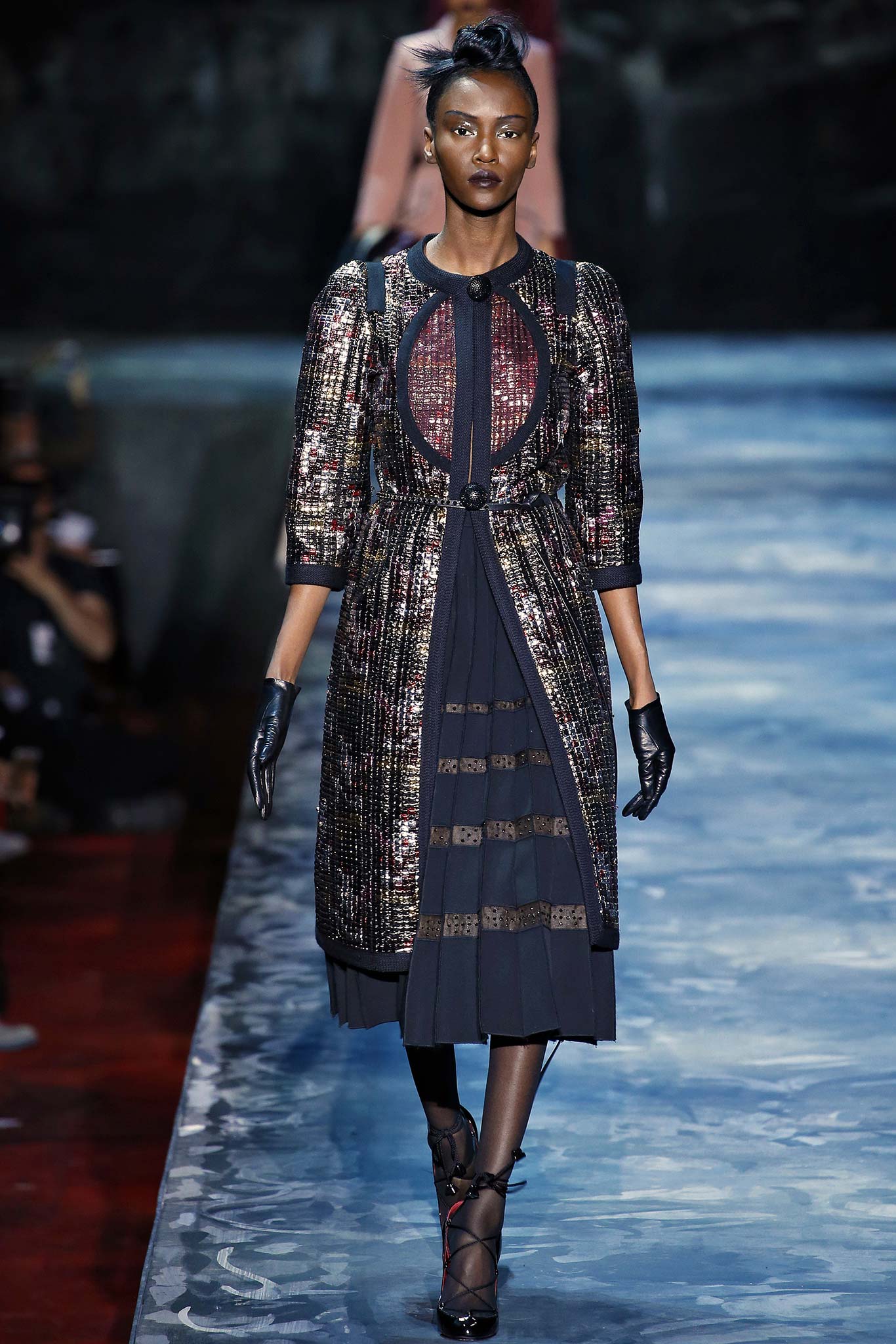 A standard silhouette, but an interesting paradox with the fabric design, modern day pixels or inlay in a Byzantine church?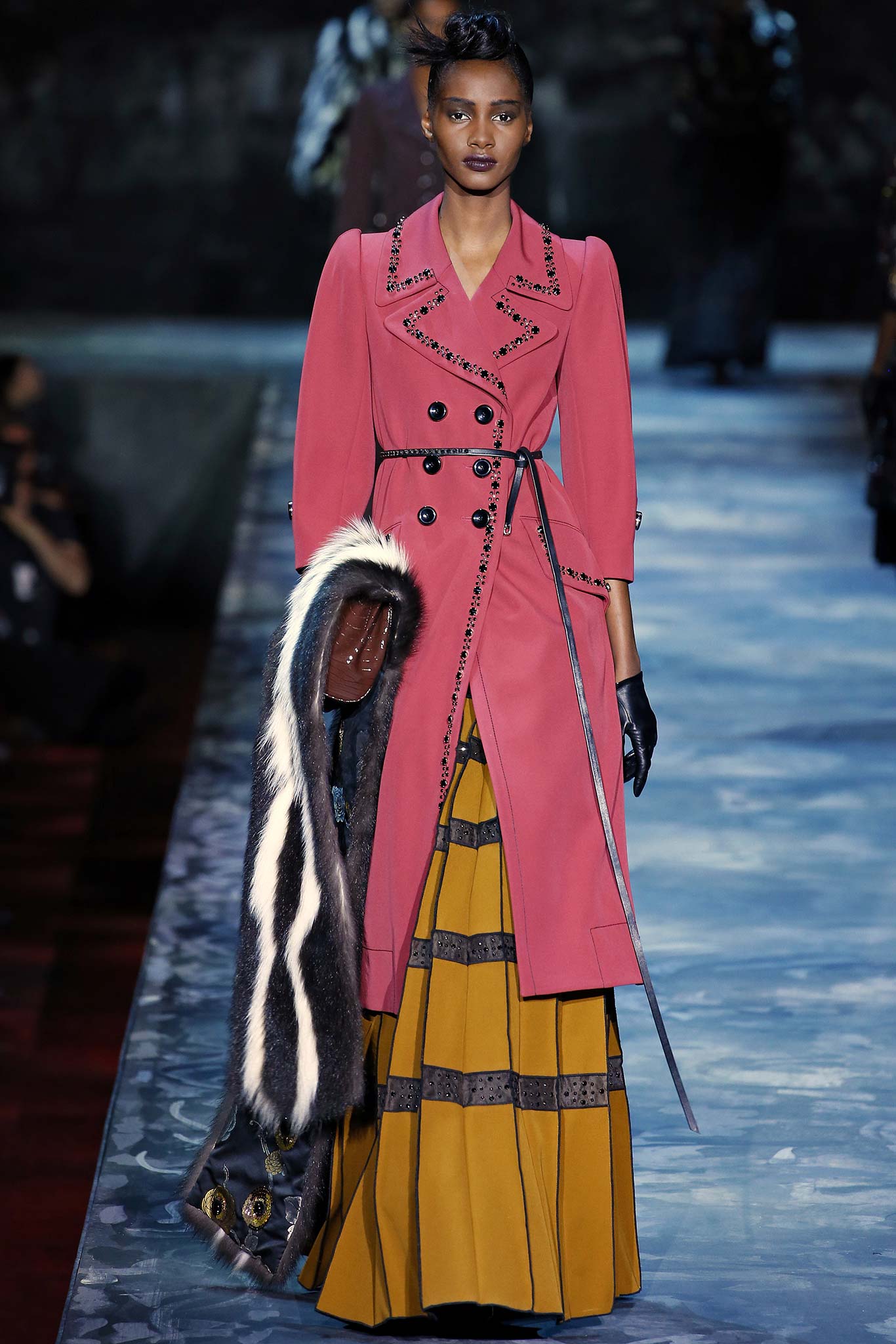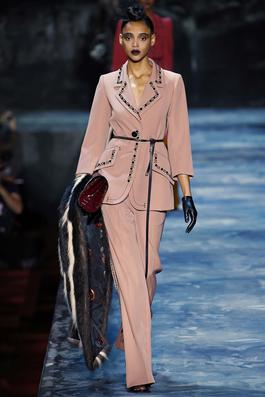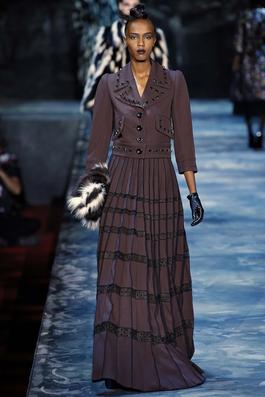 The pallette is extraordinary and vast, with a spectrum of pink through purple, with raspberry, aubergine, plum, and periwinkle making an appearance, admixed with black, navy and versions of yellow and green.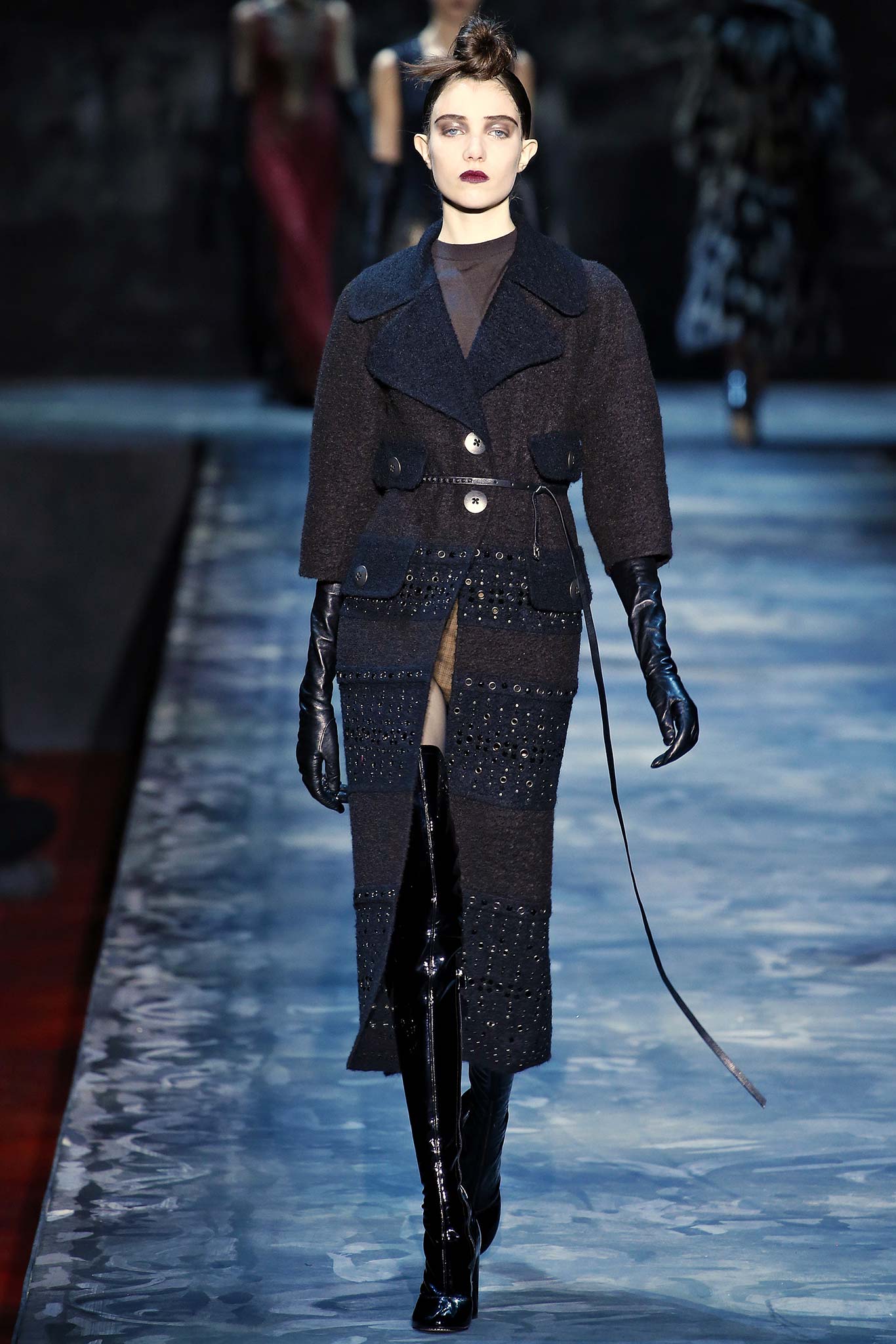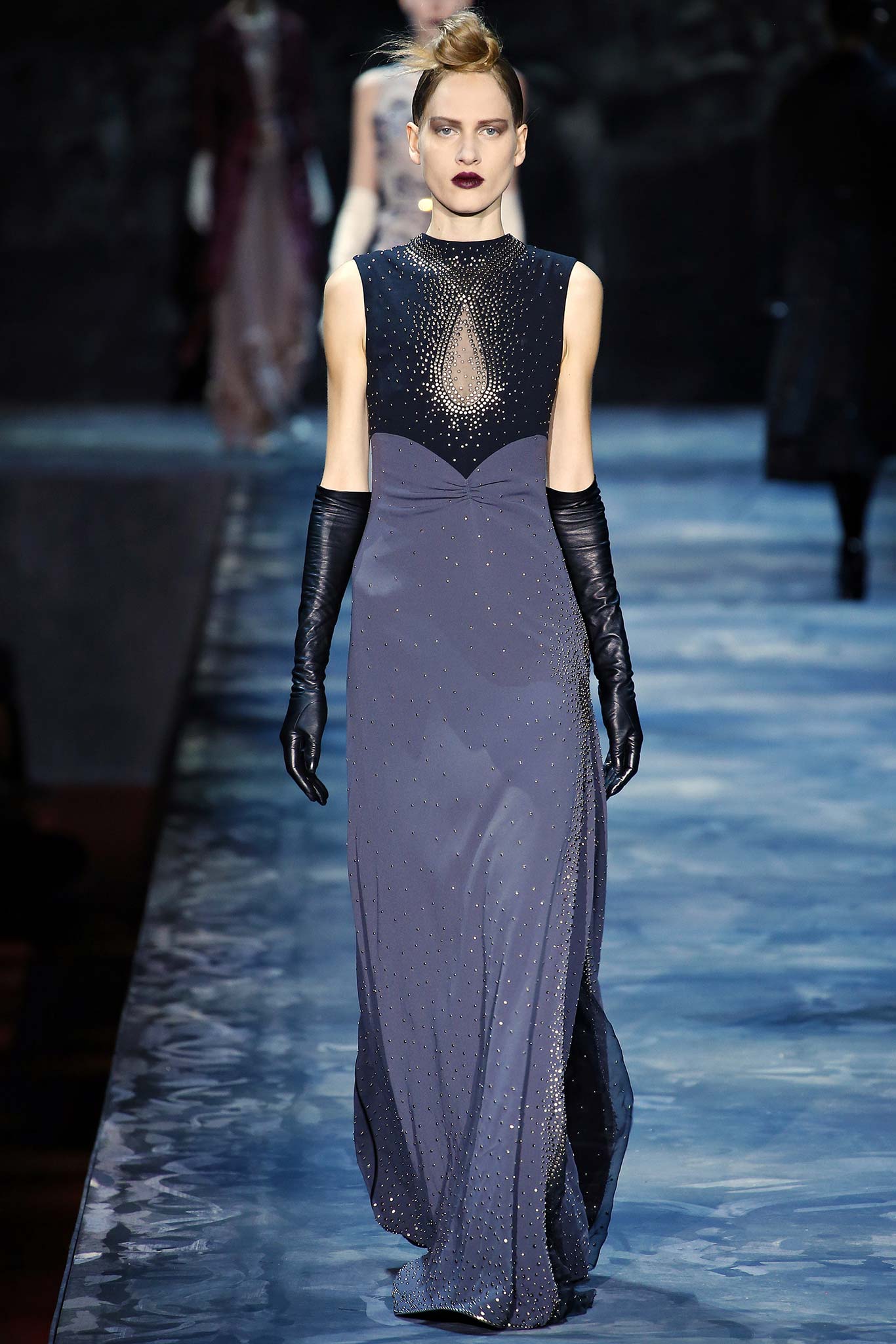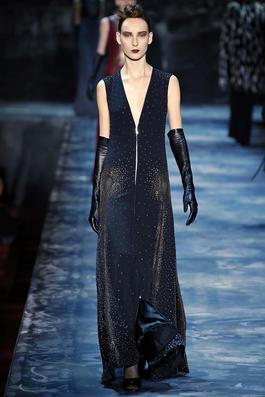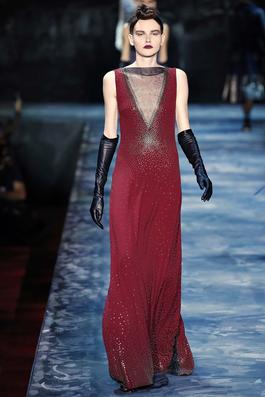 I love how the requisite gowns are modern and sexy as well as sumptuous without being over the top or dated by the embellishments. The opera length leather gloves are the perfect accessory.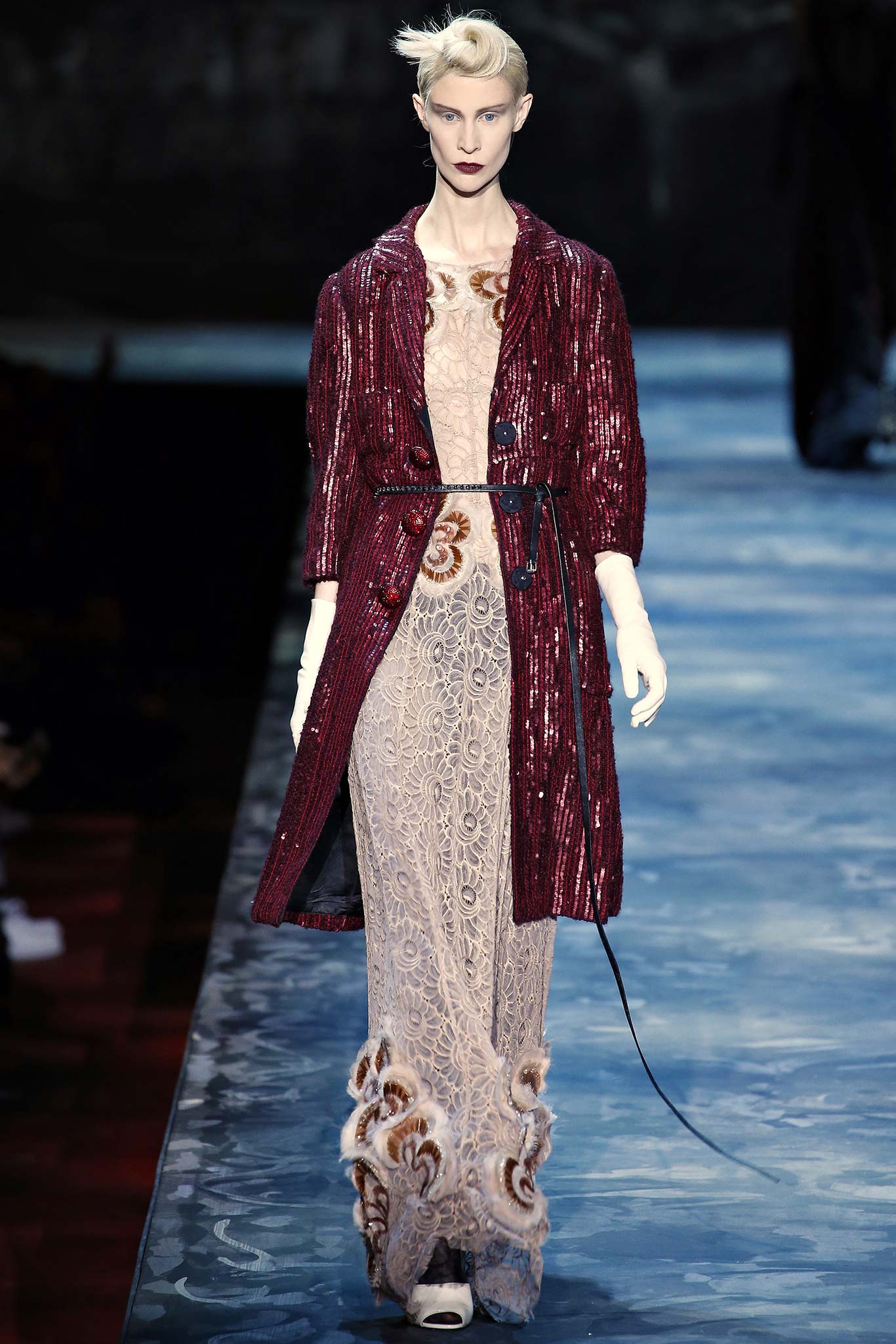 When the lace gown is relegated to the garment bag, this claret sequin phenomenon can clearly stand alone as the focal point of any outfit, throw over one of the knee length skirts, leather leggings, or jeans.
He is back to his old tricks and just better than ever as evidenced above. The torch he lit whilst at Louis Vuitton still shines brightly.
More from NYFW to come......
Images brought to you by www.style.com