Back to the spring fashions which blend hot sexy glam with a boho chic 70's vibe but as we've seen previously, much improved from the pieces I remember from my youth. Embellished frocks, studded leather pants, velvets, taffeta and tulle are ever on display. Dreamy diaphanous dresses in all lengths for all sensibilities. Many of the fashions swarming the runways for spring will be timeless treasures you'll be proud to wear forever. And though many will be tres cher, great fodder for dreams.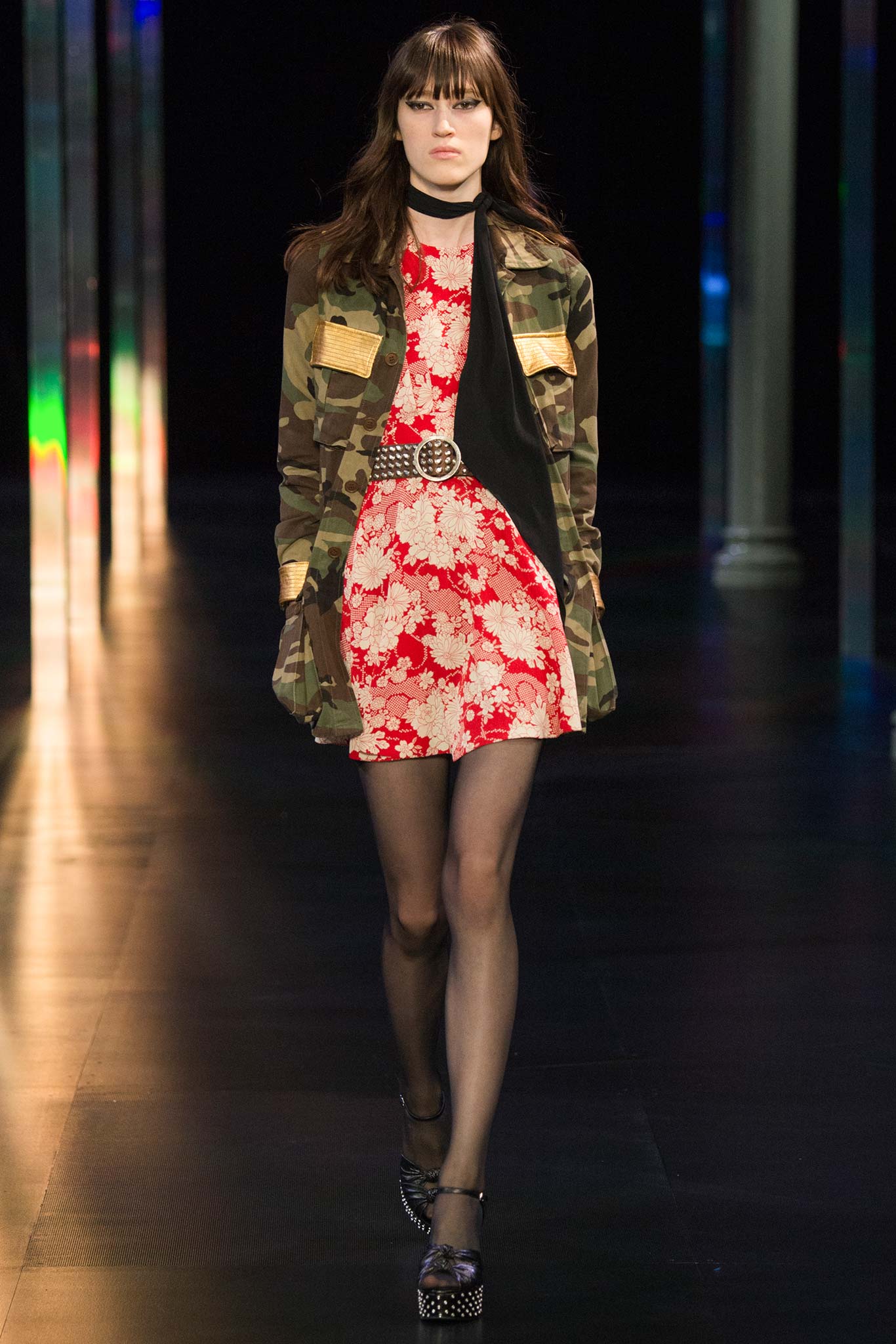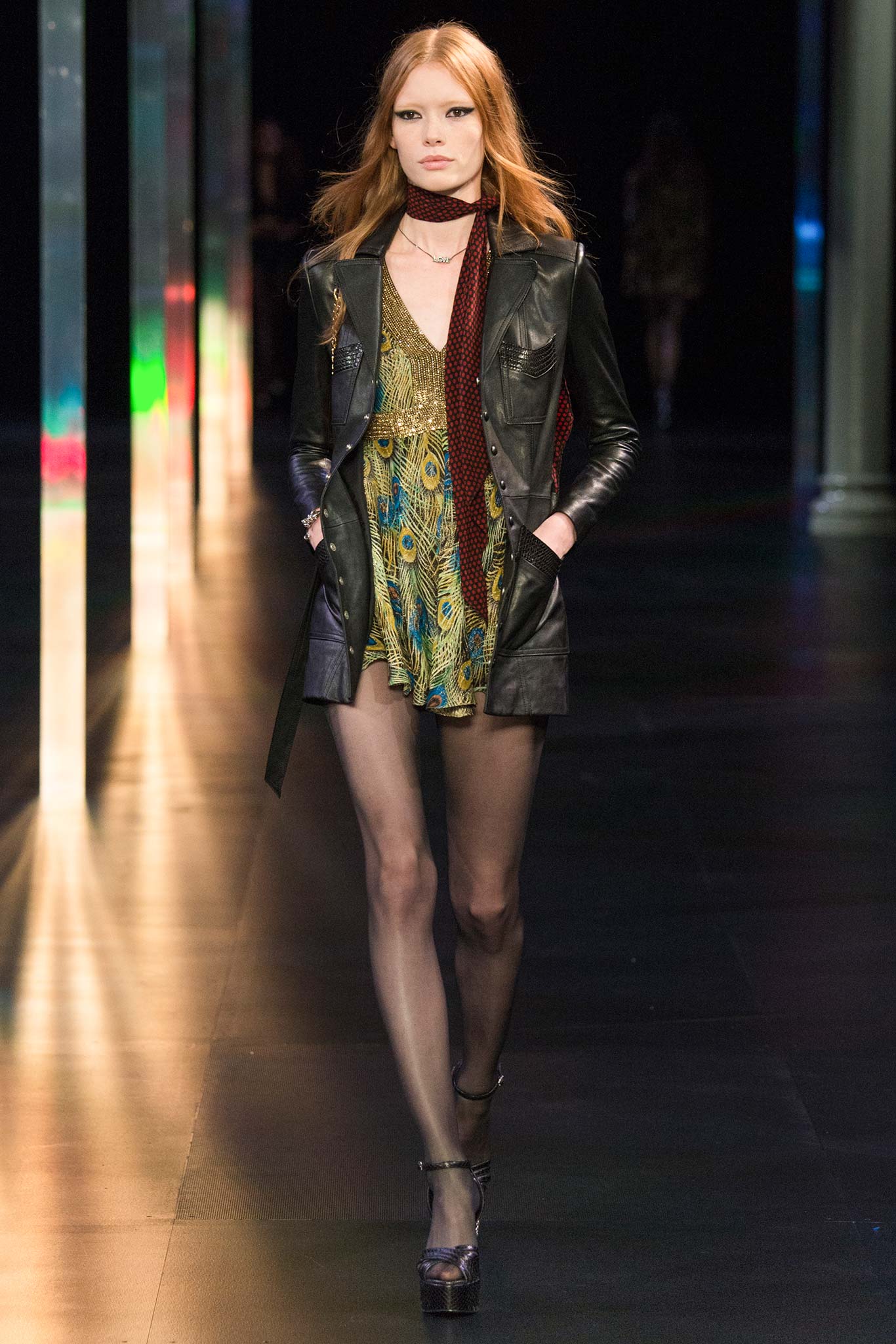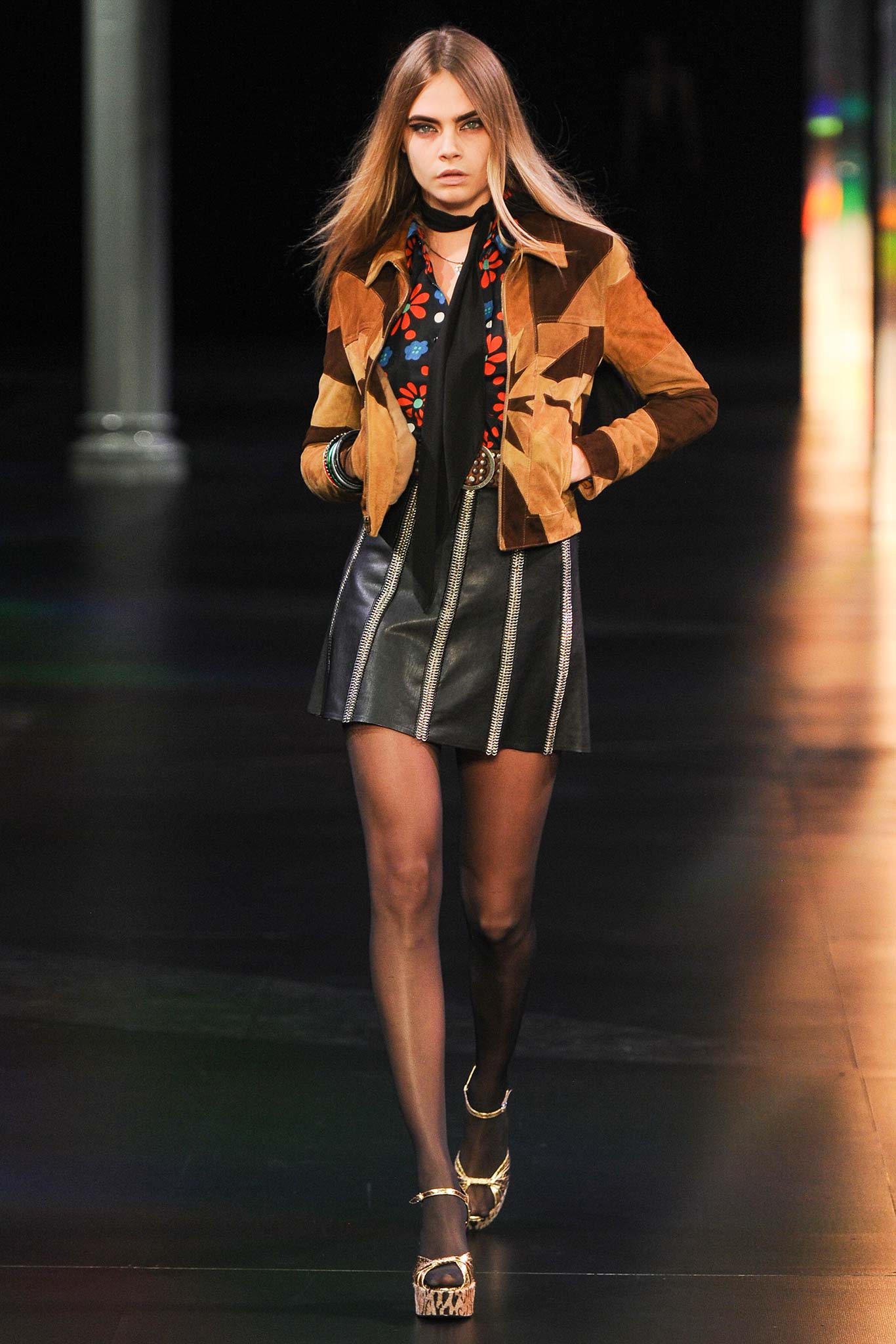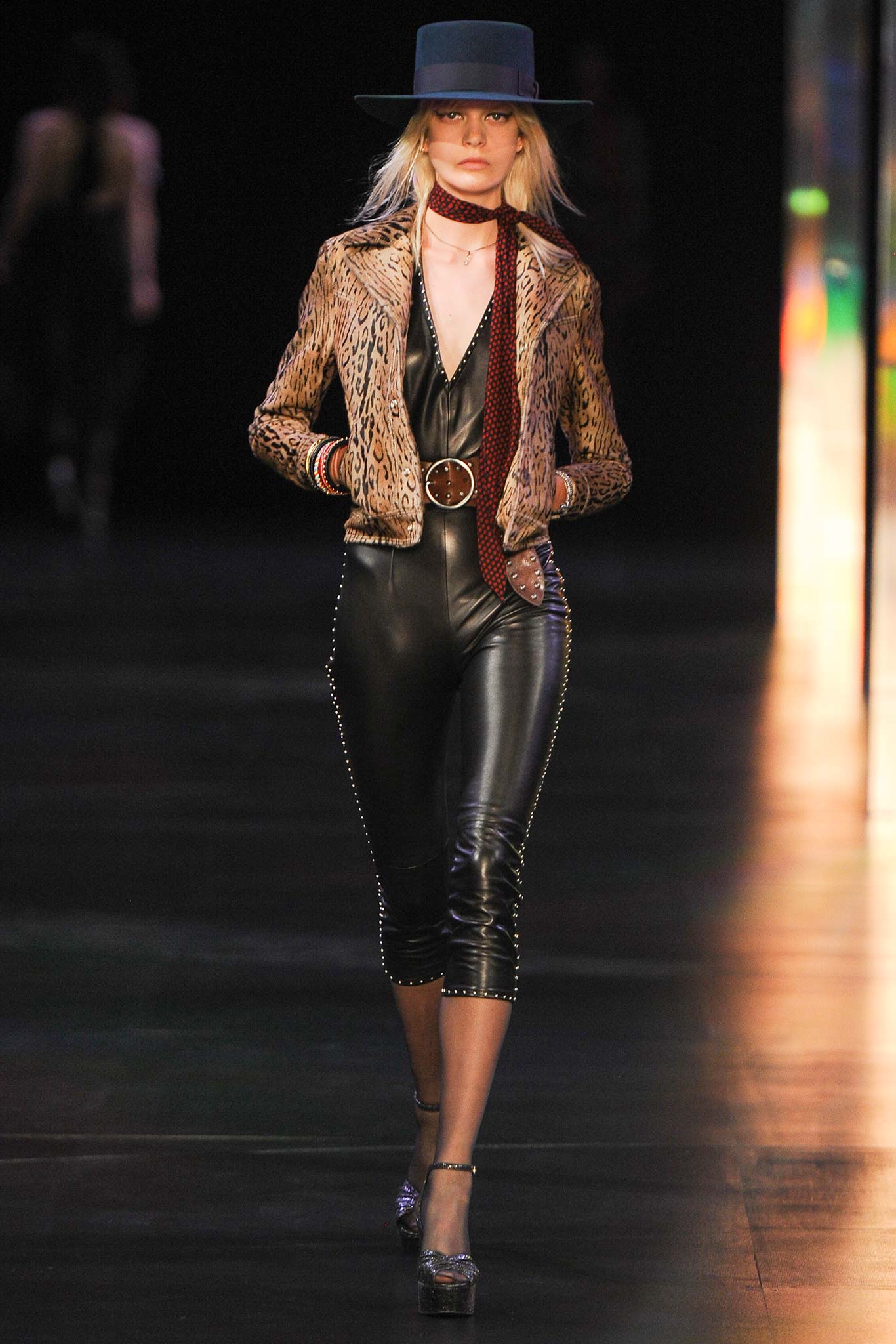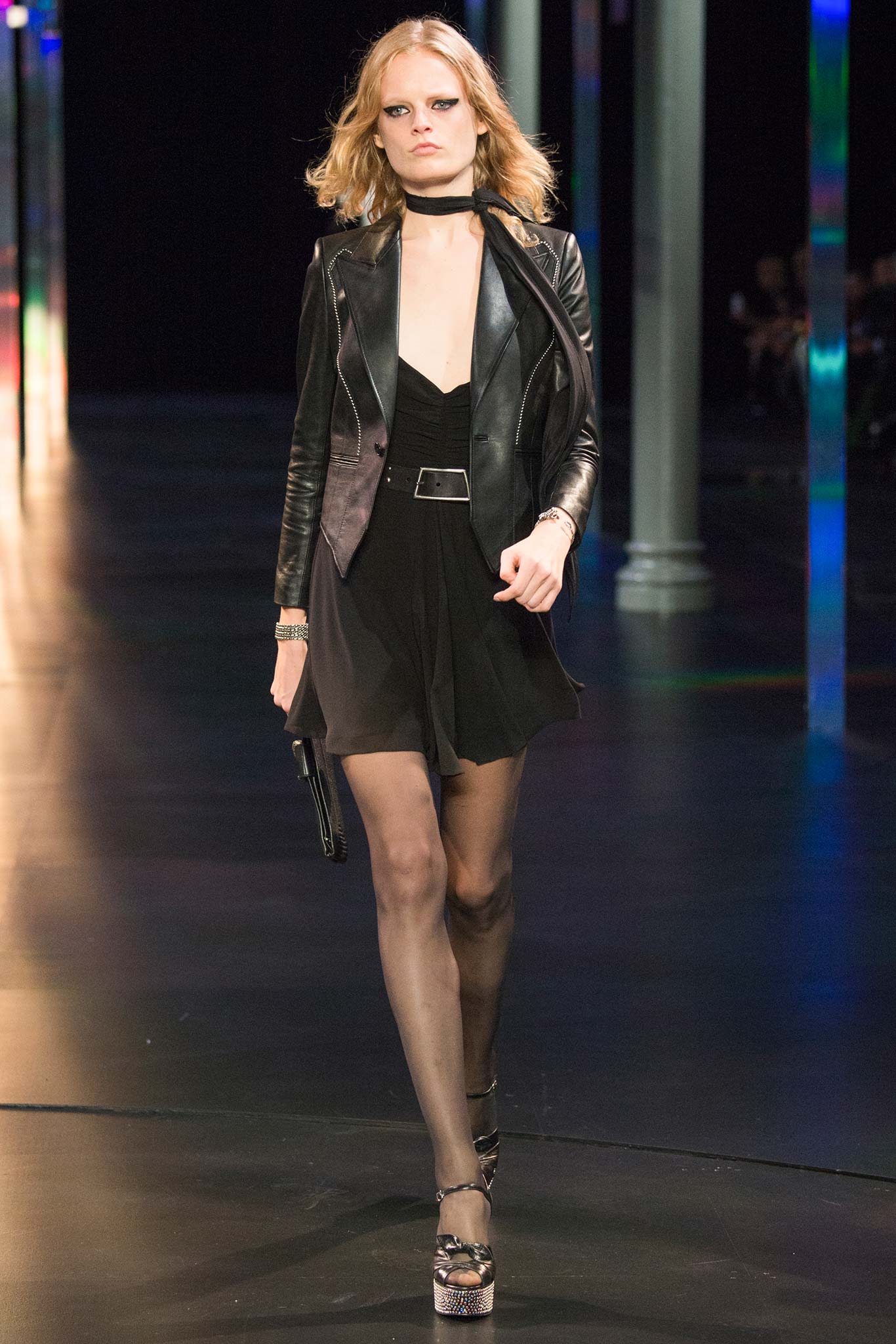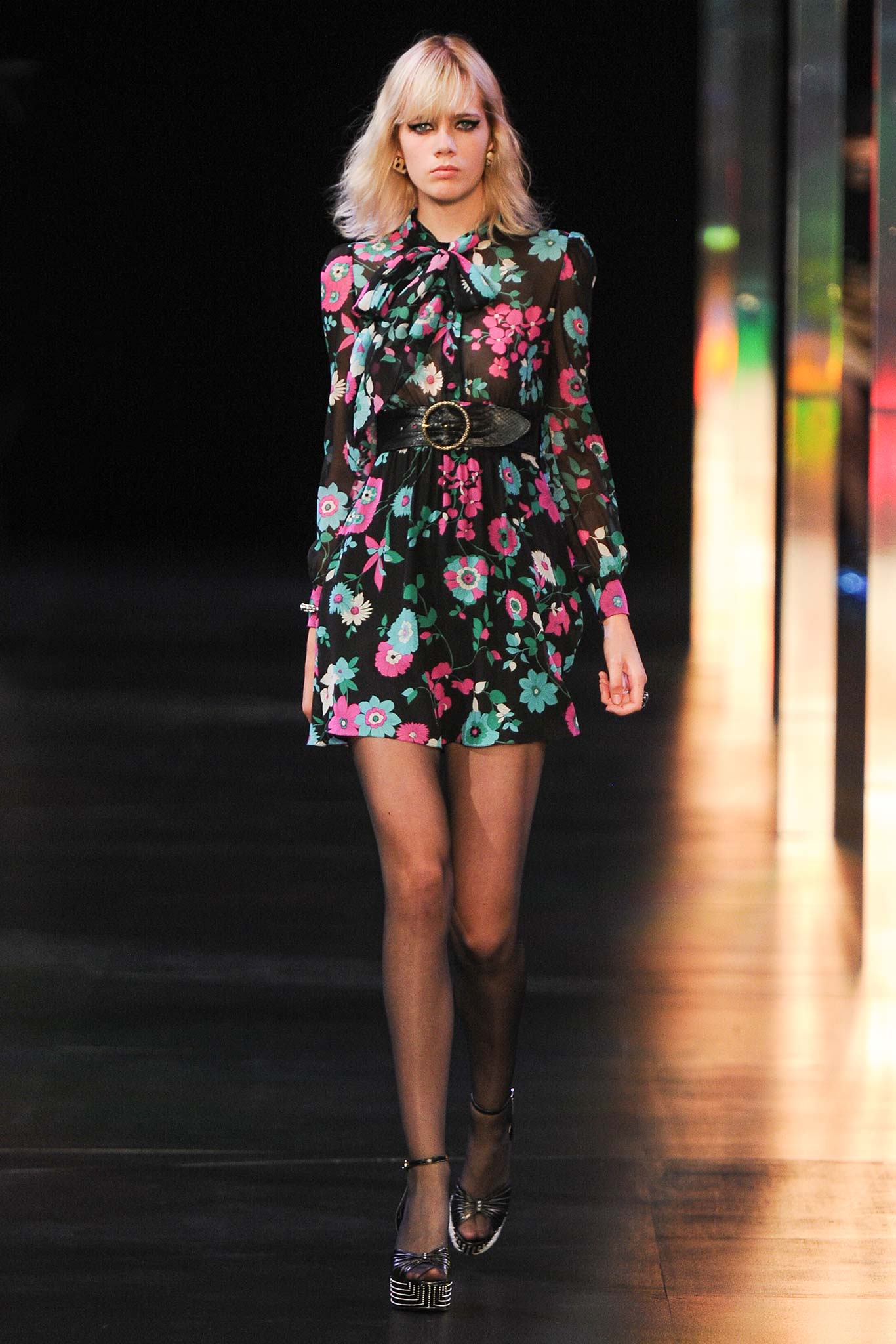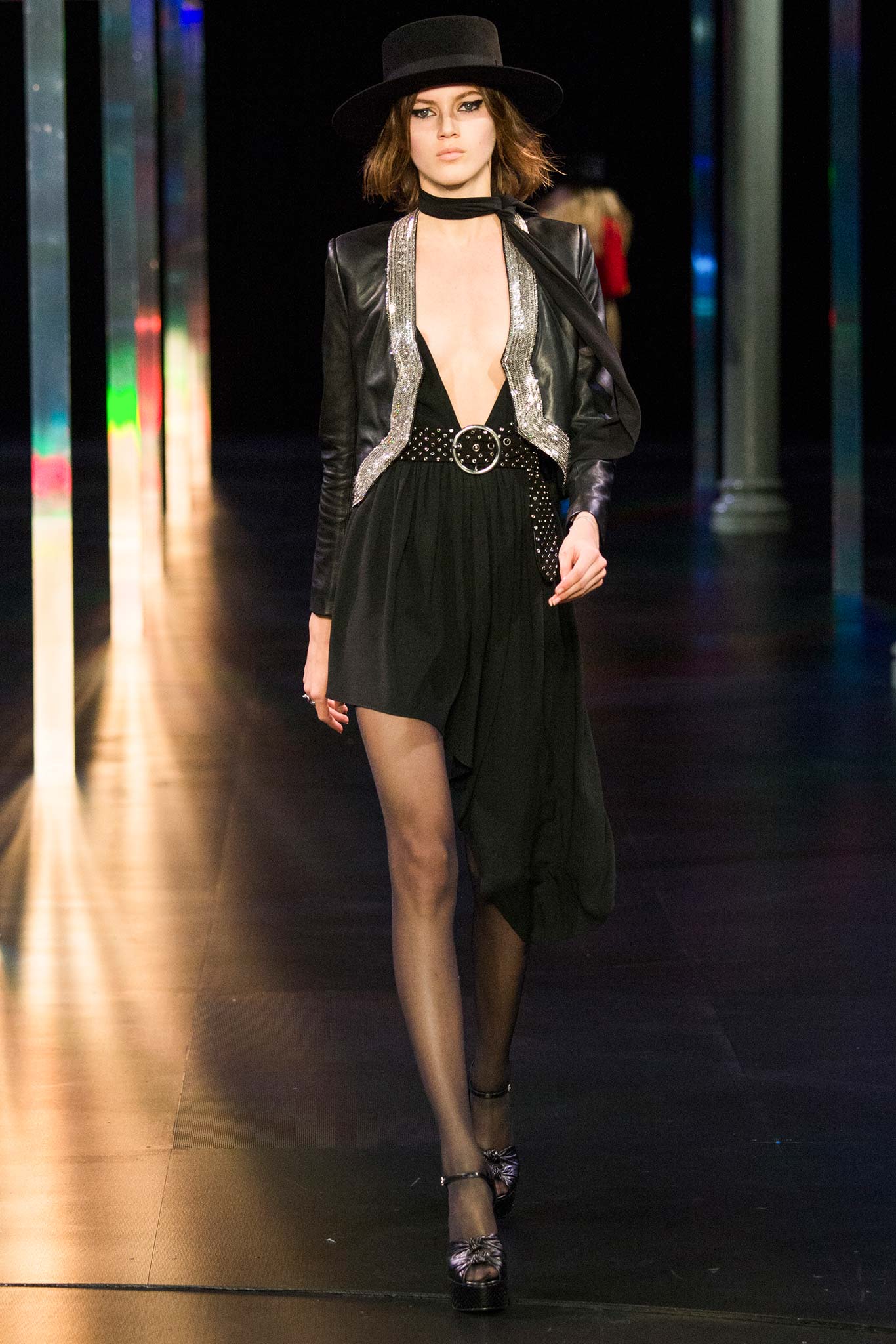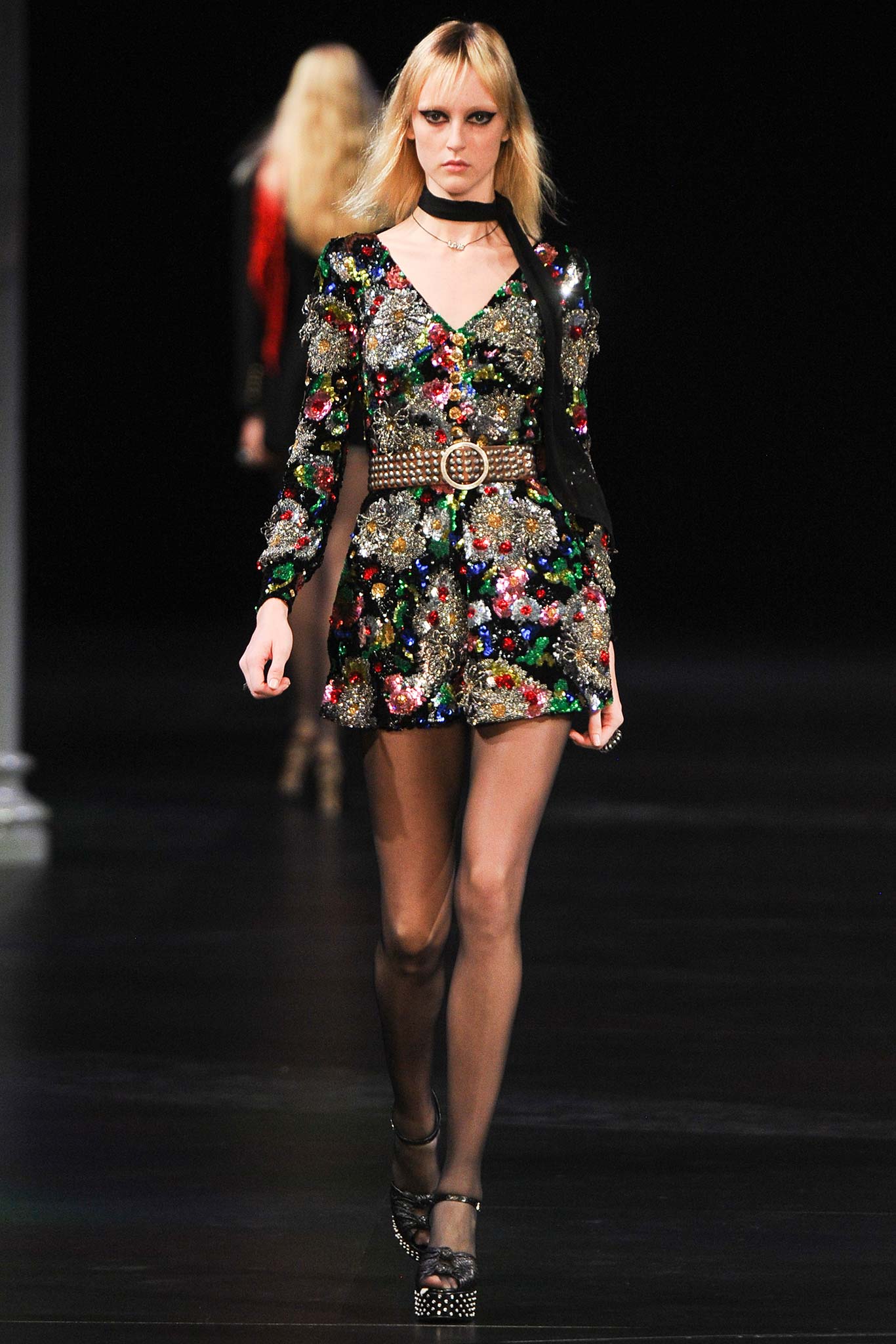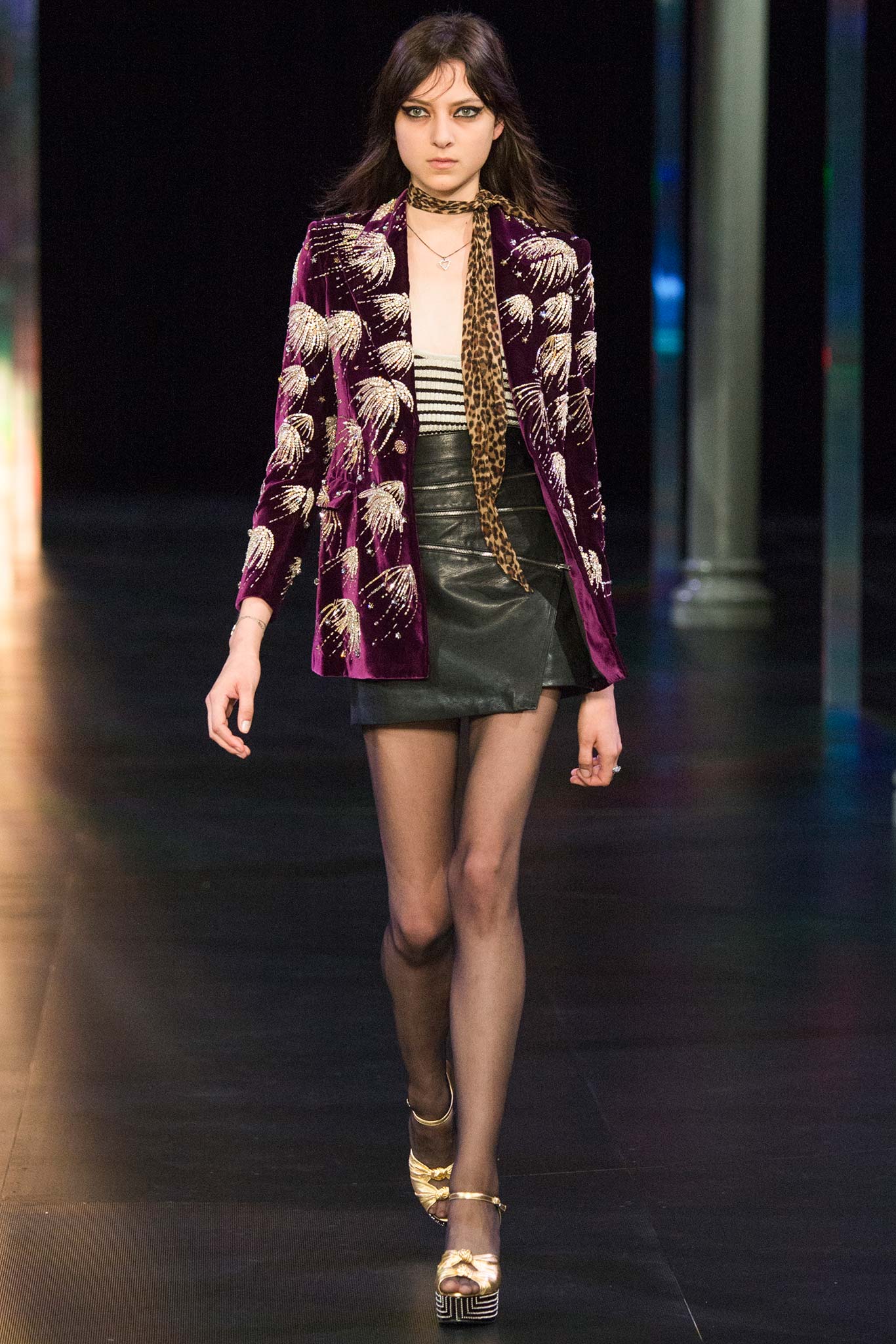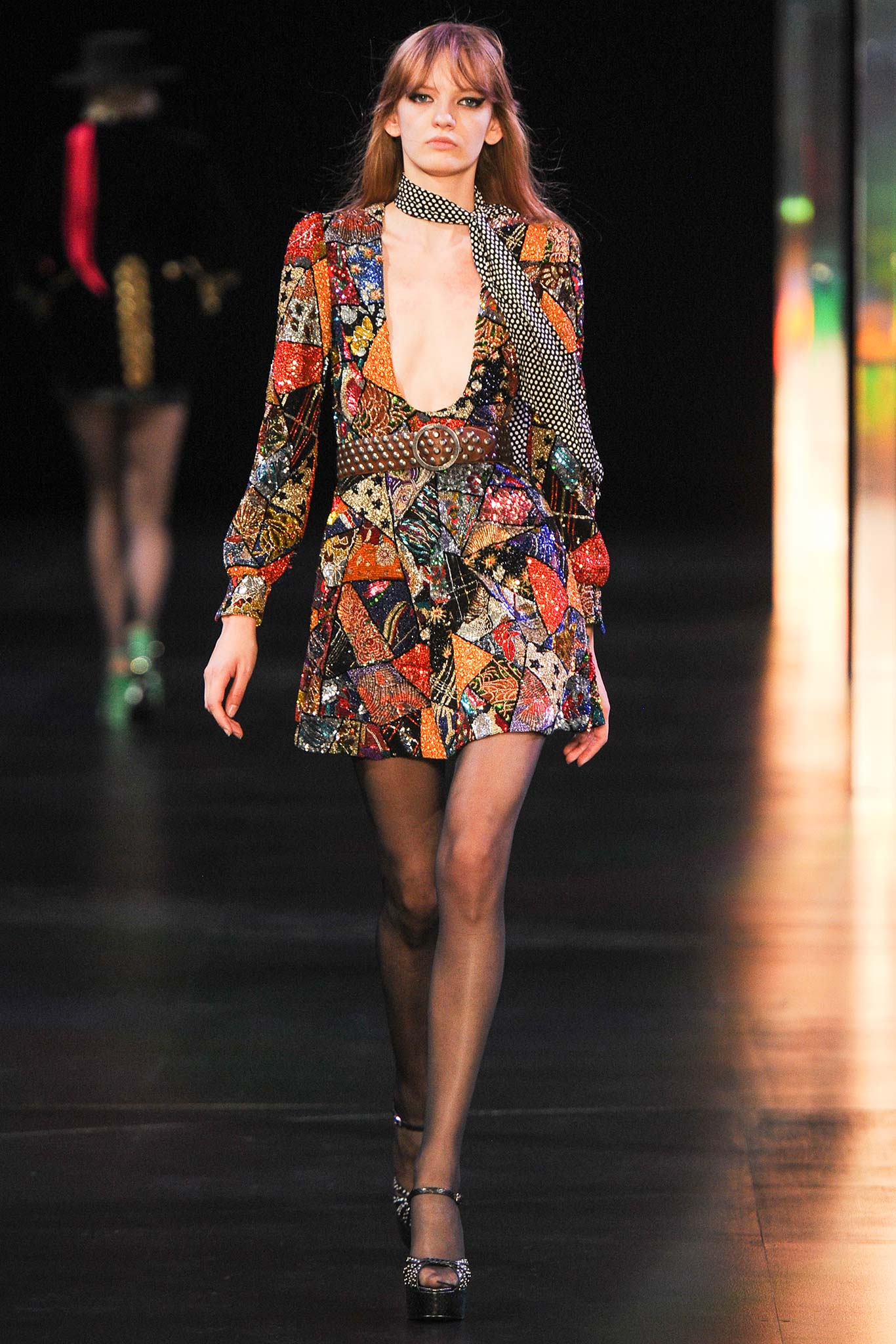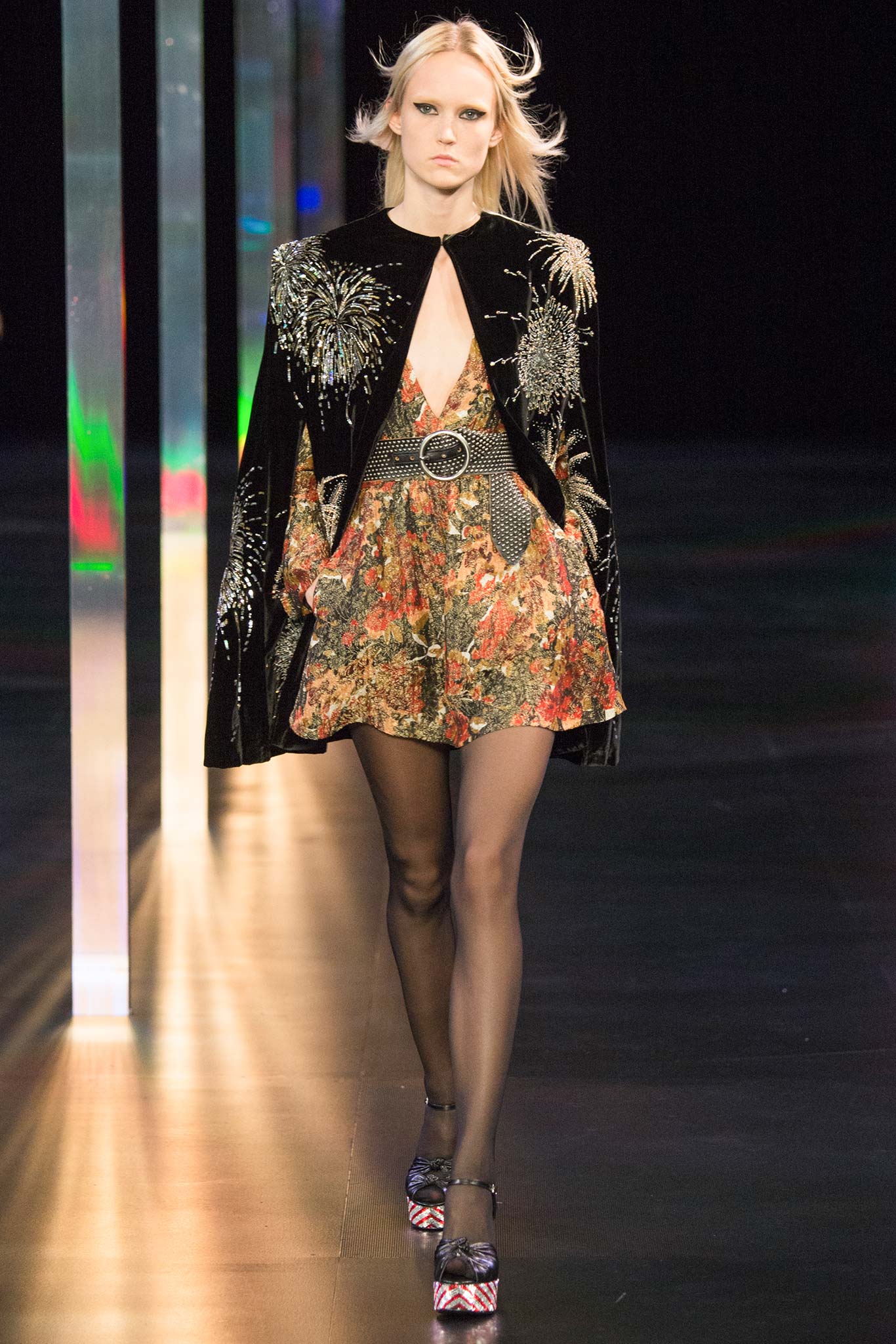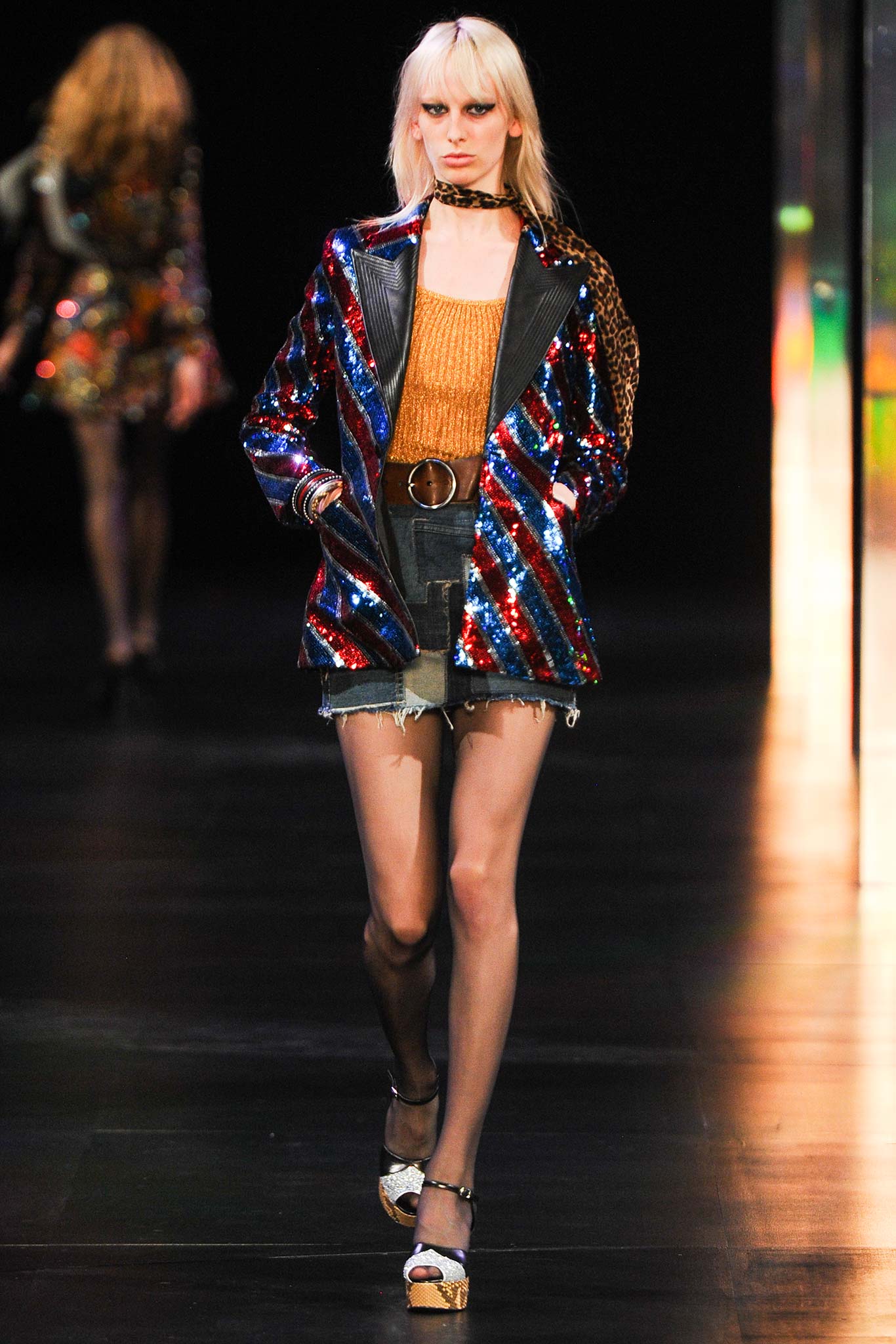 SAINT LAURENT (Hedi Slimane)
For the girl who is not shy about herself, her gams, or her look. You cannot help but make an entrance with any one of these pieces, especially the knockout sequin and rhinestone festooned mini's ending the bedazzled runway entries. This is for the Tom Ford and Balmain enthusiasts out there, with all the way Vegas glam, a healthy dose of black leather, to include scrumptious short jackets with rhinestone detailing, and vibrant colors. And who doesn't love an embellished purple velvet frock? As contrast, sweet floral dresses are included for the more demure element.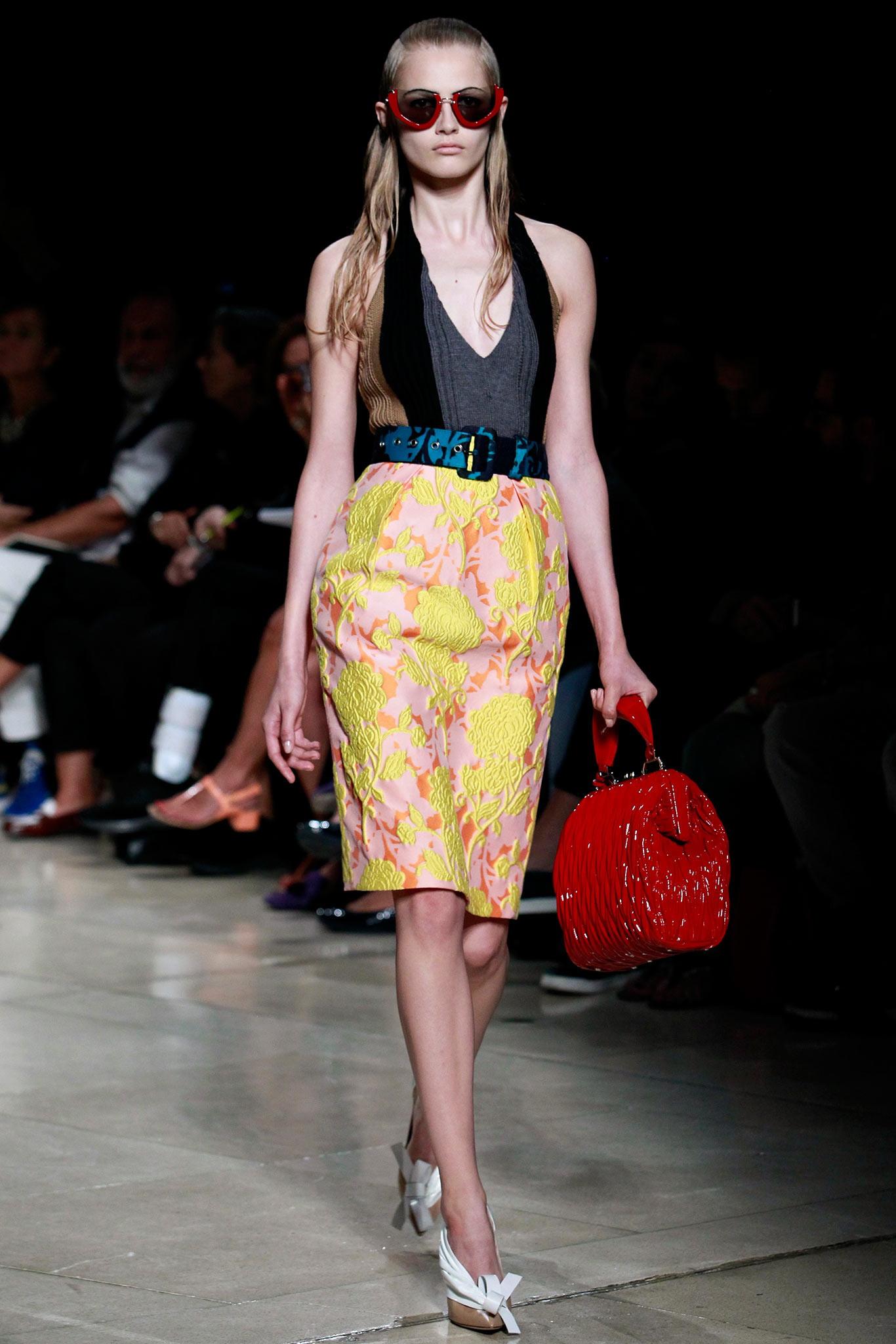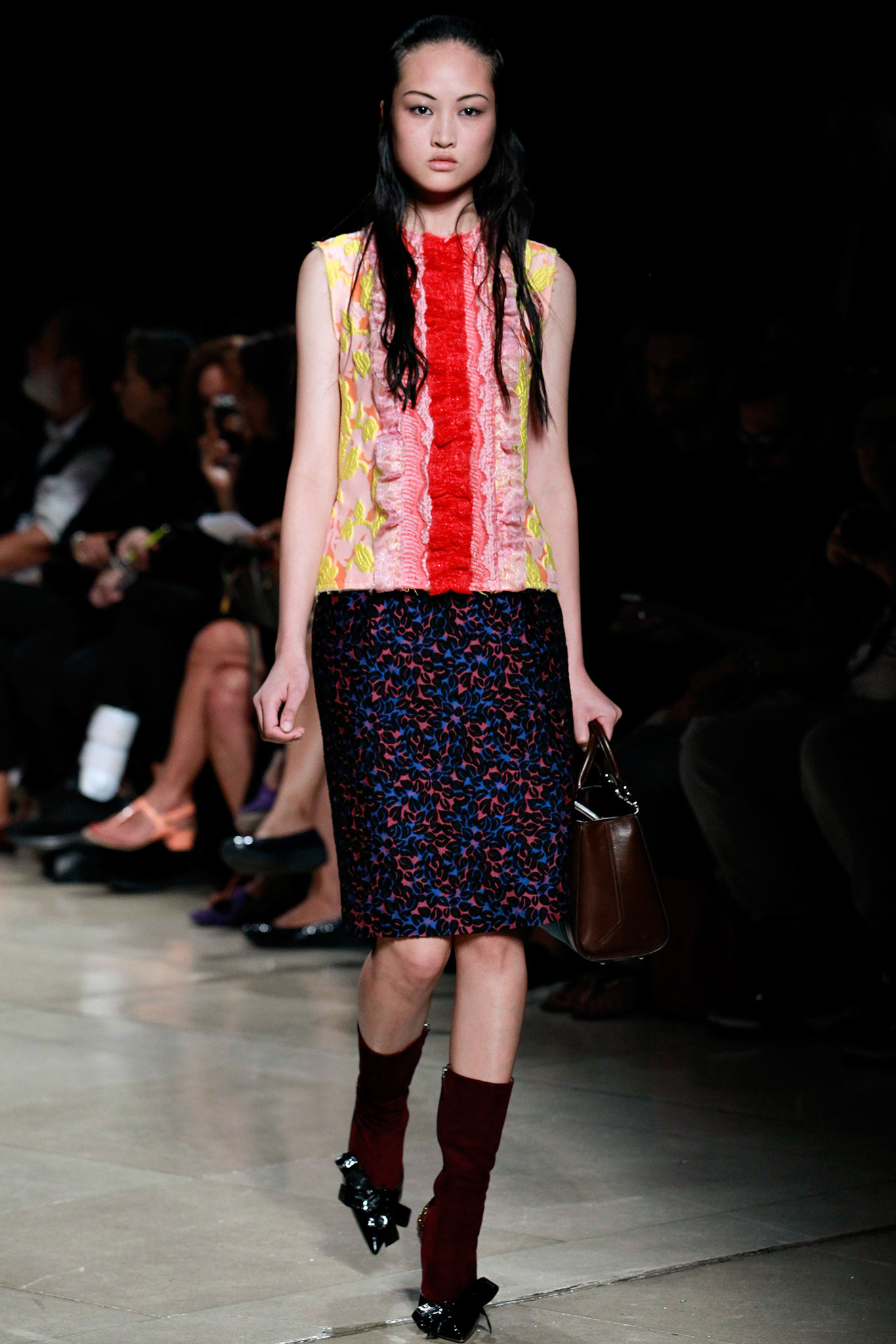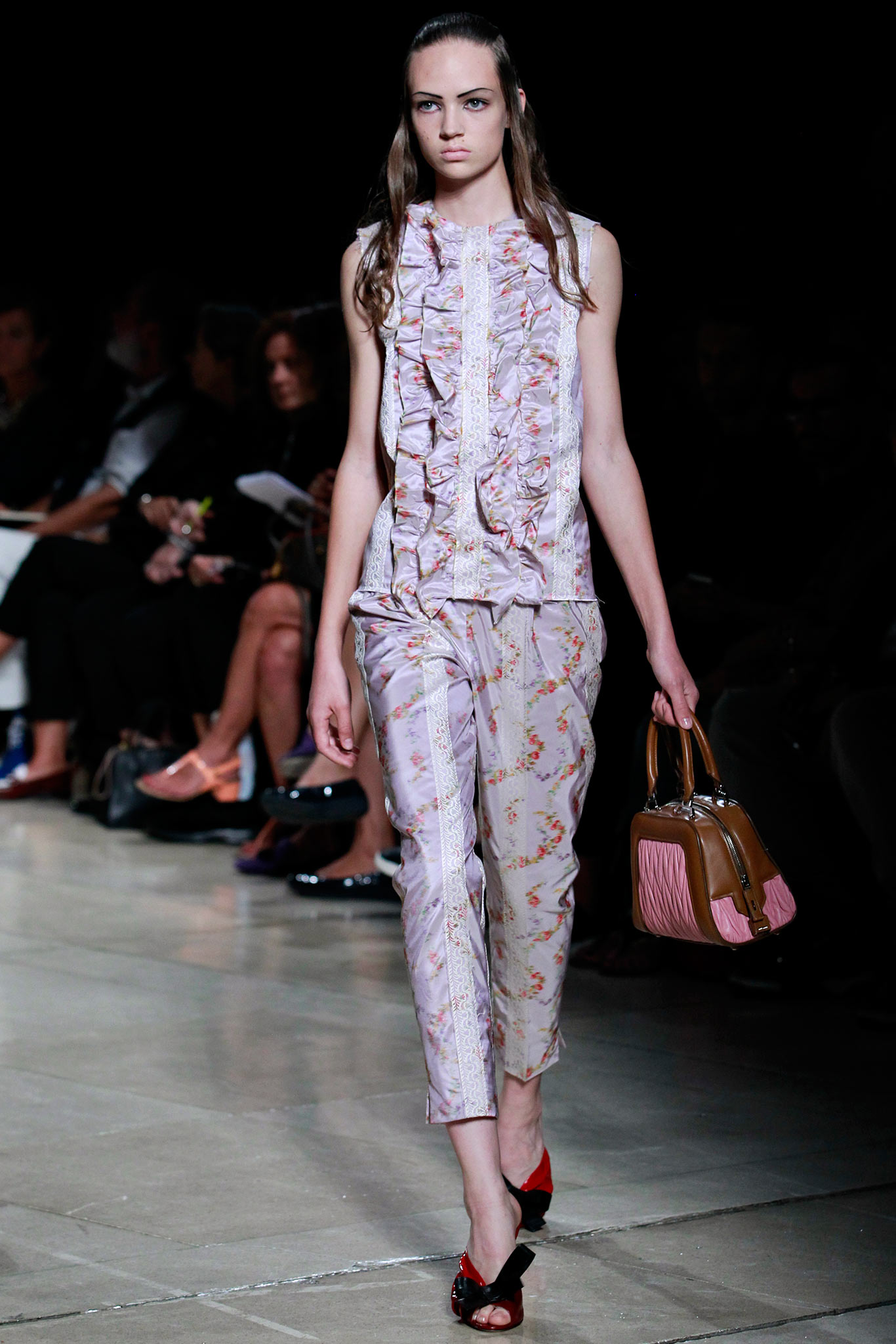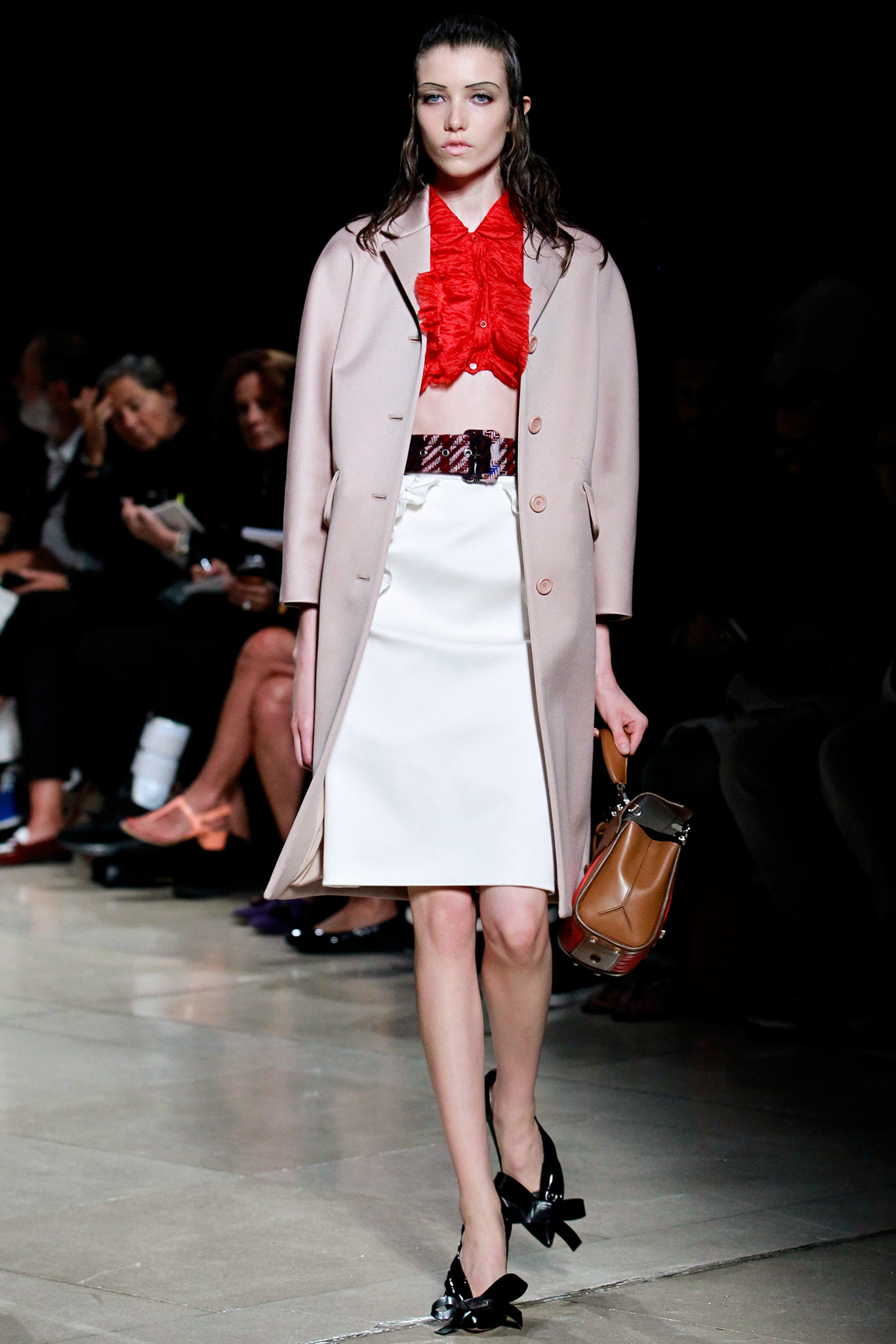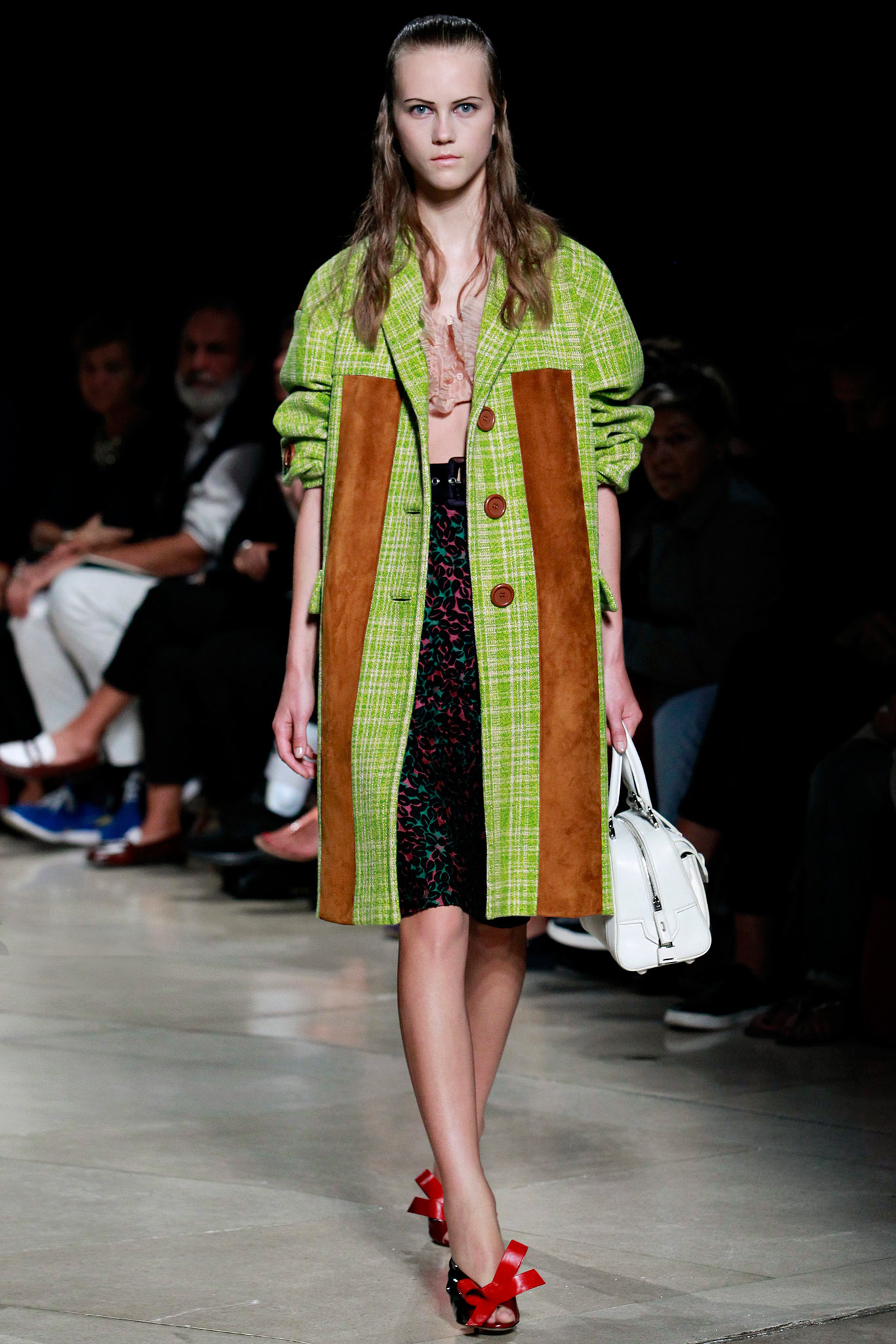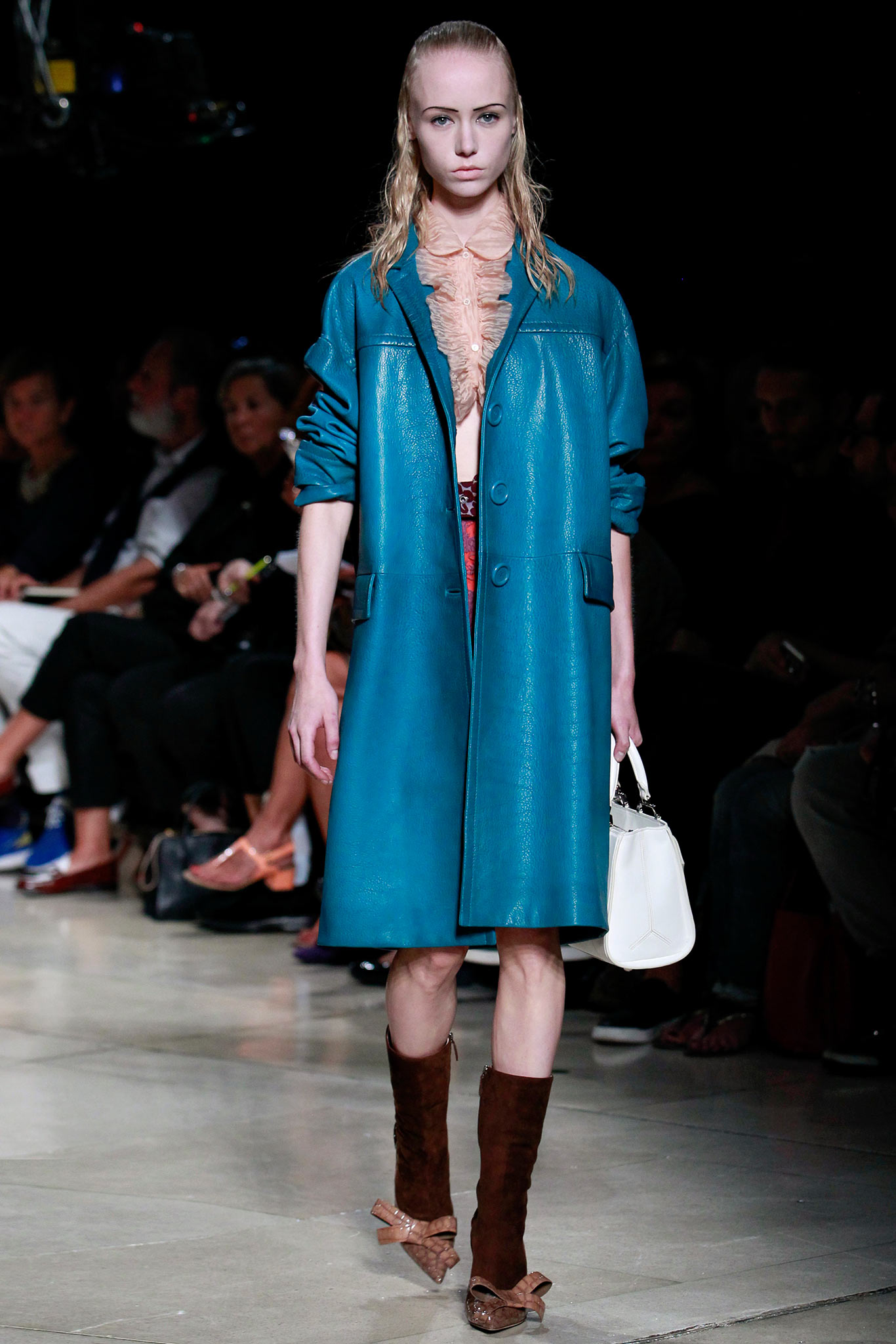 MIU MIU
As per usual, Miuccia Prada brings fun flirty separates with some bright stand out coats, such as the teal leather entry above. The brocade pencil skirts are a new take on the standard and are a nice contrast from the usual black or navy. Pair one of these knockout skirts with a simple coat and plain underpinnings. Leather coats abound on runway as in pretty much every season, so you have your choice of varied selections and colorations. The ruffles bring an old world vibe to the proceedings.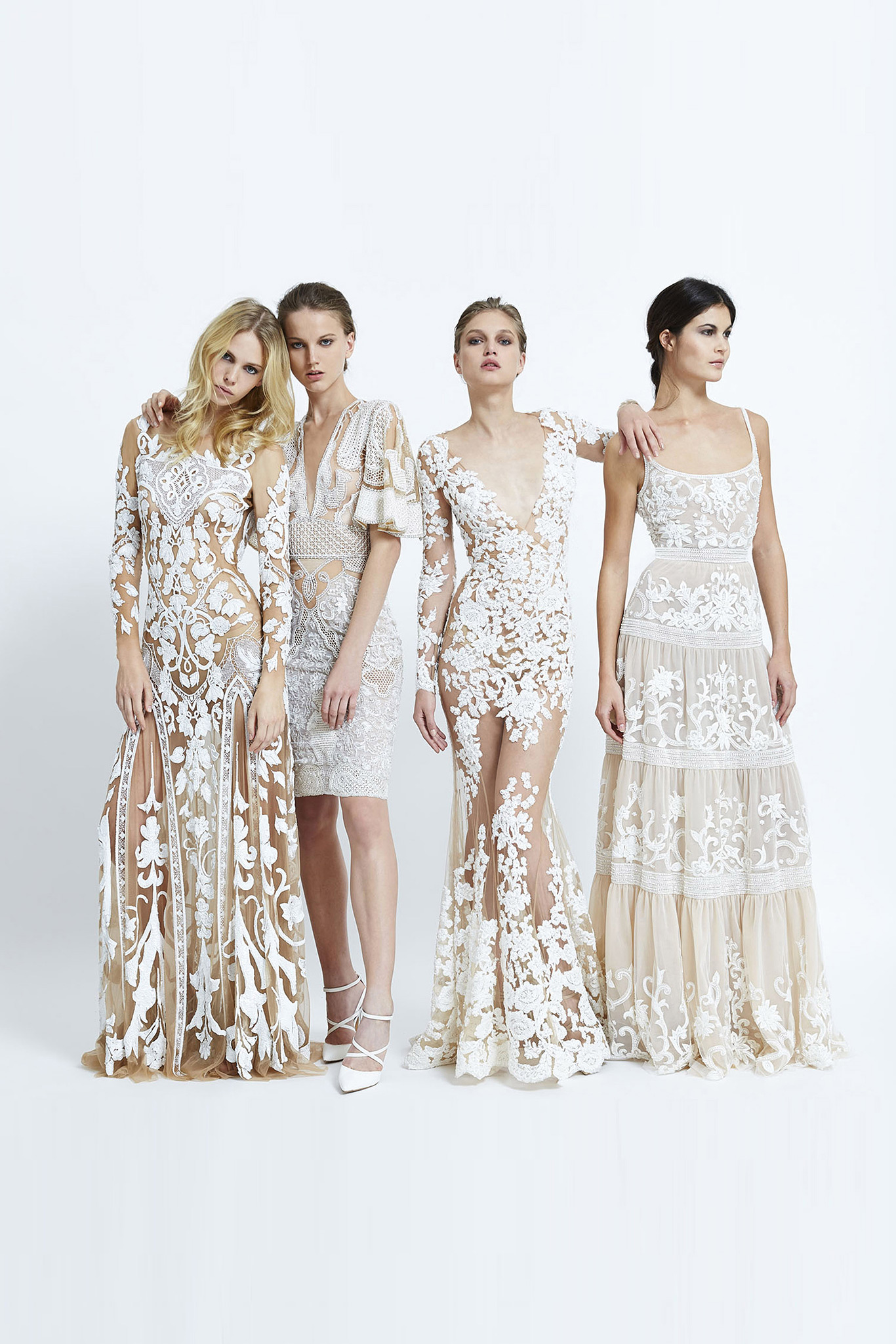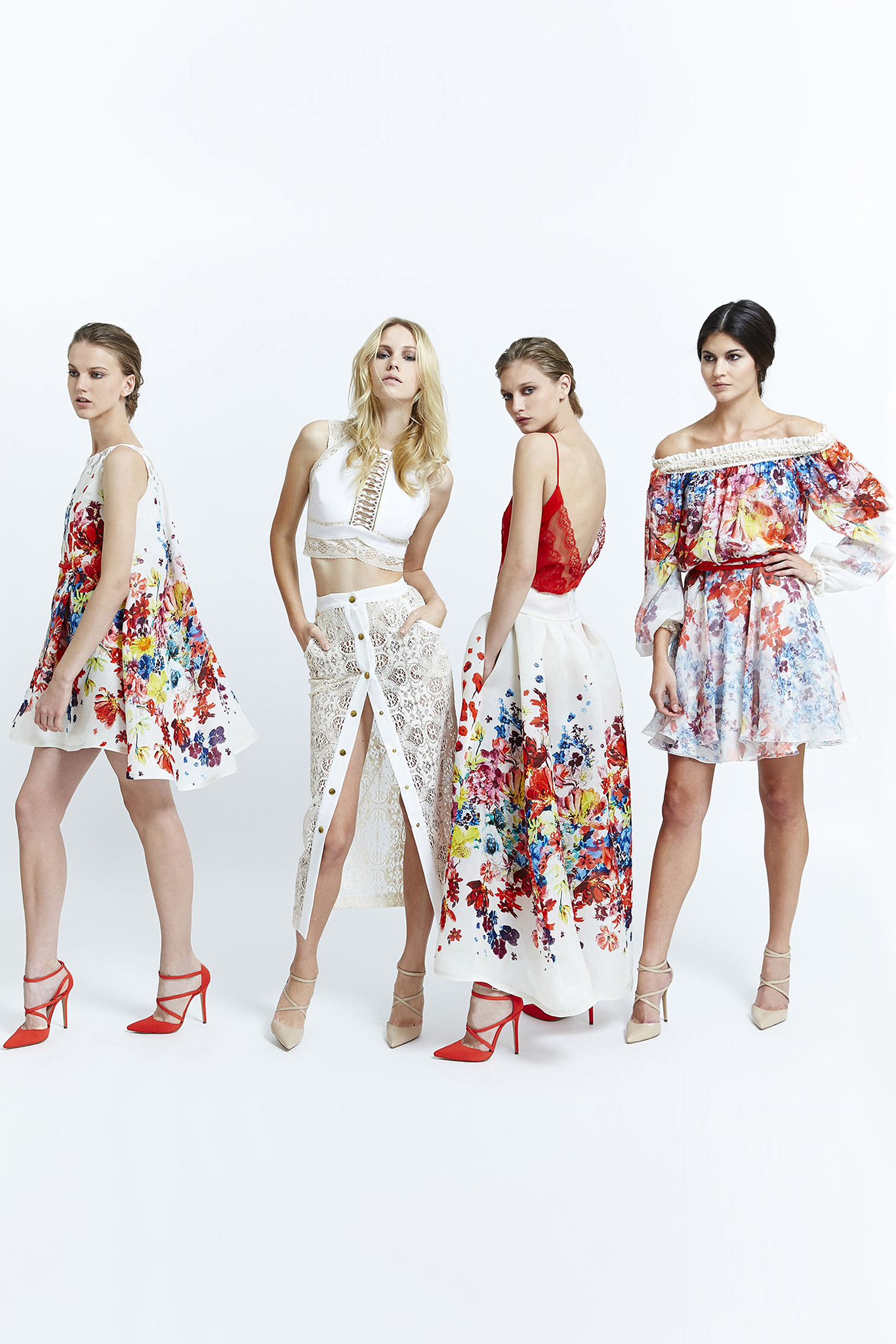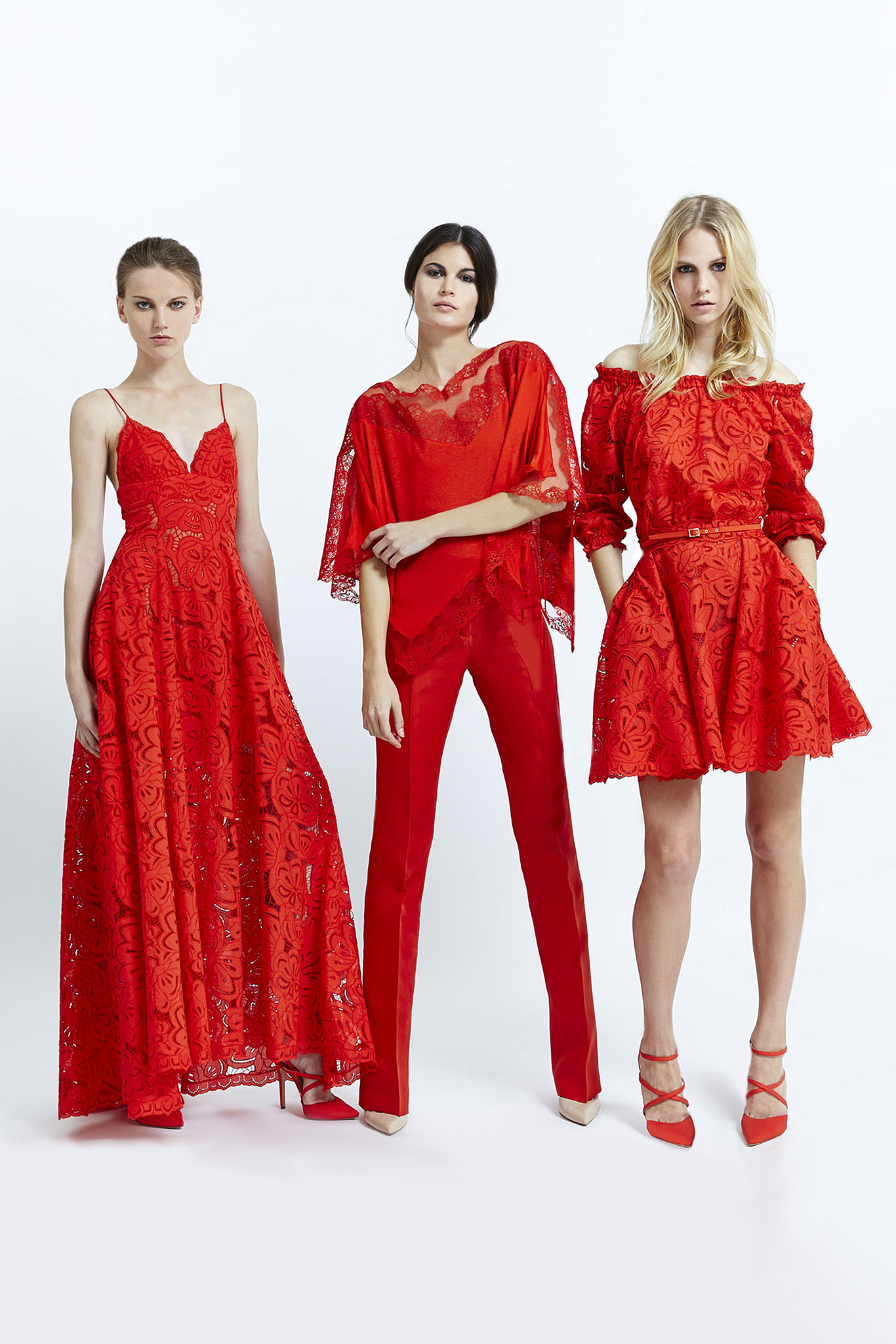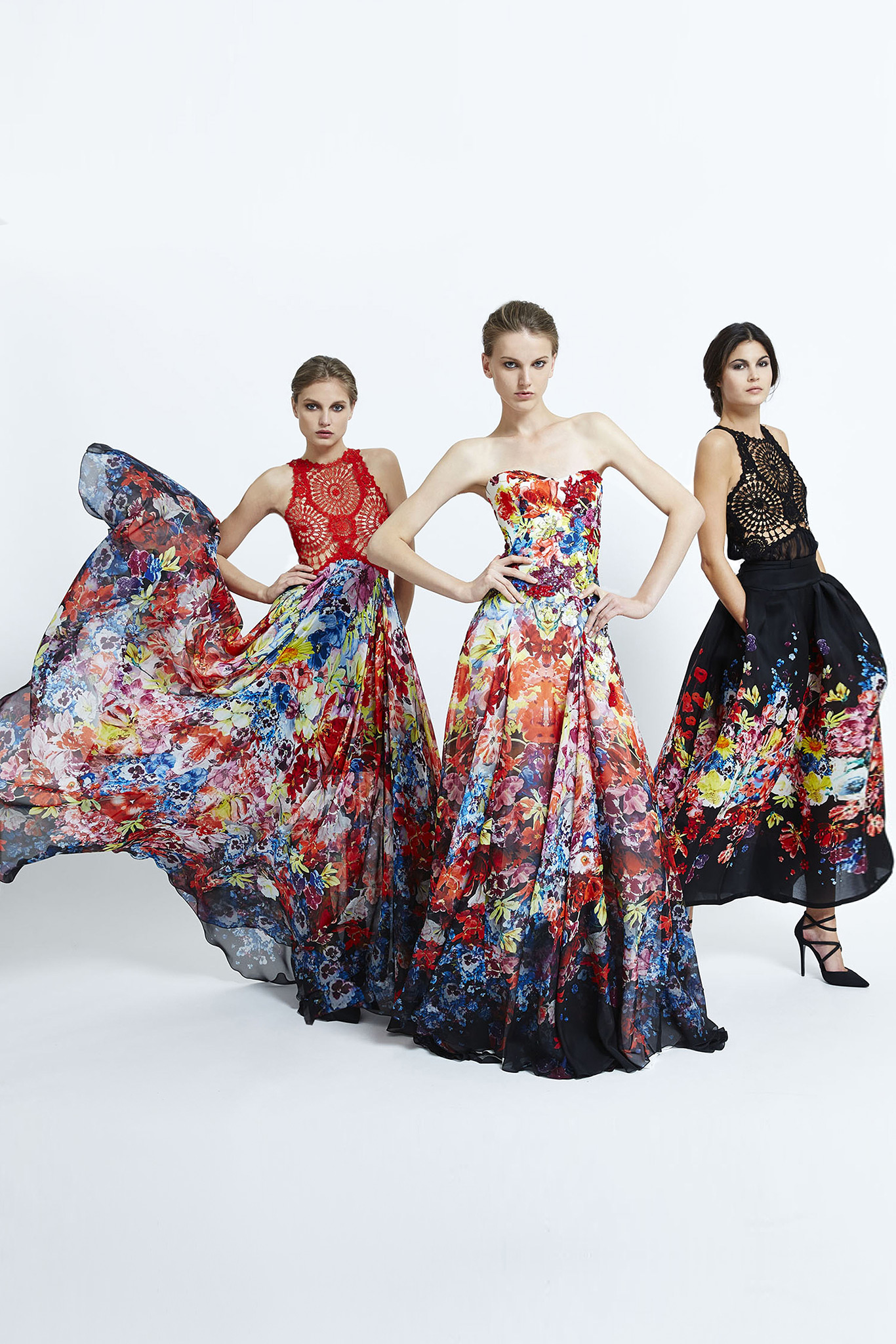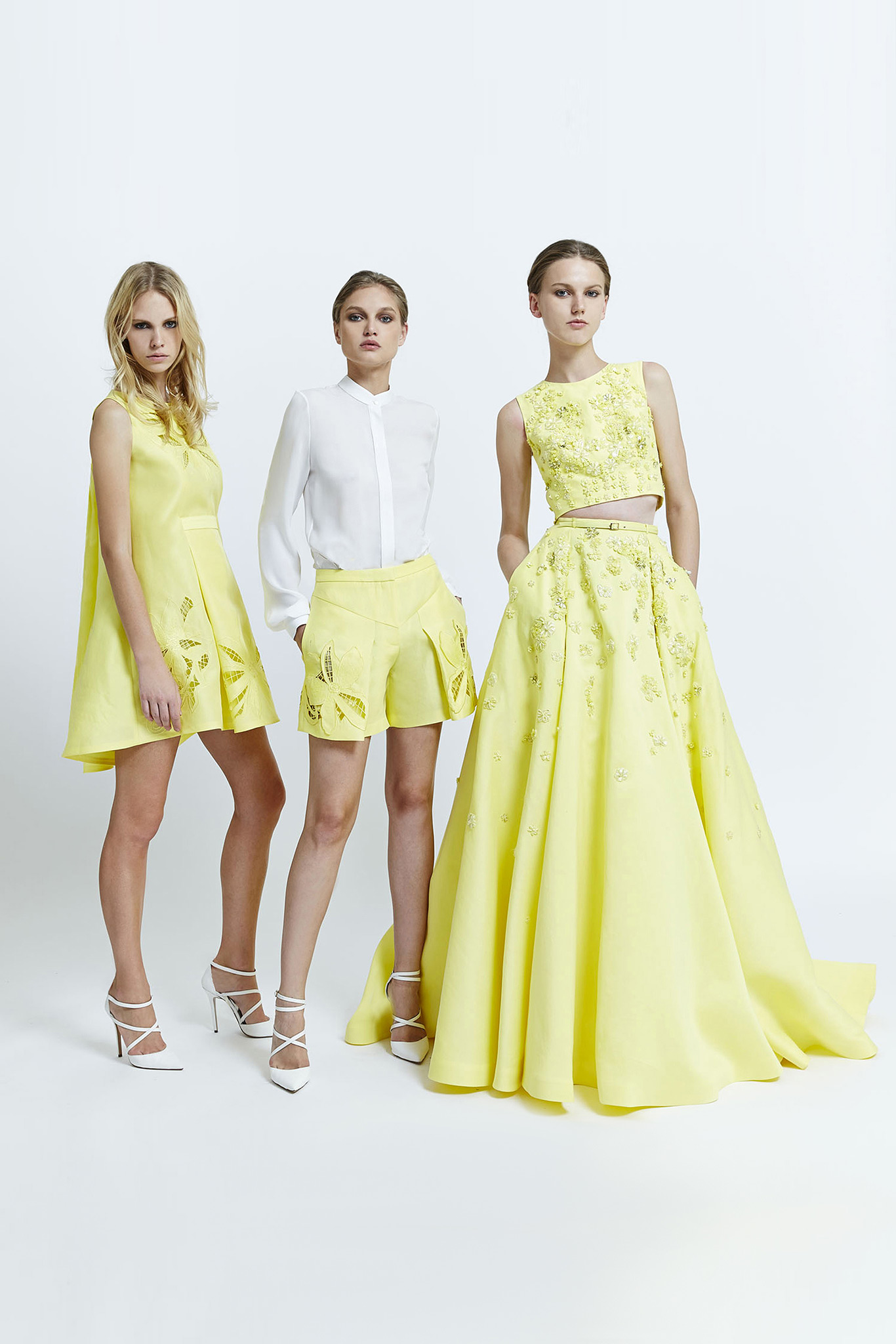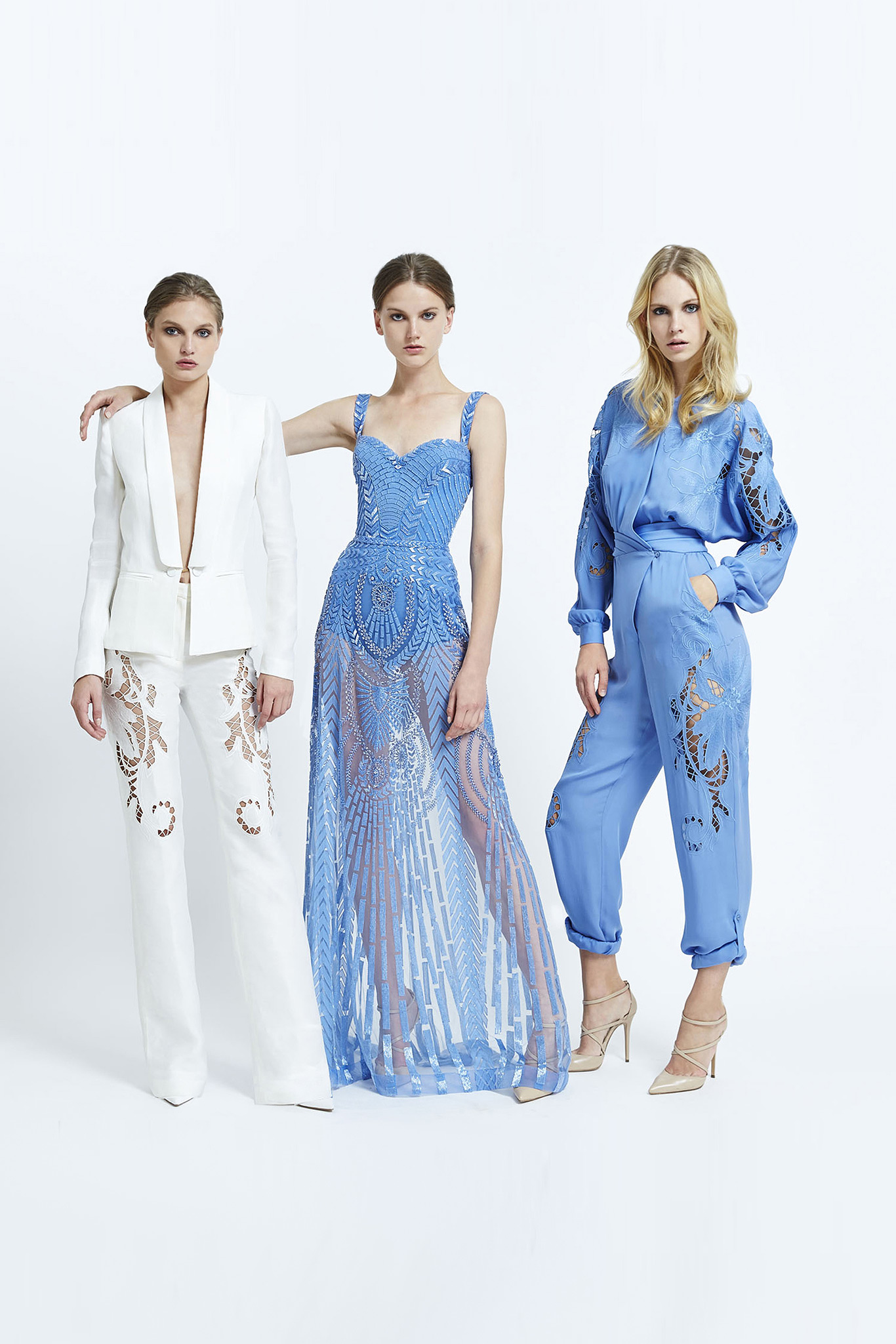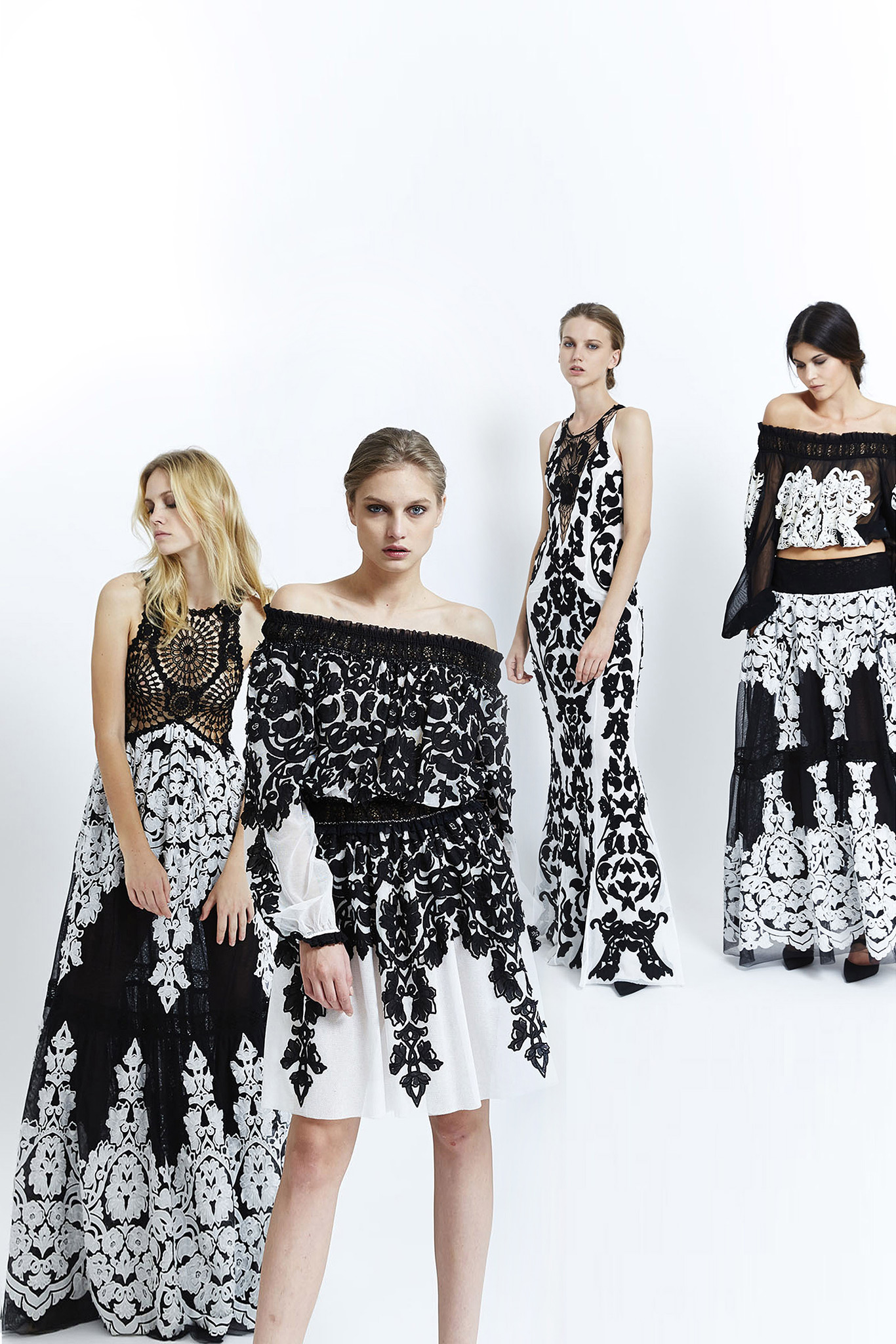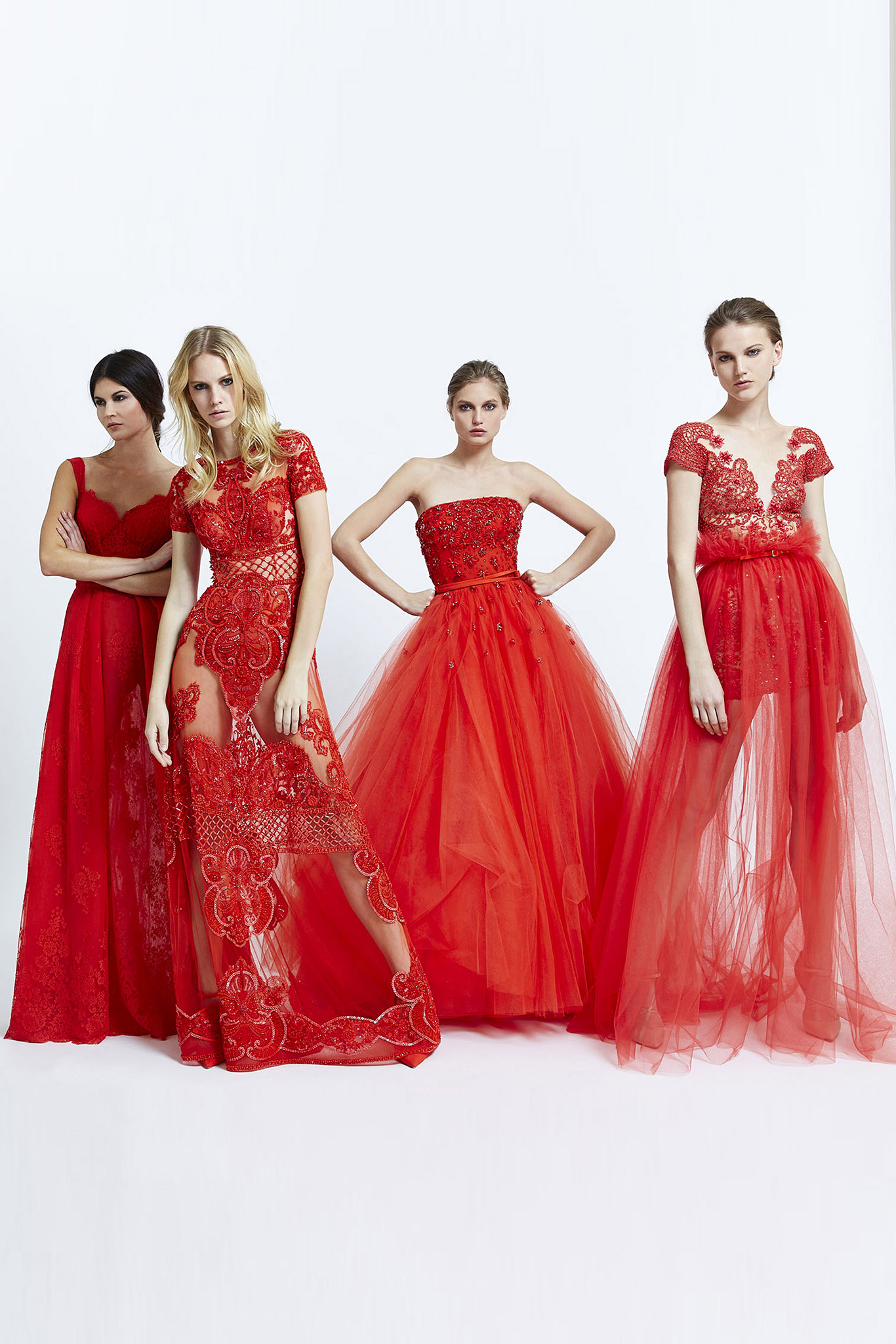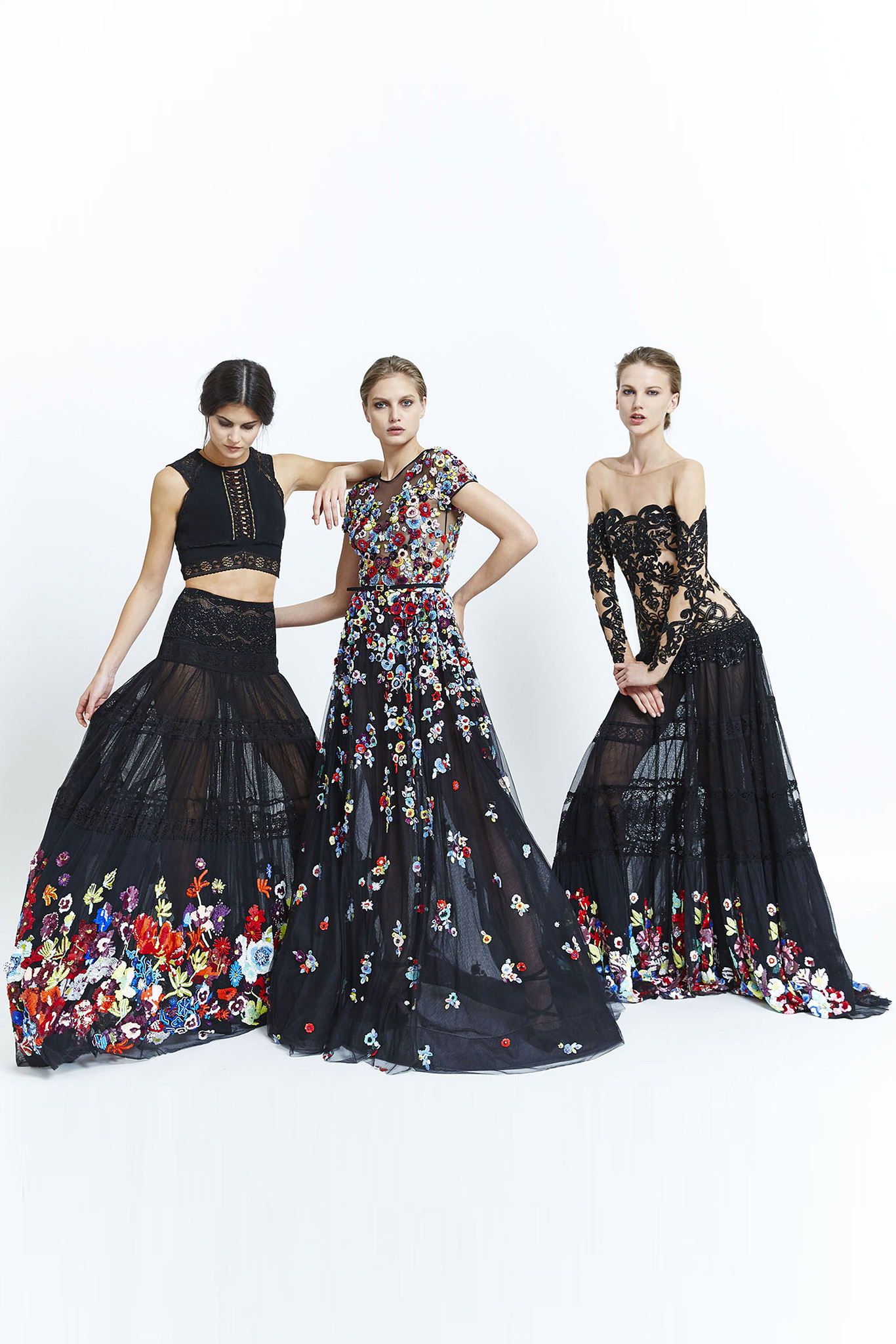 ZUHAIR MURAD
Well, good Lord, this is some of THE most gorgeous finery I've seen, that I'm sure might (?!) be a bit of a strain on le pocket book. But nevermind, its still wonderful to gaze upon, like art on the walls of a museum. Bright vibrant colors, including red and periwinkle, with tulle, embellishments, broderie anglaise, and a trip through the botanical gardens of your dreams. There is quite the sheer factor to sex up classical feminine silhouettes and fabrications. The periwinkle evening dress harkens back to roman legion times and brings to mind latter day armour, as we've seen on the fall winter runways, to add strength to the glam.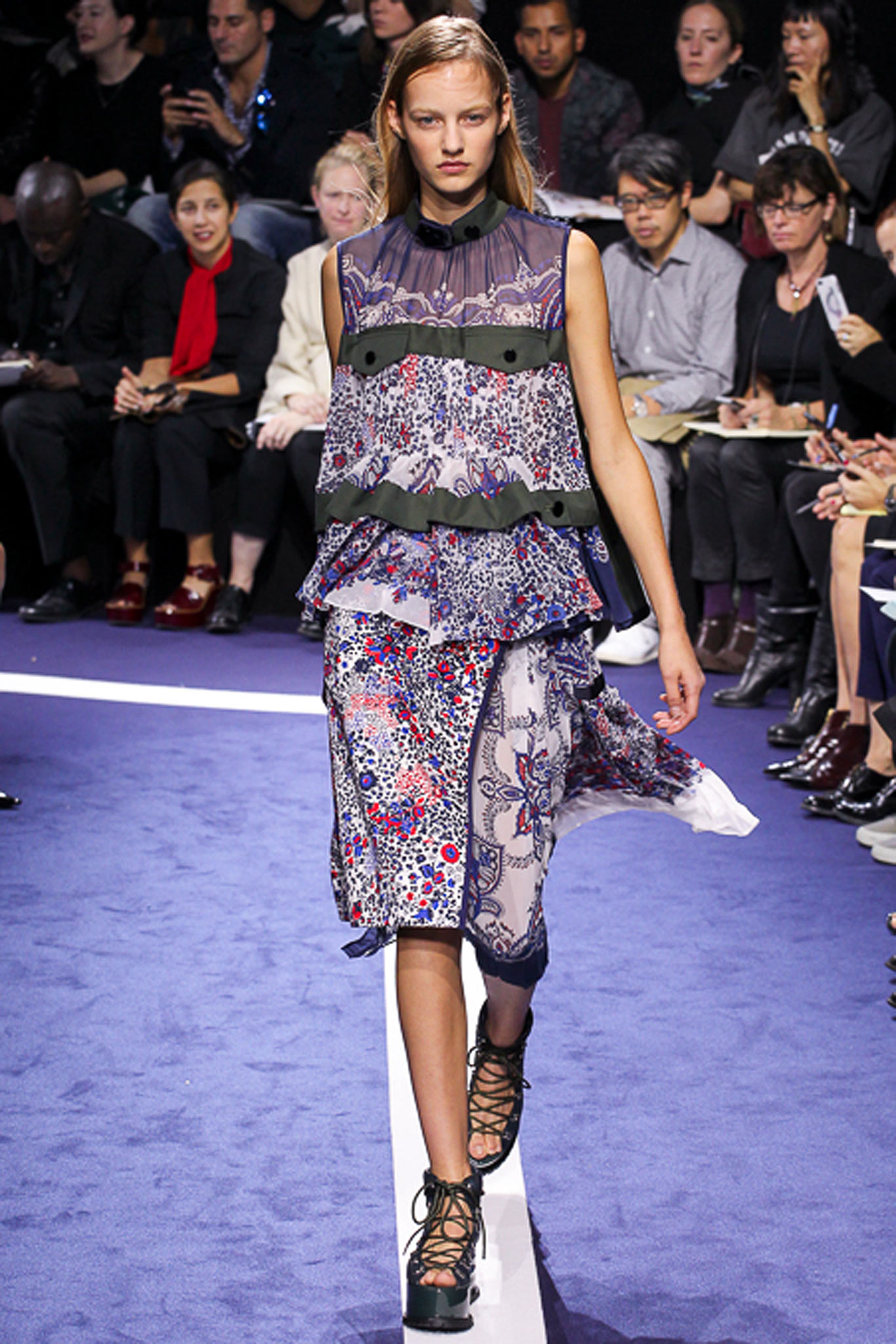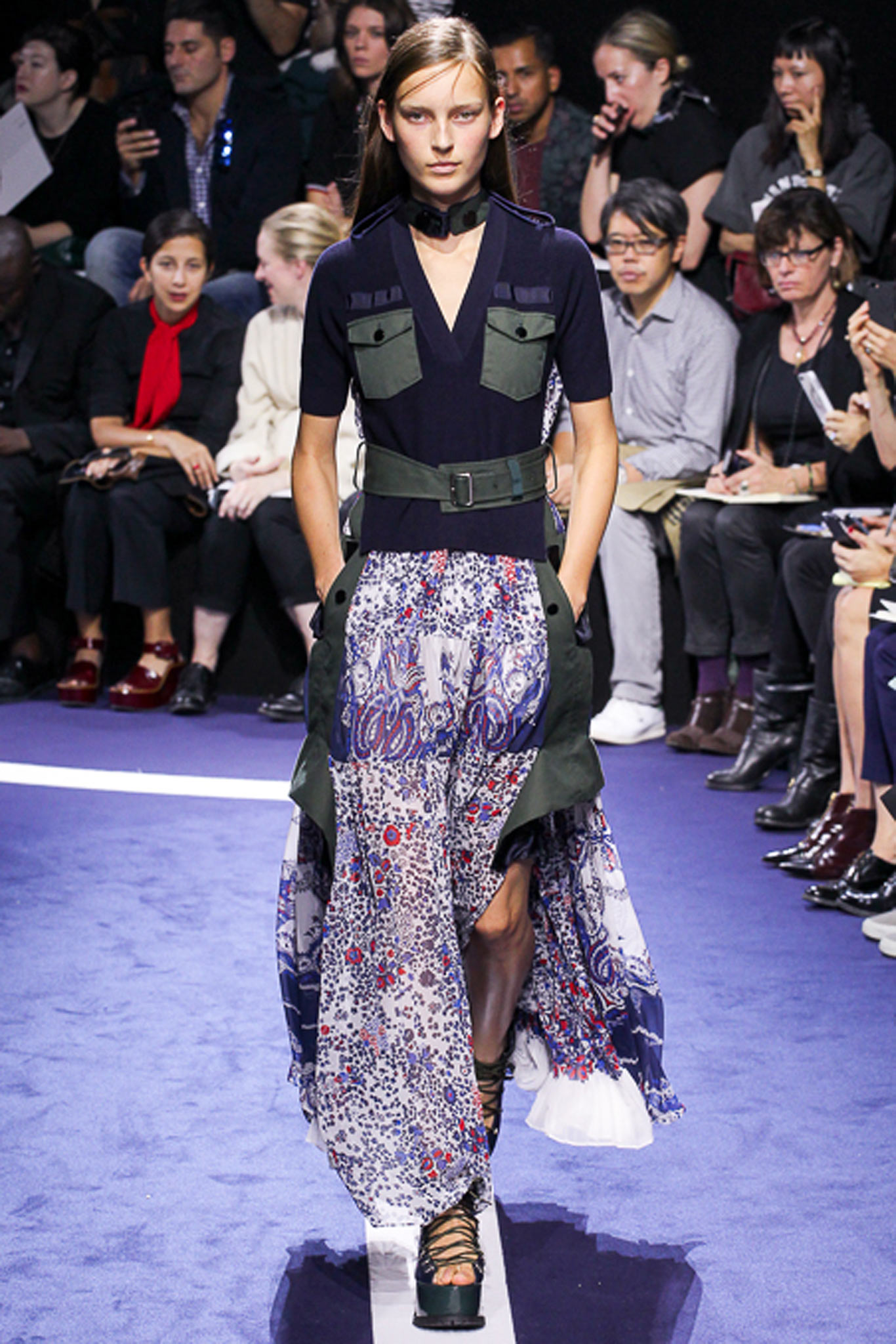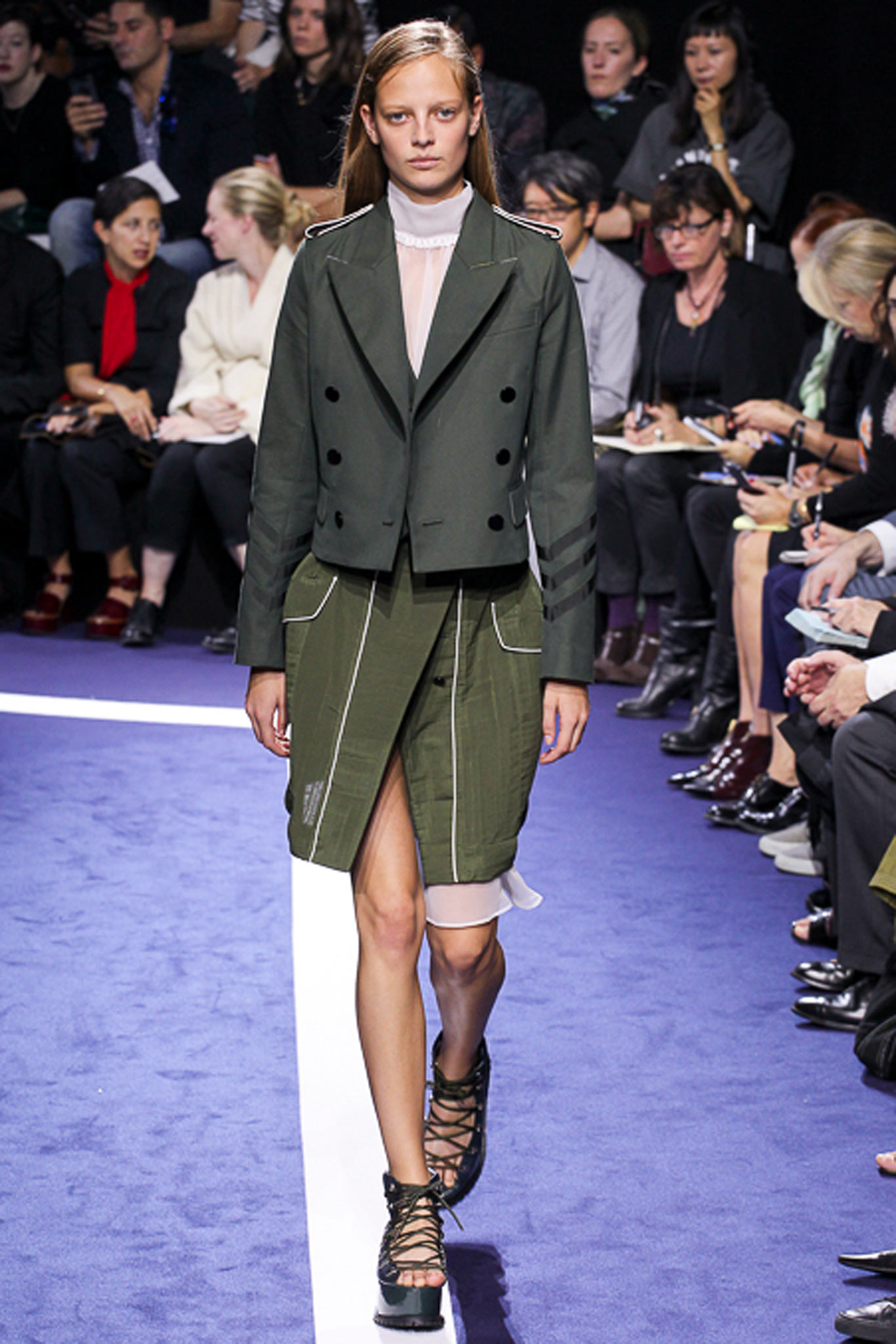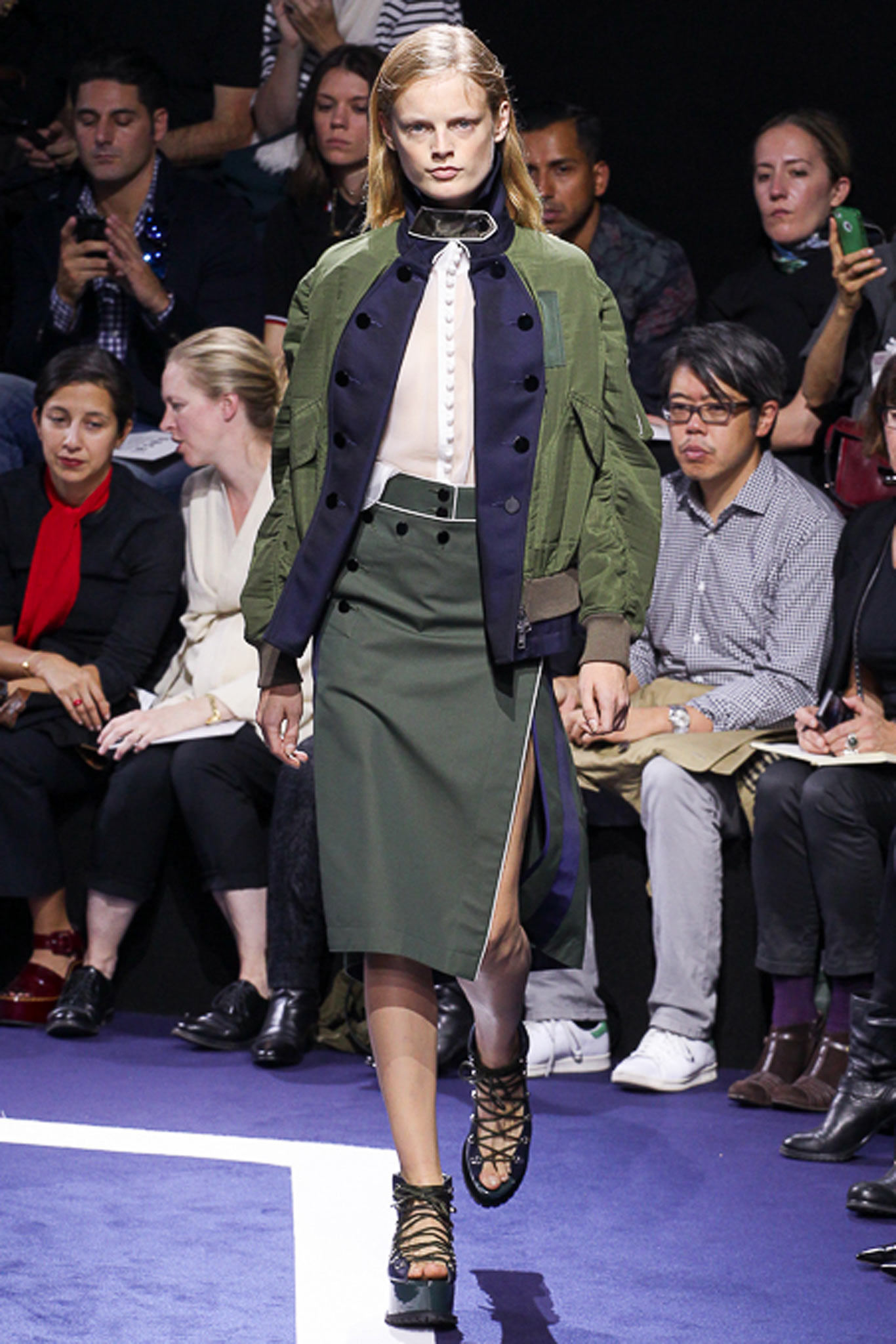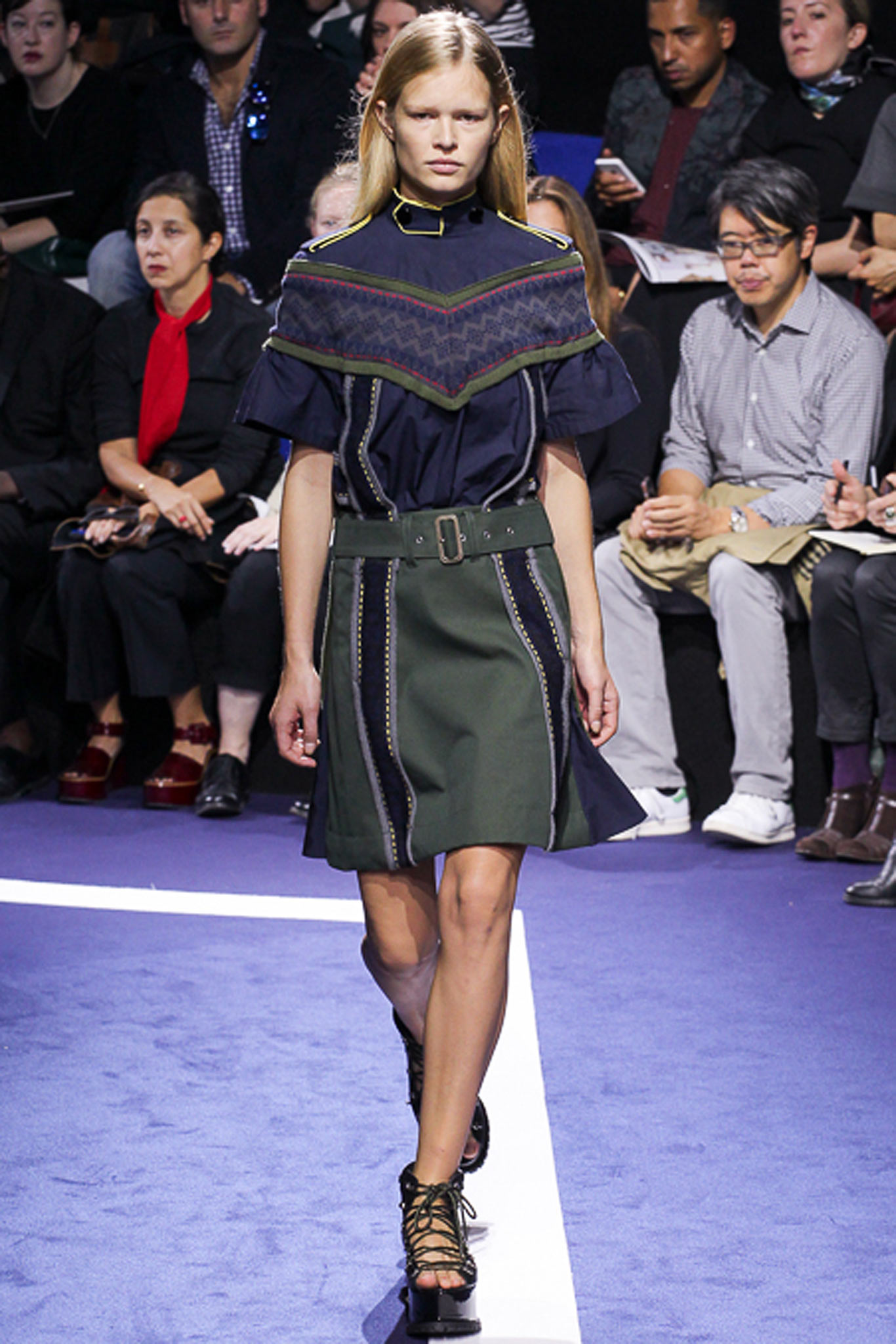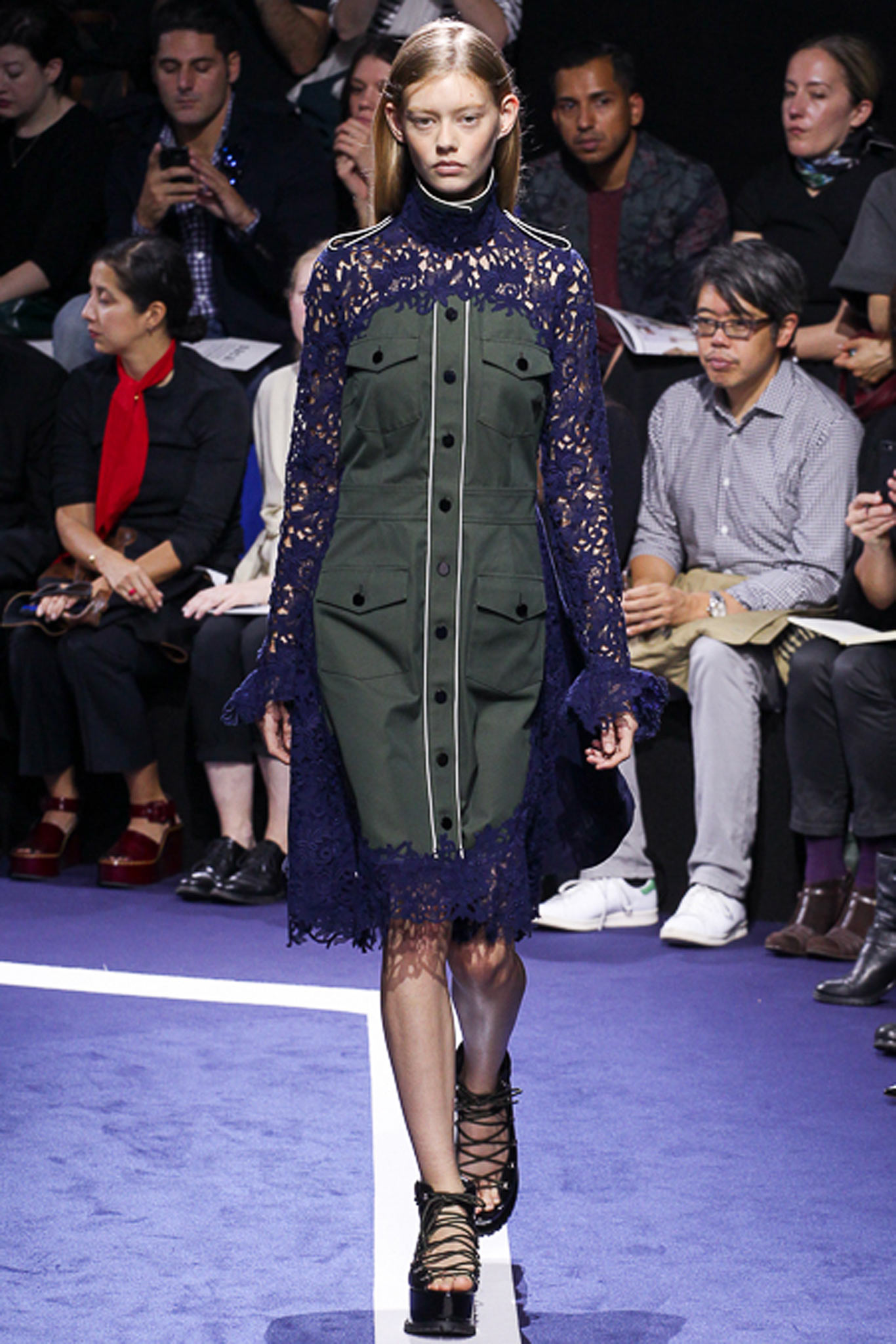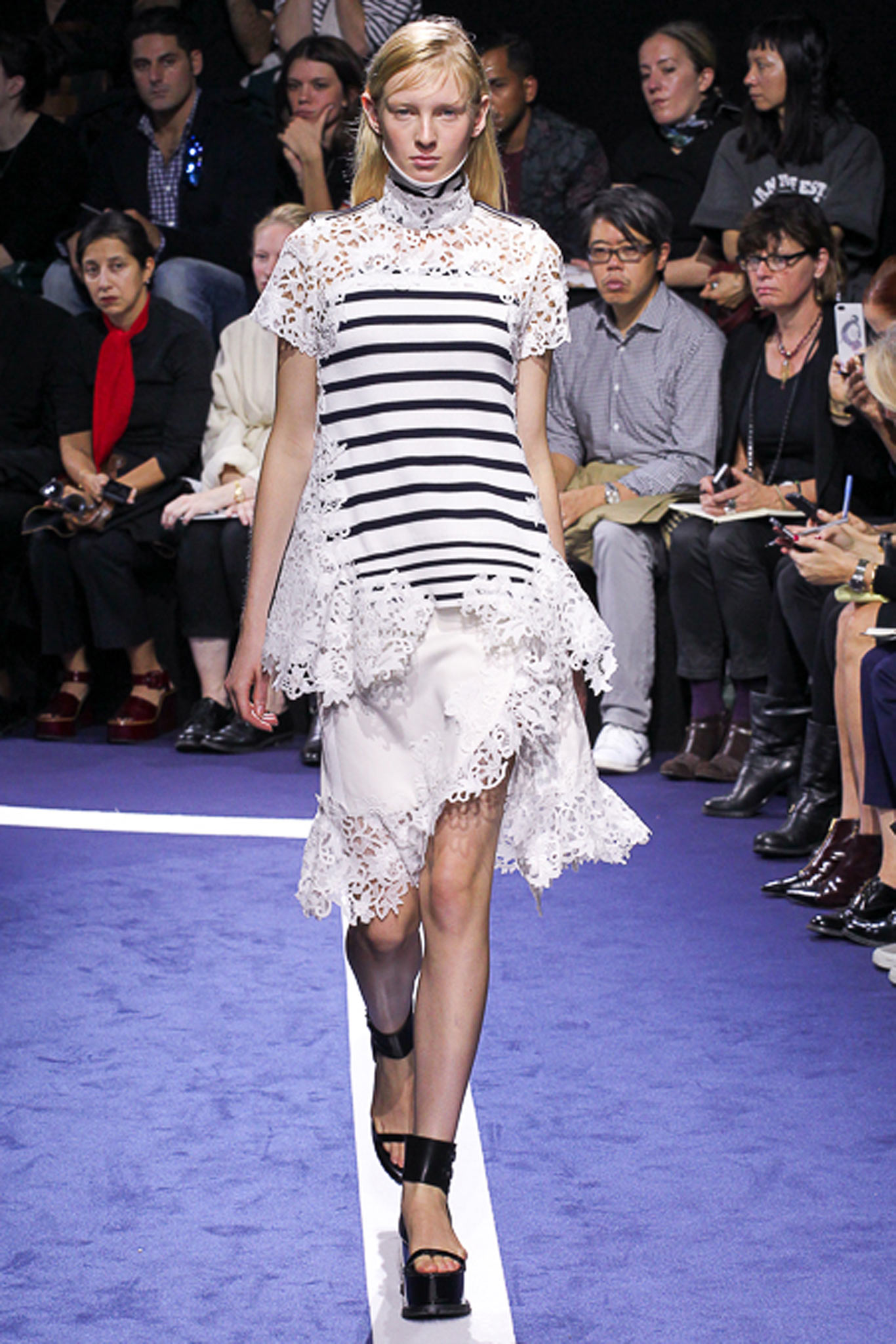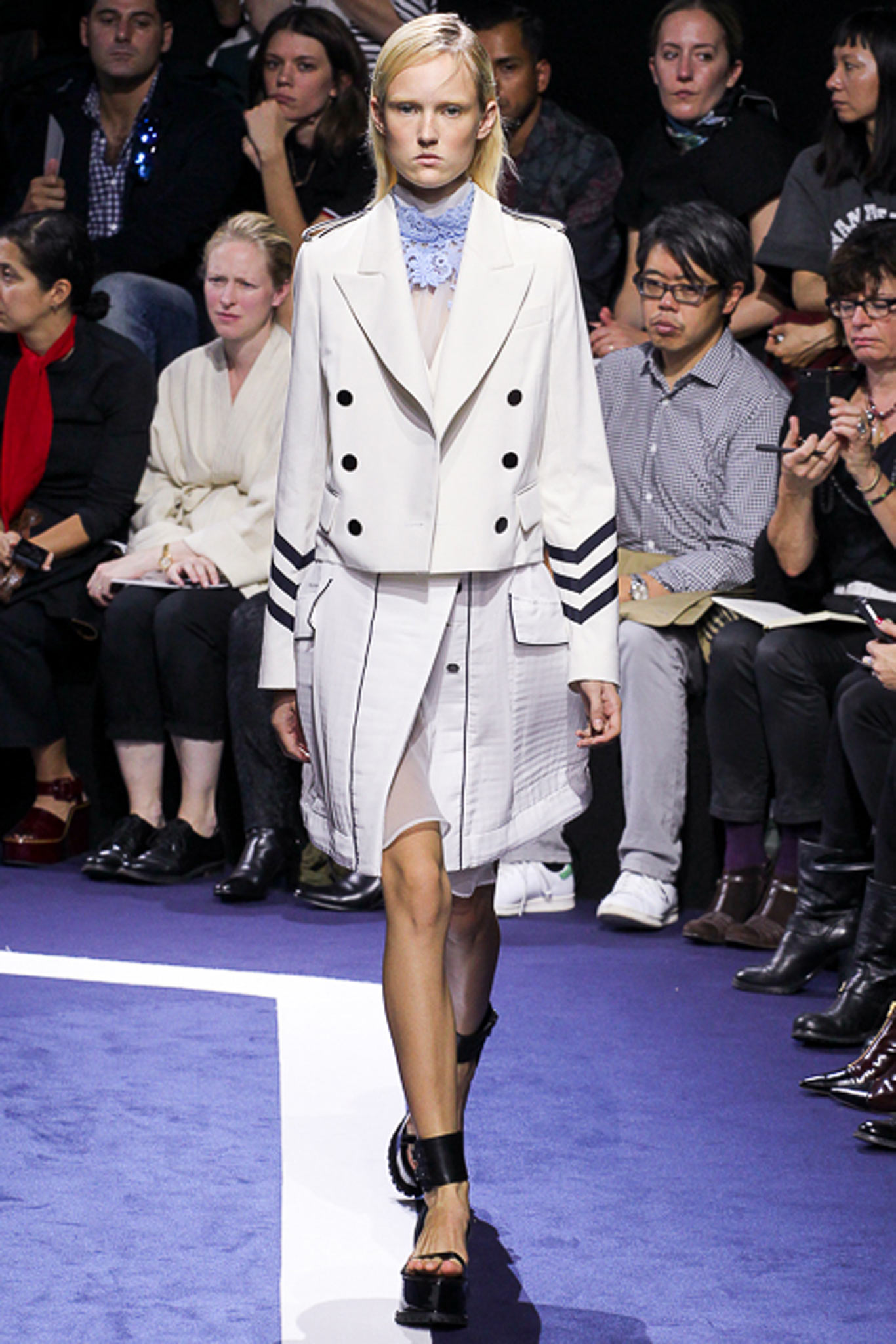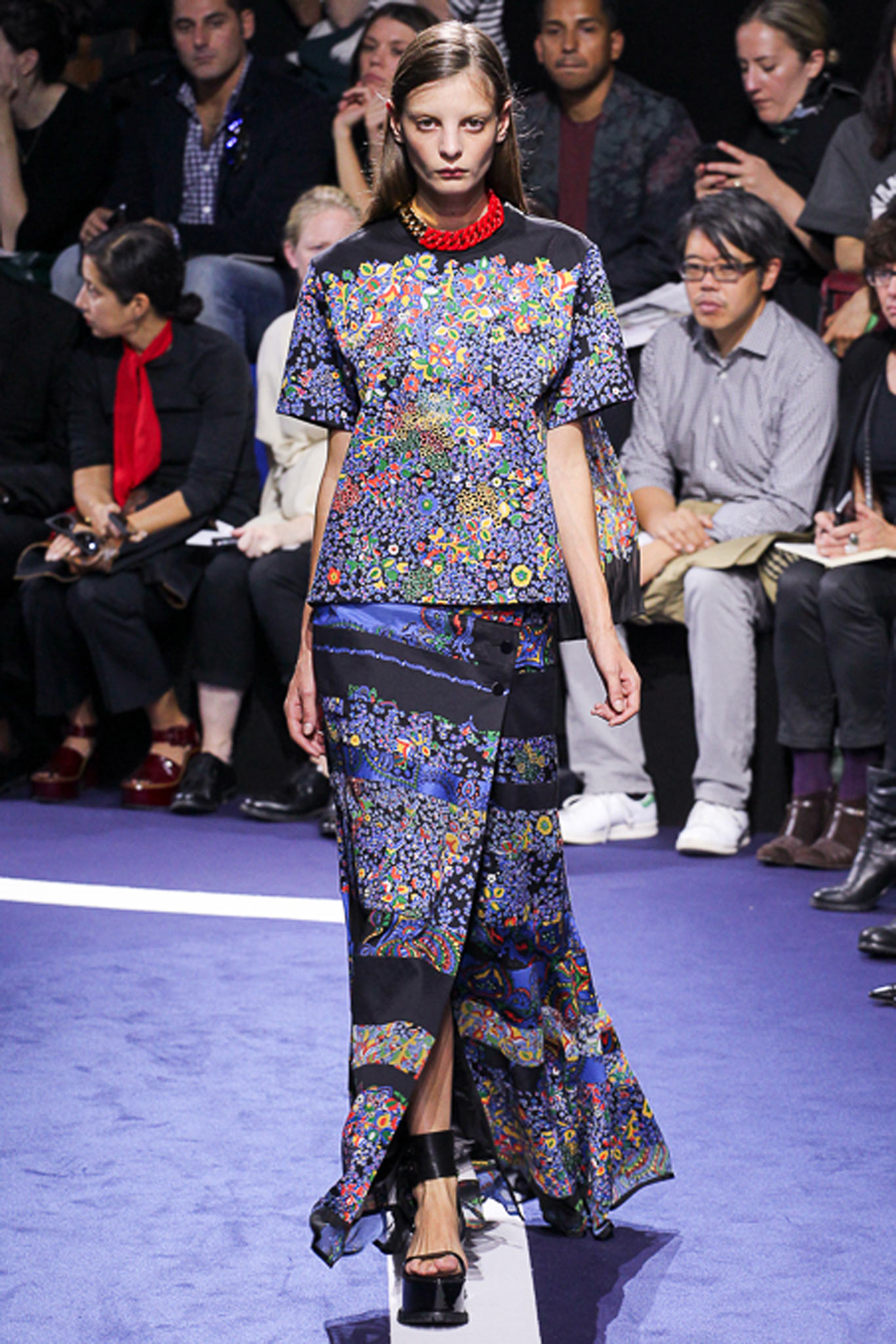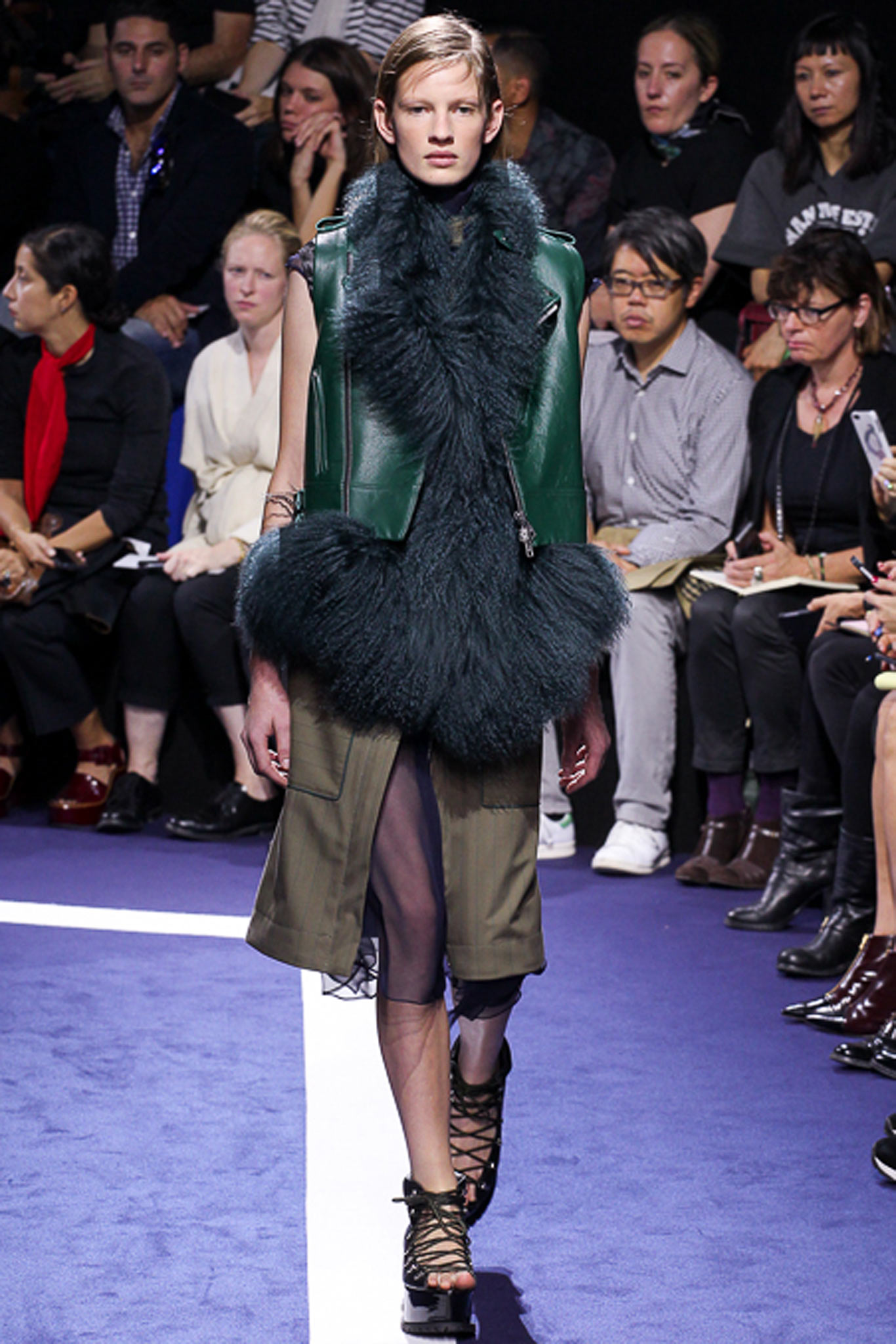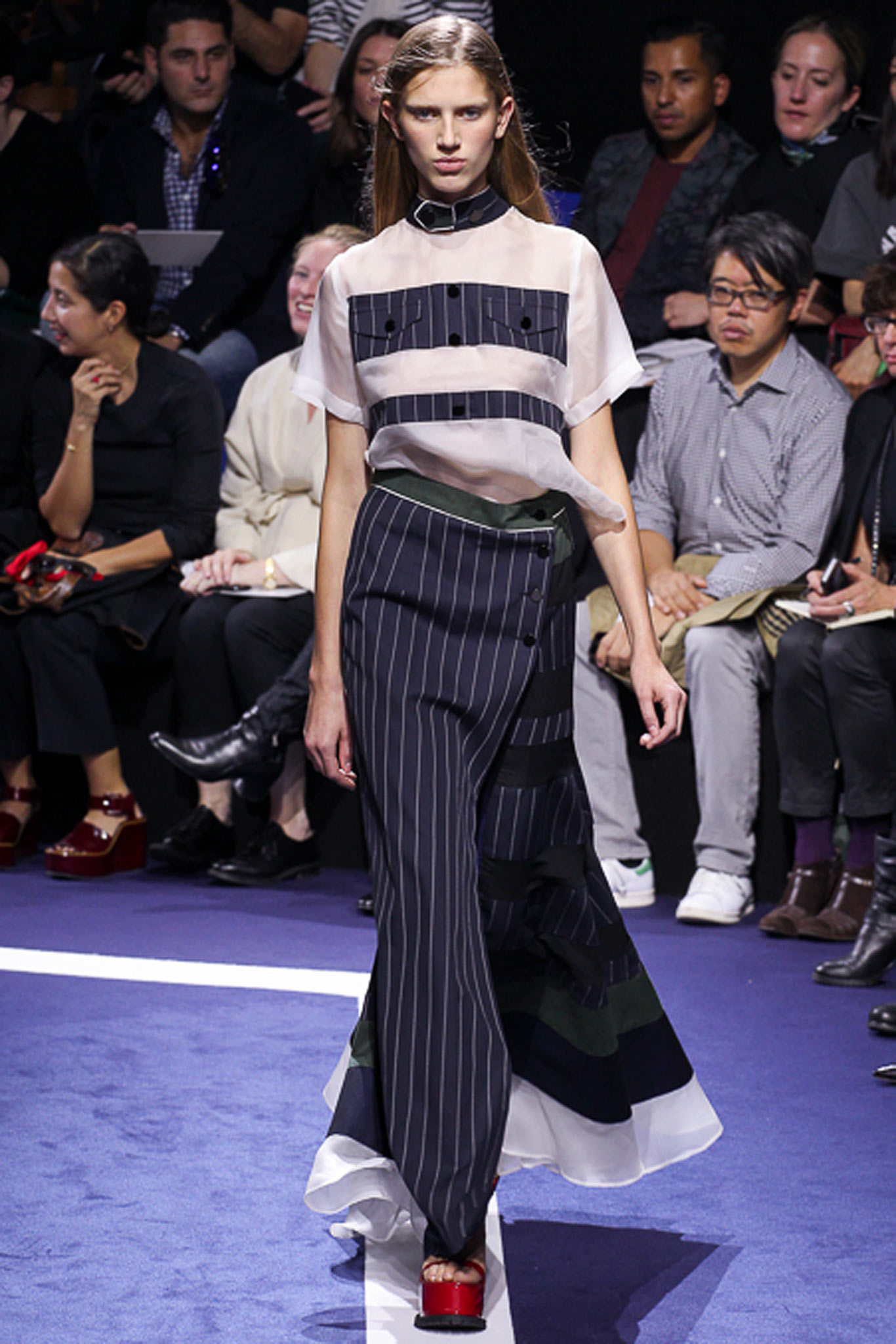 SACAI (Chitose Abe)
Well, we can always count on the Japanese designers to provide unusual themes and mixtures of contrasting styles and fabrications to add intrigue and avante garde to the runways. Anything with a military theme always seems to be in, whether camouflage jackets and pants or fitted jackets with rows and rows of buttons. Mixing these jackets with chiffons and florals and off course LACE, is visualing interesting, ironic, and a clever amalgamation of elements we womenfolk all seem to love. A plus of this particular collection is that every piece is eminantly wearable. Vests are IN these days, and that bottle green variety with the Mongolian lamb is a contender for season's best! Theatrical and yet practical.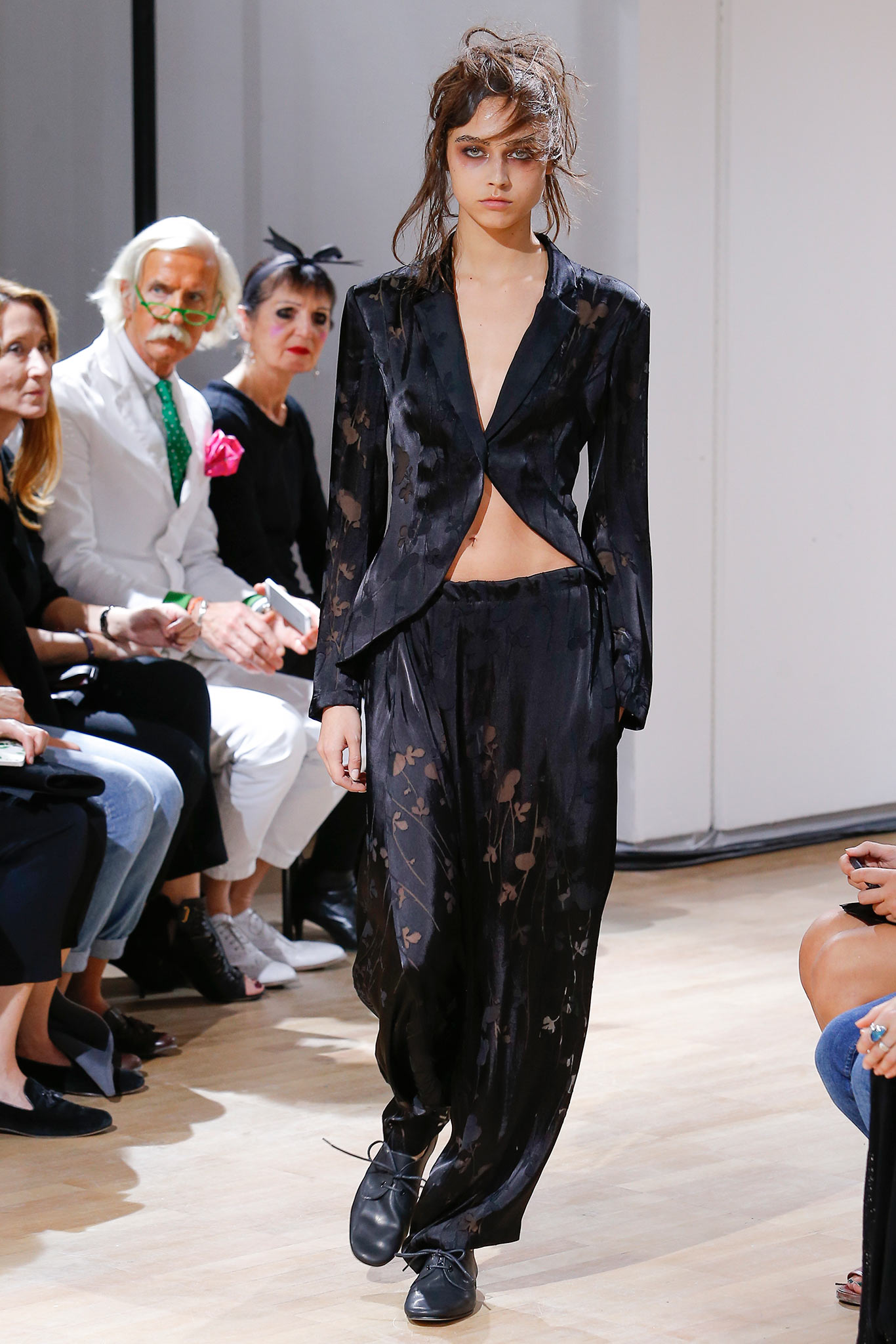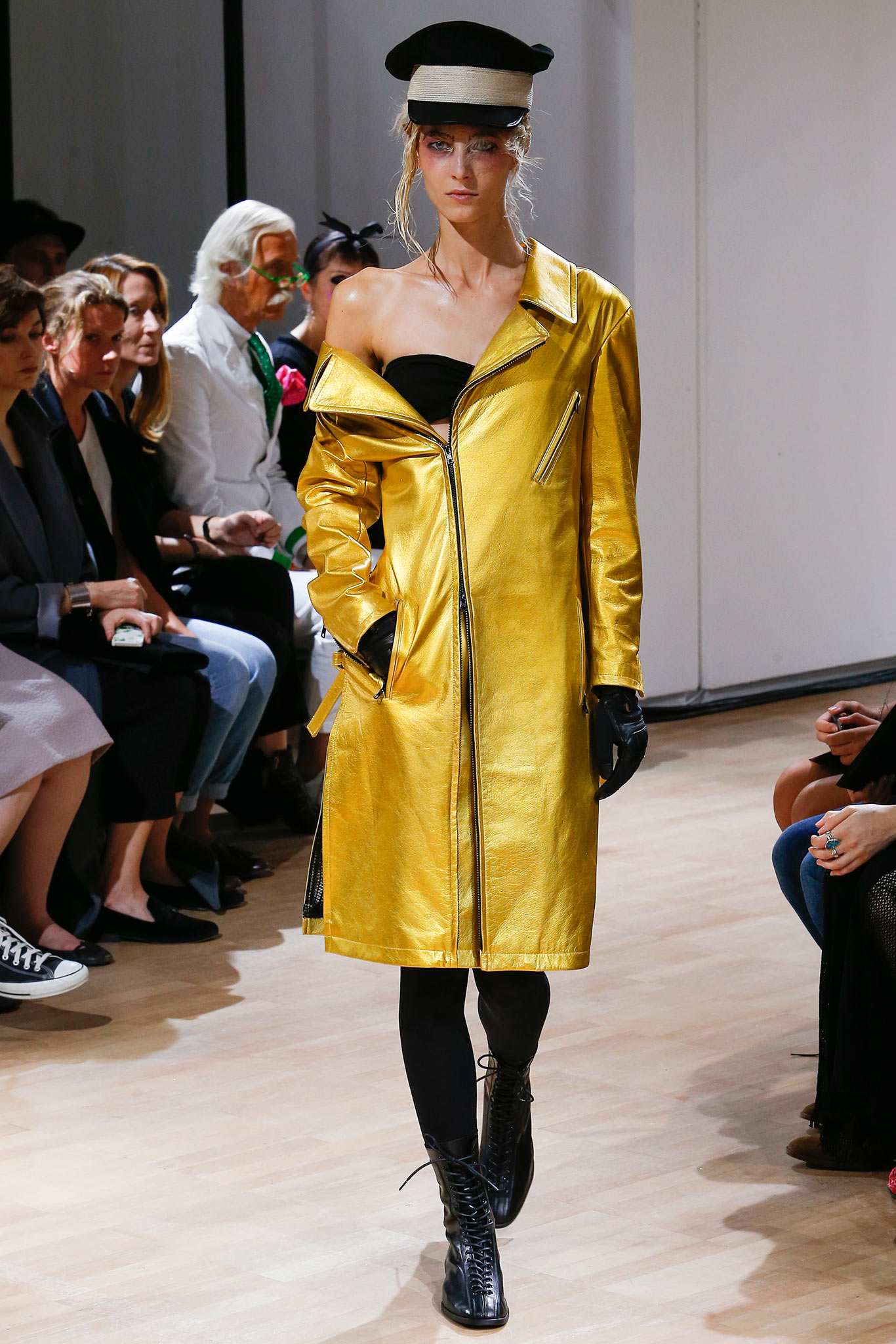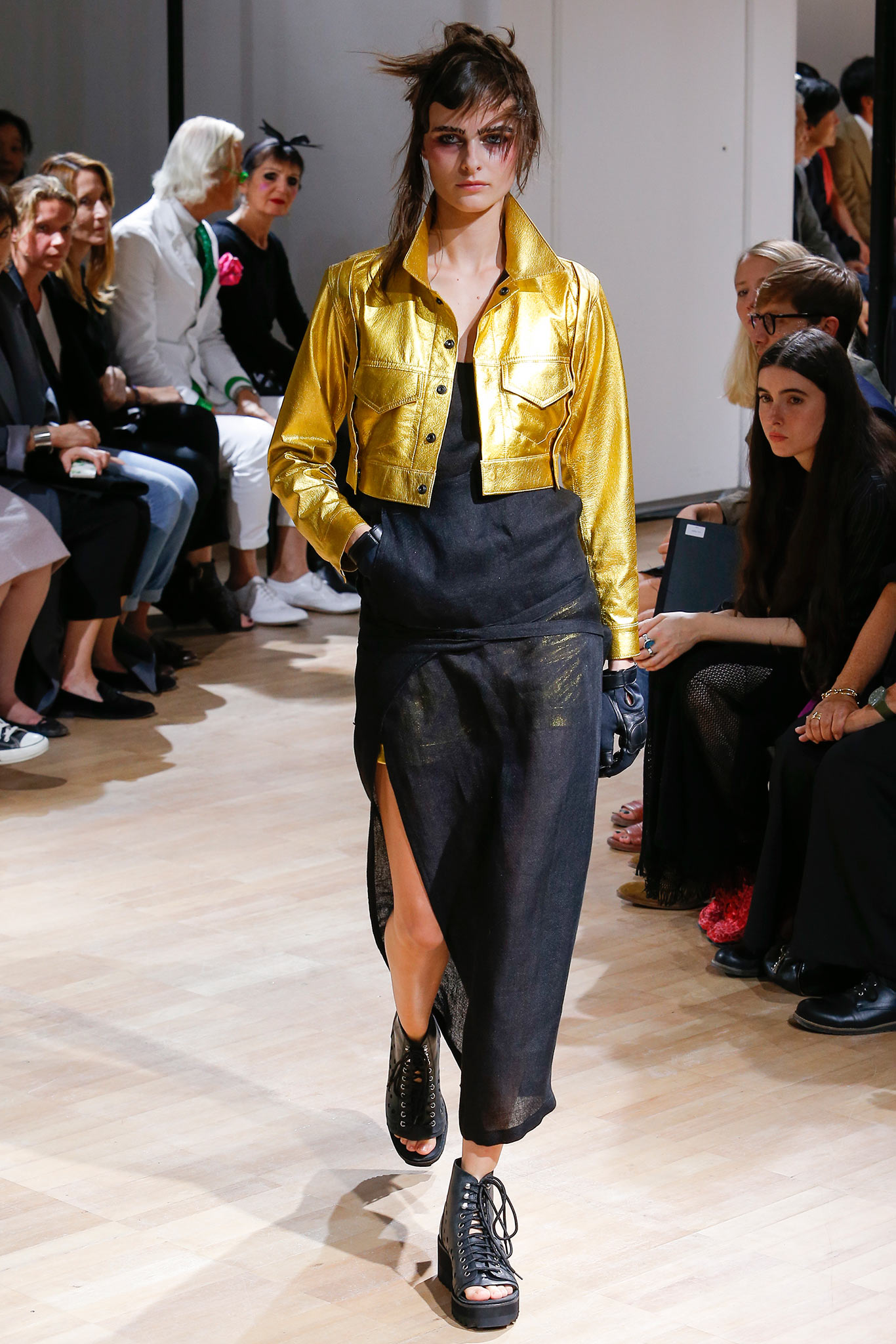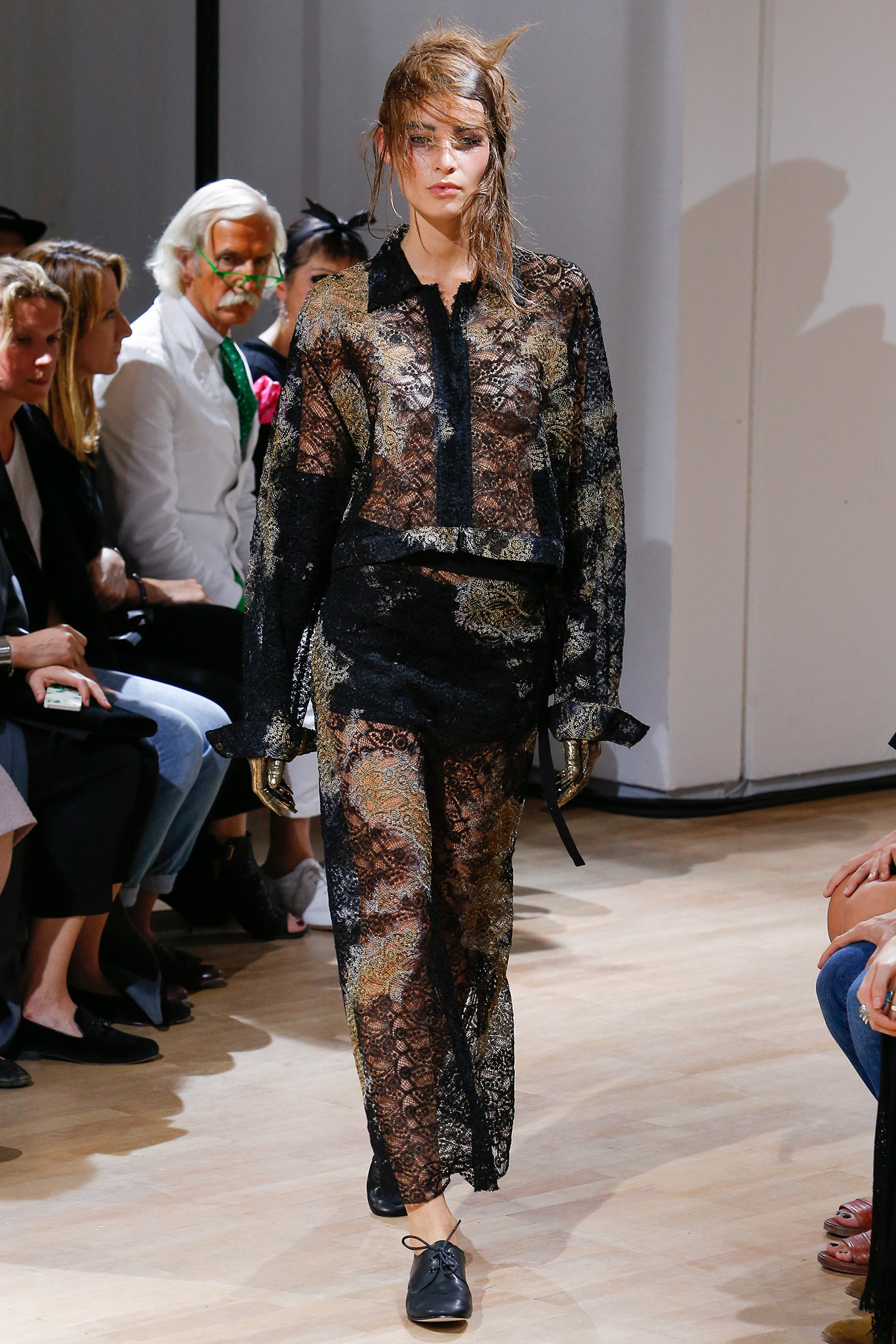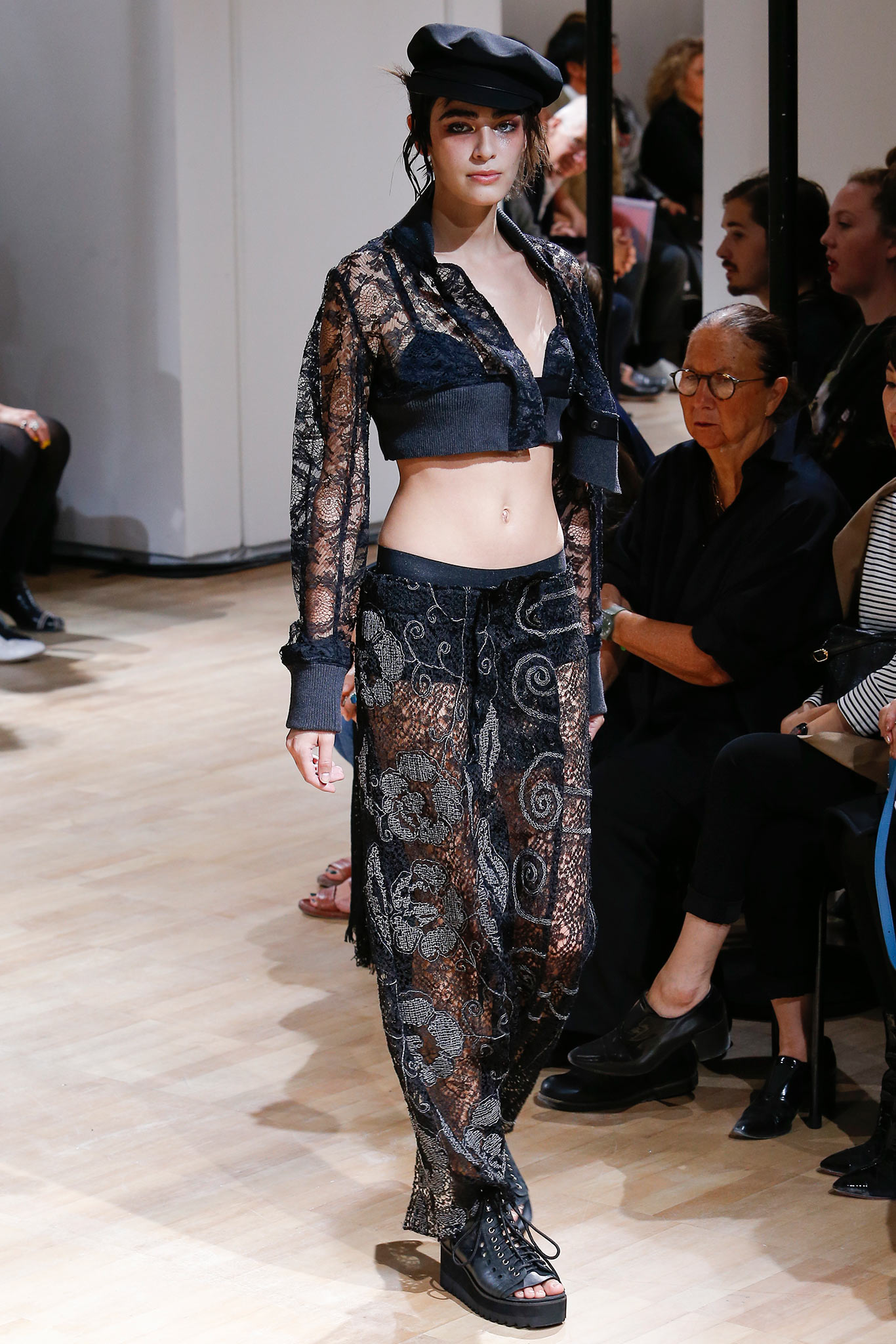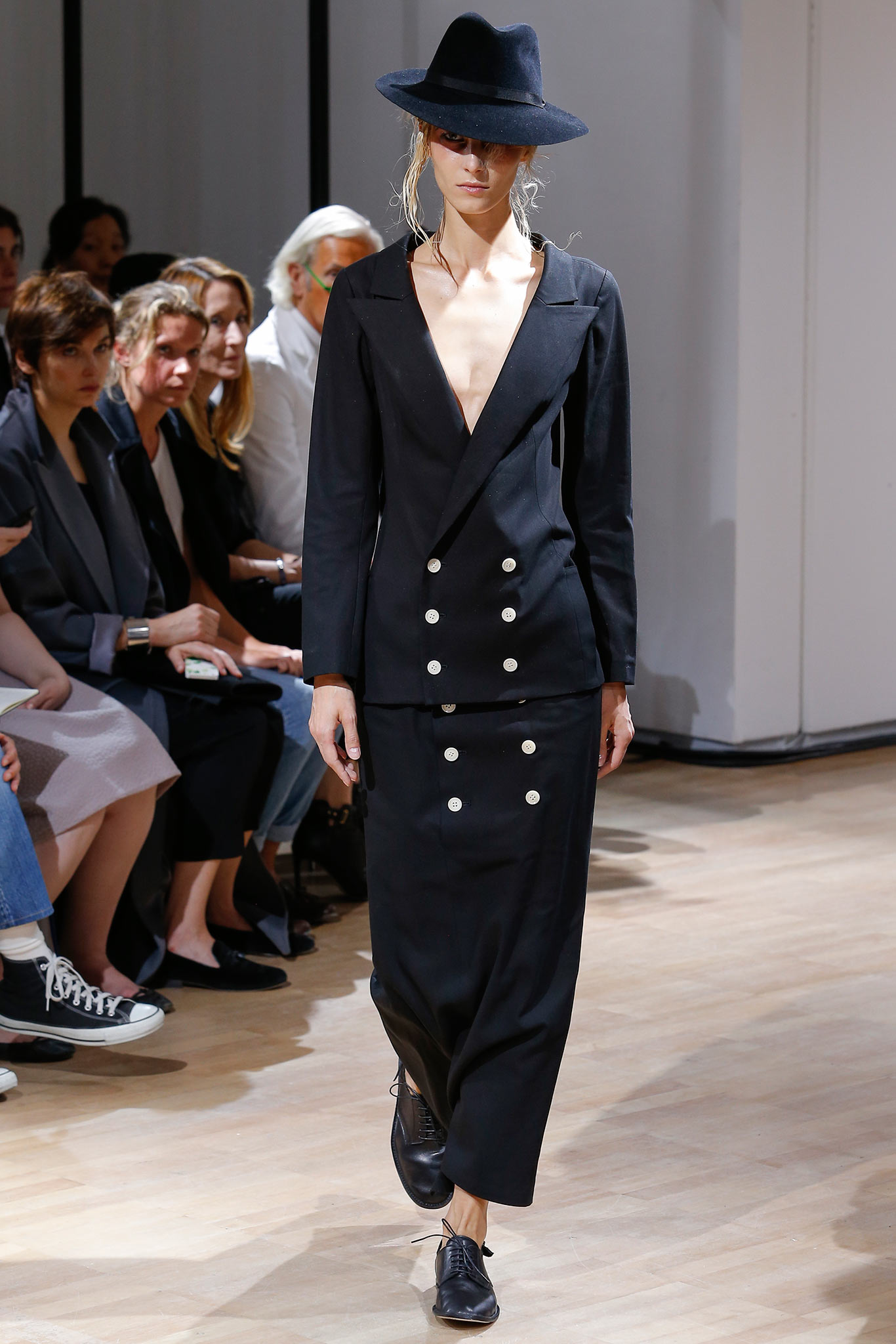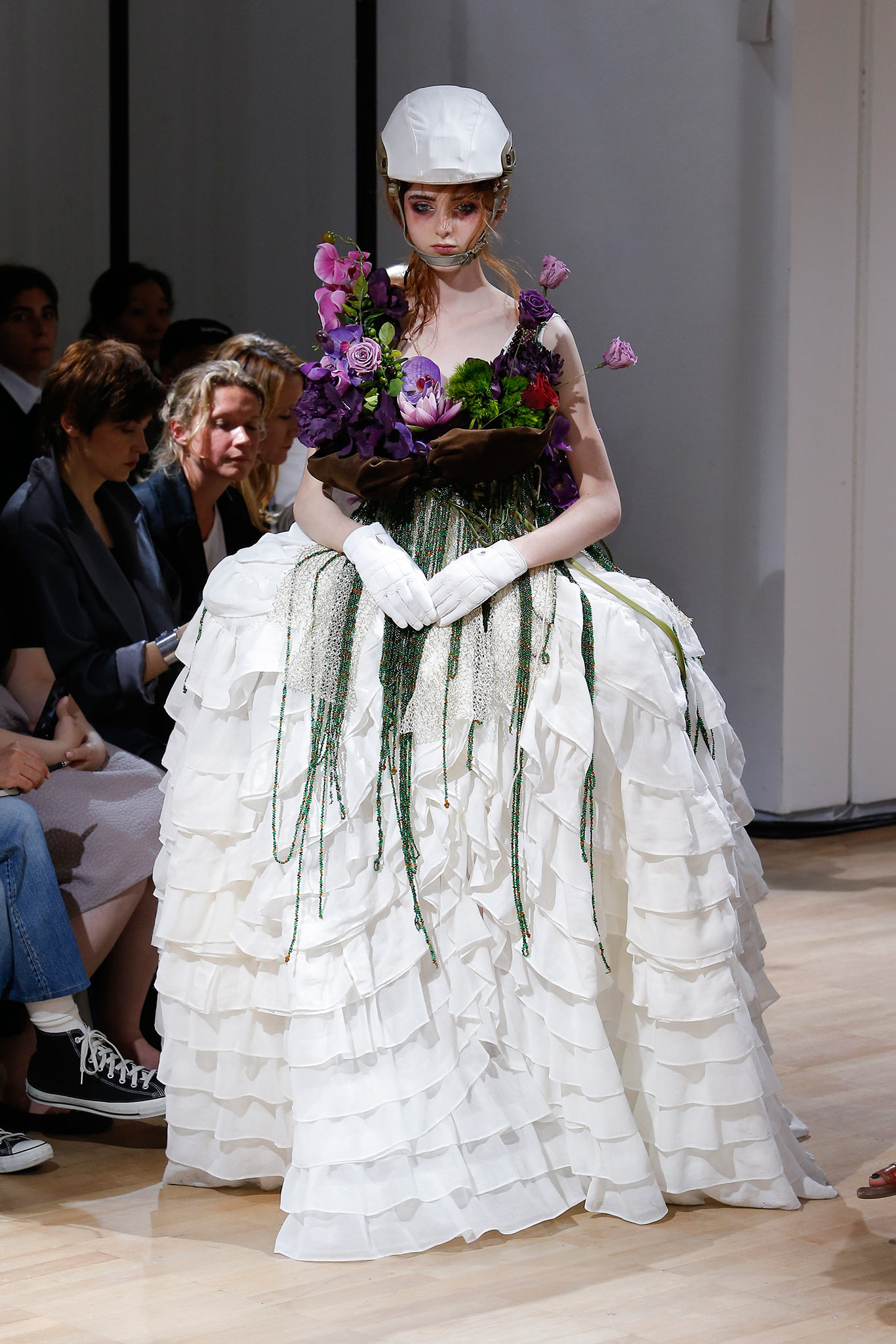 YOHJI YAMAMOTO
Yamamoto has made a practice of bringing us the wacky and avant garde along with wearable clothing for those always enamored with black. The reviewer in style com made a comment about "man repelling" clothing which may be true. However, I think women of the fashionista brigade are always willing to embrace the new and different without regard to how we appear to the men (um, straight men if there was a question). So, no harm, no foul. The Japanese definitely adher to a different playbook than their western counterparts, and thank goodness for that because one never knows what to expect from show to show. They seem to run the gamut from dark and subversive to vibrant and wacky. Maybe their artistic expression is more important than the zeitgeist of the time or whims of the bean counters.
Wear the sort of naked lace pants with a tuxedo jacket from Stella McCartney or whomever, with or without embellishments for any star studded black tie event. If avant garde or wacky is not your style, grab the short gold jacket, throw it over jeans and a tuxedo shirt. And as an ironic twist after a long goth story, we have the white wedding gown, with lace, beads, ribbons, and, the gardens of Versailles along the bodice. We never seem to be far from the 17th century....fine by me.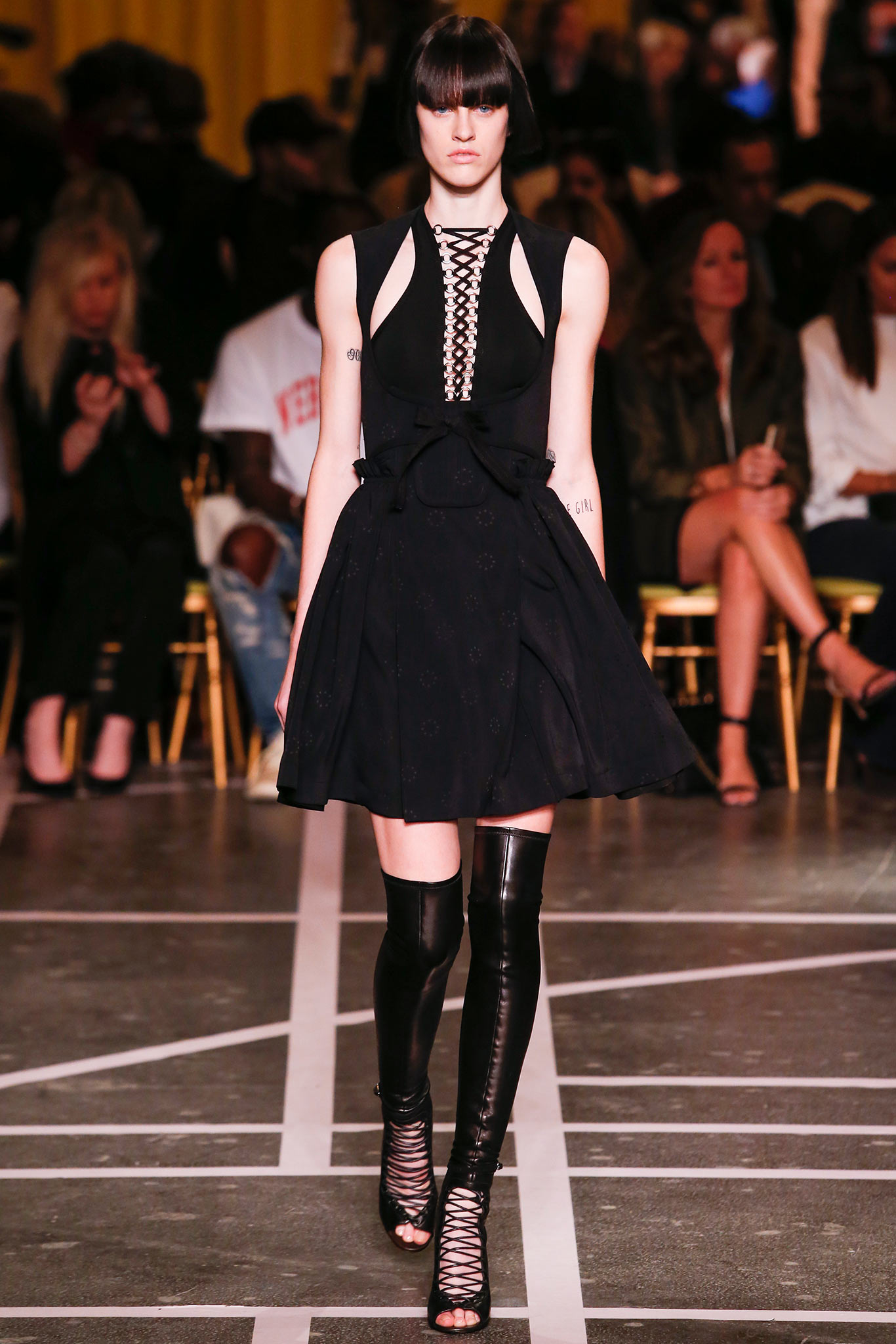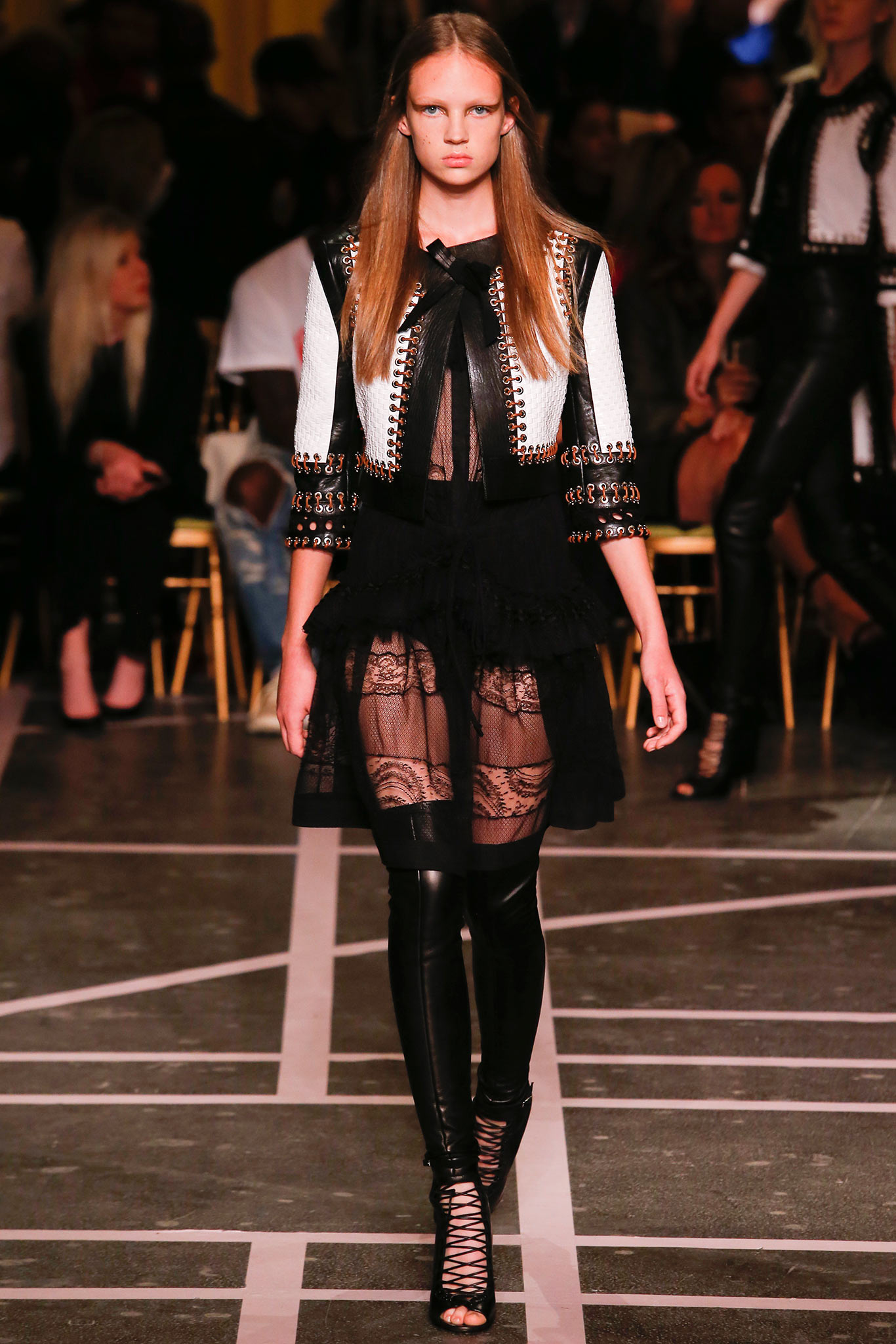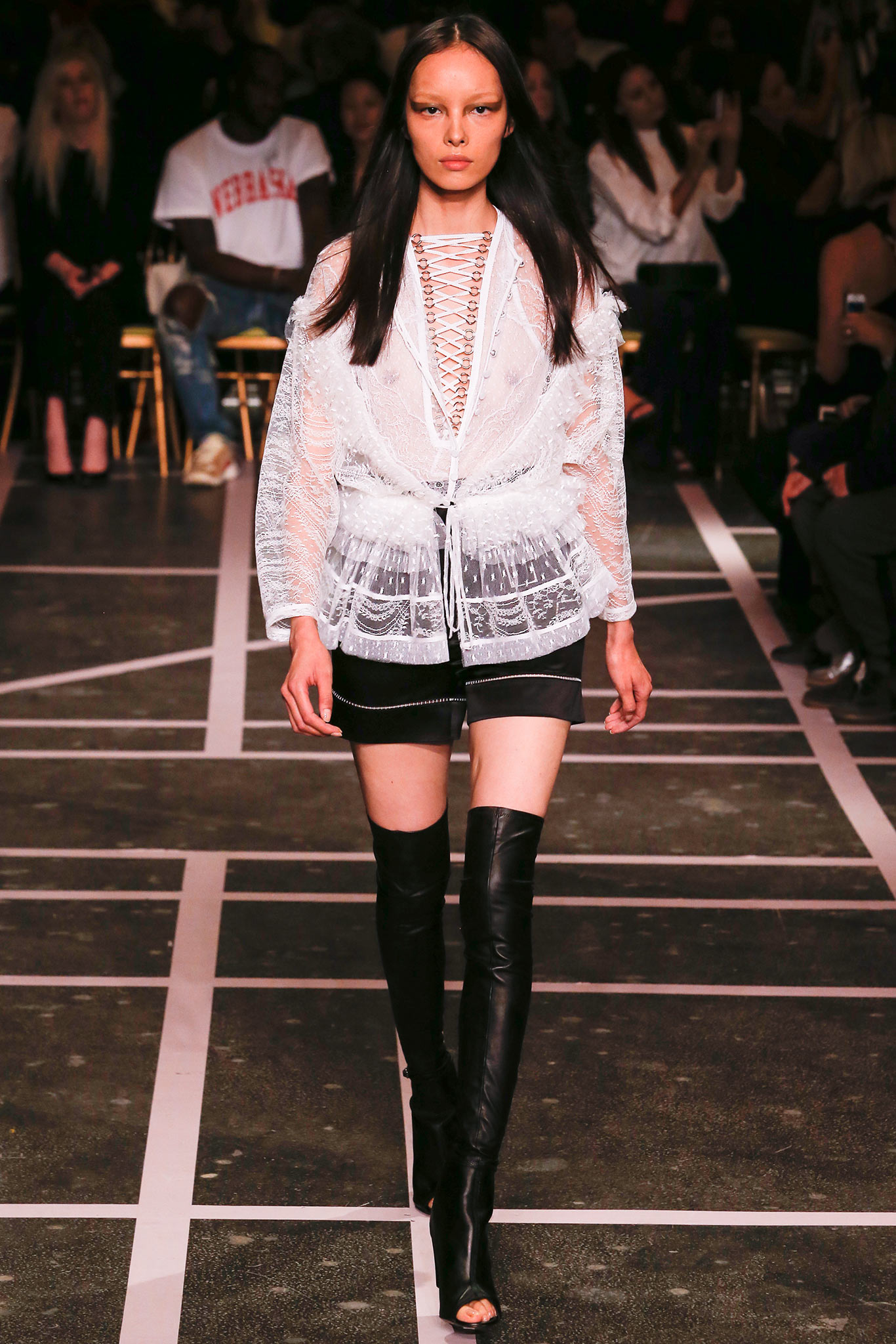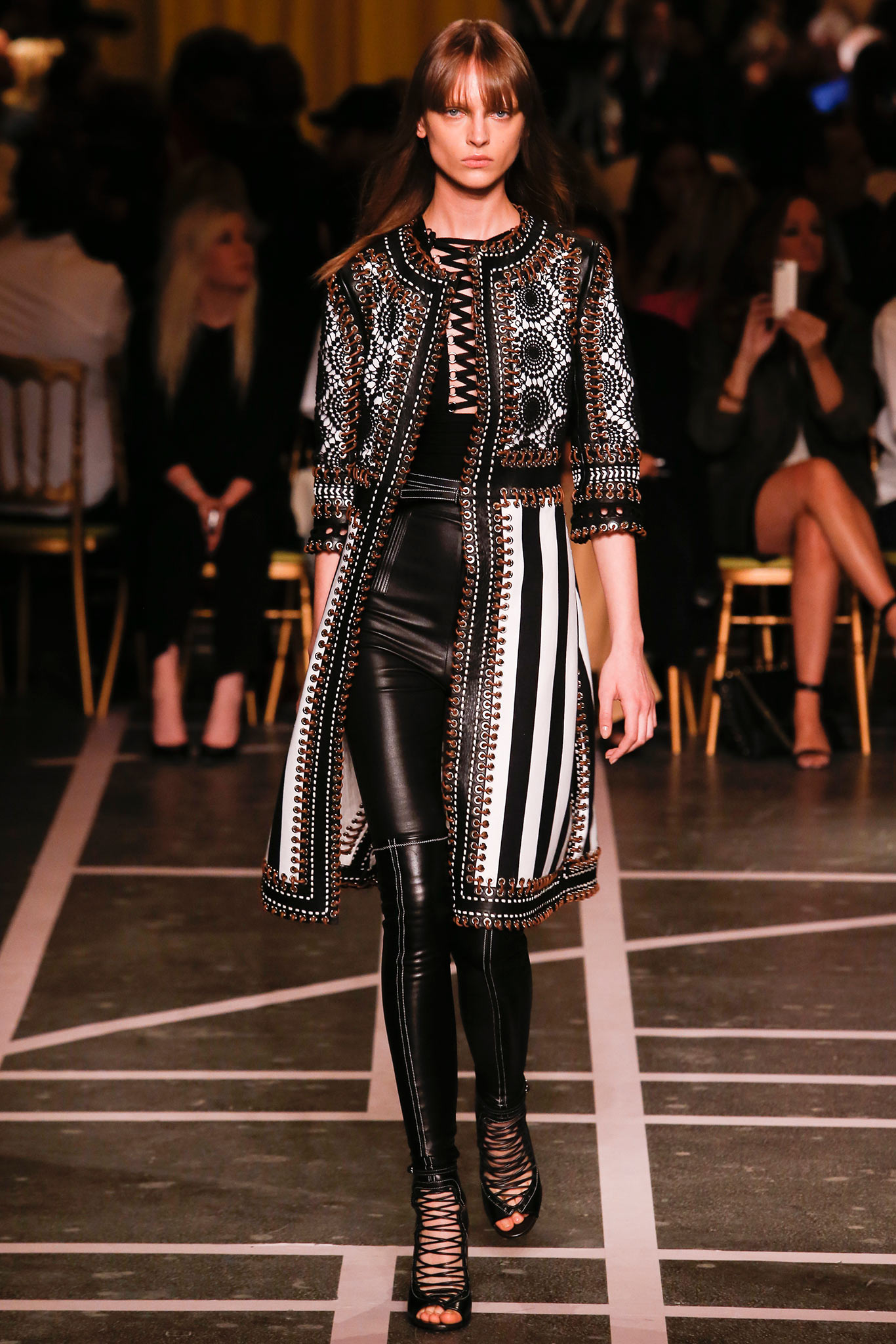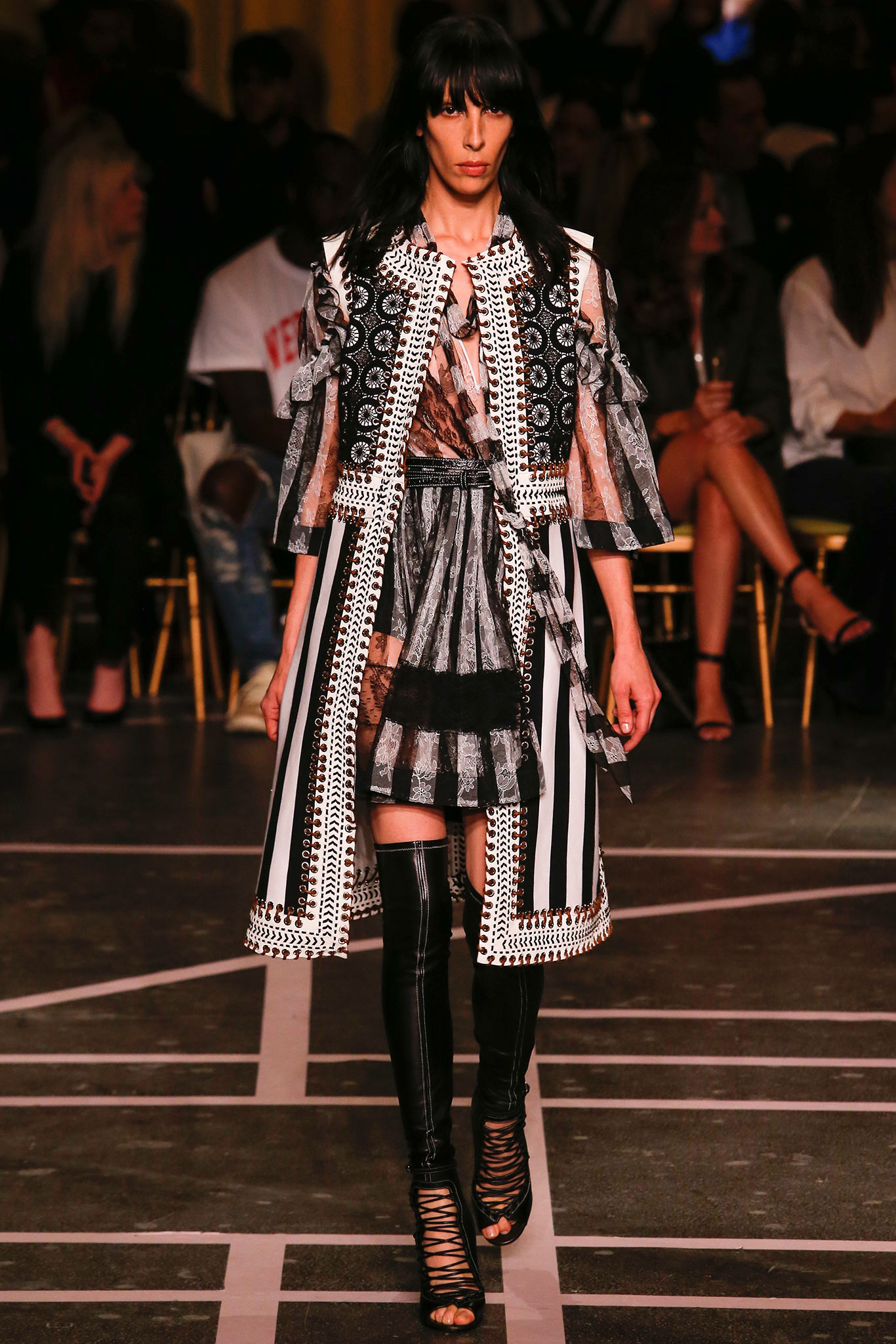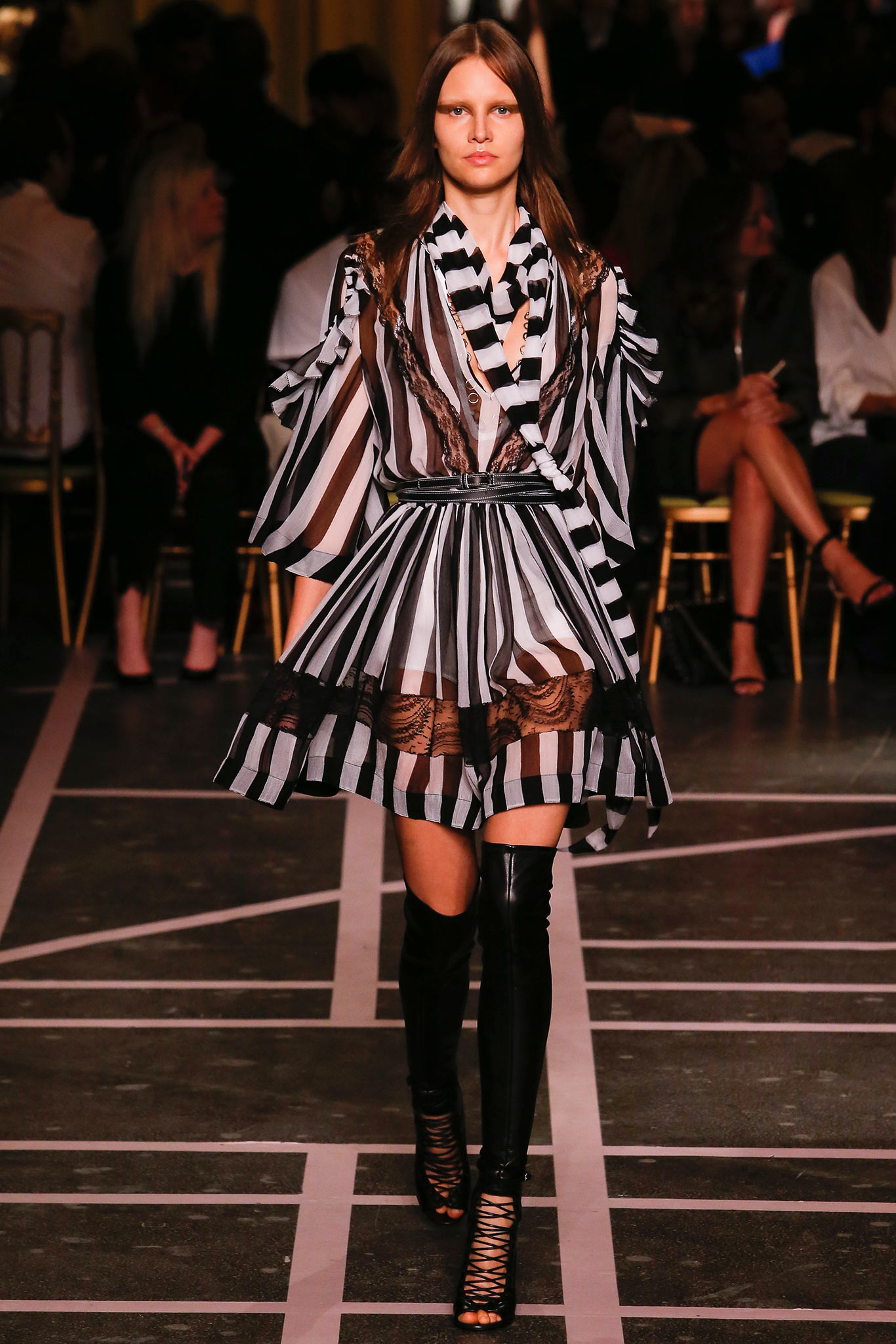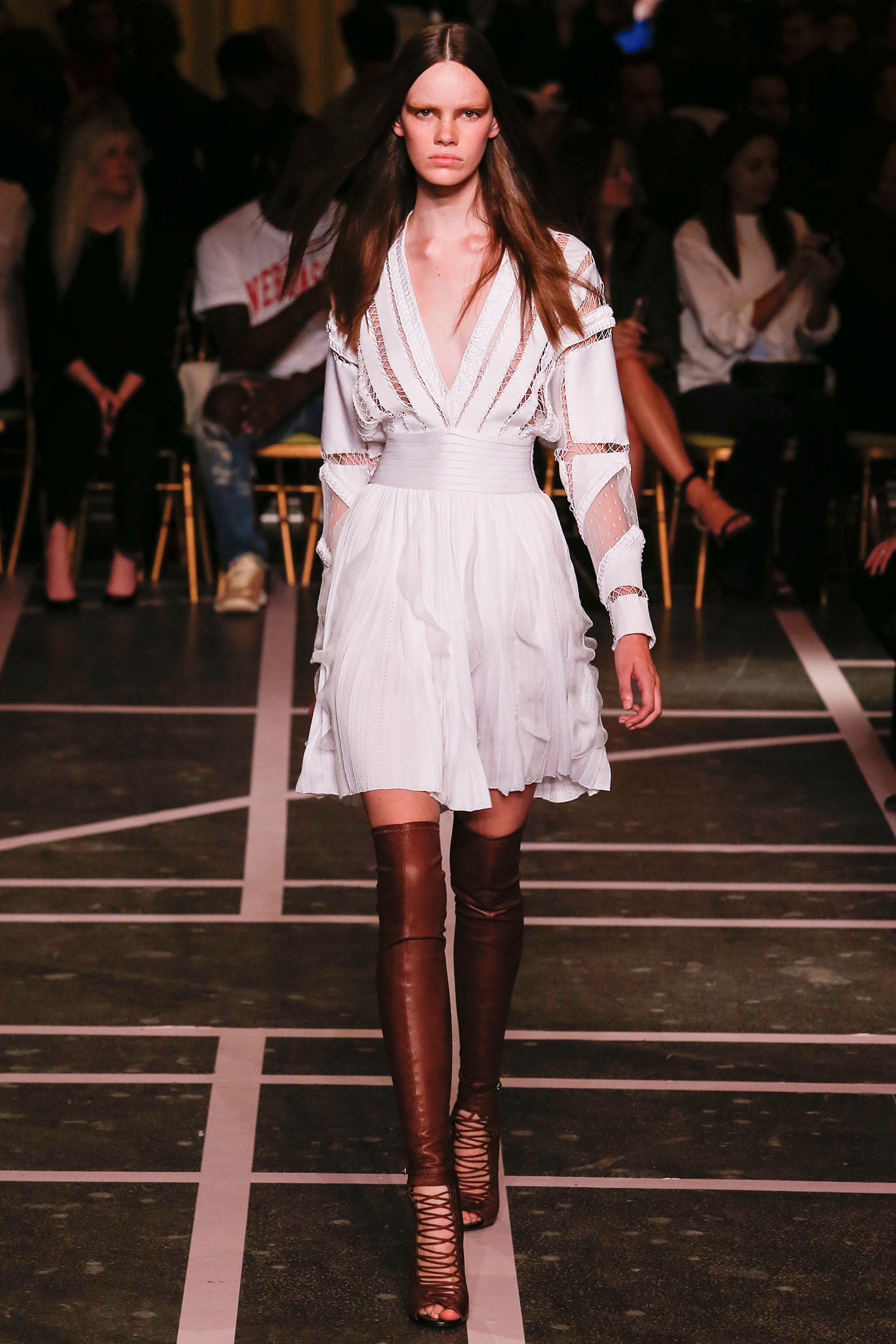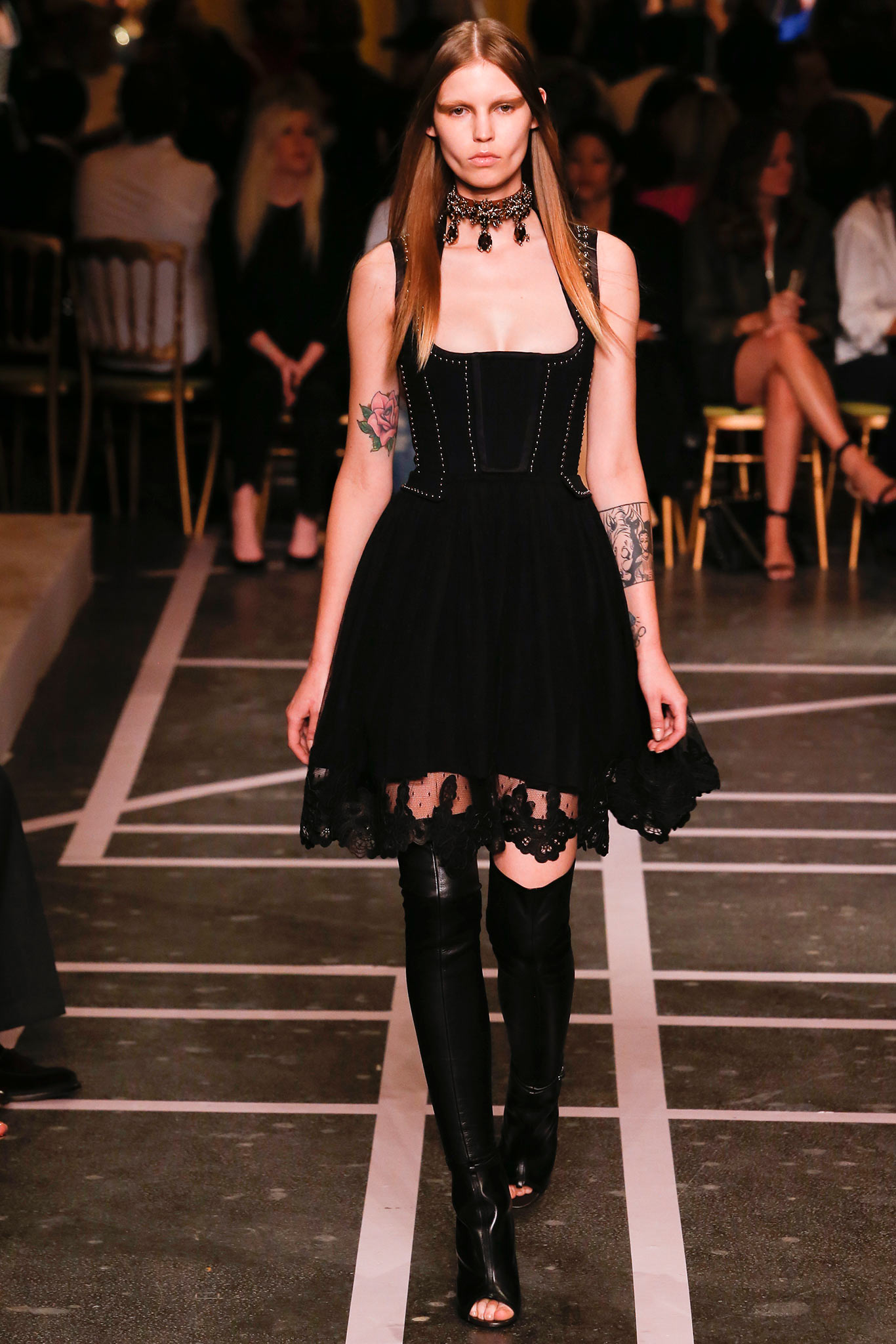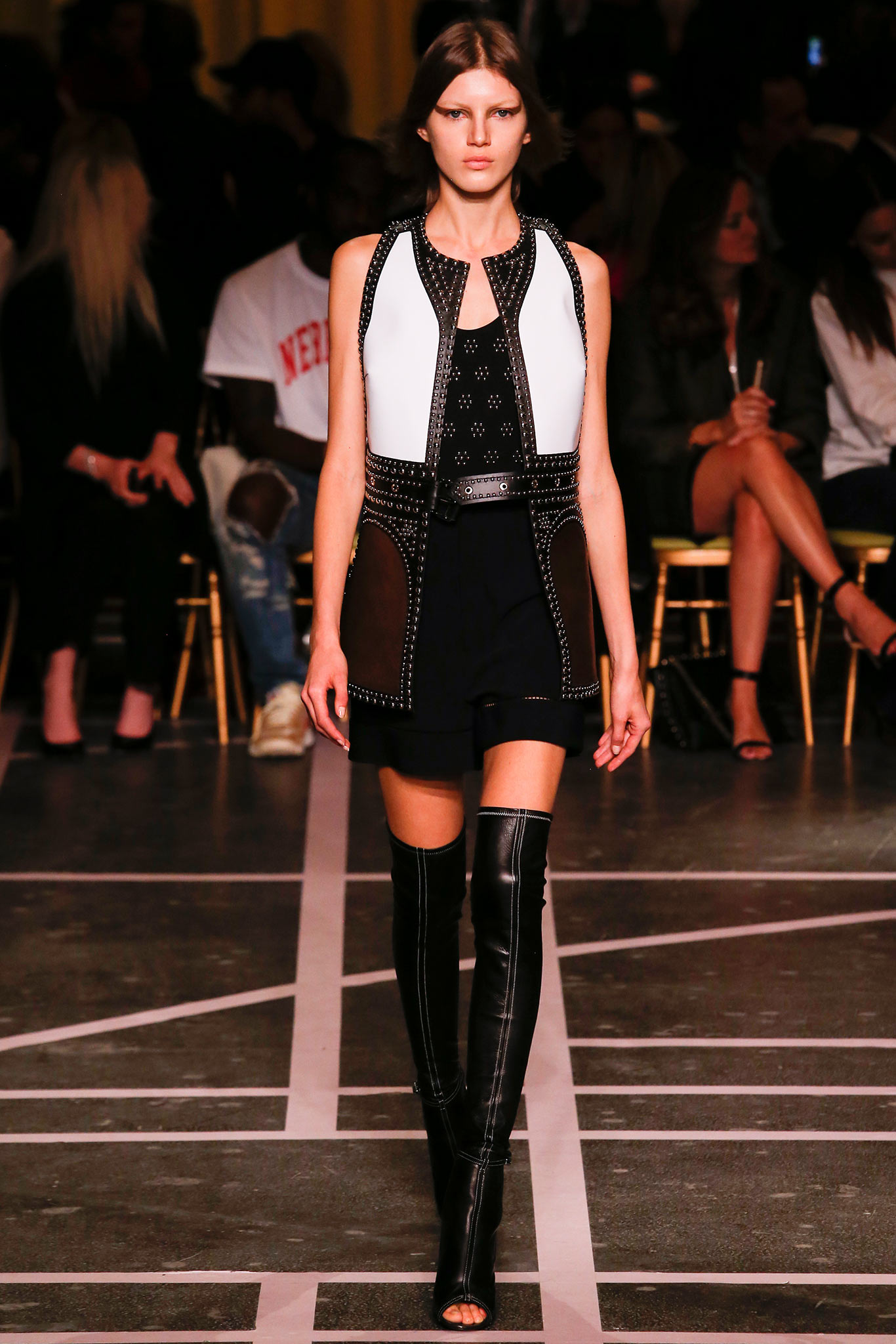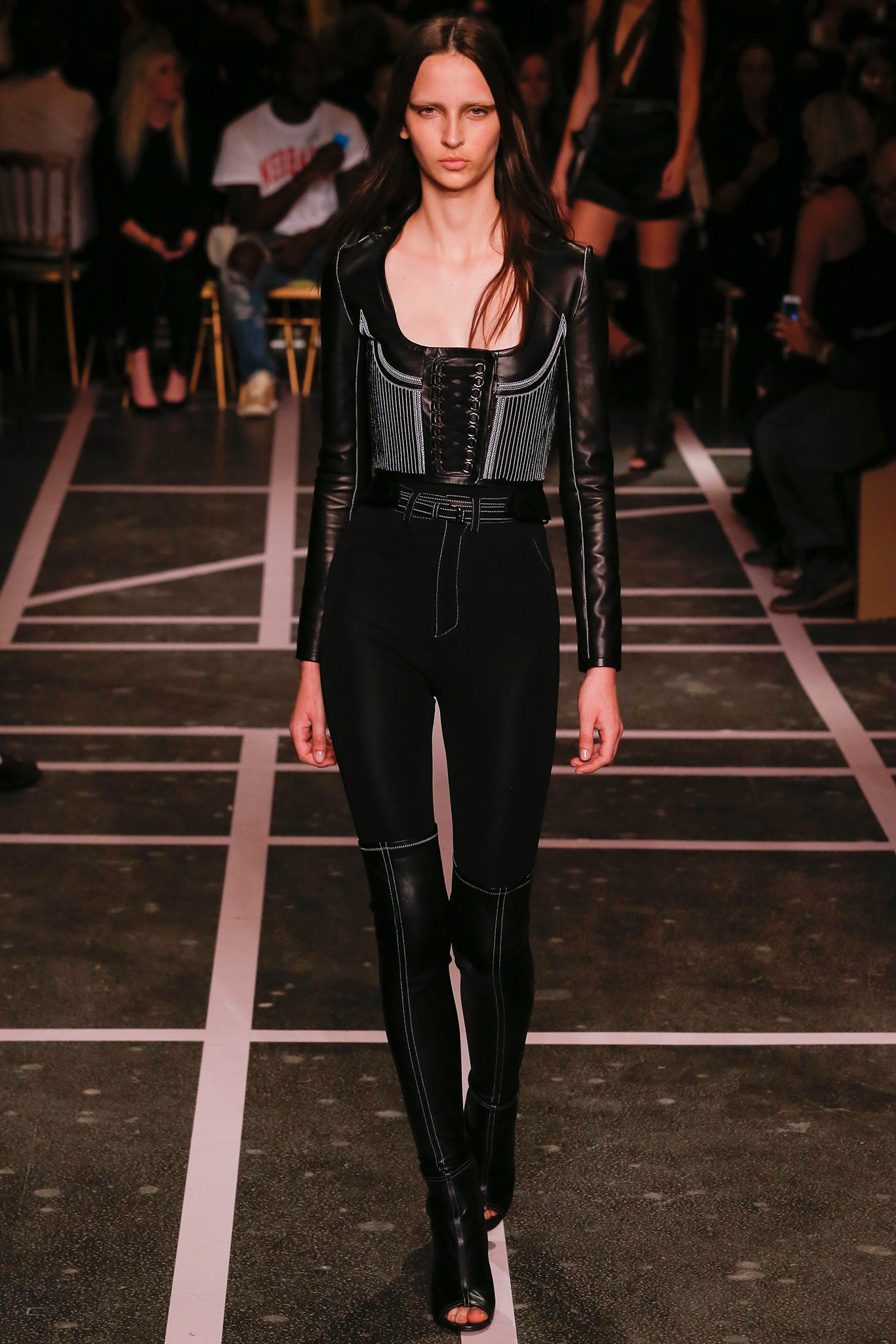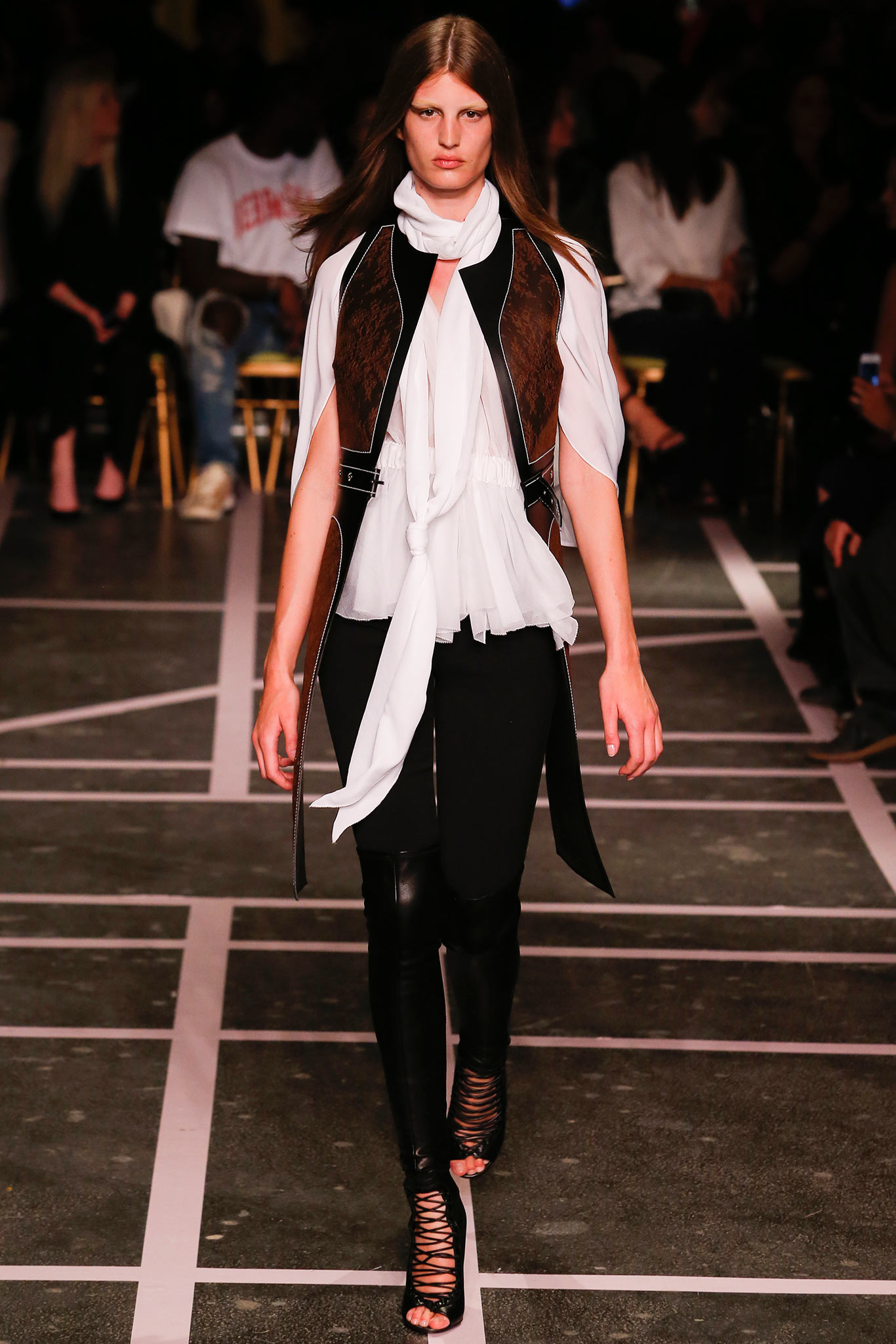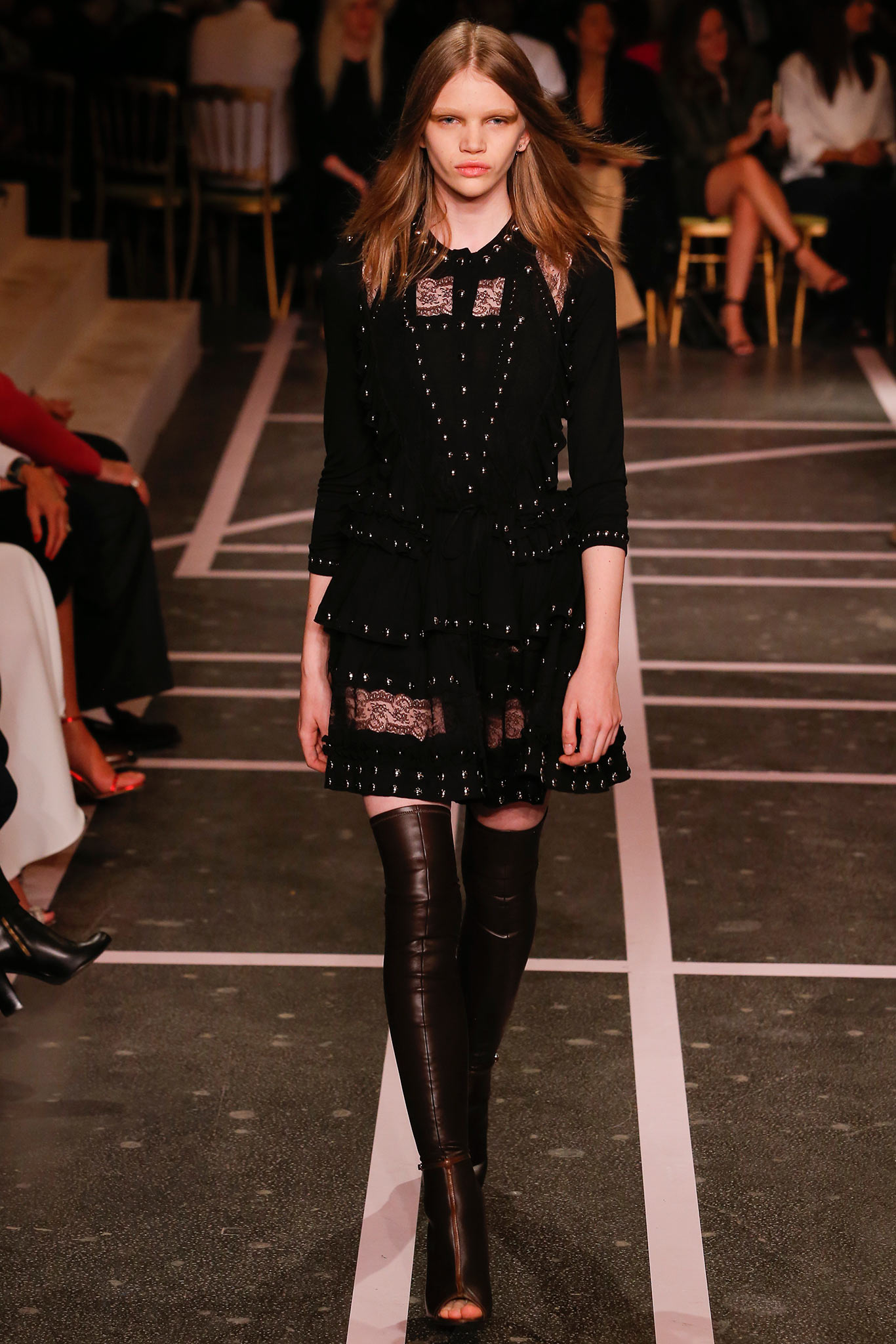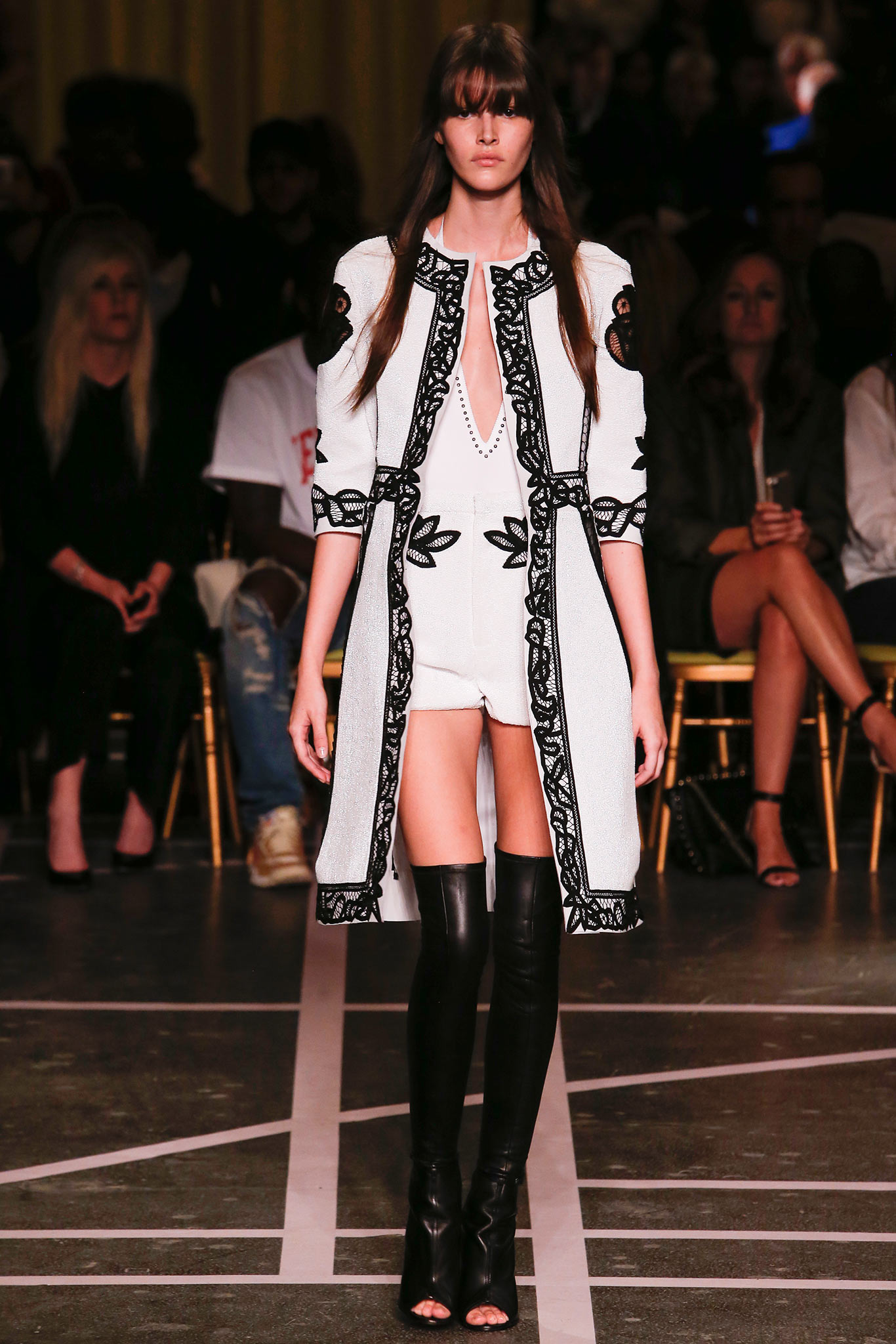 GIVENCHY (Riccardo Tisci)
Ok, if there were any question about who assembled the sexiest runway show for spring, Miss Marple is here to tell you that yes, it was Riccardo Tisci. What a clever amalgamation of feminine sexy, roman centurion fortitude, bondage dominatrix and 70's bohemian. Who else could throw together chiffon (with stripes no less), ruffles, sutdded leather pteruges, tight (I mean these things are like a second skin on these 5' 10" 110 pound models), and macrame, and make it work? And you gotta respect anyone who would pair a white frock coat laden with black broderie anglaise with above the knee peep toe black leather boots? D A M N......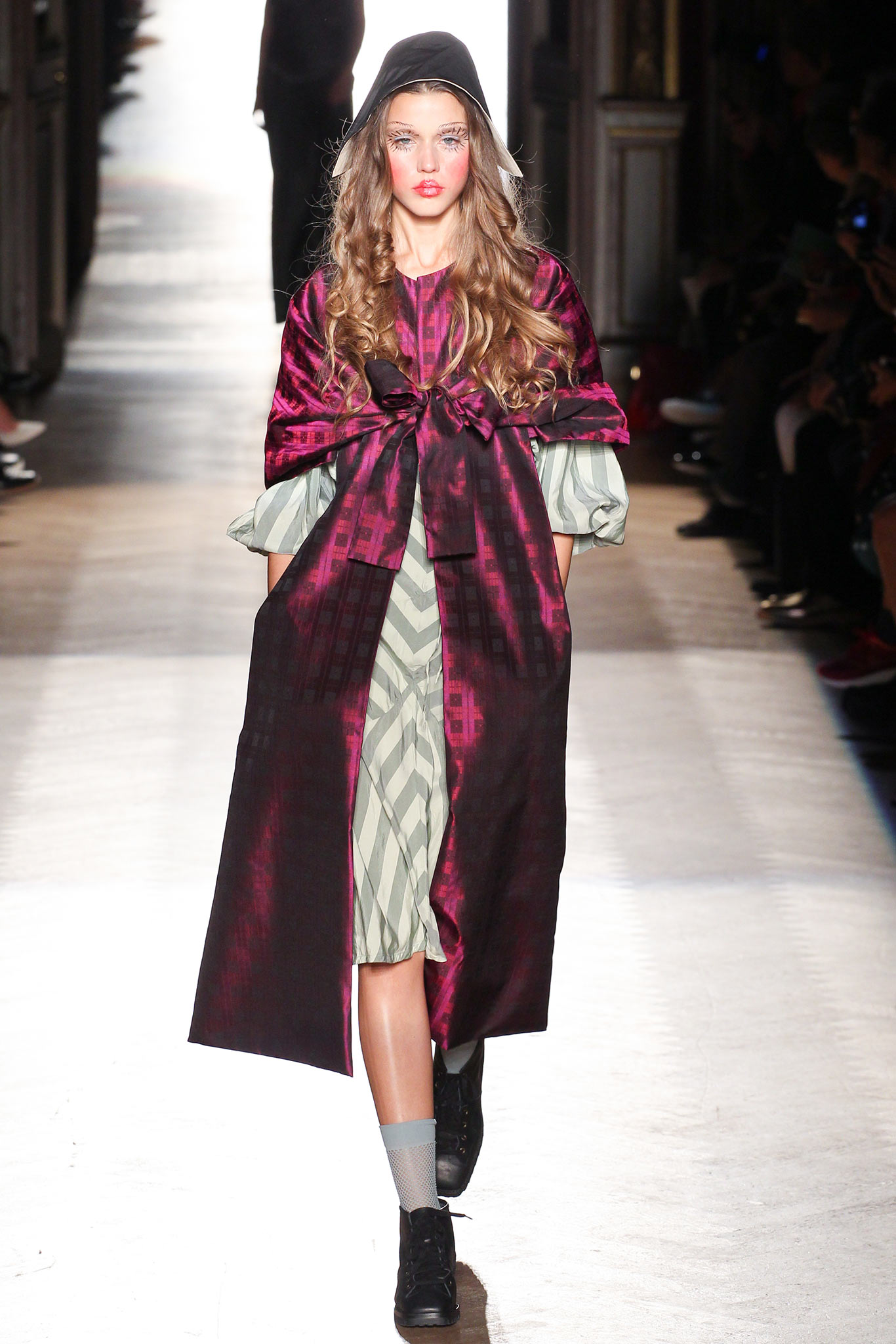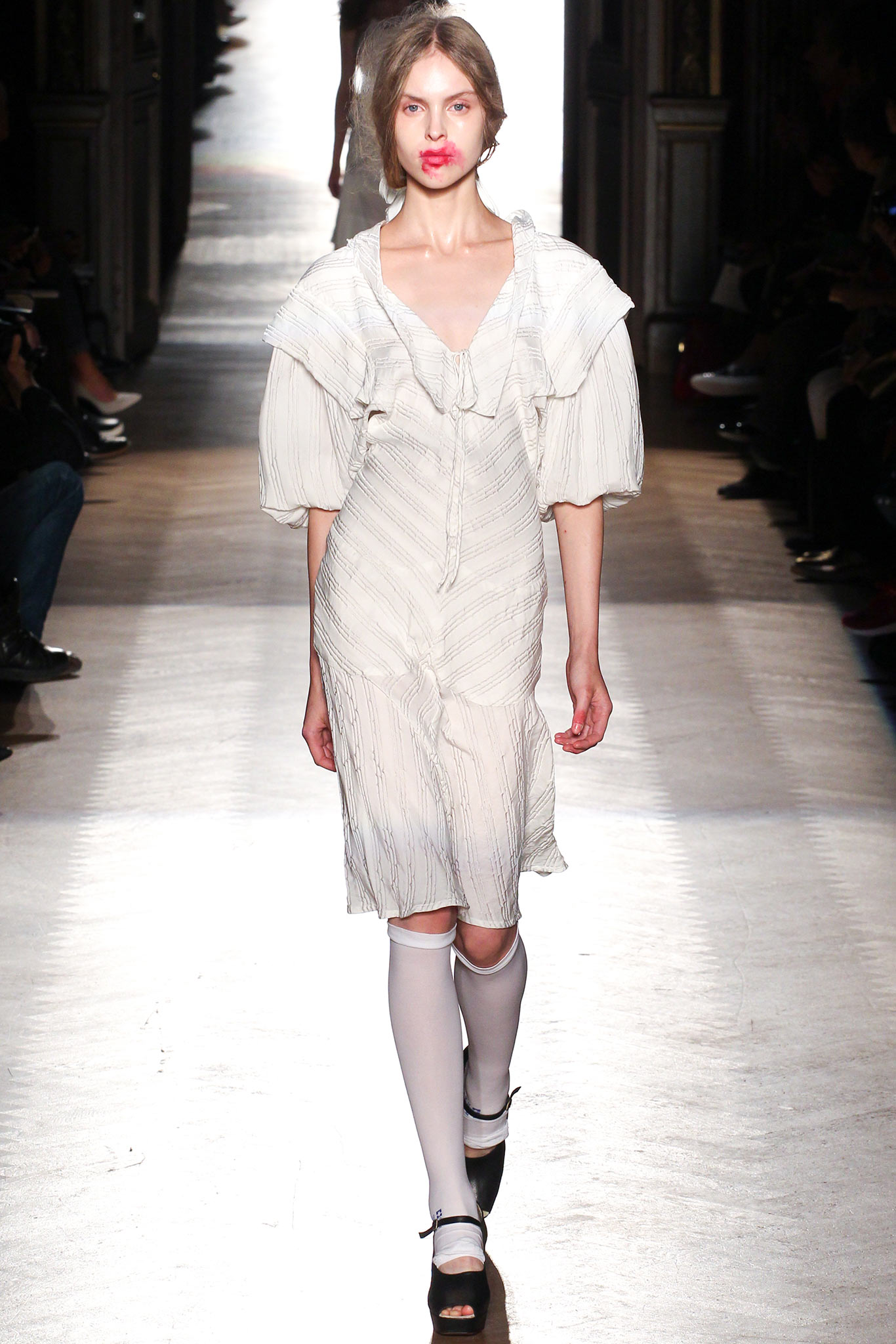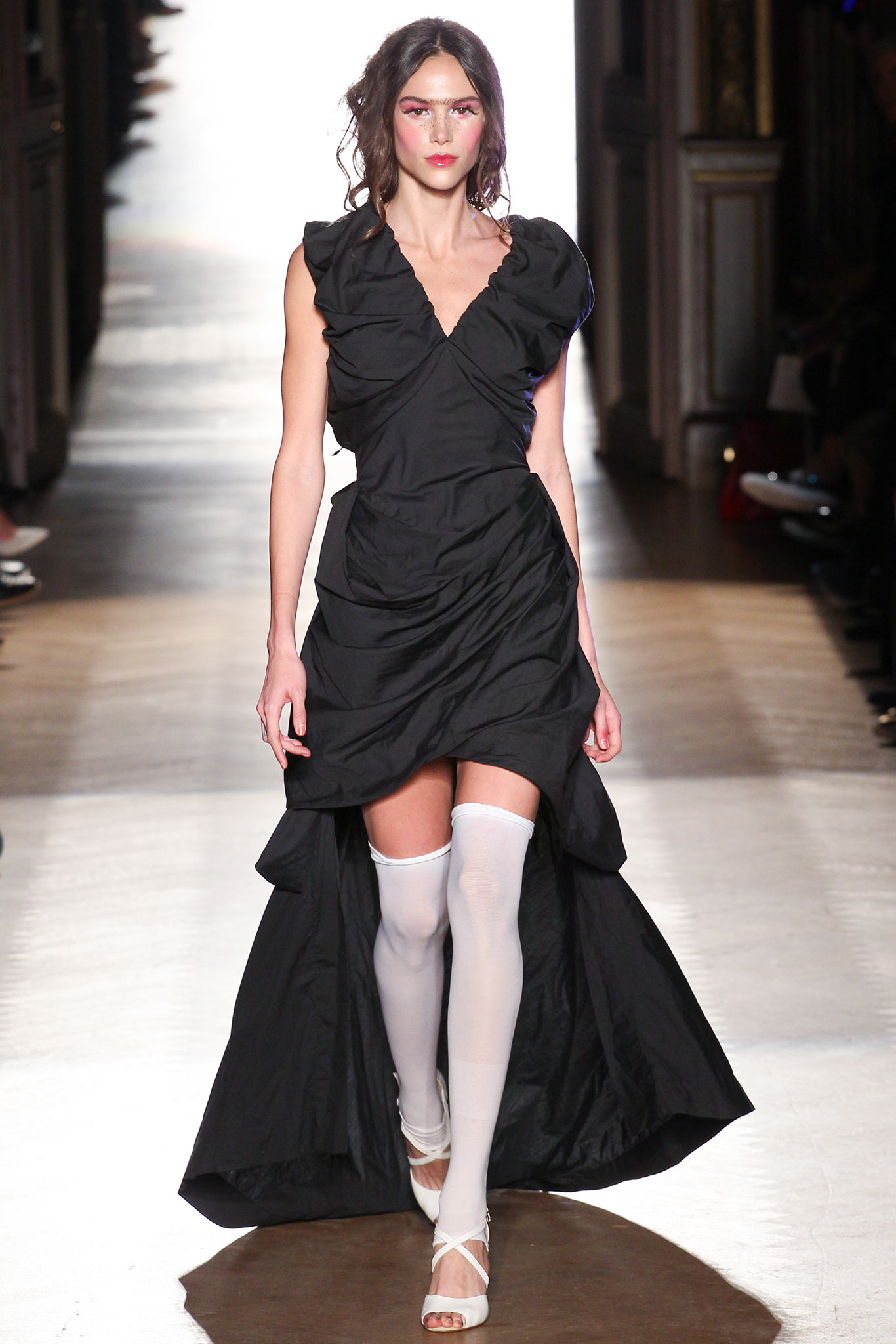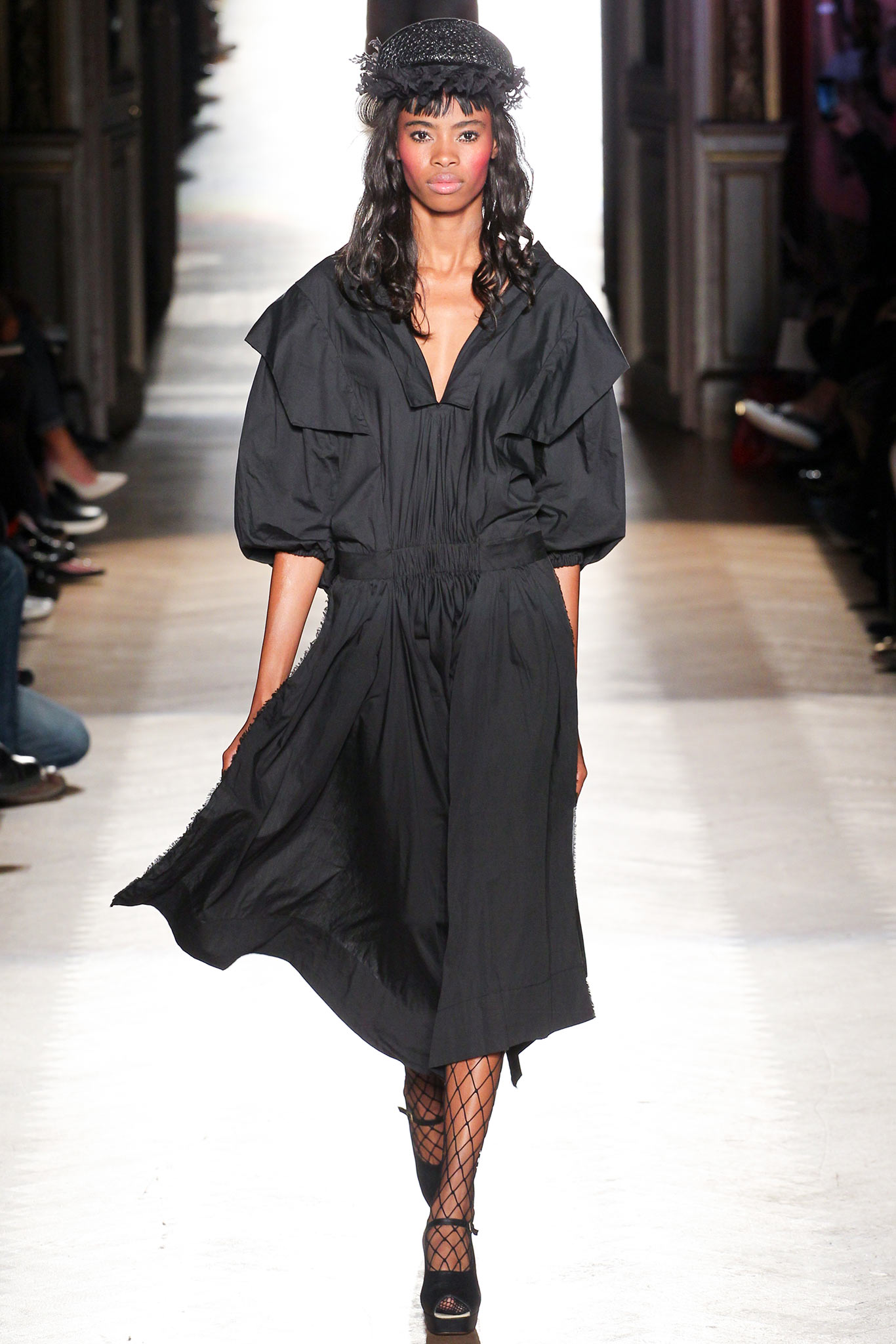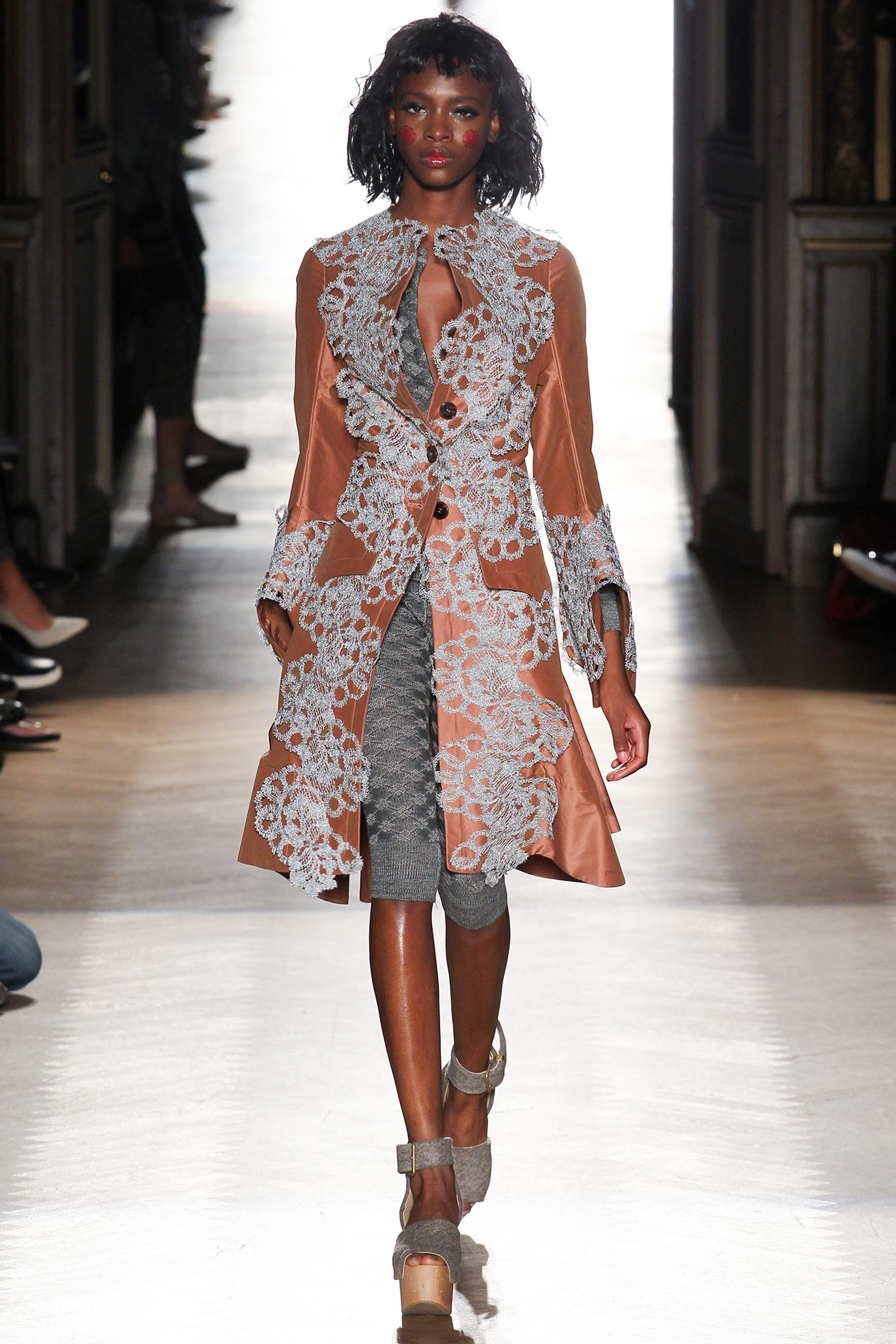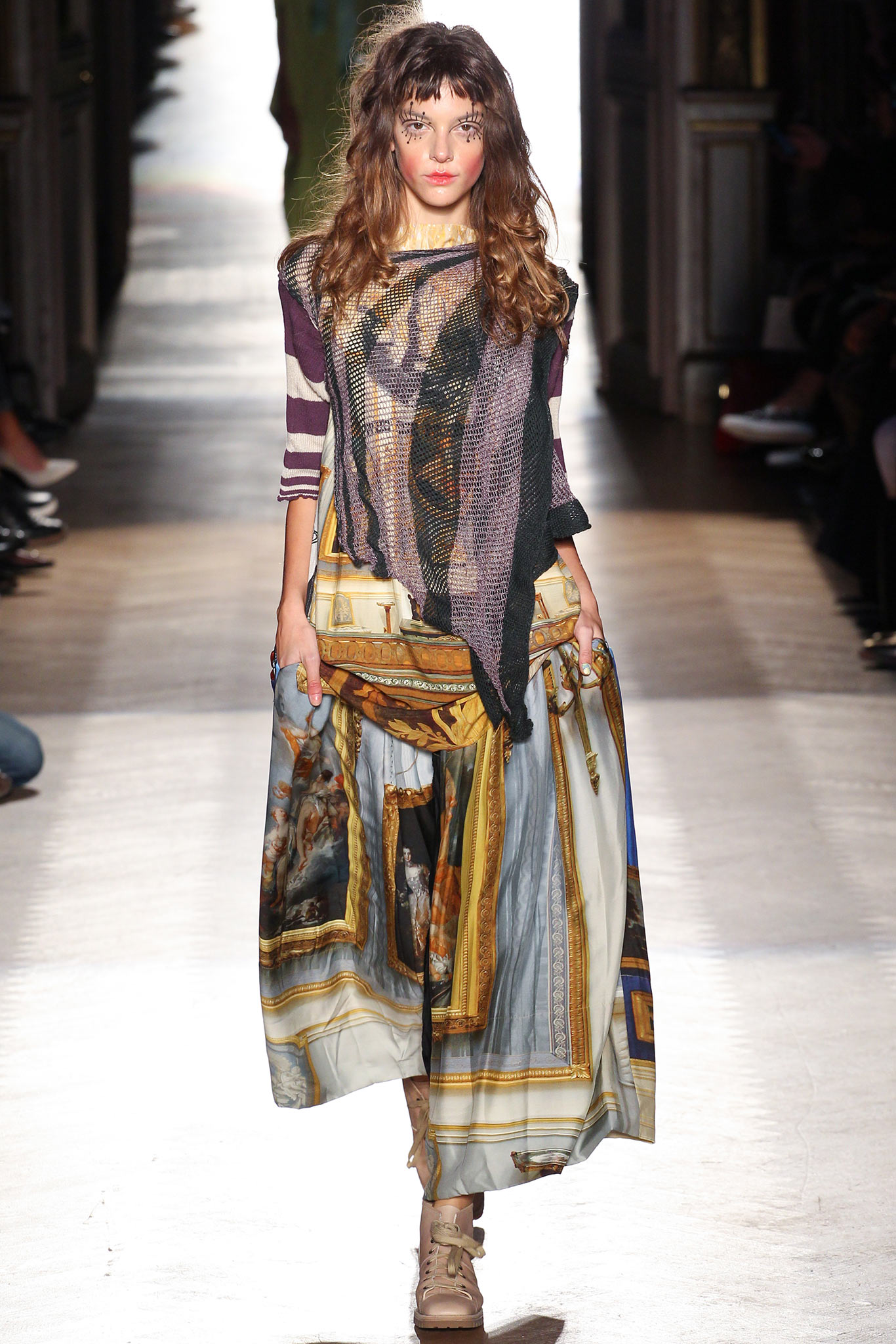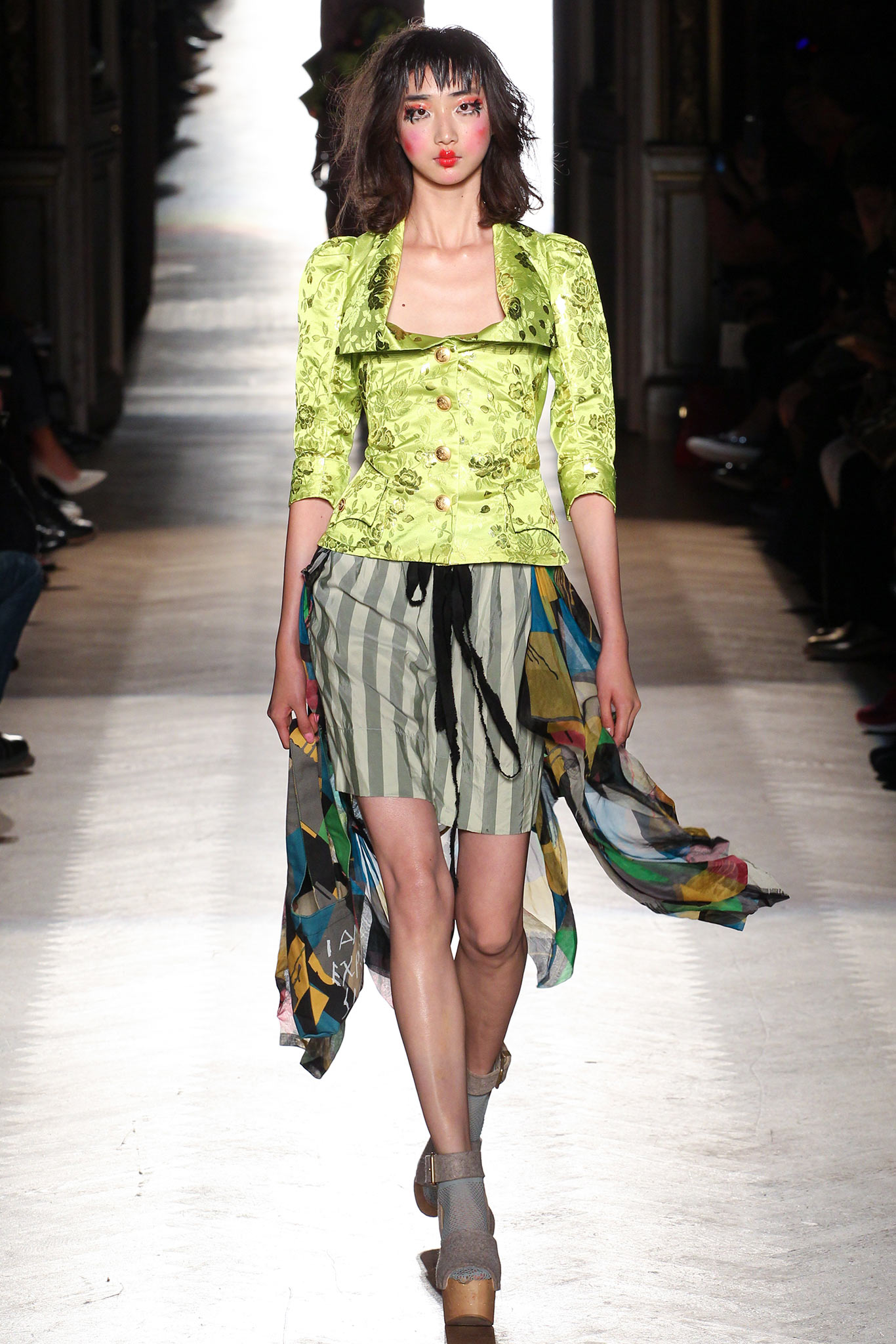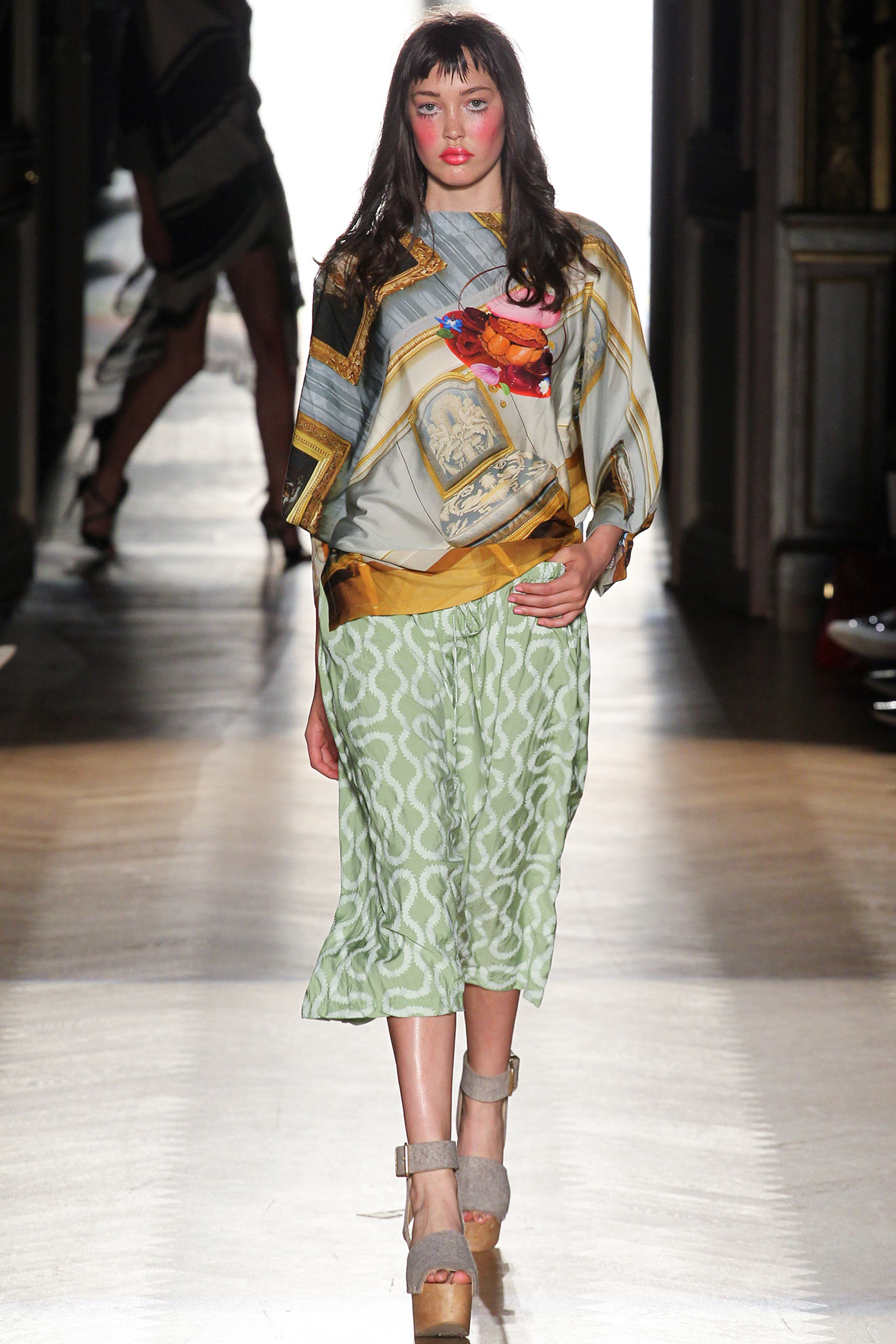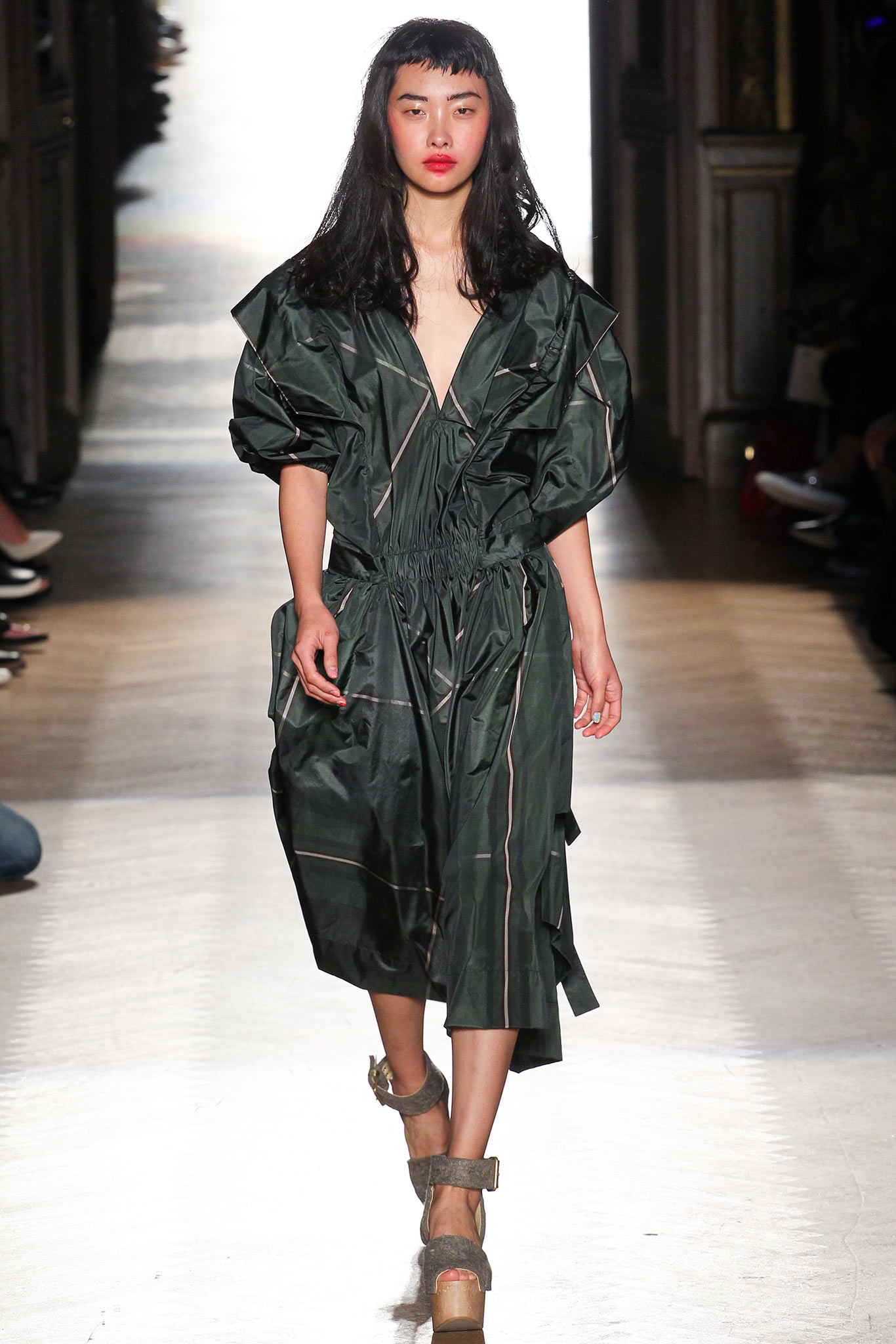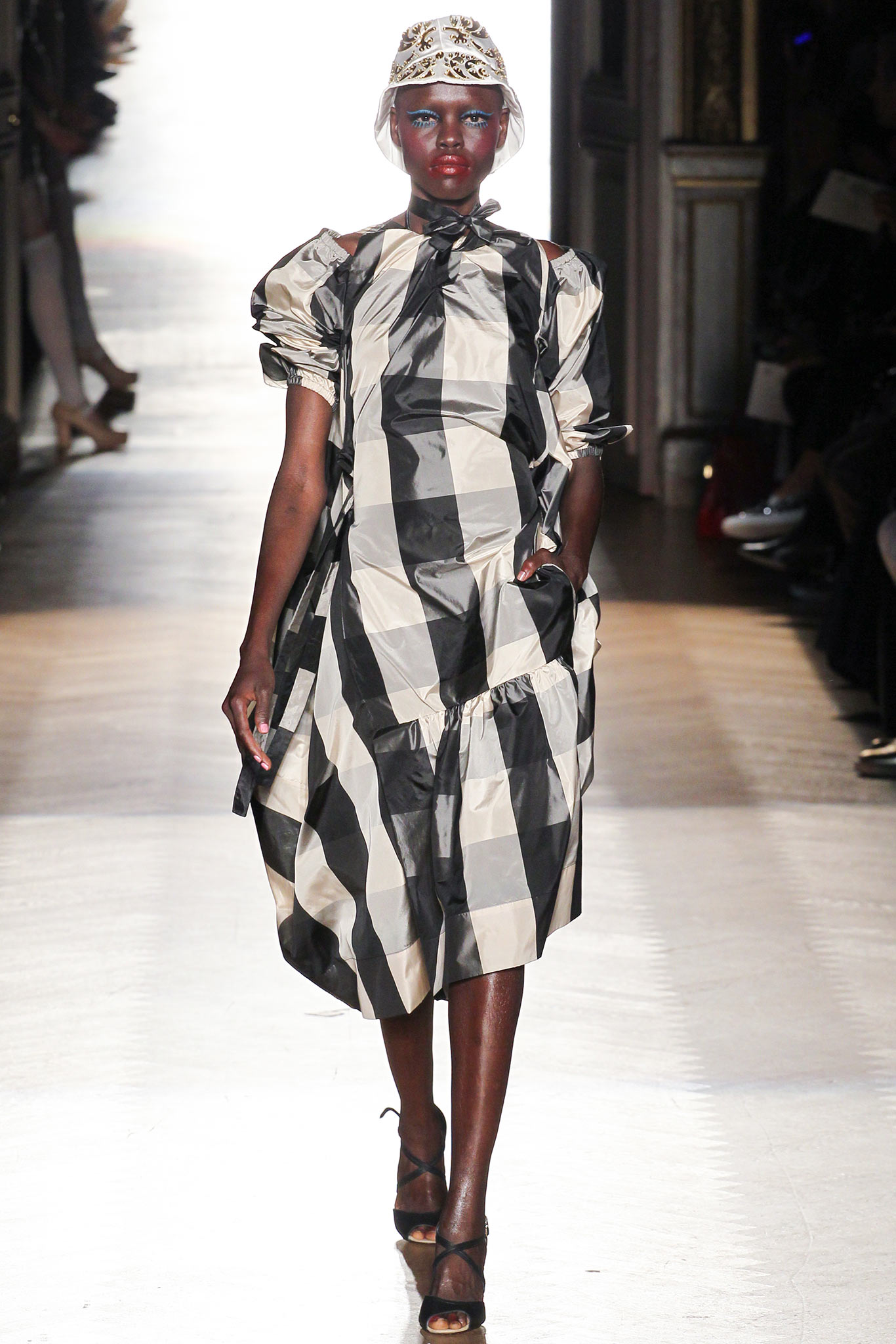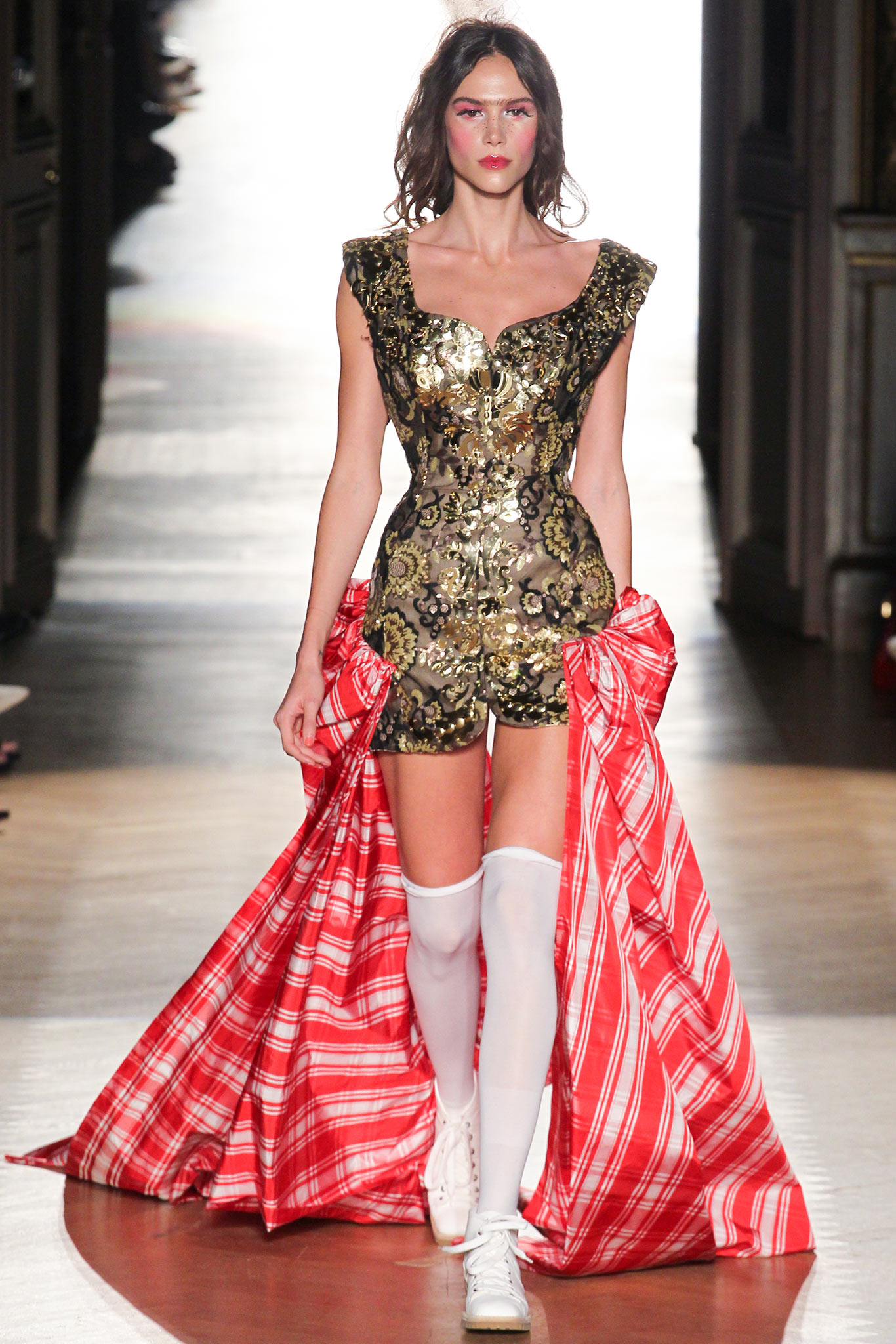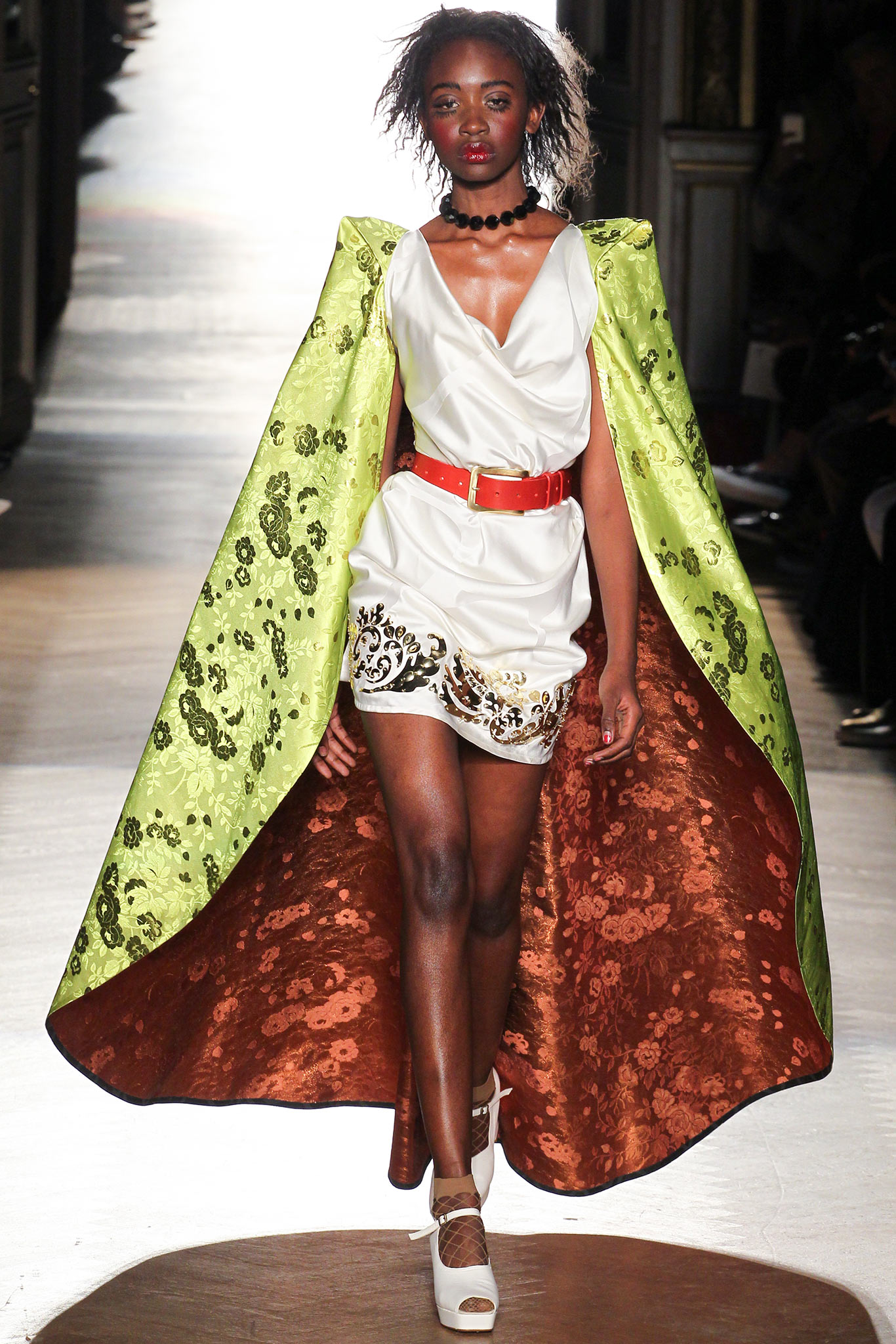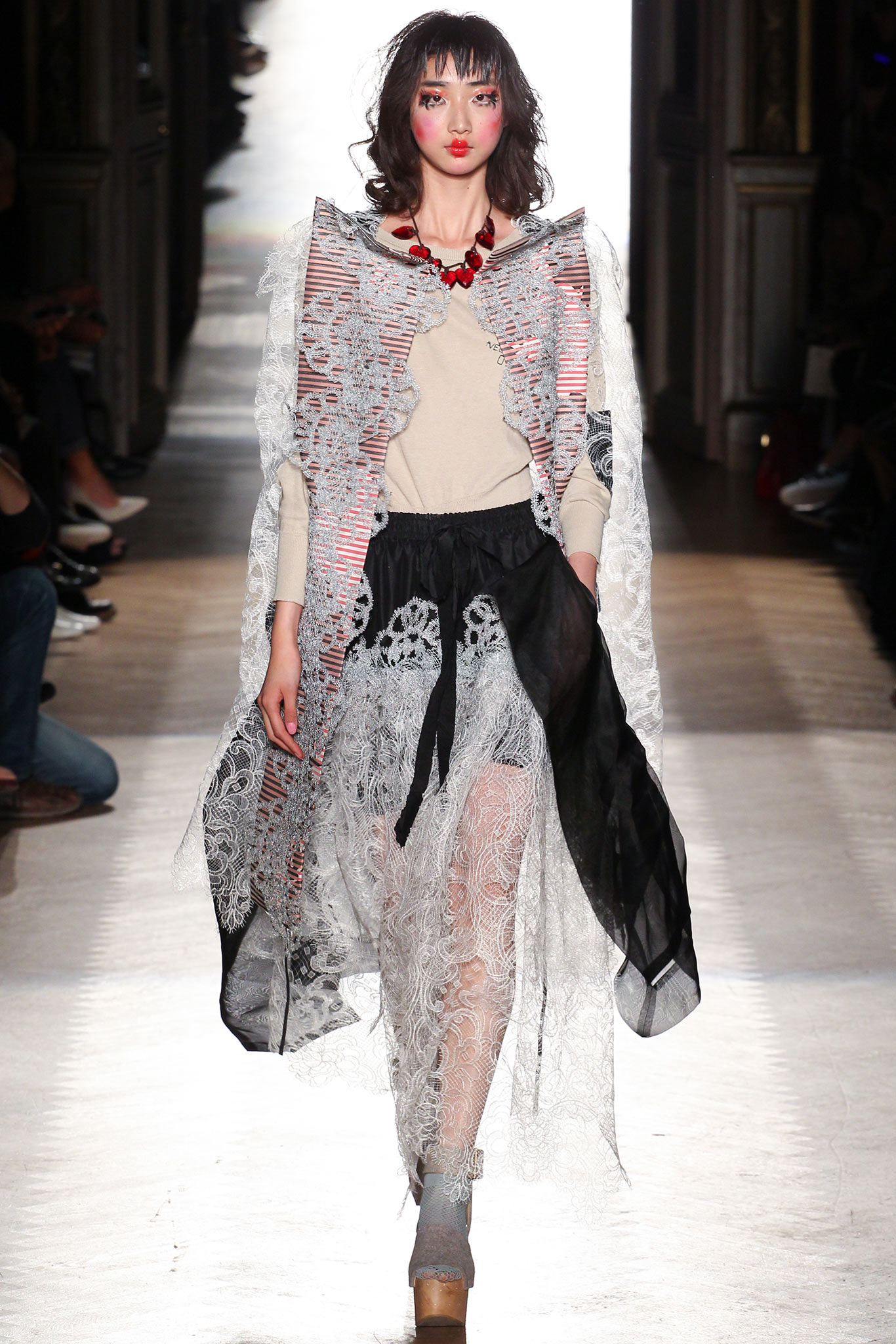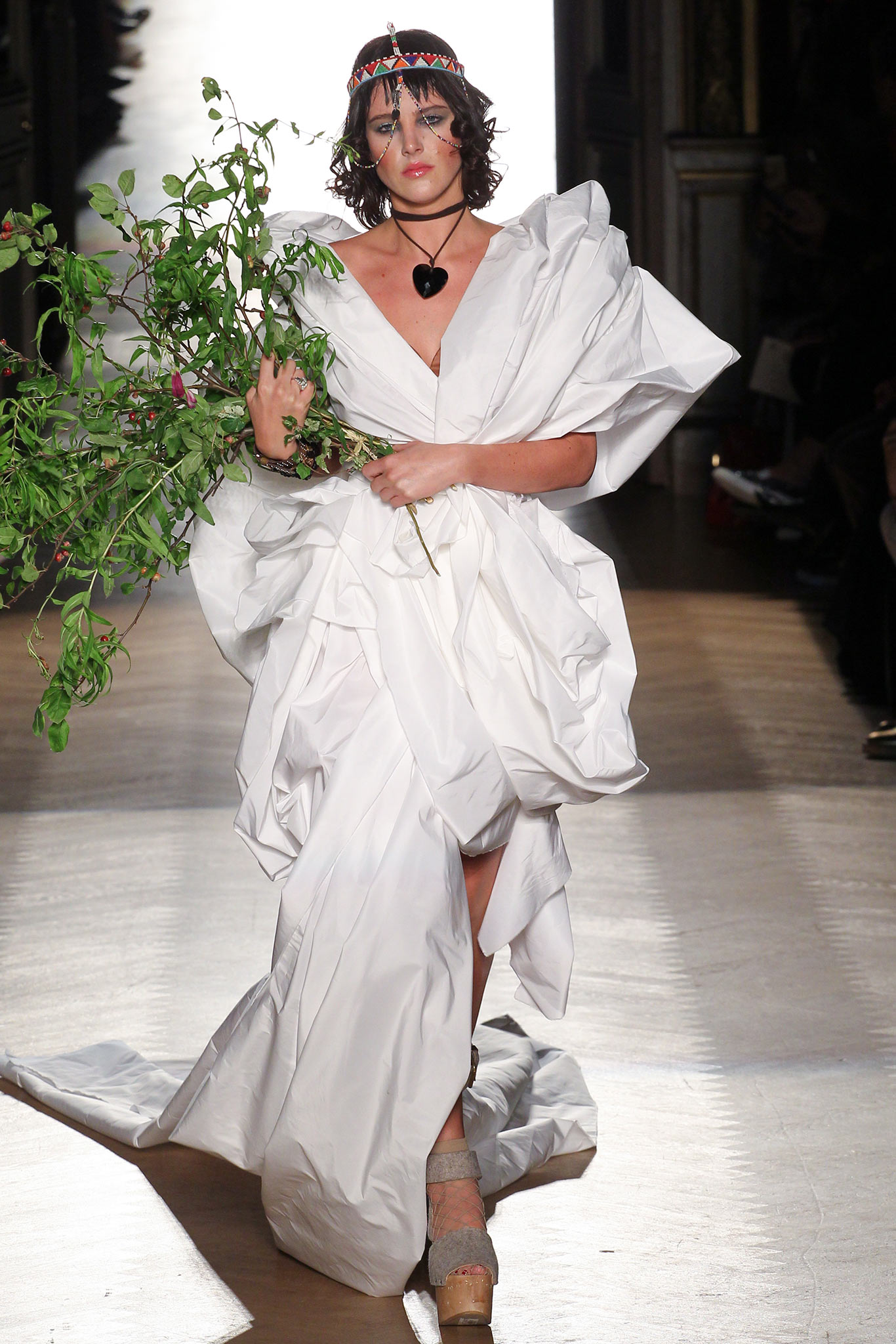 VIVIENNE WESTWOOD
Apparently this was some kind of political statement. If that is so, i'm either too obtuse to get it, or I'm ignoring it. Each and every piece screams Westwood, but in a wearable way. We have the corset contingent (always desirable), the asymmetric hems, the taffeta and brocade fabrications, and the subversive 17th century wench vibe. The embellished corset mini dress, verging on indecorous, could be thrown over a floor length chiffon or taffeta skirt forming an evening gown you likely won't see anyone else wearing, and that won't raise any eyebrows in a dubious way. (Note to self for next opening). That terra cotta frock with the silver lace detailing would be a show stopper coming out of any show. Throw it over a gown, a fitted studded leather skirt, or jeans. I'm aways impressed by the show ending goddess gowns Westwood leaves us with.....and for all those skeptics that decry the recycling of ideas approach, I say, WHO CARES? Stick with what works! This method has certainly been a recipe for success for Ralph Lauren, Oscar de la Renta, and Valentino amongst others.
Happy dreaming and shopping!
Images brought to you by www.style.com