I was leaving work yesterday, and as I was heading to the elevator, a patient was being wheeled to the Radiology department. Angst, malady, and plague are never ending. After spending the bulk of my existence holed up in centers of healing, training for sixteen years (yeah, 16 years) its no wonder I occasionally take the path of least resistance, 180 degrees from what I do on a day to day basis, for some aesthetic relief. Some might say I spent TOO much time roaming the halls of the local retail establishments, but oh well, whats done is done. And ironically enough, it was in the hospital cafeteria where one of my current obsessions was born. It was summer 2011. I was strolling down to the cafeteria for the usual government cheese (Physicians section of the cafeteria for the "free" food) with one of my male partners, when all of a sudden I spy a woman in THE most beautiful frock I've ever laid eyes on. All I could think was, HOLY S H * T! This thing was magnificent, green material, probably wool, adorned with innumerable bits of bling, making the whole thing sparkle like a glow worm. There were some kind of multicolored armor like palettes coalesced along the neck and the 3/4 sleeve cuffs. And then the piece de la resistance, BIG SQUARE GOLD BUTTONS!!!! I thought I knew what was out there in the land of retail, locally and in the usual fashion magazines, but I had never seen this. The lucky woman swathed in such splendor was wearing narrow black pants, and black booties with chain detail along the heels. I don't even remember what she looked like I was so overtaken by the expected adrenaline surge when you spot something of this beauty. Swoon. I thought, that ain't no doctor, thats for sure! Usually the doctors are schlepping around in some kind of banal schmatta. Its not exactly runway time at the hospital. But to be fair, if you're knee deep in blood and guts, its not your responsibility to care if your bloomers match your knickers, or what the new black is……..there are ahem, priorities in life……
so, after pondering the amazing green coat festooned with sparkles and bijoux "buttons", I conferred with yet another partner, and discussed the possibility it might be CHANEL. Then I thought, yikes, there are likely to be many zeros attached to that piece if that is the case! Way out of my league. It was back to work, and the coat became a distant memory until, two weeks later the Bergdorf's Book came out. I open it up, and lo and behold, there was a central insert, of Chanel pre-fall! And there it was, THE jacket, along with some of its brethren from the BYZANCE pre fall collection!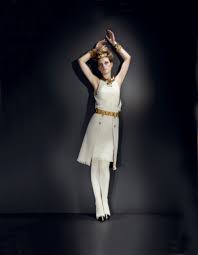 Seemed like a coincidence, as if the Universe was sending me a signal…….the siren song of Chanel was luring me to join the big leagues…R U N W A Y….(***sigh***). The prices were handily available, none of this "price upon request" (translation: not for you of the proletariat variety). Yep, quite a few zeros……oh well. A man has to know his limitations and all that.
Then more time goes by, and I have to start worrying about what in the world I am going to wear to the opening of the Opera! This is serious business! The truth of the matter is that I've only been going to the opening the past ten years because the tickets are a part of my yearly subscription. It was never my intention to go so I could mingle with the fancy folk and have my picture taken on the (ugh) "red carpet". I'm a working stiff after all. However, since I have the tickets, I go. Two birds, one stone, etc. There is nothing I love more than the Opera (except my dog Coco), and I have an excuse to buy a fancy jacket. I found the following multicolored velvet Oscar piece in a fashion magazine, and thought I would start an expedition to find it:
When I saw it on the rack at Neiman Marcus, I had a change of heart and scurried over to Chanel. It was pretty, but on closer inspection, I wasn't sure the quality warranted the price tag. You need to get your mitts on something to figure out whether or not its worth two mortgage payments. With respect to Chanel, up until this point I had gotten a sweater jacket on sale earlier in the year, and a purse or shoes here and there through the years, small potatoes. Runway was still a bit of a mystery…..a large cavern I never dared enter. Well, I poked my head into the boutique and saw the gold jacket first.
The price was the same as the Oscar, but it was more impressive, so I thought, this is my Opera jacket! Success! I thought I was done, time to get the hell out before I did something REALLY stupid. But then I told the sales associate (Ciina) my green sparkly jacket anecdote...she disappeared into the back, and came back out with it.
THAT'S IT! OMG, you want to talk about full on swooning...my mouth got dry and my pupils dilated. "Go ahead, at least try it on"...I tried that stunner on, and then as the endorphins clouded my gray matter, I went for the blue velvet beauty as well, and just about fainted in the dressing room, from the sheer excitement of wearing RUNWAY CHANEL, the heat, the zeros….The pictures from style.com will often underestimate the glory of some pieces, as the colors may be artificially subdued. The third piece was royal blue velvet, with jewel encrustation along the borders. Truly unbelievable.
It was $30,000, definitely a bridge too far. (Sometimes it pays to marry rich). Several calls to the credit department, and many beads of sweat later, the gold and green jackets were mine…….to this day that green jacket is one of my all time favorite pieces. I wore that to the Opera opening, to a birthday celebration, to a Humane Society benefit, and to a performance of Lohengrin the next year. I might just be buried in this….like a pharaoh with all his most prized possessions. I've probably made my share of dumb ass purchases in my life, but this wasn't one of them. Thus began my obsession with Chanel and my cherished friendship with THE most stylish person I've had the pleasure to know, Ciina Feng.
Another reason I'm partial to Chanel, is that there are pieces for us wee folk! (Although Brandon Jovanovich is at least 6'4").