Greetings from New York City! At least for the next several hours before I leave rain and cold for no rain and cold. I love this city, the hustle and bustle, fast pace, iconic landmarks, Bergdorf Goodman, and the greatest Art museum this side of the Louvre. Just yesterday I had the privilege of tooling around this vast bastion of glorious masterworks and intriguing antiquities, and before heading off to see my favorite painting, "Aristotle Contemplating a Bust of Homer", I was captivated by the couture component of the new exhibit "China Through the Looking Glass". Honest to God, it was quite the mesmerizing experience, not to mention about an hour's worth of a pure endorphin rush. My friend Hazel and I were justifiably captivated and several times I actually swooned. There should have been a fainting couch for those of us so aesthetically inclined. The usual suspects were on hand, including Yves Saint Laurent (1977-1978), Jeanne Lanvin, Alexander McQueen, Valentino, John Galliano for Dior, and of course Chanel, under both Coco herself and Lagerfeld. It was a rare experience, allowing one to get up close and personal with Haute Couture, the billowing taffeta, ruffles galore, and beadwork like never before. It was quite the dazzling display. After seeing a cluster of show stopping Galliano for Dior pieces, Hazel exclaimed, "I forgive him"…..the designers captured the extravagance and romance of the past, and conjured up the essence of Empresses from days gone by.
And for another take on Chinoiserie, we have the tempting creations of Dries Van Noten, the most famous Belgian since Hercule Poirot, and after observing and drooling over his collections over the past 18 years, I understand why. (The Louvre recently had a retrospective on his work, a high and rare accolade for sure.) His collections are eclectic, paradoxical, with a running theme of wearable opulence admixed with a purposefully casual contingent, for those who appreciate fashion irony. A wide and varied color palette, a mixture of fabrications in an outfit or in a single piece, with jacquards, silkens, and velvets as a counterpoint to khakis and cargo pants, result in a delightful upscale nonchalance.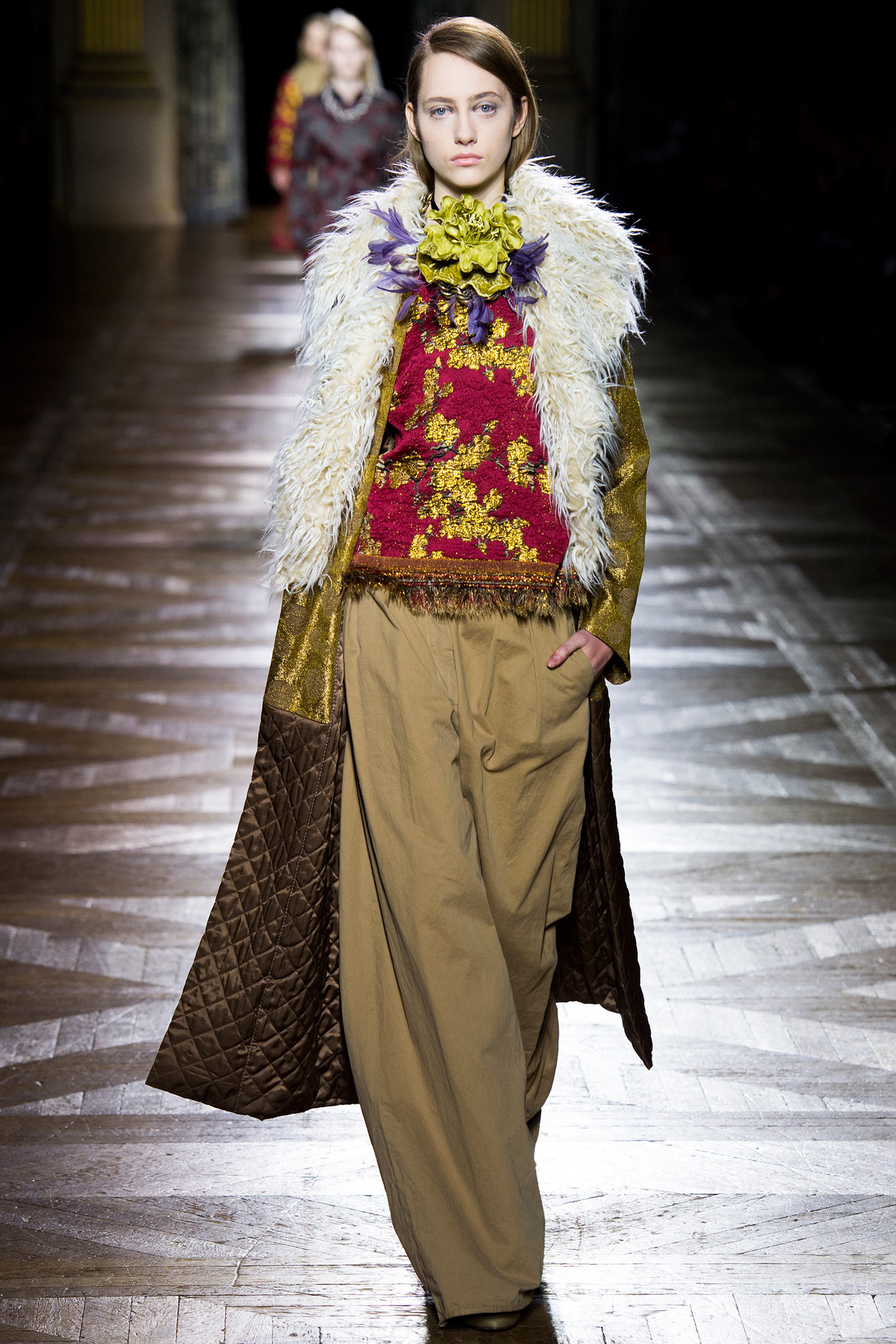 Classic Dries, a hell of a lot going on, with the torso and neck regalia tempered by the khakis.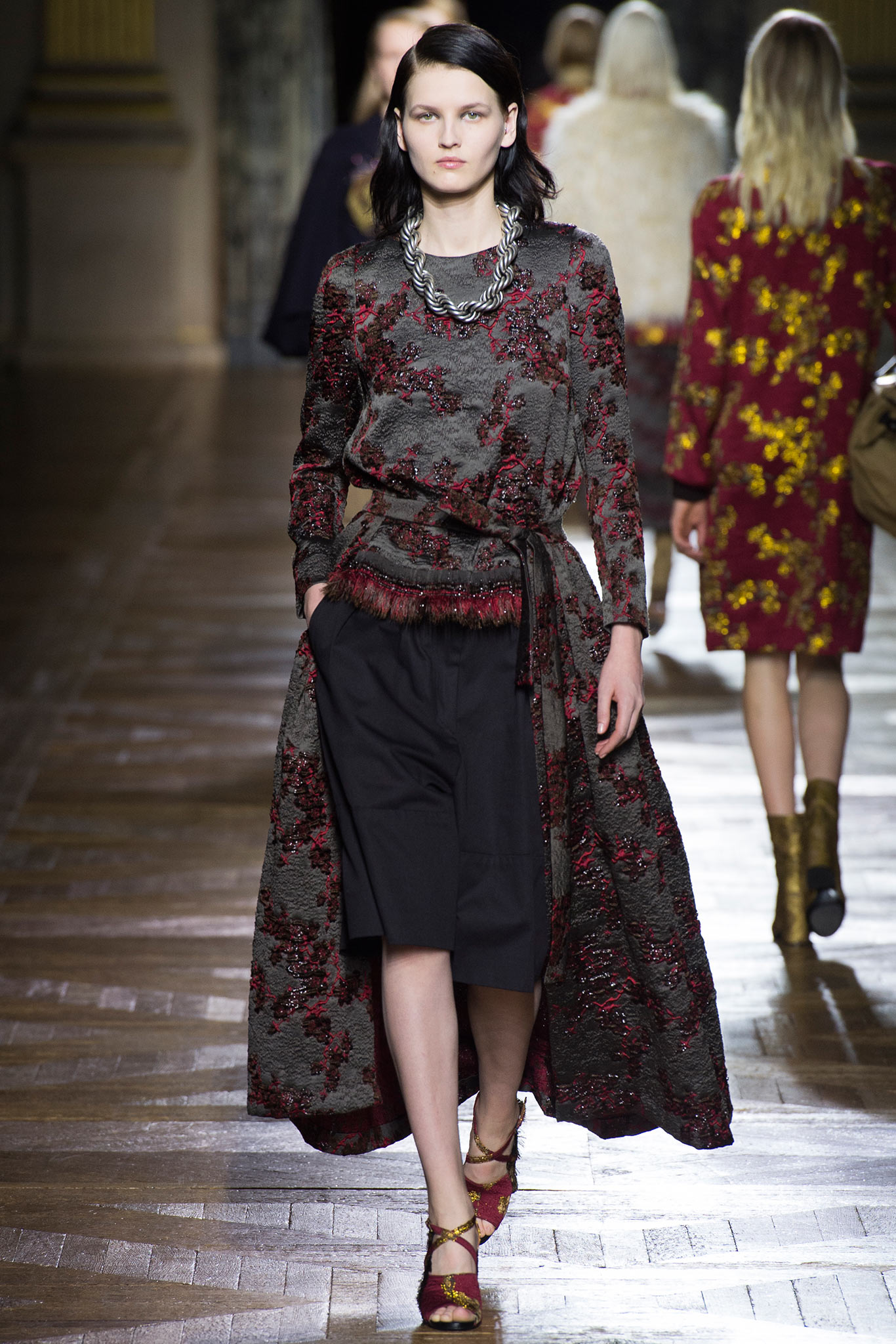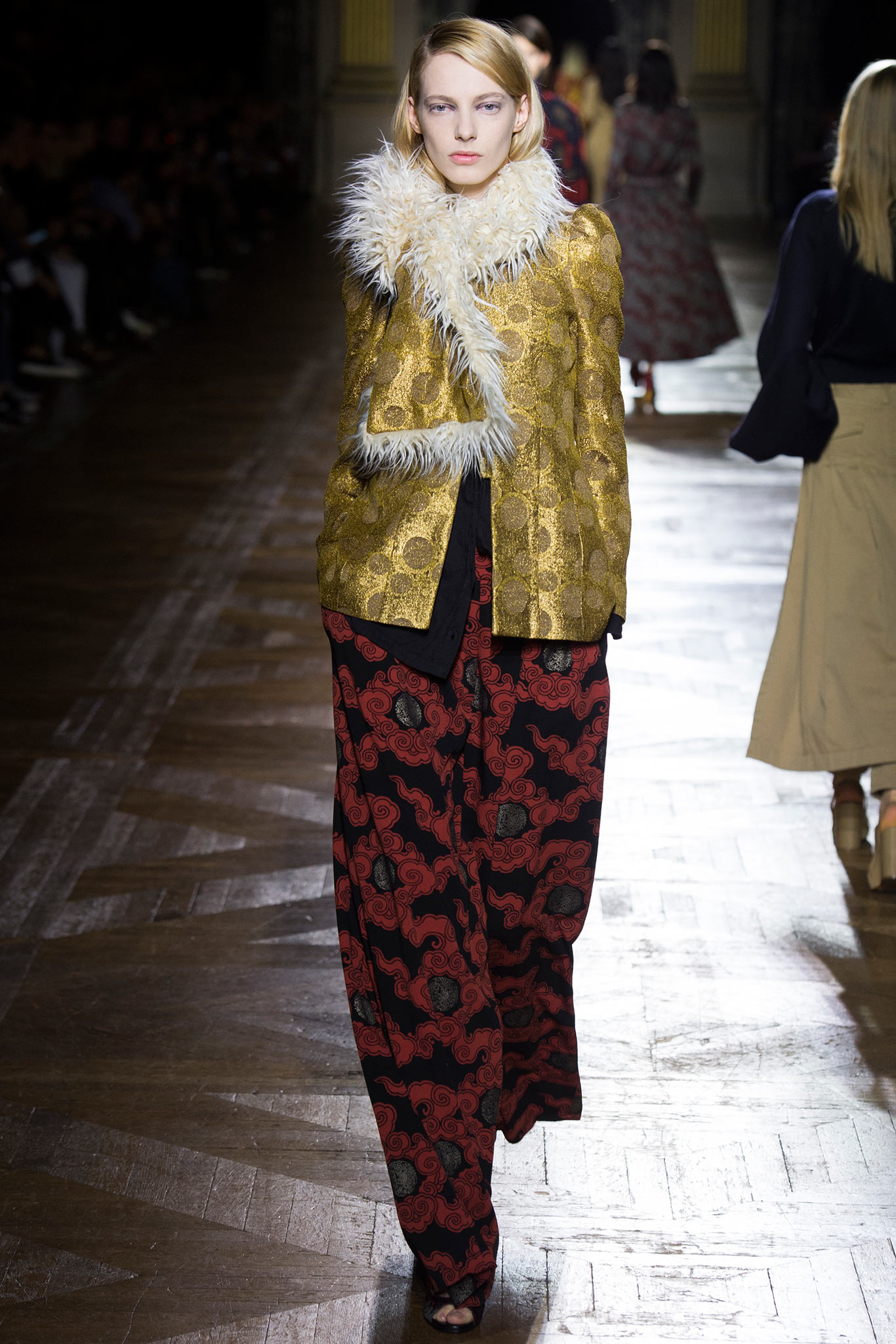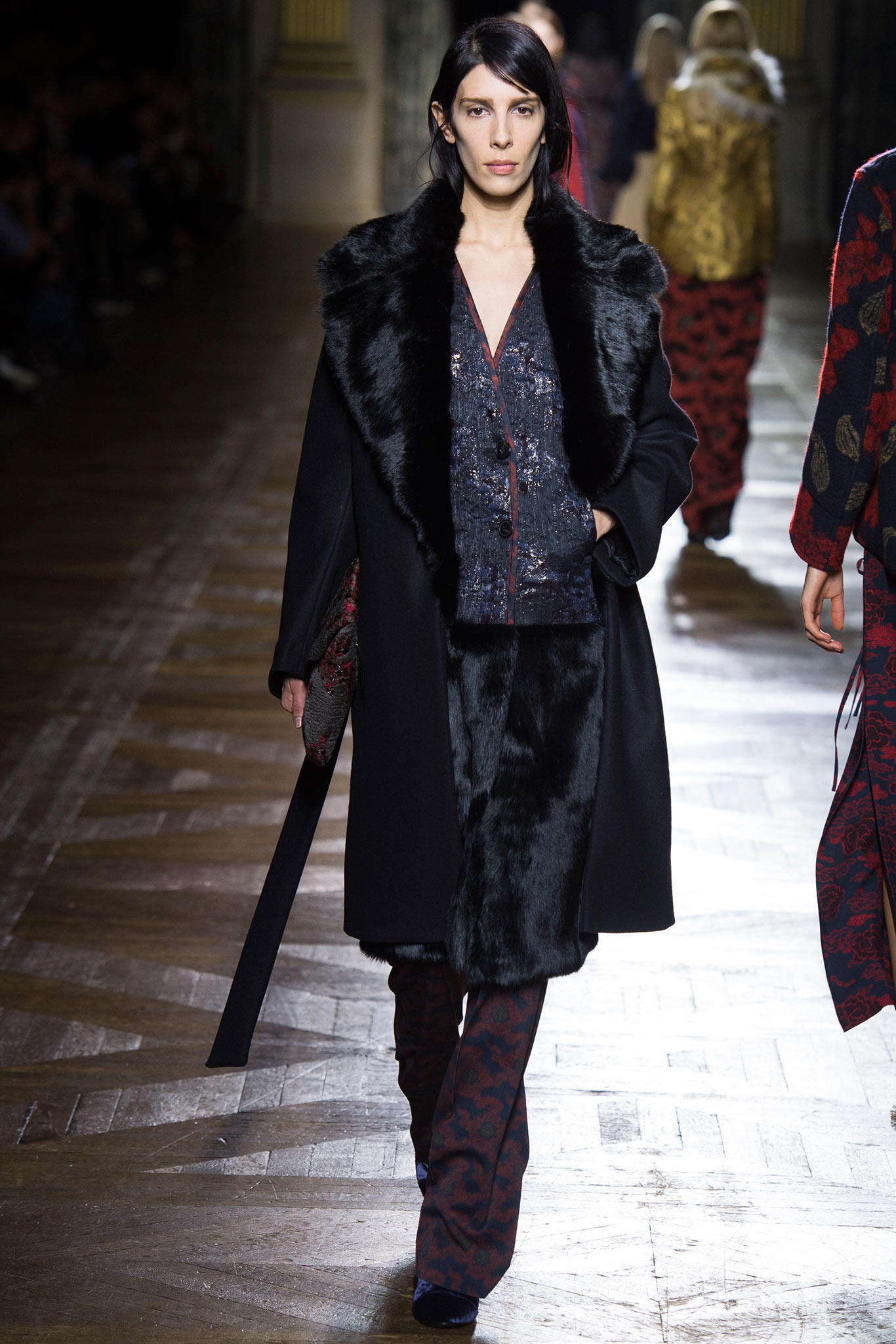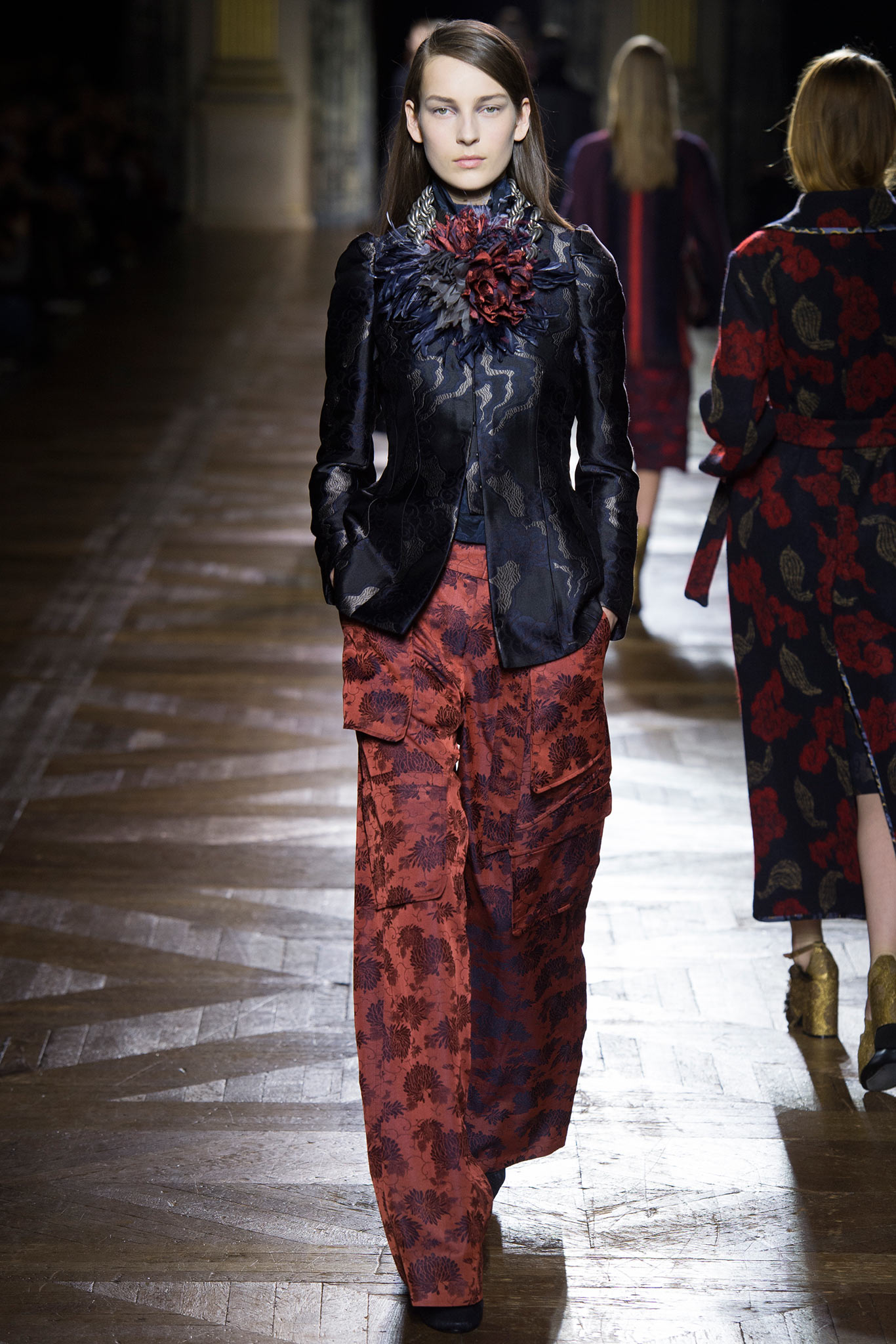 I'm a big fan of the all purpose Cargo pant, and even better when they are jacquard laden. (And don't even get me started on the allure of a dude in cargo pants…).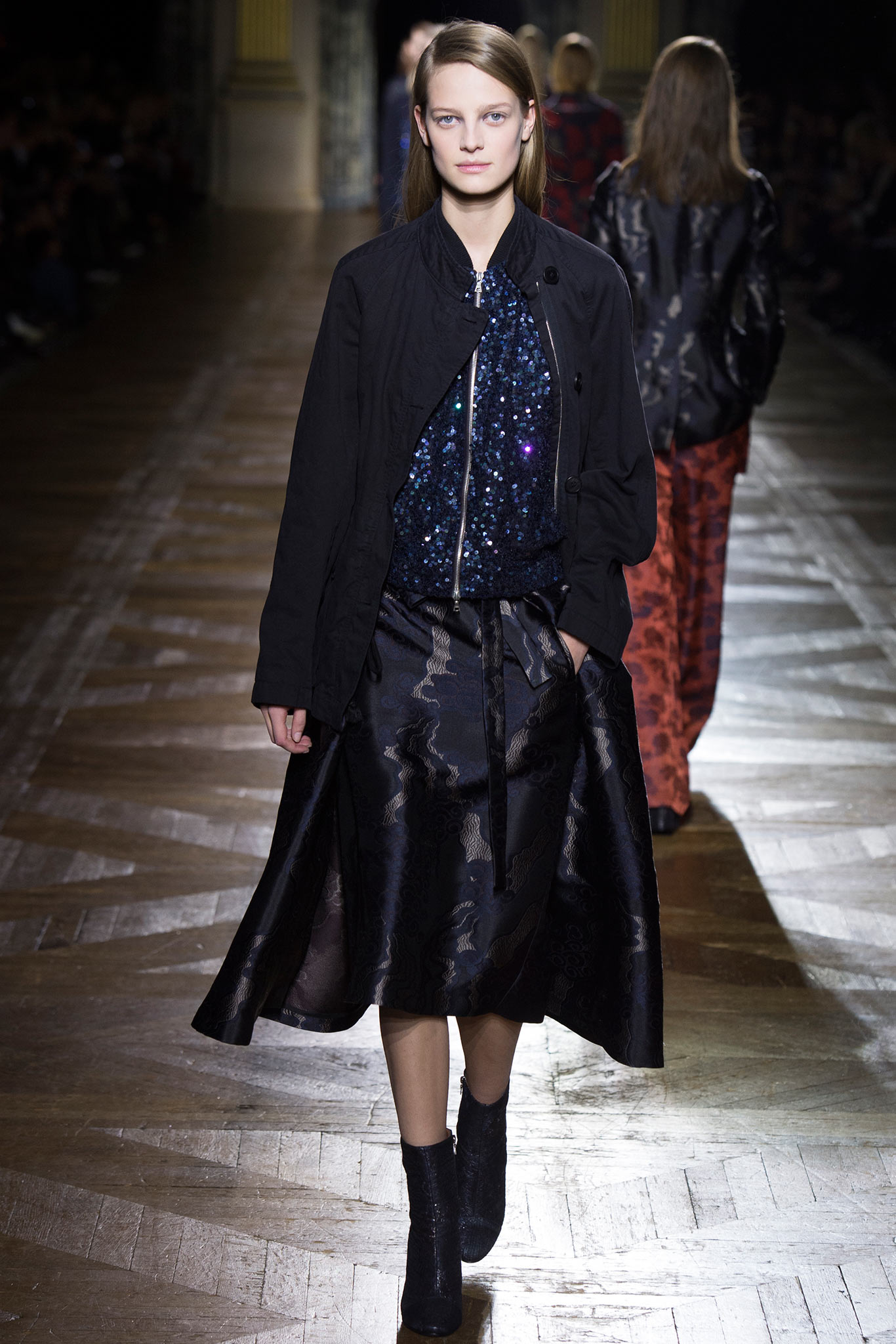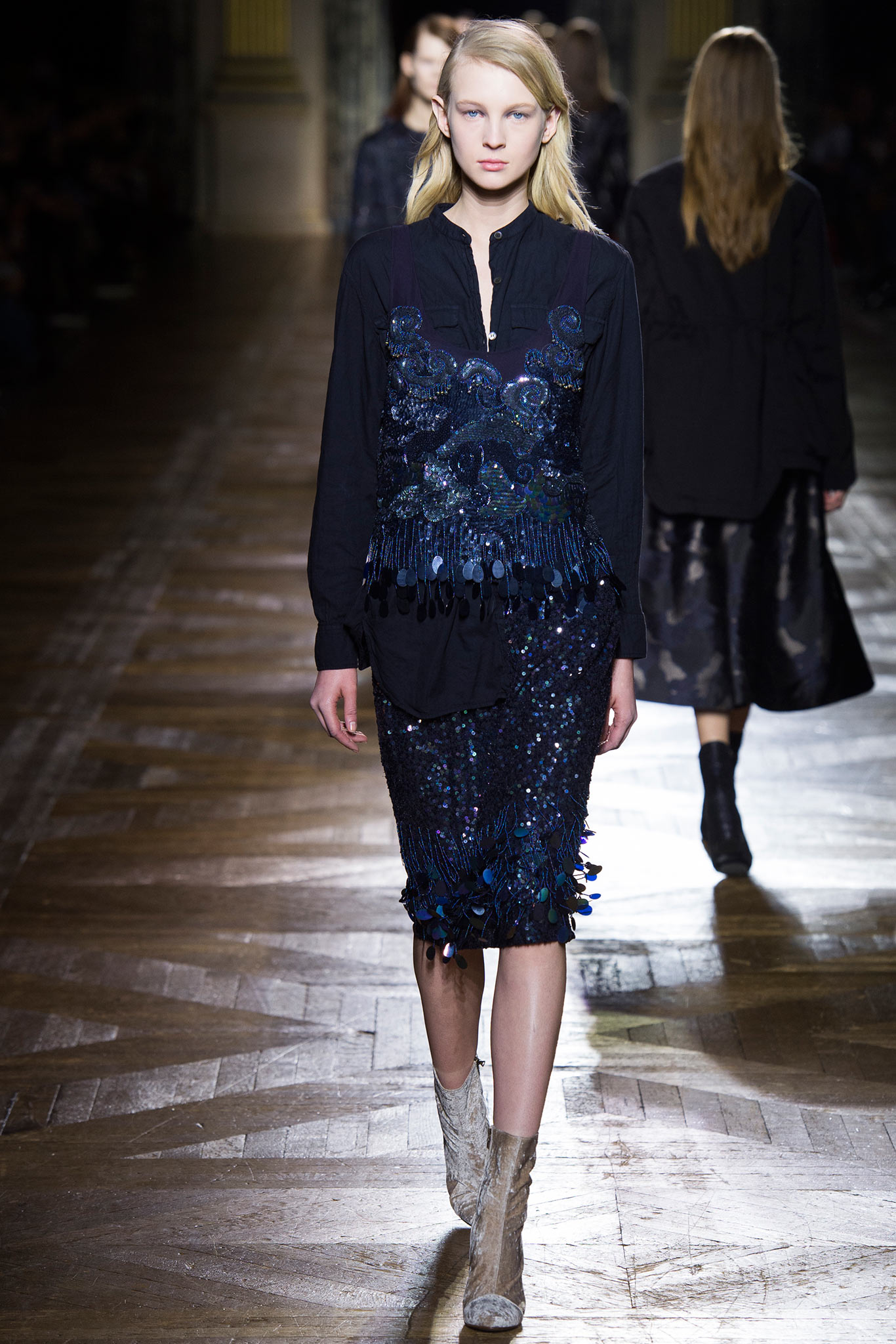 All these separates can be mixed and matched with jeans, J Crew khakis, a white T shirt, or a Chanel tweed jacket. How wonderful would a red or purple tweed look over that skirt?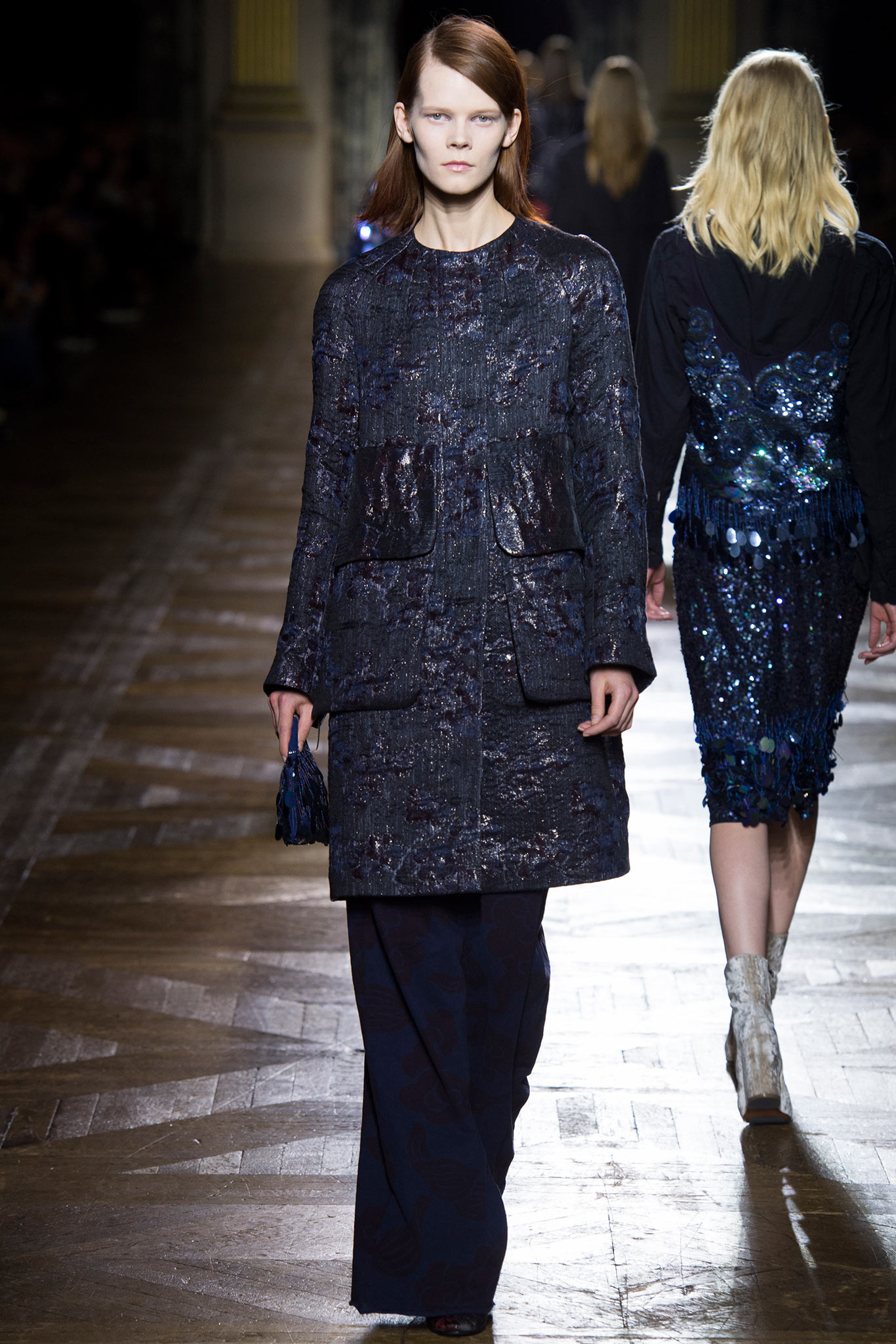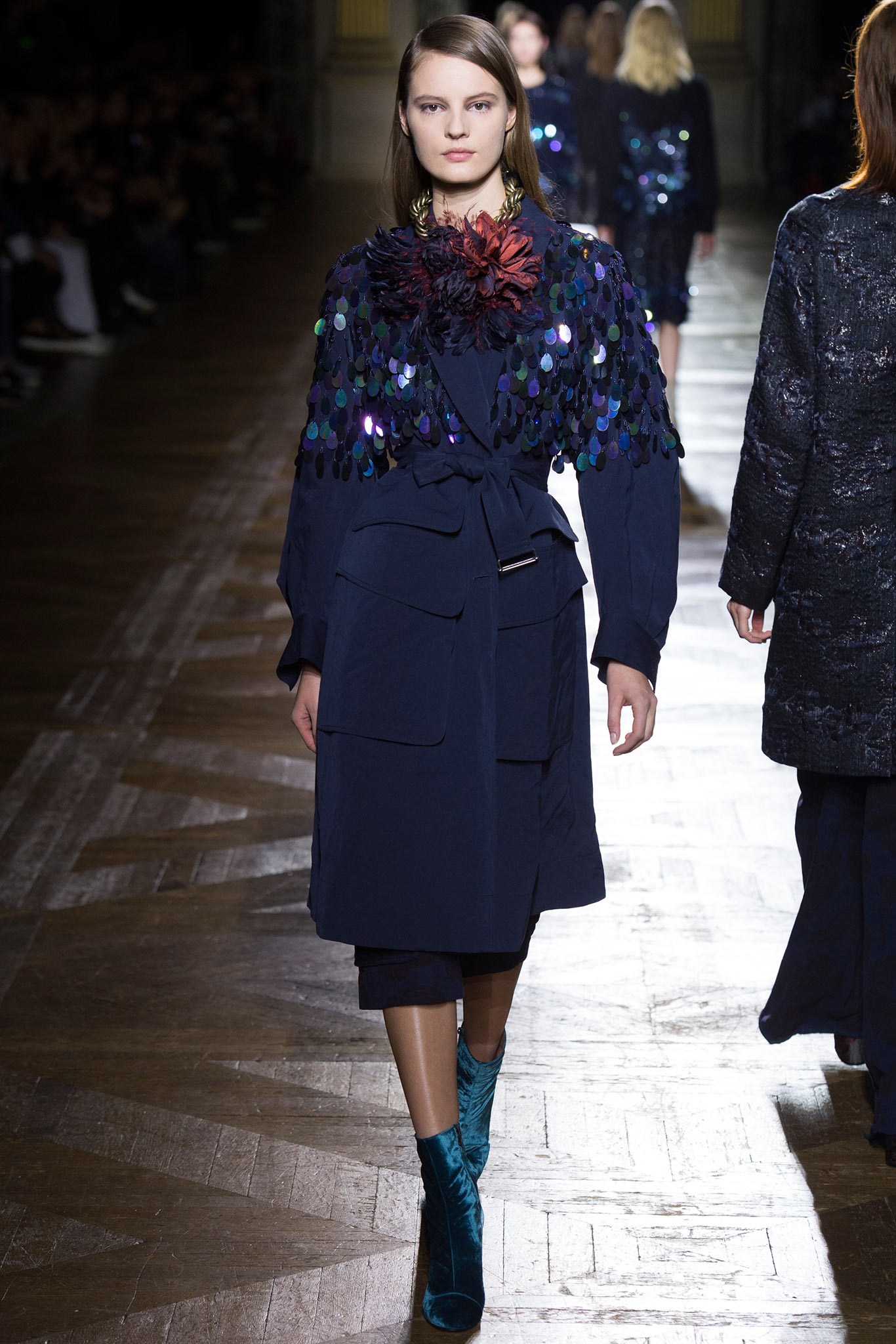 The visual metaphorical conjuring of a Peacock in all its glory. And notice the stunning velvet footwear in a saturated teal.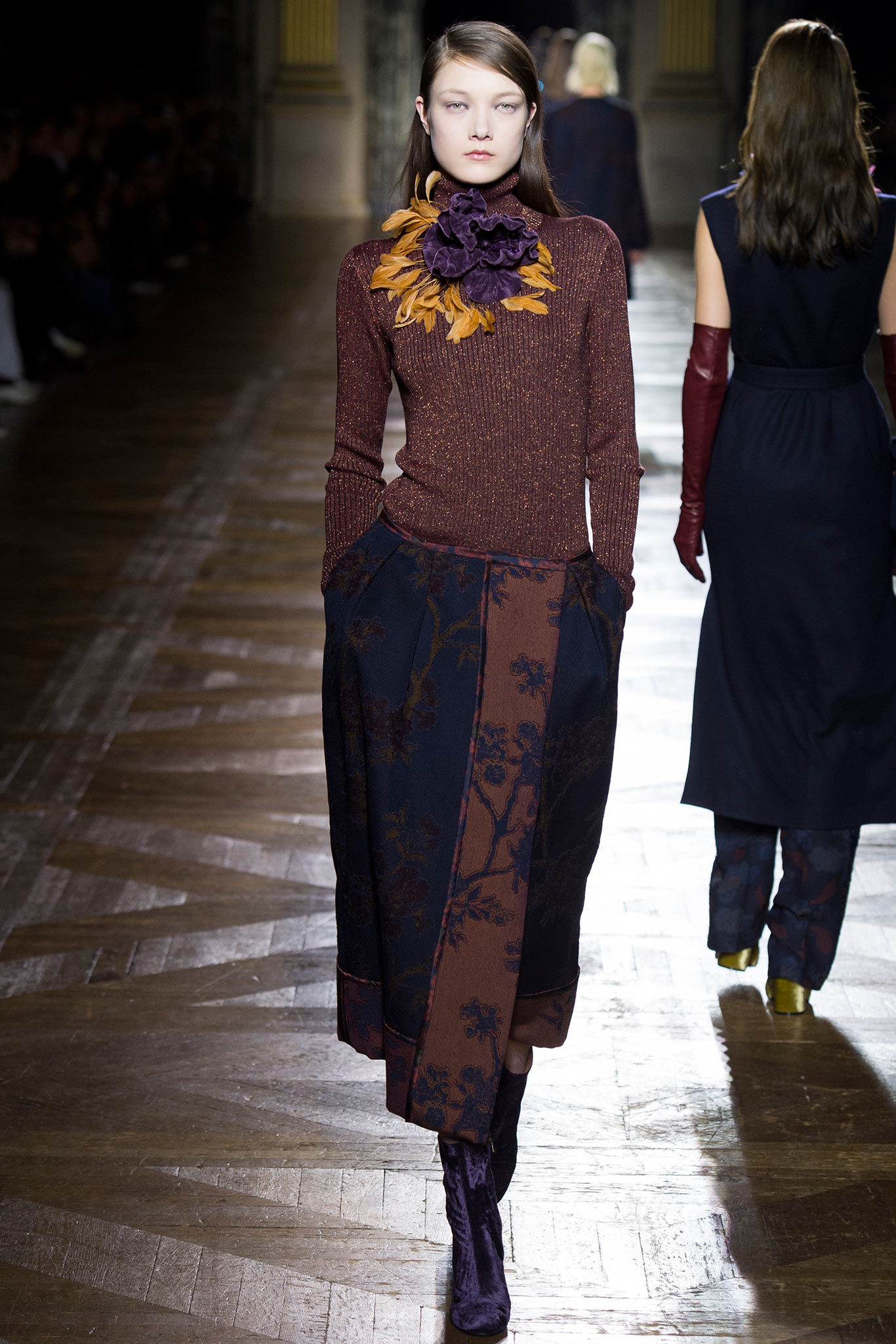 Love the neck treatments, sort of forest folkloric! Its time to bring out all those floral embellishments we were so enamored with thanks to the 3rd season of Sex and the City.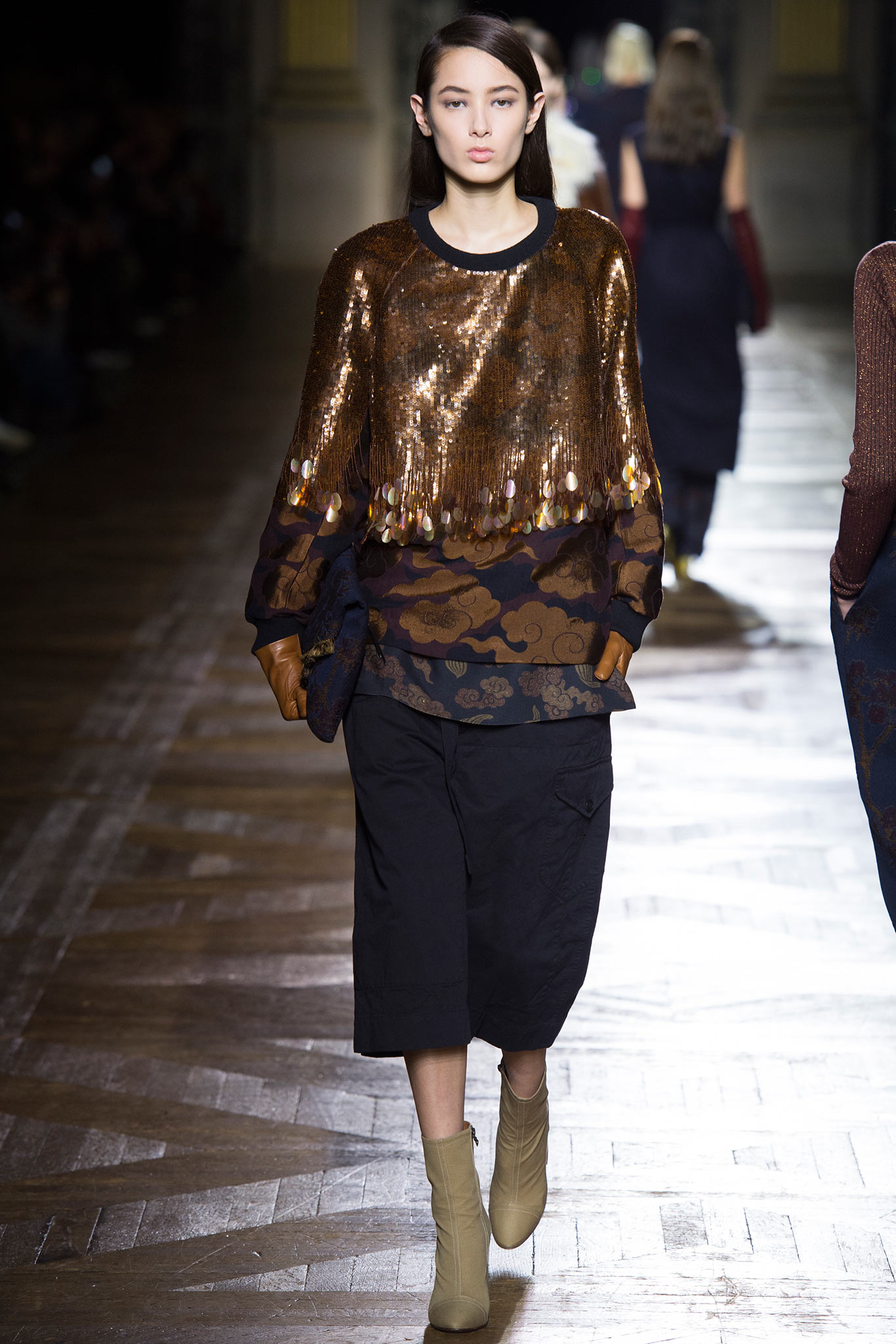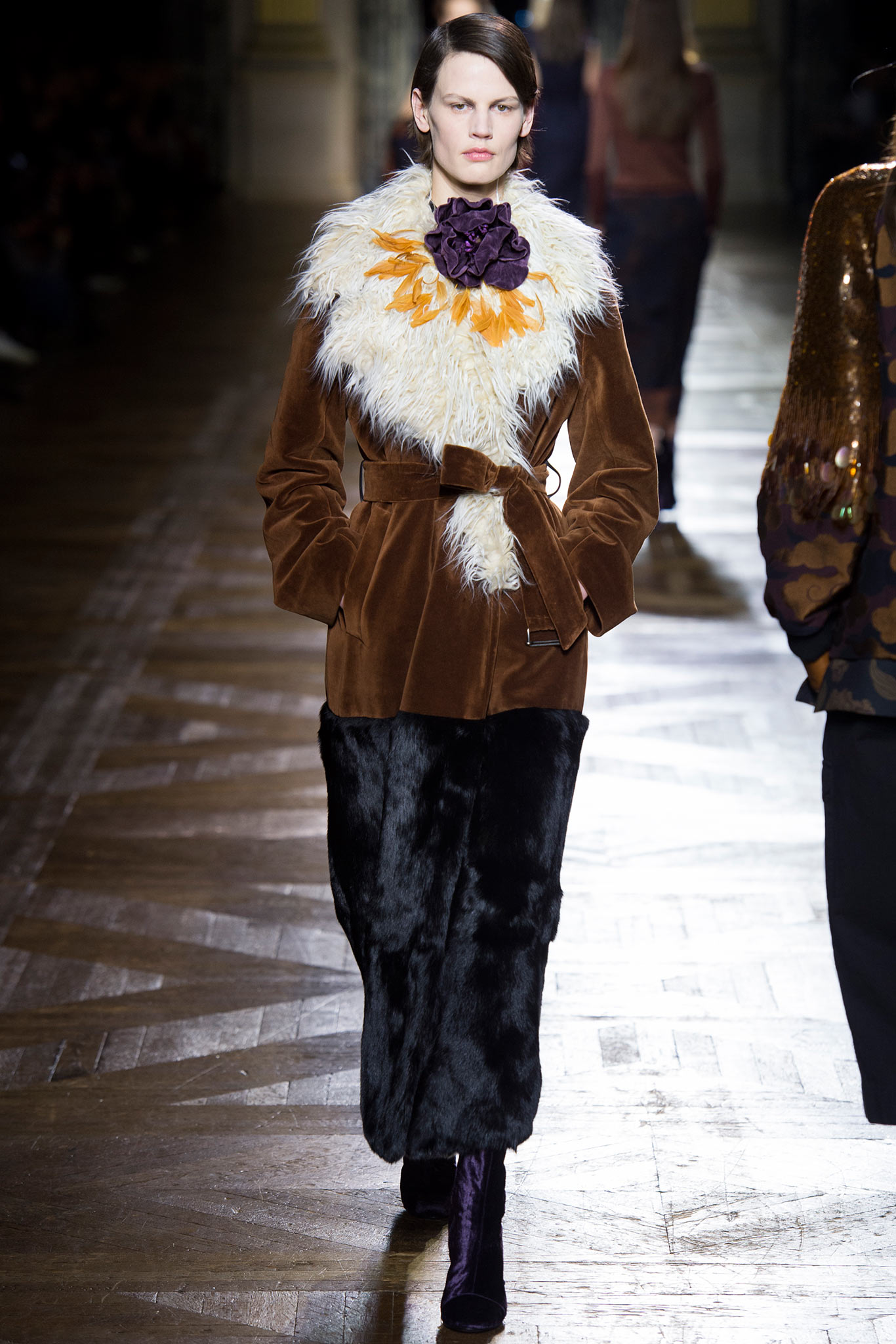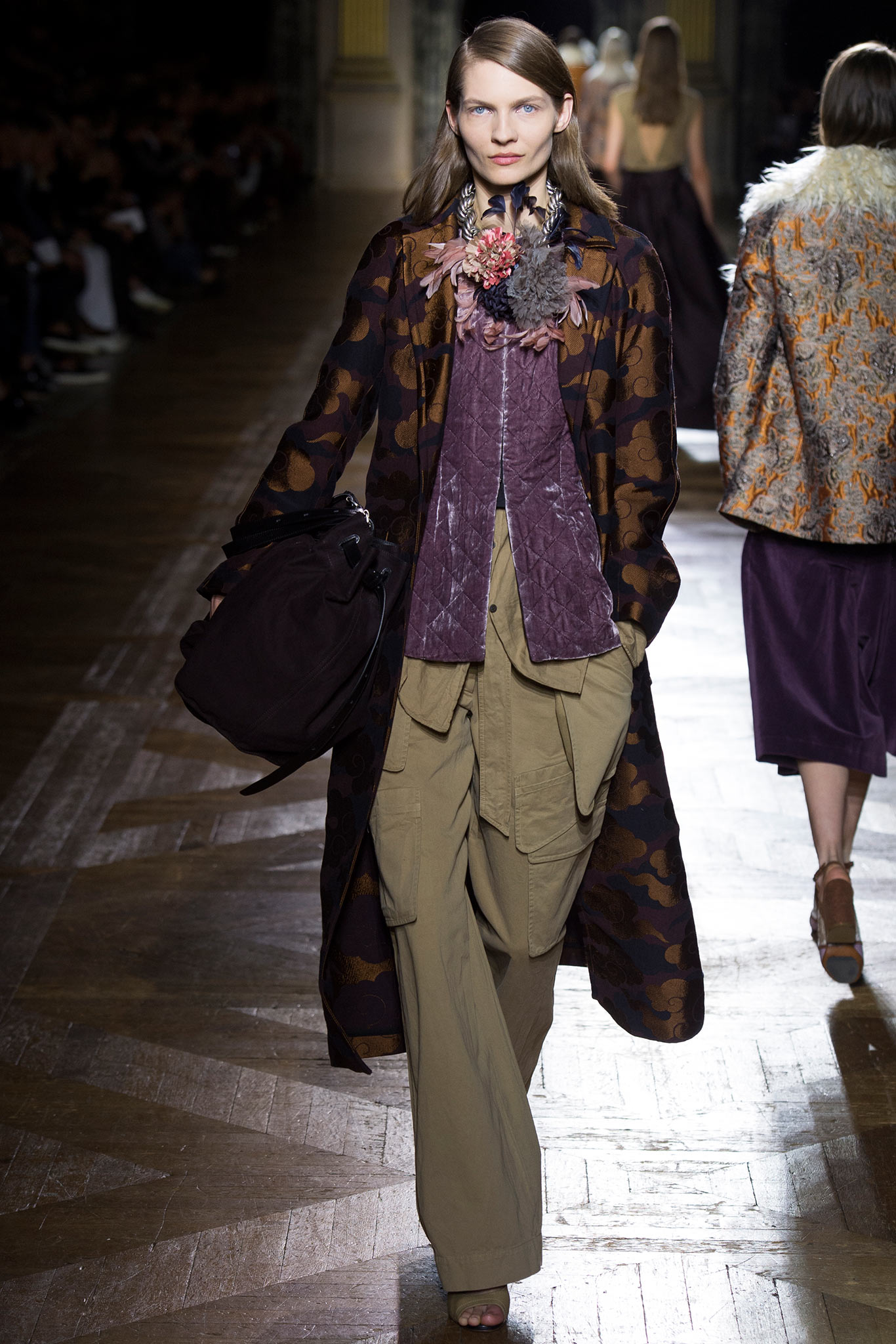 A cornucopia of scrumptious elements. All eminently wearable.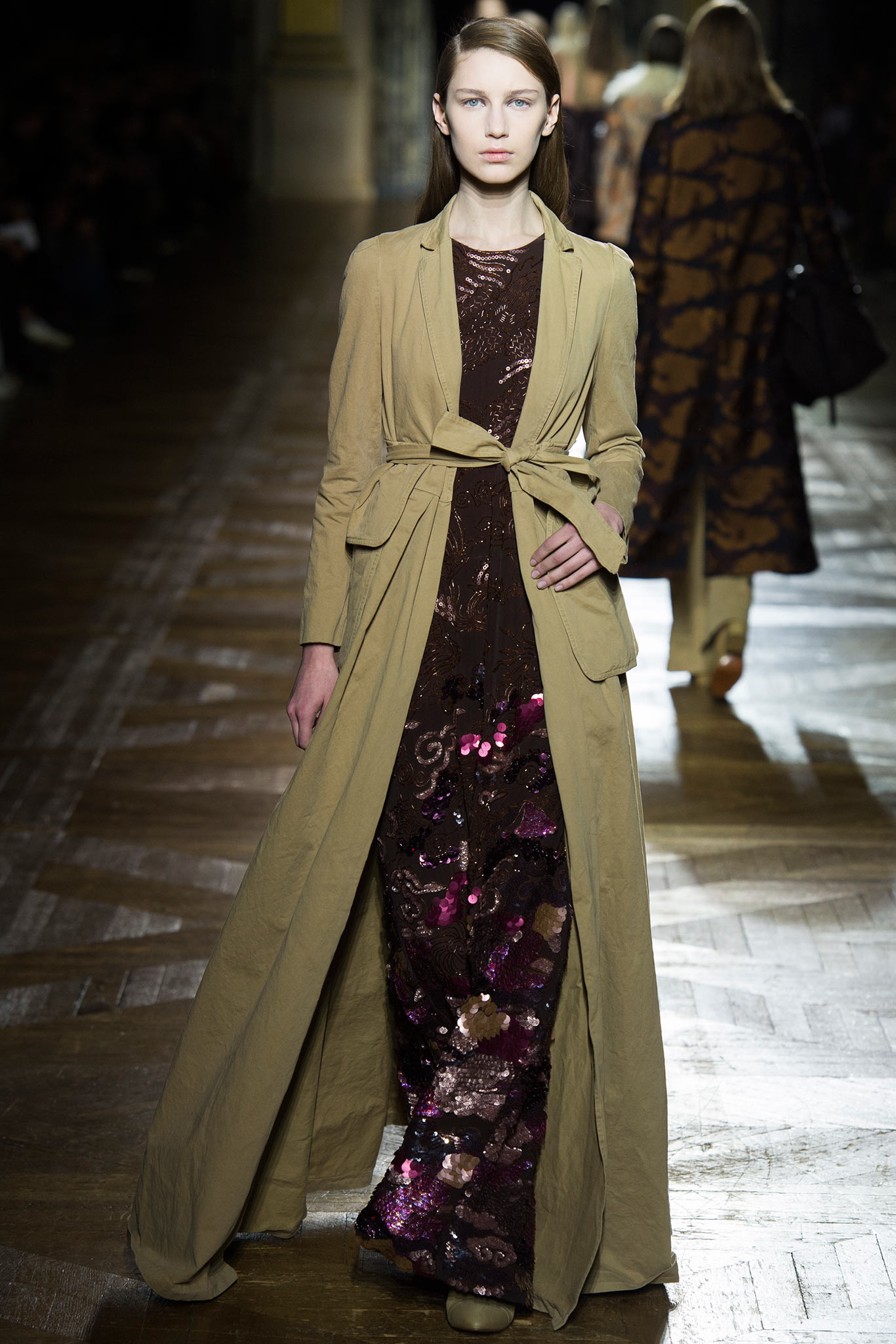 Love the idea of the more staid spartan cocoon which opens up to reveal the lavish heart stopper beneath....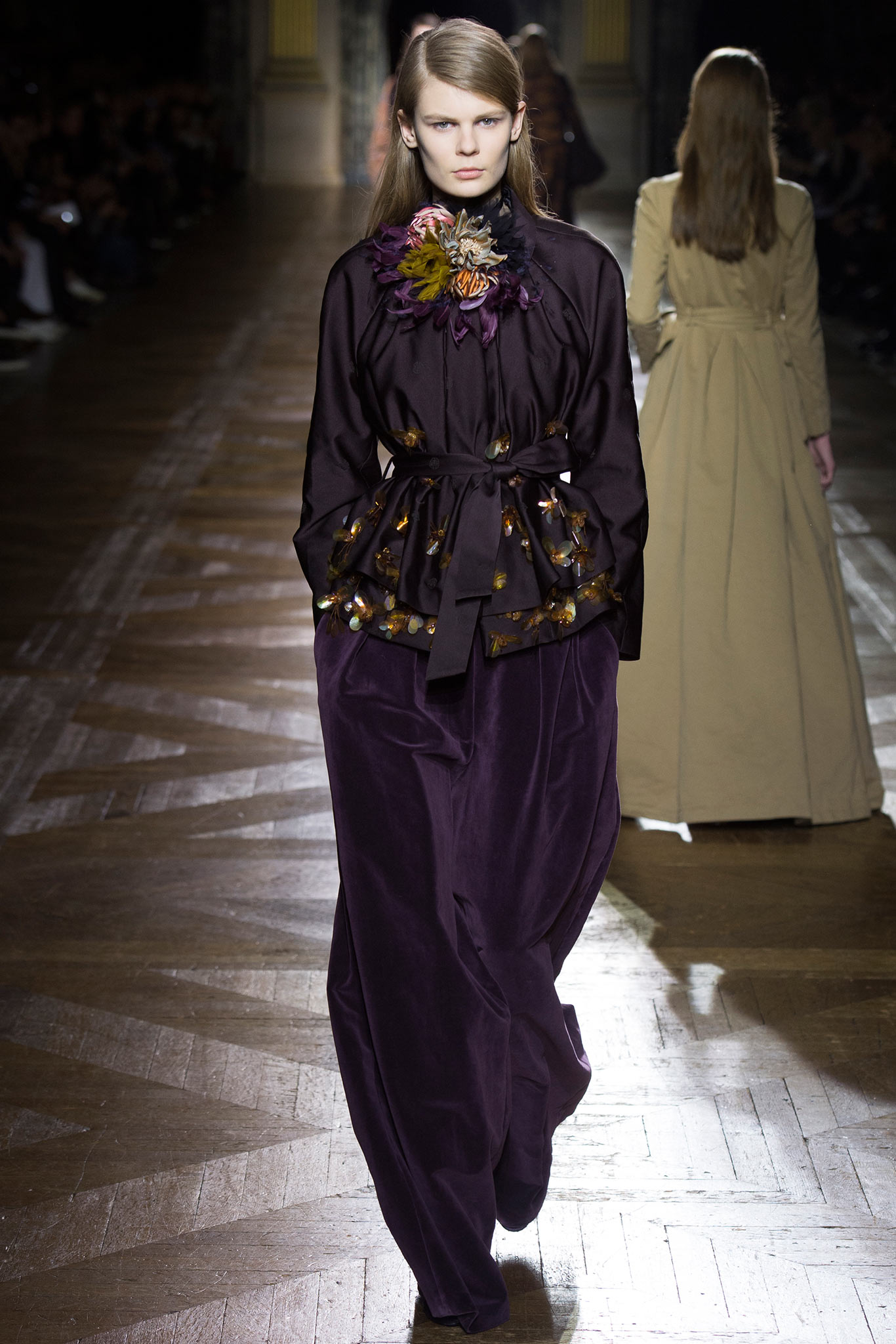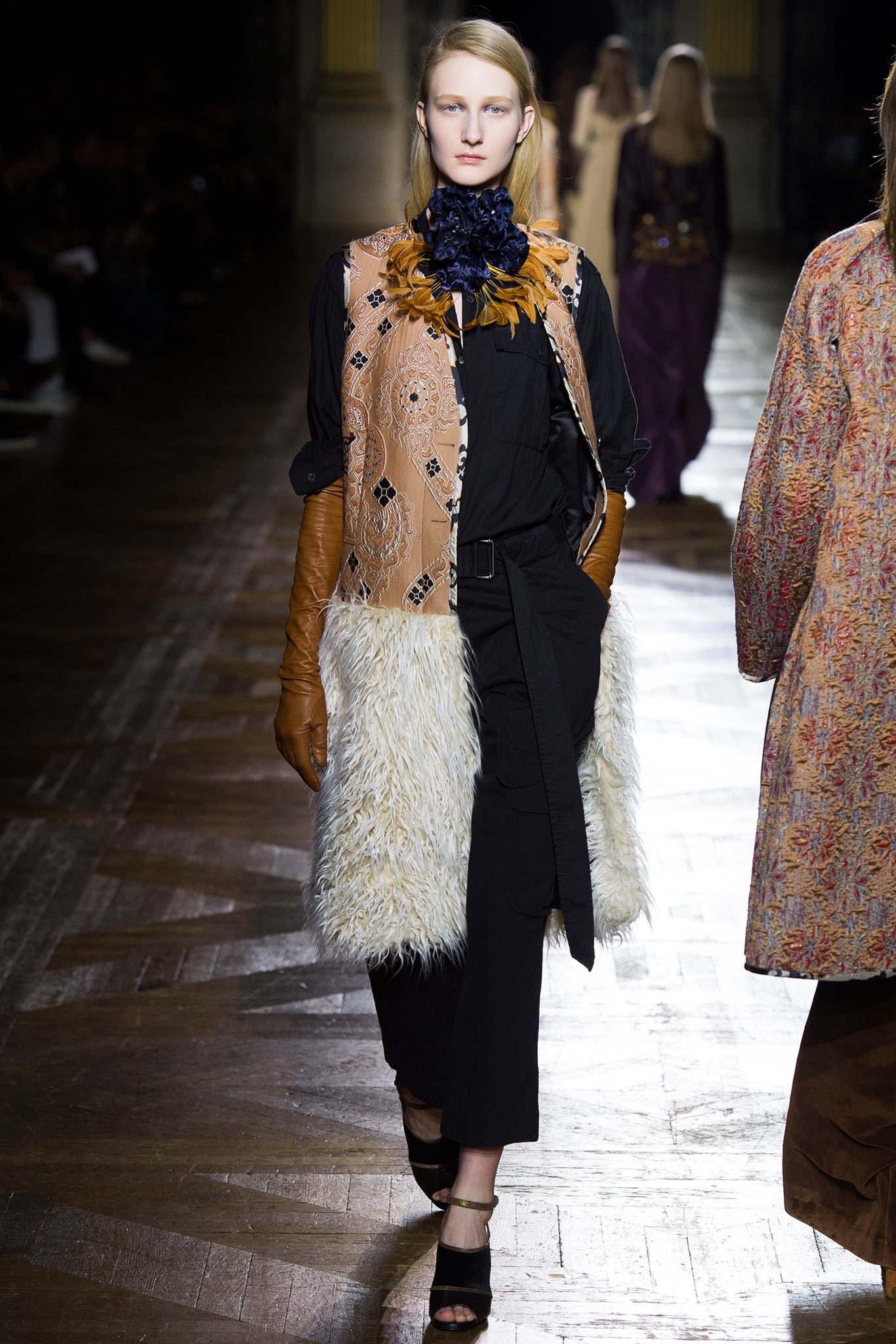 The vest can certainly stand alone, but can also serve as an underpinning or adjunct to another overlying component such as a short leather or embellished jacket.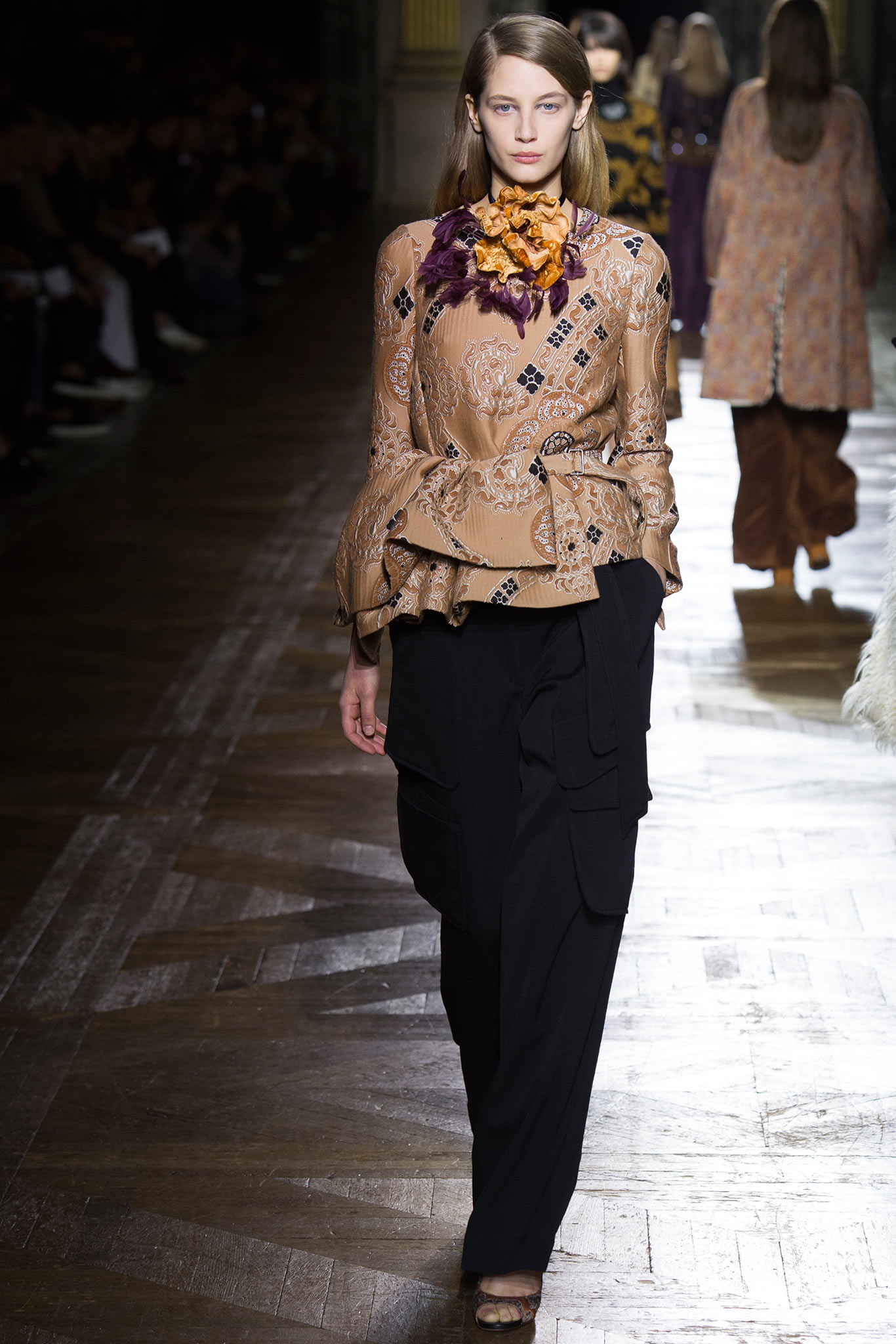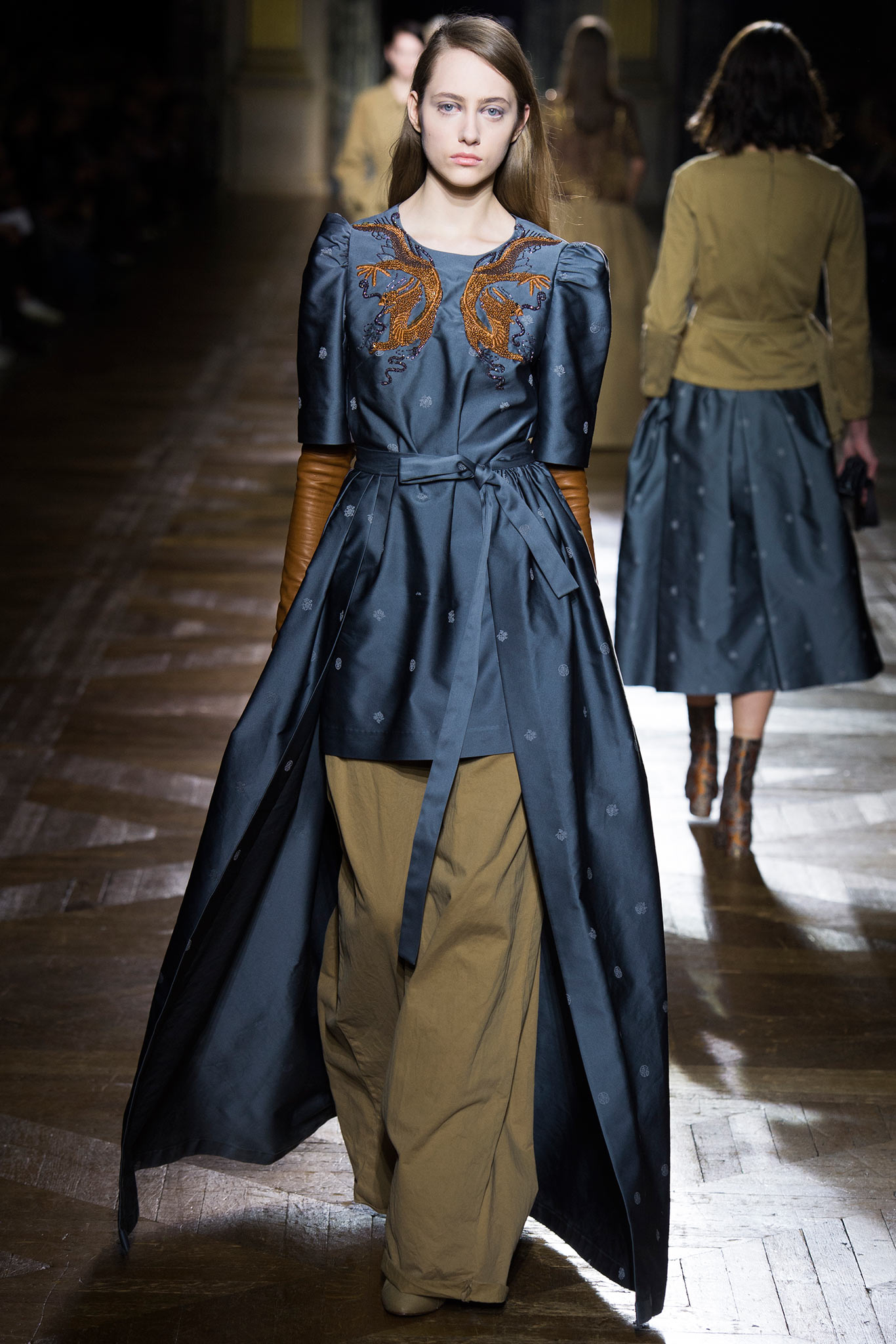 Dries is a master of the counterpoint, two competing themes which combine to form fashion harmony. This ensemble would be intriguing with velvet shoe booties, in any jewel tone.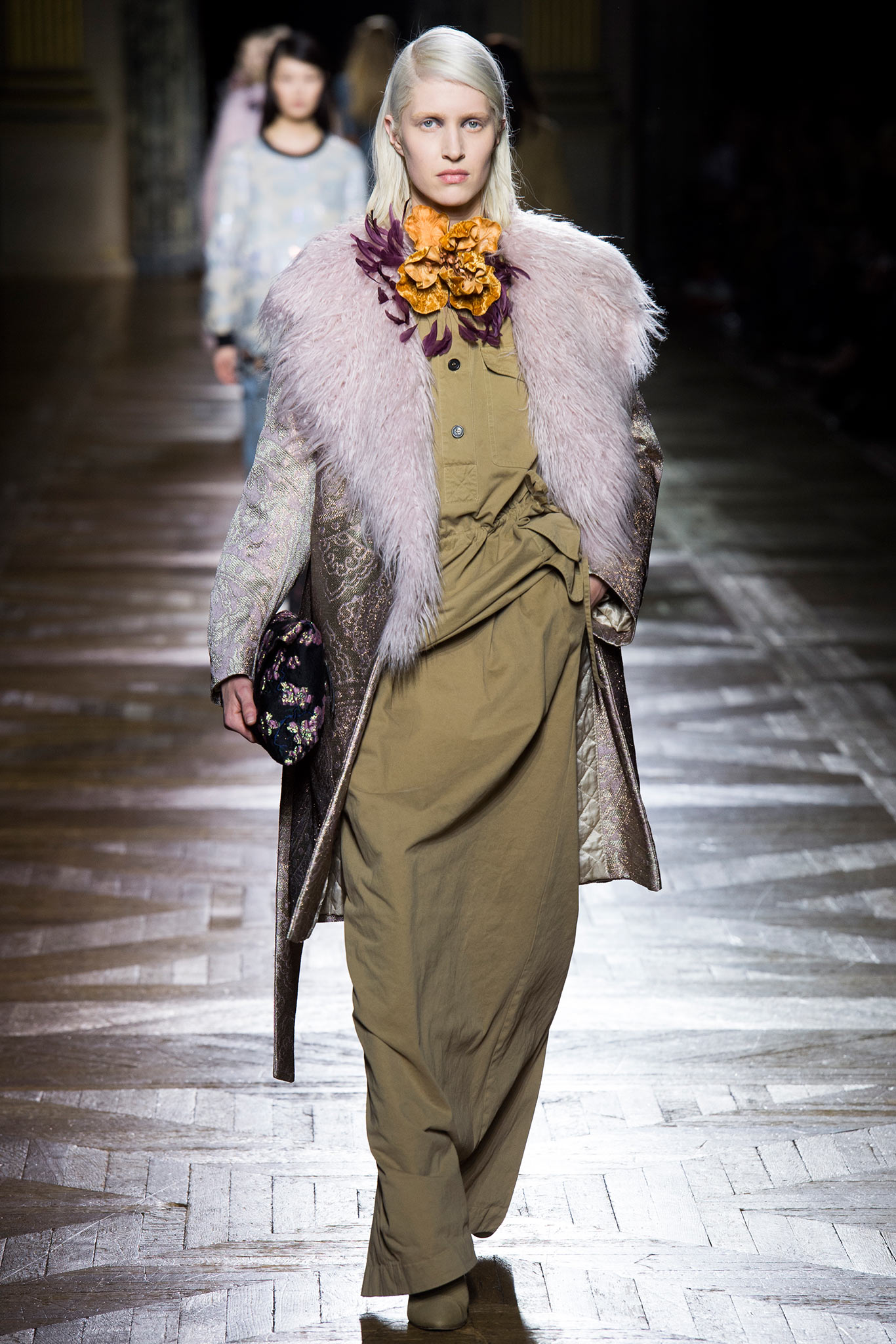 Stellar.......another great topper you'll never tire of.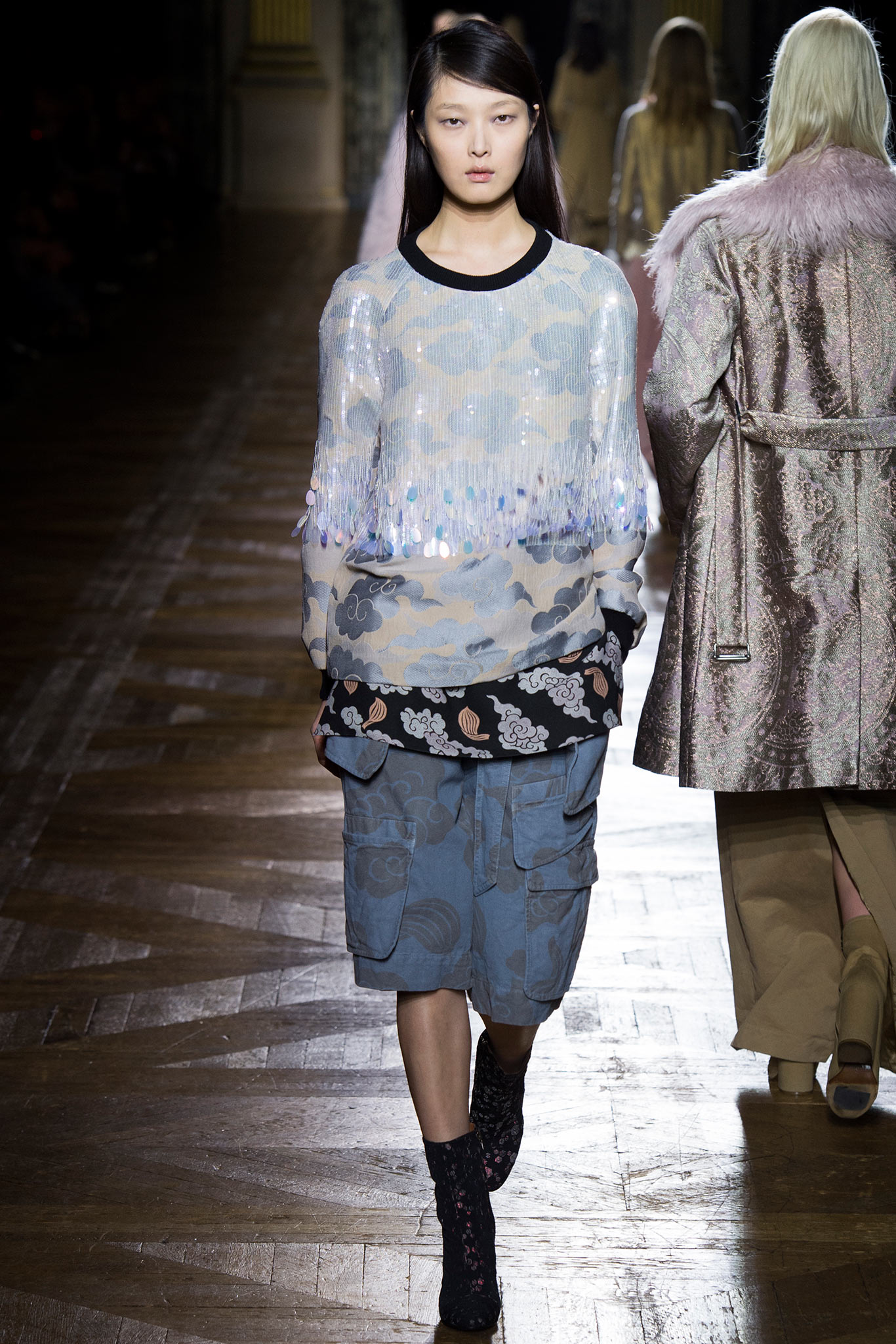 Like Lagerfeld, Van Noten is a big fan of the layers, and the more colors and fabrics involved, the better.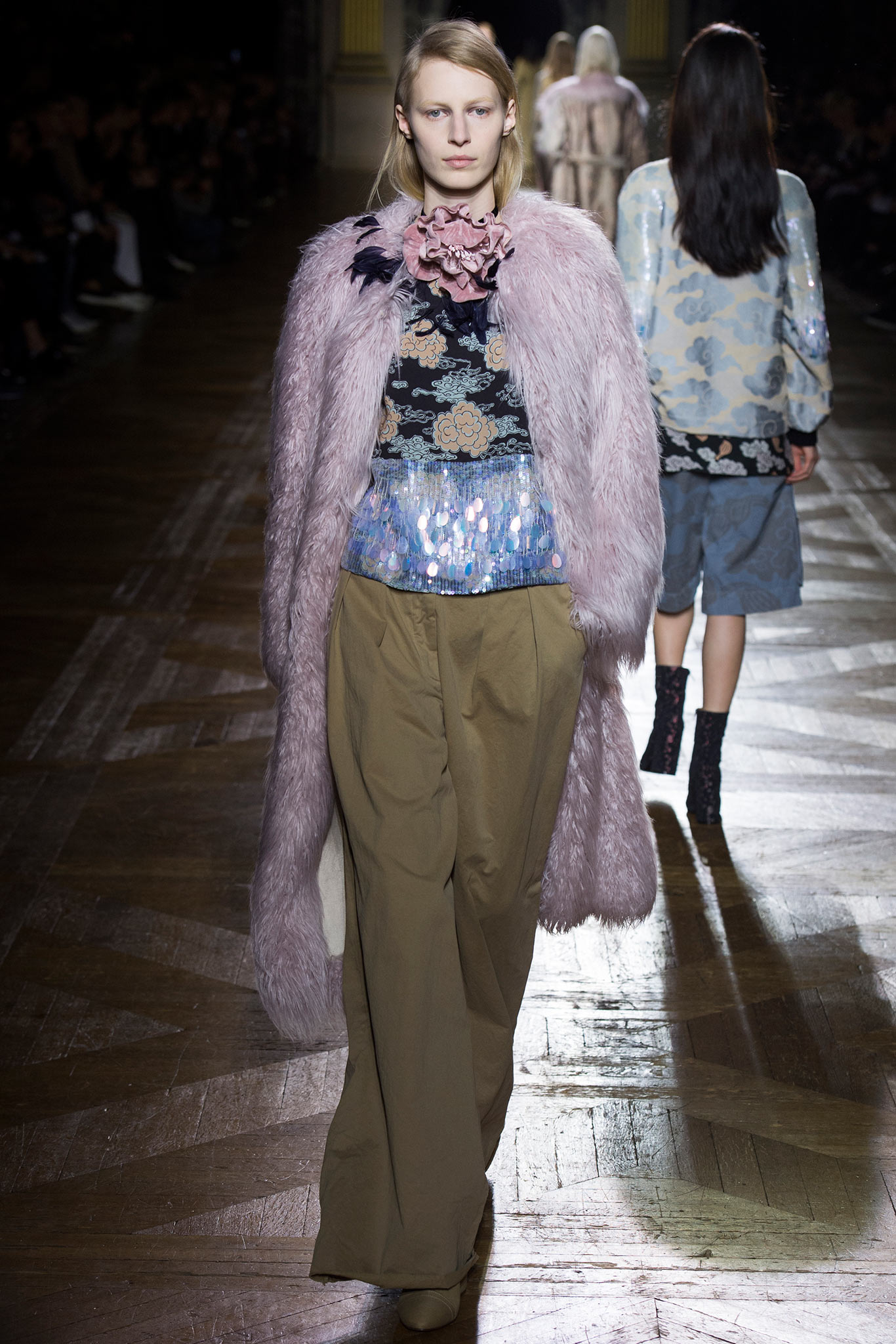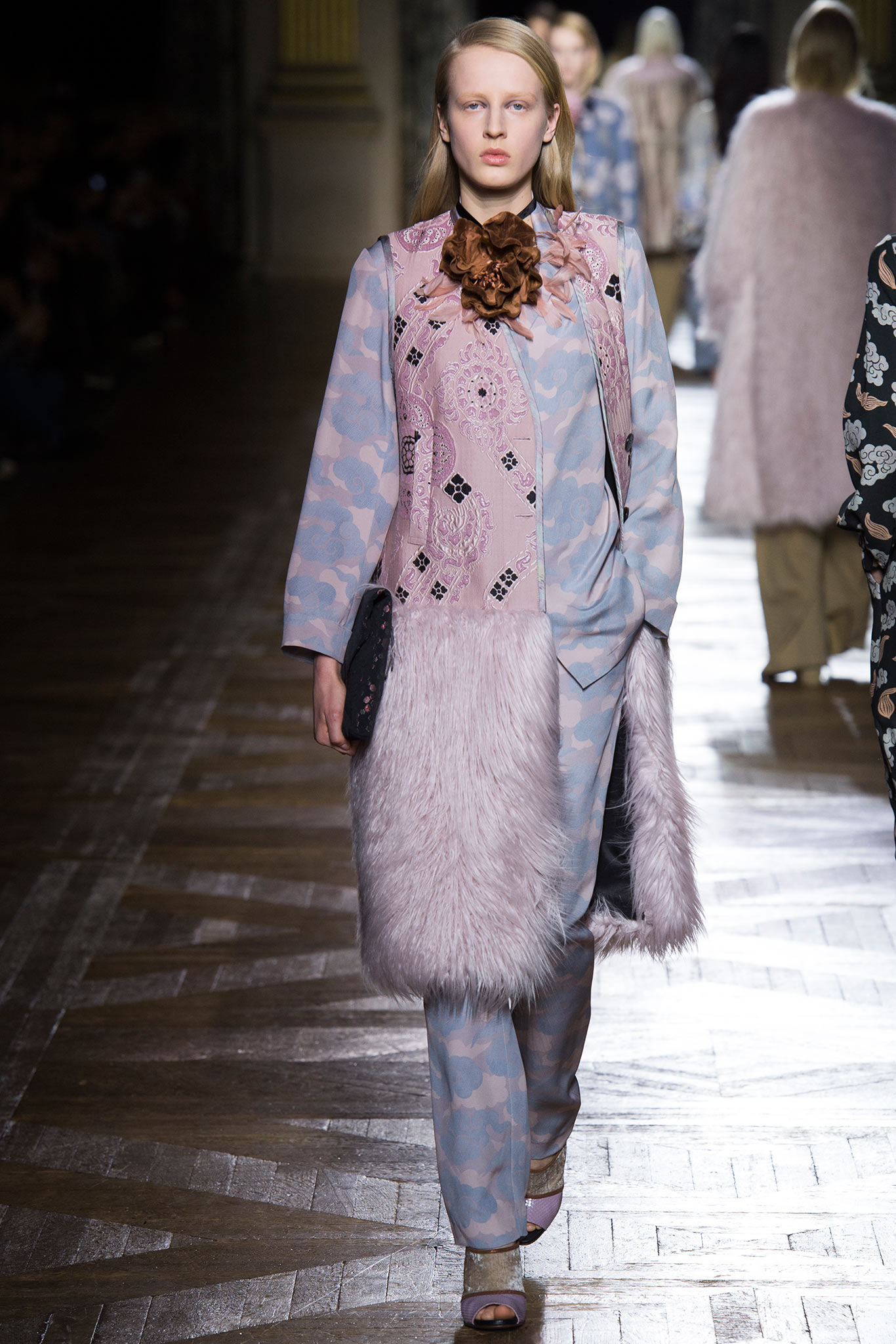 For dramatic effect, throw this vest on OVER a thin long sleeved jacket in competing jacquard. Yum!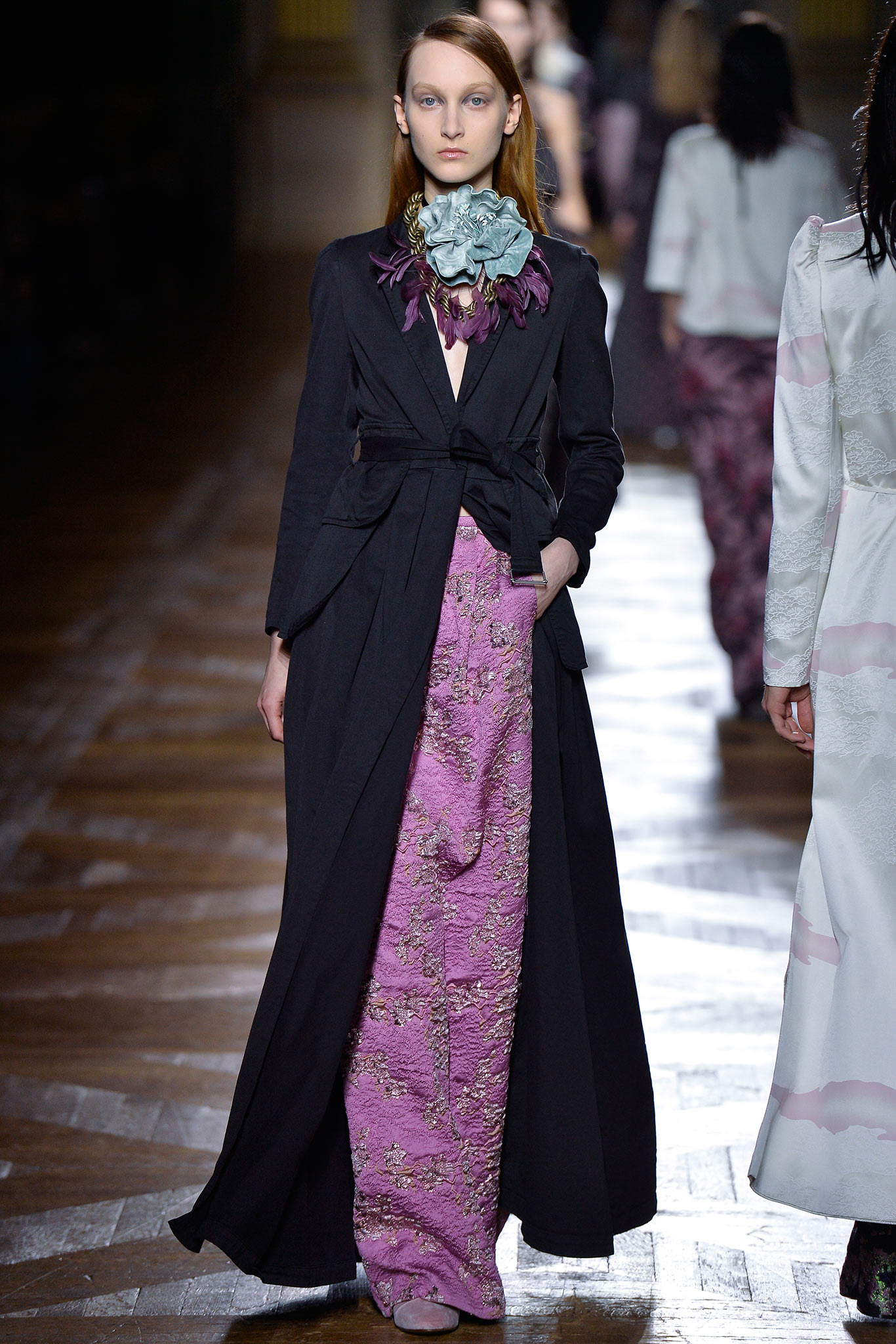 Perfect outfit for any opening or gala affair. Effortless opulence.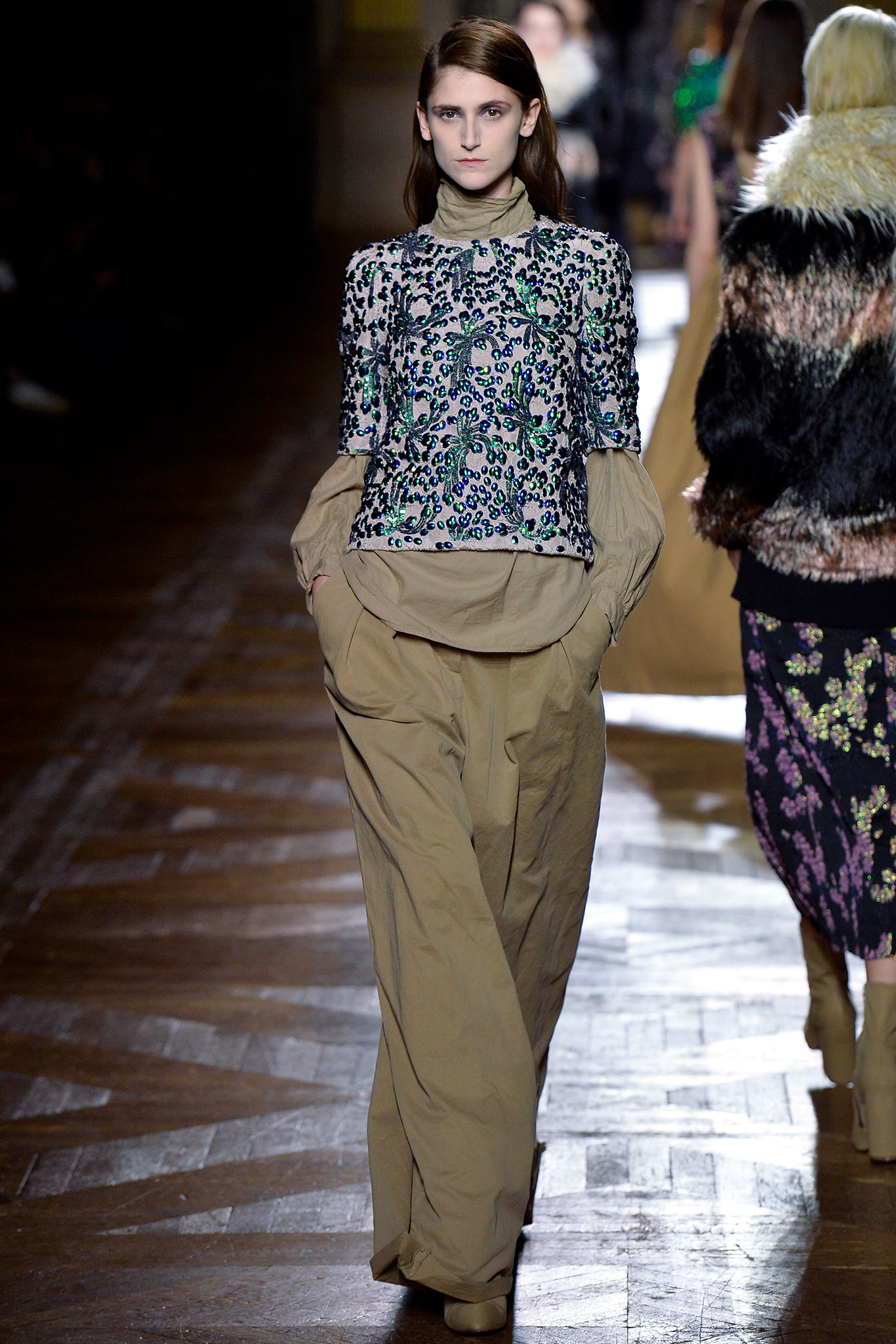 A little whimsical jacquard can go a long way!
These enticing images were brought to you by www.style.com
Cheers!