Ahhhh, April 15th, the most inauspicious, if not downright ignominious day of the year, where codified sanctified pillaging of the populace occurs at an increasingly breakneck speed. And what better salve than a trip down the runways of Milan? Tickets to the upcoming "fight of the century" between Pacquiao and Mayweather aside, there is really nothing so satisfying as witnessing the metaphorical slugfest between the giants of fashion and more recent upstarts. Color, flash, flare, old school glam, and perpetual pizzazz continue to captivate in the ring.
GIORGIO ARMANI:
The master is celebrating 40 years in the business. Talk about a varied collection, Armani shows an expansive assembly of the tried and true with the relatively spartan pant suits with short fitted jackets and narrow tapered pants, a mod contingent, and the requisite beaded fanfare for the end of the runway denouement. Much black is to be had however an ironic spring palette commingles for added zest! I've never considered myself an Armani gal, but many pieces tickled my fancy and engendered a bit of drool around the corners of my mouth.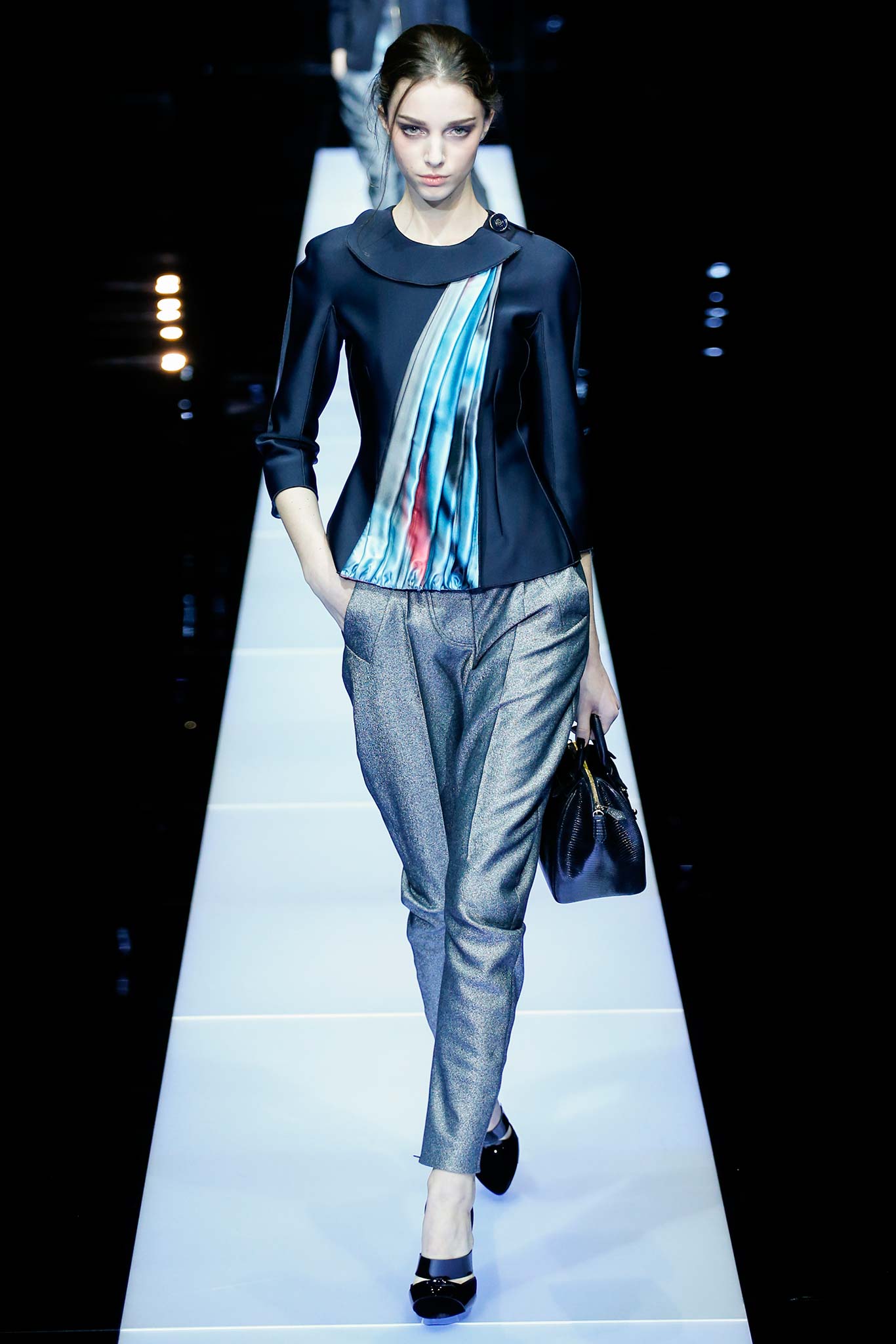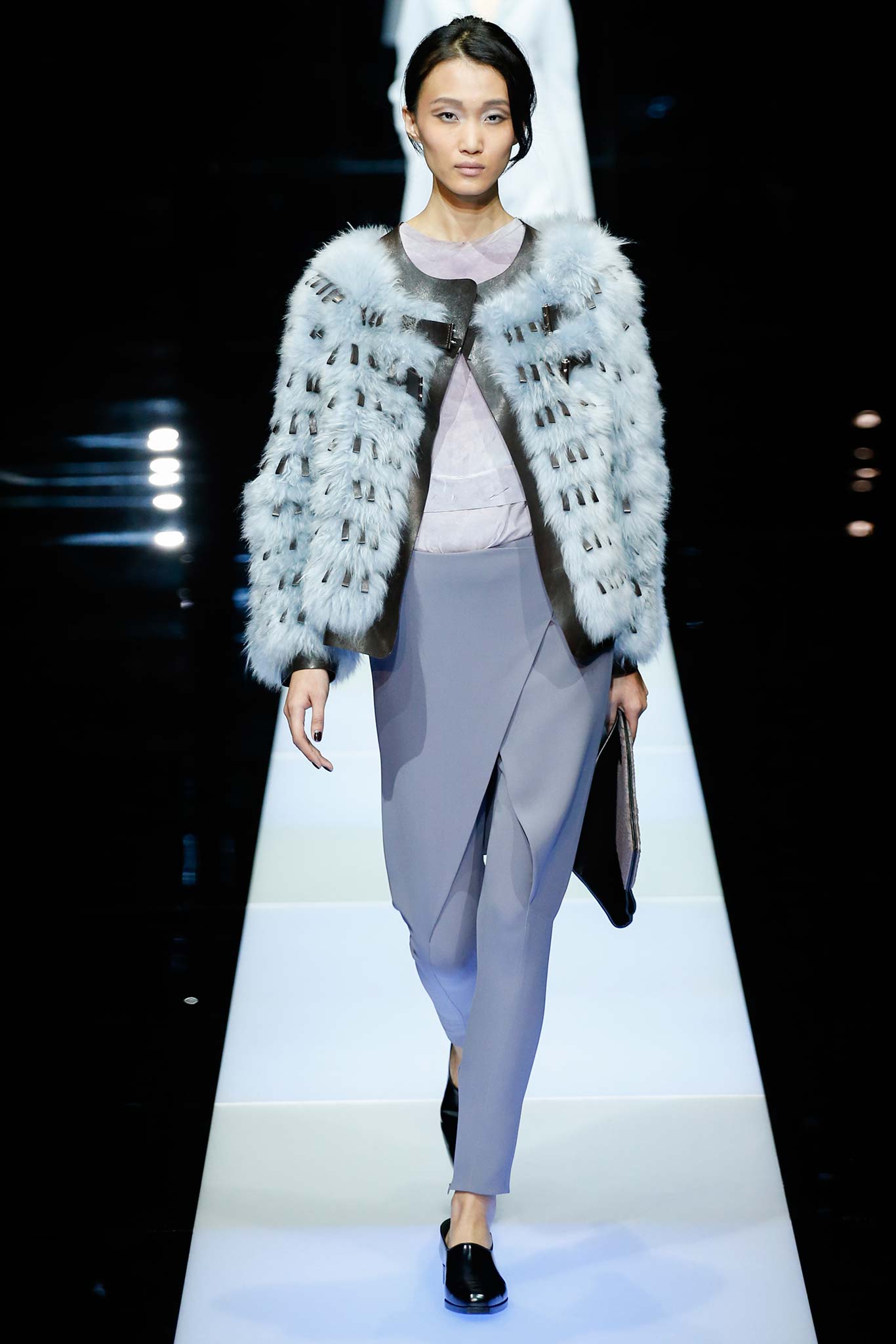 I'm loving these wacky skirt pants which provide an unexpected contrast to the usual Armani pants. And they can easily be stuffed into some riding boots!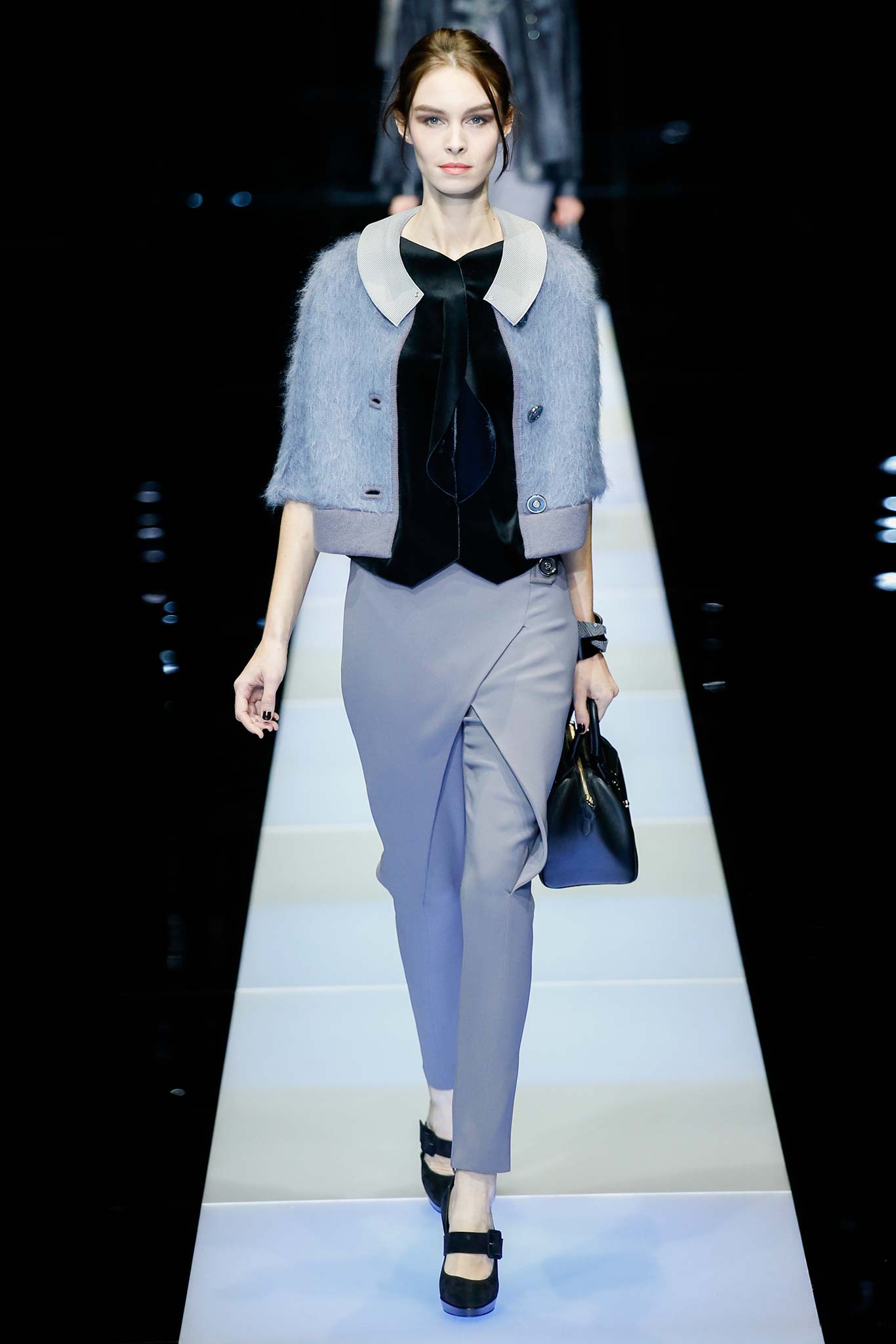 Sweet and fashion forward at the same time, sort of a mixture of Jackie-O and mod gal.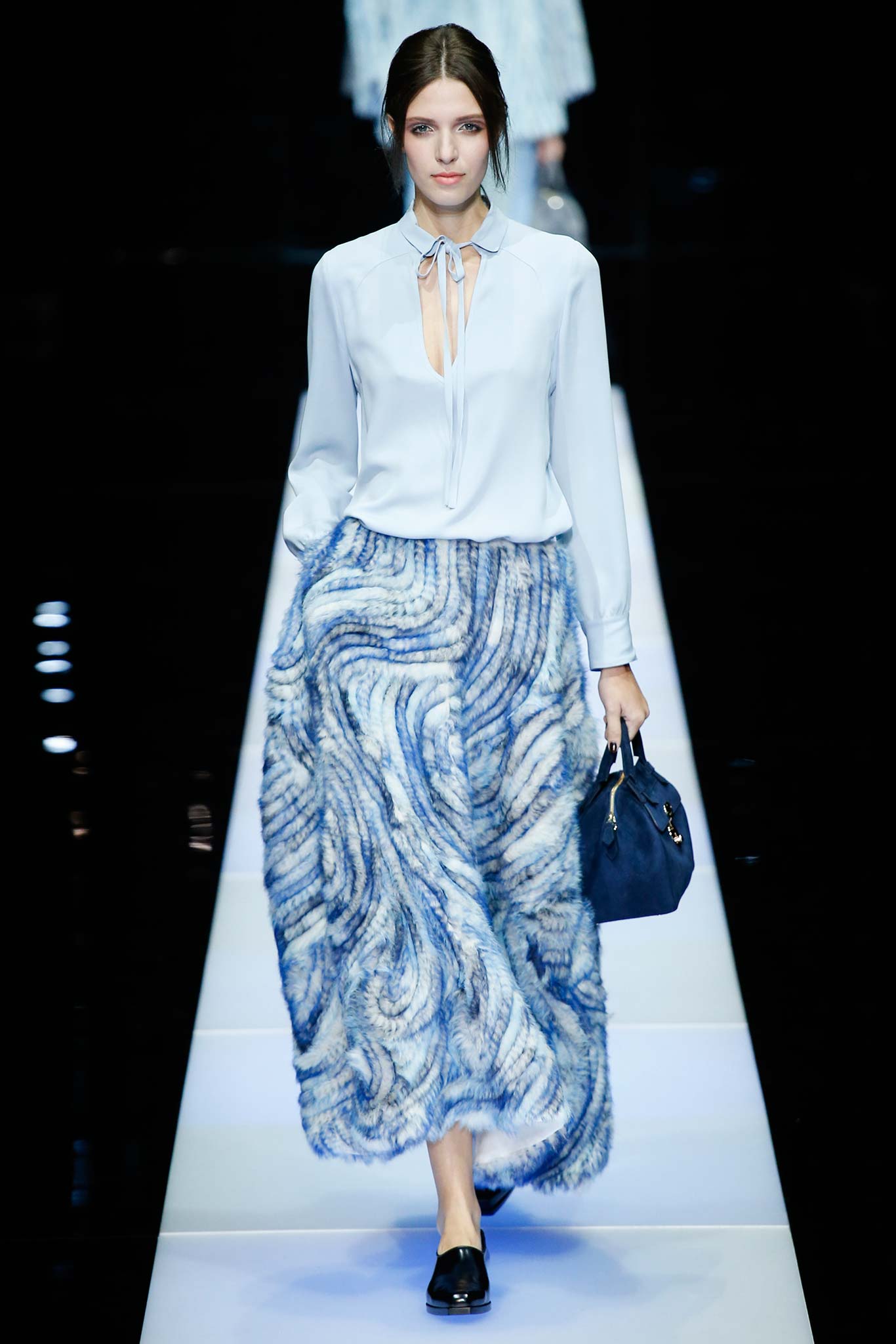 Armani is well known for his Prive couture line which has been making the red carpet dwellers presentable for years, and most likely you'll only see these wondrous concoctions if you have the stamina to watch the otherwise insufferably intolerable awards shows, or occasionally in the usual fashion magazines. However, more scaled down but still gorgeous fare makes it into this vast collection. A dreamy skirt like this should be paired with a simple top.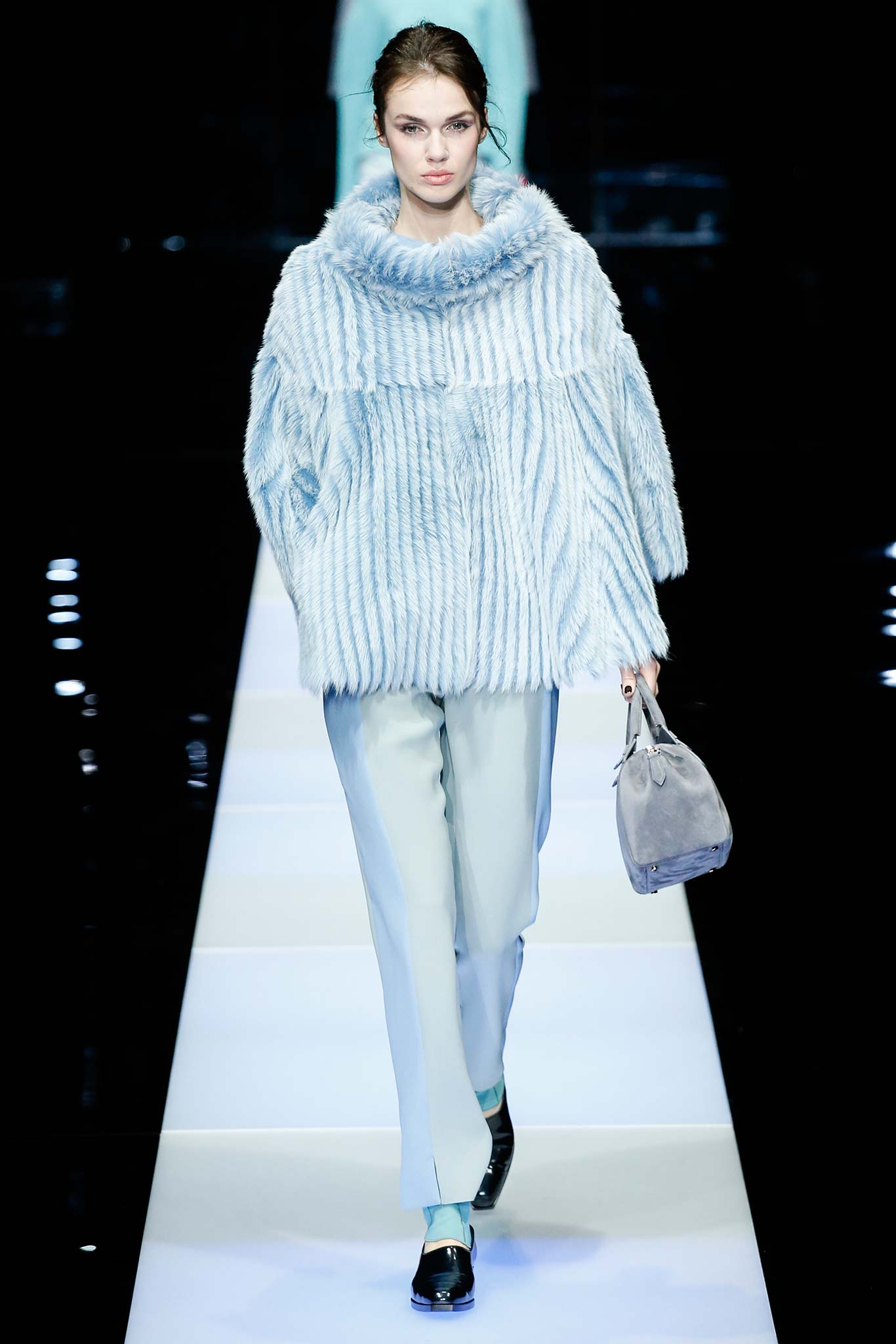 Posh and sporty….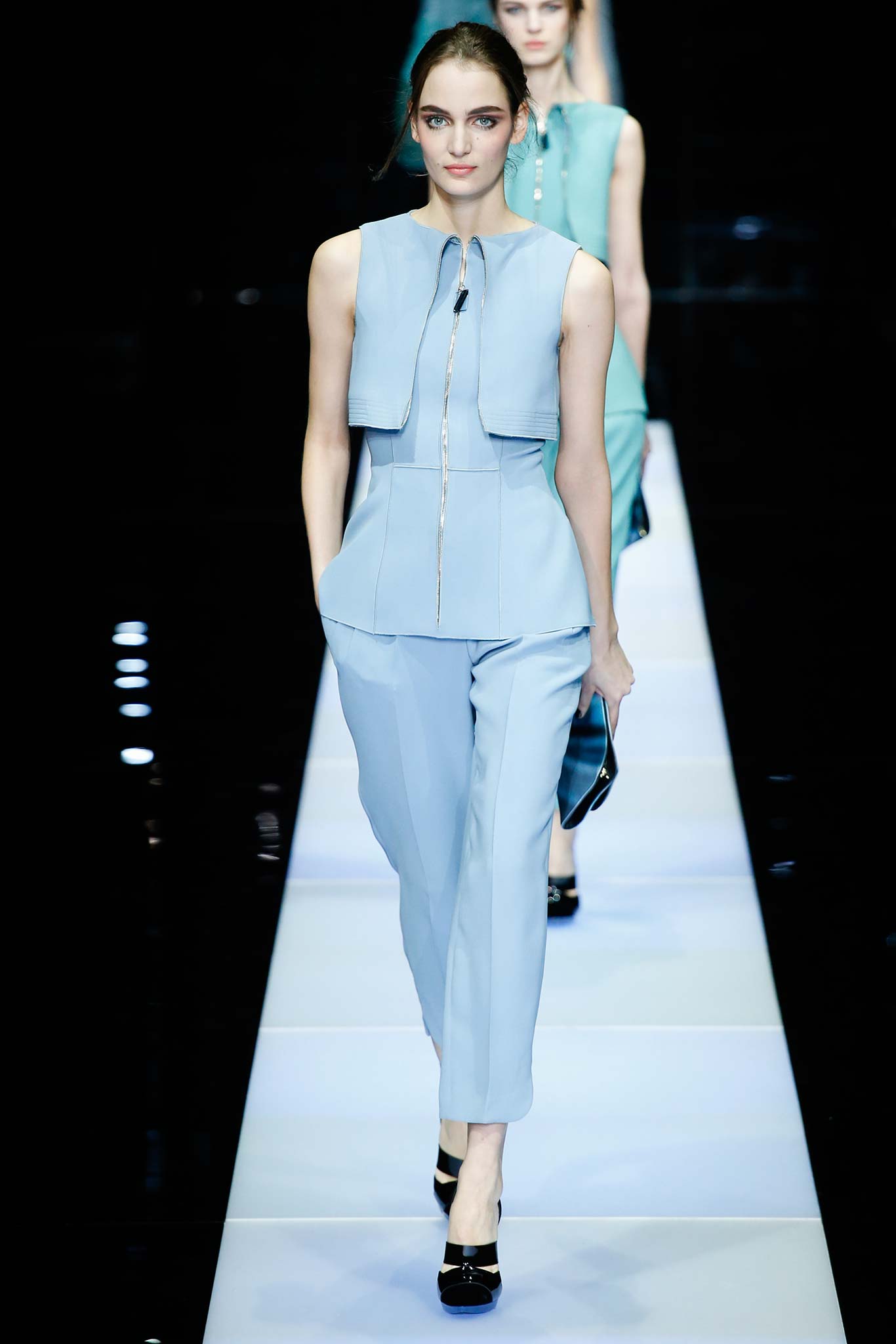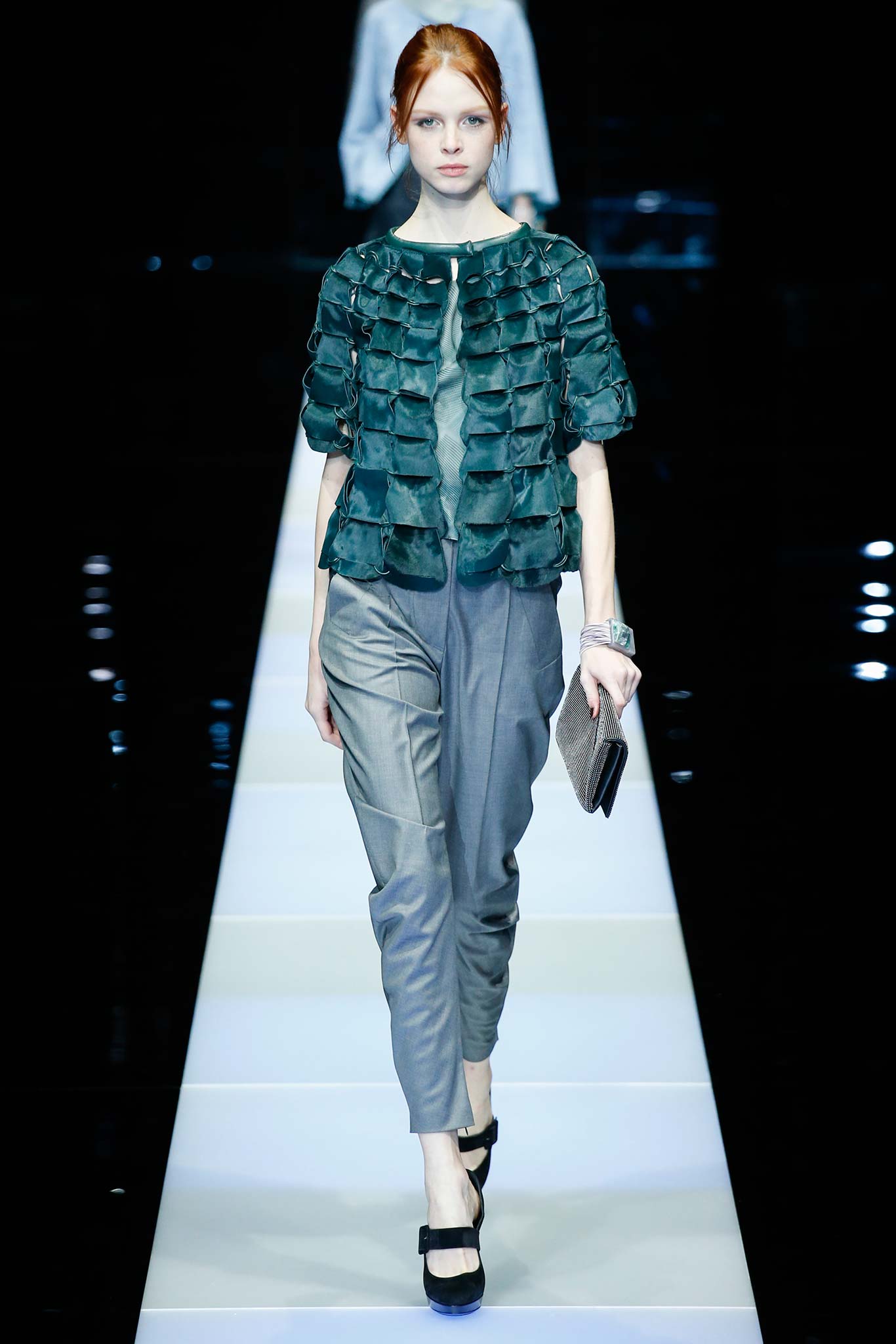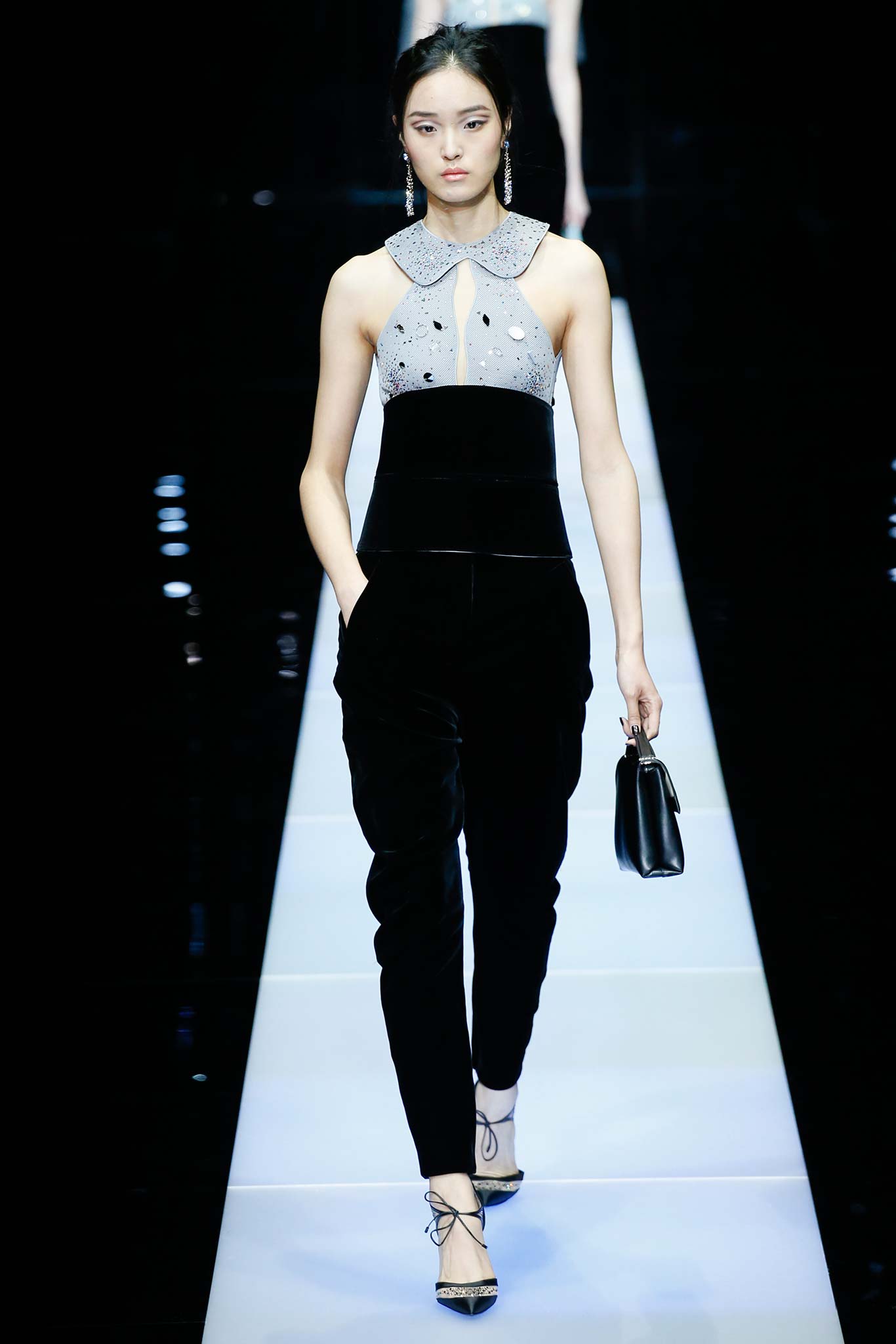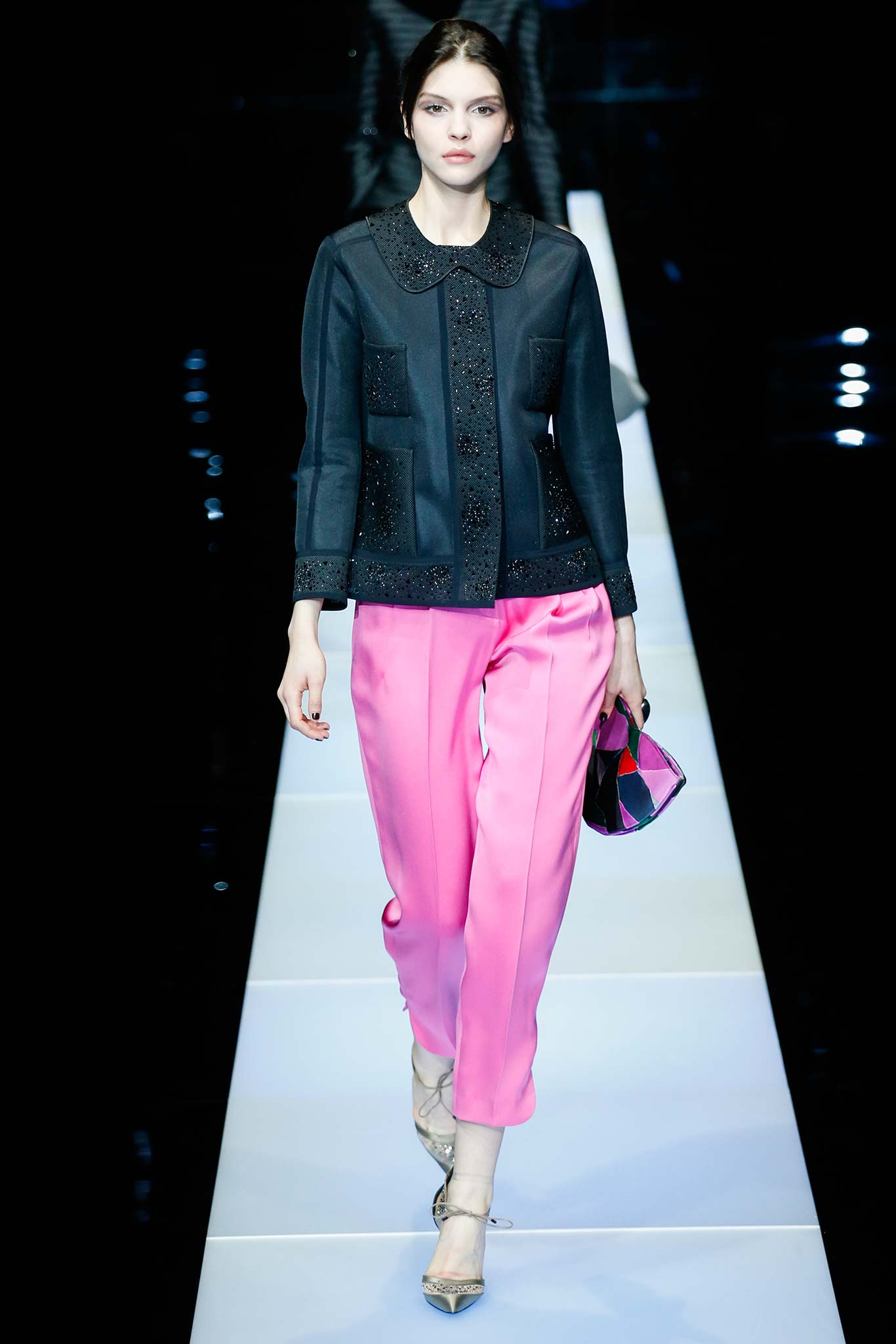 This clever ensemble provides toned down elegance for the pants lover (guilty as charged) who also wants to keep the waist under wraps. Chic and festive, add stilettos for a gala affair or patent leather flats for dinner out. Both are classic separates which can be mixed and matched with anything in your wardrobe. Wear the pants with a white T shirt and espadrilles (all the rage these days in a host of patterns and colors).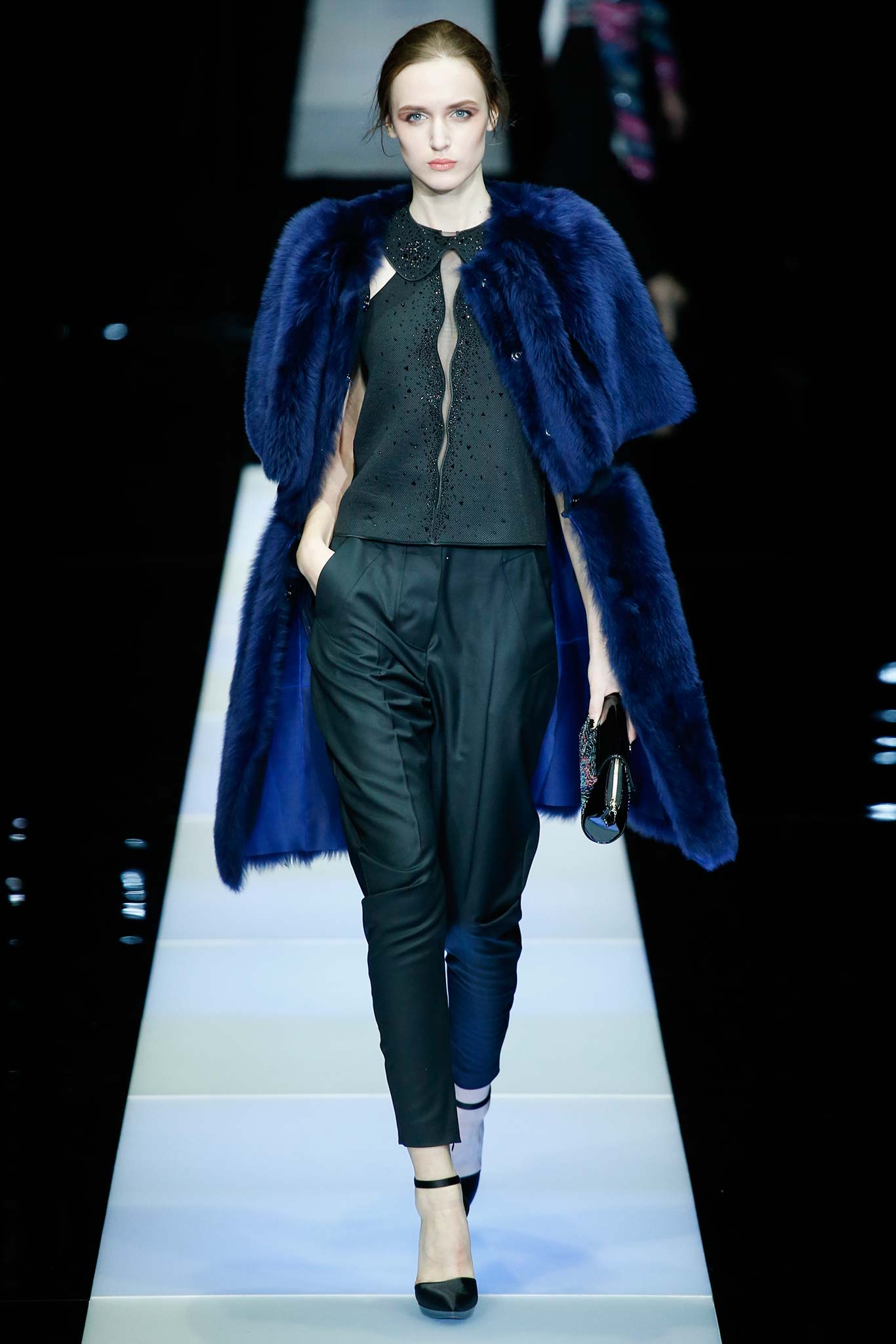 The coat was too beautiful to ignore……..sigh...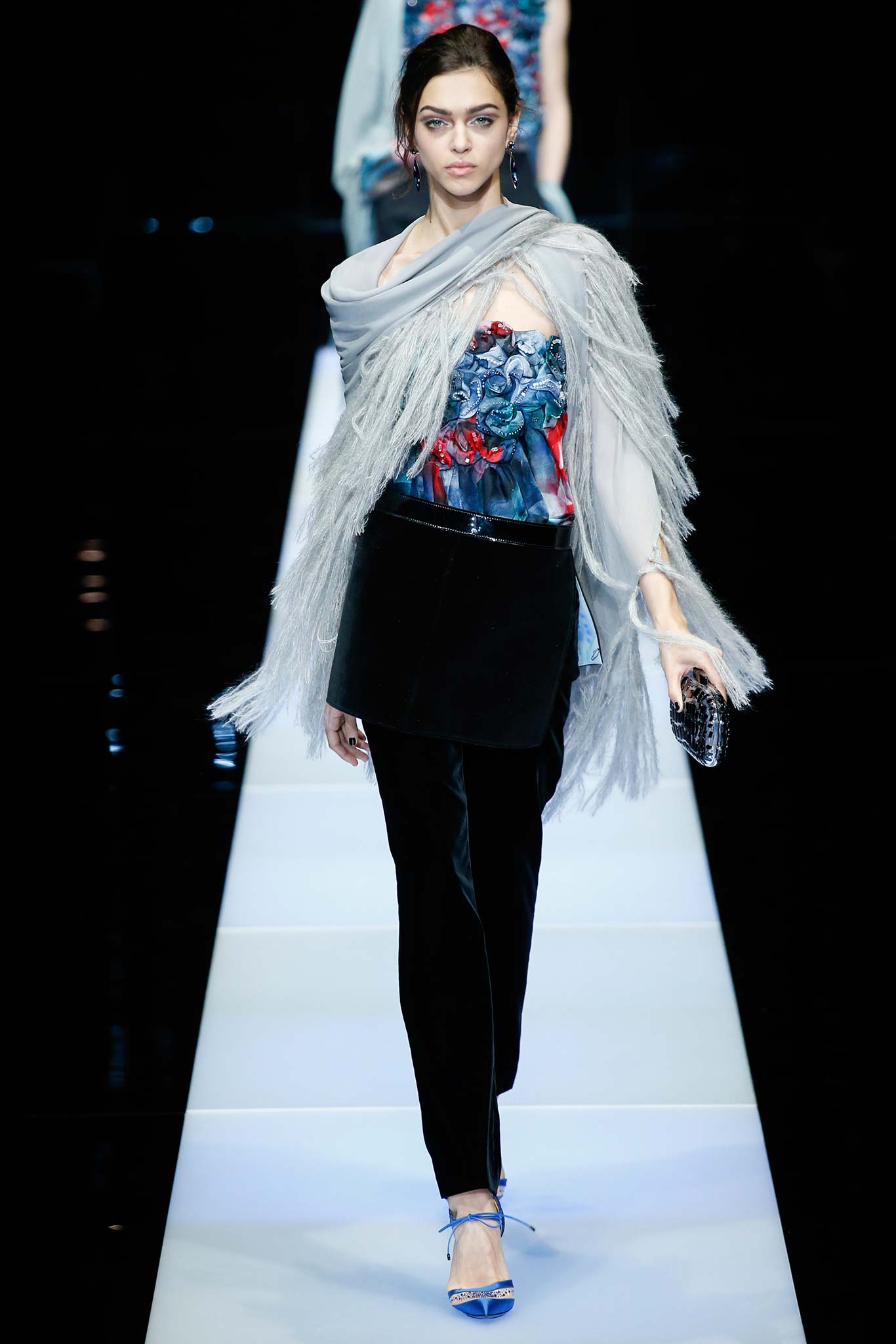 A tuxedo jacket would top off this ensemble.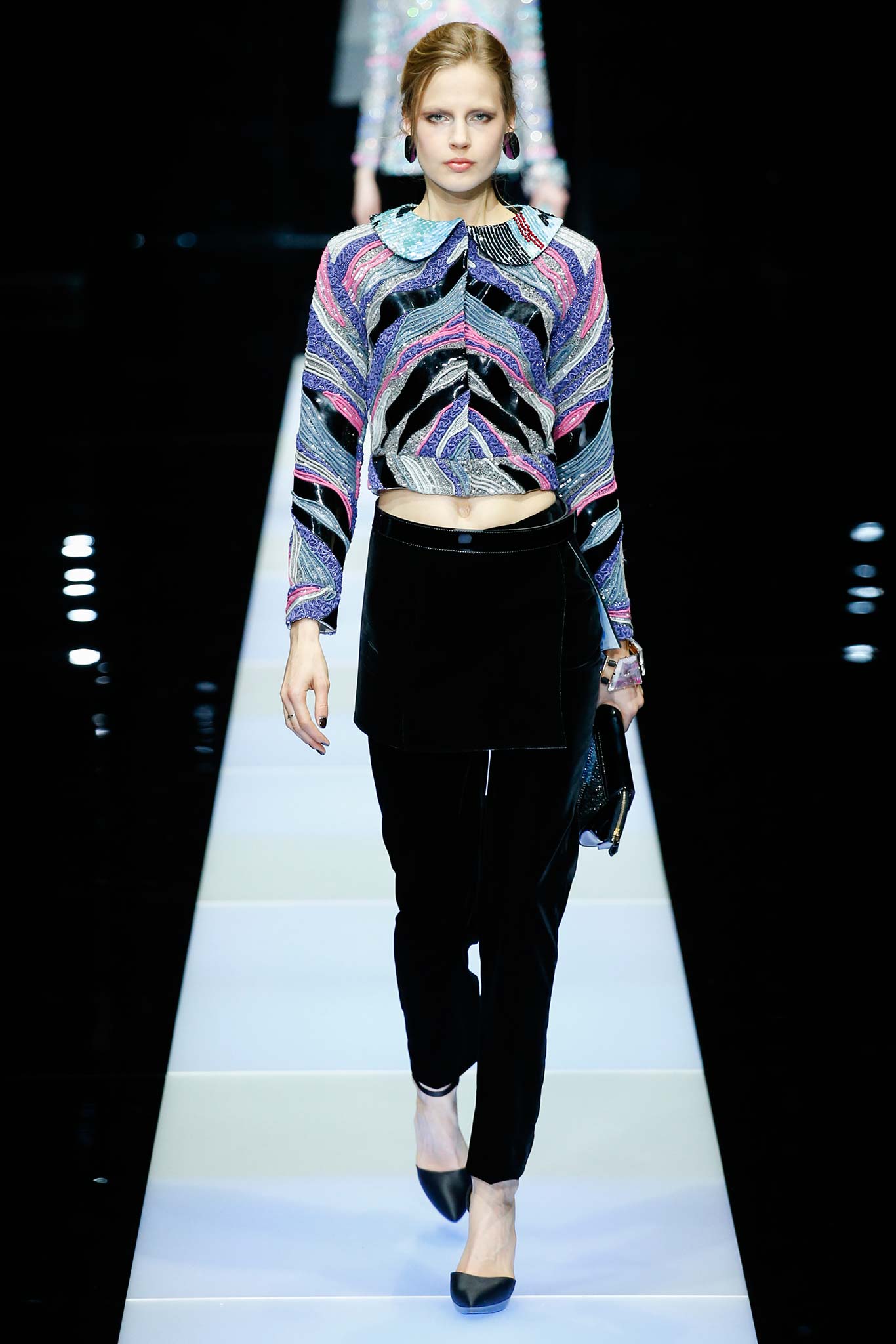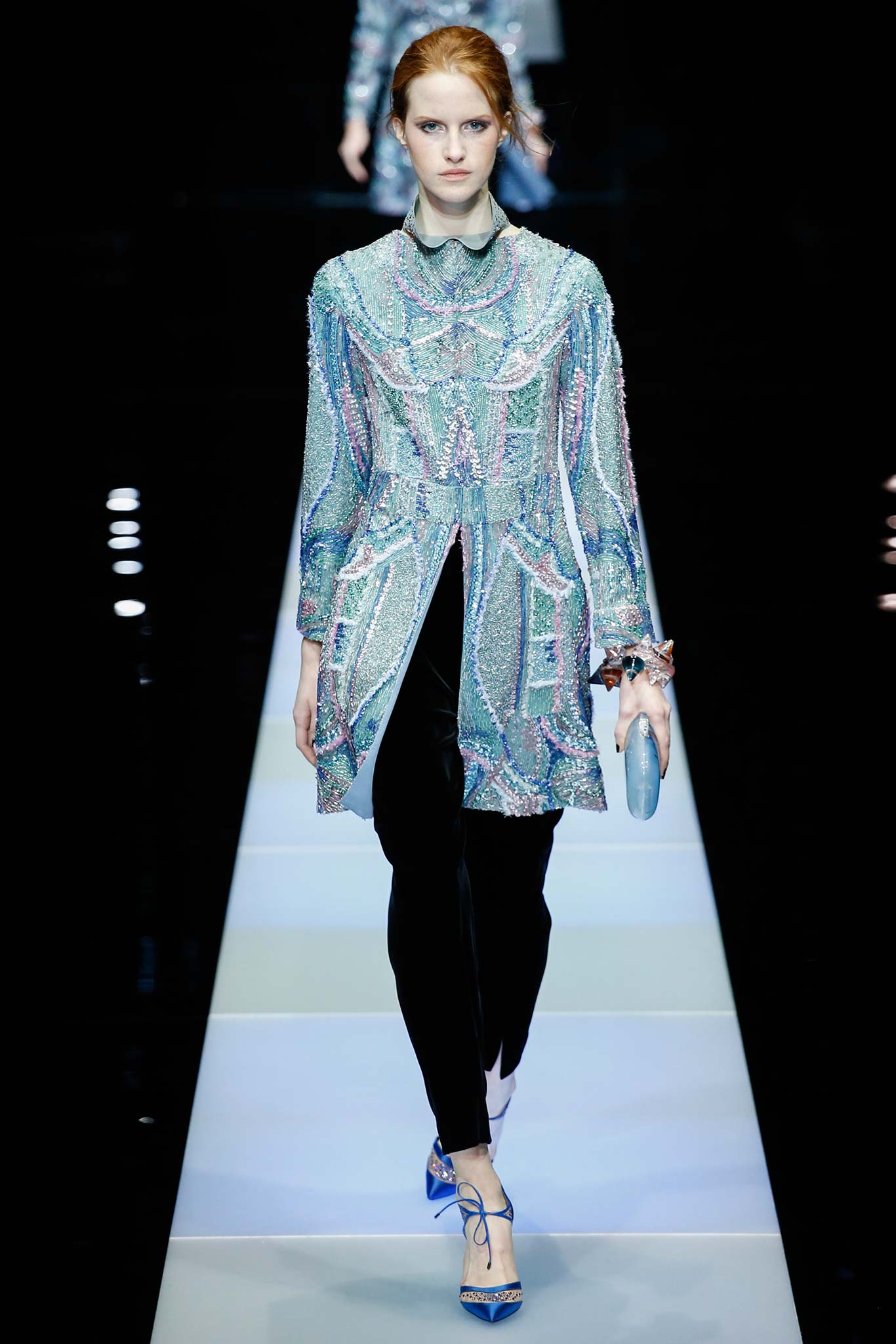 When the focus is on the glorious bugle bead, the silhouette needs to stay simple to avoid lapsing into eye-ball rolling ostentation.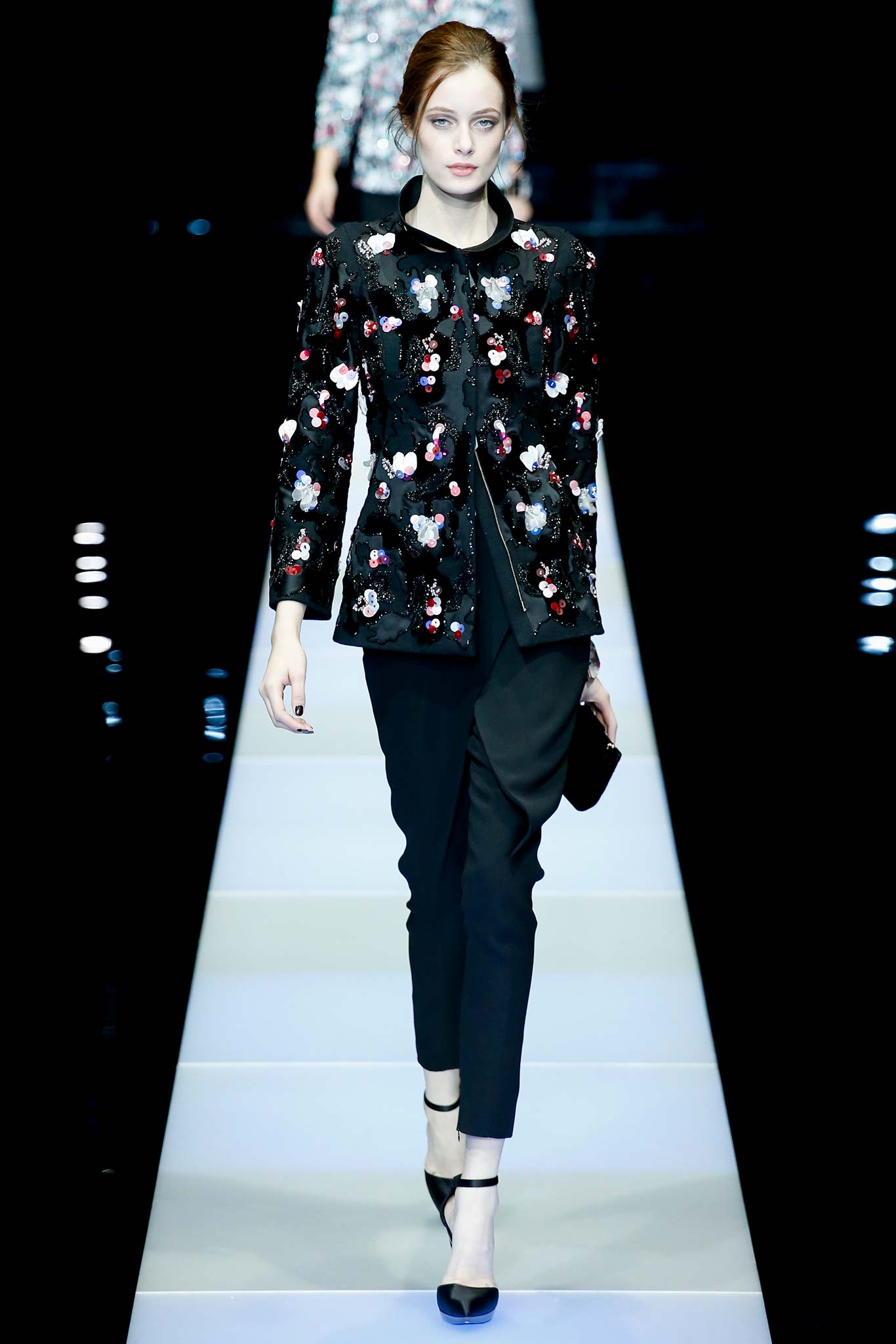 Classic Armani silhouette, timeless.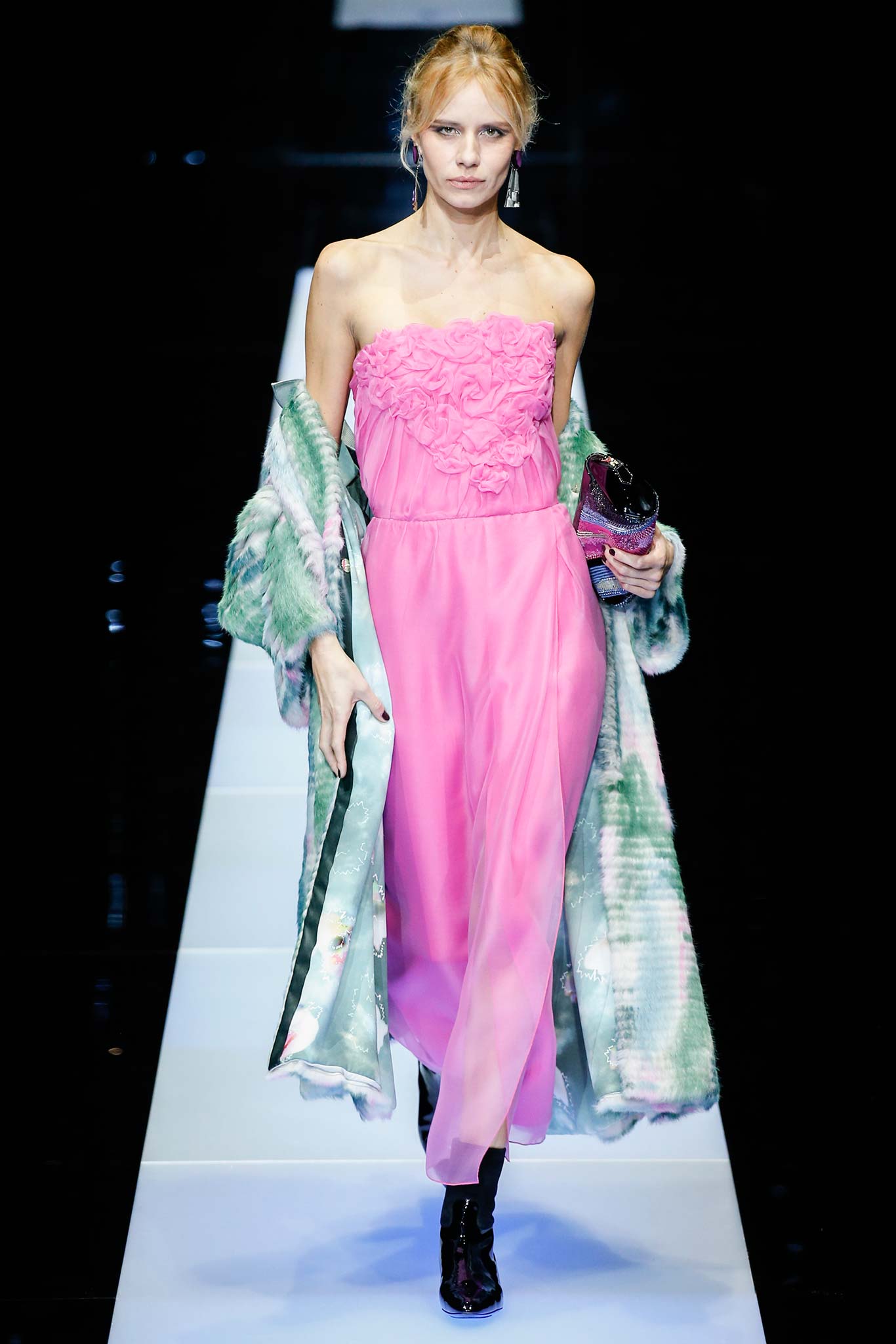 I love me some pink.
VERSACE:
Gianni Versace, may he RIP, loved him some color, the more vibrant the better, and some sexed up spicy Miami beach glamour. And, bondage on occasion was never a bad thing. His essence can be found in collections by Tom Ford and Balmain, and certainly in the collections by his sister Donatella who took up the cudgel to make a woman feel blazingly H O T in a bold and upscale way, and in this series, she manages to tap into the current 60's zeitgeist simultaneously. Sexy, Sporty, and Scary spice are covered.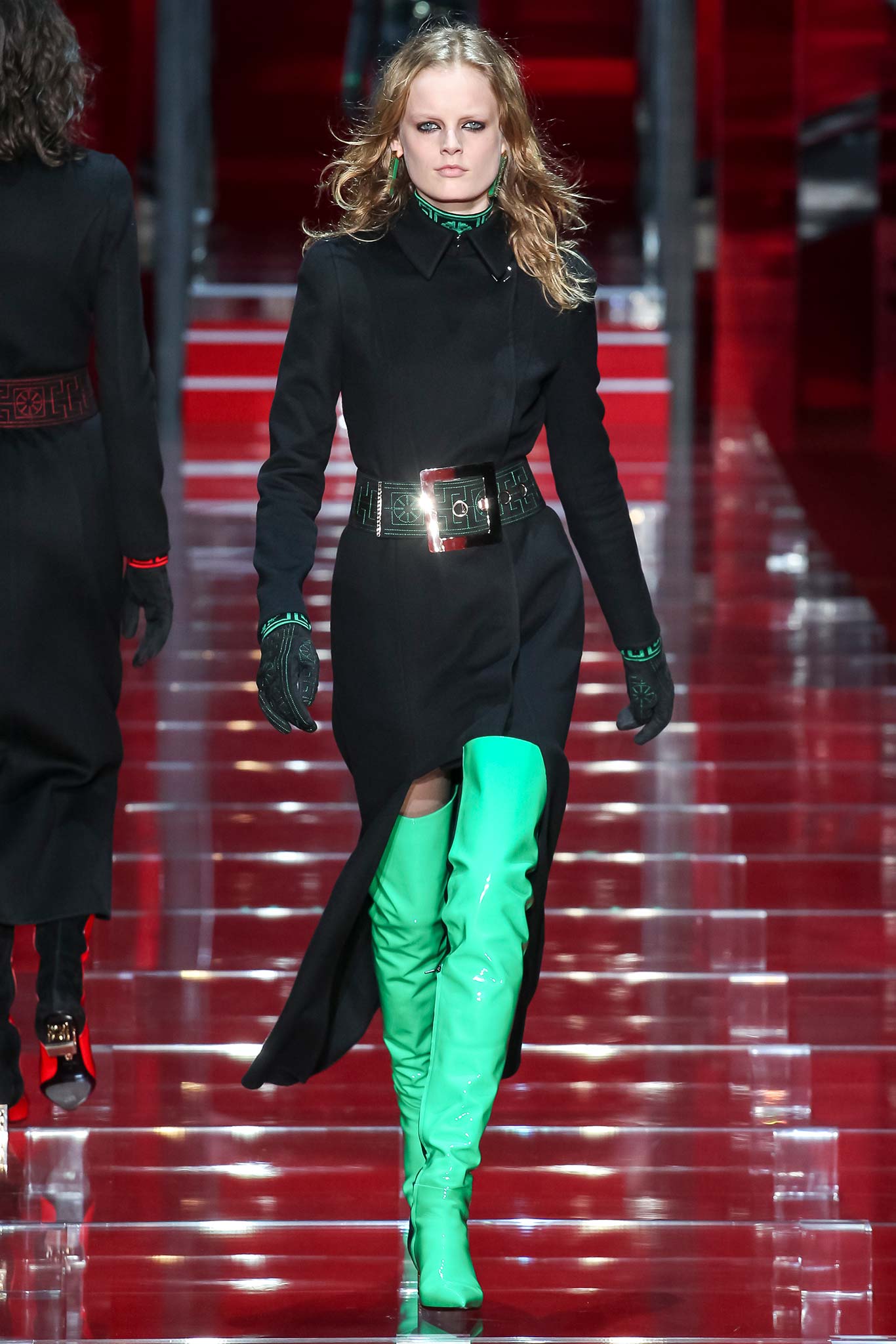 The best part of the collection? THESE BOOTS!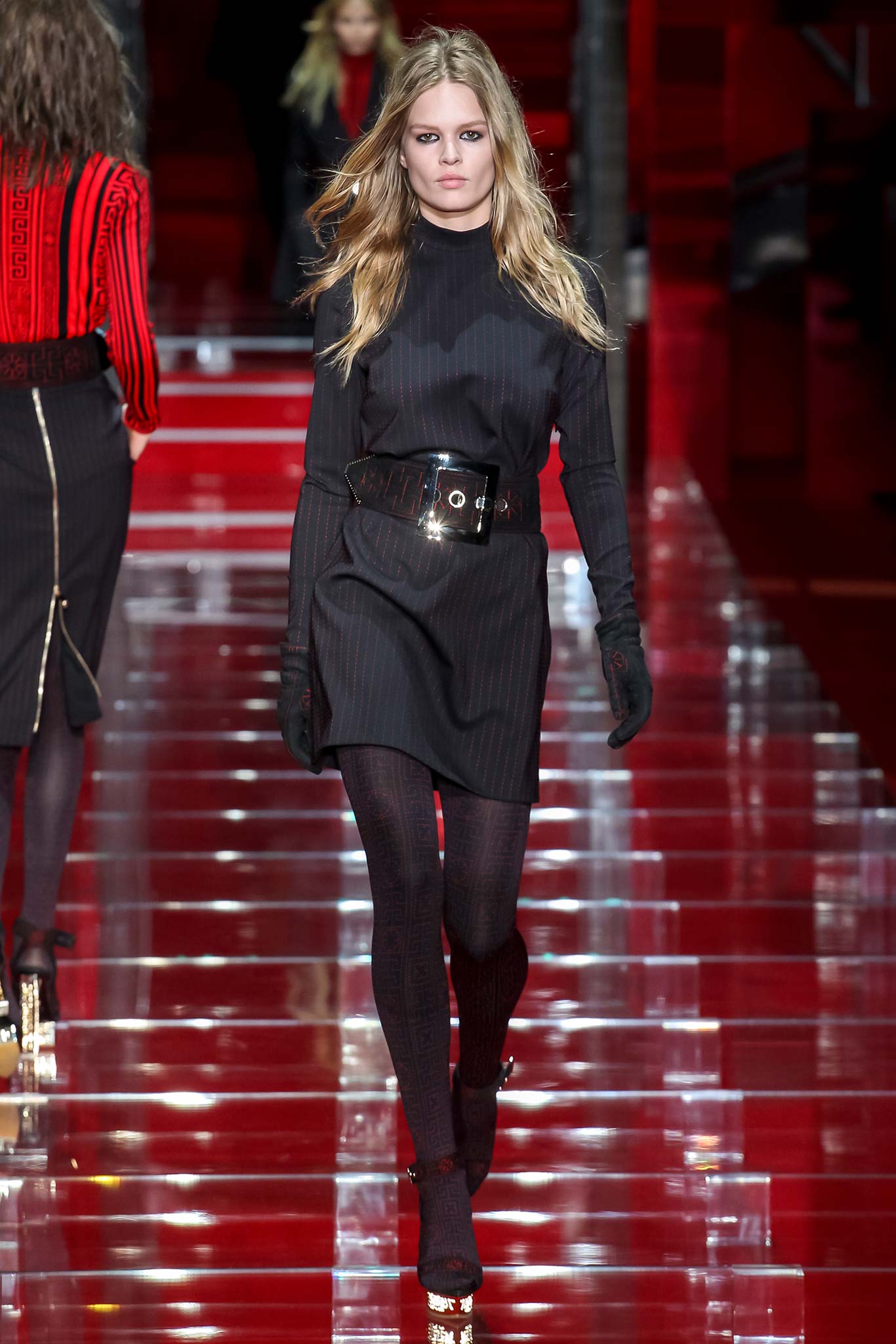 An easy way to glam up that black dress in your closet, add a wide belt in patent leather. And of course top off with a version of high heeled boots!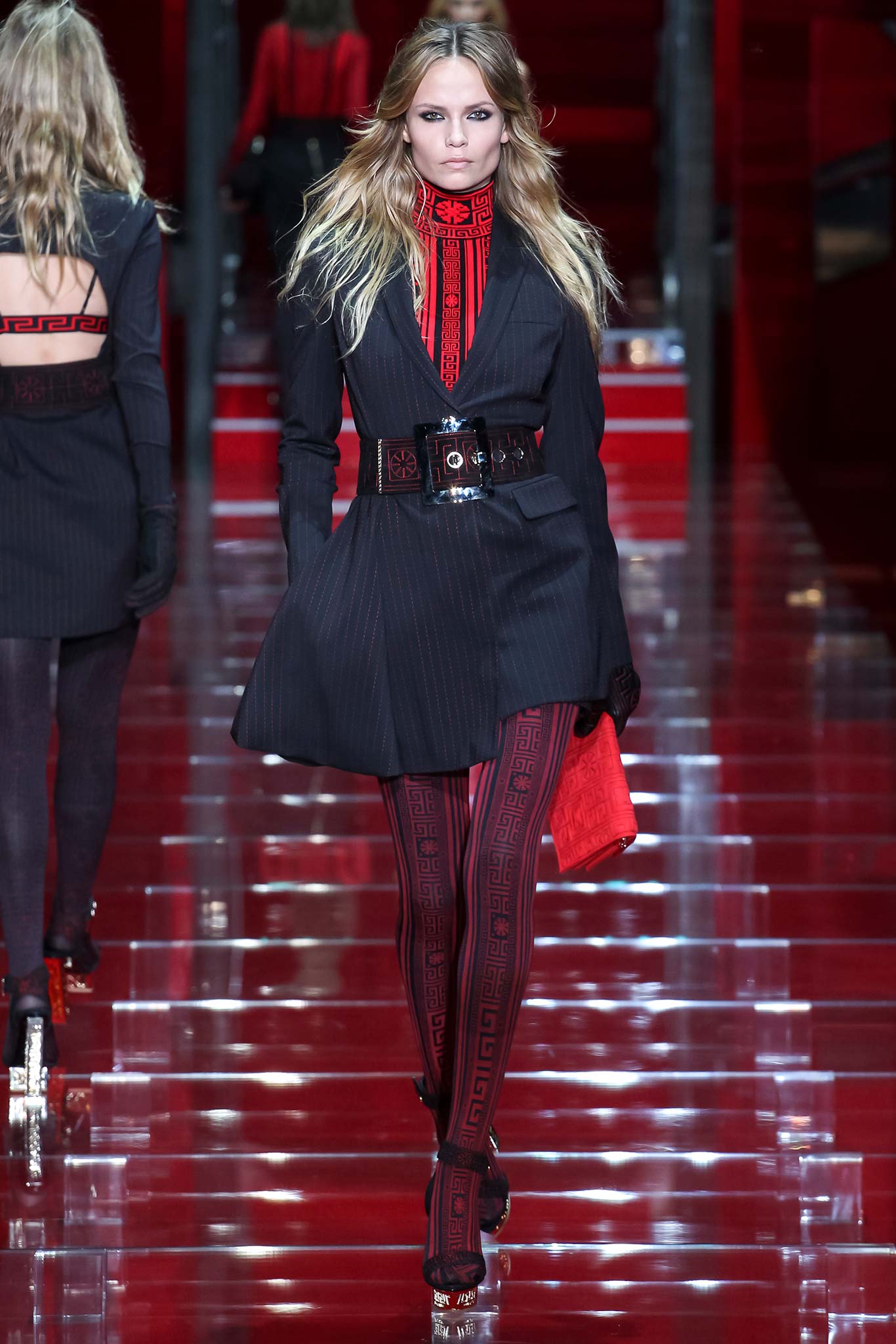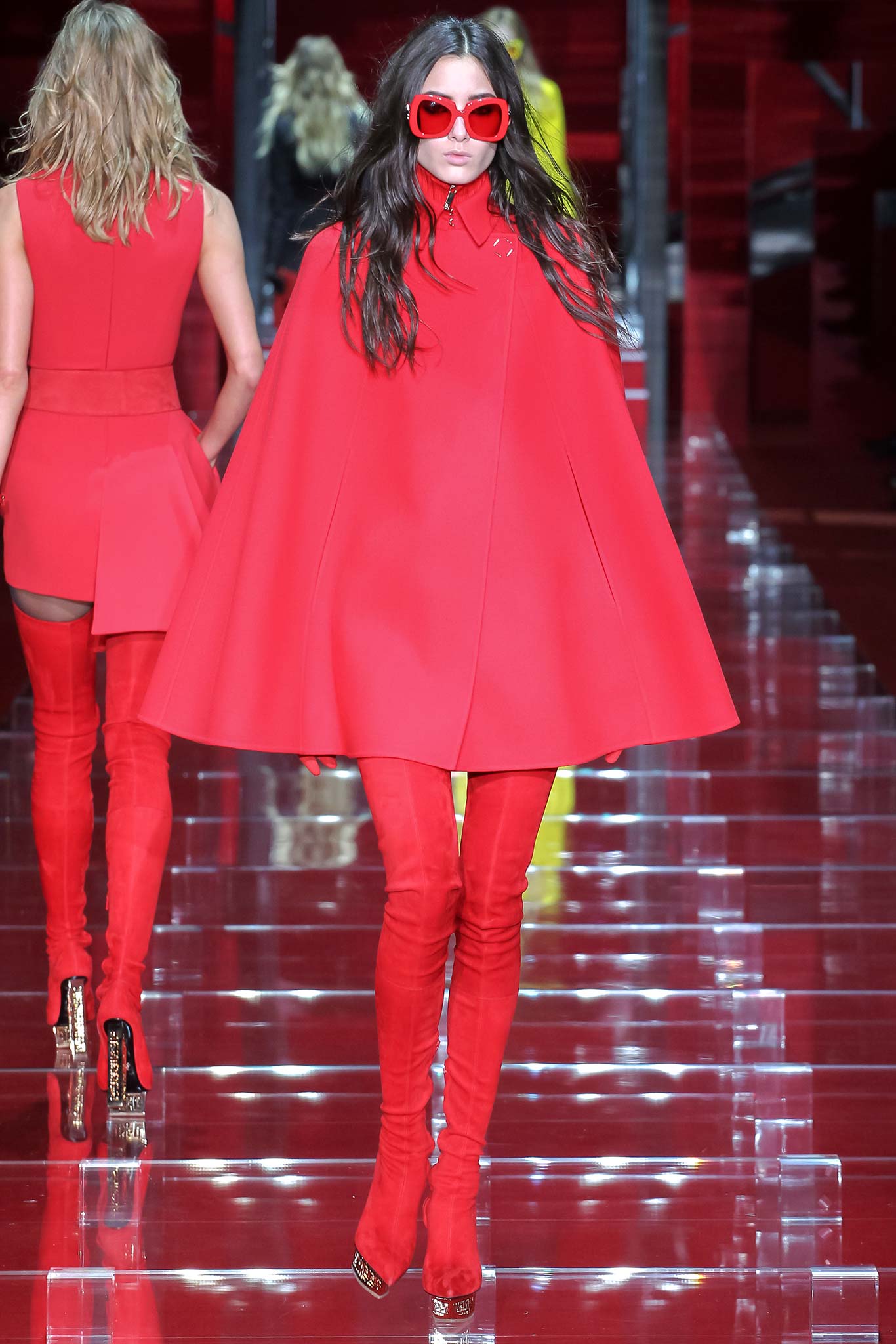 Does anyone remember "That Girl" with Marlo Thomas?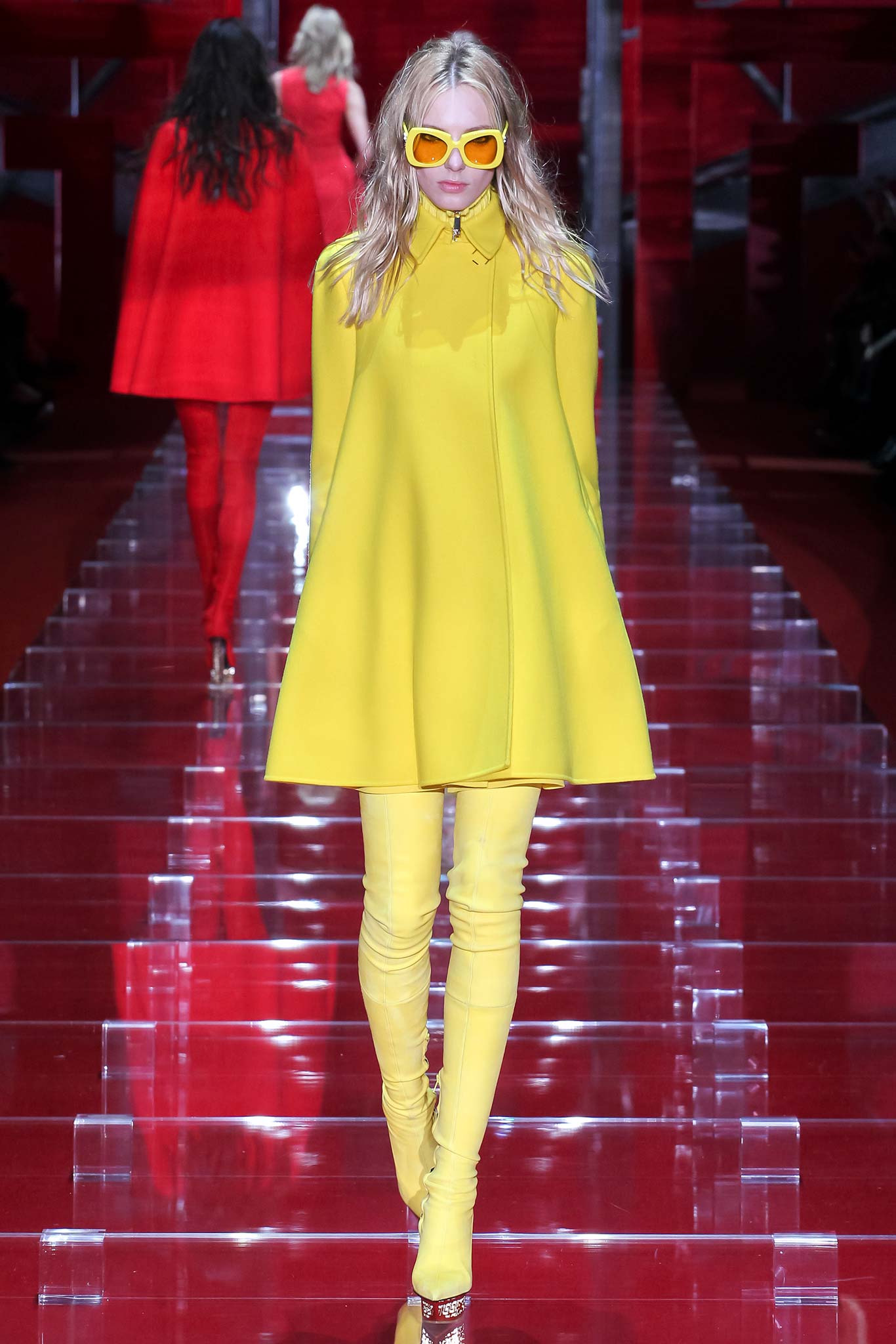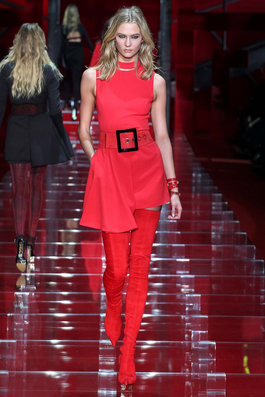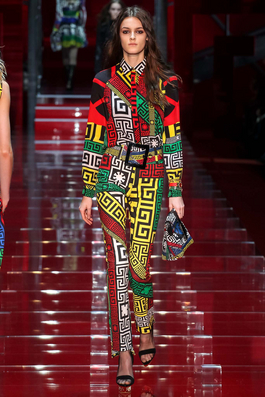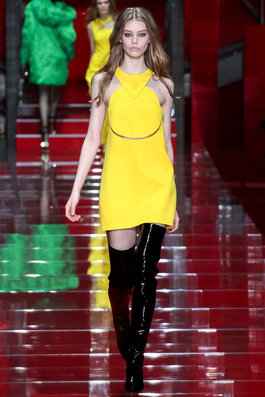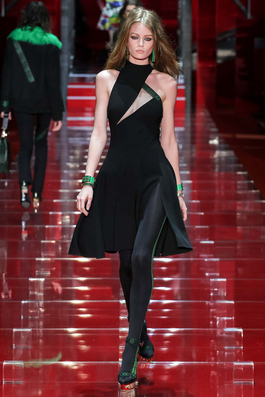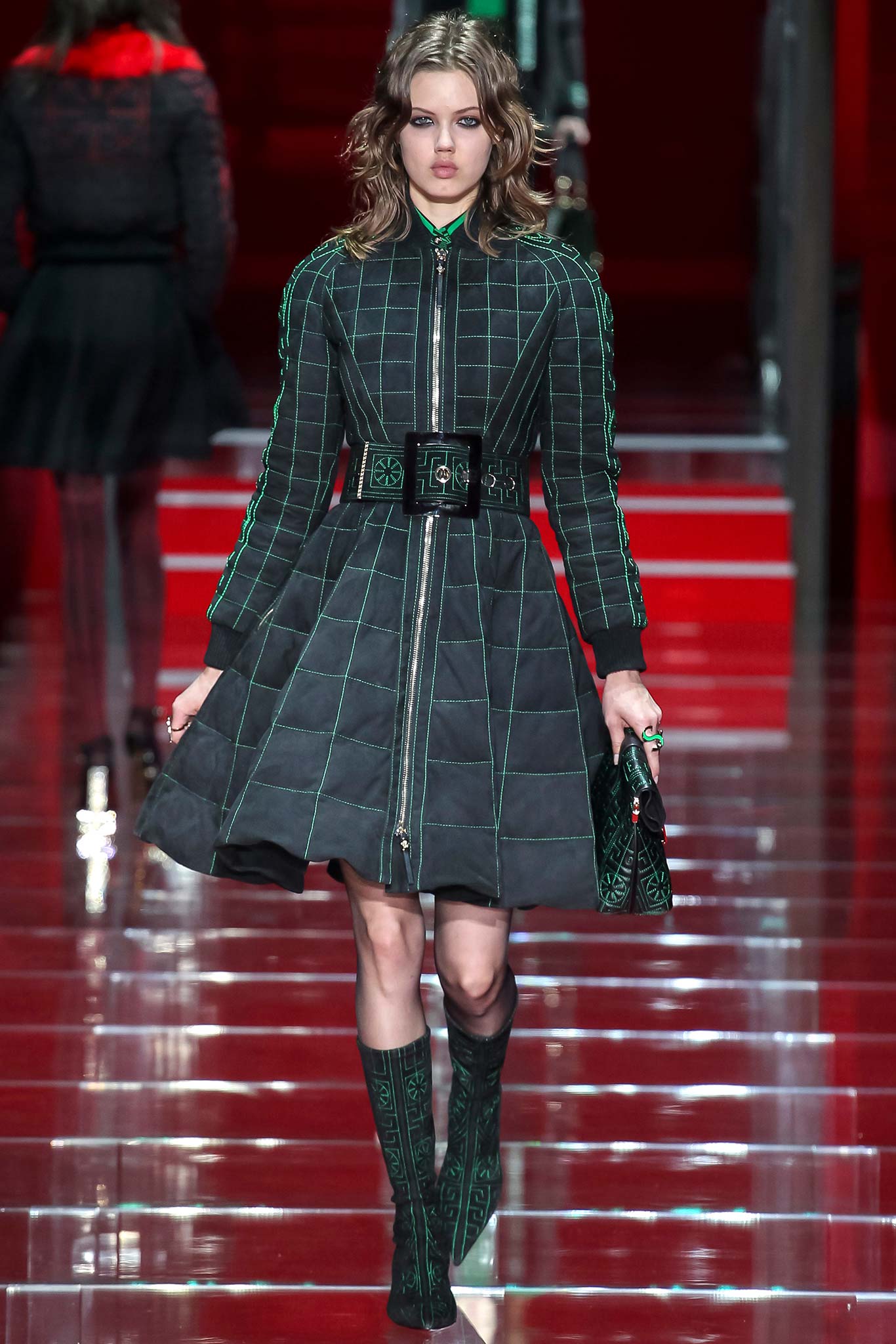 My personal favorite. I might not give up a kidney for this delectable, which reminds me of a spider web. But definitely my spleen…...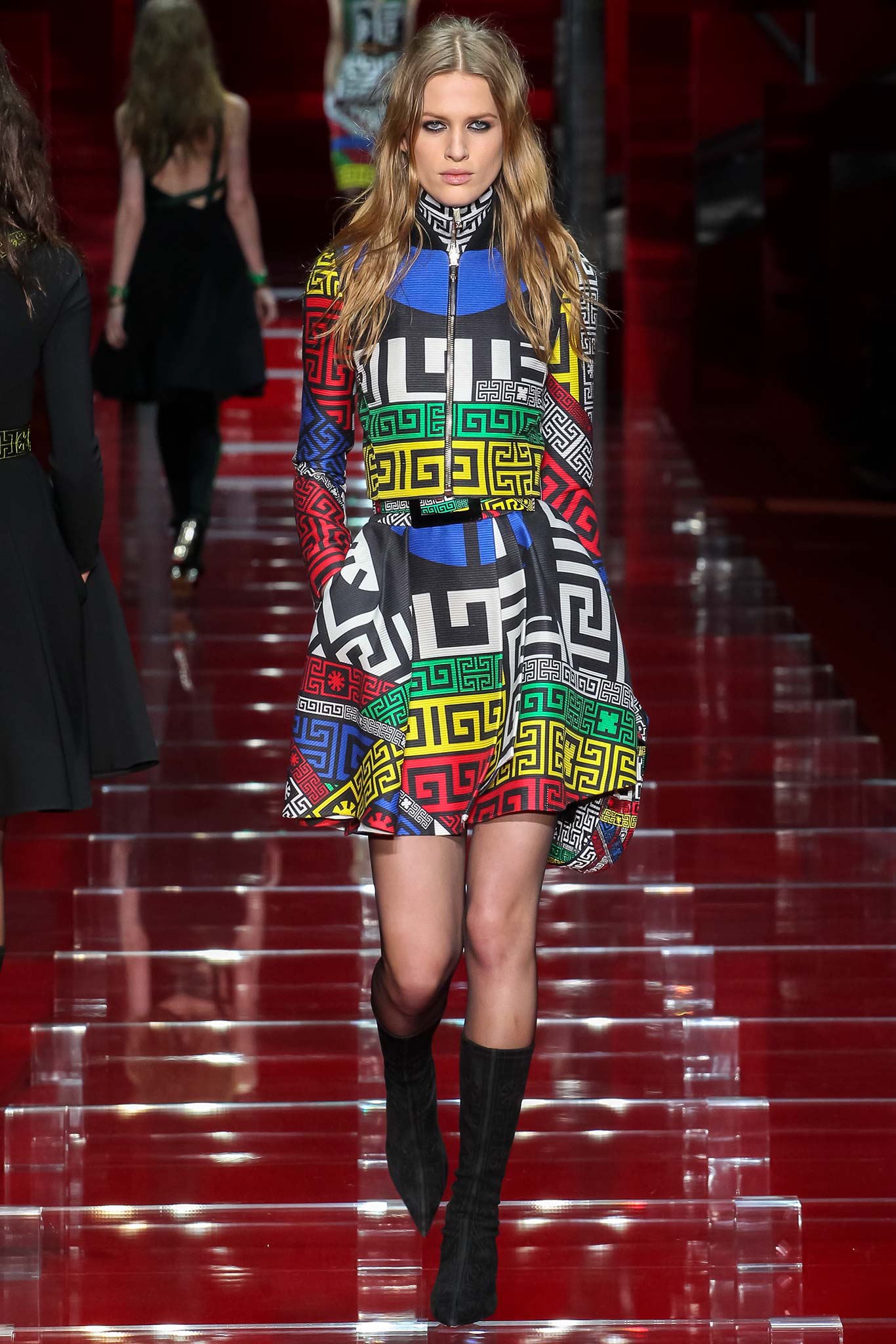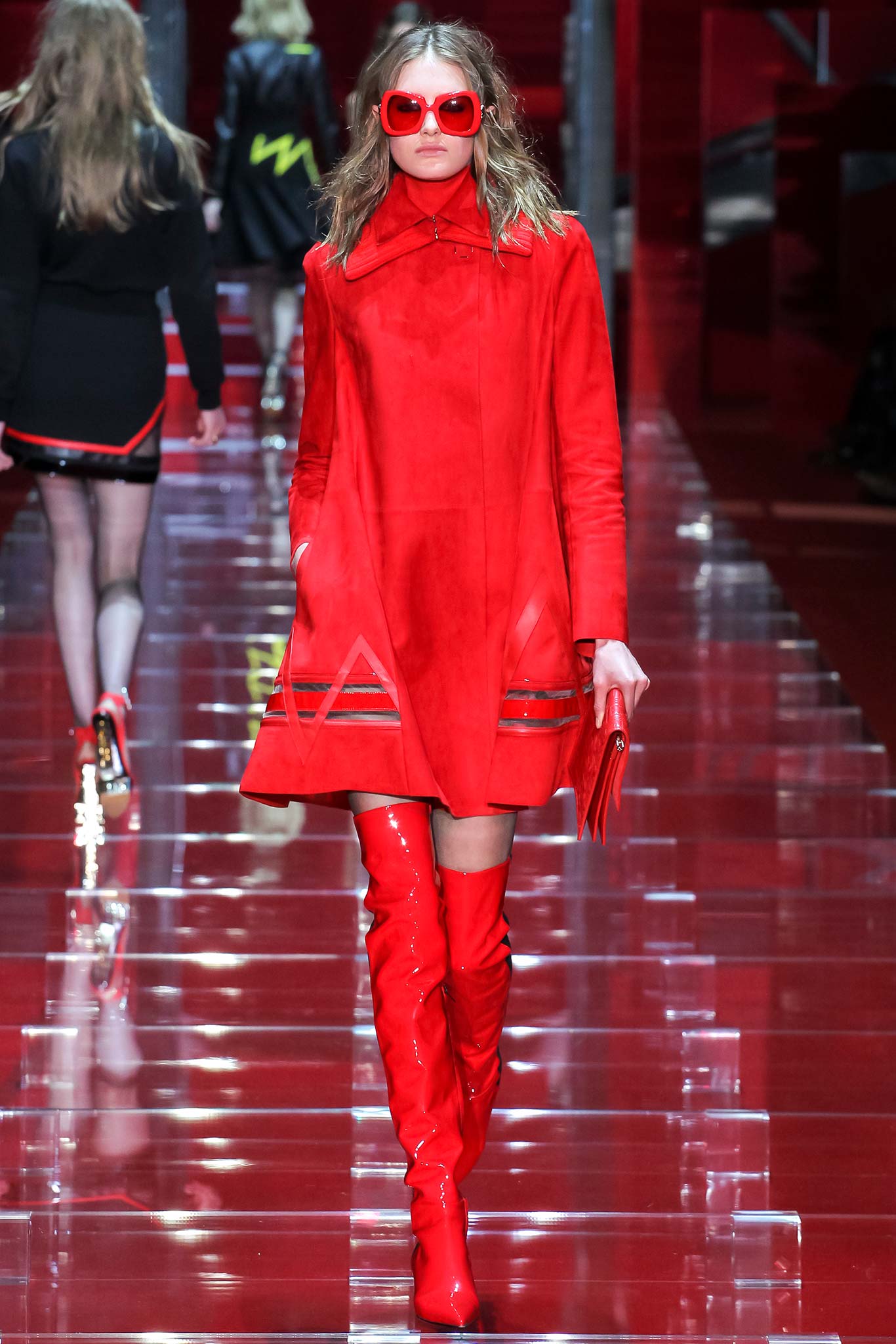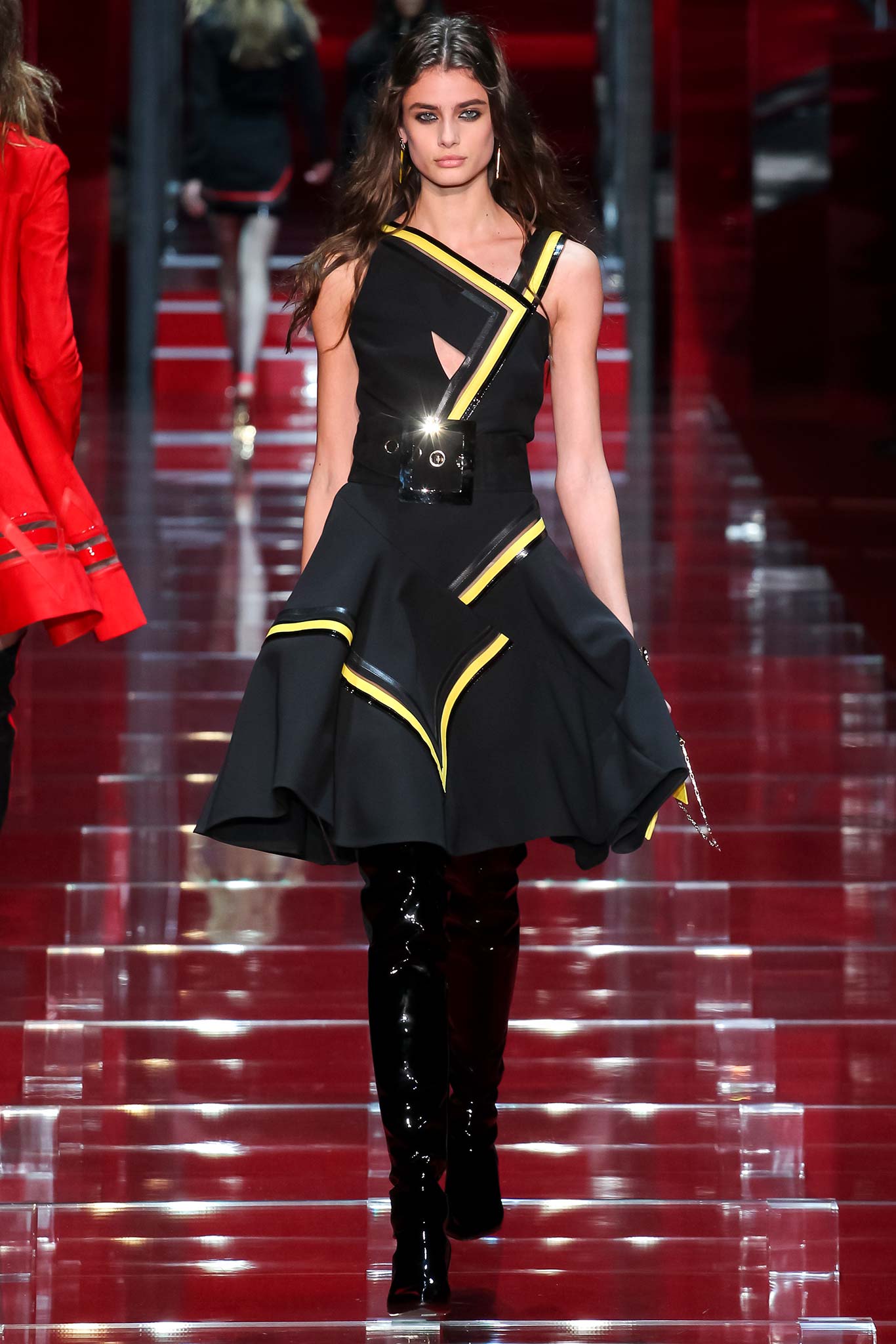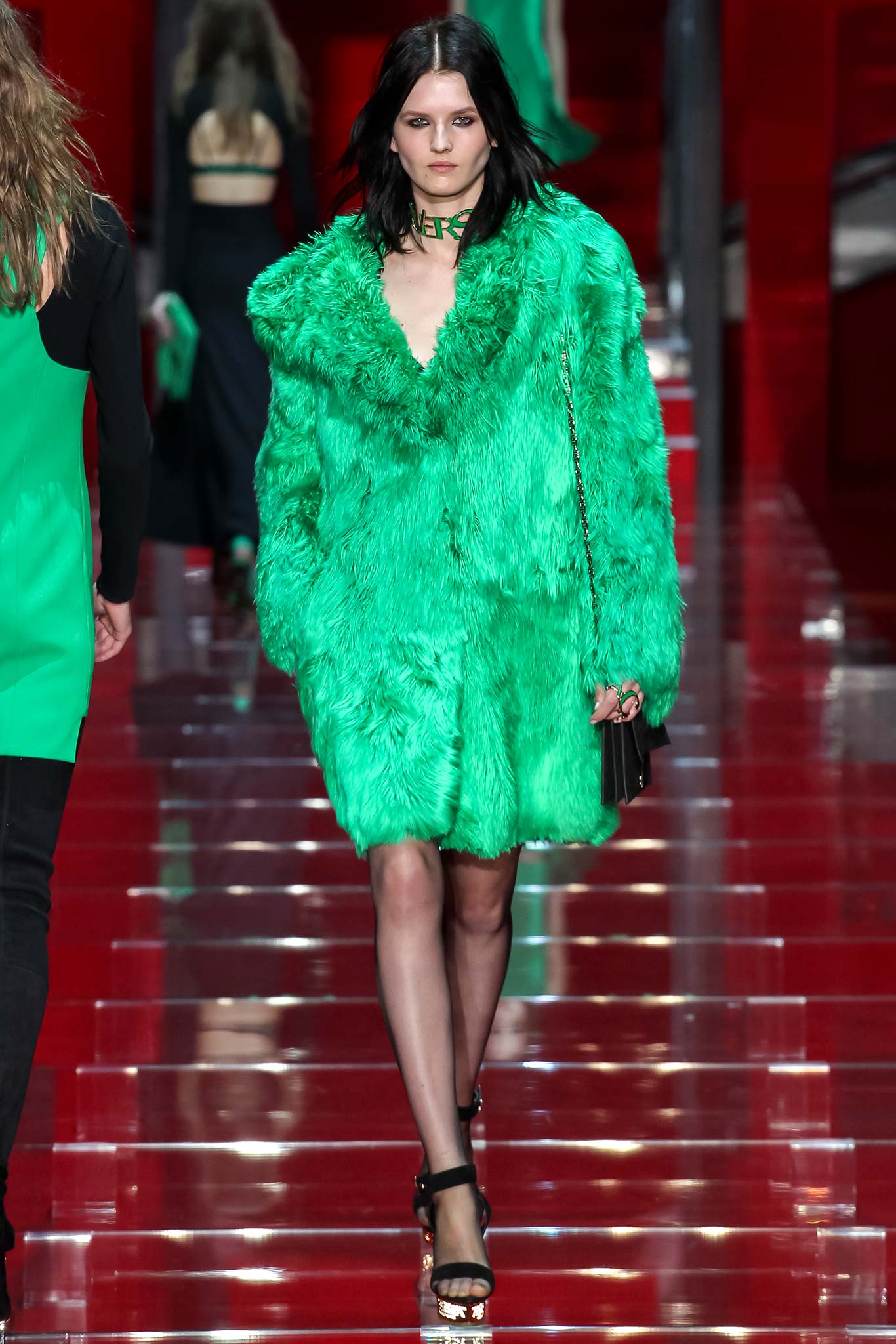 And if you're not up for showing skin or wearing Go-Go boots, meh, go for the big green coat! Its a keeper! The big coats in mongolian lamb and alpaca are clearly here to stay.
FERRAGAMO:
Not just the purveyors of your Grandmother's pumps anymore! Modern, feminine, and with a nod or maybe a wink to the 80's. This collection is all about the magnificent yet eminently wearable dress, with guipure lace, charmeuse and leather rounding out a non fussy yet beguiling assembly. And my favorite character actor in the play? The edgy reptile belt that will instantly modernize anything you throw it over.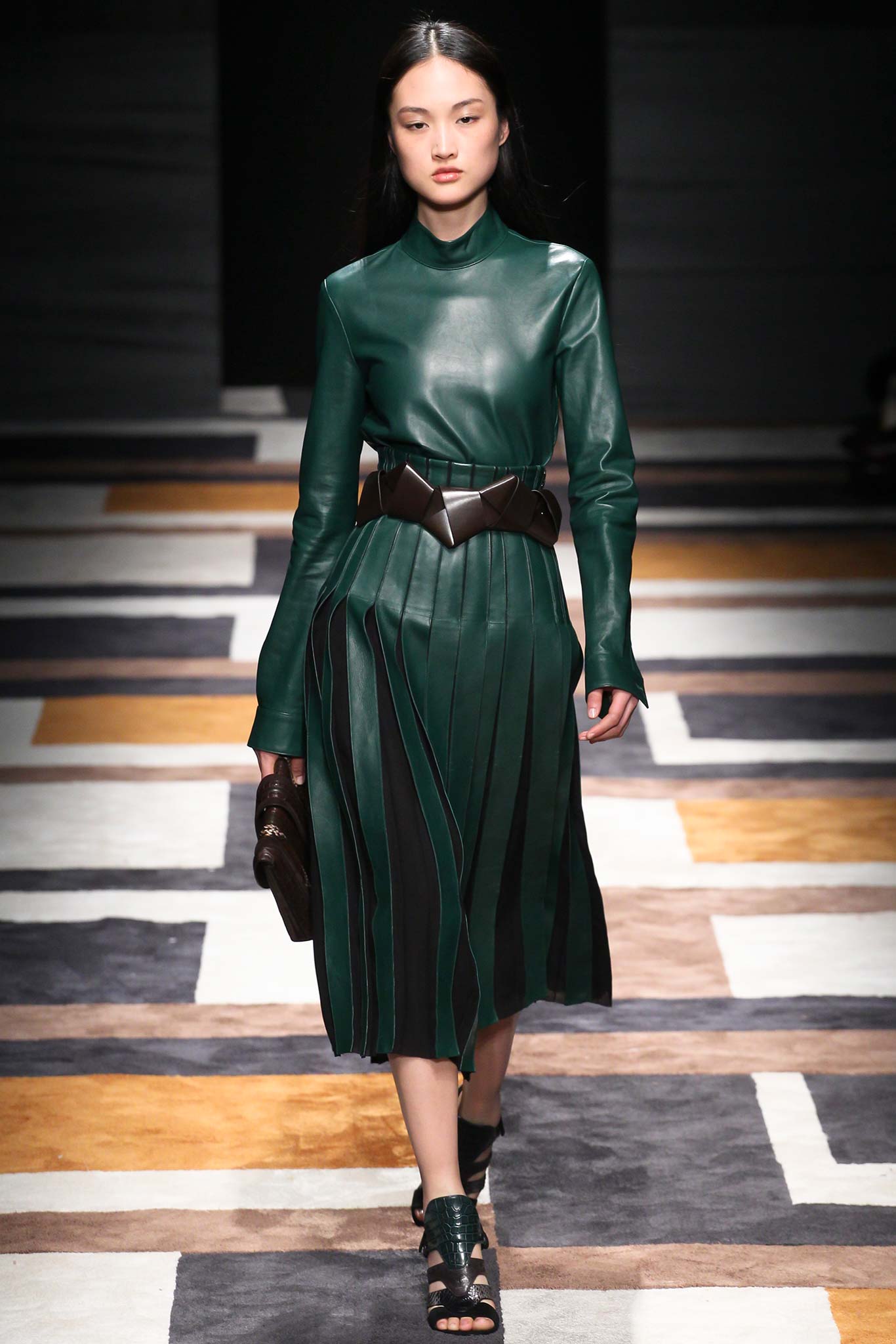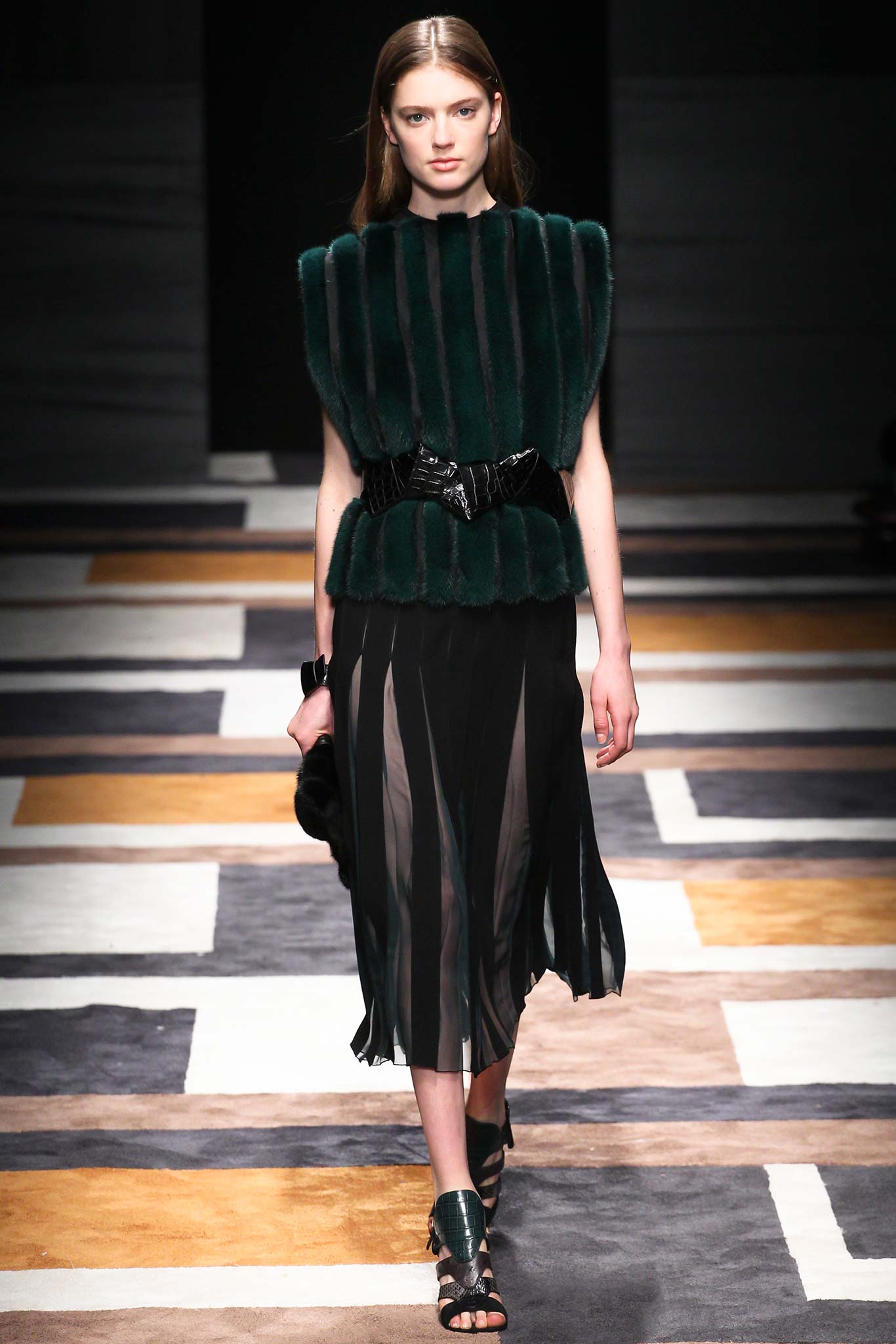 Funky upscale.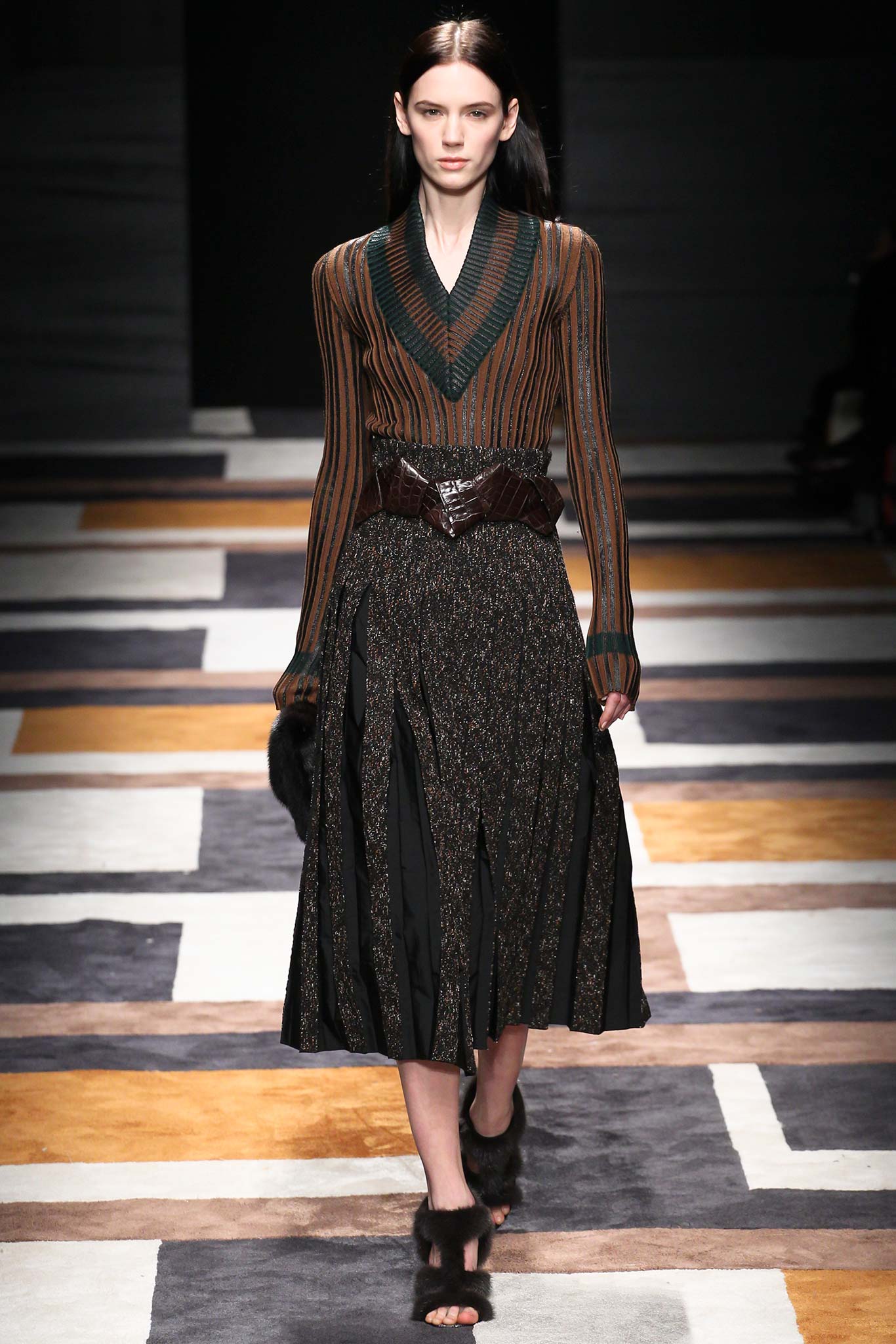 A wonderful streamlined outfit for fall and winter anywhere, would be smashing with some high boots with a substantial heel.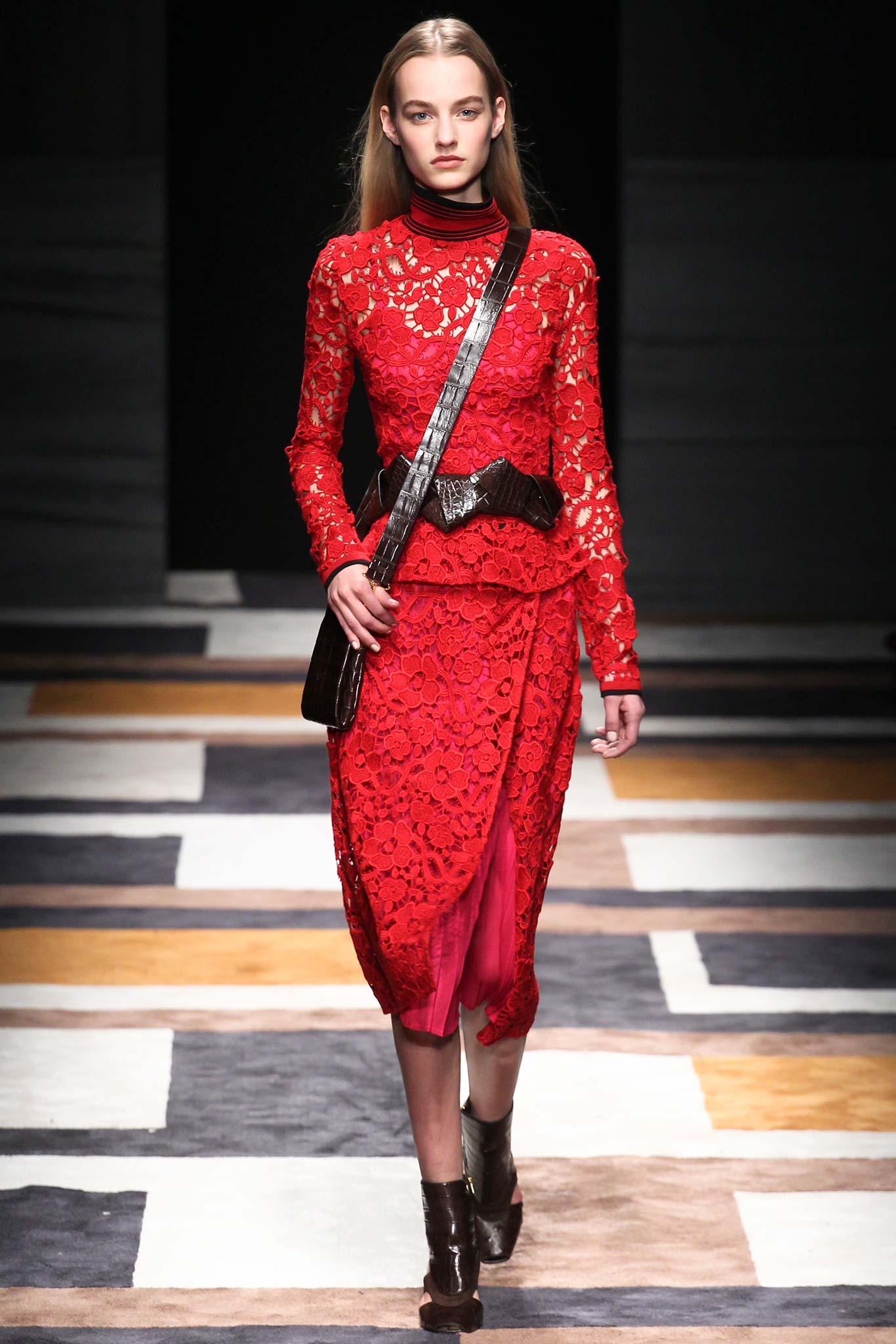 You can never go wrong with guipure, especially in red. A fabric for the ages, vintage and modern.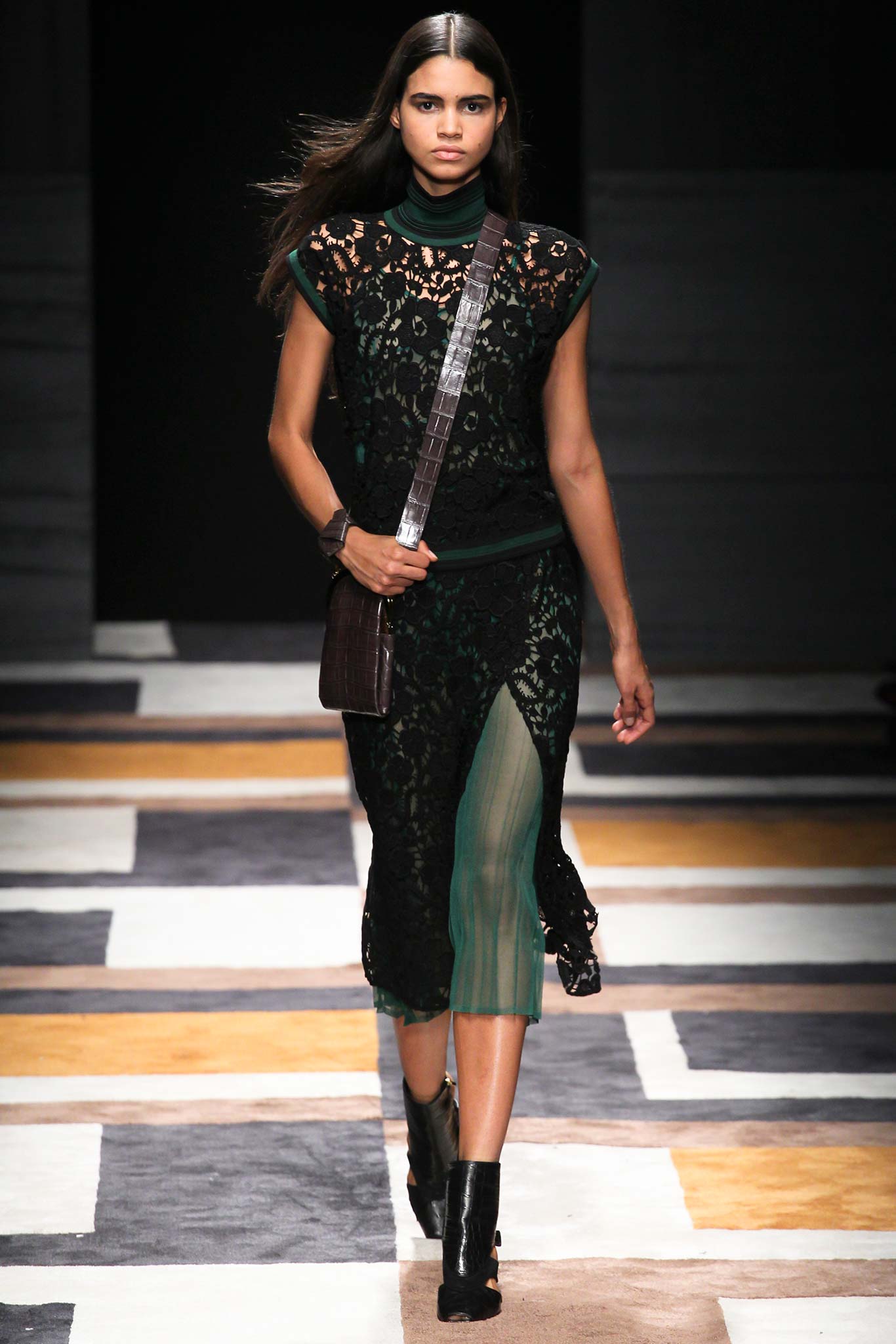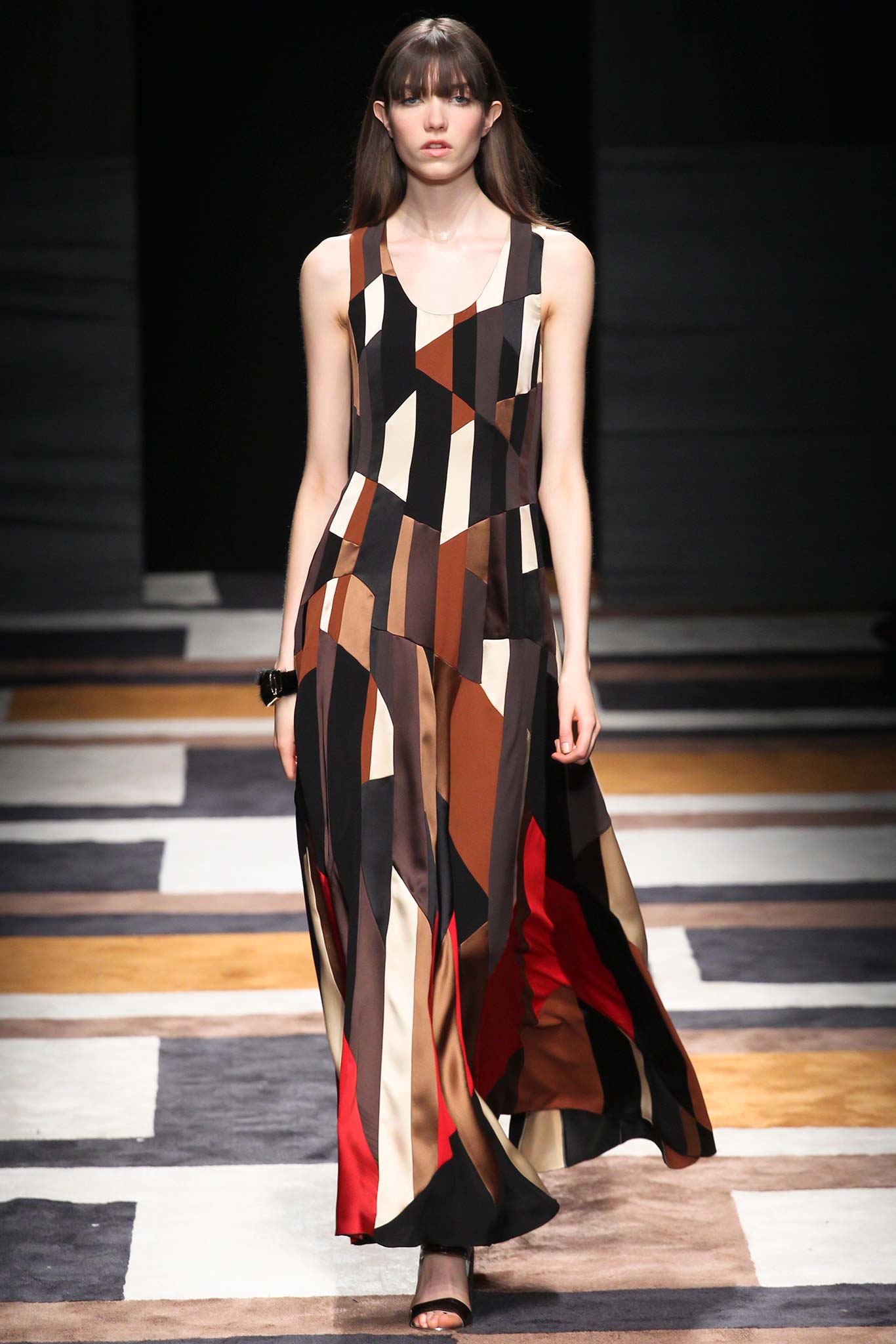 Slip for a Hampton princess or a modern arty gala affair frock?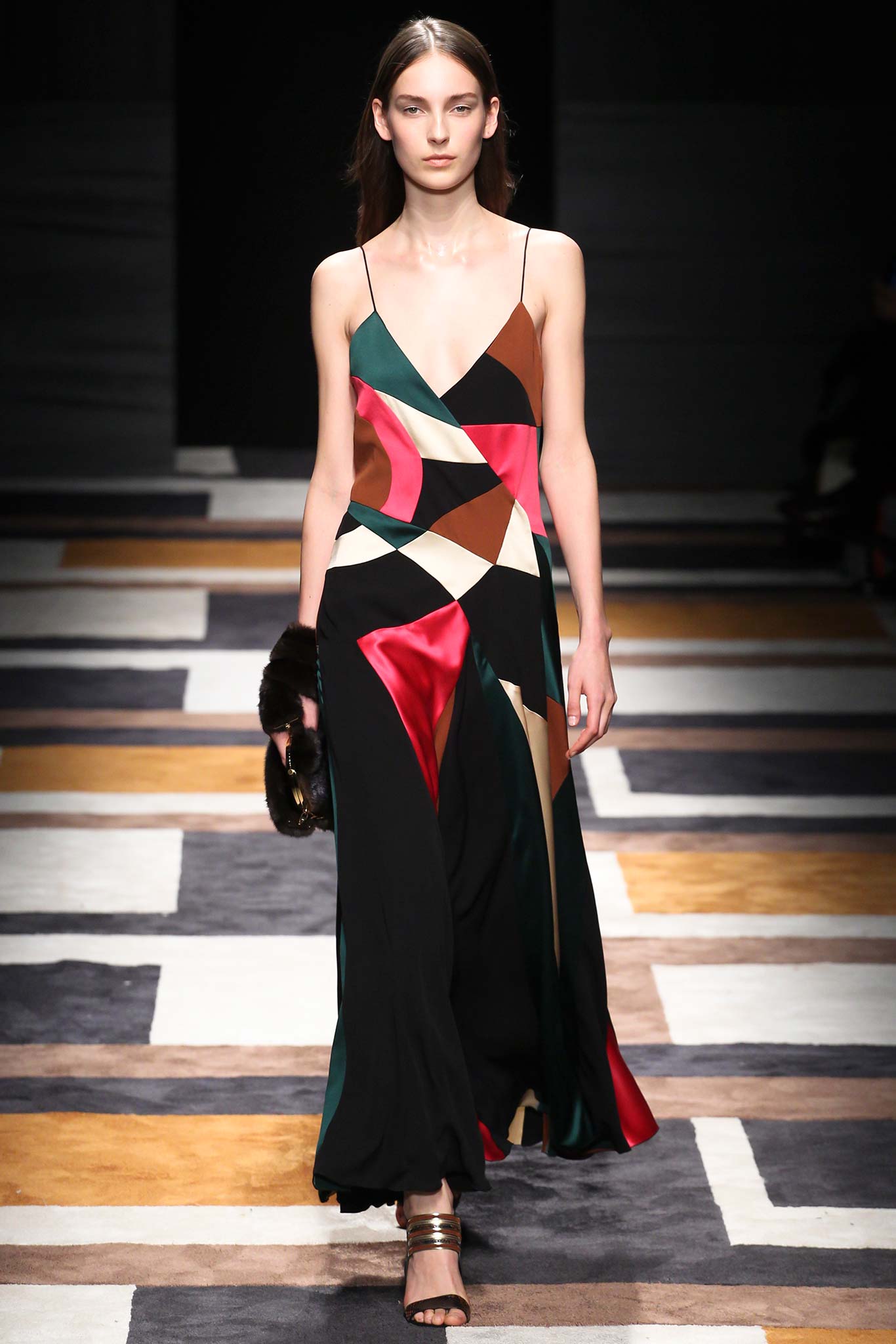 PHILOSOPHY di Lorenzo Serafini:
Quite the bravura performance, with the diaphanous boho-y beauties in short and long varieties, combined with ruffly woolens and high waisted pants. Hello 80's! And check out the belts! I'm having flashbacks to my college days in the early 80's. Huzzah!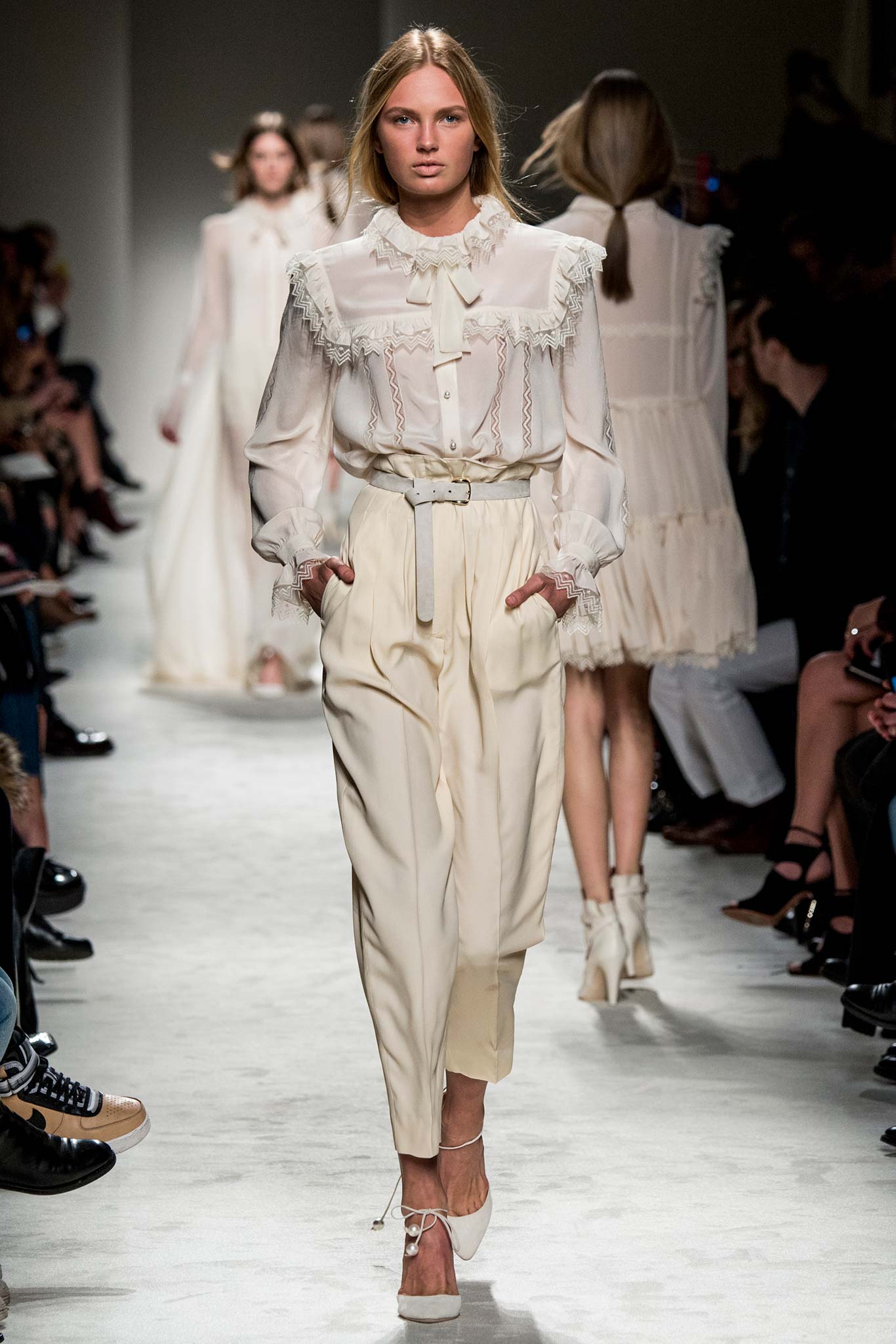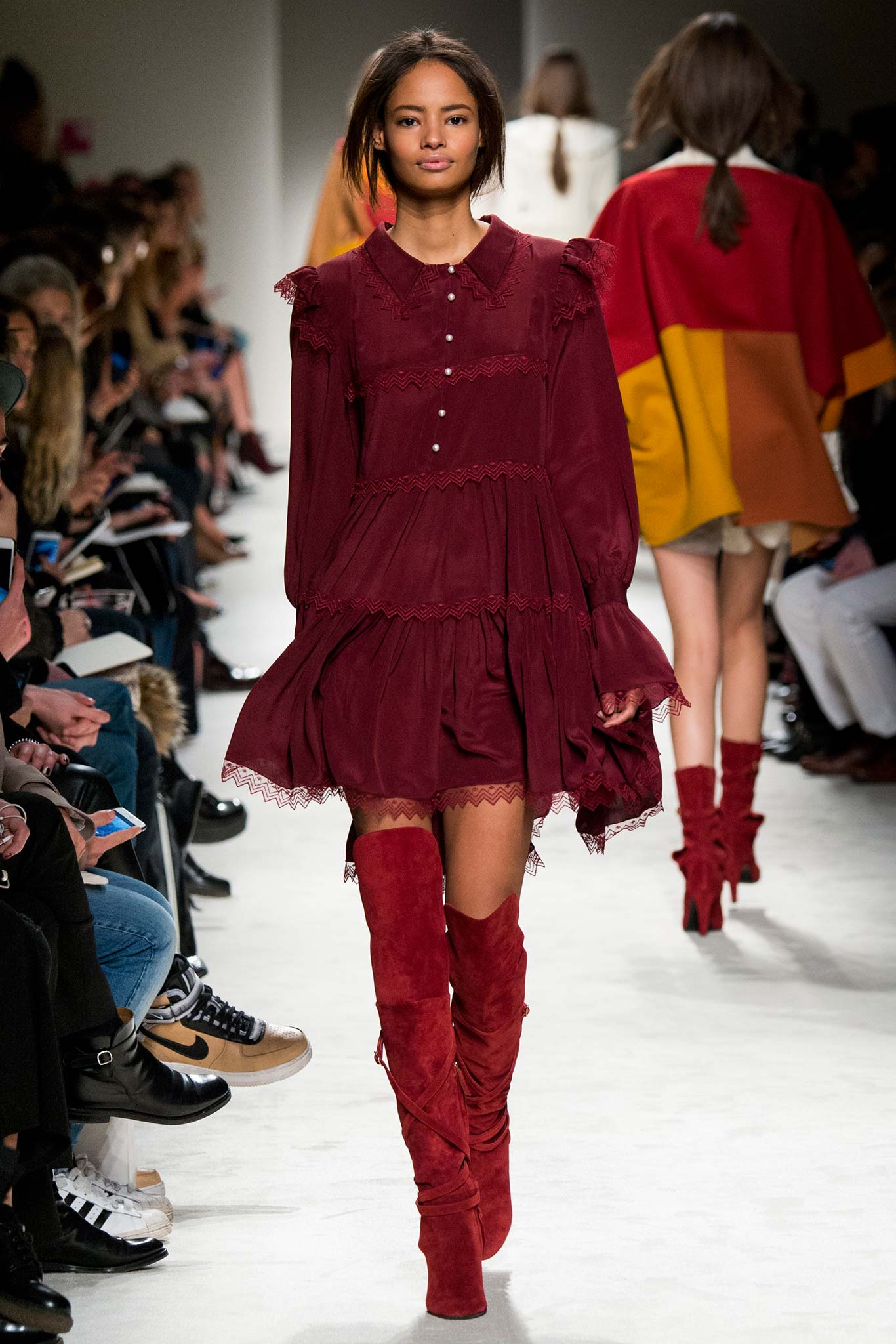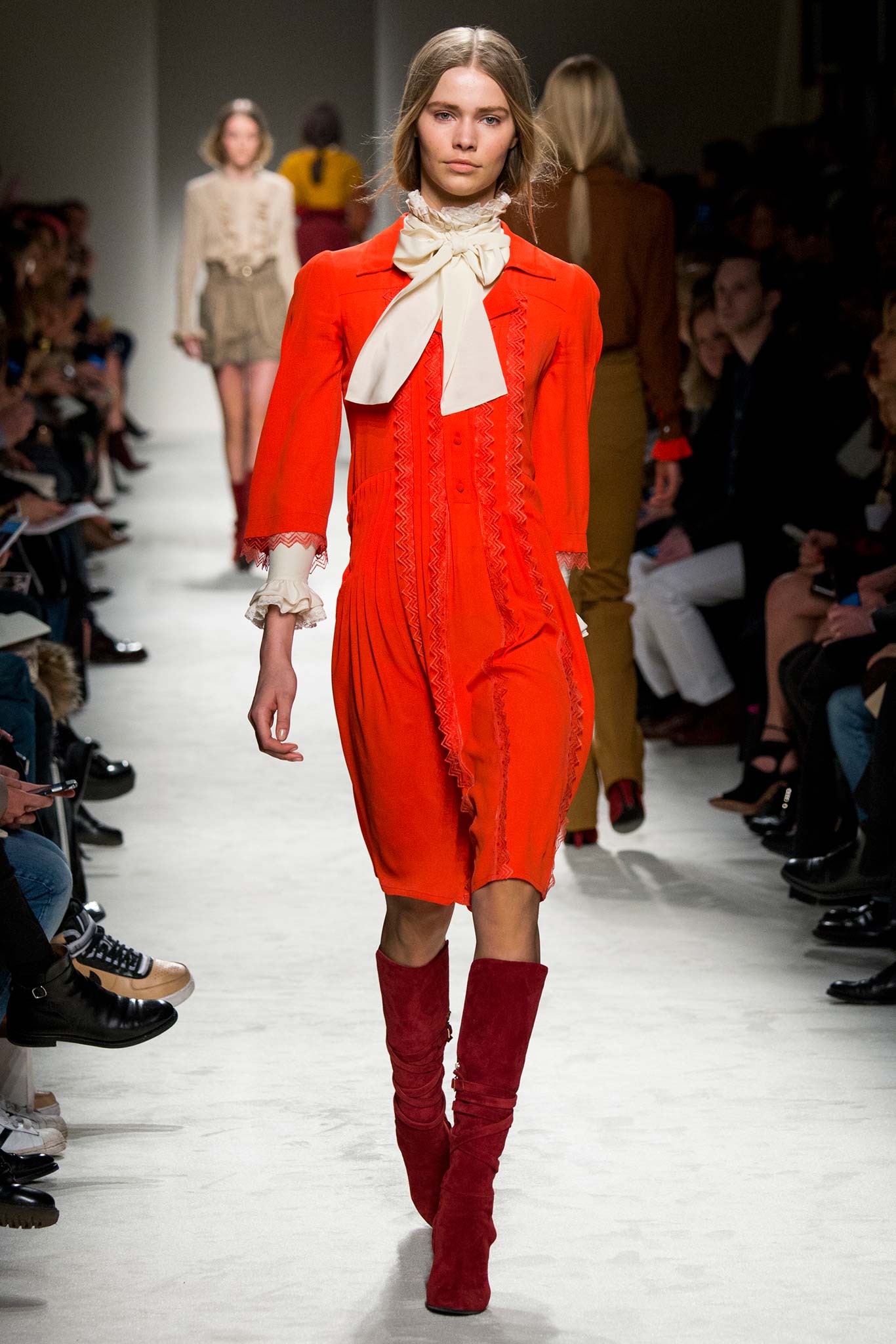 Love the layered silks….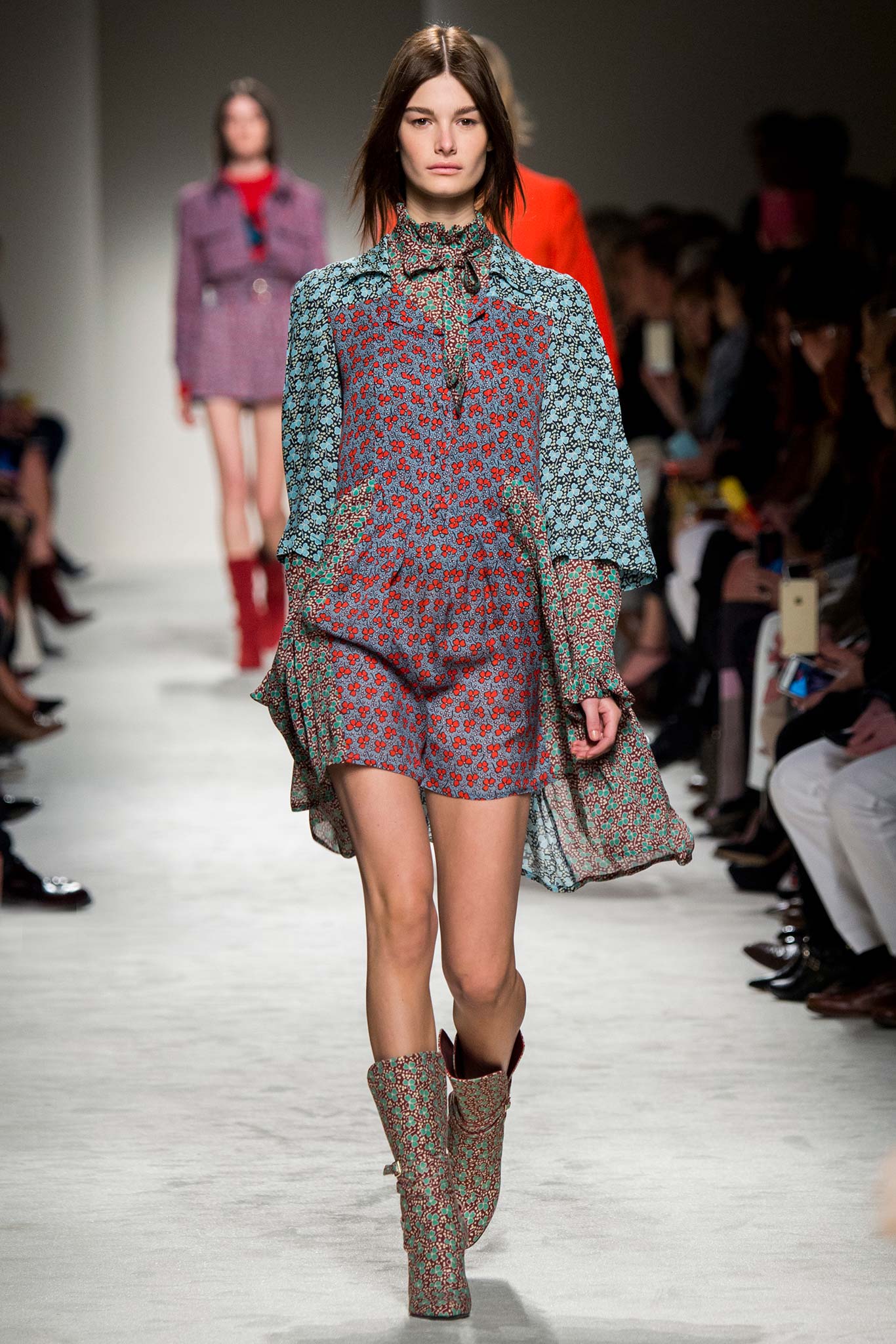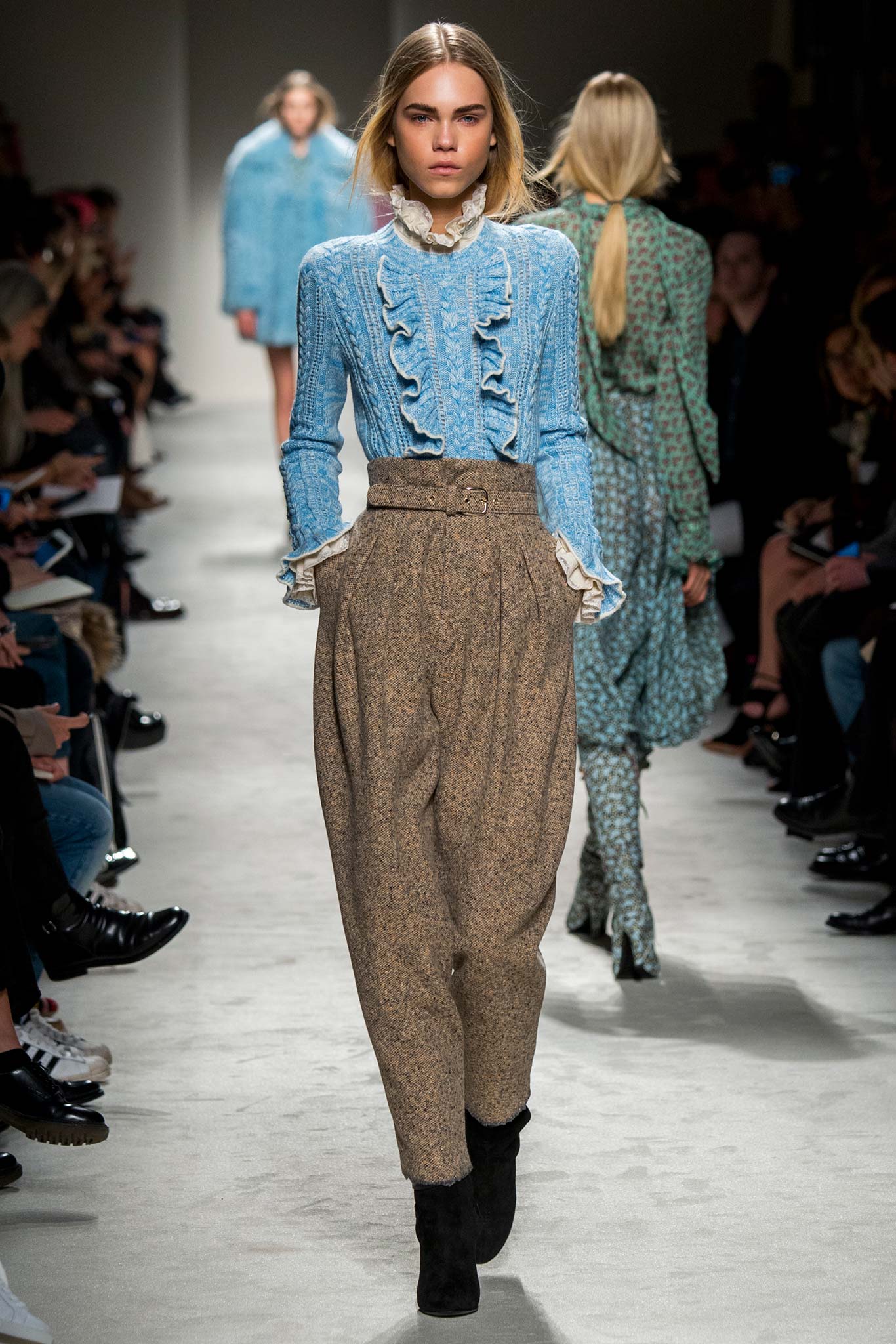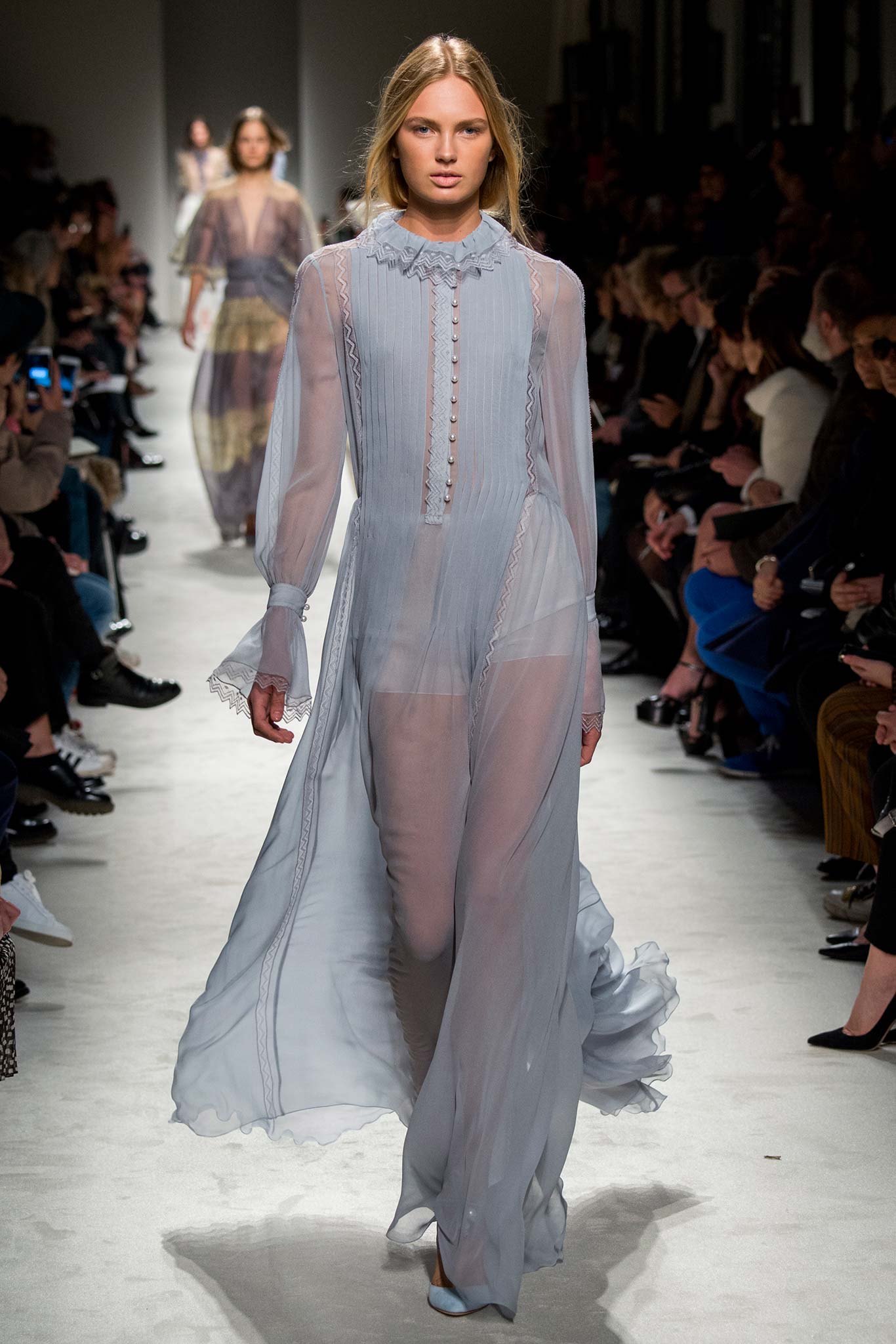 Yummmy…….Periwinkle, my favorite from the Crayola box.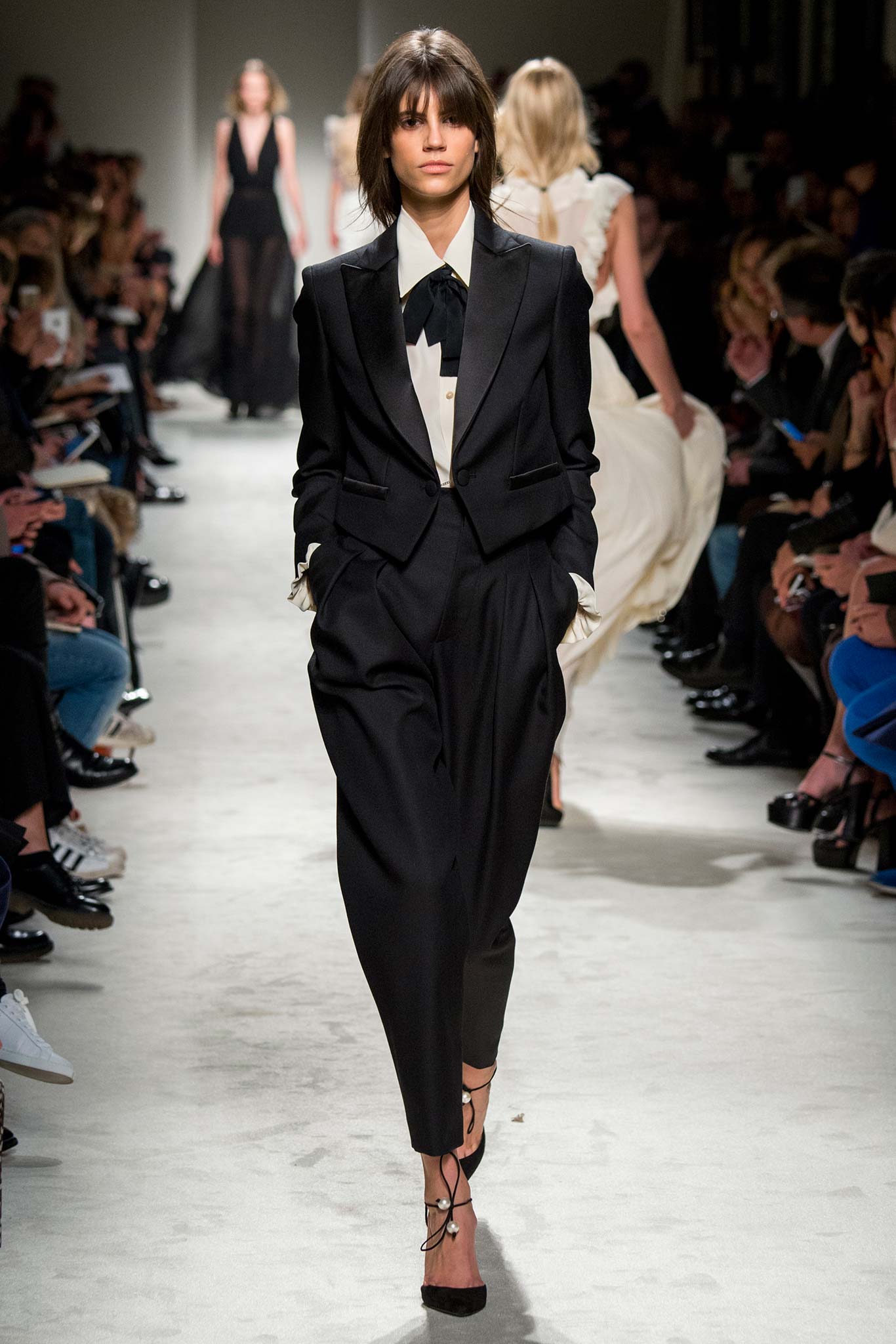 Another version of a tuxedo, a sort of 80's Torreador! Throw the jacket over jeans.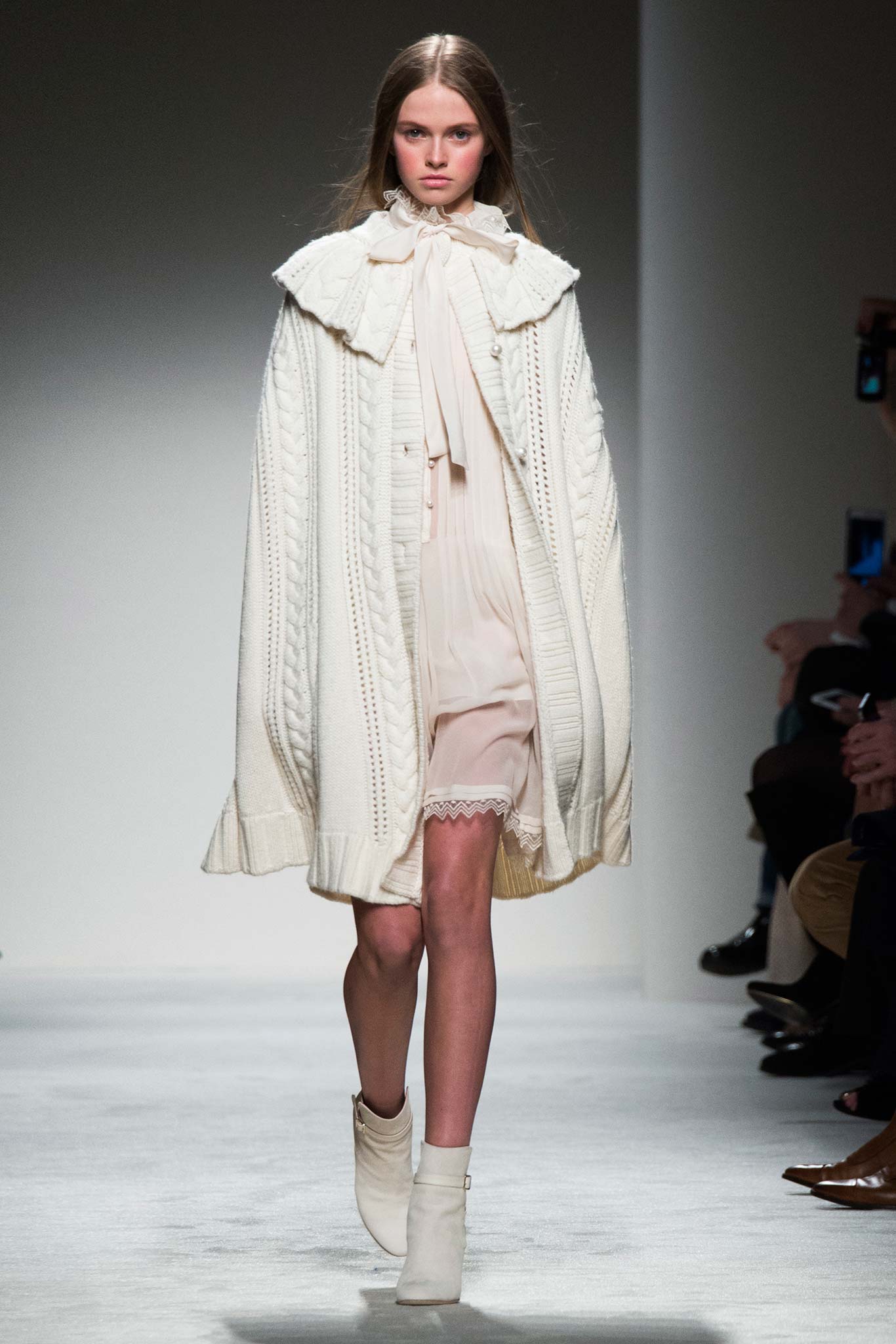 Off to Grandma's house.....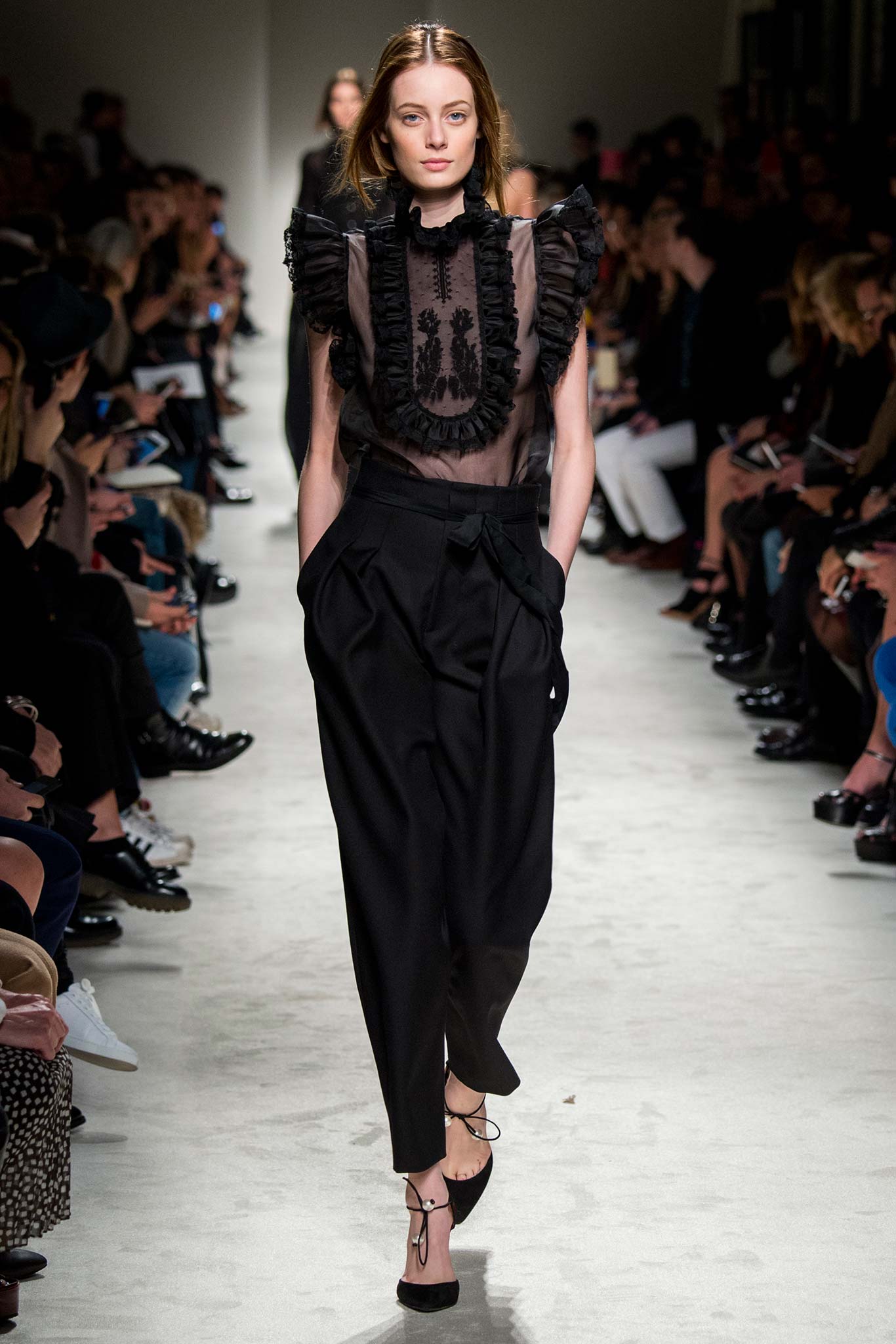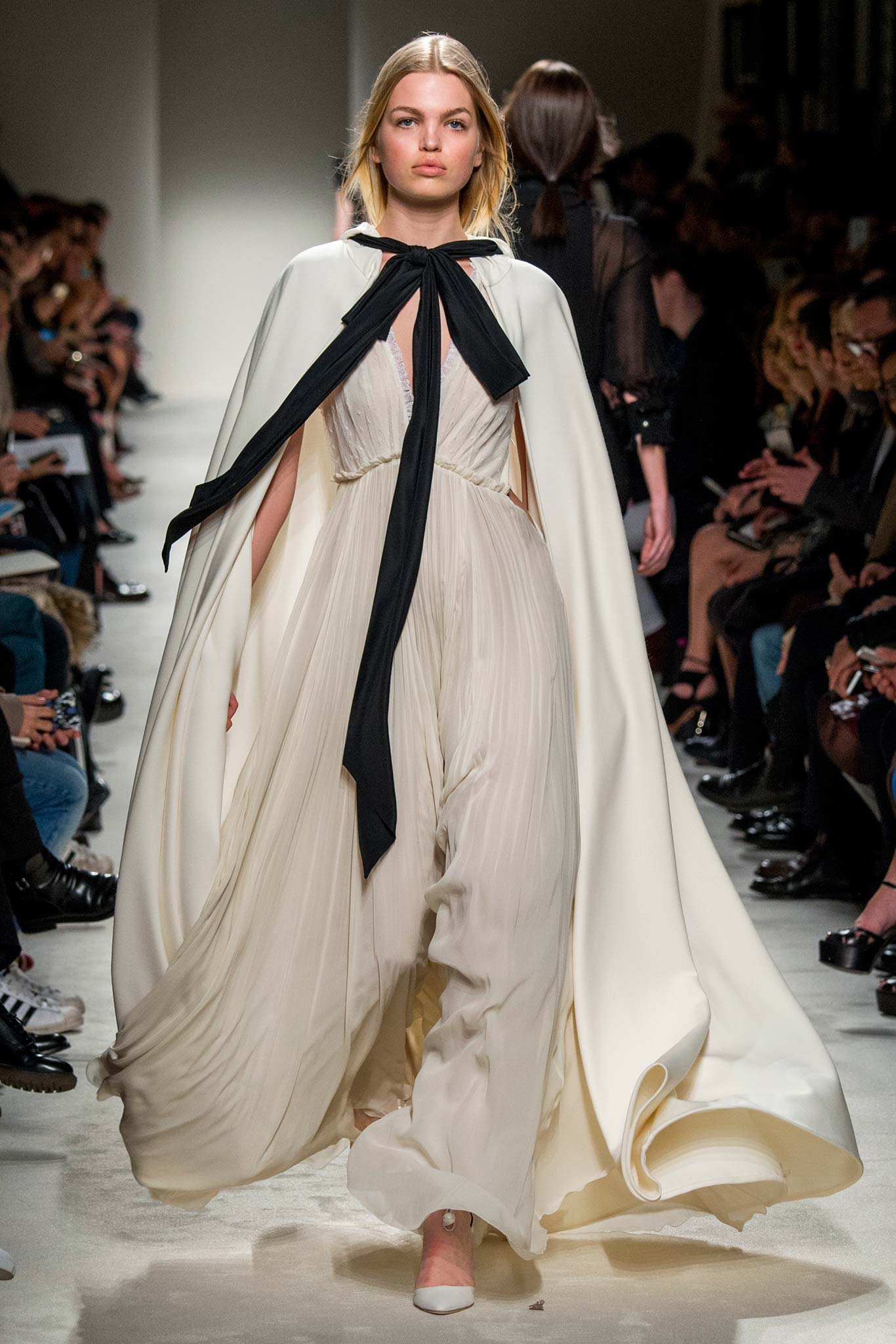 A floor length cape is the definition of drama, no matter the color!
DOLCE & GABBANA:
These guys have been at this gig since 1985, and they just keep producing ravishing collections celebrating the glory of the female, and in this case La Mamma! Whether you fancy yourself Sophia Loren or Betty Draper, or for that matter Ginger, Mary Ann, or the Professor in drag, your ass is covered in some of the most beguiling fashion wear produced anytime anywhere. This is not avant-garde, for that you go Japanese. Rather, these pieces are endlessly lovely, in body conscious and conservative silhouettes, composed of varied laces, fabulous silks (seriously, who puts organza in every collection?), cloque in abundance, and unusual embellishments. And, always with an infusion of whimsy. Only Lagerfeld can compete with these guys when it comes to styling. The bejeweled purses and shoes are well, to die for. Praise the Lord that these guys managed to avoid going to the big house for, ahem, tax issues….I was preparing my own version of Cannoli with a surprise inside.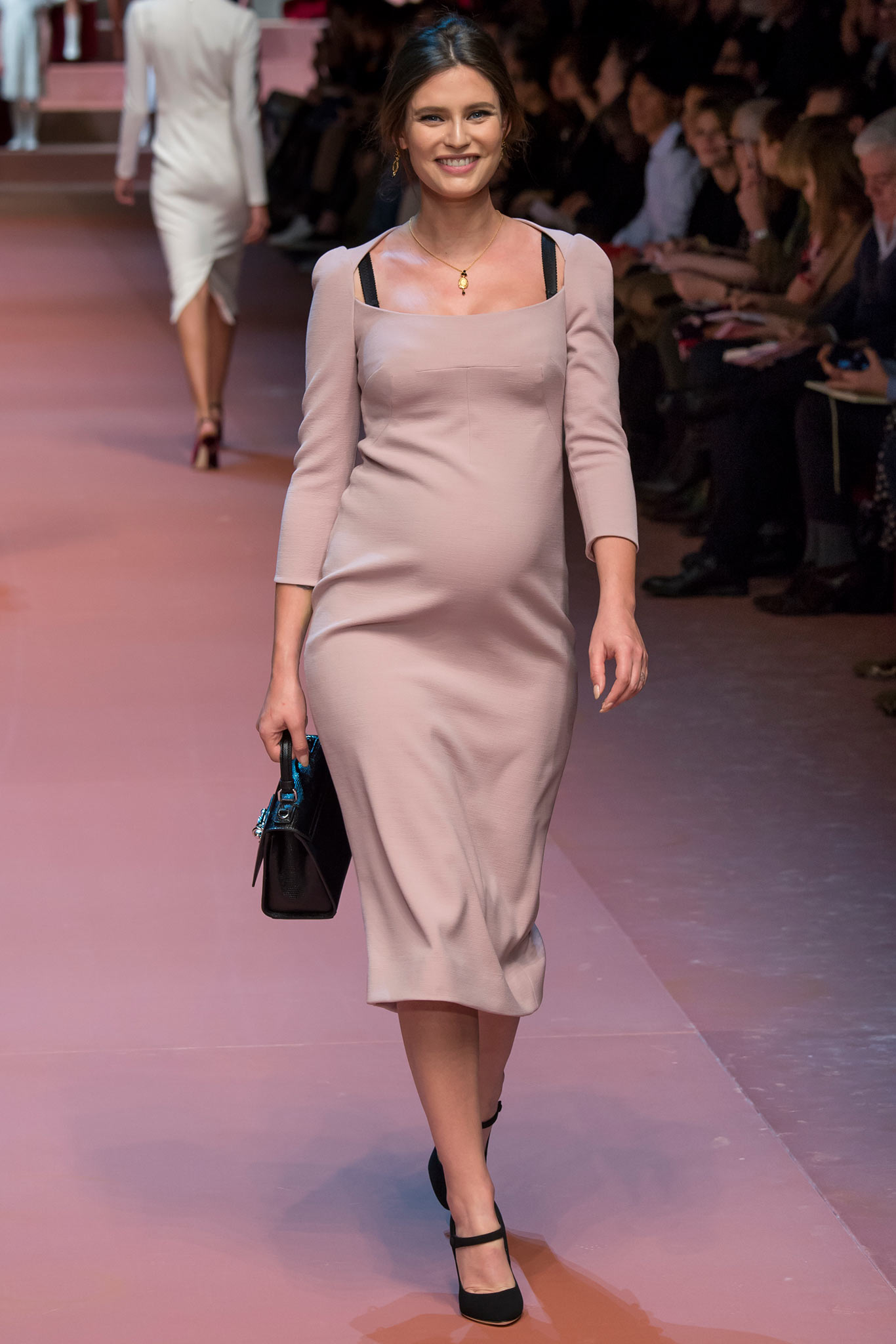 Love it! Just because one is with child is no reason to be relegated to shmata.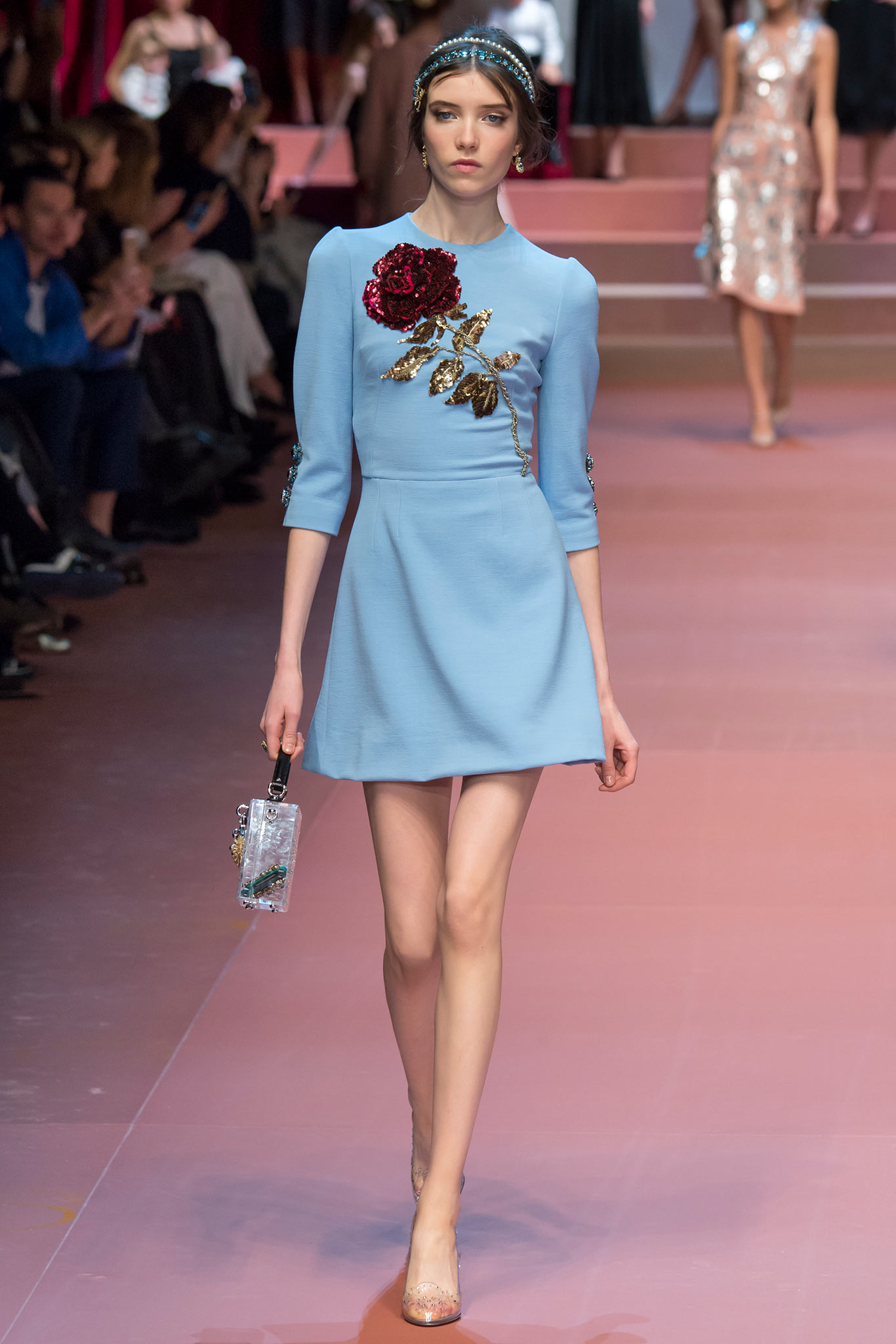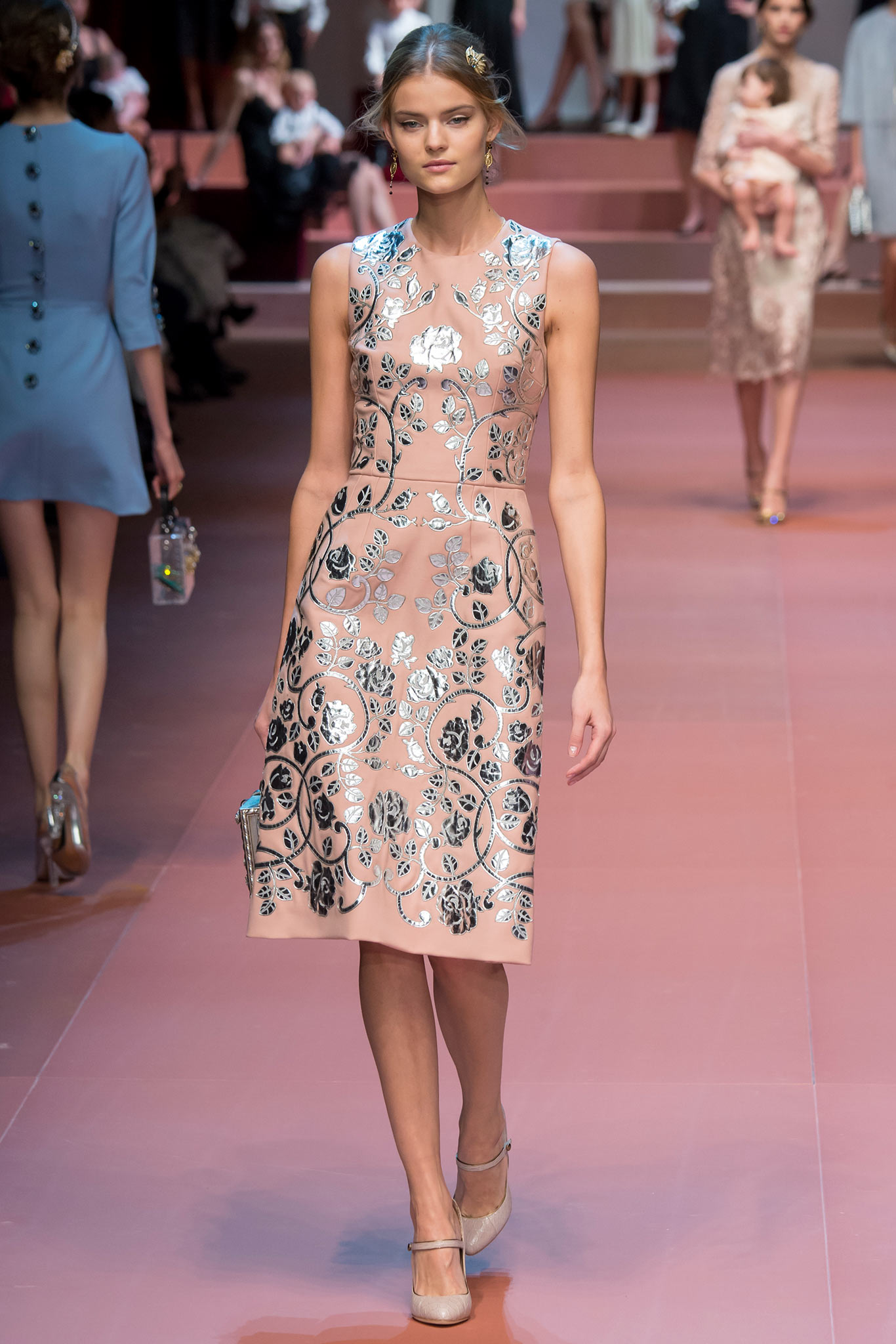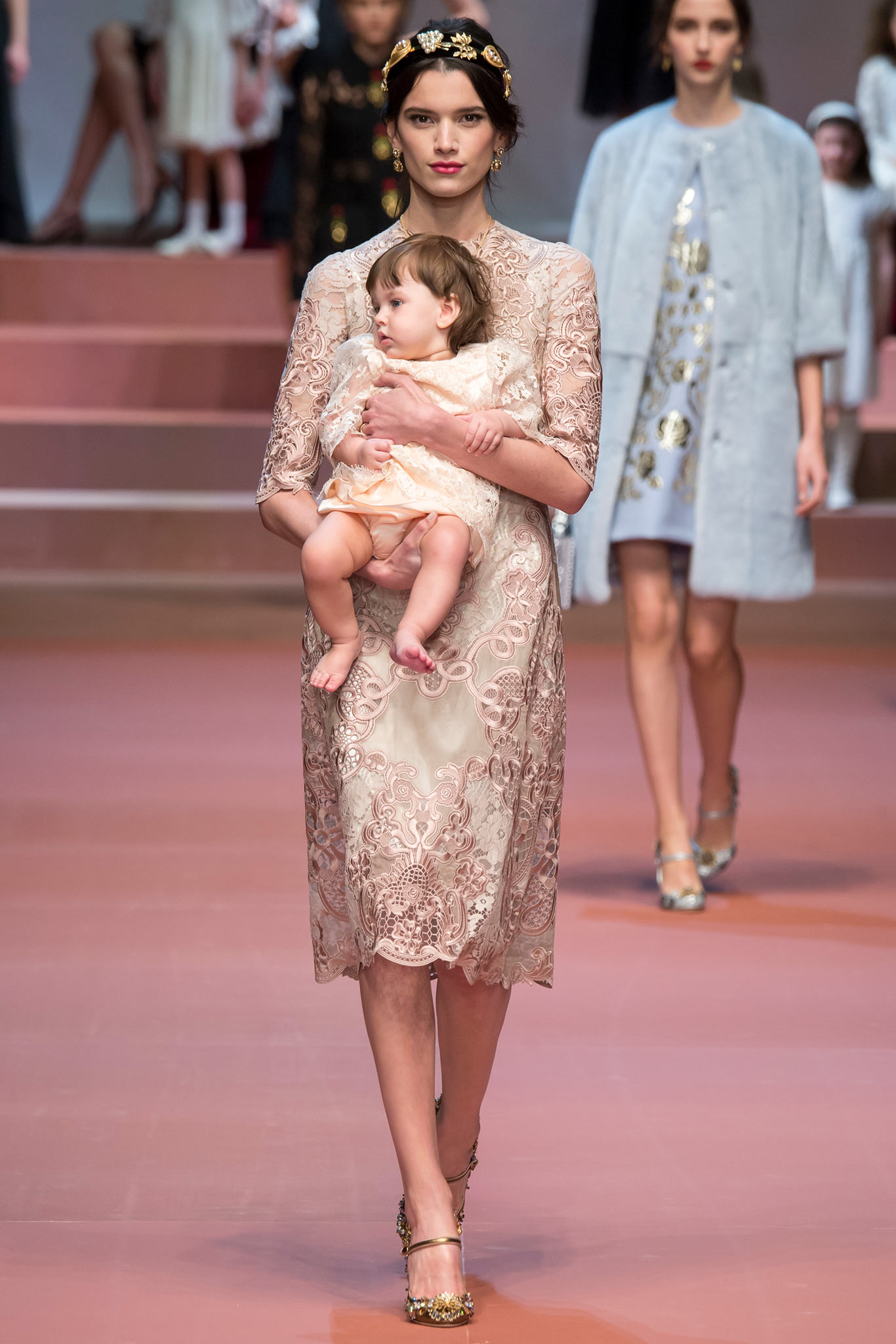 The dress, the shoes………dreamy.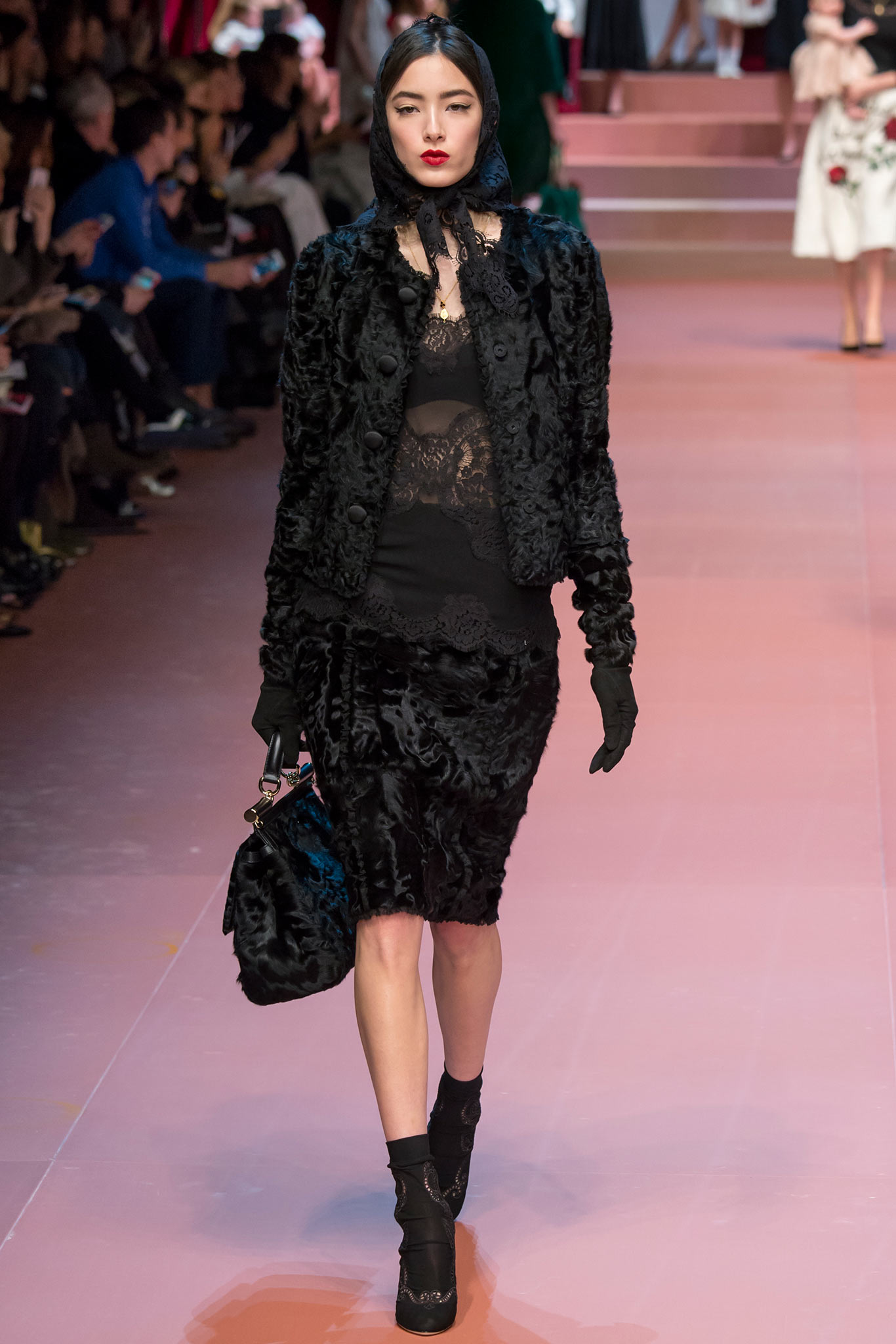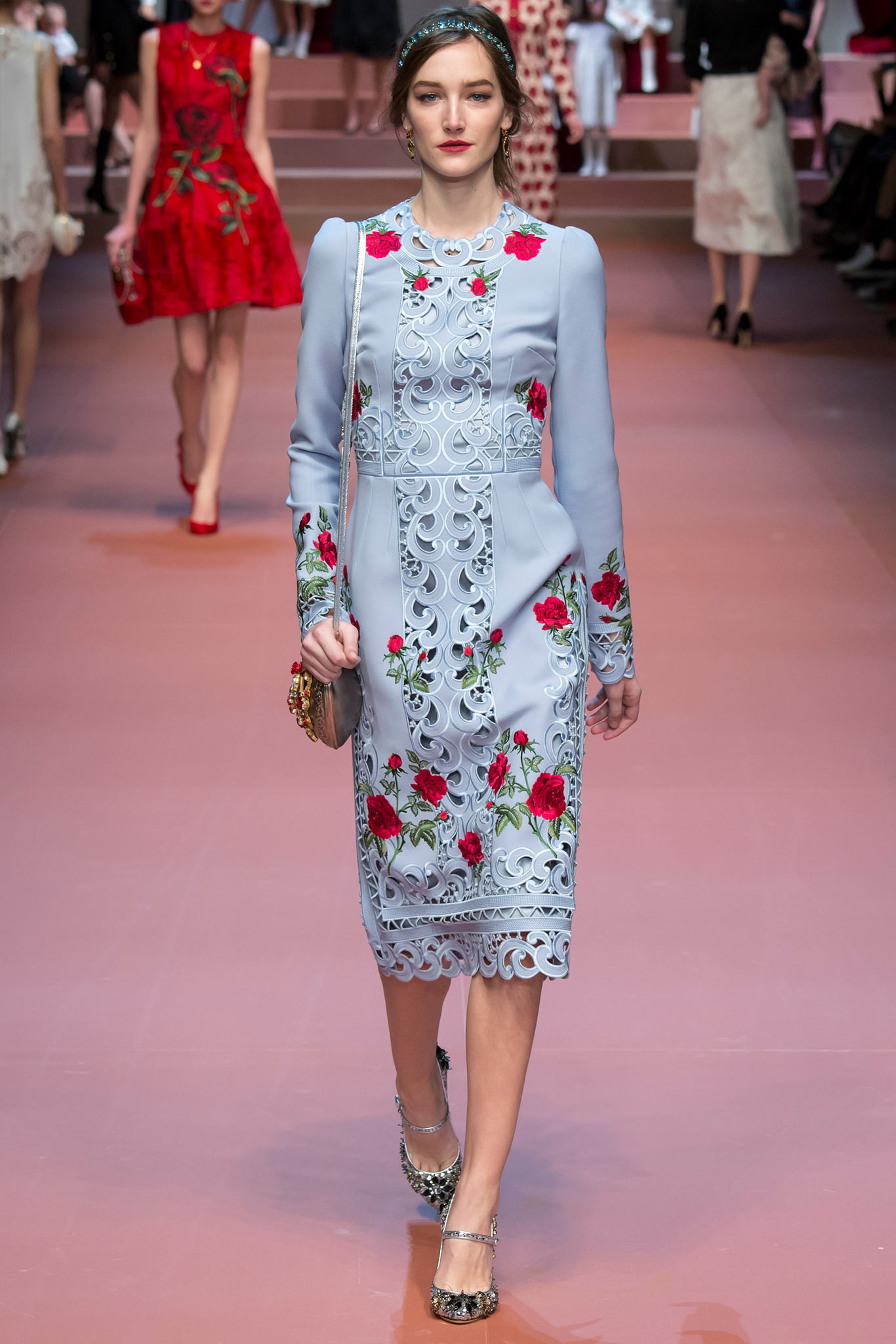 Every major pastel makes an appearance.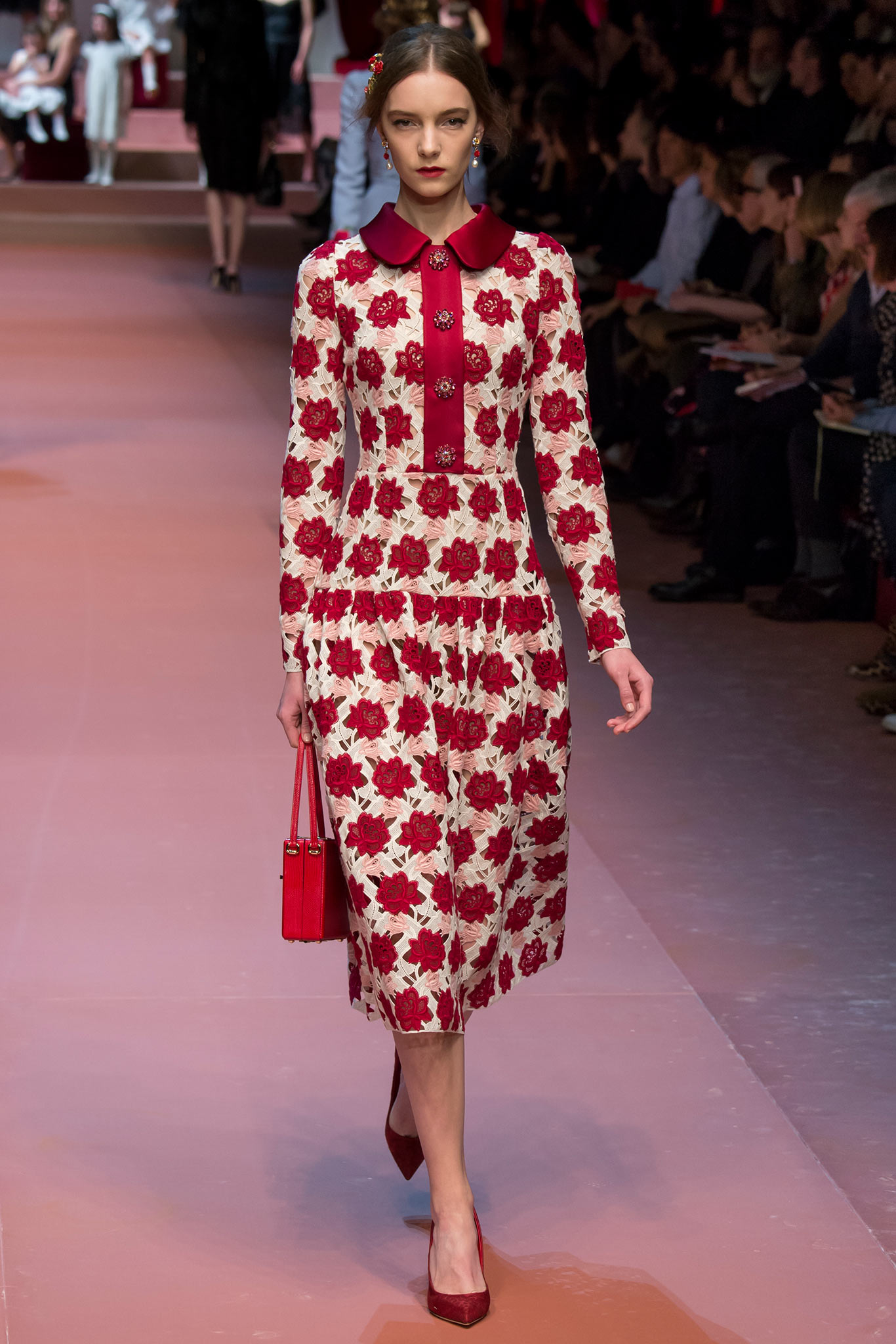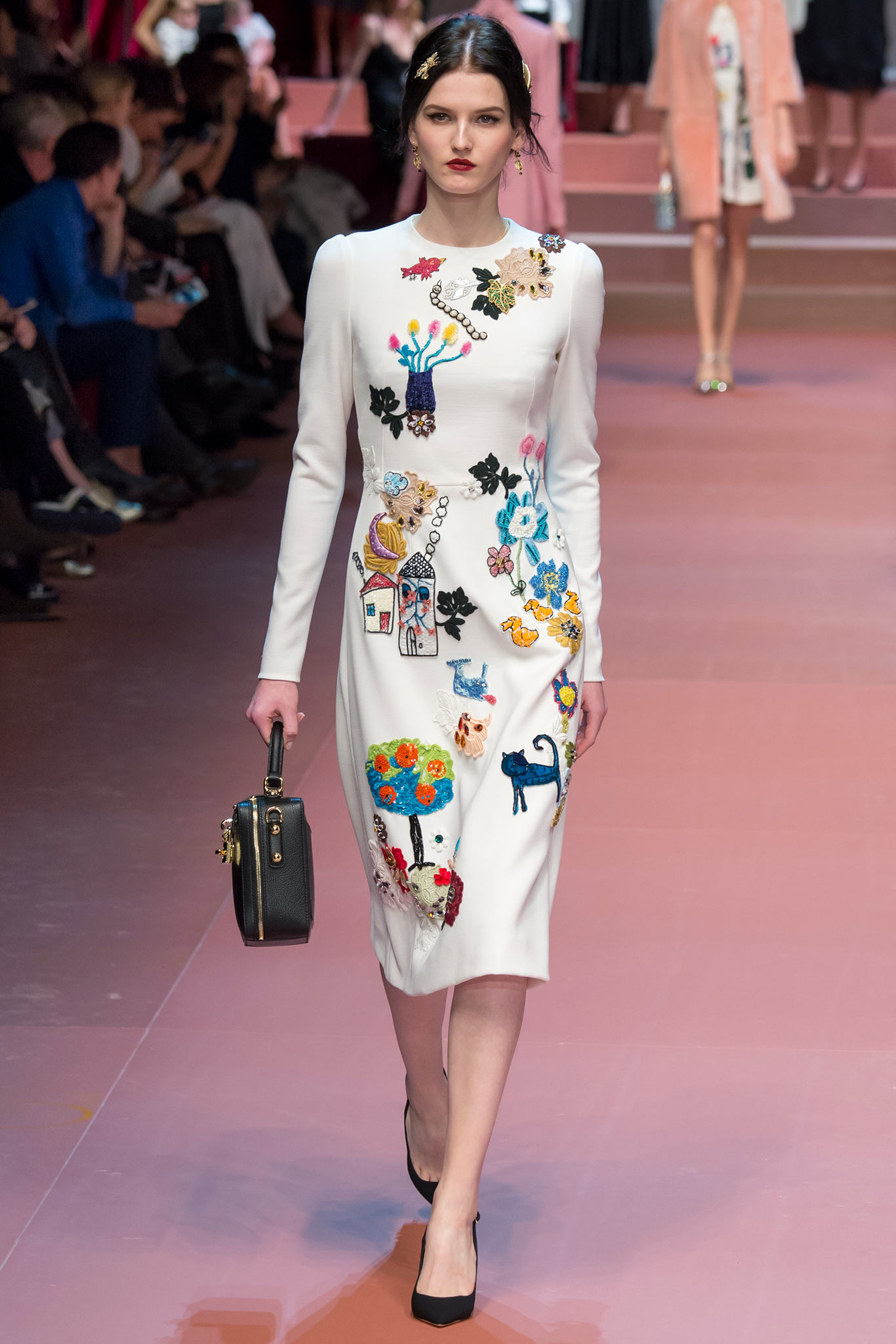 The wackier the pattern, fabrication, or adornment, the simpler the silhouette needs to be.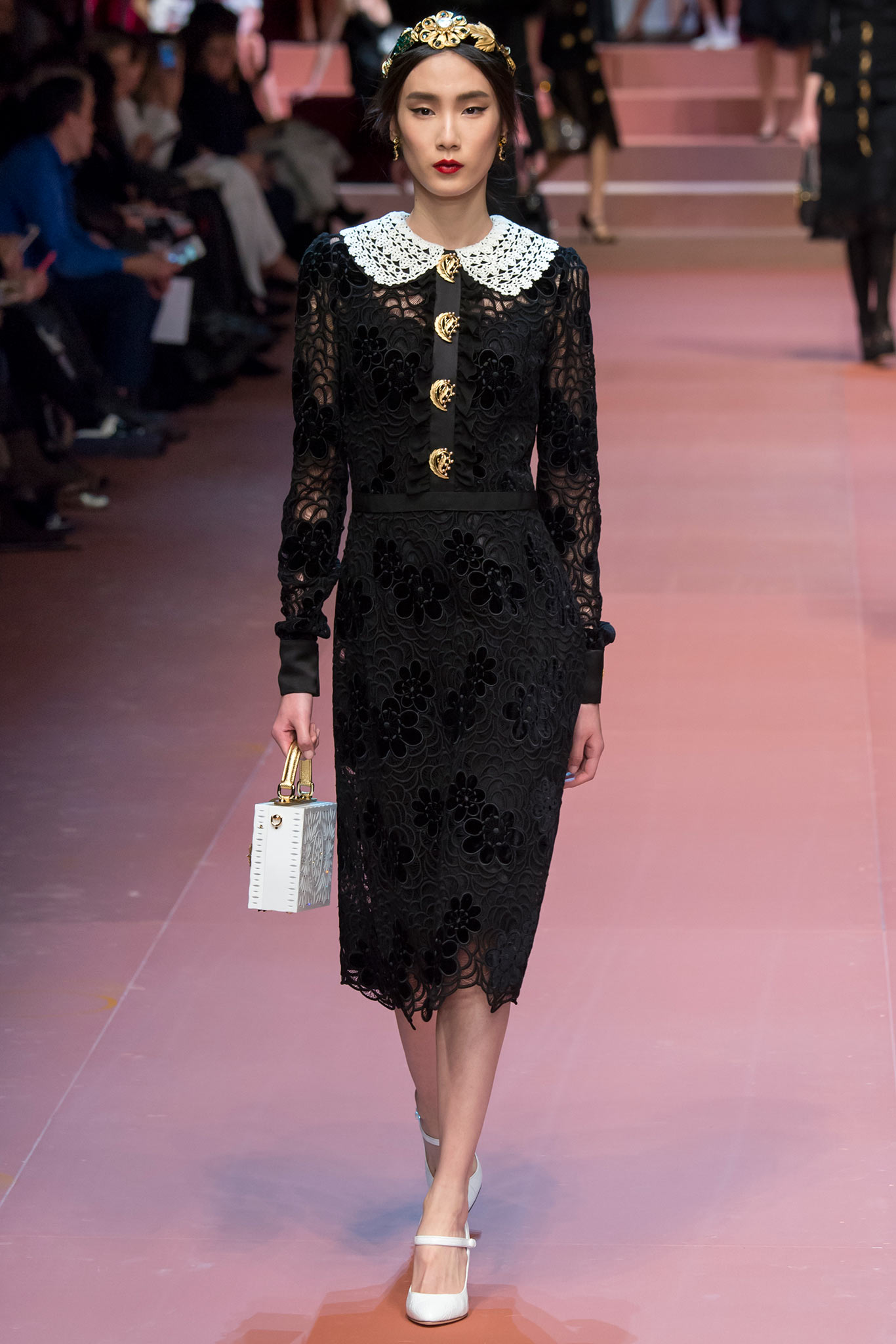 These guys are also the master of the LITTLE BLACK DRESS. With or without the bells and whistles, these are perfect fodder for anyone who wants to look elegant and pulled together with a modicum of effort. And if in doubt, BLACK PATENT MANOLO'S.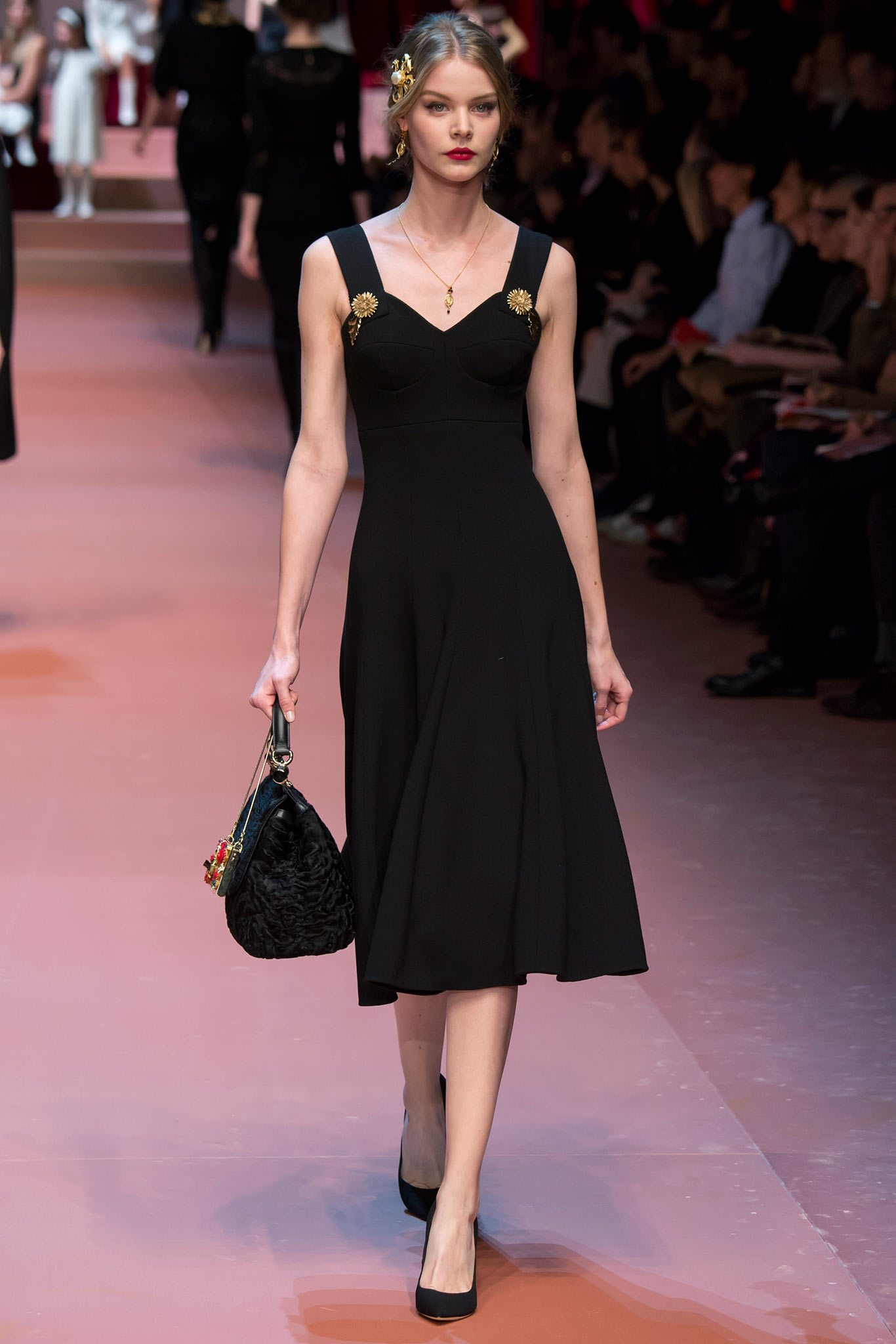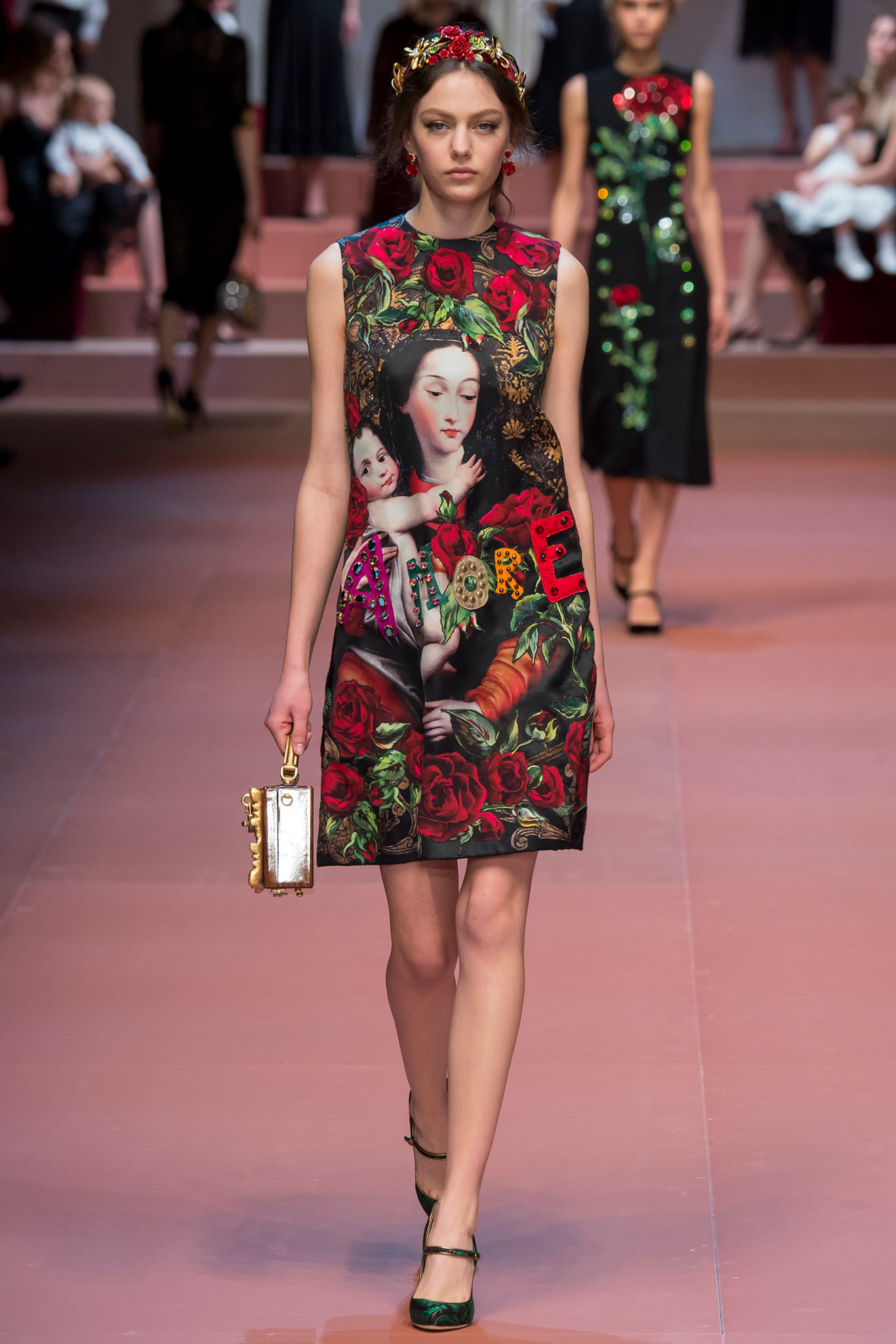 Easy yet striking in an A line silhouette. Great as a tunic as well.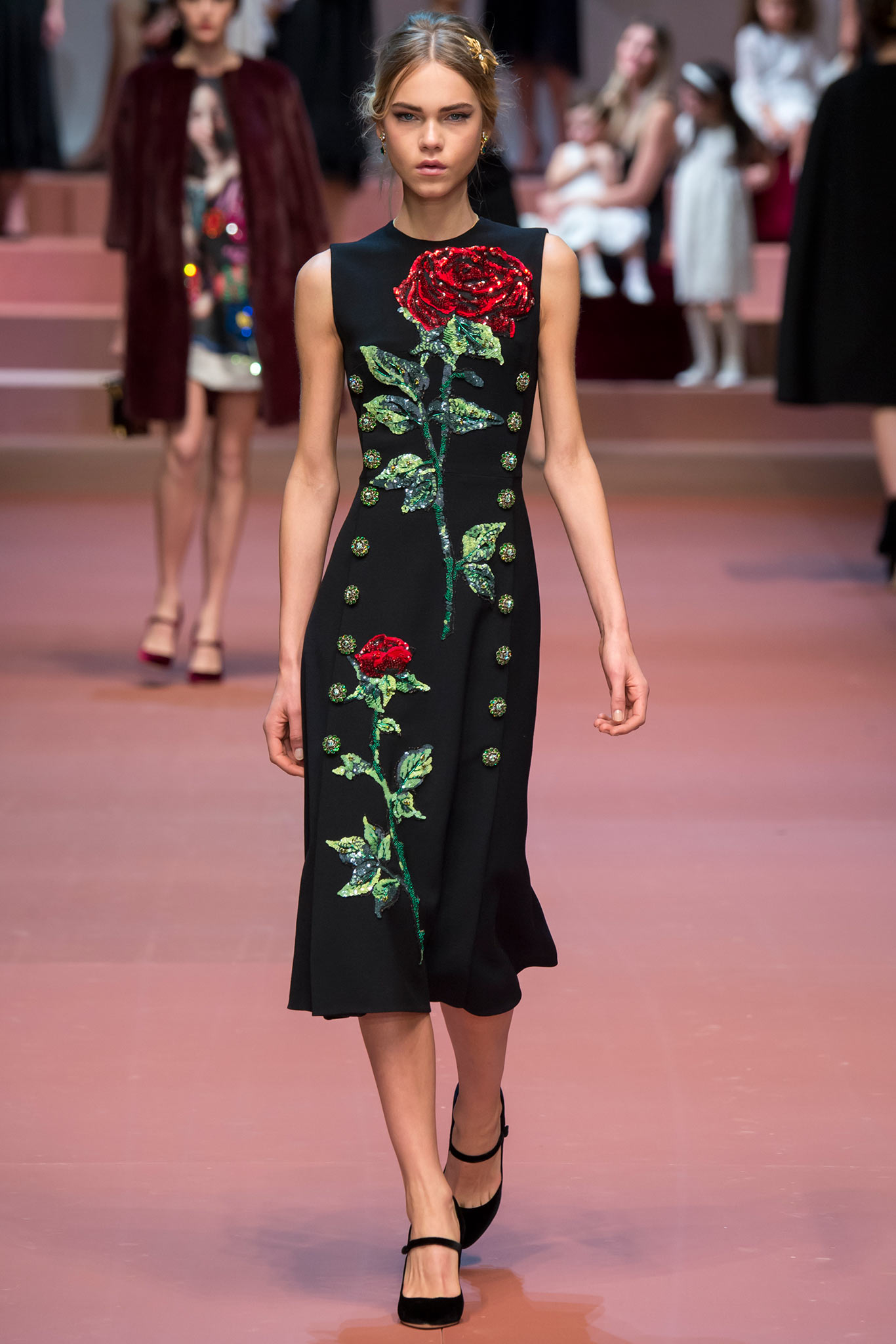 If its Dolce & Gabbana, there will be black and there will be RED.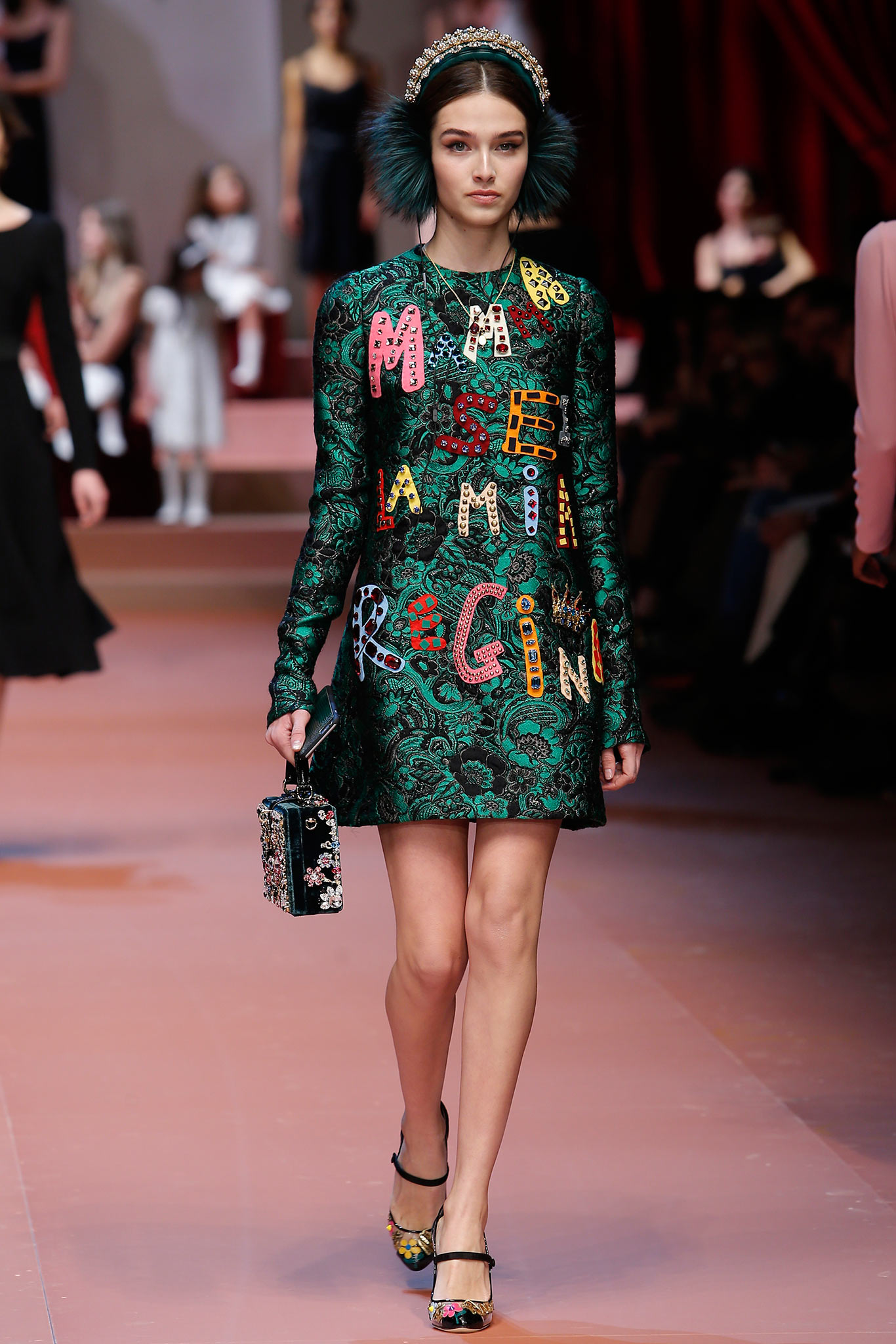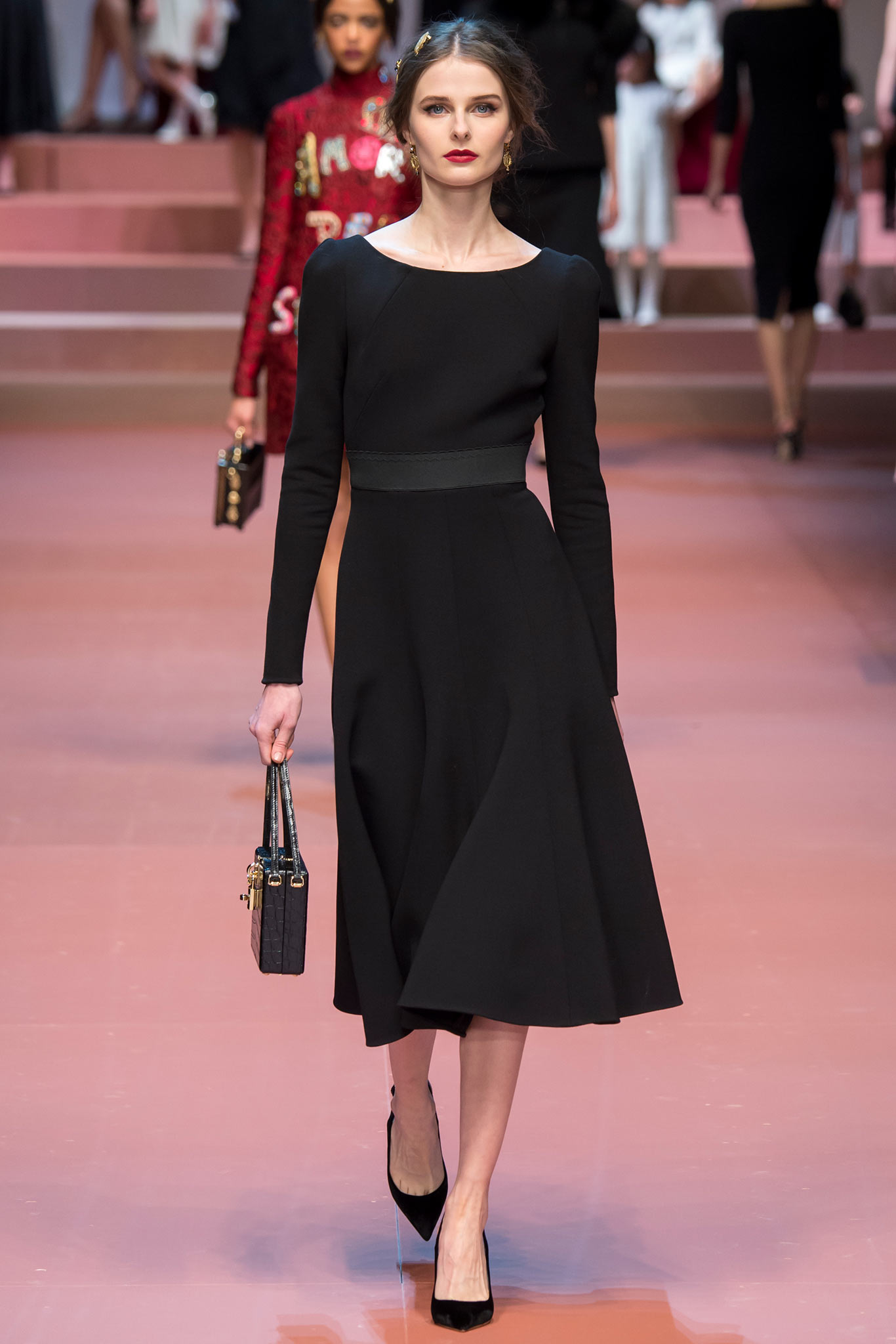 A perfect canvas which can be transformed by layers of pearls (think faux), brooches, a floral Hermes scarf, or a brightly colored pashmina. Or, stumble out of bed, throw this on as is, and be the best dressed person in the office. Glam up with deep garnet lipstick.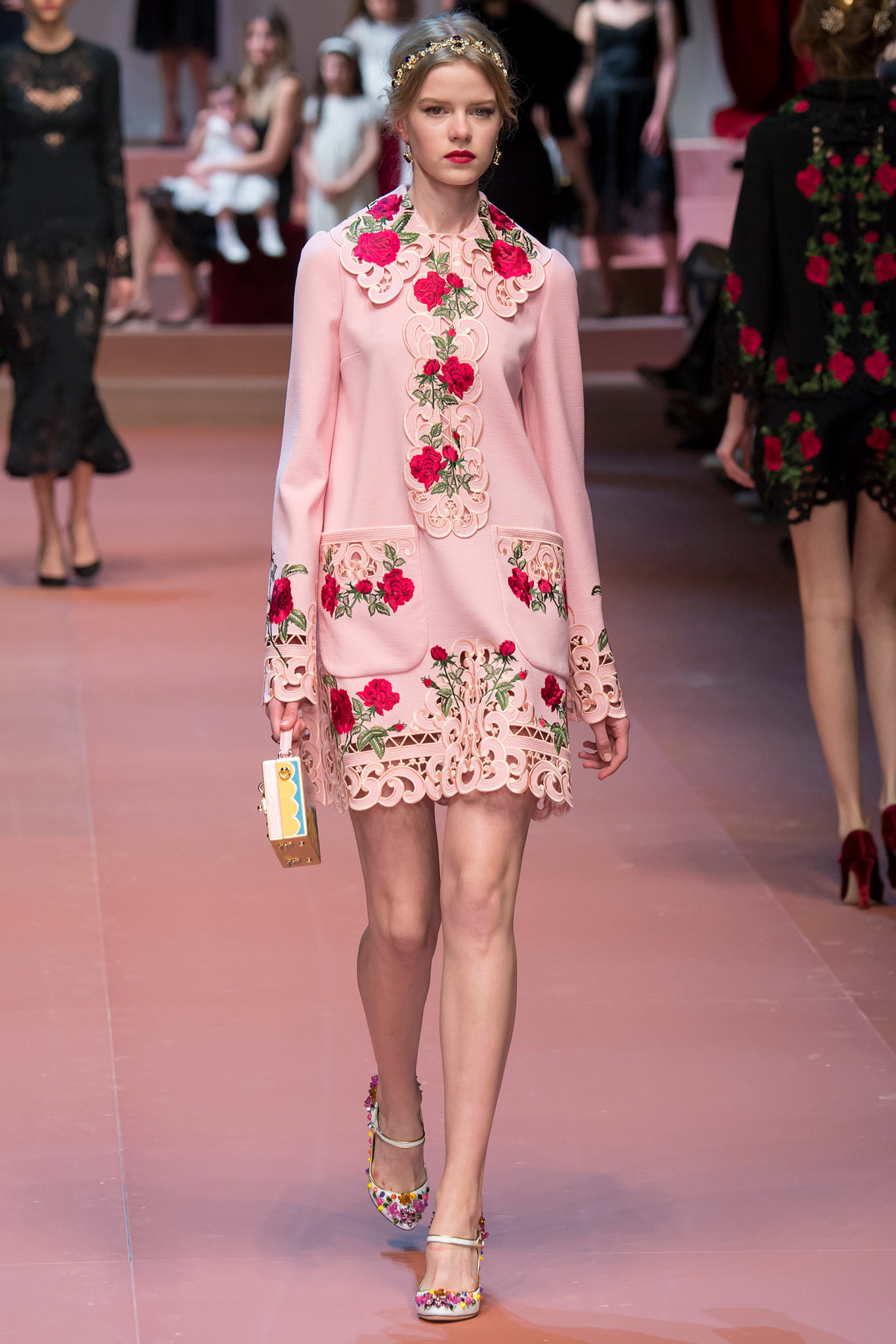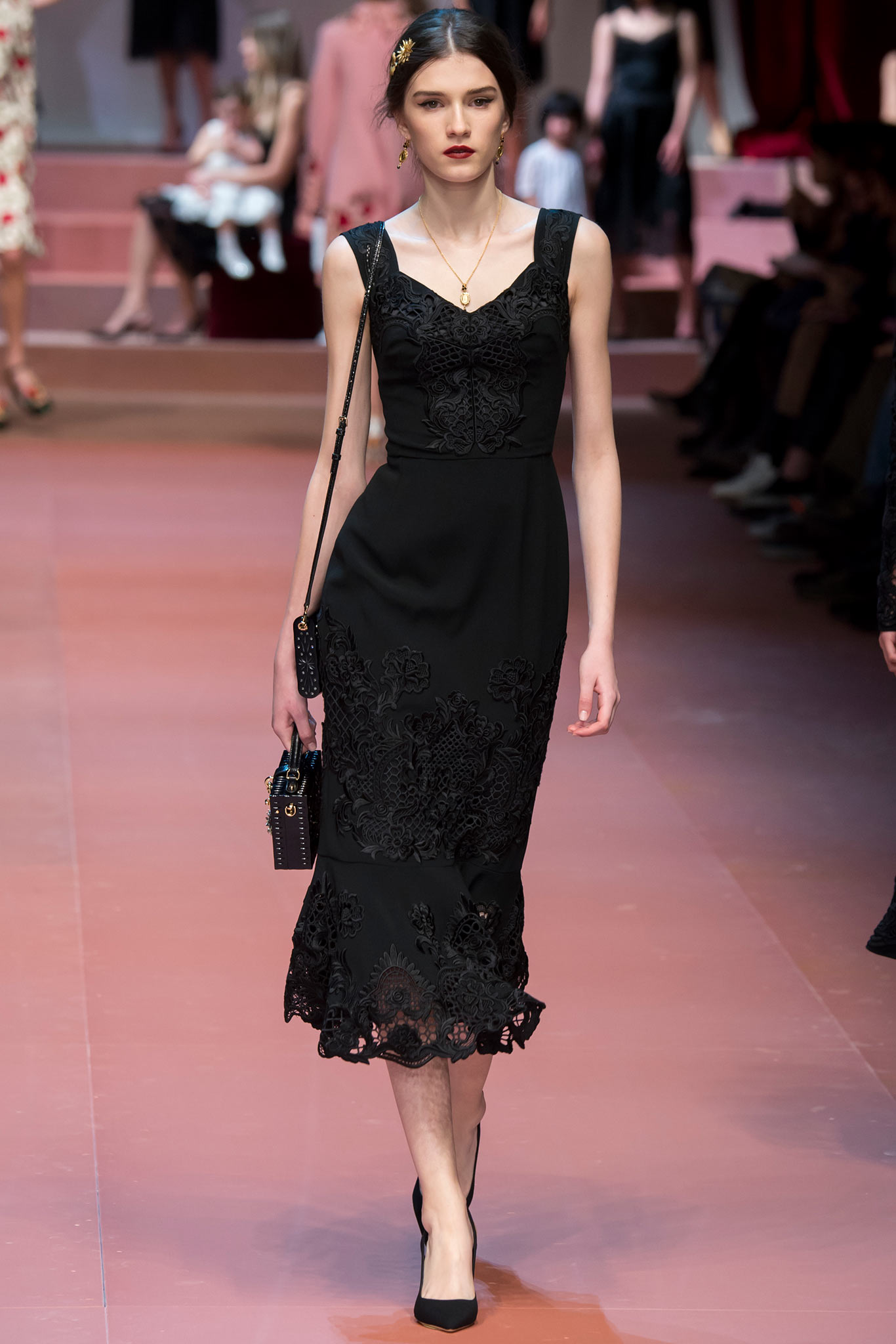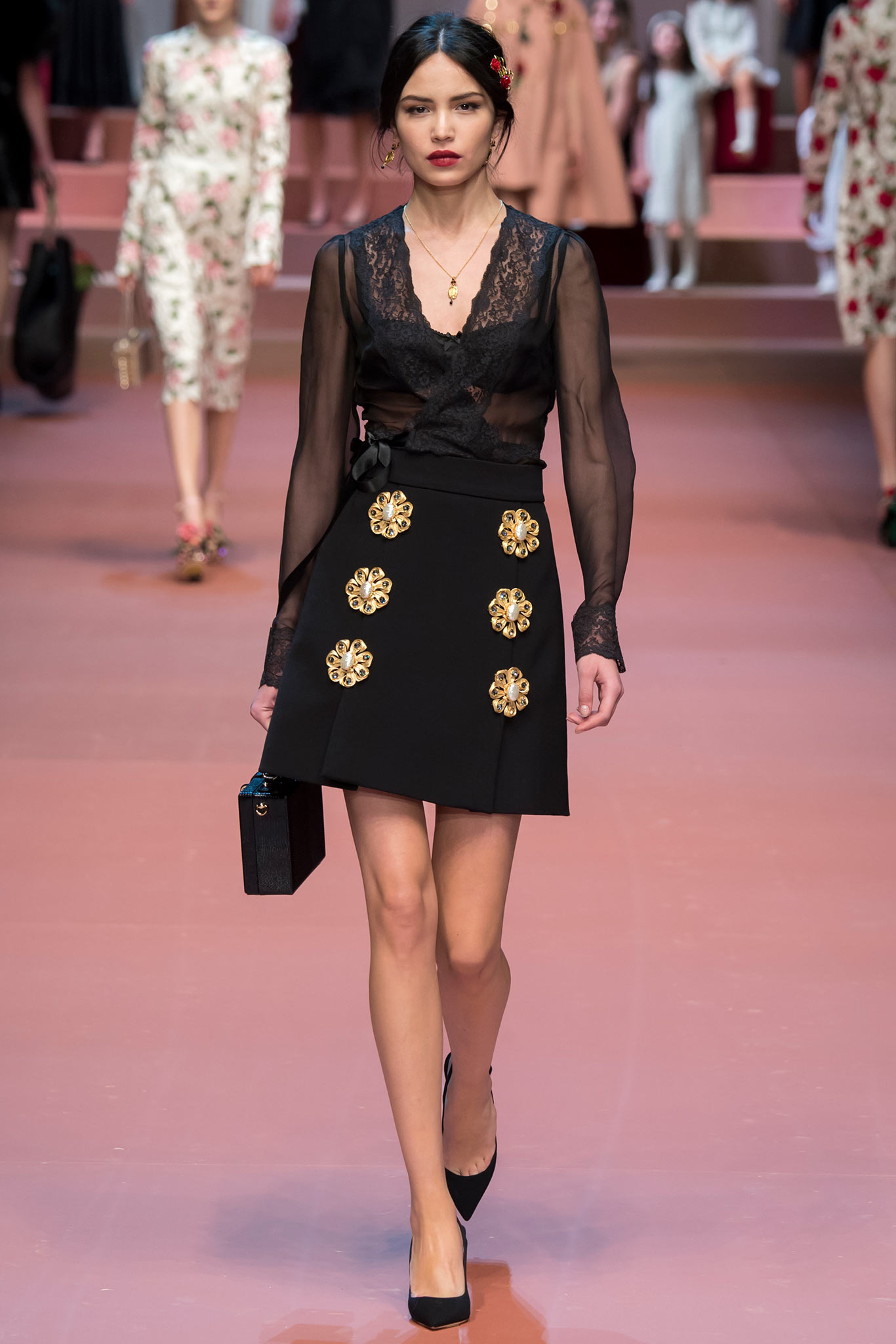 I'd pair with a cream ruffly chiffon blouse.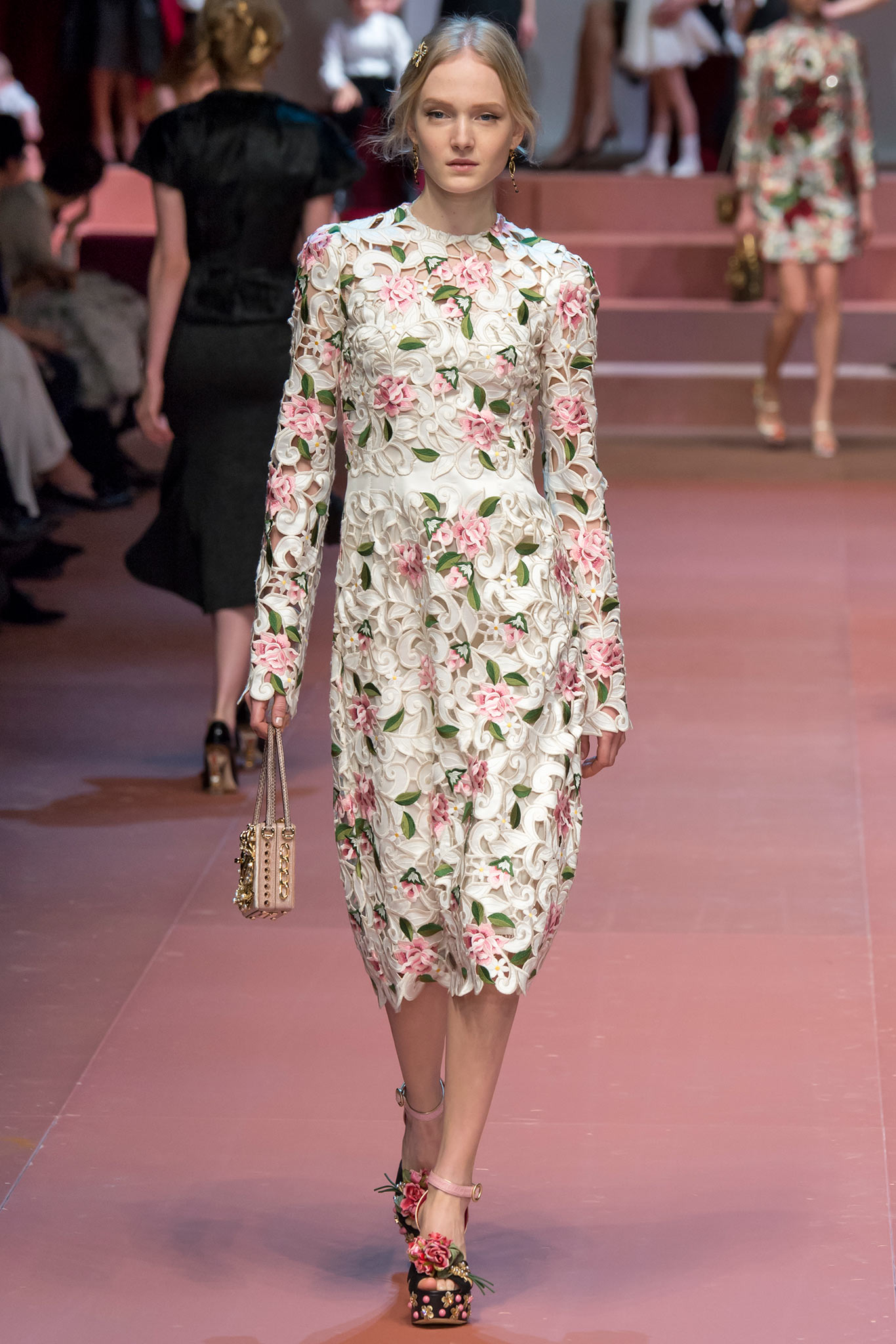 Perfection.....and then we have those shoes......b a m.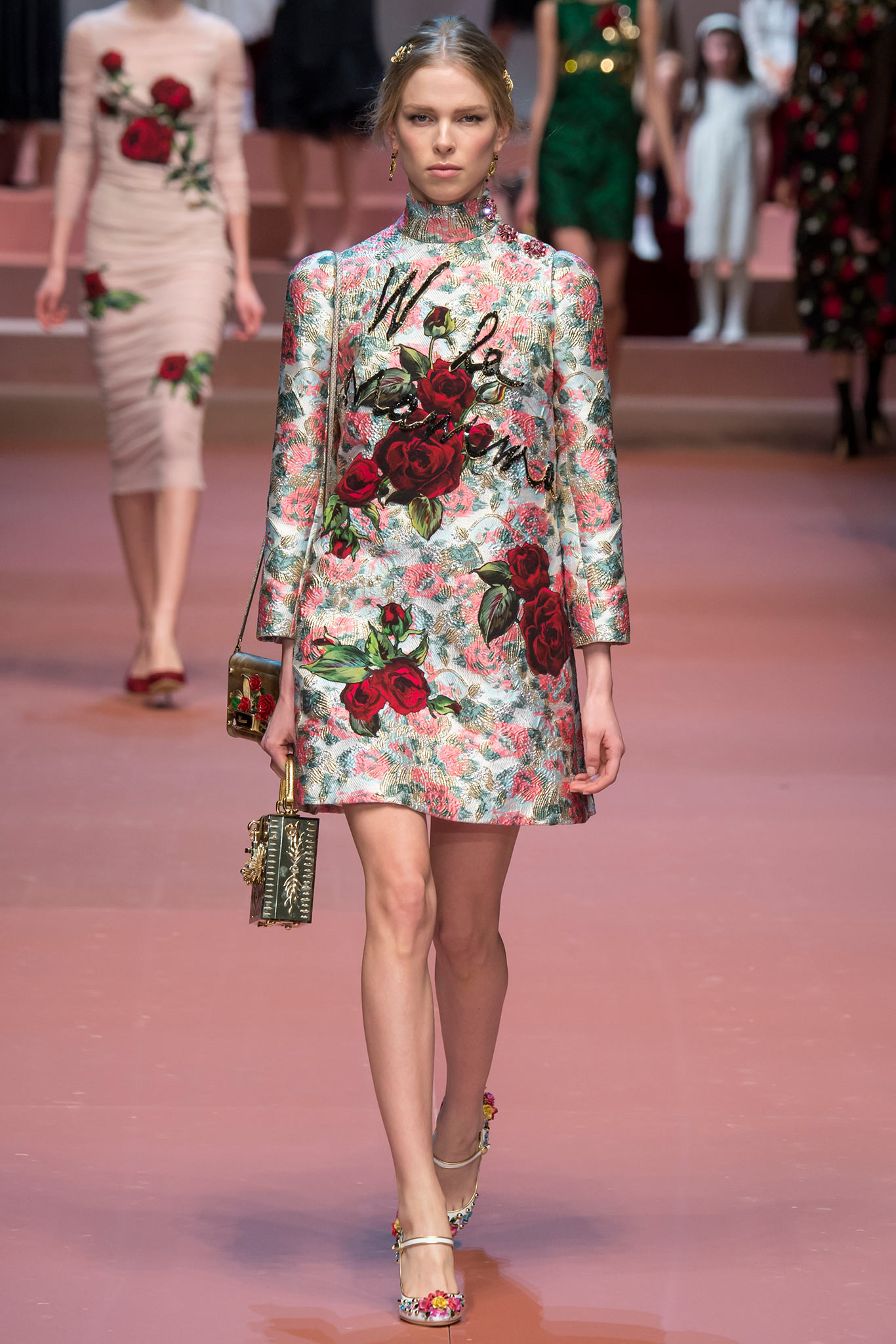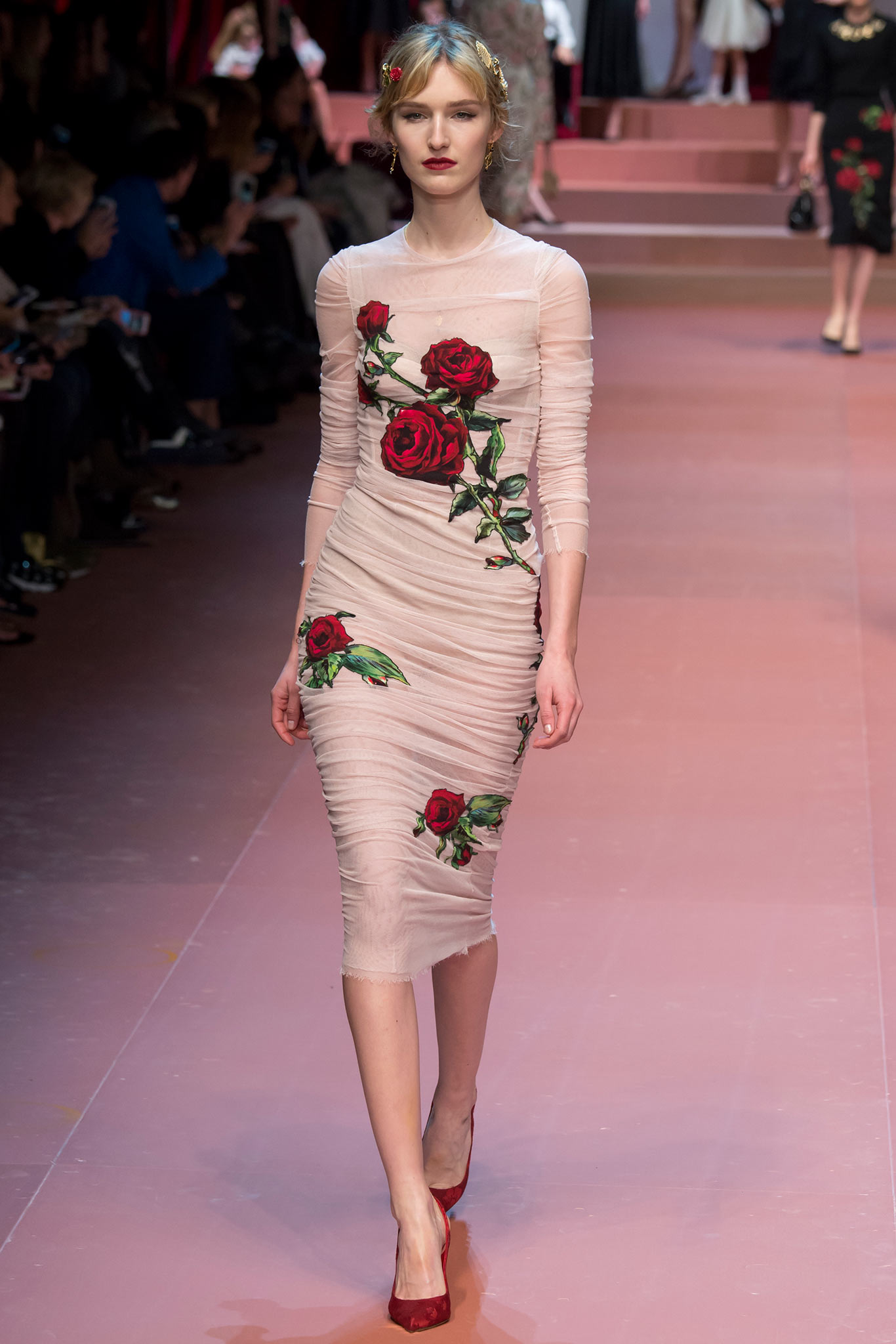 Vintage Dolce for the sexpot.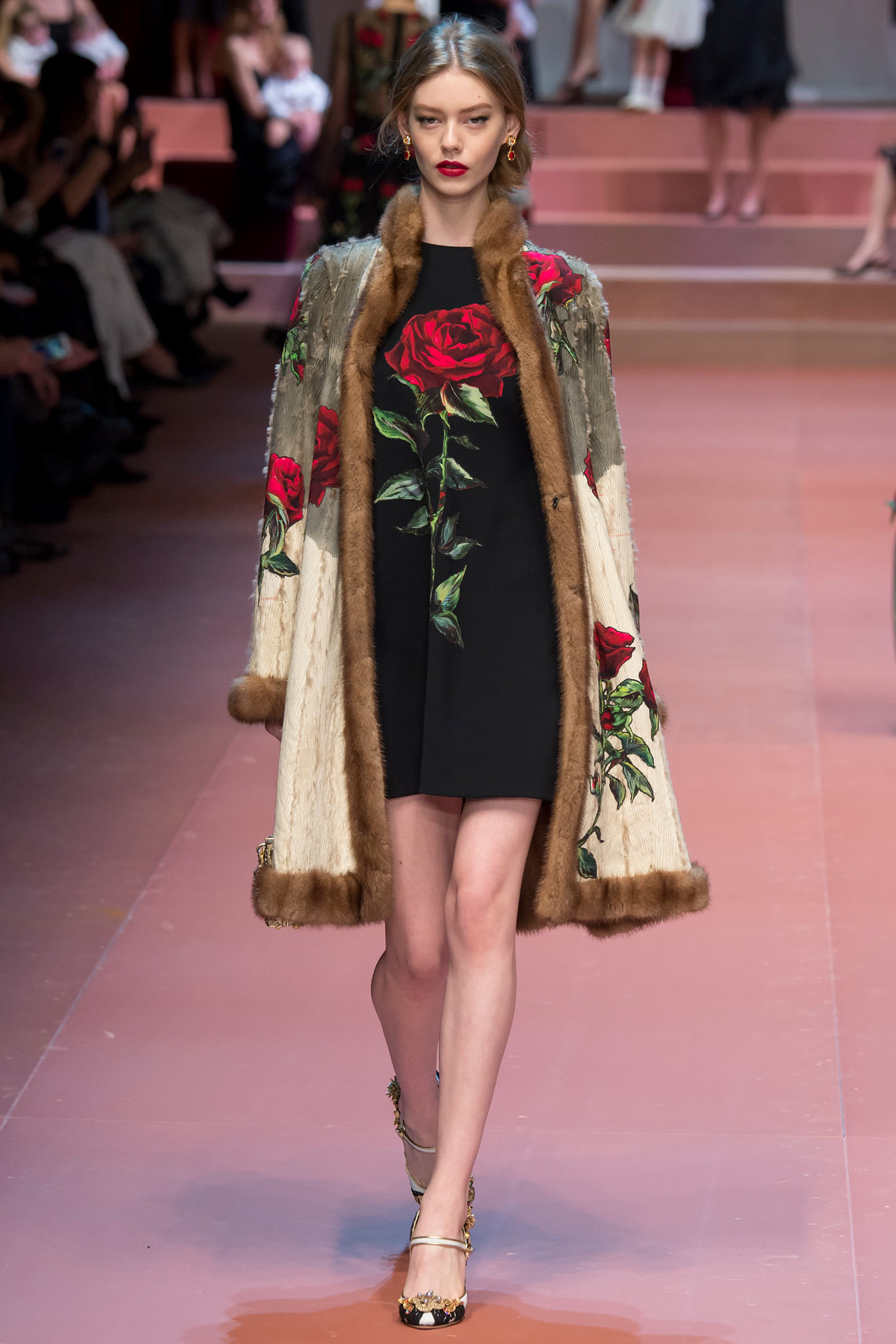 $$$$$$$$ for sure, but worth it.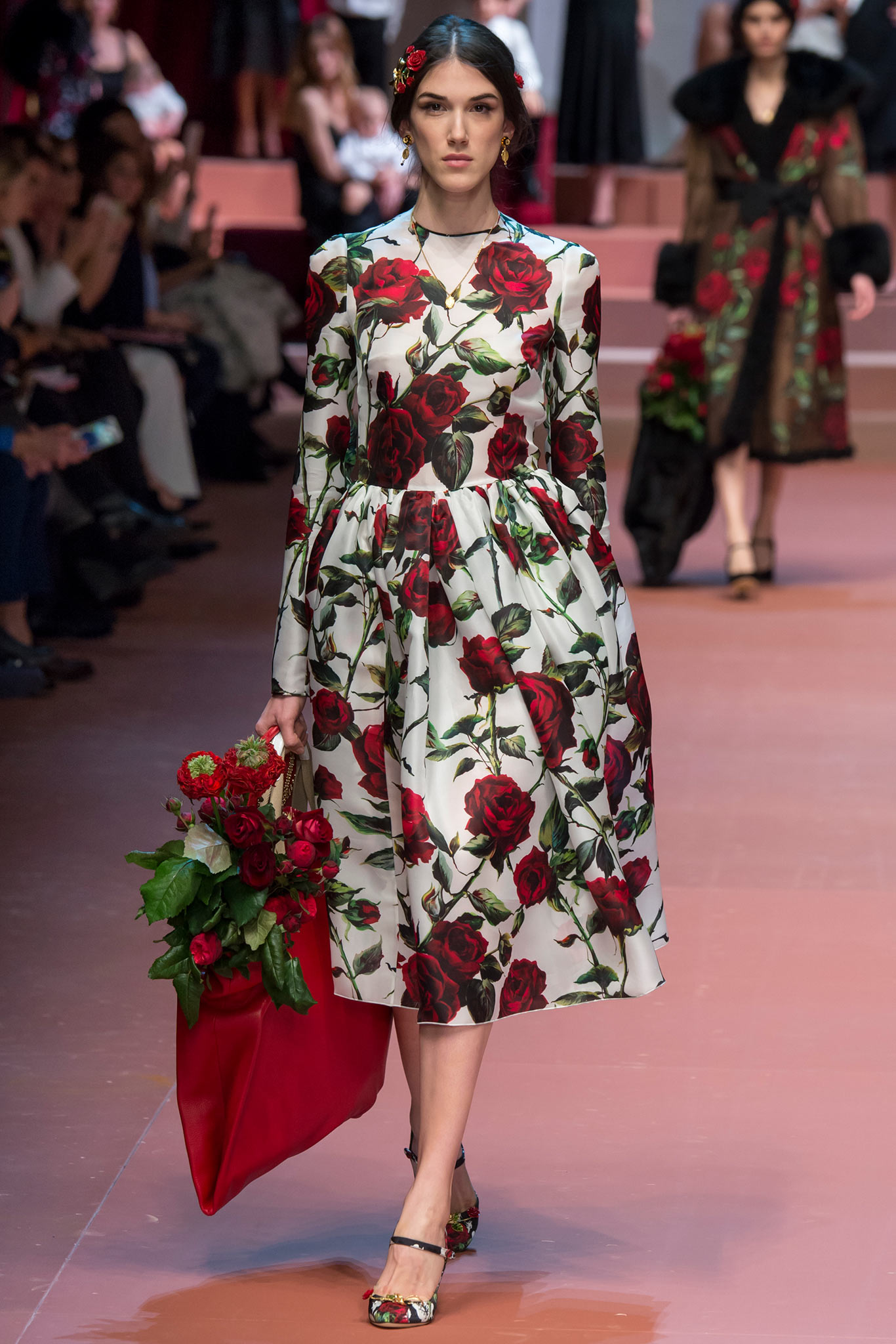 Perfect for a garden party, a wedding, a black tie event.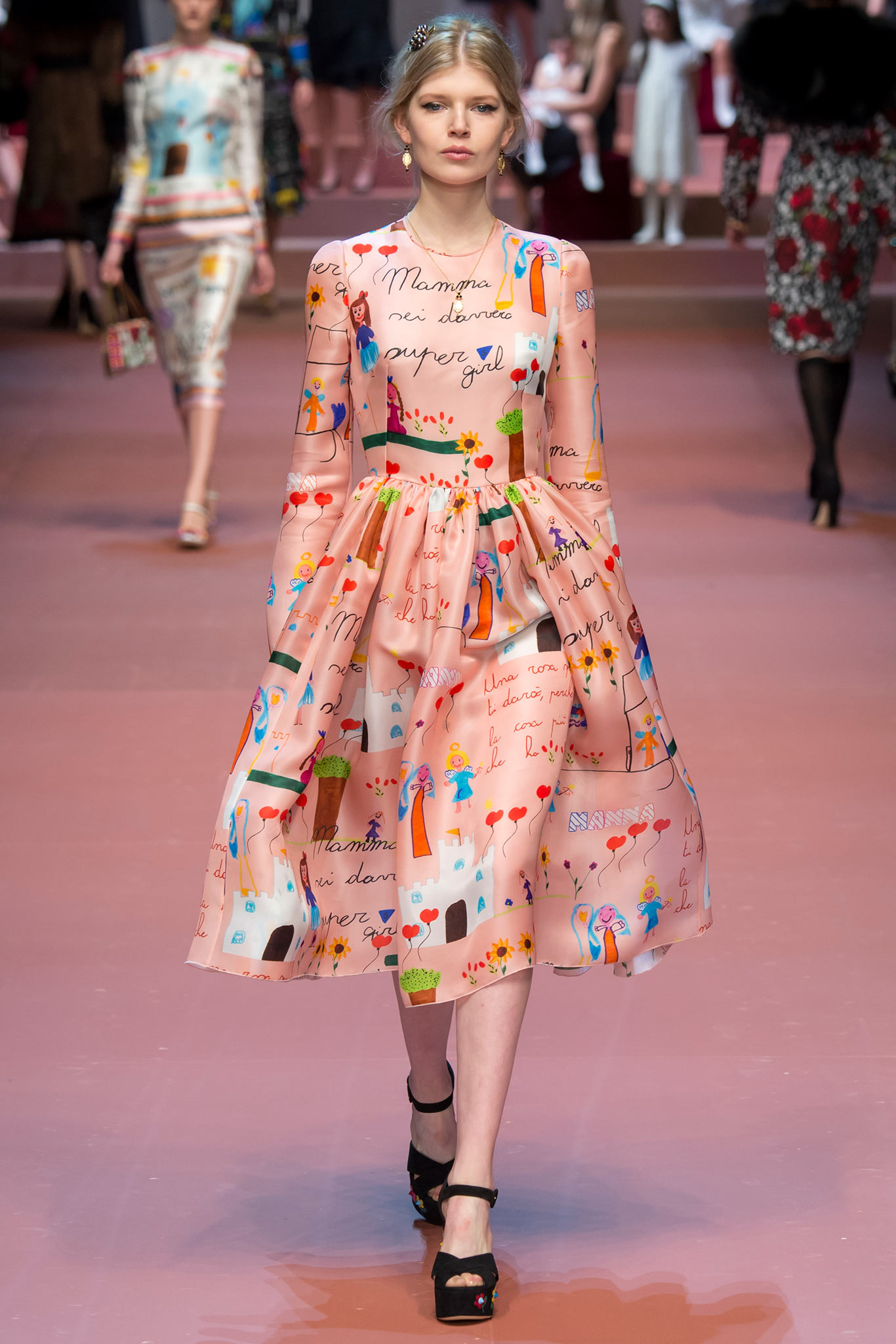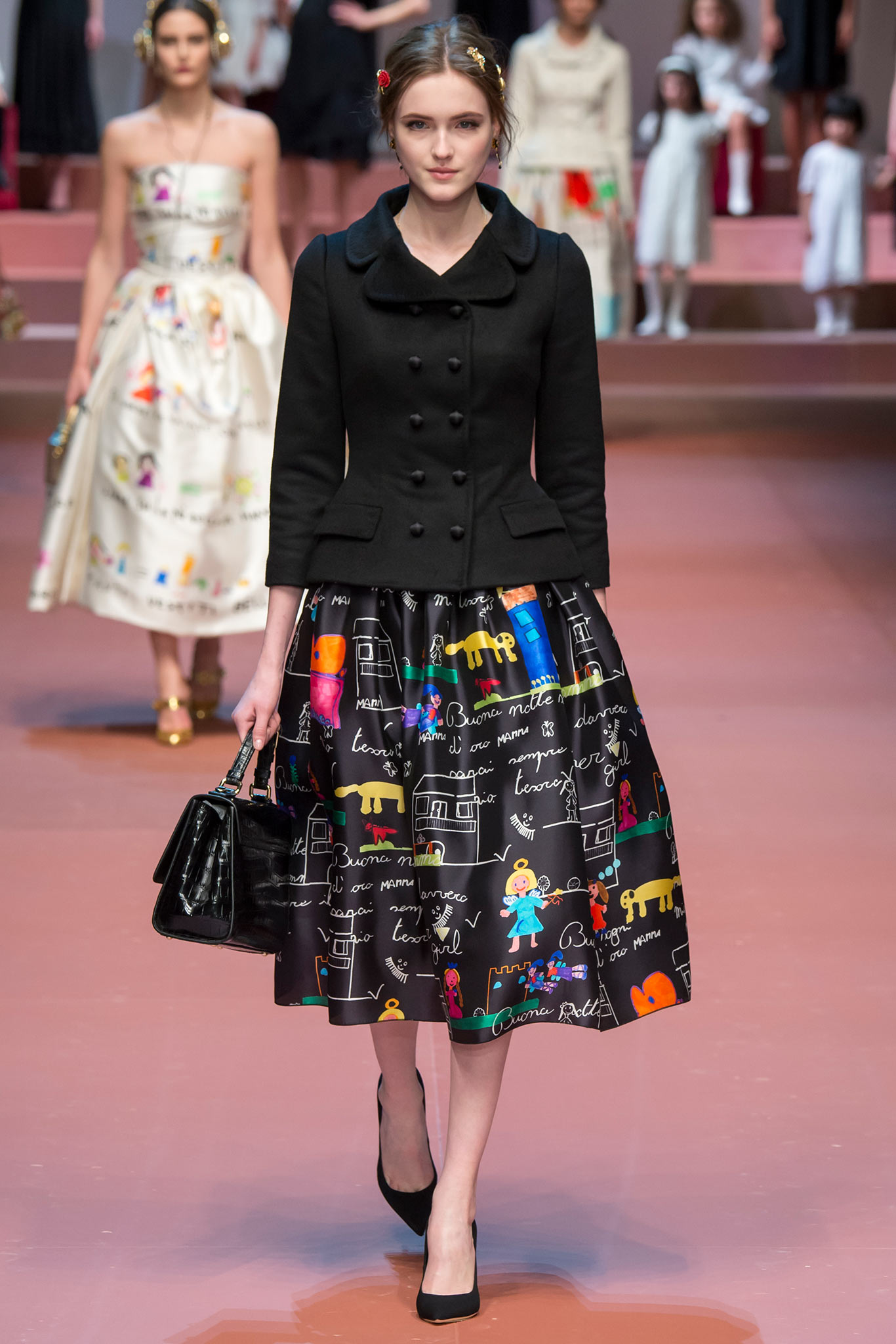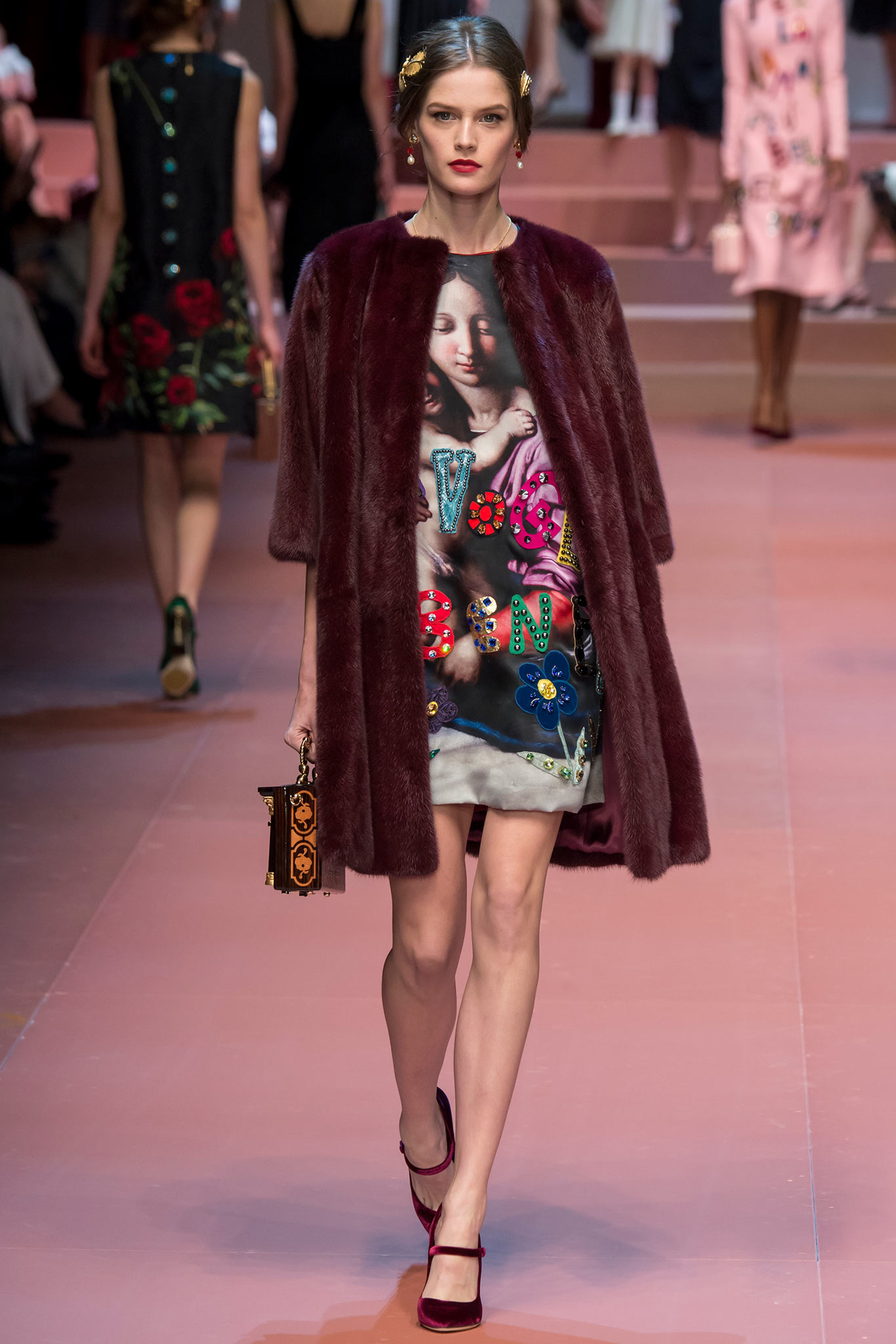 Where else will you find velvet shoes in claret?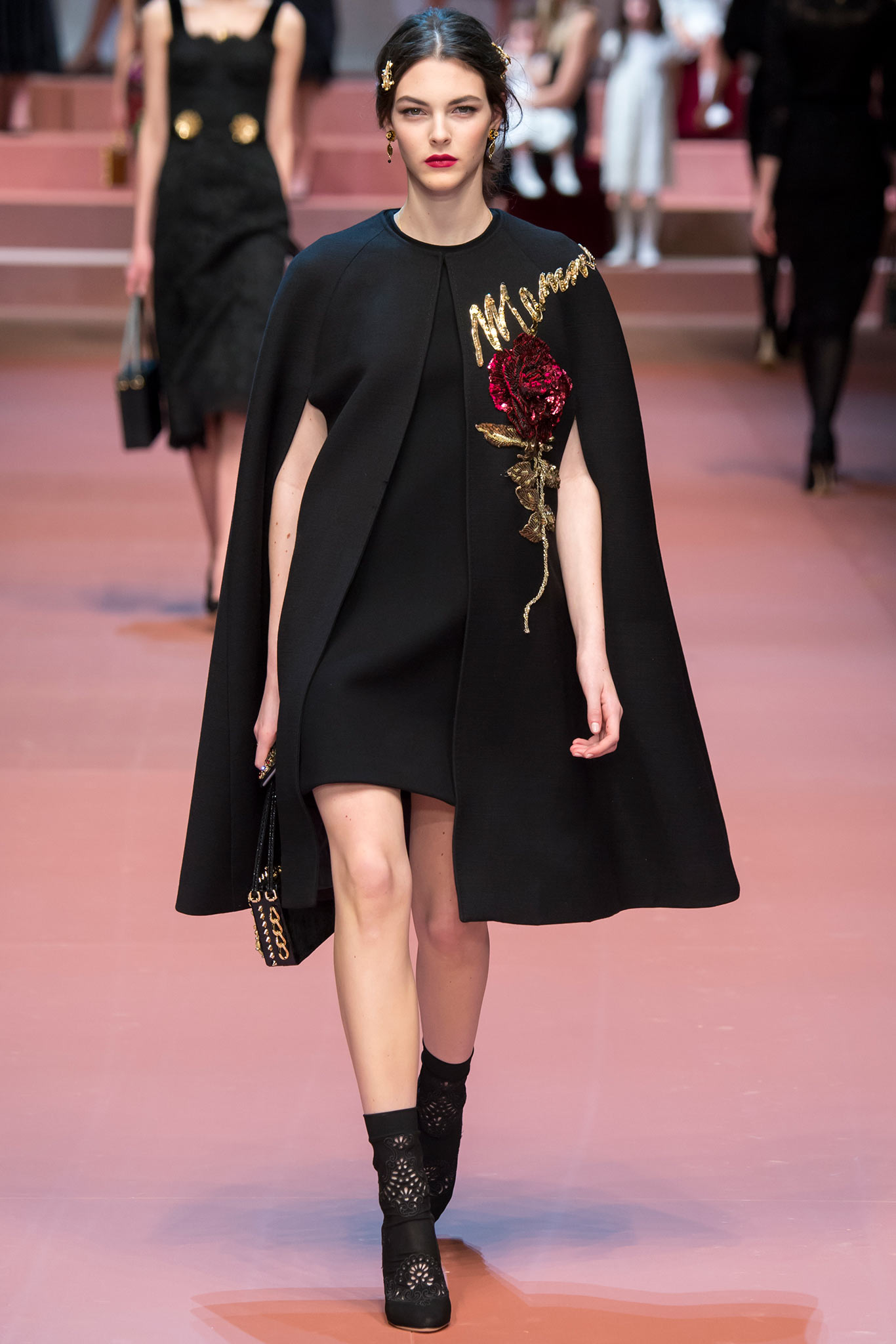 BELLISSIMA!
Ciao Amici!
Images brought to you by www.style.com