Its the end of May and its F R E E Z I N G.....at least in San Francisco speak when it must be below 50 degrees outside, its like Antaractica without the Penguins....so ironically, though mid Spring, a great time to start thinking about fall winter coats. The runways were rife with dresses, not so much jackets and coats, however there were a few eye-popping standouts, along with some wacky entries, and gorgeous options care of the American, French, English, Italian, Belgian, and Japanese fashion artists and their cadre of artisans, to keep all, from the pragmatist to the aesthete warm and satisfied. Black was a constant presence, as per usual, but a wide wondrous color palette was also to be had to spice things up.
AKRIS: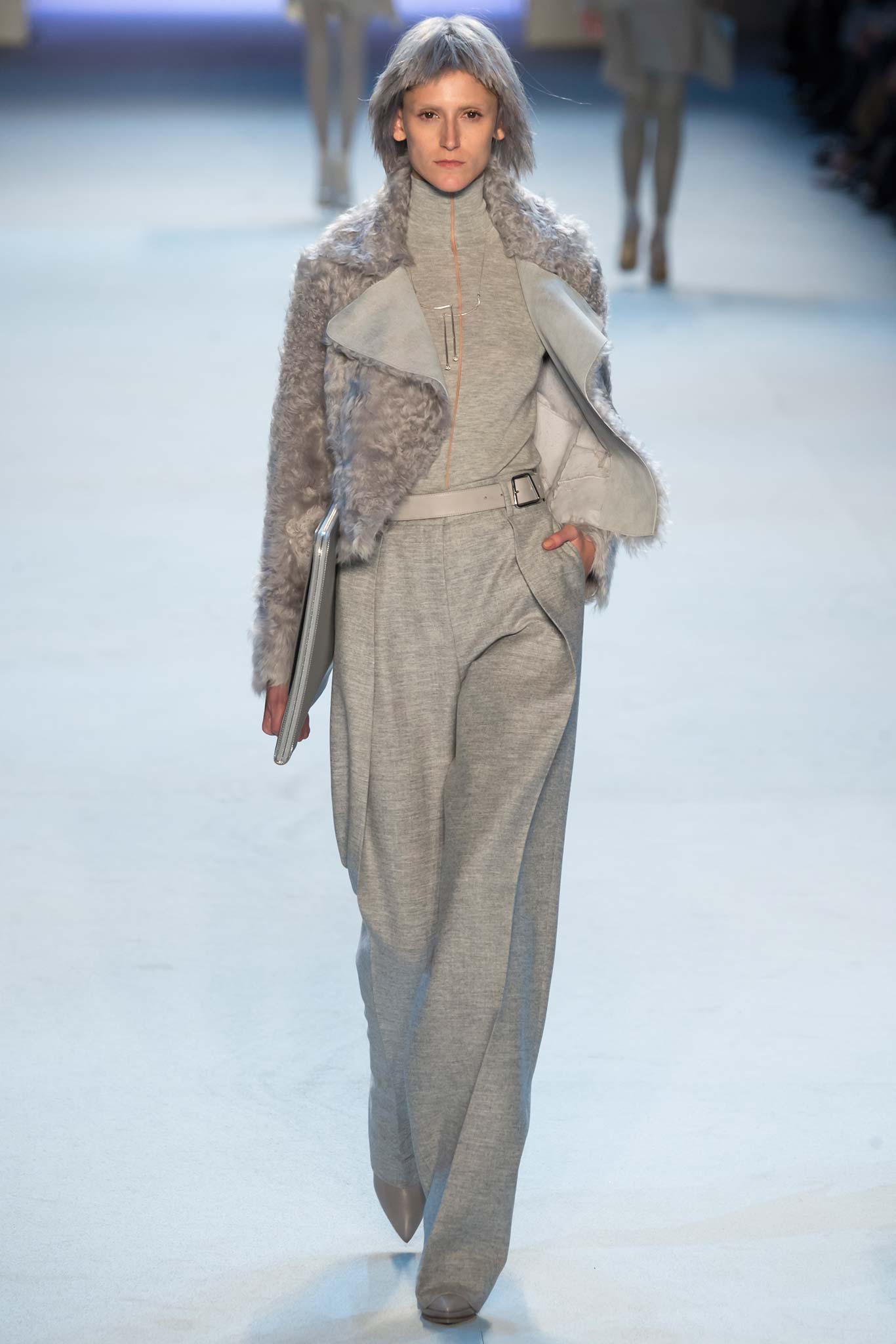 Modern yet dreamy in a soft taupe.
PETER PILOTTO: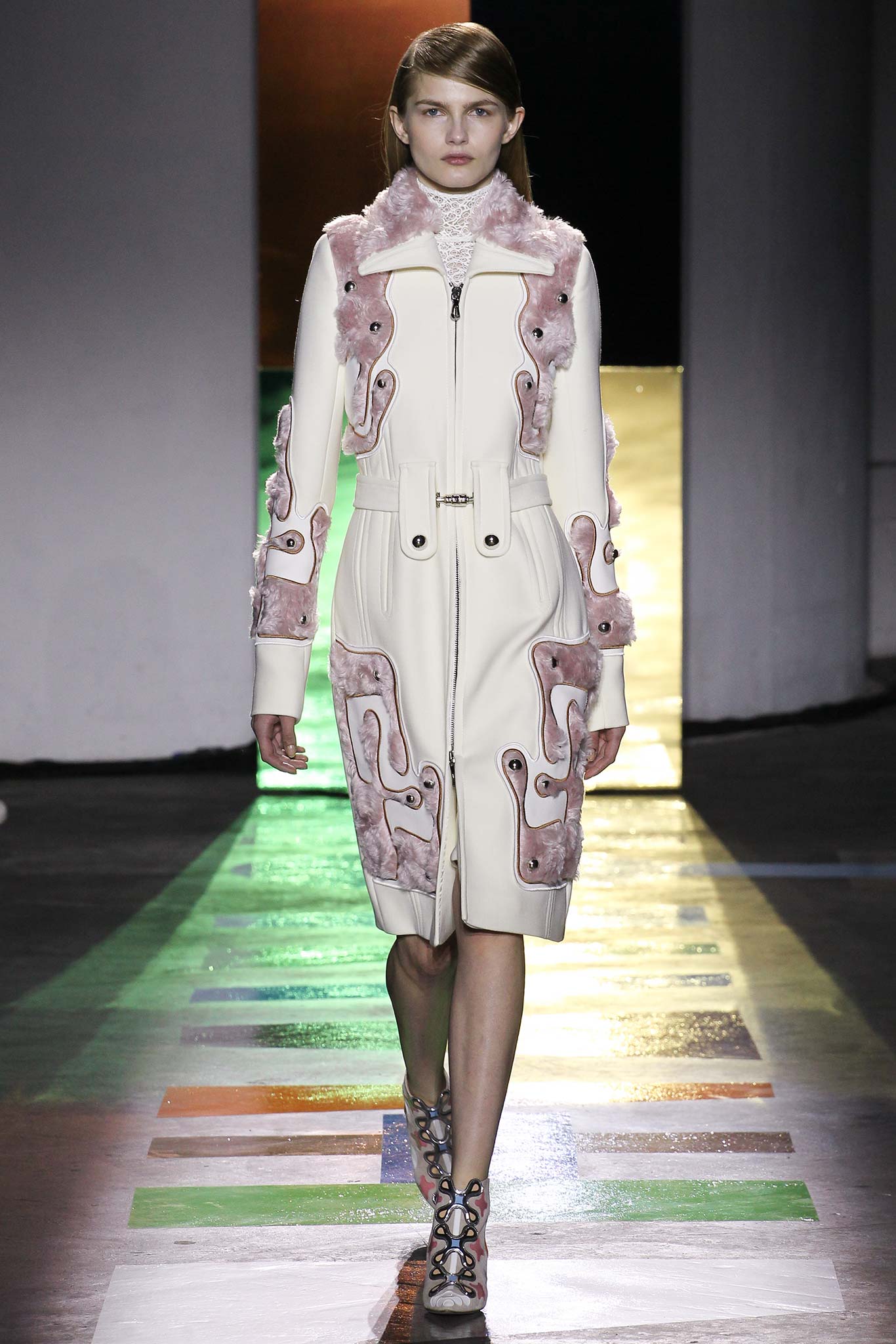 Mod Jackie-O vibe. And love those kicky boots!
DRIES VAN NOTEN: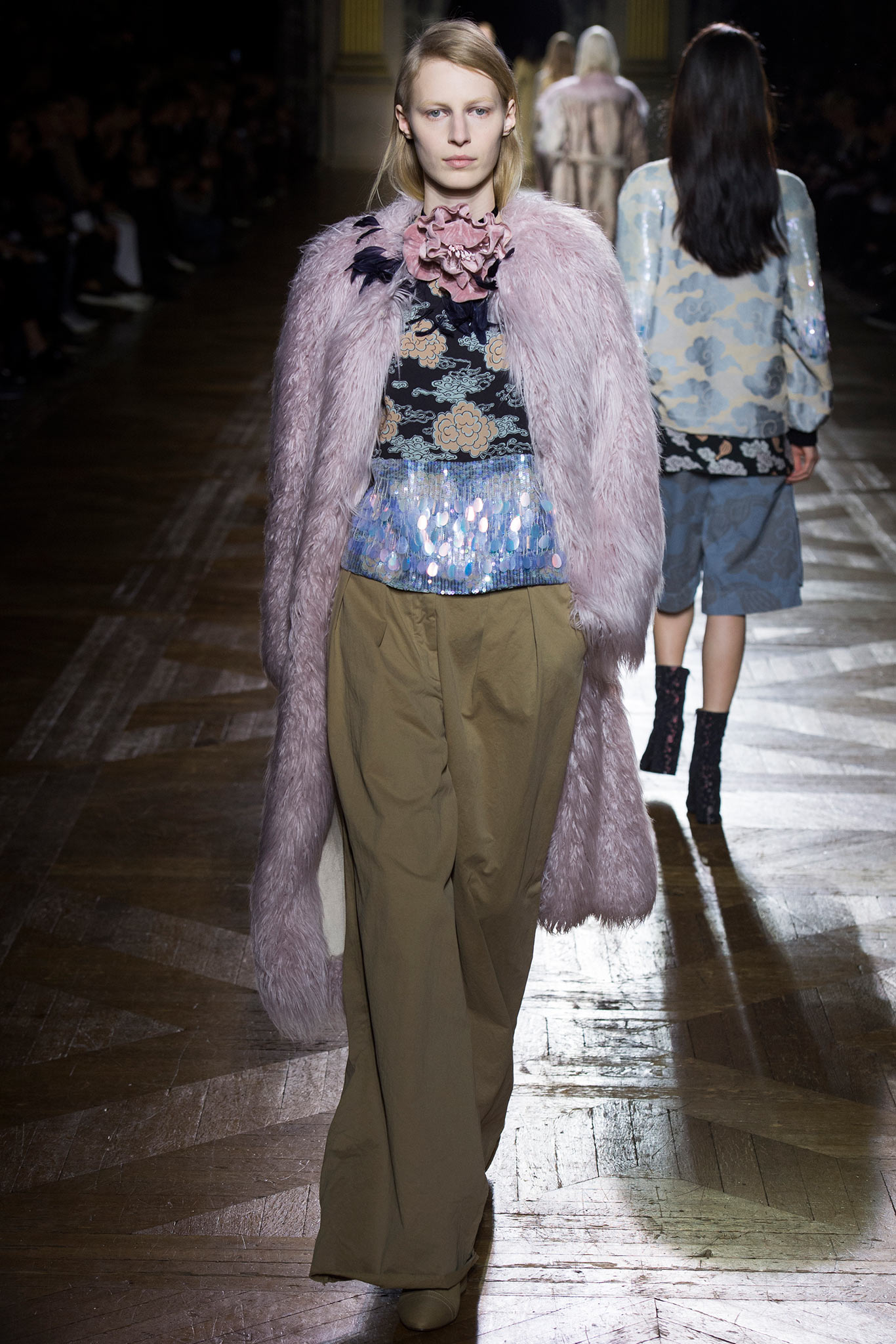 My favorite Belgian, and one of my all time favorite designers. Funky, lux, wearable, and just plain happy clothing. This whole collection exuded a joie de vivre.
TEMPERLEY LONDON: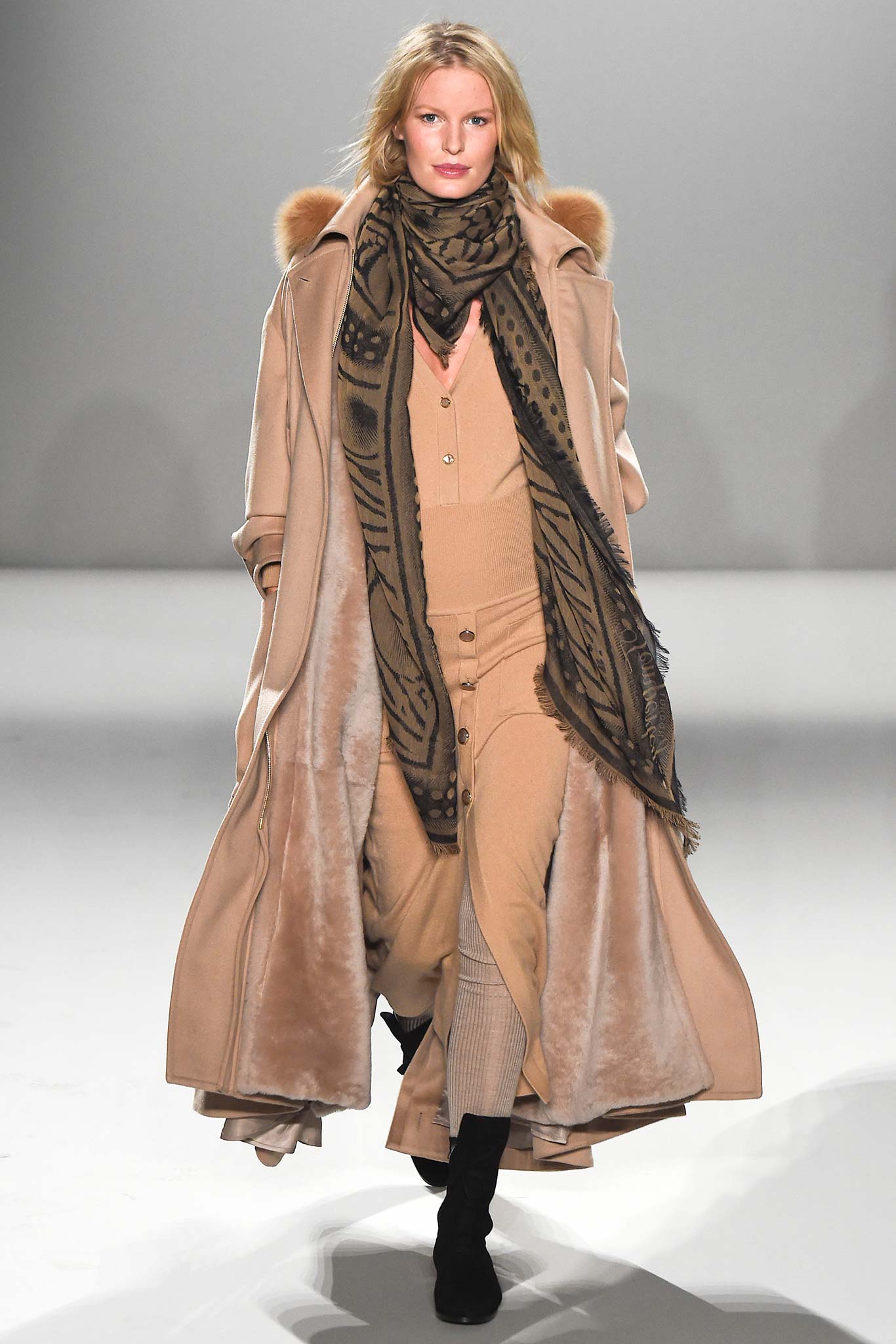 Easy but chic and dramatic in a low key way. Great over jeans or whatever. Perfect for traveling anywhere anytime....
TOD'S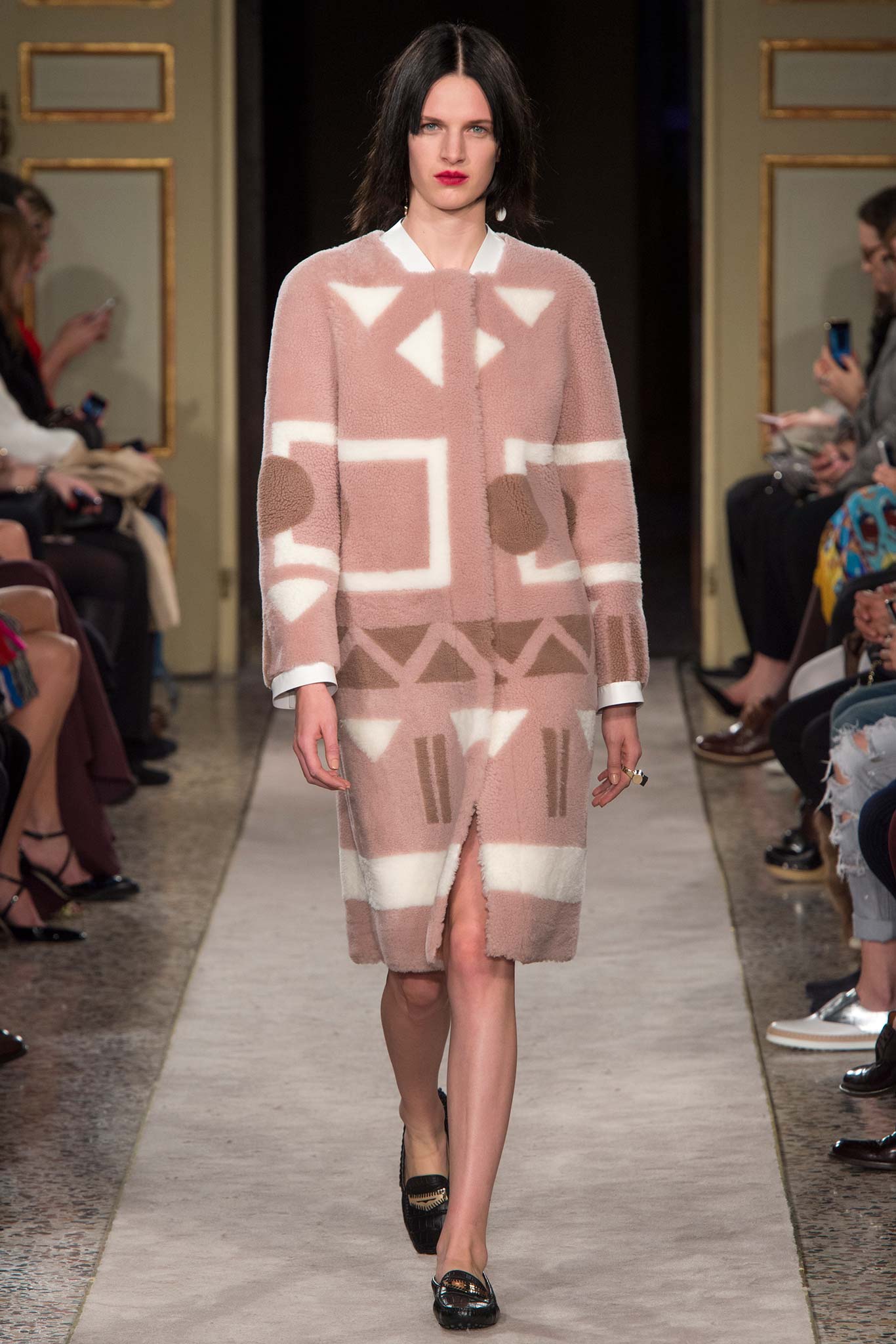 A lightweight shearling is always a pragmatic choice. Make sure you can fit a lightweight sweater underneath for layering purposes.
ANTONIO MARRAS: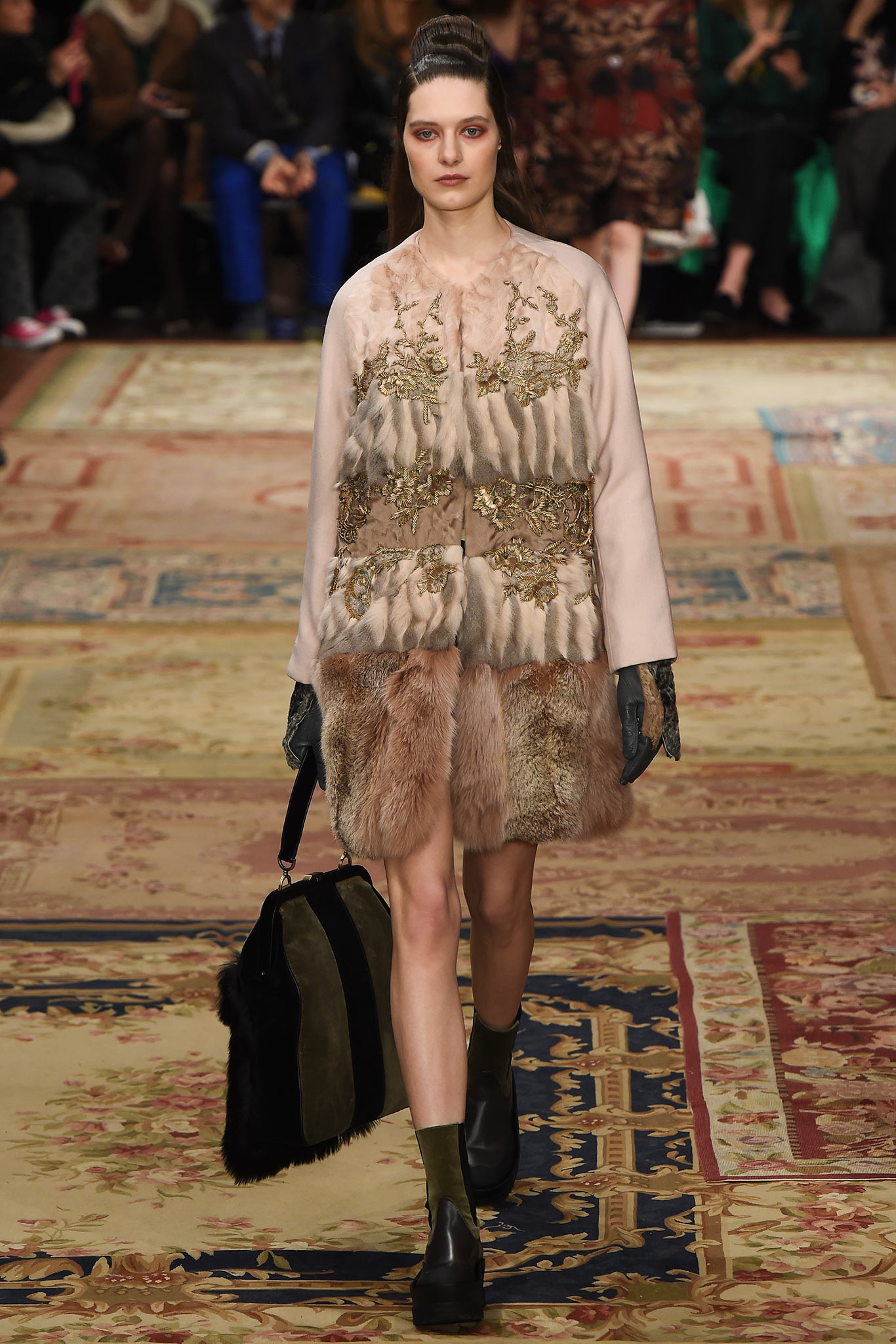 Dusty rose never looked better. D r o o l.............fit for royalty of any era. Worth the shekels.
REEM ACRA: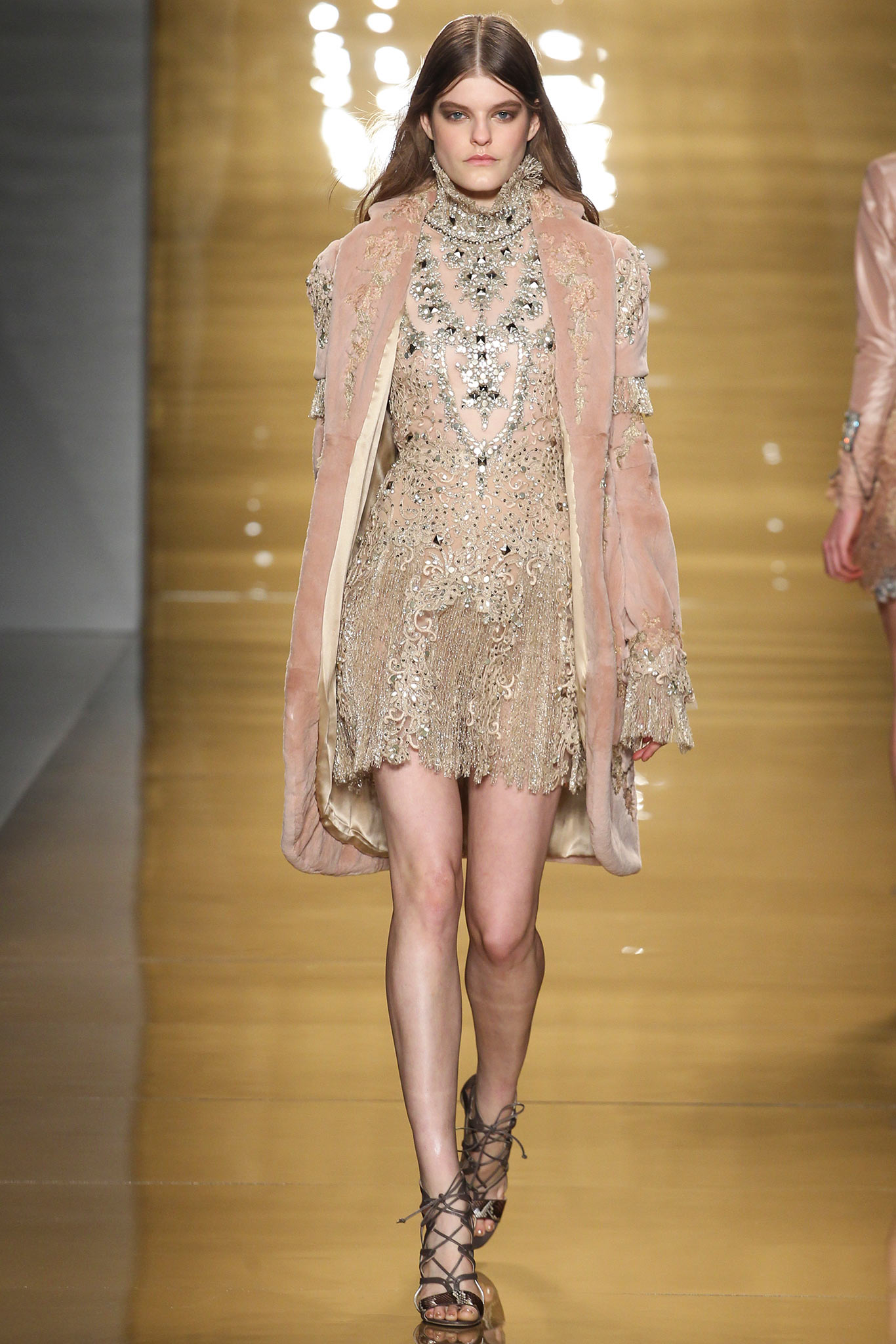 This was part of an unbelievably lavish spellbinding collection.
CHANEL: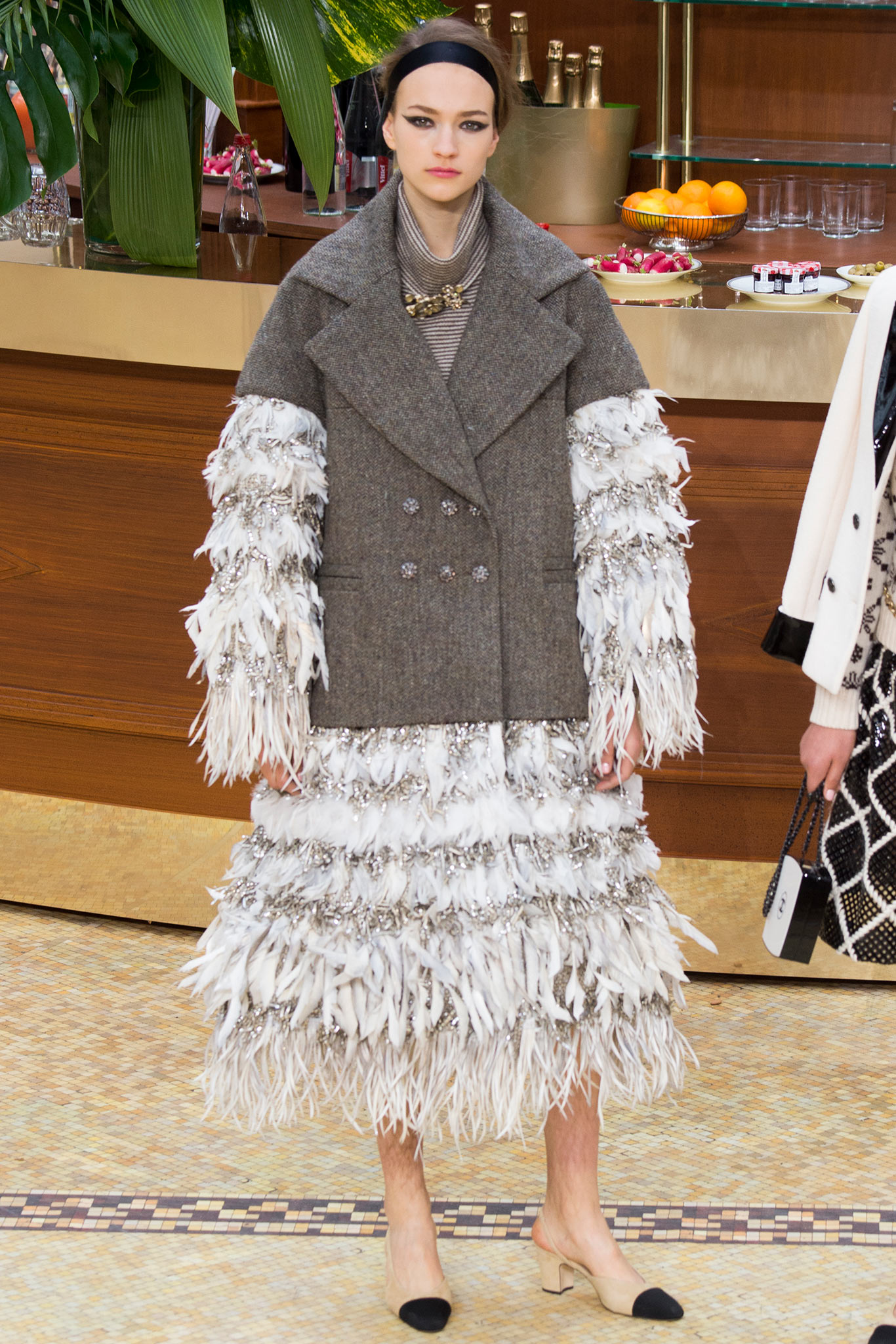 SHAZZAM baby! Its a bird, its a plane....its CHANEL! (Wear over skinny jeans and platform shoe booties).
CHLOE: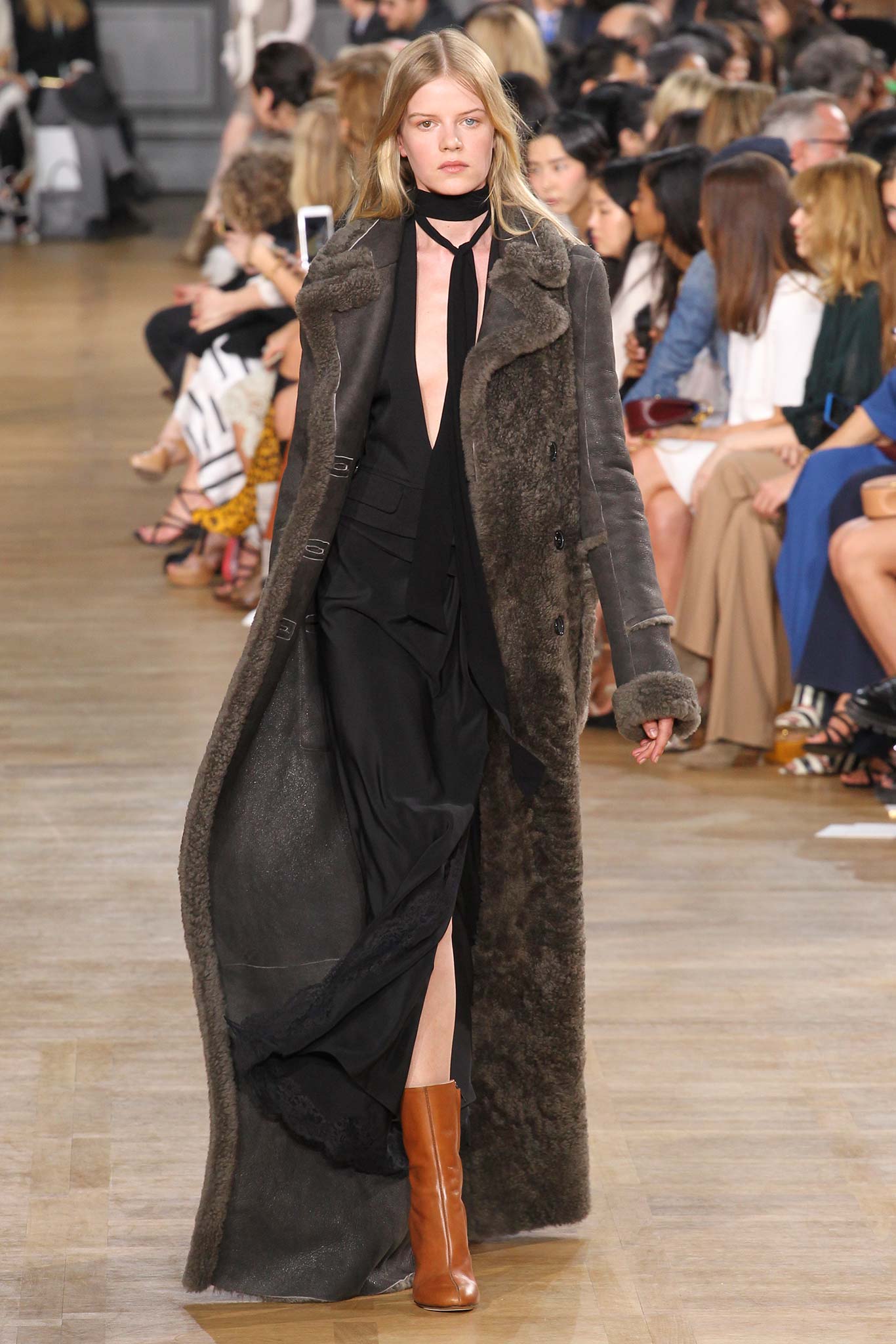 One of the best shearlings on the runways....
RICK OWENS: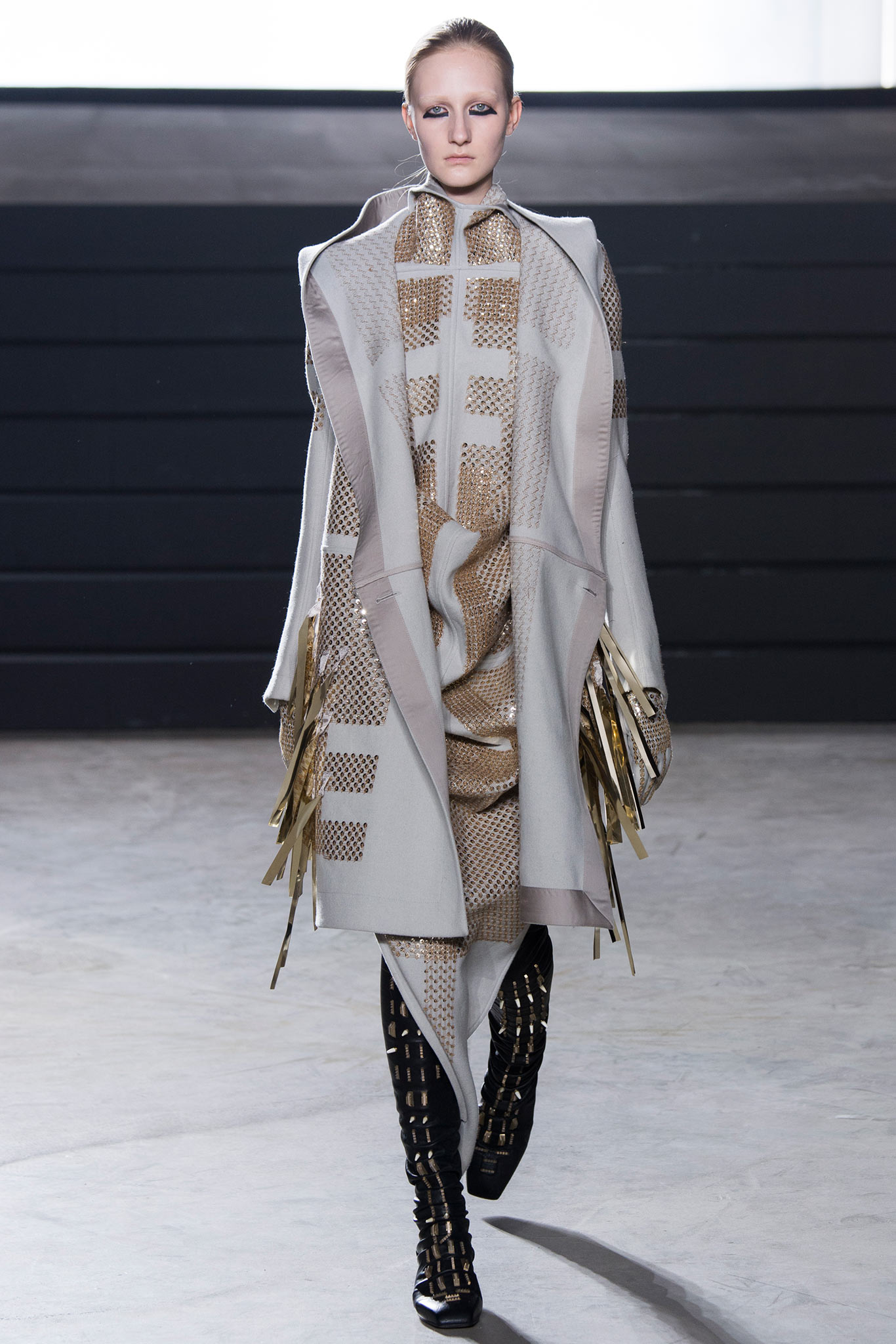 Rick Owens embraces sequins, I've seen it all!
MARY KATRANTZOU: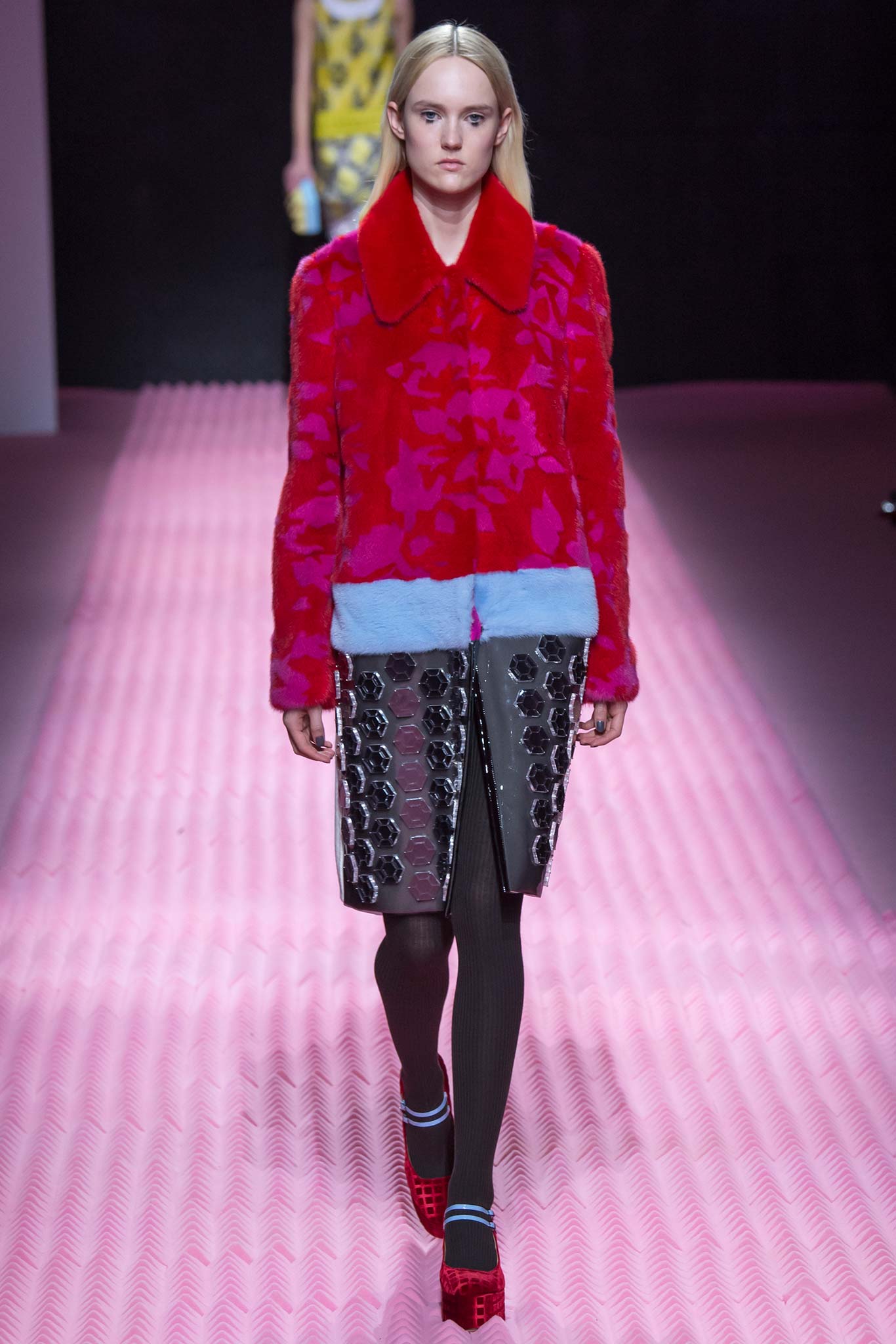 A little old school, a little space age....
MATTHEW WILLIAMSON: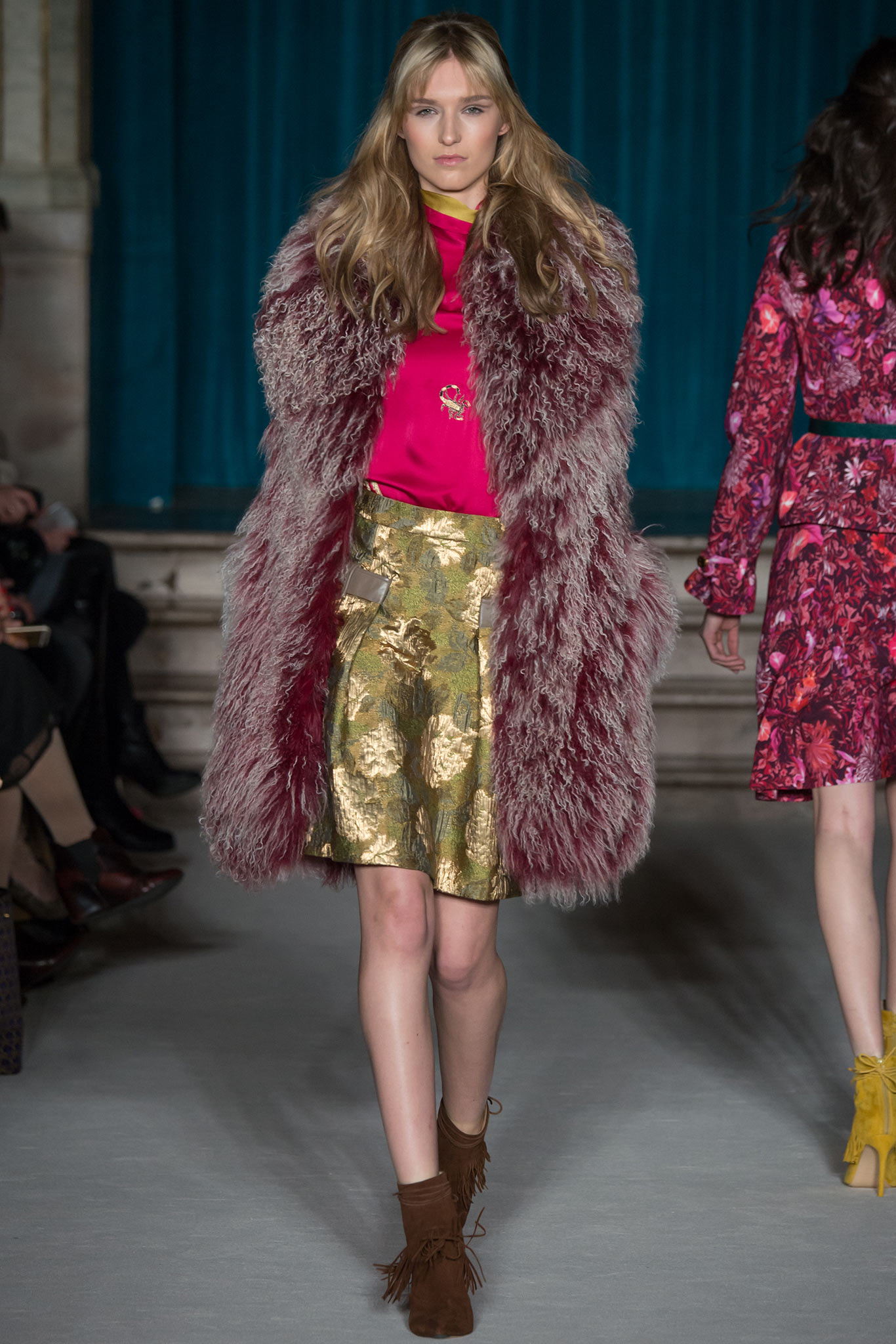 Funky, fun, and comfy! Hello 70's!
RODARTE: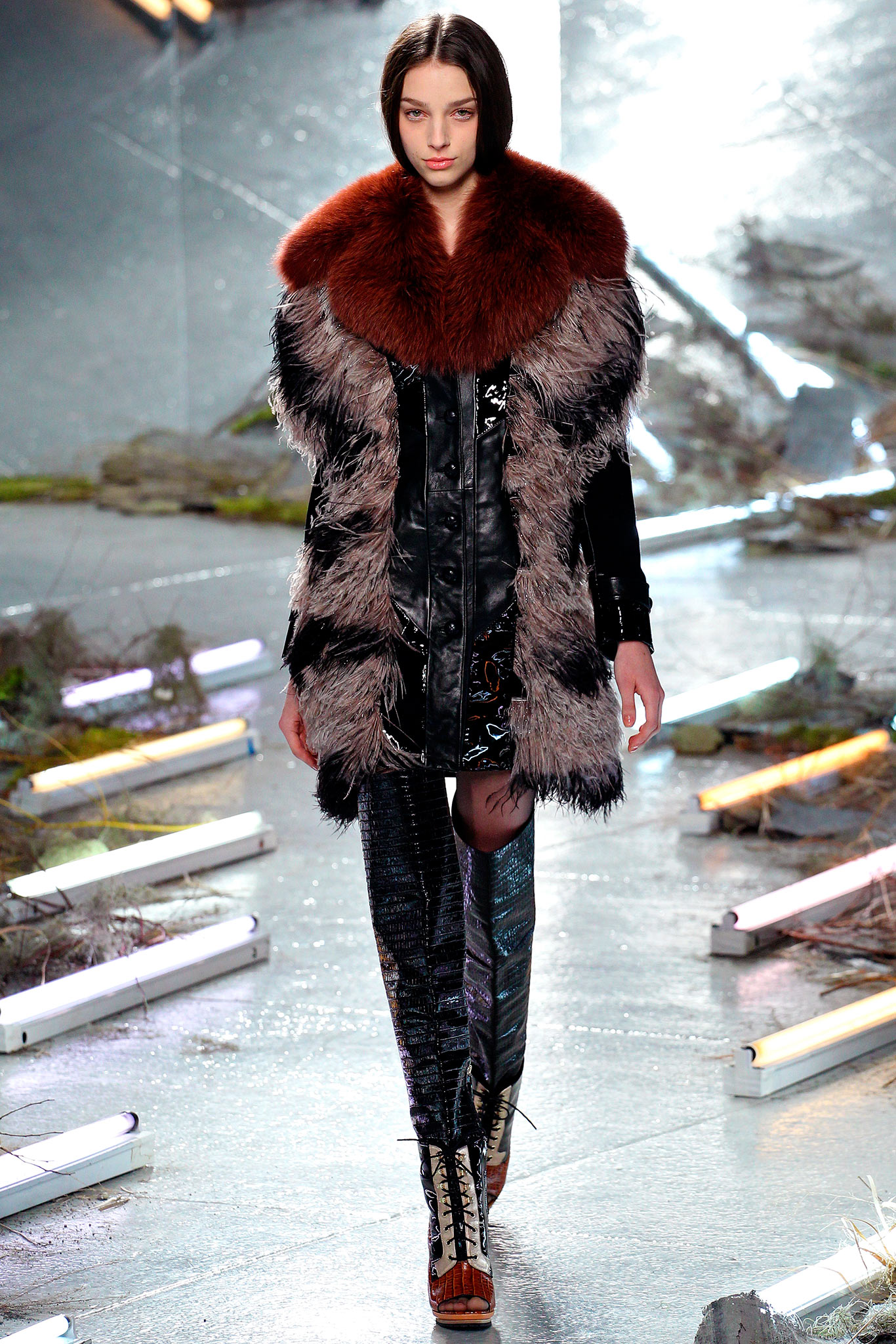 Krazy Kool like everything else these gals do.
MONCLER GAMME ROUGE: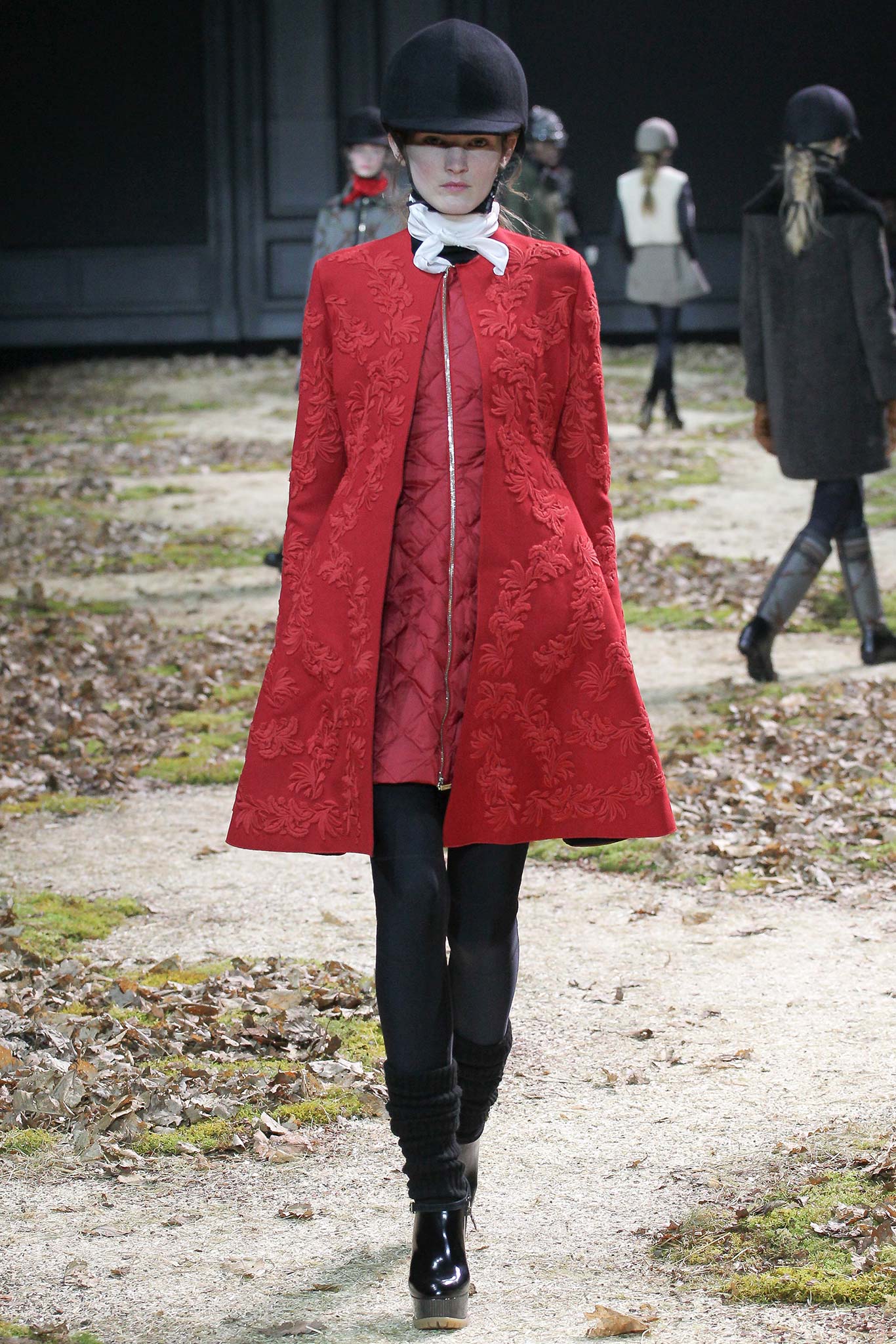 Gorgeous red jacquard with a nipped in waste, paired with the more casual quilted vest, great duo. The equestrian look will always be de rigueur.
GIVENCHY: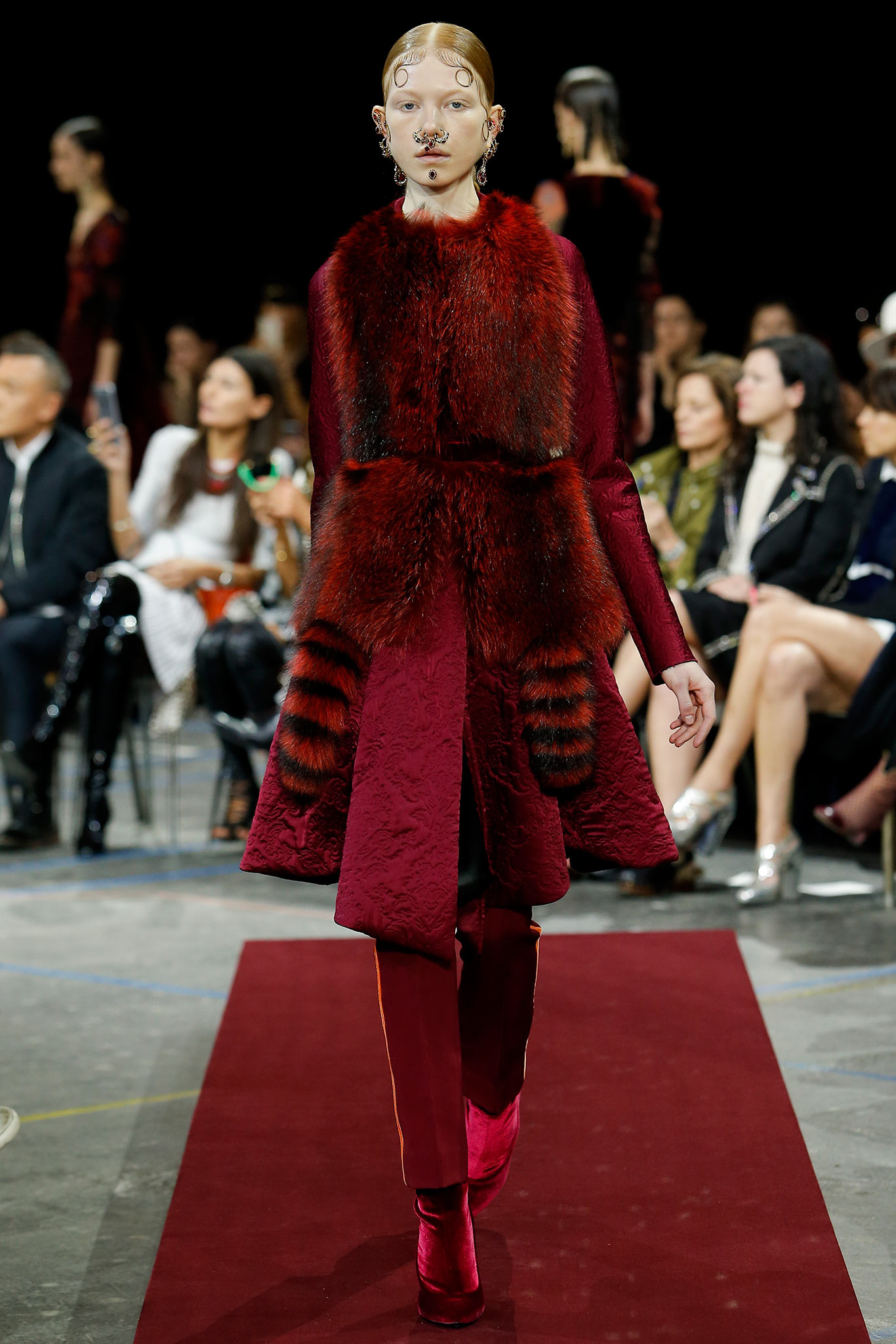 What could be more mesmerizing than red and more red? (I'd ditch the Fox however, its superfluous and ostentatious).
VALENTINO: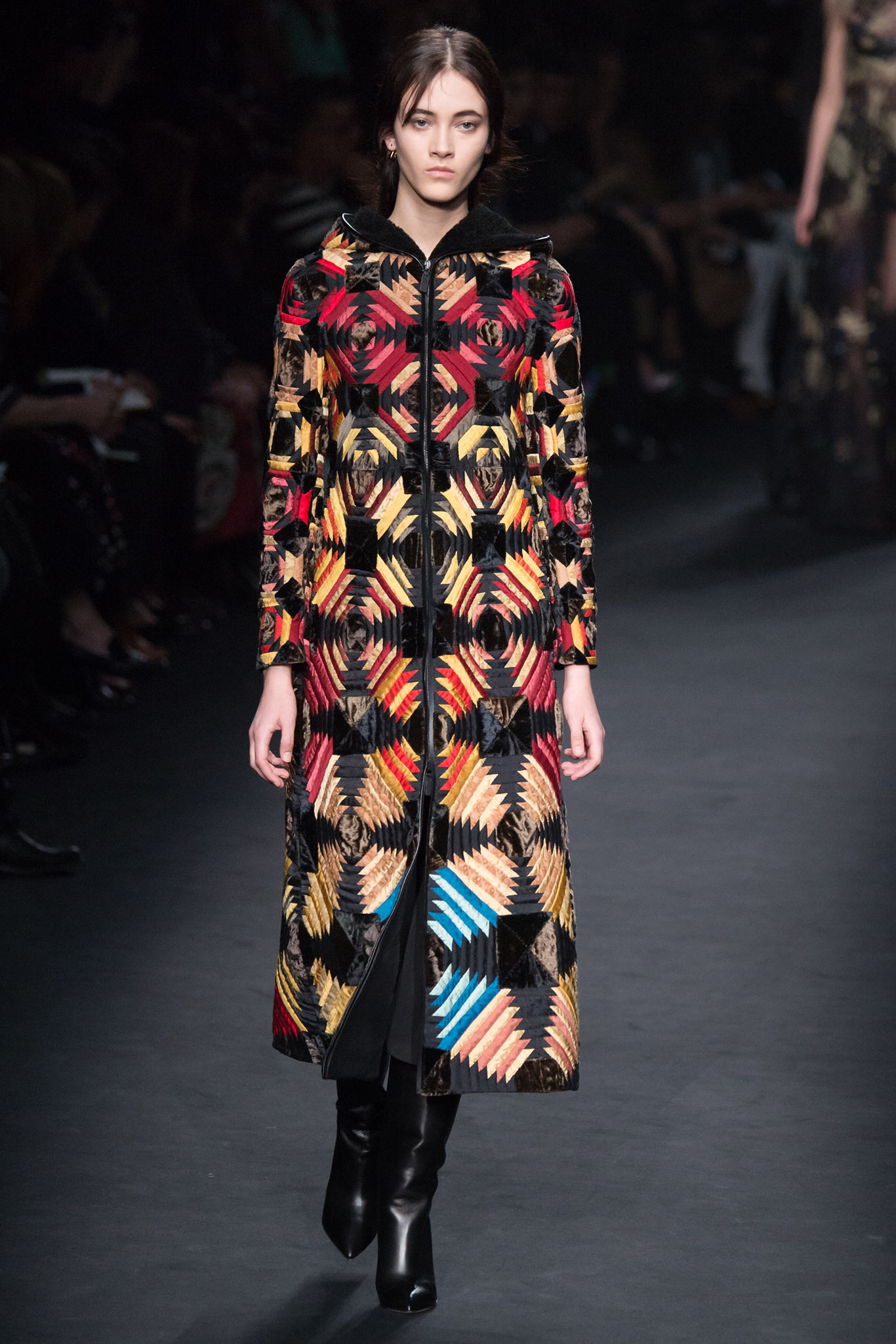 You can never go wrong with V.
LIBERTINE: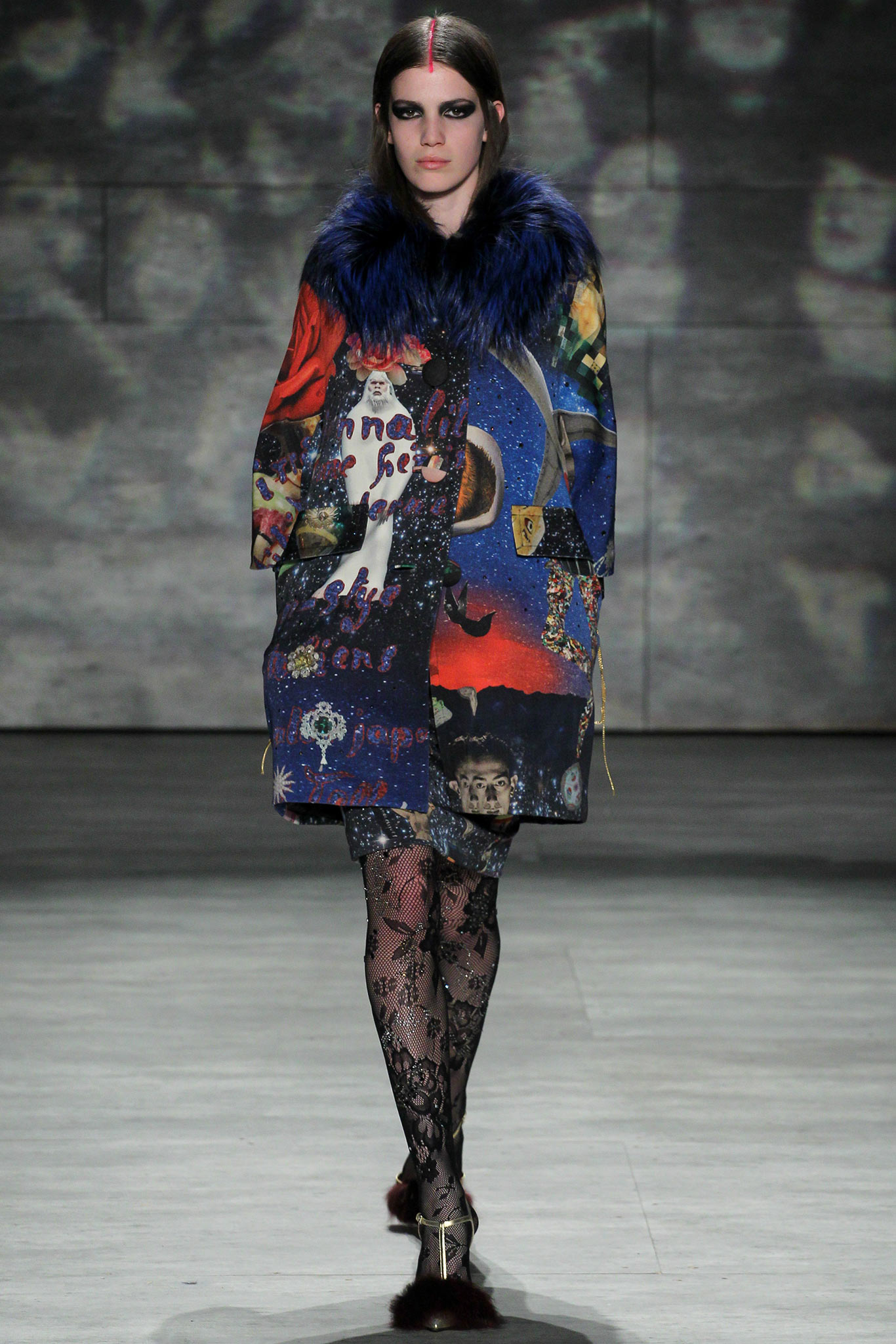 My personal favorite. Who doesn't love zany and surreal? Easy silhouette to camouflage a host of evils. Perfect.
GILES: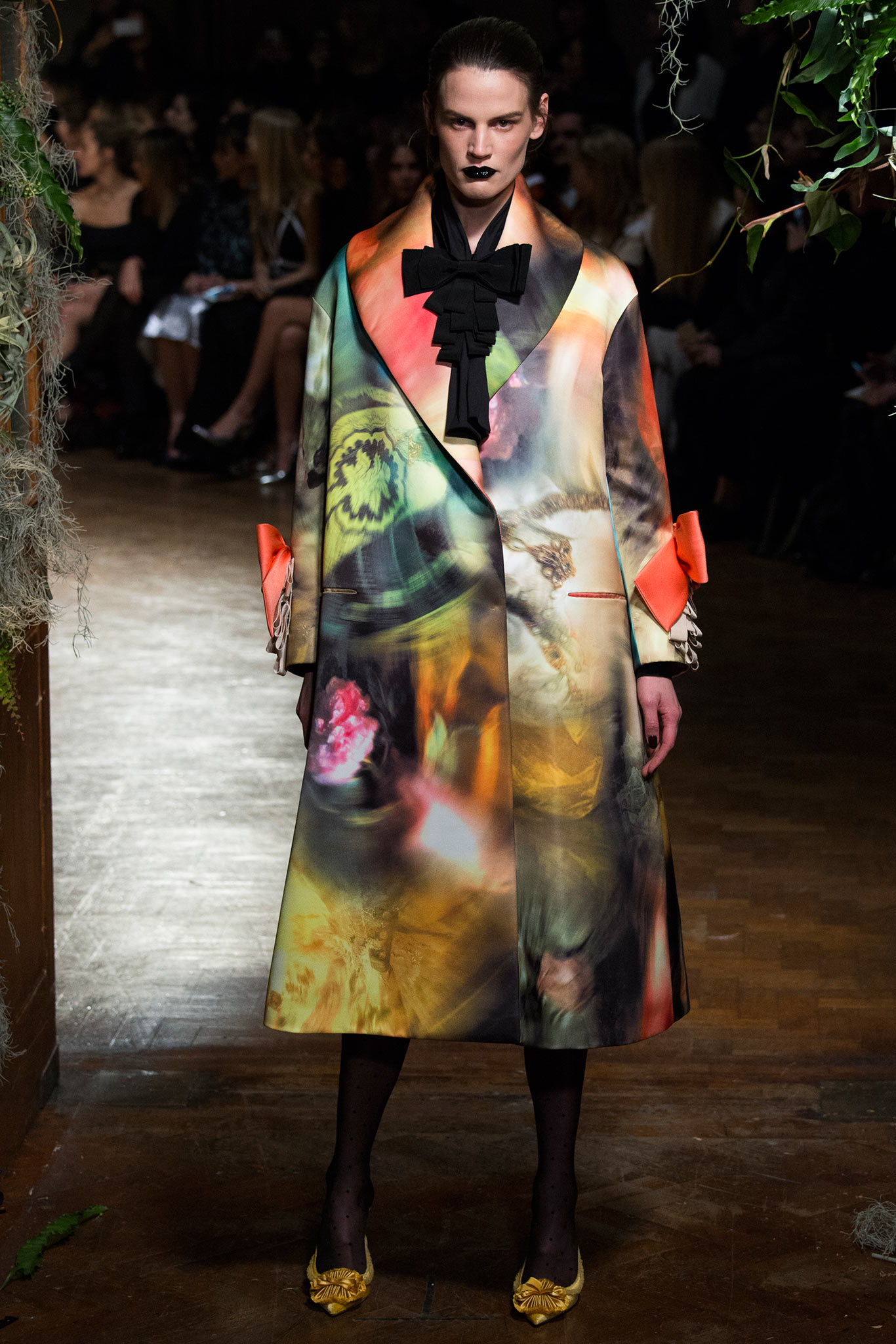 Classic feminine silhouette with a crazy kool sort of surreal pattern. And those shoes are a perfect adjunct.
COMME DES GARCONS: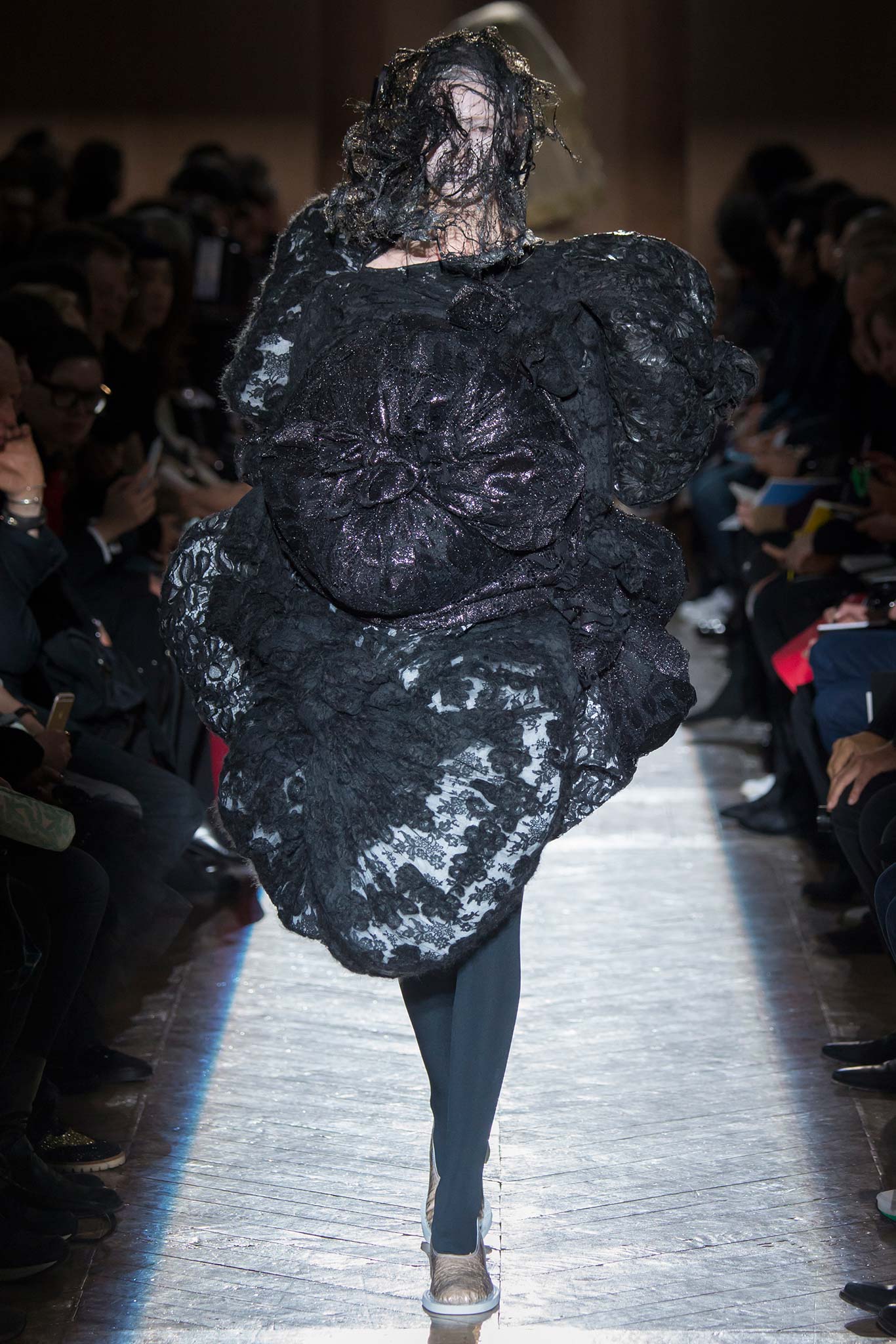 You gotta love the Japanese aesthetic. Over the top in a good way. You gotta have a healthy dose of moxie to pull this off.
FENDI: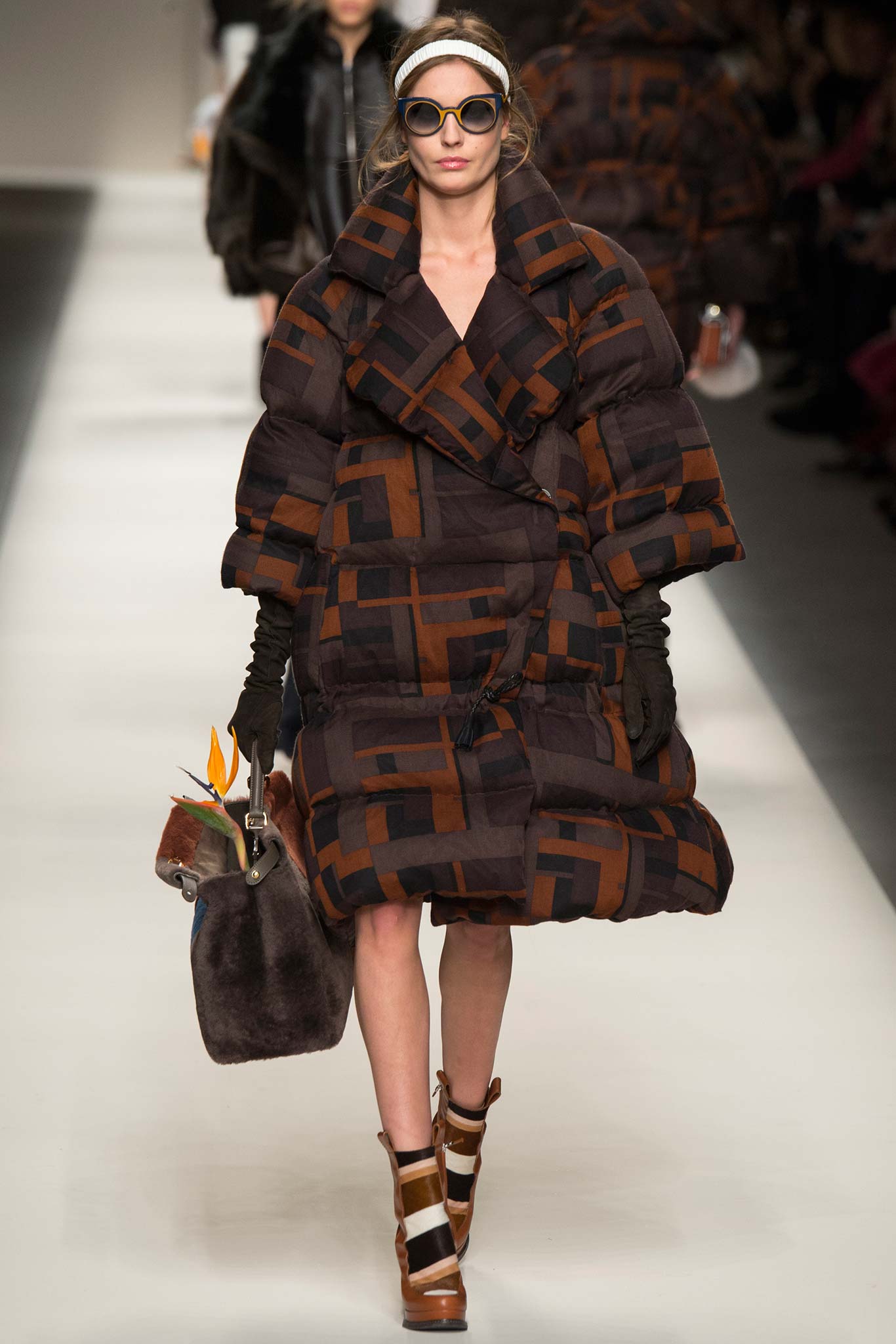 Not your average puffer. Thanks Karl.
MARTIN GRANT: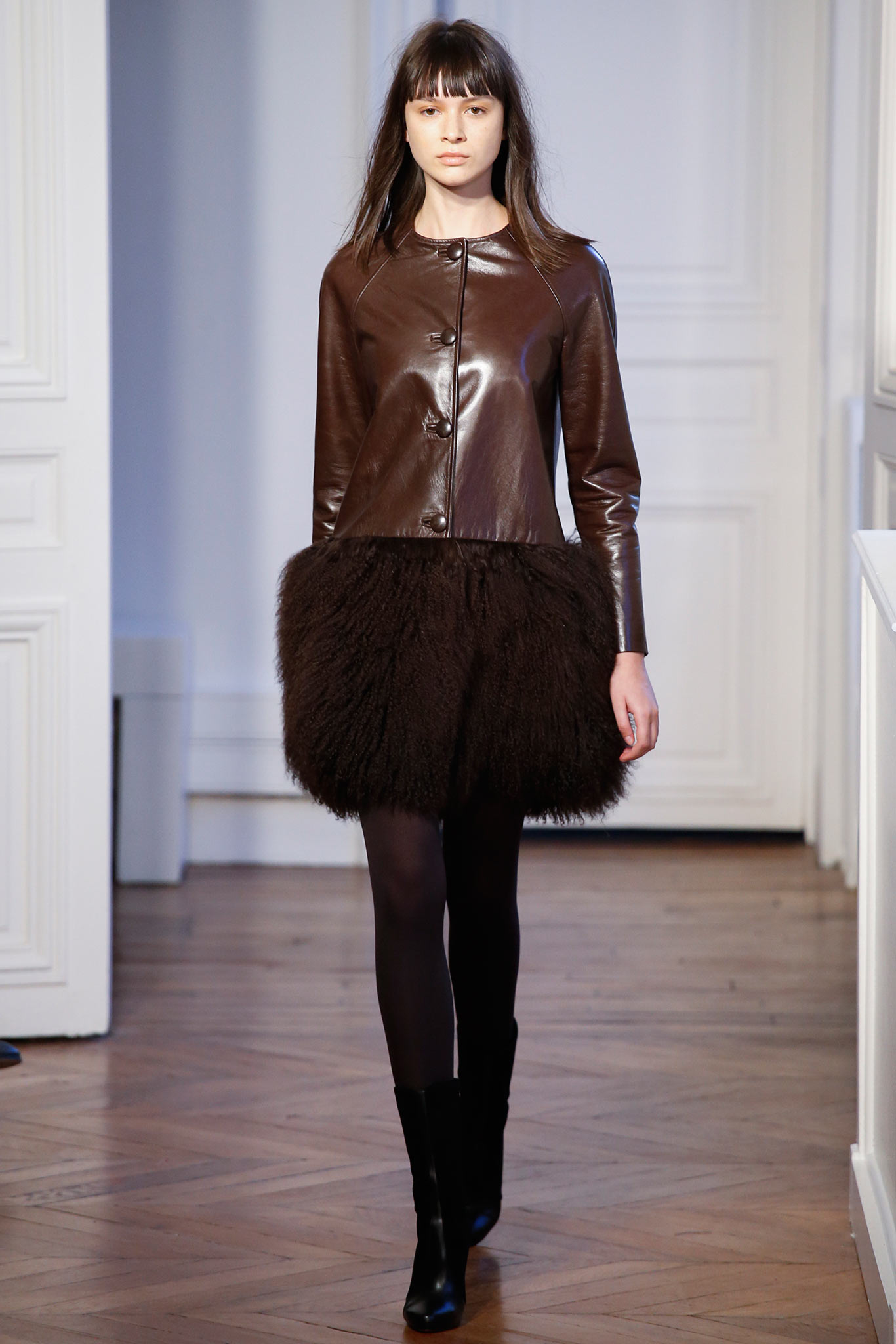 Flattering silhouette, interesting mixture of textures, just way cool.
DSQUARED2: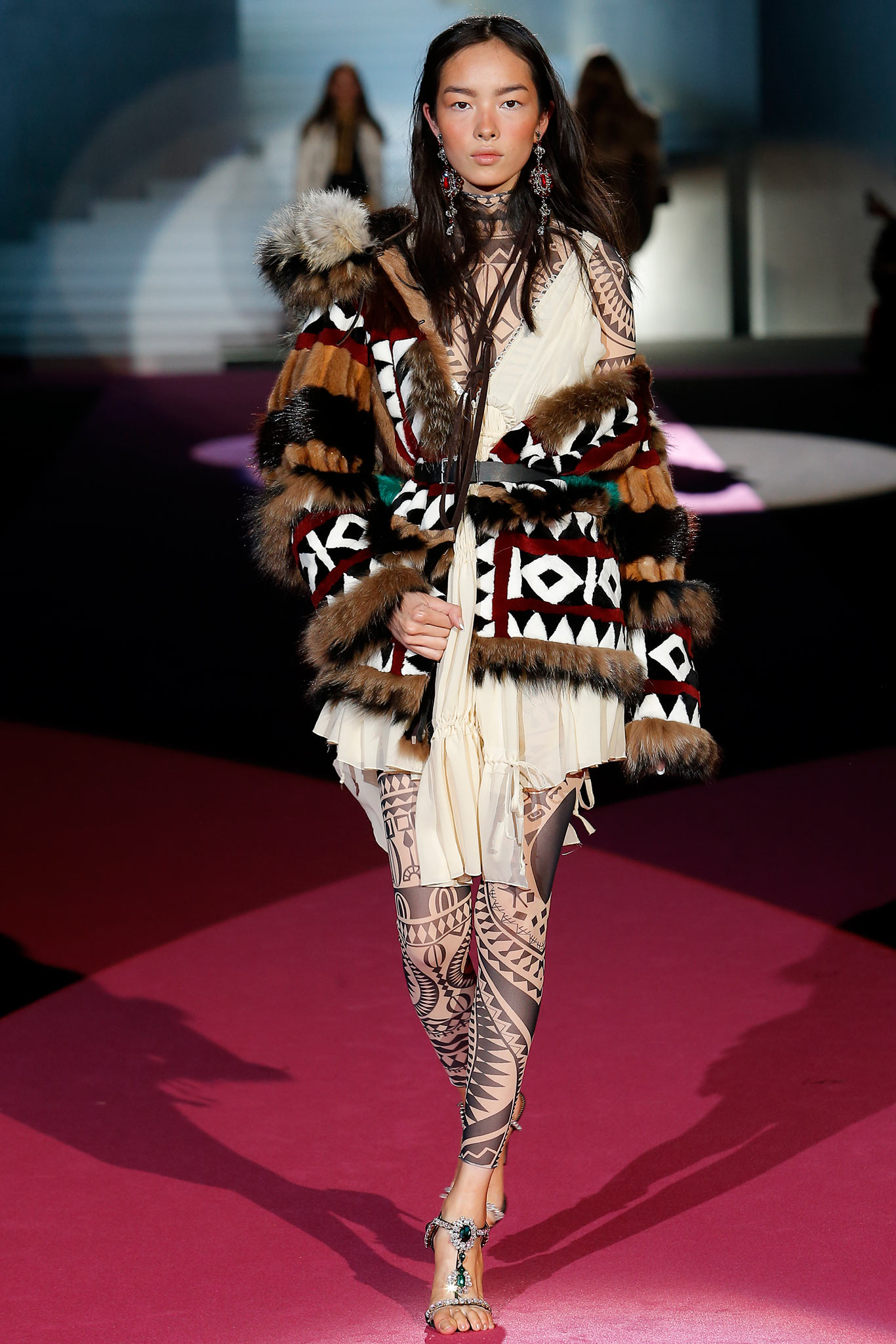 Nanuck of the North in the Upper East side….
LANVIN: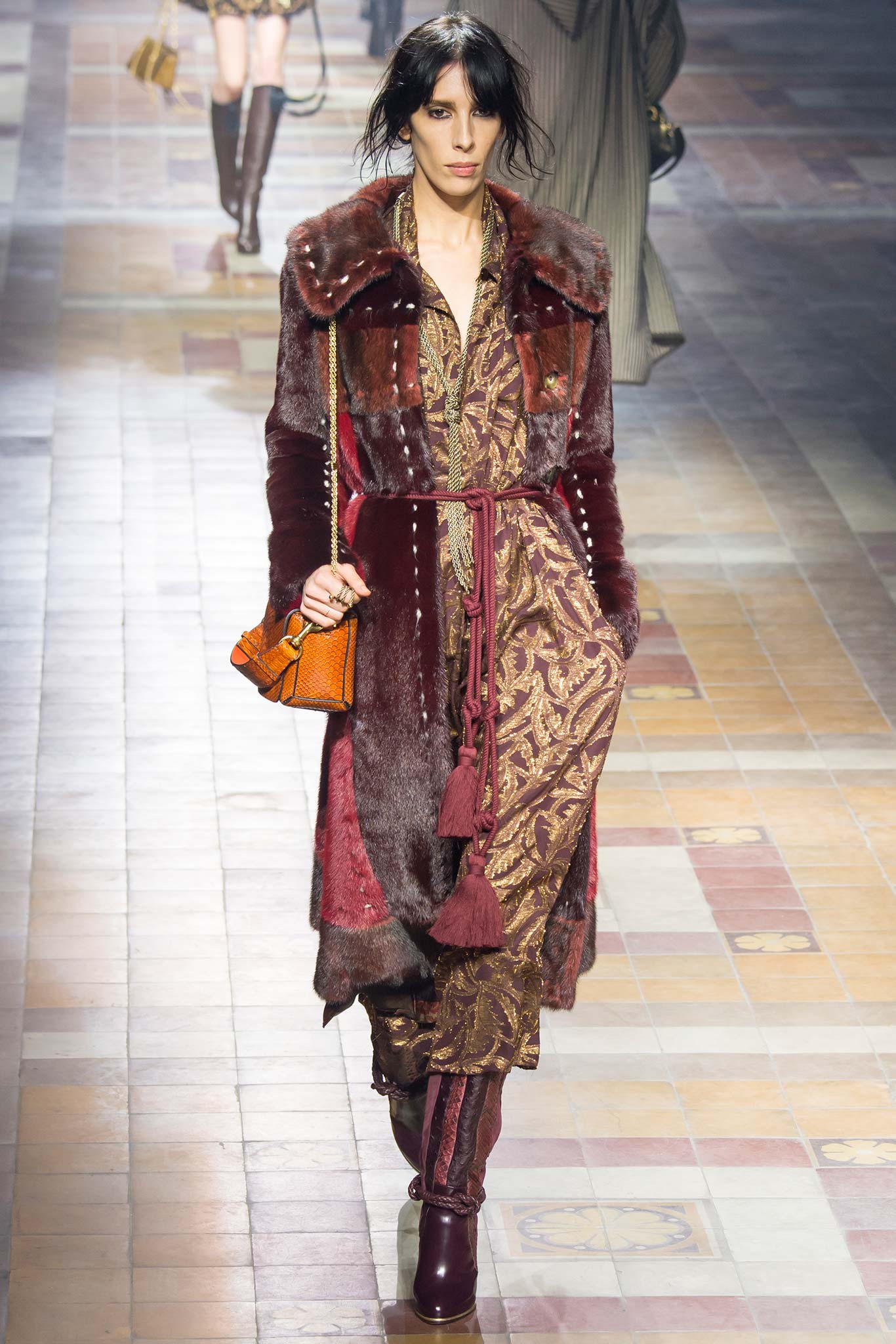 Another standout in a stellar collection. Folkloric fantasy.
DOLCE & GABBANA: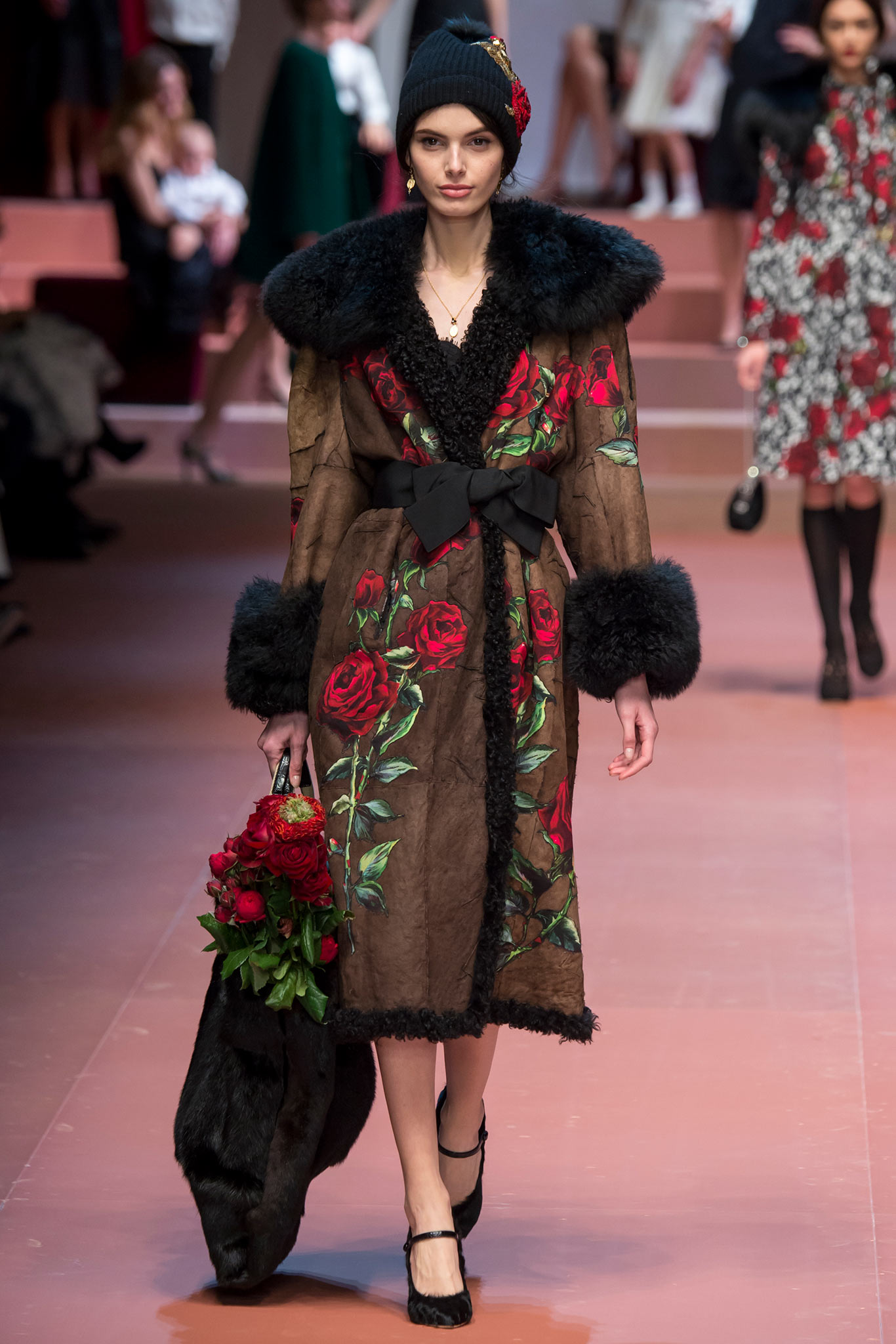 Nobody does it better……….
ERDEM: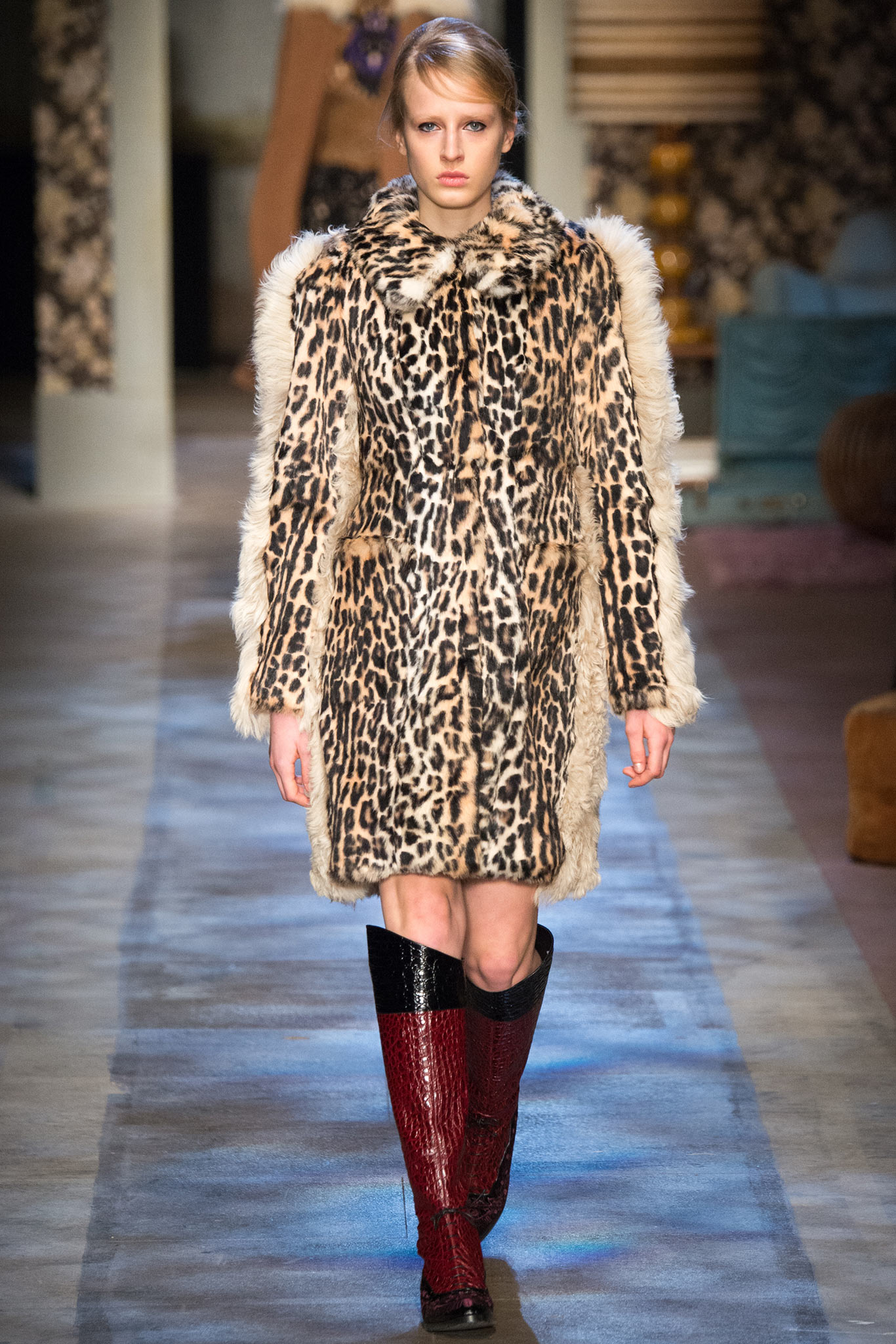 Some interesting takes on one of the Big Cats.
MAISON MARGIELA (John Galliano):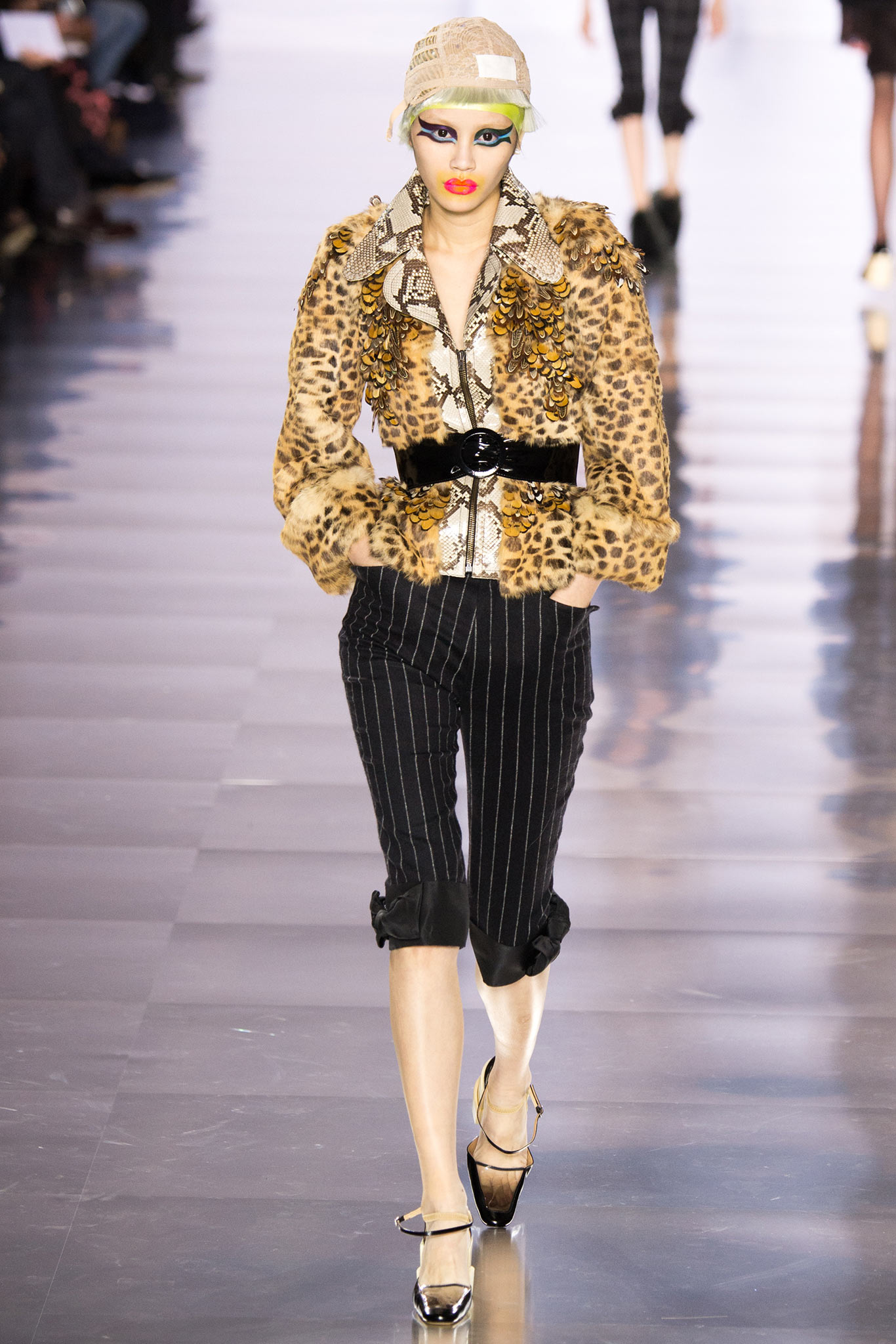 He's baaaaaack! And doing the house proud!
STELLA MCCARTNEY: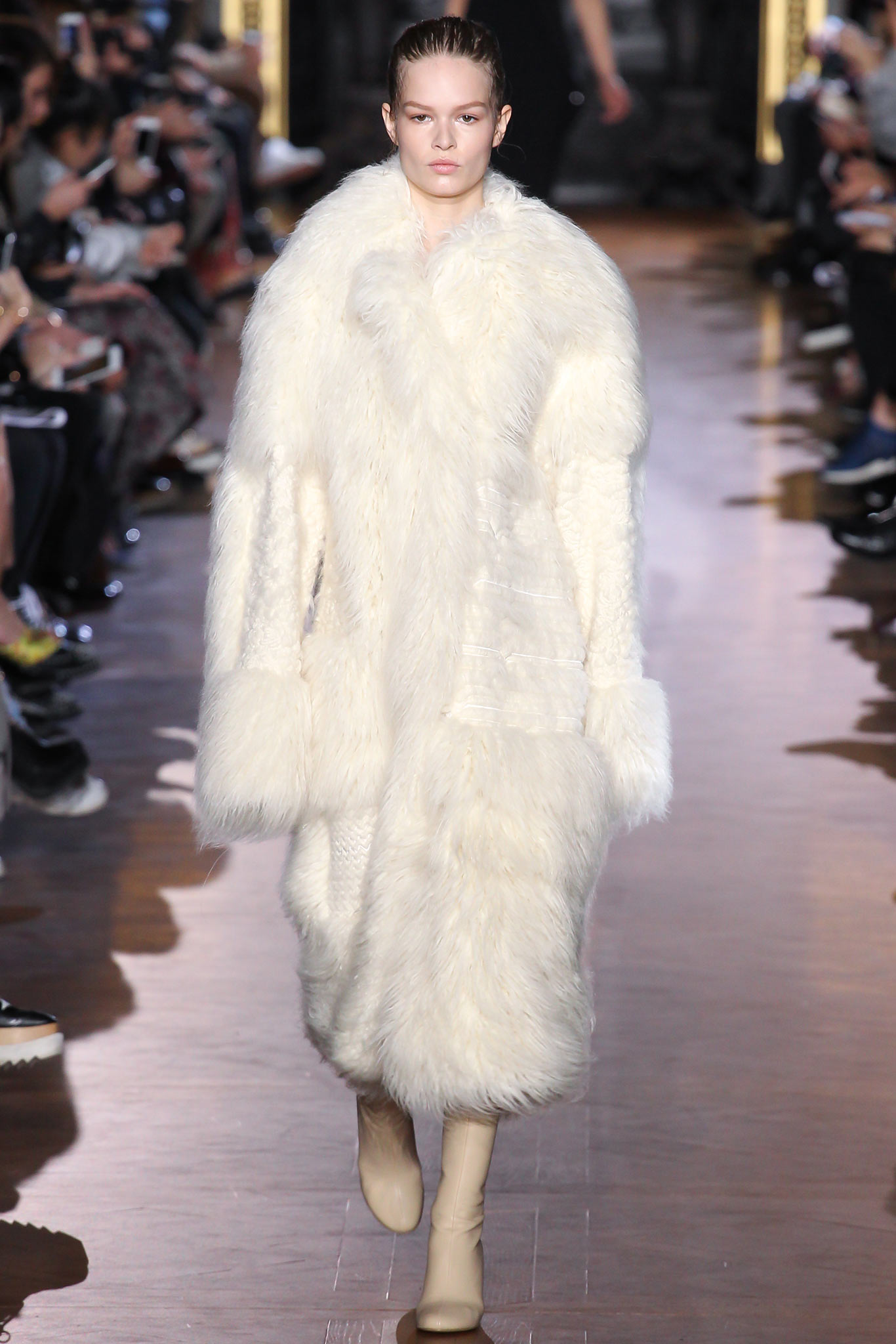 A famous Vegan, ALL her "fur" is faux. Thank goodness we have now have that option! The fabric may be faux, but the impact is REAL!
LOUIS VUITTON: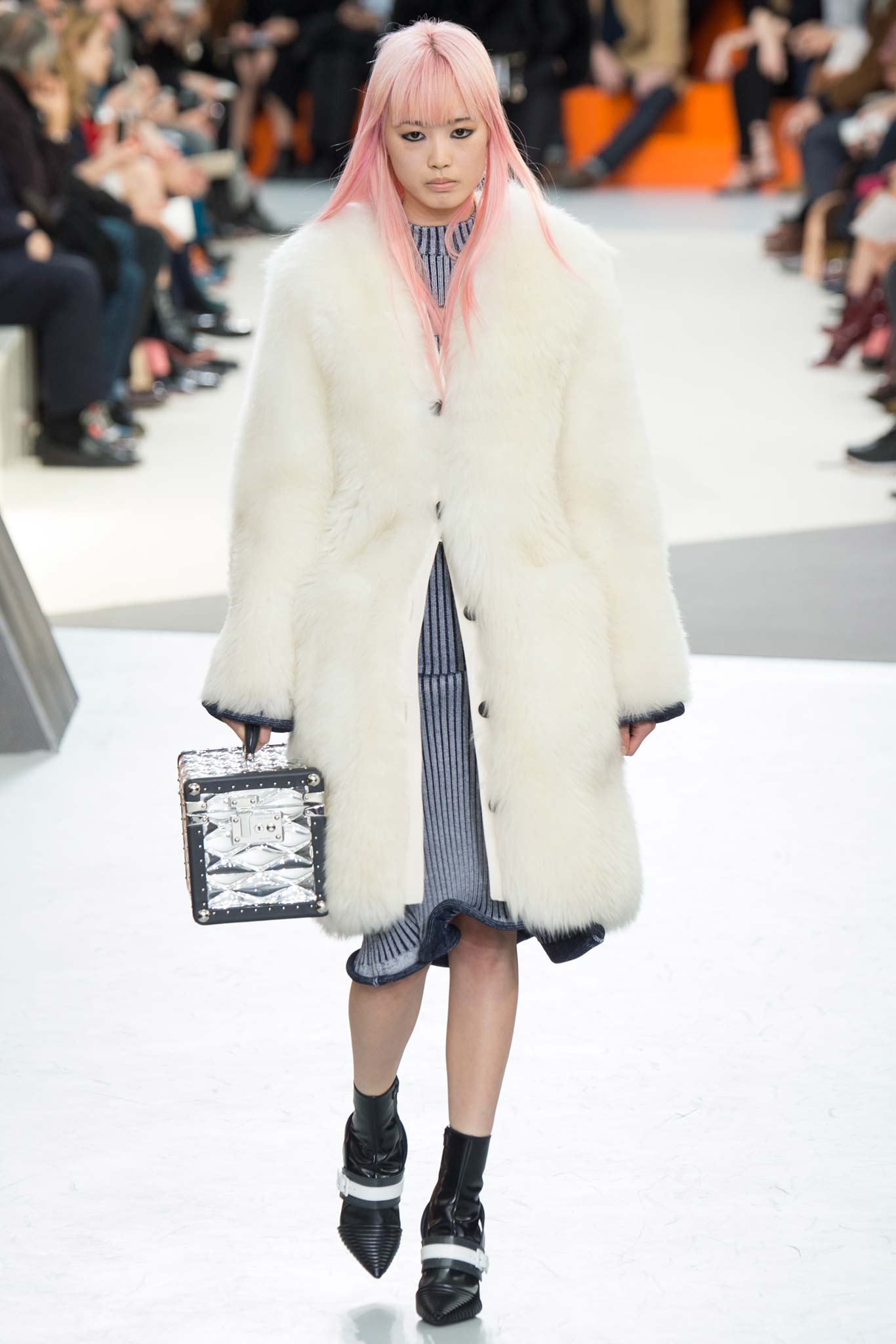 Scrumptious! Just stay out of coal mines and tornadoes….
SACAI: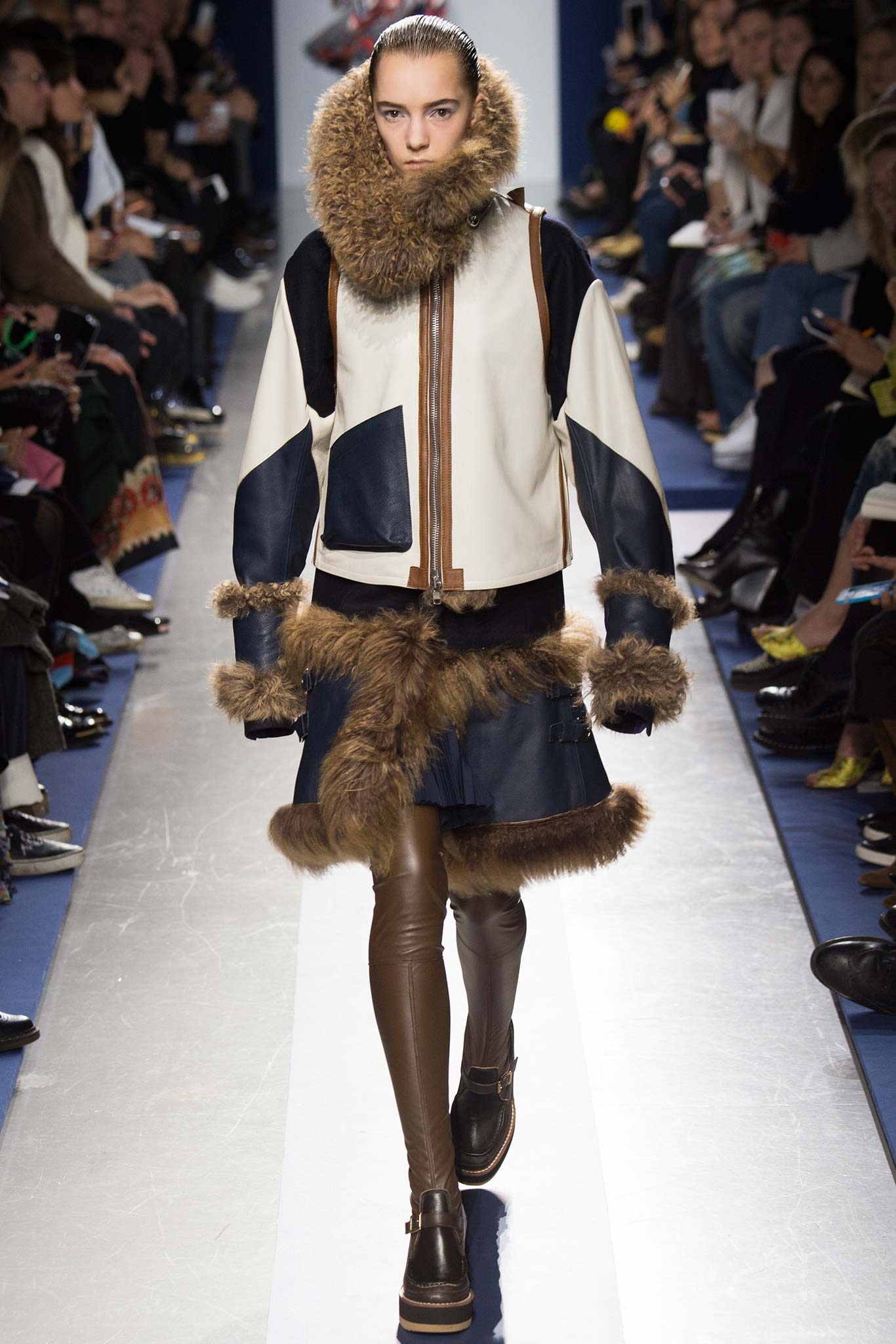 This is was one of the few collections which was coat heavy. Edgy, fashion forward, and yet wearable.
NICHOLAS K: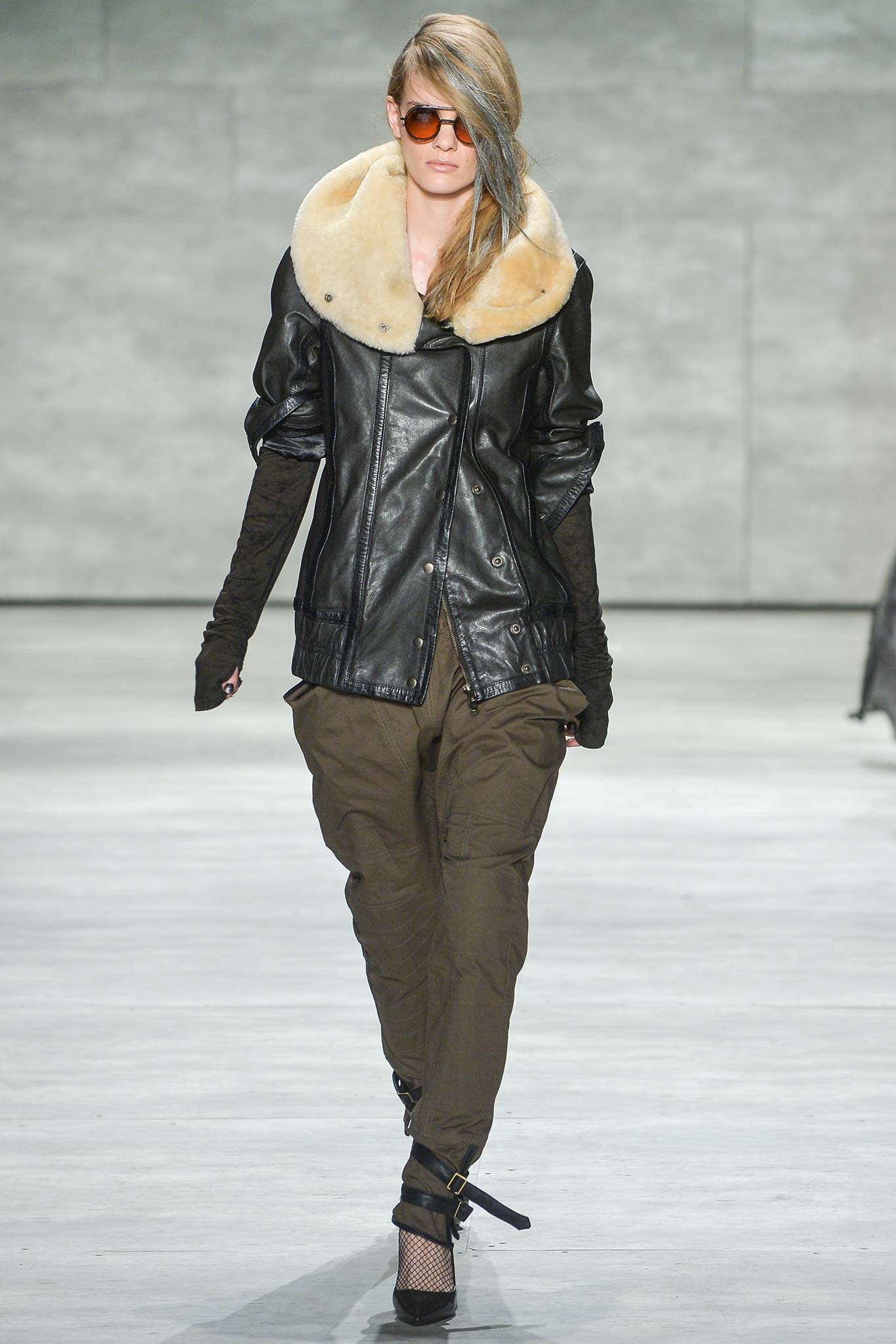 MAD MAX is in the house.
CELINE: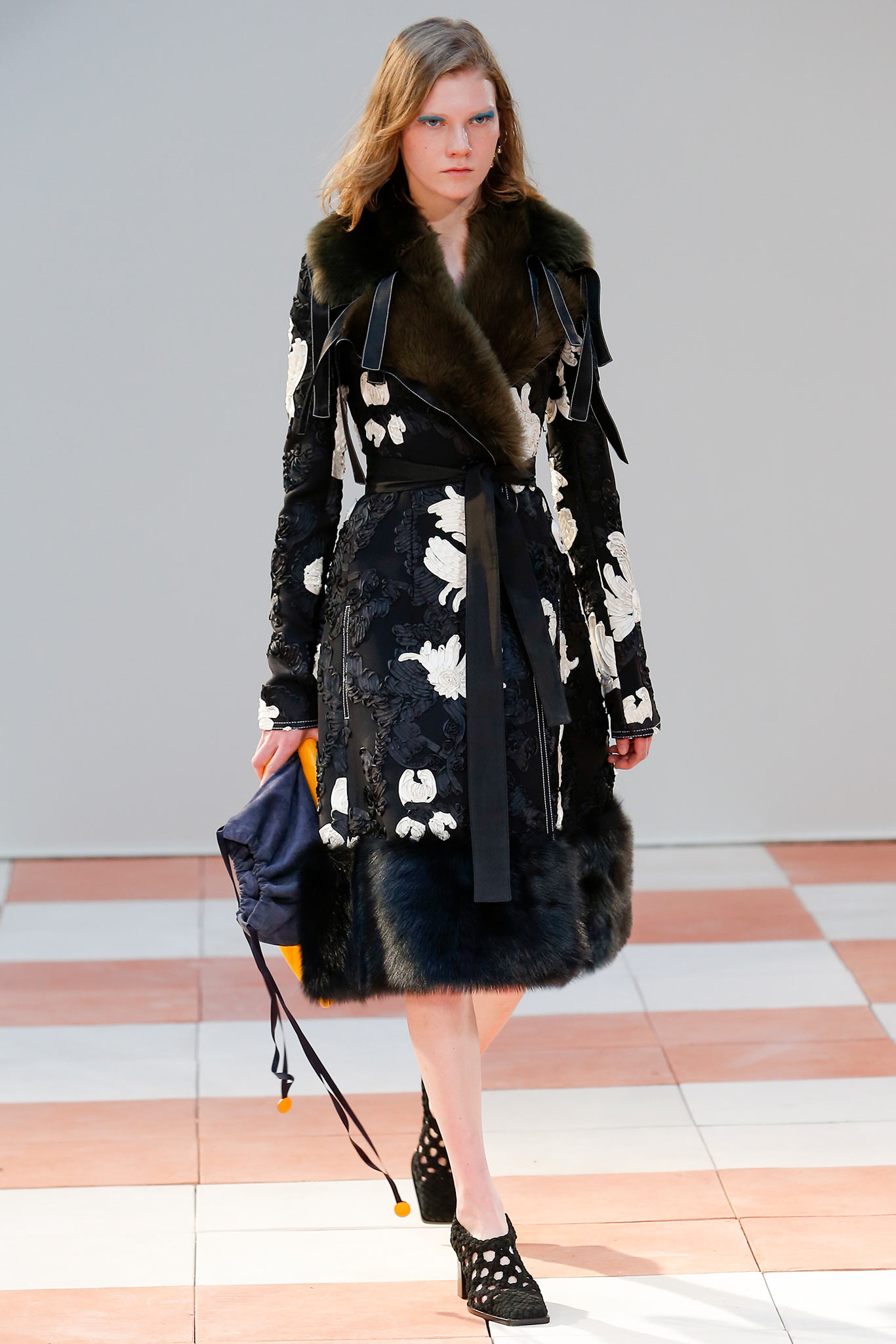 BALENCIAGA: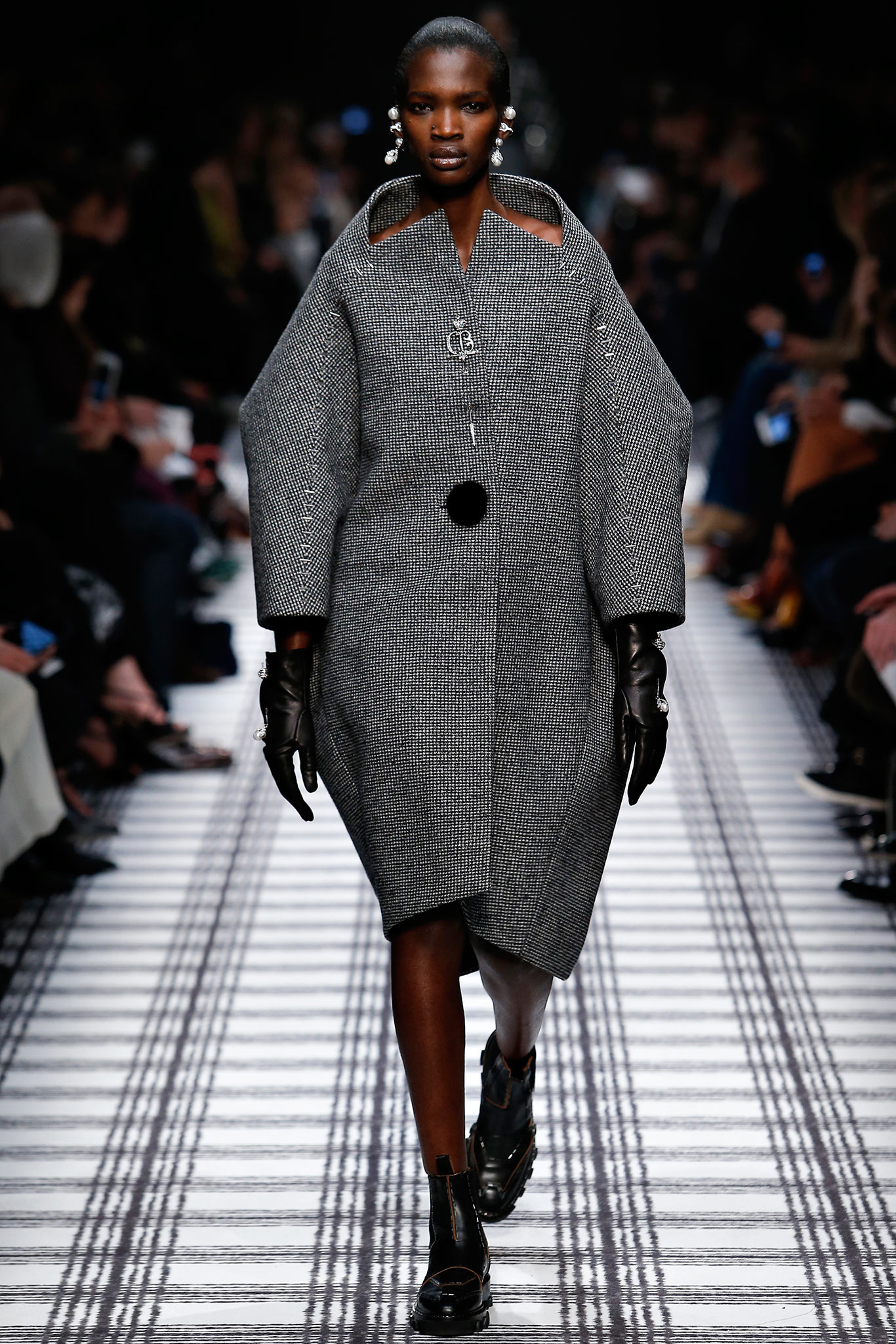 CARVEN: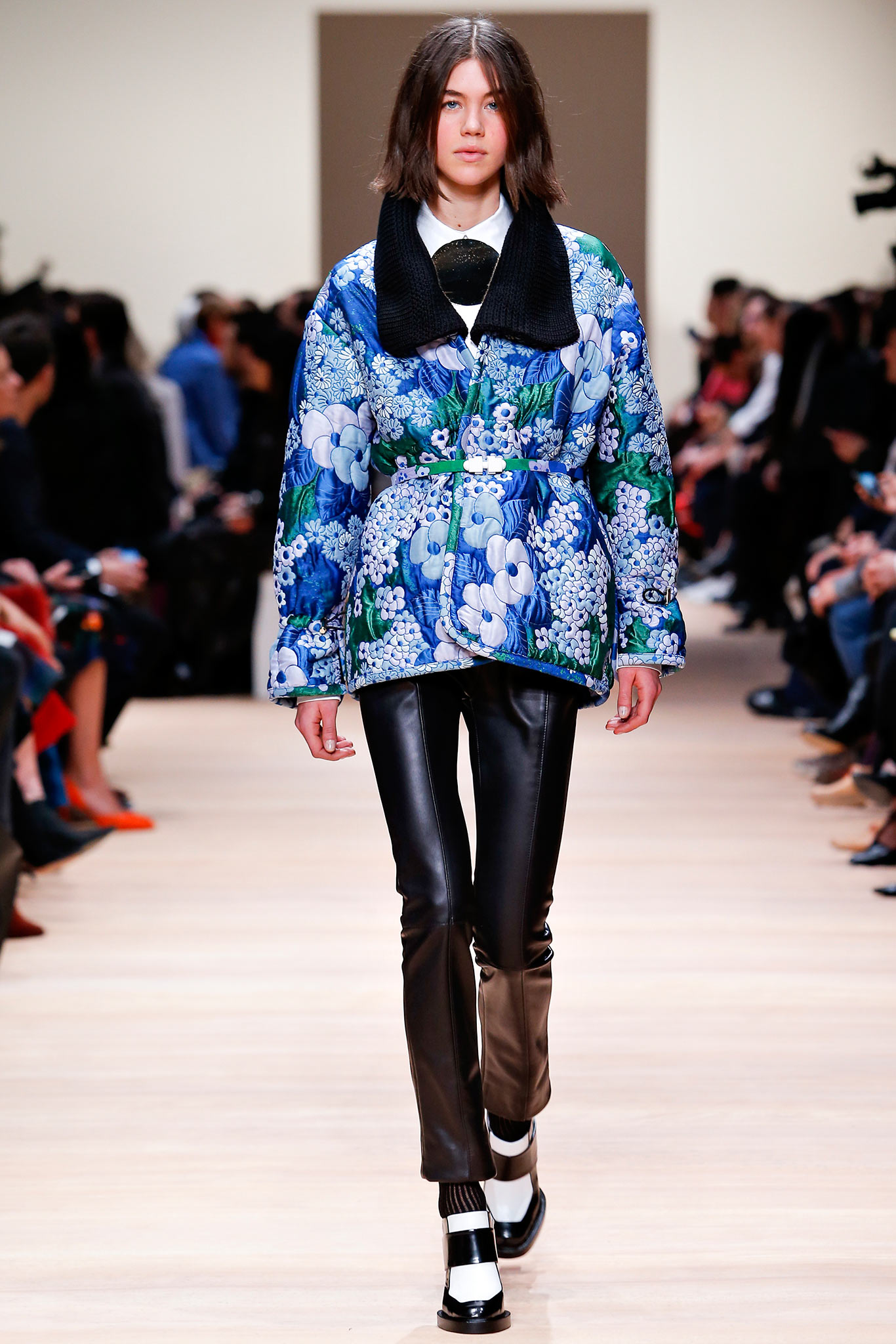 Sweet sporty take on the puffer.
PHILOSPHY DI LORENZO SERAFINI: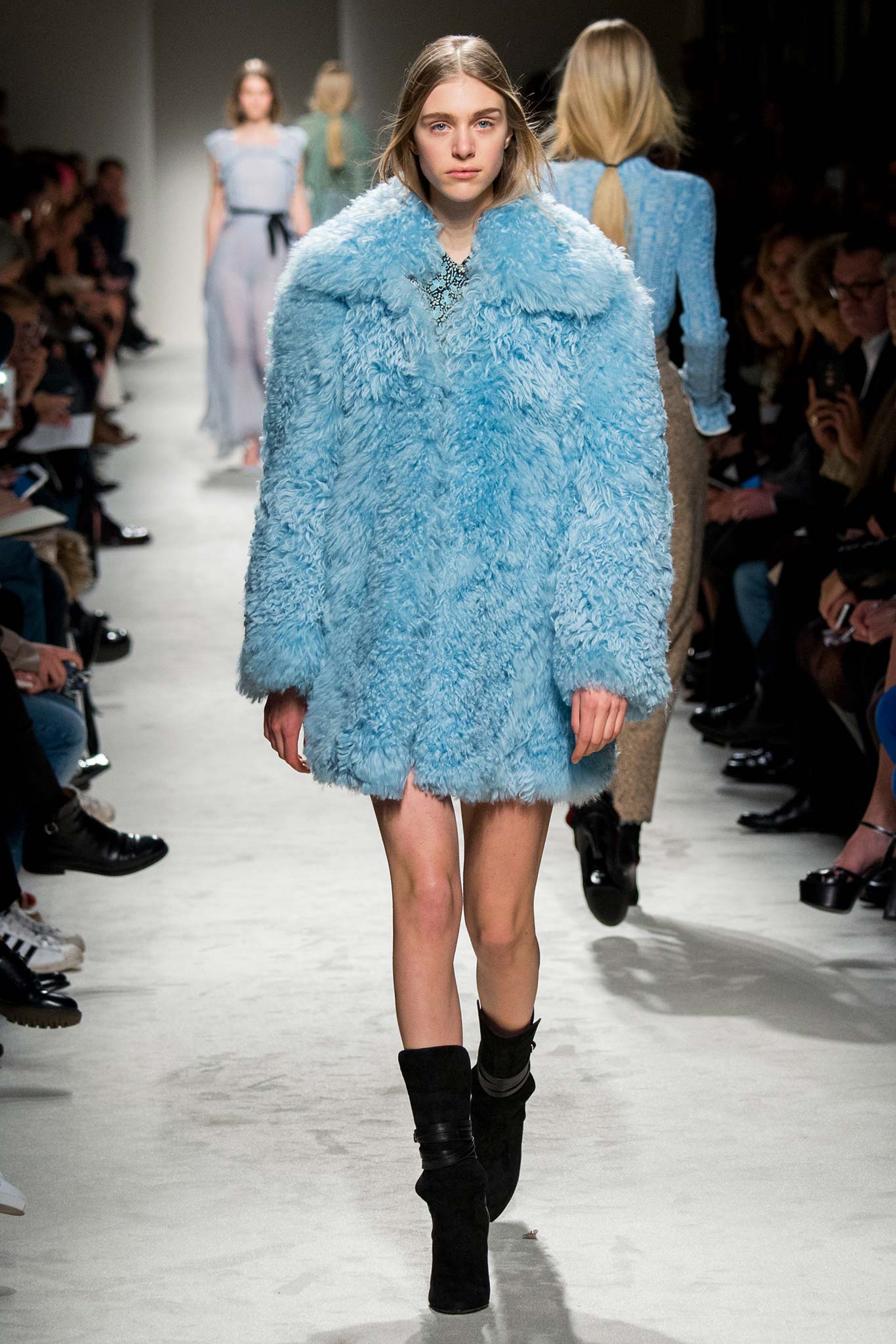 Bright, dramatic, and exuberant, in case you missed the similar option done by Gucci for fall winter 2014.
ANNA SUI: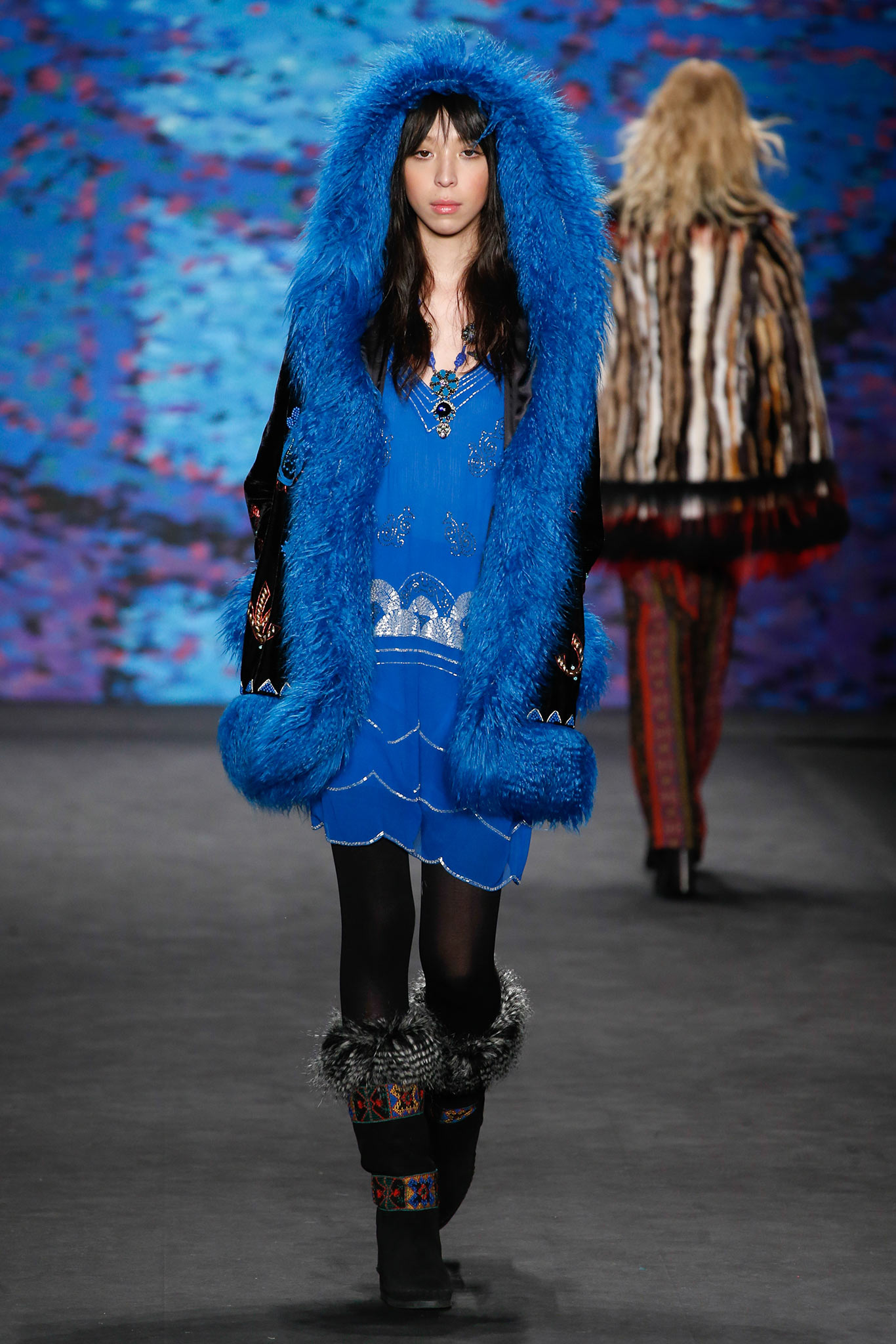 For visual impact, go for cerulean blue. The big bold Mongolian collar helps in that regard as well.
ANDREW GN: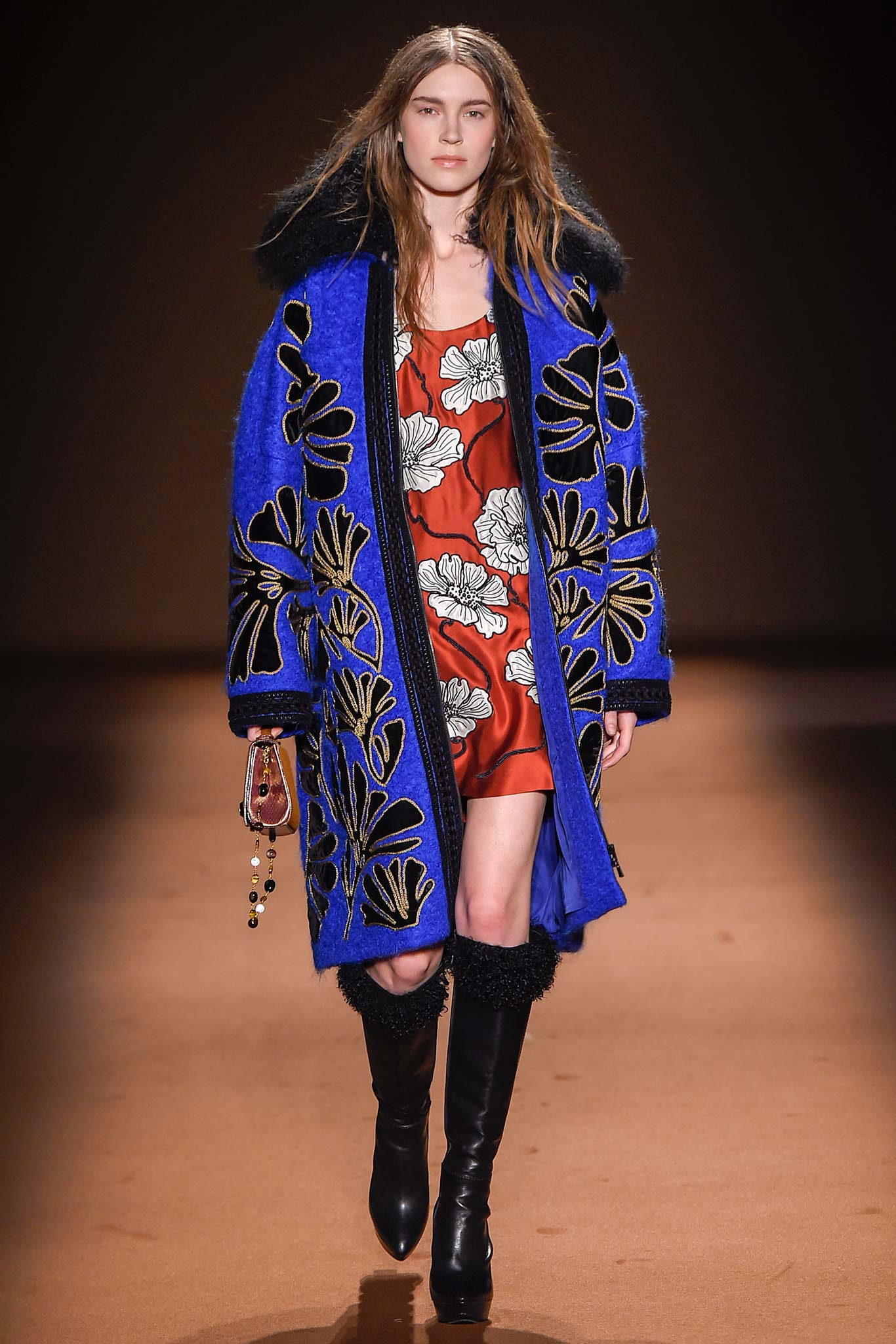 KENZO: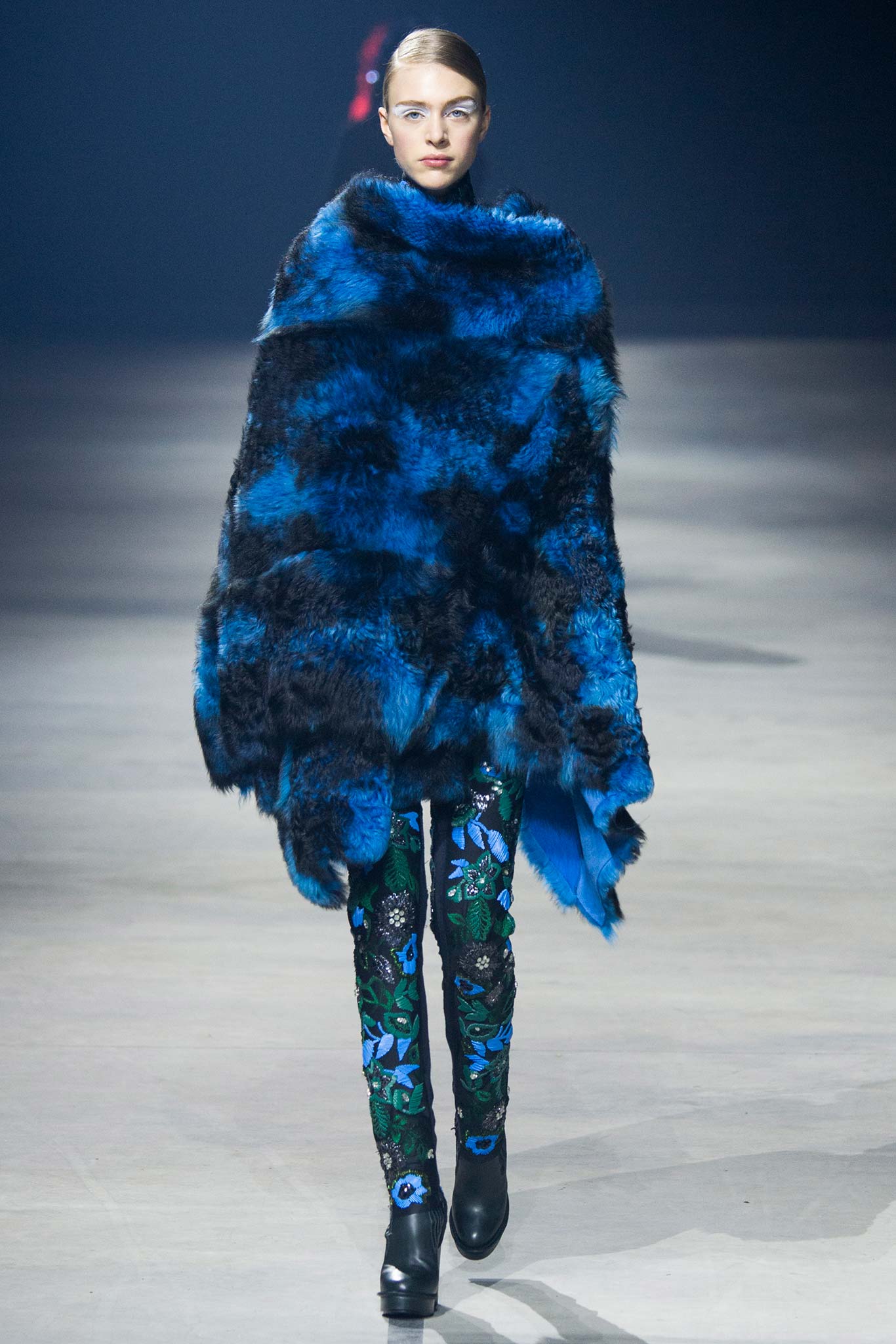 A cape, a coat?
BURBERRY PRORSUM: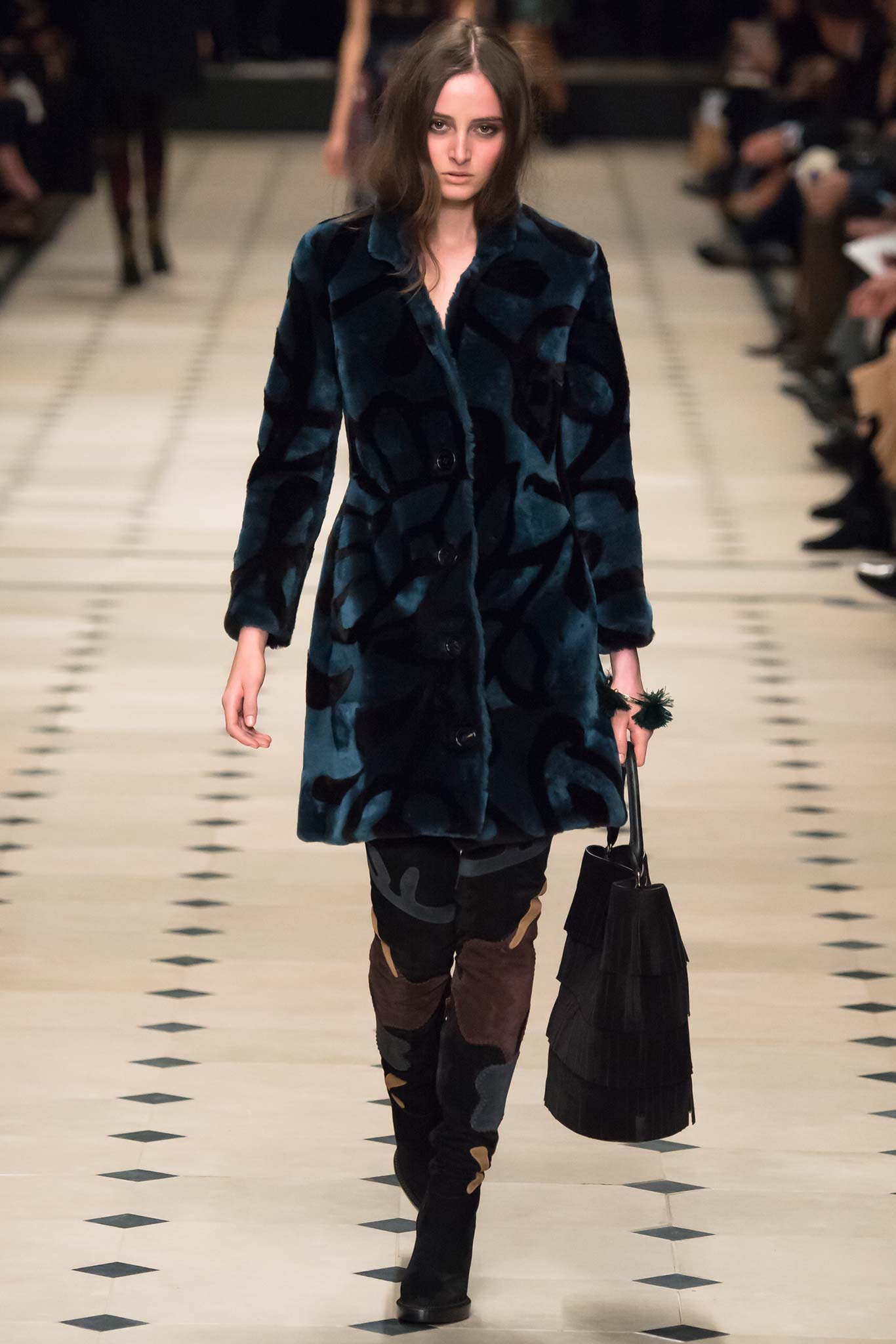 Along with the trenches, Bailey always includes smashing shearling brigade.
ERMANNO SCERVINO: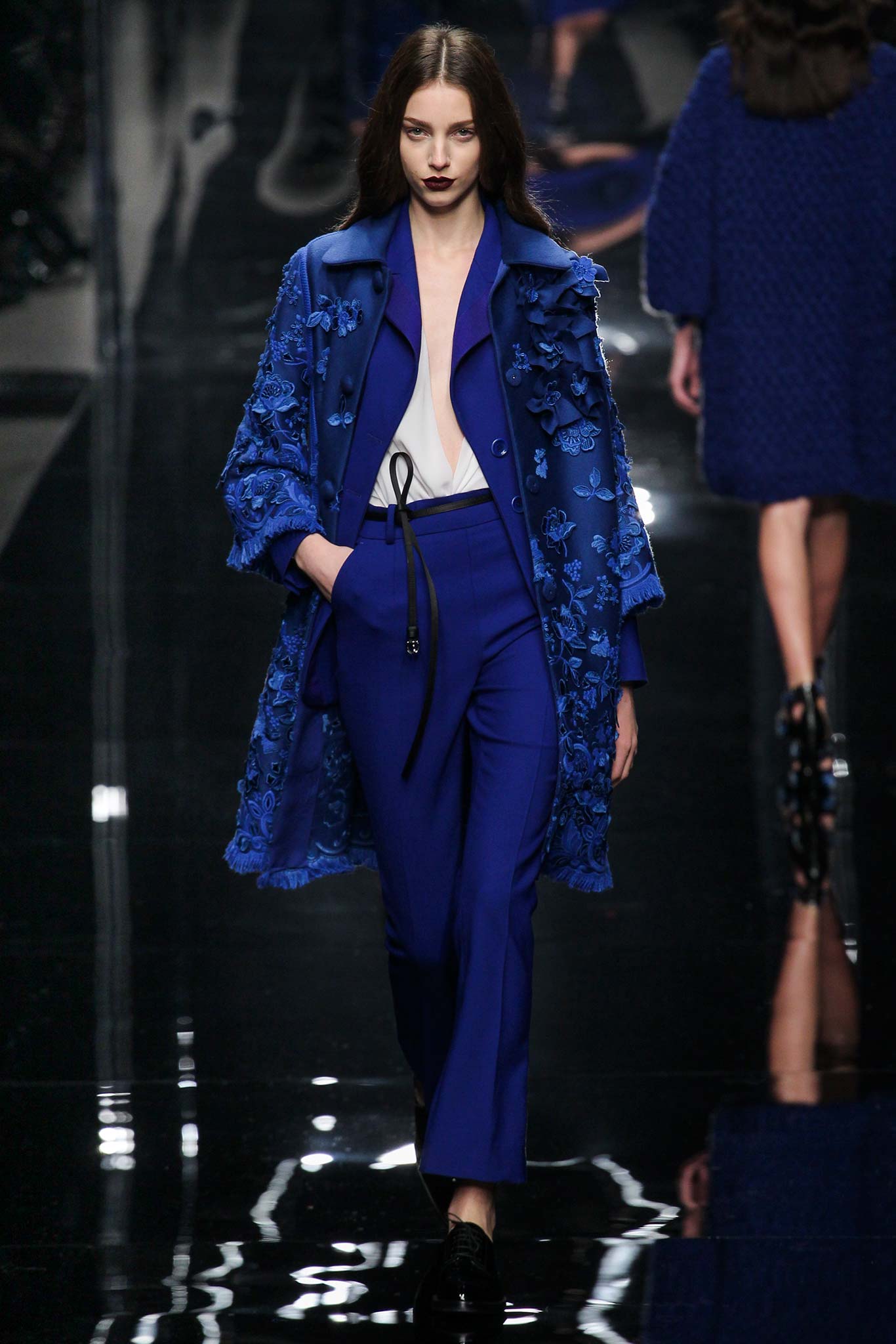 MARC JACOBS: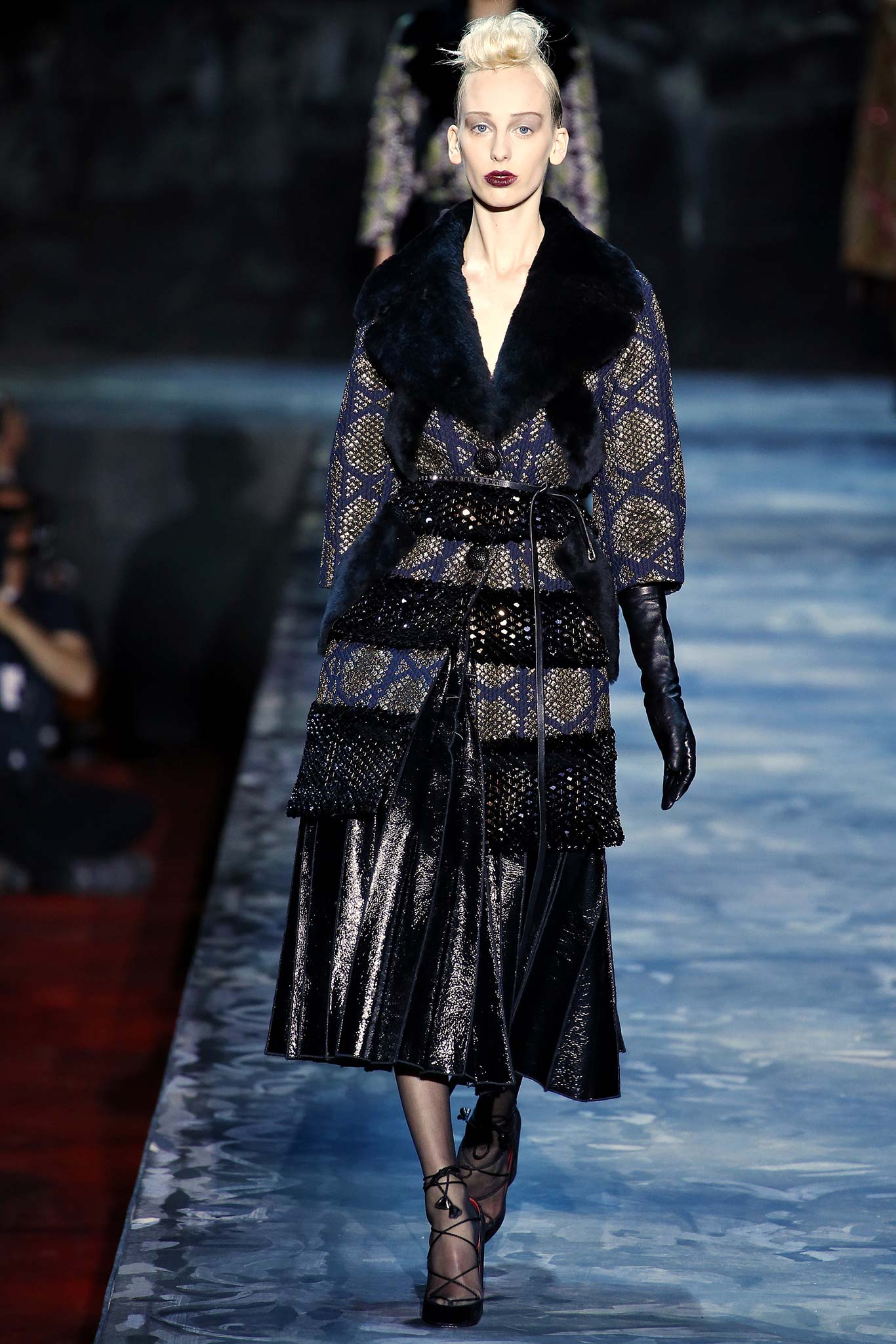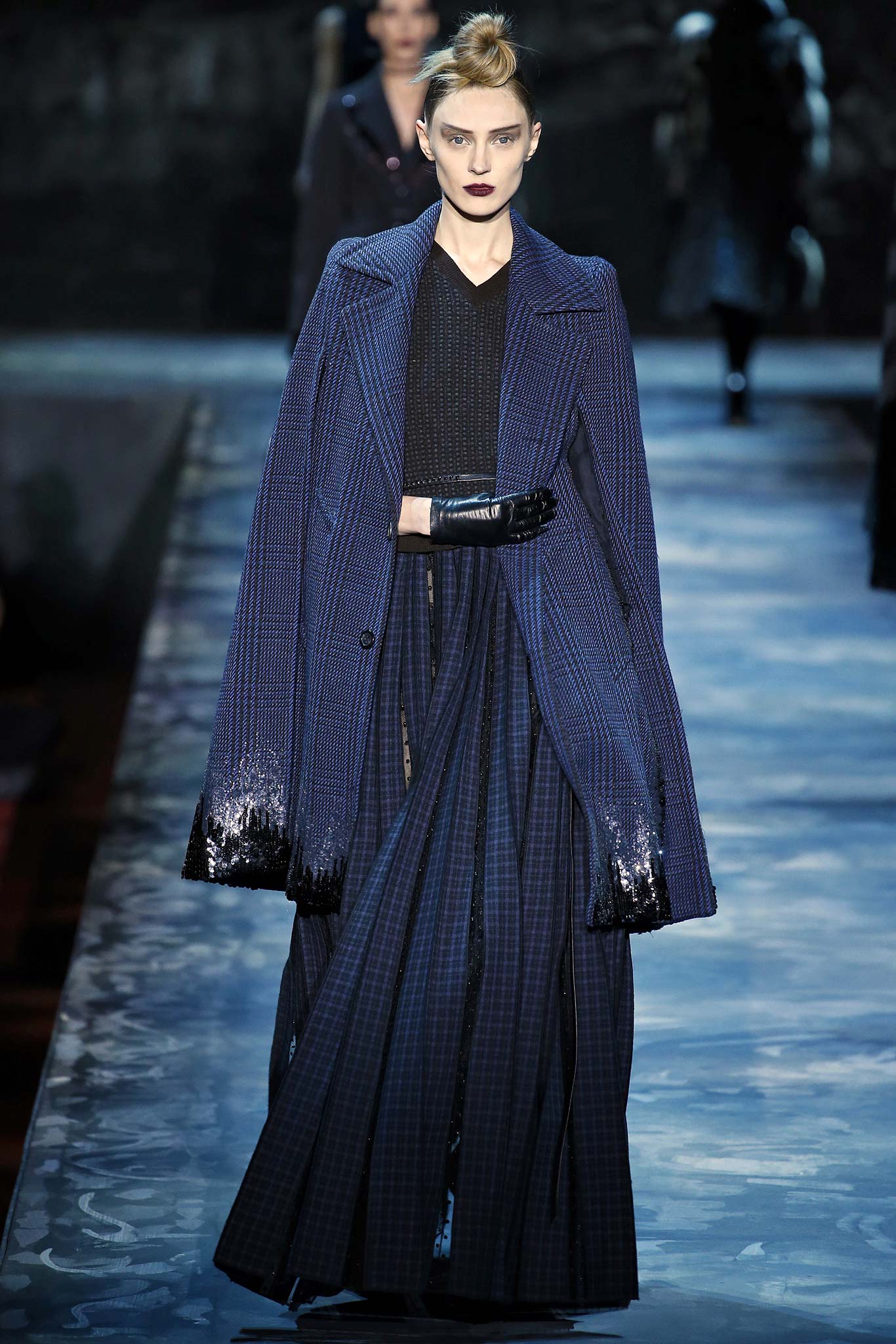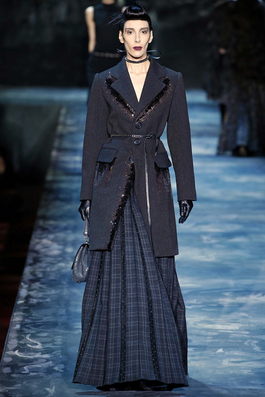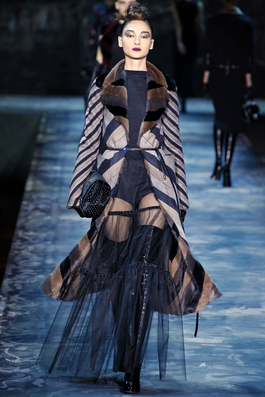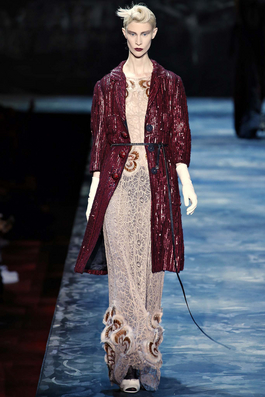 This was one of the few collections focusing on the coat in all its glory. And it was one of the most overwhelmingly stunning collections of fall winter. His considerable talents were on full display. The pieces harkened back to his days at Louis Vuitton, always a good thing.
PUCCI: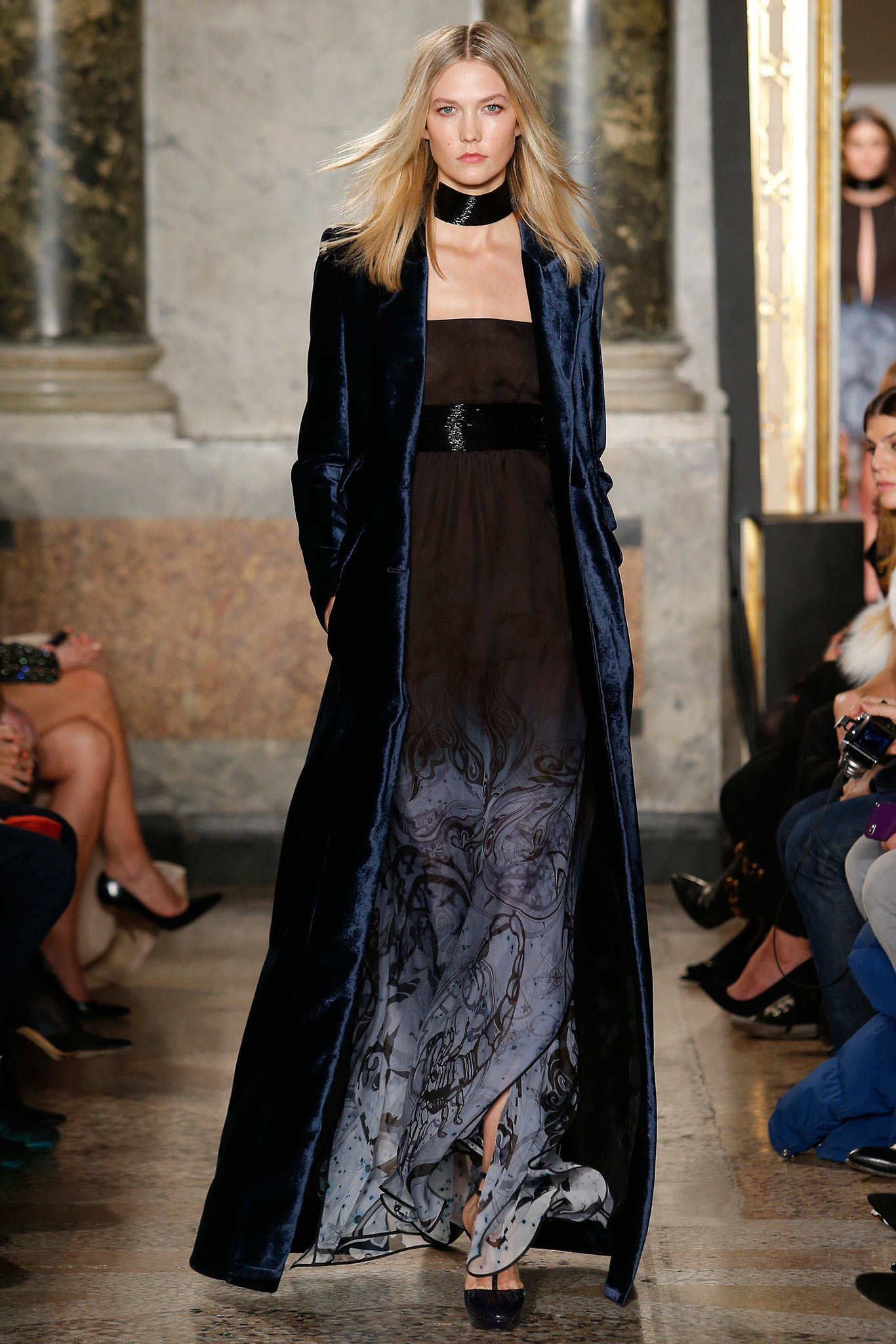 I'm going to miss Peter Dundas….sigh………no fabric has the same dramatic impact as velvet, no matter the color. The more the better.
ROCHAS: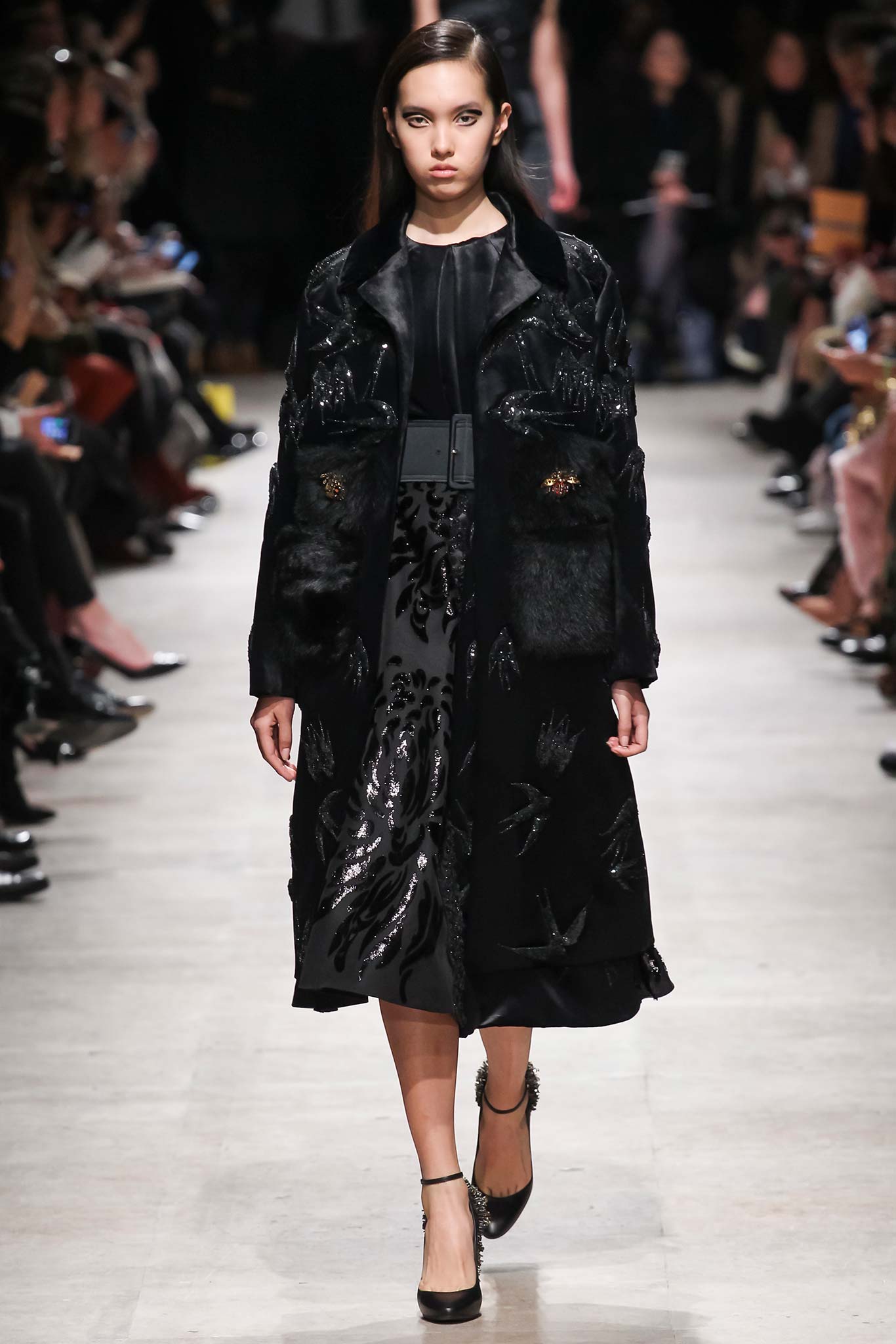 A knockout, perfect for any evening soiree or gala affair.
THOM BROWNE: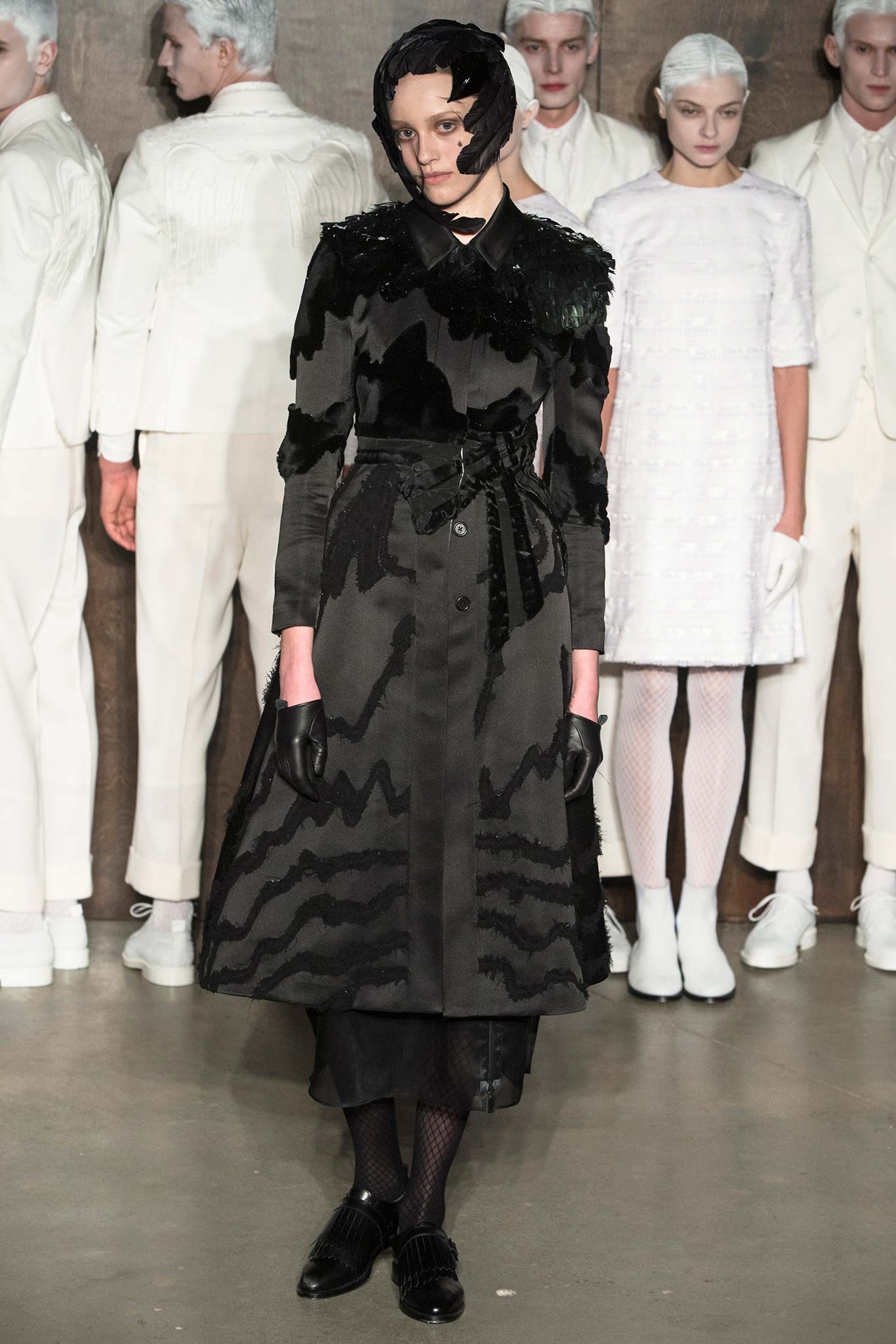 Another breathtaking option for any opening or important event. Wear over a long gown or tuxedo pants. With HIGH heals for more dramatic effect.
MARNI: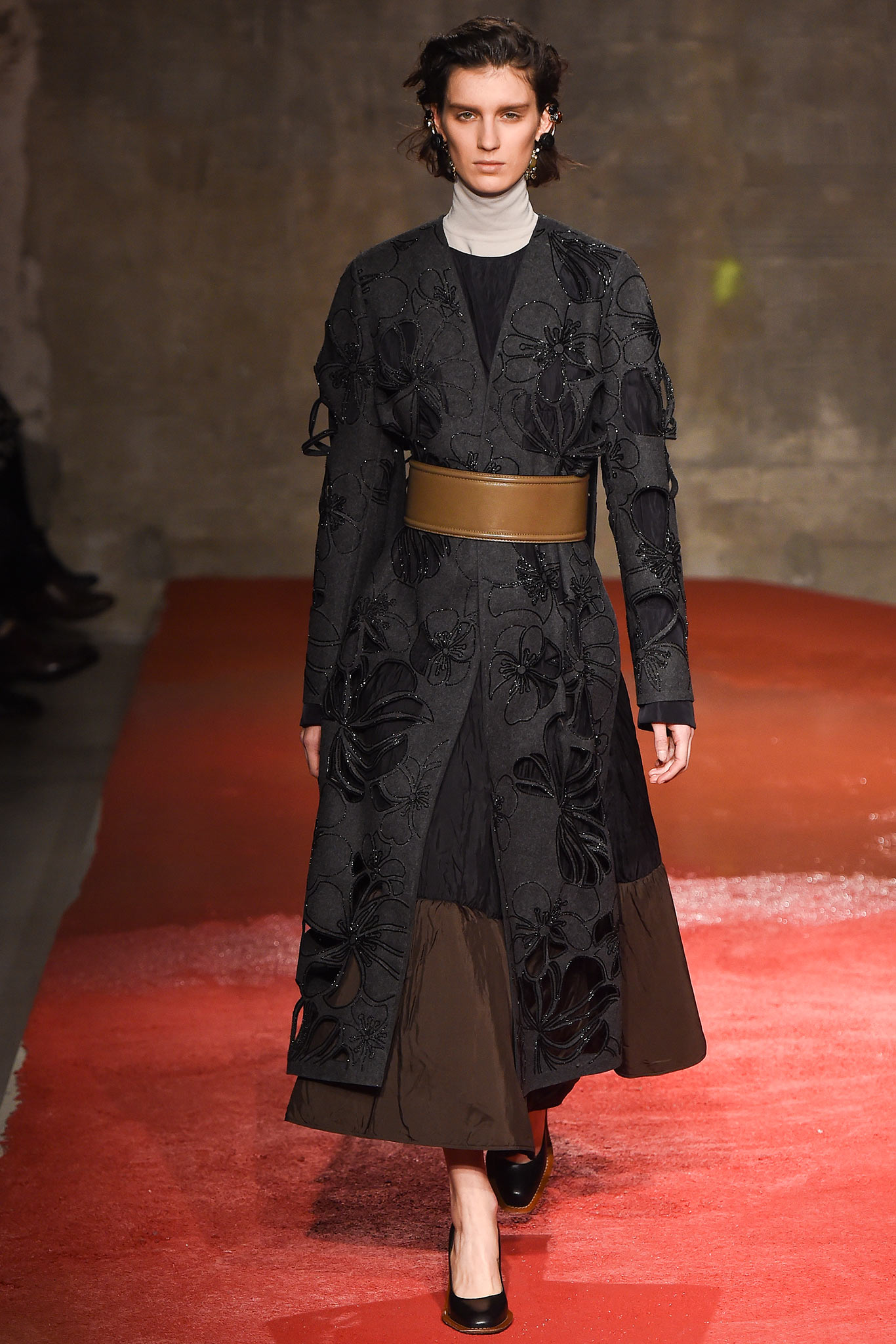 Sort of funky yet glamorous. Wear with jeans to brunch or over a black chiffon dress to the opening of the Opera.
SIMONE ROCHA: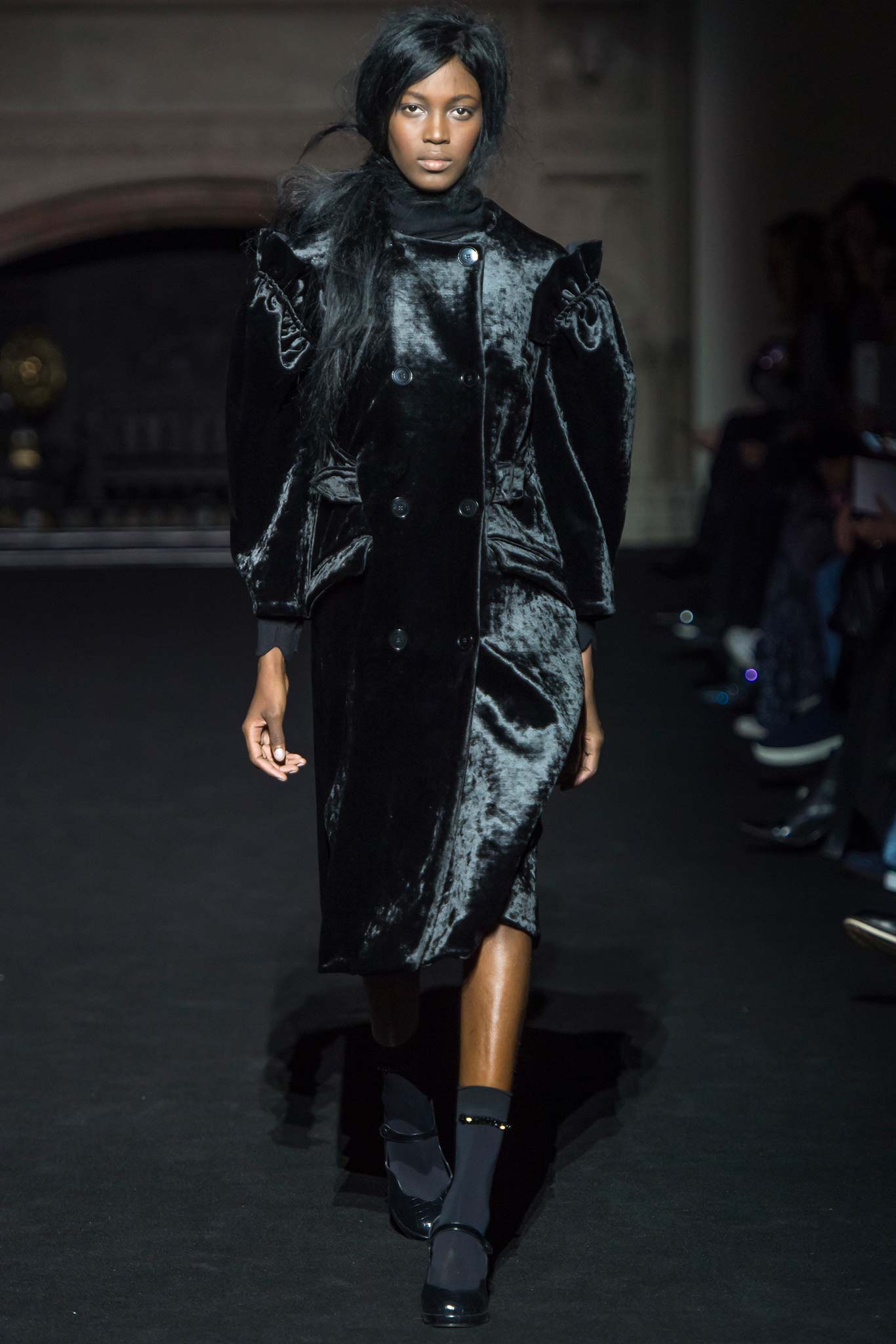 Old world and goth. Everyone needs some Velvet in the closet, the most regal of fabrics.
GARETH PUGH: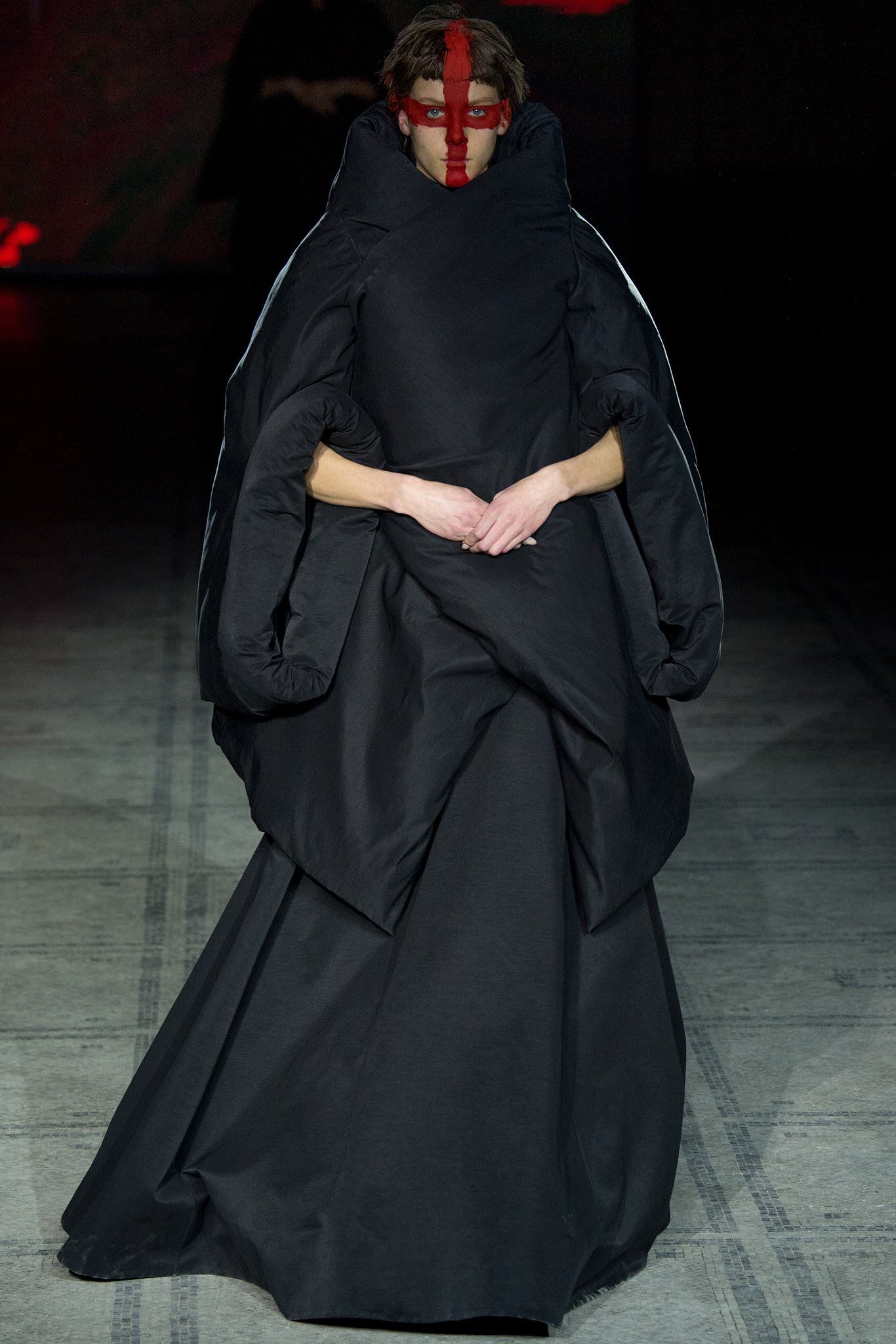 Dark drama…..NOBODY EXPECTS THE SPANISH INQUISITION!
REEM ACRA: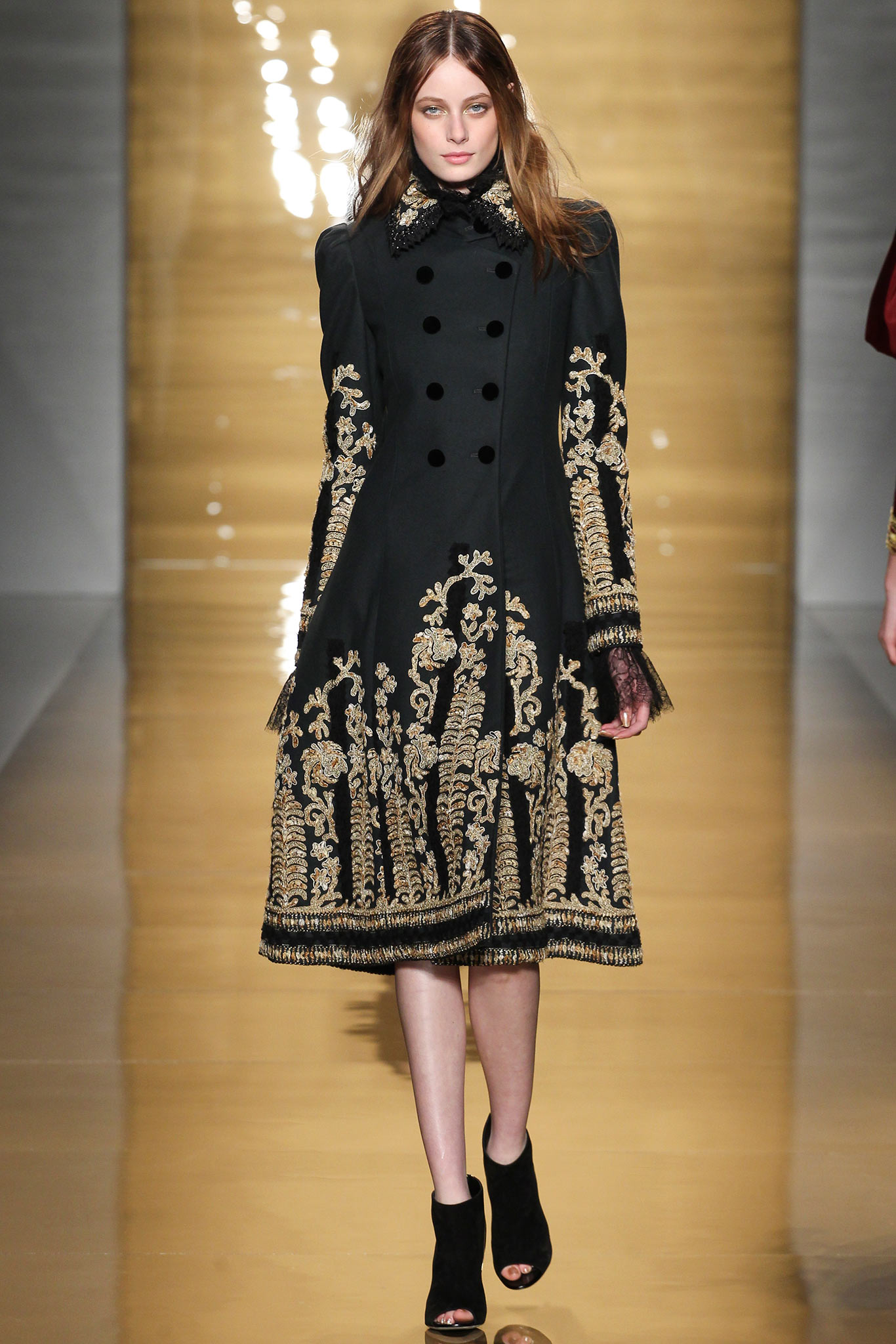 I've died and gone to heaven………..another favorite. This is the kind of piece that goes with one to the hereafter in the pyramid.
Just a quick sampling of more fashion treasures. I'm guessing that many of these pieces will not end up the racks, and will need to be ordered directly from Neiman Marcus, Saks, or a specialty boutique.
Happy shopping!
Images brought to you by www.style.com