Like anyone else who grew up watching Mutual of Omaha's Wild Kingdom, I love and have a deep and profound appreciation for the critters. All of them, from the salamanders and lizards to the Owls and Elephants. After being bored beyond belief as a genetics major (what the hell was I thinking?) at Berkeley, I decided to escape my bondage and double major in Zoology as well. Best decision ever. Enough with the drosophila flies and peapods. Zoology meant going on field trips, digging up Urachus worms, cruising tide pools, and going to Tilden Park for the dawn chorus. The current fascination with our fine feathered and furry friends of the forest harkens back to those wonderful days of youth. And who as a child wasn't mesmerized by the metaphorphosis of the caterpillar into the butterfly? Birds and butterflys are not just examples of the incomparable beauty in the natural world, but they lift our spirits and speak to the romantic and optimist in us all. The critter contingent adds welcome wimsy to baseline striking and unusual winter selections. Some of these fashions have already made their way to the shelves of Neiman Marcus, Saks Fifth Avenue, and Bergdorf Goodman for your perusal. Many versions of creatures are in the house.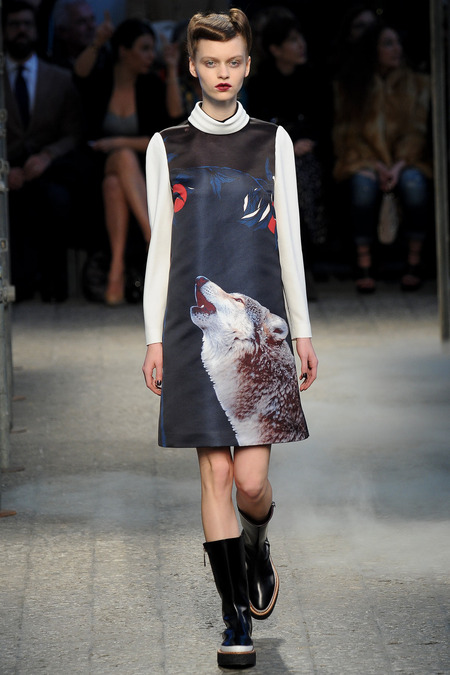 ANTONIO MARRAS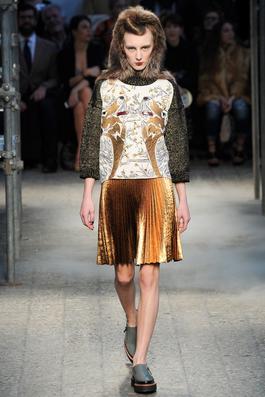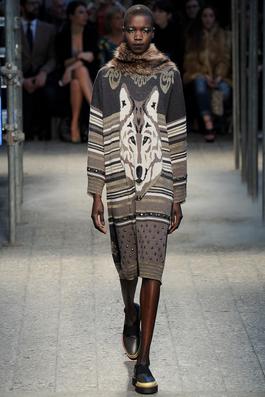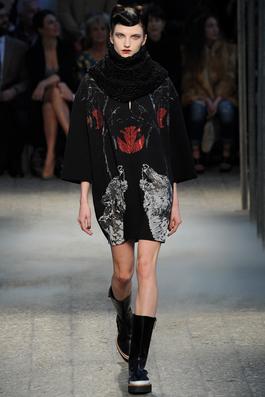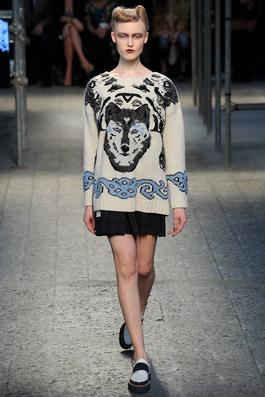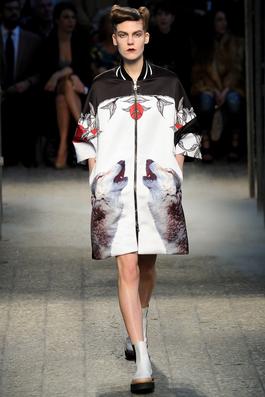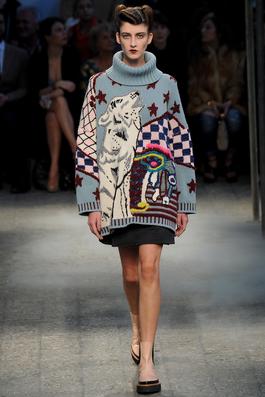 This collection was one of my favorites of fall winter, in no small part due to all the Wolf love. Never mind all the clever amalgamations of luxe fabrications and judicial use of brocades and sweaters.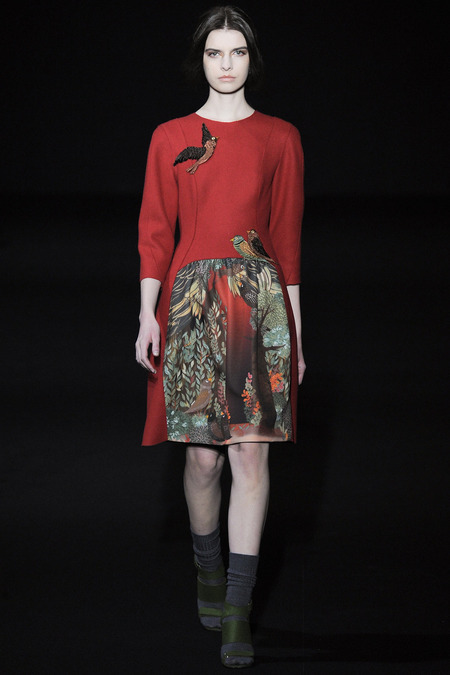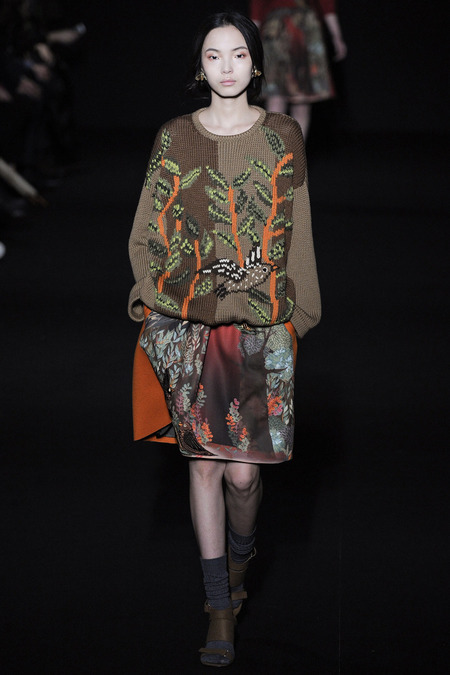 ALBERTA FERRETTI
This was another spectacular collection I've referenced many times for good reason, embracing wearable separates and haute couture like entries you'll likely never see up close and personal.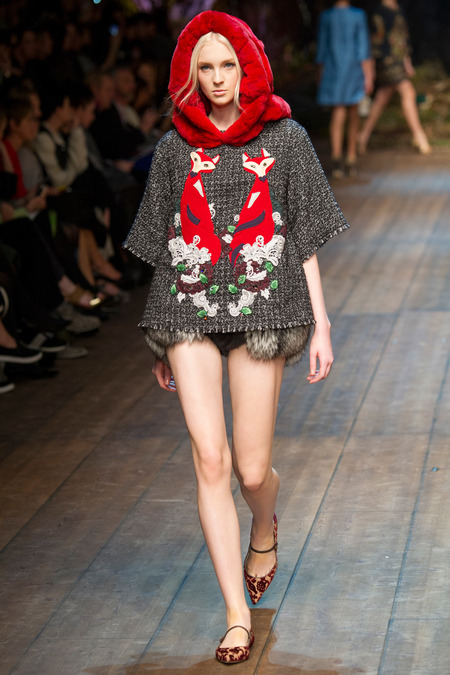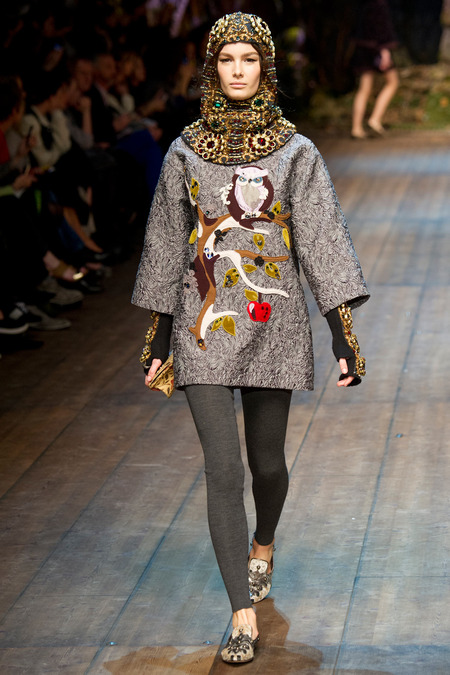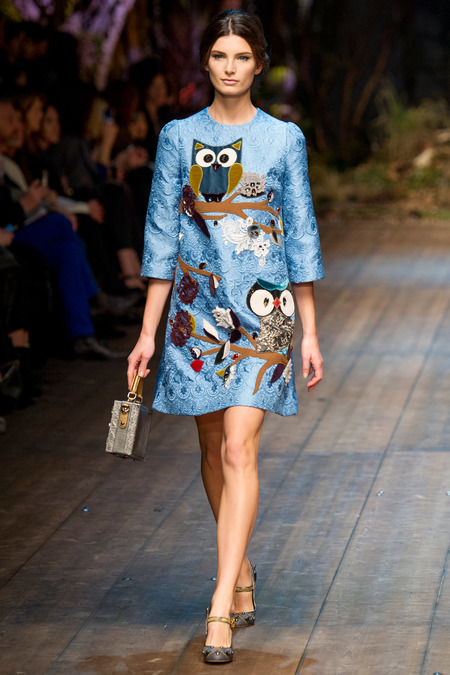 DOLCE & GABBANA
I couldn't help myself, I weakened and got this blue baby. Almost without fail, my Dolce and Gabbana frocks and dresses get the most awe filled stares from random passersby and coworkers. I imagine wandering the streets in sky blue cloquet with Owl appliques might not be everyone's cup of tee, but you must admit that everyone appreciates an element of whimsy. Seriously, how many Brooks Brothers suits and khaki's can one person stand to look at before lapsing into a stupor? And the great thing about the cloquet contingent? Lined with charmeuse to add another layer of luxury.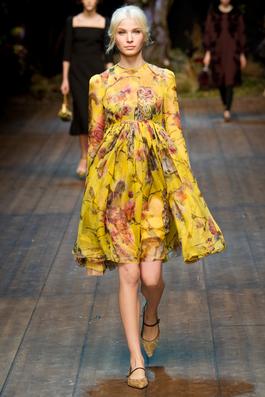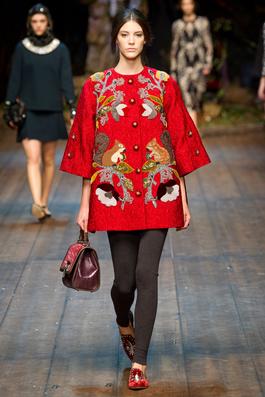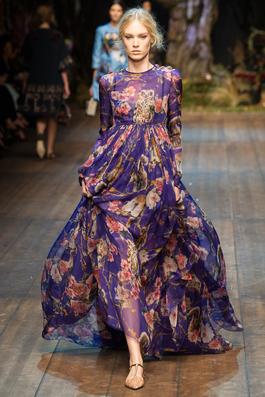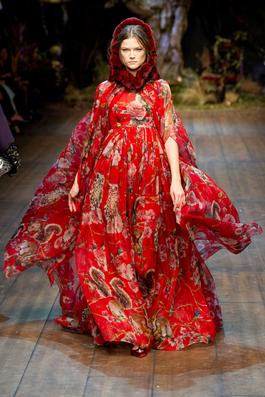 Just a few more wondrous entries in a stellar collection with more Owls, Foxes and Squirrels than you'll find at your local park. These were a part of my very first post back in June, but so outstanding I though it time for an encore.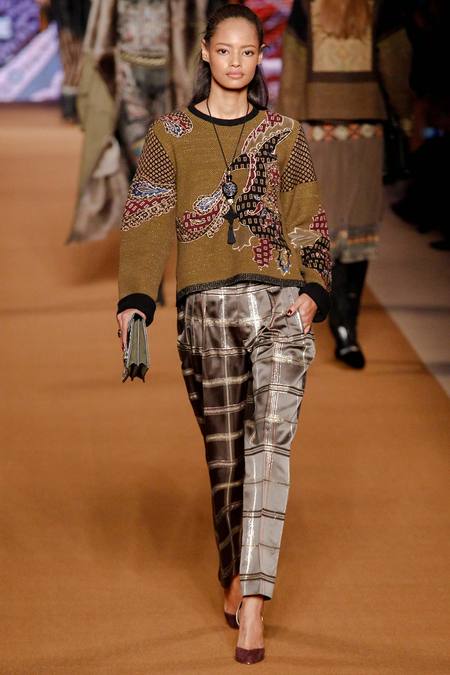 ETRO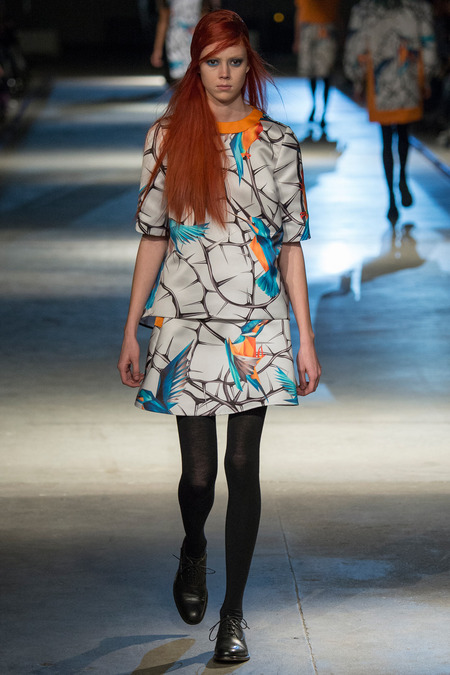 GILES
The birdwatcher in me loves these Kingfishers in vibrant colors. Juxtaposing these beautiful creatures with the thorny branches is a good metaphor for life.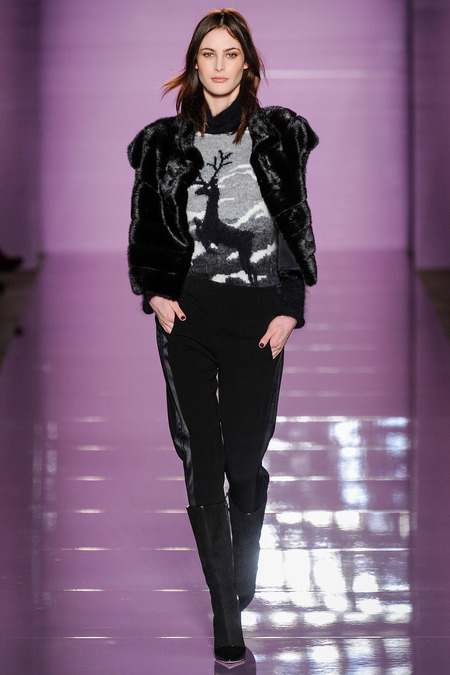 LES COPAINS
"Your mother can't be with you anymore"....sigh. More stark than the other entries, but something out of the ordinary nonetheless.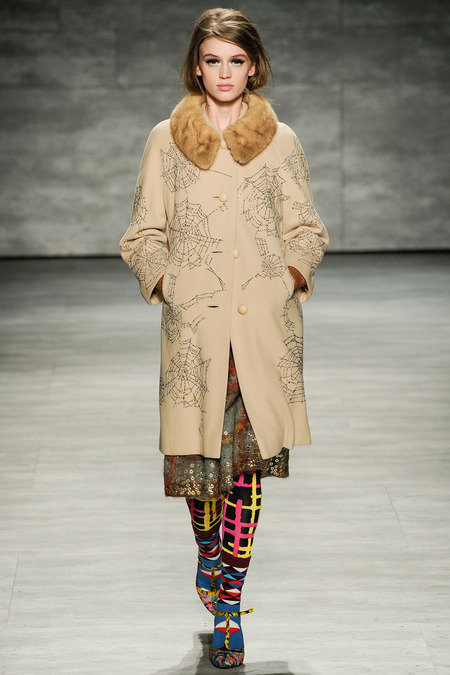 LIBERTINE
Leave it to Libertine to glam up a relatively simple silhouette with rhinestone laden spider webs.....reminding us of the inherent beauty in a dew swathed miracle of nature.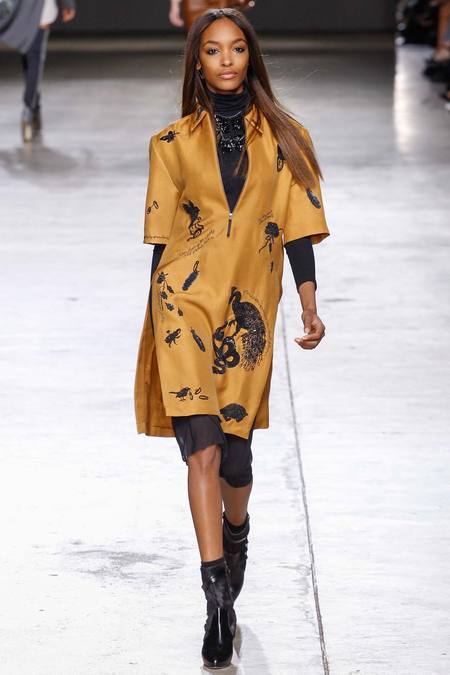 TOPSHOP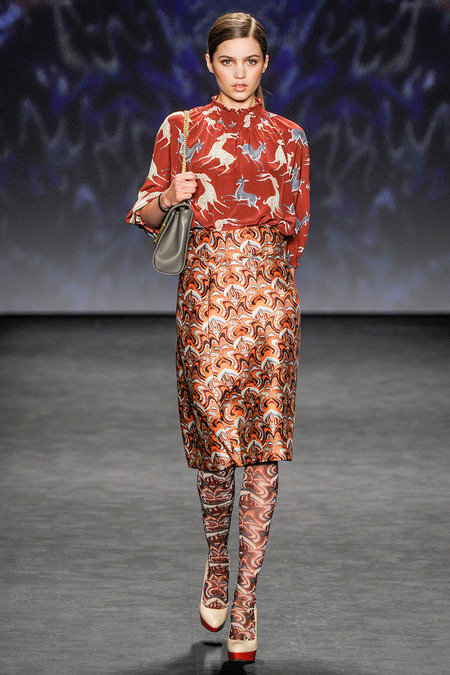 VIVIENNE TAM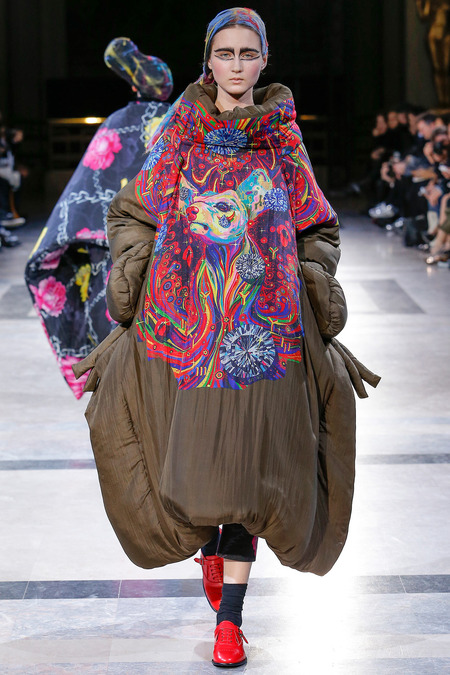 YOHJI YAMAMOTO
You can always count on the Japanese to offer up a healthy dose of dada with the whimsy. Glorious funky wearable art.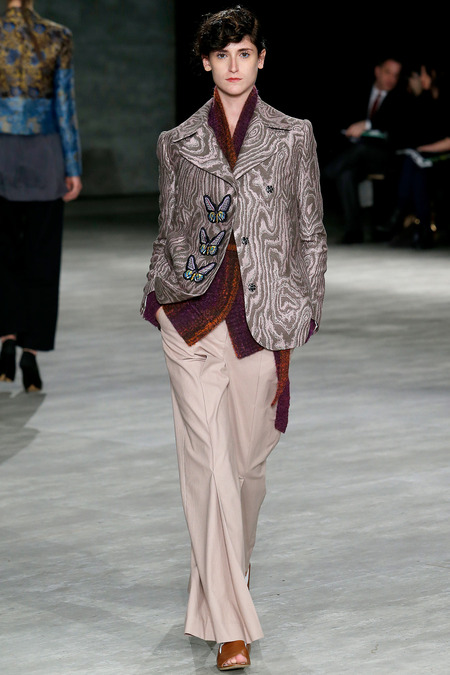 CREATURES OF THE WIND
A more laid back entry into the costly butterfly spectacle that has flown into the resort season as well. The taupe moire silk adds more visual interest and drama to what might have been cloyingly sweet.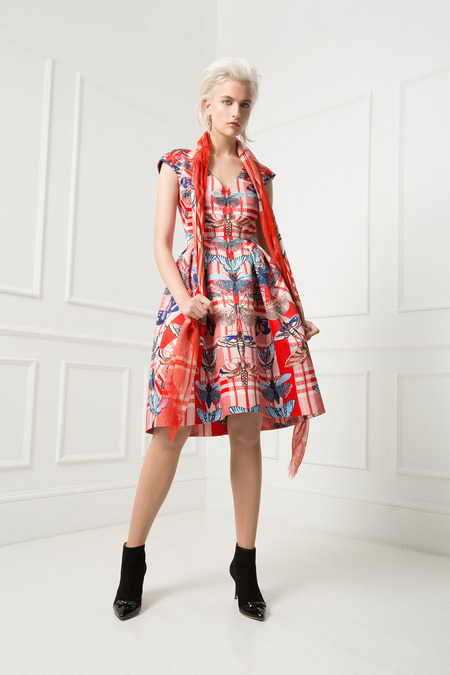 TEMPERLEY LONDON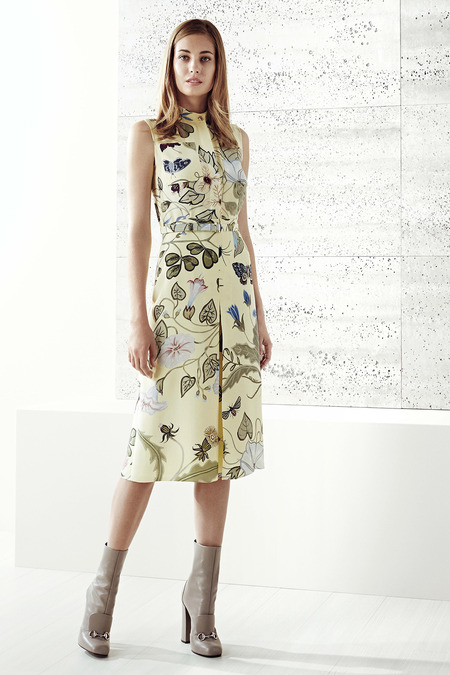 GUCCI
More variations on a theme revisited a la resort.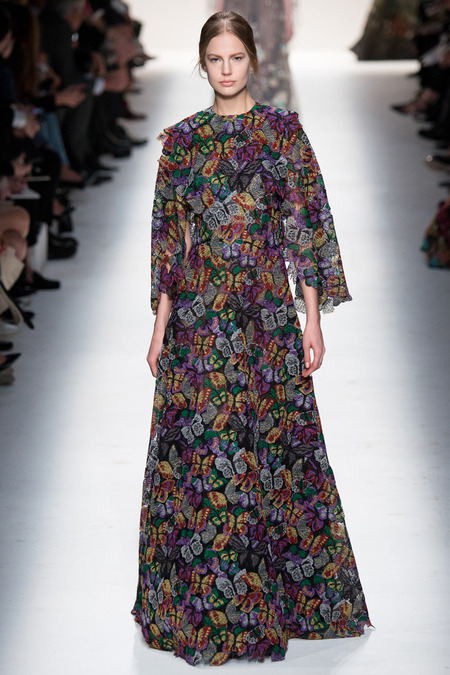 VALENTINO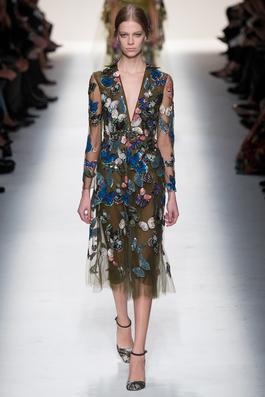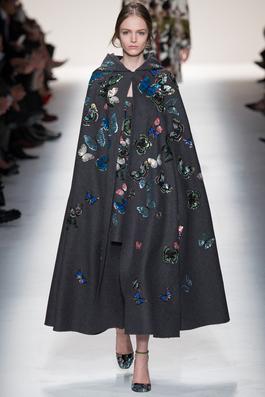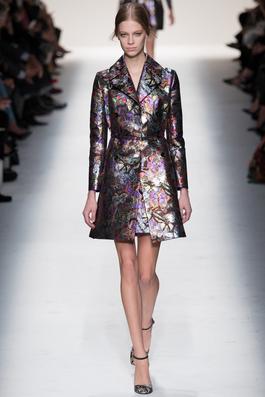 Valentino captured the wonder and delight illicited by butterflies in flight in a woodland clearing as no other design house could. Add the diaphanous silks and endless yards of tulle and you have Lepidoptera as you might imagine in a wonderful dream. No possible way to improve on the fanciful butterfly theme brought to us by Maison Valentino. Bully for us that they chose to continue this cherished affair into resort. Adding a pattern including Octopi and Unicorns was merely icing on the cake. Like Alberta Ferretti, this house is adept at providing a wide spectrum of looks and silhouettes to accompany one to a casual sojourn or the most regal of events. All bases covered.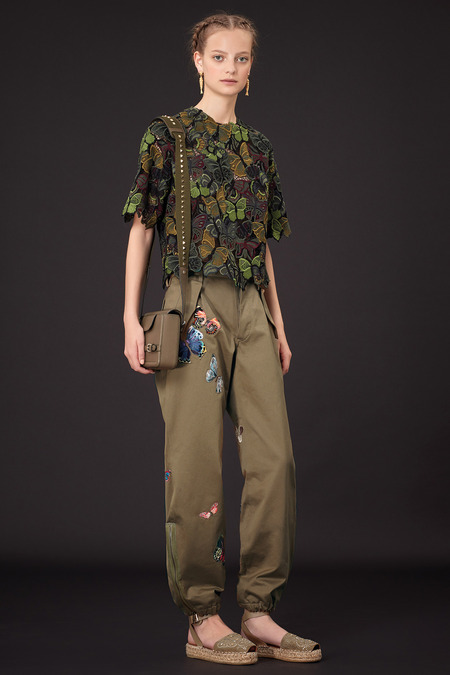 Valentino is sticking with what works, with butterflies taking flight into Resort 2015.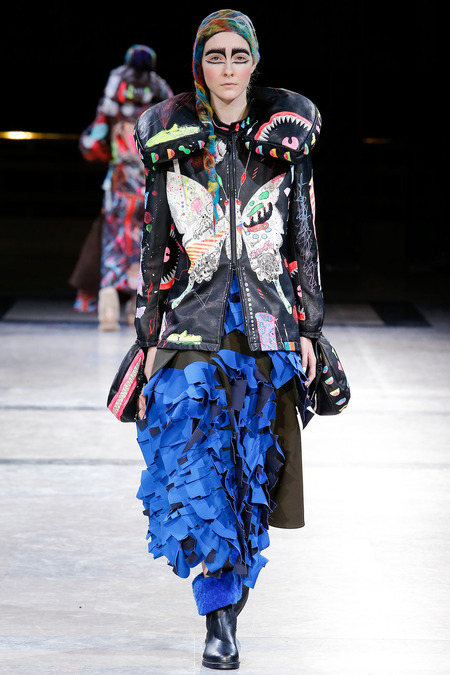 More YOHJI, bringing the hard and severe along eith the light and sweet. Always curious, eccentric and bound to get the synpases firing.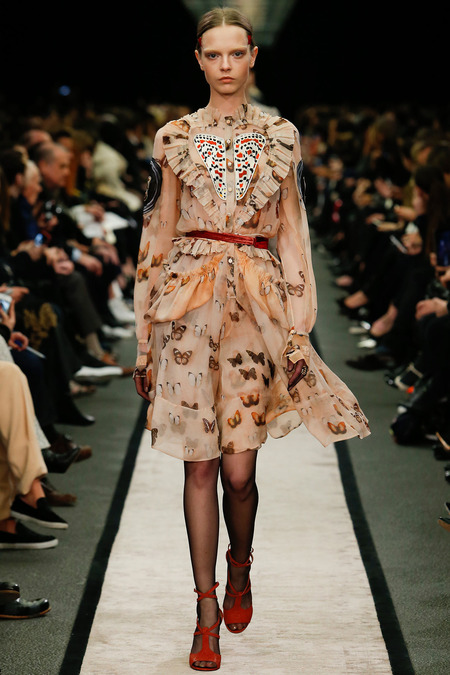 GIVENCHY
If I could have ONE dress from fall winter, it would be this one. Chiffon as far as the eye can see with a multicolored flurry of butterflies. Sublime, no doubt about it.
Aside from enrapturing us with the lovely and whimsical, these pieces hopefully remind us of the deep connection we have with the earth and it's creatures.
Images brought to us by www.style.com