More from the always outrageous, extravagant, and entertaining Paris runway shows with a full spectrum of gorgeous and mind bending, as one would expect from the likes of Sarah Burton, Alber Elbaz, and Riccardo Tisci.
ALEXANDER MCQUEEN (Sarah Burton):
Always a tour de force spectacle with the mouth watering fare one would expect in a couture show, Burton does not disappoint with a combination of modern Victorian, with a touch of saloon, and flamenco, with a nice cadre of suits for the supreme fashionista to boot. Strength, glamour, feminine and romantic, comingled into covetable pieces that belong under glass. Pink is a major player, but ironically, not of the Sandra Dee variety. This is pink sexed up with coexistent black and corset silhouettes. And the styling is spot on with the patent leeather and lace festooned booties.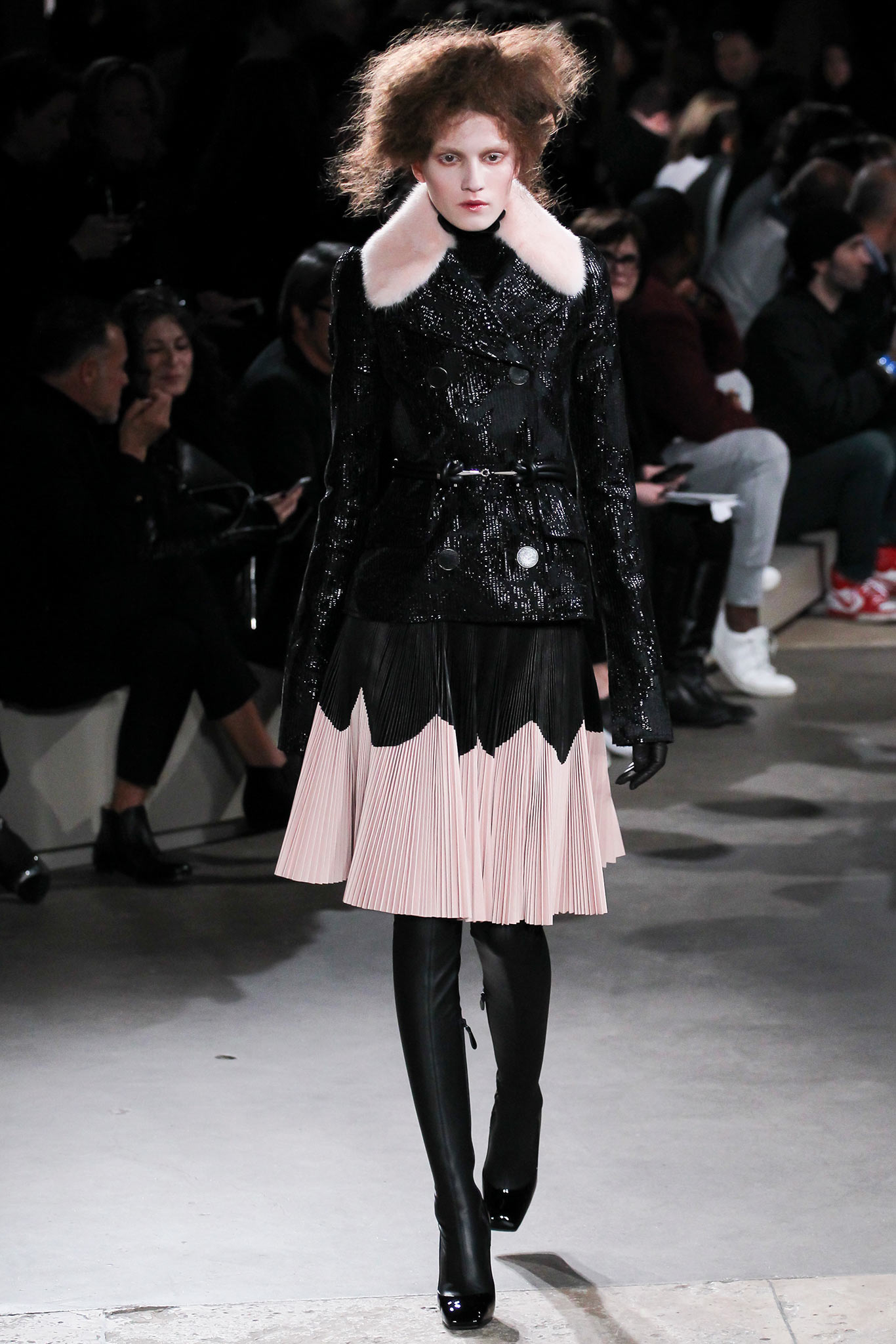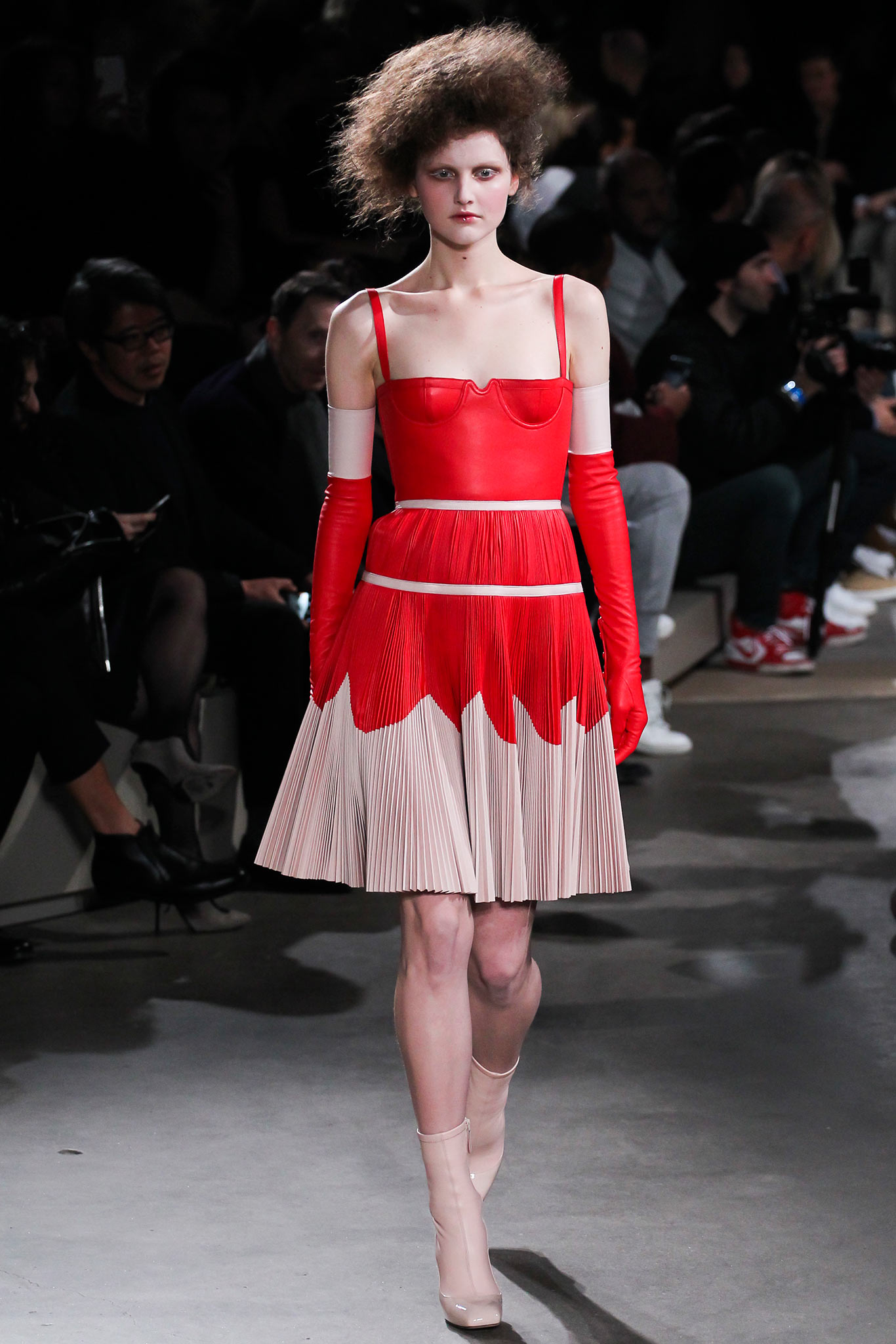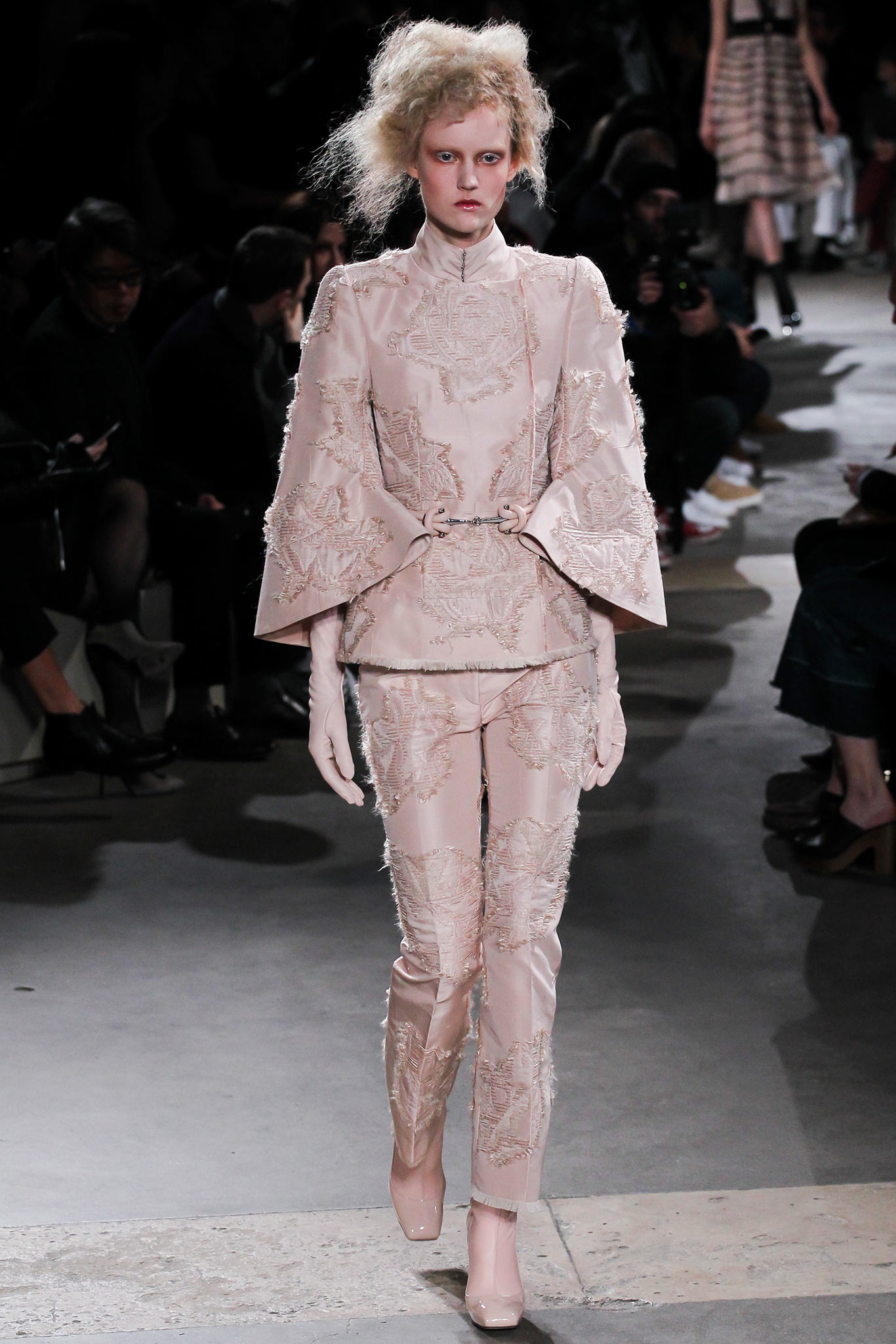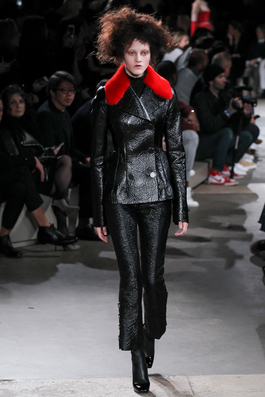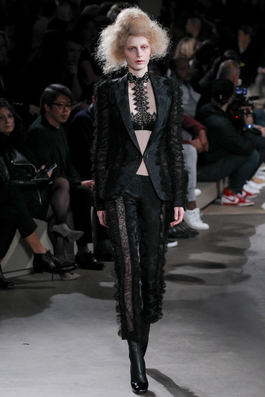 I dare anyone to show up in the office in one of these "suits".....wear with patent stiletto booties!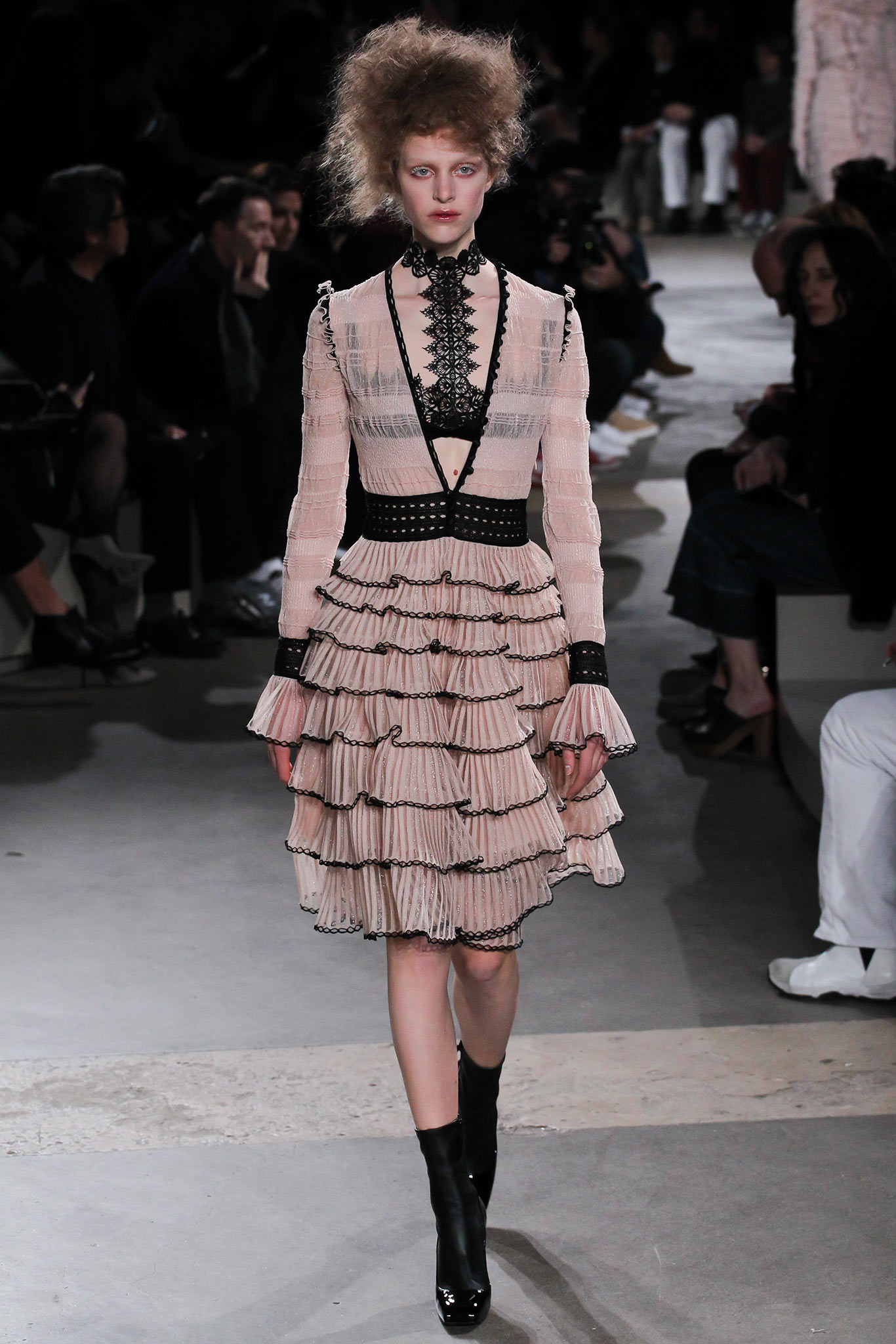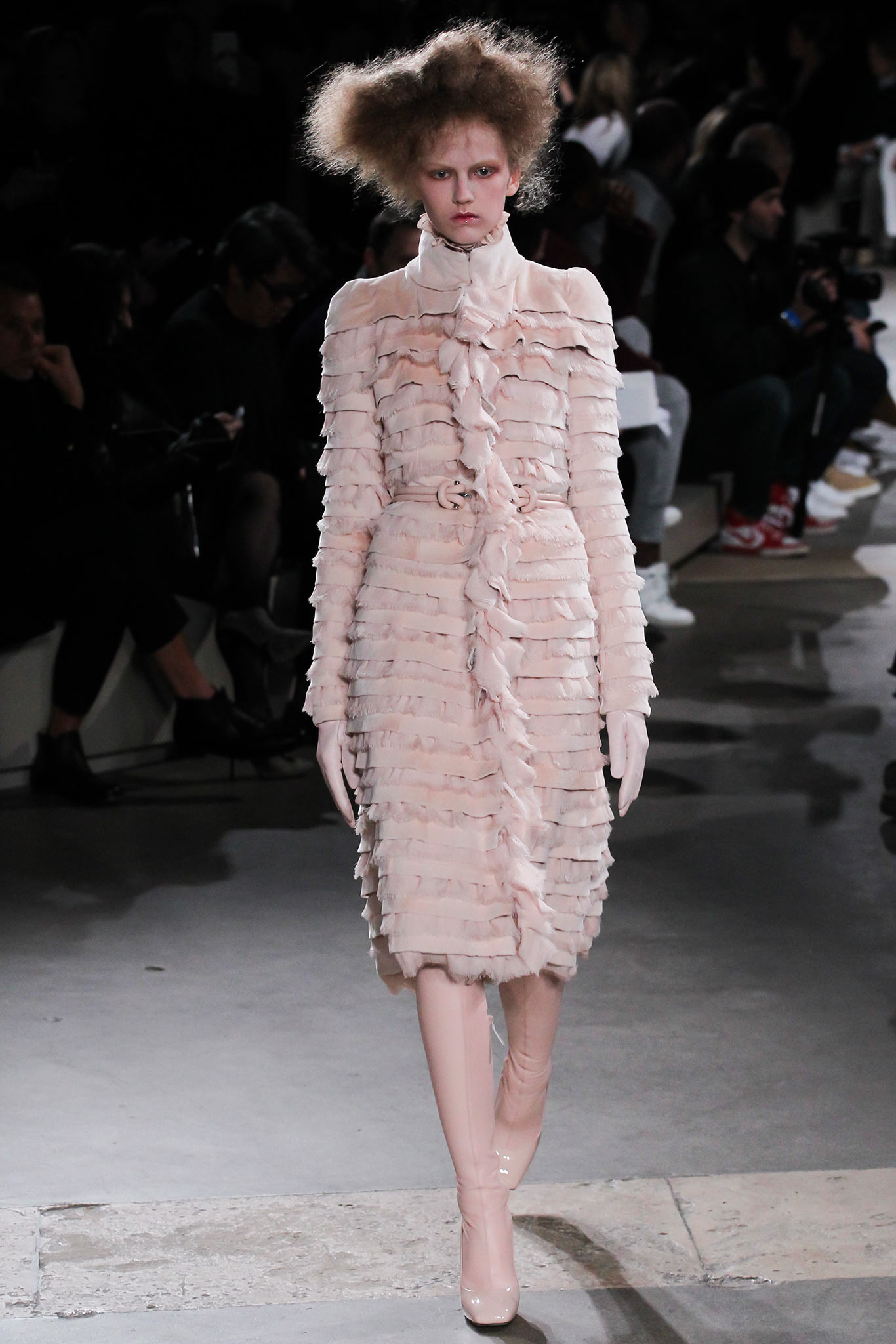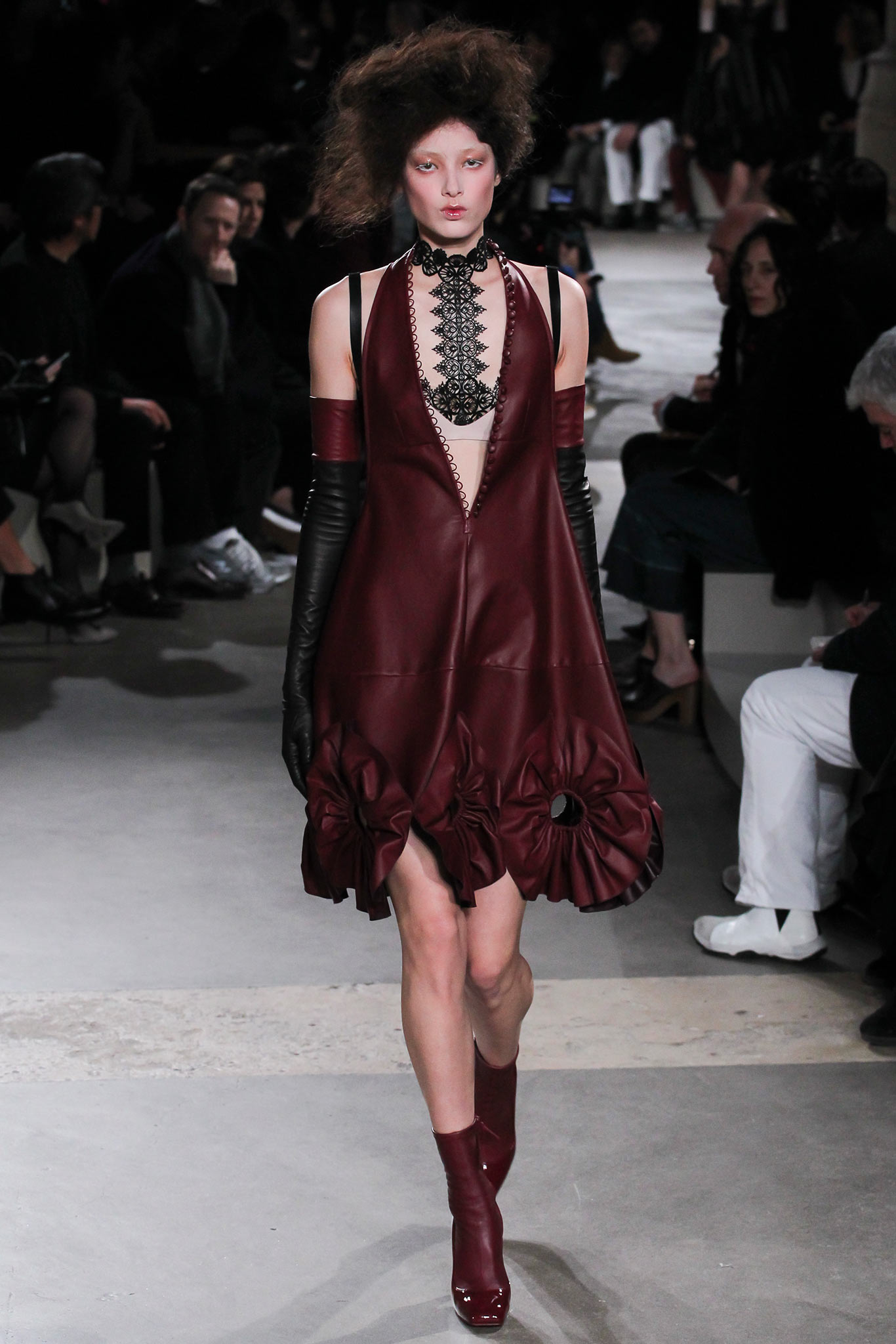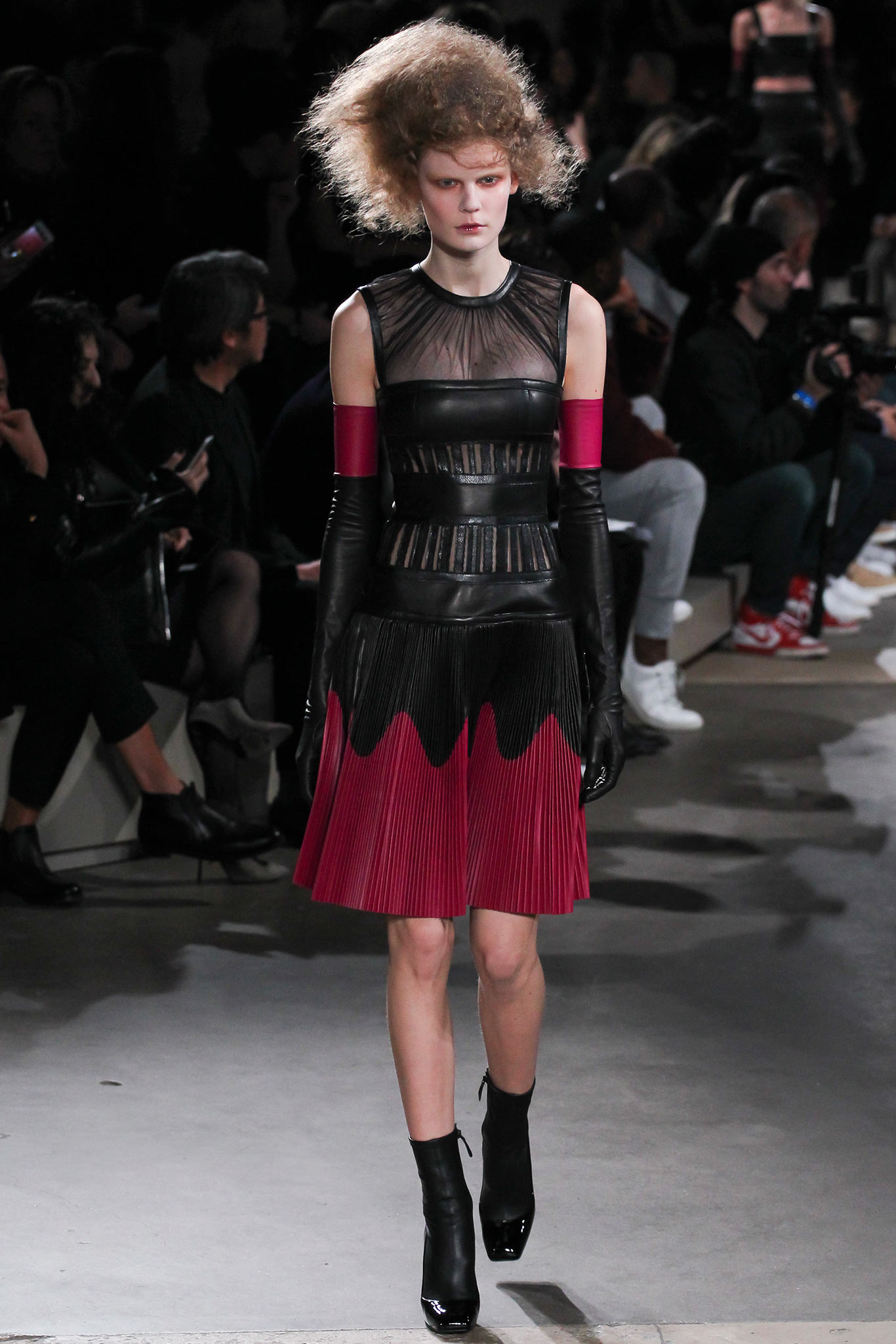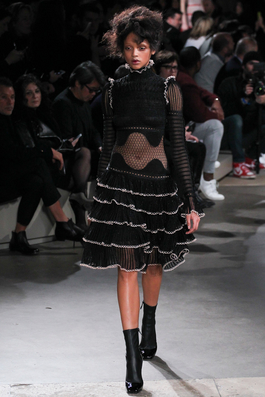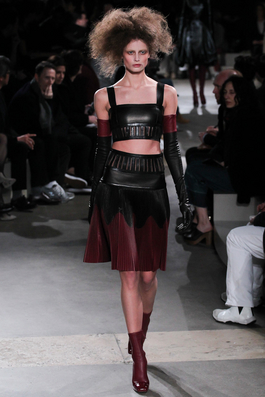 Into every upscale runway show, a little hooch and bondage must fall. Keeps everyone on their toes. Now, where did I put those handcuffs?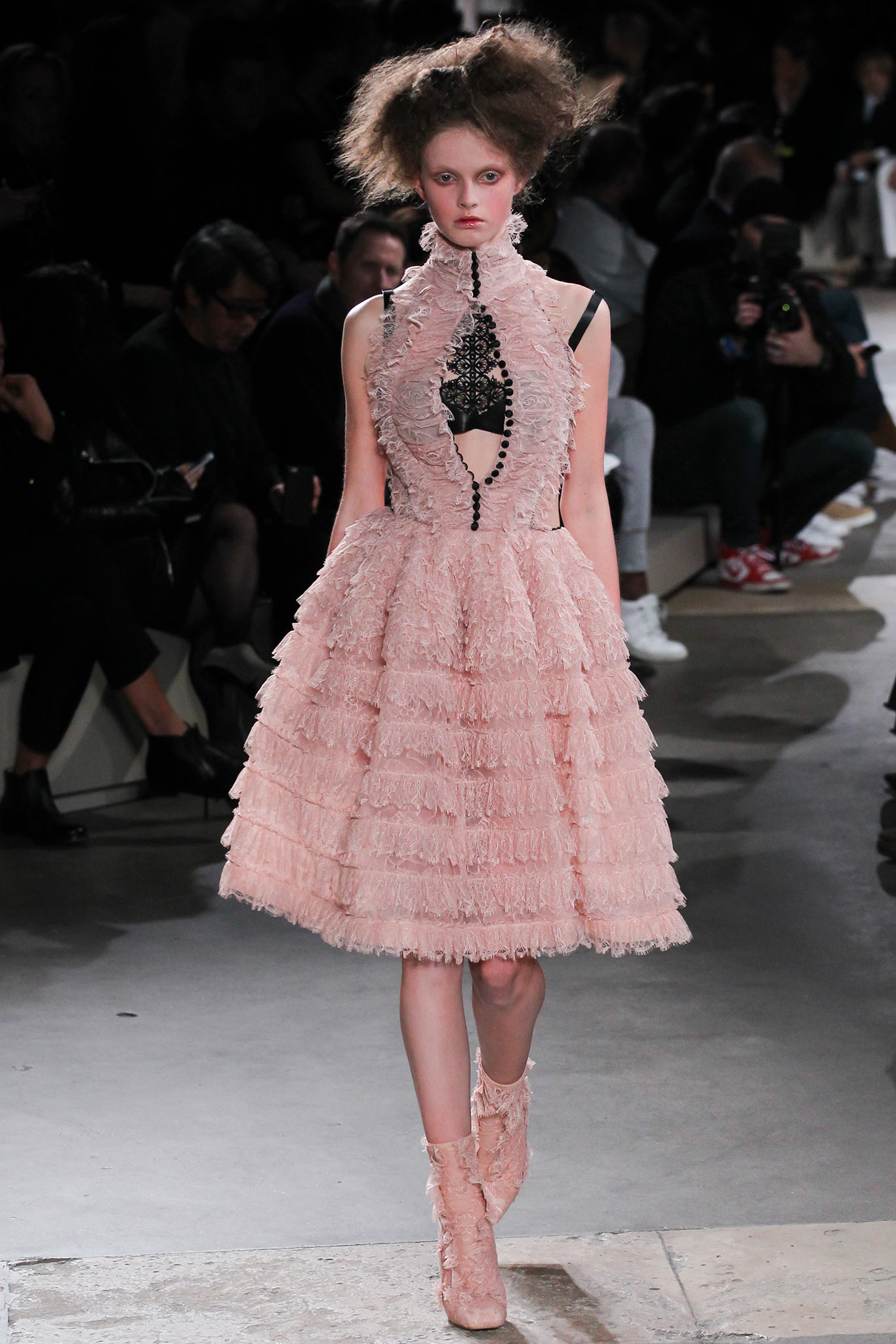 I'm loving the peekaboo effect, it adds a naughty touch to the coquette frills.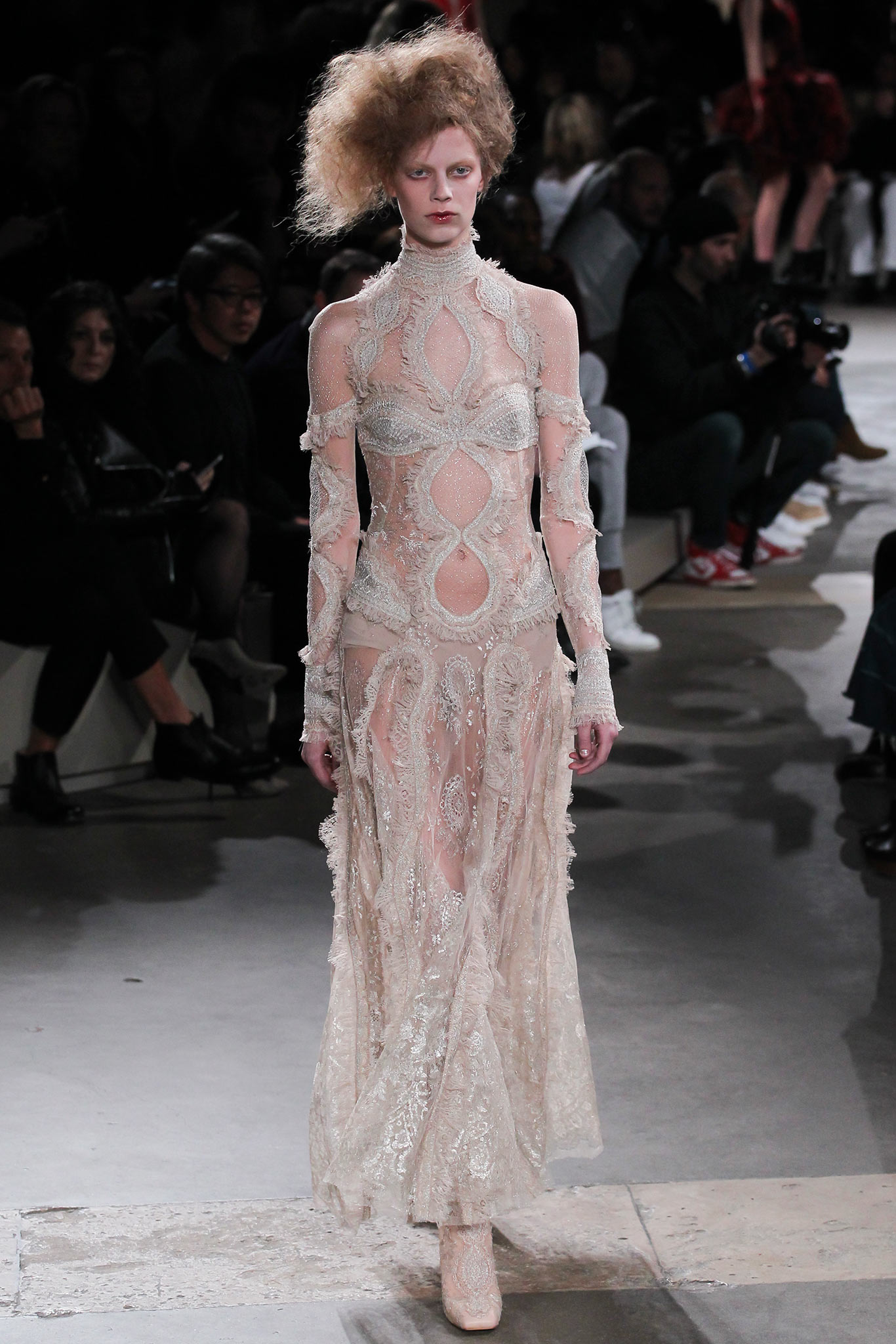 Calling Rihanna, or Cher in her early days...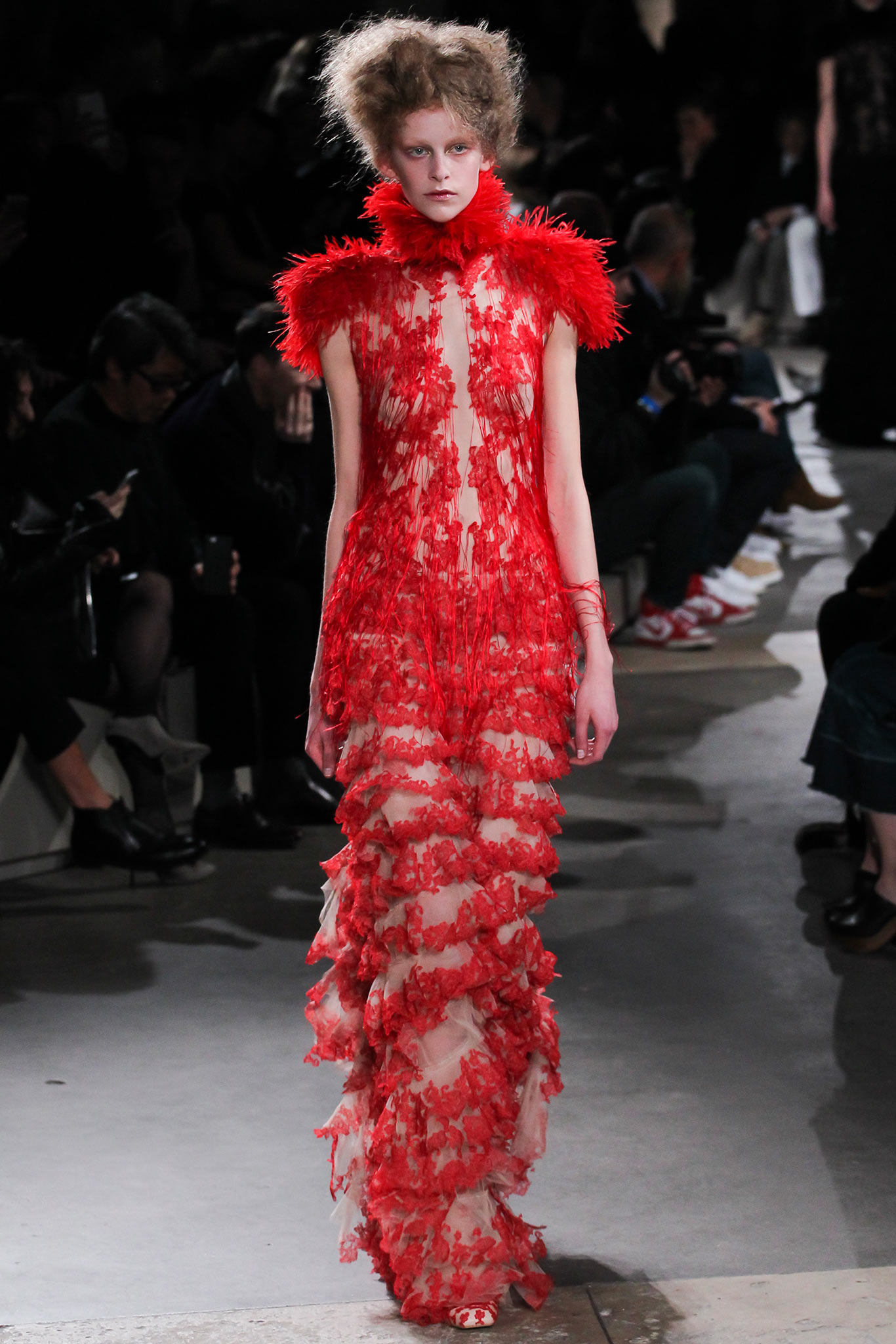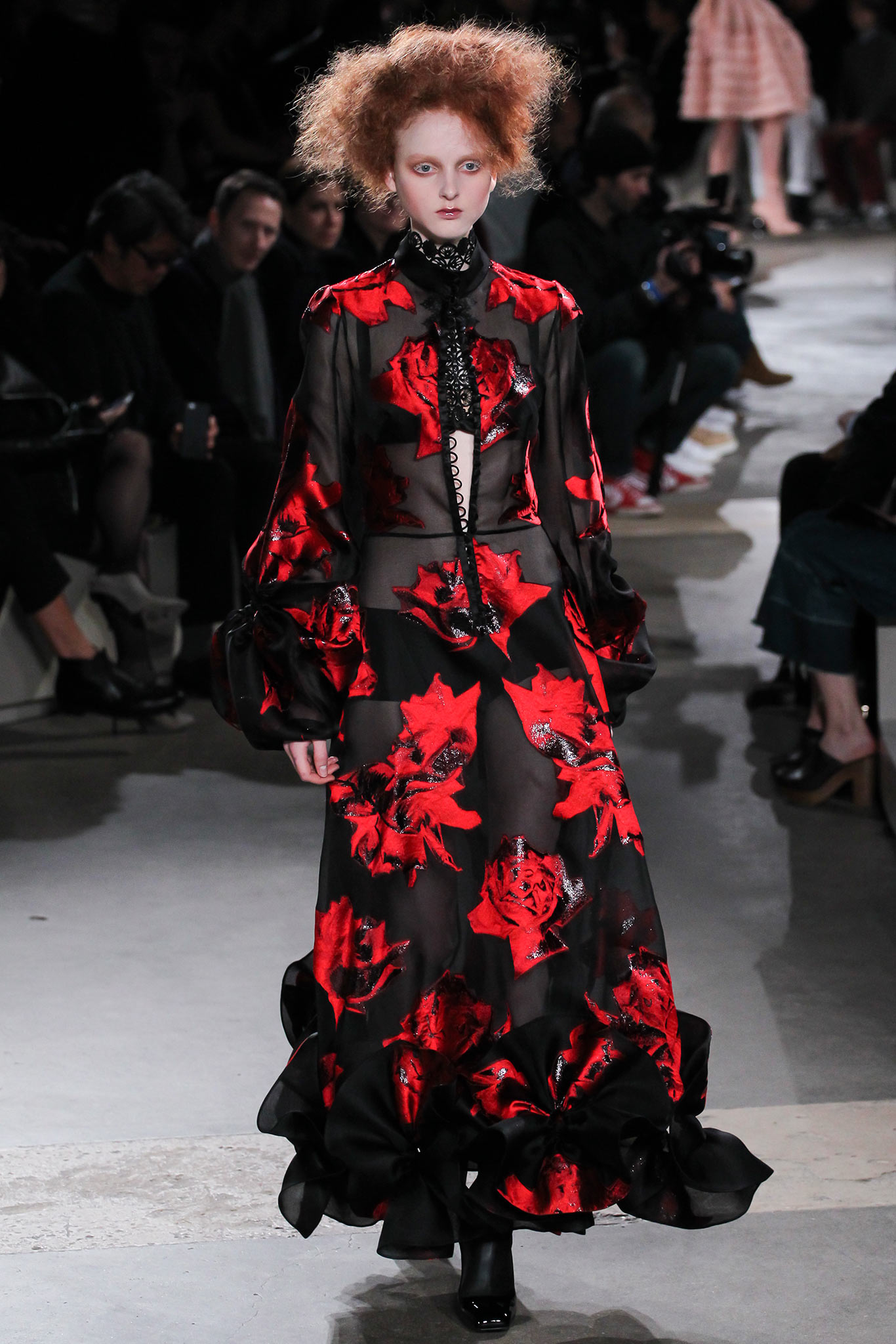 GIVENCHY (Ricardo Tisci):
And the romantic vibe continues with red and black, the color palette of allure, with corsets, velvets, and fascinating embellishments, and some damn hot skinny pants. Another collection oozing strength and femininity simultaneously. With a steady stream of goth of course.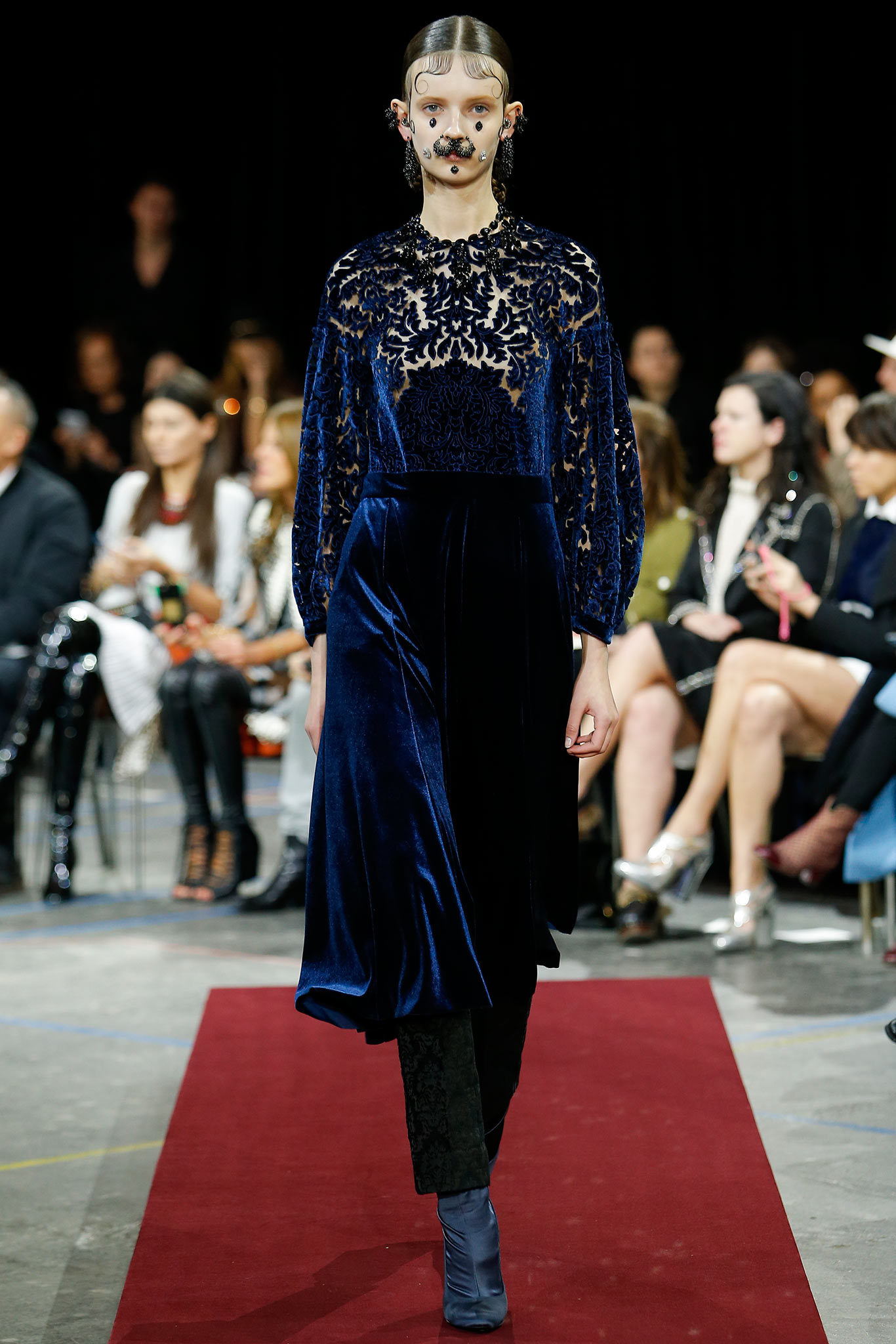 Velvets...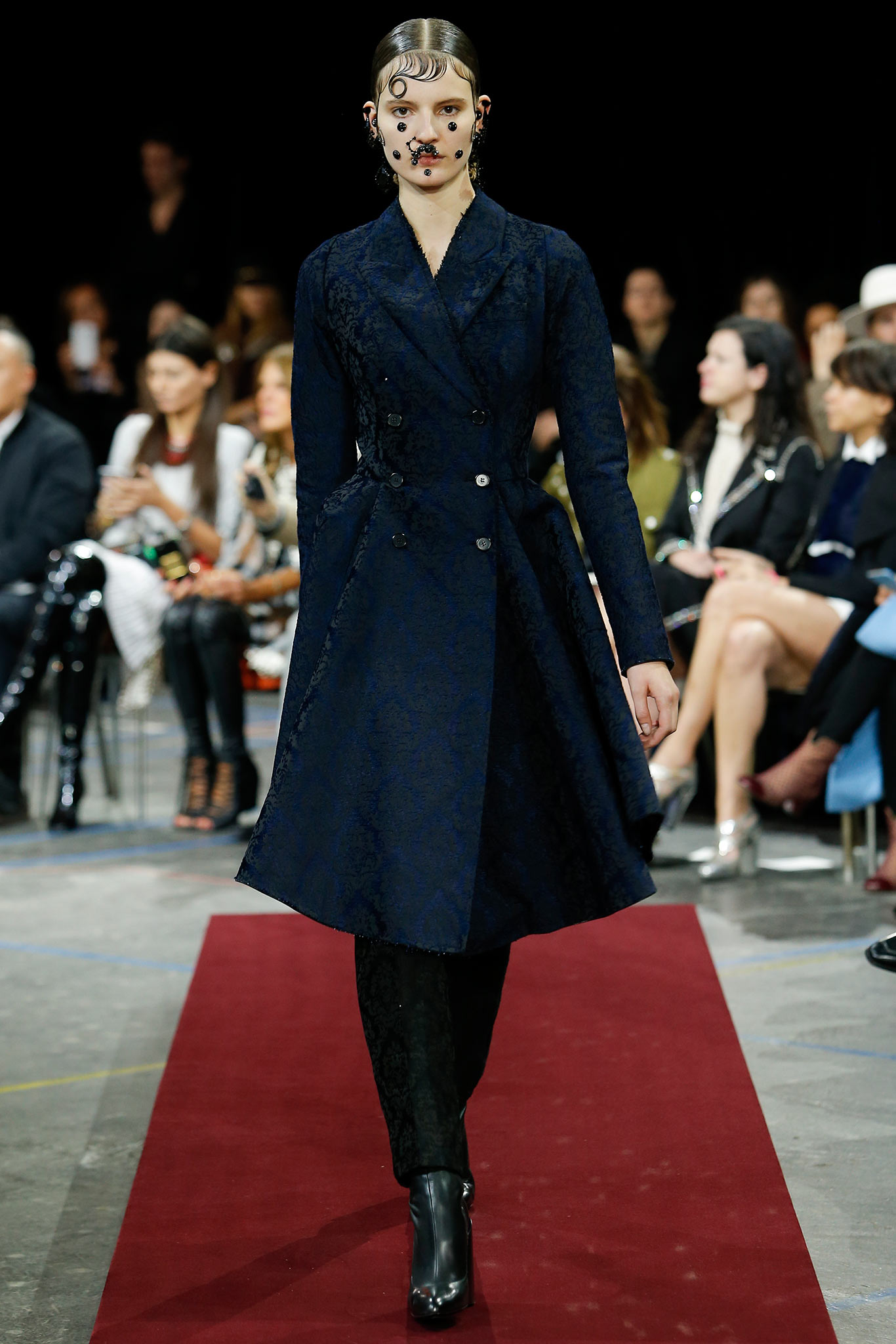 And jacquards….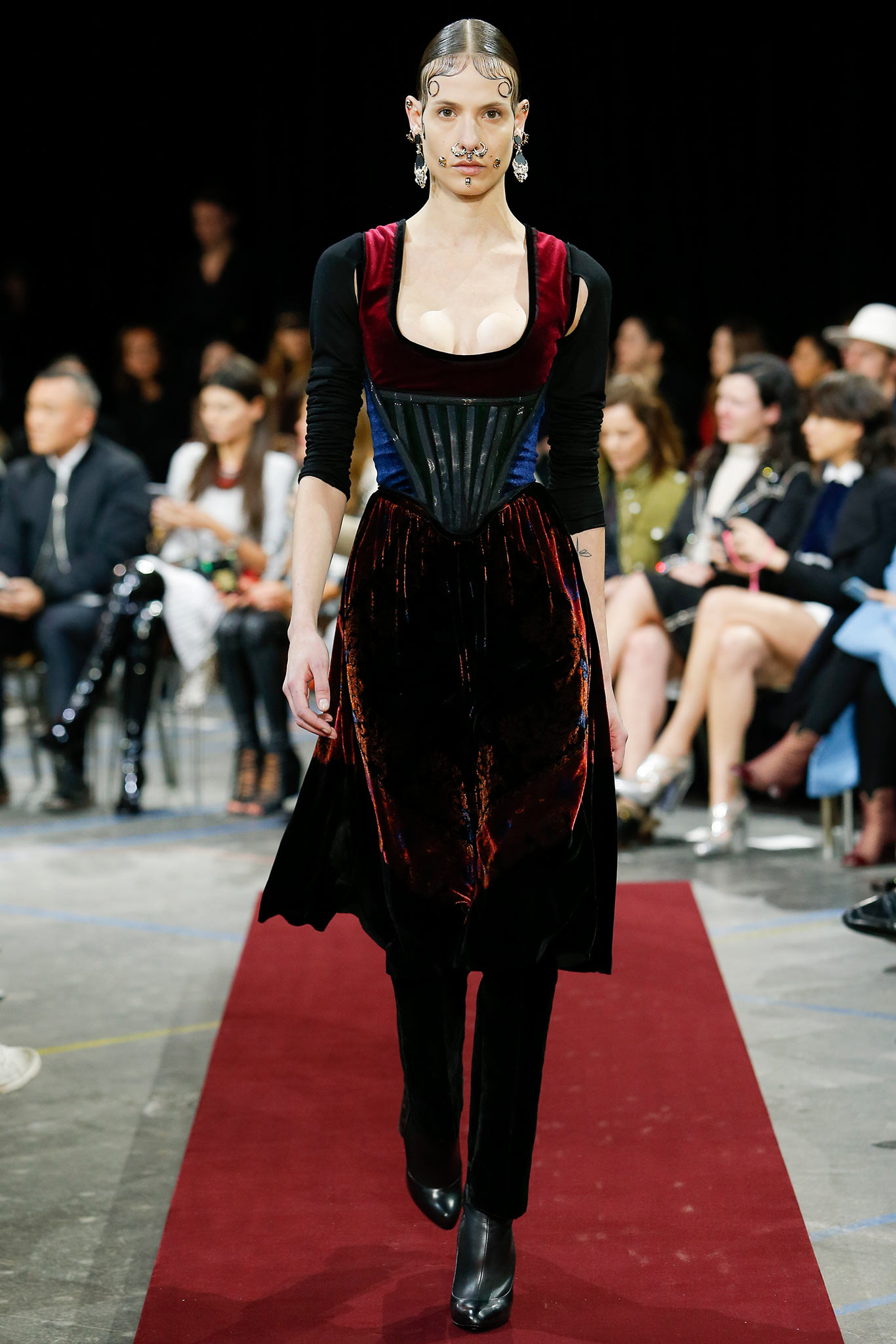 And corsets, oh my!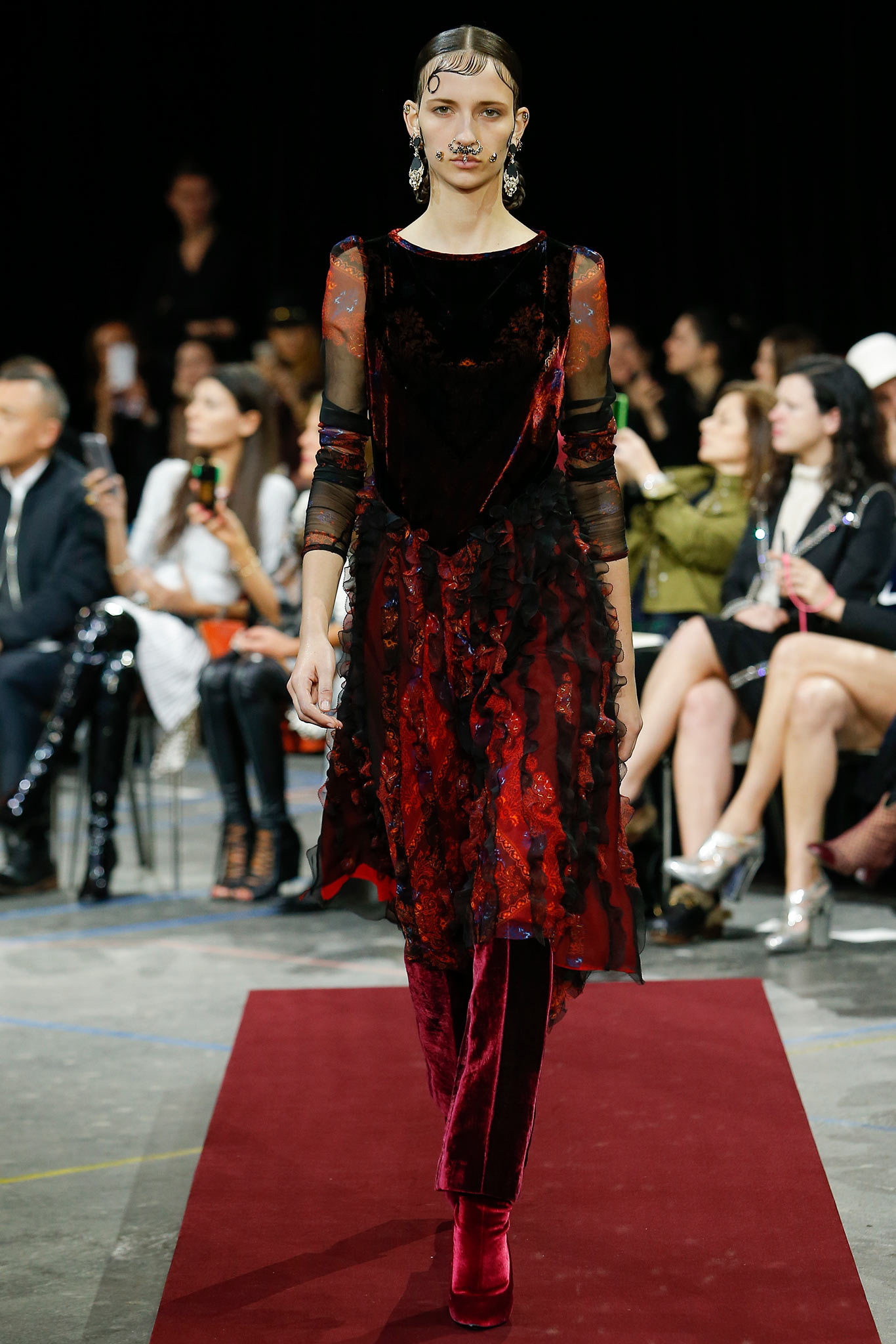 Layers of velvets, with chiffon and nudibranch ruffles thrown into the mix, really quite heavenly.......swoon. And everyone can use a red velvet platform boot in their shoe jungle.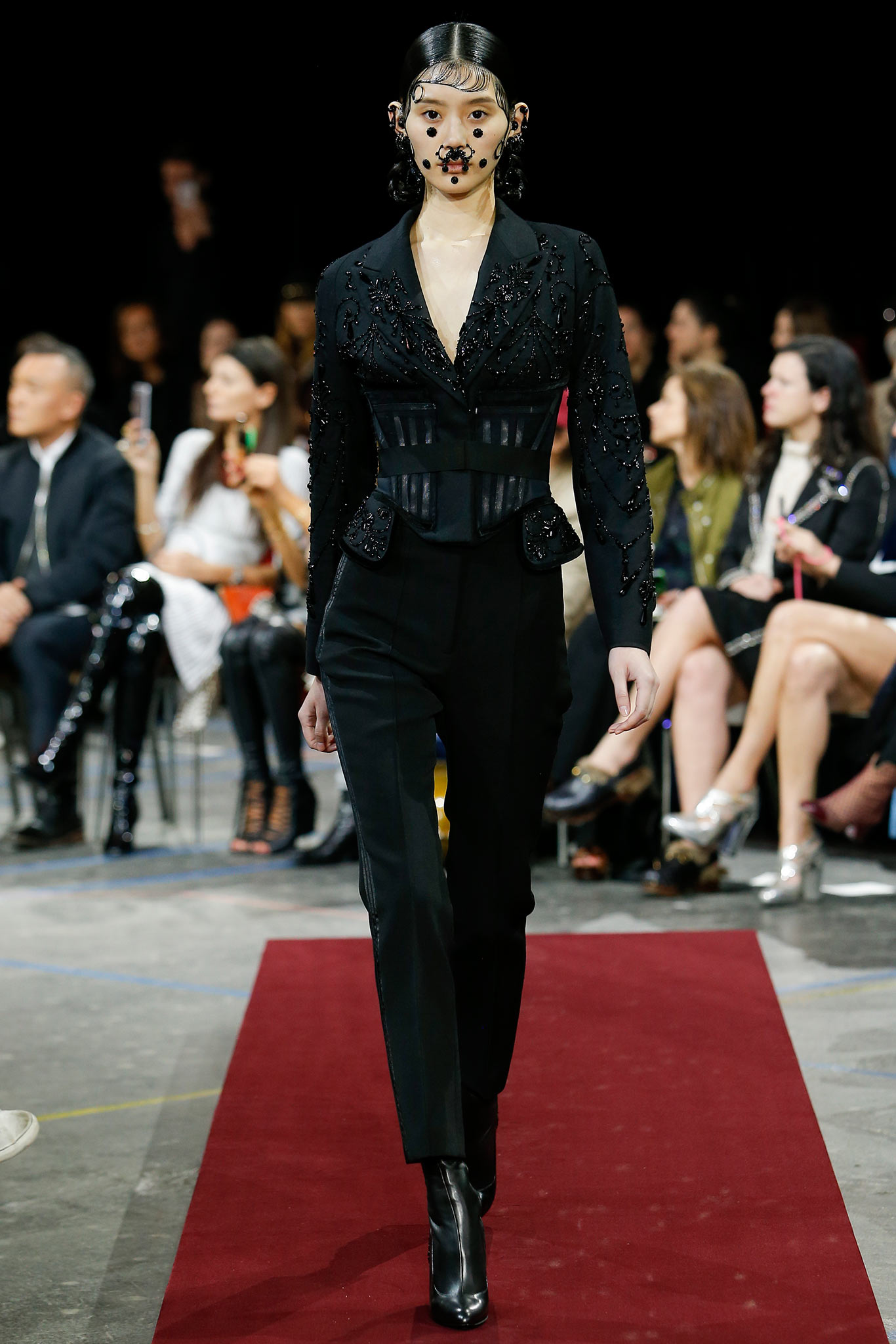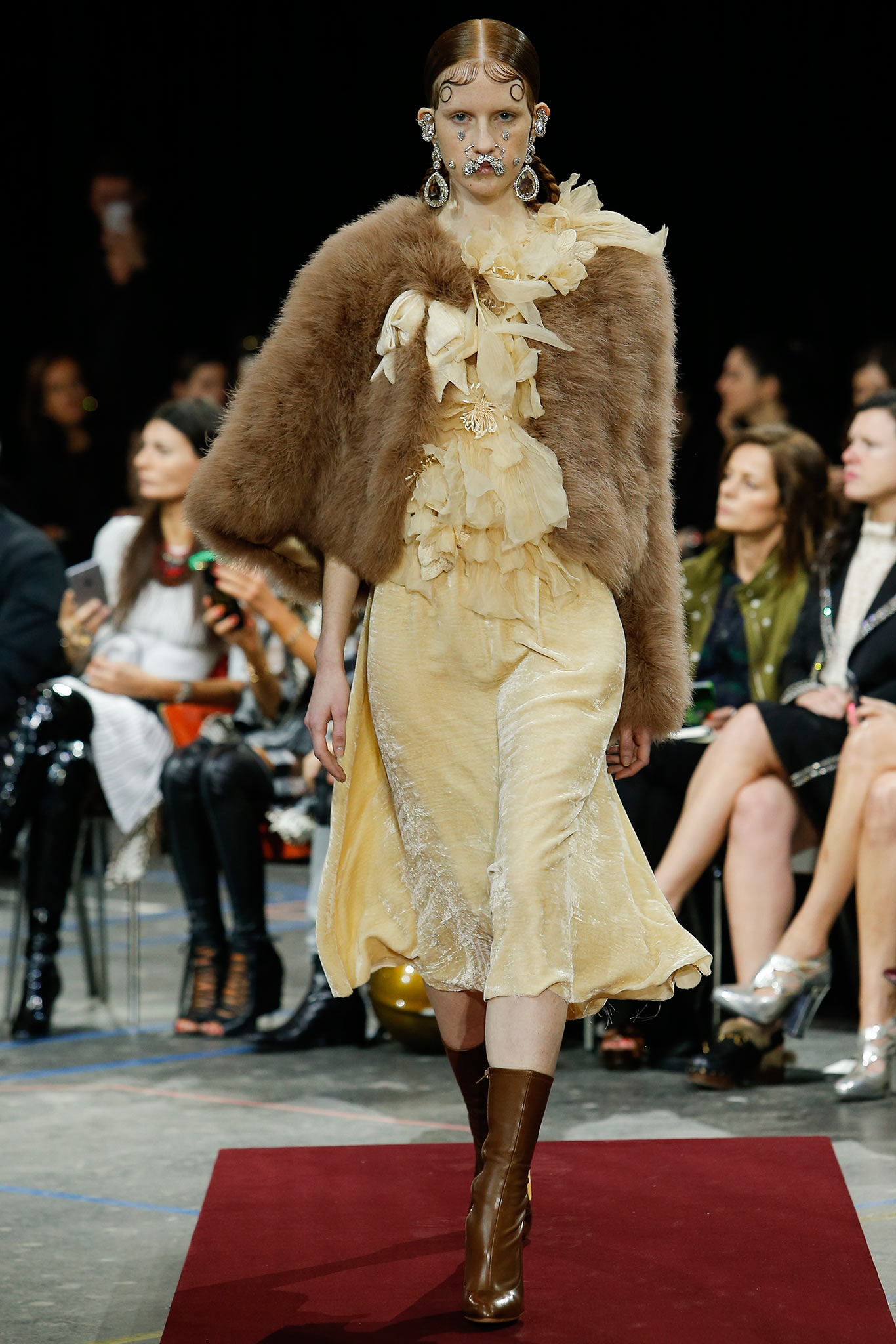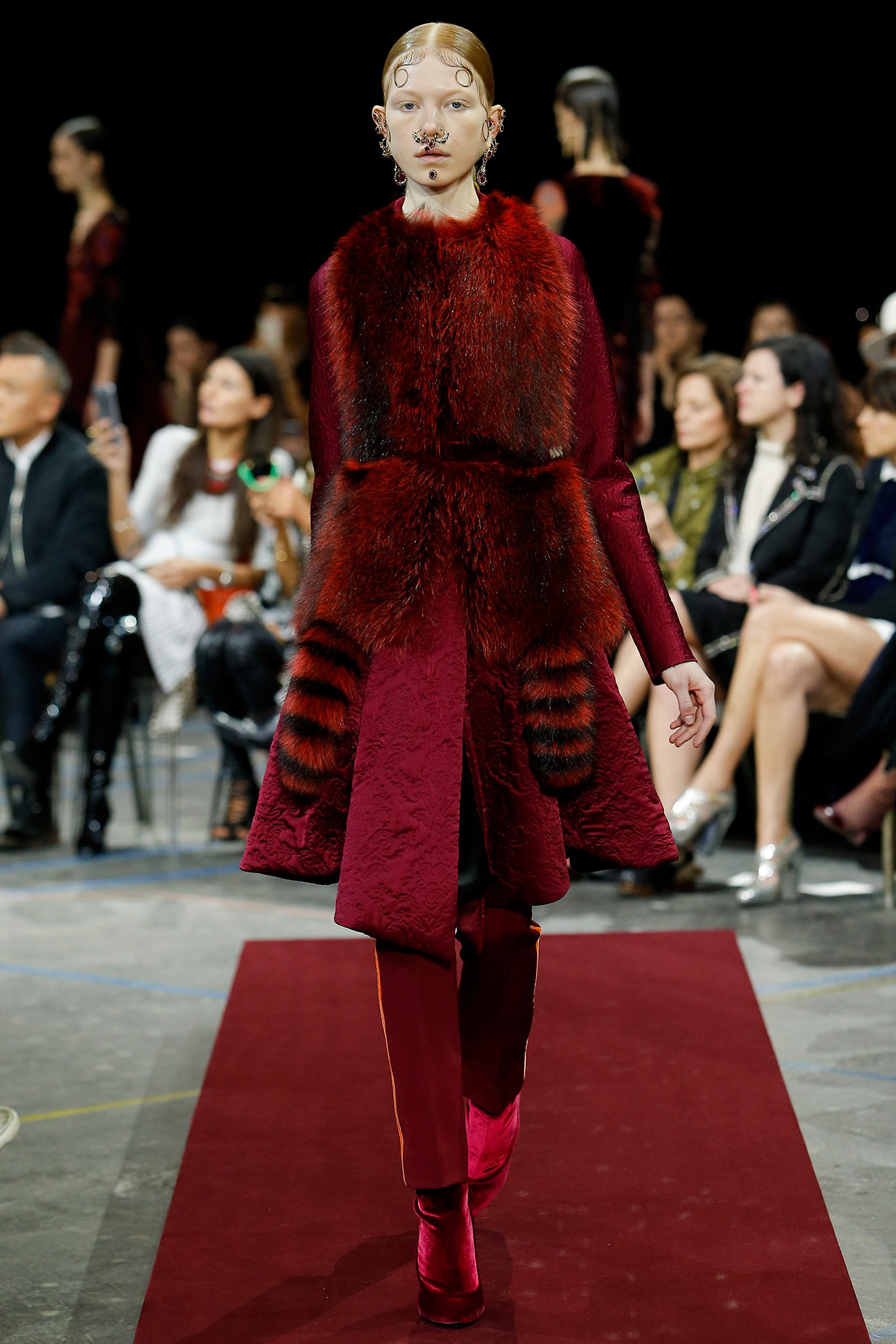 Red cloquet has never looked more delicious.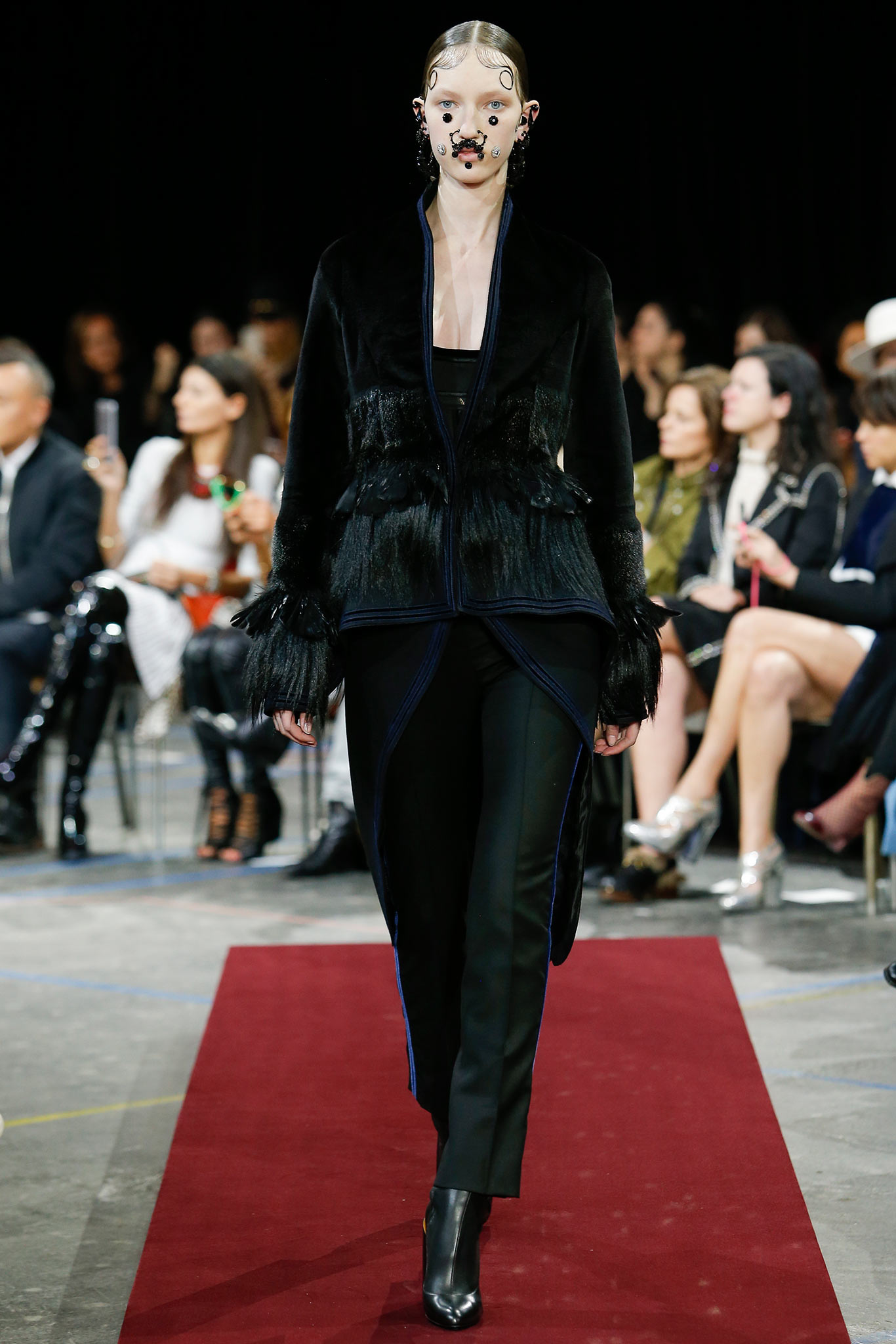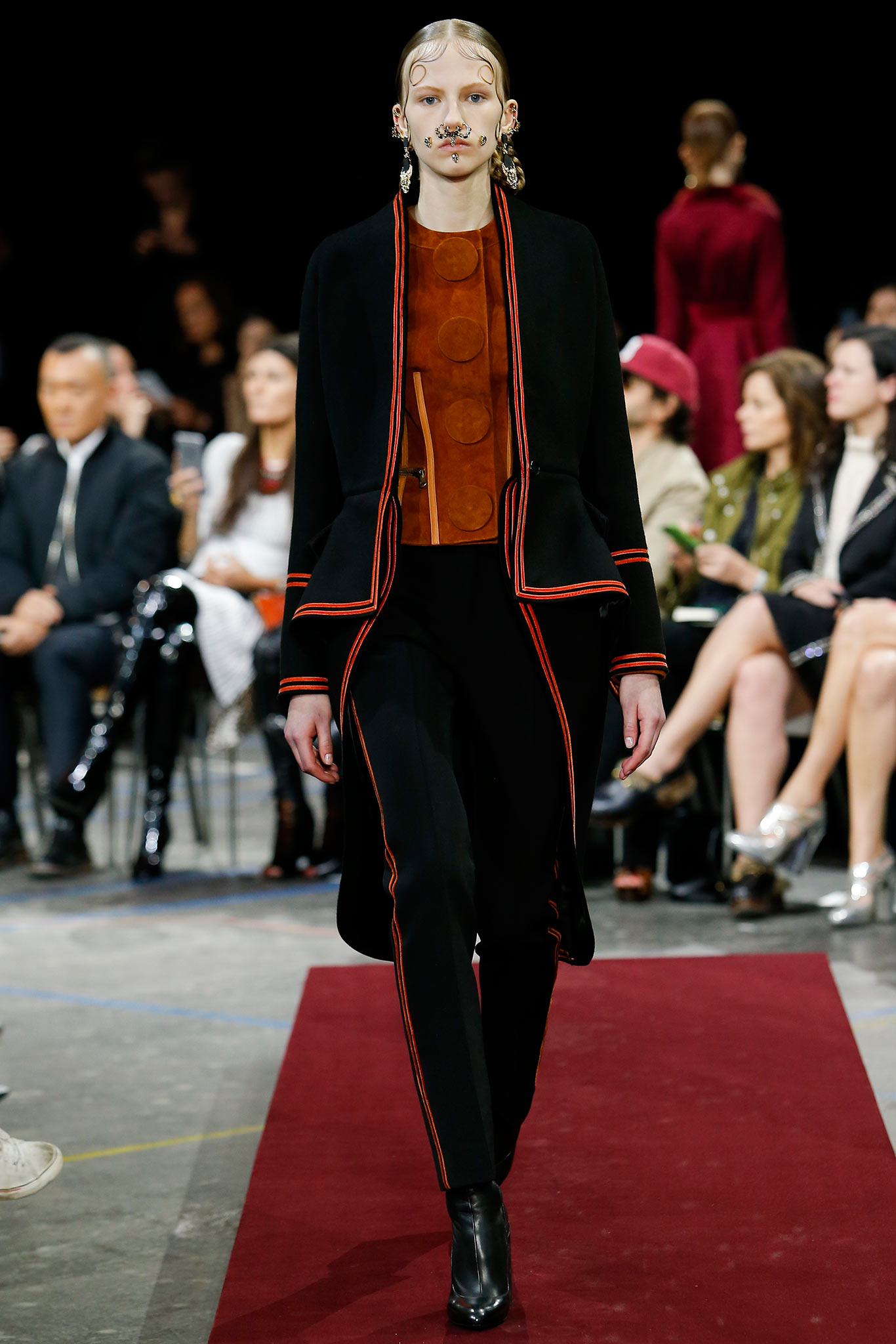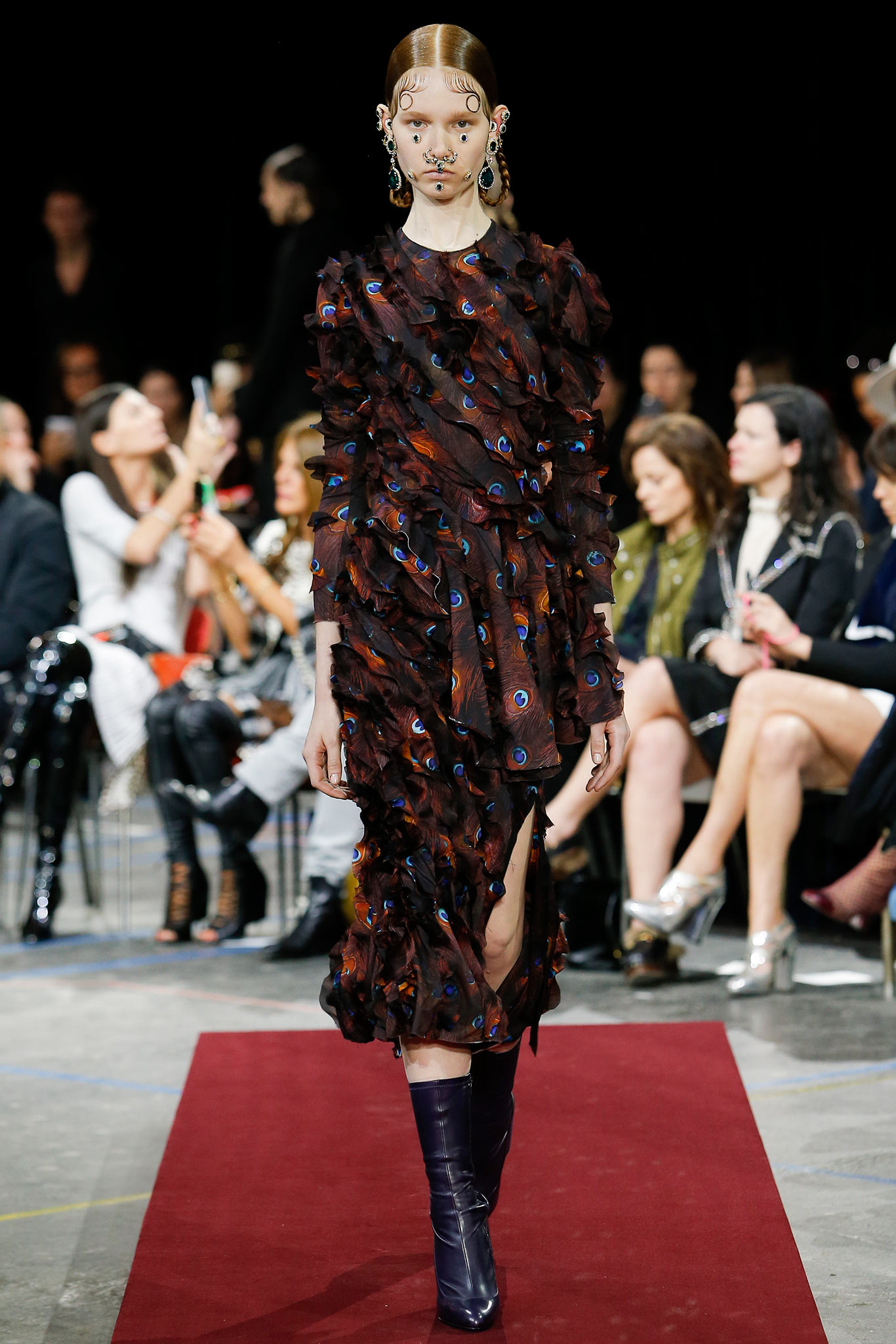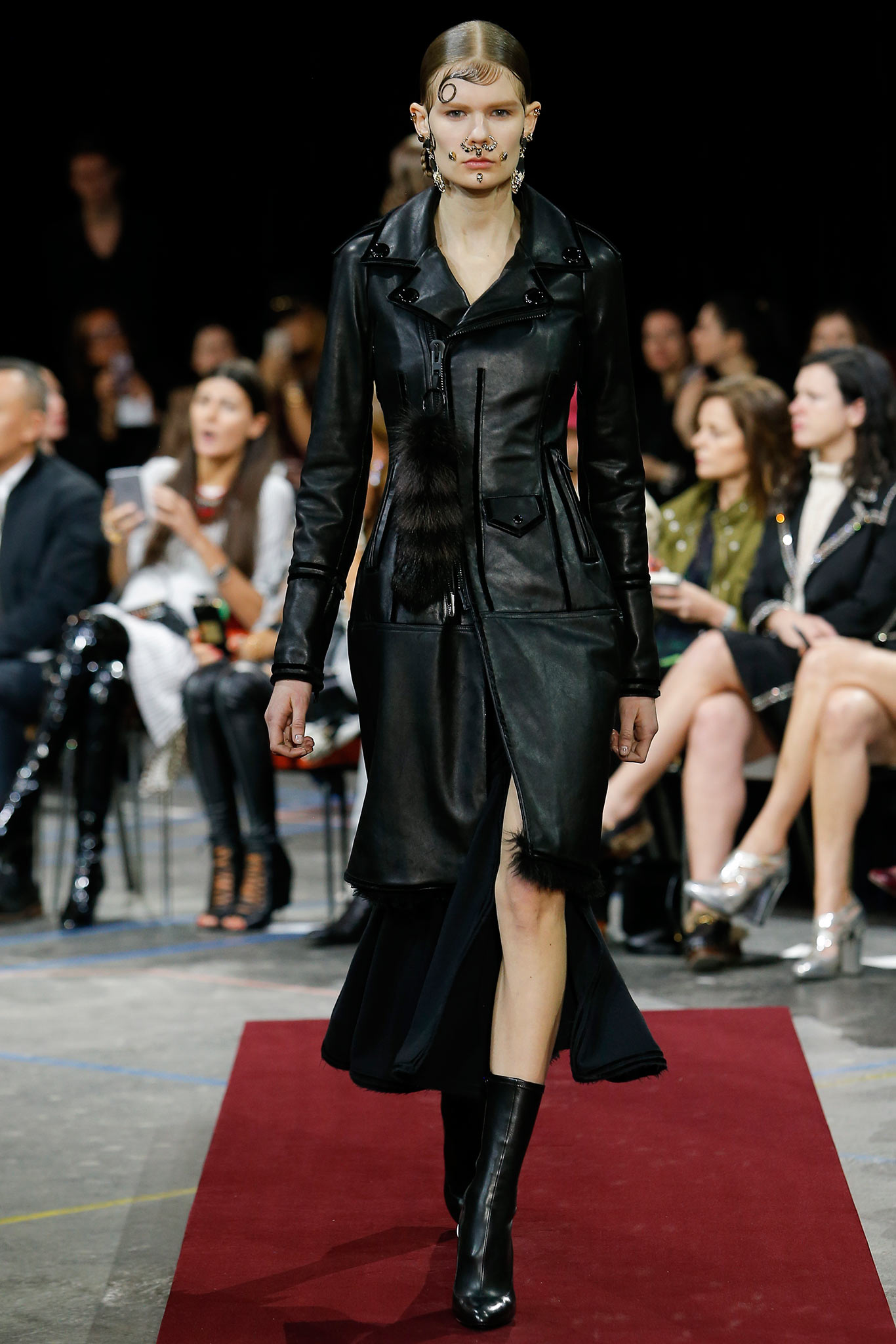 Not your boyfriend's leather jacket. A new take on the Wild One.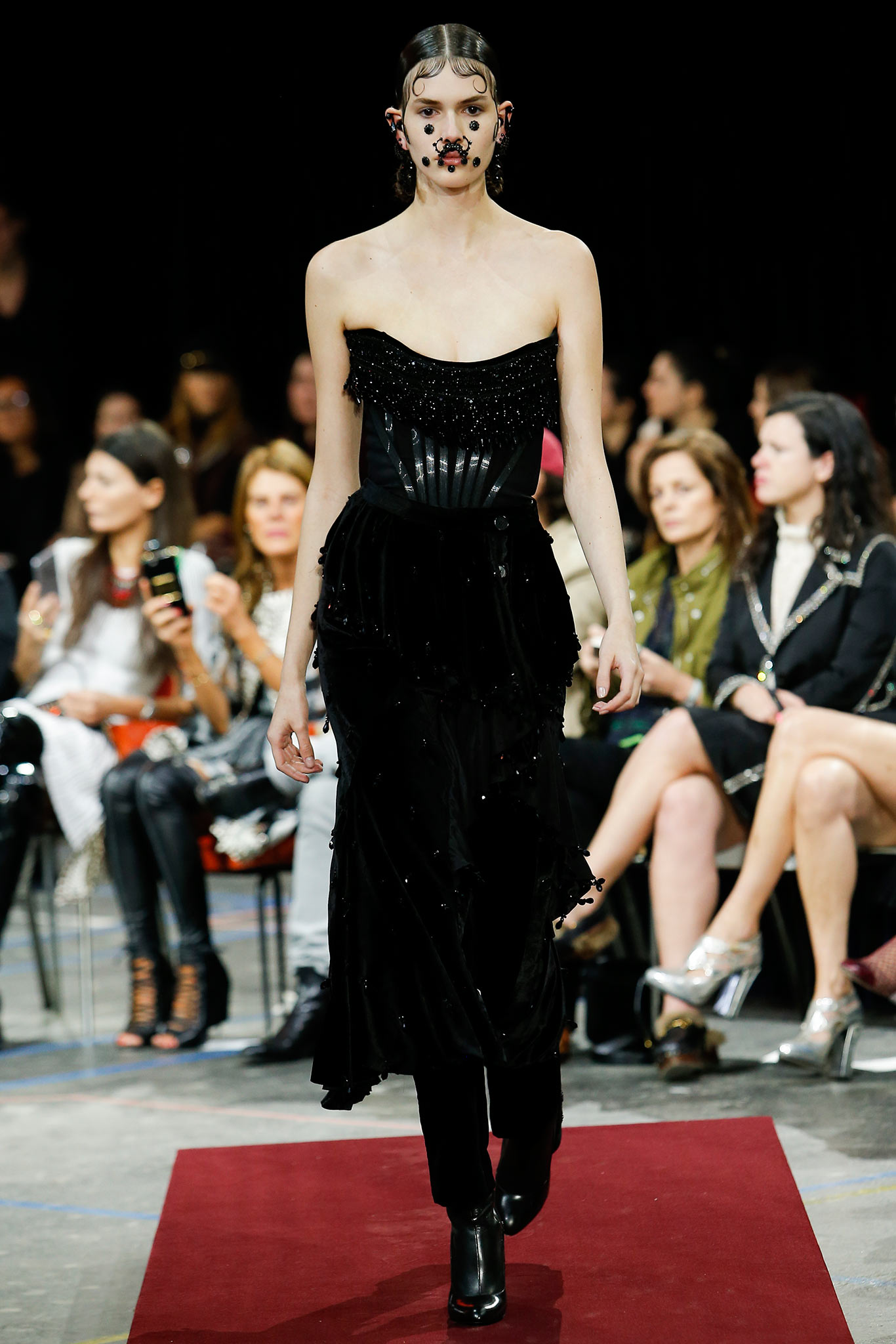 Love it, wear it to the next soiree, or your one woman cabaret show.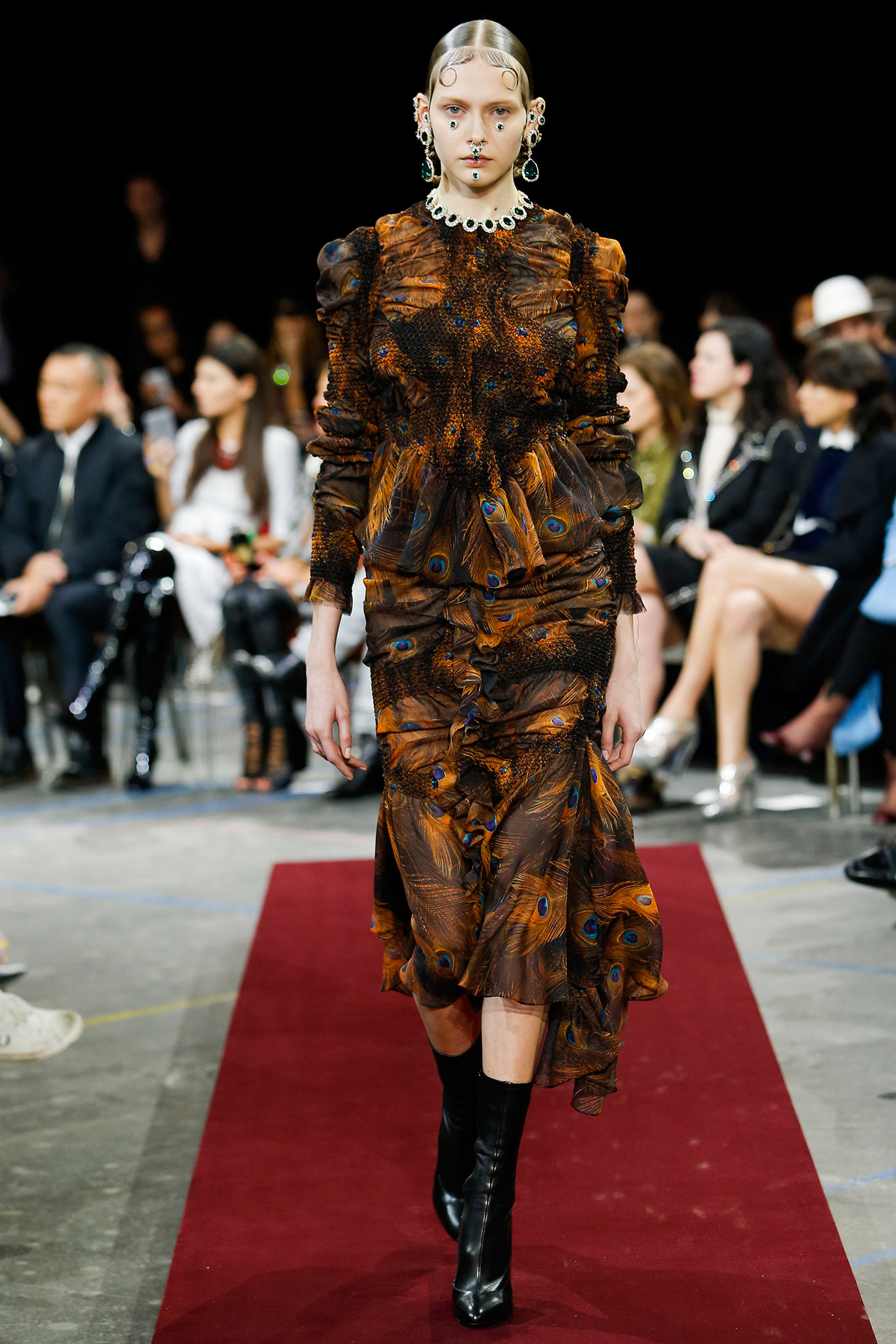 Last season Tisci treated us to some of THE most beautiful silk dresses in ALL of the fall collections. I'm still obsessed with the butterfly dress....here he traded butterflies for Peacock feathers, and added ruging and ruffles in a new form. Dreamy.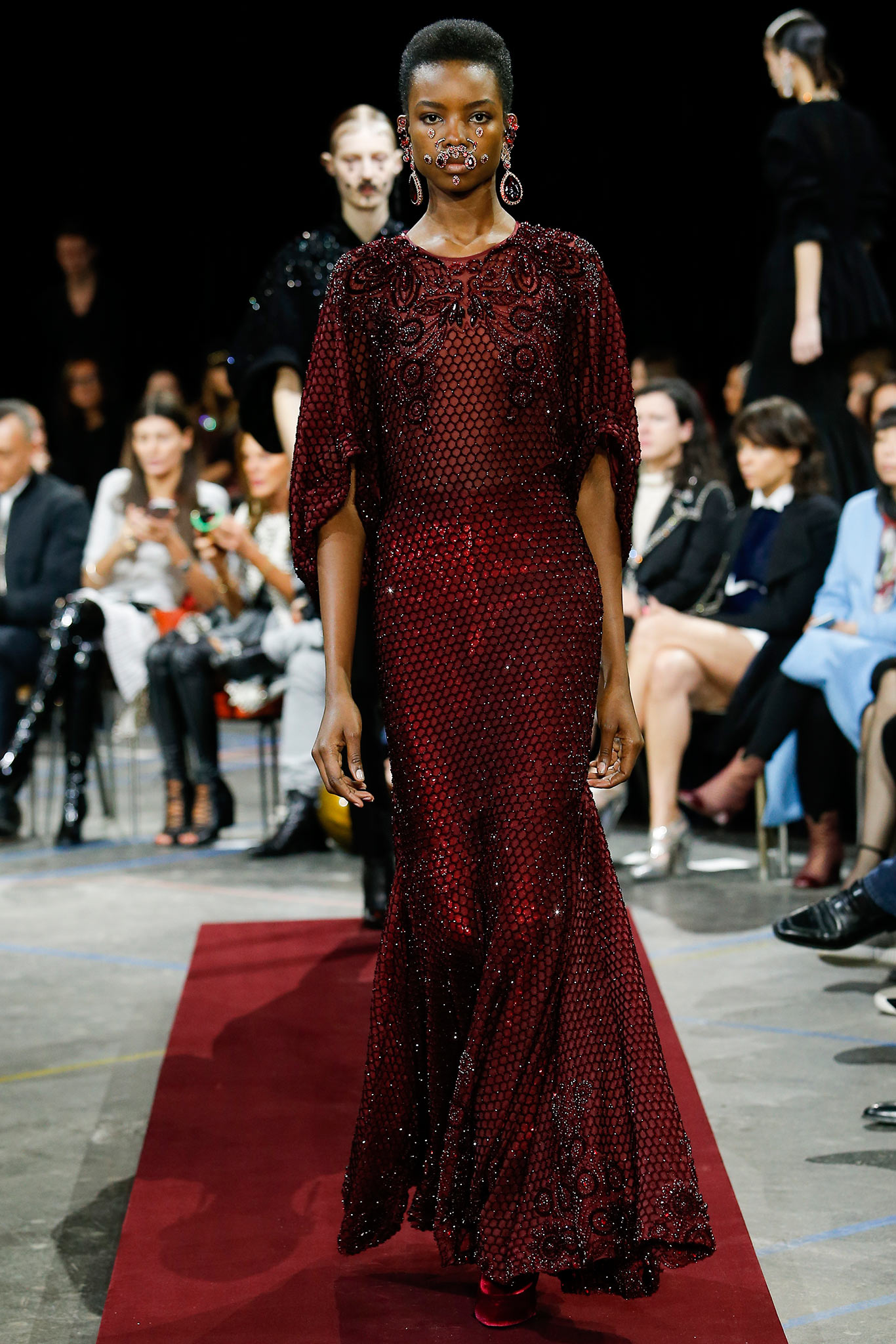 LANVIN (Alber Elbaz):
The collections of Elbaz tend towards the moody and dramatic with navy and black in full abundance. This collection includes the requisite black, but Elbaz adds a zesty contingent of exuberant touches and nomadic chic with a smidgen of bohemian fantasy. Viewing these festive creations is akin to a stroll through a magical ethnology museum inhabited by Spaniards, gypsies and sequin loving fashionistas. The fur coats are the stellar standouts, funky, eye-catching, and a bit theatrical, but eminently wearable, and would take one from Manhattan in December, to the Ukraine, or the Atlas mountains of Morocco. The layering of contrasting colors and fabrications, with the appropriately placed fringes and tassels add to the overall impact of a stunning collection. These are pieces for the lover of traveling, fashion, and life in general.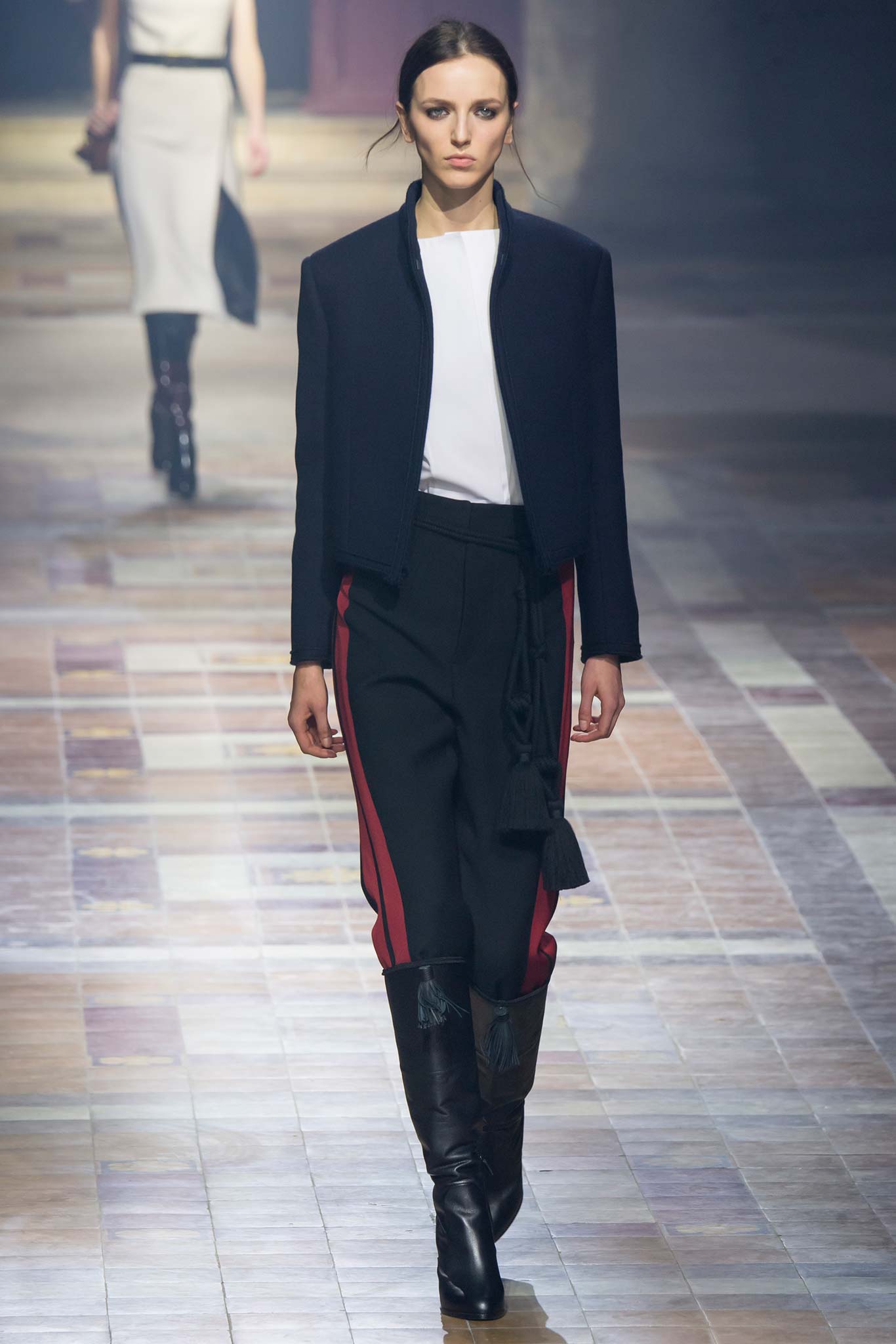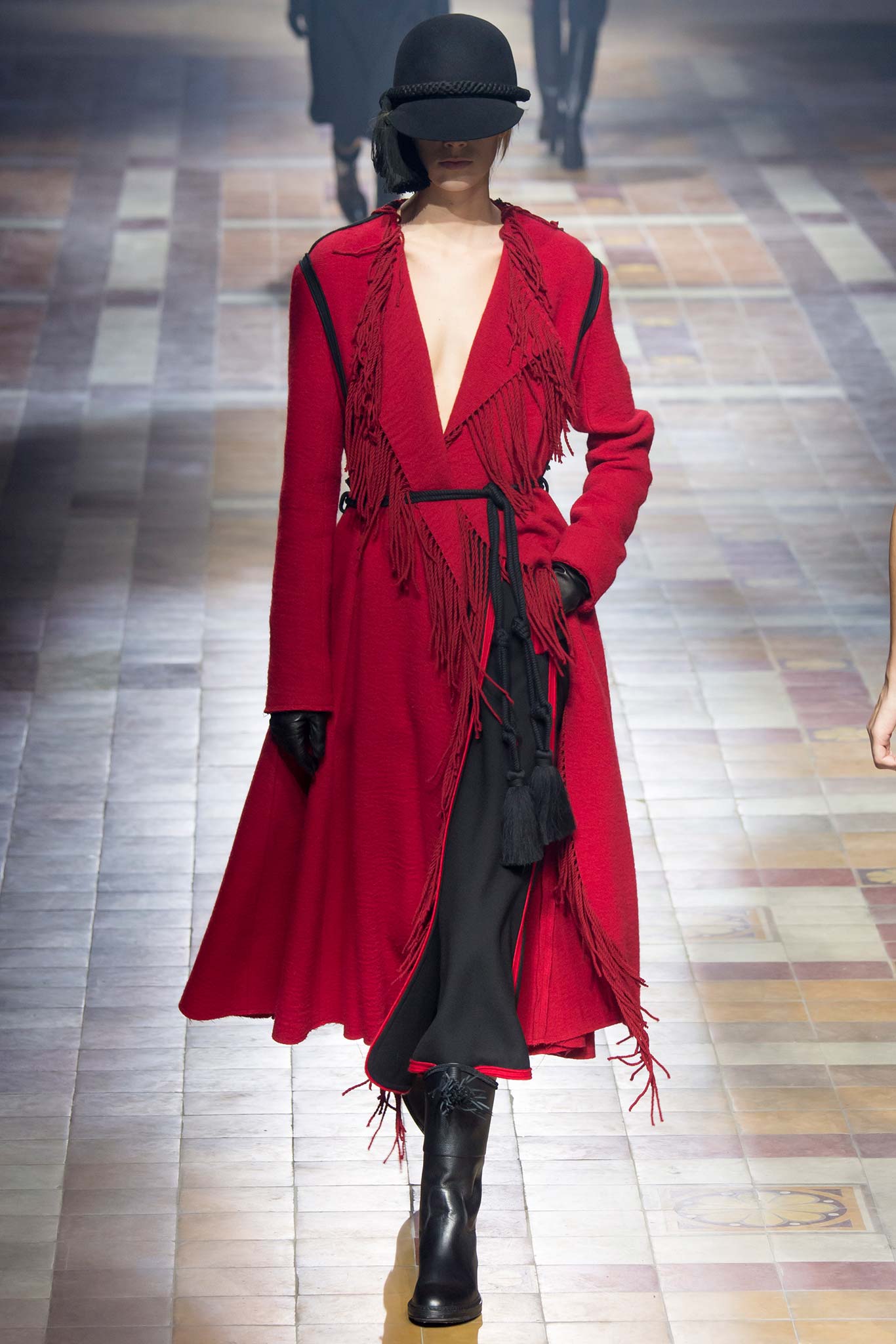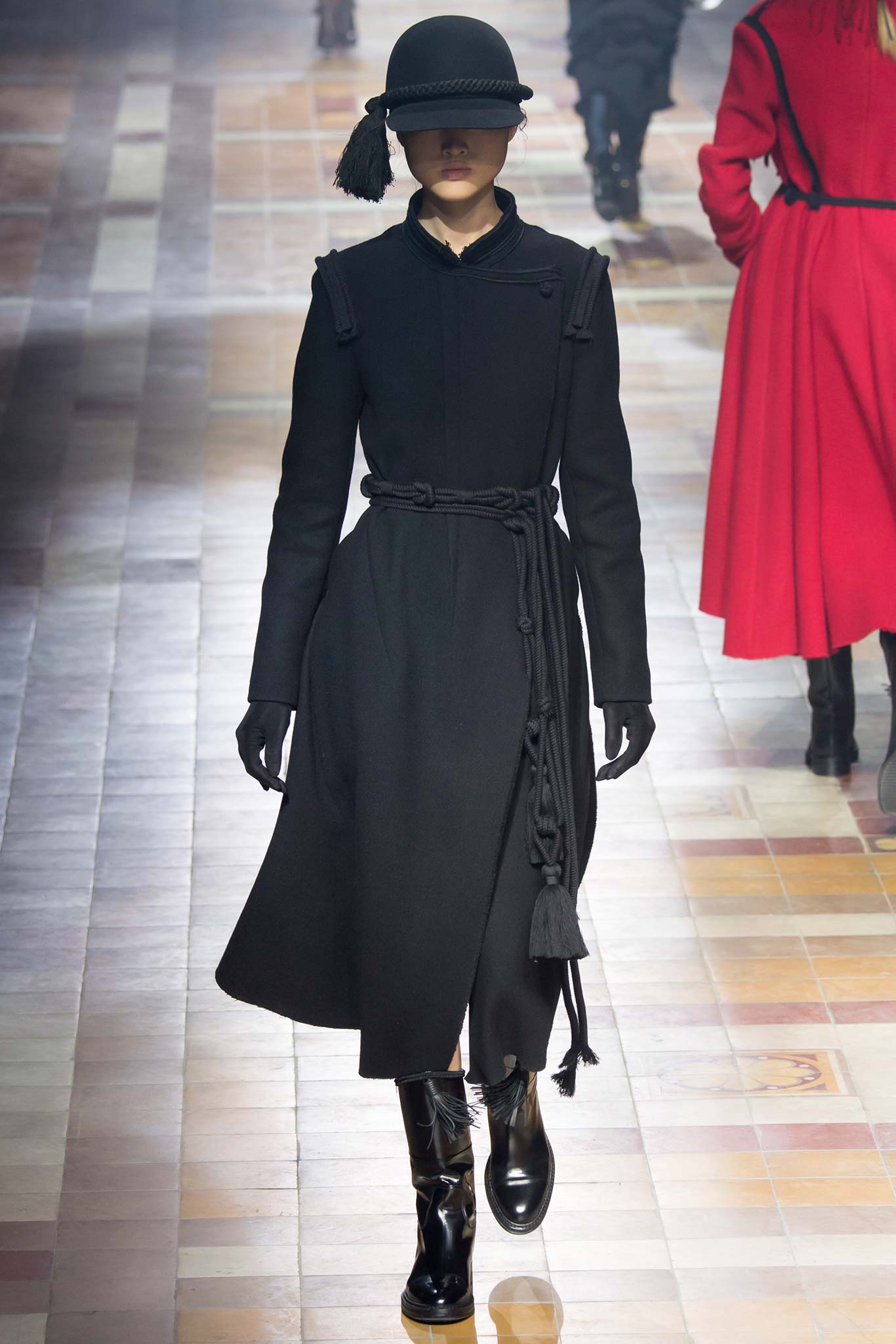 We need to bring hats back, they add a bit of a kick to any outfit.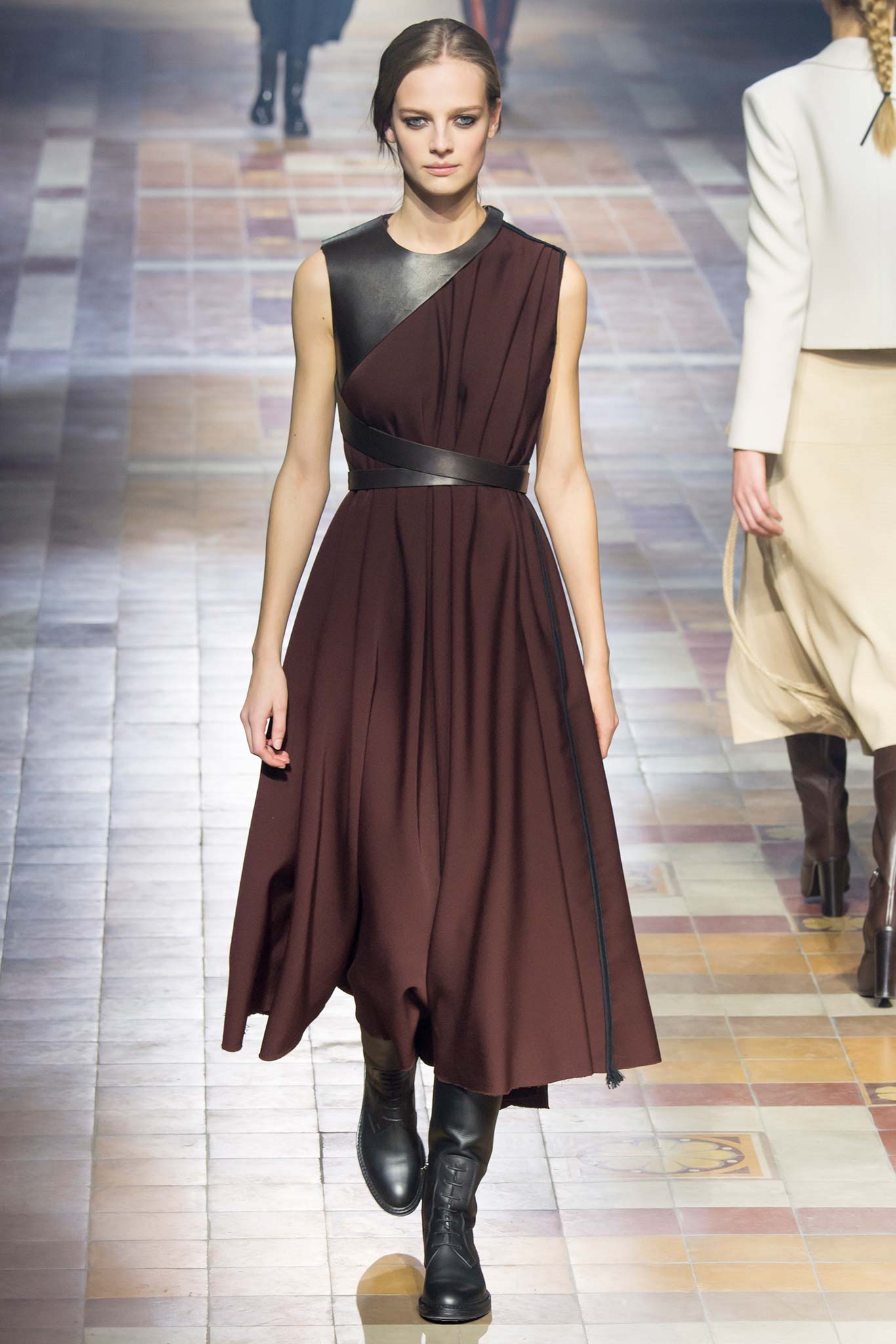 A wonderful all purpose dress, harnessing the energy of Diana the huntress. Riding boots are the perfect adjunct.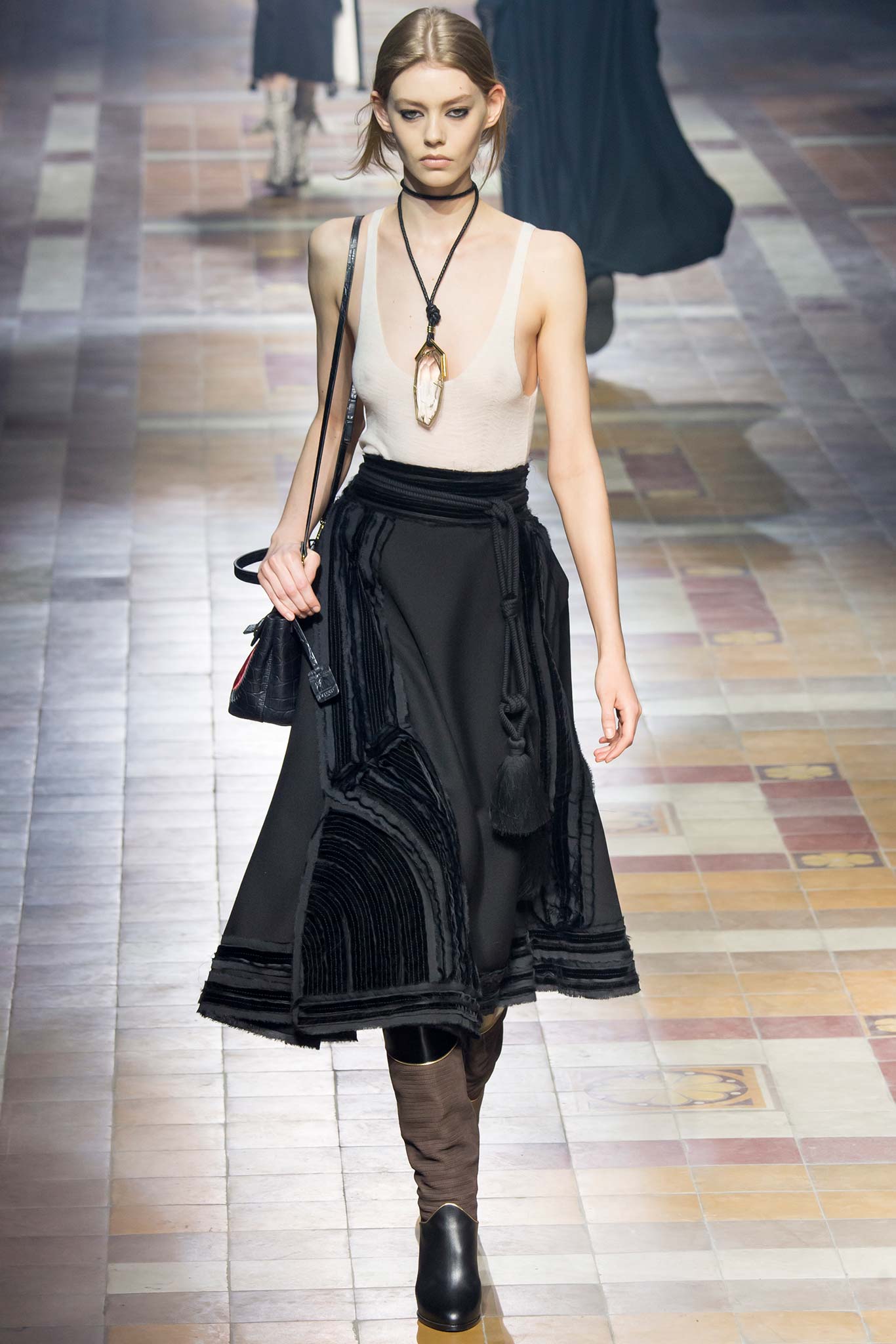 If one black skirt is to be had, let it be this one. Add a Dolce & Gabbana bolero in red. OR a Tom Ford tuxedo jacket. Mix it up!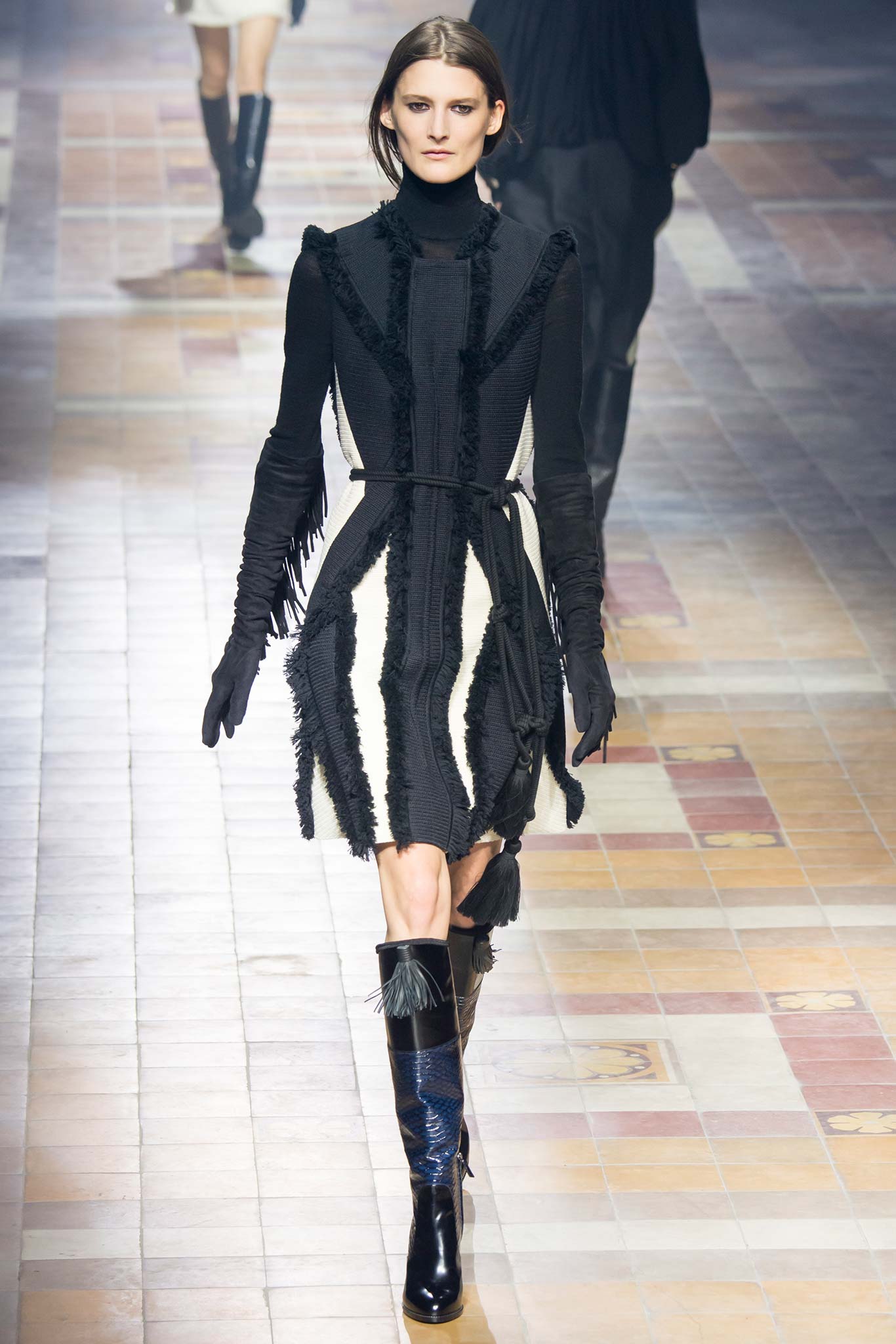 Perfect all purpose dress. And those multicolored boots are perfection, to be worn with any and every neutral.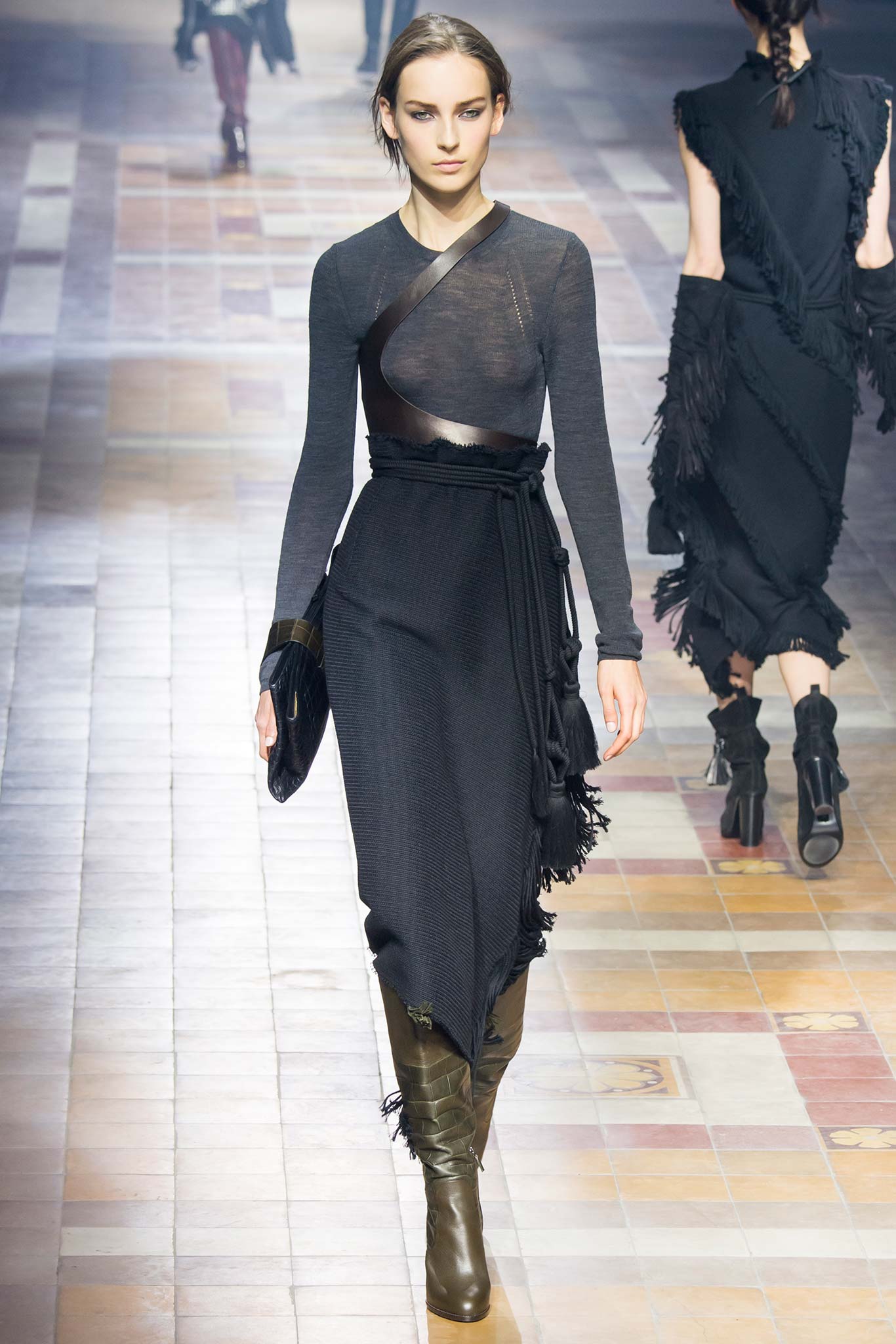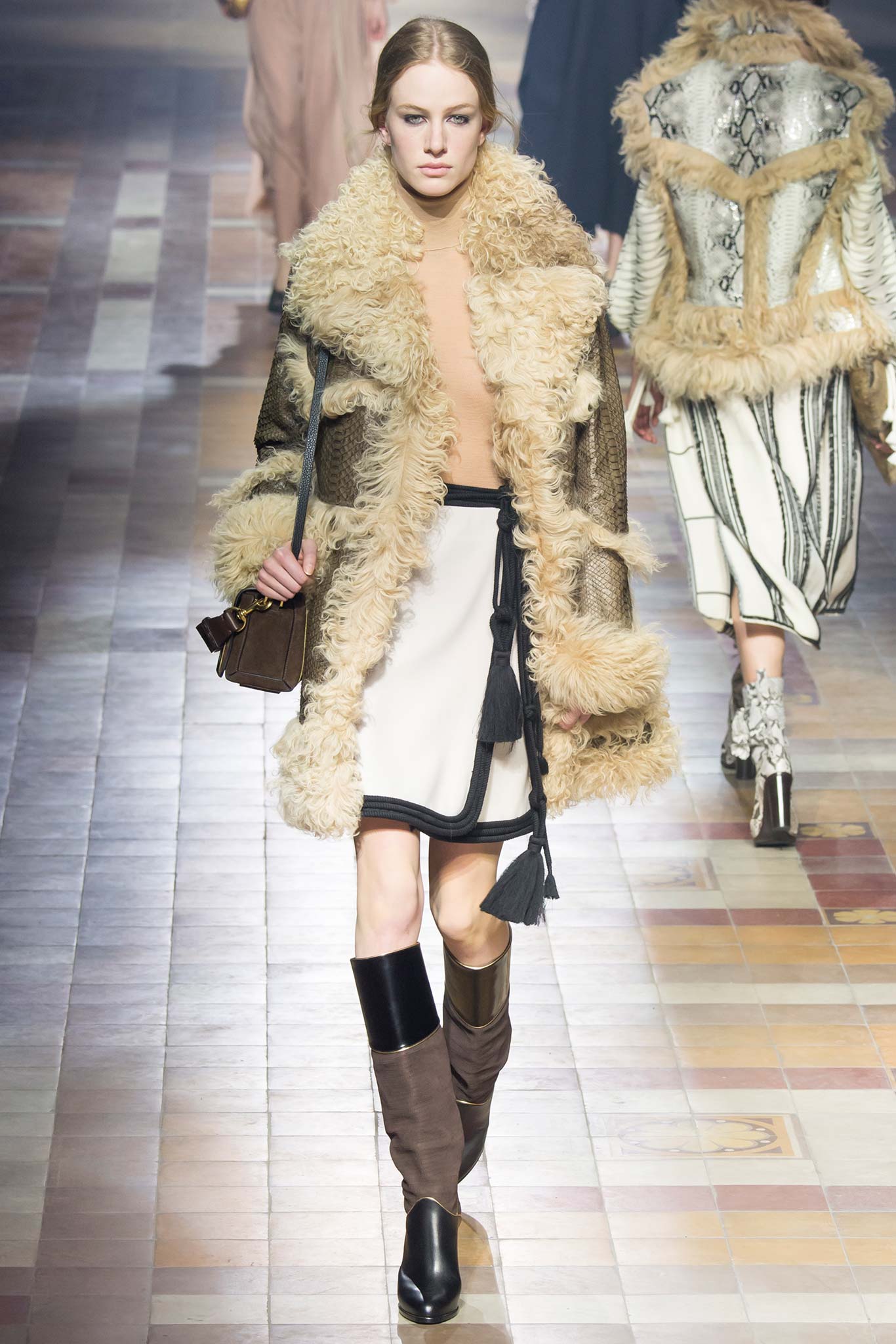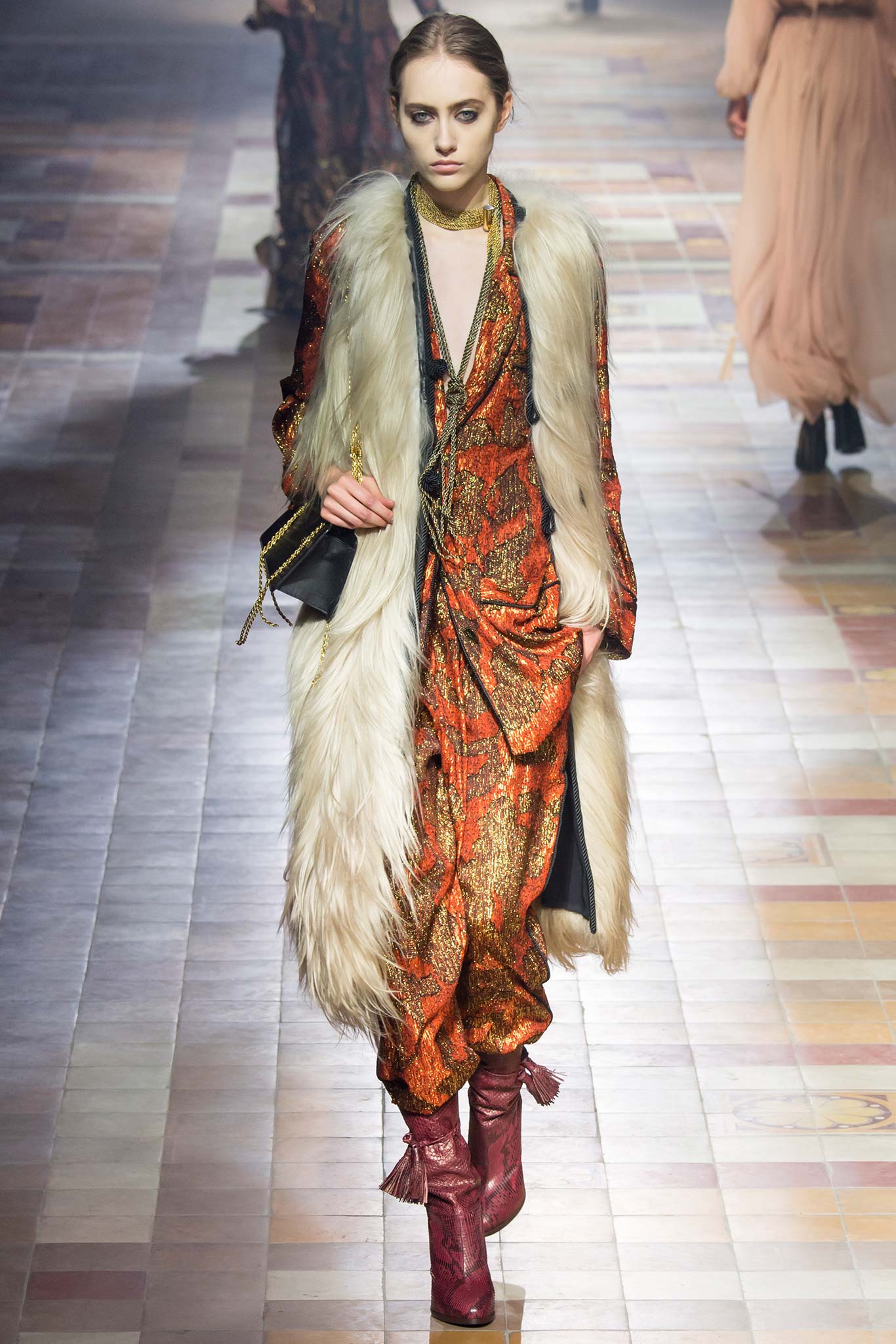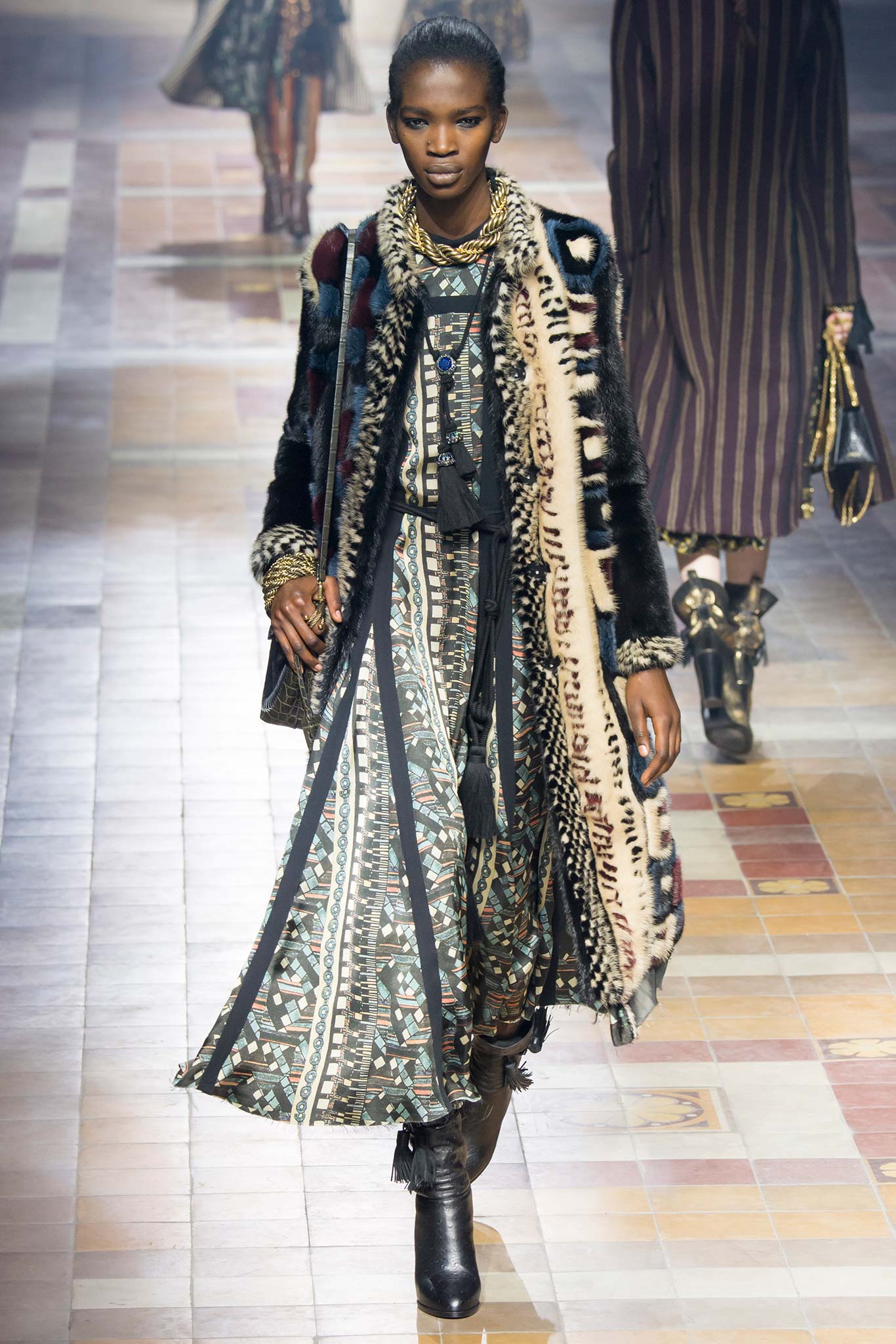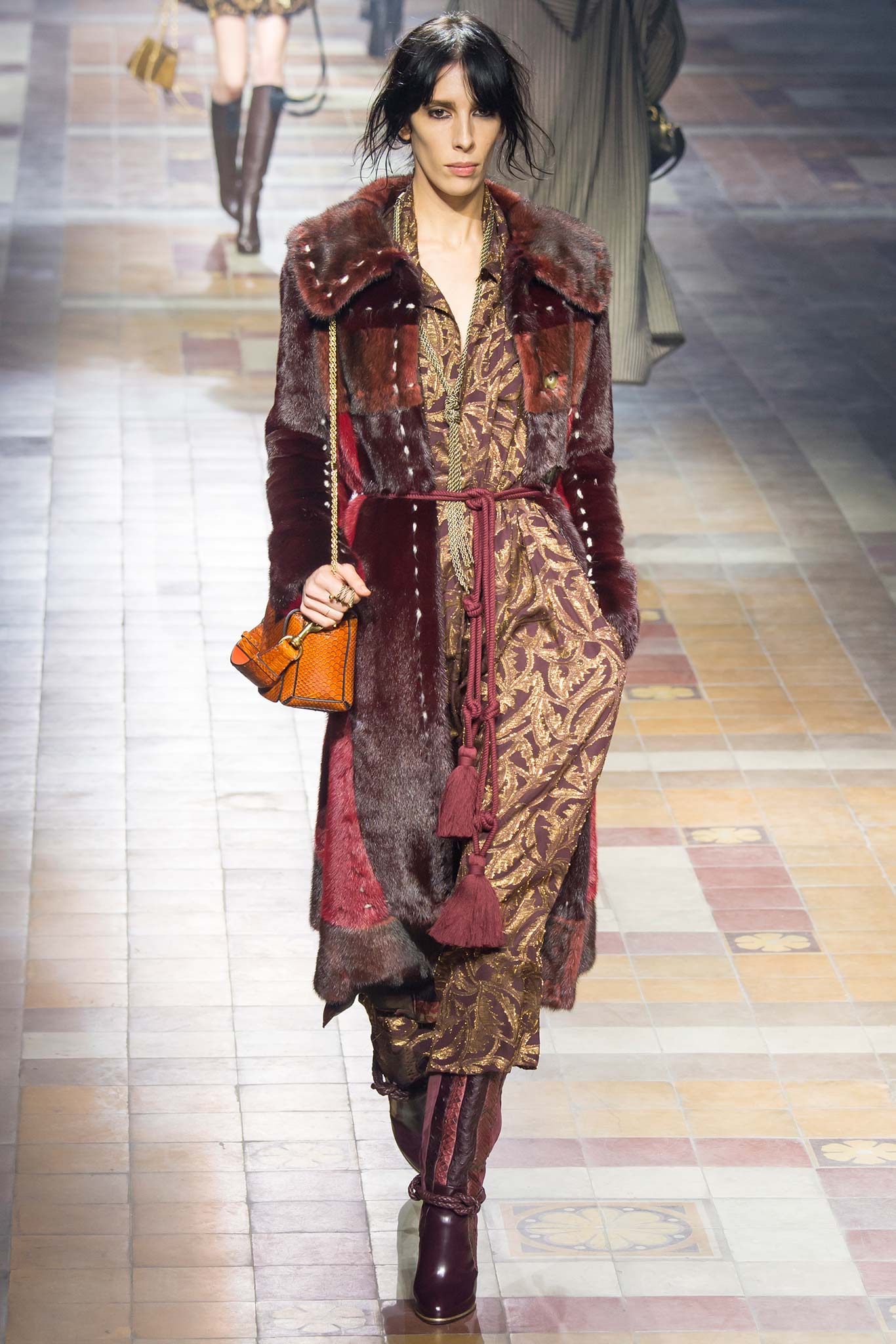 I love a shearling, but THIS coat is my favorite of the runways.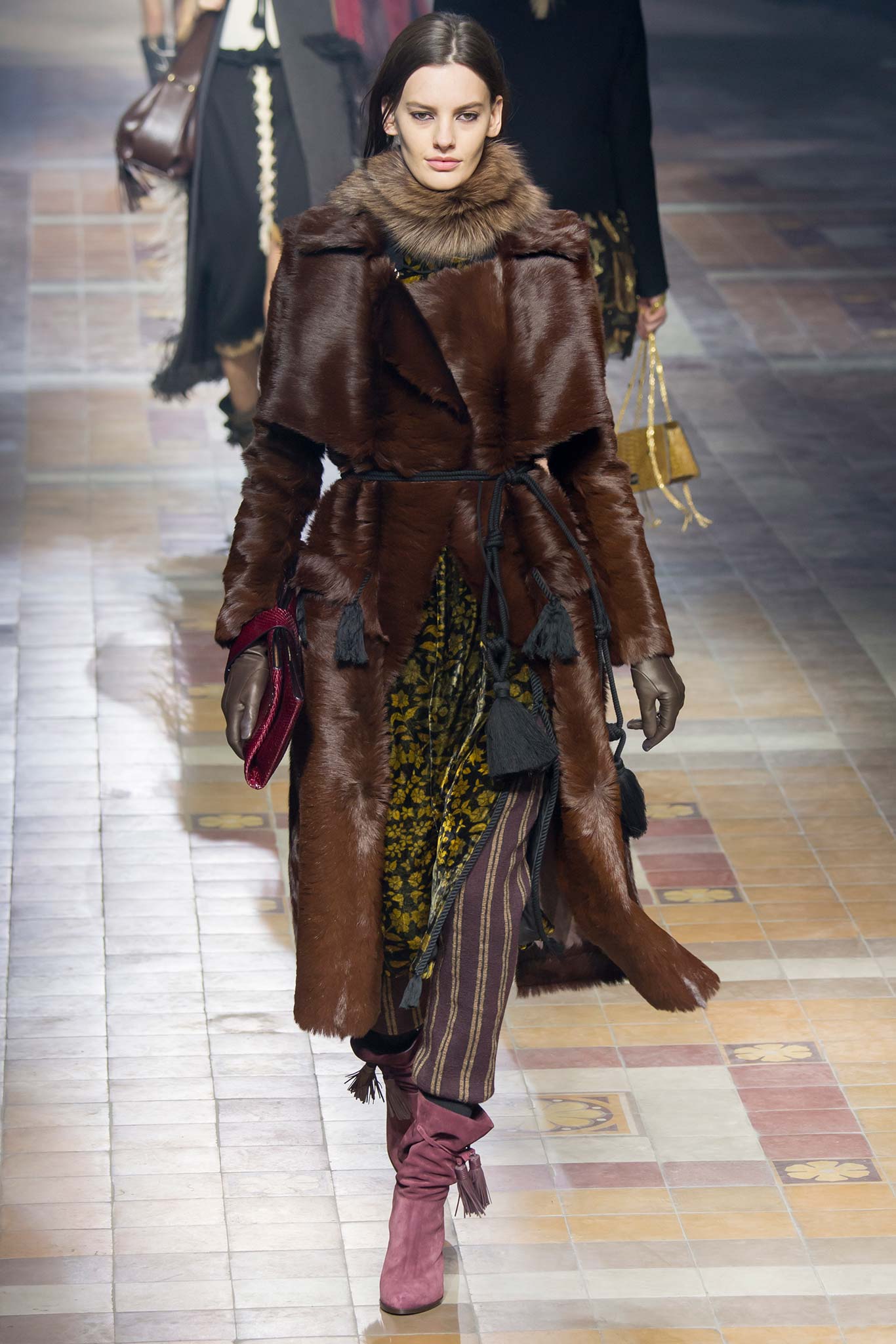 Now, off to Mongolian on a fuzzy Camel or maybe a Yak.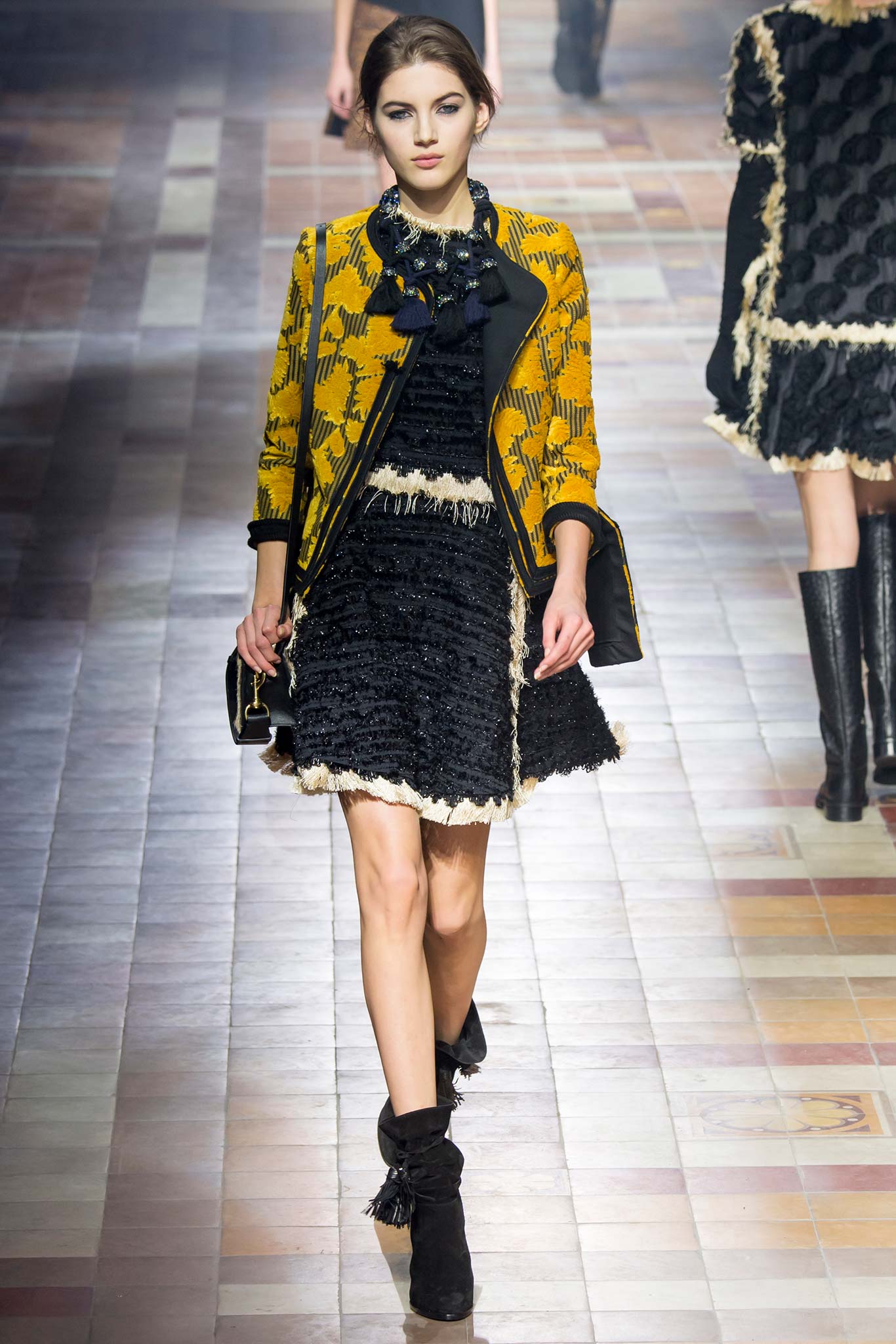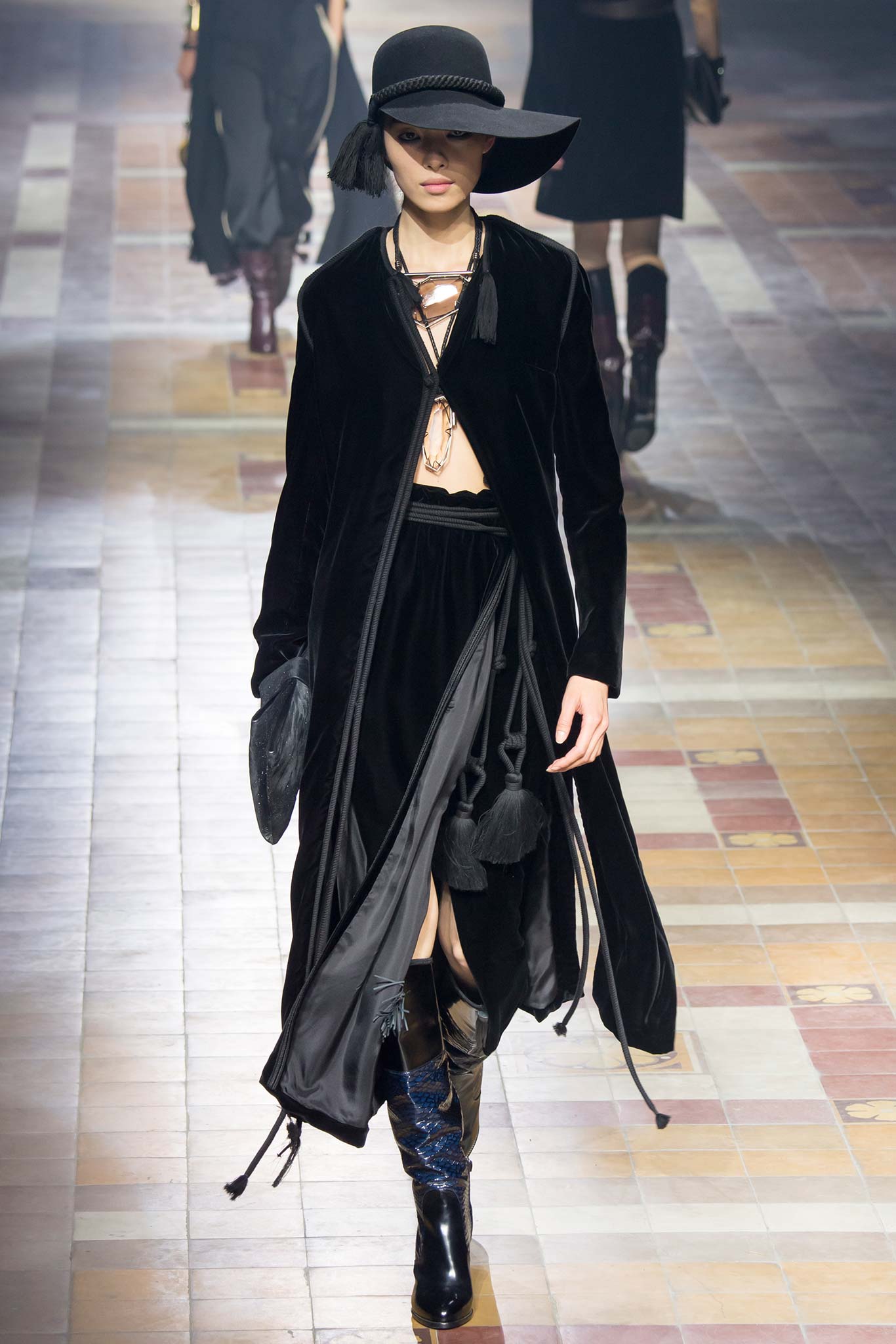 And now for the cadre of easy silhouettes glammed up with lux fabrics and over the top festooning. And of course the styling is some of THE best with the paillette encrusted hats and g l o v e s. Those gloves could be a focal point of any outfit.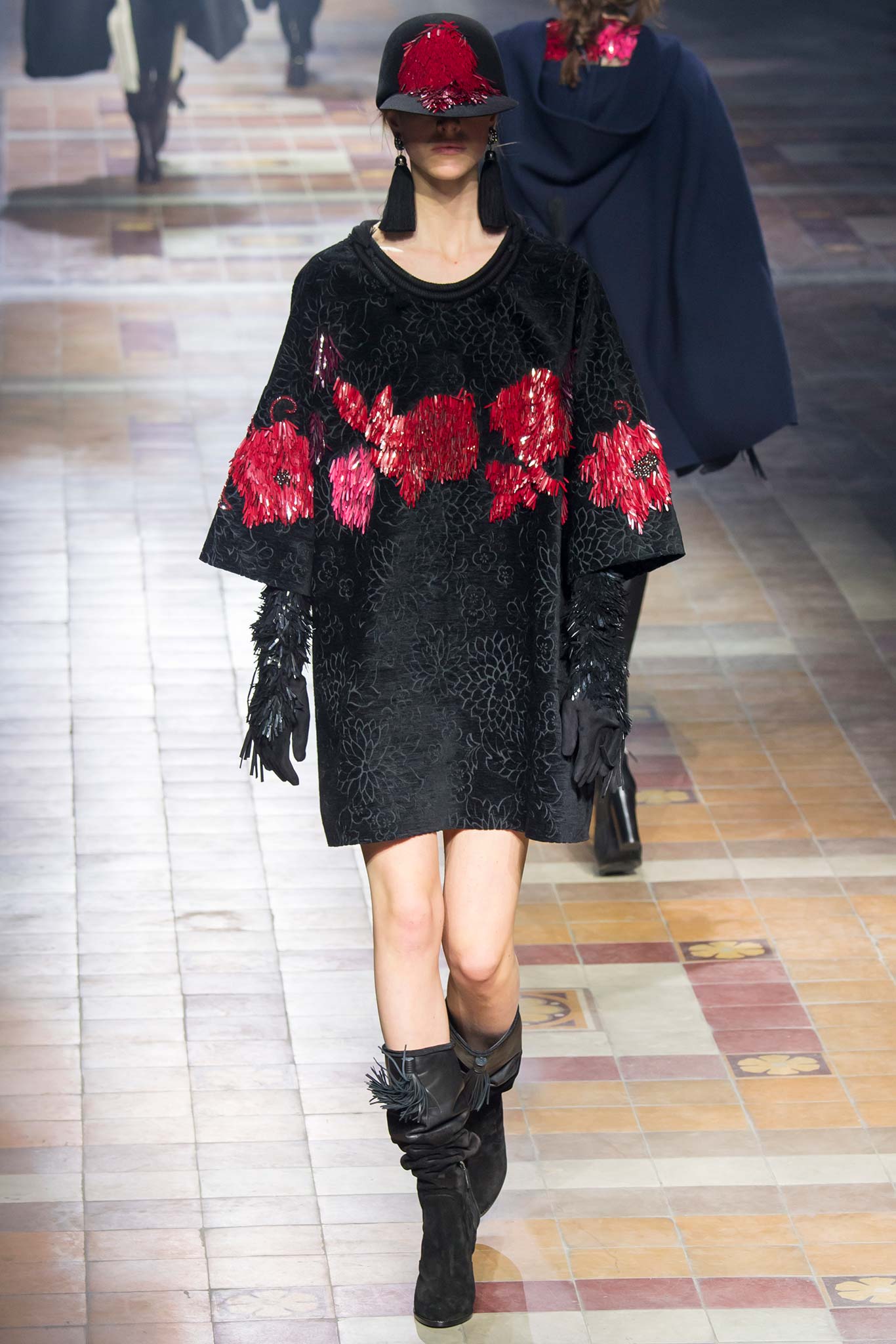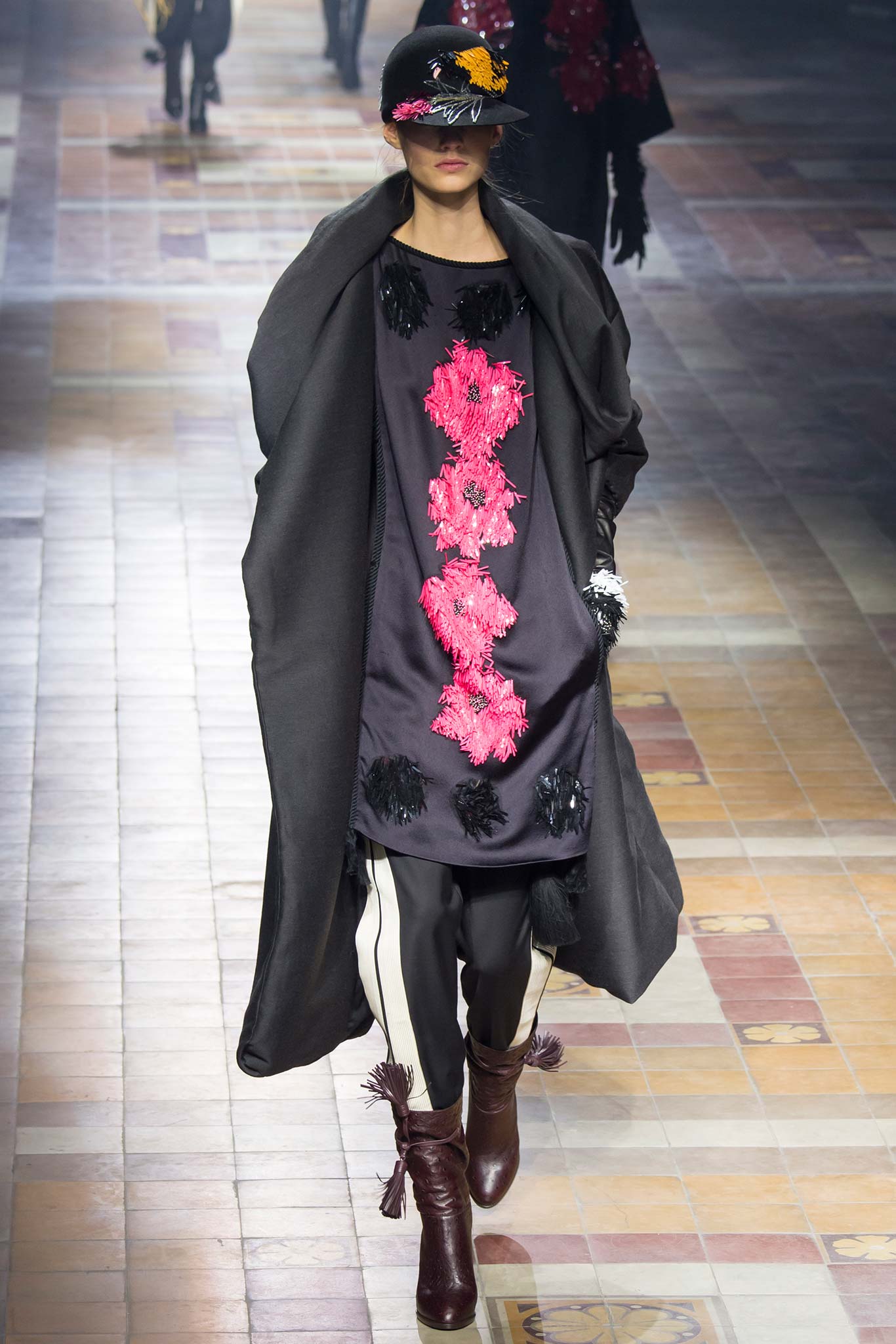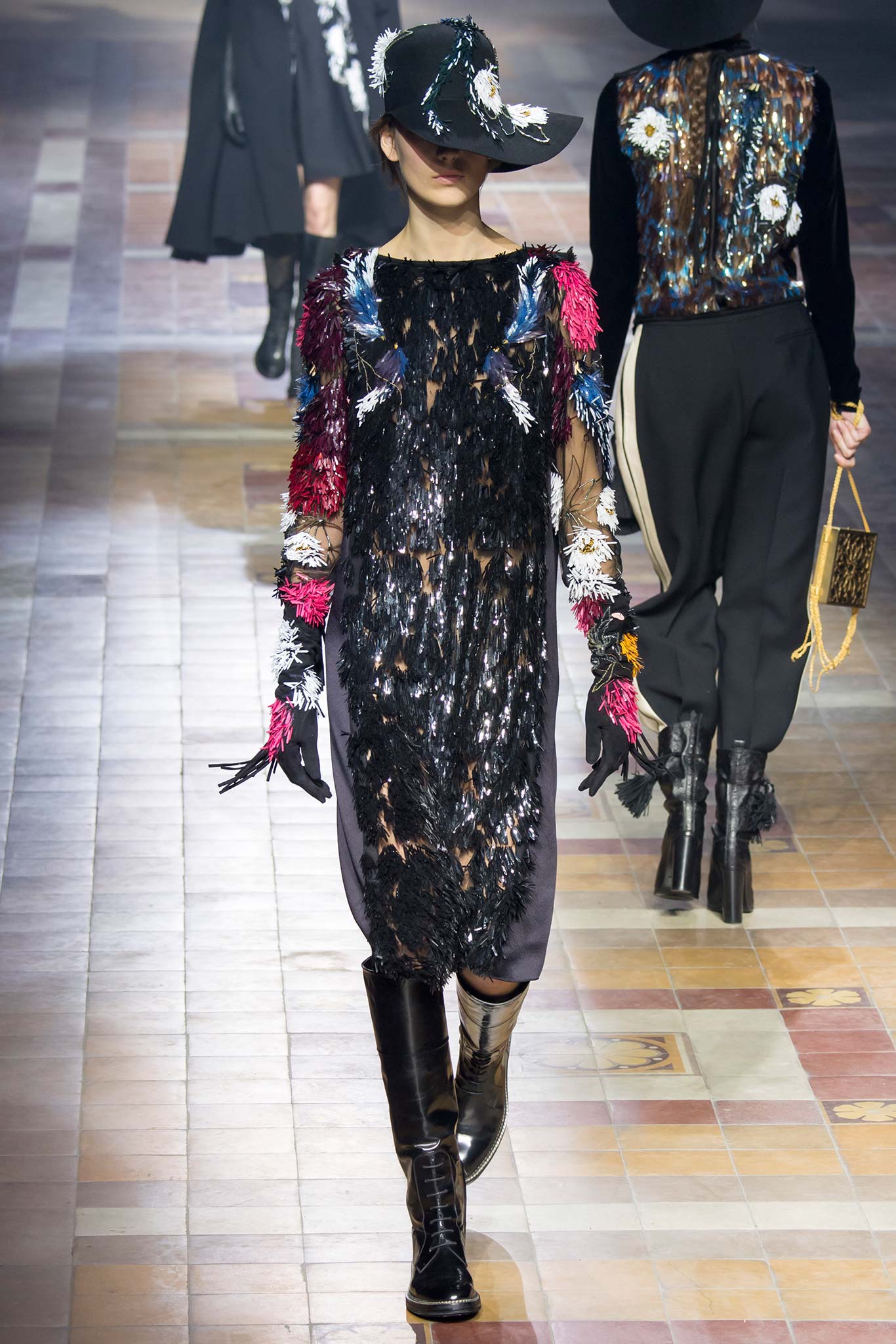 H U Z Z A H! Another great spectacle brought to us by that clever Moroccan.
LES COPAINS (Stefania Bandiera):
I've been enamored of this house for the past few seasons, especially the knitwear with the big sweaters, a fashion staple every gal needs. So yummy over jeans and whatever. Just add platform shoe booties. These are more spartan components, compared to the designers above, but though more streamlined, all engaging, especially with the whimsical baublery.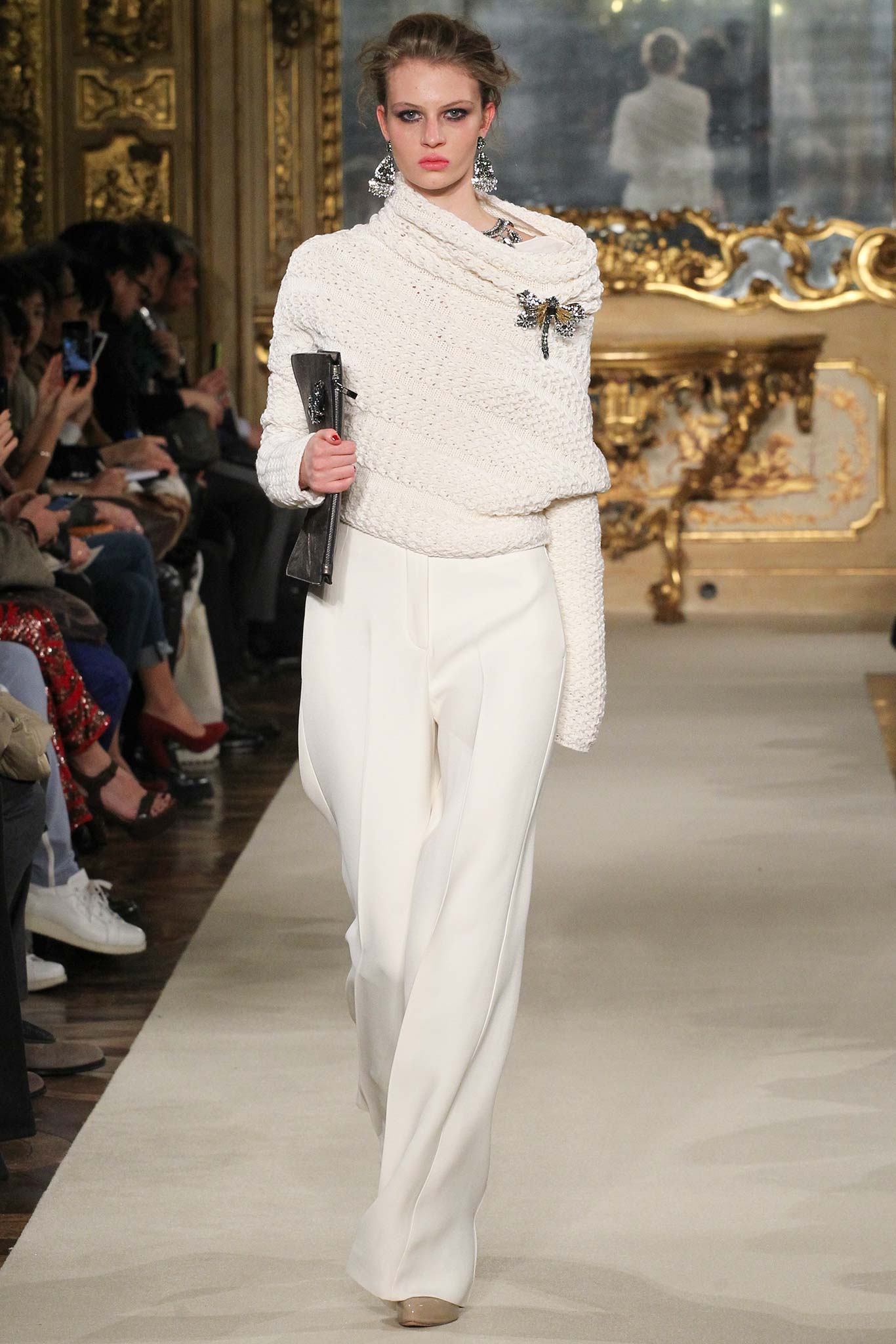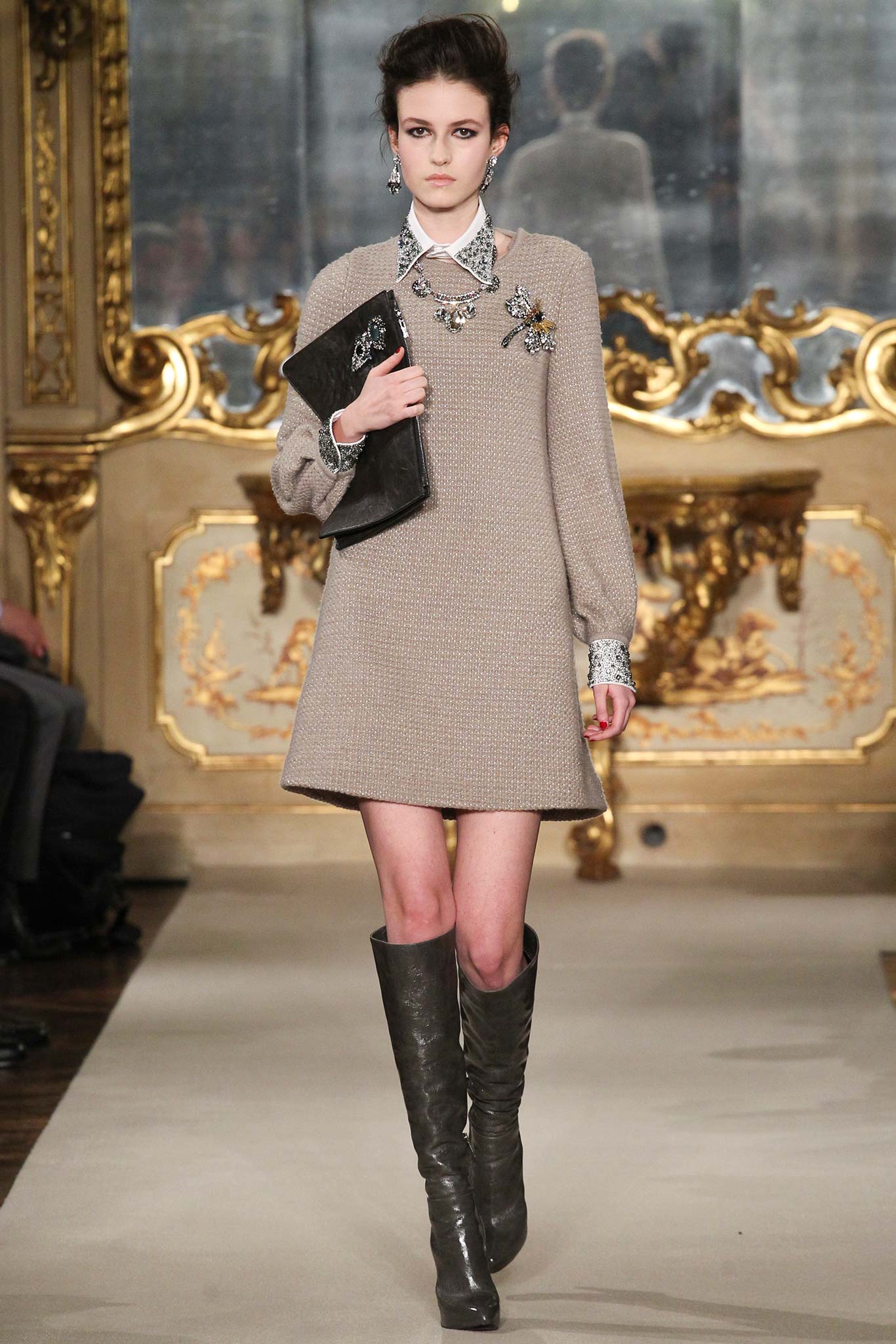 A nice example of how much a few well placed baubles brighten up a spartan neutral.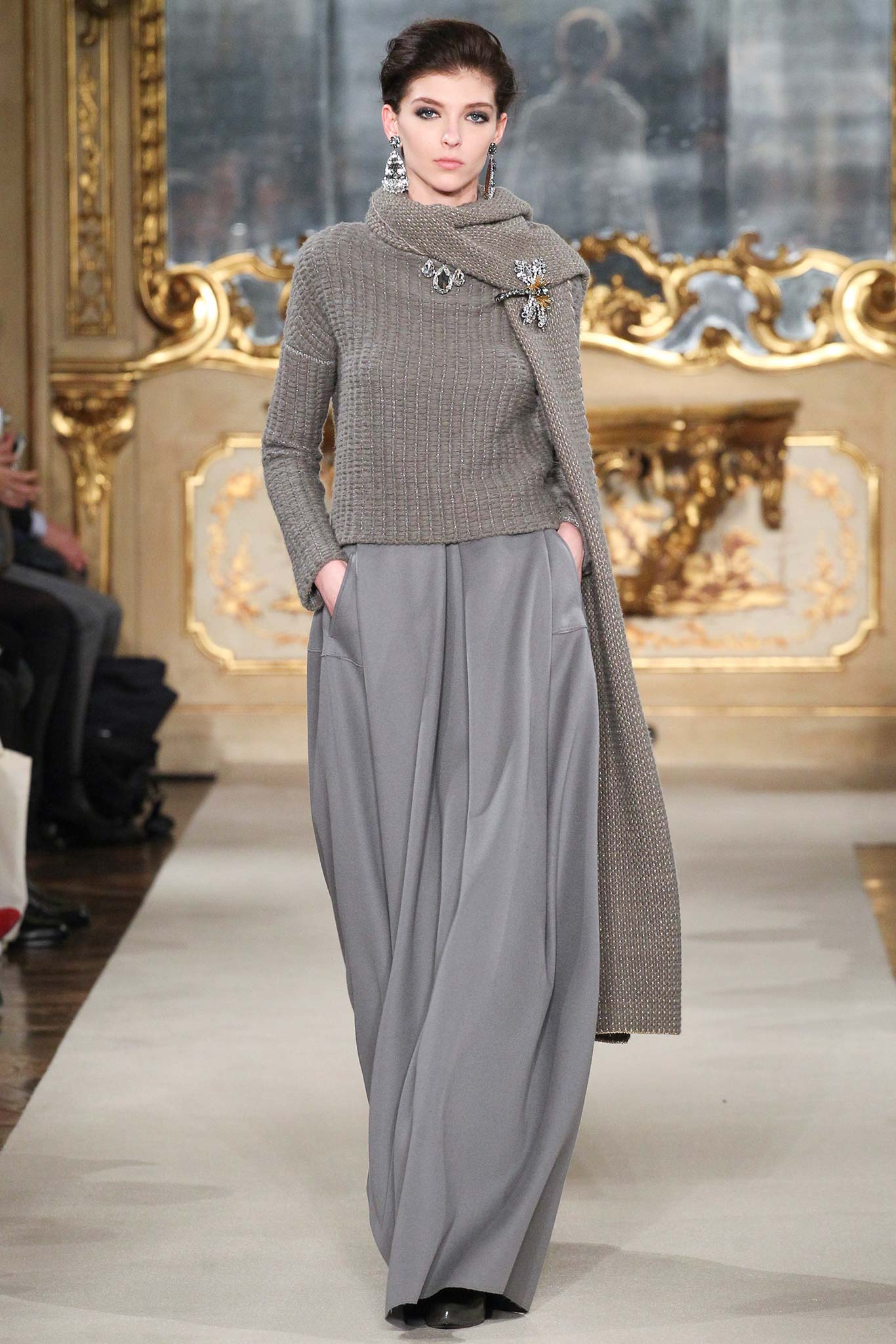 Old school casual elegance.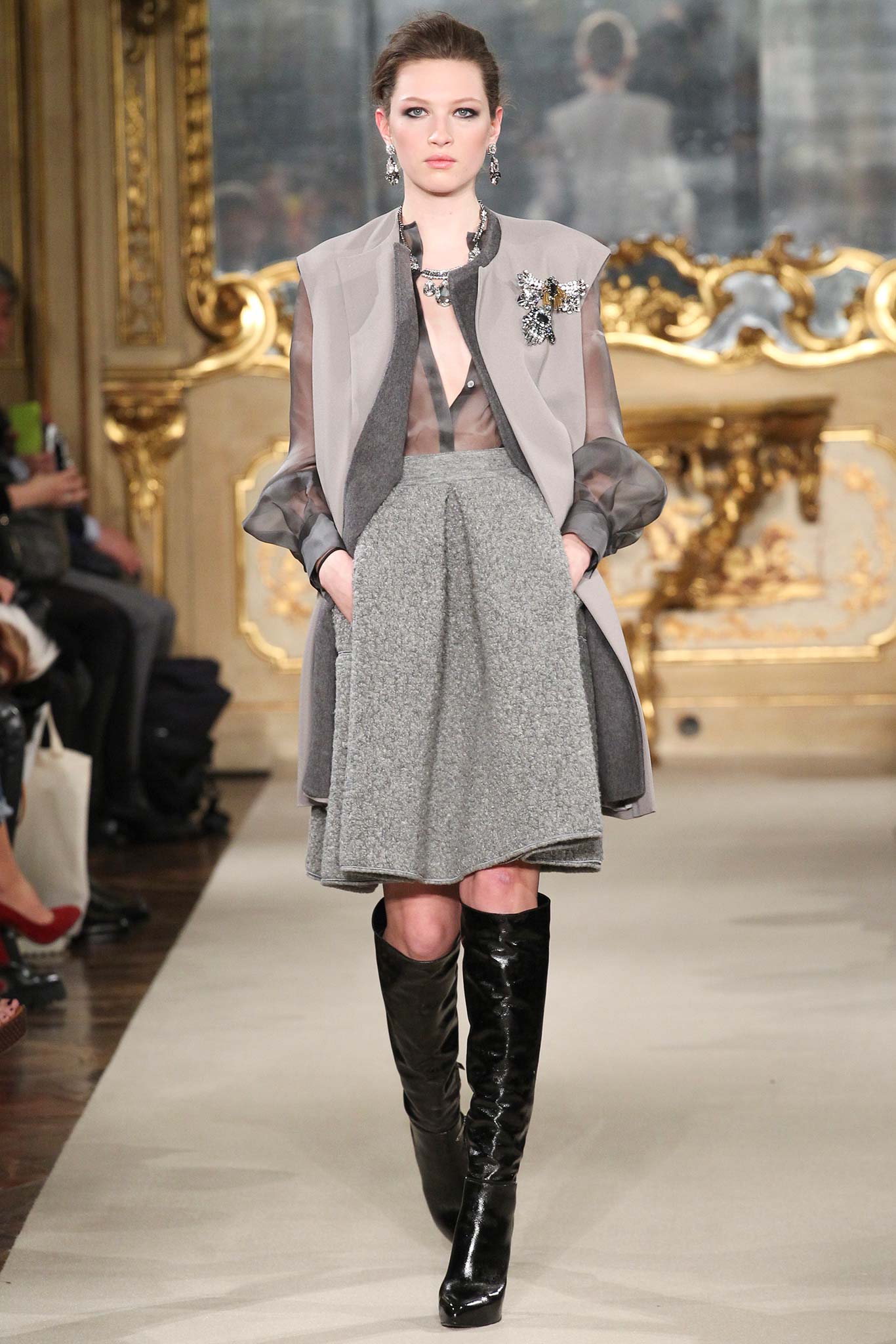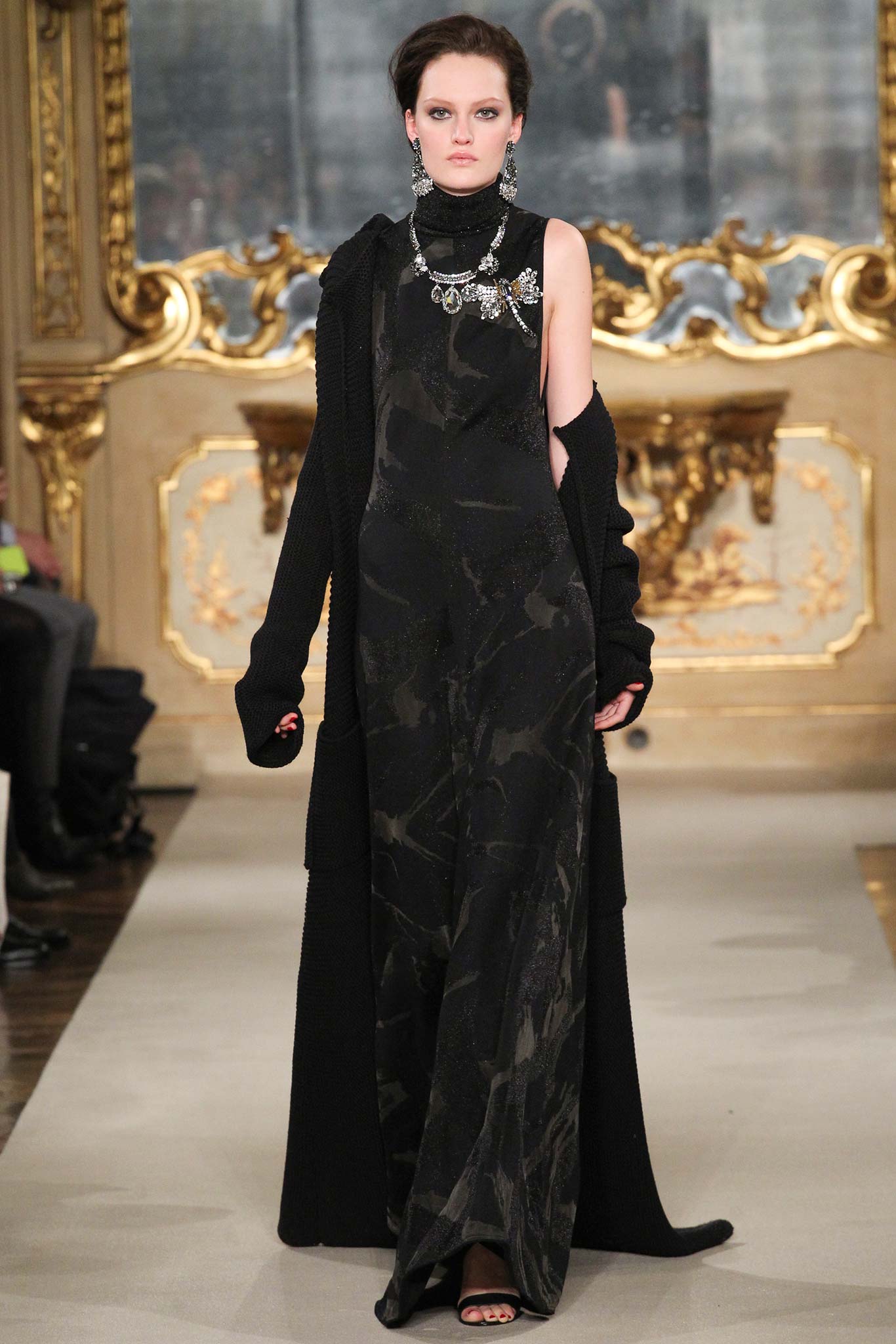 The floor length sweater is a casual option to the Opera coat to top off a special event dress.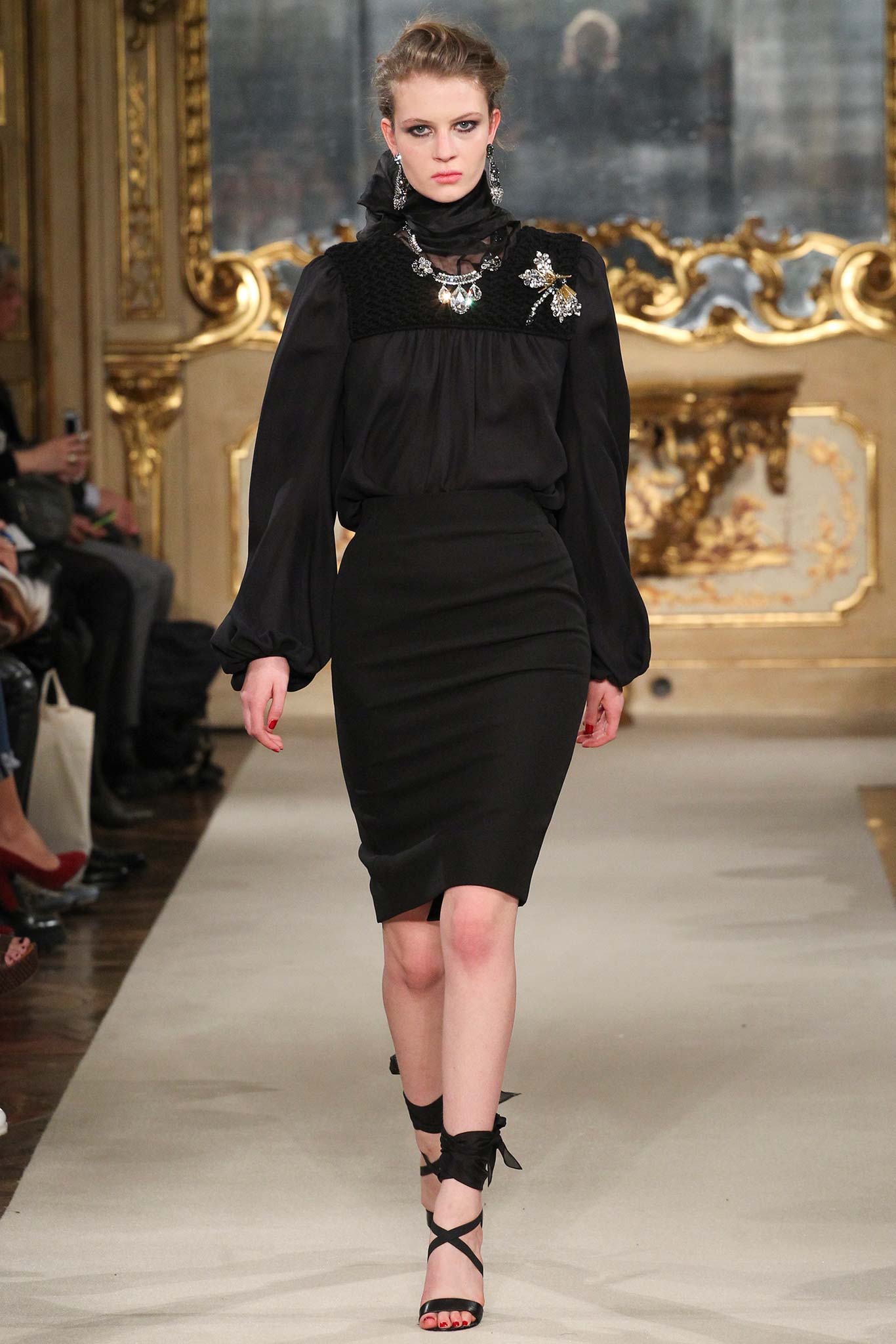 A good option to the power suit. Low key drama with the balloon sleeves. Spice up with a big floral brooch. (I've gotten some stunners from Joan Rivers for QVC).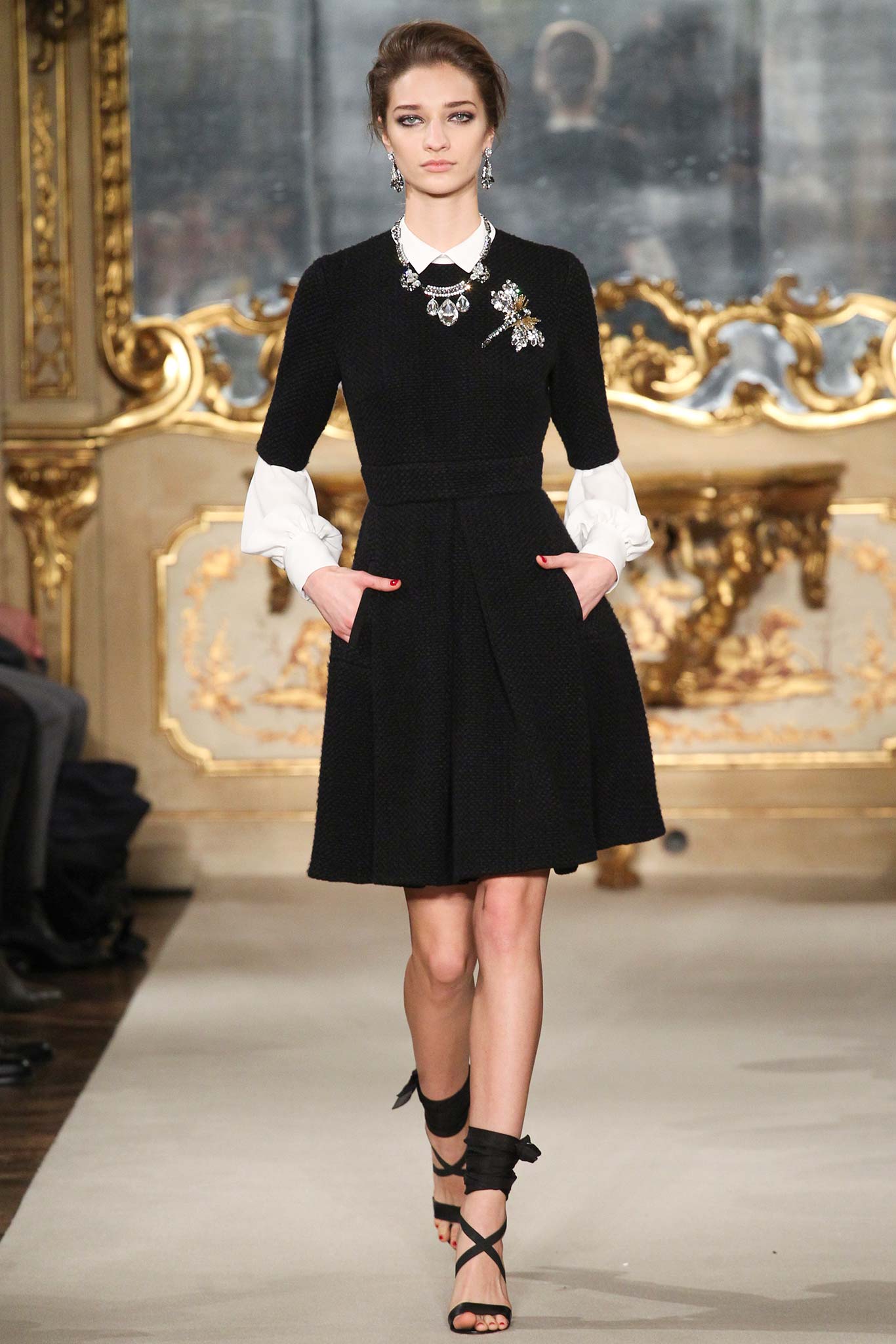 A long sleeved cotton blouse can give life to the little black dress in your closet.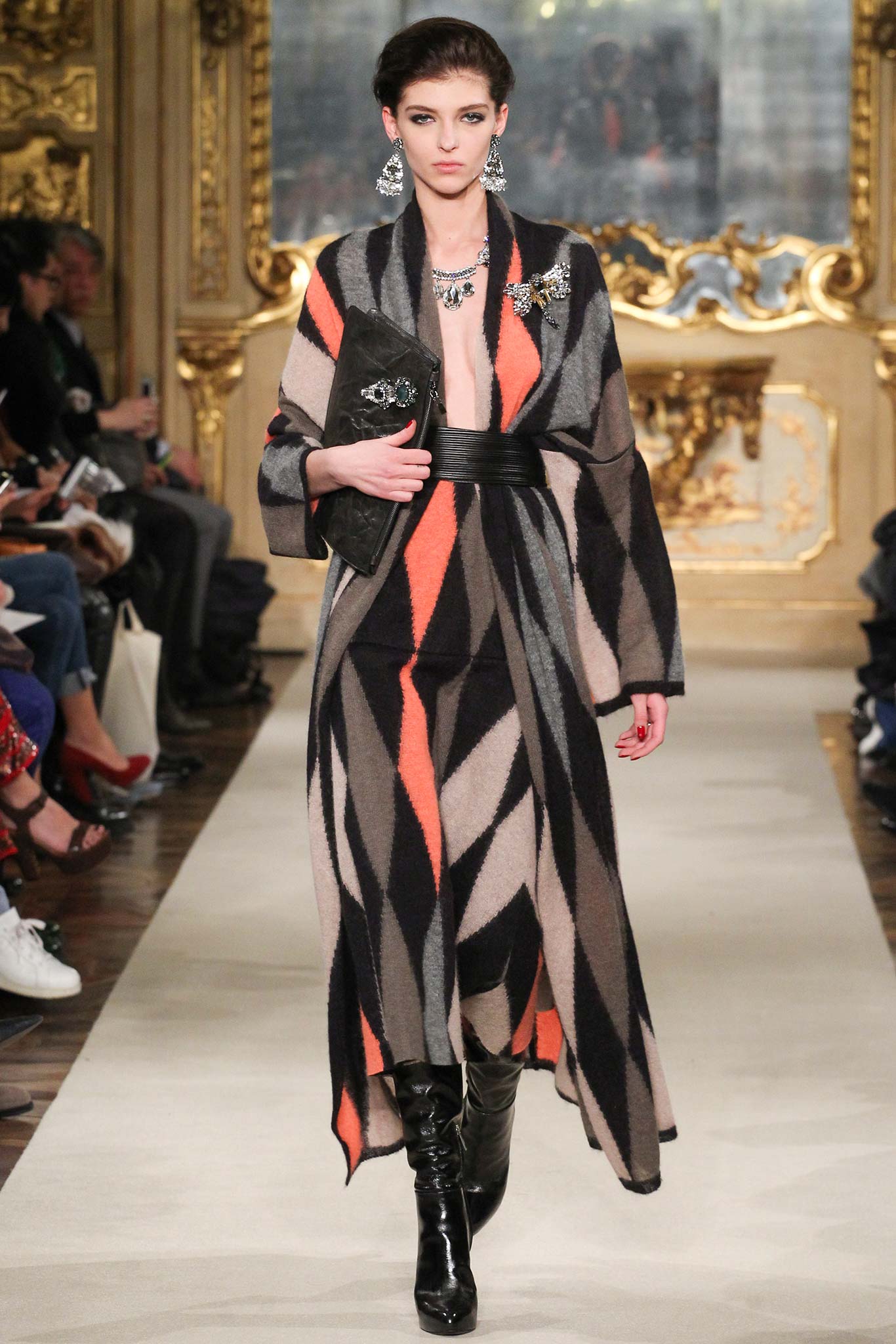 I'm a big fan of the big BOLD sweater, especially if its topped off with a wide belt. Wear over jeans, slacks, or your work out togs.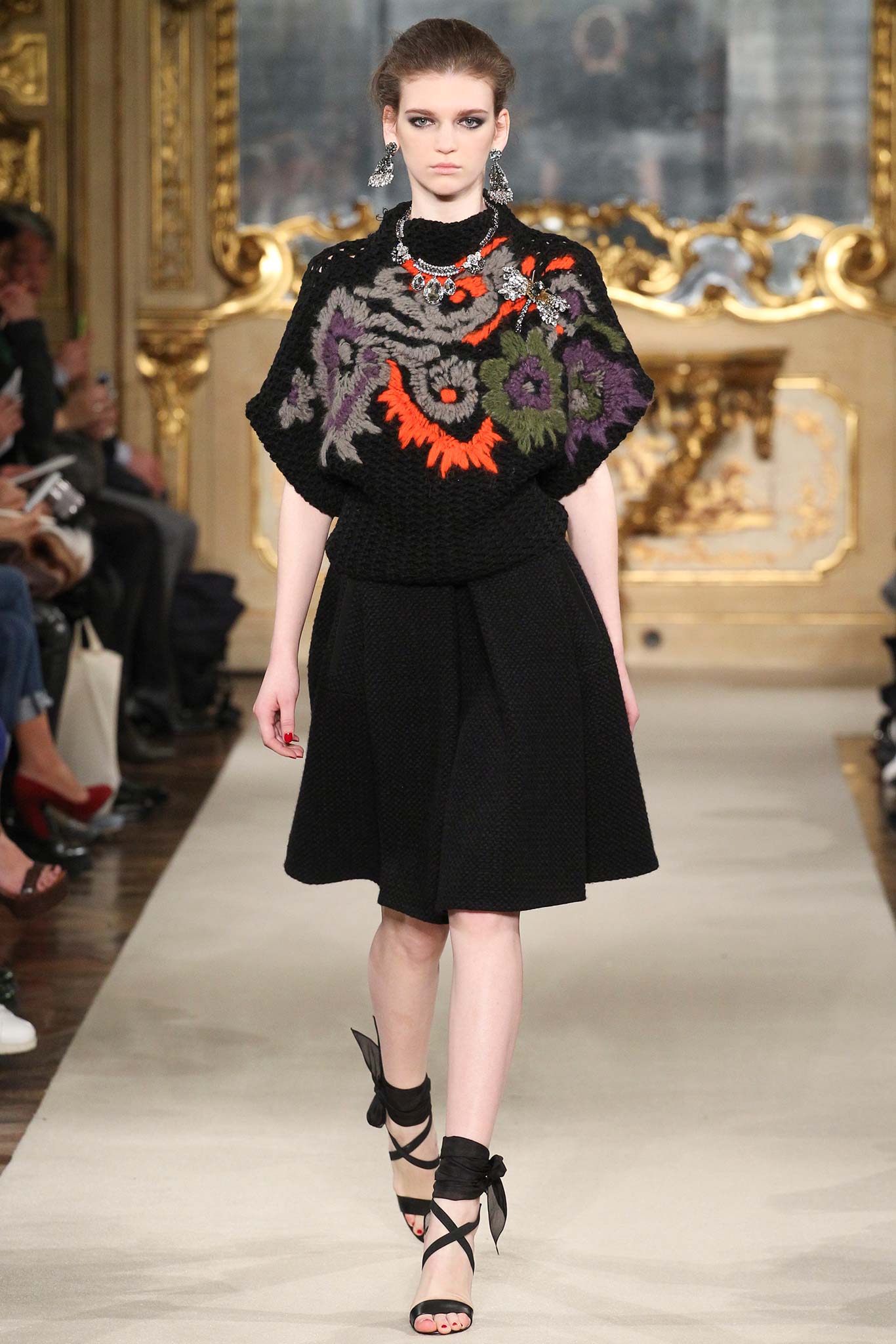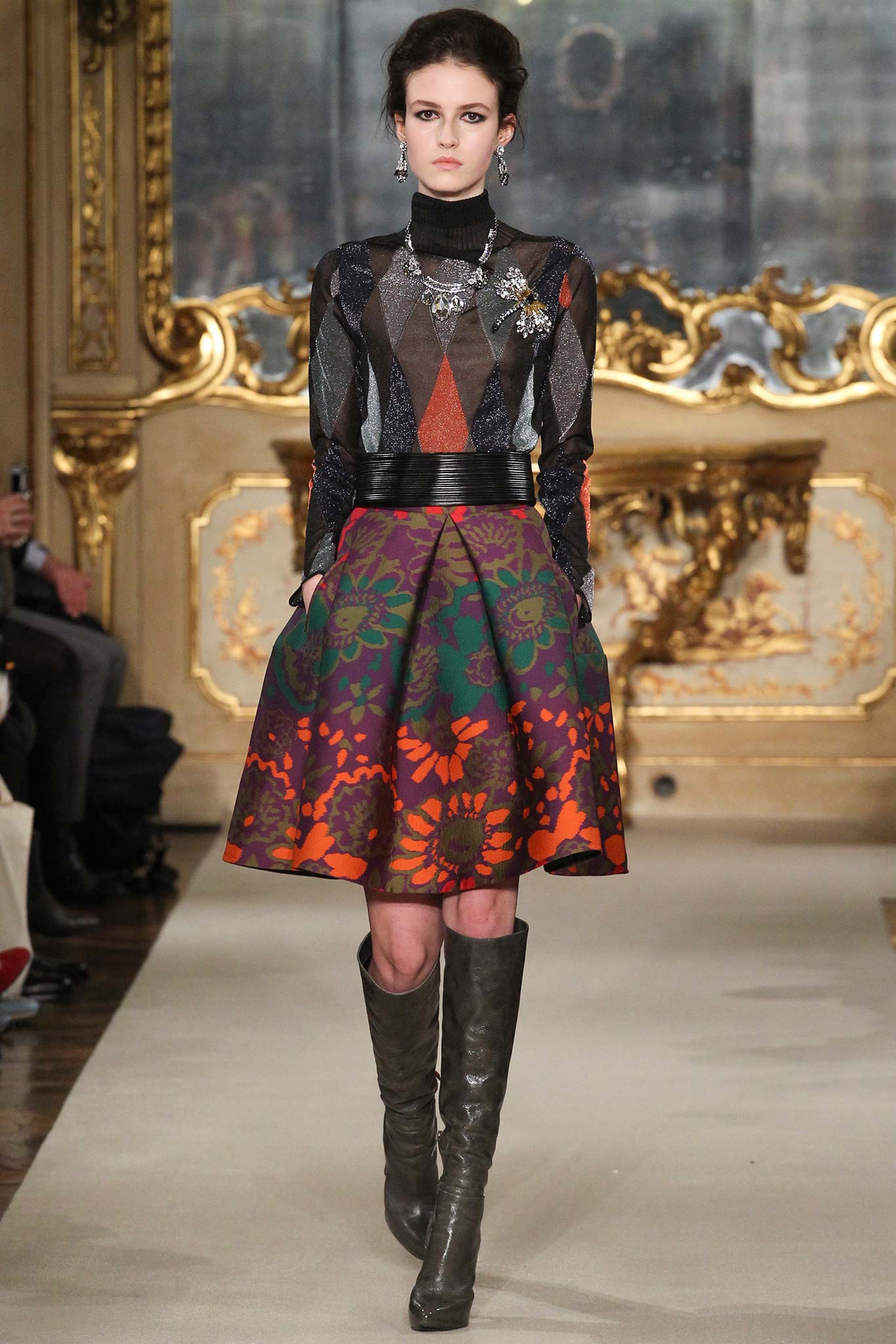 It takes moxie to mix patterns, everyone should give it a try.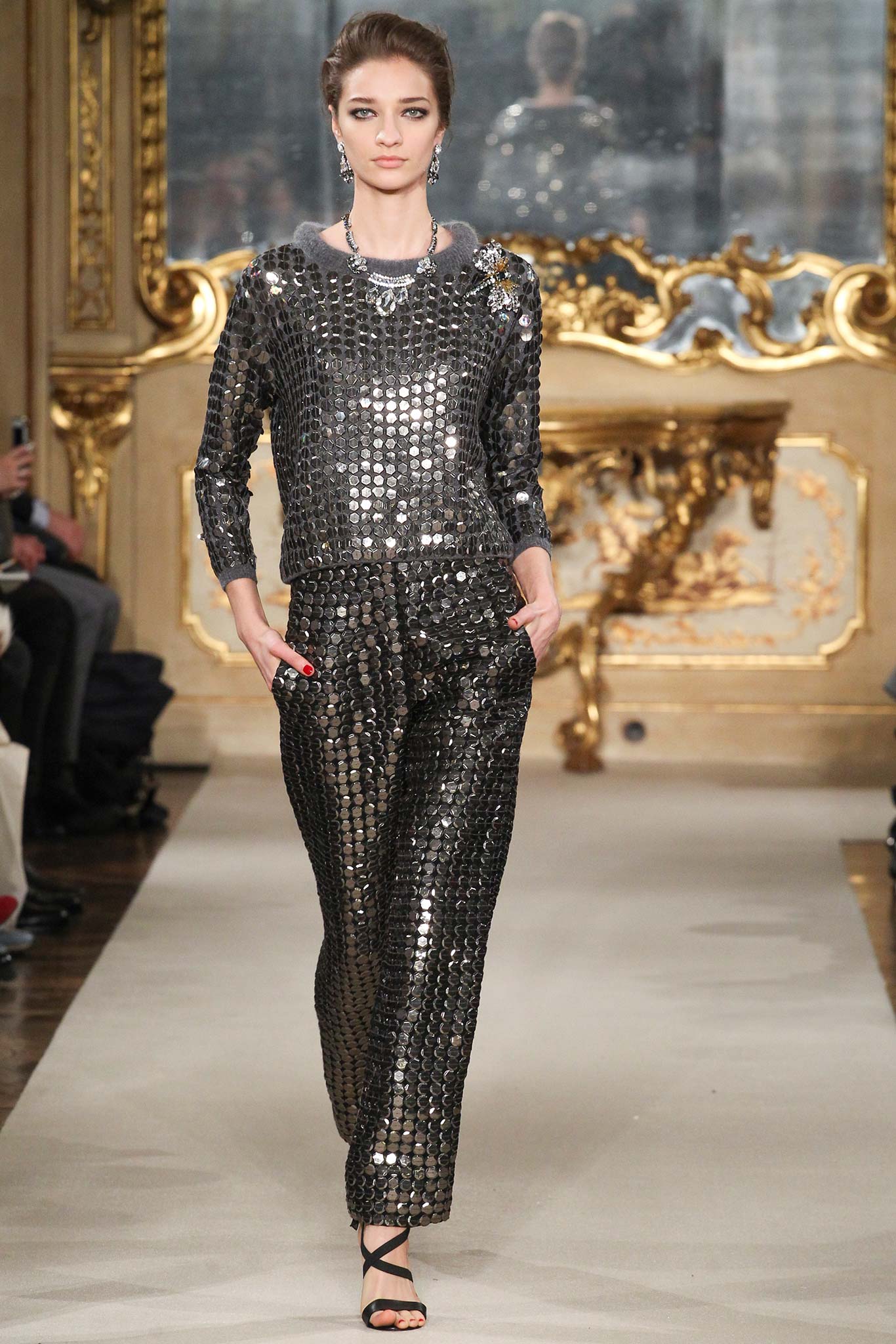 Hmmmm, a good option for the next Christmas party! Maybe just don't sit down, or risk leaving a trail of blingage ala Hansel and Gretel.
Addendum: Mea culpa, as Les Copains was part of the Milan runway shows! (Whoops!).
These images were brought to you by www.style.com
More Paris to come!