Hat tip to the screenwriter of Notting Hill (which I viewed the other day for about the 100th time, sigh), Hugh Grant's character refers to Anna Scott as "fairly fabulous". Which I must admit also applied to Mr. Grant back in the day, when he was the IT guy in the late 90's and early 2000's. What ever happened to him? Last I knew he was cavorting with ho's and breaking up with Liz Hurley. Um, huh? Well, no accounting for taste, in relationships or in fashion. As I have been endlessly perusing many of the runway shows for upcoming fall winter, I have stumbled upon pieces which inspire the "DAMN I HAVE TO HAVE IT" thought, which will get the drool accumulating around the corners of my mouth, OR which I think are smashing and wearable, and hopefully won't leave a trail of sequins back to your abode, or a divit in your checking account. Not everyone is a billionaire techie or raised eating strained peas off of Louis XIV silver, a fact belied by the exorbitant cost of living here in SF. Acknowledging that every runway show must have an element of theatricality because after all it is a SHOW, still, every collection, even the most opulent ($$$$$) and spectacular, will likely include more down to earth looks that will appeal to the well heeled fashionista, the pragmatist who needs the appropriate body parts covered at any given time, and someone who wants well made separates they can wear to the grave without regret. Here are pieces which are most importantly wearable, but stylish, never boring, and to my way of thinking, not dated or dateable. There are but few sequins to be had, no feathers on the horizon, however I couldn't forsake the leather. LEATHER of all varieties is in, in every permutation, although for the sake of time I omitted any flagrant homage to bondage.....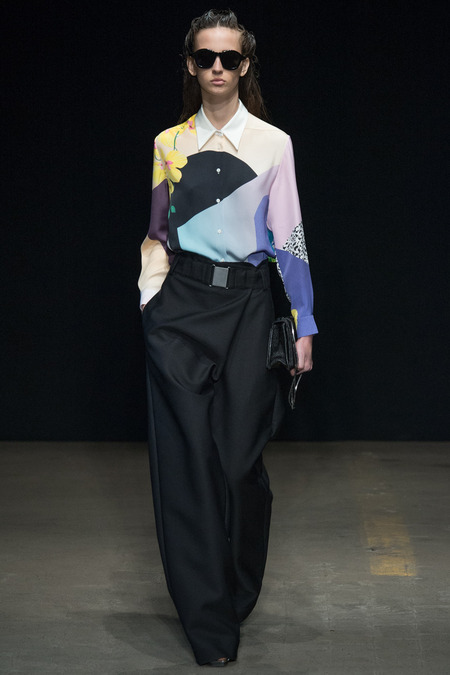 3.1 PHILLIP LIM
The shirt is a tried and true silhouette, fitted but still comfortable, with a fresh pretty geometric yet still whimsical design. The color scheme will alow you to put this on underneath pretty much any sweater, jacket, or coat, of any color. Think of this under a royal blue velvet riding jacket, or an orange trench! The slouchy pants provide a cool funky vibe, would be a good staple for anytime of the year, and would likely serve as a good adjunt to the usual black slacks or leggings bound to be in the average closet.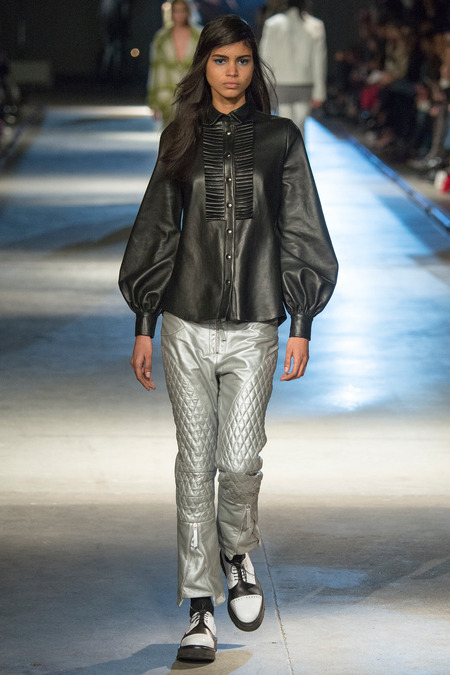 GILES
Couldn't help myself, had to jump right into the leather, but this is gorgeous! The blousy sleeves make it just a bit theatrical, but not over the top. The style is flattering given the slightly nipped in waist, but flared bottom. I appreciate the leather on leather for the dramatic runway look, but for REAL life, consider a contrasting fabric in a fitted pant or skirt to set this off. Think of this as a jacket proxy as well, over a T-shirt, with jeans and platform boots.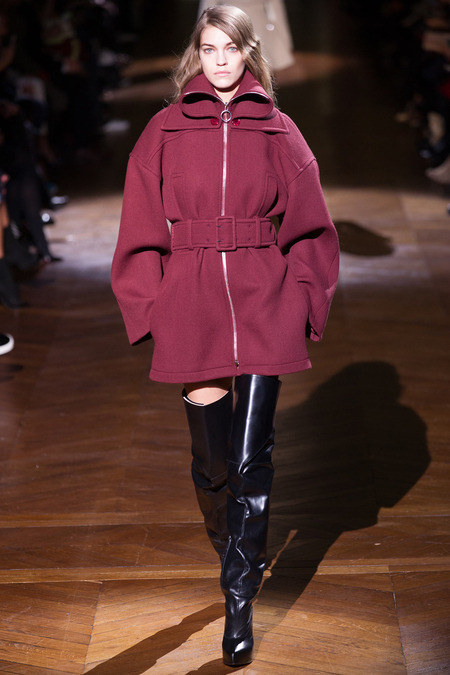 CARVEN
Ahhh, raspberry, to me another version of neutral. We've probably seen this silhouette before, but not in this color OR with the rolled collar. Great for breezy fall days, wandering around Golden Gate or Central Parks, sitting at a baseball game, or shopping in Union Square.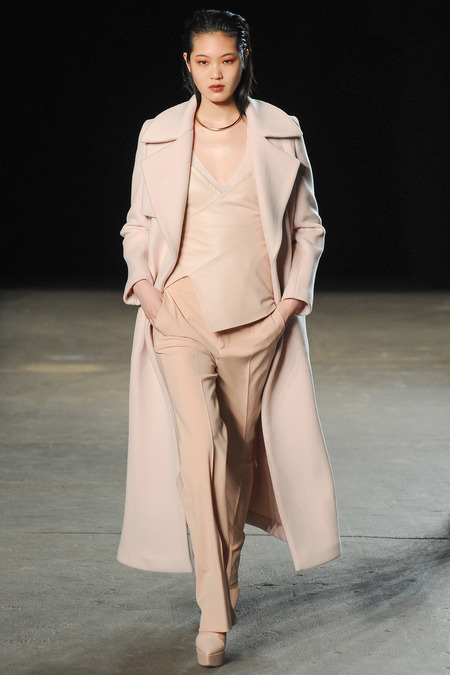 PHILOSOPHY
If you "need" a new all purpose coat, I think any pastel, but especially pink, will provide a nice contrast to the usual black. How many times have you opened up the closet only to confront a sea of black, and then just shut the door out of shear exasperation? Who can tell what the hell is going on in there when it all looks alike? Enough already, branch out, go wild, grab the pink, blue, green, or yellow, in mohair, cashmere, camel hair or alpaca!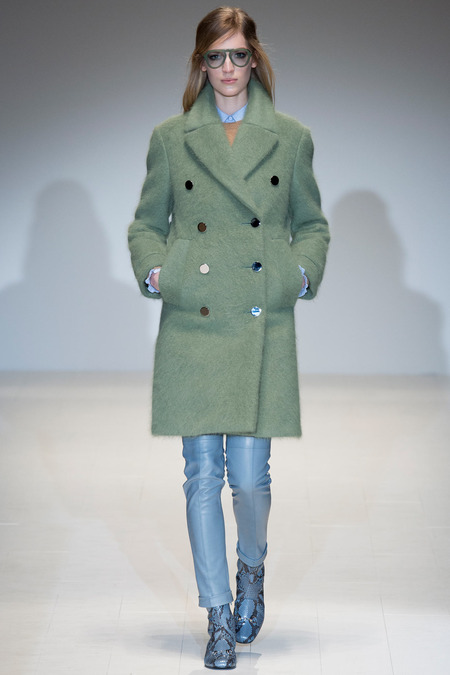 GUCCI
Another wonderful pastel you don't often see, celadon green! The whole Gucci fall winter collection was covetable, each and every piece. Not a single misstep that I can recall. If I were a rich man, etc....sigh.....I happen to love the pastel on pastel going on here, but if its too much, just throw this coat over jeans or a casual knee length pencil skirt. A more casual look than the longer pink coat above, this coat will look fantastic with any casual fare. I'd put this over skinny jeans and a pink cashmere sweater.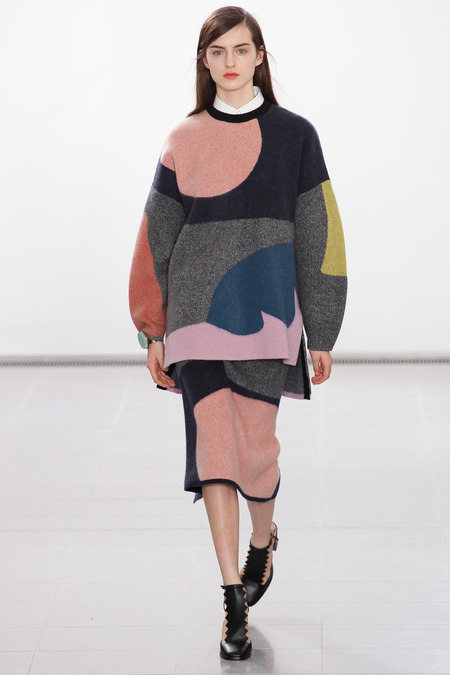 ISSA
Awesome! Back to the BIG sweaters from the 80's. Looks like I need to go shopping in my attic again and revisit some oldies but goodies. If you want to stray from the usual cashmere sweater set or argyle contingent, think of this piece. Its warm, cuddly, whimsical and with the big peachy pink circle, just happy! Plus you get the all important ass coverage. Once the temperature drops appropriately, throw on a long multicolored wool scarf, maybe in plaid?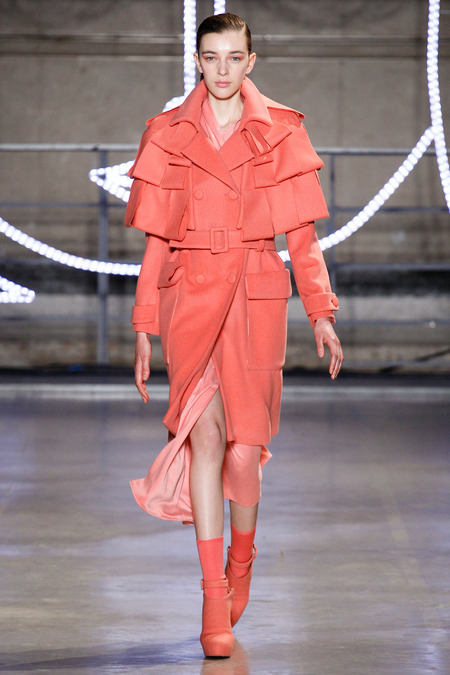 JC de CASTELBAJAC
This is a striking runway piece, the vibrant color, the ALMOST over the top shoulder detail, as if Sherlock Holmes fell into coral cashmere. Subtract the runway details, no one needs THAT much monochromatic look. Again, this would be the focal point of any outfit. Keep the underpinings simple, wear high heeled boots, its a stunner!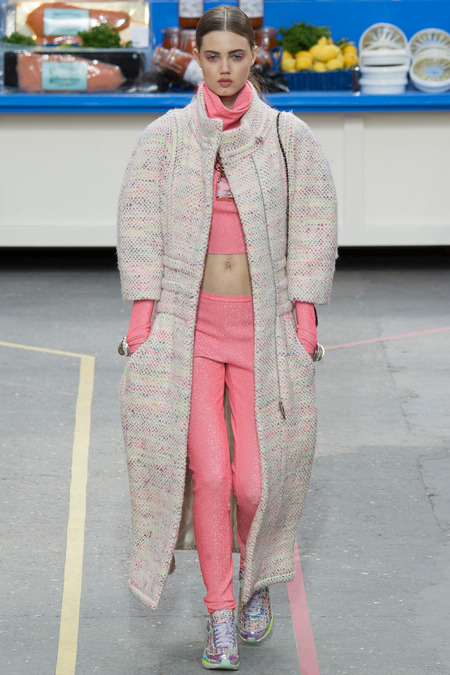 CHANEL
Ok, this piece won't come cheap, but, in the scheme of things, worth it. If you are going to get ONE piece this season or even this year, let it be this one. Wear it with those sneakers, skinny jeans and monochromatic Charlotte Olympia velvet flats, or leather leggings and boots, the usual suspects. This is not meant to be fitted, but to be comfortable lux. If the mood strikes, wear it over your gym schmatta.........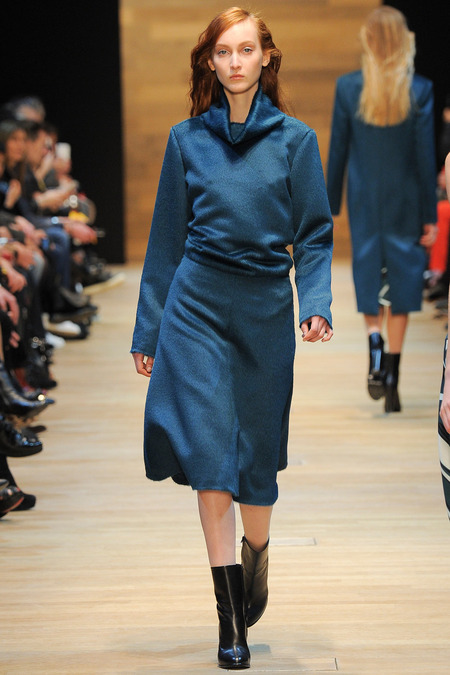 GUY LAROCHE
I love this for the material, which looks to be alpaca, AND the deep aqua color. Casual but elegant, non-fussy, hugable, and not too bulky you couldn't throw this on under a coat or leather jacket.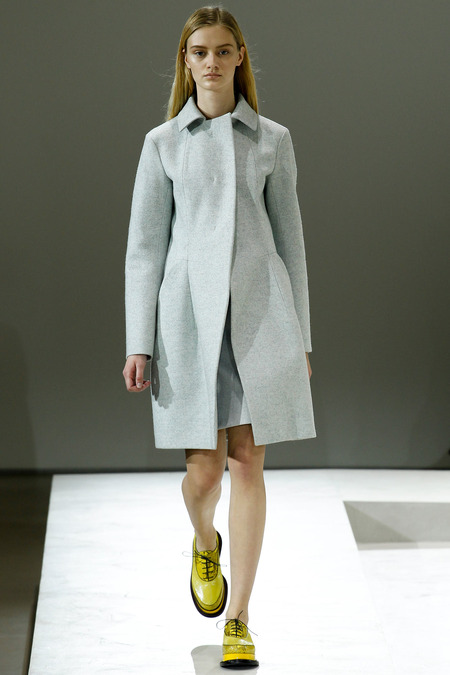 JIL SANDER
Jil Sander has been in great form, producing well made wearable fare which tends towards the spartan, but never boring or banal. The less is more ethos which we all sometimes need, even those of us who never met a sequin, feather, or ruffle we didn't like. I am always on the prowl for low maintenace travel clothing with style and flare. Jil Sander's pieces fit that bill to perfection!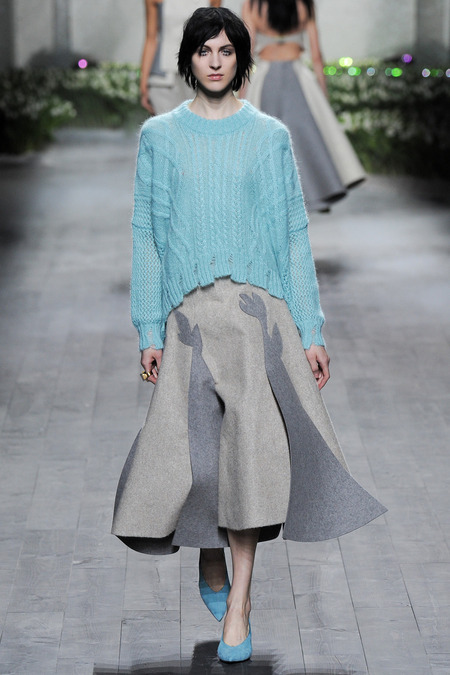 VIONNET
One of my favorite looks. Any version of gray is a solid staple and provides a nice excursion away from black. Pair this skirt and sweater with black patent leather boots and a pink cashmere or camel hair coat.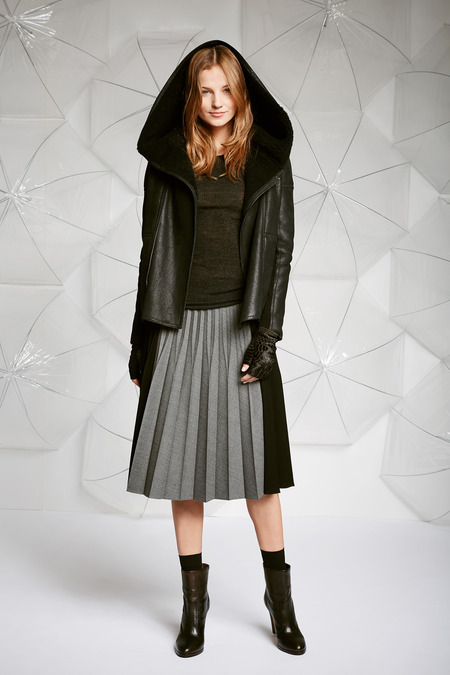 ELIE TAHARI
Pleated skirt, boots, and a leather bomber jacket. Just too cool!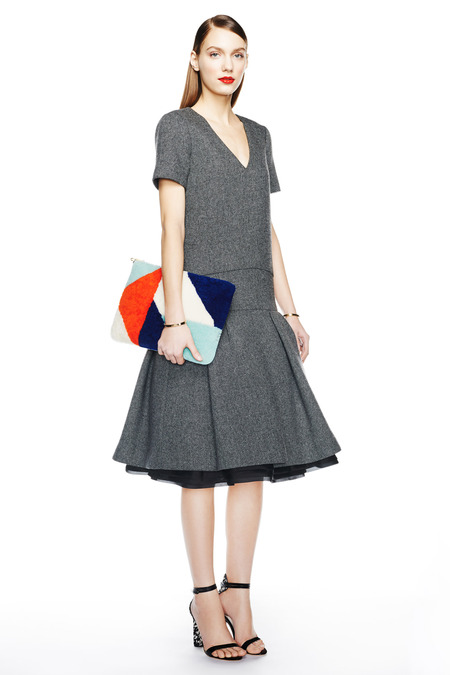 J CREW
Good neutral gray, drop waist for those who prefer to have their midsection camouflaged, in a conservative length. And is that TULLE peeking out from under the hem? TWO THUMBS UP! Would work well with boots.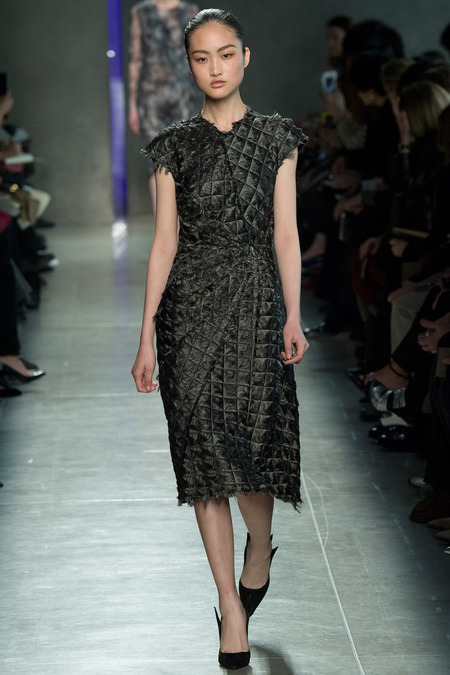 BOTTEGA VENETA
Strong sexy vibe, ala Matrix. Ditch the heels and throw on some stiletto black patent leather boots and a brightly colored wool muffler. Zowie!!!!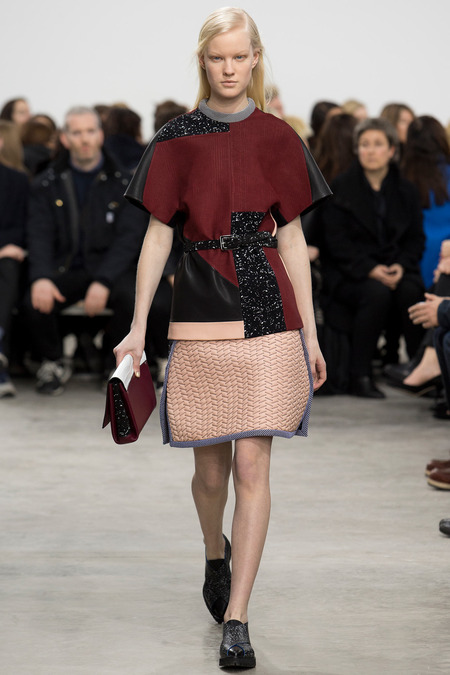 PROENZA SCHOULER
The sharp modern lines are tempered by the neutral colors. Wear together or separate, with the Joe Jackson shoes OR boots.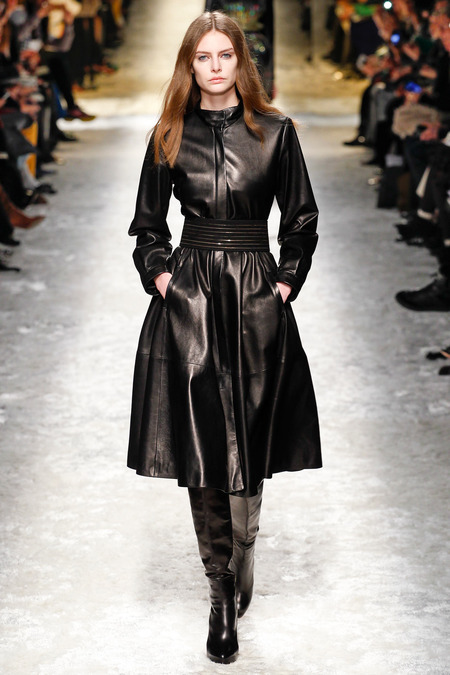 BLUMARINE
Yeah, its a lotta leather going on here, but I included it for the skirt, definitely all purpose given the length and of course the color. If in doubt when it comes to a fabric or design out of your comfort zone, go for black, its safer and easier to clean.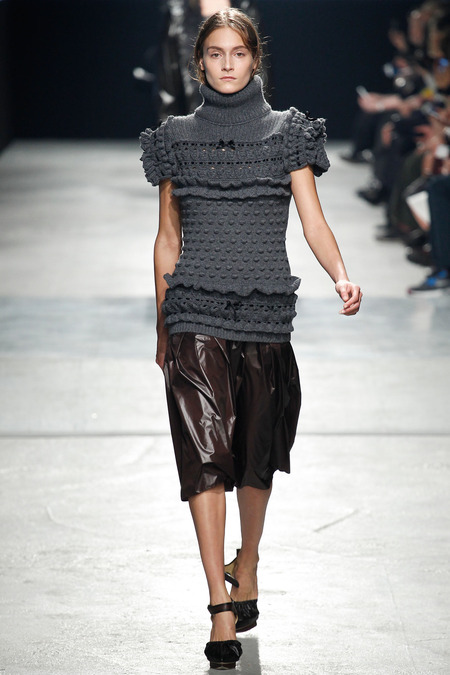 CHRISTOPHER KANE
This strong yet feminine piece would be fantastic over jeans, a short skirt, or even a long duchesse satin ball gown, in the appropriate climate. Balcony at the Opera house where heat rises? Maybe not so much. But an outdoor venue in the fall, in a temperate climate? Why not? Definitely a departure from the usual, a sort of woolen armor. Would be a nice addition to drawers filled with boat neck cashmere sweaters.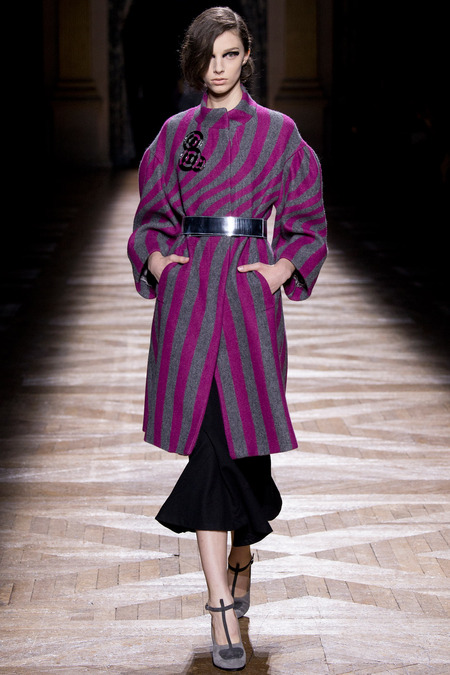 DRIES VAN NOTEN
Dries Van Noten, sigh. I've loved this fellow and his creations since the late 90's. Always a fan of color, but with the requisite black entries, his collections are always a pleasure to behold. He is never afraid to mix bold prints and colors of varied textures. You feel a sense of contentment in his clothes. Start collecting his things now! He currently has a retrospective at the Louvre. You can't climb any higher than that!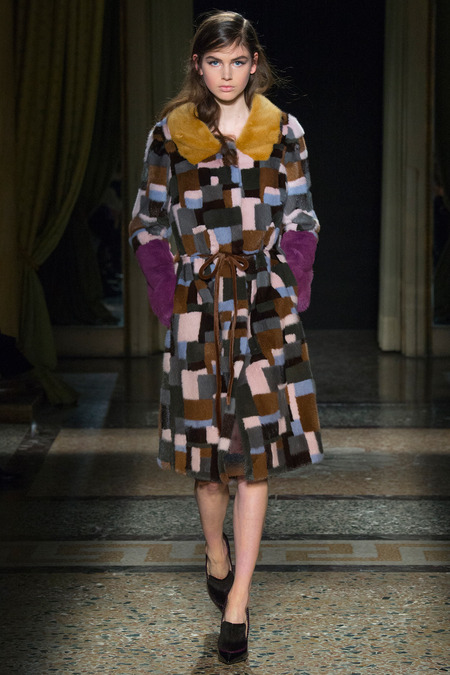 AQUILANO RIMONDI
Modern Mondrian! The fur was flying everywhere on the runways for fall winter. I know, fur isn't for everyone, I for instance won't go near Fox, Chinchilla (my dear departed Father would entertain me with stories of the pet Chinchilla he had during his college years), or Rabbit. My rule is, if I had it as a pet, I won't wear it under any circumstances. (I won't be wearing rabbit, goldfish, turtle, or Dog (shudder) anytime soon). Philosophy aside, most folks find shearling and even mink more acceptible than anything they've seen in the forrest or the jungle on Animal Planet. Of the dozens of furry creations, this was my favorite given the easy silhouette and breadth of the color pallette.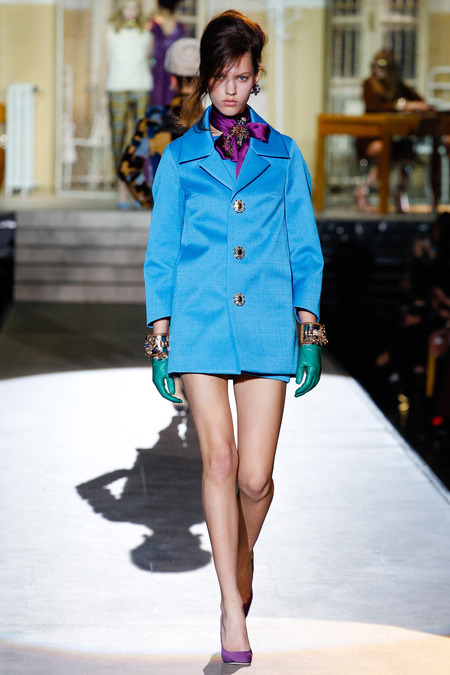 DSQUARED2
Familiar and friendly silhouette brought to life by the vibrant blue and the beautiful jewel toned accesories, especially those gloves! I would wear this to work over simple pants, but it would segue seamlessly to various and sundry evening activities, dinner, the Opera, a broadway show, or, um whatever. Lux and lightweight, great for any age, also an easy travel piece. The buttons provide just enough bling for the Magpie contingent.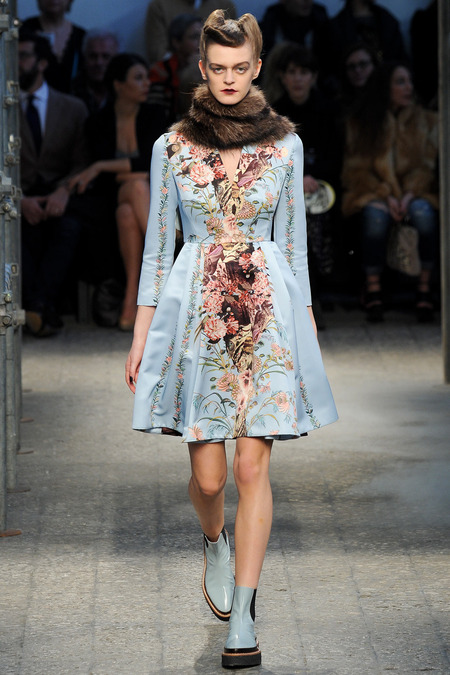 ANTONIO MARRAS
This has to be one of my FAVORITE of all the runway shows. Perfect length, good for any event you want to look pulled together and lady like but not like you're an escapee from the local convent. And if you've got the legs and the moxie, wear it with bare legs and shoe booties. H O T! The fur adds visual interest but a bejeweled wool scarf (calling Brunello Cucinelli) would add festive flavor. This might even work as a tunic over skinny jeans.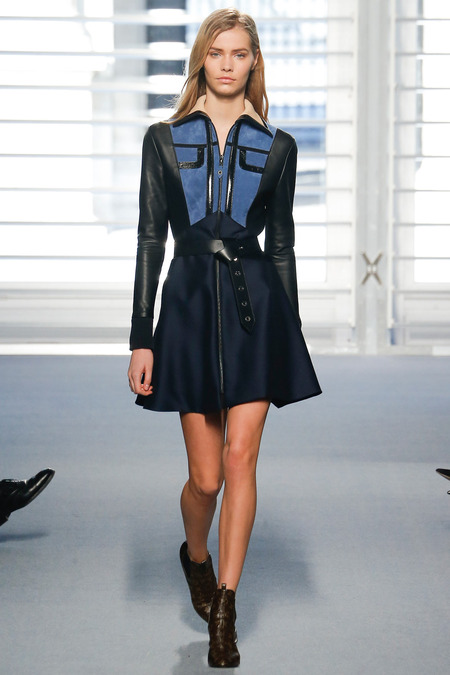 LOUIS VUITTON
When I heard that Marc Jacobs was leaving as creative director of Louis Vuitton after 16 years, I must admit, tears were shed and teeth were gnashed. The ready to wear items I've accumulated over the years from Louis Vuitton are amongst my favorites. The clothing is impeccable. And lets just say that the sensibilities of Jacobs and Ghesquiere are well, not exactly in sync. After perusing the fall winter line, marking the first of Nicolas Ghesquiere, I was somewhat scandalized. Where are the sequins? the feathers, the rhinestones, all the feminine flounces and tulle? Where in God's name are all the jewel tones? Has the world gone mad? Then, after several more perusals, the items started to grown on me. Yeah, it ain't Marc Jacobs (who thank goodness, will continue his own iine), but its someting new and different. The length of the skirts aside, I think the pieces are wearable and though a blast from the 70's, a more refined version. If the same French elves remain in the Louis Vuitton atelier, all will be well. This piece screamed my name. I particuarly like the blue black combo which has been all the rage the last several years. Most likely the skirt lengths will be more in tune with the woman on the street at production.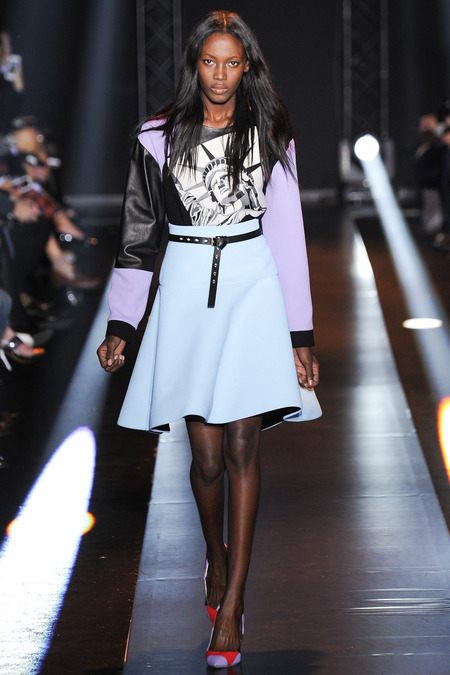 FAUSTO PUGLISI
I'm a fan of anything in the blue purple category which includes any permutaton of lavender or lilac. The leather (here we go again) provides a hard contrast to the more feminine pastels. The A line cut of the skirt puts this into the wearable category. The powder blue color makes the skirt just a bit unusual.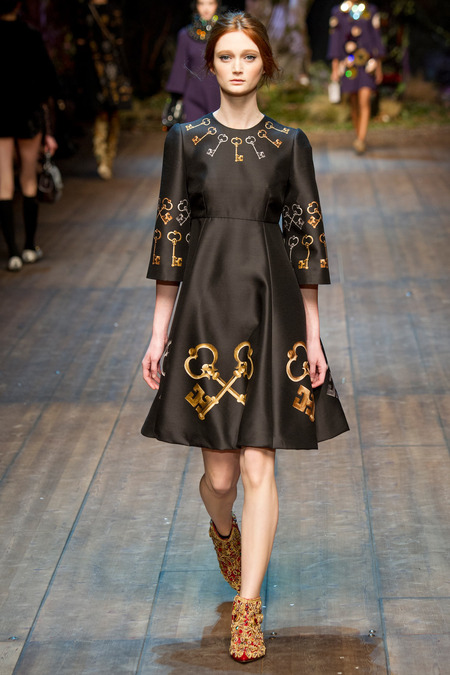 DOLCE & GABBANA
Back to the fall winter D & G, who put on one of THE most spectacular runway shows of the fall winter season. I'm still swooning. However, all I kept thinking while gazing at the images was yikes, $$$$$$$$. This piece however captures the essence of the show, harkening back to Camelot, without too many zeros. A more unusual "little black dress" that might also double as a tunic.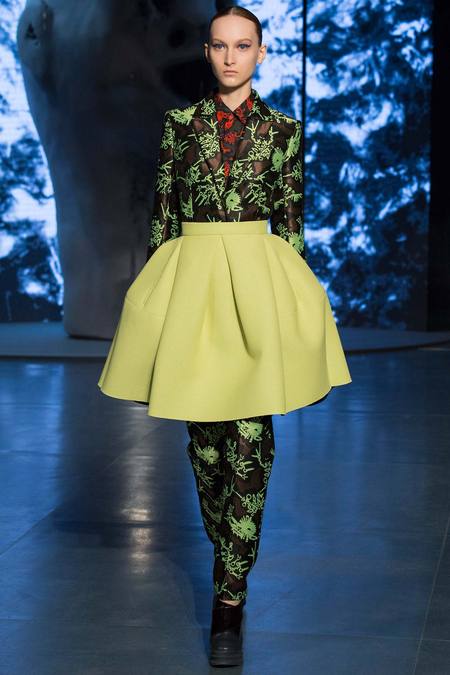 KENZO
Ok, throwing a short skirt over a suit is pure theatrics. But take a gander at the skirt! This silhouette in the vibrant almost neon green isn't for everyone. But the lines are fun and flirty. Just a fitted T-shirt with flats, or shoe booties for the hip factor, are all you need to acompany this beauty!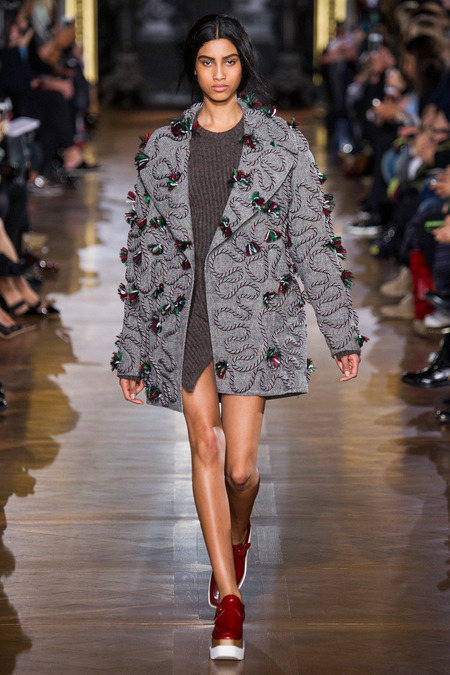 STELLA MCCARTNEY
Every time I look at this festive jacket, it puts a smile on my face. A good layering piece which can also masquerade as a Christmas frock. Red, white, green, candy canes....yum!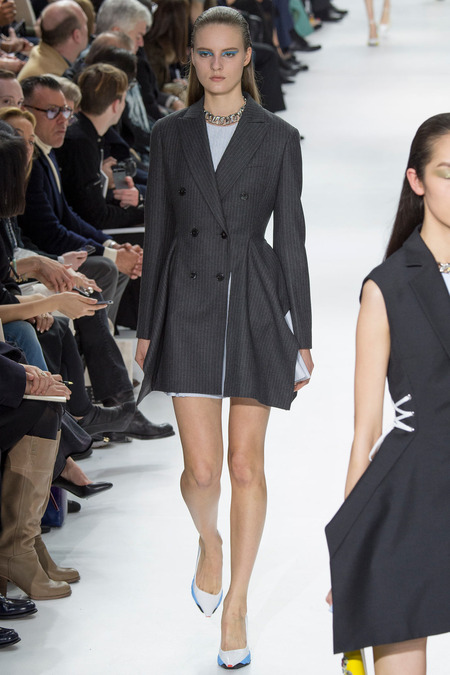 DIOR
The new pinstripe in the newly iconic Dior silhouette. Lets hope Raf Simons keeps this in his stable of finery. Go bold and sexy and wear it as above, with black pants, OR Jodhpurs!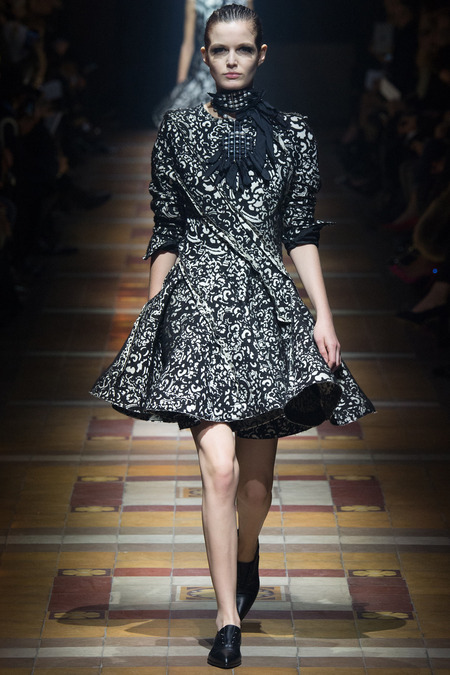 LANVIN
This beautiful dress won't come cheap, but the silhouette is perfection, covering any imperfection you might conjur up. This is also somewhat pragmatic in that its stunning and flattering enough to work at the Opera or Symphony opening, but paradoxically is all purpose, and could be worn to run around town, to a wedding, or out on a first date. It won't be one of those uncomfortable mistakes that gets worn once and then thrown into the pile of shame in the closet. Gone are the days that I buy a garment for an event with no thought as to what I'll do with it after the fact. Wear this with patent heels or with boots for more casual effect.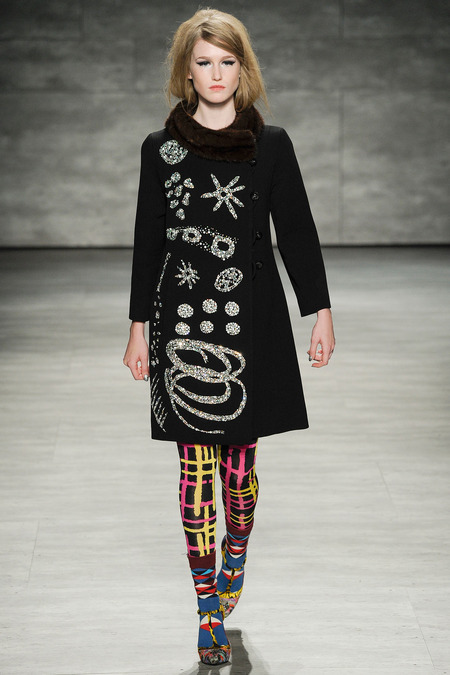 LIBERTINE
Another of my favorite shows, Libertine never disappoints. An updated 50's silhouette down to the little mink collar, but jazzed up with rhinestones. I'd wear this thing EVERYWHERE over anything.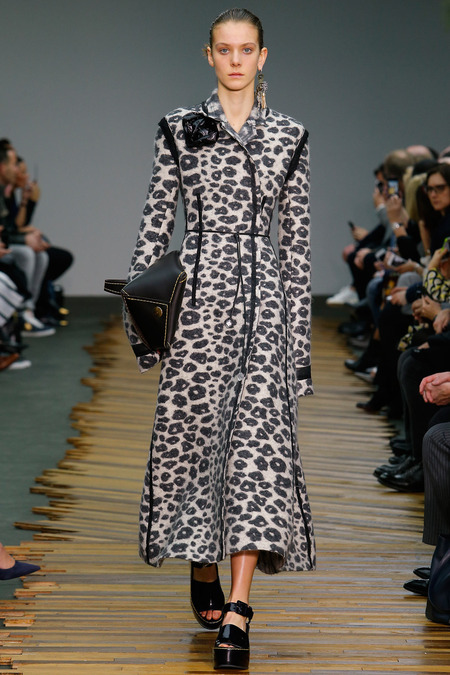 CELINE
Leopard print is ubiquitous on the runways. This is a less literal version with the pastel backround for the leopard spots. More casual lux you can wear on any occasion.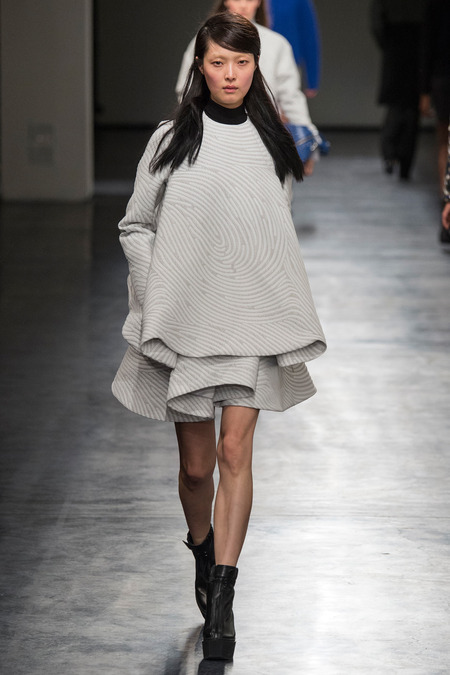 OPENING CEREMONY
I admit, one has to be a bit adventuresome to be comfortable in this silhouette, not feel as if you have awakened in your third trimester. I think this is just so different and fun! Whimsical and wacky, but comfortable and easy. Put it over opaque hose (Wolford comes to mind) or black leggings, and boots.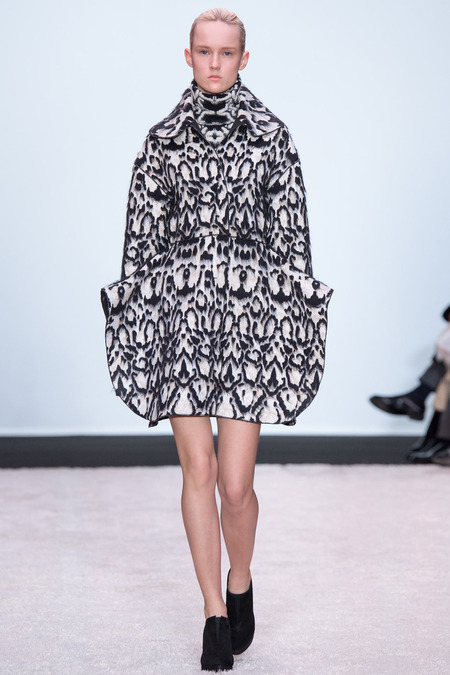 GIAMBATTISTA VALLI
Maybe I'm easy, but I love everything this guy does. This reminds me of a rorschach test, is it critter print, an alien butterfly? I tried this one on at the Sak's trunk show, very flattering curious silhouette in a lightweight wool. Valli must really love women, the clothes are incredibly beautiful, well crafted, with the agenda of making a woman alluring and feminine. I might add that the pricepoints are reasonable in the context of similar designers.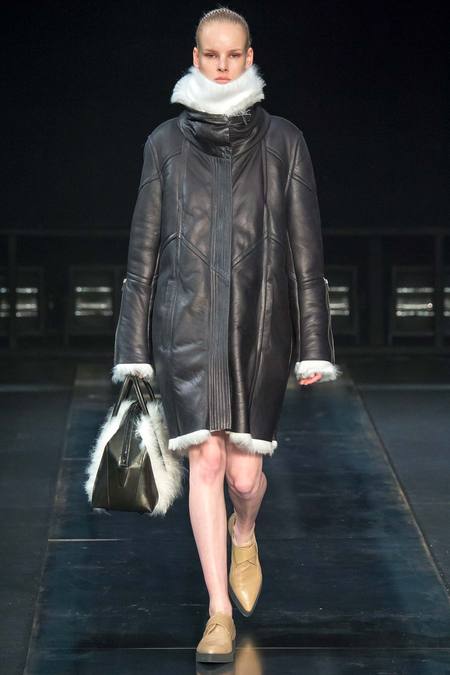 HELMUT LANG
LOVE this. Reminds me of my favorite leather jacket from college. Big was well, big, in the 80's. If you are going to buy one leather jacket this season, let it be this one.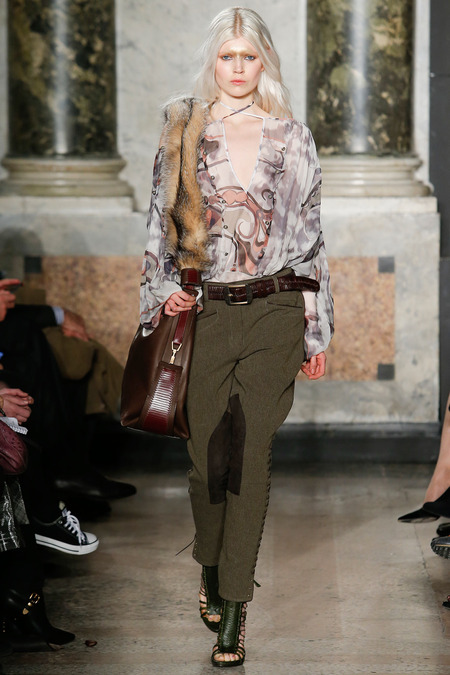 PUCCI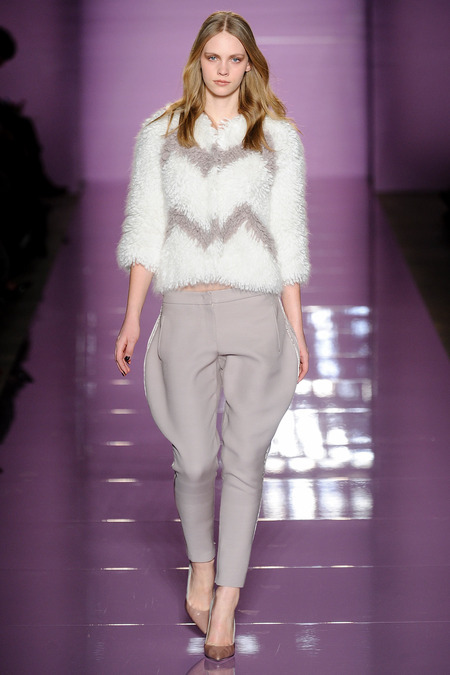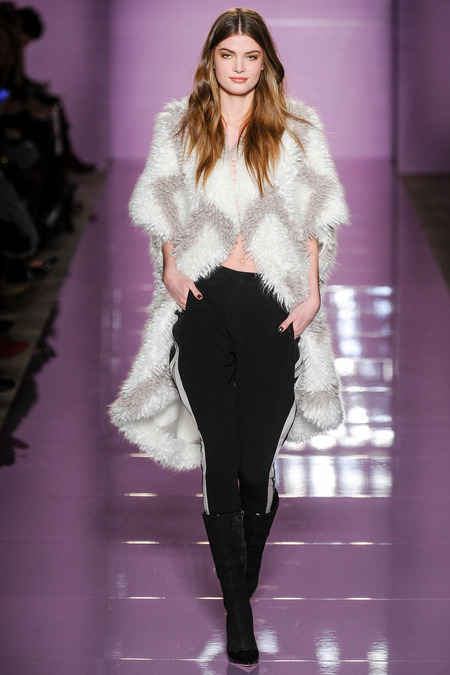 LES COPAINS
These last three images are included for the JODHPURS! If you are sick of the usual skinny jeans, if you want a wearable versatile pair of pants that look good with heels, shoe booties or boots, add a pair of these to your fashion repetoire.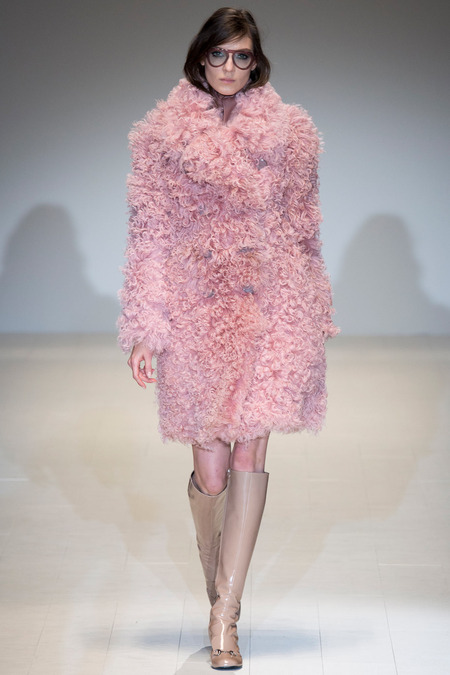 GUCCI
Ok, I want to LIVE in this thing!!!!!!!! Hands down my favorite shearling of the season. Good lord this is just scrumptious! Its like a cotton candy dream with shiny buttons. God bless the chick who gets to tool around town in this! And the boots are also pretty damn cool!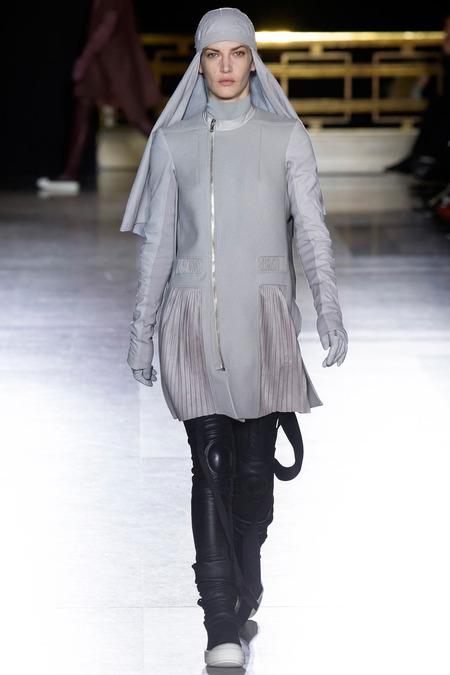 RICK OWENS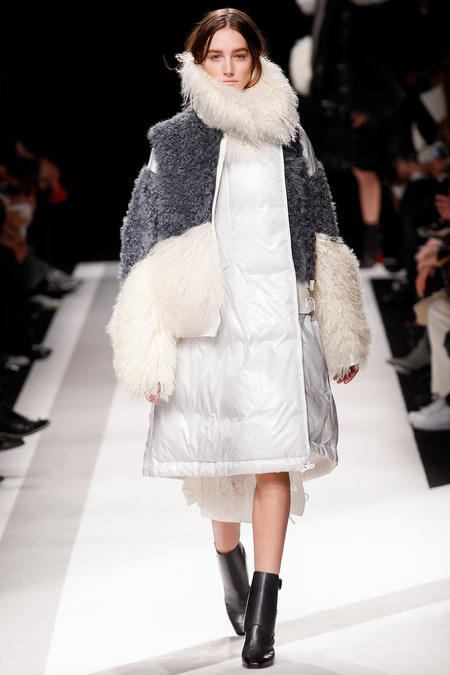 SACAI
These two coats fit into the wacky but wearable category. Rick Owens typically designs for the hip biker chick in us all, this collection had those elements, with a 2001 Space Odyssey vibe. Space, the final frontier......Sacai adds needed whimsy to the puffer.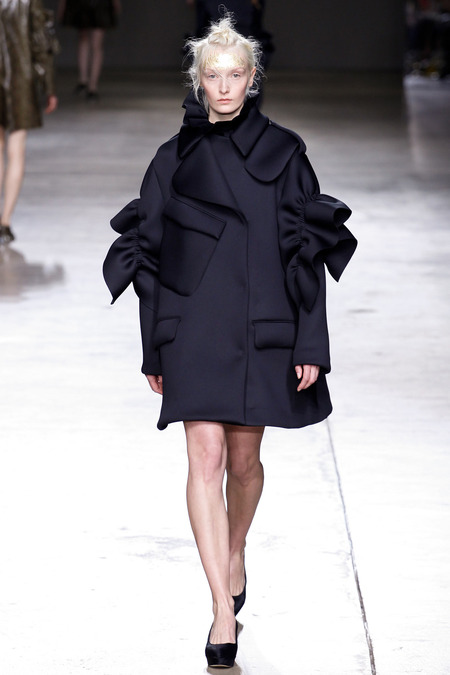 SIMONE ROCHA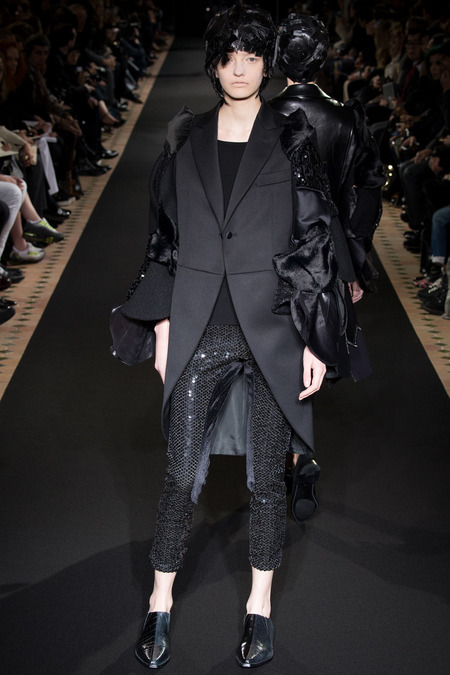 JUNYA WATANABE
Ironically enough, despite my constant attempts to evangelize COLOR, these last two pieces are amongst my favorites. Even though they tend towards whimsical wacky, because they are black they can be worn on a host of occasions, casual or formal. There is appropriate coverage of body parts, but more than the usual visual interest, with ruffles and sequins in the mix! Simone Rocha has become one of my new go to designers.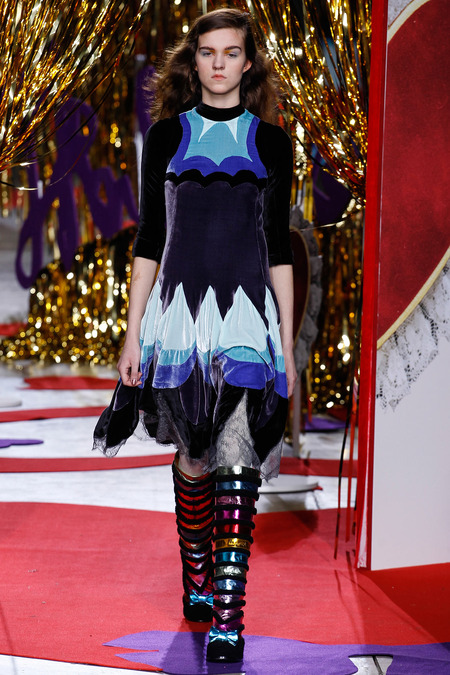 MEADHAM KIRCHHOFF
And no post would be complete without my fav! I am perpetually yearning for velvet, and this duo is obliging, thank goodness! Vibrant colors in stretchy velvet, what could be better? This would also be a great opening dress, to be worn even after all the hooha is over!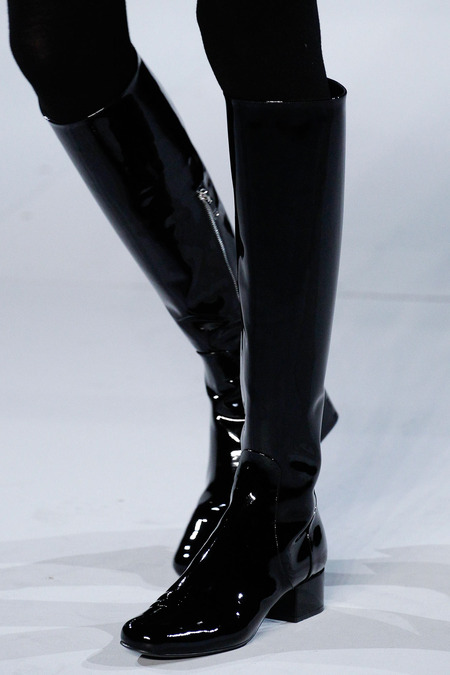 SAINT LAURENT
This is the PERFECT pair of boots. Square toe, just high enough heel, zipper detail. Wear these with any of the fashions above!
Stay warm, stylish, and comfortable!
Images brought to you by www.style.com