Halloween is over, the Christmas decorations are on the shelves at Walgreens, and it gets dark at 4:30 pm....so apparently Winter is upon us. Which means its time for THE SWEATER! One of my personal favorite pieces of clothing. Warm, fuzzy, with a propensity for the wild and wacky, and best of all? The BIG sweater covers the ass! Huzzah. And if all you can find is a waist length option, fear not, just throw over a long white cotton shirt. Think l a y e r s.
The bigger the sweater, think of pairing with narrow and pared down silhouettes, whether a skirt or pants. Leather for instance. The contrast between big and wooly and sleek and sexy is quite delightful.
Ahhhh, brings back happy memories of 9 years in the East Coast wearing voluminous fuchsia mohair and capacious multicolored Laura Ashley sweaters. Of course in those days leather pants were not in my fashion lexicon. I had no qualms about doubling down on the big and bulky. After a couple of decades, I came to my senses. Ditch the ankle length corduroy dresses for the leather leggings.
Now for a few fall winter woolen options to face the blustery winds and wintery flurries!
STELLA MCCARTNEY: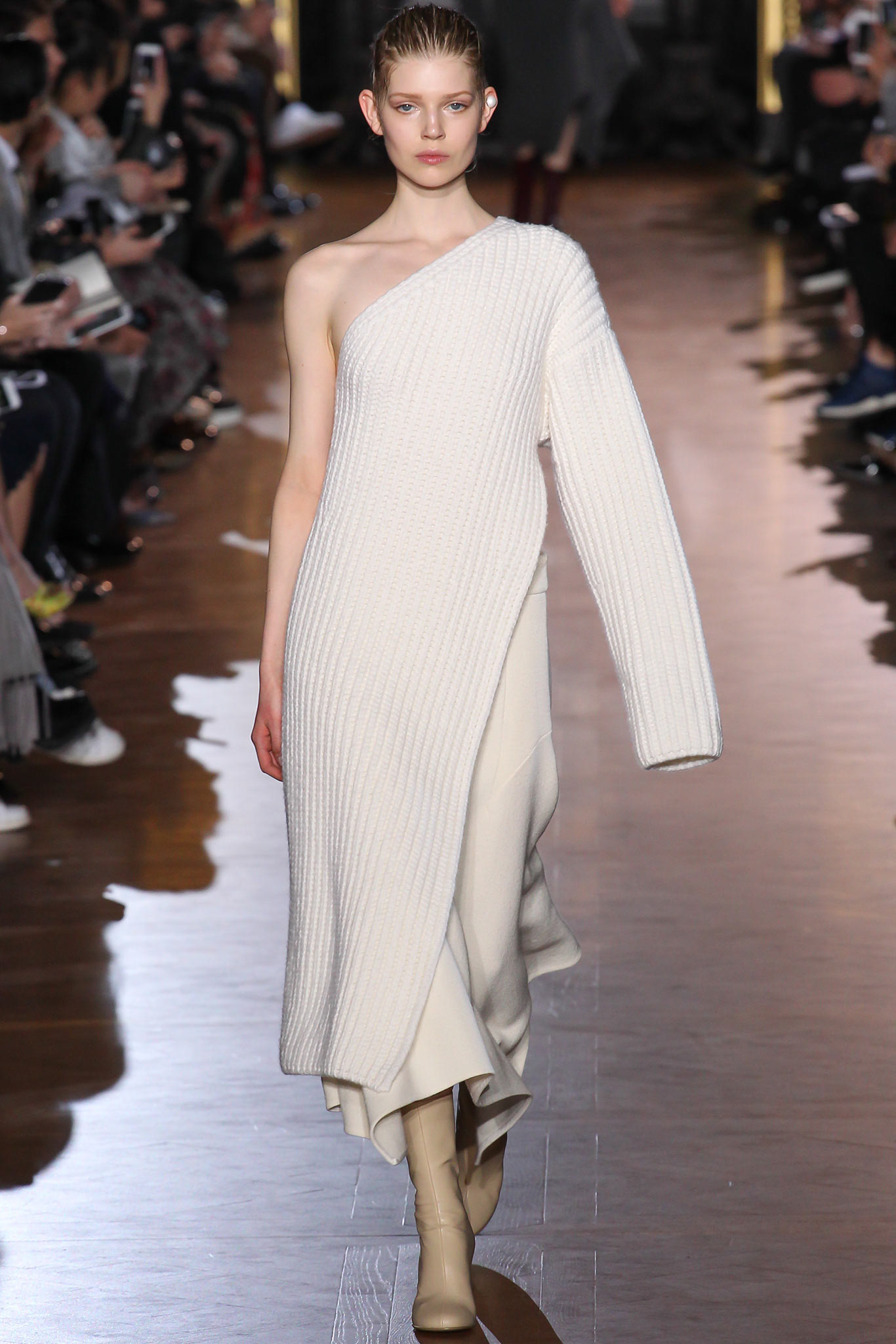 Mod and cool winter white ensemble.
OPENING CEREMONY: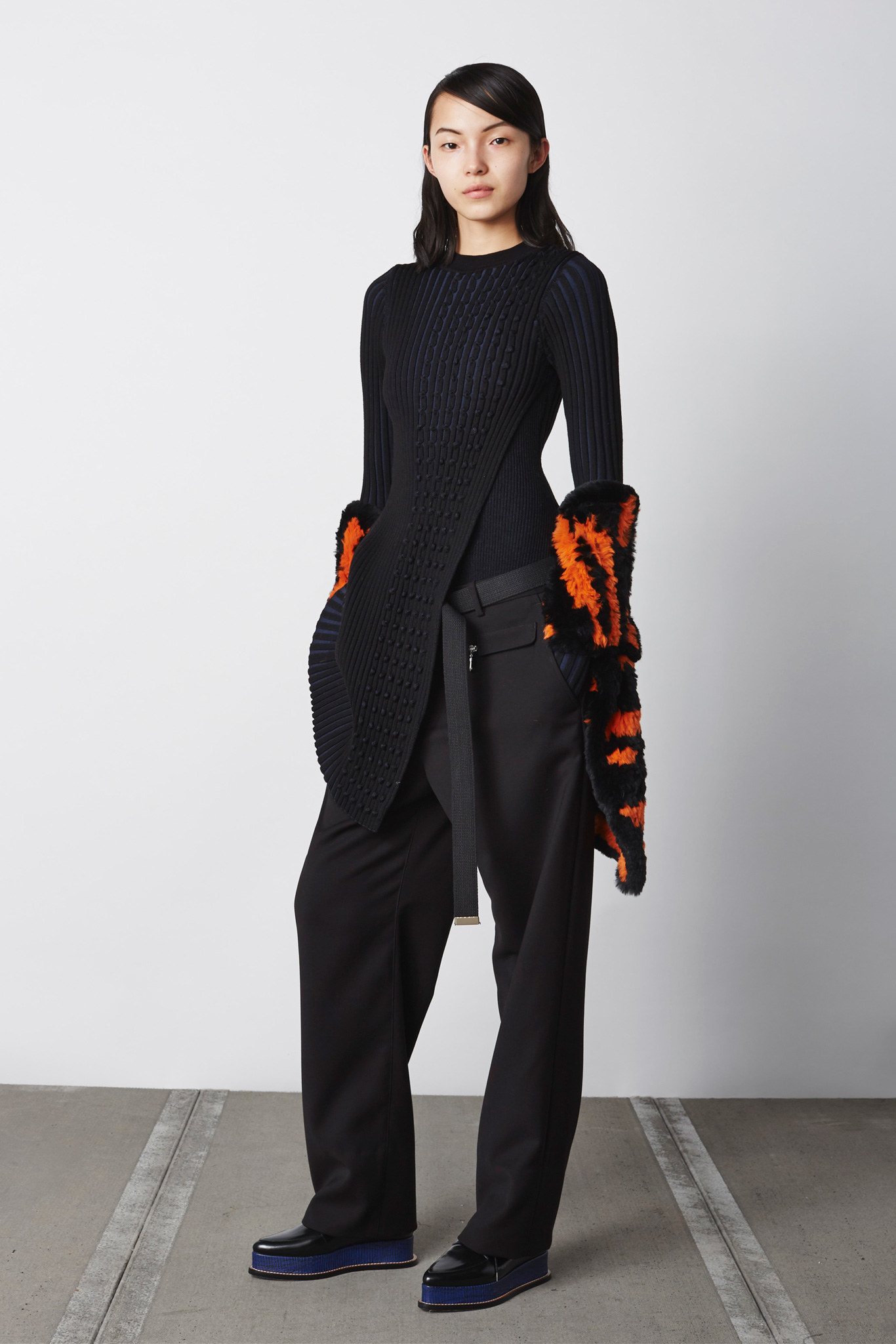 Another modern entry. Ninja Kool. Perfect with those platform shoes.
COACH: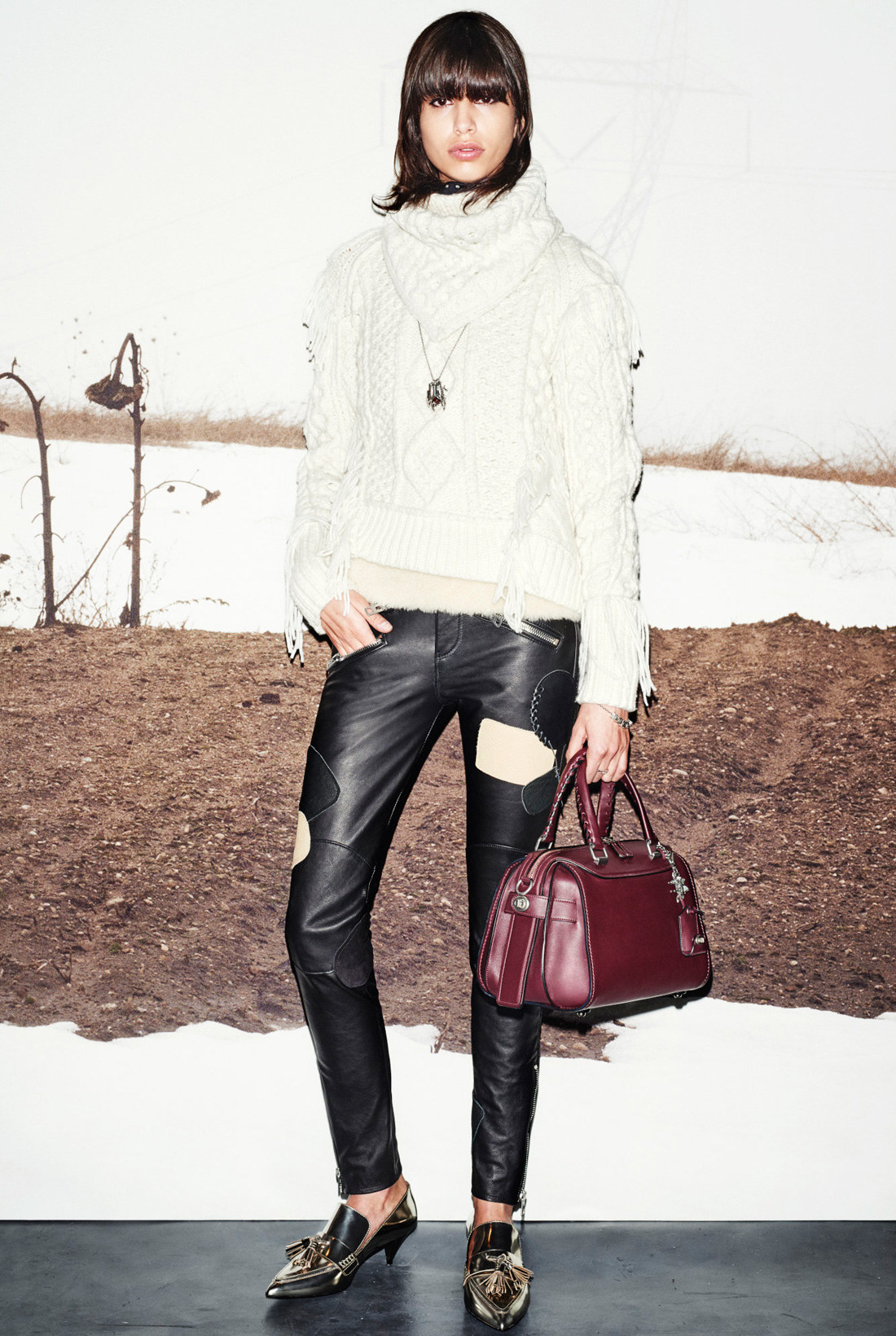 The iconic fisherman turtle neck, perfect over jeans or leather leggings. We all need at least one.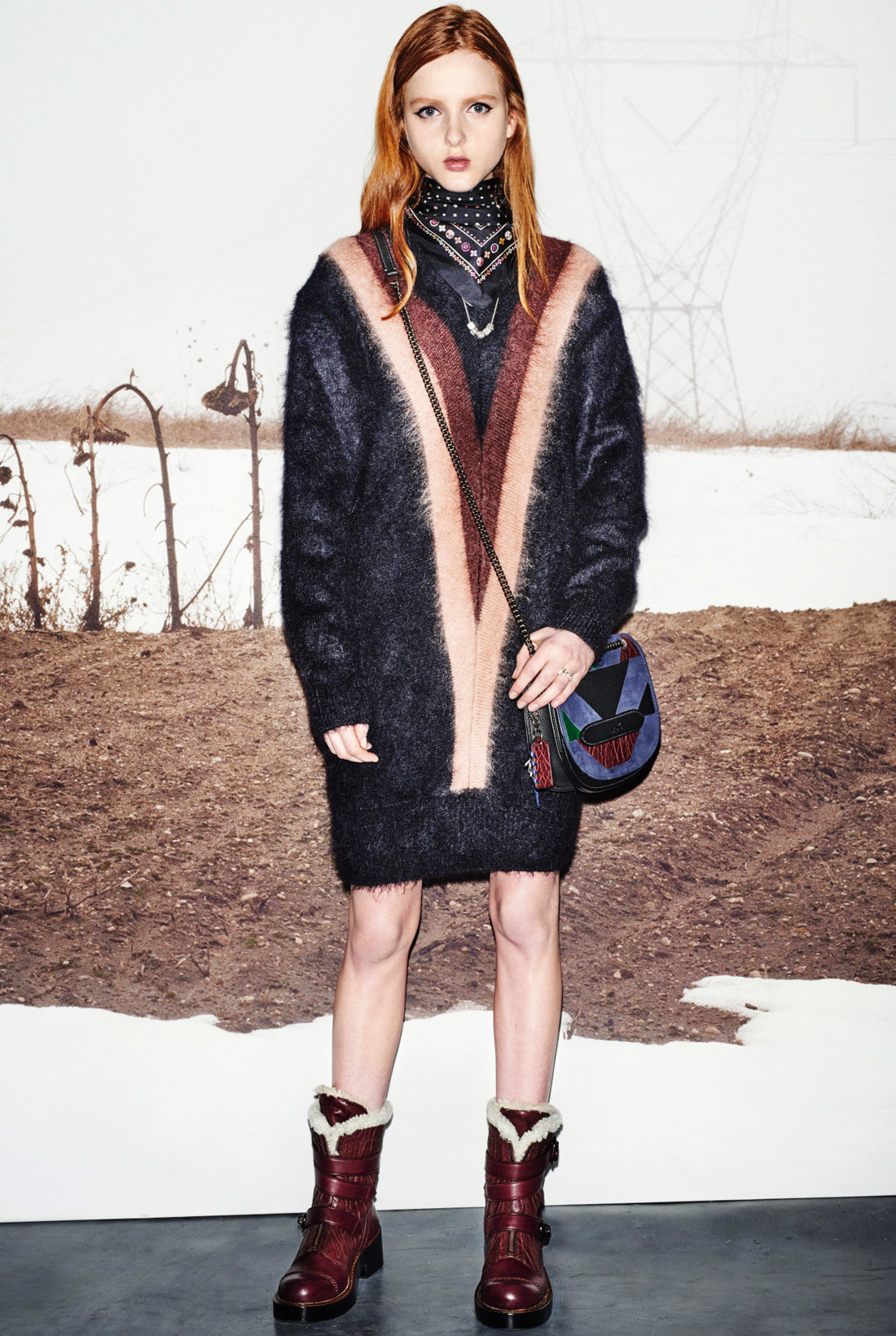 You have to love a piece of clothing which can do double duty….here, a sweater dress and tunic.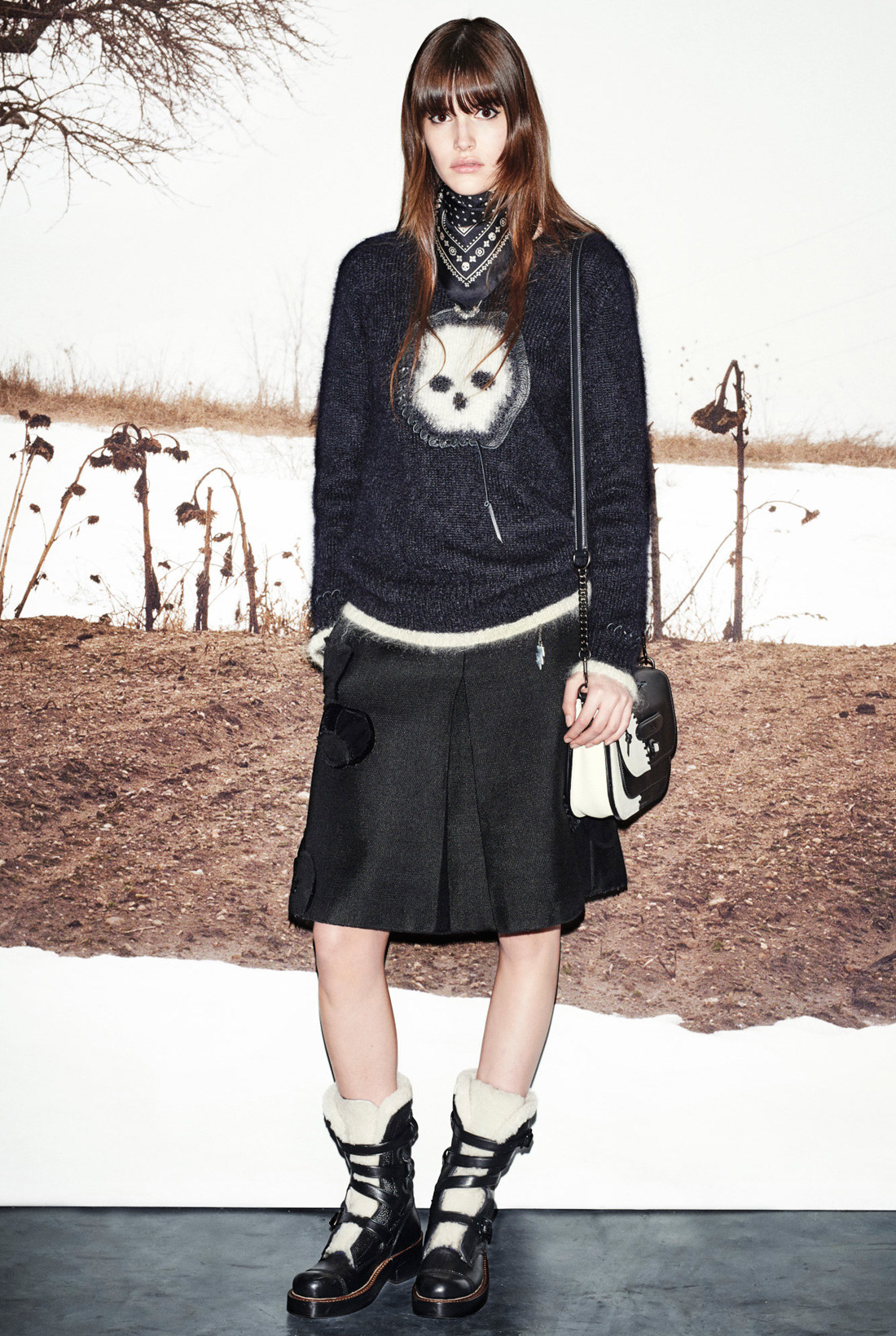 Because who doesn't love a touch of the macabre in their closet?
BELSTAFF: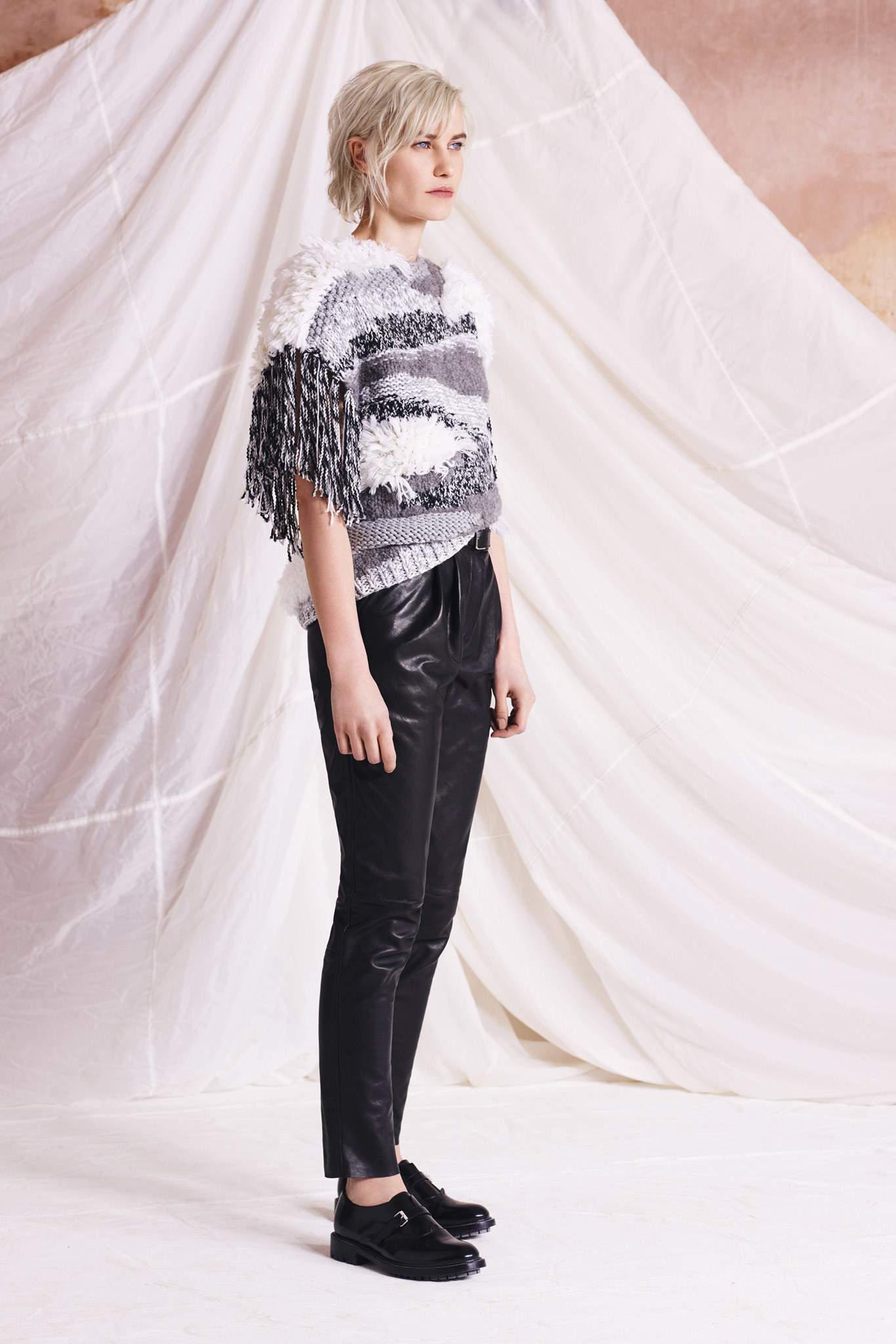 ADAM LIPPES: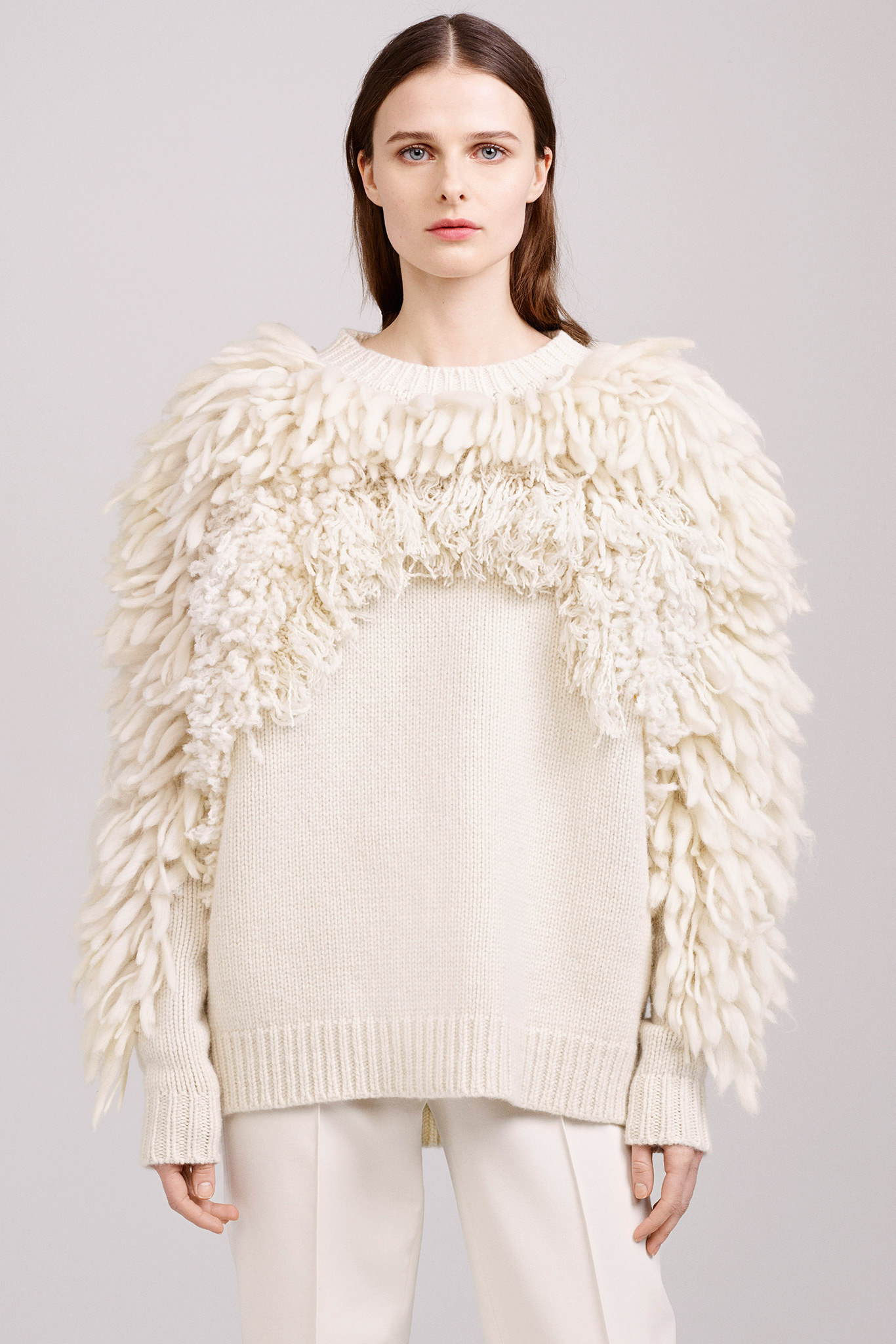 PHILOSOPHY DI LORENZO SERAFINI: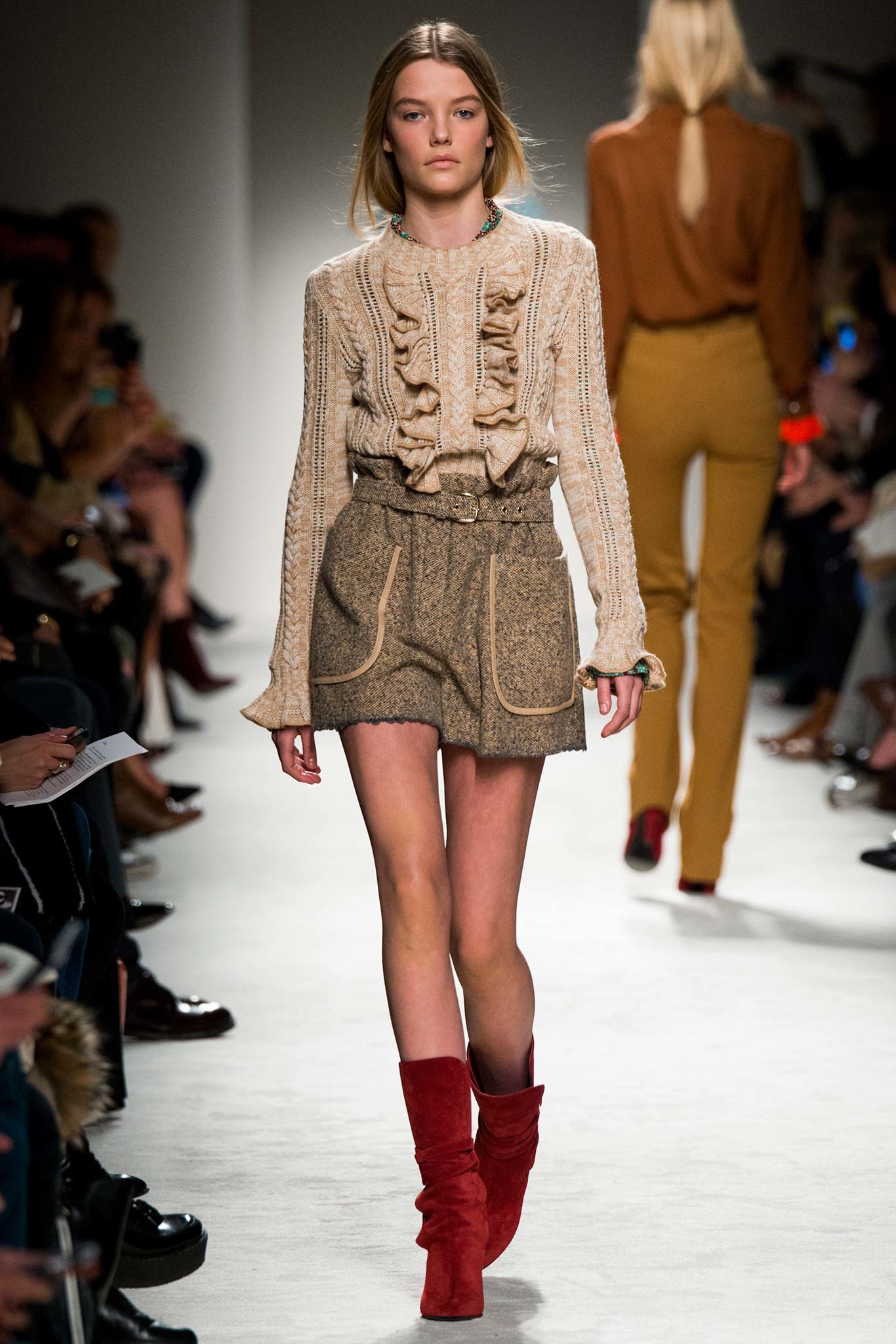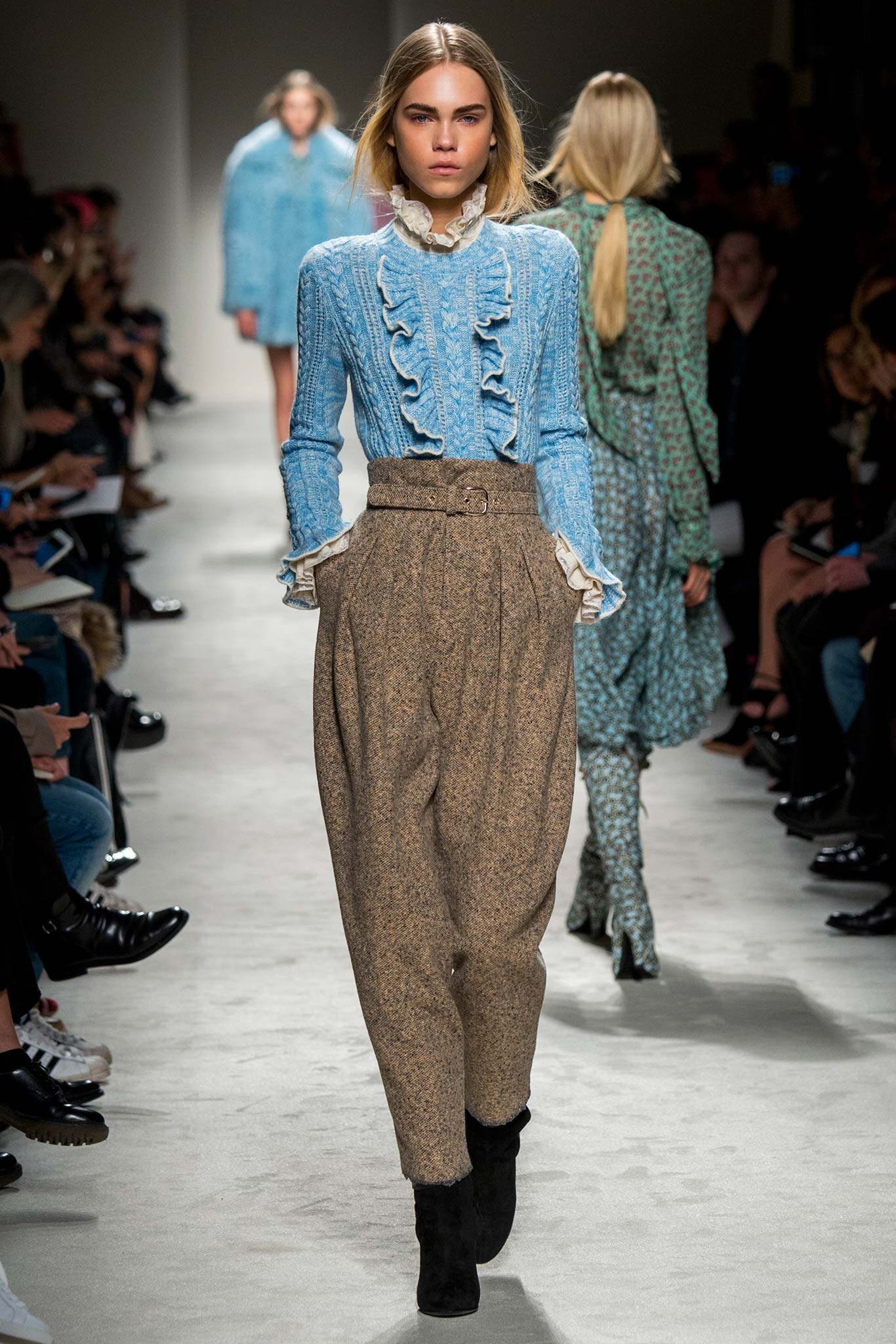 Think fringe and ruffles for drama and feminine theatricality.
SONIA RYKIEL: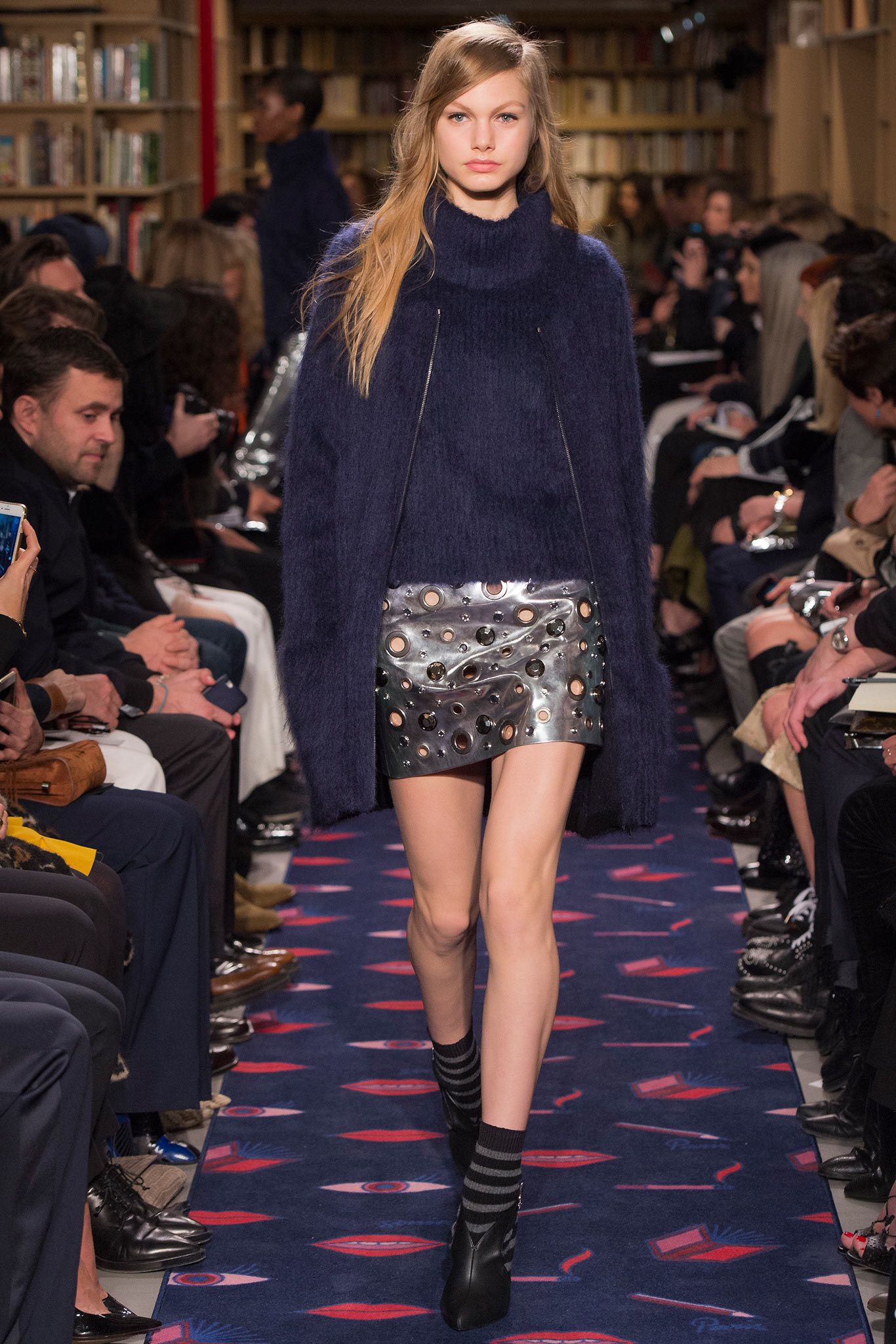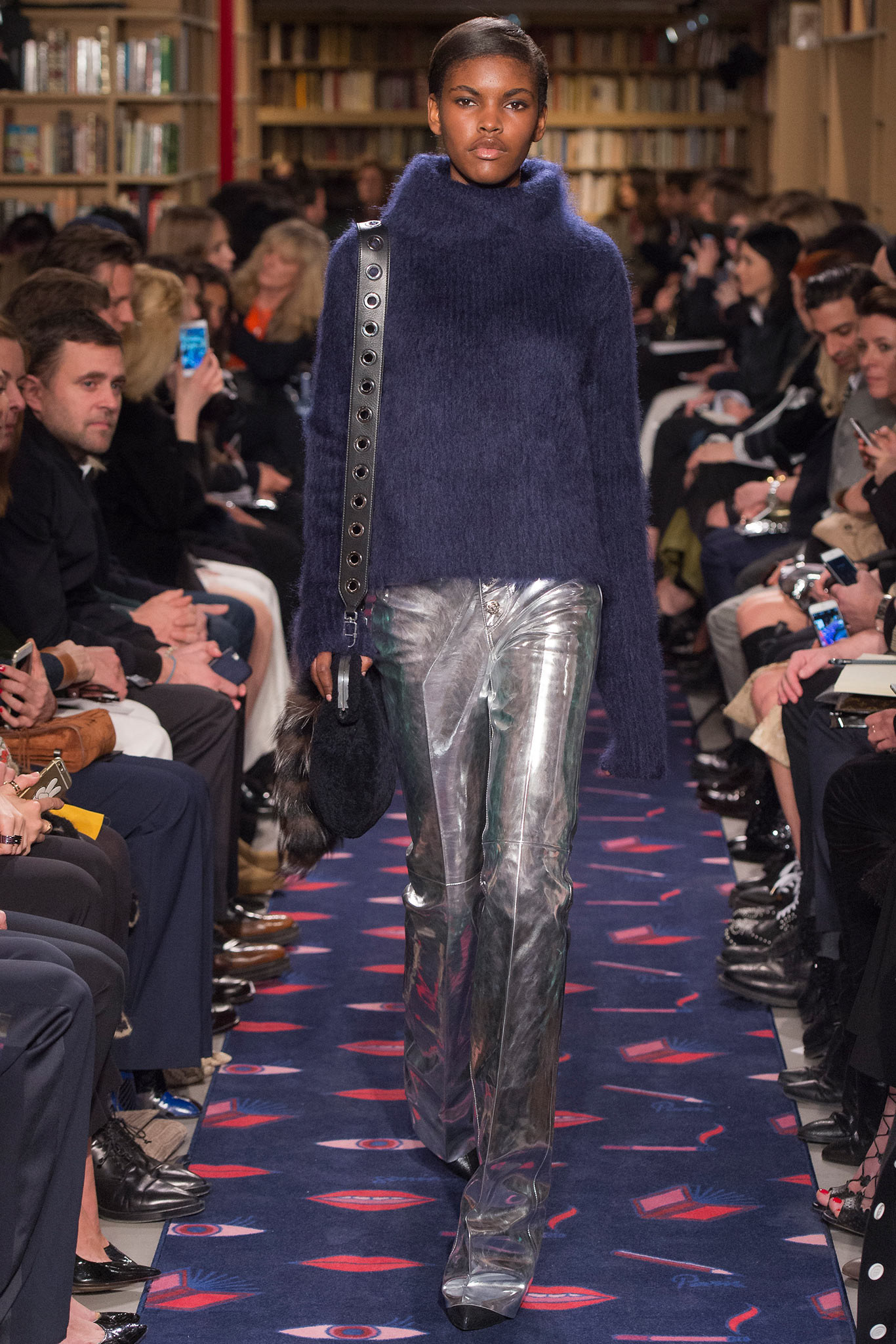 Deep subdued blue and sizzling leather combos. This is the way to glam up winter woolens.
BALENCIAGA: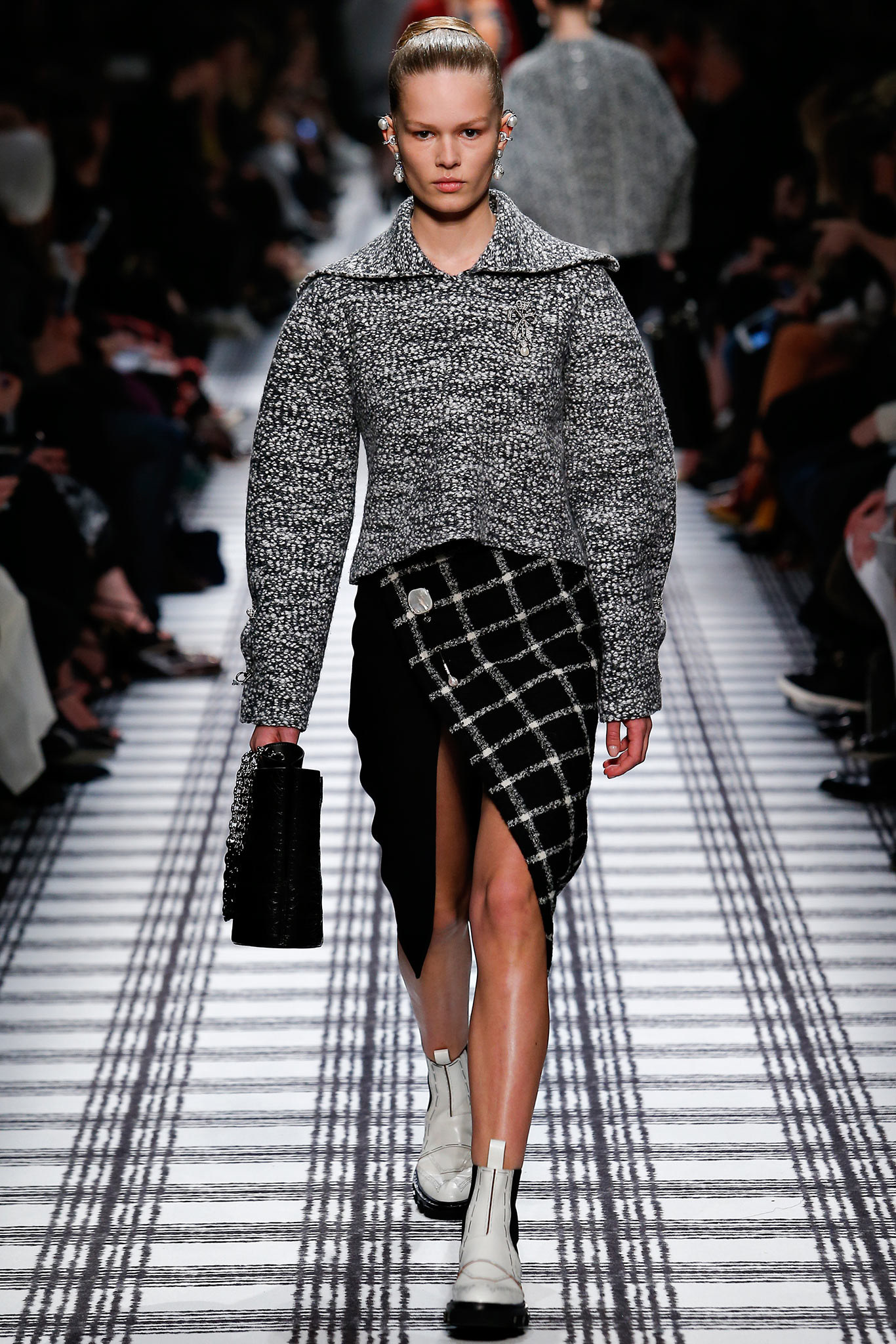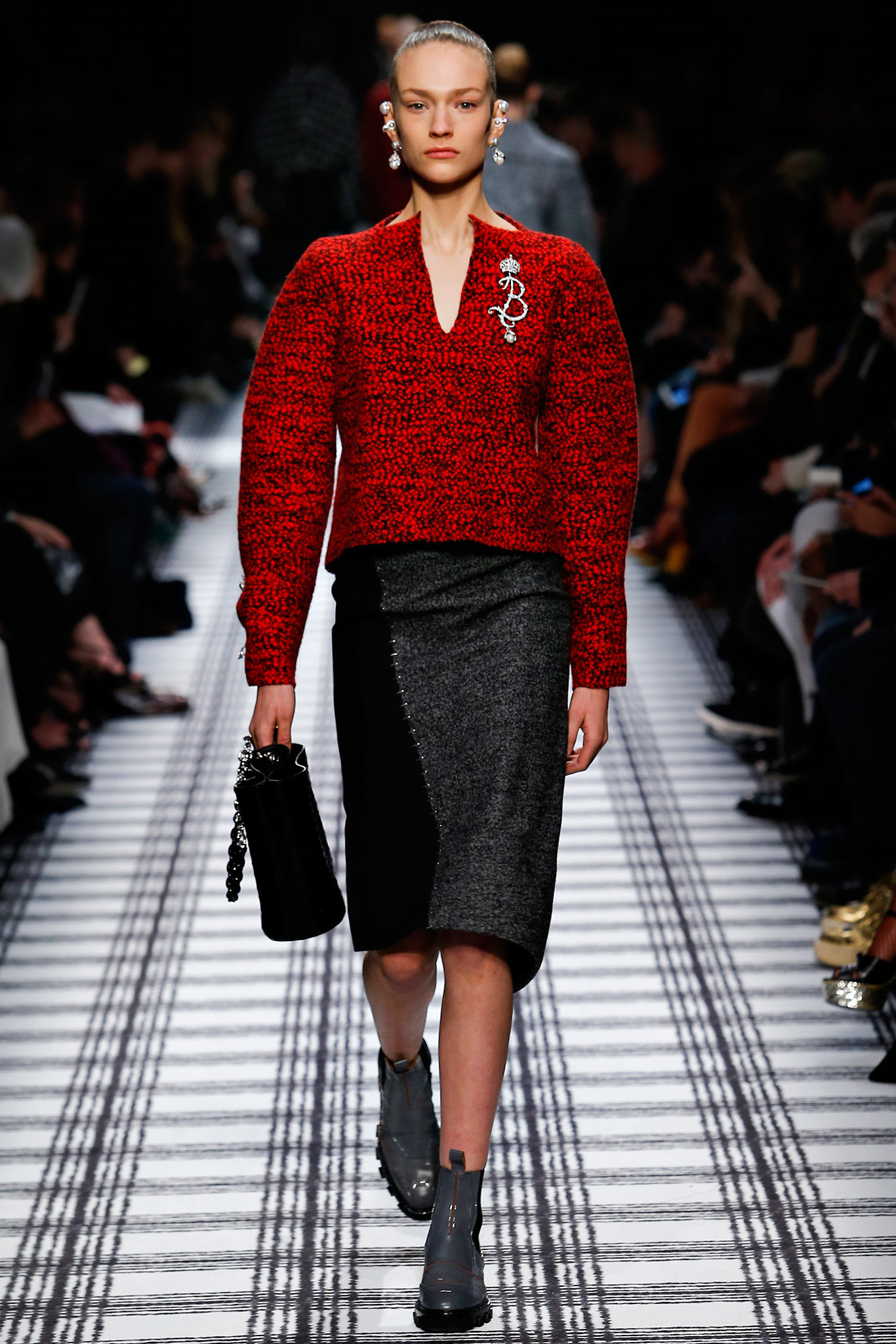 The sculptural element. Always think to add a brooch or three to any sweater, especially the more spartan options.
DKNY: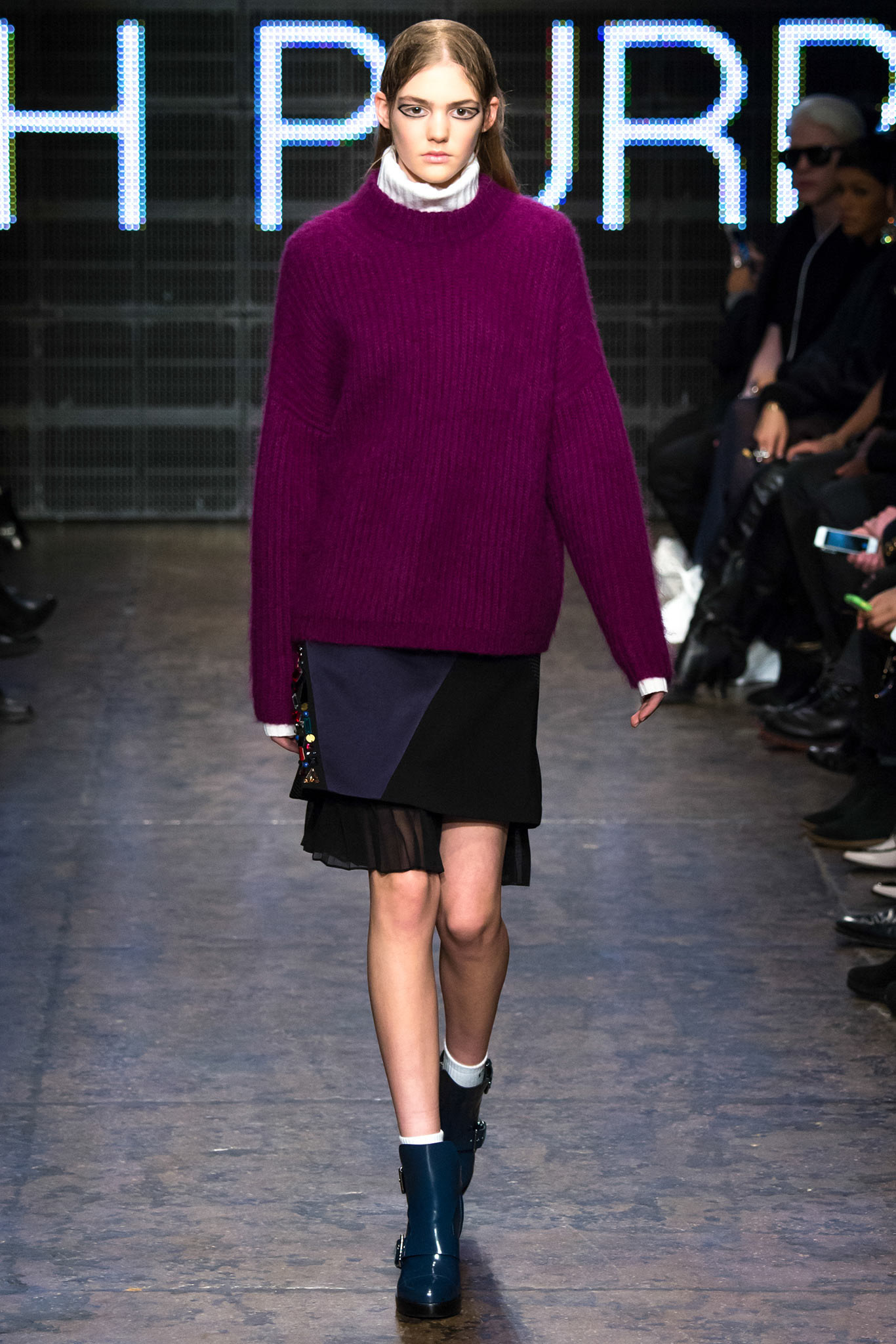 Yum…..cozy and comfy, perfect for a brisk walk through the park and then a movie. Why are theaters always so damn cold?
ANTONIO MARRAS: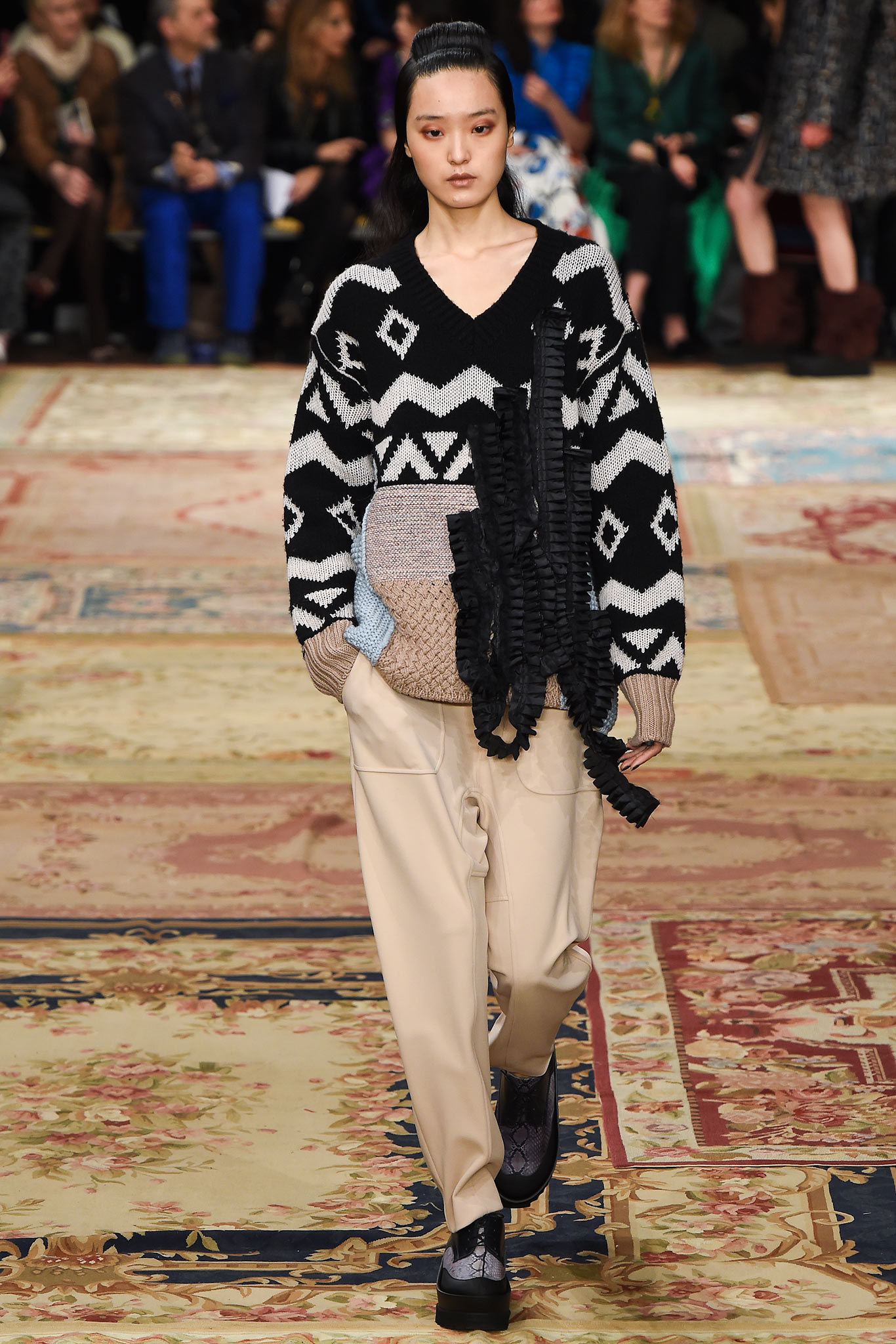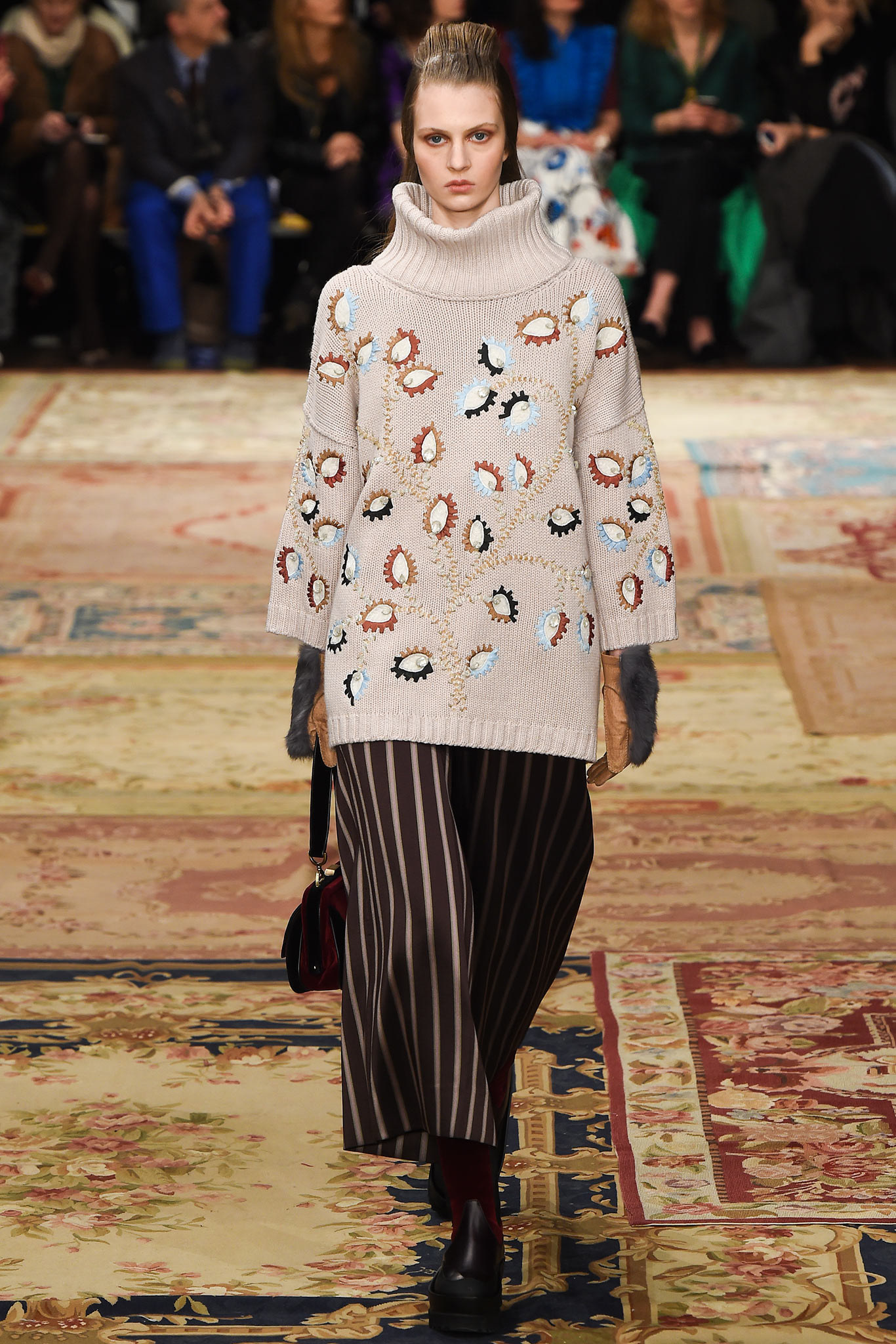 A sweater is a perfect time to try out bold, vibrant, wacky, or whimsical. Feel free to add gloves.
BLUMARINE: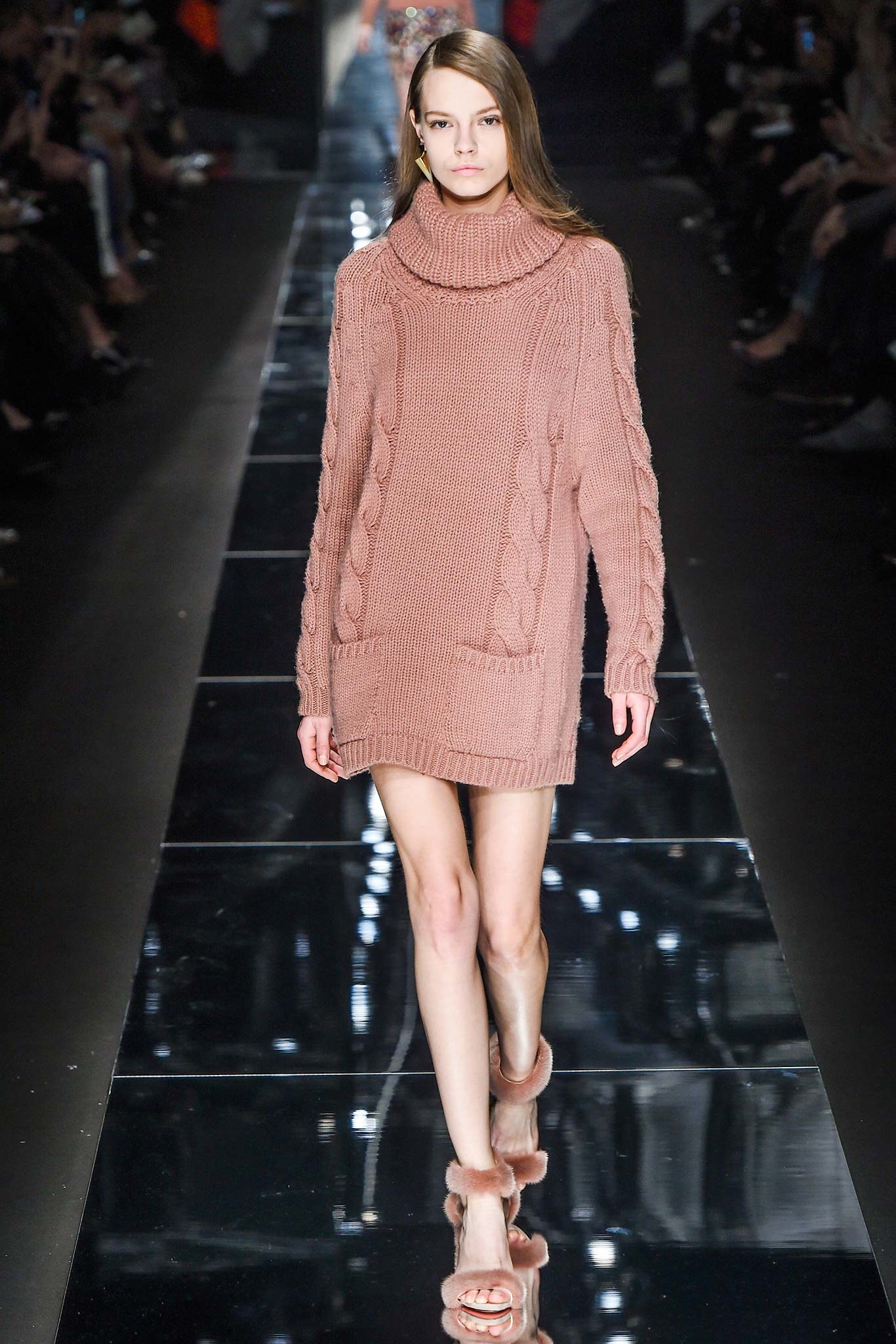 Big sweater or sexy winter mini? A good excuse to bring out the over-the-knee buccaneer boots.
ALEXANDER LEWIS: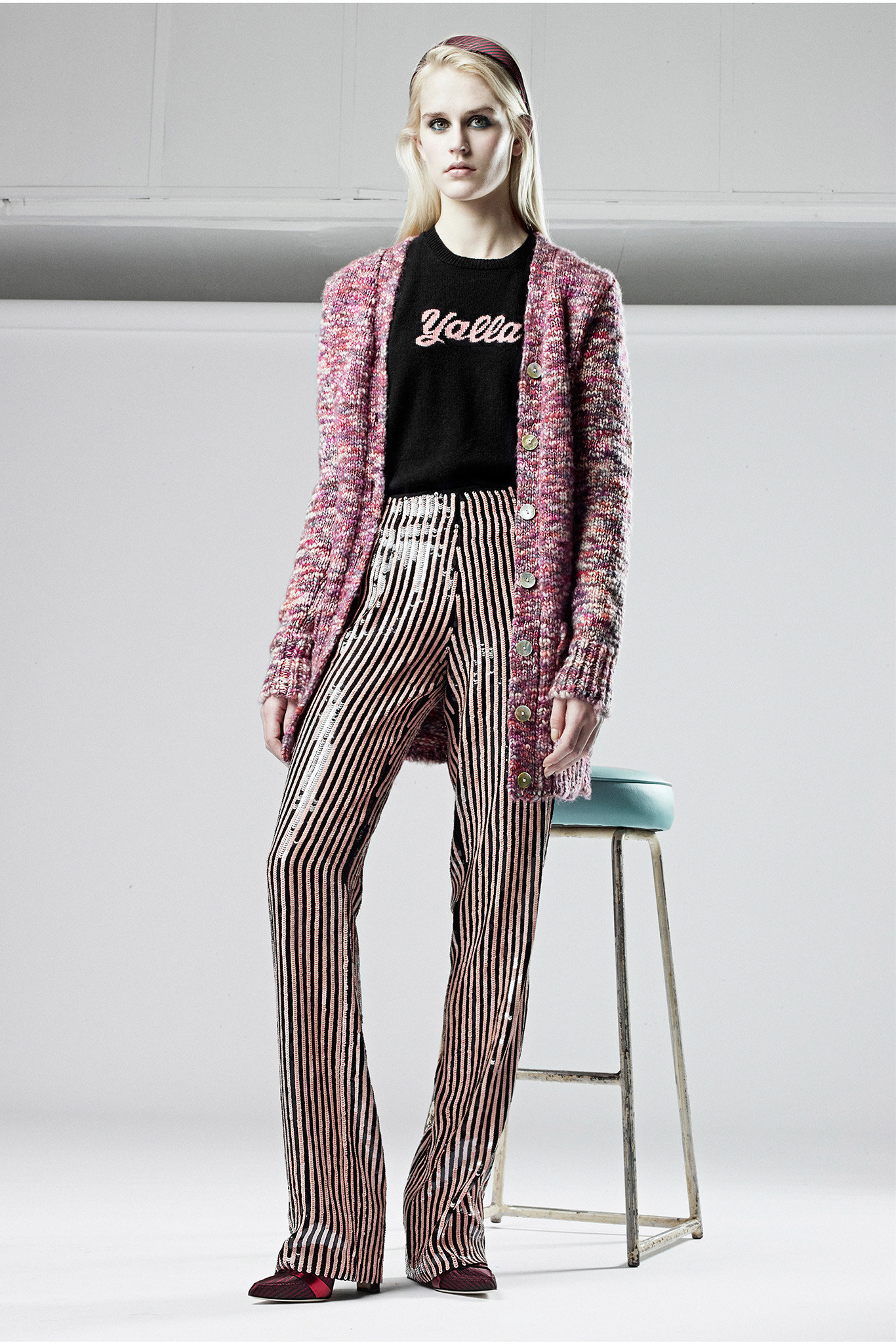 Never be afraid to mix a low key cardigan with a passel of sequins!
J.W. ANDERSON: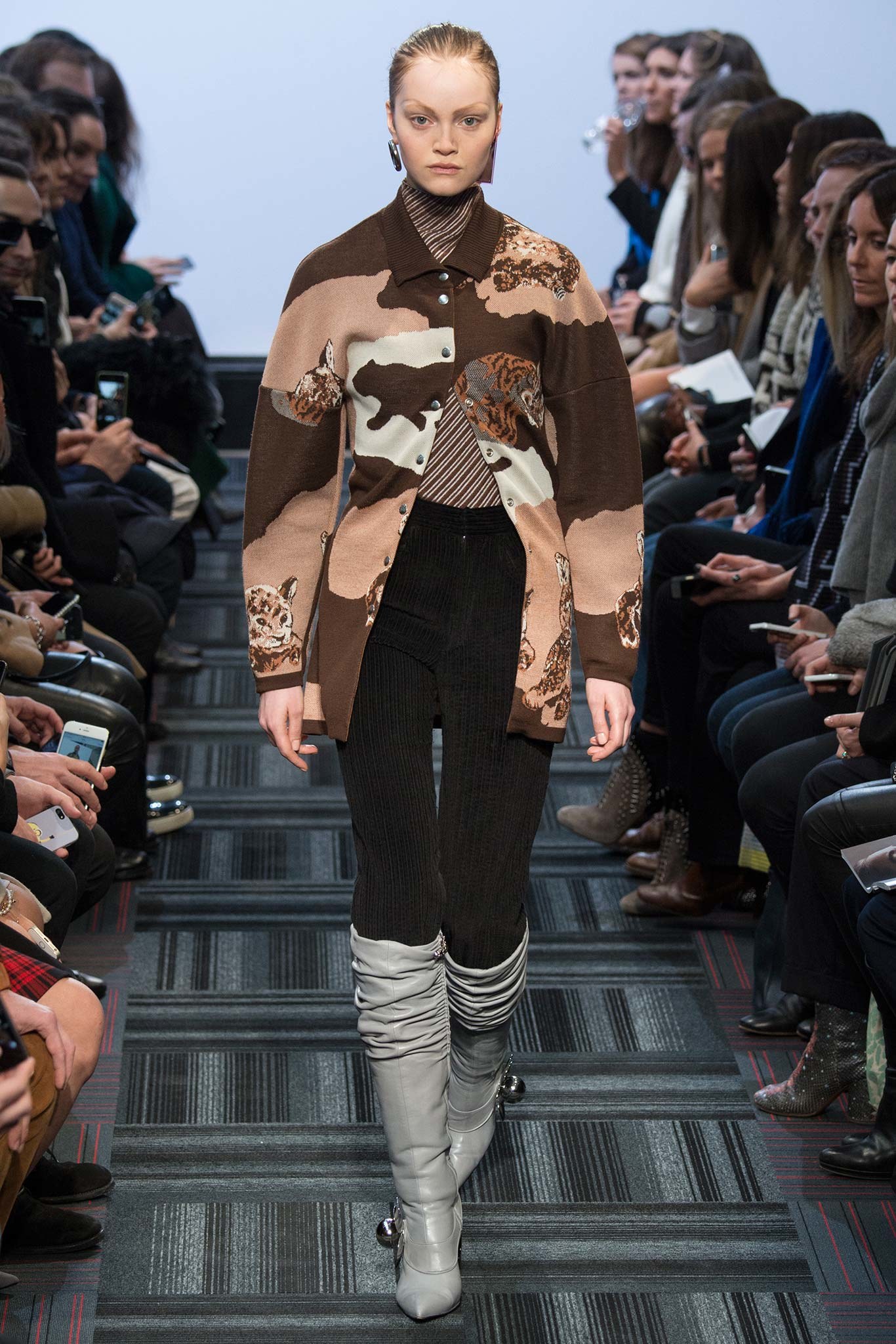 FINALLY, some Critters! The cardigan is a must have for traveling, especially when 35,000 feet in the clouds. You're either working up some stress sweat or freezing to death. When the shvitzing begins, the cardigan can be thrown over the lap as a makeshift blanket.
FAUSTO PUGLISI: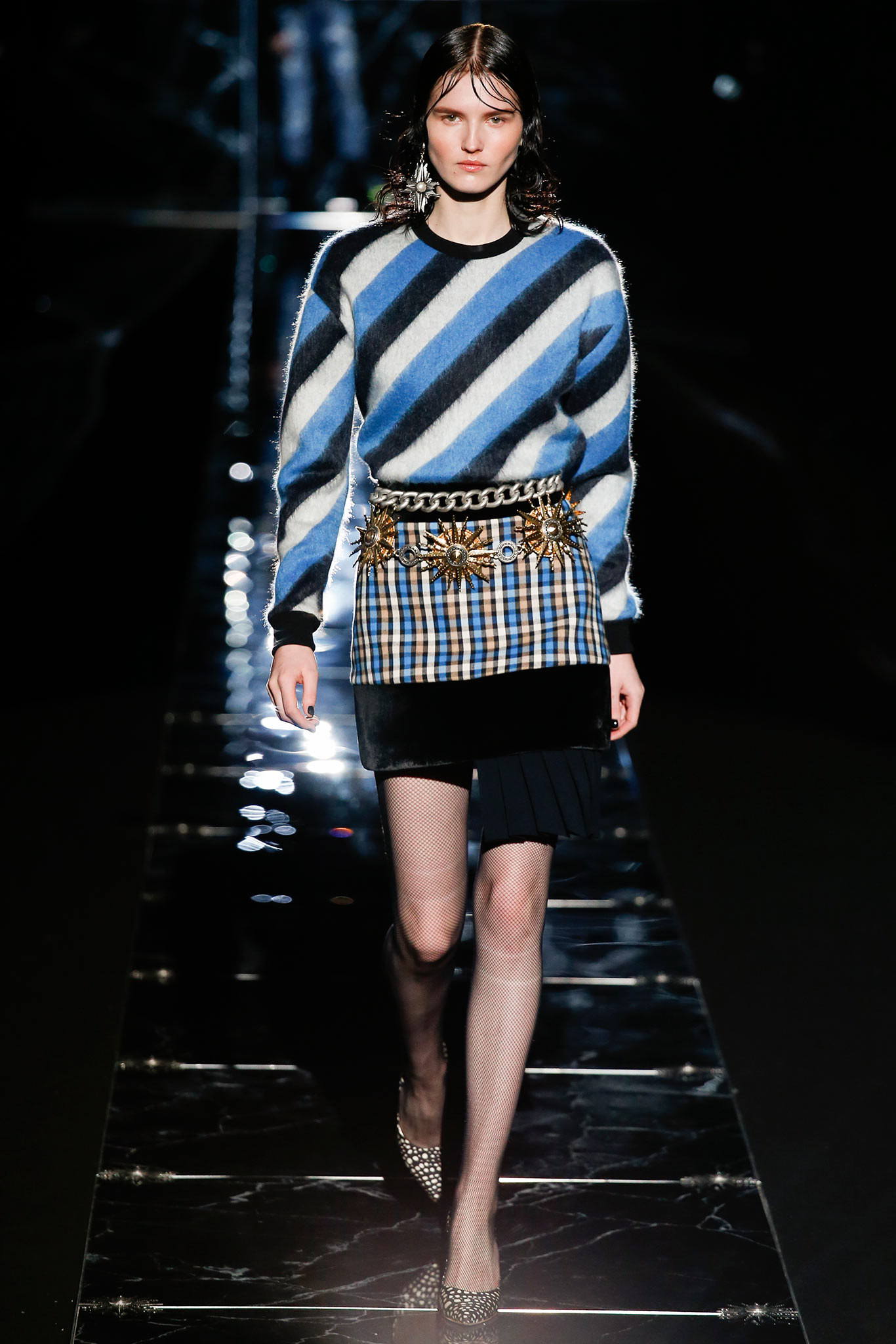 Mix patterns, mix textures, for eclectic joie de vivre!
GUCCI: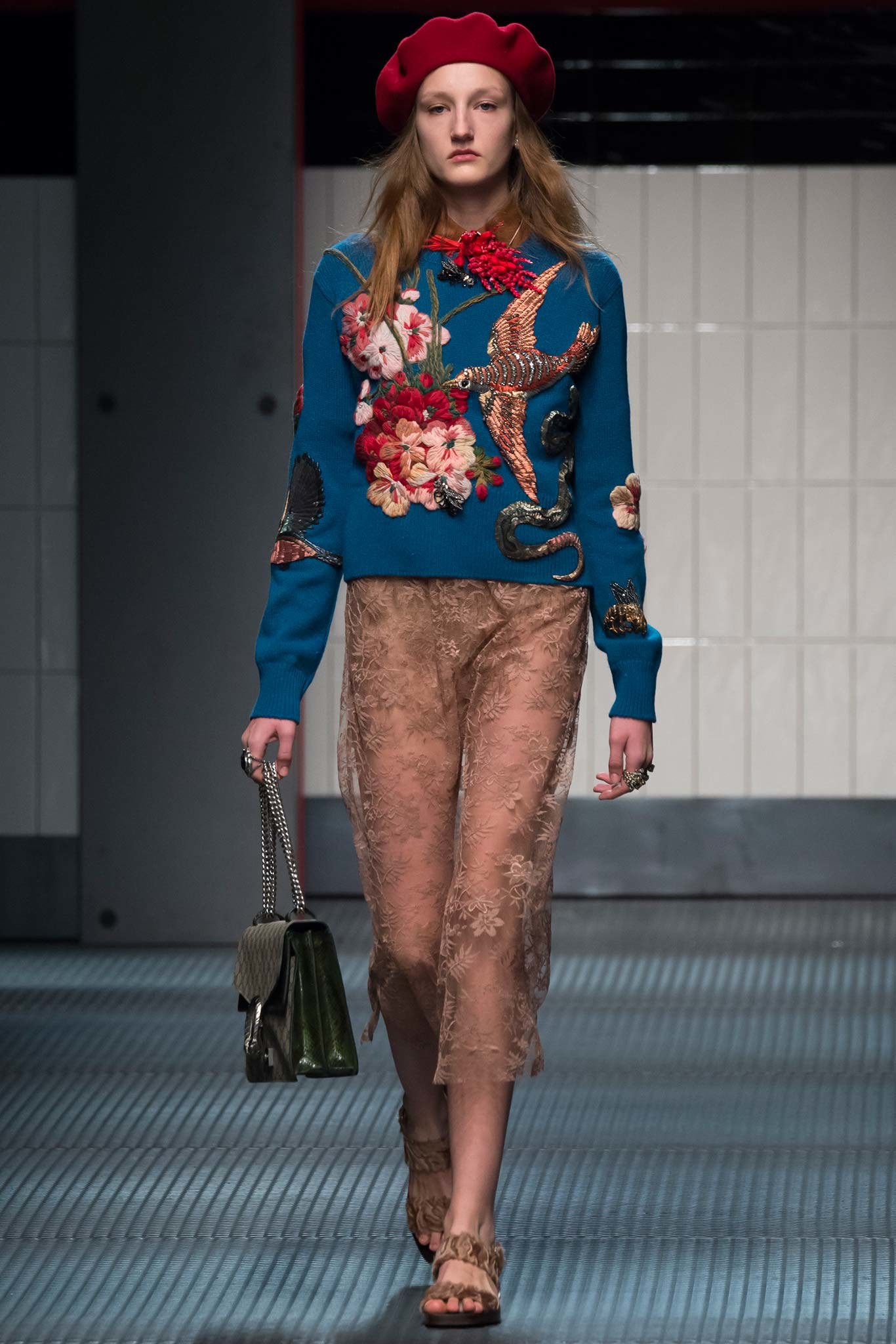 My favorite…..for the Ornithologist fashionista. A glorious piece from the first collection by Alessandro Michele.
MOSCHINO: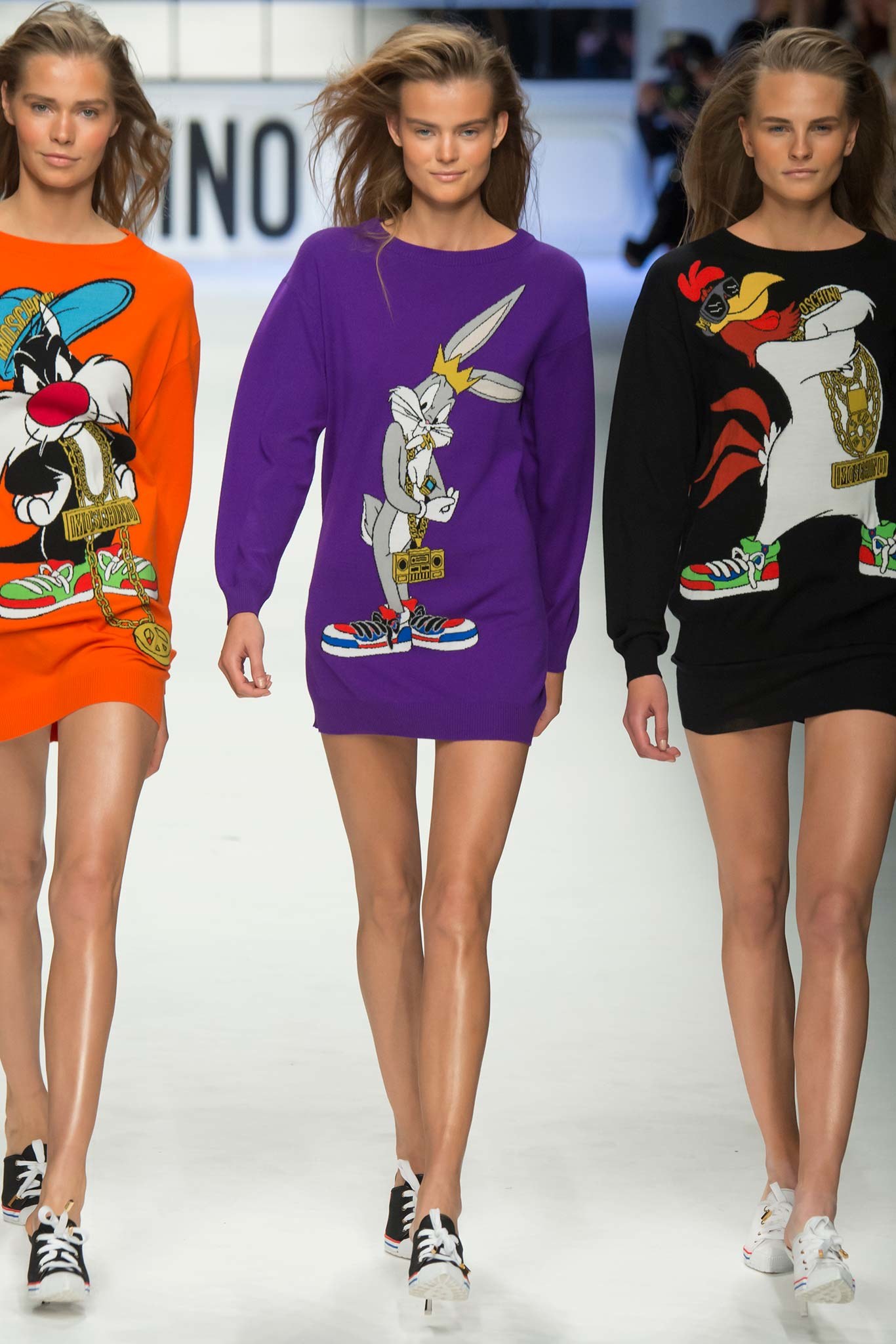 EH, WHAT'S UP DOC?
Runway images care of www.vogue.com.