I could be a God in Valhalla perched upon my velvet tufted thrown eating bonbons, and yet I'd never tire of Dries Van Noten and his wondrous fanciful wares. Since purchasing my first piece what seems a thousand years ago, in the late 90's, I've been captivated by this clever Belgian and his works. His collections just seem to get more and more fabulous. He always manages to infuse his otherwise casual, easy and eminently wearable pieces with inventive opulence. Multicolored jacquards figure heavily in his atelier and are some of the most glorious on the runways and racks. Even better, he doesn't shy away from mixing all imaginable colors and fabrics, resulting in a 4th of July for ye old visual cortex. Black will be included, but the silhouettes and flourishes will always elevate the looks beyond the usual.
I'm a jacket-coat gal, so I REALLY appreciate the large jacket presence. Short and long, and everything in between, the jackets tend toward the voluminous, and just ache to be a part of a grand layering scheme. One might typically fit a light sweater under one of his iconic coats for fall winter temperatures. And no matter how many sequins and bugle beads are festooned upon the blouses, skirts, and jackets, there is a hip funk vibe which staves off ostentation. Its all about irony, mixing the masculine themes with the typically feminine fabrications, and Dries is a master of this task.
Not many designers can lay claim to a retrospective during their lifetime…….are we surprised?
Embrace your inner Peacock!
DRIES VAN NOTEN: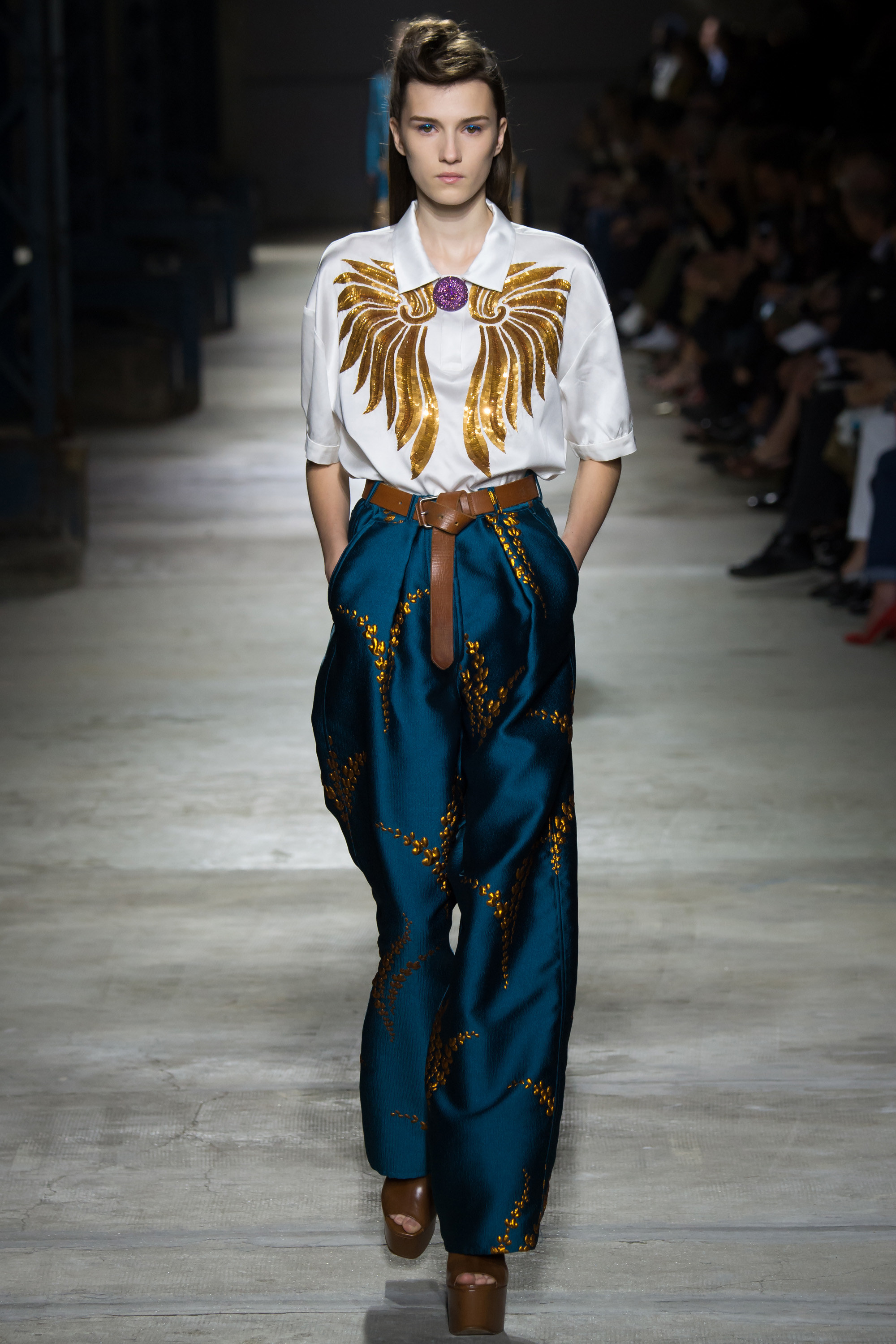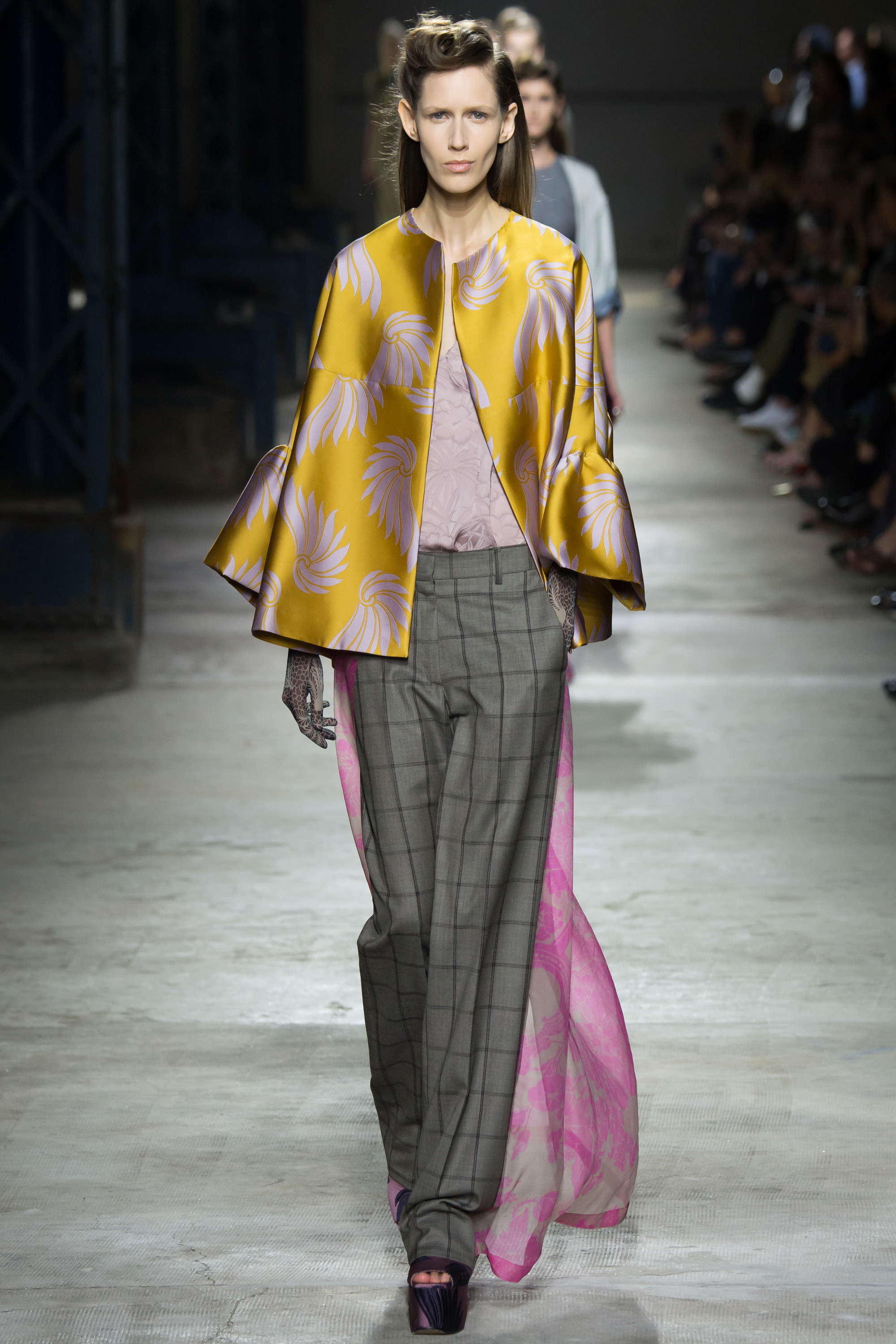 Any and all of these pieces can be mixed and matched with each other, and would freshen up the jeans or neutral trousers lingering in your closets.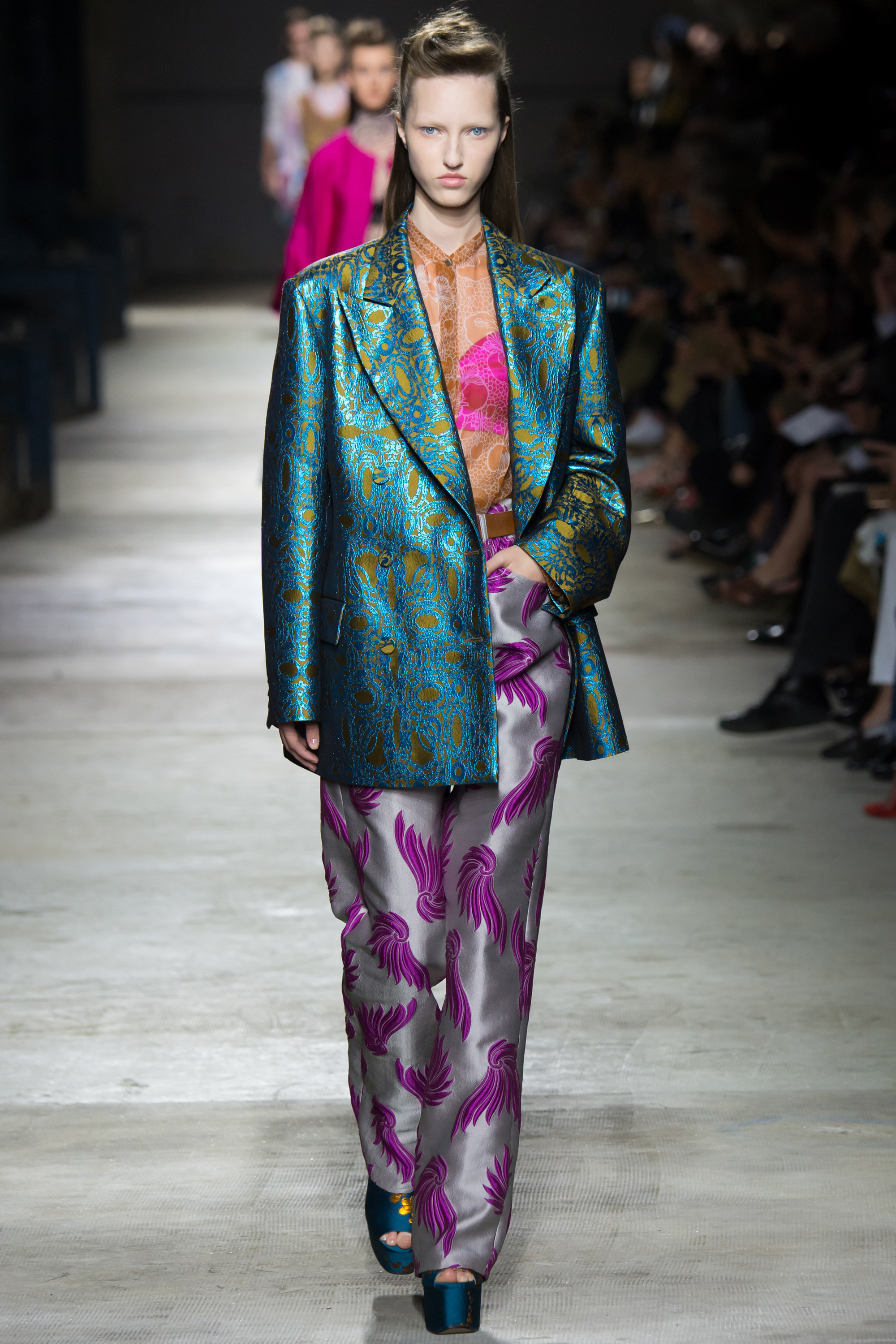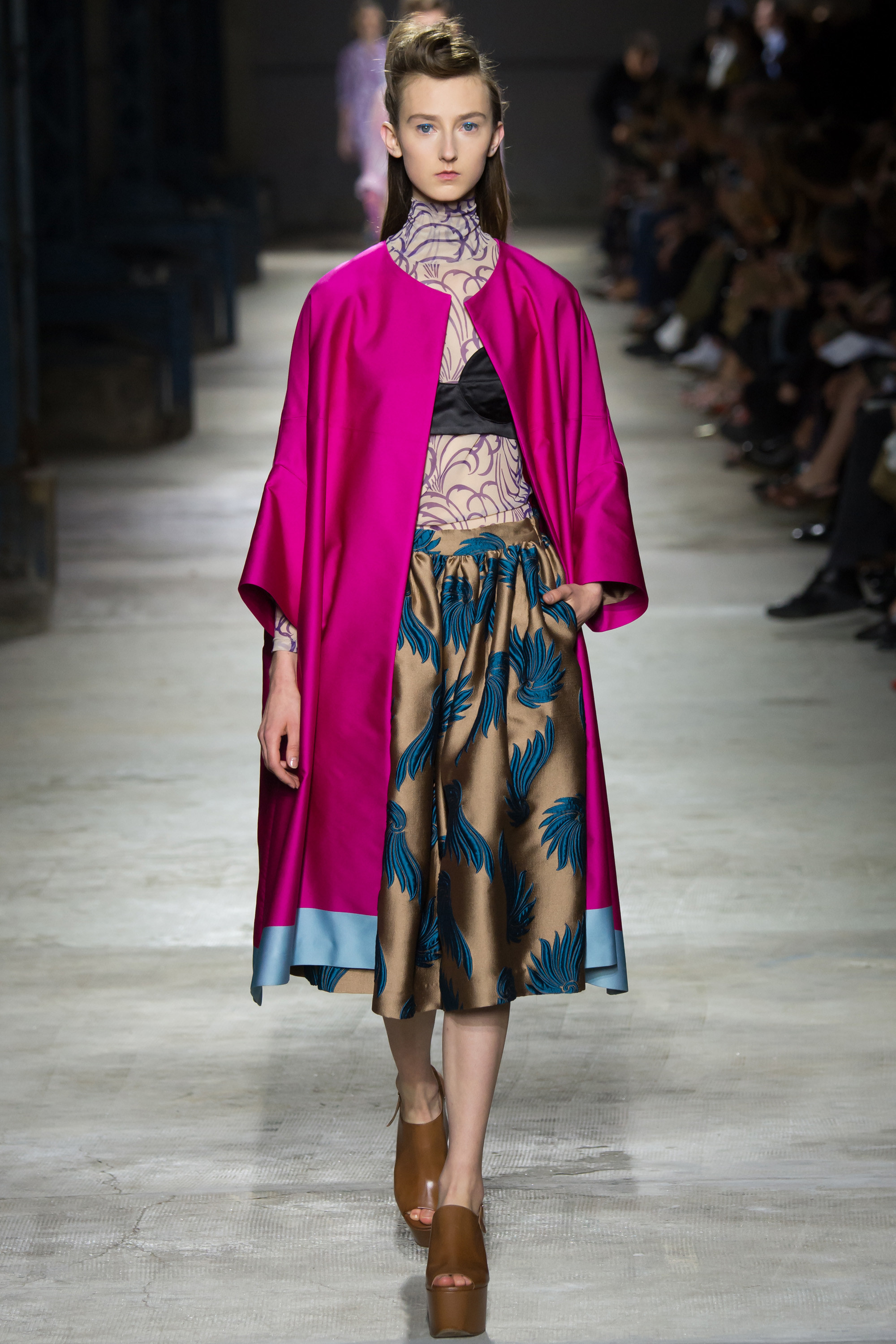 You just gotta love a man who loves his fuchsia and purples.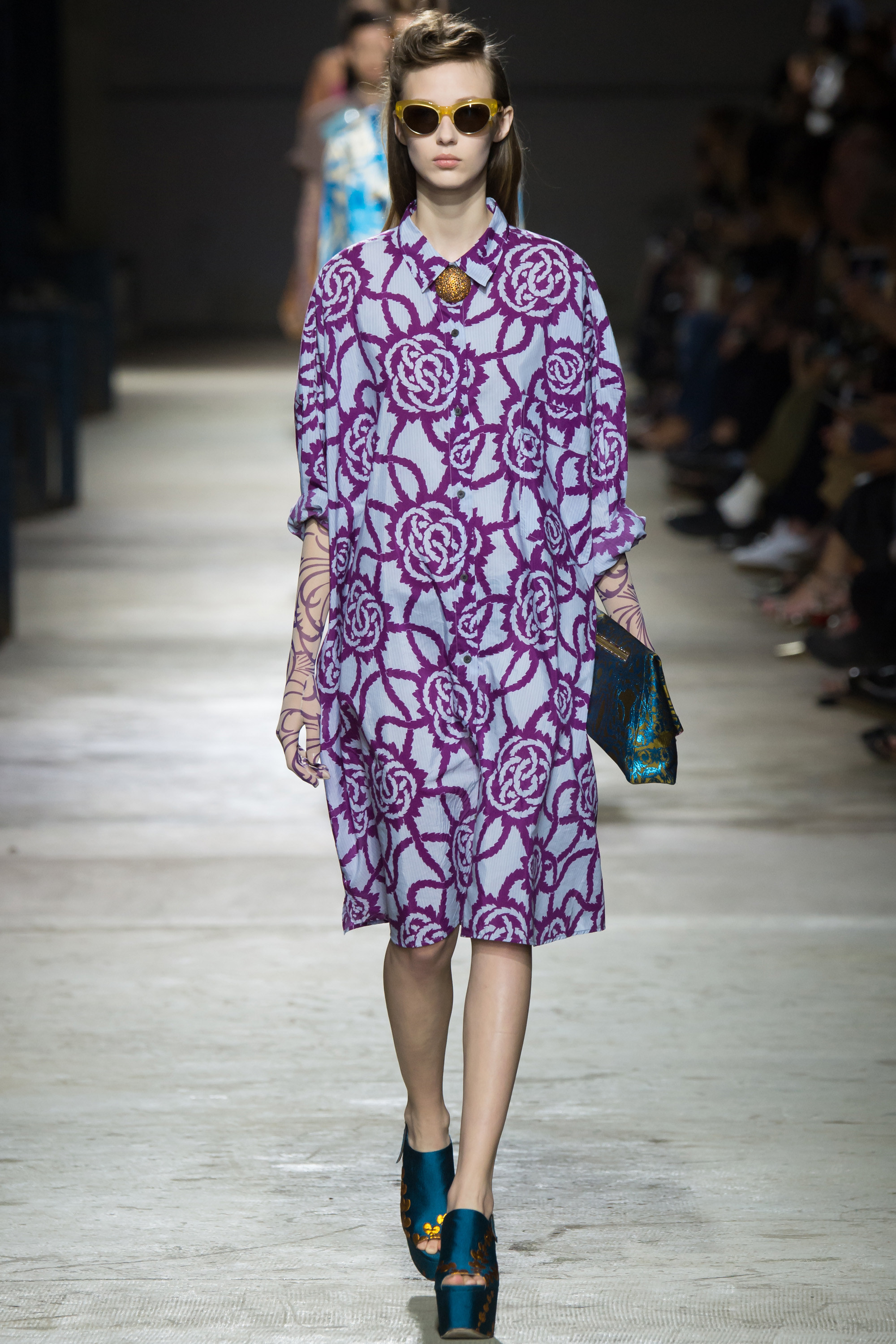 Dress, tunic, whatever….wear over leggings and maybe UNDER a short Chanel pastel tweed jacket. Never be afraid to mix patterns, fabrics, and designers in the same ensemble.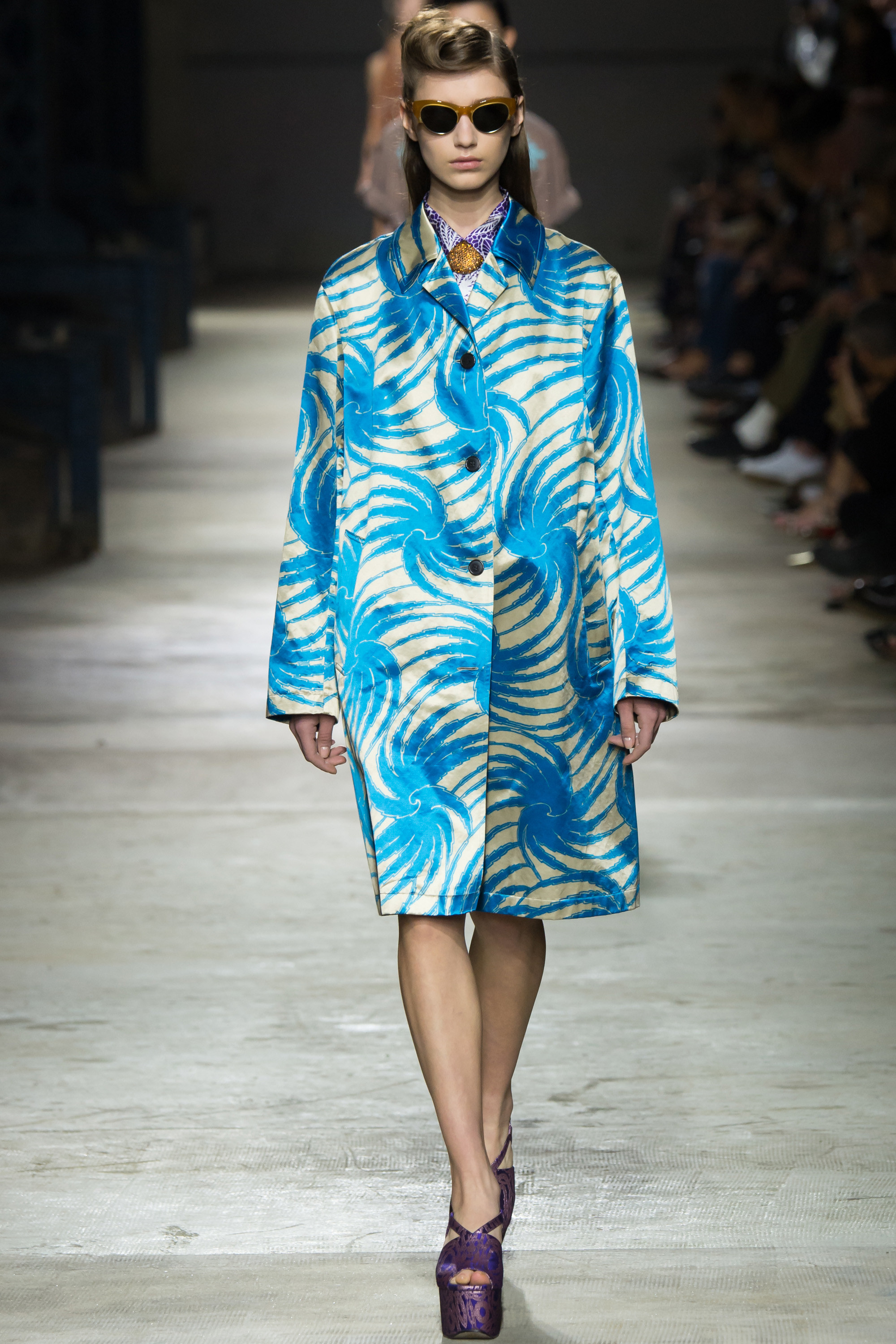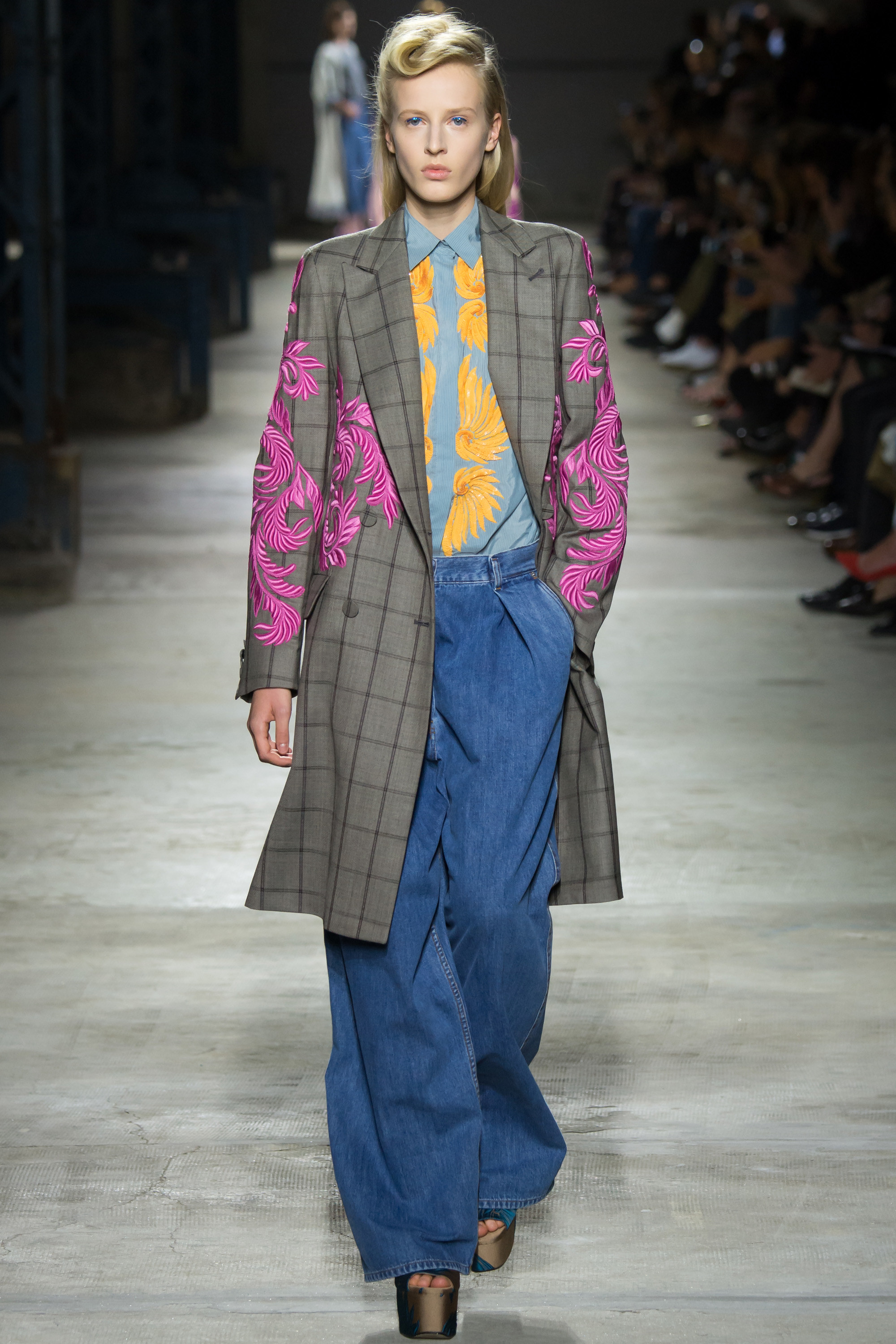 My favorite, long enough to cover pretty much everything that needs to be covered. Feminized menswear, always a Kool look.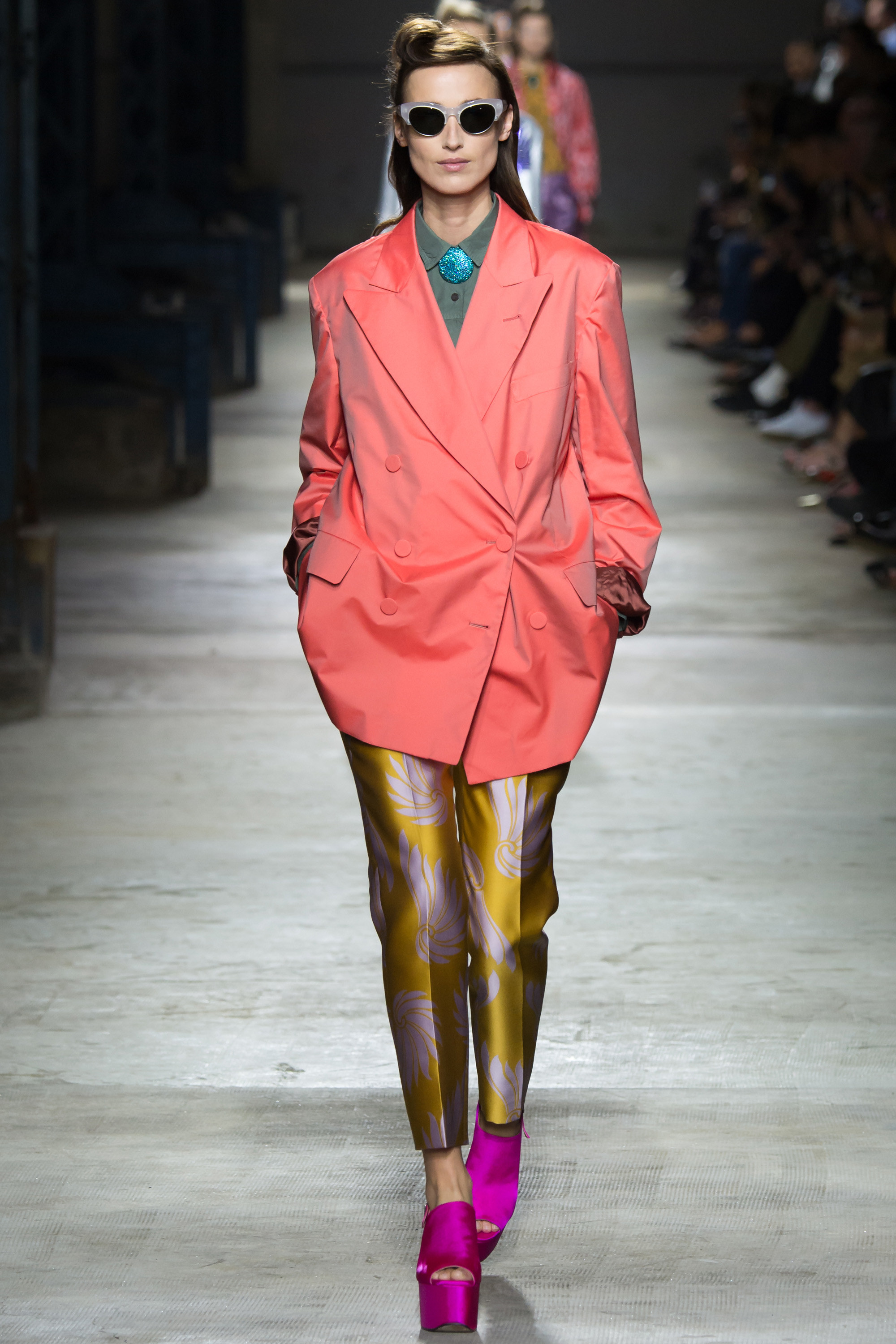 Mmmmm, melon sherbet.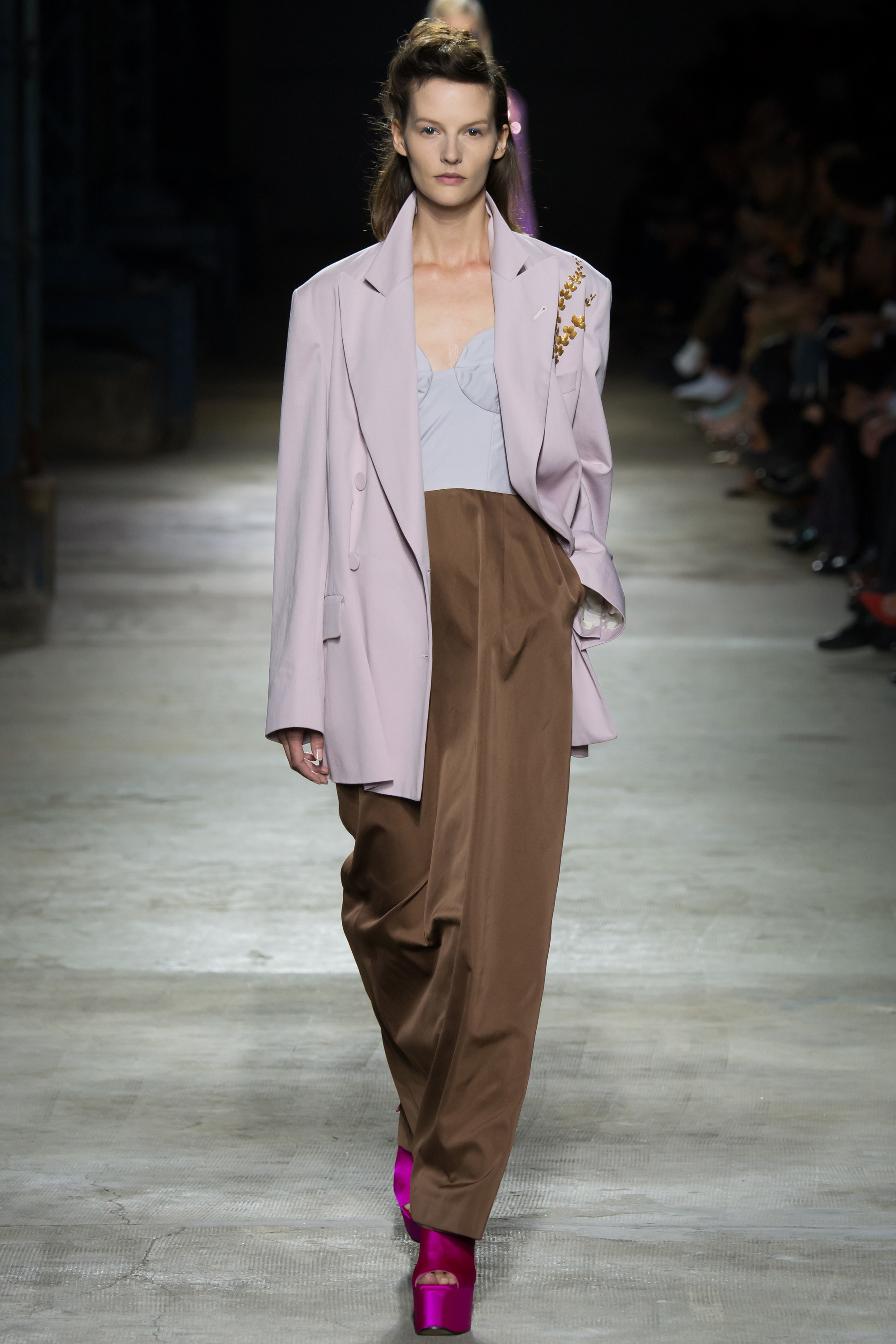 The 40's reference is intriguing.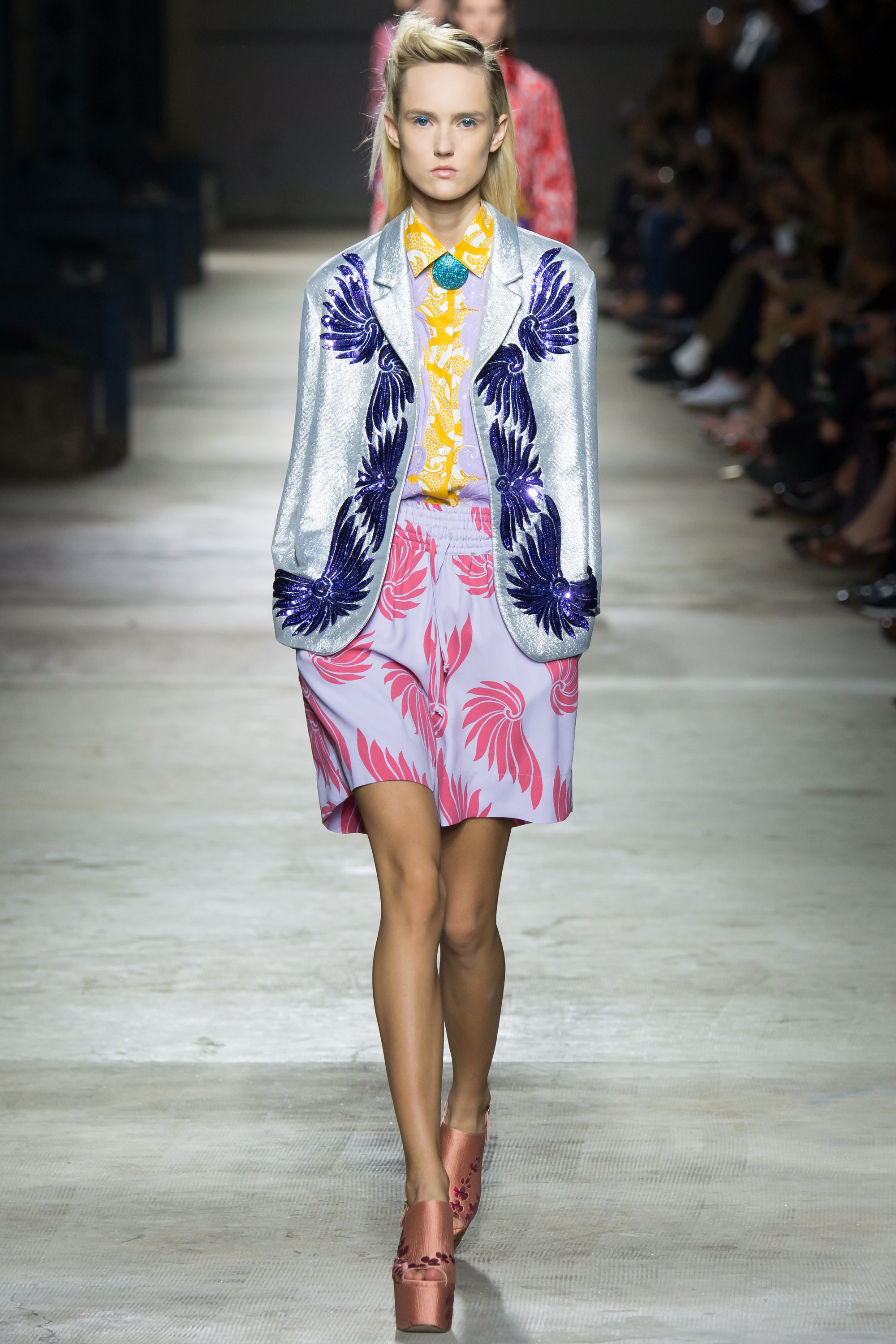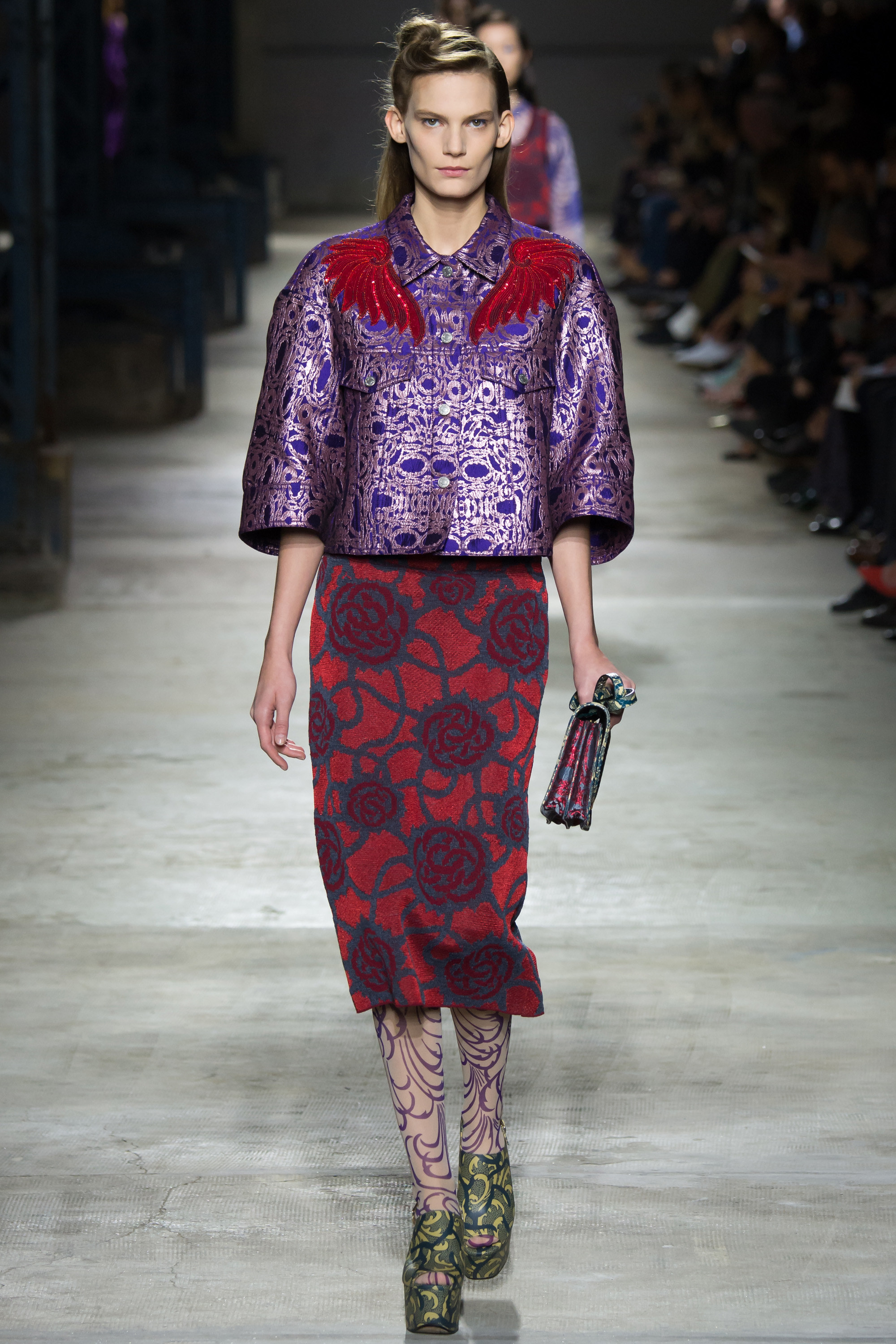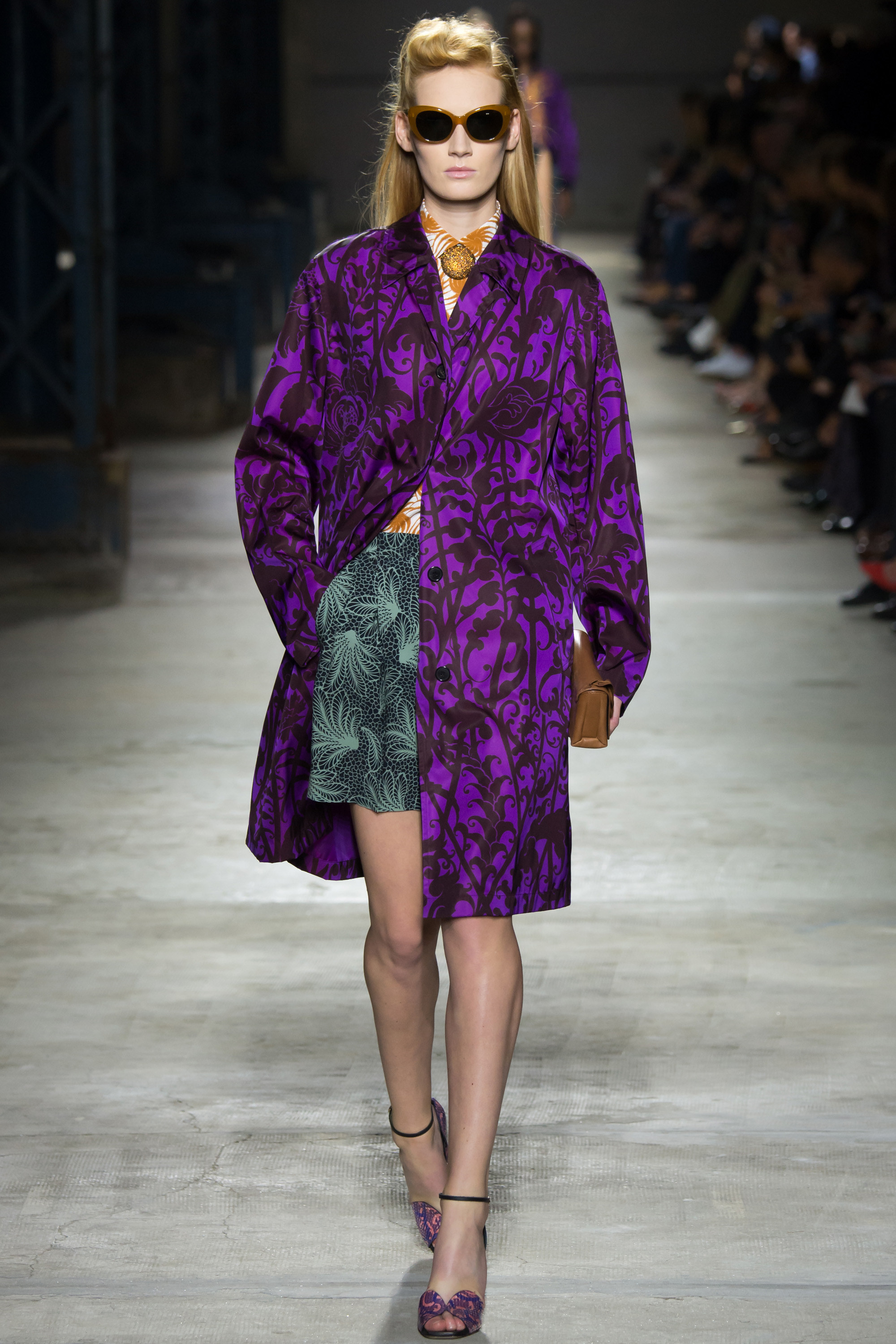 So many of these separates would be at home at an upscale affair AND over jeans or khaki trousers. Good for travels when space in your carry on is limited. Things must do double duty!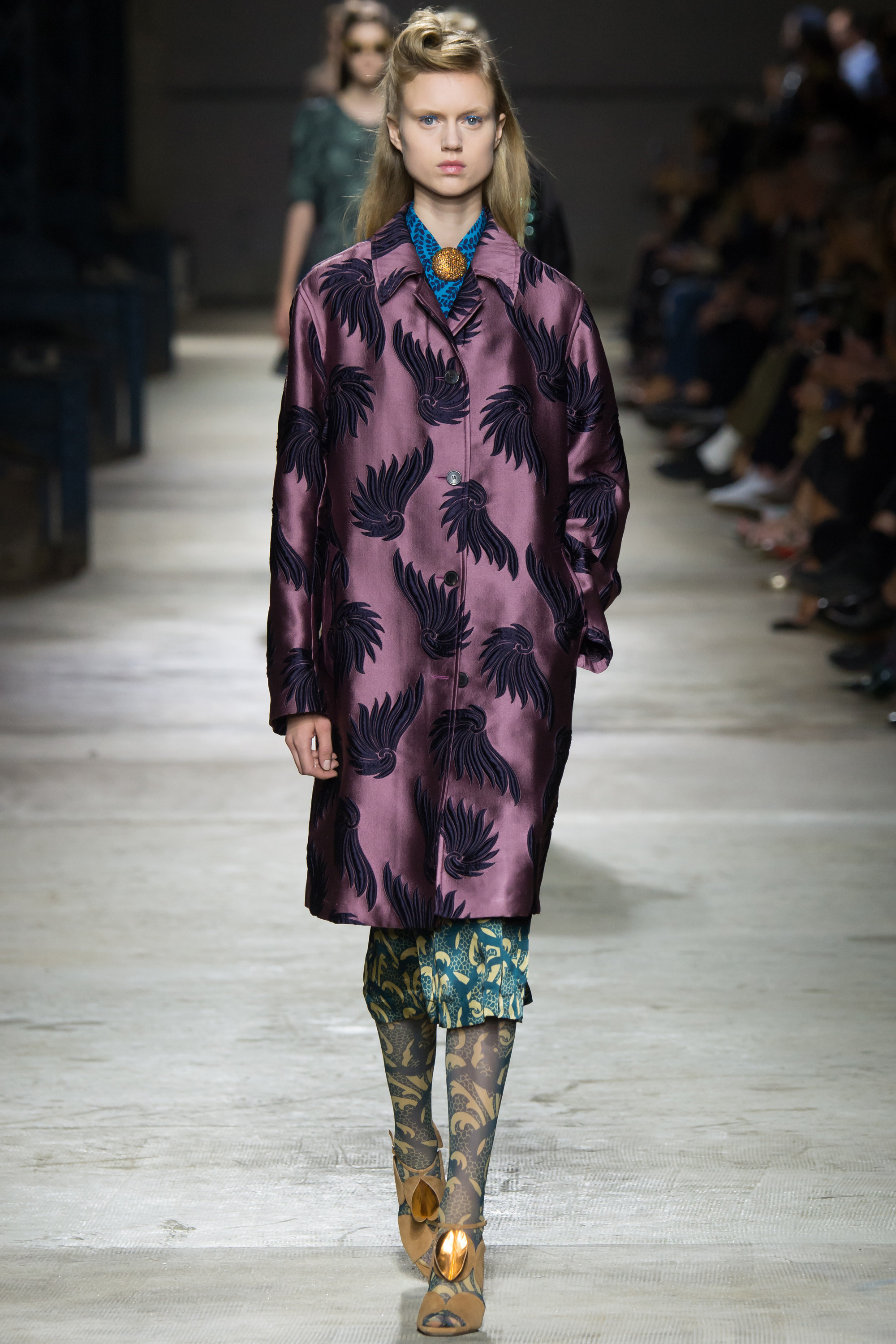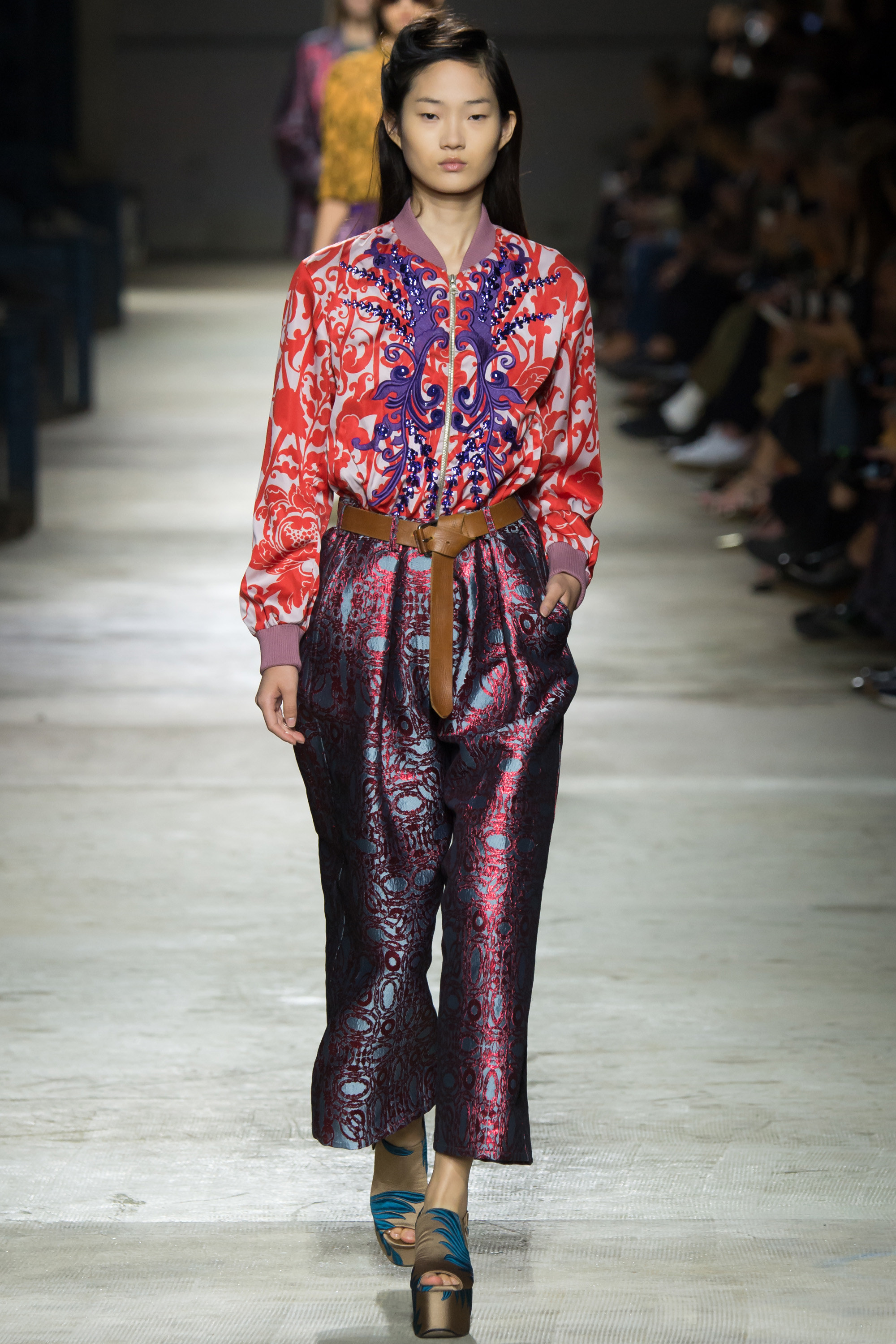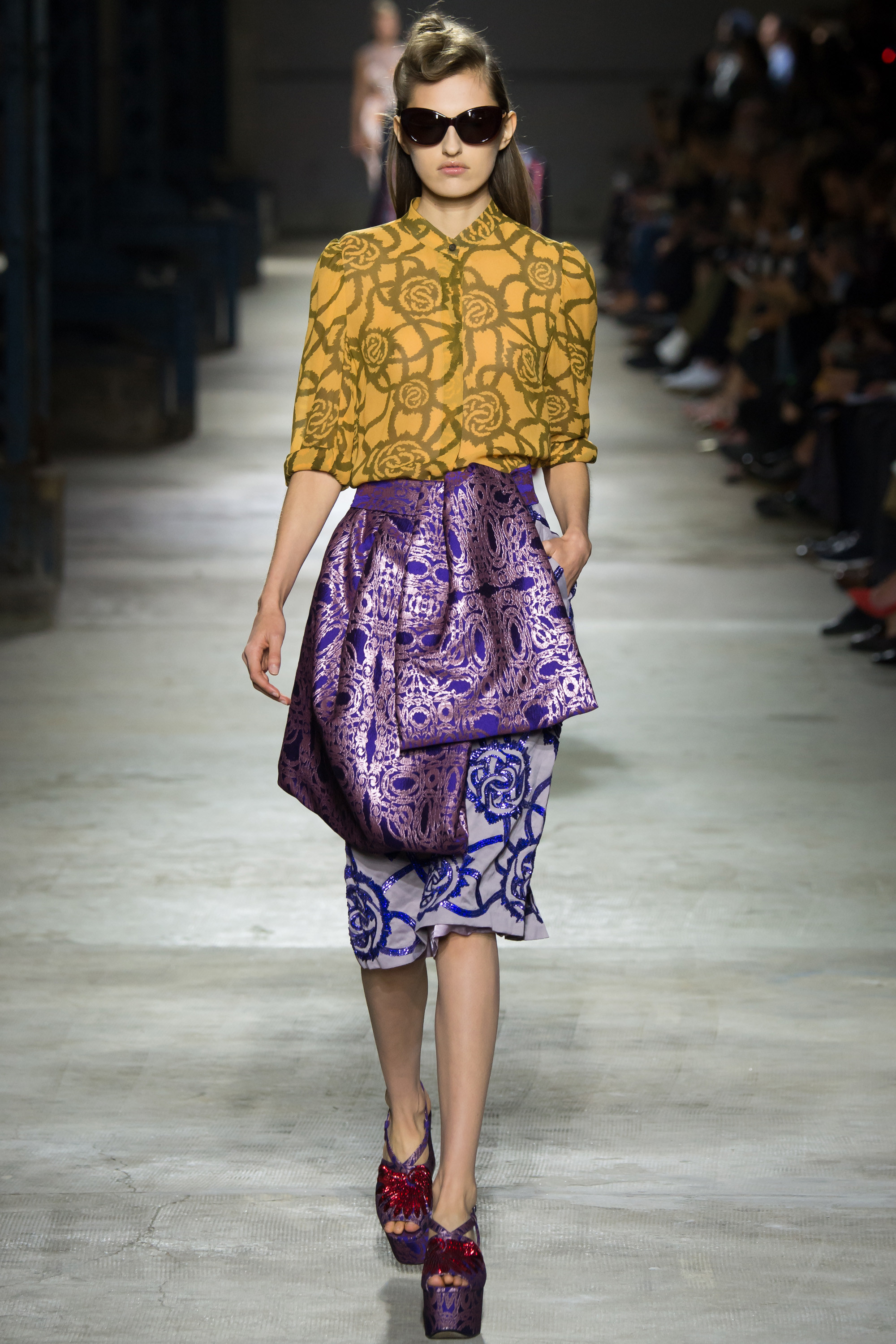 The big BOW, a hint of theatricality in the mix.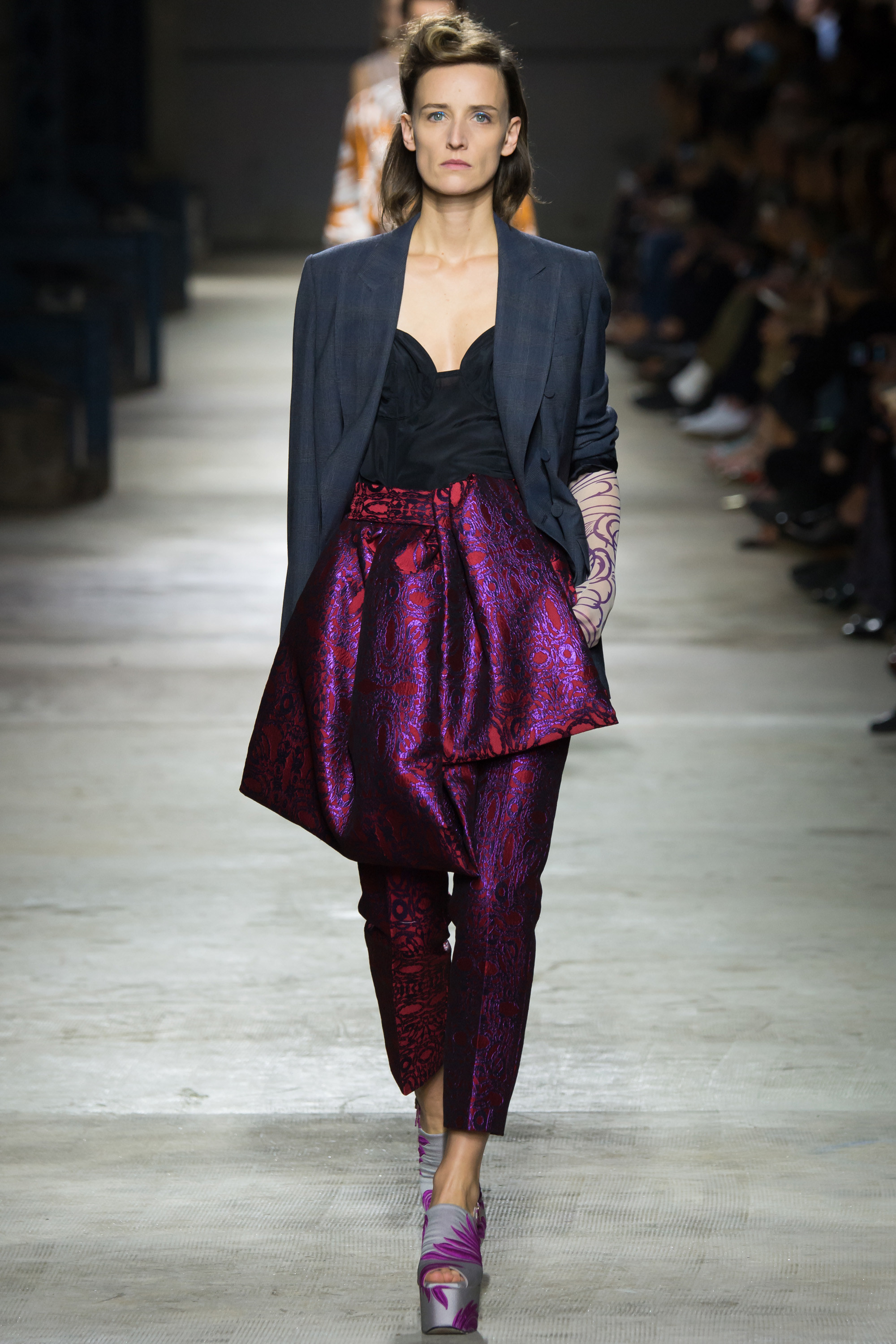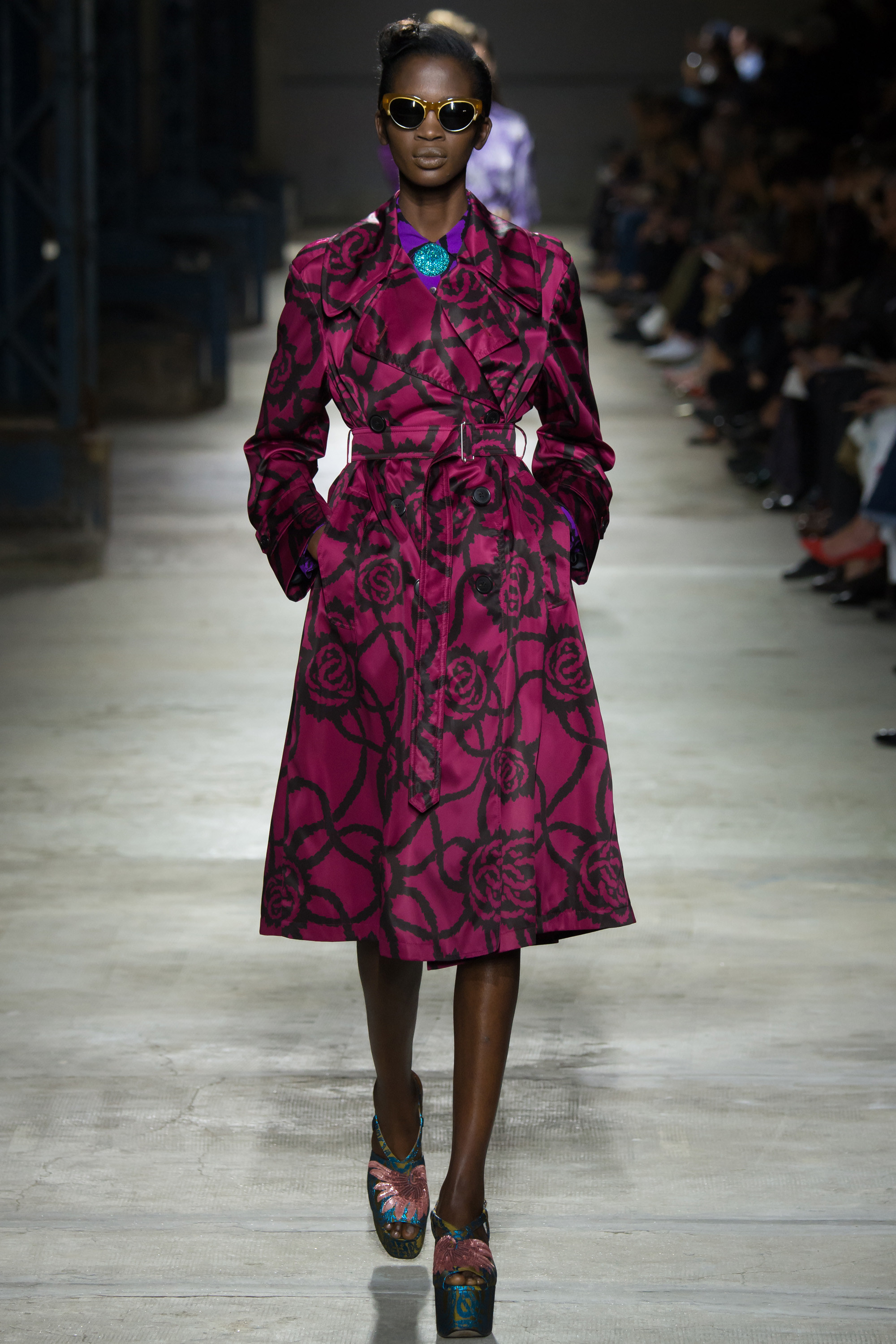 A TRENCH done the Dries way. Bold pattern, lux fabrication, and the luscious color.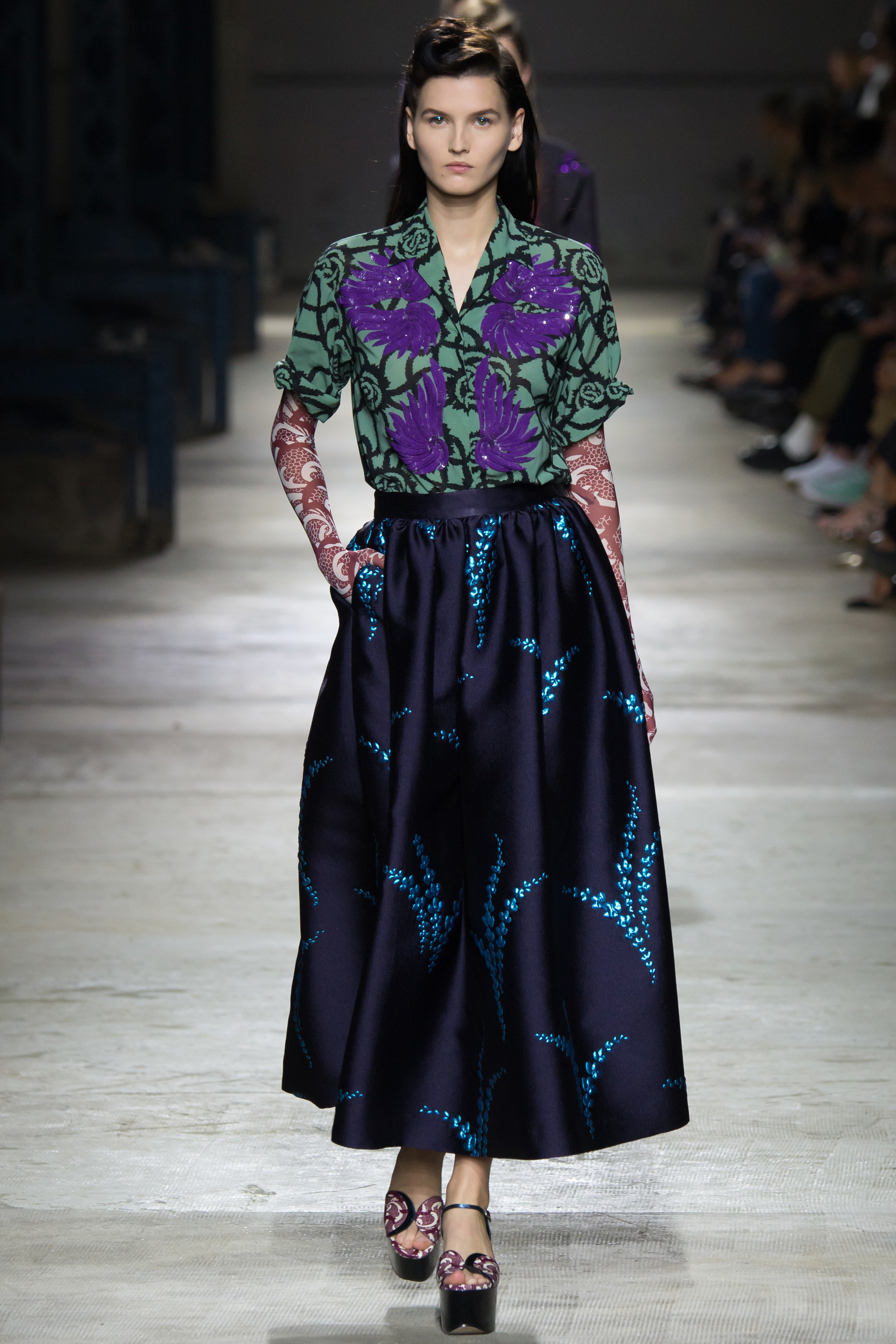 The midis are in.....good excuse to pull out the boots.....even Cowboy boots!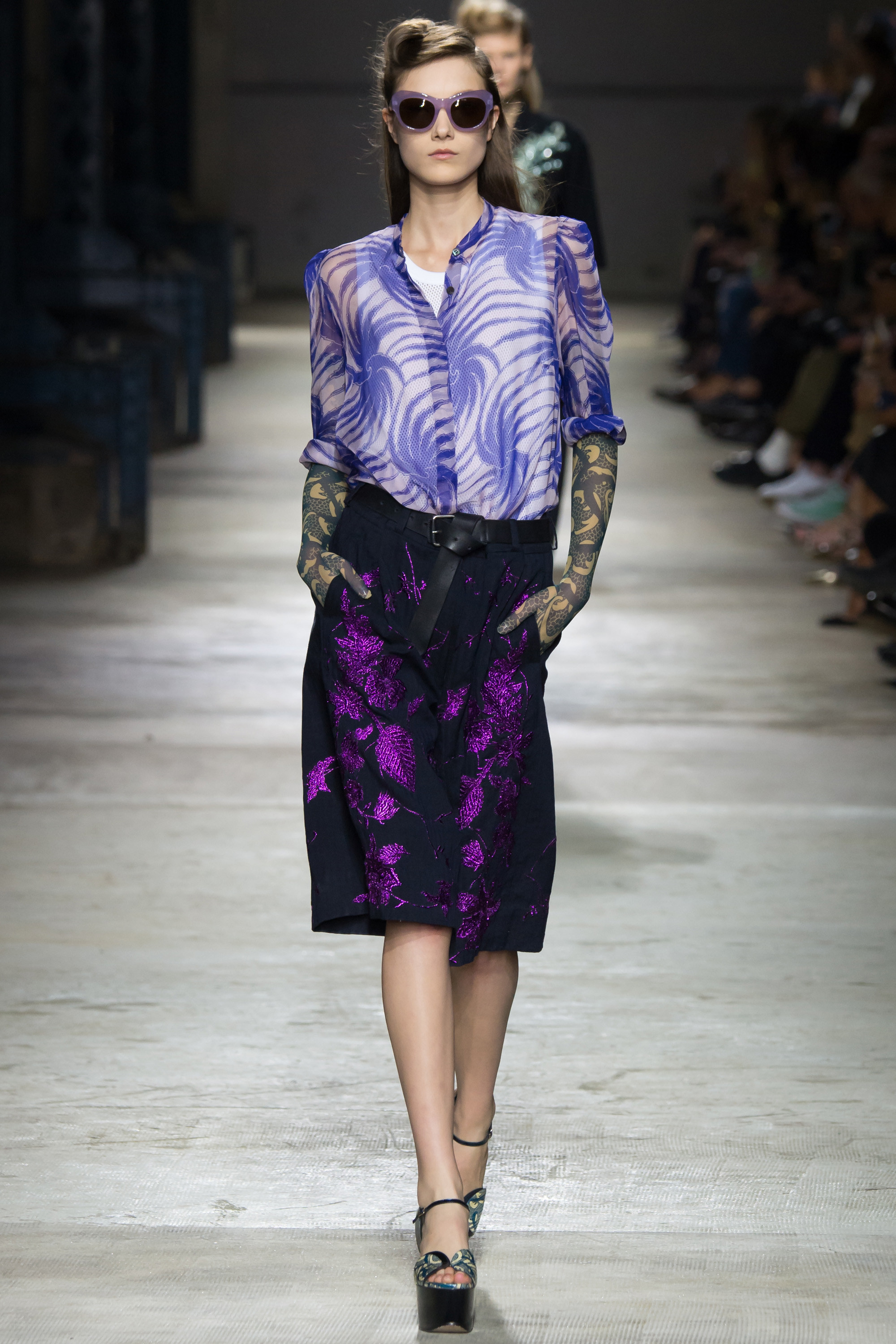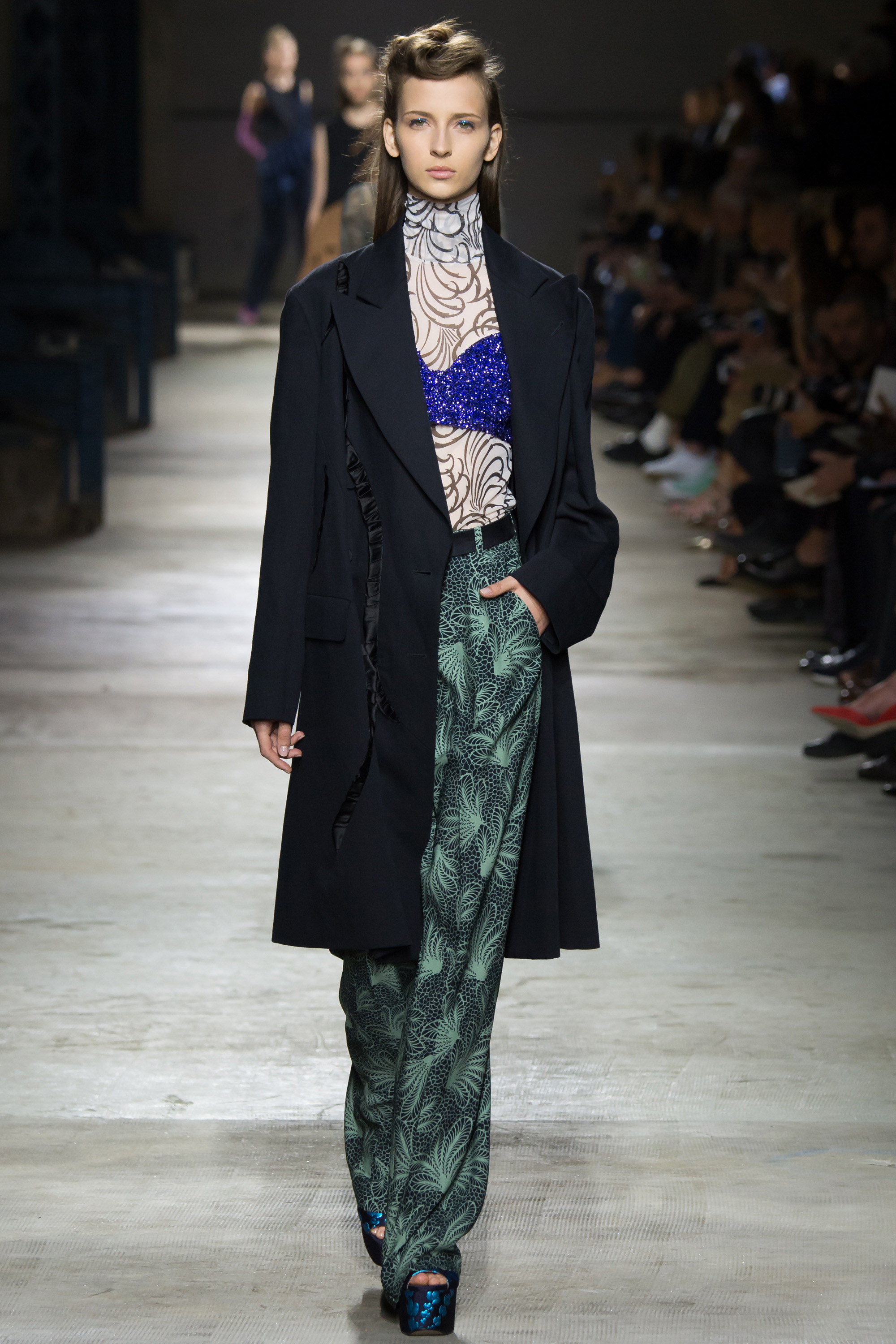 The perfect little black jacket-coat with the wide lapels and a subtle ruffle flourish. If jacquards and wacky patterns aren't for you, wade into the Dries pool with this chic piece. If in doubt, go BLACK. (Black can always be glammed up with a BIG floral brooch).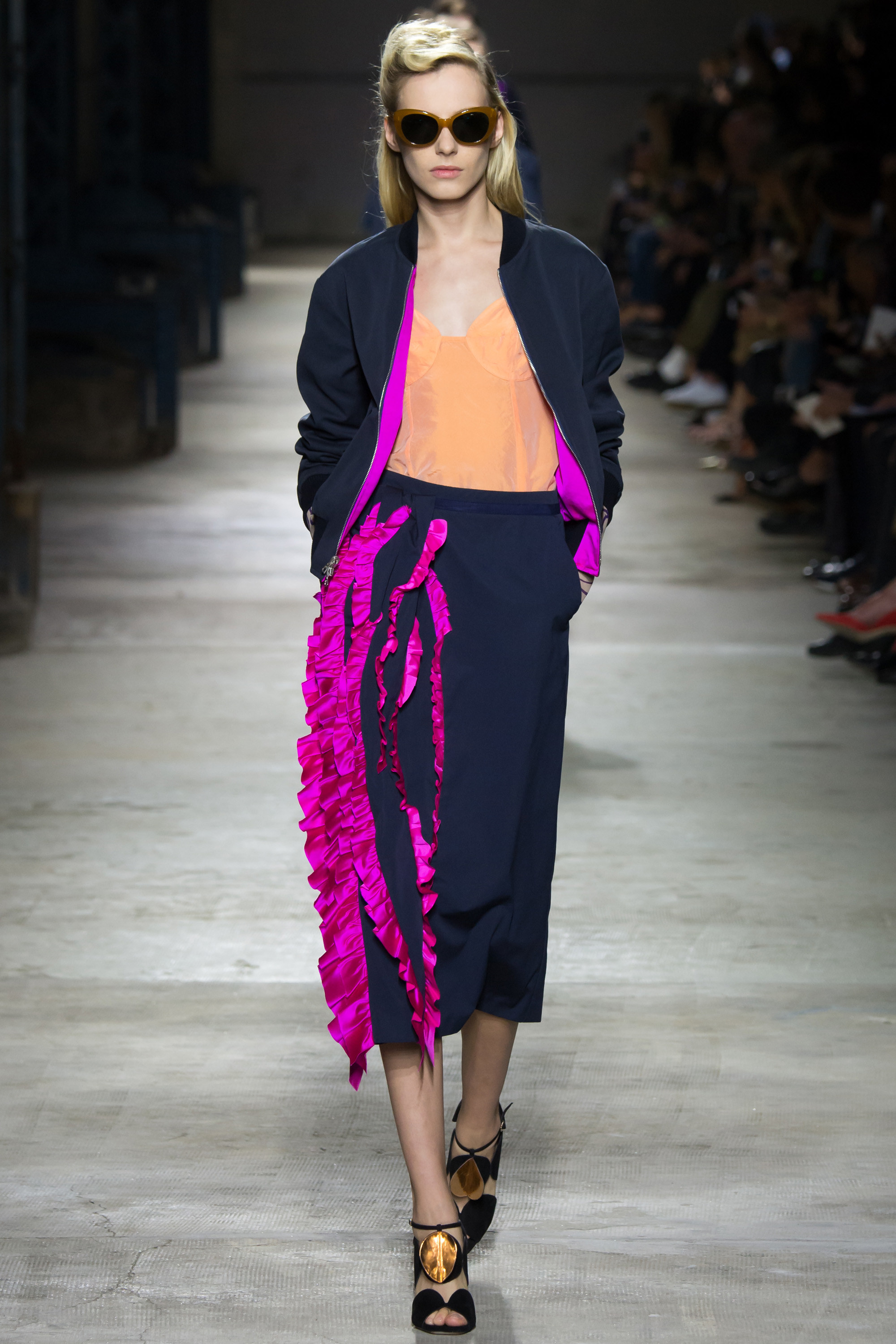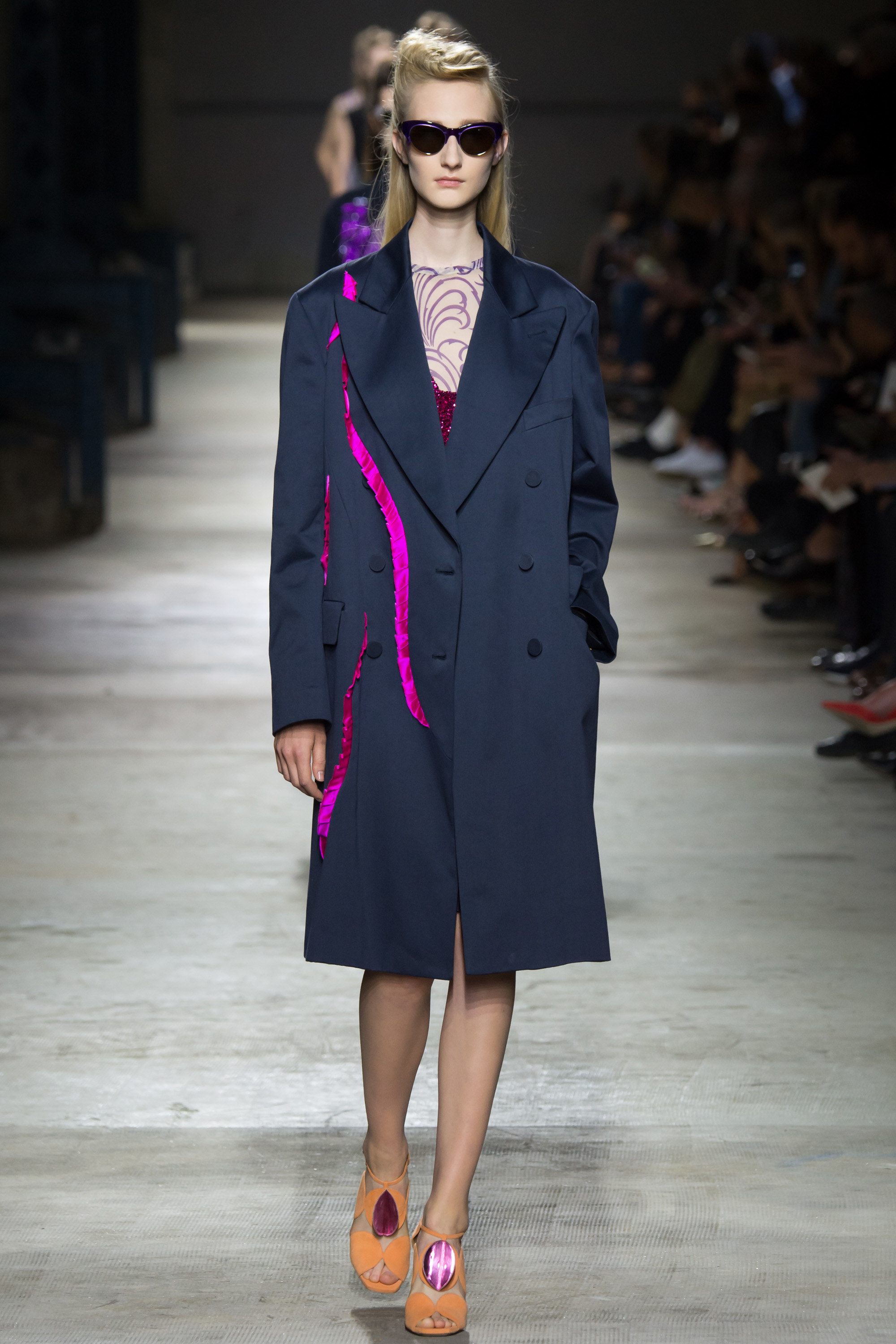 Once you go ruffle, you never go back…..seriously!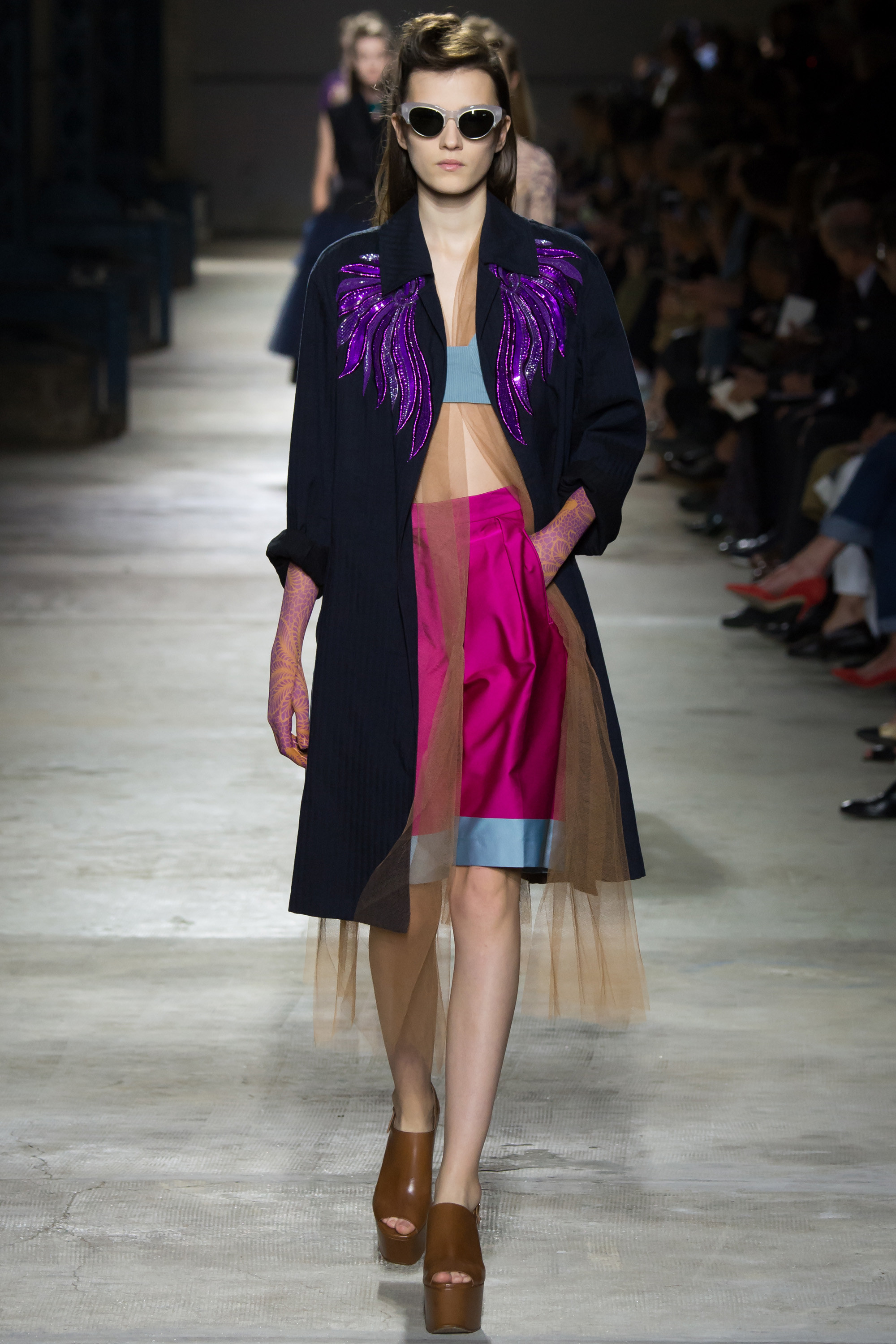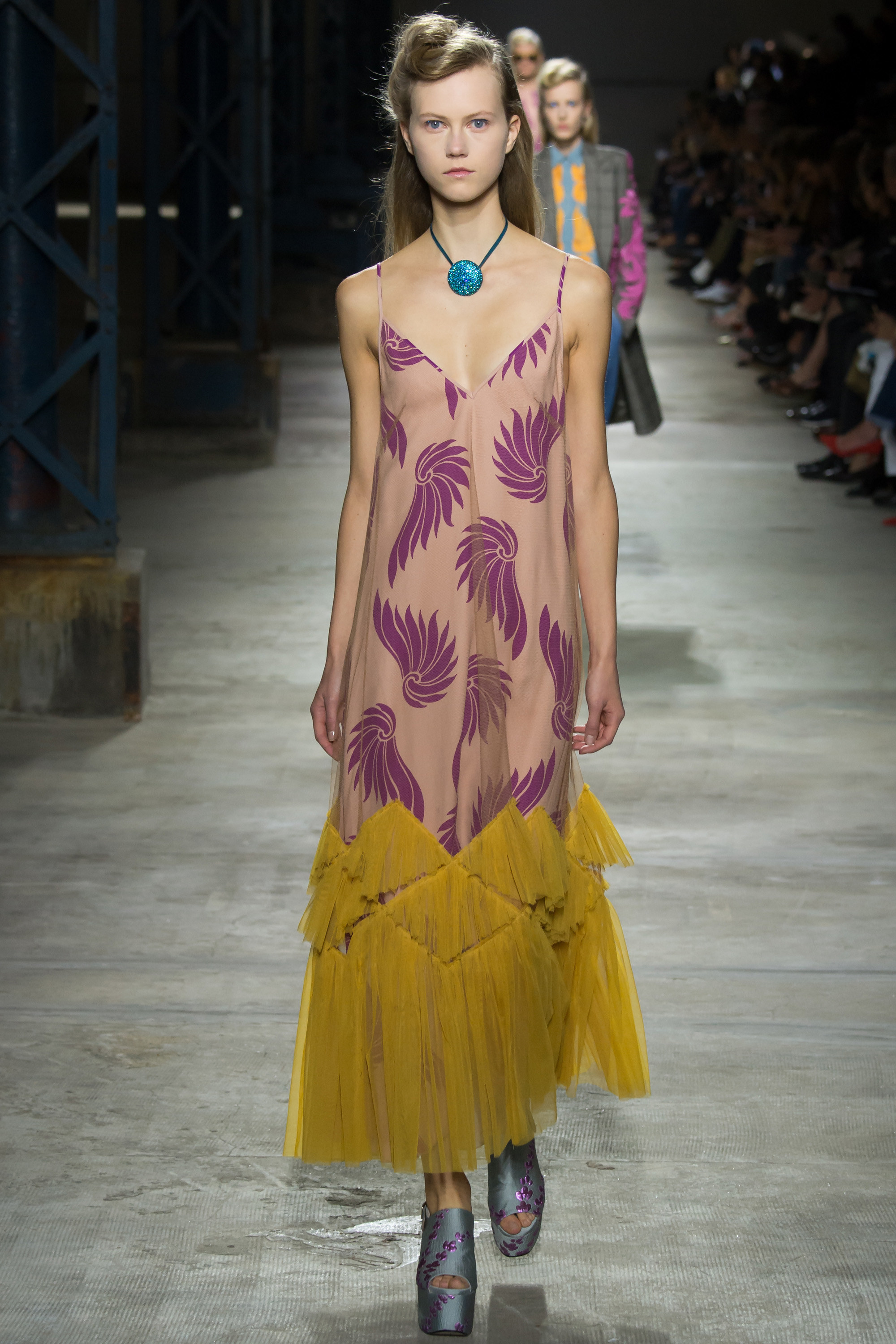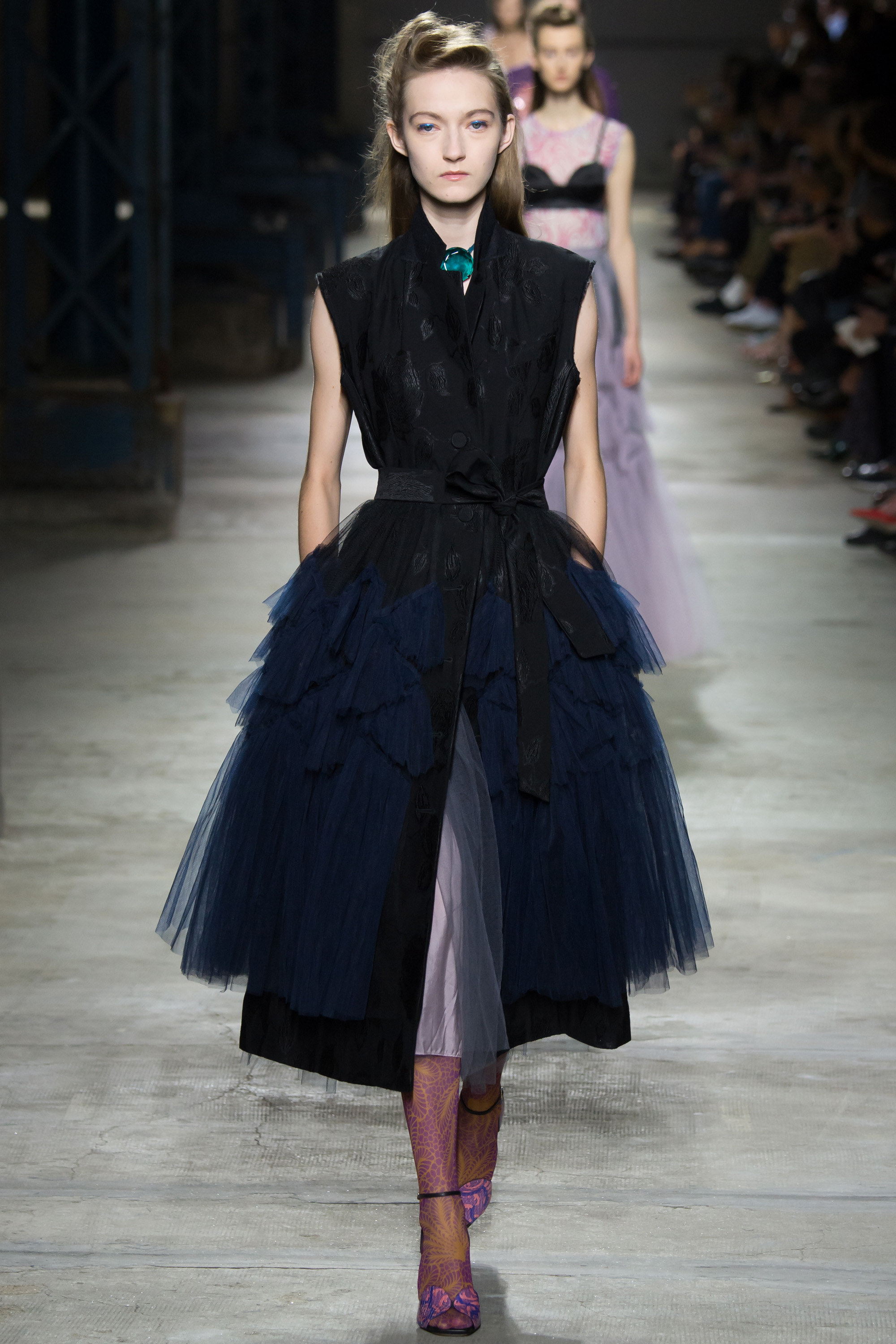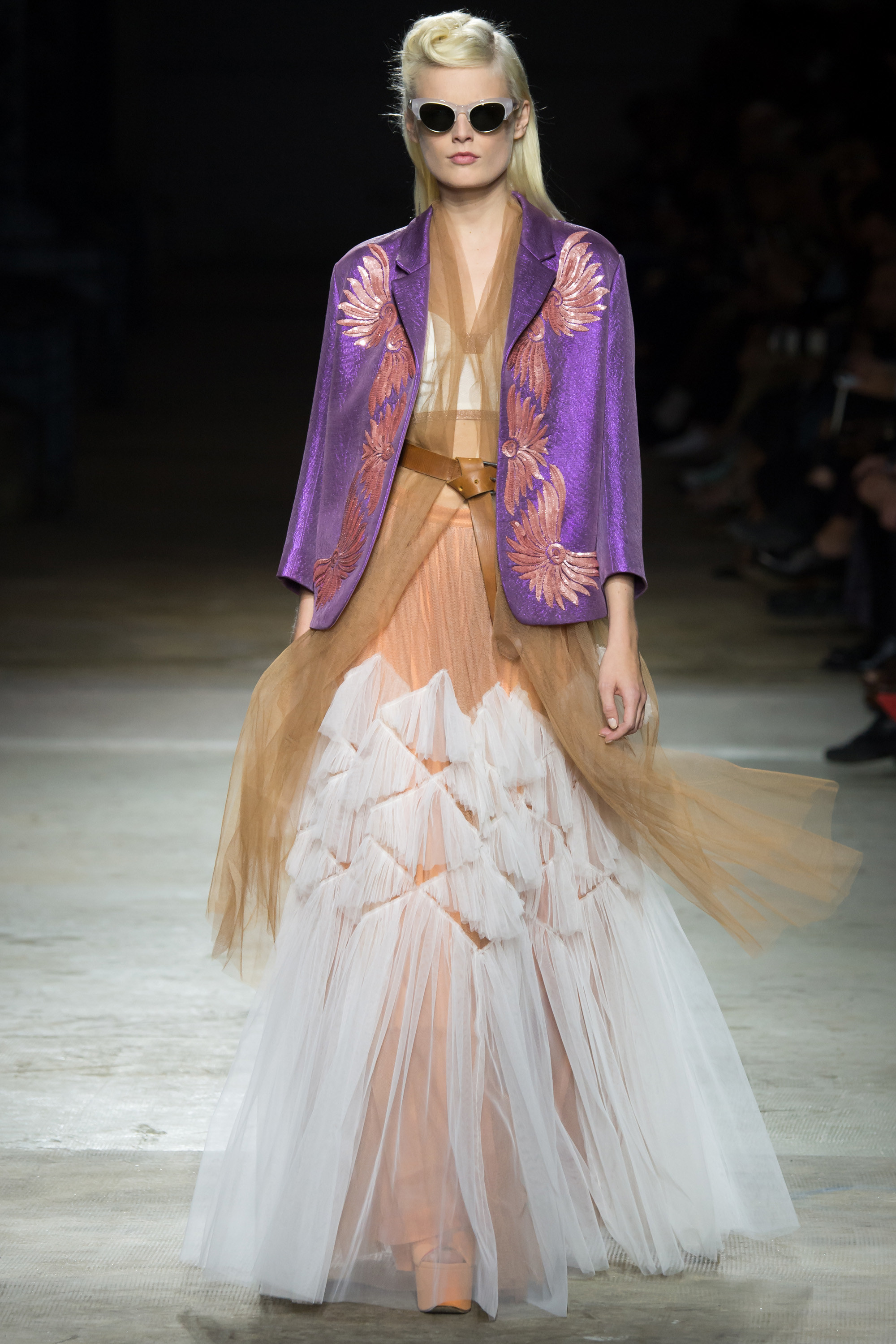 The gala gowns...….where would be be without tulle?
YUMMY, I just L O V E Dries…..sigh.
Saks Fifth Avenue and Barneys carry these exuberant and zesty togs.
Runway images care of www.vogue.com