The Golden Globes are apparently live as I write this........y a w n. I think Leonardo DiCaprio was eaten by a Bear in one of the nominated movies, or something. The only interesting part of these so called awards shows are the red carpet follies, and even they are becoming vaguely disinteresting and predictable. So many gorgeous folks and a cornucopia of wondrous fashions out there to take advantage of. And yet, its often akin to a slow moving trainwreck....and I couldn't look away. There were some delicious moments however! Felicity Huffman and Kate Bosworth looked stunning, swathed in a cascade of sequins (Lorena Sarbu and Dolce & Gabbana). Queen Latifah was a dream in some seafoam chiffon with a little blingage along the chest (Badgley Mischka). And then as I thought for sure I'd lapse into a coma, there came J. Lo in a blazing canary yellow confection with a passel of draping in just the right places. (Girl knows how to work an outfit). Viola Davis was gorgeous and regal in bling-ed out Marchesa. Amanda Peet captivated in an iconic Alexander McQueen diaphanous gown combining Victorian ruffled femininity and subversive sheer. The rest? Meh, forgettable. As for the dudes, Liev Shreiber was perfection in a well fitted tux, making Naomi Watts proud. Don't know who he was wearing, but who cares? As for the best accessory, Julianne Moore got that award. Not a purse or a big bangle, but TOM FORD on her arm. Nice.
Boy do I miss Joan Rivers.....and her sometimes caustic editorials of such earth shattering goings on….
Whoops, I forgot, the always on-the-money Cate Blanchett showed up looking fab in Givenchy. The dress seemed to have a life of its own. Prize of the night!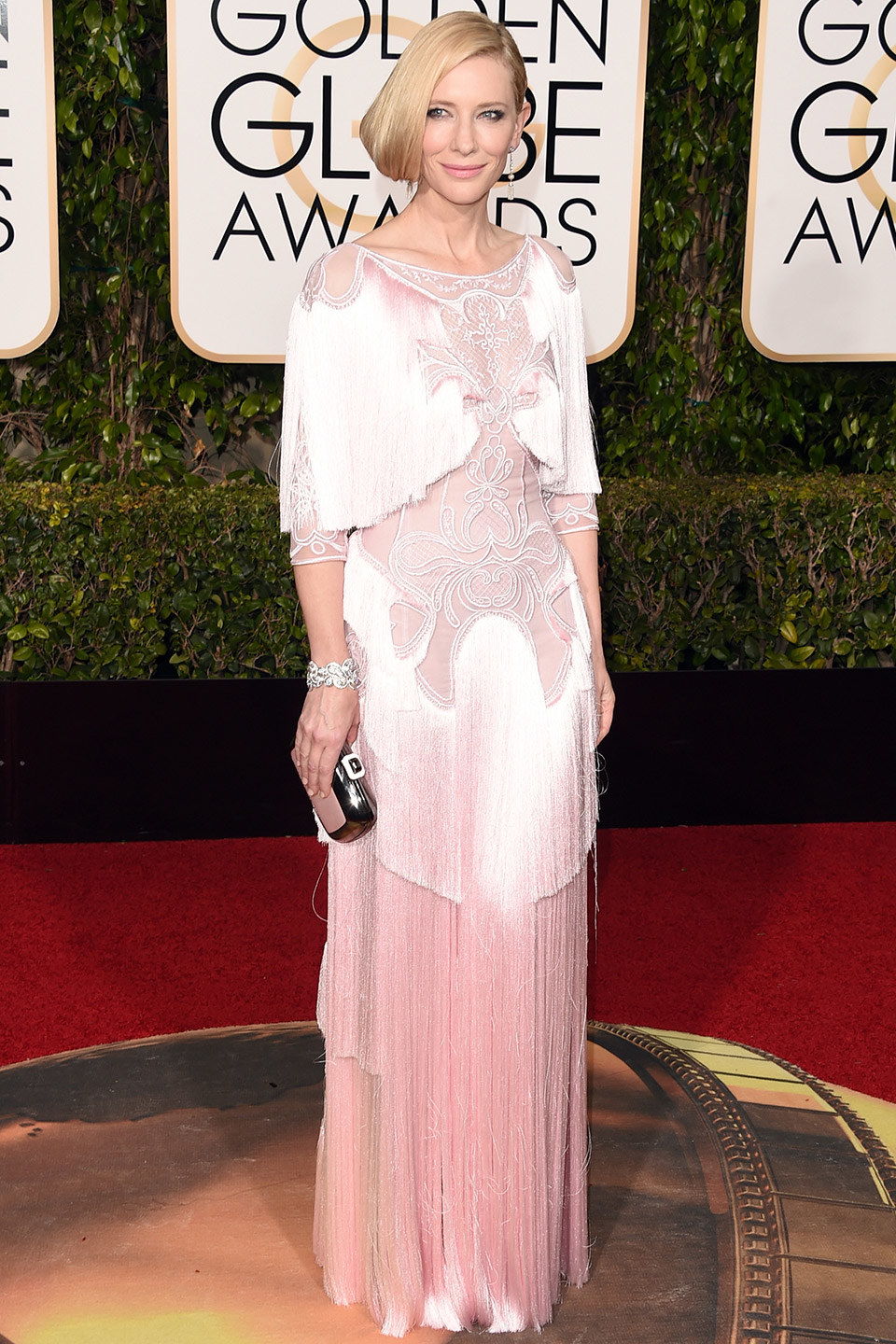 (Photo care of vanity fair).
And speaking of which, Riccardo Tisci brings a curious and engaging pre fall collection with what one might expect. Suits, capes, coats and such. He also harkens back to his spring collection rife with glamorous bedtime frocks as daywear. Dolce & Gabbana have been working this angle for awhile, but now its EVERYWHERE! Feel free to liberate your slips and undergarments and let them mingle with your striped suits and camel hair coats.
Tisci shares a relatively brief (especially if the denin and dude togs are left out of the mix) but spicy, hip, and sexy collection laden with lace and pants and even some witty pant suits. Every gal needs a sharp fitted pant suit which screams allure and strength simulataneously for work or play. (its time for those boxy silhouettes to find refuge in the attic).
Iconic silhouettes are mixed with some wacky asymmetric avant-garde numbers to keep things fresh and interesting.
Never a dull moment!
GIVENCHY PRE-FALL 2016: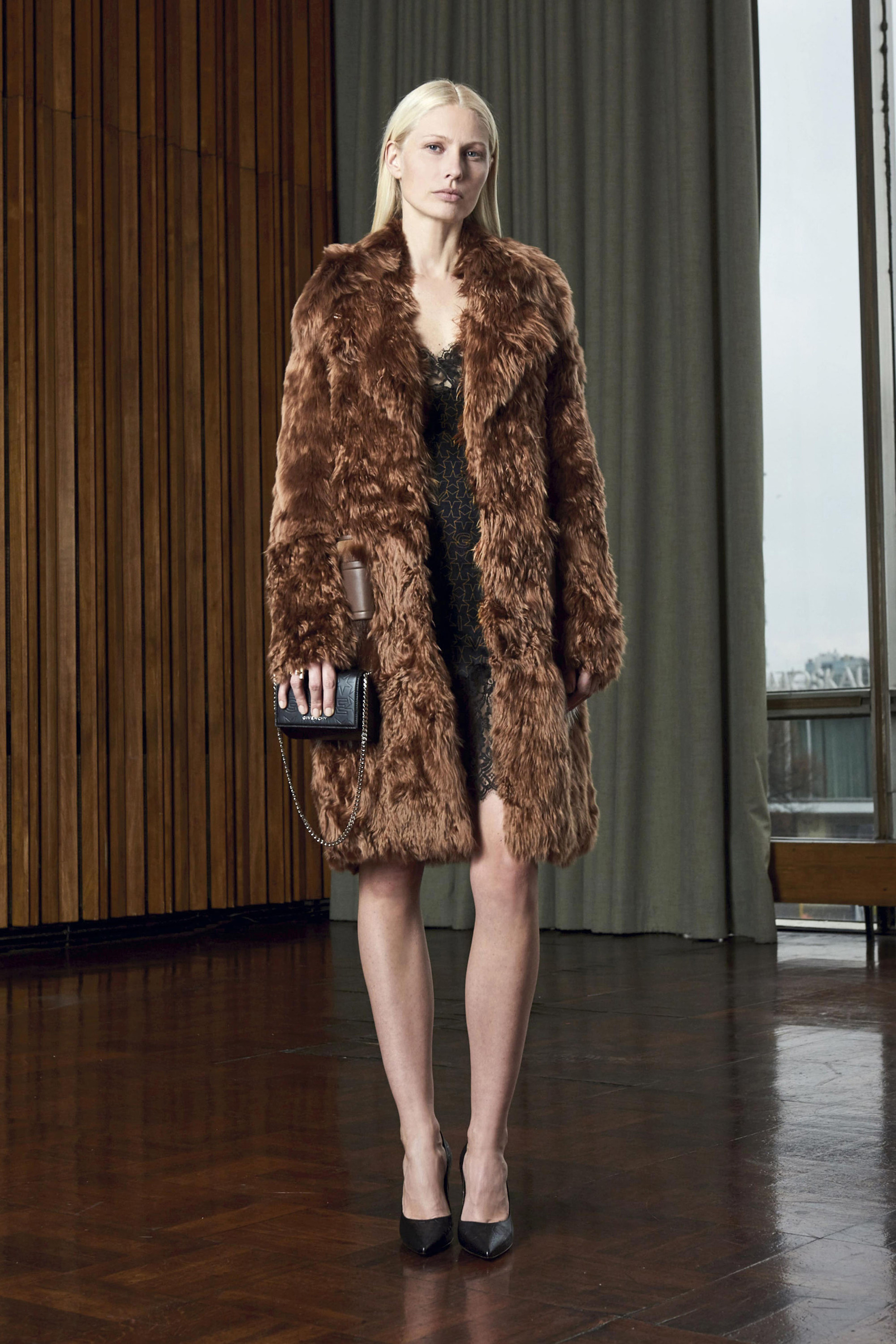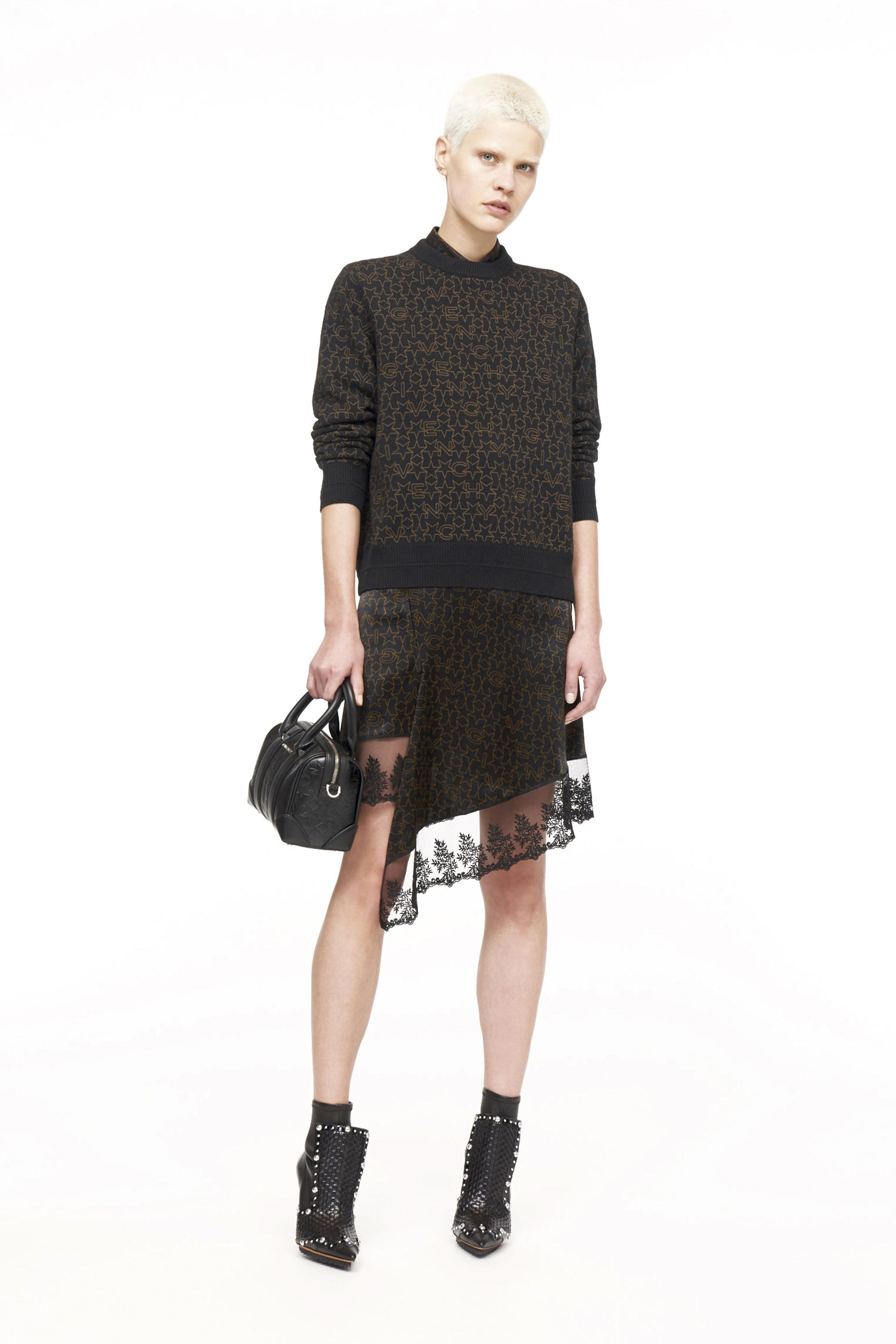 The hard and soft, with the angular margin trimmed in lady like lace is always an interesting duo. And if you're going to show leg, don't show too much up too. Otherwise, you're on the way to hoochville. And of course an outfit like this screams for some stiletto shoe booties.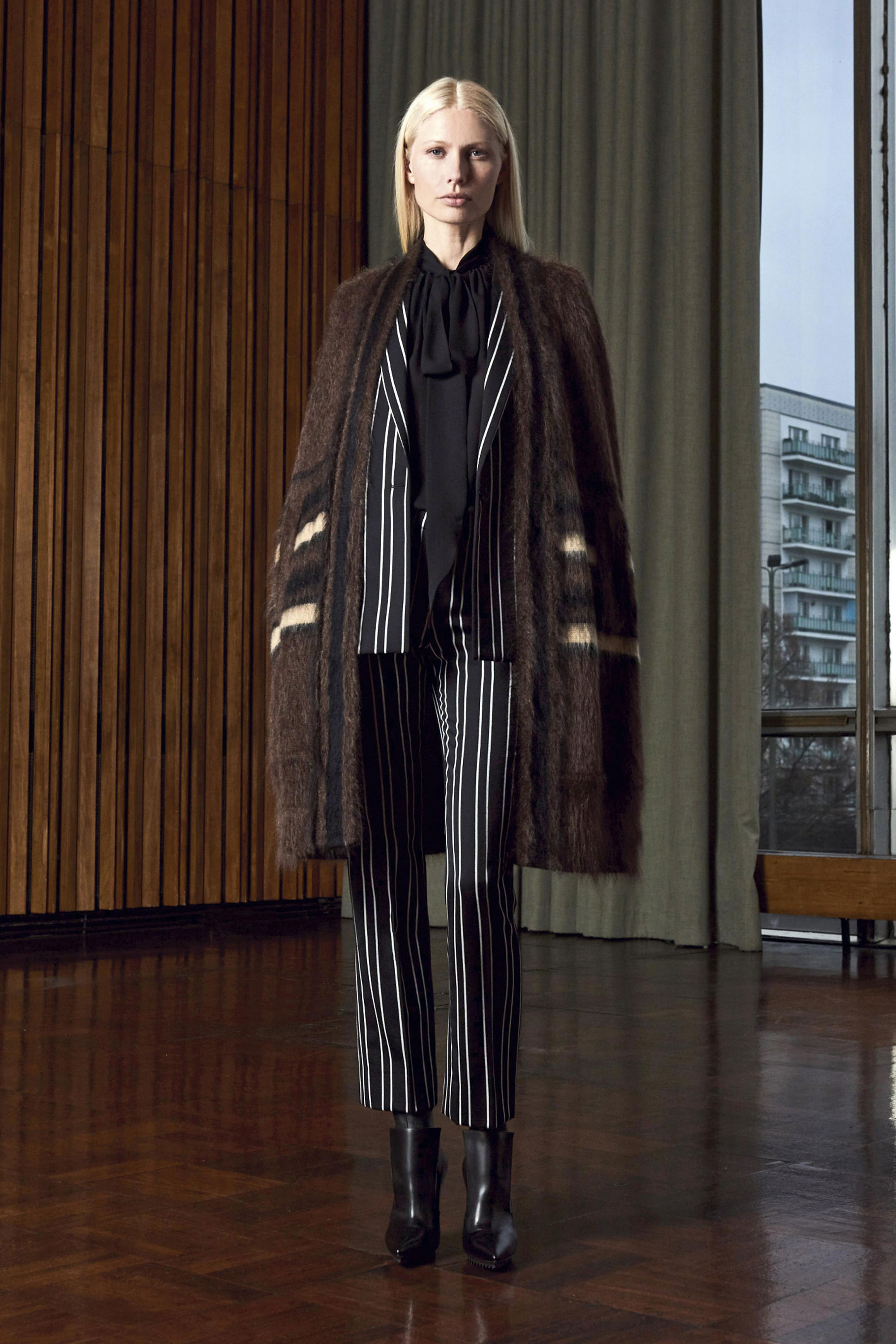 The cape isn't for everyone (especially we of the smaller stature), as it can tend to overwhelm, but certainly provides panache to a pantsuit.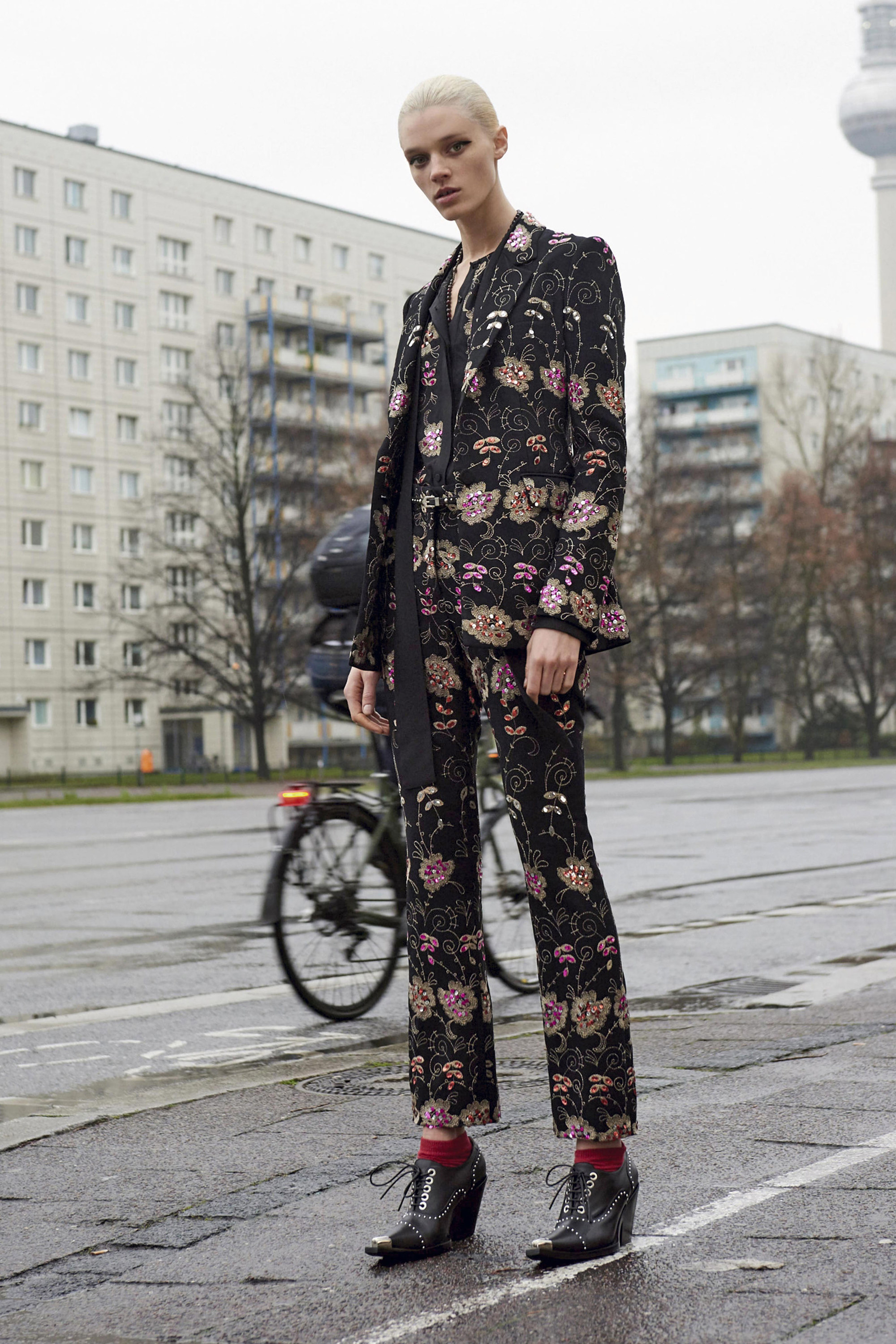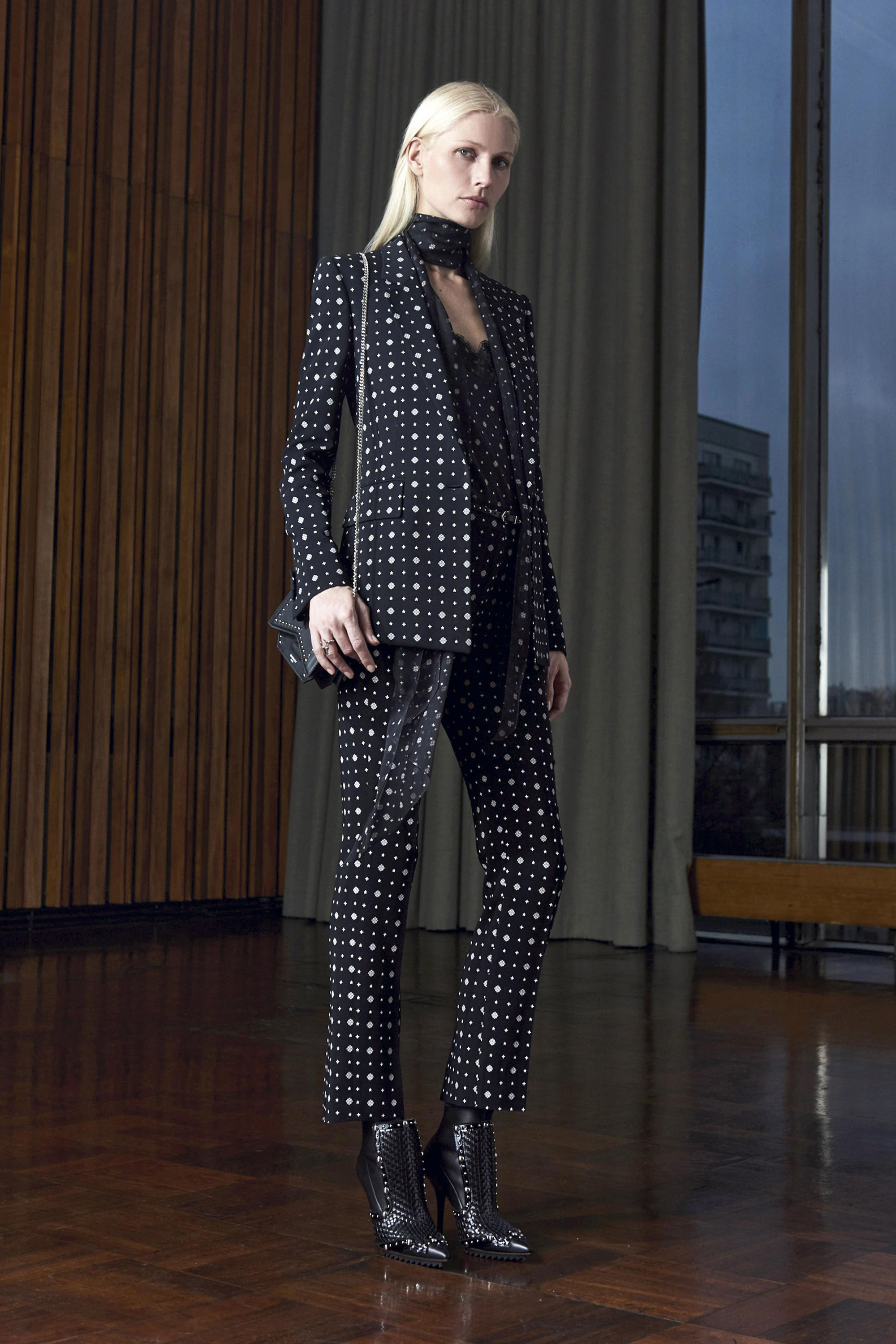 Tweed suits and sweater sets are tried and true options for heading to work and appearing polished and put together. But, for the hipper mod contingent, here you go, the slim pant suits with tapered pants ending in subtly flared bottoms. And wacky patterns.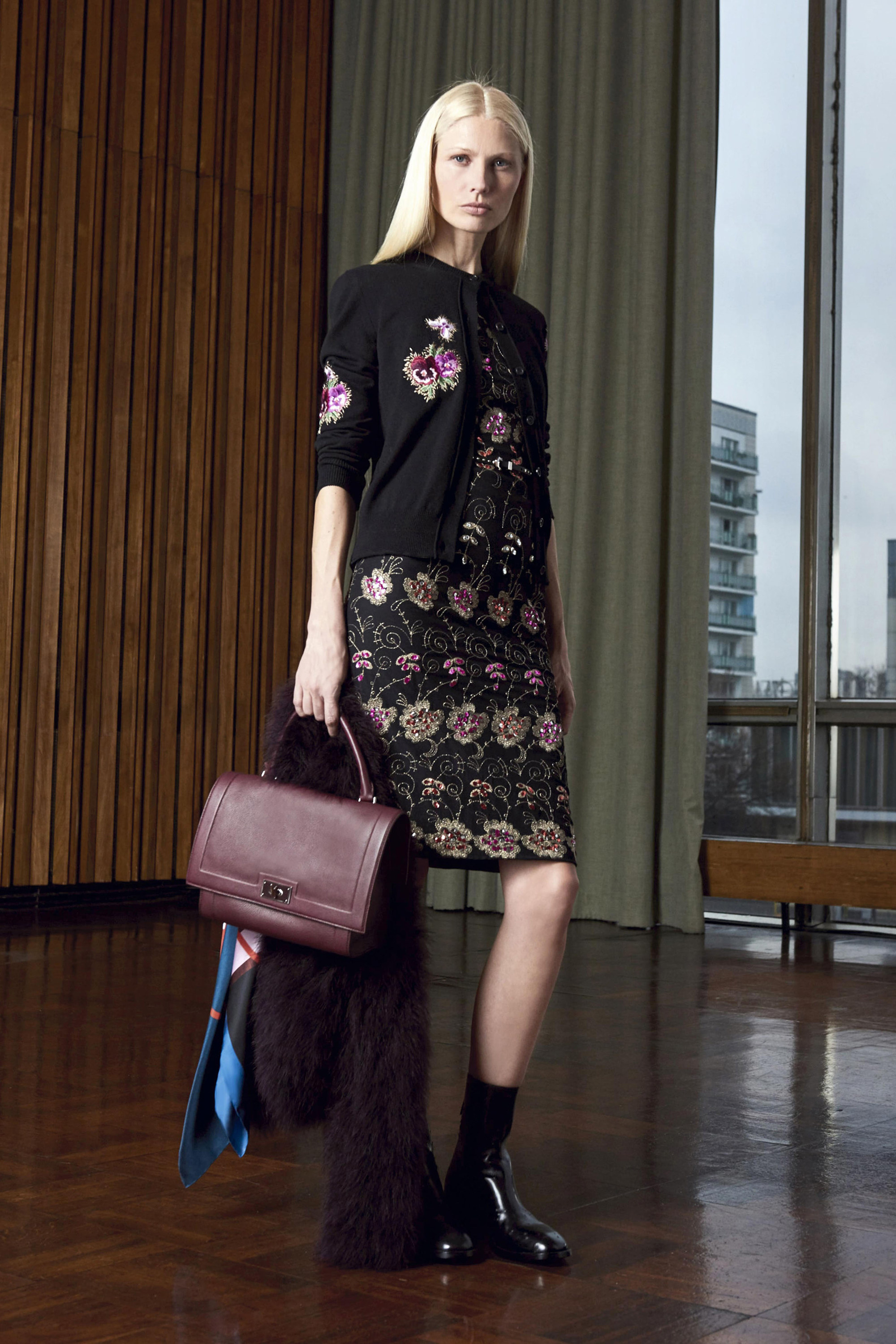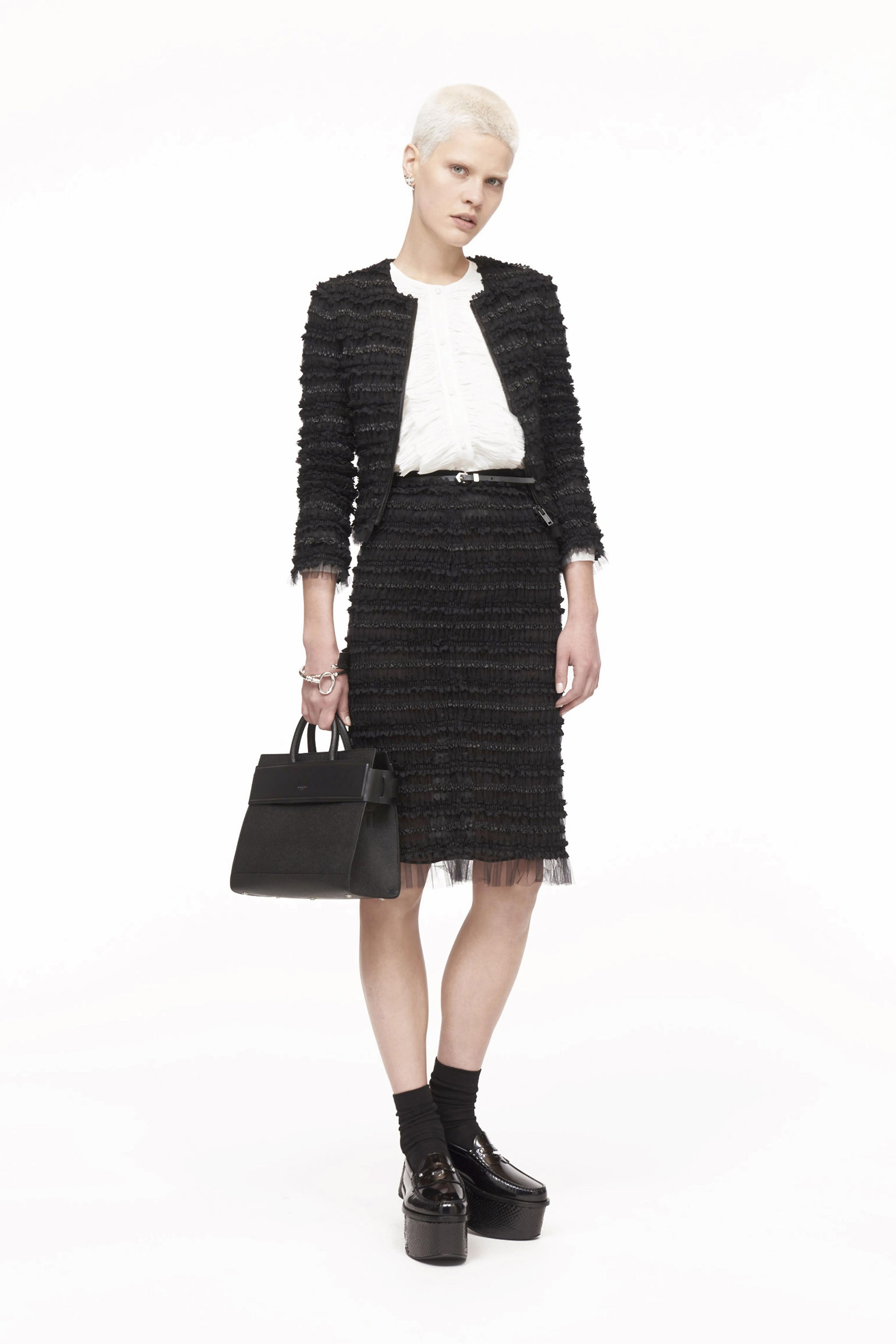 And here we have sort of prim and proper AND lady like.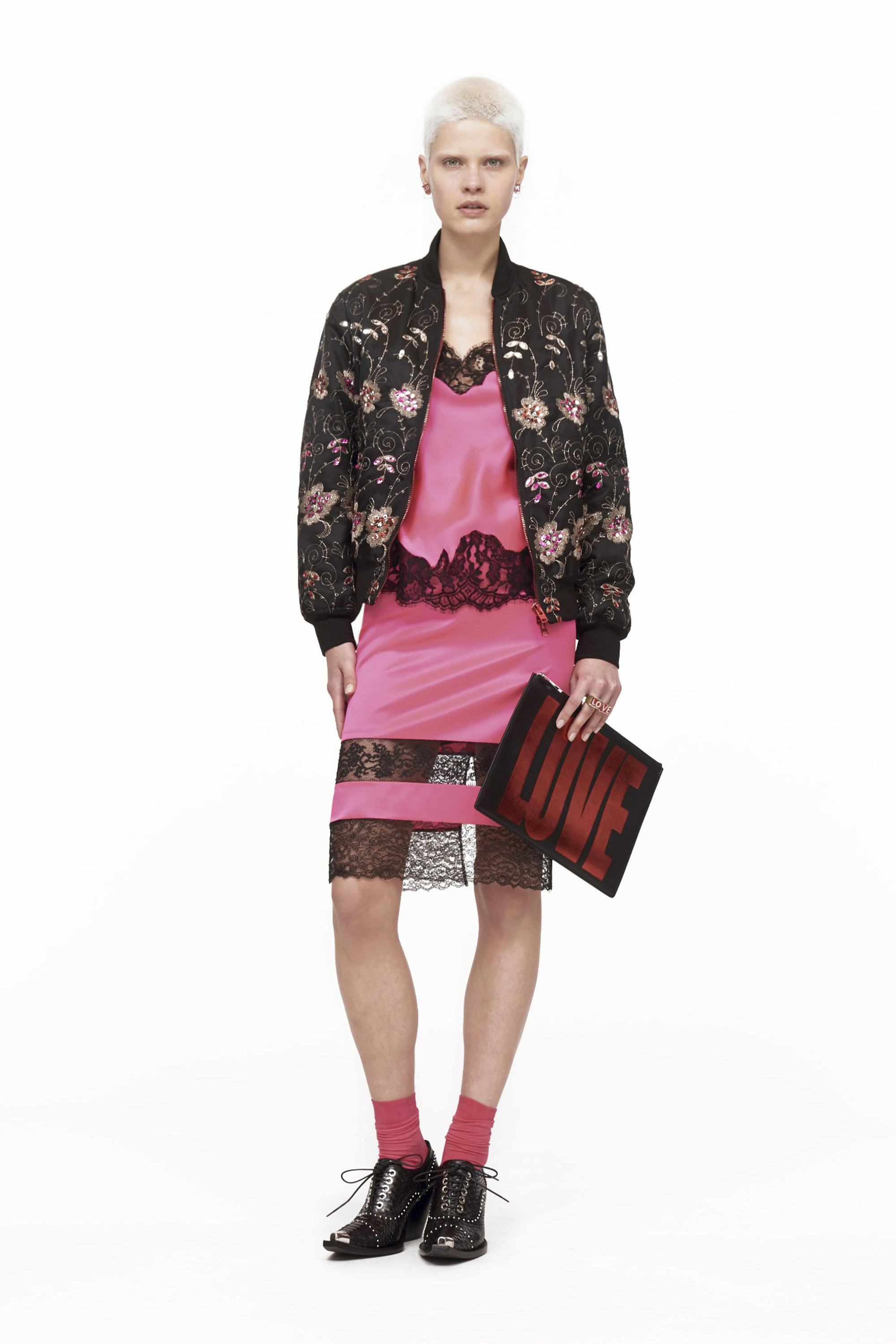 Fuchsia satin slip, yummy! I'd pair this will a structured black coat (check out next look). OR just throw this outfit over black leggings.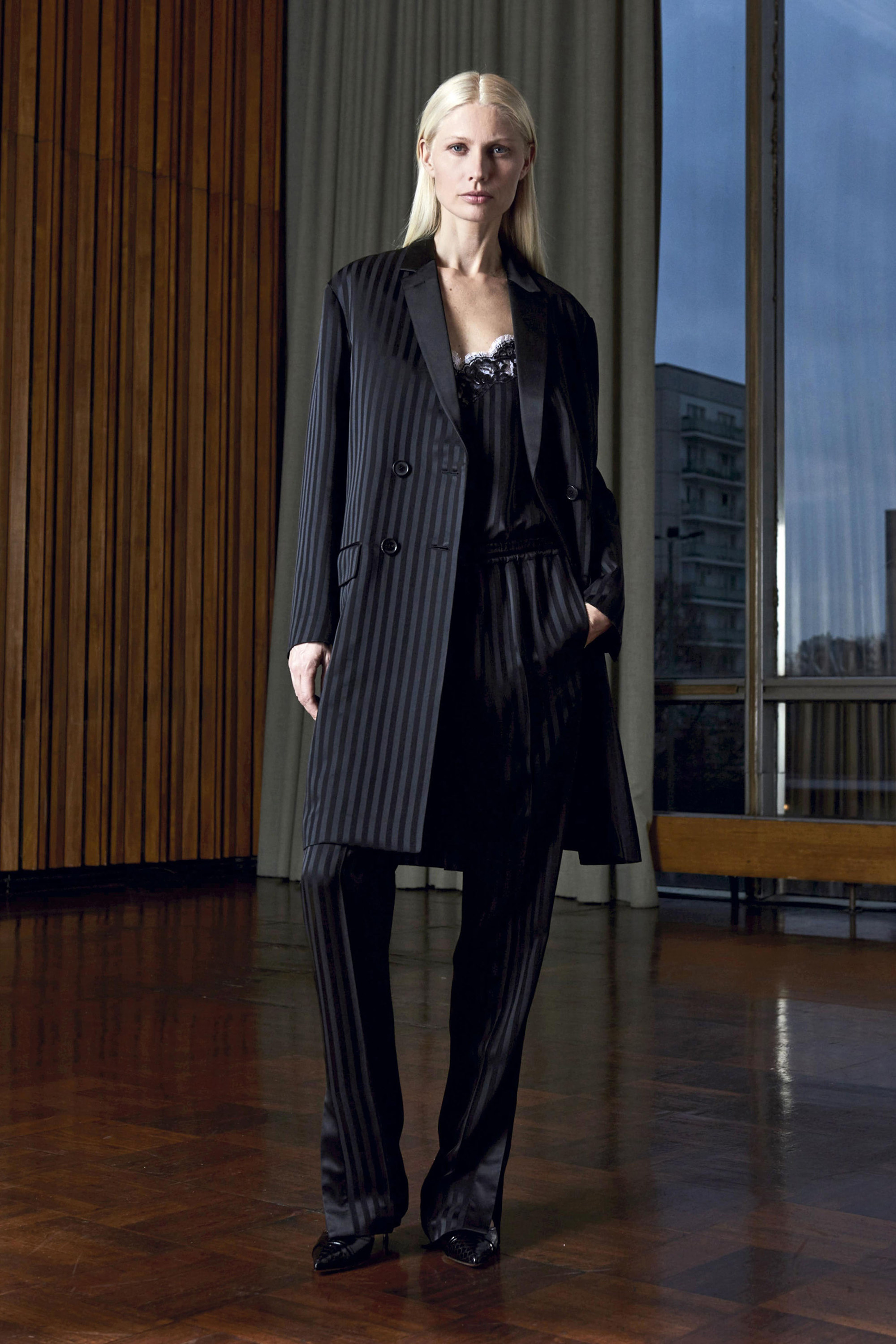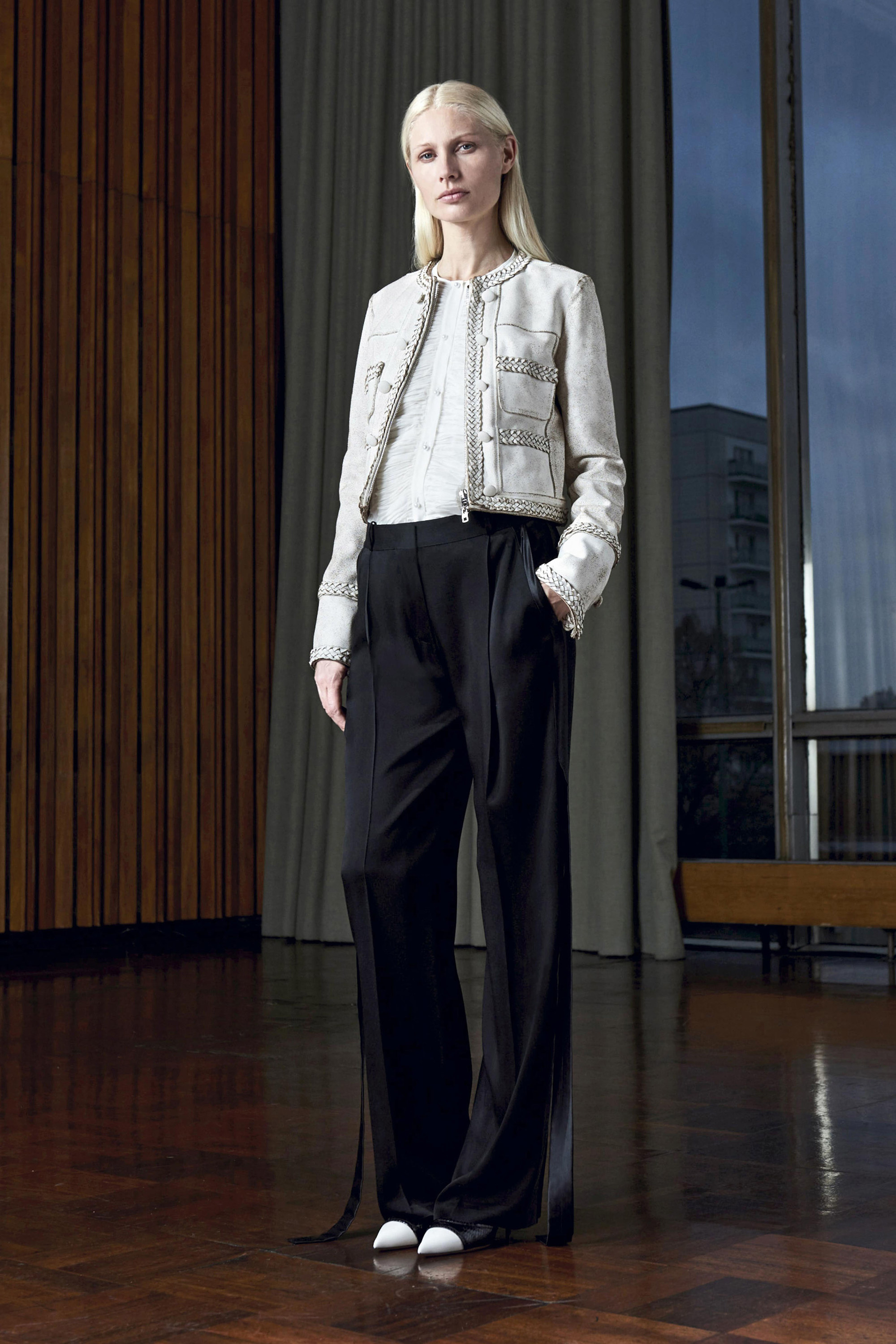 Off white and black separates make for a wearable chic ensemble. And of course the jacket would work well over a fitted black pencil skirt. Add patent stilettos or shoe booties. HUZZAH!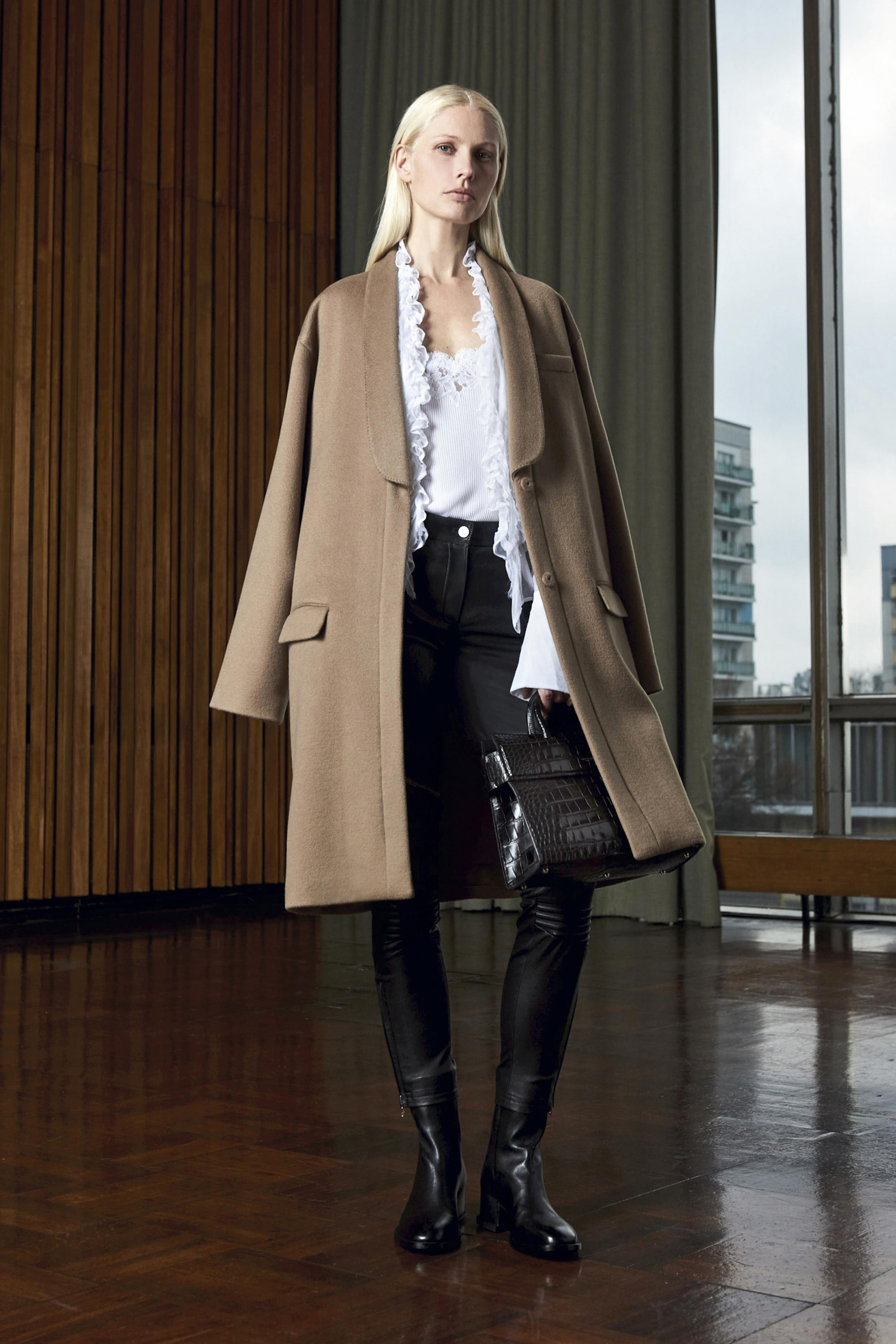 My personal favorite, fitted moto leather pants, white ruffles and menswear inspired camel coat with tuxedo collar. Engaging without being fussy. A triad of modern staples.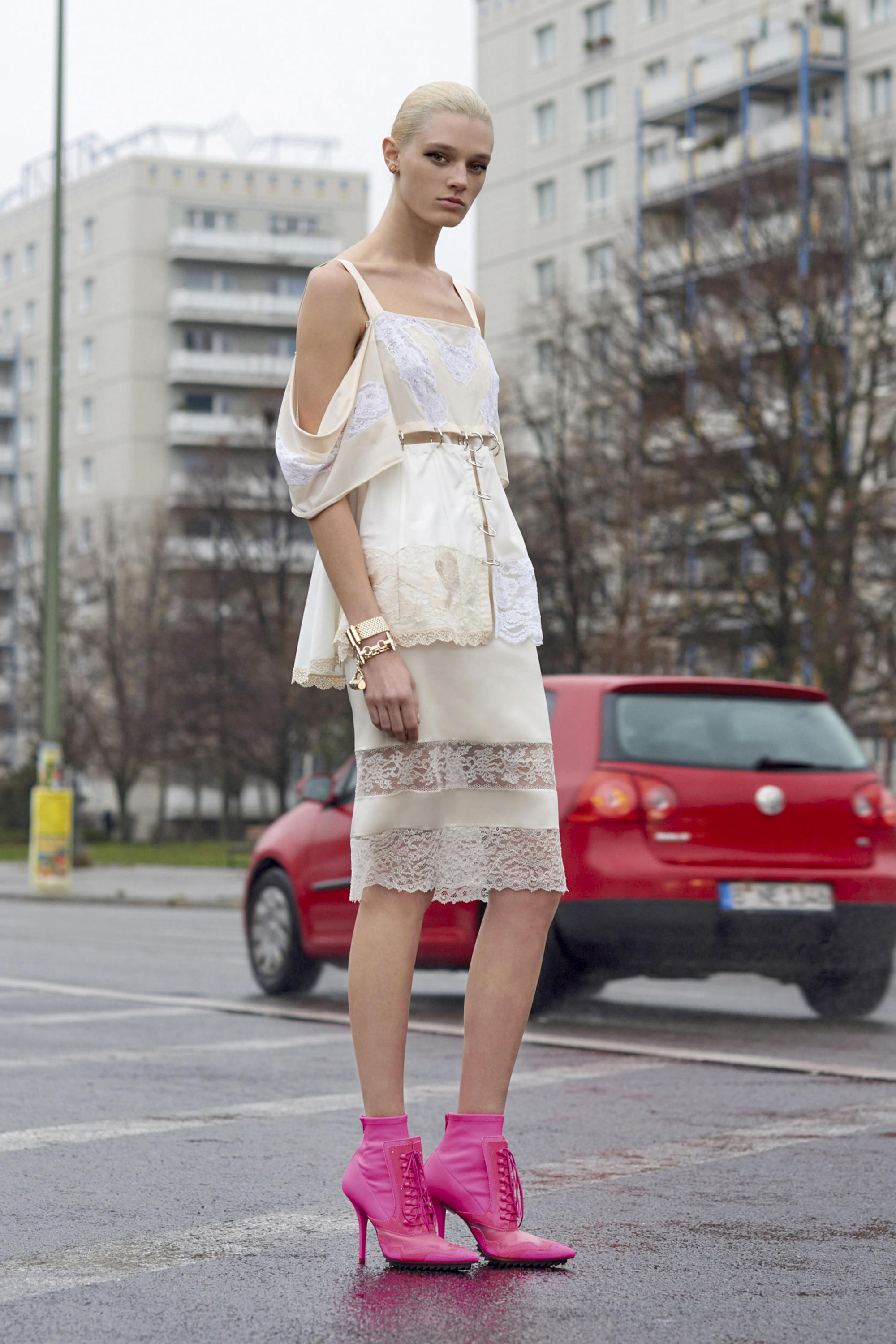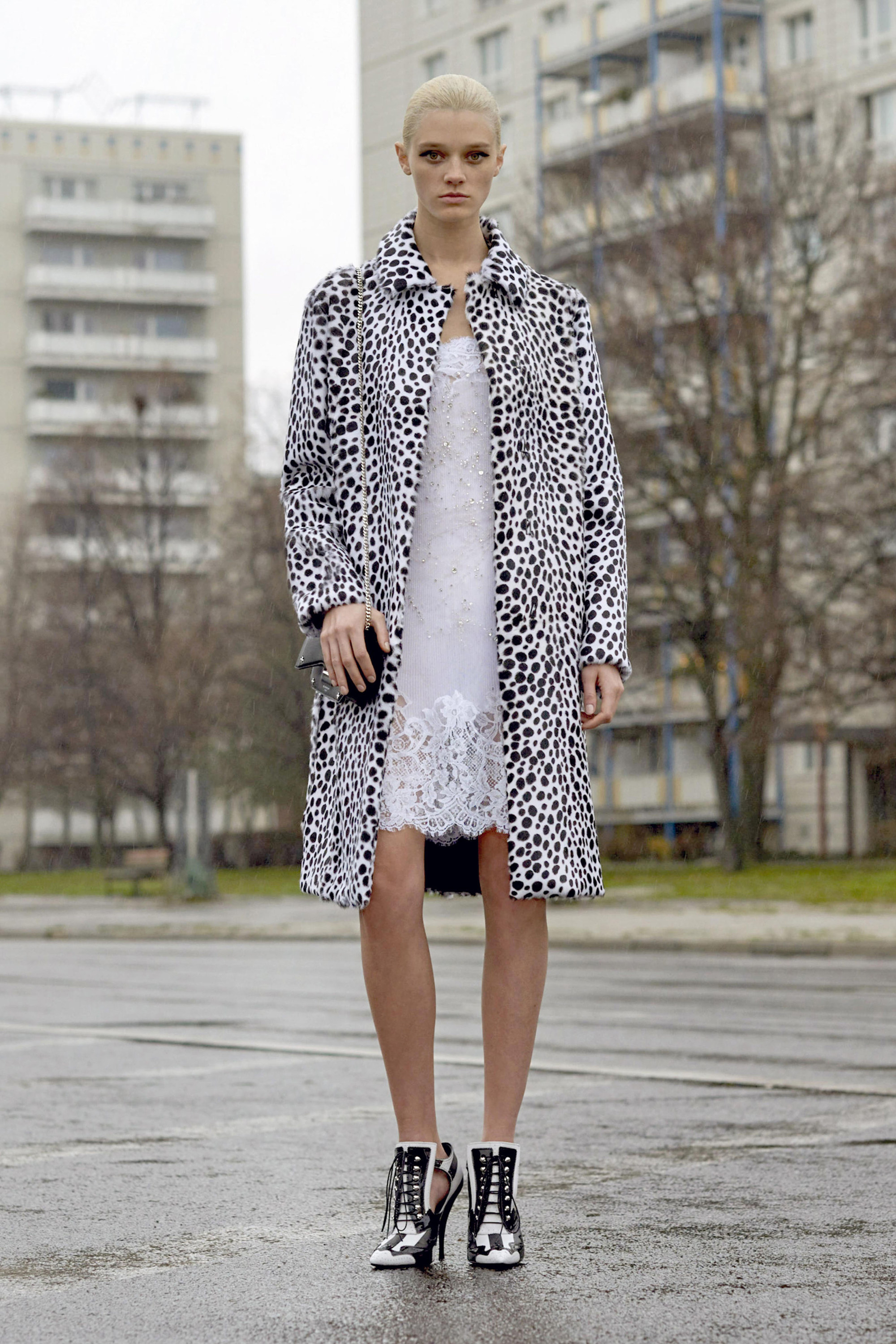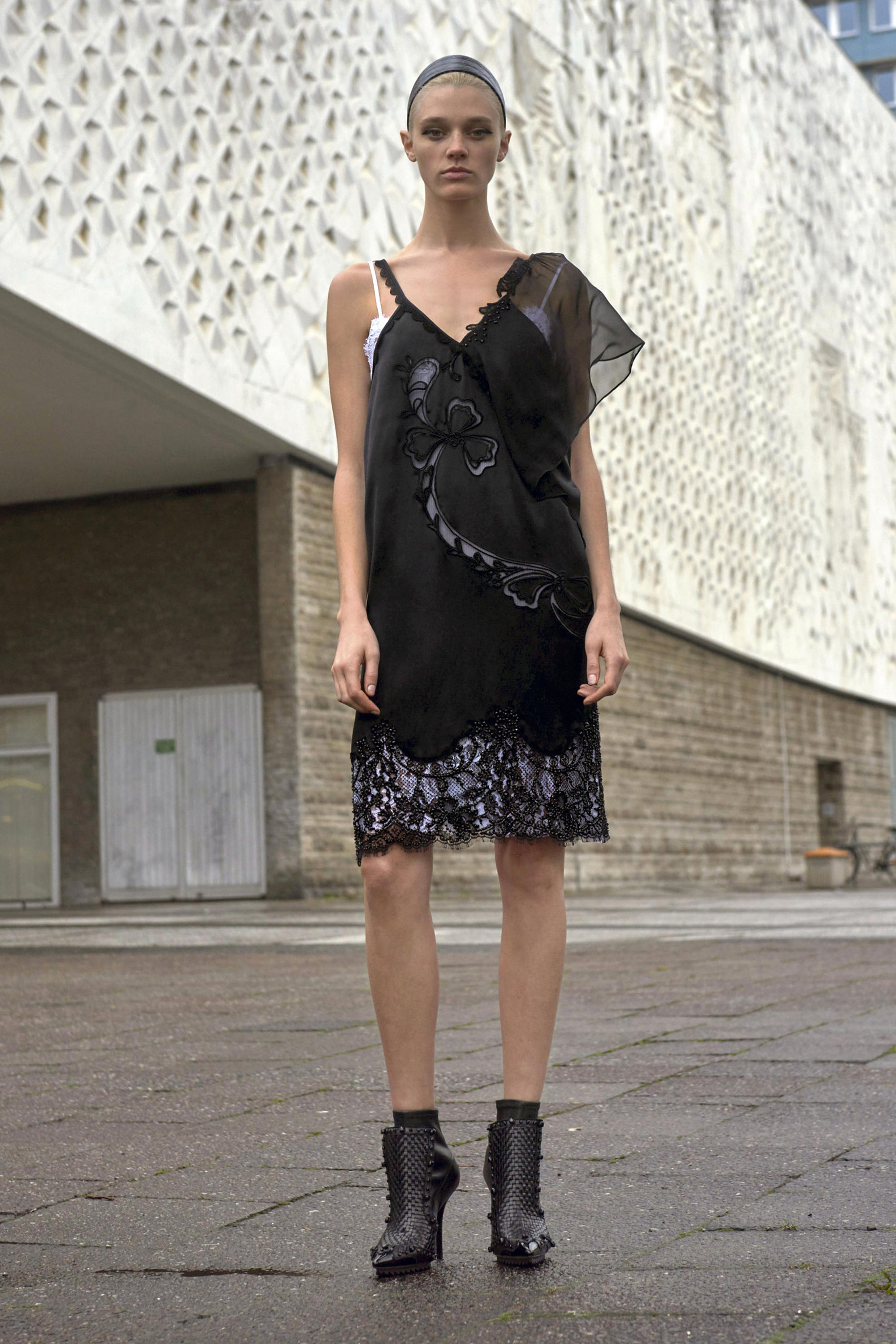 Underpinnings as OUTERpinnings.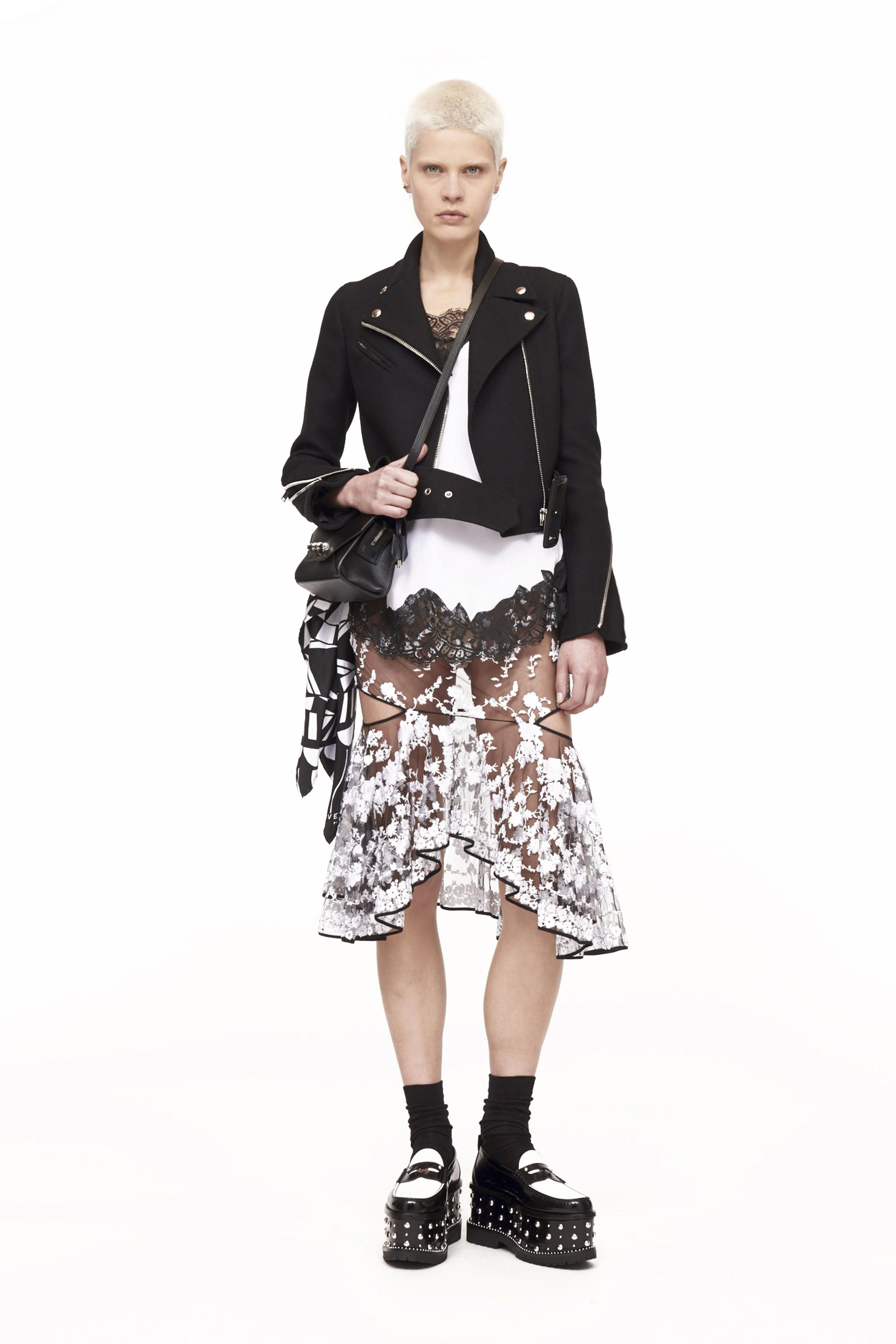 And any time you want to segue from lacy-sexy to ROCK 'N ROLL, just throw on the black leather MOTO jacket.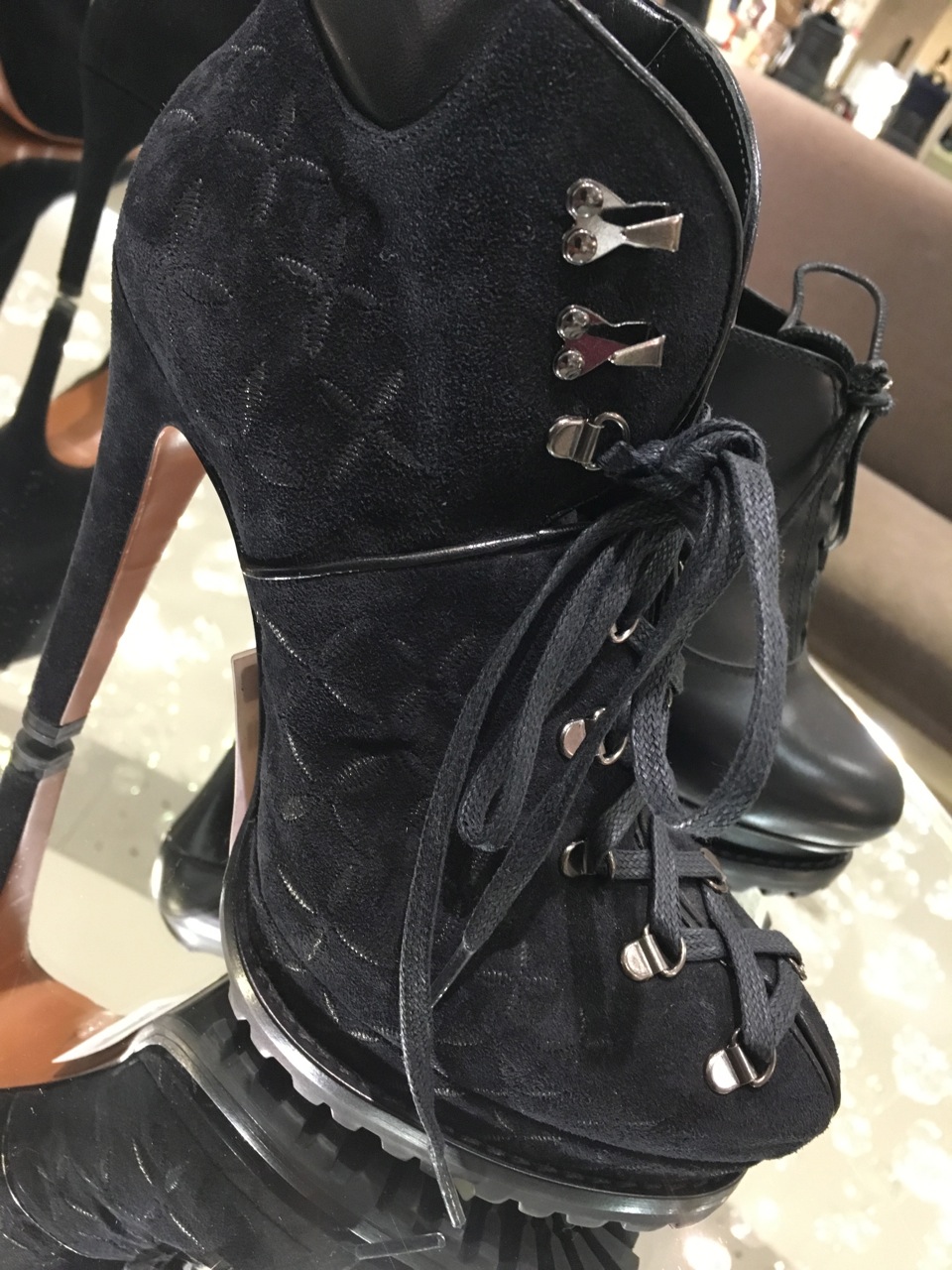 I'm obsessed with these ALAIA shoe booties…..would be the perfect accompaniment to any of these ensembles. (Currently at Saks Fifth Avenue).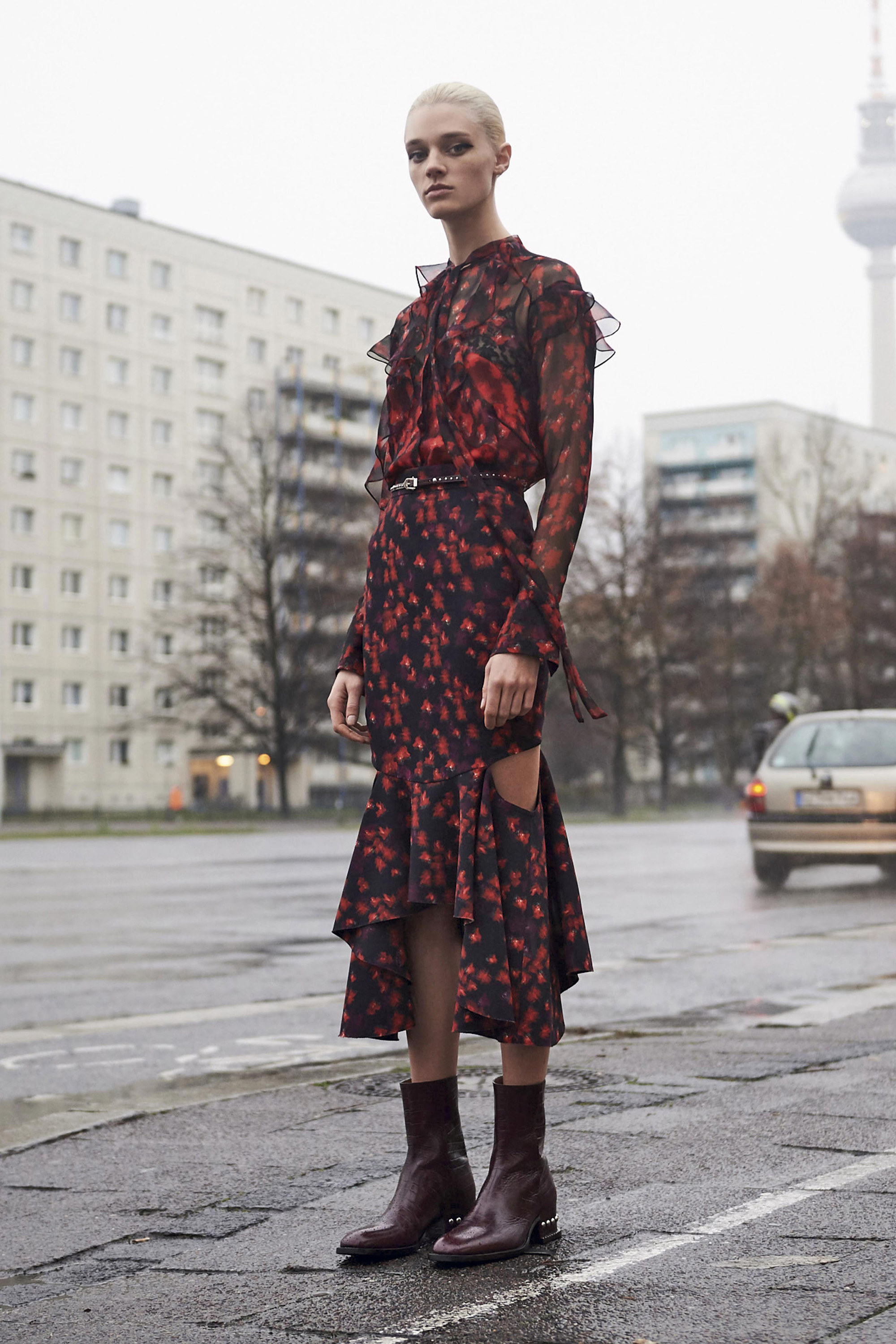 Riccardo loves him some RUFFLES.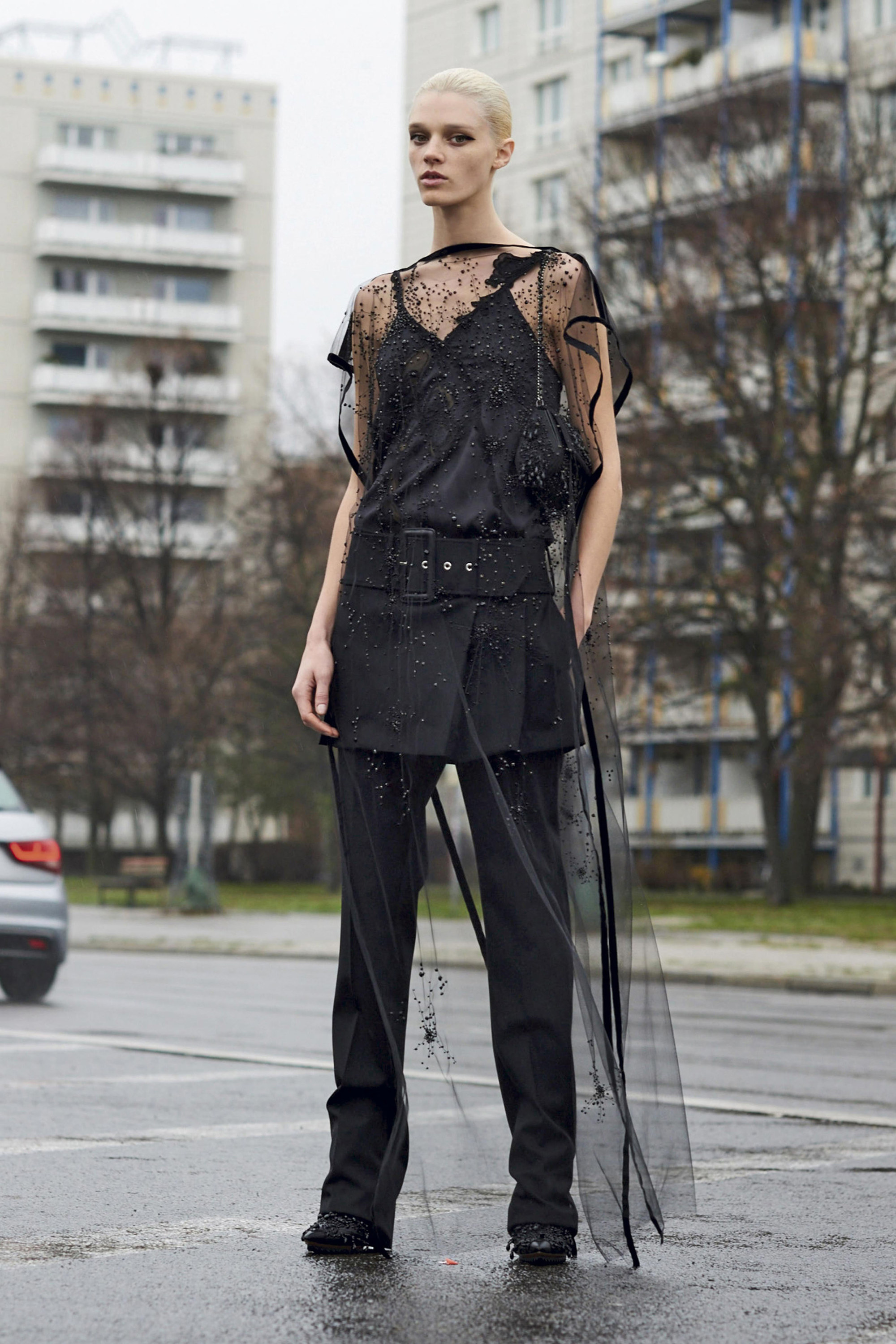 Latter day Jeanne D'Arc.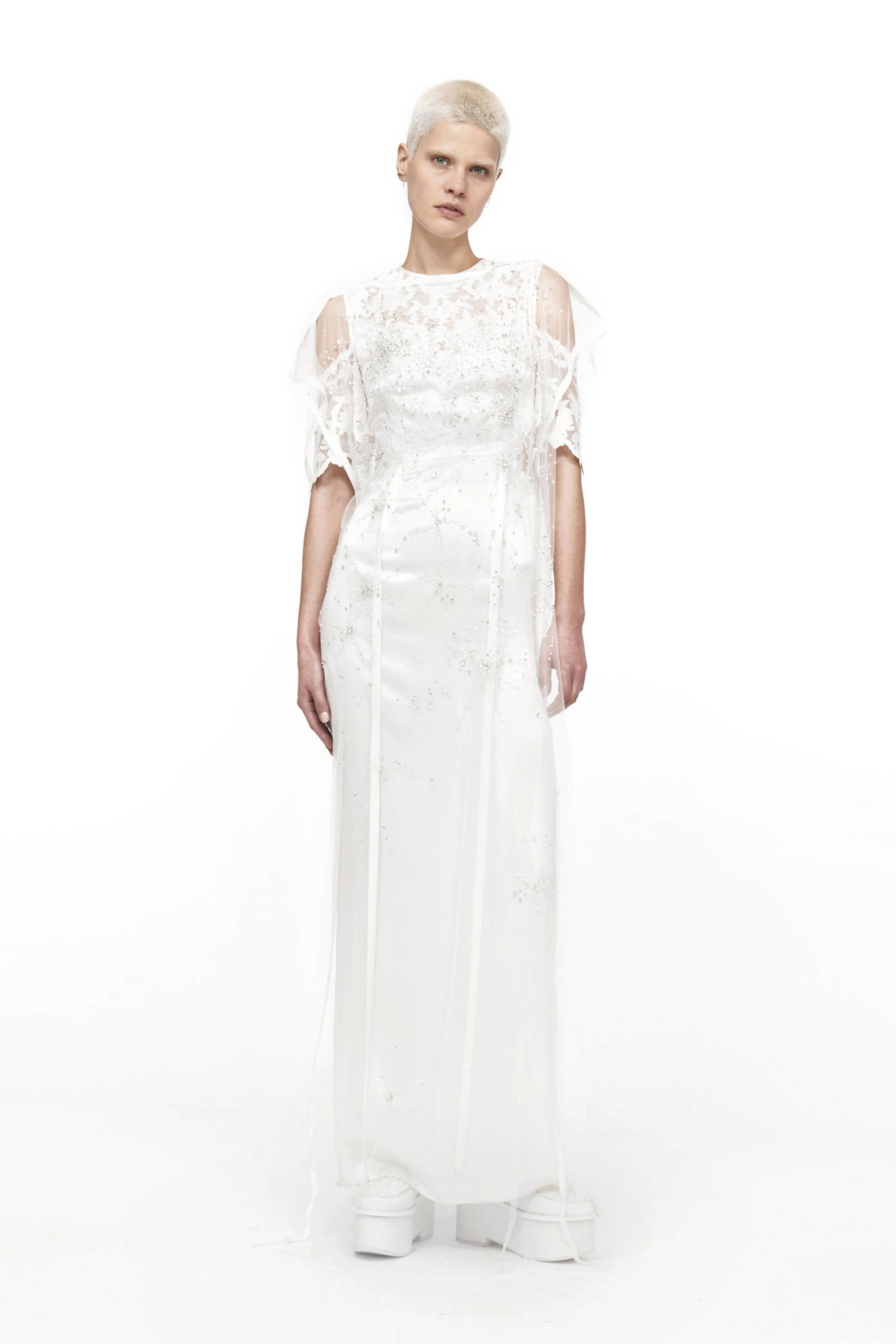 And as a contrast to the Vampire slayer black, we have angelic white……great for a casual spring wedding. Or hanging in the Hamptoms like the Real Housewives….(perfect excuse to whip out the Louboutin wedges below).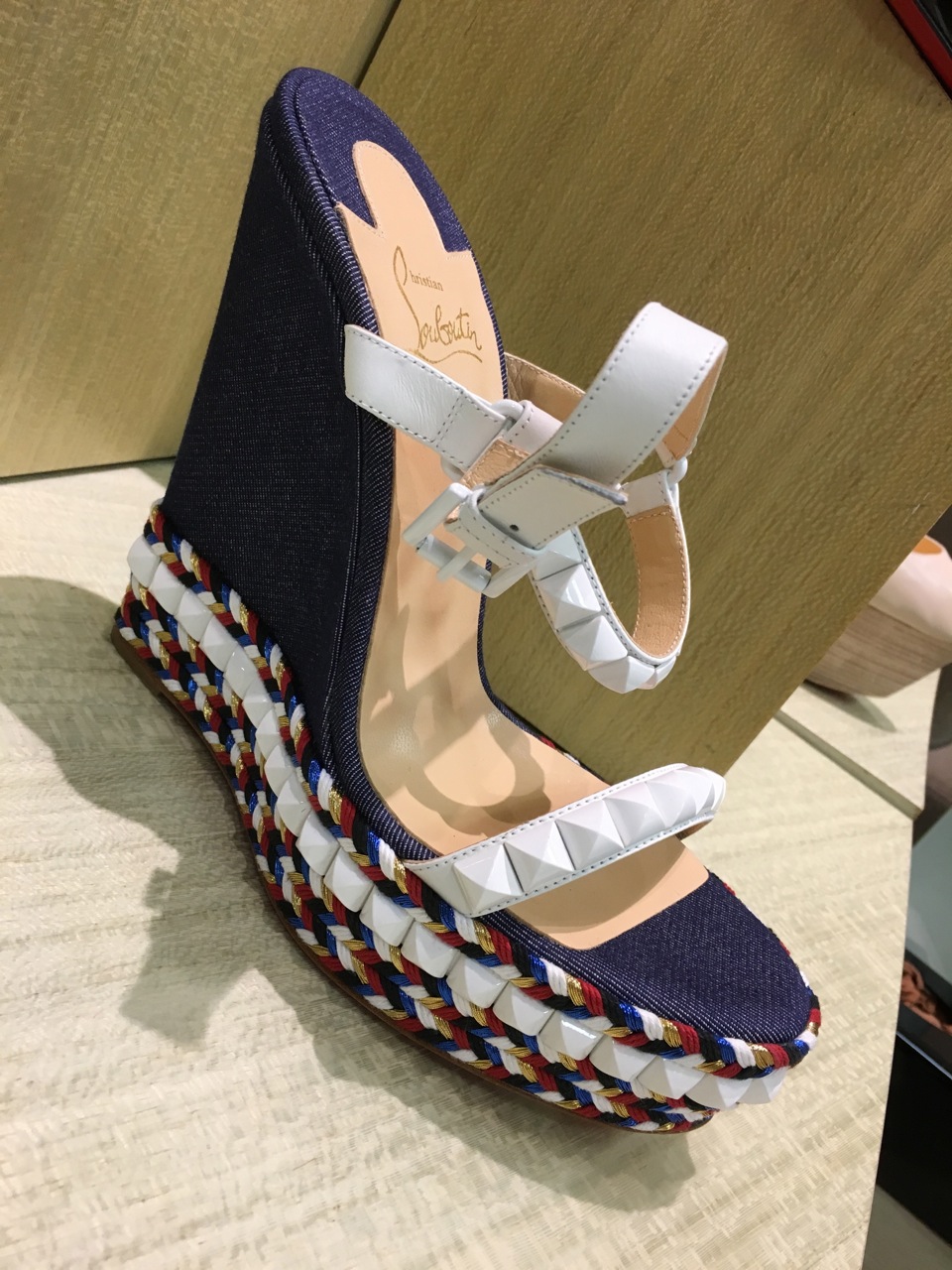 (Also at Saks Fifth Avenue).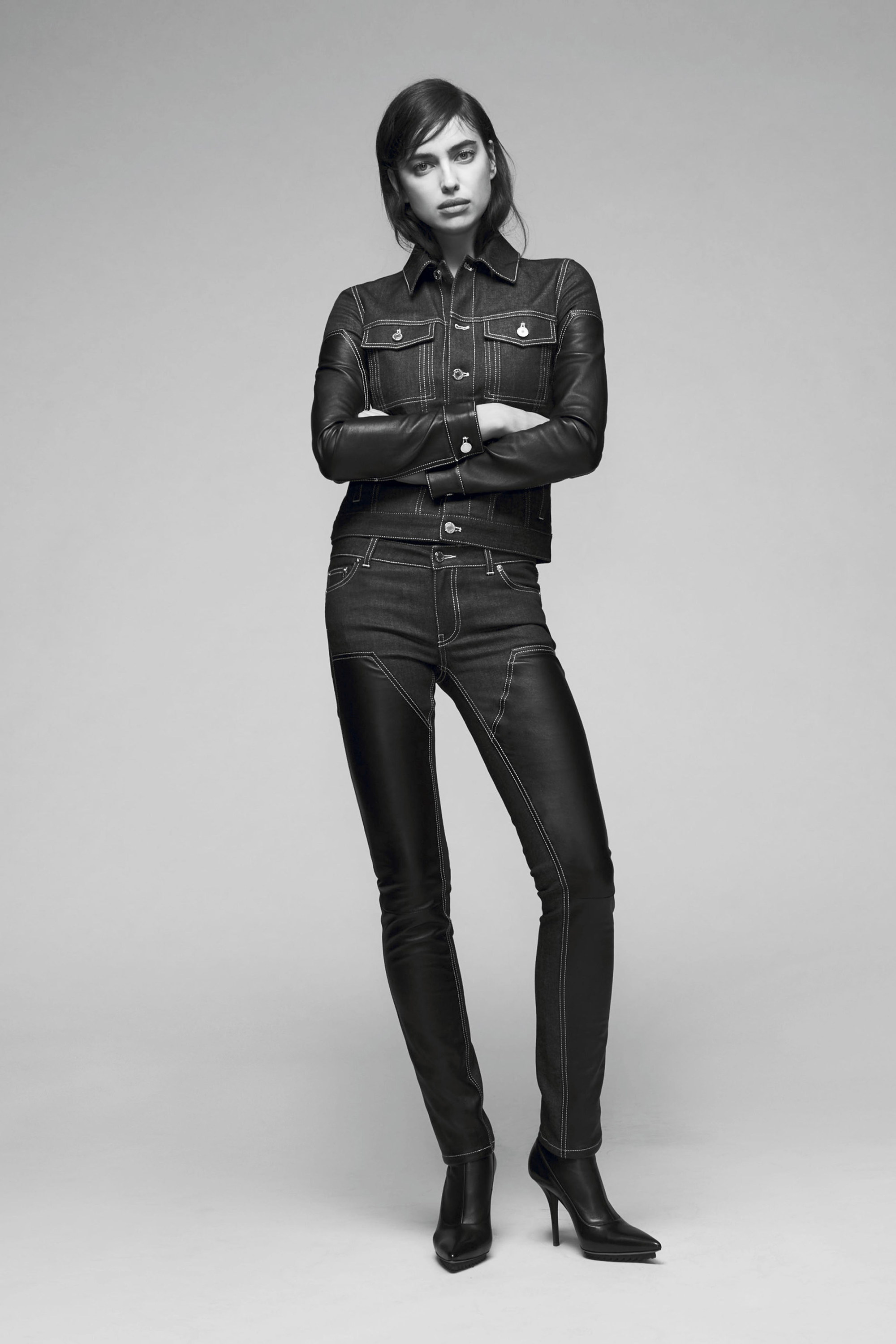 Eh, I wouldn't condone THIS much denim (double yikes), but the jeans are damn fine with the two tones and top stitching!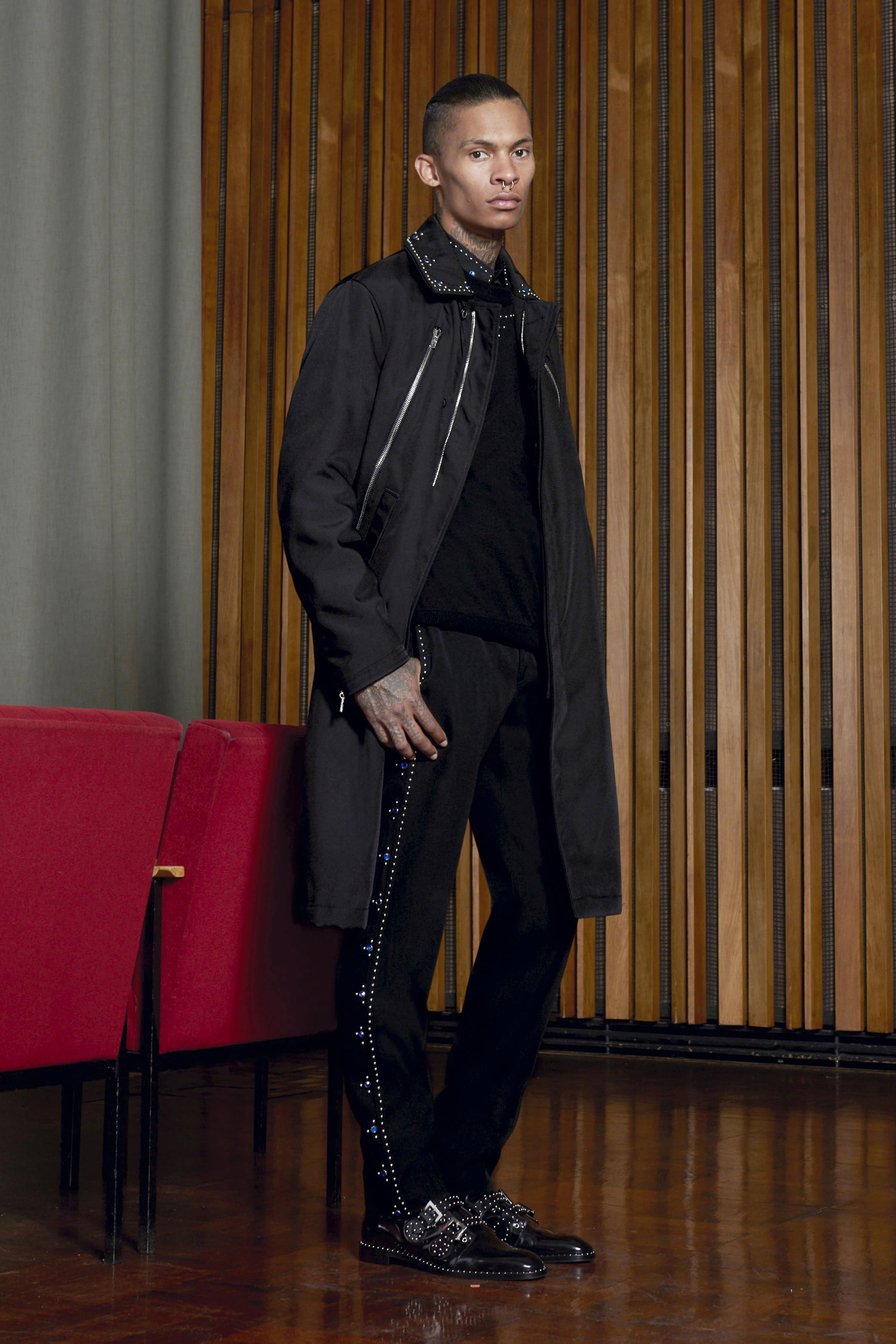 I'm including this for the delicious shoes! (Gawd, I am such a gay man)…...
Images care of www.vogue.com.
And by the way, CONGRATULATIONS TO Sylvester Stallone for his GG for CREED, most likely THE most entertaining movie of 2015! Who doesn't love a good boxing movie?