So, I'm off to have popovers at the The Rotunda (aka Popover heaven at the summit of Neiman Marcus), and on my travels, I stumble into the AKRIS pre-fall and wall winter trunk show. After going down the american express rabbit hole several, ahem, years ago due to an inability to control the adrenaline cascade on my limbic system, I've become wary of such displays. Its one thing to browse through random images on the internet, preferably in a postprandial stupor when you're too lethargic to reach for a credit card, and its another thing entirely to come up close and personal with a veritable treasure trove of exemplary wares, when you're in a good mood and your credit card number is on file. You can touch the plush cashmere and smell the leather.....DANGER WILL ROBINSON.... Every once in awhile, its a pleasant dose of reality when you realize, hey, that expensive stuff ain't all that! You've instantly spared yourself the low level agony of pining away for yet another inanimate object. More often than not however, one becomes instantly mesmerized by the wondrous display of runway gems, in new and varied glamorous and dramatic silhouettes, constructed of heavenly woolens and cashmeres, intriguing silk weaves, and sumptuous leathers, the glory of which can only be fully appreciated in person.
"When a woman walks into a room, I want people to notice her personality first and her clothing second." Albert Kriemler, creative director for A-K-R-I-S.
AKRIS happens to be nestled between Valentino and Oscar de la Renta, both houses that are typically infused with an element of theatricality not to mention a dazzling color palette. Its hard to stroll on by without at least transient surveillance. It would be easy to wander right on by the Akris boutique given the lack of obvious bells, whistles, and billowing fuchsia faille and taffeta silkens. After being distracted by Chanel, Valentino, and Tom Ford, I finally had the privilege of getting my mitts on several of the recent runway delectables lining the litany of racks outside the boutique for the traveling trunk show. I've always been impressed with the construction of the collections, immaculate attention to detail, and flawless fabrications demonstrating low key opulence. However, as someone enamored with anything harkening back to Louis XIV, with velvets, tassels, and embellished gold buttons, I never felt an irresistible attraction to the line. Well, I have had my come to Jesus moment!
This was a collection for anyone who appreciates well crafted, sometimes spartan but always chic and stylish pieces constructed of some of THE most superb textiles and dreamy leathers in the world of fashion. The leathers were as they say, "like butta".....The silhouettes ran the gamut of streamlined to space age and fashion forward, both eminently wearable and quite flattering and alluring in a tailored decorous fashion. Along with a small black contingent, winter white made a strong appearance, but to me, the most appealing were the dove and heather grays and taupes, in various shades. There were suits for the hard driving CEO who refuses to forsake her femininity, as well as form flattering tunics to be thrown over leggings, opaque hose, and the boot of the day for the hip fashionista. A boon of the collection was the obvious ease of form, making many of the pieces one's new best travel friend.
A staple of the runway ensembles was the skin tight leather "stockings", which ended somewhere along the thigh depending on one's height, a curious option for those who don't want full on leggings. Needless to say, the leather was delicious. As a counterpoint to the hip hotness of the leather, tapered and wide leg trousers were also included for the more conservative lot.
There was also a small yet memorable cadre of fur pieces, with sporty mink vests and a light as a feather sheared black mink jacket, again, great for layering and random sojourns. The evening contingent was small but compelling with cocktail and full length entries.
First and foremost, this was a sportswear collection for the fashion savvy, and one of THE most impressive I've come across.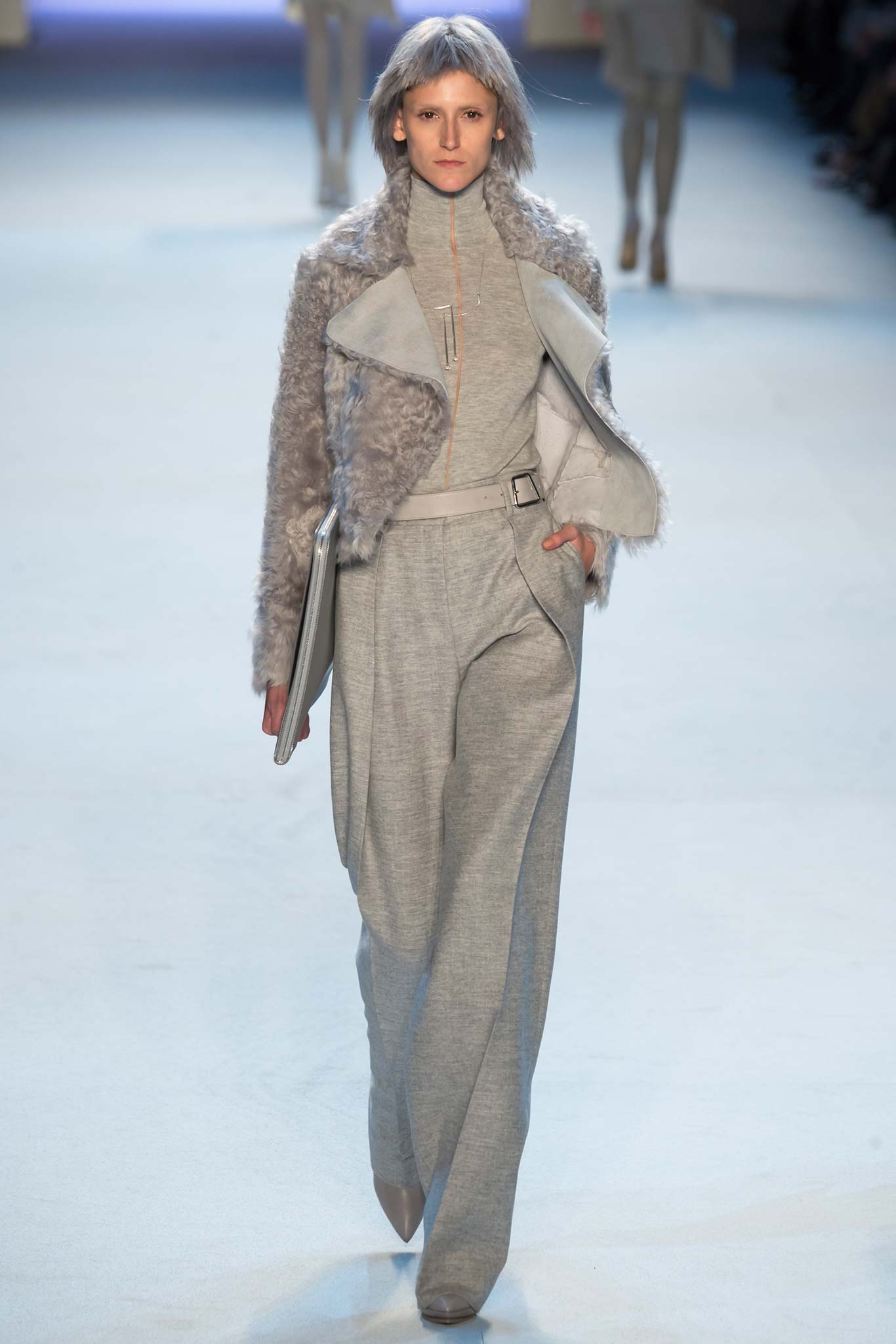 I'm obsessed with this outfit, especially that scrumptious taupe shearing jacket with the bold lapel. The thin gray wool turtle neck goes under the category of fabulous underpinning, great for layering.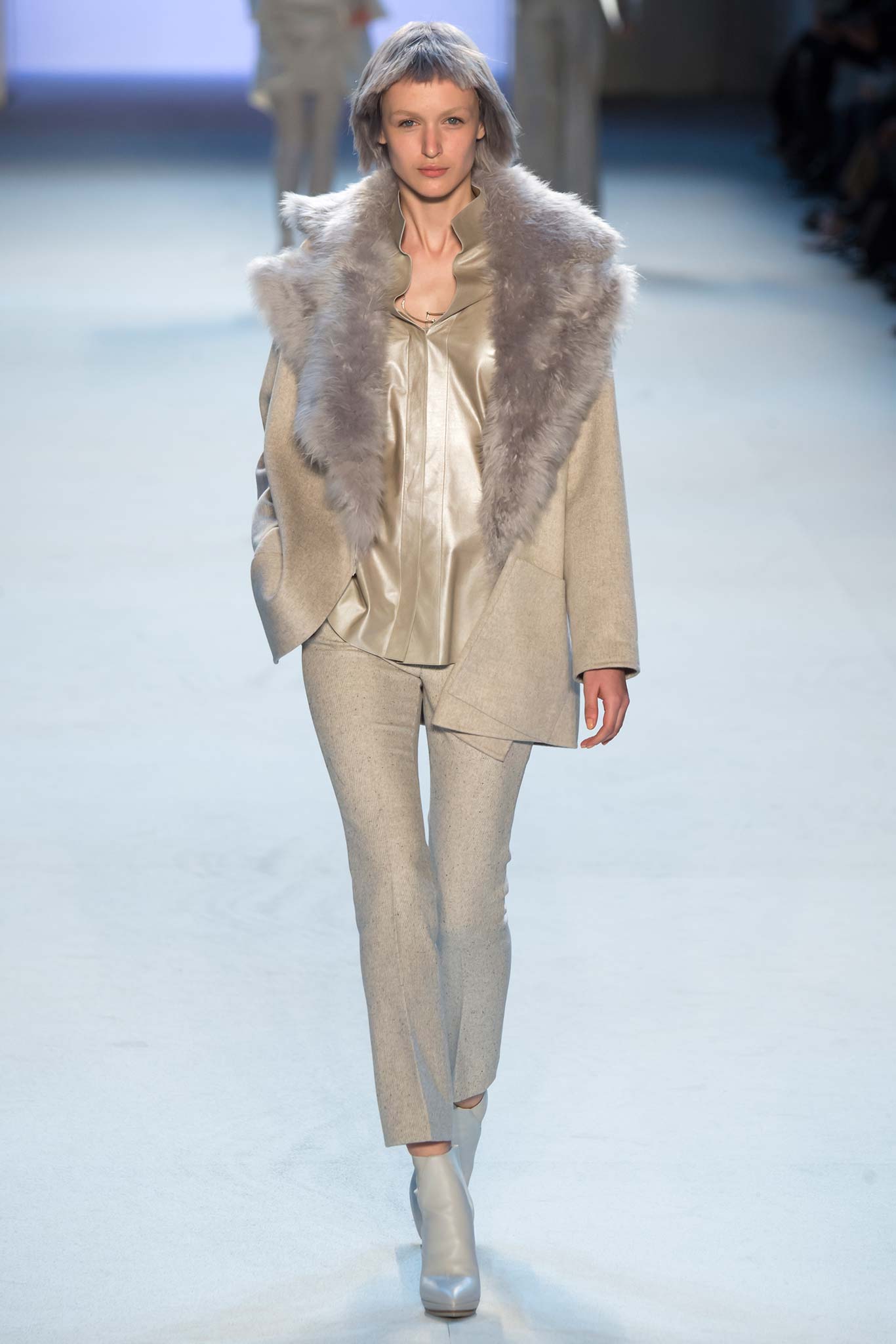 Another shearling stunner for winter frolicking.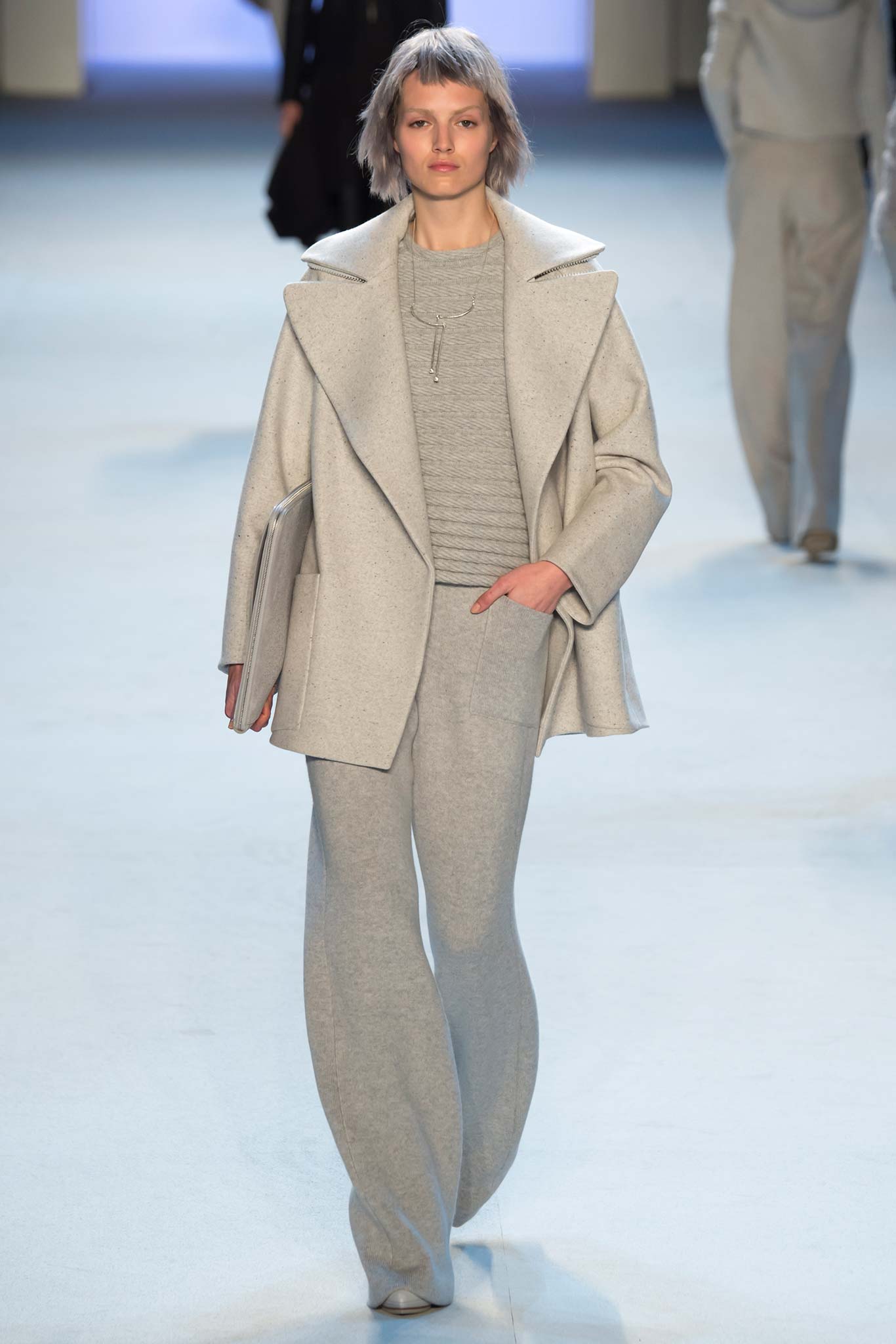 The PERFECT travel coat! Check out the collar which can be zipped or unzipped.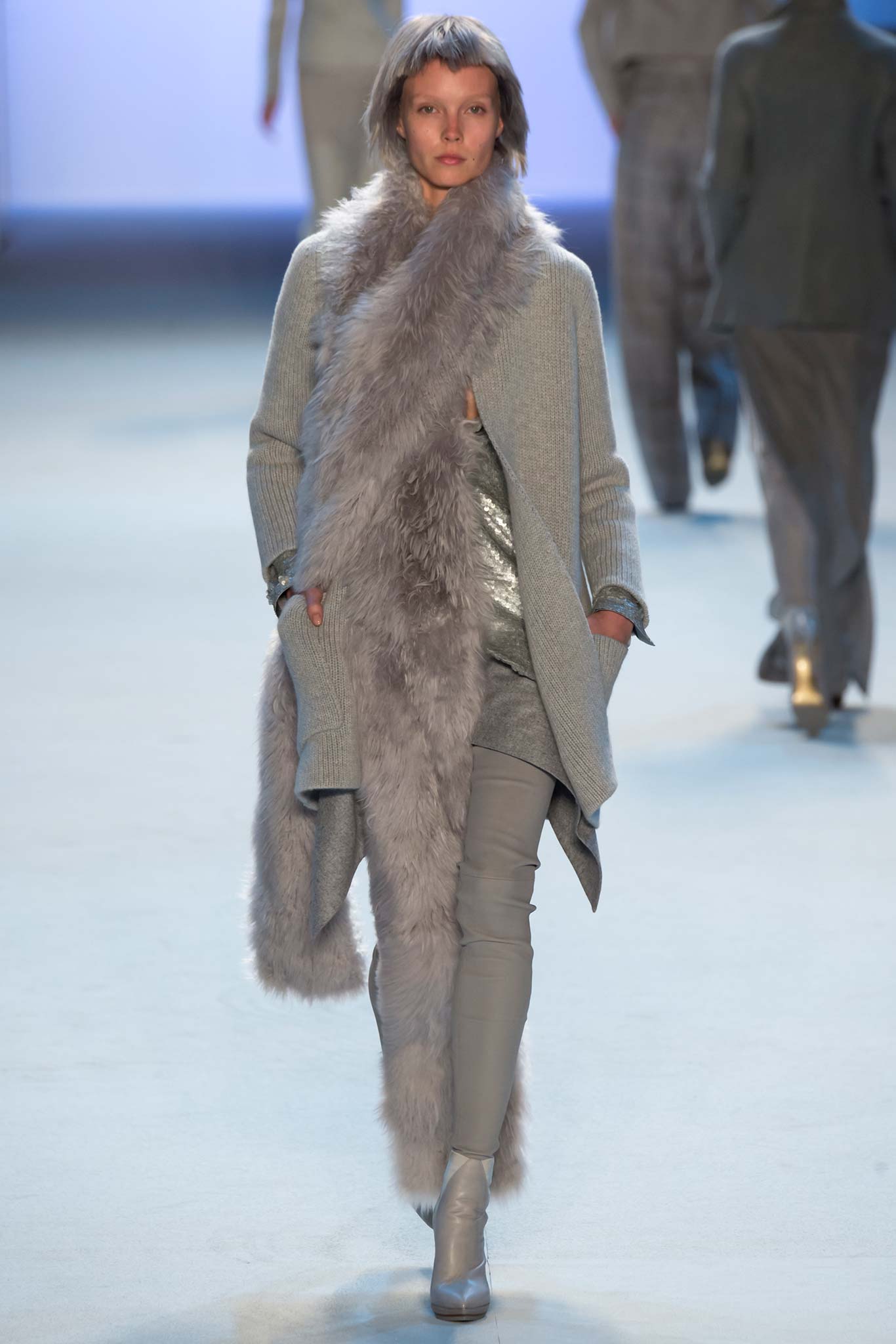 I've always been a fan of layers upon layers, especially living in the land of psychotic temperature fluctuations. This collection with its soft enticing neutrals that could all harmoniously coexist were akin to that typically seen with Brunello Cucinelli.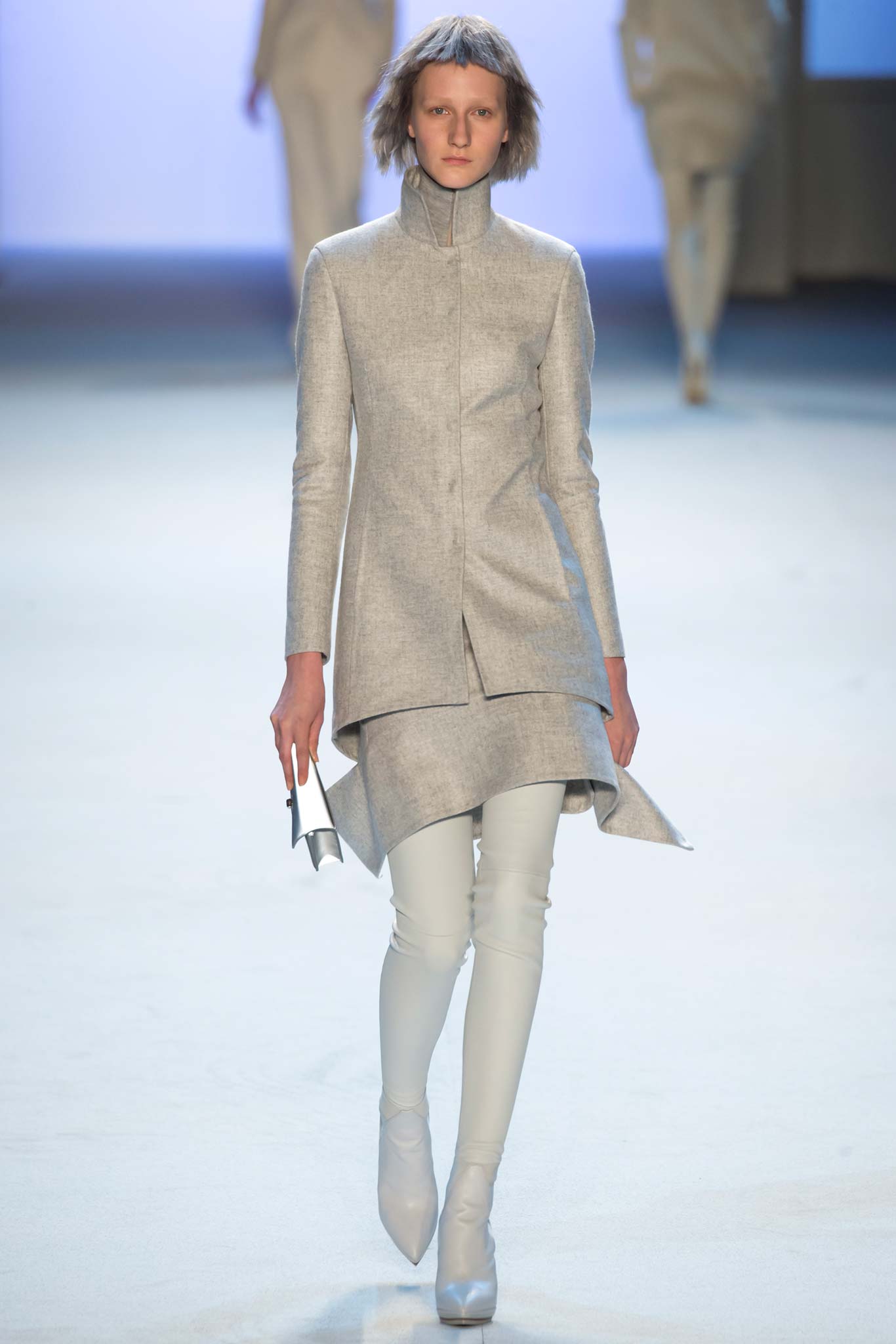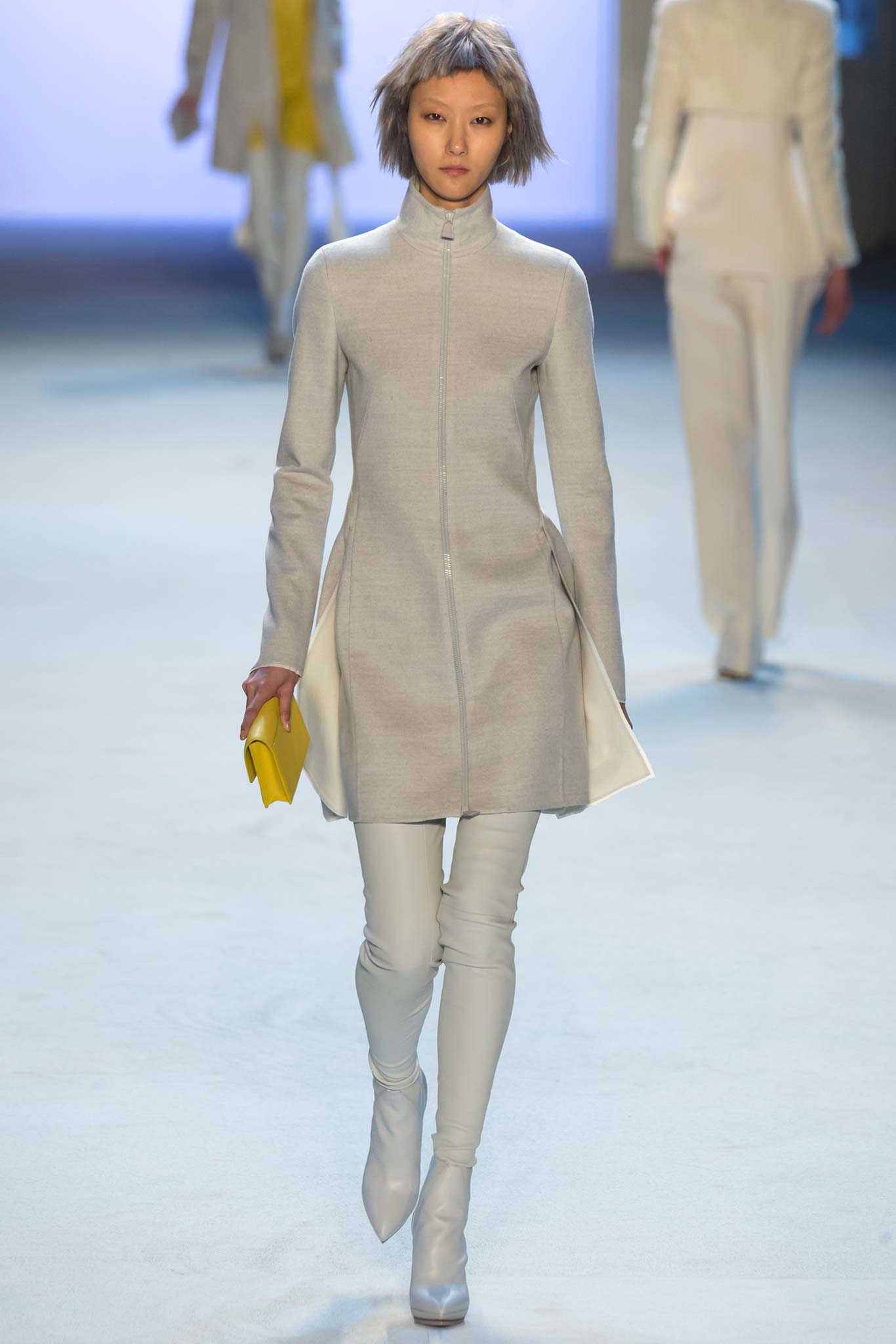 Another low key favorite, to worn as a jacket over a T shirt, a tunic over leggings, or a dress! When you need to travel light AND chic, this is the perfect garment.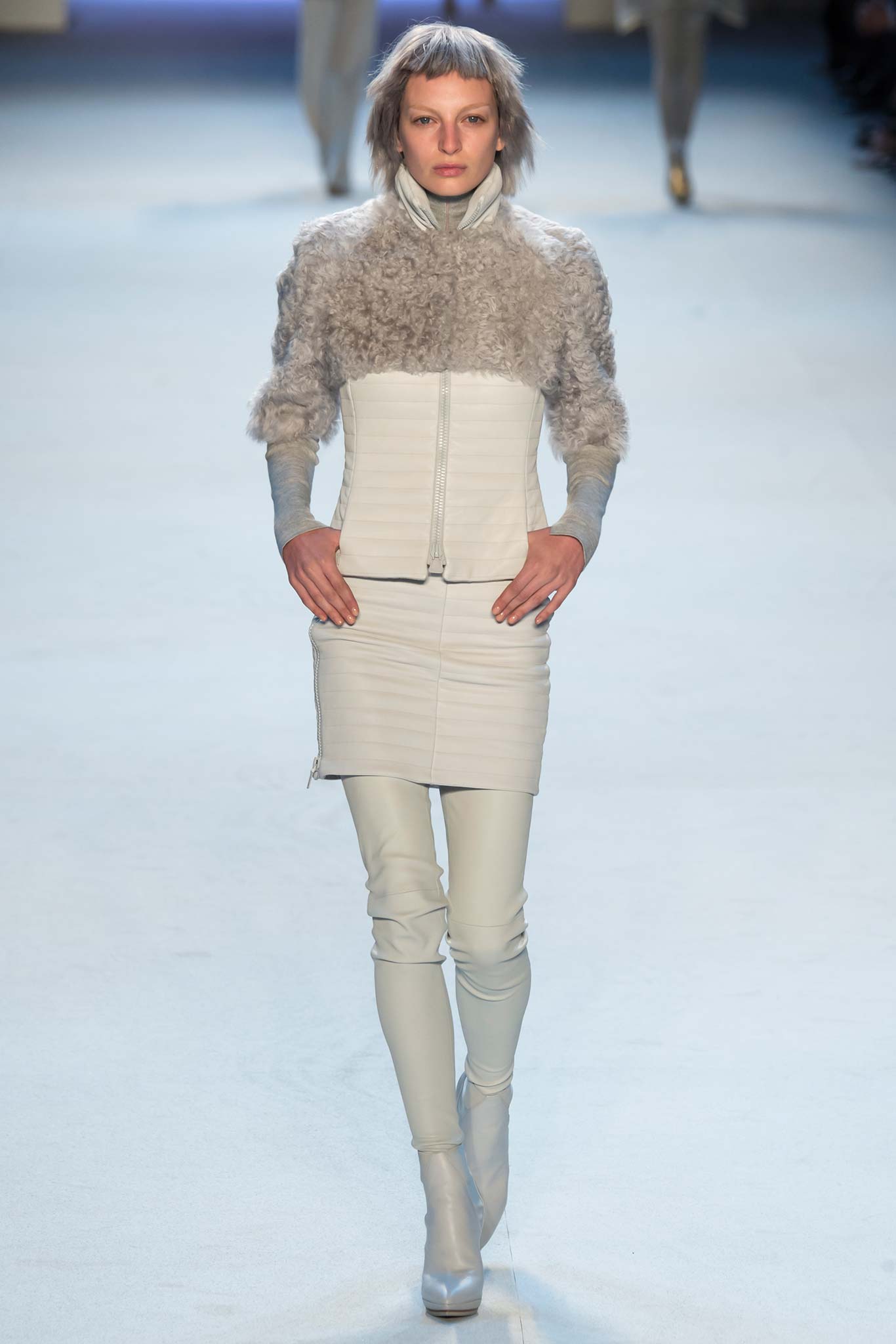 I love the Judy Jetson vibe. Never seen anything quite like this. The jacket would be fantastic over a long white shirt and skinny jeans or leggings.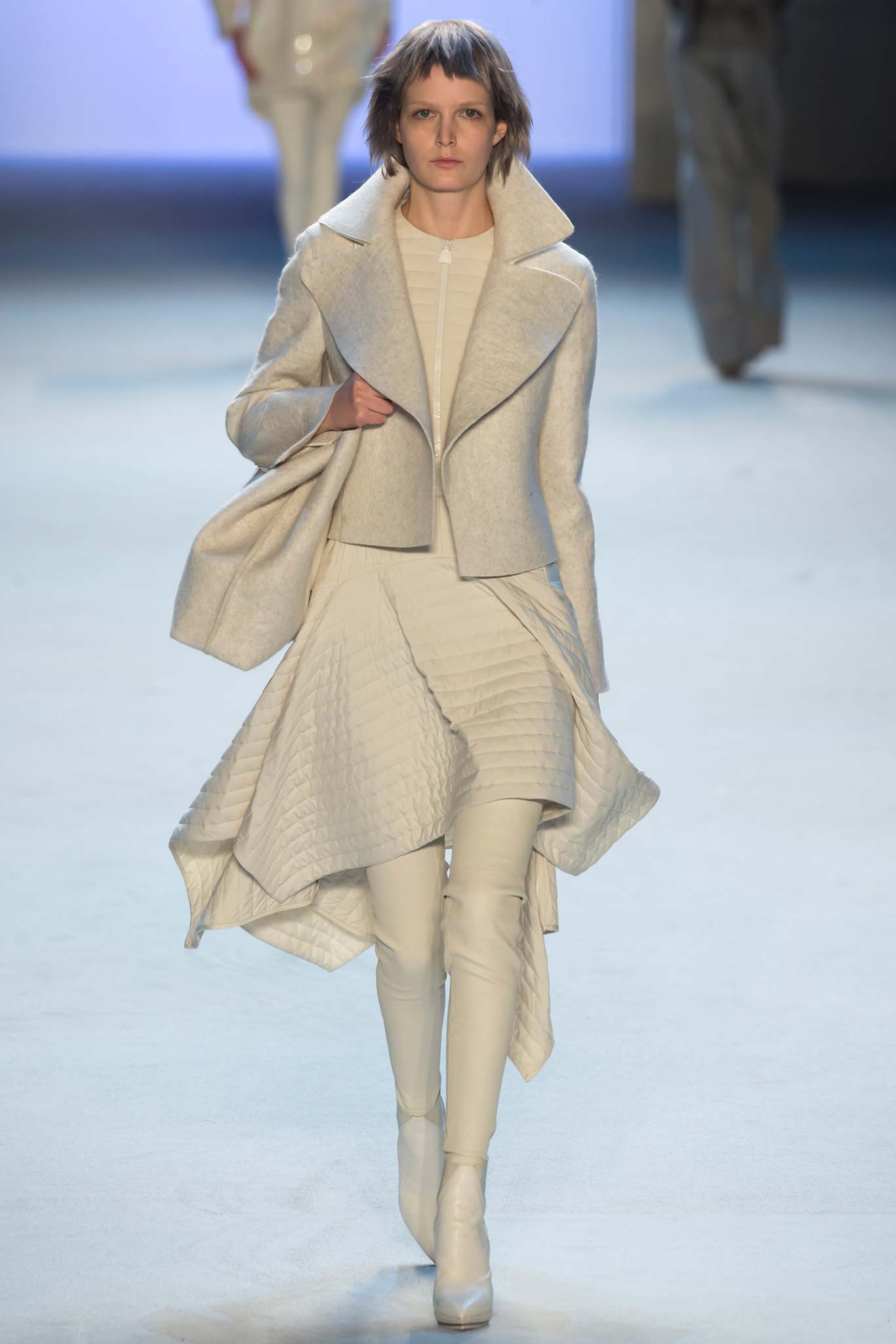 One of my favorite silhouettes, mod and sizzling, with fitted bodice and flared architectural skirt. Love the short jacket. One could go wild and throw a shearling gilet on top!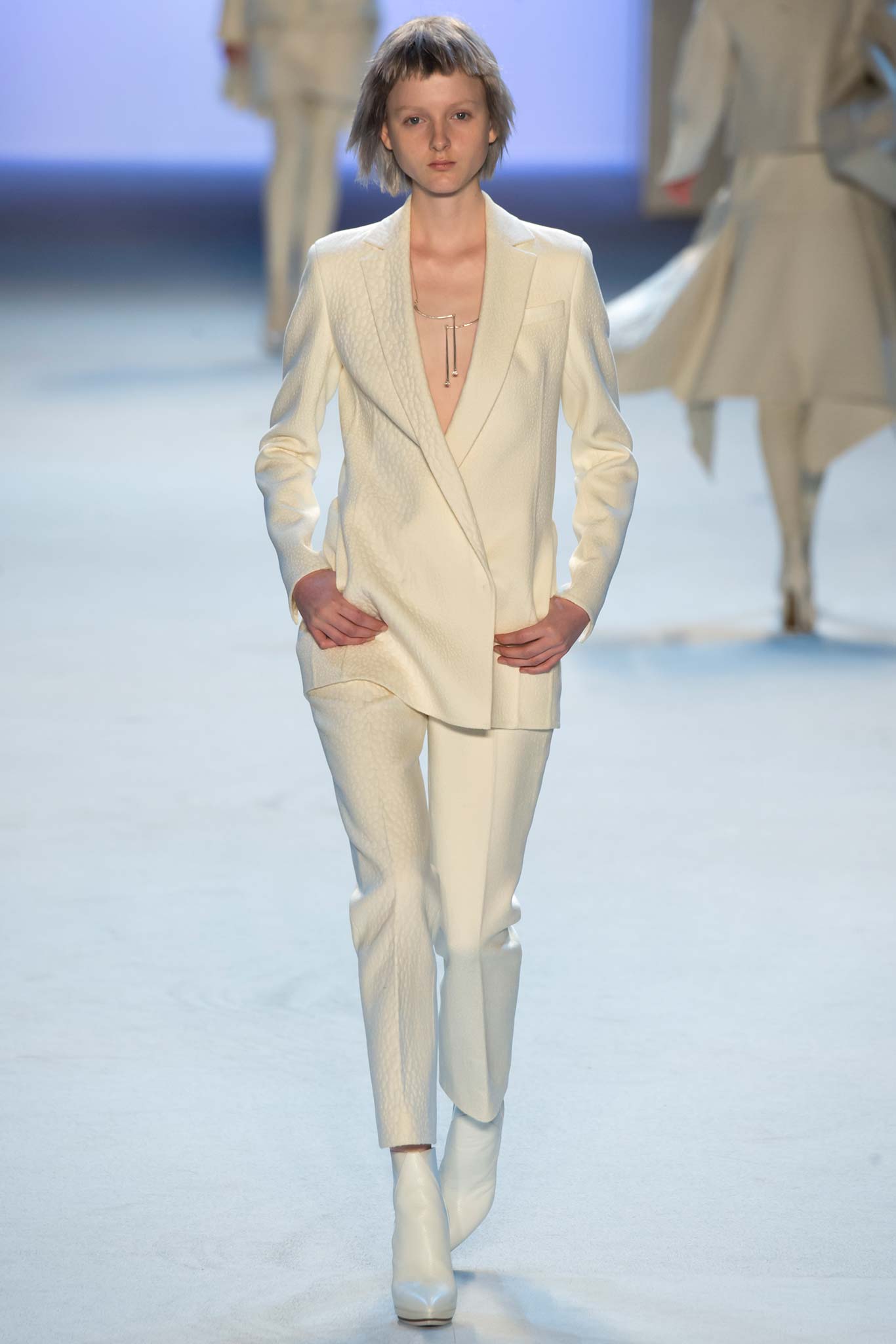 I've always been a fan of menswear inspired women's attire. Who says we can't be chic and stylish whilst busting balls? A shear cream chiffon blouse with ruffled sleeves would be a smashing partner to this understated elegant ensemble.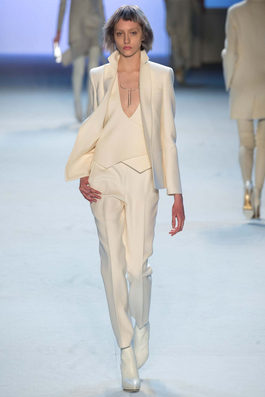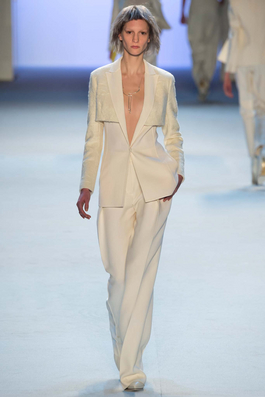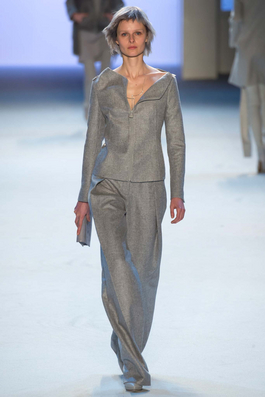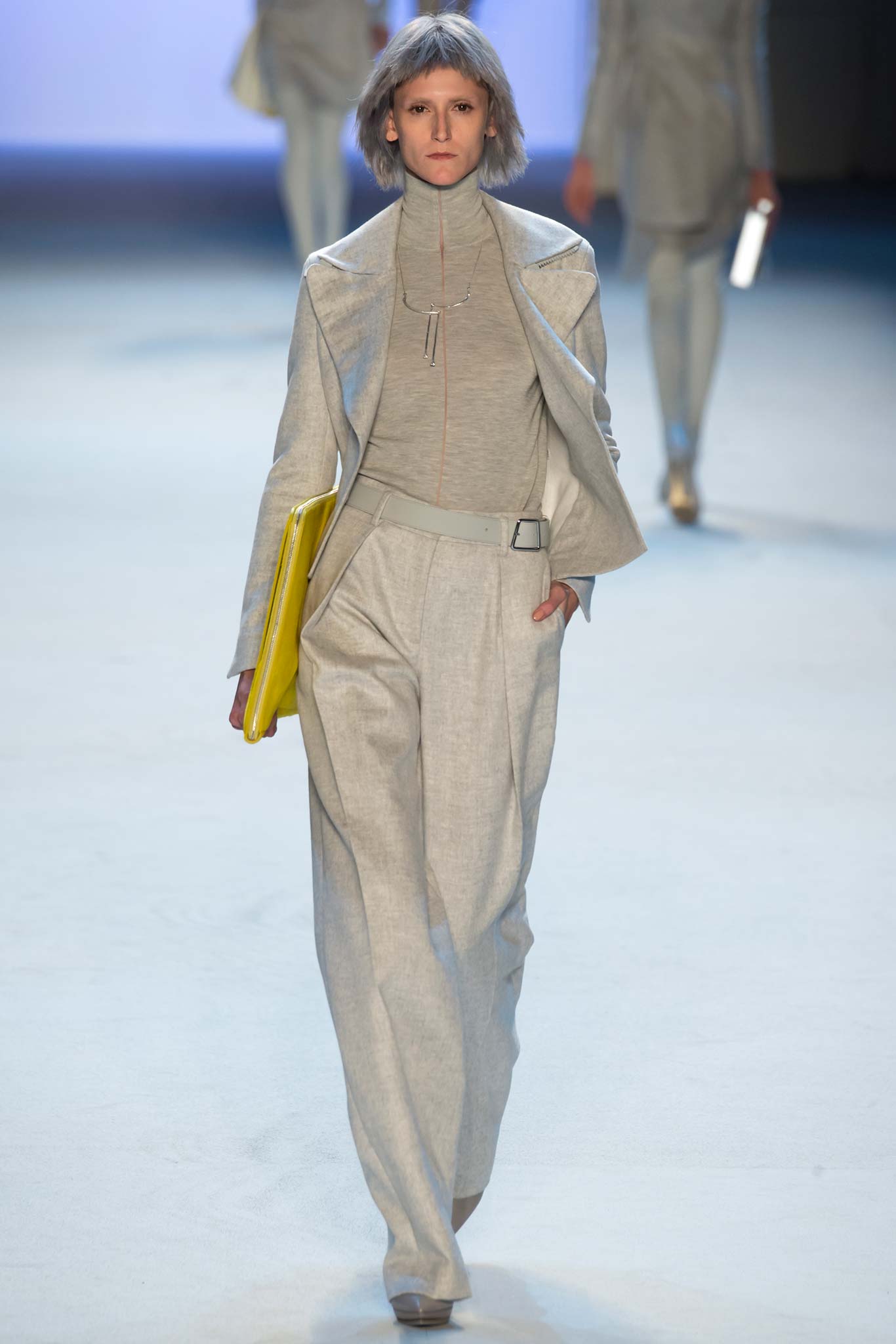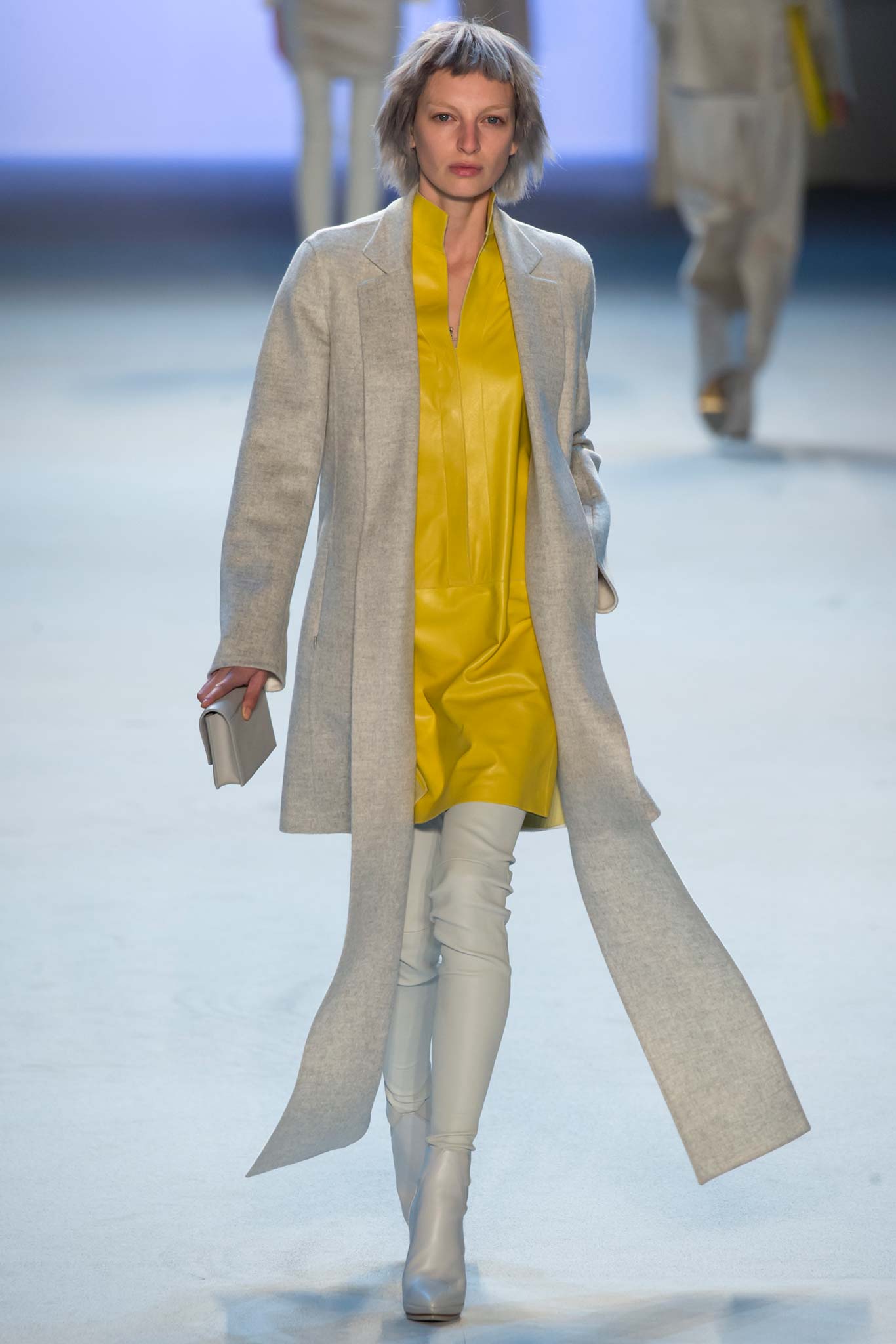 When you need a zesty pop of color, lemon yellow is a good choice! This multipurpose stunner can double as a dress or tunic, and its SO very thin, it can be easily layered under a jacket or sweater, as shown above.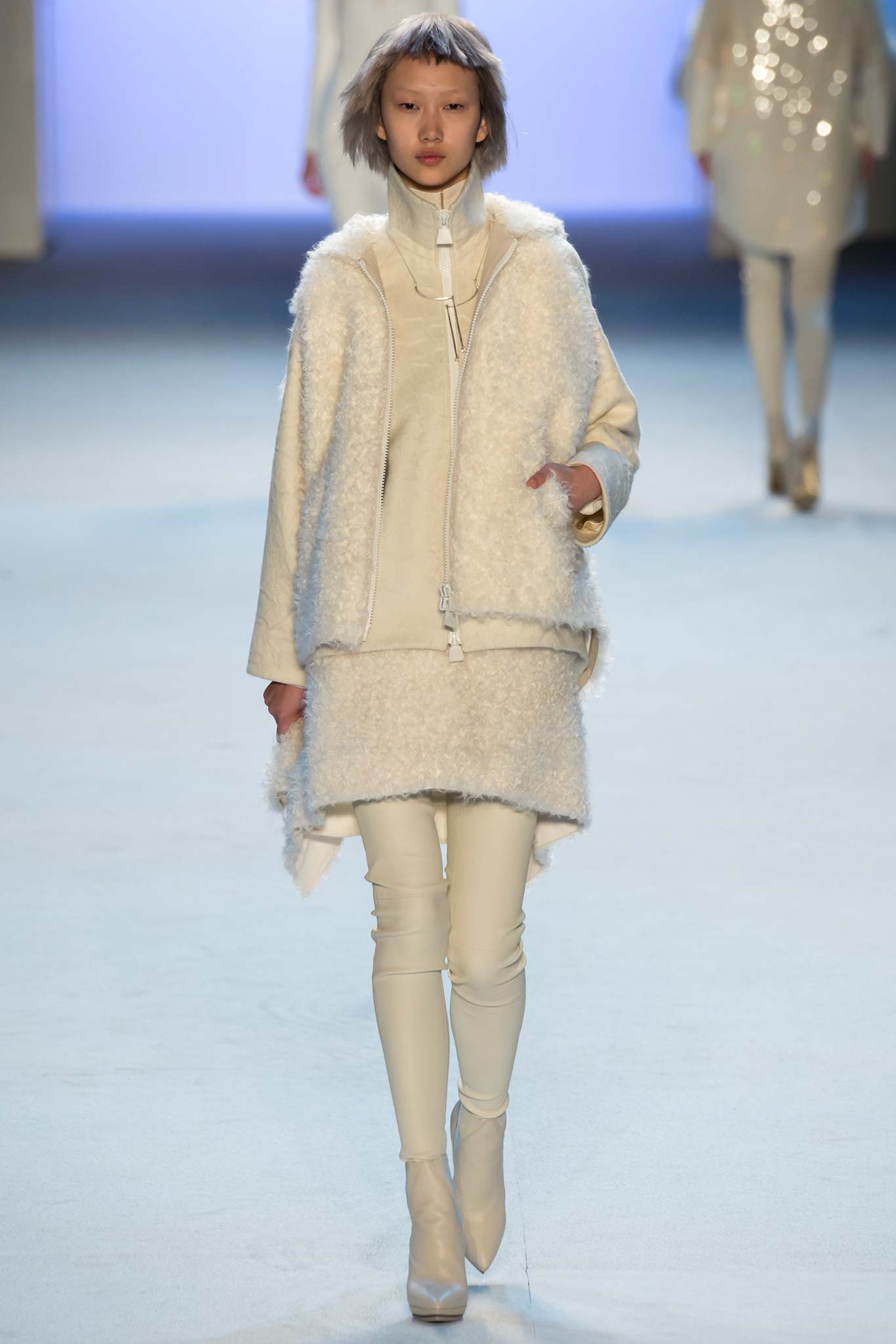 Another example of the power of layering. Make a bold statement and stay toasty warm at the same time. What you don't see under the jacket and vest, except for the wide shearling hem, is a beautifully sculpted shortsleeve dress. Talk about perfection. (I kind of had to stuff myself into it, however in my defense, it WAS a sample size and I had just eaten a popover). This is the outfit for a sleigh ride through Bavaria in the throws of winter, maybe on the way to some fabulous castle!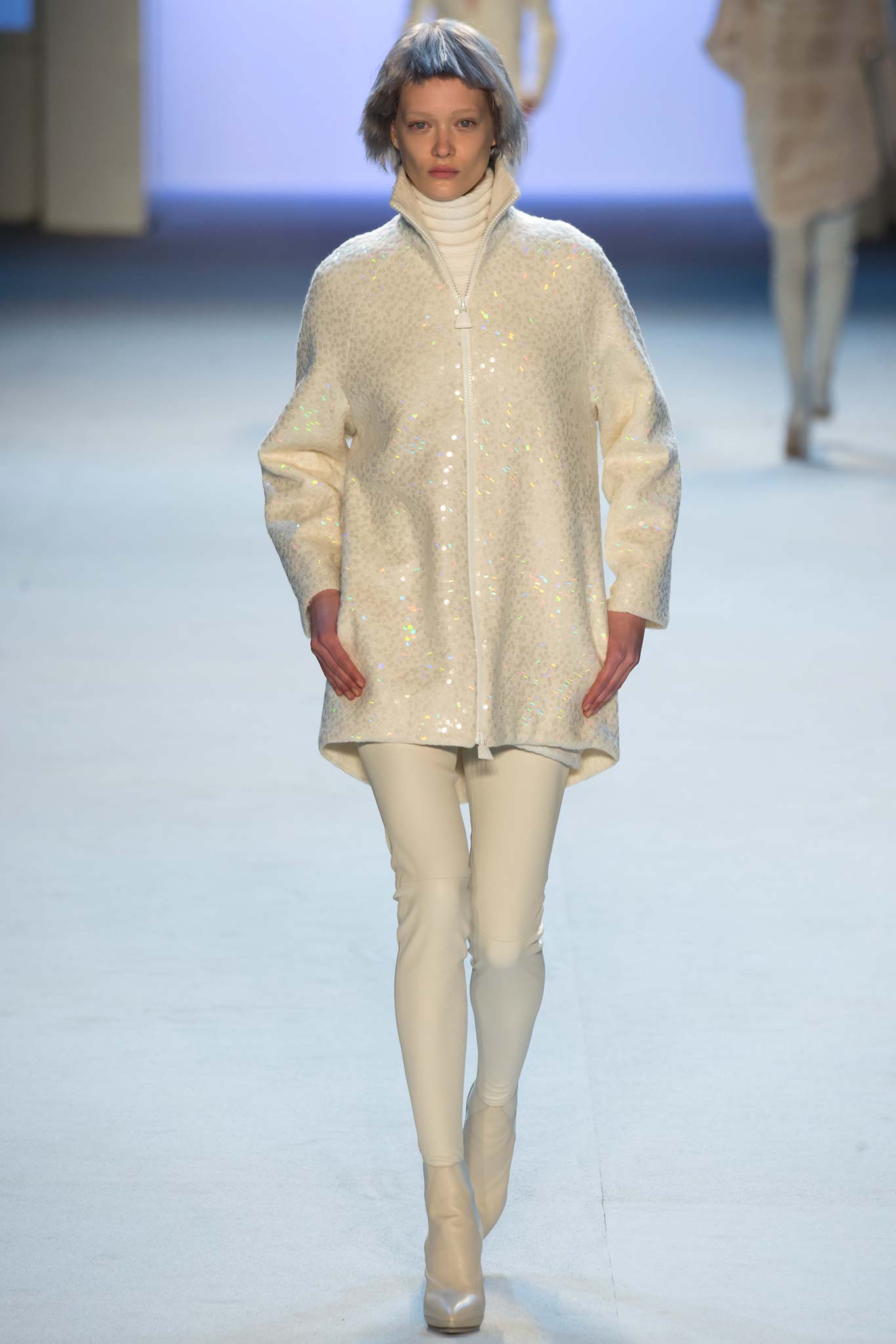 This was my favorite of a long stream of delectable concoctions, what with that dreamy cream ALPACA fabrication and the legion of sparkly aurora borealis palettes. I think I shed a tear when I had to take it off. This was pure perfection, opulent yet not fussy or ostentatious. Perfect for strolling through the Alps, drinking hot chocolate in St. Moritz or tooling around the Christmas markets in Vienna. Quite STUNNING!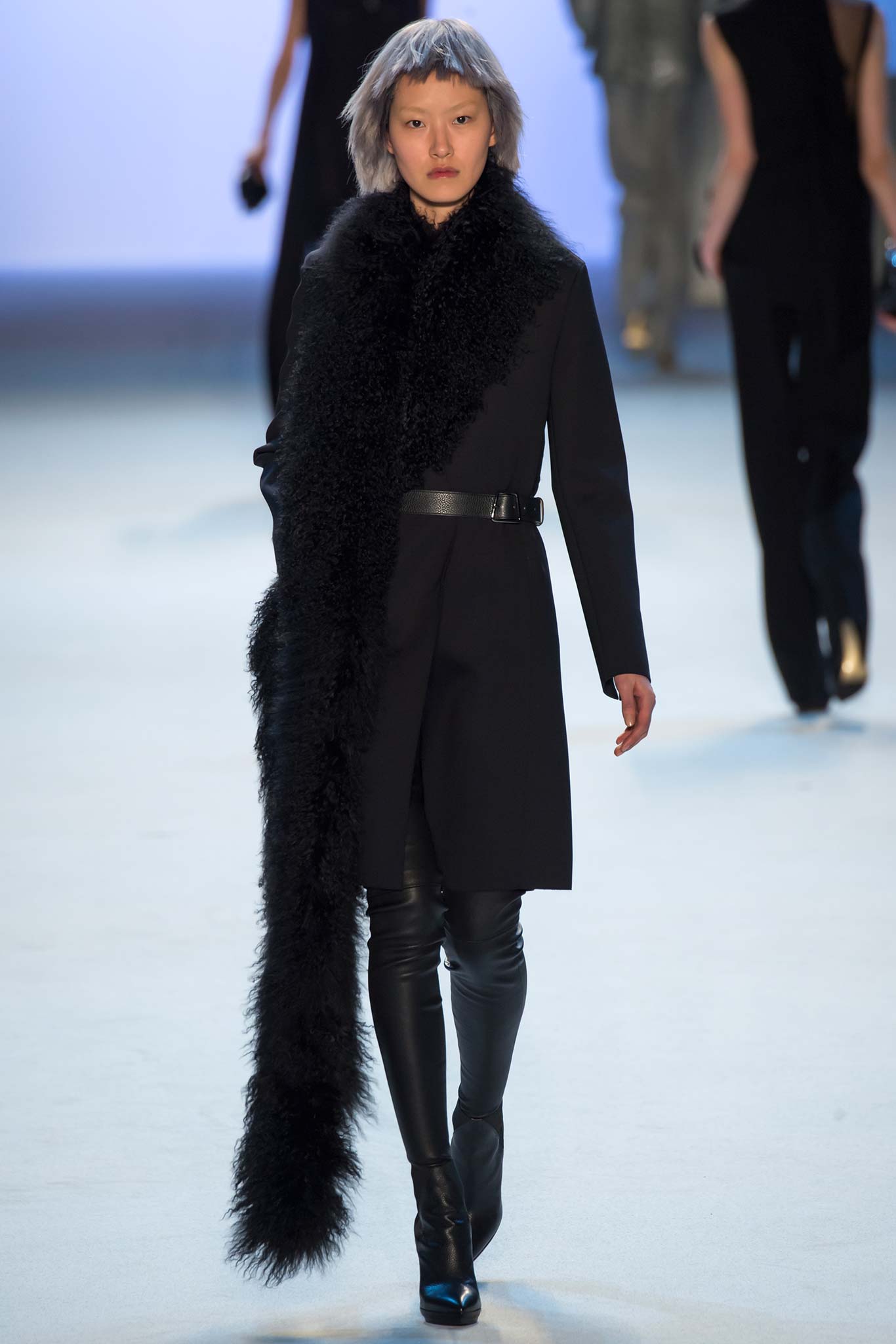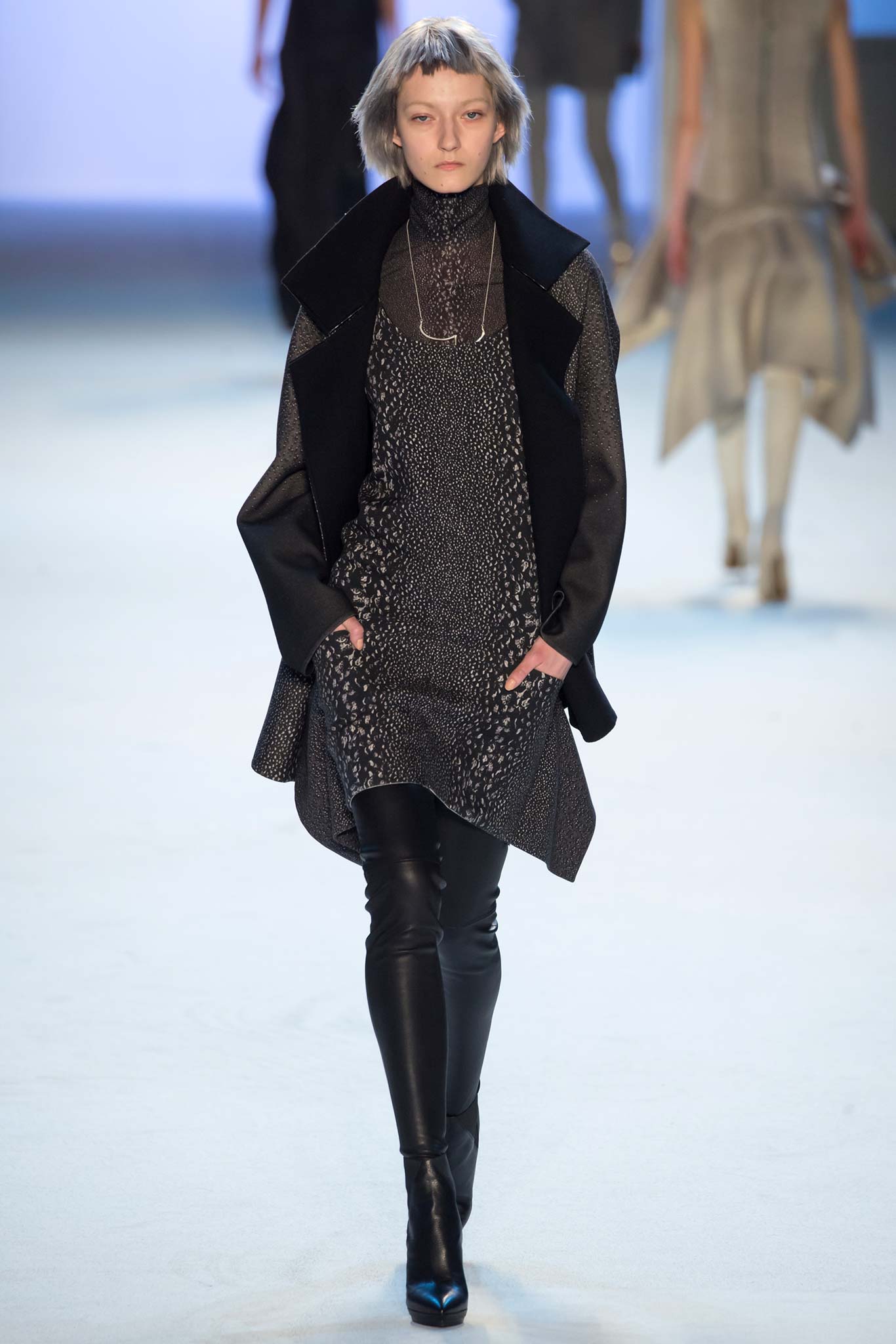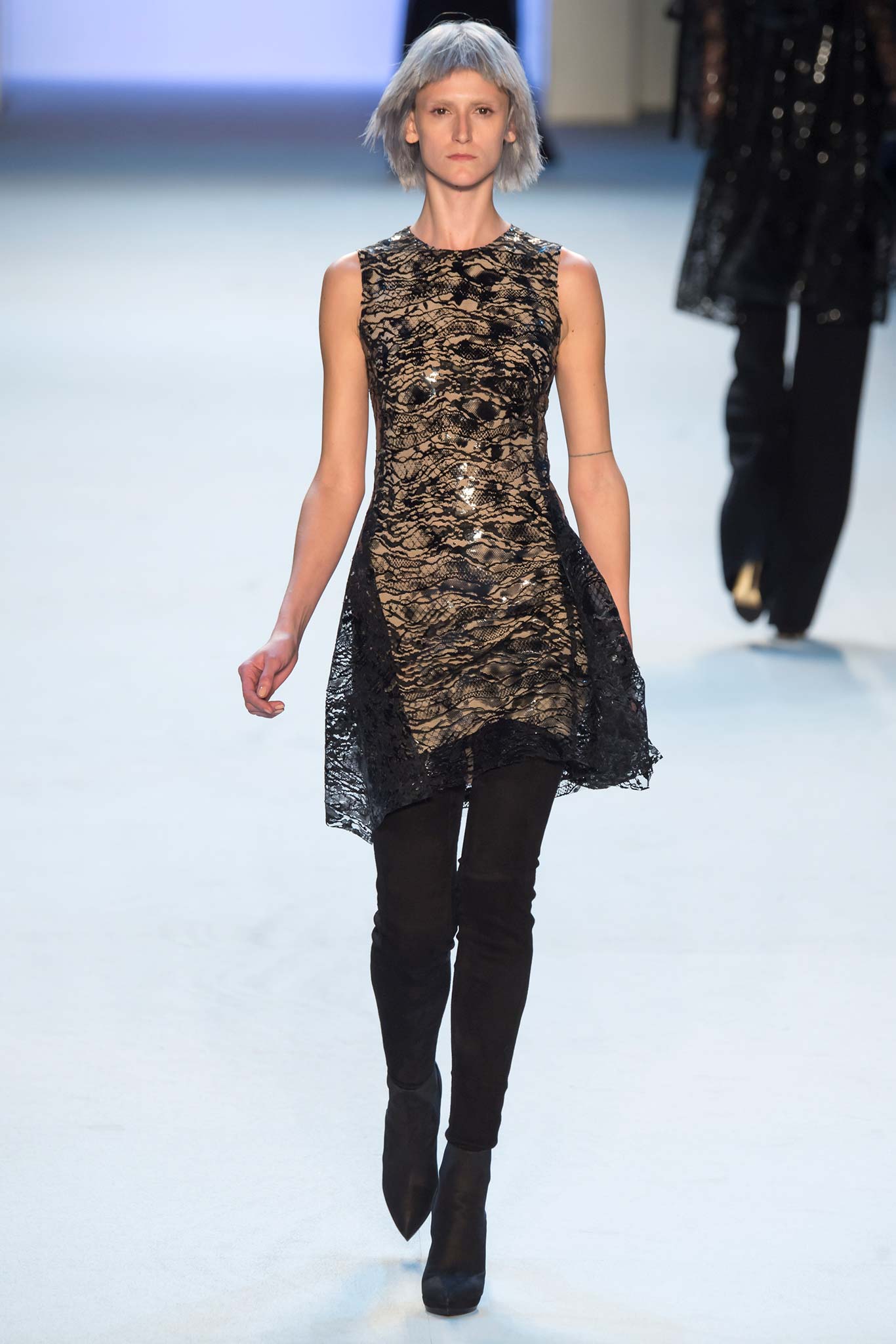 A unique cocktail frock when you want serious, yet light and feminine. Go nuts with some outrageous Louboutins.....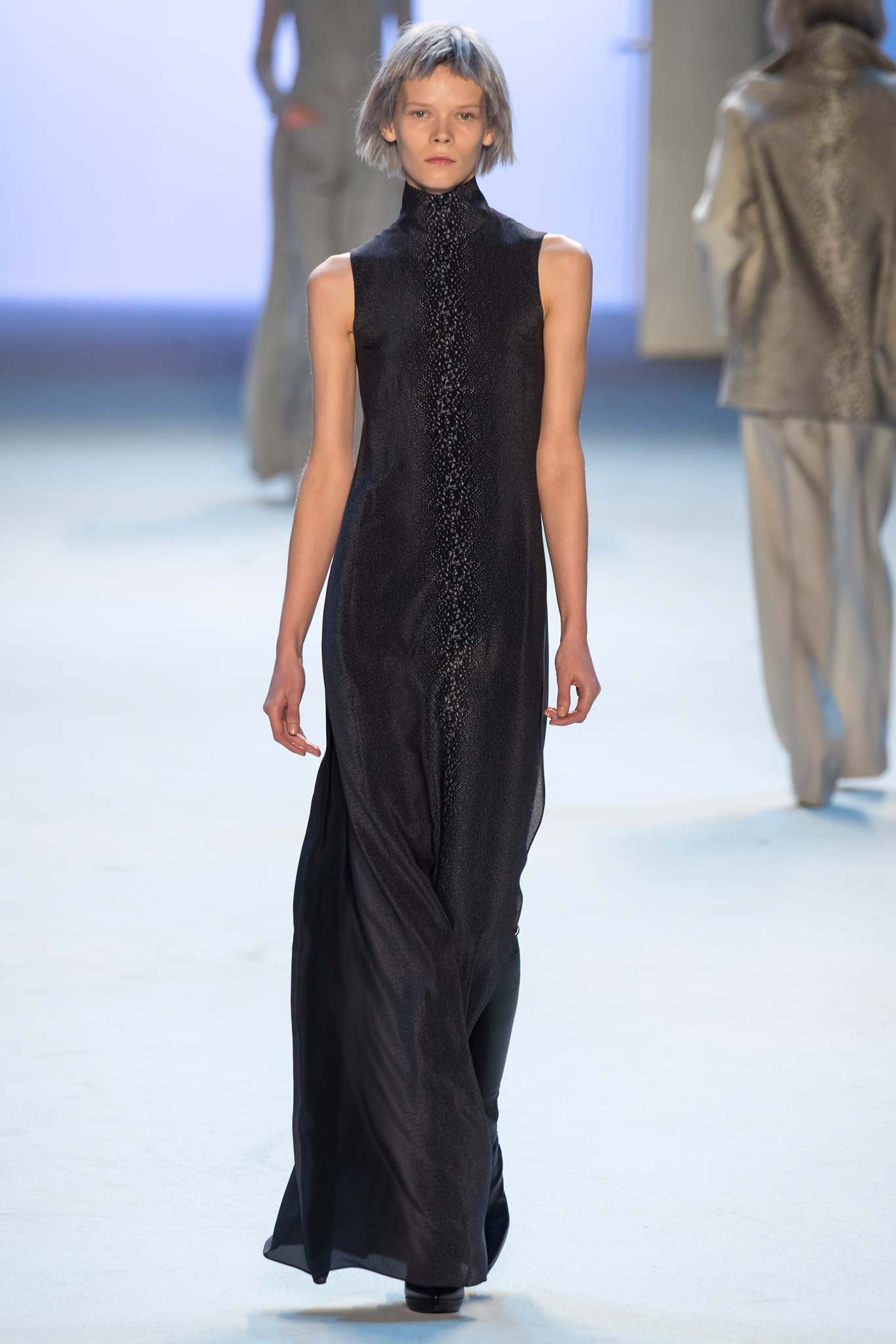 For the gala affair. Simple silhouette, yet dramatic. All you need is deep red lipstick and a big bauble on your middle finger. Done.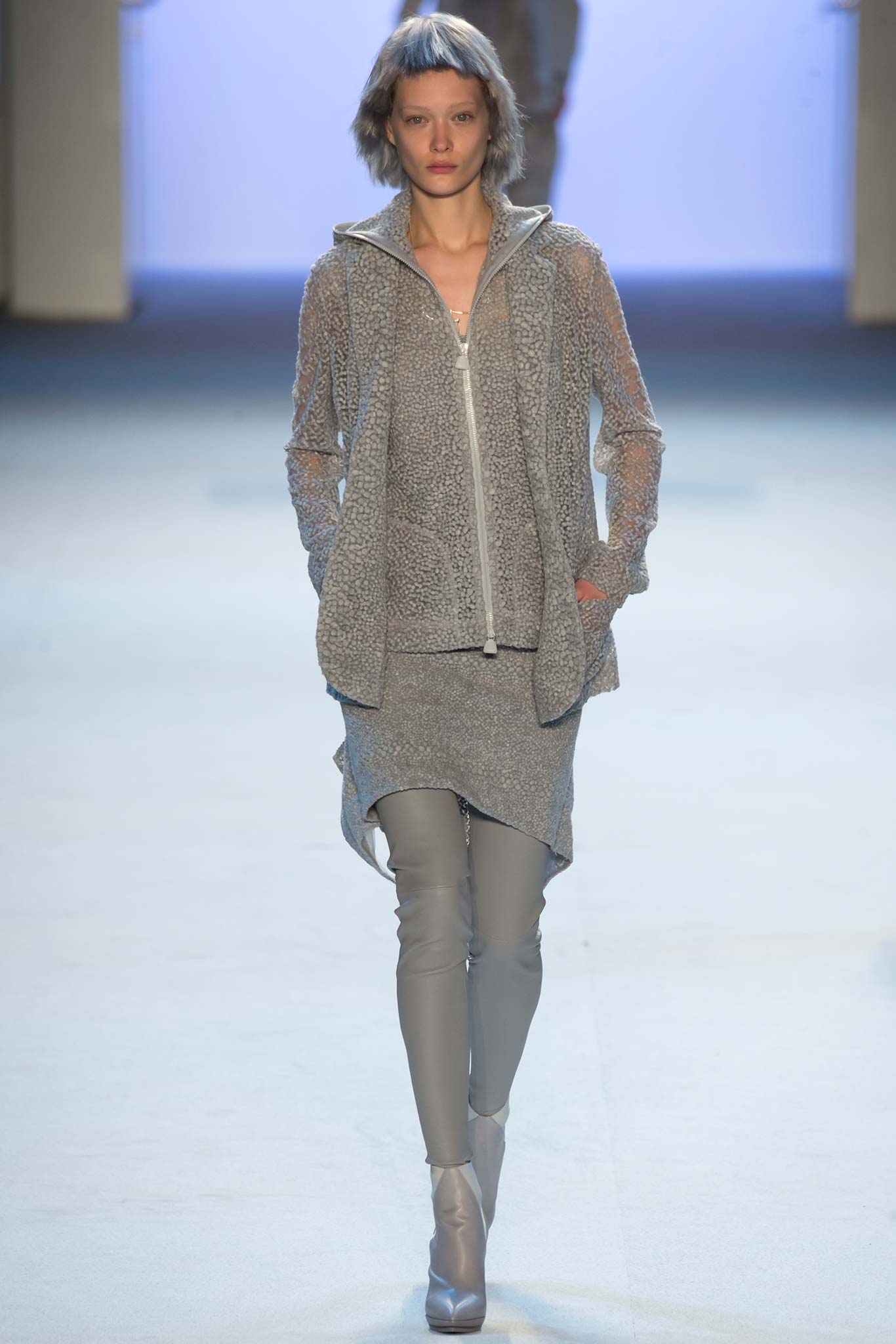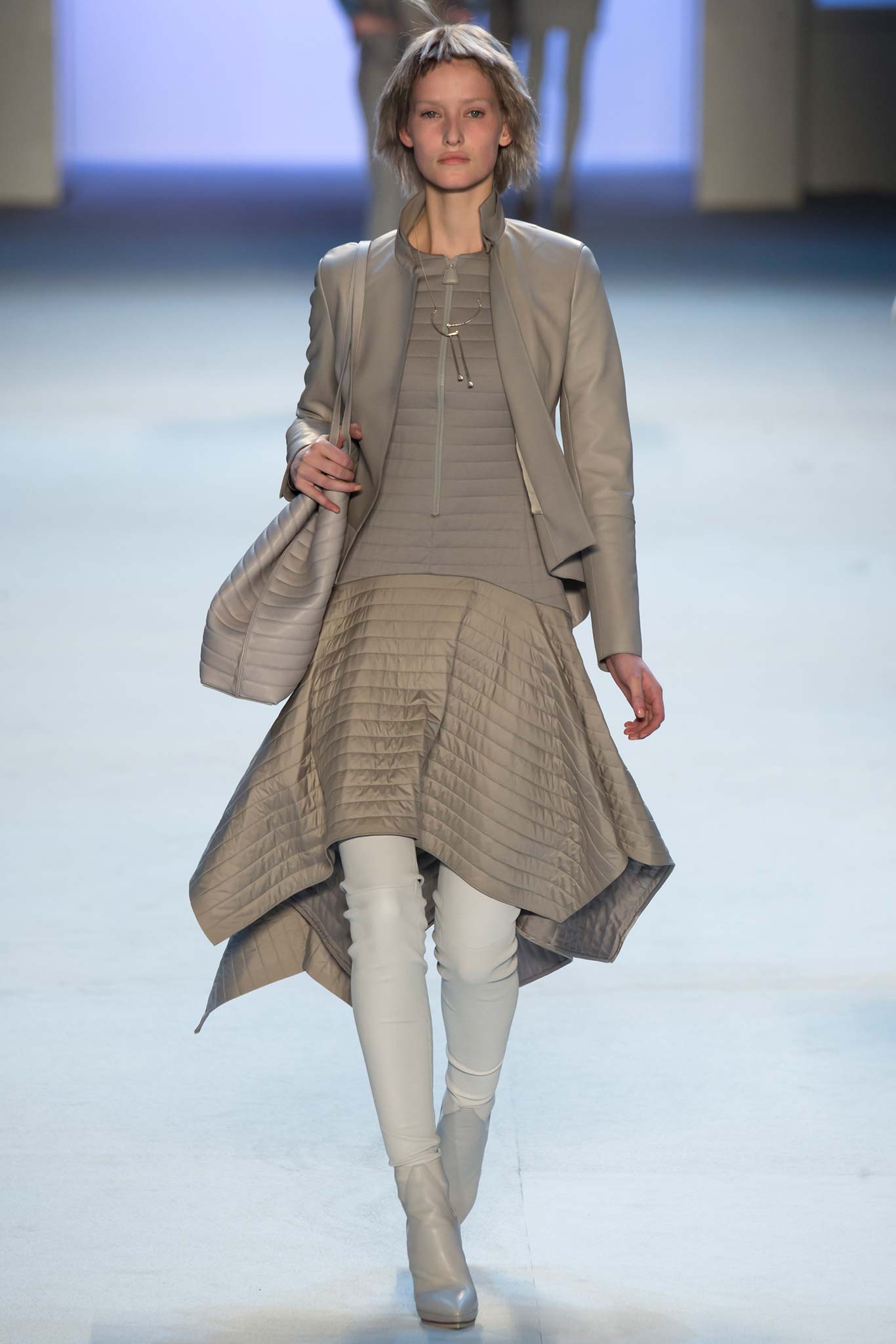 Another favorite ensemble in a spectacular collection! I love the idea of full on layering, with tunics or dress over leggings of any variety. For those of us who love to be covered from stem to stern and still look presentable. Go tonal with taupe!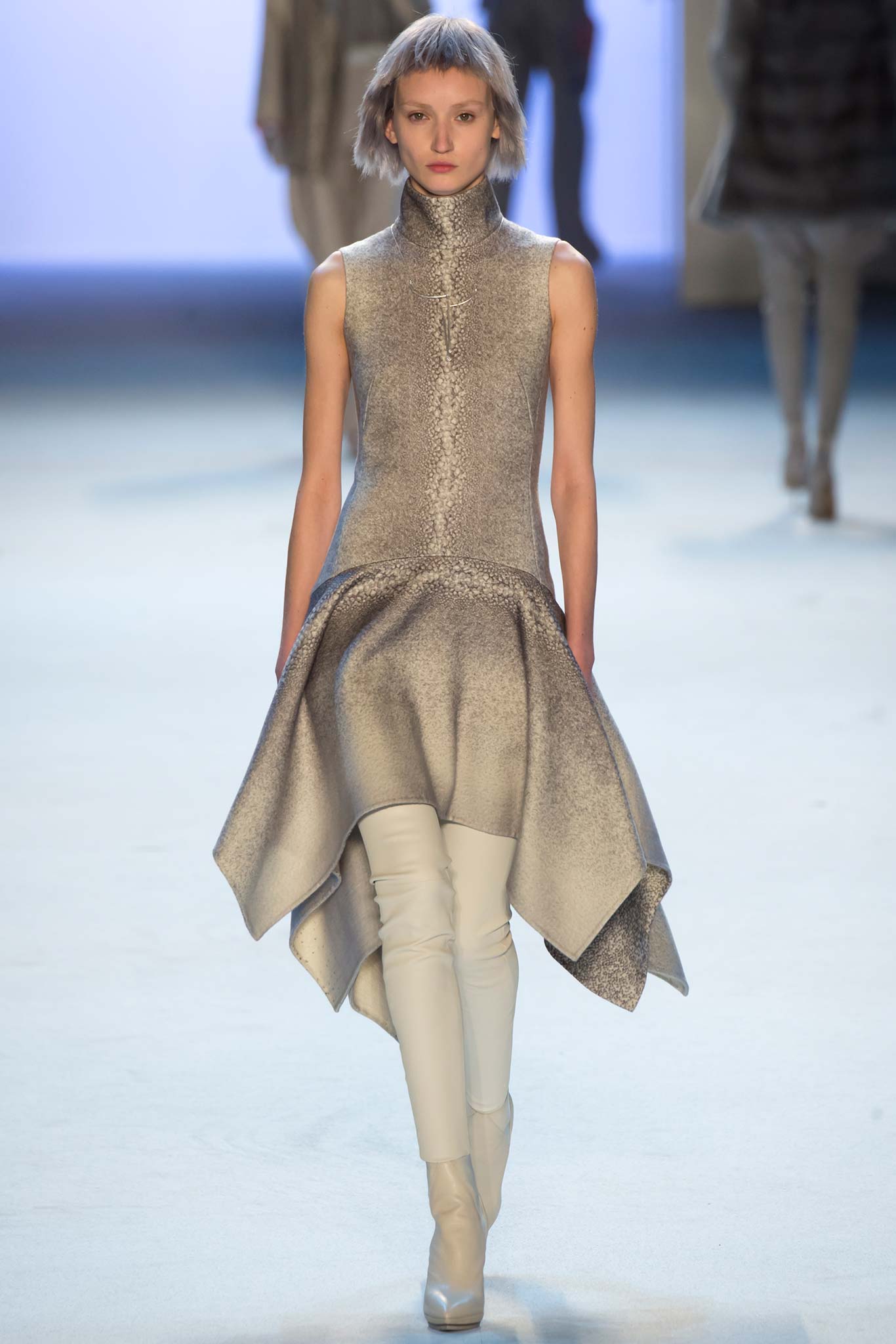 An intriguing motif running through the collection in varied fabrications was that of the pebble. The coalescent dots were also reminiscent of a stingray pattern, providing a welcome visual interest. And the ombre effect just adds to the overall Z O W I E effect.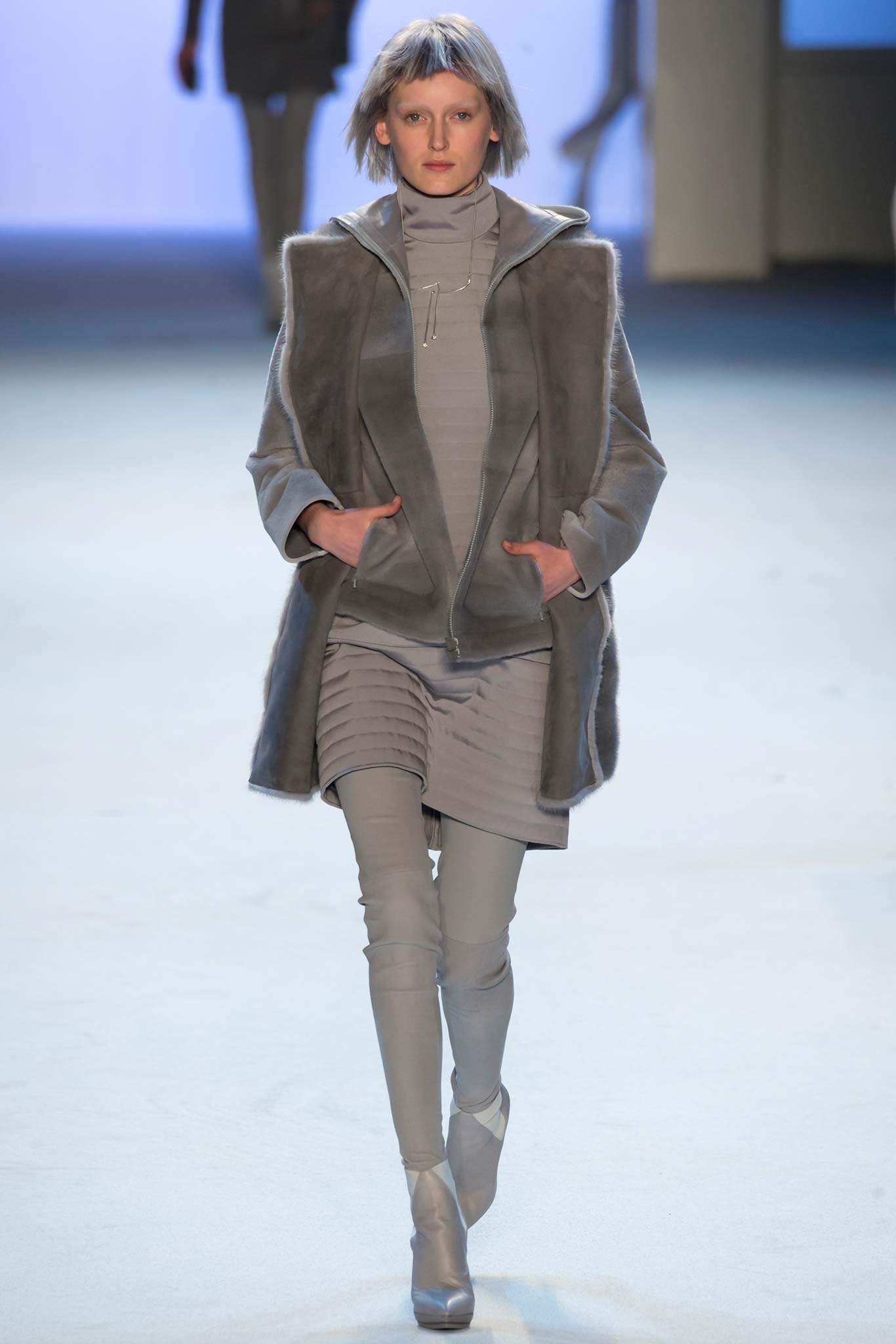 The layering always seems to look effortless and never contrived. Of course all the pieces in this splendid tour de force can stand alone.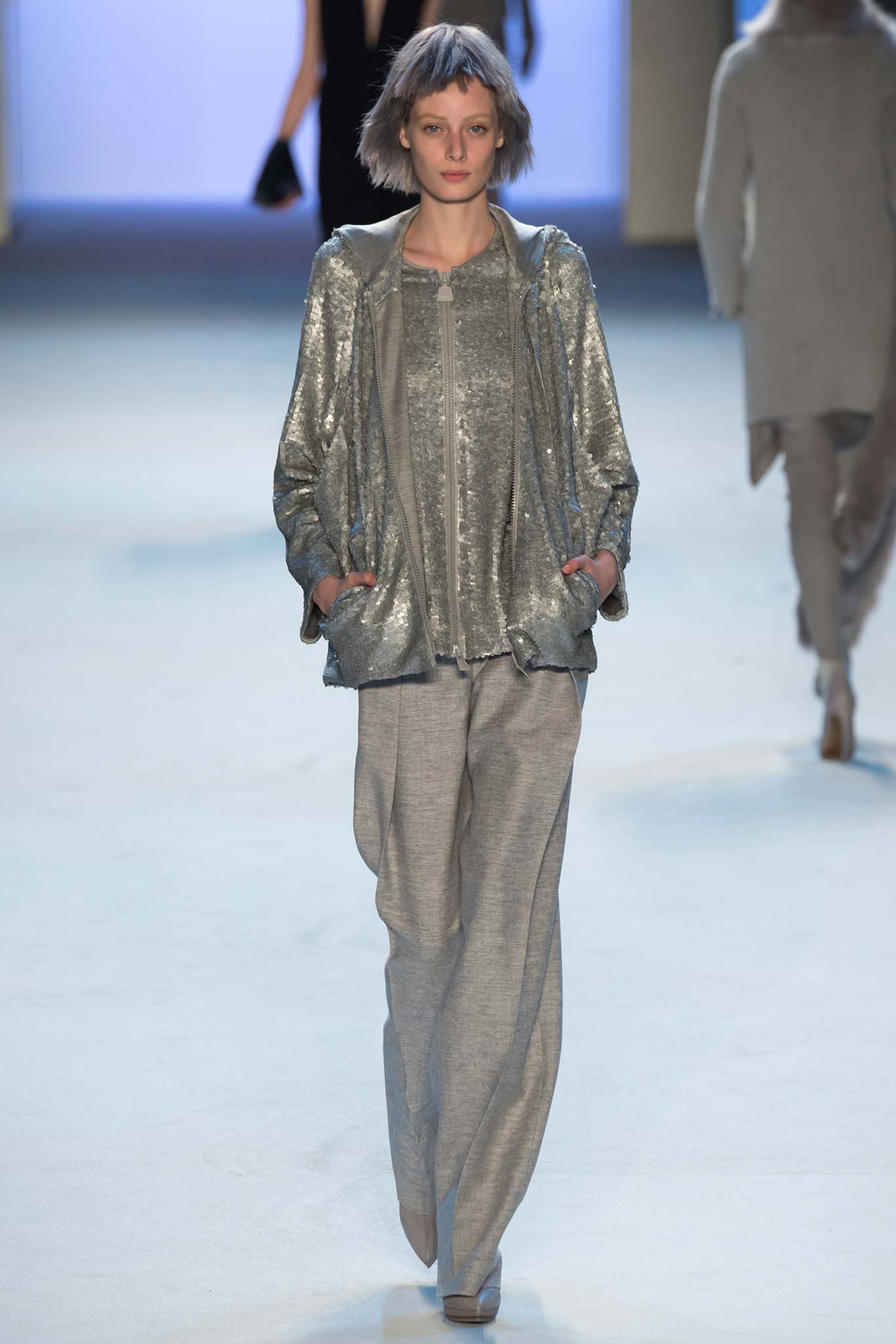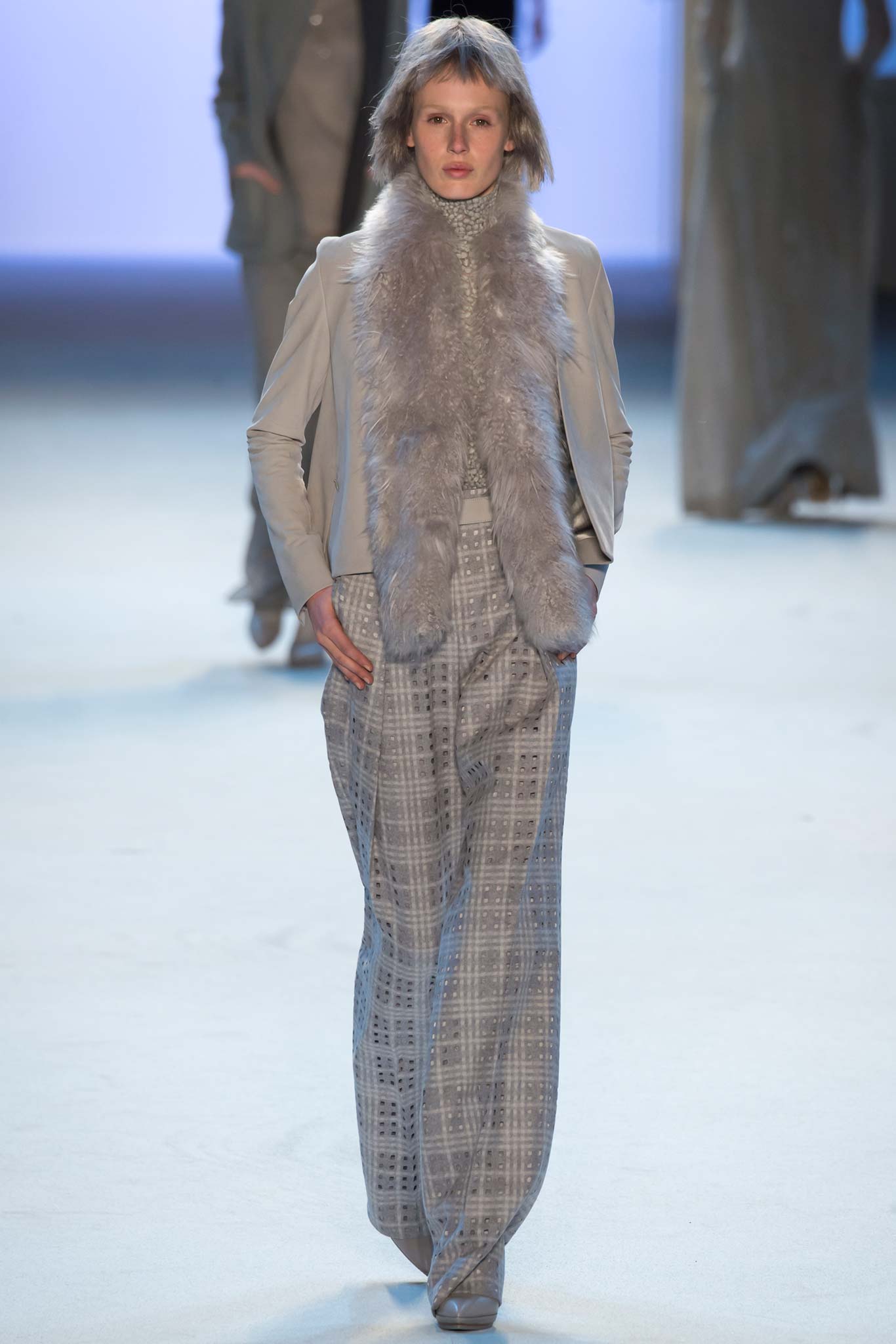 I say mix colors and patterns to your heart's content for dramatic effect. The pleasing neutrals in this collection all seem to coexist harmoniously, adding to the overall appeal. A shearling muffler is way to liven up any outfit.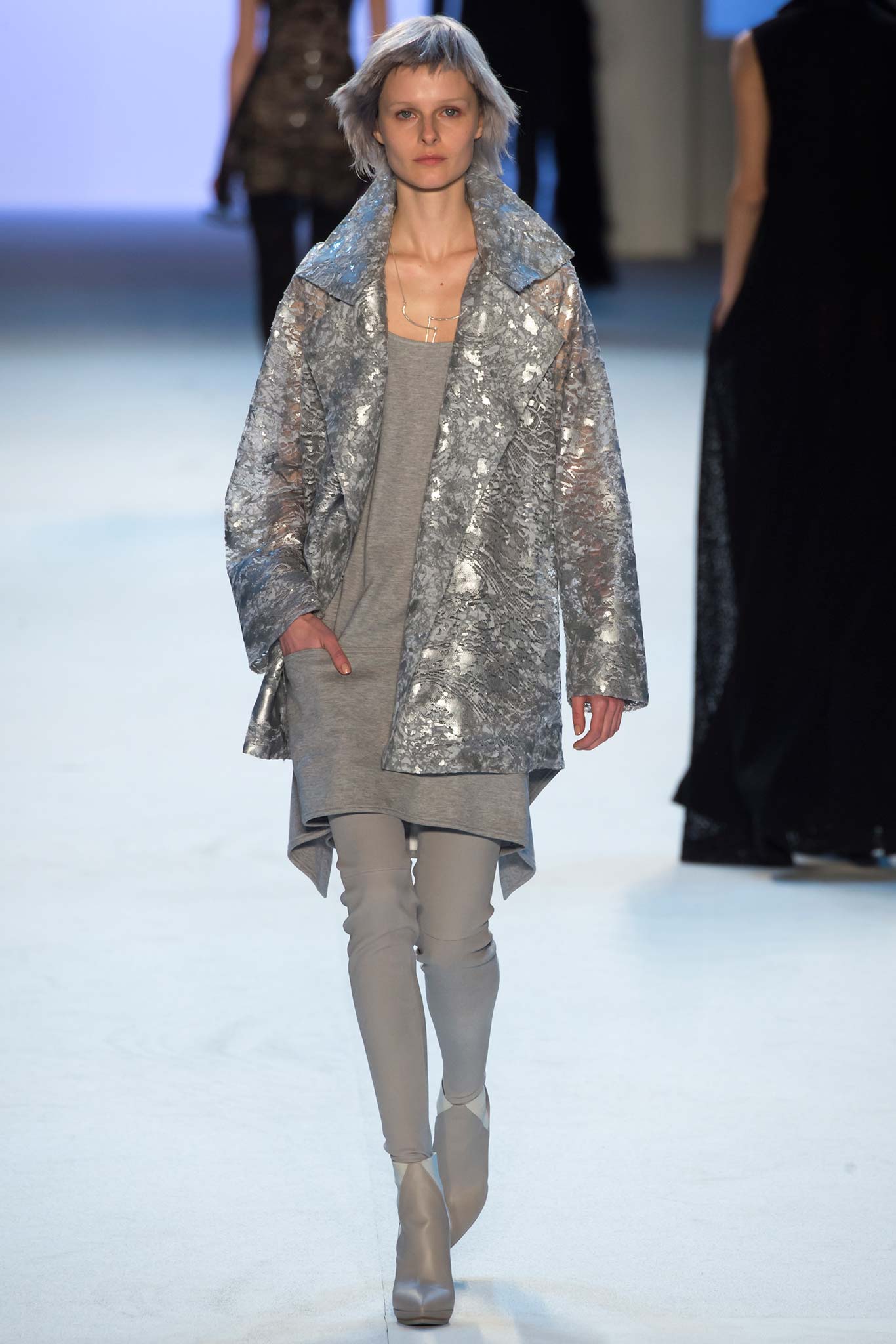 Perusing this subtly splendid collection was like wandering through a magical winter wonderland.
Whether you are an office dweller, Radiology professor, Snow Bunny, Glamourpuss, Royal, or time traveler, this is a collection for you. These pieces are timeless, impeccable, pragmatic, and covetable, and will serve old and new fans well. AKRIS represents the pinnacle of state of the art lux sportswear as evidenced by the fall winter finery on display. Anyone enamored of Lora Piana, Brunello Cucinelli, or Kiton, will adore this collection.
Bravo Albert Kriemler.
Images brought to you by www.style.com