I think I purchased my first piece of Dolce & Gabbana 12 years ago (thank you Wilkes Bashford)....a pin striped charcoal gray blazer with floral embellishments, both flat and 3D, a wearable whimsical garden. To this day, its still one of my favorite go to items, and a head turner. Its nipped in the middle to accentuate the waist, and happily it covers the derriere. Great for the Opera, or just tooling around town.
Each and every piece of my D&G will accompany me to the hereafter. And for good reason. During their decades long partnership, Stefano Gabbana and Domenico Dolce have performed fashion magic, conjuring up some of the most swoon worthy, sumptuous, gorgeous and spell binding clothing EVAH. And I'm talking about the runway ready to wear, NOT the Alta Moda, their version of couture. These are unparalleled treasures of shocking magnificence, sure to mesmerize even the most jaded of billionaires and rarefied fashionistas.
The silhouettes run from sweet, to Grace Kelly lady-like, to Sophia Loren sizzling. And though the iconic styles are flattering, its more about the fabrication and the opulent adornments infused through the collections. Extravagant laces, billowing organza, flowy chiffon, varied jacquards and cloque typically loom large in the assemblies, with Mohair an occasional visitor. And though the collections are frock heavy, pants and suits will always make an appearance. No one makes a sexier "suit" than these fellows, the kind you wear with Louboutin stilettos. Along with the tried and true forms, they will typically go a bit wacky with an unexpected addition, including toreador jackets or bloomers.
This, in a long line of rapturous collections happily follows suit, with the usual suspects in tow, to swath the gal who wants to summer in Capri, Portofino, Rome, or in her own backyard.
The Italian masters continue to bring elevated pret-a-porter which compliments and celebrates the woman. Wearable art to engage, amaze, and induce happiness. You need a mood elevator? Here it is.
Be prepared to swoon, drool, and maybe even faint! From Milan----
DOLCE & GABBANA: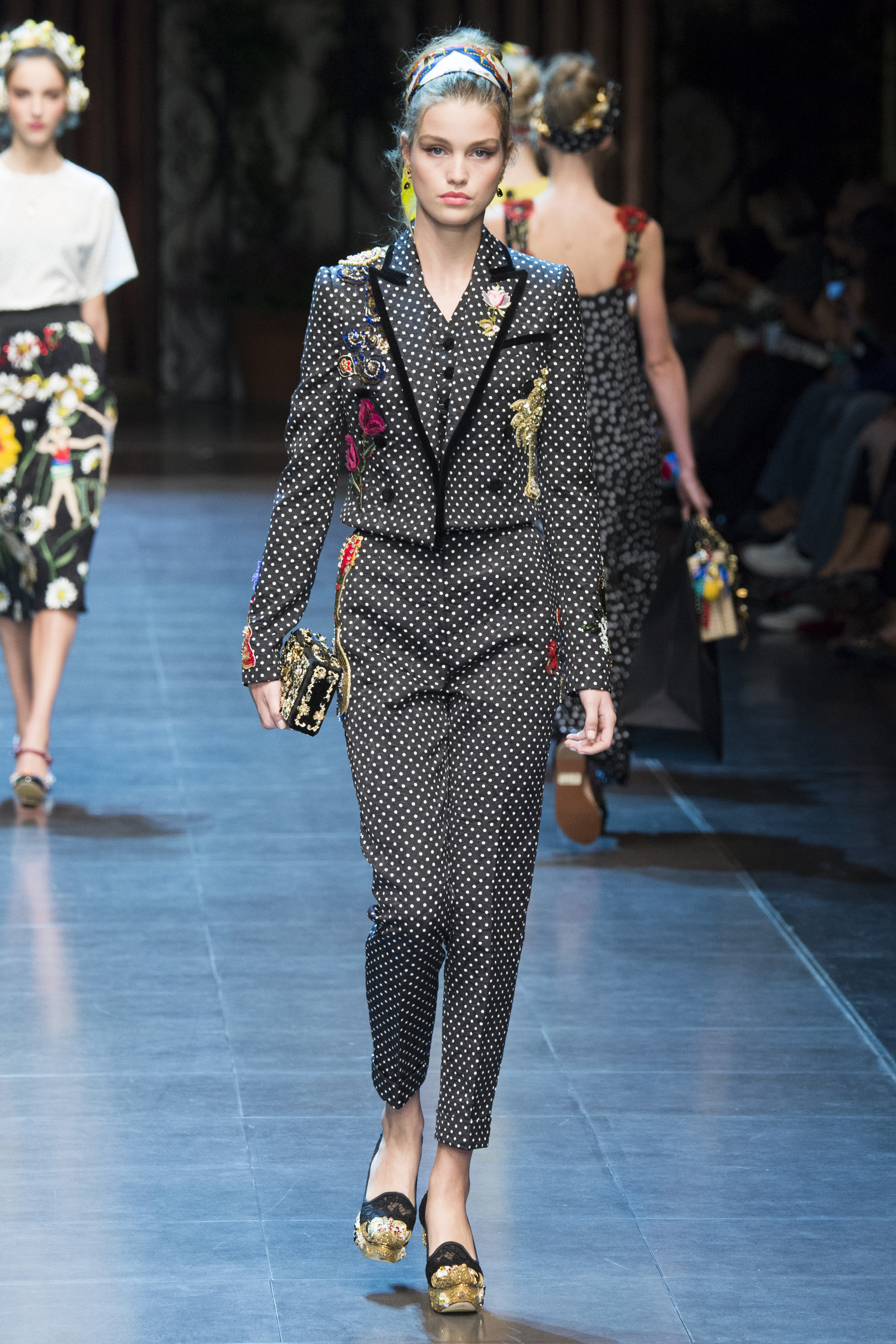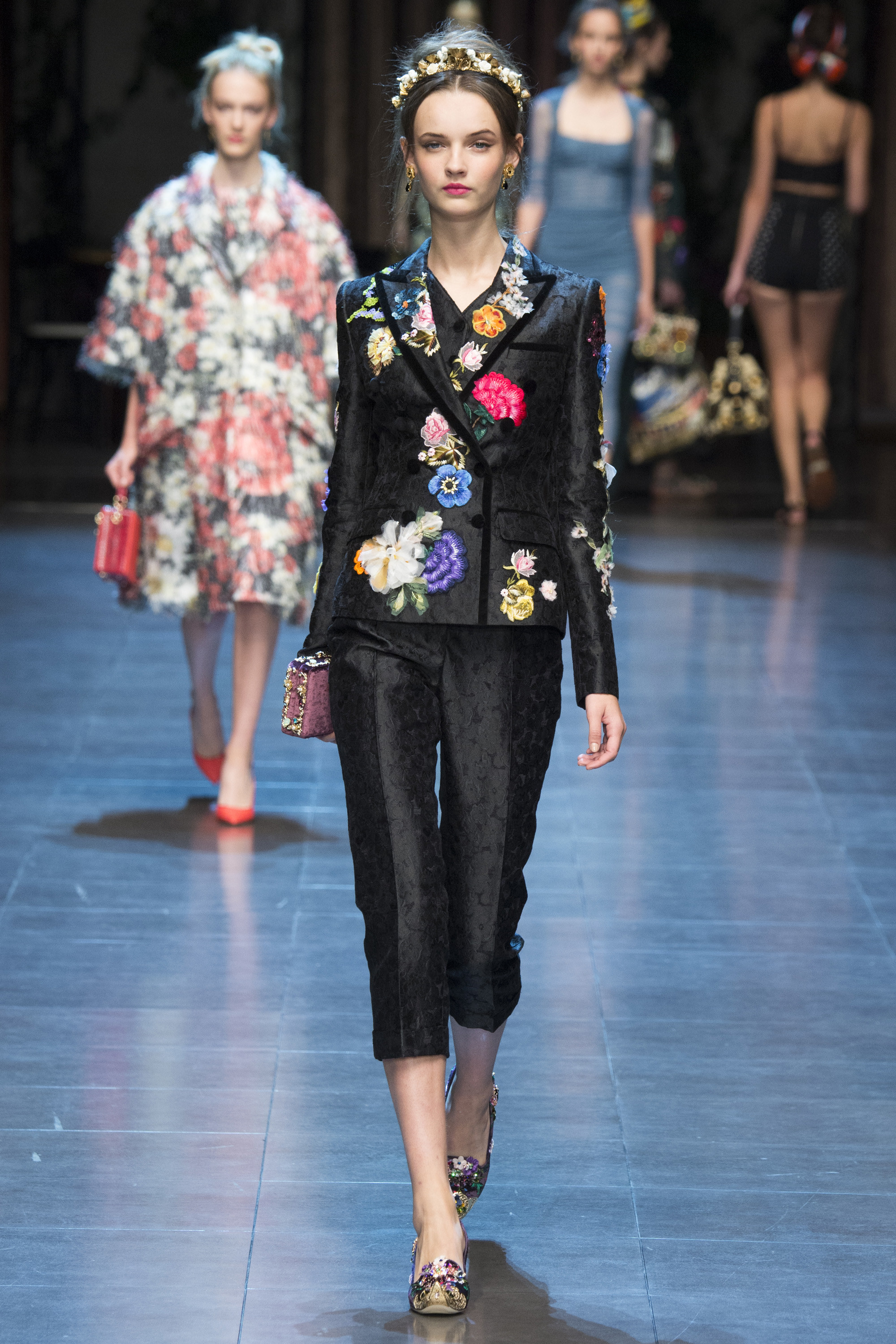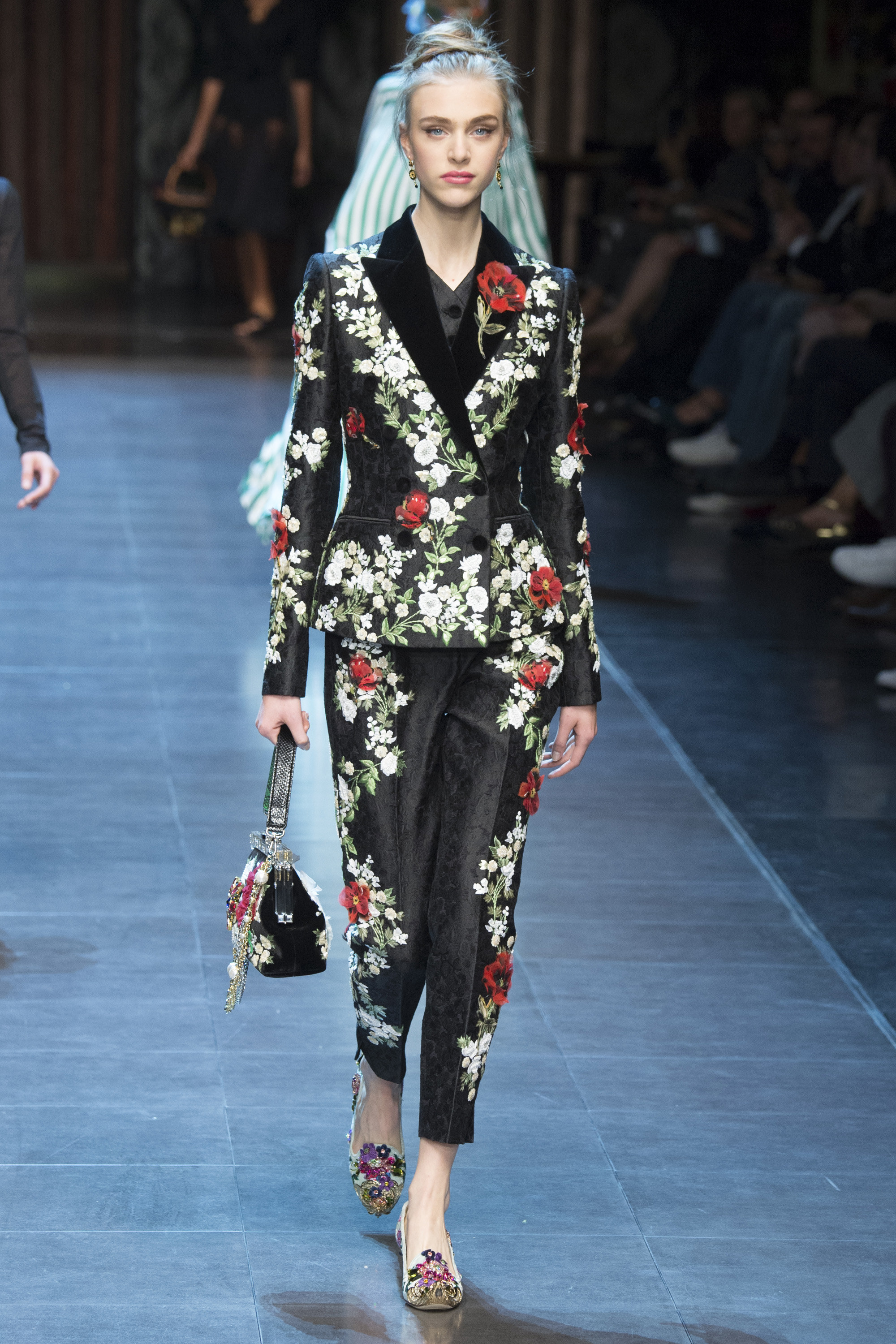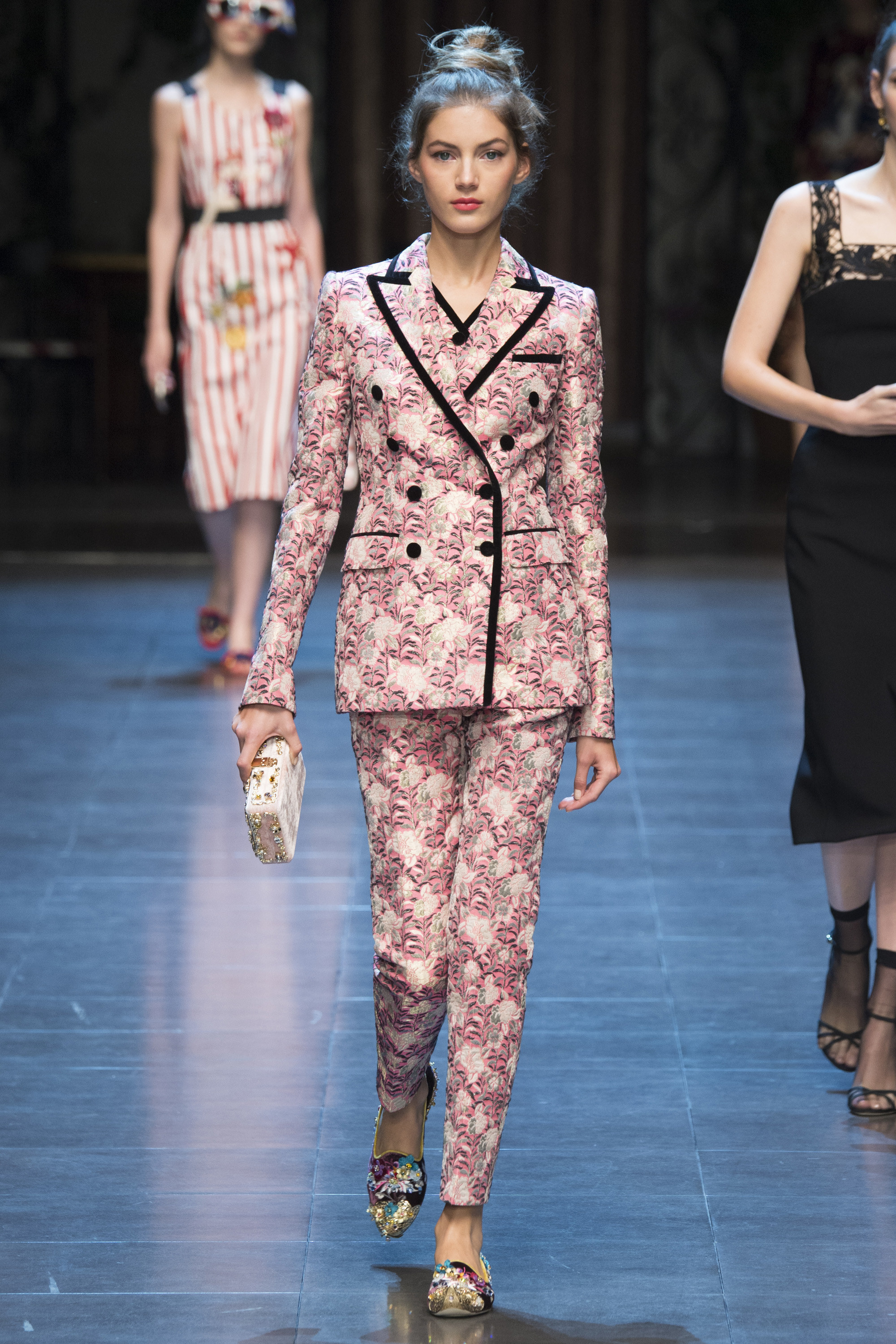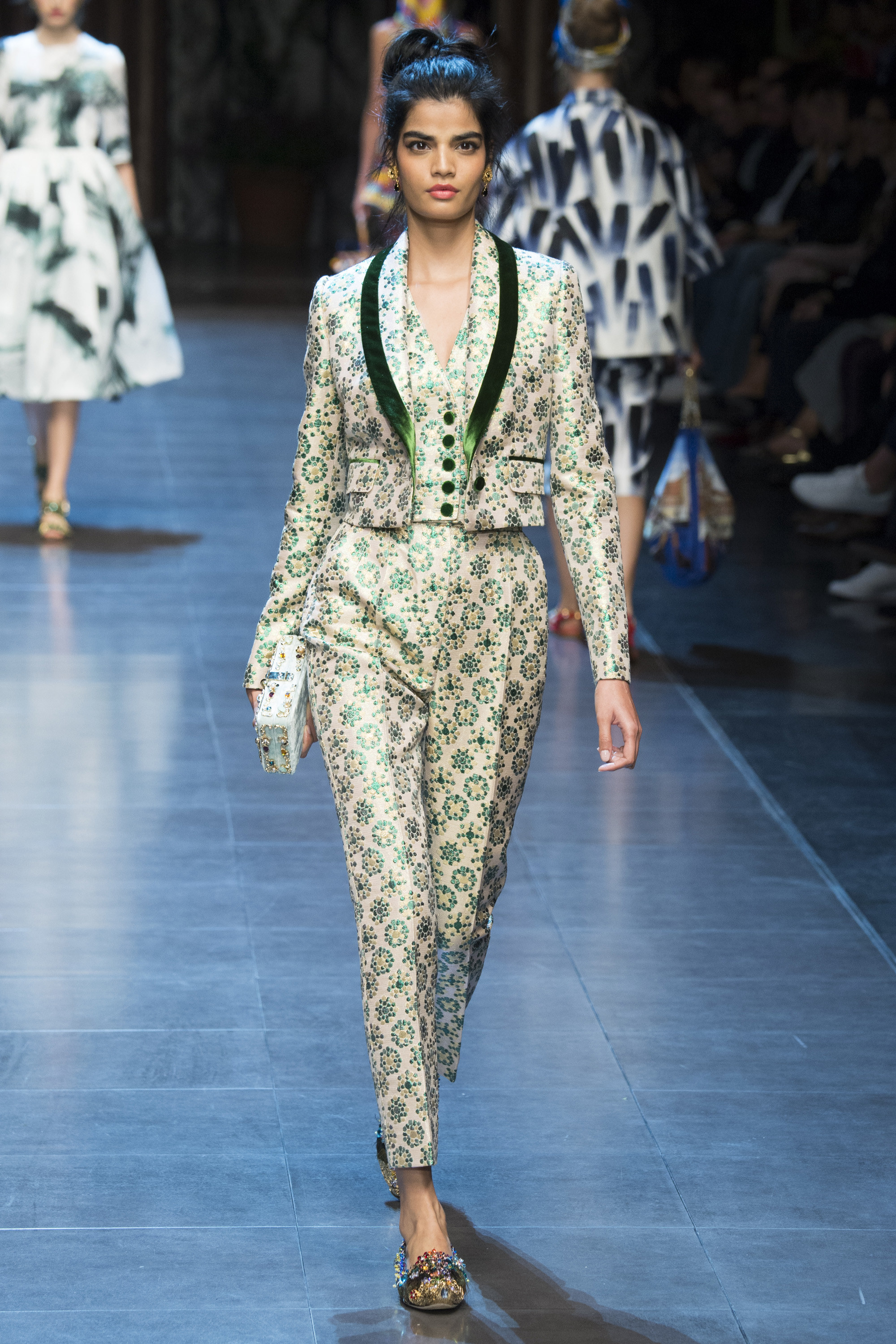 No one does the sexy glam suits like these two Dudes. Certainly inspired by menfolk attire, but jazzed up with the jacquards and braid detailing, not to mention the wild adornments. If jacket pant combos are TOO too, (and the pants too skinny---I get it) just get the jacket and throw over anything. (Typically the jackets and pants are purchased separately. A little jacquard can go a l o n g way. Any of these jackets could be paired with flared tuxedo pants or skinny jeans. Very versatile.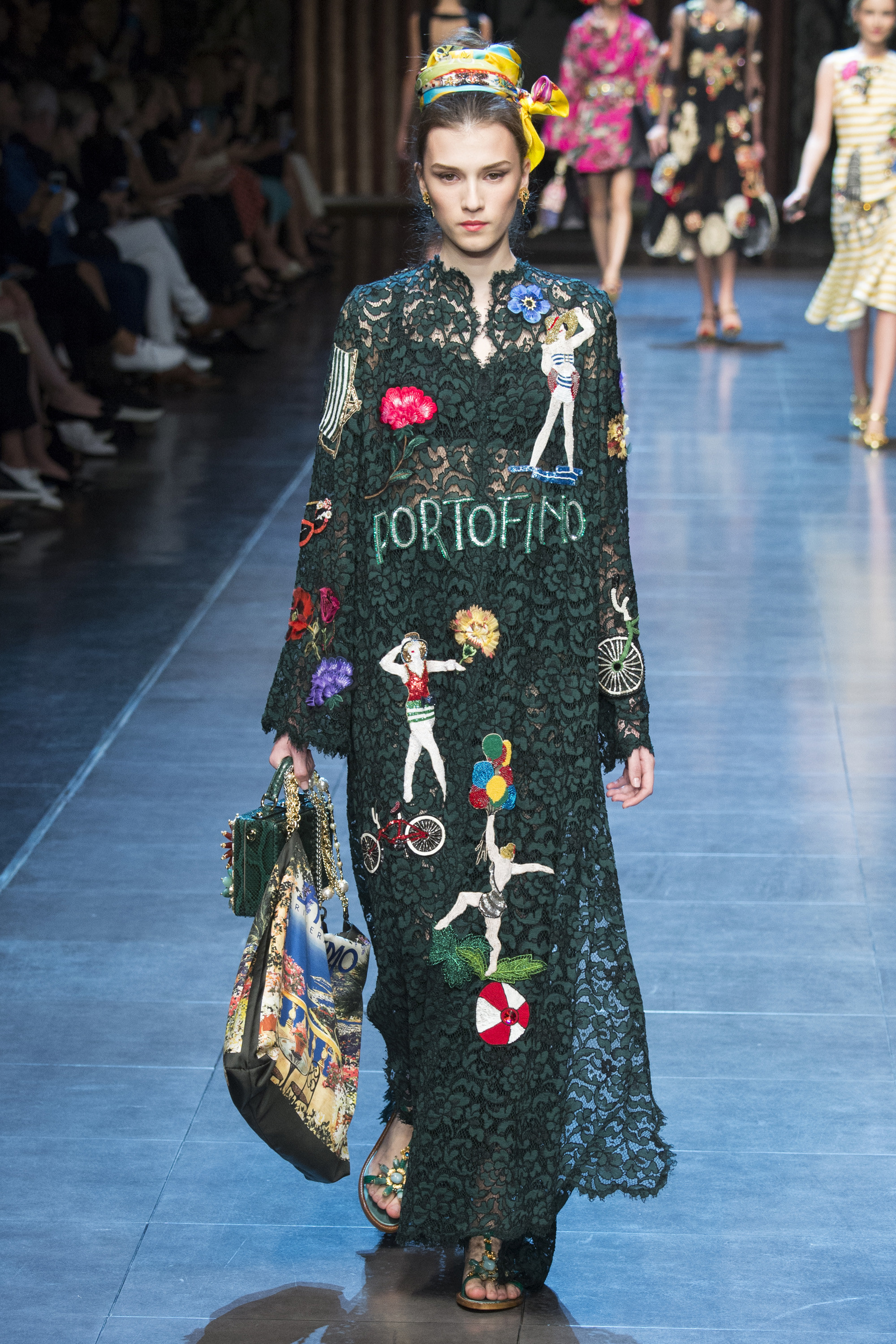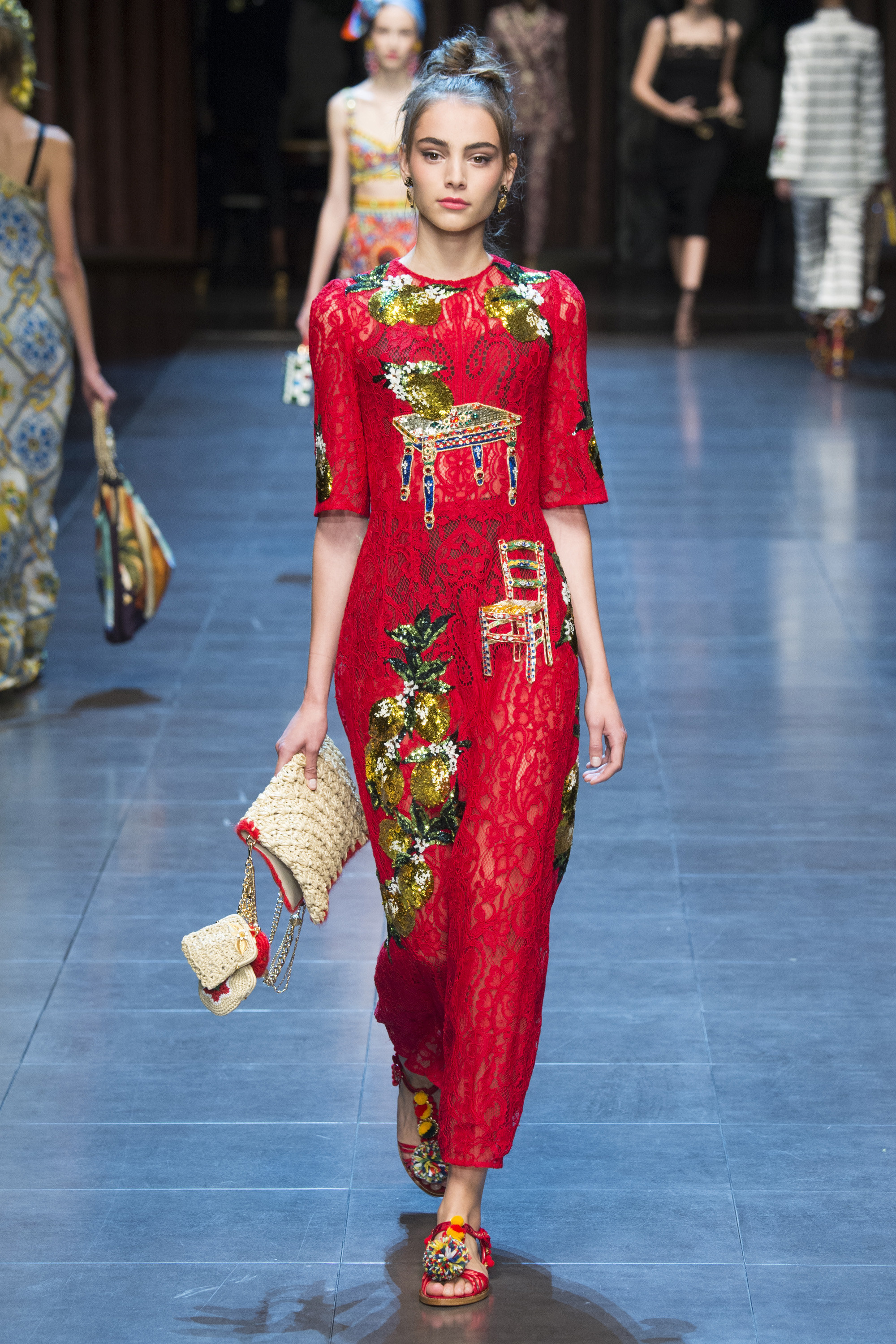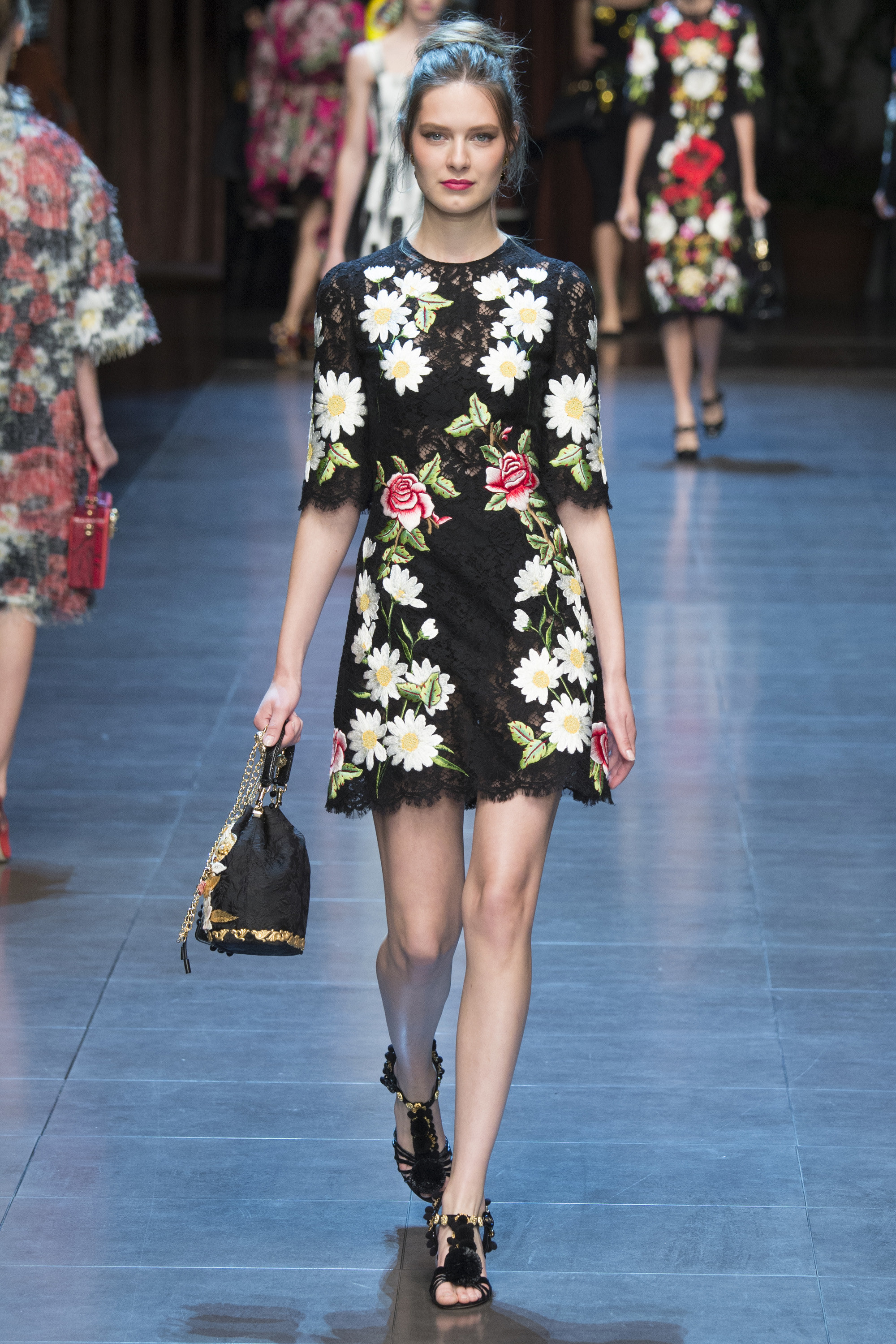 Pay attention to the fanciful shoes and purses.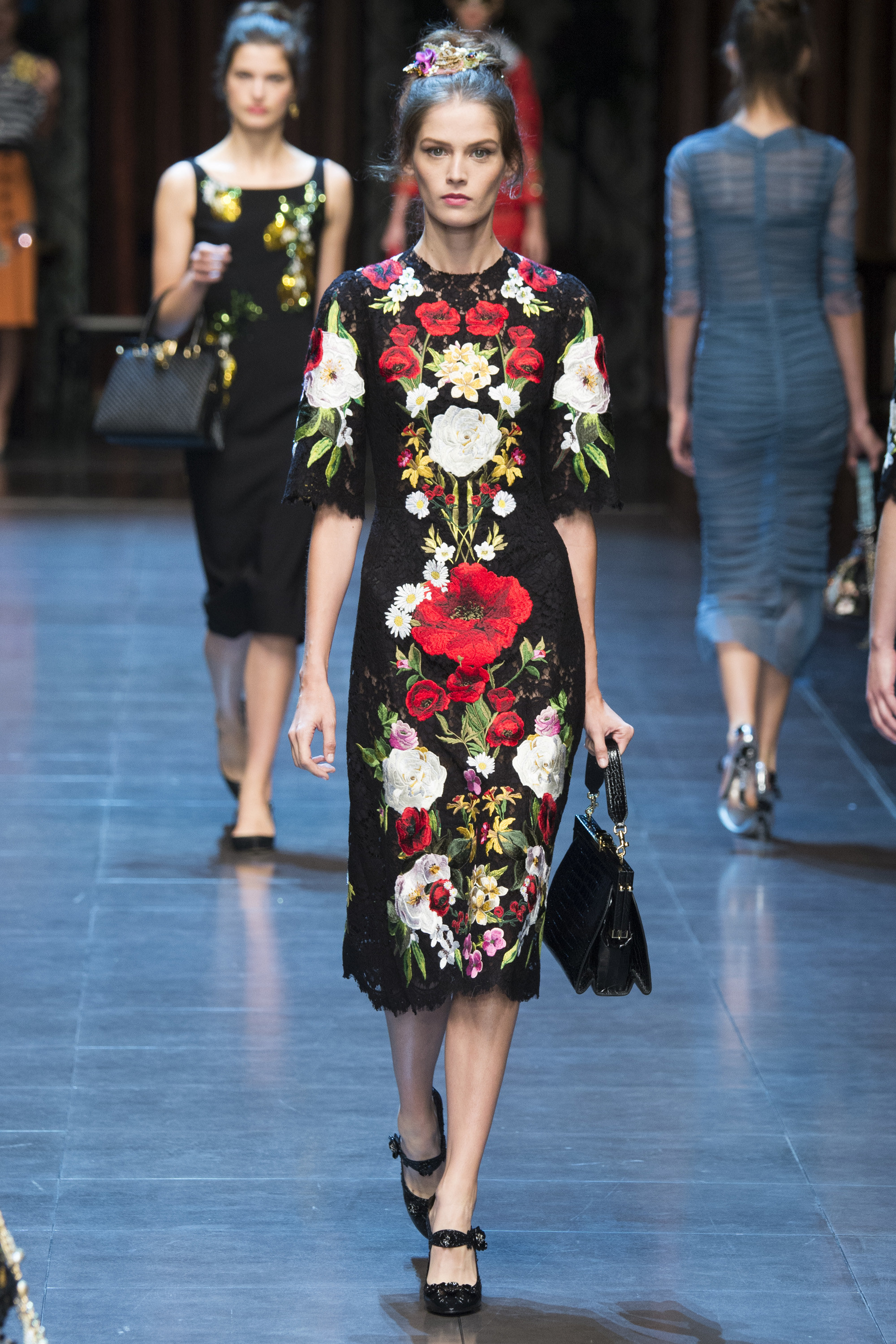 LACE in all its permutations is apparently the new black. Dolce and Gabbana manage to capture the sweet innocence associated with this fabrication, but elevate beyond with the mini factor and the extravagant ornamentation and embroidery (HAND SEWN might I add......$$$$).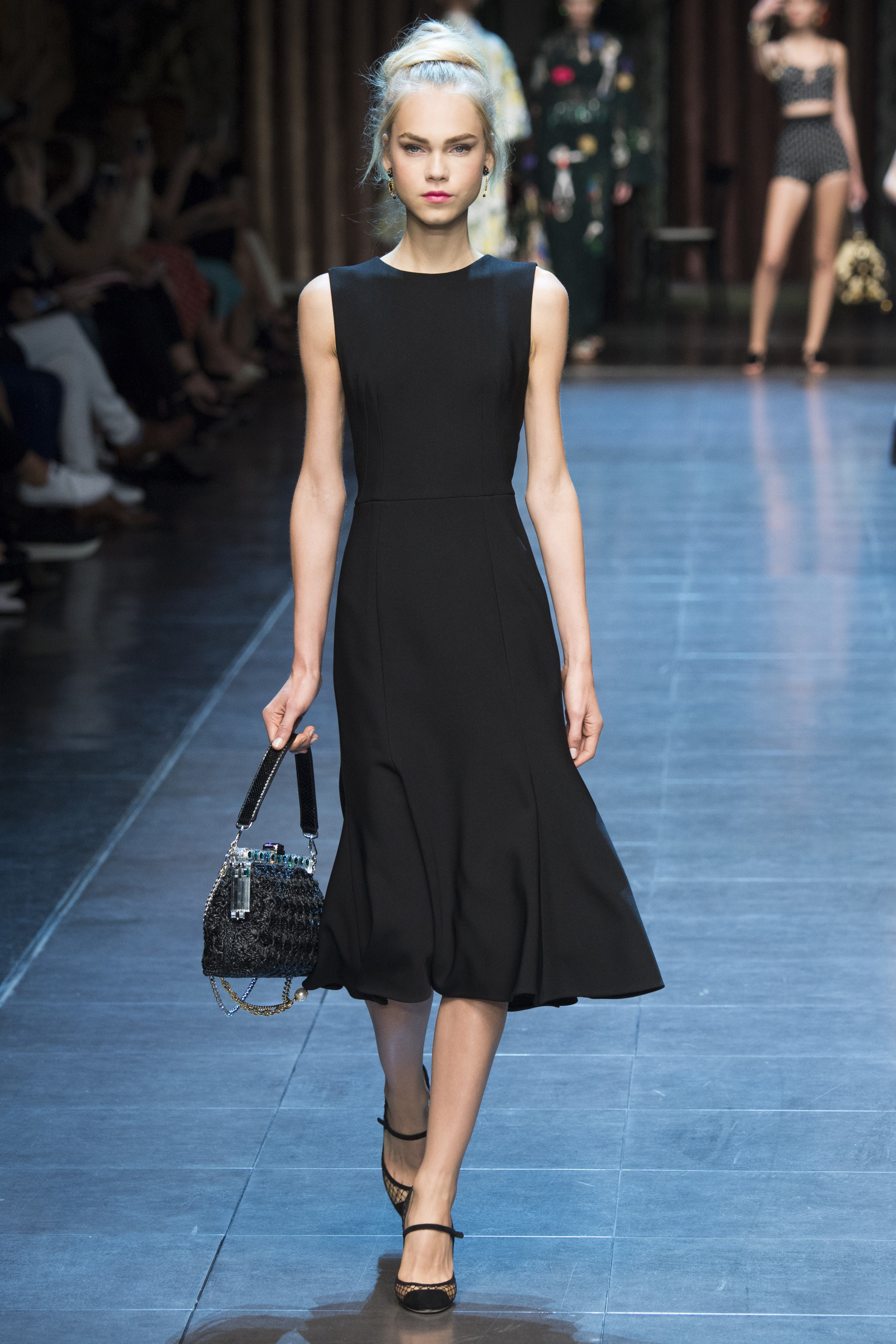 Prim and proper LBD and yet form fitting enough to bring low level sex appeal.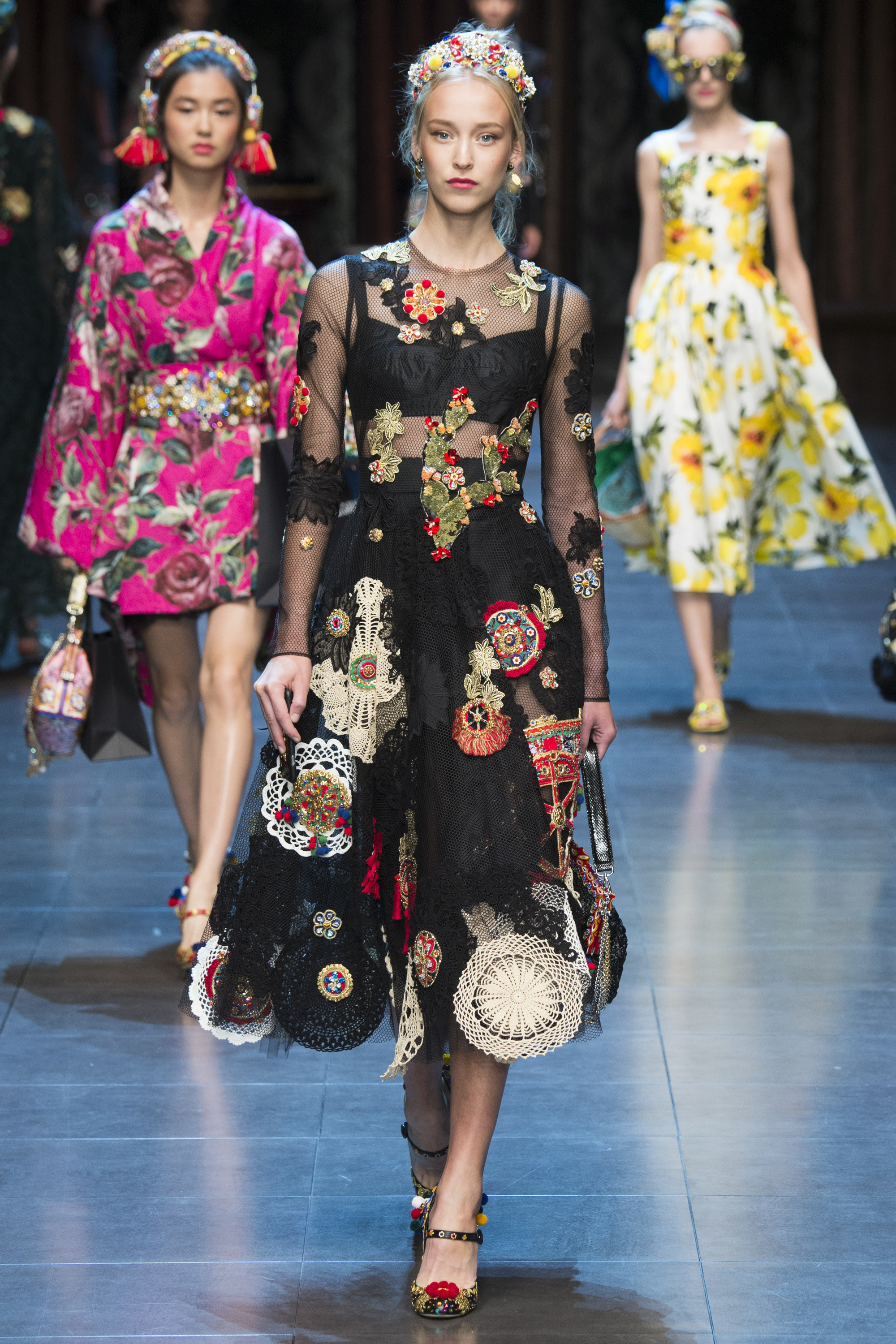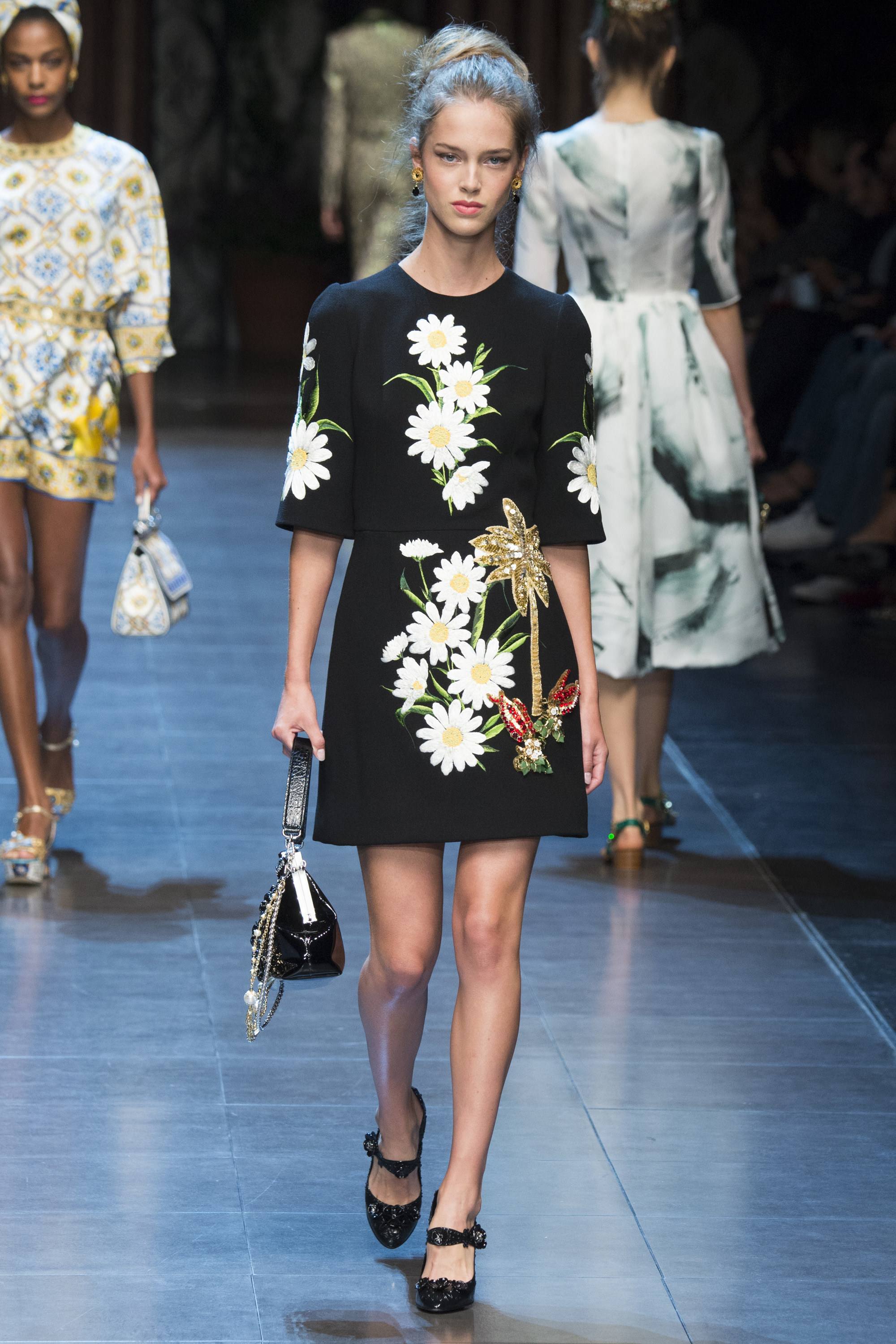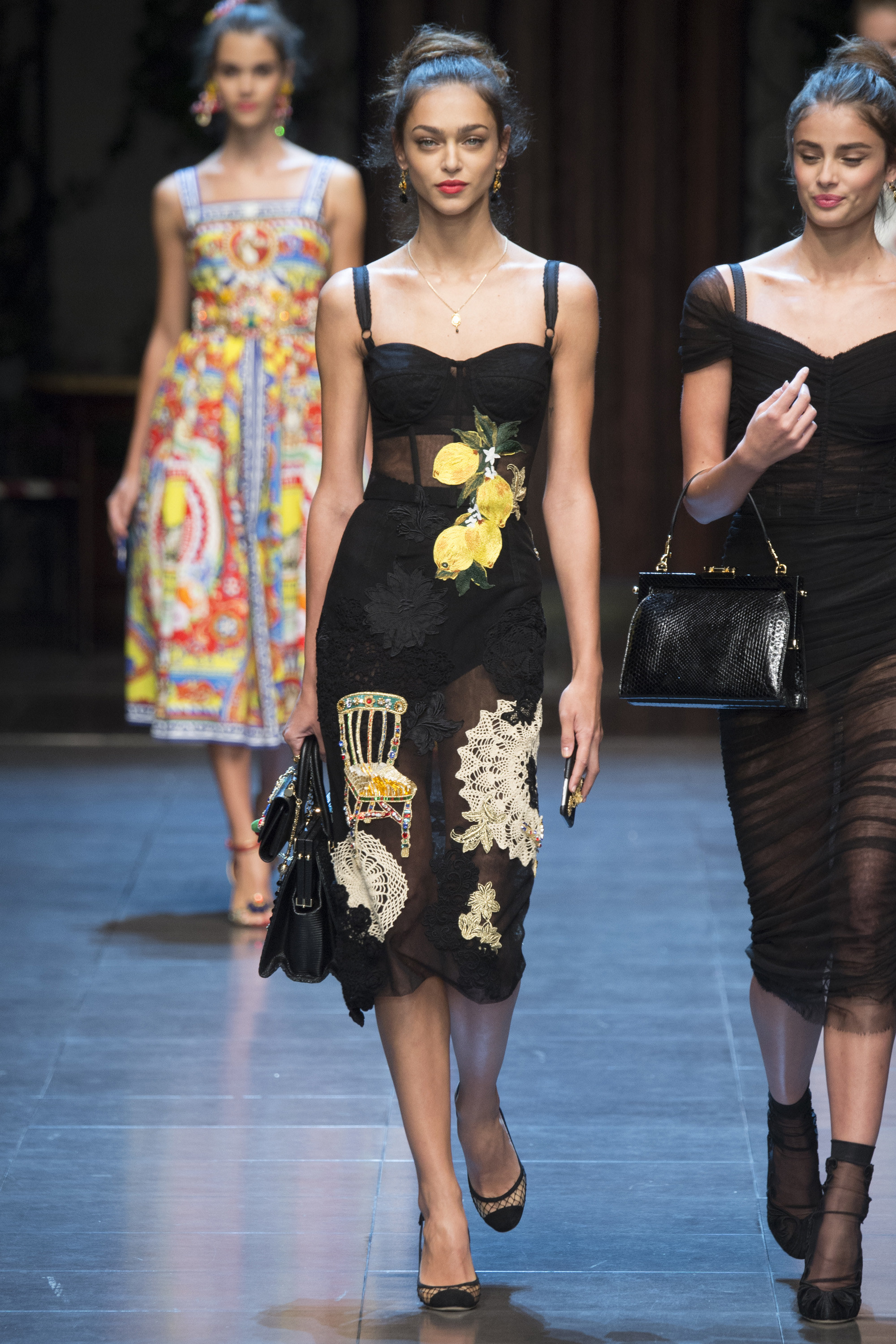 More fabulous fodder for the Little Black Dress archives. We all need at least one solid LBD akin to the first above. After completing that grueling task, its time to break loose from our Fraidy Cat shackles and go short, see-through, or bling-ed out. Why not?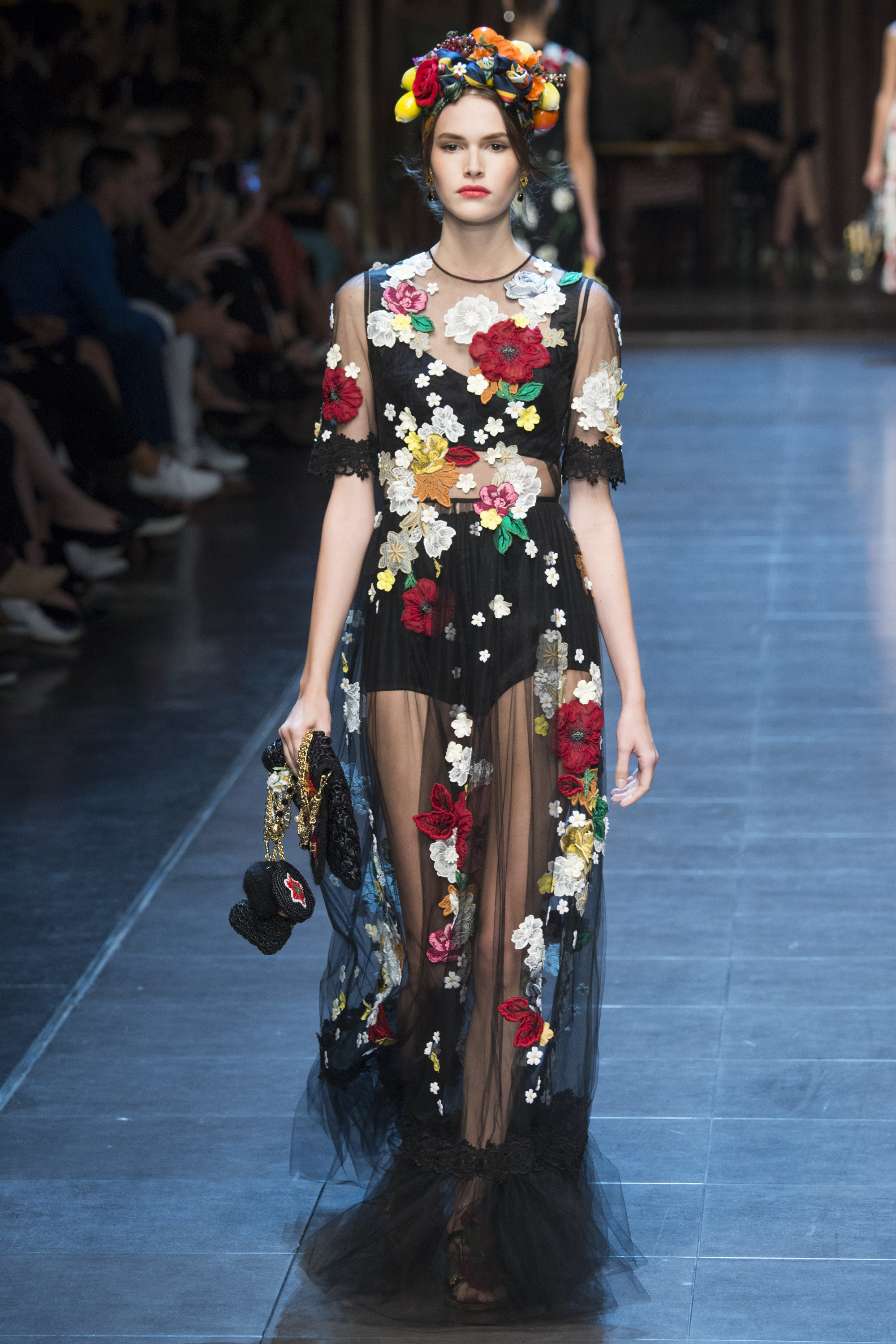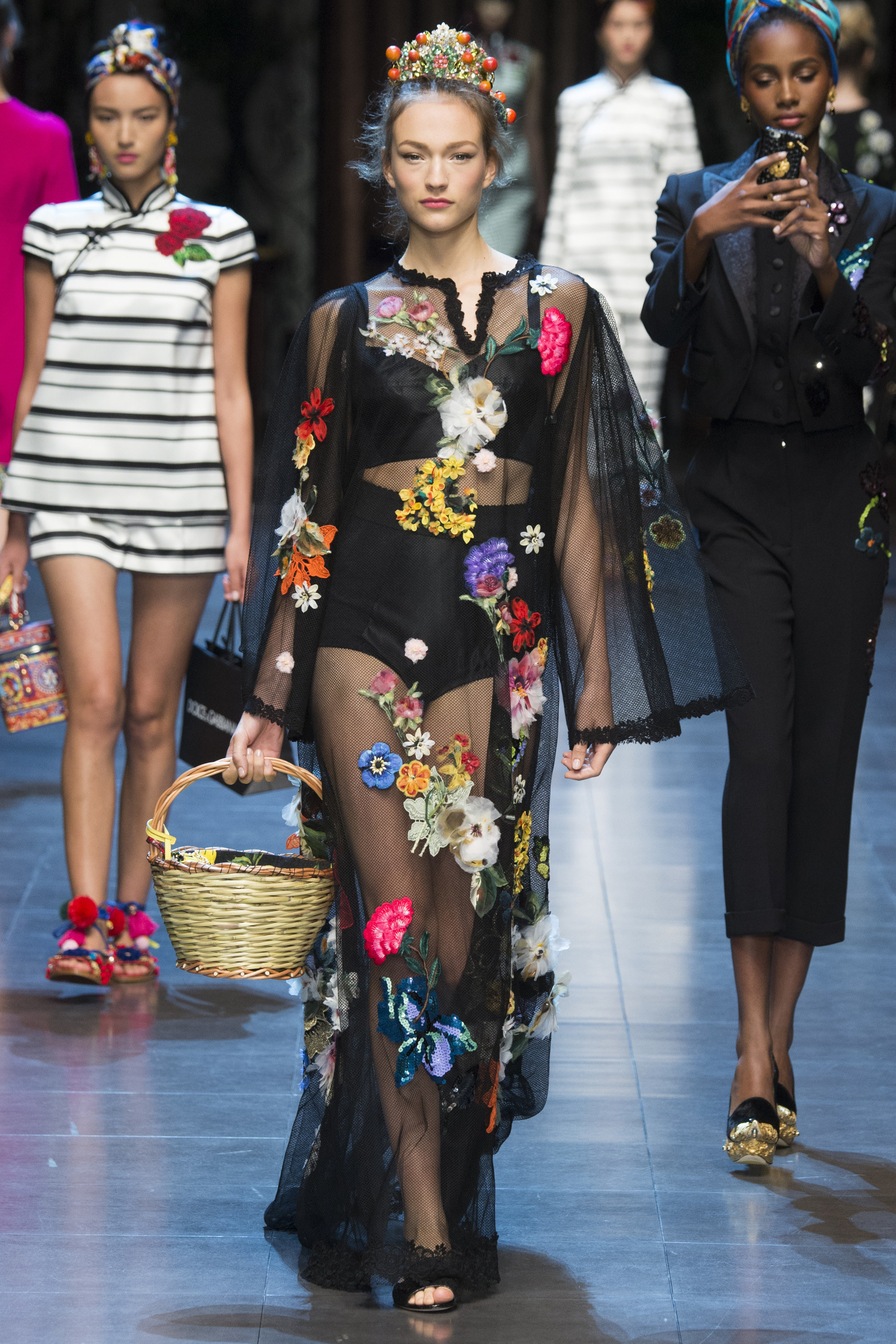 Let there be TULLE! Bathing suit cover ups for the Portofino yacht inhabitants.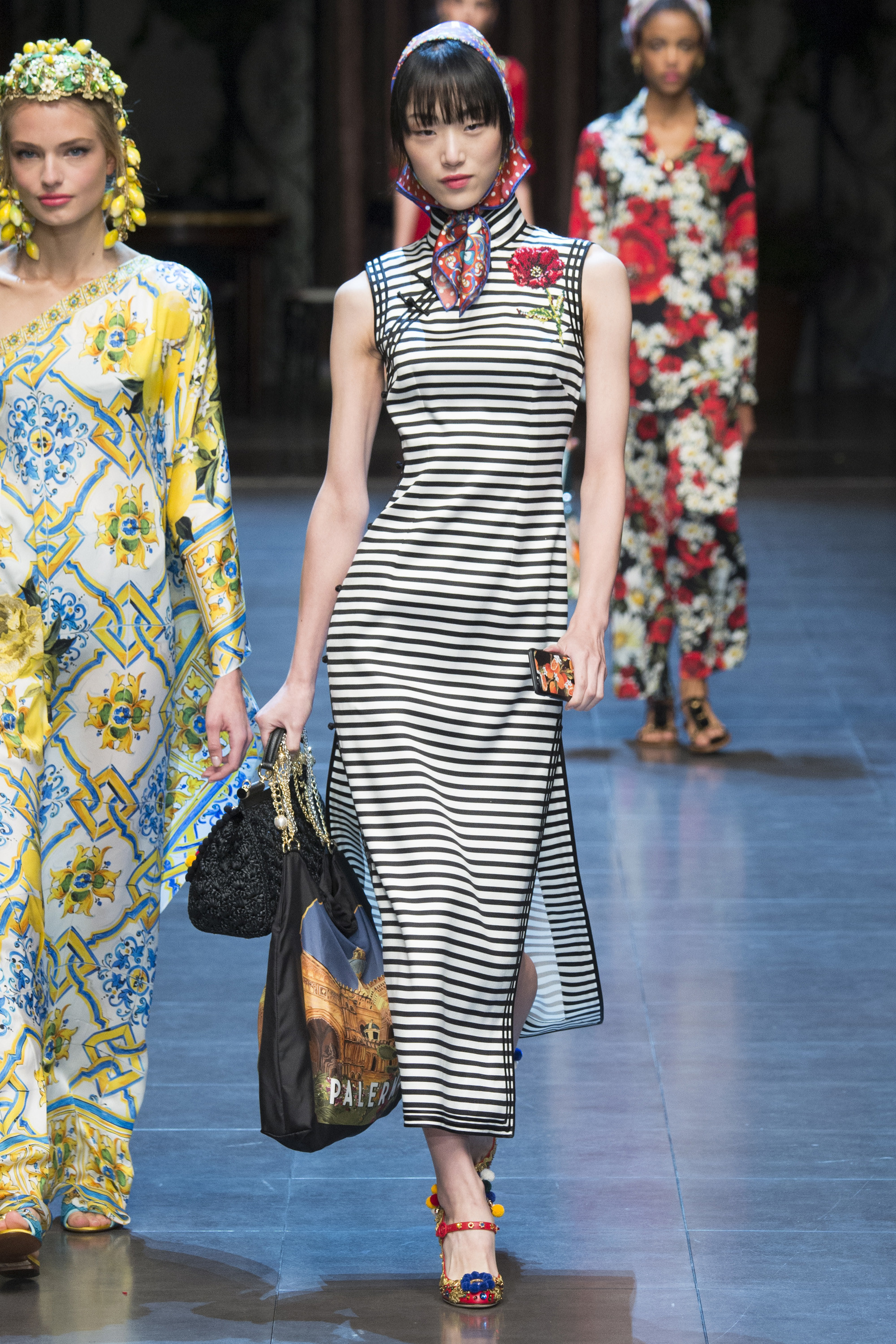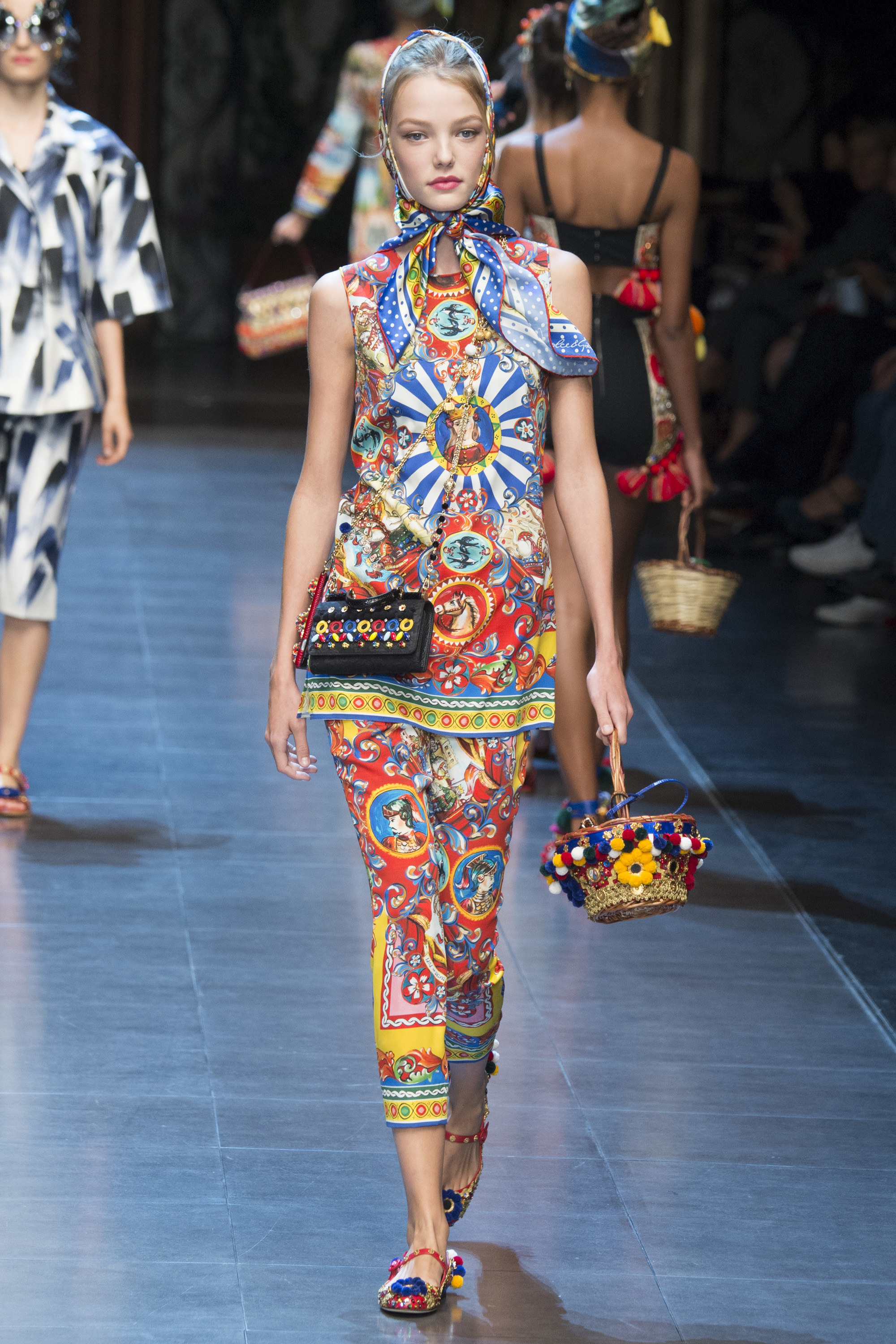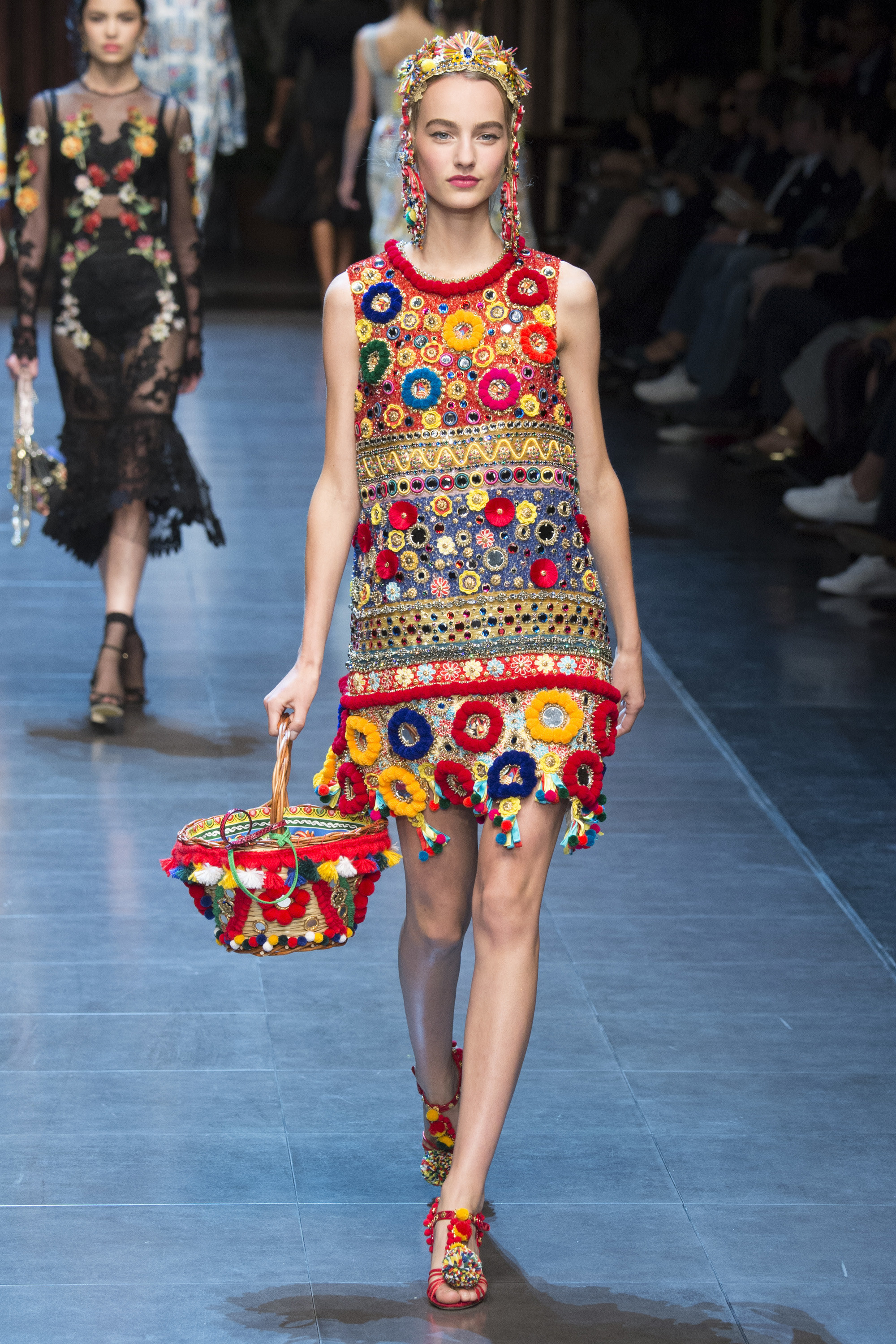 Not your average beach attire. I think a Cabana Boy is included. ;)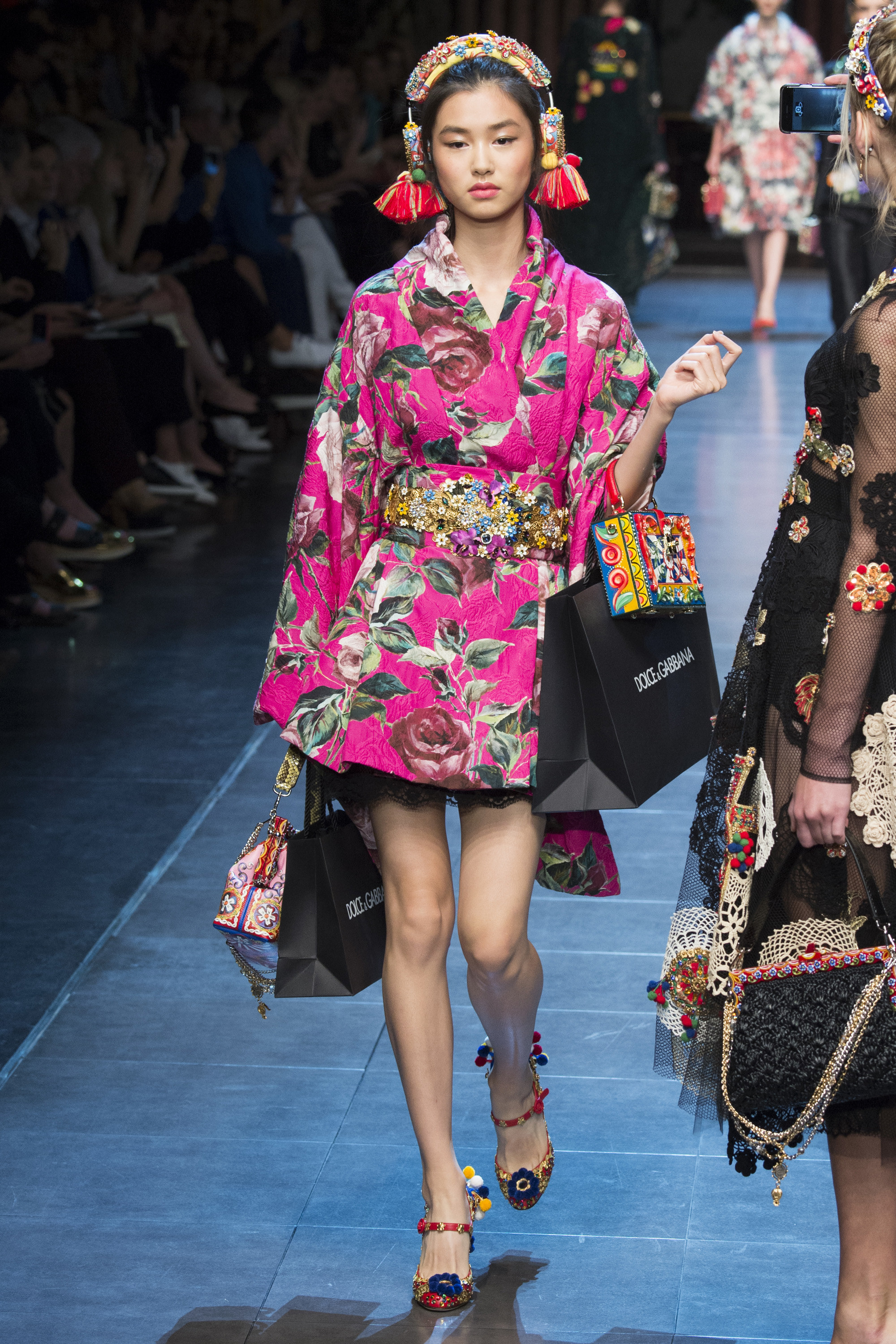 Dear Lord, check out the "belt".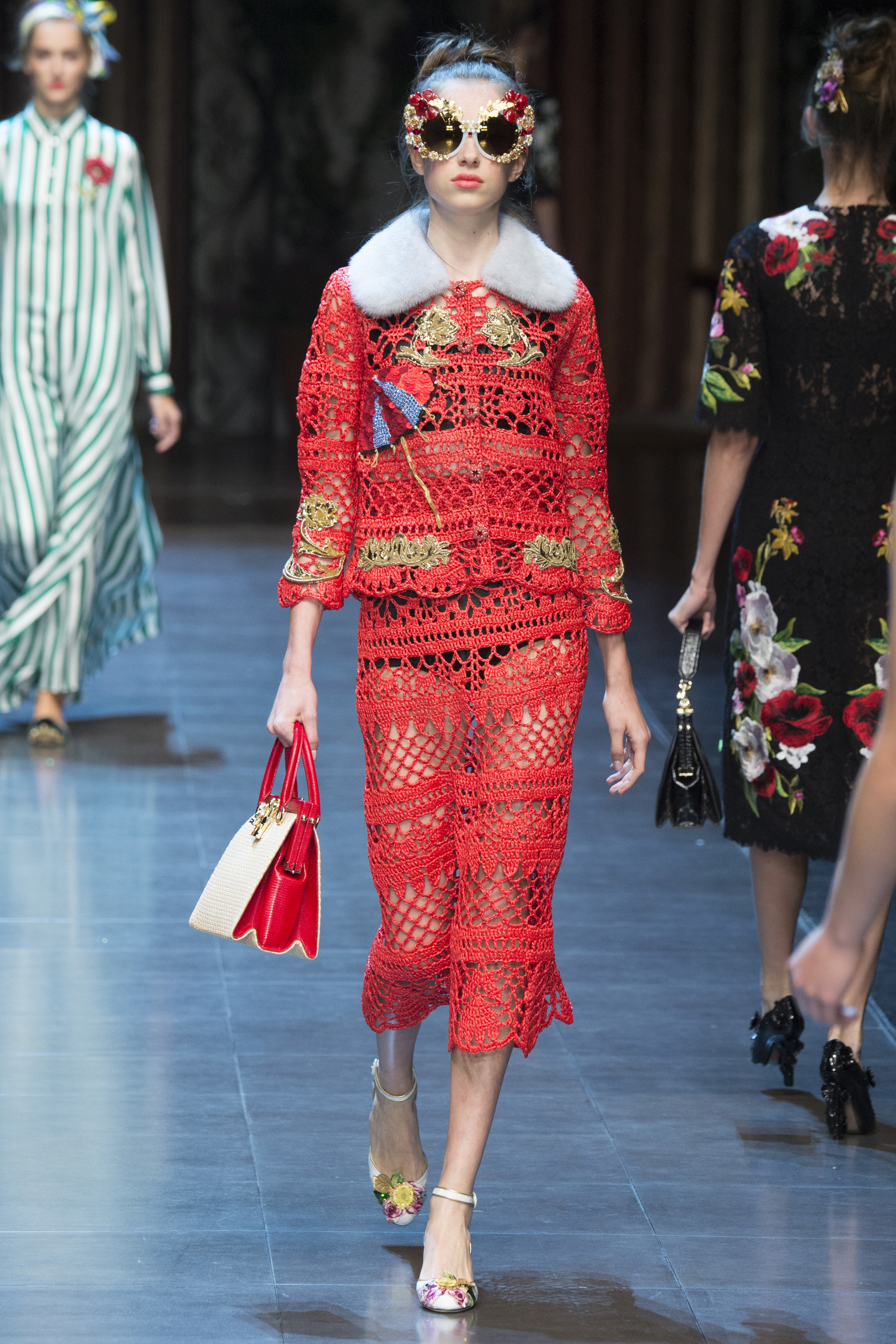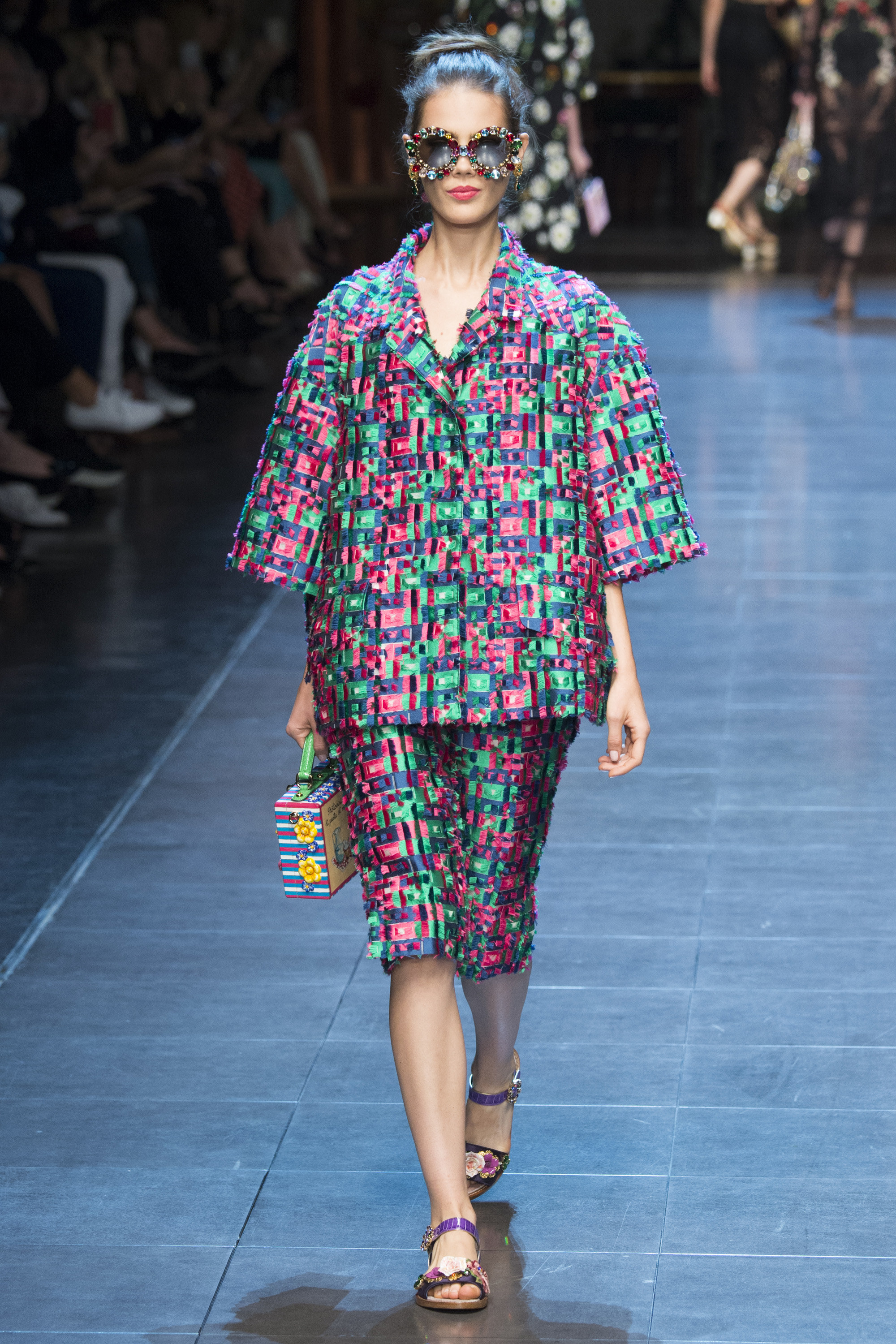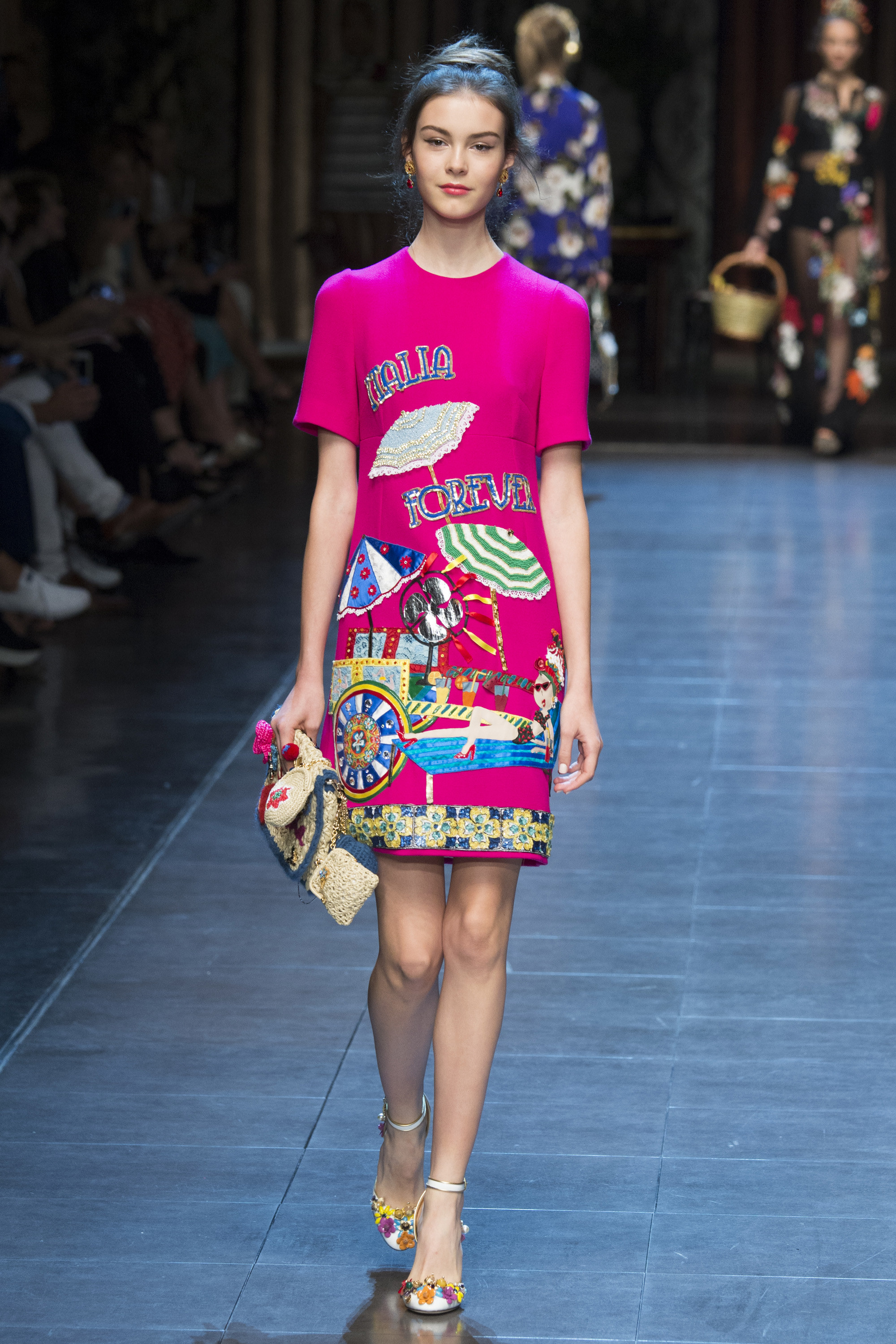 No one can deny the exuberance emanating from these vast collections. Vibrant colors such as fuchsia, red, and yellow, accompanied by bold patterns and many shiny baubles (including the shoes, belts and sunglasses). A Magpie would go berserk.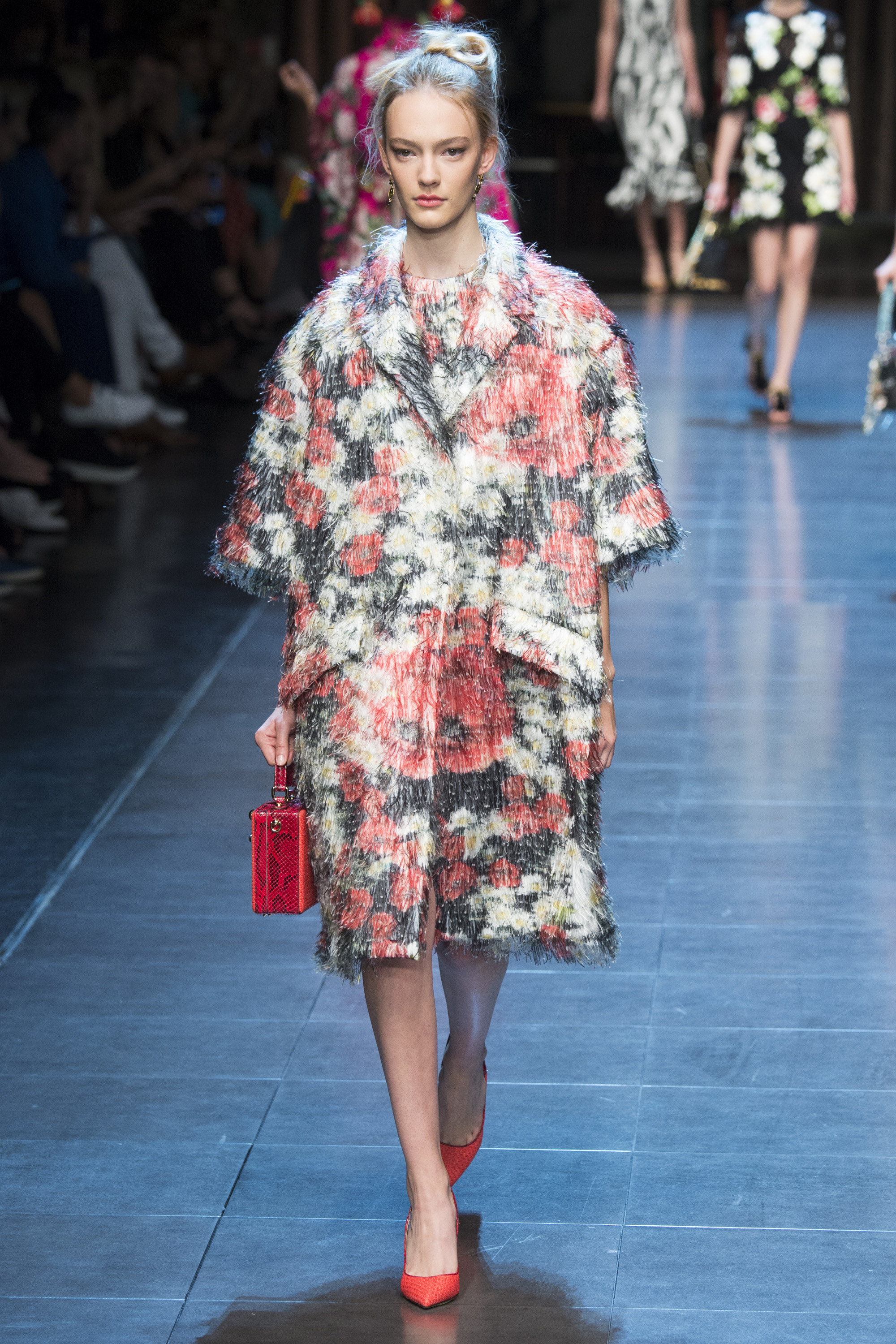 The perfect topper, the volume speaks drama, the fabrication lends visual interest. Stay covered, warm and chic. A no brainer for nights out.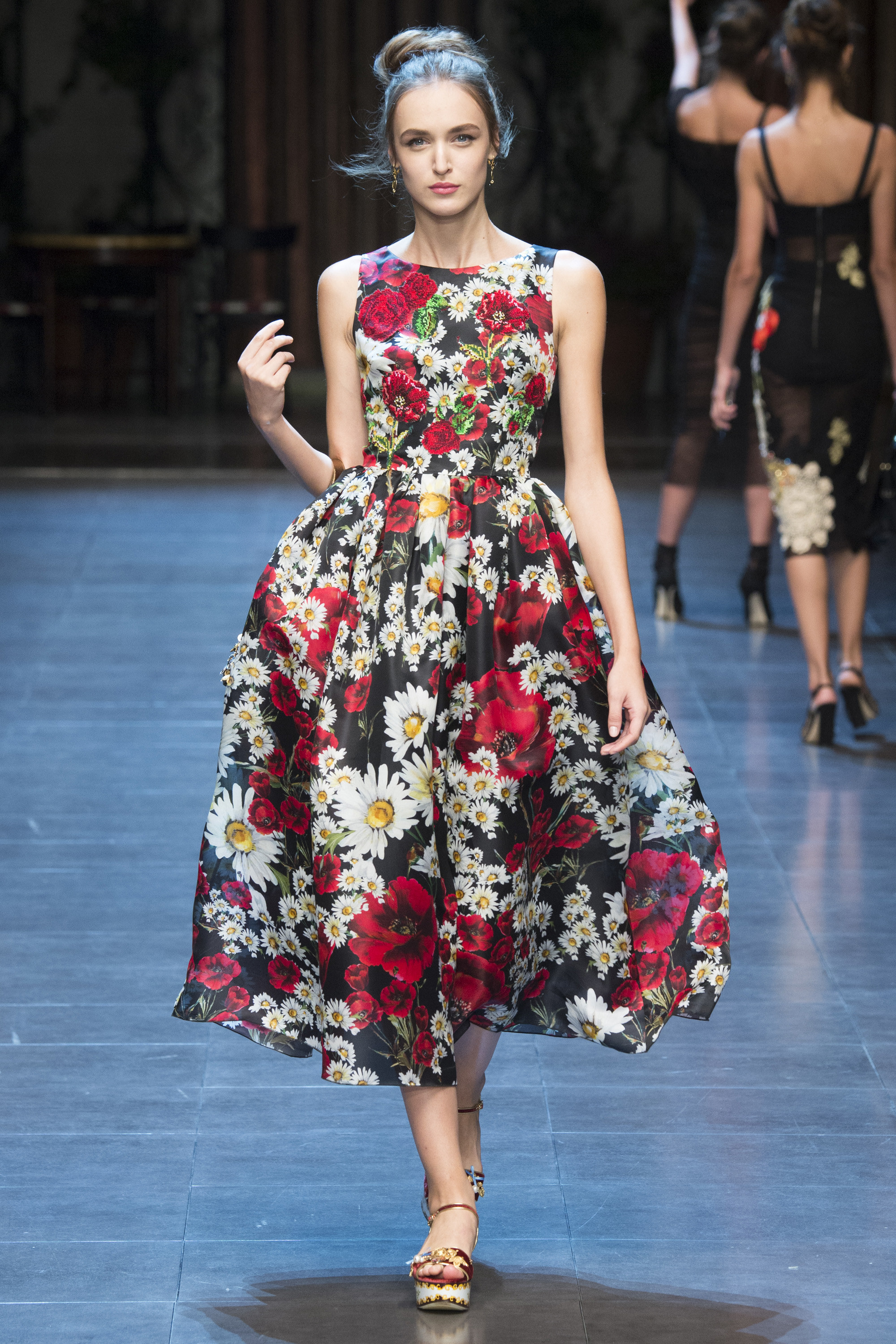 When you want to channel Princess Grace of Monaco. Organza dream.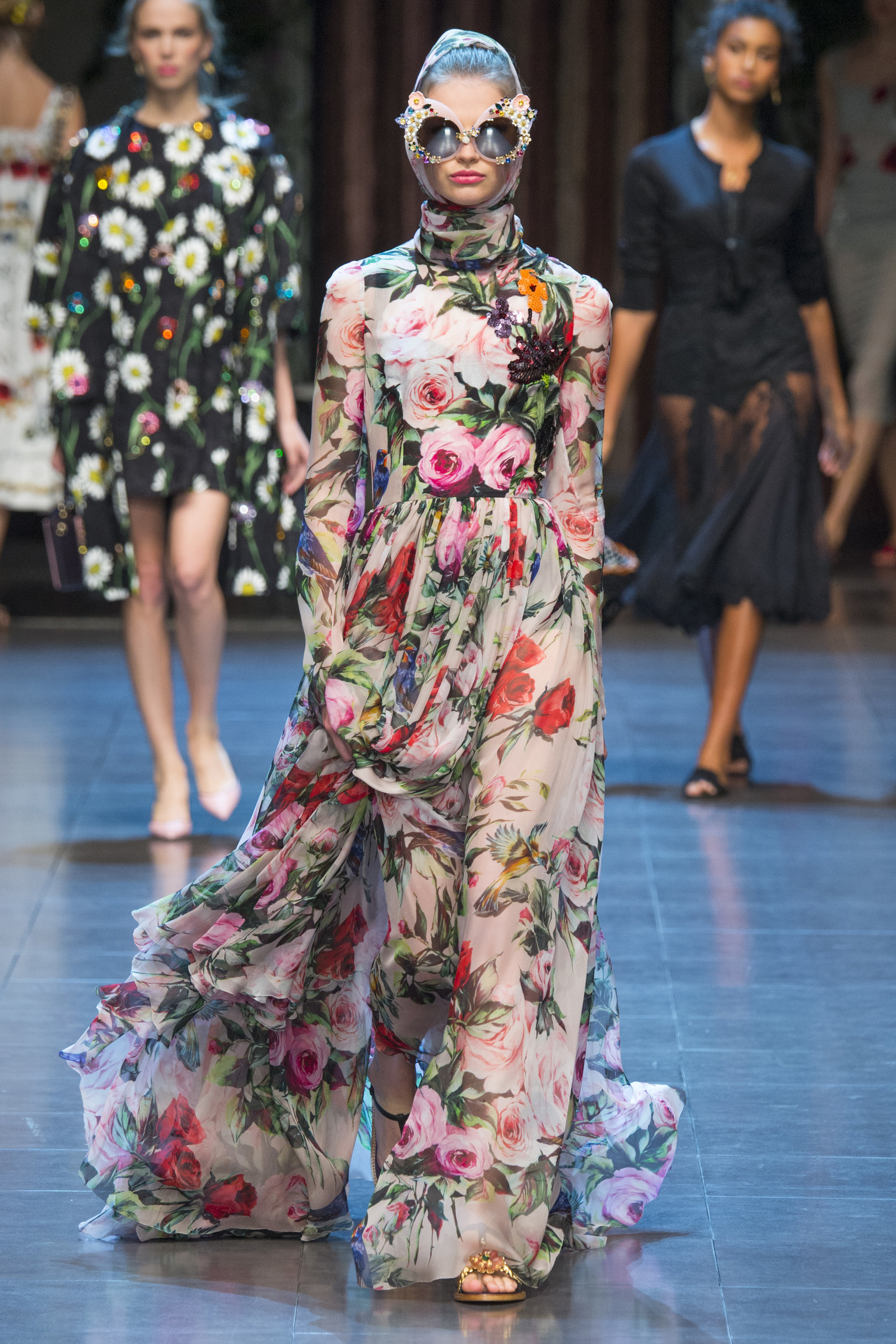 Yet another dreamy concoction for a grand affair or spring nuptials.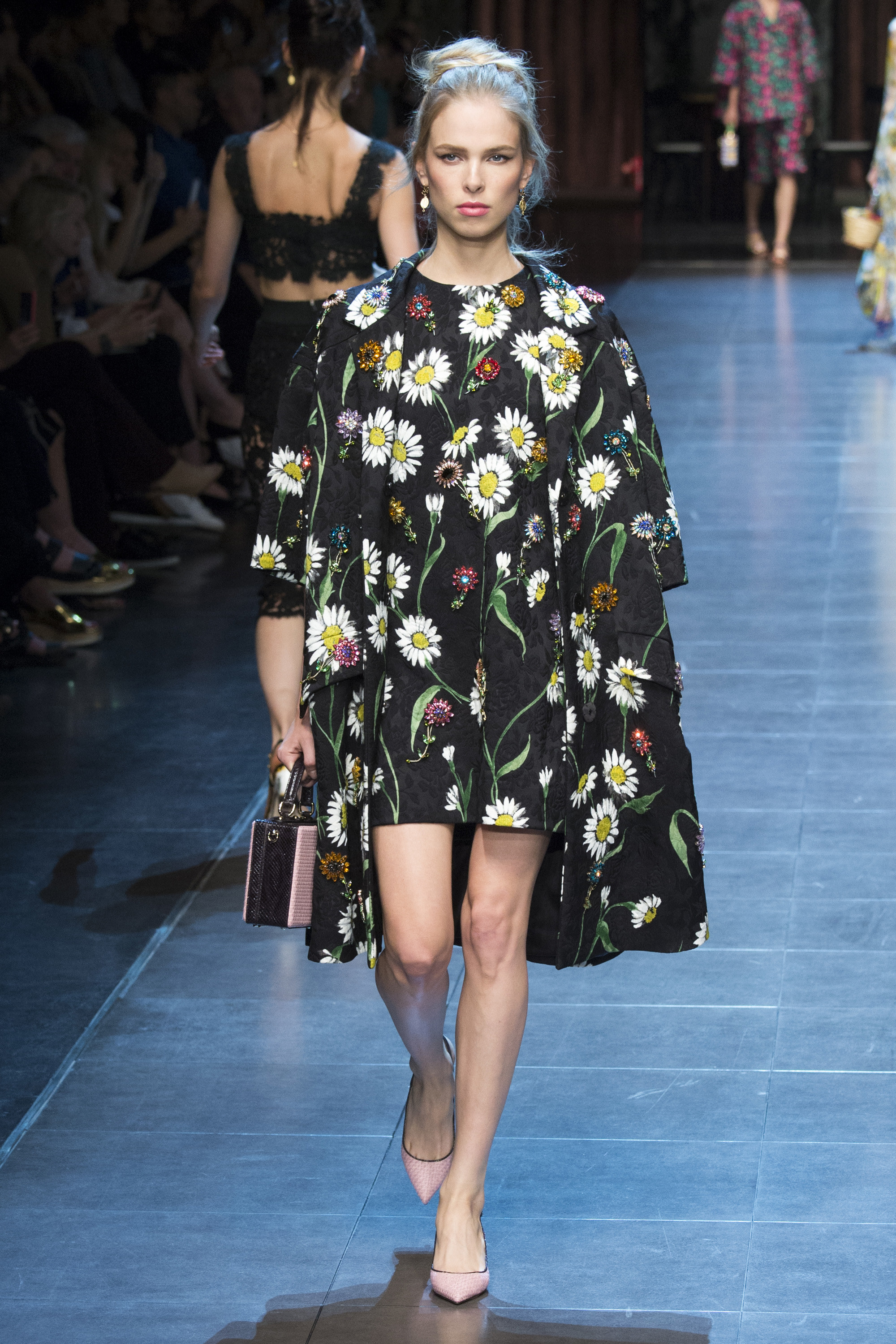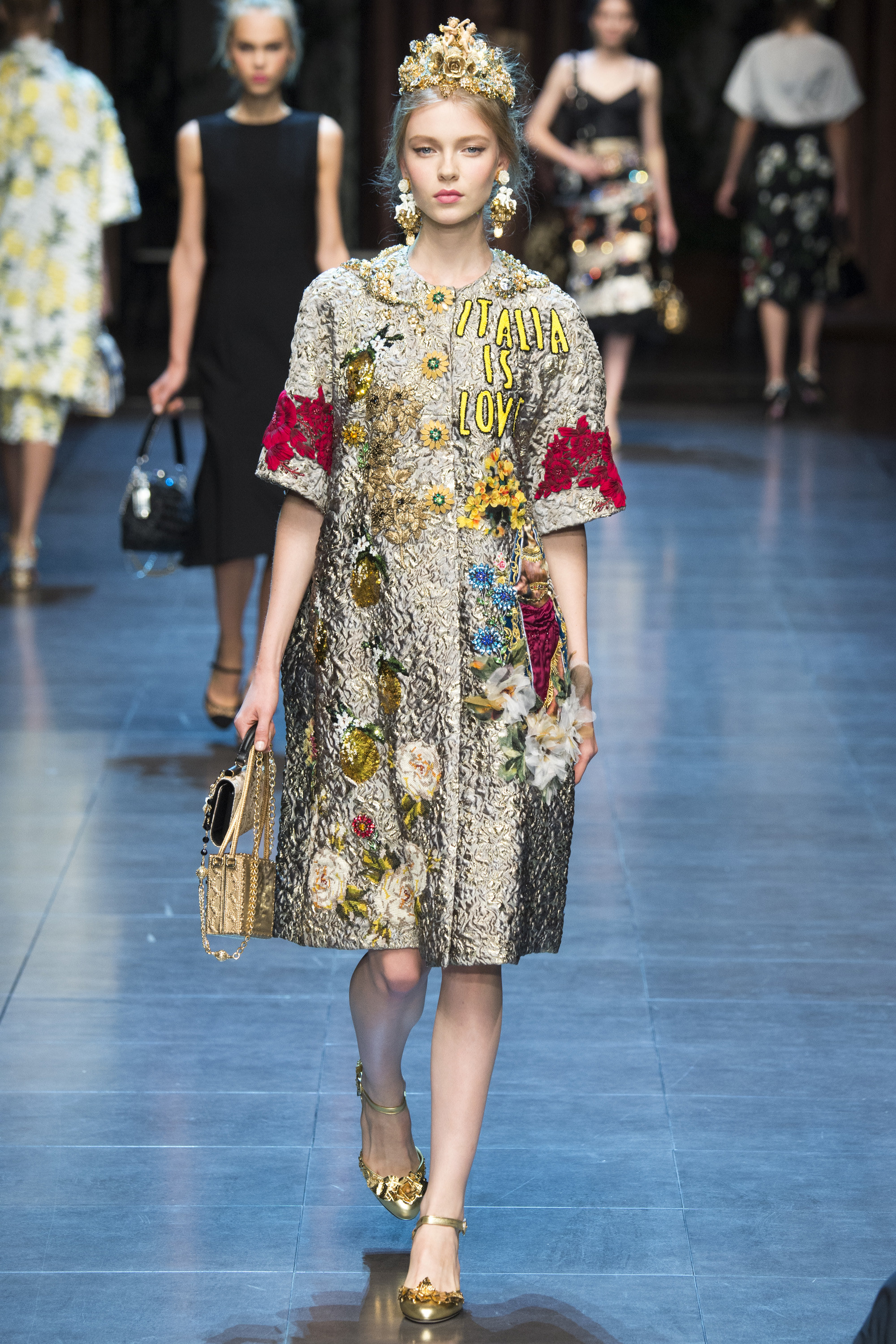 Just when you thought it couldn't get any more outrageous or opulent, the embellished and adorned CLOQUE. Light and manageable and yet what in the world could make more of an impact on the visual cortex? Color me stunned! Is it possible to be in love with a piece of clothing? (And really, aside from Chanel no one provides such spectacular buttons, jewels in their own right).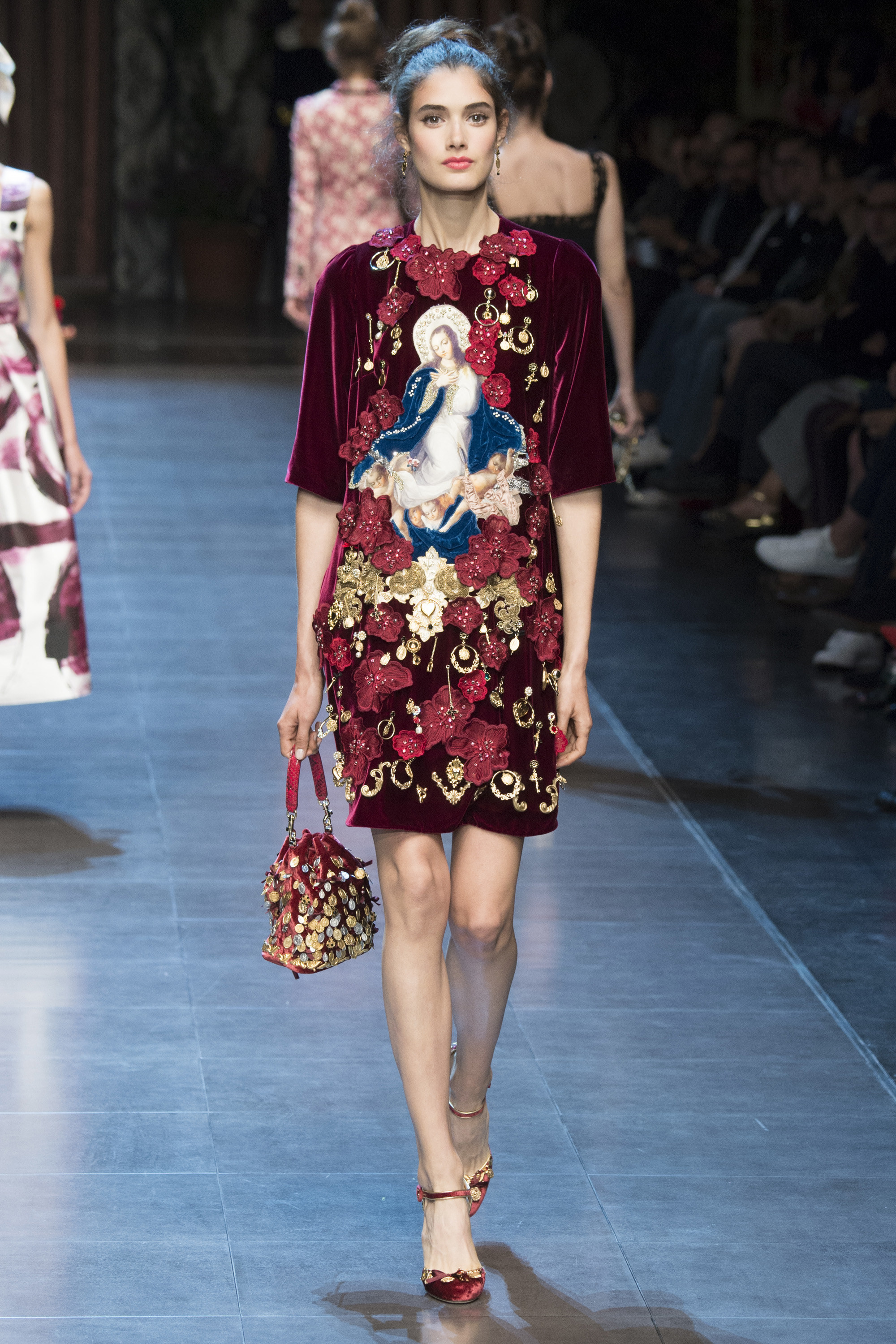 And for the coup de grace? Claret velvet with coalescent embellishments serving as a halo to the Madonna. Amen and BRAVI. Yowsa.
Each Dolce & Gabbana collection just about has me in tears, maybe because my eyeballs are popping out of the sockets.
A standing ovation is in order.
Runway images brought to you by ww.vogue.com