A few more options for pre-fall as the Fall Winter collections have already begun rolling in, and Spring couture has hit the runways! This constant stream of entertaining and enticing fare reinforces the admiration I have for designers who have to conjur up numerous collections every year, a few adding couture to their lexicon, whilst at the mercy of naysaying critics without similar right brain goings on, and a litany of suit wearing bean counters. To remain perpetually creative and prolific despite these hindrances demonstrates great fortitude and a kind of genius indeed! We are blessed to have an ever full cornucopia of fashion riches to choose from all year round thanks to these talented wizards and their dedicated associates.
AKRIS:
Always impeccably crafted sleek entries with an interesting amalgamation of airy and feminine, and darker and more masculine. Dr. Jekyll meet Mr. Hyde.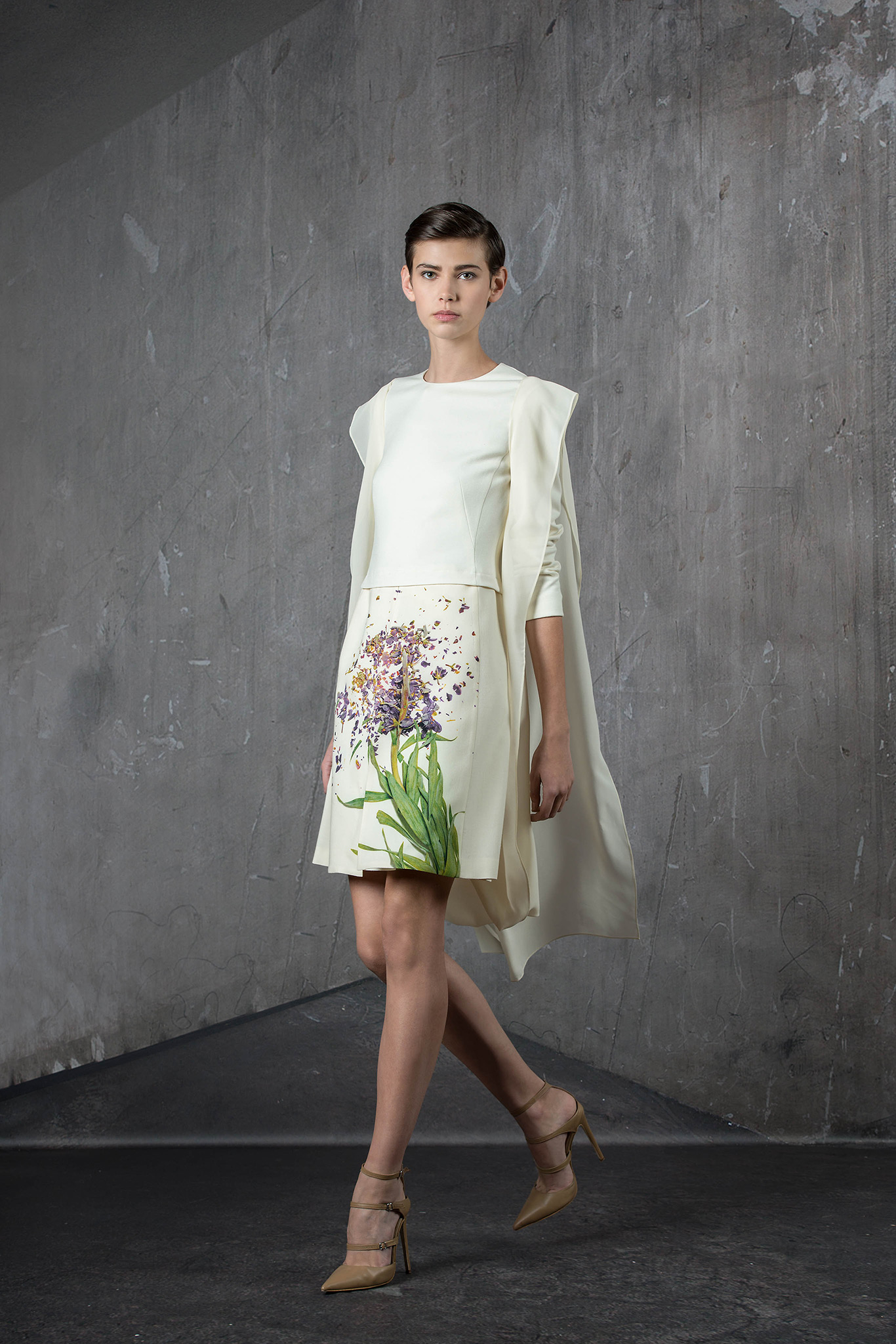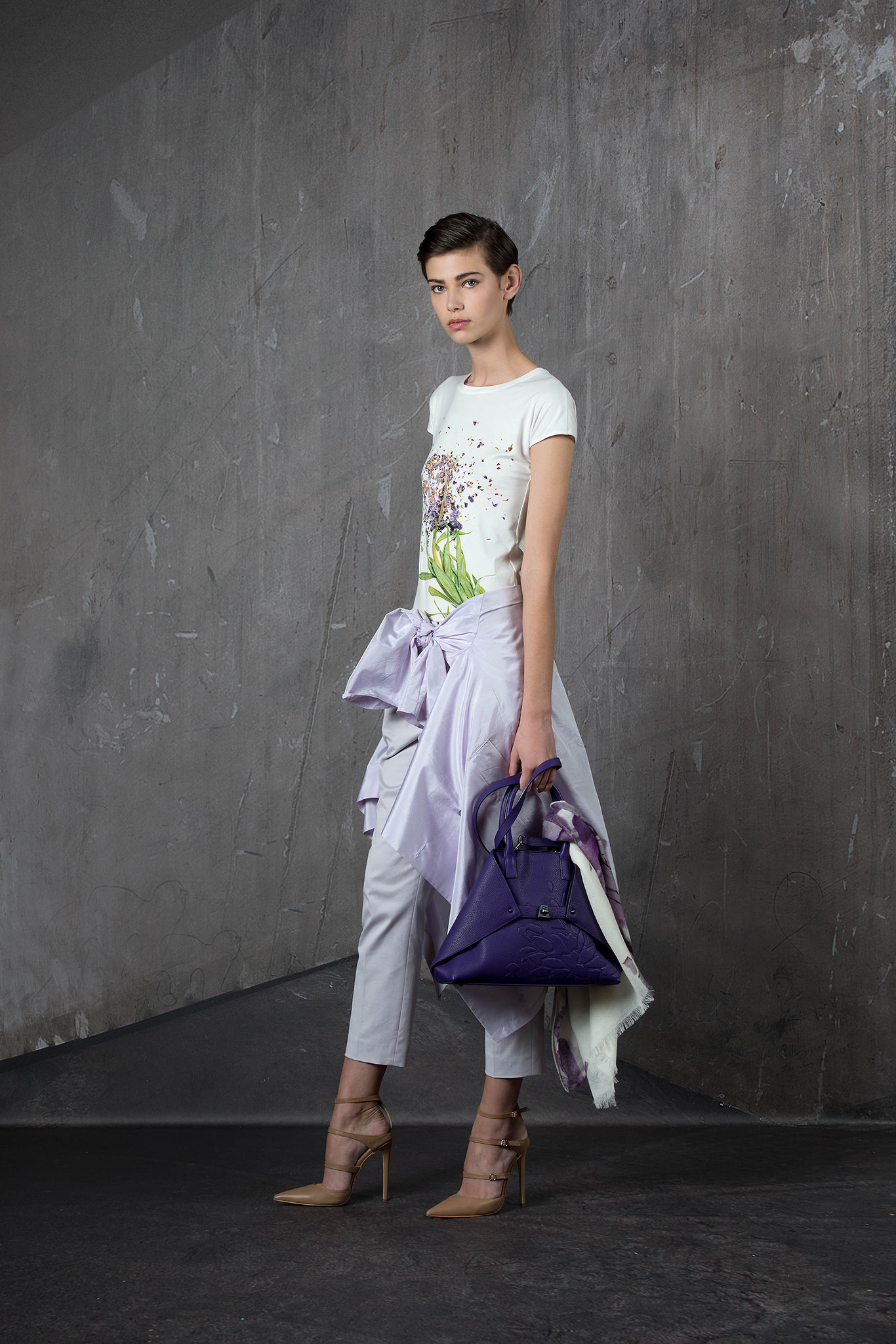 Lavender taffeta, y u m.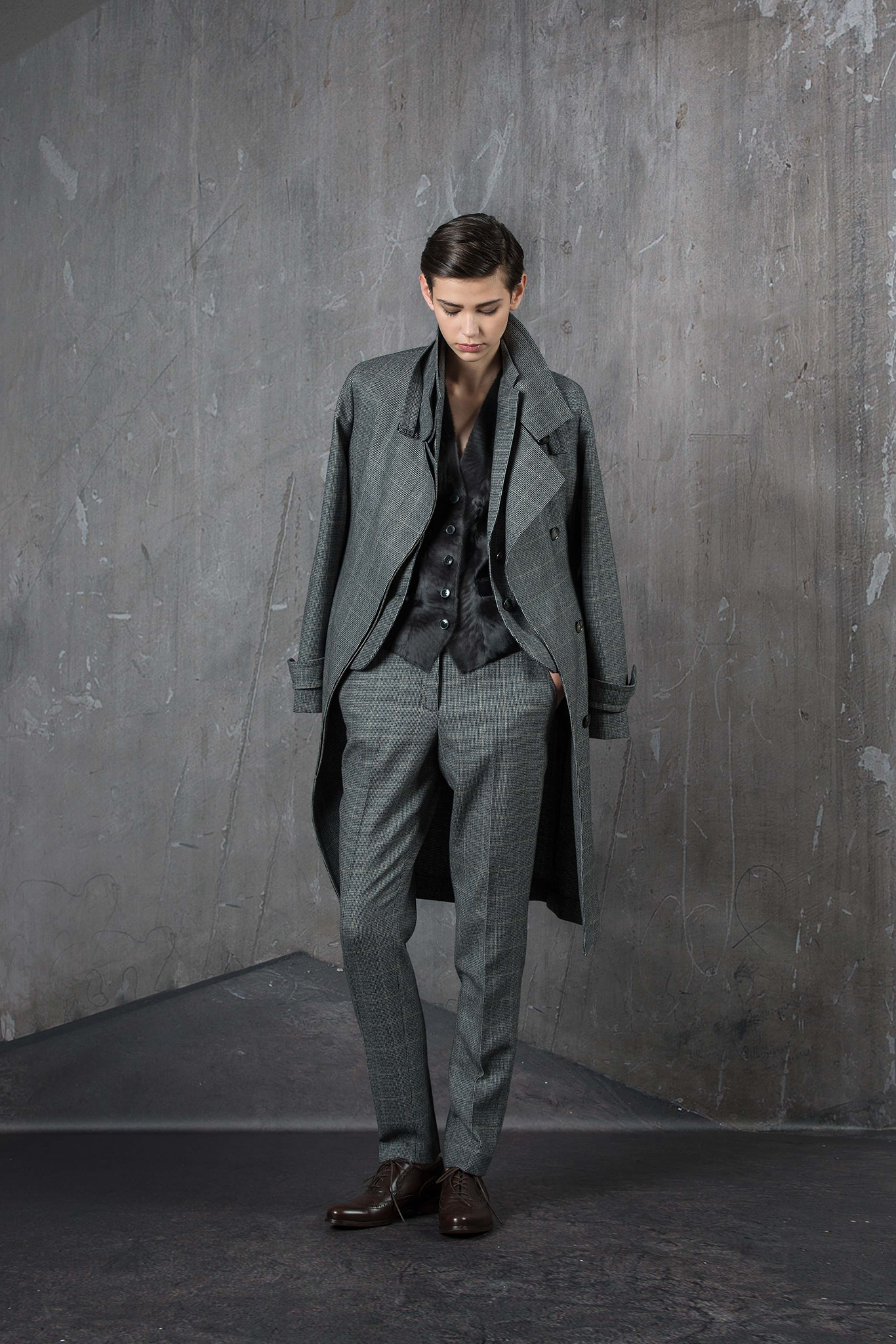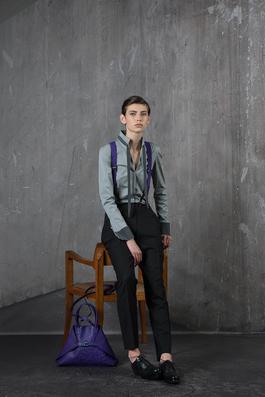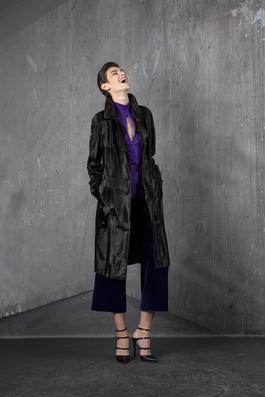 Throw a bright velvet jacket over the narrow pants and suspenders, and instead of the brogues or other man shoes, patent Louboutins. And definitely throw a vibrant silk charmeuse blouse under the suit. We want to poach the male vibe but not actually LOOK like a dude...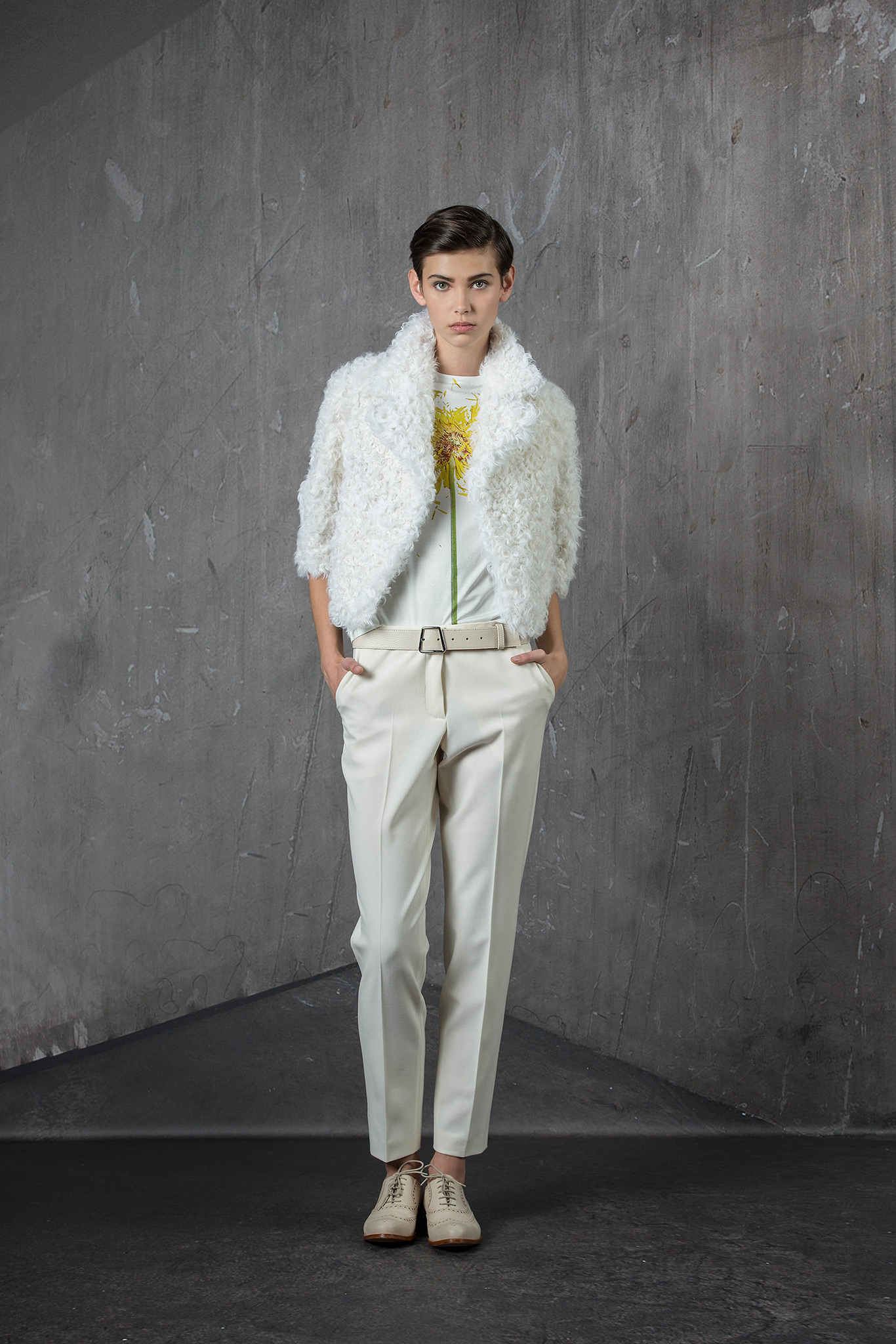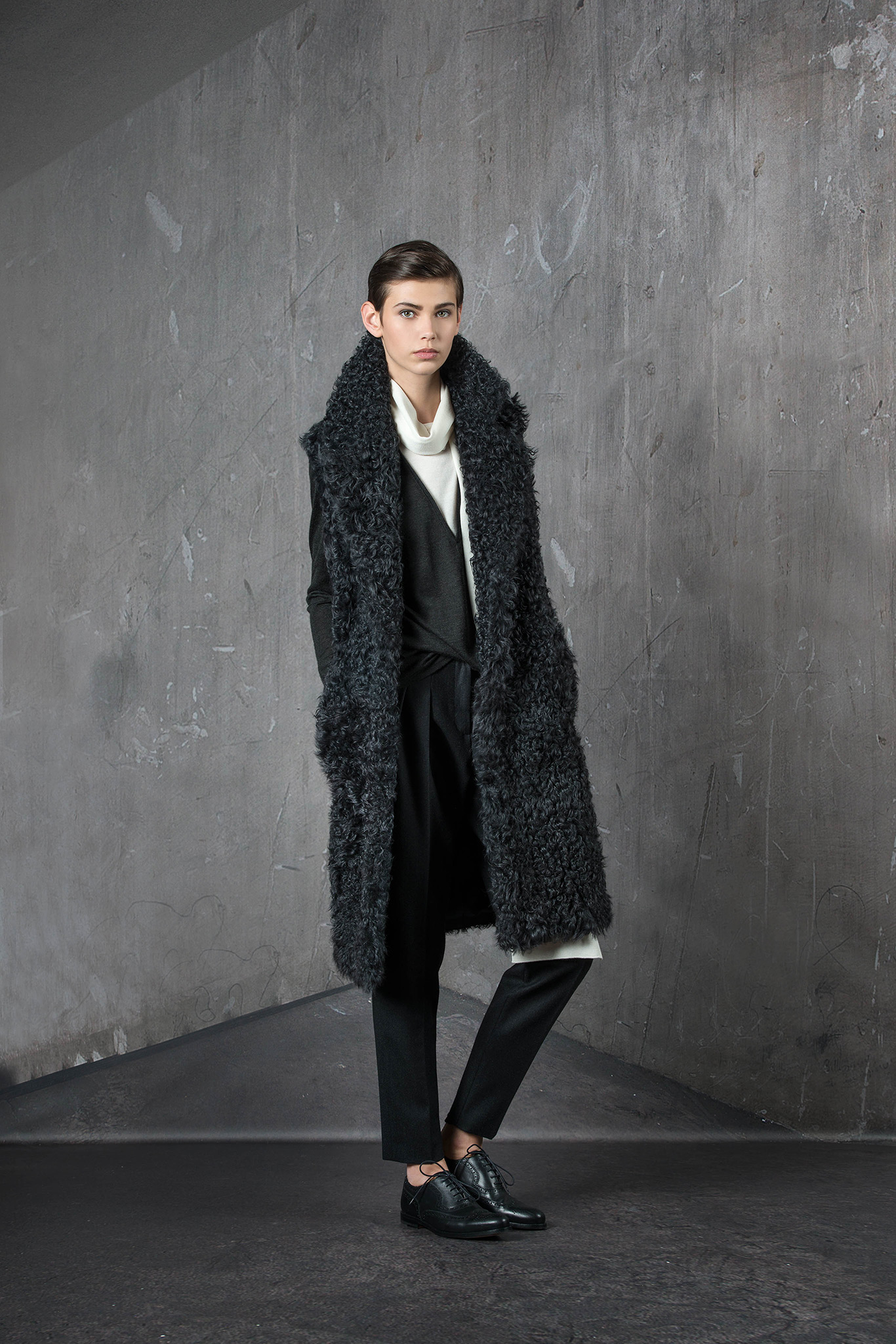 Shearling vests are always "in" and look good whether petite or long and dramatic. Perfect when range of motion is key, for Dog walking, pulling separates off racks, etc.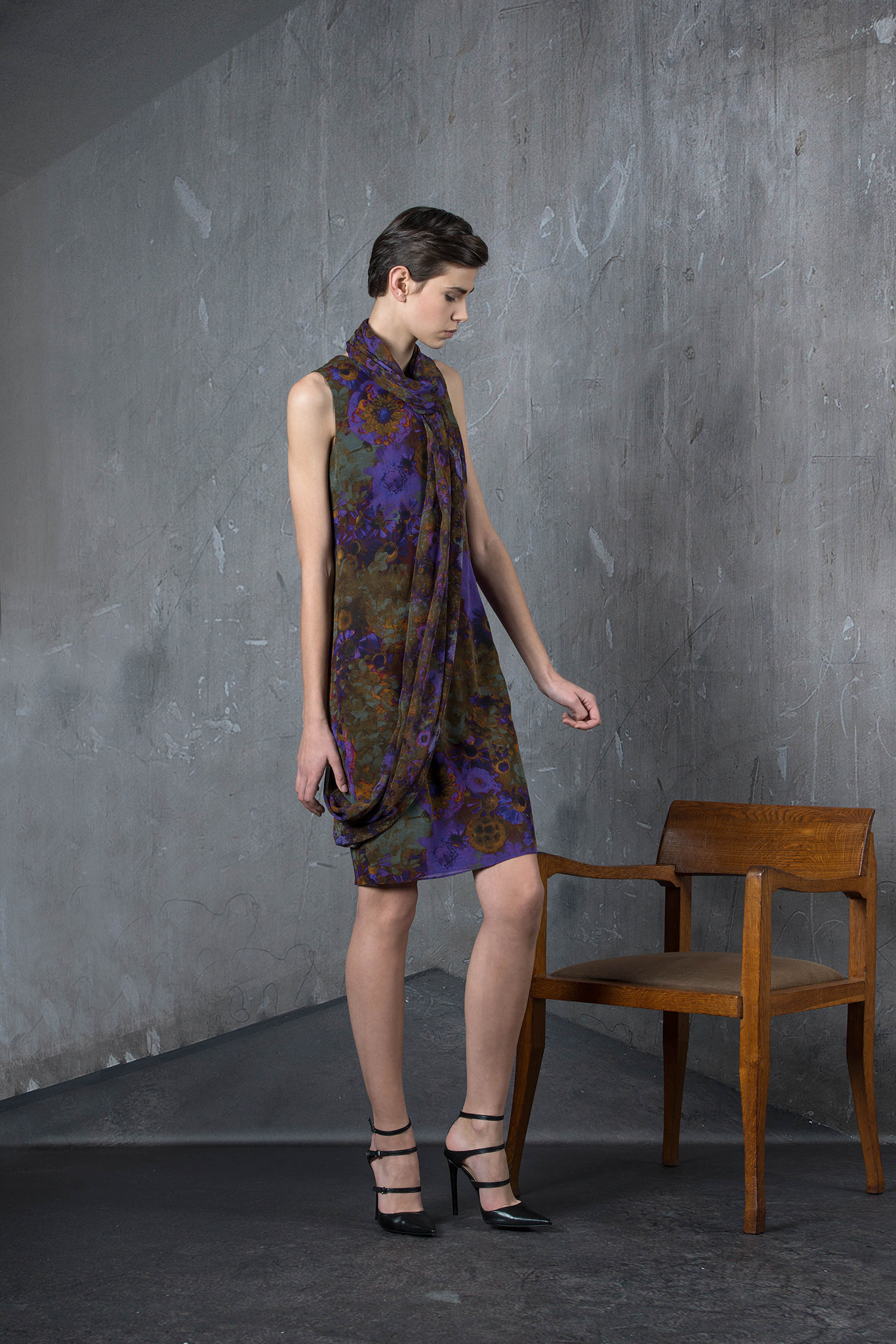 A good staple piece to wear to work, to dinner and the Ballet, and great for traveling, lightweight and non-fussy. Purple is the most luxurious color, a little or a lot is always good.
CUSHNIE ET OCHS:
For the latter day Delilah who wants to make a bombshell impact. And you gotta love the bondage shoes that accompany these striking seductive looks.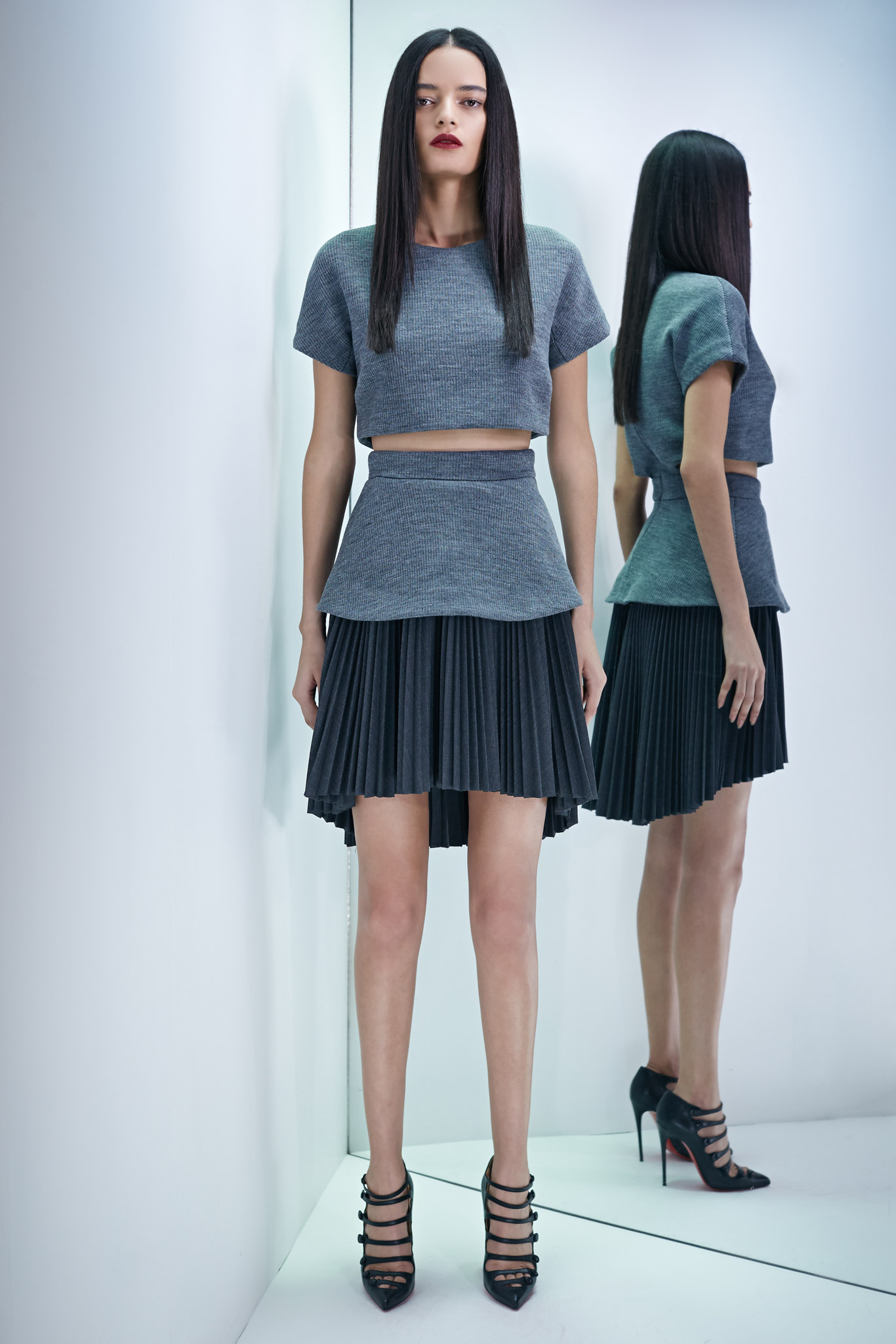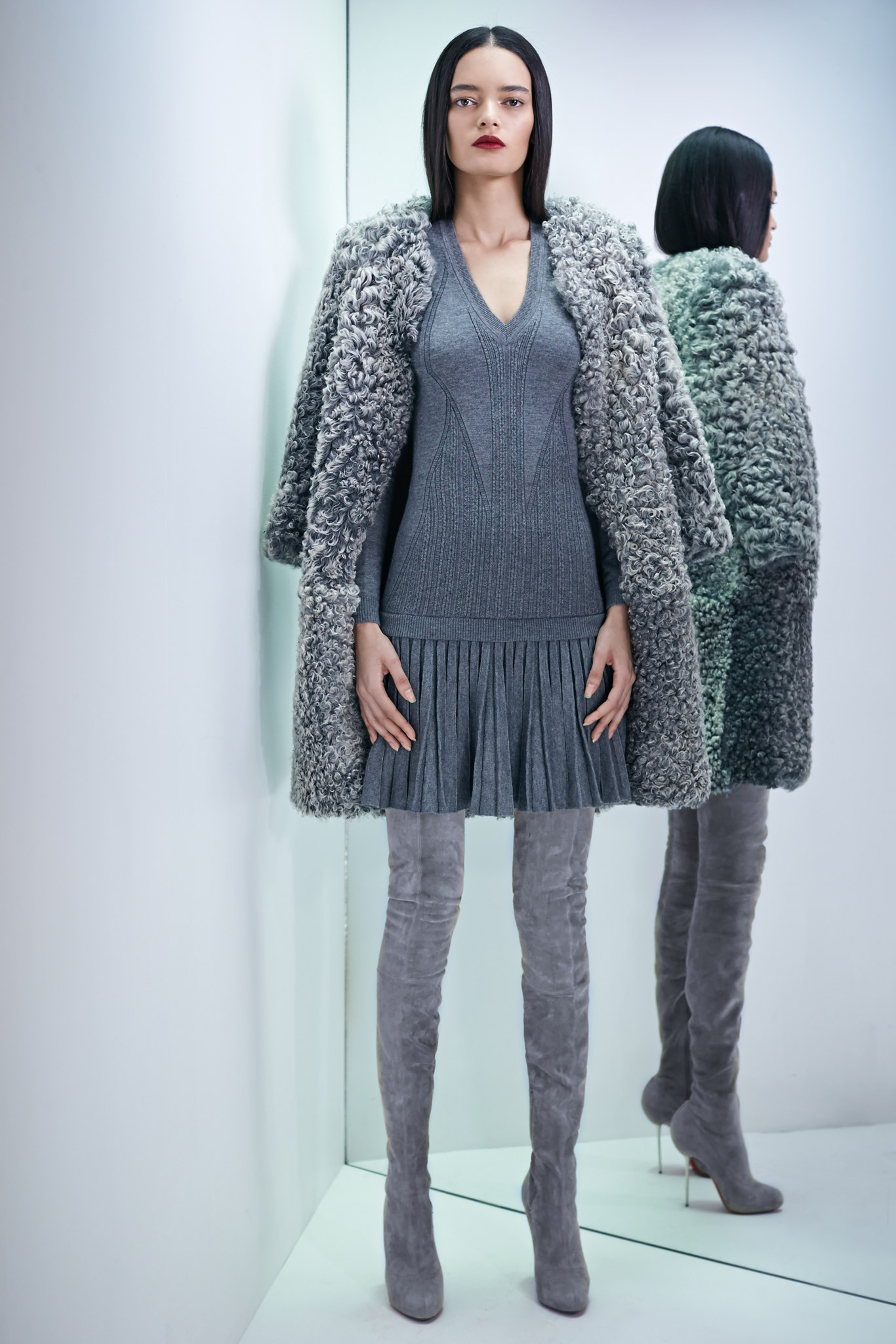 And these gray suede boot leggings? Bewitching for sure. (Just avoid sewer grates).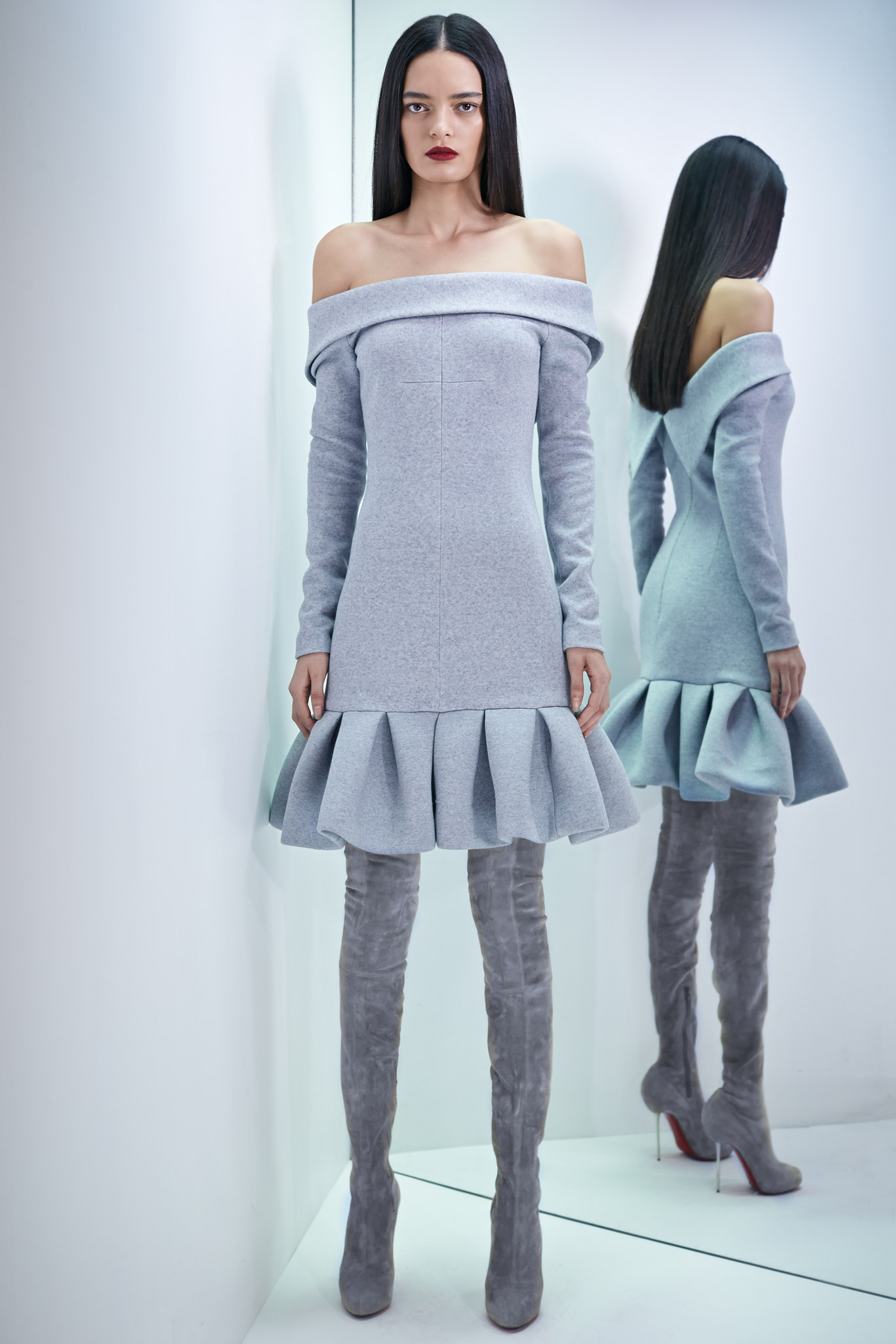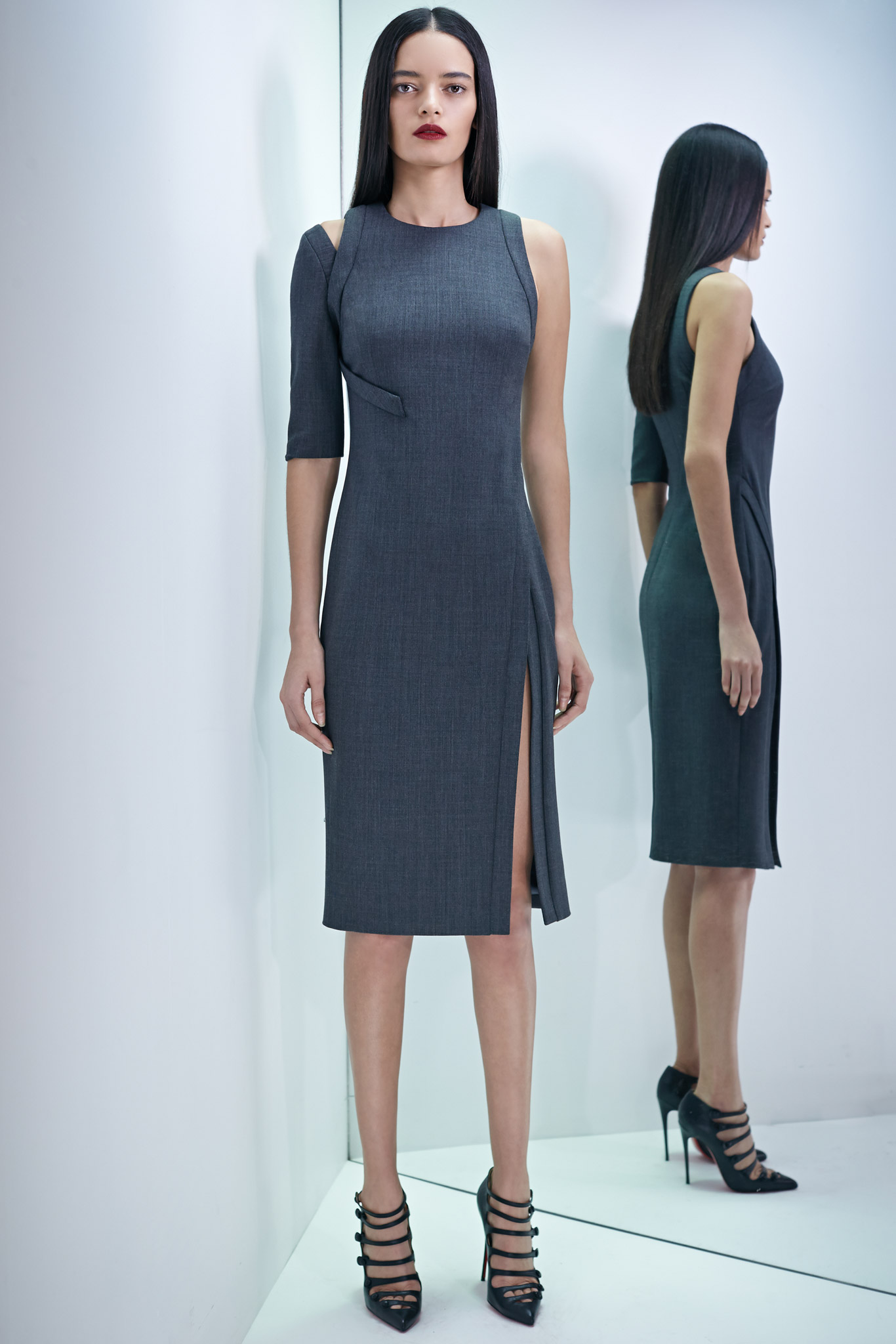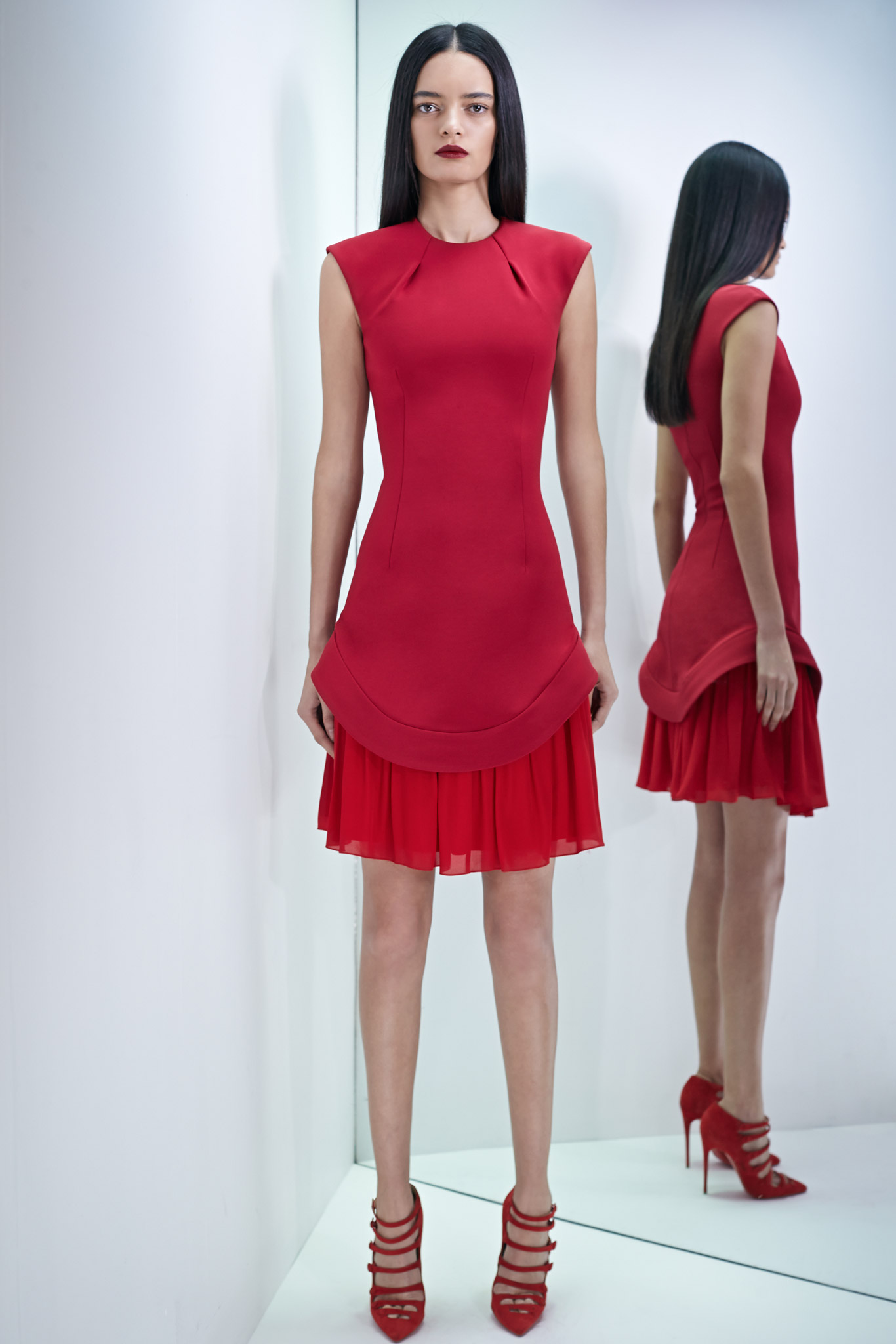 If you need ONE enticing red dress....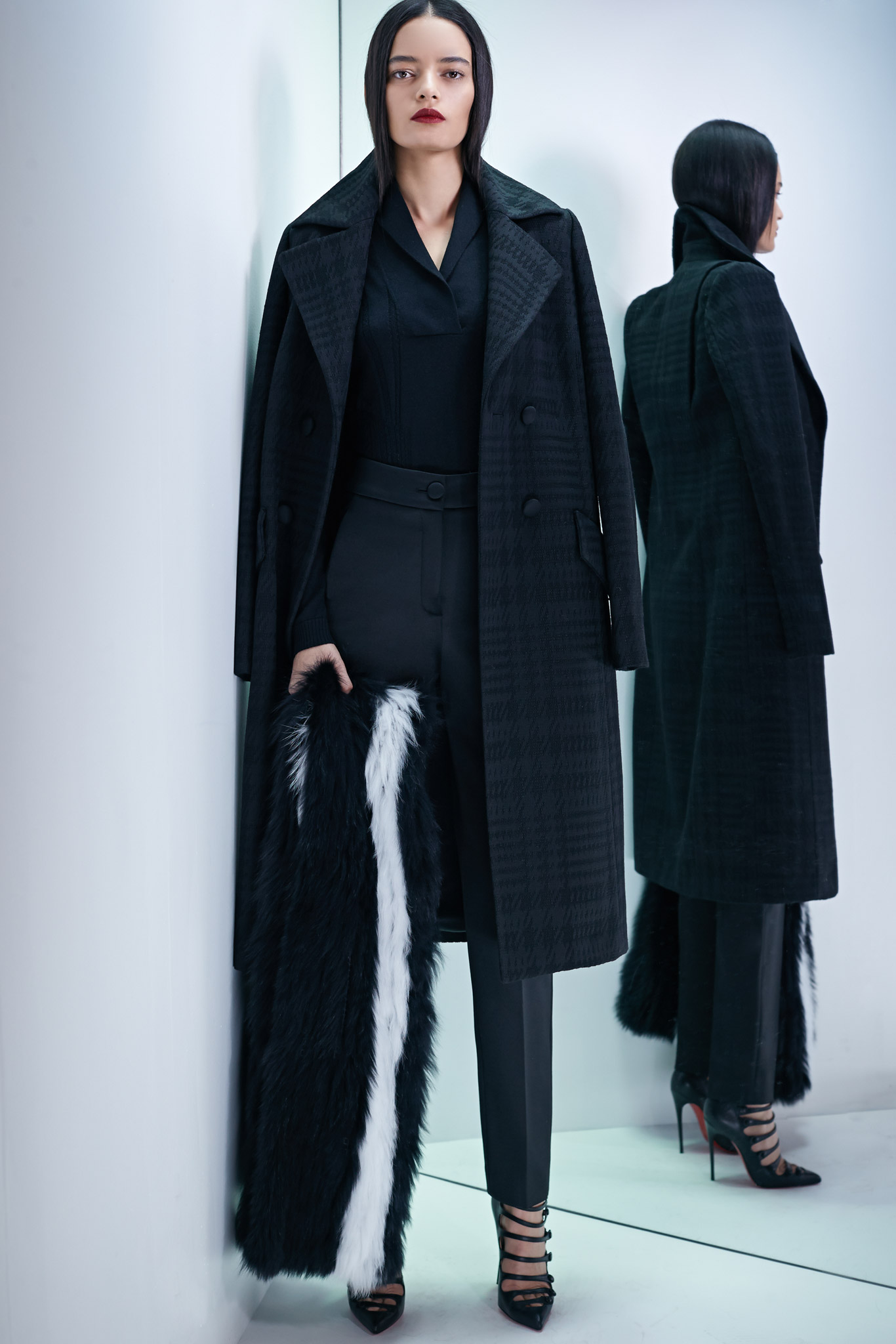 Black and spartan sexed up with the bondage stilettos. And the dark scarlet lipstick.
BALMAIN:
And speaking of bondage, there always seems to be a semi subversive element in these collections, with a dash of Vegas and healthy helping of BUGLE BEADS. And really, who can't use some vibrancy and flash on occasion?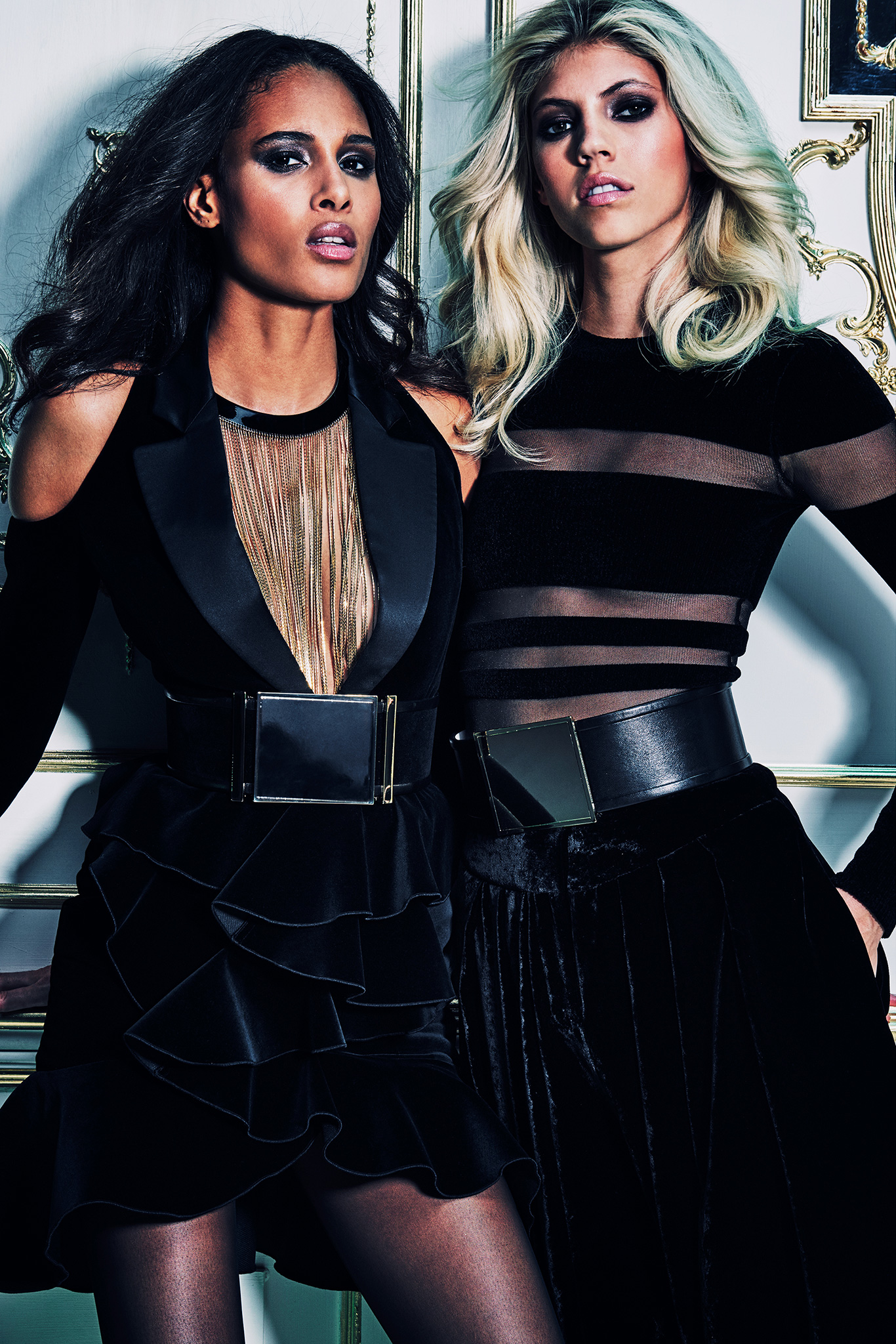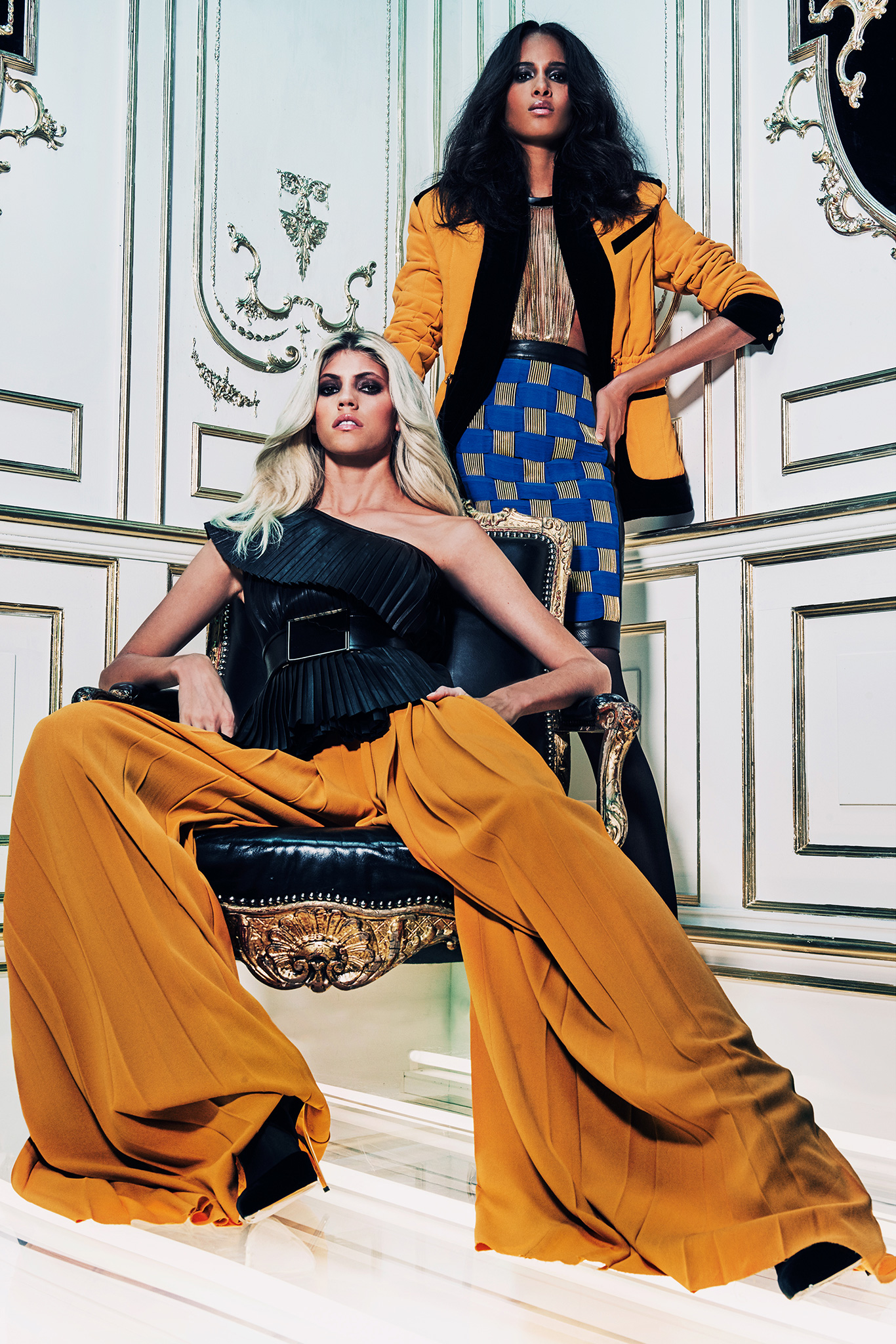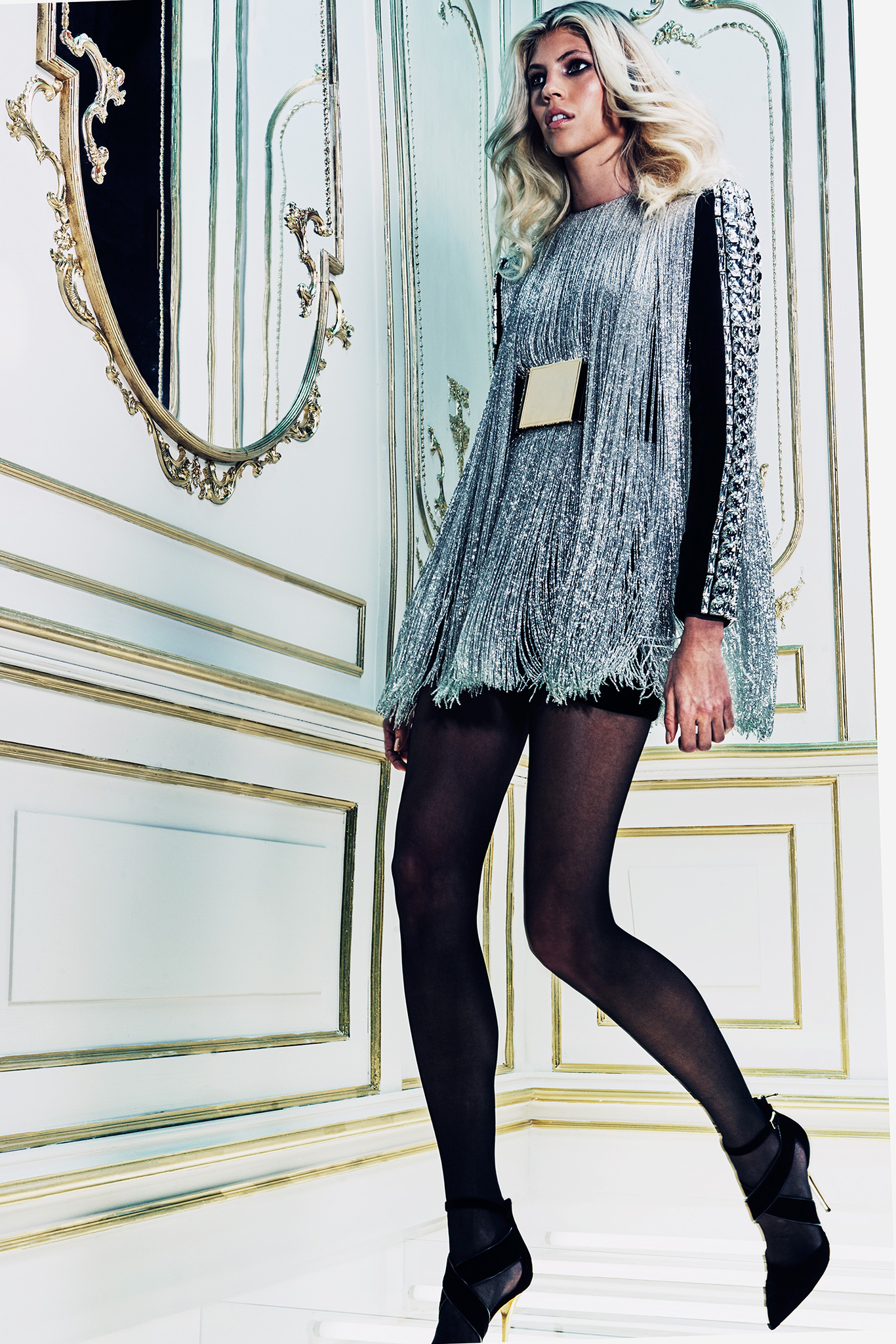 Shimmer at its finest. Calling Miley Cyrus....oh wait, not nearly enough skin showing....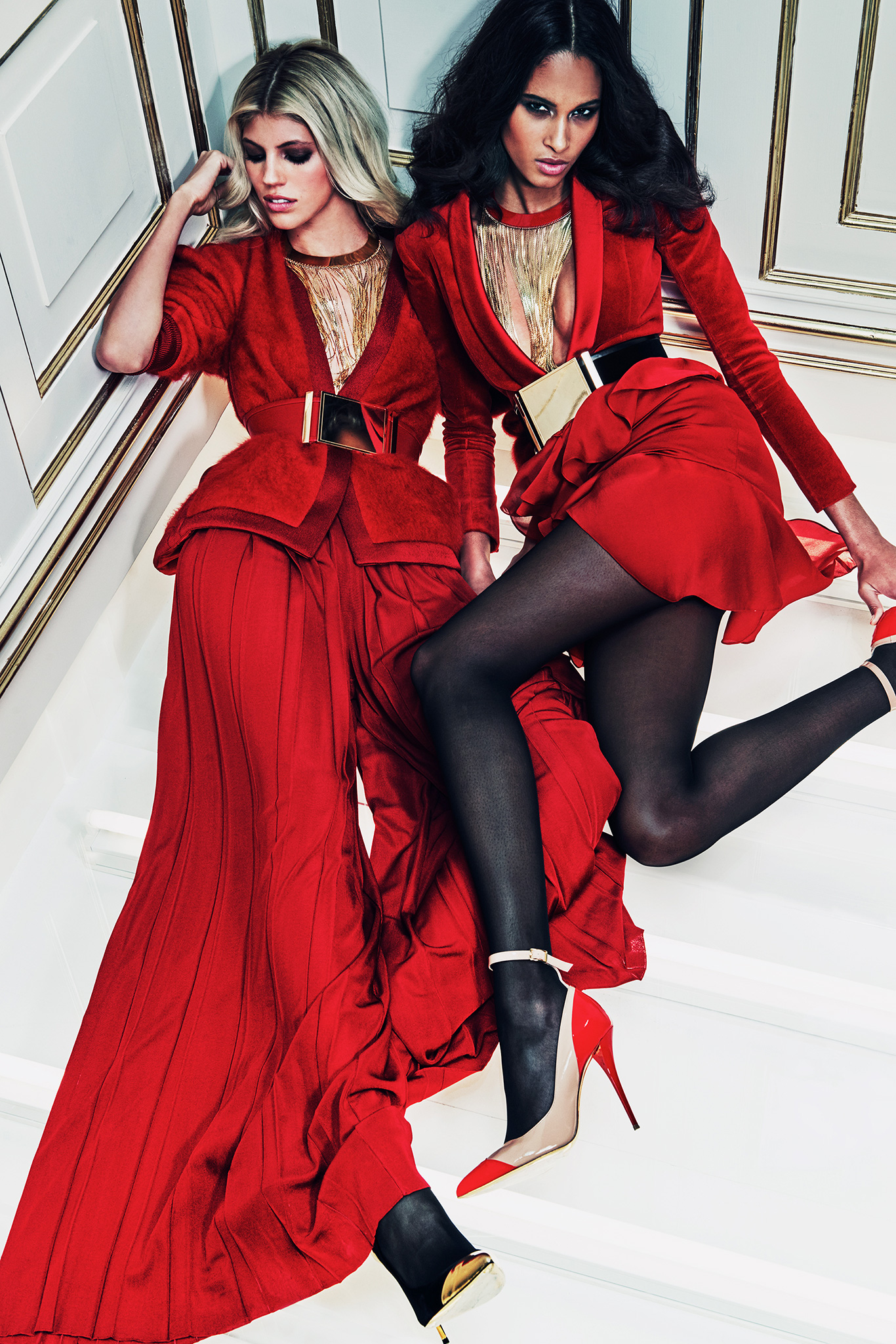 Happy Valentine's Day to all!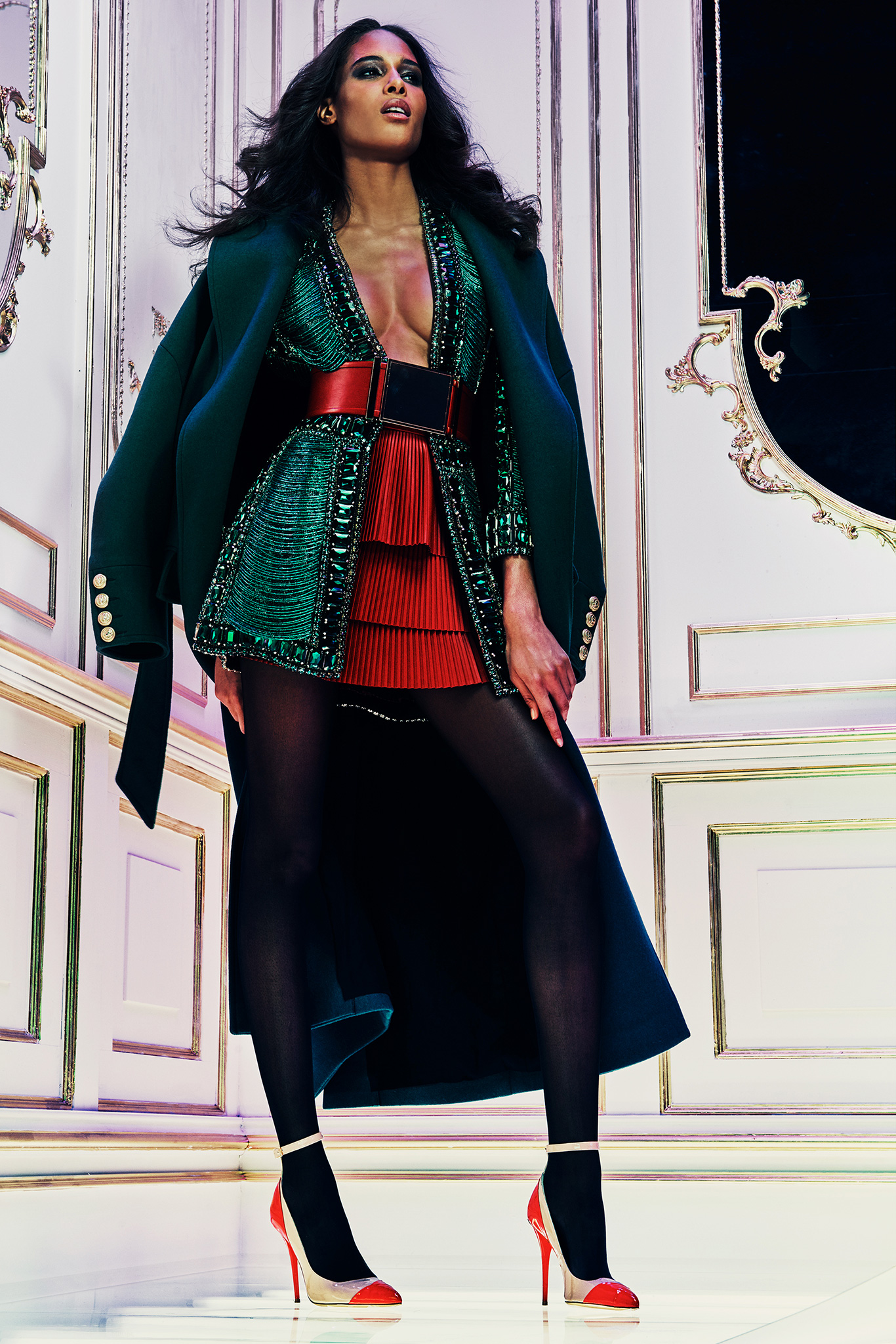 Ok, the vest is audaciously awesome, and could be thrown over a more ahem, conservative ensemble for sparkle effect.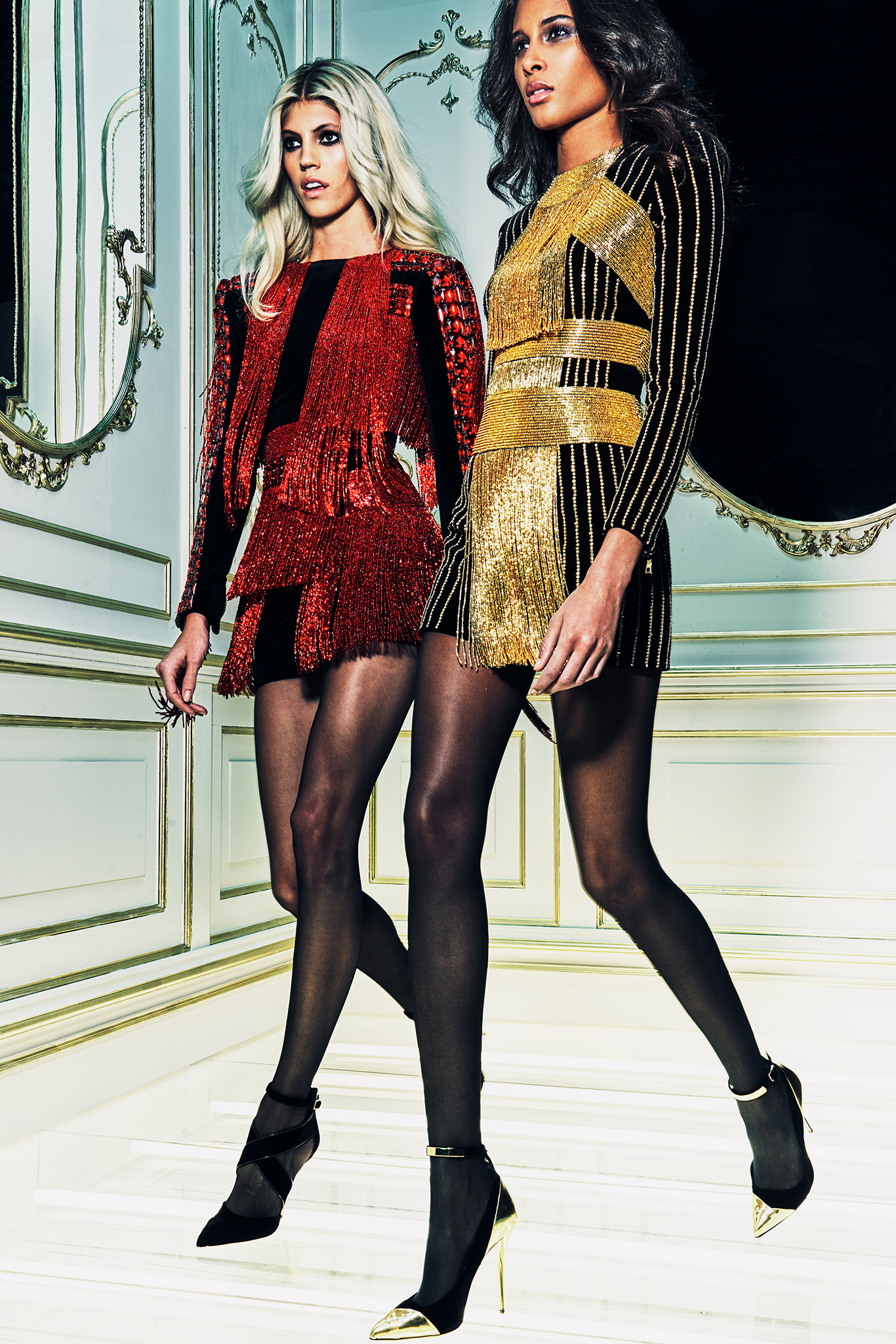 Off to the Baccarat tables. I'd avoid the hooch when in these skyscraper heels. (That is a closed head injury waiting to happen).
GUCCI:
A mixed bag of fun wearable pieces, honoring the past and the present!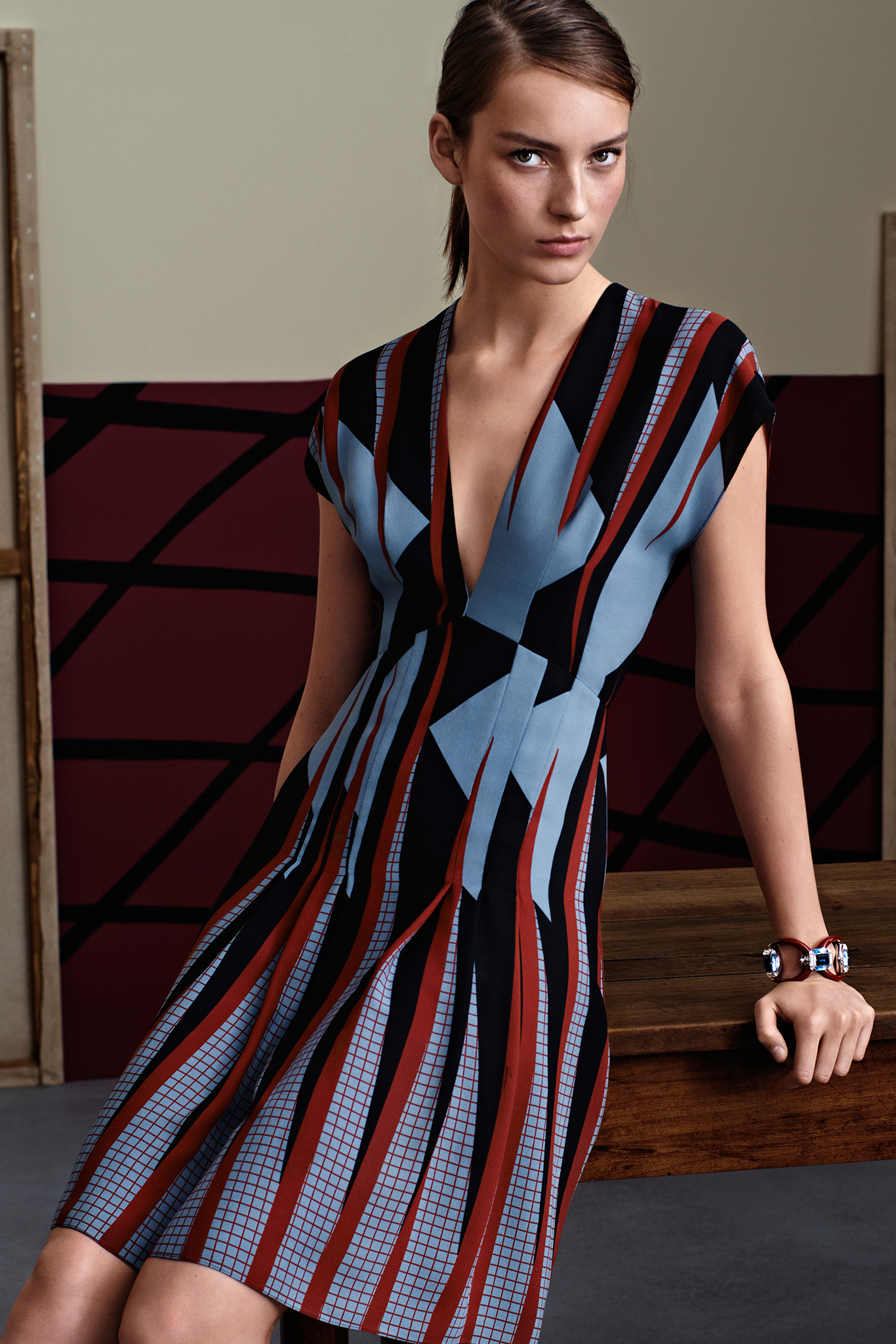 Modern and flattering, good for any occasion, from office to a night out.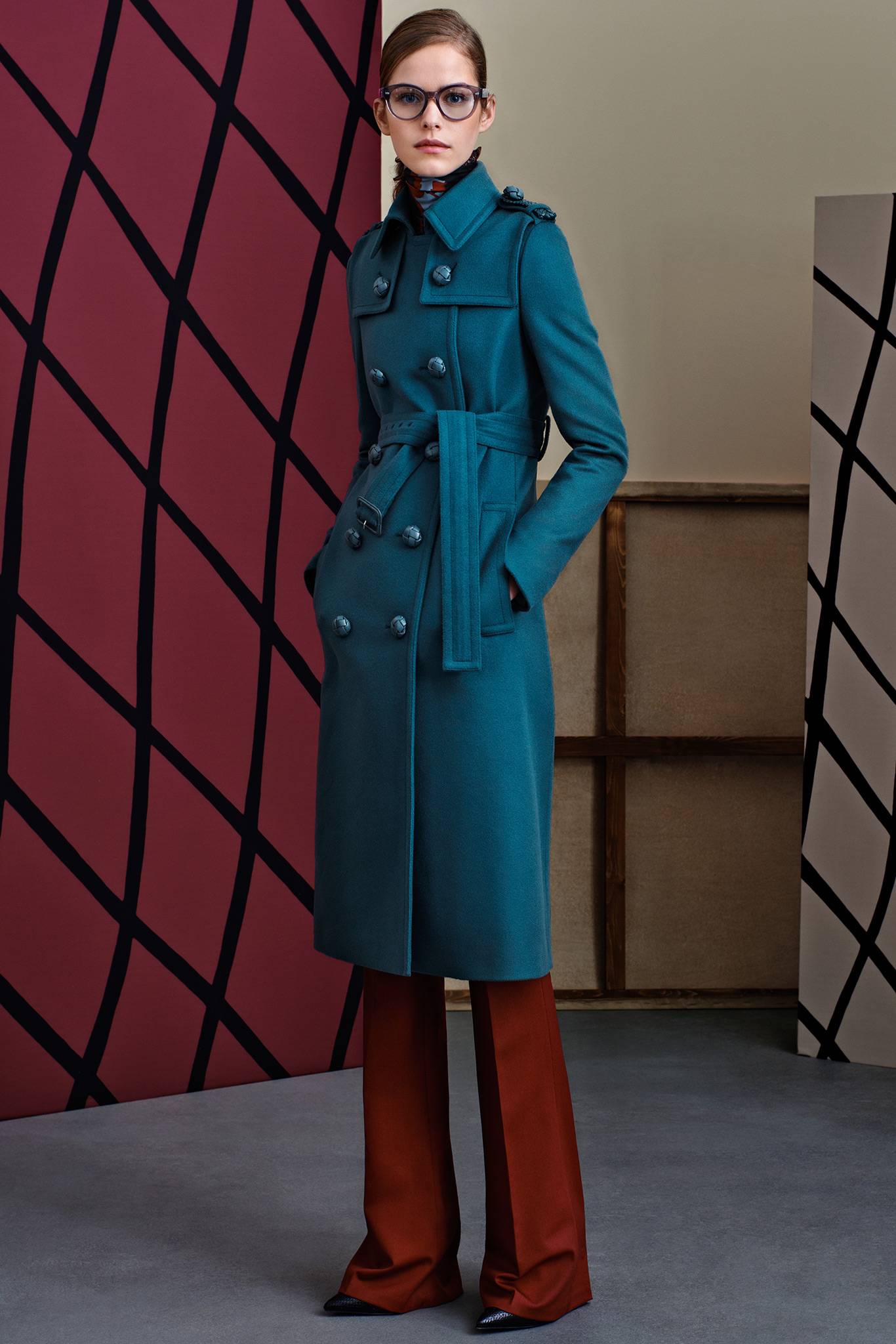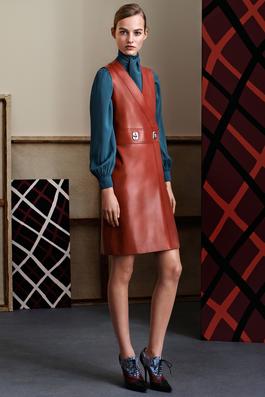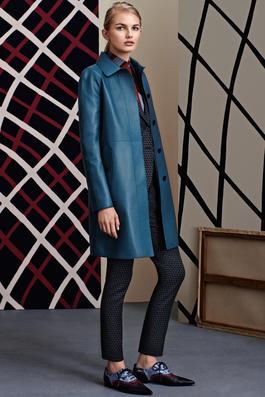 TEAL, as far as I am concerned, the new neutral!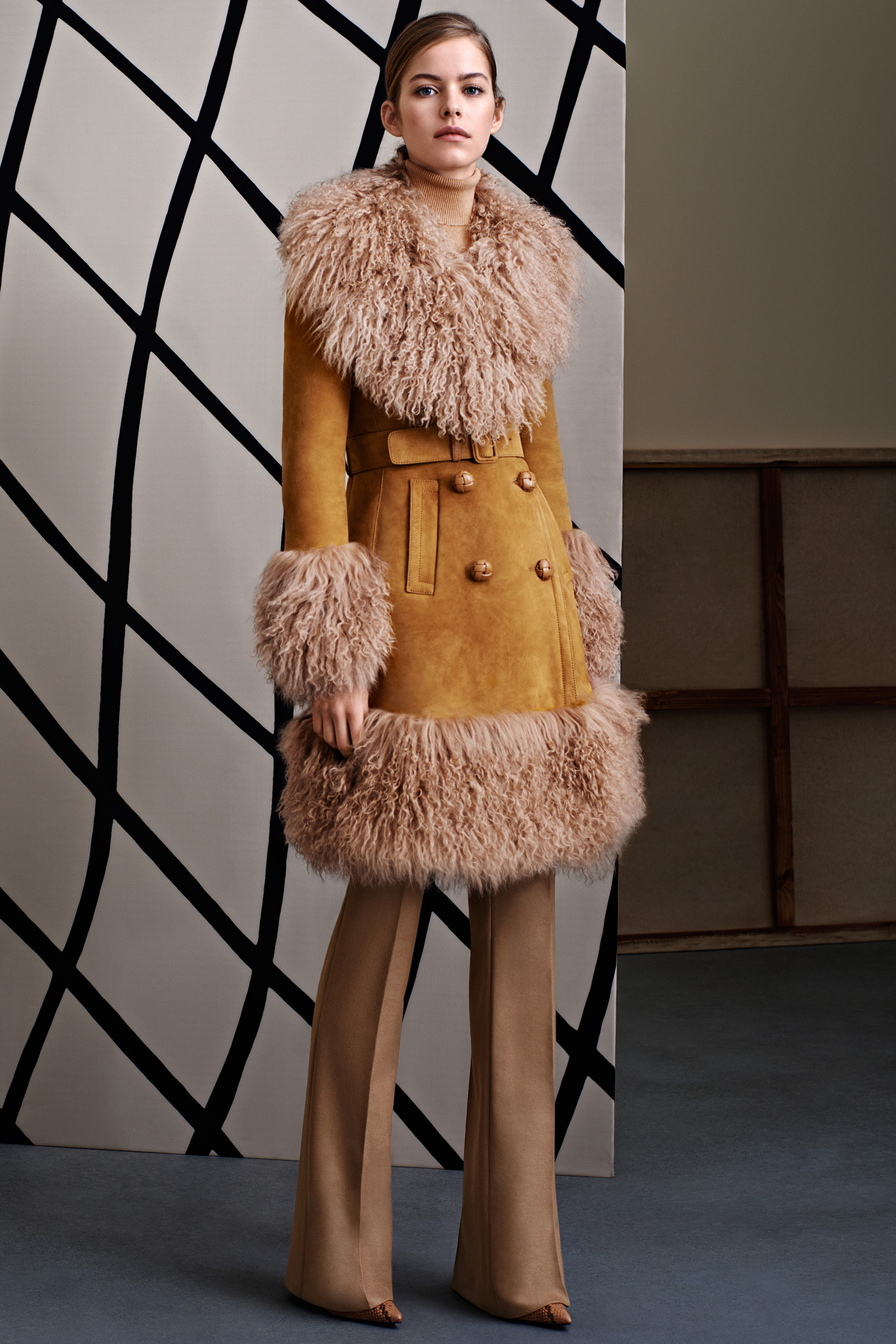 Another favorite with 70's flavor, playful with the mongolian lamb collar and cuffs, and yet elegant with supple suede and leather buttons. A+.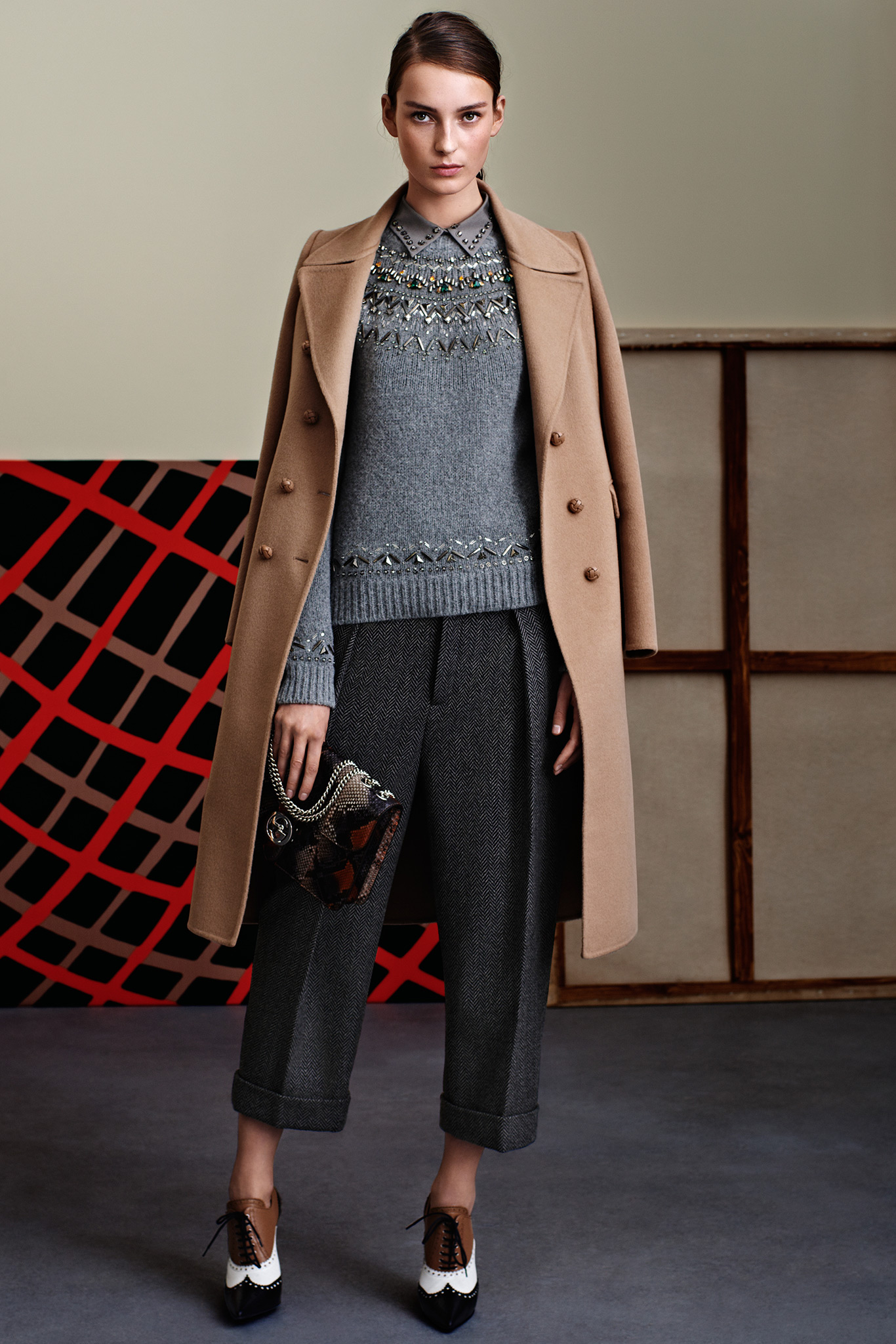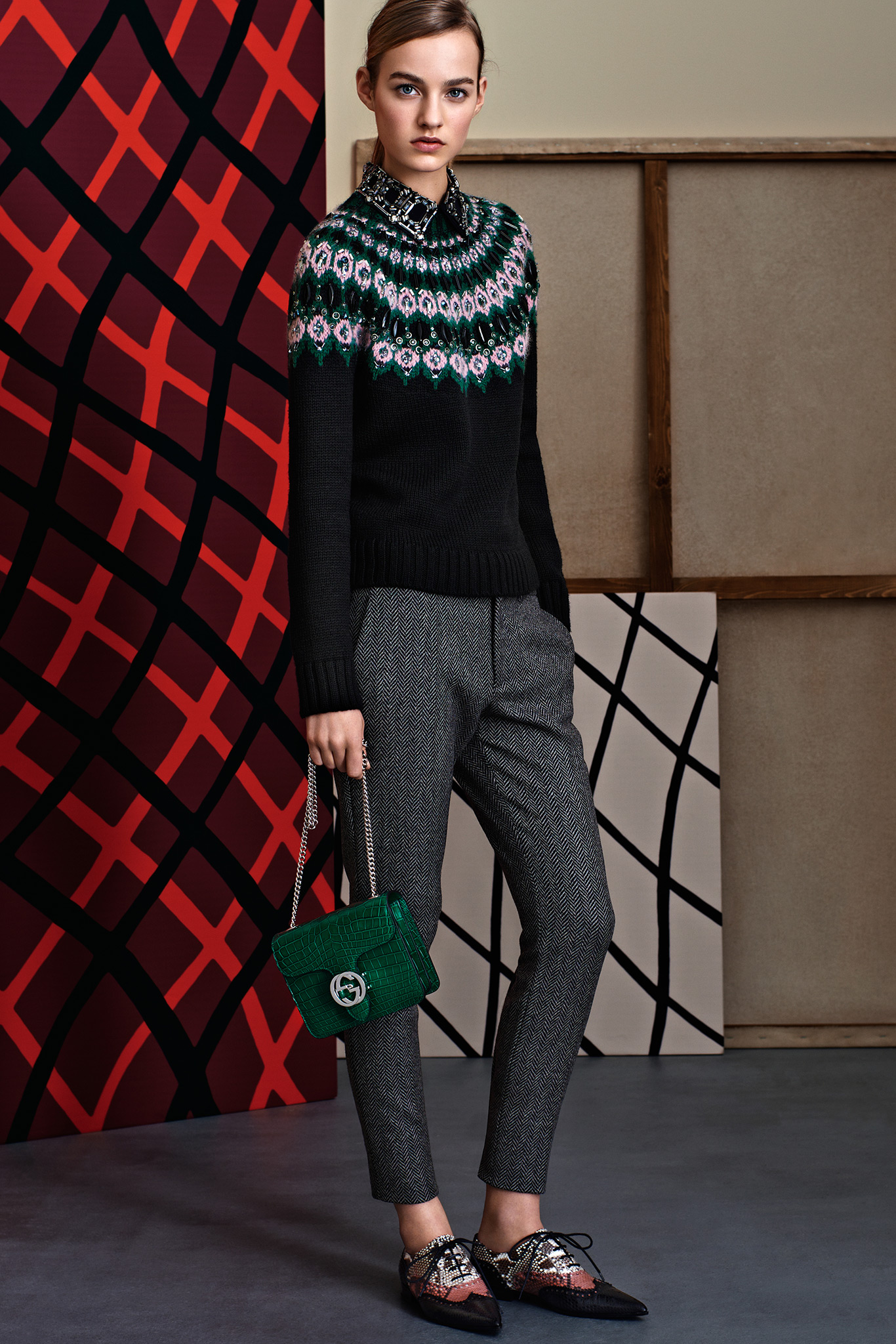 Wearable preppy lux with embellished sweaters to top off slacks, jeans, a leather pencil skirt. The spectactors add more visual interest.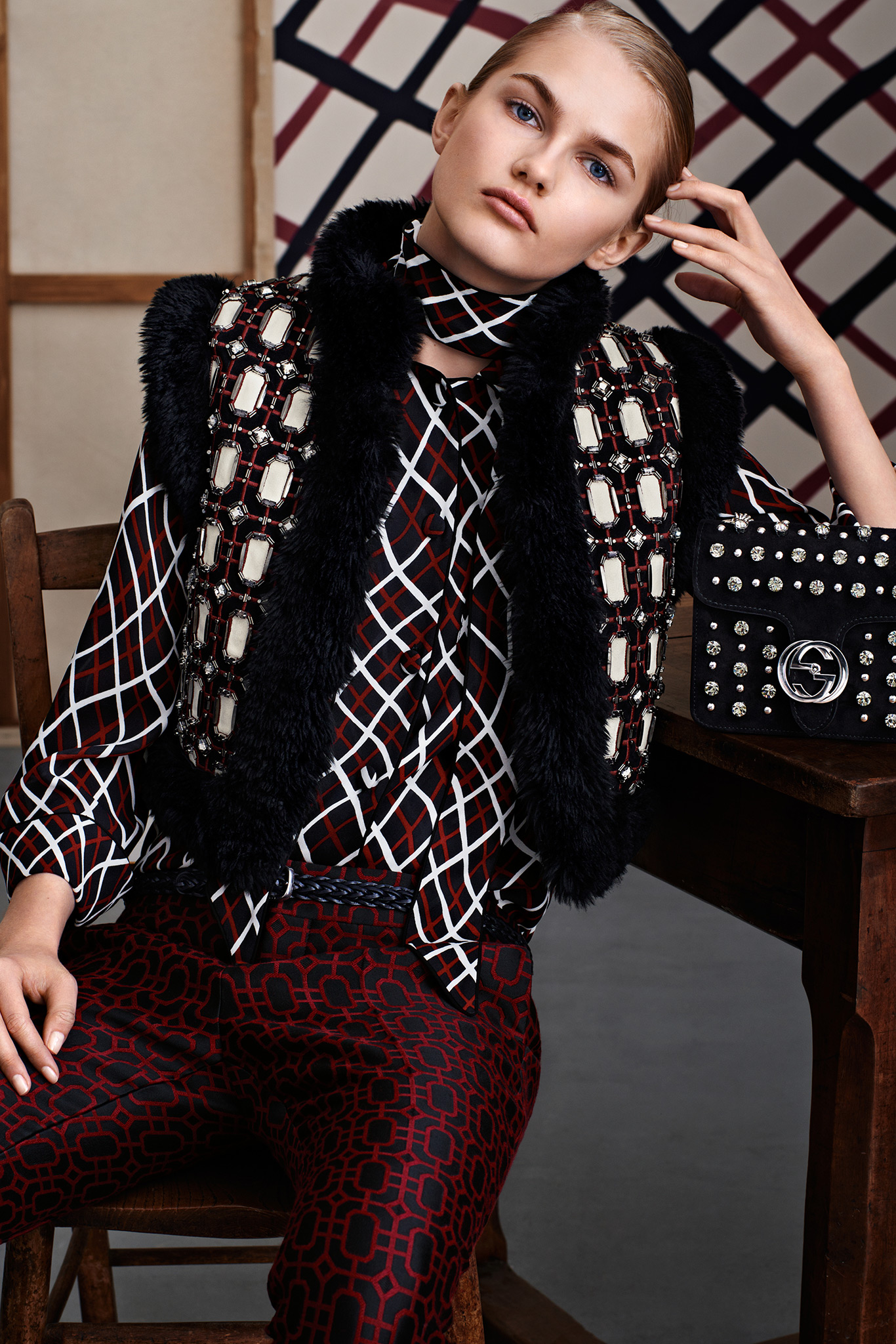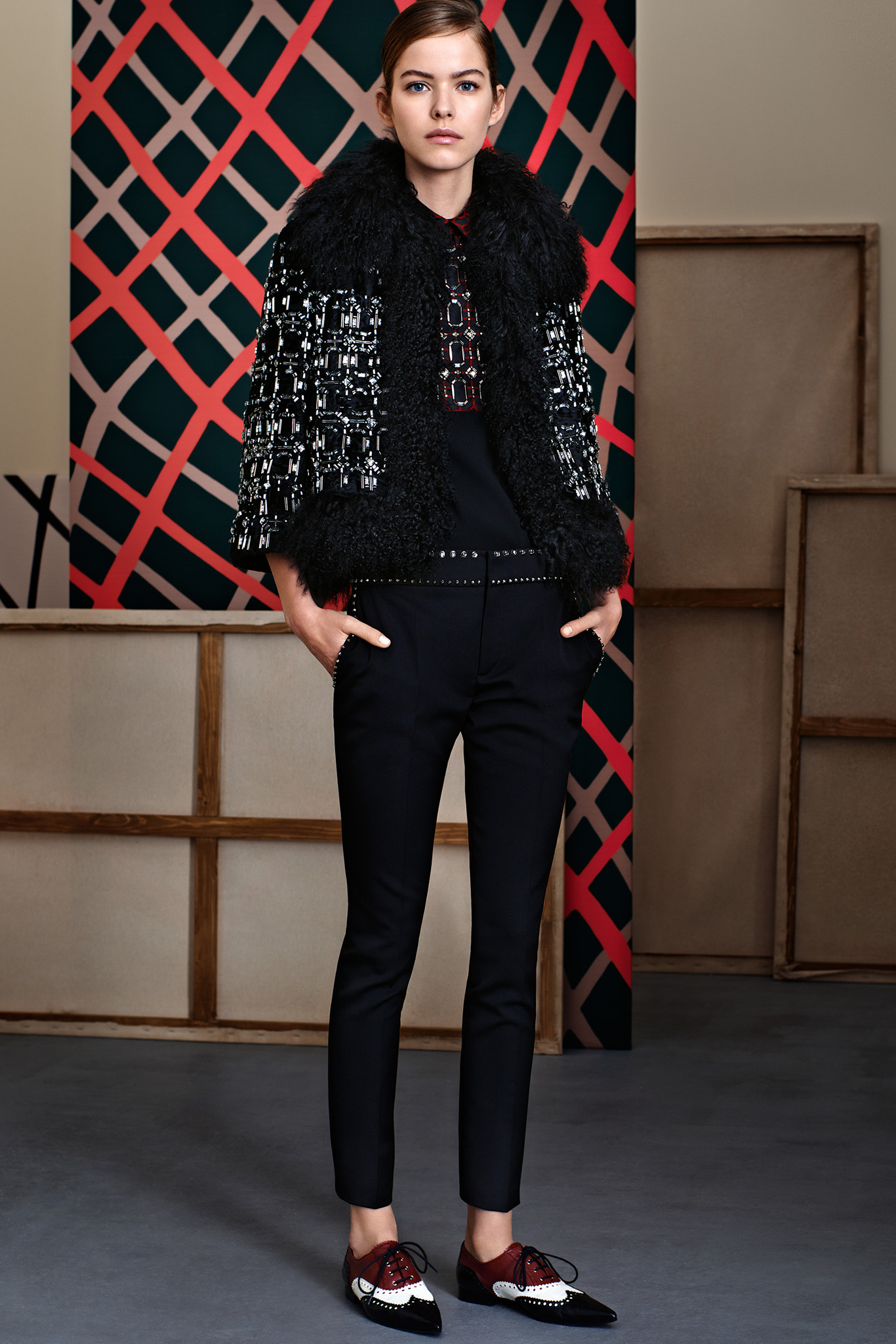 The fun folkloric entries will keep you and everyone around you amused. Definitely showstoppers that will be adored forever.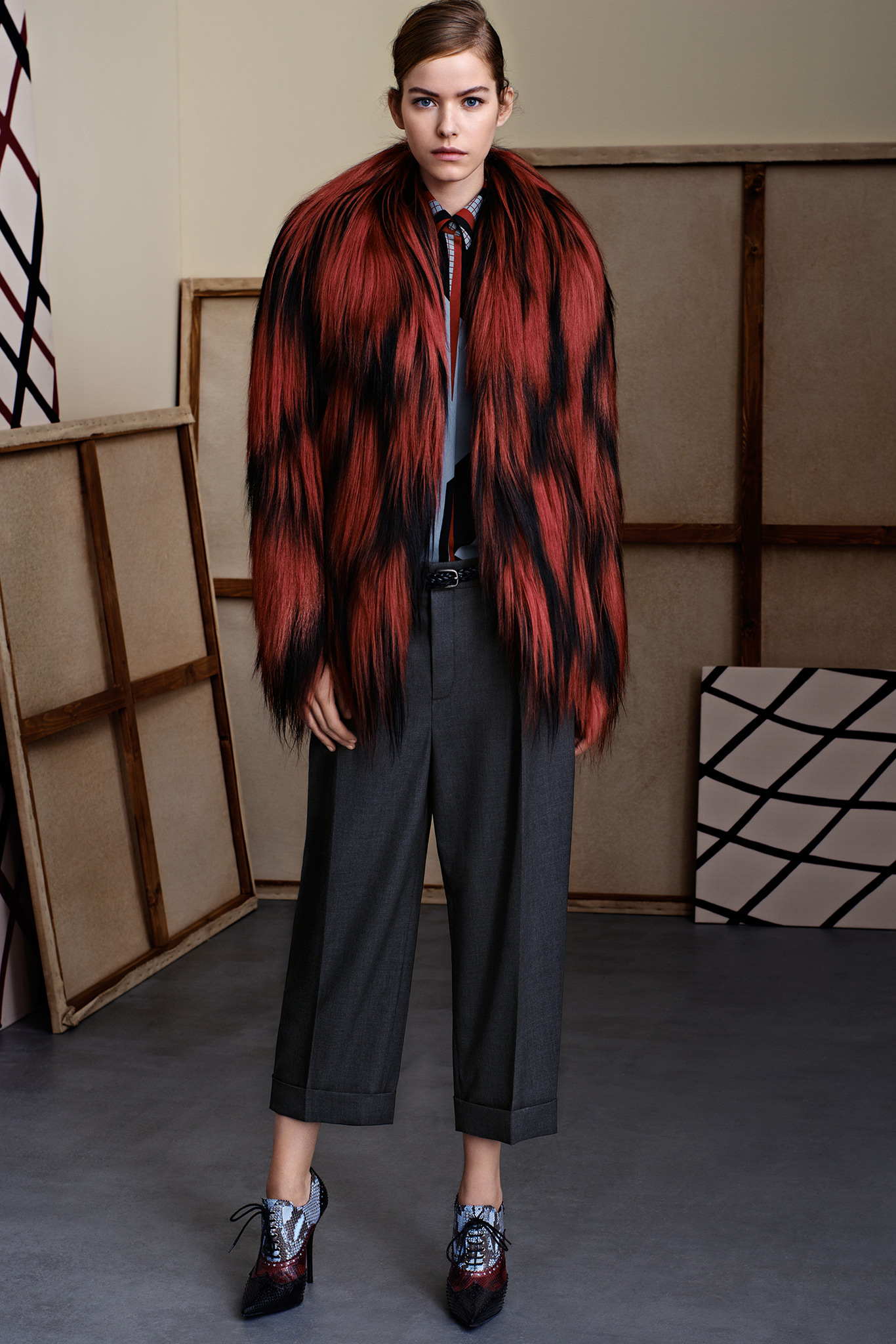 For the bold and outrageous.
KENZO:
Carol Lim and Humberto Leon continue the legacy of Kenzo Takada in their collections with the always modern avant-garde Japanese vibe, including architectural silhouettes in vibrant colors and wacky patterns with a wide range of fabrications. Always animated and groovy!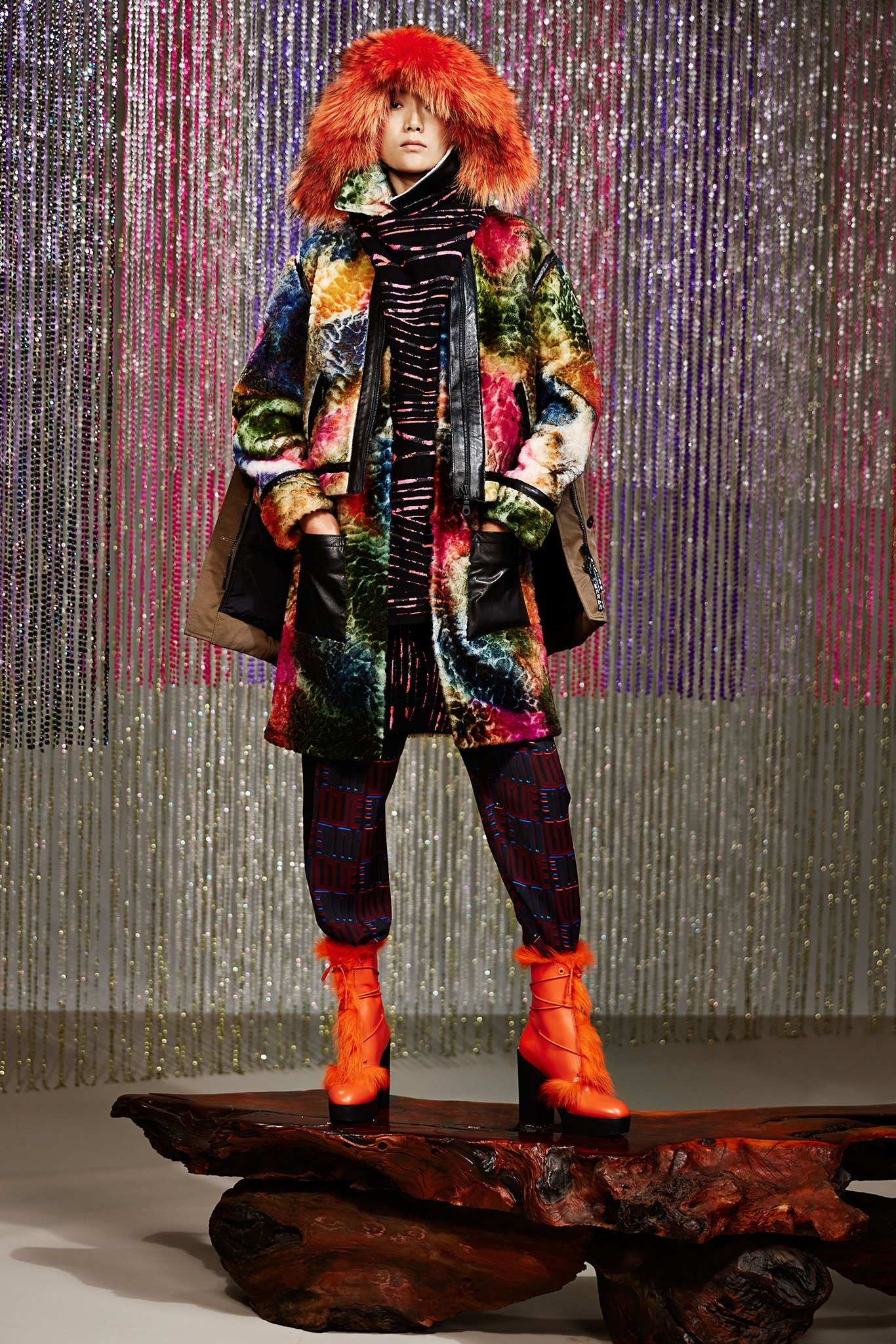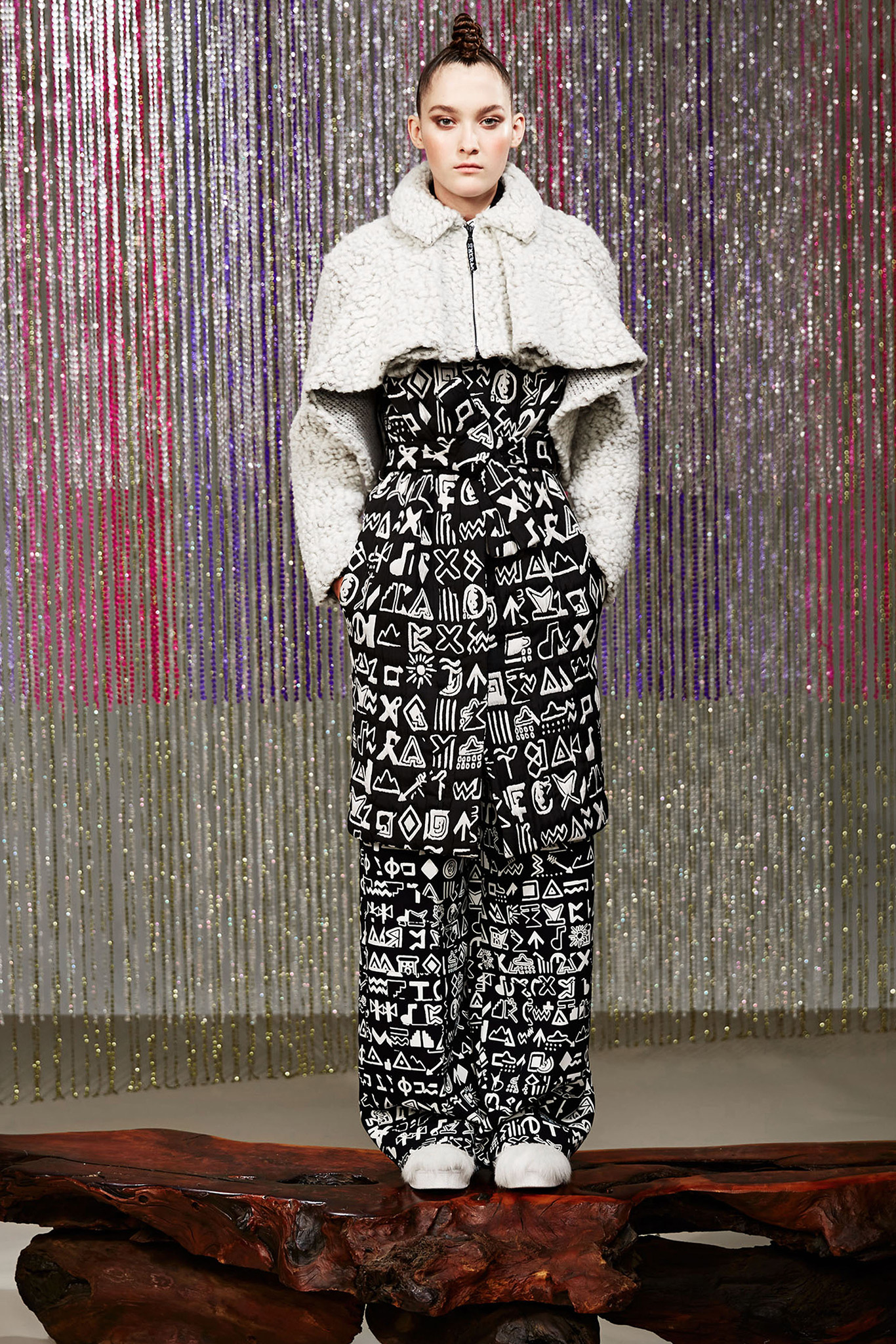 Whimsy is never in short supply, the zany patterns, and pink fur laden clogs.....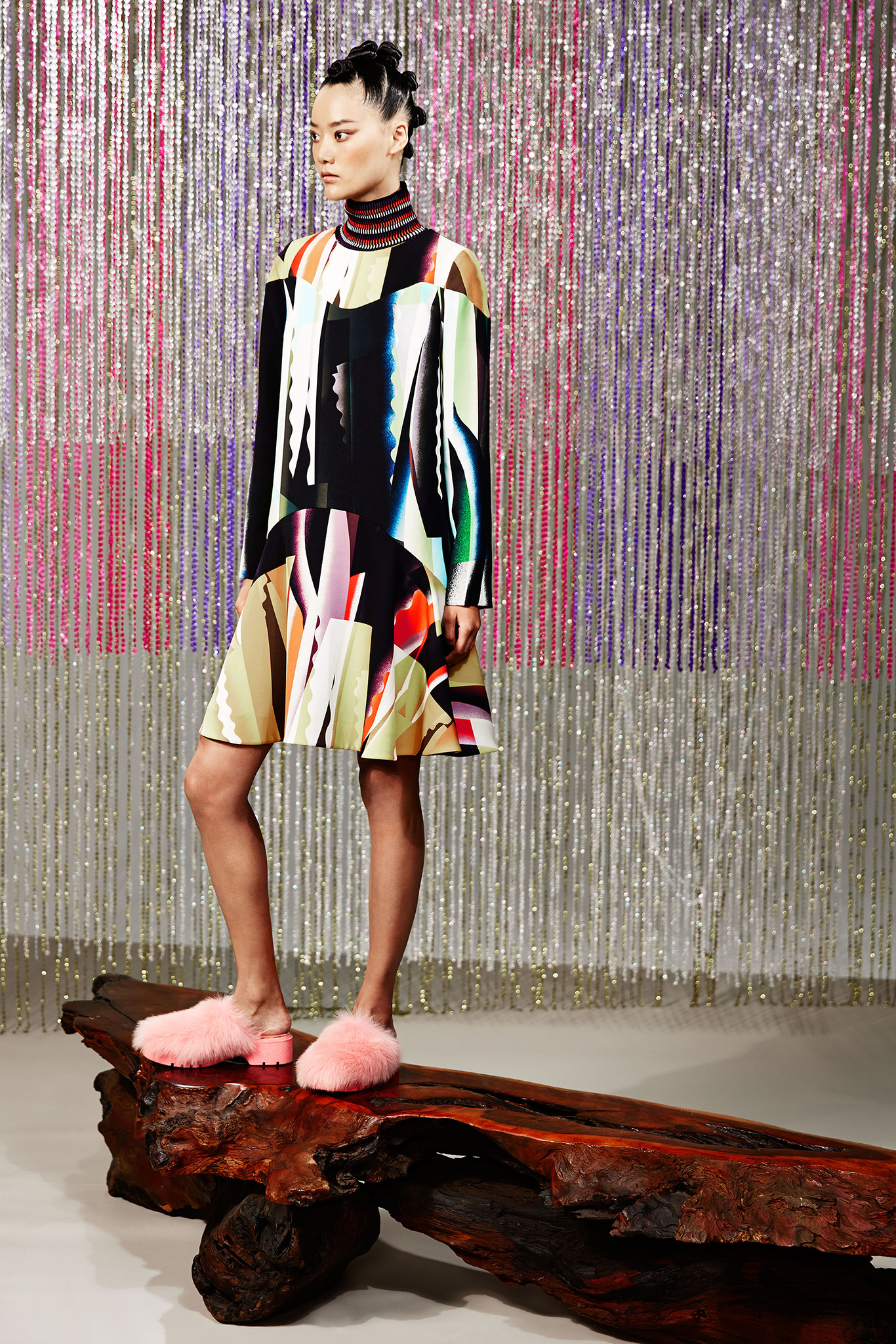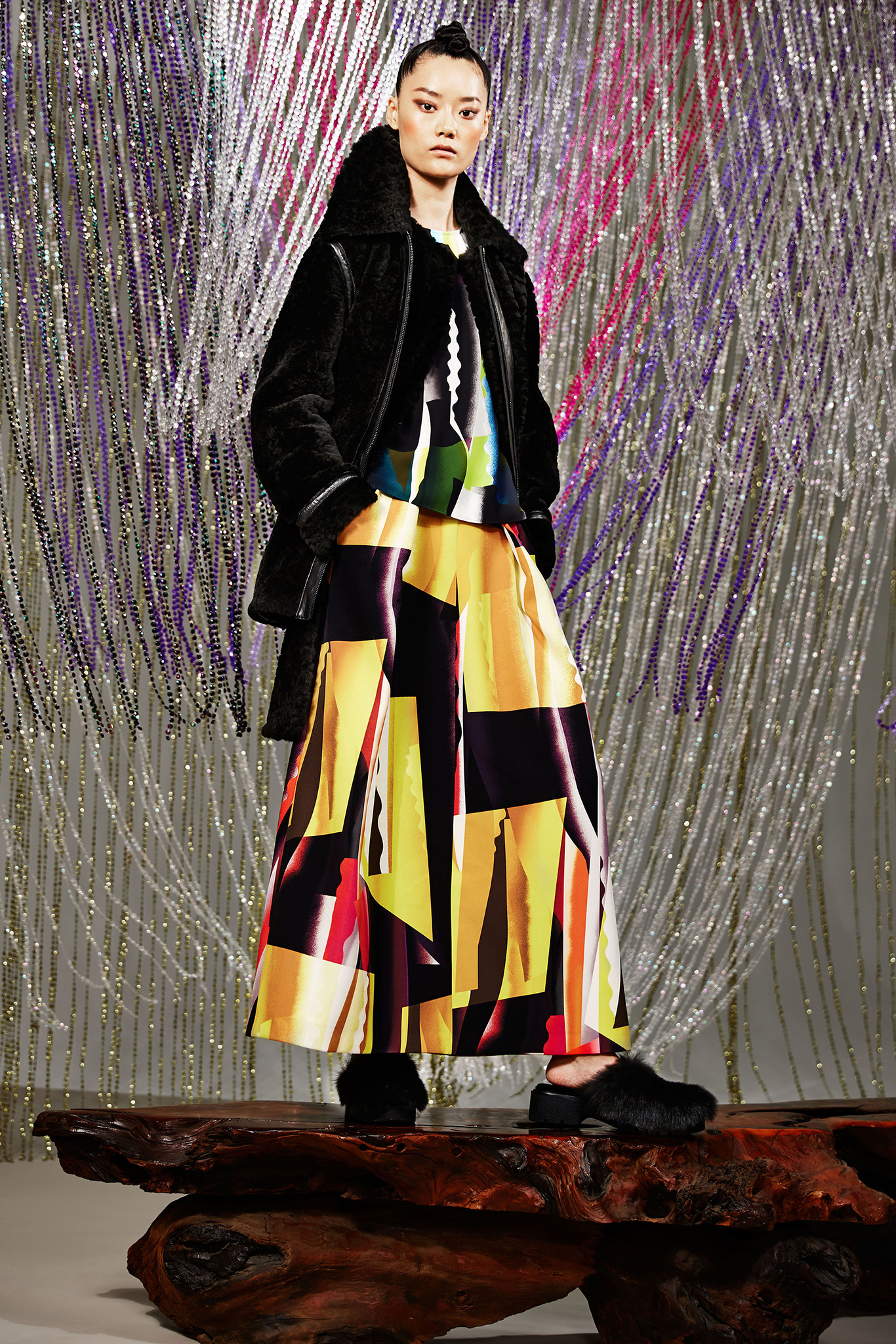 Even Art Deco is in the house.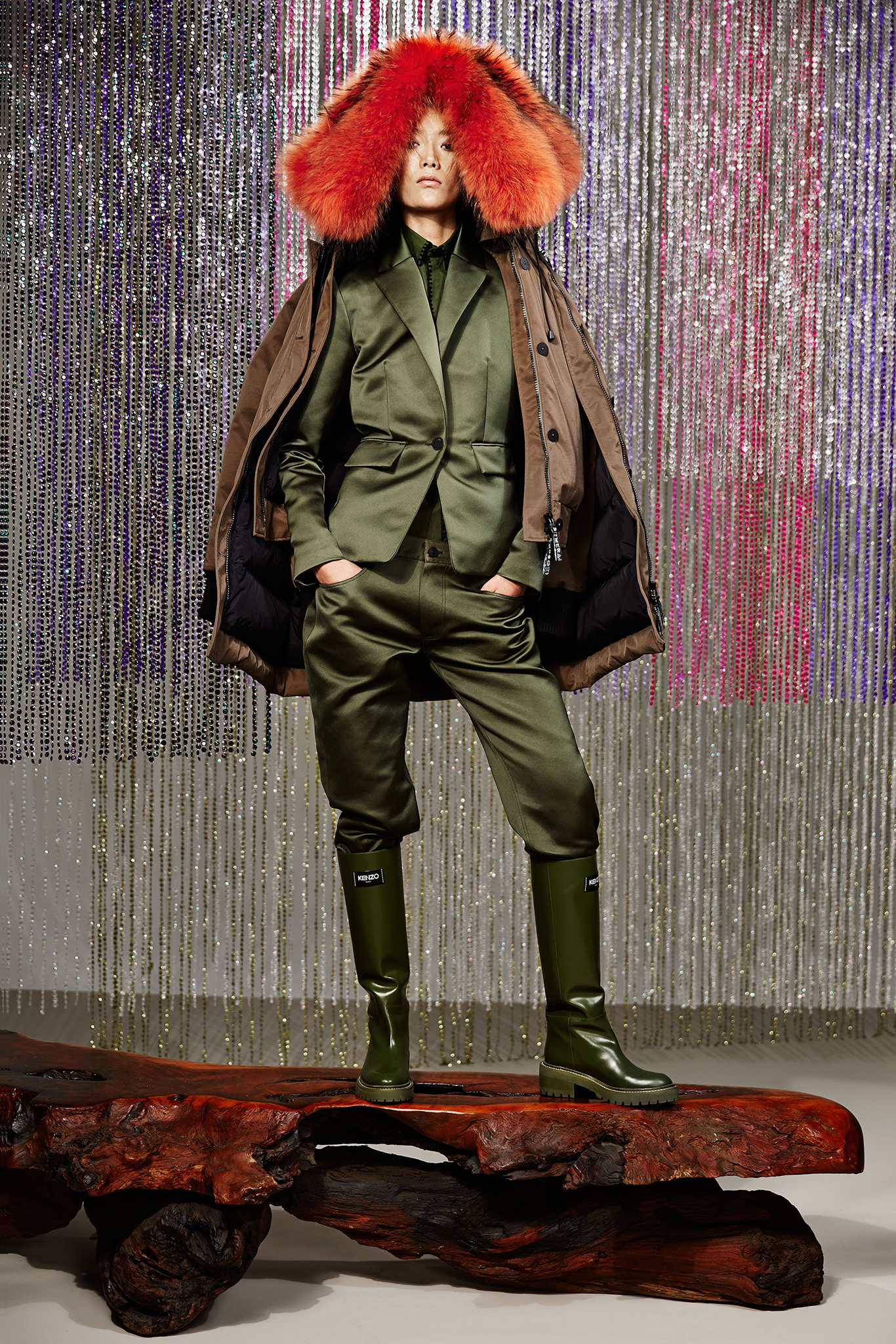 This is my kind of suit, of khaki green duchesse, accompanied by a taffeta jacket in a pleasing chocolate brown. Subdued yet lux, would be set off well by red riding boots. (Think Valentino).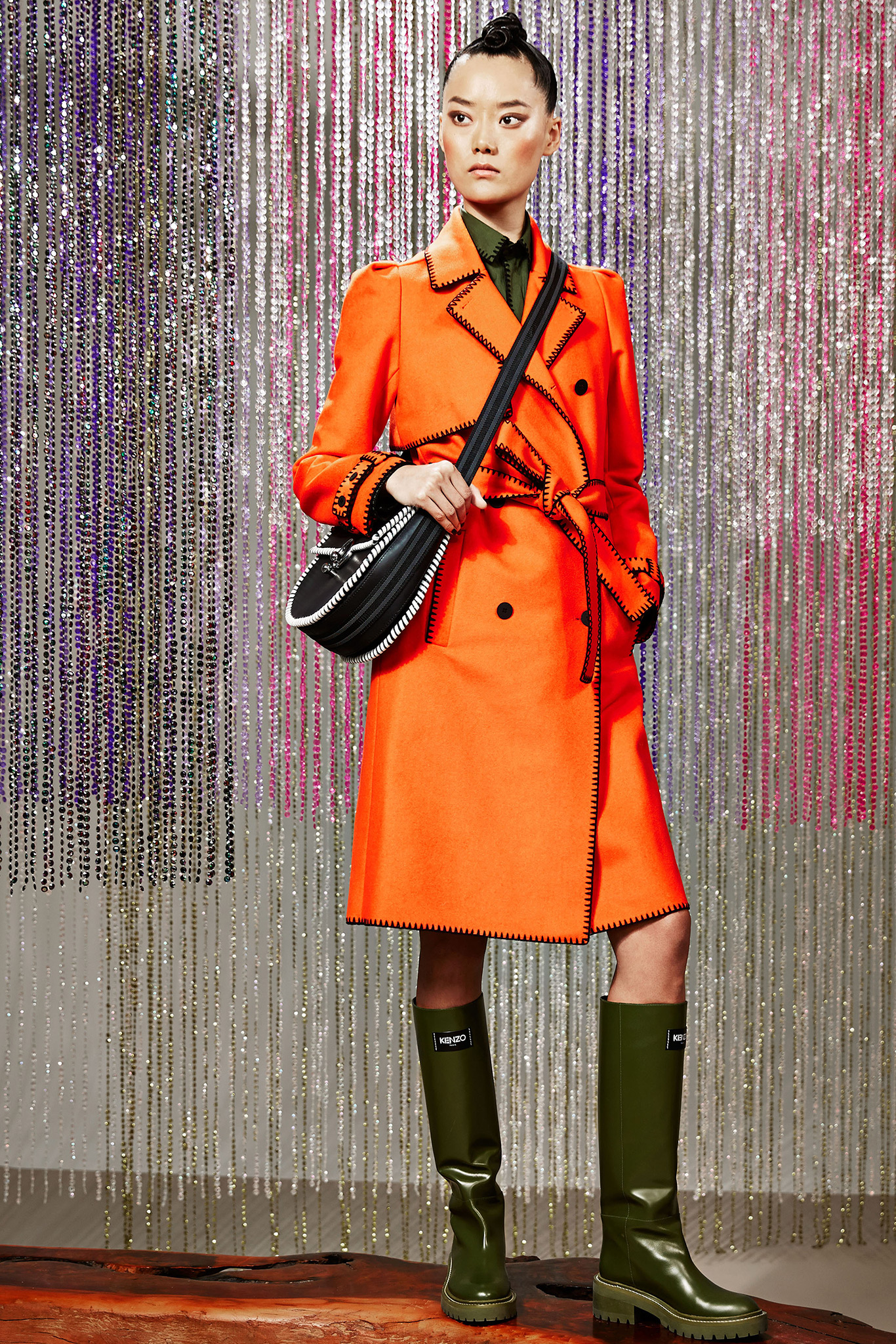 In every series of runway collections, there will be Leopard and there will be Trenches! The options are endless, why not take a leap out of the Burberry box? Orange is apparently the new black. Always a sight for sore eyes, reminds me of a pumpkin patch. Anything harkening back to the halcyon days of childhood is a good thing.
THOM BROWNE:
One of my new personal favorites, with a strong undercurrent of menswear sensibility admixed with clearly feminine silhouettes and female regalia.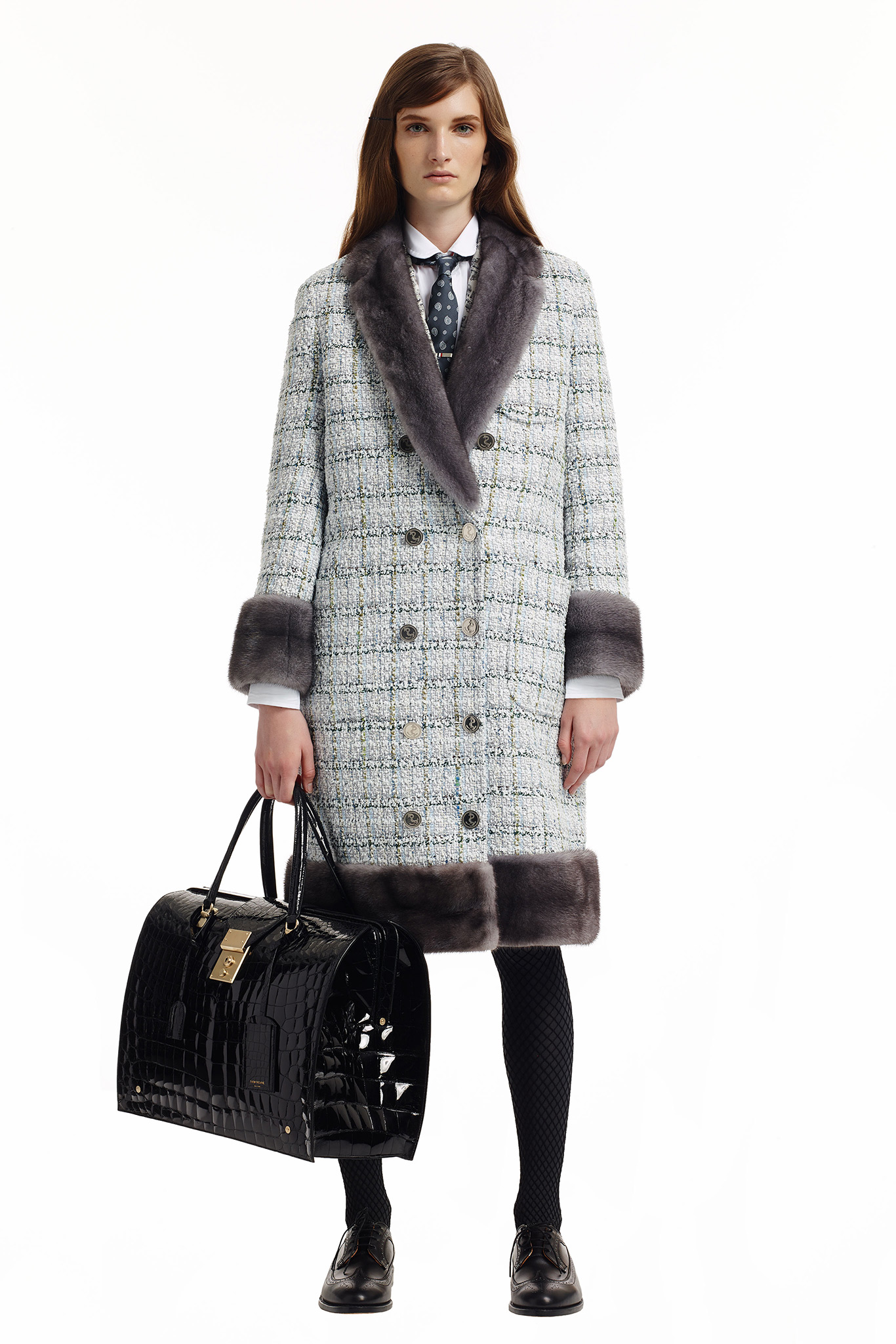 Low key lux, conjures up visions of Audrey Hepburn.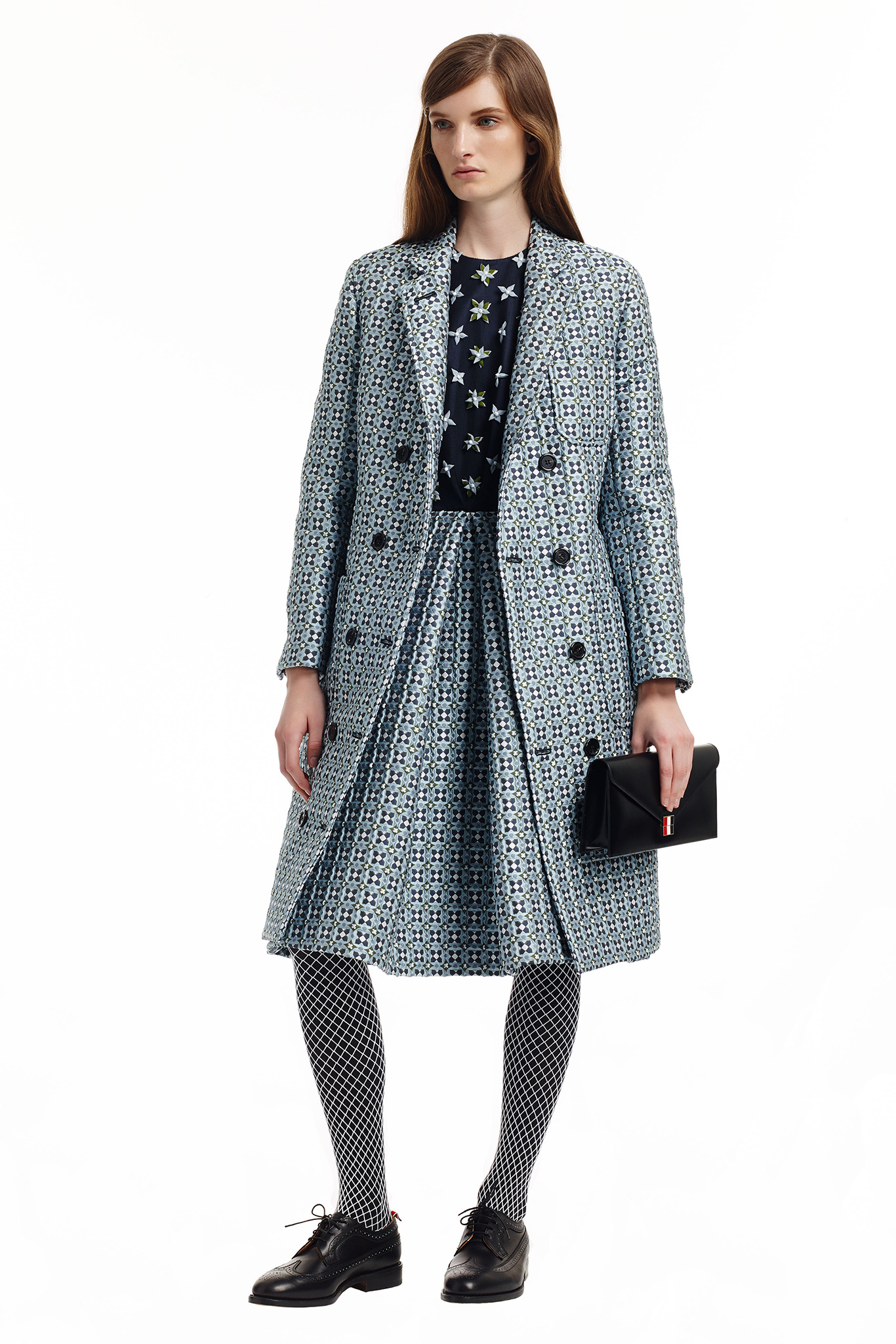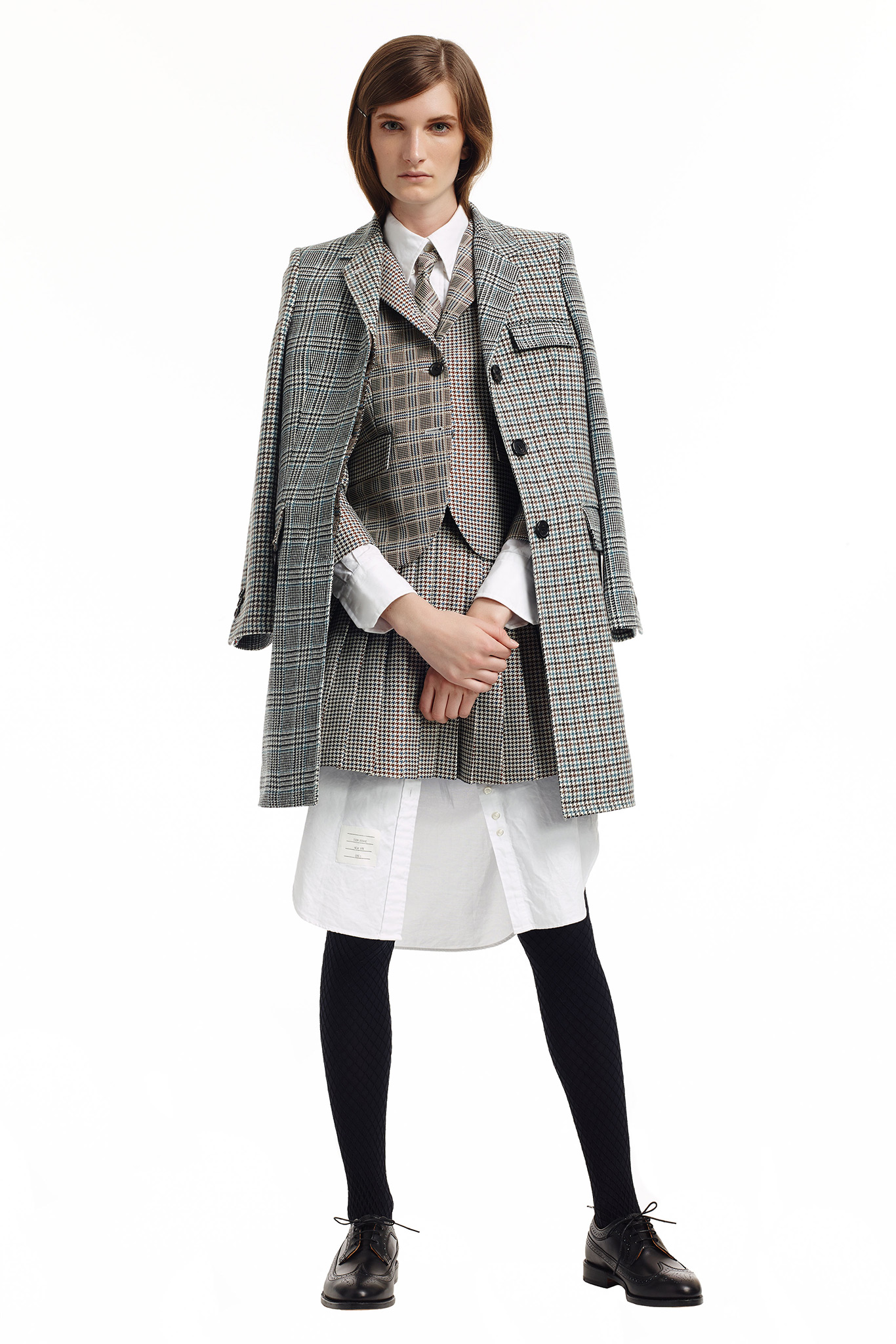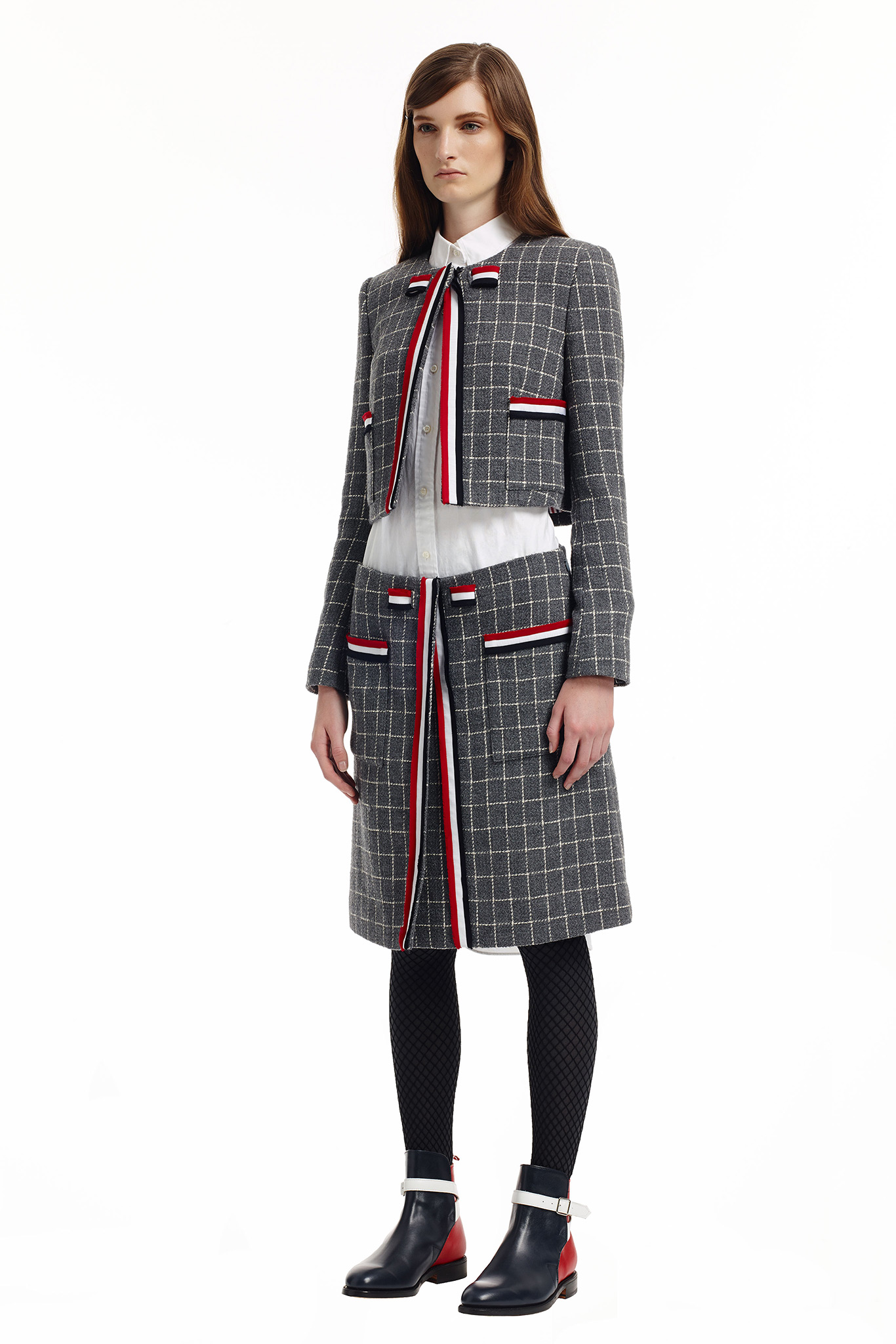 School-girl chic.
VIONNET:
One of the few collections which does not go galloping back to the 60's or 70's, but rather brings to mind all things modern and stellar.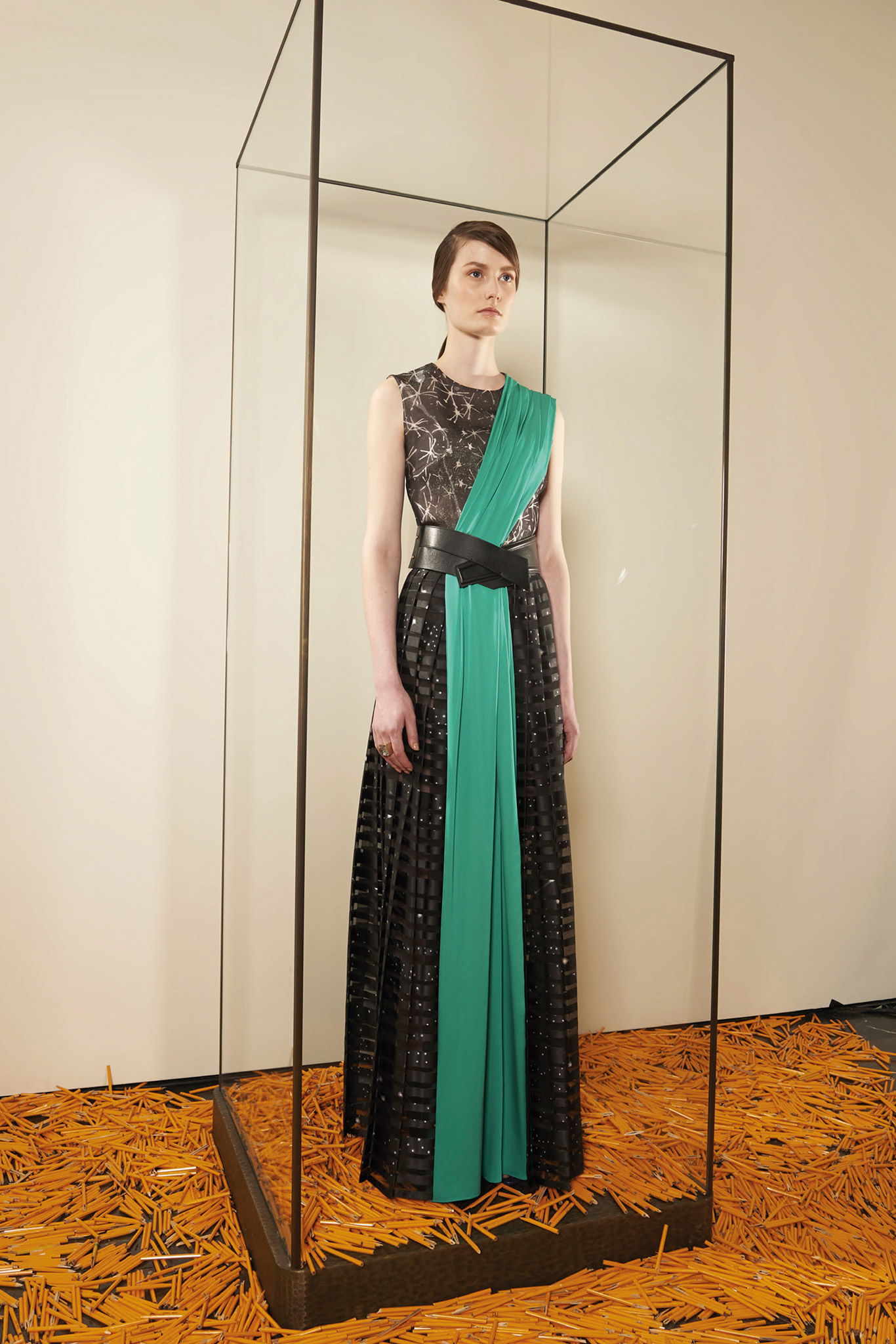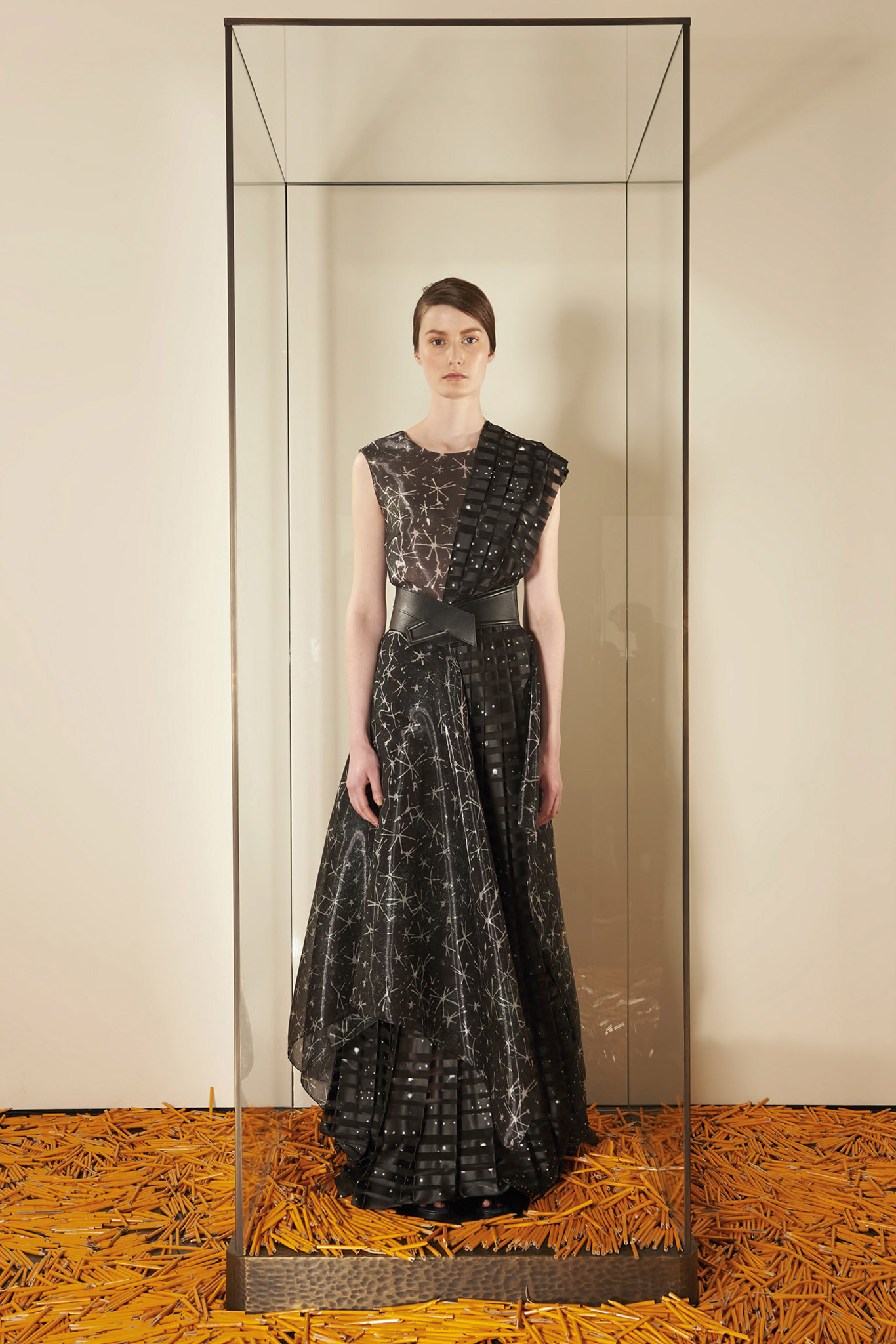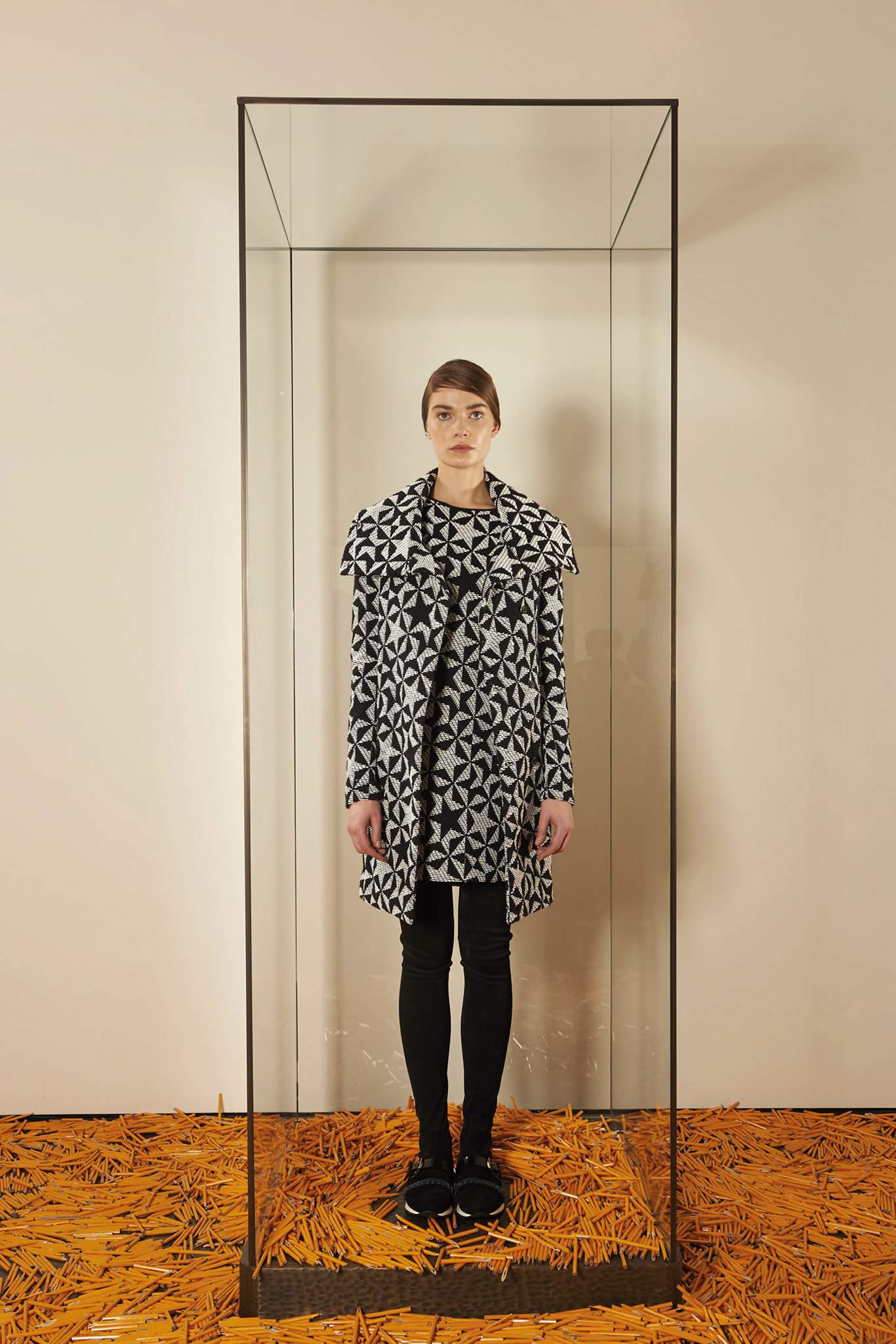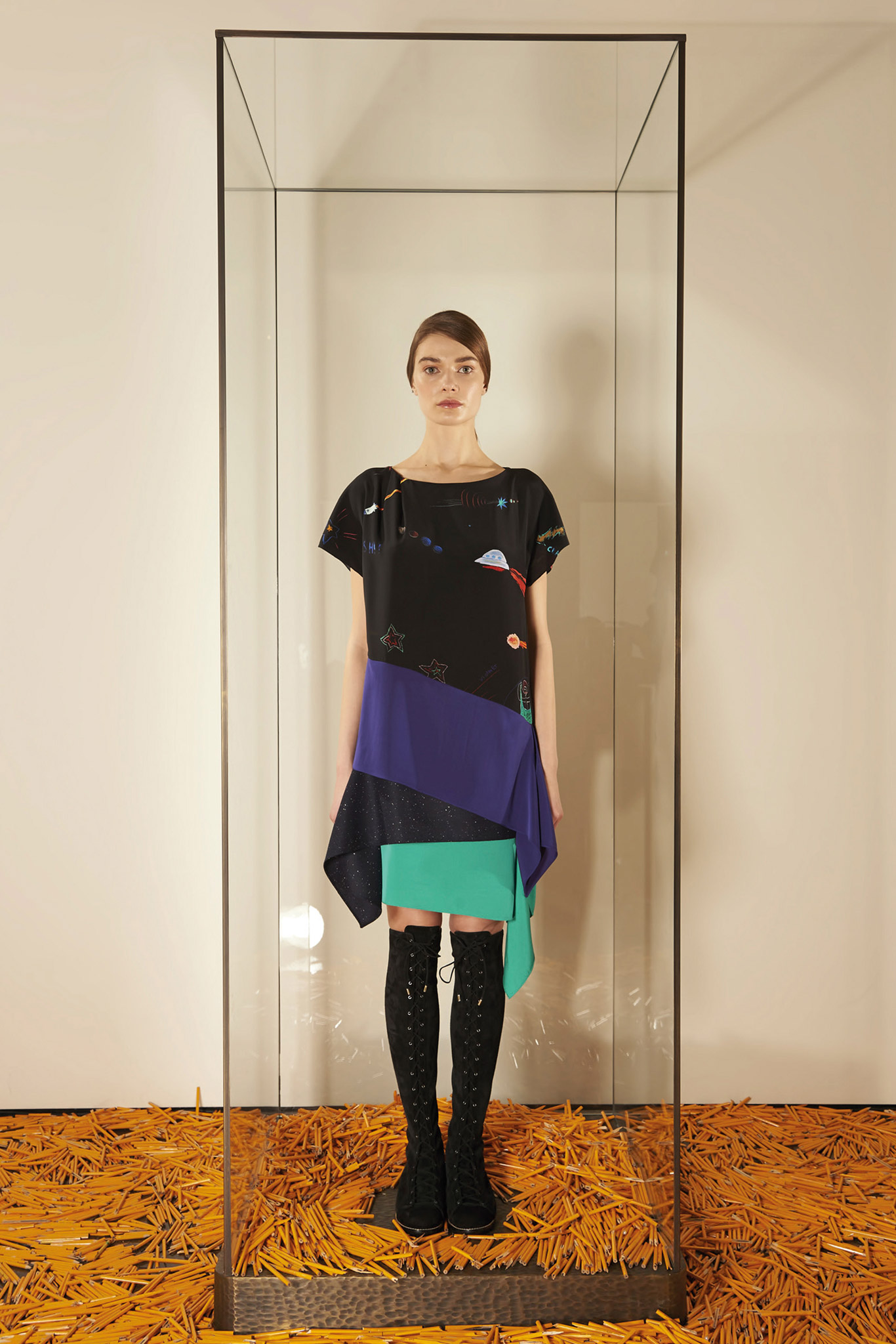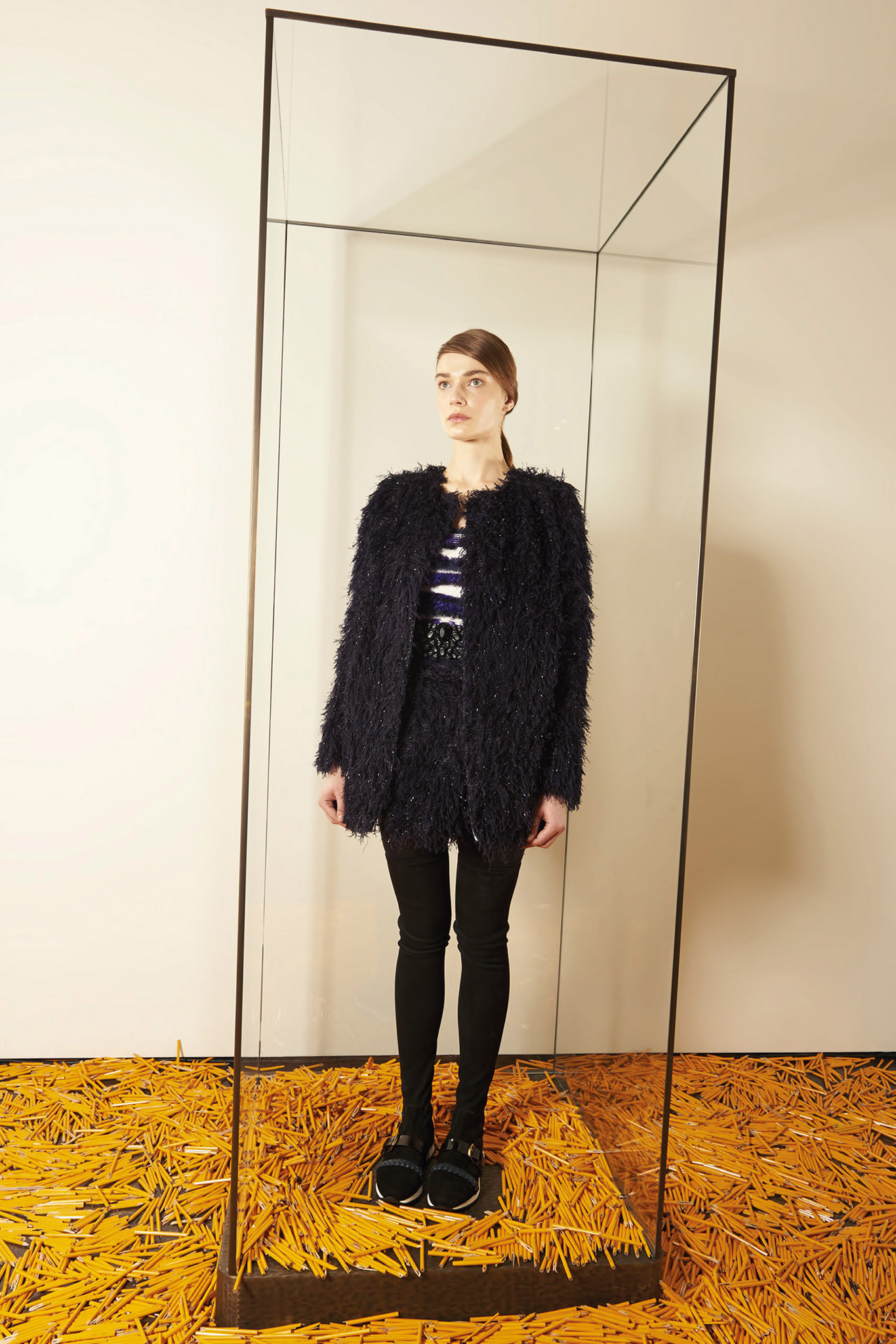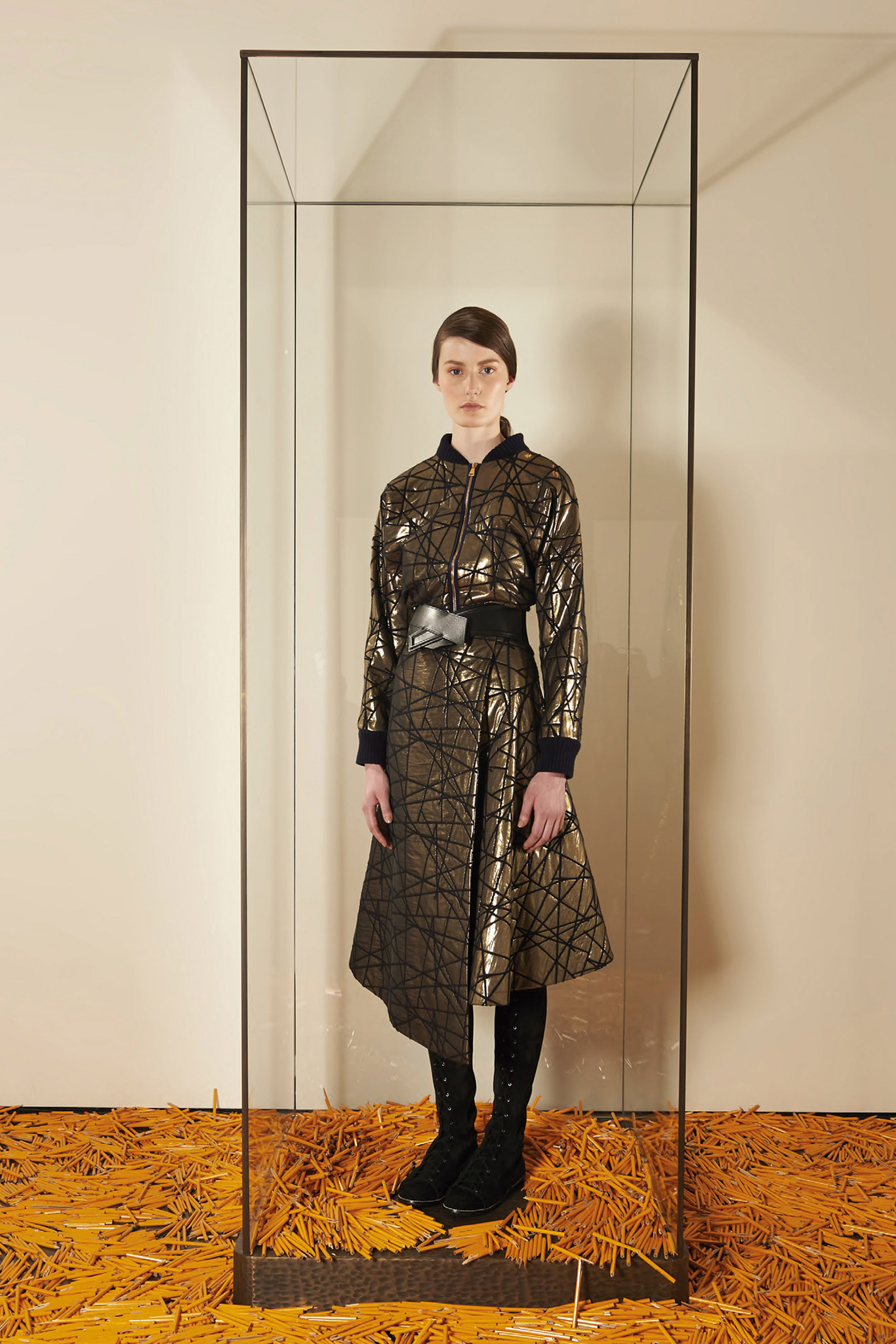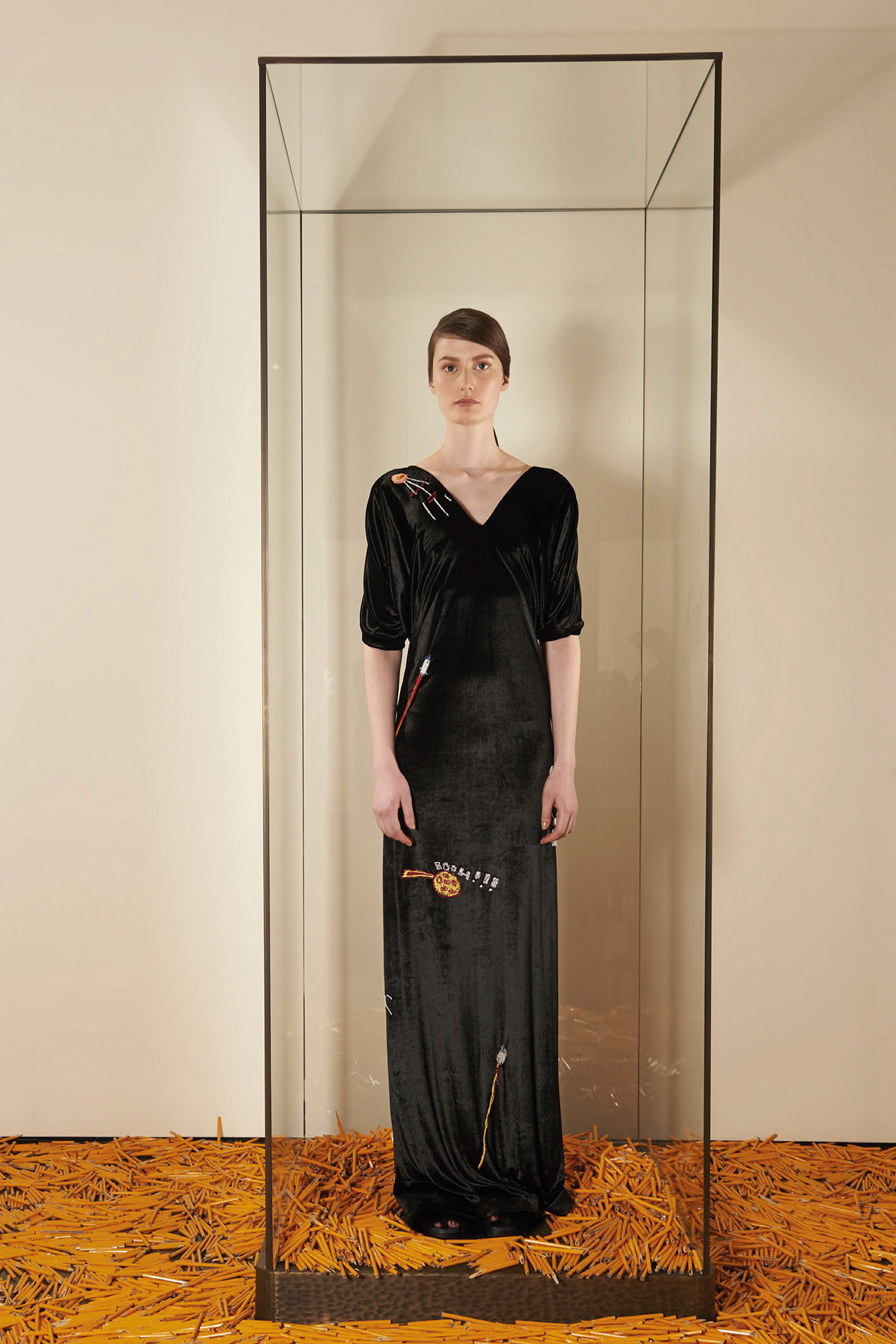 Modern and yet still regal with floor length draped velvet.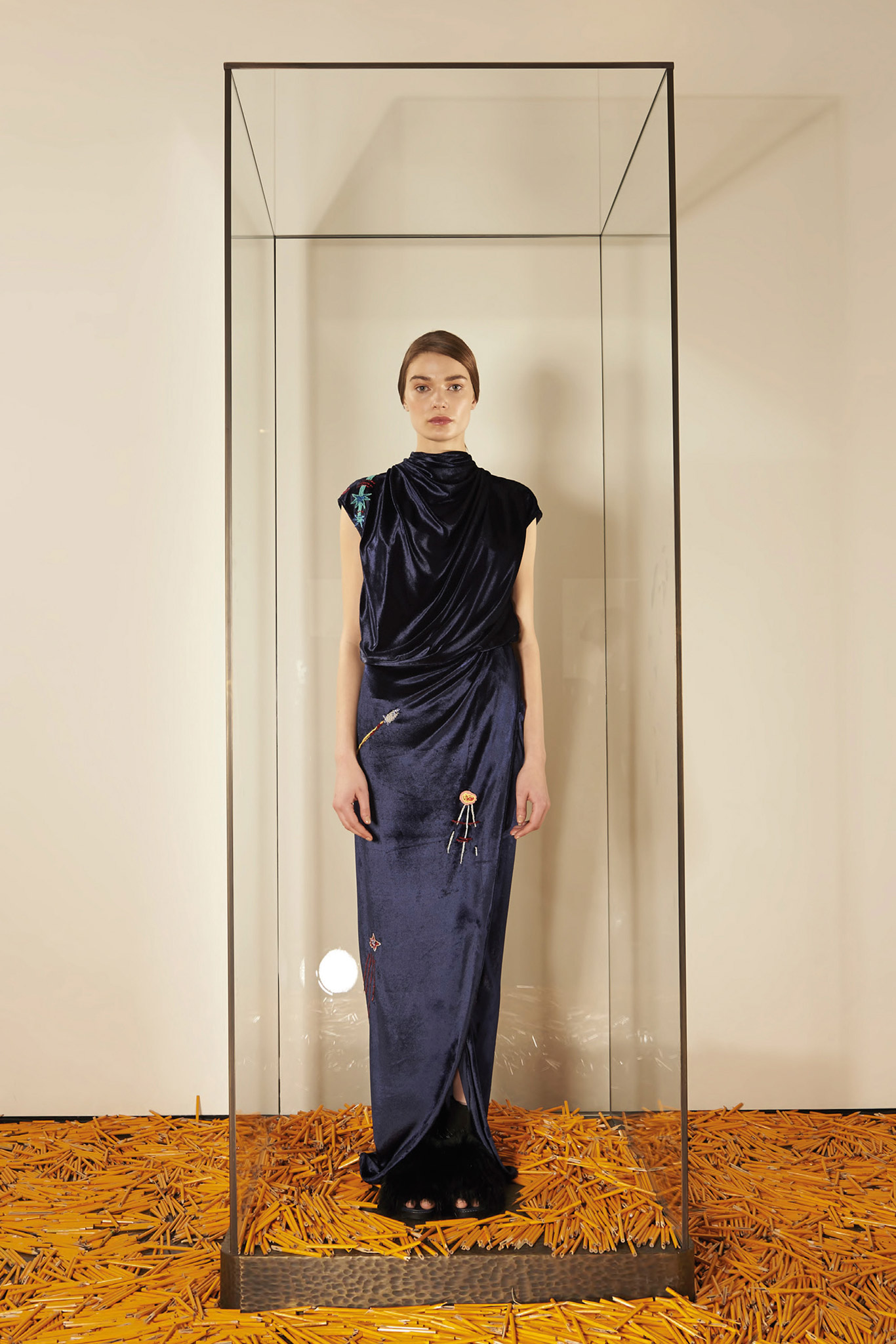 AU JOUR LE JOUR
And here we have a cadre of cheerful, jaunty wares for the youthful and young at heart! Yeah, there may be a hint of kitsch around the gills, but who cares? Many will cotton to the low maintenance guilt free FAUX furs in engaging pastel colors! And what can I say, I like gingham (and apparently so did Altuzarra and Oscar de la Renta in their Spring ready to wear collections). Do not pass Go: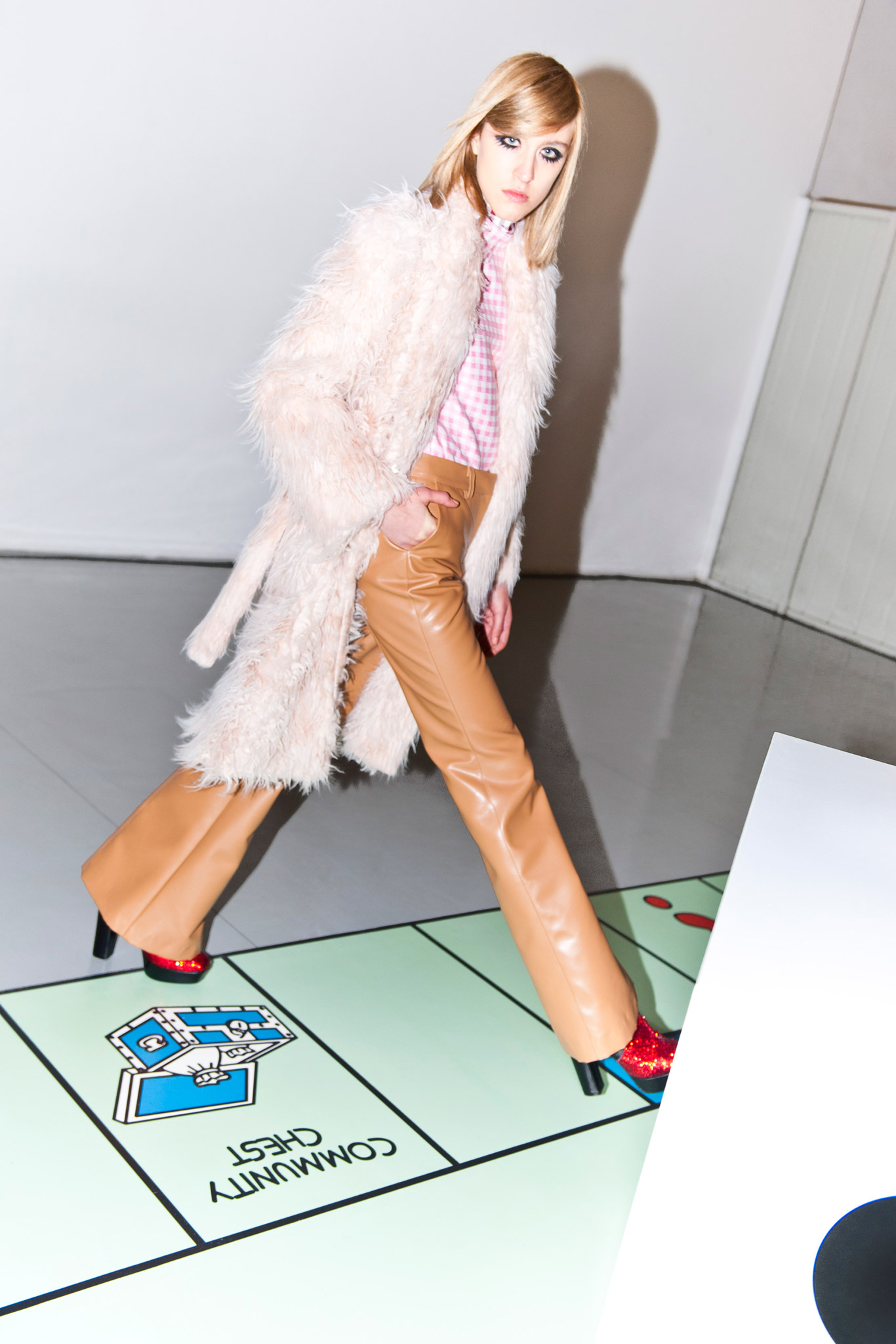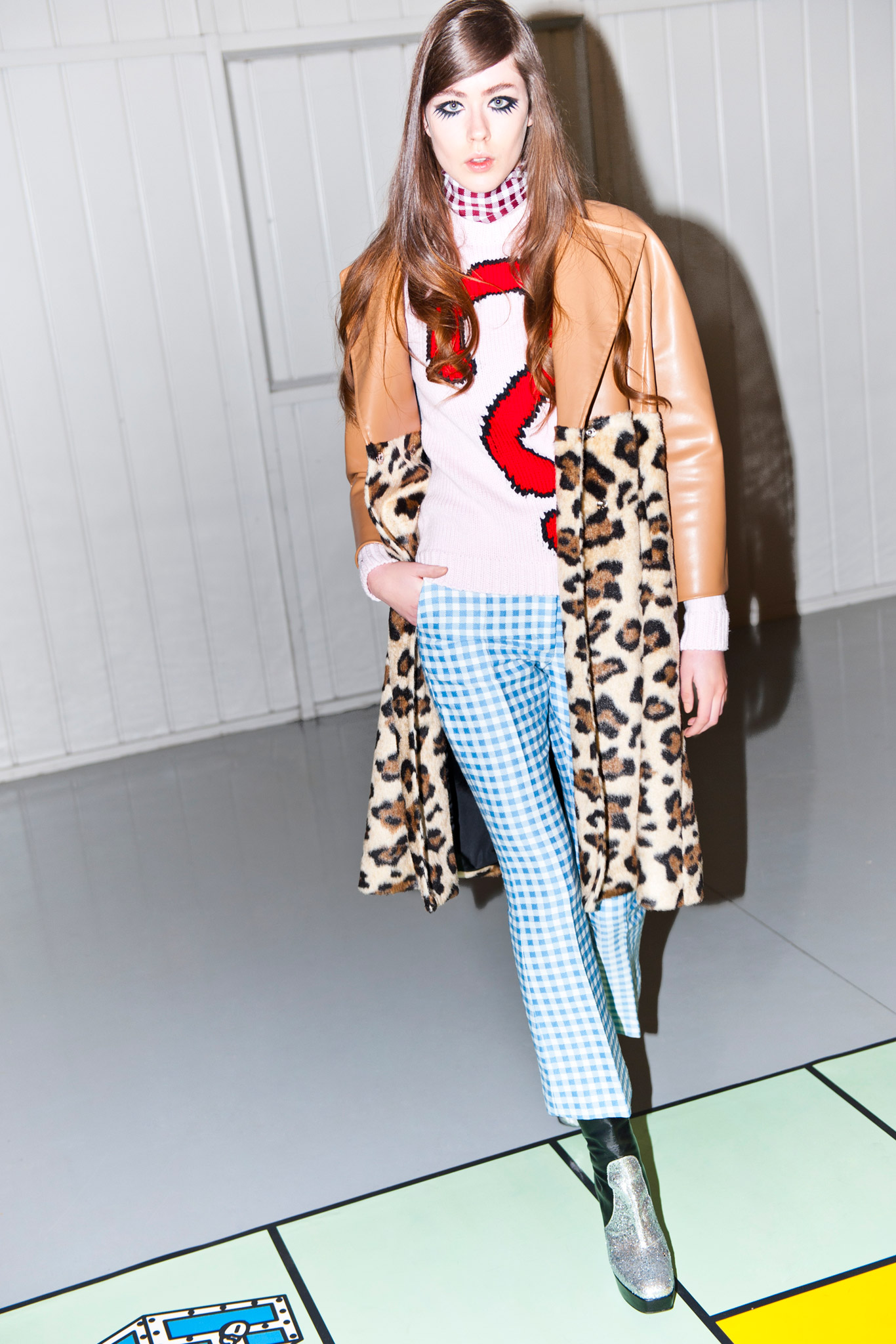 Leopard, another enduring theme.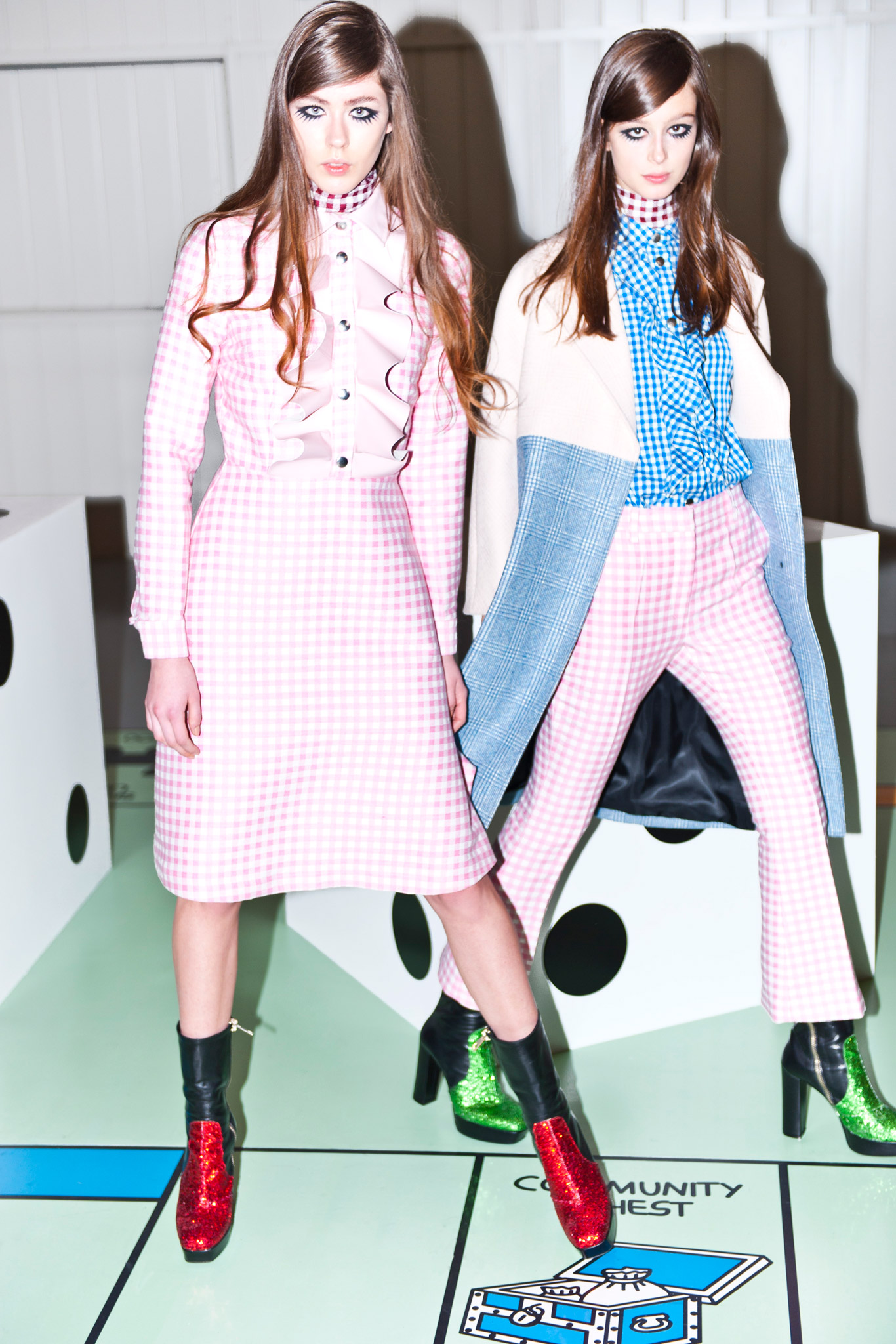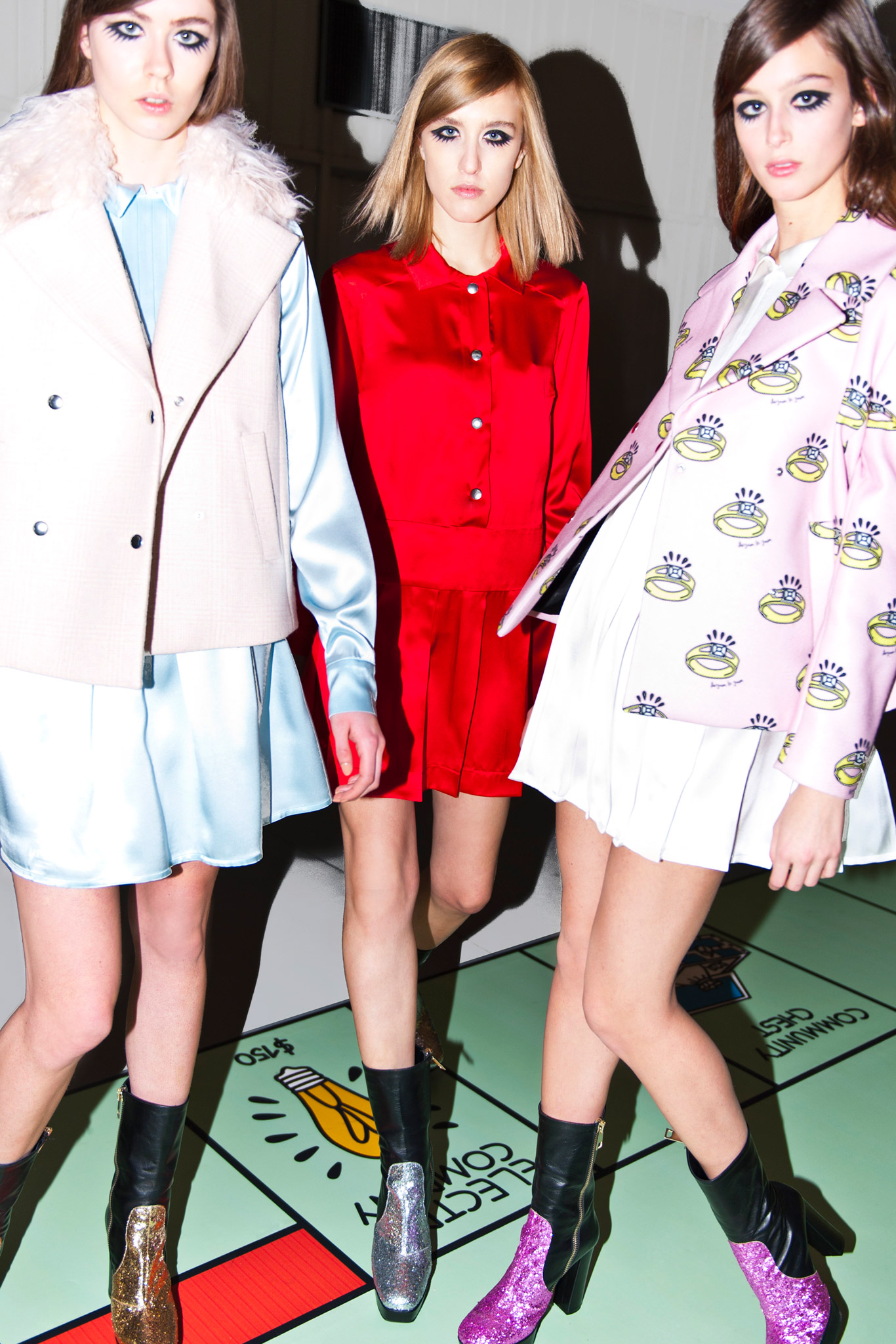 Time to boogy.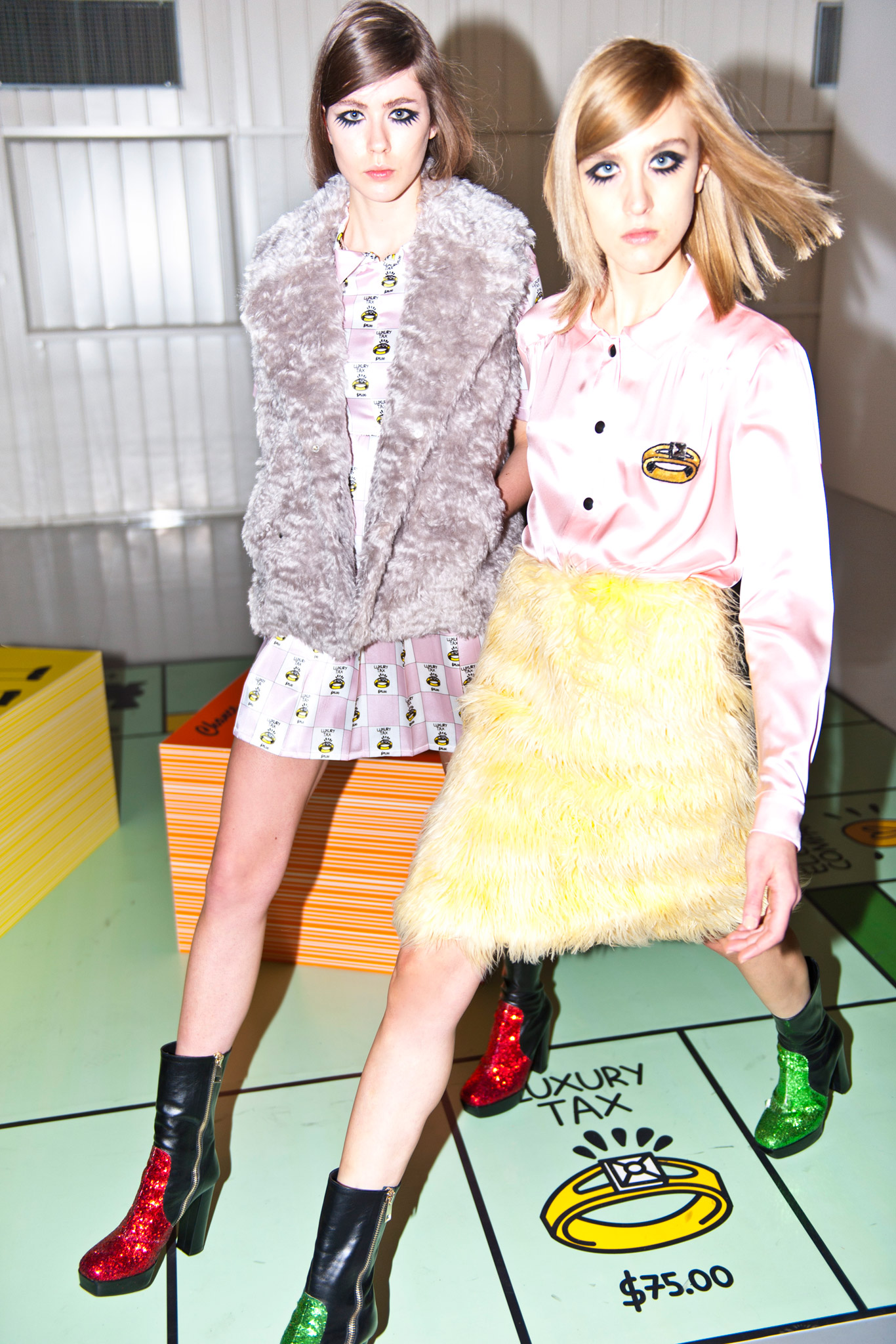 I should be d a n c i n g……...
Enjoy these kicky fashions, as we turn to Spring couture and Fall Winter!
Images brought to you by www.style.com