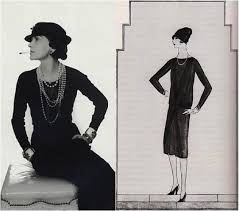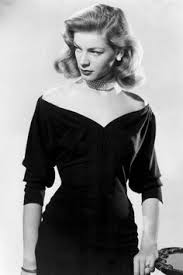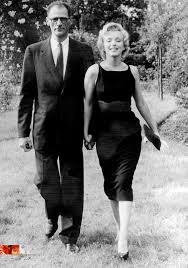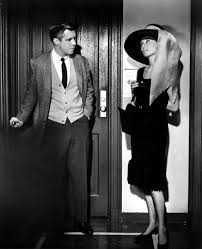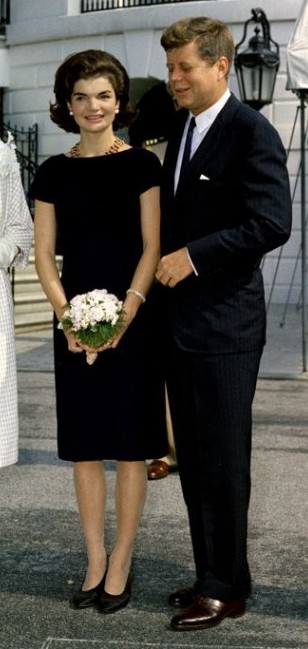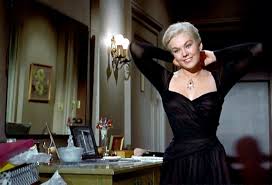 "The zenith of elegance in any woman's wardrobe is the little black dress, the power of which suggests dash and refinement."
Andre Leon Talley
Probably no piece of clothing in the annals of fashion has engendered such discussion, been so revered, described in dulcet tones, or attained such lore as the little black dress. The LBD has been an enduring staple in closets and in movies since Coco Chanel created THE iconic frock. In a virgin closet, this is the first obligatory piece needed, the foundation of a respectable wardrobe. Before running around trying to find the perfect trench, the newest wacky trendy kulots or a neoprene jumpsuit (shudder), find your perfect version of the LBD. Given the bounty of designers out and about, one can only imagine the spectrum of black dresses available every season. Its as if all the designers got the memo to include at least one if not a small cadre of black frocks in most collections. Throw a bone to the gals who are afraid of whimsy and color and who are, lets face it, pragmatists. There are times when nothing but the LBD will do. My personal favorite is a Chanel number, act one (versus act two which are the runway pieces), made of substantial wool, lined with the camelia laden silk, with dolman sleeves and big buttons on the bodice. Simple, substantial, and no room for jewelry what with the buttons. Throw on some boots and I'm done. It segued well from work to a ballet event, and I never had to worry about moving parts, a blouse coming untucked from the skirt, beads falling off, or cleavage showing. For the first little black dress, a more simple version might be best, add pearls or a scarf for flair as needed, a canvas that can be changed at will. As your collection of black dresses grows, think of adding variations for various occasions. Here comes A LOT of black in simple, conservative, lady like, alluring, and borderline hoochie silhouettes for all tastes and sensibilities. Bells and whistles are included. Think of the little black dress as a chameleon of sorts, that can change depending on its surroundings.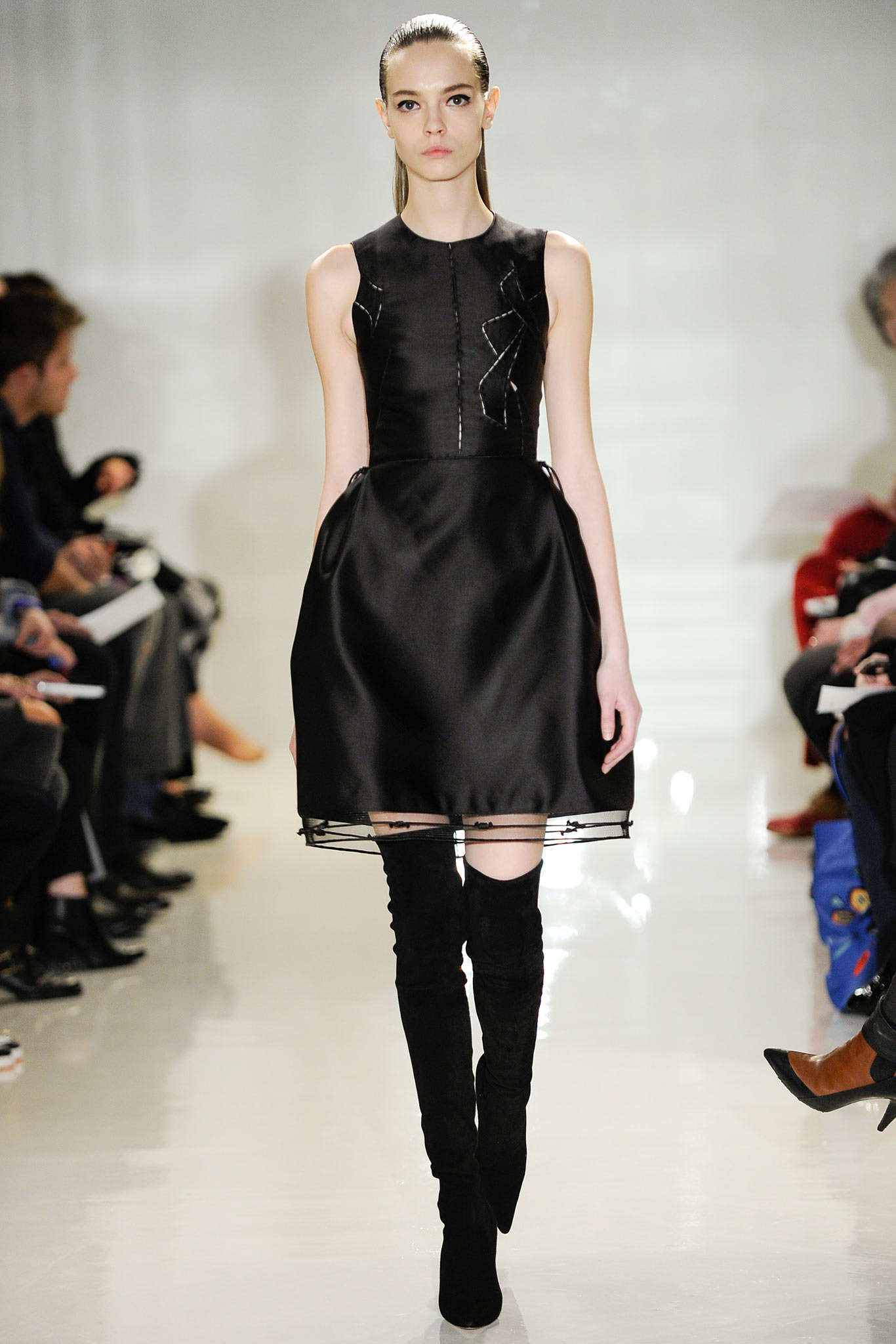 RALPH RUCCI
Right out of the gate is my personal favorite, as in THE most perfect LBD I have had the pleasure to try on and drool over. Duchesse satin, fitted bodice with a lady like feminine silhouette, with cut out detail along the bodice for visual interest, and horse hair trim which seems to be floating along the hem. Quite extraordinary really, something to be appreciated up close and personal. I really cannot say enought about Ralph Rucci's line. Glorious fabrics, impeccable detailing and extravagant in a low key way.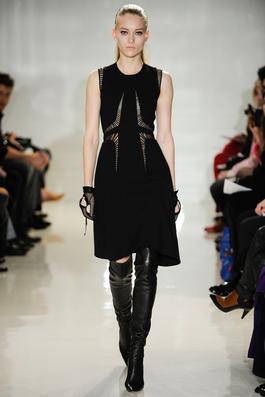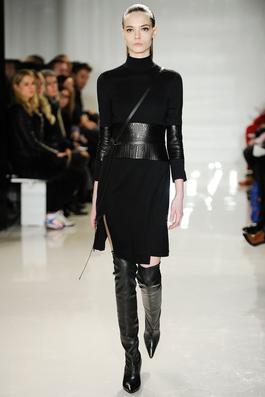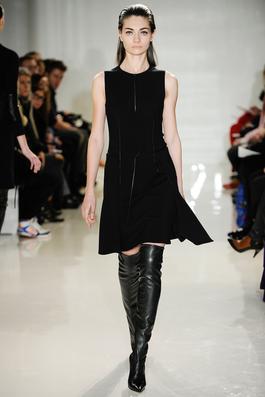 Three more exceptional LBDs in the Fall Winter Rucci line. There is never anything ordinary about Rucci's pieces. All these entries are slightly sexy and yet appropriate for any occasion. The runway boots are killer, totally Emma Peel sizzling. If in doubt, BLACK MANOLOS!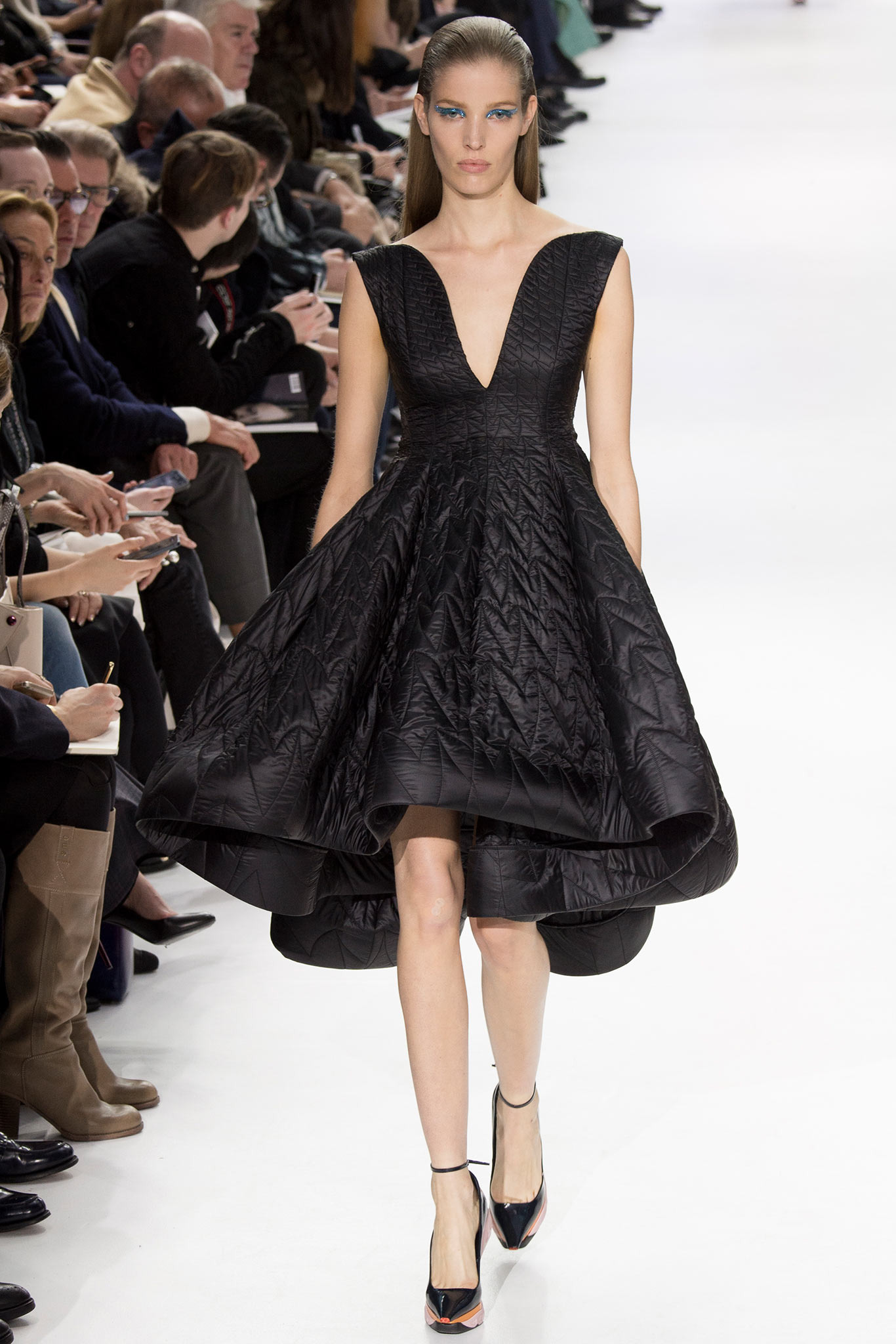 DIOR
Dior........what more need be said? This dress is more theatrical than what one conjures up as the iconic little black dress, but what a standout! Tapered waist and cloque fabrication? Definintely for an event.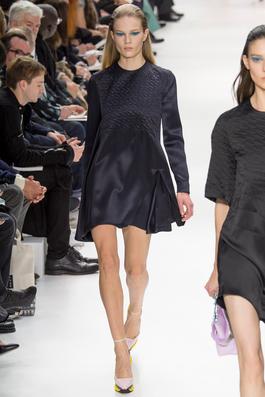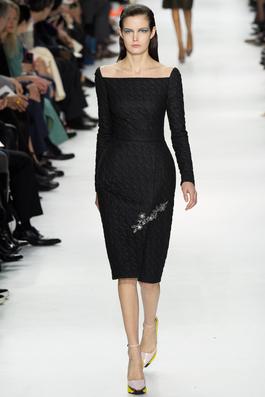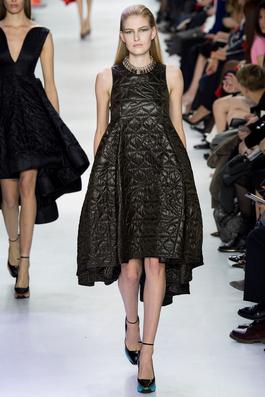 More contestants for smashing LBD, from a mini skirt (calling all 22 year olds), to a more versatile entry for all us gals (I can imagine Kim Novak's character in Vertigo wearing this subversively sexy number), to another gala frock which could be funked up with riding boots and a cashmere shrug.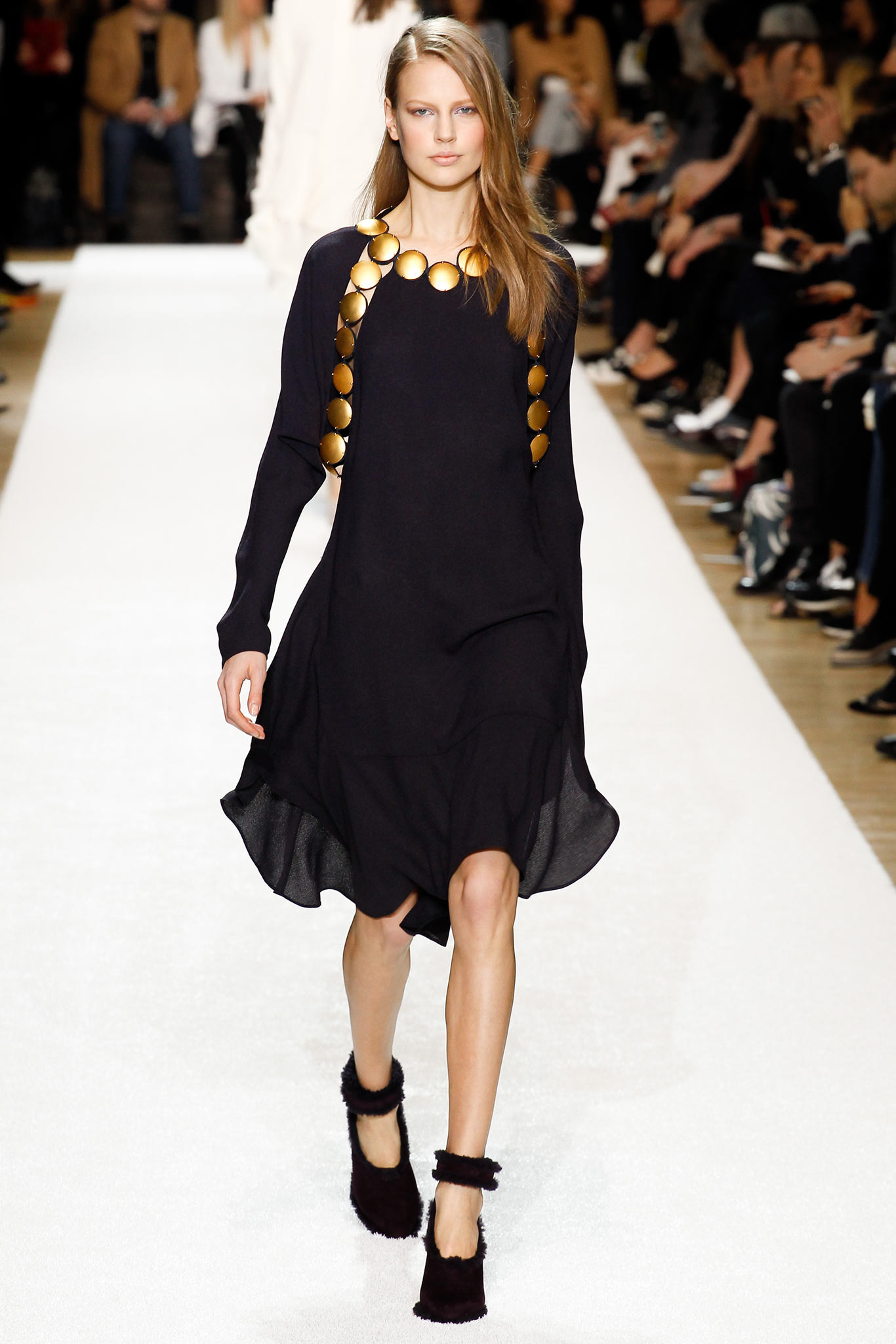 CHLOE
The semi bohemian entry, flowy and cool with the round metallic details. When you want to be stylish but comfortable. Great for the Opera.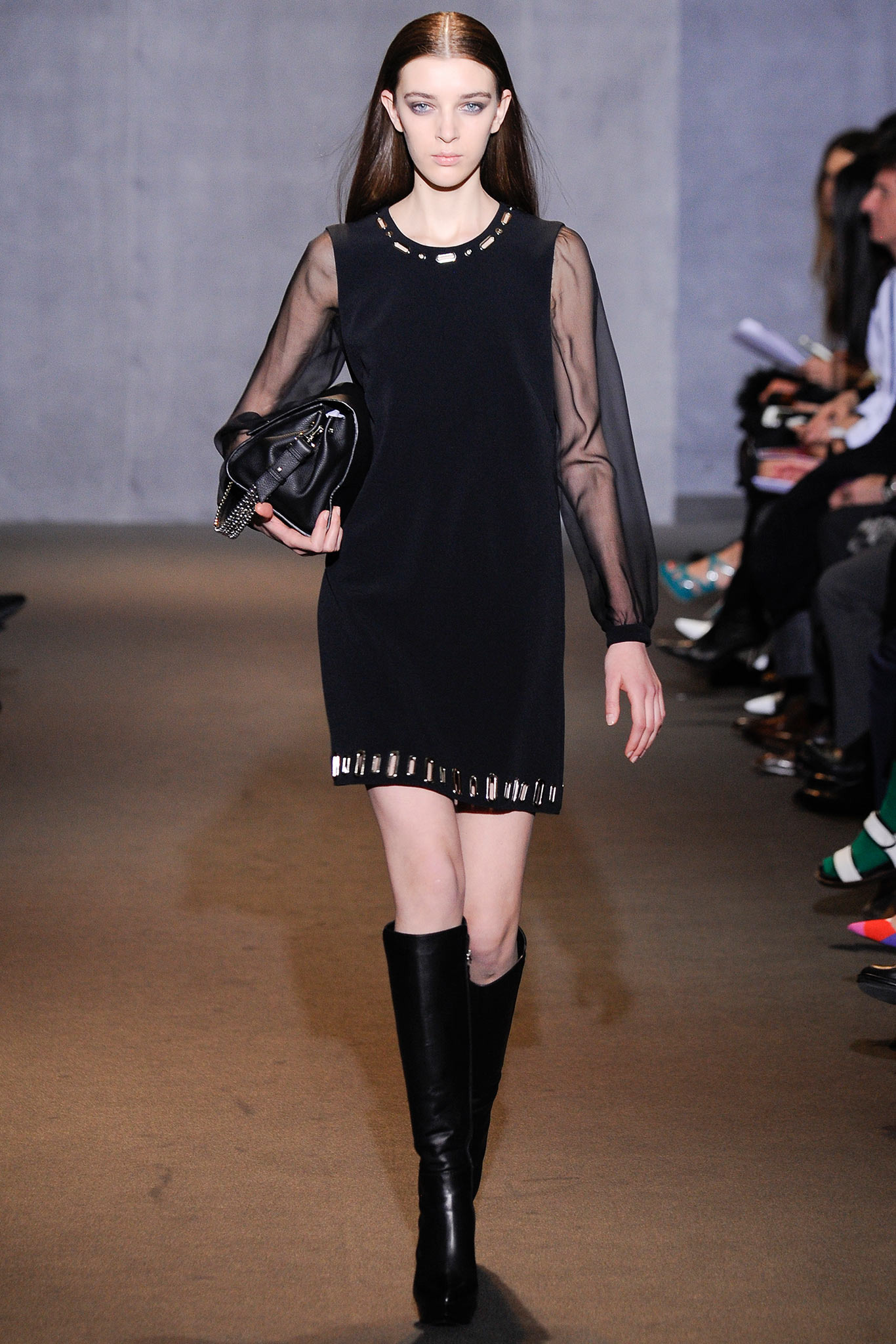 ANDREW GN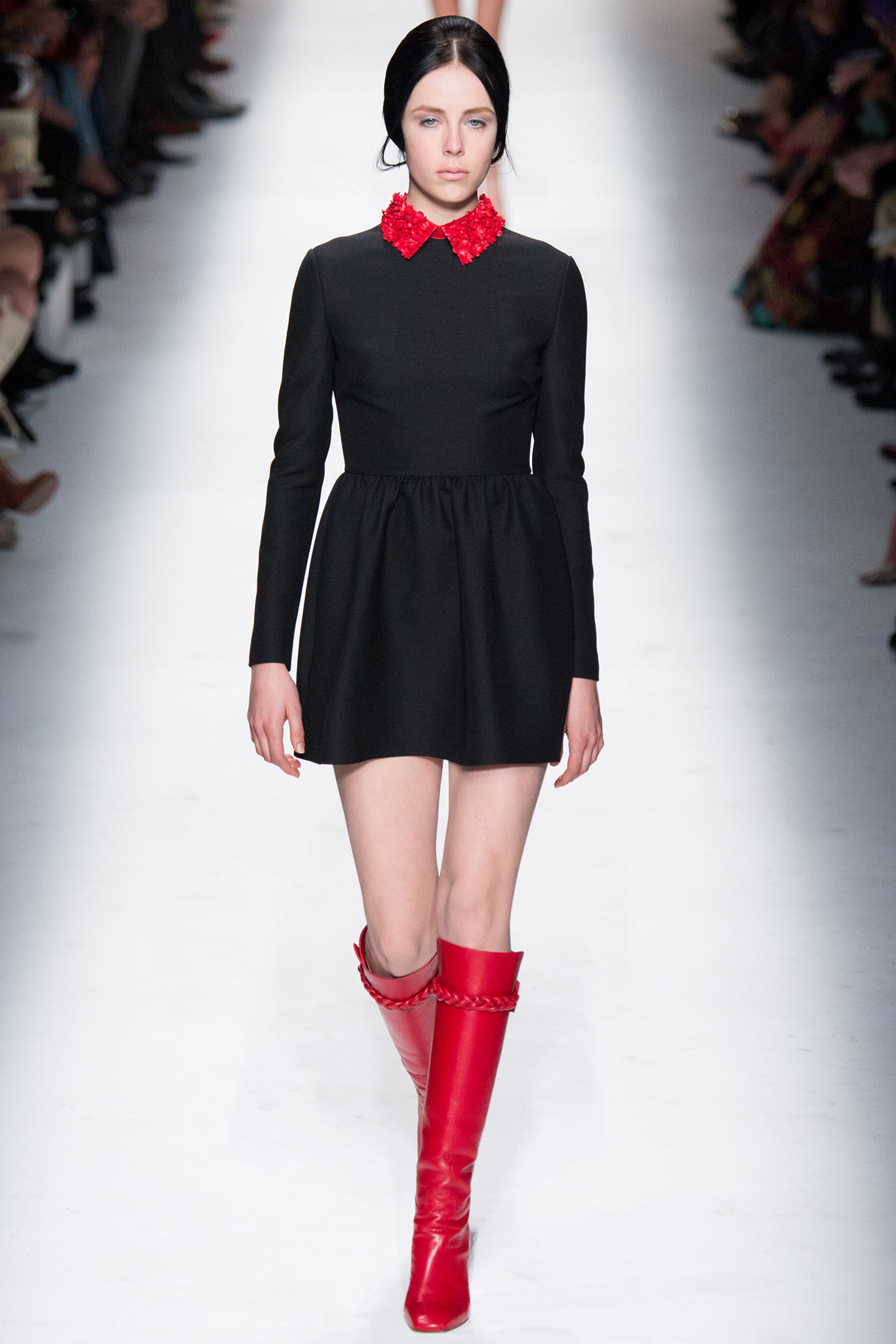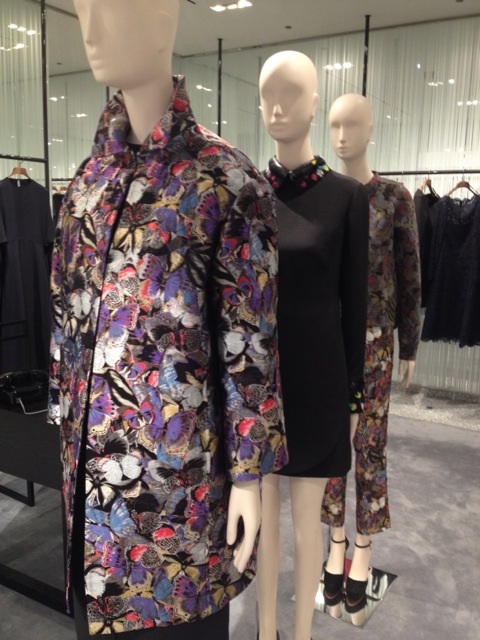 **
Valentino boutique, Neiman Marcus, San Francisco. The little black dress above has a detachable collar, a clever perk not often seen. This reminds me that detachable collars (think Brunello Cucinelli) can change the vibe of your LBD, adding visual interest above and beyond pearls and such.
VALENTINO
There will usually be a more conservative entry that approaches the knee, if a mini is not for you, amongst the retail selections for this house (**). The pret-a-porter pieces in the various stores, whether it be Neiman Marcus, Saks Fifth Avenue, or Louis Vuitton, are always a combination of runway and non runway. Needless to say the runway contingent tends to have more associated zeros. If in doubt, wait for the bi-annual sales. Except for Louis Vuitton where sales NEVER occur. If you love the pieces, its full retail baby!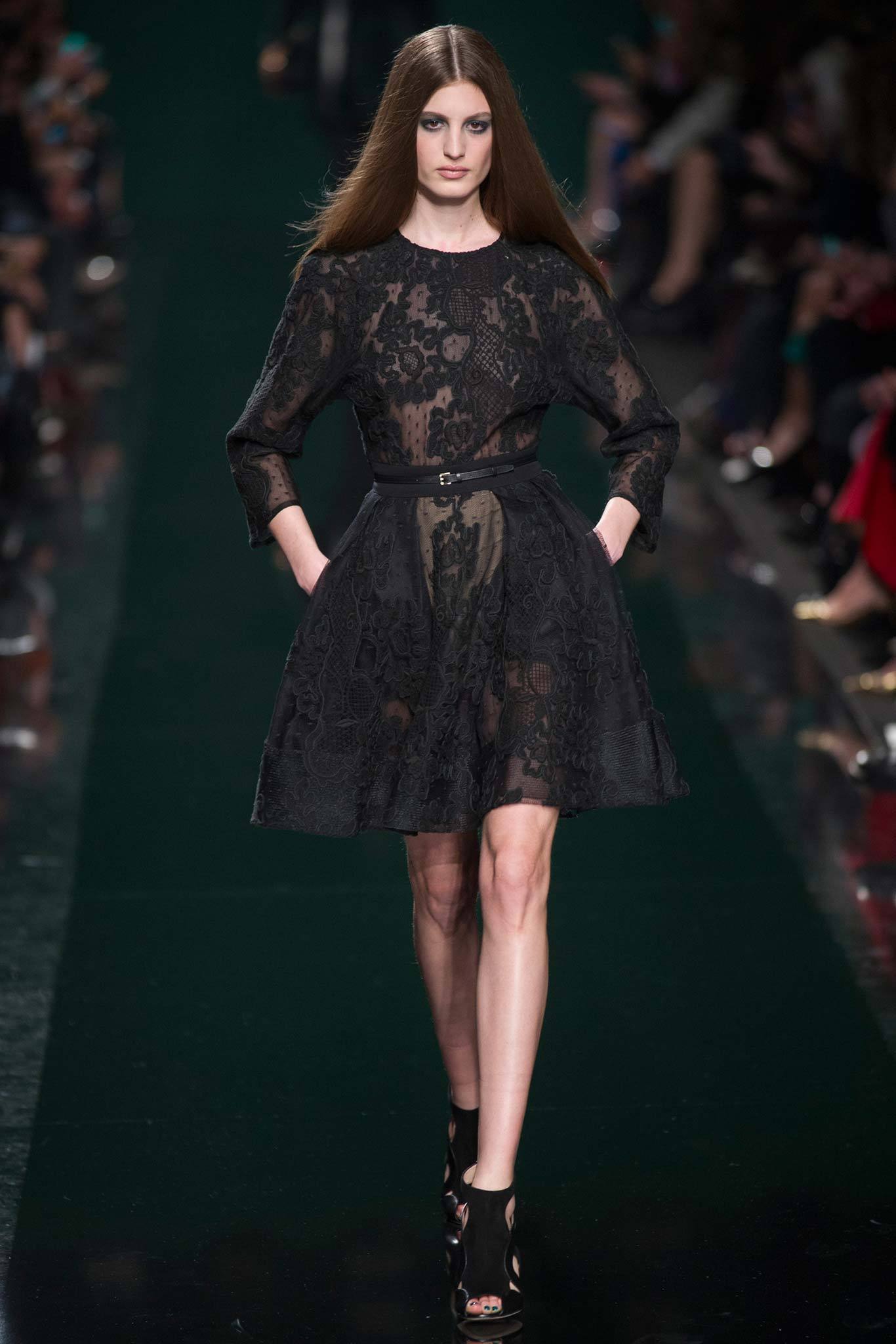 ELIE SAAB
You can always count on Saab to provide stunning cocktail and evening fare, and this piece is no exception. The perfect event LBD!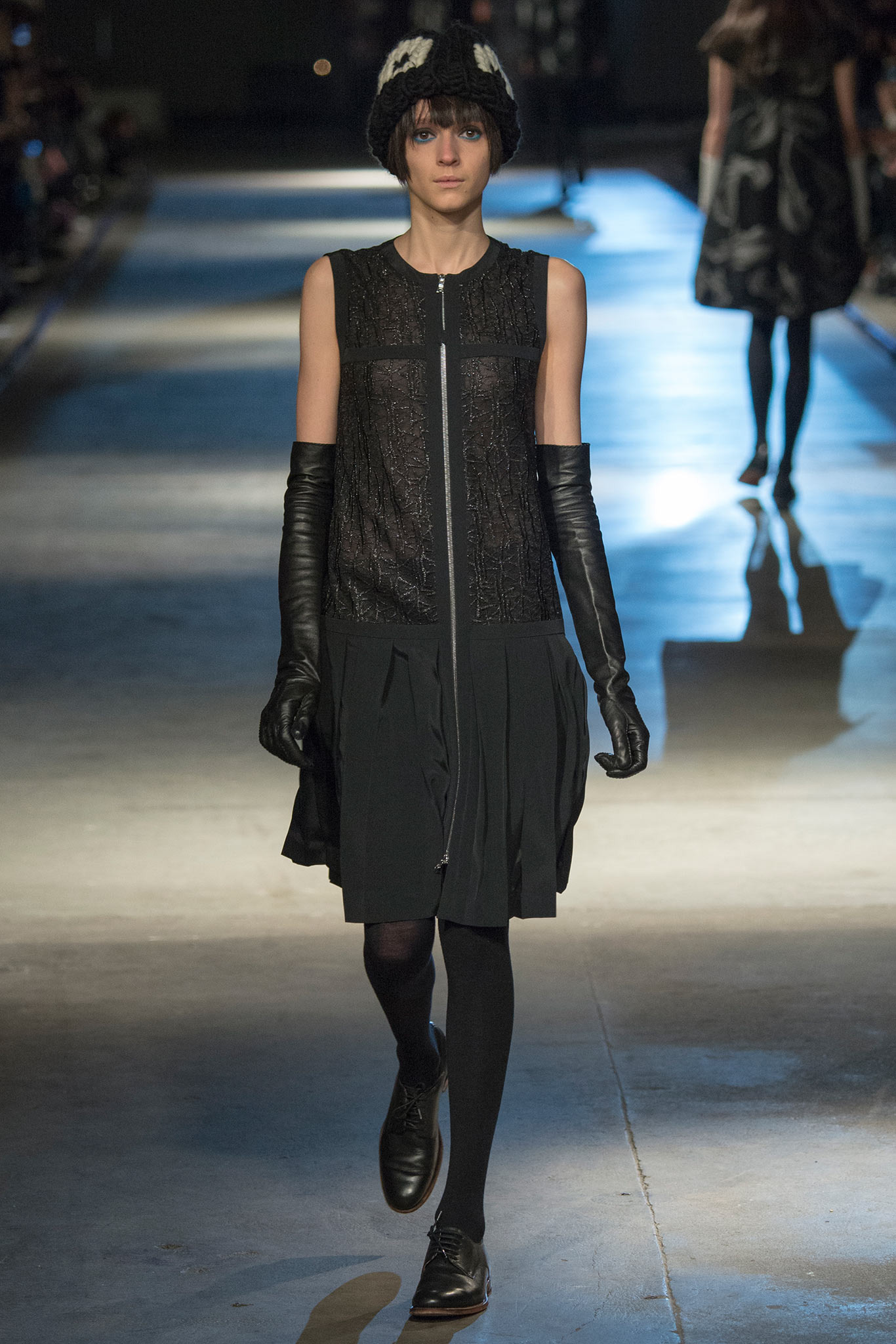 GILES
The mod flapper congtingent.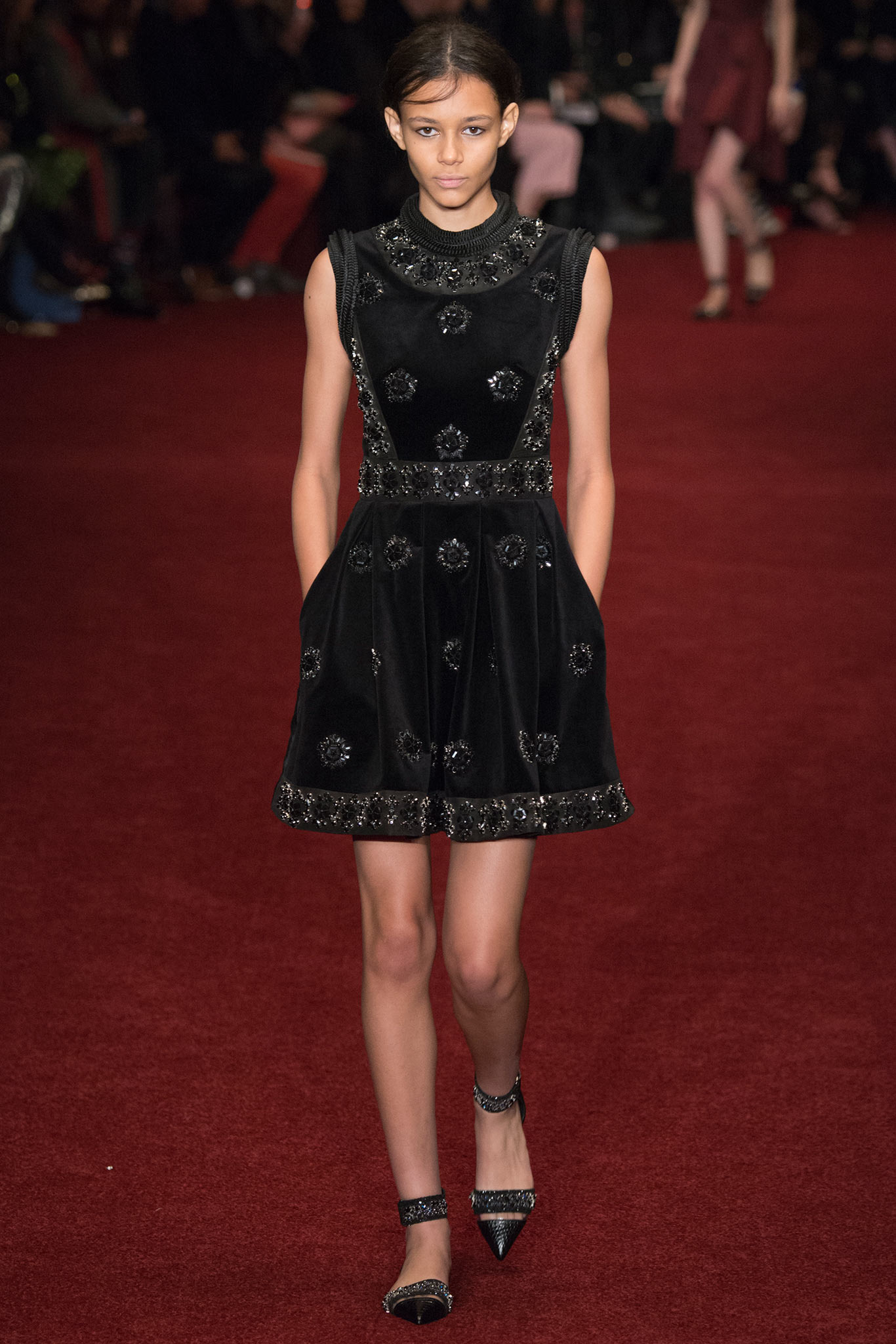 ERDEM
Velvet and embellishments, no jewelry or over the top makeup needed. The rhinestone festooned flats make this the perfect outfit for that special night.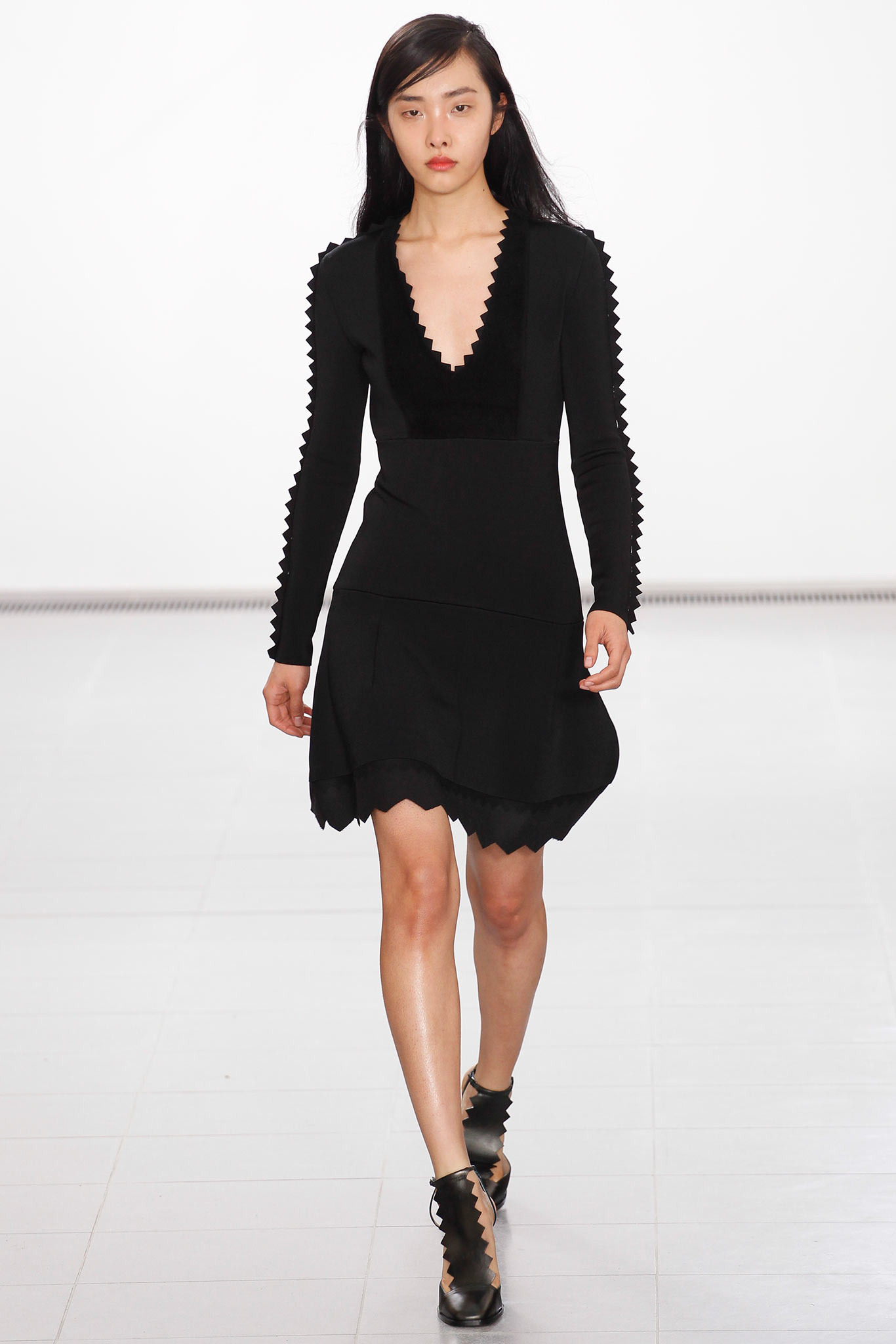 ISSA B
A standard silhouette but with serrated detailing for an, ahem, edge. Easy and light weight, a good canvas to decorate or not depending on the scenario at hand. Throw on the rhinestone ruby slippers by Valentino to turn a relatively simple frock into a festive delight! Or, add RED leather gloves!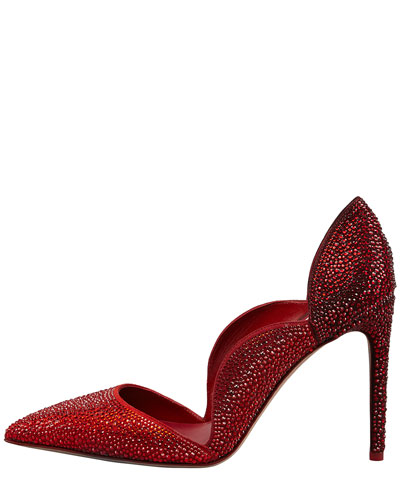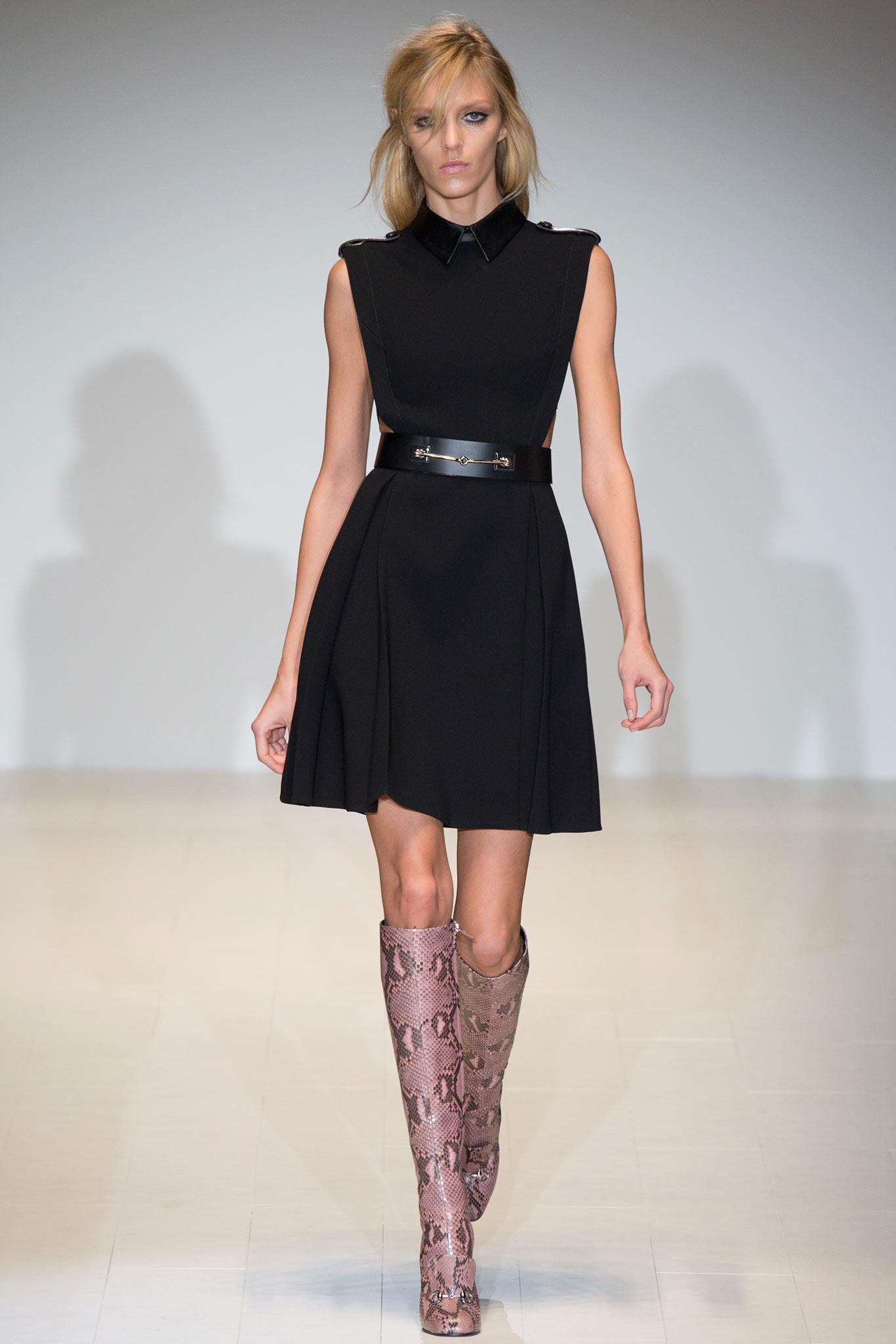 GUCCI
Calling Jackie O! Easy 60's inspired silhouette, non-fussy and yet chic. This would be a good and pragmatic first LBD, great with flats or the horsebit boots.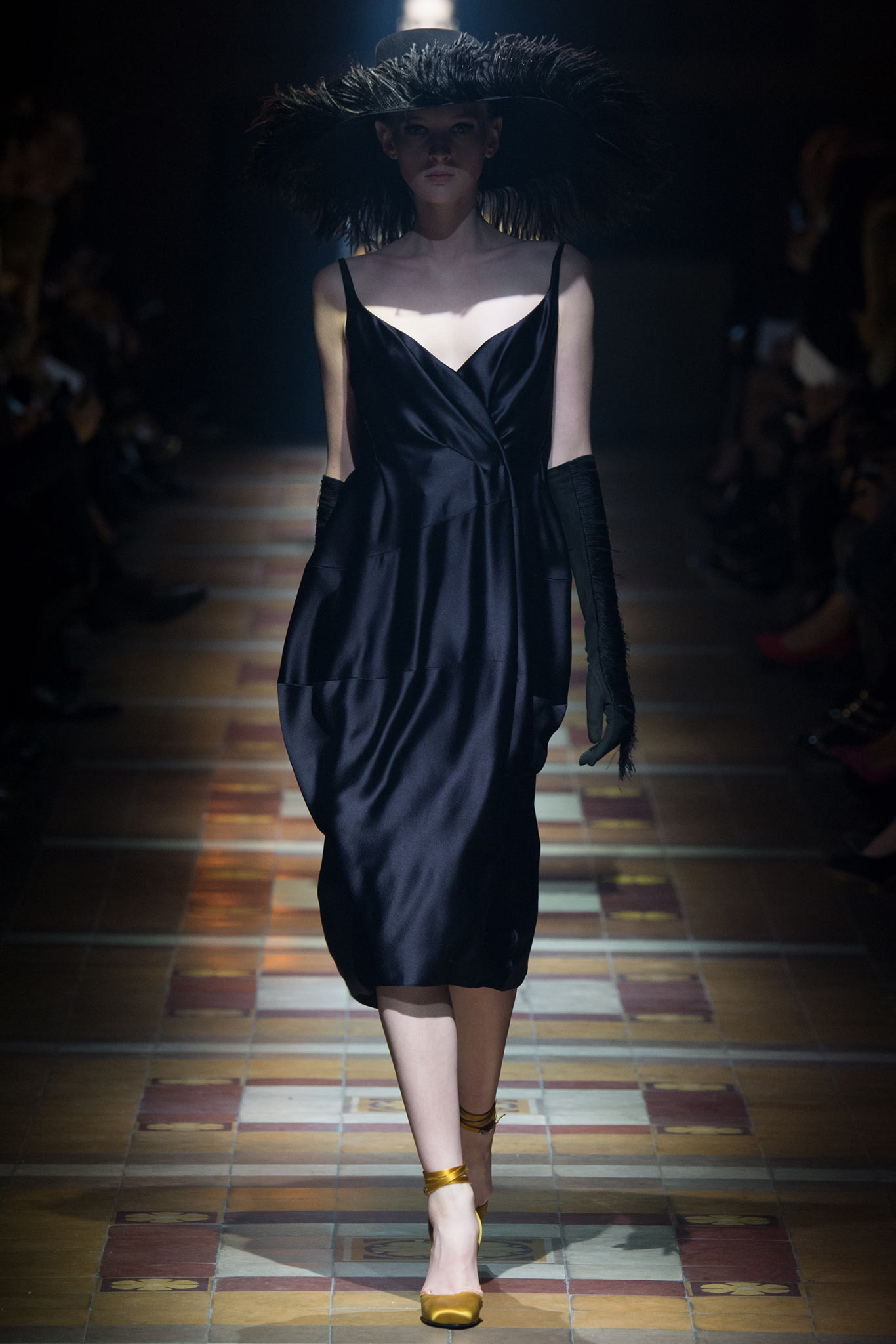 LANVIN
I can imagine Audrey Hepburn tooling around Paris in this lovely creation, one of the most luxe amongst the entries. And get a load of that hat! The satin curry colored shoes add visual interest.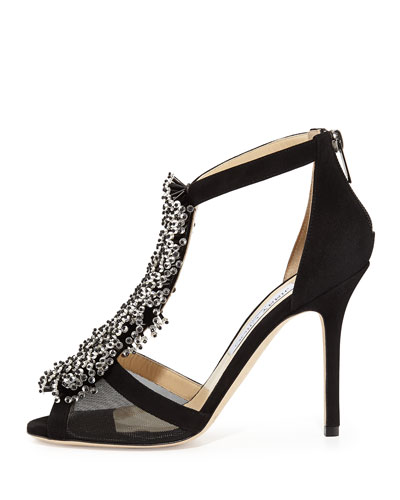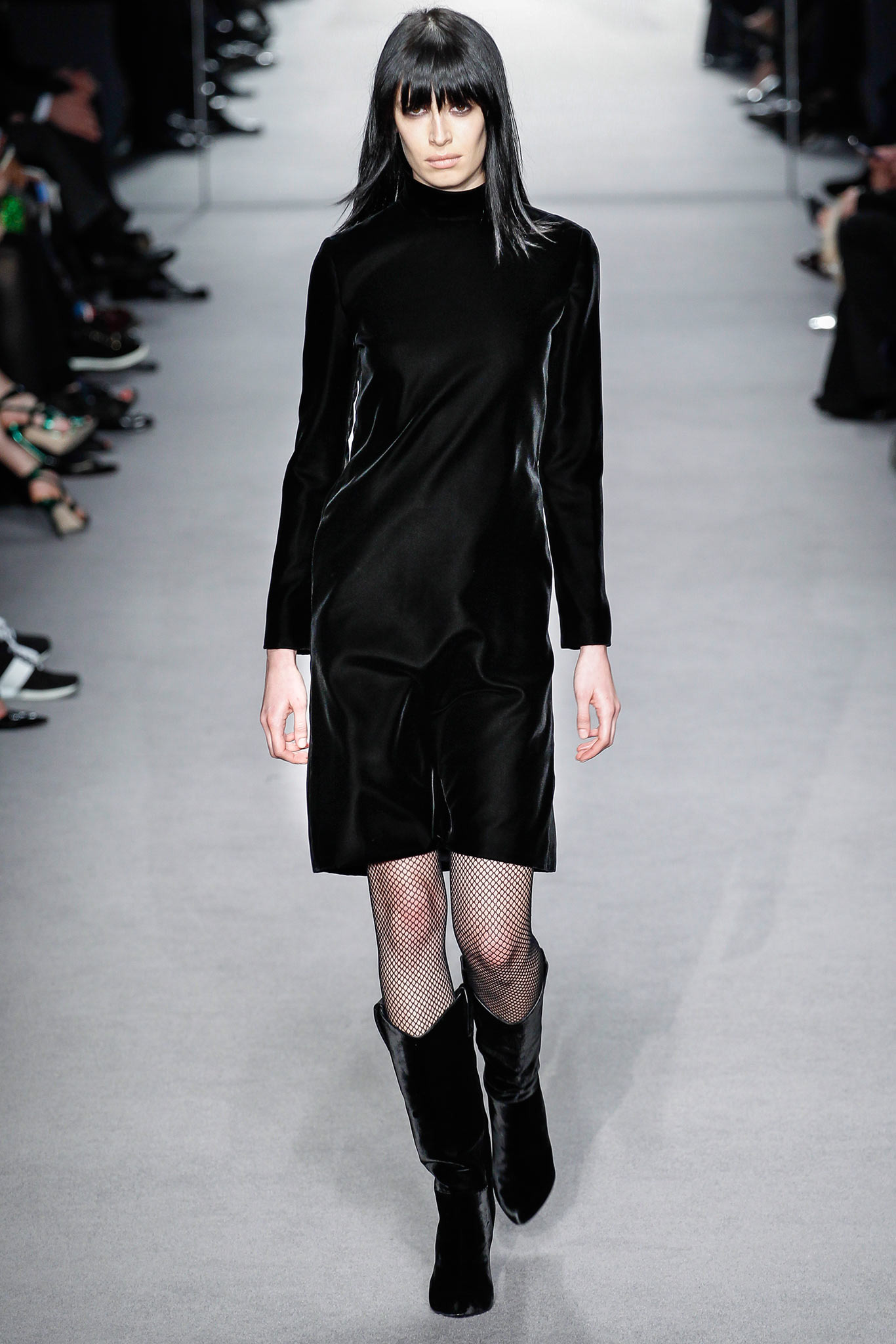 TOM FORD
Simple sheath in velvet (a rarity these days unfortunately) which still mananges to be sexy. Tom Ford = sex appeal. I think its woven into the fabrics.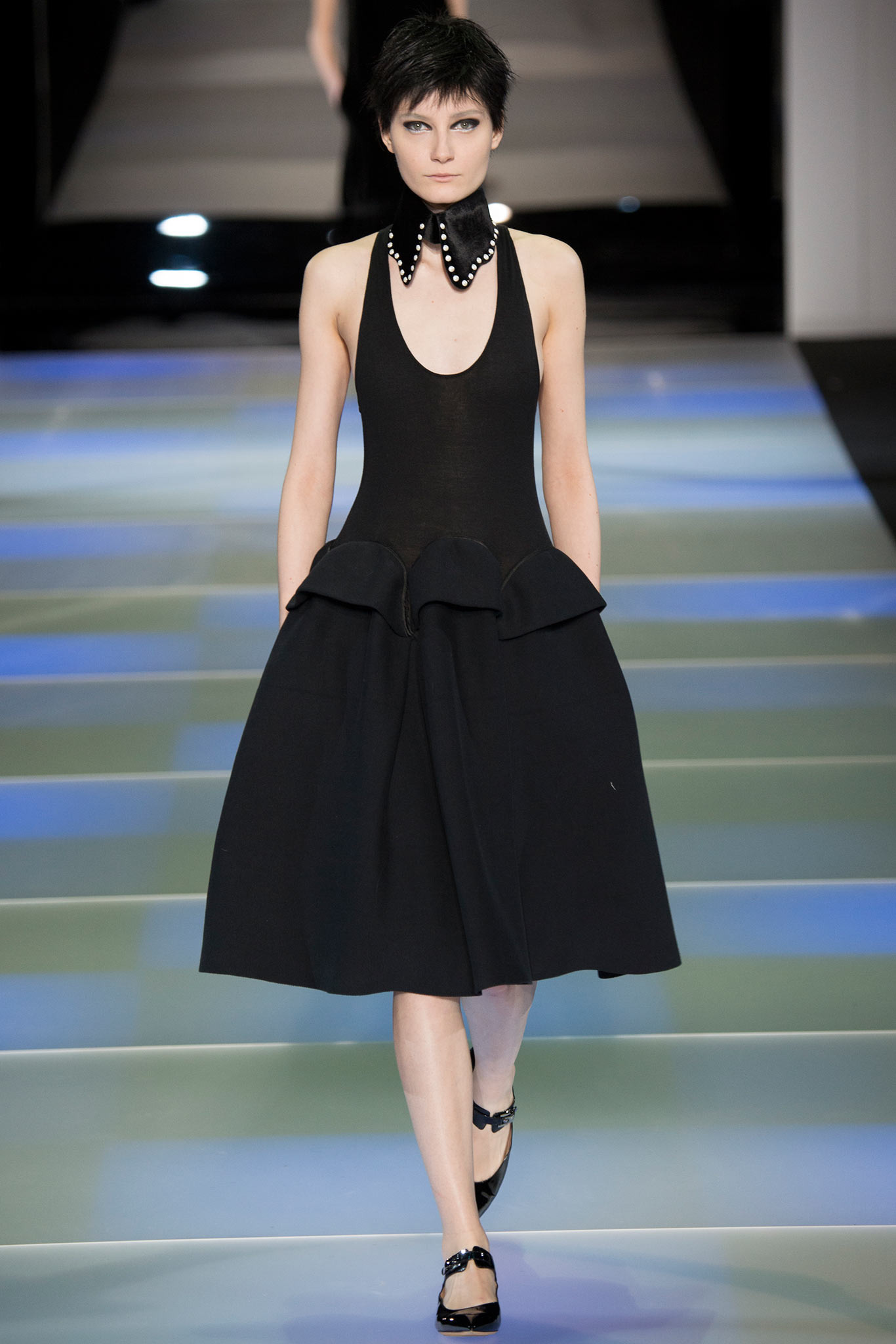 EMPORIO ARMANI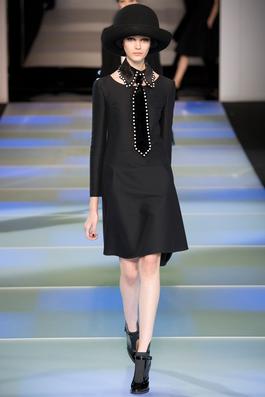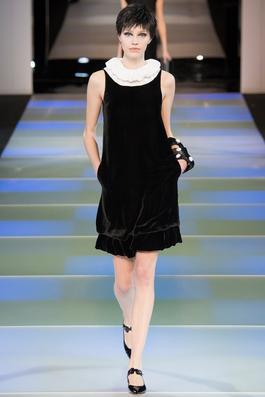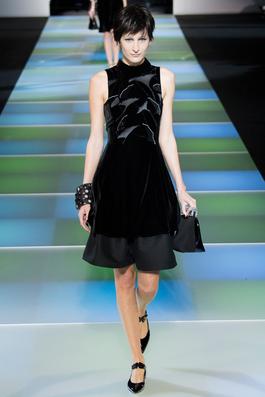 Armani provided a nice potpourri of LBDs, with the all imporatant velvet contingent.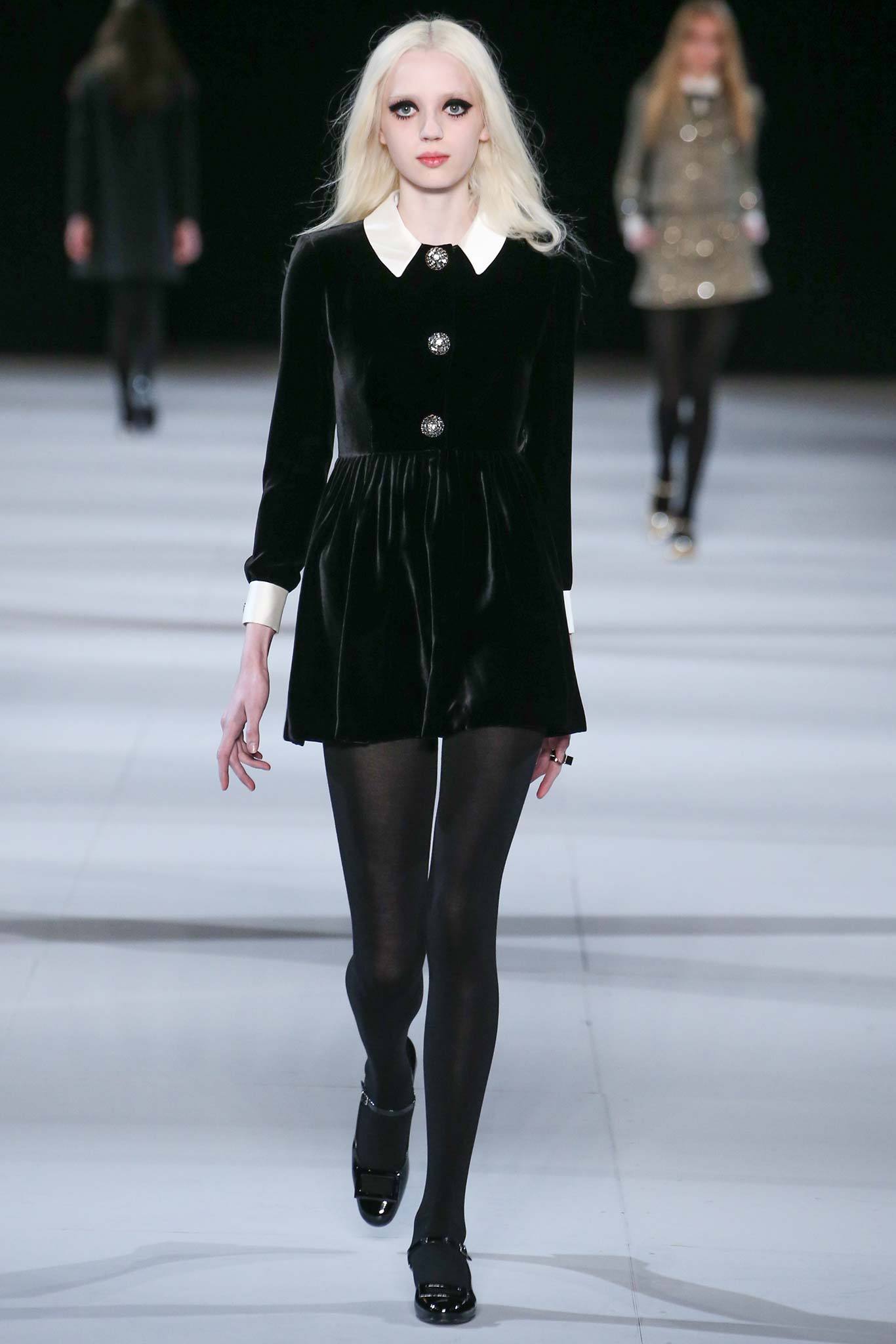 SAINT LAURENT
Definitely for the younger set. The opaque hose and patent mary jane flats tone it down.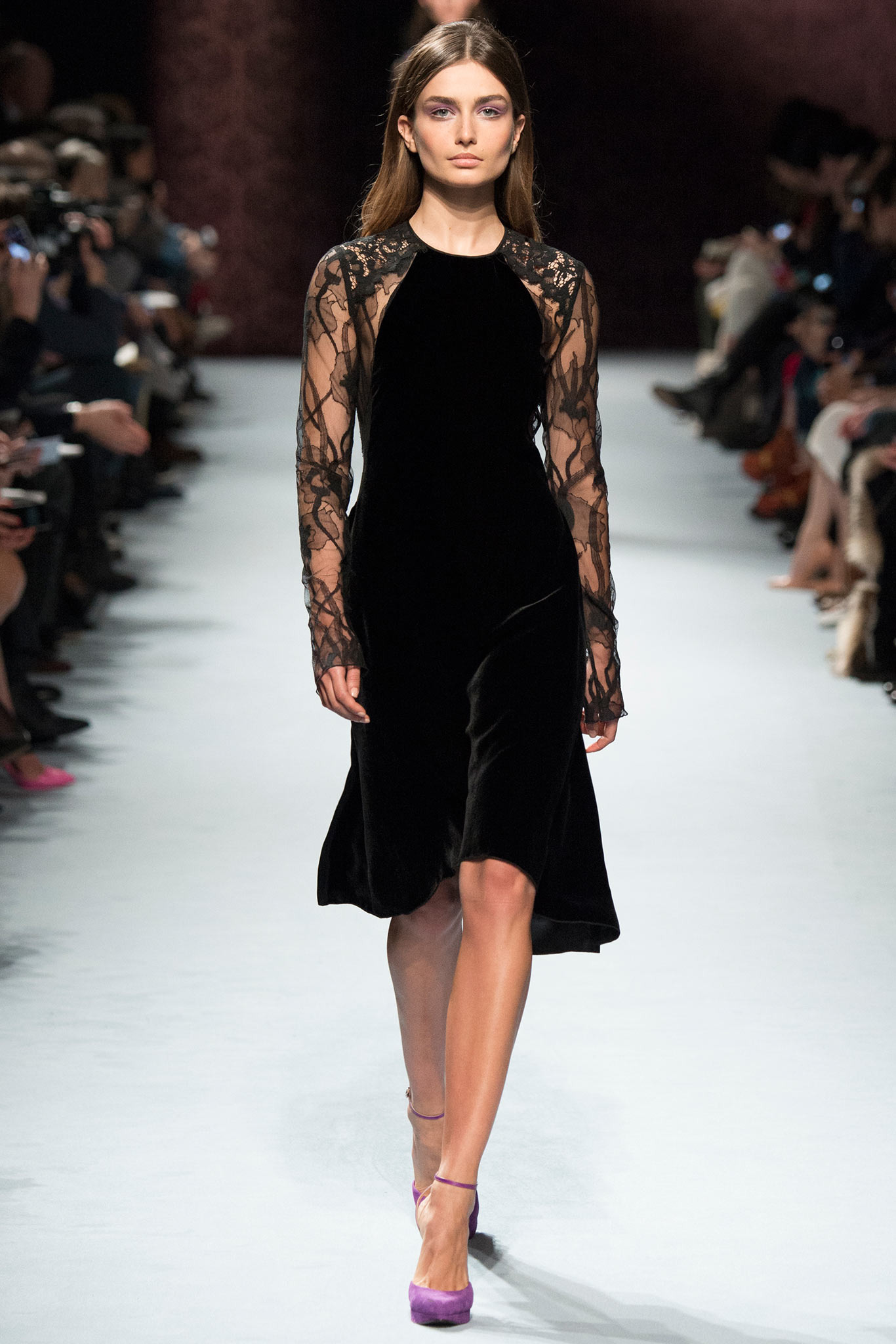 NINA RICCI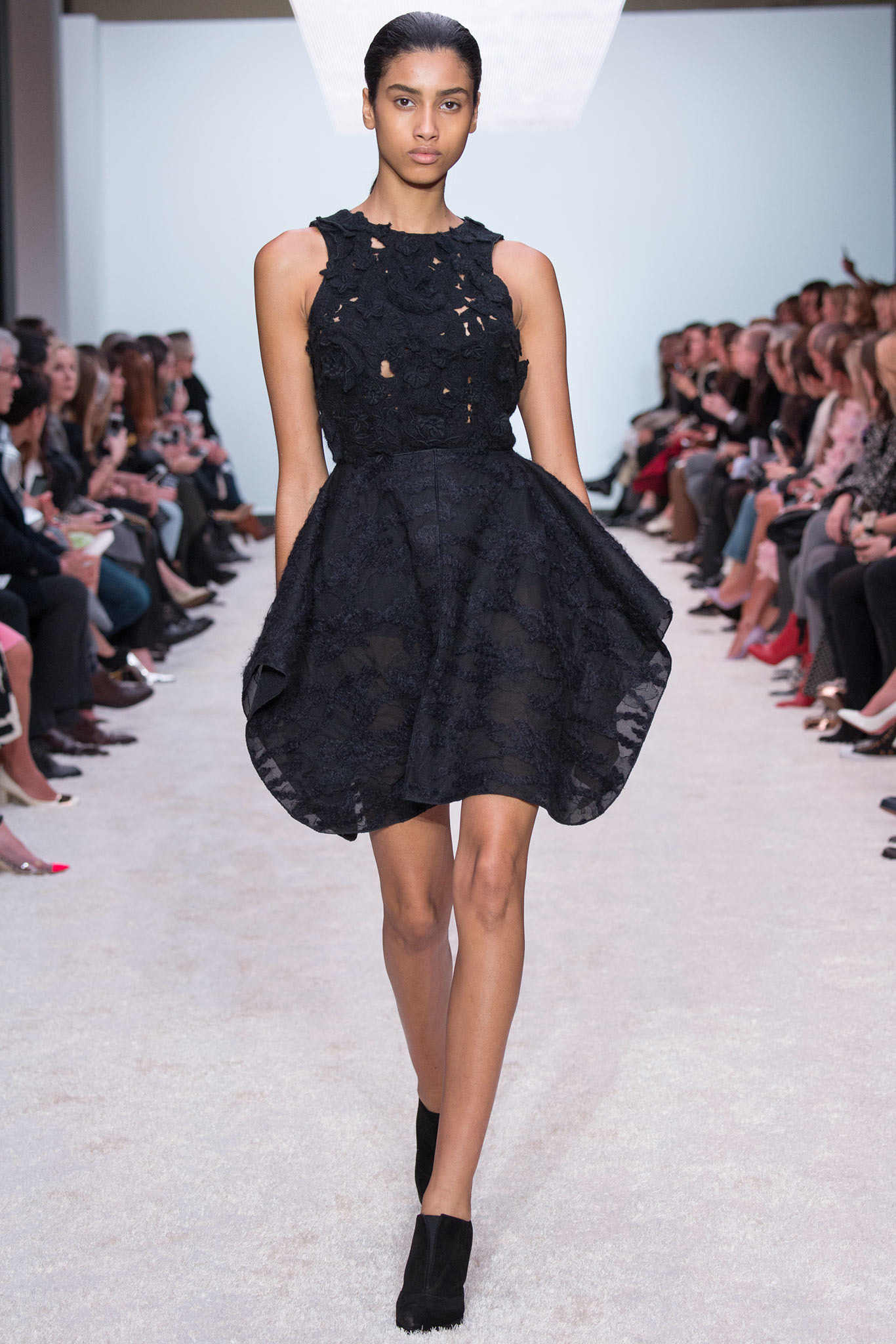 GIAMBATTISTA VALLI
One of the most unique with the guipure lace bodice and the flared skirt.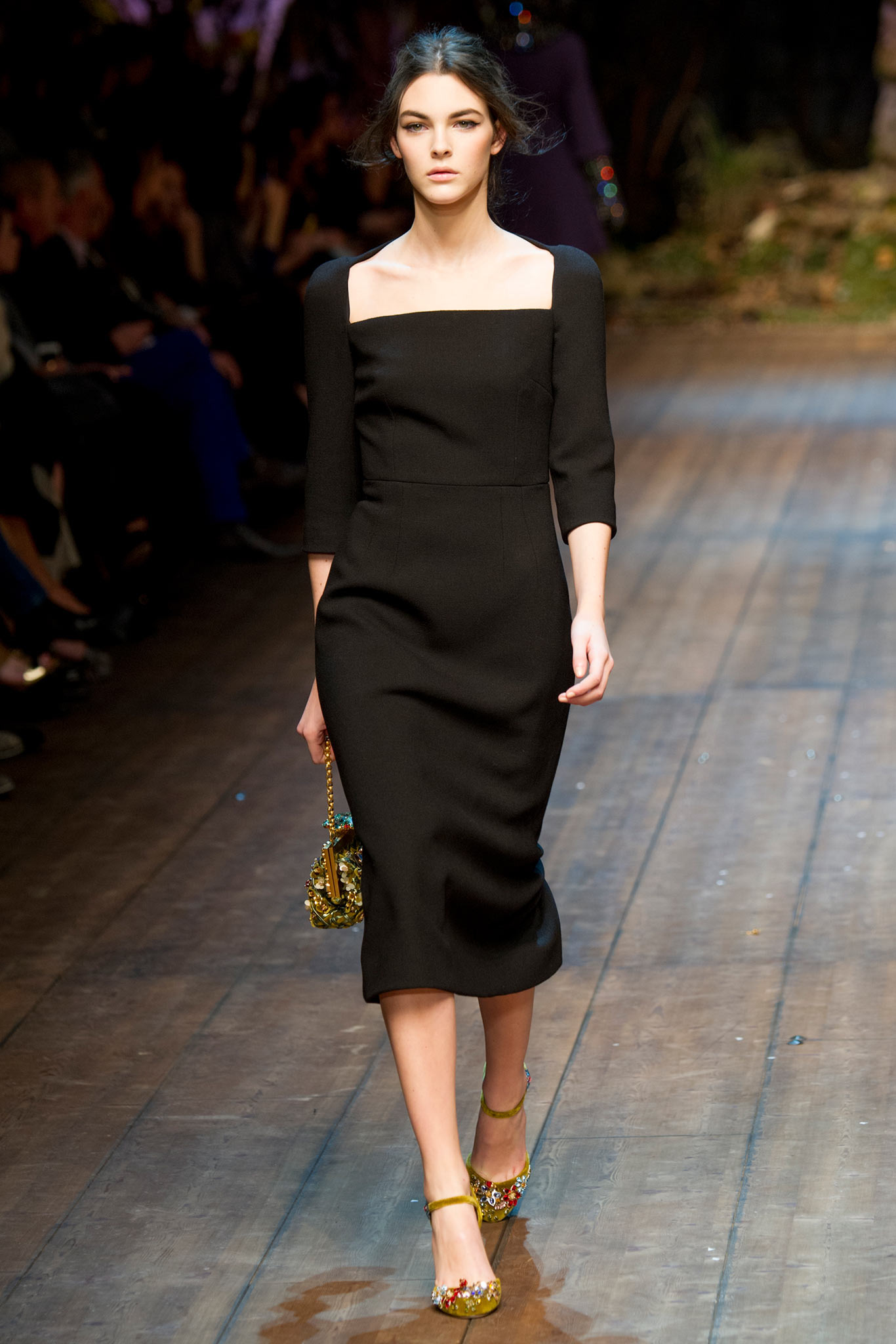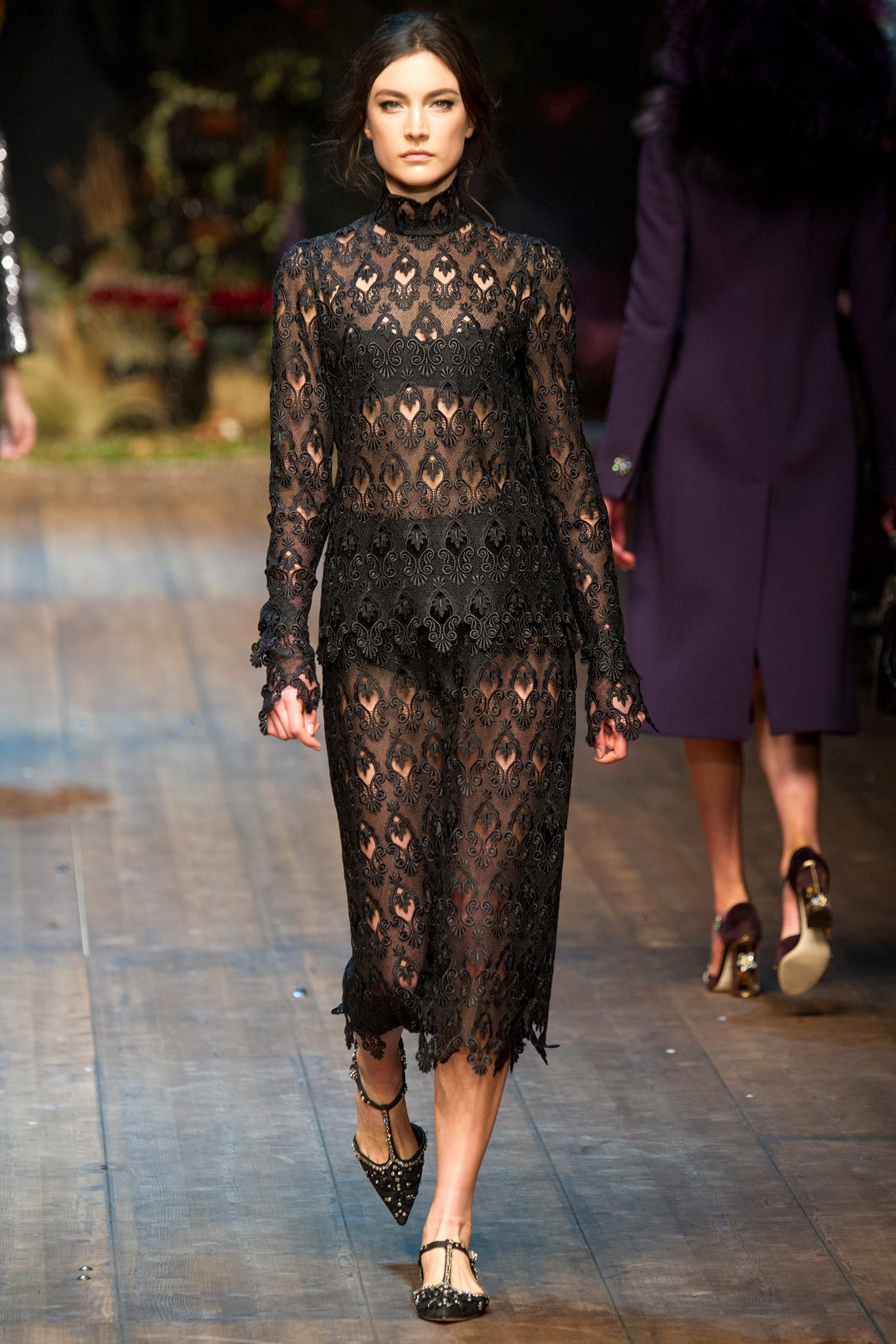 DOLCE & GABBANA
Two quite different entries, as we have come to expect from the boys. Great example of how a simple silhouette in a standard fabrication can be spiced up with the appropriate bedazzled accessories! The second entry becomes somewhat more demure with the appropriate underpinning, but retains the Dolce & Gabbana low key opulence and allure.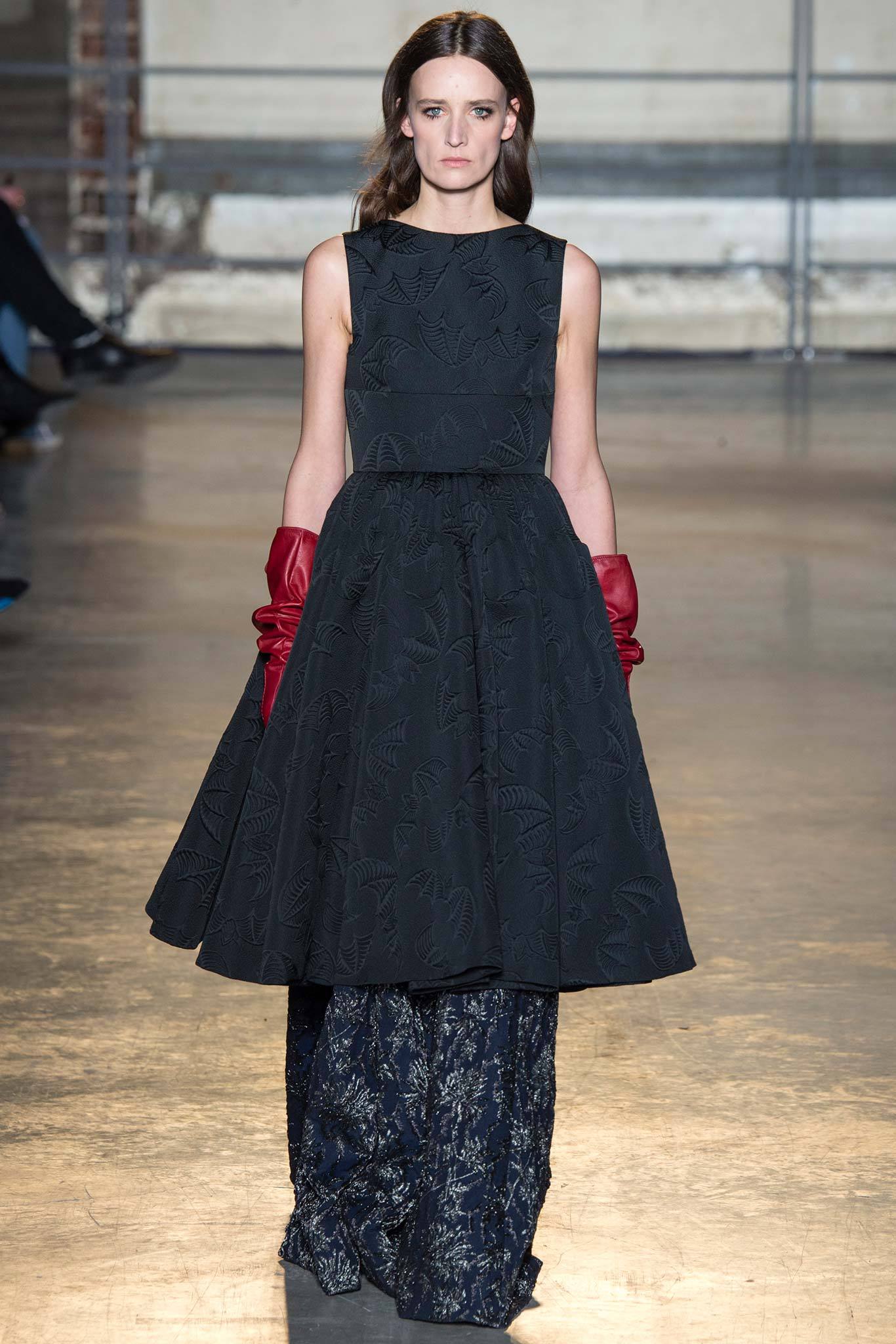 ROCHAS
Subtract the underskirt, this is perfect little black dress, modest but unqiue with the cloquet fabrication. Will morph as needed for any occasion with the appropriate accessories, such as those red gloves.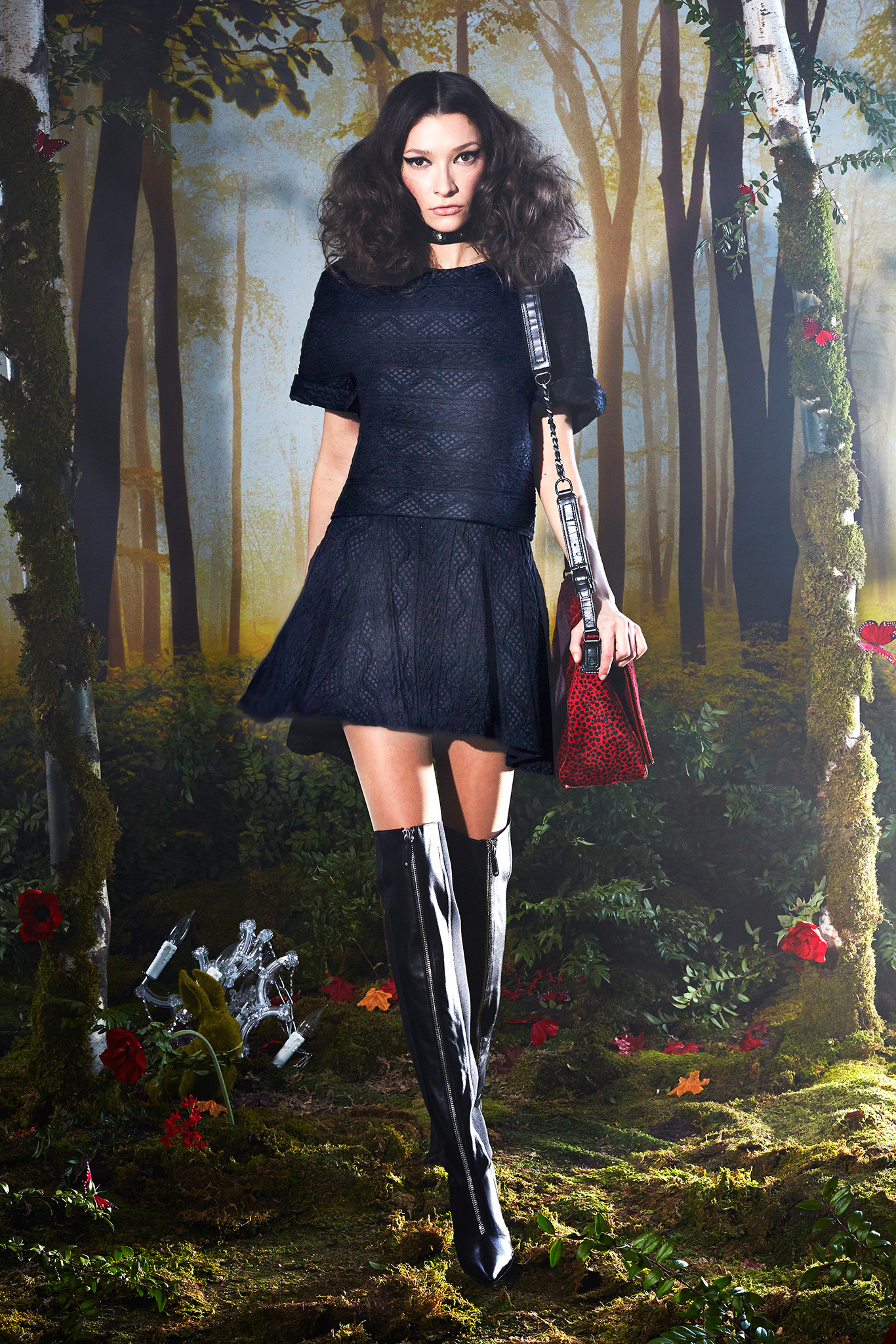 ALICE + OLIVIA B
Another for the younger variety, light and playful.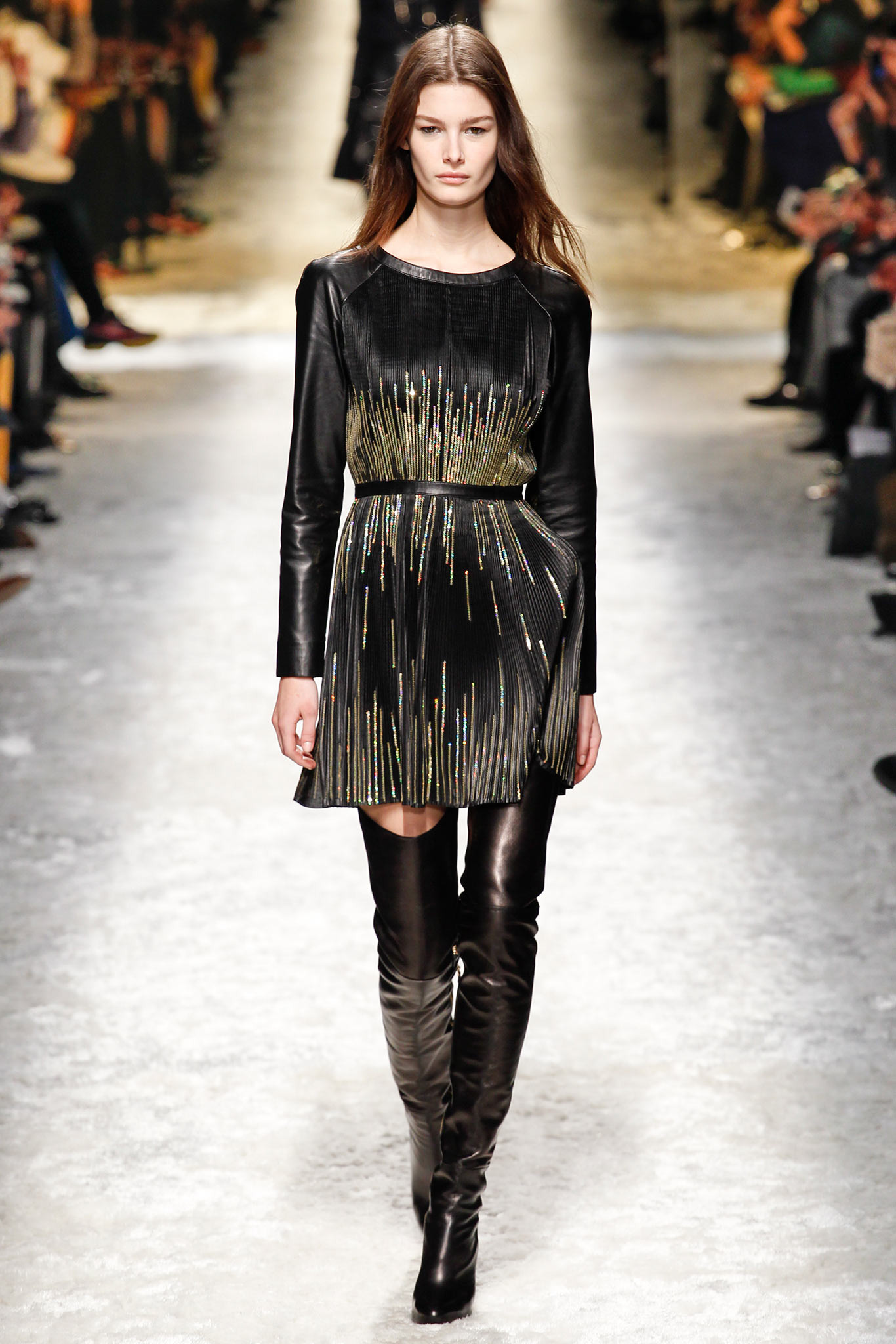 BLUMARINE
Always about the bells and whistles! The LBD for a red carpet queen or a rockstar.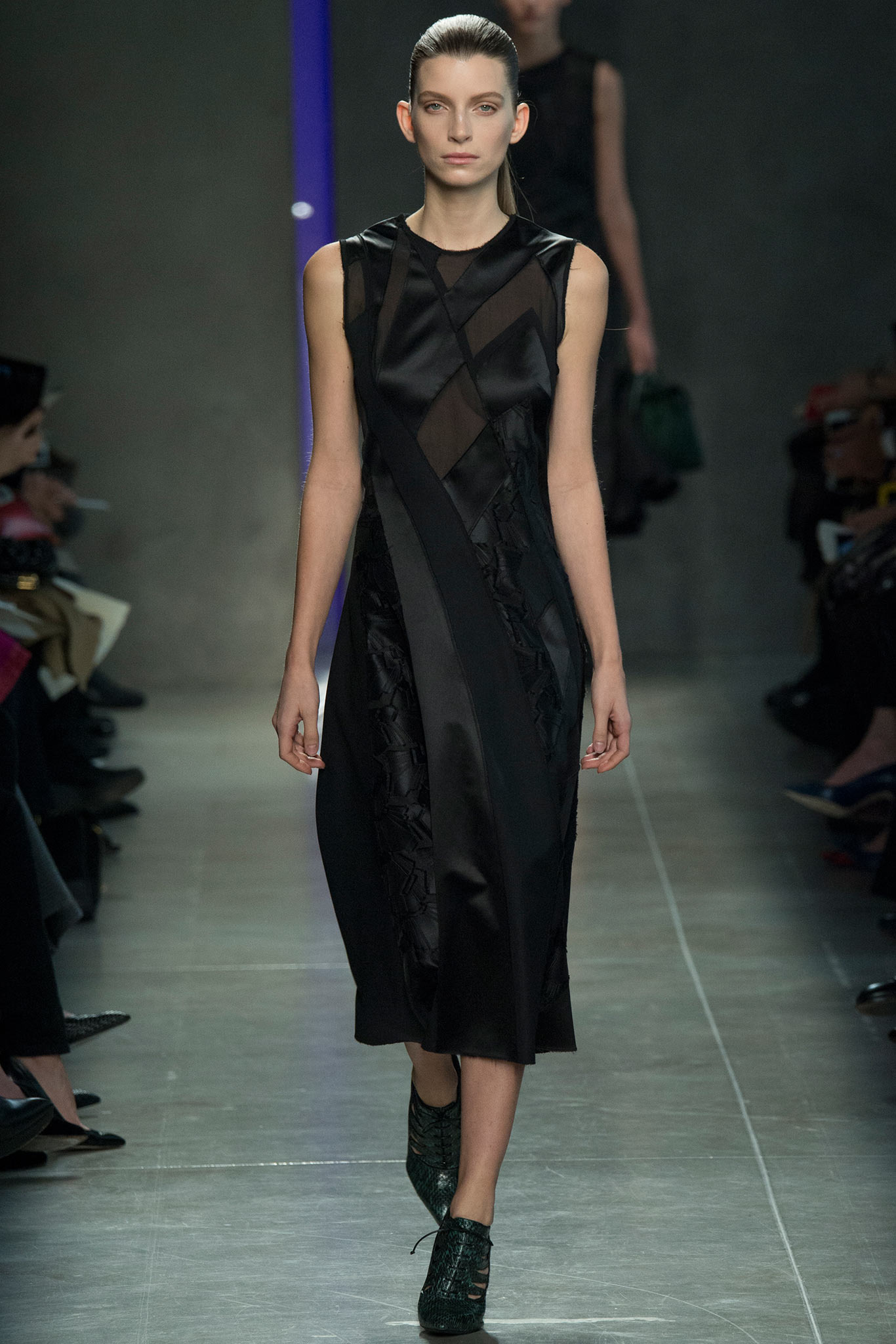 BOTTEGA VENETA
Another easy silhouette made special by the fabrication and the bias cut which adds Jean Harlow sex appeal.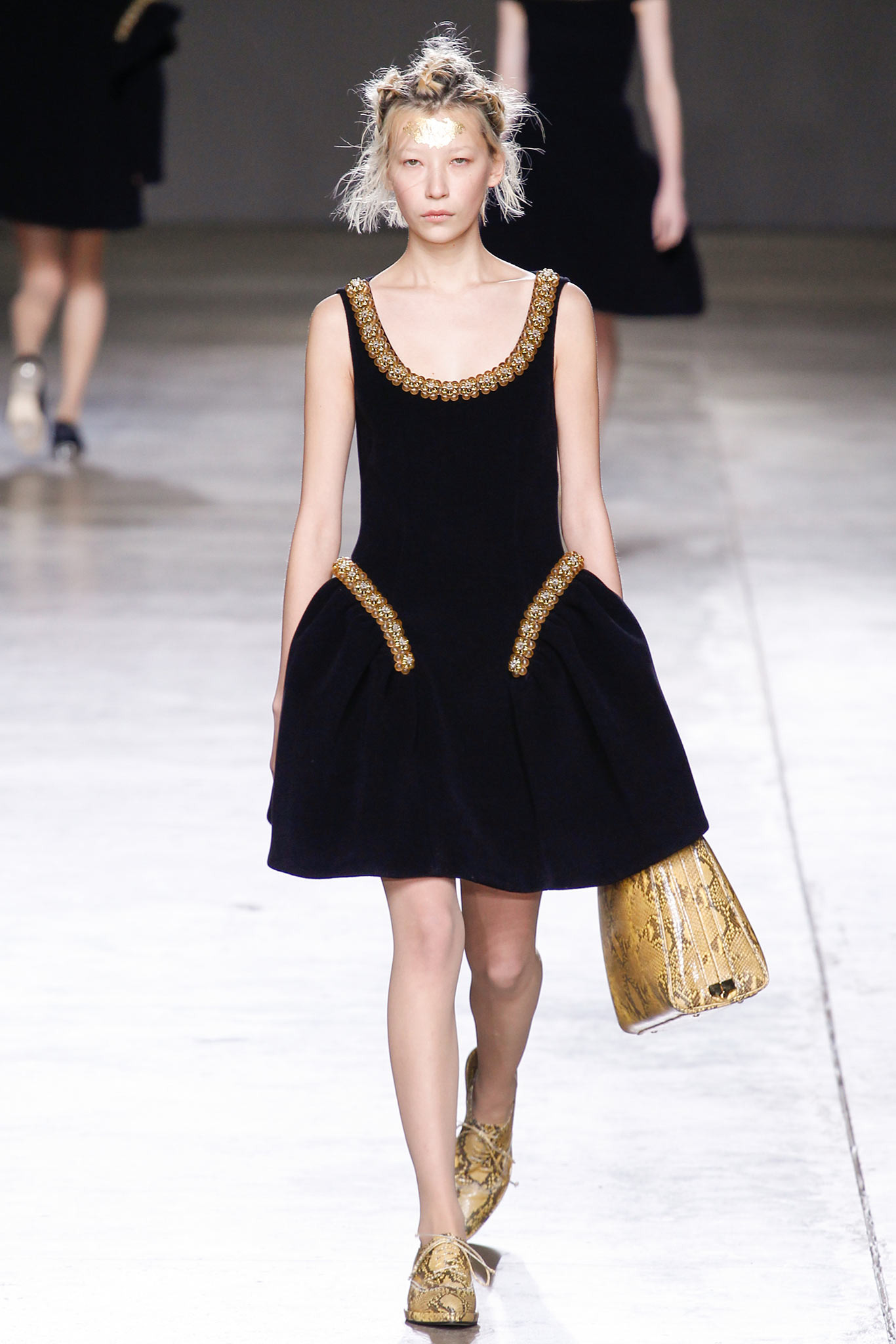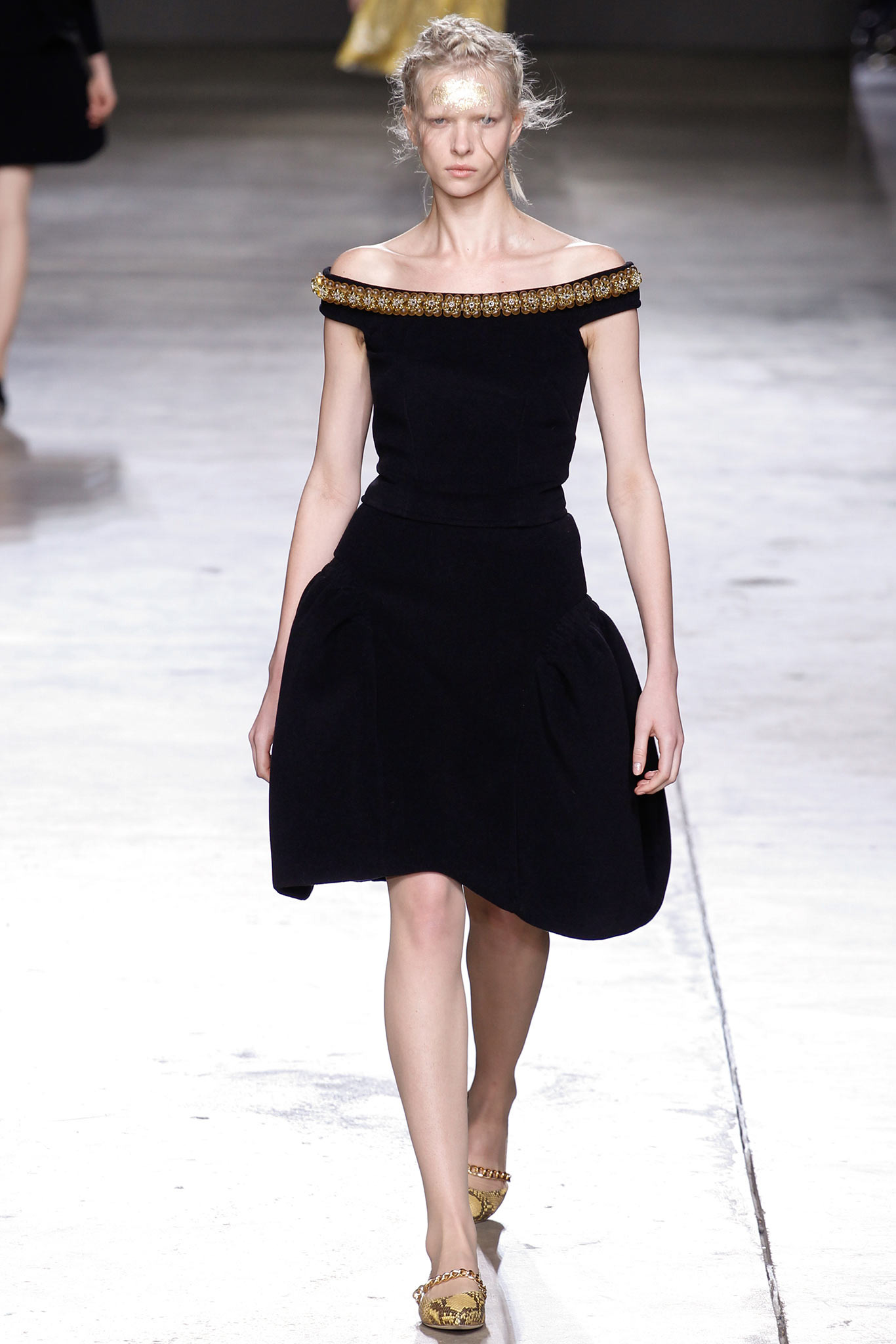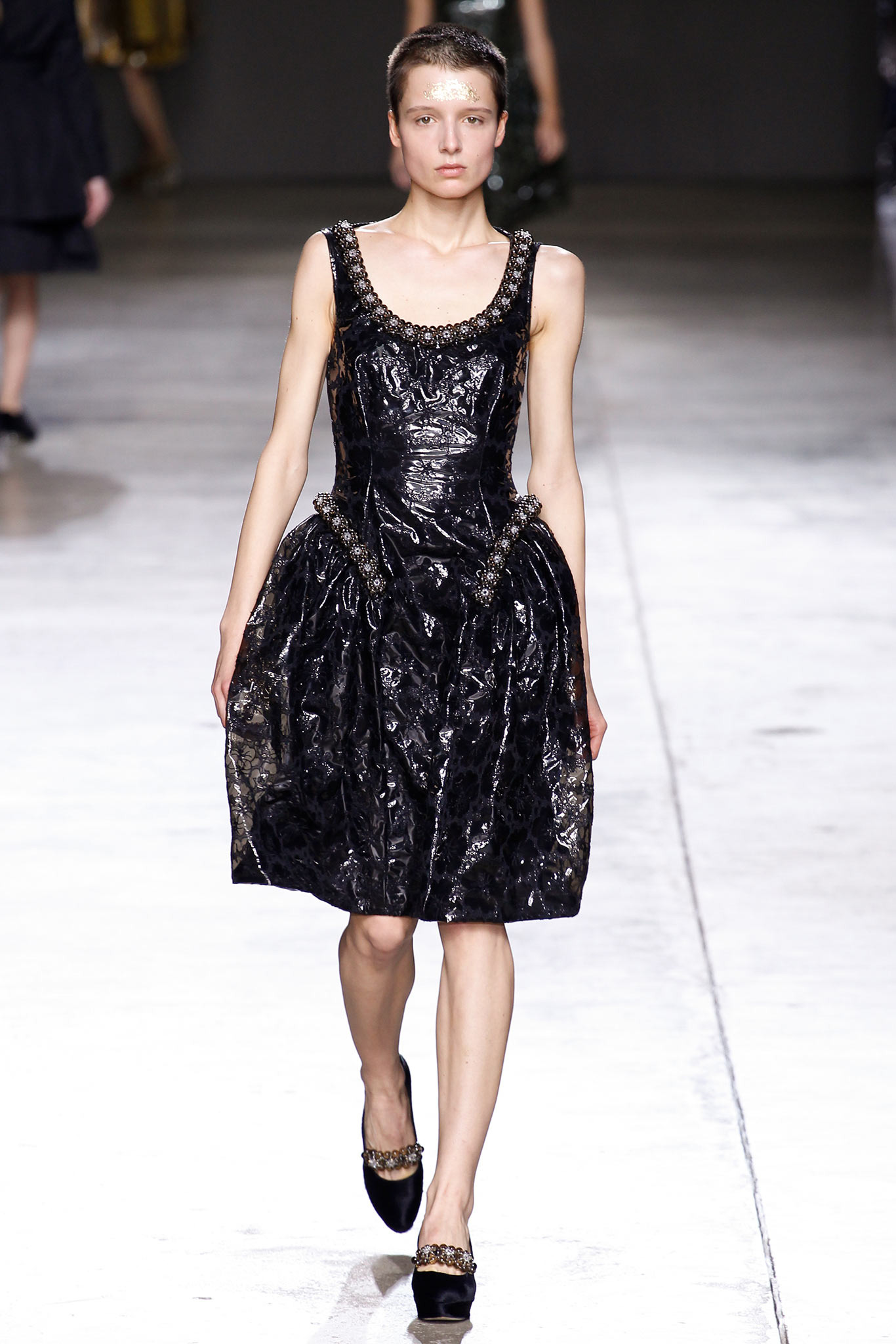 SIMONE ROCHA
The LBD with a cool 16th century twist with unique fabrications and just enough embellishments. I love the runway shoes, but to strengthen the look, I'd choose boots, stillettos if one dares, or riding boots if vertigo is an issue.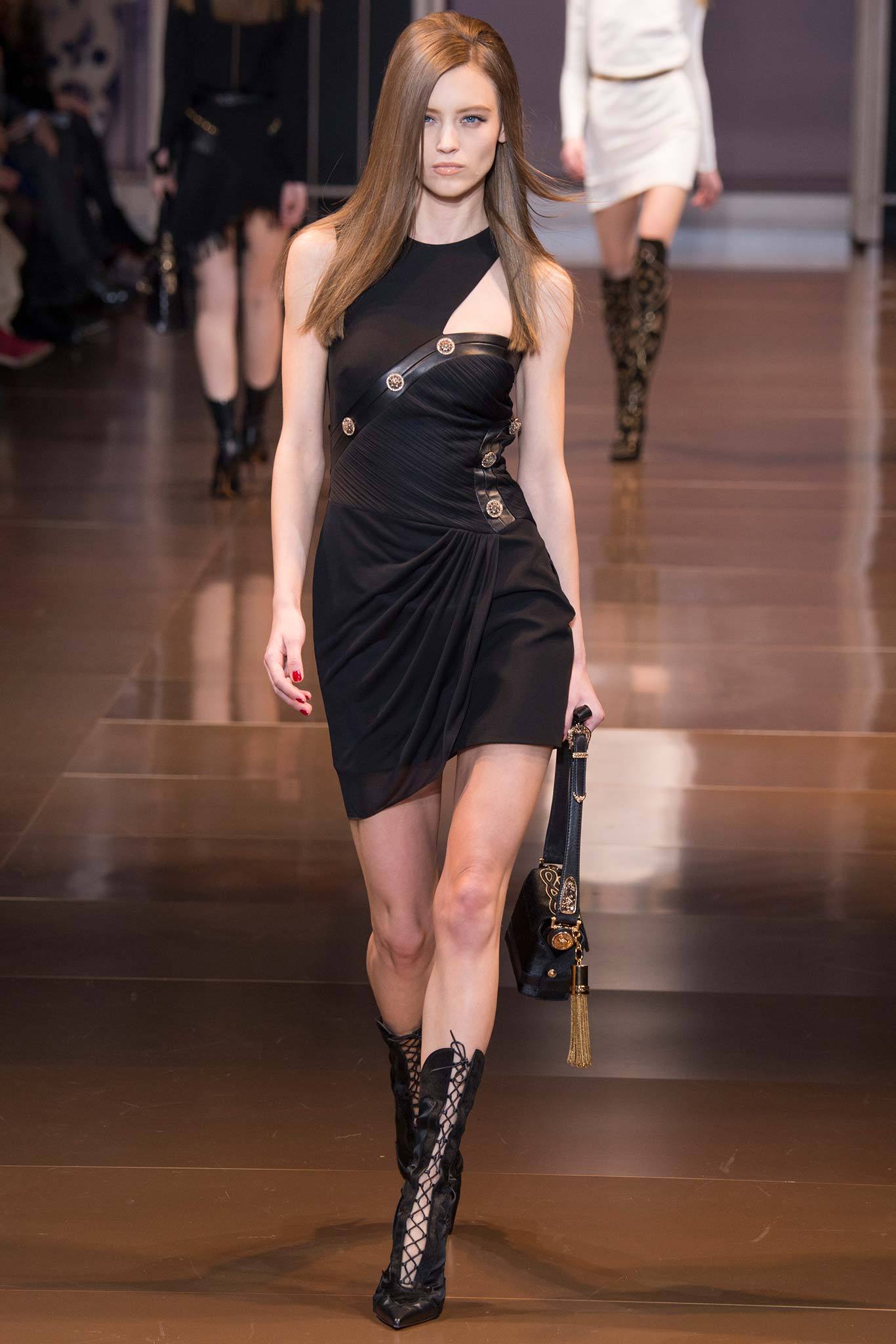 VERSACE
Because sometimes you need a wee dress for Vegas, nuff said.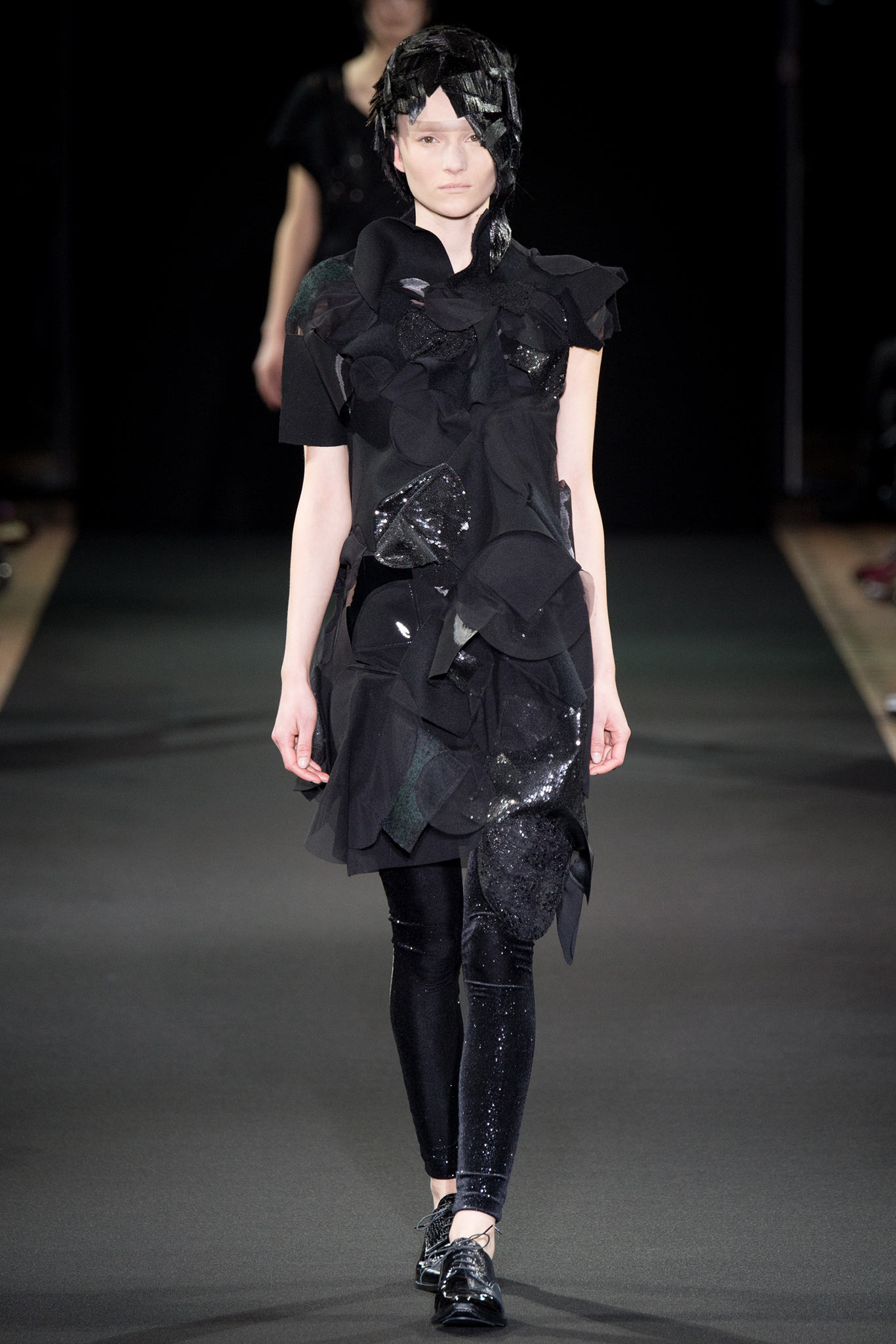 JUNYA WATANABE
The wacky whimsical contingent had to make an appearance! A perfect excuse to find those patent leather Brogues hidden somewhere in your closet. And if not, do not fear as Brogues of all varieties are the IT shoe this season. Think Marni.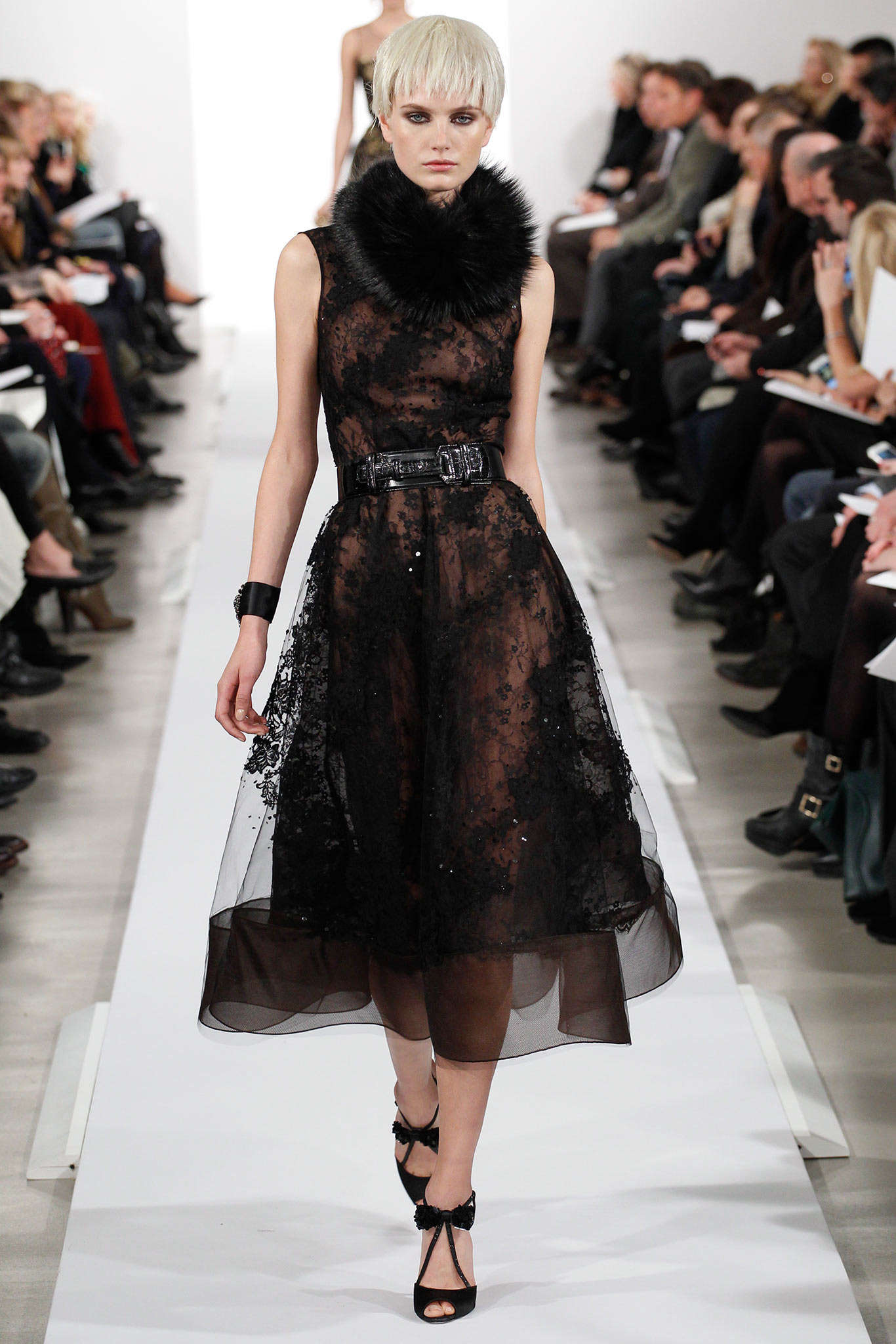 OSCAR DE LA RENTA
Leave it to Oscar (RIP) to provide us with a dazzling evening number that will work for any special event through the ages. Timeless silhouette. If the fur collar is not in the cards (I get it), throw on some pearls.
So everyone's staple piece, the little black dress, has been around for decades, constantly morphing into countless different iterations, allowing appropriate coverage for any and all of us for all occasions. What will transform and define the LBD are the accoutrement, most importantly the FOOTWEAR. Will you be going to work, a night out, a funeral, or to a gala event? The genius of the LBD is that if well chosen, one dress will fit the bill for all these occasions, just change your shoes, add a sparkly jacket and or add some pearls. For a sombre event, opaque hose and conservative shoes.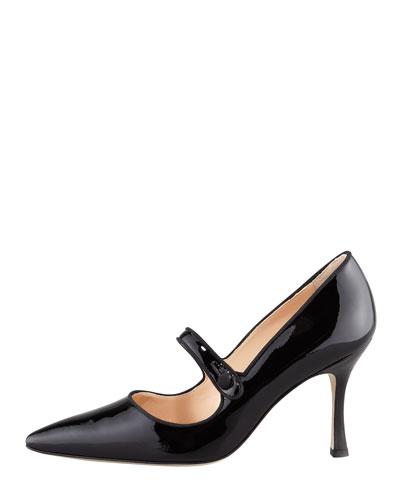 MANOLO BLAHNIK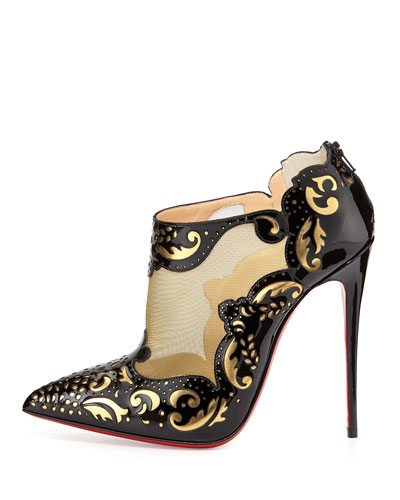 CHRISTIAN LOUBOUTIN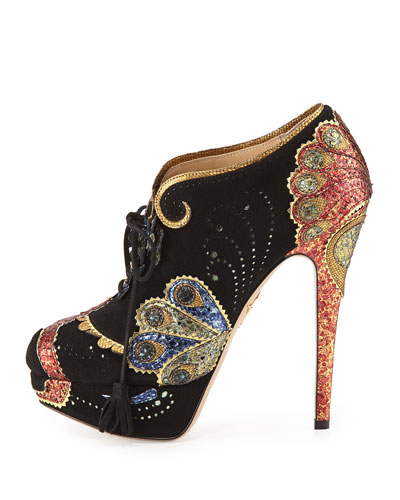 CHARLOTTE OLYMPIA (These babies belong under glass).
Just a few selections (from www.neimanmarcus.com) to add one's own personal flavor to the LBD. You can never go wrong with the black patent leather Manolo's, my own personal favorite.
Images brought to you by www.style.com