The snowflakes are falling, its 9 degrees in Fargo North Dakota, and everyone in San Francisco is freaking out because the temperature dropped below 60 degrees. Its 22 days until the solstice, but lets face it, WINTER is here! Which means its time to whip out the big sweaters (and they are RIFE on the runways), the audacious capacious coats, the fuzzy vests, and various and sundry woolens. These are garments to be functional, to swath us in warmth and comfort as we face the blistering cold and venomous winds. But no need to be banal. Throw caution to the wind and go big, bold, and crazy wacky. Black is always an ubiquitous option, but the varied spectrum of perpetual design talent provides us with a wide array of colors, shapes, and fabrications to choose from in each and every collection. Now is not the time to worry about one's alleged fat ass or how many calories are in a cronut. Layer to your heart's content with the big coat as the focal point. Revel in the ability to masquerade as a Sasquatch, if only for a season!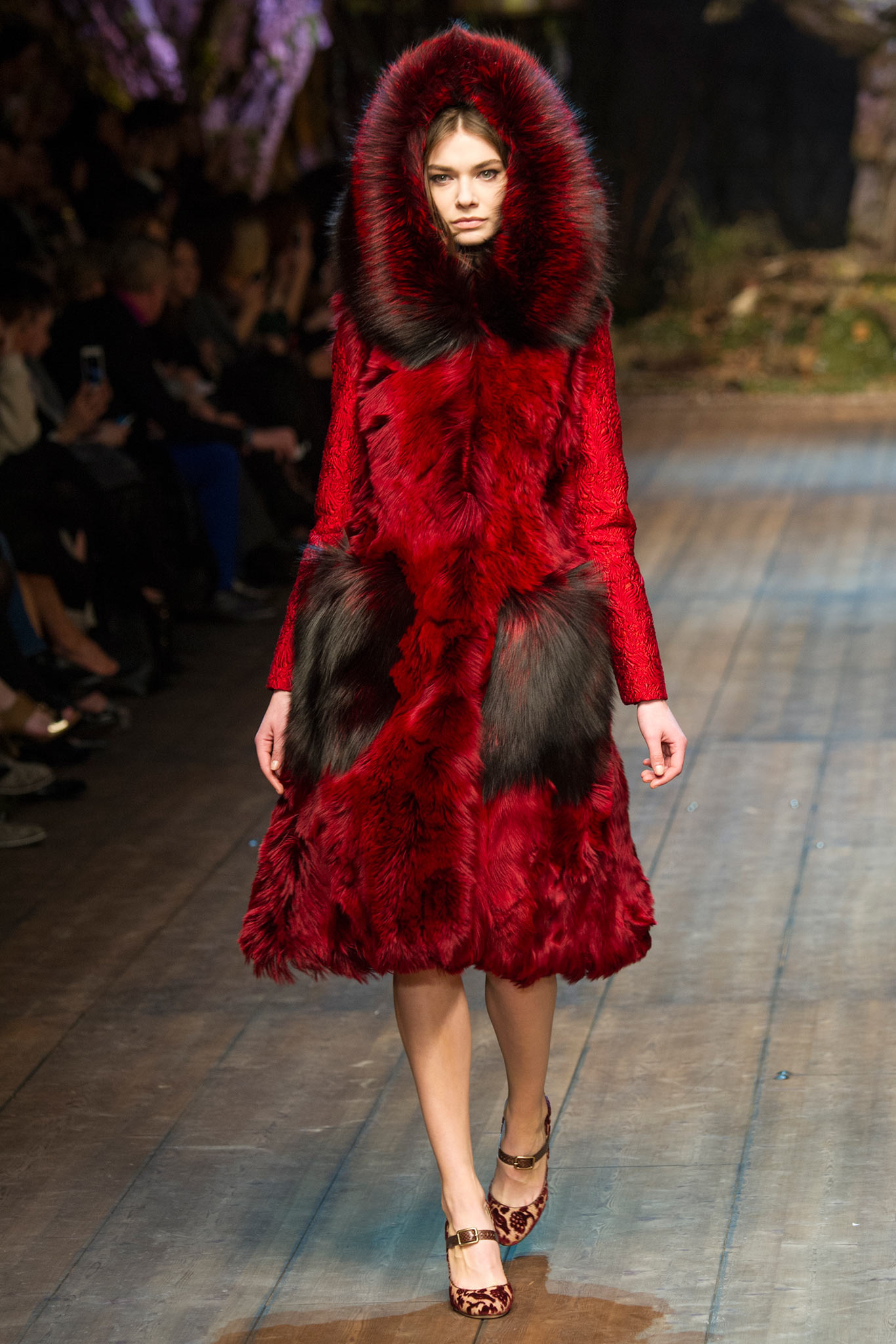 DOLCE & GABBANA
Yet another show stopper in a stellar runway collection from the masters of finery and showmanship, Domenico Dolce and Stephano Gabbana. This scarlet alpaca coat (with cloque sleeves) might be a wee bit ahem, too theatrical for some habitats (ie, San Francisco), but the streets of Manhattan or Moscow? Perfect!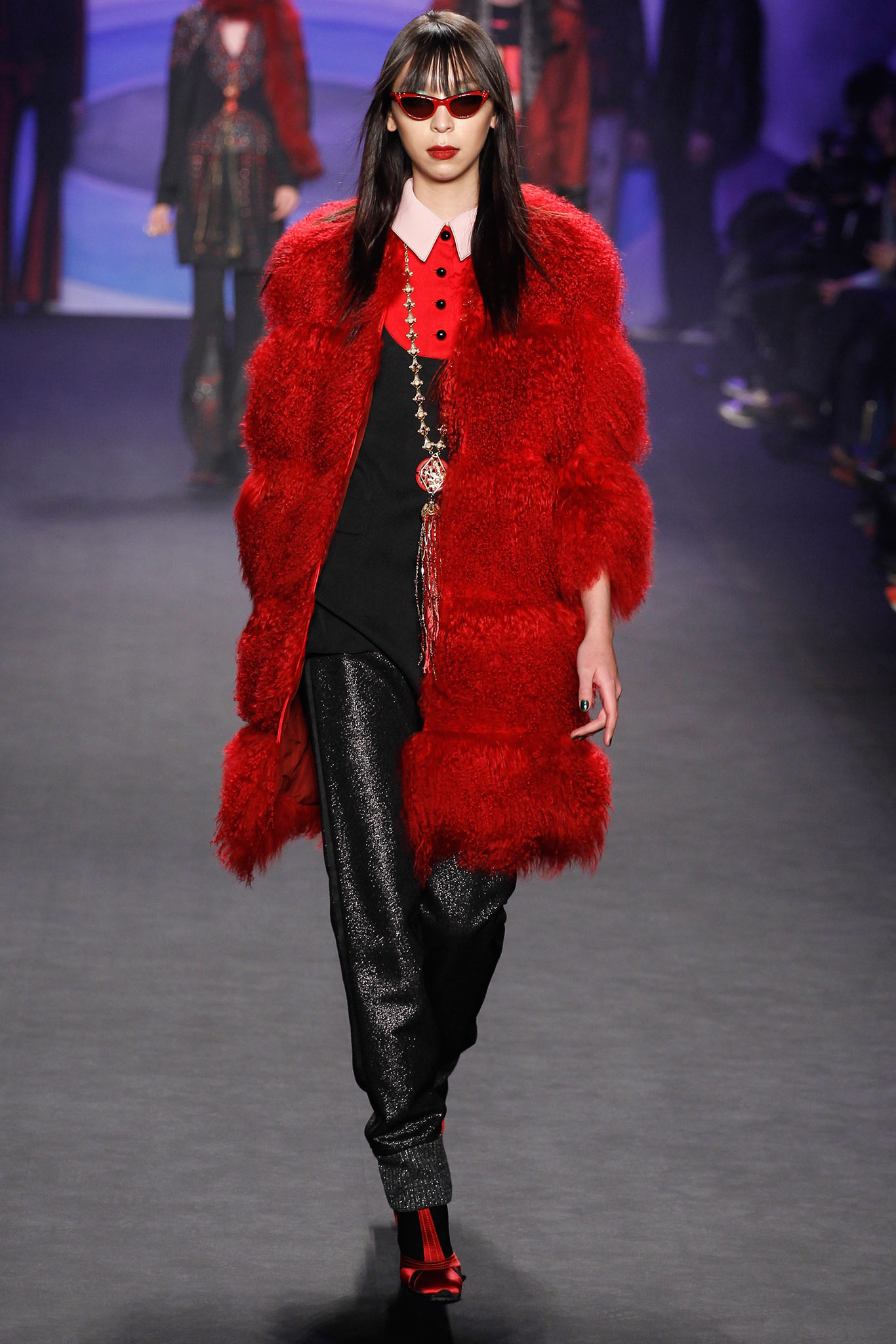 ANNA SUI
Red mongolian lamb, perfect topper for any occasion. Everyone should have at least one piece of bright red clothing in their closet to add pizzaz to any outfit. If you want a hint of 70's vibe without going the poncho fringe route.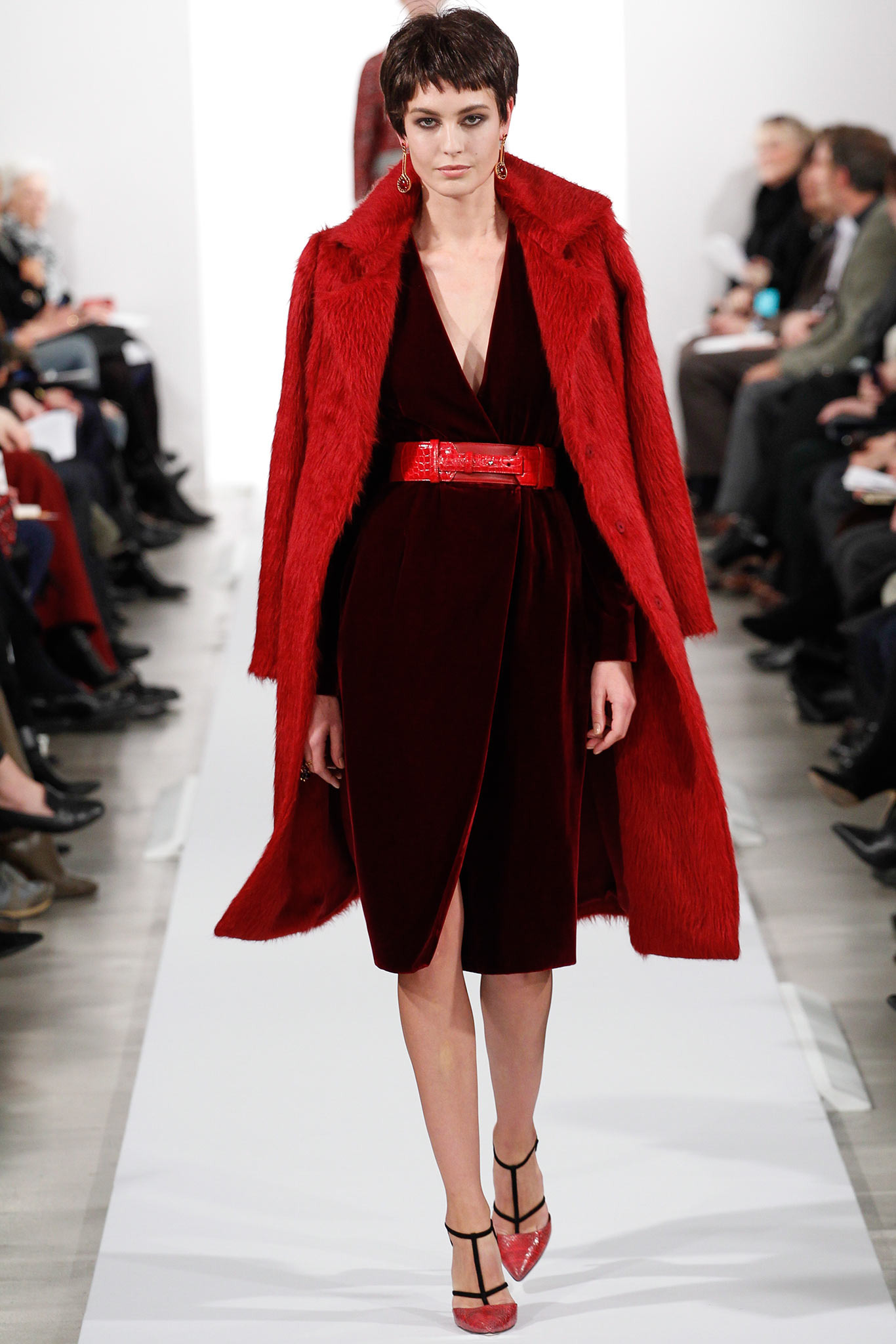 OSCAR DE LA RENTA
Red A L P A C A. A timeless CLASSIC which will go with any outfit, from casual to glam. Throw over any of his marvelous cocktail frocks, or leather leggings and galoshes. Definitely a keeper.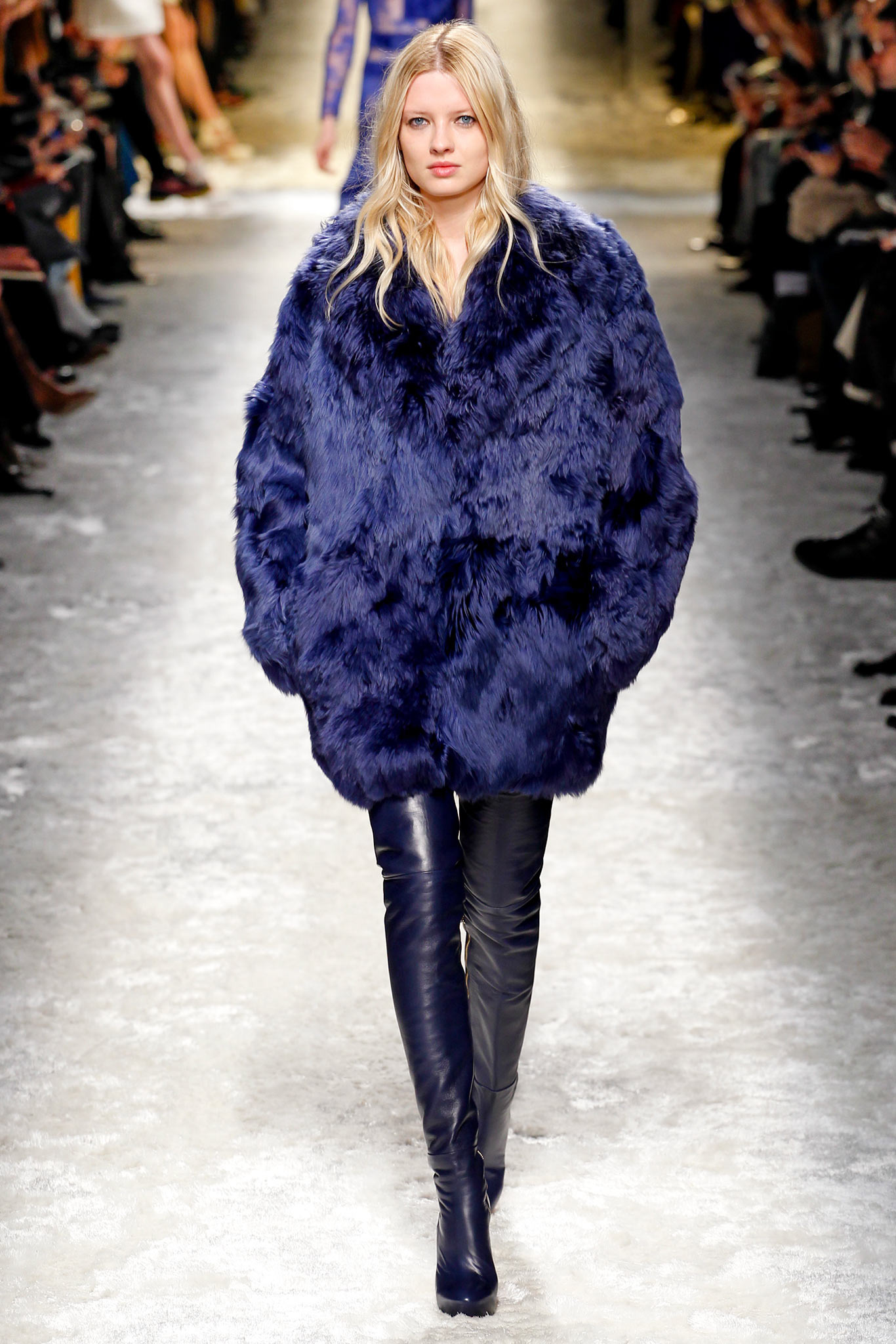 BLUMARINE
Alas, there is not much purple (OR periwinkle) on the runways...such a regal and engaging color. This striking confection is composed of alpaca wool, a magical mystical fabric that is an environmentally friendly and CRITTER friendly alternative to fur. Alpacas are NEVER killed for their fur, and because these wonderful creatures are adapted to cruise around the high altitude Andes mountains, they have evolved to produce a fiber that is softer and warmer than silk and lighter and stronger than wool! AND, its hypoallergenic. Fur without the guilt.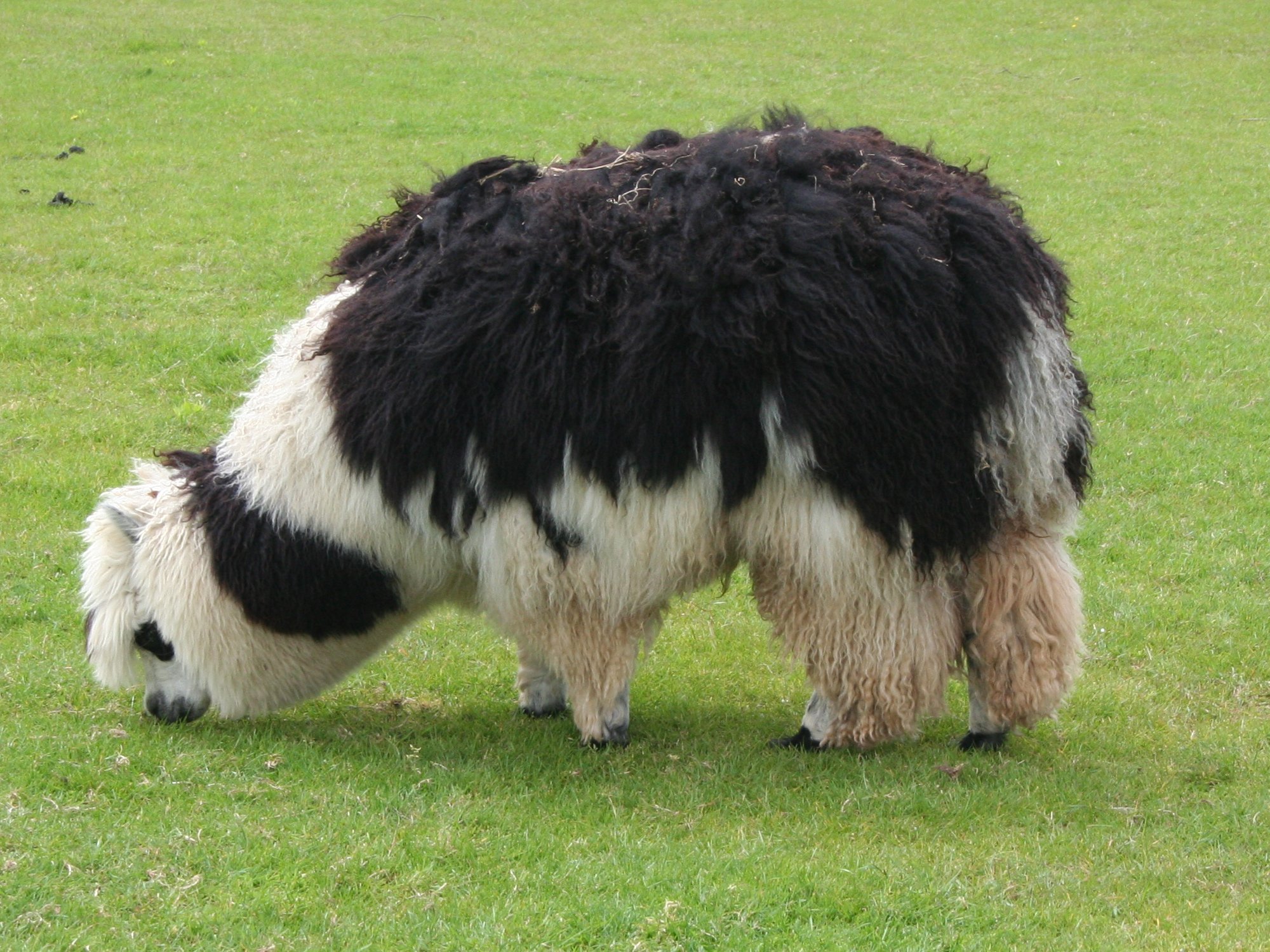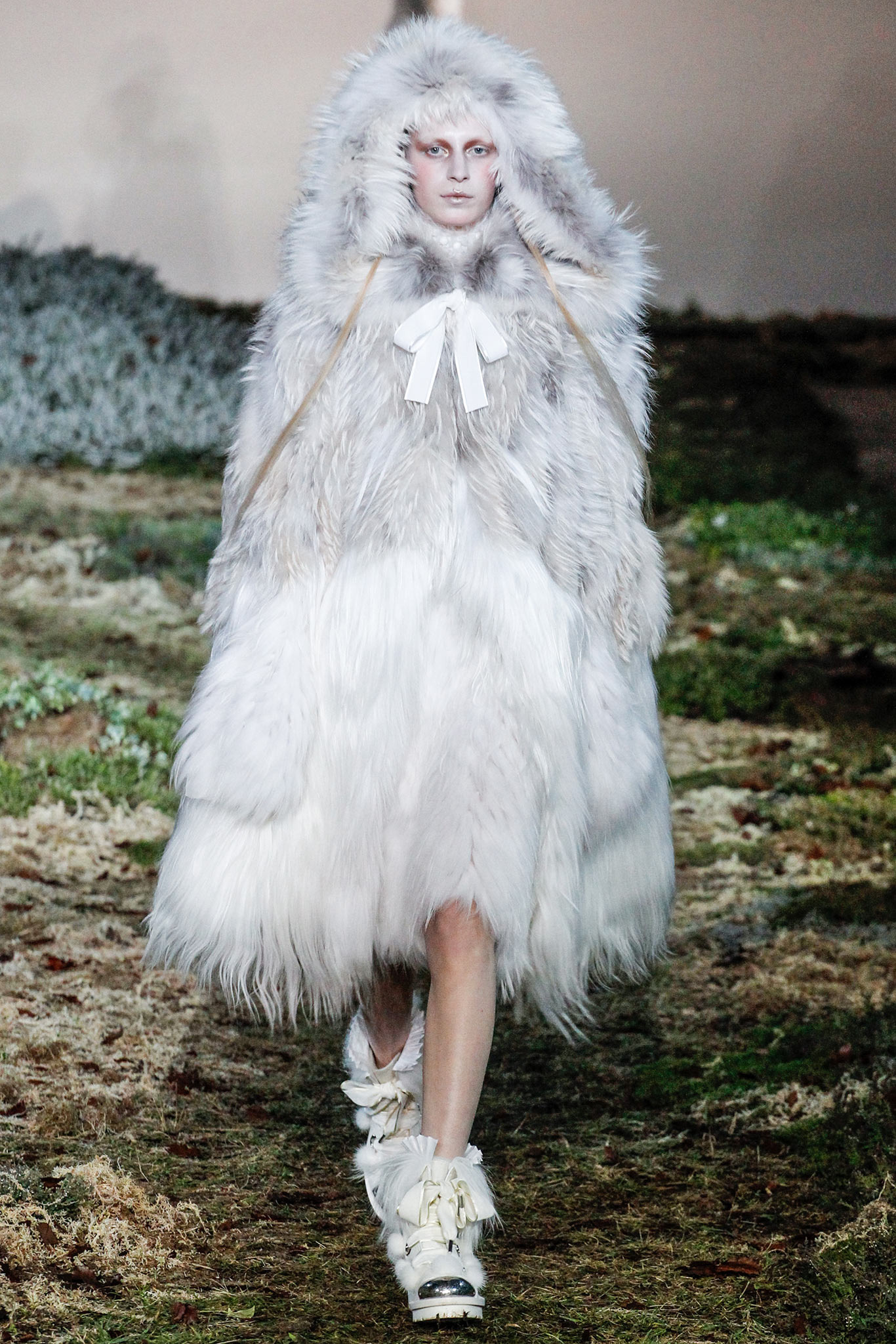 ALEXANDER MCQUEEN
This entire collection was composed of museum quality pieces. Sort of space age Eskimo, or Siberian warrior princess.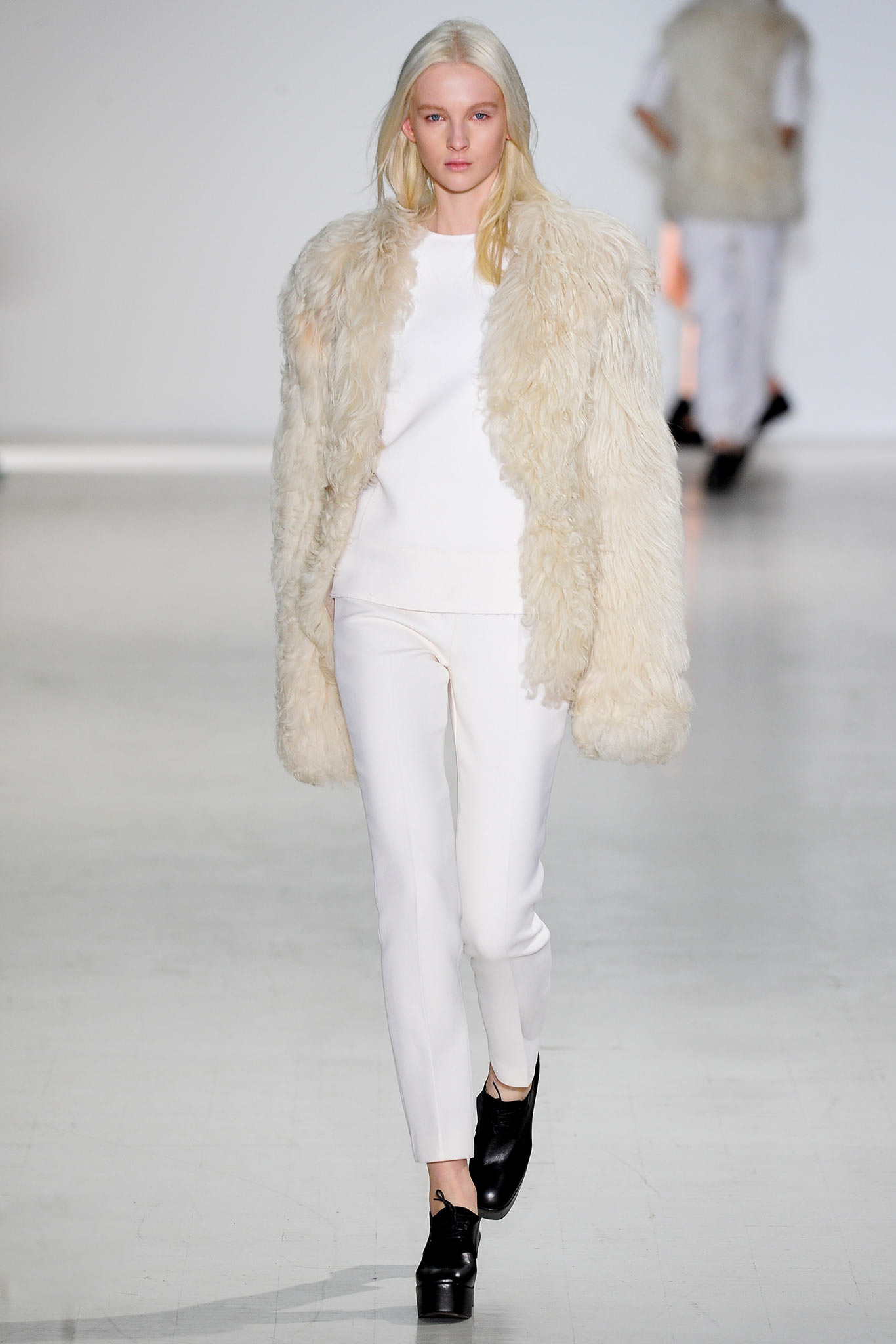 COSTUME NATIONAL
A more subdued entry in the shearling brigade. Hip and mod, perfect over jeans or leggings.....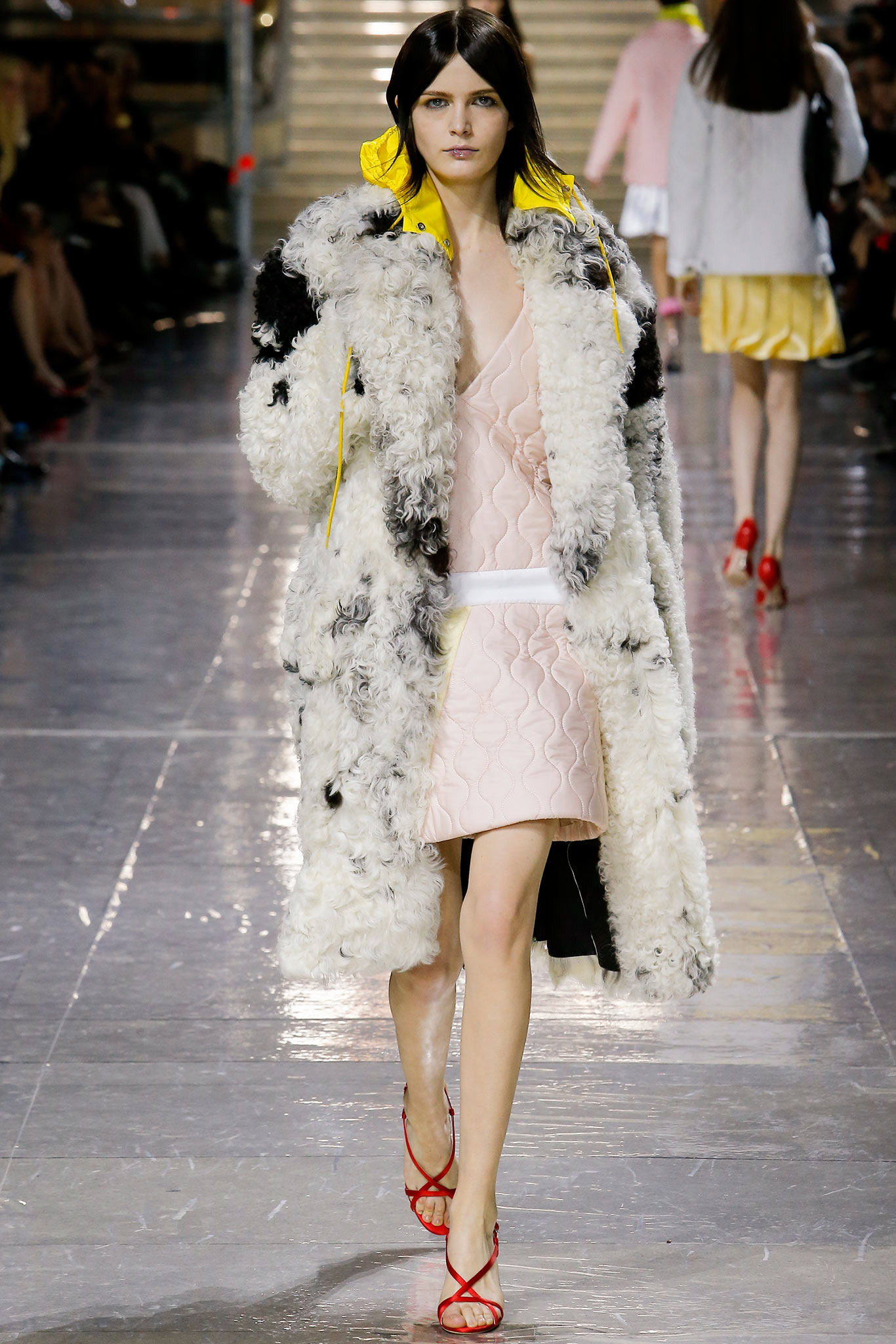 MIU MIU
Another casual option in standard neutrals, a nice alternative to stark white or run of the mill black. (What is with those strappy sandals? This coat calls for patent leather boots, preferably festooned with rhinestones).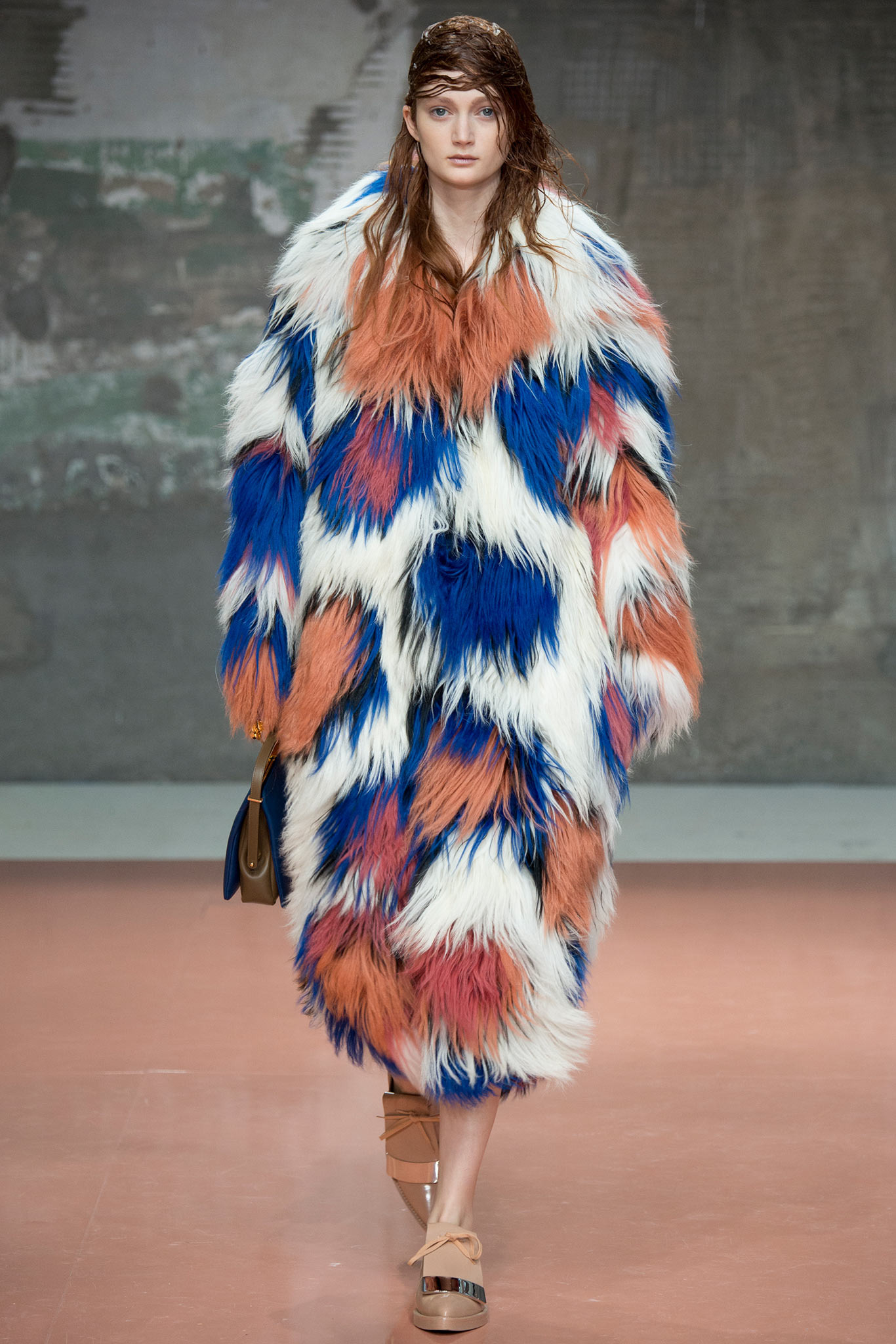 MARNI
And the hunt for Bigfoot is now over. Boho Bigfoot. Not for the faint of heart....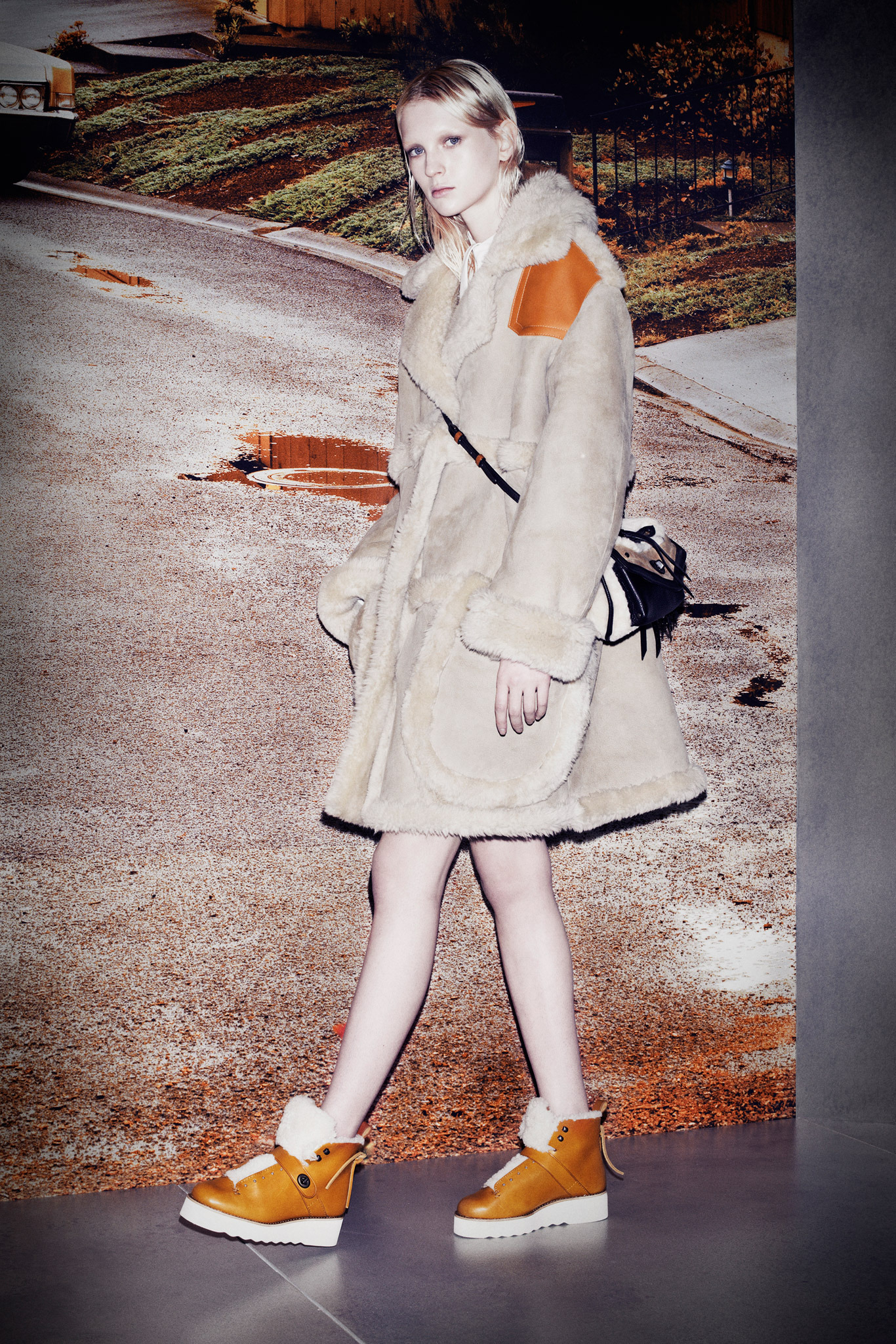 COACH
A casual but stylish option, great all year round in a temperate climate. And, you gotta love Coach, always offering up well made products at wallet friendly price points in case runway shearlings and sable are not in the budget.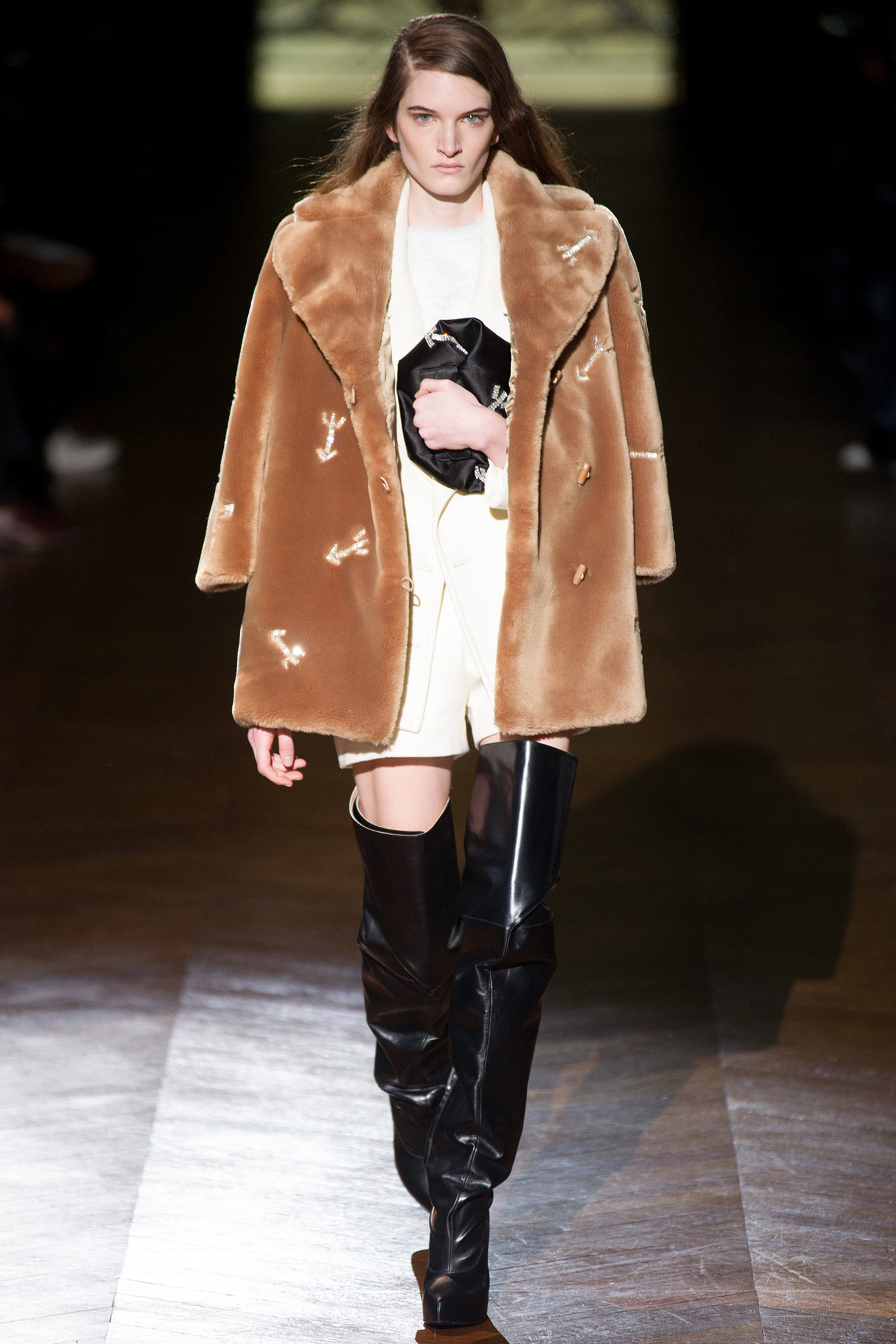 CARVEN
Another cool casual option for mild winter weekends. Fabulous f a u x.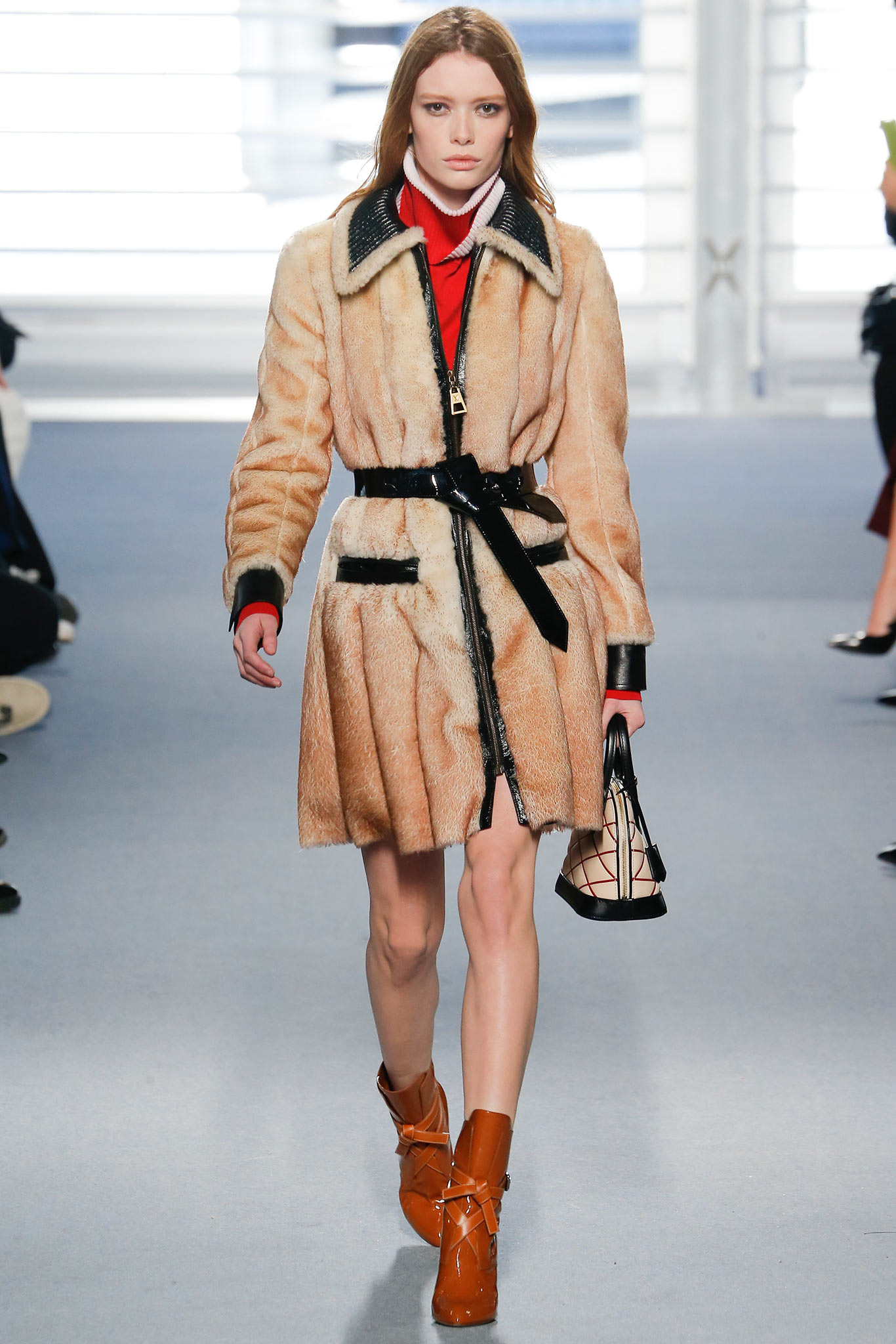 LOUIS VUITTON
More 70's inspired fare from the first Ghesquiere collection for LV, casual but upscale shearling concoction with the impeccable craftsmanship we have come to expect from Vuitton. The leather detailing provides some additional sizzle.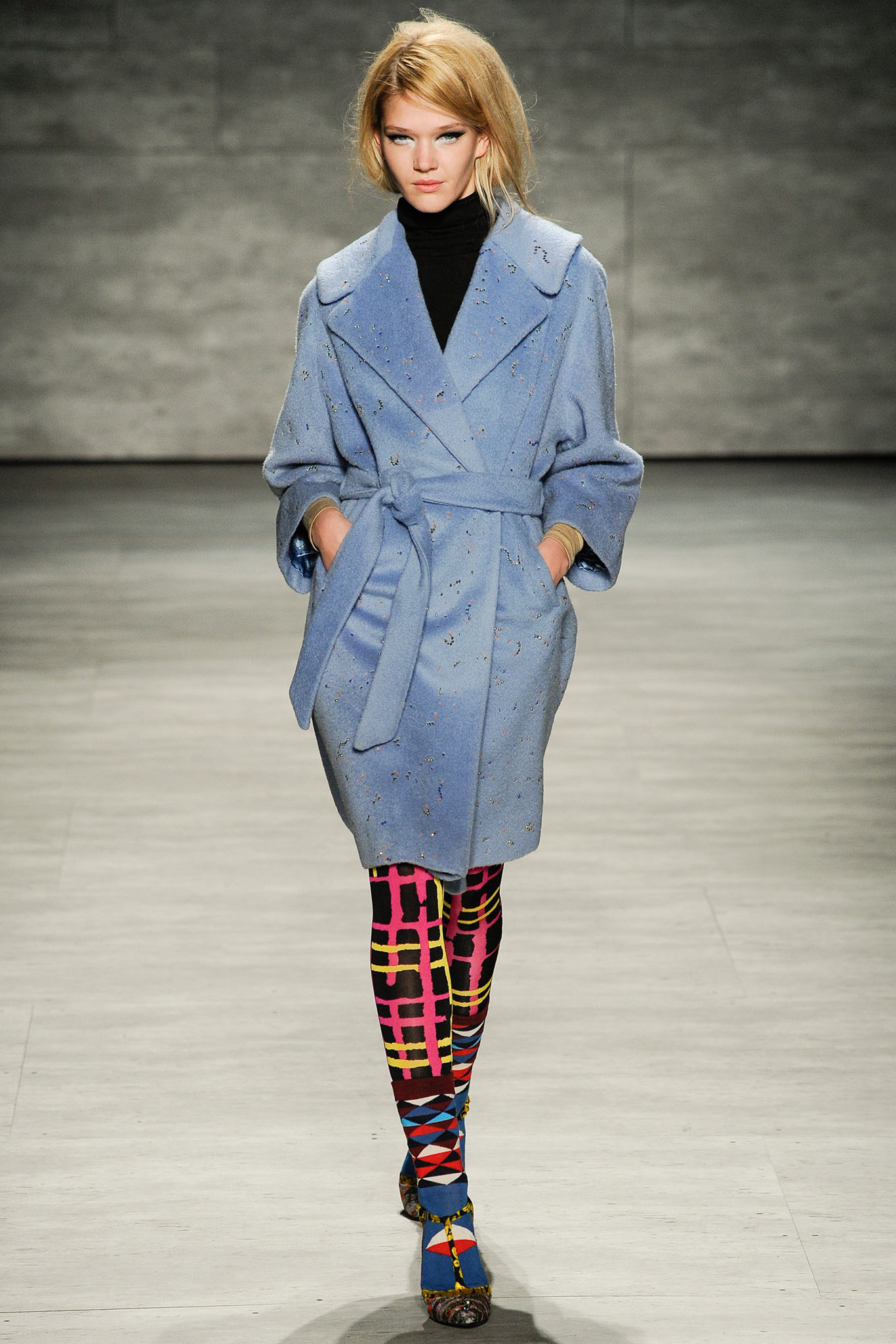 LIBERTINE
If low key luxe is what you are looking for, a wrap coat in camel hair or alpaca is always a smart option. A timeless silhouette which can be thrown over jeans, a cashmere sweater set, or a cocktail dress. A few embellishments elevate this piece above the usual wrap coat.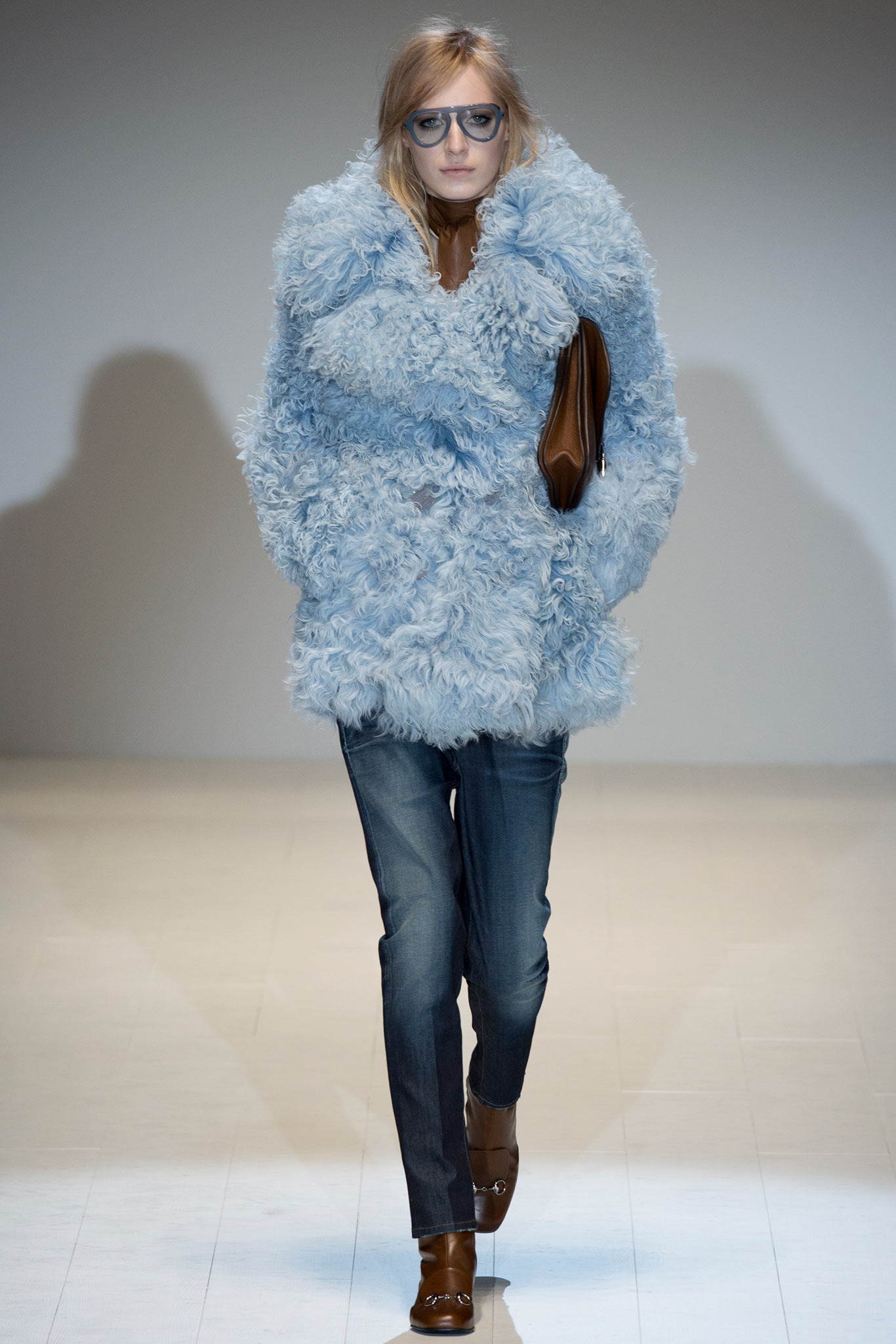 GUCCI
One of the best of the season, powder blue, warm, cuddly and cozy. Definitely a happy coat, and Lord knows we could all use some of those in our closets! Everyone with two X chromosomes is emotionally married to black, for good reason what with the versatility and slimming effect, but pastels are more inviting and cheerful, and thus more apt to inject much needed joie de vivre into our lives. Wear with pink lipstick of any hue and you'll be smiling all day long.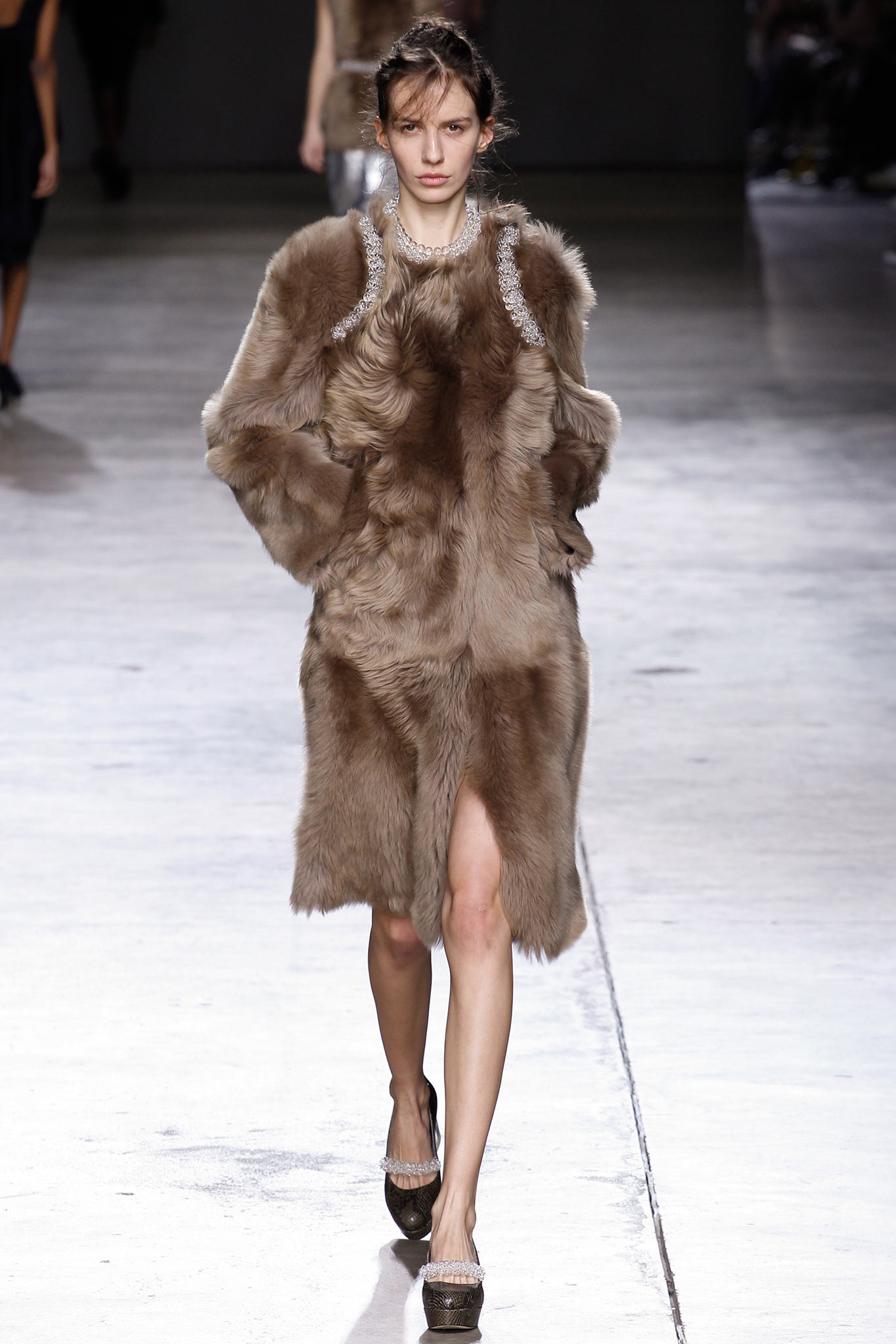 SIMONE ROCHA
Another notable entry in the running shearling pageant. An unusal luscious fawn color with embellishments along the shoulders. Funky regal like the rest of the collection. C O V E T A B L E.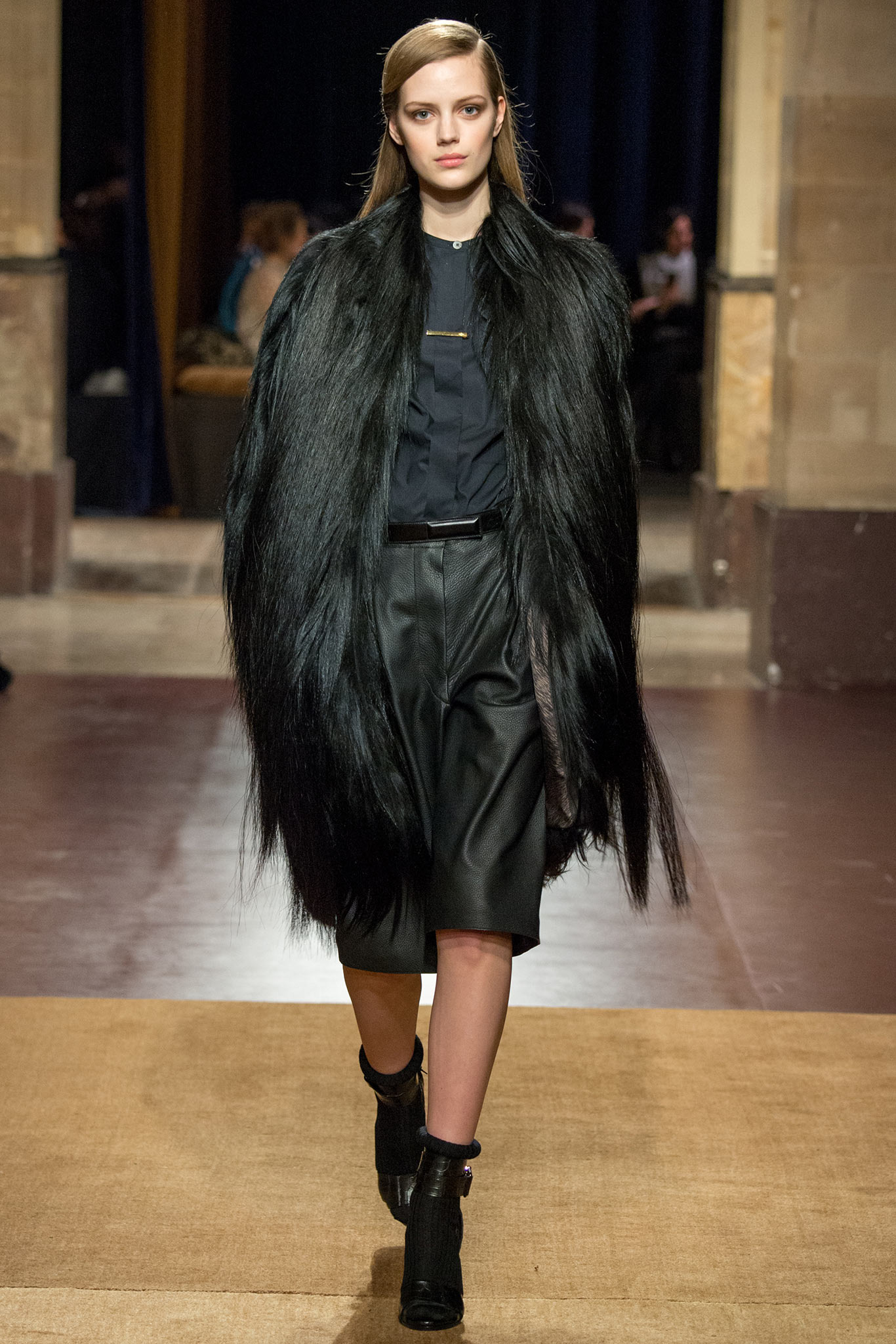 HERMES
Gothic option in black goat hair. Throw this on over a pant suit for the warmth and the visual interest. Nothing wrong with a prehistoric vibe. (Calling Wilma Flintstone).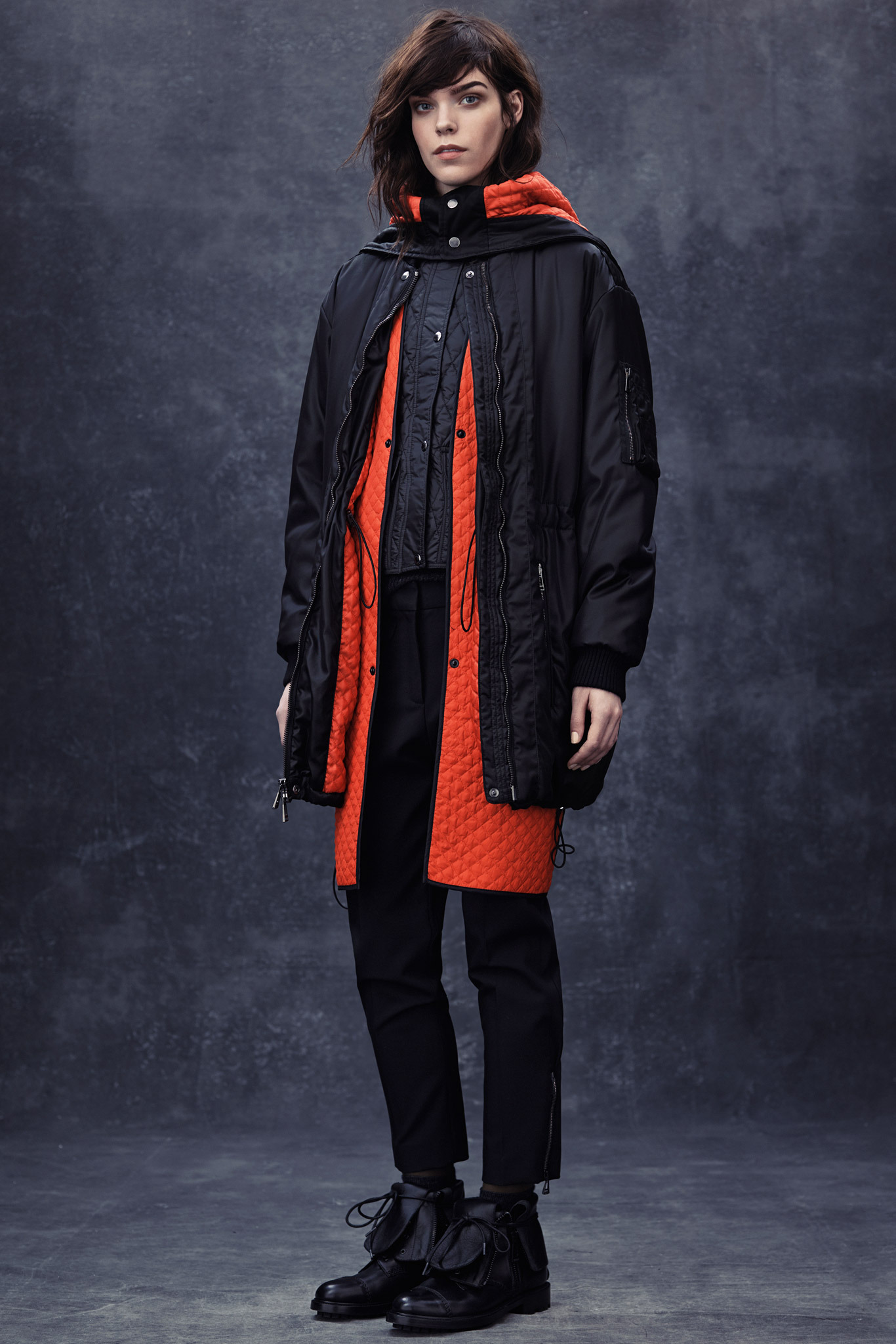 BELSTAFF
Sporty spice, for light snow and rain. Throw over a big sweater or vest when the temperature drops to into the low double digits.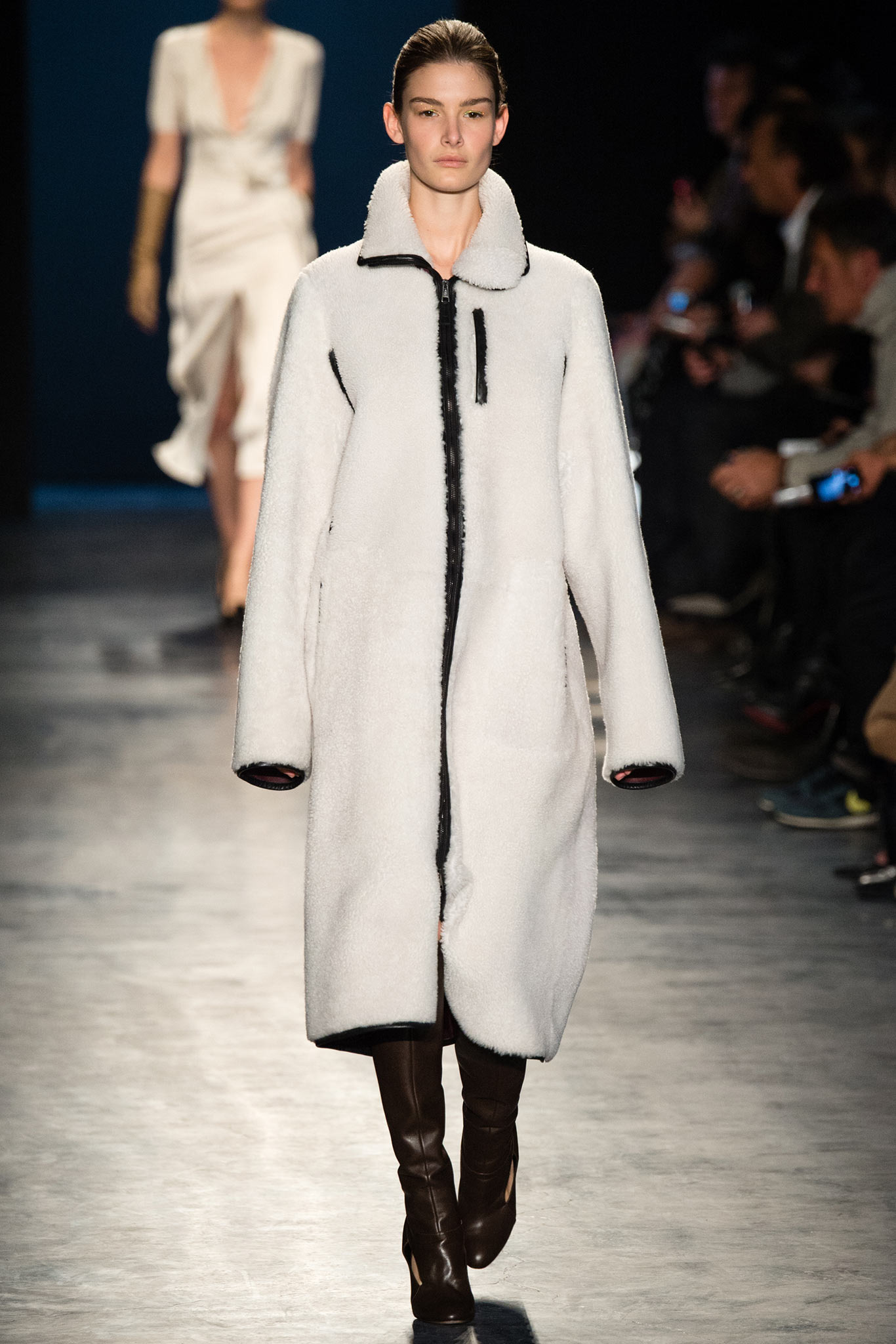 ALTUZARRA
Because we all need some low maintenance alternatives to high falutin' furs and Bigfoot couture. Great choice if you want to feel as if you never climbed out of your pjs.
THE BIG COAT:
This wardrobe staple is typically roomy enough to encompass the wearer, a big sweater, a fuzzy vest, and or a suit, or whatever the outfit du jour is, and maybe even a small Hound. (Like Mother Goose with all the kids under her skirt). Akin to a tuxedo on a dude, the big coat can be flattering on any body type.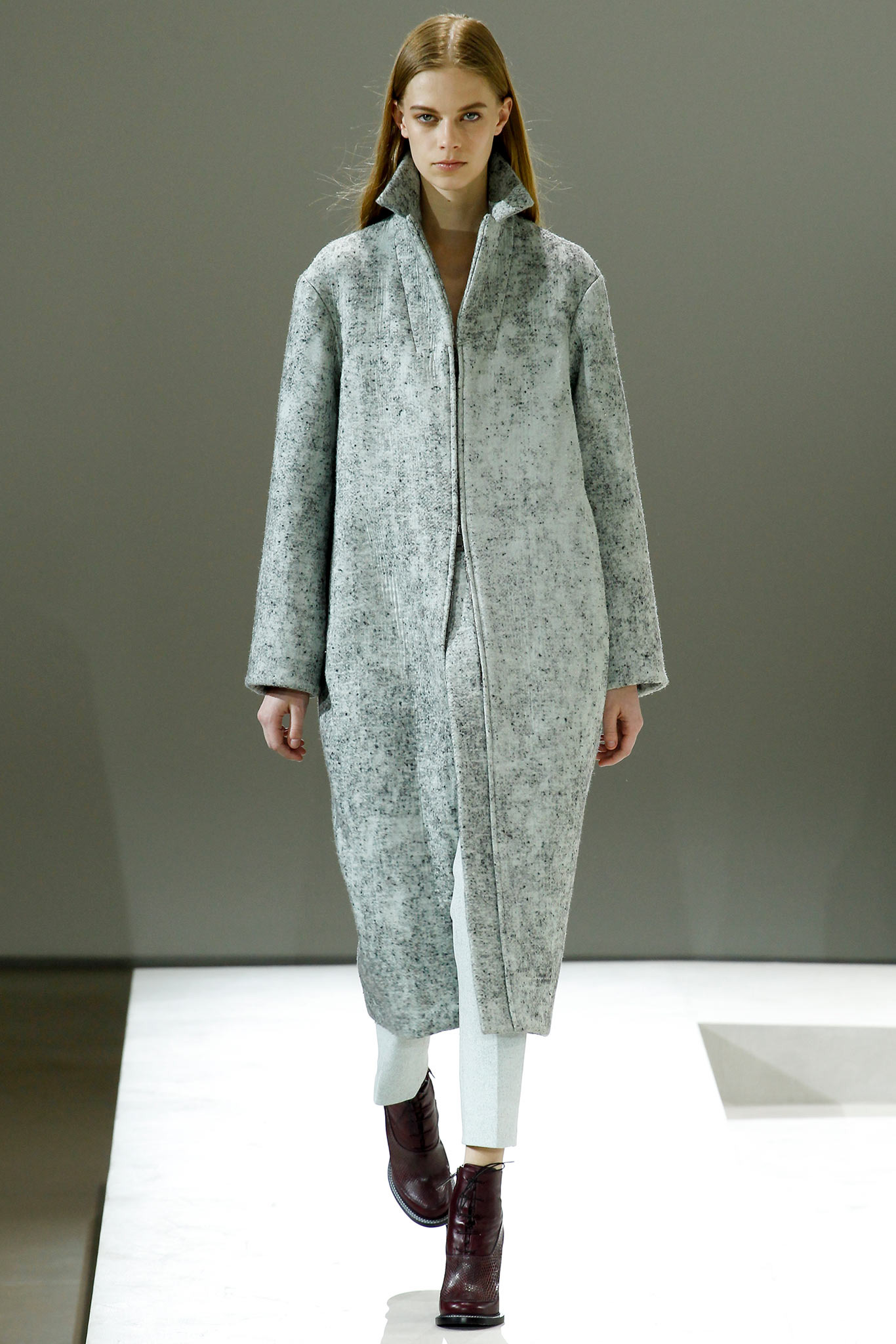 JIL SANDER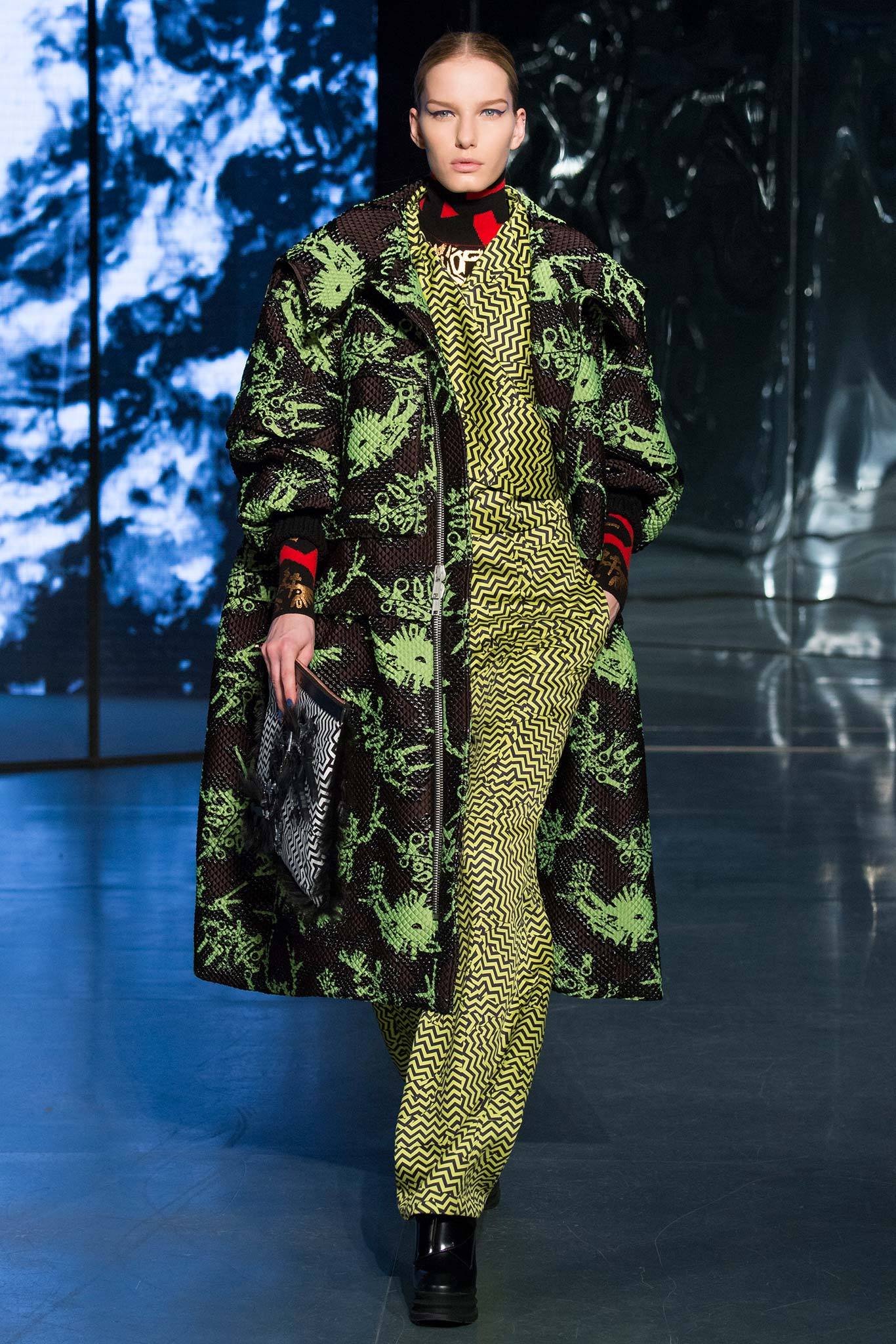 KENZO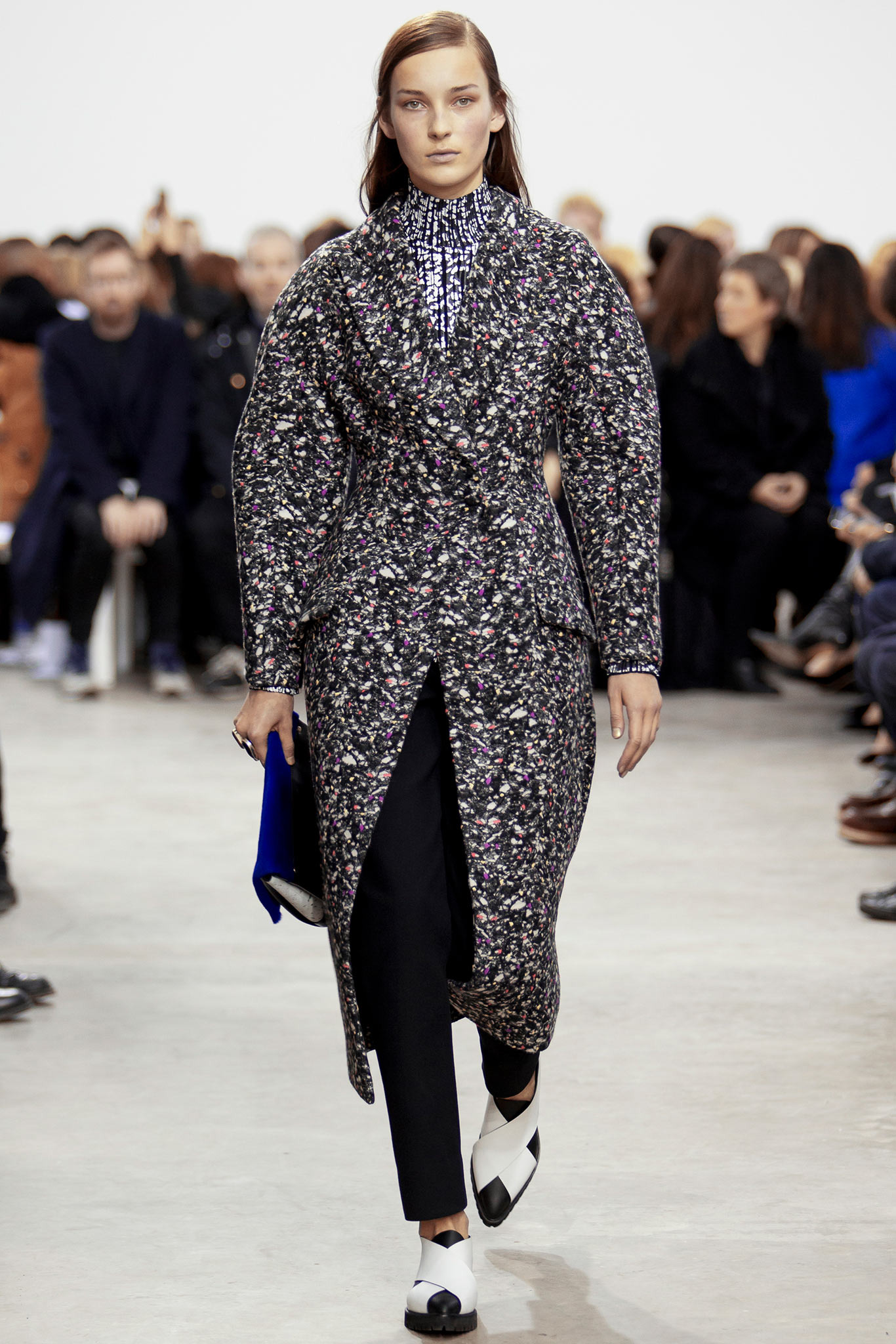 PROENZA SCHOULER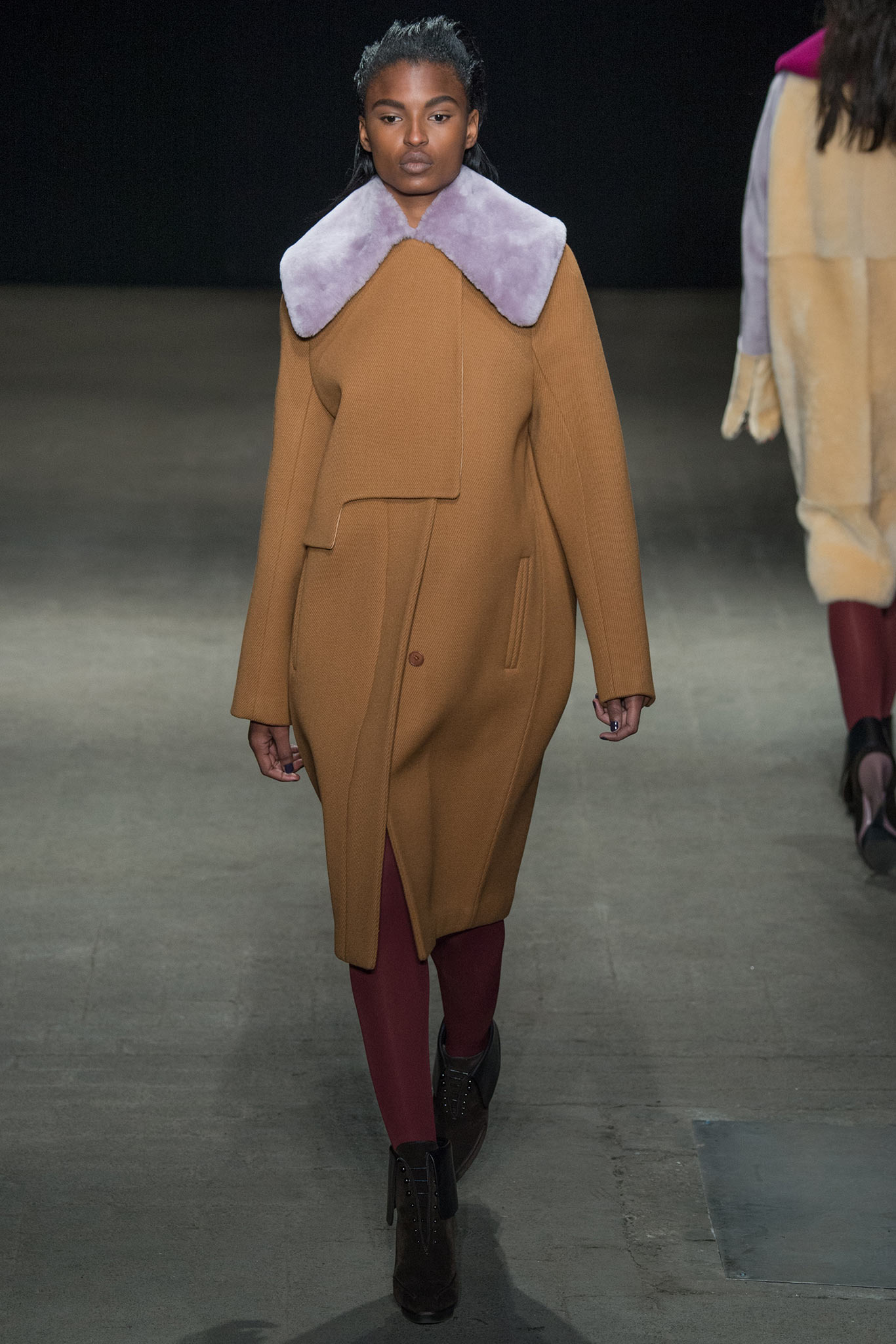 3.1 PHILLIP LIM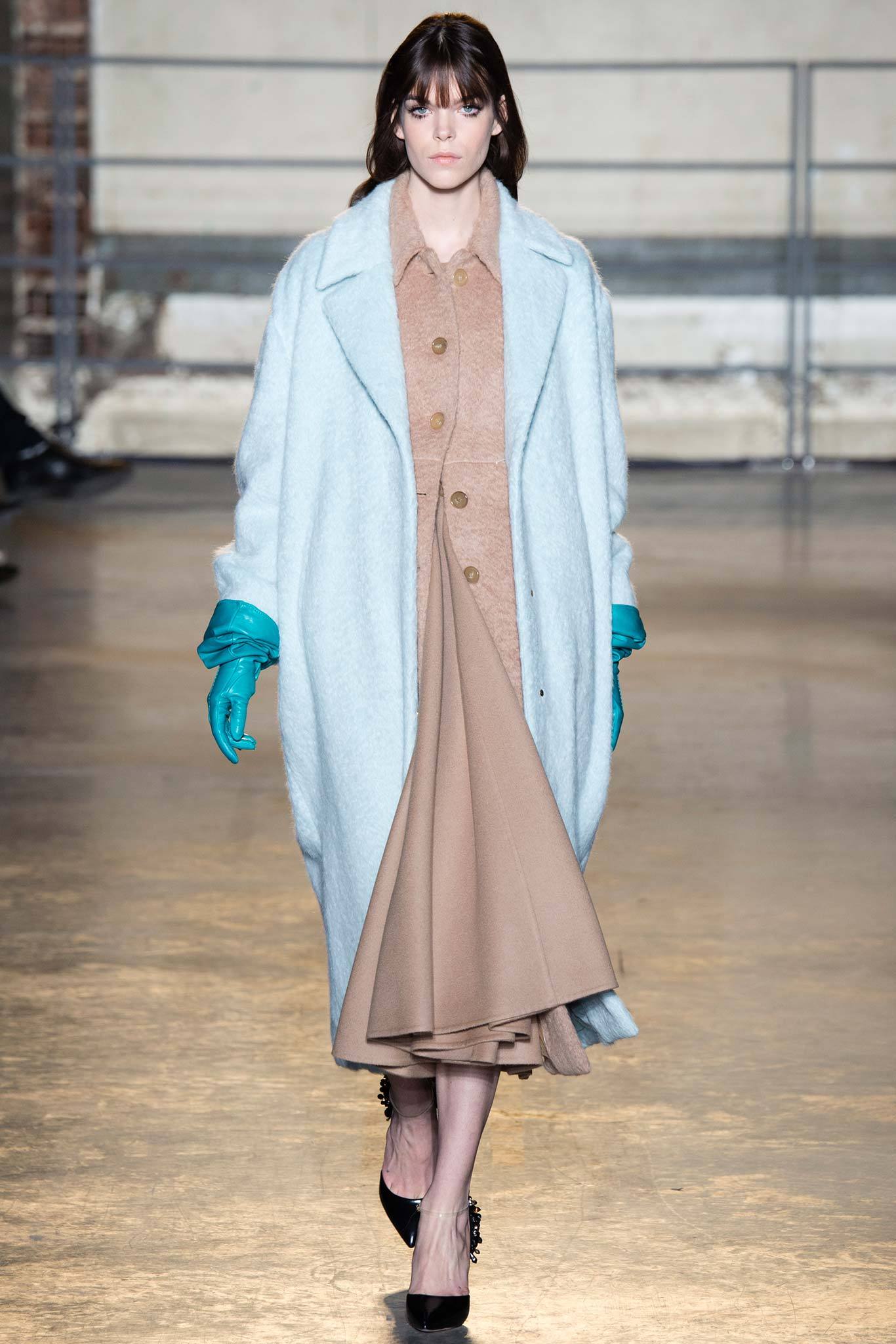 ROCHAS
This is a great example of how to layer without looking like a linebacker. The key is the BIG coat! Alpaca will always be a welcome option due to the amalgamation of lightweight and durability. Spice up layered neutrals with brightly colored accessories such as gloves and scarves (or muffs).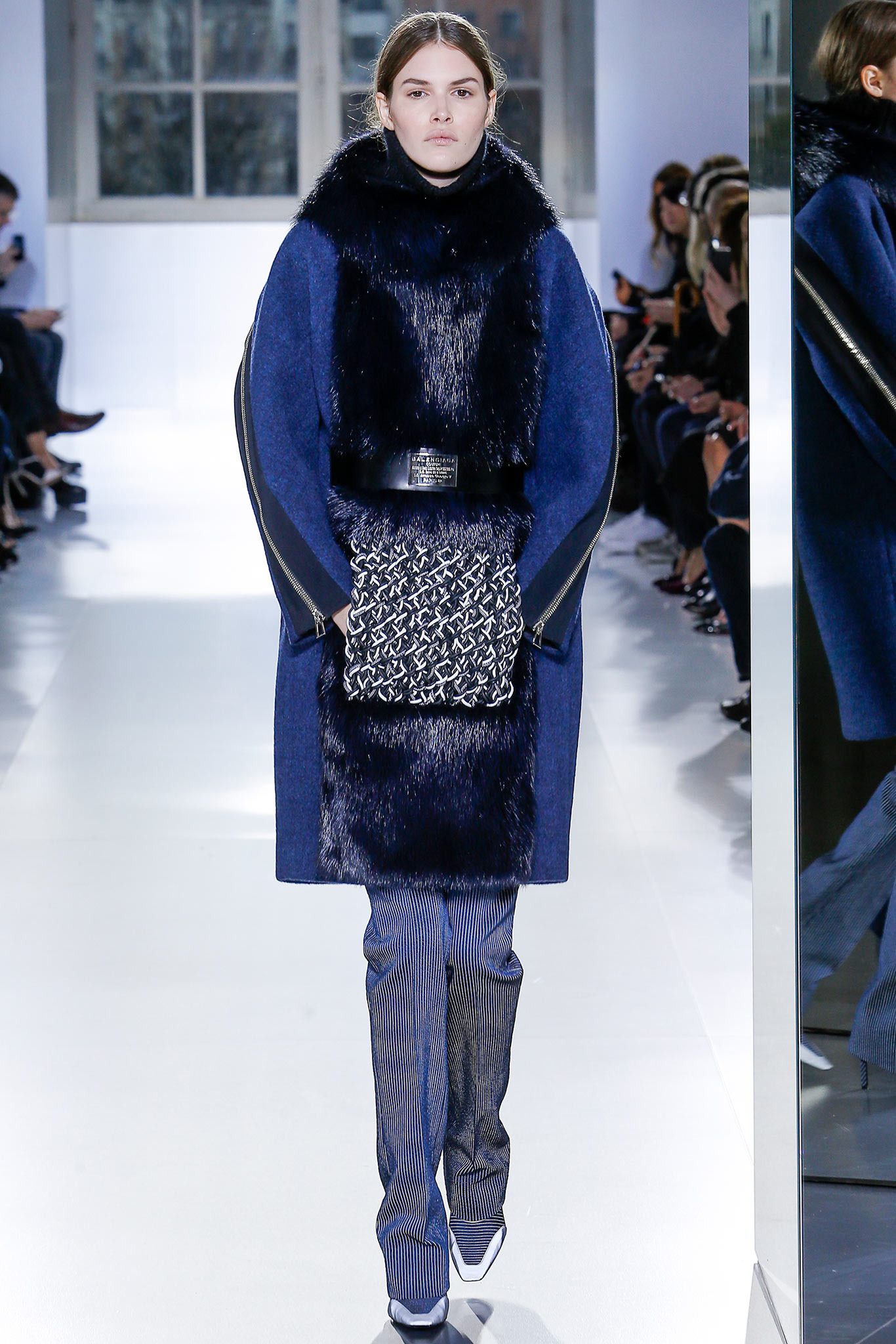 BALENCIAGA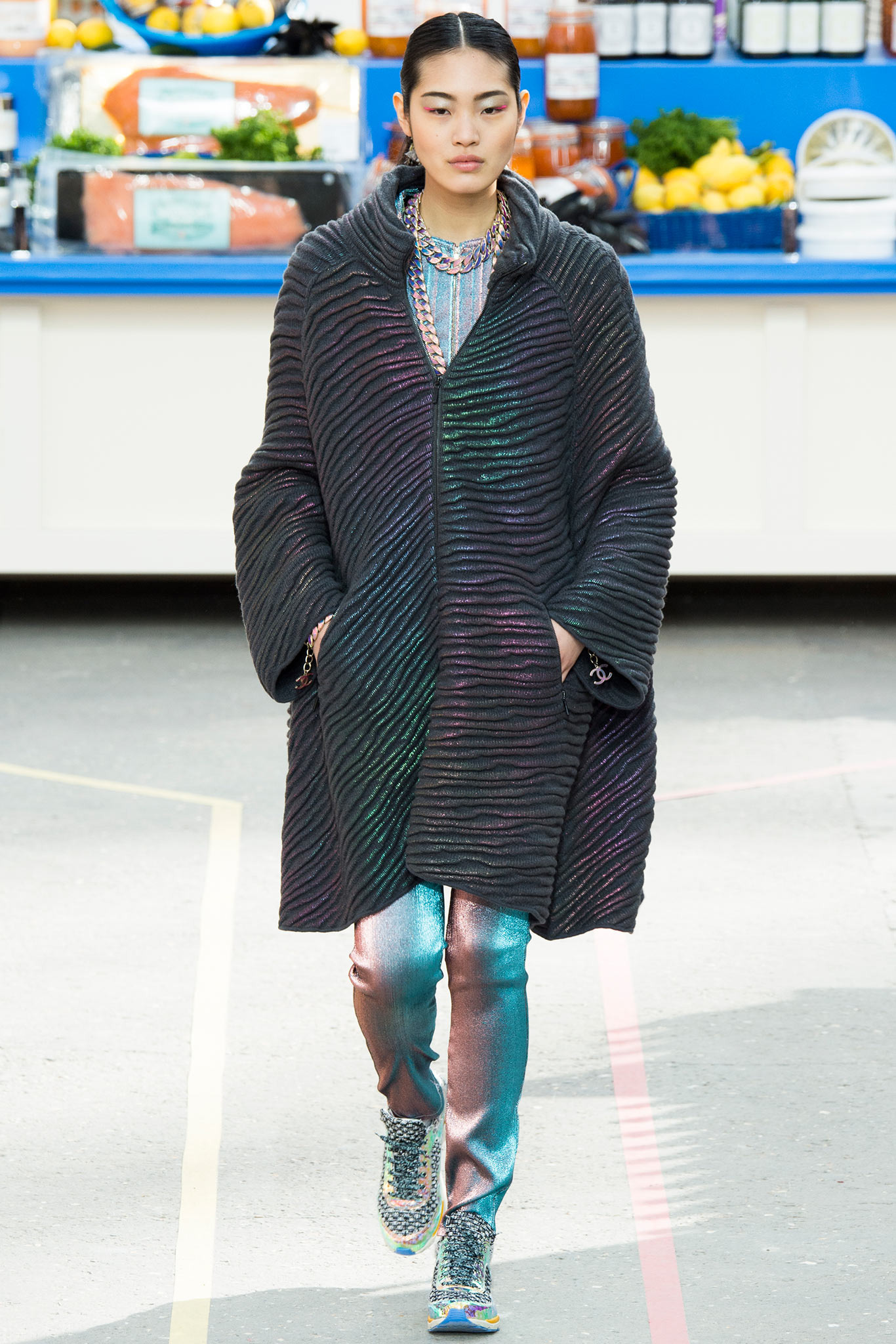 CHANEL
This is why I L O V E Chanel (I know, I'm SO original), along with the appropriate contingent of tweeds and opulent embellished frocks, there will always be the avantgarde options, by way of the fabrication and or the silhouette. Lightweight and roomy enough to throw over a big sweater or an alpaca or shearling vest.
Before the blizzard hits a vest might be your best friend, one of the most versatile of fashion elements. Throw over a long sleeve T, a cashmere sweater, or maybe a lightweight suit, OR layer under or over a jacket or coat. Arms remain unencumbered for tree trimming and holiday shopping.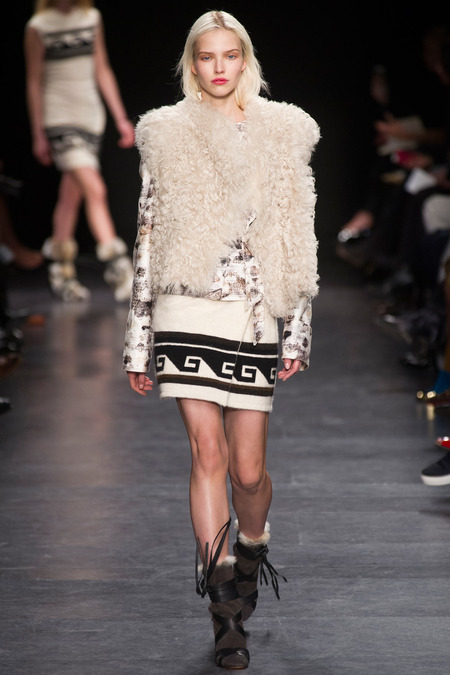 ISABEL MARANT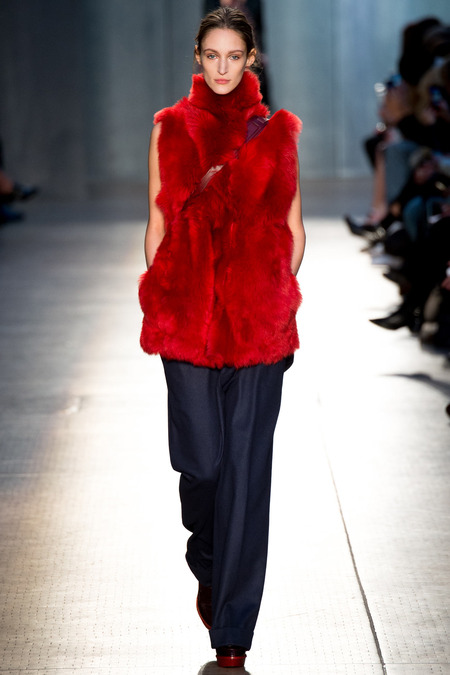 PAUL SMITH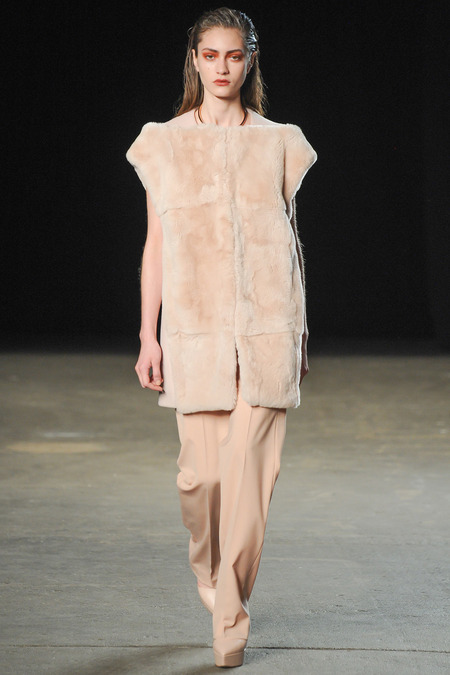 PHILOSOPHY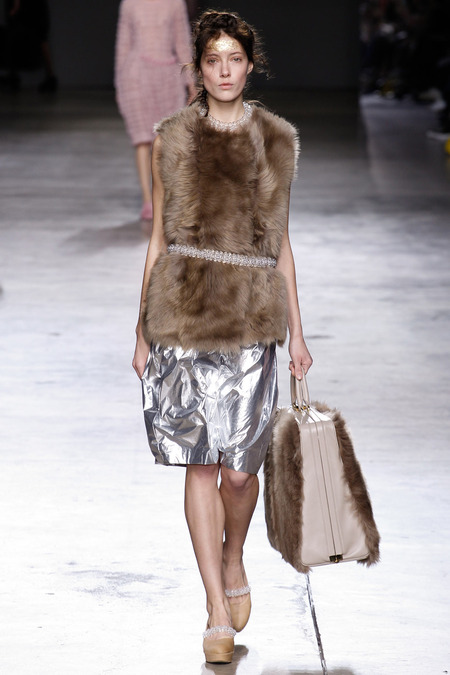 SIMONE ROCHA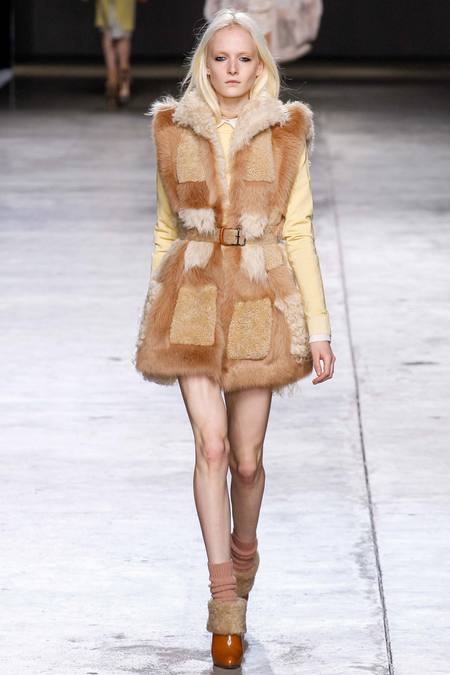 TOPSHOP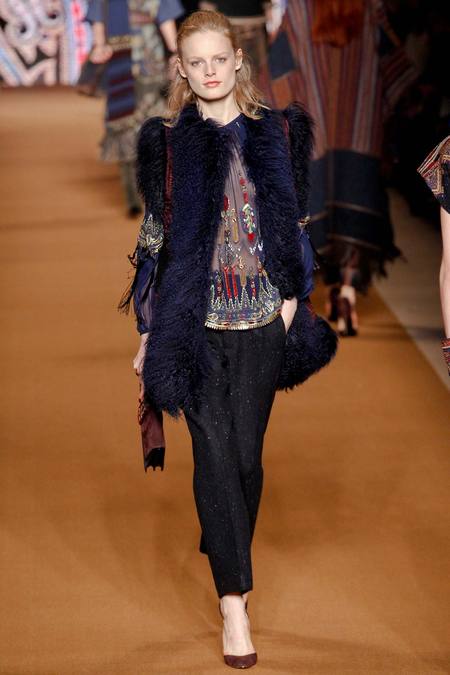 ETRO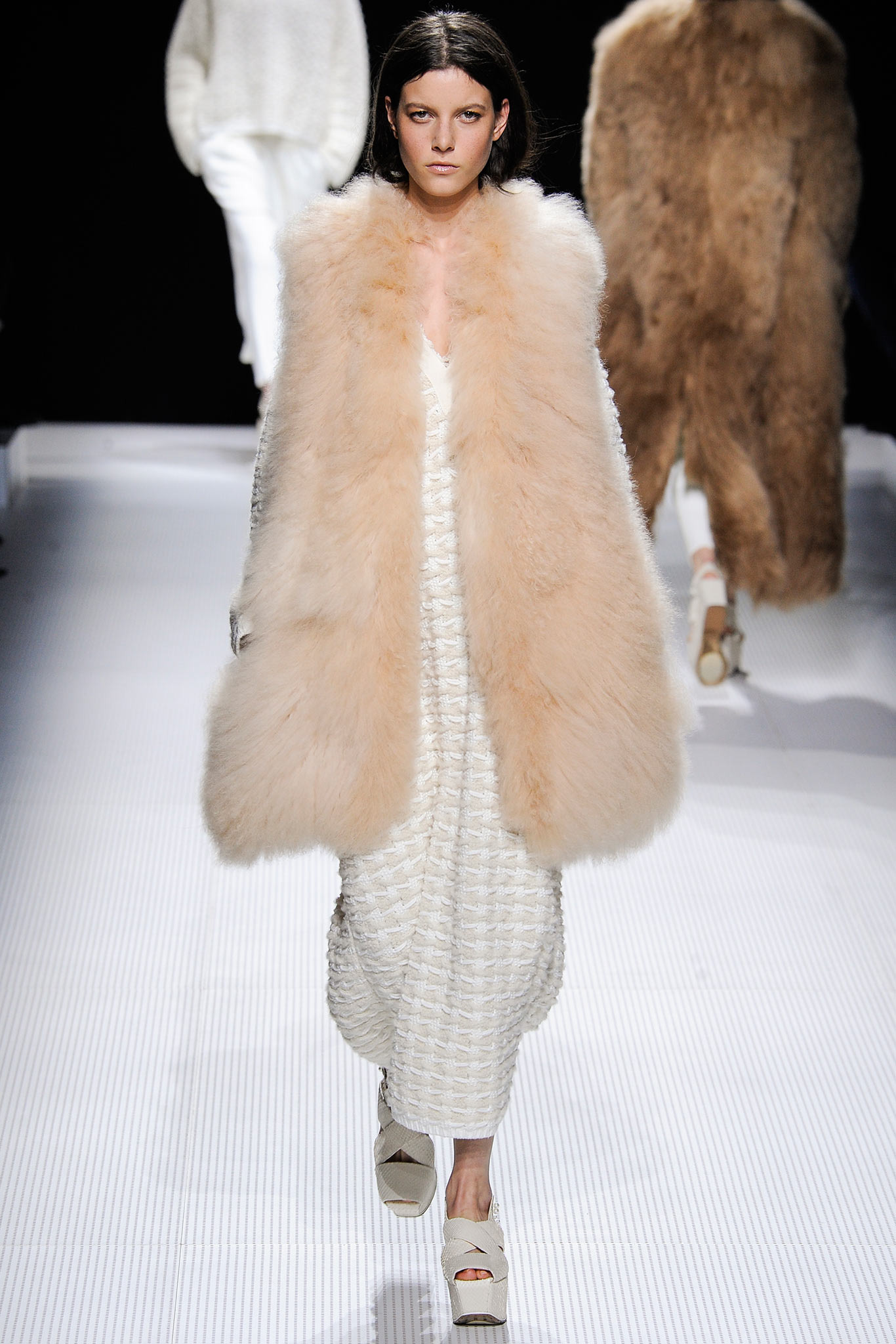 SONIA RYKIEL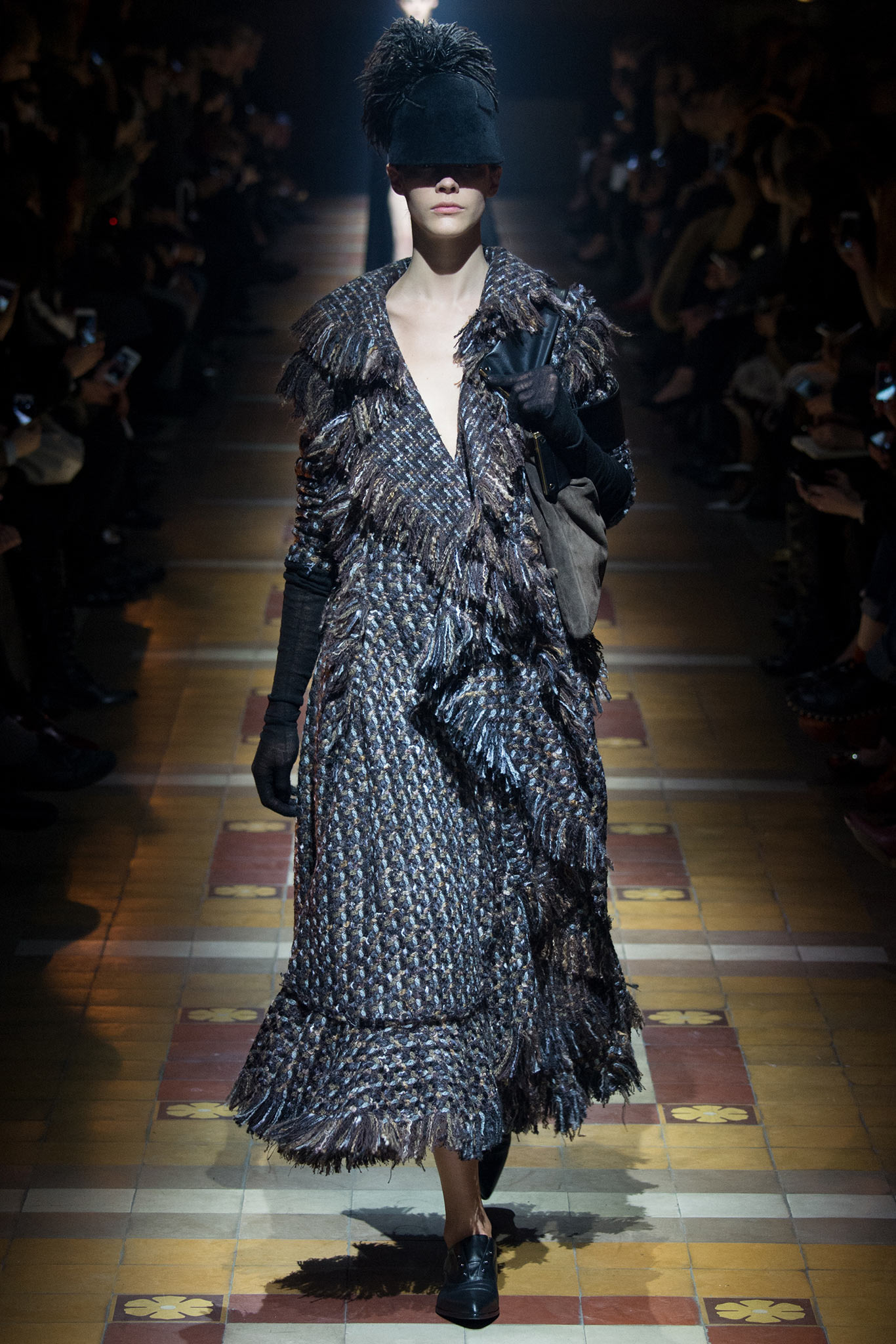 LANVIN
Dark and dramatic, with a victorian vibe. In each and every collection by Elber Albaz, we are privy to a running theme of glamour. As if harkening back to the golden days of Hollywood, and yet always modern. The unfinished hems and fringe prevent anything from becoming too precious.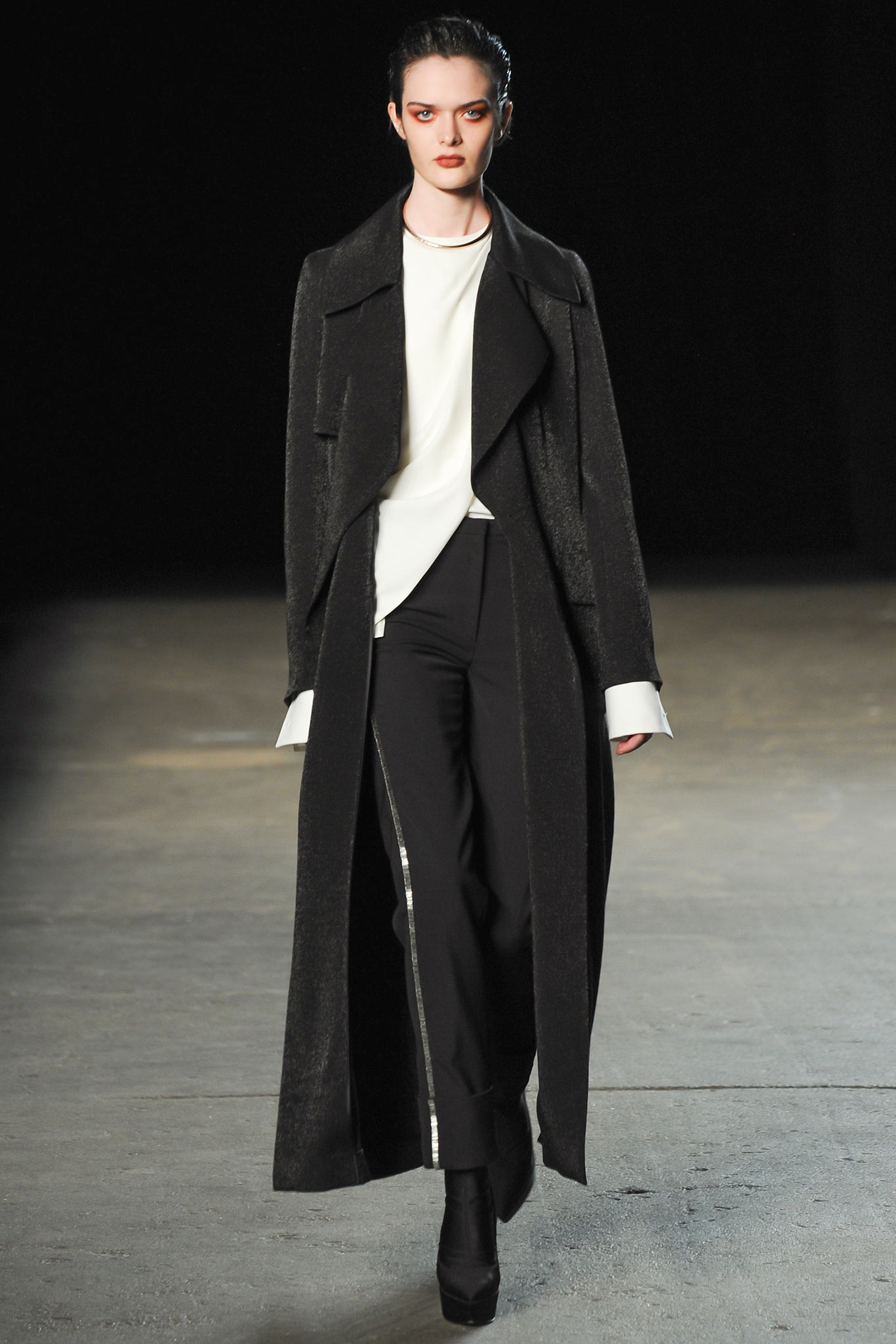 PHILOSOPHY
A wonderful tuxedo variant. Streamlined enough to fit under a fluffy wacky vest.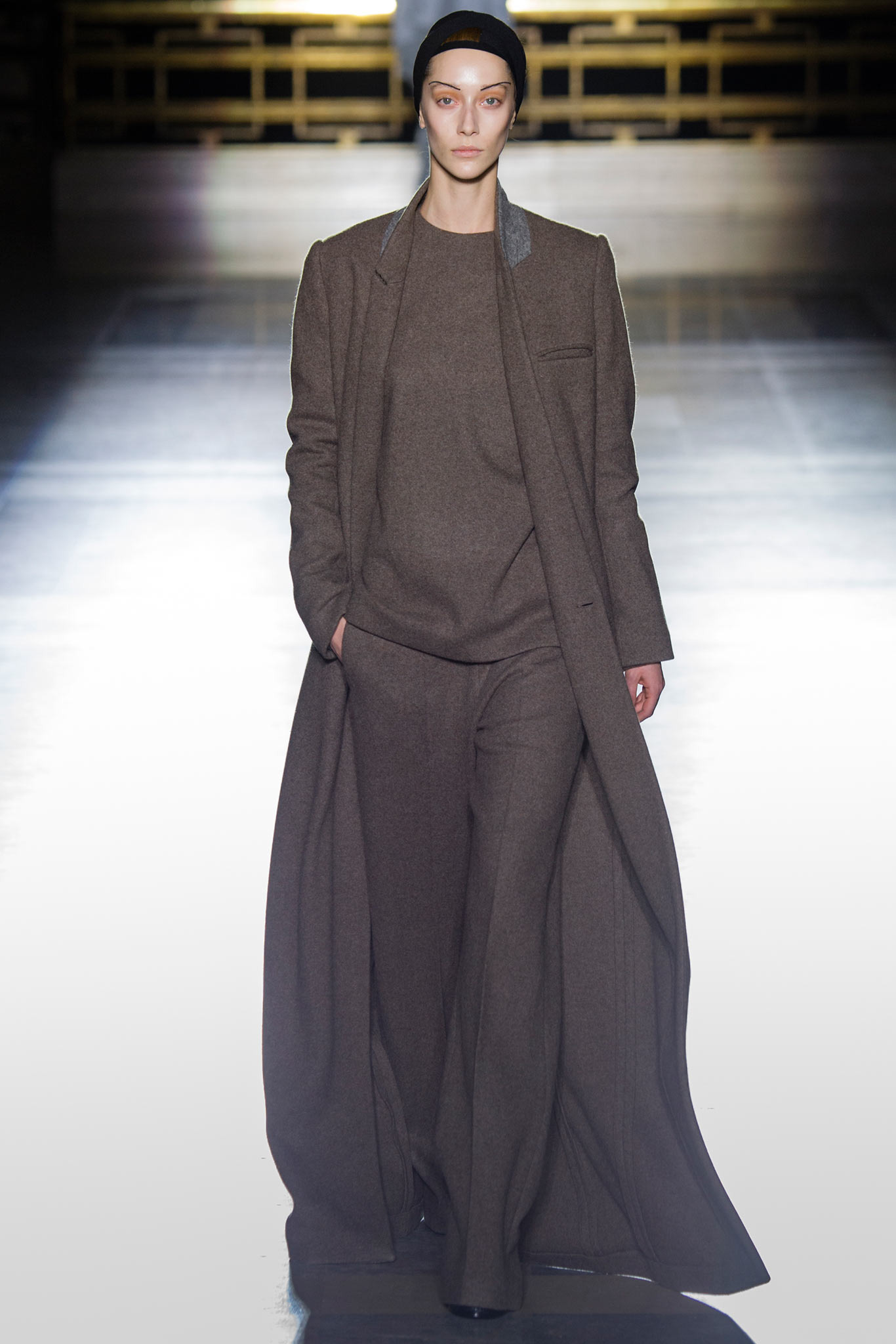 HAIDER ACKERMANN
Subdued but striking, perfect for the tall gals.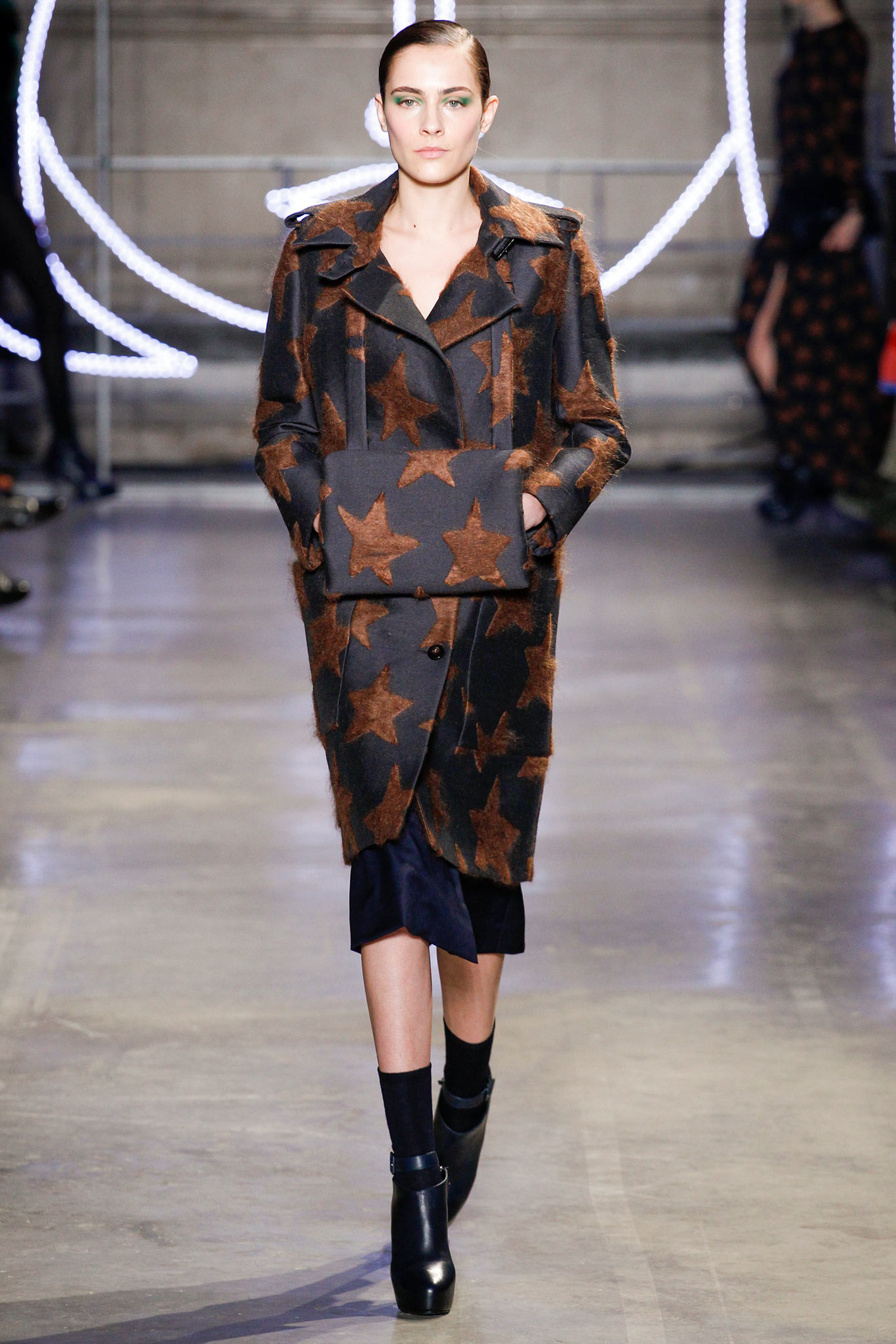 JC de CASTELBAJAC
Who doesn't love a matching muff? Pair this flapper style coat with brown leather leggings and maybe a fedora.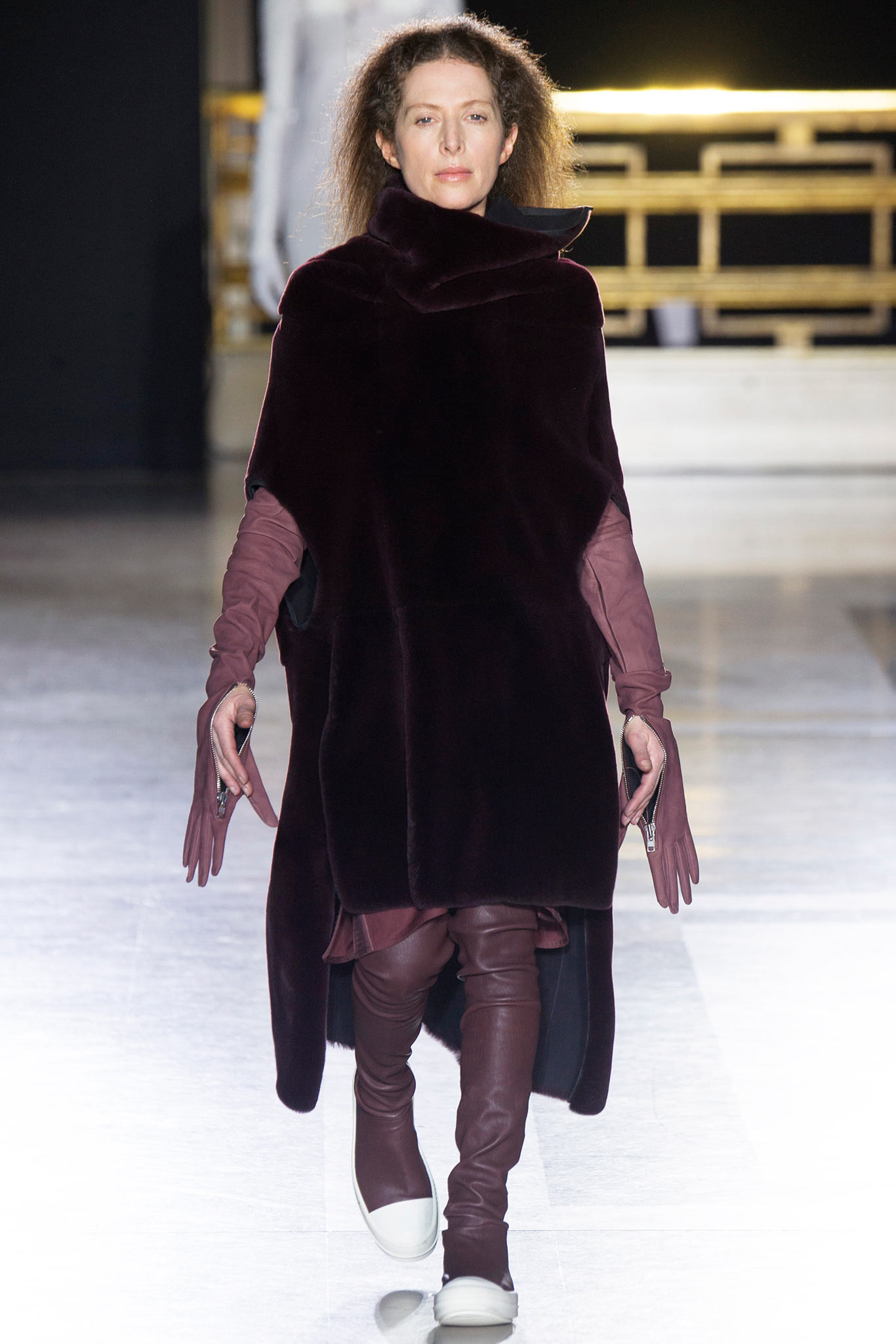 RICK OWENS
The opposite of cute and cuddly, for the rough and tumble gal who wants to look cool and fashion forward while sheathed in leather and more leather. And anything in the wine burgundy family is a clever alternative to the usual neutrals. And those gloves? H O T.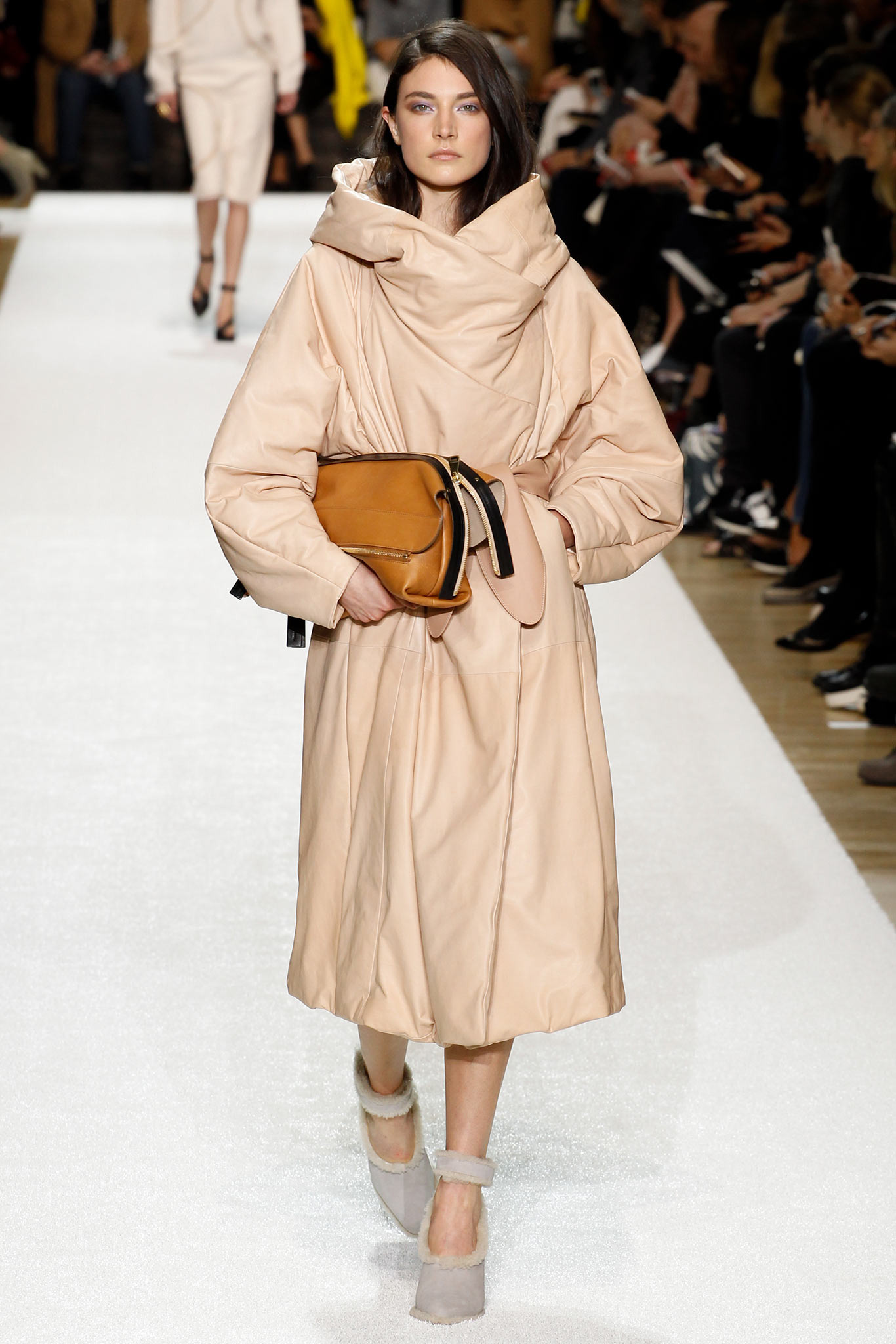 CHLOE
Mmmmmmm, talk about inviting, like a leather covered down blanket. Exemplary casual lux, iconic Chloe.
The all purpose sweater is in, the bigger and more colorful, the better! Spice up jeans, leggings of all variety, or a black pencil skirt. Wear as a tunic or dress!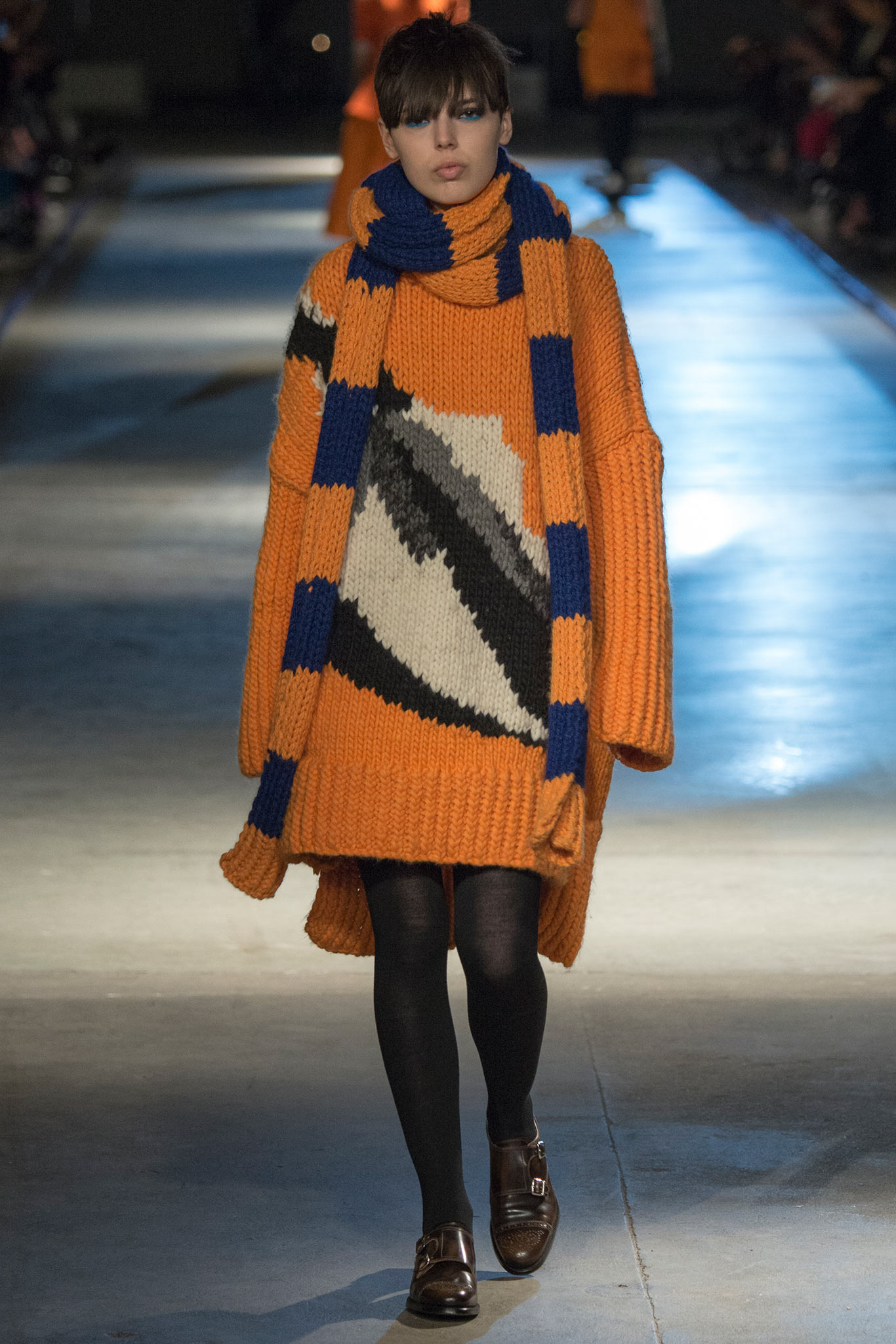 GILES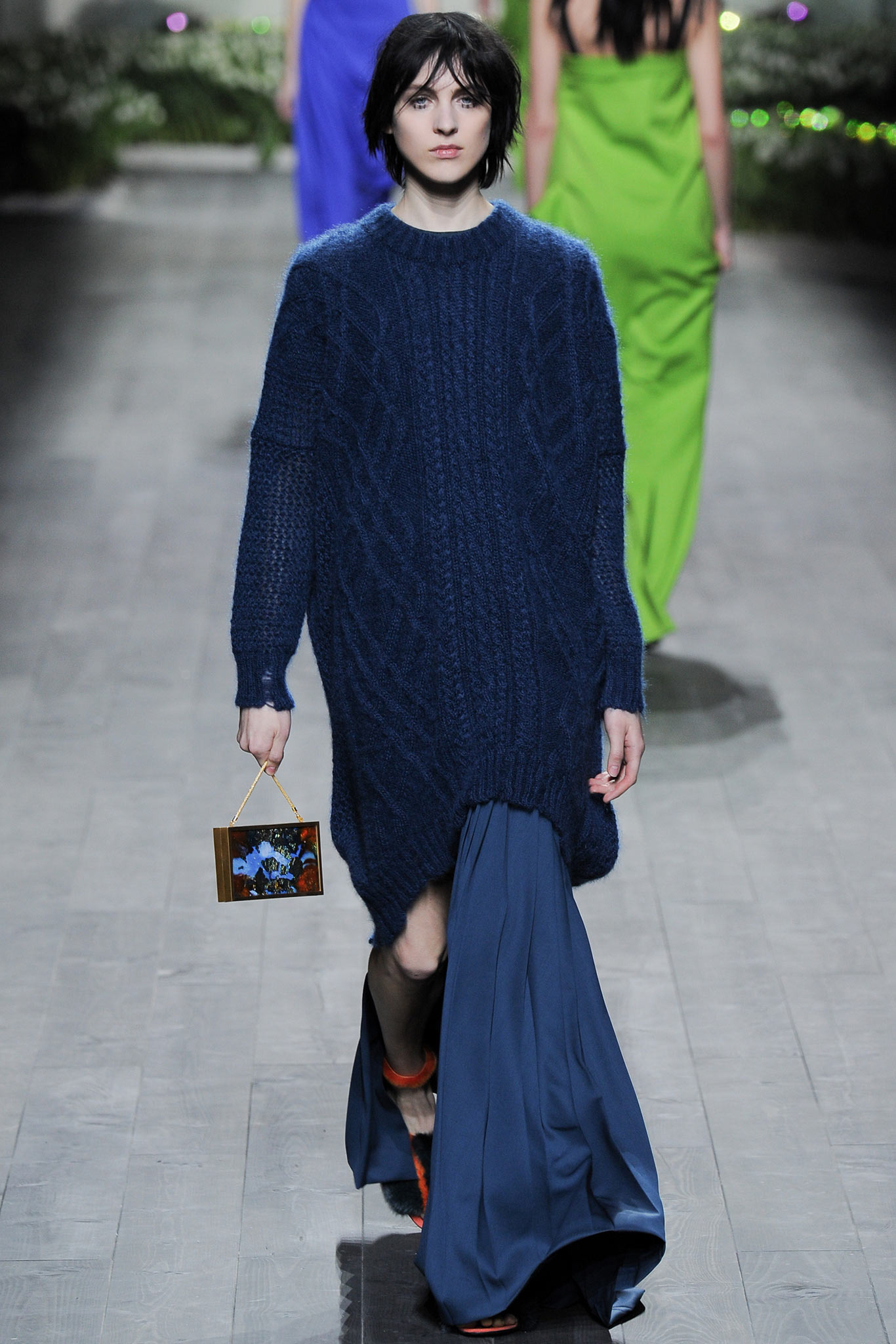 VIONNET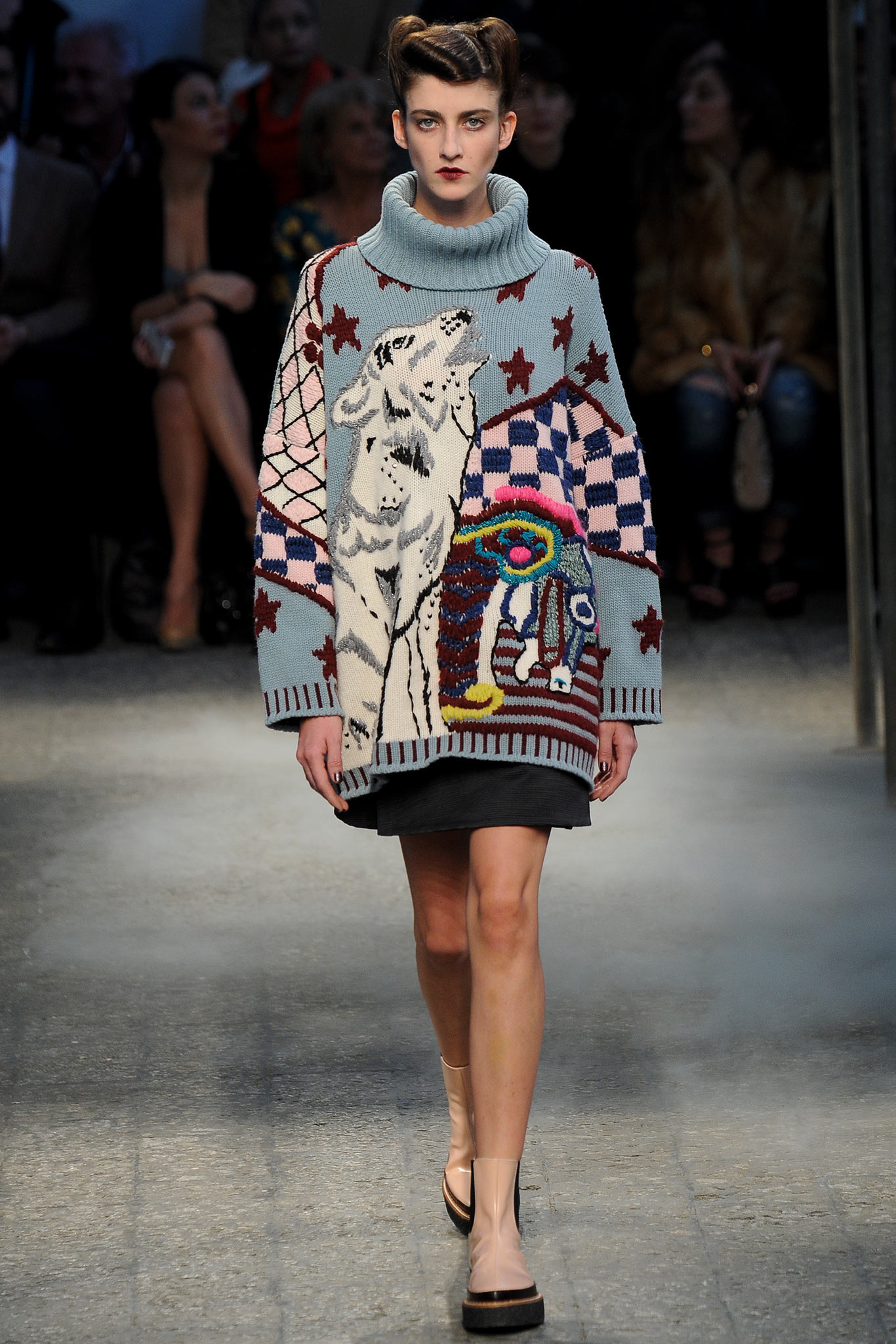 ANTONIO MARRAS
From one of the most engaging fall winter collections, including that wonderful Wolf potpourri.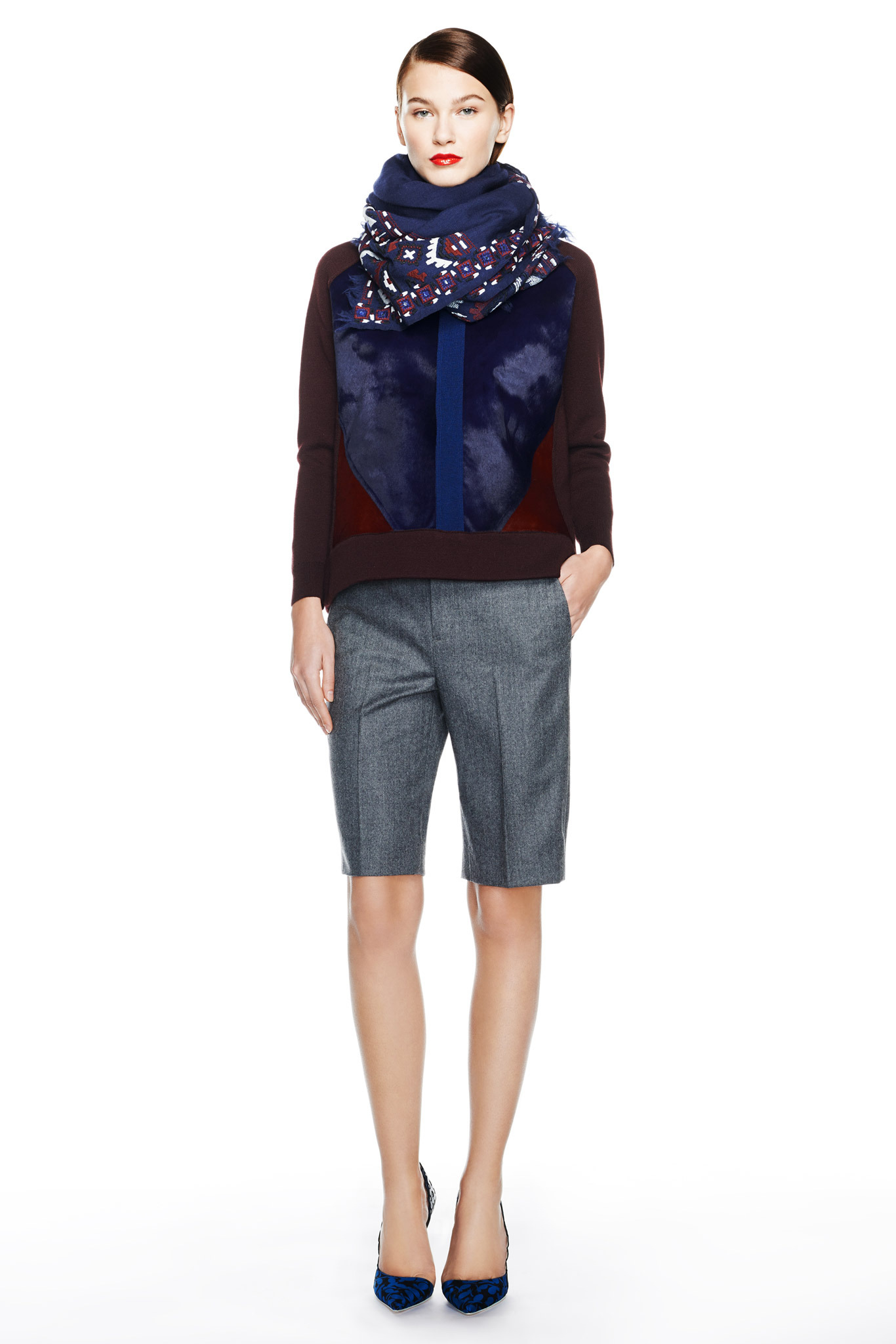 J CREW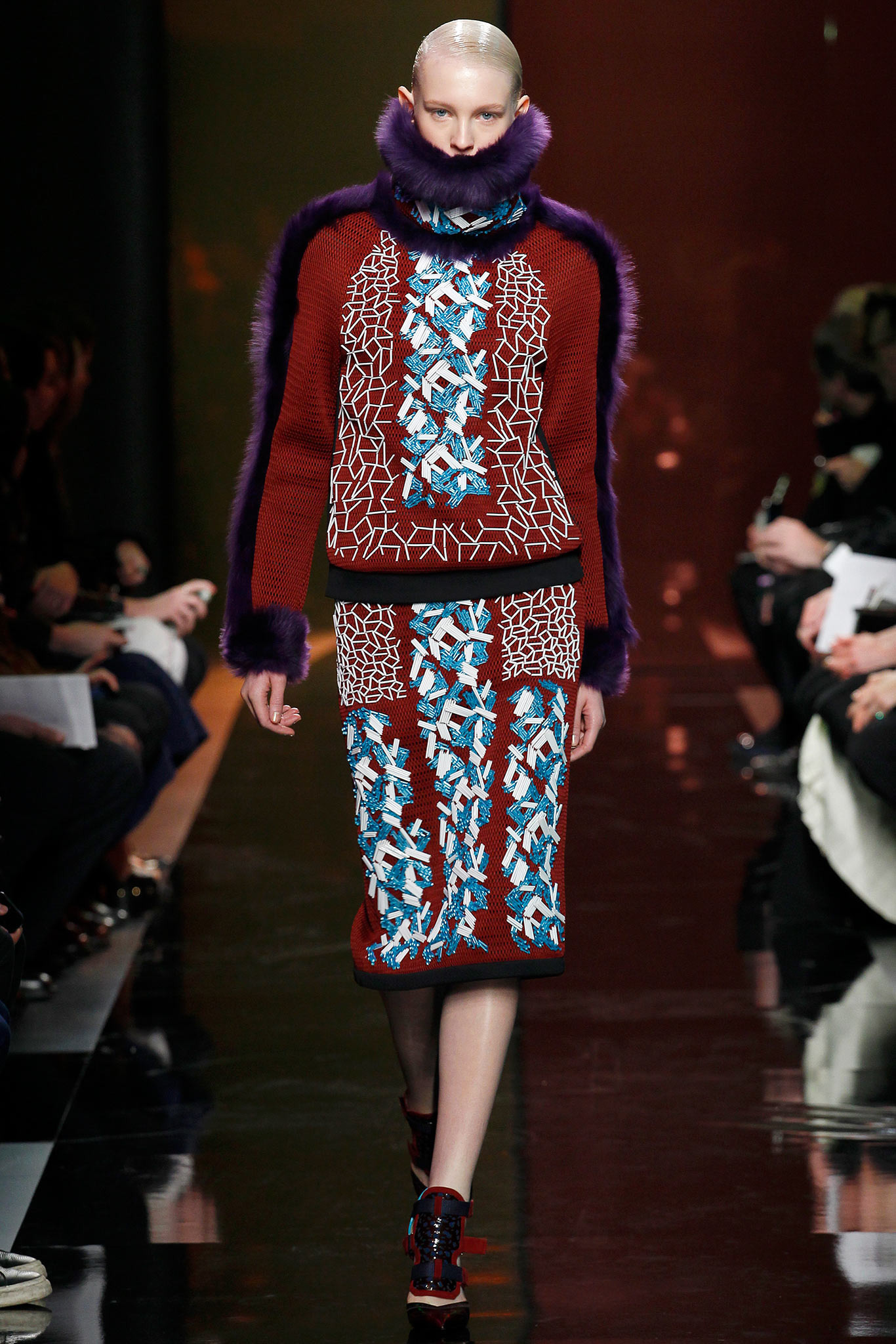 PETER PILOTTO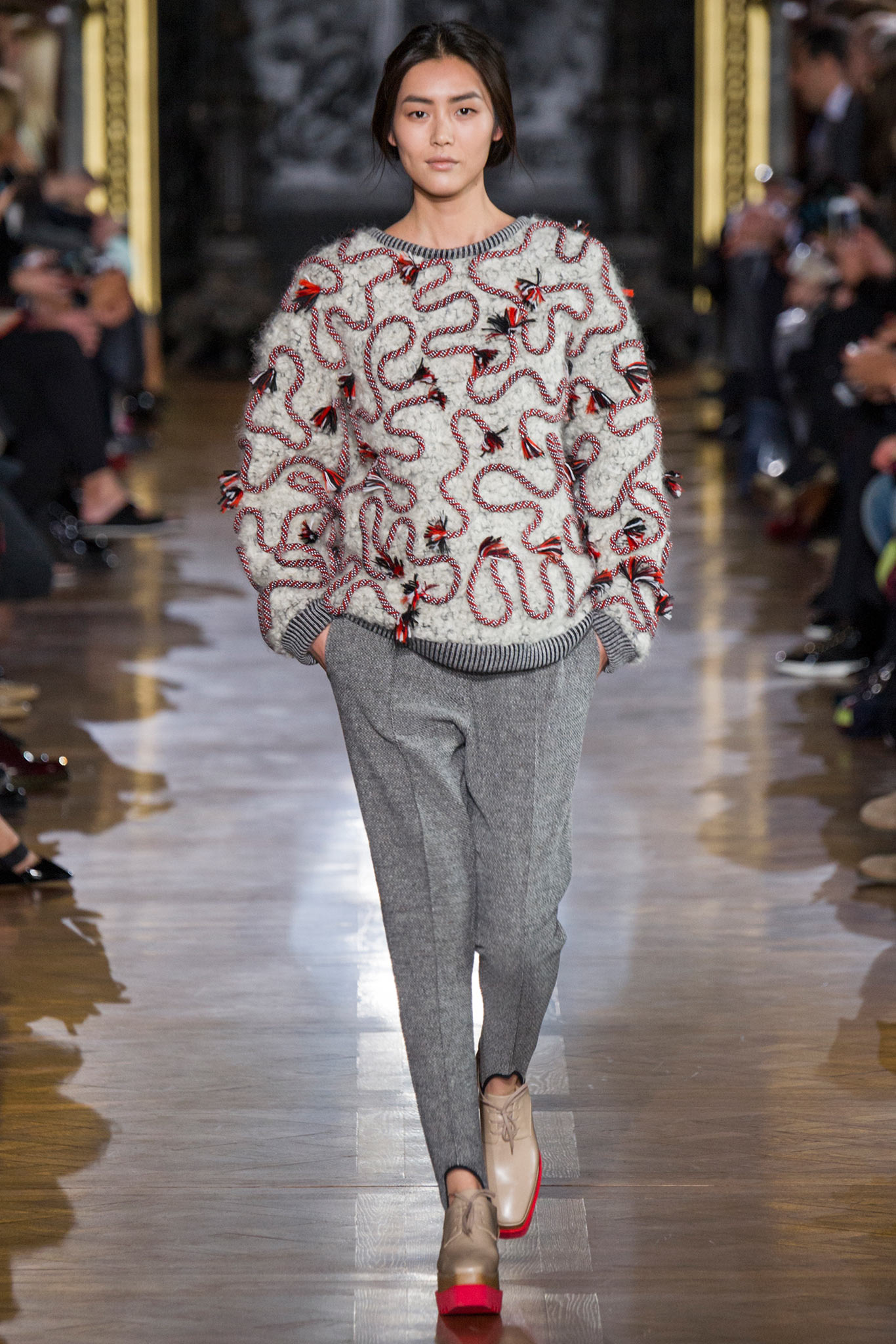 STELLA MCCARTNEY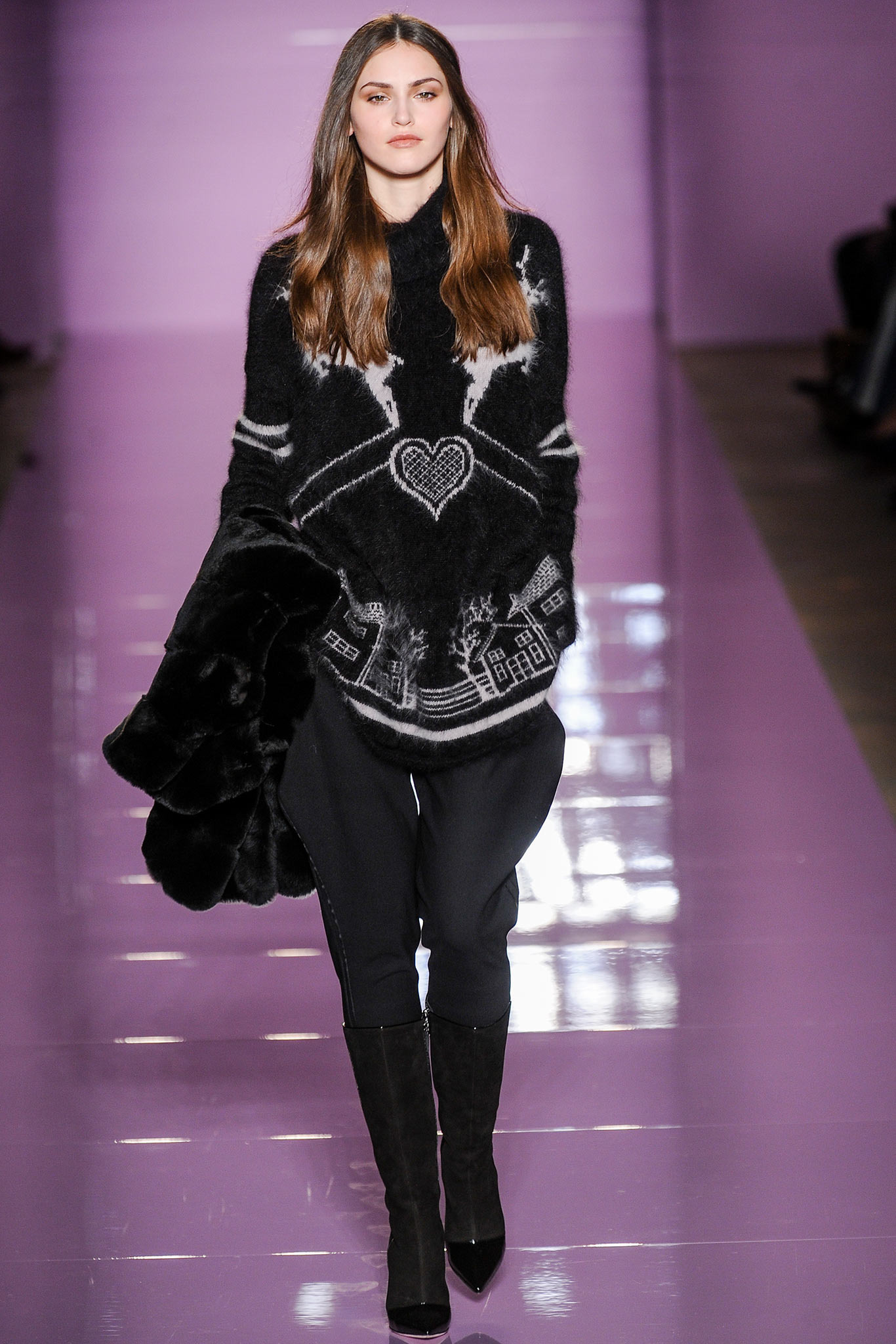 LES COPAINS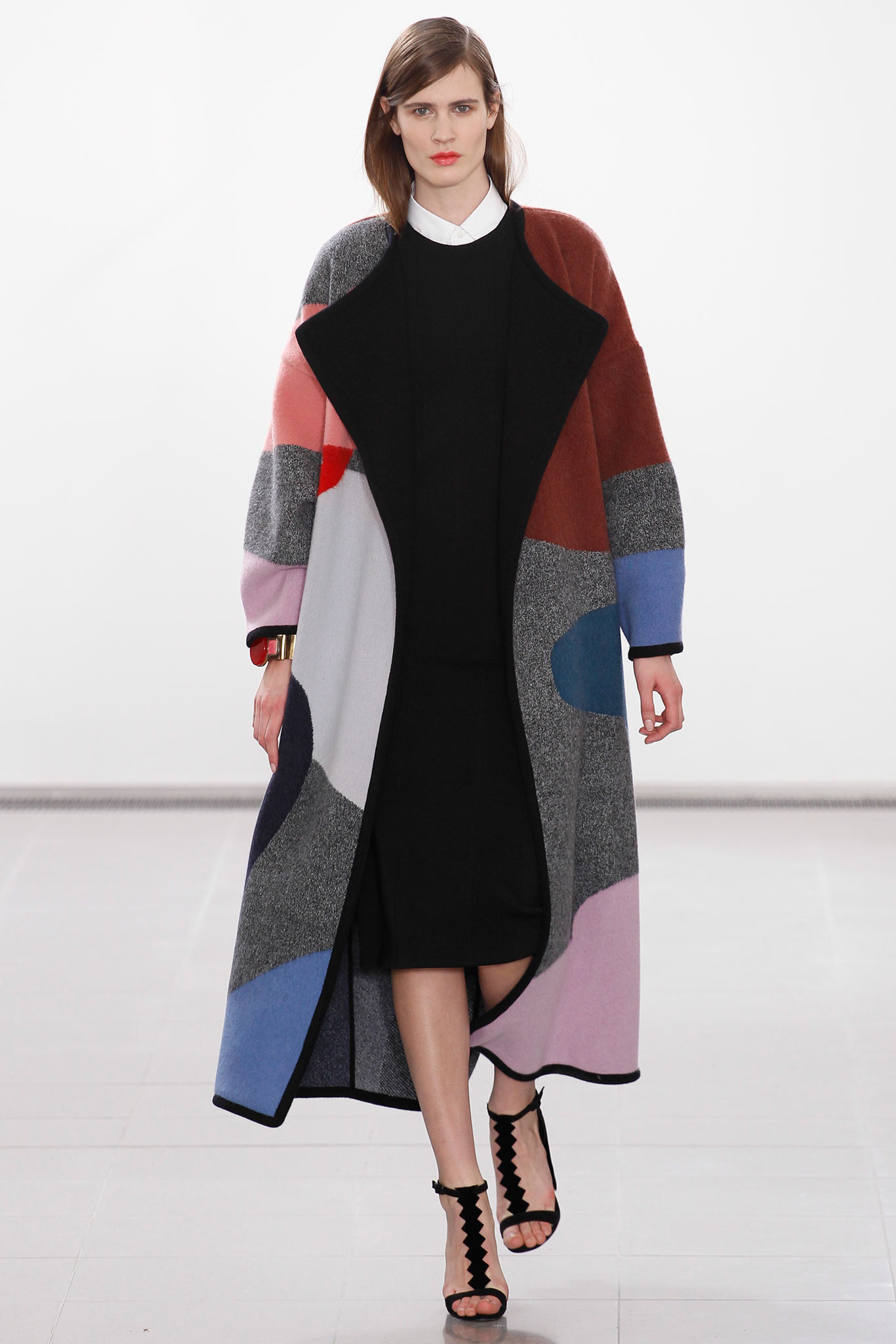 ISSA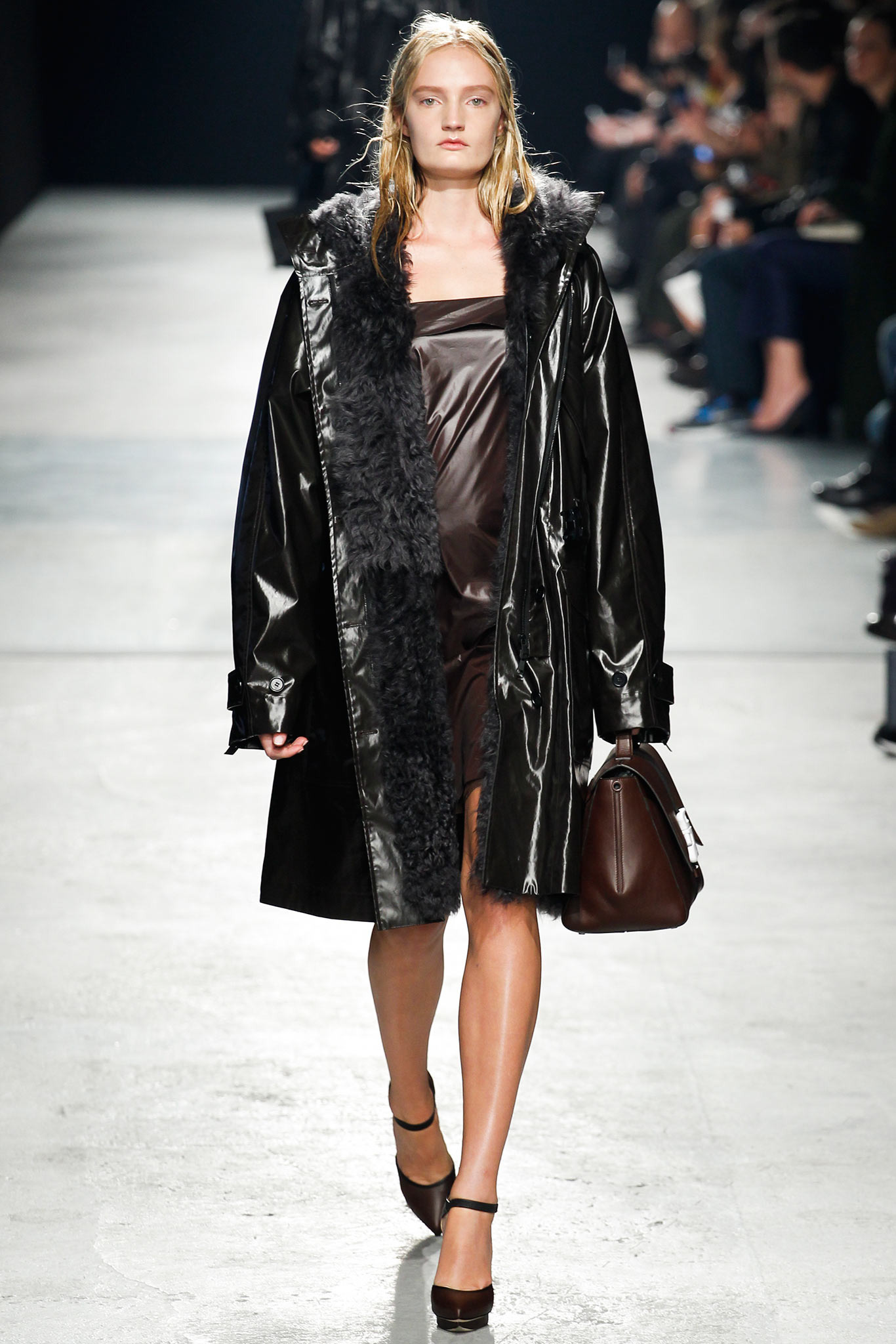 CHRISTOPHER KANE
There are endless options to keep one stylish in the snow. In the rain? Not so much. (There is much tiresome schmatta out there masquerading as rainwear). This shearling lined raincoat is a little bit of perfection, versatile and pragmatic, with the A-line silhouette hiding any imagined sin. This is the jacket to tool around town in when the rain starts to fall and the temperatures drop.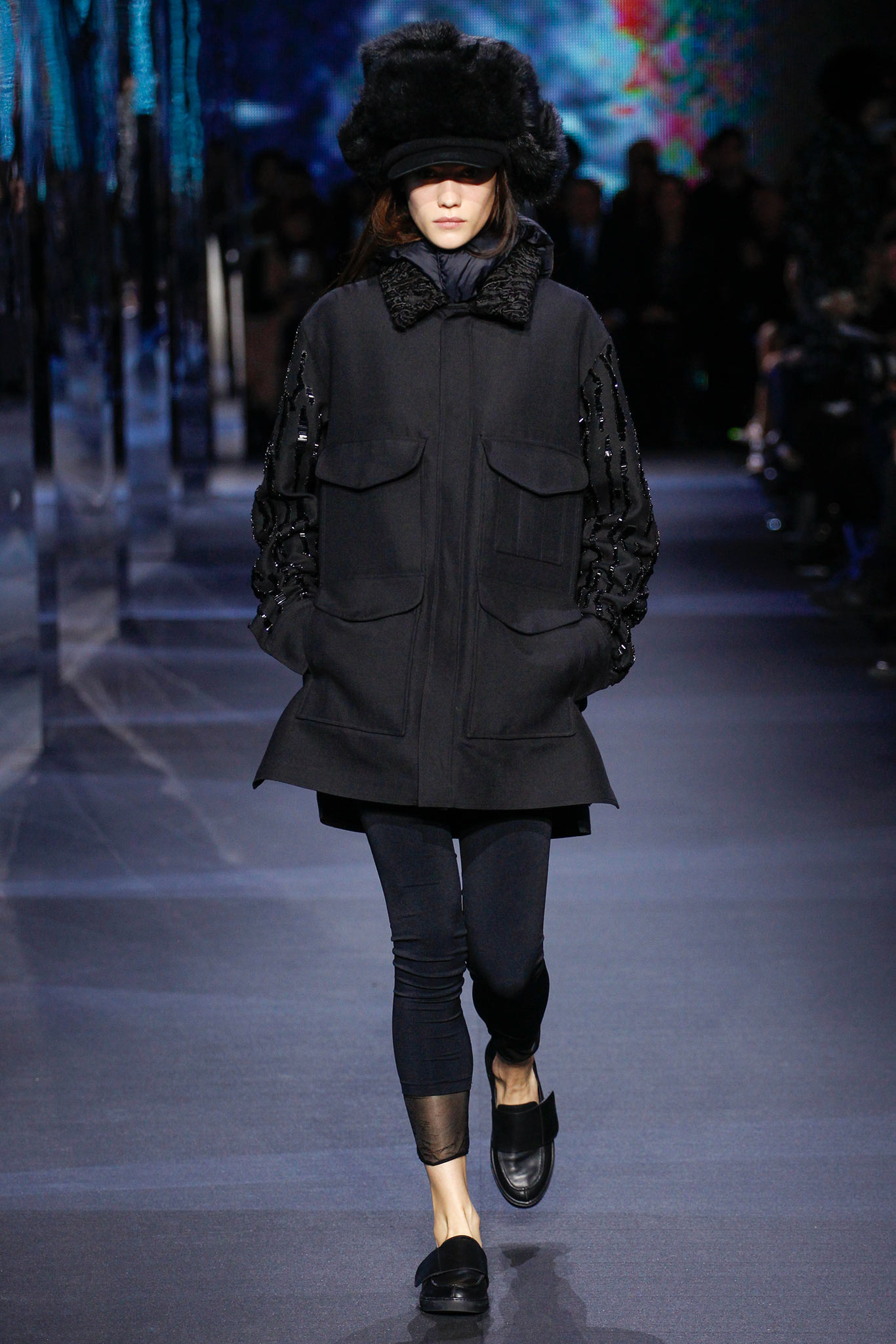 MONCLER GAMME ROUGE
Perfect example of casual lux with the fur collar and embellished sleeves. A little blingage goes a long way.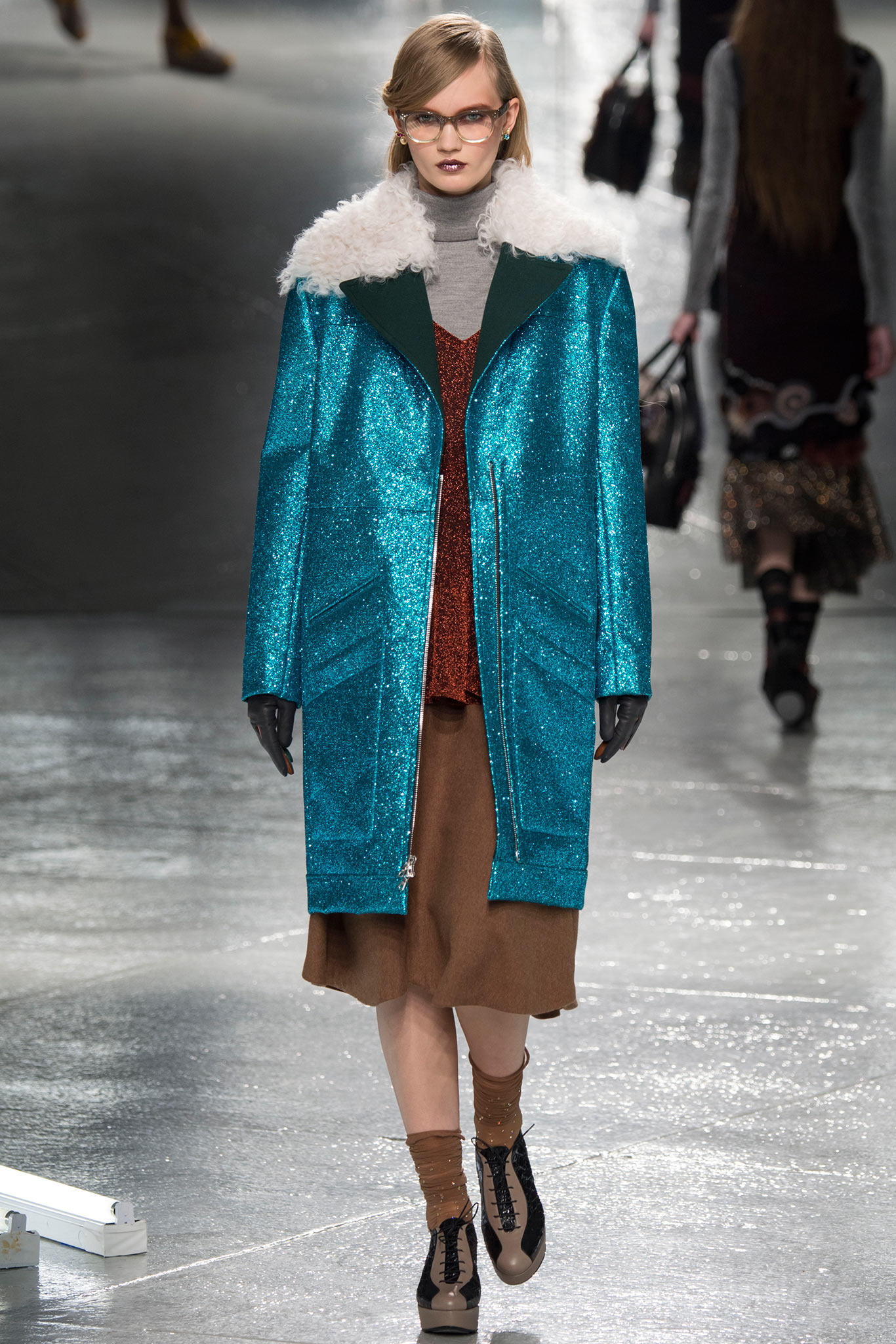 RODARTE
Low level opulence at its best. Throw over that Paul Smith shearling vest and jeans. S H A Z A M!
Now for the Japanese....you can always count on a hefty helping of black, perpetual playful whimsy, and a dollop of the avantgarde.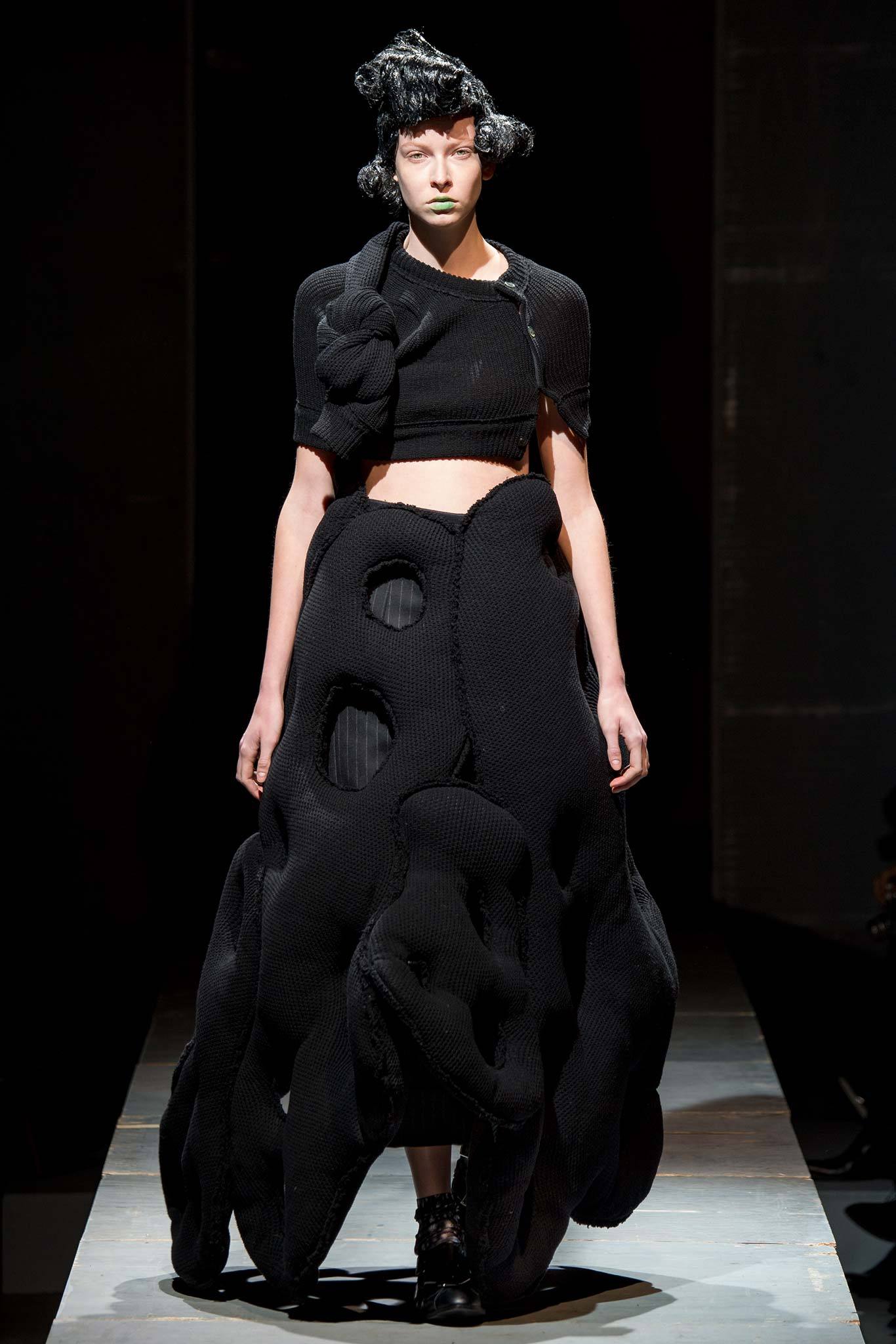 COMME DES GARCONS
For the bold, brash, and brave.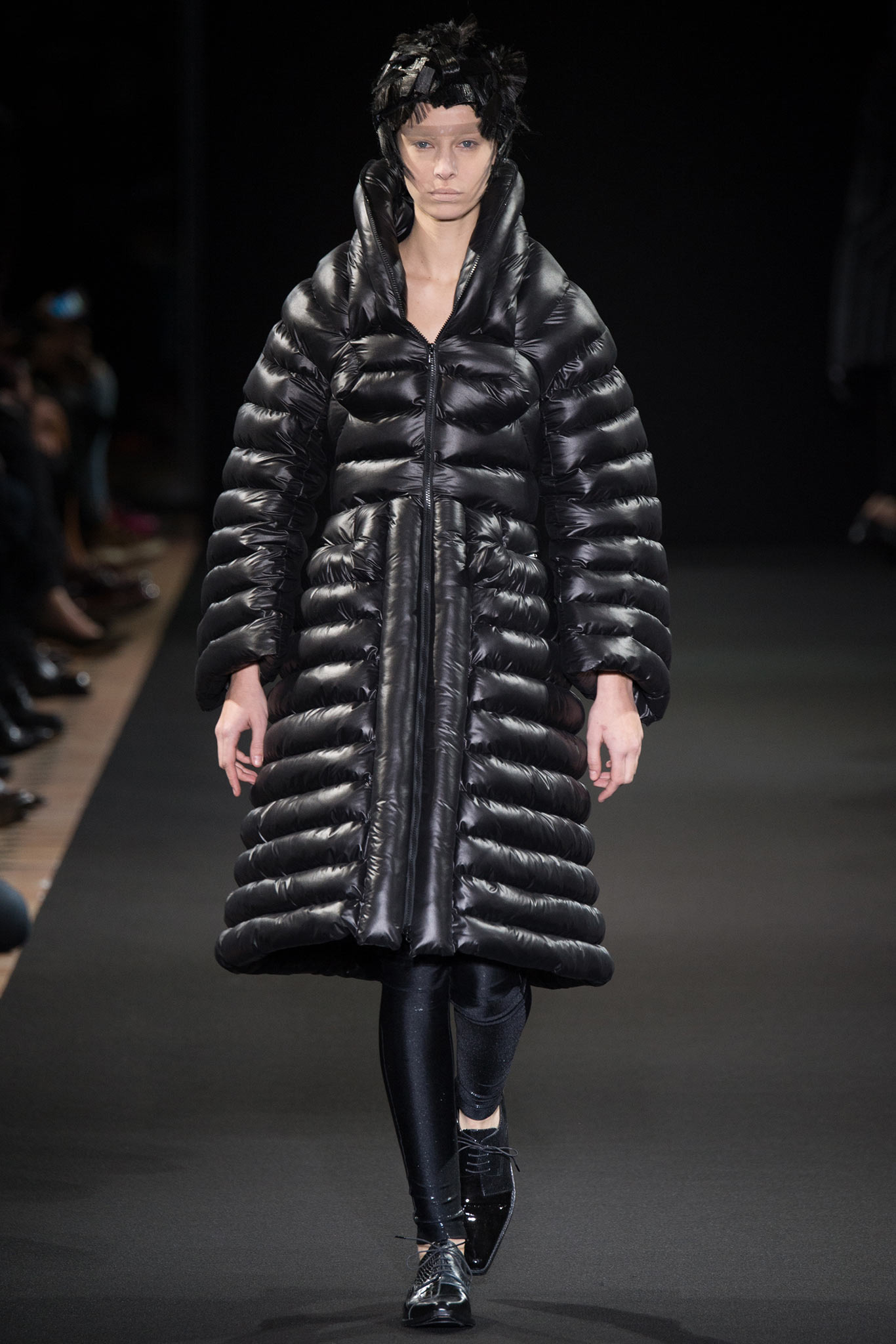 JUNYA WATANABE
Not exactly the puffer I remember from my childhood (my favorite piece of clothing, sigh...), which is probably a good thing. A space age, yet somehow feminine version of the standard entry we are all accustomed to.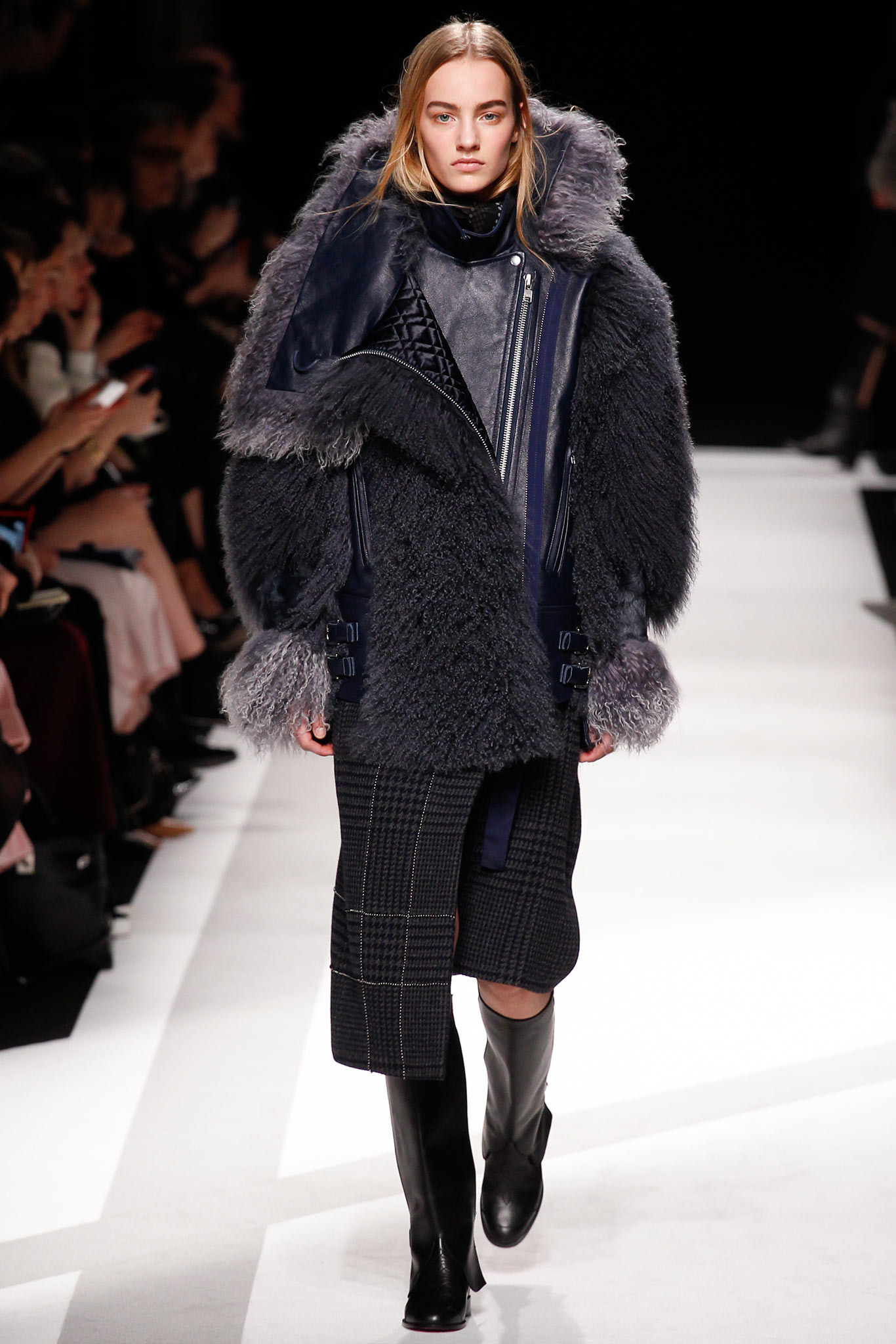 SACAI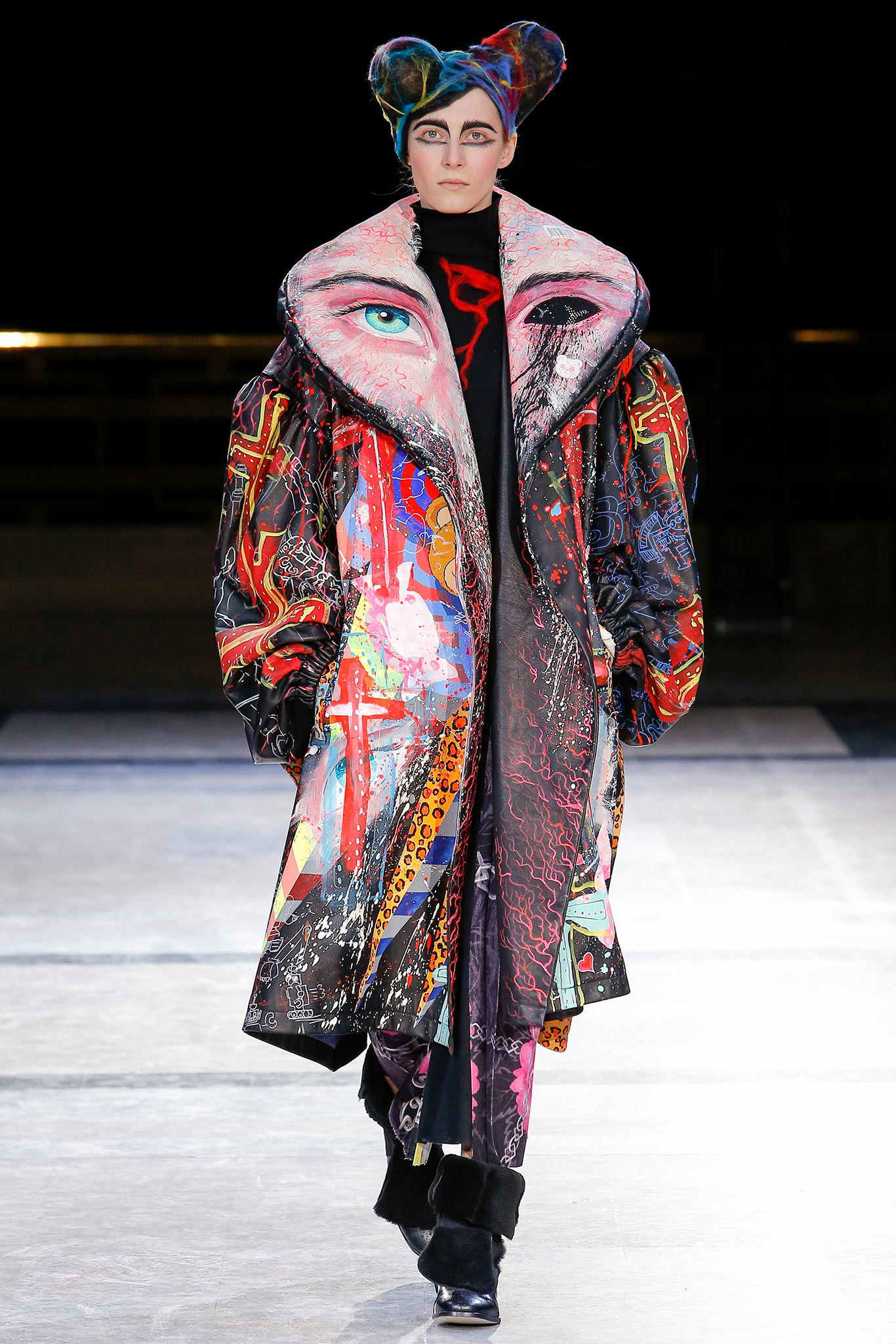 YOHJI YAMAMOTO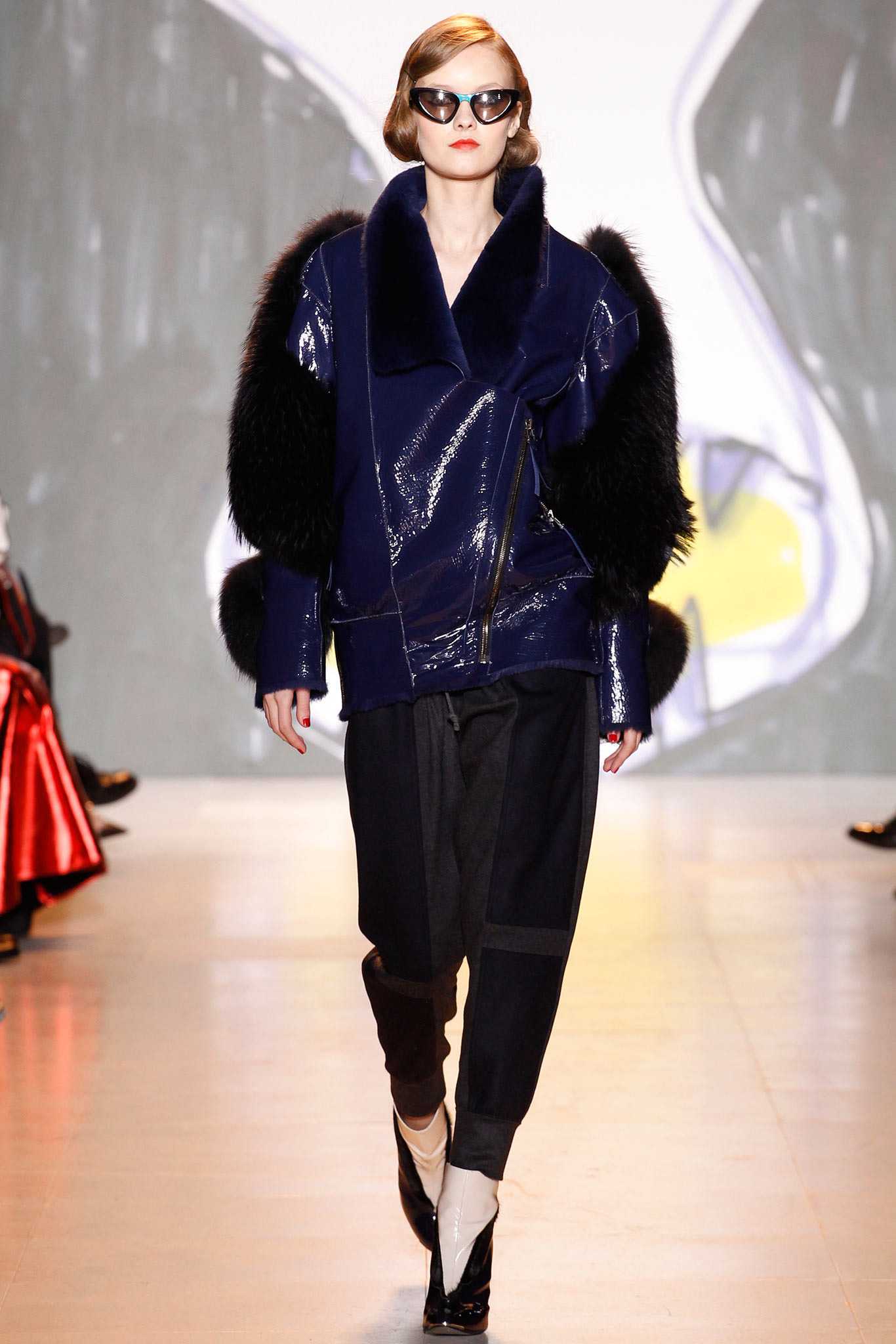 TSUMORI CHISATO
More of my favorites in a winning spectacular season: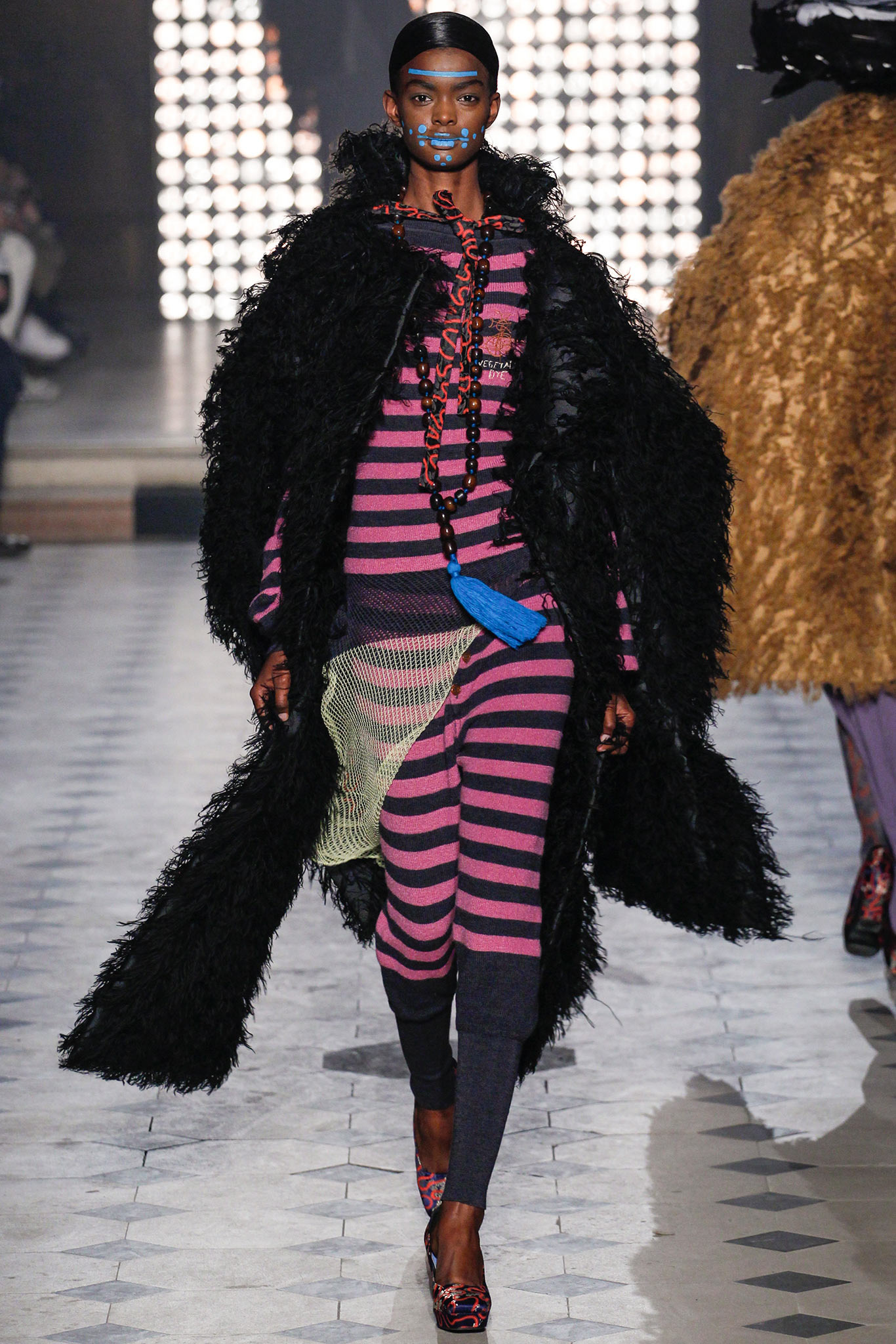 VIVIENNE WESTWOOD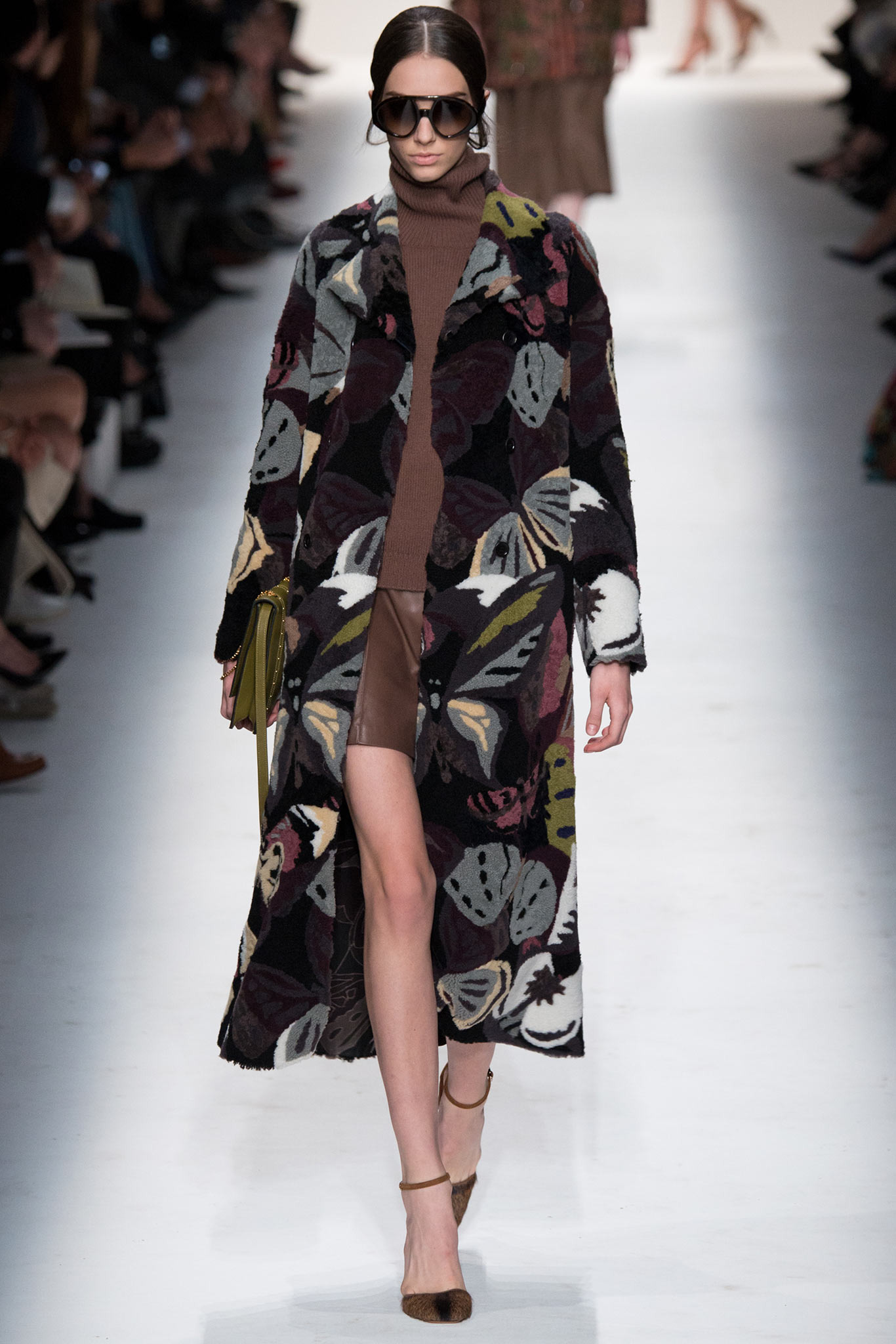 VALENTINO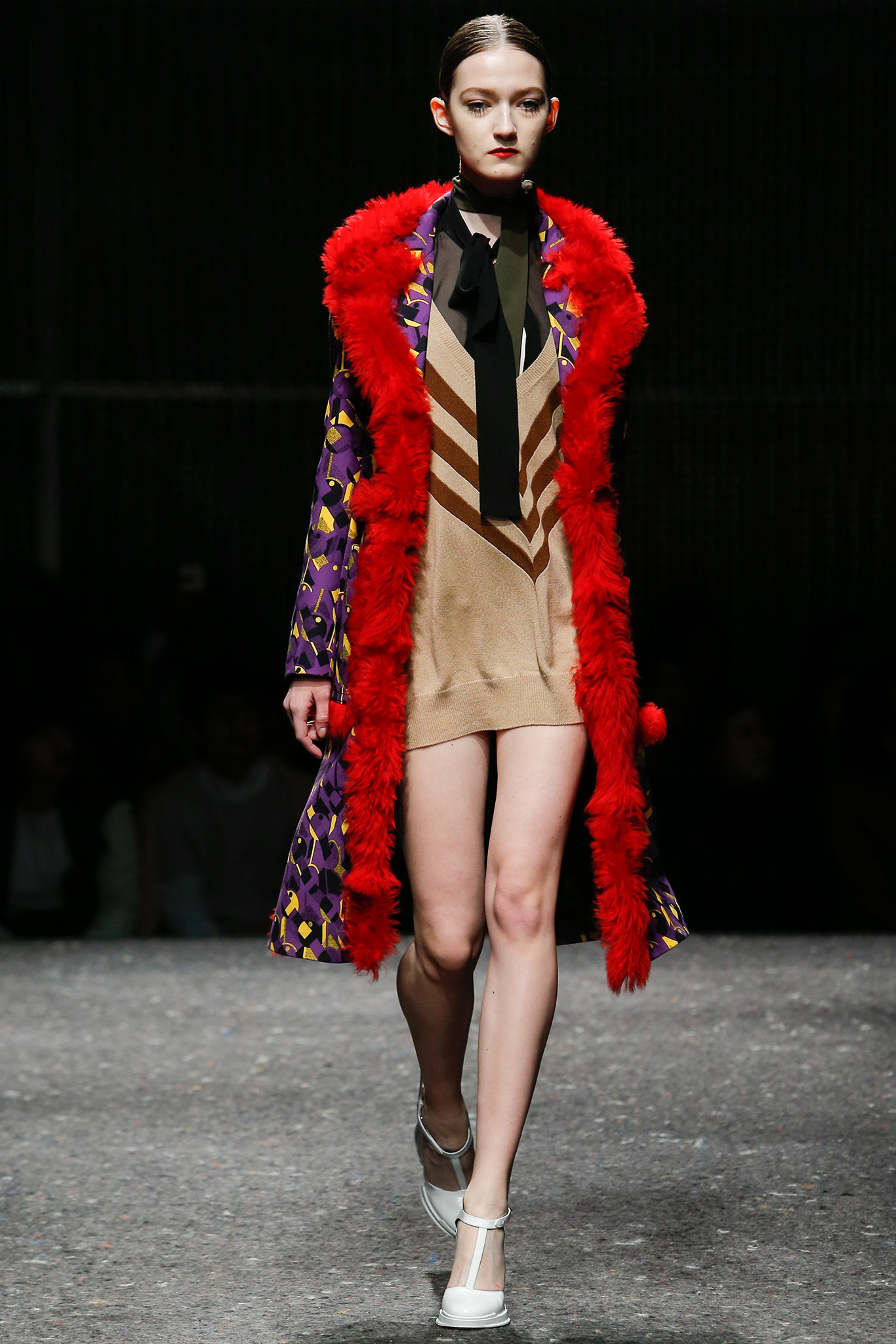 PRADA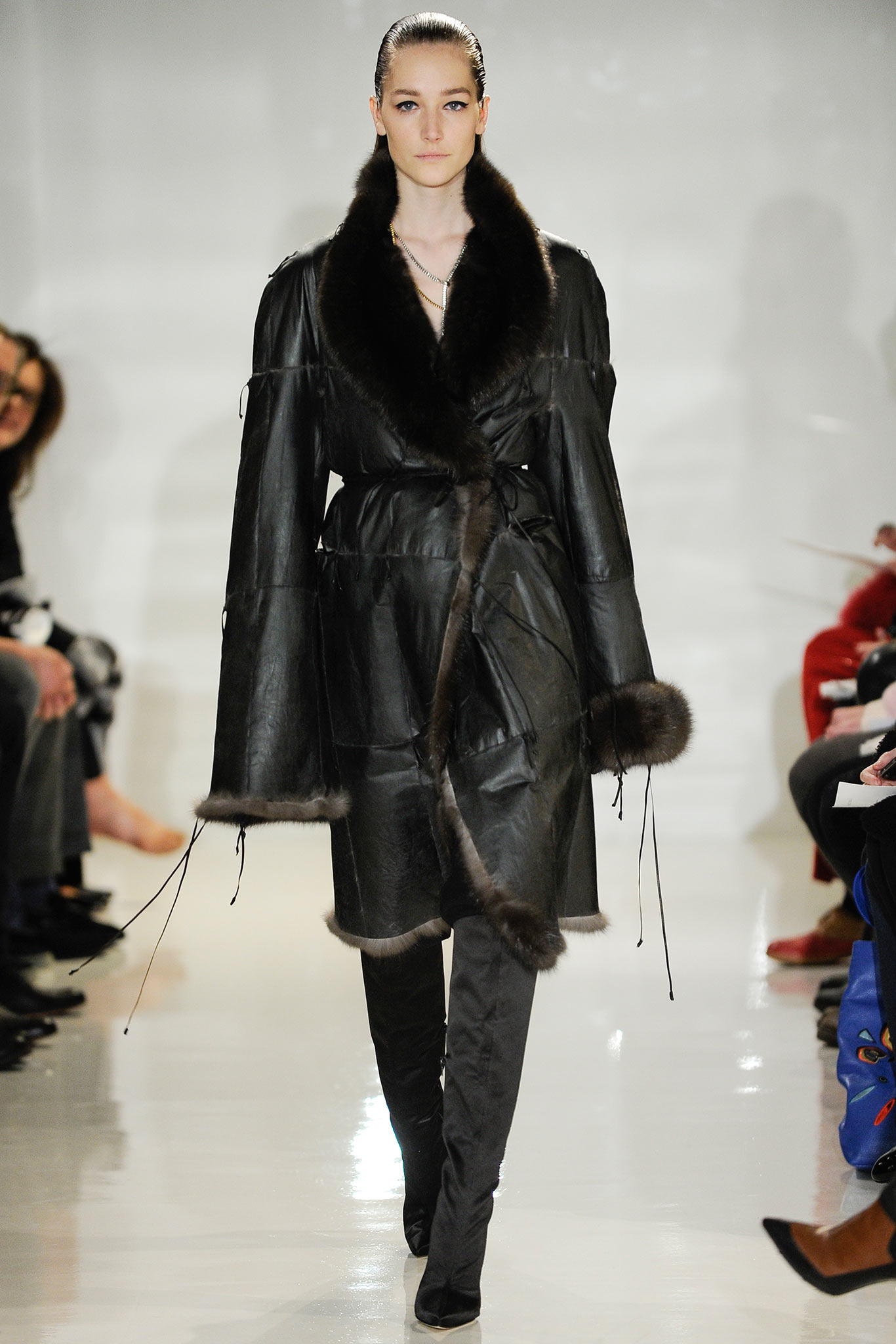 RALPH RUCCI
Tibetan titan. This coat is lined in sable, the ultimate in luxury when it comes to fur. I tried this bad boy on, and believe it or not, light as a feather. ($100,000 in case you were wondering). Needless to say, made to order.
Thanks to all the talented designers for providing a jaw dropping display of wearable options to keep us comfortable, content, and beyond the reach of the hypotheria Gods.
Although fall winter sales have begun and resort fashions are hitting the racks as I type this, many of these pieces will be found on www.neimanmarcus. com, www.saksfifthavenue.com, www.net-a-porter.com, or www.luisaviaroma.com.
Images brought to you by www.style.com