Well light in actual weight, but heavy in visual impact and sensual satisfaction! Better than pasta on the Via Veneto without those evil carbs. Nothing will stave off the beat of the Four Men of the Apocalypse galloping at full speed as the anticipation of the Italians in all their glory. From the renaissance to current times, these are folks that take their pleasures seriously, whether it be fashion, food, drink, or, well, whatever. Whether culinary, cappuccino, or haberdashery, these guys do it right. We await a satisfying blending of form, function, and audacious fantasy. Let the games begin!
ALBERTA FERRETTI:
She never ever disappoints when it comes to conjuring up the most gorgeous and fanciful frocks, like nothing you've ever seen outside the couture houses in Paris. Of course, many of these dreamy elements will never show up on the random racks, even in the most rarified bastions of fashion, but rather will be of the special order variety. Some will never be produced for retail. You'll know these pieces when you see them as the drool puddles on your computer. A broad color palette and exotic fabrications result in a glorious show.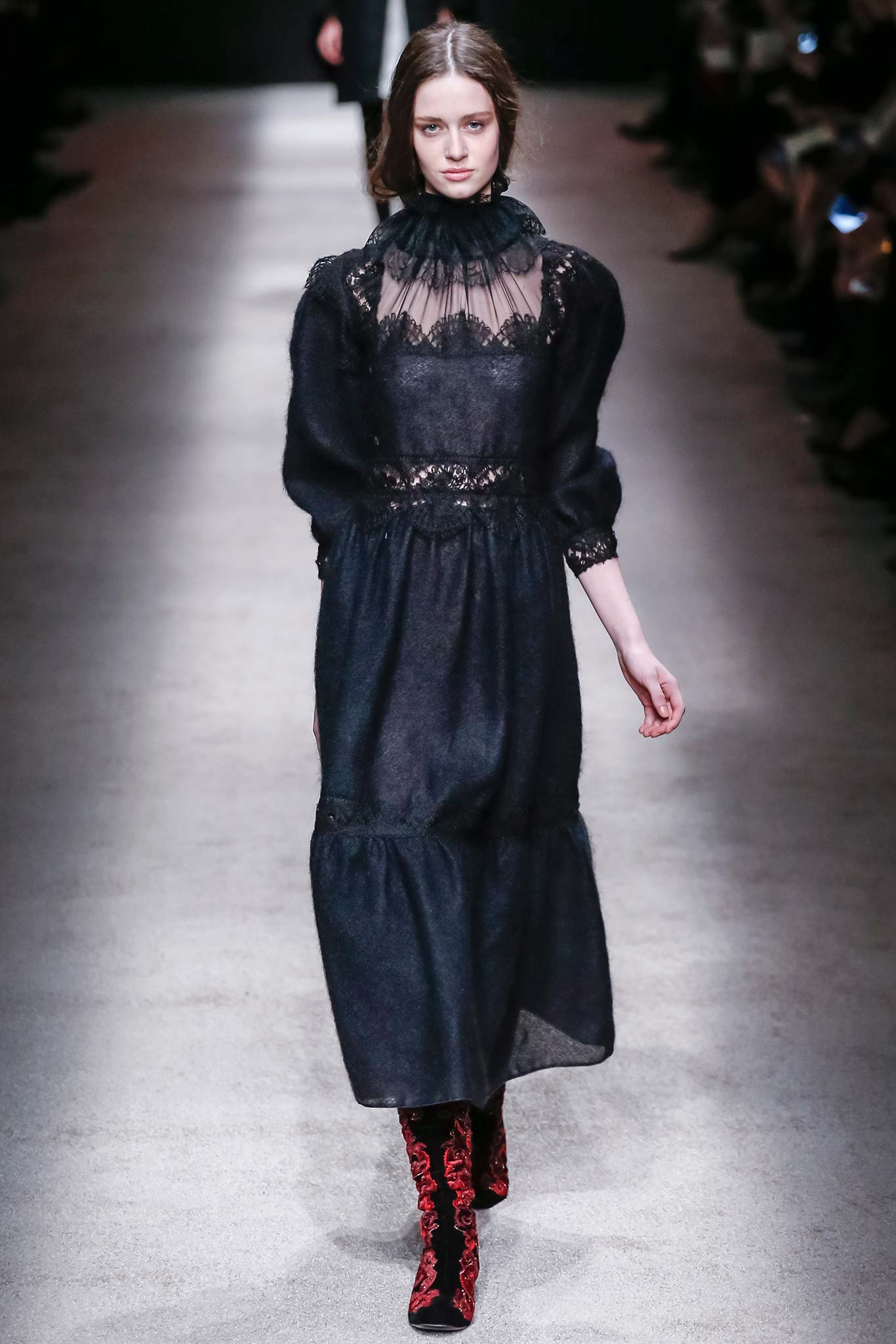 And the boots and shoes included are not the usual shockingly horrid variety we've come to expect. They would make Louis XIV proud, and this man LOVED him some velvet and buckles.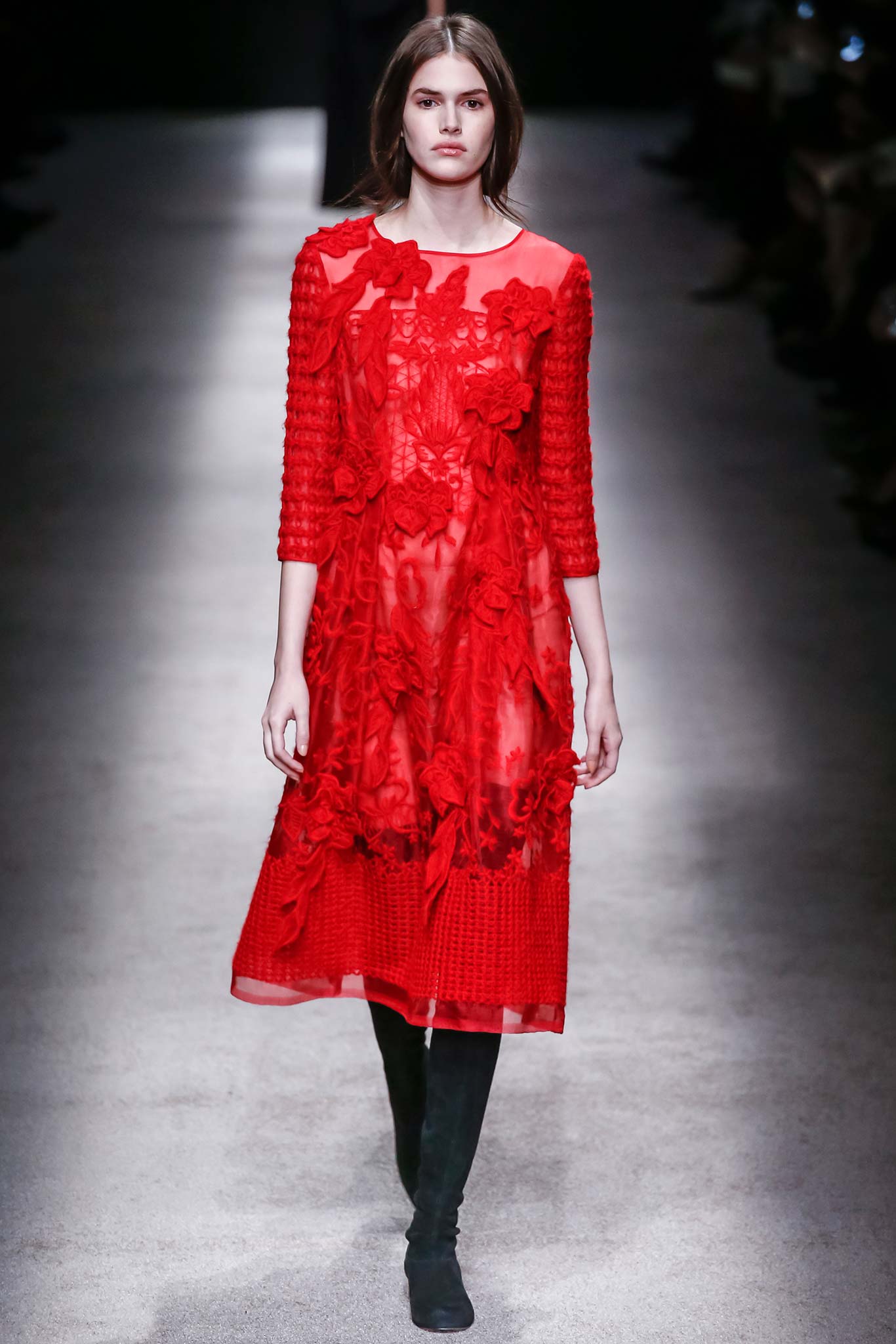 And here we edge on towards couture with an amazing rendition of three dimensional guipure lace, the likes of which I've only seen with Giambattista Valli.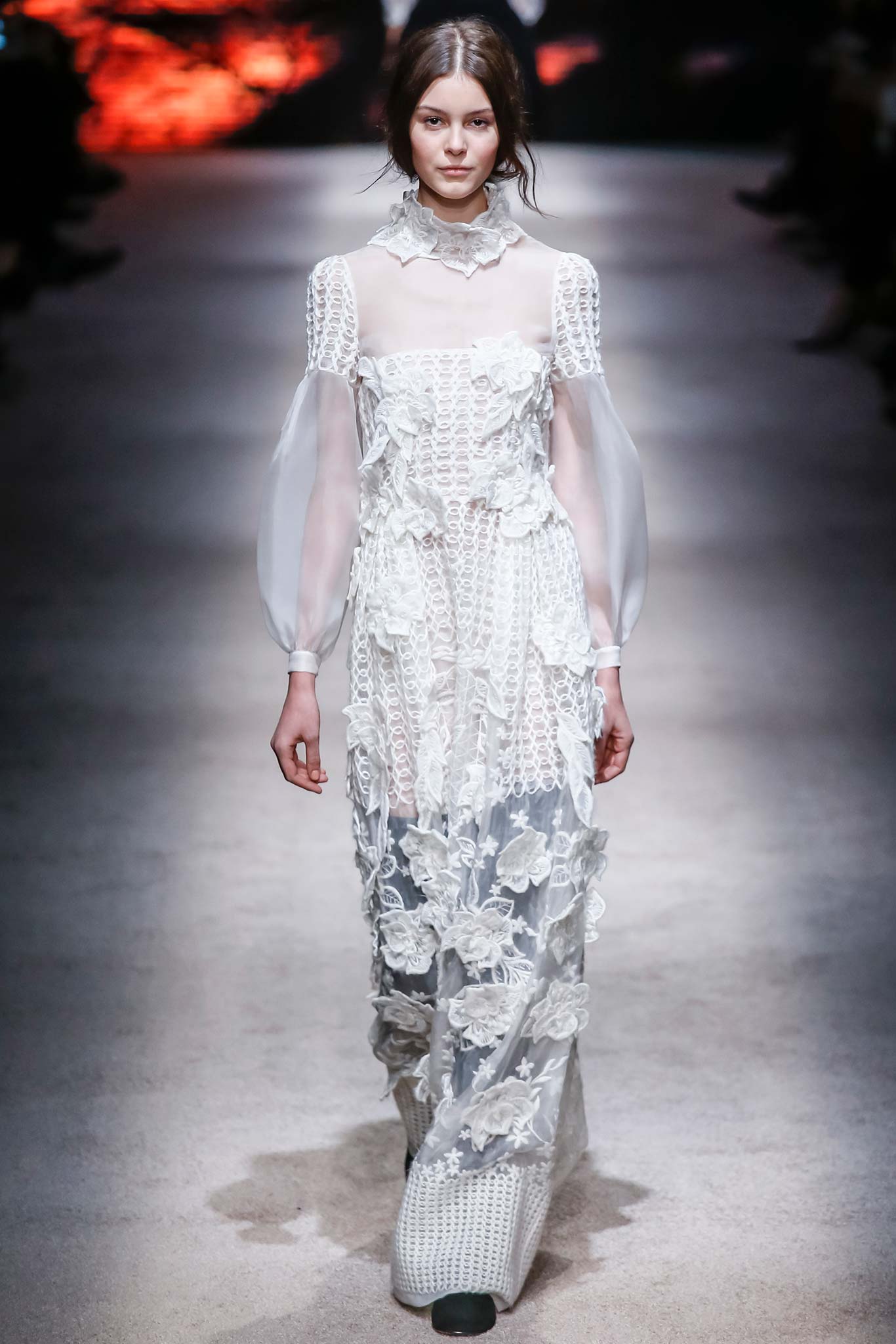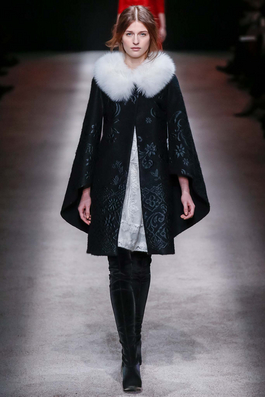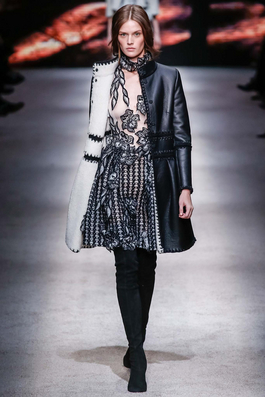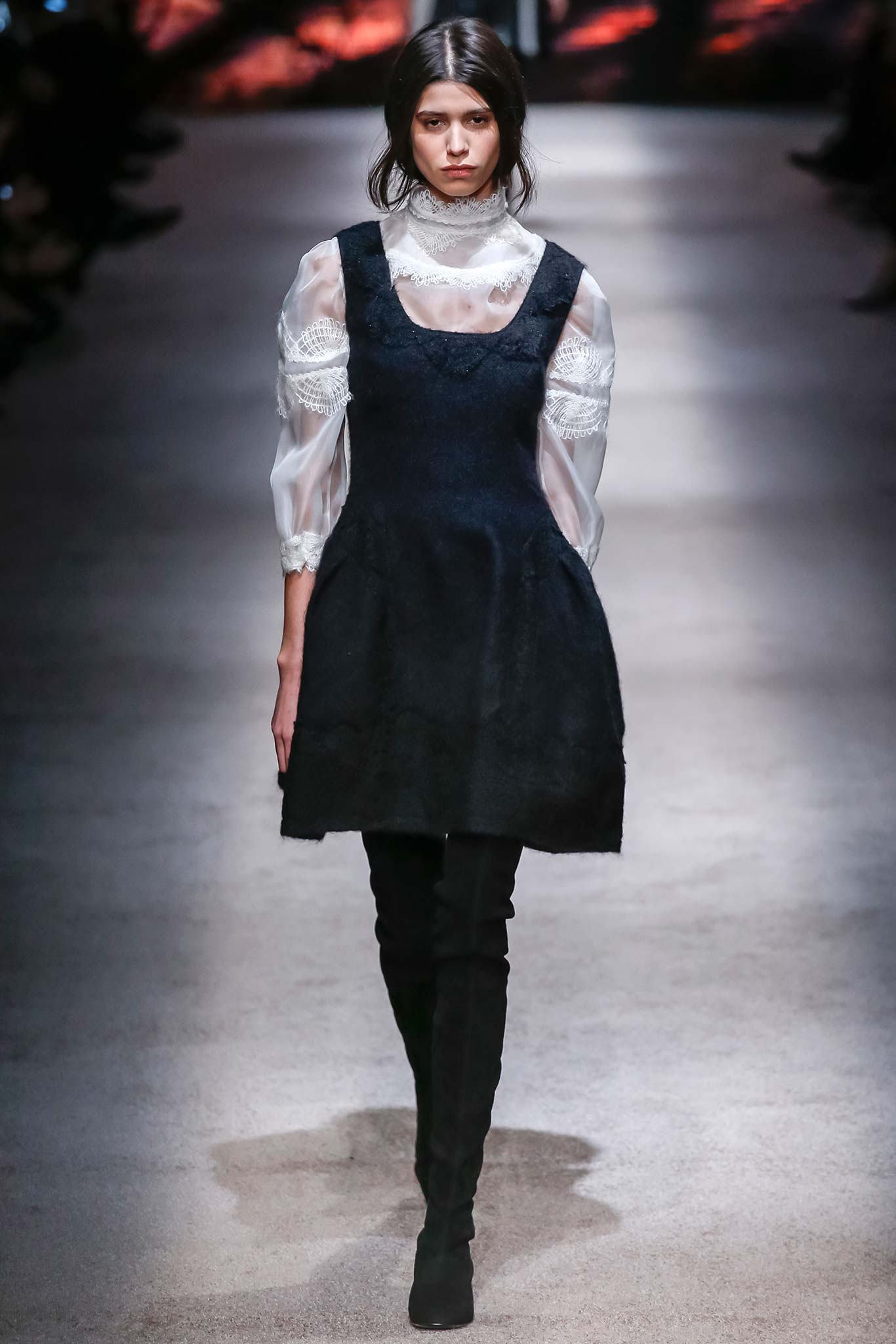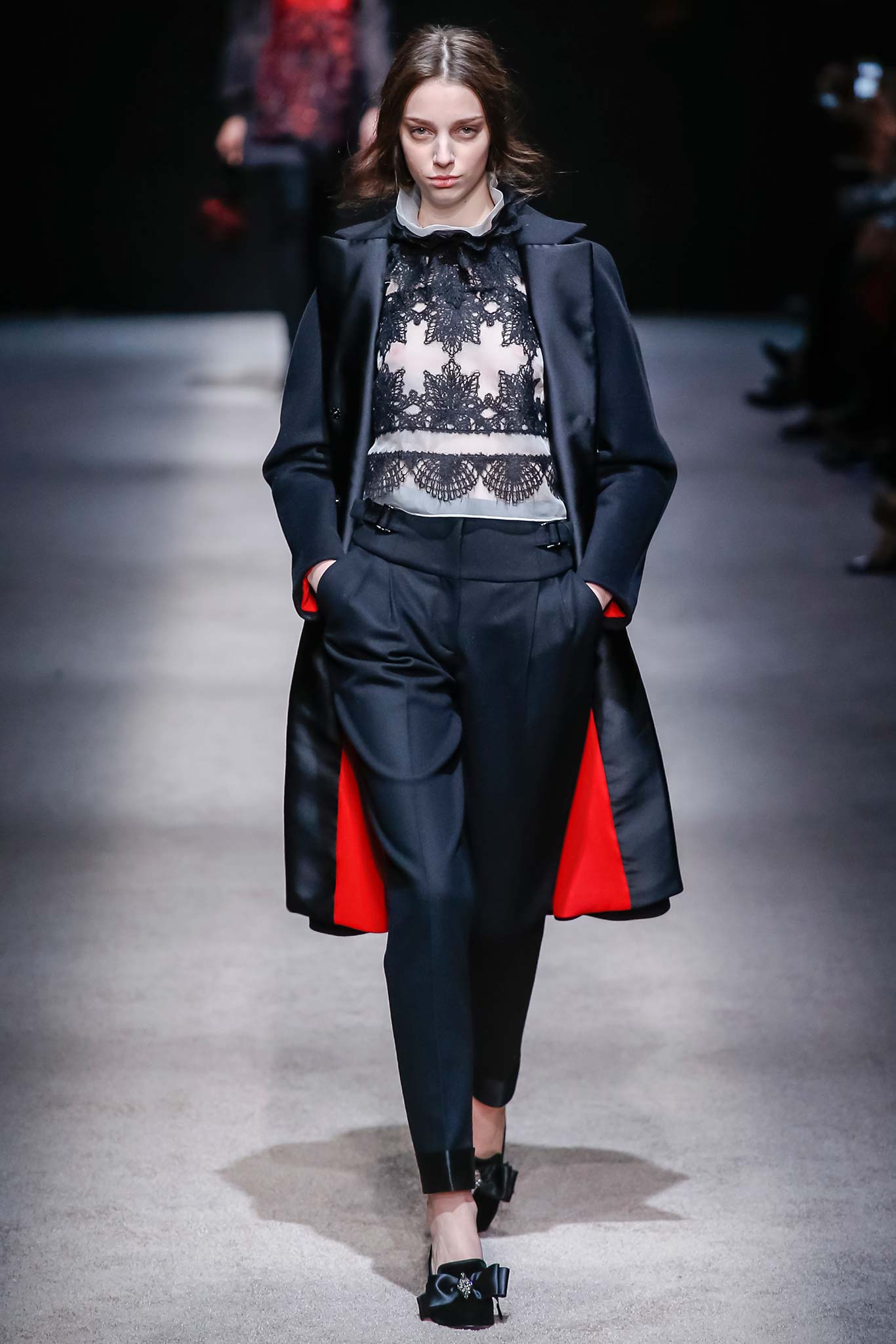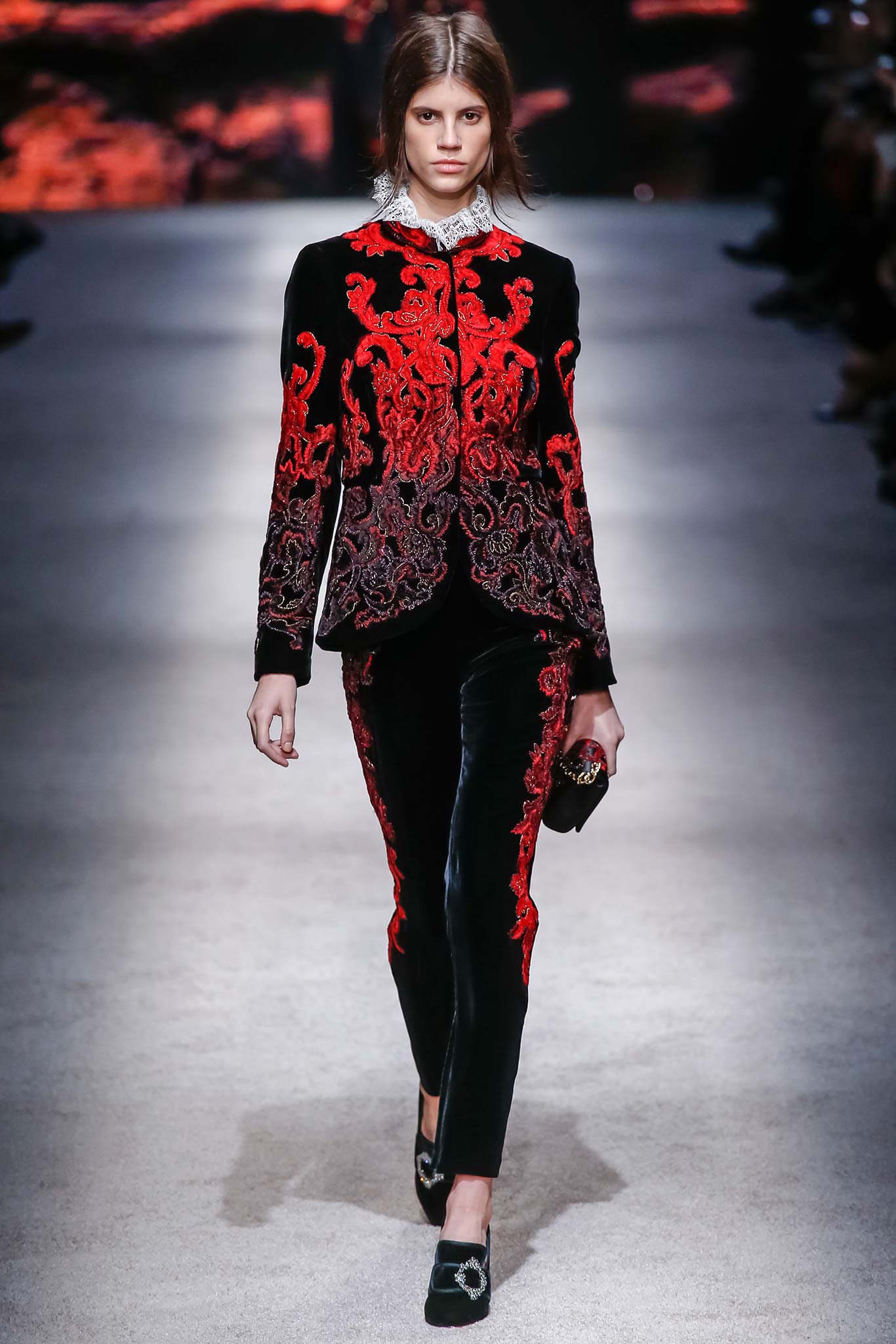 As much as I LOATHE bullfighting (I mean seriously), I love the toreador look. Striking and dramatic, a nice option for the pants wearers.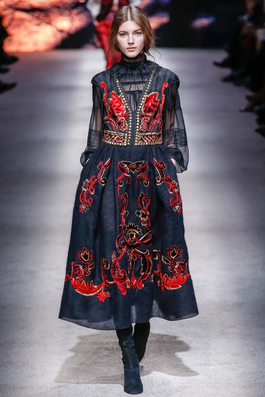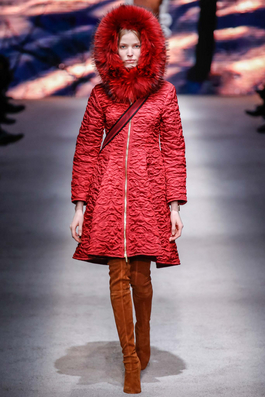 Every elegant note is hit with all versions of silks, jacquards, and cloque.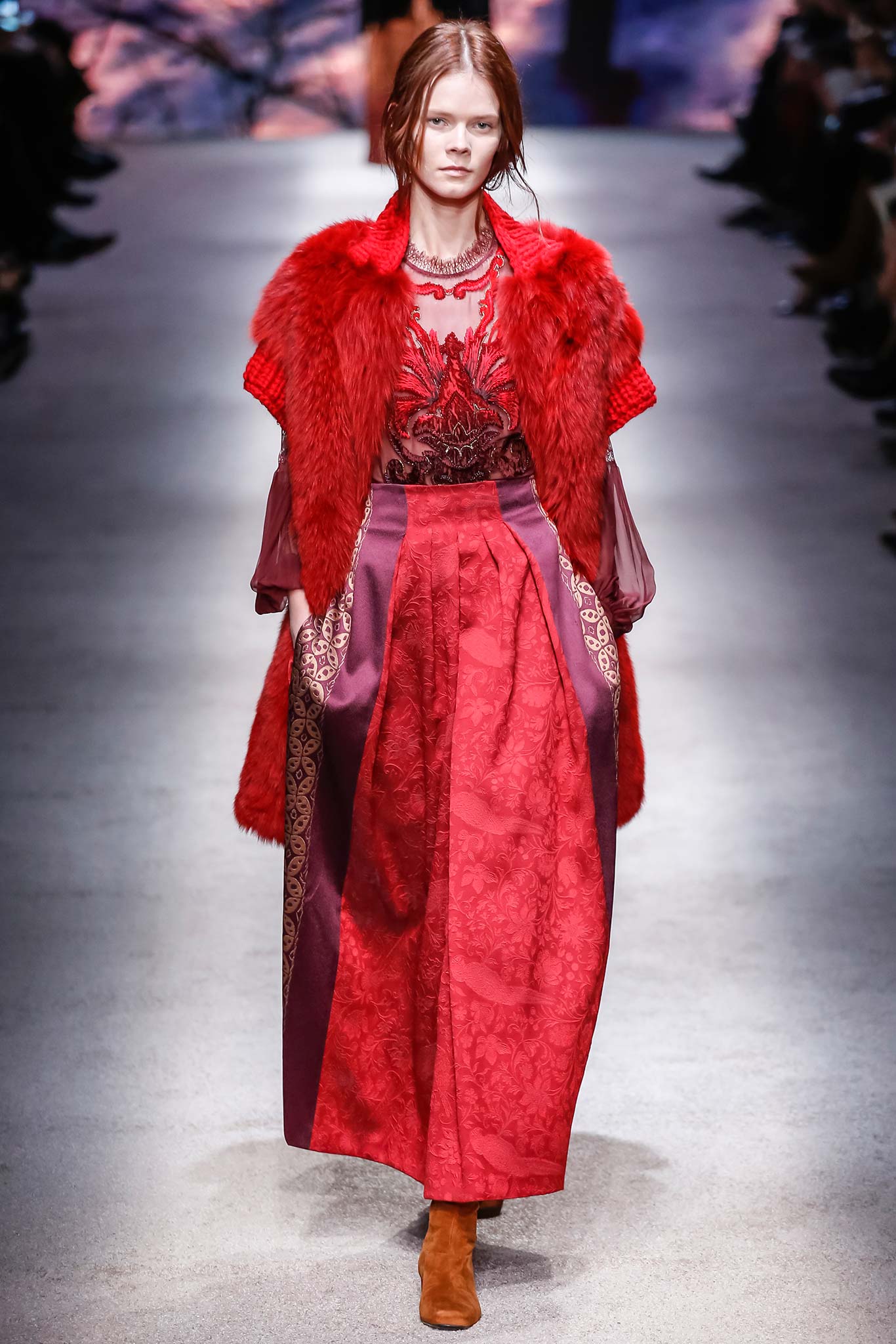 More is definitely better in this collection.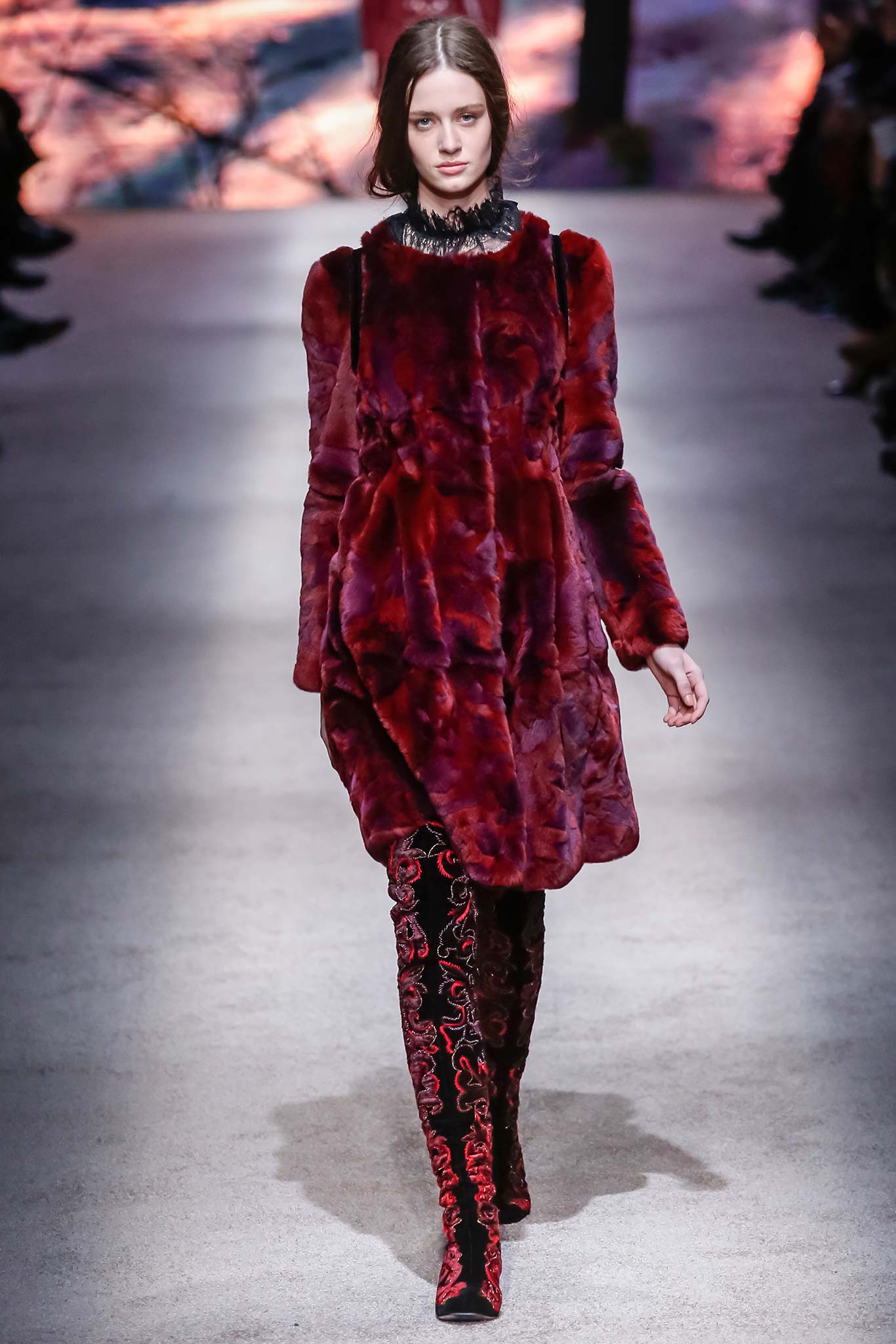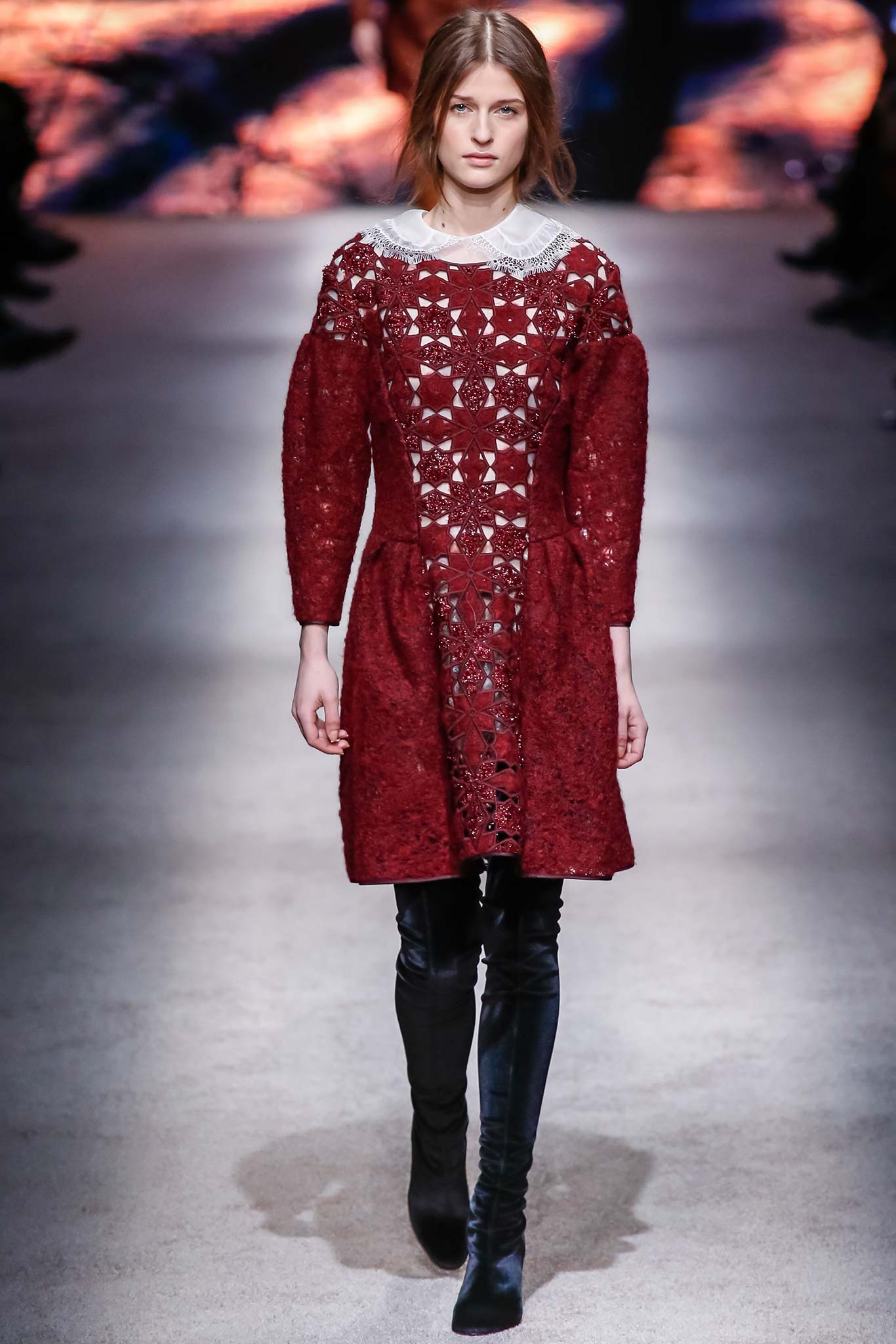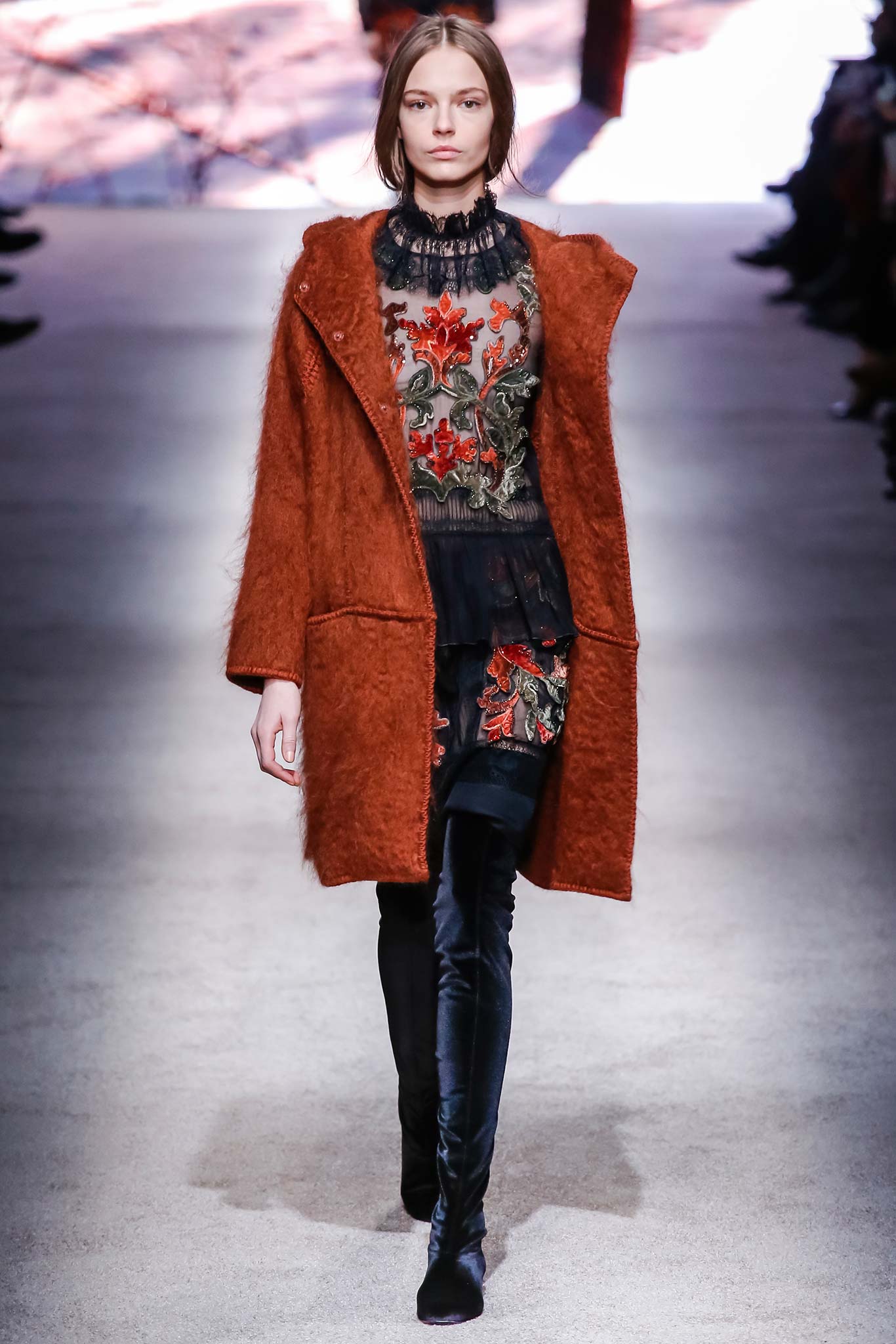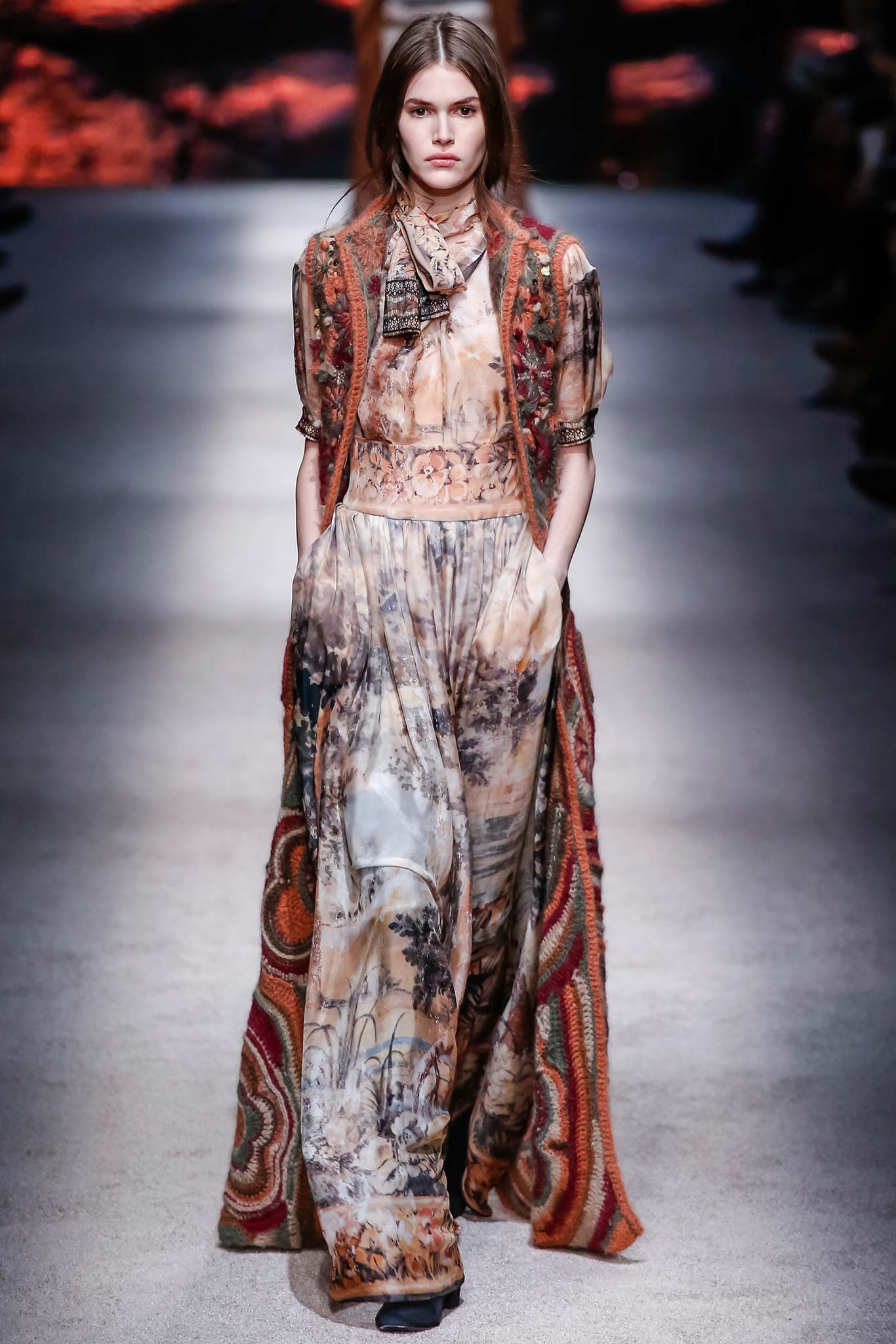 Multicolored macrame harkens back to the 70's for sure and can sometimes lapse into the unsavory, but here its a perfect adjunct to the floor length easy flowy upscale bohemian frock in a varied fall palette.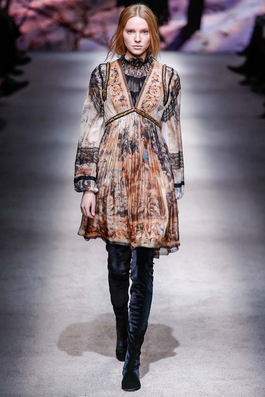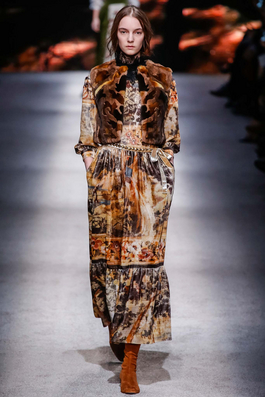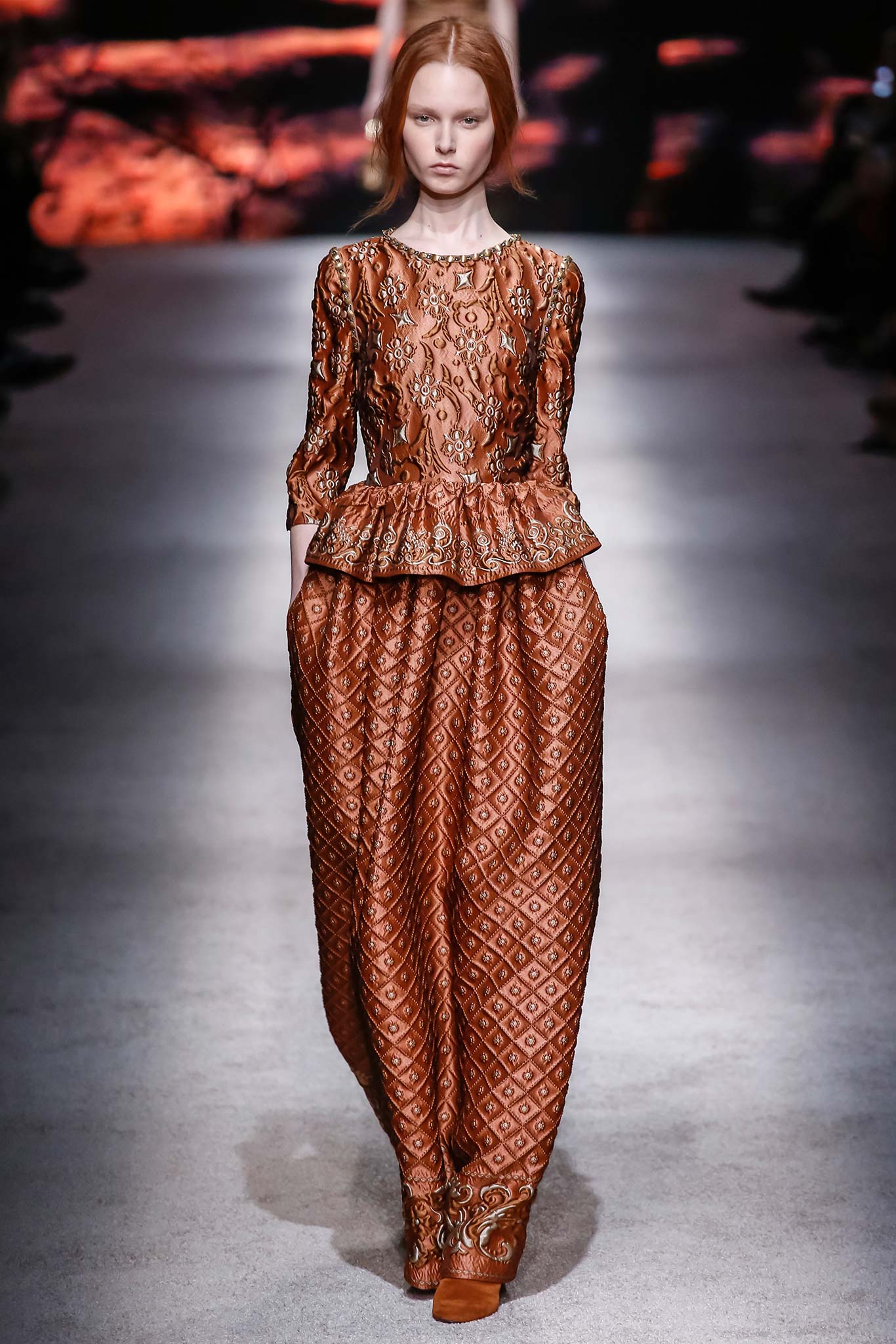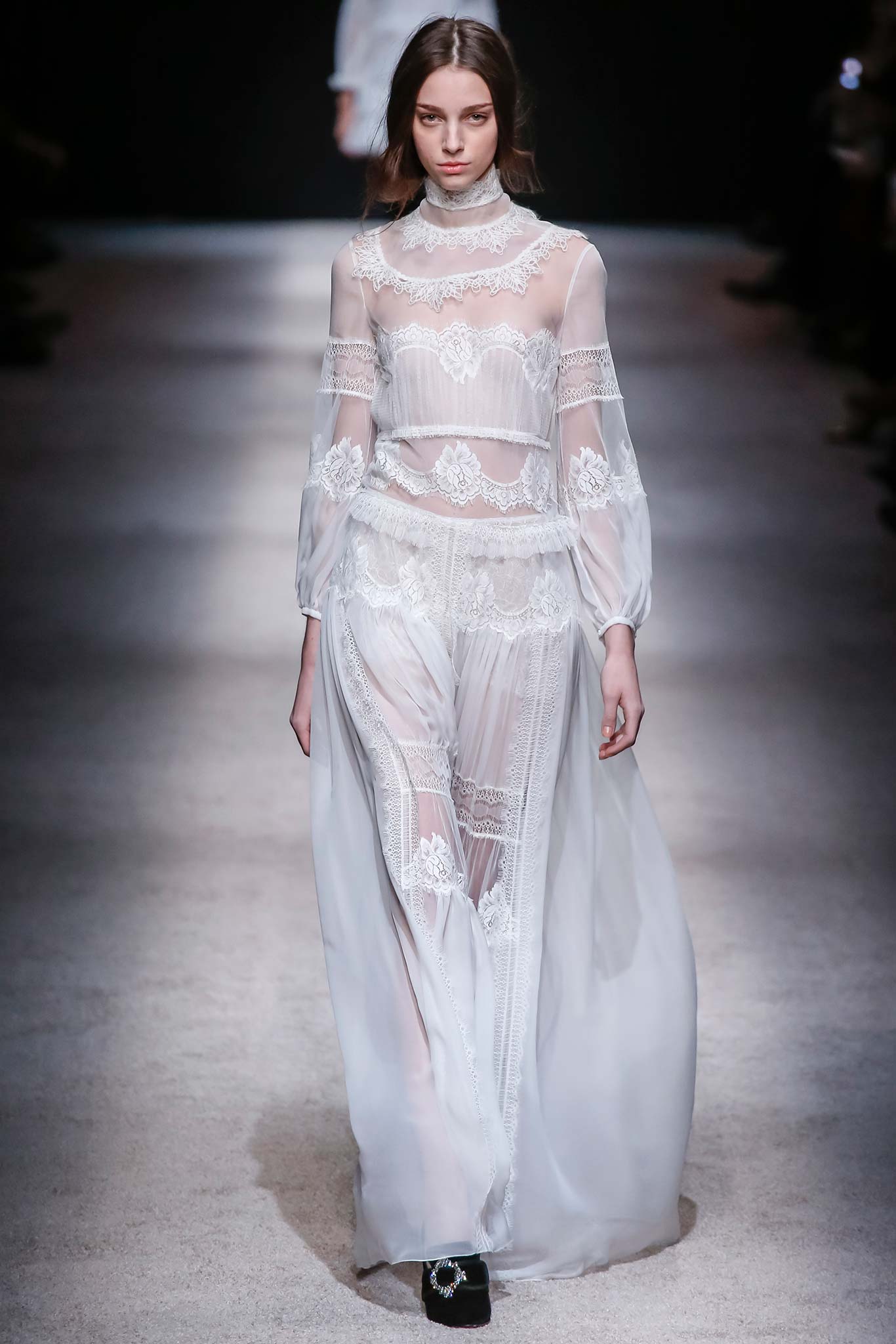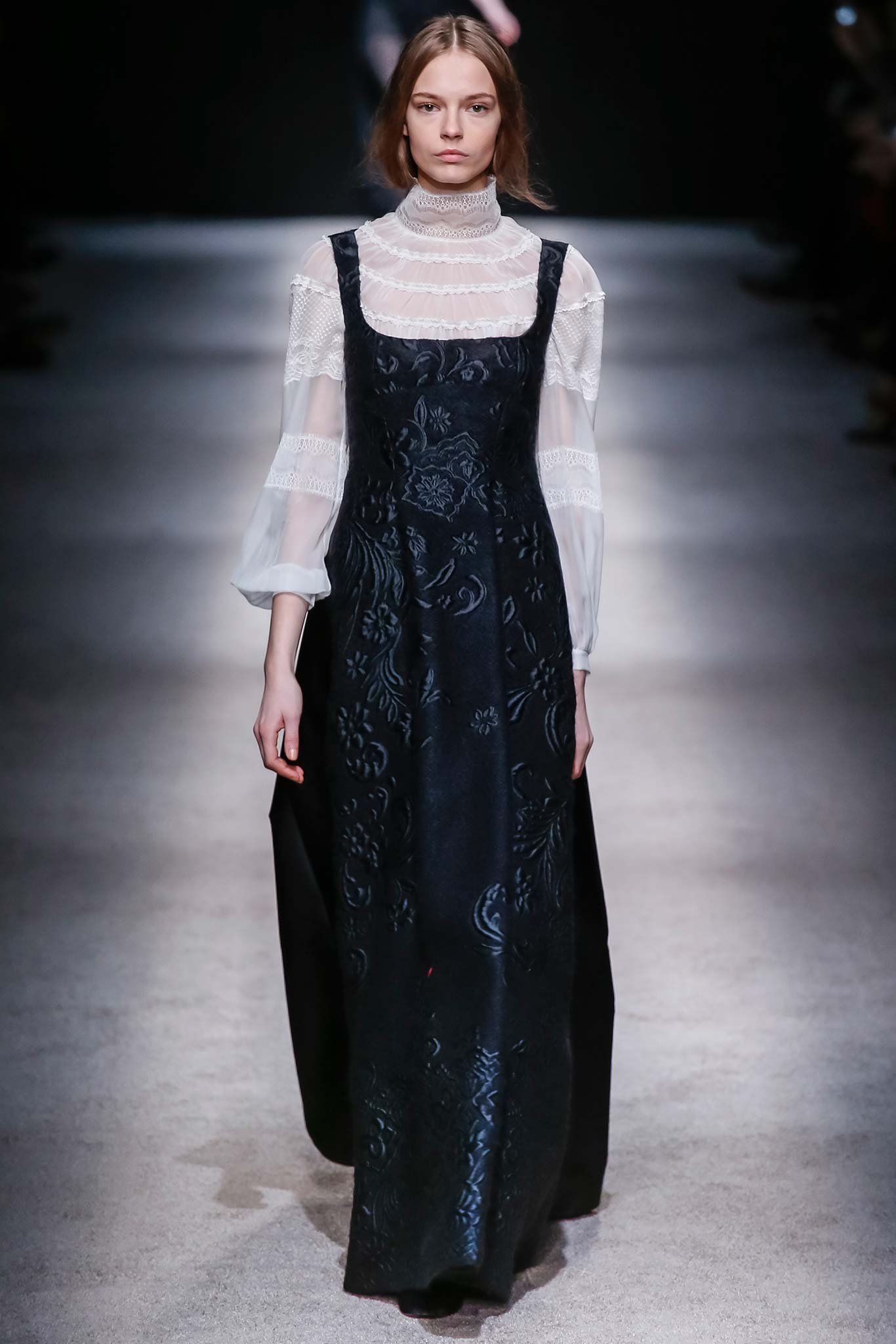 ANTONIO MARRAS:
Funky, dramatic, and modern, infused with a regal sensibility, what with laces, velvets, jacquards and cloque thrown into the mix.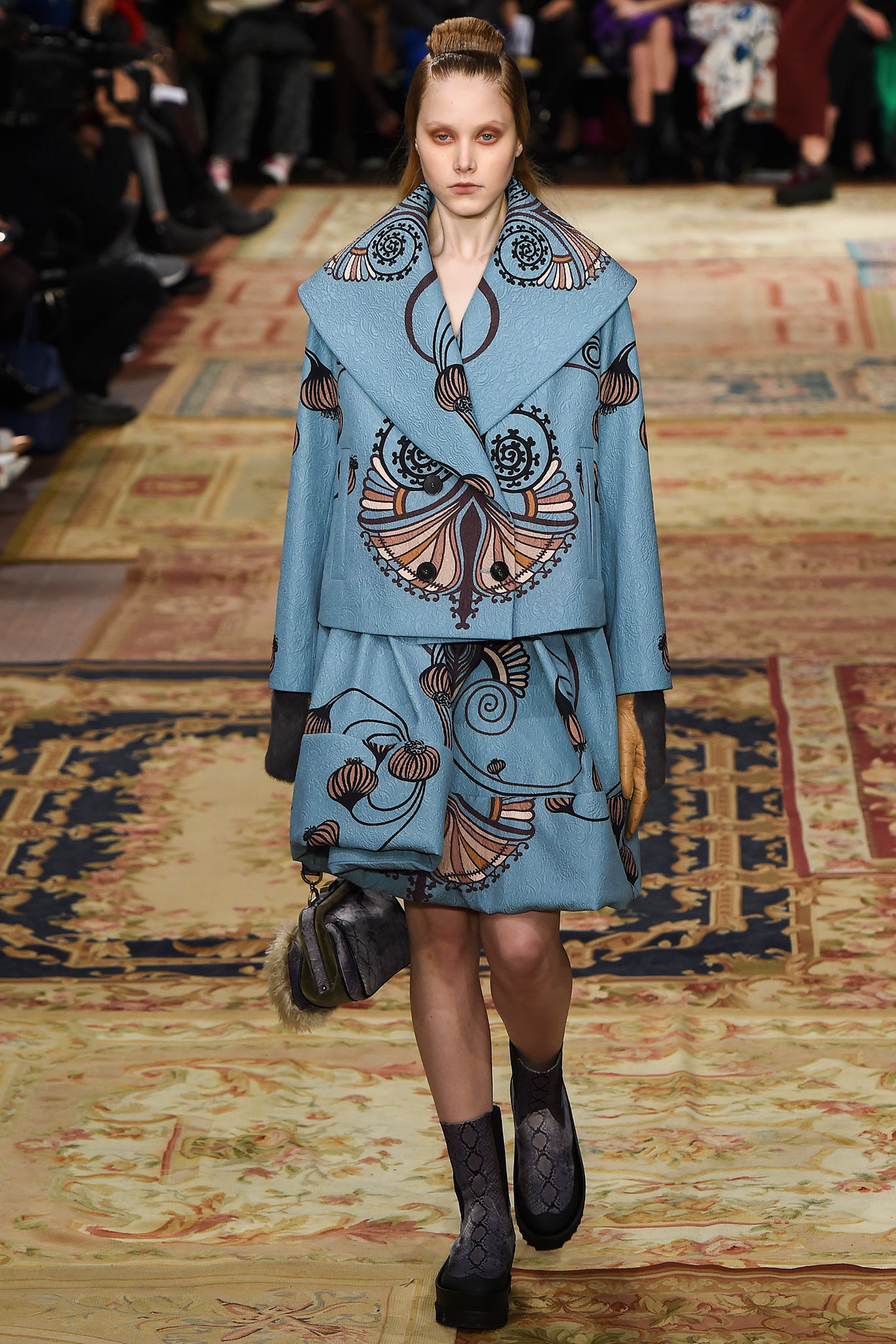 I'm loving his architectural silhouettes which always look non fussy and modern, softened and feminized by the luscious fabrications.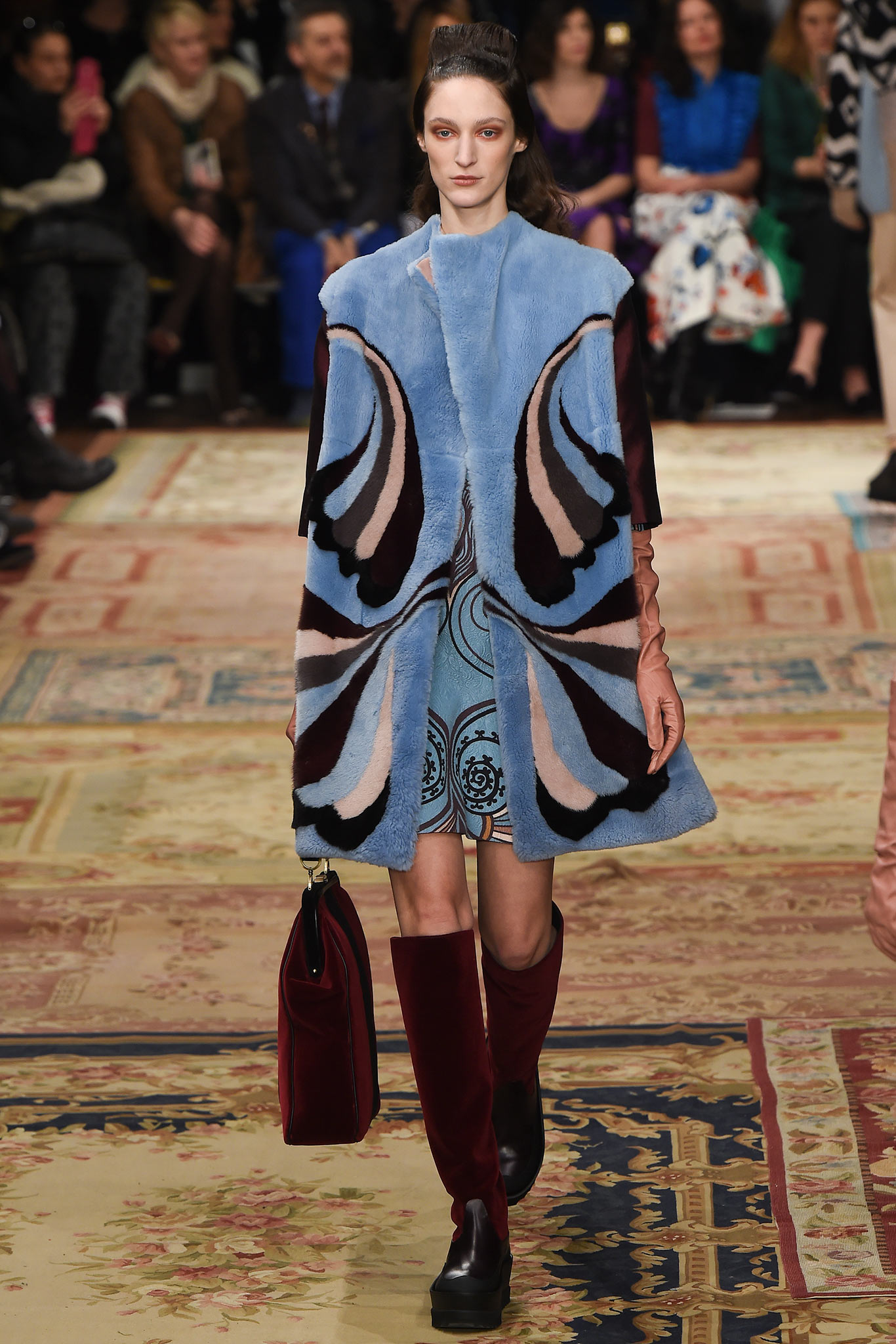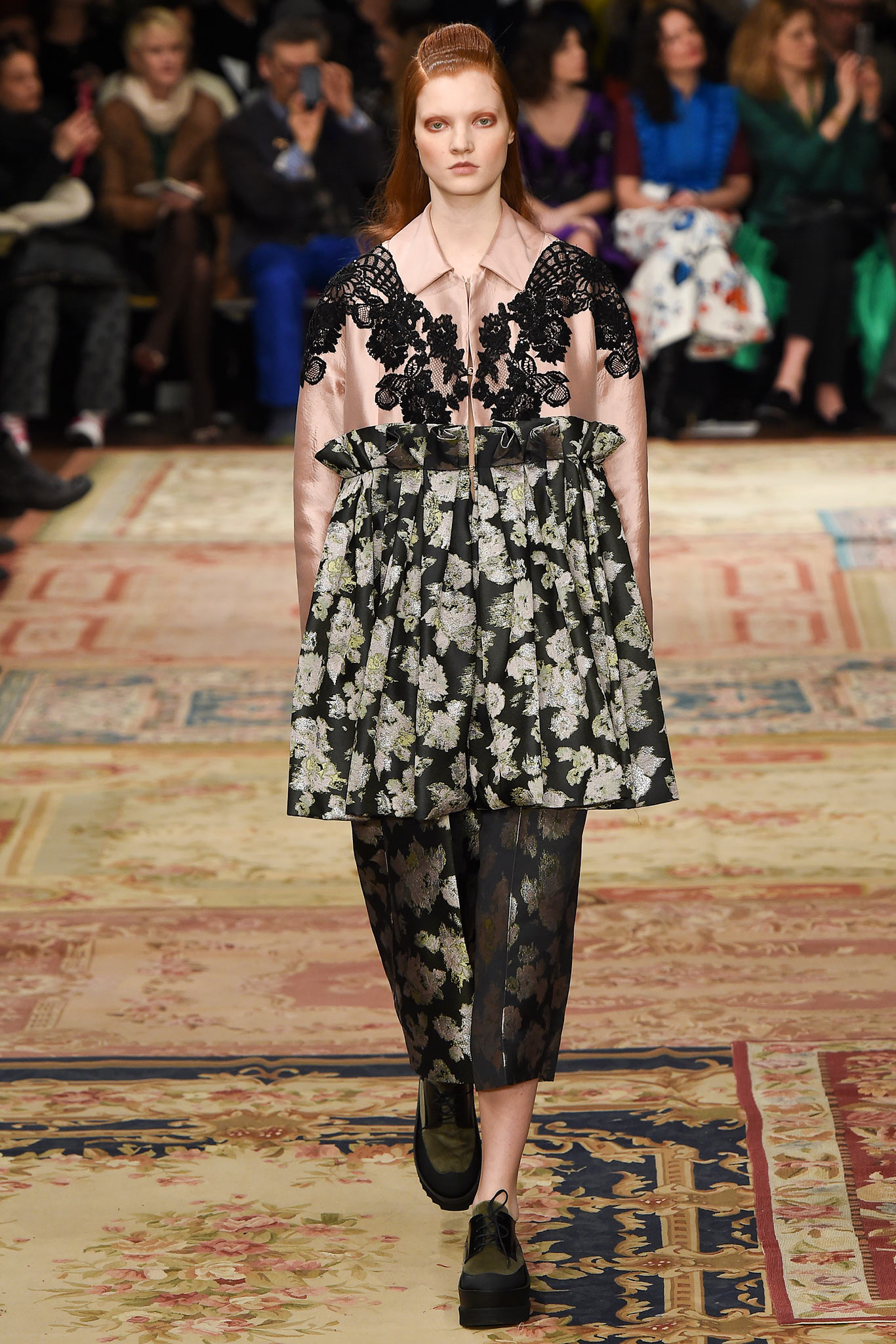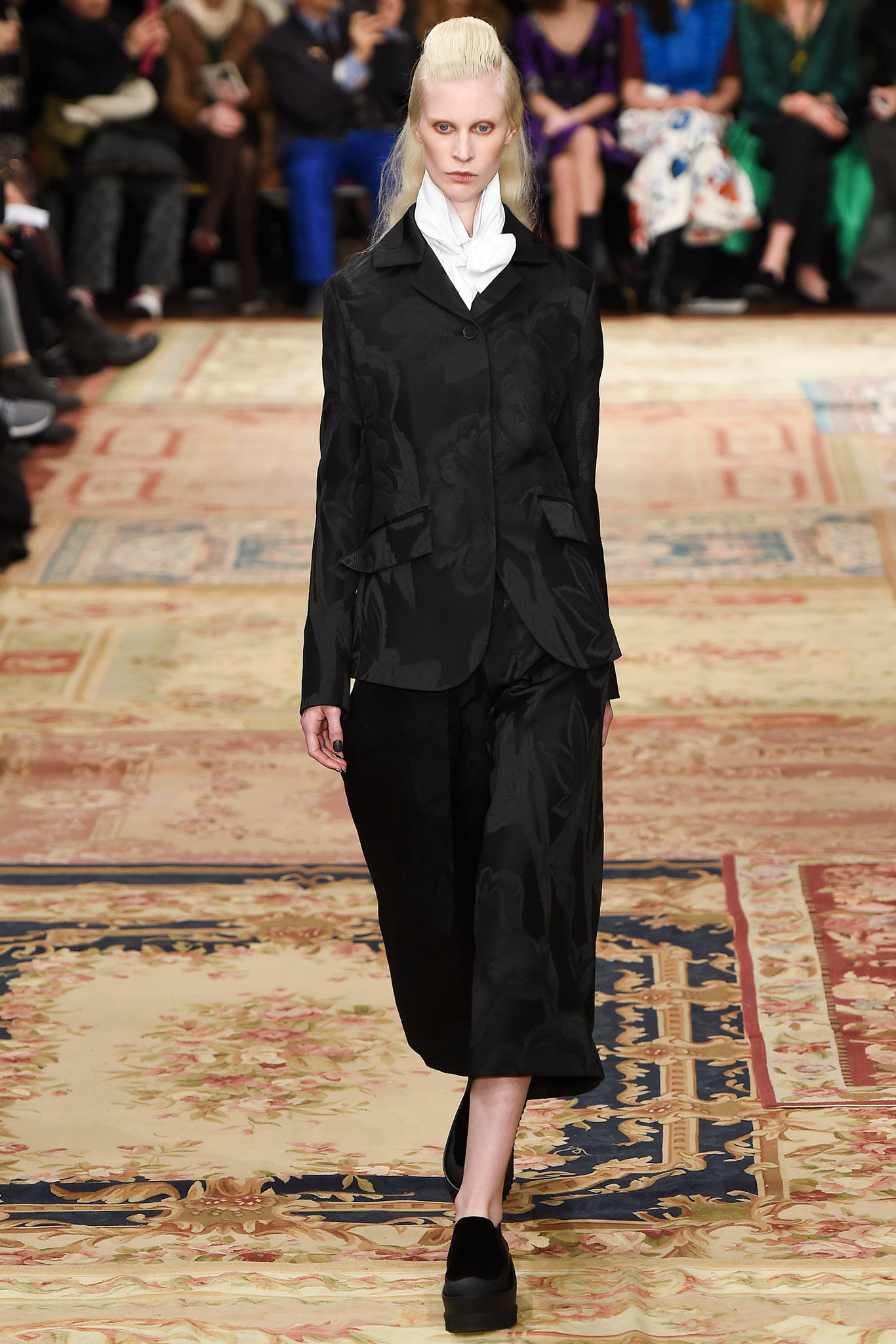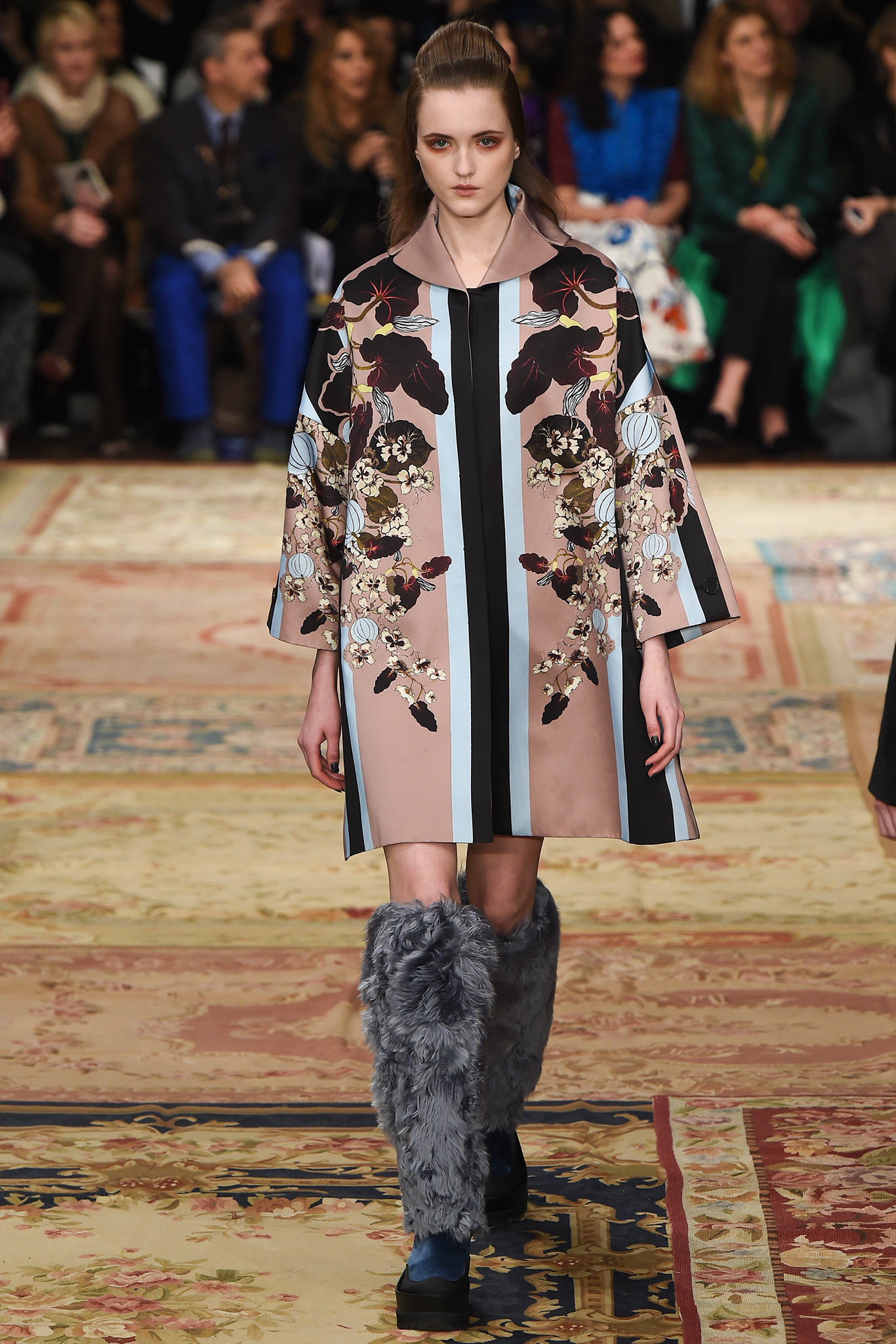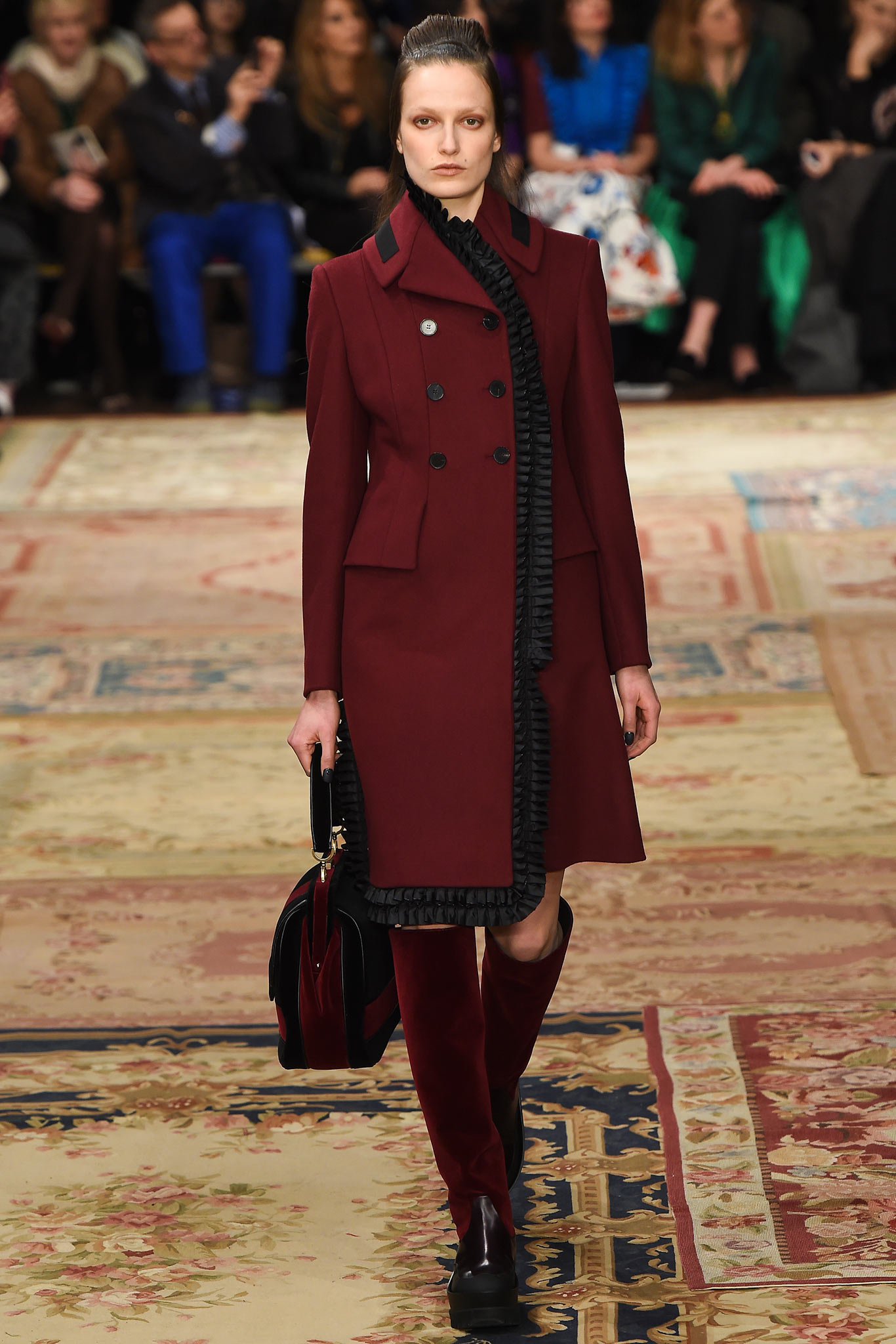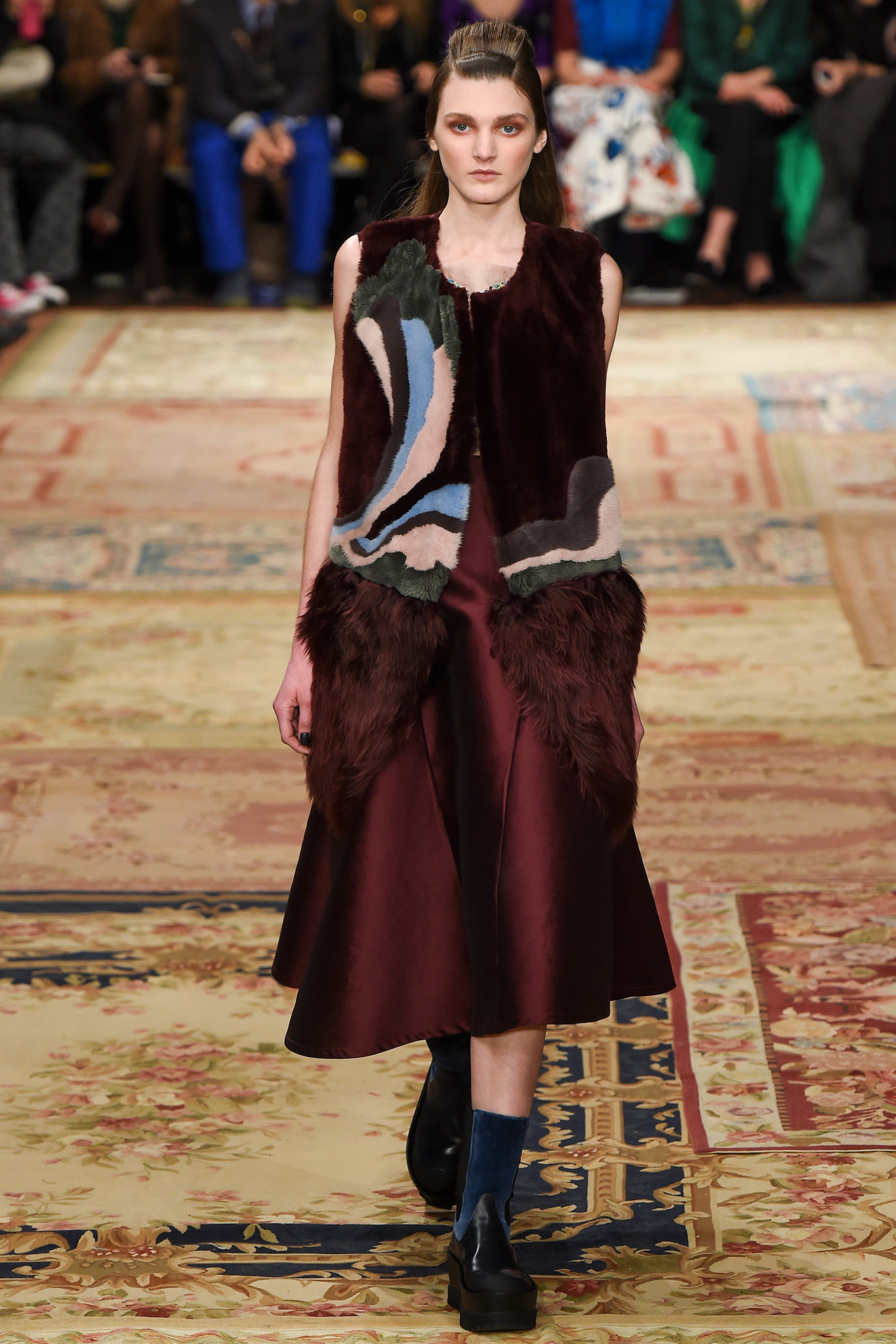 If you want bold and show stopping with much visual interest, THIS is the fall winter piece for you!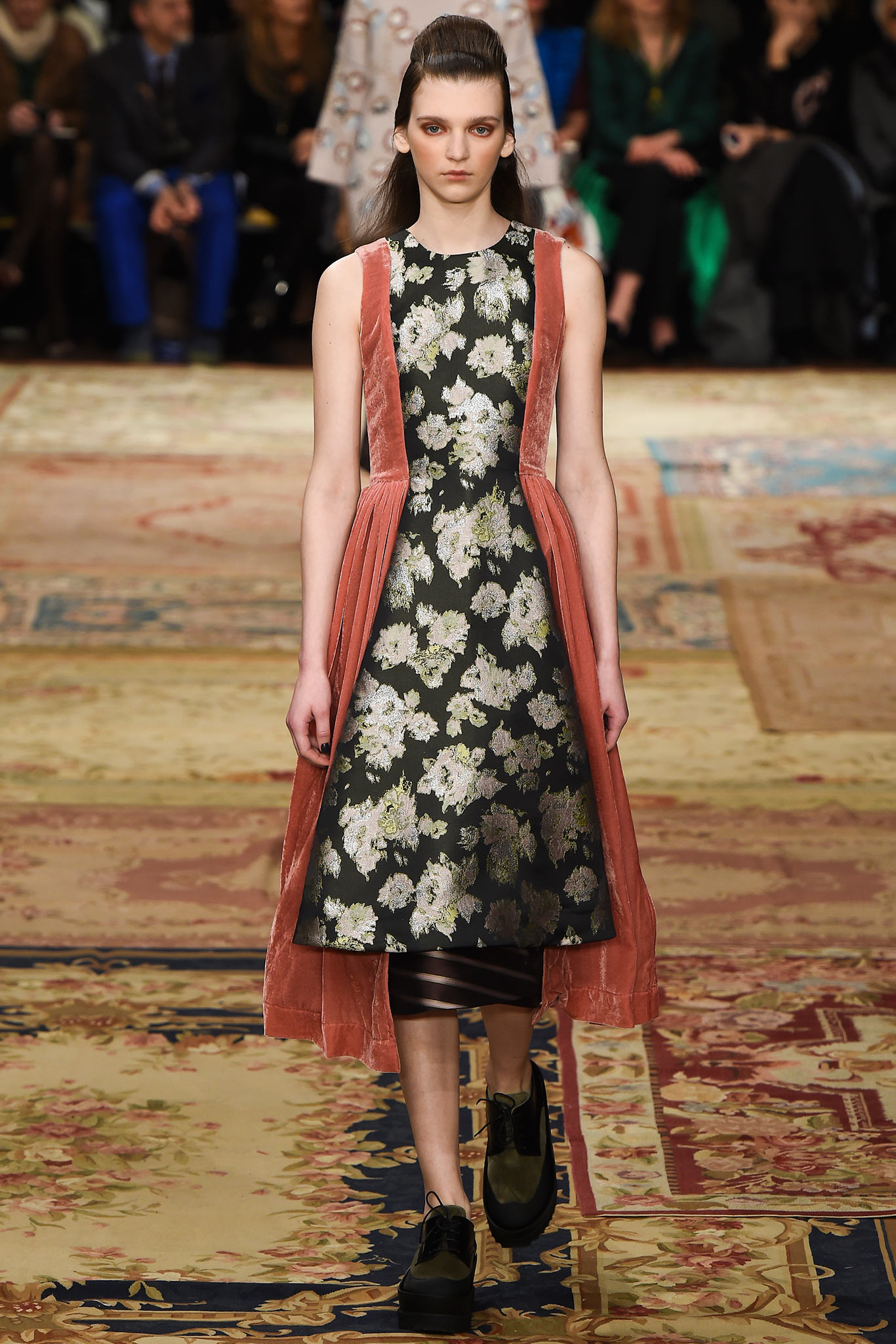 Velvet and jacquard, old school glamorous in a streamlined silhouette. Wear with boots and opera gloves---such as those in the Dsquared2 exhibit!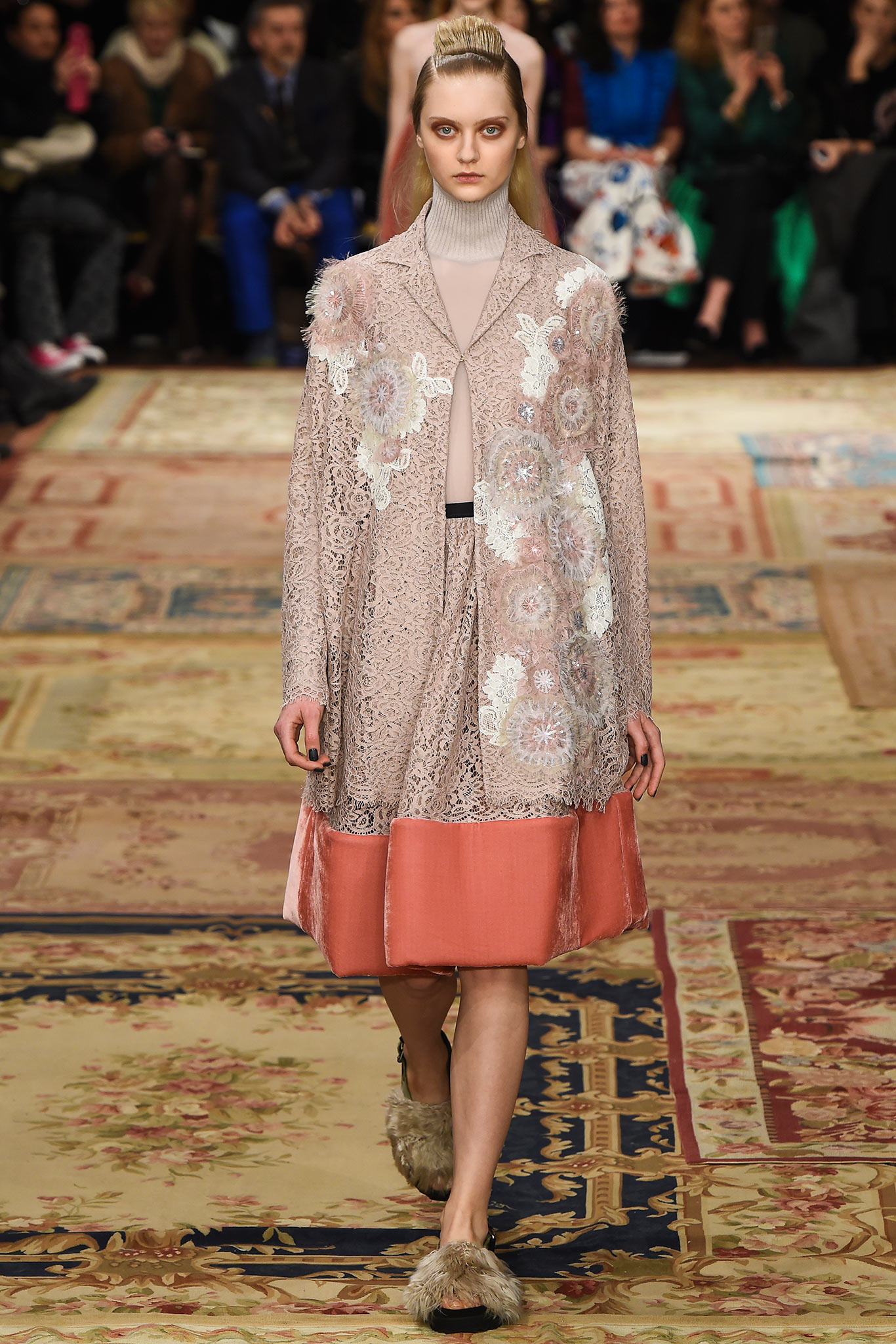 There is definitely an old school 50's vibe to this ensemble with the lady like taupe lace. Both demure and dramatic, with the wide velvet hem and scattered shiny adornments.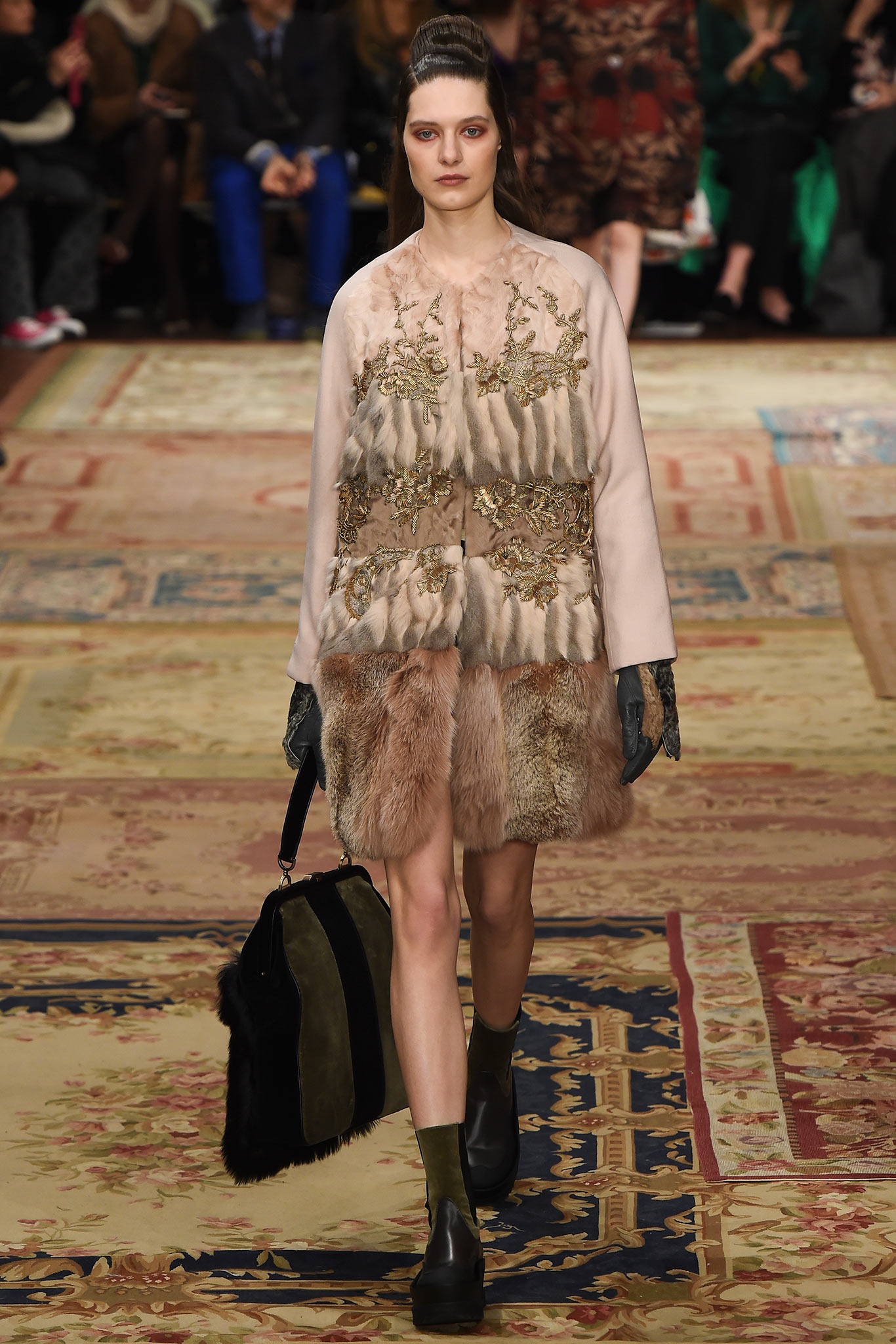 Another show stopper for special evenings out, or cocktails with the Czar….
BLUMARINE:
Anna Molinari can always be counted on to provide feminine alluring dresses and gowns for the modern dewy but clearly confident and sexual gal about town. The modern Cinderella who turns all heads as she glides into the festivities in a floor length shear organza sheath festooned with floral embellishments. Some 60's and 70's silhouettes show up in contrast to the sheer shiny Vegas contingent. Elvis is in the house!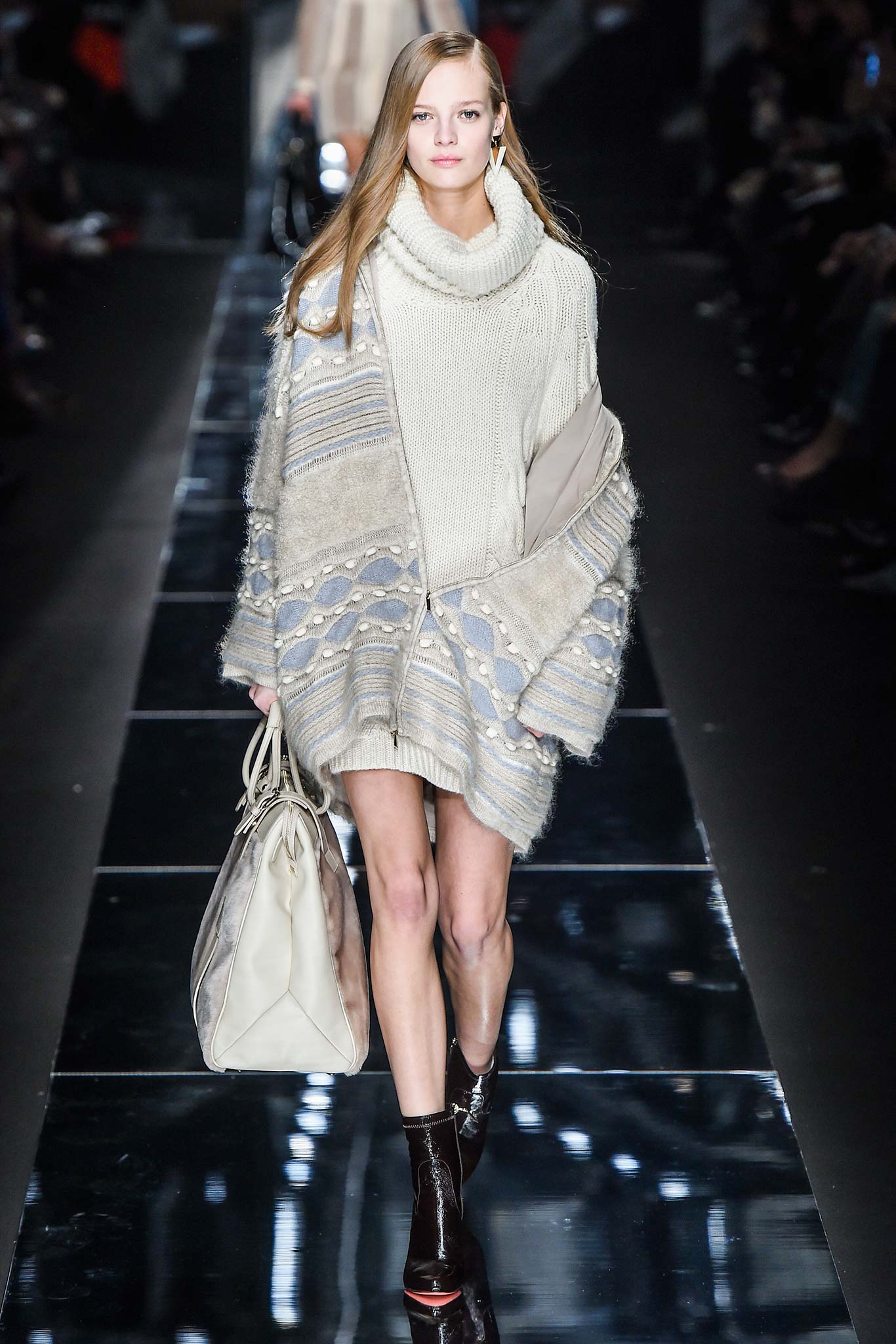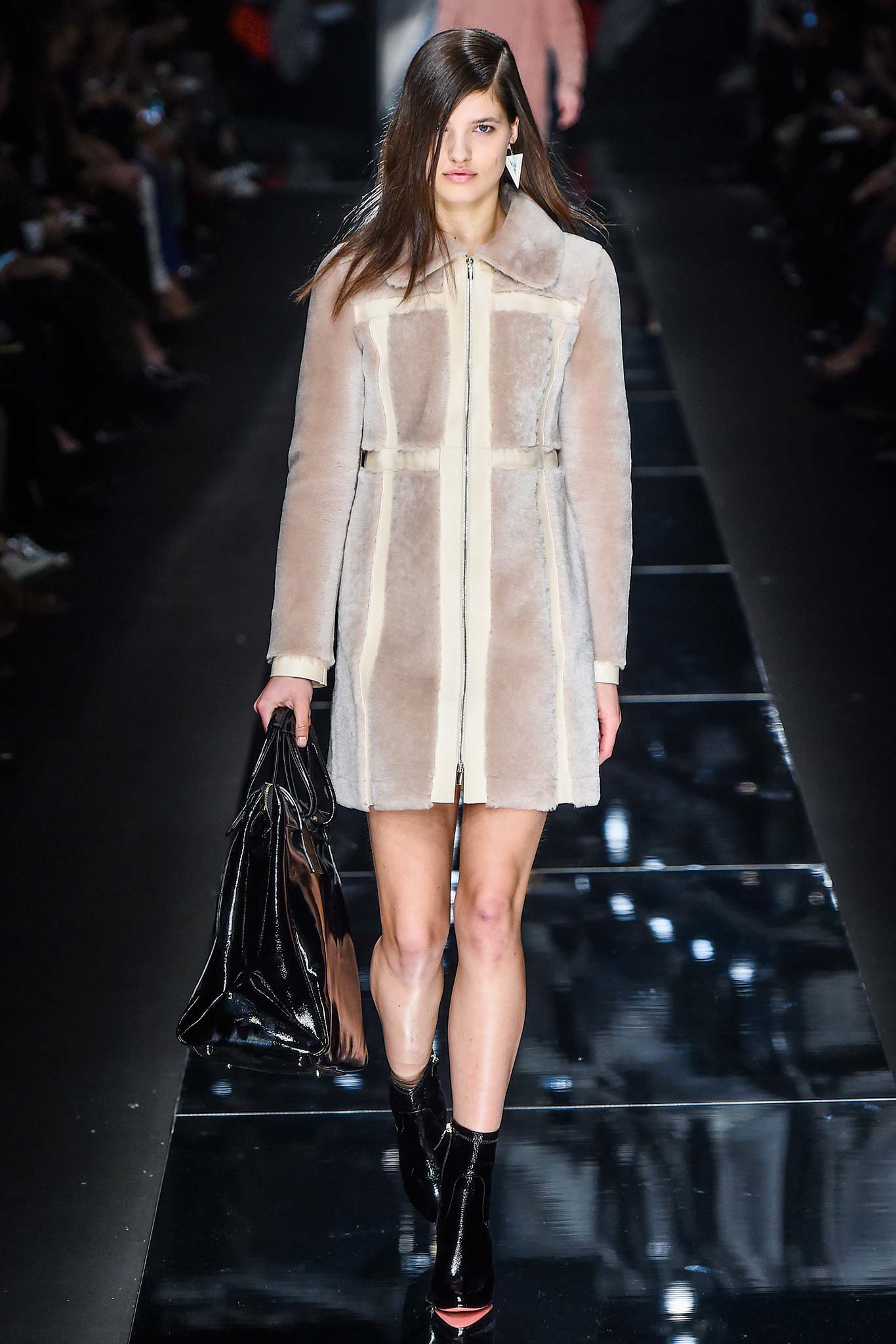 Calls for GO-GO boots!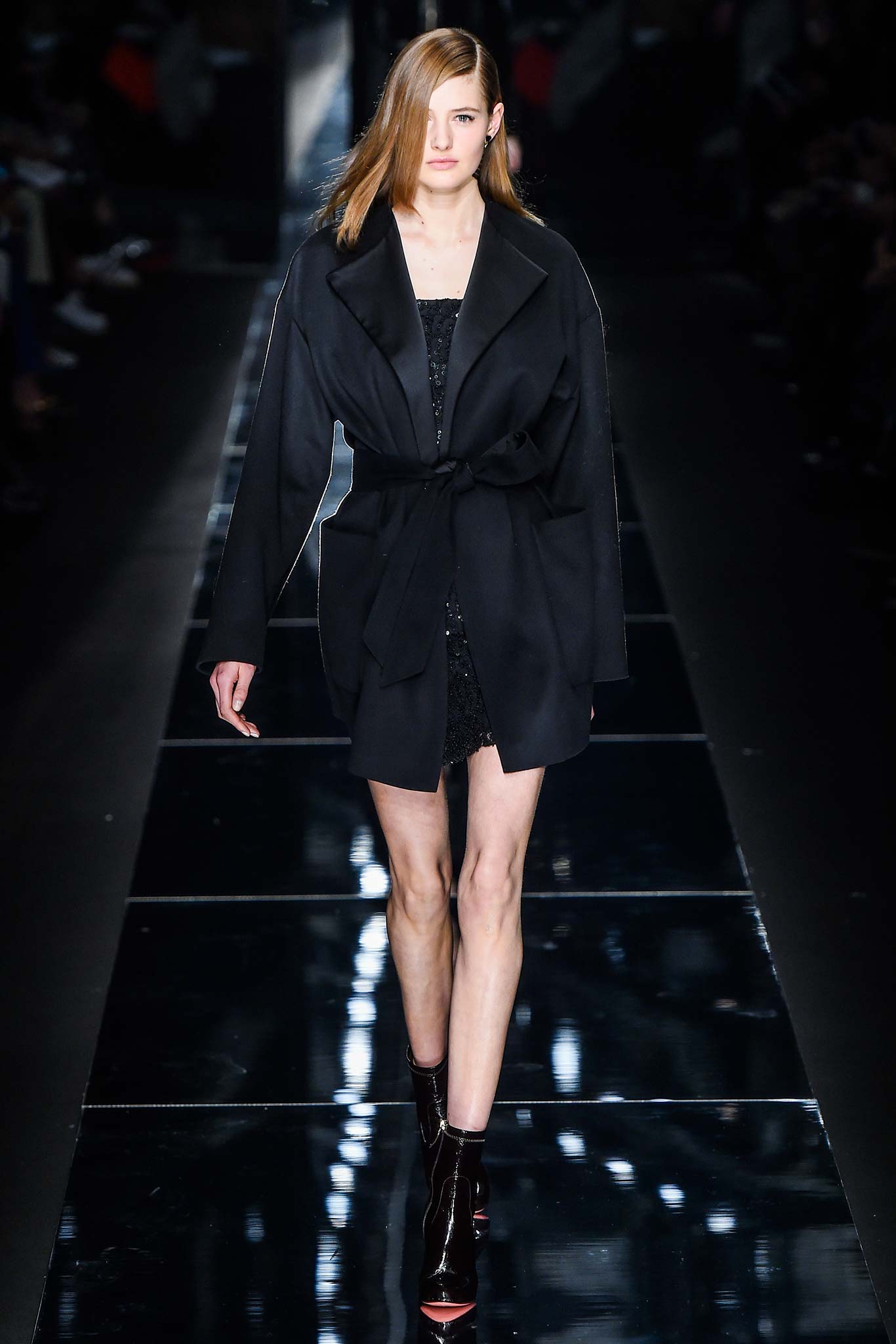 The perfect topper for evening wear, and an easy travel companion. Will tone down the sex of a bedazzled mini.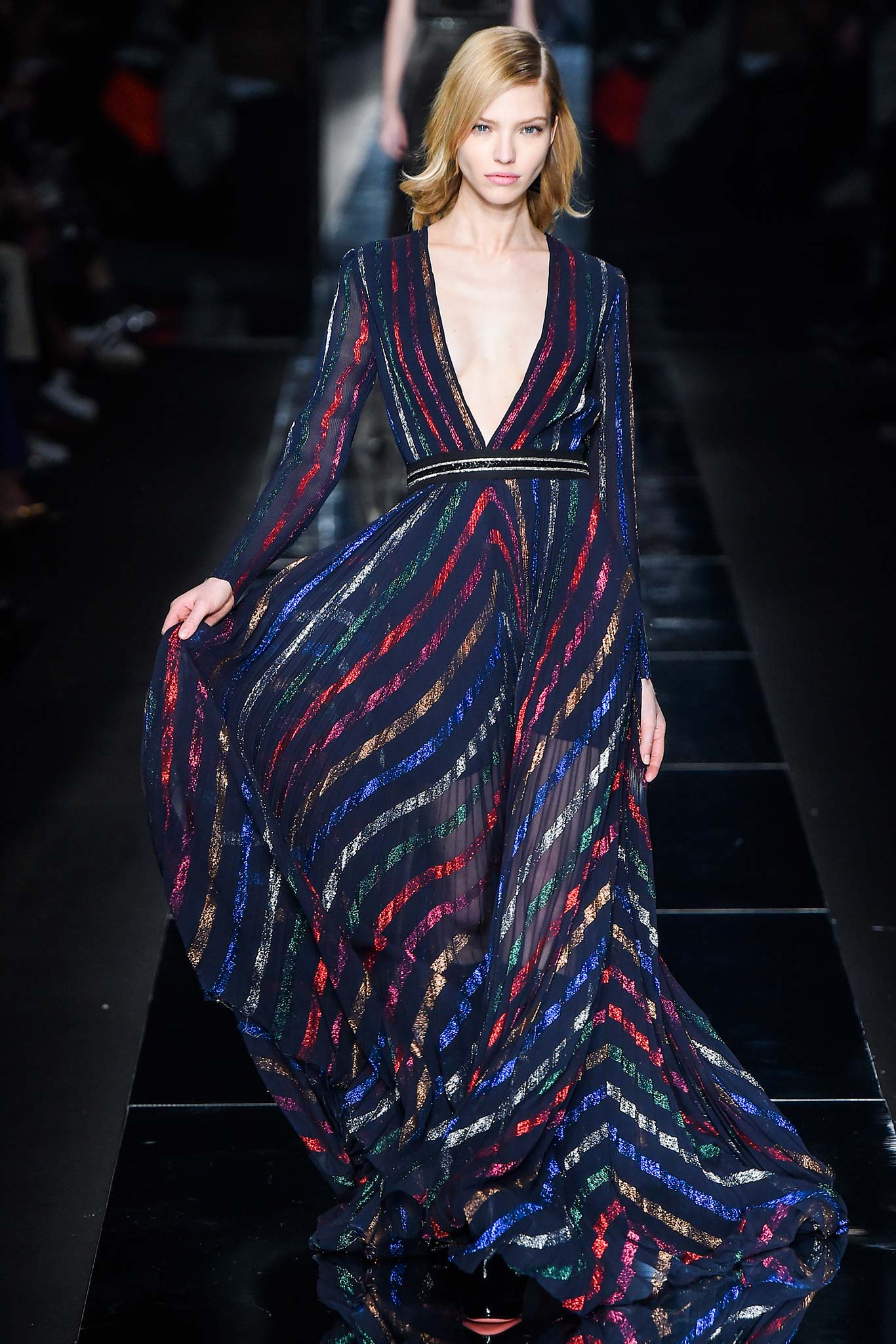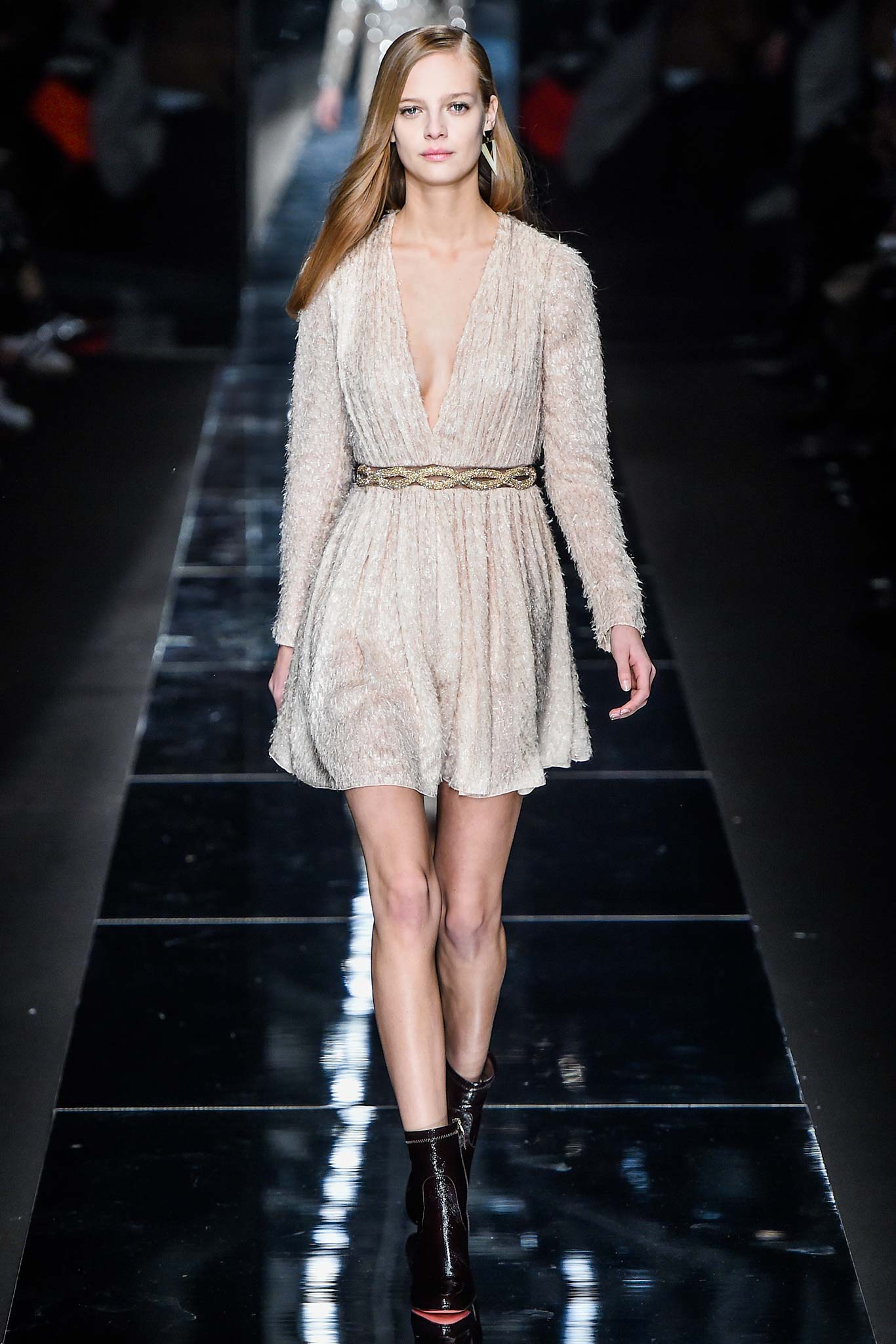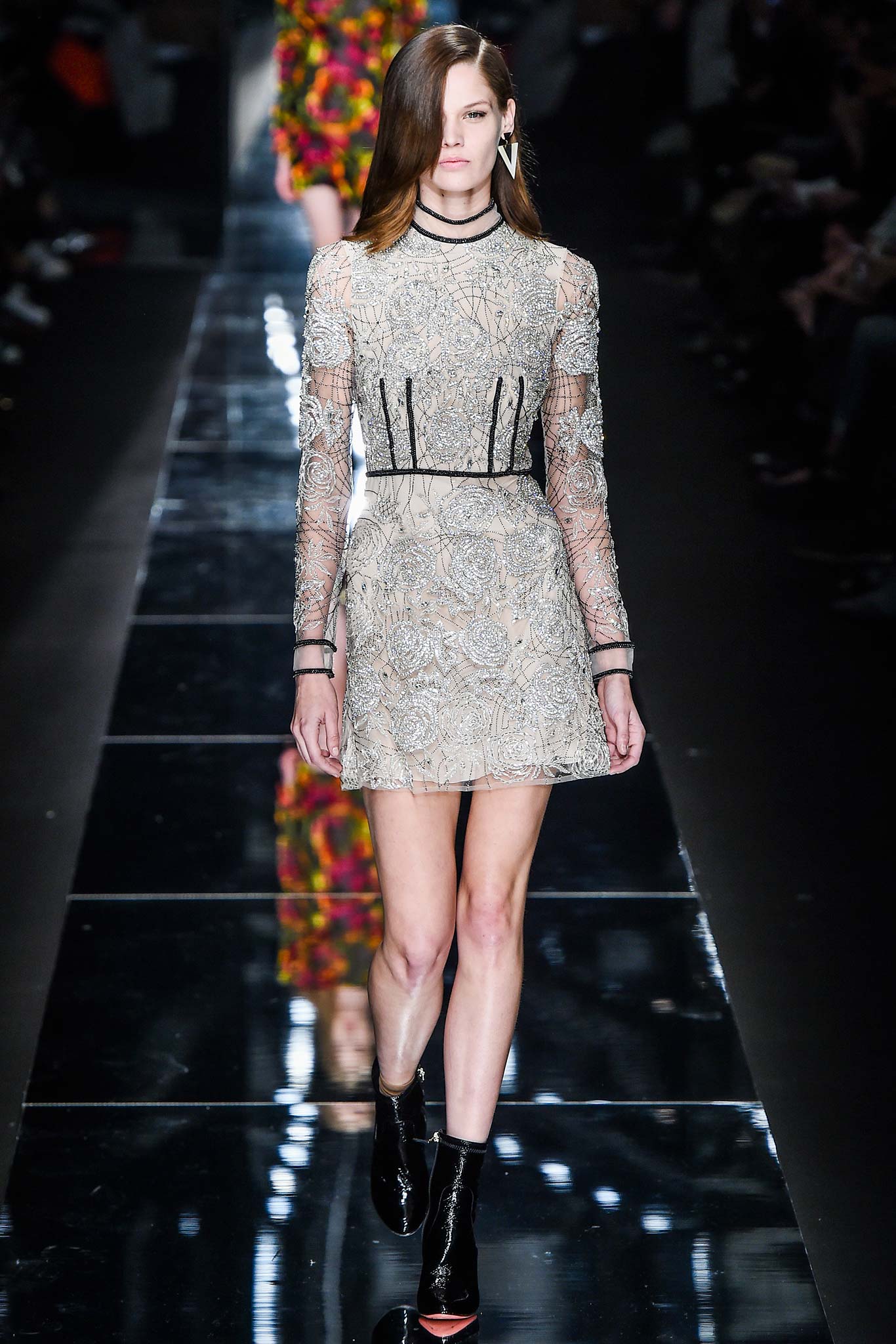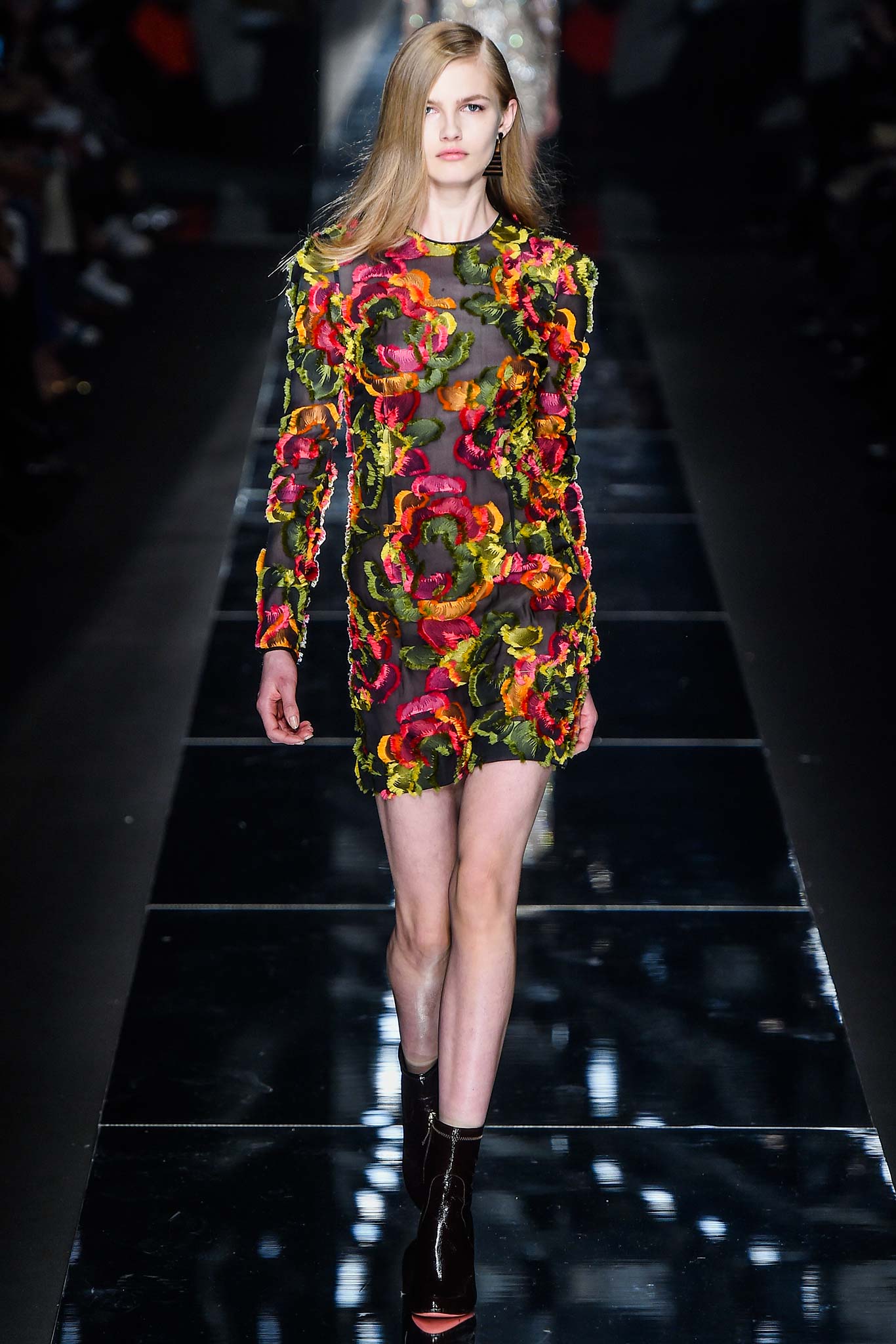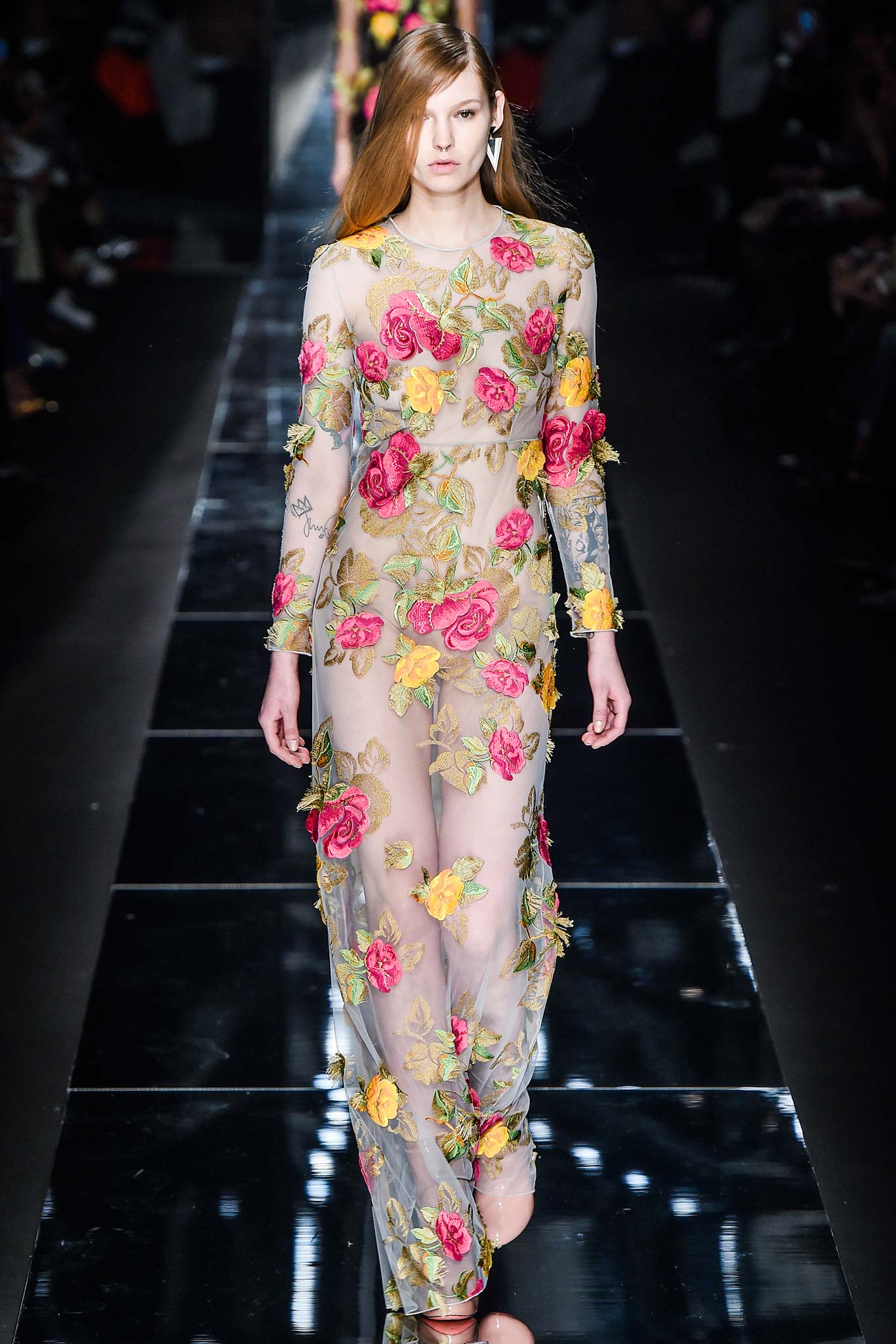 Eve in the Garden of Eden, looking for her prince.
BRUNELLO CUCINELLI:
The masters of casual yet elegant sportswear strike again with a mouth watering display of timeless staples in soft pleasing neutrals which can be seamlessly combined, in cottons, cashmere and silks, the finest available here on planet earth. And the piece de la resistance? The off white jacket in "cashmere fur", a singular piece which may be unique to this house, as I've never seen it elsewhere. I have two of these marvels myself, and only Chanel turns as many heads. And the best part is, no one has to die.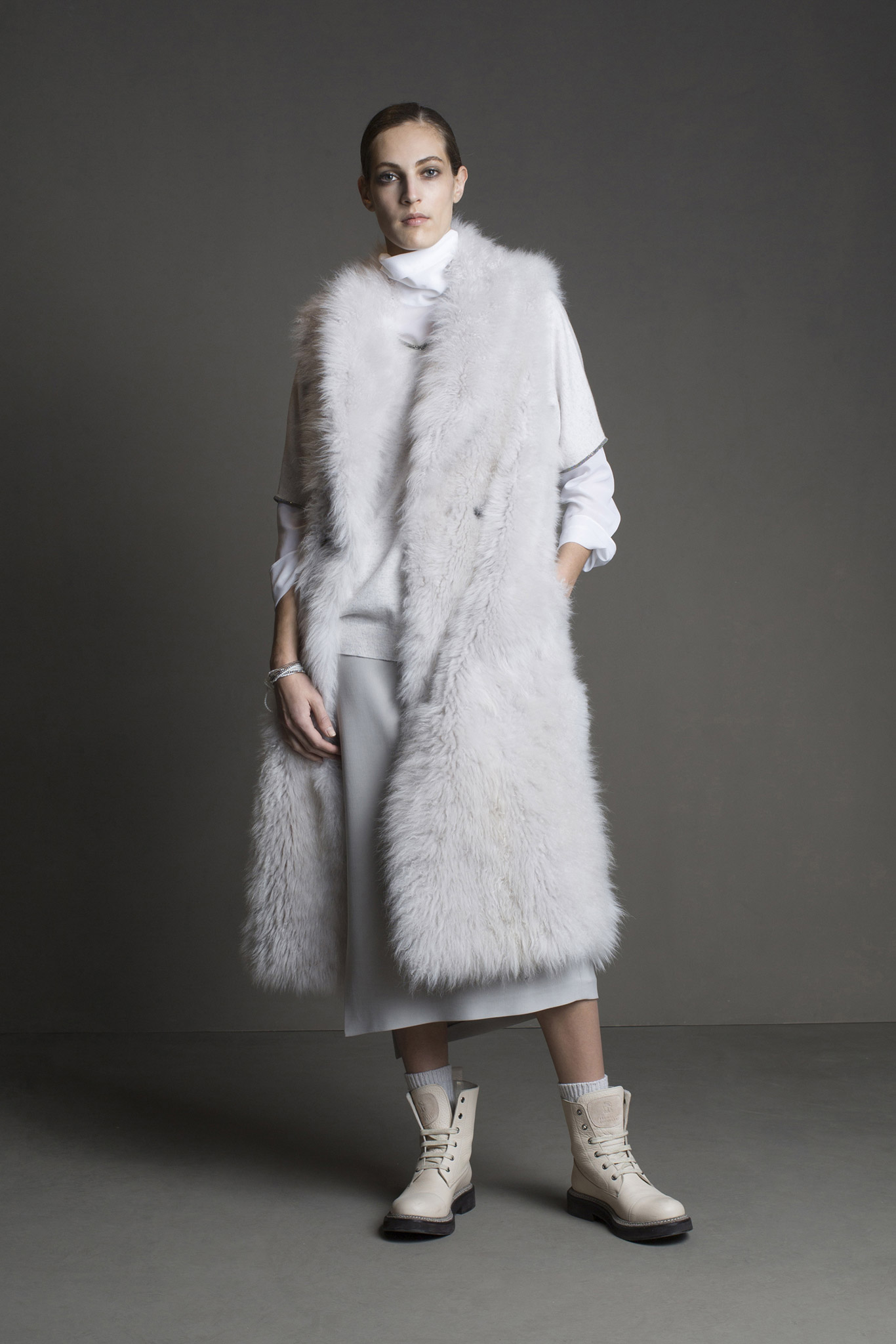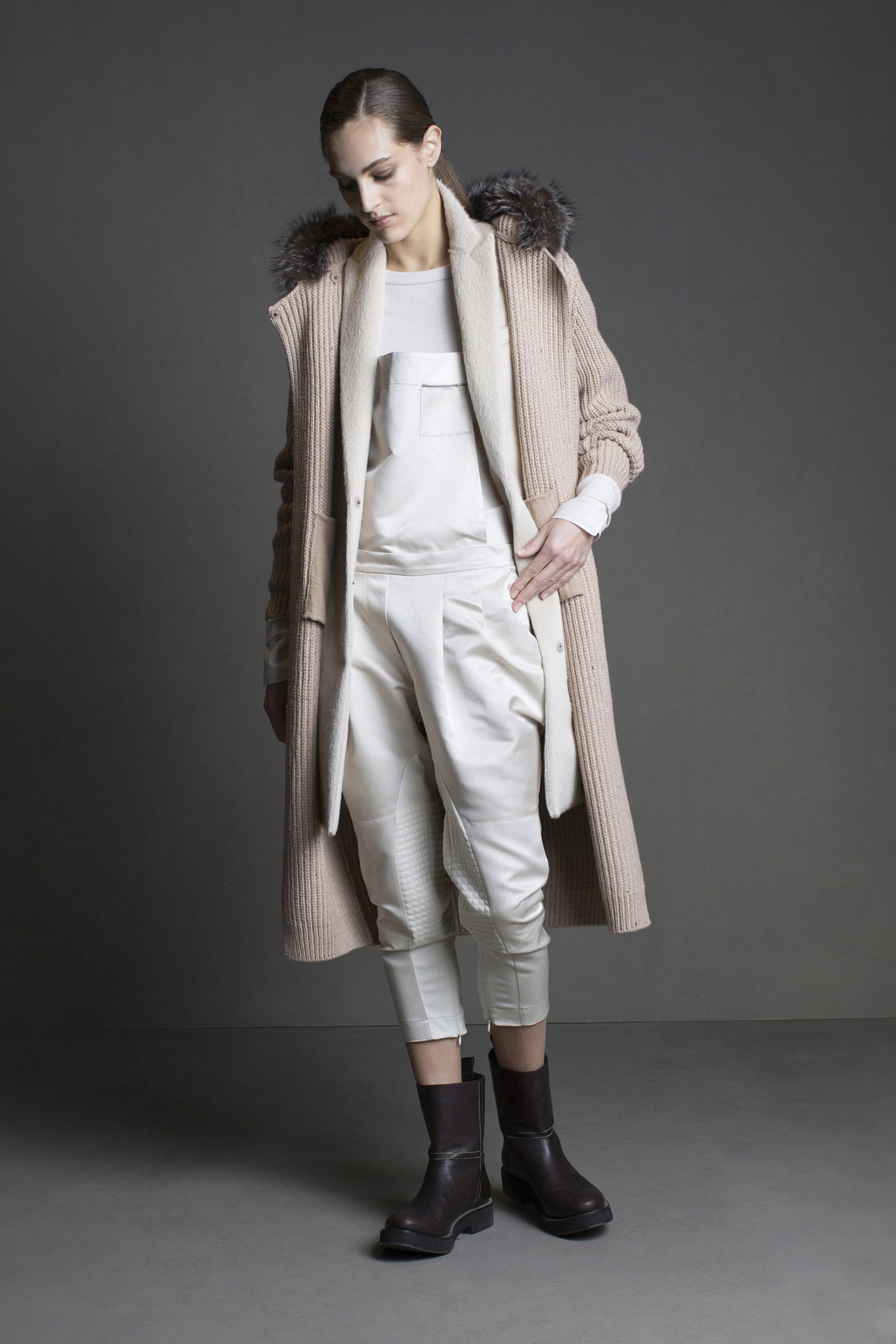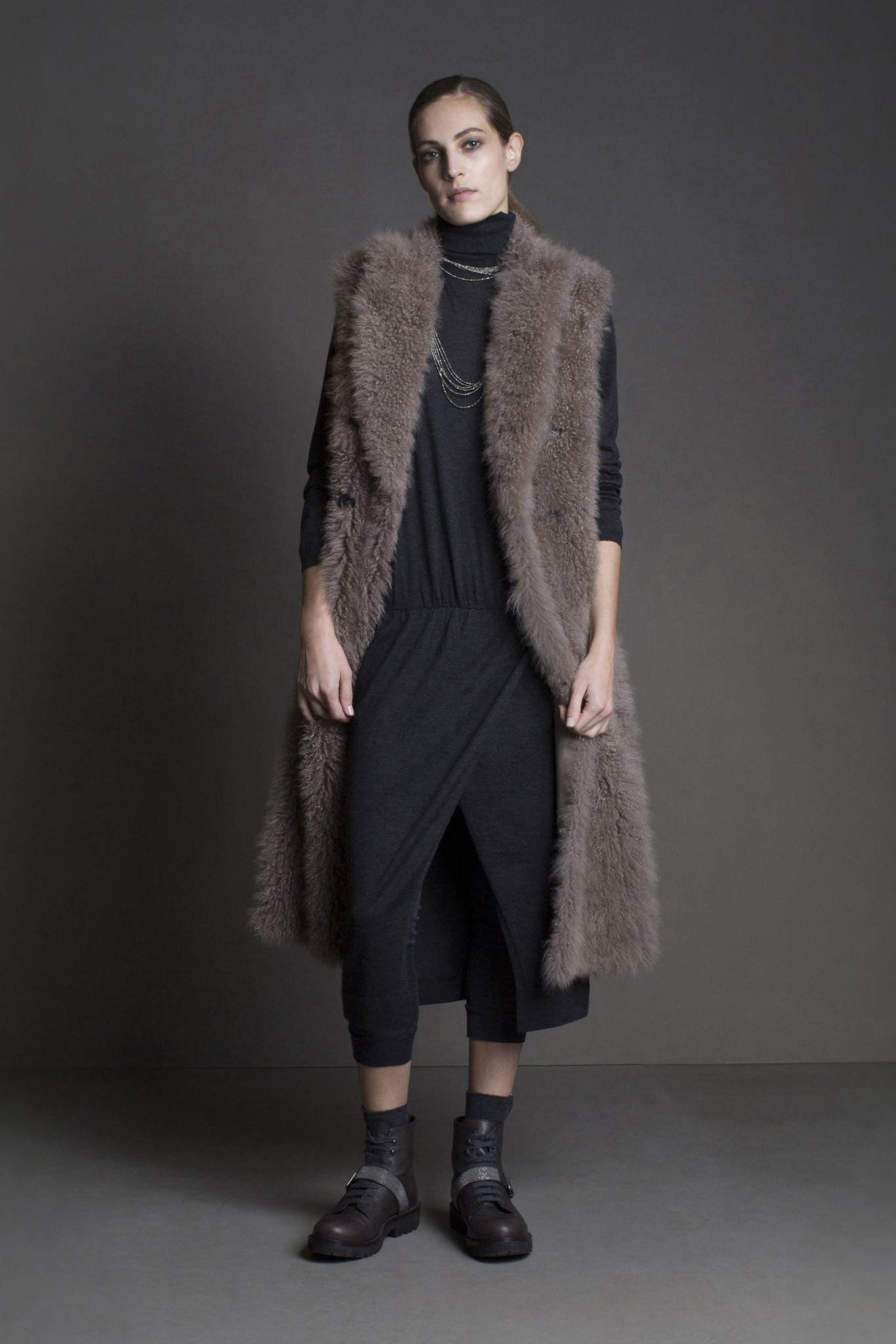 This vest is quite superb, dramatic in length, lightweight, in a pragmatic yet luscious neutral, good for a host of occasions. Semi Sasquatch rugged.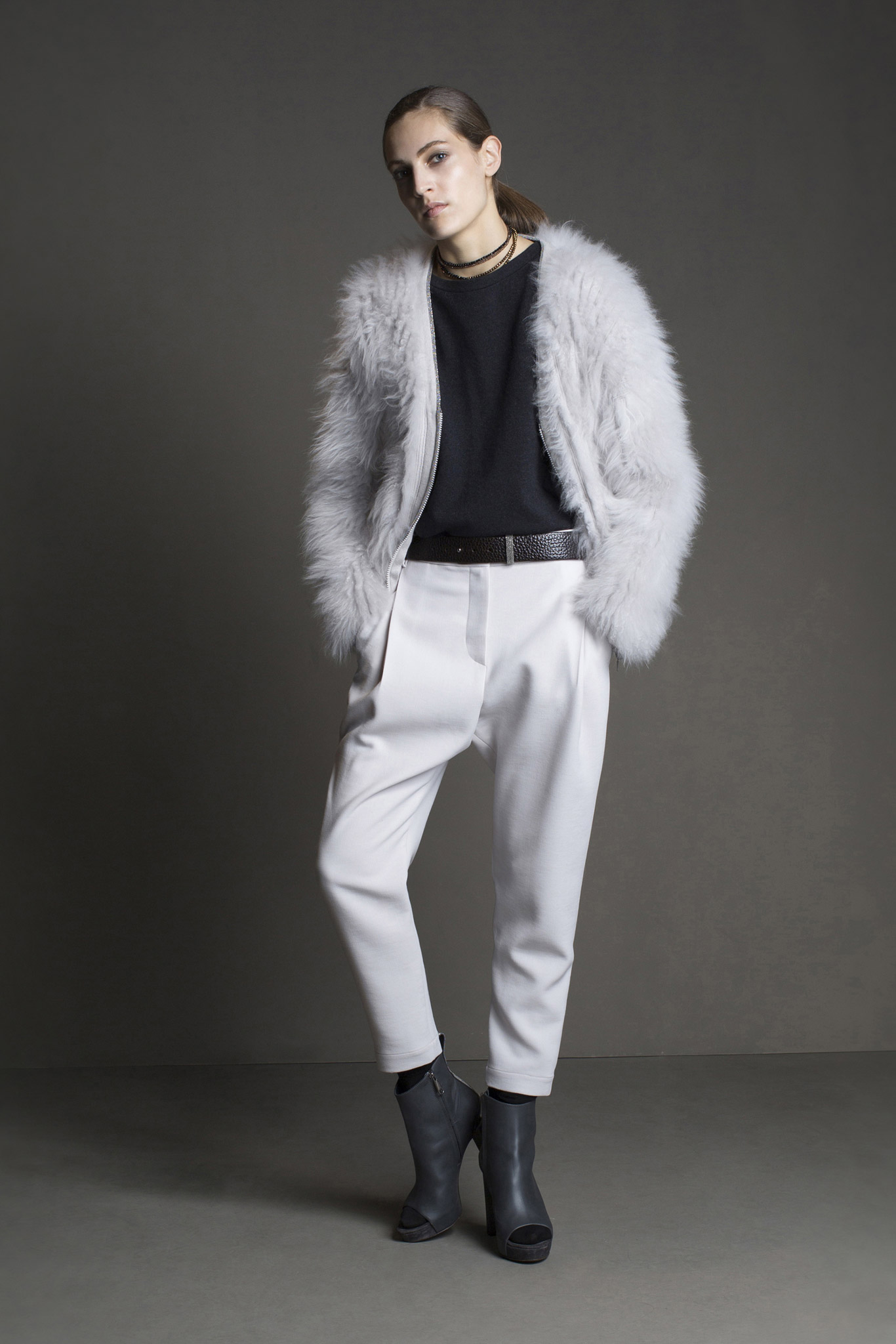 Ahhhh, the cashmere fur jacket, light as a feather, with much visual appeal, a keeper!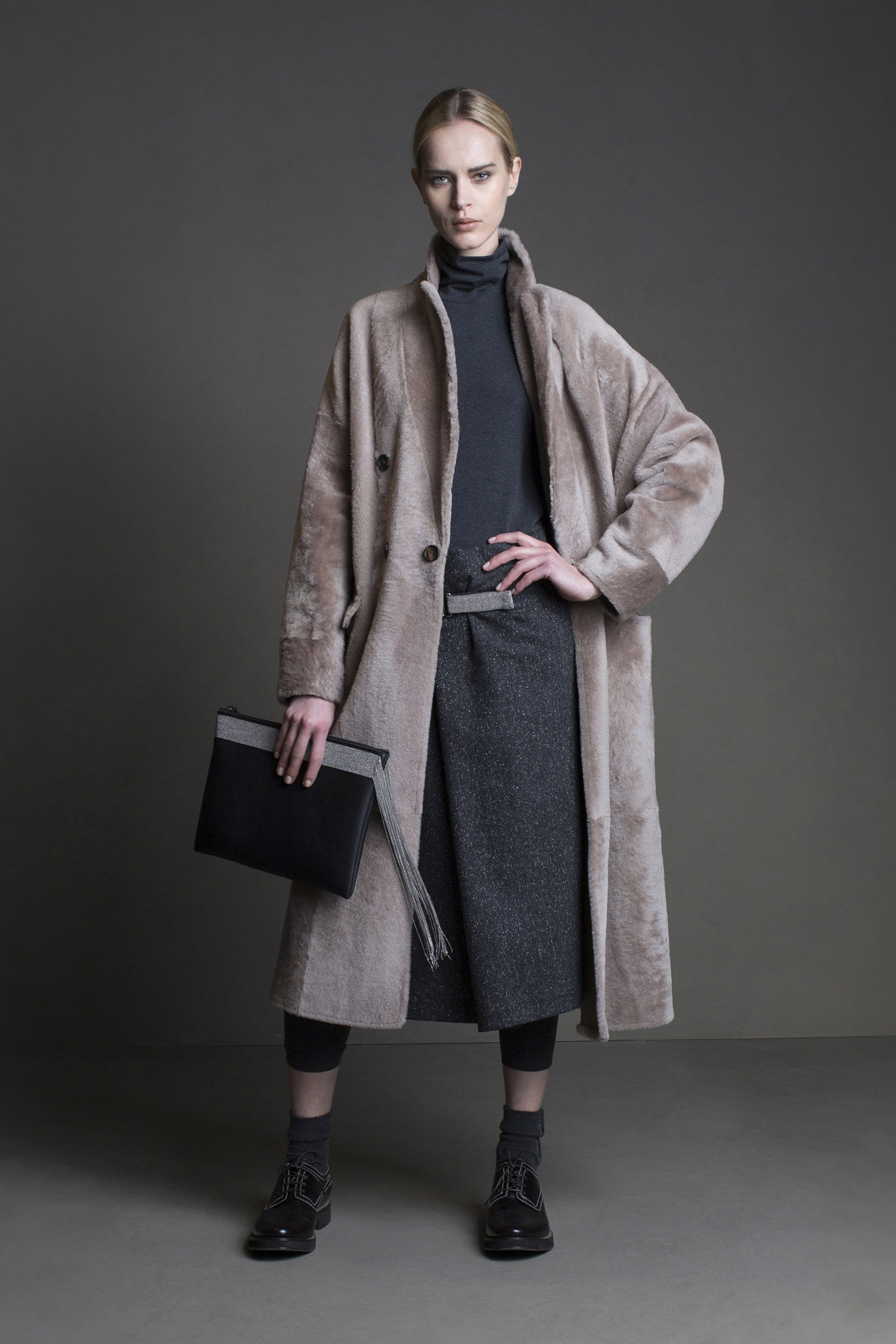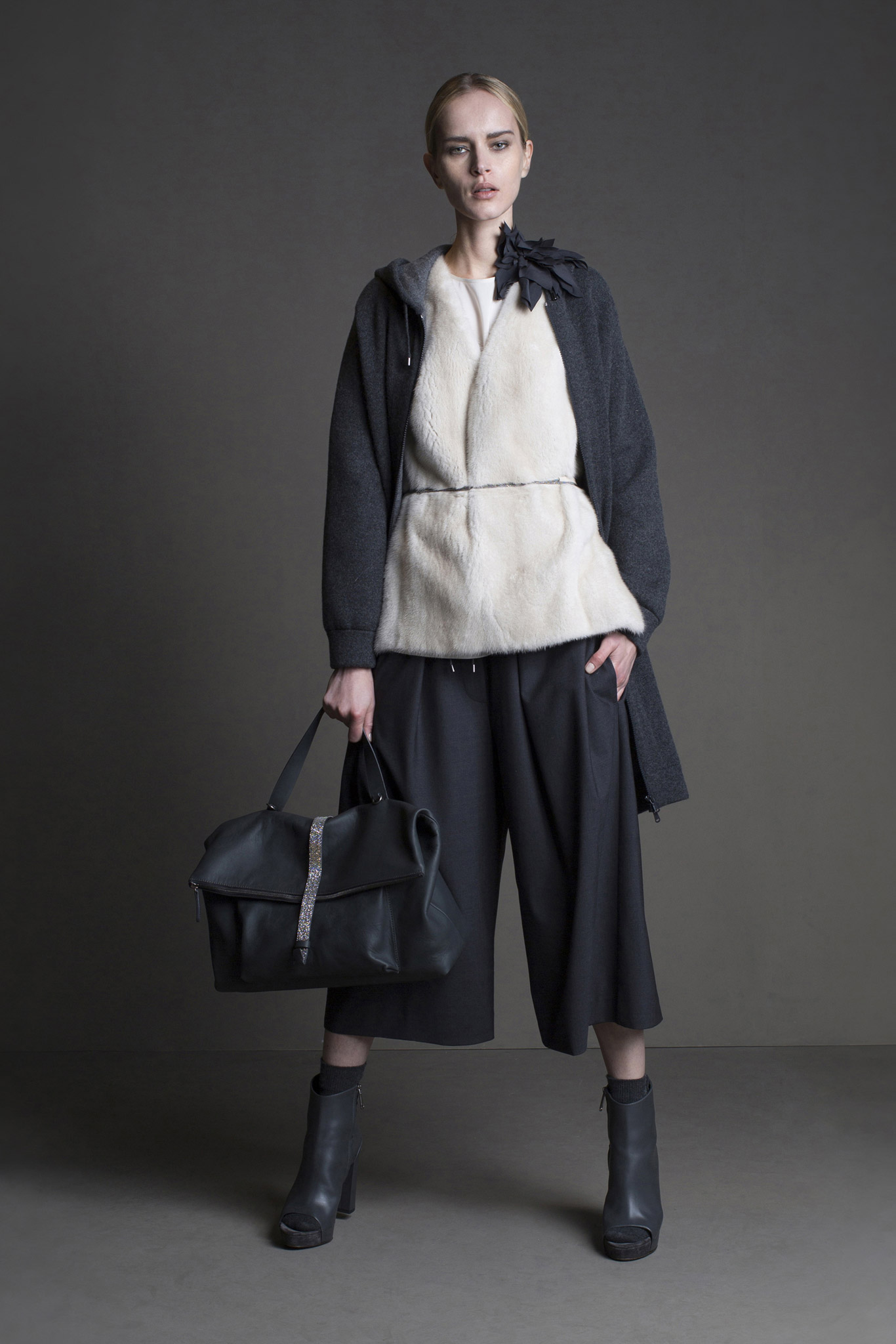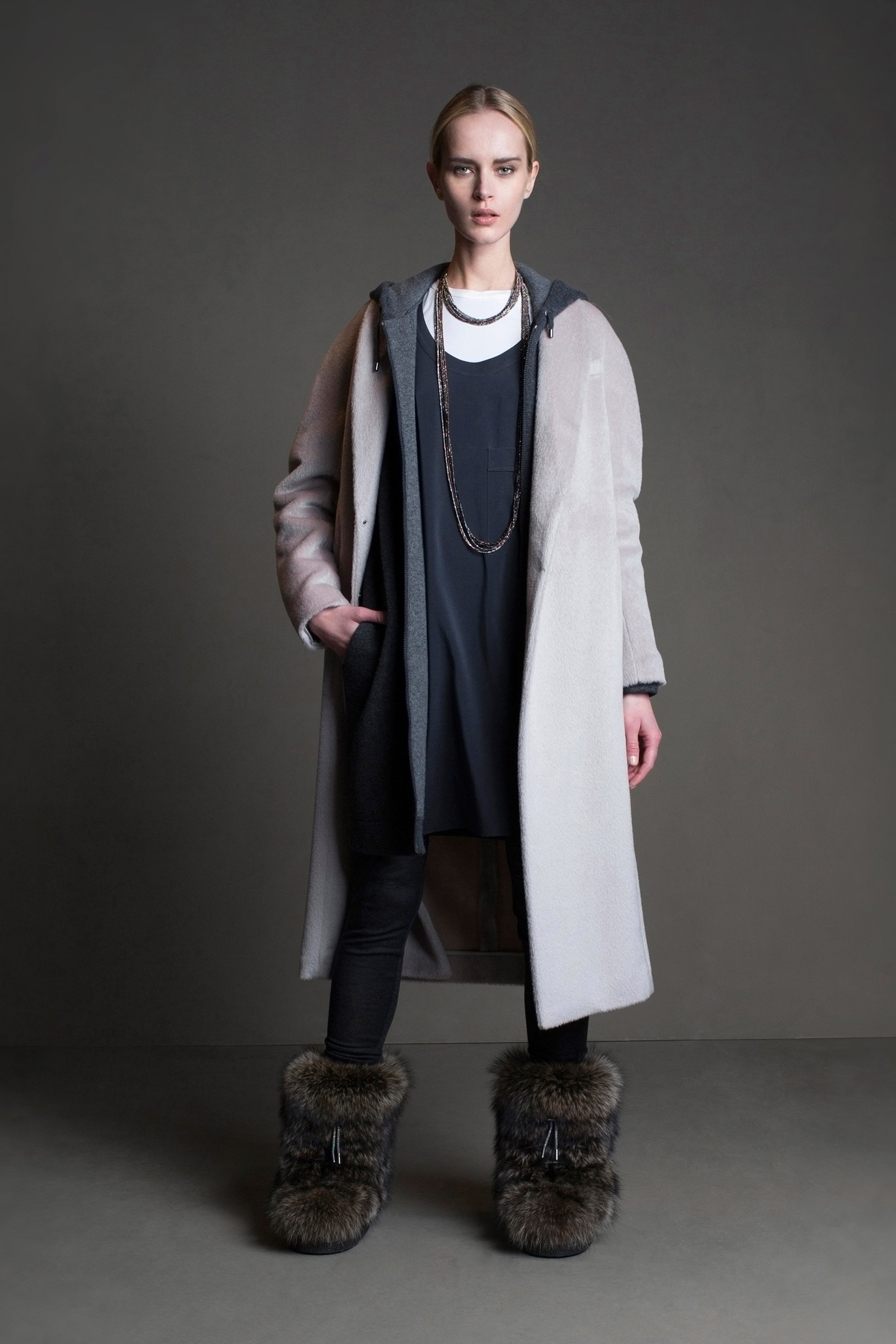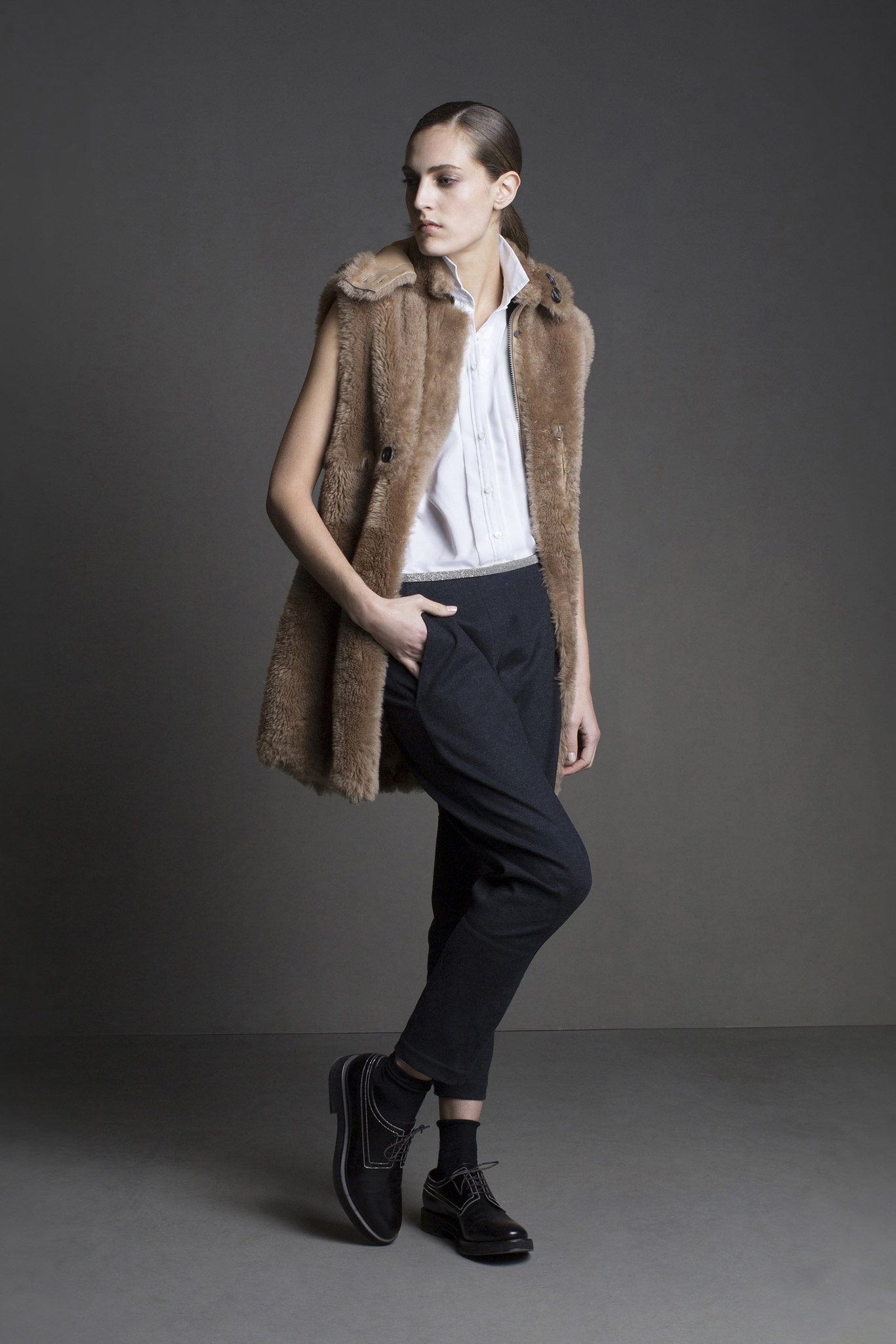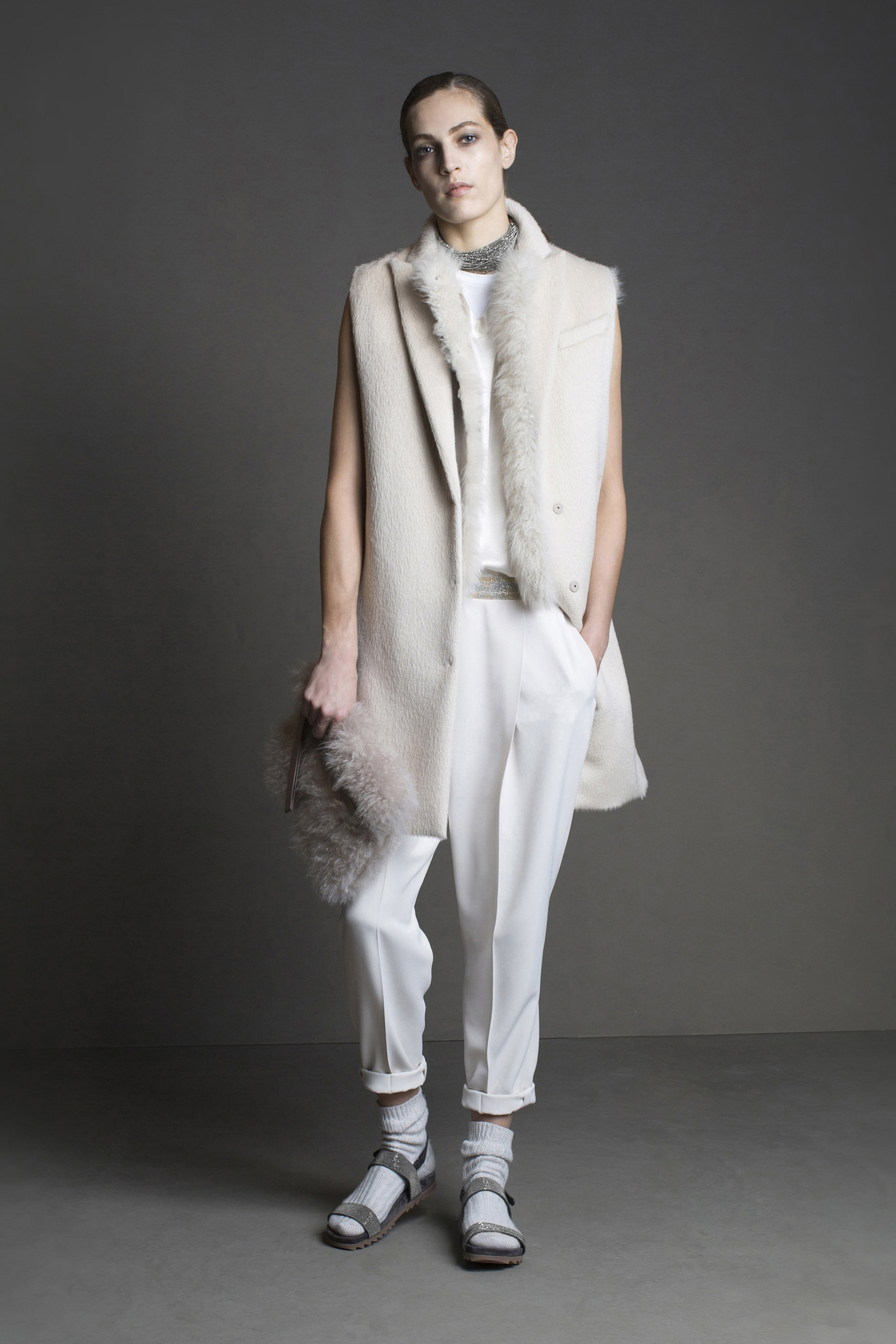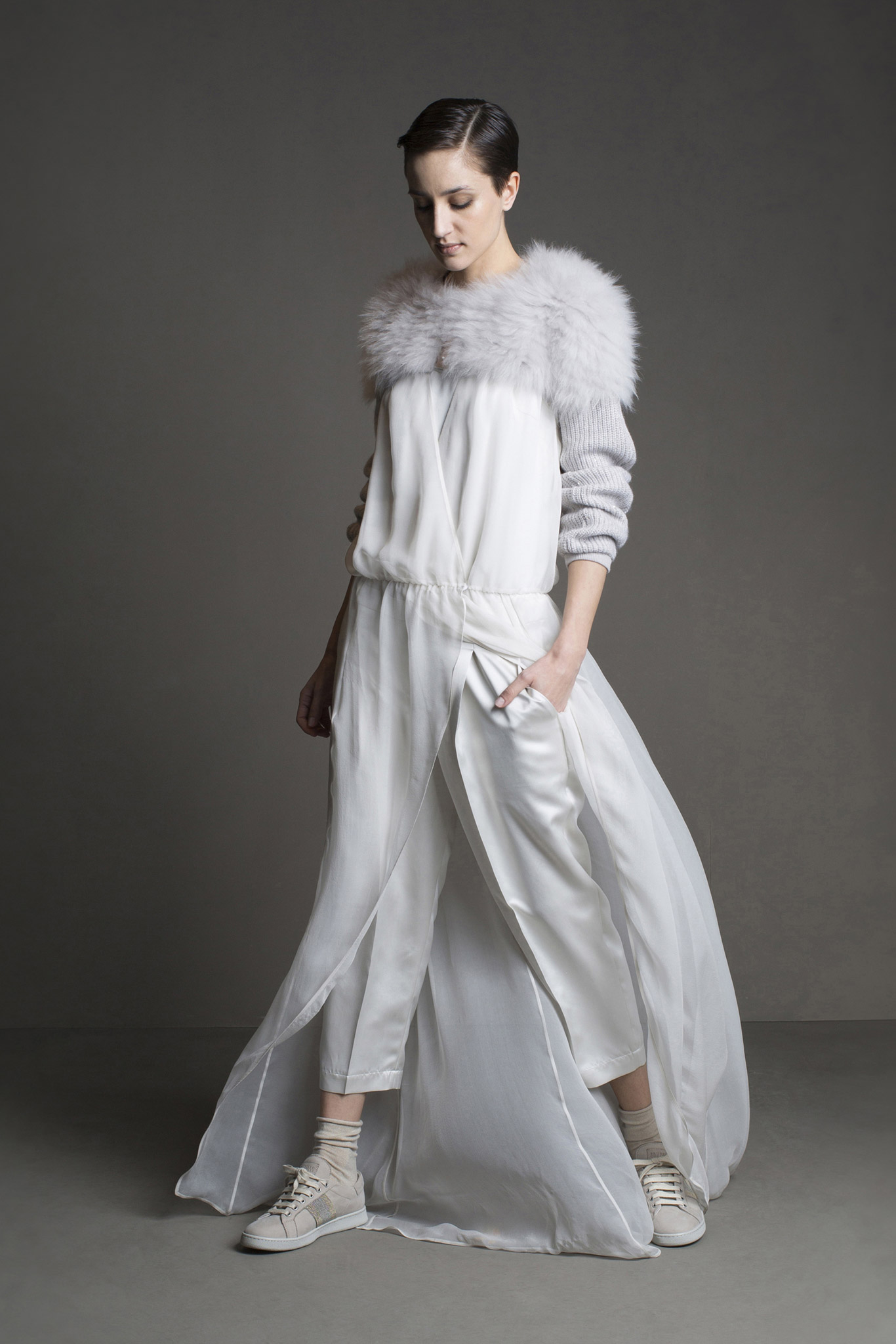 DSQUARED2:
Well, the Caten brothers have thrown everything into the cauldron and conjured up a flamboyant brew which is a little bit Eskimo AND a little bit rock 'n roll, with edgy equestrian thrown in for good measure. Jodhpurs are the perfect pant, to be tucked into boots, worn with flats, OR the wacky shoes shown in this extravaganza. And I'm all for topping off the skinny pants with pannier pockets (you better be OFF the carbs for awhile before stuffing yourself into these skinny babies) with vests and tailored tweed jackets with leather flourishes. The military inspired coats and pants with gold and silver detailing provide the regal counterpoint to the more casual Yukon elements.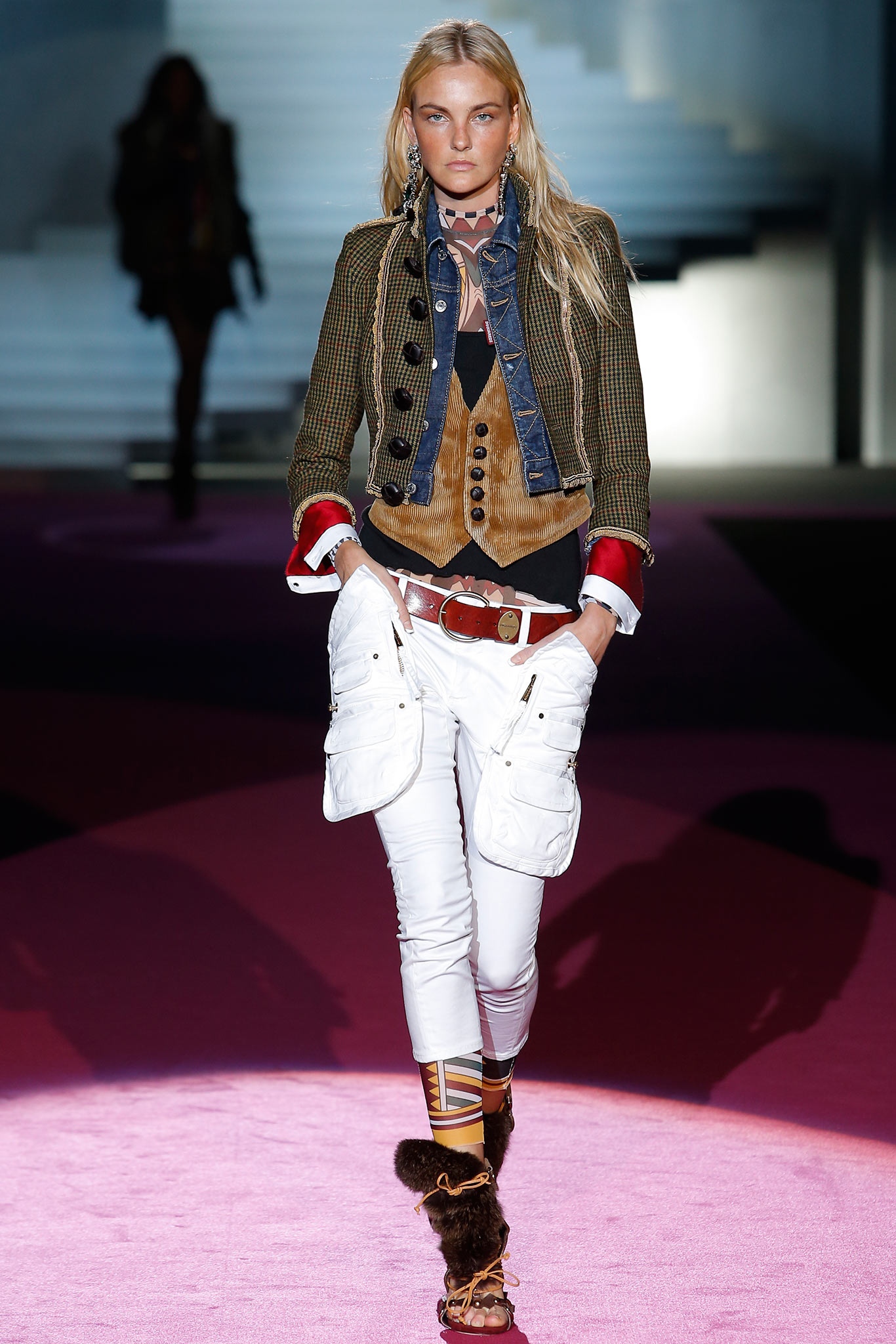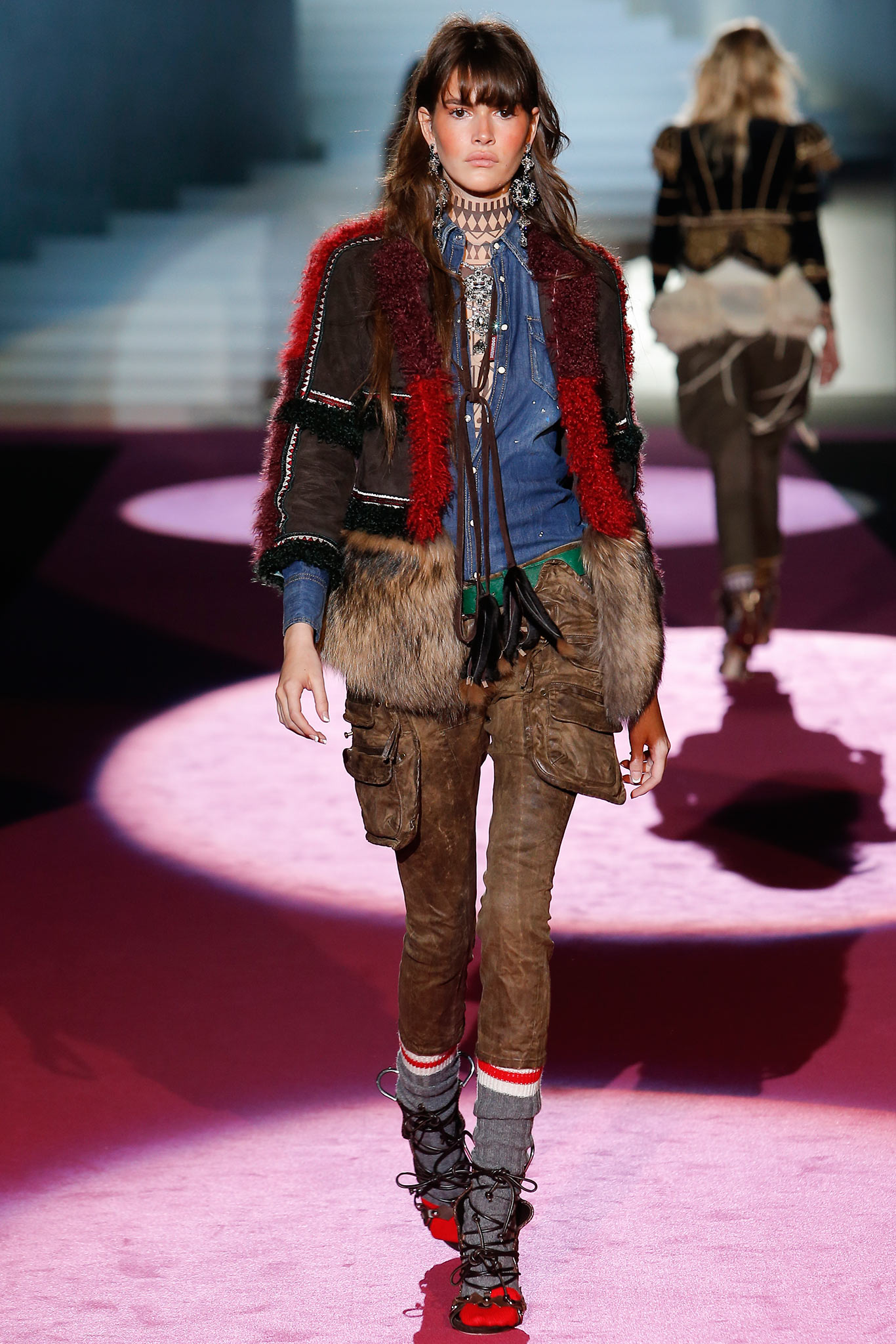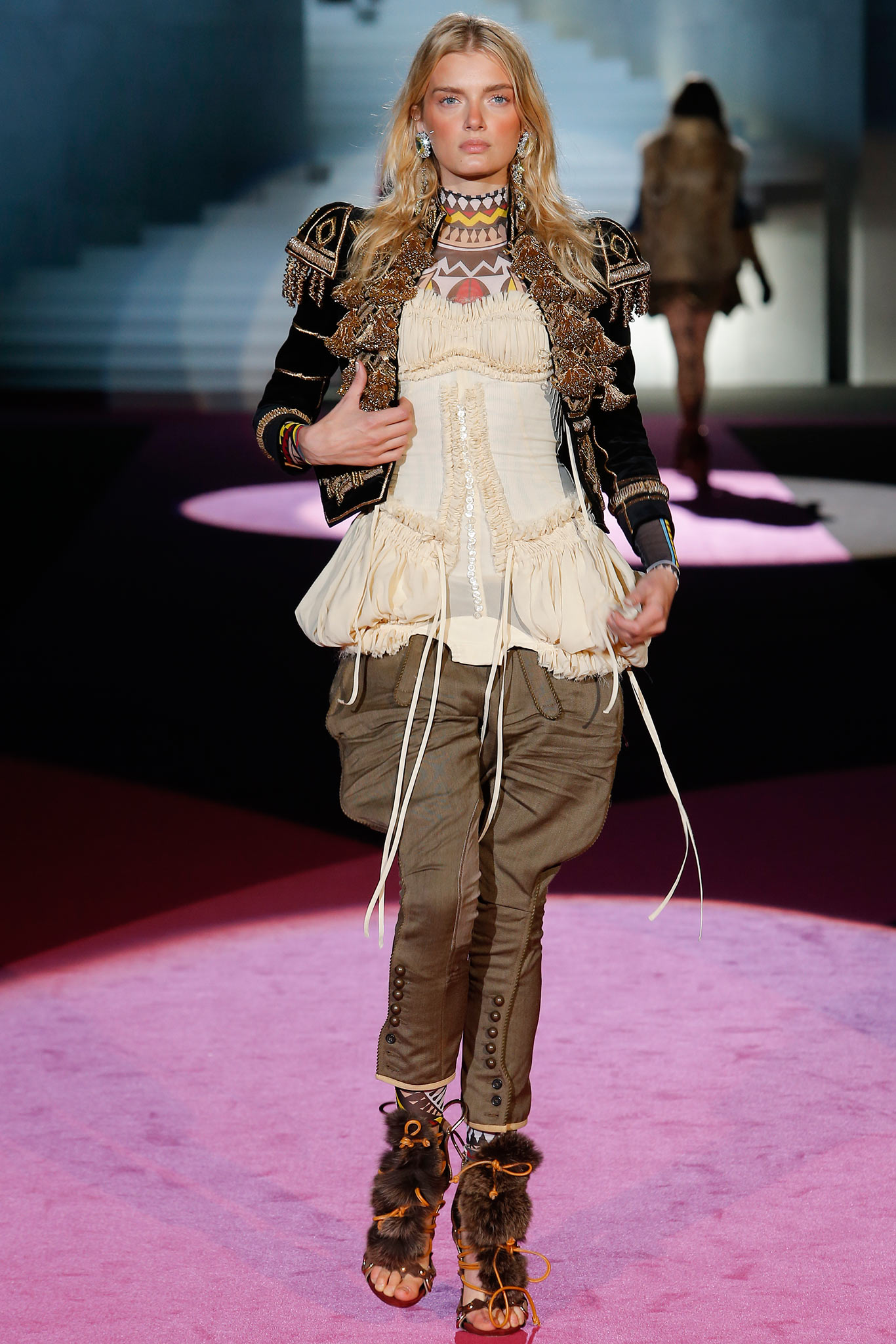 The corsetted top adds just a touch of sexy wench appeal. Quite an intersting melange of fabrics and textures in these intricate and byzantine ensembles.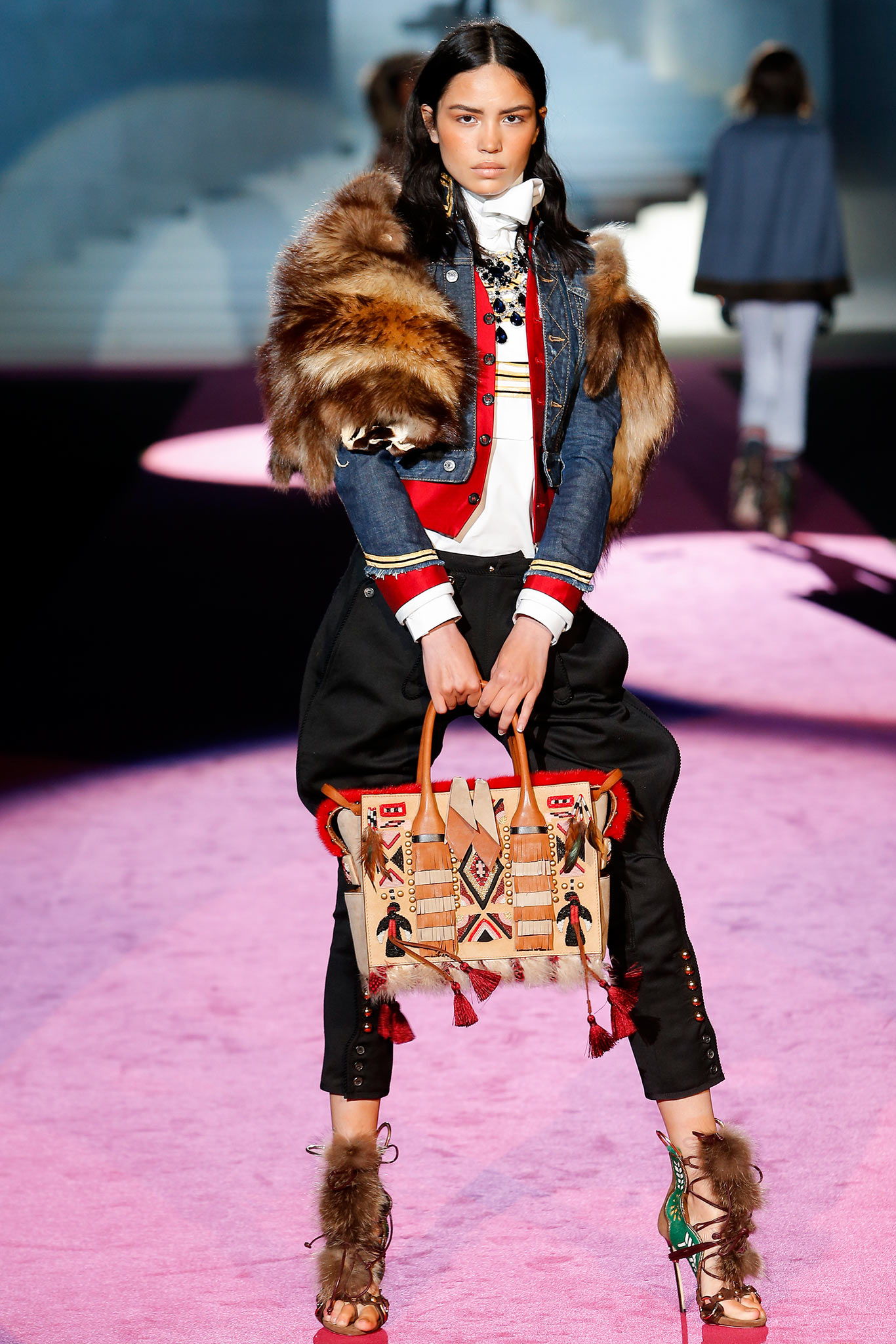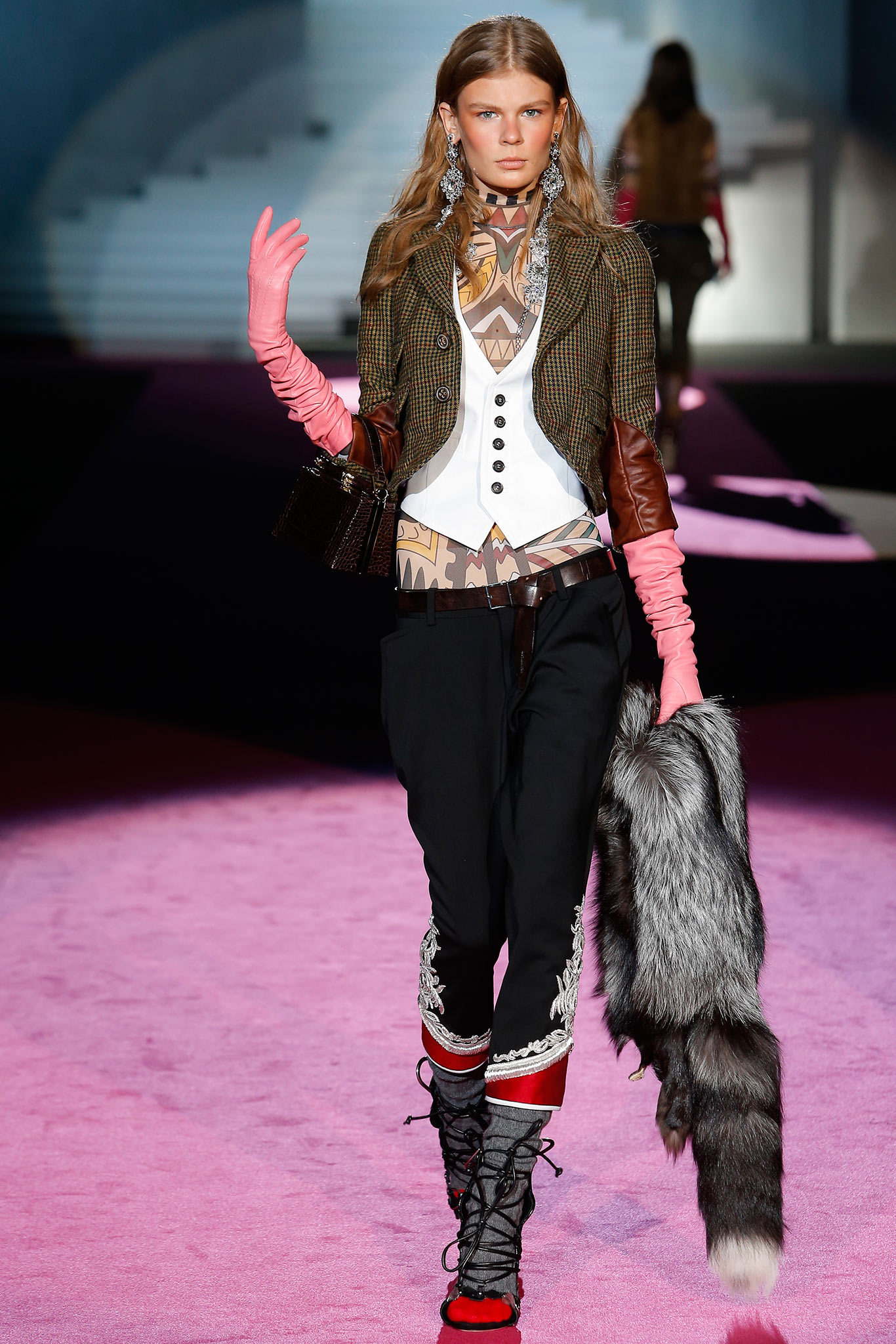 The wacky furs, vibrant opera gloves, fringes and tassles add additonal intrigue to this tour de force performance.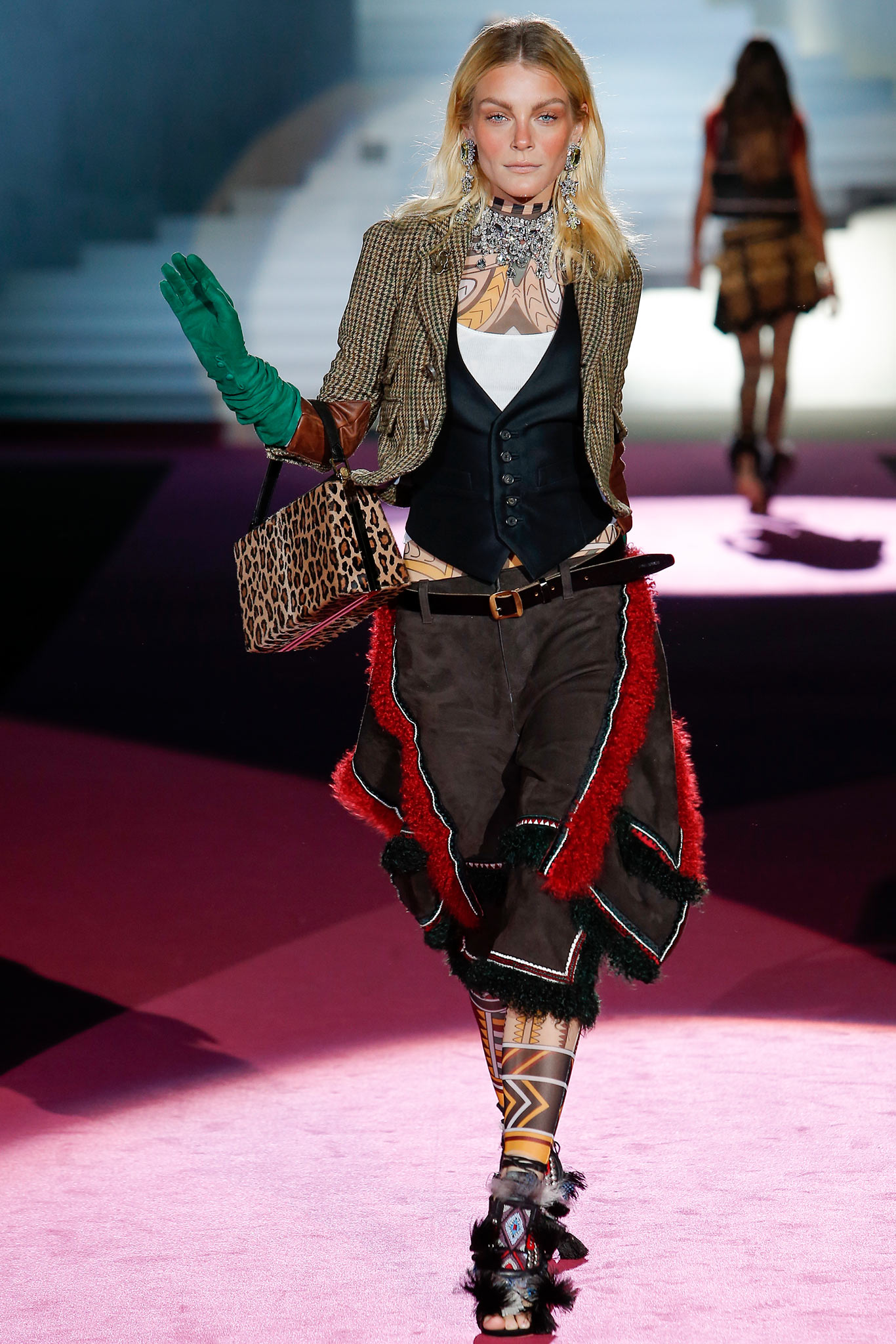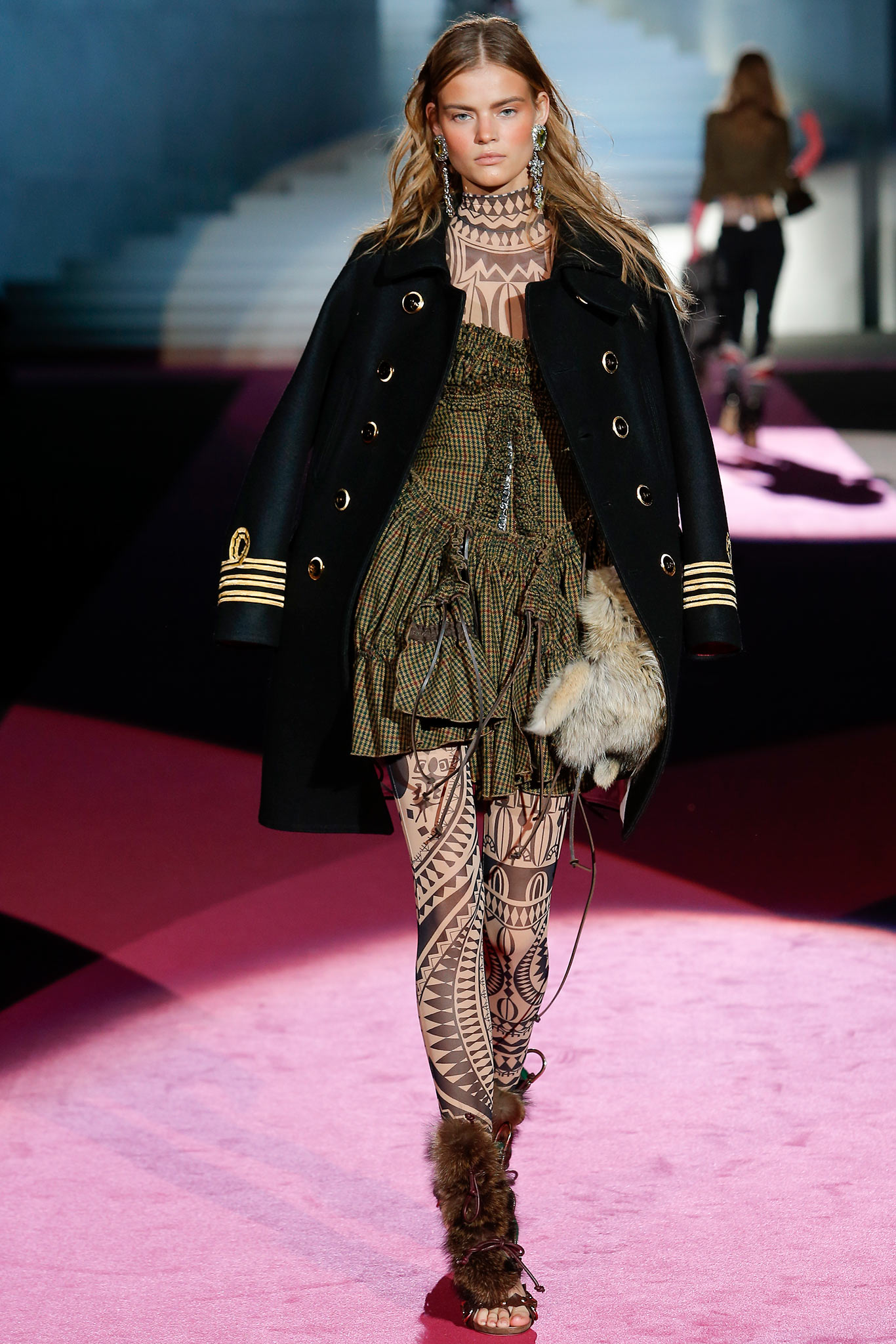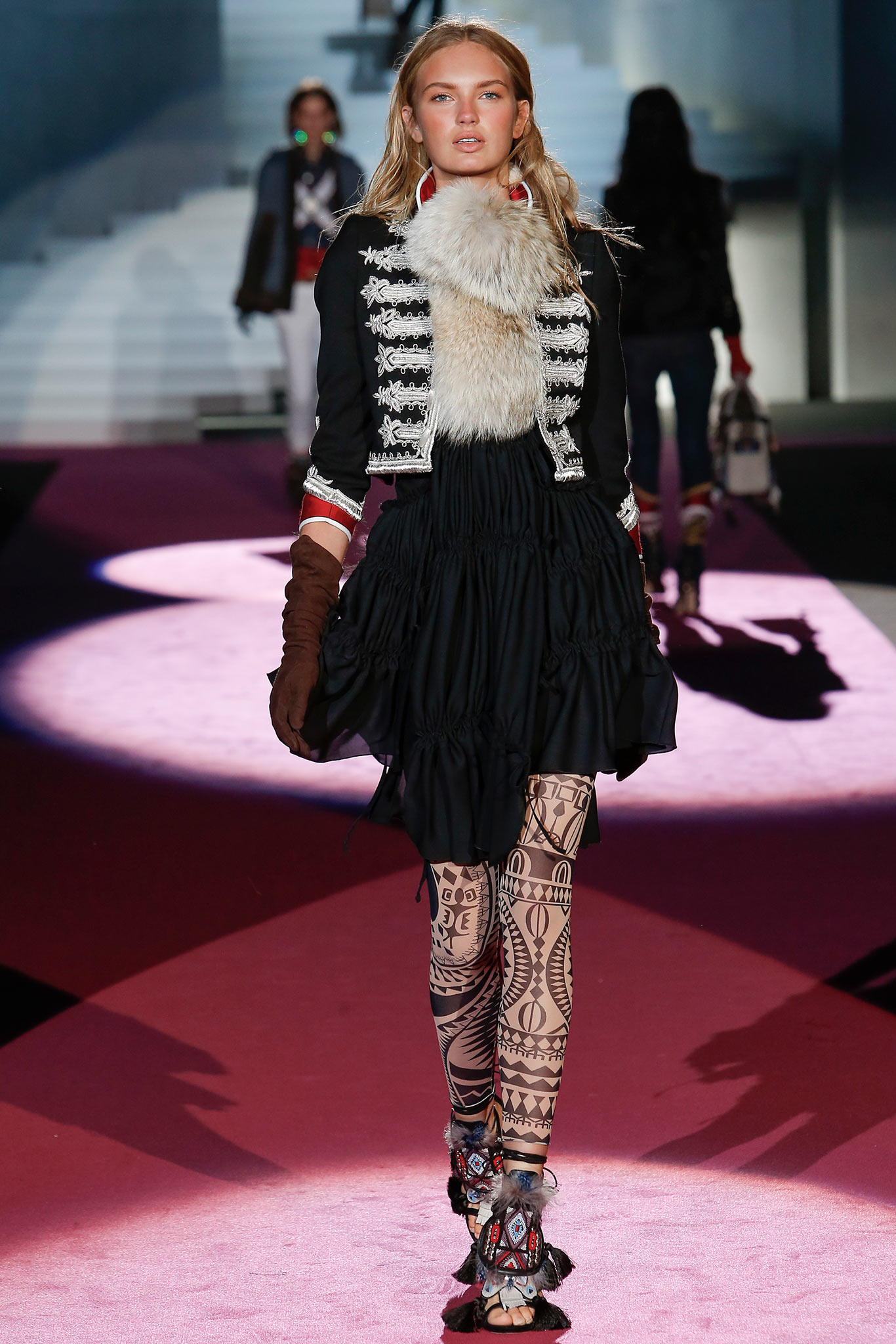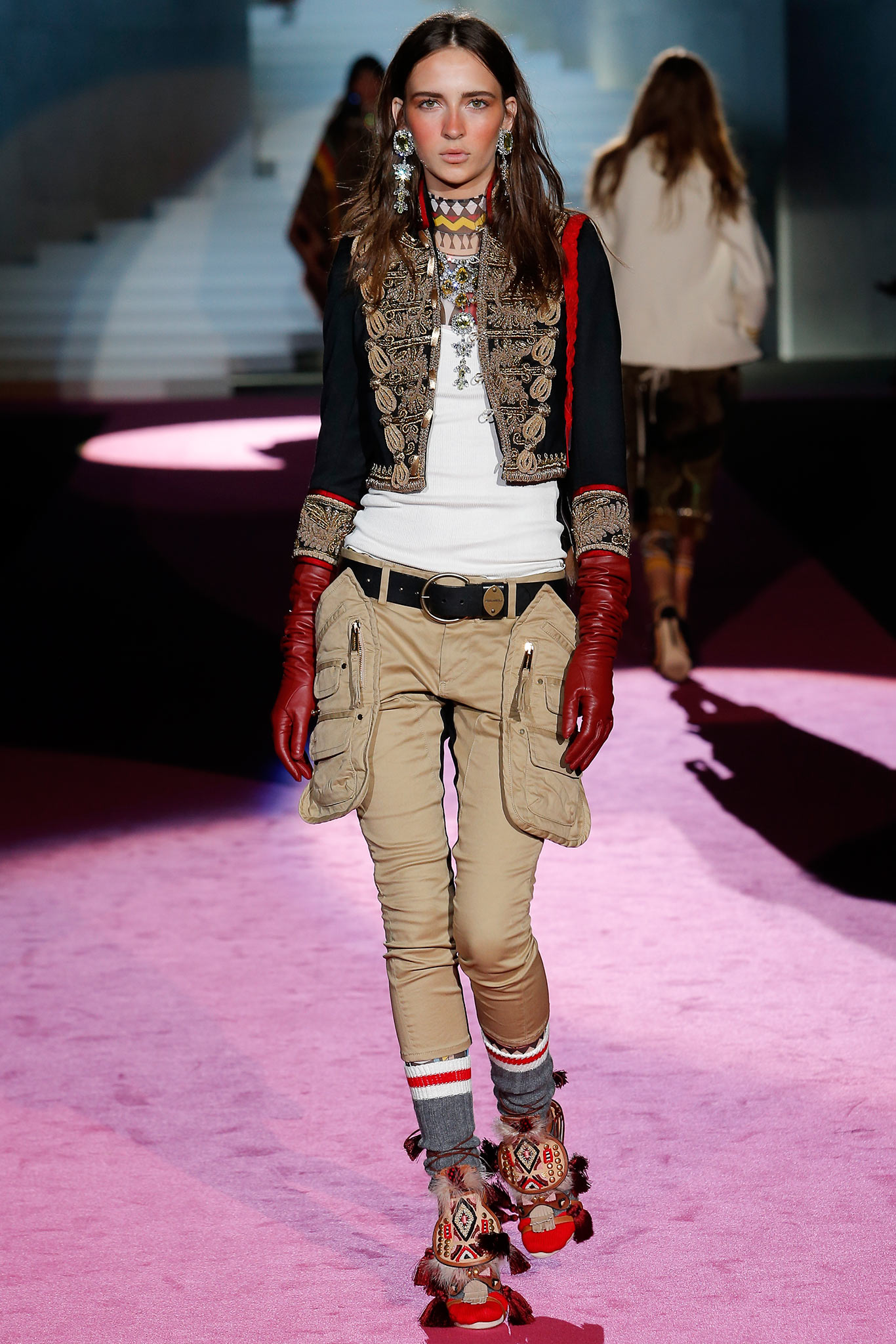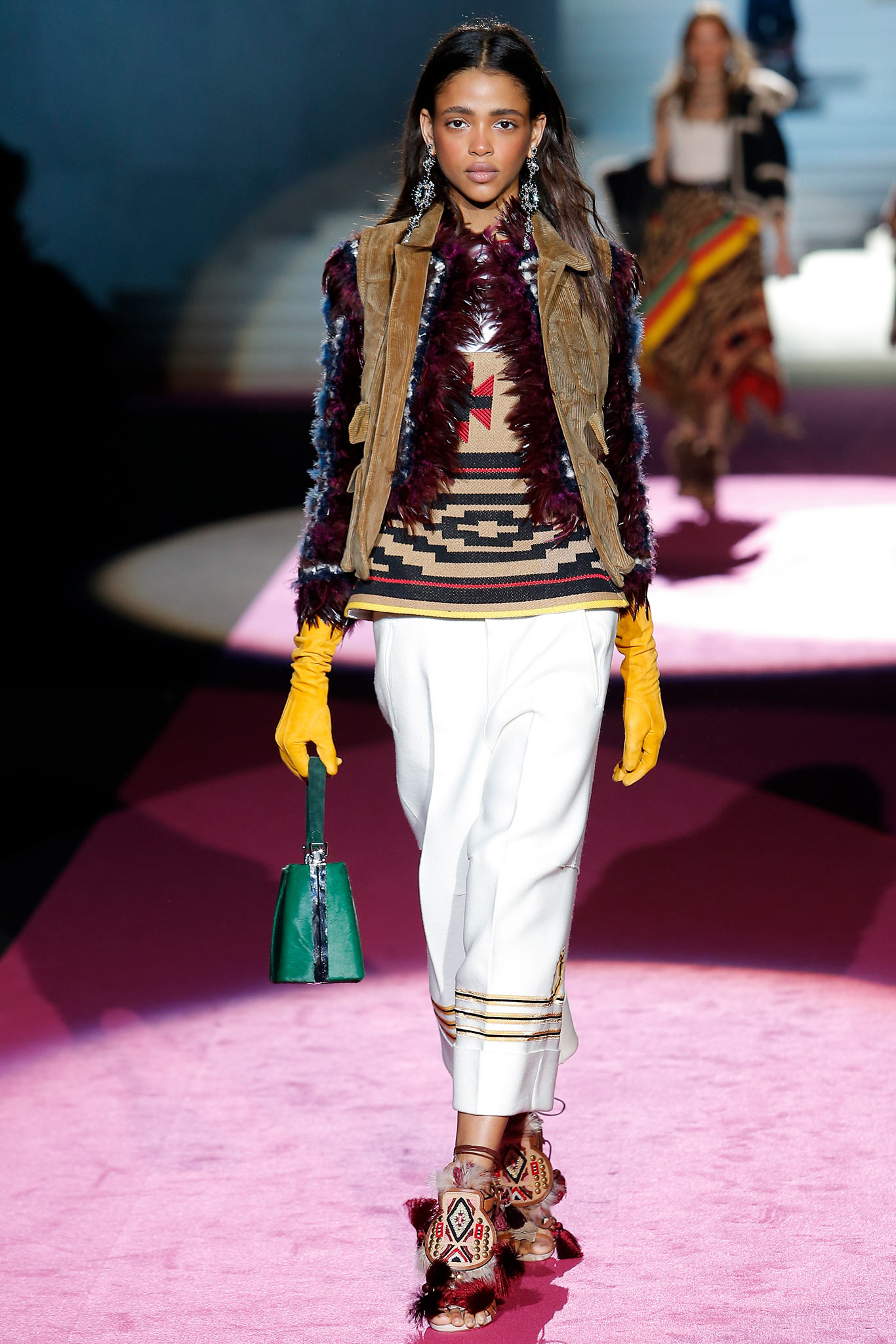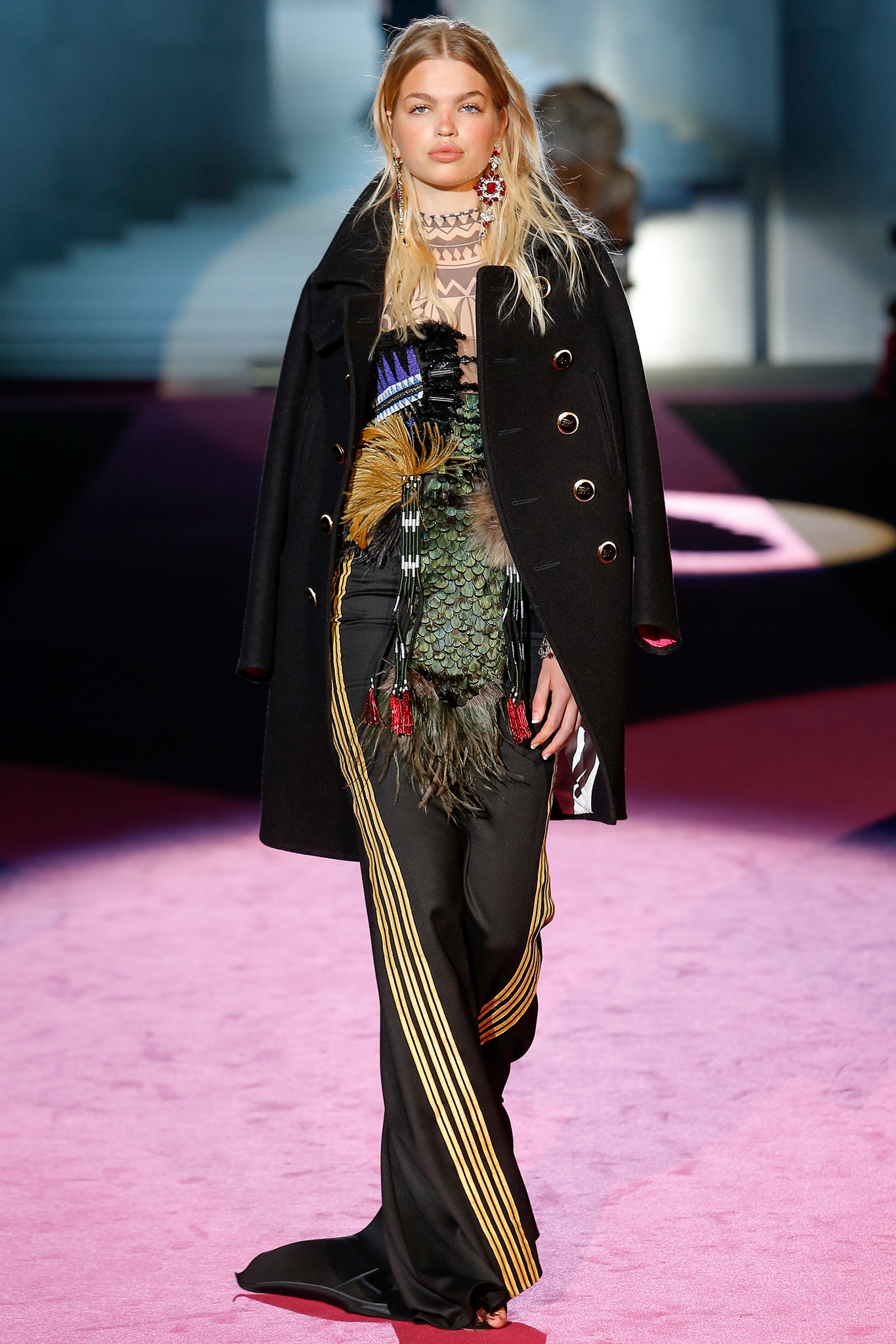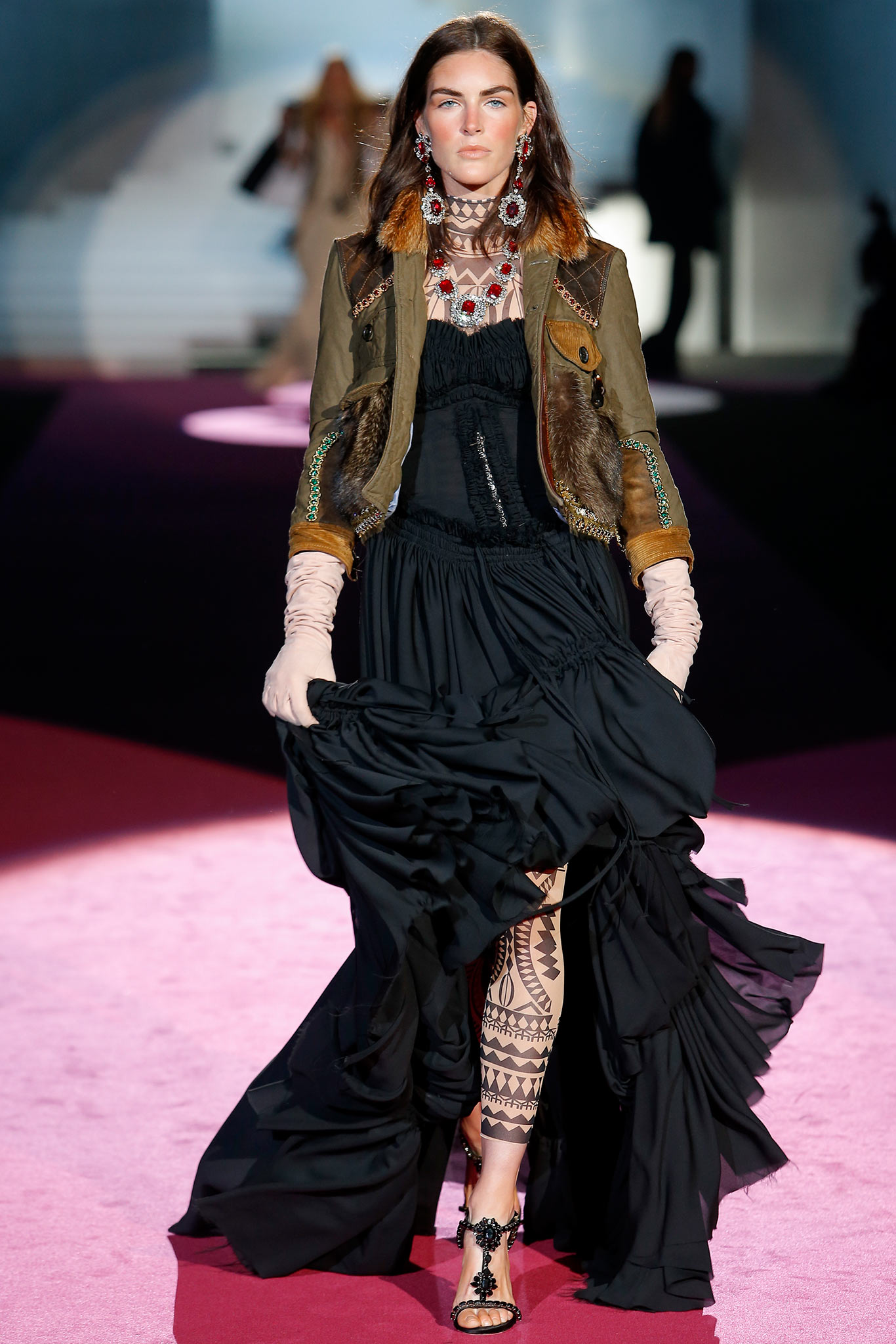 If you're going to be stranded in the wilds of Alaska, you might as well put on a show for the Bear and Moose. Rhinestone strappy sandals in the snowbanks? Why not?
Images brought to you by www.style.com
Cheers!