Back to the London catwalk with visions of the sea and all things nautical in light and airy renditions with a wee bit of Vegas thrown in, thank you Tom Ford. We are rounding up the usual suspects for an entertaining and fulfilling smorgasbord of fanciful delights! There is a full compliment of all styles for all occasions, with suits, pants, sweet and crazy sexy dresses and of course gowns. And really, could there be a series of strolls down le runway without the obligatory leather pants?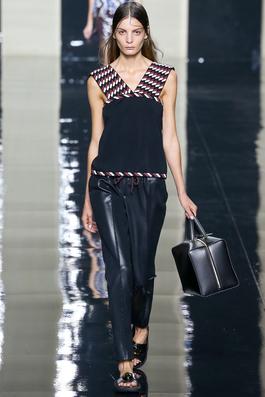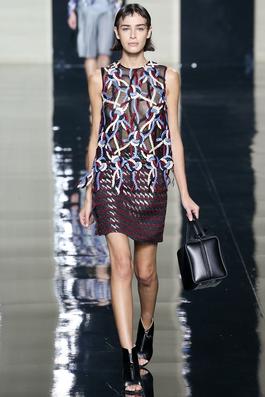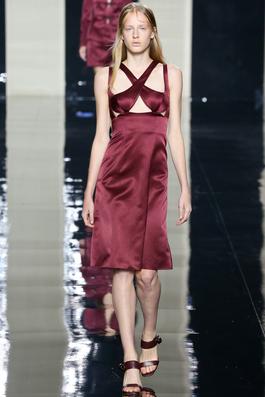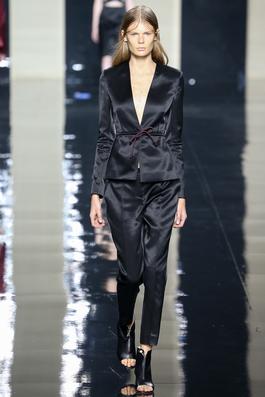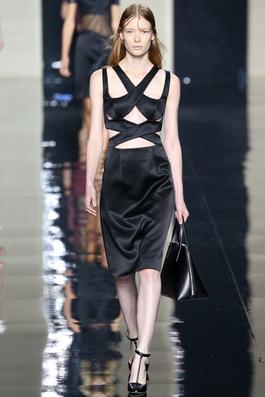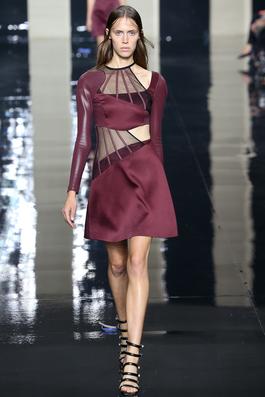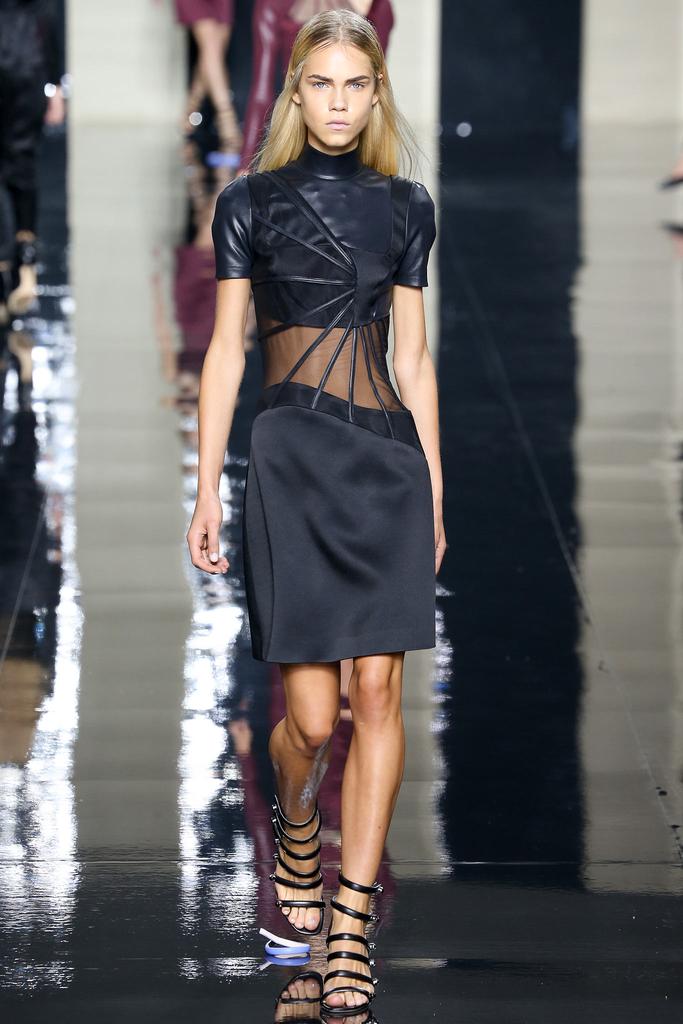 Now, I'm pretty tightly wound and abhore the thought of showing skin, but d*mn, this is would be worth crawling out from my timid comfort zone. The construction is perfection, the silhouette flattering, and the style well, different from anything else.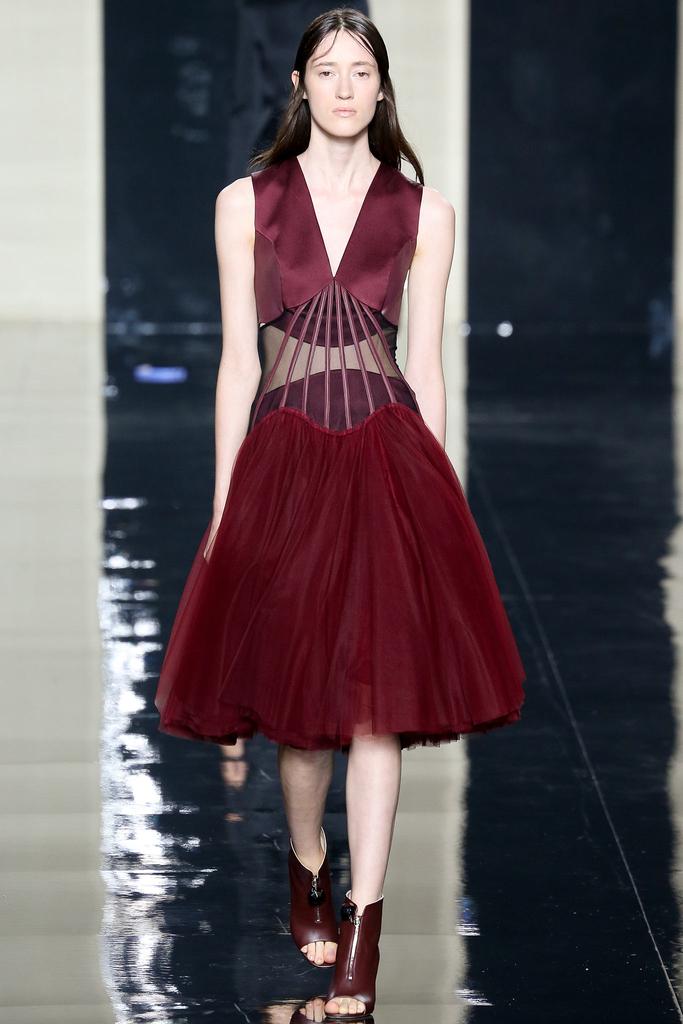 Another special stunner with the satin and tulle combination. A modern take on uniform de ballet.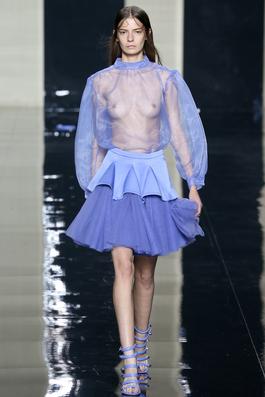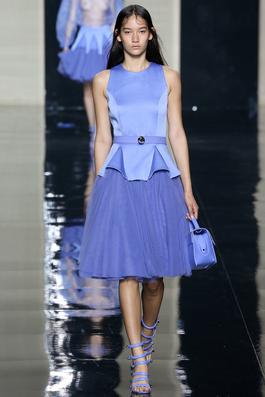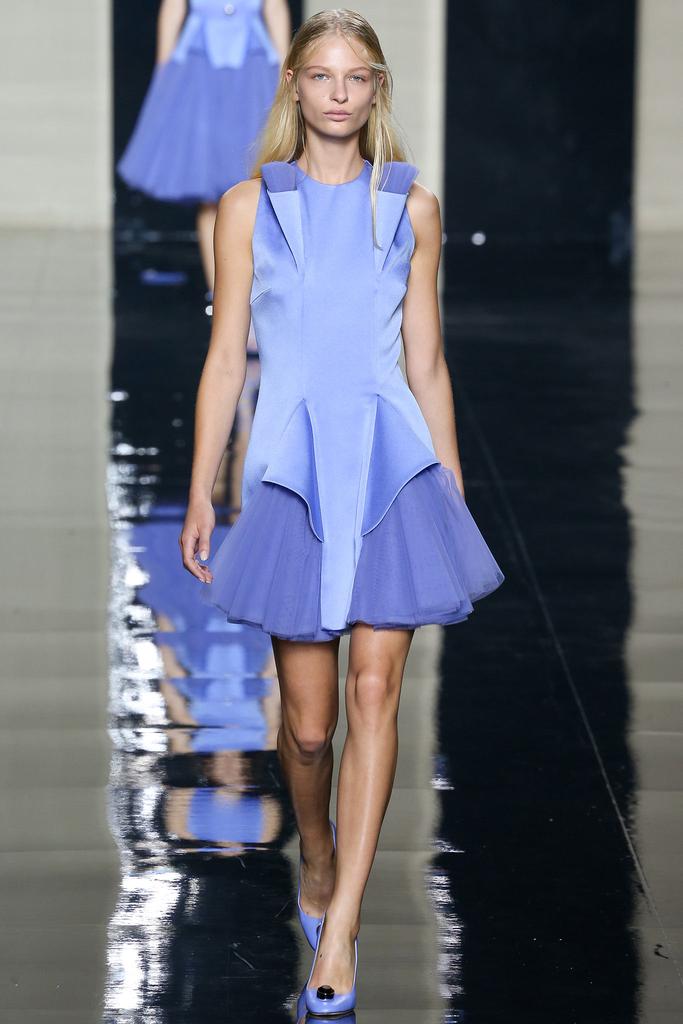 Since I was a kid with that box of Crayola's I've been OBSESSED with periwinkle. Its somewhere between blue and purple. A special vibrant color that rarely makes an appearance, I have no idea why. Anyway, the sculpured duchesse satin combined with the tulle skirt makes this too an unique selection amongst the runway creations. Wear this to the opening of the ballet to spare yourself the whole gown drama. (After several years of worrying about tripping over layers of floor length tulle and strapless chiffon numbers, I know I've had enough!). Put a pink or black T with the periwinkle skirt and add black patent flats or shoe-booties.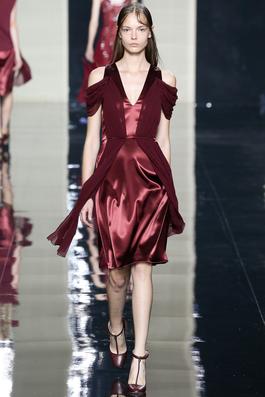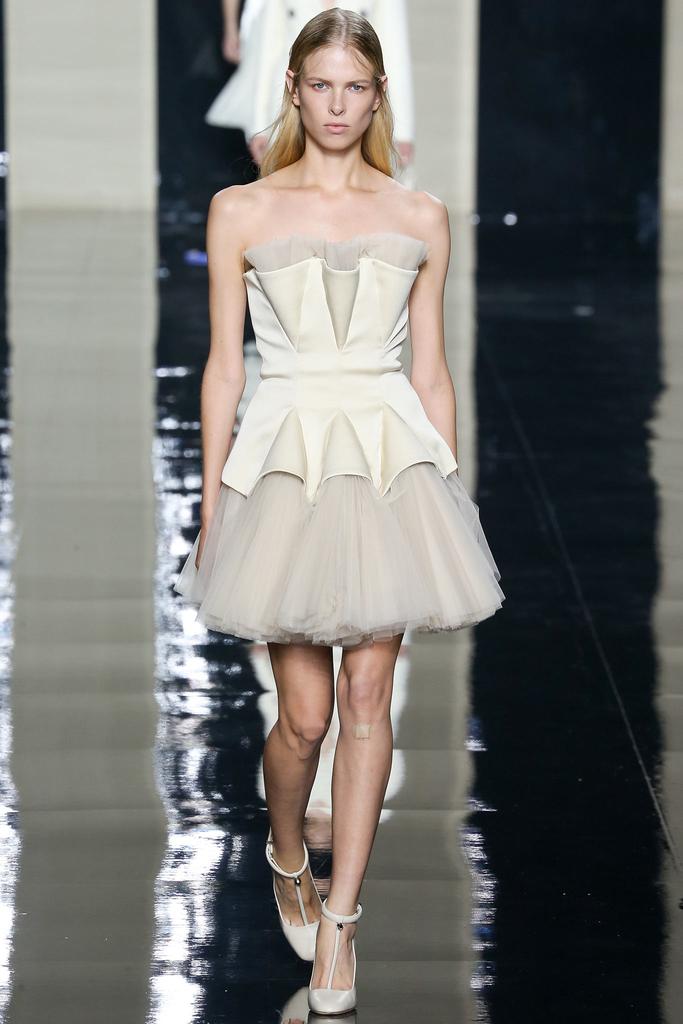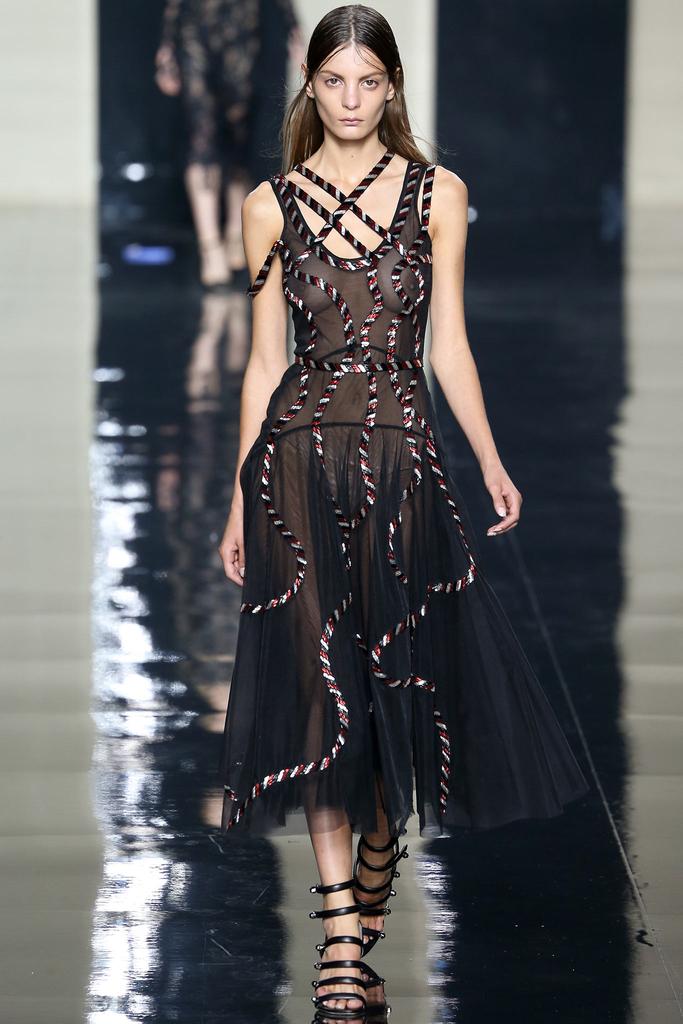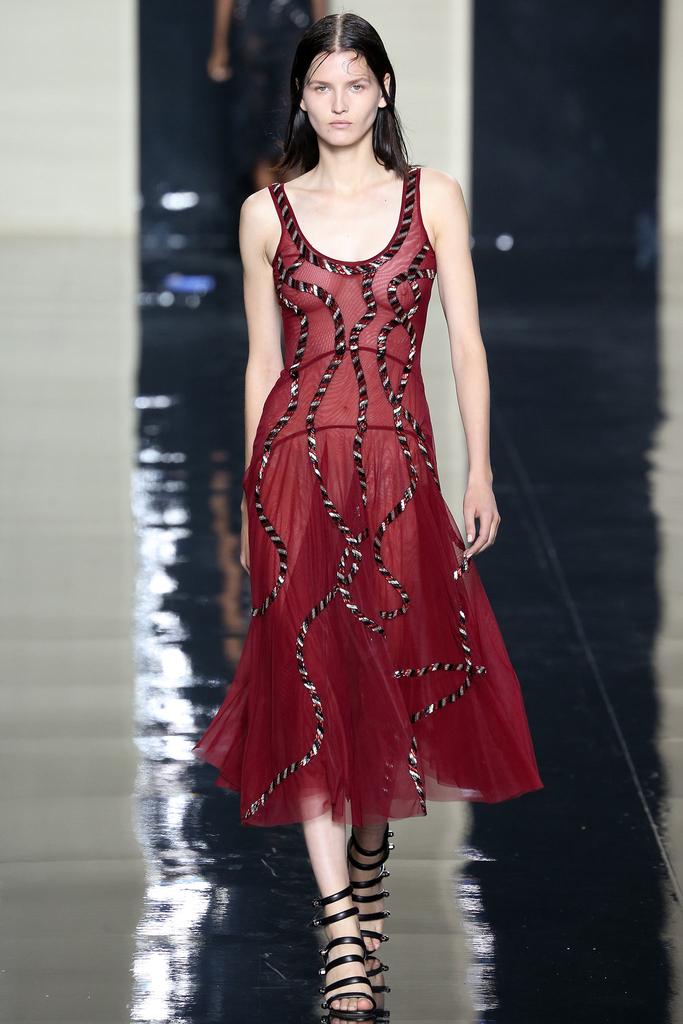 CHRISTOPHER KANE
I like the last two for a fancy soiree on a fancy yacht! Of course, UNDERPINNINGS will be in order otherwise there might be a man overboard situation once the dudes get a load of the sort of nude dress! The rope detail is nautical but also brings to mind a serpent, as in the garden of eden......subversively salacious!
Great collection for all life's events including working a board meeting. Anyone need a sexy black suit?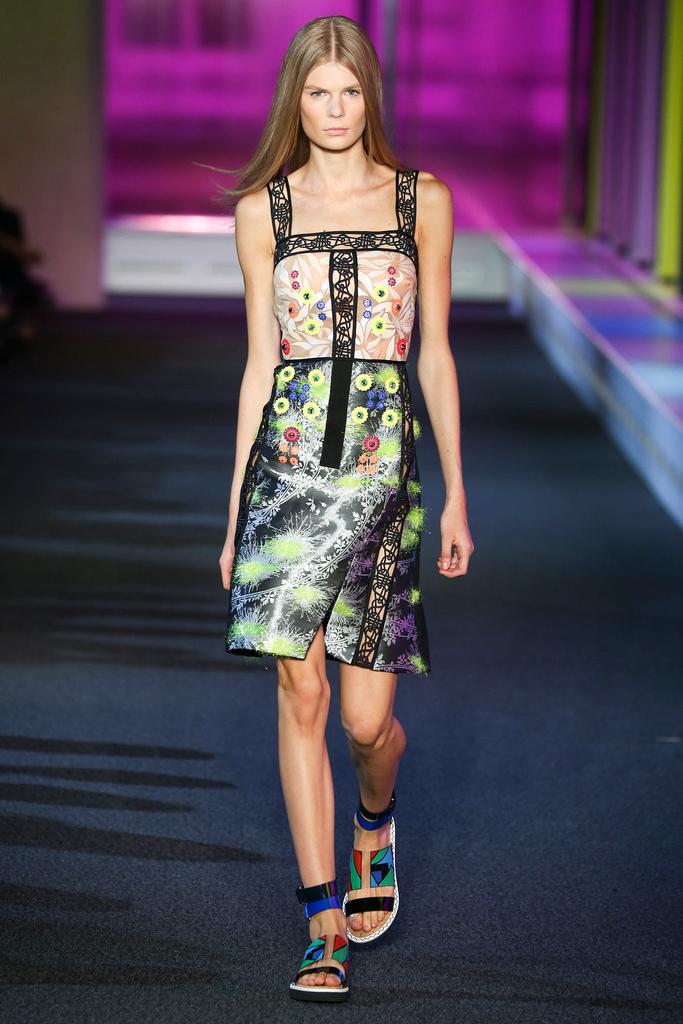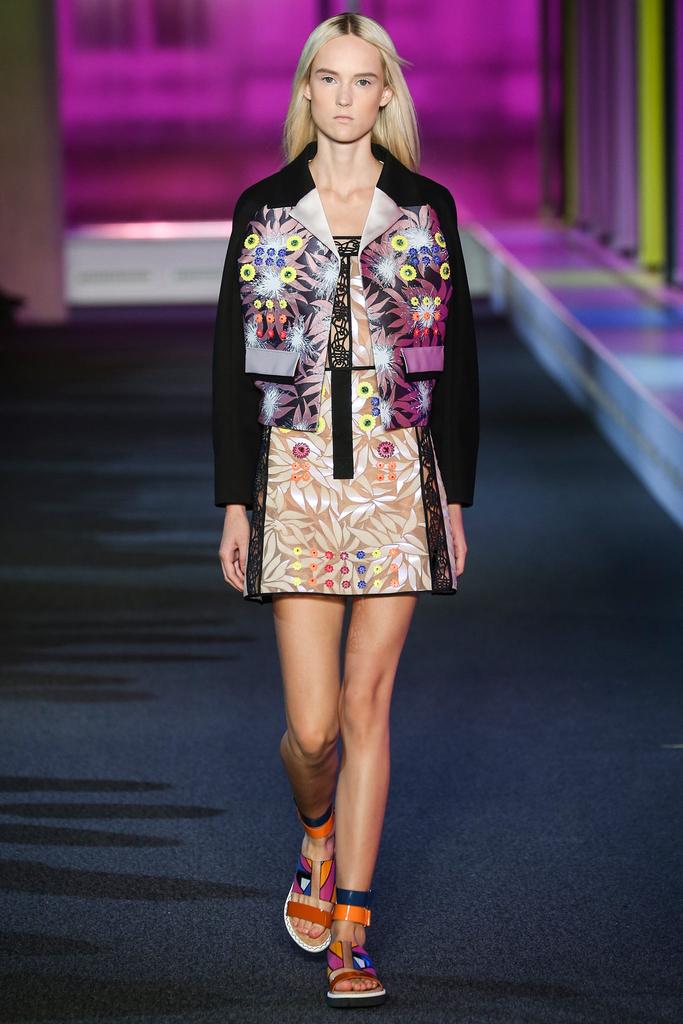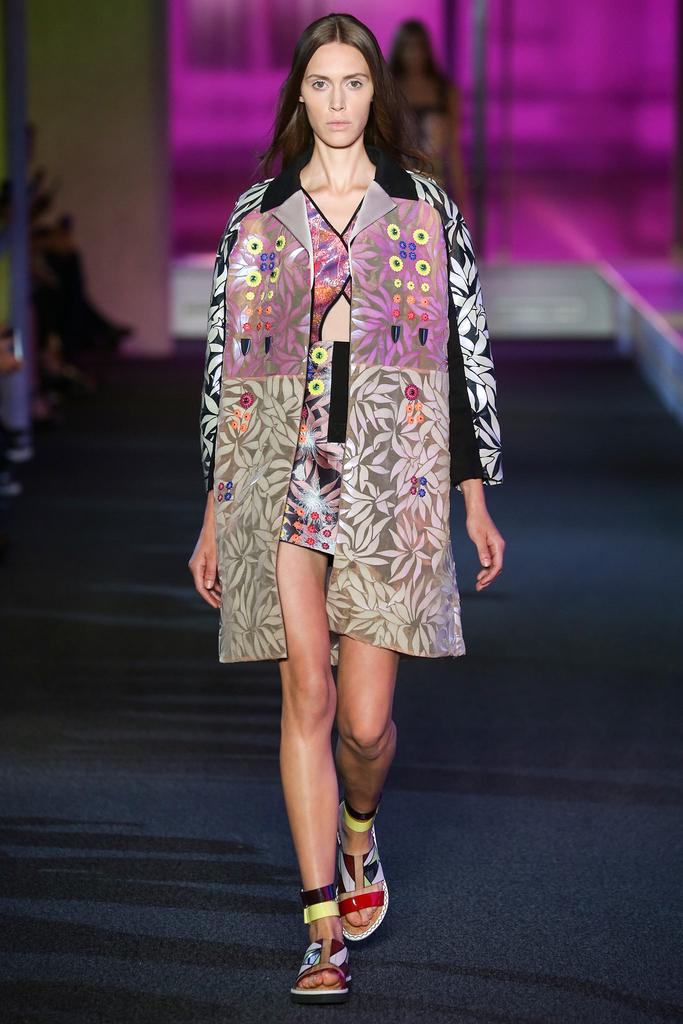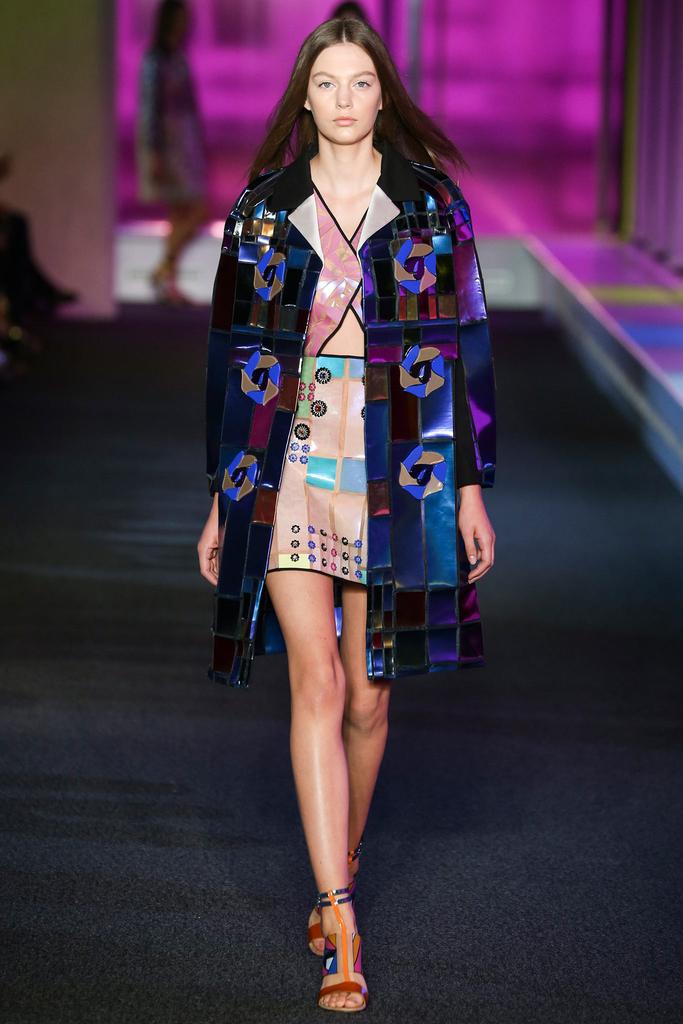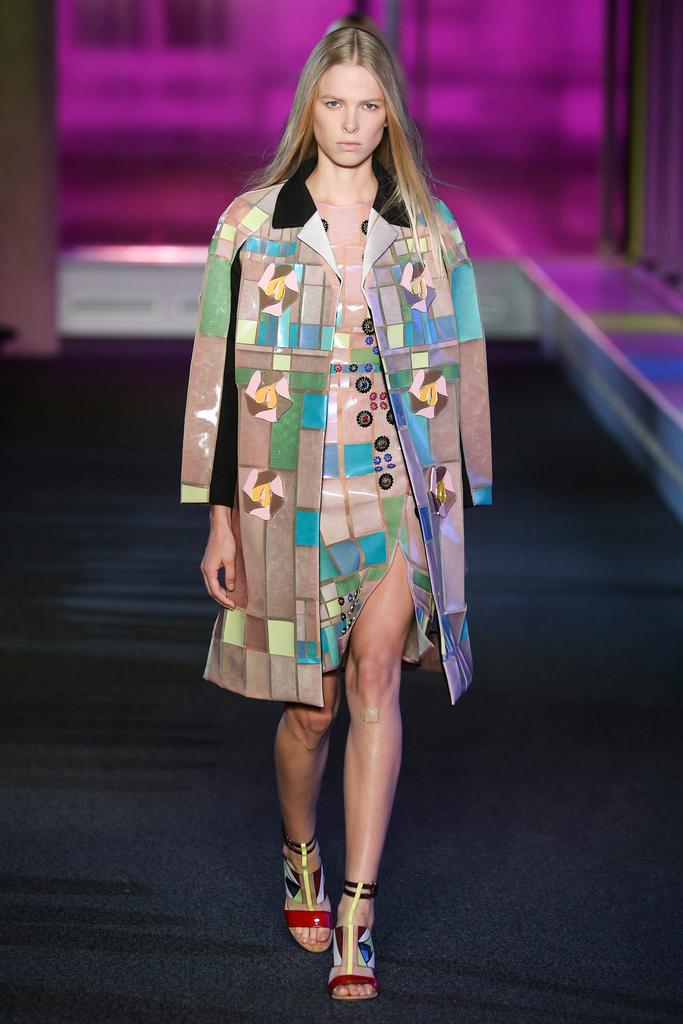 I am definitely in the more-is-better camp, so I cotton to colors and shapes over MORE colors and shapes, and the wackier the better, a sort of palette of controlled chaos. But fear not fans of minimalism, each of the jackets provides a whole lot of look, so throw over jeans and a T shirt if in doubt.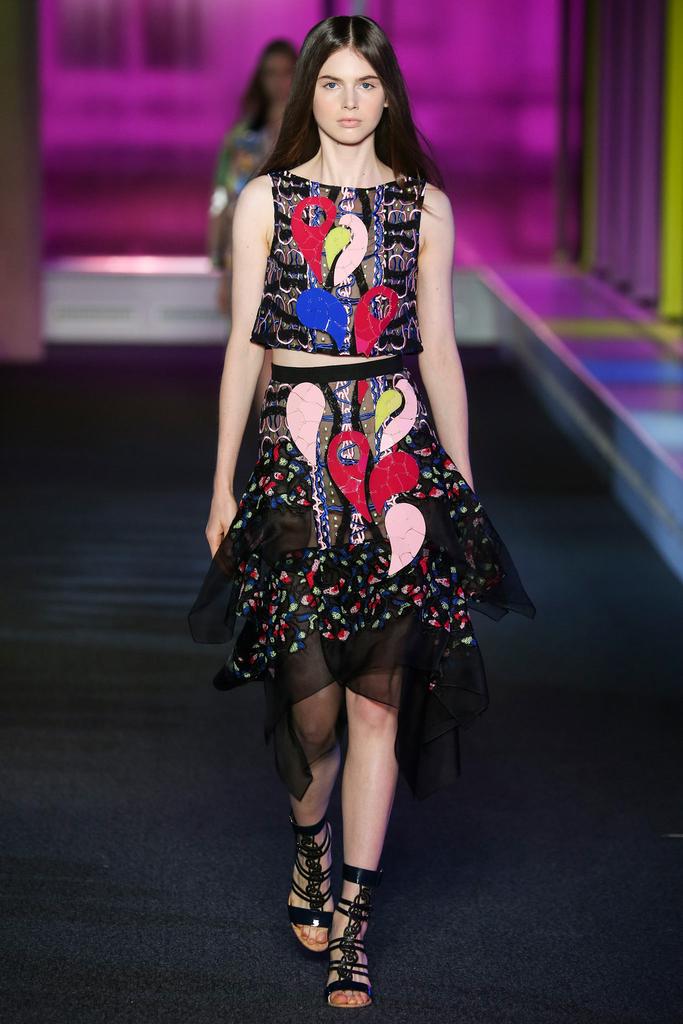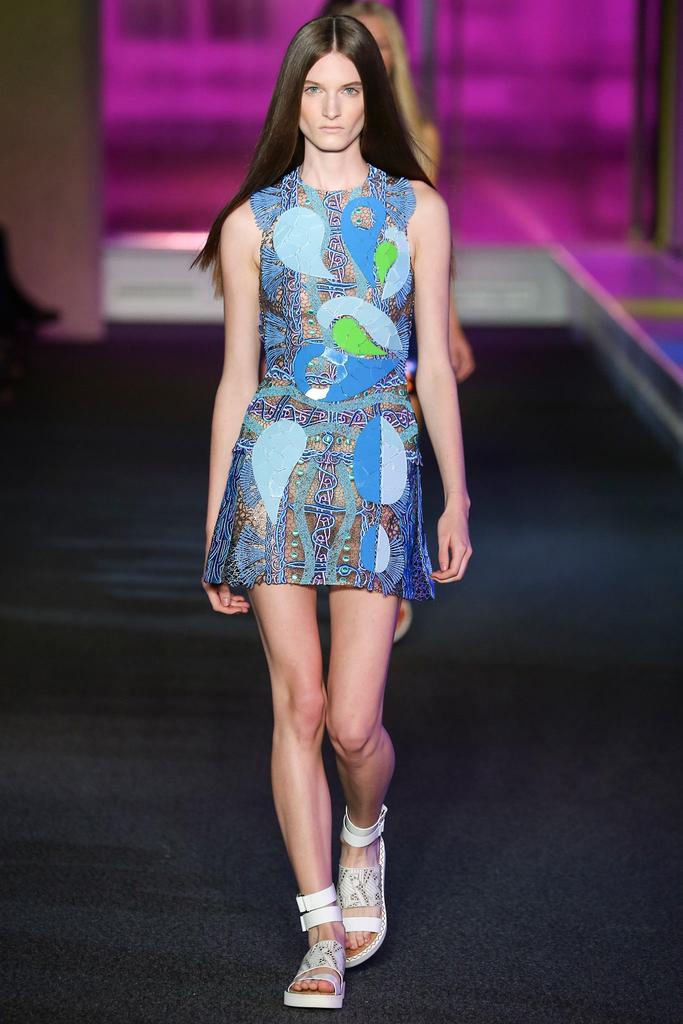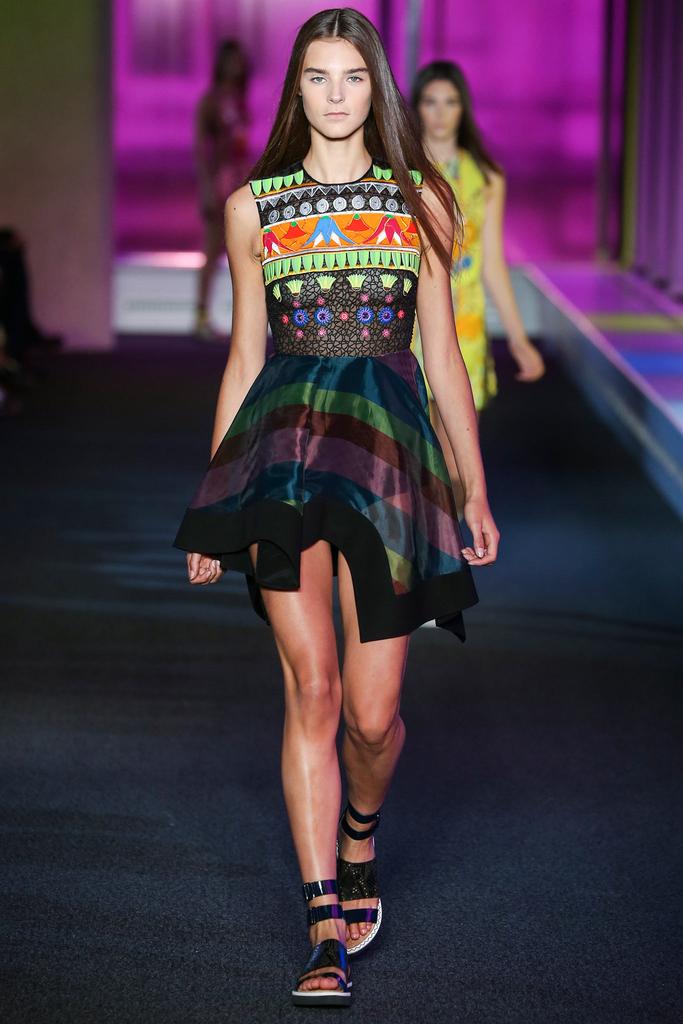 This is gorgeous, works as a mini, a short dress OR more importantly, a TUNIC over leggings or whatever. Consider wearing some over the knee boots for a sharp sexy look.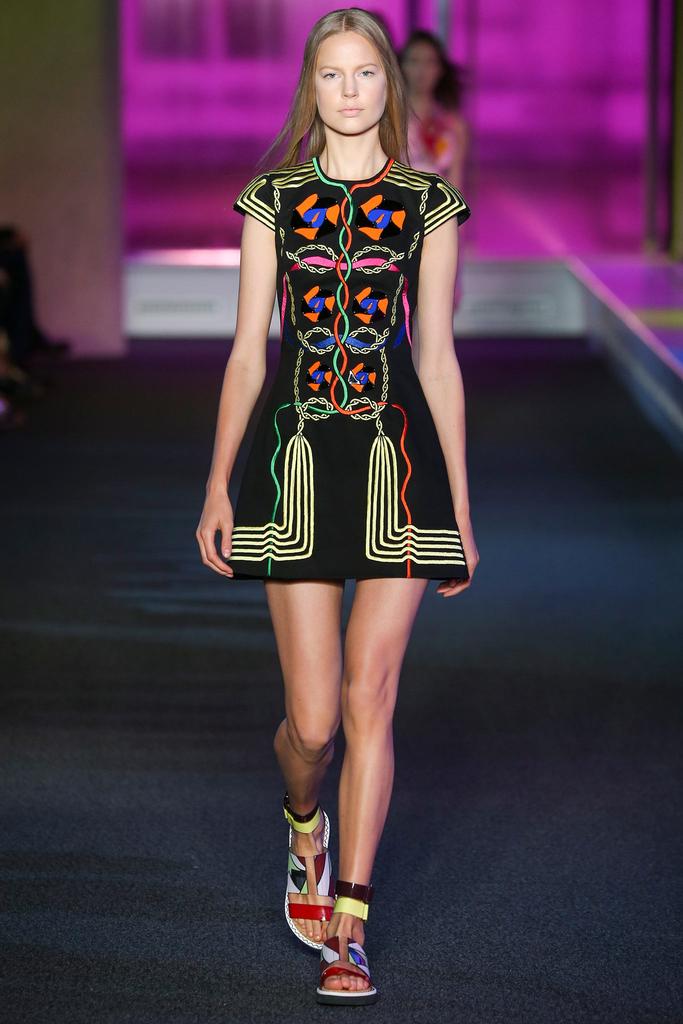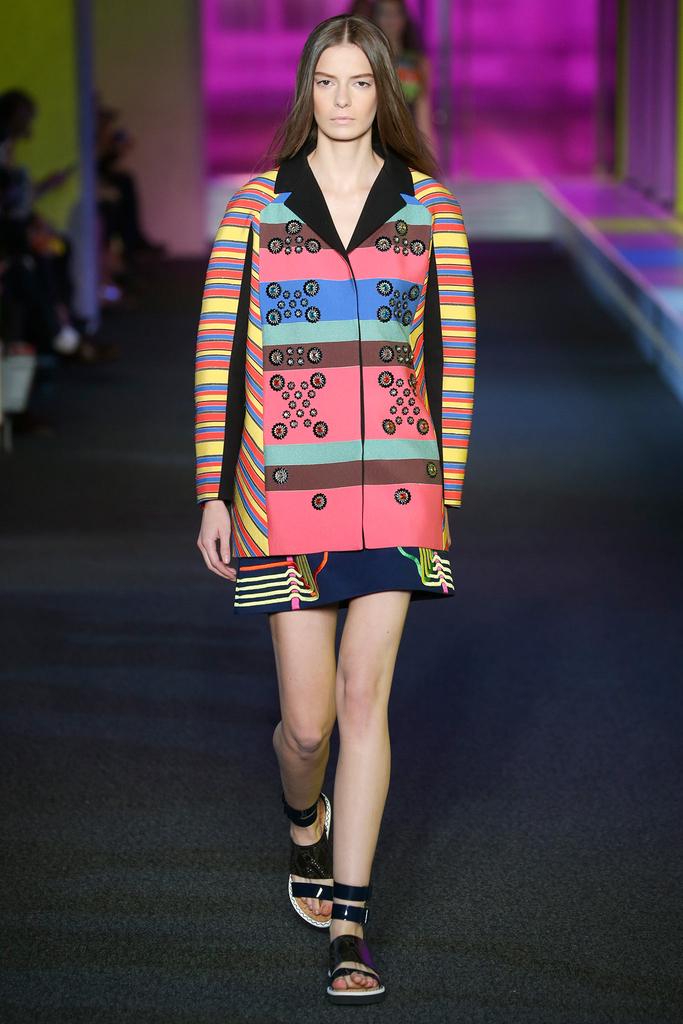 PETER PILOTTO
It was hard to whittle down the looks for this post. You've got to love all the colors with whimsical amour inspired paisley plaquettes mixed with embroidery on dresses and tunics. And remember, one can always turn a "mini" into a tunic. As a complete coat ho' I was mesmerized by the myriad selection of toppers. With a spectacular coat or jacket, you really don't have to worry about blouses and pants and skirts. These things can and should be kept simple to keep the focus on whats important. The standard silhouettes are made fresh and intriguing by the colors and embellishments.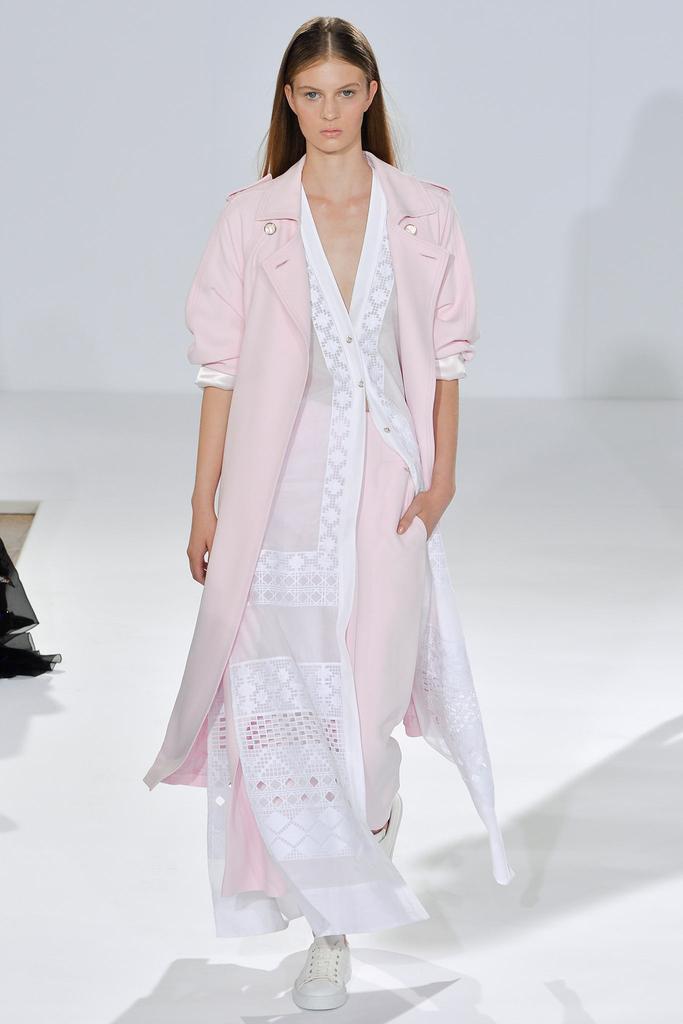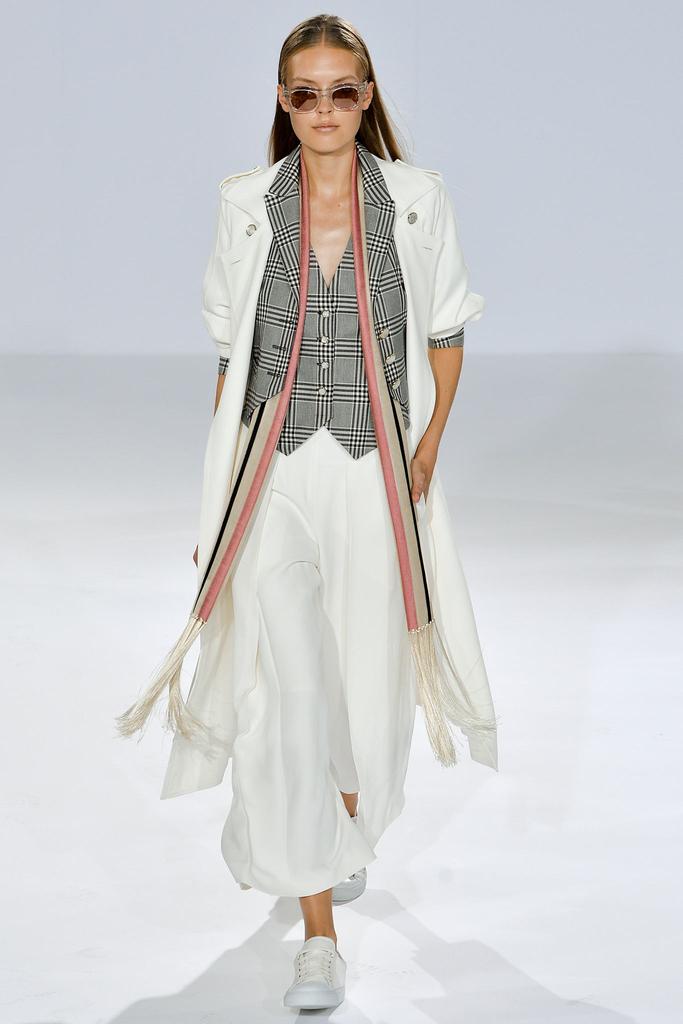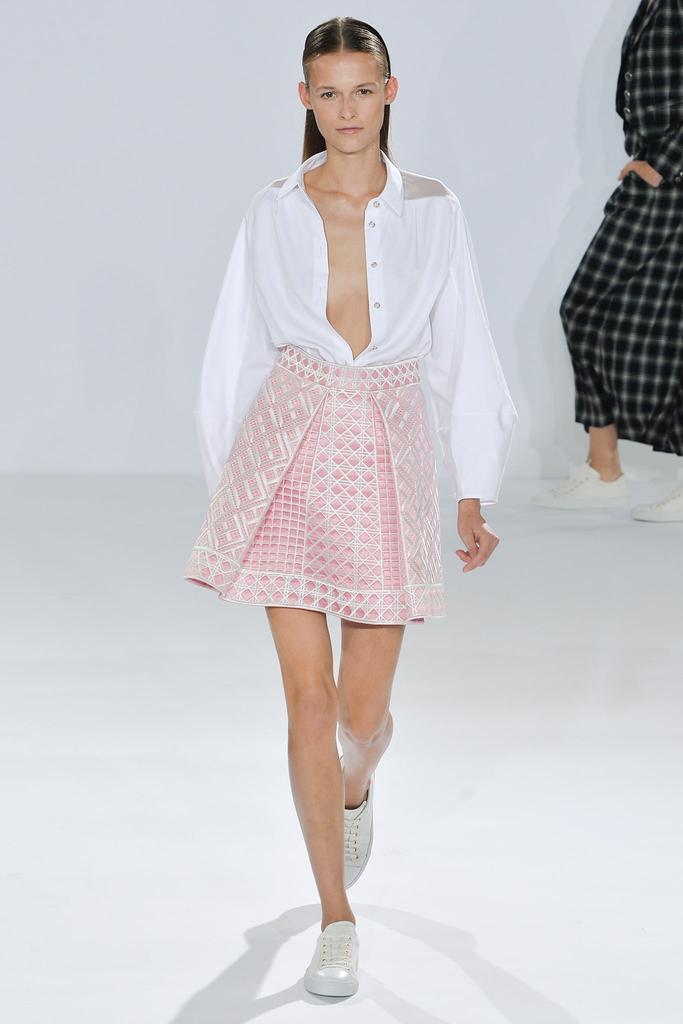 Cloquet seems to be everywhere these days and thank goodness for that! This fabrication is light and wearable but transforms what might be an average silhouette into something luxurious and eyecatching. The geometric pattern makes this modern. Match this with one of those Peter Pilotto jackets OR a bright floral jacket in any shape. Think Marni or Miu Miu.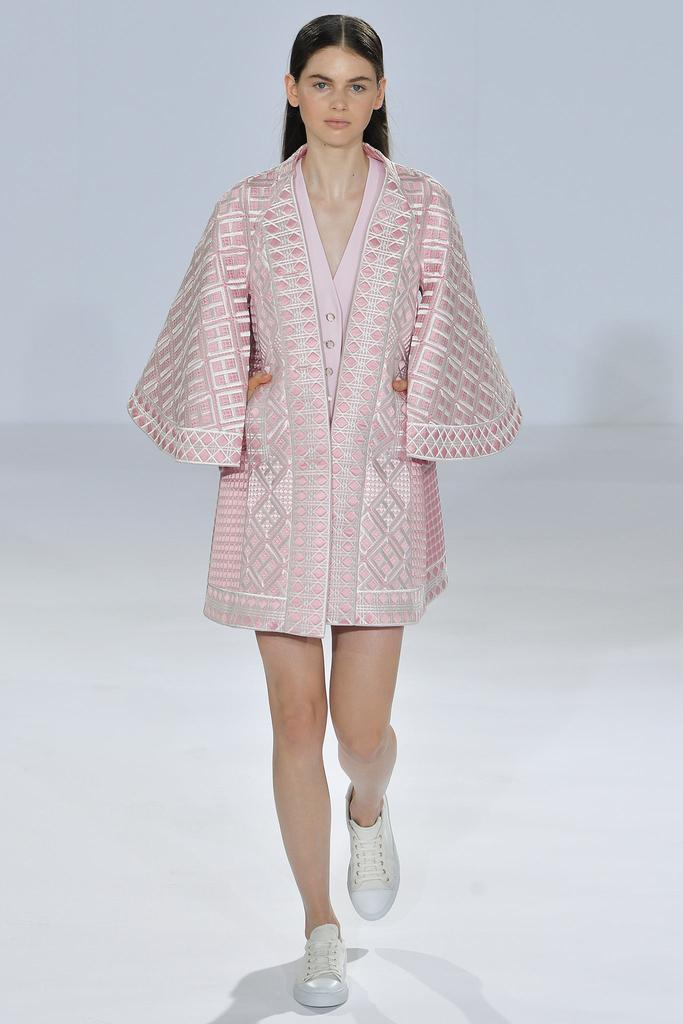 Cloquet Kimono......sigh. Put this over anything and you'll look and feel smashing. Including a slinky runway gown.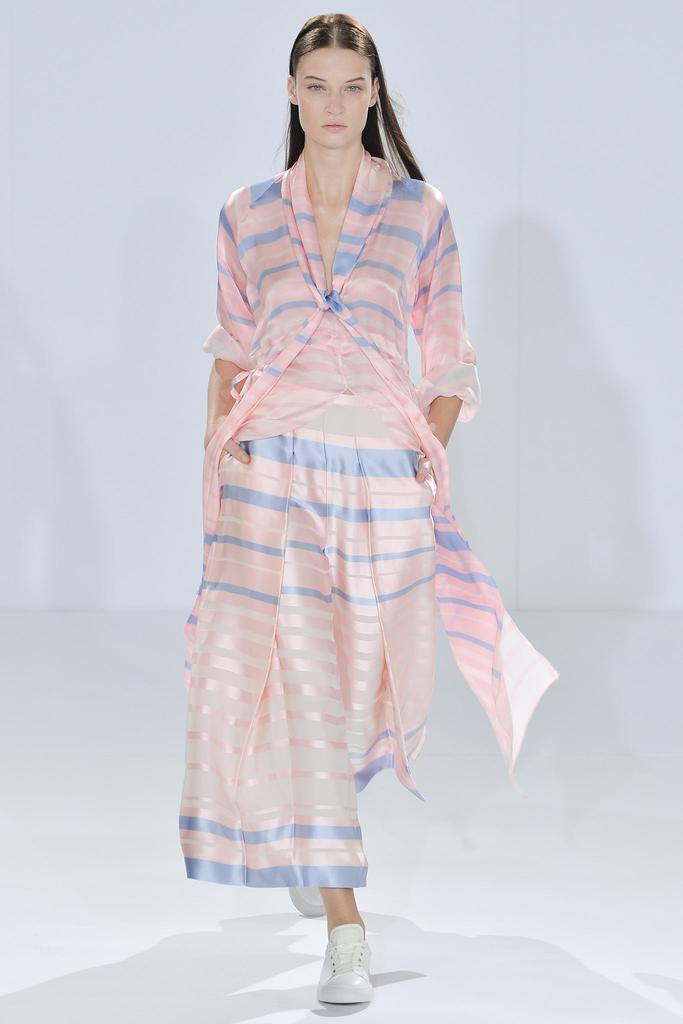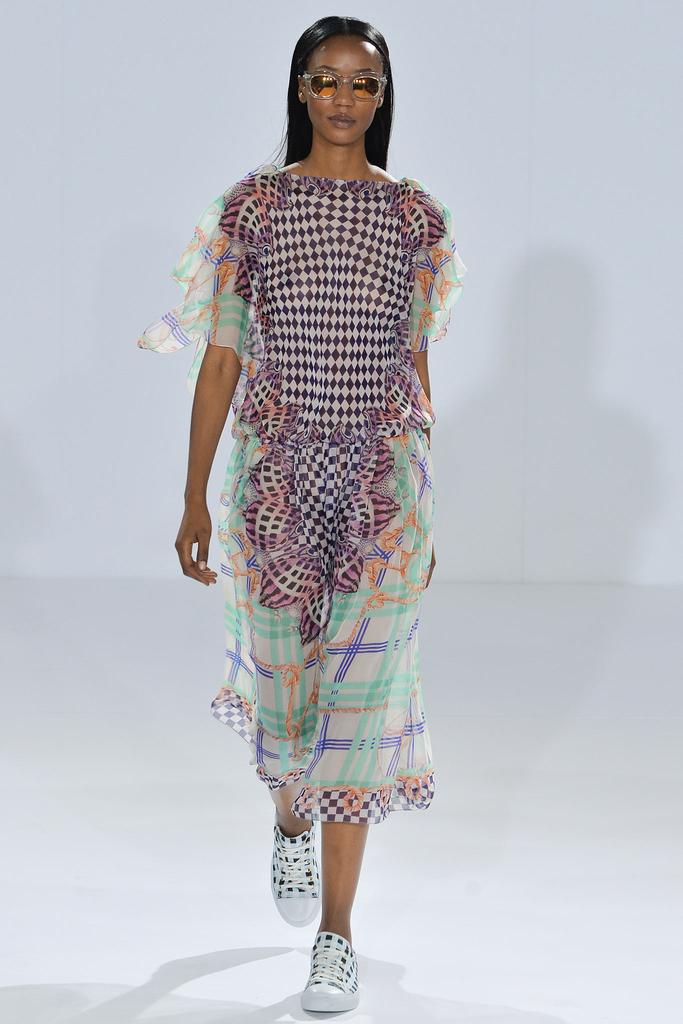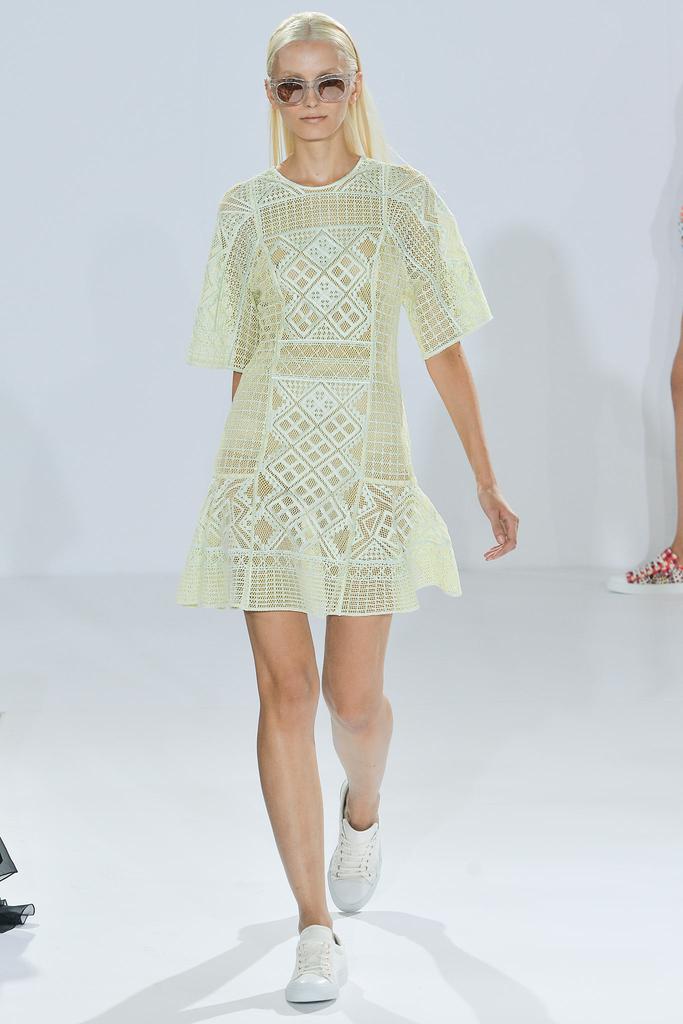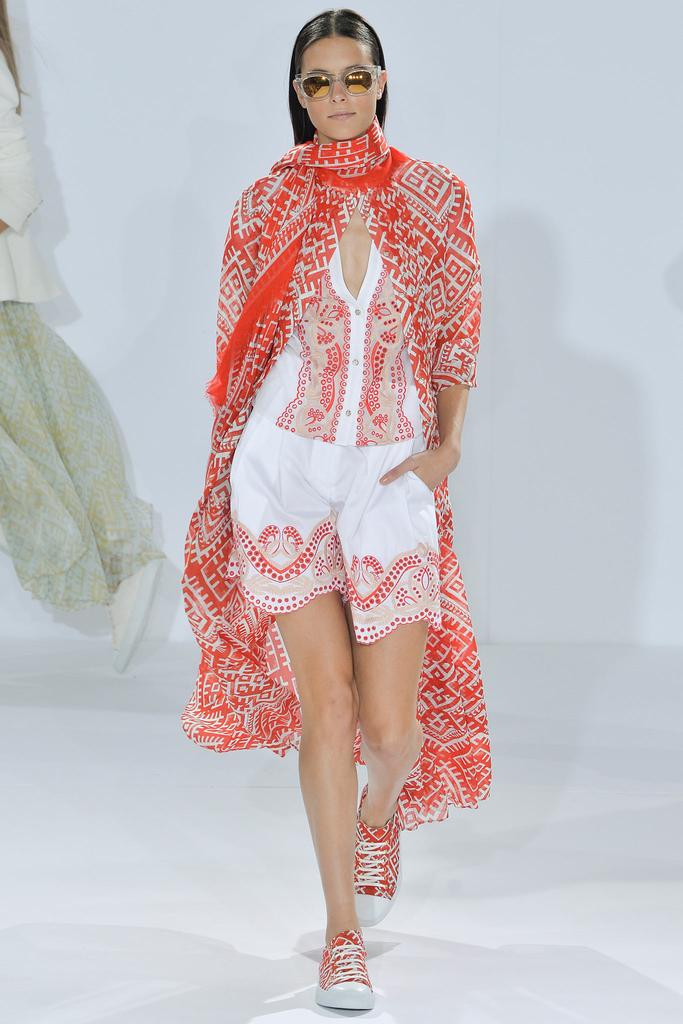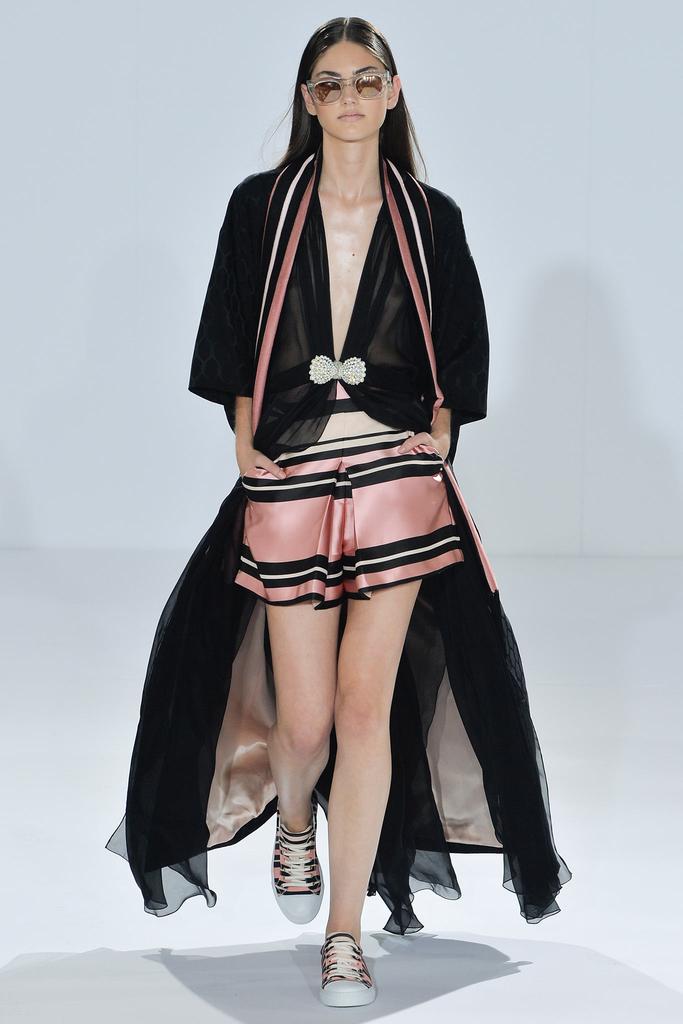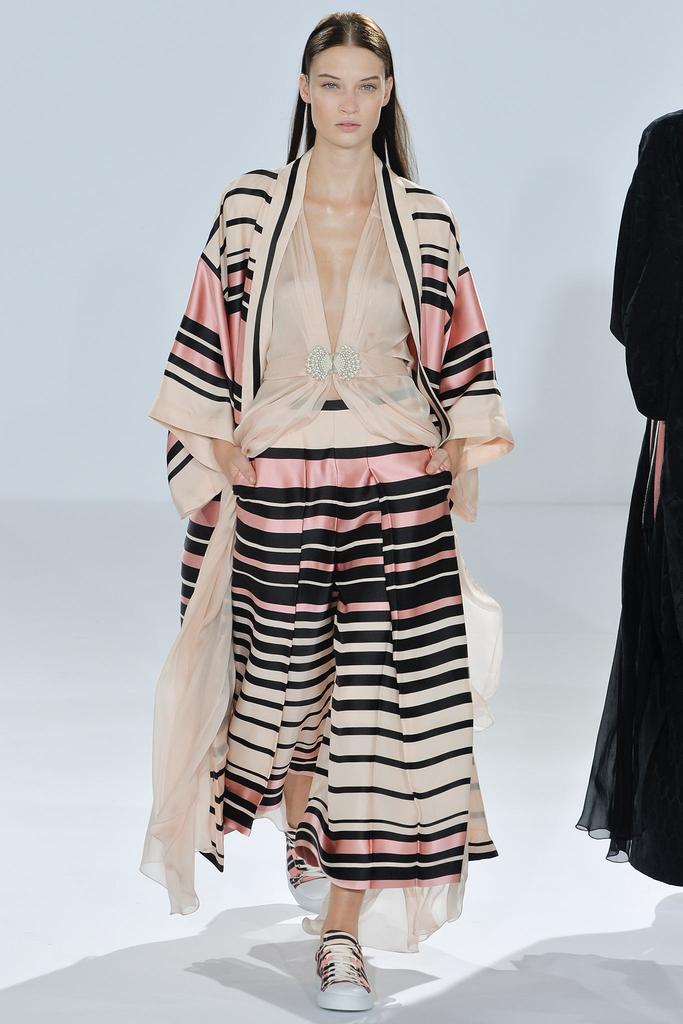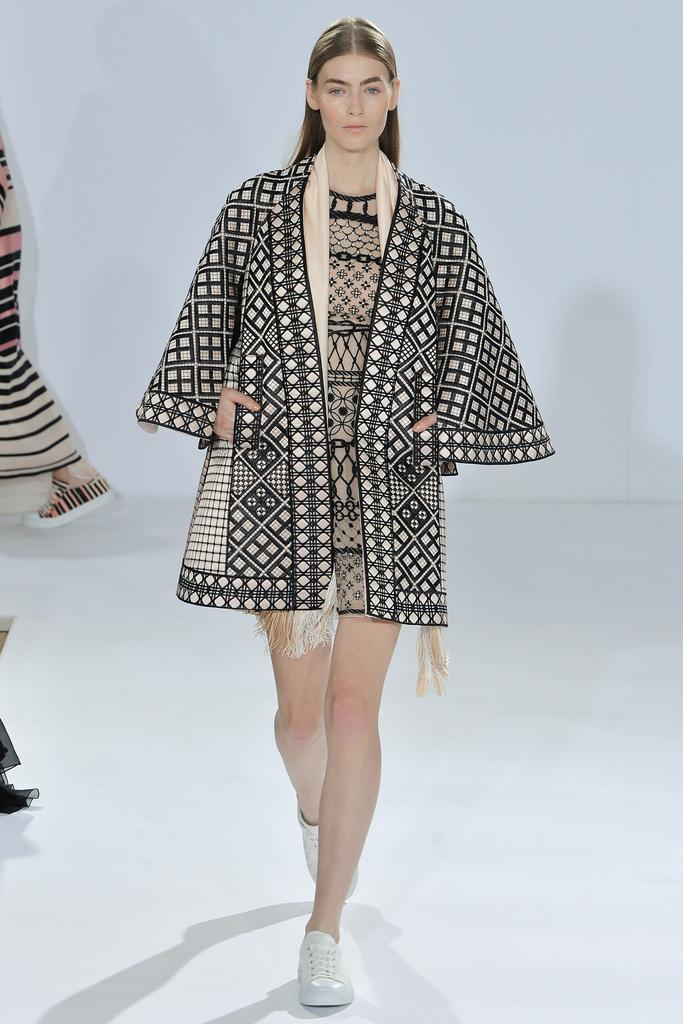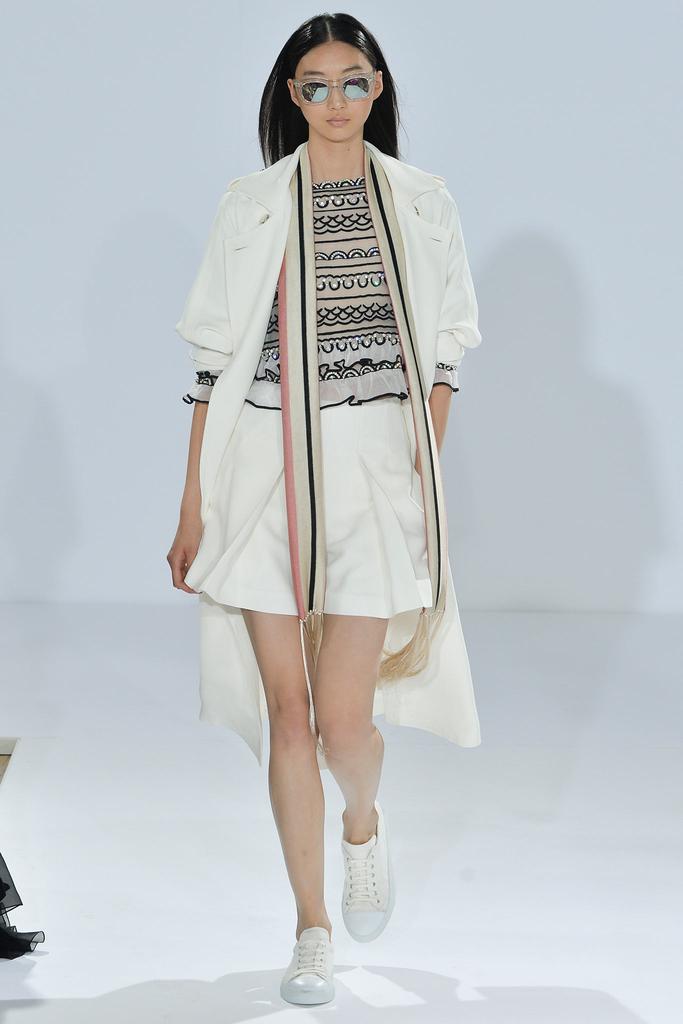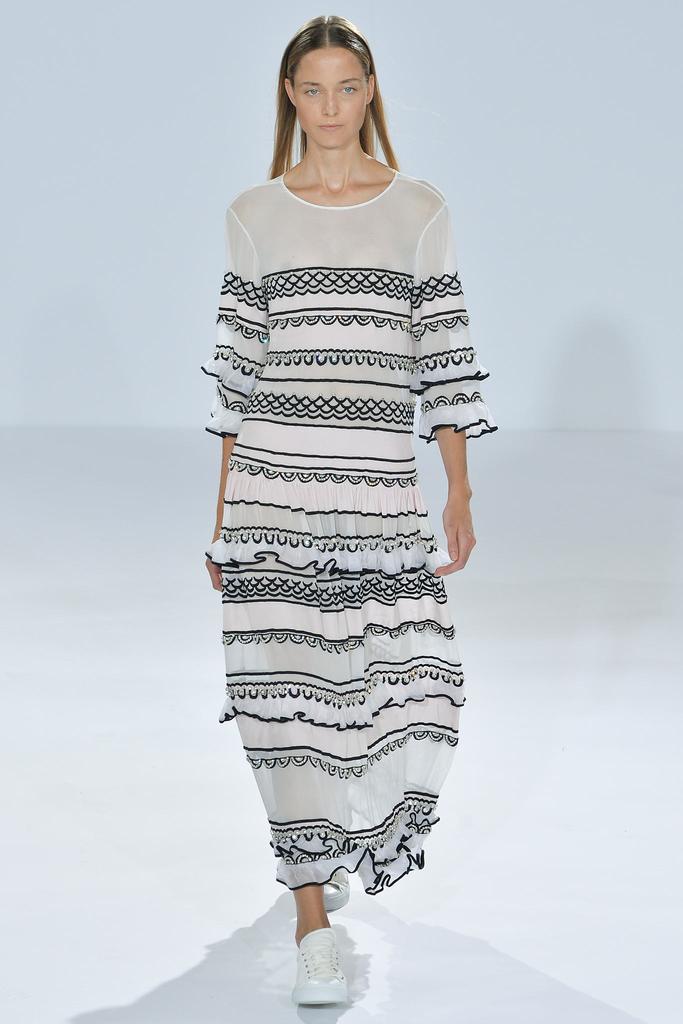 TEMPERLEY LONDON
This is some of the most pleasing light airy yet sumptuous spring summer wear. A fascinating combination of hard geometric and controlled, and flowing and diaphanous. The layers inspire a sense of mystery and old world glamour. Because of the fabrications, MANY of these beauties can be kept snug in your luggage without breaching the weight requirement. This last piece has a bit of a middle east vibe. But beware, if you choose to travel to desert dwellings in the middle east, UNDERPINNINGS are your new best friend. That and sunscreen. Safety first.
This collection is just the impetus anyone needs to book a flight to parts unknown, a Greek cruise, a Bali getaway, or a sojourn of solitude to Ayers Rock in central Australia...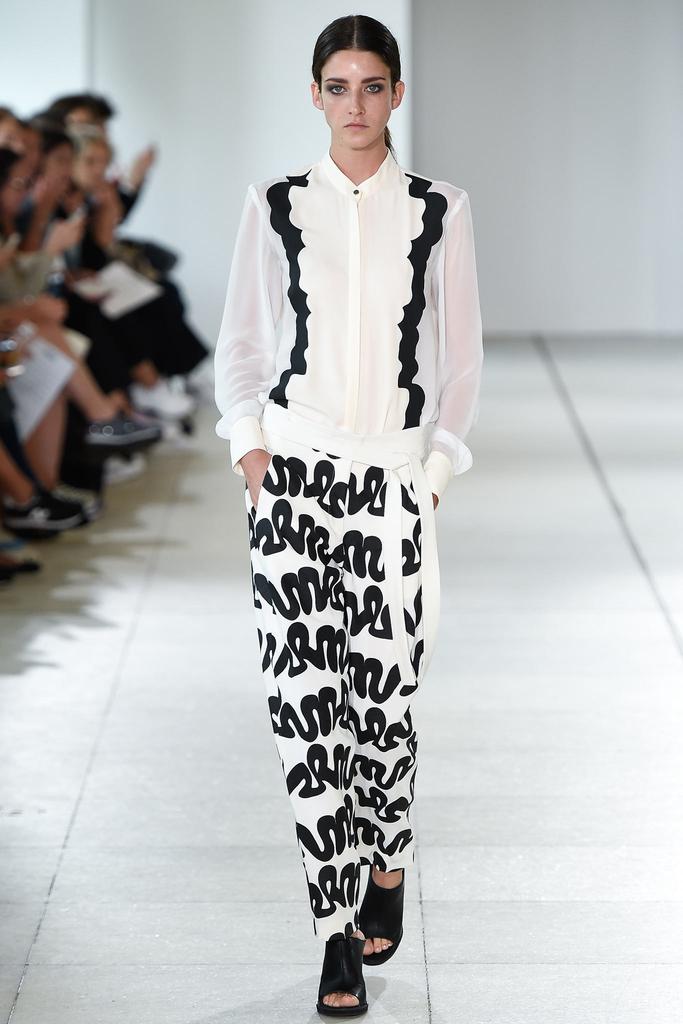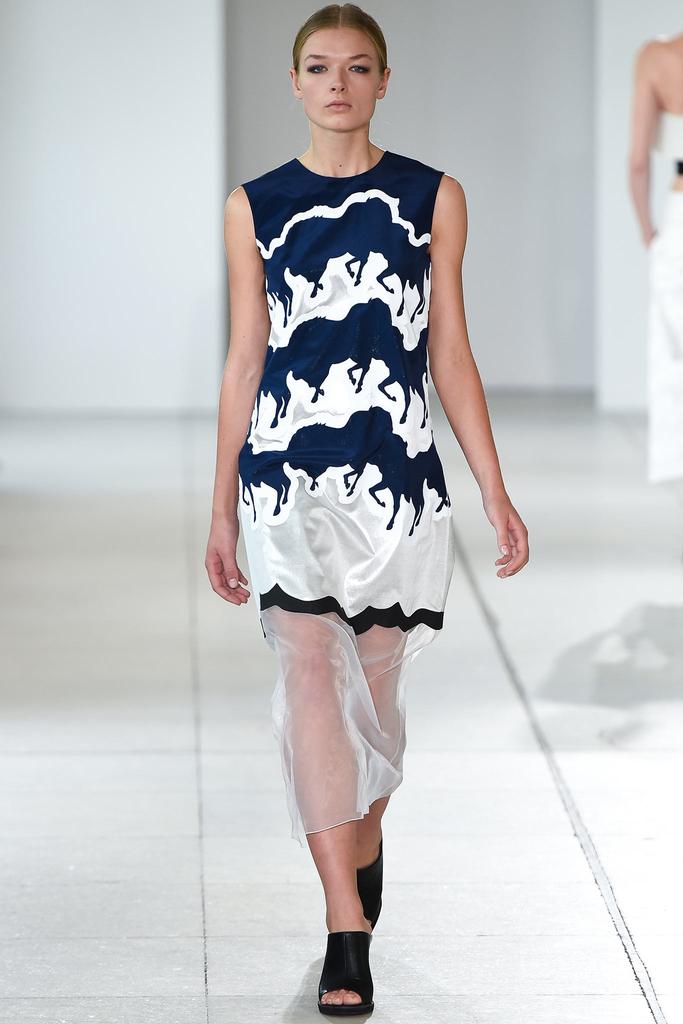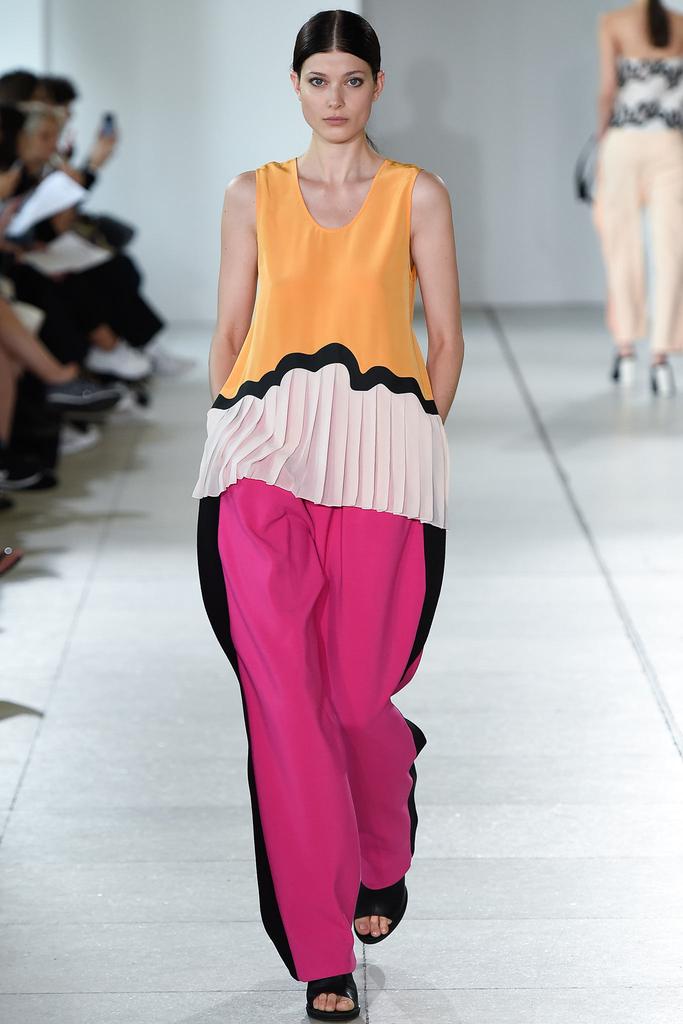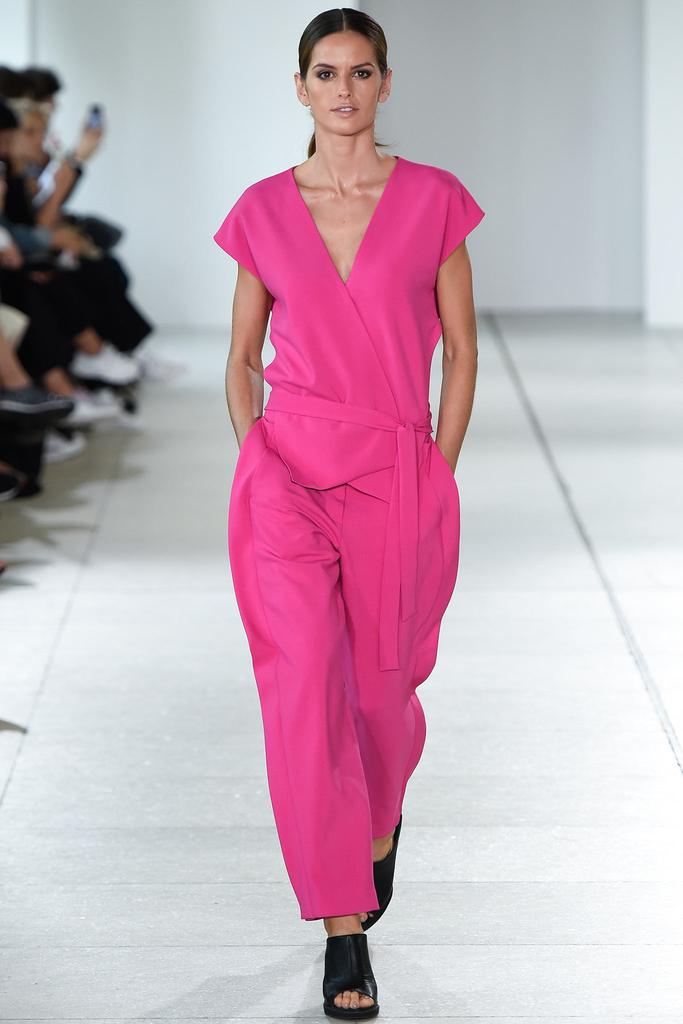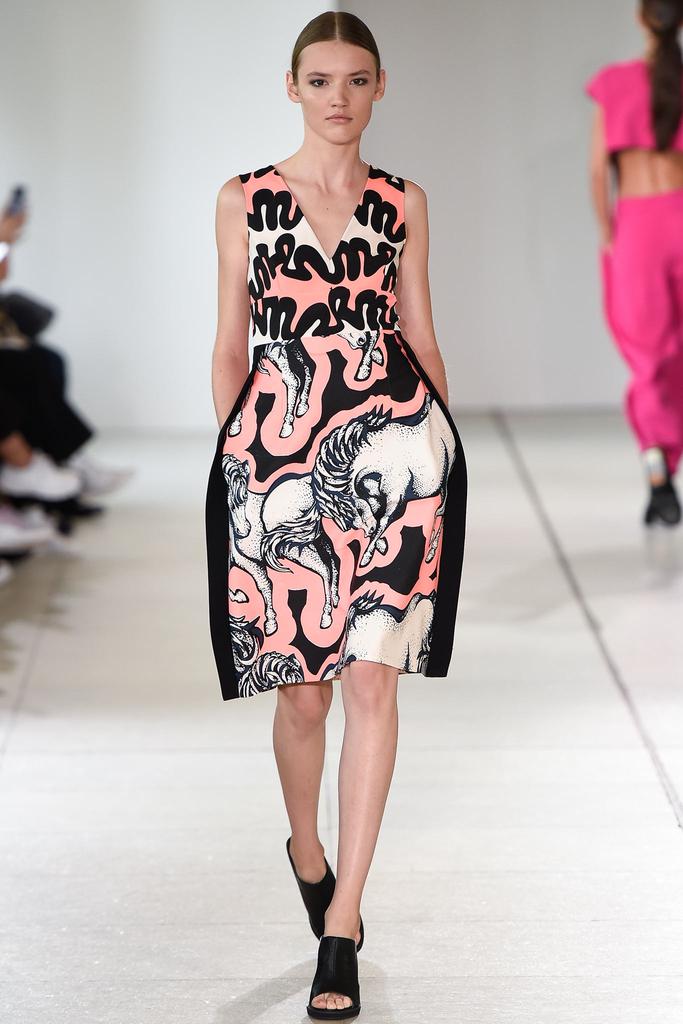 ISSA
Love the bright colors and of course the HORSES and the shallow ruffle detail! These pieces are fanciful but not fussy, and wearable, with the easy silhouettes. Fucshia will brighten any day and needs to make an appearance in every wardrobe.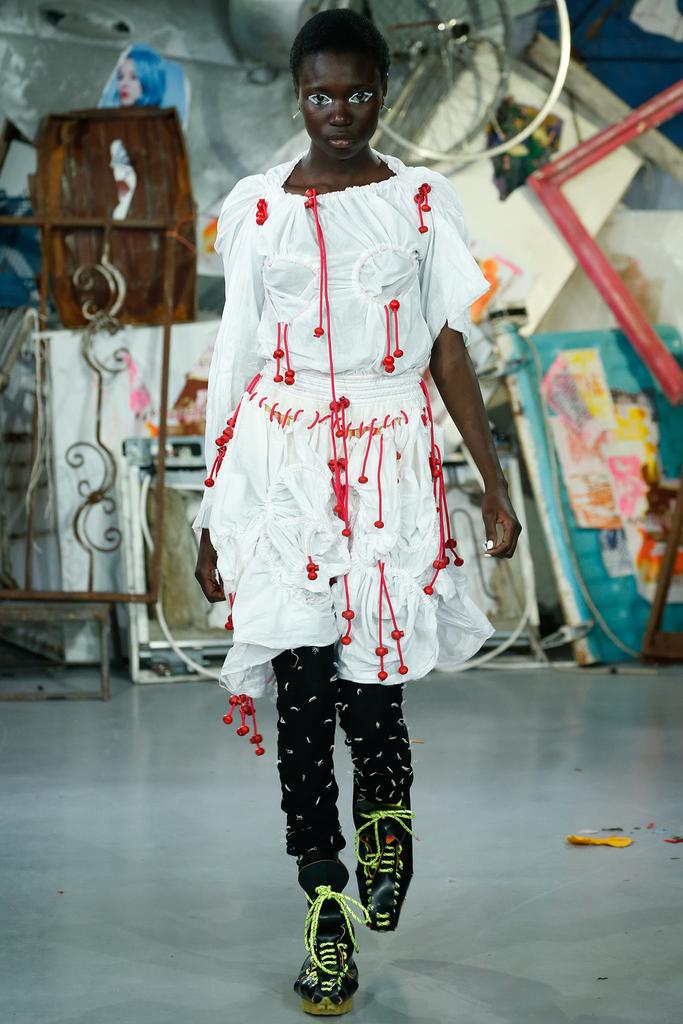 Love this as a tunic, but could be worn as a mini for the younger set, or a light jacket over a bathing suit for instance.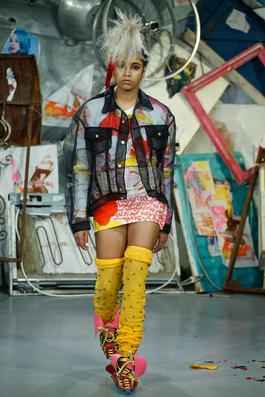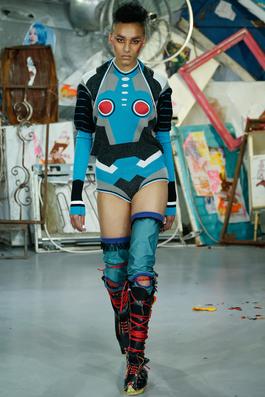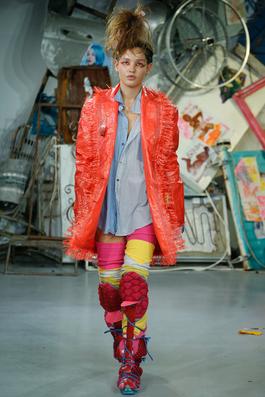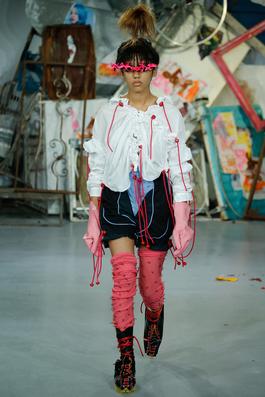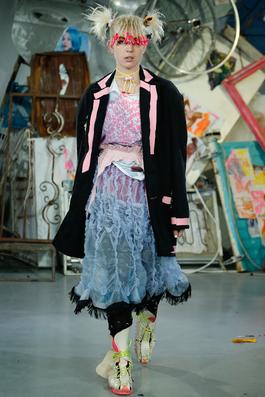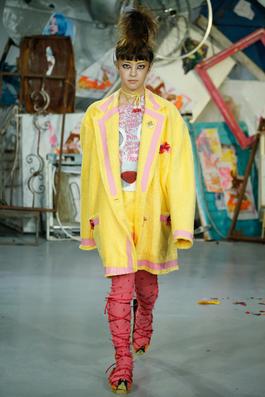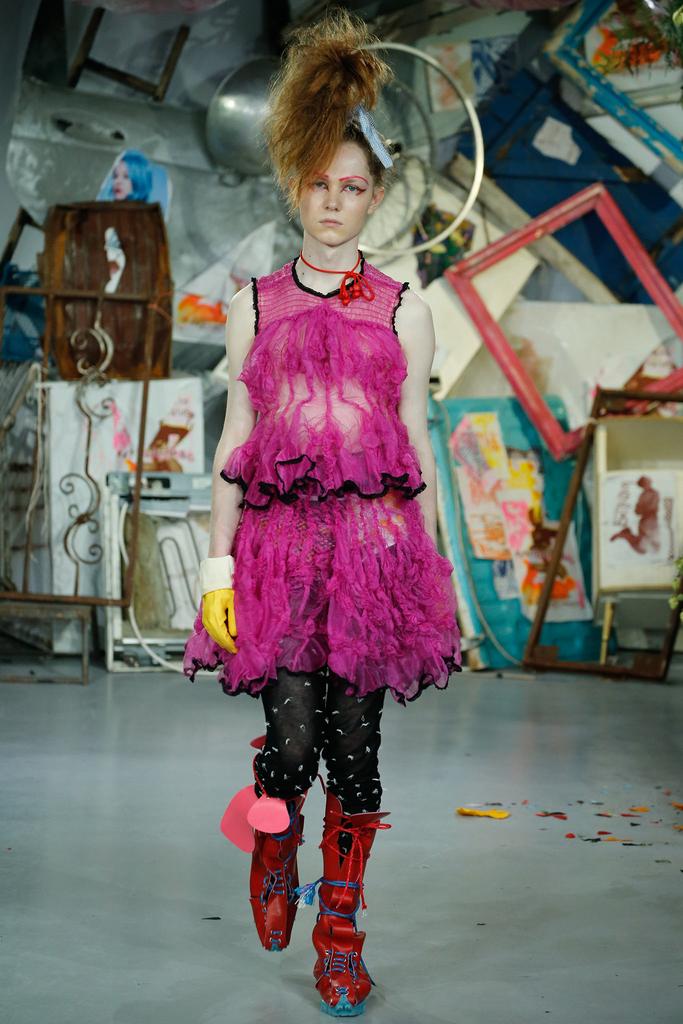 MEADHAM KIRCHHOFF
One can always count on these fellows for something unexpected to come strolling down the runway by virtue of the colors, fabrications and or silhouettes. They are fearless which any fashionista appreciates. Reminds me of the Japanese with the asymmetric cuts and wacky vibe, and in this case admixed with an element of Victorian hooker chic. The brighter pieces can be thrown over conservative underpinnings for a needed pop of color and visual interest.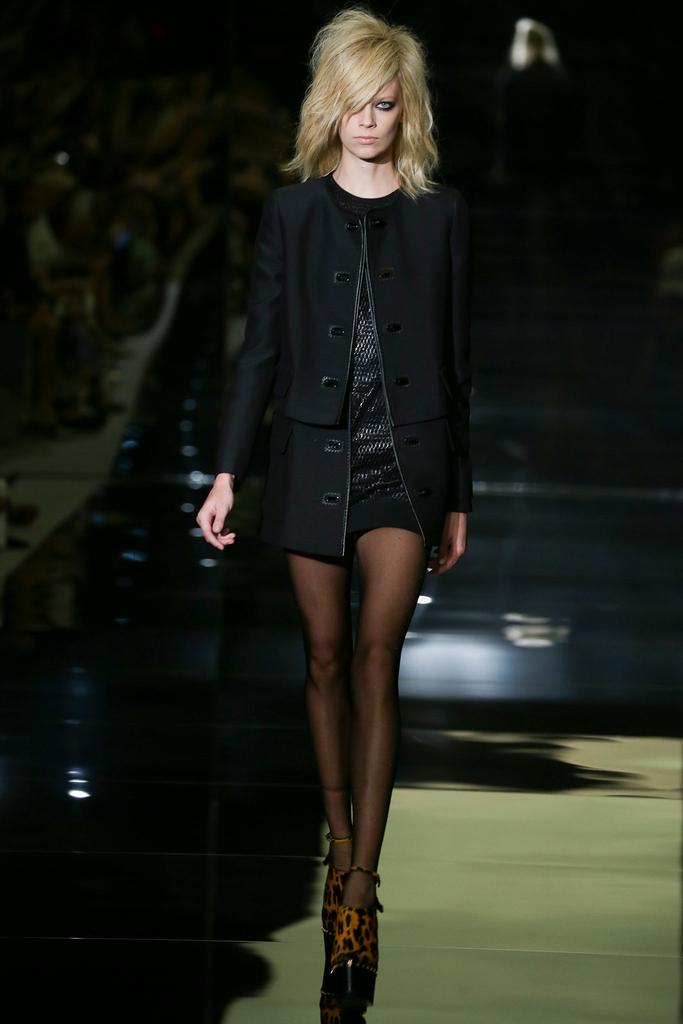 And now the master of sex appeal, Tom Ford, if you didn't already know with the slim boot cut pants, fitted sequin encrused tops and mini skirts.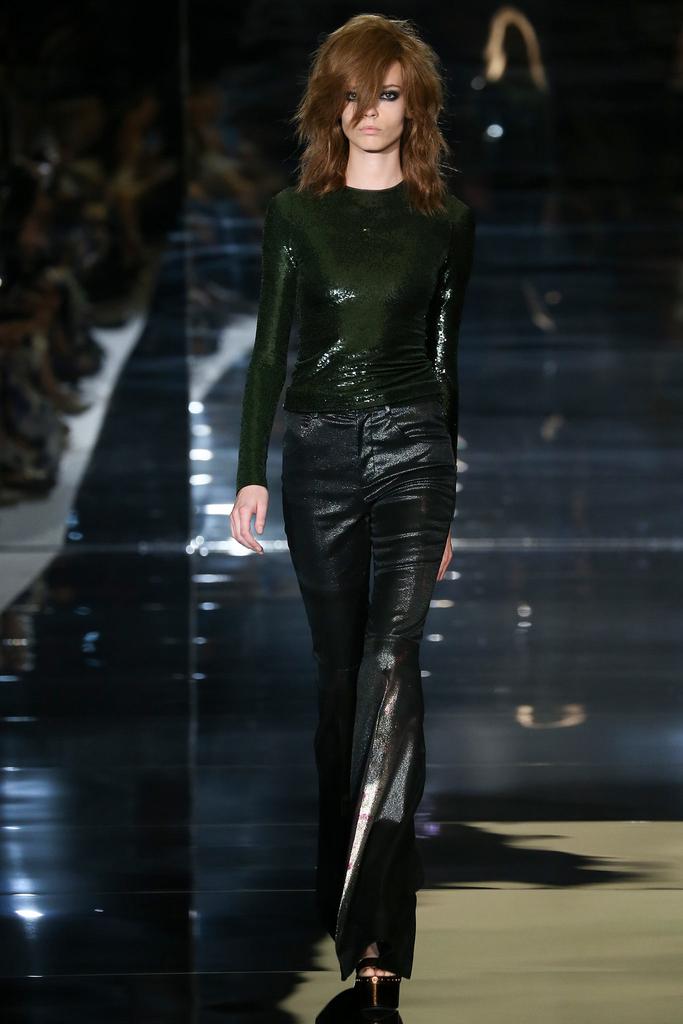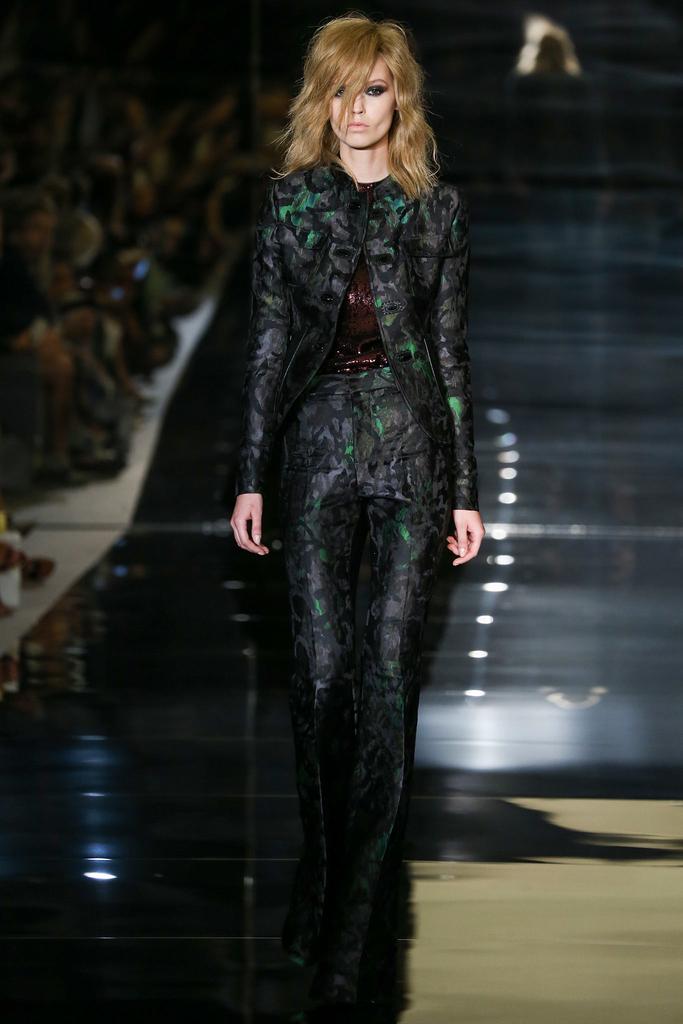 One of THE sexiest and most mod suits of recent runways. (For me its a tie with the brocade Anna Sui from Spring). Wear this bad boy to the next board meeting if you want folks to stay awake. They won't be paying attention to anything you're saying, but you WILL make a statement. I'd wear it with a big ruffly Dolce and Gabbana blouse for a touch of theatricality.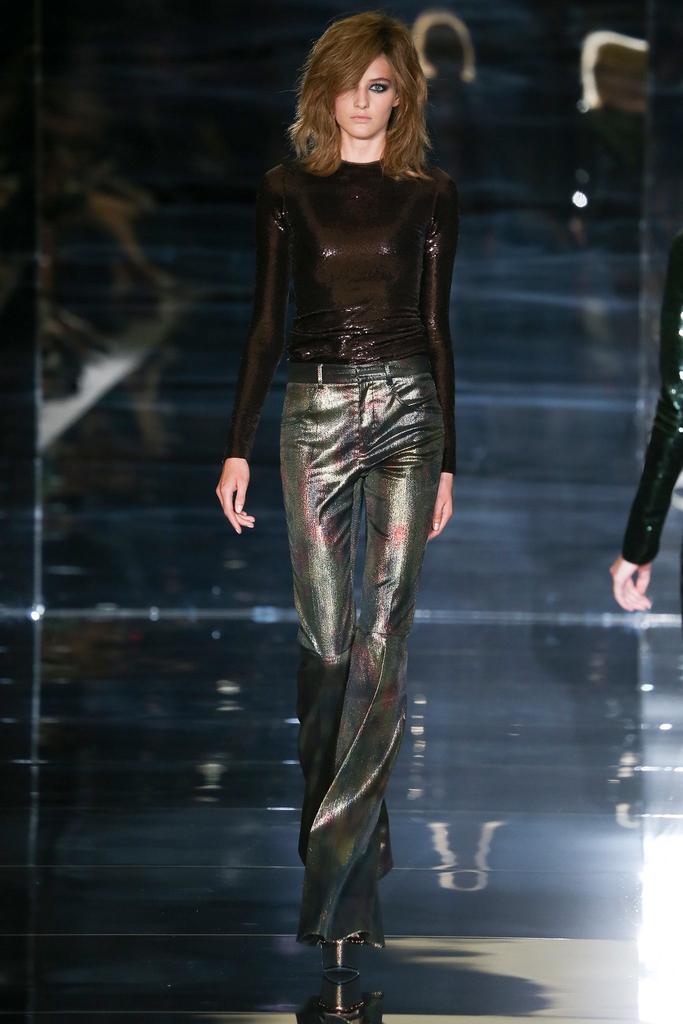 Mmmmmmm, metaliic melange pants.......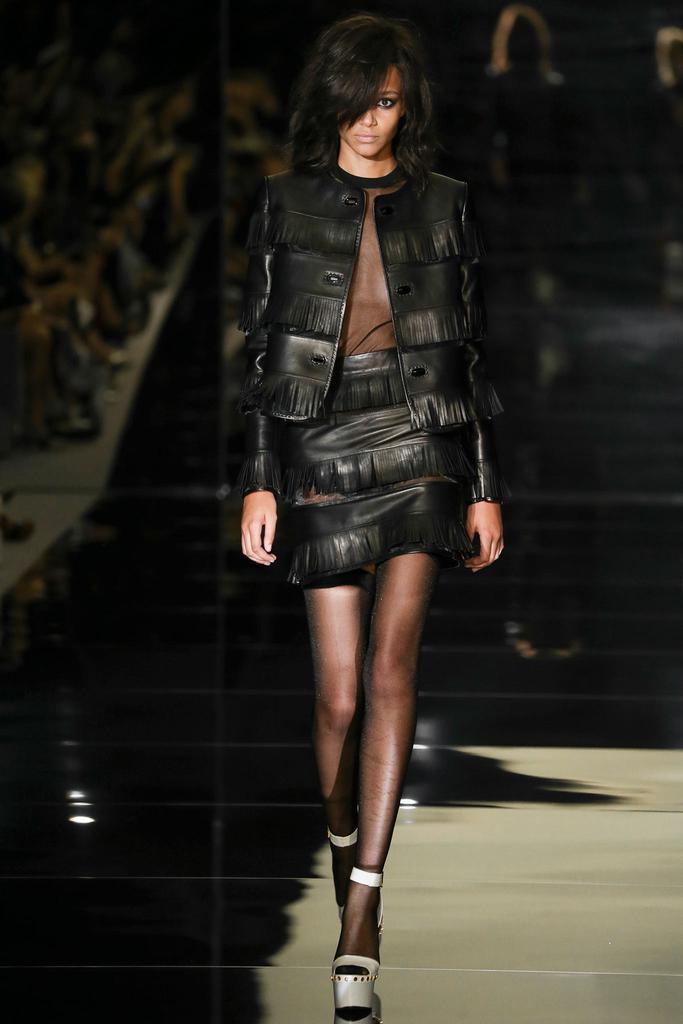 I personally have a limited tolerance for fringe (and grommets), but leave it to Tom Ford to do it right. And have you noticed all the covered button holes? A little hooch made acceptable by impecable tailoring and attention to detail. Wear it with over the knee boots or the orange metallic Gianvito Rossi pumps.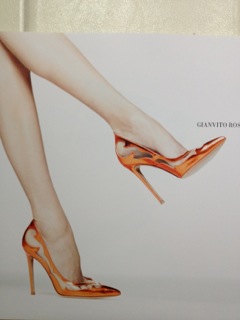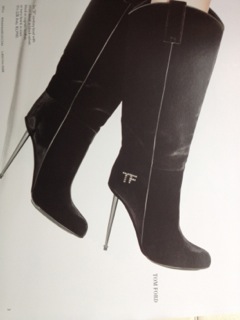 The black TF boots might a bit on the nose, however, if in doubt about what to wear with all versions of mini skirts, there you have it.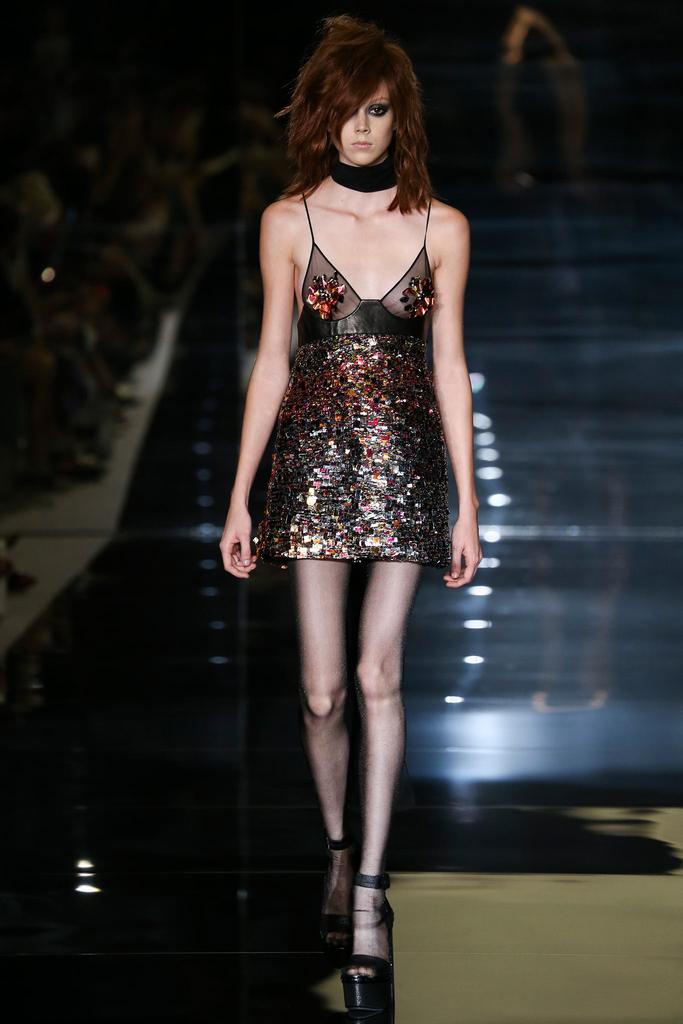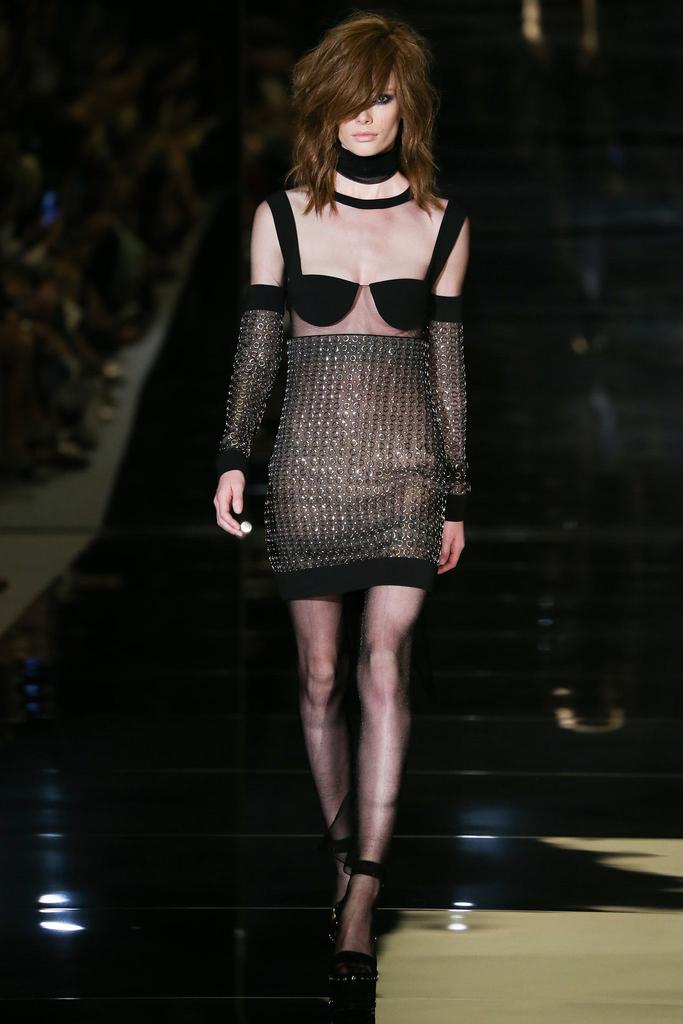 Modern day armour for whatever metaphorical battle you might face.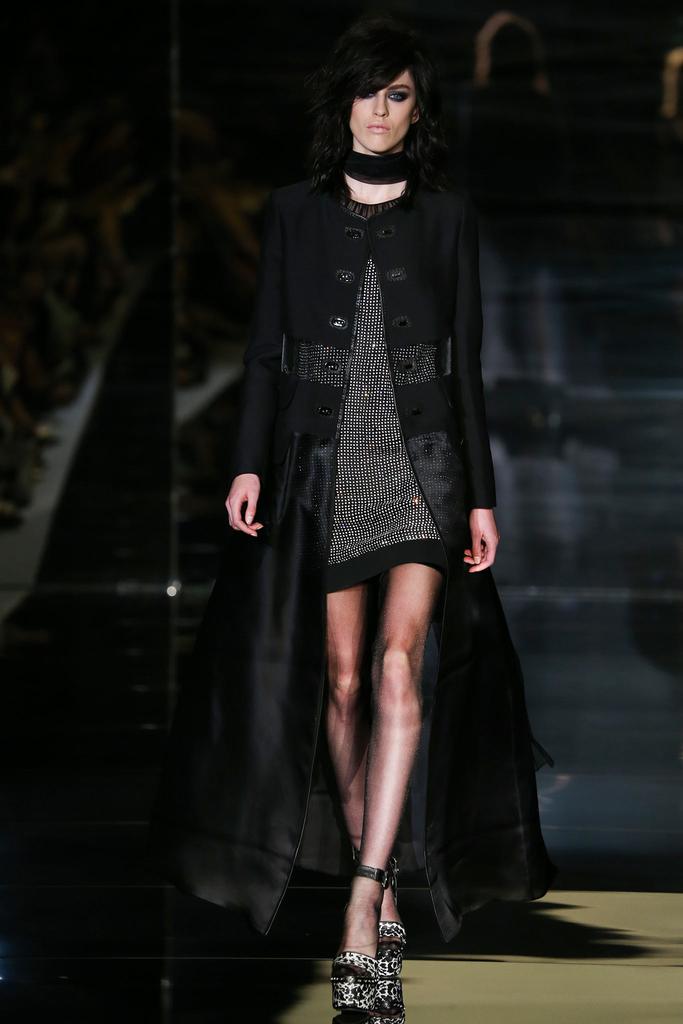 My favorite of the lot, sort of latter day Vampire cloak. Wear it over whatever, maybe the freakin' fabulous tuxedo pants coming next with a RED Loro Piana cashmere scarf, with sequins if possible, the more the better!.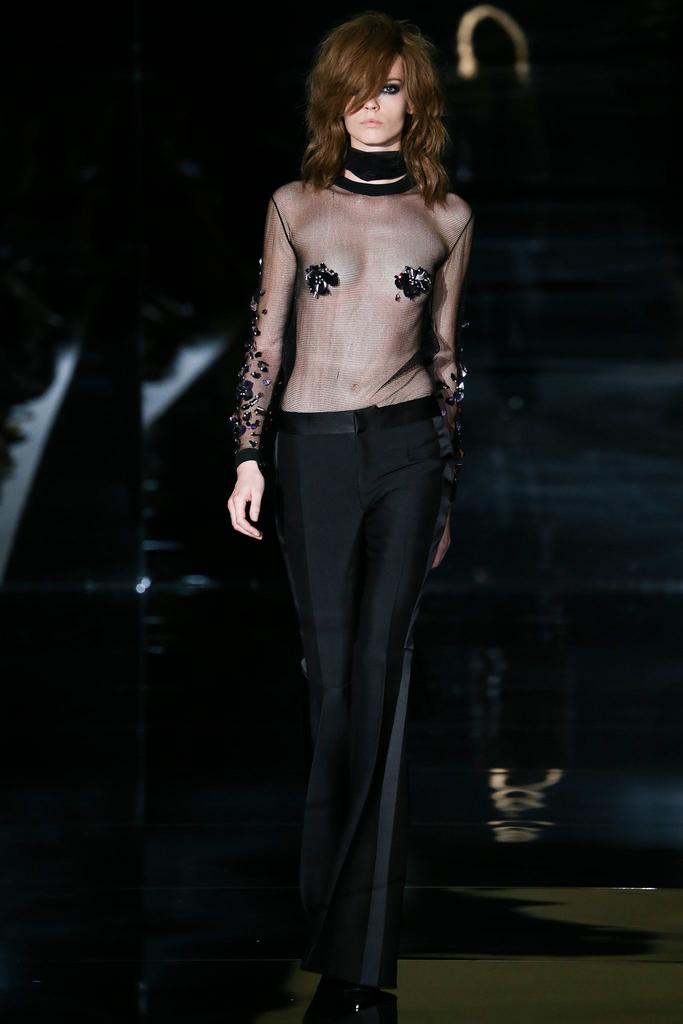 The best tuxedo pants I've seen in my (cough) many years observing fashion. I'm done with gowns, too much of a profligate pain in the caboose. I prefer jackets of all varieties for events and such. Jackets that can be worn again and again over pants such as these. This would be a wise investment, black, unique but not so nuts that you couldn't wear these 20 years from now without shaking your head in shame.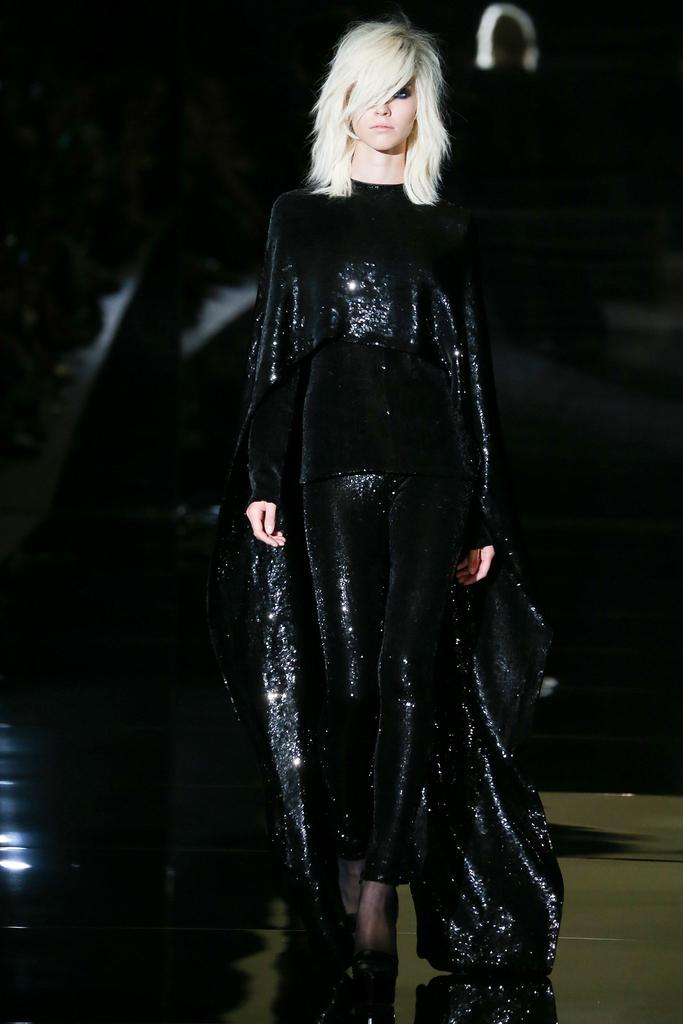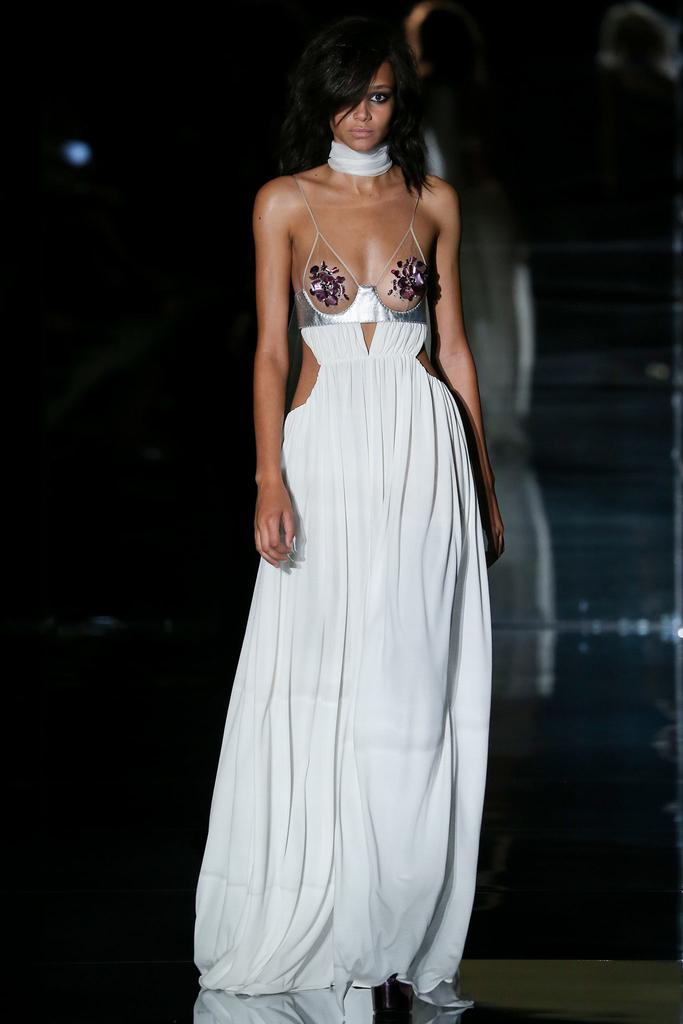 What can I say? No guts, no glory. This has Rihanna's name all over it. This is wonderfully constructed, and if its a bit too naked, the appropriate underpinning could be placed to keep one within the bounds of decorum.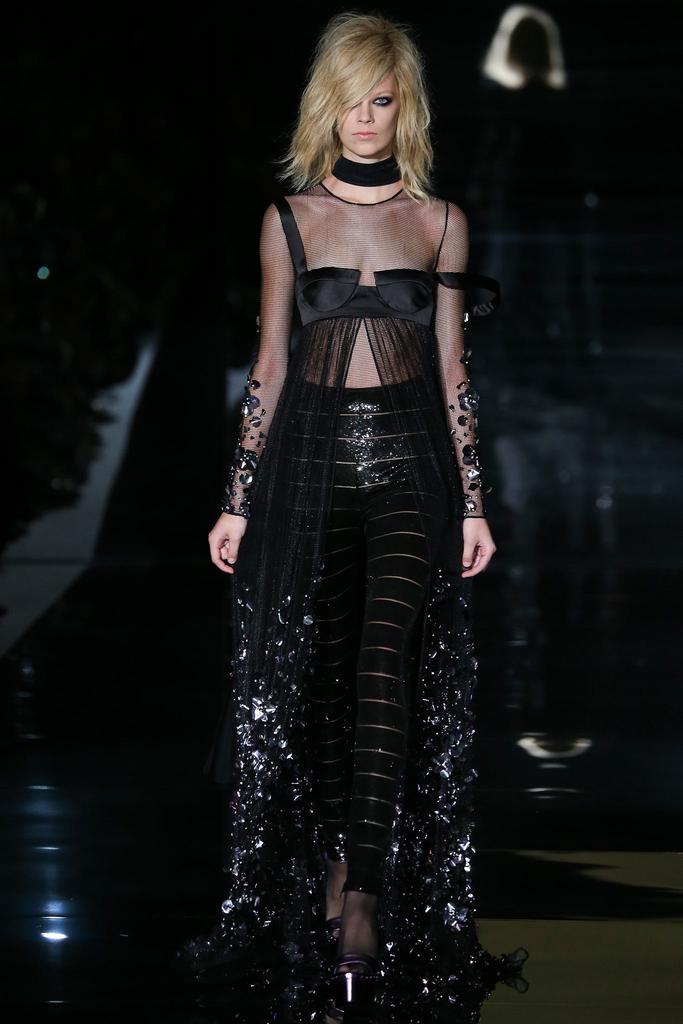 TOM FORD
What happens in Vegas, stays in Vegas. Yeah baby! Tom Ford has got the modern woman on the move covered (or not) for all occasions!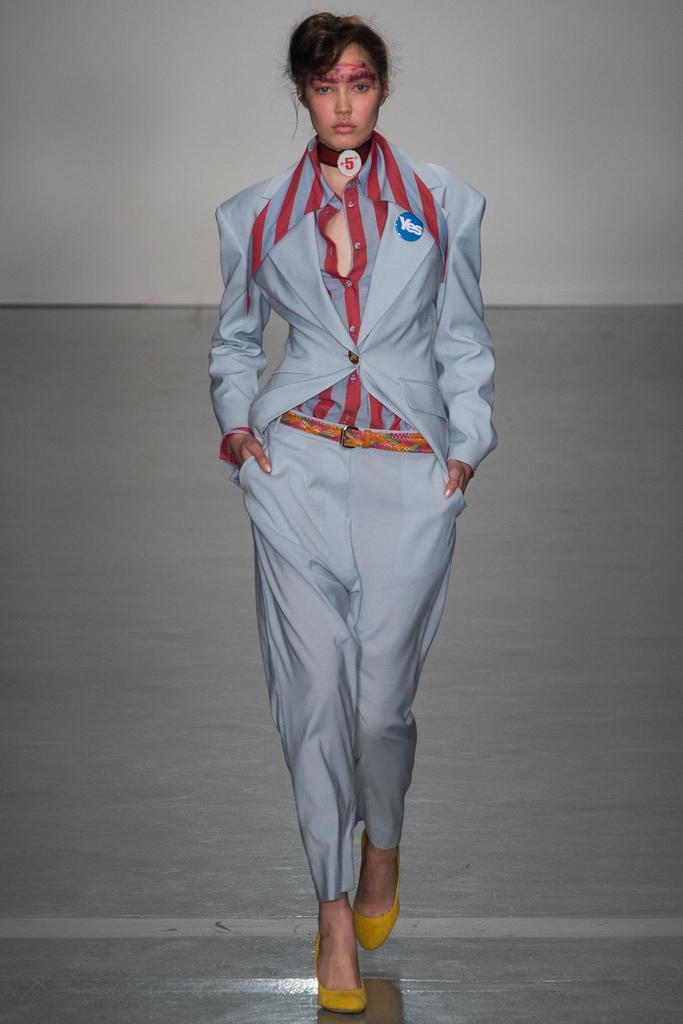 The perfect finish to London fashion week? The grande dame herself VIVIENNE WESTWOOD! She loves bustles, corsets, and draping and so do I! Anything reminiscent of a sexy wench. God I love this woman, she makes sex and anarchy wearable. And, you can always count on her collections to include modern suits in striking fabrics. Stripes and sherbet orange....sigh.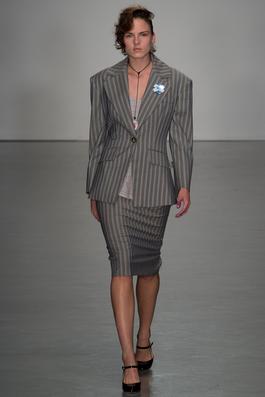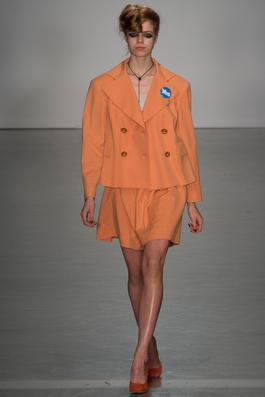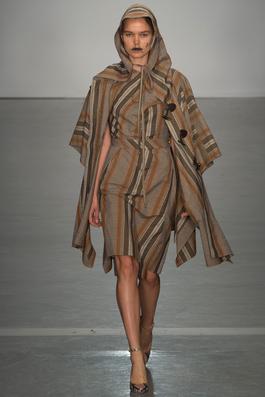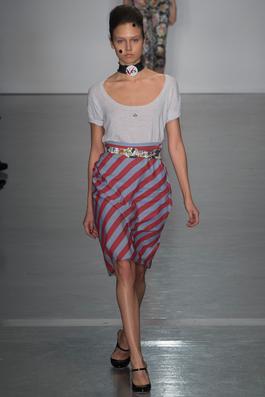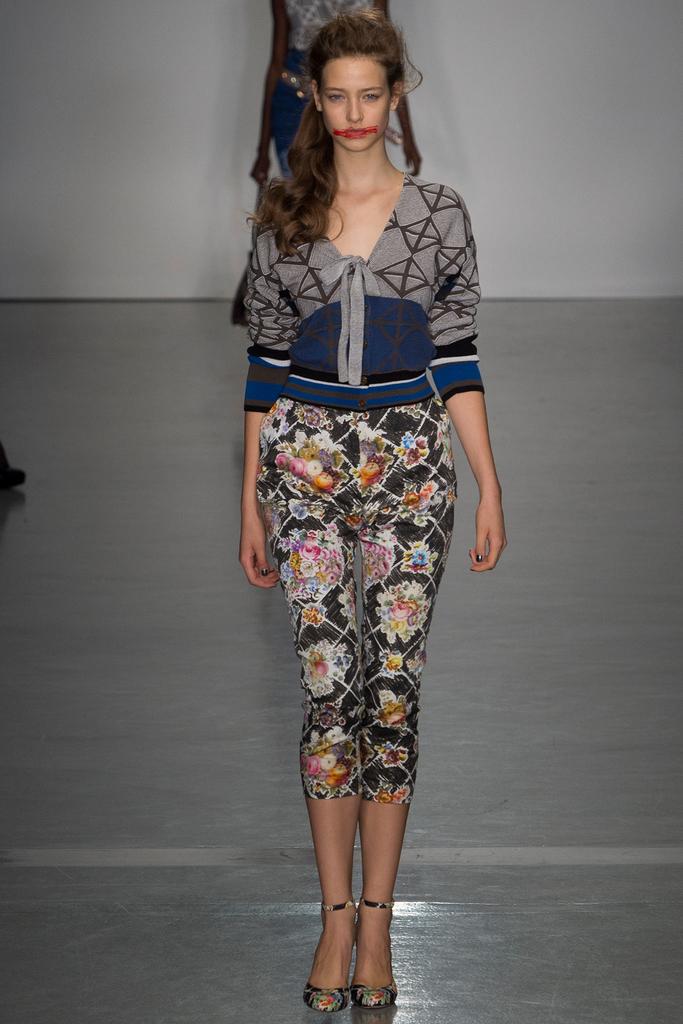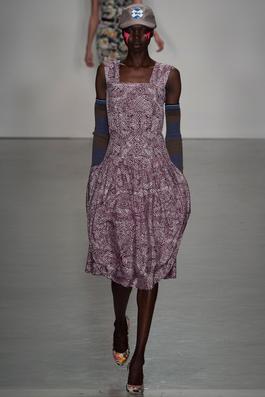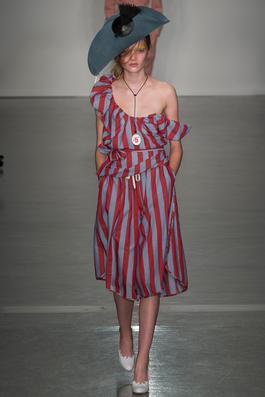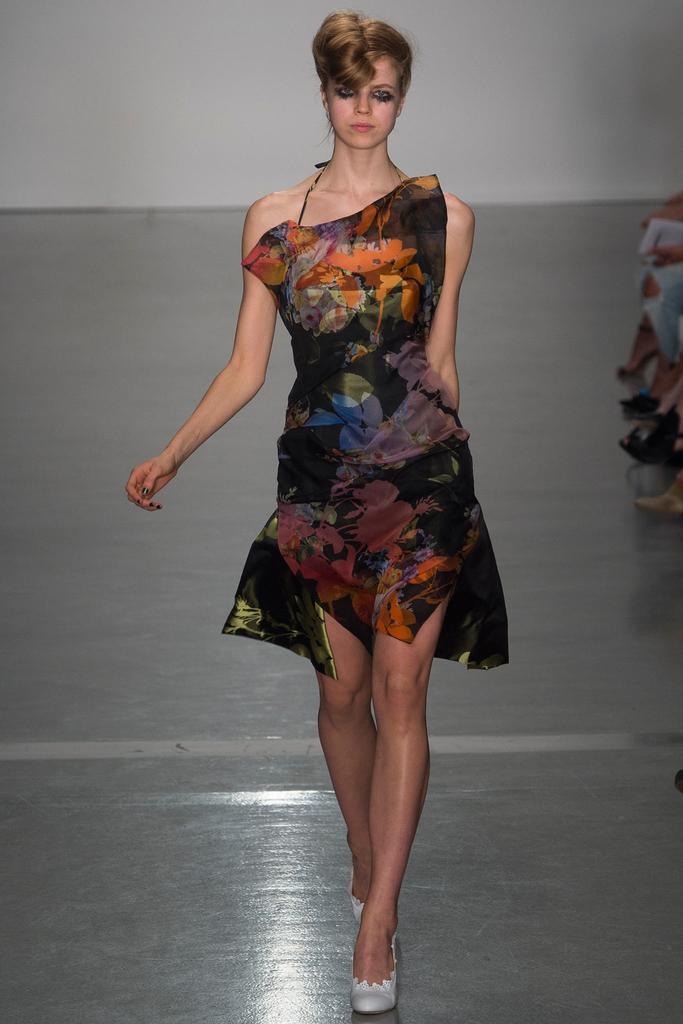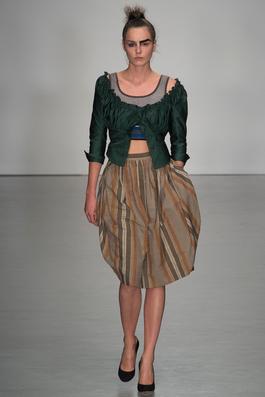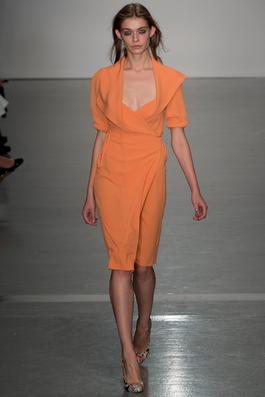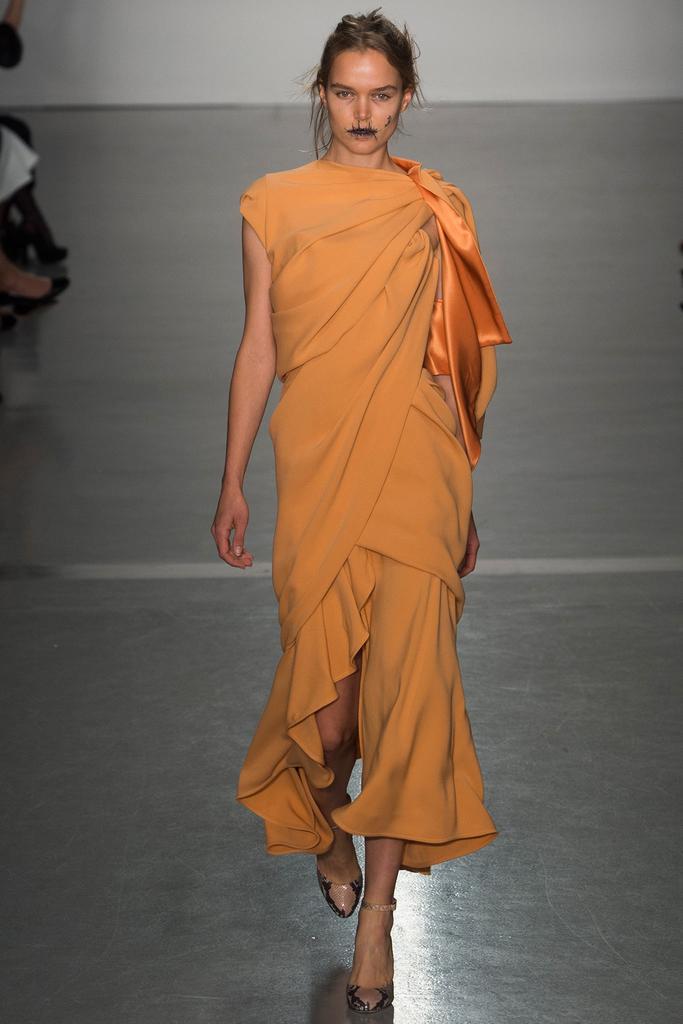 Someone please wear this magical toga to an opening! With ski high platforms in a bright vibrant color. Maybe with some spikes.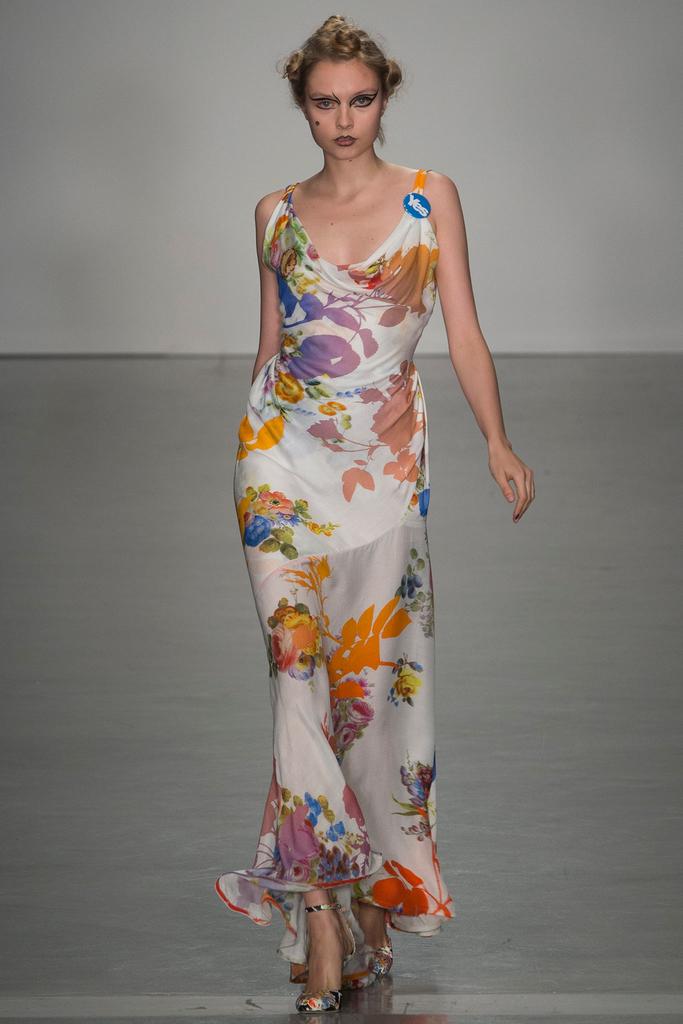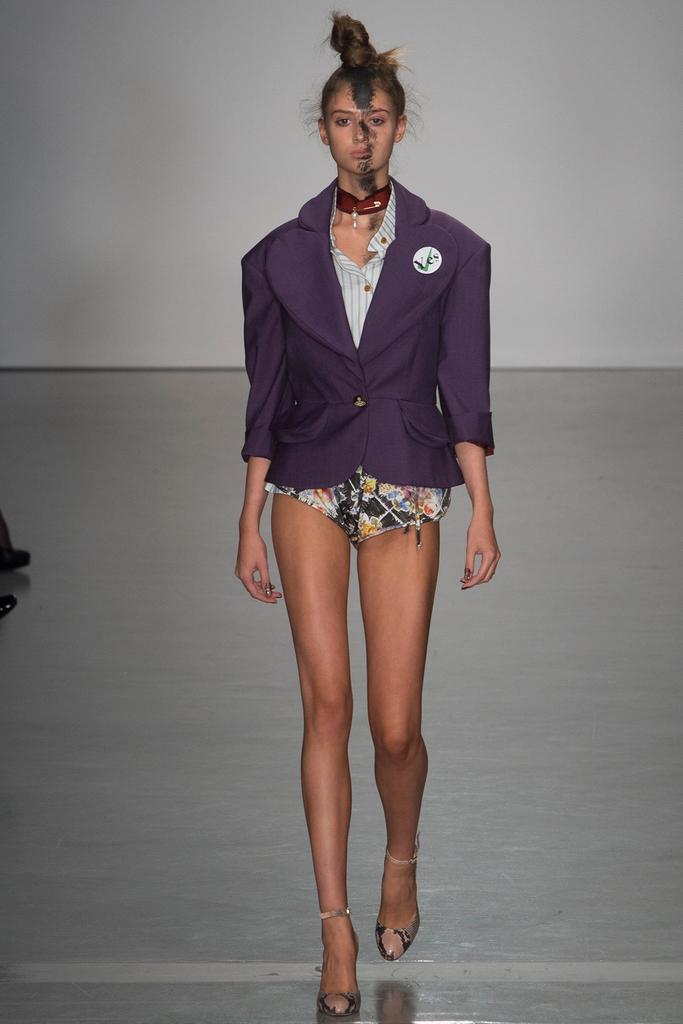 Perfect purple coat with friendly wide lapels, big pockets and the iconic VW button. Wear this over jeans, a flowy Westwood or Sui maxi dress, or over a pencil skirt to the office. Very versatile.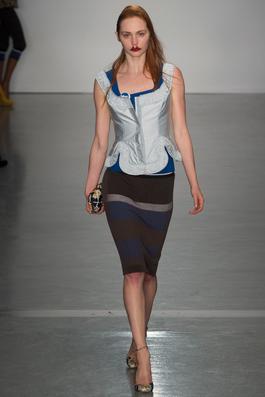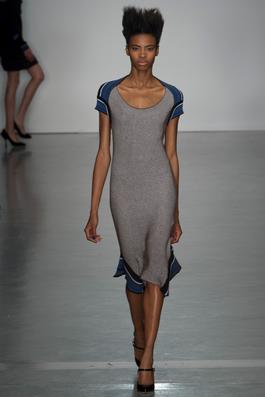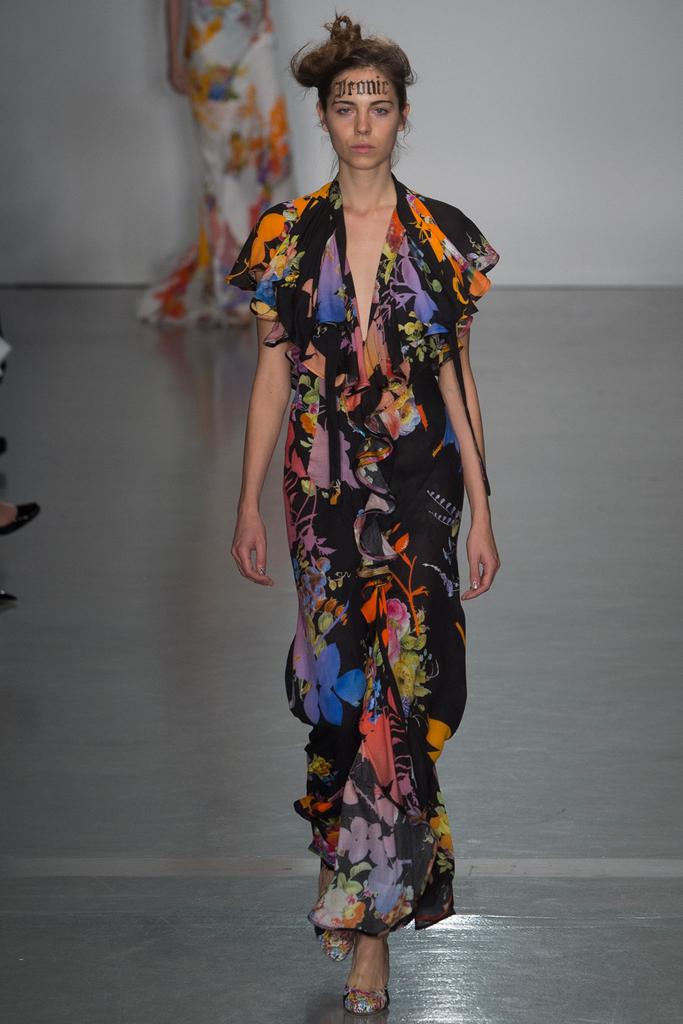 Wow! Floor length floral with the big ruffles in bright and muted colors. Love the shoes as well. If I could find a man, I'd get married in this. Why not?
And just in case not everyone follows global news, the referendum in Scotland was a "NO".
Images brought to you by www.style.com
Shoe images from the most recent NM shoes & handbags catalog.
Now, off to Milan.