Well, though its 75 degrees and sunny here in San Fran, the rest of the country is apparently deluged in billows of snow, layers of sleet, and heaps of salt. It was too overcast for Punxsutawney Phil to see his shadow several days ago, but I'm guessing we're in for at least 6 more weeks of armageddon type brutality. So, the fall winter collections will resonate more acutely than if the sun was blazing with nothing but halters and thongs as far as the eye could see. With the newest fall winter collections, the Americans are proving yet again that you don't have to be born on the "continent" or thereabouts to conjure up mesmerizing and yet wearable mouth watering covetable fare that anyone with any fashion sense would dream about. A wide array of scrumptious entries abounds, from everyday casual yet stylish togs to glamours evening gowns for the upscale affairs always on hand. Shearlings in all forms are rife, with animal-oid prints peppered throughout. And yet again, an assortment of winsome separates makes an appearance on the catwalk.
ALTUZARRA:
A master of combining feminine alluring silhouettes with more hard edged rock star pieces, sometimes in the same ensemble. Checks, laces, silks and shearling are blended into a chic unique concoction of a runway show.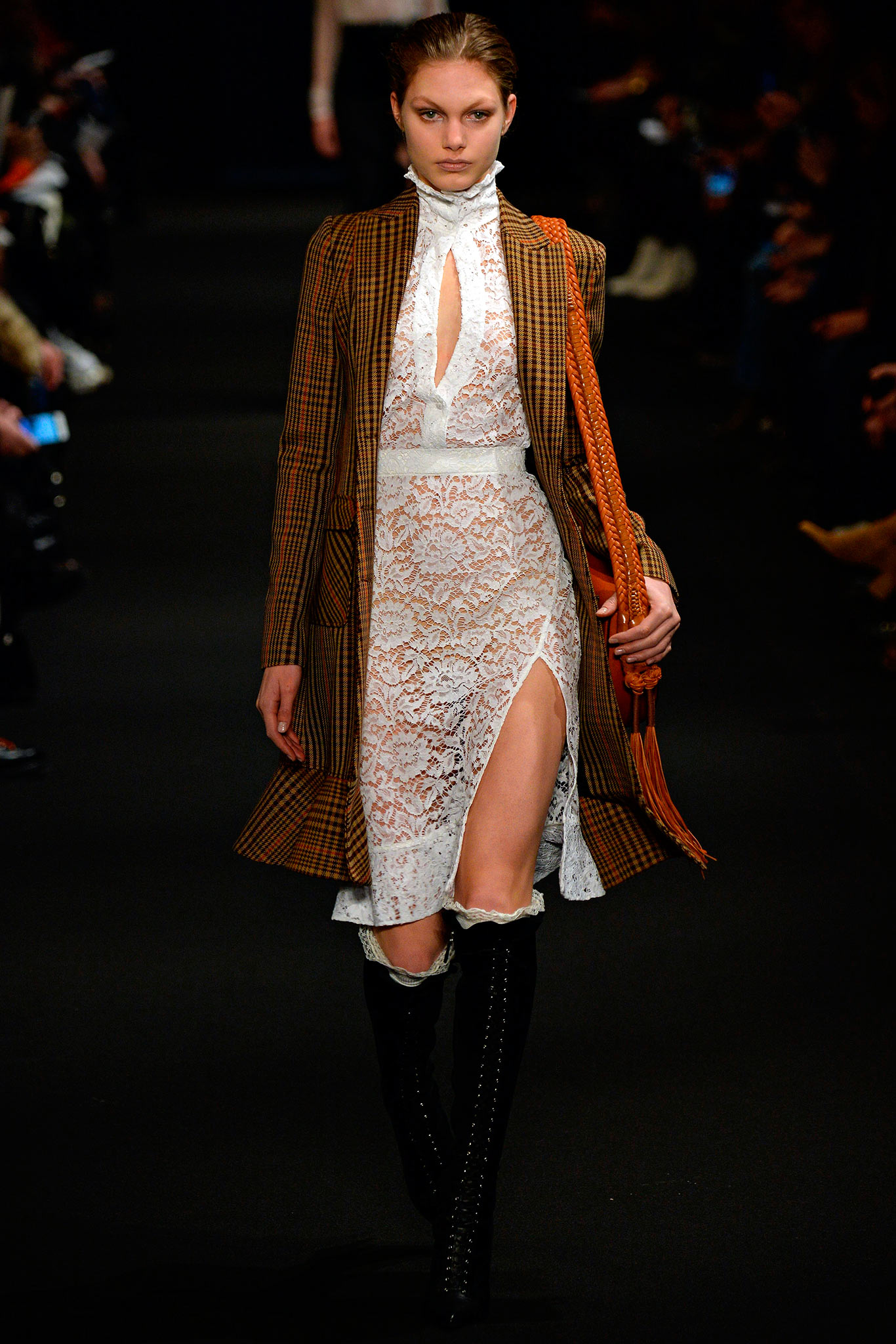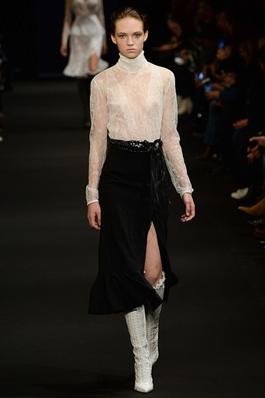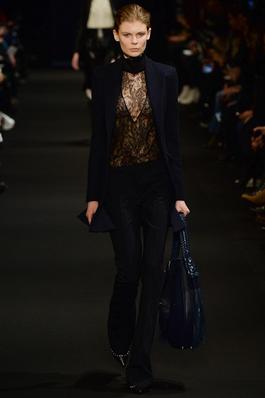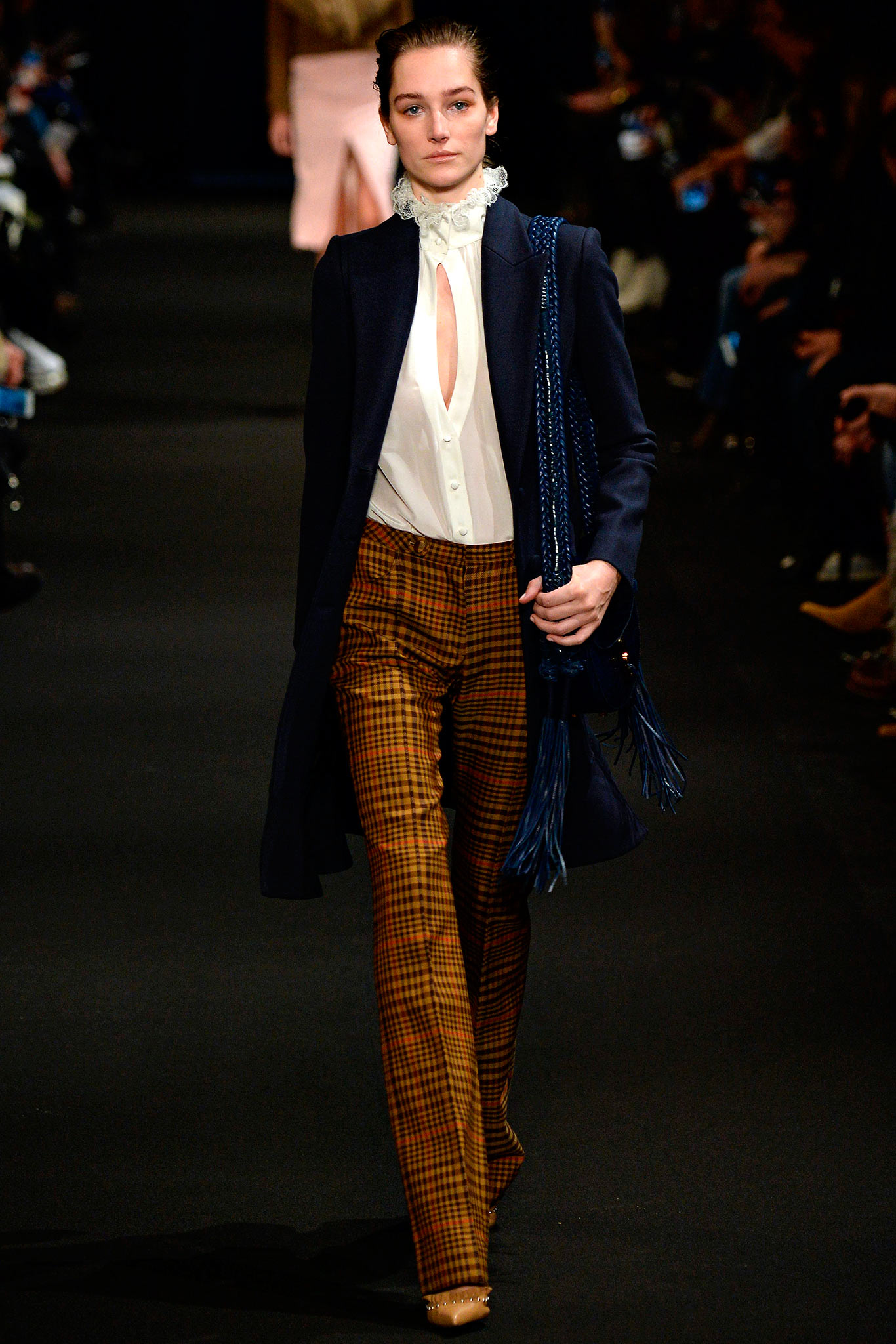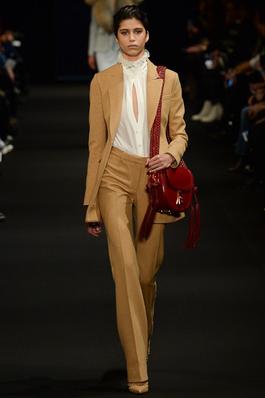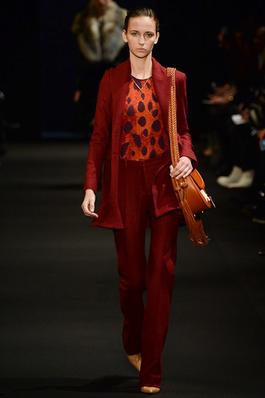 Just like Dolce & Gabbana and Tom Ford, Altuzarra sexes up a suit in a tasteful engaging way.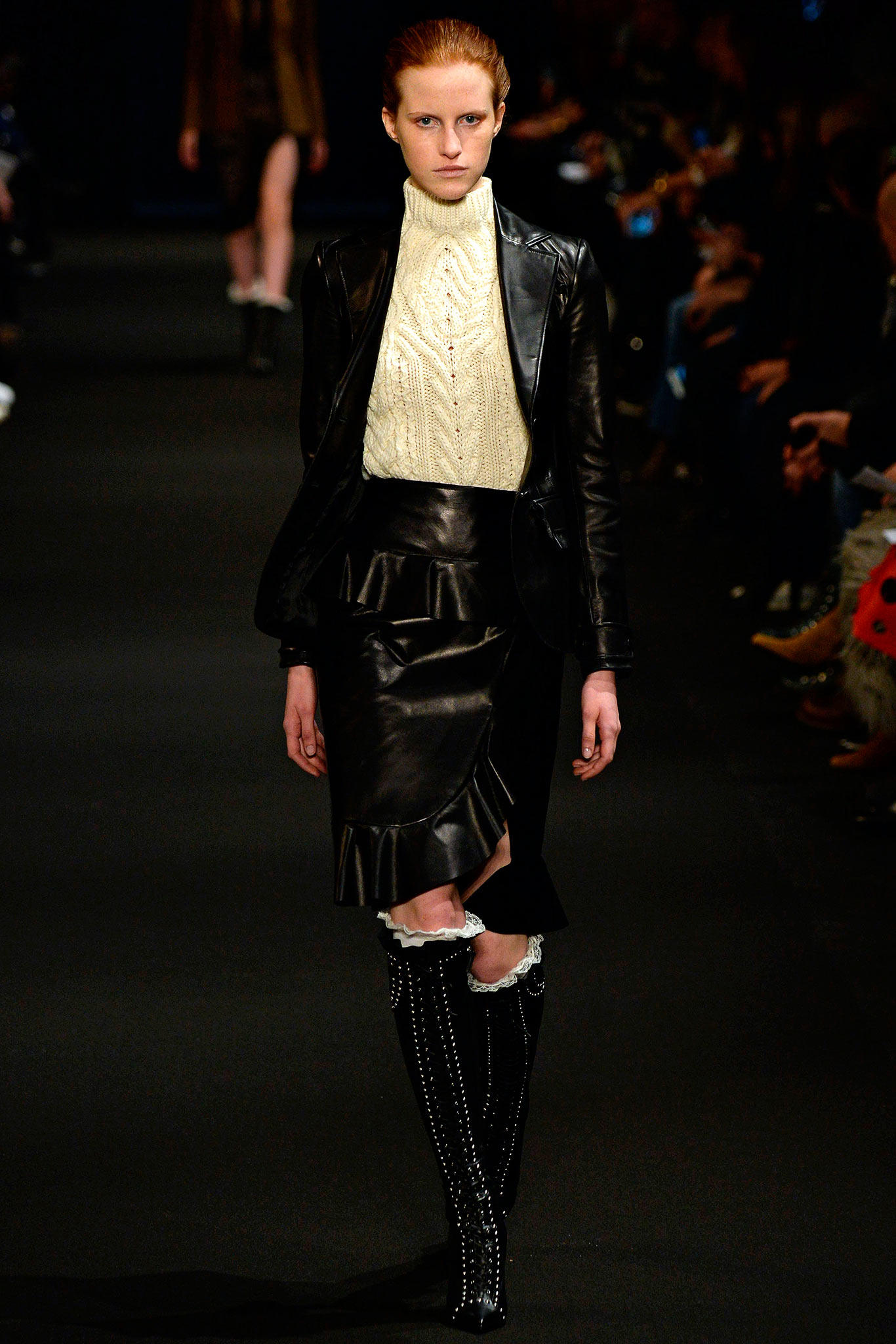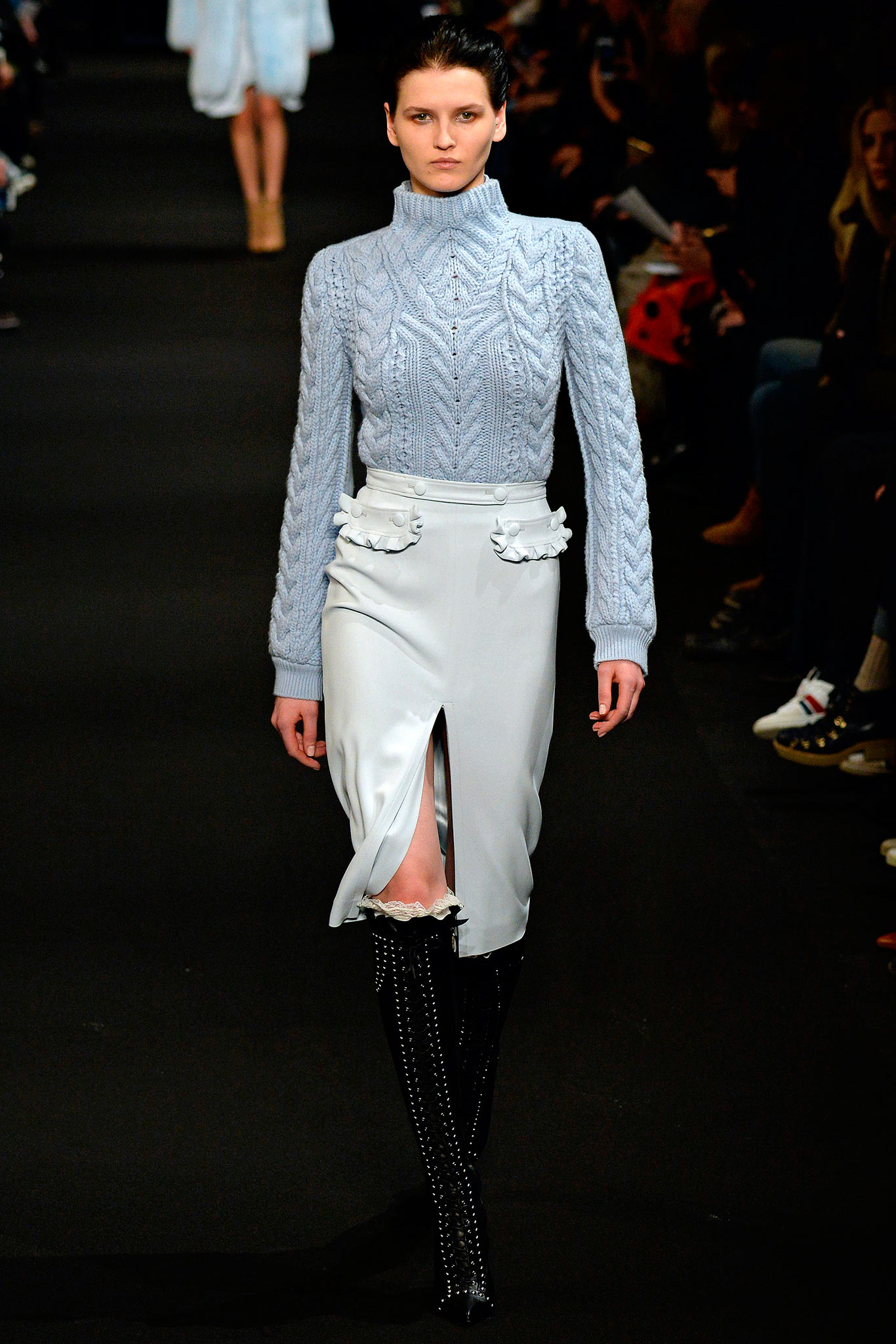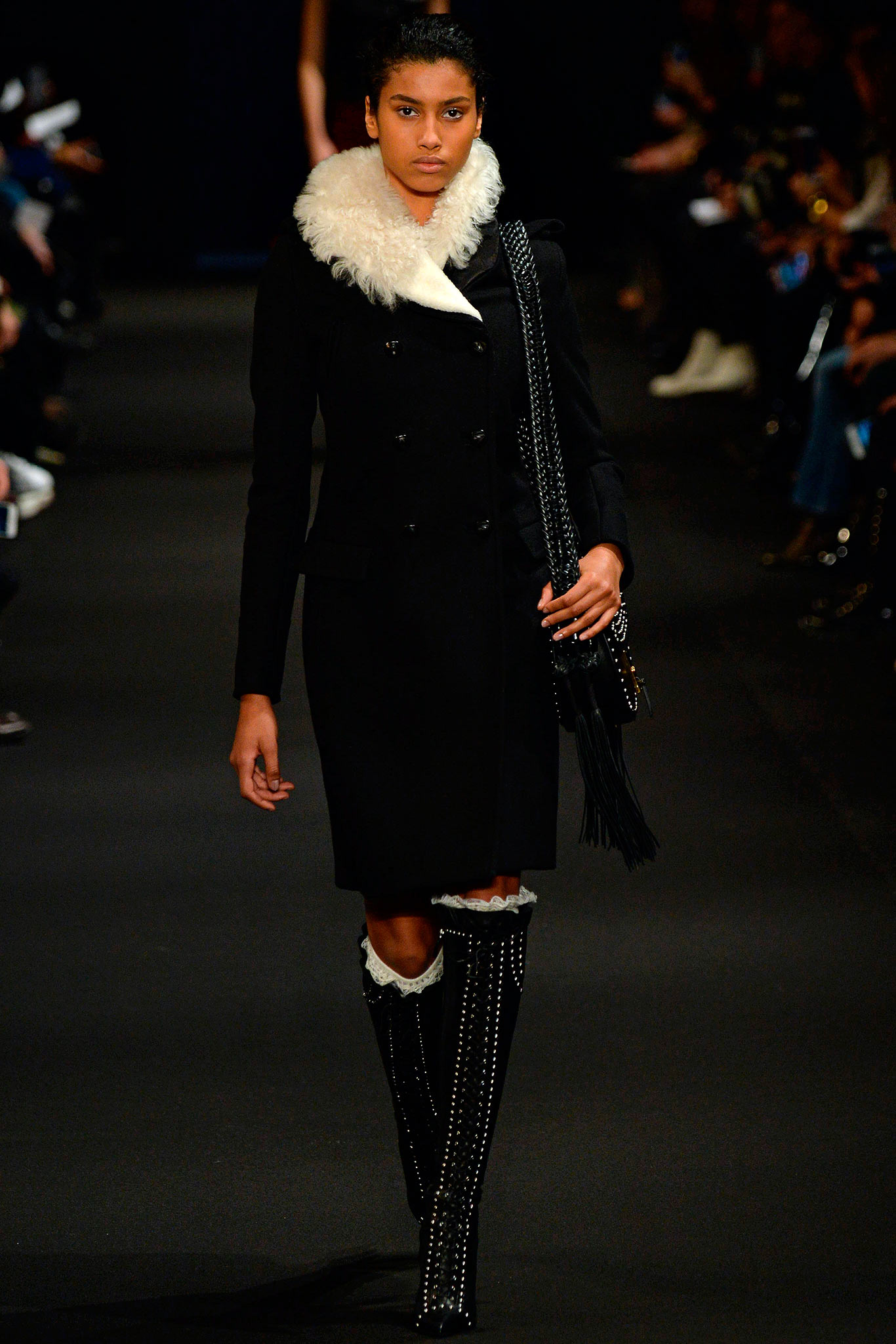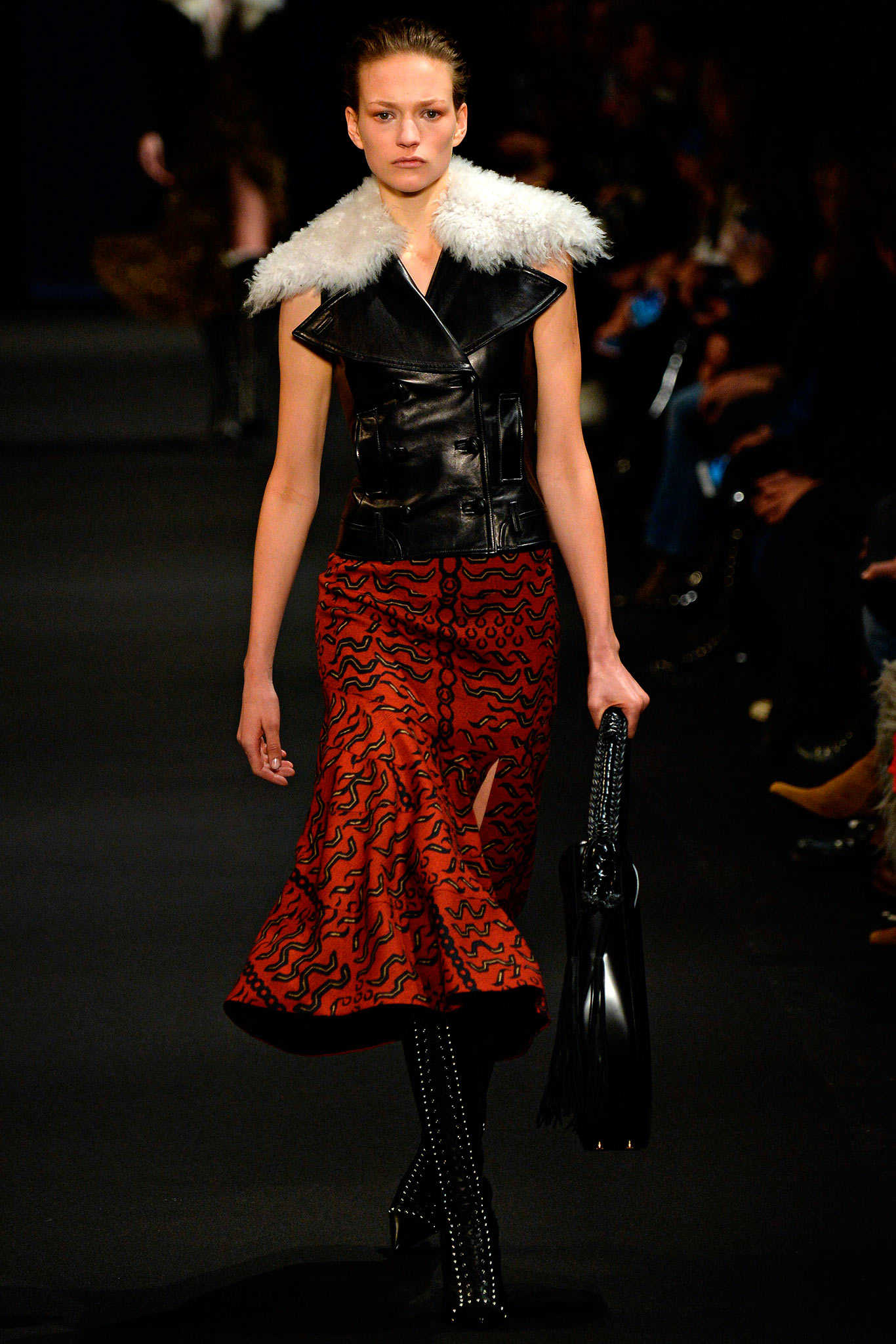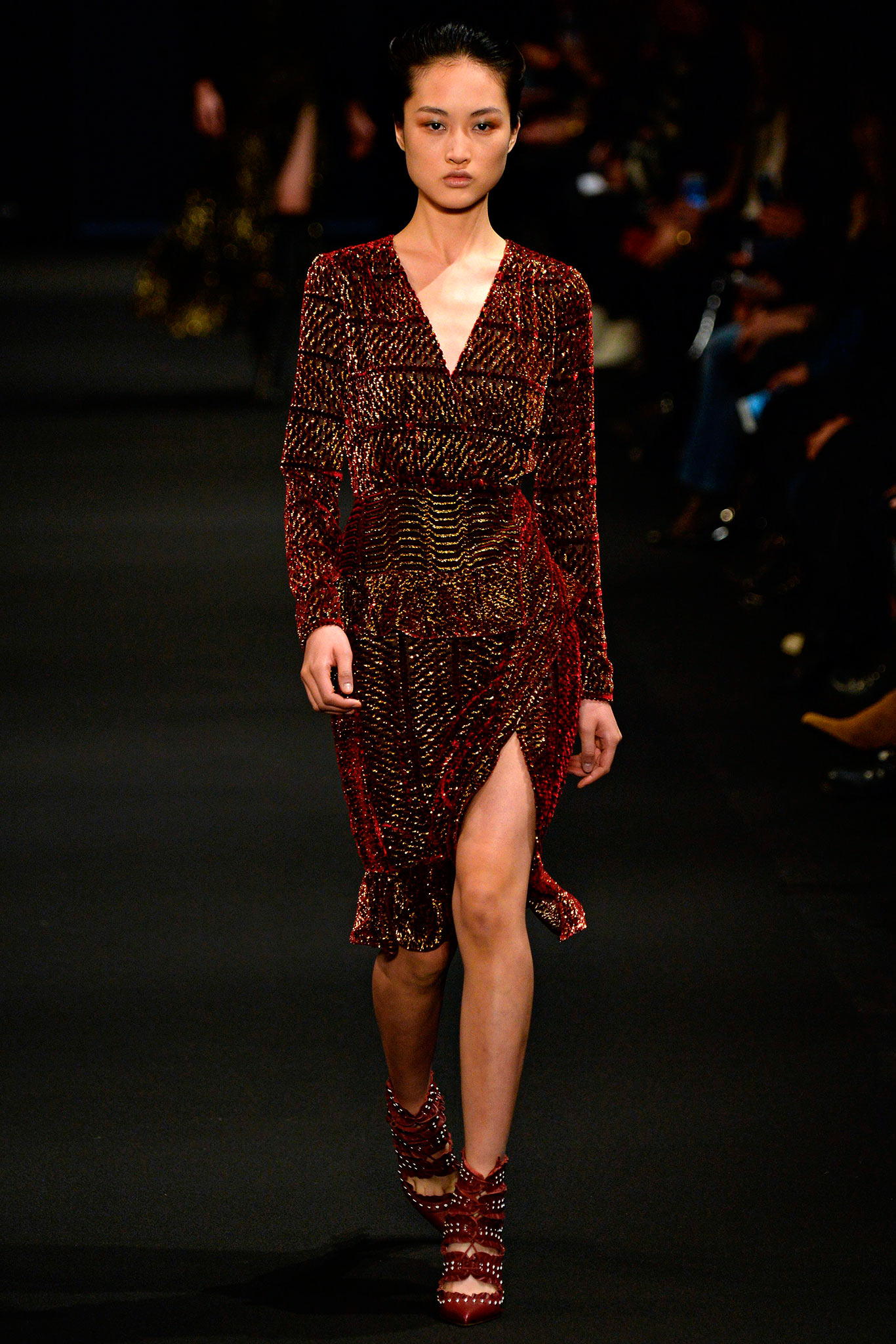 Scarlet from shoulder to toe, the perfect seduction kit.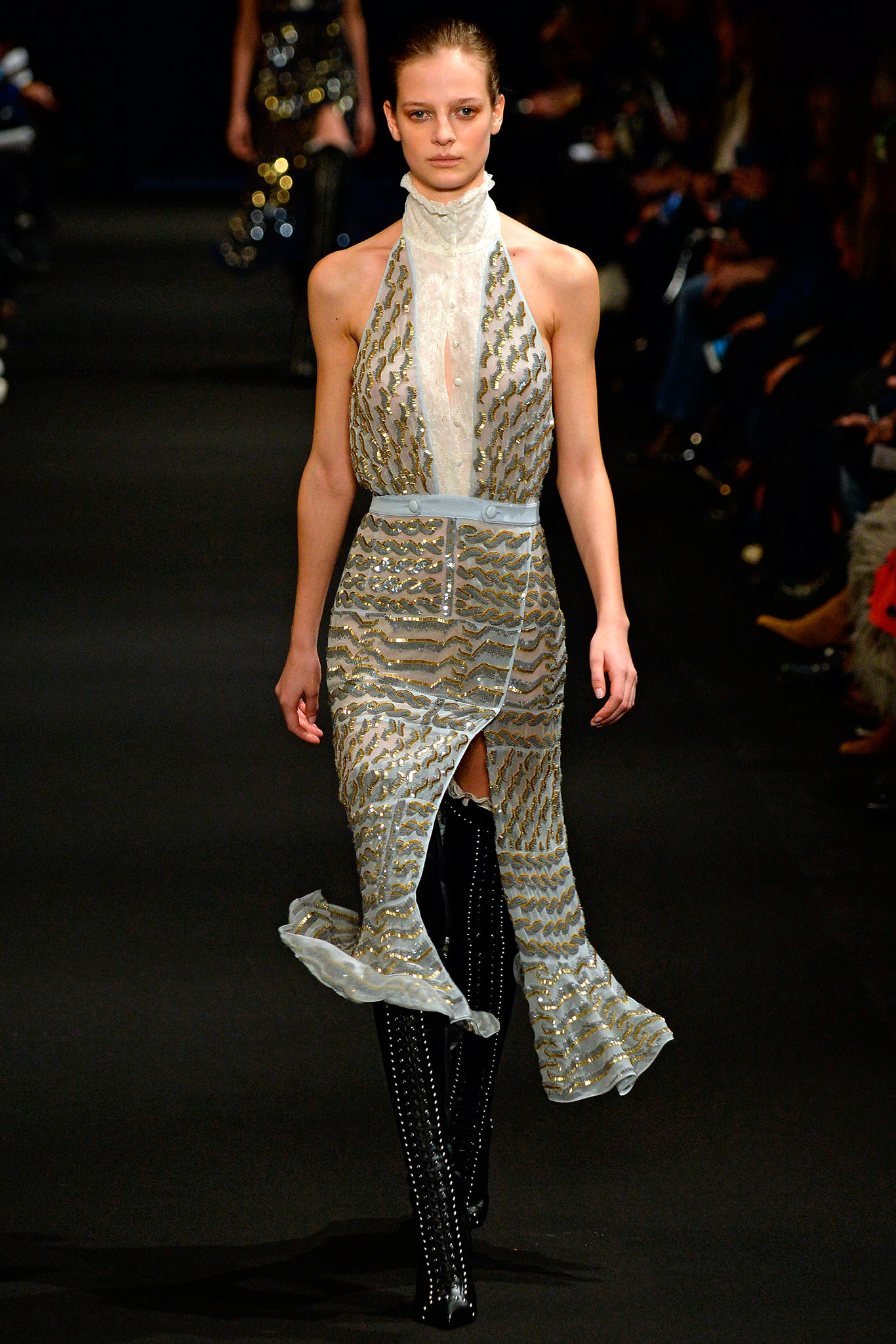 And BRAVO to those Victorian studded bondage boots.
ADAM LIPPES:
I'm loving the mix of romantic florals, an homage to le jardin, and the substantial workhorse sweaters. Everything else is just a cherry on top.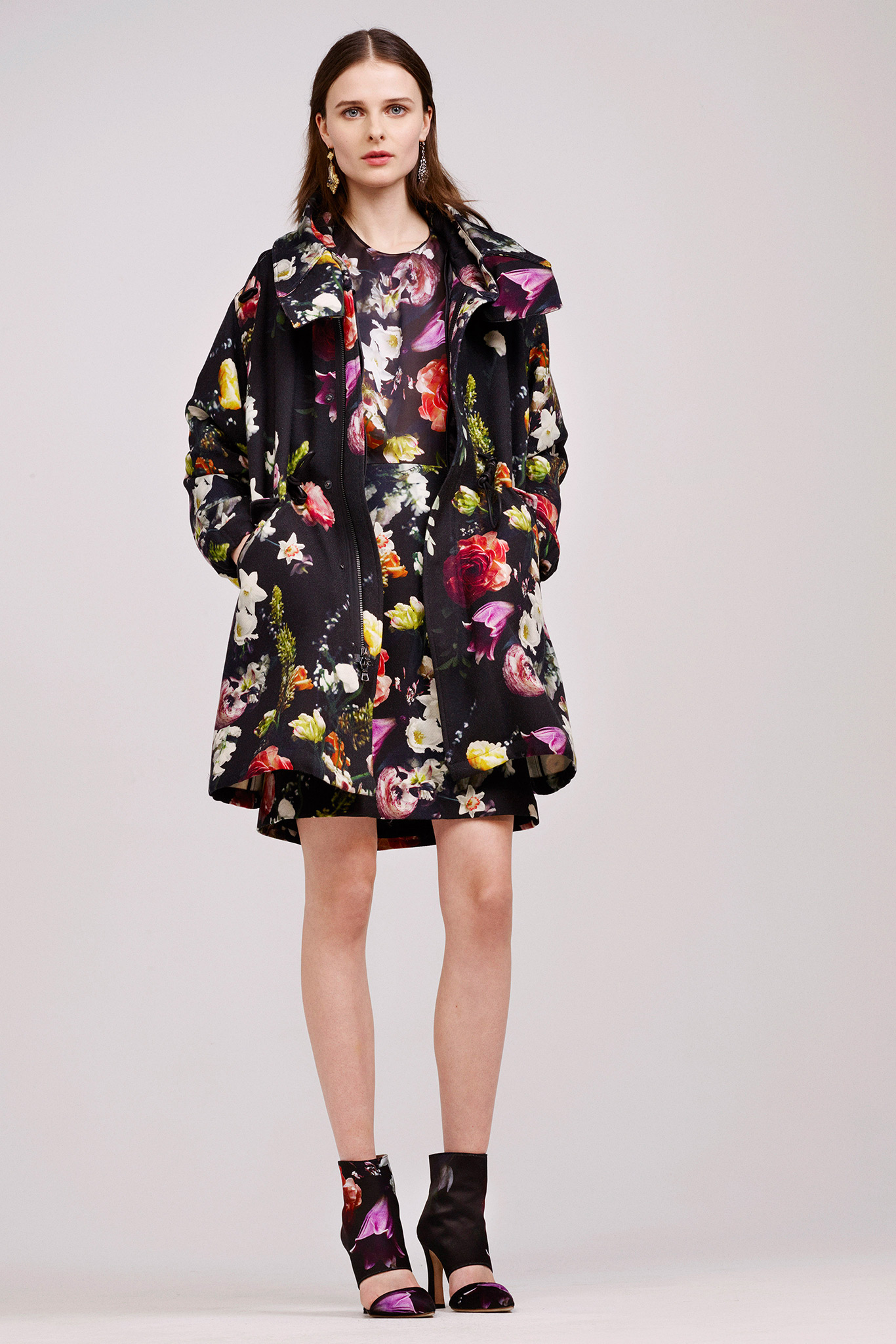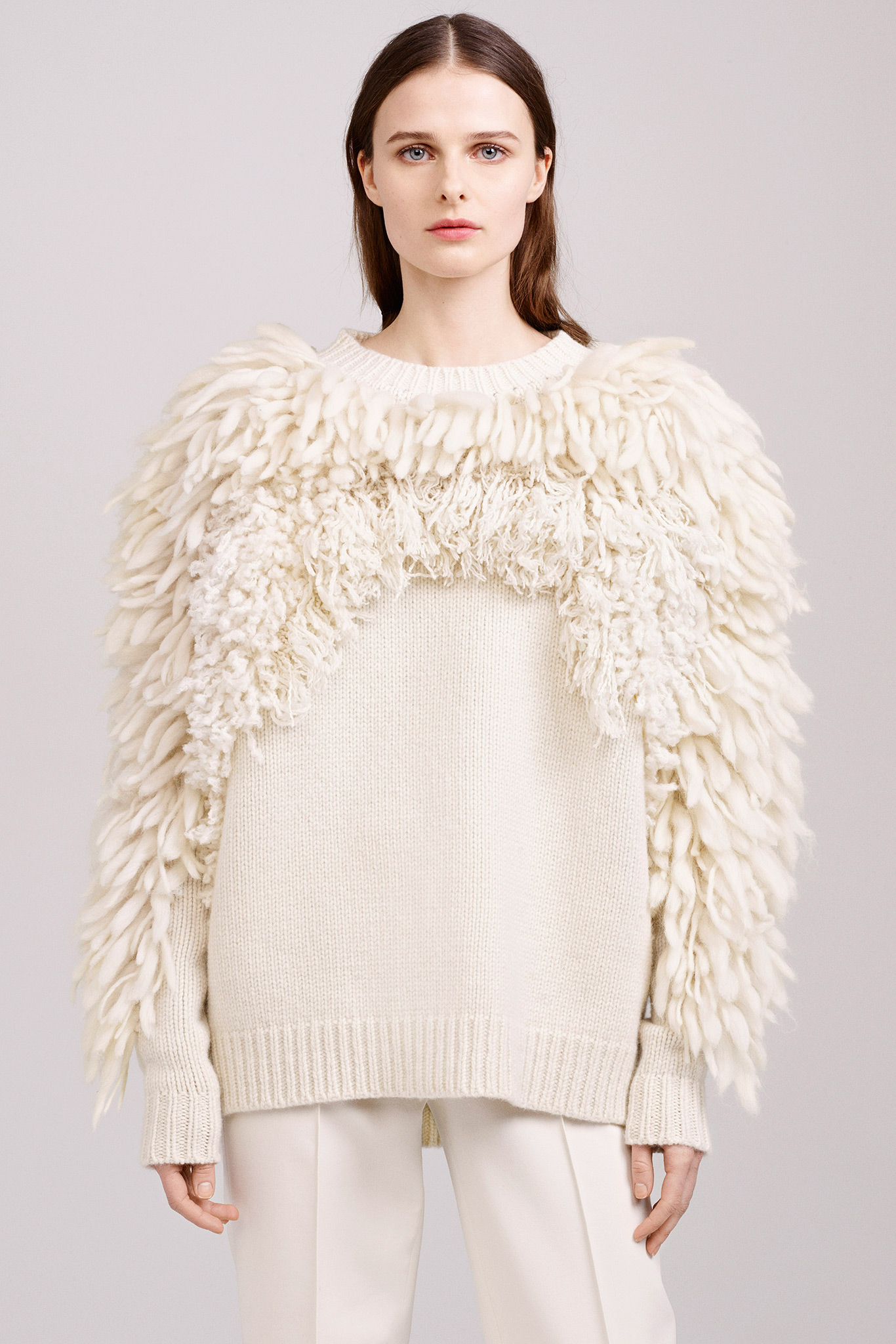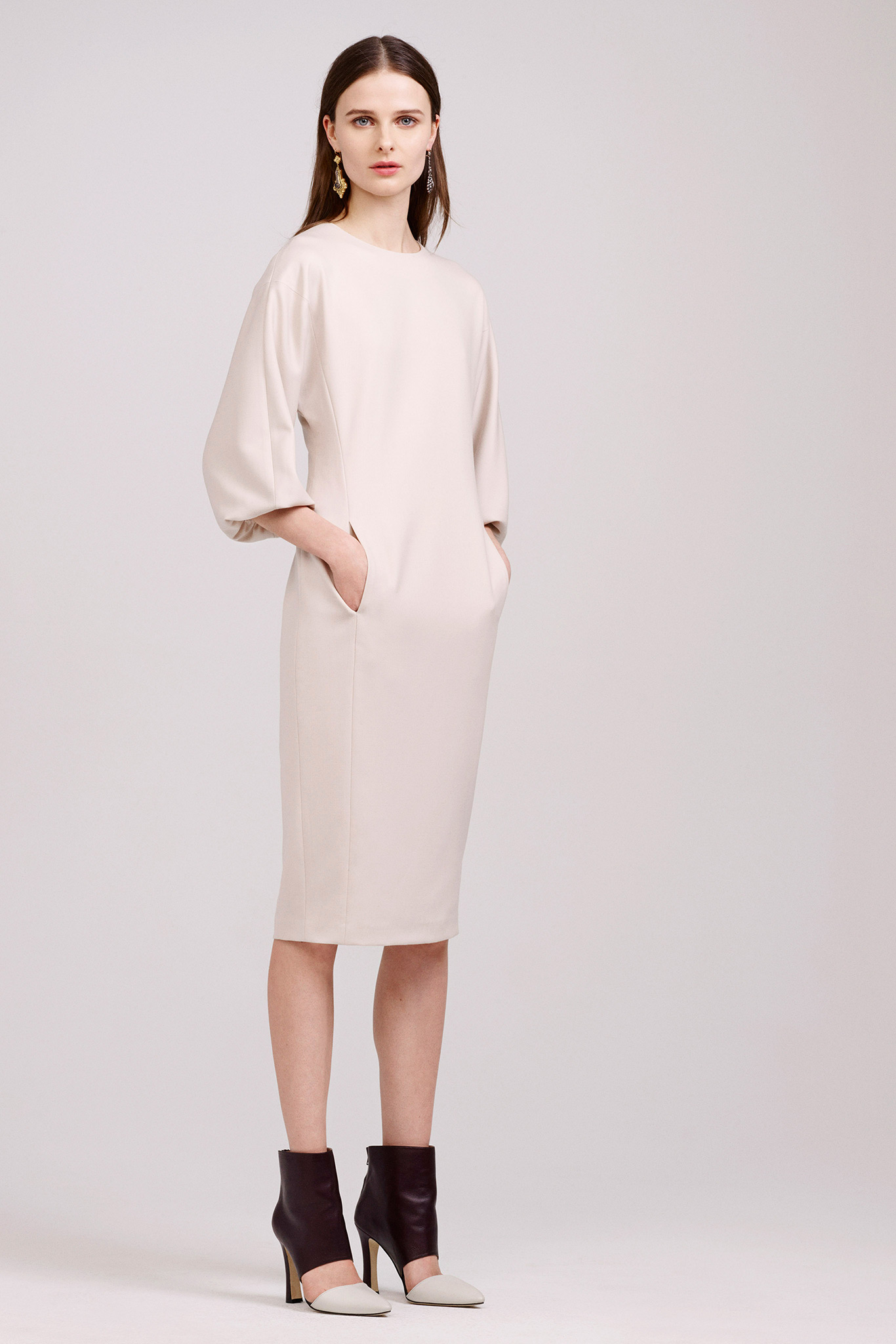 Spartan but never banal with the tulip sleeves.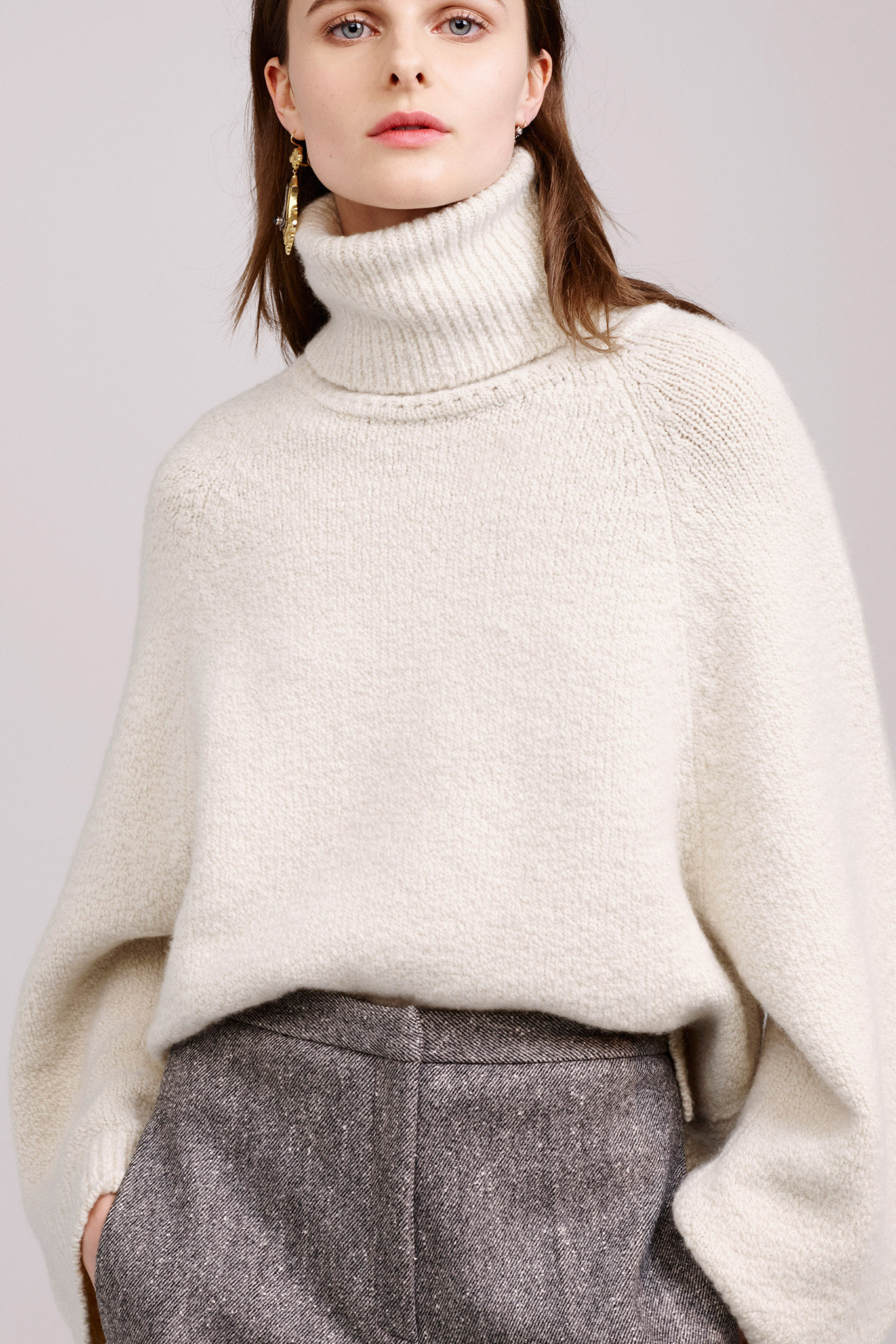 A great staple for fall and winter, not your routine turtleneck, what with the flared sleeves.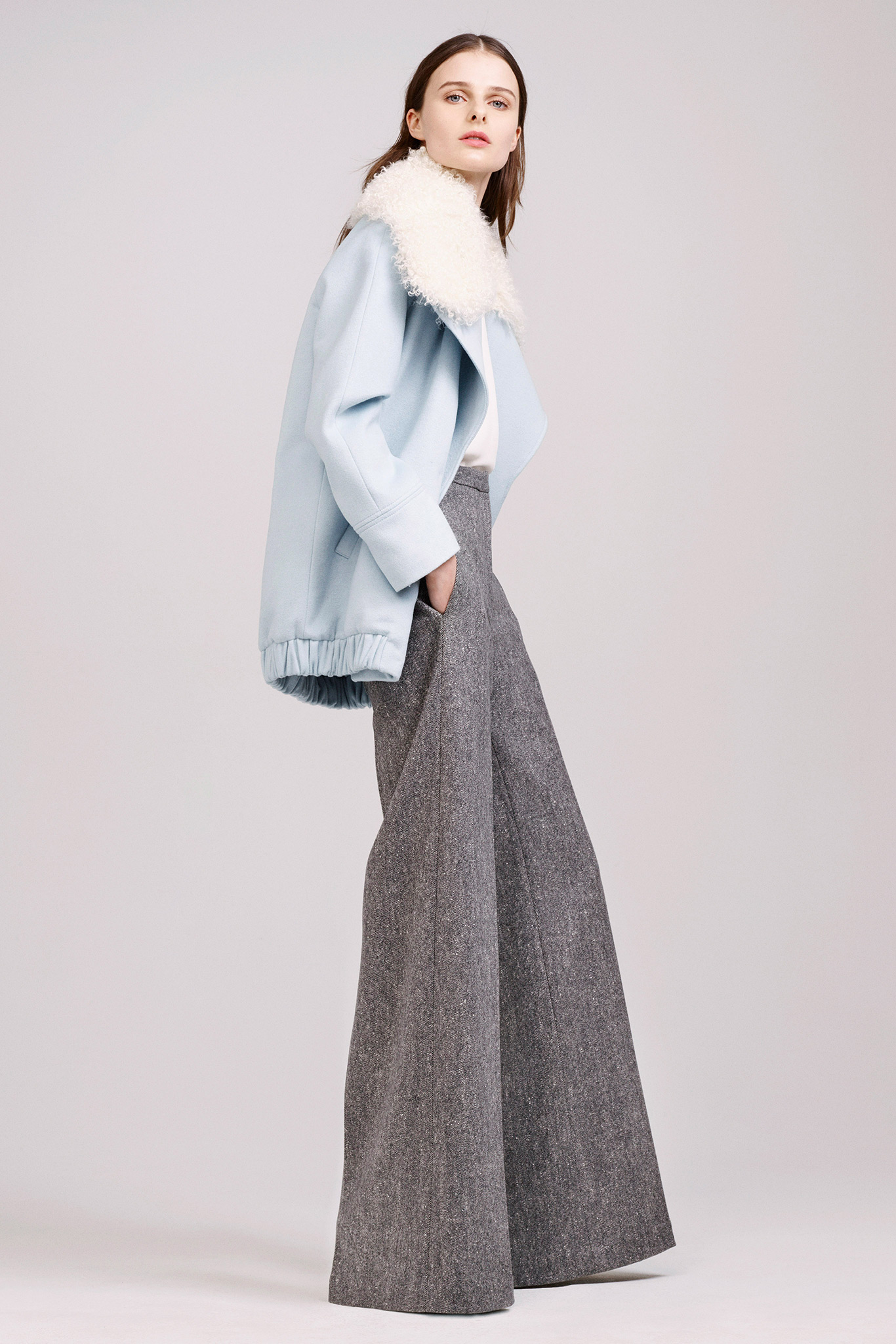 This powder puff blue topper with shearling collar will surely mitigate the winter doldrums.....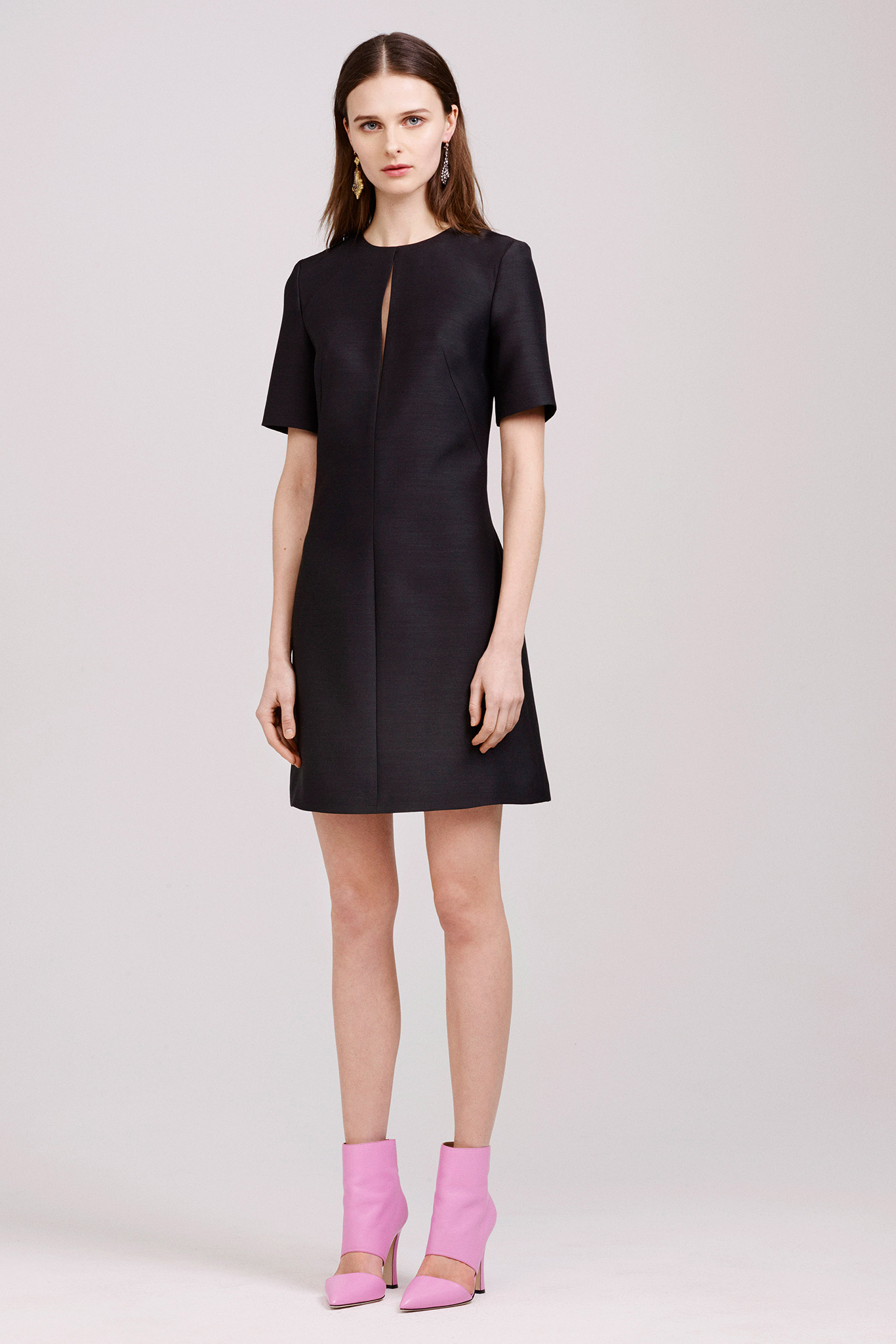 Offset a mini or knee length frock with those spectacular bubble gum pink pump pseudo booties!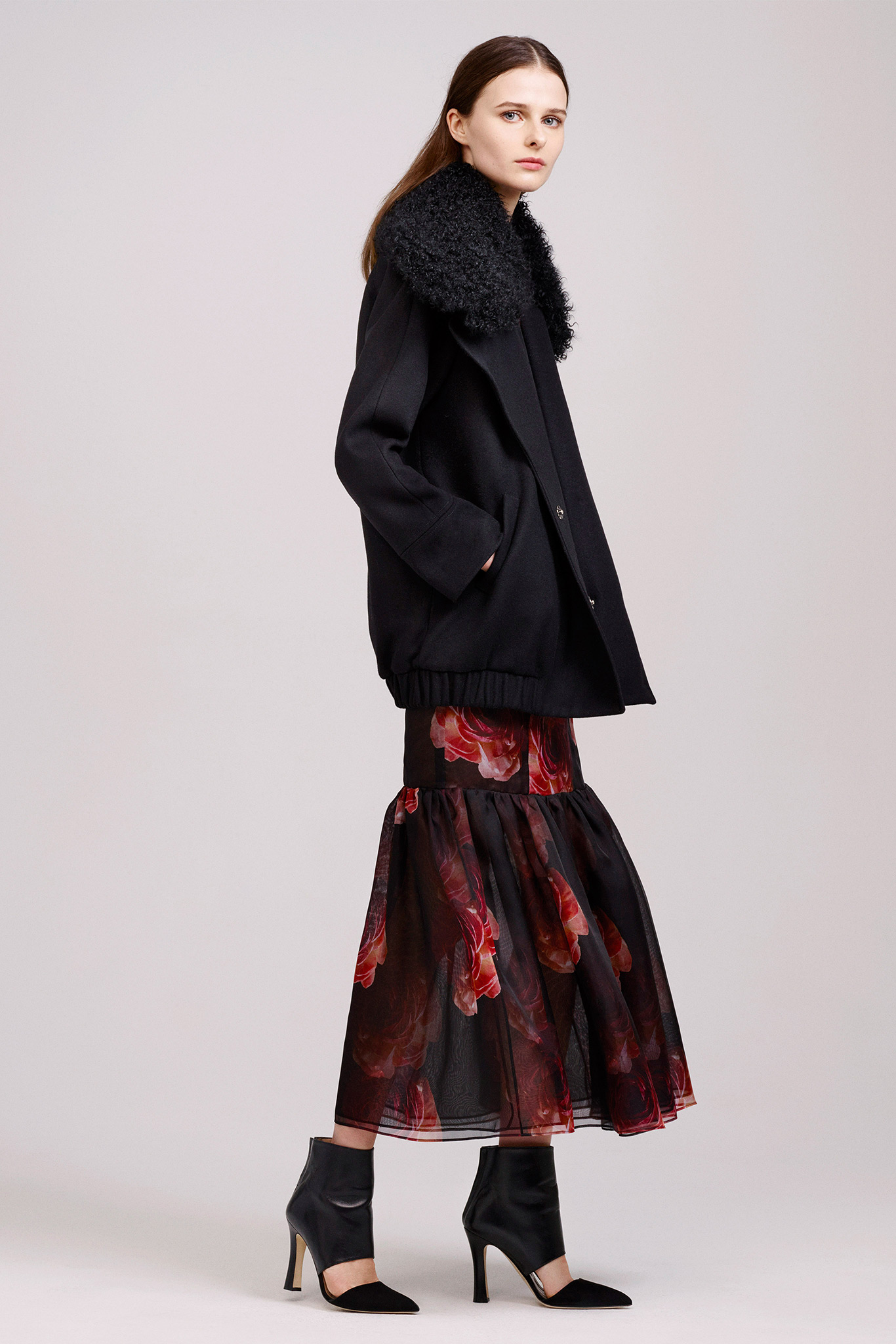 A balsy look to be sure, mixing floral chiffon and shearling, but it works.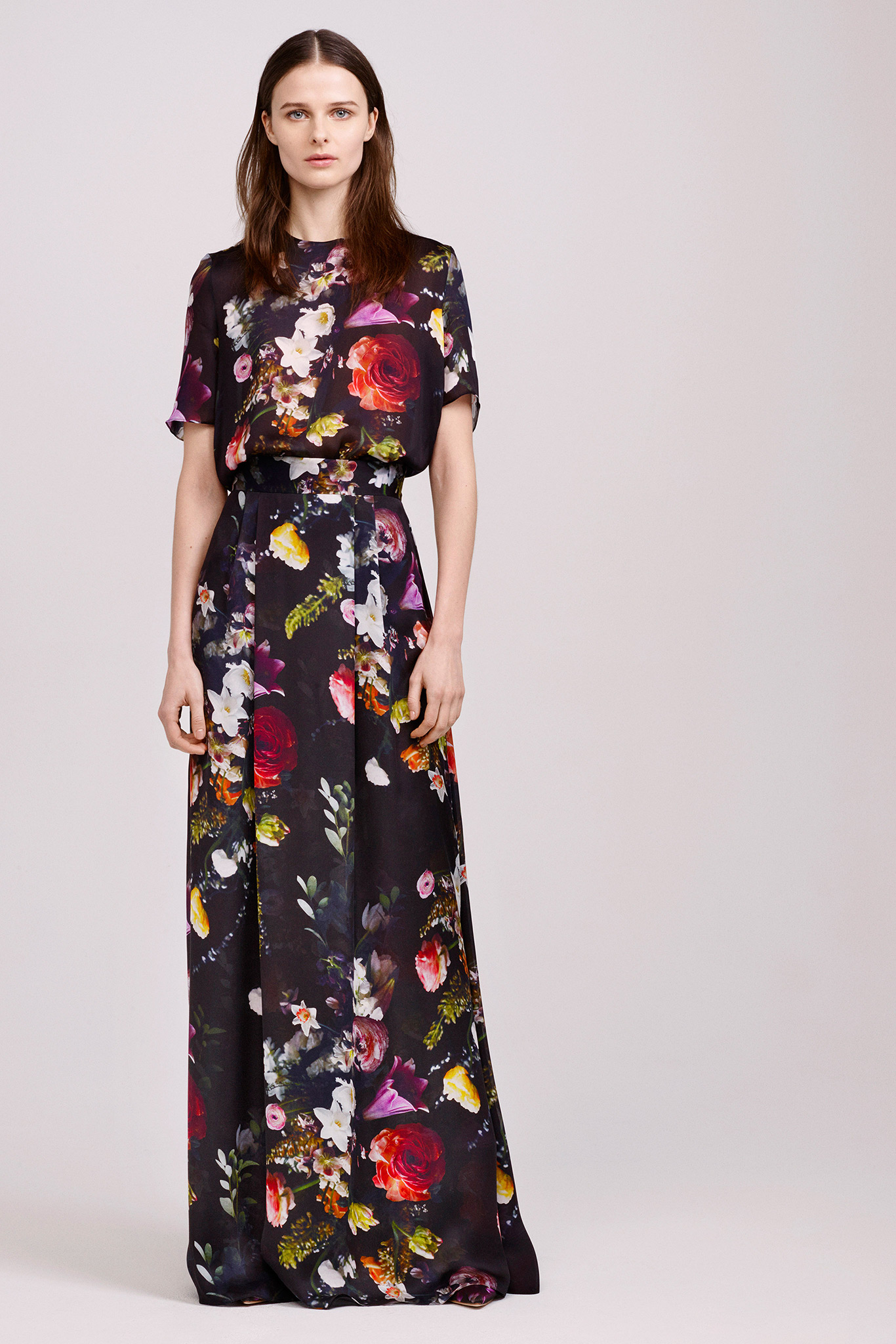 We need florals upon florals to remind us that spring will eventually come.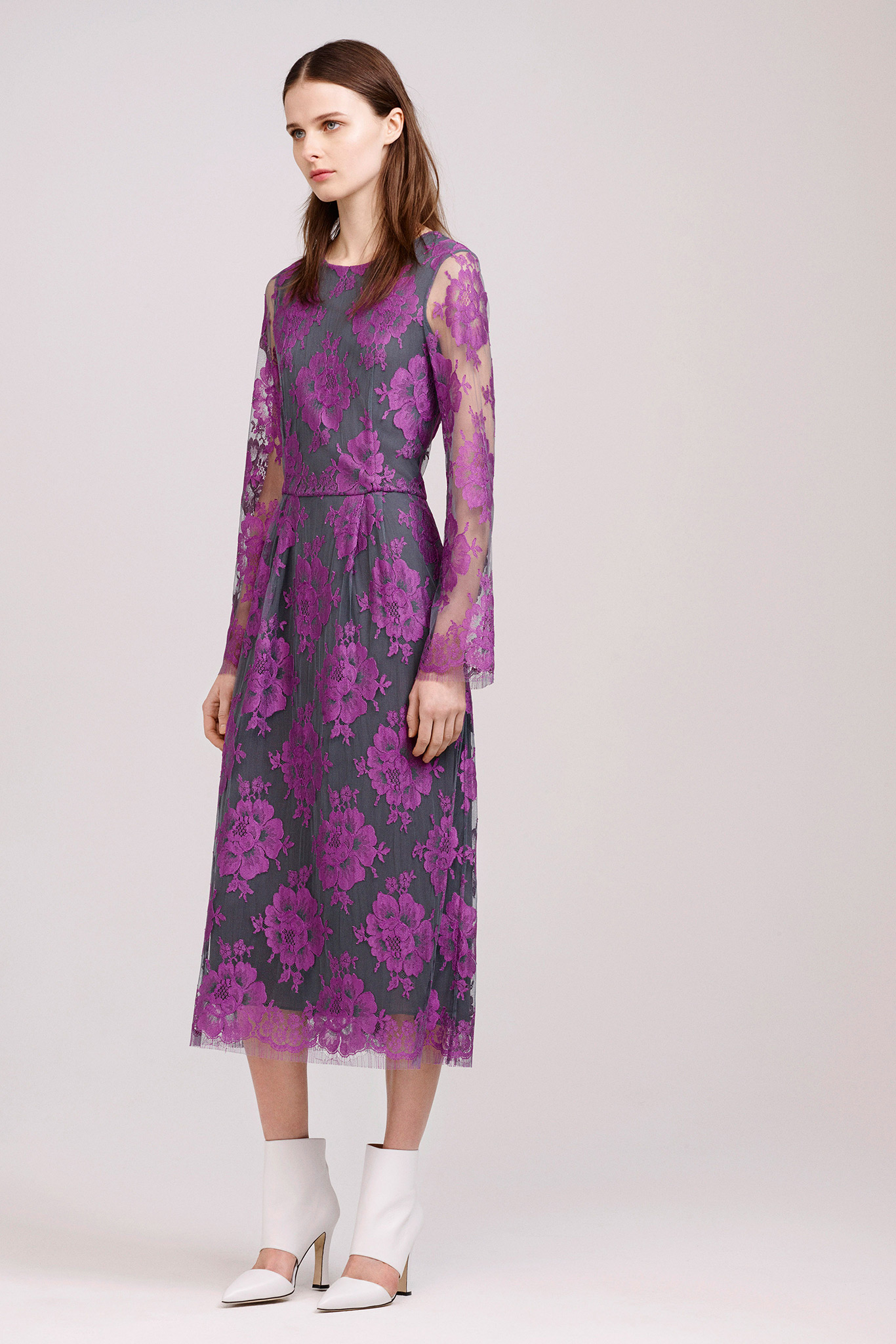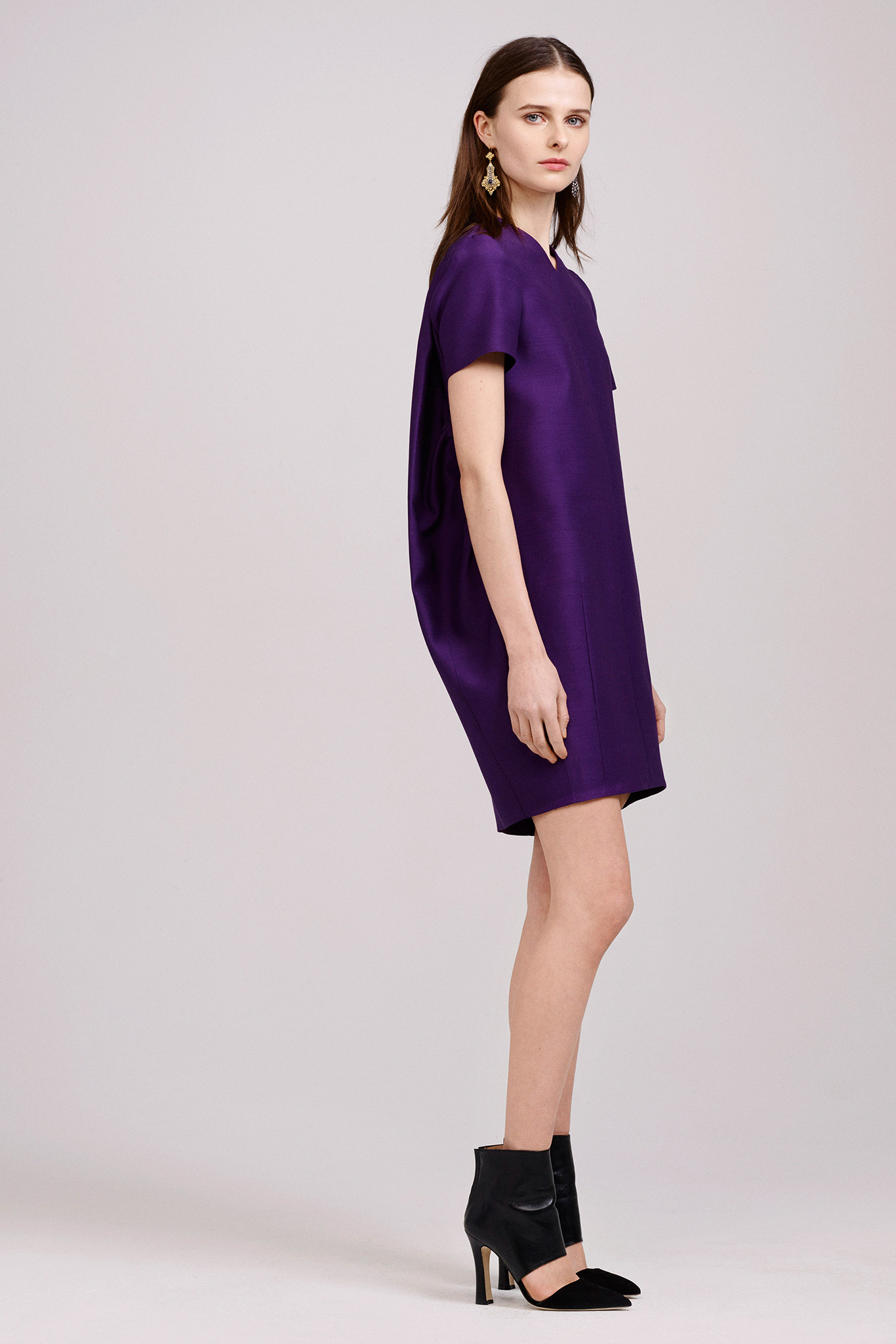 Brilliant cocoon in a luxurious deep purple. Wear with a butterfly motif scarf.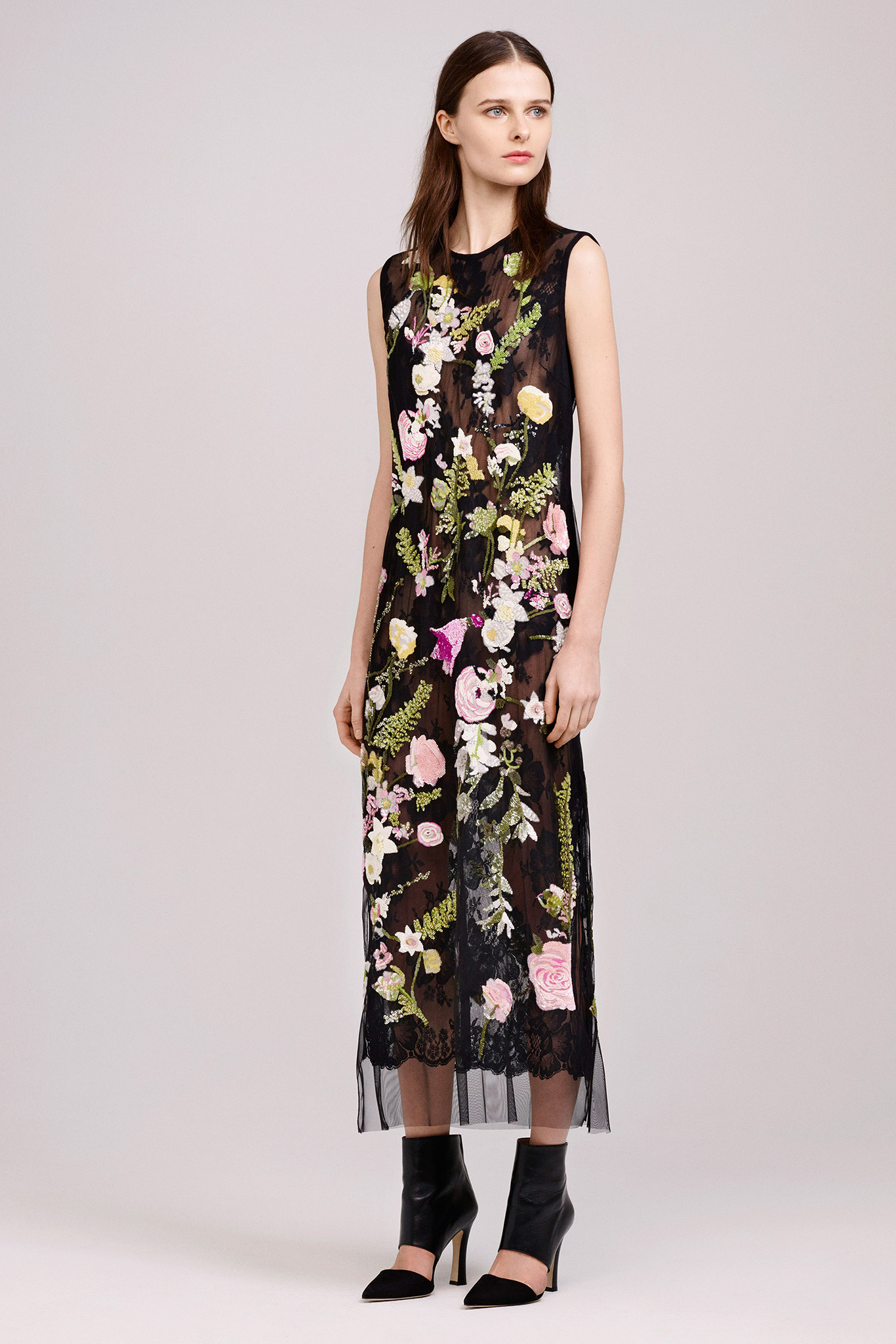 Easy slimming silhouette emblazoned with a myriad of flowering species, perfect for any evening or bridal event. Could even be worn over leggings and ballet flats.
CHRISTIAN SIRIANO:
As far as I can tell, the most successful alum of Project Runway, known for his cocktail frocks and evening finery, brings an eclectic assortment of wares for the feline and tulle enthusiasts.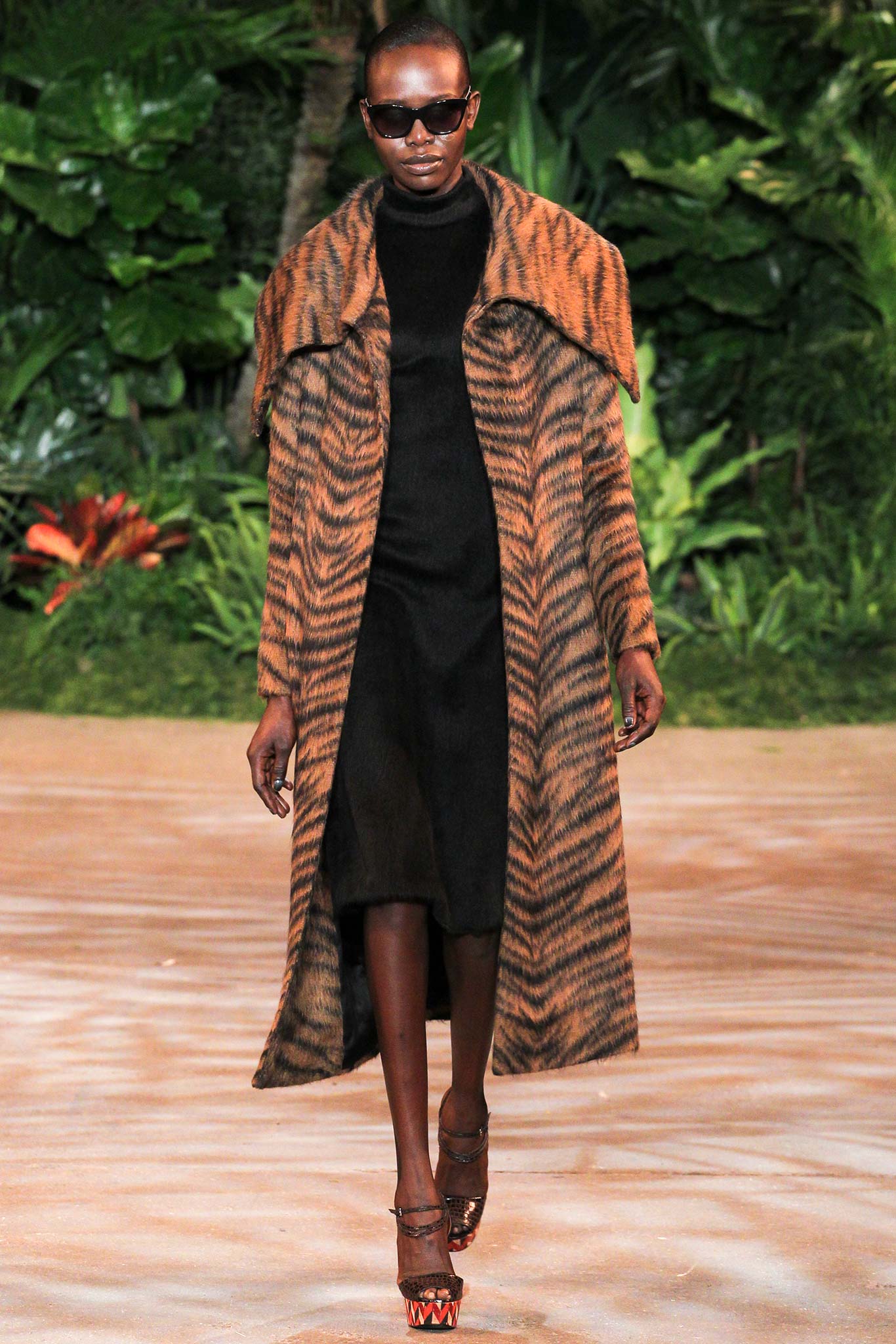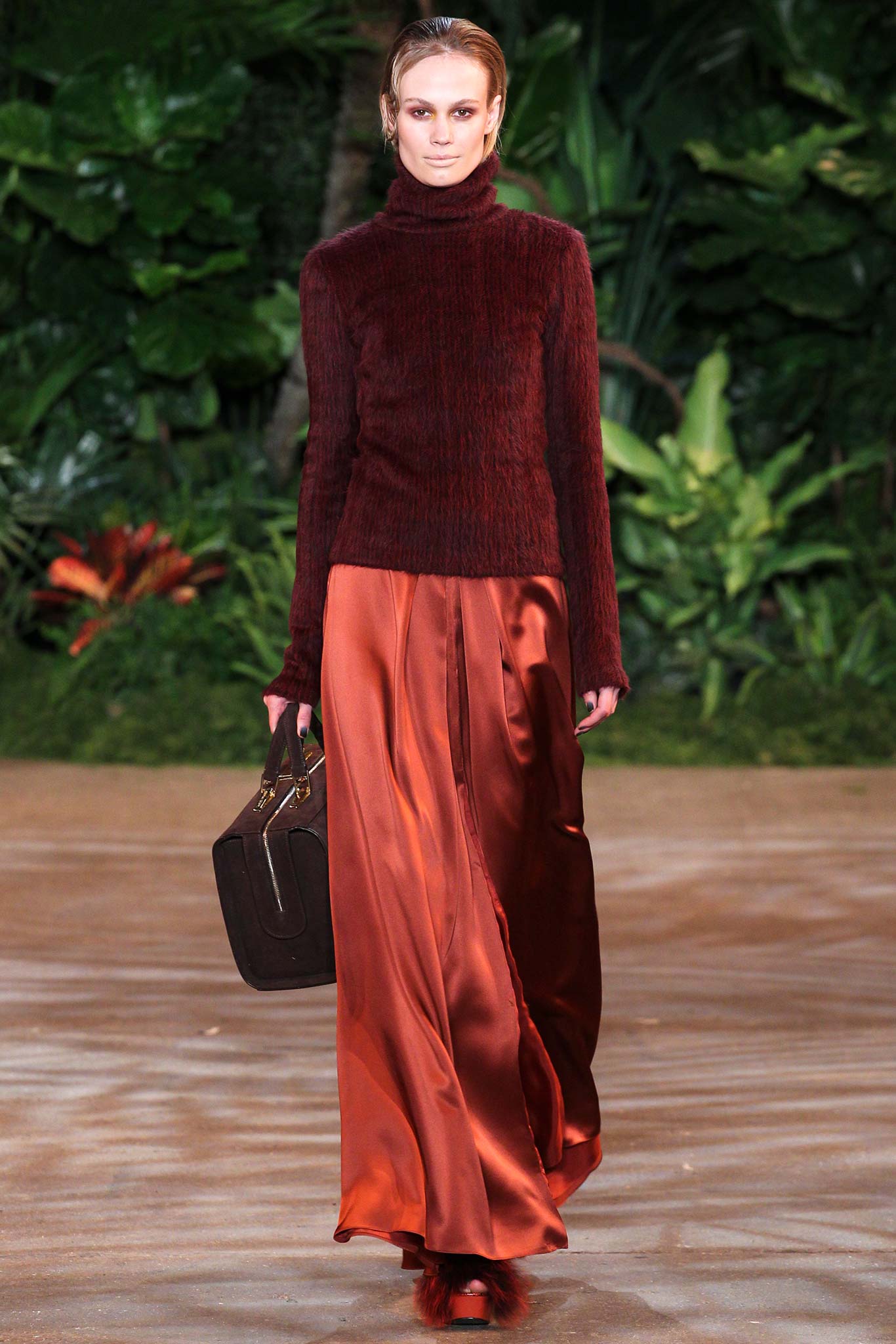 Love the combo of fuzzy sweater with sleek sexy charmeuse.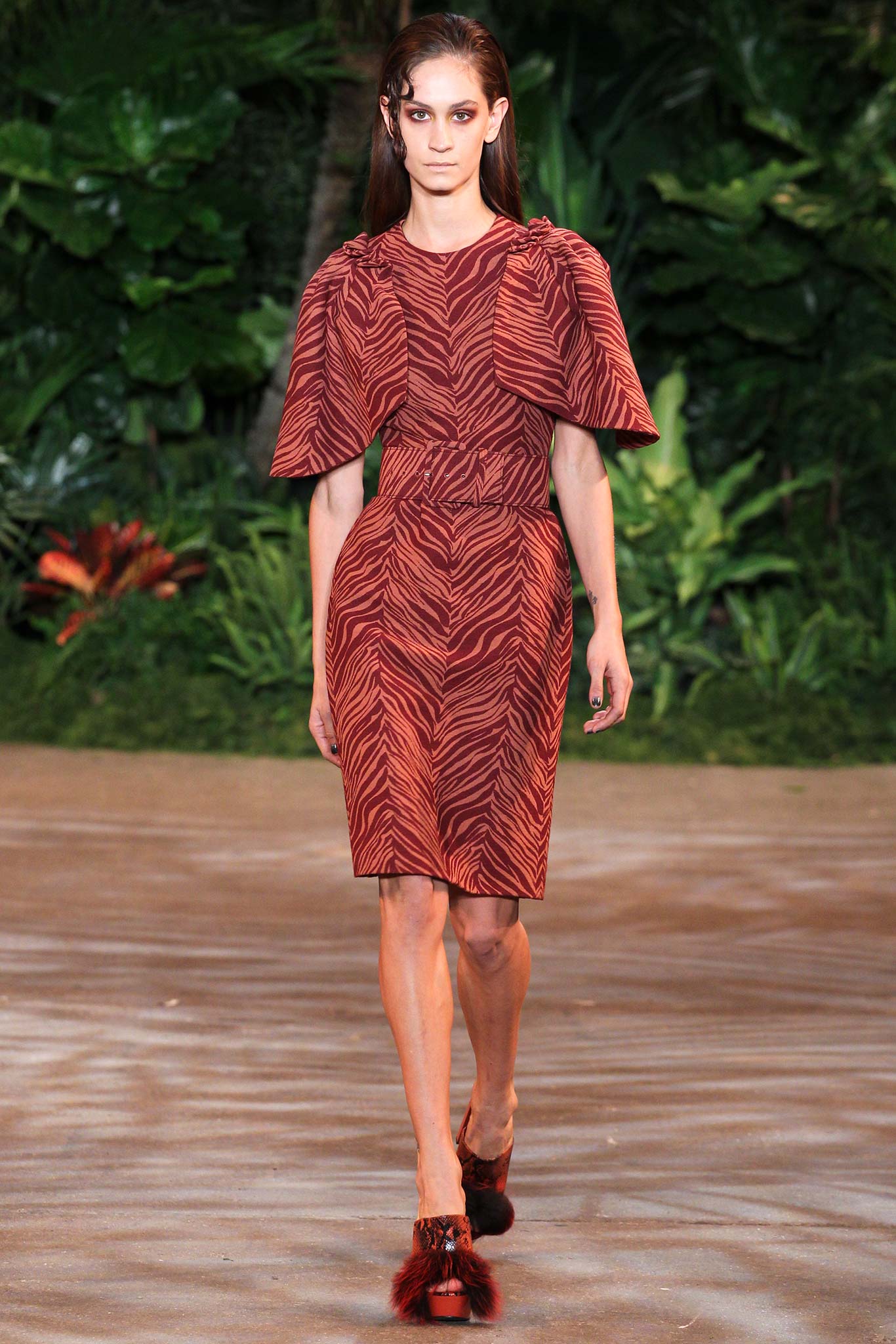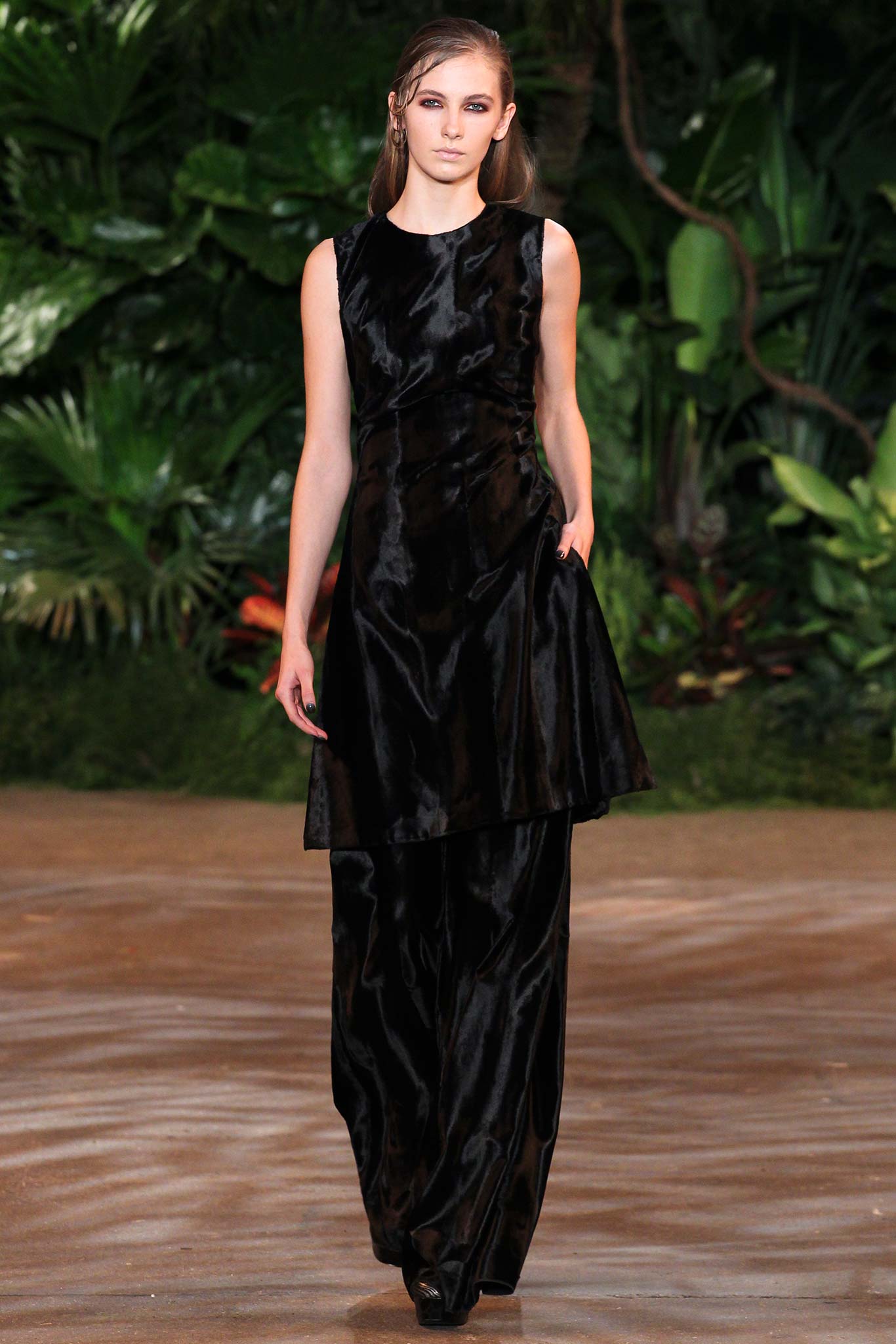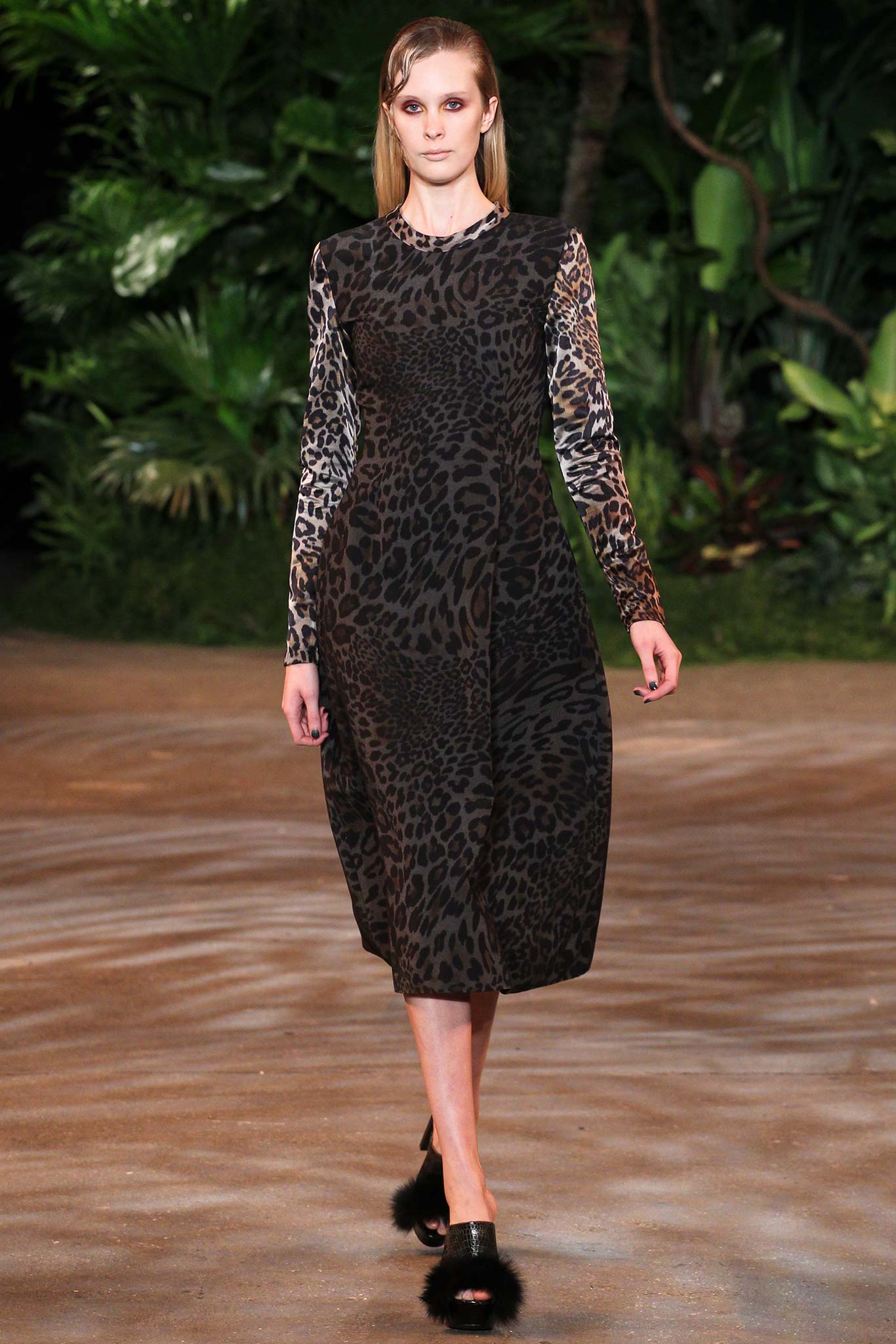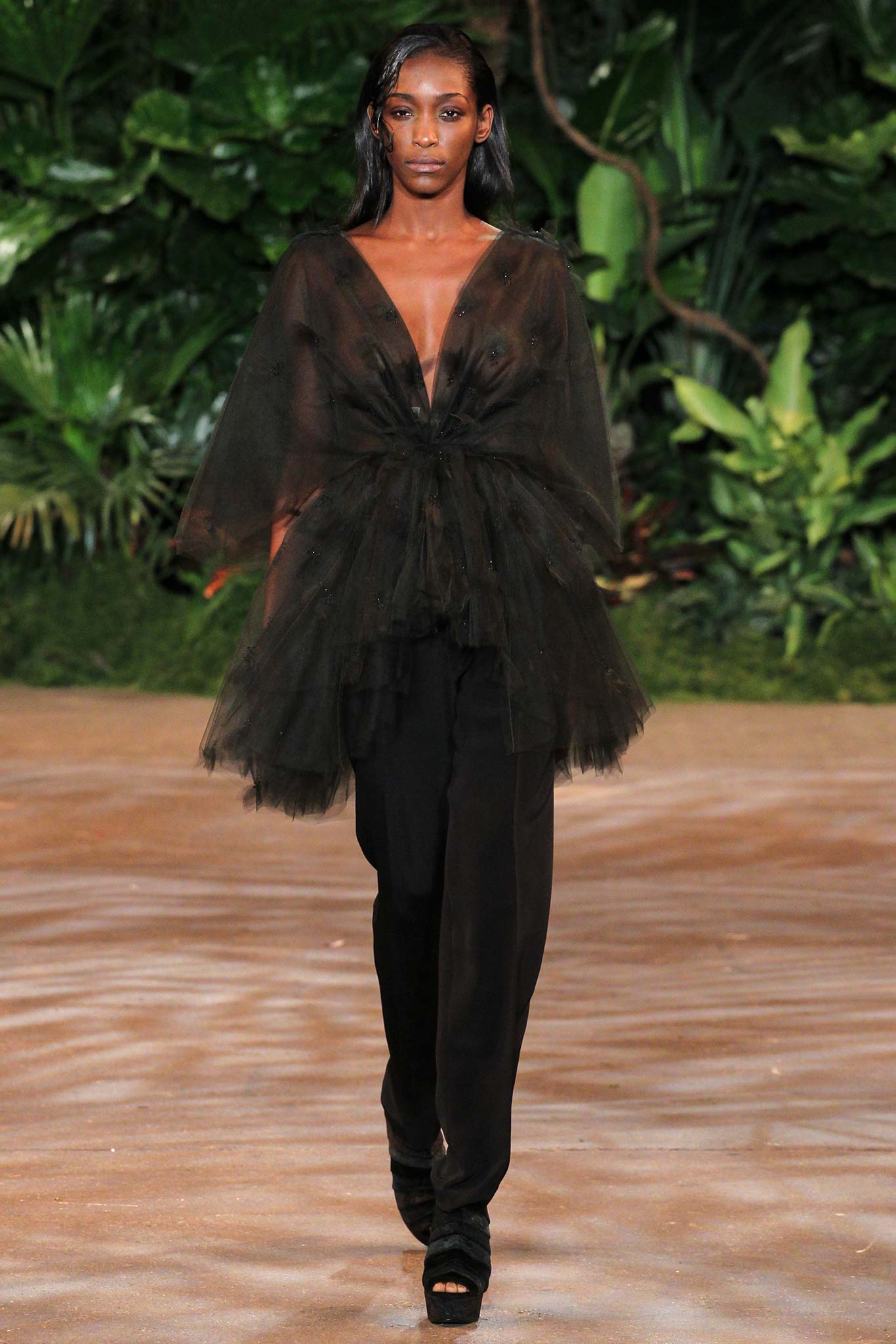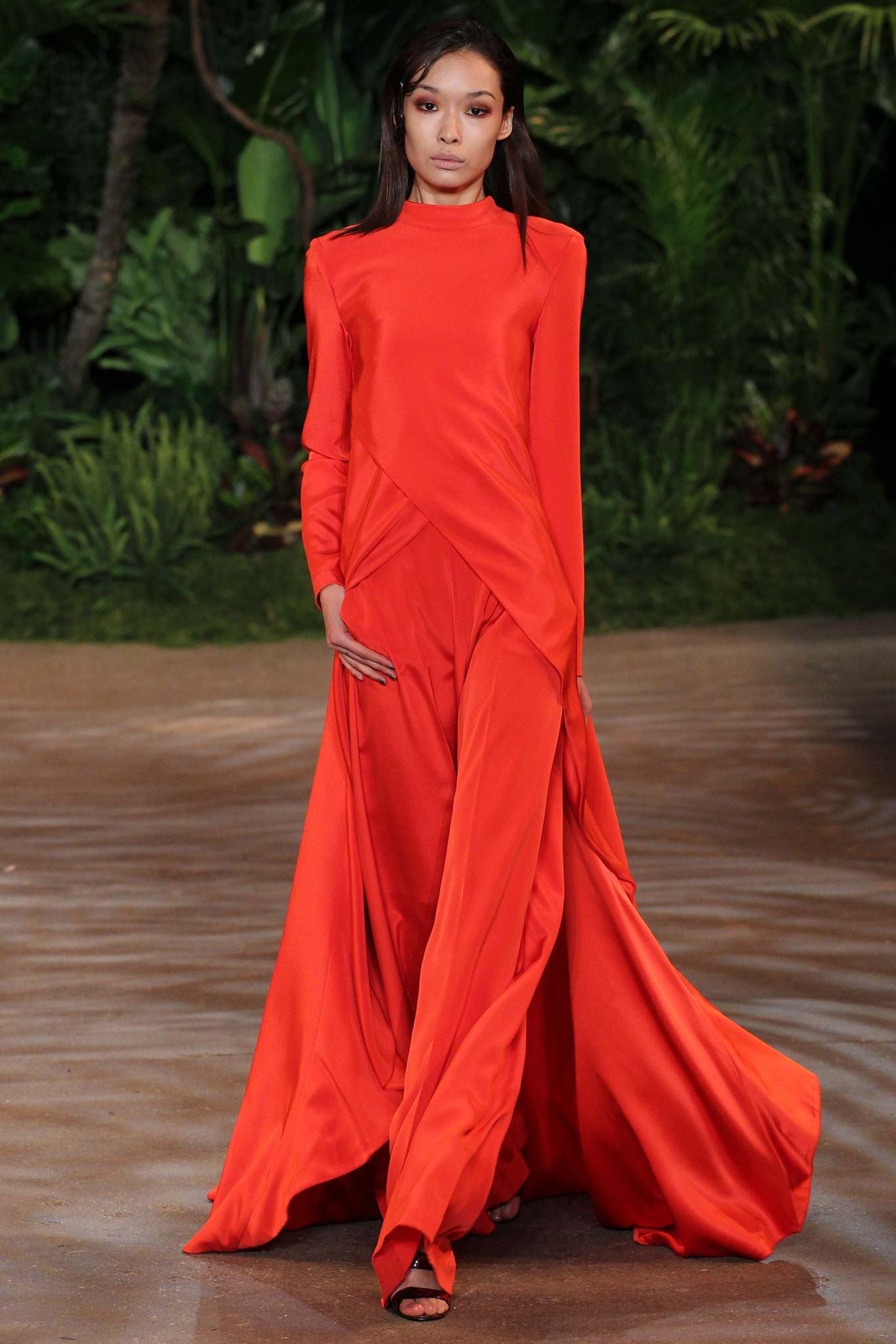 This is something a latter day Chinese Empress would wear. Vibrant and dramatic, needs Louboutin stilettos.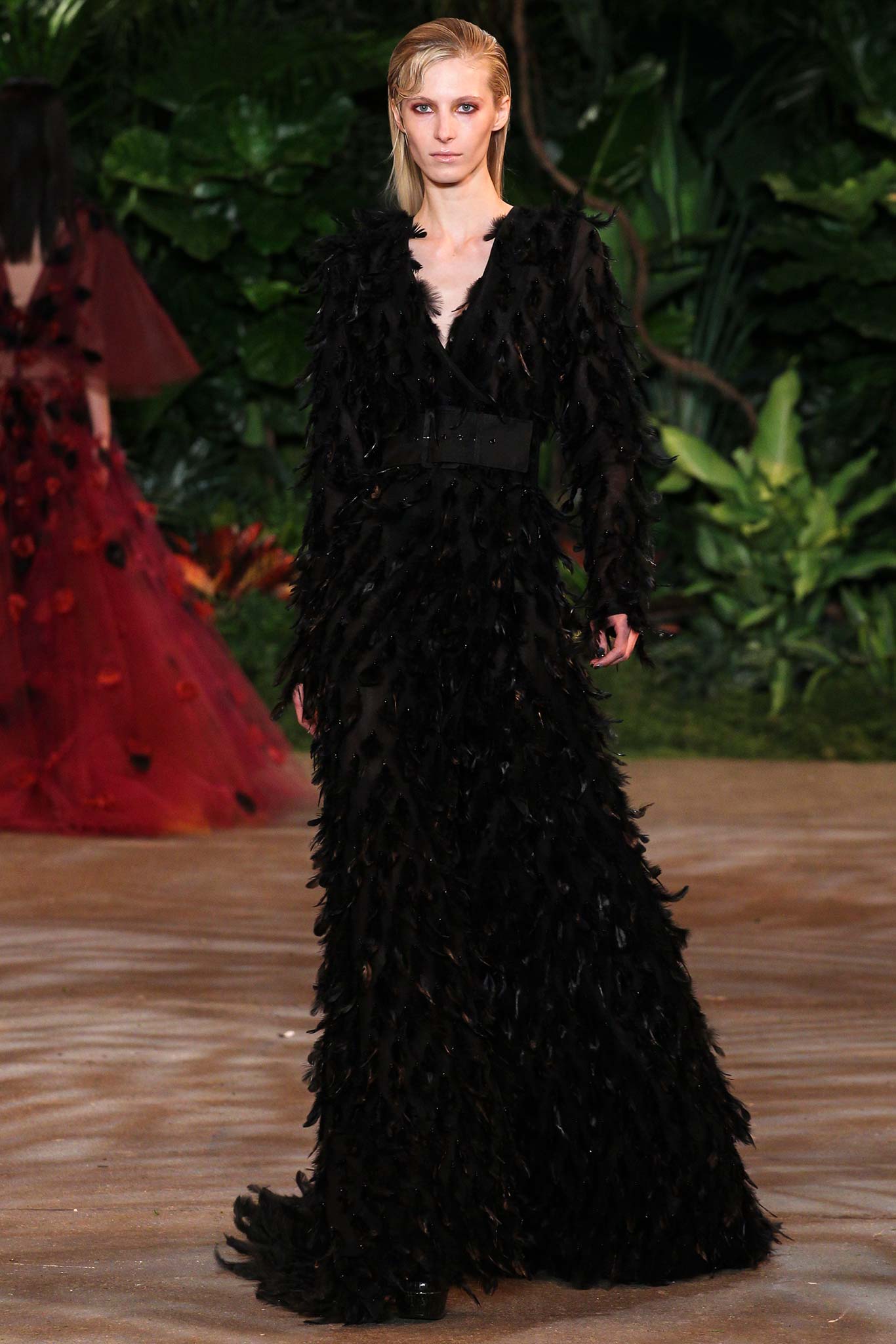 Why not show up to the next gala affair looking like a creature from the Amazonian rain forrest? And notice the wide belt as a recurring theme throughout out the collection, nips in the waist, always good.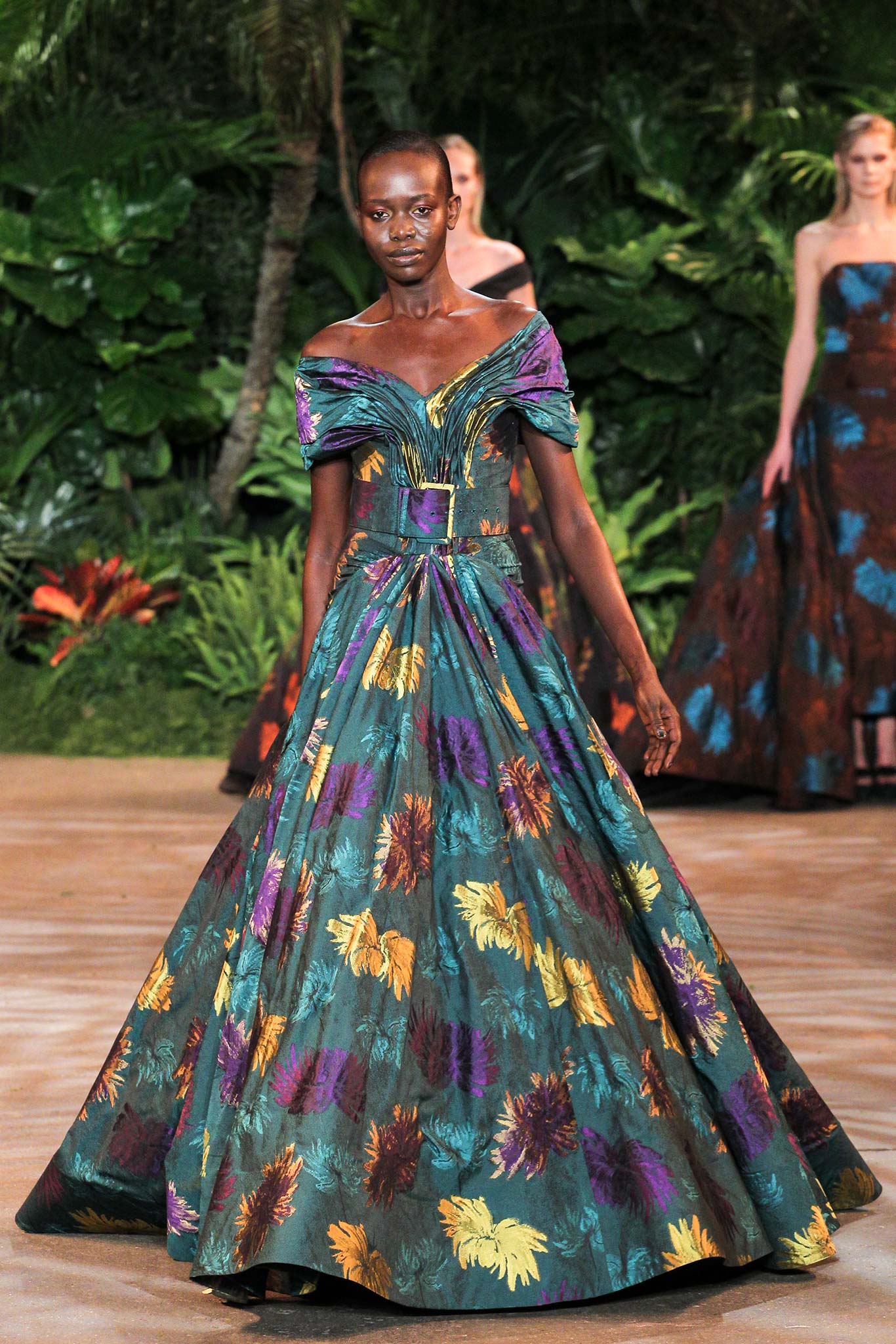 Floral jacquard, can you really get enough?
COACH:
No longer just a purveyor of sturdy indestructable purses and totes anymore! This is now the place to find a wide array of shearlings, funky and standard, vests and leathers. Oh, and some stylish skirts and funk-fabulous boots!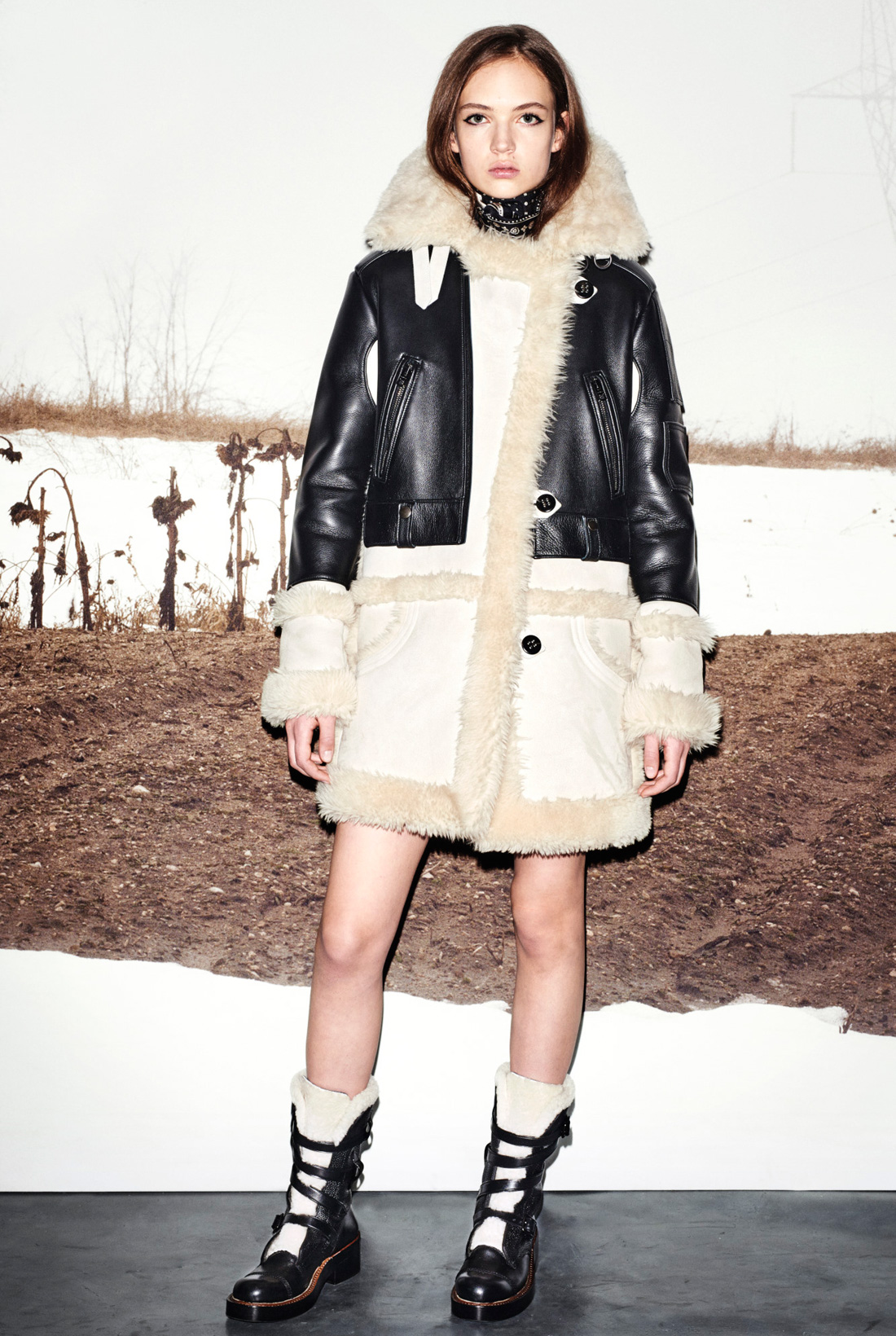 Ding, ding, ding, we have a winner! Wearable and curious, a standard old school shearling ate a motorcycle jacket.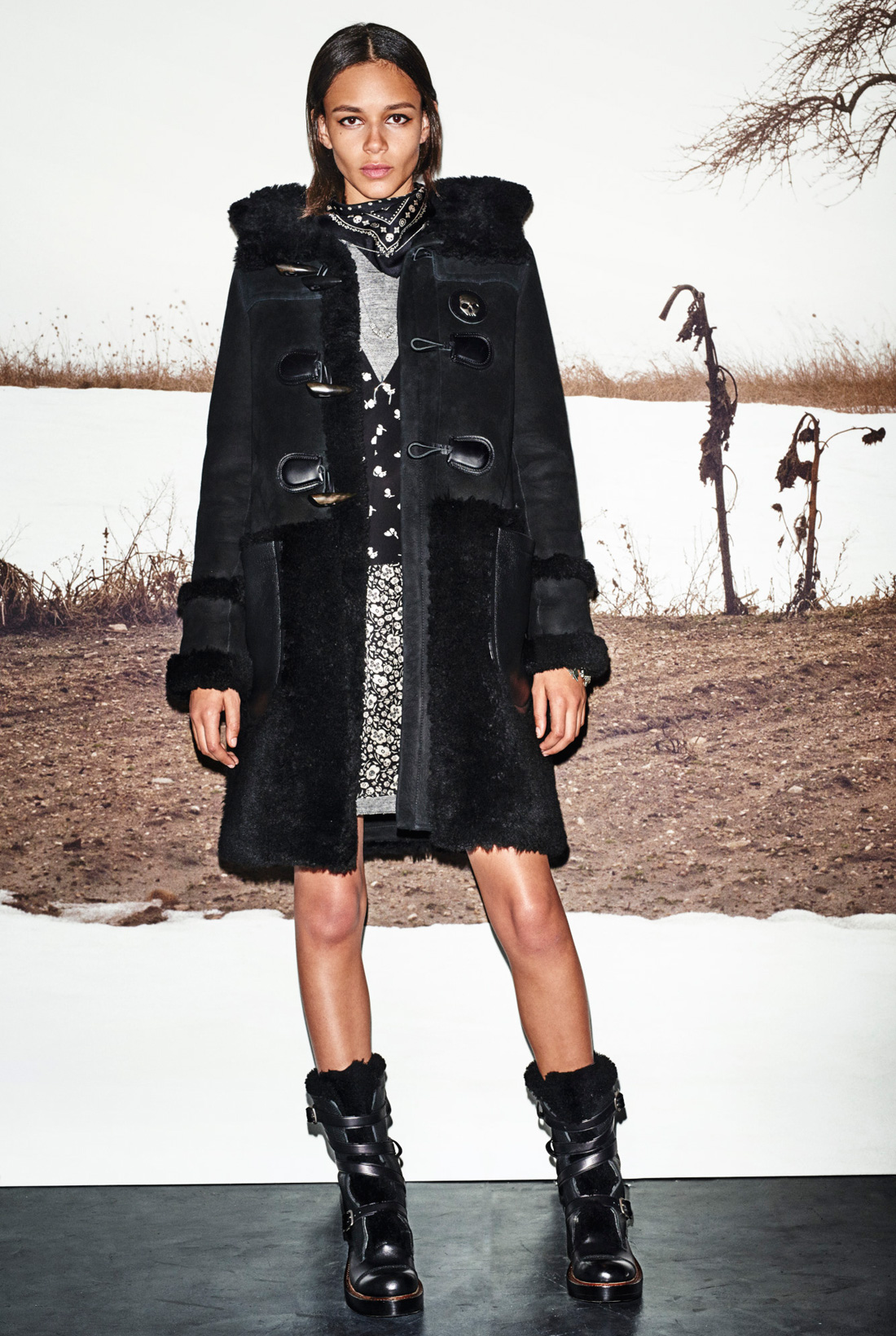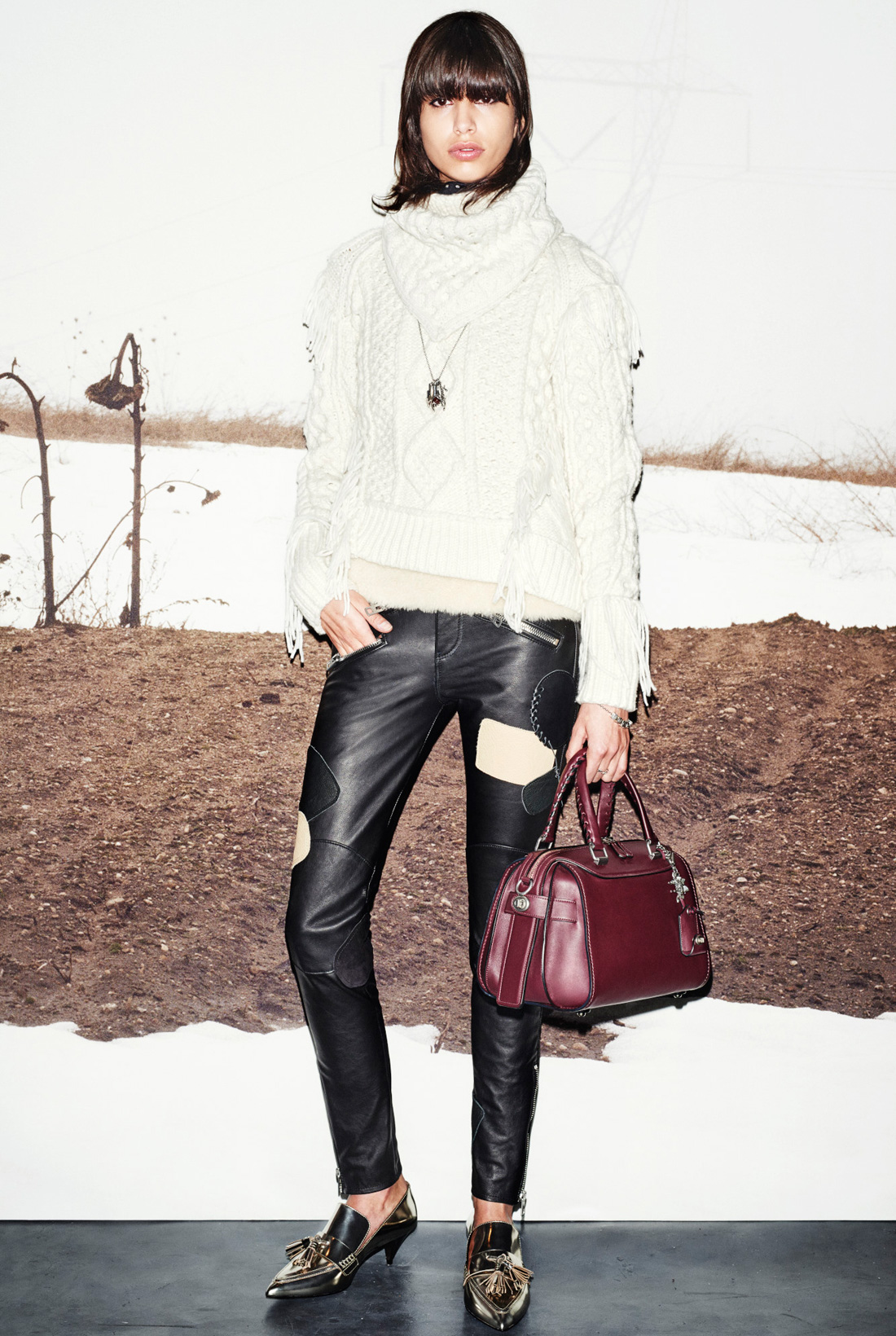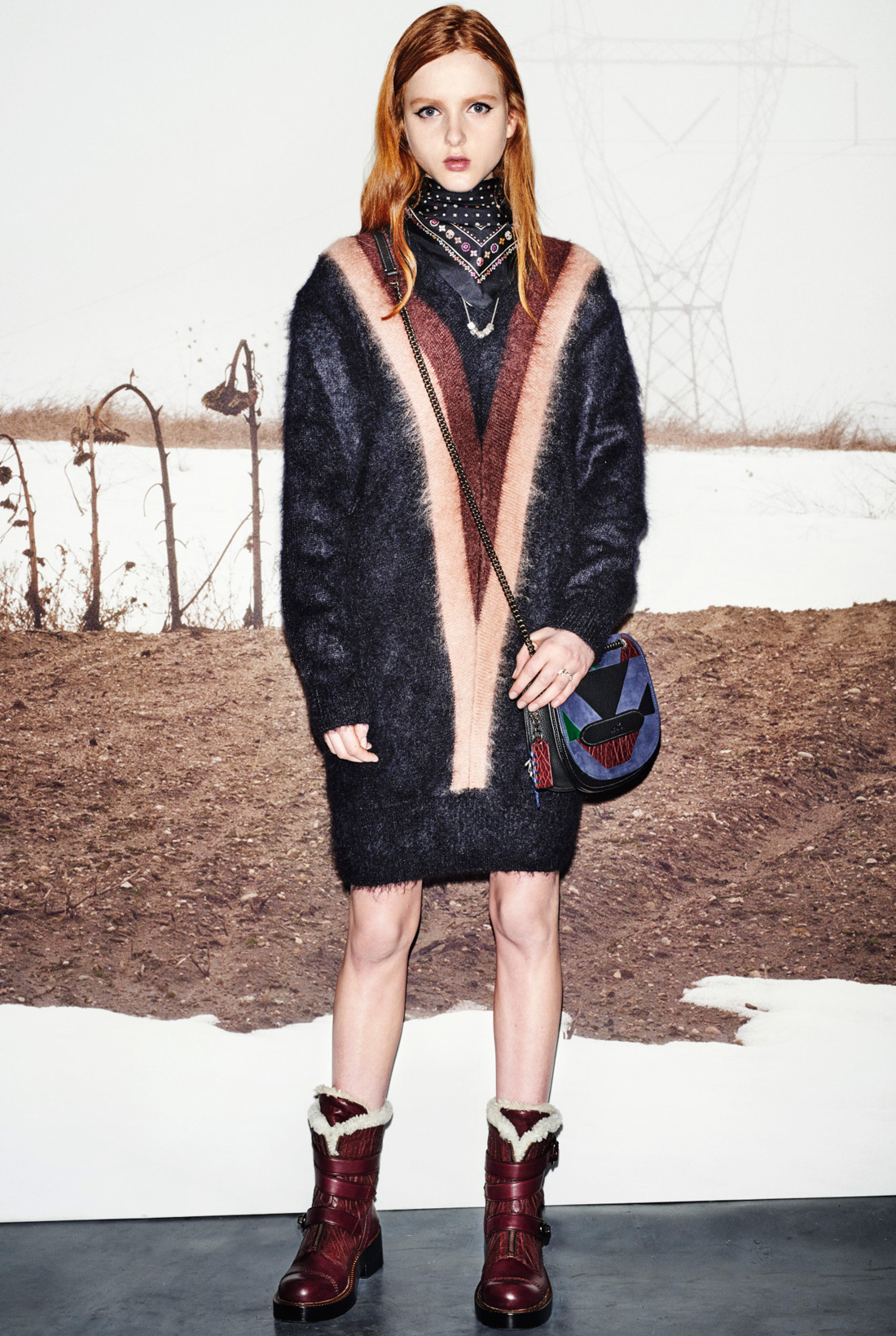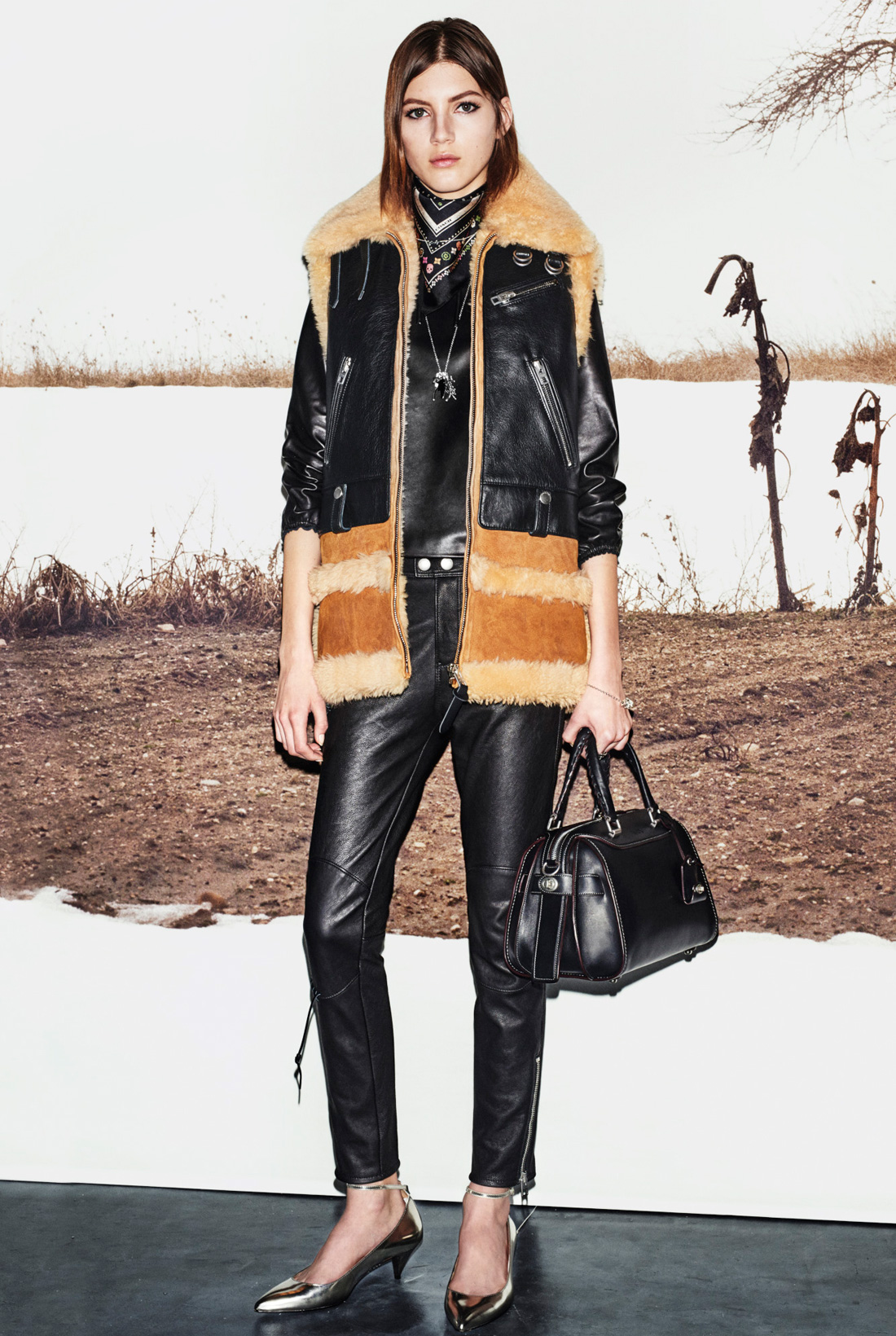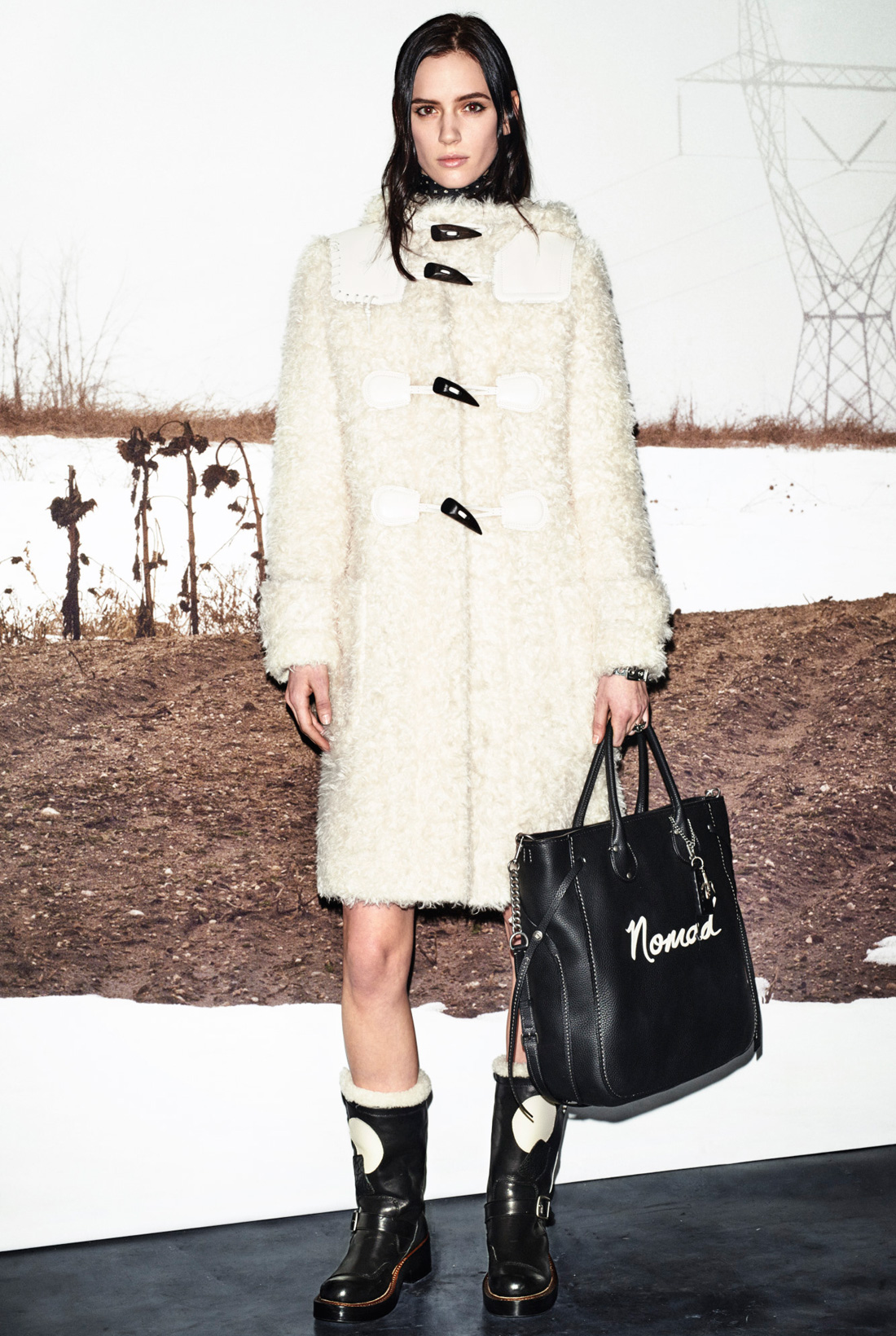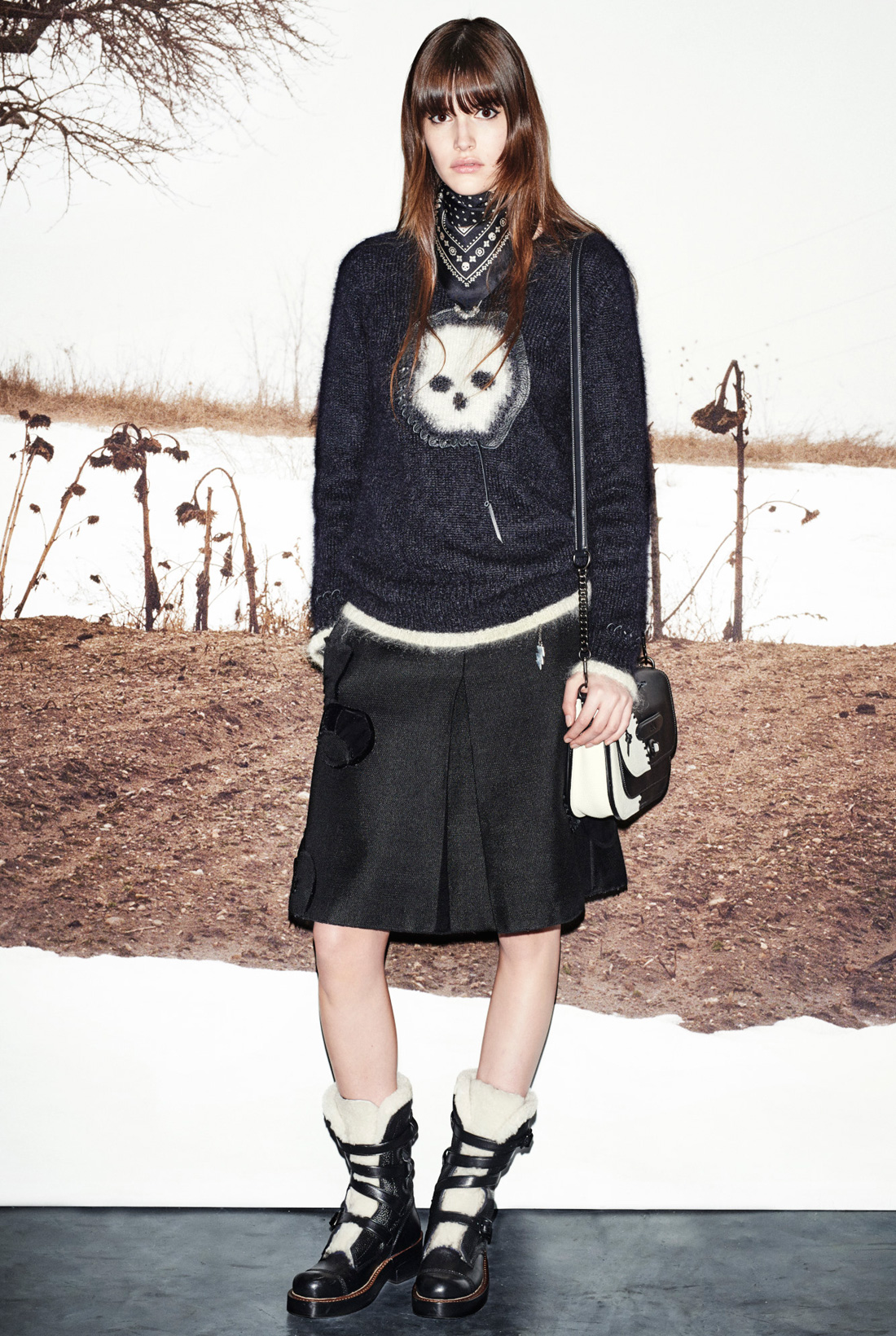 Get ready for the zombie apocalypse. I'm a fan of skulls and skull motifs….alas poor Yorick, etc.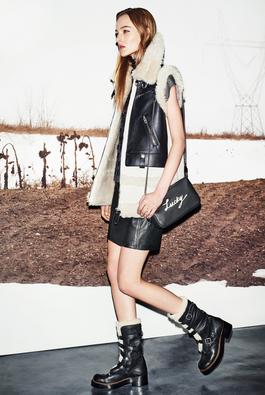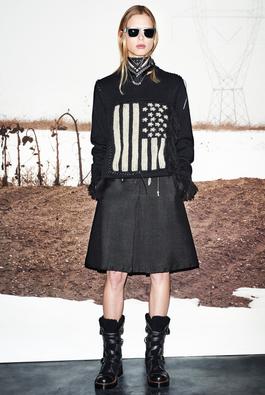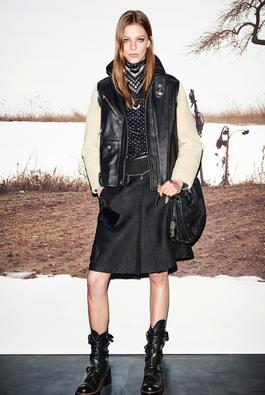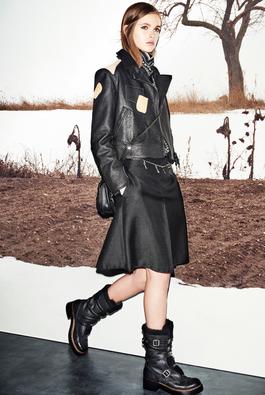 The chunky motorcycle boots and leather jacket are a kicky addition to the school girl skirt. And with the shearling lining, no need for socks.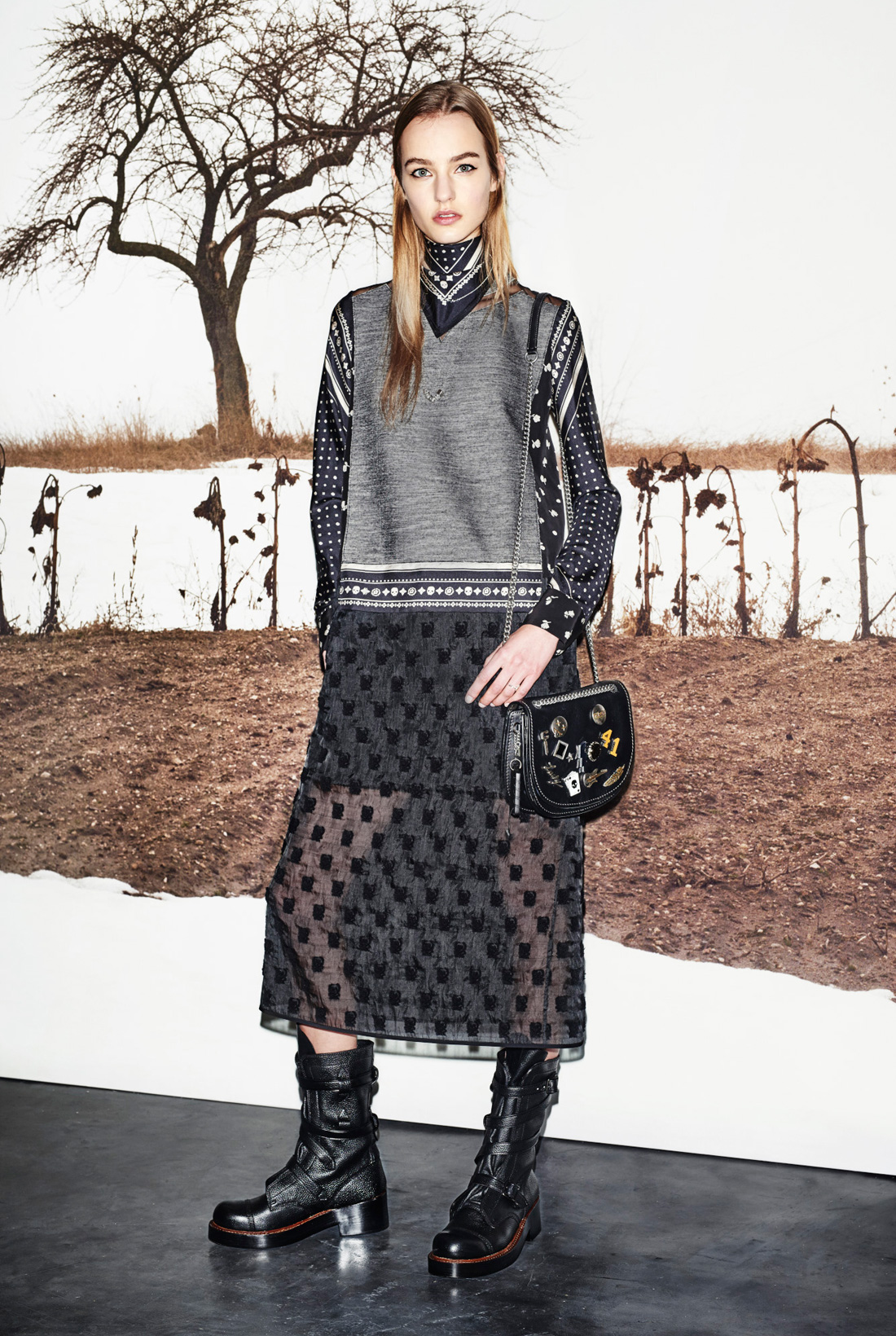 See-through is all the rage apparently, thank goodness for leggings and underpinnings.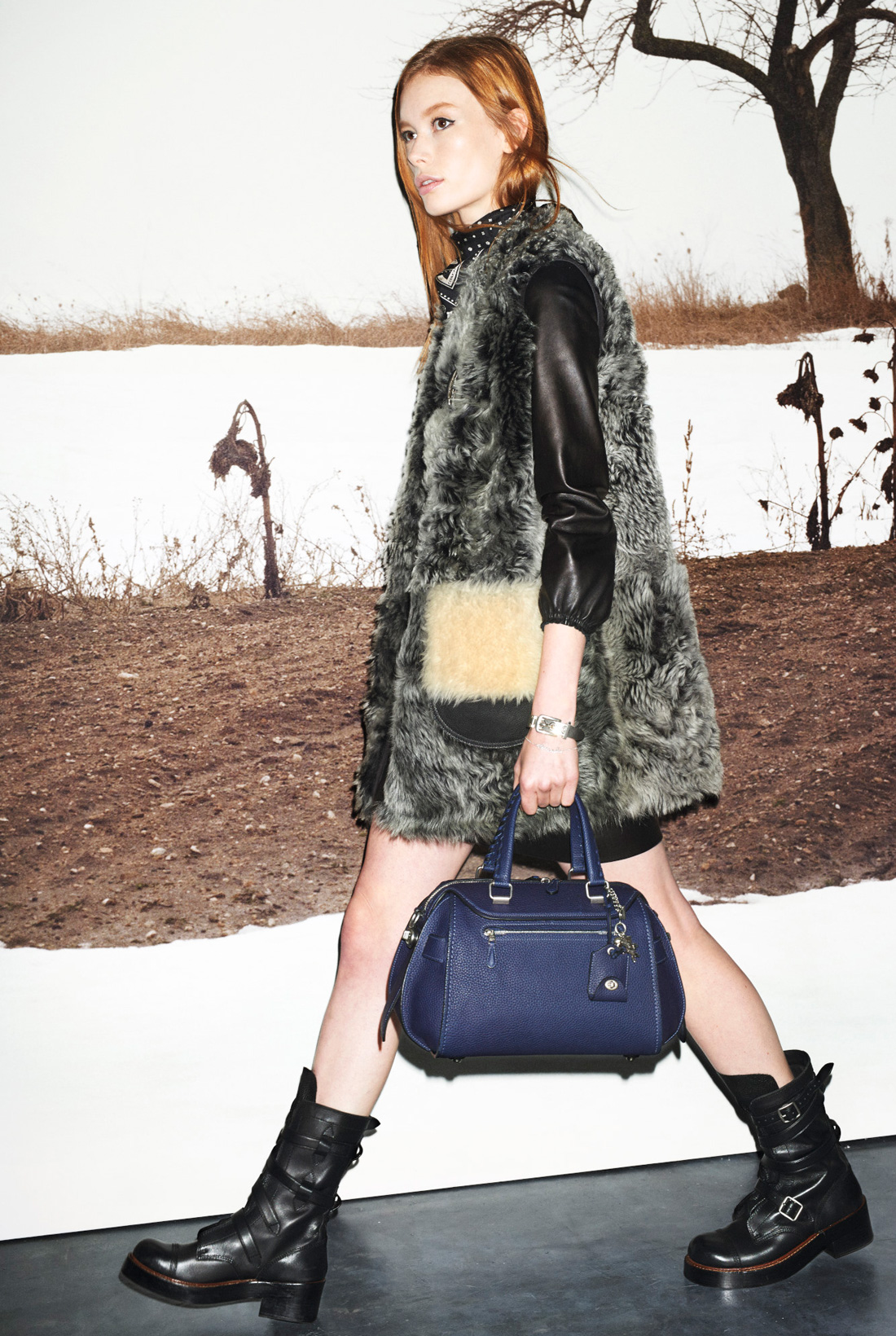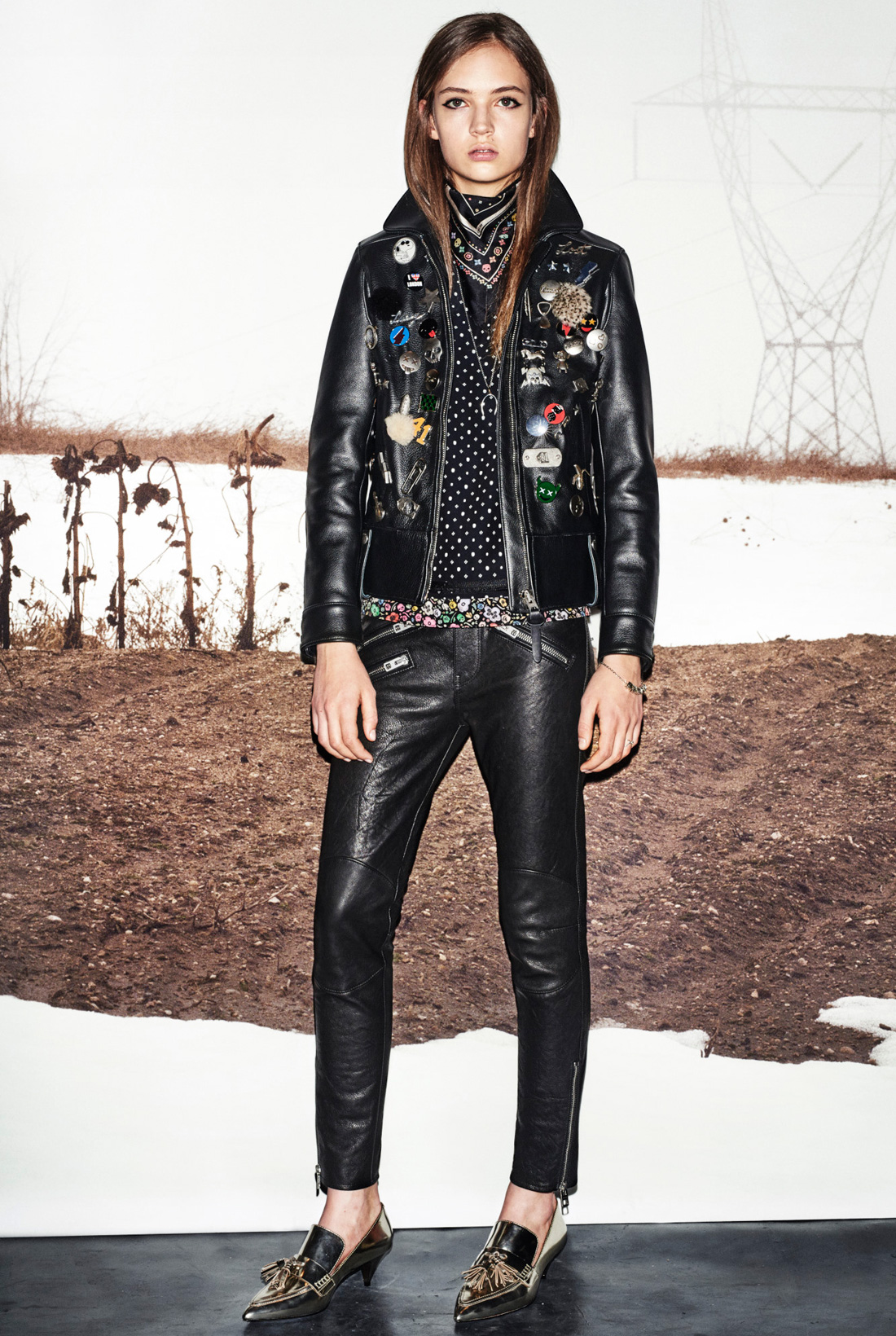 A good example of how to spruce up a standard leather moto jacket. Find that jacket lurking in your closet or attic and festoon with floral and skull broaches….
DEREK LAM:
In a league with Michael Kors and Ralph Lauren when it comes to American sportswear masters, Lam always delivers an assortment of pleasing separates in wearable silhouettes in a welcome spectrum of neutrals. A 70's vibe infuses this collection without going full on boho. His collections are always composed of non fussy pieces in luxurious fabrications that can easily mesh with what currently dwells in our closets. This collection gets better with every viewing.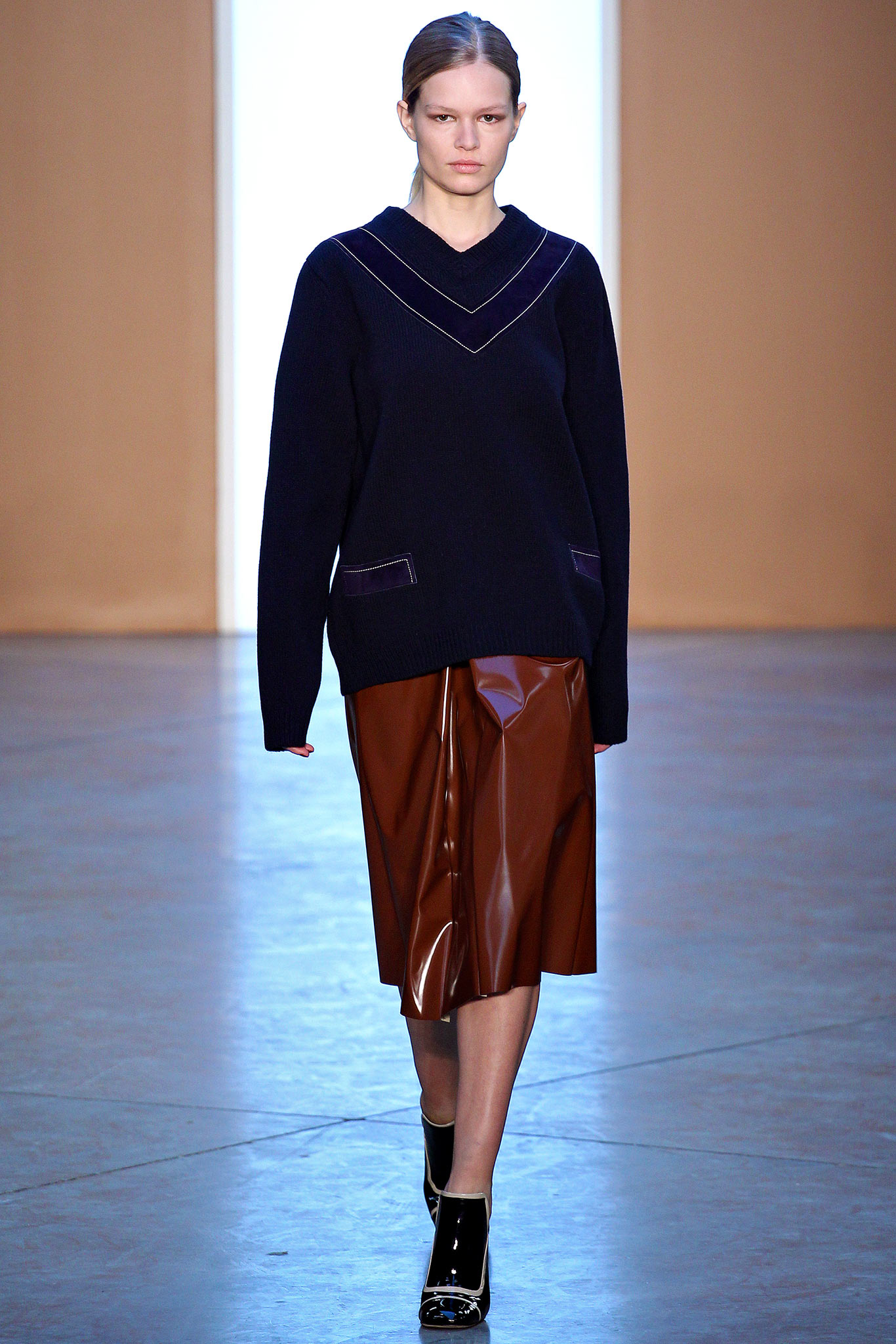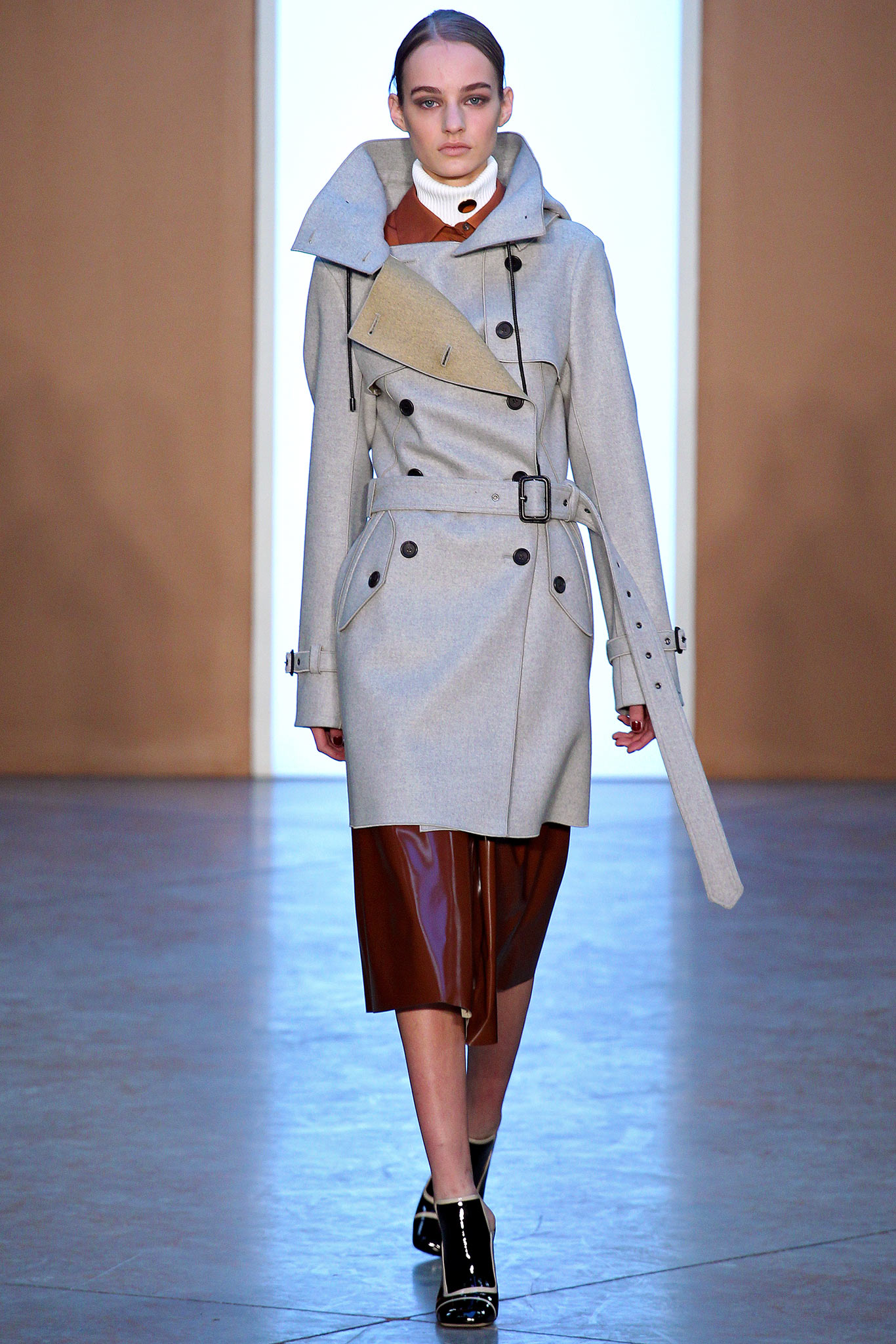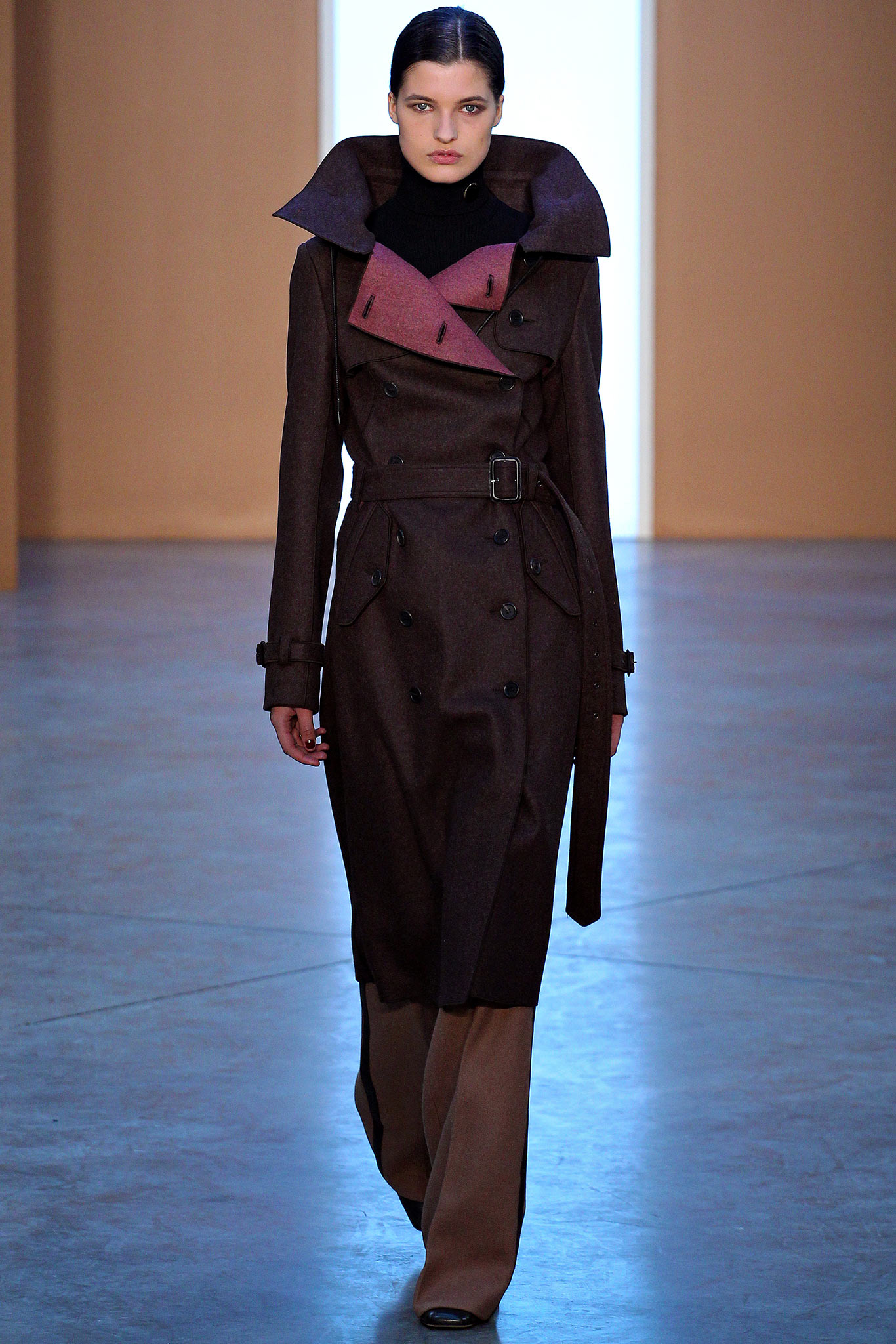 Two tone trenches for the ages. And the deep plum version with a hint of raspberry? Get out the drool bucket.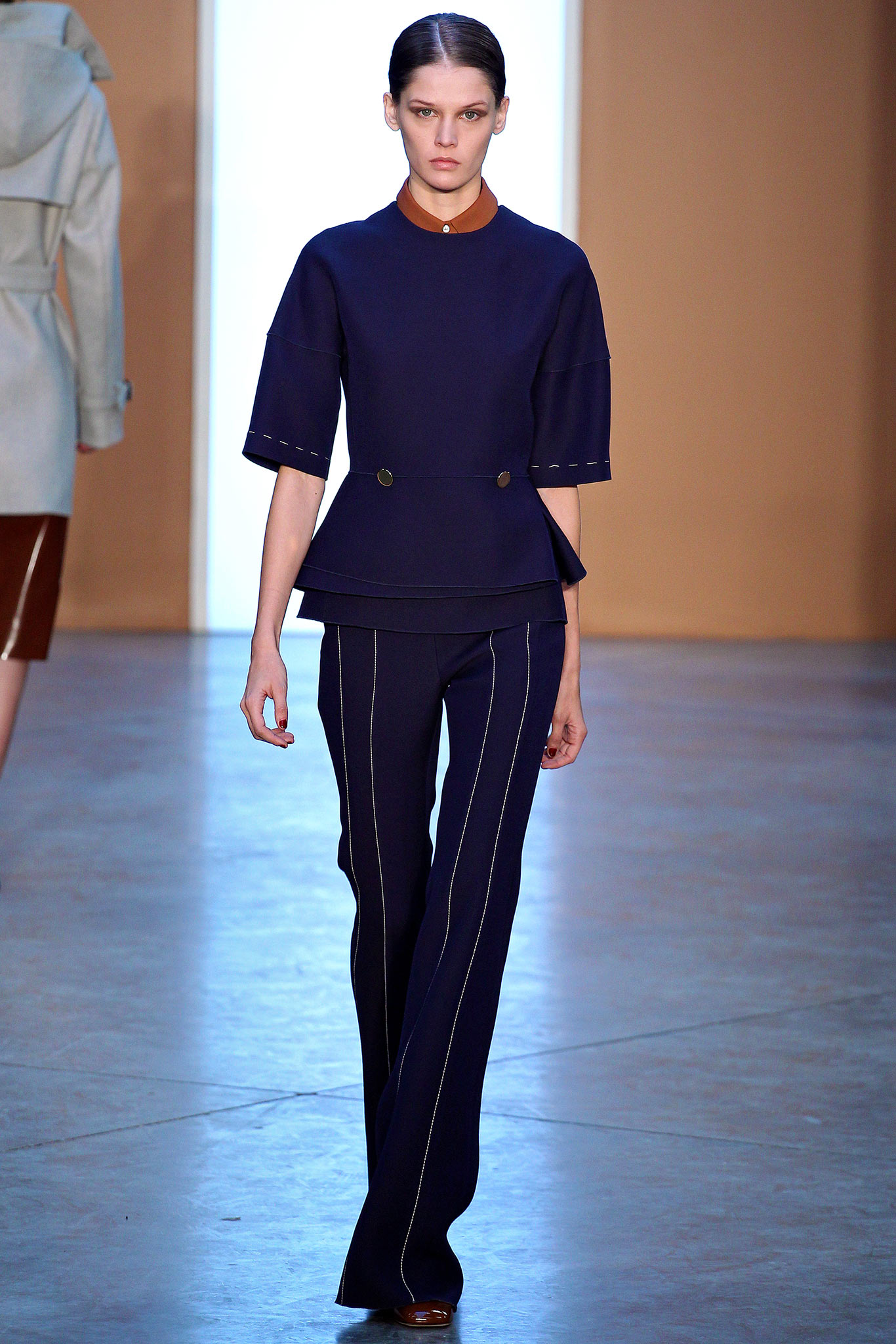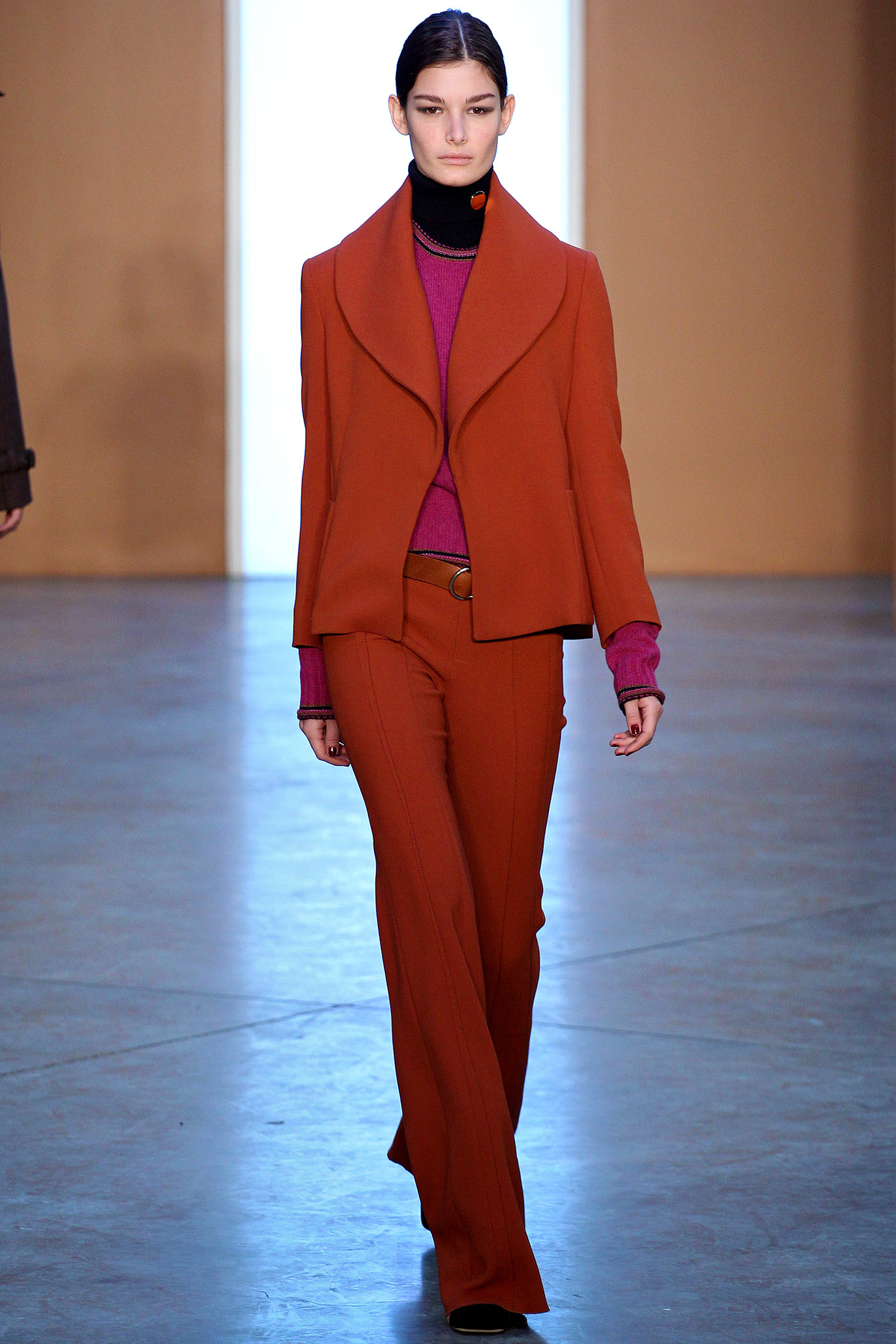 Orange and fuchsia, the dynamic duo. If its too much of a good thing, just the jacket would look smashing over a ruffly blouse and jeans.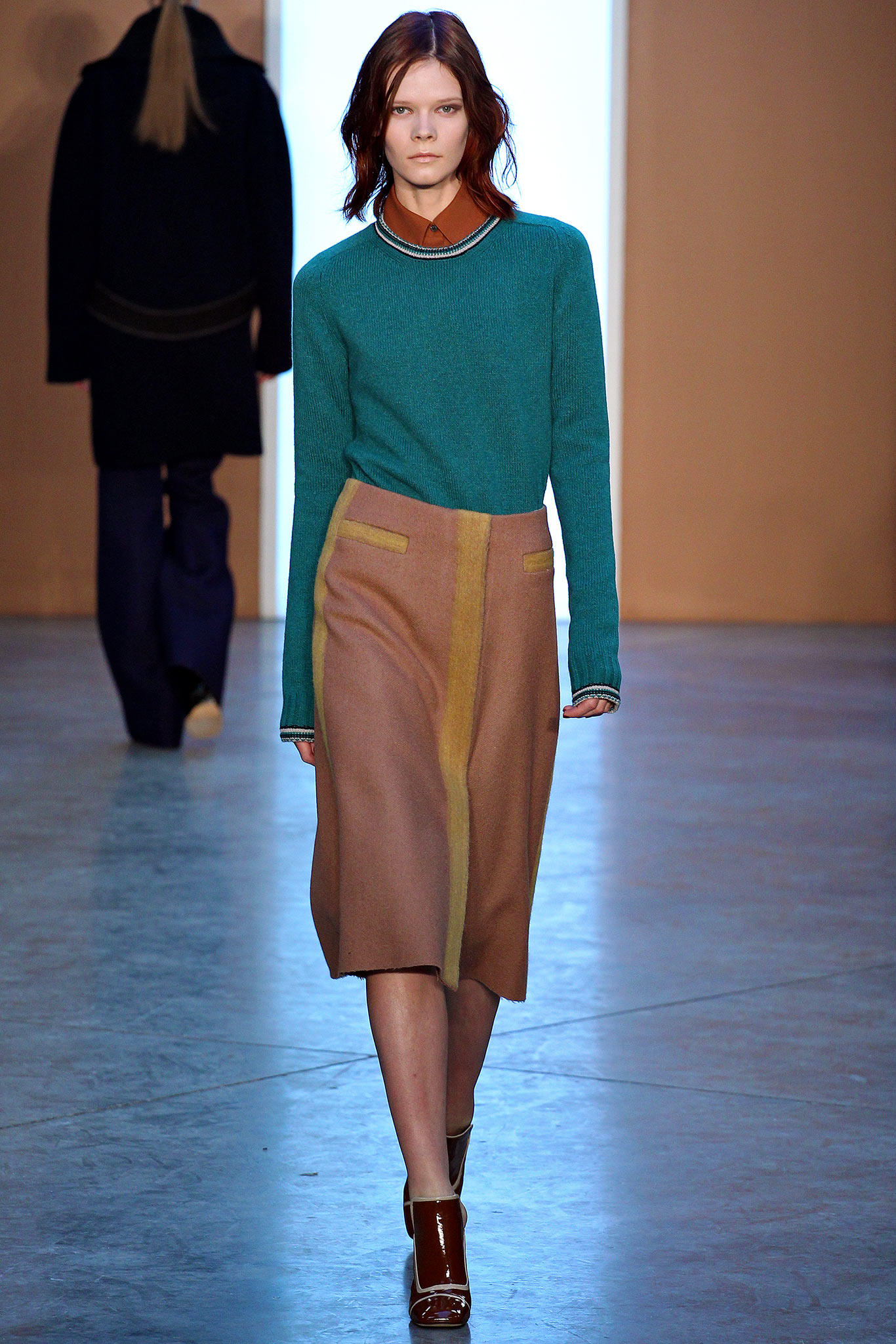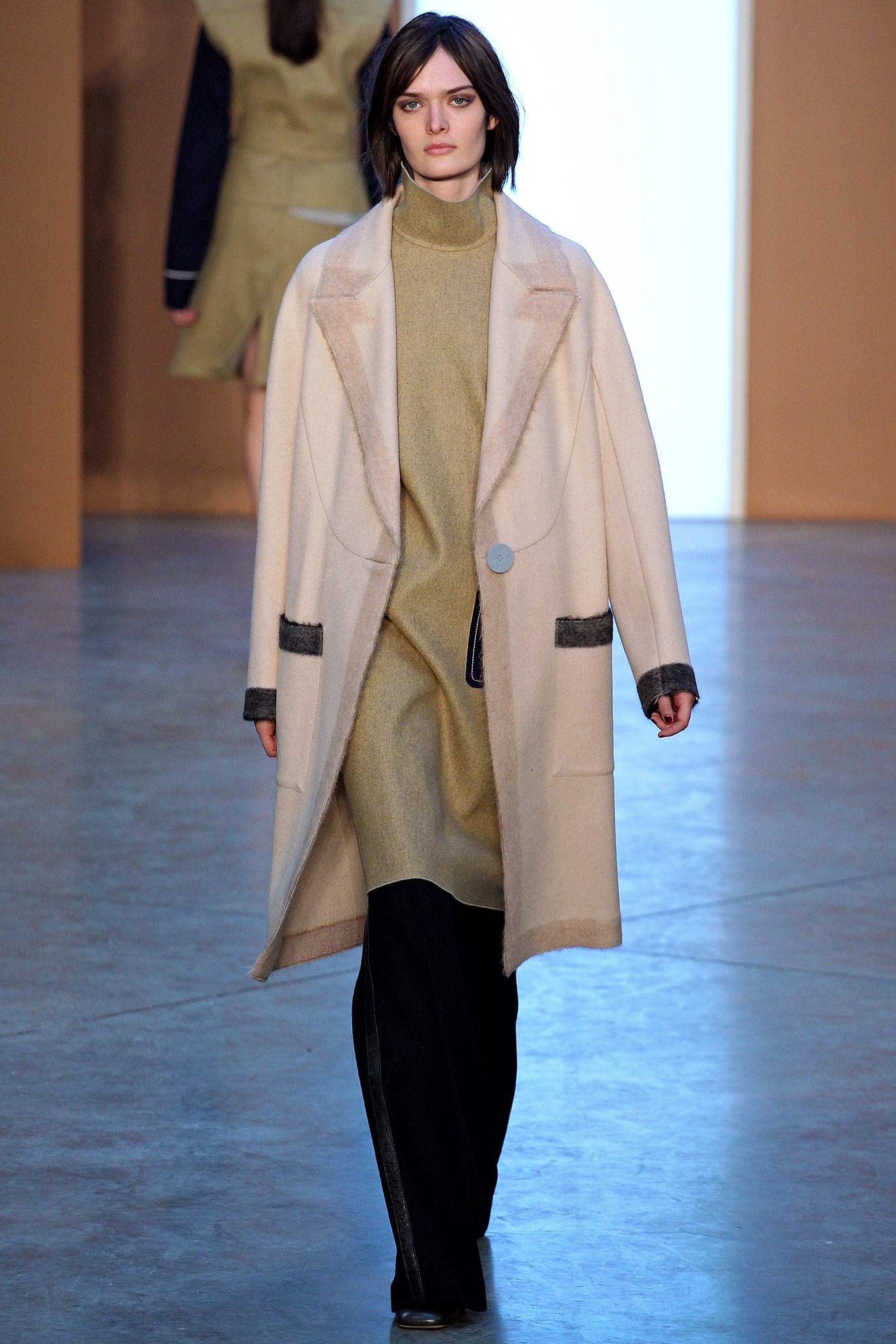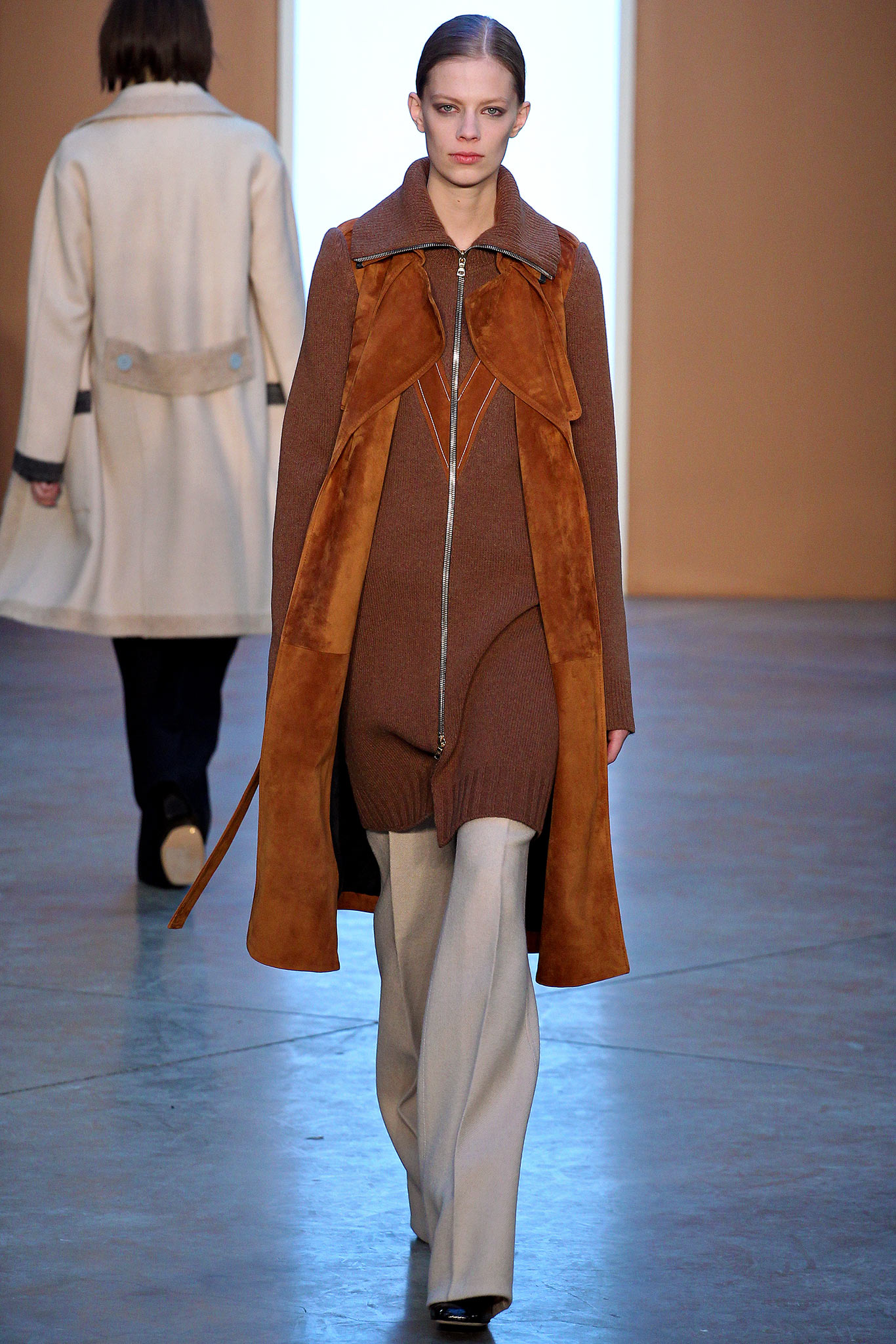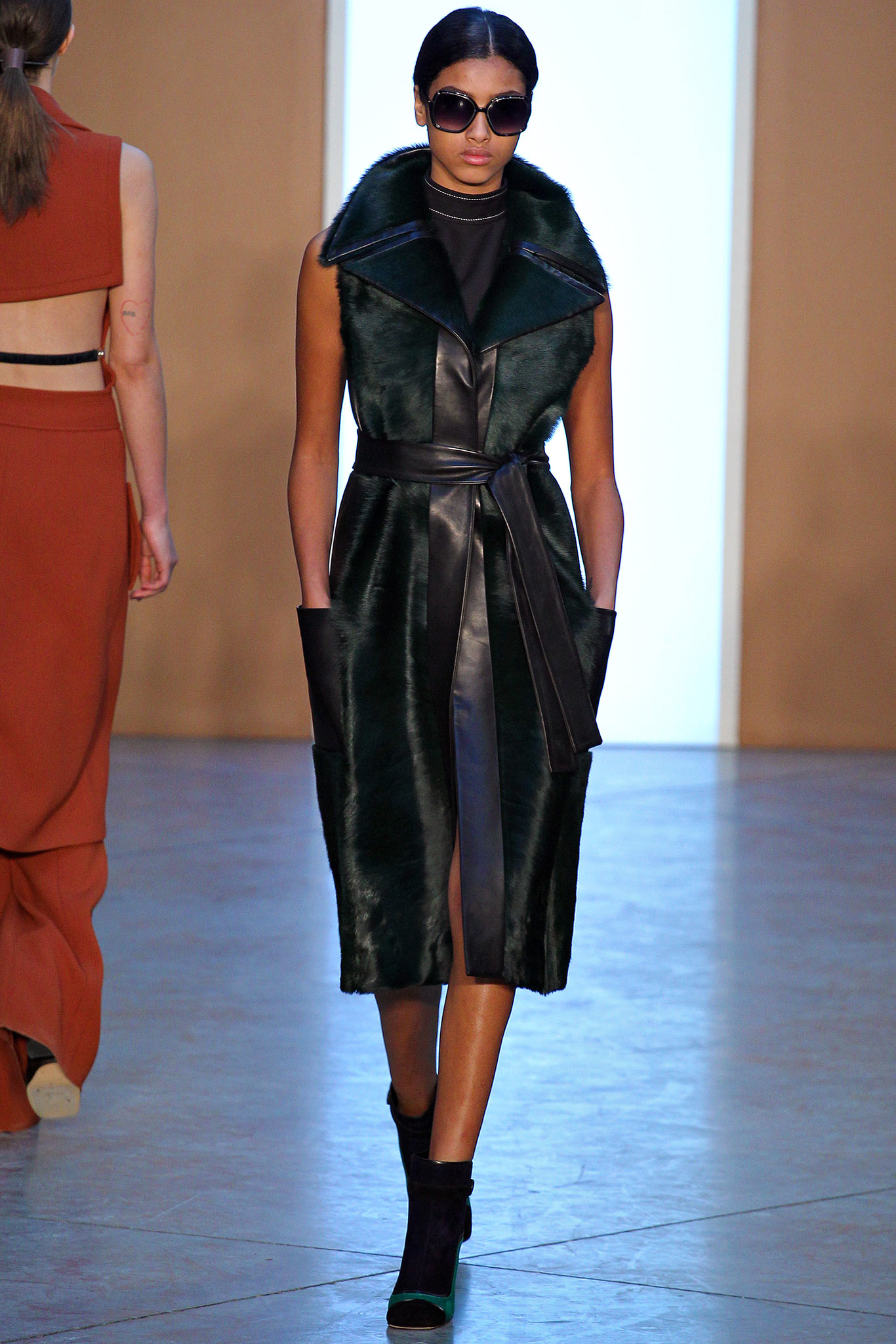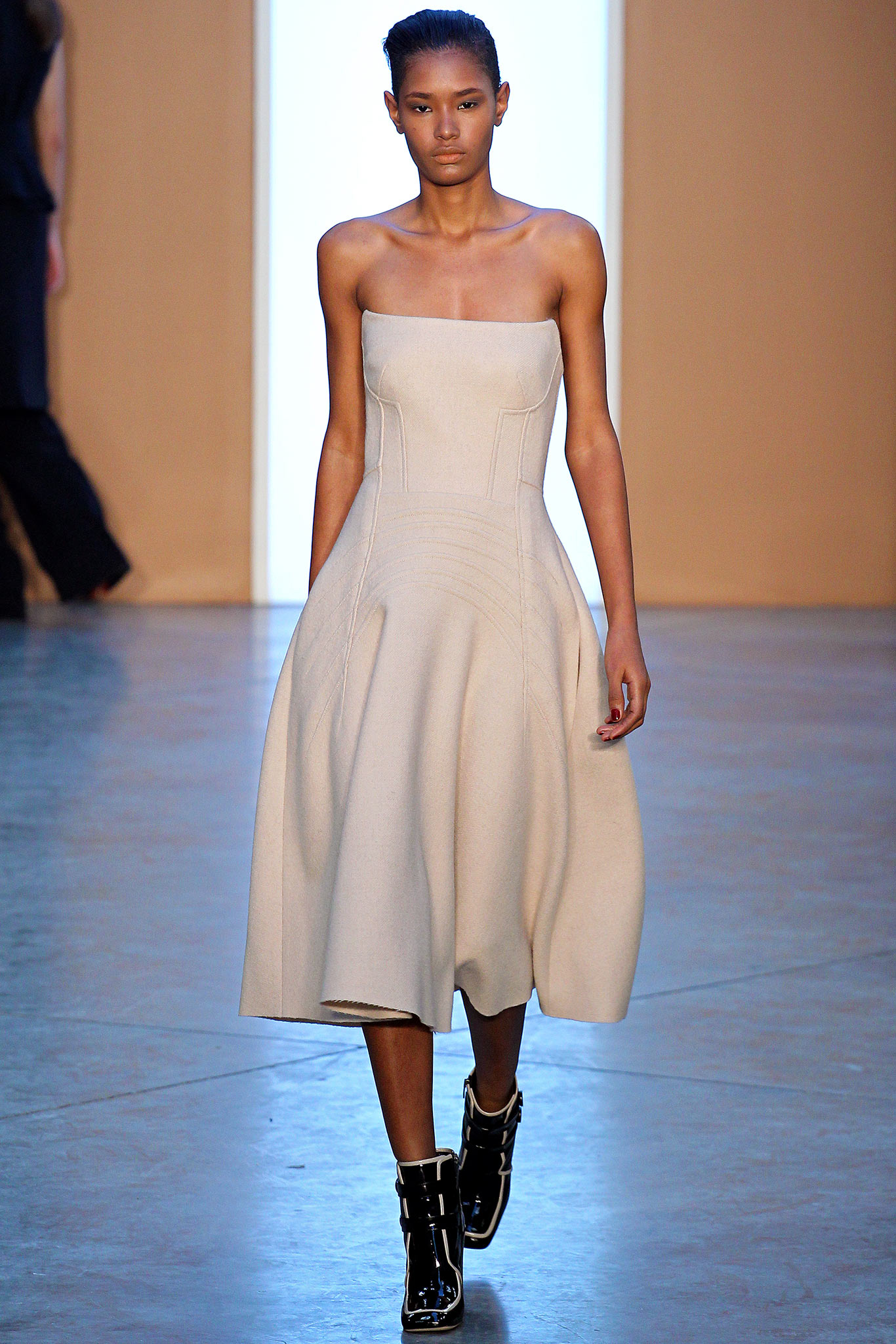 A stunner indeed. I'm in love with anything in the corset family, the most flattering of silhouettes. This is one of the most scrumptious dresses I've seen recently, and depending on one's level of modesty, could be worn over a body suit or blouse.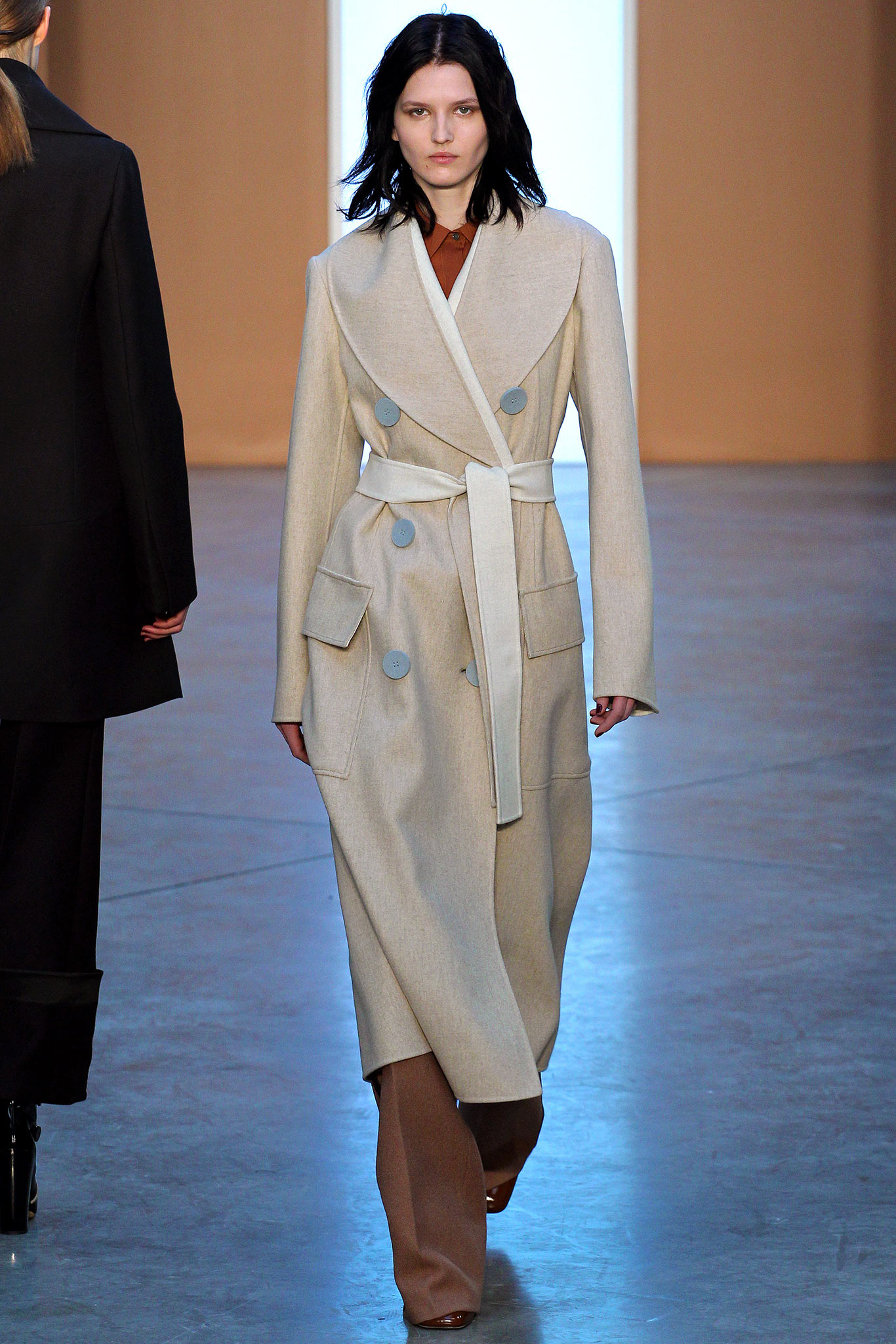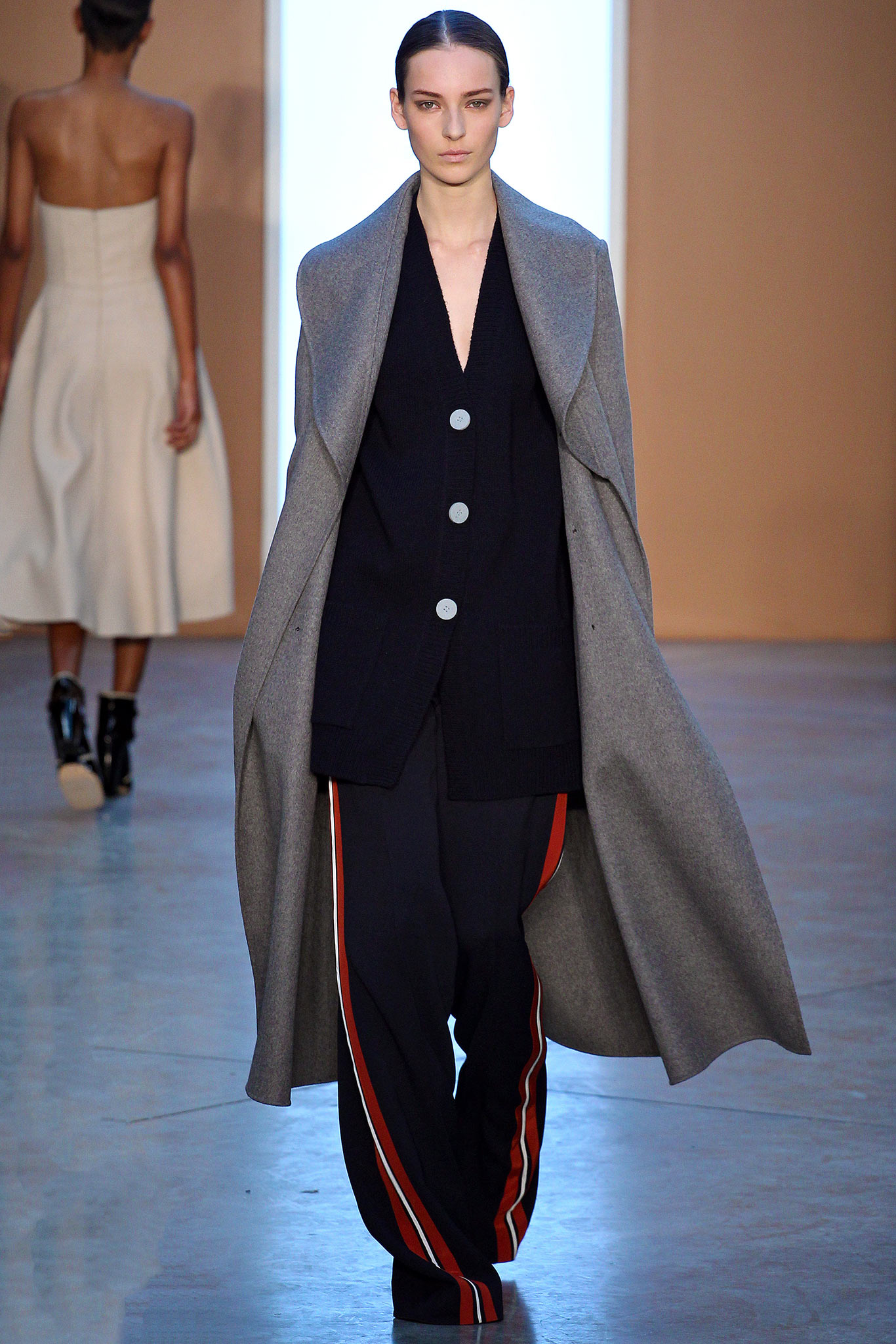 The coats are the backbone of this rock solid assembly of eye catching pieces. Belt them, don't belt them, throw them over a dress, slacks, jeans. These coats will keep you chic no matter the occasion, and would also provide easy traveling companions.
And, New York Fashion Week continues….
Images brought to you by www.style.com