By the constant source of happiness and joy conjured up by the fashion brew brought to us by those wacky Italians. Allure, artistry, and aesthetic brilliance are seamlessly enmeshed into a wondrous spectacle that can be appreciated on the runways, in the stores, OR over the internet thanks to some great photographers. And though so many of the runway entries are tres cher, as evidenced by my last post, they are still fun to gaze upon. Like a princess cake with that layer of green marzipan, a Kandinsky hanging in the Pompidou, or Christian Bale, best just to look. No need to give up on a piece you've become obsessed with just because of the seemingly outrageous price tag however. Depending on the style and the size, certain lovelies won't going flying off the racks anytime soon. And you never know, occasionally, a special item might go mysteriously missing from the racks. (Translation: a simpatico sales associate accidentally throws it into the closet abyss, and it just happens to see the light of day come the big twice yearly sales). Other options include the Moda Operandi website where the hot looks right off the runway are available in a virtual "trunkshow", and Net-a-Porter and luisaviaroma, both of which have an amazing concentration of runway looks that you won't necessarily find at Saks or Neiman's, unless you engage a personal shopper who can sleuth out the desired garment, and their sales are big, bold and long! Beads, bangles, glitz, and glamour are on full display on the Milanese catwalk, a veritable art gallery in motion. Beauty is mesmerizing, no matter the form, whether in a frame, on the Sistine Chapel ceiling, or on a runway, and we should enjoy it whist we can. And often, looking is for free!
AQUILANO RIMONDI:
A fetching assembly of wearable separates in low key yet luxurious fabrications, with the always enviable cashmere contingent. The silhouettes tend towards the spartan but the overall effect of lux fabrications admixed with the appropriately placed embellishments is striking indeed.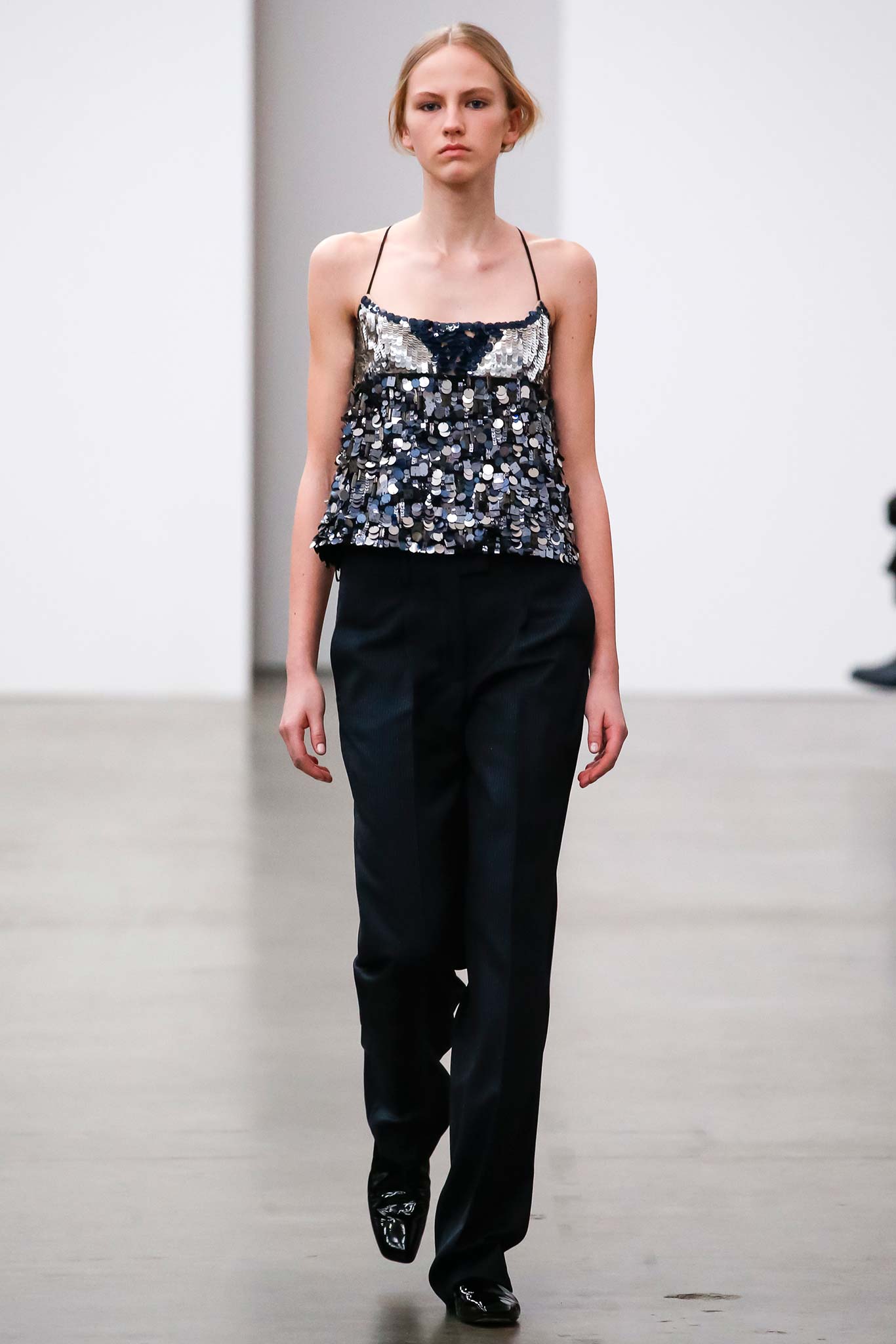 If you're not one to show skin, throw over a crisp cotton shirt. Pair with jeans or tuxedo pants.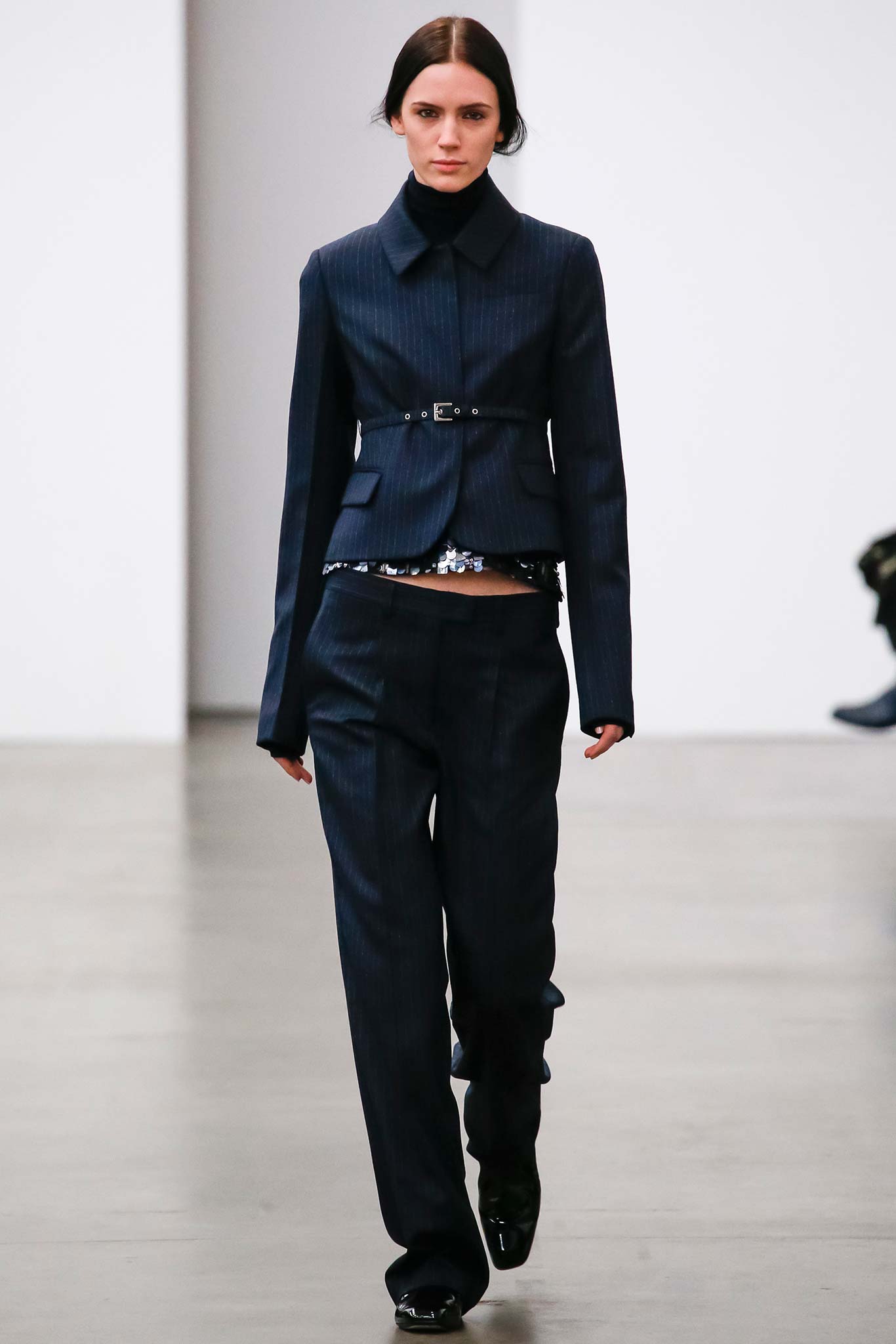 The razzle dazzle component comes by way of a smattering of silver sequins here and there for smashing visual interest.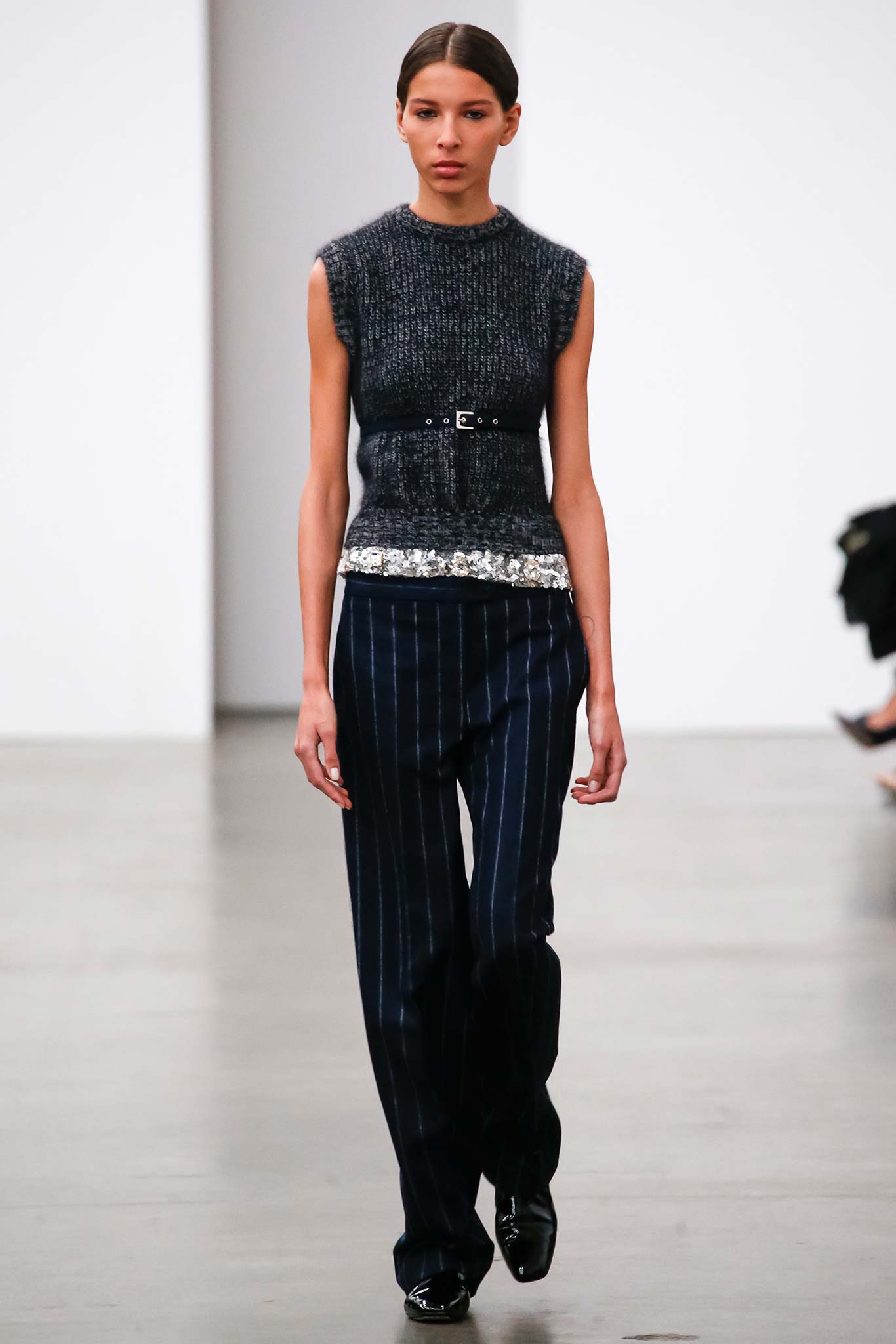 Navy pin striped cashmere slacks are forever.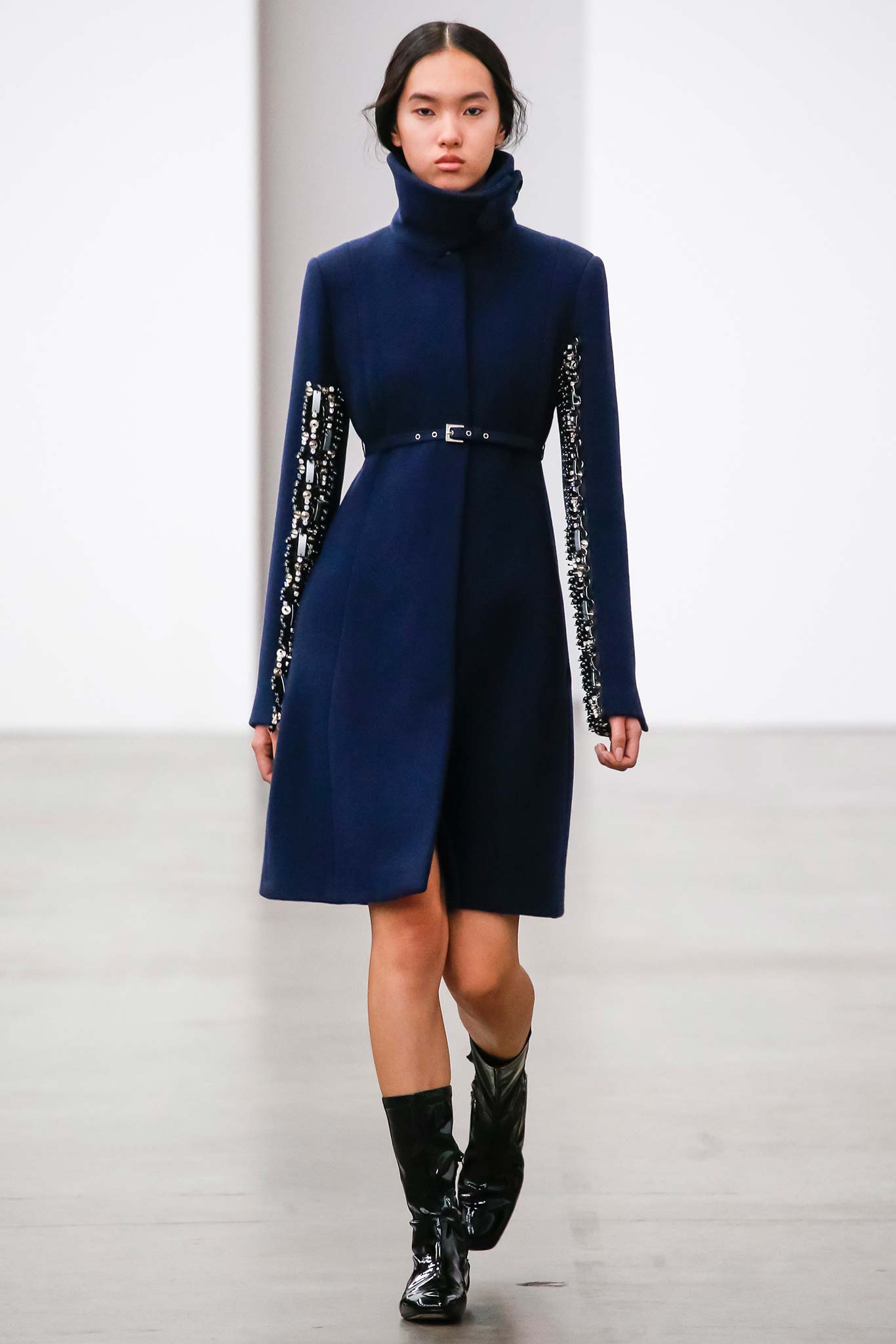 Just a hint of embellishments strategically placed to avoid the Hansel and Gretel effect……however, if you do need to mark your way home…..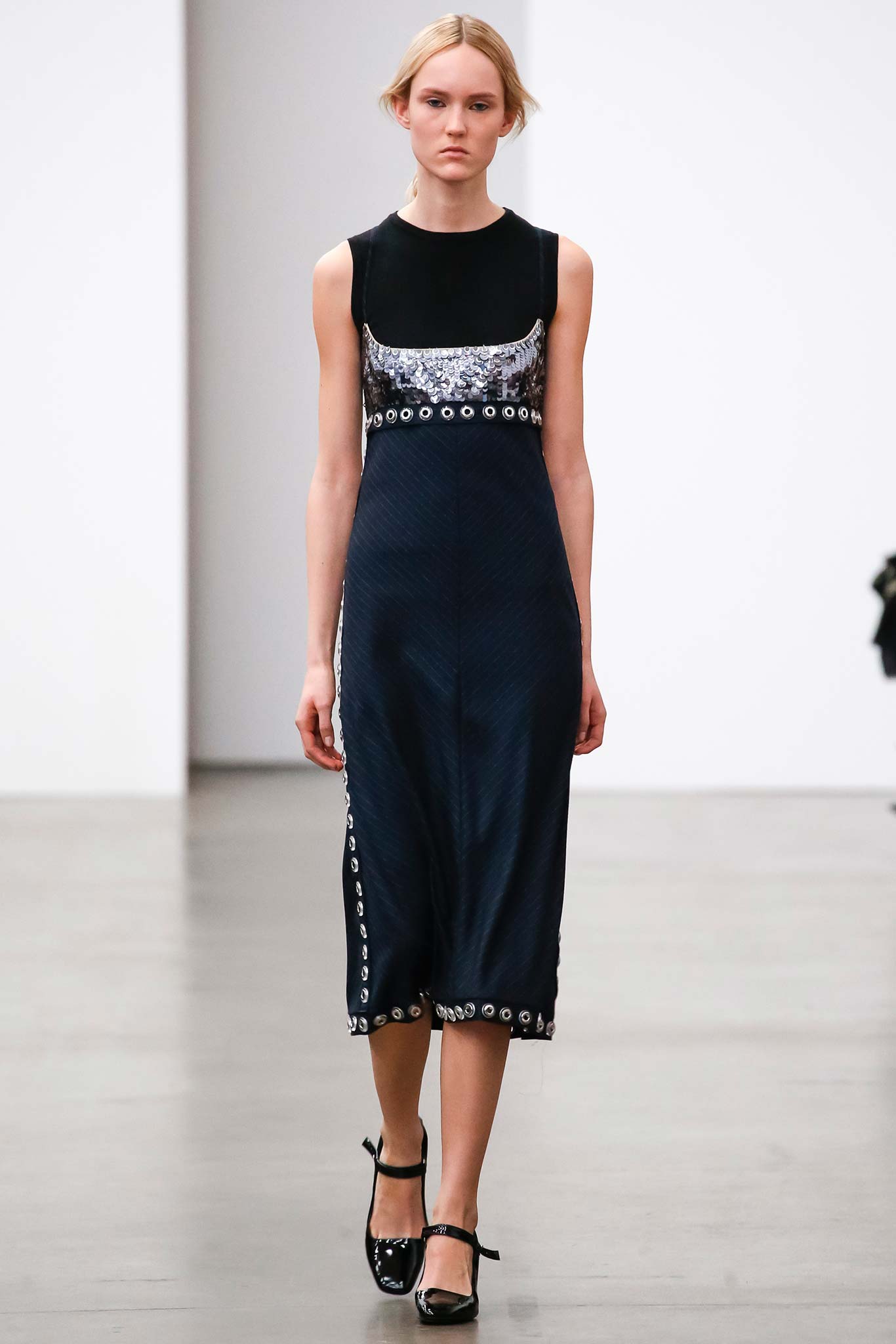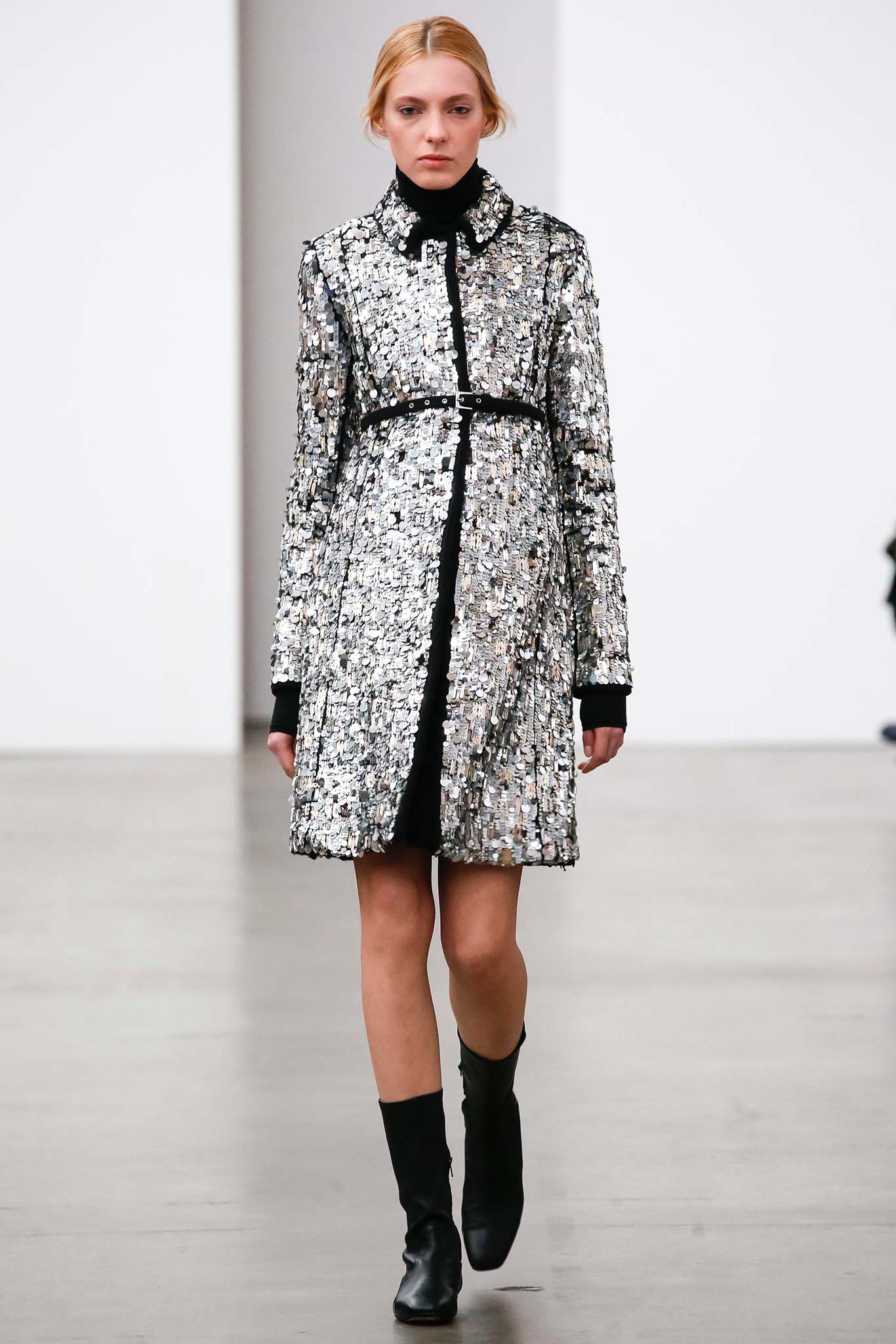 Wow, get out the sunglasses, or be blinded by the dazzling array of shimmering sequins!
EMILIO PUCCI:
Well, say goodbye to Peter Dundas, because the game of fashion musical chairs continues. Freda Giannini of recent Gucci fame has left the building, and now Dundas. No matter who takes the helm at Pucci, there will be HUGE shoes to fill. Dundas has continued to fascinate with his striking assemblies of audaciously opulent fare with a strong infusion of rock'n roll edge. Without going off the rails tawdry and salacious, there has always been a healthy helping of epidermis in the shows, however balanced with an underpinning of old school glamor, what with more velvet than you'll see anywhere short of Britex.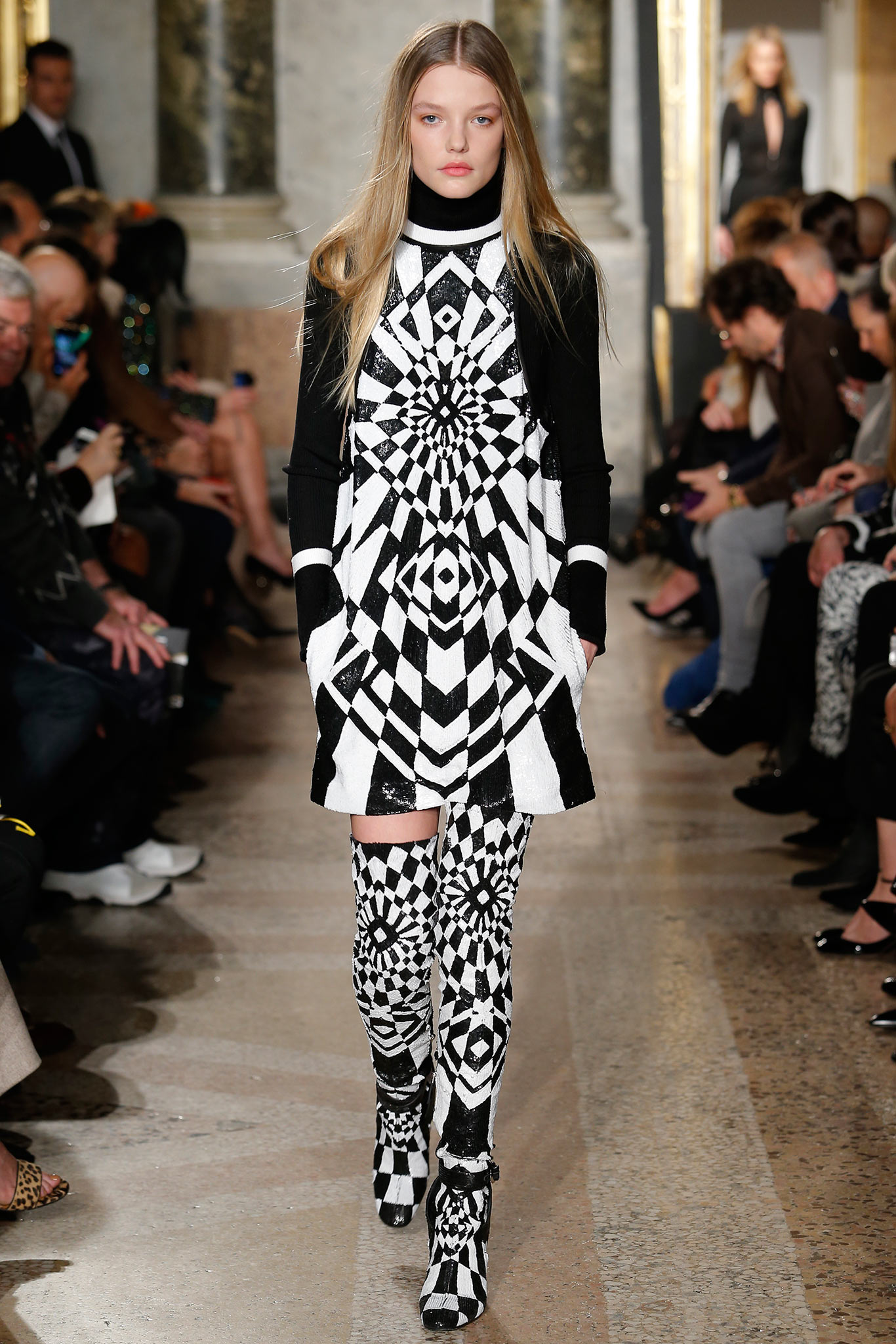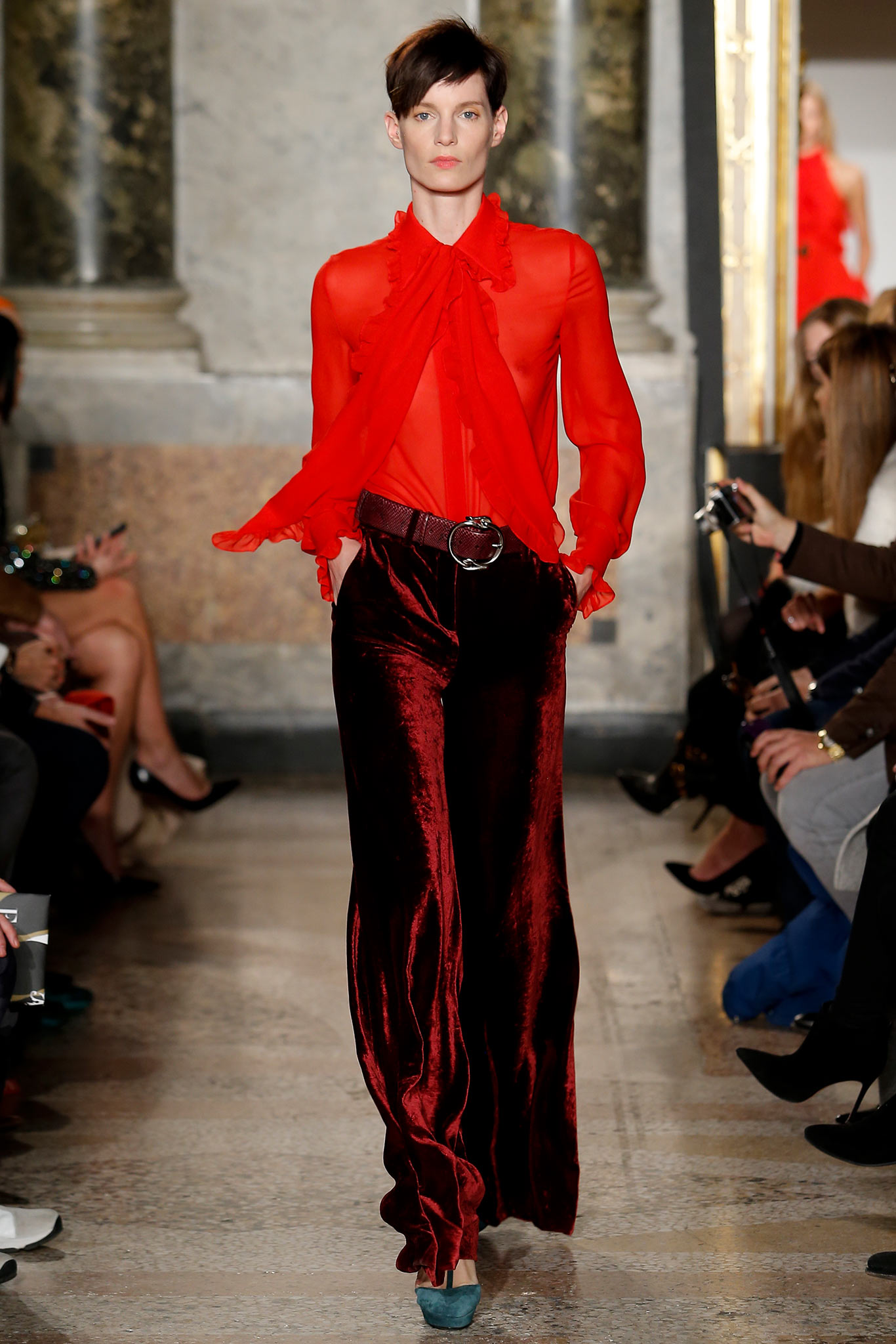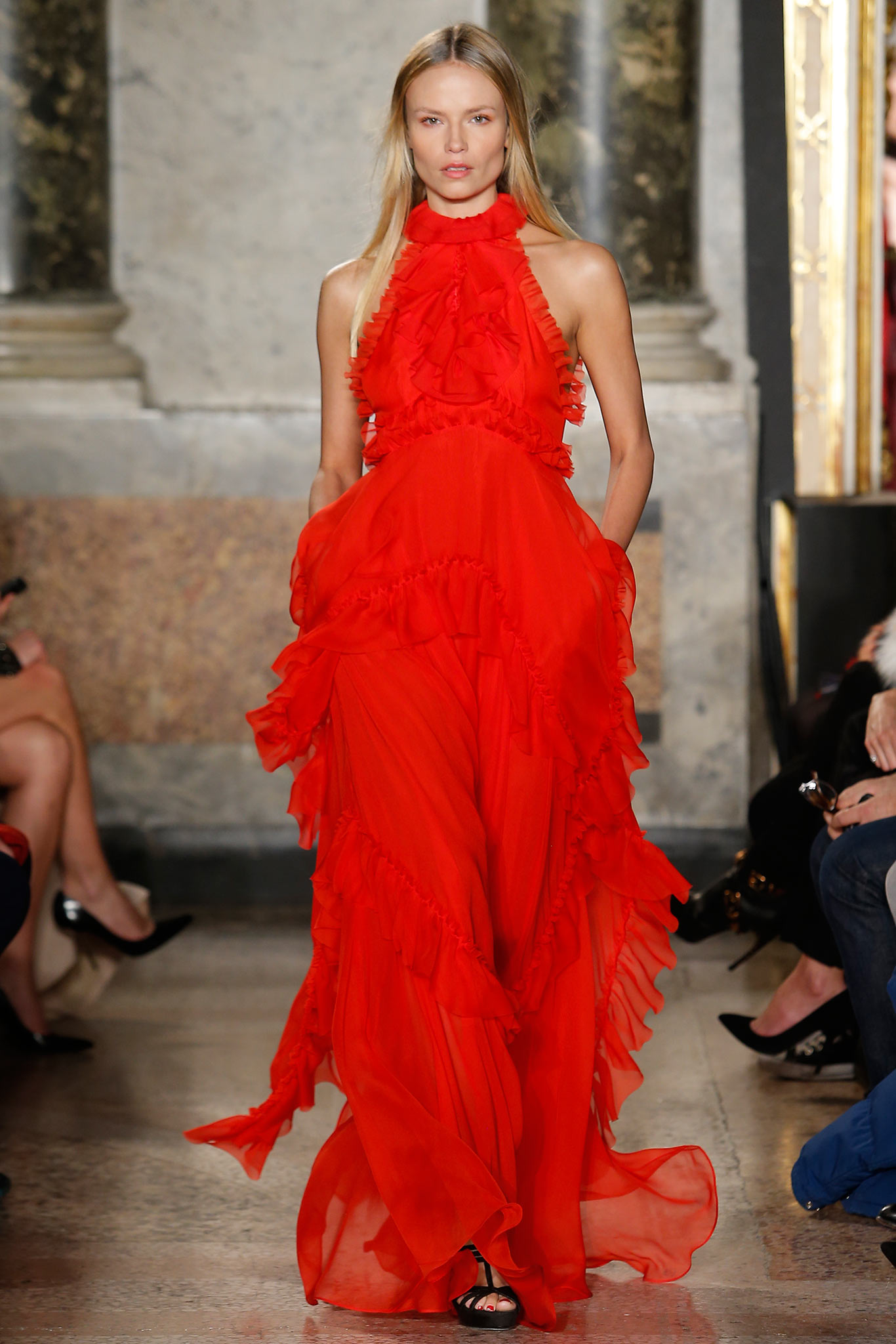 Endless reams of red chiffon in a sort of princess boho frock, perfect for any gala affair.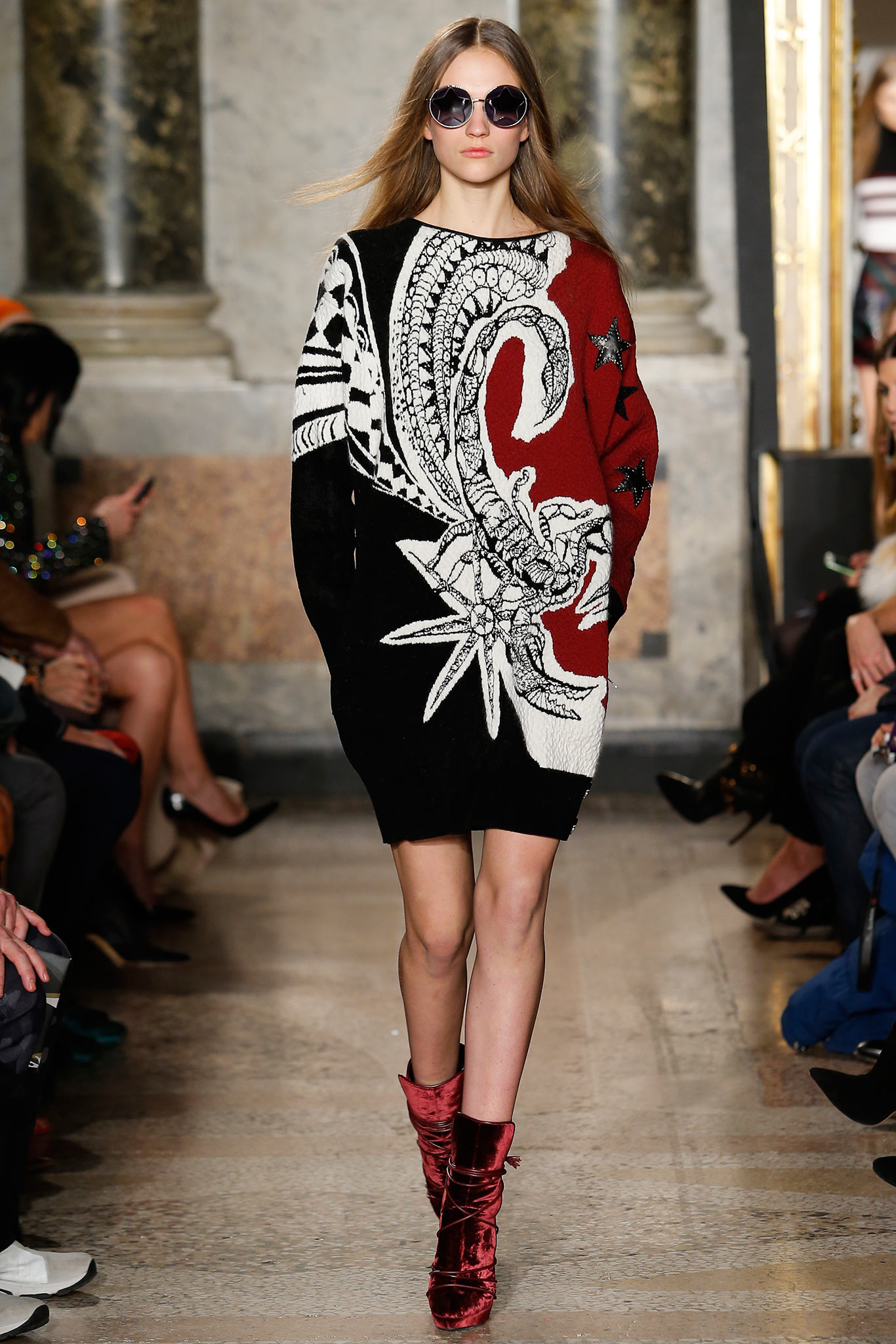 I love a big sweater with plenty of ass and thigh coverage, but mainly i'm obsessed by these garnet red velvet platform boots with leather laces…..they will surely elevate one above it all.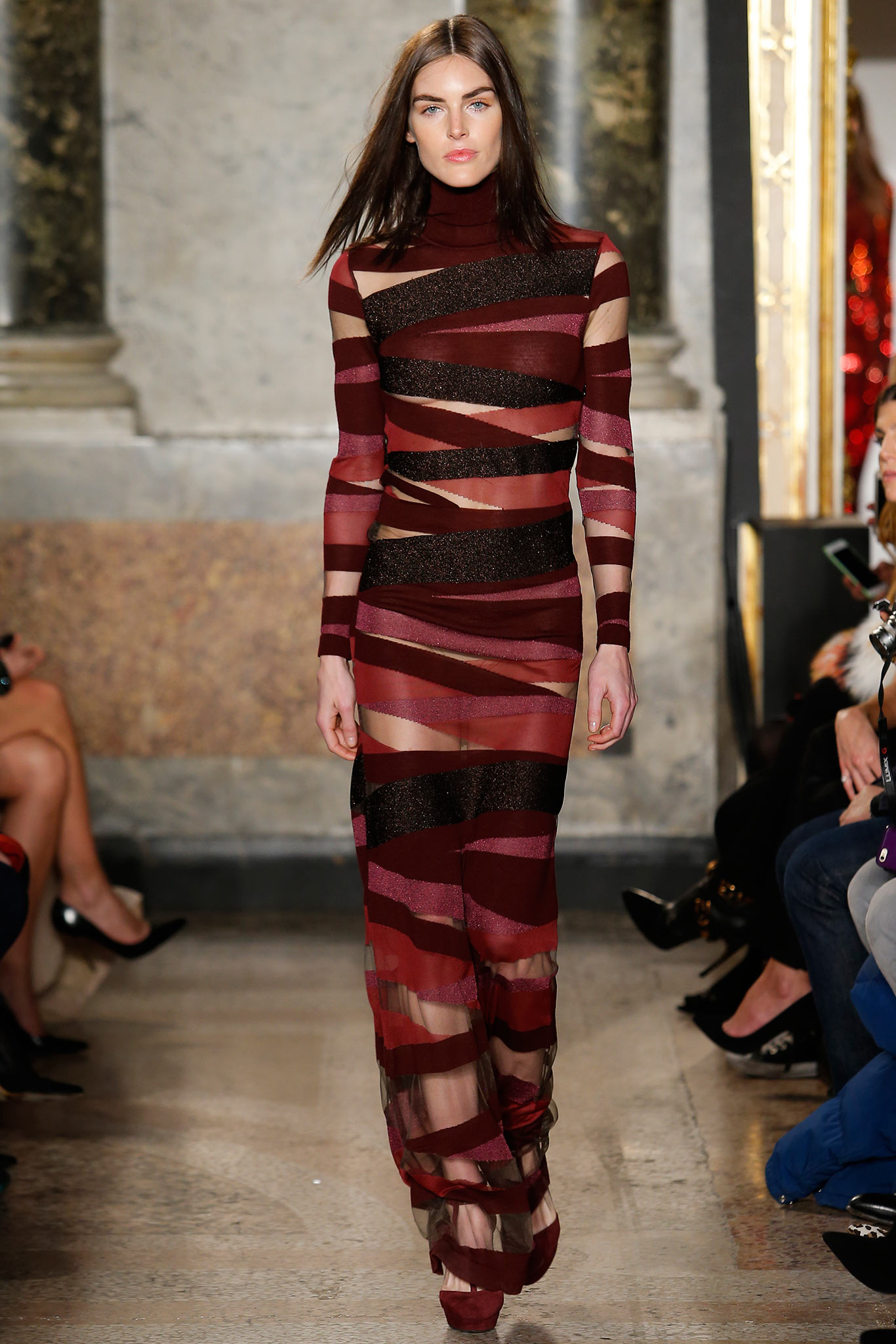 What man wouldn't want to unwrap that package?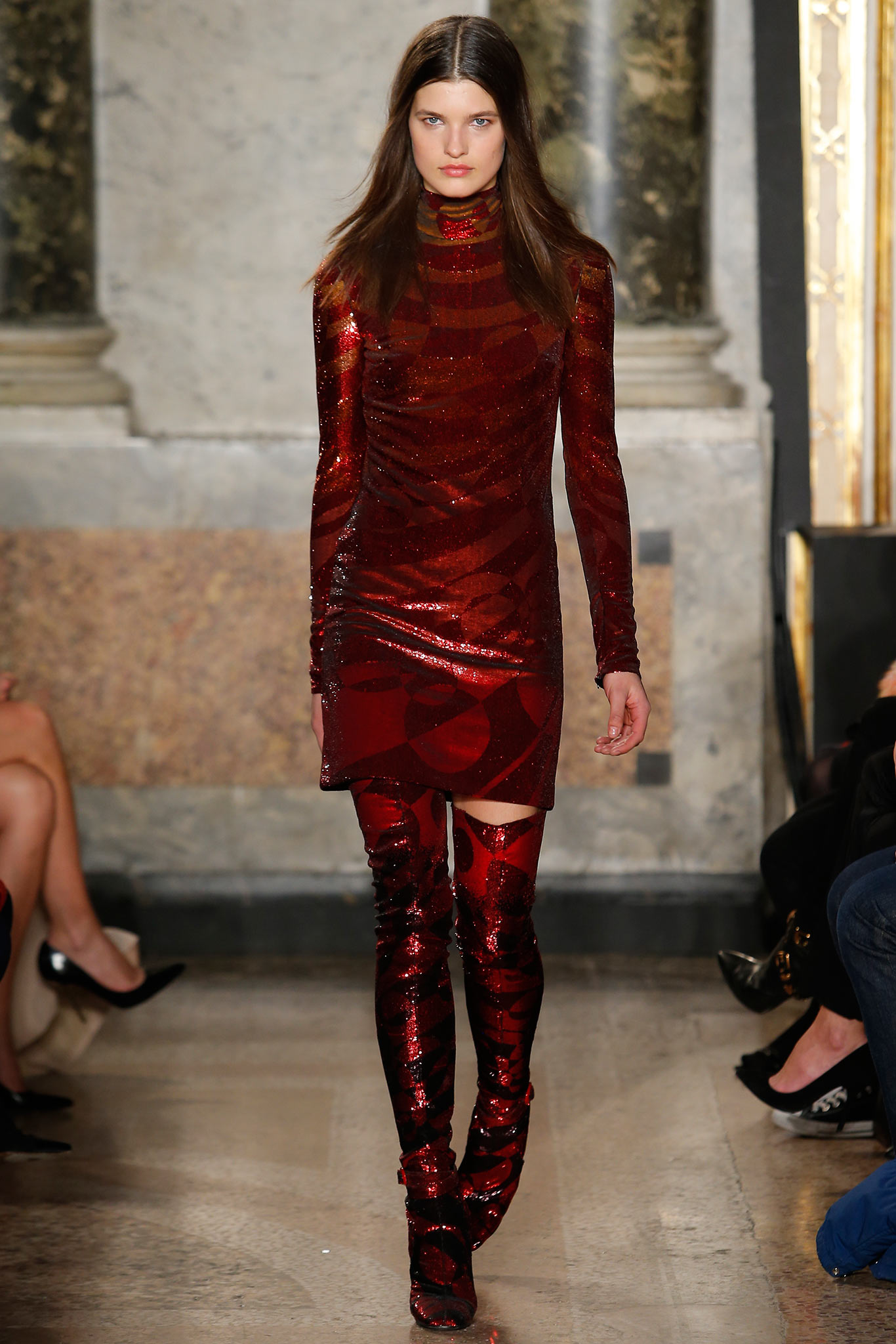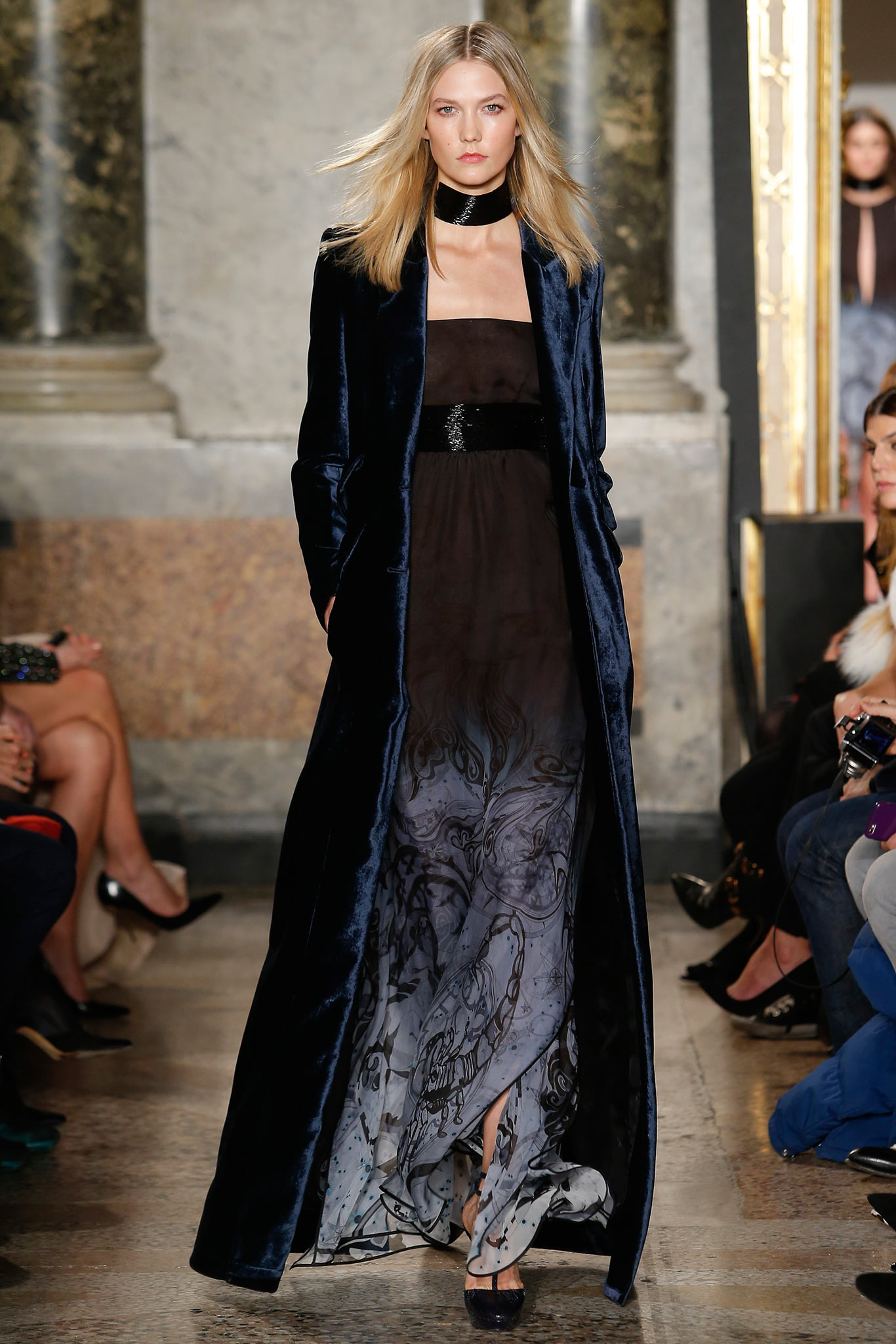 Jeez, who couldn't use a long VELVET Opera coat? Adds drama and old school grandeur to whatever else might be hiding under it. Maybe wear over skinny jeans and some Charlotte Olympia cha-cha heels?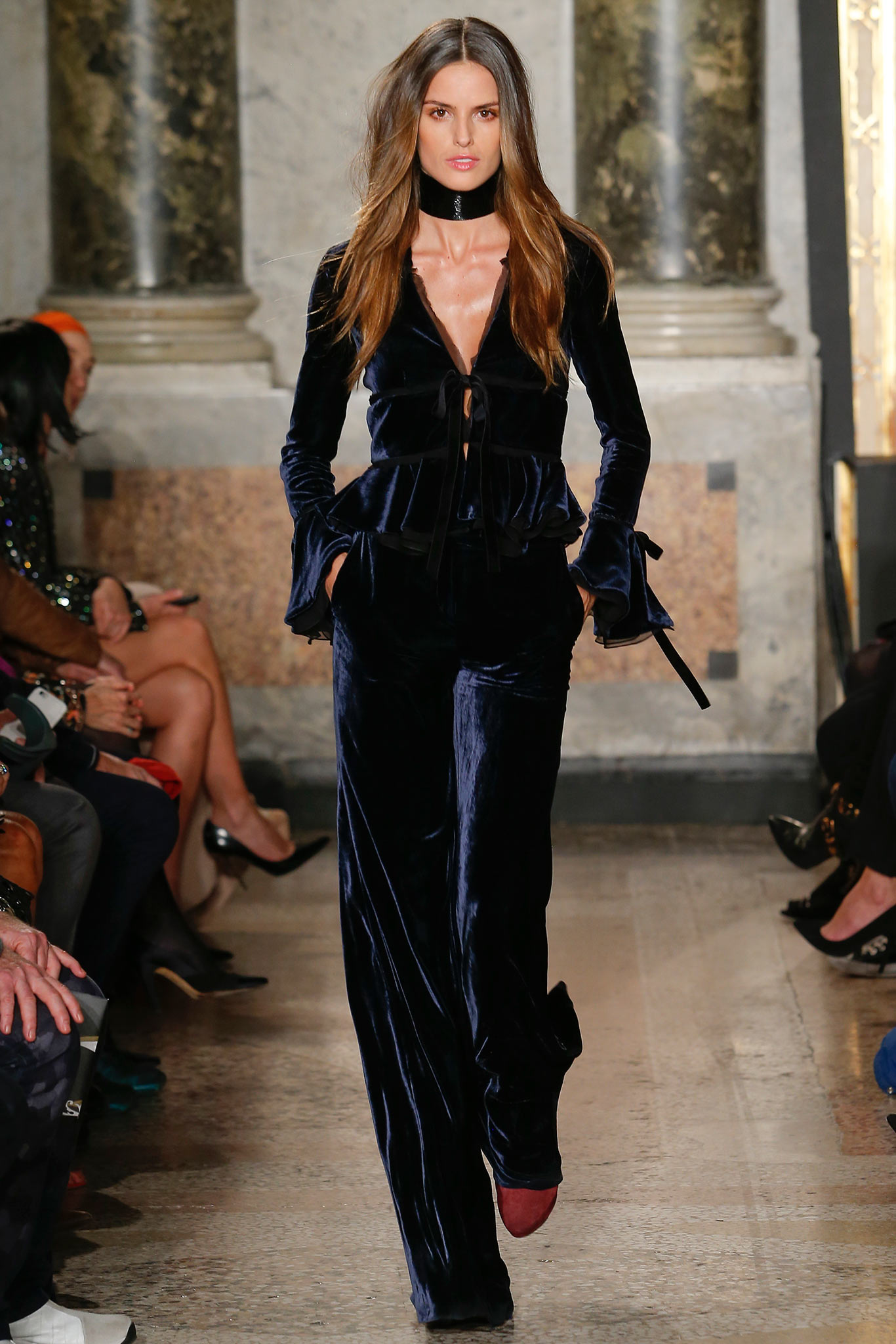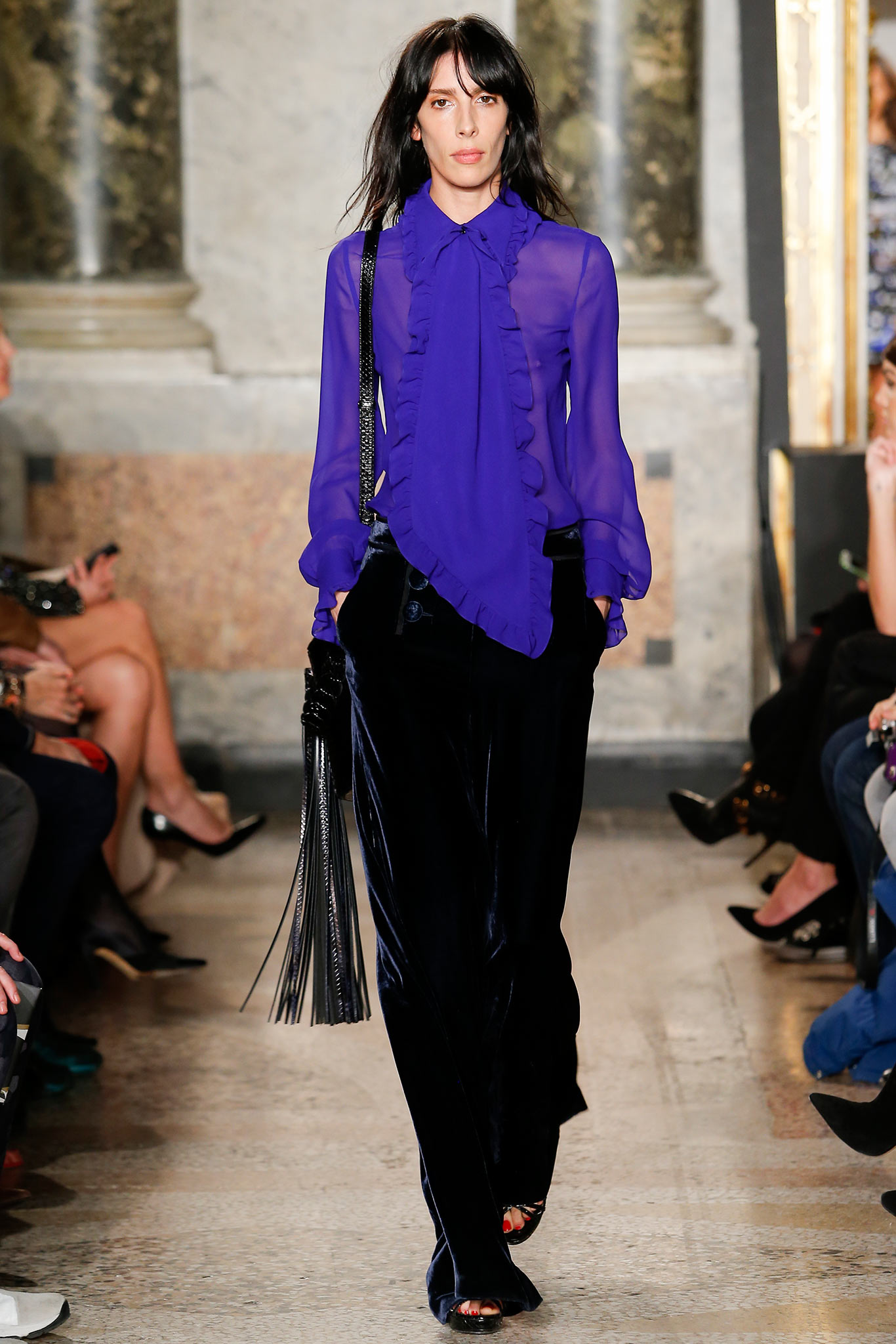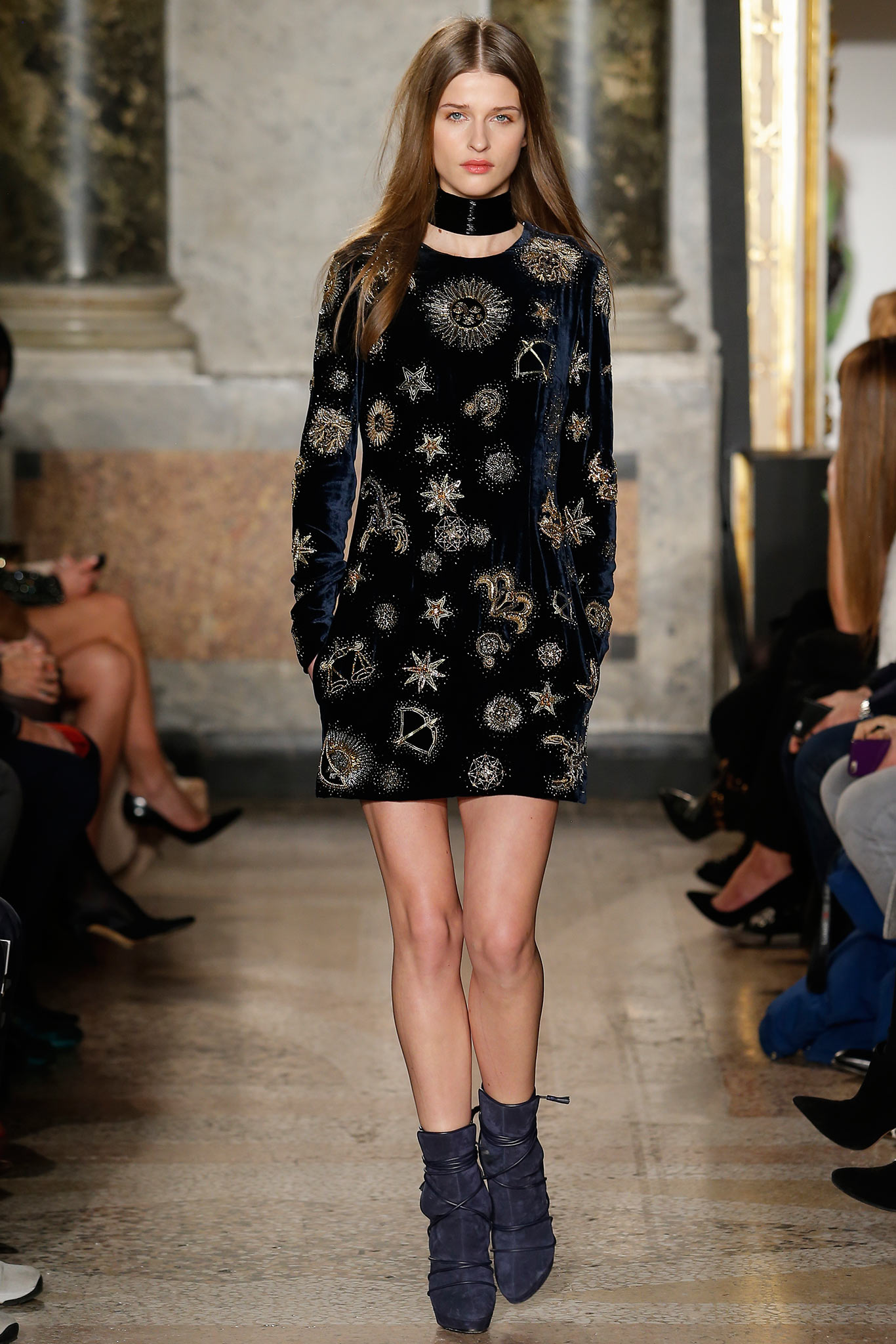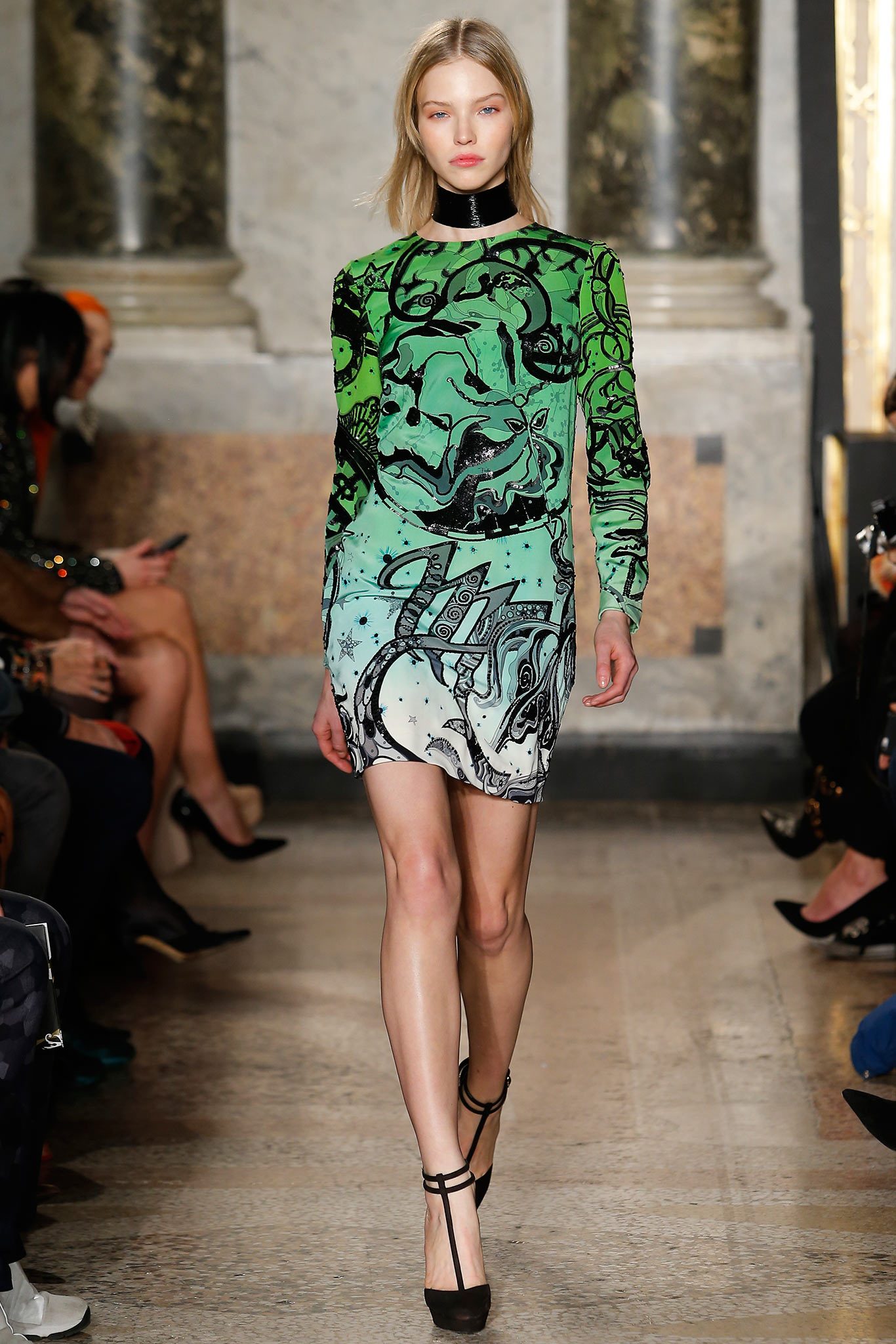 You gotta love the kaleidoscope of colors and patterns throughout this stellar collection, this time with an astrological bent.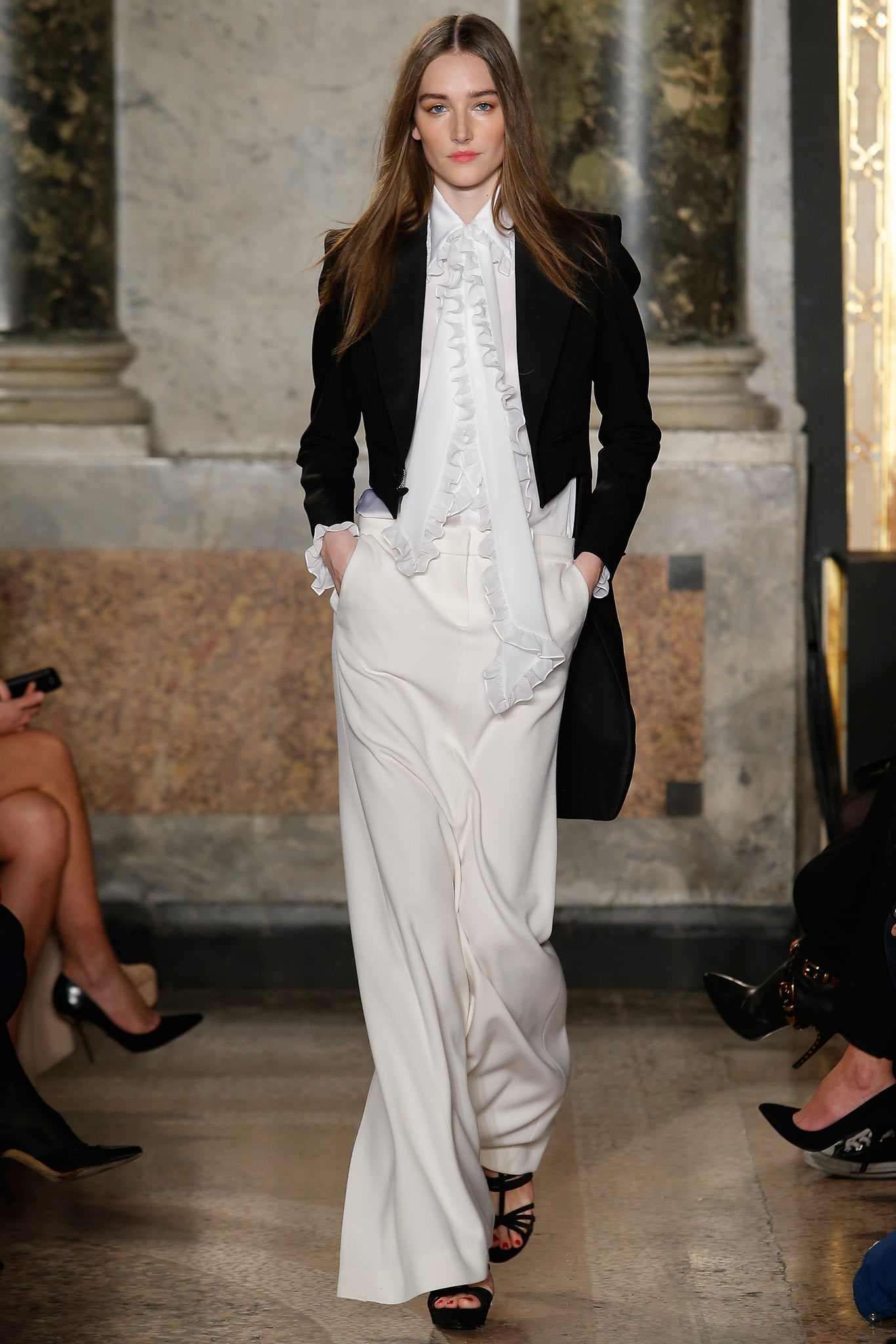 Always in tune with this fabulous Conductor's jacket, here feminized and toned down with the chiffon blouse and flowy Palazzos.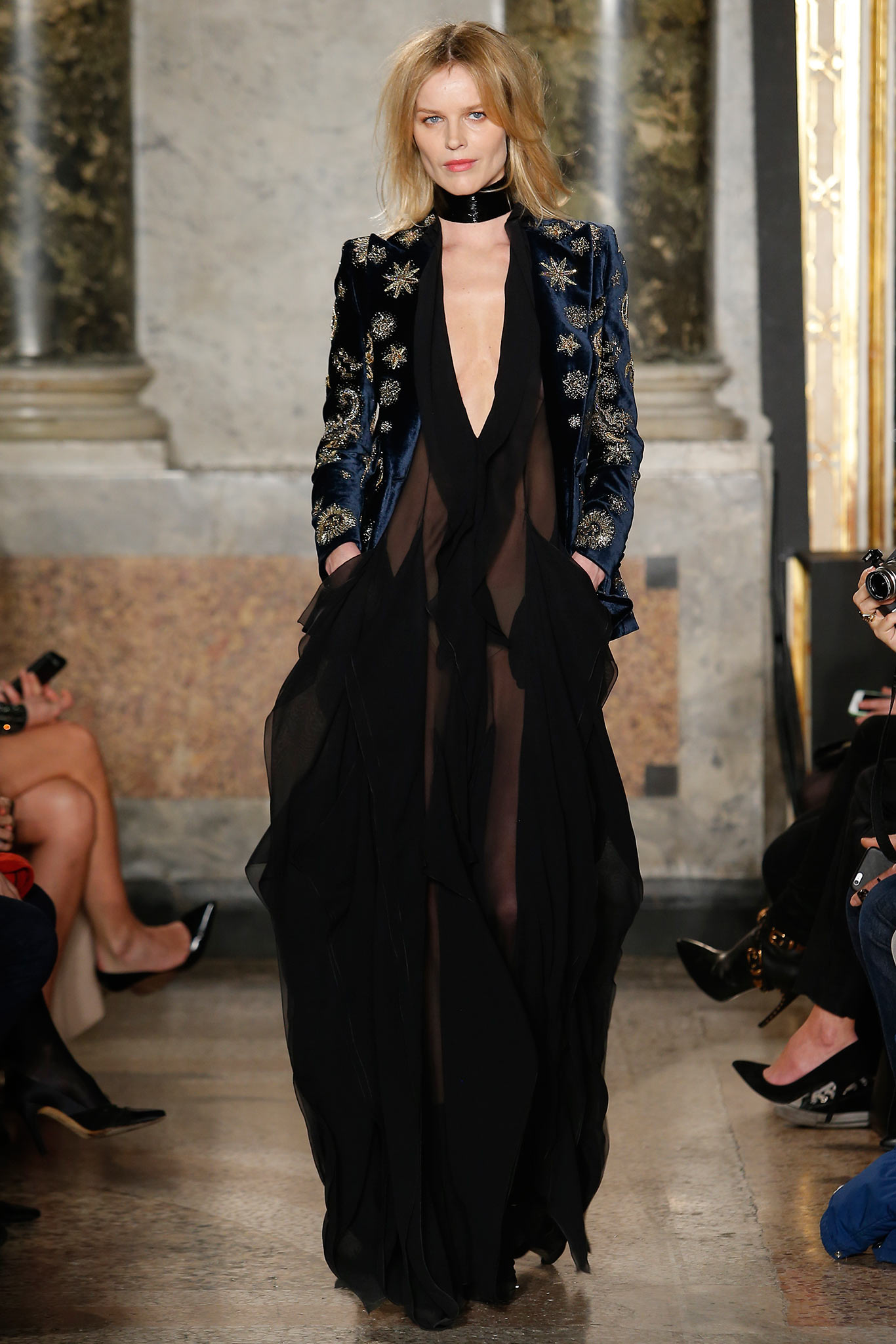 The sky's the limit in this galaxy of velvets, silks, and glitter. ****S I G H****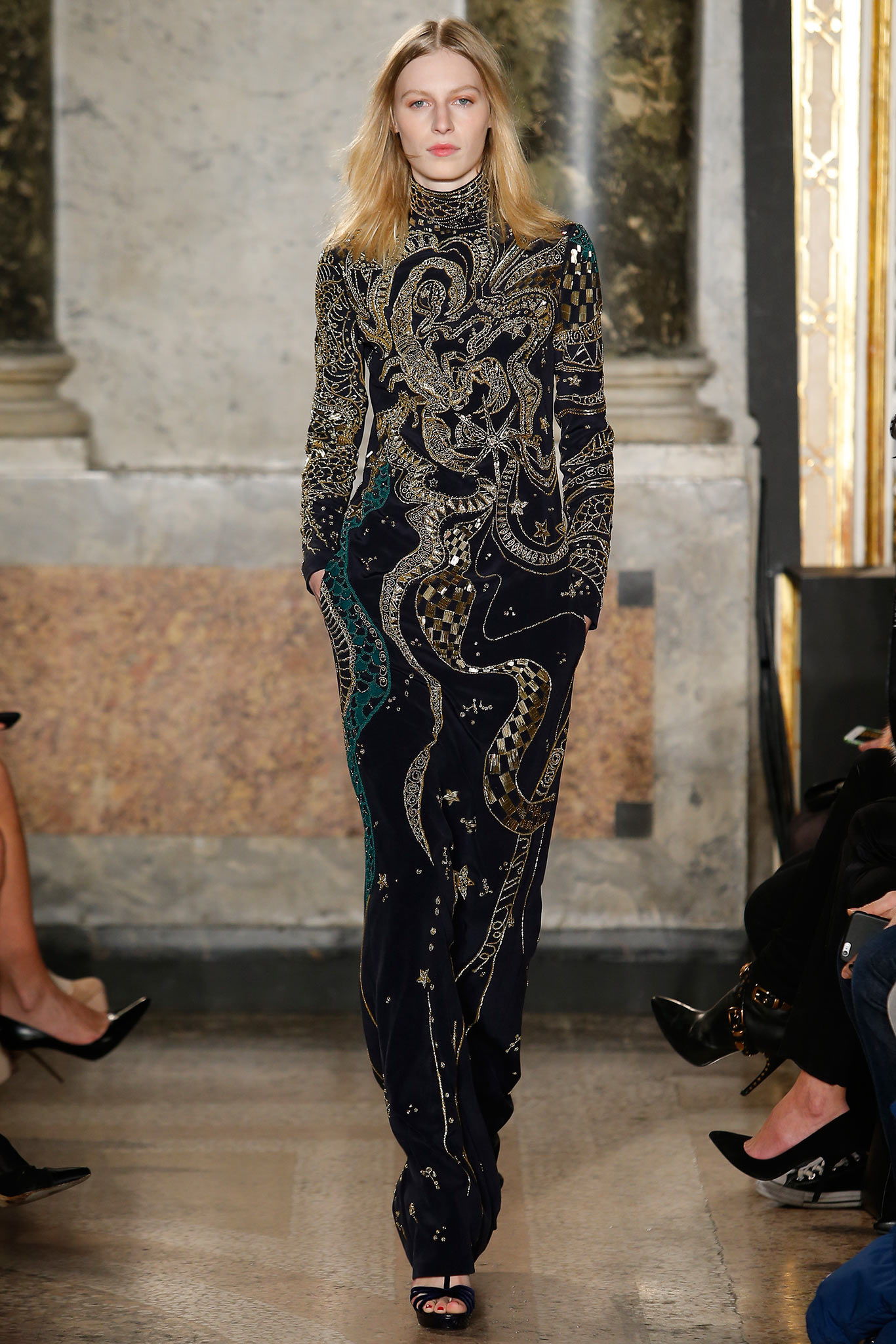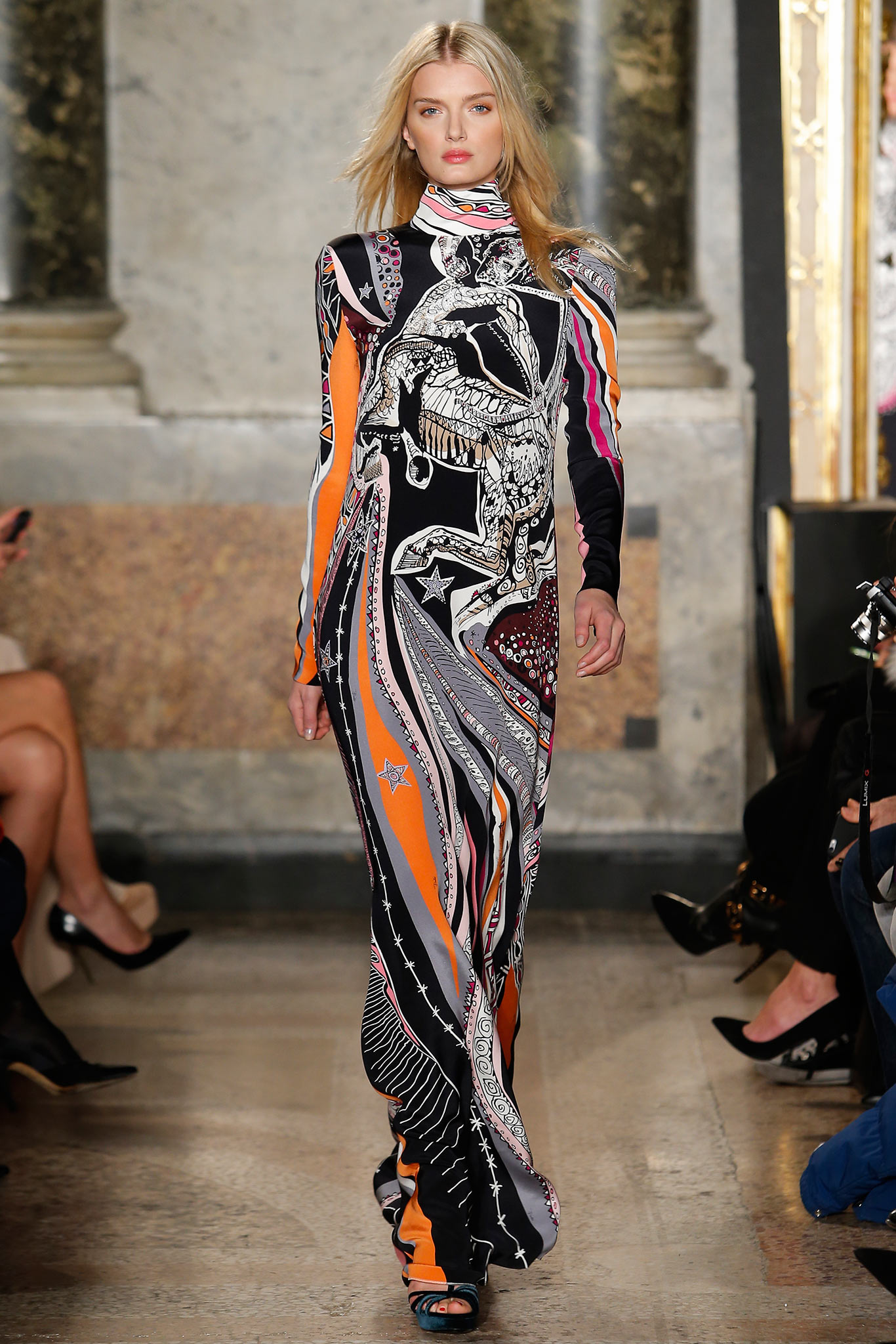 A harkening back to the original Pucci vibe with the striking vibrant colors in a wacky modern arty pattern.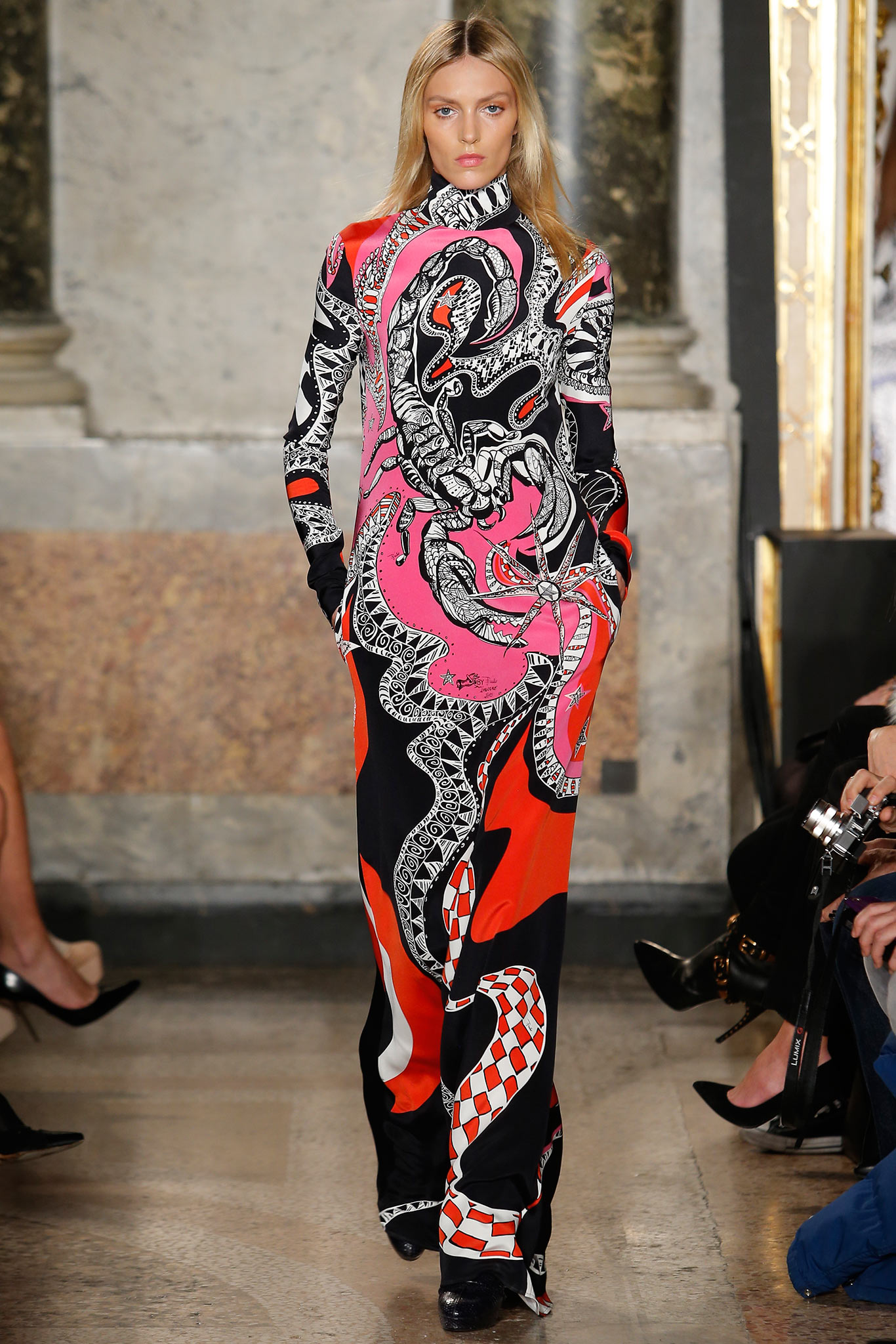 ETRO:
The purveyors of everything paisley and perpetual lovers of a much varied palette of colors, the Etro house (helmed by Veronica Etro) strikes again with separates of mixed patterns blending seamlessly into a lush feast for the eyes! For spring there was an amalgamation of the iconic patterns in pastel silks, with a bohemian gypsy vibe. Fall winter chic is imagined with old school Etro paisleys and patchwork in mixed jacquards, almost a transfiguration of Persian carpets (there is no more beautiful) into wearable finery. A somber fall palette of tans, greens, and browns is brightened by a hint of red and purple in the mix. A potent concentration of coats and pants add to the overall gravitas of this this show, while the playful paisleys add an exotic old world flare. I've accumulated several Etro jackets through the years, and they continue to be some of my all time favorites, adding pizazz to any outfit due to the captivating blend of colors, patterns, and fabrications. Never a dull moment. And yet the silhouettes remain long, lean, and non fussy, jibing with all sensibilities, perpetually in fashion.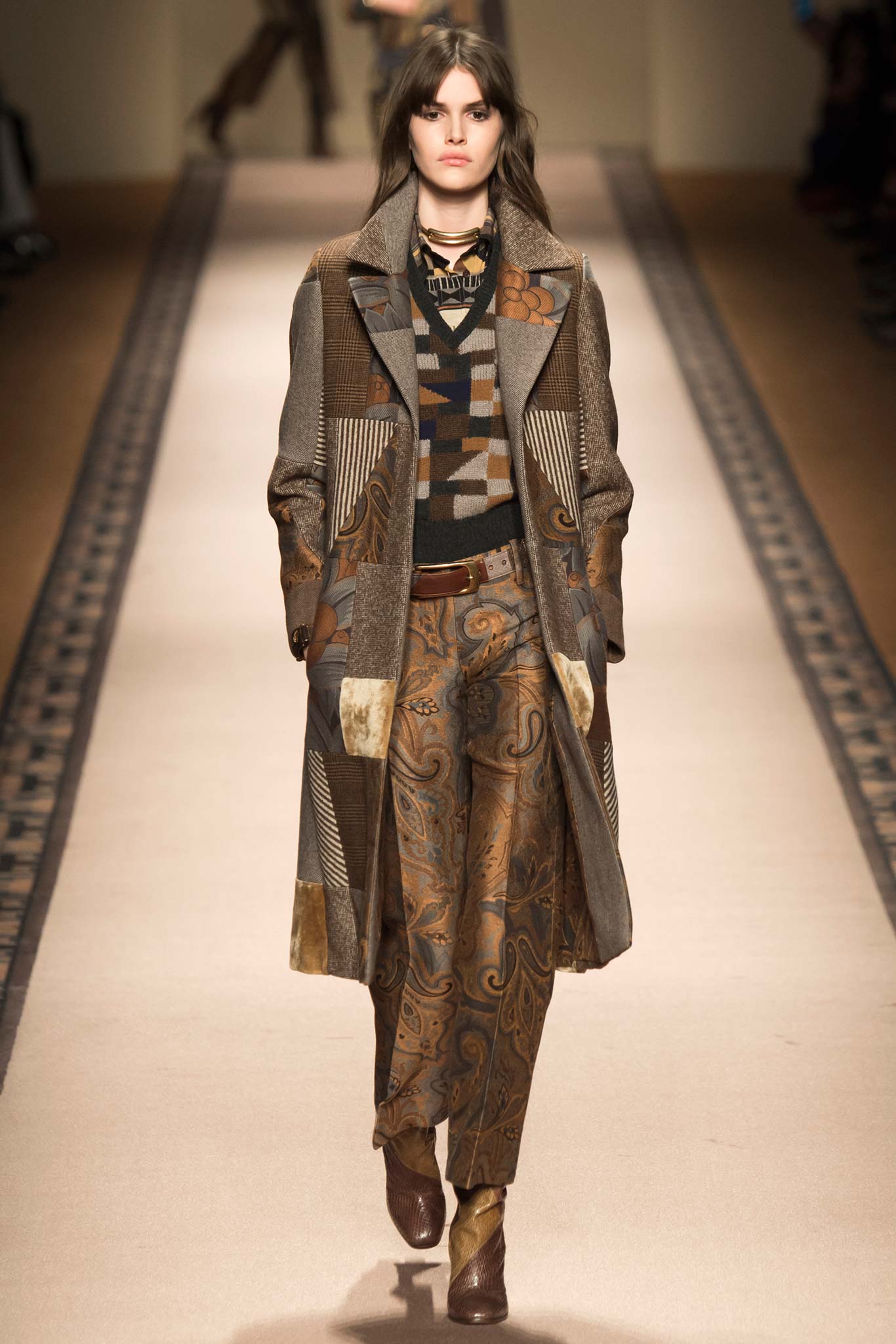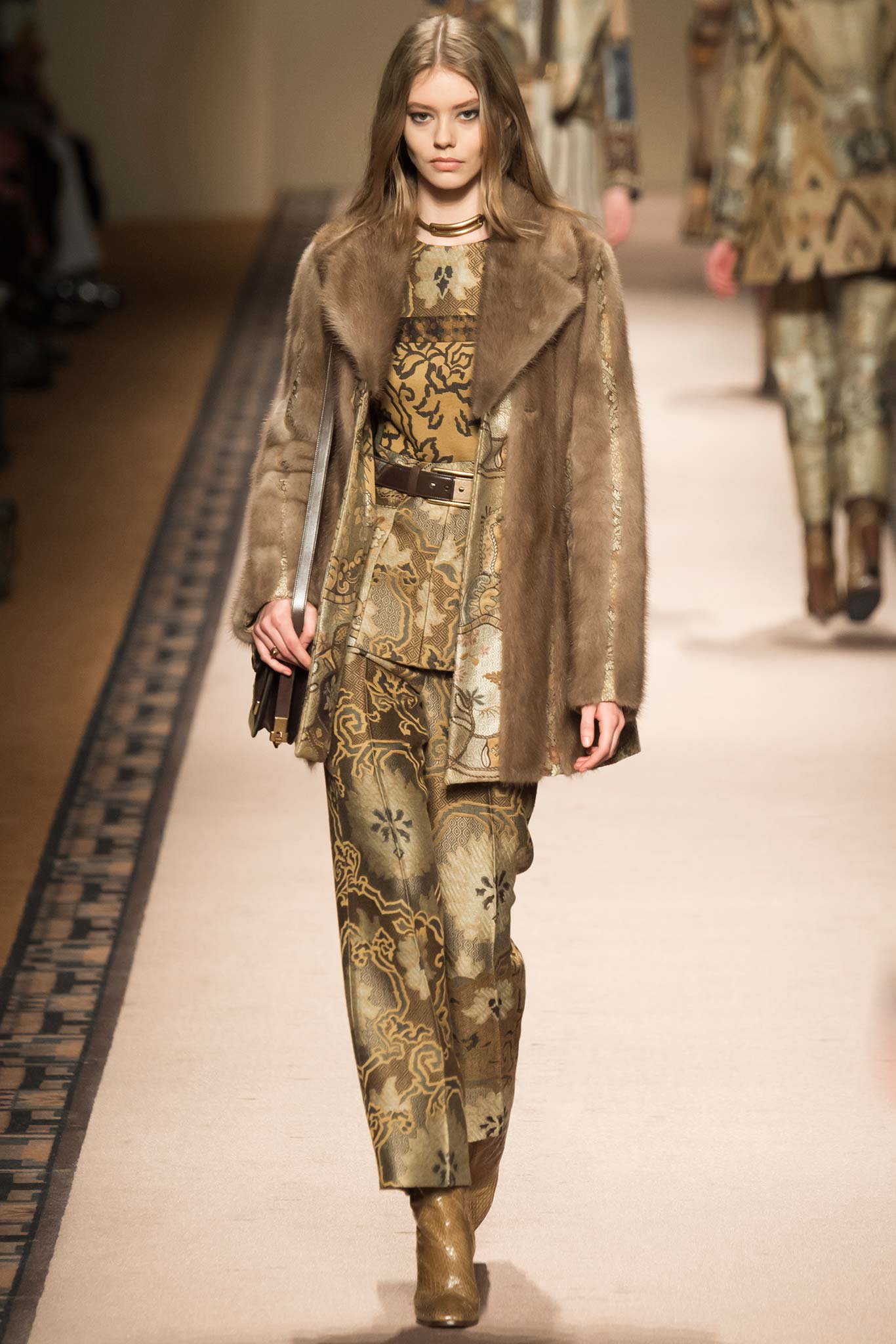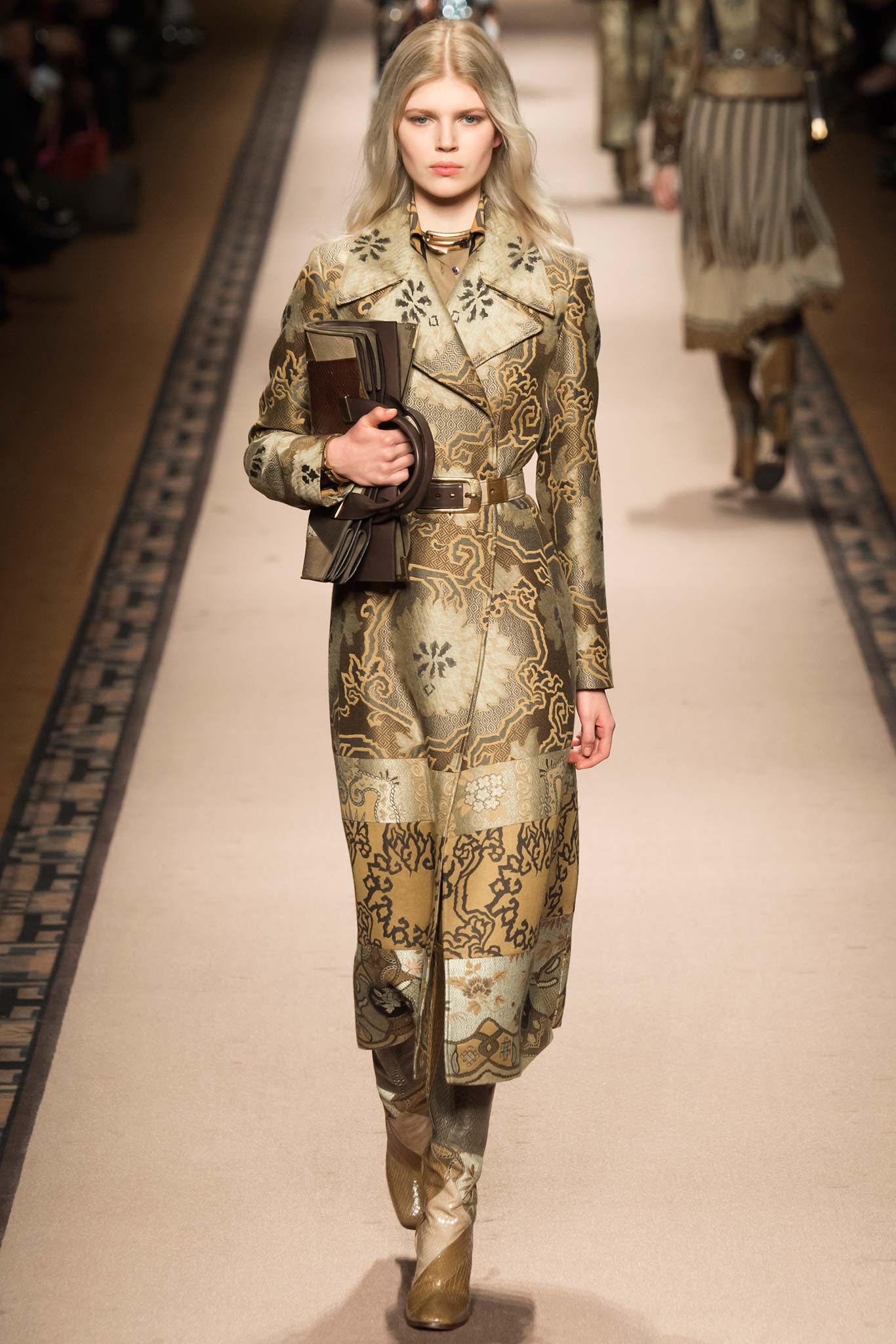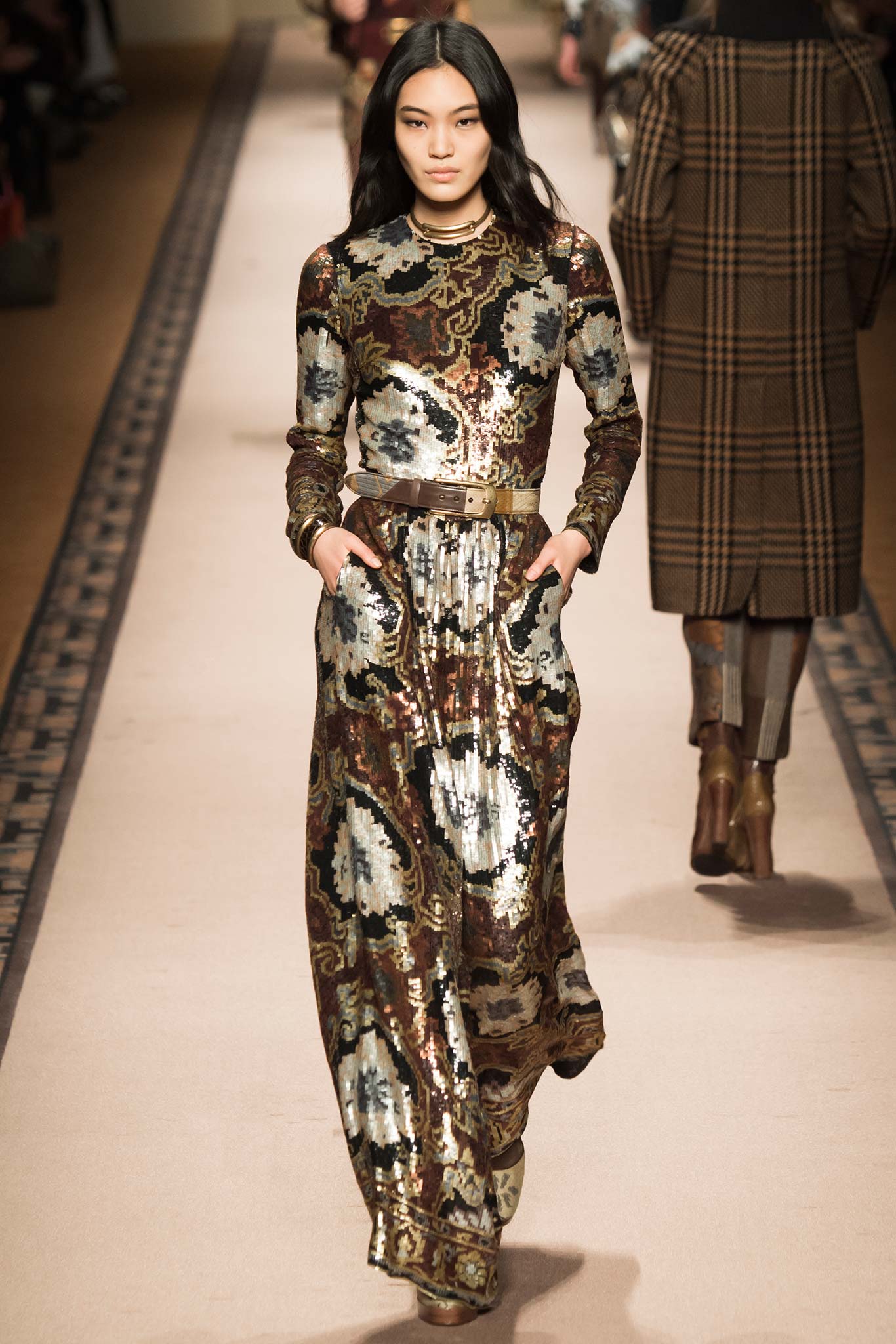 Innumerable coalescent sequines masquerading as velvet.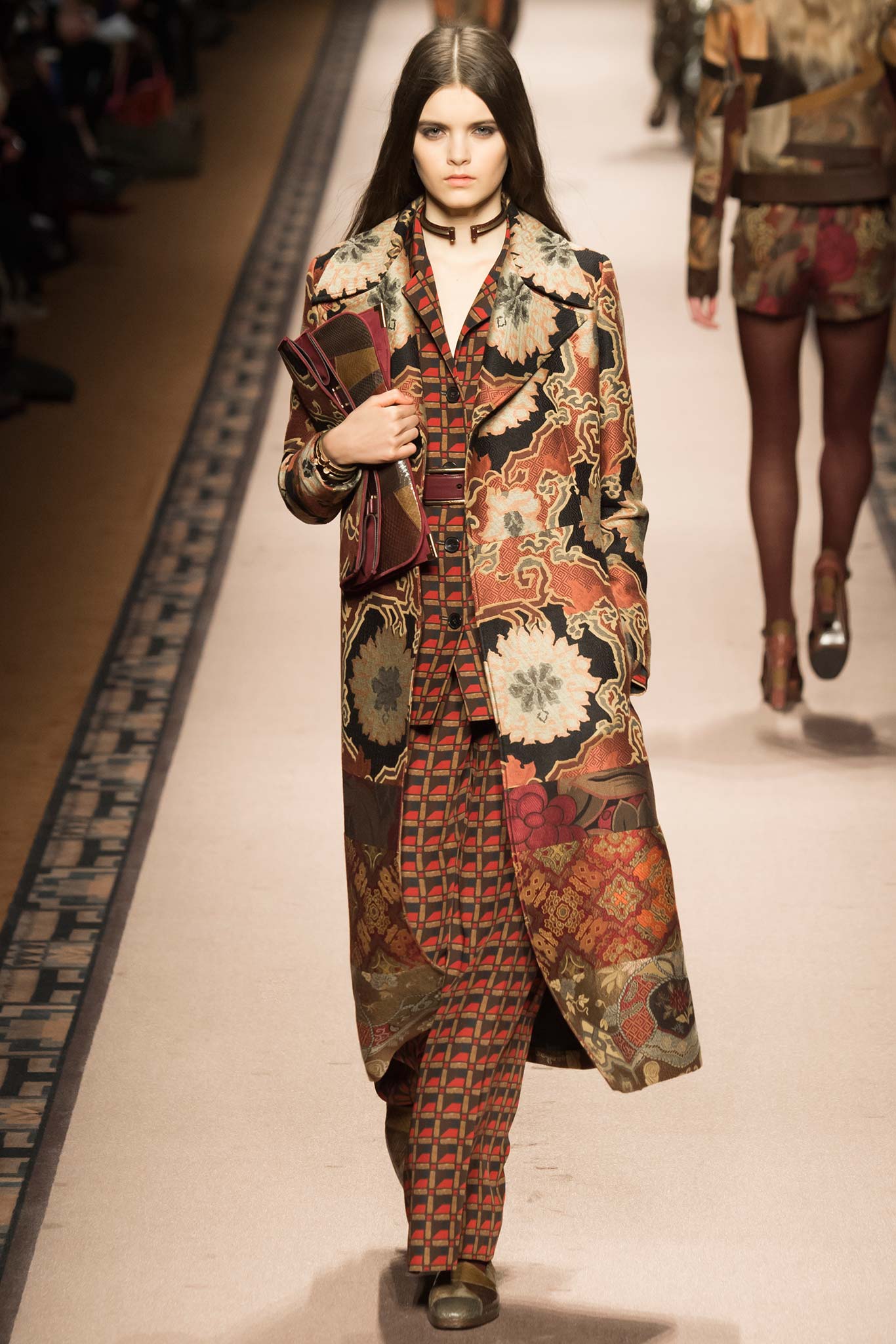 Mixing and matching all sorts of patterns and fabrications can be quite enthralling, the more intricate and byzantine, the better!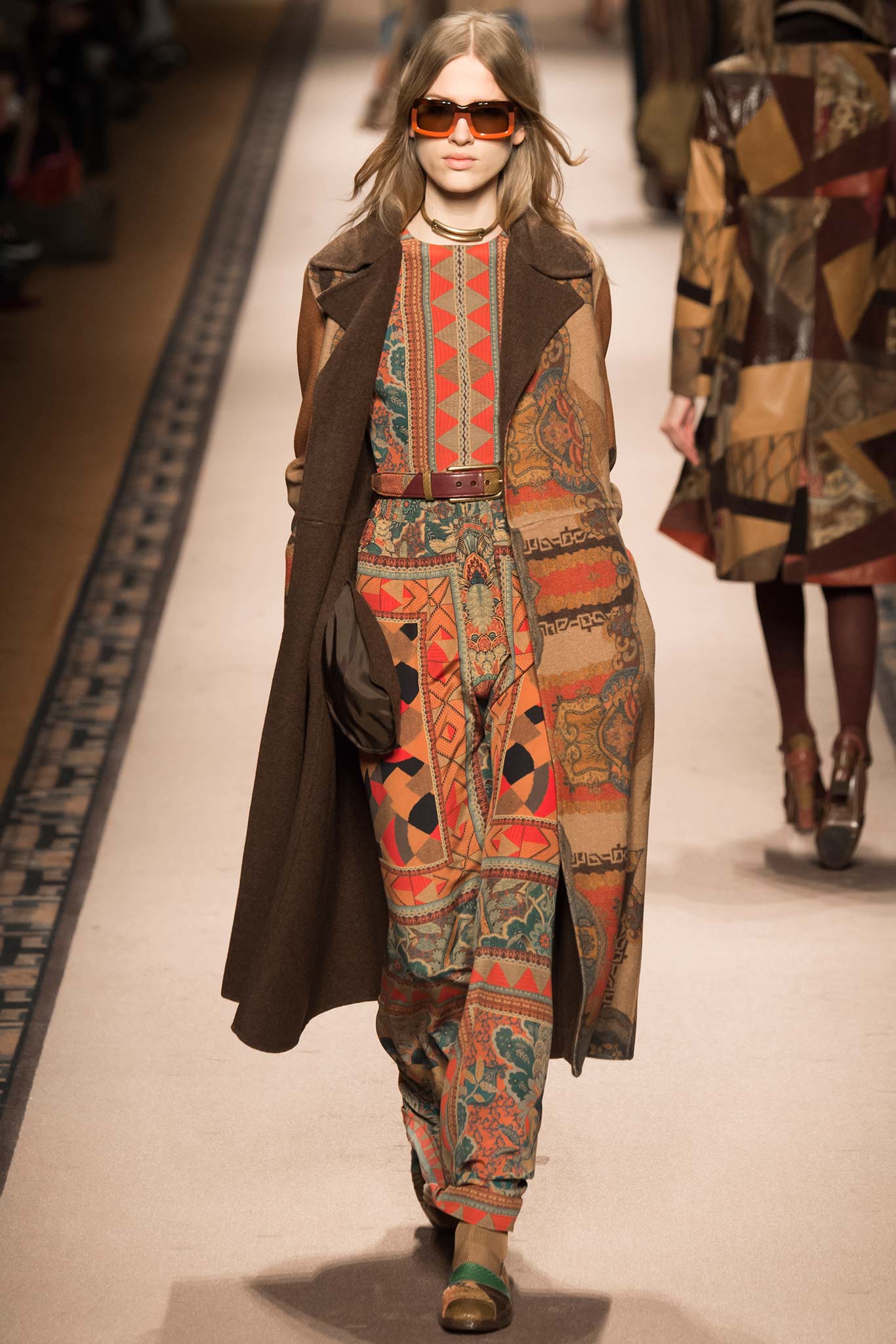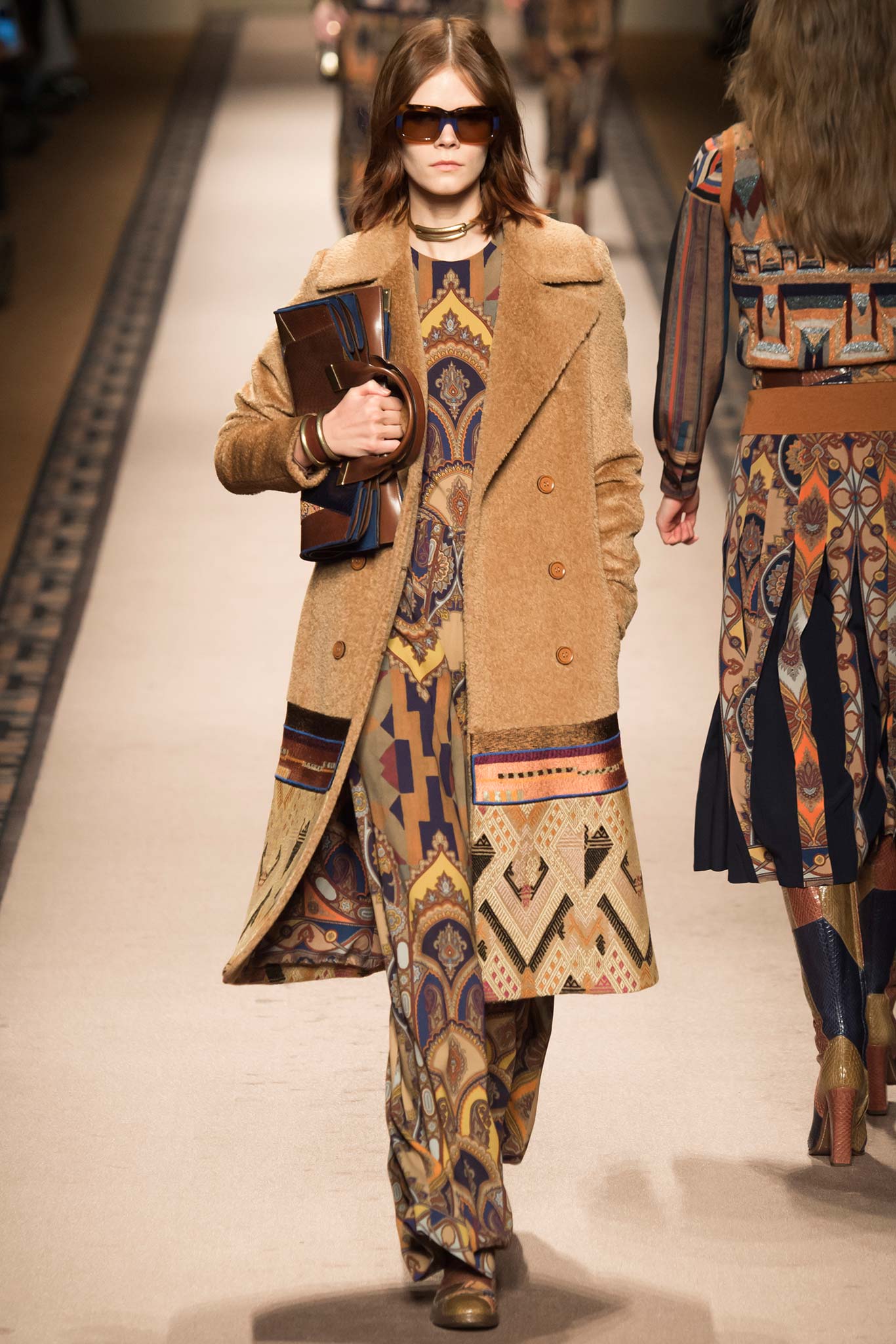 Ahhhh, the mixed media coat, quite sumptuous yet pragmatic given the neutral camel color. Would be a dramatic counterpoint to an all black ensemble.
FENDI:
Karl Lagerfeld doesn't design for the faint of heart and never shrinks from the bold and the beautiful. These looks are young and playful, with the always enviable Audrey Hepburn vibe, and also modern, verging on the avant-garde.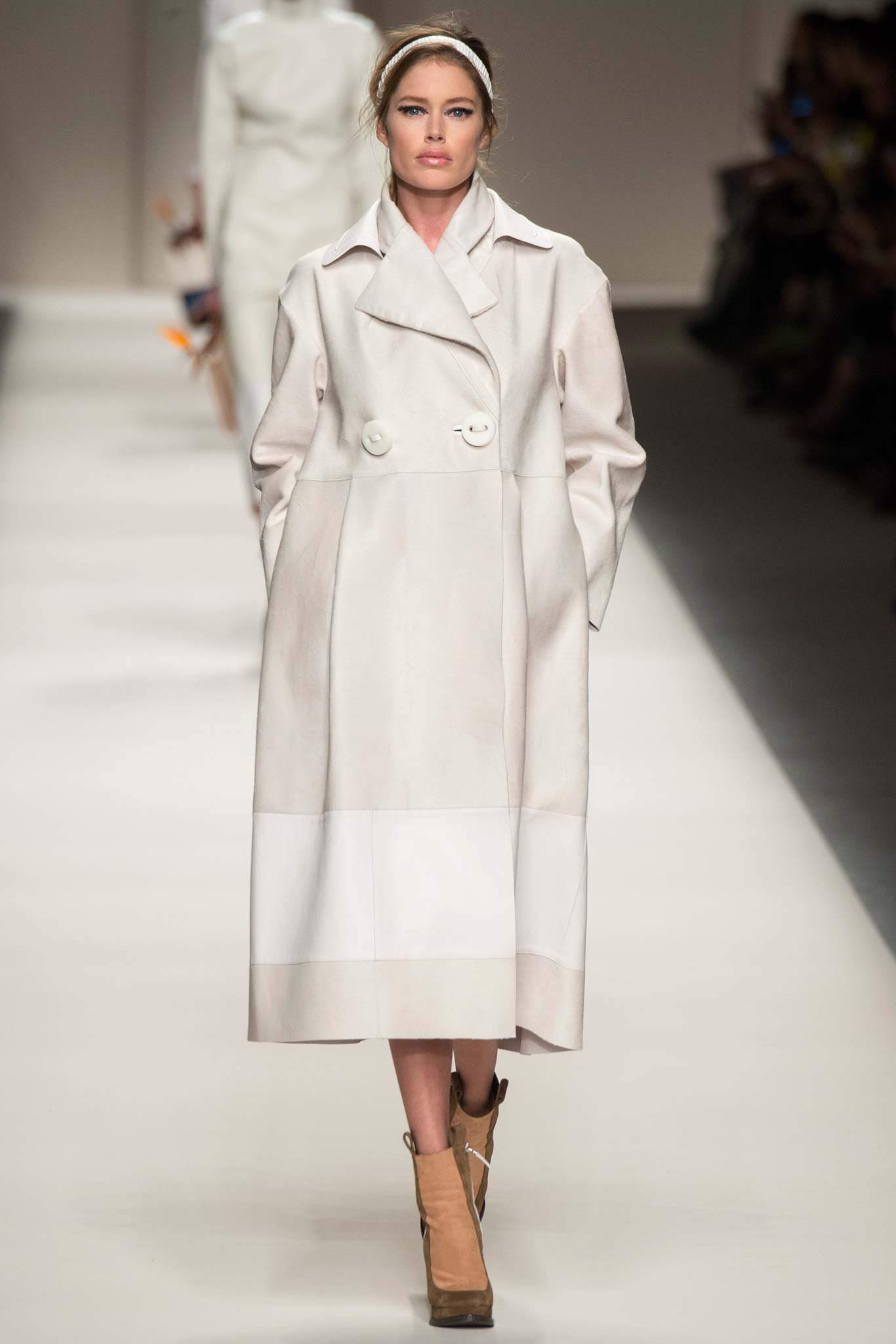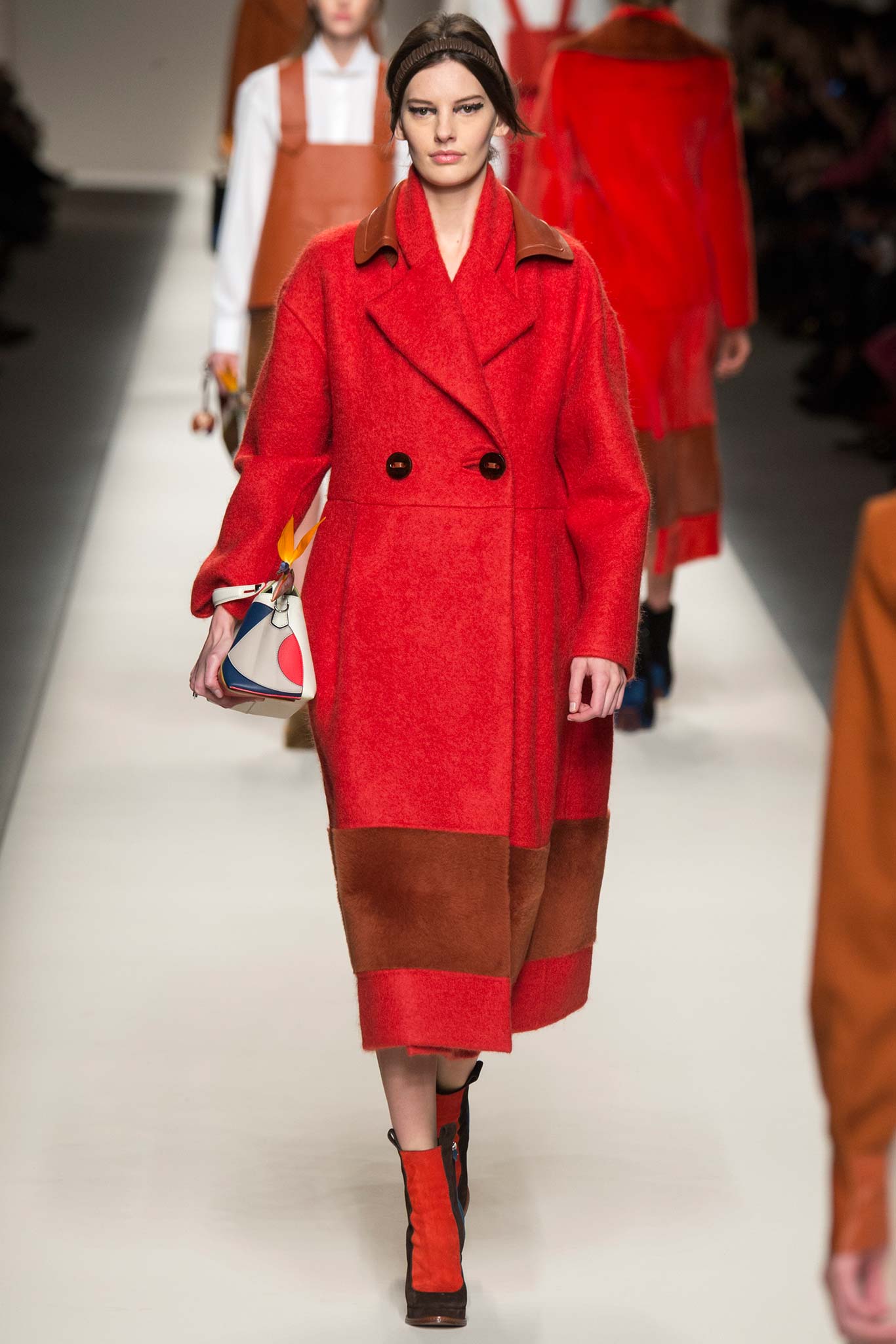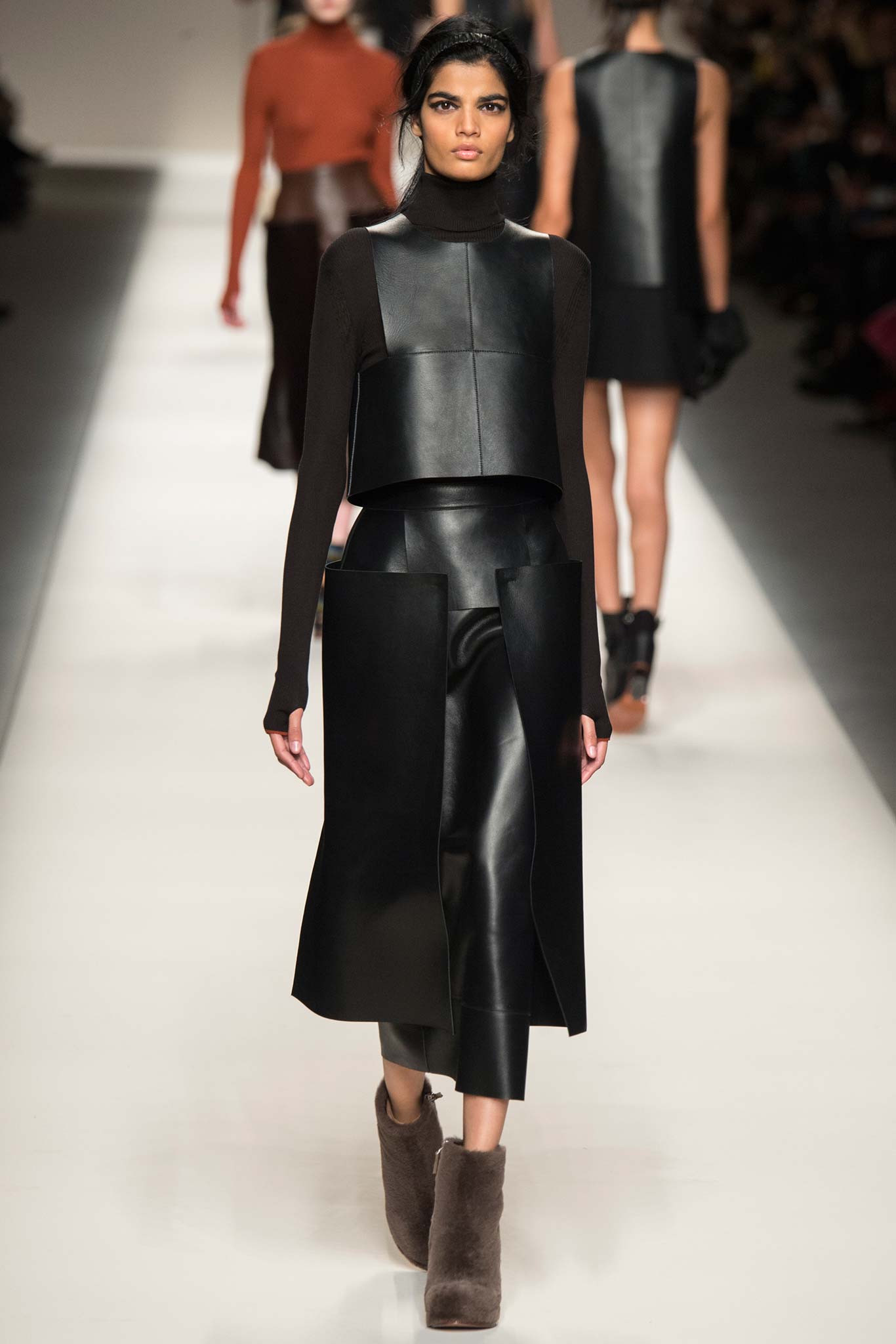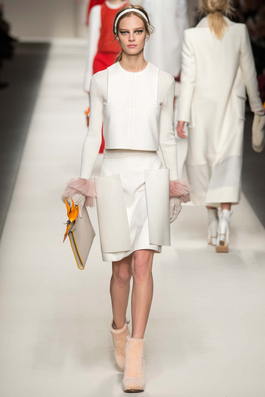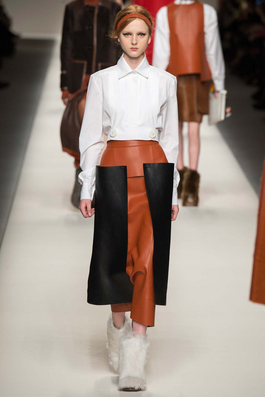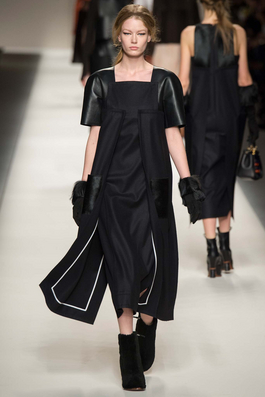 There was much in the way of mod latter day armor.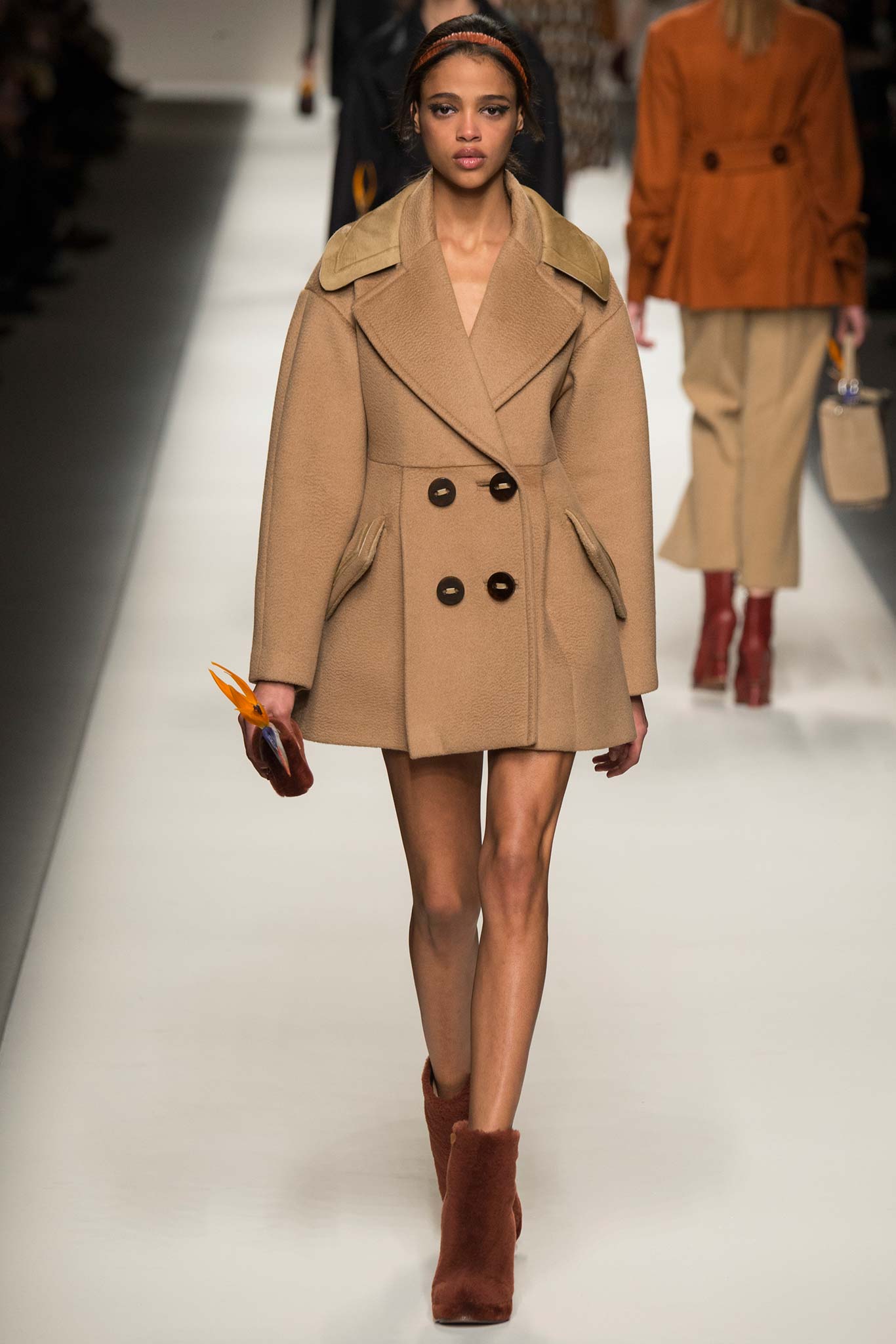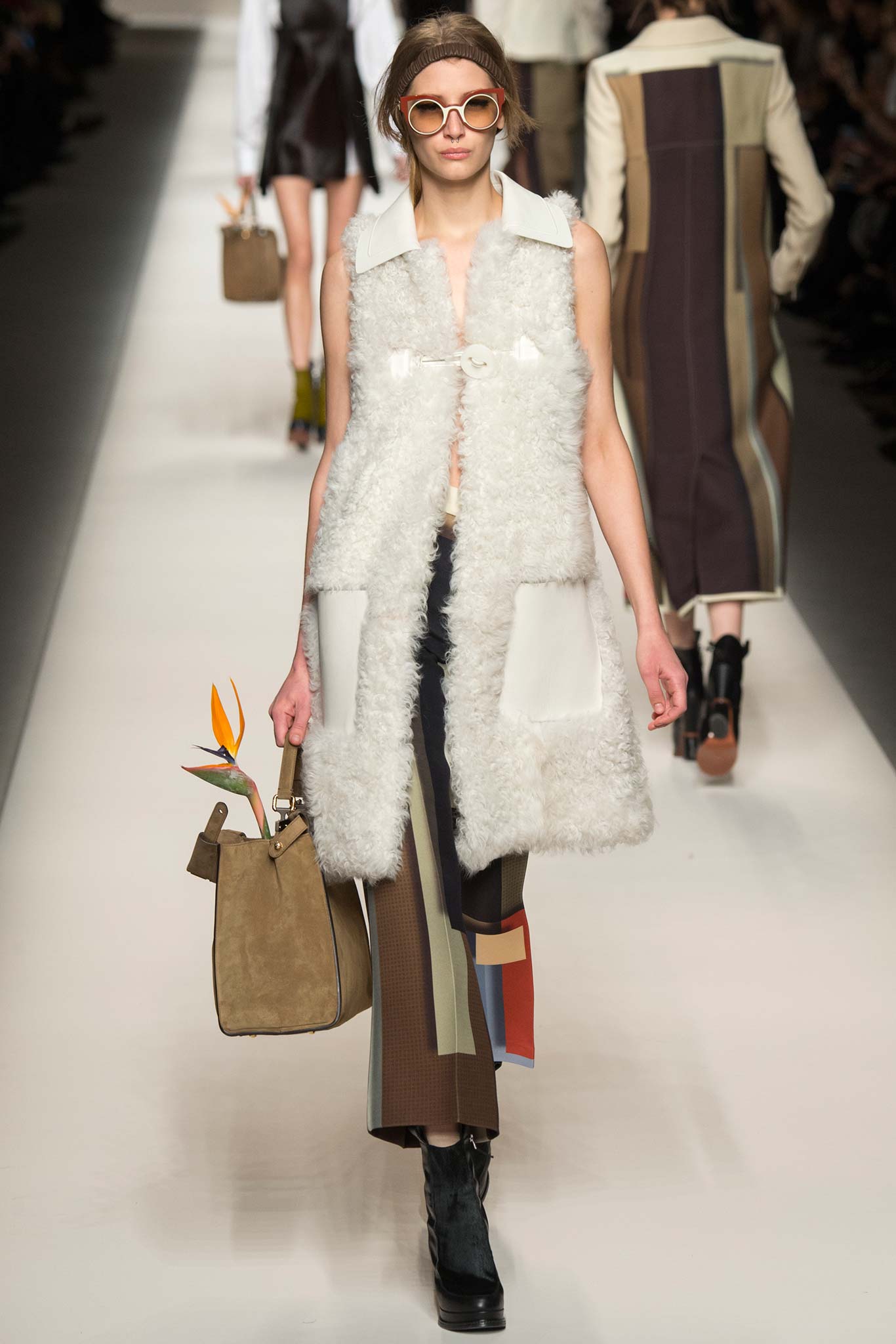 LONG SHEARLING VEST= PERFECTION. This might float through the 70's retrospective, a pragmatic but funky adjunct to a long diaphanous dress from Alberta Ferretti, Etro, or maybe Valentino, but will be fashionable into the future.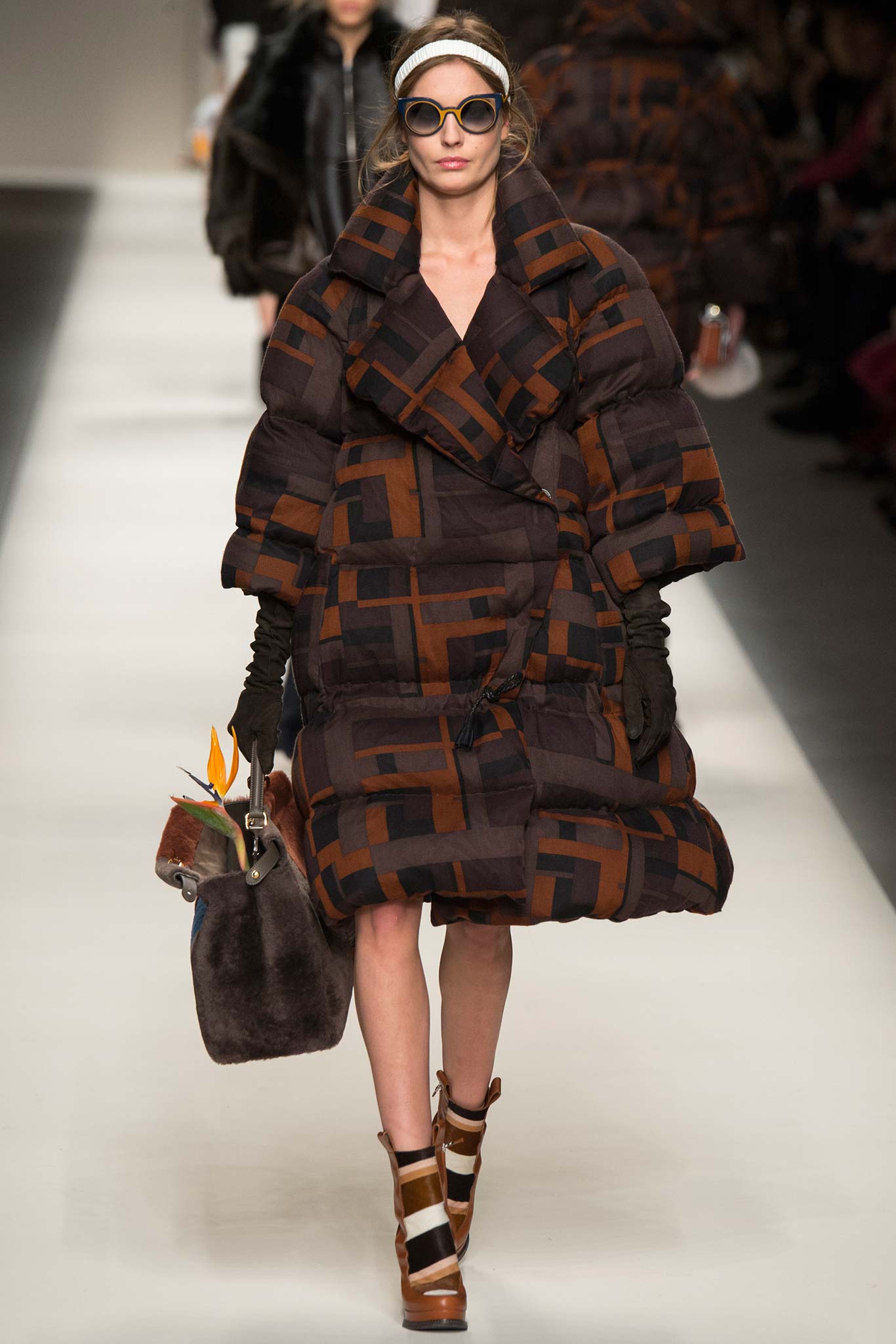 Go bold or go home, and when its time to go on a long sled race through the Yukon, you might as well be fashionable.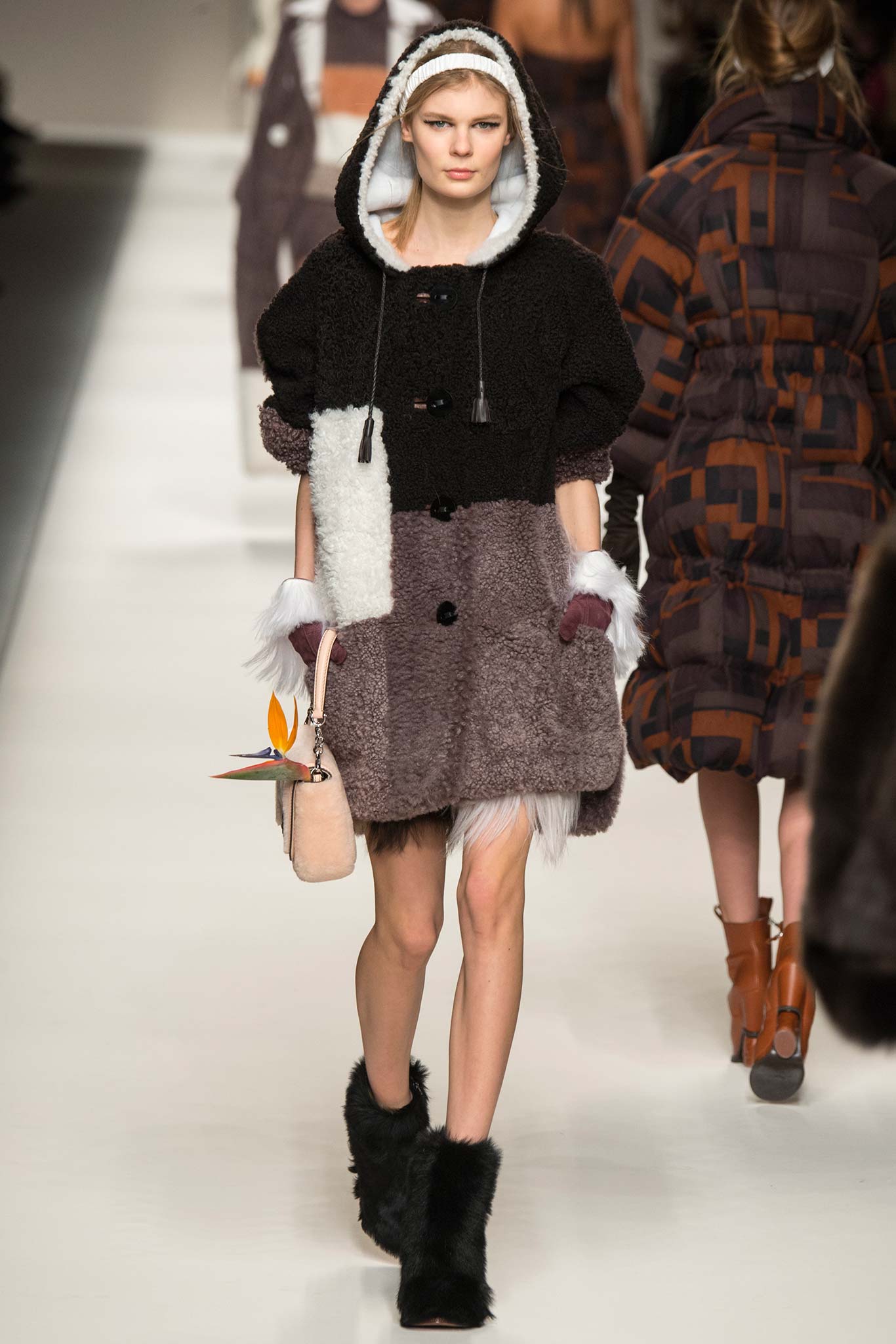 Wonderful shearling entries, easy, wonderfully snuggly, and flawless.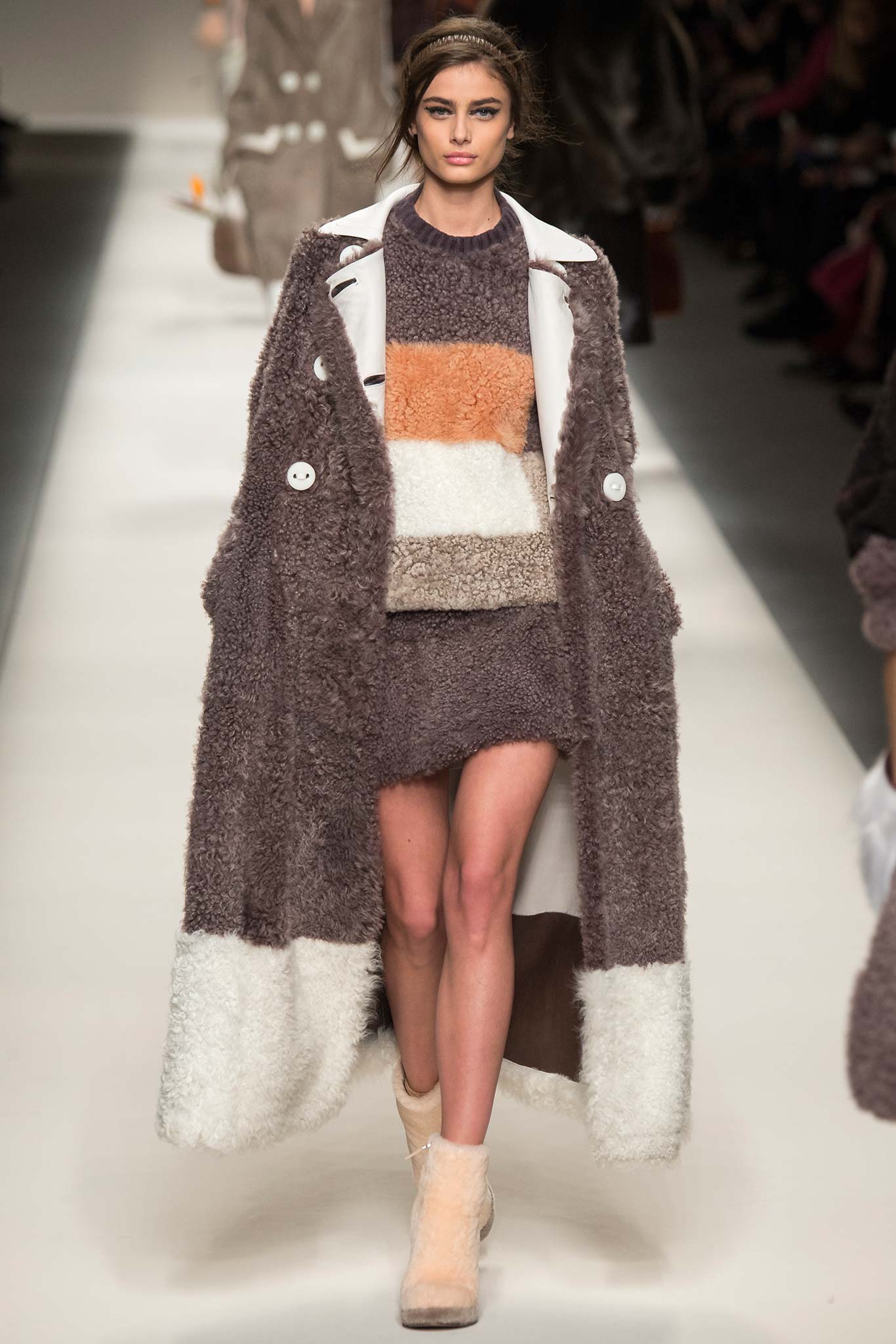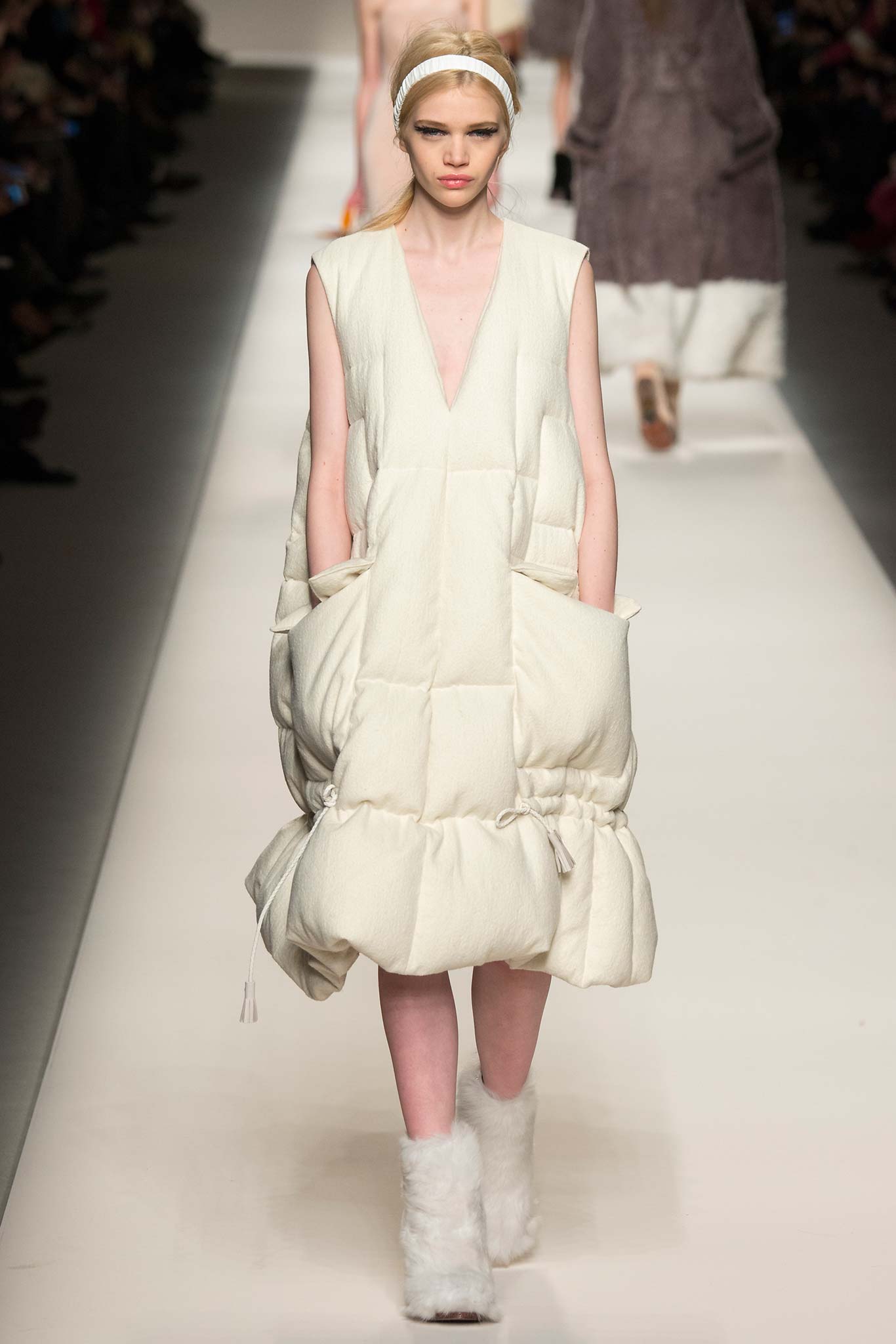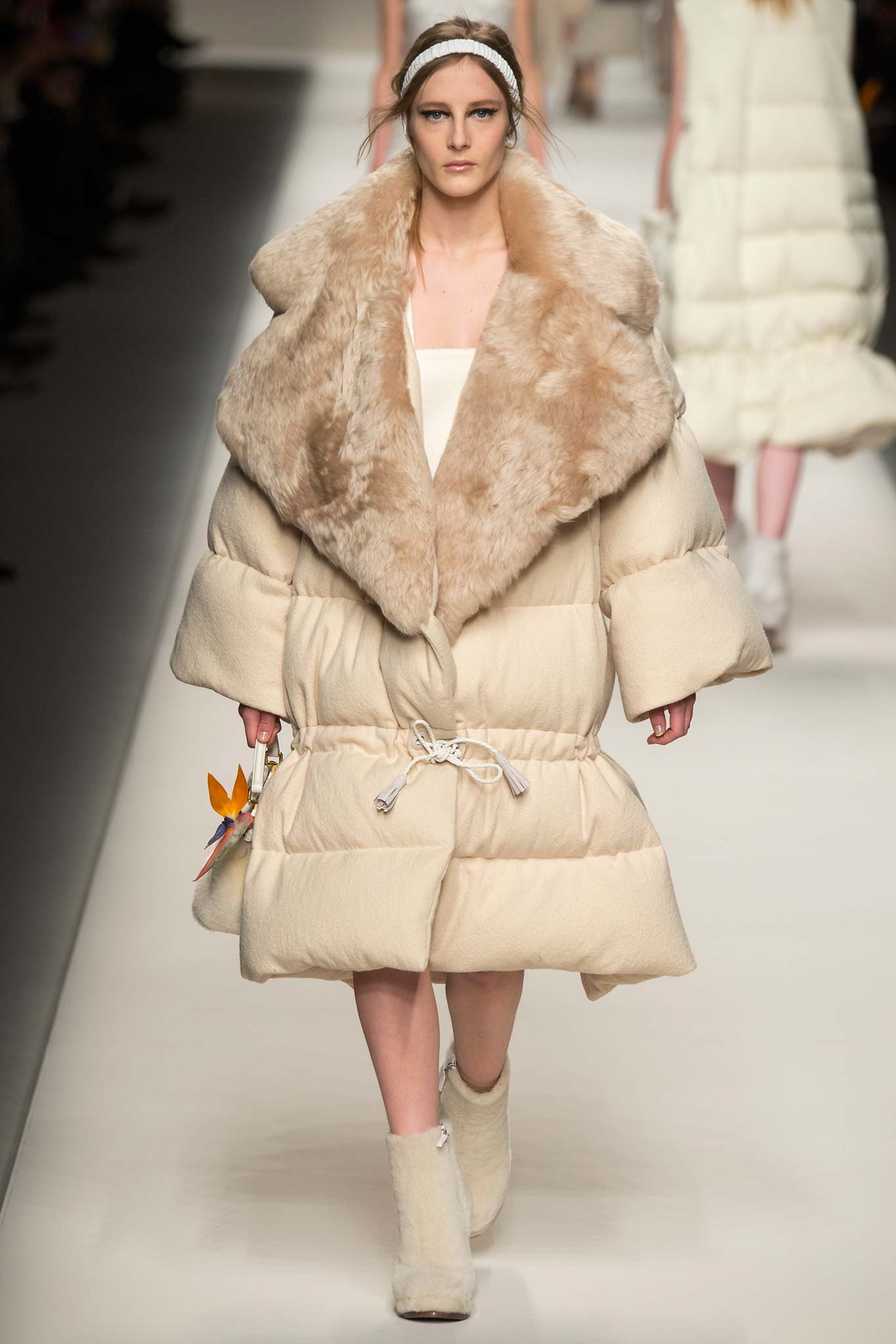 PRADA:
This was a feisty exuberant collection for sure, made more compelling as a result of the fabulous styling, including the pastel and metallic footwear and those damn fine Opera gloves in vibrant colors contrasting with a madcap series of fabrications in a pleasing color palette. Miuccia Prada's strong suit has always been her jackets in wearable silhouettes in an wide array of patterns, often unexpected, with the occasional smidgen of adornments. Here she turns up the voltage and the irony with bright herringbone and houndstooth tweeds and fur accents.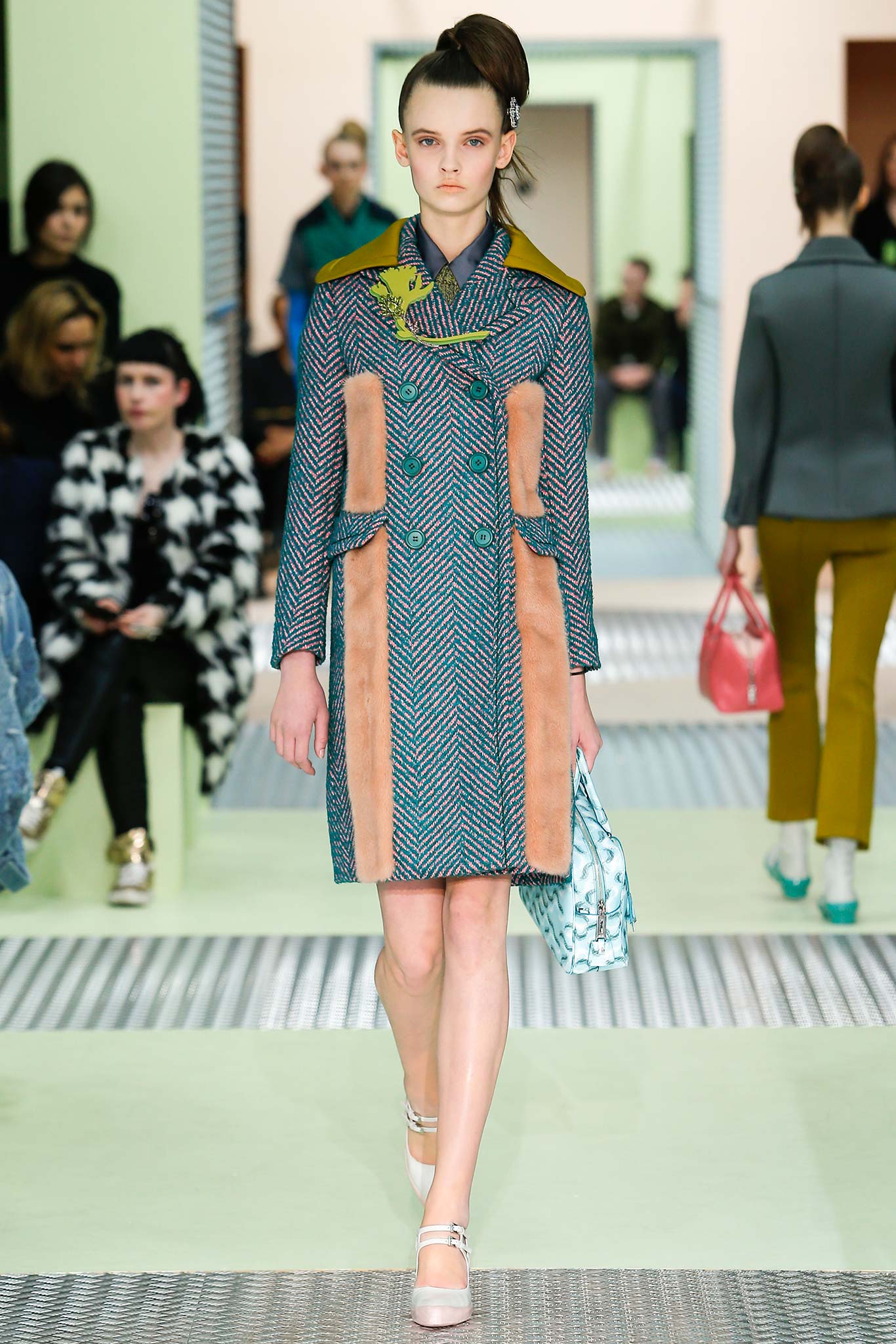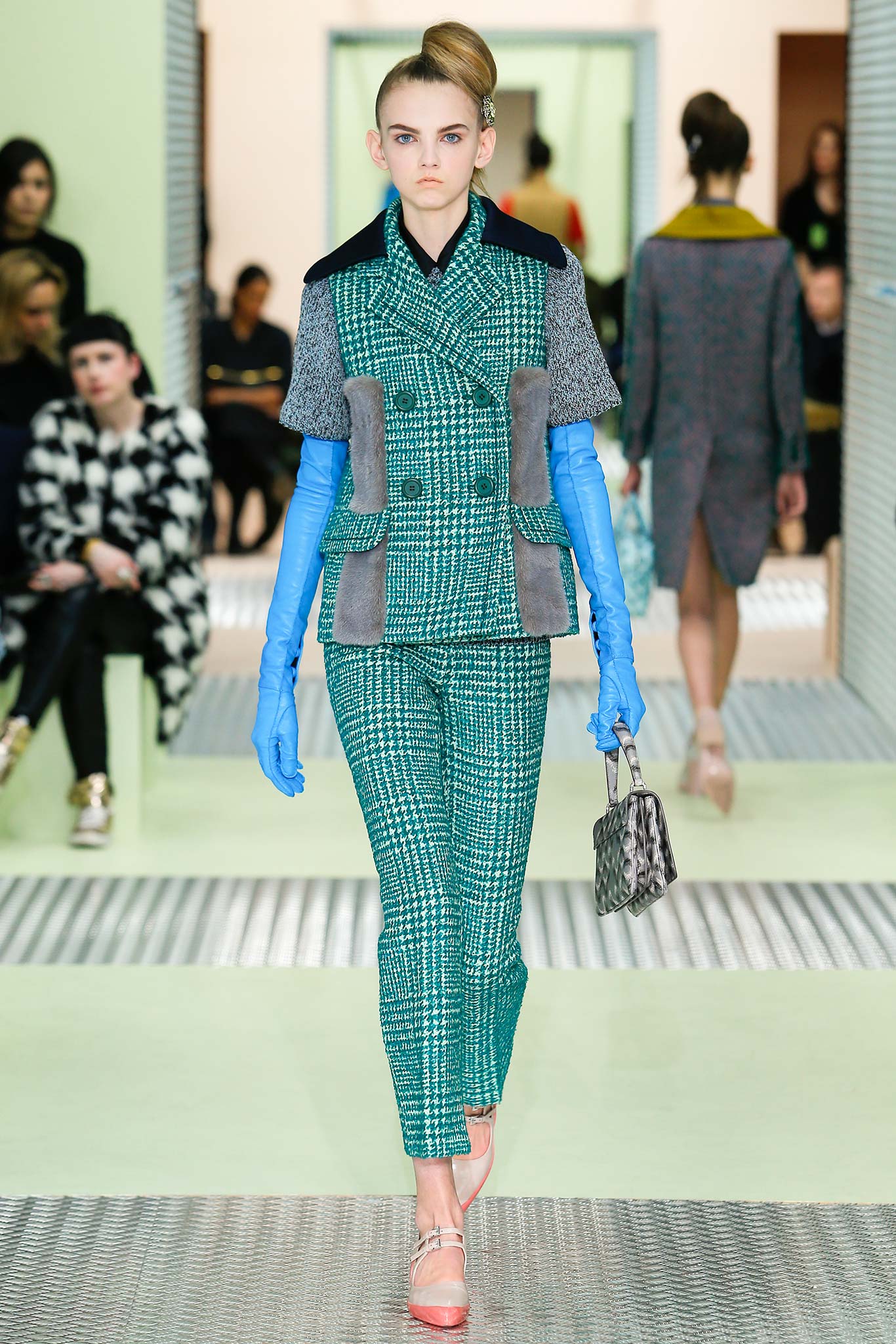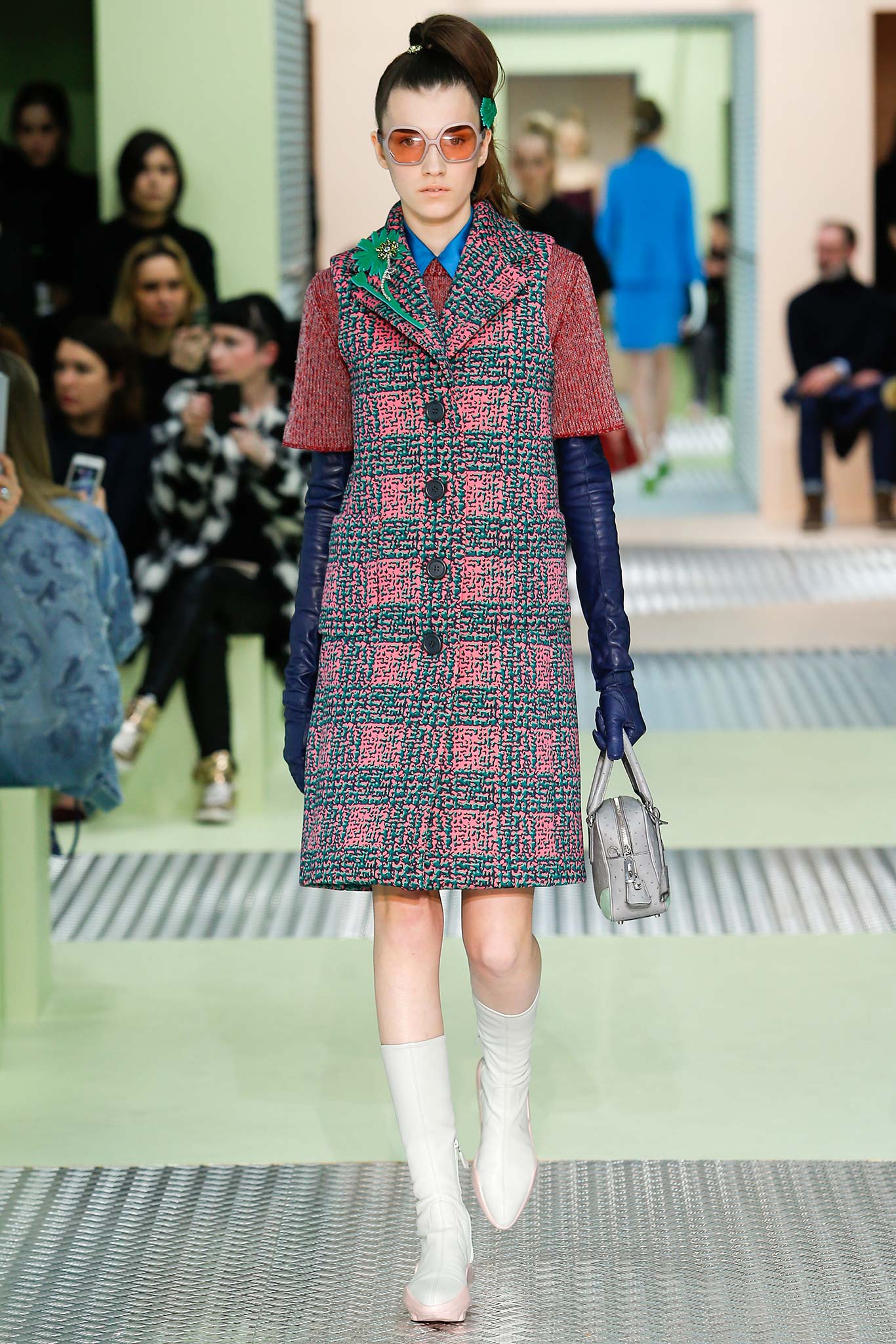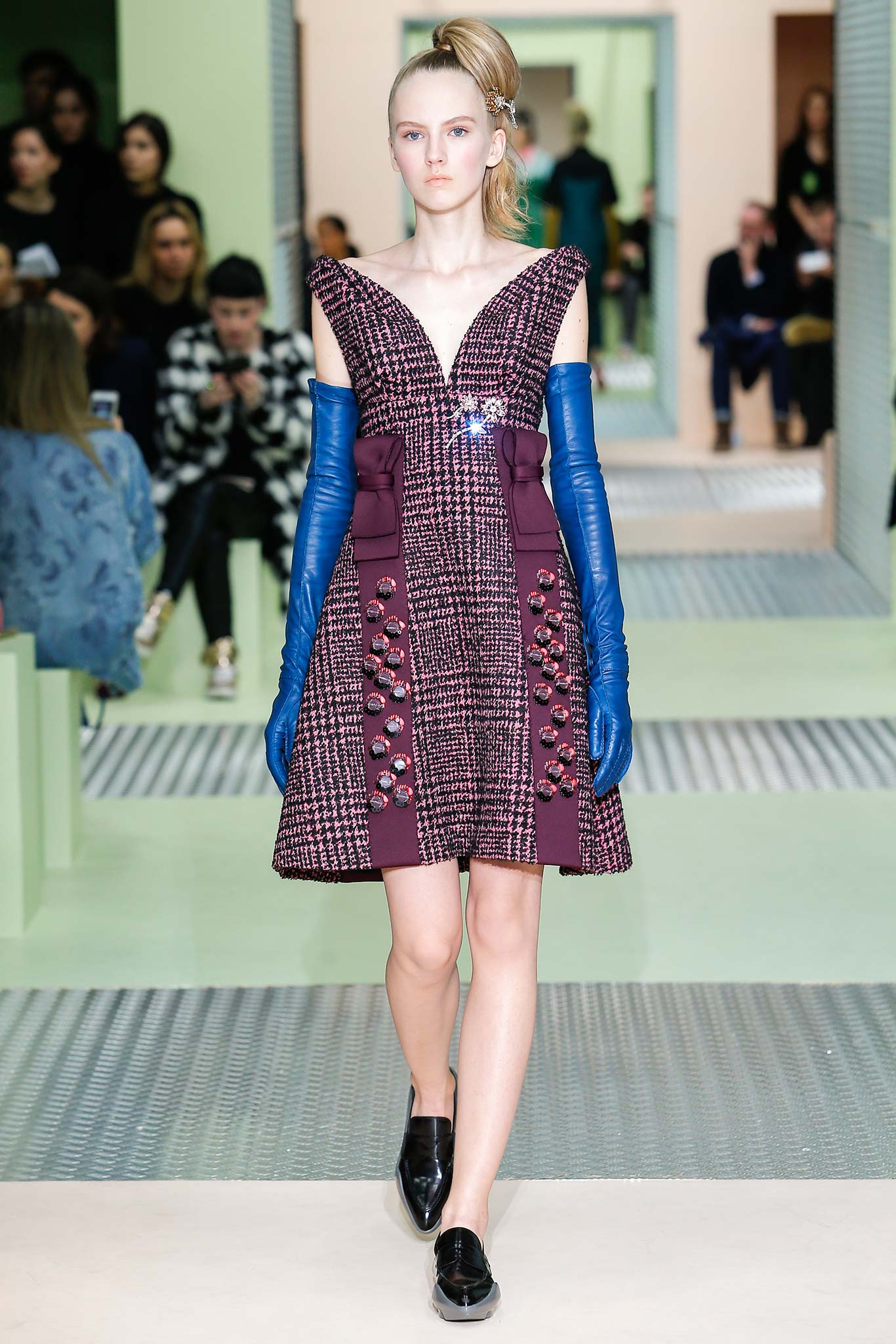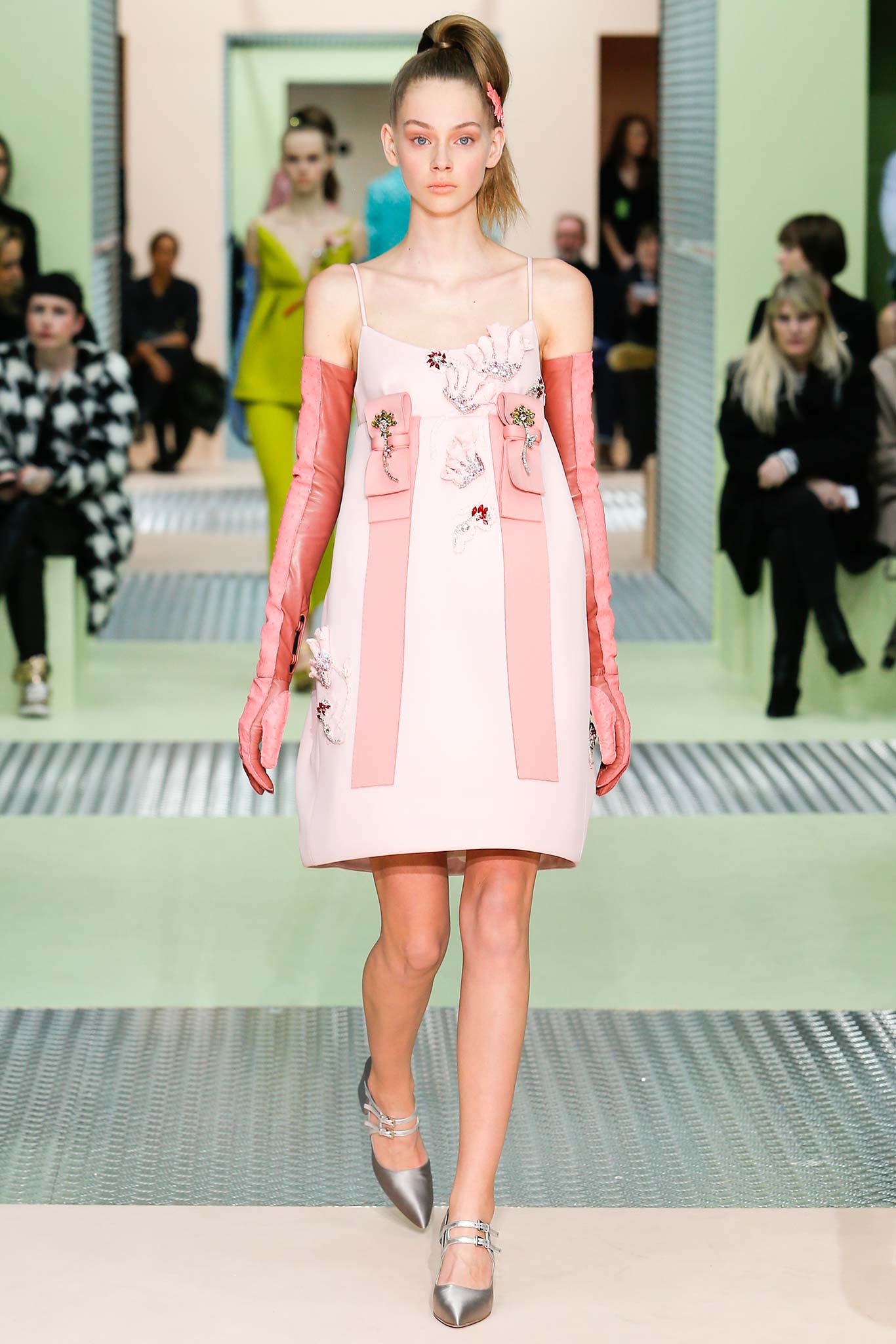 One can never go wrong with 50 shades of pink. Throw in some tonal ribbons and bling, and an eye catching spectacle is born! When the desire to show some leg dwindles, turn this concoction into a tunic!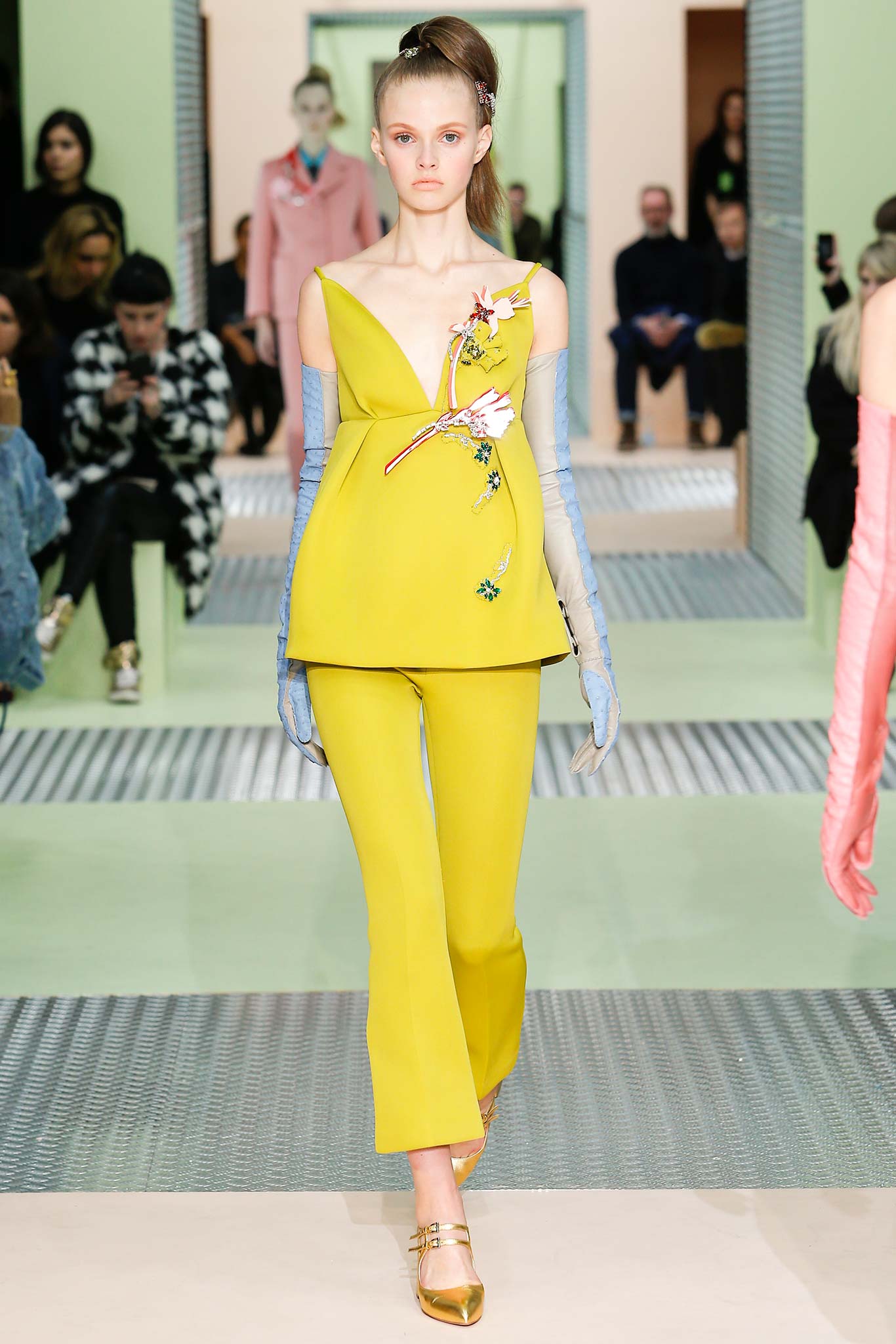 While chartreuse bell bottoms might not fit into everyone's fashion lexicon, the top is quite smashing! Wear with jeans, a white cotton shirt, and bold wedges or platforms in a vibrant pastel! I'm thinking the new melon colored wedges in Louis Vuitton, but warning, NOT for those prone to vertigo.
An eclectic series of mouth watering fare to be sure to captivate all our imaginations!
More to come from Milan and Paris!
Images brought to you by www.style.com