Hat tip to a store in the Haight for the title.
The Caten brothers (that would be Dean and Dan) once again bring us a merry mix of seemingly disparate elements forged into an intoxicating brew. They double up on singular charm by combining military, Victoriana, and other winsome themes and genres to produce quirky yet covetable ensembles.
I personally cotton to a multilayered approach and have become enamored of any tunic, dress, or skirt (or even a kilt?) that might be layered upon some slacks or leggings. Each piece in this collection can stand alone, not tethered to its comrades, so fear not if you prefer a more pared down approach and only want a military jacket or some below the knee JODHPURS.
They manage to work in camouflage (always a winner no matter the season or designer), bejeweled accoutrement, and even some wacky strappy sandals. It might seem like too many notes, but I find it endlessly entertaining.
Who amongst us couldn't add a ruffled blouse, camouflage jodhpurs, or an embellished black cape? OR the en vogue MILITARY jacket, and here we are treated to a spectacular array with dazzling passementerie and enameled buttons. And for extra zest? Just add a wide red belt to the mix.
DSQUARED2 FALL WINTER 2016: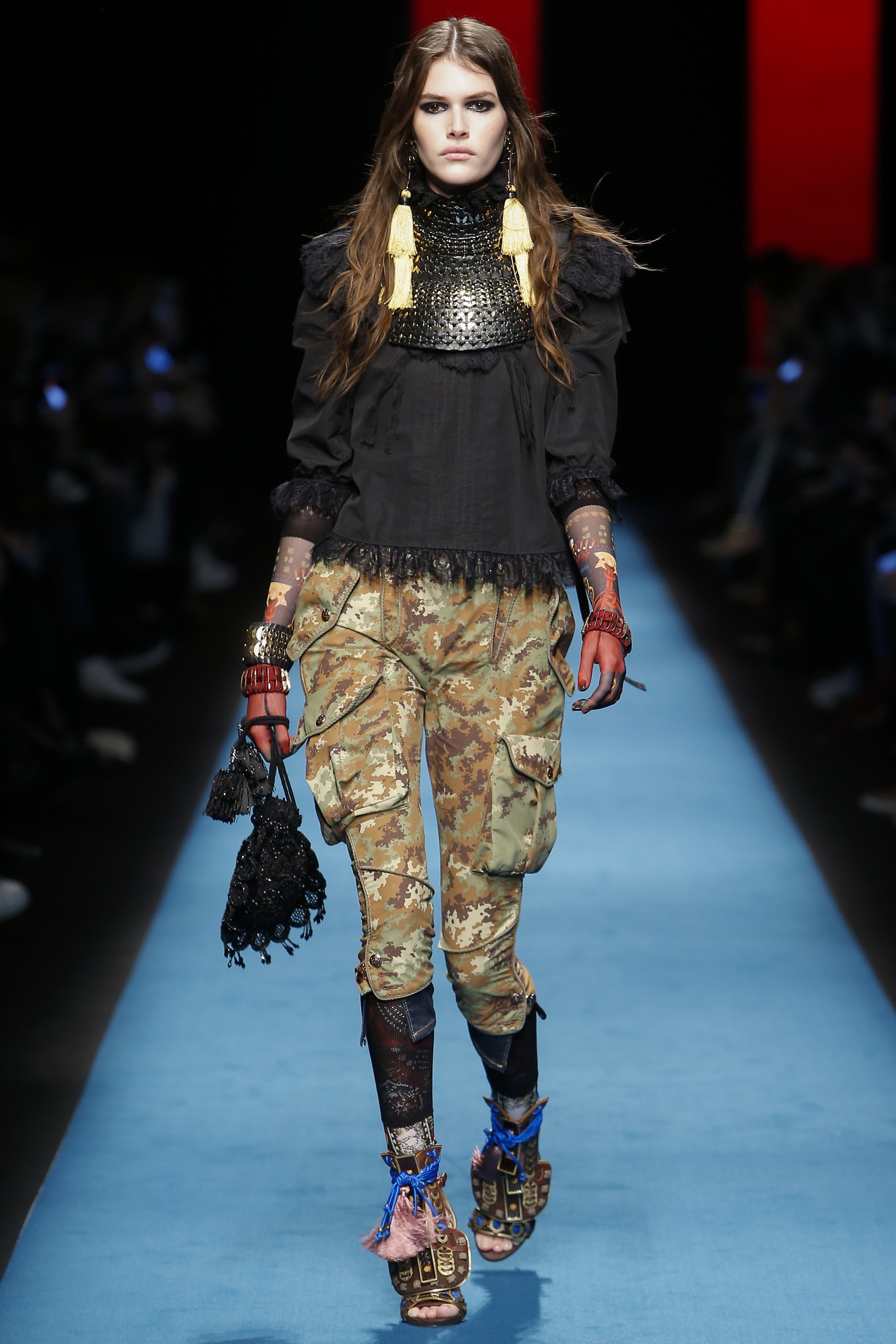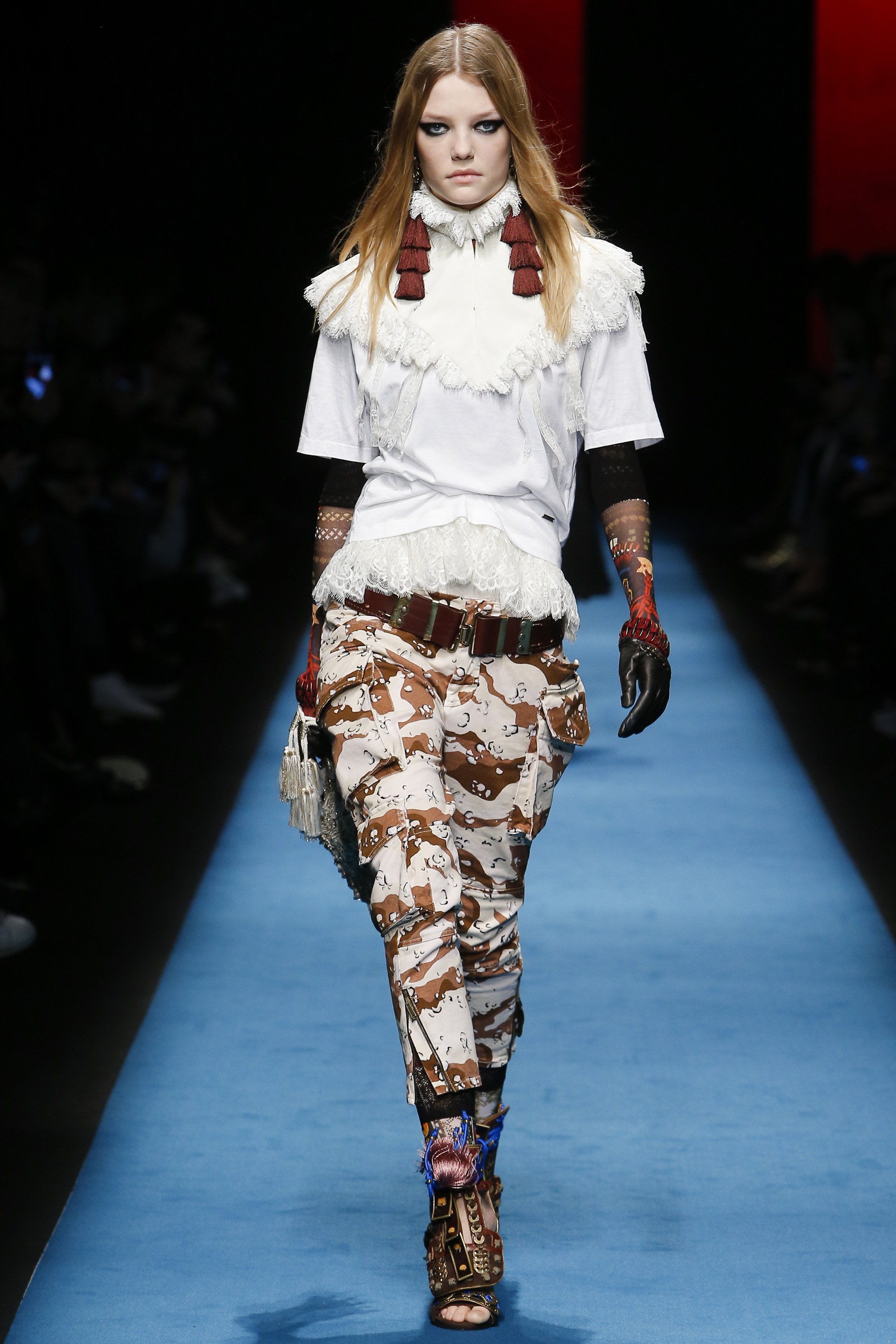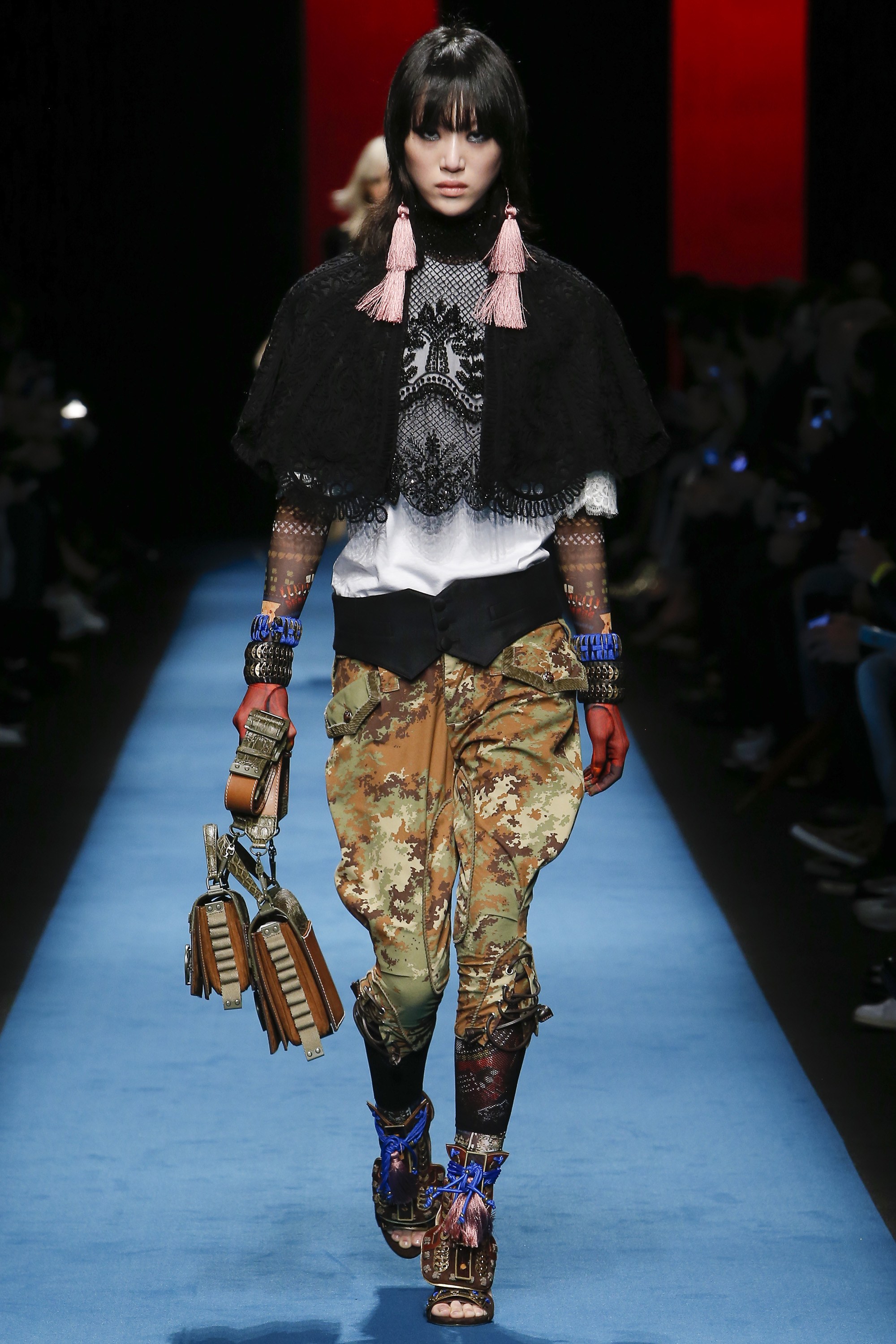 The frilly lady like Victorian inspired blouses are a perfect yin to the yang of the masculine jodhpurs, which here are glammed up by their snug fit. The crazy sandals are perfect for runway theatricality, but these outfits call for RIDING BOOTS.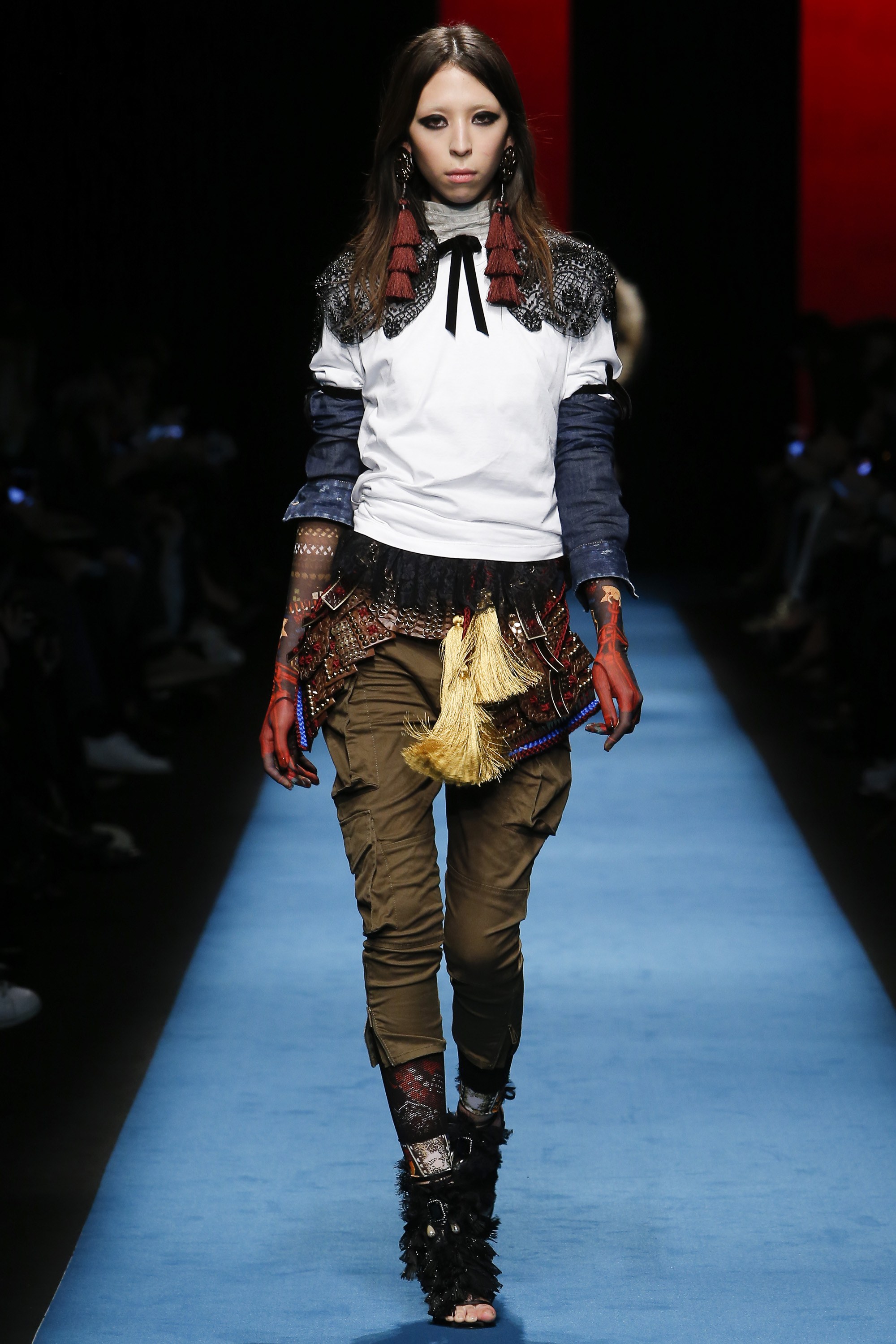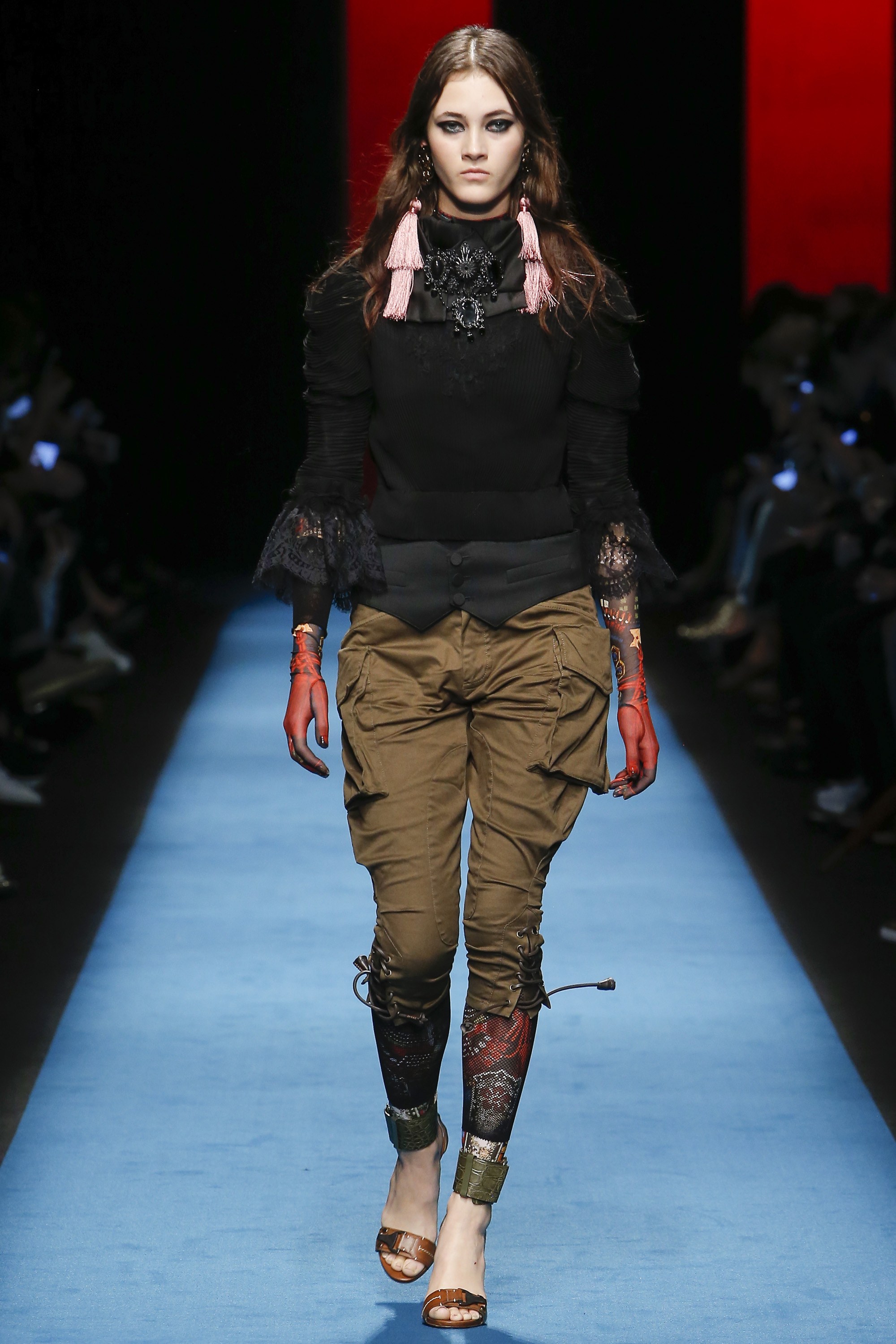 Pockets or no pockets the jodhpurs are a great staple to accompany any jacket boot combo you might have. Pair with a riding jacket or embellished frock.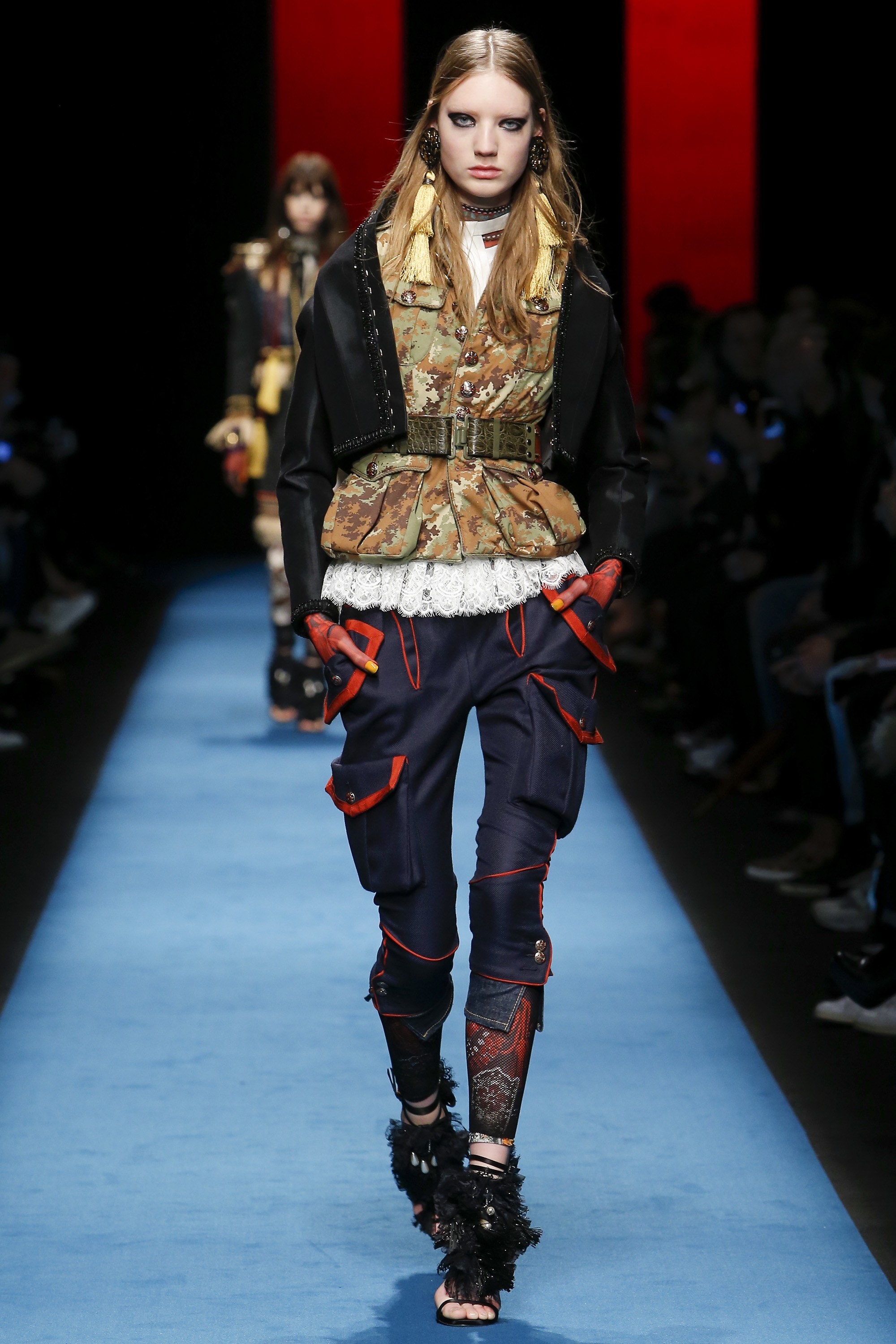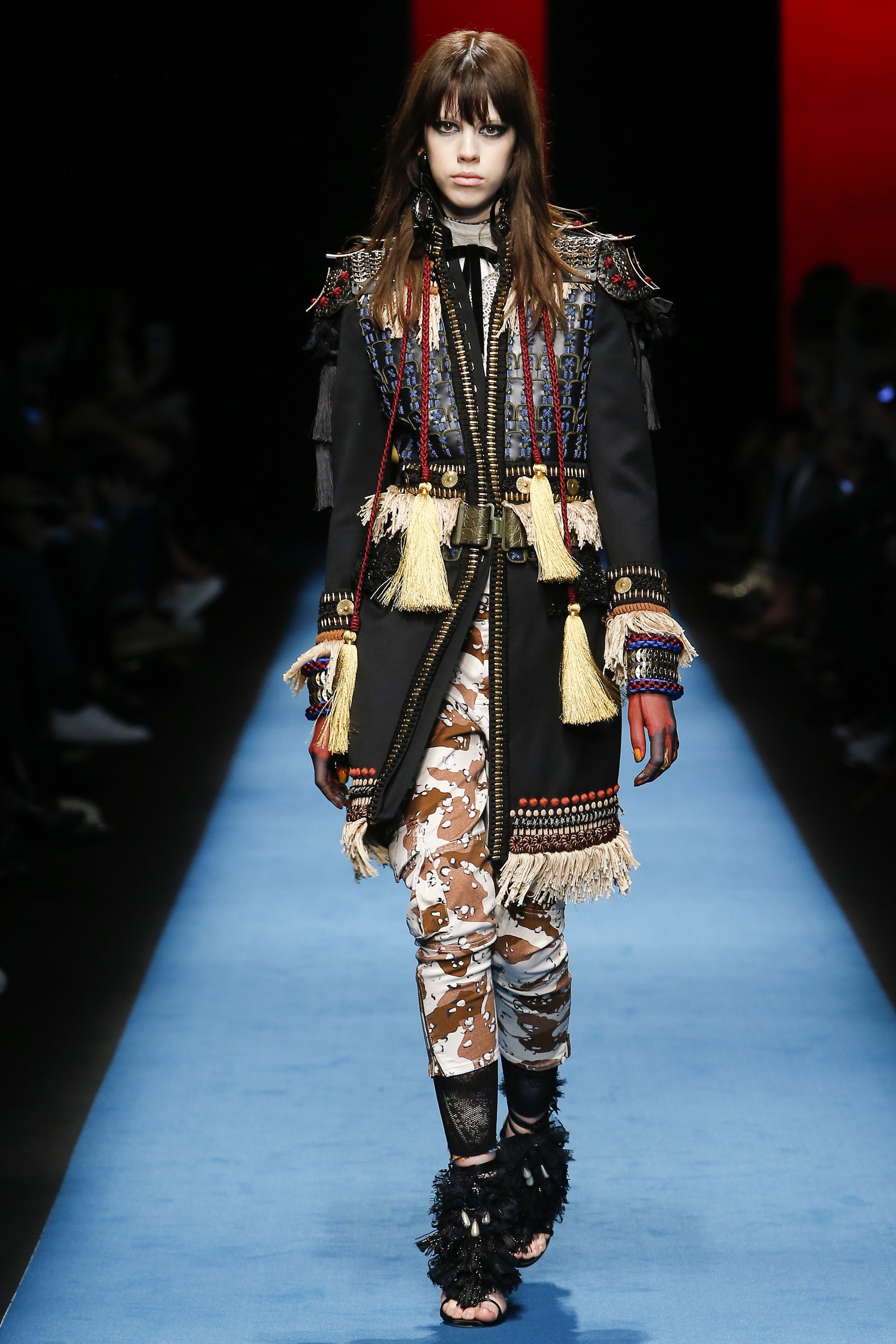 And to add to this FABULOUS jumble of finery, are some wild jackets with a Genghis Khan vibe. Nothing like a trip to the ethnology museum.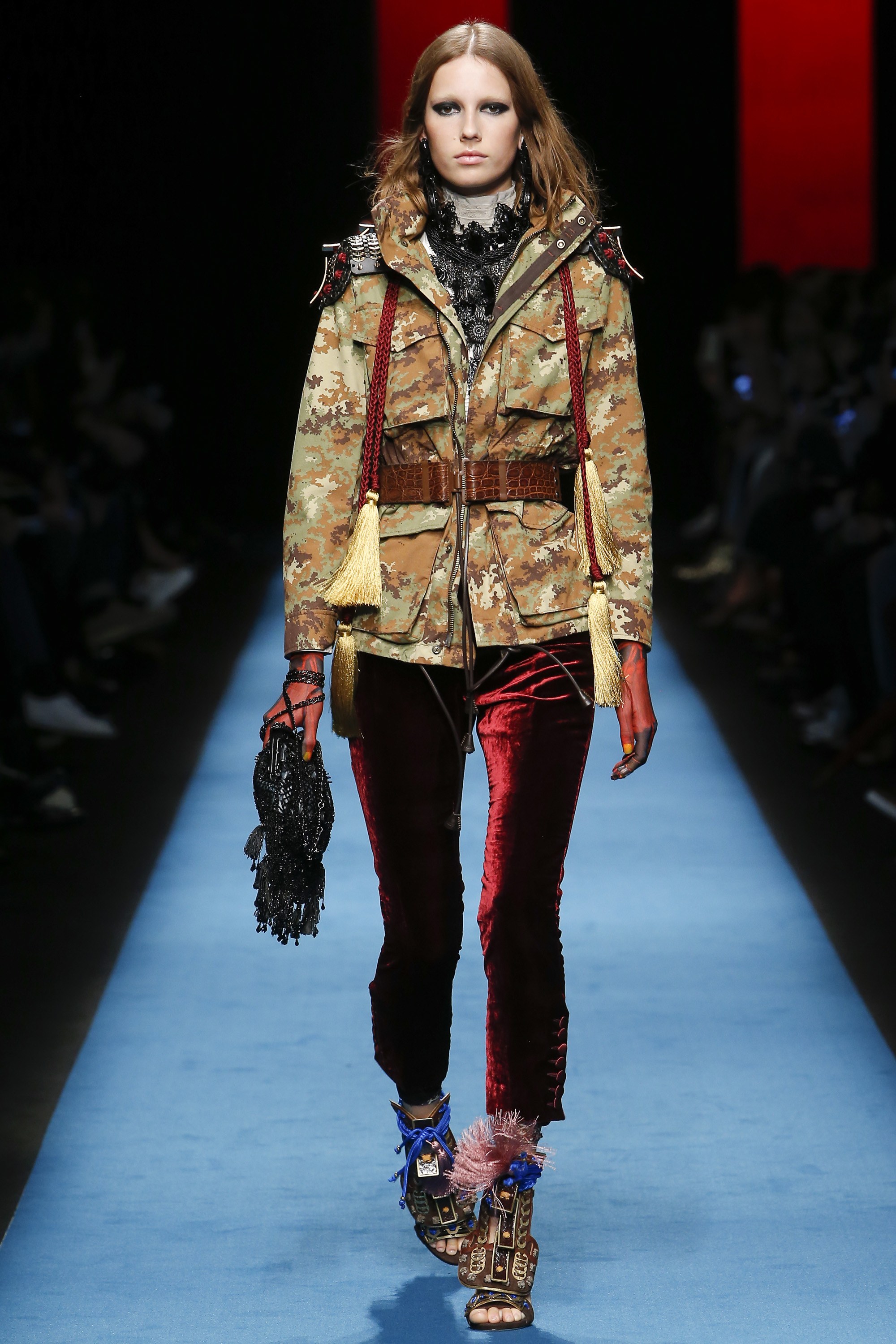 CAMO and VELVET? Where is the problem?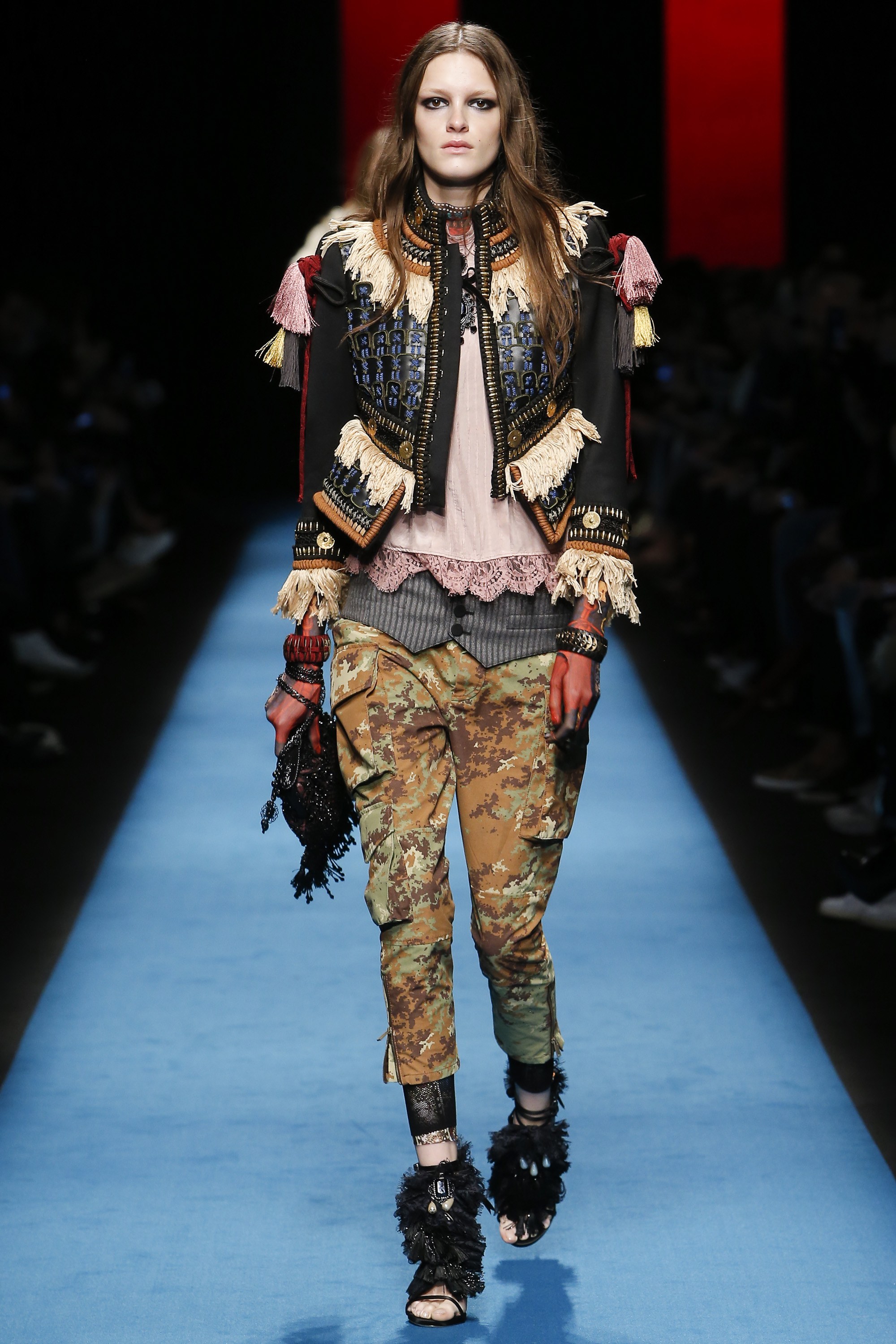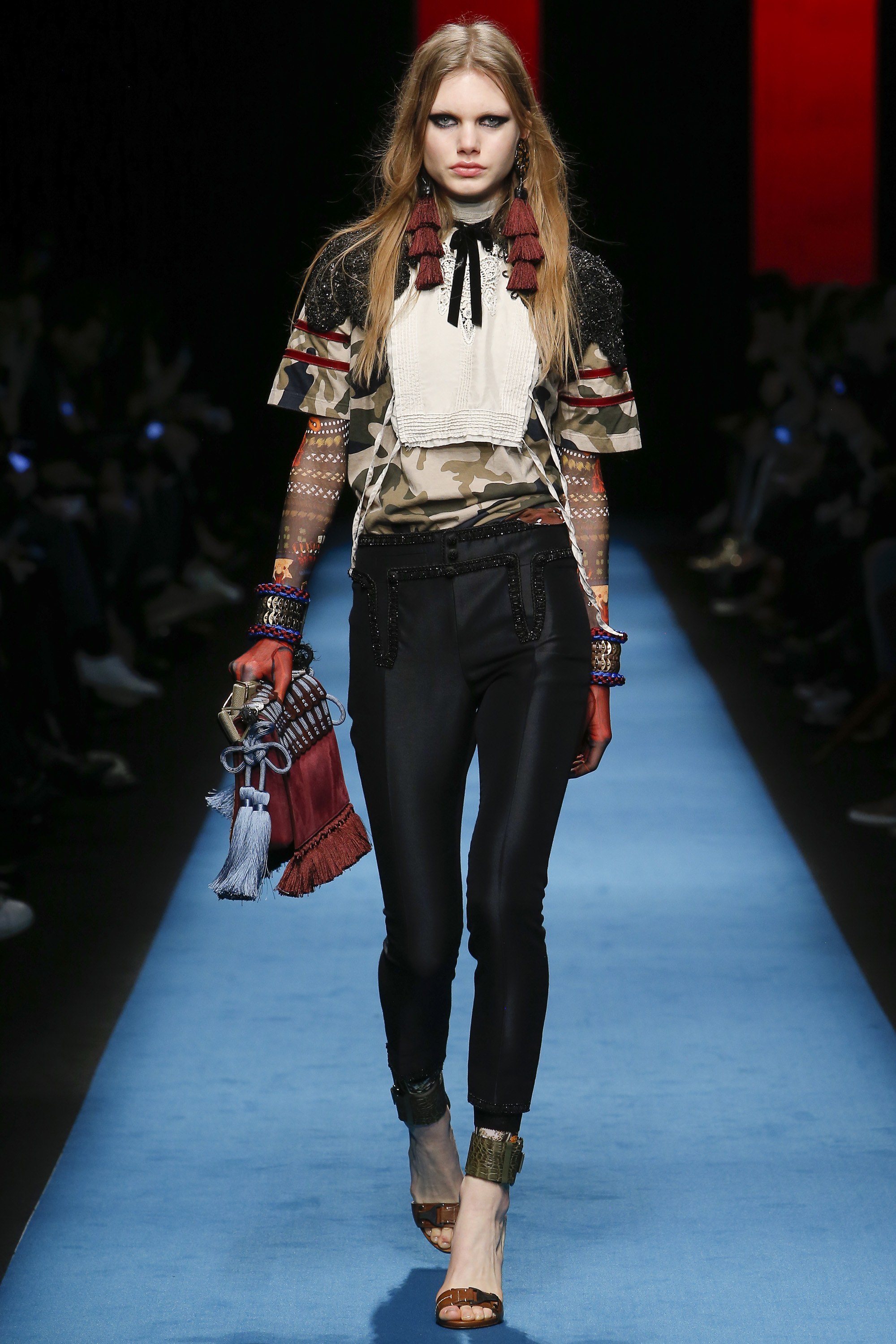 Toreador pants without the need to torture a critter. These can go casual OR upscale akin to tuxedo pants. Or hell, go nuts and wear with the embellished black cape in the collection.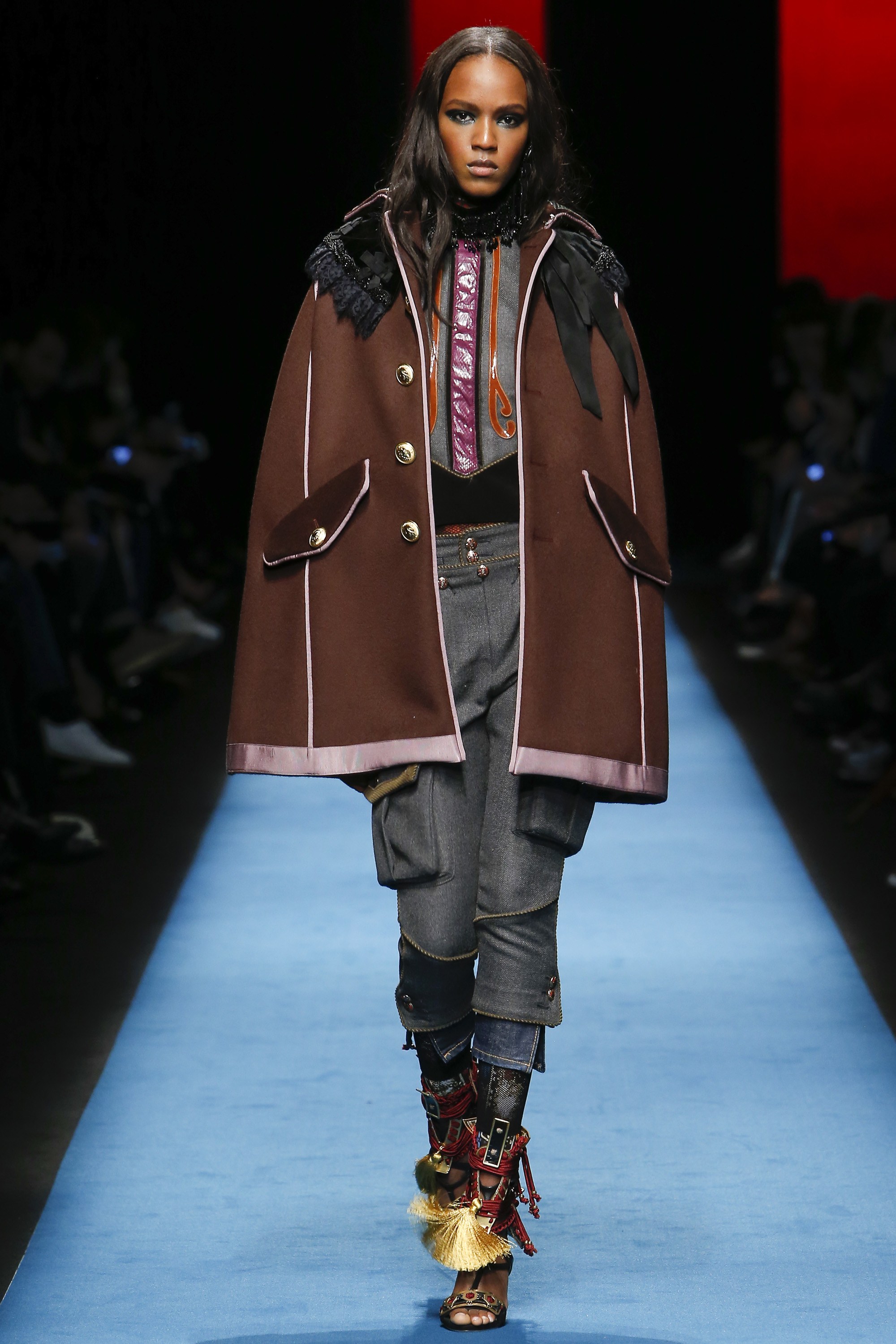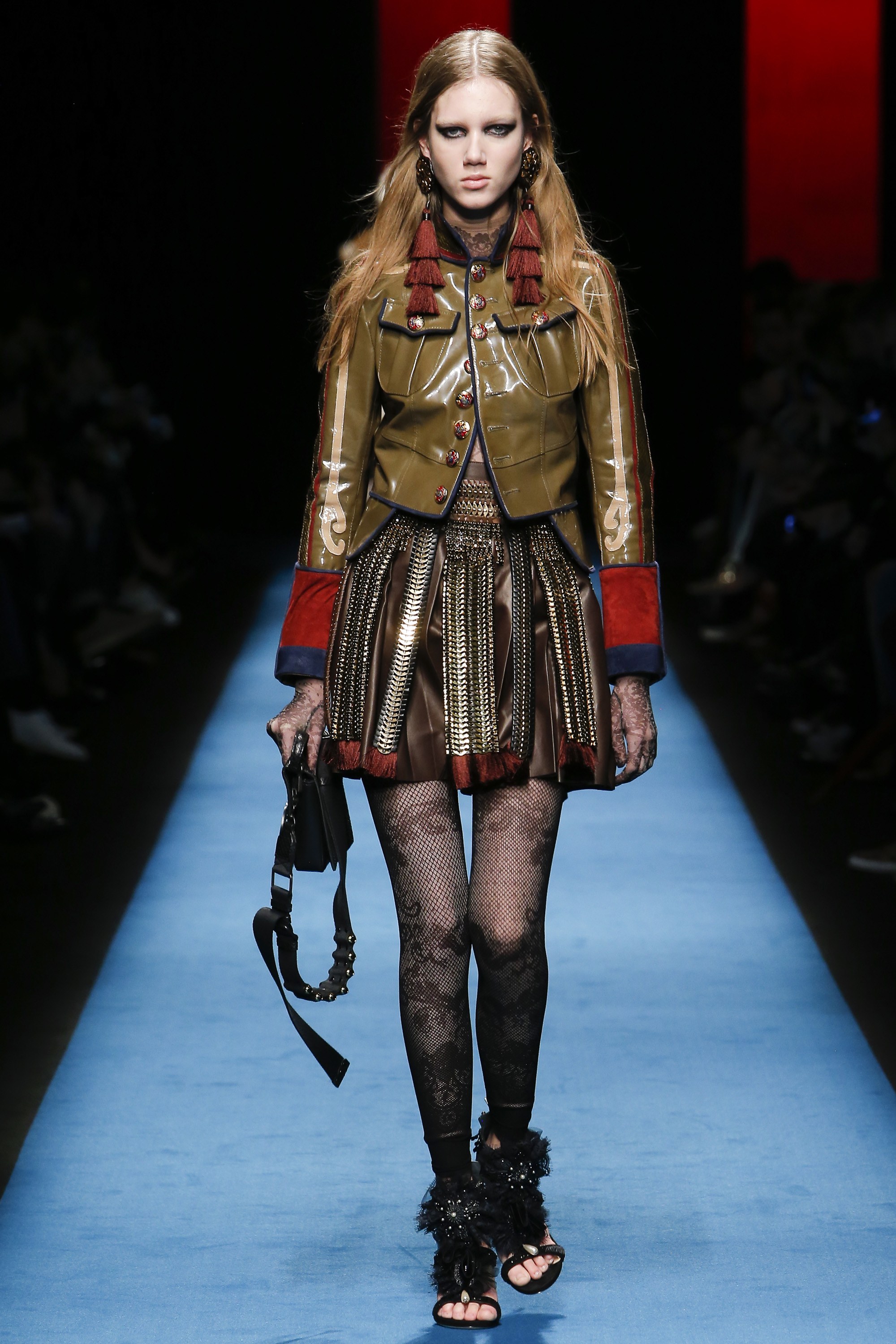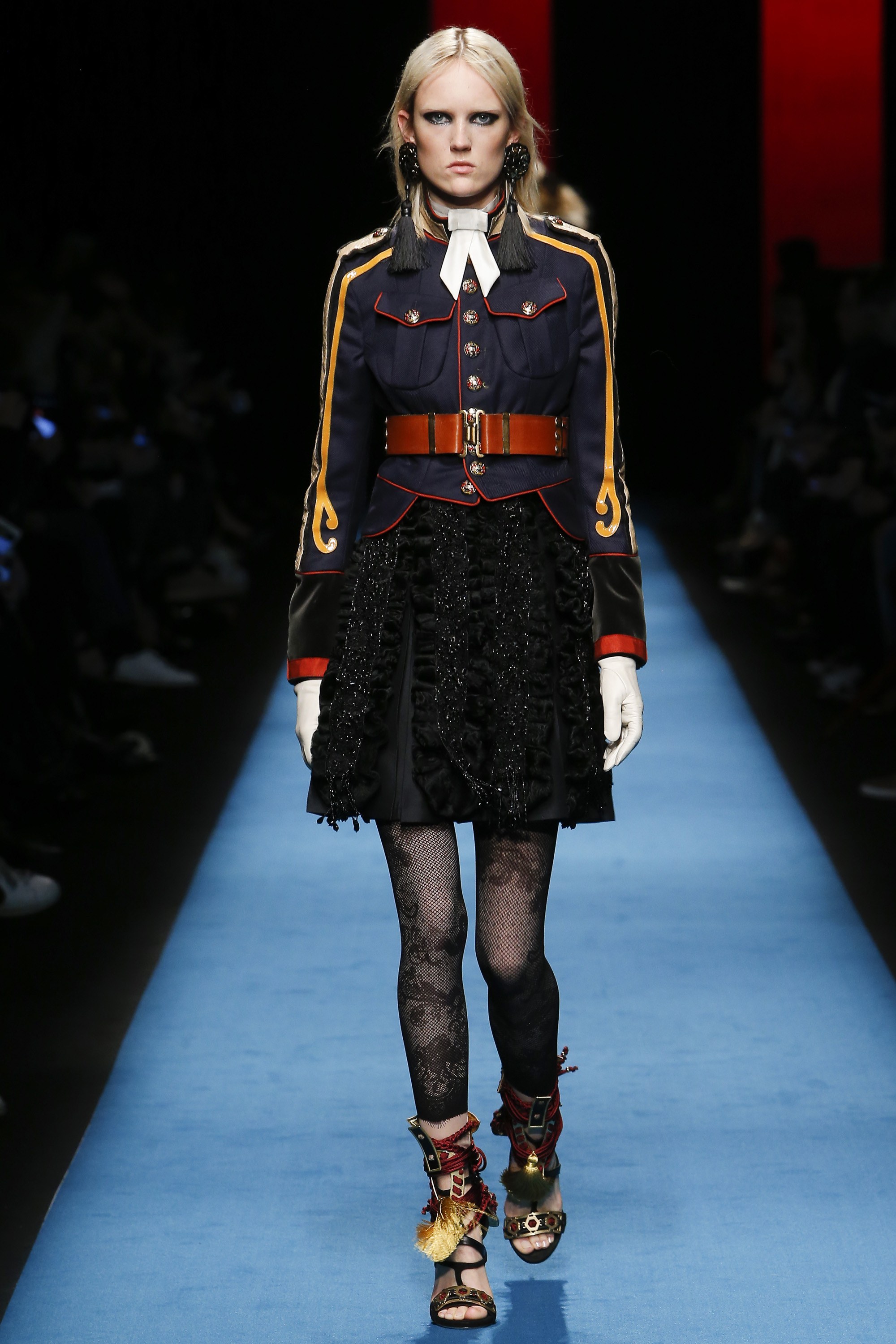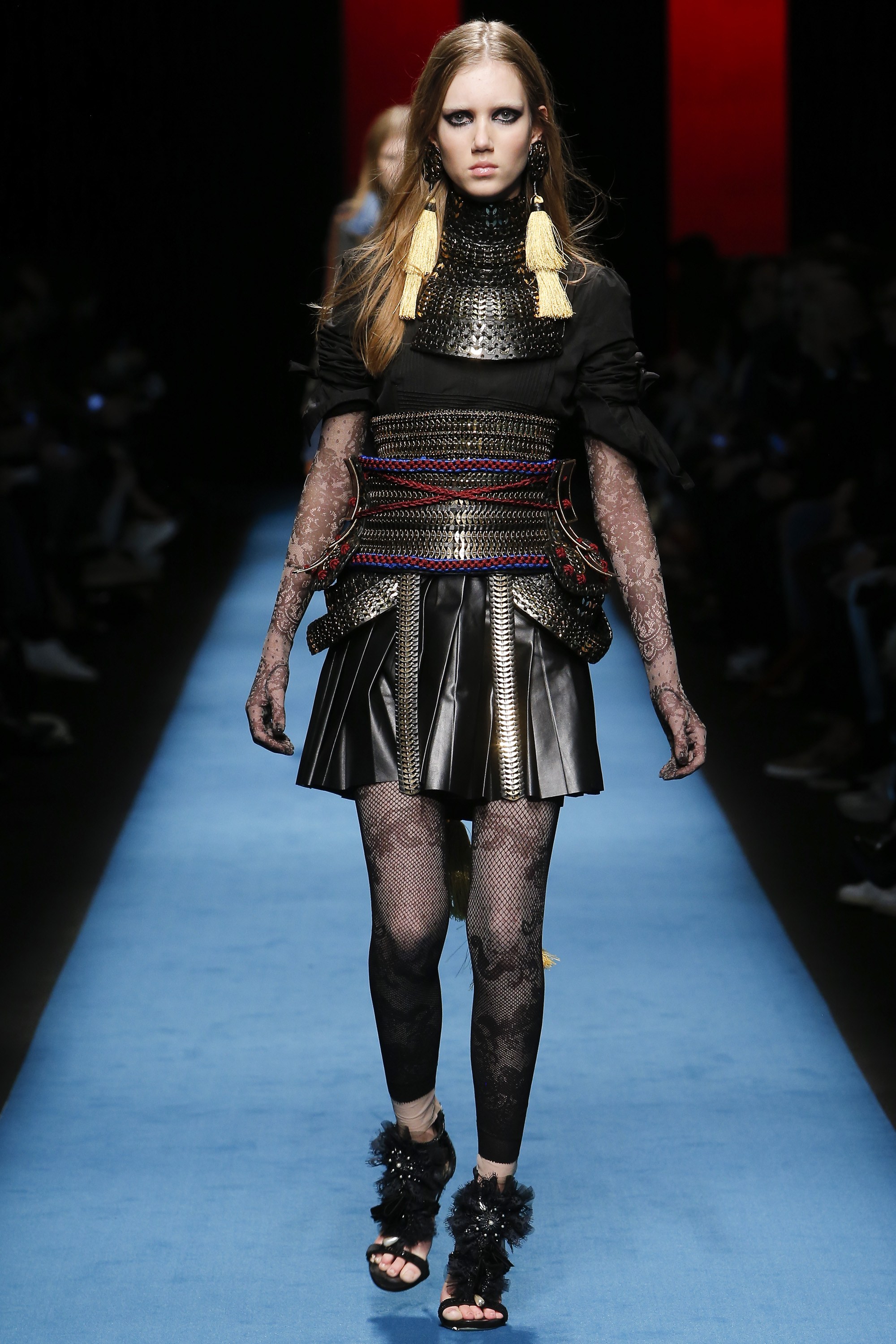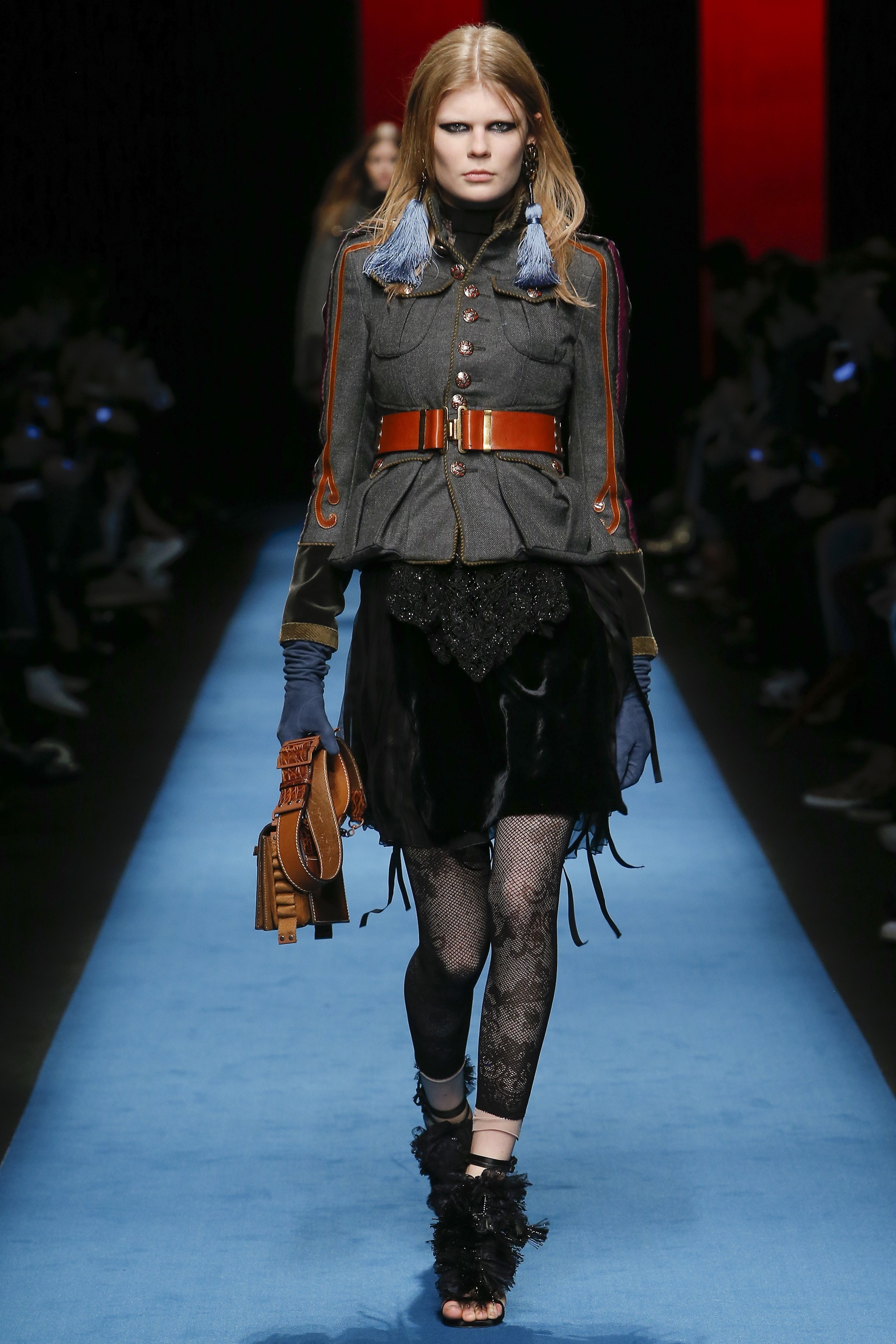 Tried and true wearable silhouettes made opulent and dramatic by virtue of the fabrications, detail work, and whimsical combinations. Throw in some latter day armor and we have quite the tour de force spectacle.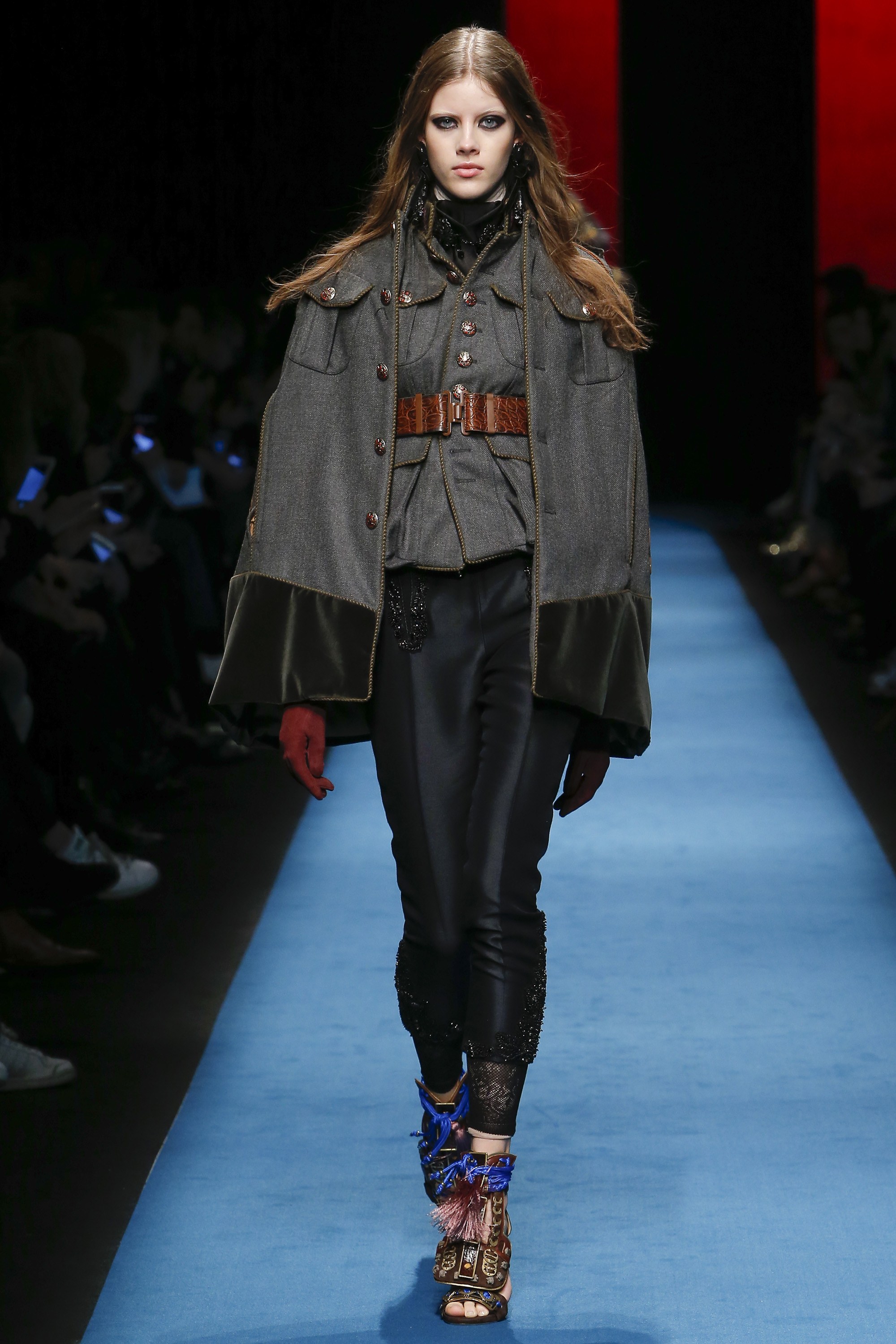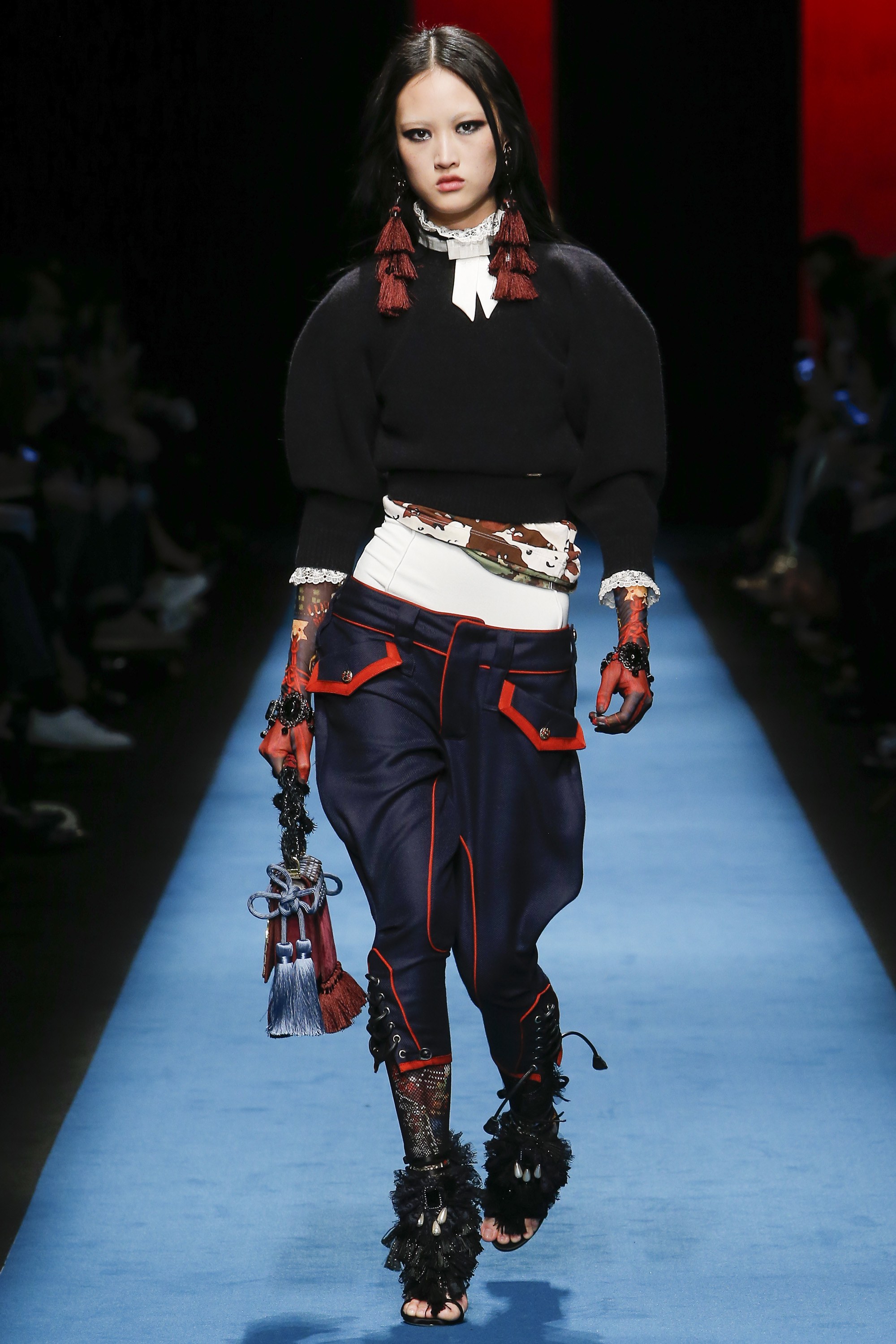 Red and Blue is always a winning combination. Think of this combo as the new neutral.
And for those who cannot get beyond the black paradigm, the darker more goth contingent: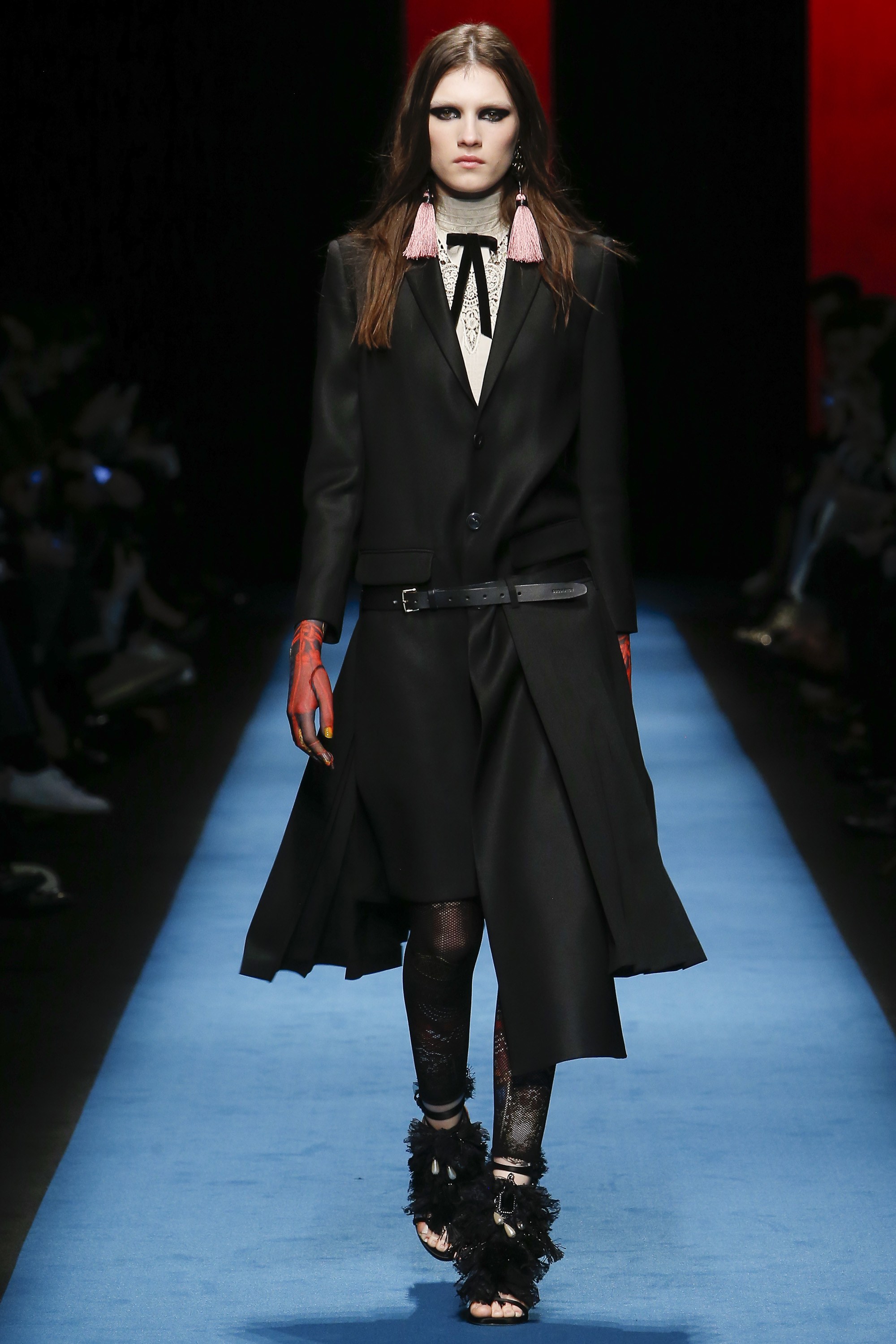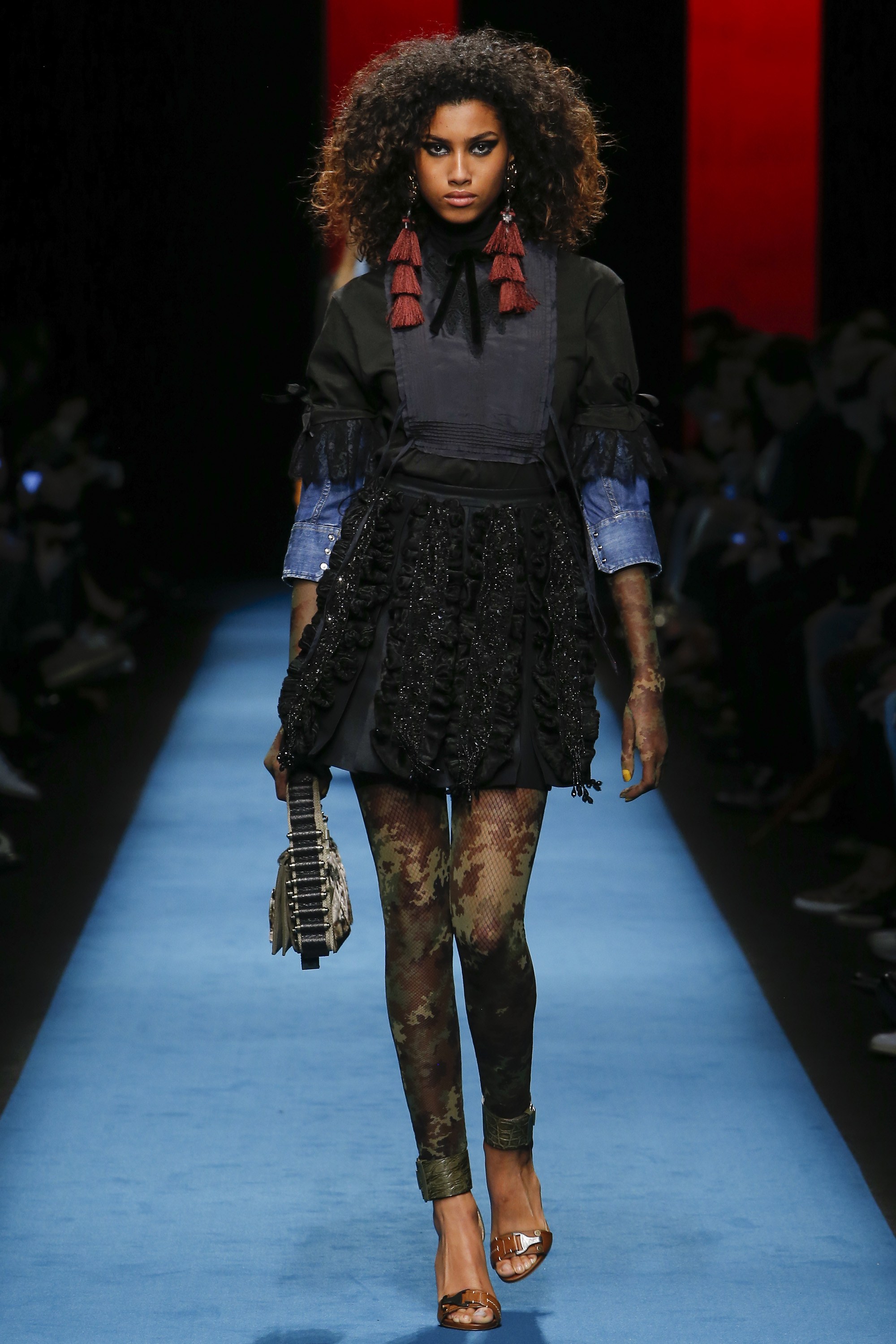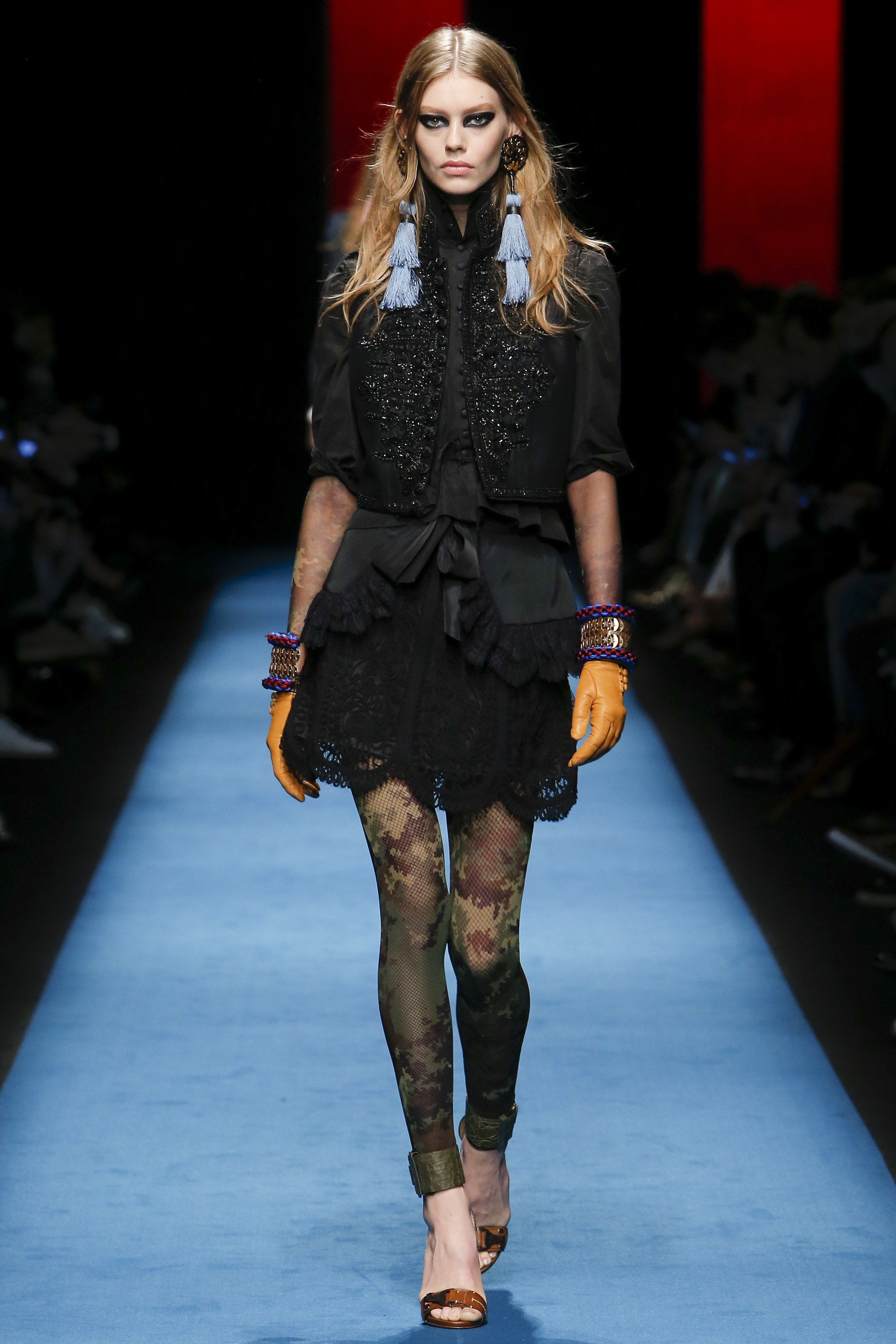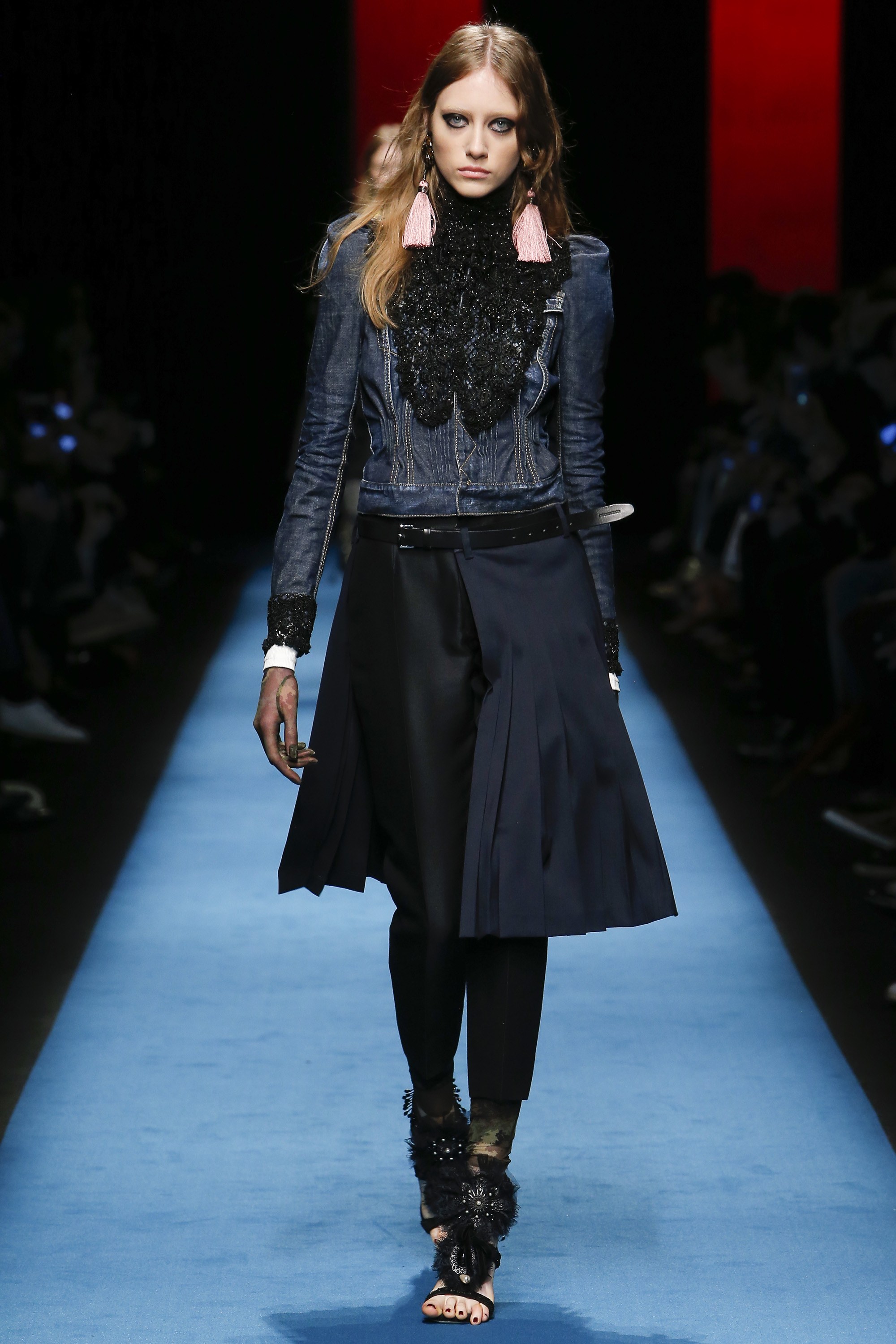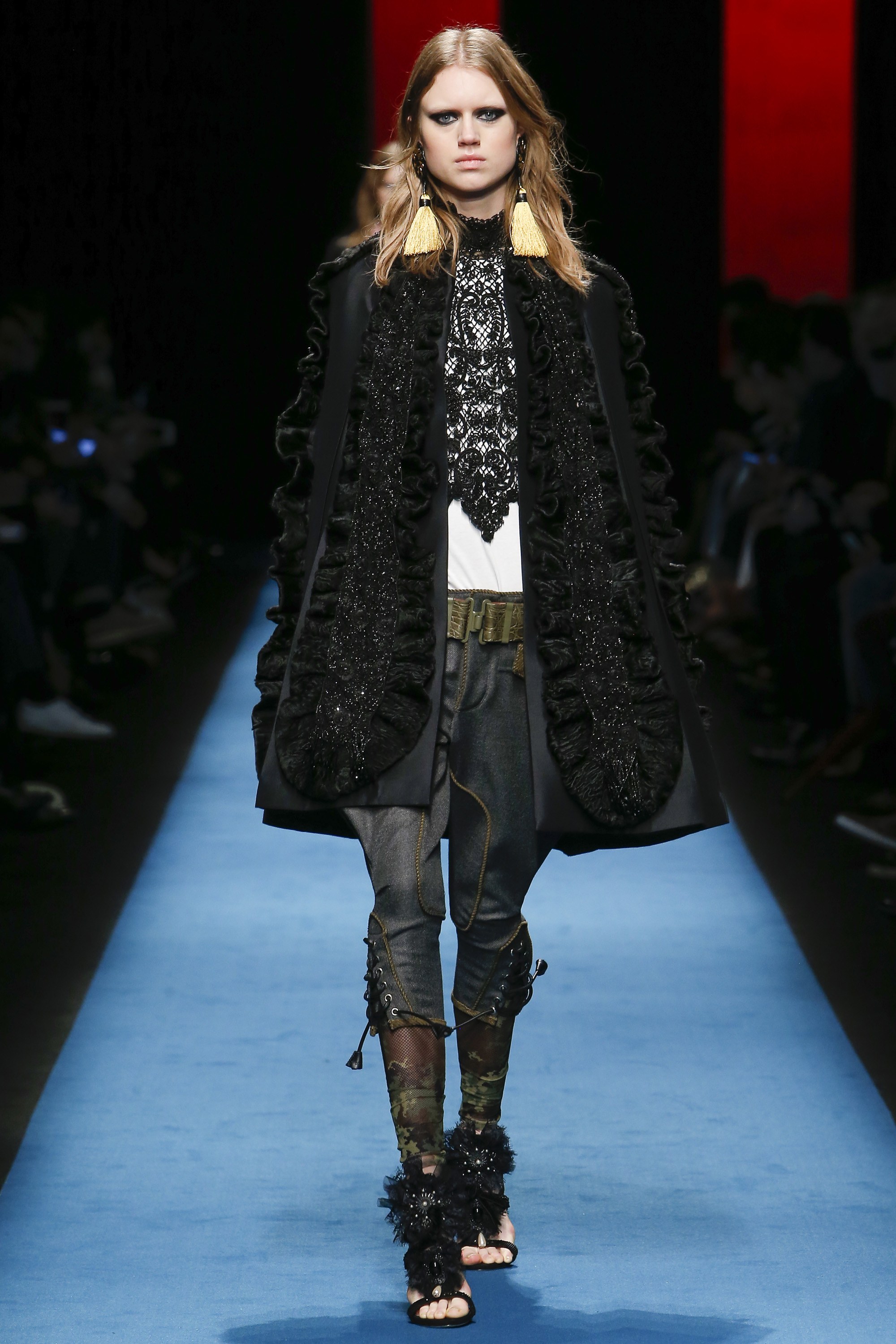 Many of these pieces would work well at any glamorous soiree or gala opening. And then could be worn again over casual togs and jeans and such.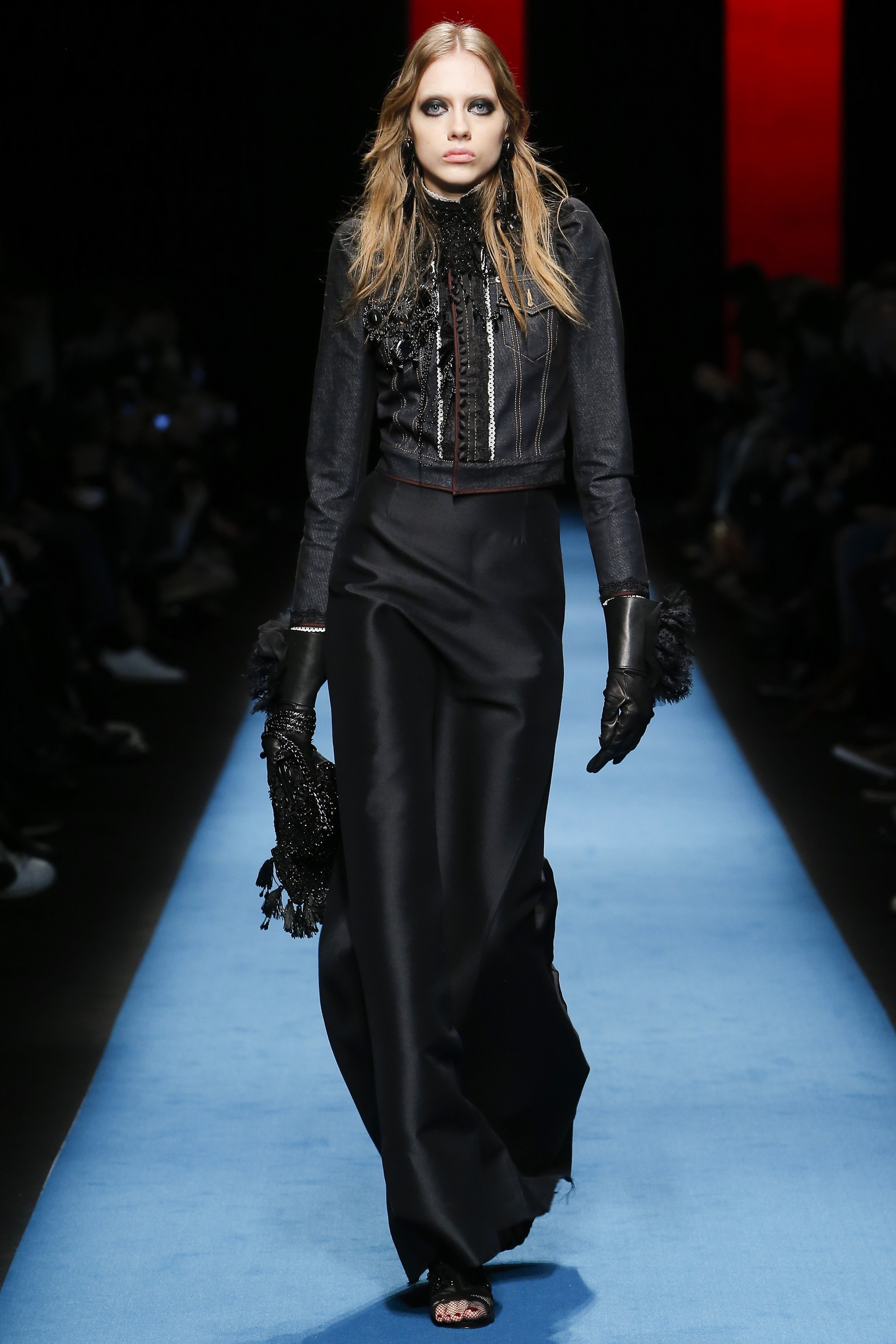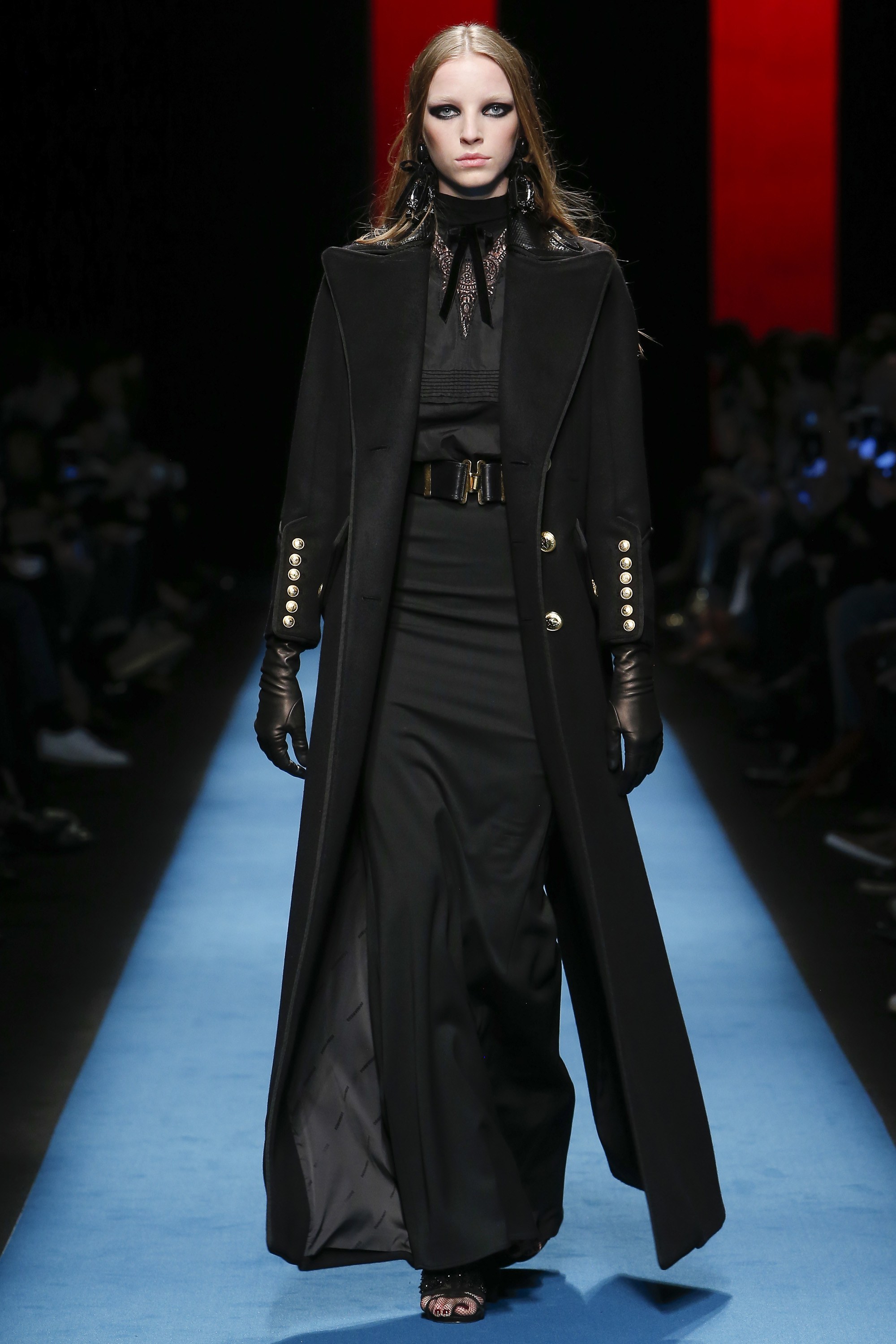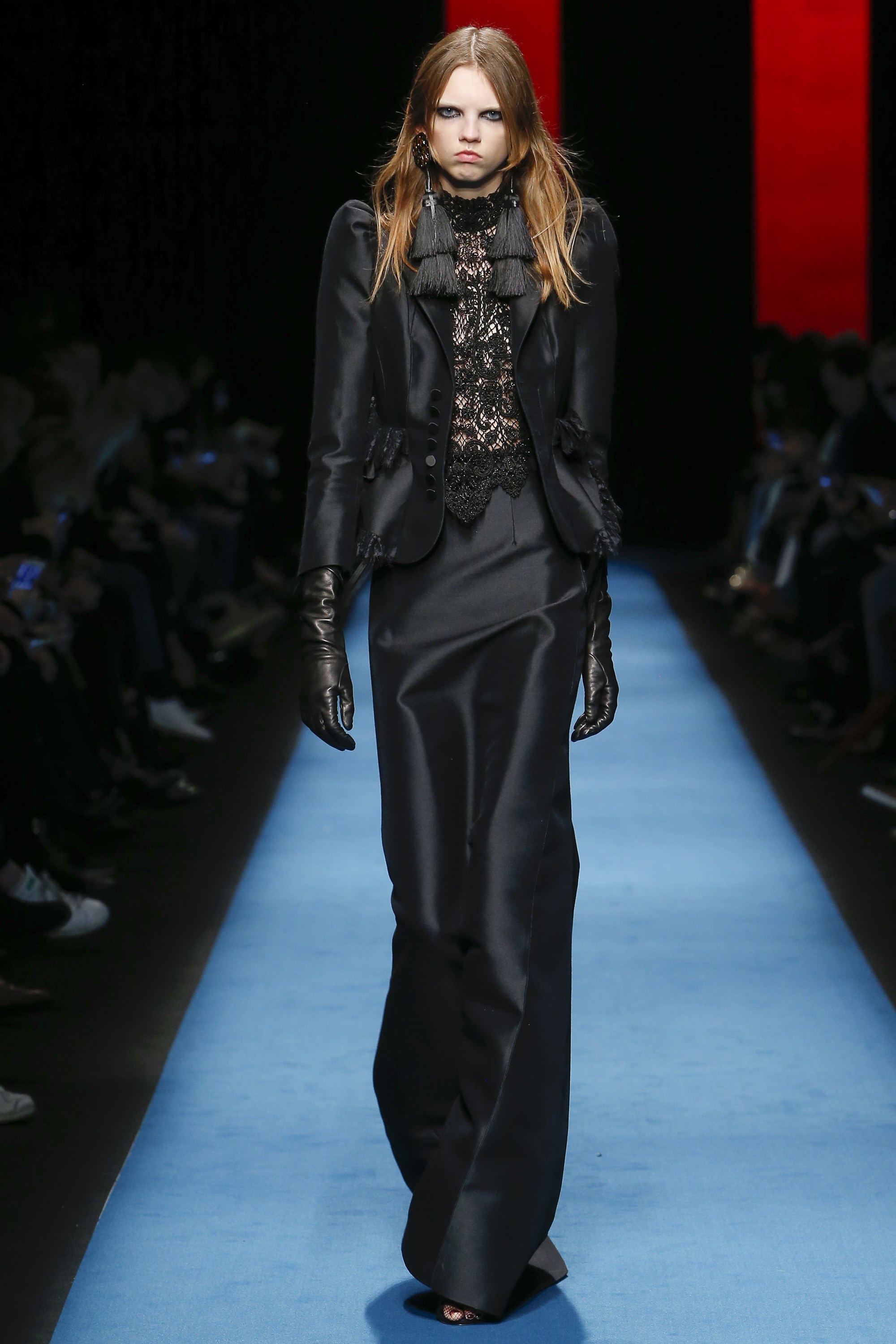 Thanks Dean and Dan for another spellbinding collection!
JODHPURS are the new black!
HAPPY EASTER ALL !
Images from www.vogue.com.