Miuccia Prada steps a bit beyond the usual paradigm and heads towards Dsquared and Lanvin (under Elbaz thank you very much) territory. Take a series of curious elements and blend them together in a devil may care way, as if you are a Bedouin nomad heading out to the desert for an undisclosed period of time and you don't know where you might end up, and what you might need. A winter's coat and school girl patterned tights? Bright frocks with abstract renderings, or maybe a corset around your jacket, in the vein of inner wares as outerwear?
A trip to an unexpected OASIS of wearable whimsy and away from the banal, always appreciated these days.
And any show that adds JACQUARD in any permutation AND military inspired coats, I'm on board with. A jacquard component, whether a blouse, frock, or jacket, is the most facile way to add glamour and zest to an outfit. You get automatic pizzazz by virtue of the fabrication without having to shell out a boat load of shekels for HOURS of beading and embellishments, a more laborious and tres cher way to achieve a similar, albeit more dramatic, effect. And as for the always beloved, up there with Leopard and Trench, military derived elements, whether harkening back to Ghengis Khan, Russian aristocracy, or the French Foreign Legion, you can achieve regal, dramatic, and wearable, with a touch of alpha male in the mix, in a friendly and winsome silhouette. A tapered waste and frog closures are always eye catching. Add some epaulets and you get a hint of theatricality to boot, without full on jazz hands and the dreaded lapse into "costume". (As if that's a bad thing).
The almost da-da mixture of fabrications, themes, and accoutrement, might prove a bridge too far for some, but each of the pieces could stand alone, even the wide leather belts, which could likely be thrown over anything, Annie Hall style. Never fear the sometimes puzzling styling on a runway show. It is a SHOW after all, and the designer has but a few minutes to make maximum impact on the visual cortex of the onlookers.
You'll have to fend for yourself when the separates hit the racks without all the extra bells and whistles. By that time, all will be pared down and more visually accessible.
This is a collection that will happily coexist with your Dries Van Noten, Marni, and Lanvin pieces.
If in doubt? GO FOR THE JACQUARD JACKET!
PRADA FALL WINTER 2016: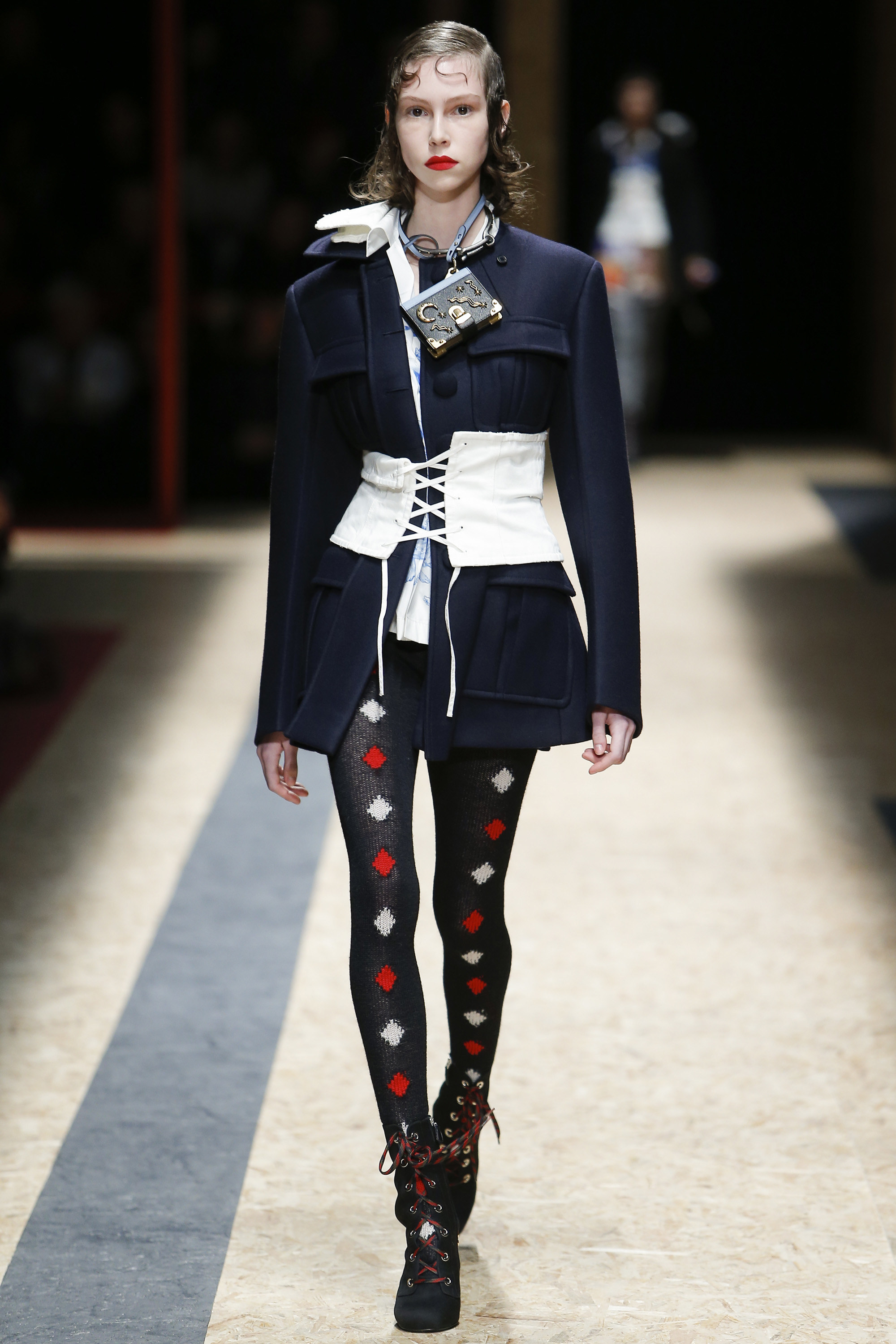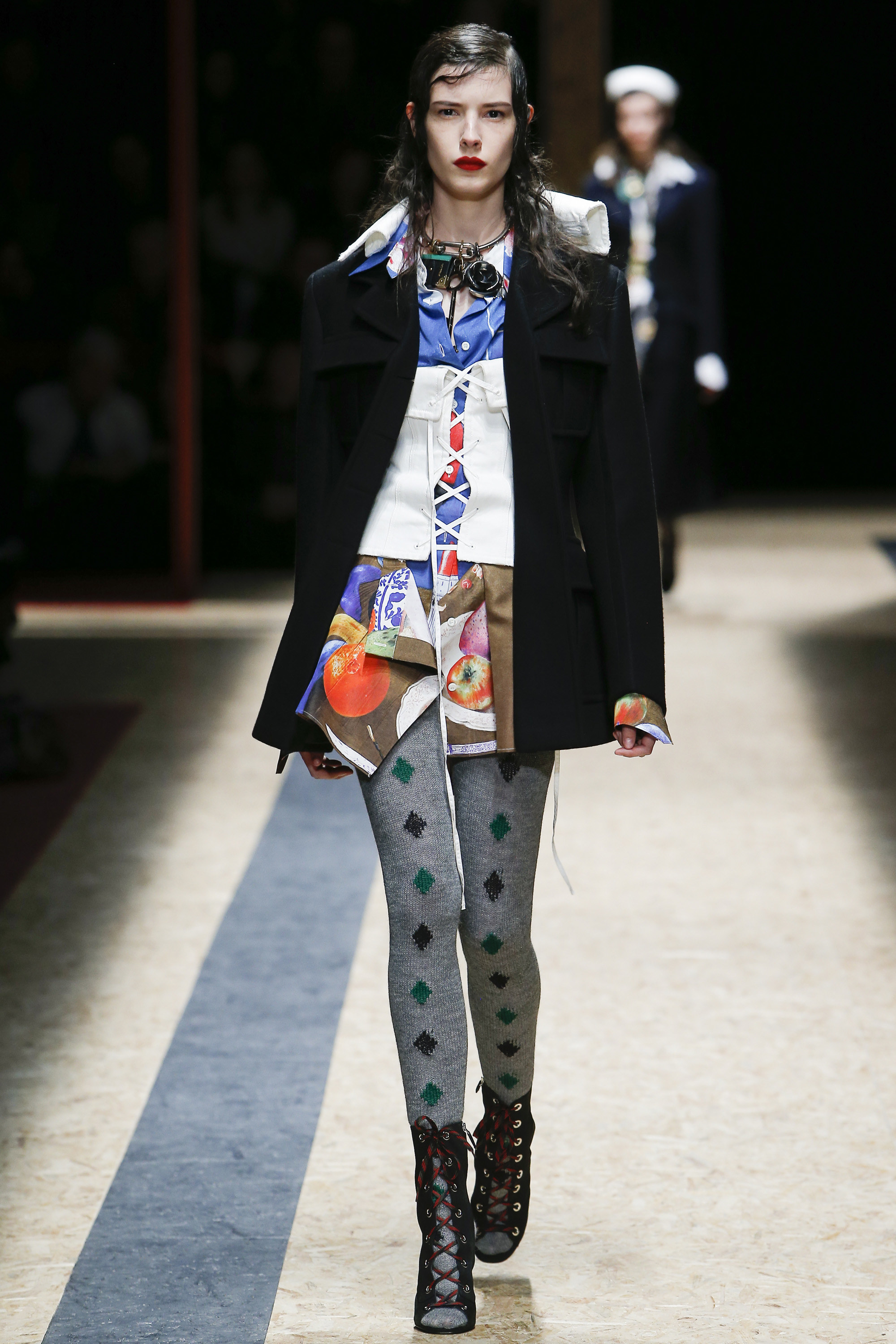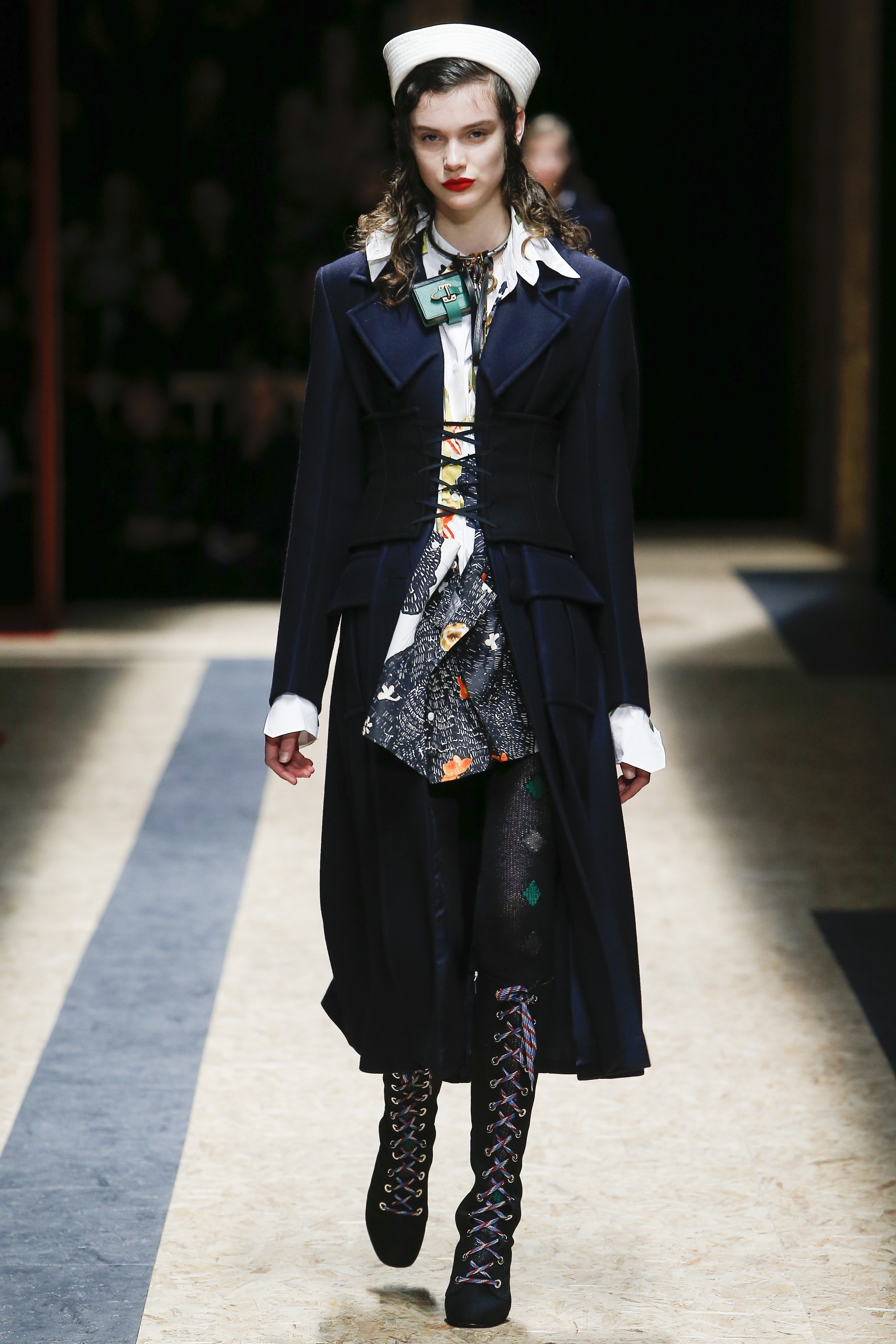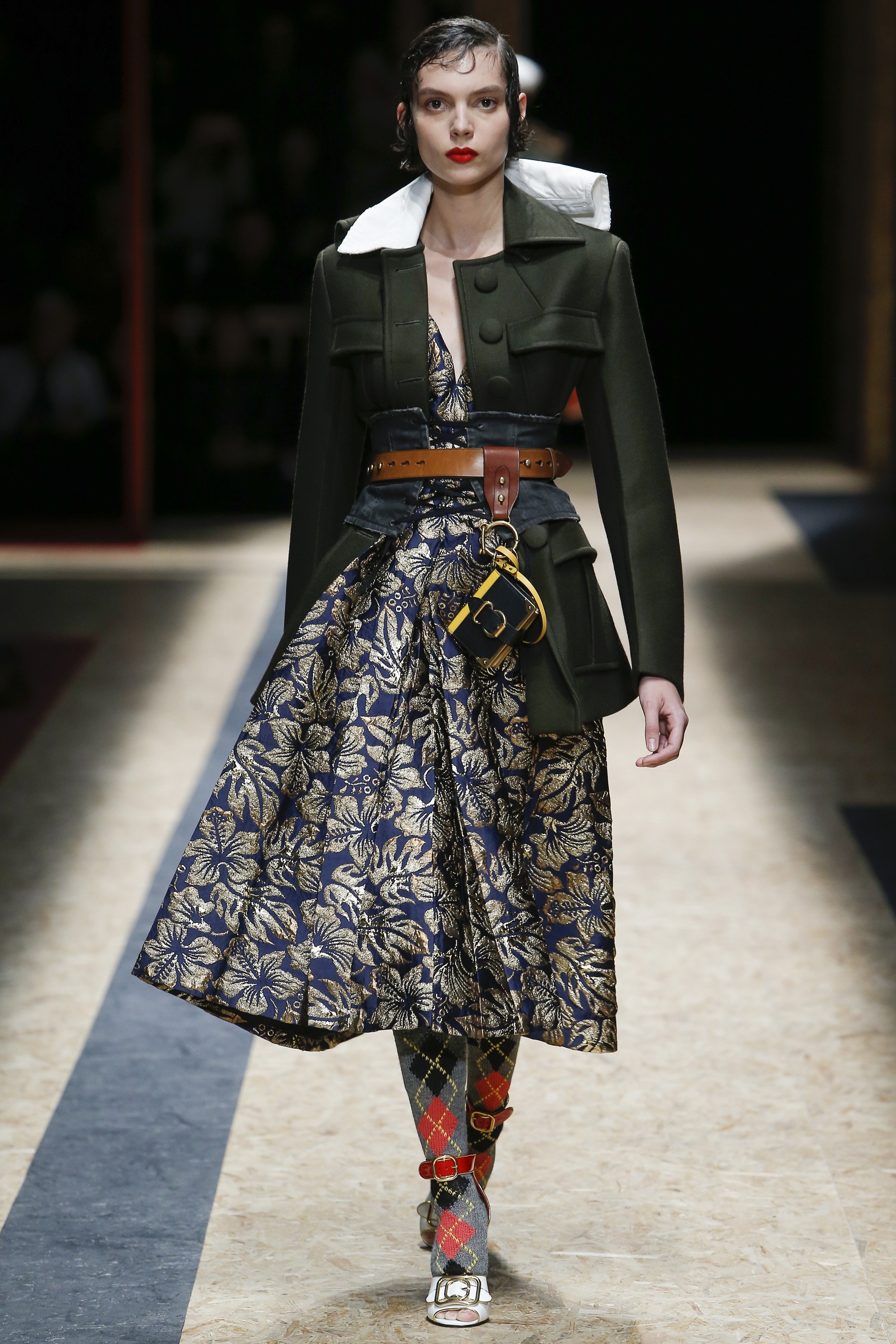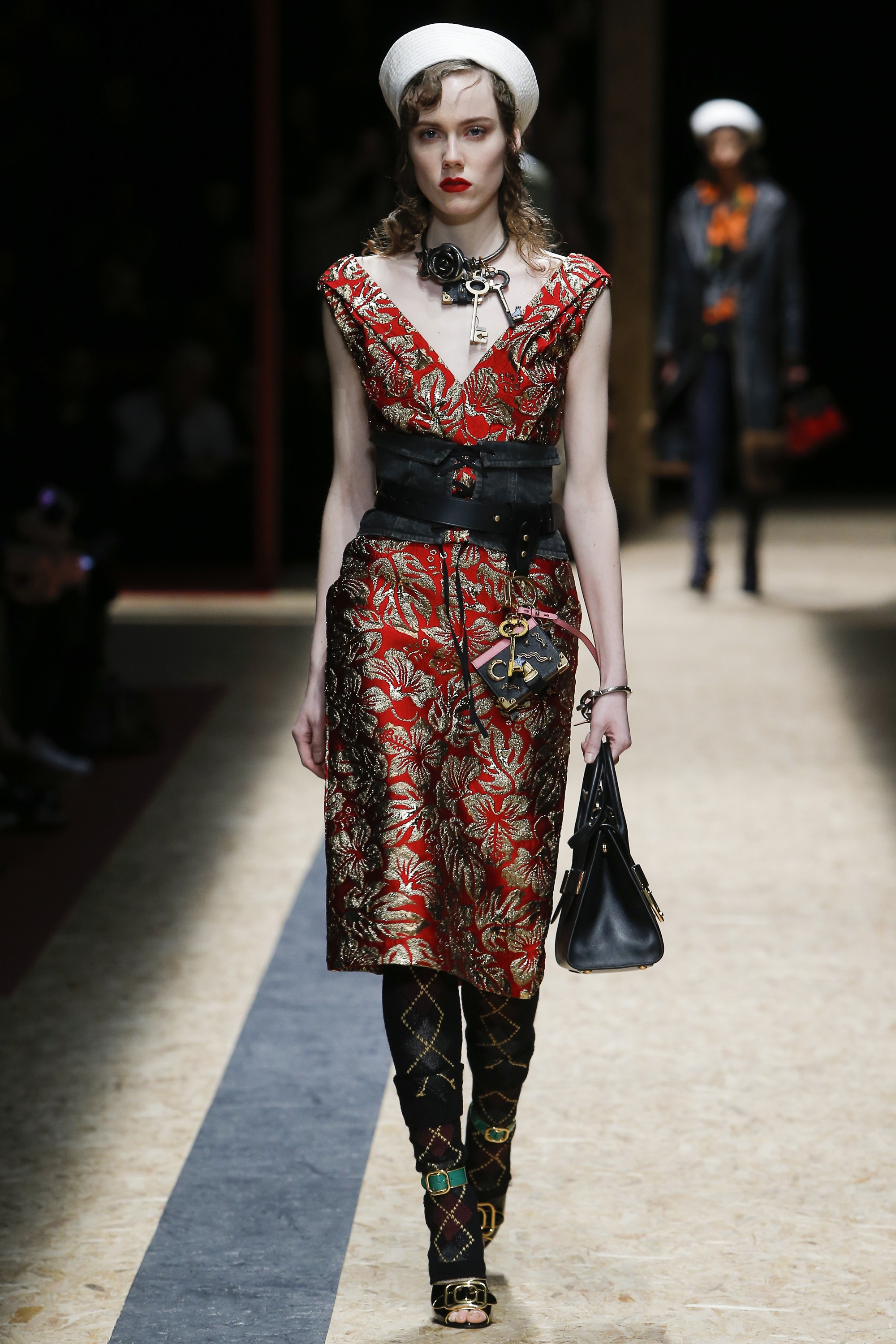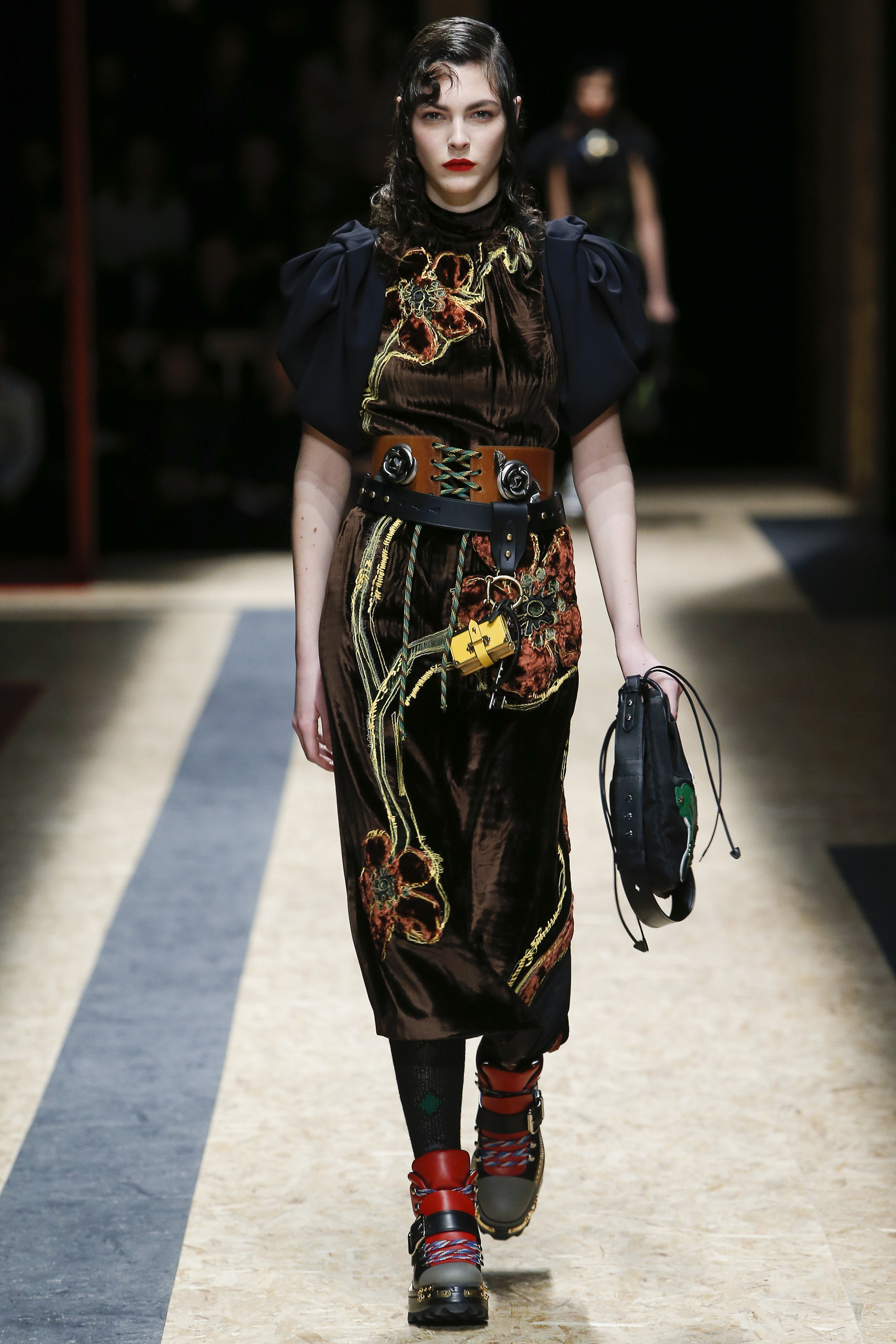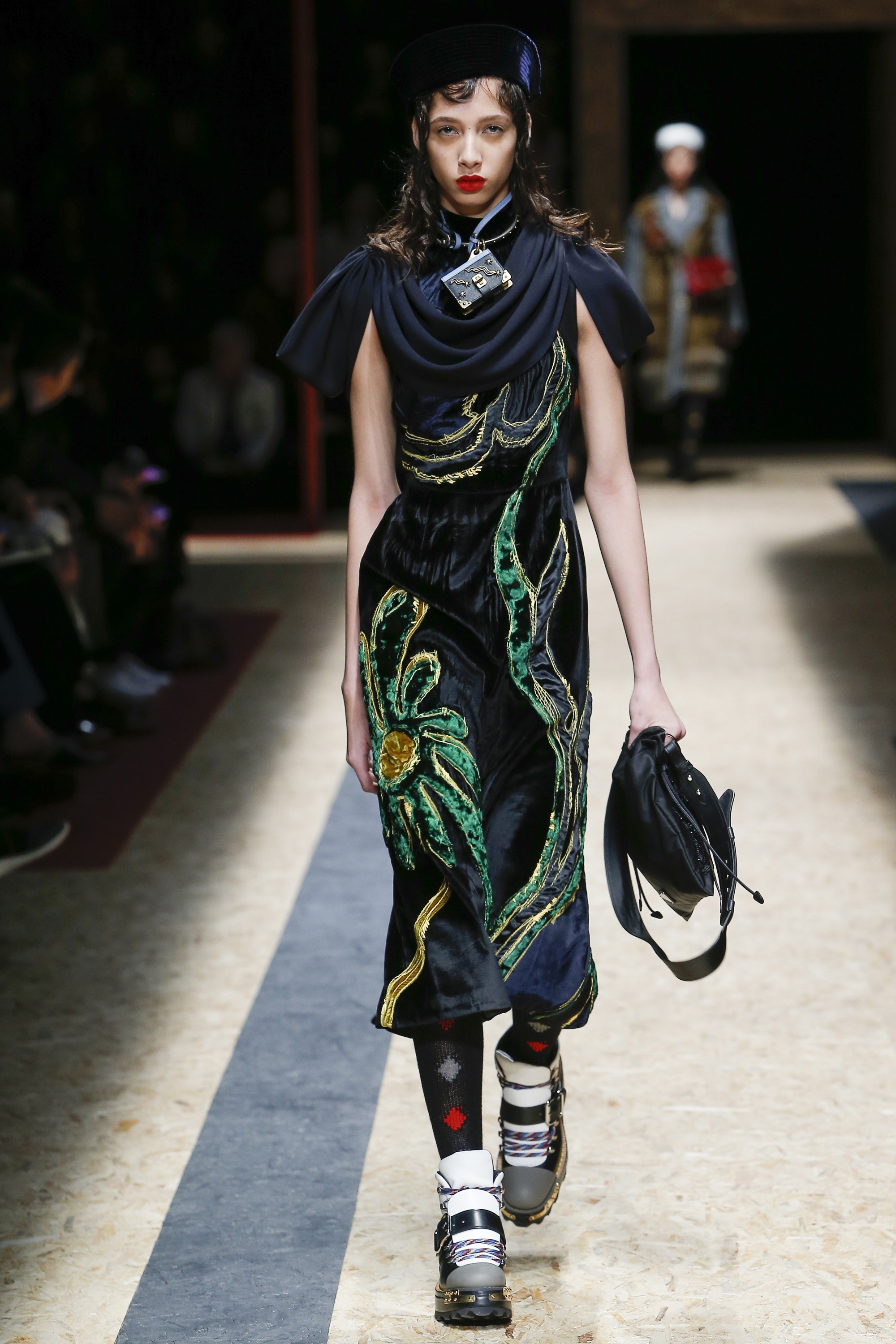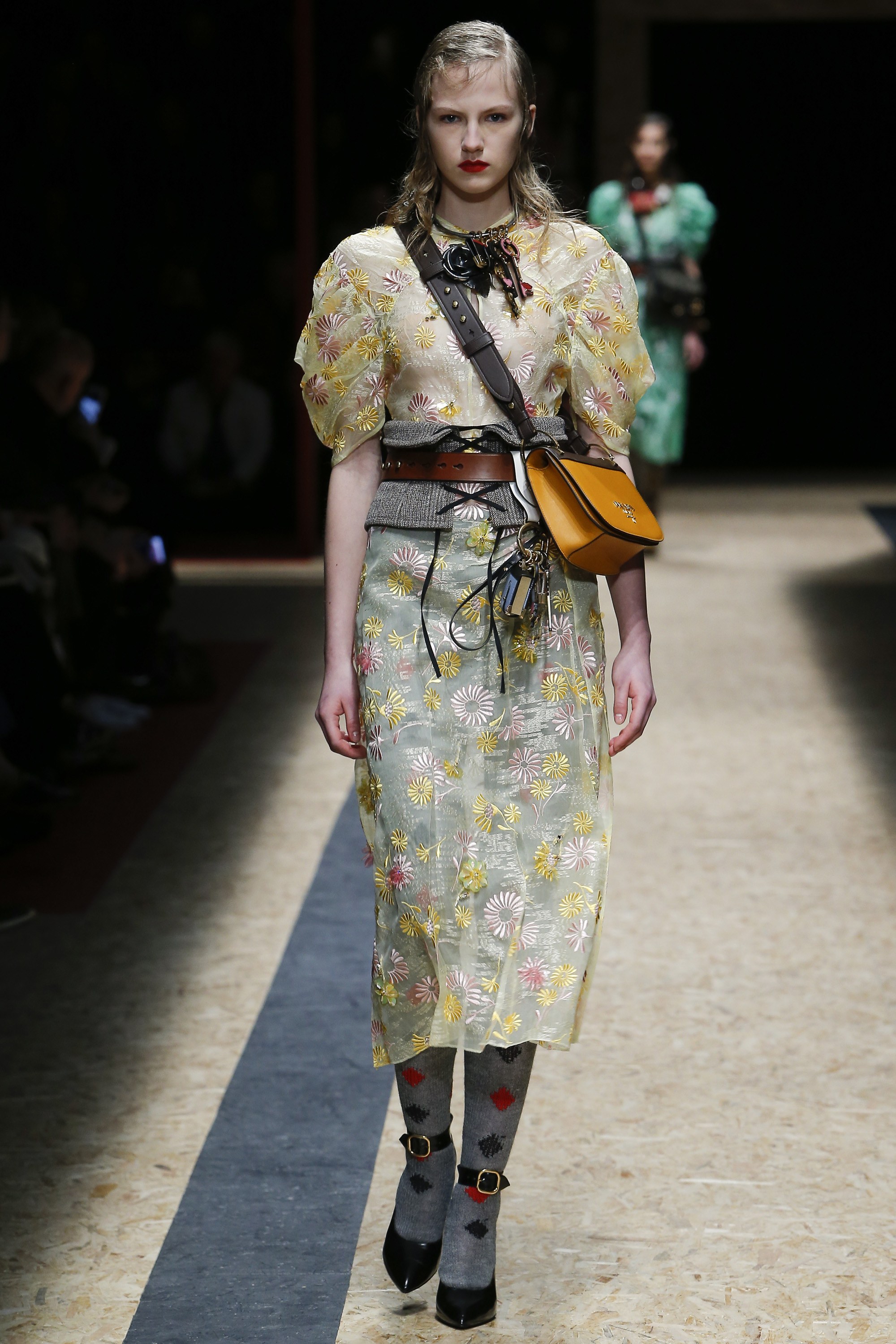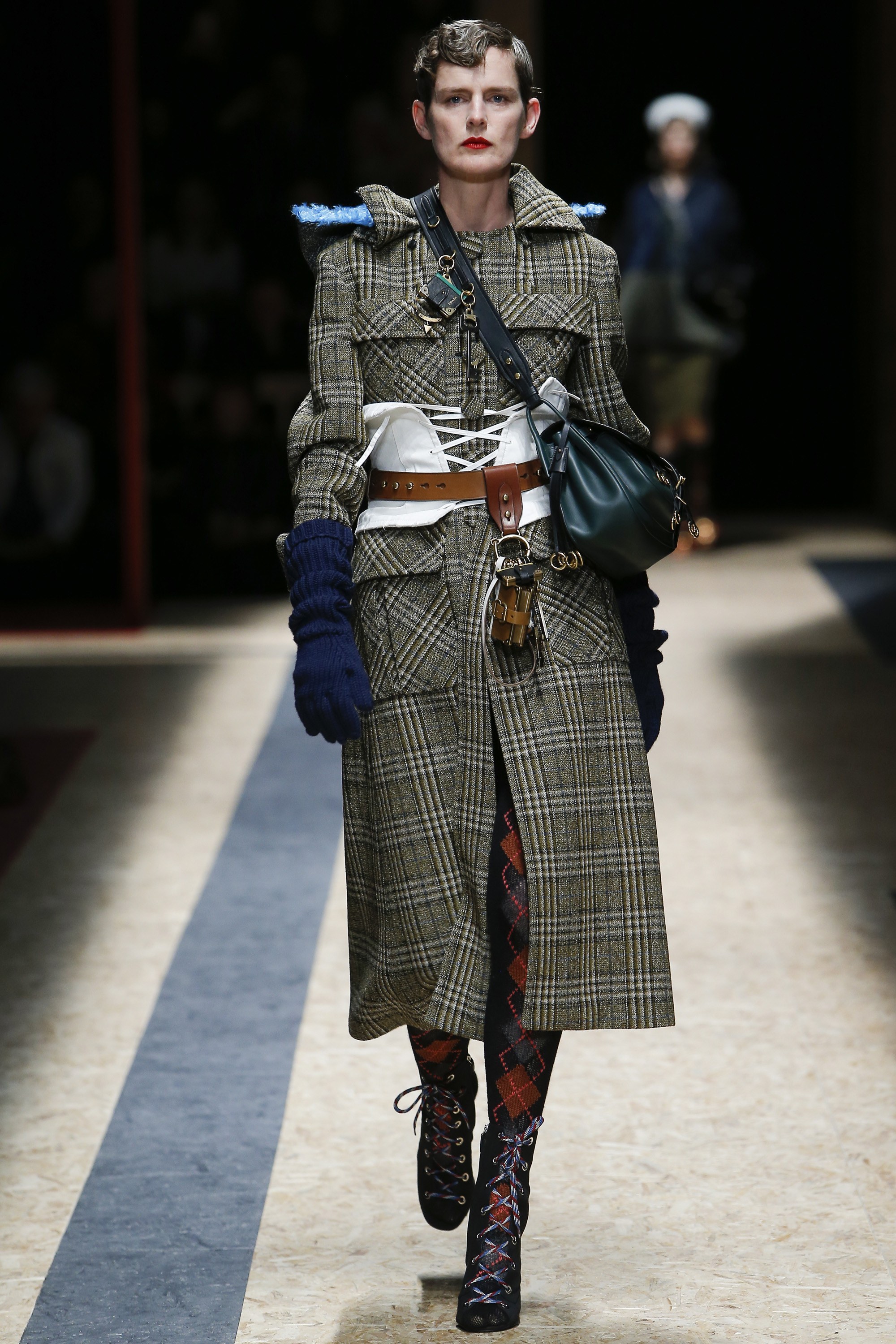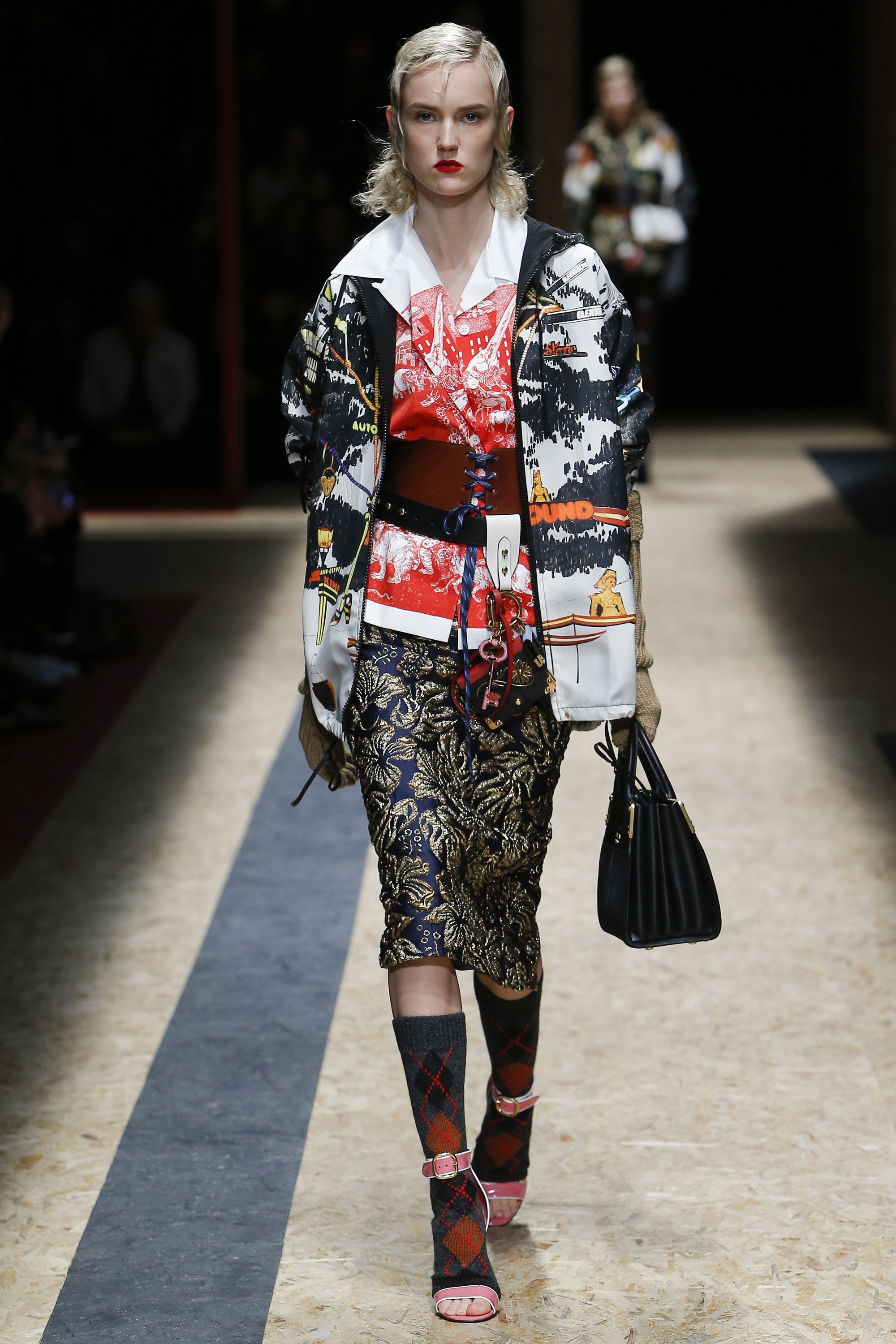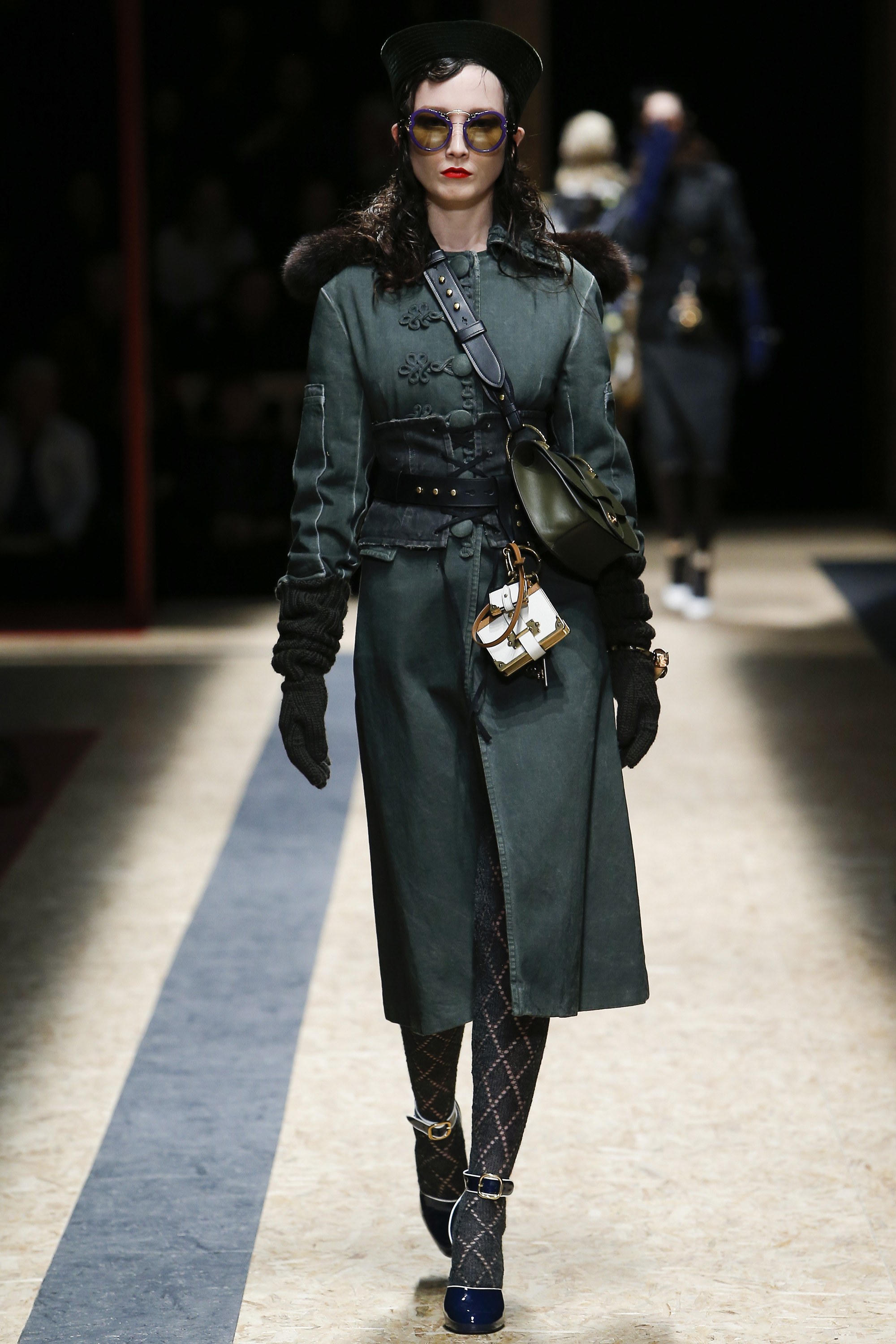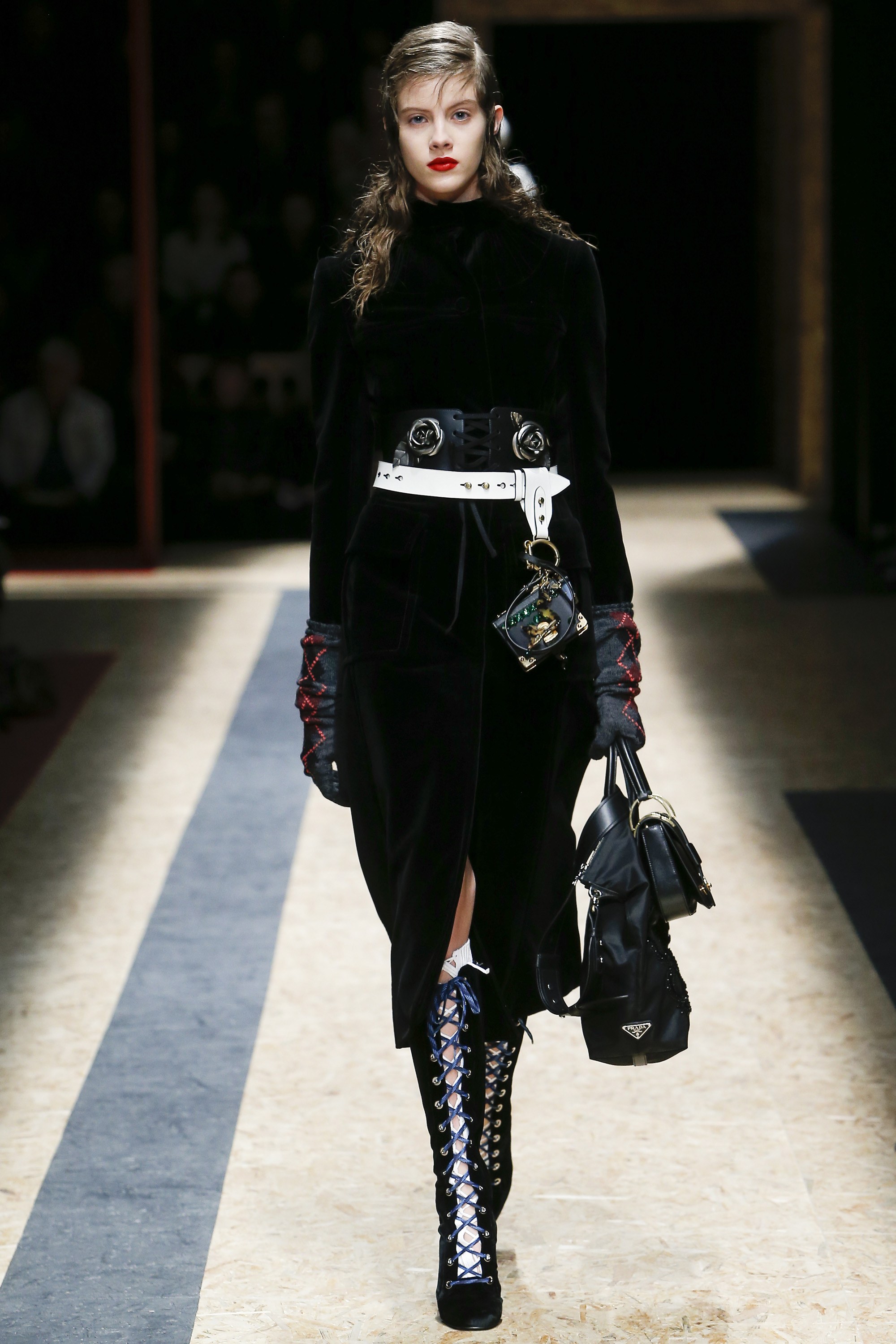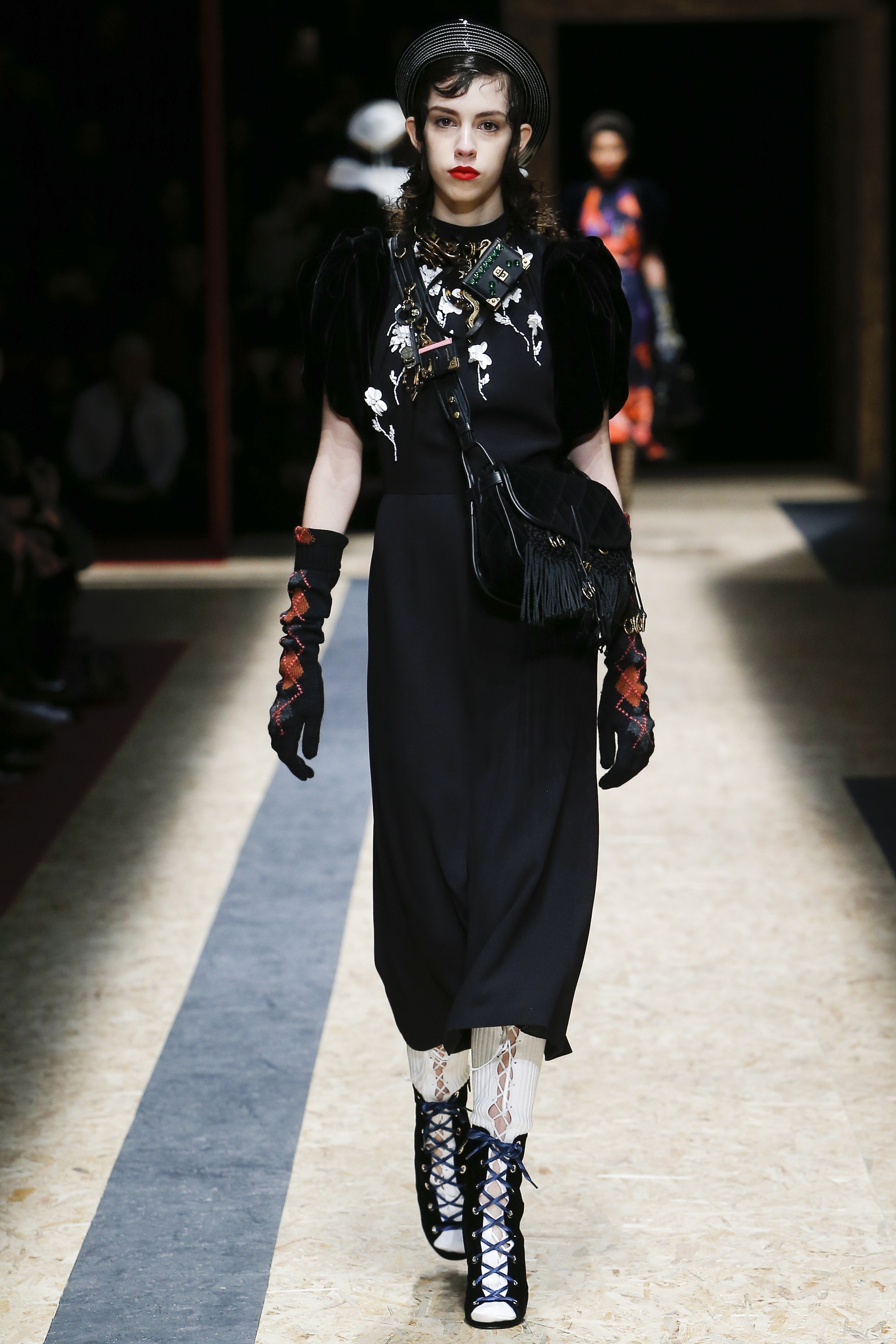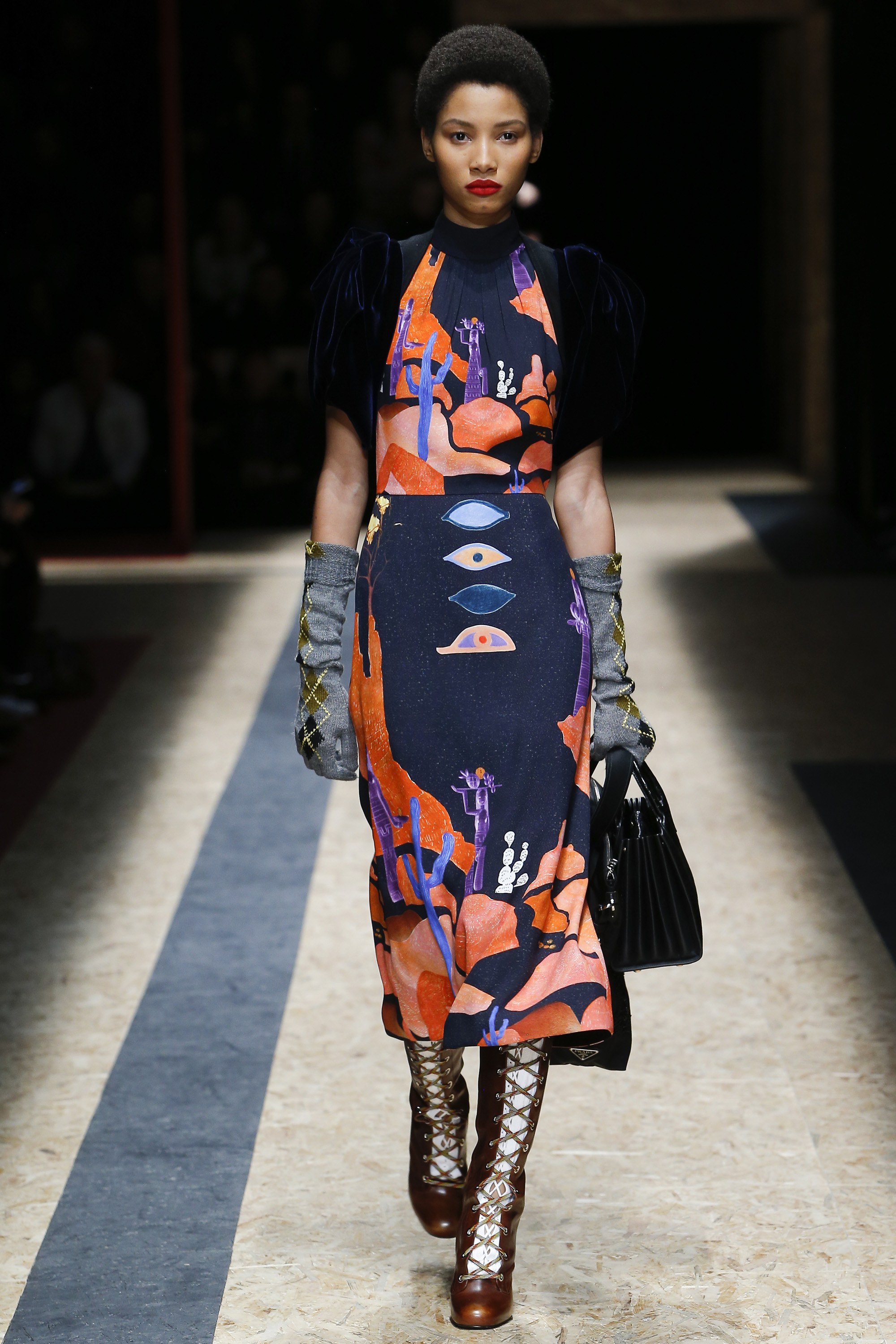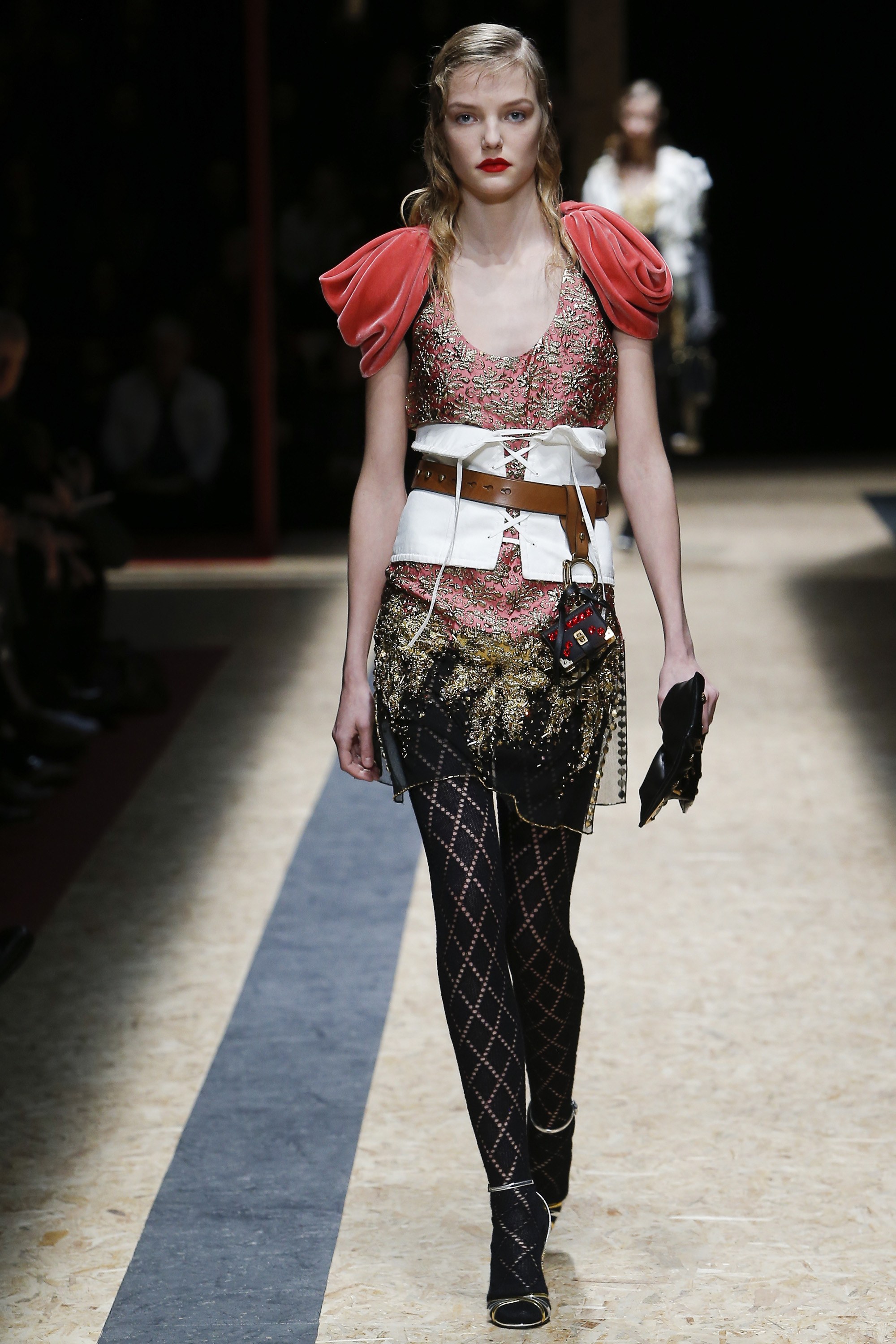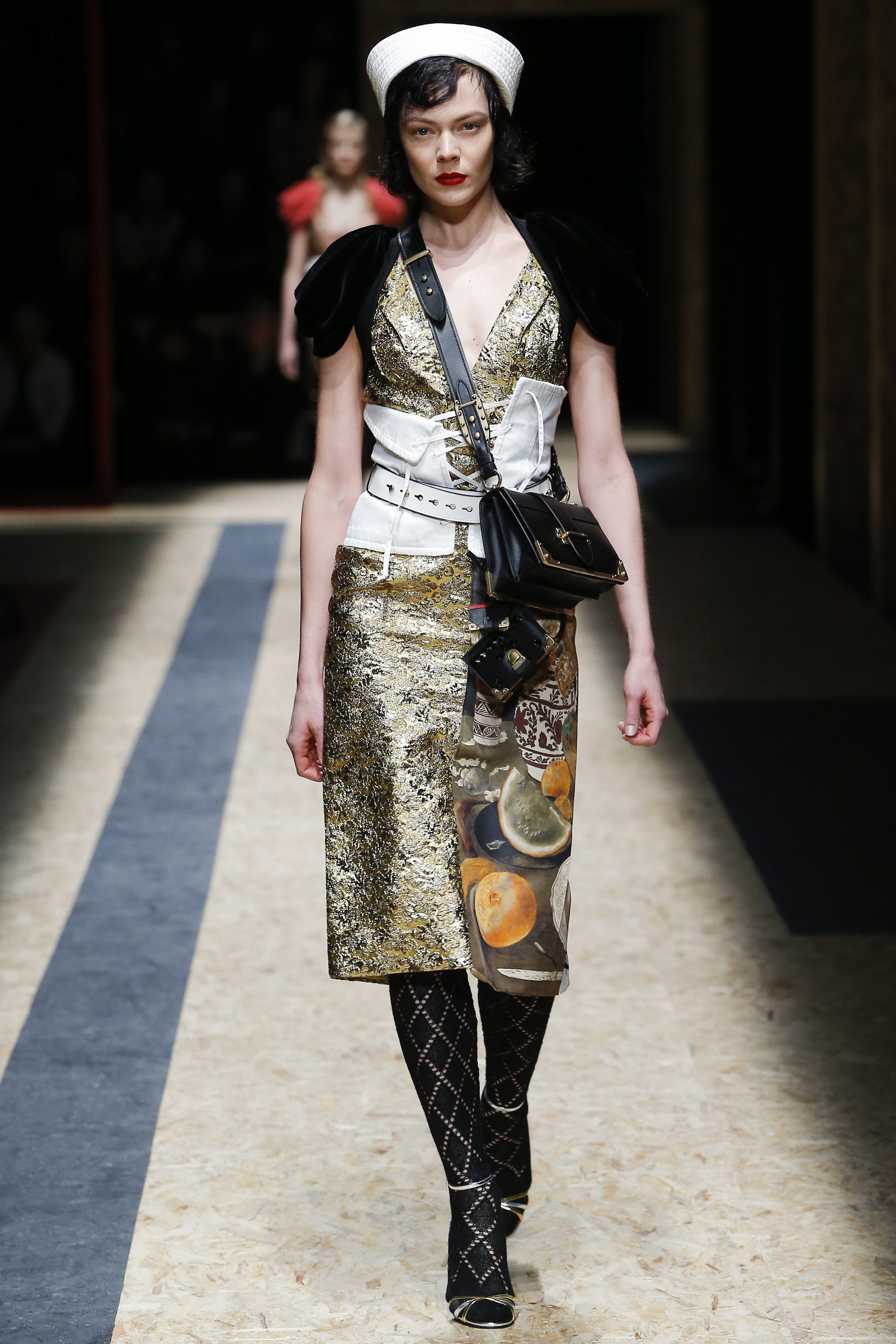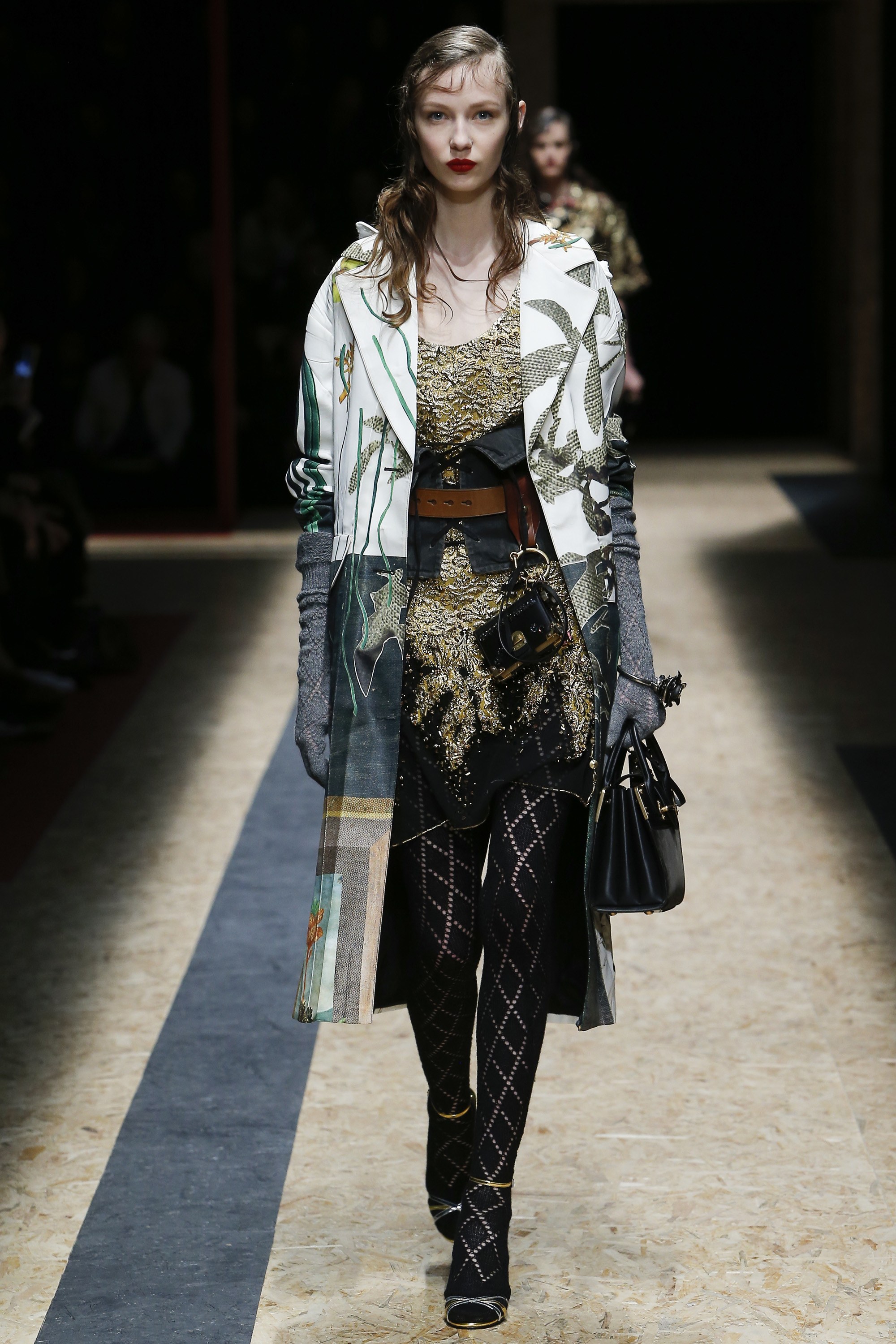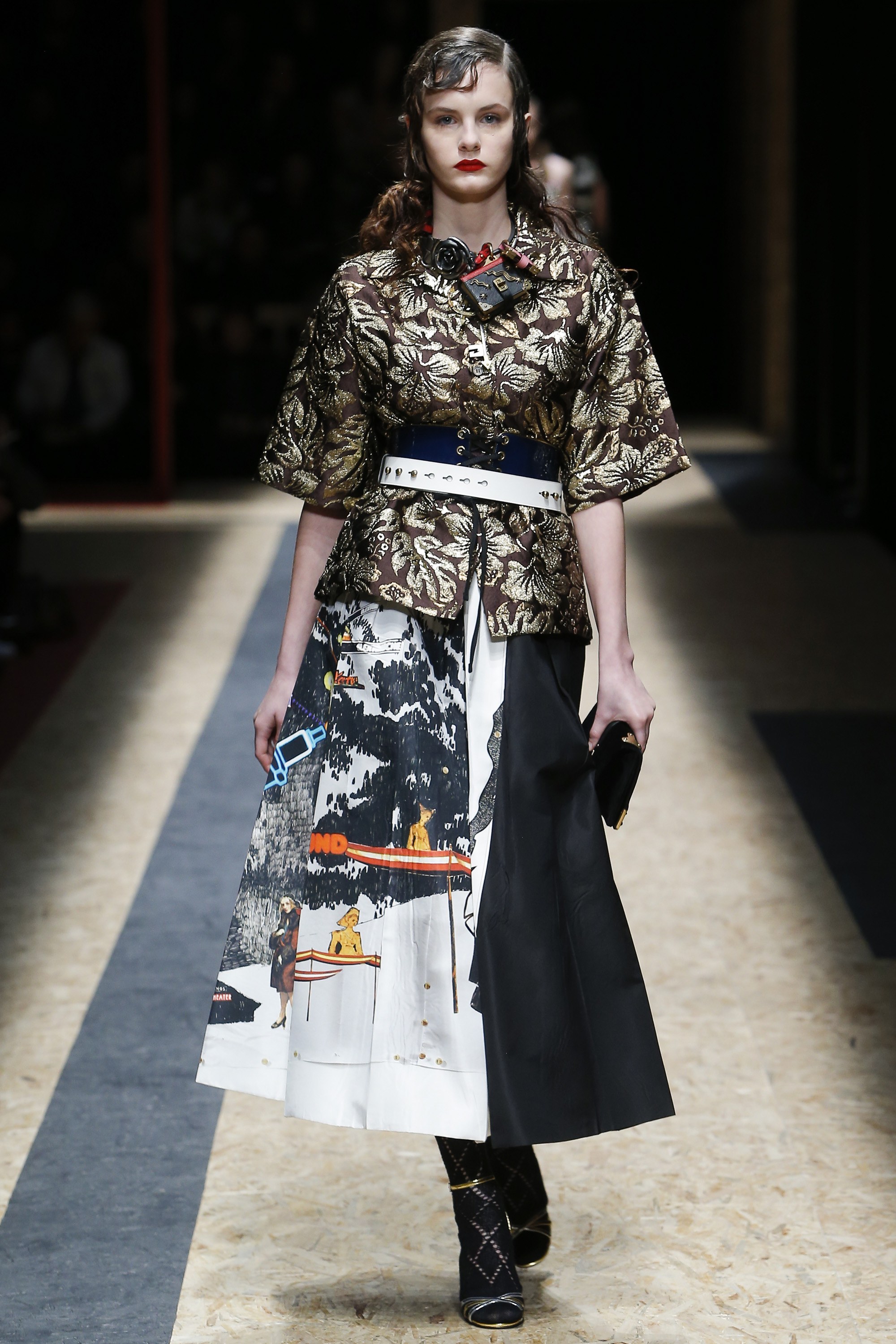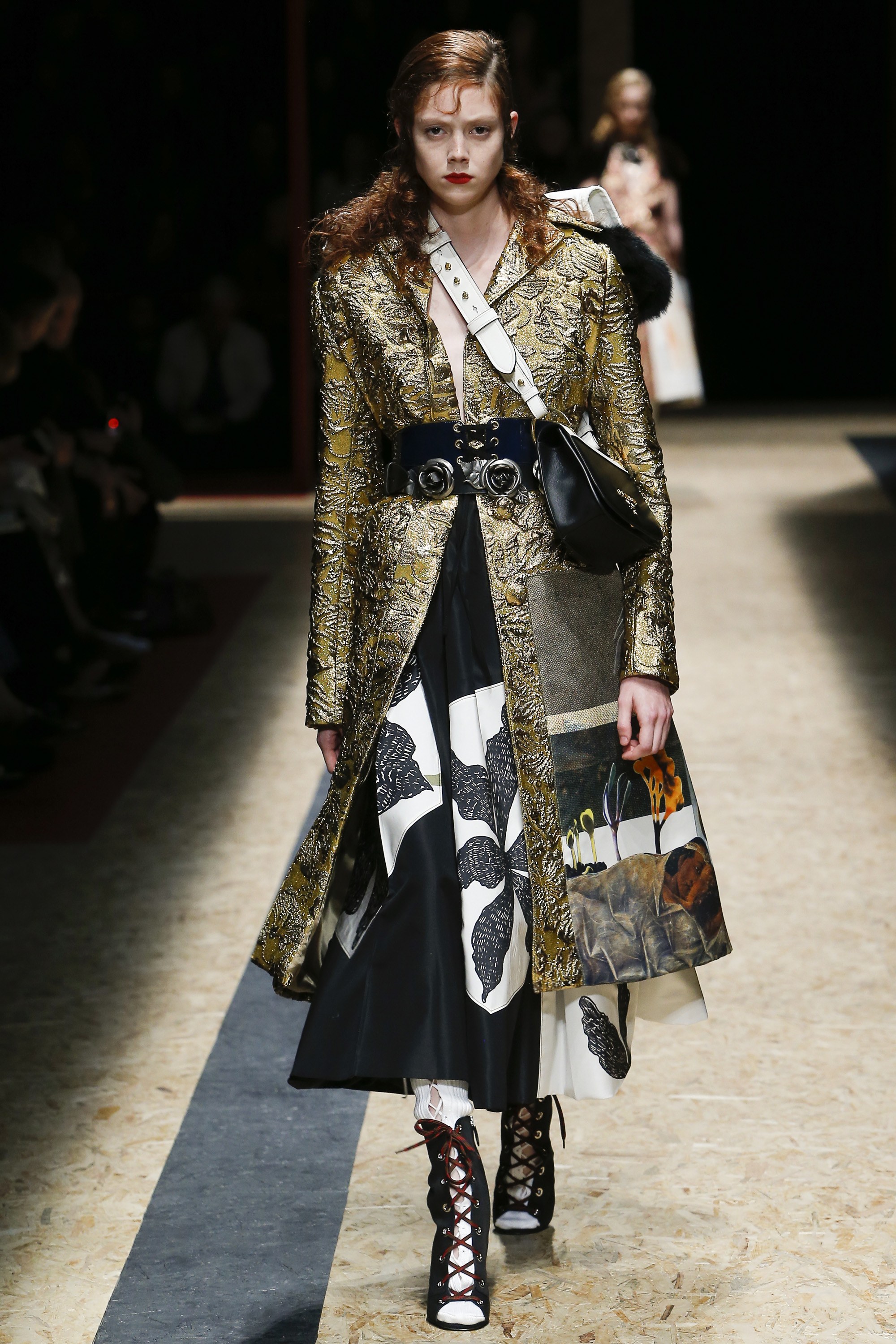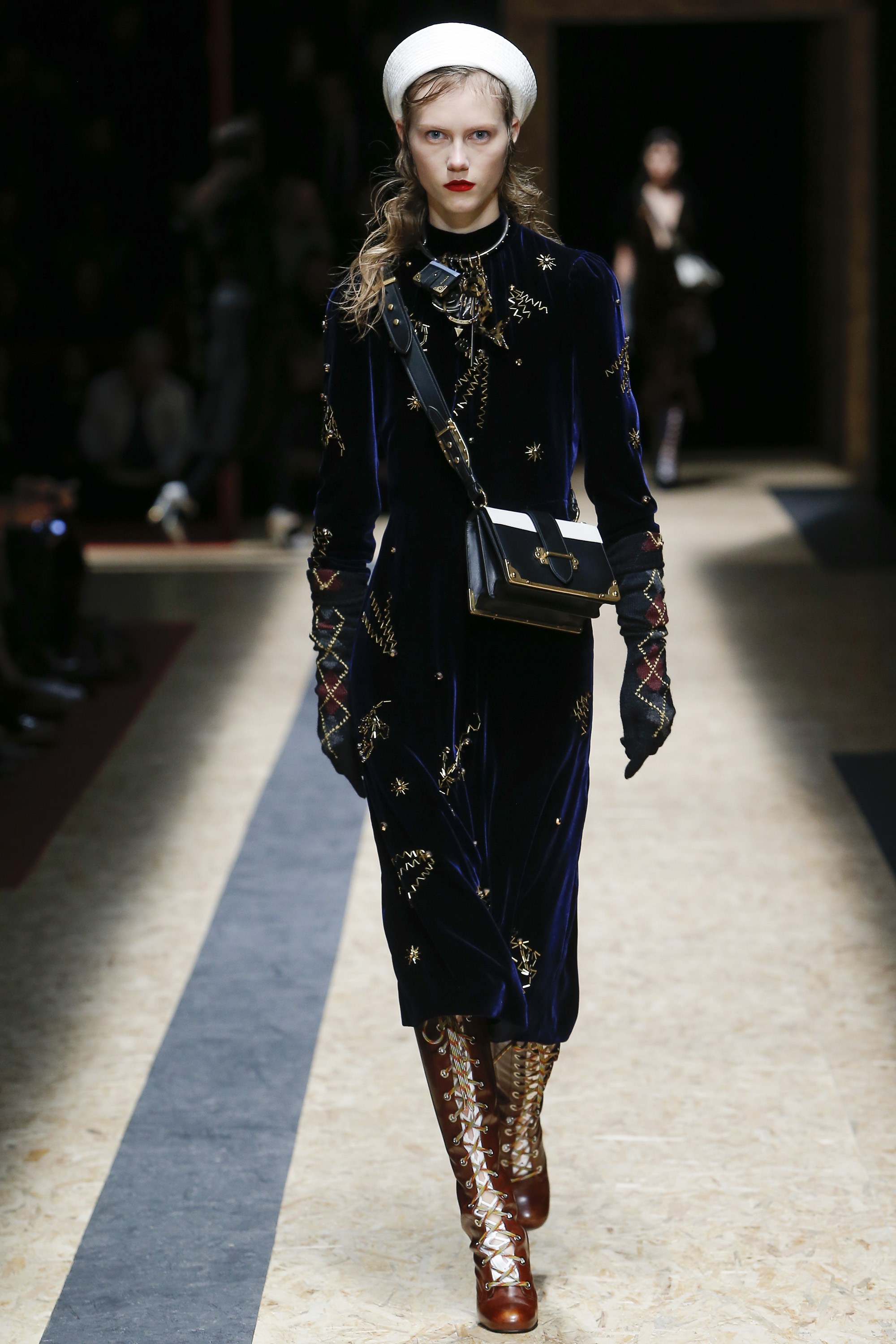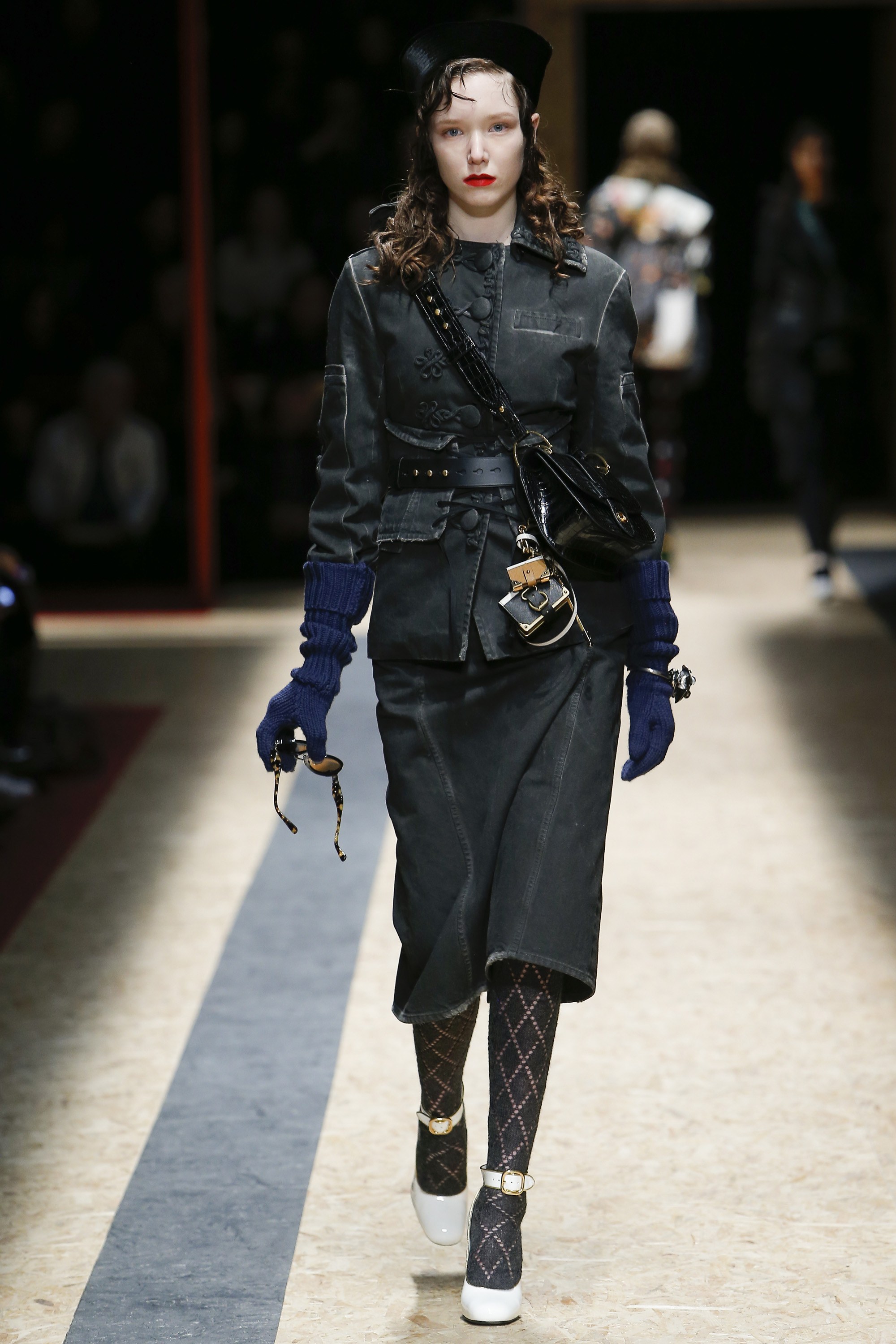 More FUN with fashion!
Runway images from www.vogue.com.