Time for more fun fall winter fare, care of one of my perpetual favorites, Louis Vuitton, currently under the helm of the immensely talented and much beloved Nicholas Ghesquiere, who had lovers of all things fashion mesmerized during his tenure at Balenciaga. Though his aesthetic differs from the erstwhile director, Marc Jacobs, whose theatrical concoctions captivated me for many years, I have been pleasantly surpised and newly enthralled by the recent ready to wear cycles care of Ghesquiere, now with a second fall winter collection under his belt. He just keeps getting better.
He has successfully tapped in to the running zeitgeist of 70's inspired pret-a-porter, and added a modern rock'n roll twist. He cleverly juxtaposes the 70's ethic with the fitted ribbed sweaters with metallic shimmer, leather mini skirts and low slung chain link belts, with a Victorian hint peppered throughout, care of the all purpose fitted top, in varied fabrications, with small volume puffed sleeves, which run the gamut from light and airy to fanciful and goth.
Ghesquiere manages to conjure up the perfect cool, hip, and magnetic fare for purposes of cocktailing, girl about town shenanigans, and just looking like you have your shit together, (with just a modicum of effort), with sleek, fitted but not to the point of hooch dresses, leather minis, and skinny leather pants, any of which could be worn with all footwear imaginable, from flats, to cha-cha heels (think Miami), to riding boots.
Pay attention to the footwear and bags, not just a footnote to be ignored, but some of the most captivating on the runways.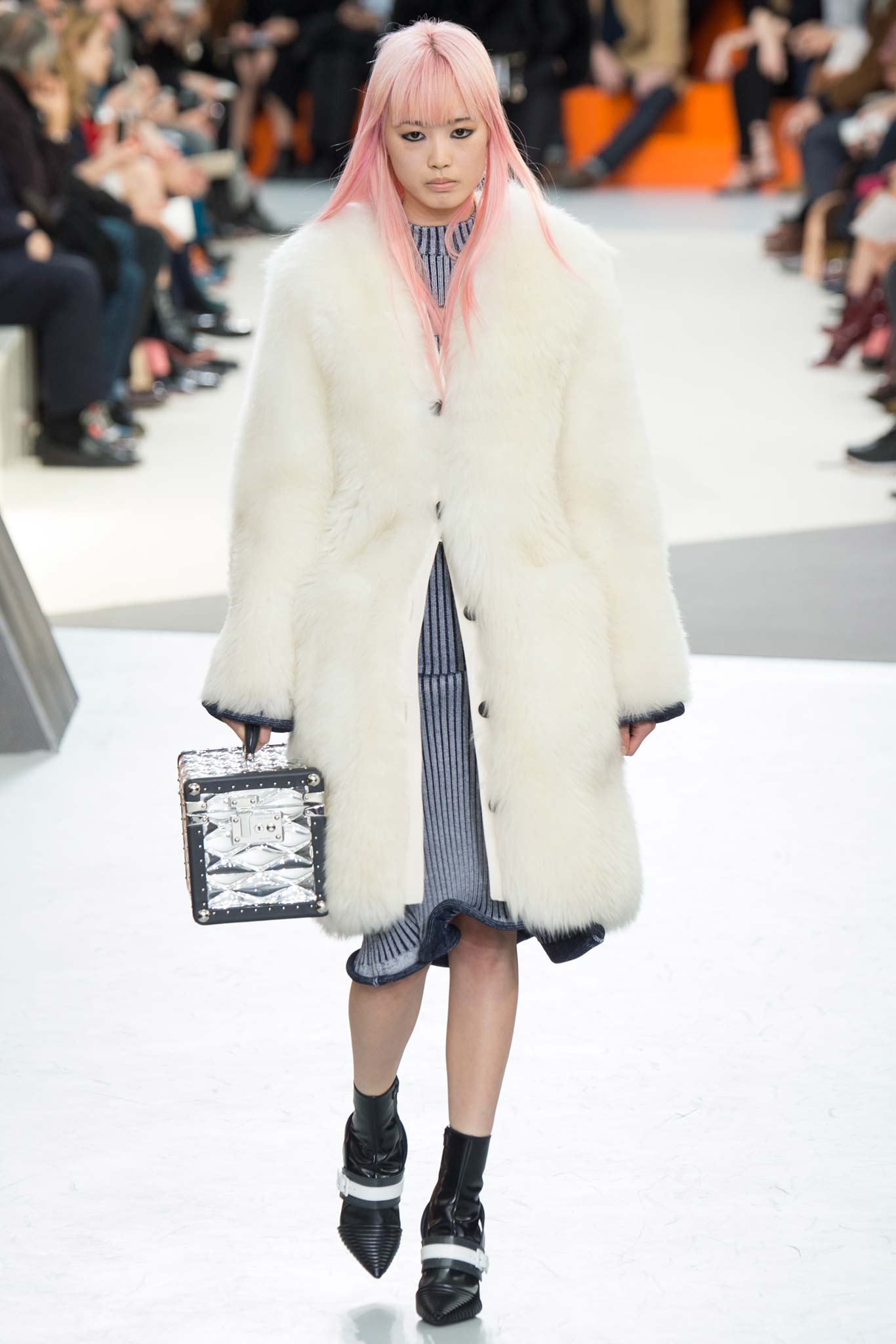 The BIG shearling is back in full force, with a few stellar entries, in varied styles.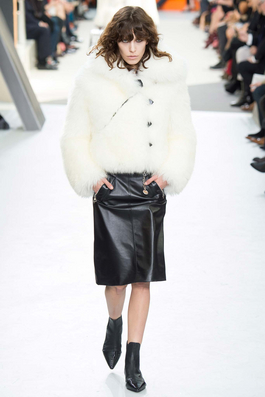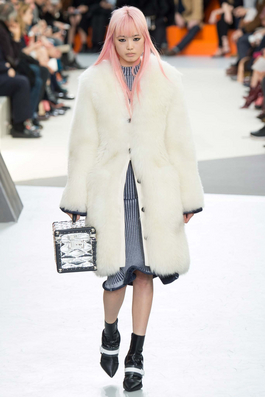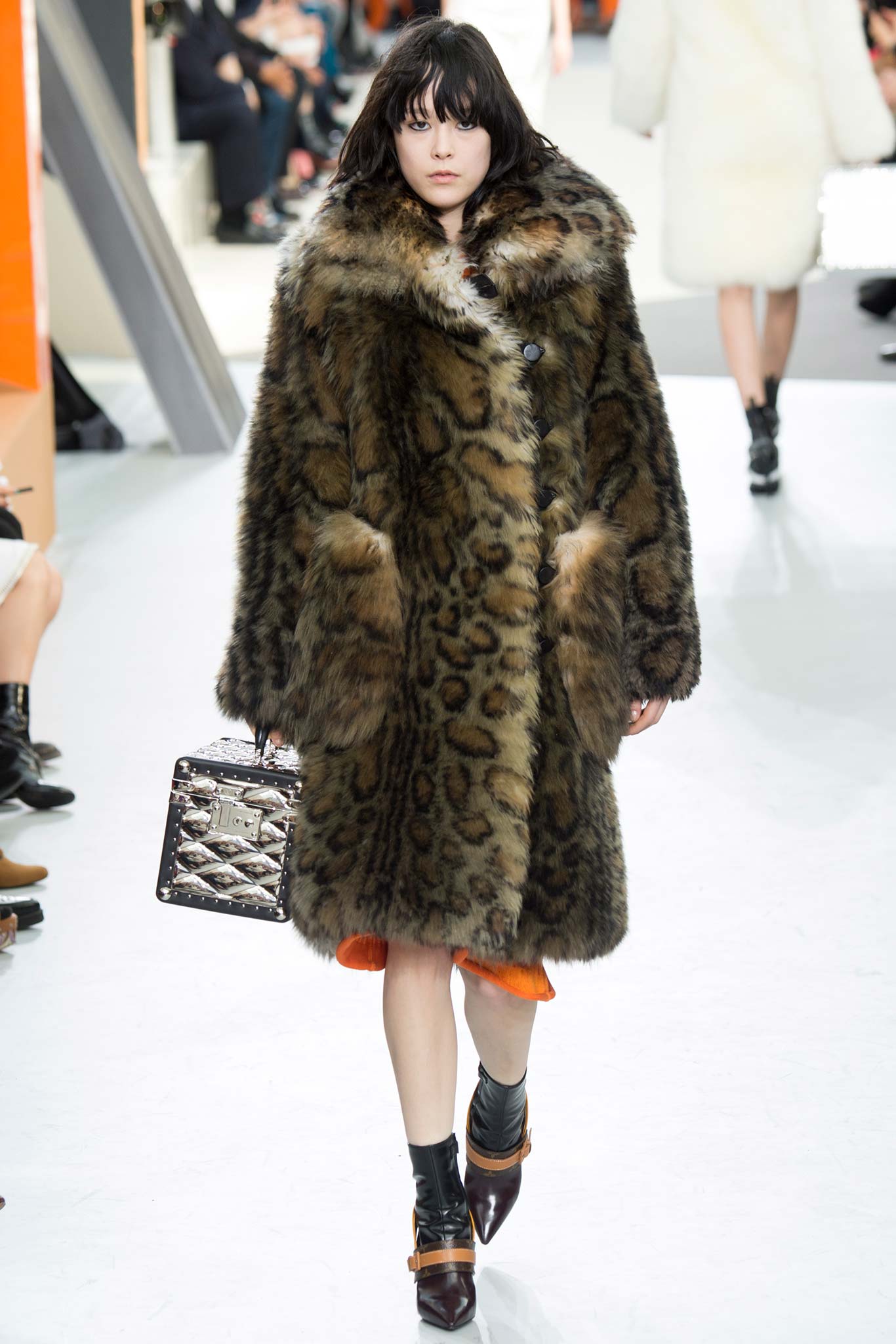 And, now the winner of the too-cool-for-school prize, the big shearling in the always de rigueur leopard print.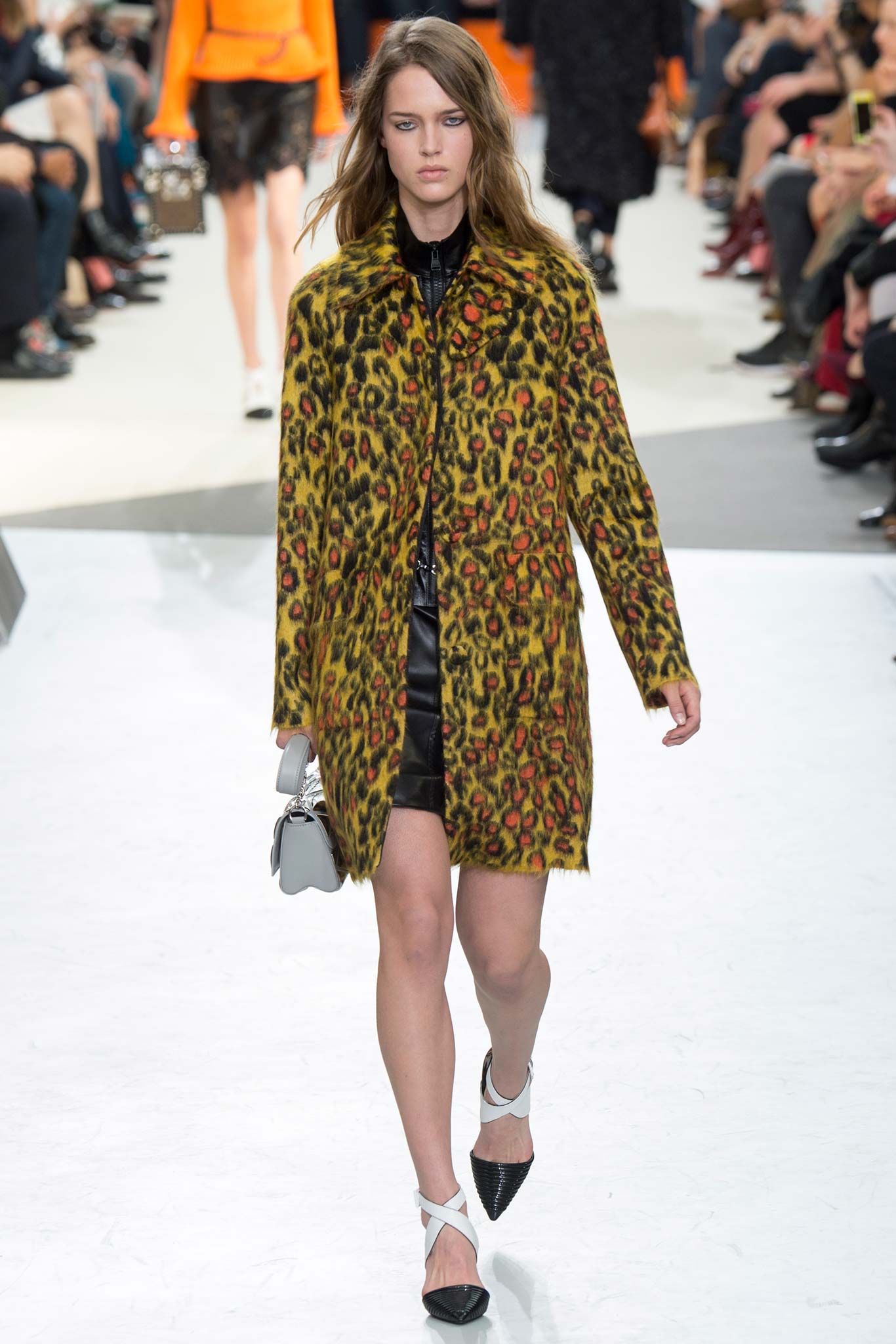 Variation on a theme of neon Leopard. Big Cat is everywhere on the runways, but it doesn't look like this. H u z z a h!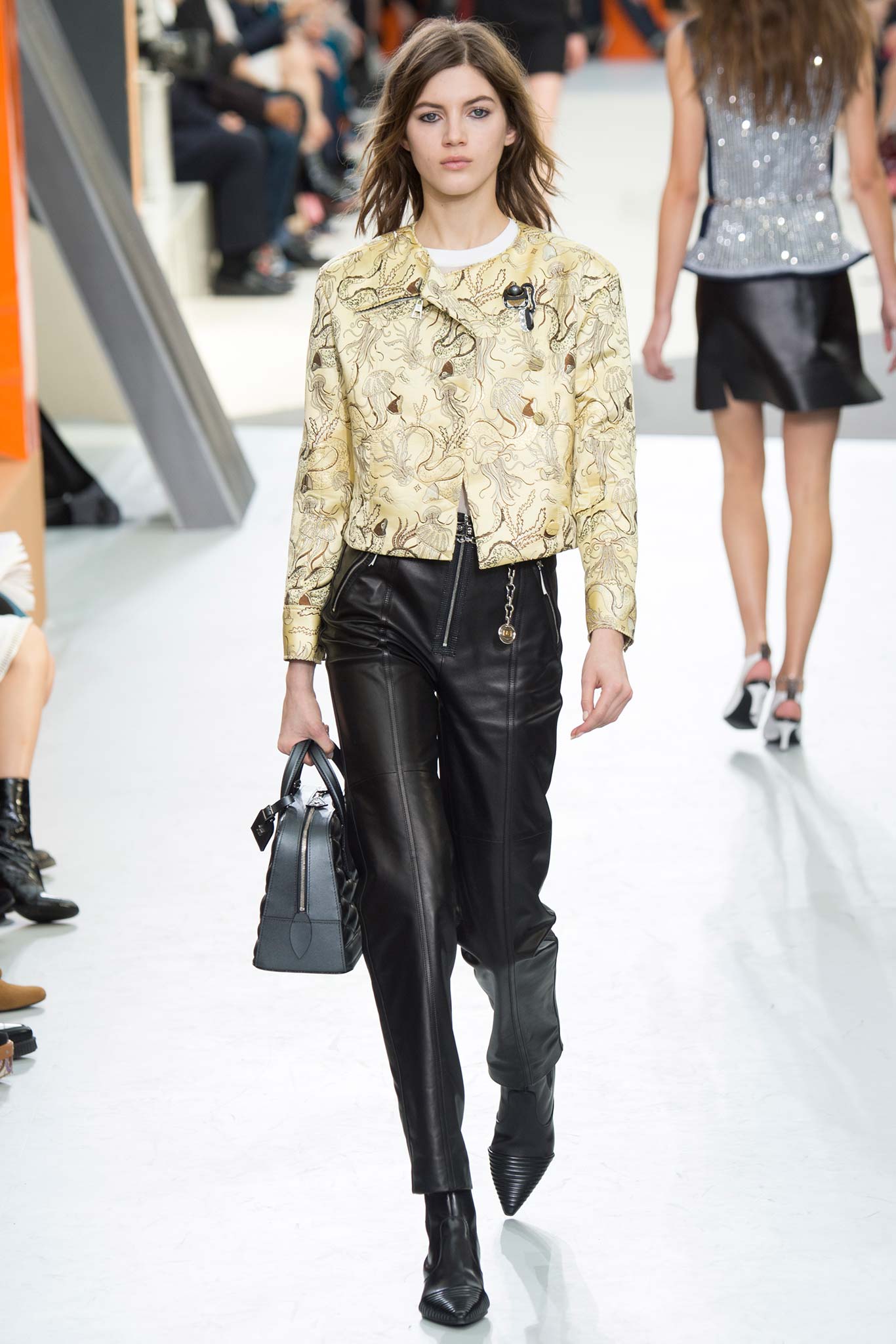 I know leather pants aren't for EVERYONE, however, unless someone is a full on vegan (no leather soles, no silk, no honey even, I'm not kidding), give these bad boys a chance! Not only are the leather goods at LV are impeccably constructed, leather pants last forever, and they never go out of style. I spend half my life in Louis Vuitton and Brunello Cucinelli leather "leggings". They accompany me to work, to the Opera, and out and about pretty much everywhere. (But beware, men like to t o u c h)….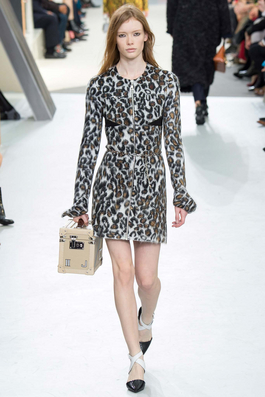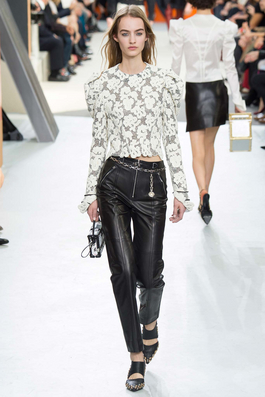 Leopard, leather, & lace, oh my! And get a load of those Krazy good shoes, a sure fired way to sizzle up a T-shirt jeans combo.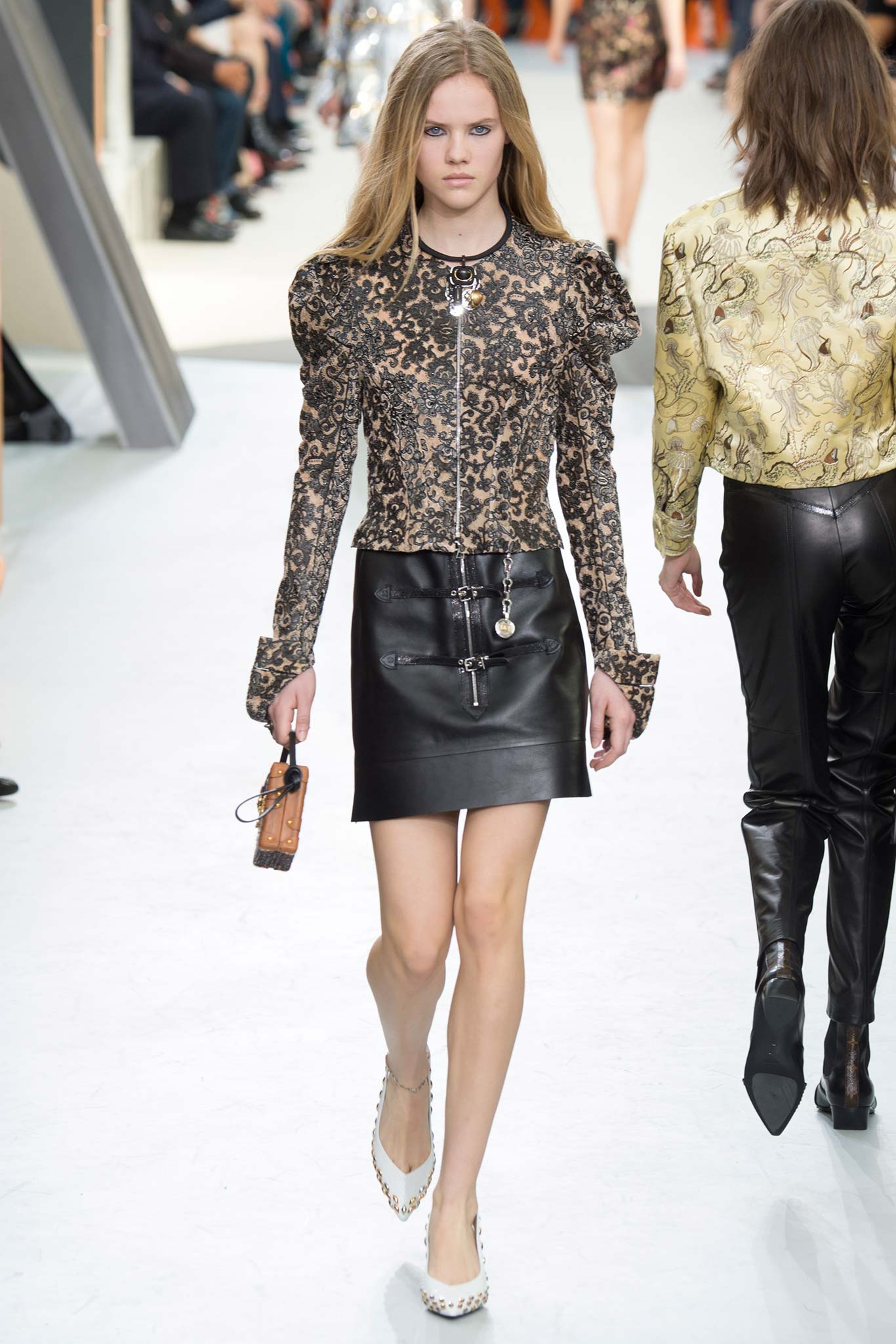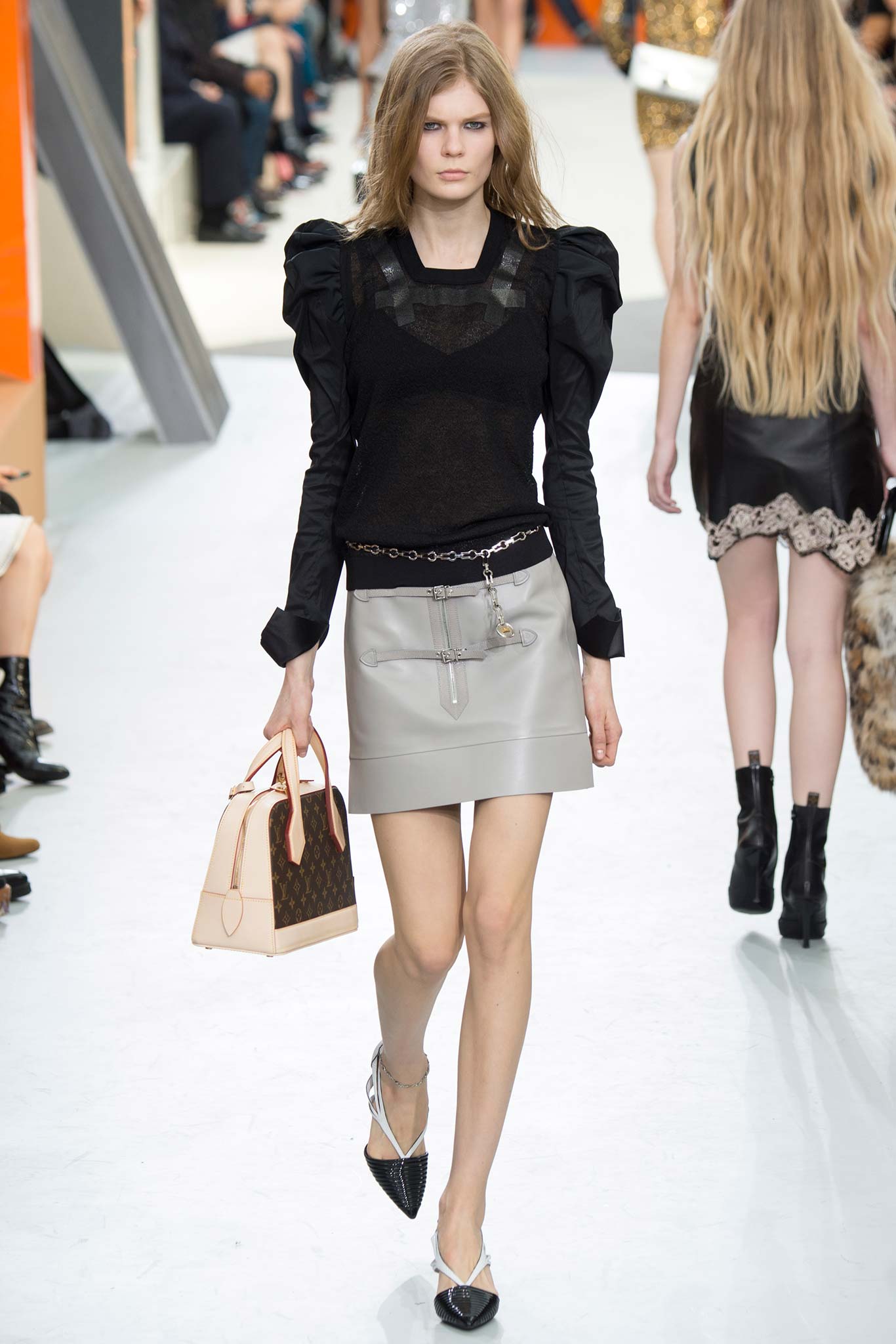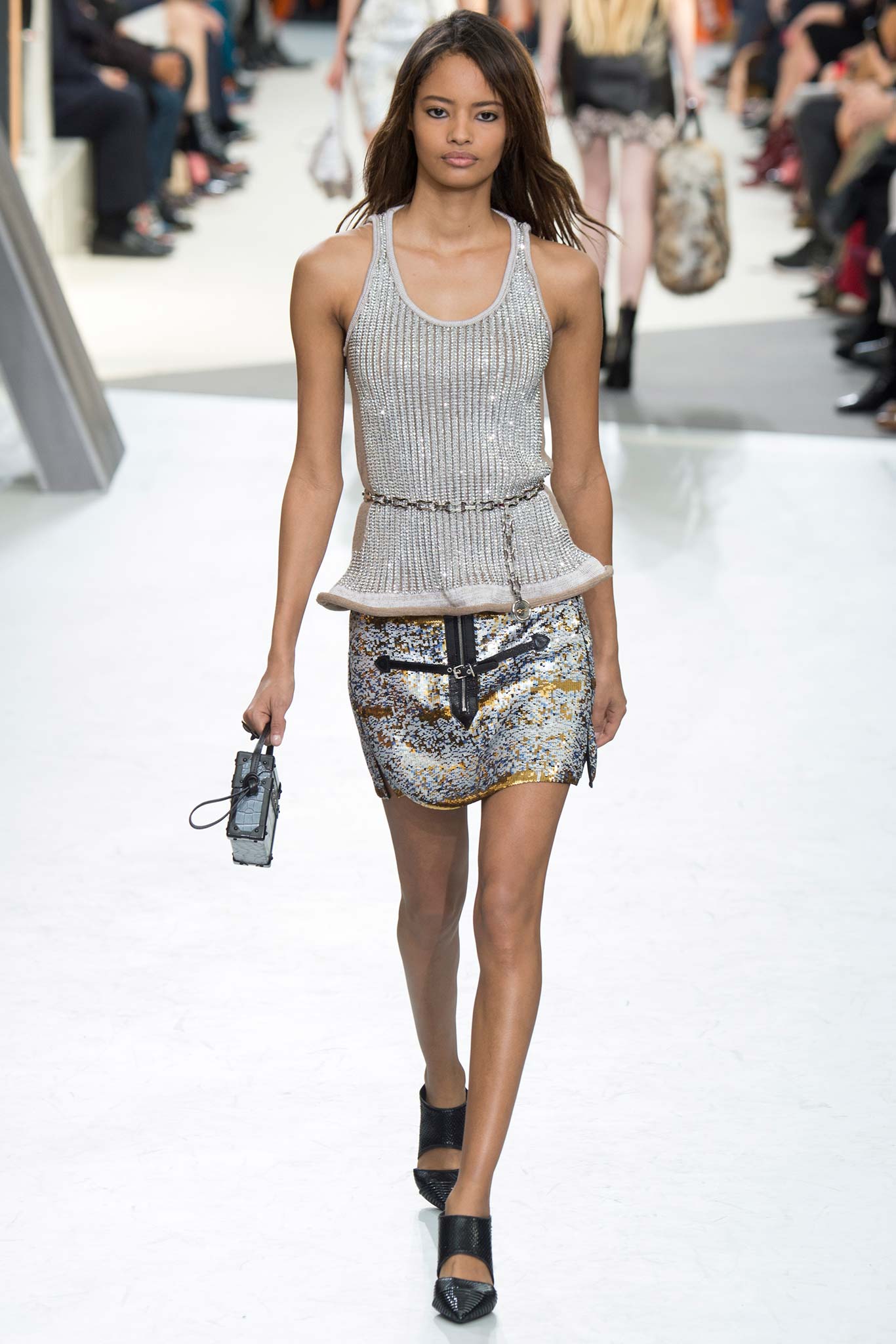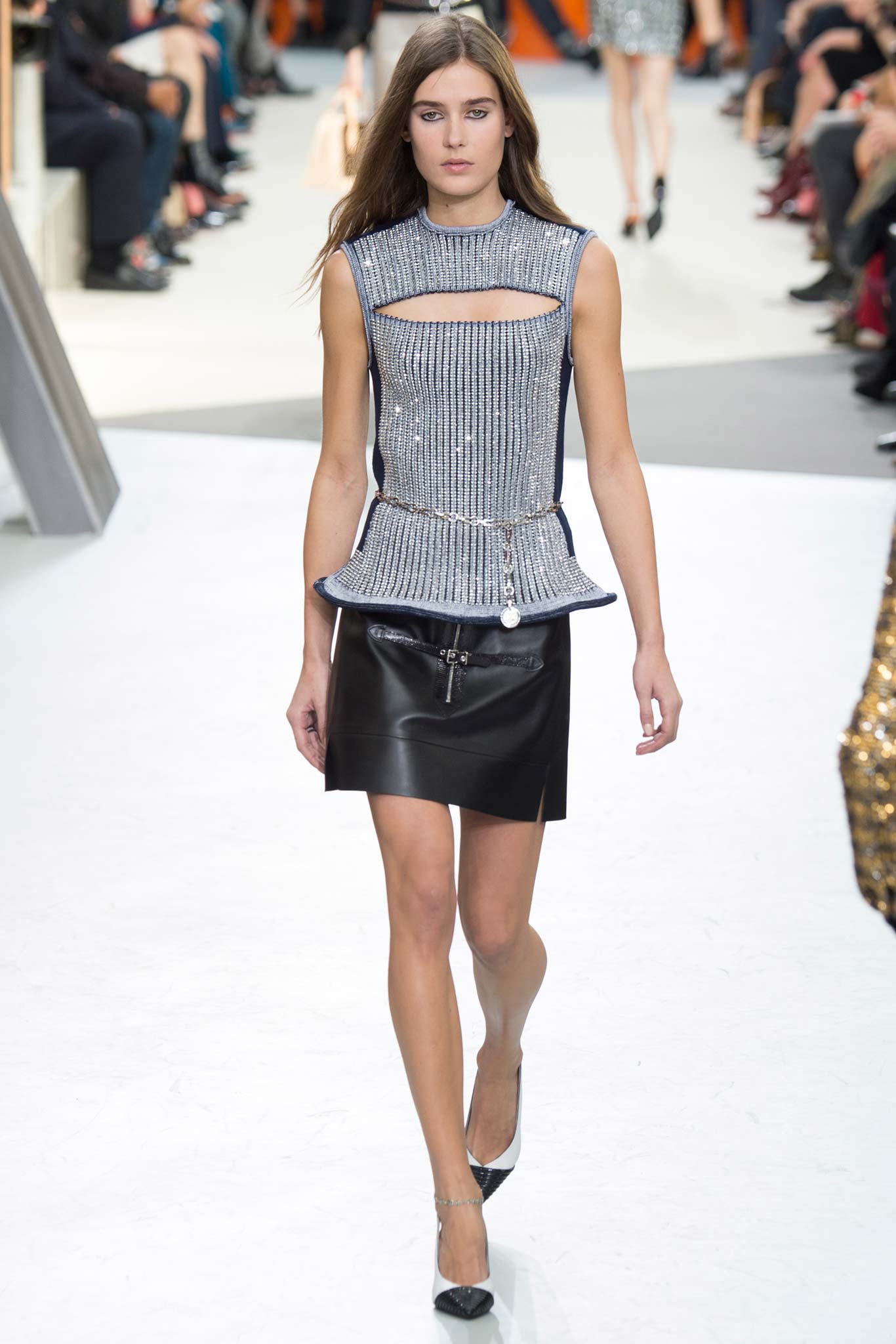 I'm mesmerized by the shiny ribbed contingent, brings me screaming back to the 70's, but without the terror I feel thinking about those striped bellbottoms in third grade…..shudder. I'd throw over a white poplin blouse.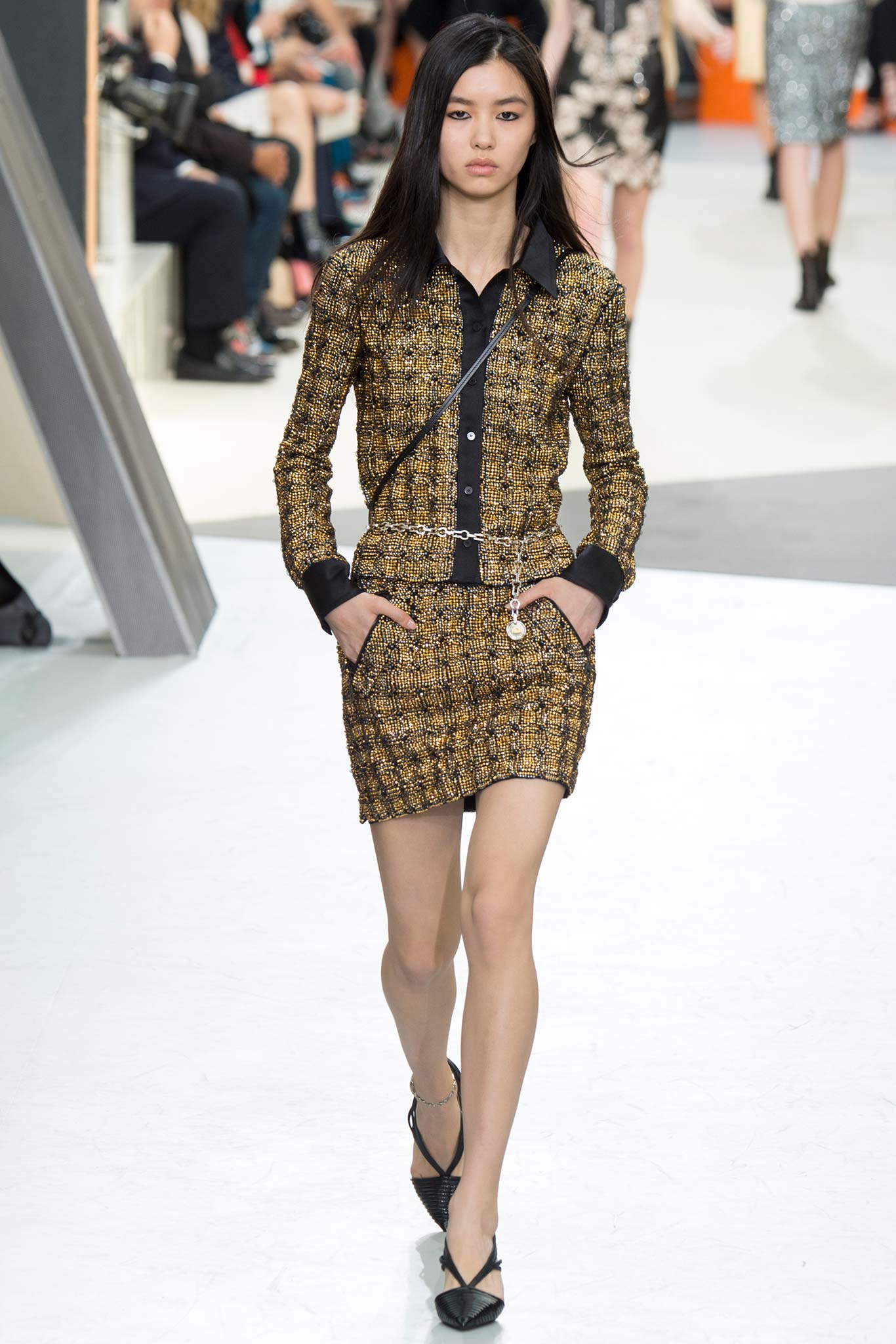 This marvel made it onto the cover of this month's Elle magazine. If you've got the guts and the gams, go for it! (All I can say is, thank gawd for opaque hose).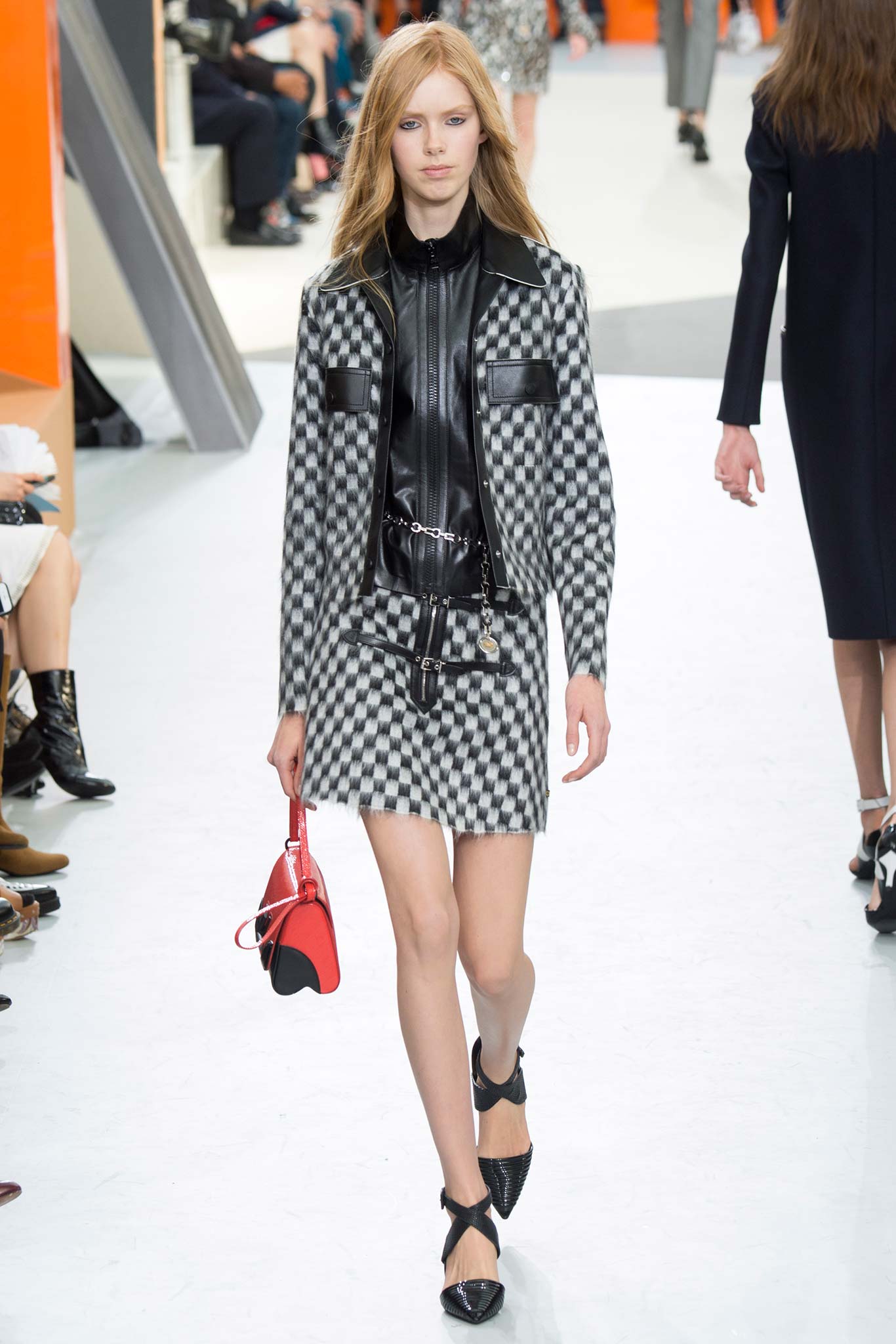 I love how Ghesquiere can segue from the whimsy of sea creatures such as Octopi and Jellyfish to a slip dress assembled from leather and lace to checkerboard woolens. Get out the GO-GO boots.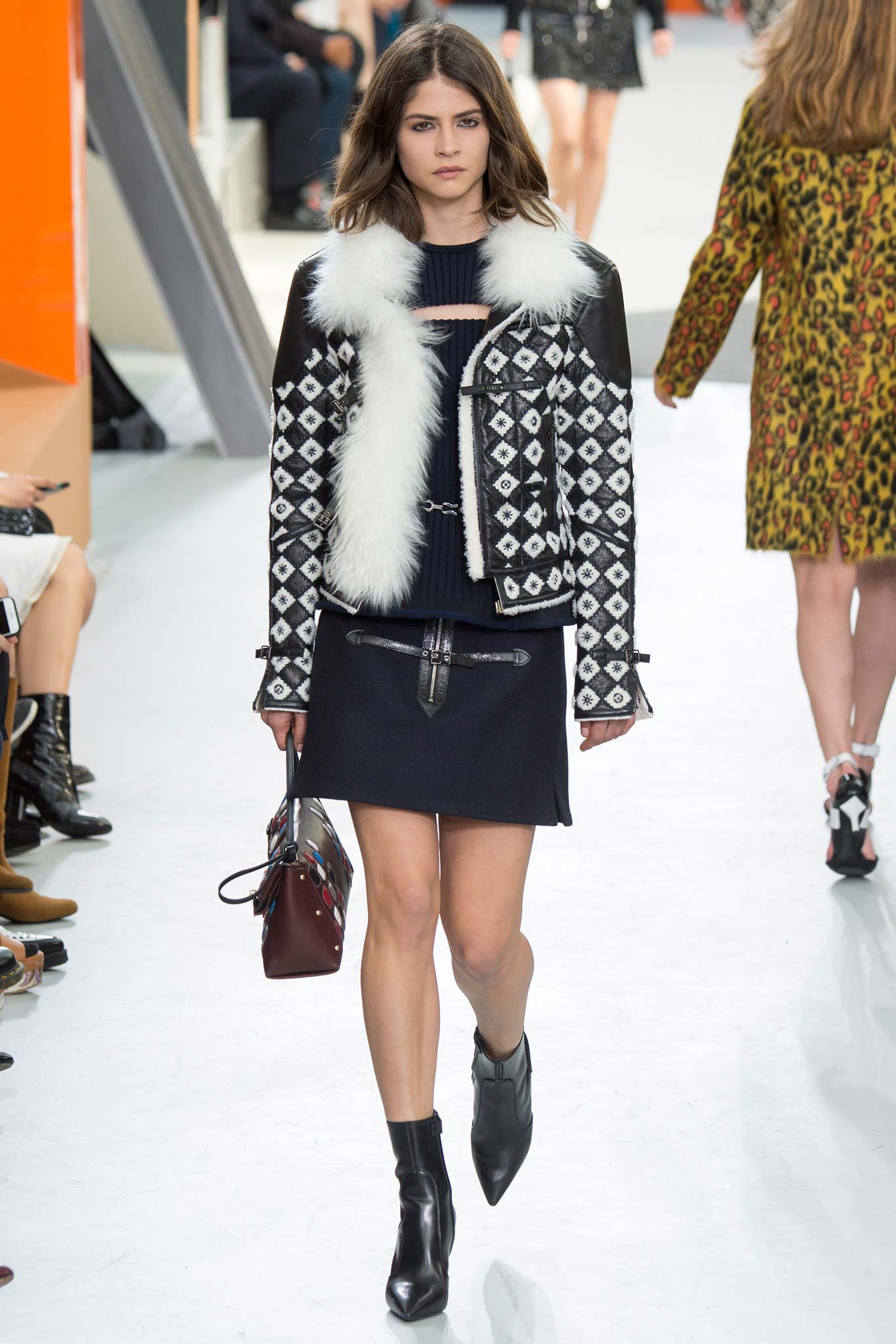 Well, this is A LOT of look, so maybe just one piece at a time. I'll take the coat thank you.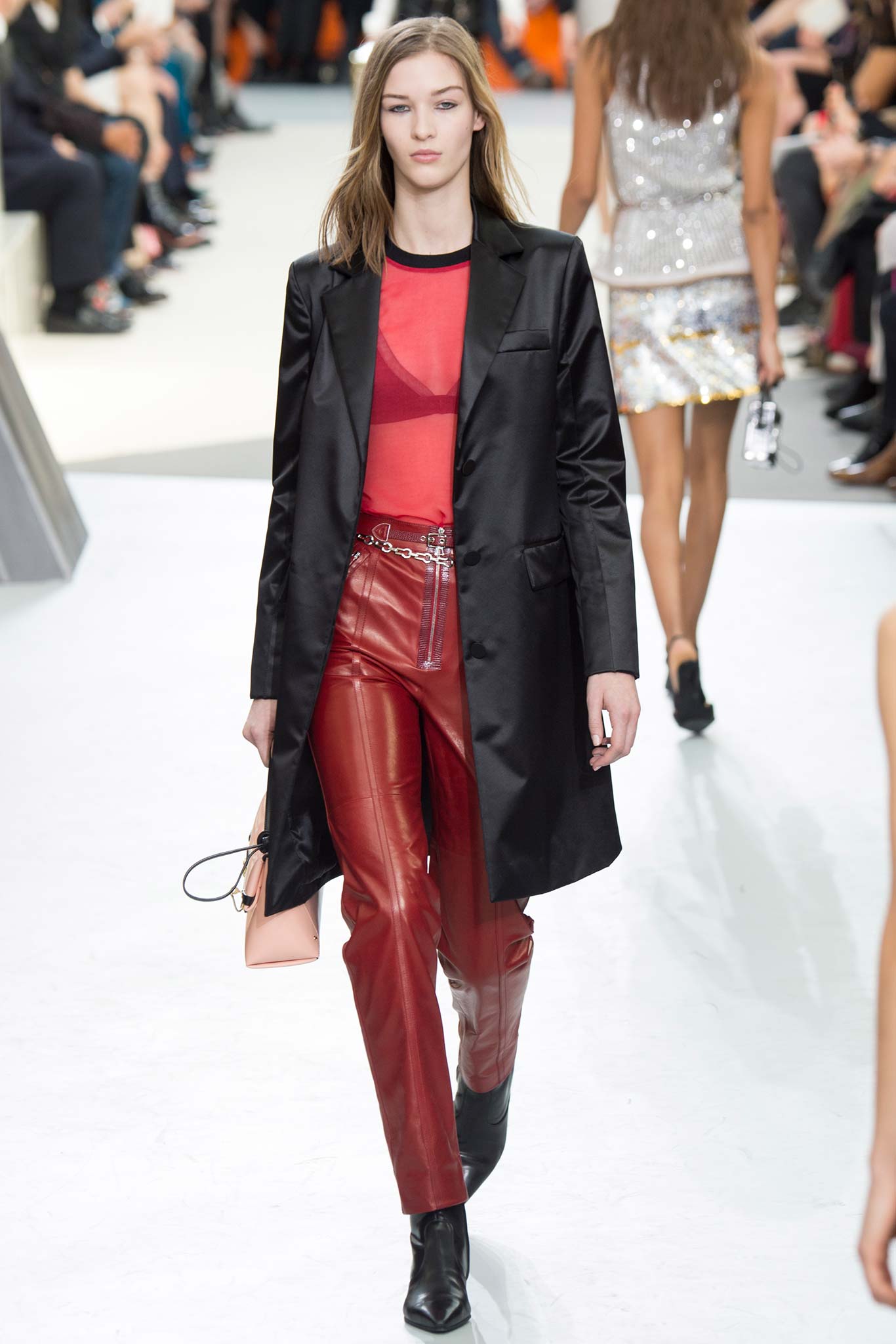 Ordinarily I'd rather take a bullet than offend my sensibilities with red leather, but here, with the duchesse satin top coat? Yep, it all makes sense. And those boots? Get out the drool cup!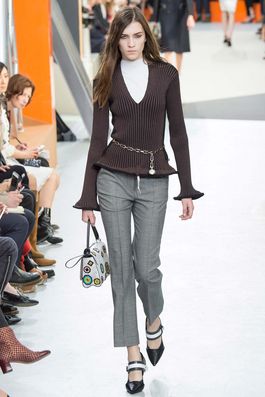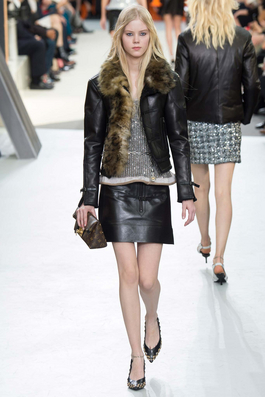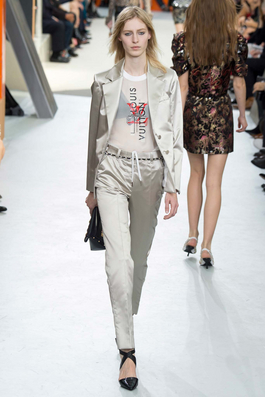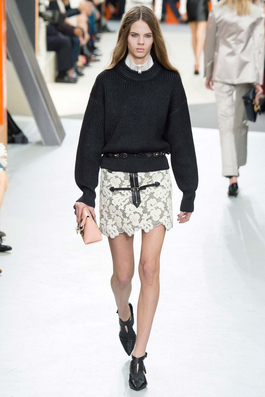 This is a mini heavy collection, not for everyone, but between the hot leather pants, the low key suits, the engaging and feminine yet non-fussy blouses, and the mod footwear, there will be something for everyone.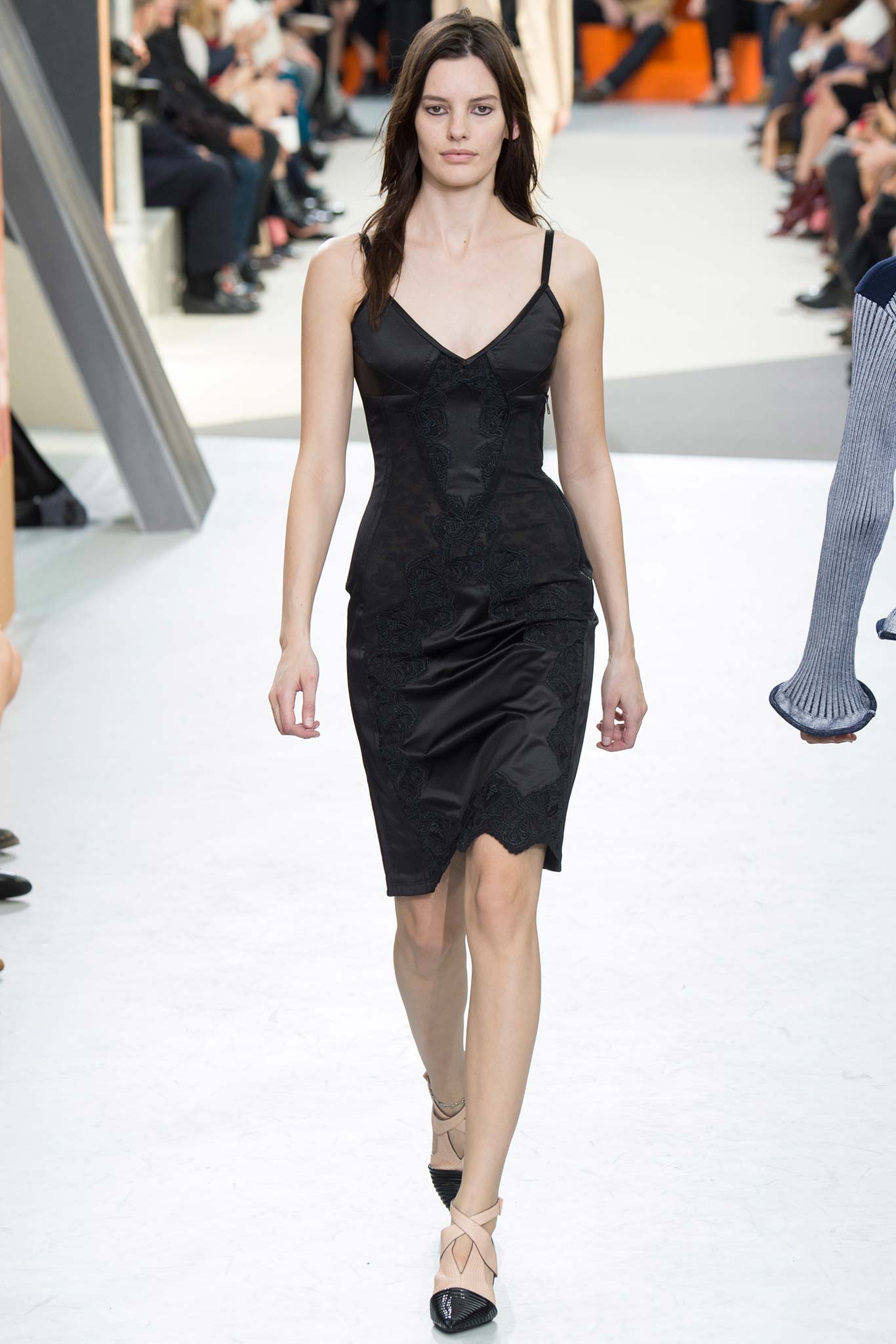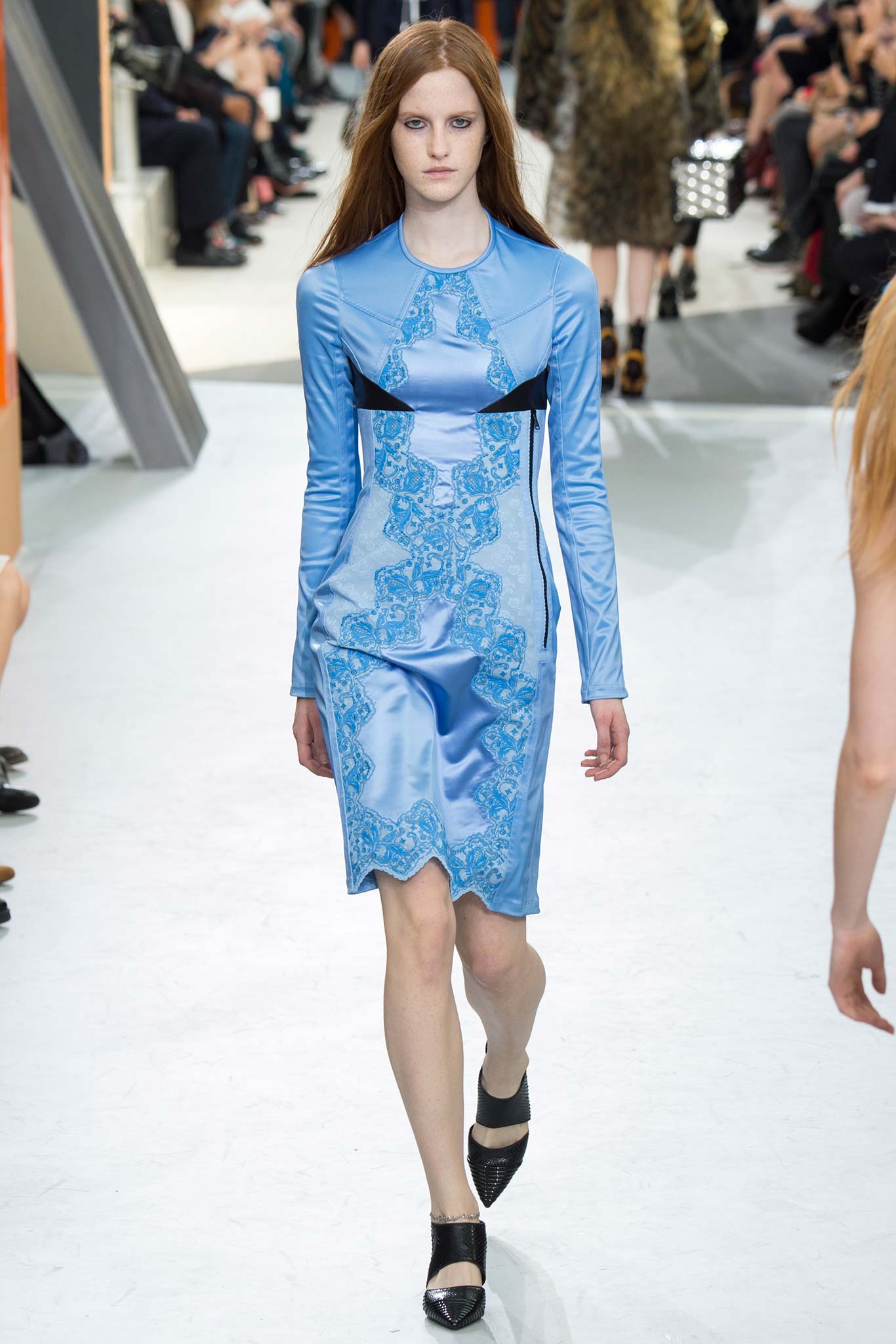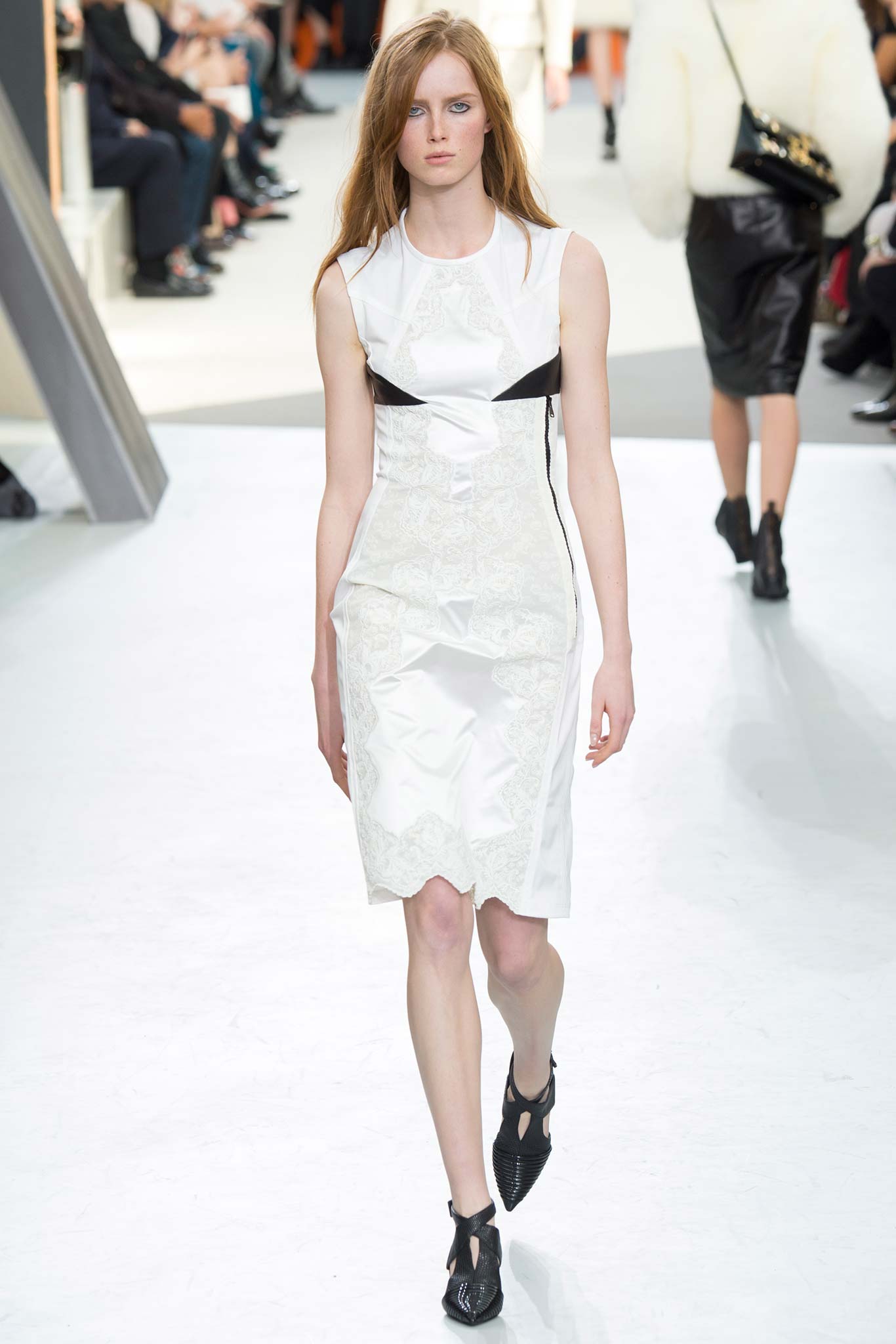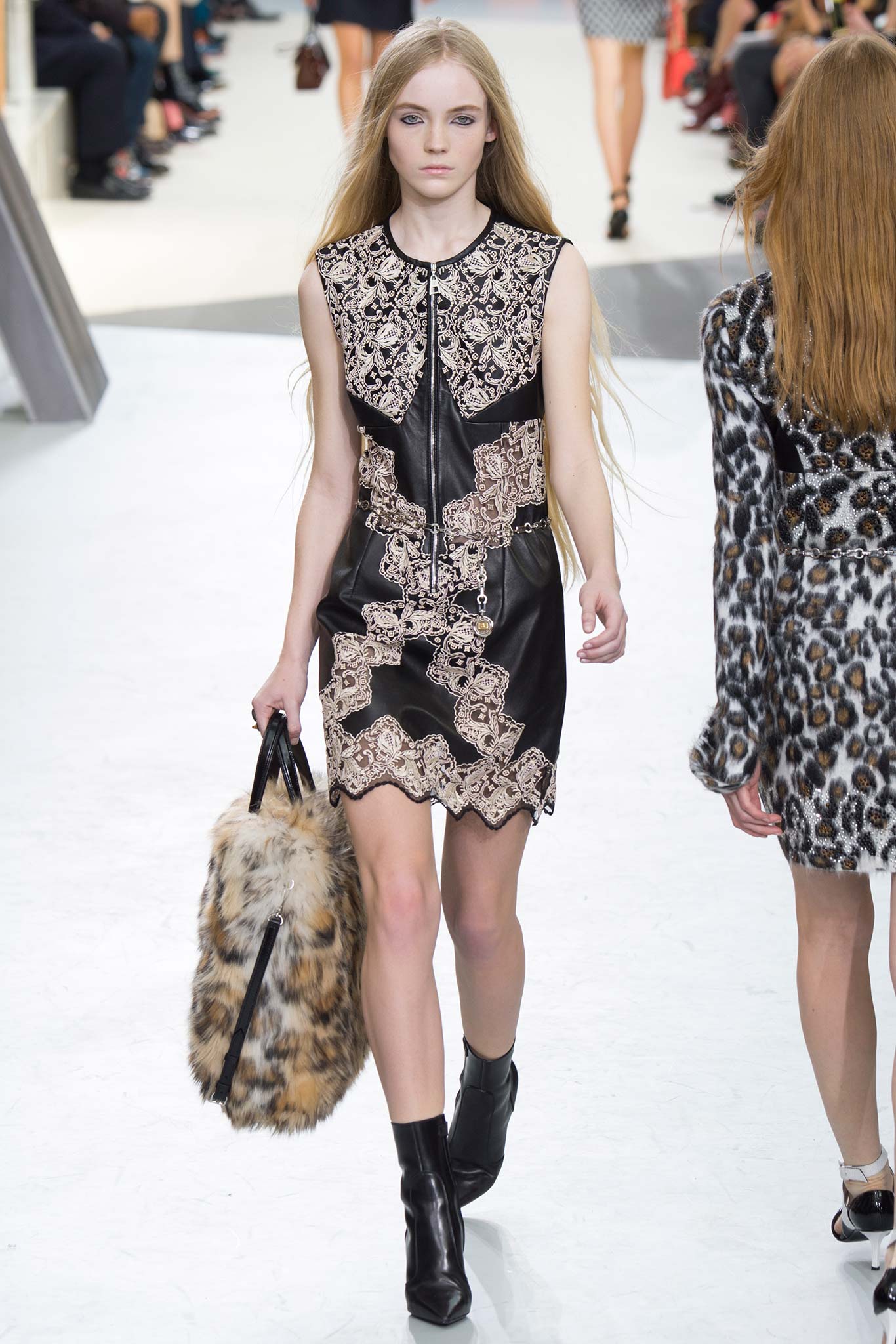 My personal pick (after that Leopard shearling) would be any of these fine fitted frocks. Sleek, with a singular commingling of curious fabrications, allowing comfort and allure without even a hint of tawdry. How great would that black duchesse satin coat look over the baby blue entry? These sporty yet glamorous pieces are also gracile enough to fit in a carry on bag. Worldly and pragmatic.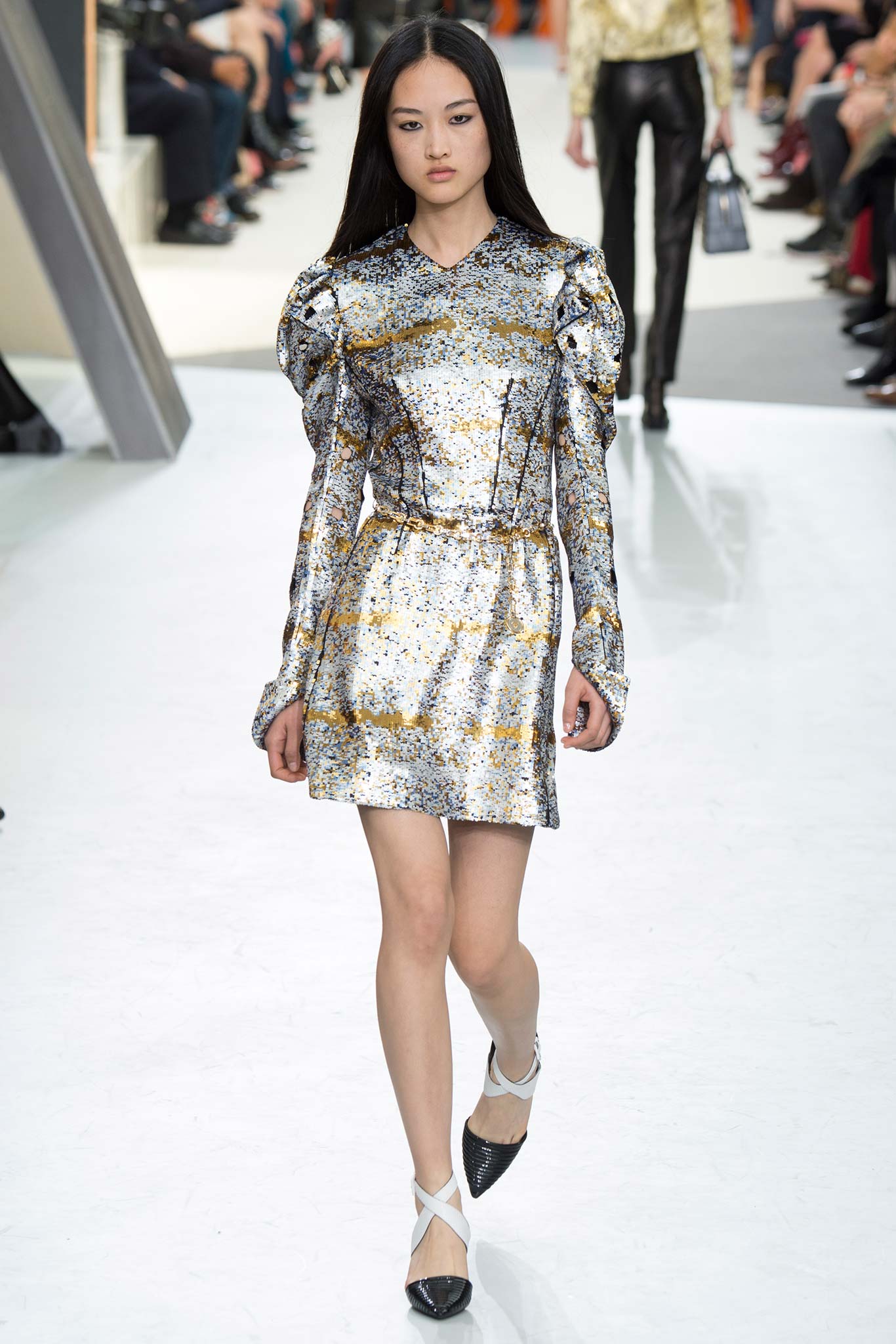 These last two entries are perfect fodder for any glam or gala affair, for the gal who shuns the old school ball gowns and fussy ostentation for something zesty and modern! And who doesn't love sequins, despite the expected Hansel & Gretel effect?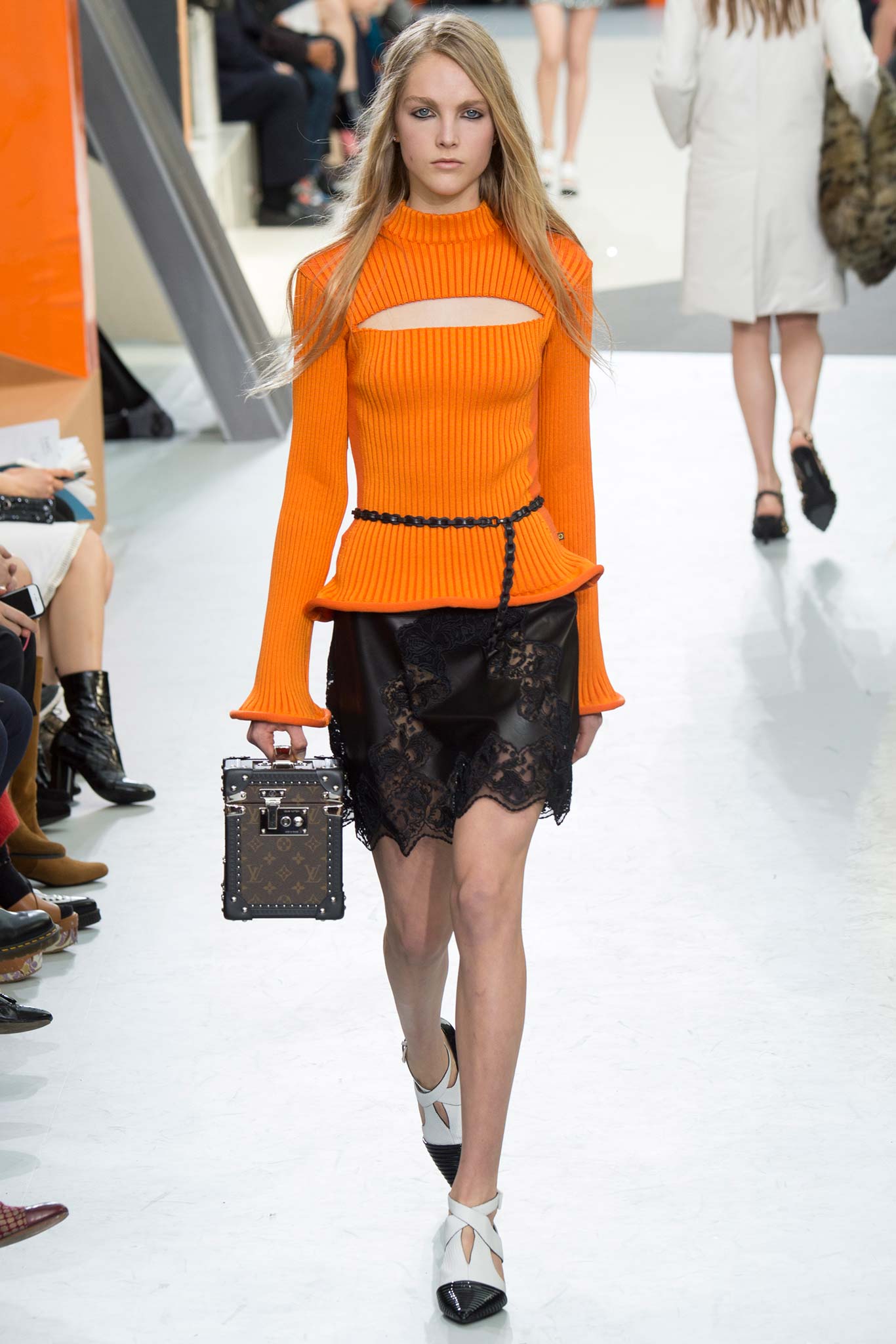 Who doesn't love some blazingly bright orange? Perfect for Halloween festivities! Separates to die for!
This collection becomes more fascinating upon additional viewings, and with each new perusal something enticing comes to the fore. And as per usual, the show isn't just about the dazzling body armor, but the kicky shoes and vibrant, wacky, and always covetable bags.
And the obsession continues......
Images brought to you by www.style.com