Well, there is love of coure, and even better, more mouth watering fare from the Milan runways........The festivities continue unabated. Whether you fancy yourself the girl next door, a latter day Jackie-O, or the theatrical type with swashbuckling tendencies, you should find something to stimulate your salivary glands!
EMPORIO ARMANI:
This collection is at once sweet, feminine, dramatic, and hip! Much black is to be had as per usual, with RED making a dramatic cameo appearance in what amounted to quite the expansive assembly of effortless covetable fare. I'm really loving the scarlet lips, the easiest way to add allure to any outfit.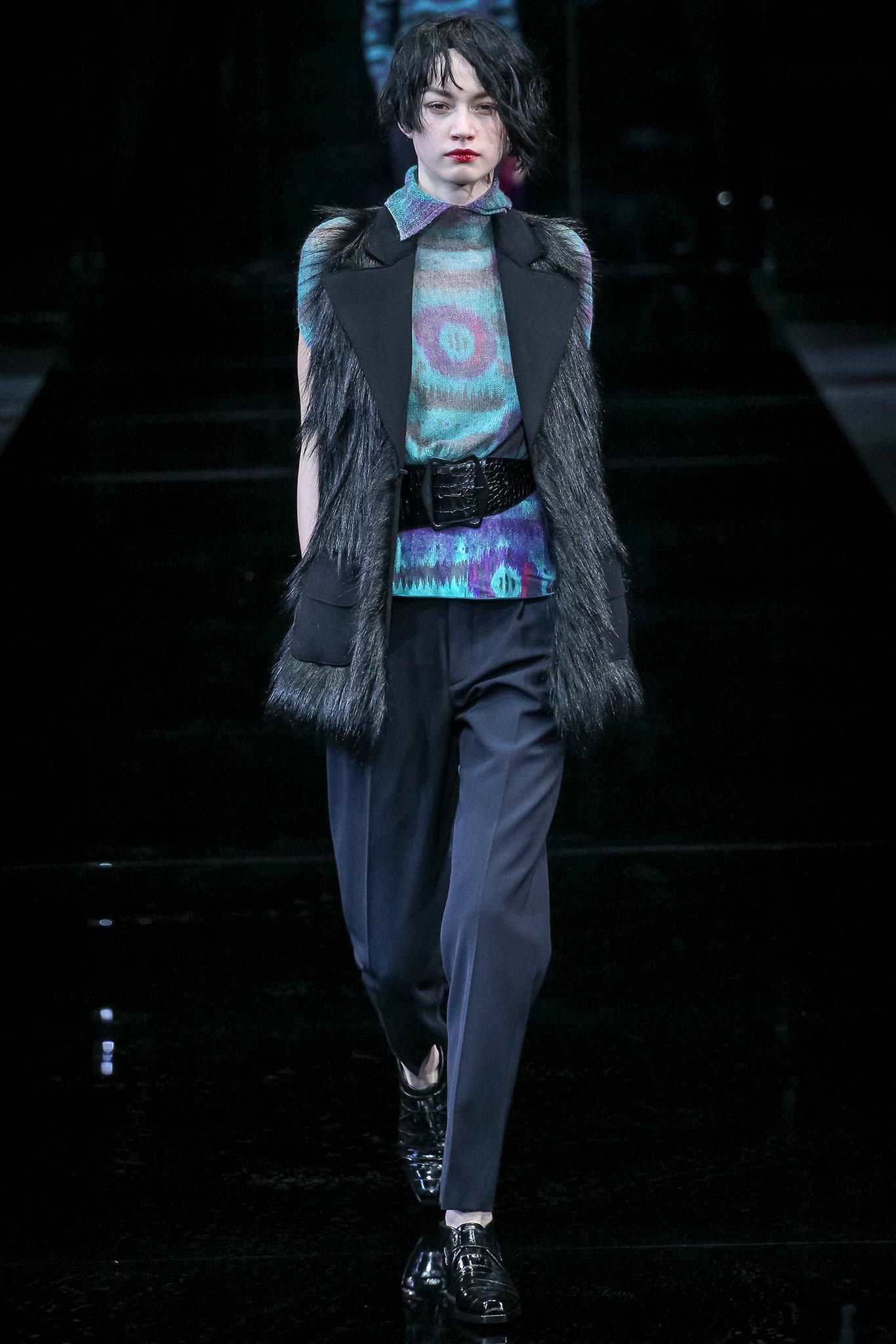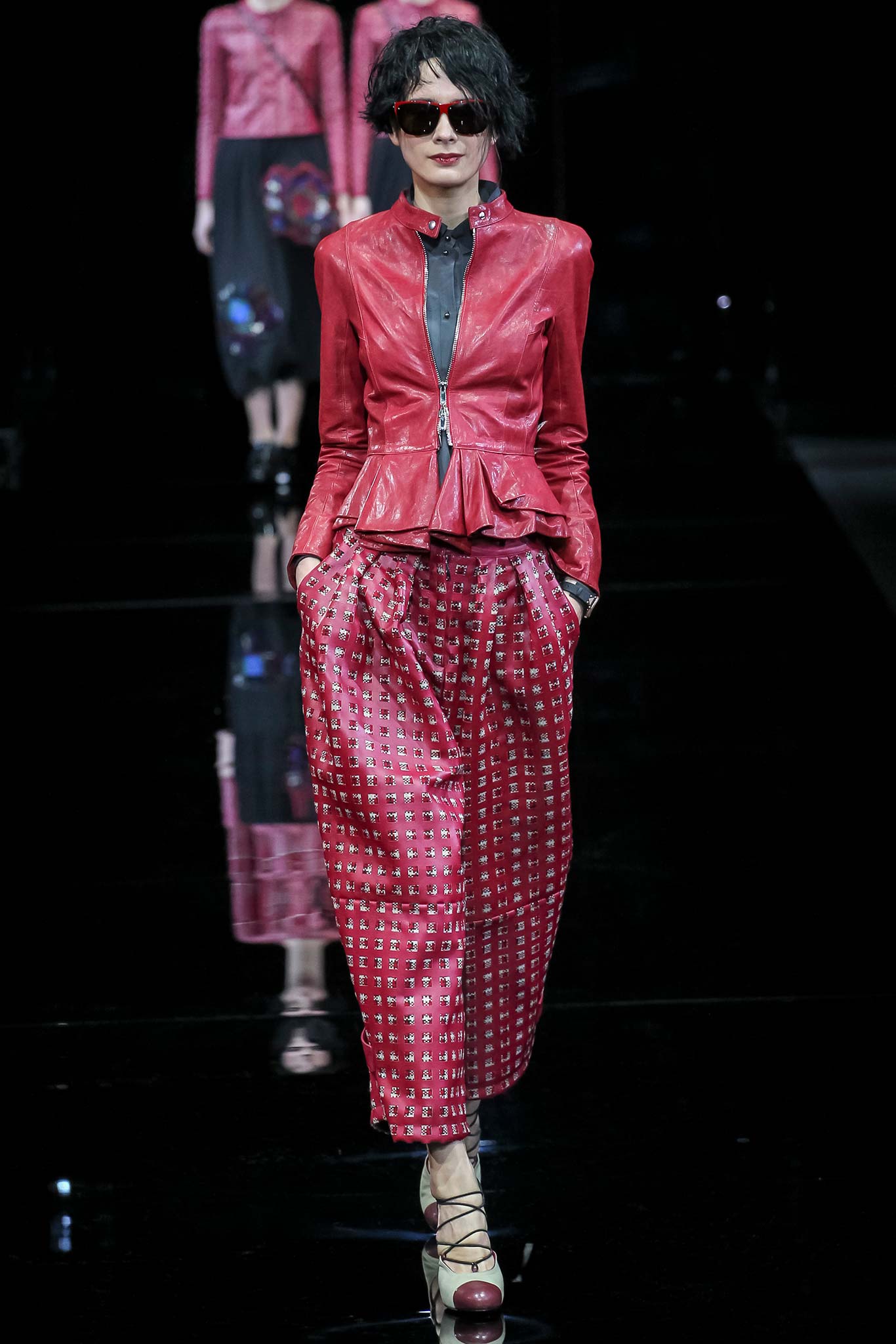 If you're in the mood for a little peplum, might as well go whole hog and do it in red leather.....great over some skinny jeans.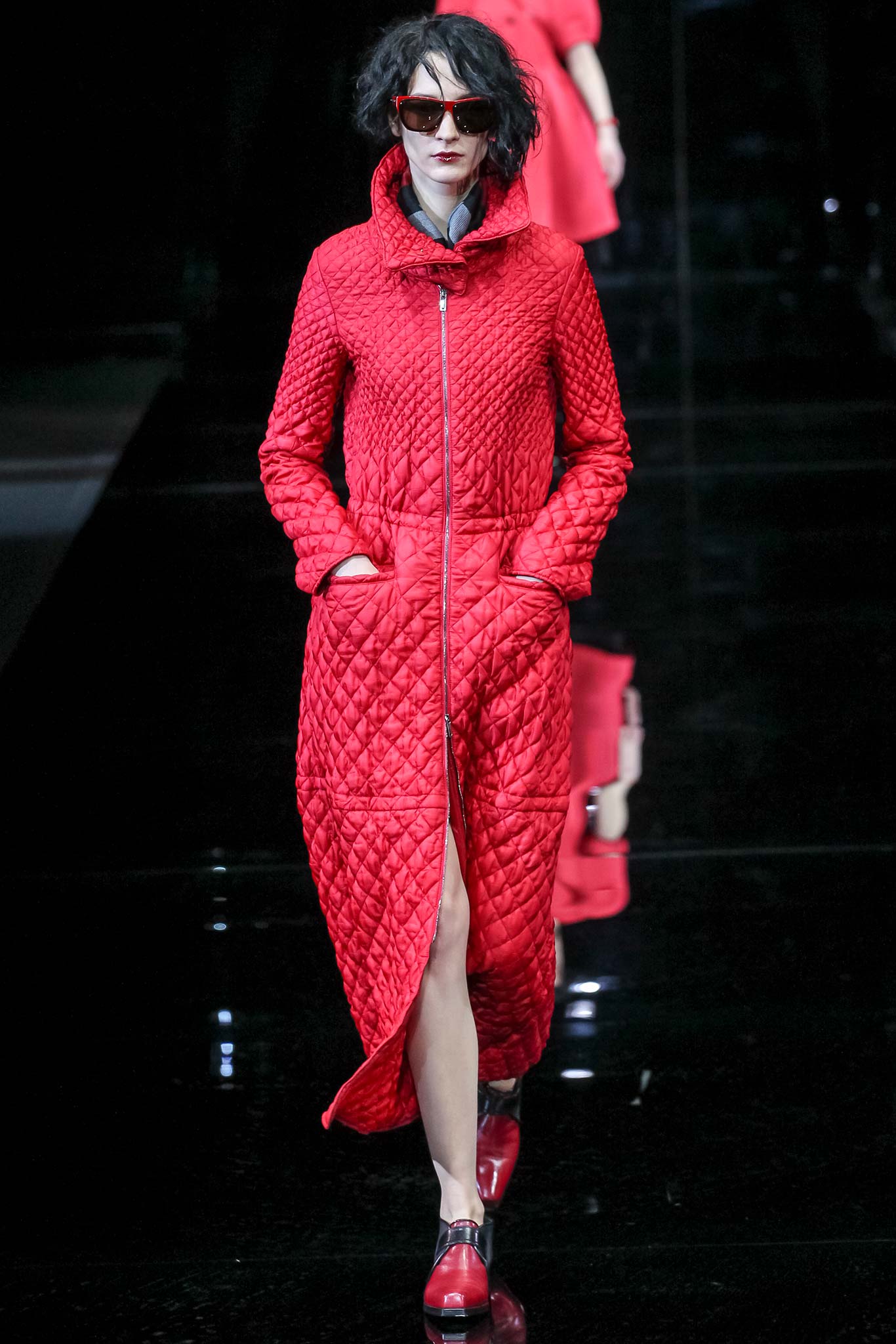 Long yet light as a air in a striking RED, a perfect traveling companion.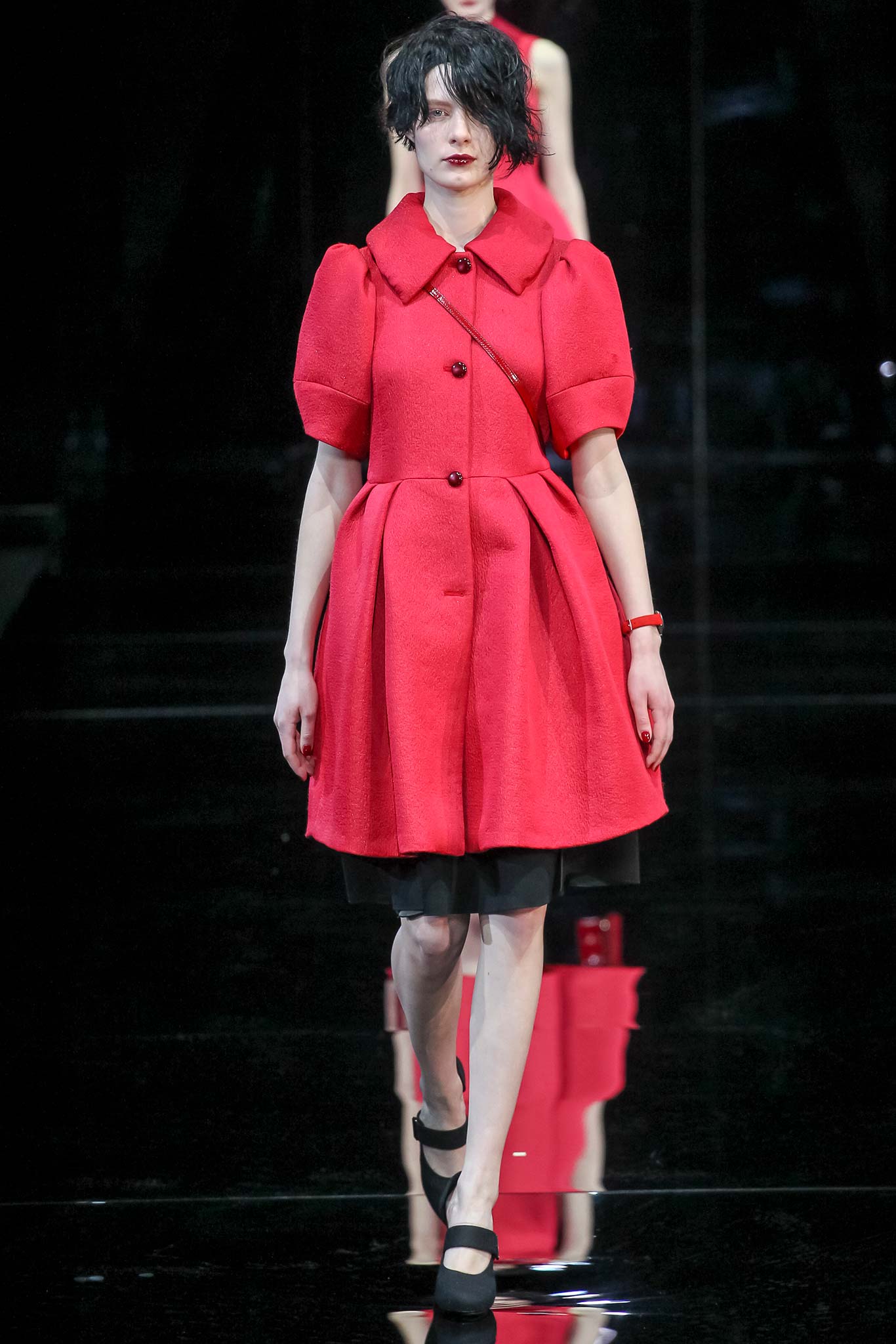 A coat and a dress. Sweet and yet stylish with the sculptural sleeves, harkens a bit back to Balenciaga.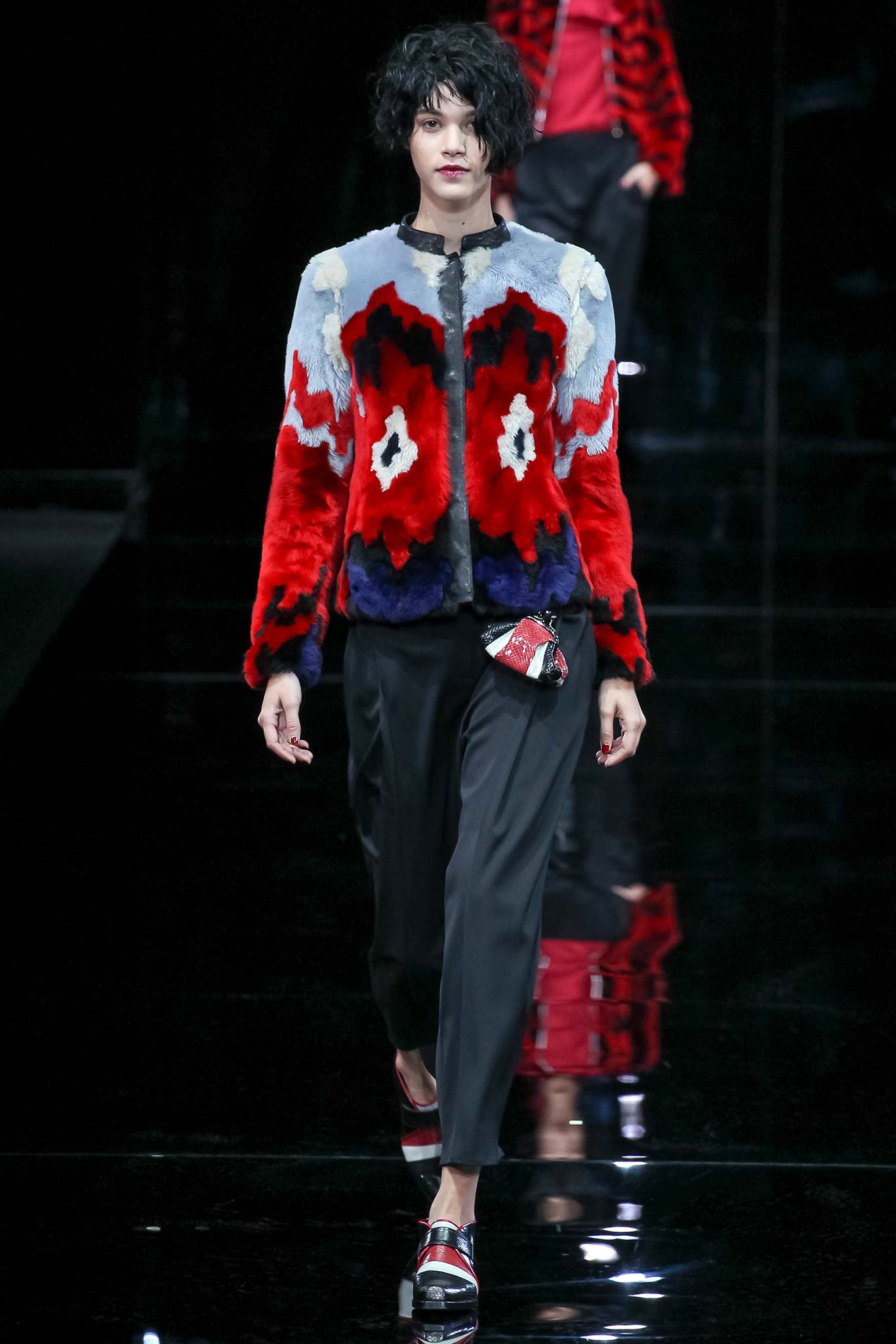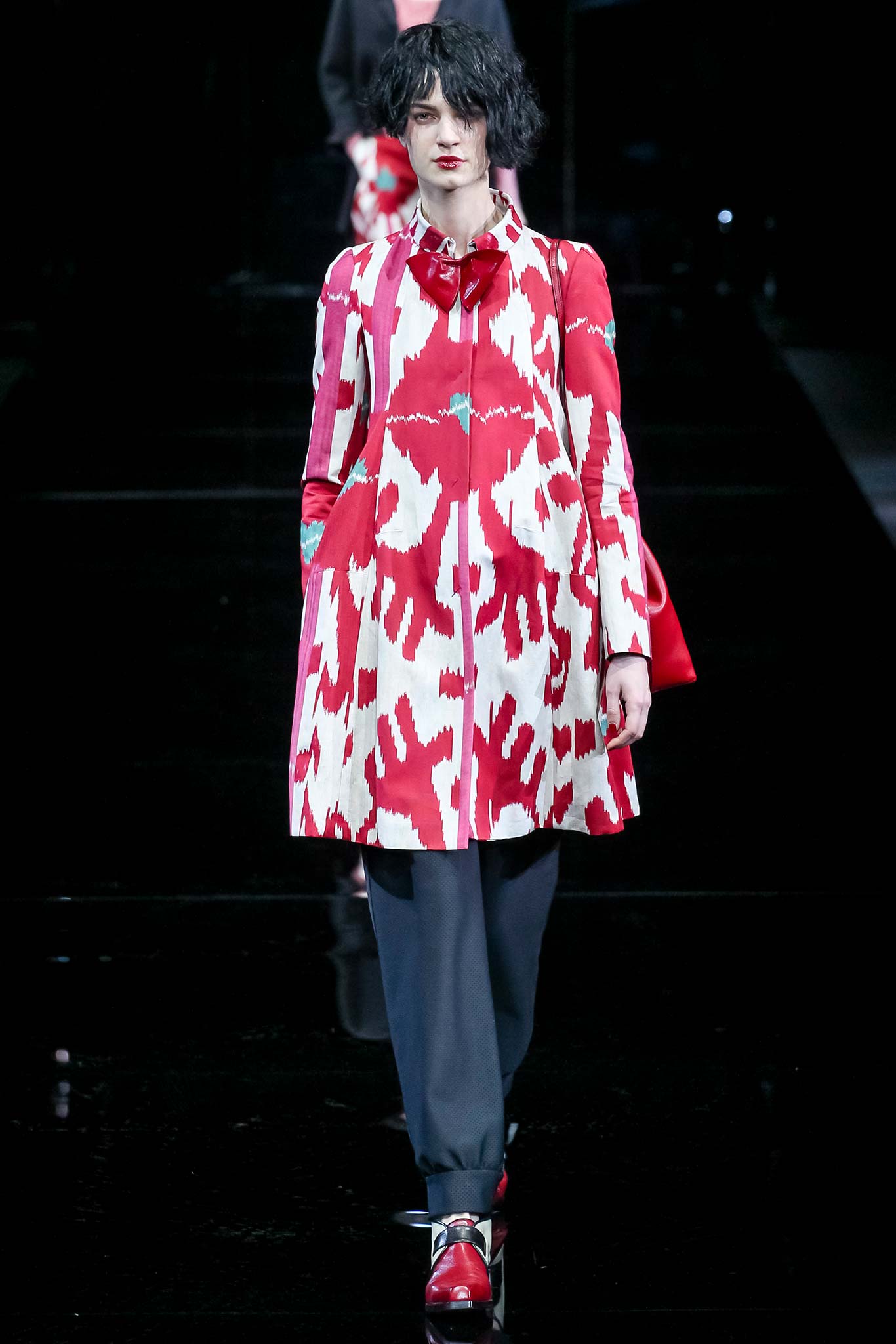 Something Carrie Bradshaw would have worn for sure. Would be interesting paired with a contrasting pattern, maybe something in a blue floral.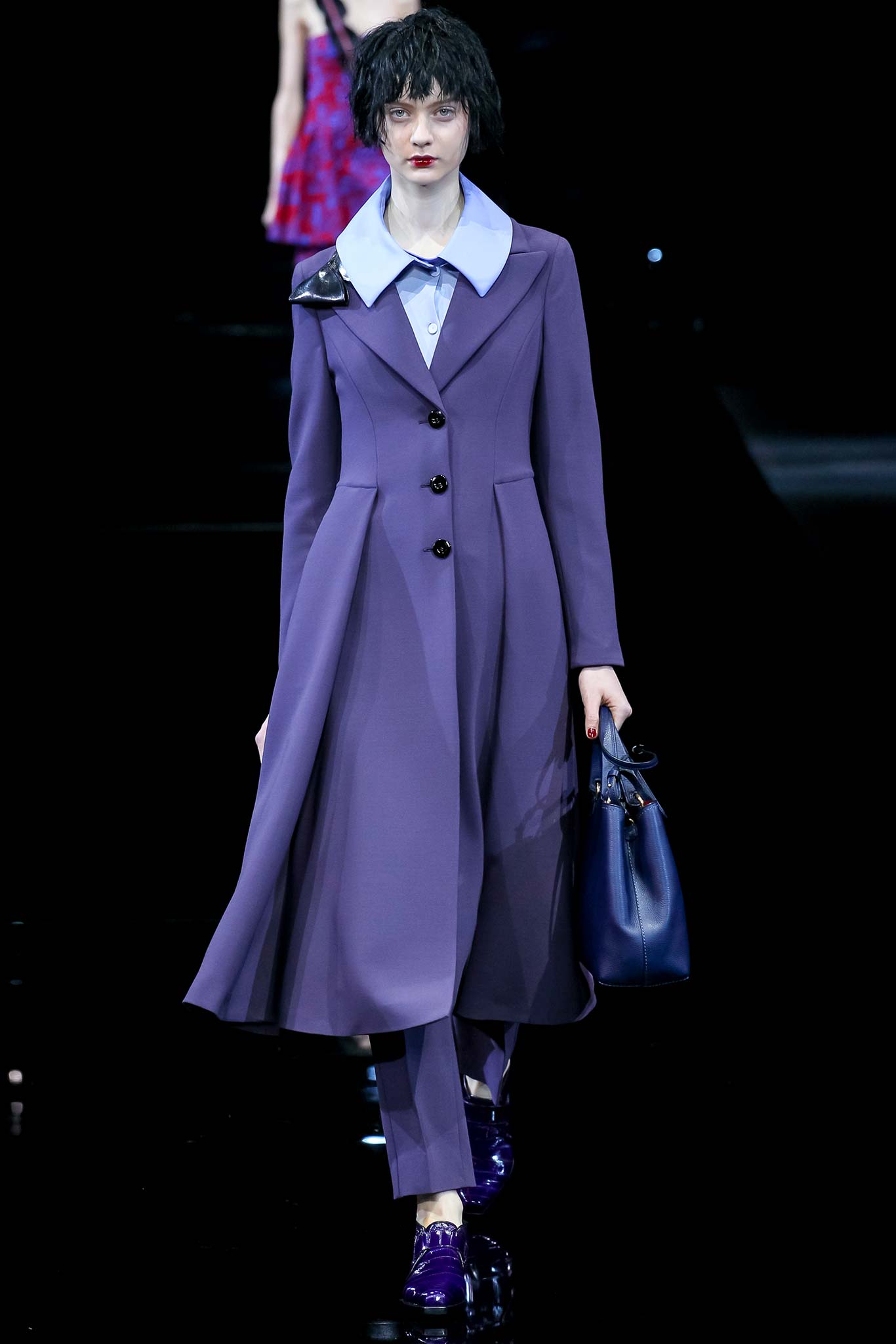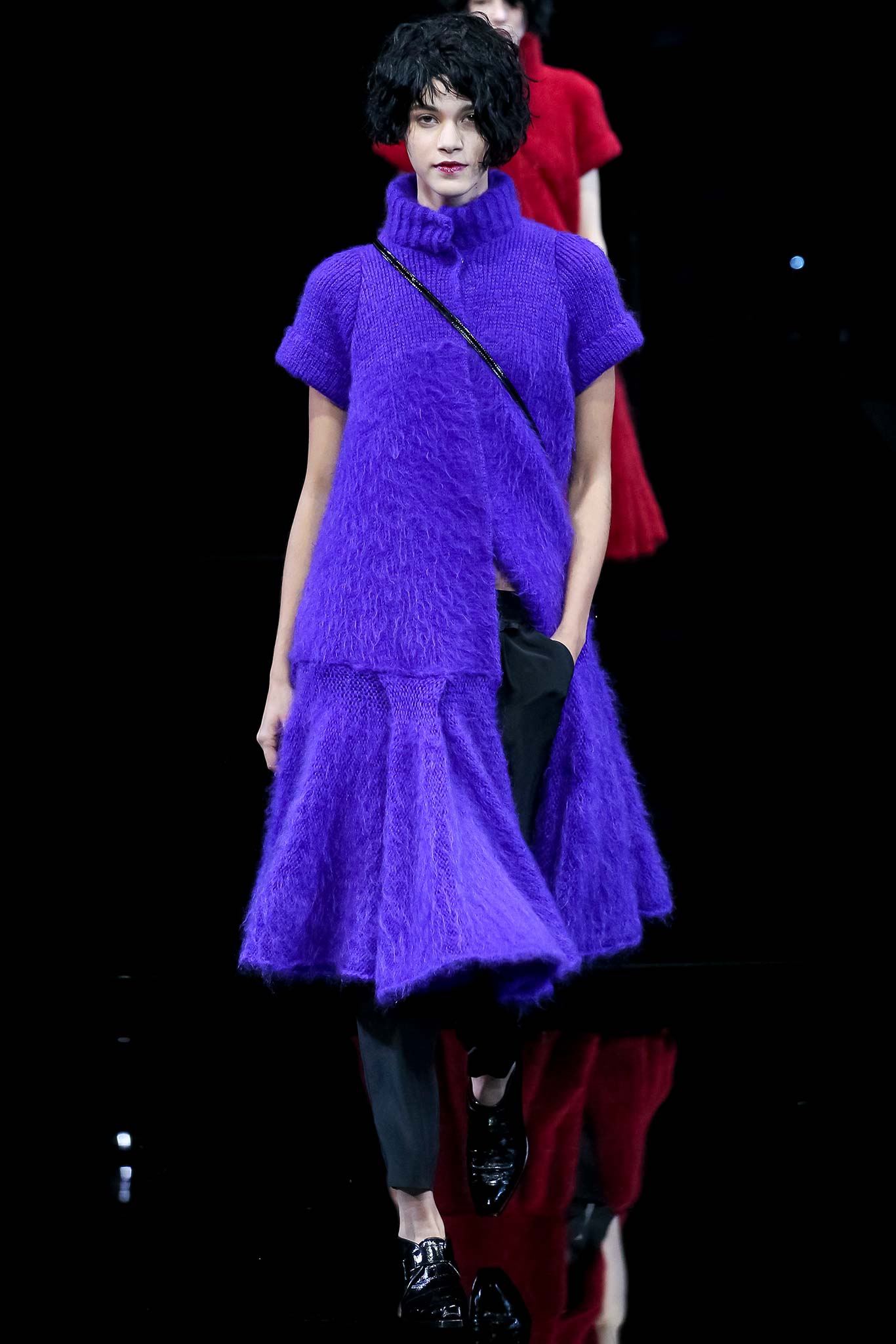 Everyone needs the big, bold sweater coat, and all the better in this exuberant purple.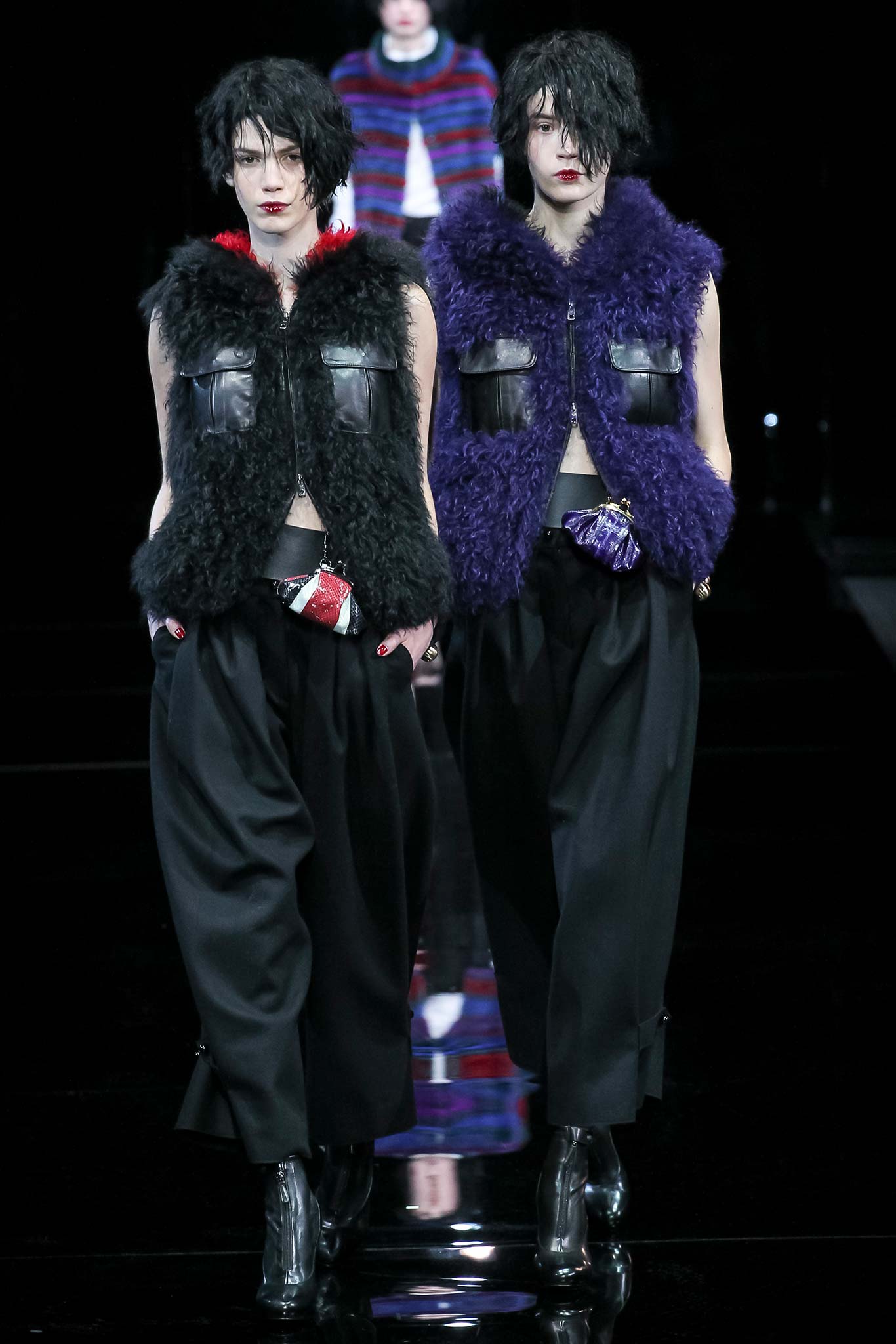 The vest is always a friend, keeps the core warm, but leaves the arms unencumbered for shopping, wrestling, and target practice. And never mind what you can fit in those pockets!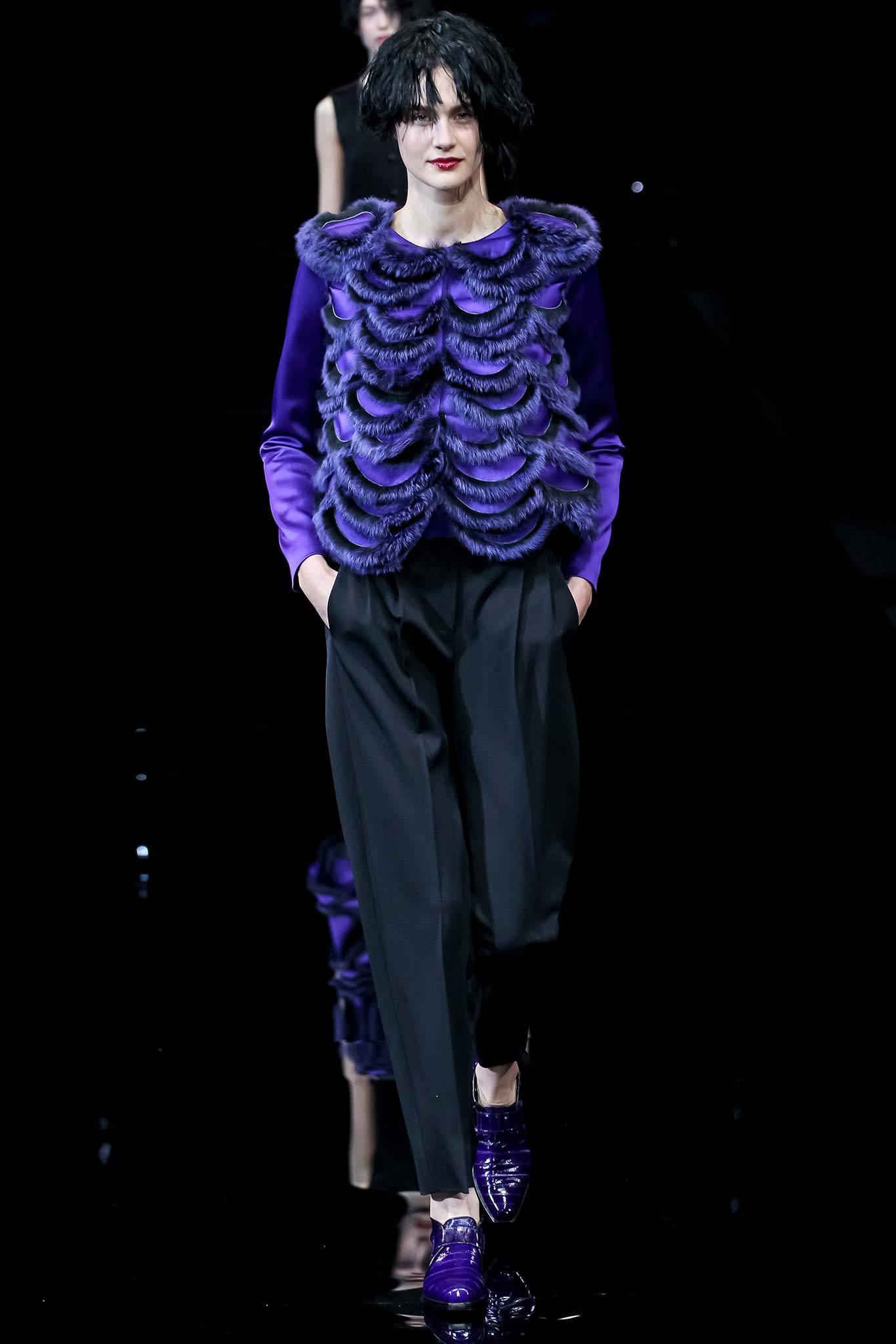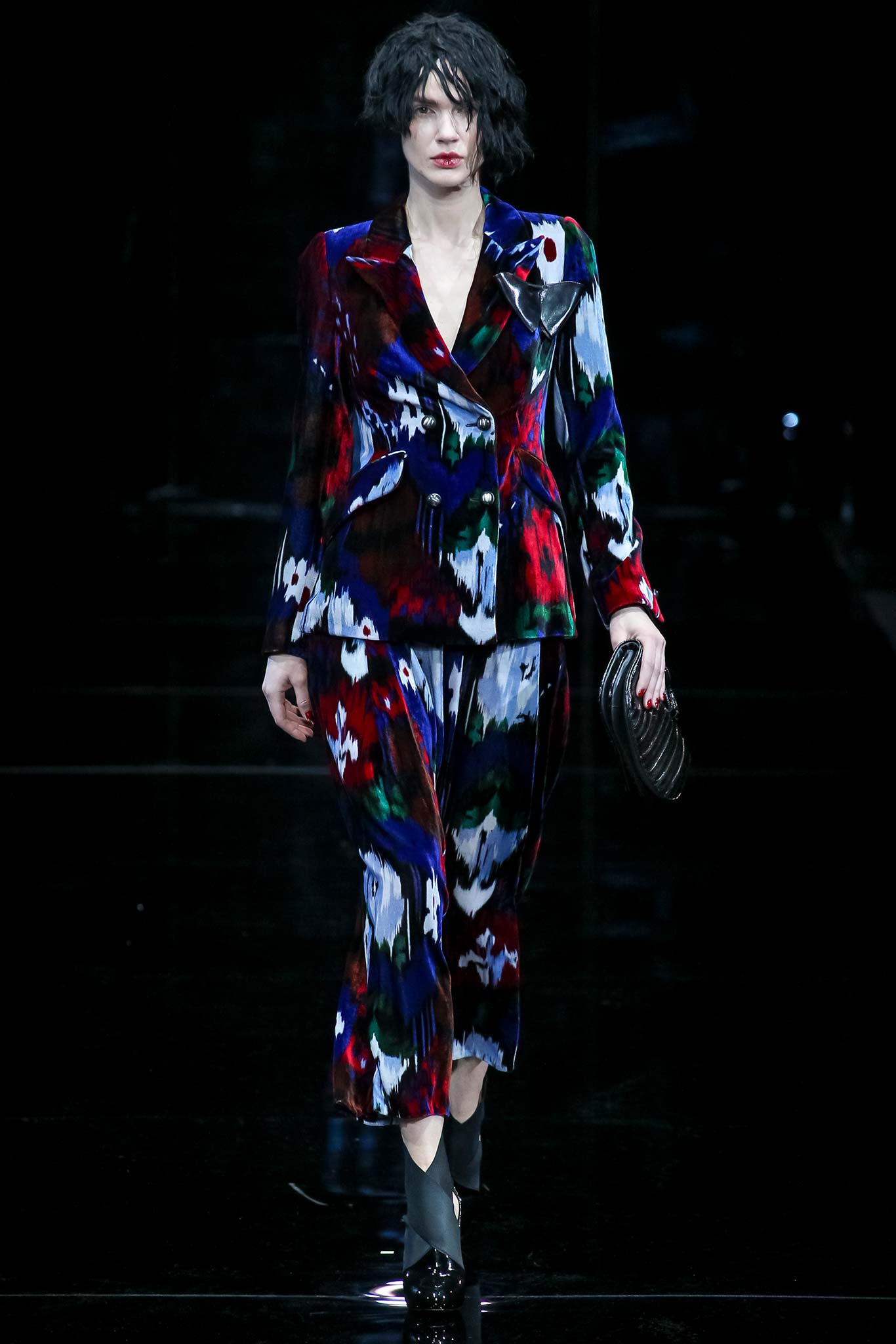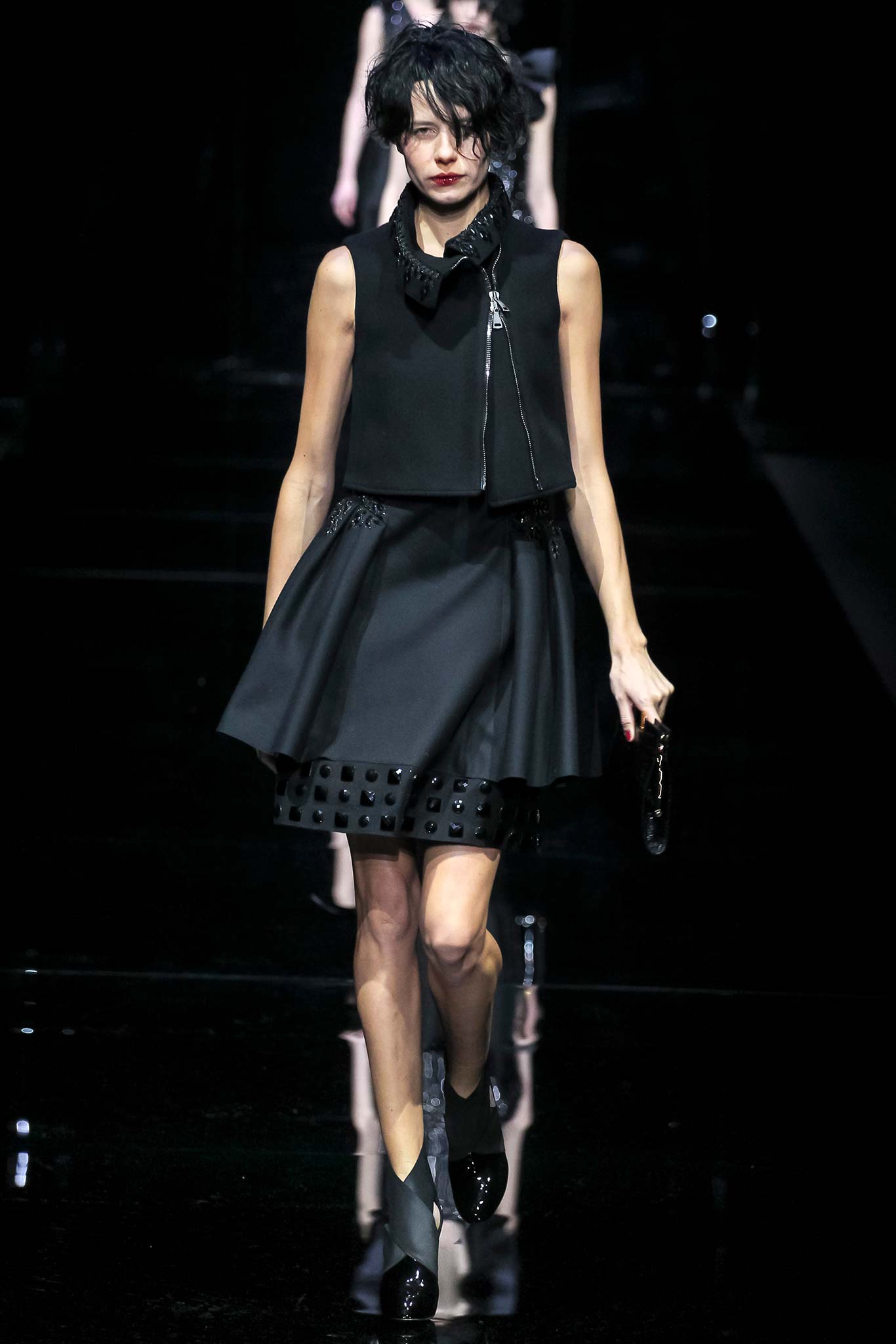 Feminine, flirty, and yet sort of upscale punk. Another killer vest to be thrown over a long white shirt.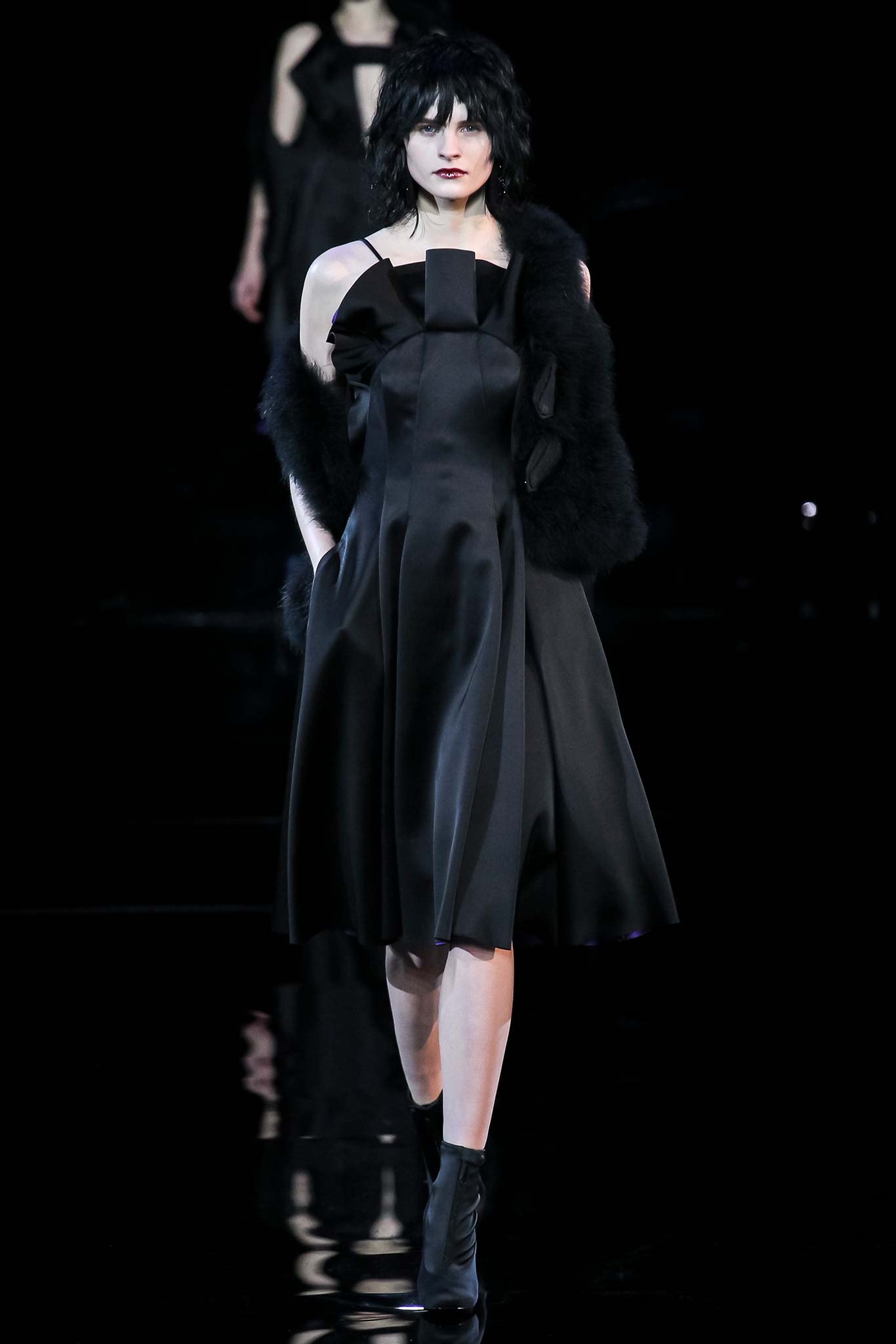 Grace Kelly goth cocktail frock in duchesse satin.
MAX MARA:
Because sometimes only a BIG coat will do! Max Mara does this in an exemplary fashion, with luscious neutrals. Ignore the curiously inappropriate shoes. These scrumptious knockouts should be paired with boots, high, flat, spartan, or bedazzled. Then add a vibrant cashmere or pashmina scarf.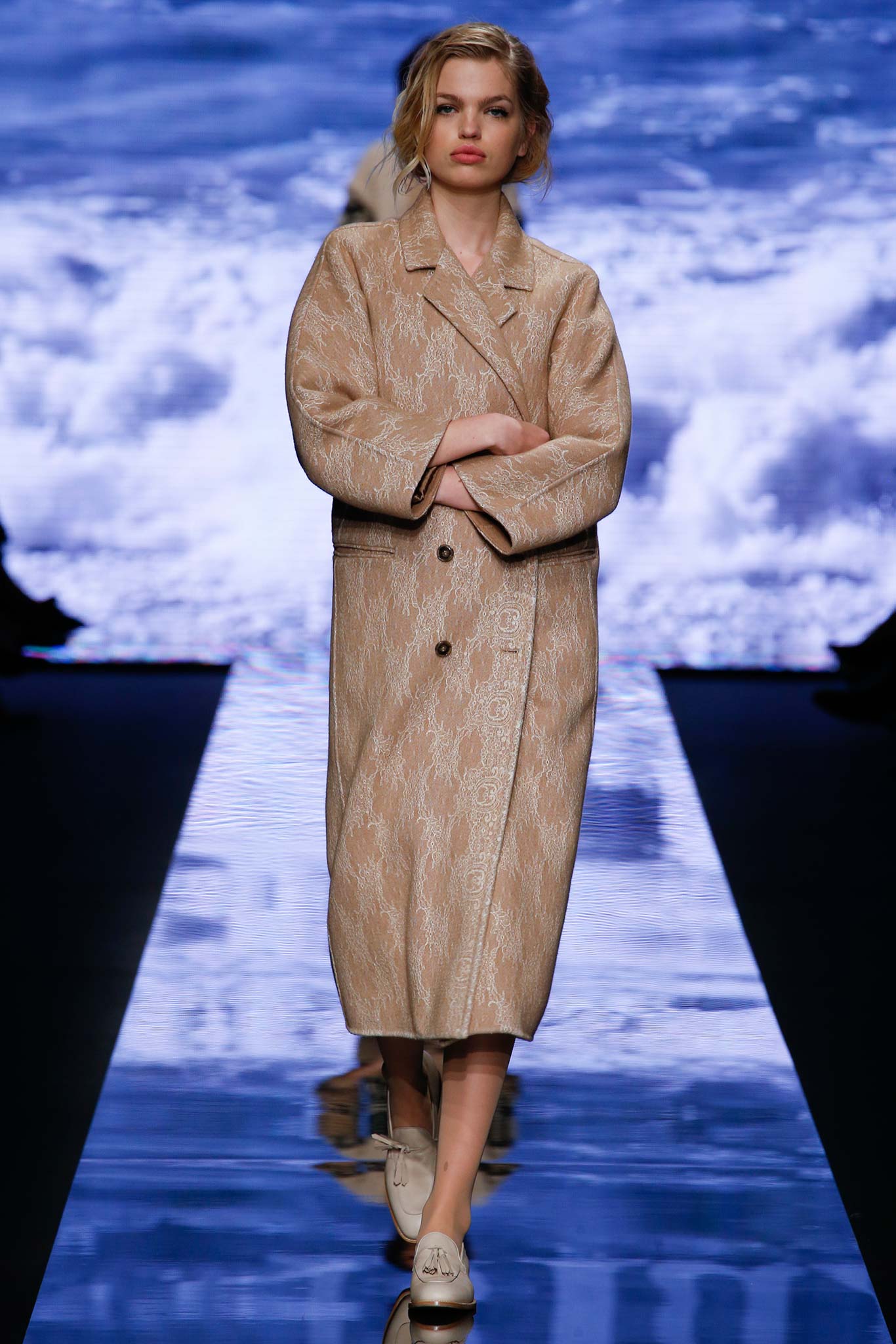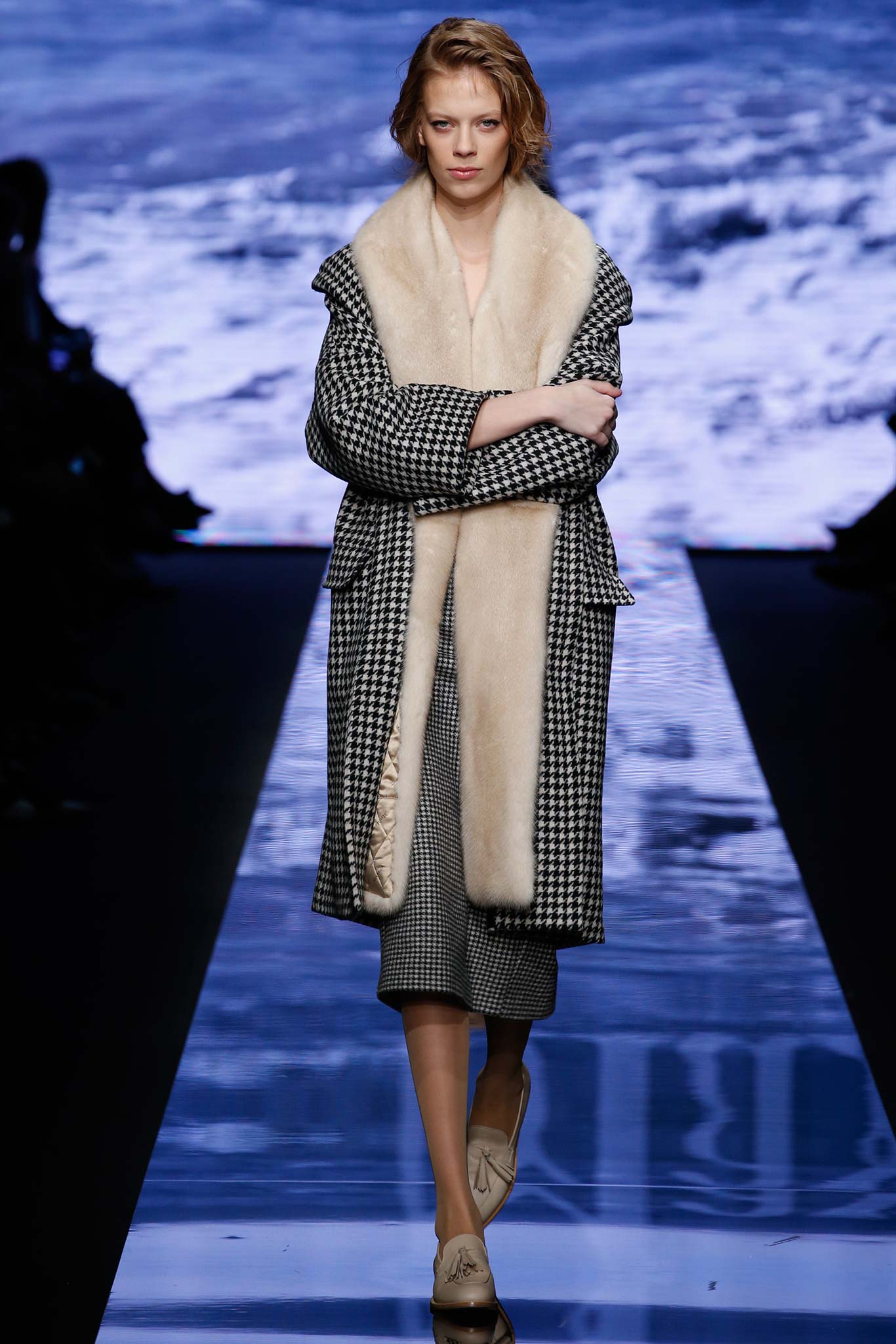 Houndstooth and mink, not a combo you see every day, with a Madmen vibe.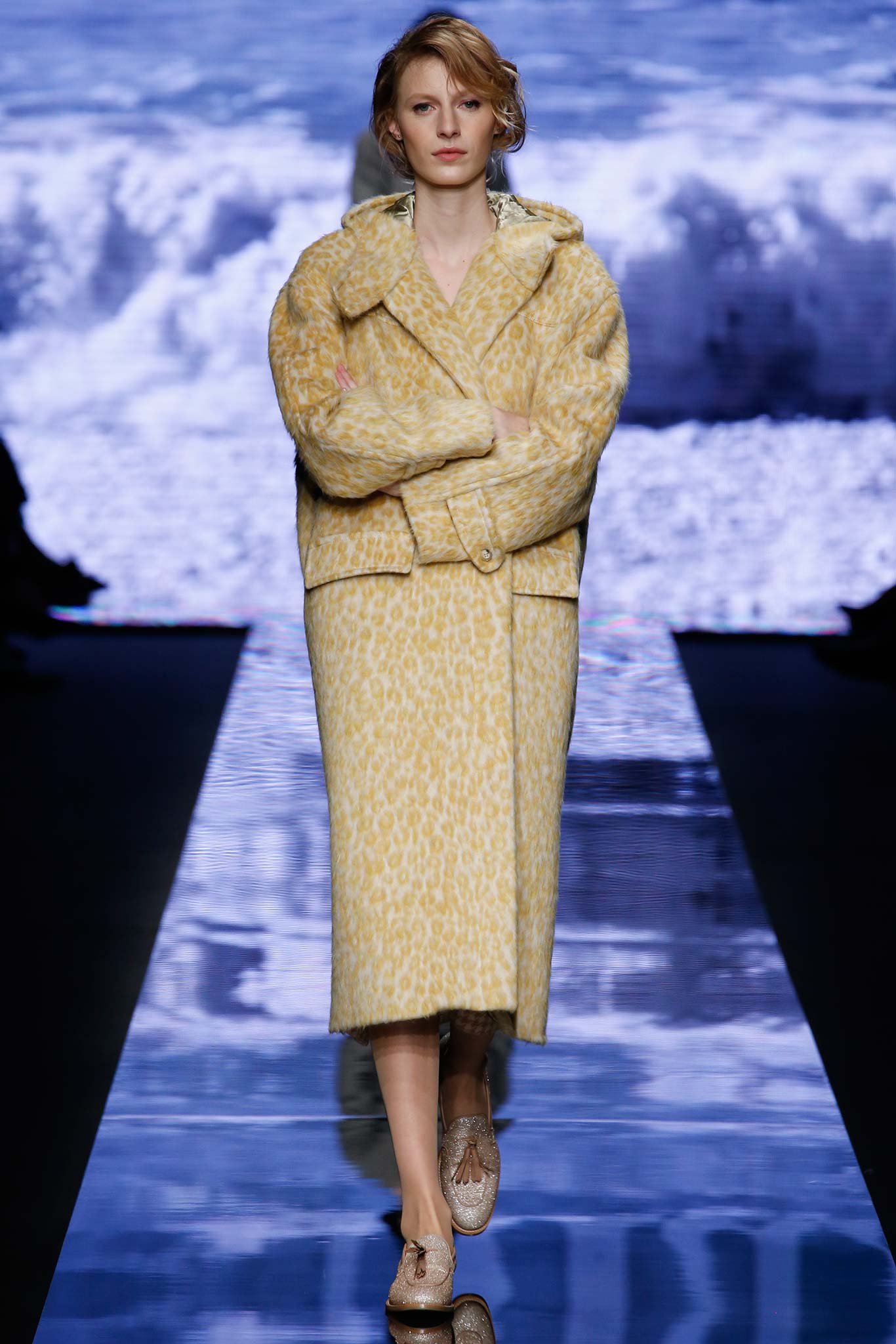 Leopard like you've never seen it in a surprising color palette.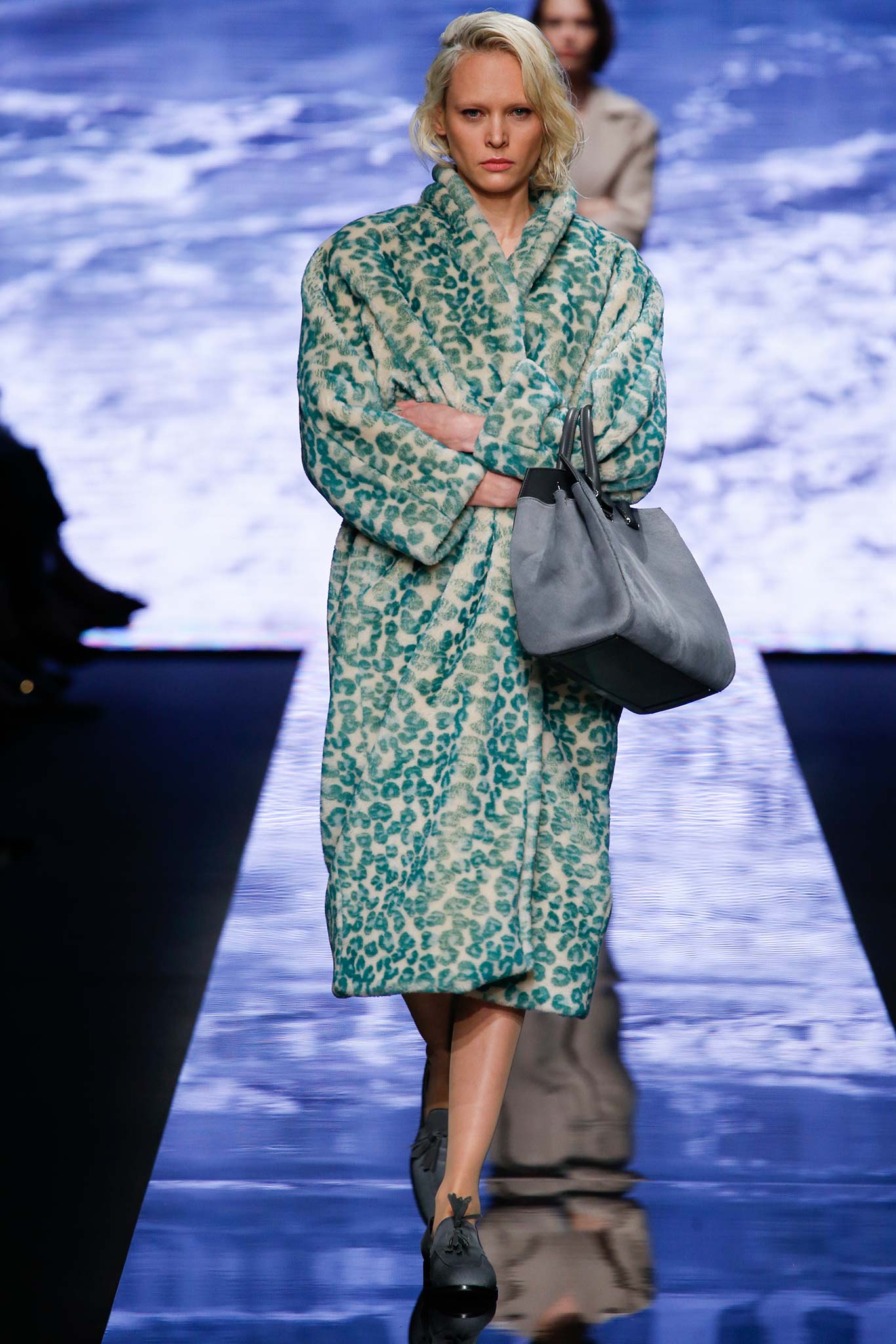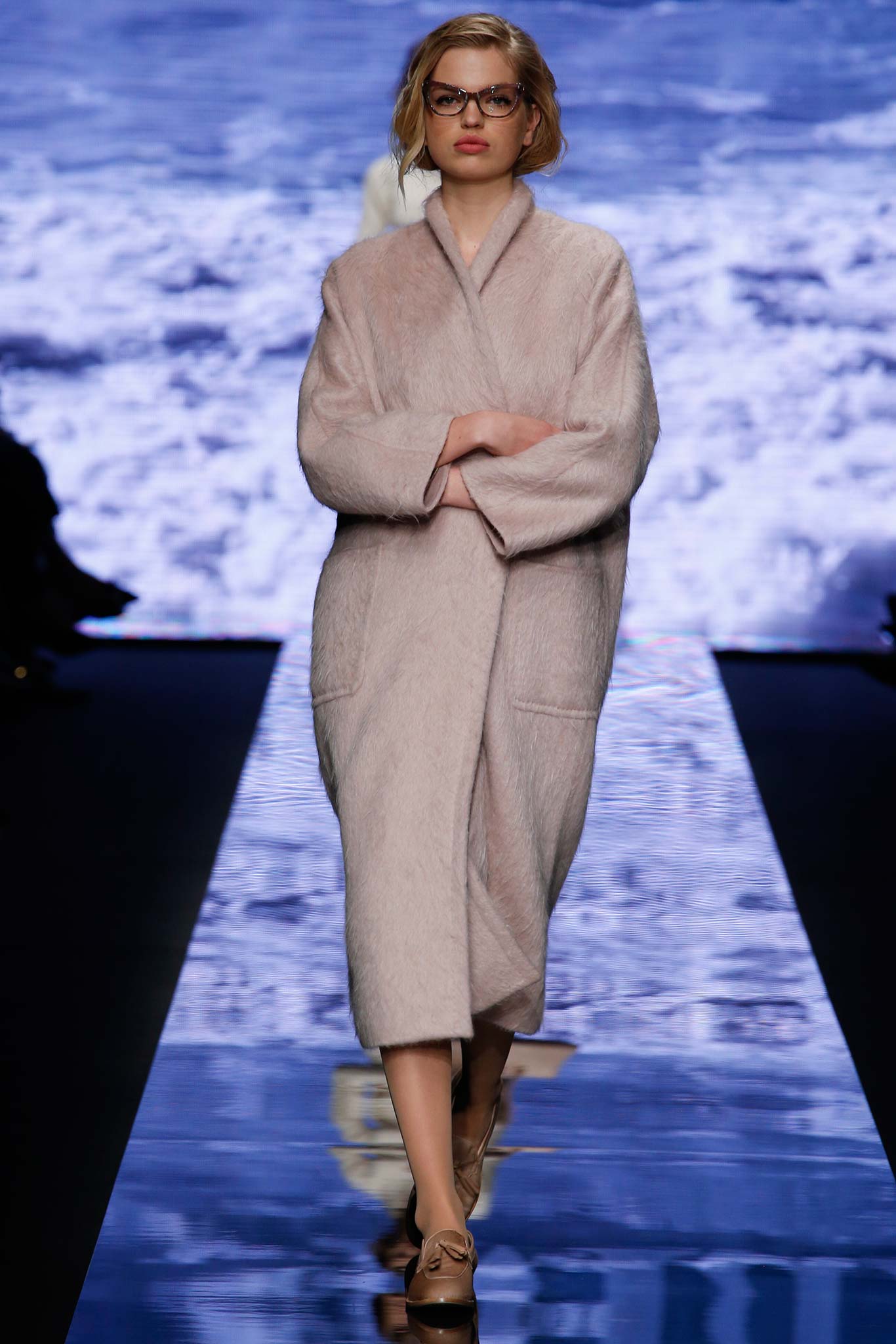 Dusty rose mohair in a wearable blanket, comfy and cosy while simultaneously easy chic.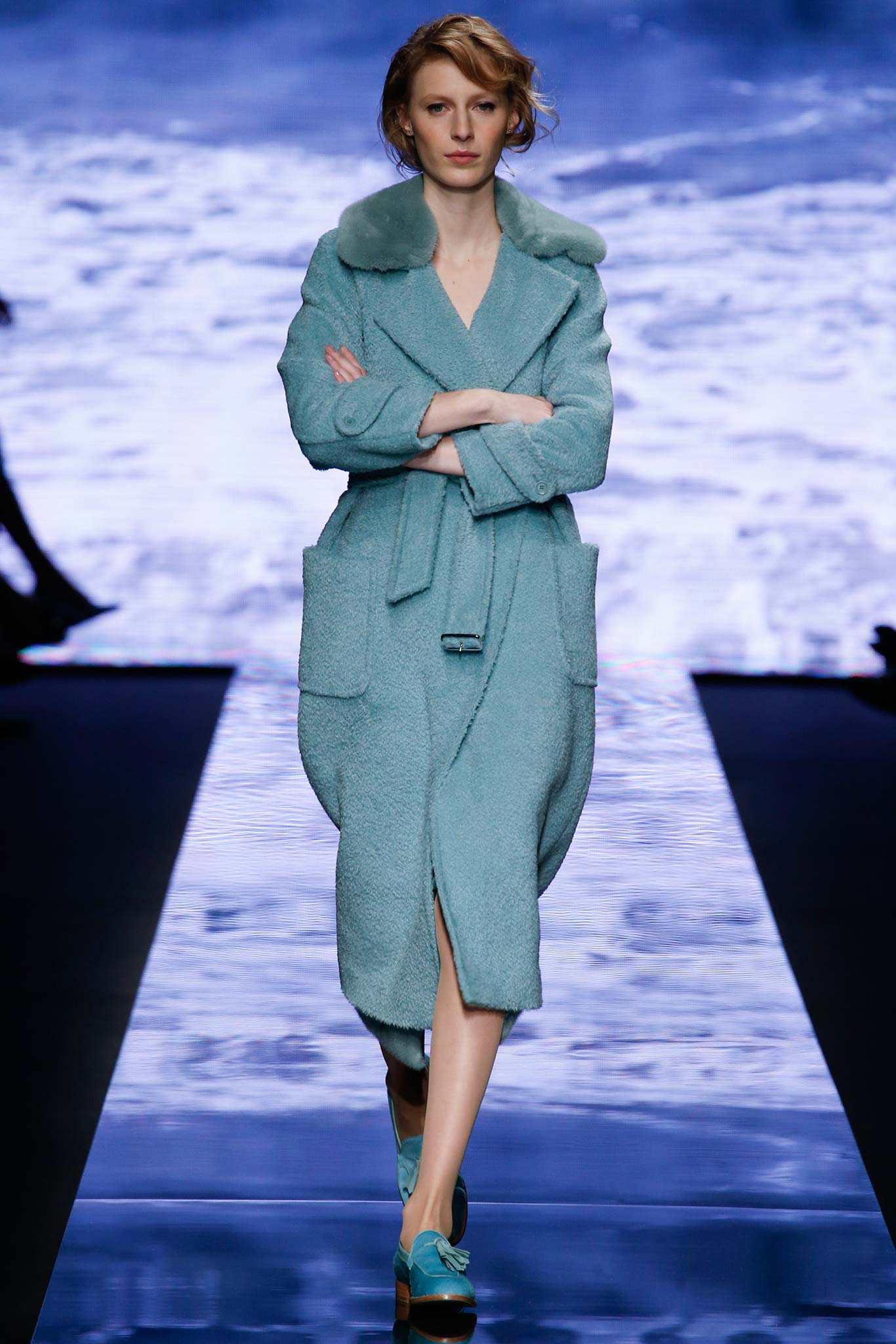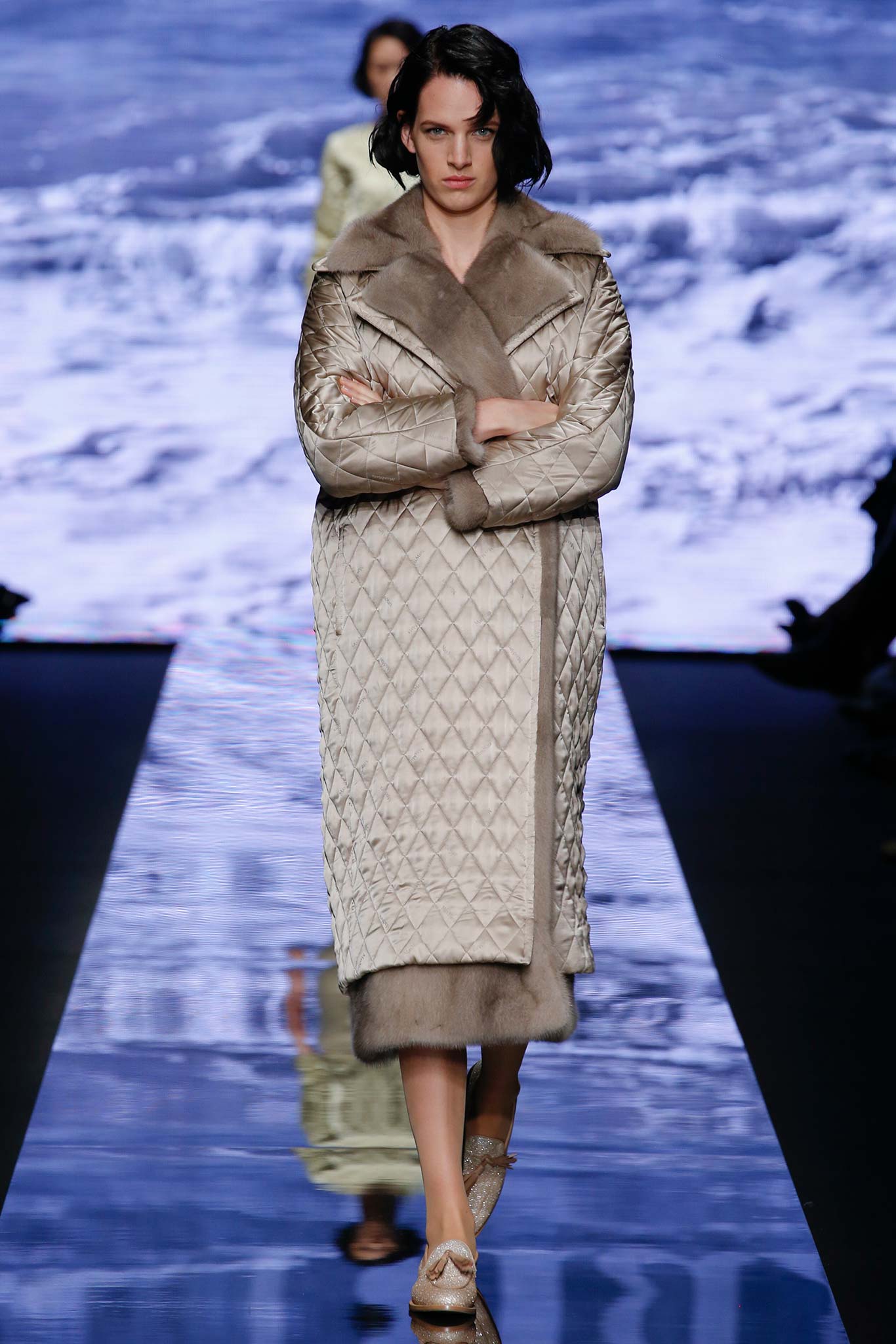 Each and every one of these coats is absolutely delectible, almost good enough to eat, in the most luxurious fabrications available. Timeless treasures you'll want to live and hibernate in.
FRANCESCO SCOGNAMIGLIO:
Old hollywood glamor…..where the line between evening wear blends imperceptibly with nighttime boudoir attire.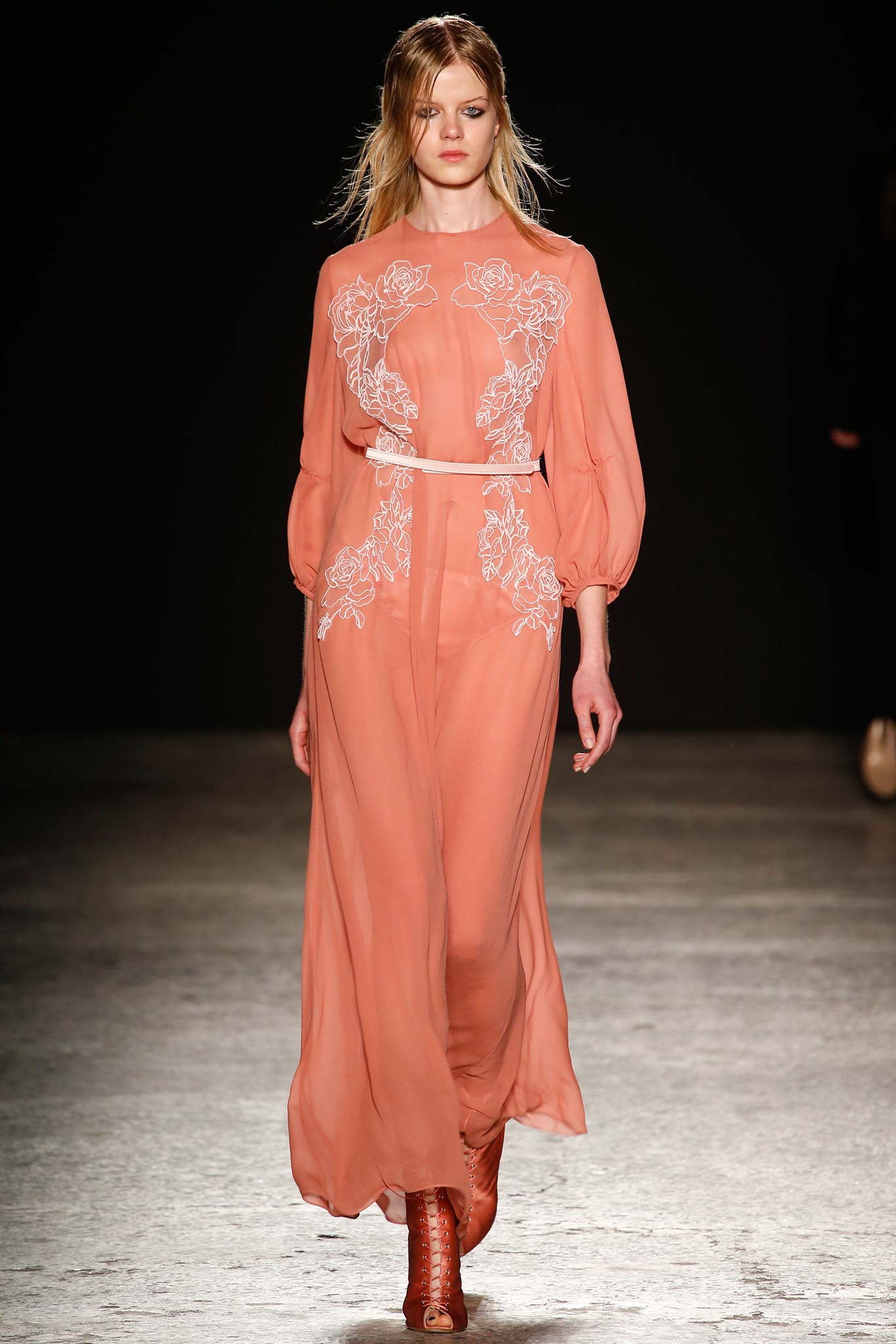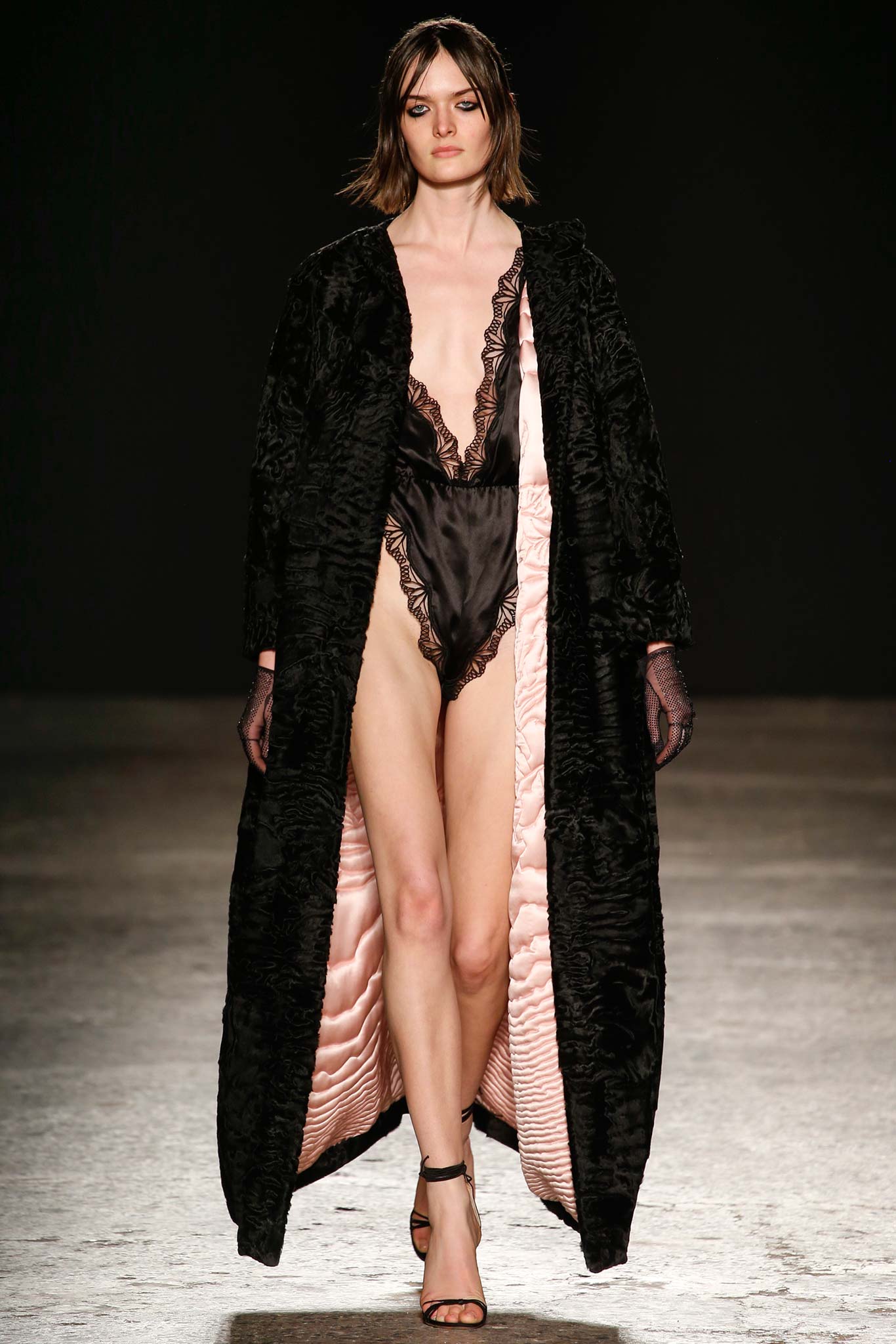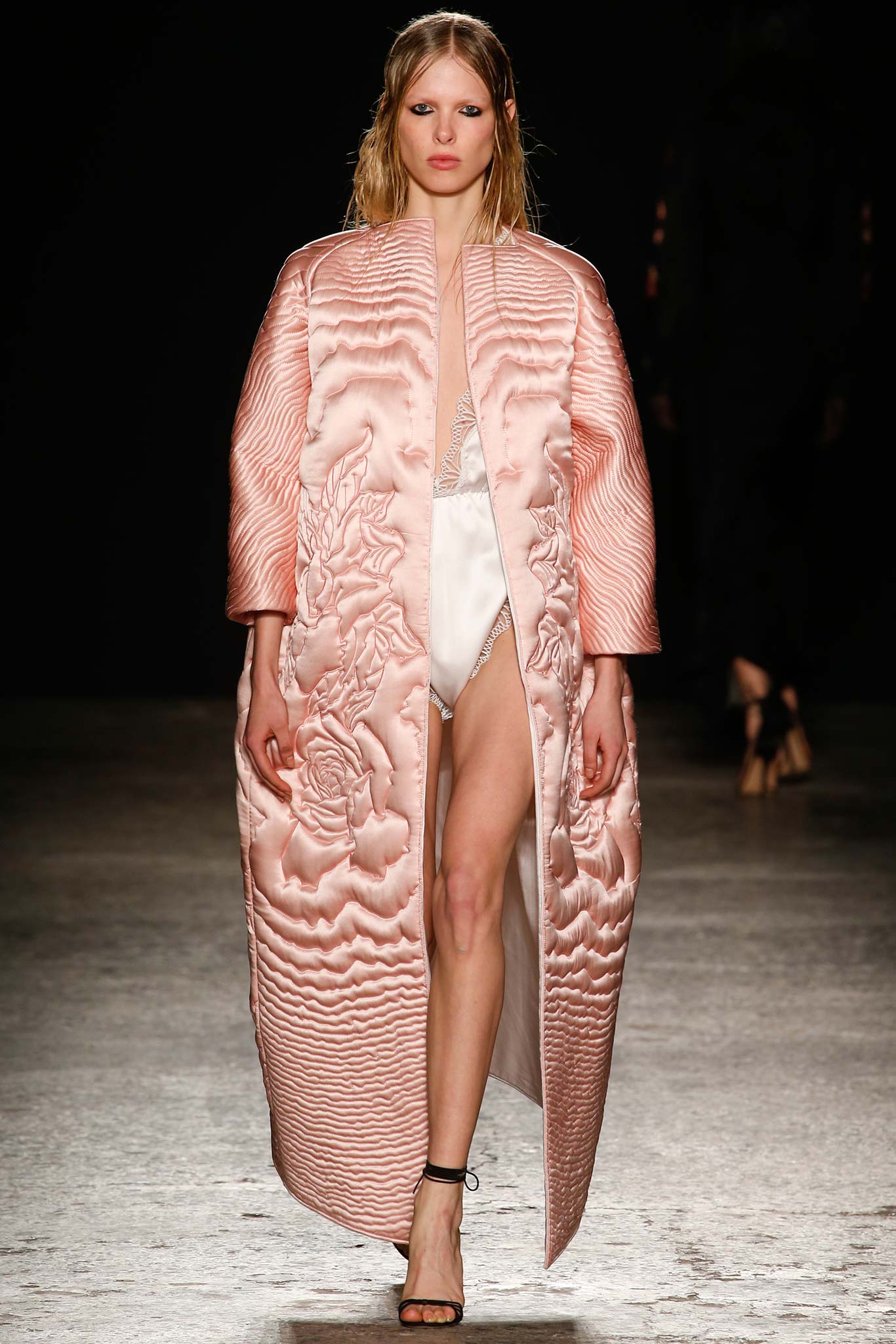 Oh Dear Lord, STAGGERINGLY gorgeous! Evening coat or bathrobe for a countess?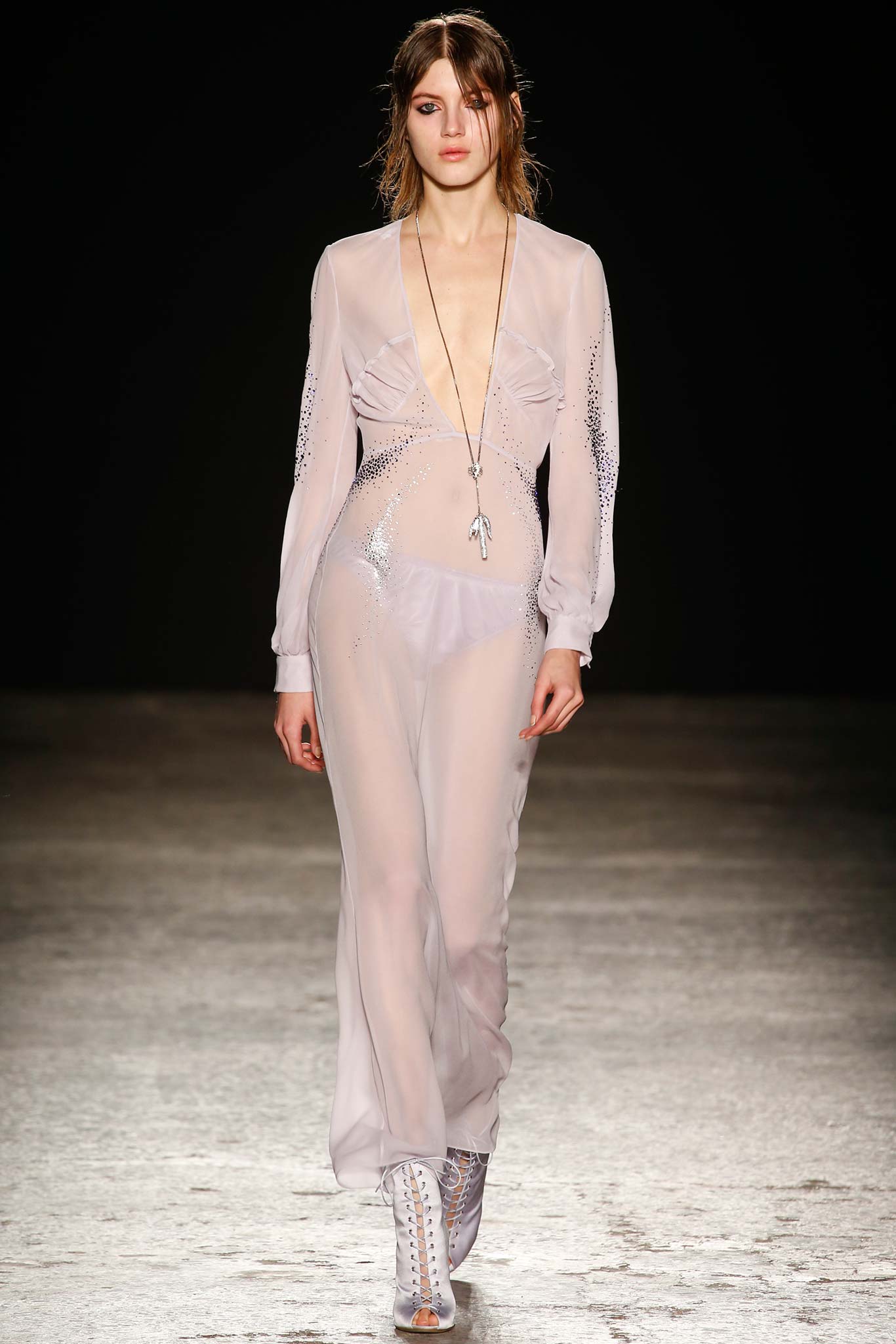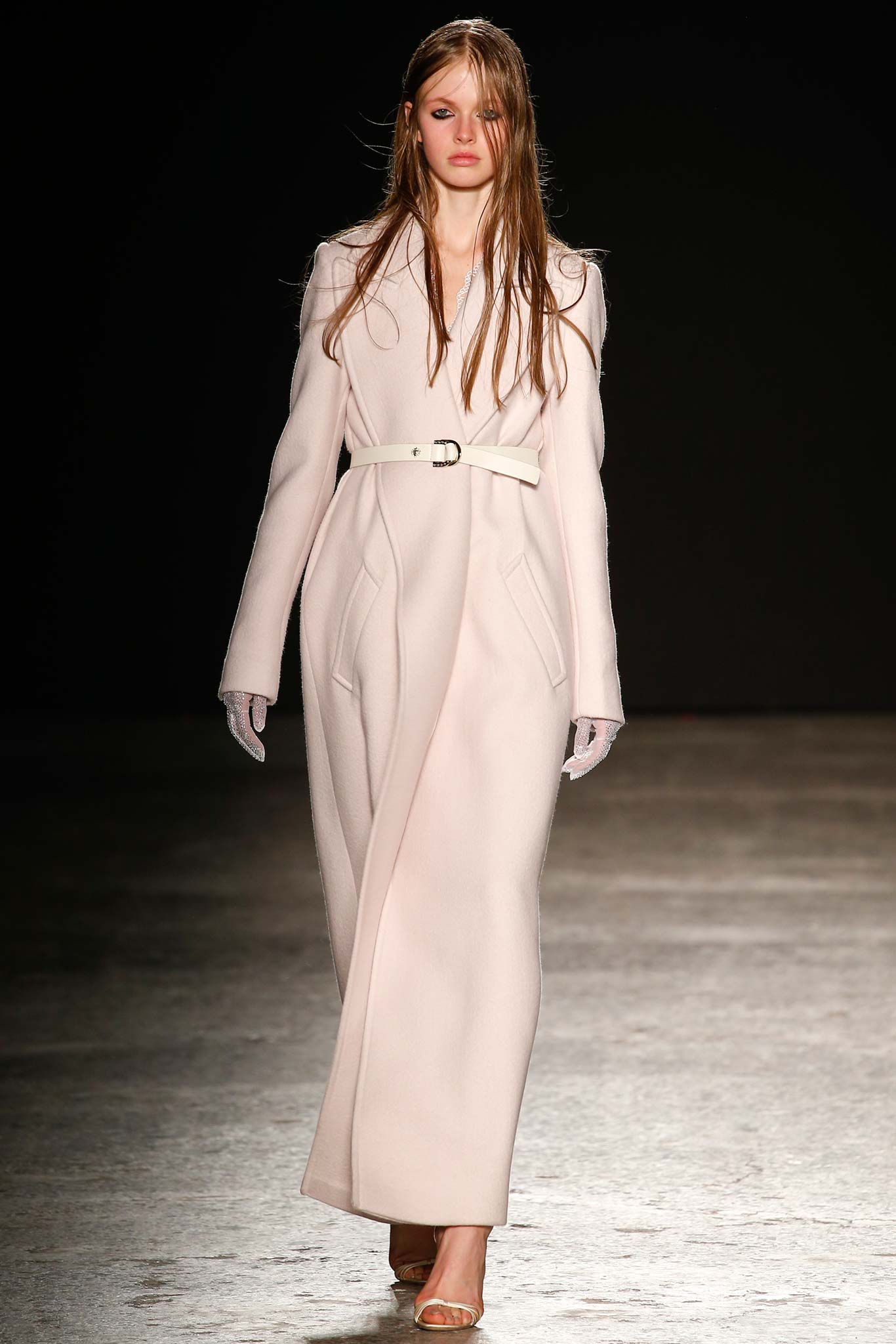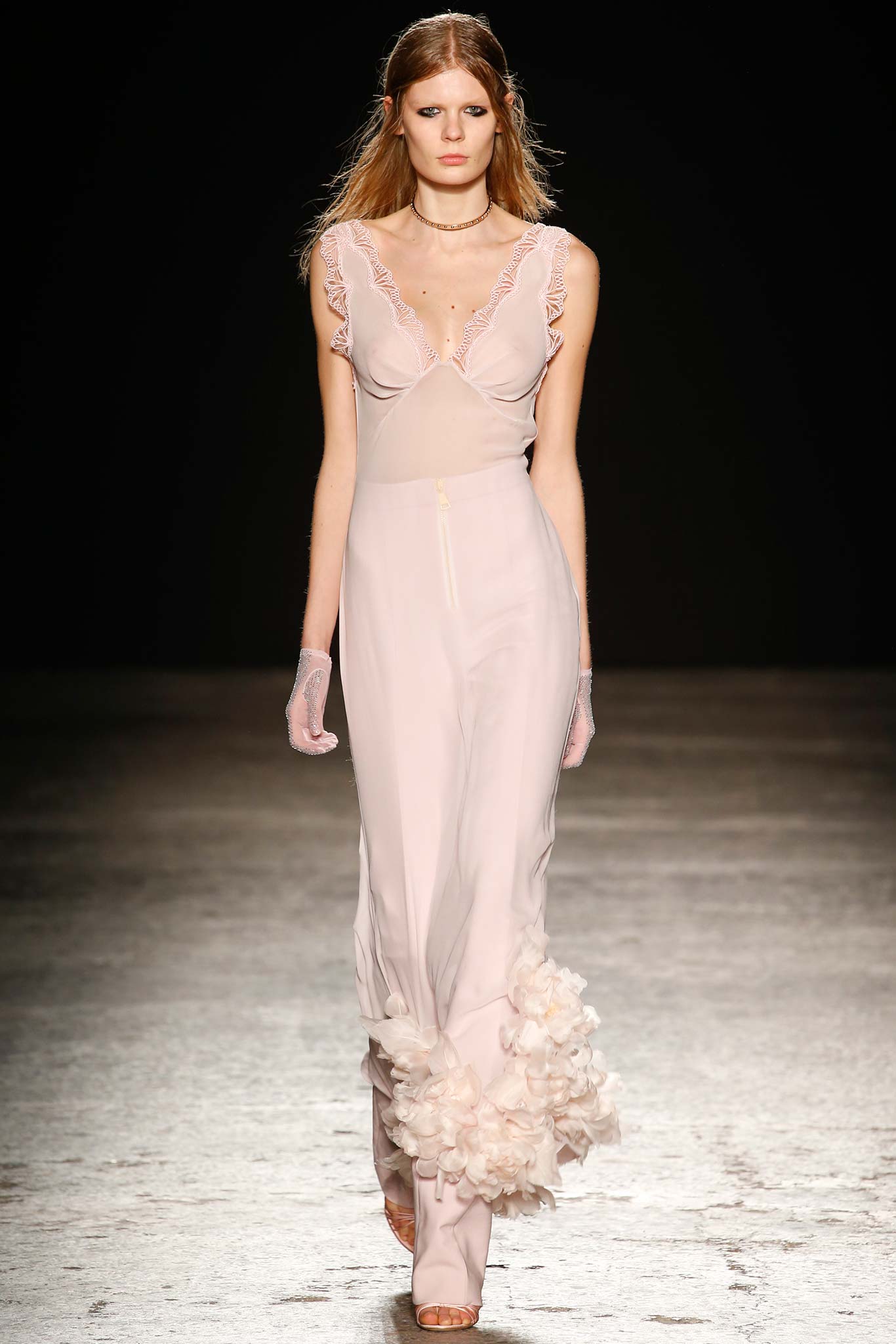 Ethereal evening gown or weapon of seduction? Only the underpinning knows for sure.....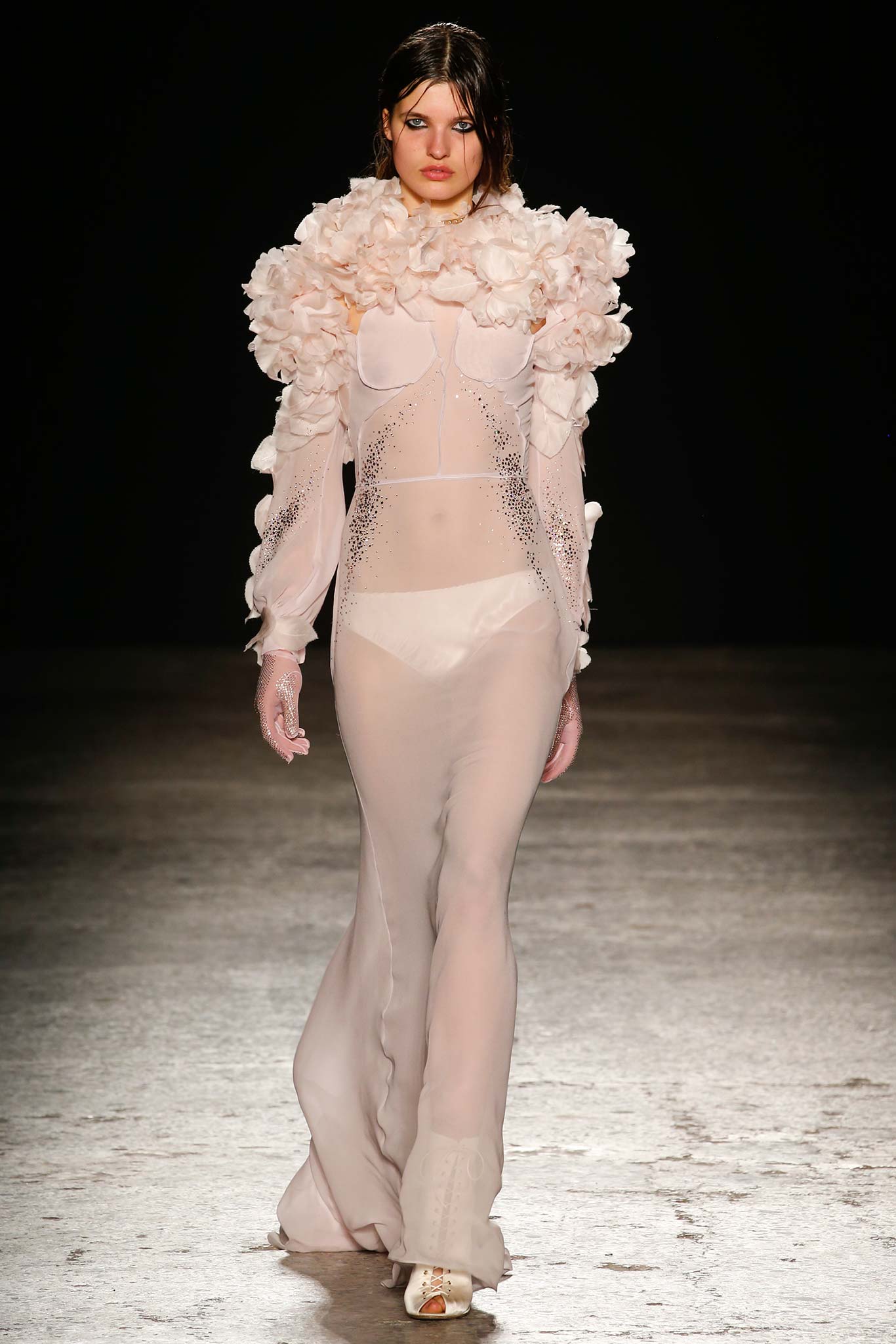 ROBERTO CAVALLI:
No one can sex up a gal in a glamorous dashing way like Cavalli, a master of fashion drama. Whether pants, a blouse, an evening gown, or a tuxedo jacket, each piece is infused with theatrical flare, not for the wall flower or faint of heart!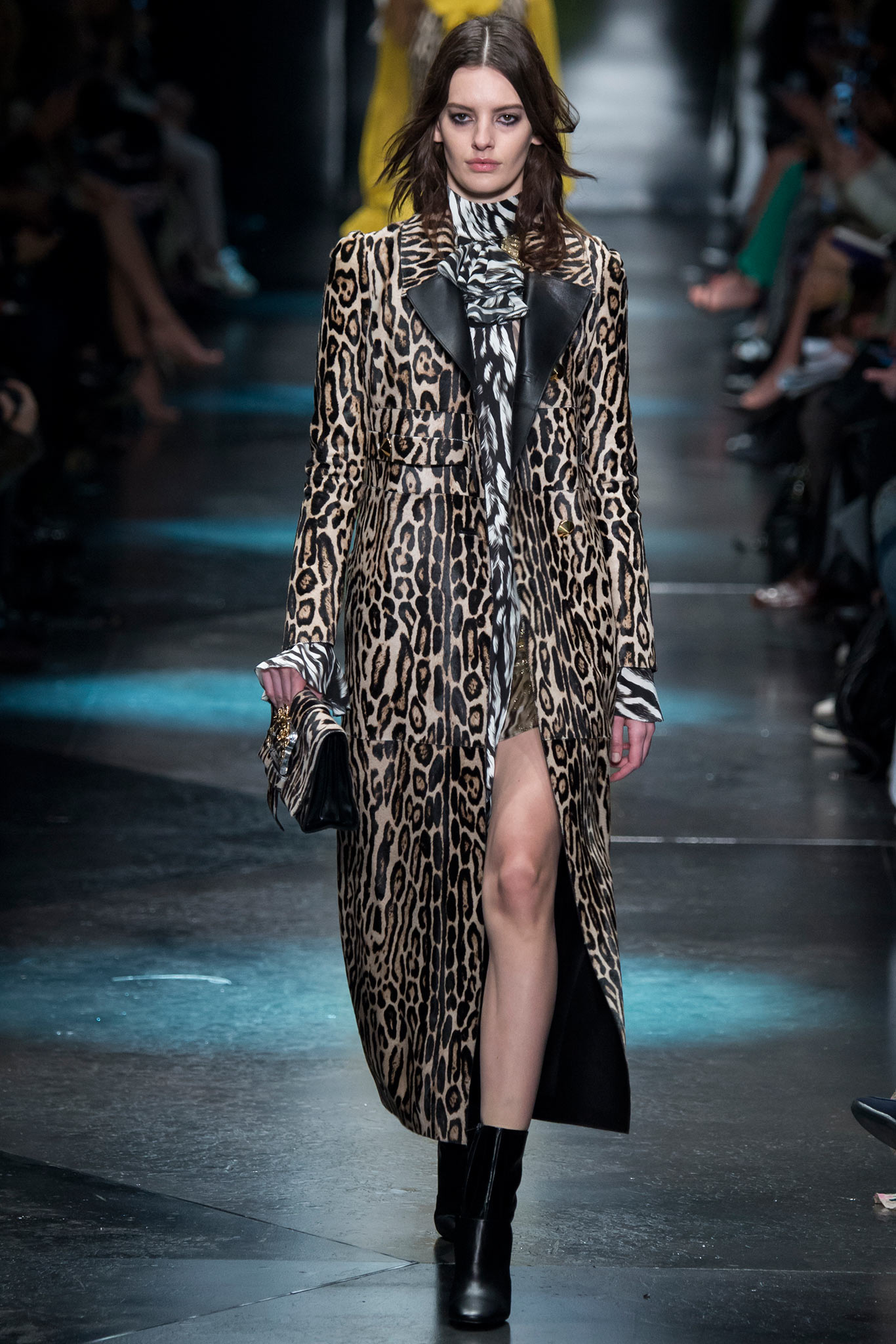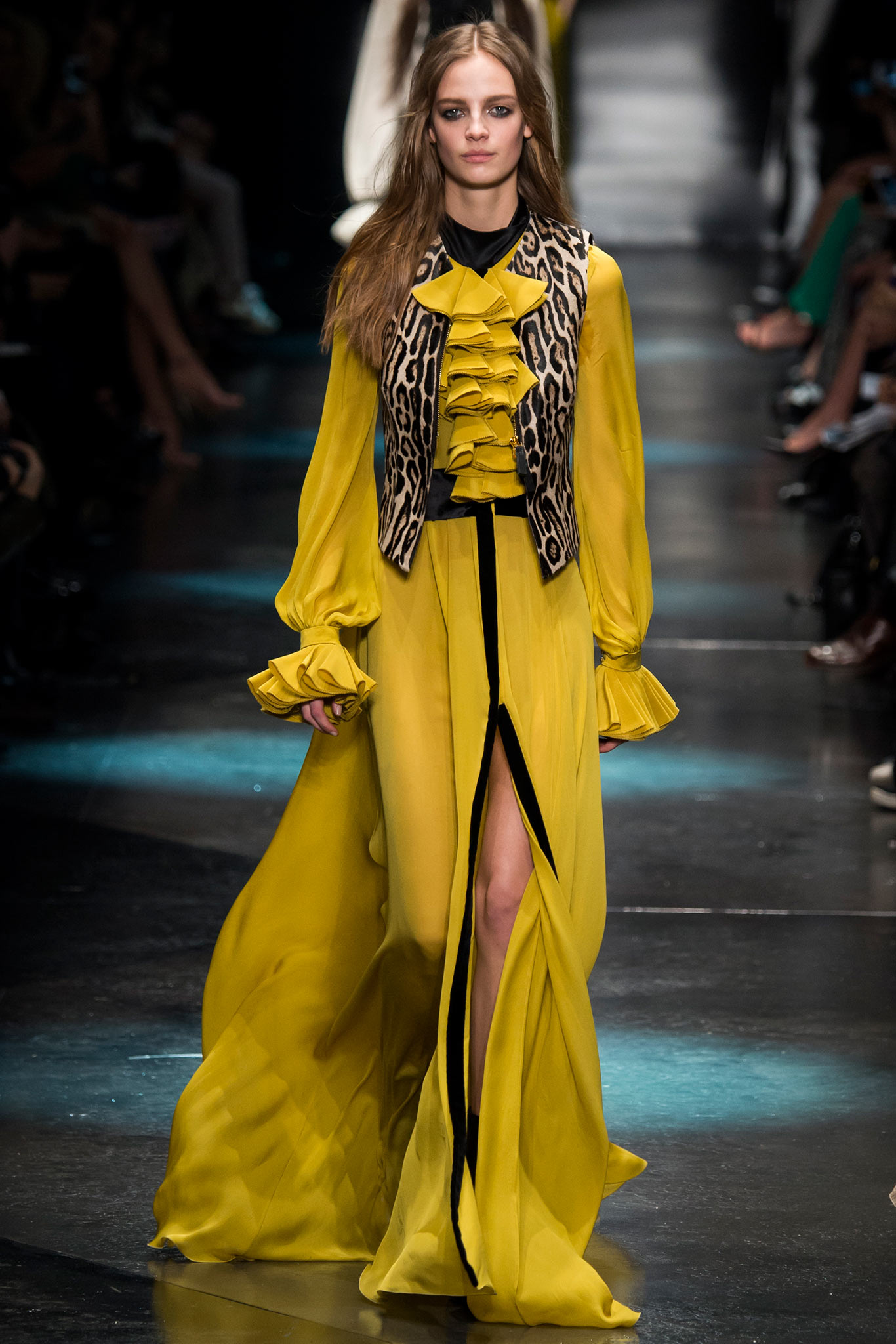 Leave it to Cavalli, ruffles upon ruffles in blazing yellow with a hint of leopard and a smidgen of skin, all making for high drama.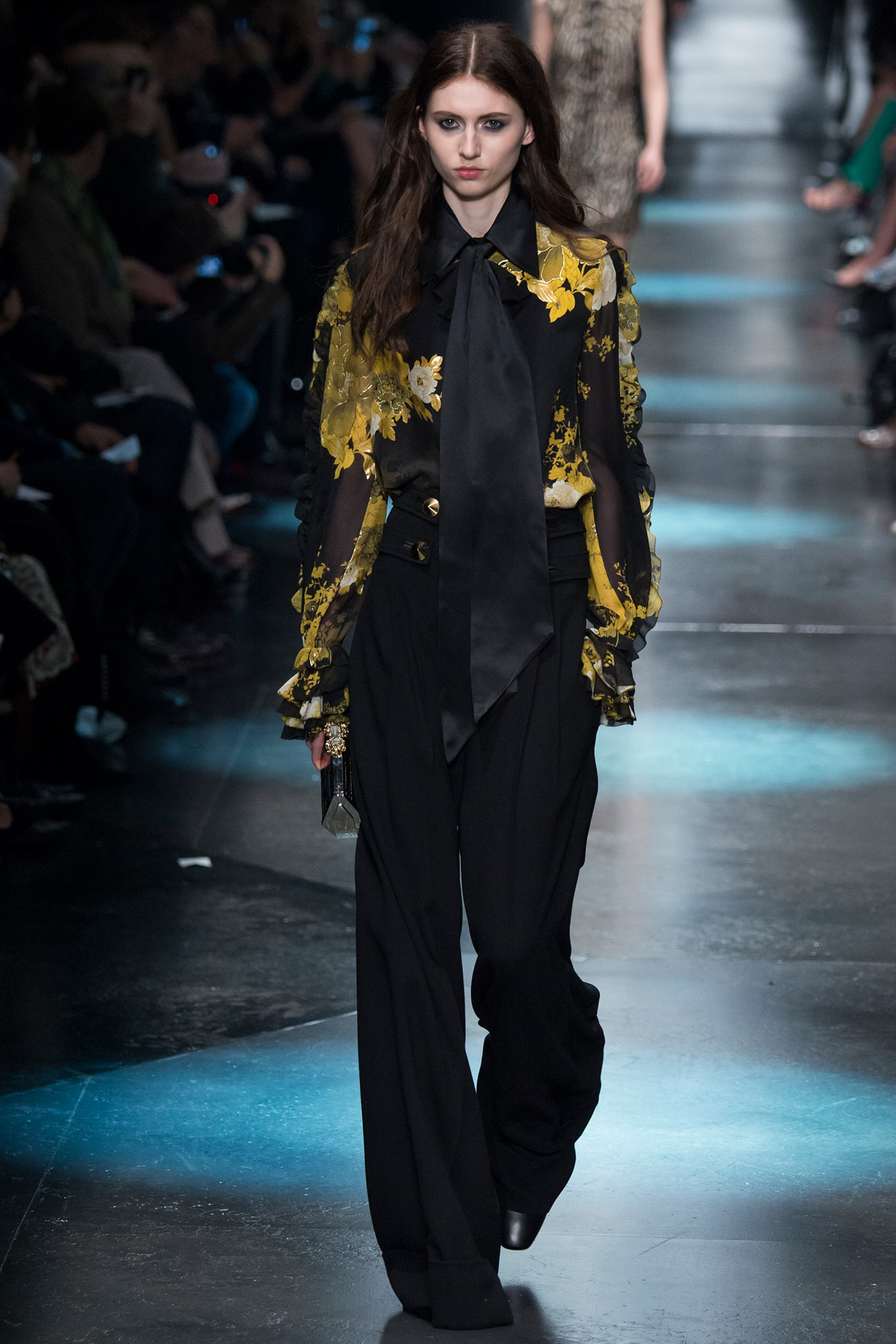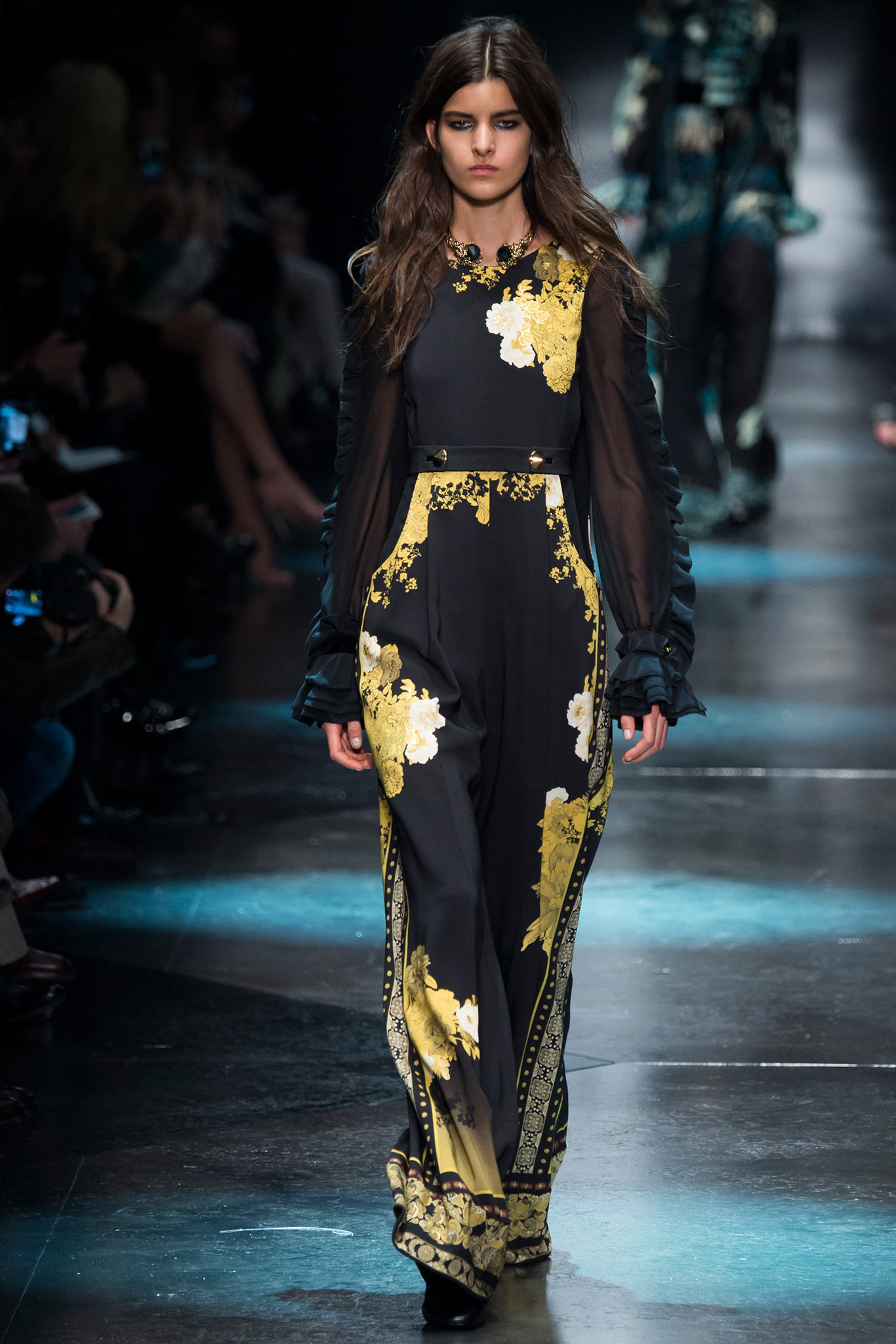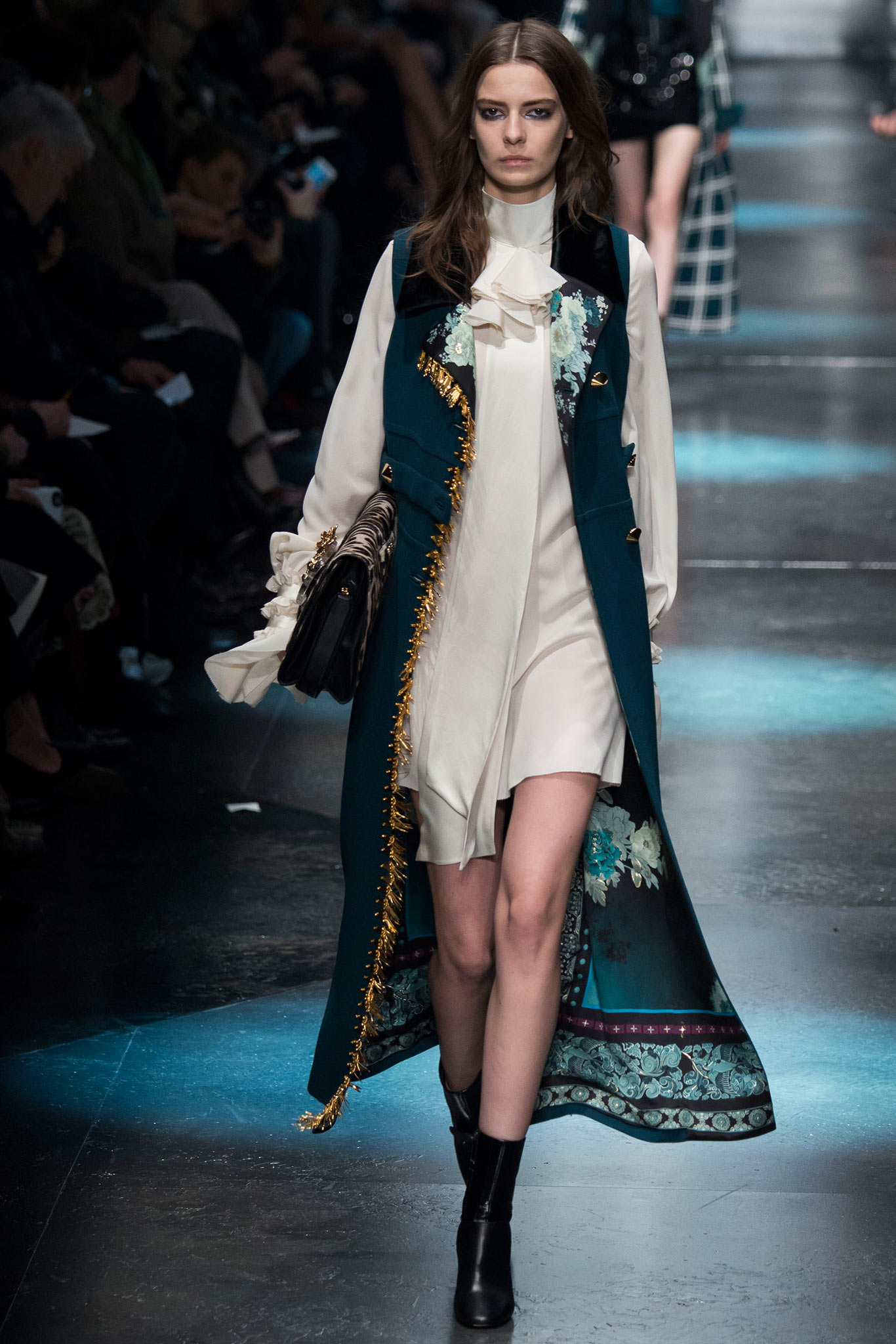 The long coat or vest atop a mini, in contrasting colors and fabrications, always makes for a winsome ensemble. Avast ye maties!!!!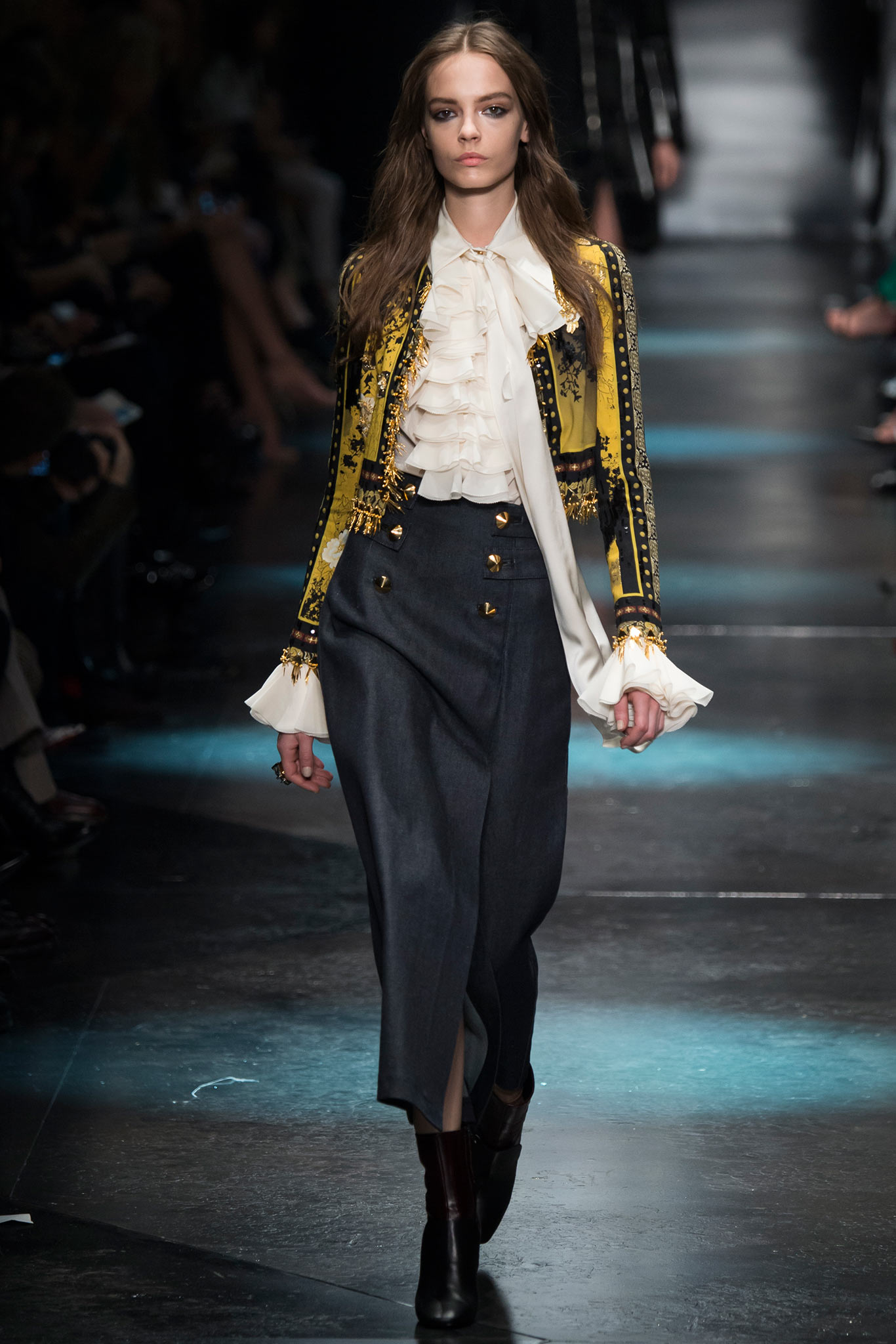 The ruffly pirate blouse is always an easy way to add theatricality to the mix. Would be a happy adjunct to skinny jeans and velvet blazer duo.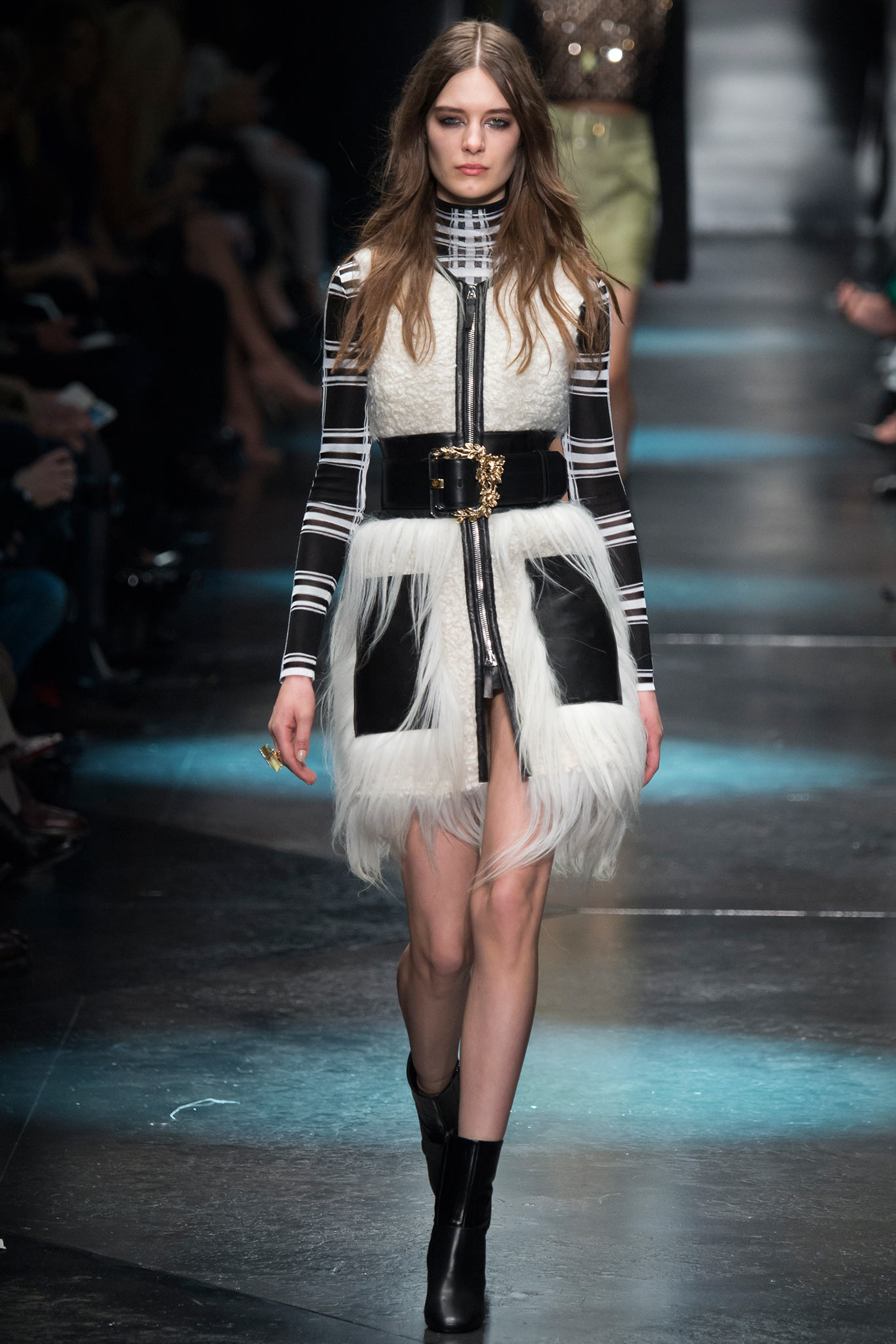 Ready for the Yukon, you might just lure out the ever elusive Sasquatch! Or, perfect for a sleigh ride through Central Park or St. Petersburg. Another pragmatic option for traveling, when the arctic breeze flows through the cabin, this doubles as a blankie.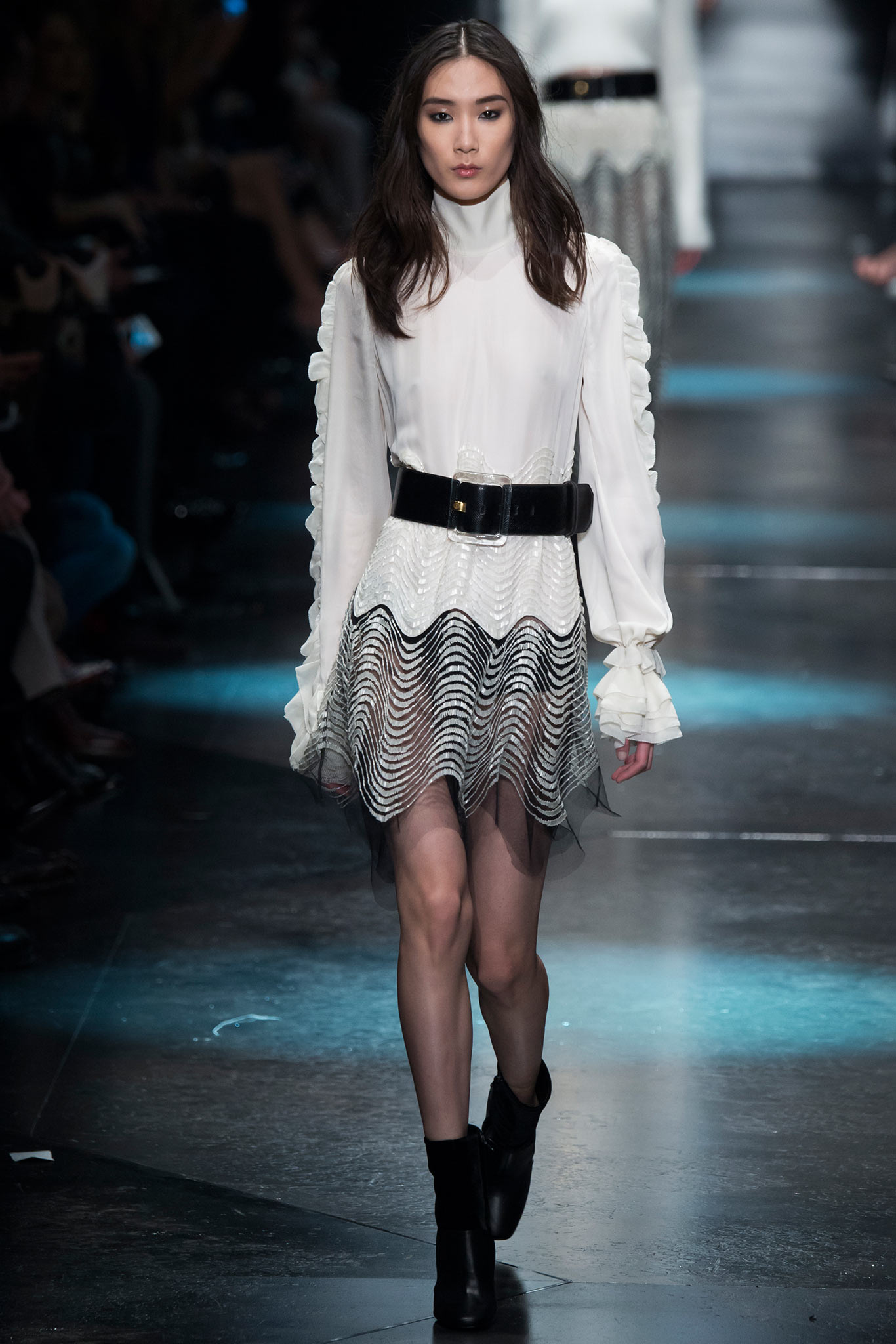 Quite the swashbuckling affair, to be thrown over leggings and over the knee boots. Perfect fodder for a cape!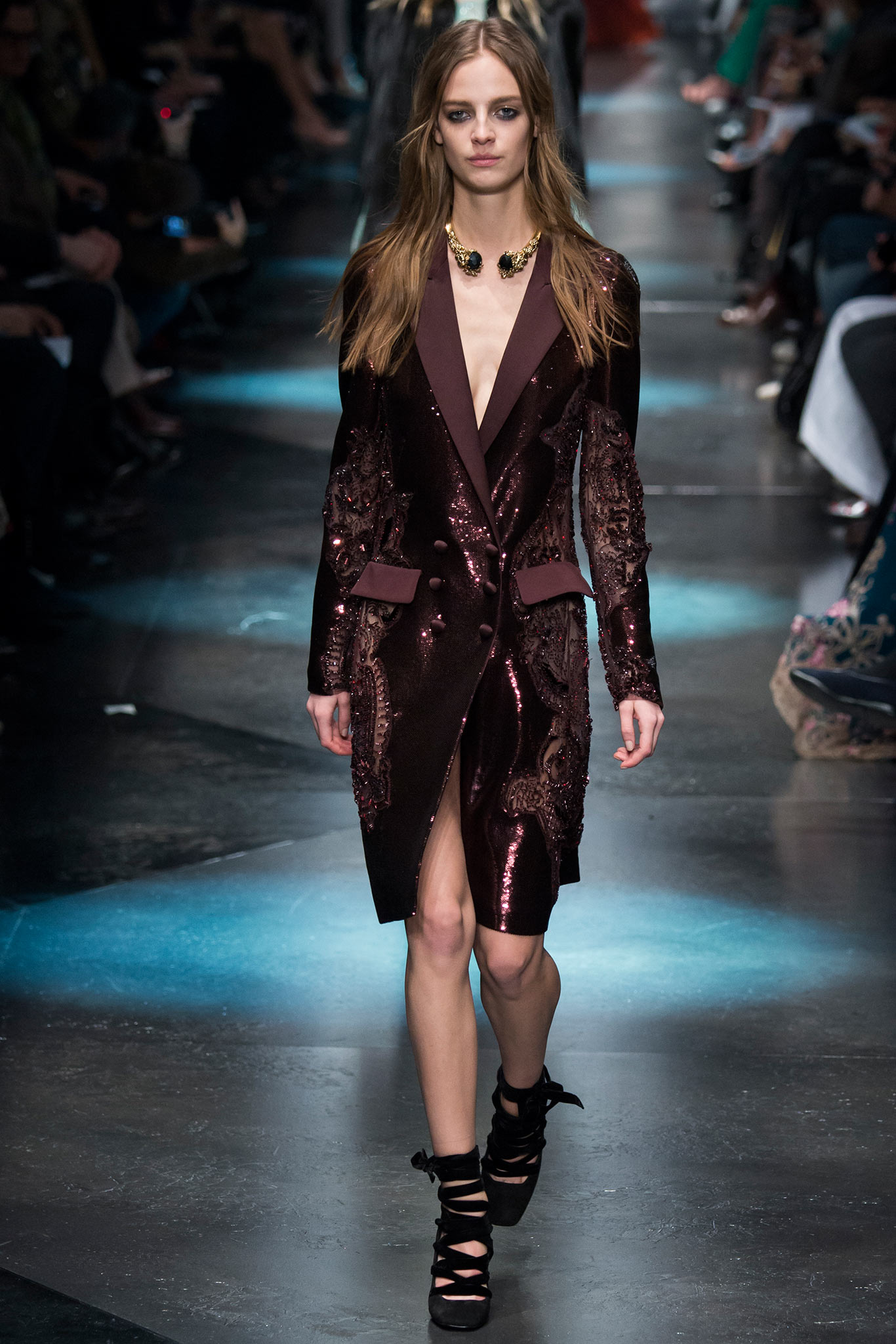 A tuxedo jacket, or dress depending one's level of moxie and brass, for the ages. Swoon worthy.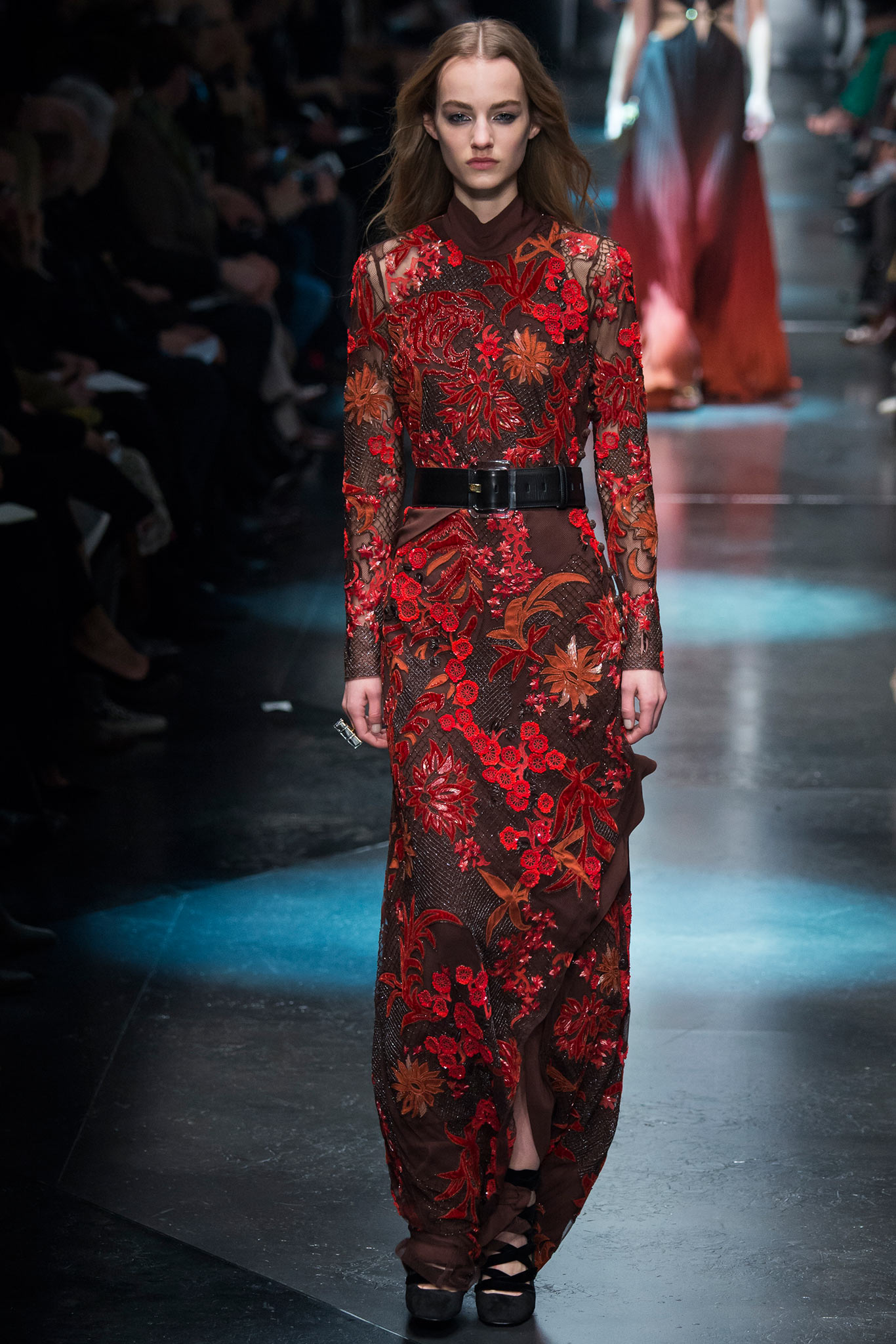 JIL SANDER:
Now for the more spartan, pared down and modern contingent typified by Sander.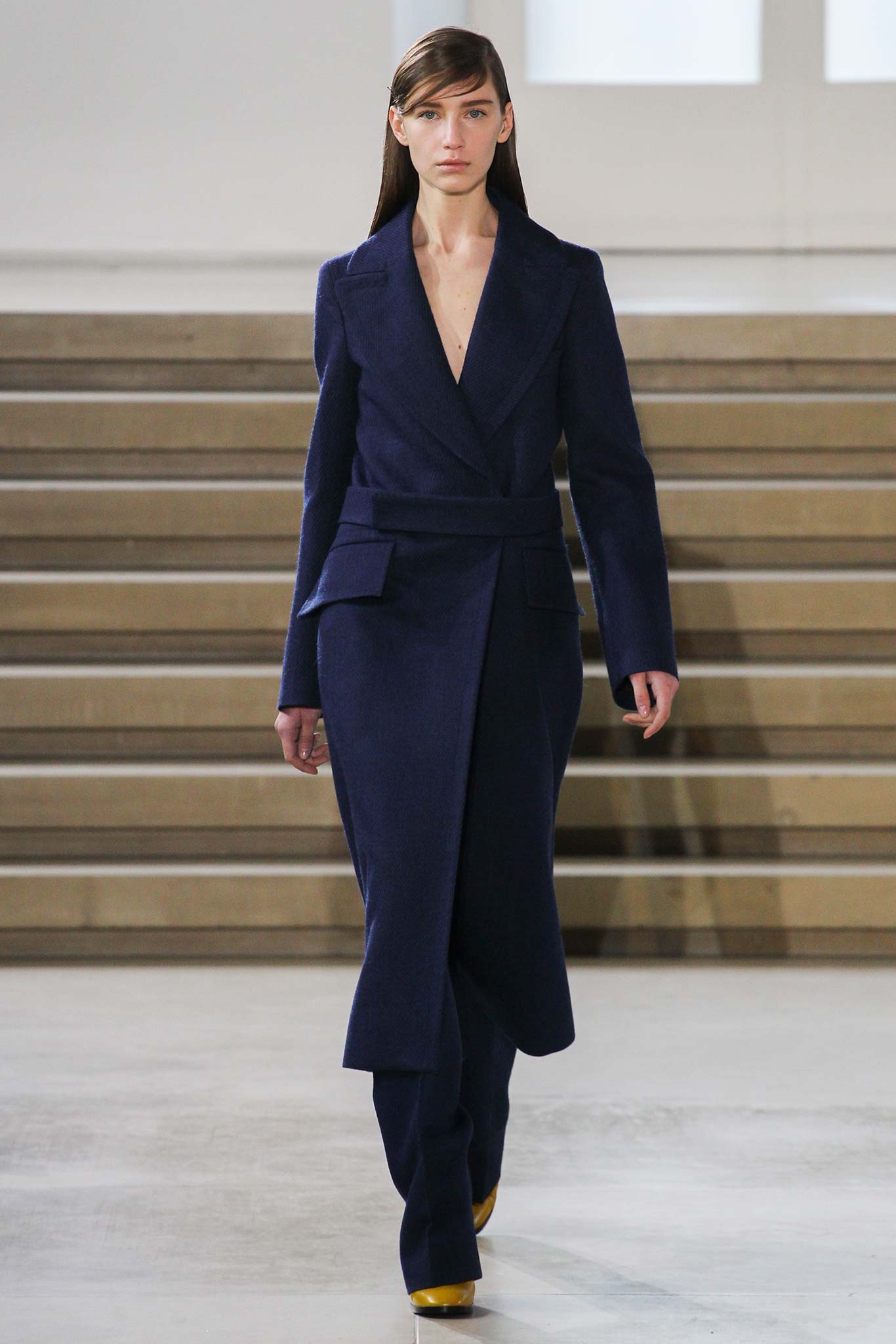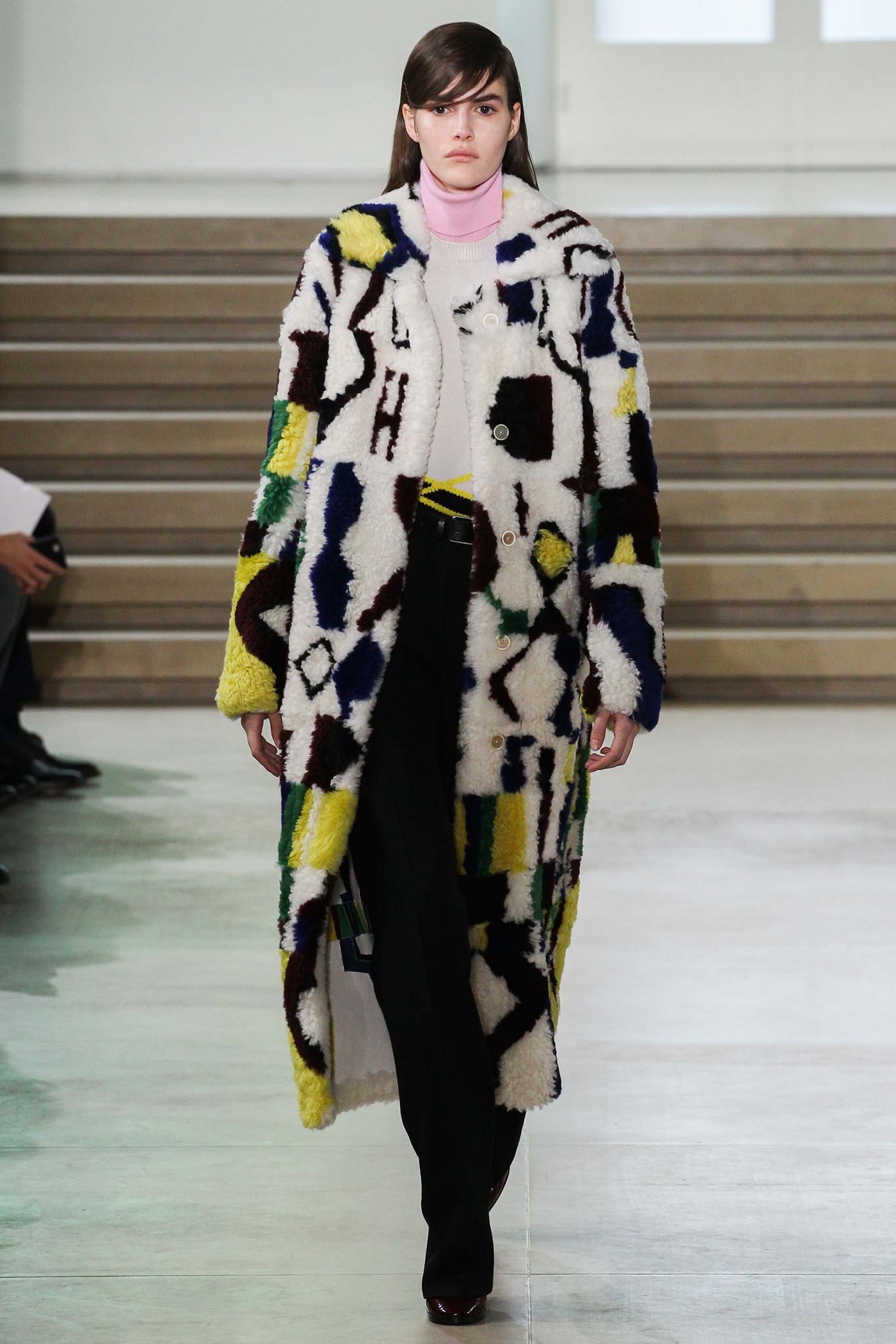 Thank goodness a show stopper of a shearling makes an appearance!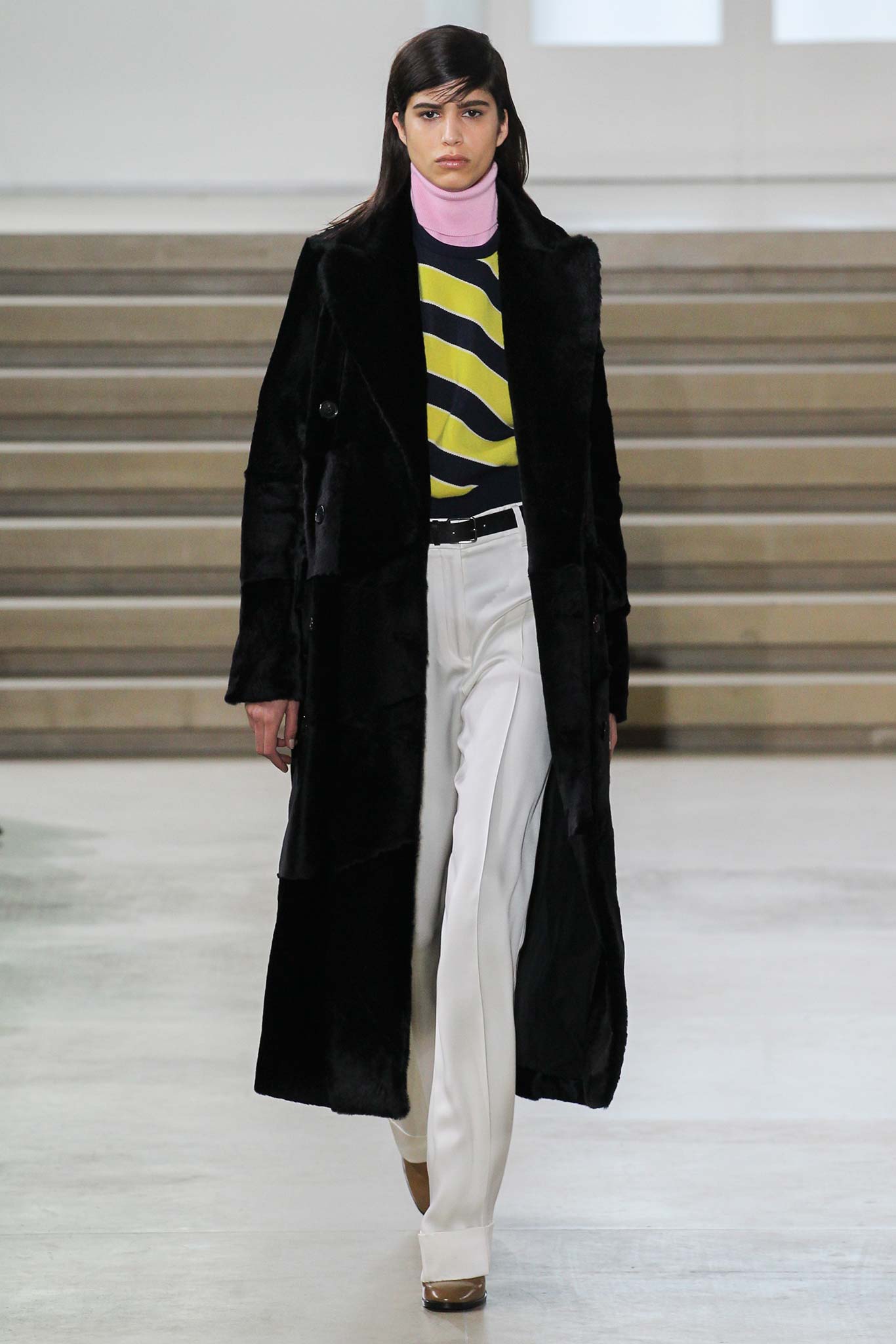 Amazing how just a hint of pink can lighten up an otherwise serious ensemble.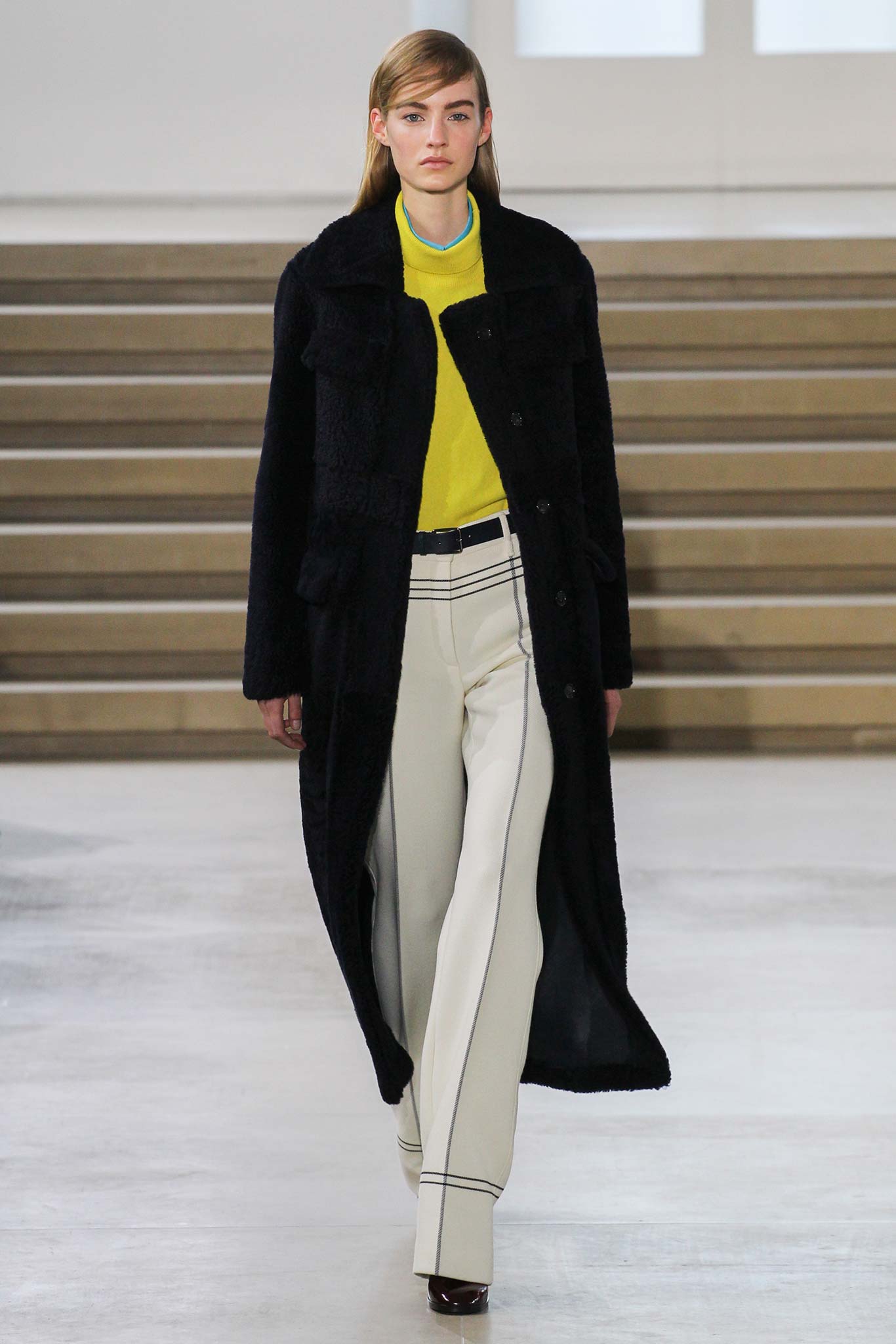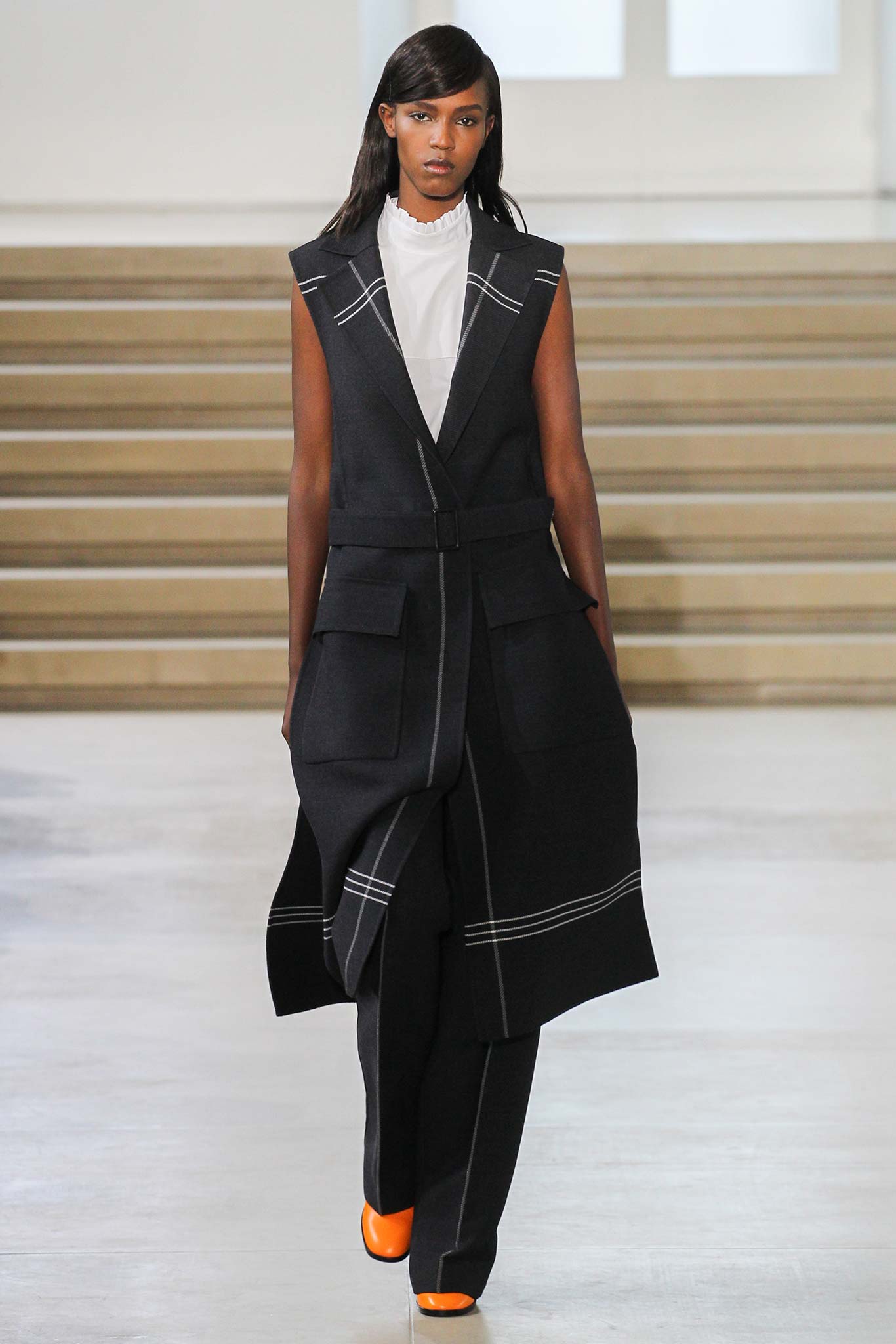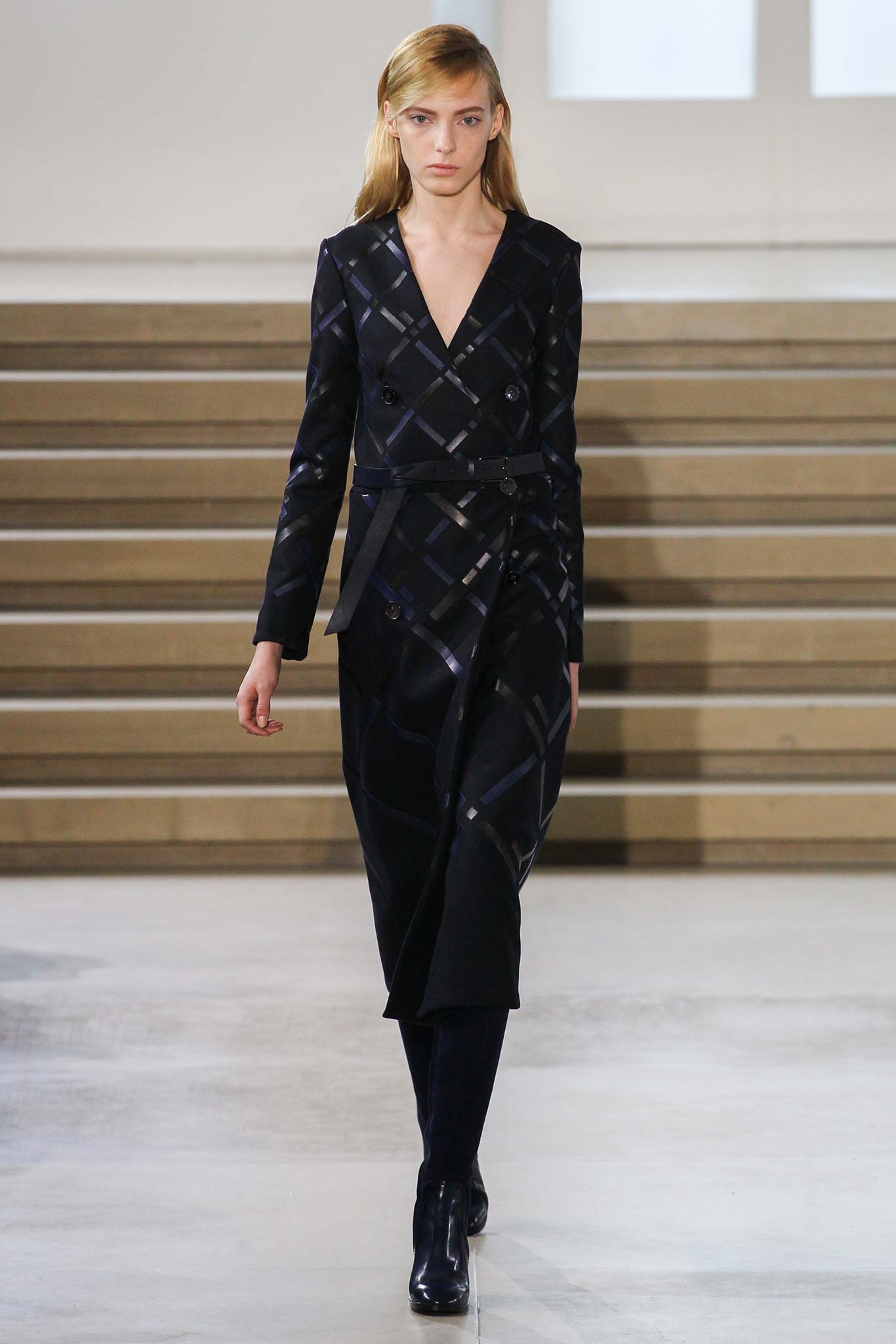 MARNI:
Consuelo Castiglioni certained channeled Diana, goddess of the hunt with this endlessly entertaining procession, but added feminine flourishes with pinks and florals in the mix for another striking powerful collection. If you want to showcase your feminine wiles, go for Roberto Cavalli, Tom Ford, or Dolce & Gabbana. If you want bold architectural pieces you'll wear forever, without an obvious expiration date, go Marni. The briliance of this collection lies in the overall versatility of the pieces which can segue easily from fall to winter and even to spring and summer. The key is mixing cottons, woolens, and techno fabrics in separates that are easily mixed, matched, and layered. Castiglioni hits a bulls eye with her wide leather belts, a defacto corset!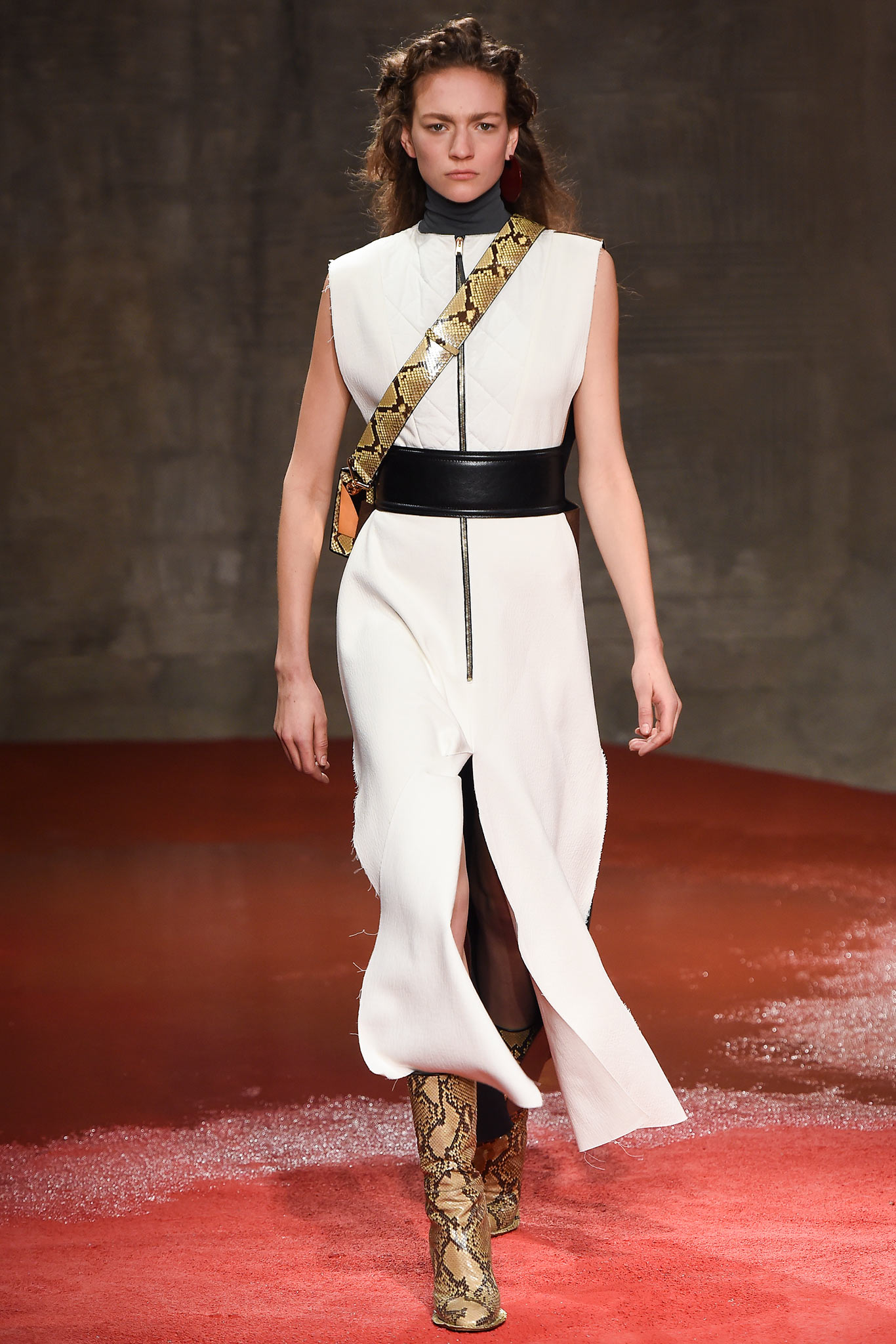 Get out the bow and arrow.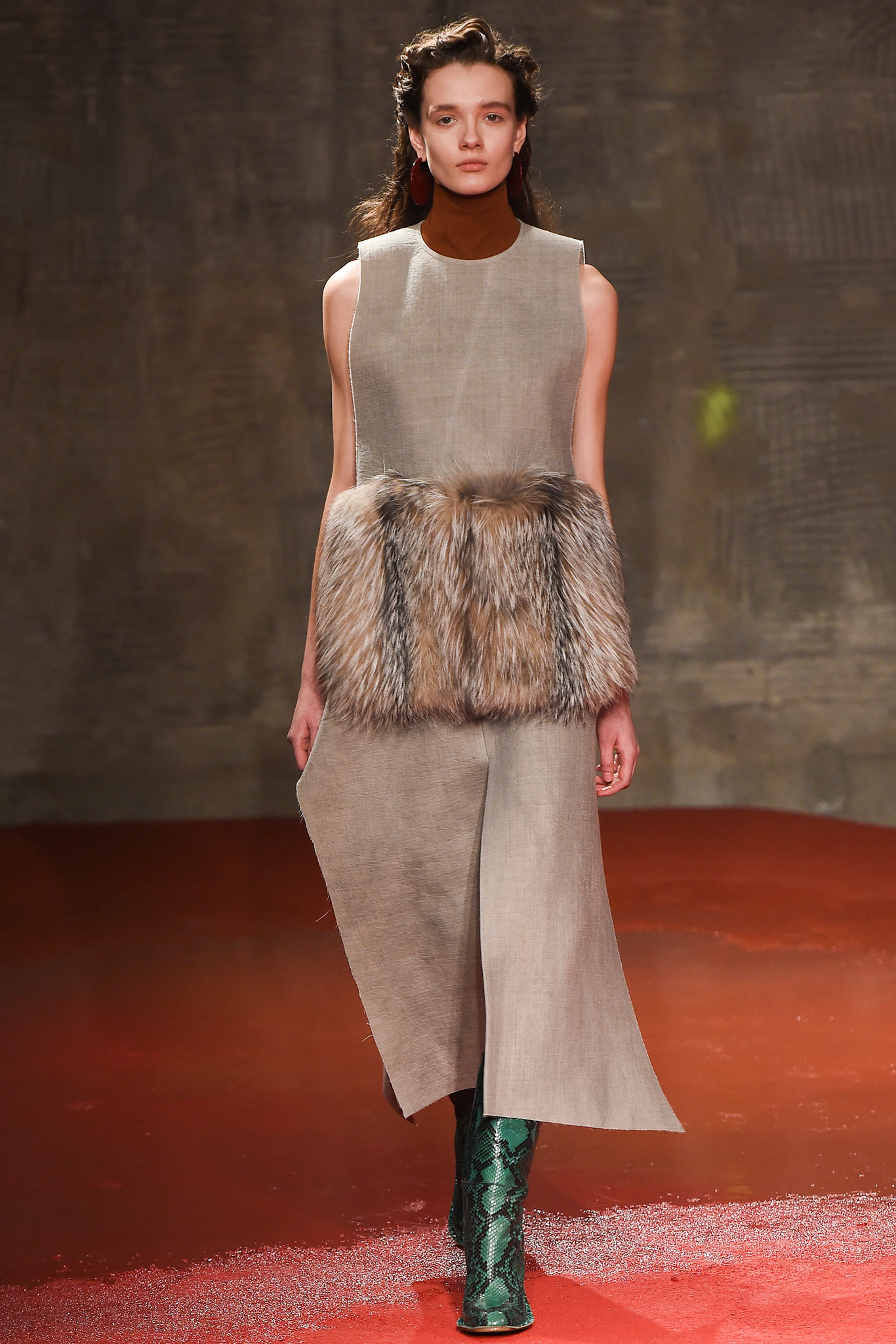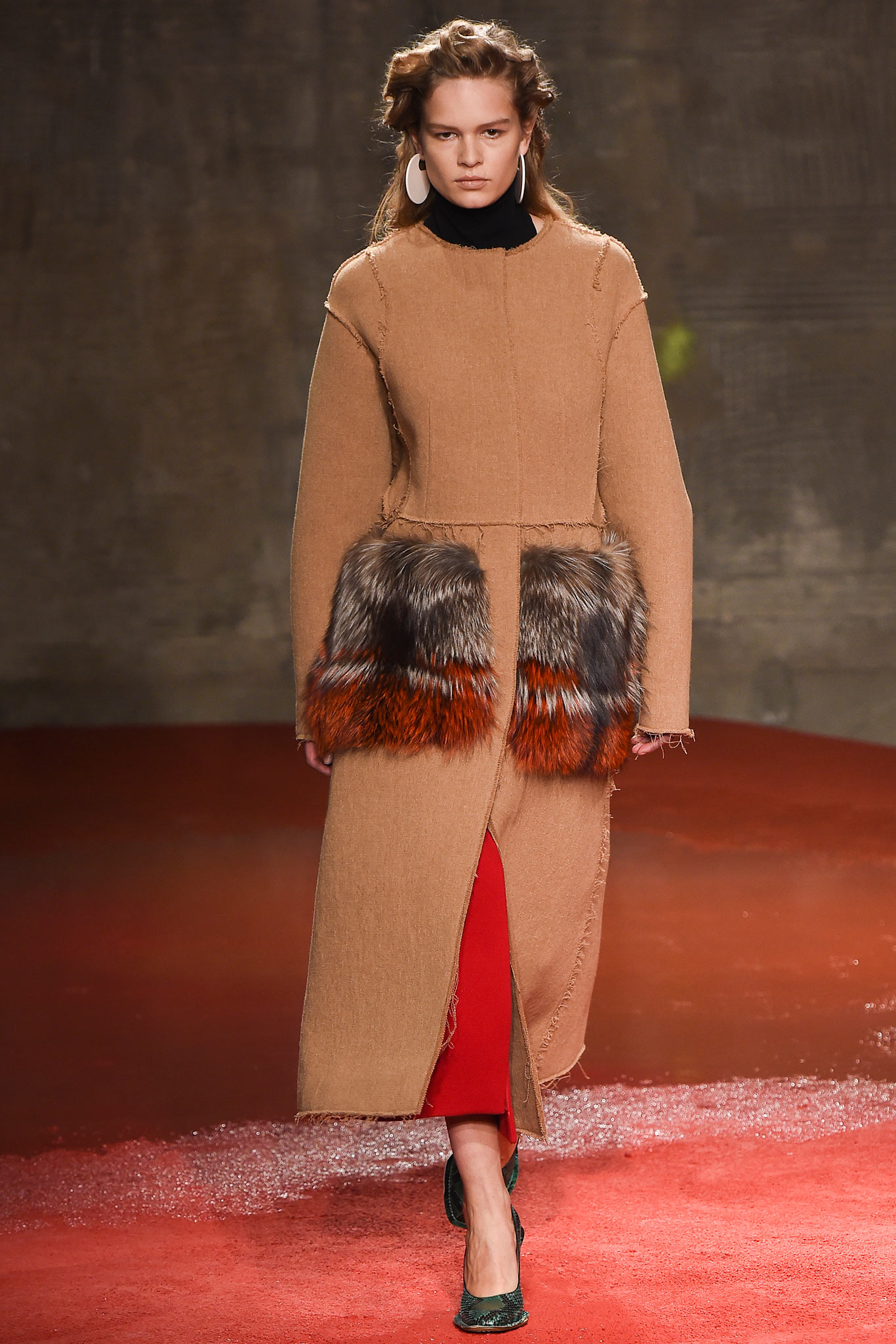 The fur is flying throughout this collection, resulting in a primal undercurrent.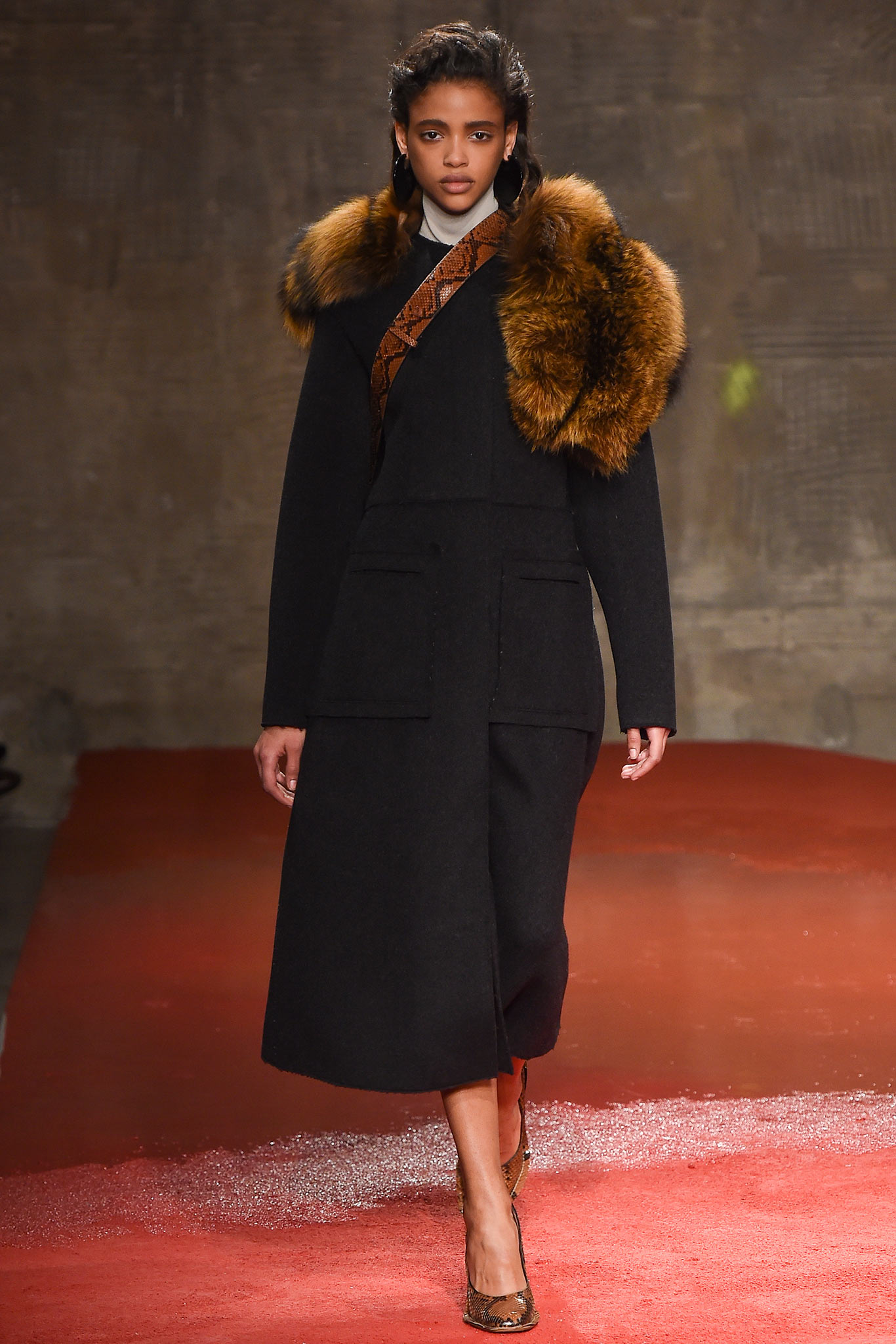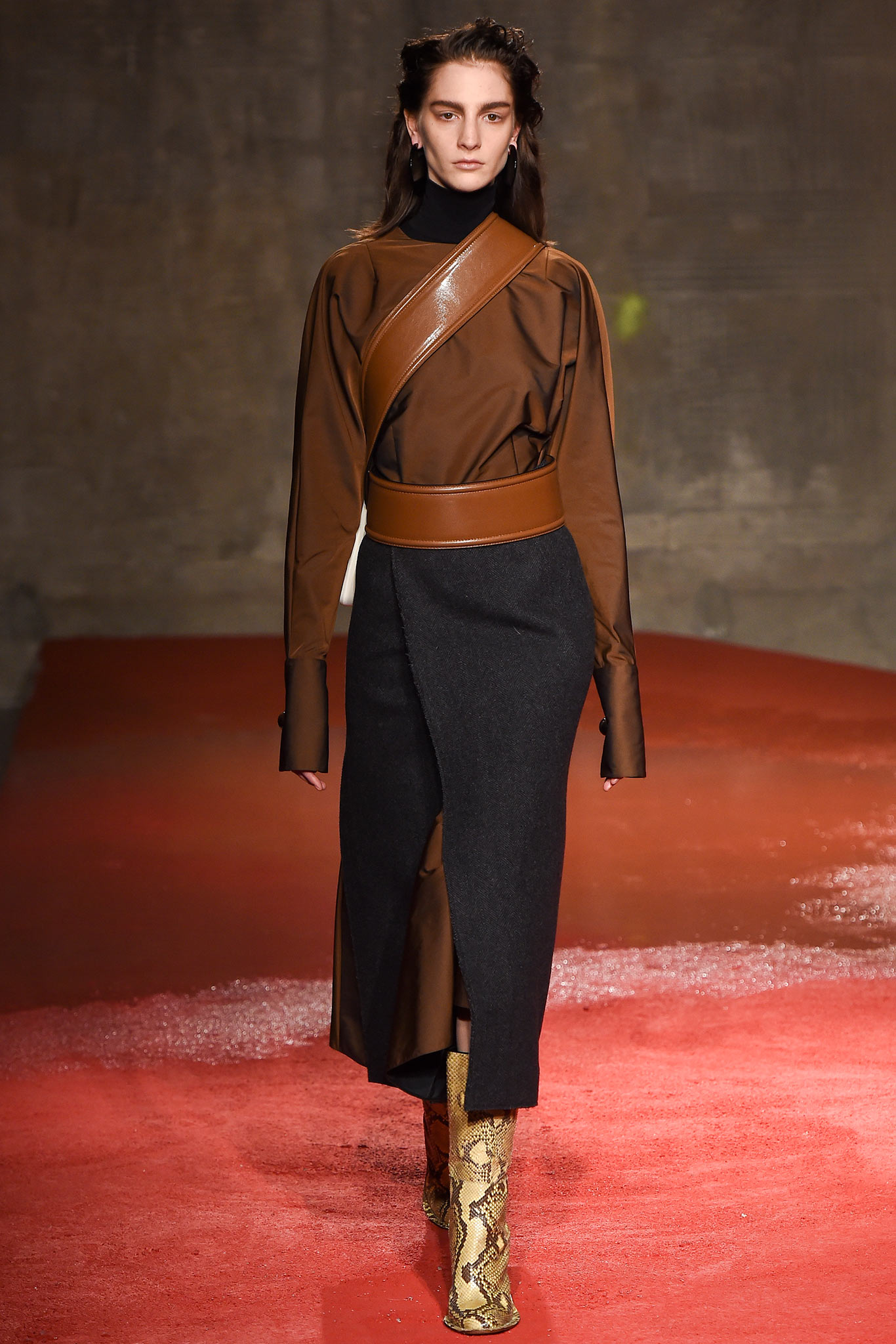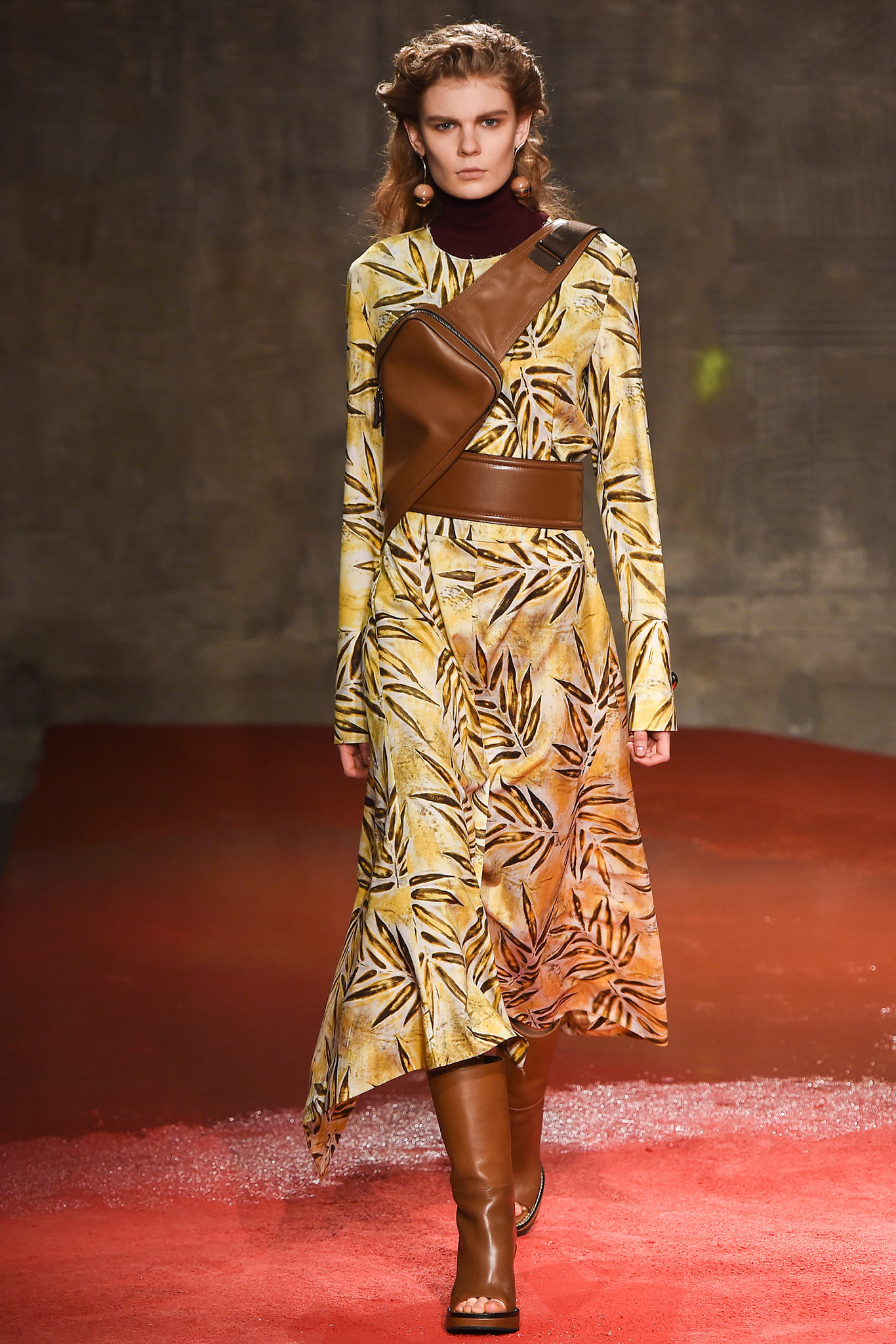 Wacky juxtaposition of the cross body leather purse armor with an airy botanical motif dress.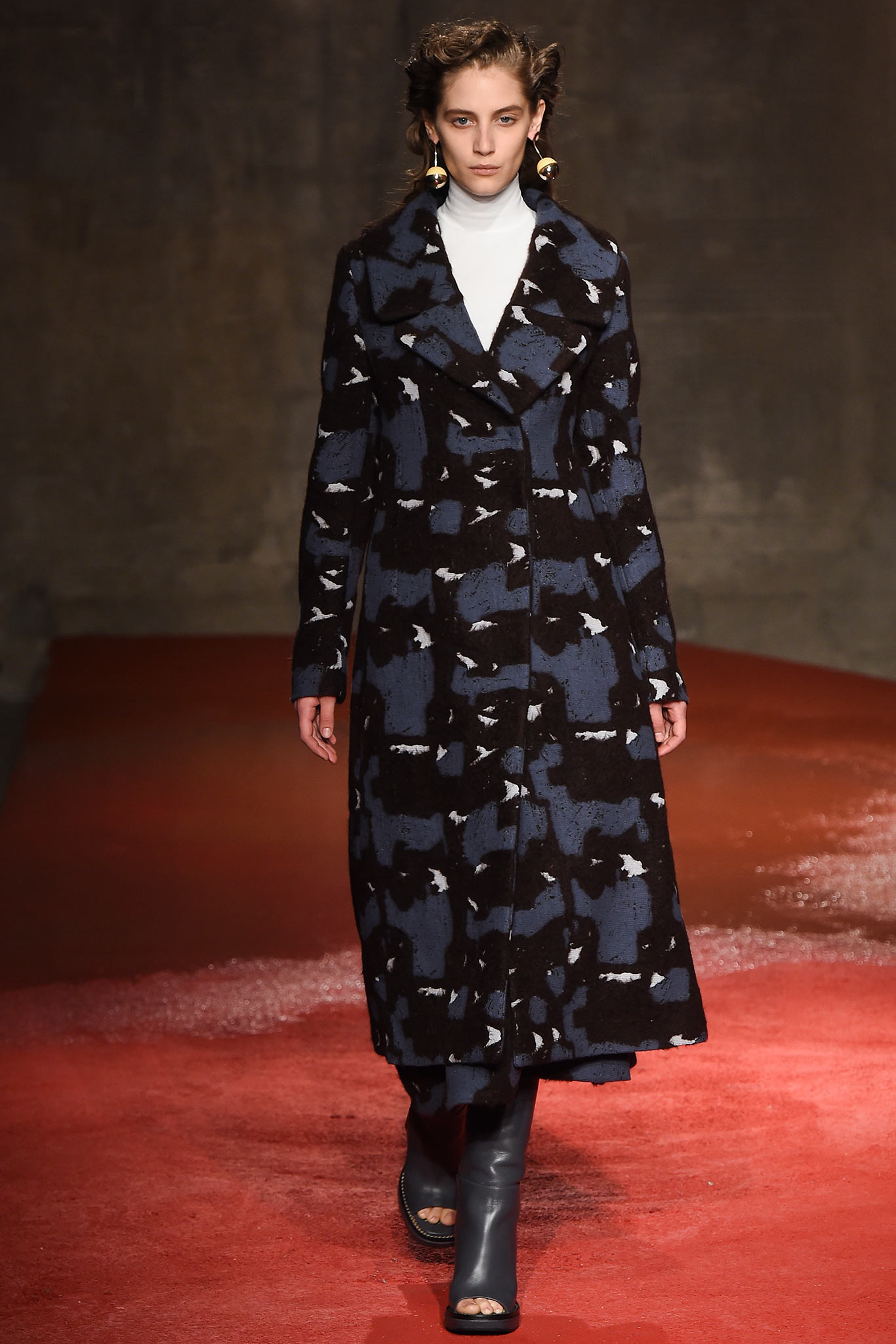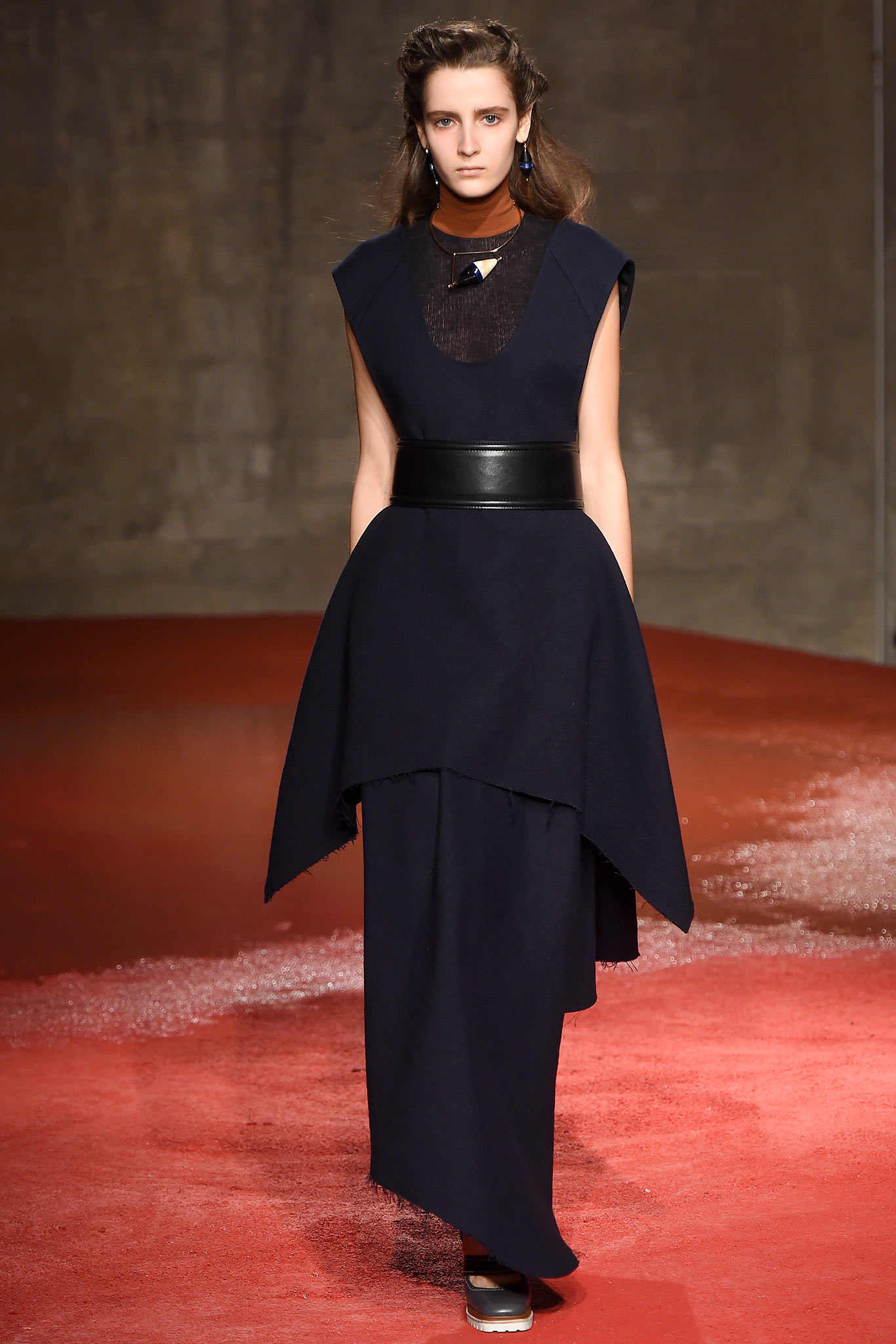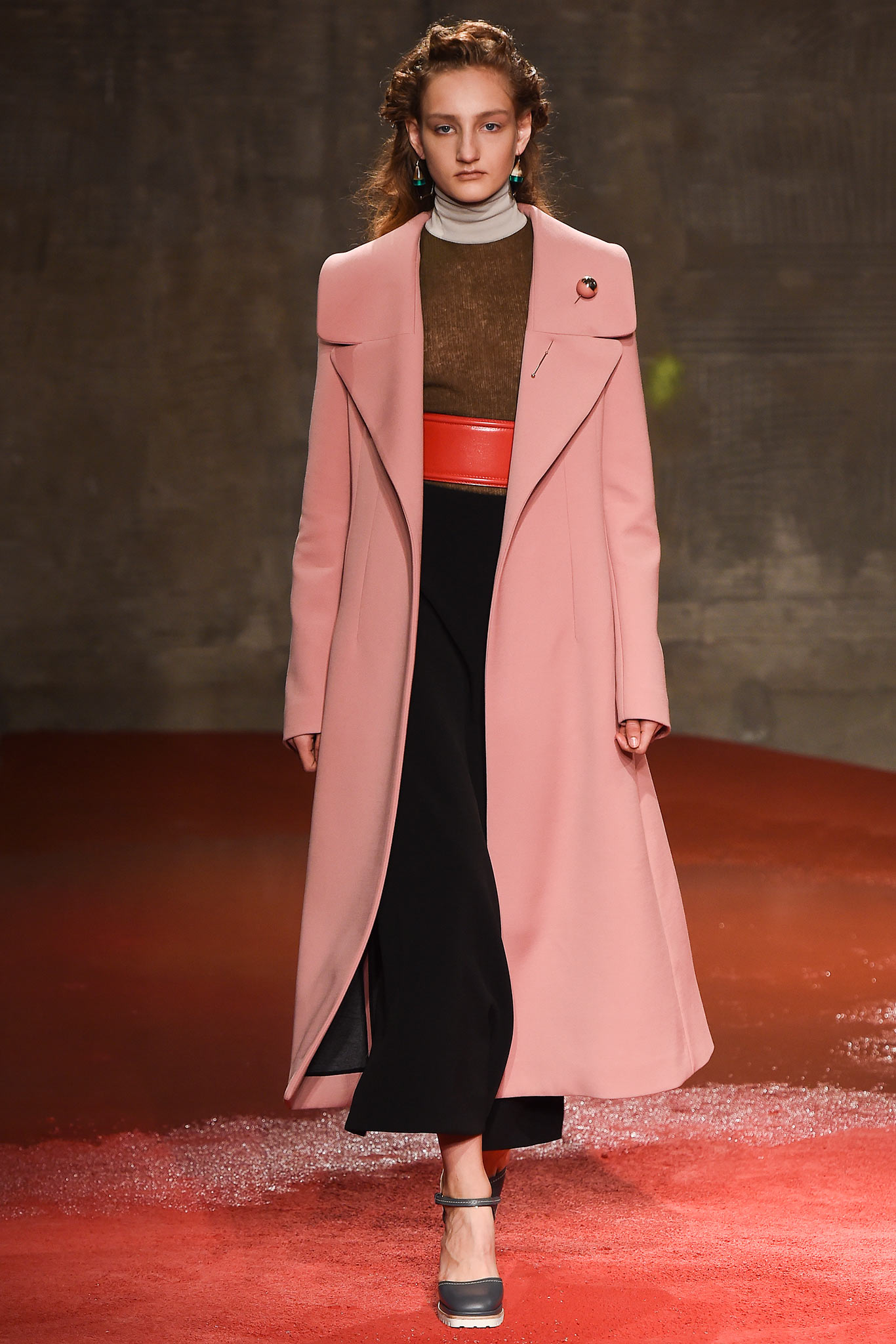 For the coquette huntress, with an inviting 50's vibe.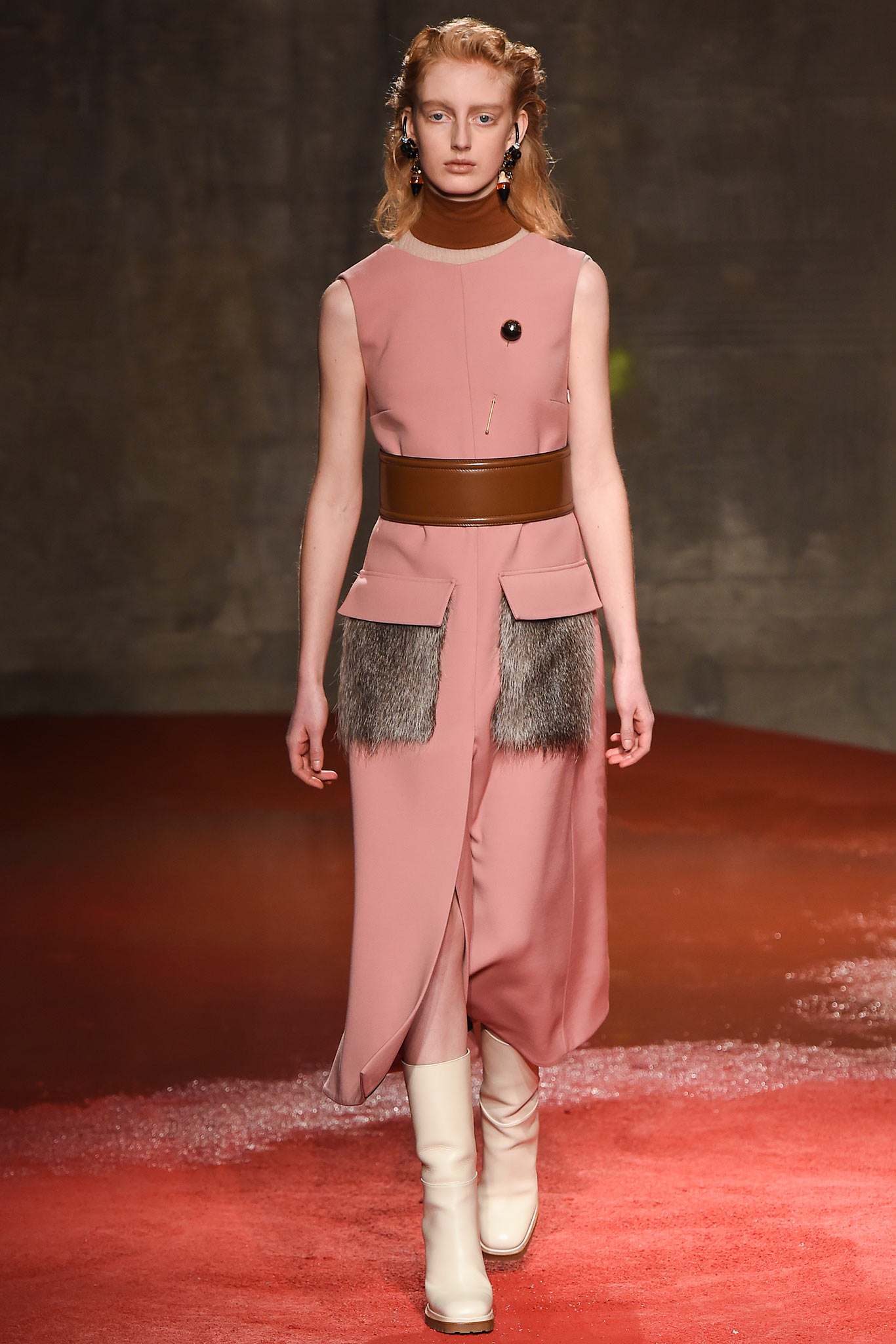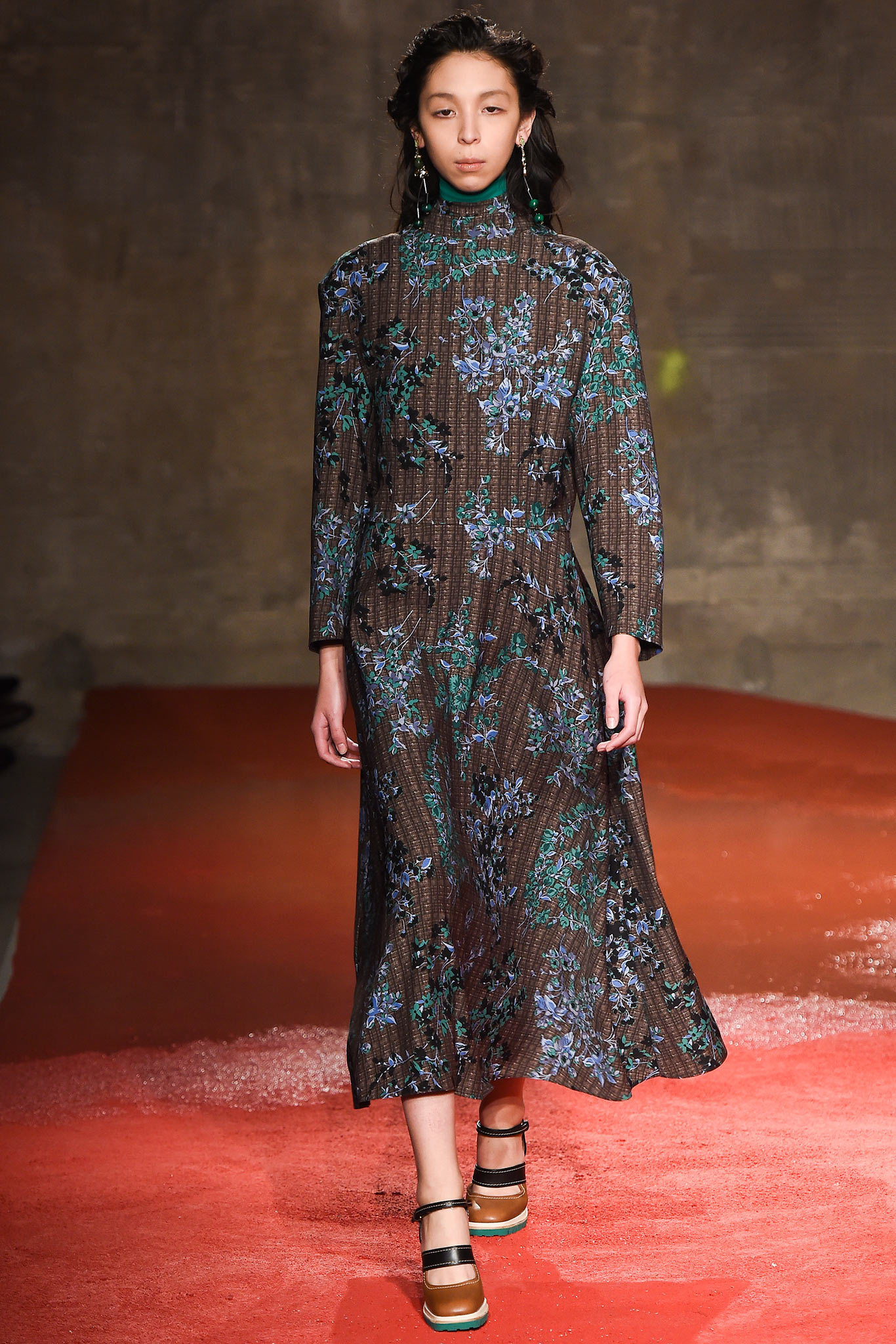 Funk this up with a short fur (real OR faux) vest.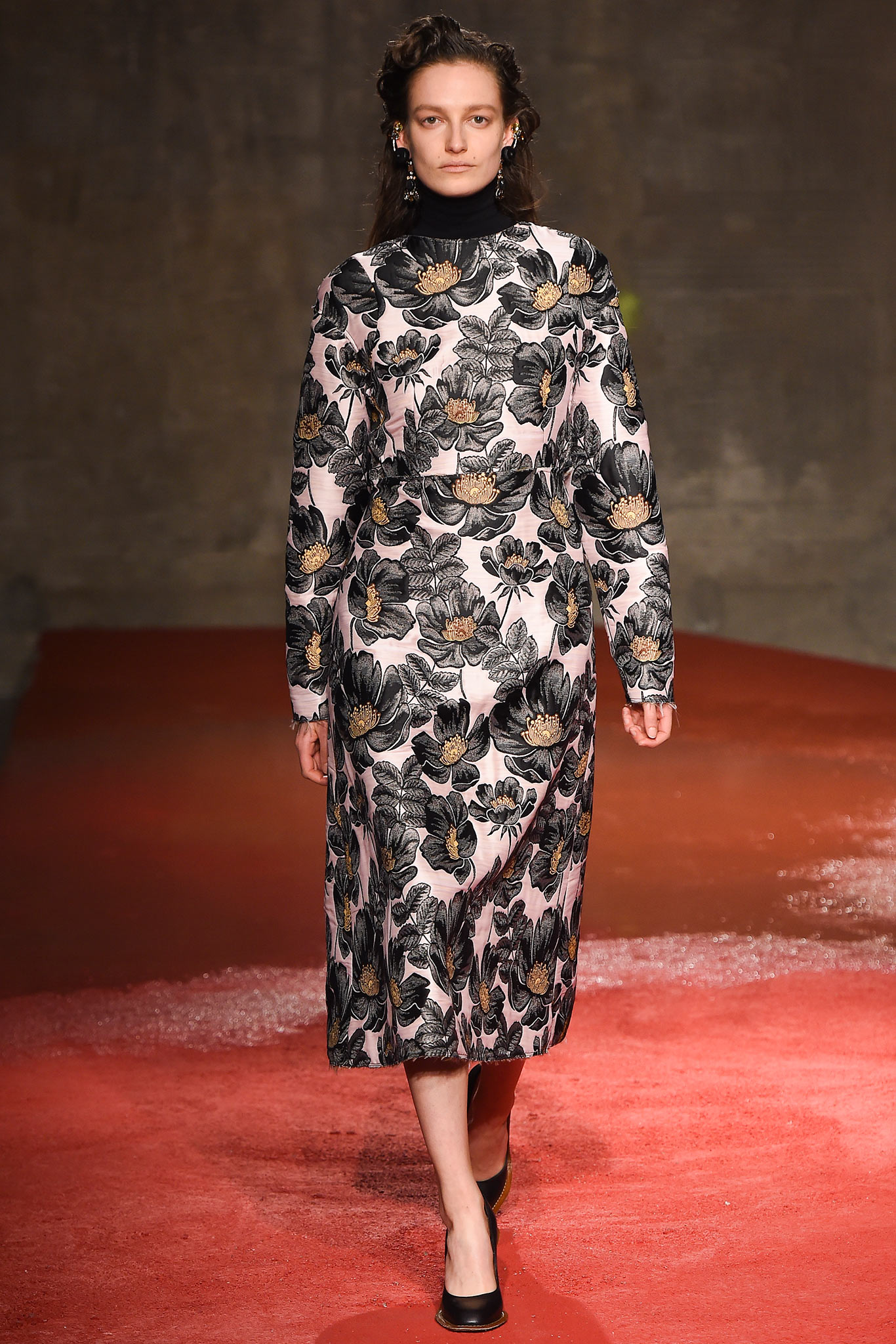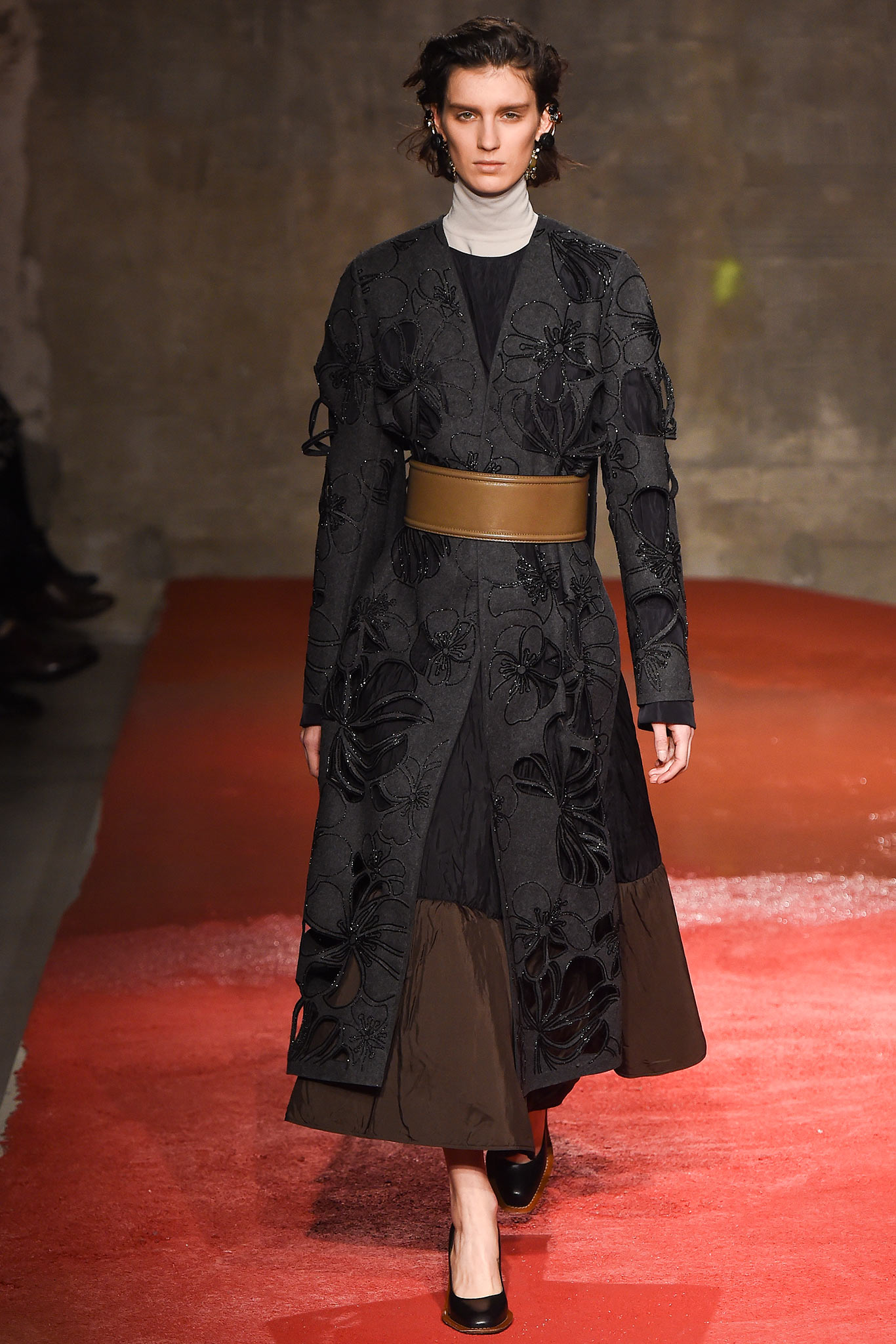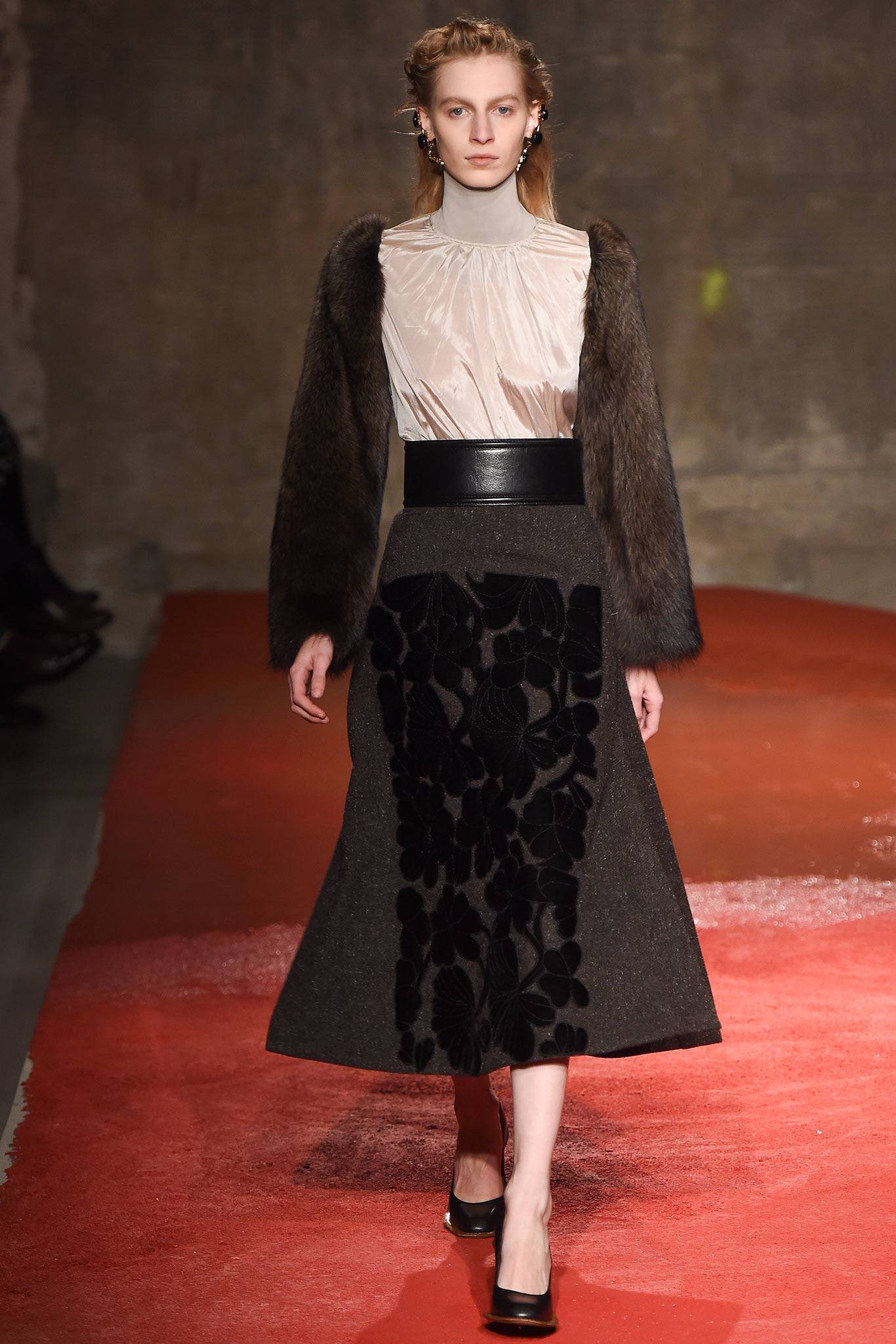 A stunning amalgamation of varied hearty and lux fabrications in a wearable timeless silhouette. Vintage Marni.
Yet again, the Italians work their magic, bringing us a series of disparate collections illustrating the boundless creativity emanating from that little boot shaped country. More to come from the Continent!
Images brought to you by www.style.com