A few more of the usual suspects whip up a vast array of pleasure inducing concoctions, which continue to amaze and inspire, from the simple and paired down to the intricate and lavish. There are always new and unexpected combinations strolling down the runways, to delight any and all lovers of fashion. A myriad of silks, woolens, and leather are merged into timeless wearable art, captivating our imaginations, by a sort of fashion wear safari. Let the metaphorical hunt begin.
ROSIE ASSOULIN:
A fun playful collection of architectural and sculptural pieces for the chic girl who wants to make an entrance without too much fuss and contrivance.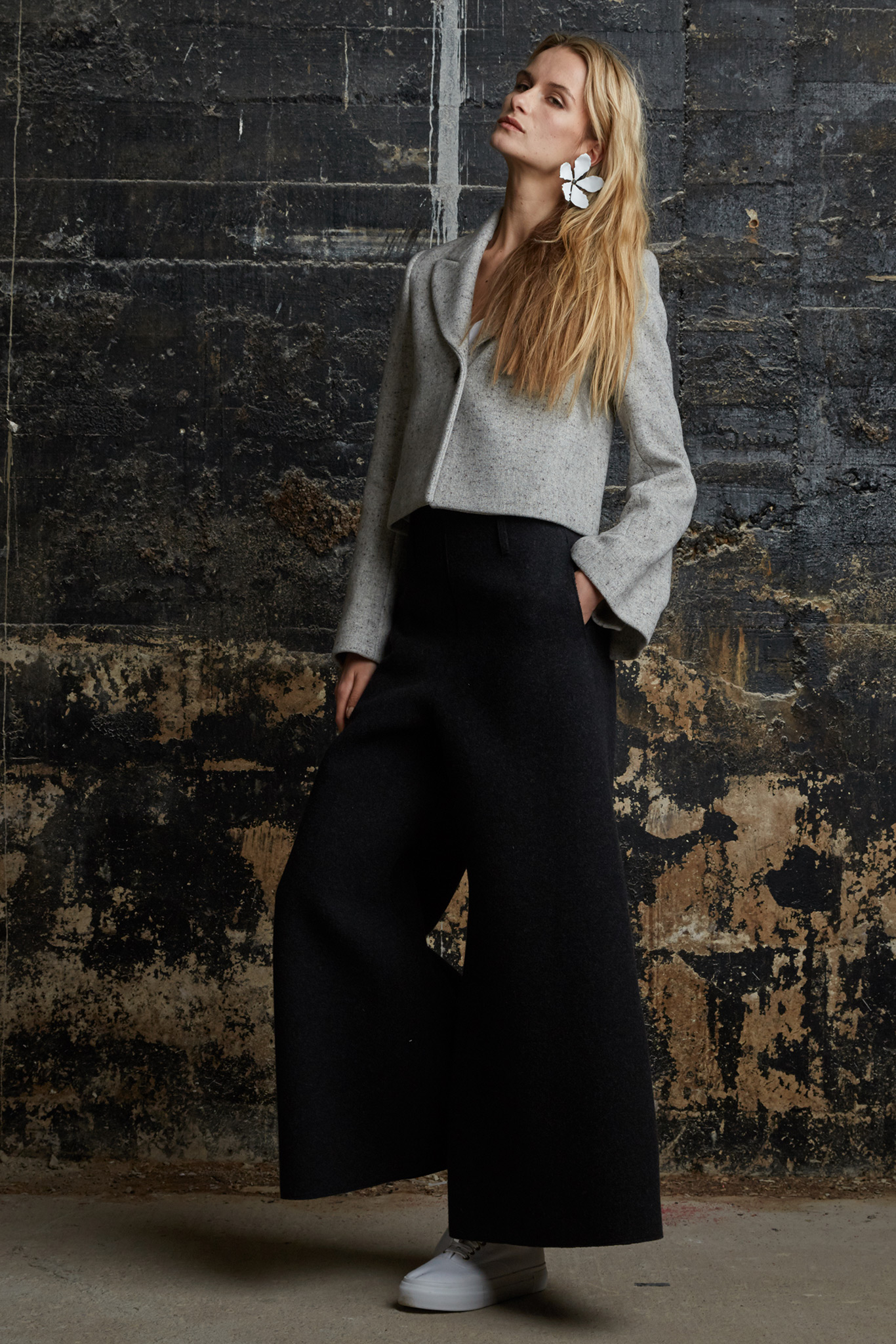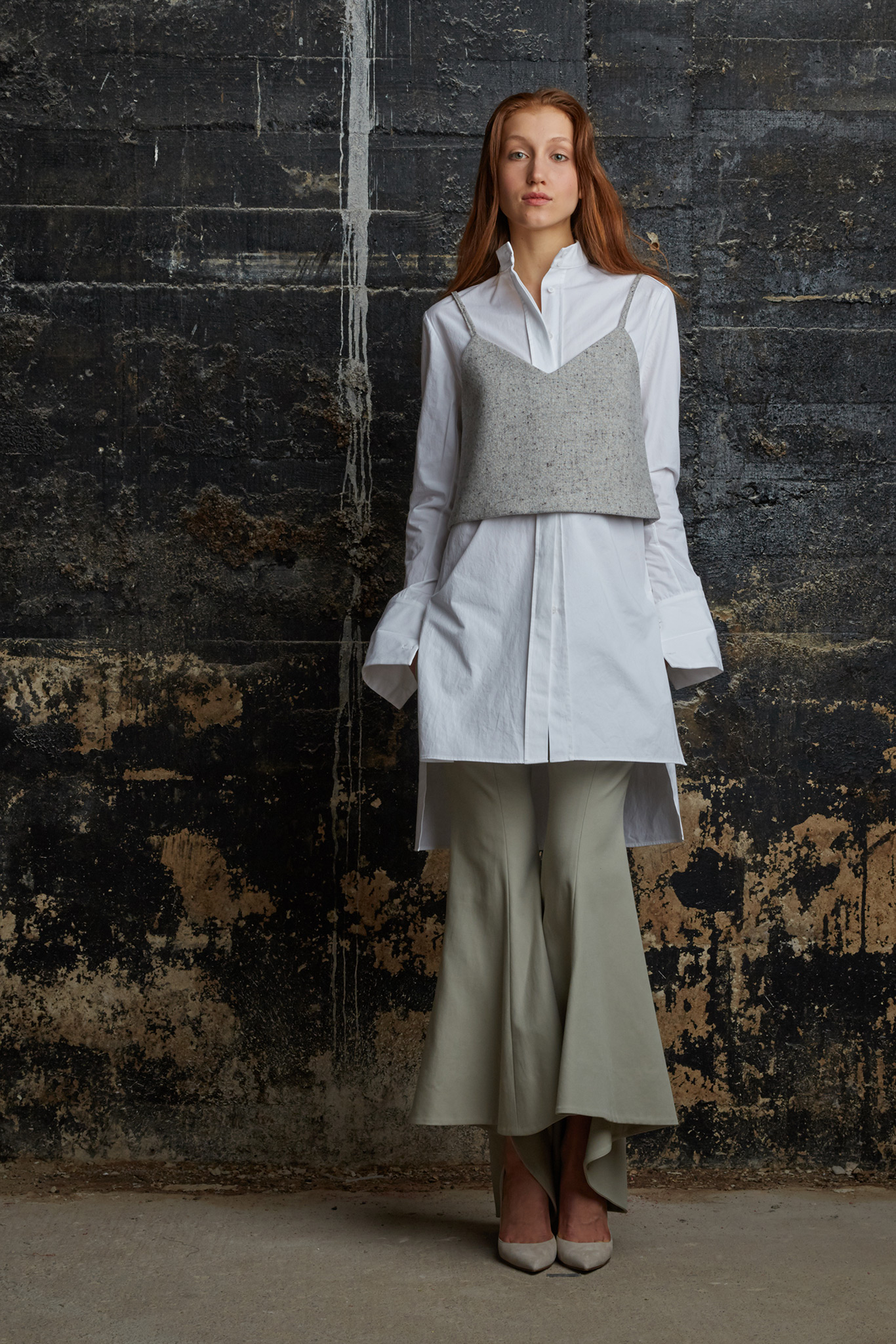 A fresh look at layering, just illustrates that anything can be paired with a long cotton shirt.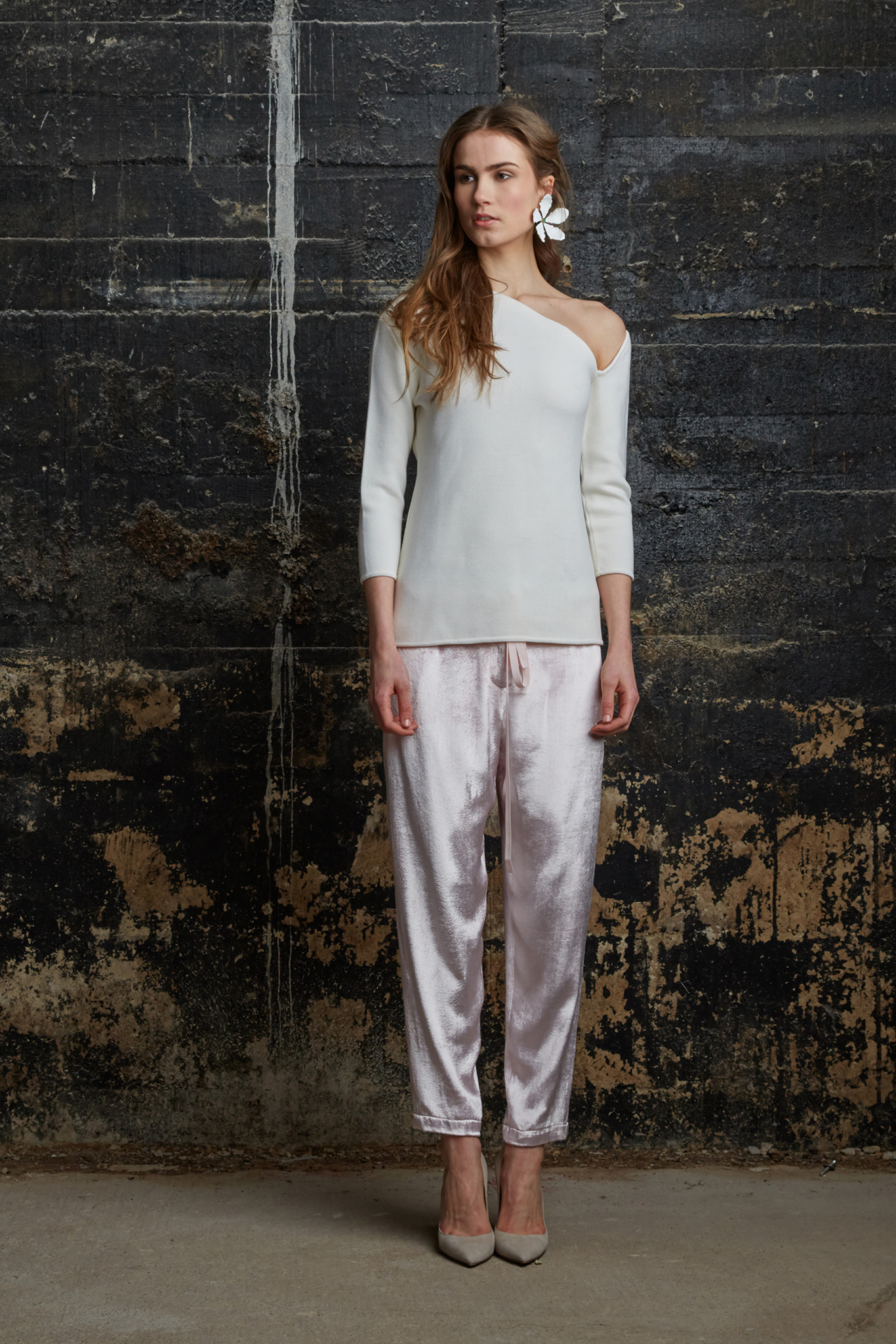 I'm a fan of anything akin to pajamas. Another good travel option. Wear with espadrilles or ballet flats and a lightweight trench. (Rene Caovilla makes some fine jewel encrusted golden espadrilles, hat tip Bergdorf Goodman).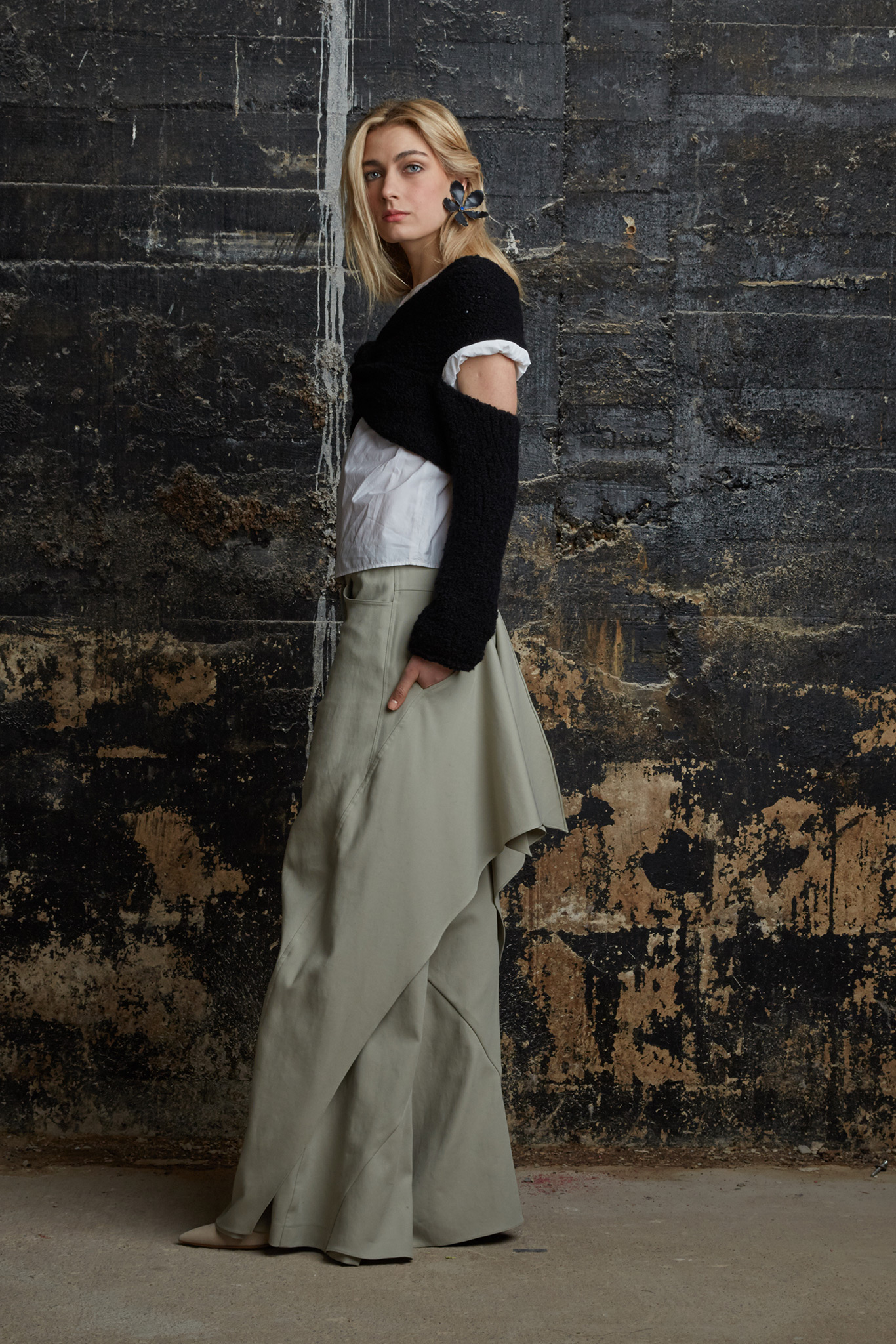 I'm not sure what the hell is going on here, but I admit to being fascinated.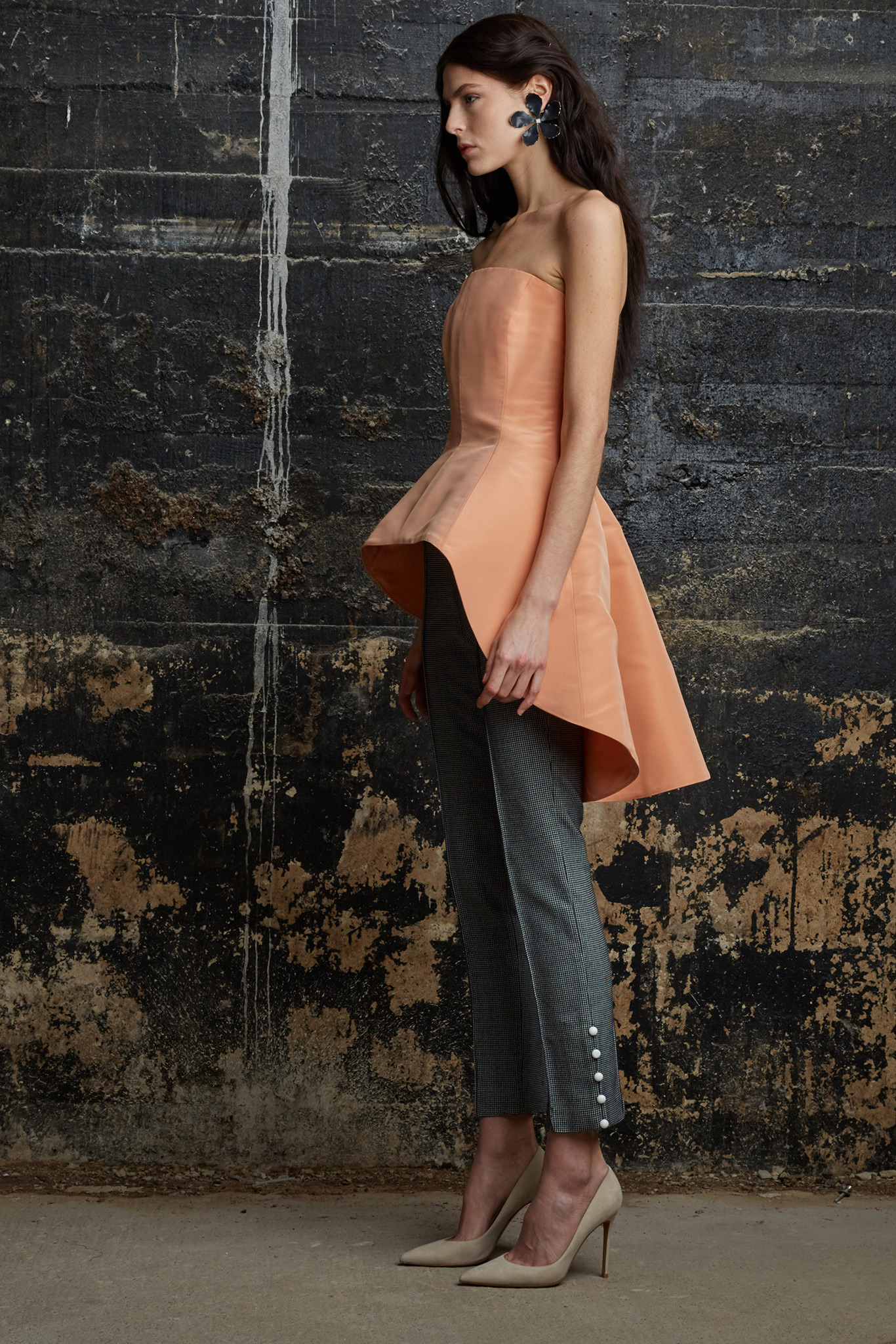 There is a sophisticated elegance and vintage vibe to these pants ensembles, both of which would be excellent choices for an elegant evening affair. Patent leather stilettos would add to the overall allure.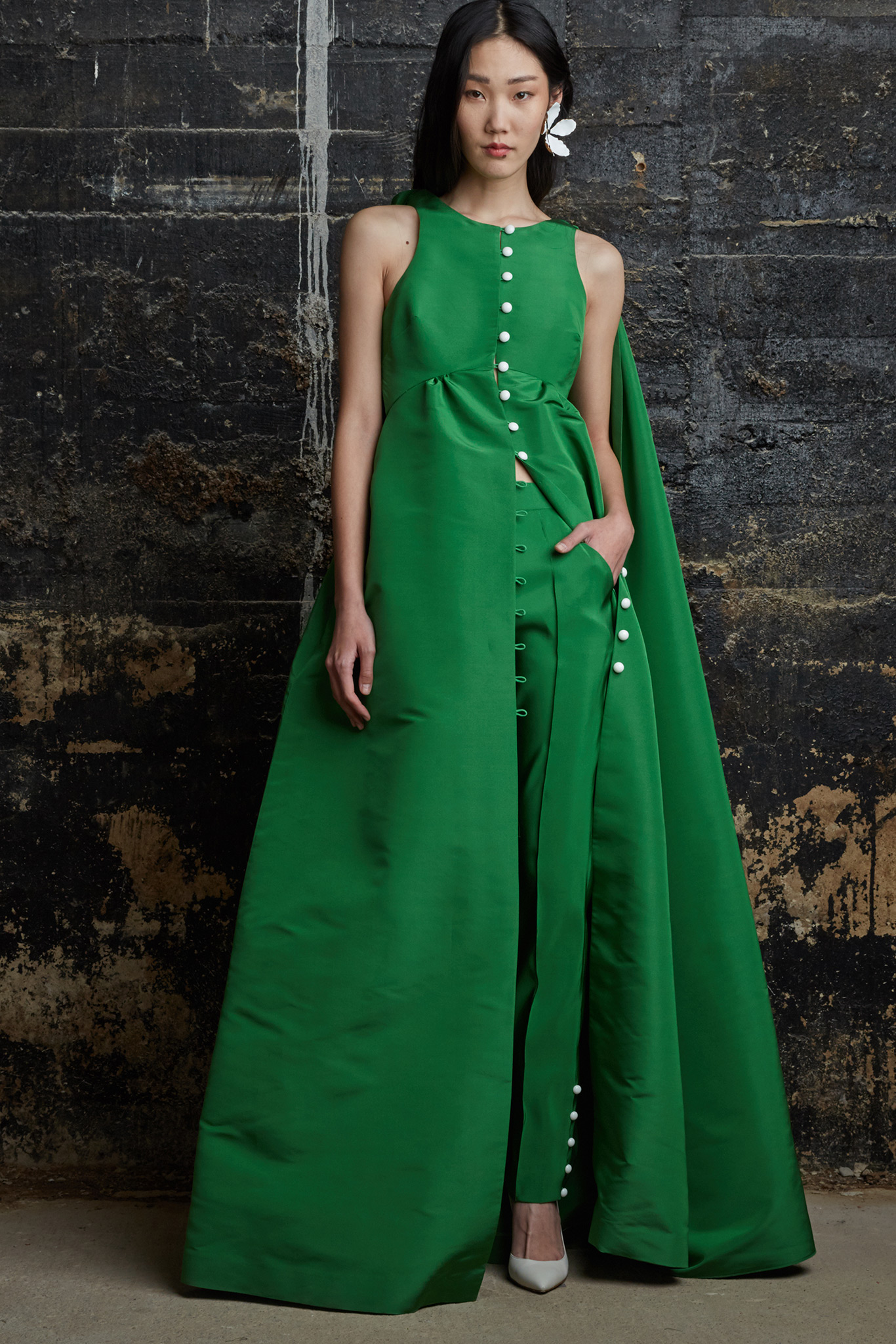 High drama indeed.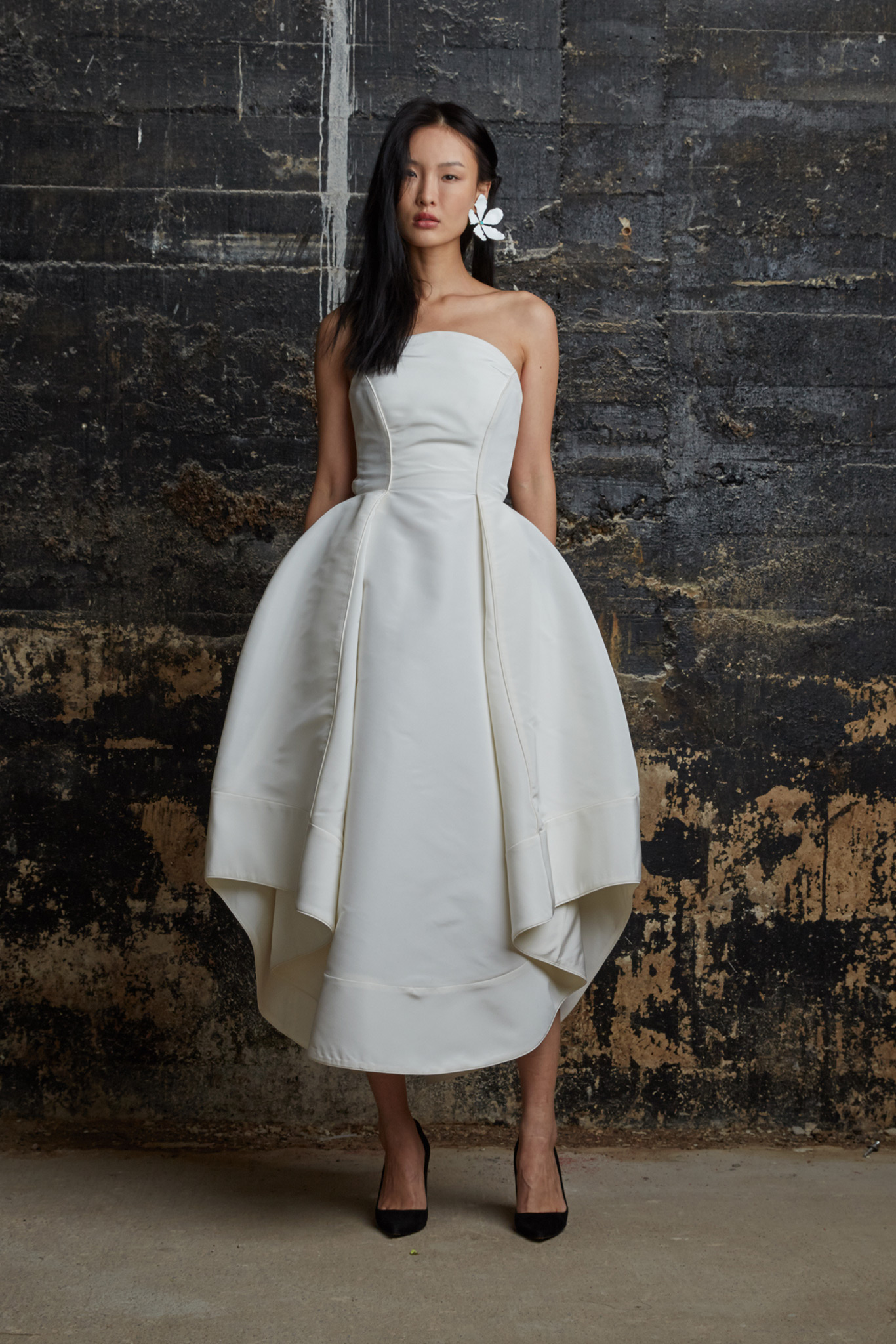 A lighthearted cocktail frock that harkens back to Christobal Balenciaga.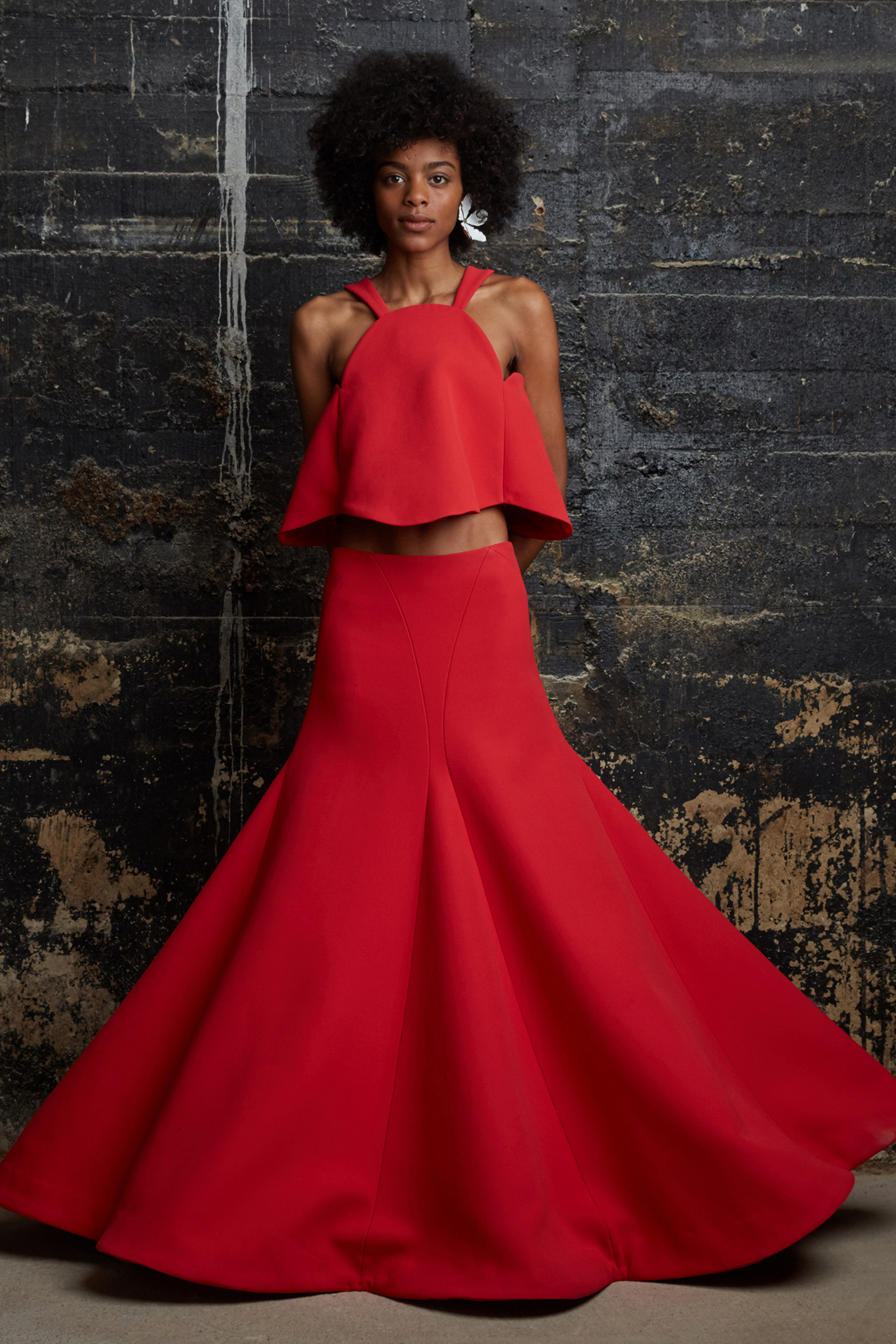 B A M! A version of a modern red flower without being too Georgia O'Keefe literal about it.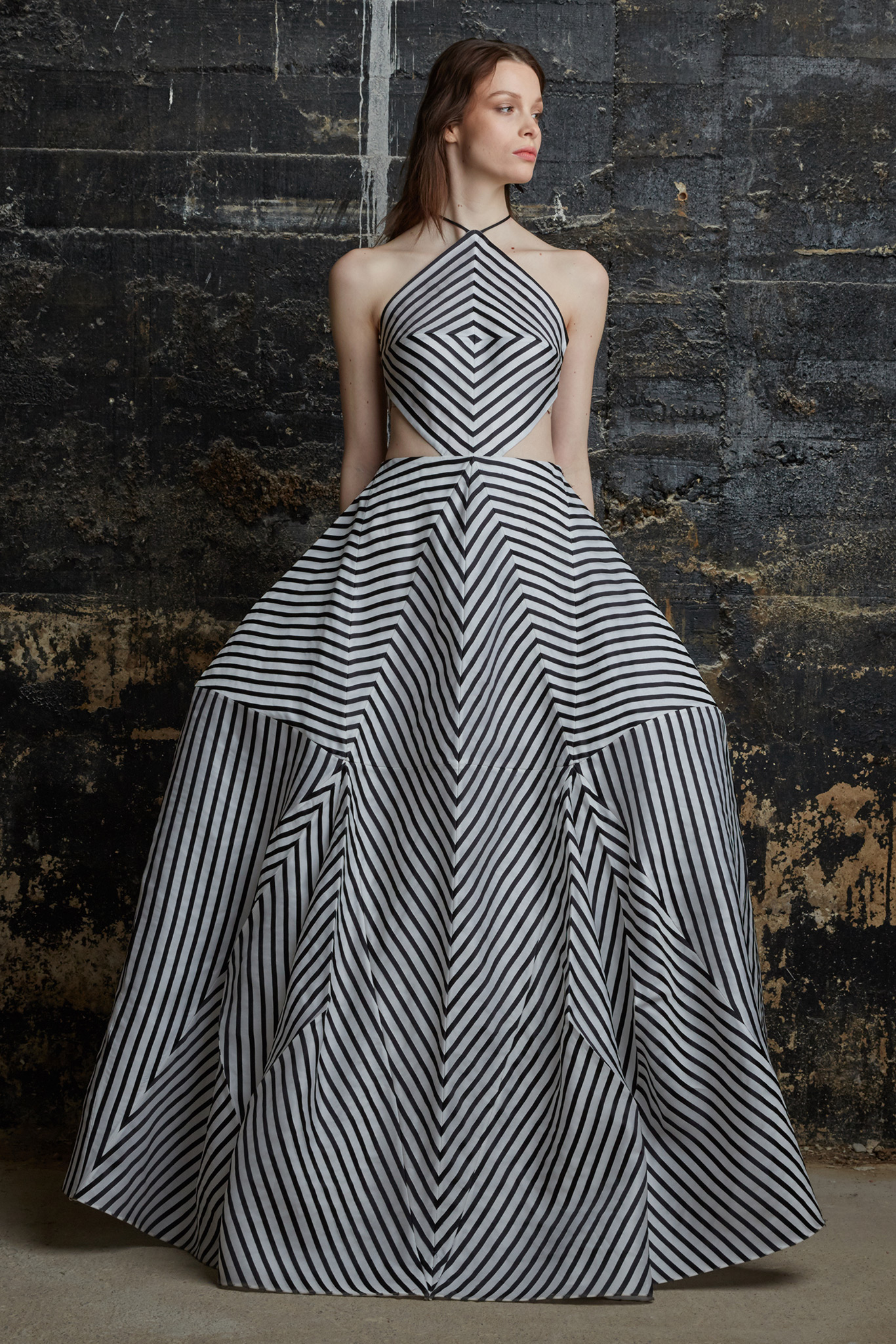 Perfect for a weekend at the Hamptons, with what might be construed as a nautical theme. The construction of the skirt reminds me of vintage Christian Dior.
ANNA SUI:
The queen of bohemian inspired flowy flowery finery for easy chic. There is always a joie de vivre exuberance in her collections, where there is color and vibrancy, there is happiness, for sure! Haight Ashbury flower power meets a Mongolian nomad.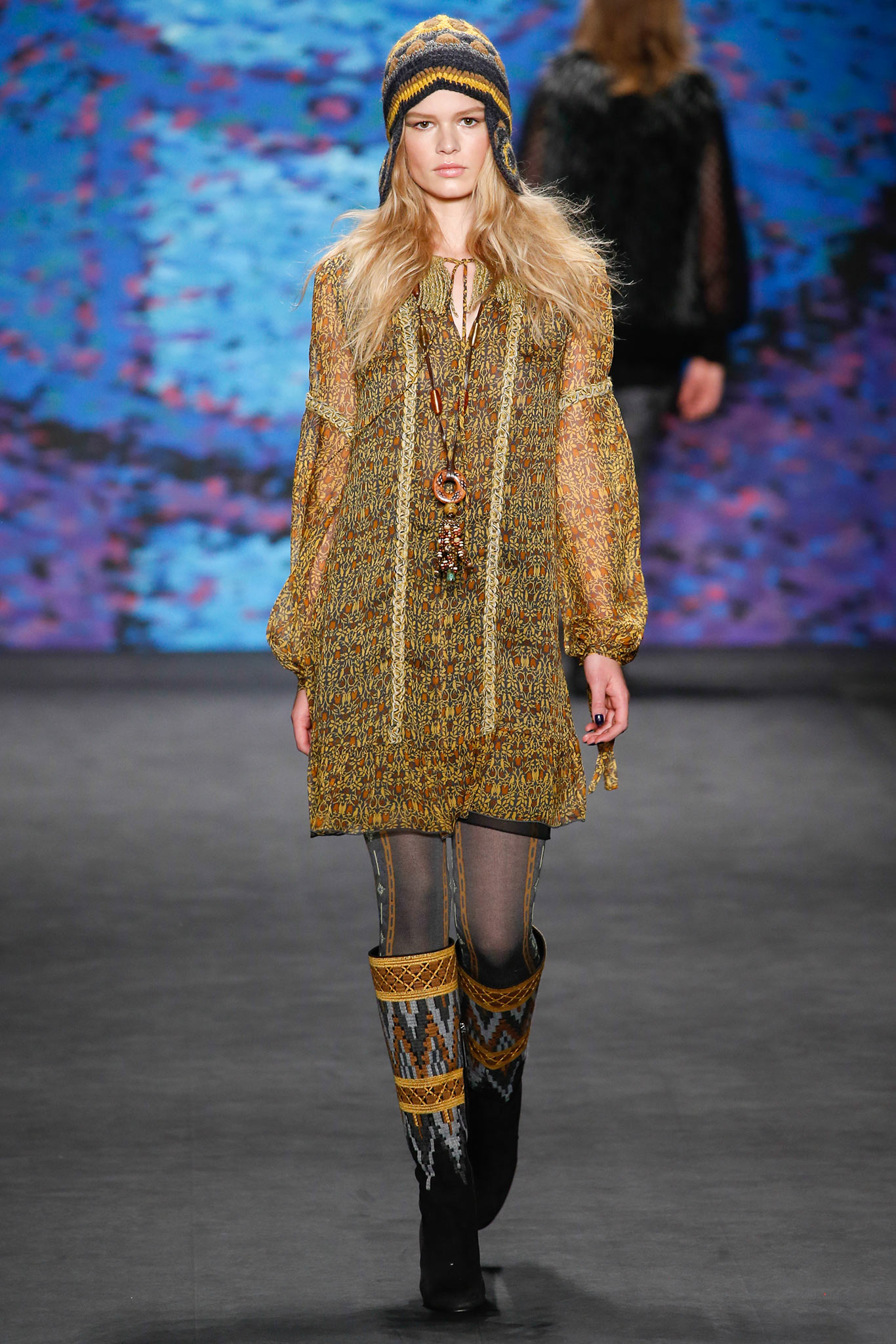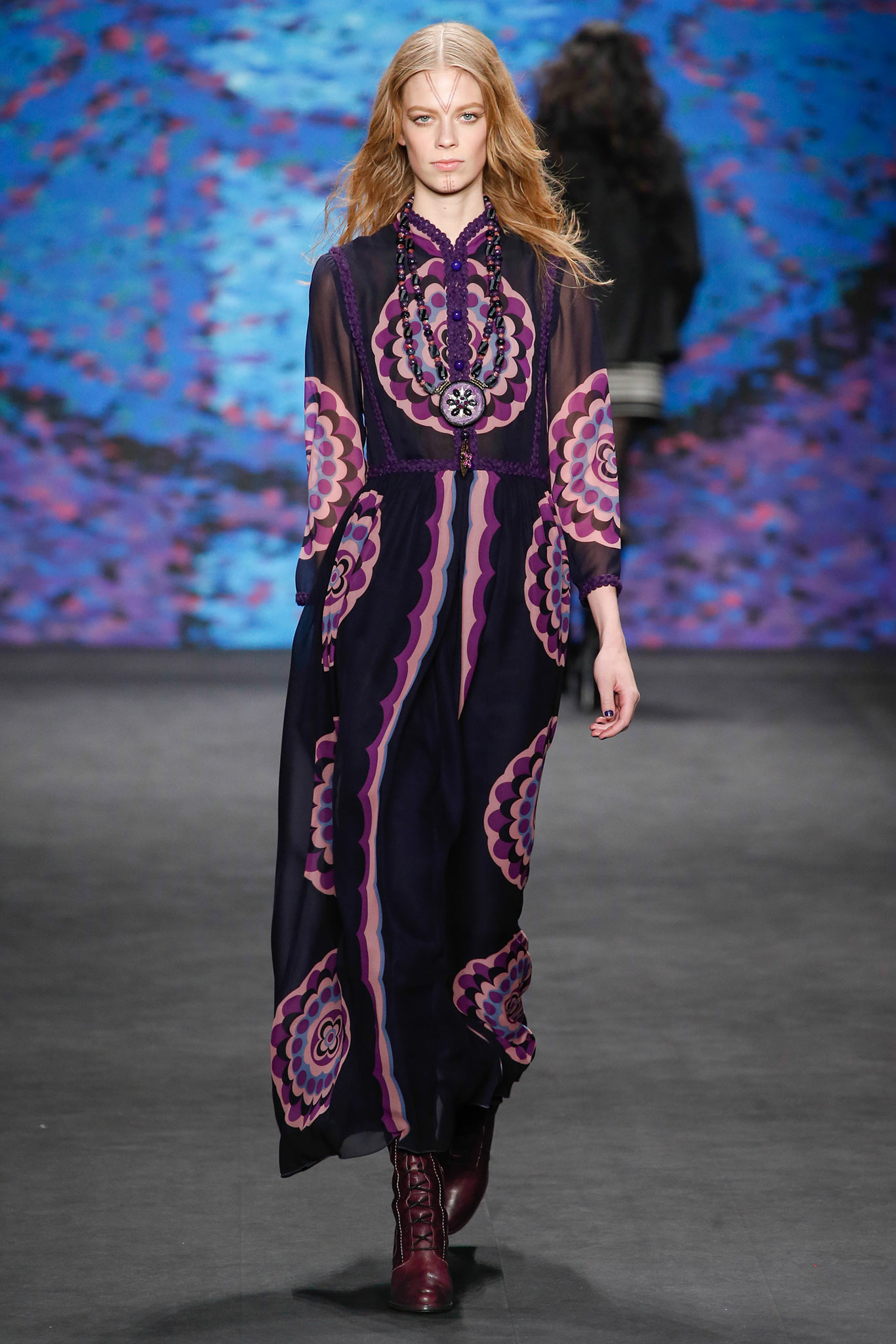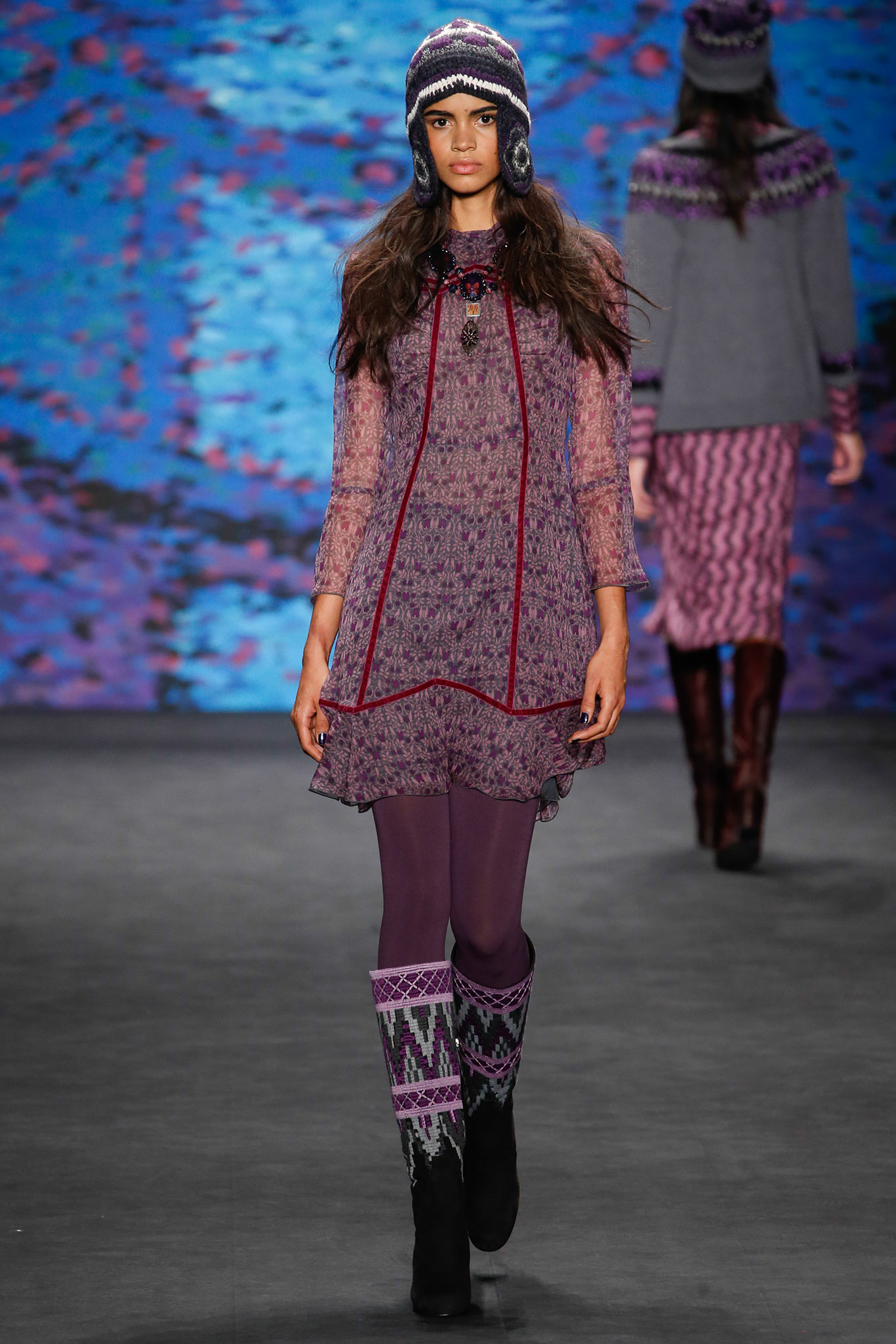 Never one to shy away from colors upon colons in wonderful combinations of pinks, purples, blues, and reds, Sui doubles down by adding vibrant multicolored folkloric jackets to the mix, crafting a medley of ebullience.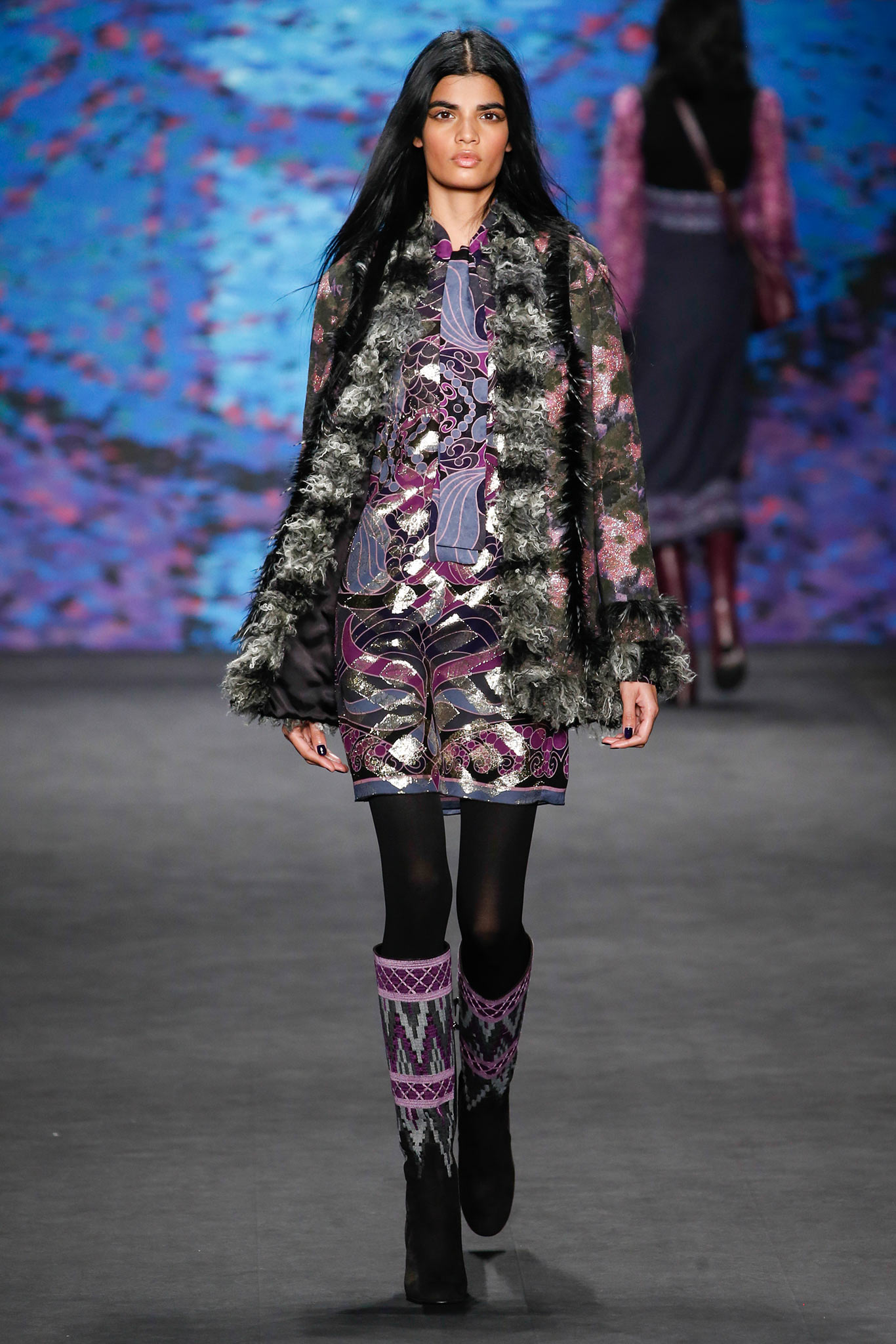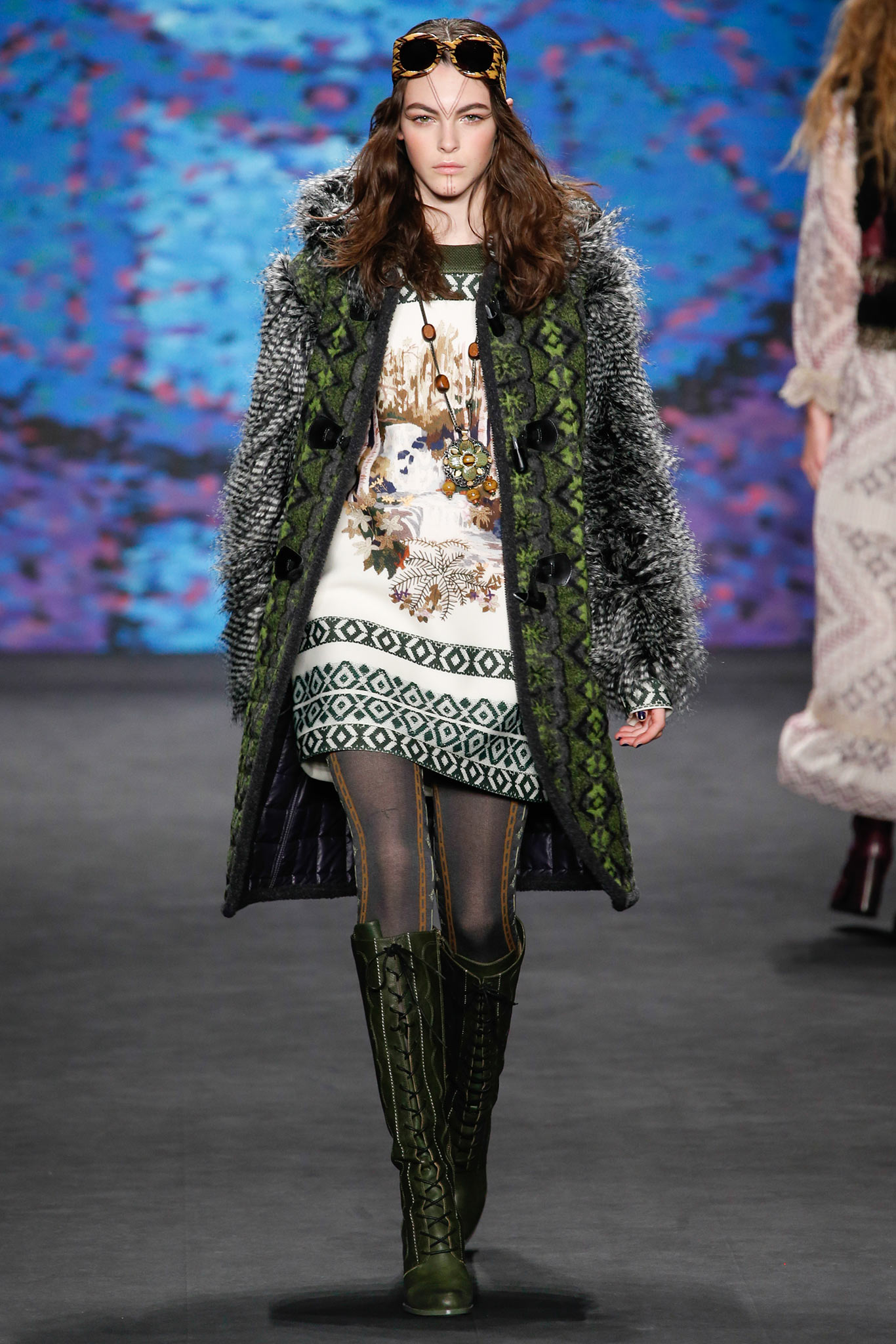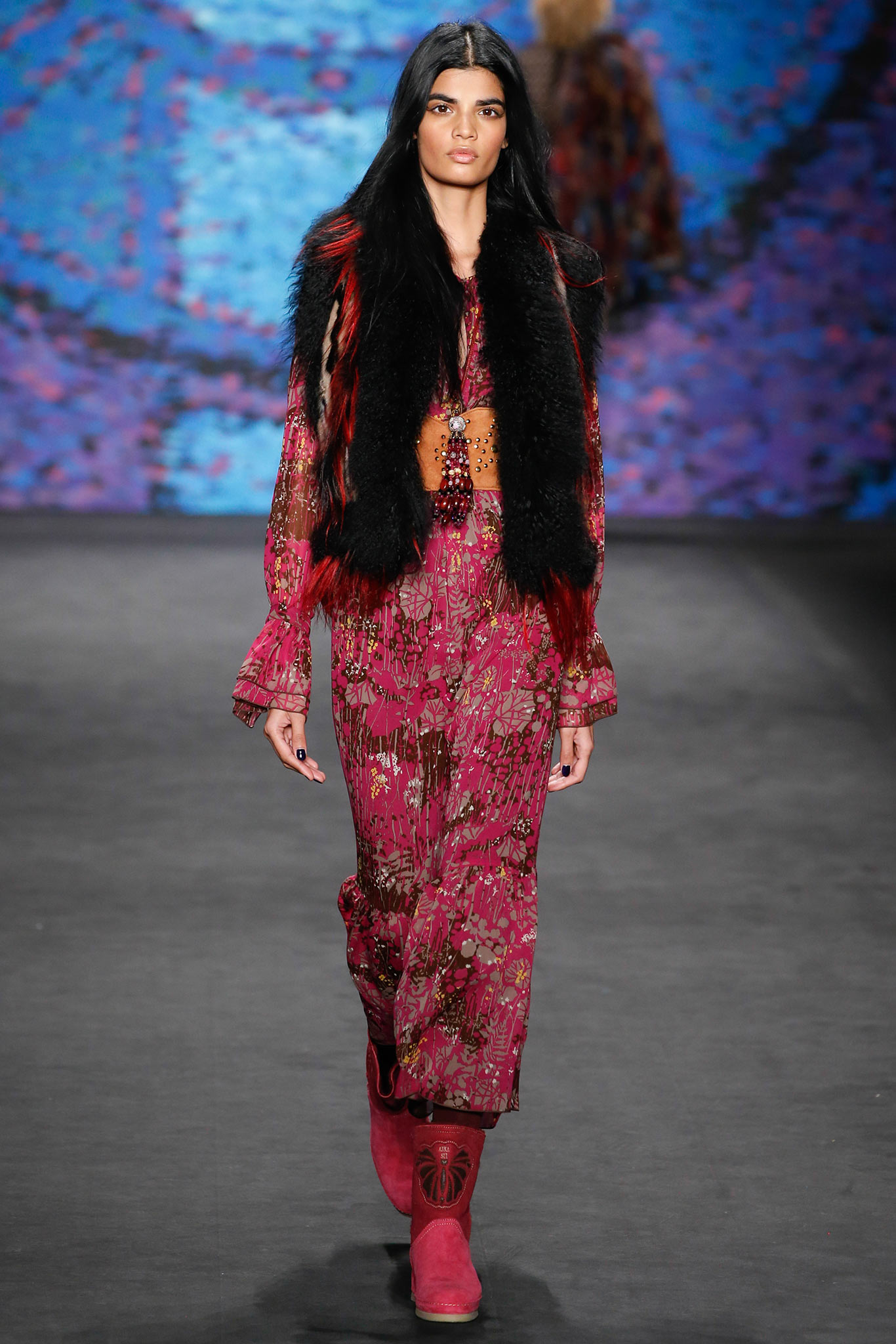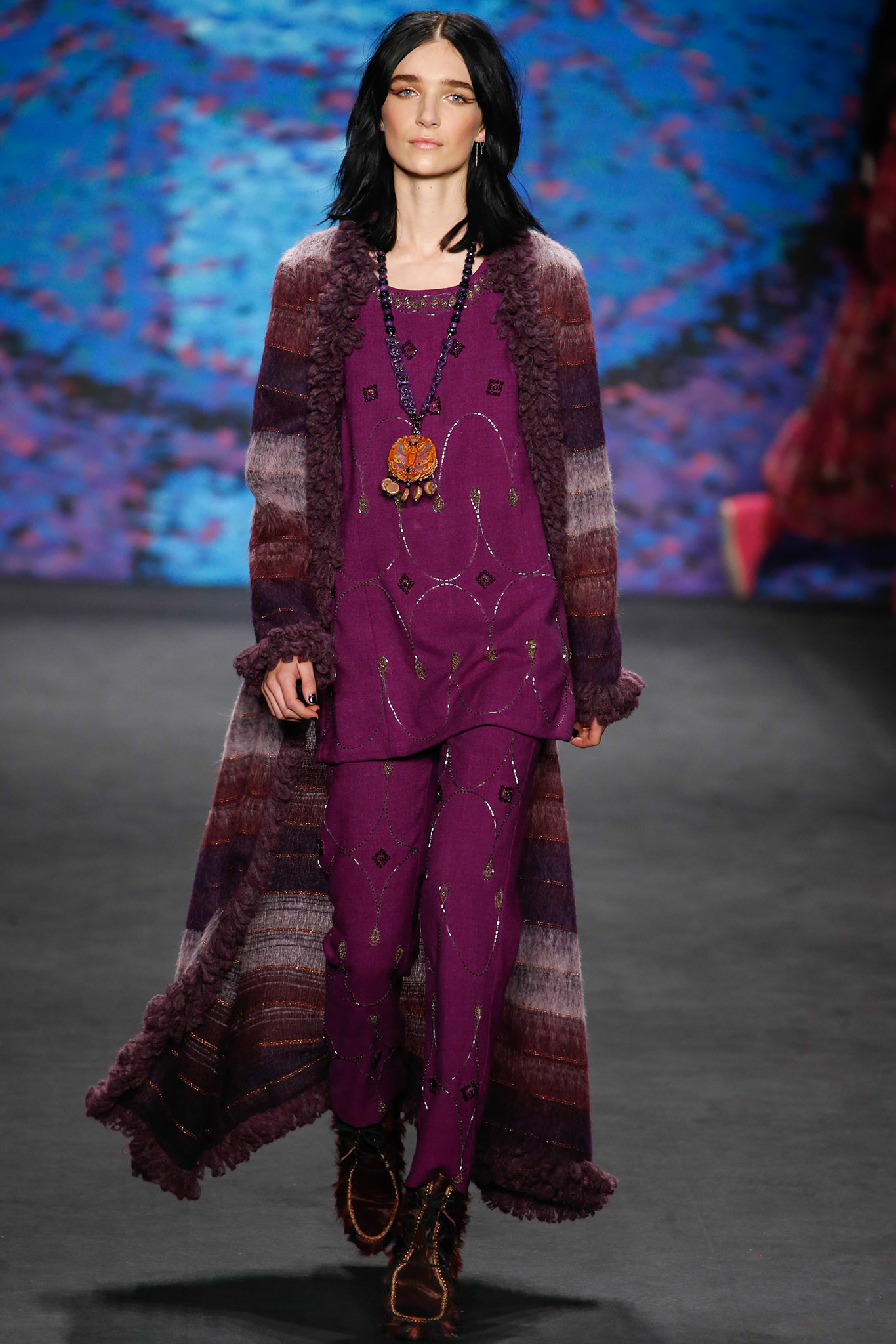 The long sweater is always a good friend, throw it on over jeans when walking the Dog or running out for coffee, or over one of these fabulous dresses for a night out. Can double as a blanket when traveling, especially when flying as the cabin temperature will most assuredly drop.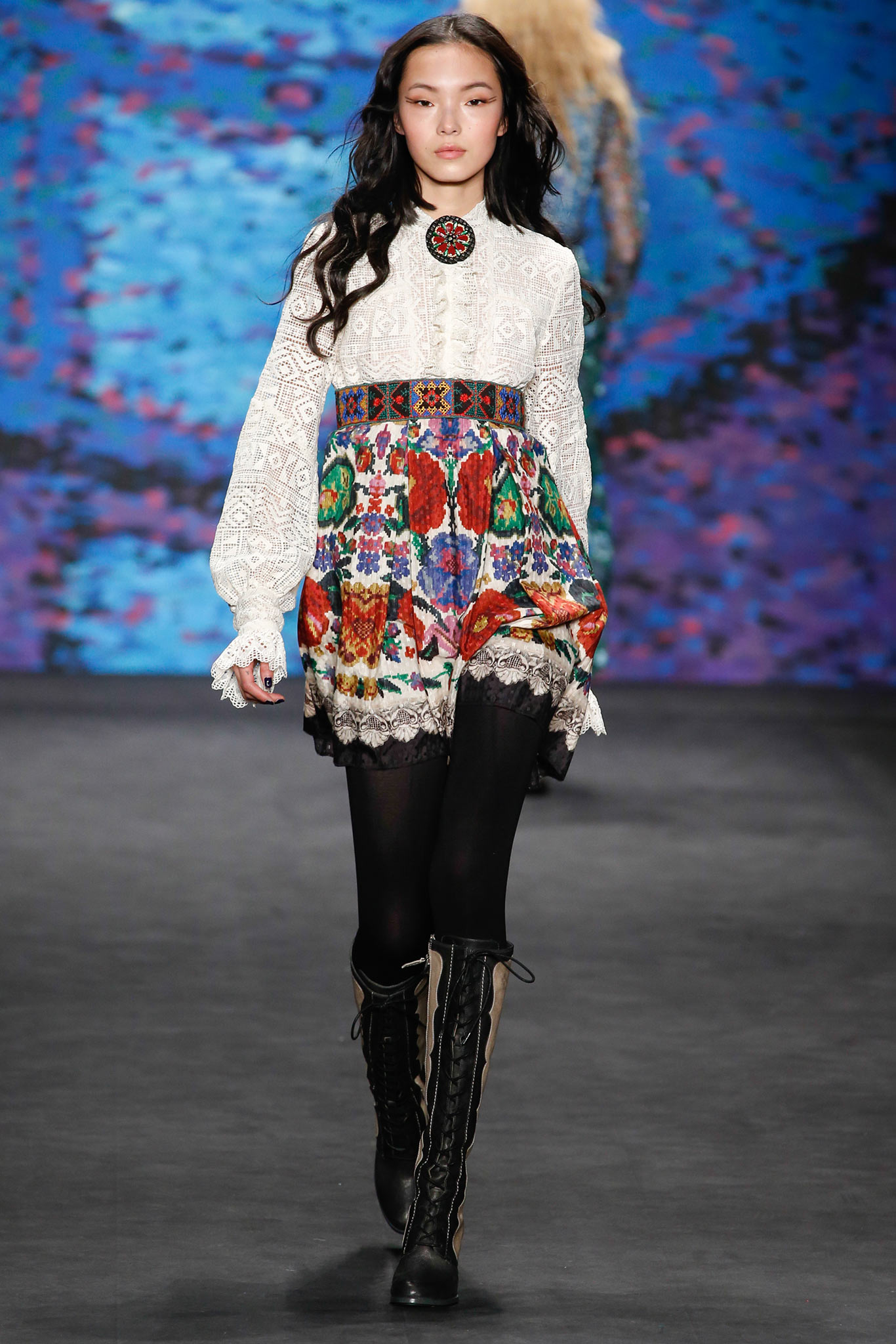 Mini or tunic as one sees fit.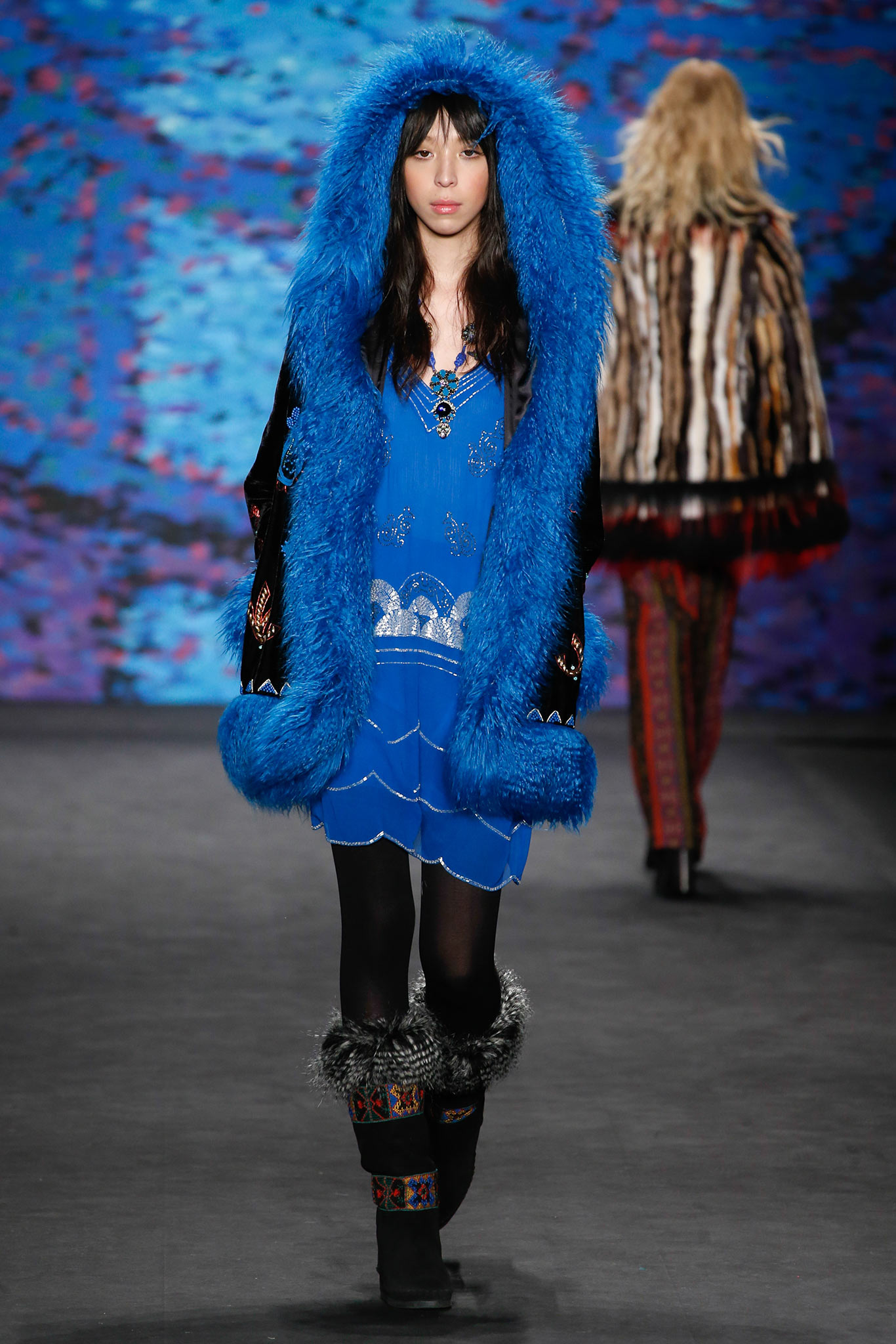 Cerulean blue Mongolian lamb, what could be more fun, festive, or fashionable when anything goes these days, and there is sure to be a constant chill in the air for the foreseeable future?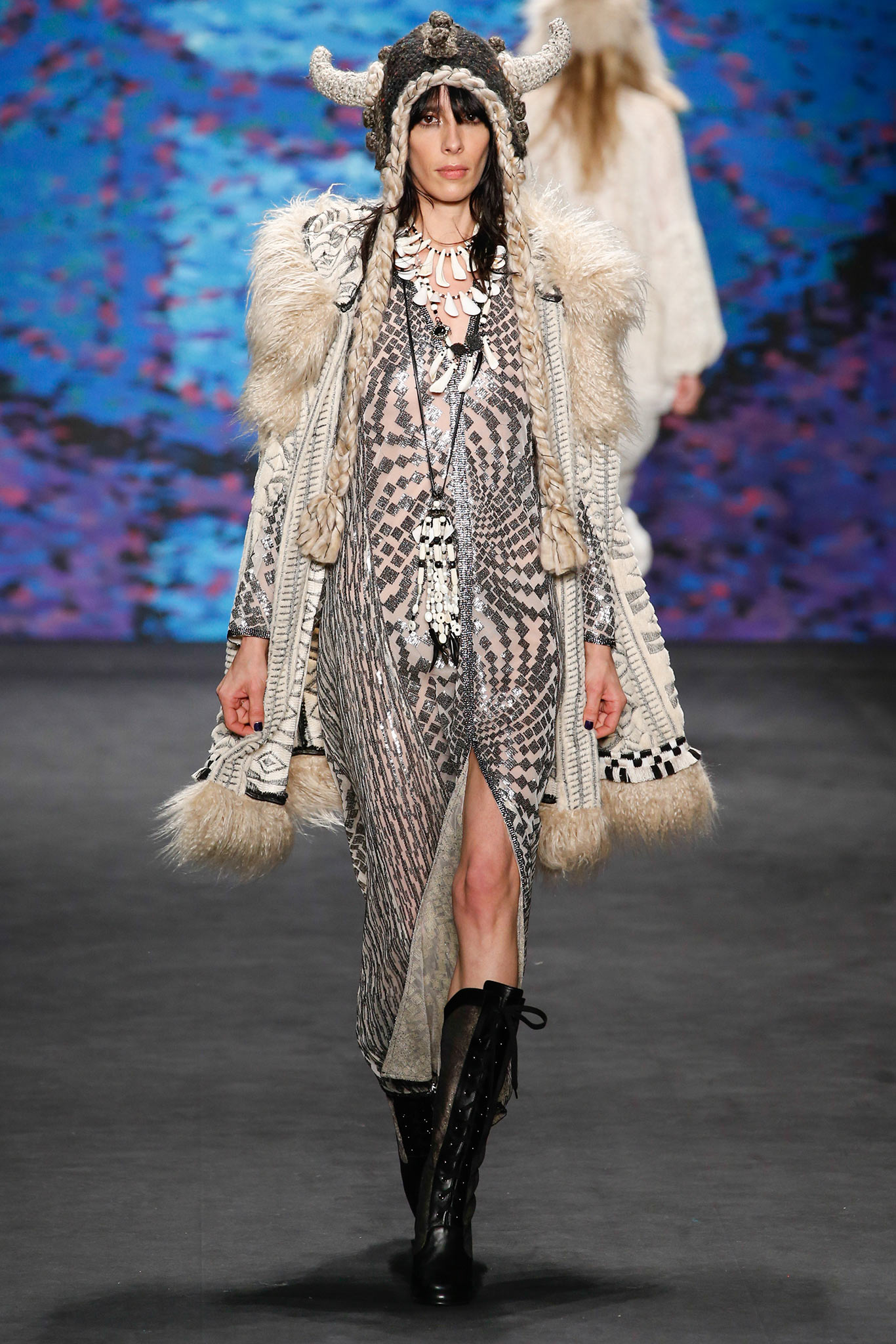 Mongolian princess.
LIBERTINE:
As far as I can tell, the jacket is THE most versatile of garments, it can serve as the focal point of or elevate any outfit, from jeans to velvet pants, will keep you tastefully covered and cozy, while camouflaging a host of evils, and in a reasonable silhouette, will accomplish a multitude of tasks in a facile non fussy manner. All criteria for the great staple jacket that can be worn anywhere through the ages are fulfilled by the assortment brought to us by the folks at Libertine. No new ground is covered in the 50's style easy forms, its the embellishments and tendency towards the wacky and whimsical that make these selections so delectable and covetable.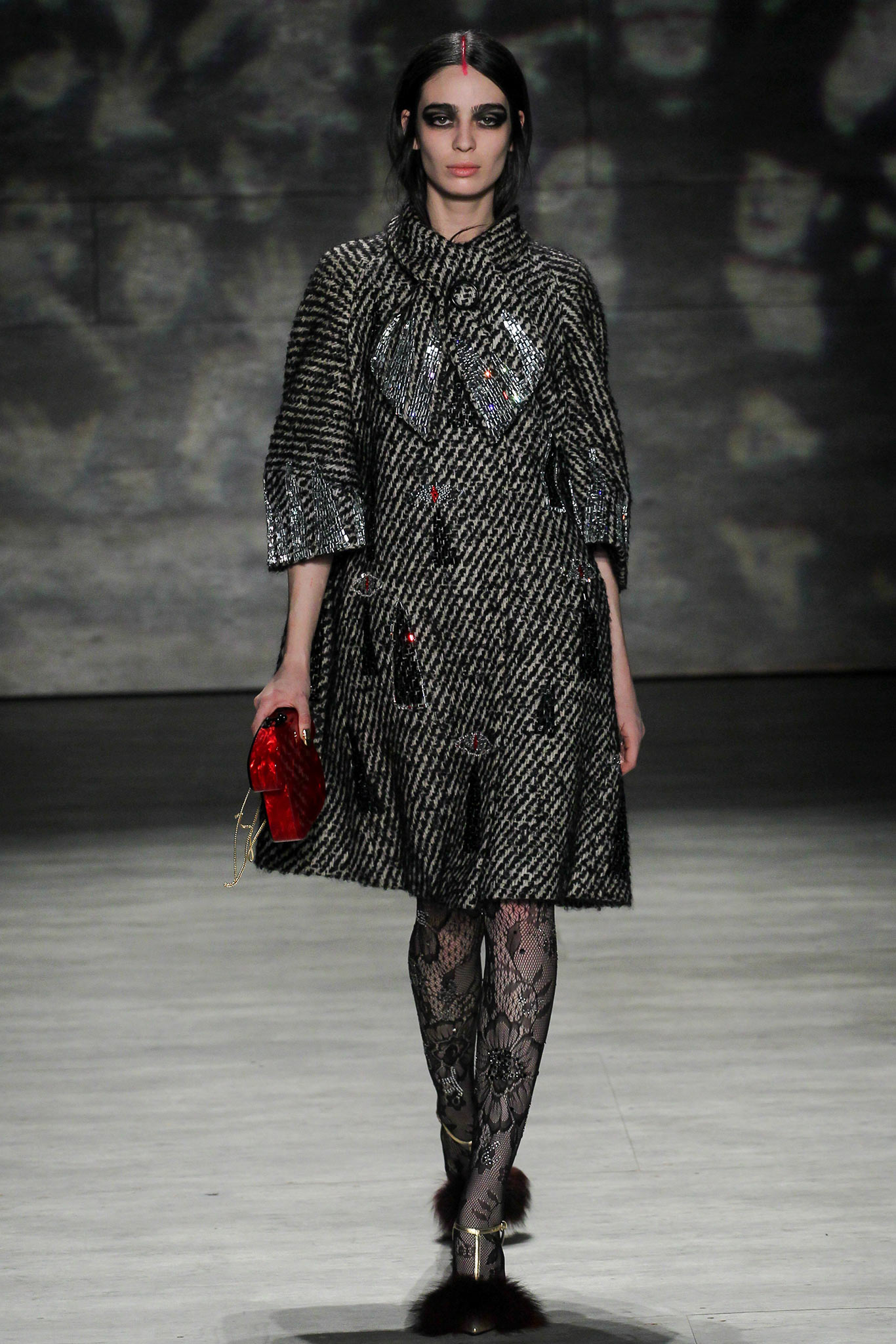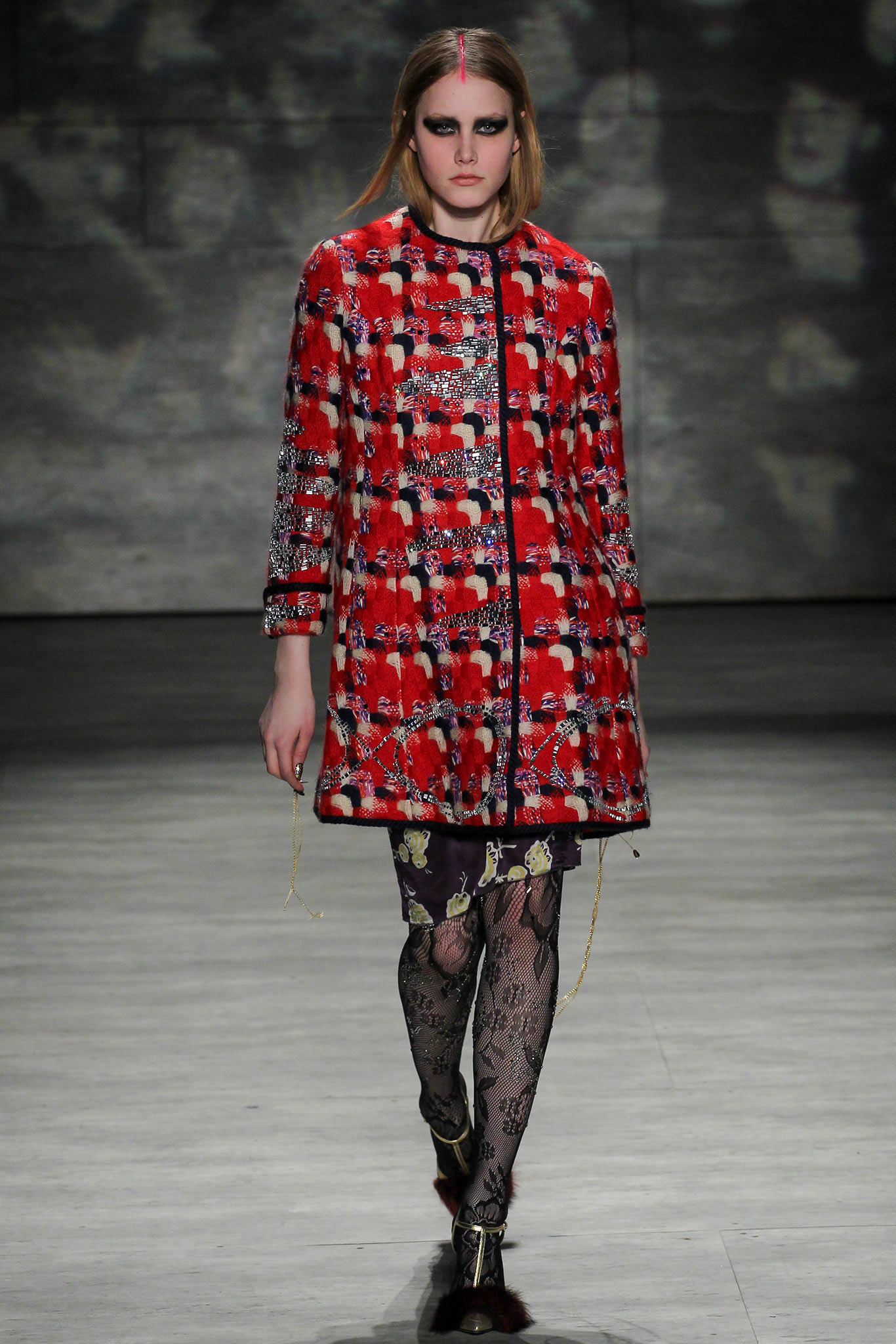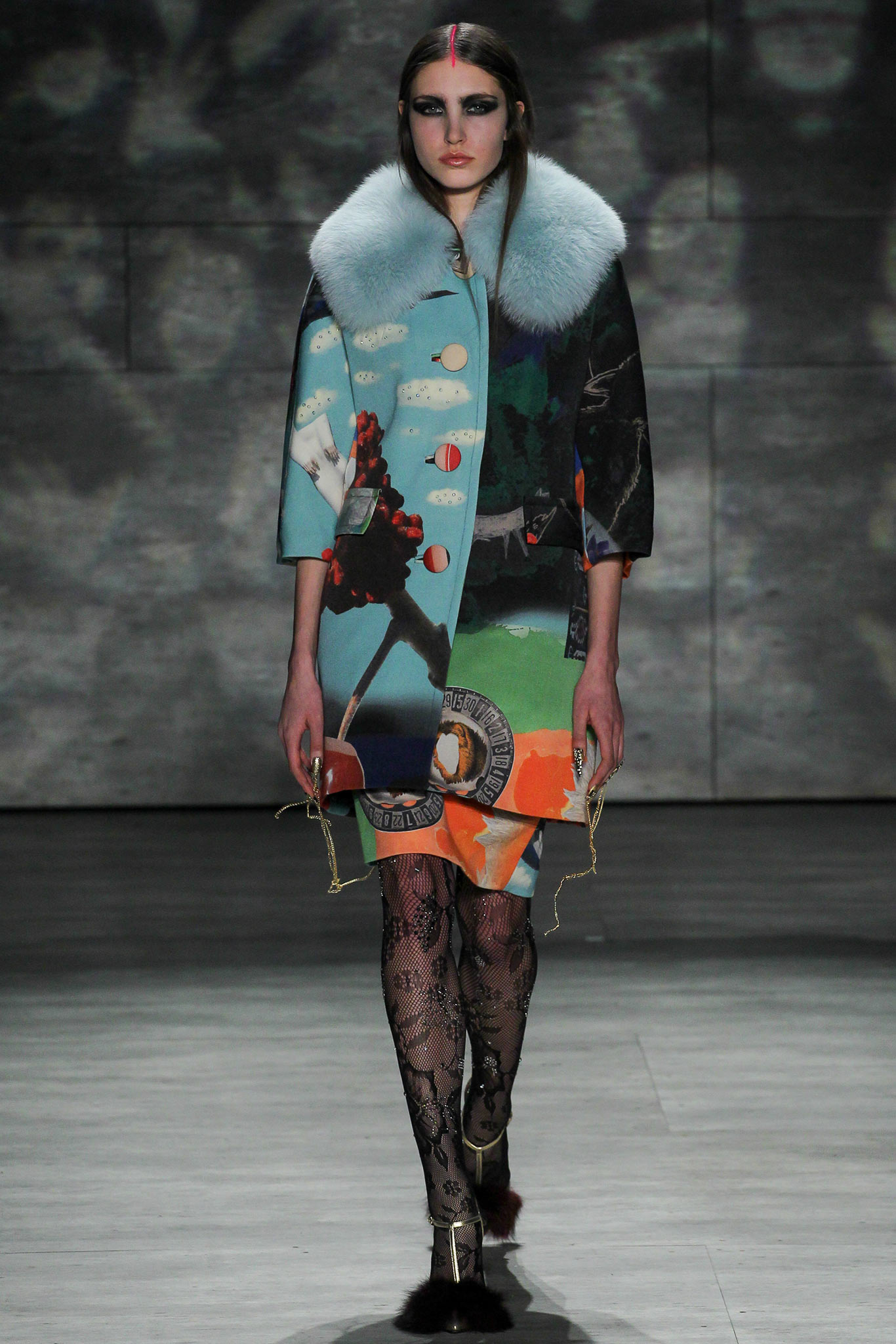 Anything that reminds me of Salvador Dali is a good thing, especially emblazoned on a jacket. The coats in this collection are an easy way to add pizzaz and humor to any outfit.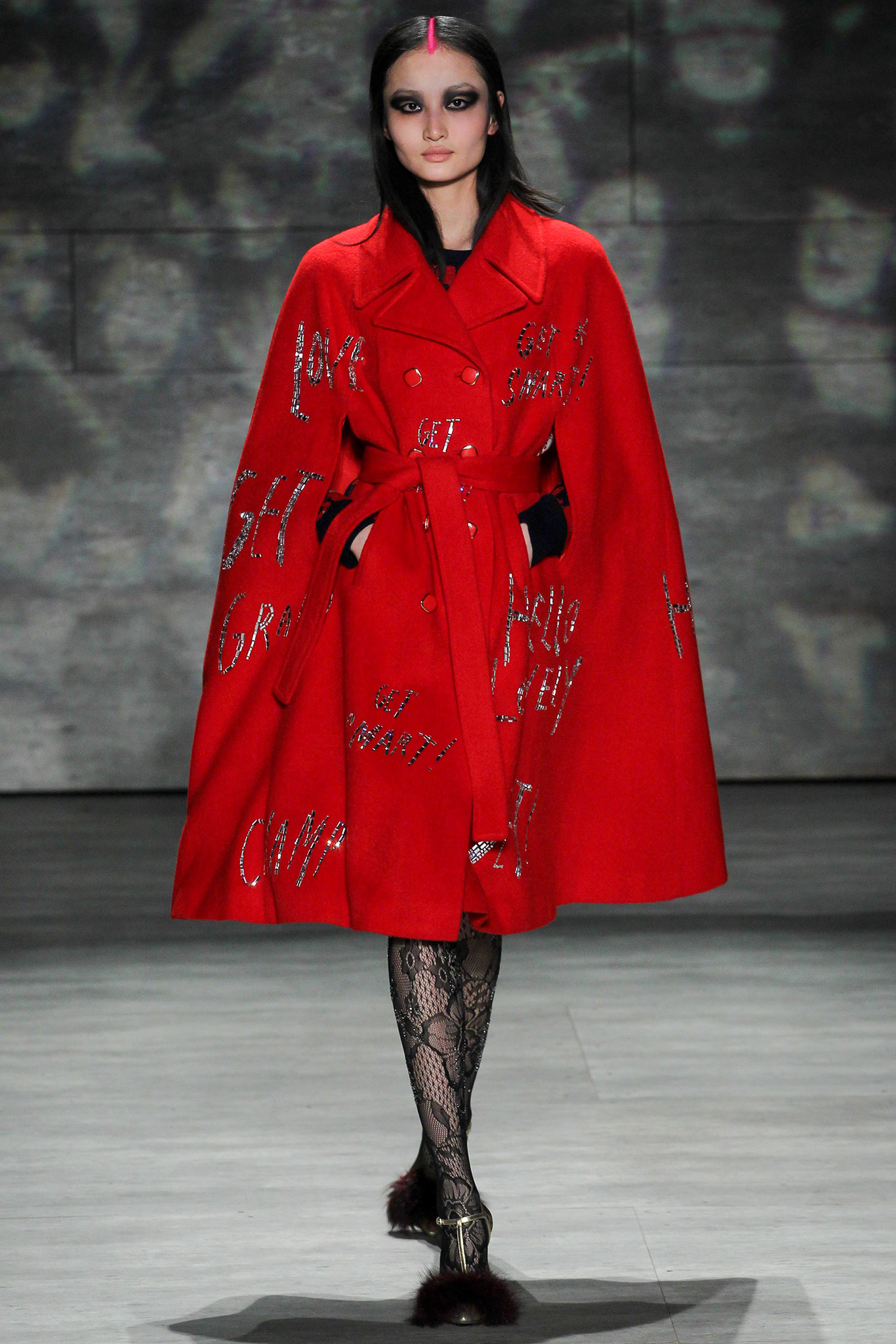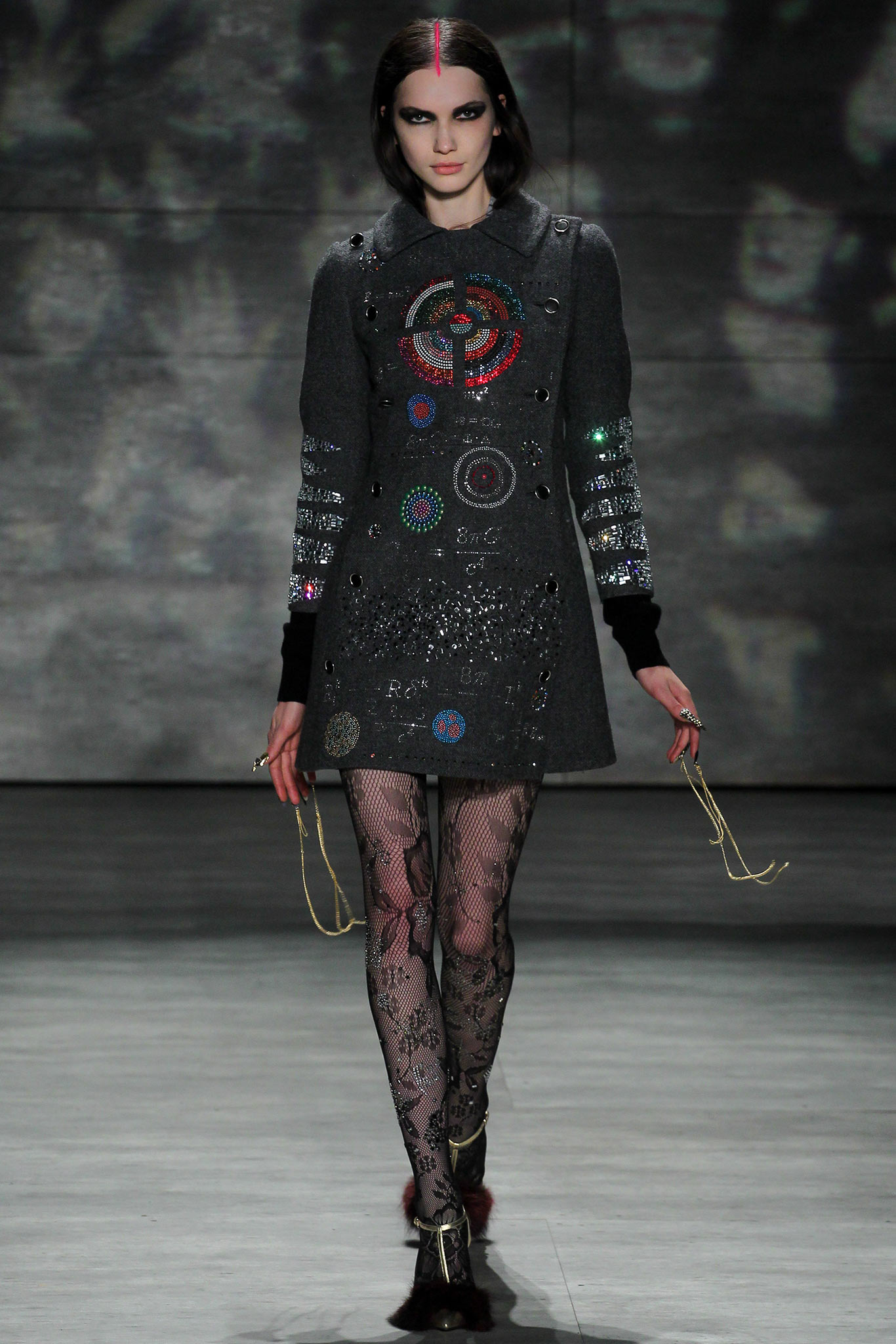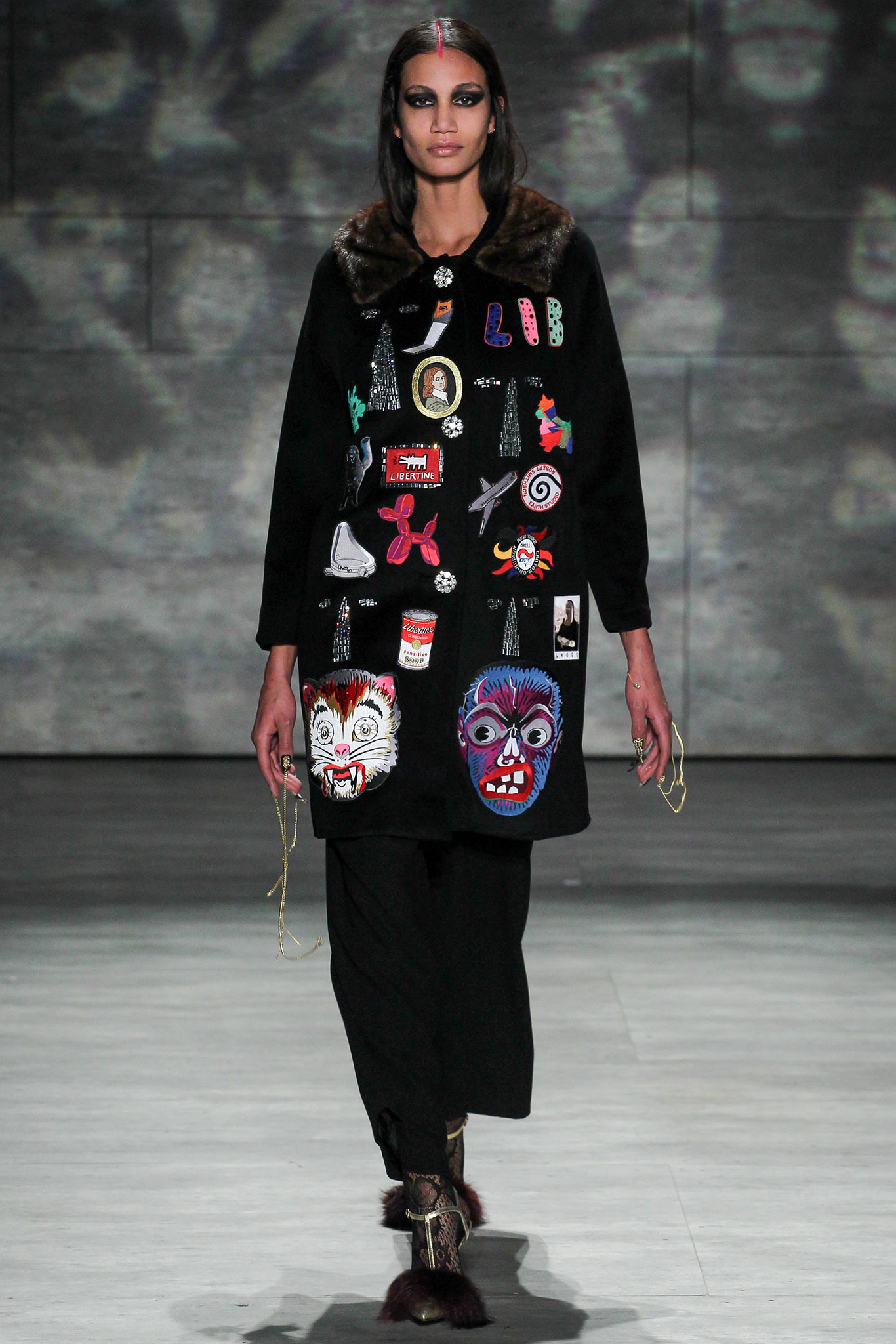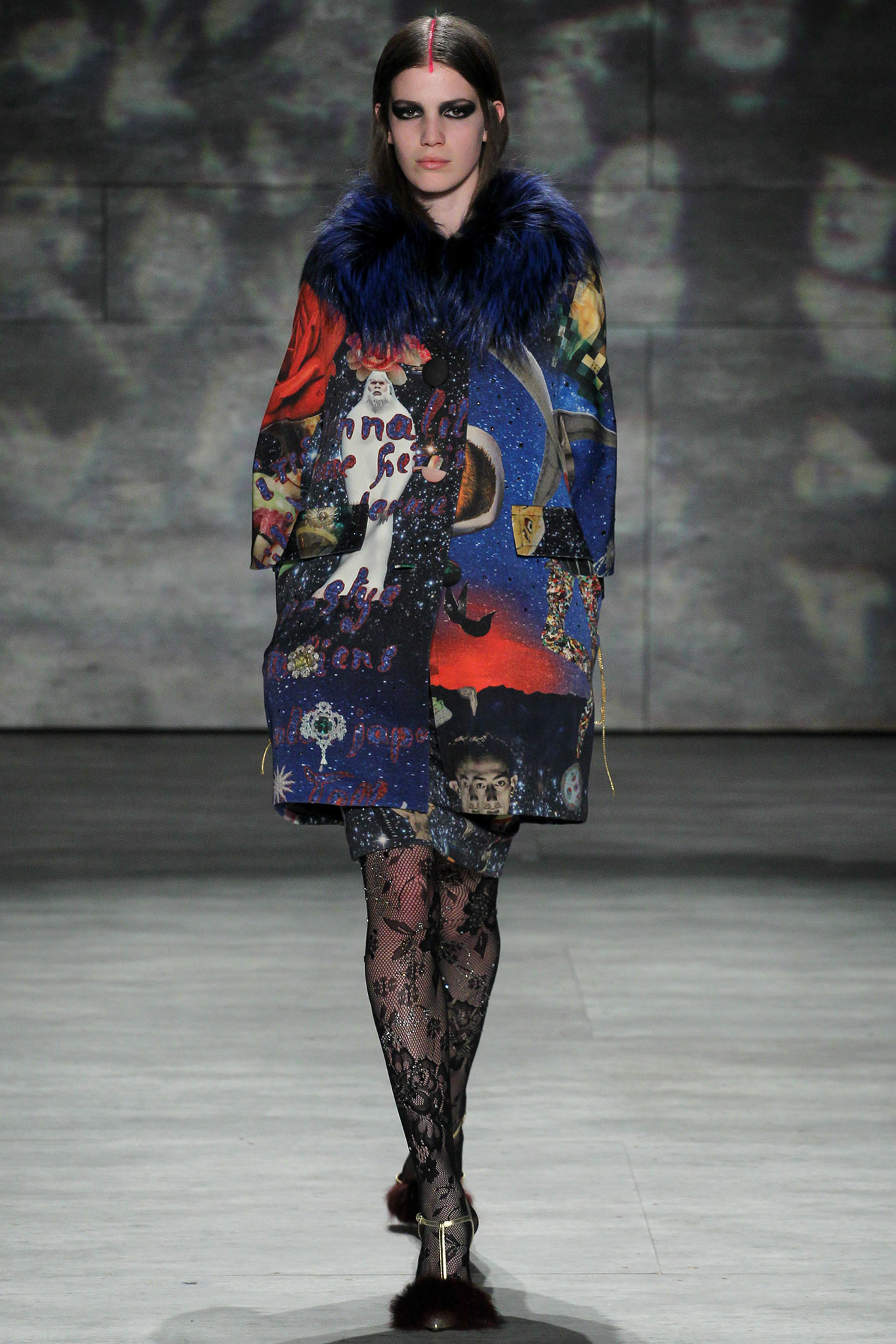 A good counterpoint to this lively whimsical entry (is that a sasquatch?) would be a guipure lace dress in a pastel.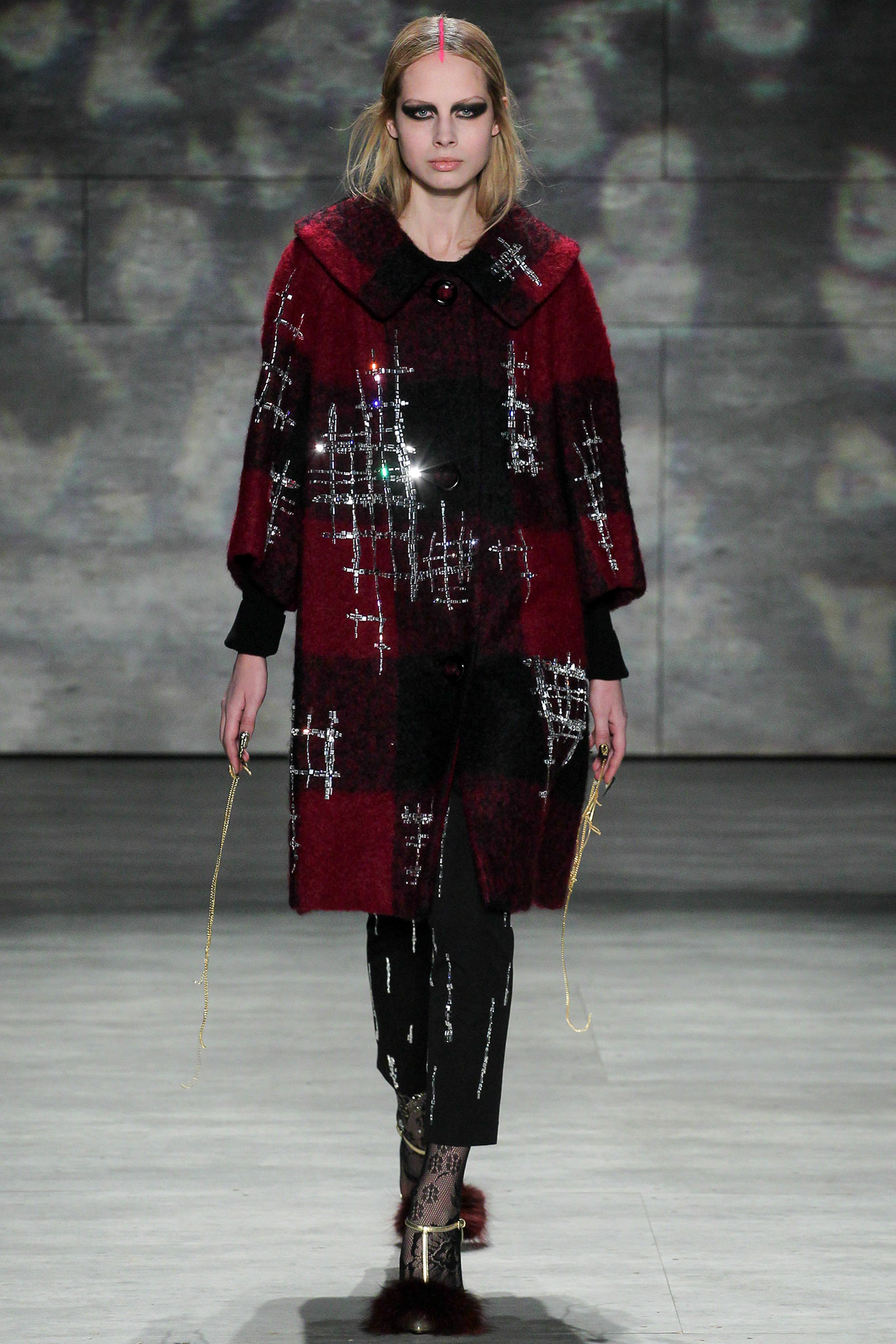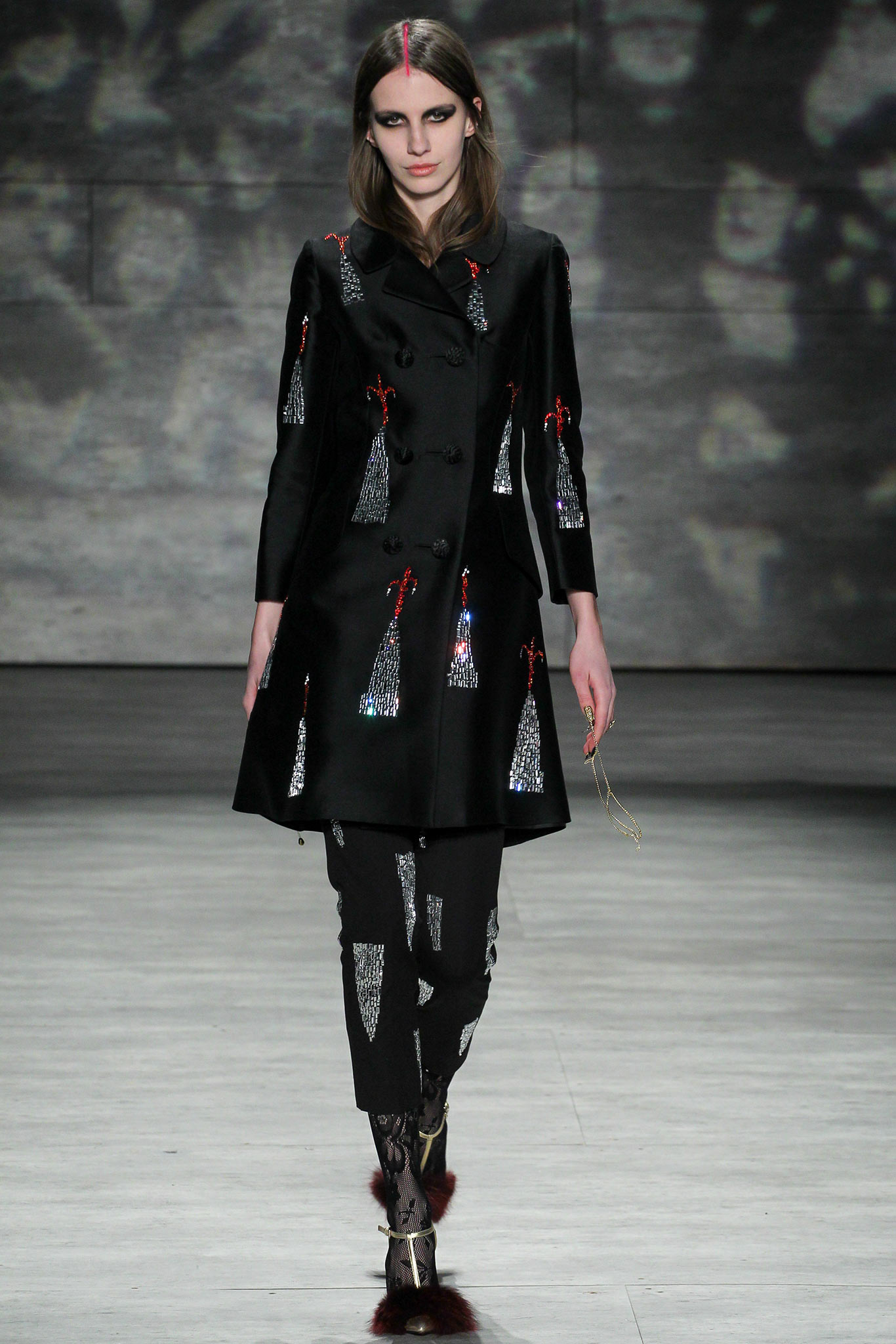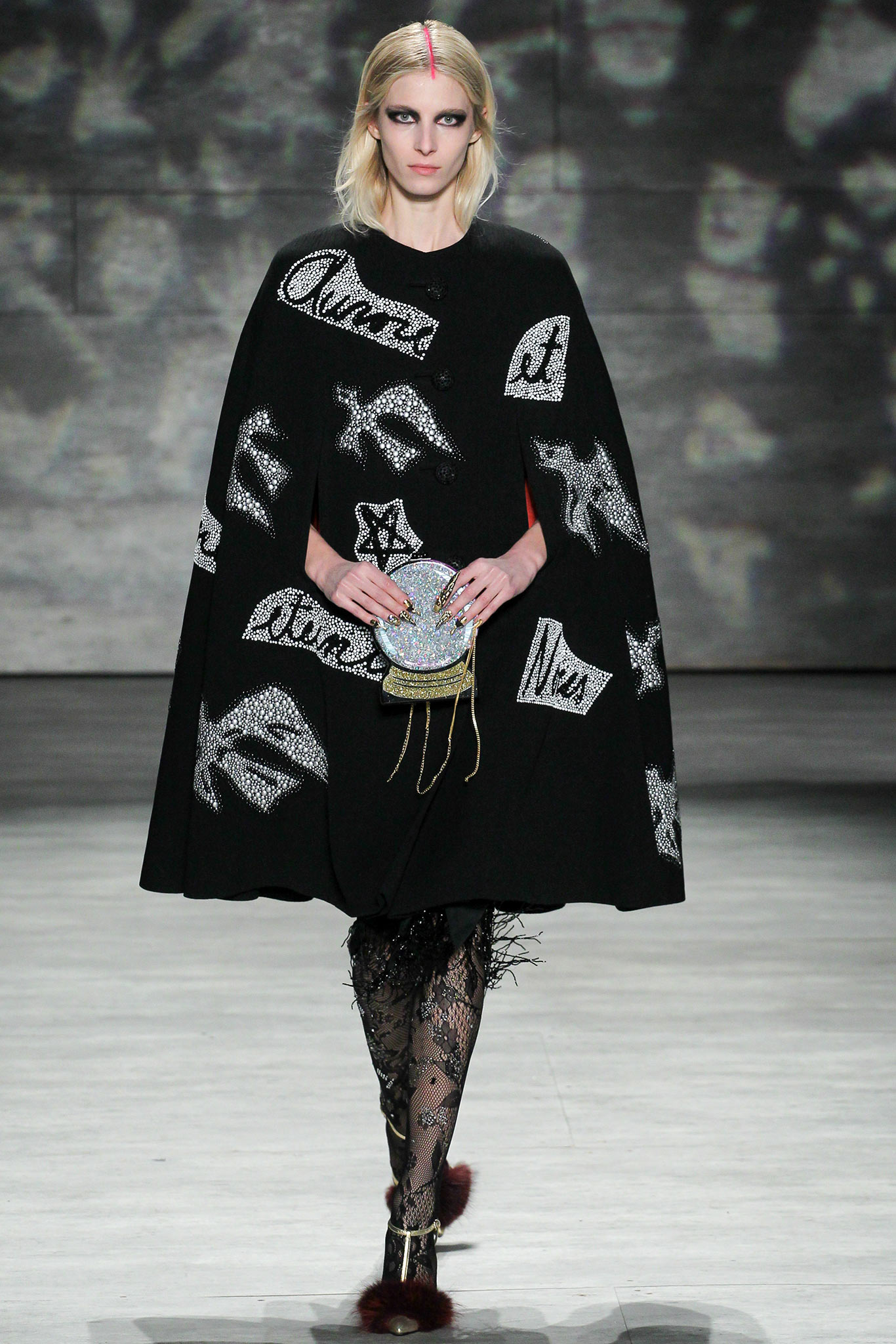 P A C E. Lord knows we need more of it.
CALVIN KLEIN:
Costa reinvents late 60's and 70's fare in a restricted color palette with relatively spartan silhouettes, however the impact comes with the curious fabrications and well placed embellishments.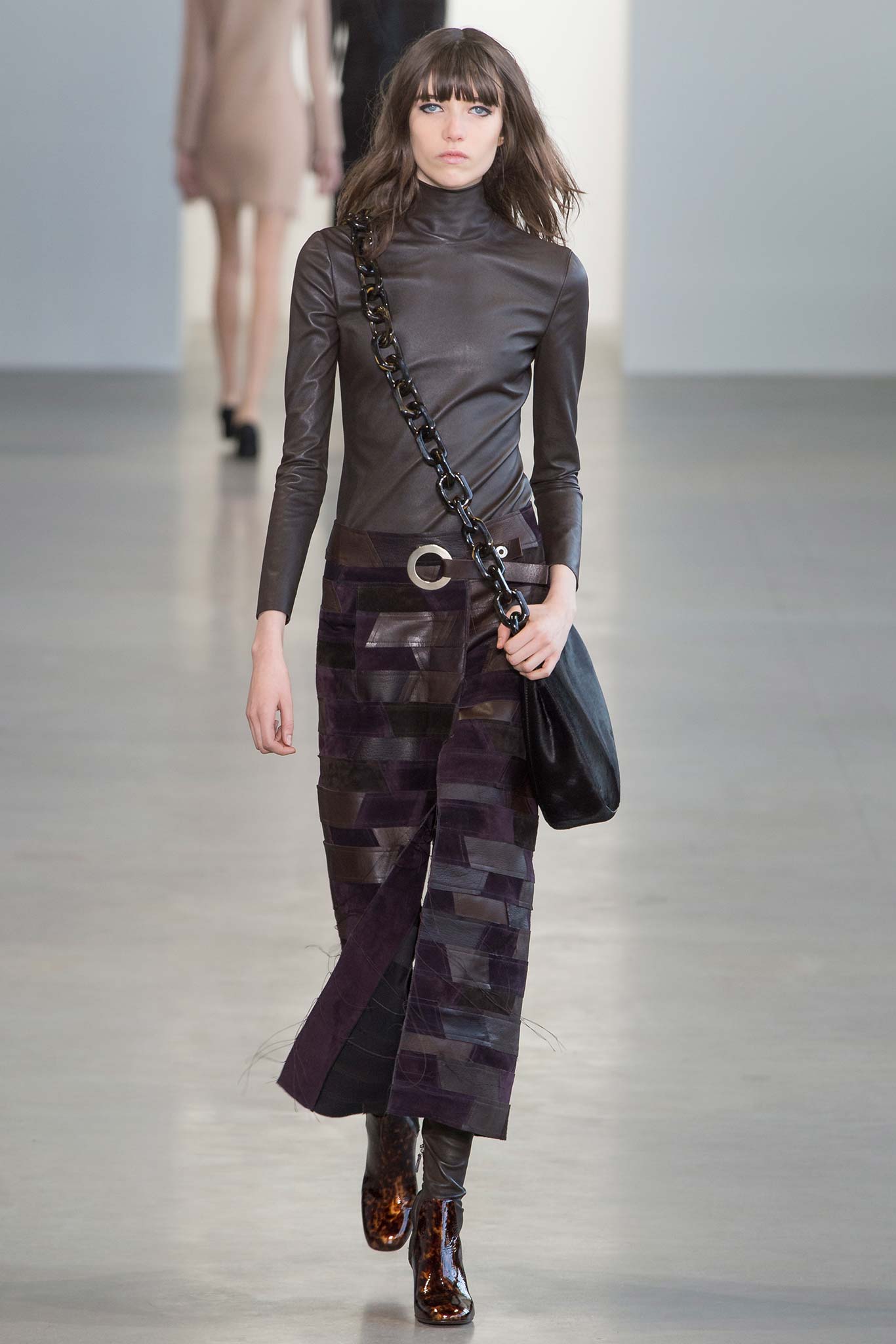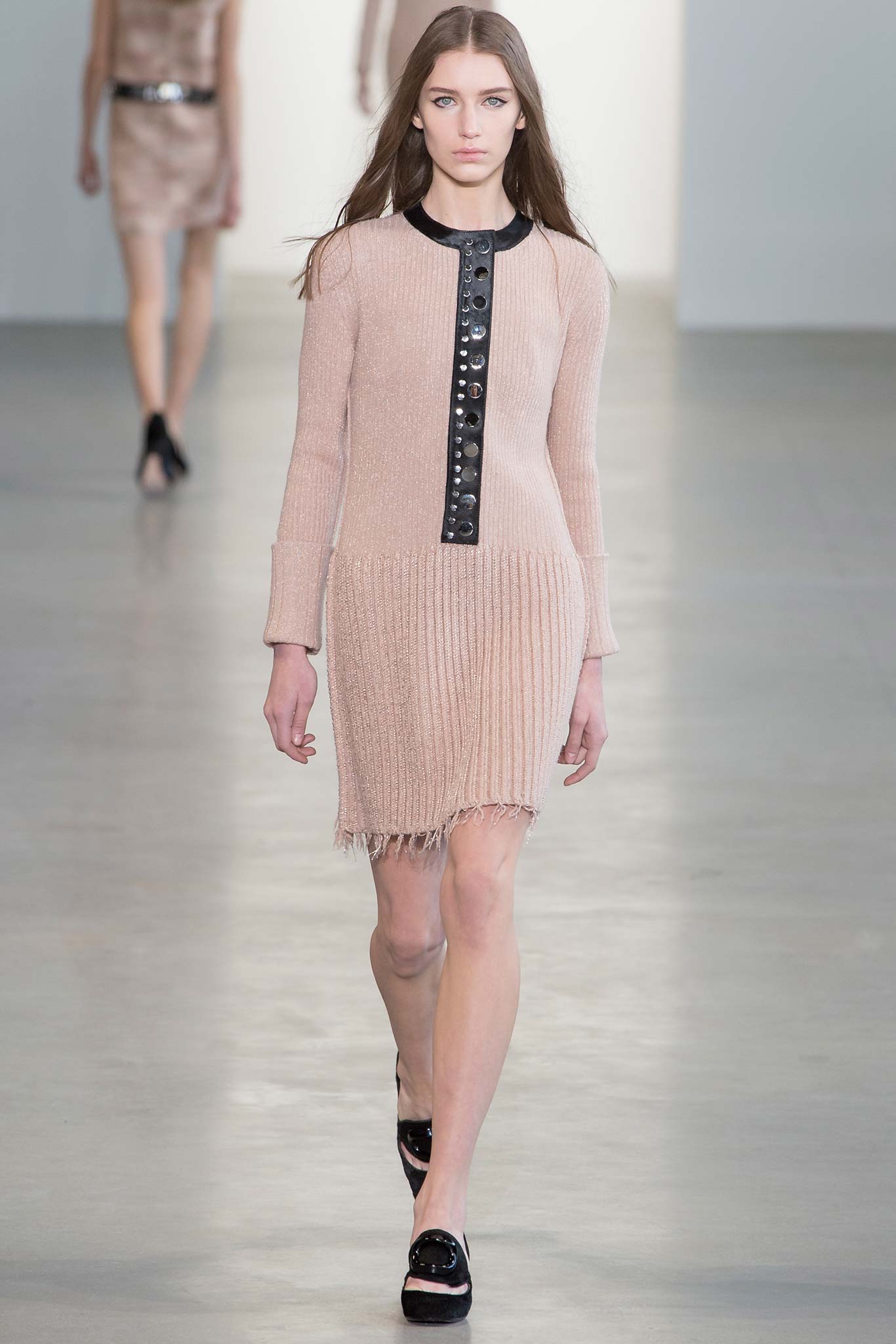 This sweater dress would be a good match for brown leather or taupe suede (think Ralph Lauren) leggings. If you've got the nerve, wear as is....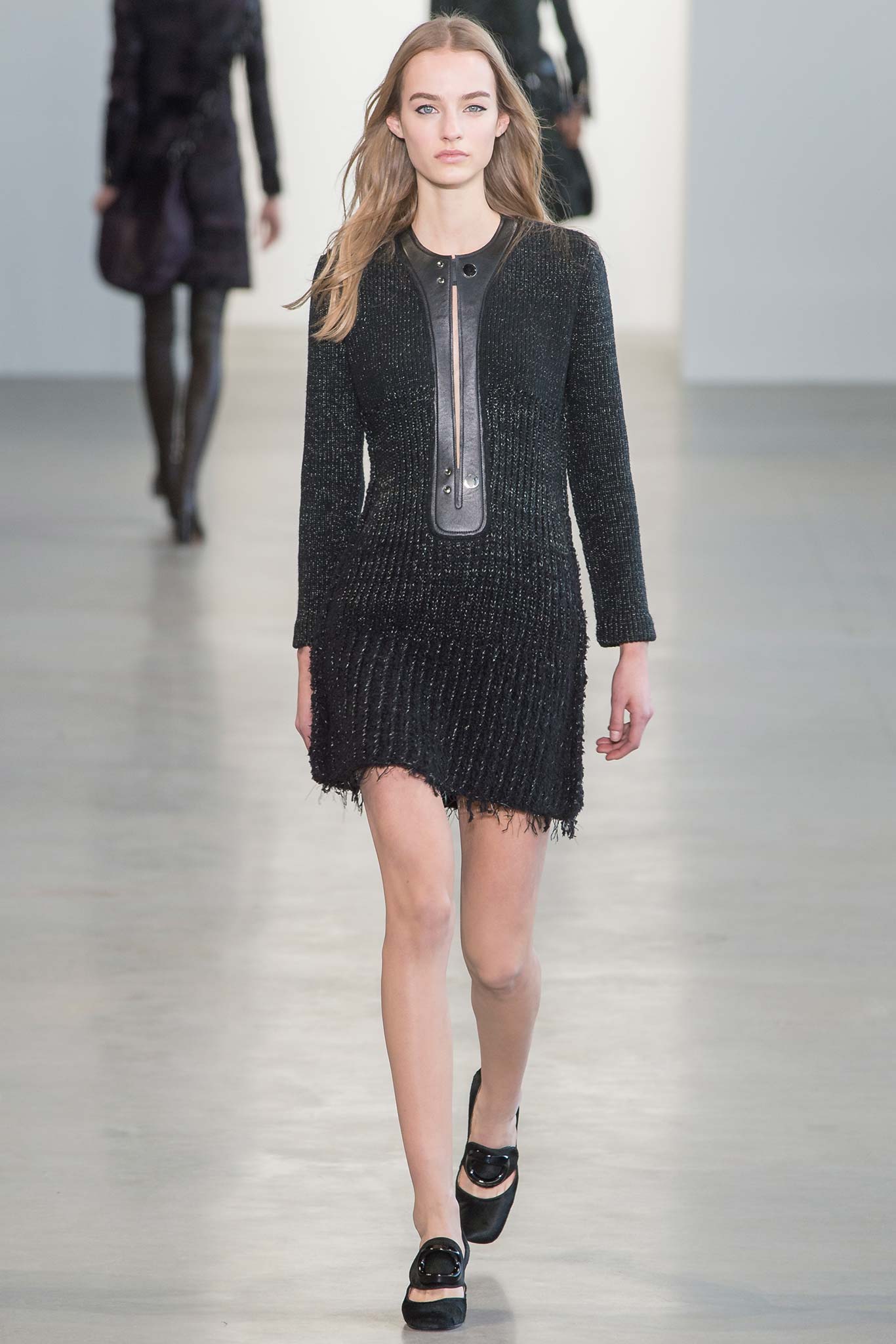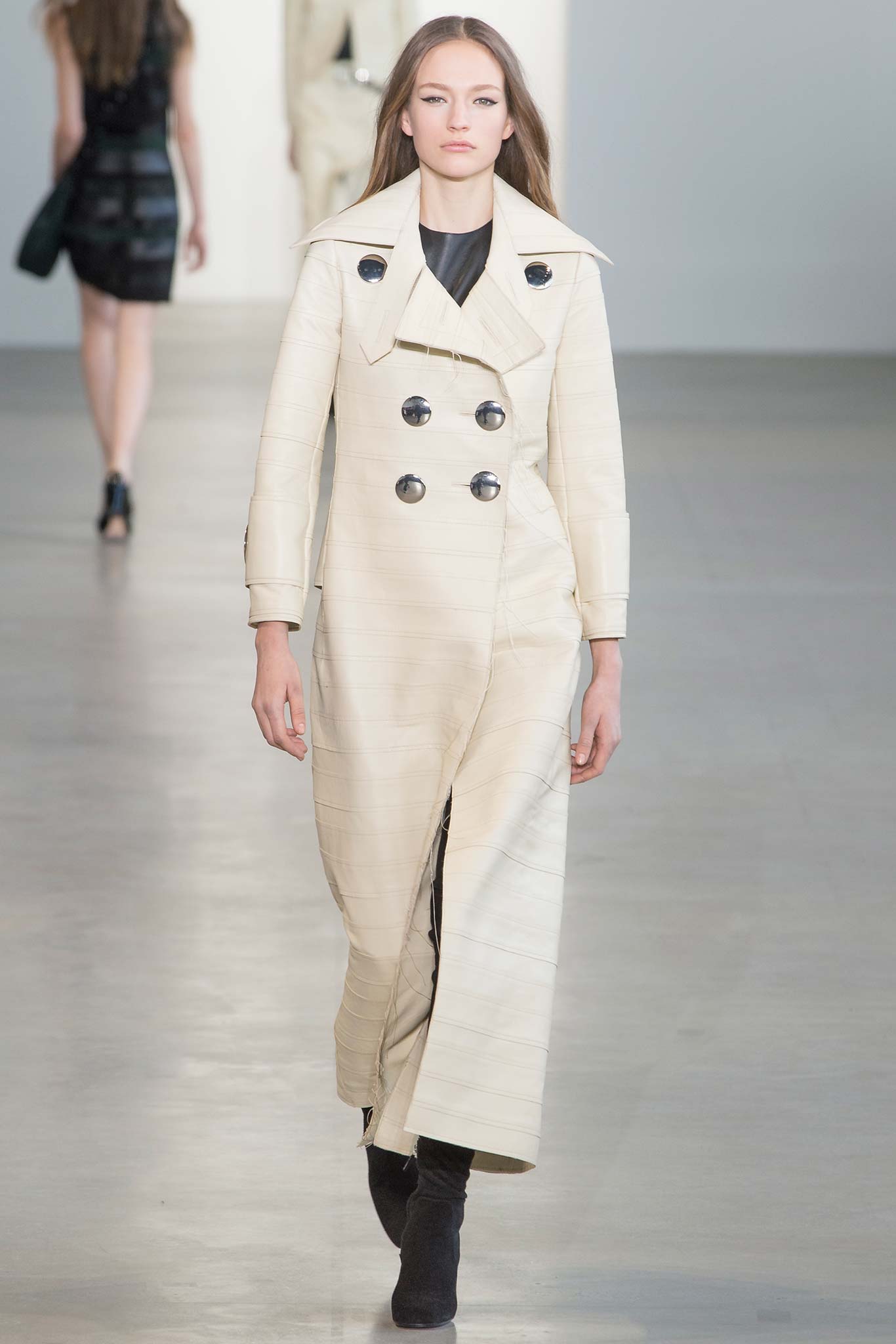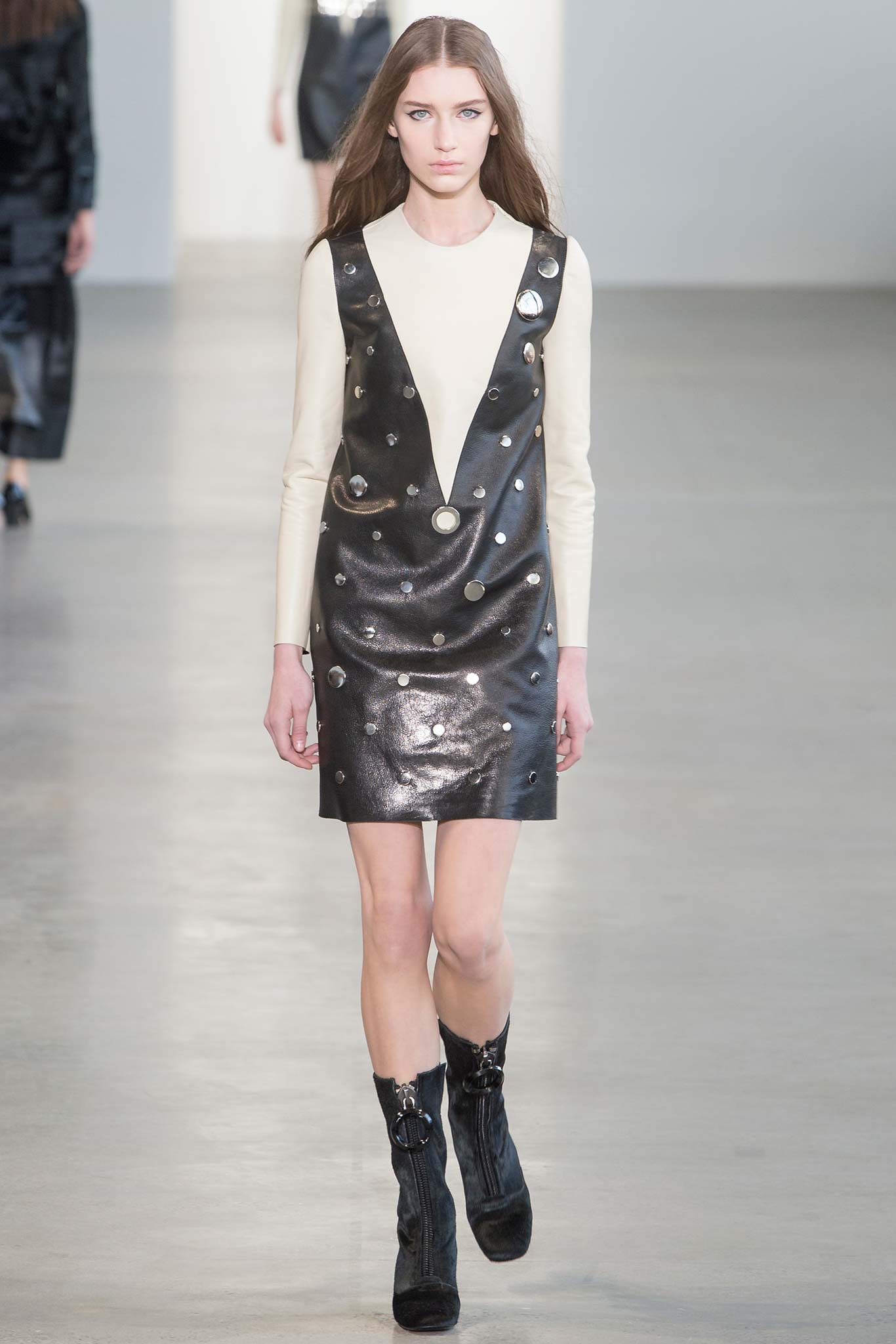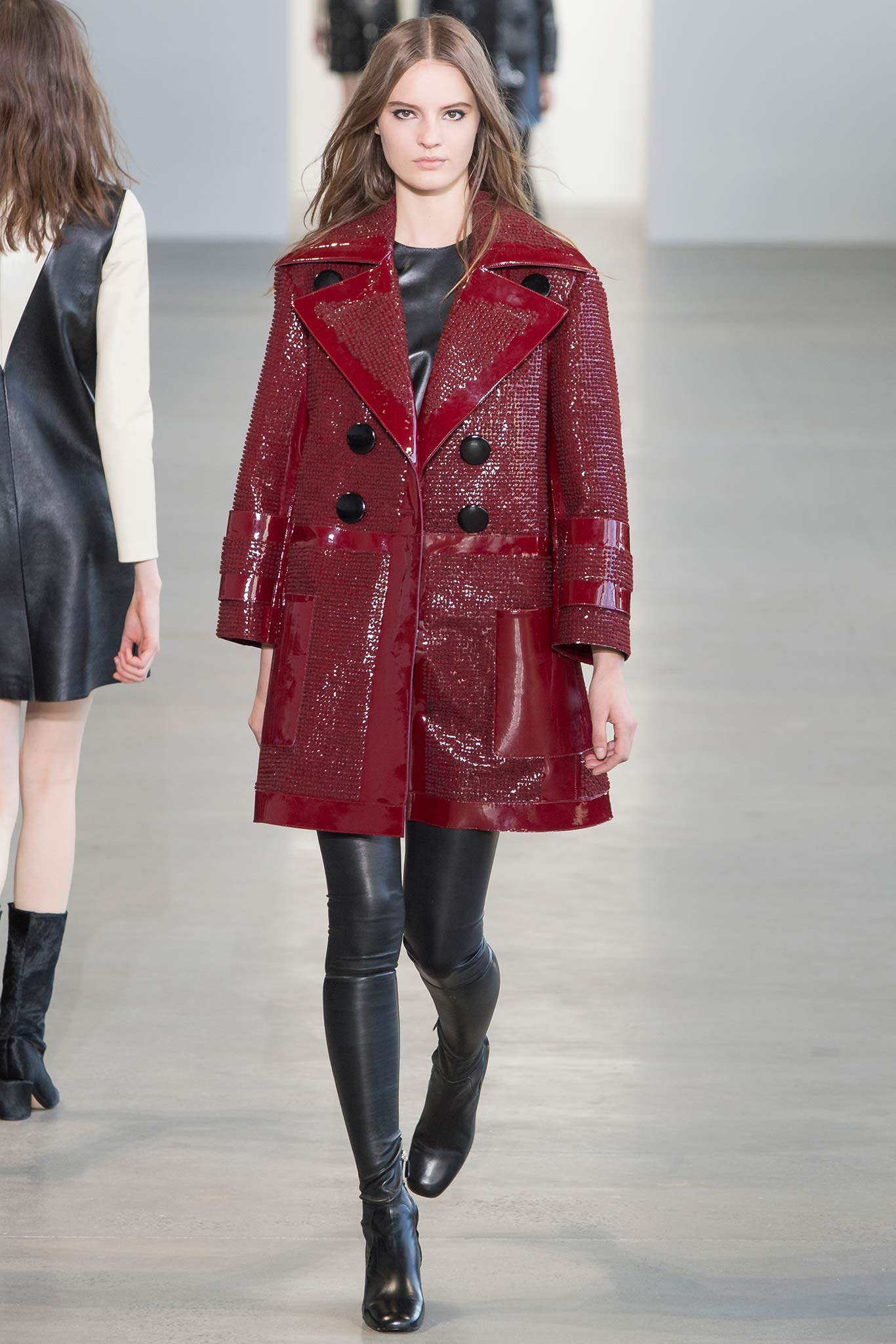 Love the jacket in the vibrant color and modern fabrication.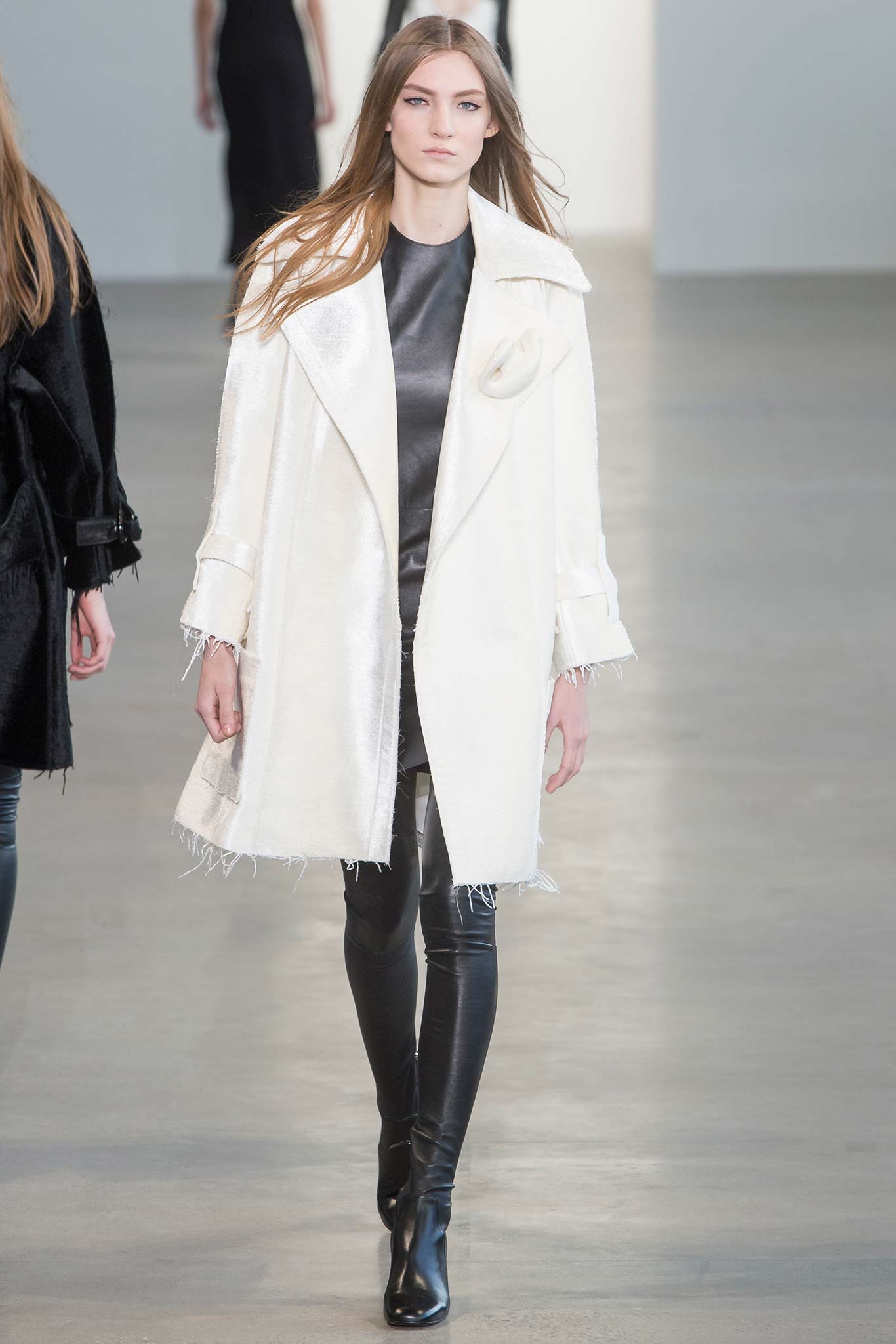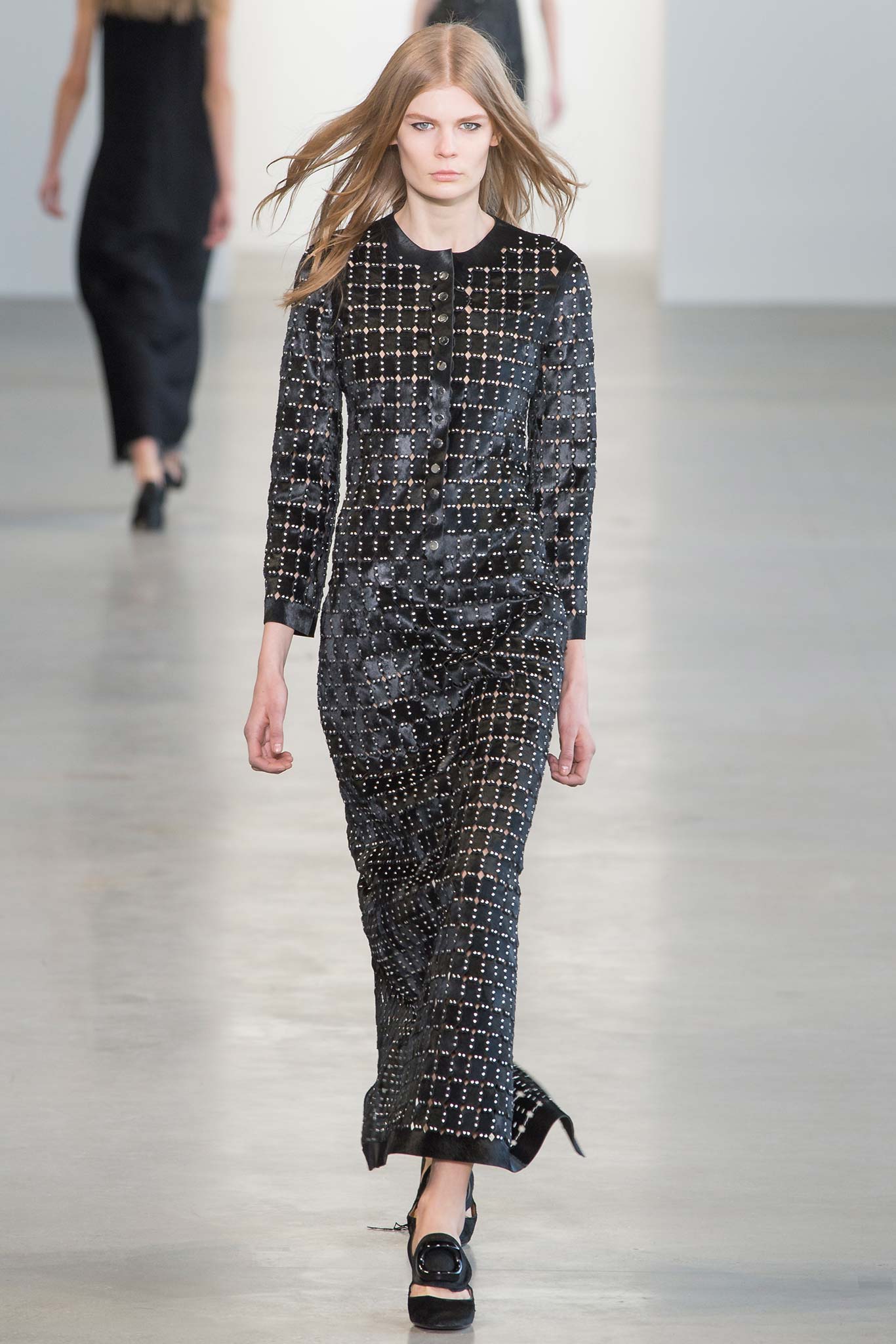 Pony hair patches held together by chain, a version of latter day armor.
RALPH LAUREN:
No one can generate a collection composed primarily of tans, taupe, and brown, and make it sumptuous in a low key way as can Ralph Lauren, but it makes sense in the context of a decades long running homage to the American Southwest, and anything related to cowboys, indians, horses, and their accoutrement. He presents an intriguing amalgamation of Native American style, bohemian ease, and more spartan menswear inspired elements. The requisite end of show evening wear is sparse, a happy nod to pragmatism. There are the wacky entries in what is in toto a wearable assembly of timeless pieces. As for the styling, I'm loving the hats, but not enamored of all the fur, but happily the Coyote bits (or whatever it is) are not inextricably bonded to the underlying garments.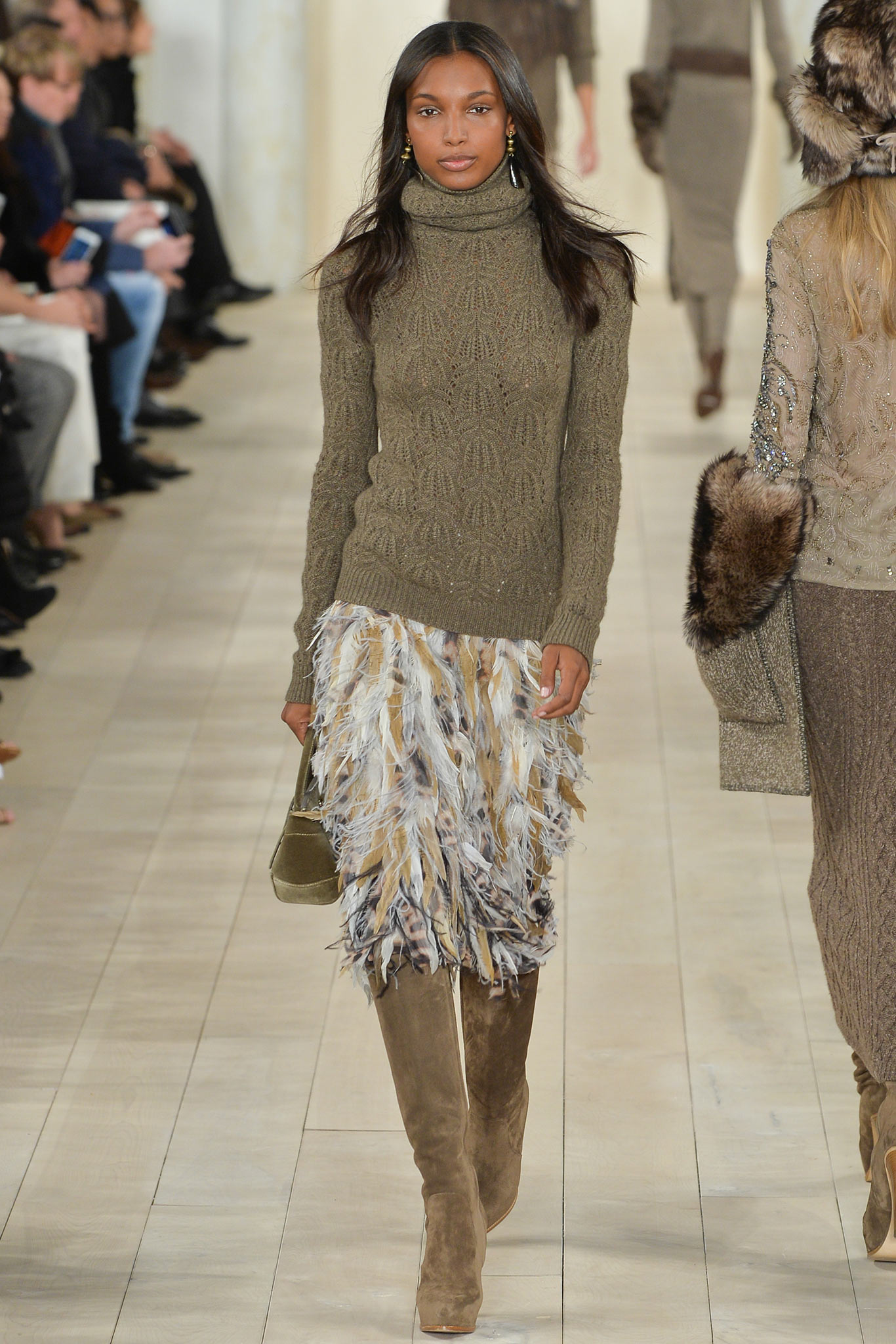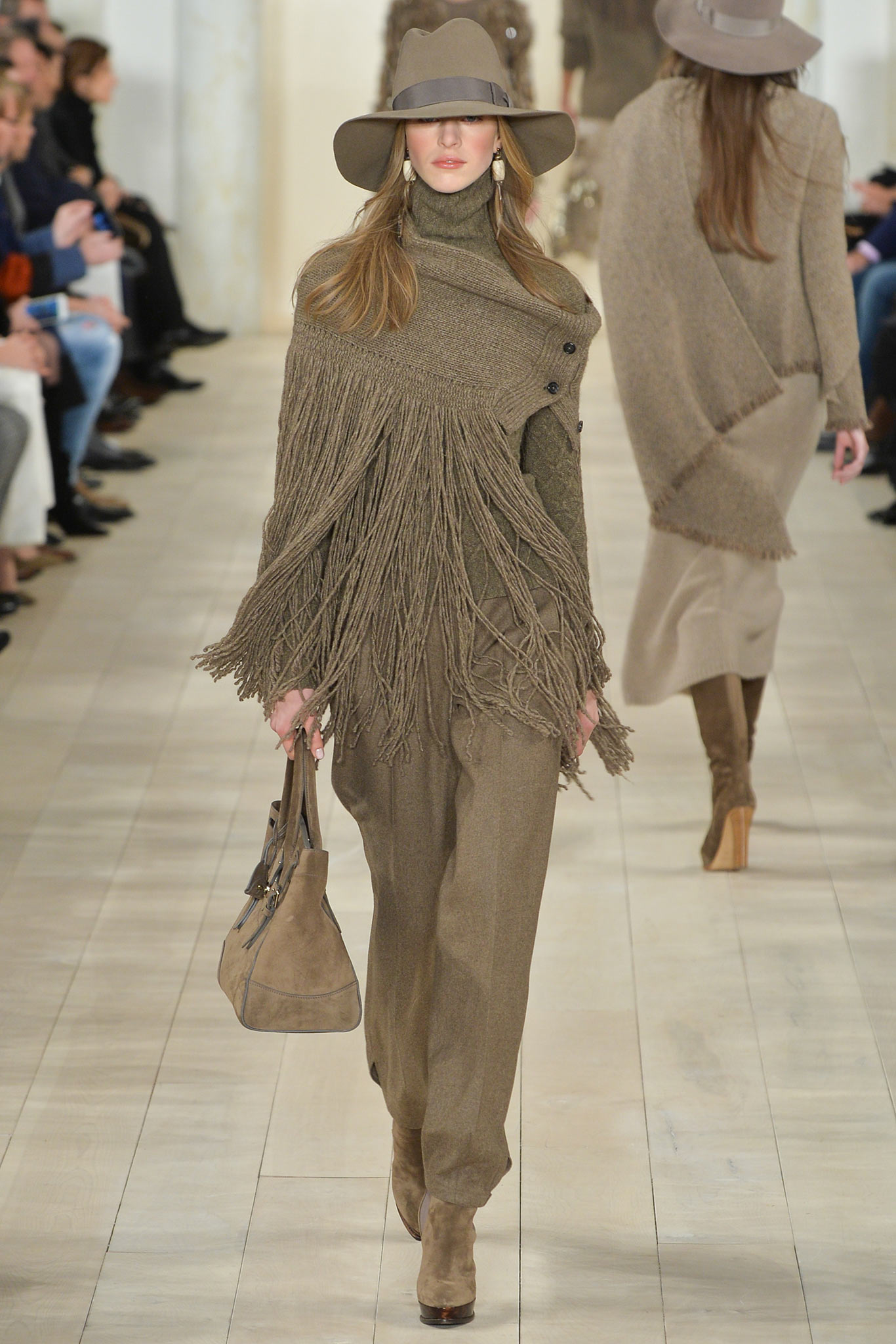 Despite my general aversion to fringe, this seems to make sense, adds just a hint of theatricality to a low key ensemble. Love those taupe suede platform boots.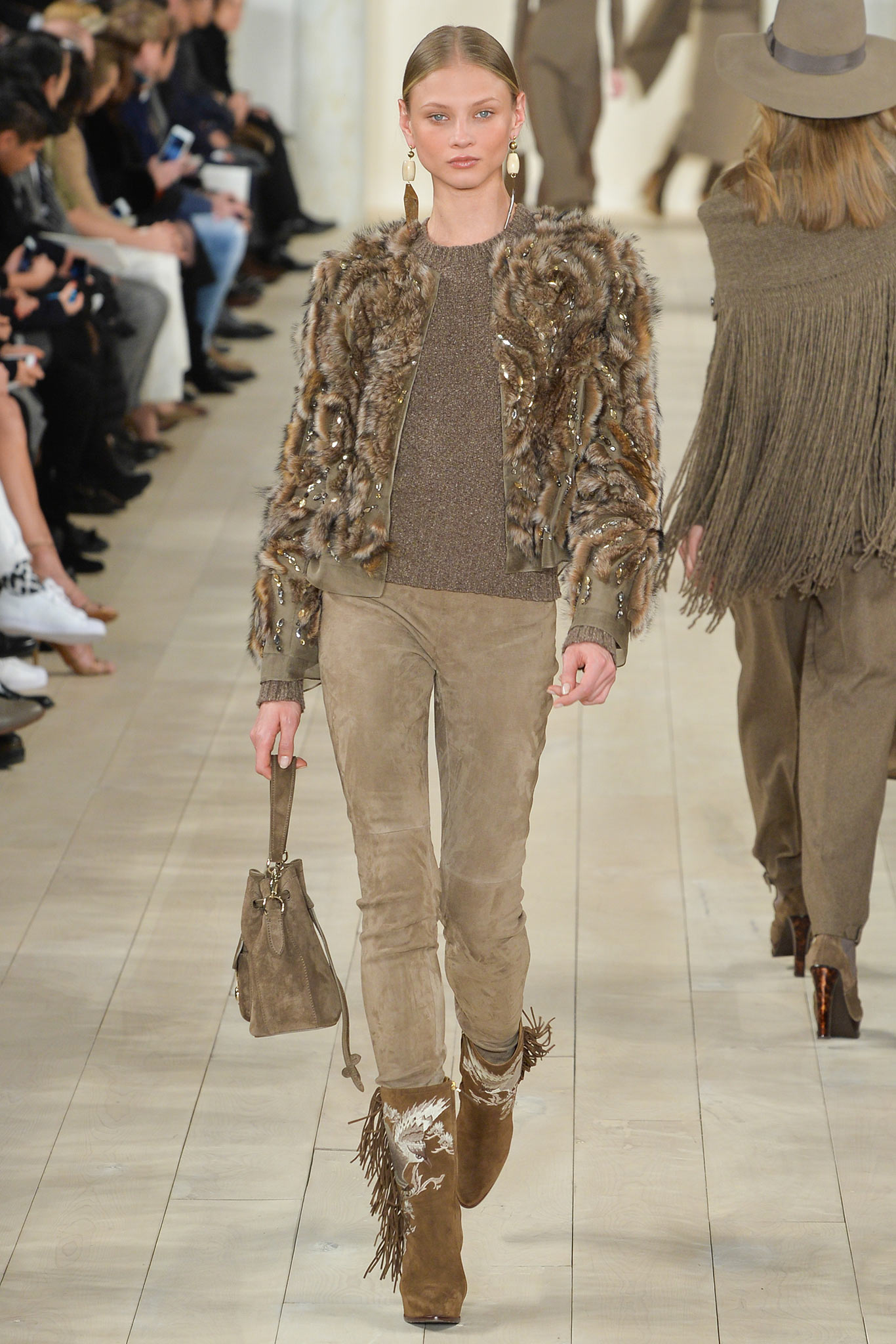 The taupe suede pants are the best part of this outfit, a timeless staple for the brave….stay out of coal mines and ink factories.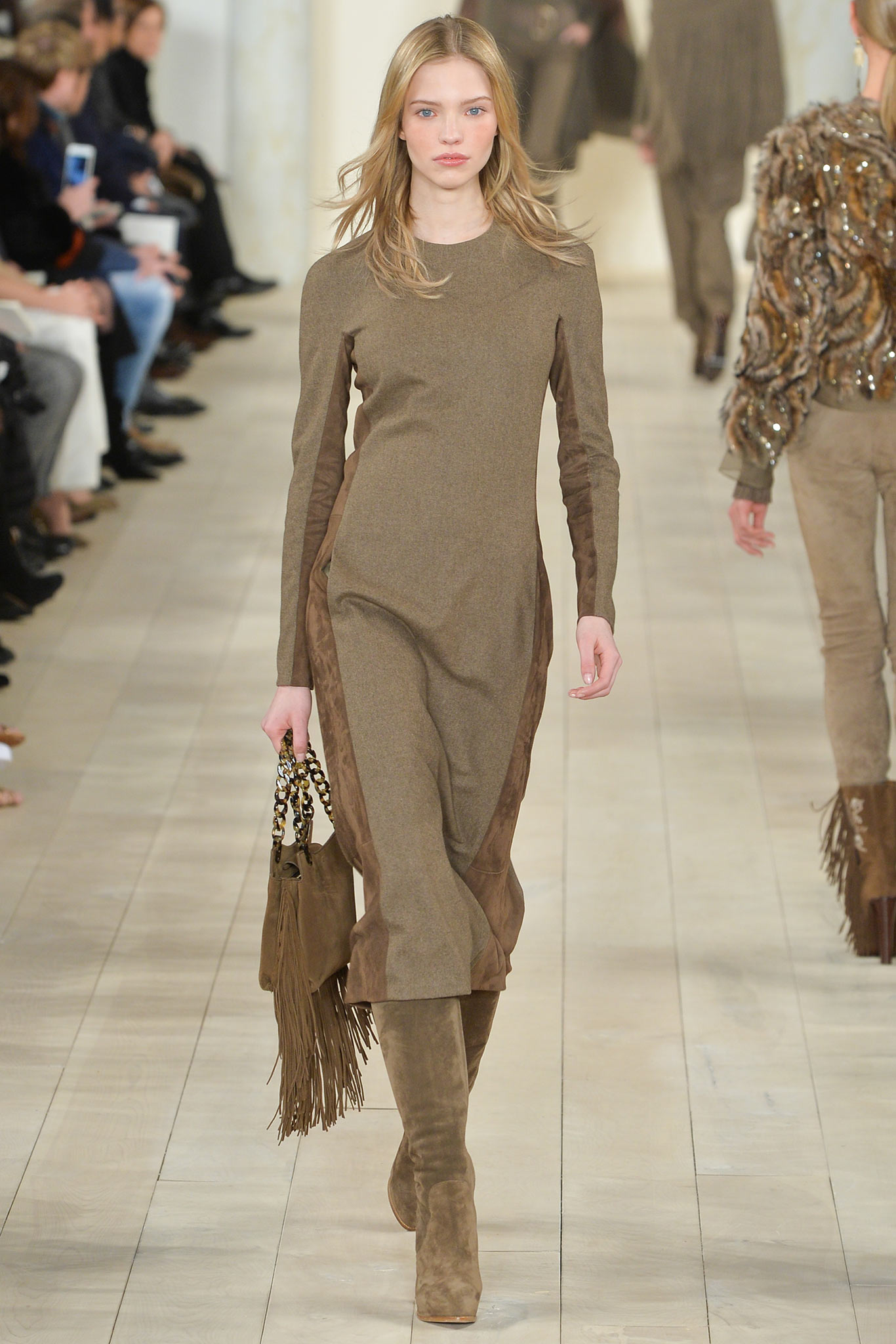 A perfect dress for the fall, can easily be worn under a long vest (shearling maybe), or any coat, and can be jazzed up with a bright vibrant scarf or muffler.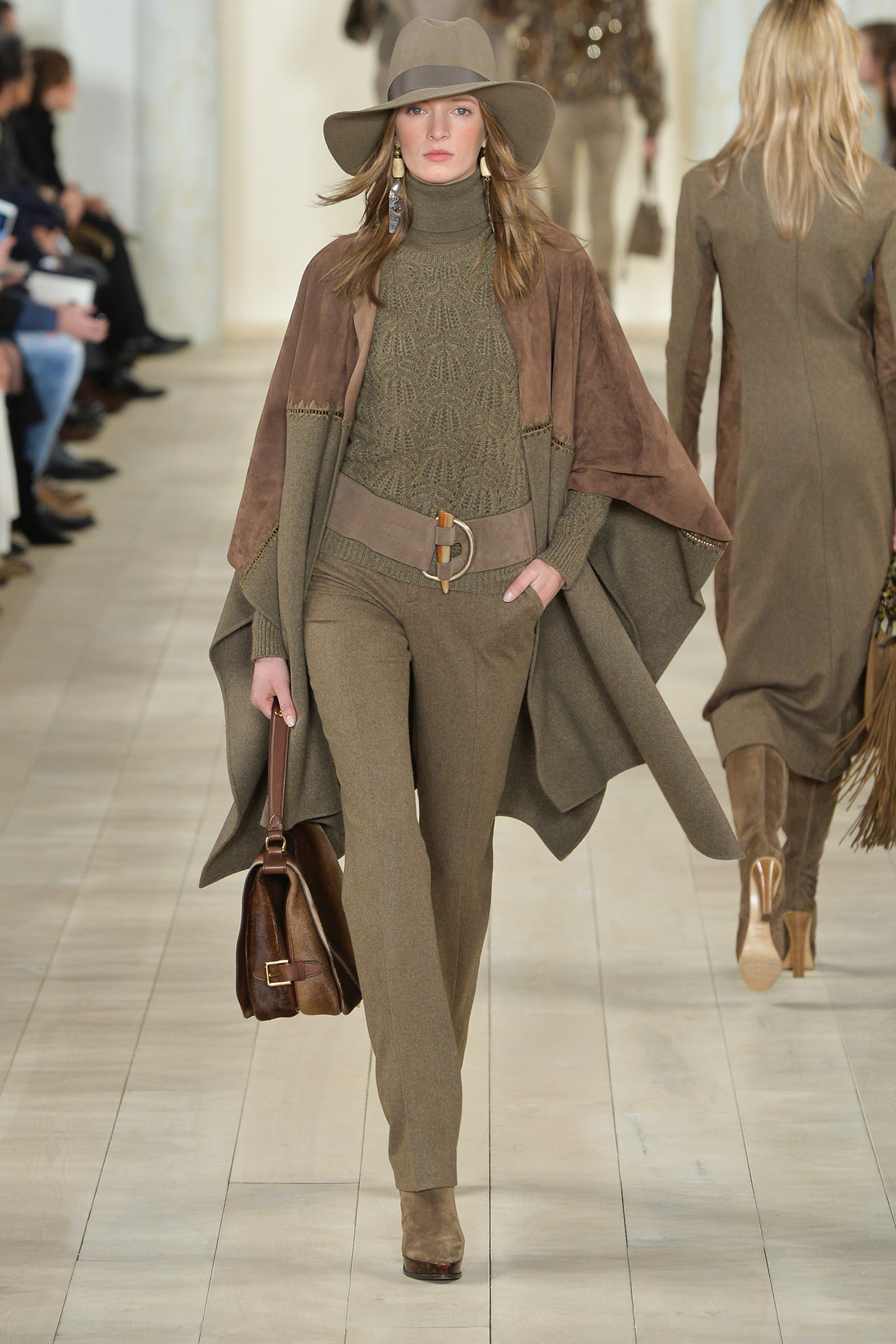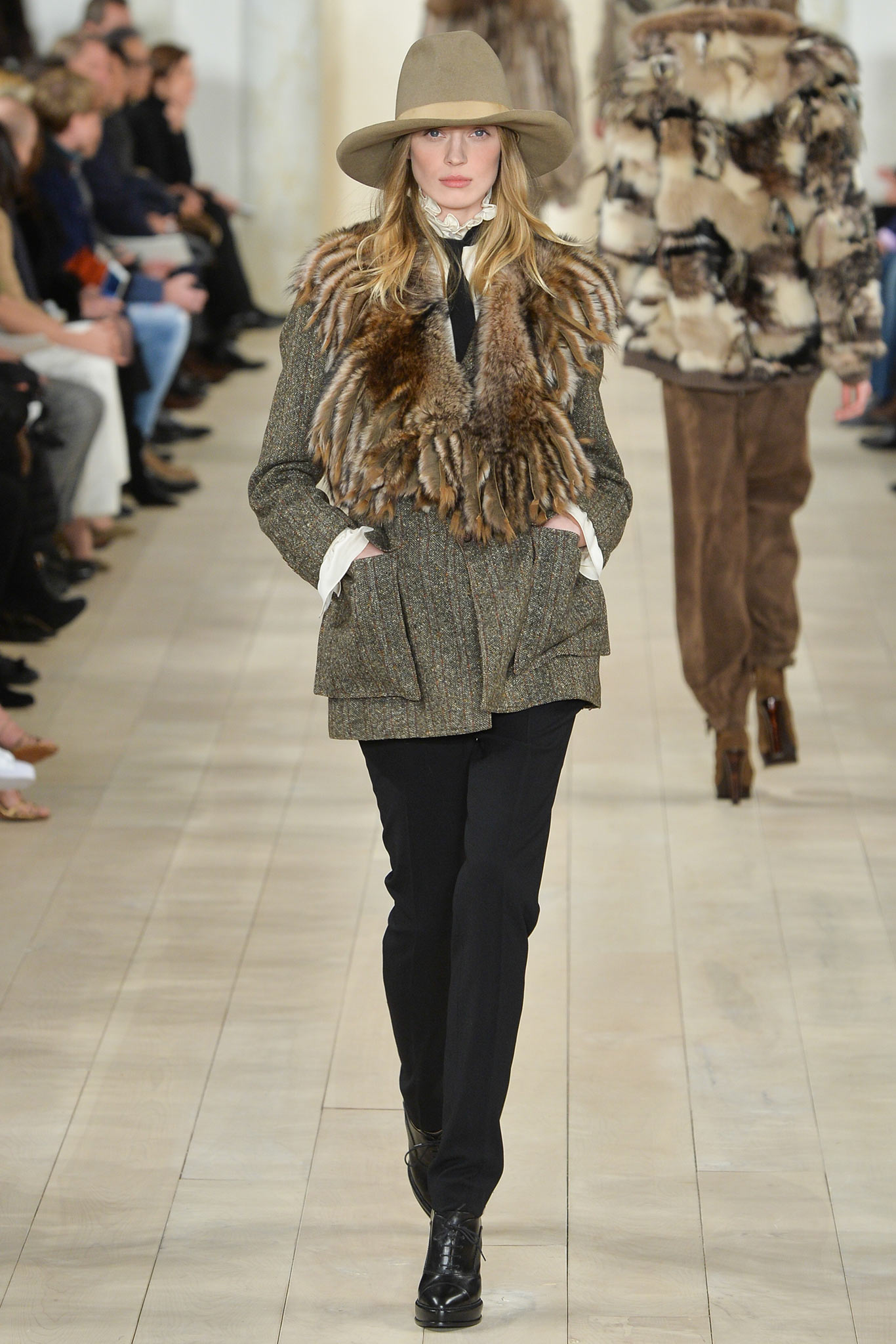 Love the Annie Hall type blazer and the underlying shirt with the ruffled collar, and of course, THE HAT. (The fur collar?, um, no thanks).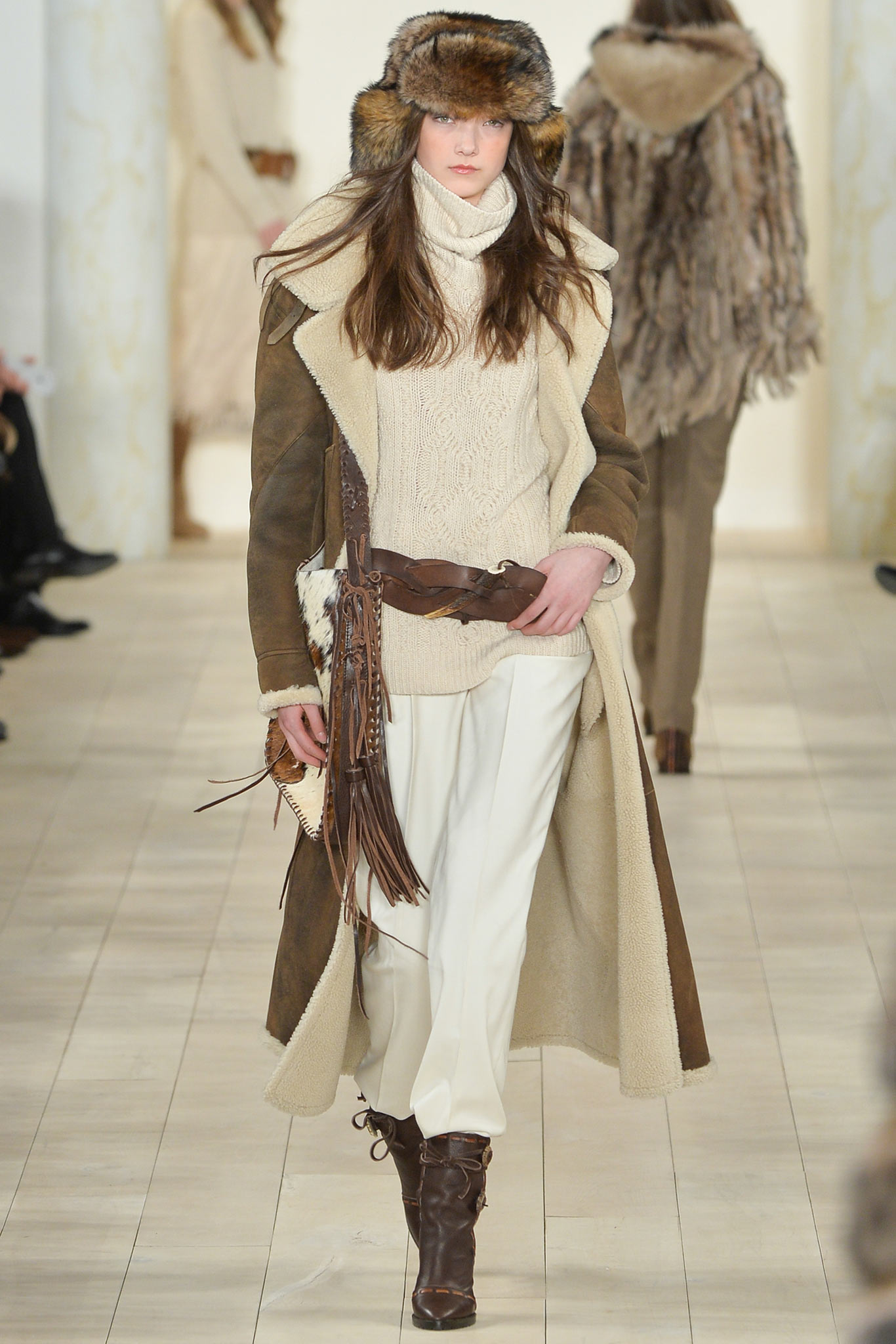 I'm enamored of the WHOLE outfit, vintage Ralph Lauren. All pieces can stand alone.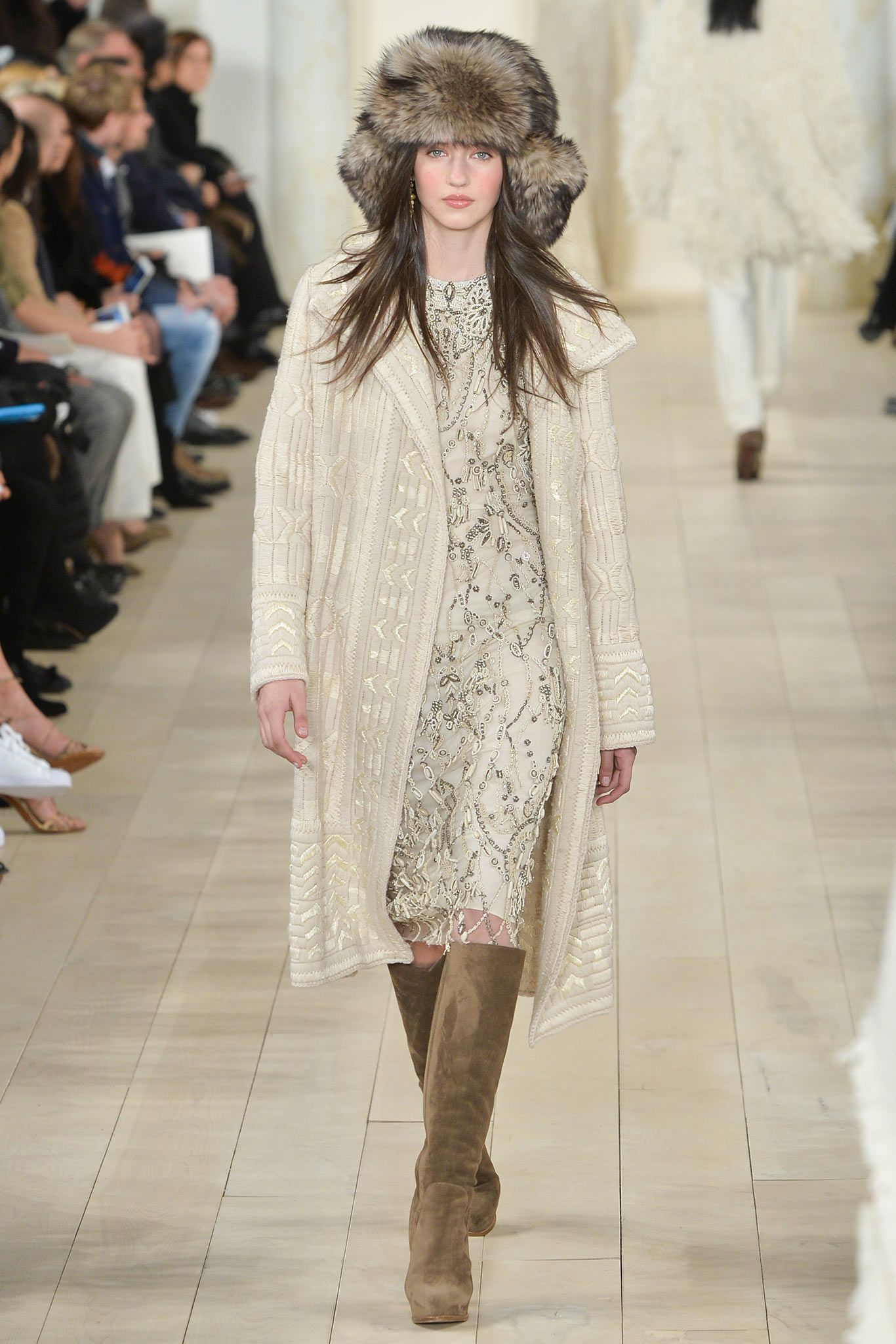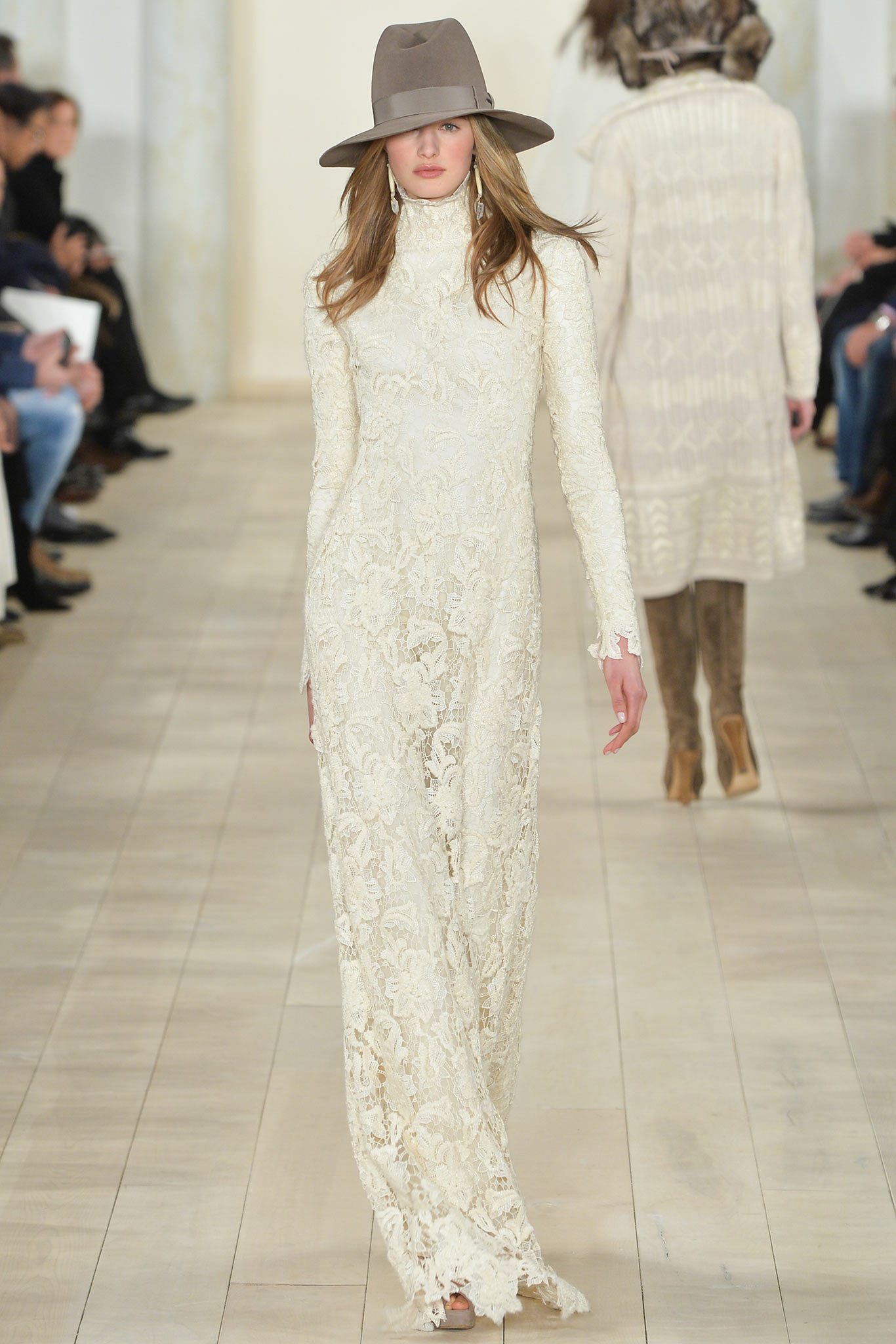 This is feminine and striking with the guipure lace fabrication. And theoretically, when the need for a floor length evening gown (or wedding dress) is over, shorten this to knee length for a timeless frock you'll wear forever. Wear under the long shearling or the lovely off white frock above!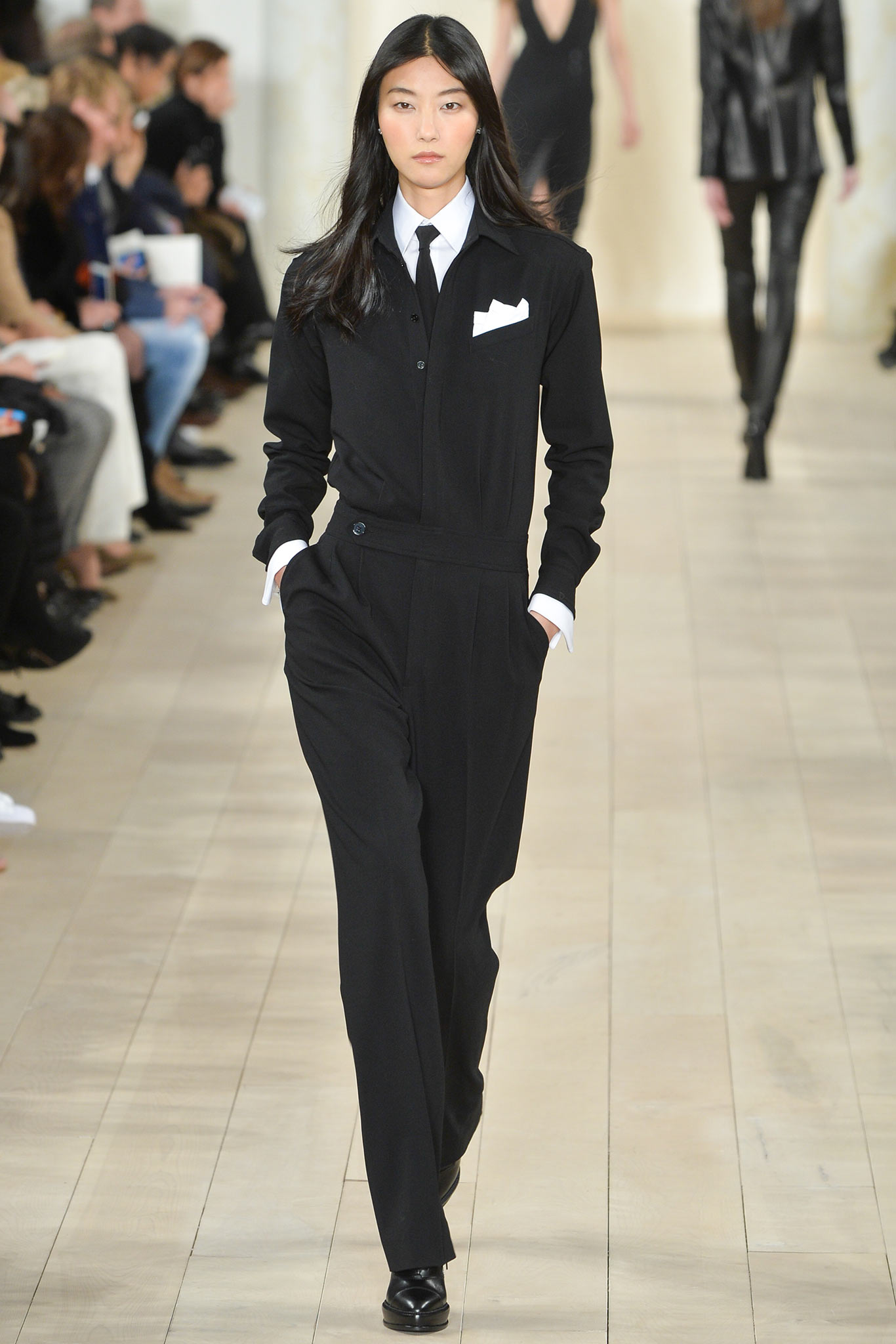 An option for the office or travels.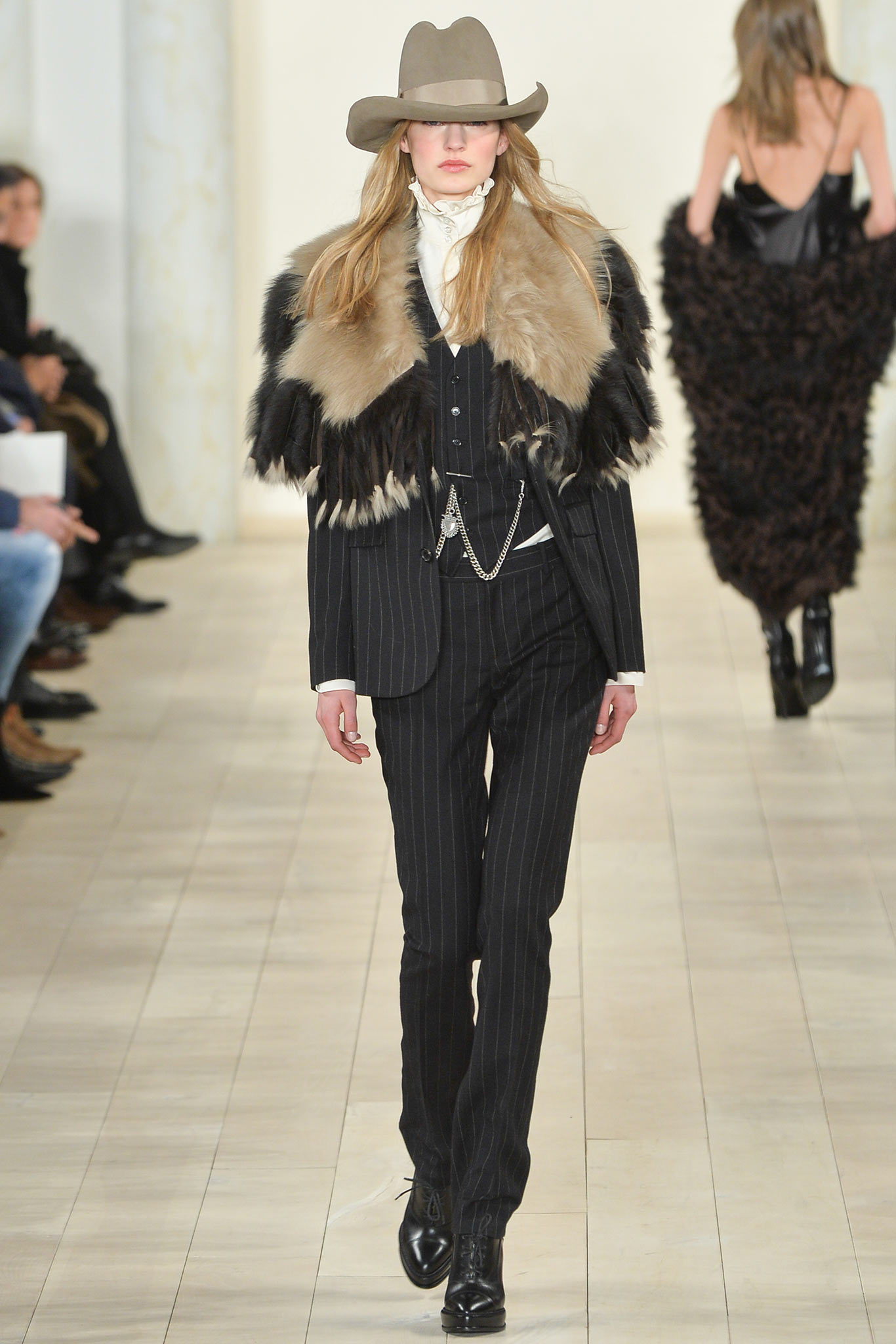 Another good option for those relegated to the office for most of their days, made modern with the lower rise pants with tapered legs. Can be feminized by a ruffly blouse. The separates can function on their own adding to the pragmatism of such a suit. Pinstripes are always in.
The tendency to adhere to a palette of neutrals allows many of the pieces to serve as a canvas that will change depending on one's mood and circmstance, and the fashion zeitgeist.
REEM ACRA:
Well, DING, DING, DING, we have a winner in the most exqusite evening wear sweepstakes! I think I syncopized several times whilst perusing this collection. A rich wondrous admixture of every luxurious fabric you might imagine, entwined with a smidgen of leather in just the right places to modernize what otherwise might have been a beautiful yet standard collection of laces, embellishments and tulle. Reem Acra sits high atop the mountain of exalted evening wear designers along with Elie Saab by virtue of fashioning THE most glorious event and runway frocks. And this wasn't even a couture show. There was just enough theatricality to be novel and intriguing without going overboard into implausibility.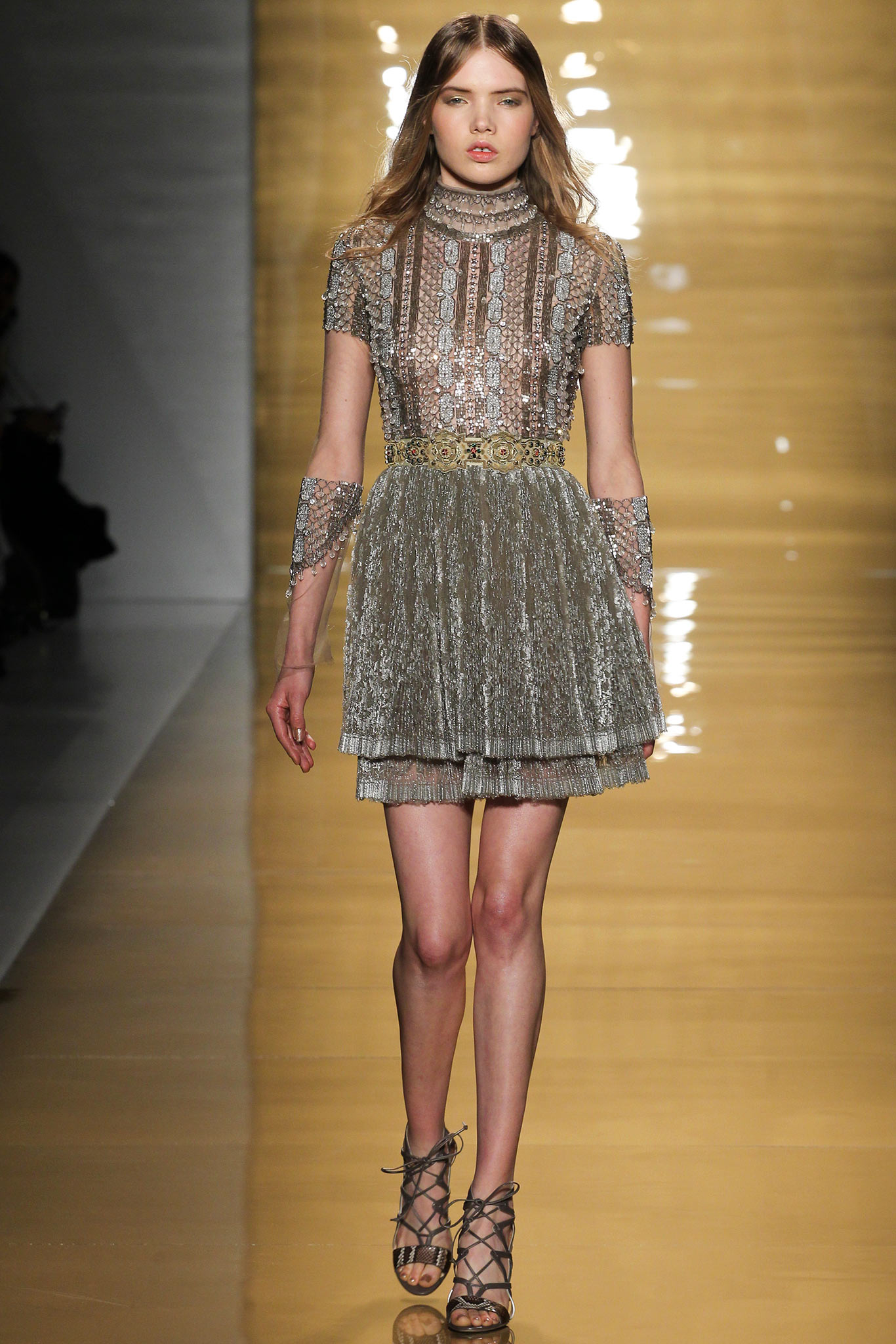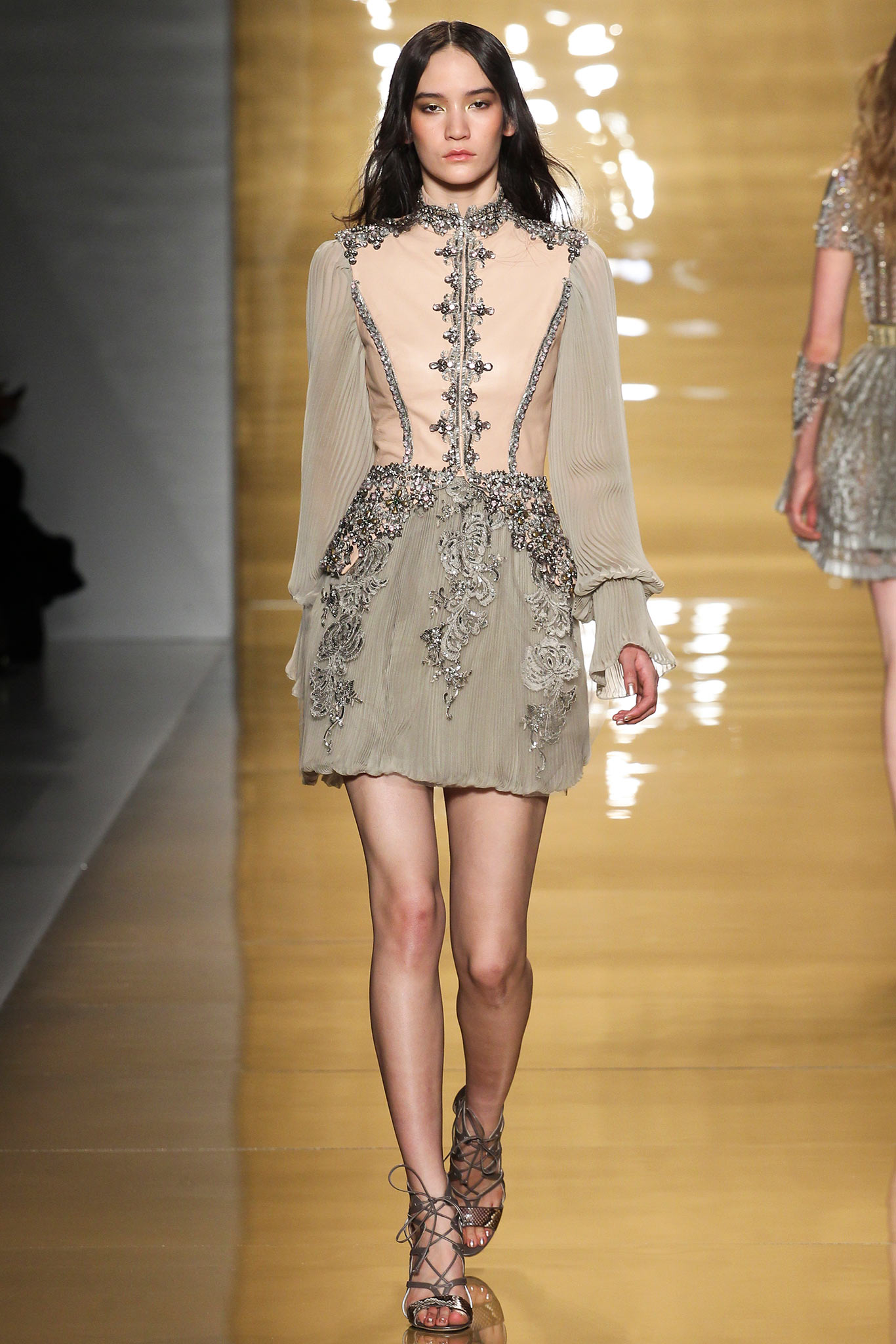 Wondrous wearable glamourous armor.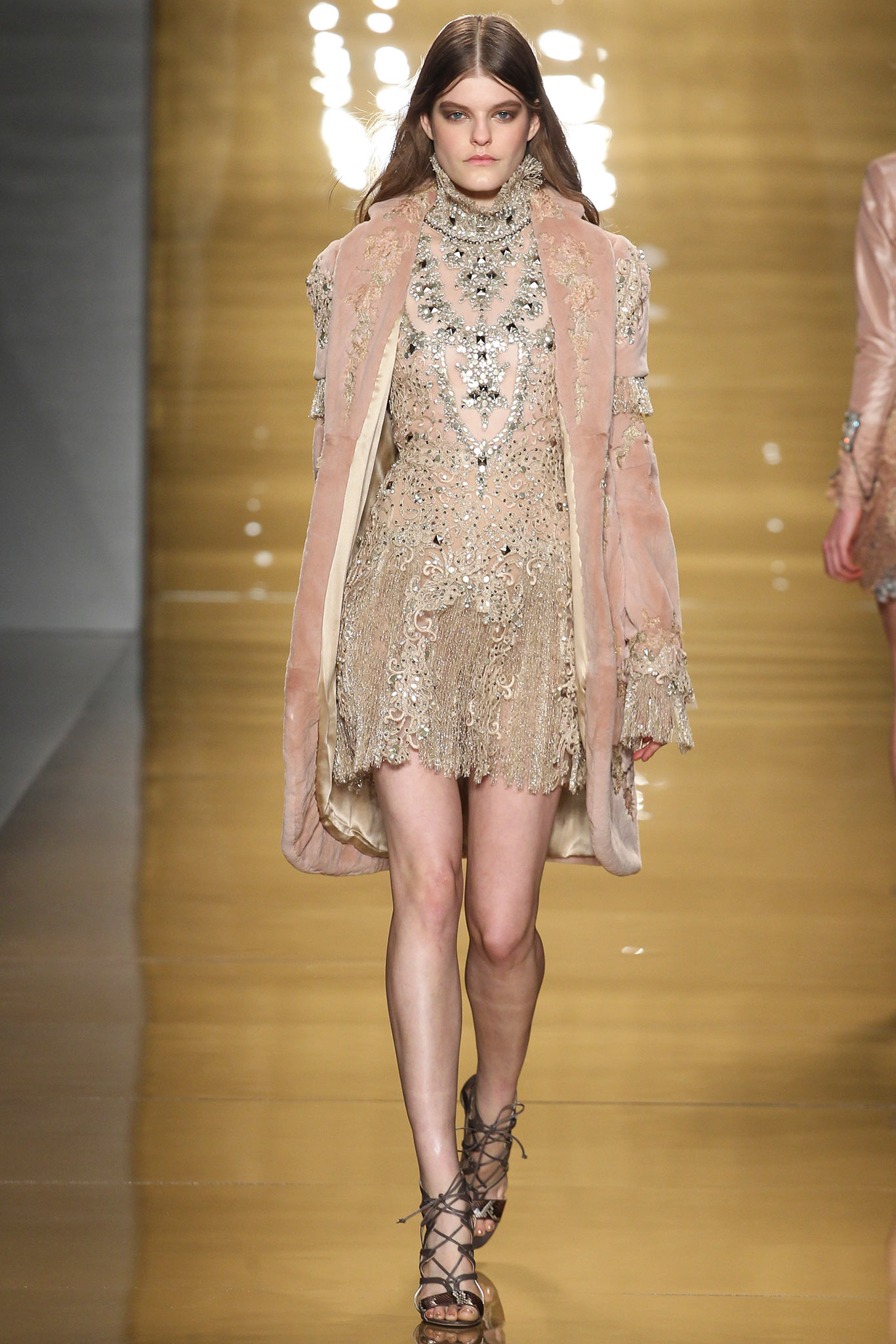 One of THE most beautiful ensembles on the runways. A dusty rose sheared mink coat with just enough embellishments is regal over the blisteringly gorgeous dress.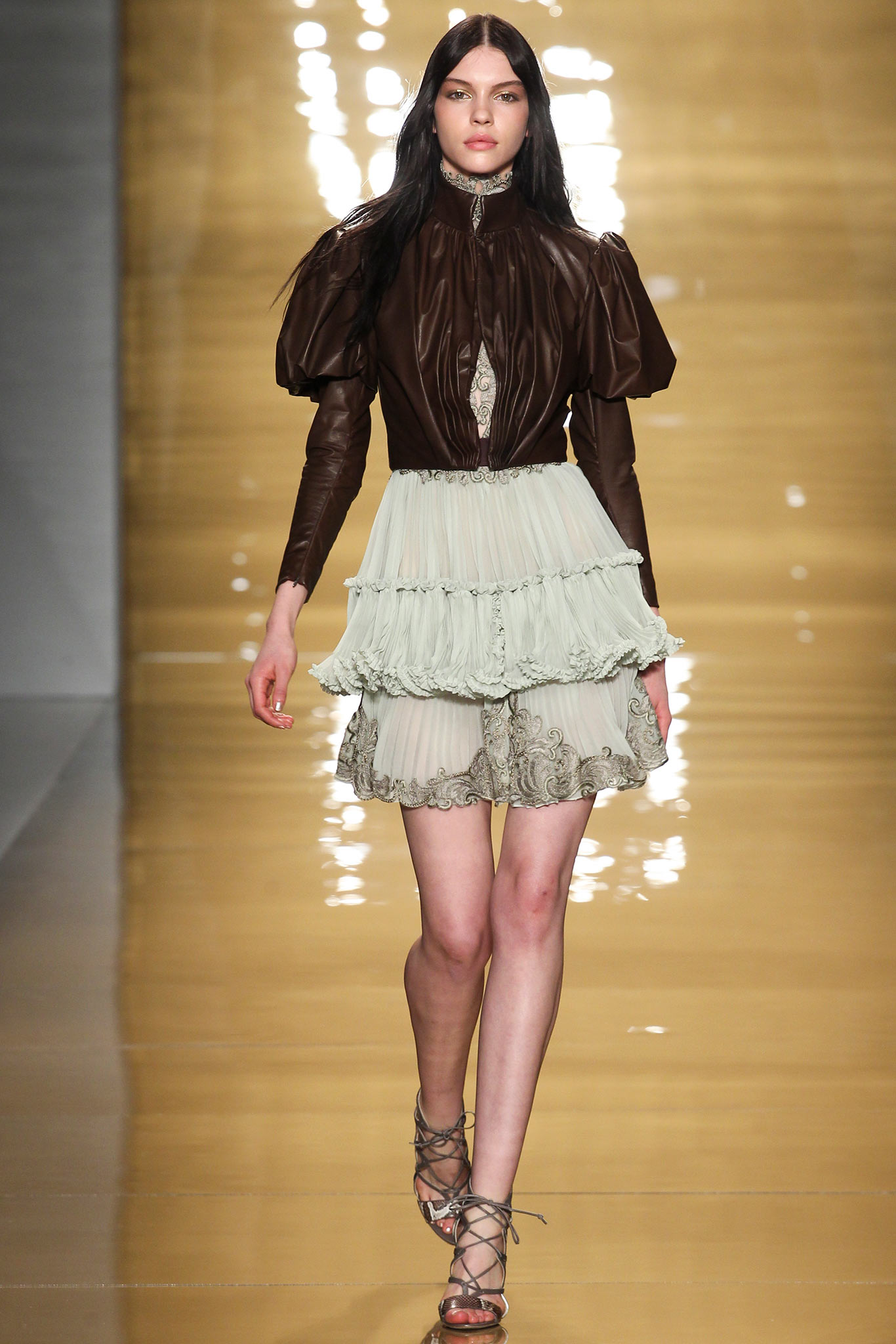 Leather and silk, always an intriguing combination, the yin yang of hard and soft. The design of the top recalls the Elizabethan era what with the puffy sleeves. And maybe even a musketeer.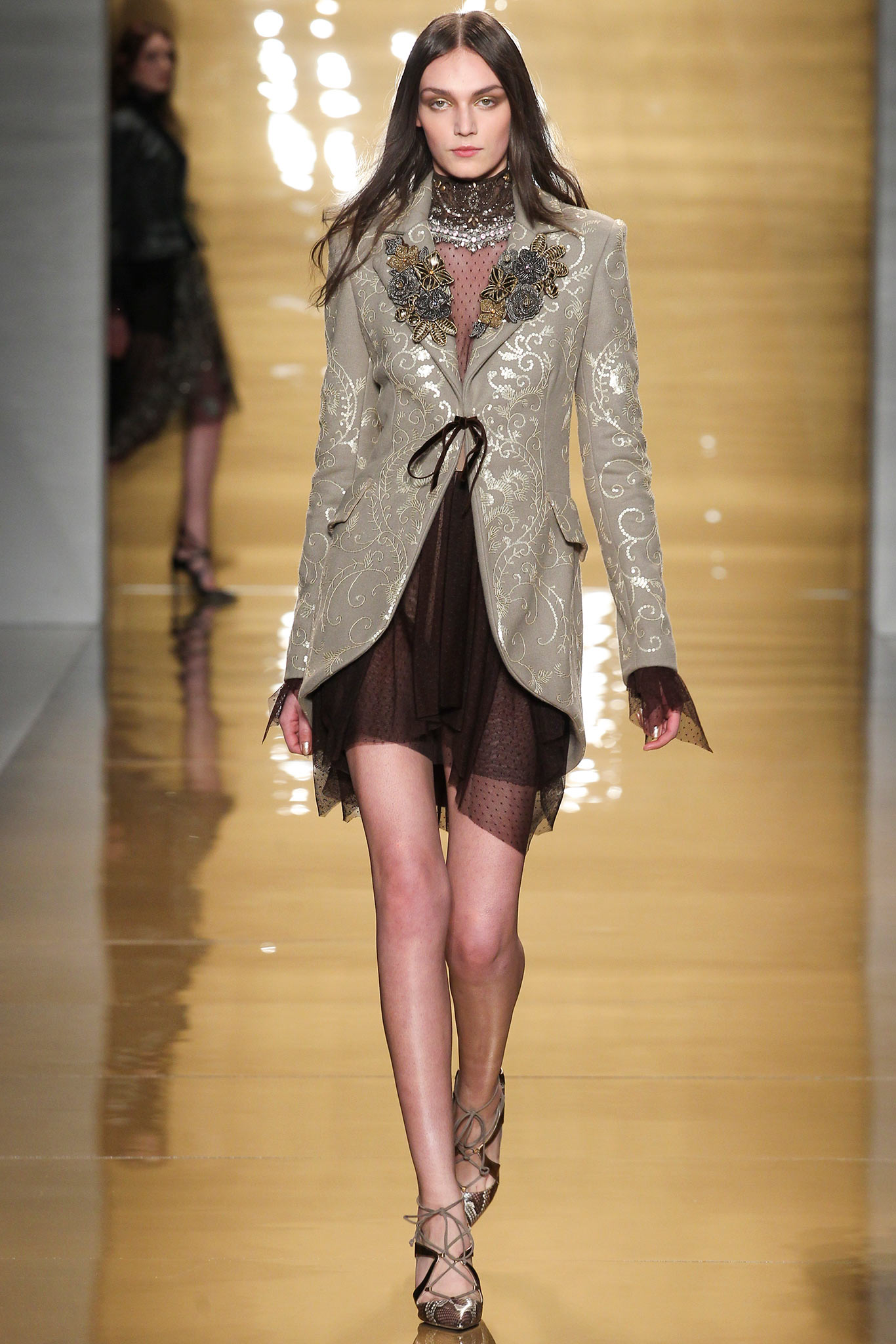 This brocade tuxedo jacket would also look smashing over tapered tuxedo pants (calling Tom Ford).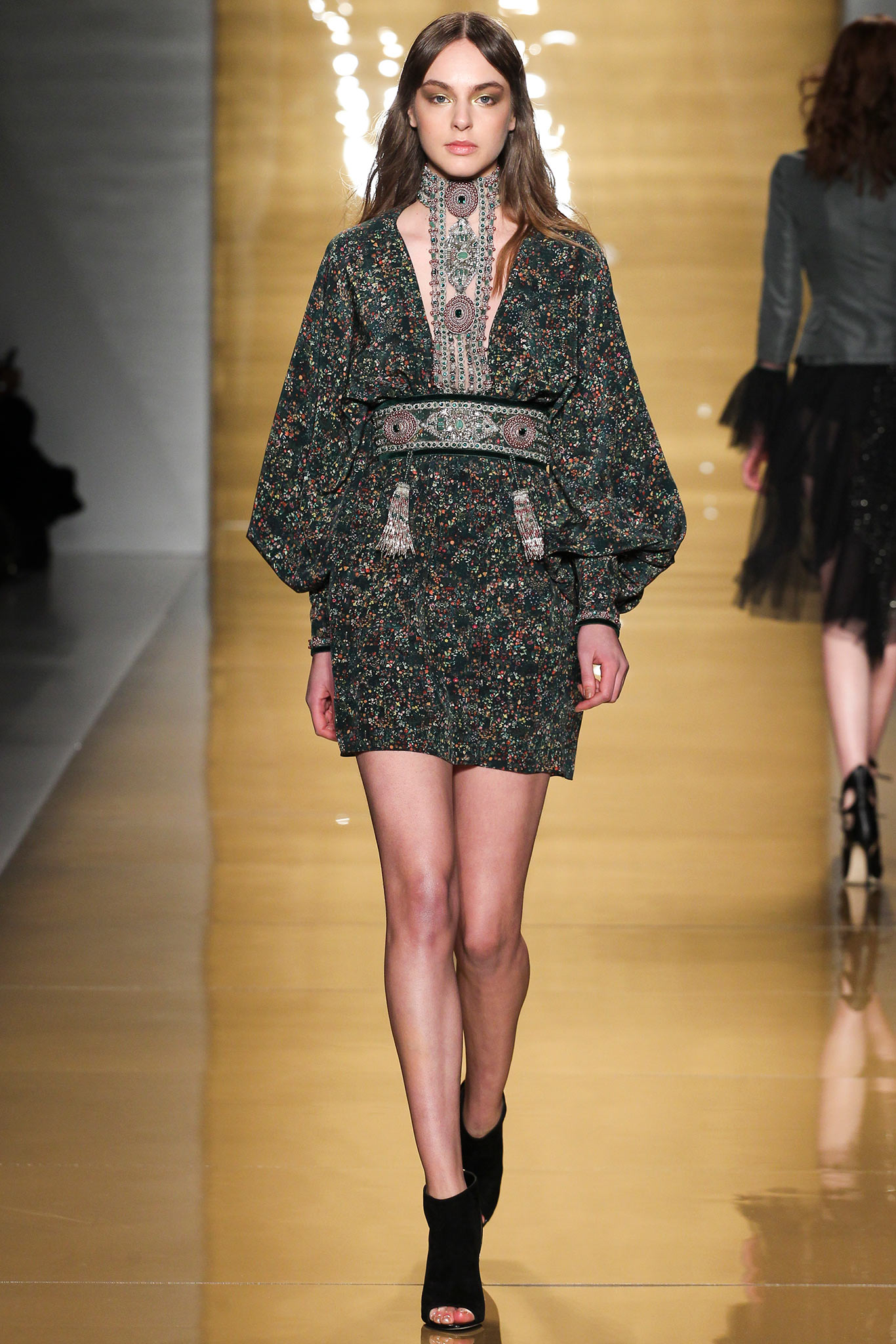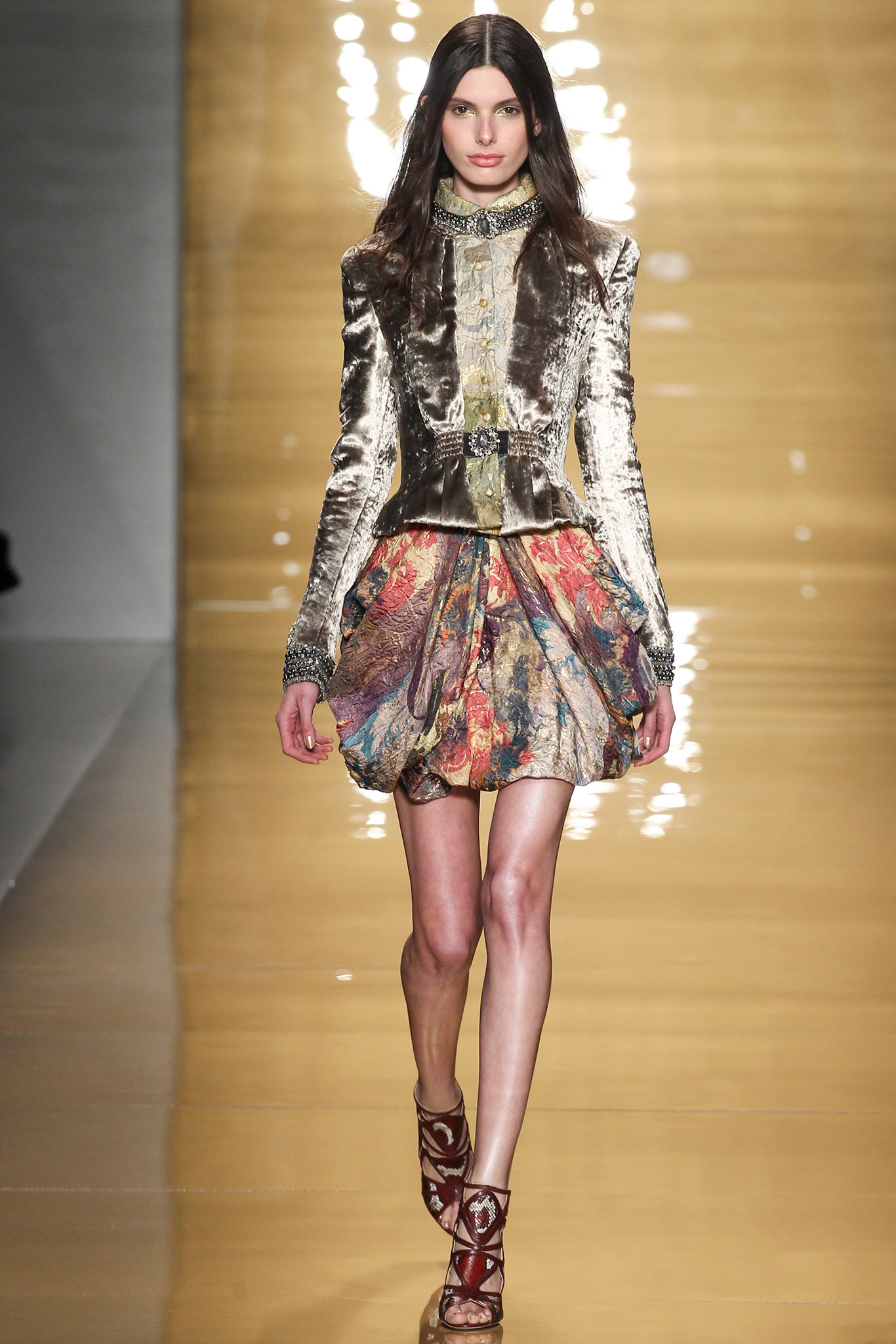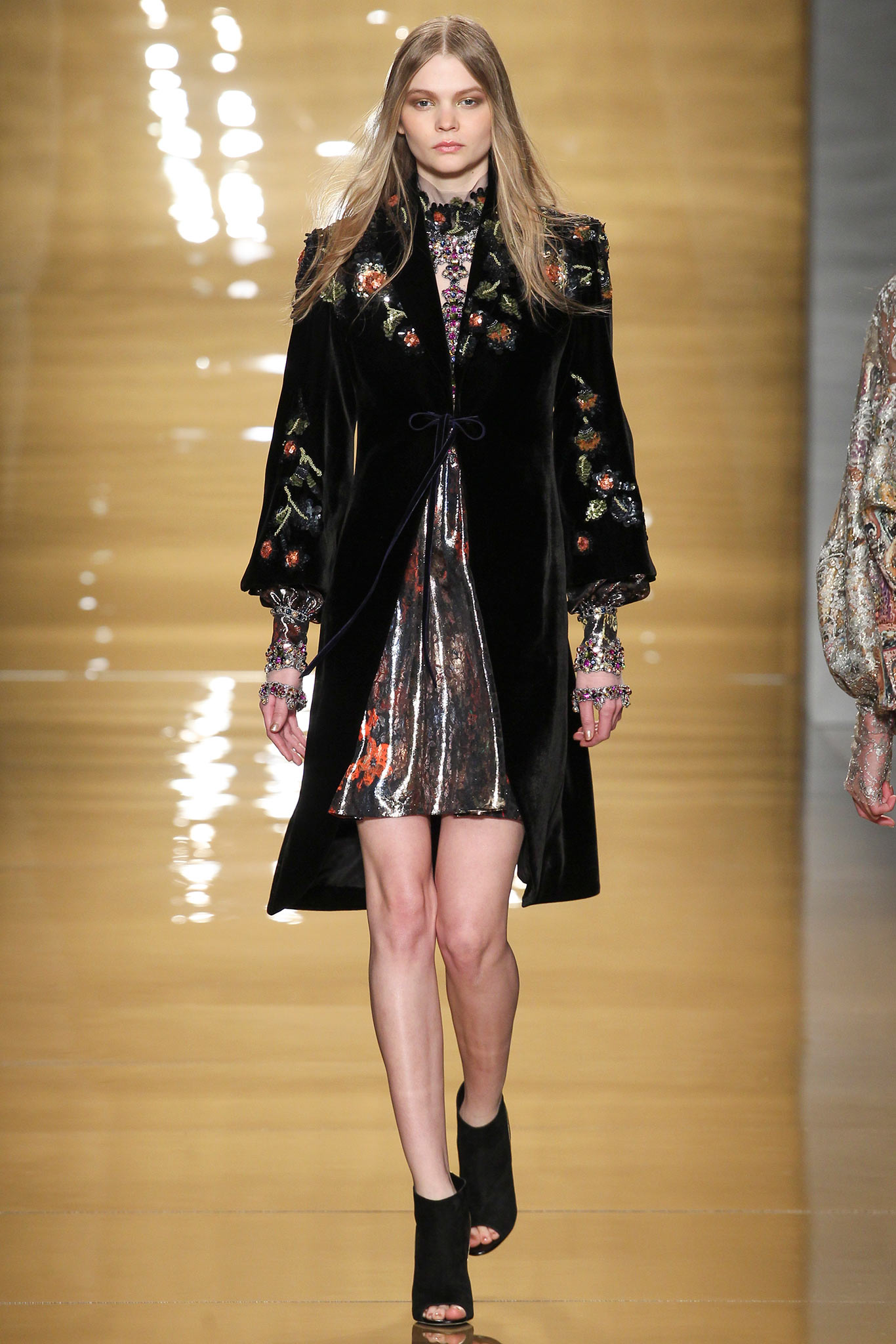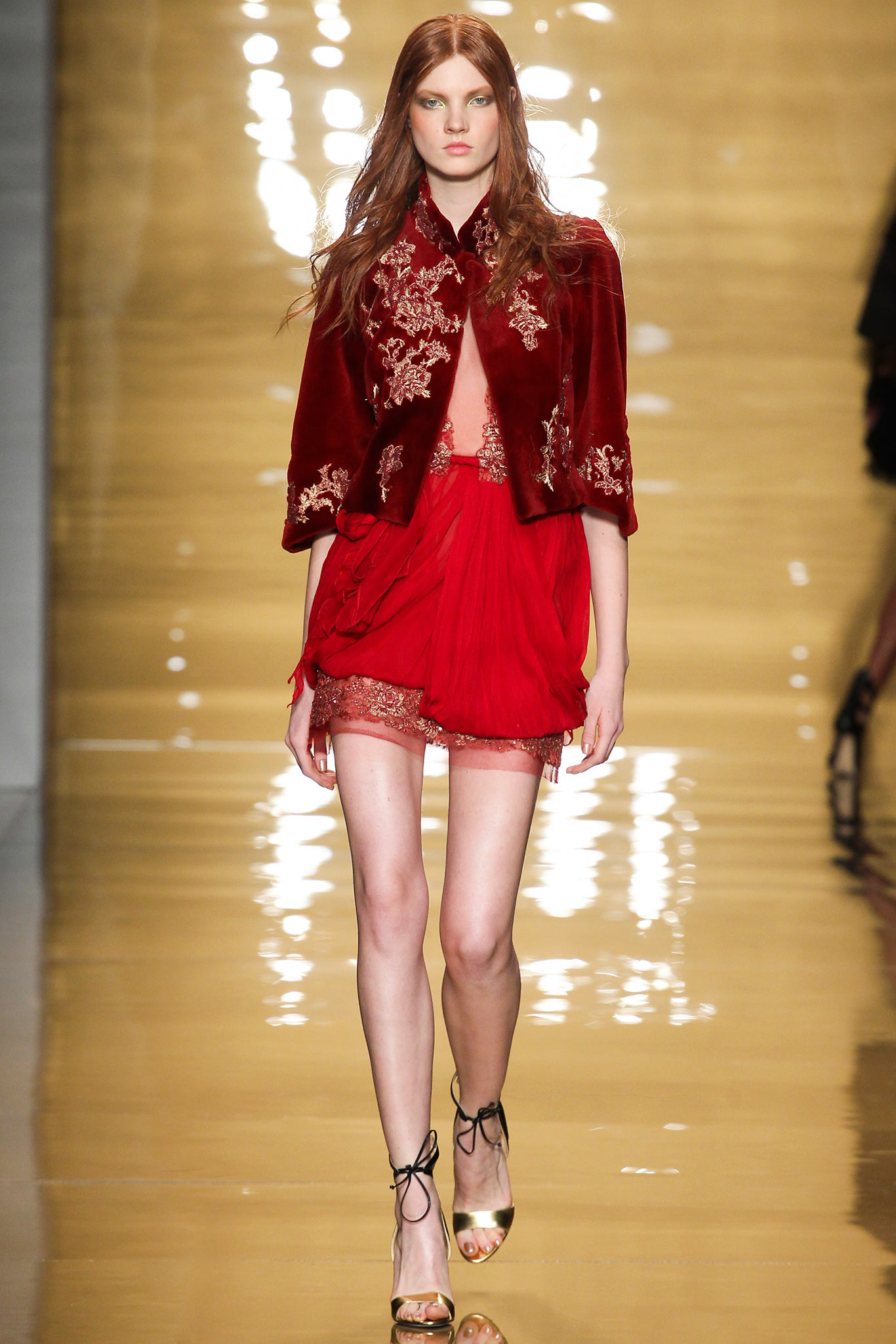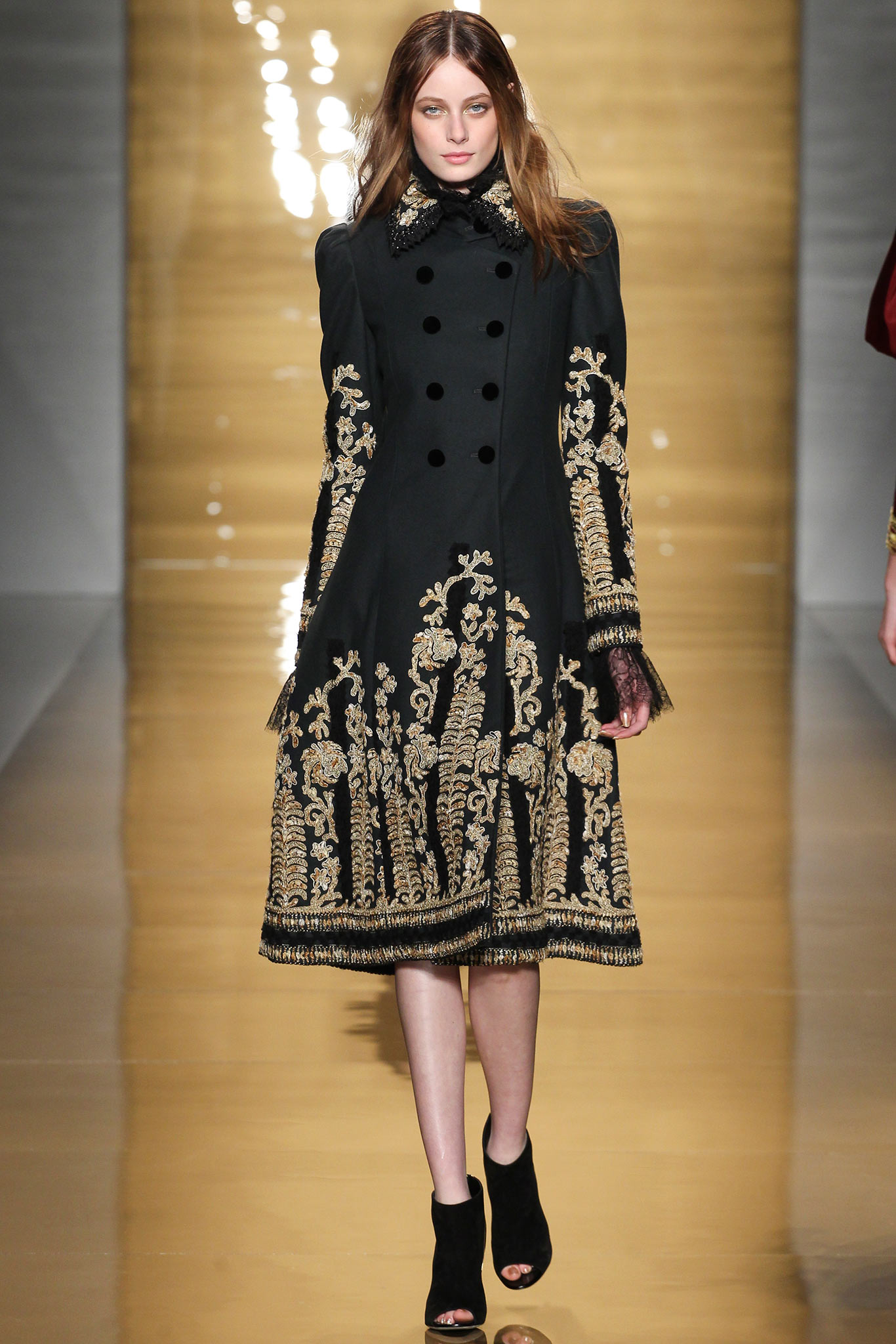 The question is, what WOULDN'T I do for this sumptuous beauty?.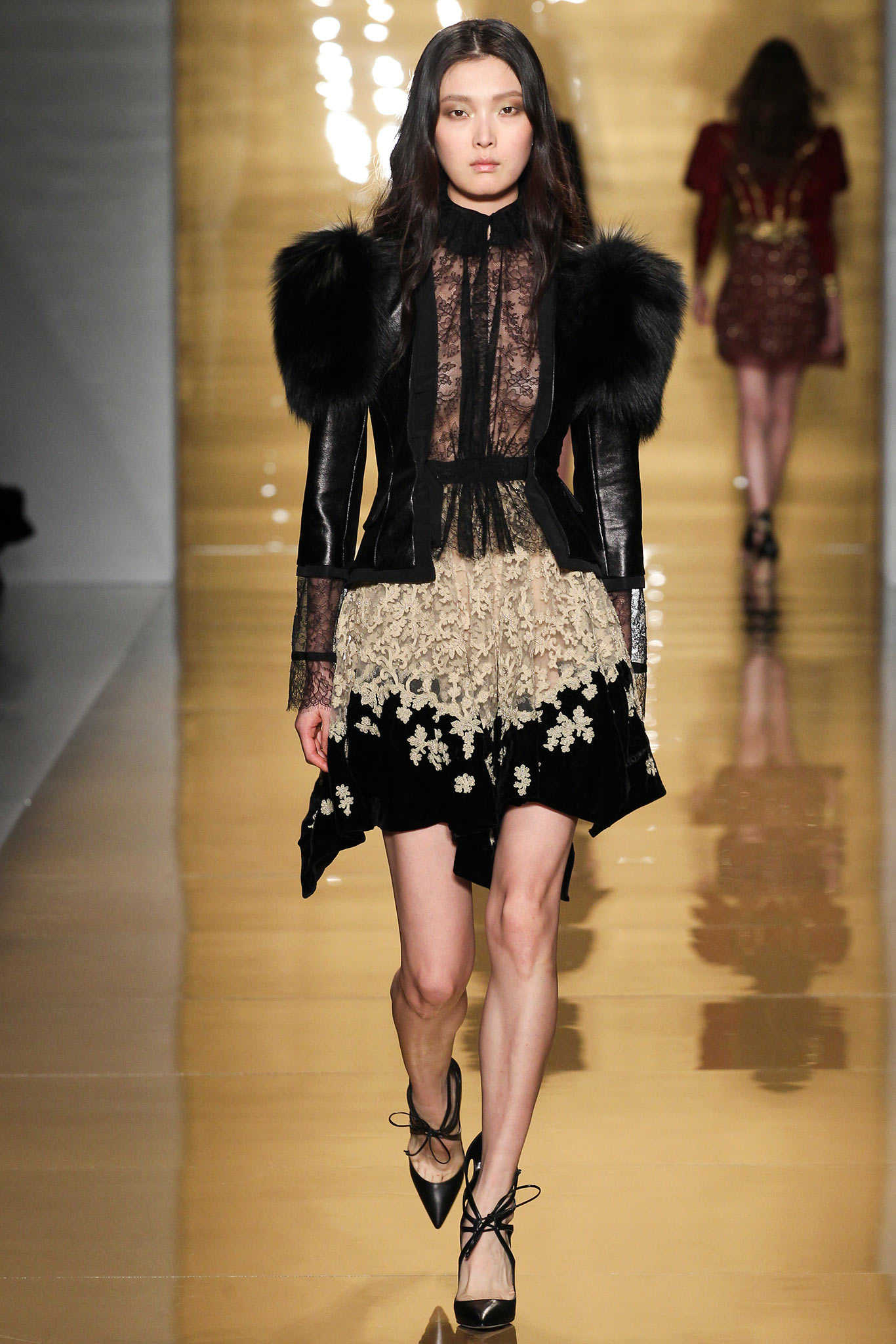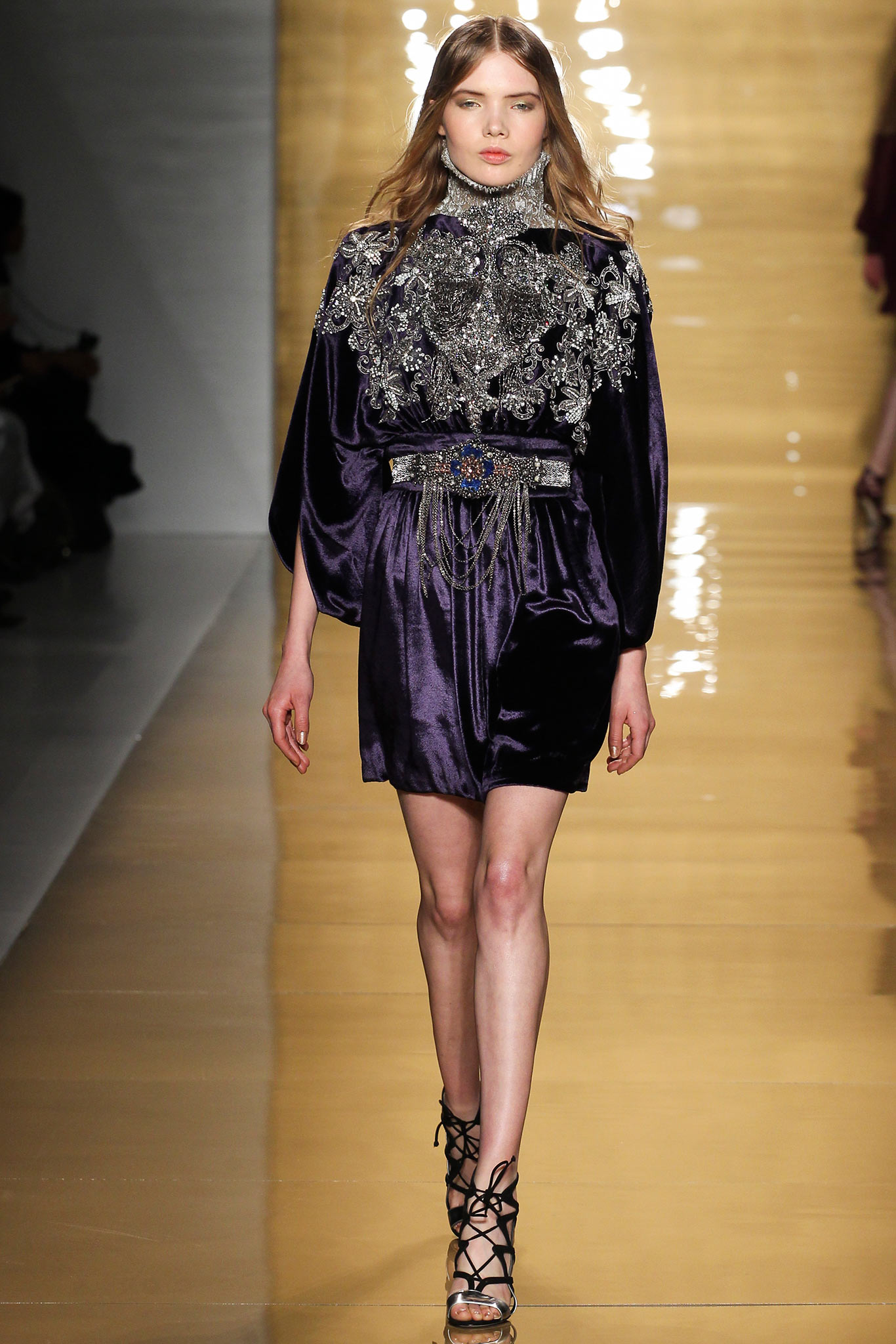 The high collar, purple velvet, and lace.....a winning trio.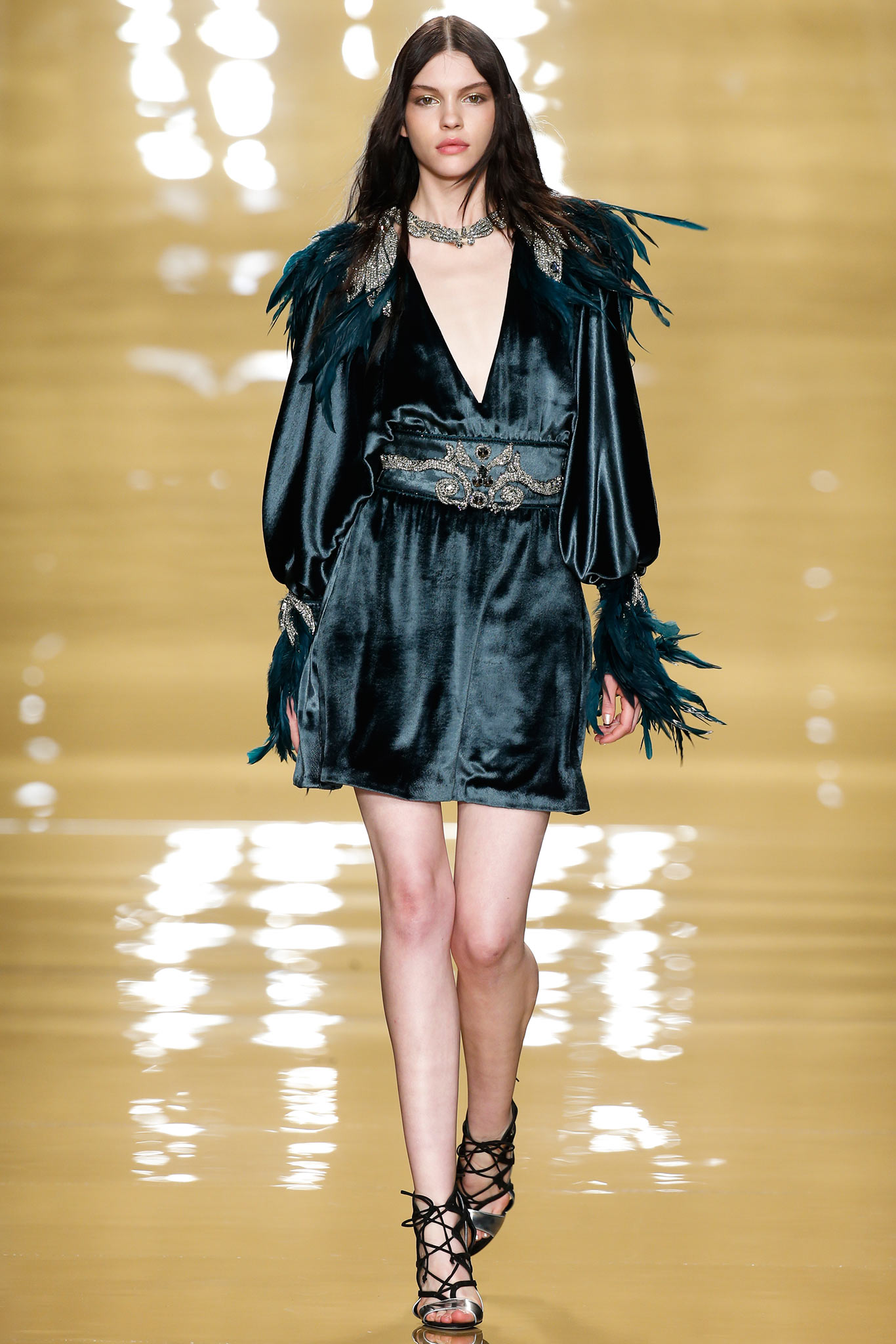 And now for some show stopping breathtakingly beautiful evening wear that only Elie Saab and Valentino could compete with. Those folks on the red carpet (and their stylists) could learn something from this collection. After watching the summation of what was ahem worn on the academy award (snooze) red carpet on "Fashion Police", it appears that only ONE actress understood the concept of style and glamor, and that was Rosamund Pike who showed up in Givenchy couture. Everyone else? Meh, I lost interest.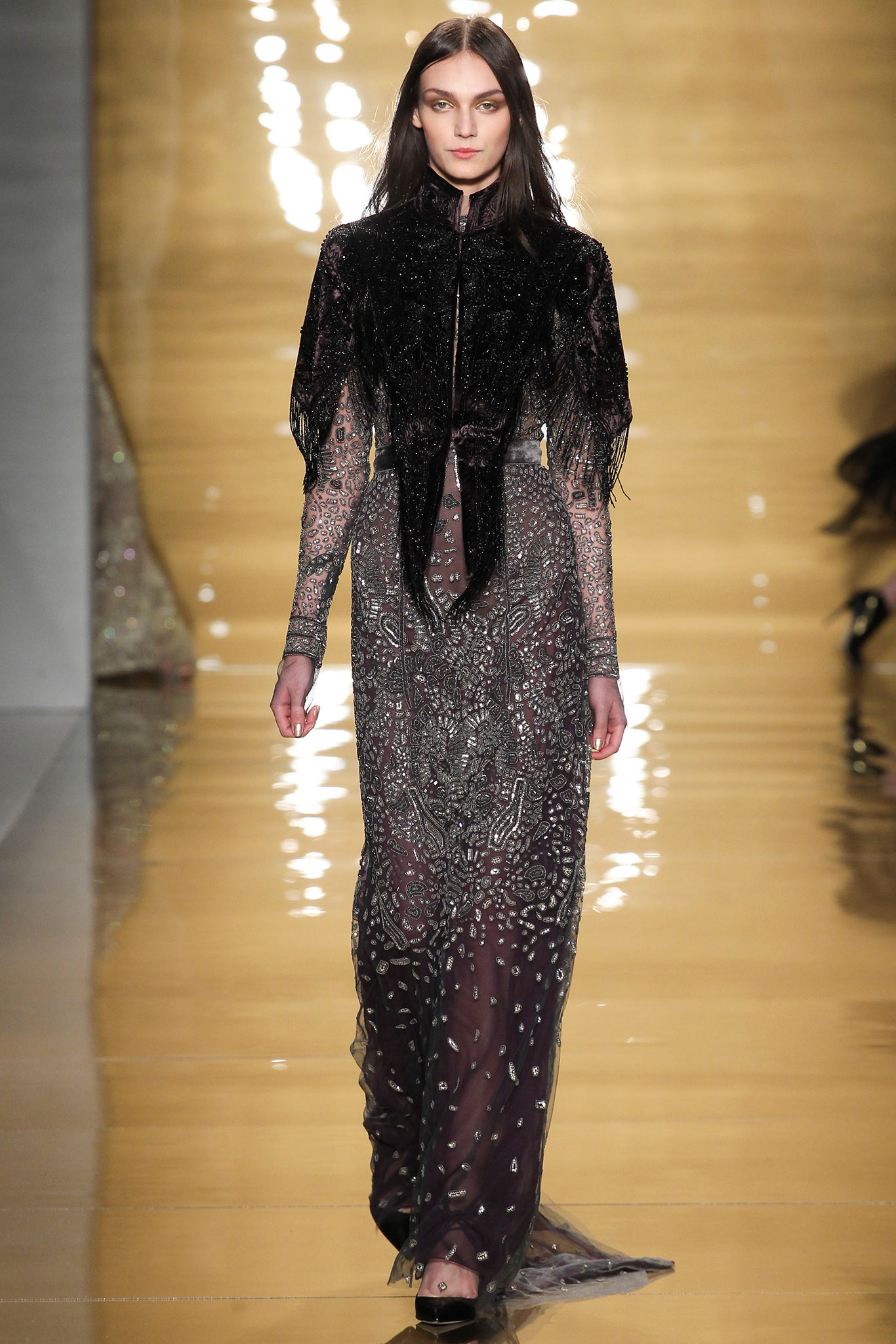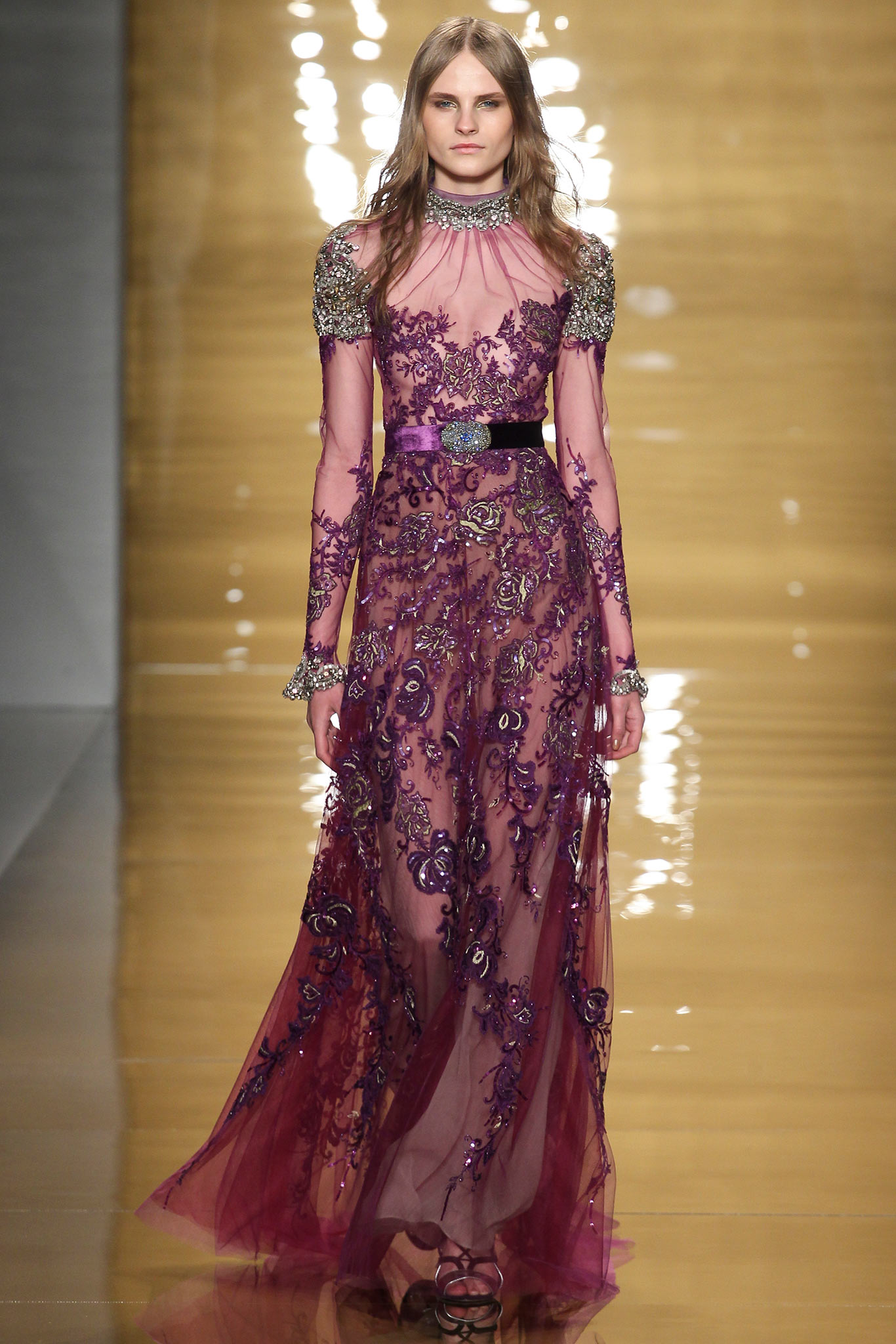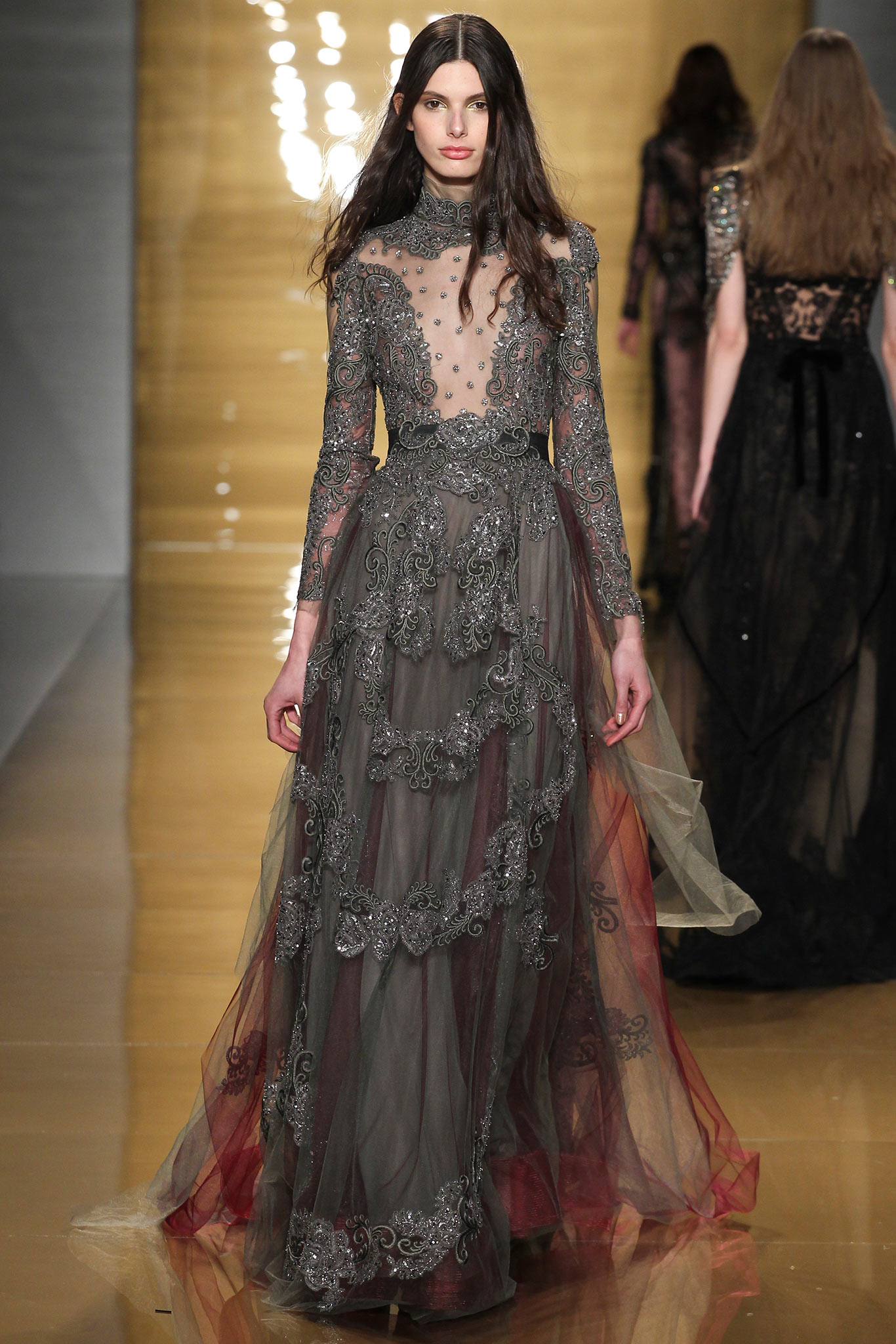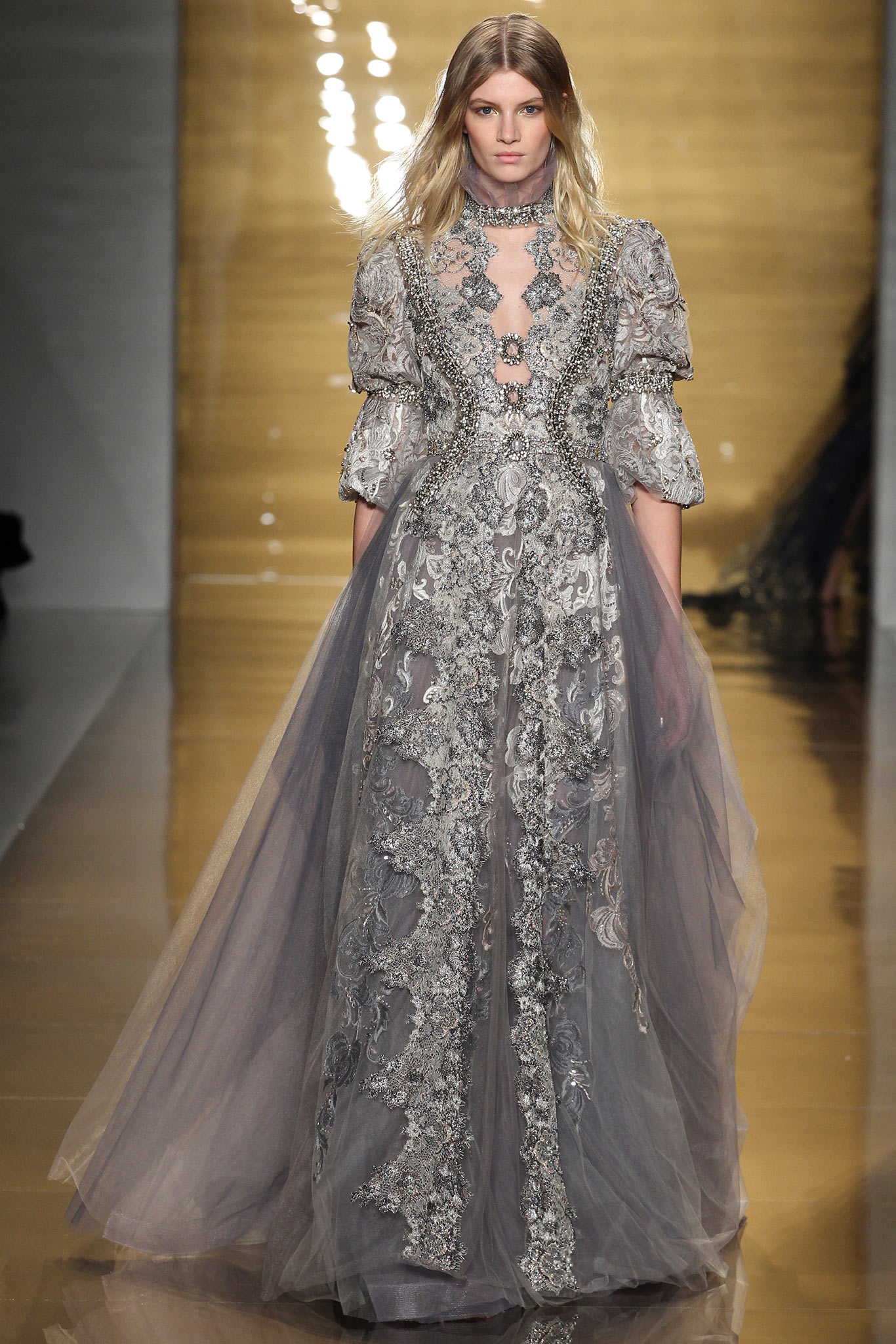 Queen Elizabeth I would come back from the dead and swoon over this inspired opulence.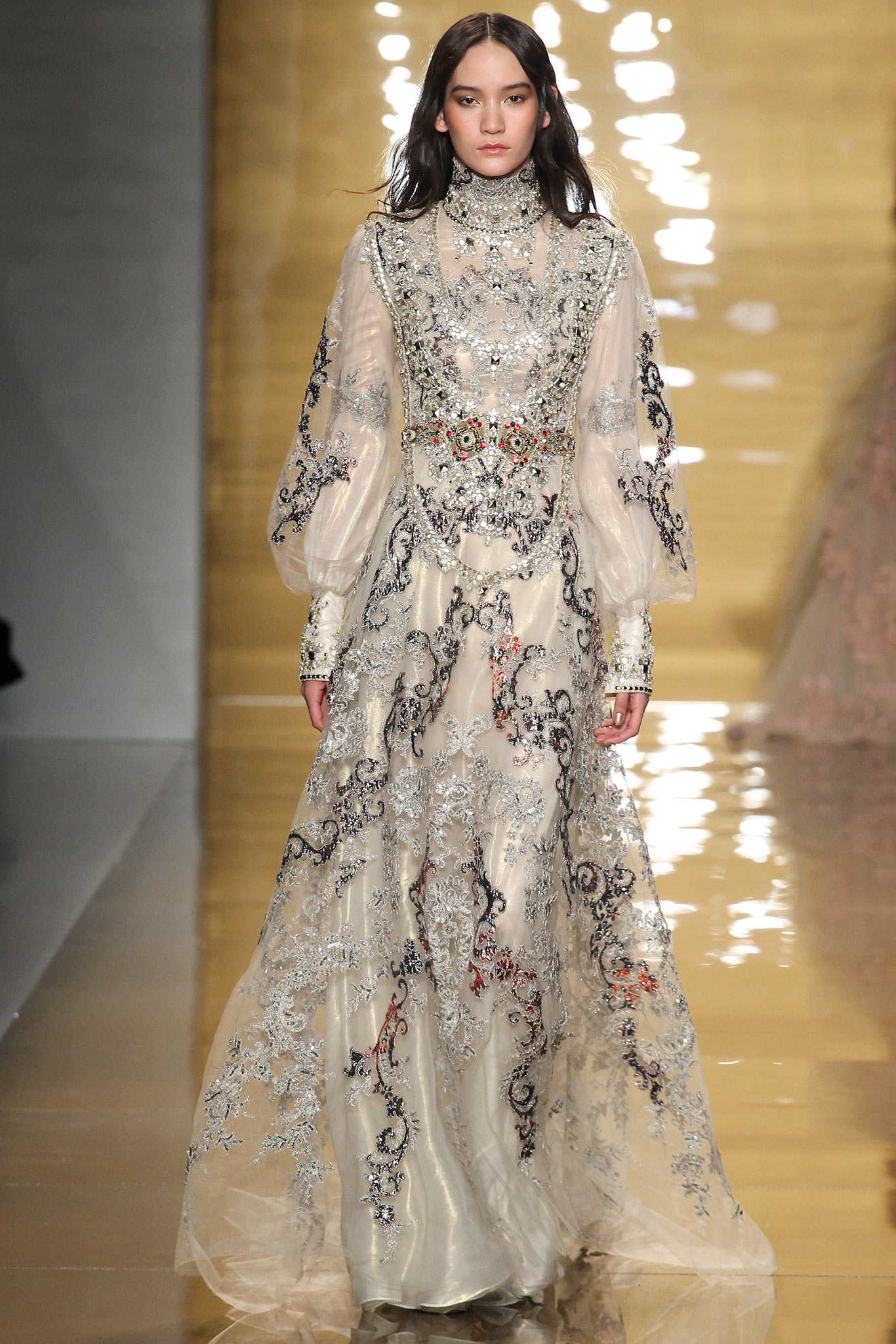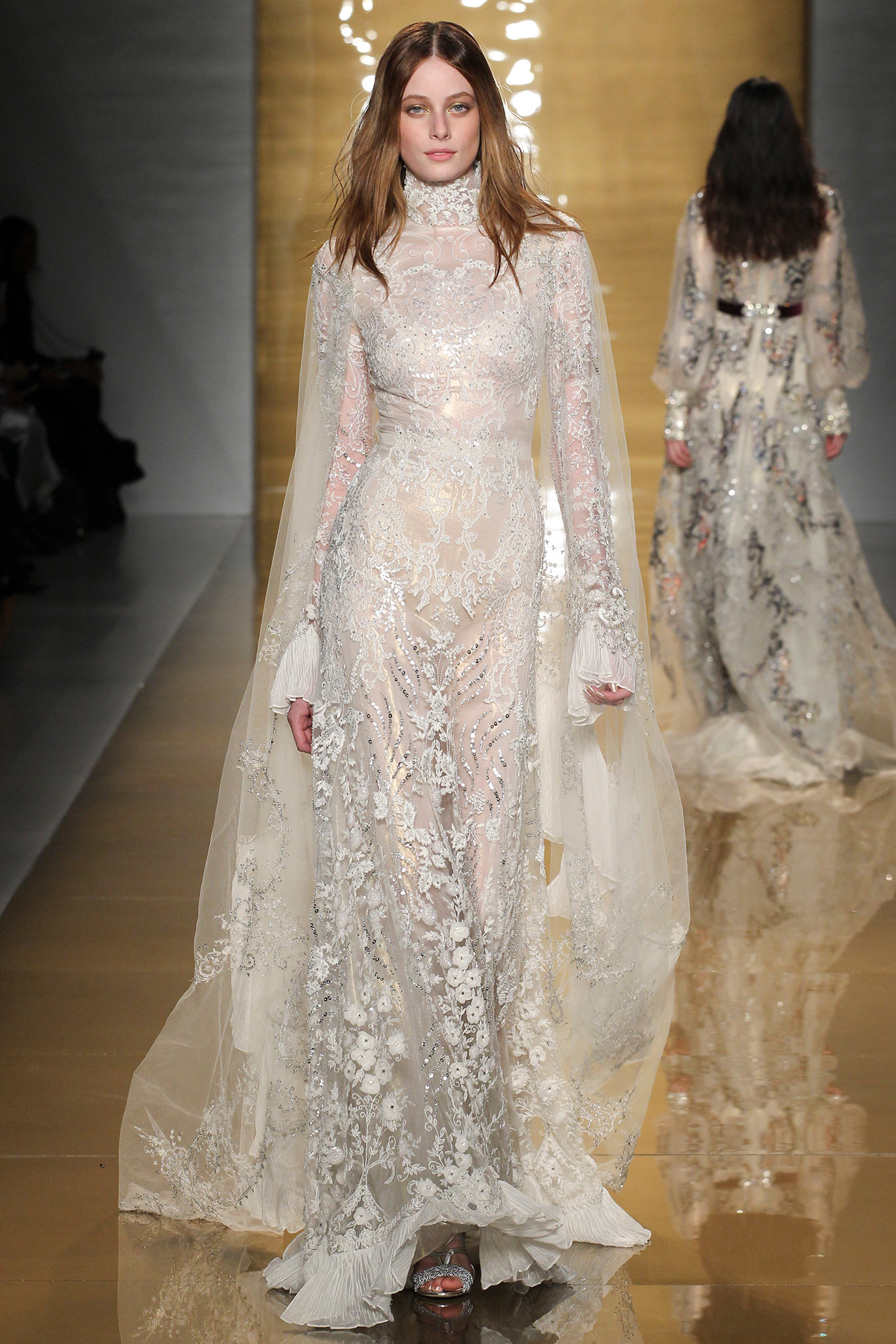 Now THAT is how its done! B R A V A!
Now off to London Fashion Week!
Styles brought to you by www.style.com