Good Lord! Just today I received an email care of Chanel sharing the newest vast collection care of the Kaiser, his CRUISE collection from Seoul! Meanwhile, I'm only just now reviewing the newest delicious concoctions from Paris fashion week, albeit a few weeks after the fact. Its true, once you hit 35 (and then 45, and then…….shudder) time whizzes by in what seems a progressively logarithmic fashion. Not to mention, trying to refinance a house, agonizing about an erstwhile boyfriend, and a full-time job mysteriously usurp a hell of a lot of time. Go figure. Oh well, such is life. Before the foray to the wonders of Paris fashion week, a mea culpa is in order. I erroneously threw Valentino into my Milan series, and though helmed by two eminently talented Italians, Pierpaolo Piccioli and Maria Grazia Chiuri, they show in Paris, as do Giambattista Valli, Miuccia Prada for Miu Miu, while she shows Prada in Milan, and Sarah Burton, an English designer, for Alexander McQueen. Who shows where can be a bit counterintuitive, and yet, the multinational cadre adds to the overall allure of fashion week in THE mecca of style and panache, Paris! The ateliers and workmanship are second to none, producing ready to wear that can on occasion be mistaken for couture. For fall winter the fashions are eclectic, with no one particular theme, more a venn diagram effect, with a wonderful potpourri of delights to entertain the diva, flower child, and princess in us all.
ANDREW GN:
One of my favorite designers for the past thousand years, due mainly to his coat work. This is a man who revels in old school glamour and luxury, with silks, tapestries, and Mongolian lamb, with a healthy dose of fringe amalgamated into a festive show indeed! When you are ready for your close up (cue Norma Desmond), you want to be adorned in Gn.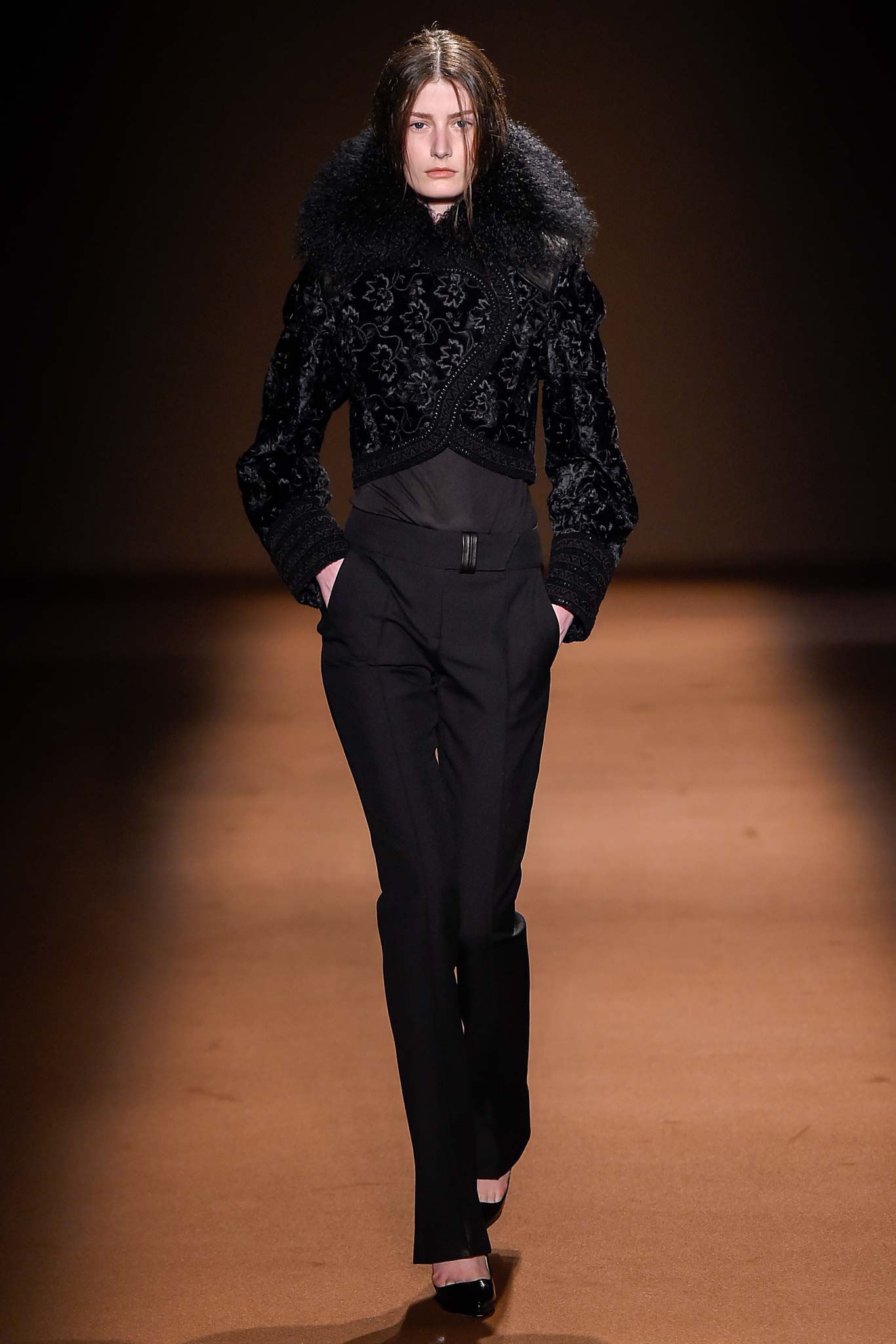 I love a bolero, and when its livened up with a bold Mongolian Lamb collar, even better! This is some expert festooning, really breathtaking. And if ass coverage is an issue, just throw over a tunic or tuxedo shirt. There are NO rules! This beauty would pair well with a long taffeta skirt for a gala night out.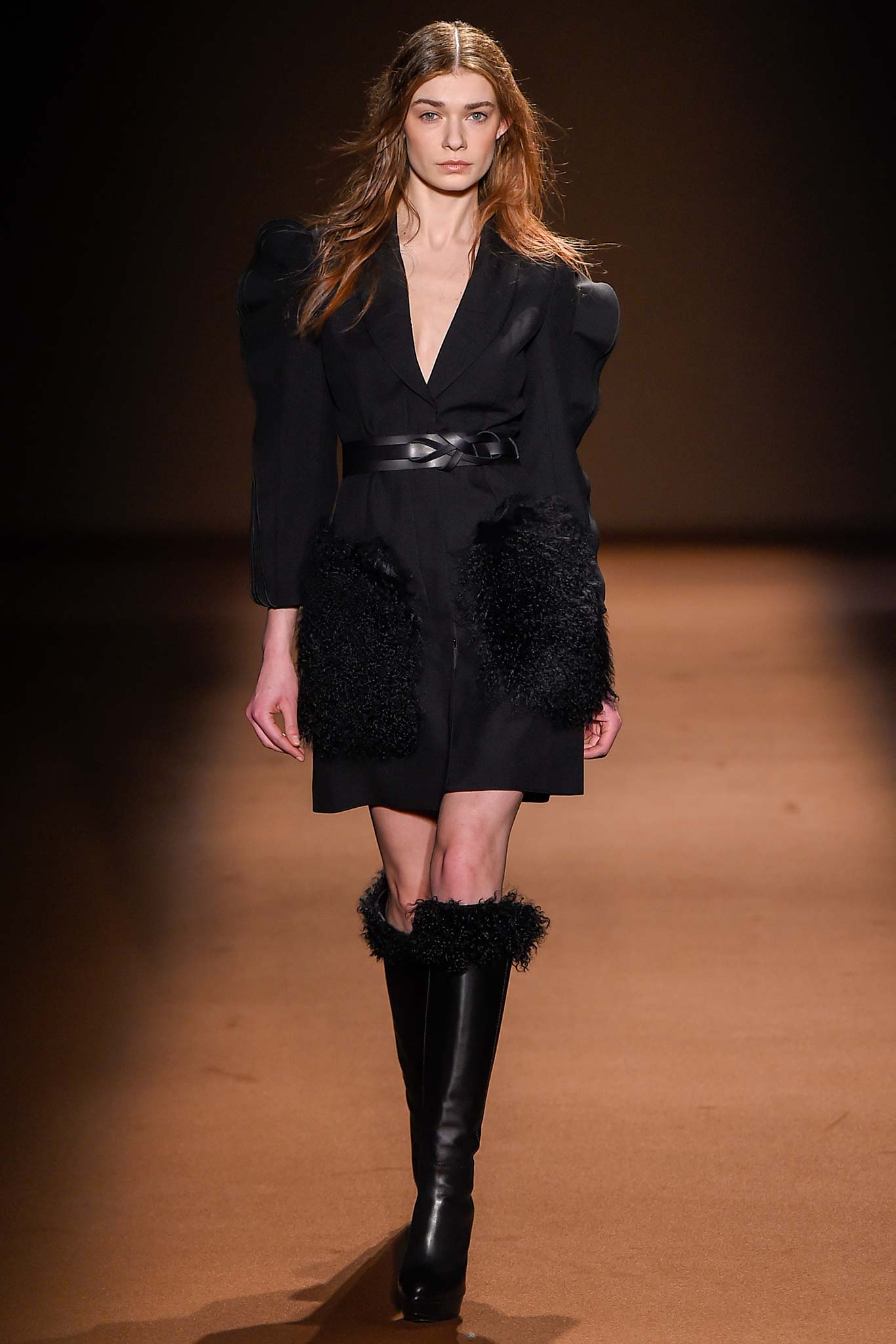 The Mongolian lamb details add a sort of zany visual interest to an all black outfit, which can tend towards the staid. The crazy leather belts are in these days. Just find the ONE, and throw it over everything!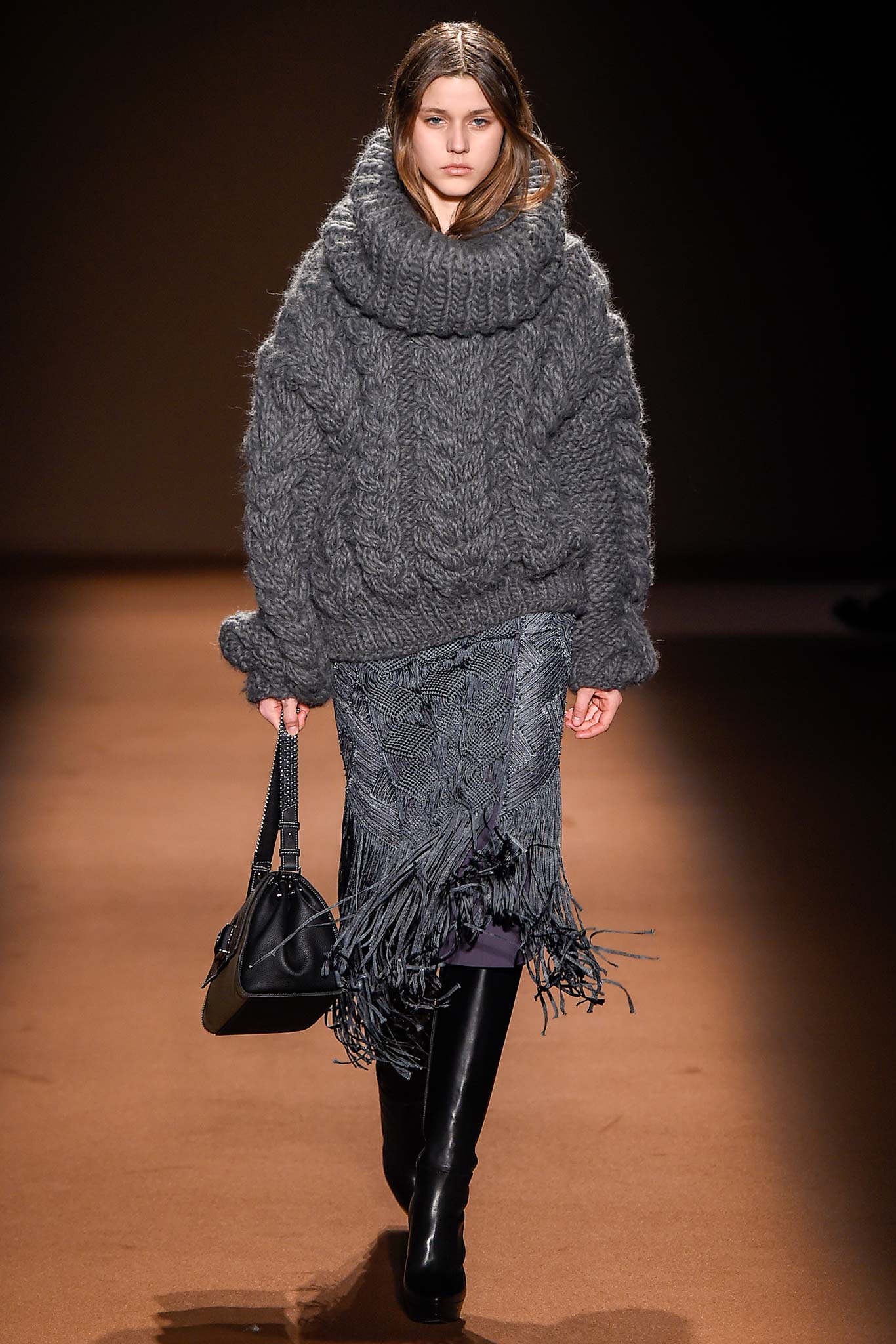 What could be more cuddly than a big fisherman inspired sweater in this soft gray? Best to pair with something stream lined to avoid the bigfoot silhouette such as this beaded flapper skirt which harkens back to those days of audacious exuberance, the roaring 20's.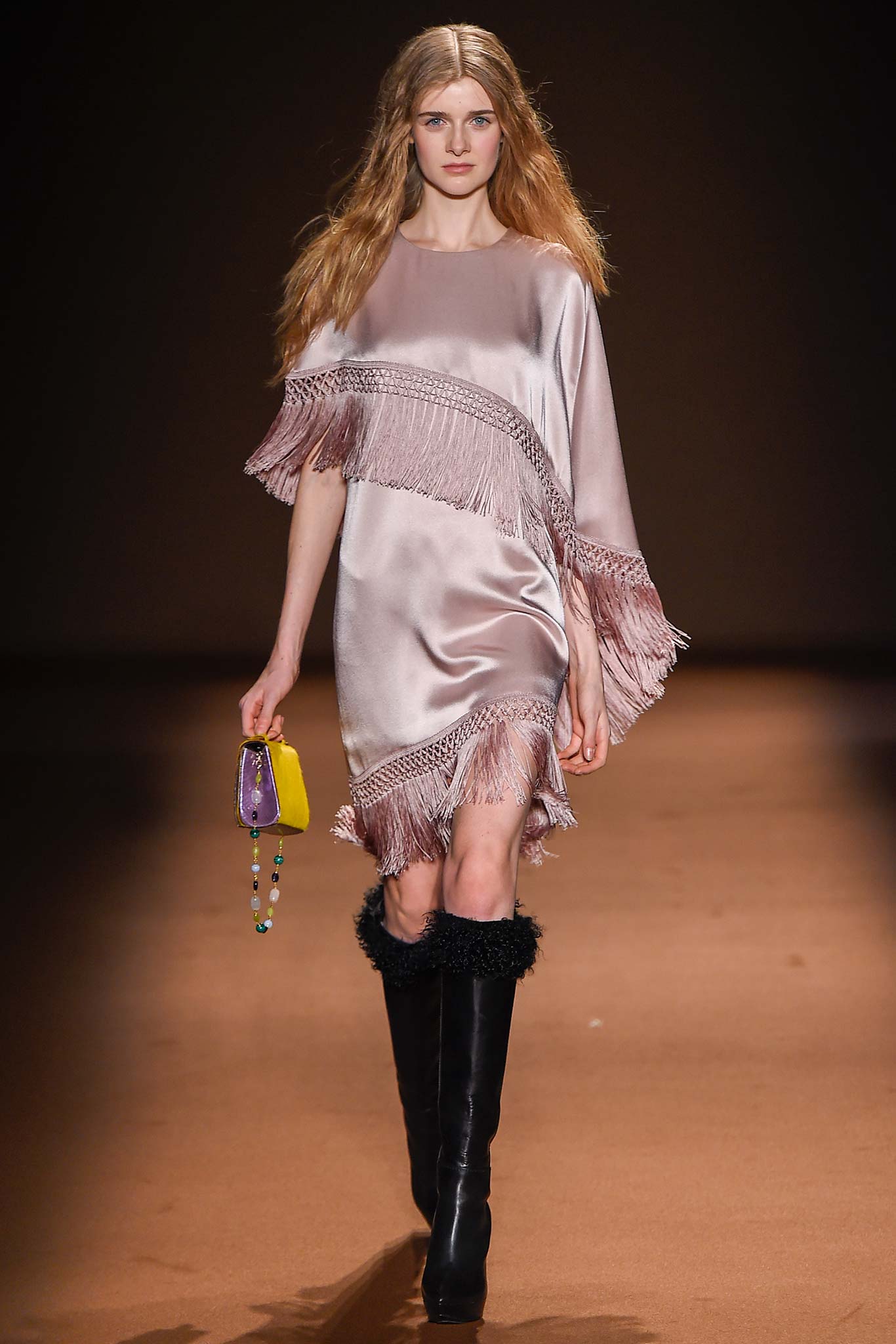 Never a huge fan of the fringe, here it makes sense, on the bias combined with dusty rose charmeuse.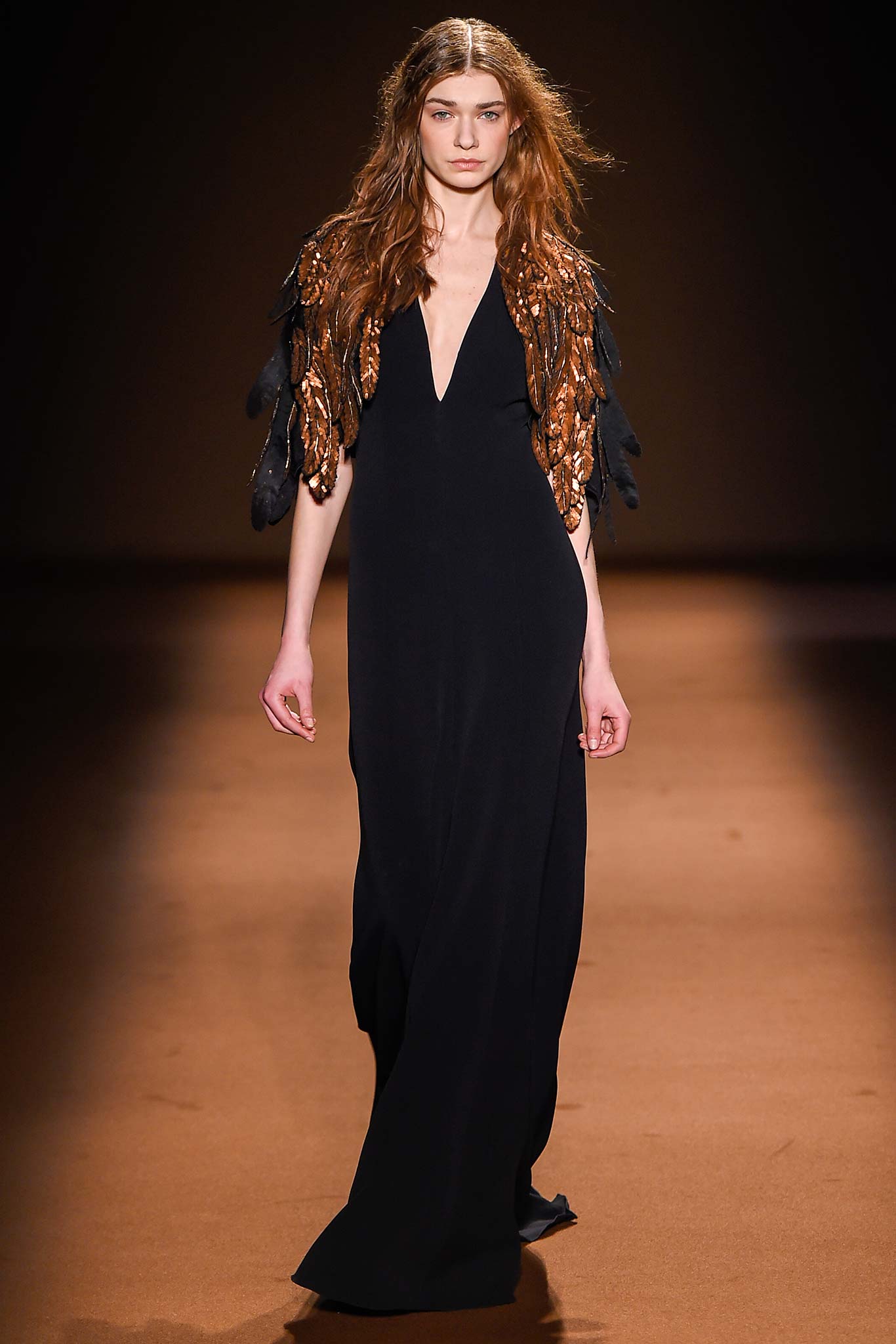 Sequined laden wings are a clever way to liven up a silhouette. Straight from a Jean Cocteau movie.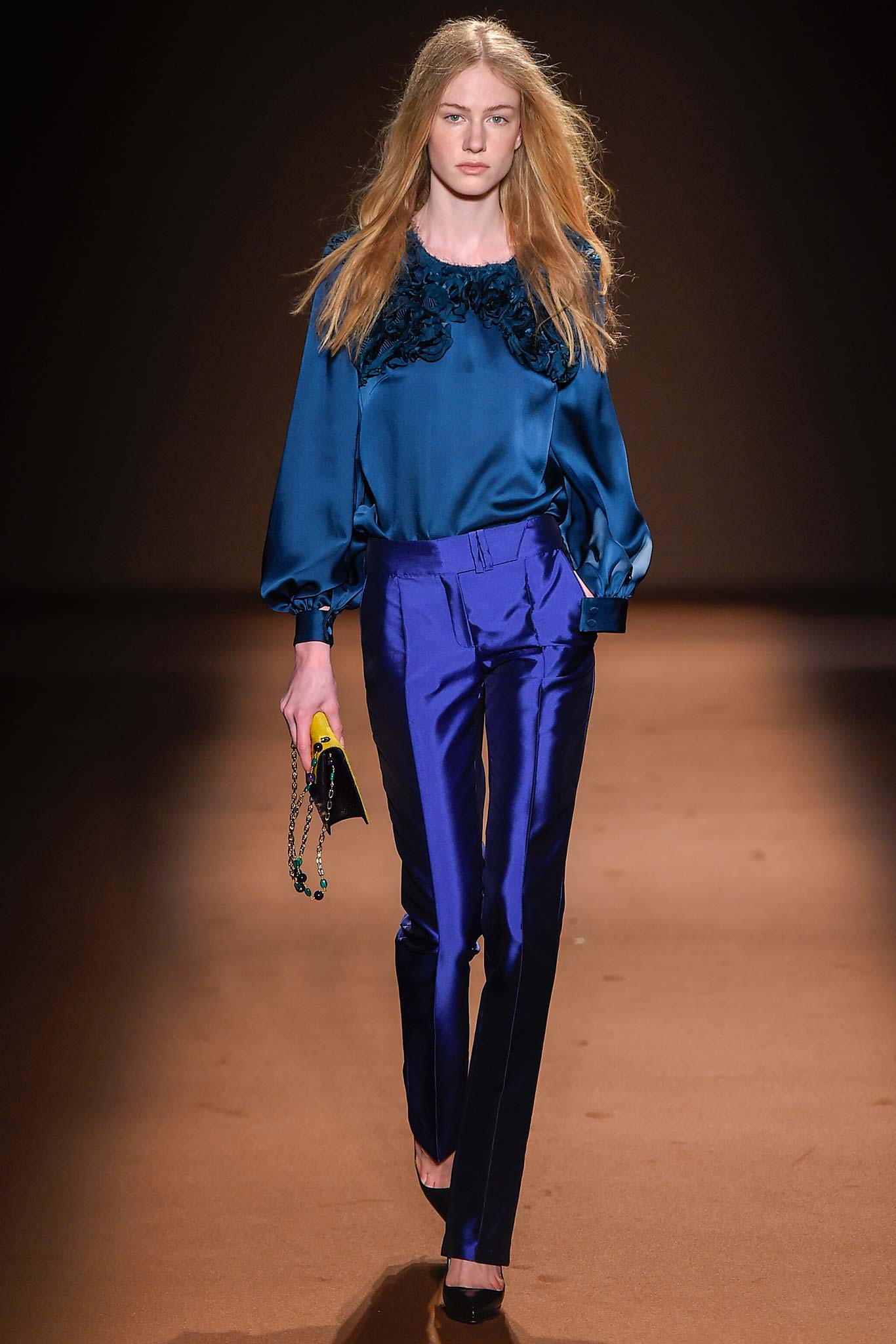 Love the combining of versions of blue, a cerulean with teal, variations on a theme. Embellished and streamlined are a winning duo.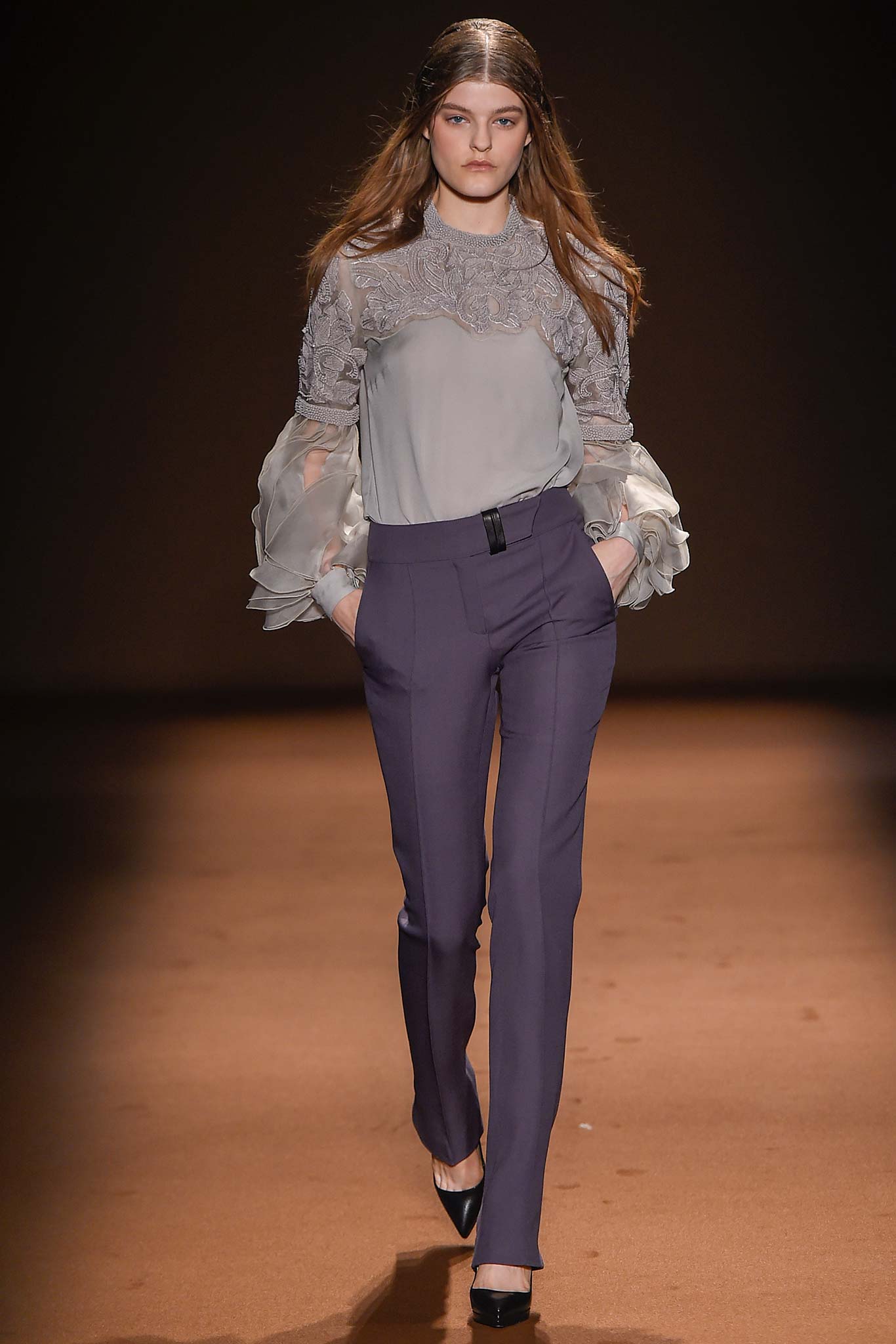 One can never go wrong with mauve, subdued while feminine and chic. And paired with aubergine, mesmerizing. And who doesn't love organza?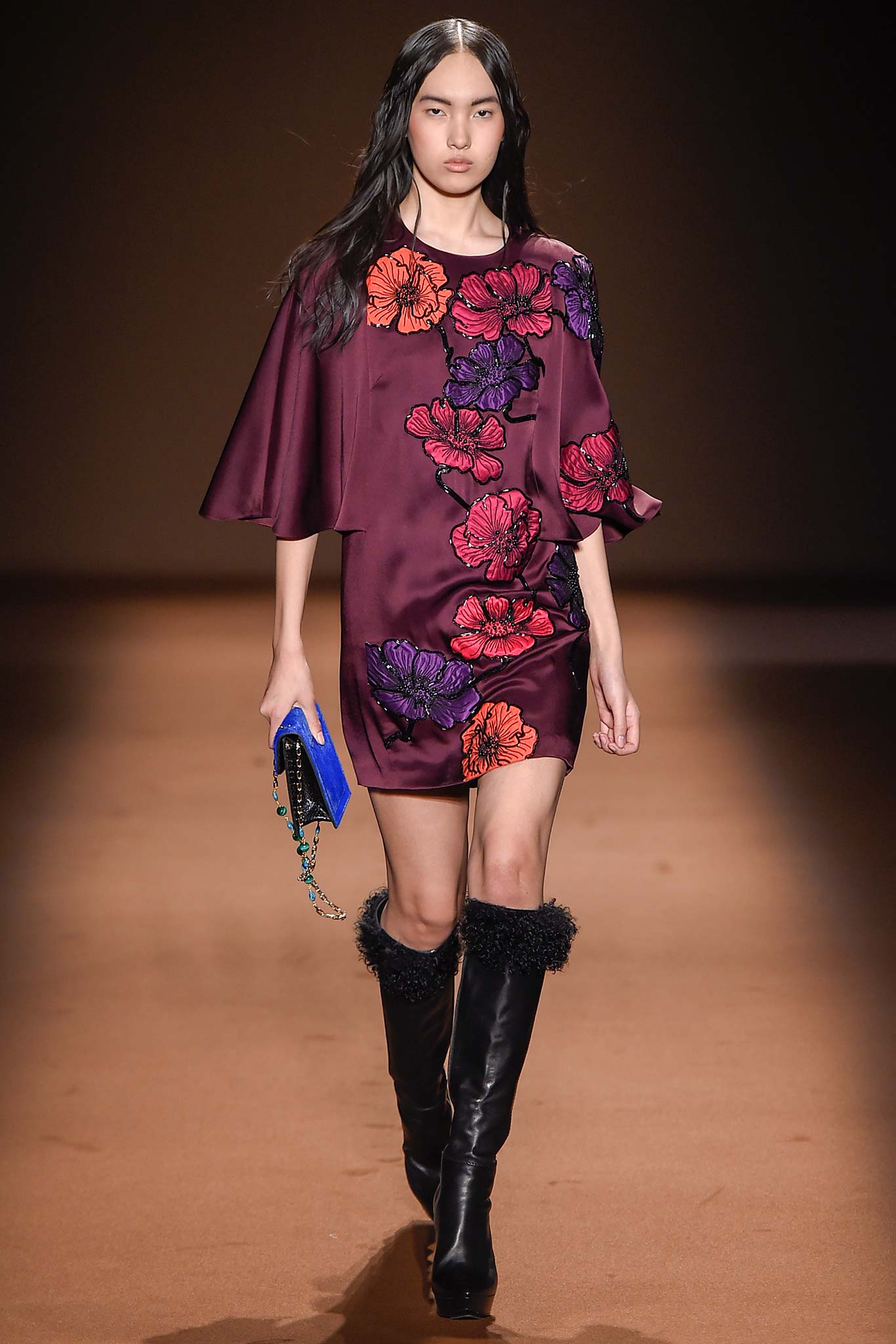 The most sumptuous fabrications are always utilized by Gn to fashion perpetual luxury.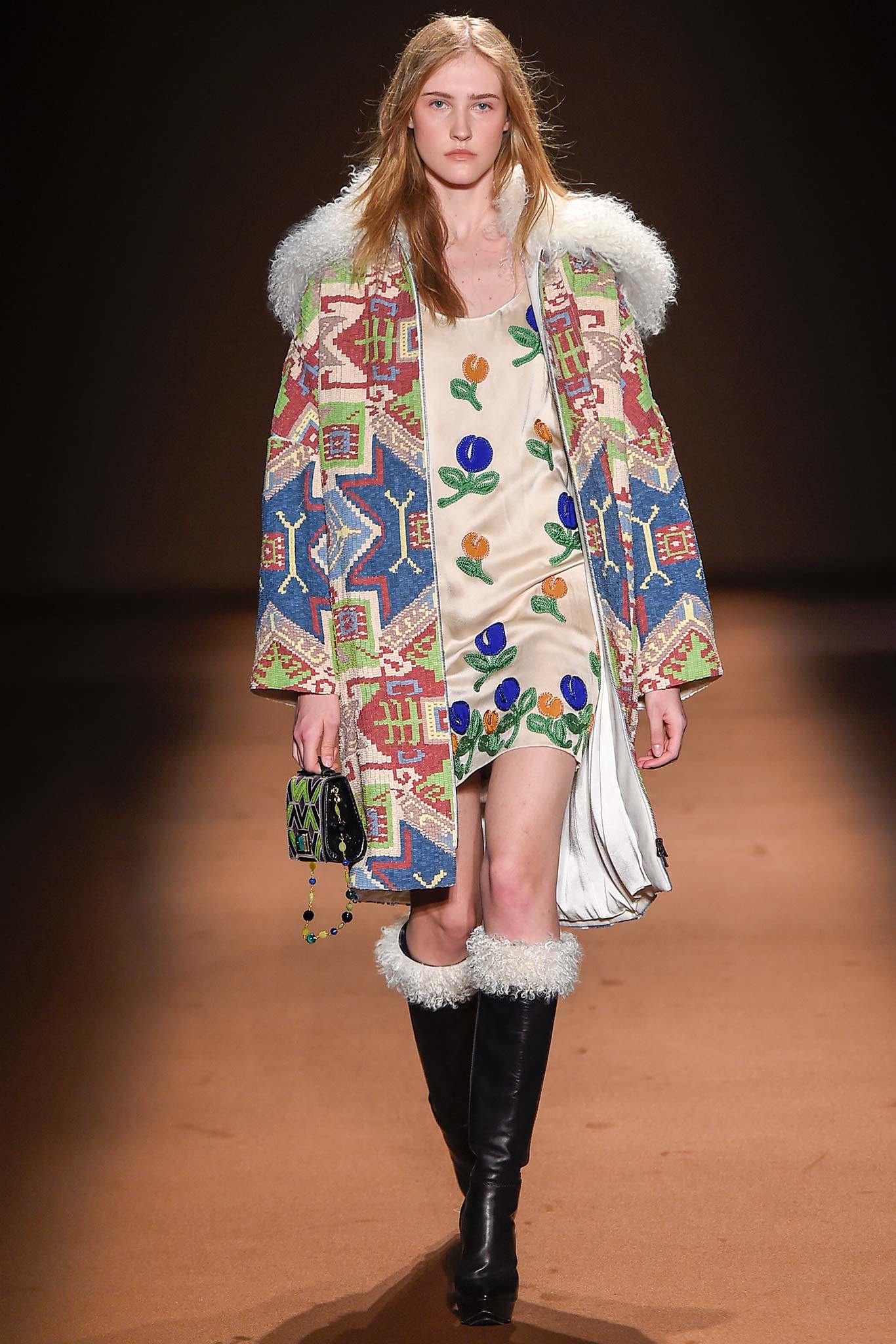 Ok, I've died and gone to heaven, a lofty place where gals are swathed in charmeuse and bold works of art.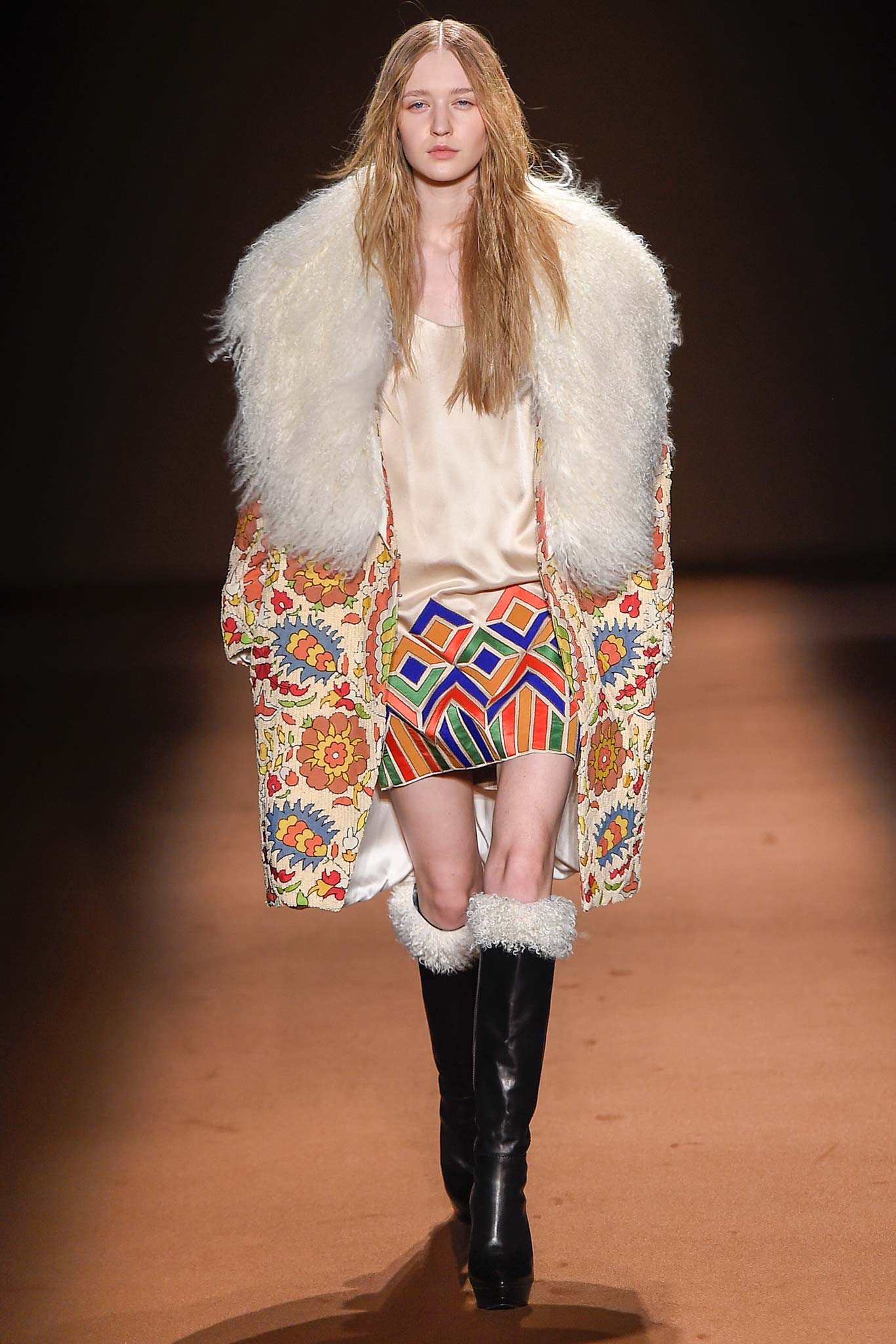 These coats are flamboyant knockouts, with easy carefree silhouettes to counter the exhuberant patterns and bold Mongolian collars. The perfect weekend coat to be thrown over casual togs. Time to ditch the hoodie and the Izod wind breaker and go for audacious.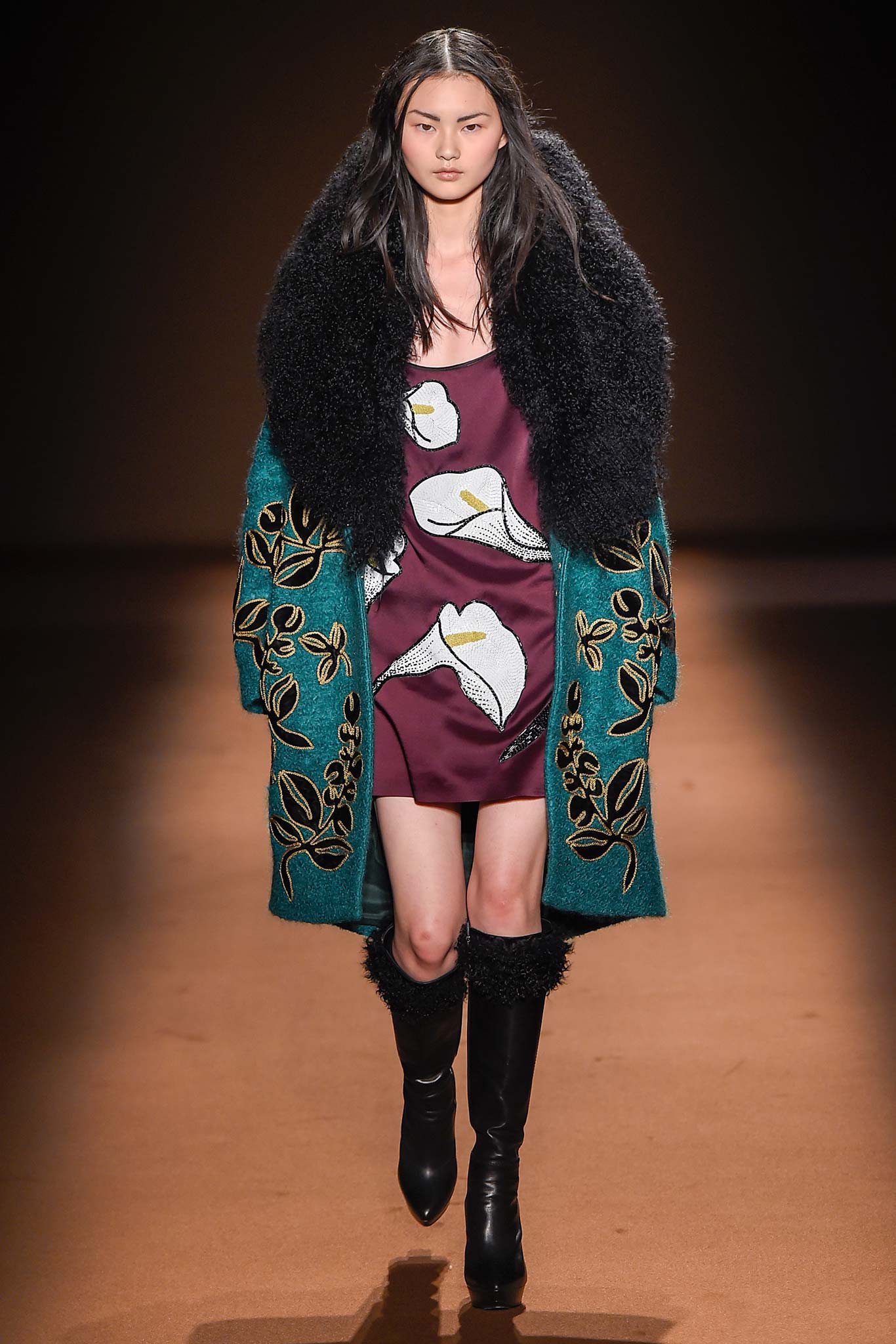 BALMAIN:
Hot and spicy is always the flavor du jour at this house. You want some rock 'n' roll and some Vegas finery, Olivier will always comply. And whilst many seem to be constantly enamored of all that is 60's and 70's inspired, here we go roaring back to the 80's full speed ahead. Glitz, high level theatricality and some big shoulders to boot with some gladiatorial splendor as well. This is definitely of the go bold or go home variety.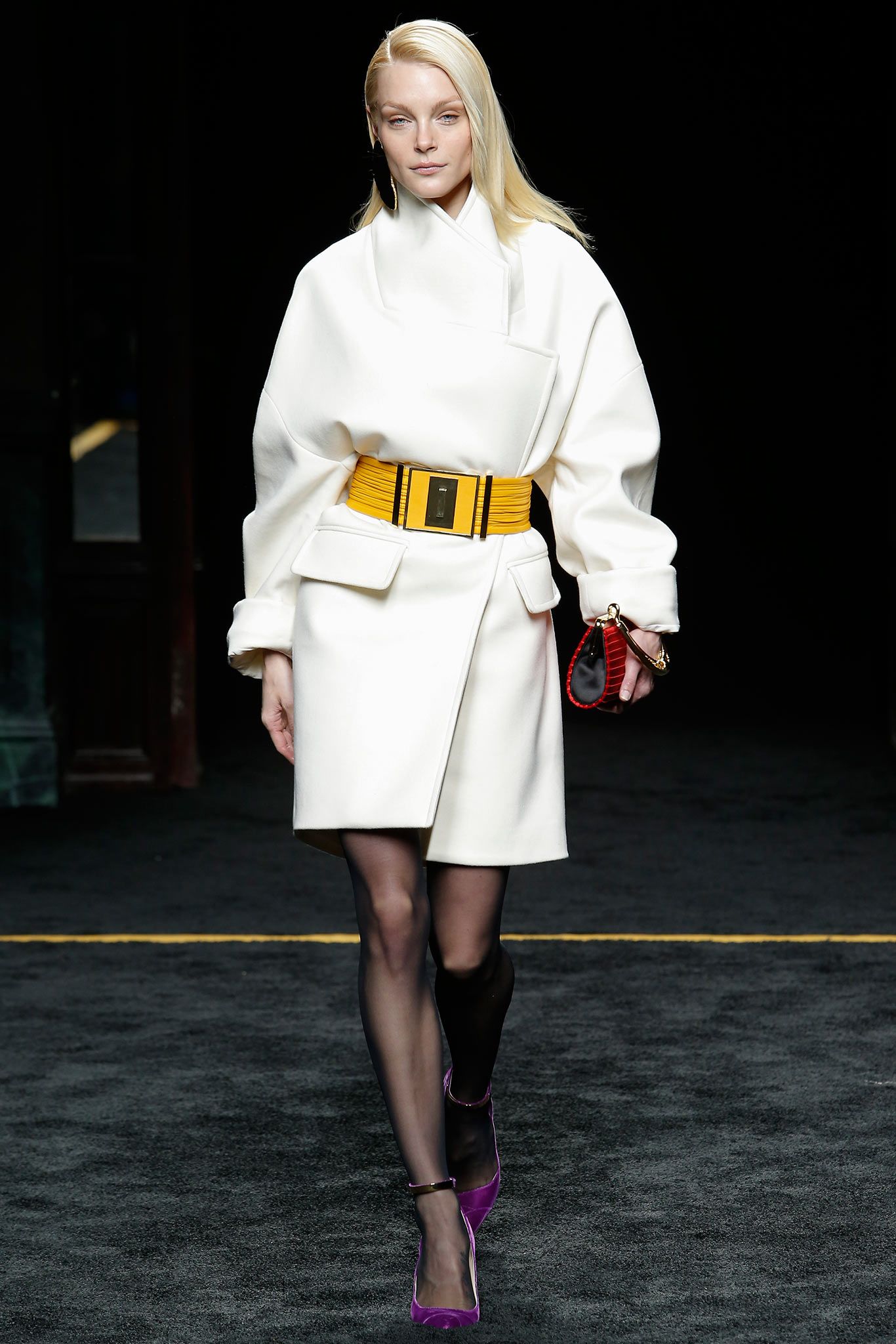 The power of the BIG BOLD VIBRANT belt on display----spruce up any coat (or big sweater) languishing in the closet with one of these babies. Love those lavender velvet pumps. (This coat could have been plucked from the movie "Baby Boom" with Diane Keaton, 1987).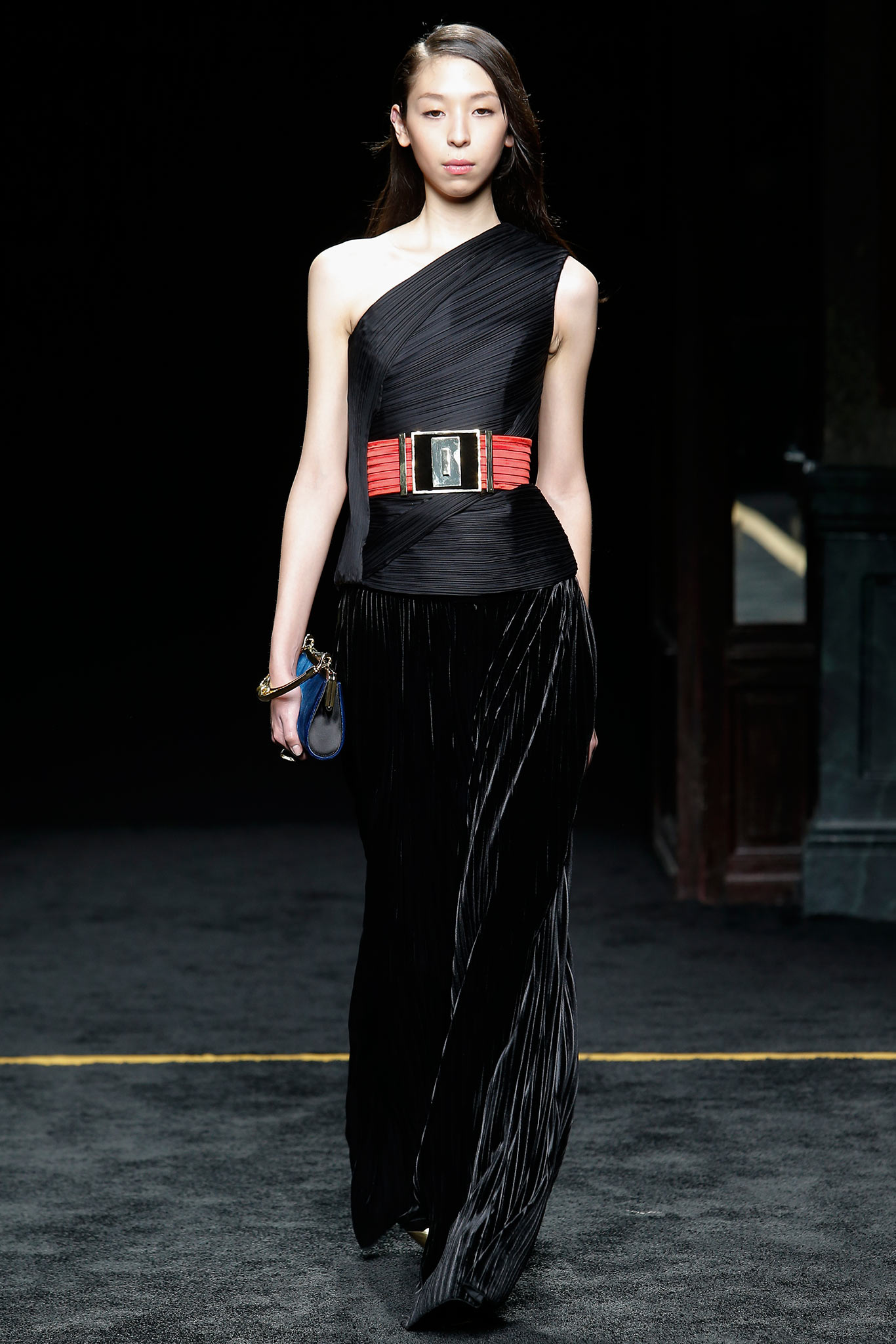 Does anyone out there remember Mary McFadden, because I am having a deja vu moment. A big wide red belt will always add drama.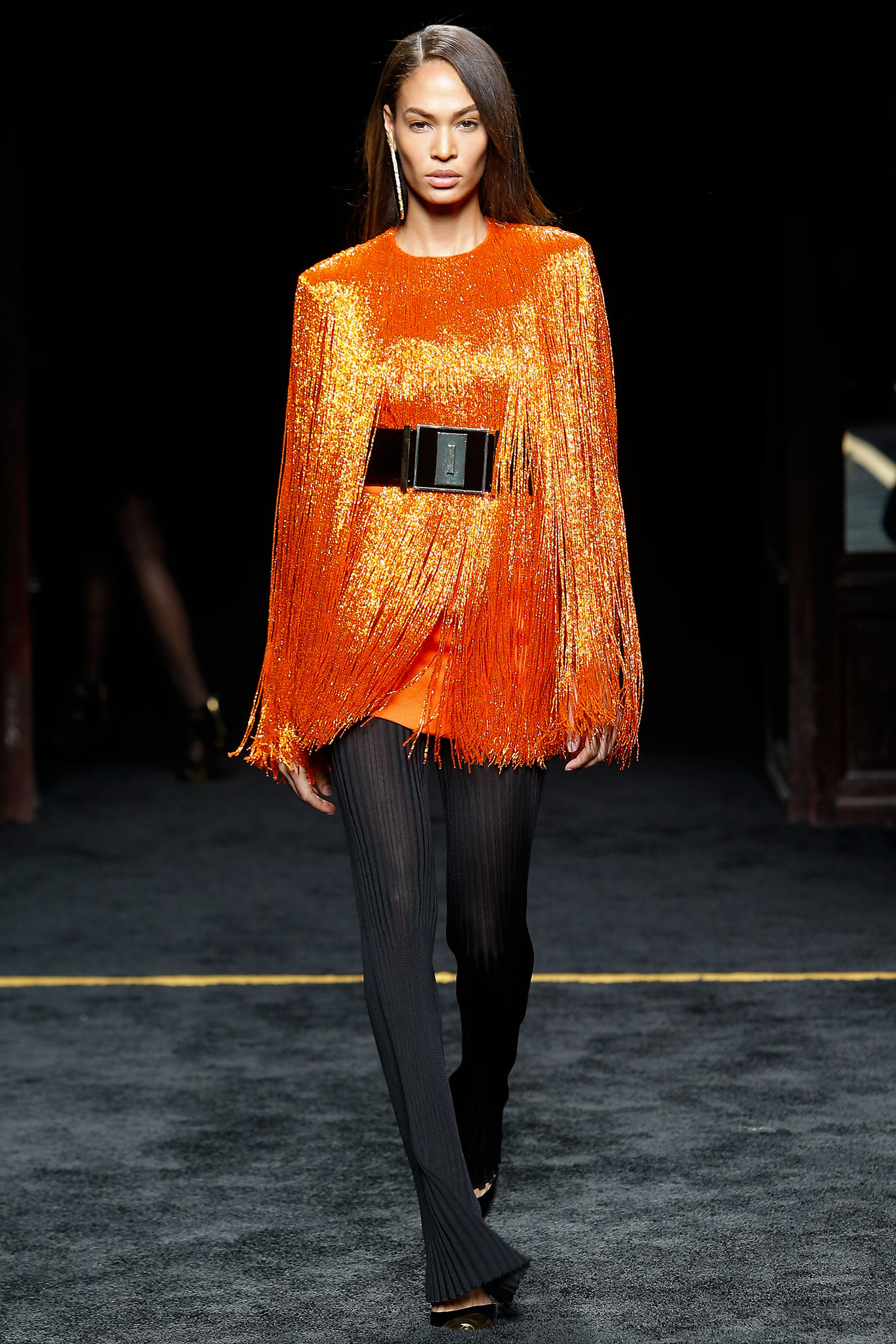 I mean DAMN! That is A LOT of orange, and enough bugle beads to pave the yellow brick road to Oz.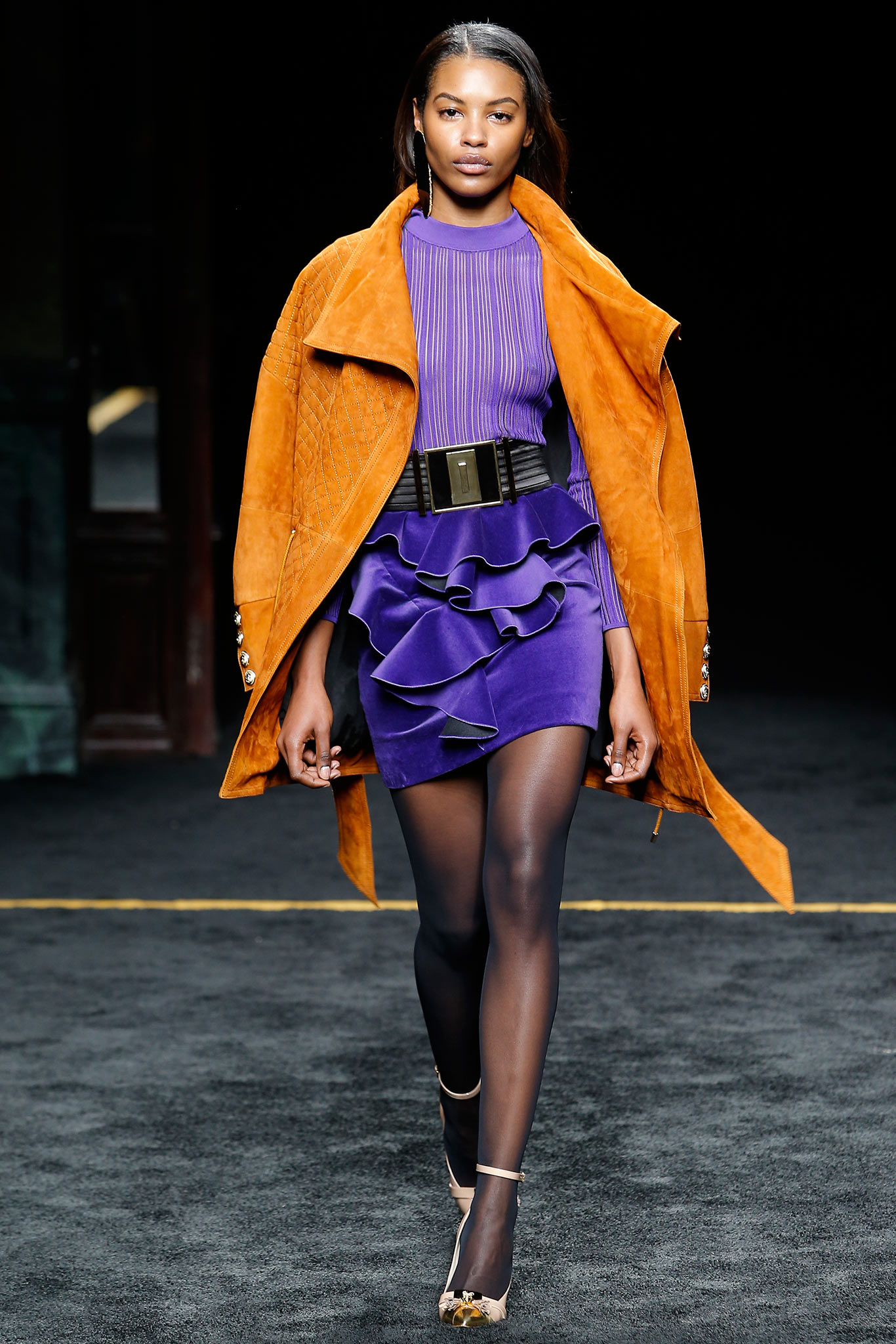 Is there really a more beguiling combination that the royal purple duchesse satin and orange suede? Ruffles meet the Great Pumpkin, hurrah! Who doesn't want to harken back to childhood memories of pumpkin carving, and cheer the Giants on at the same time?!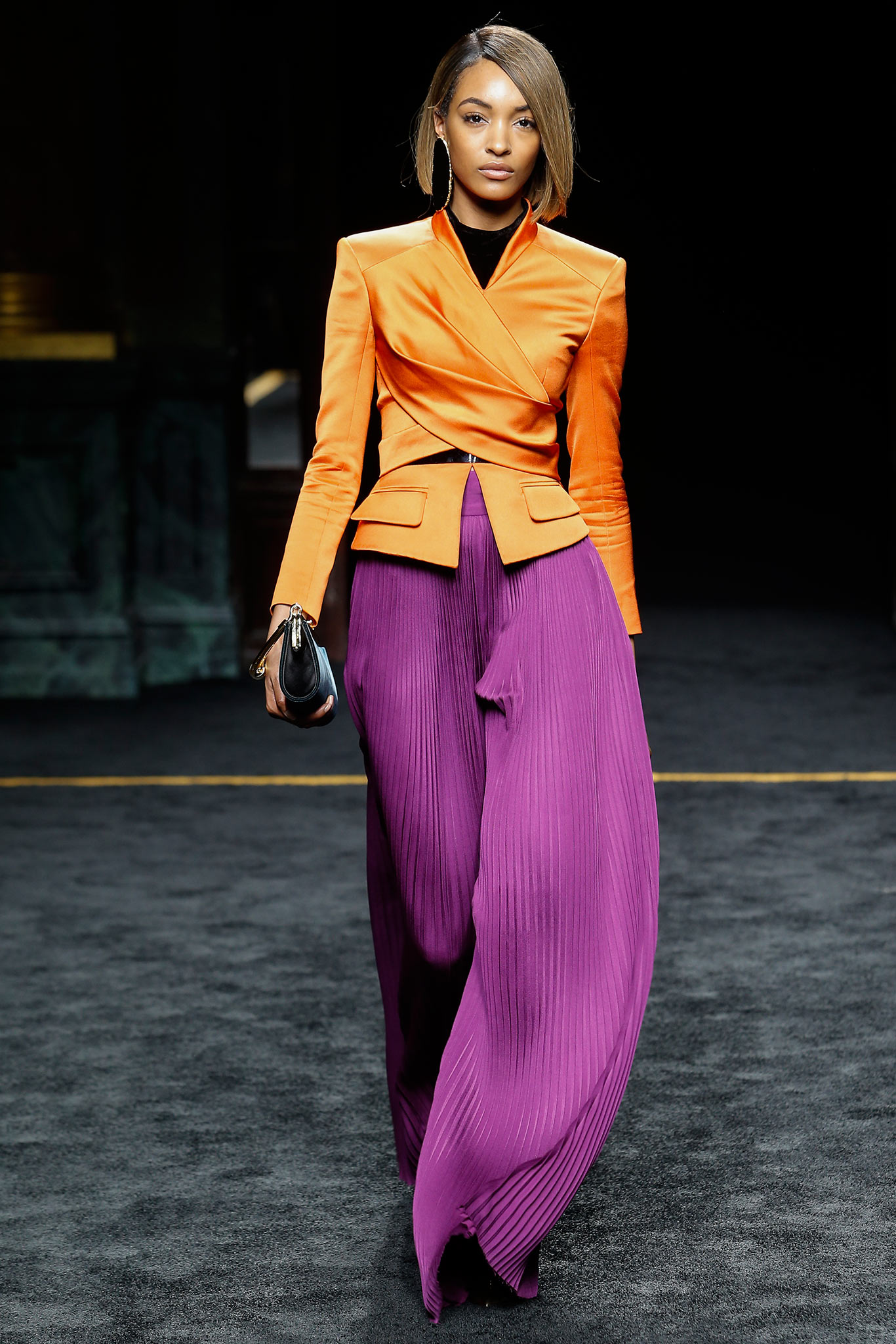 And the festive orange brigade continues. The pants are so voluminous (beware, these gals are 5' 10" and weigh somewhere in the neighborhood of 105 pounds and are looking, ahem, well filled out), they are well paired with the corsetted tops!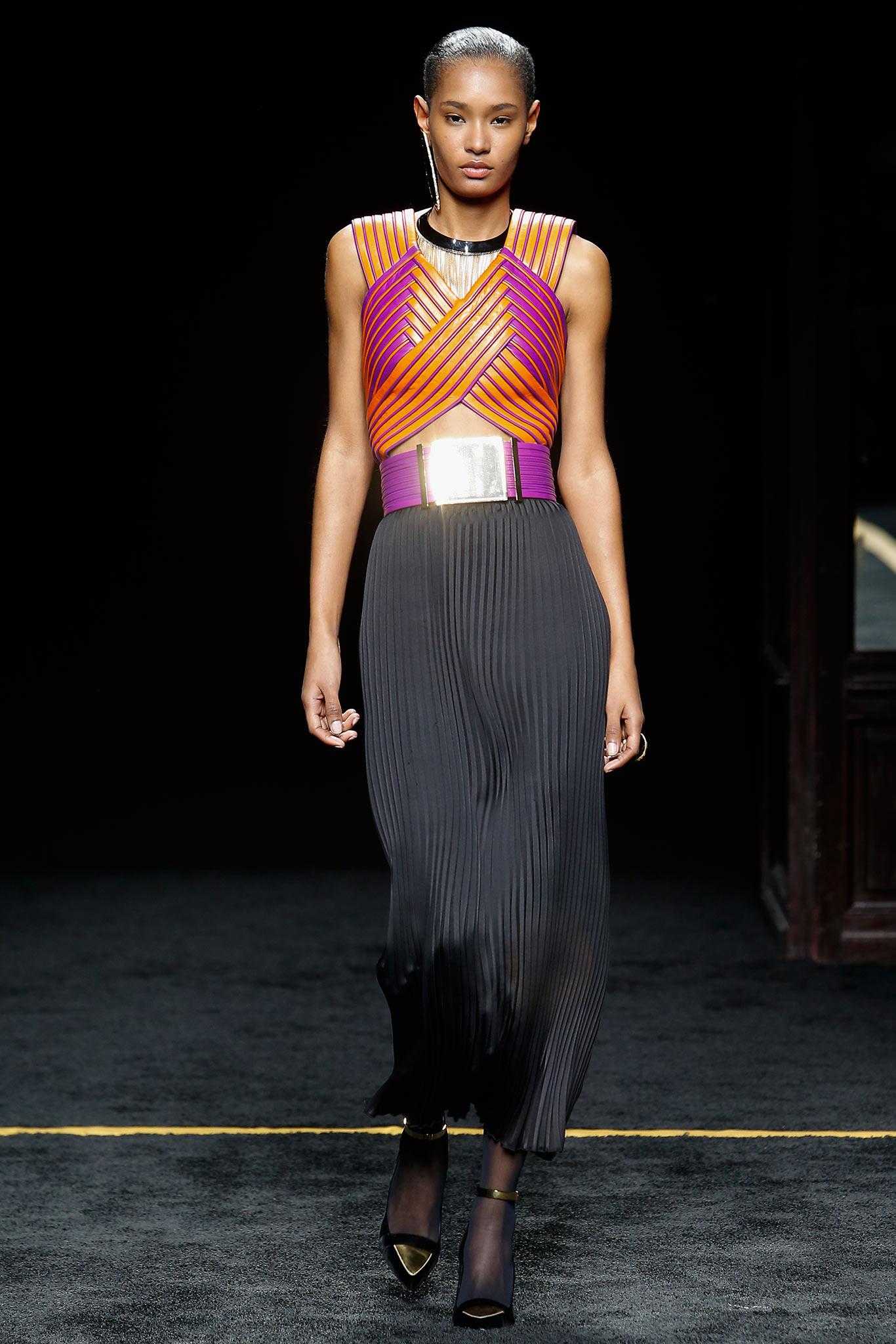 If the pleated chiffon is not your style, meh, nevermind, ignore, and focus on these damn fine torso garments.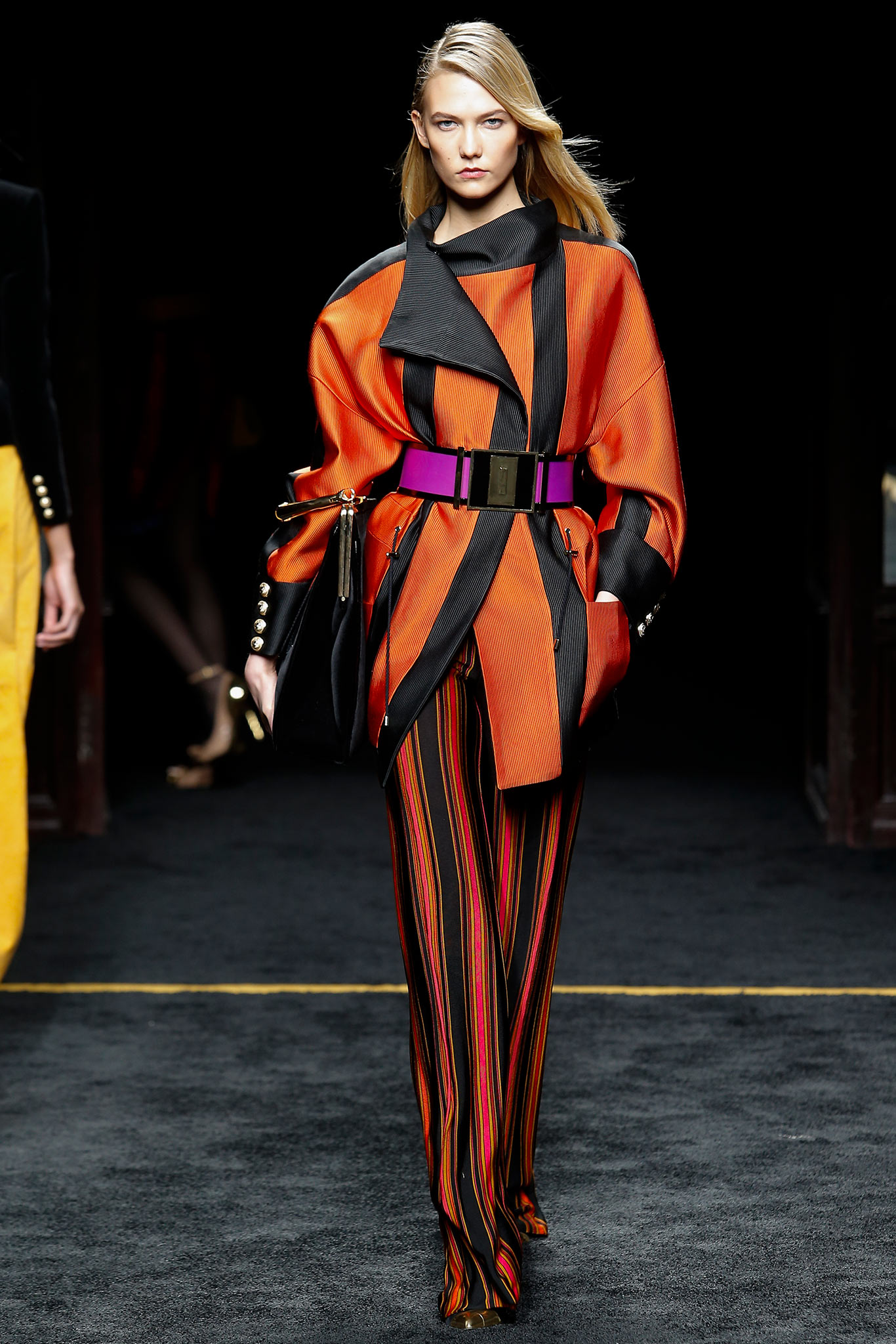 Bold and vibrant, not for the wallflower.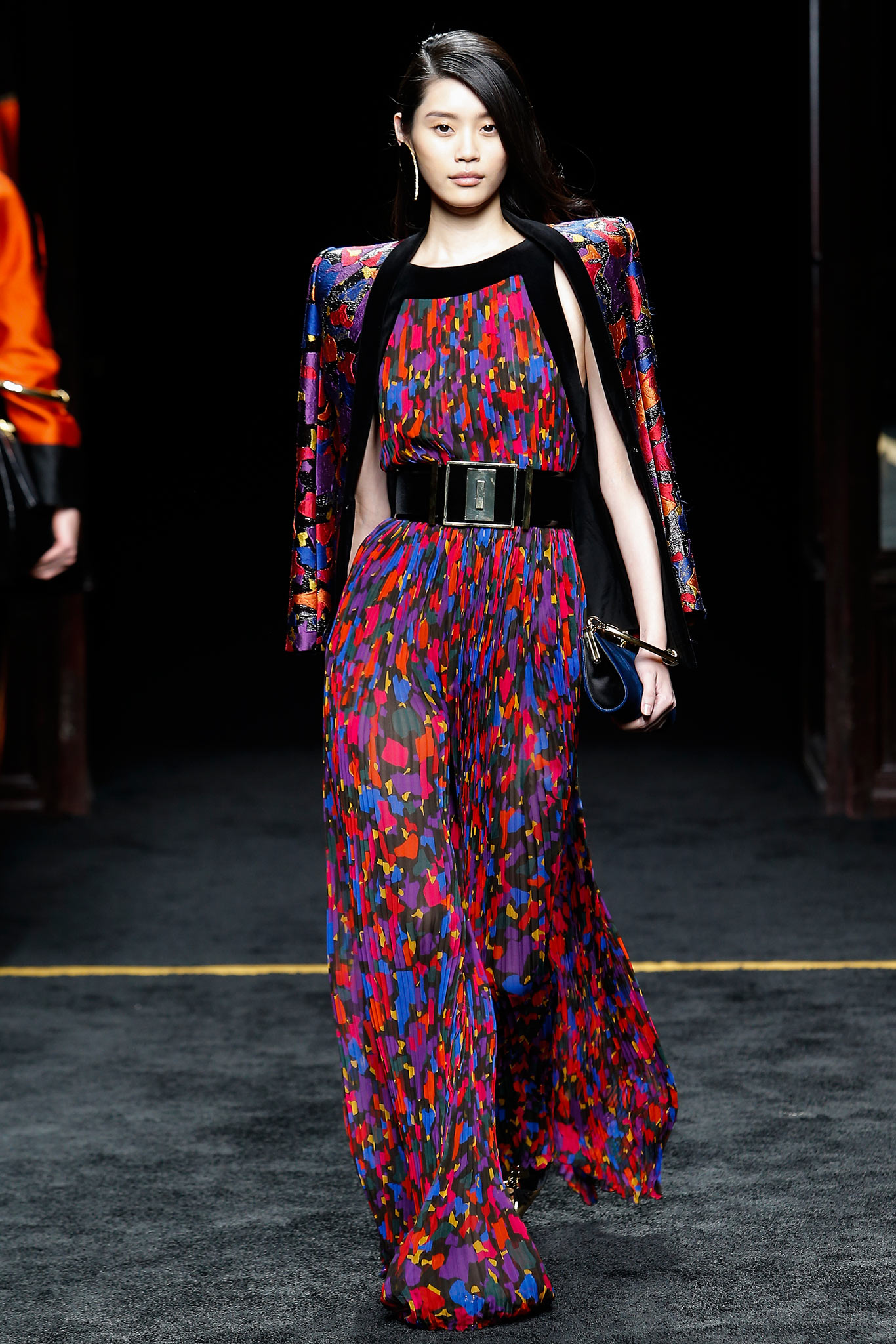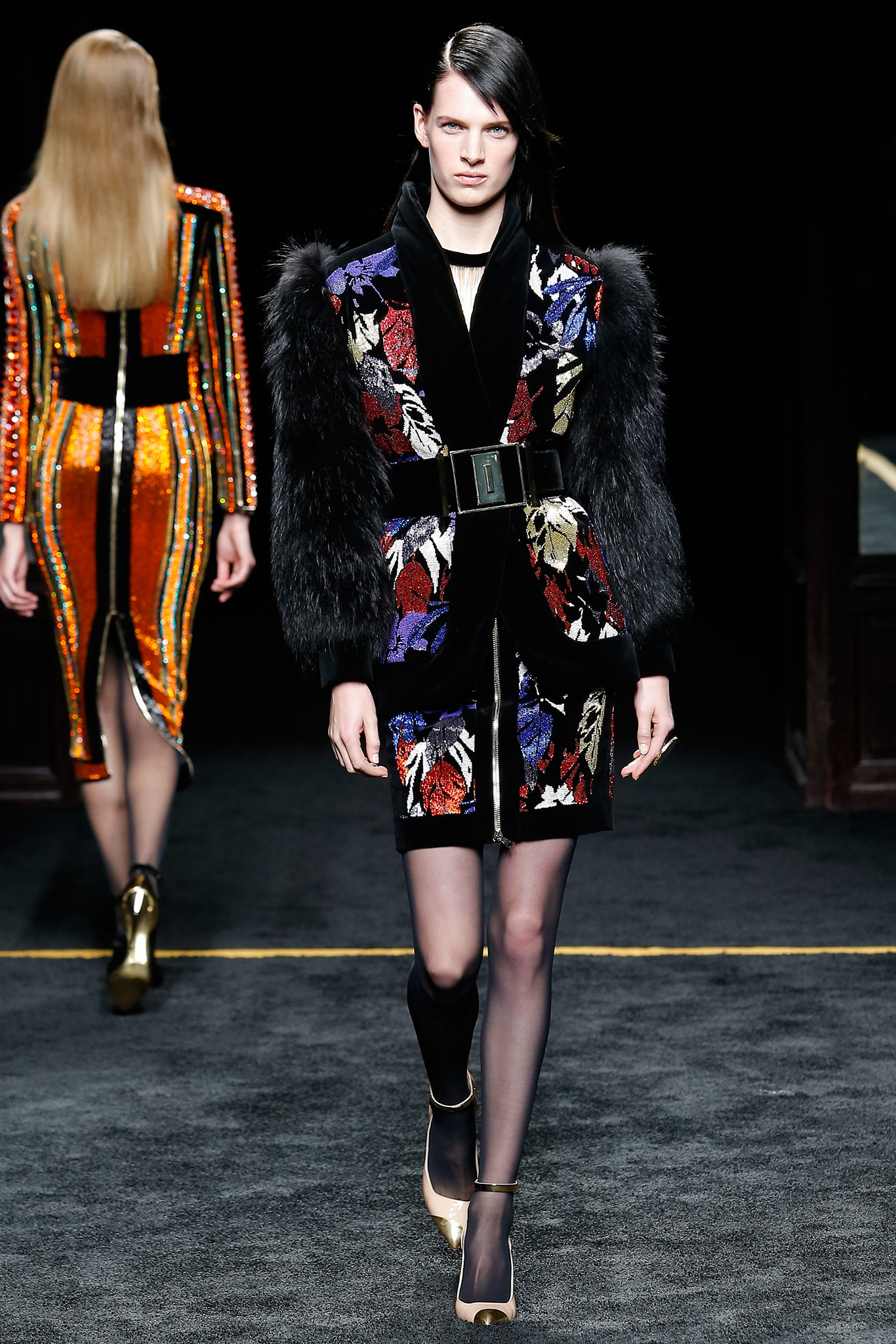 Right out of Dynasty! Calling Alexis Colby.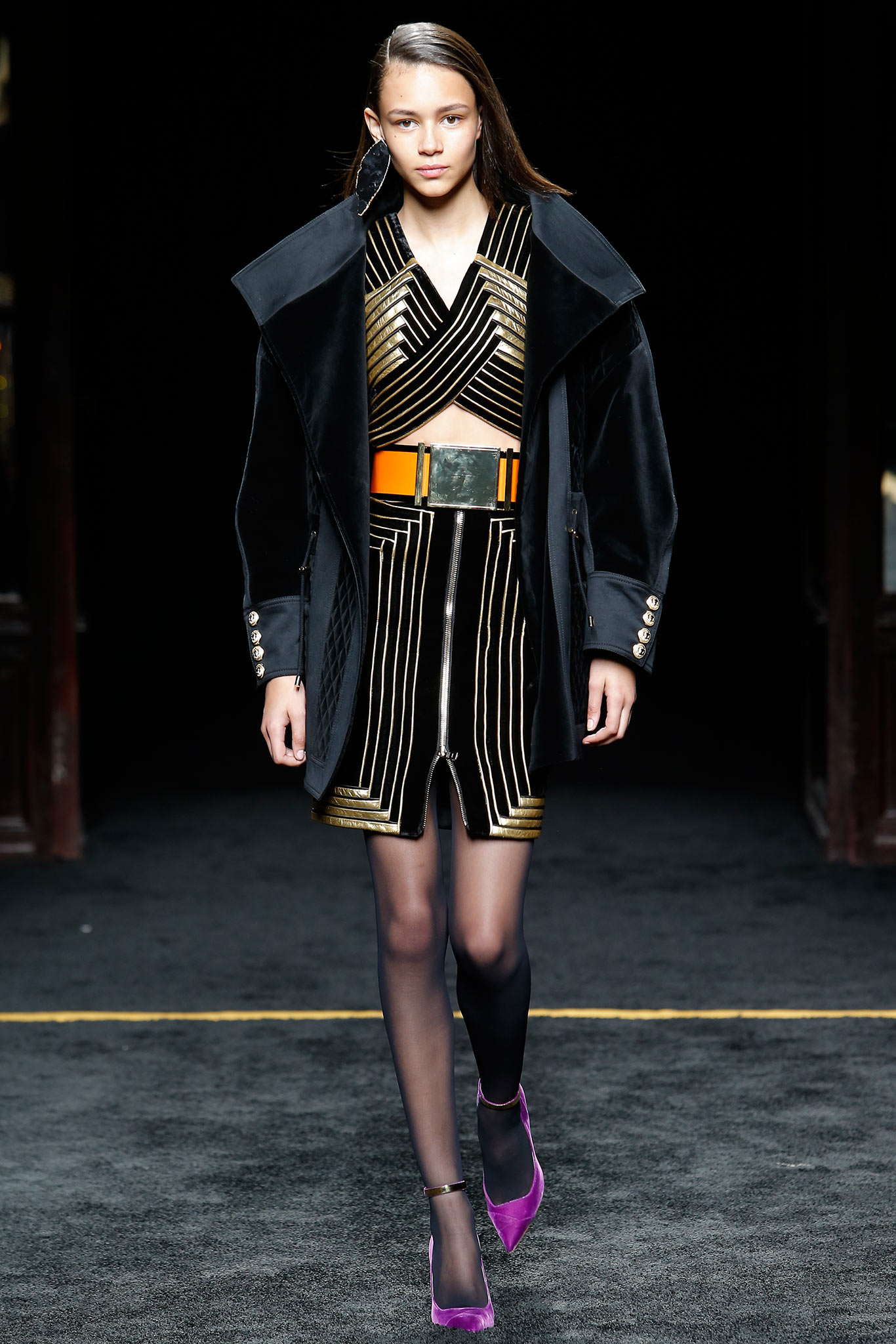 Flash Gordon meets the Matrix.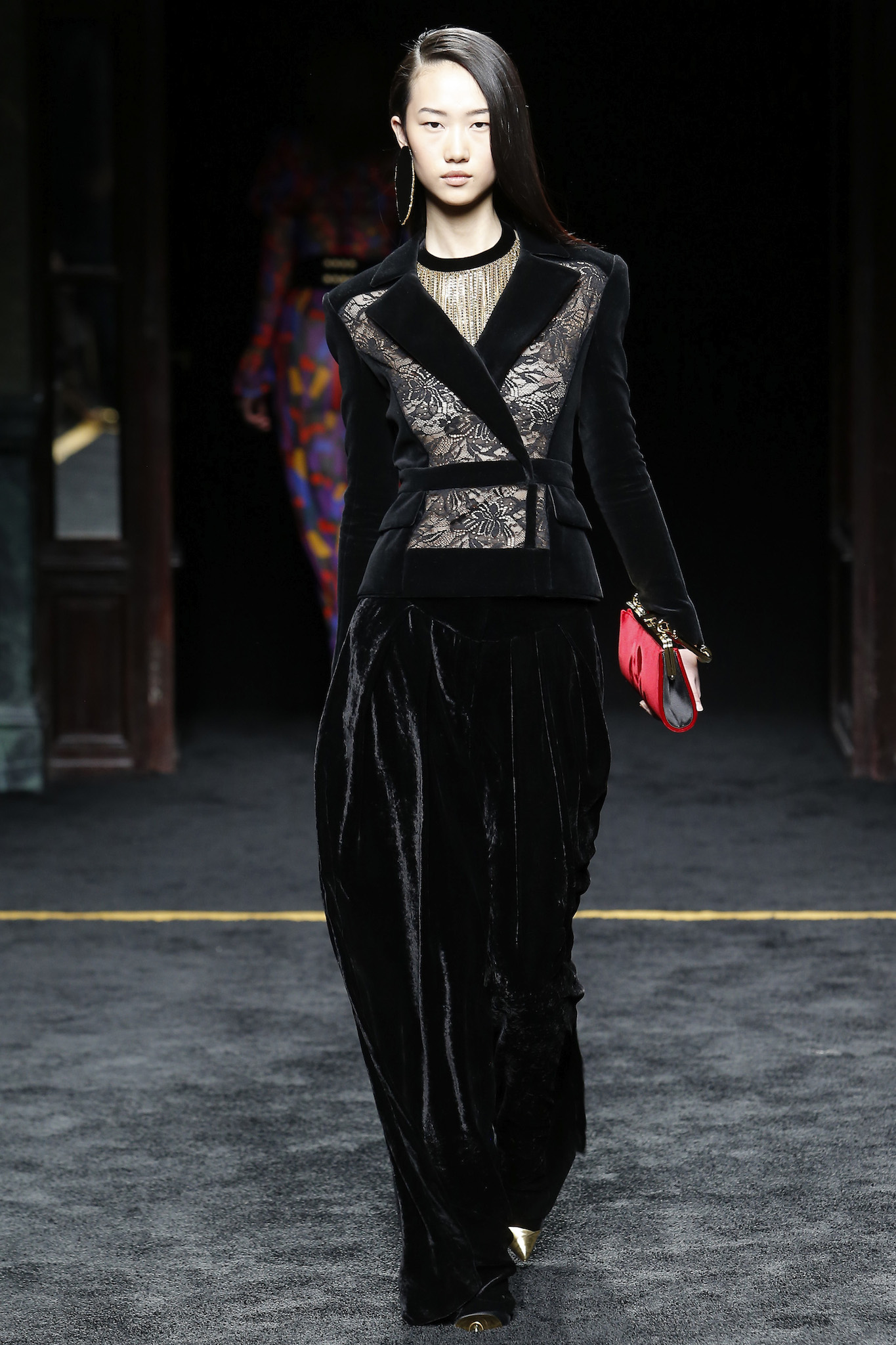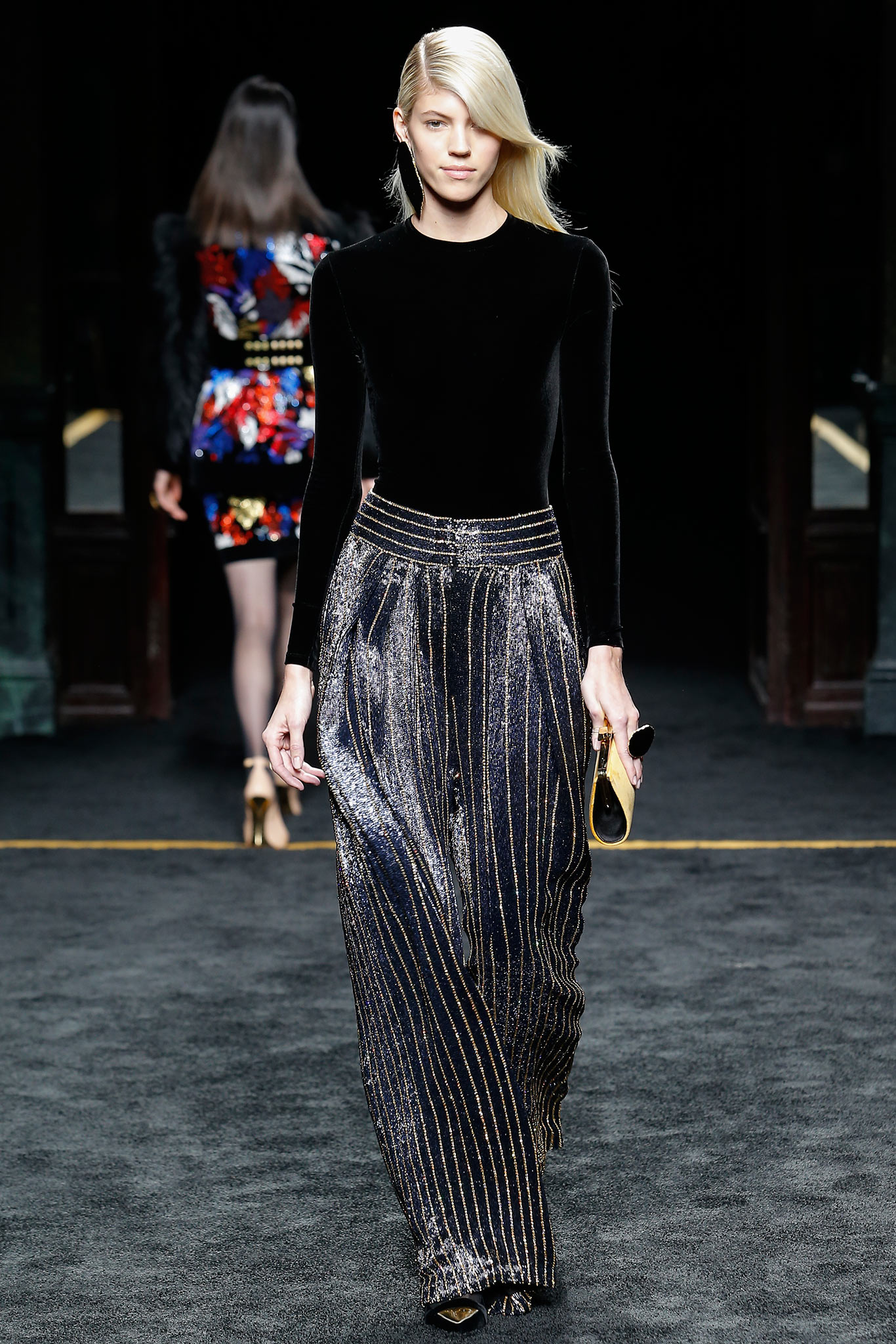 Some unique options for statement making at the next hoity toity affair. Because sometimes only bold palazzos will do.
CHLOE:
Most design houses have an ethos or a schtick if you will, with recurring themes and silhouettes, catering to various needs and desires of a certain clientele. The ladies who do lunch wear Oscar and Carolina, the hip, intrepid party gal wears Tom Ford and Balmain, the romantic wears Dolce & Gabbana. Everyone who can wears Chanel, I mean who are we kidding, who doesn't love tweed? In my ahem, younger days, I wore buckets of Laura Ashley, and was thrilled to do so, as I cottoned to all that wool and corduroy. When it comes to Chloe, we have come to expect well crafted feminine flowy creations with a running bohemian fantasy theme. Diaphanous silks infused with a 70's vibe. That bill is certainly filled in this show, however, as an ironic twist, a small but important cadre of winter coats that anyone would be thrilled to be enveloped in, also emerges. These are coat for the ages.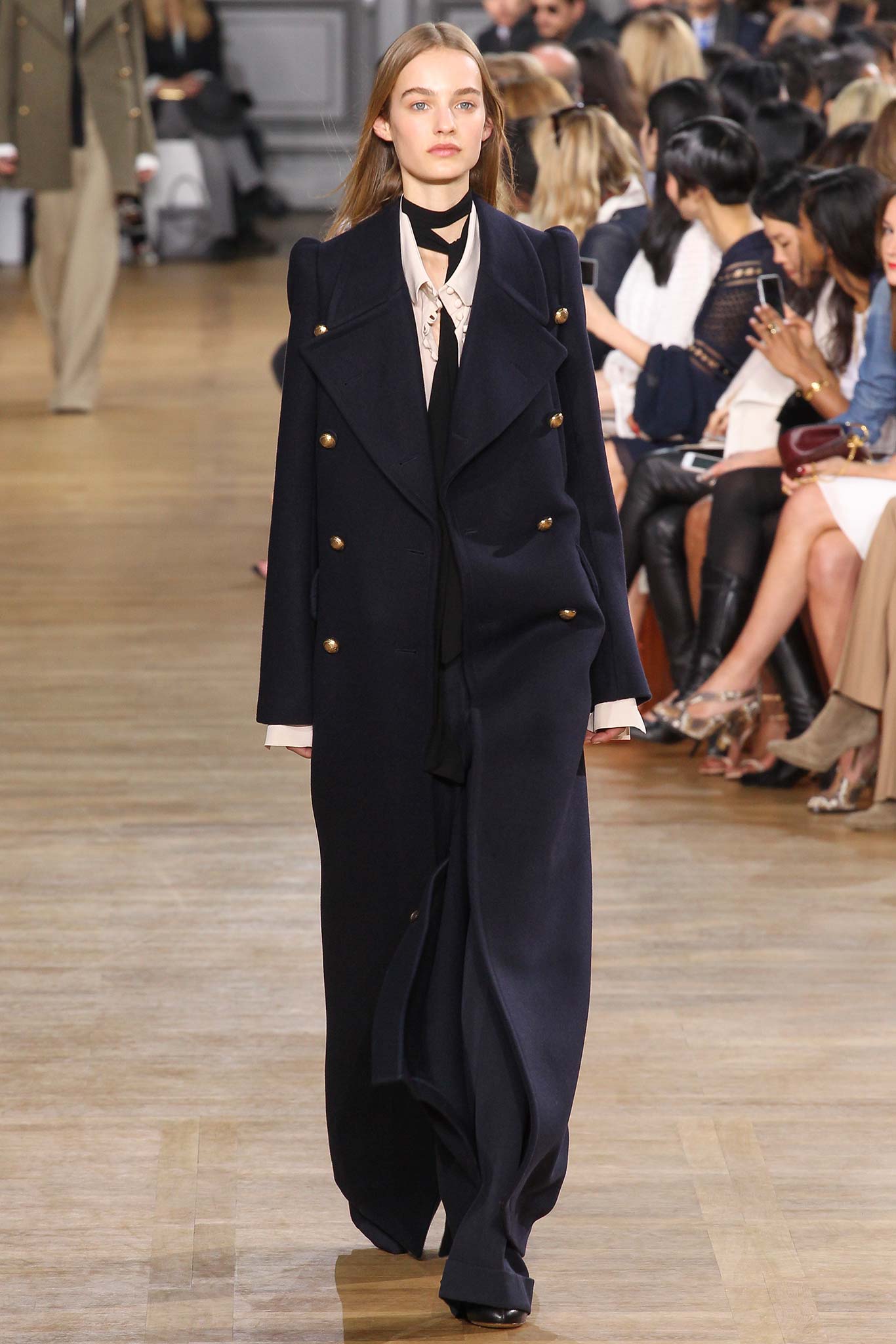 A bit of a nautical flare, would work over casual slacks, skinny jeans, or a slip dress.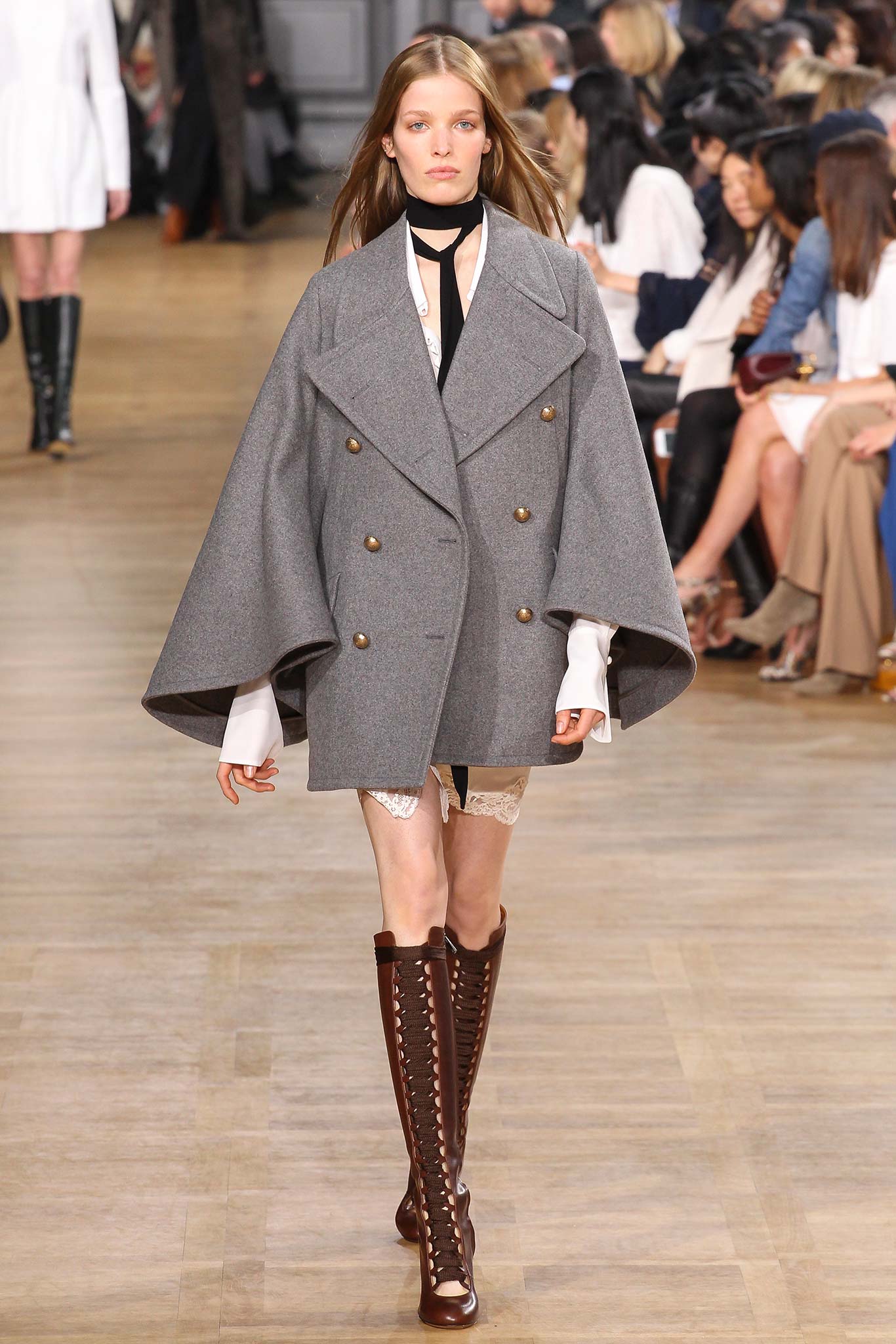 Easy, jaunty, a good fall staple somewhat out of the ordinary.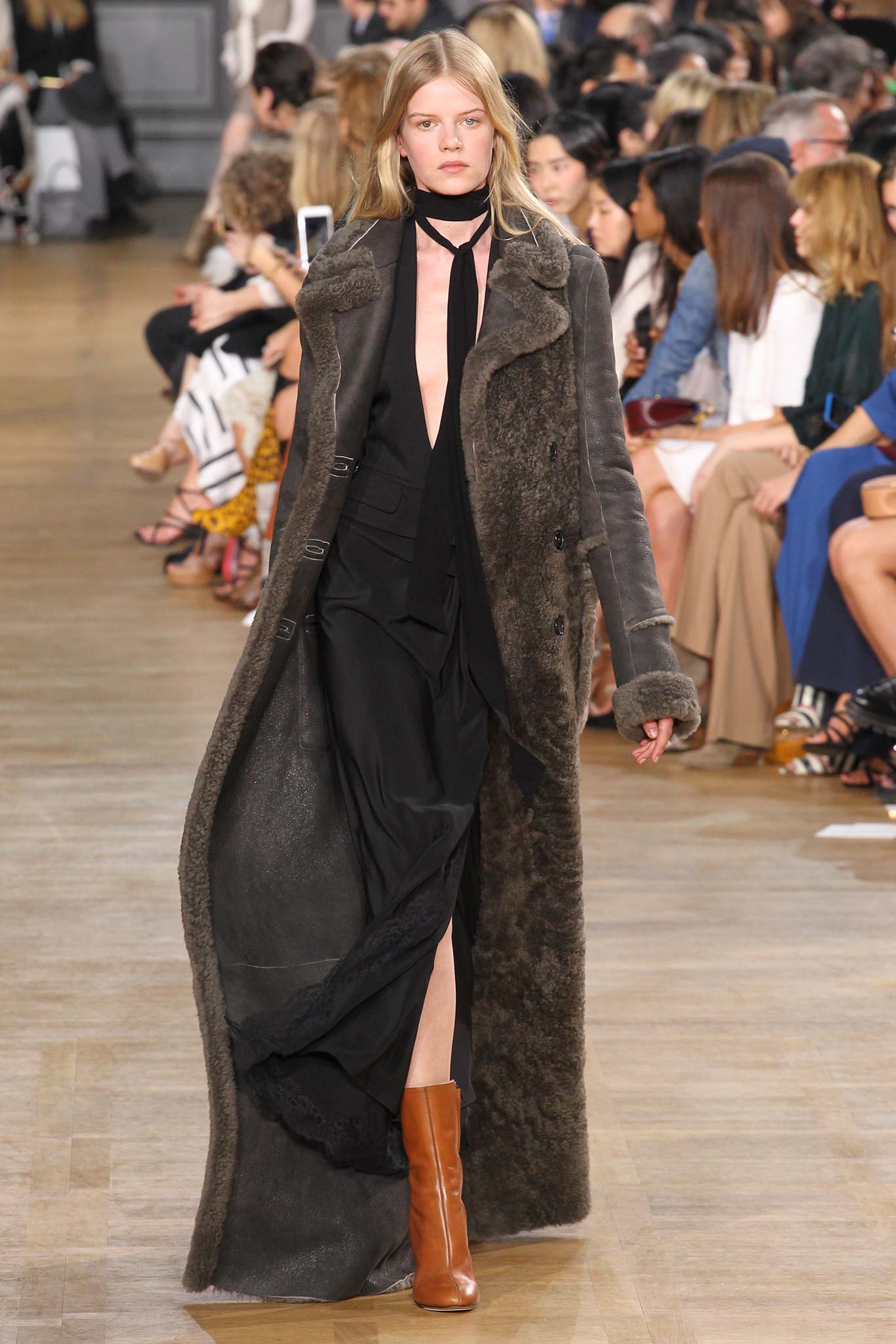 Sort of Ghengis Khan glamour. A standout for sure.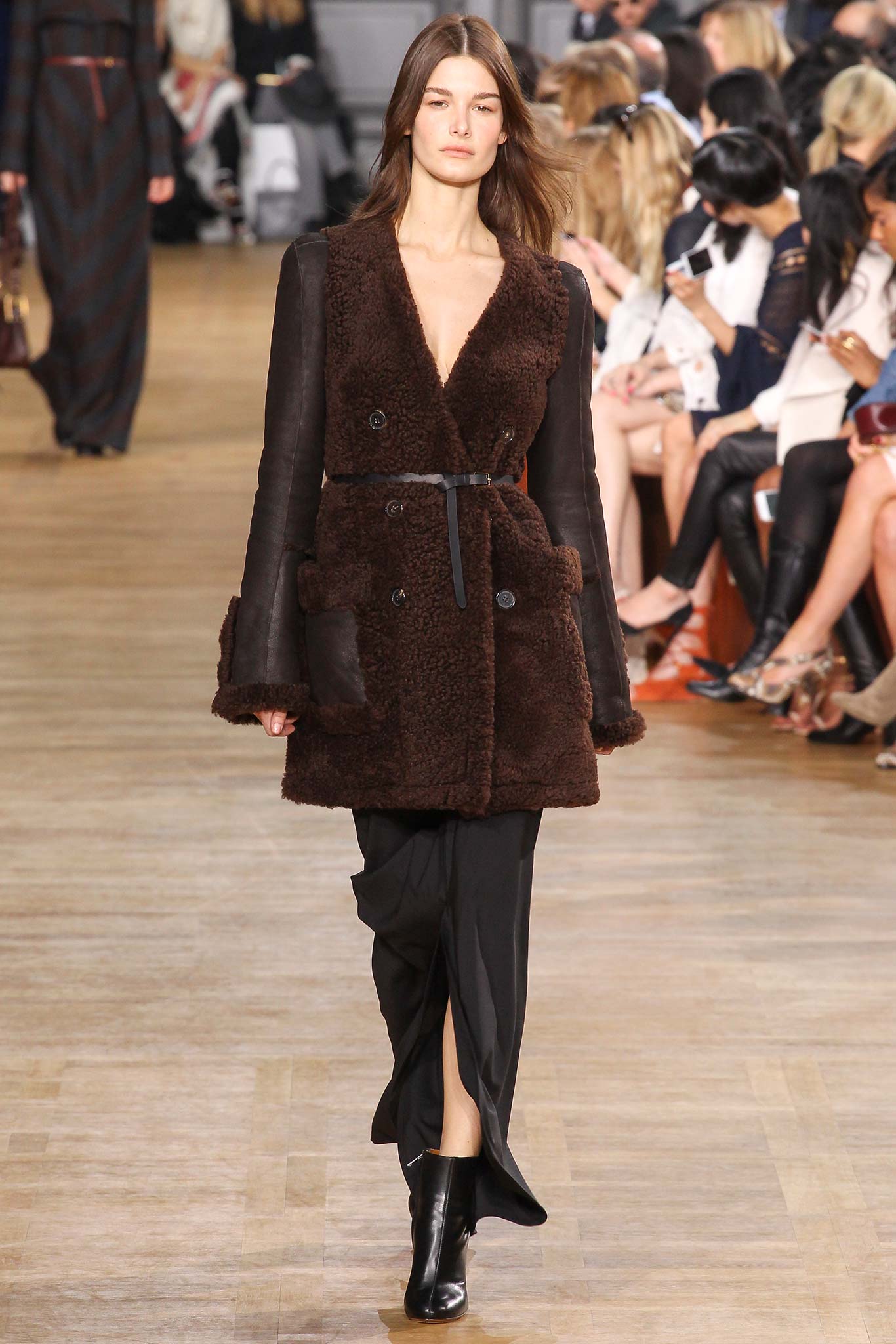 More fabulous shearling, good anytime, anywhere.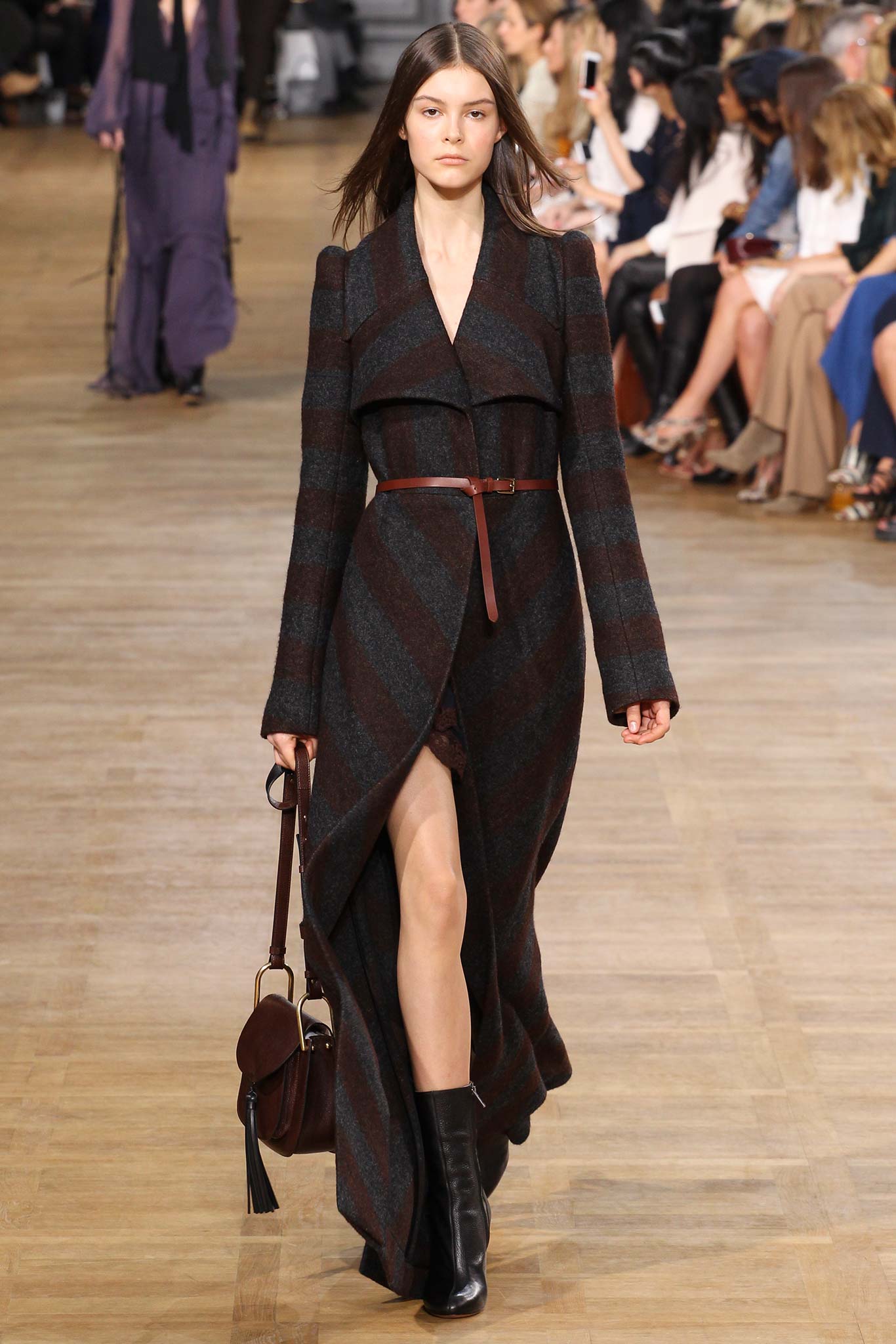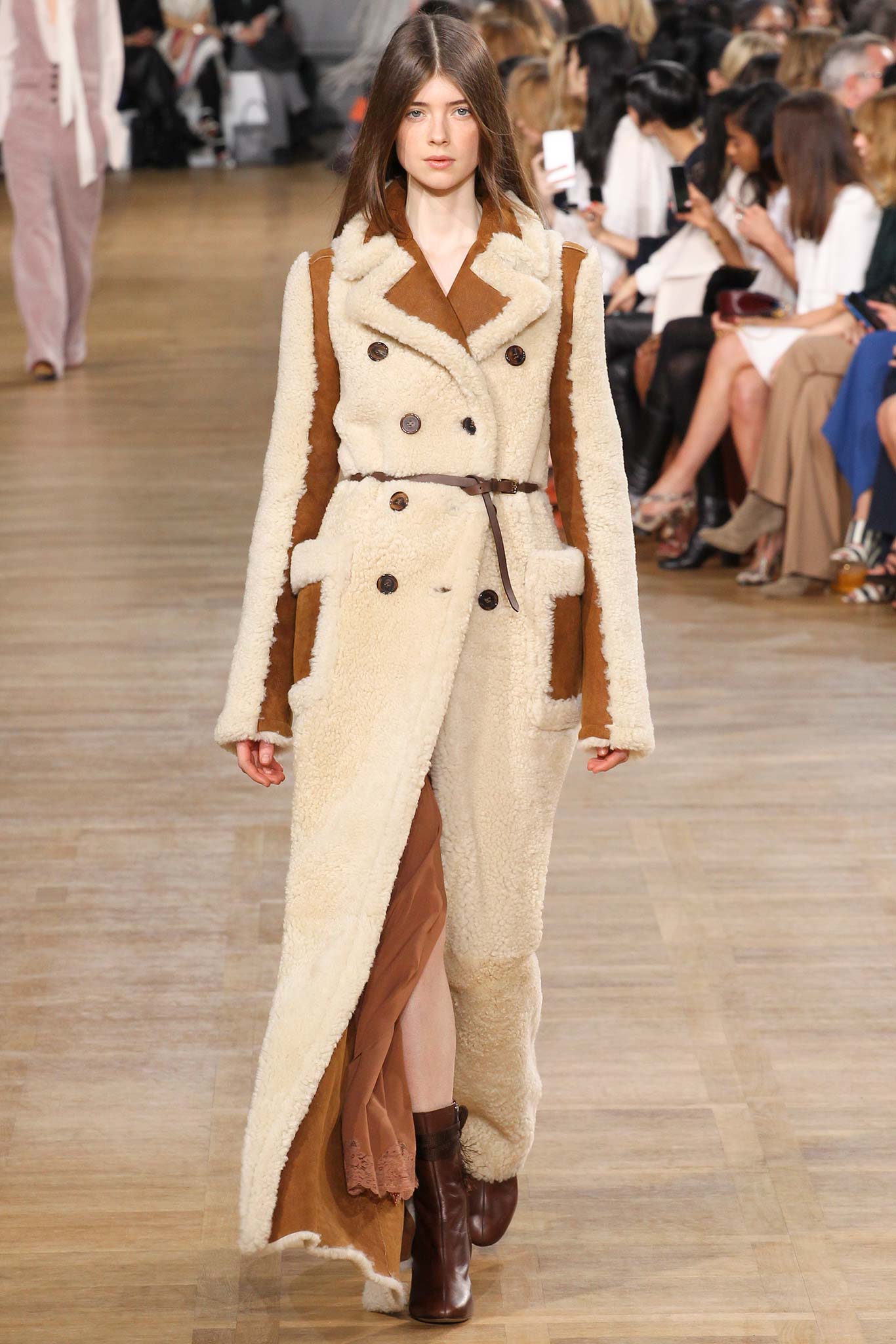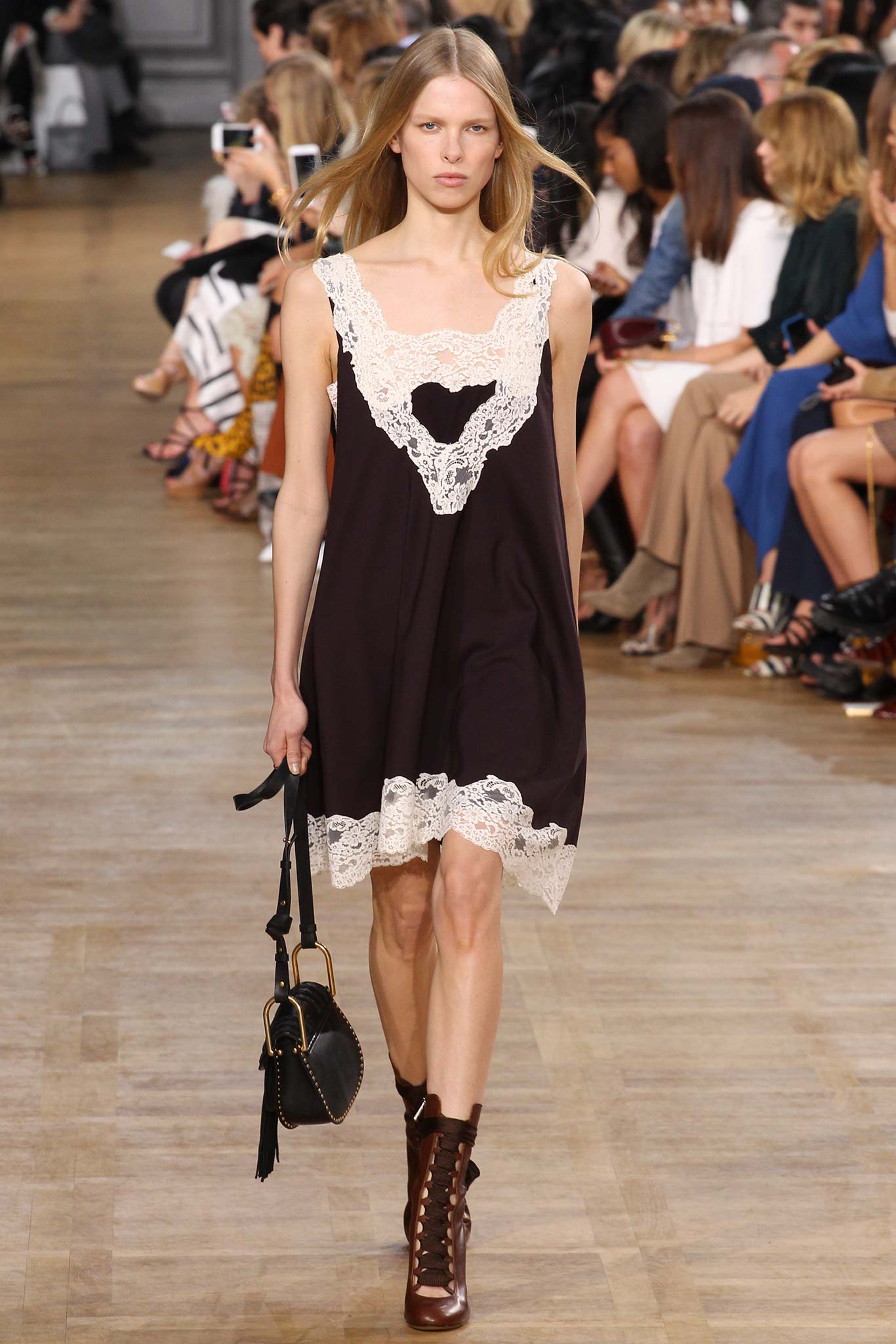 A slip? a dress? a tunic? All of the above.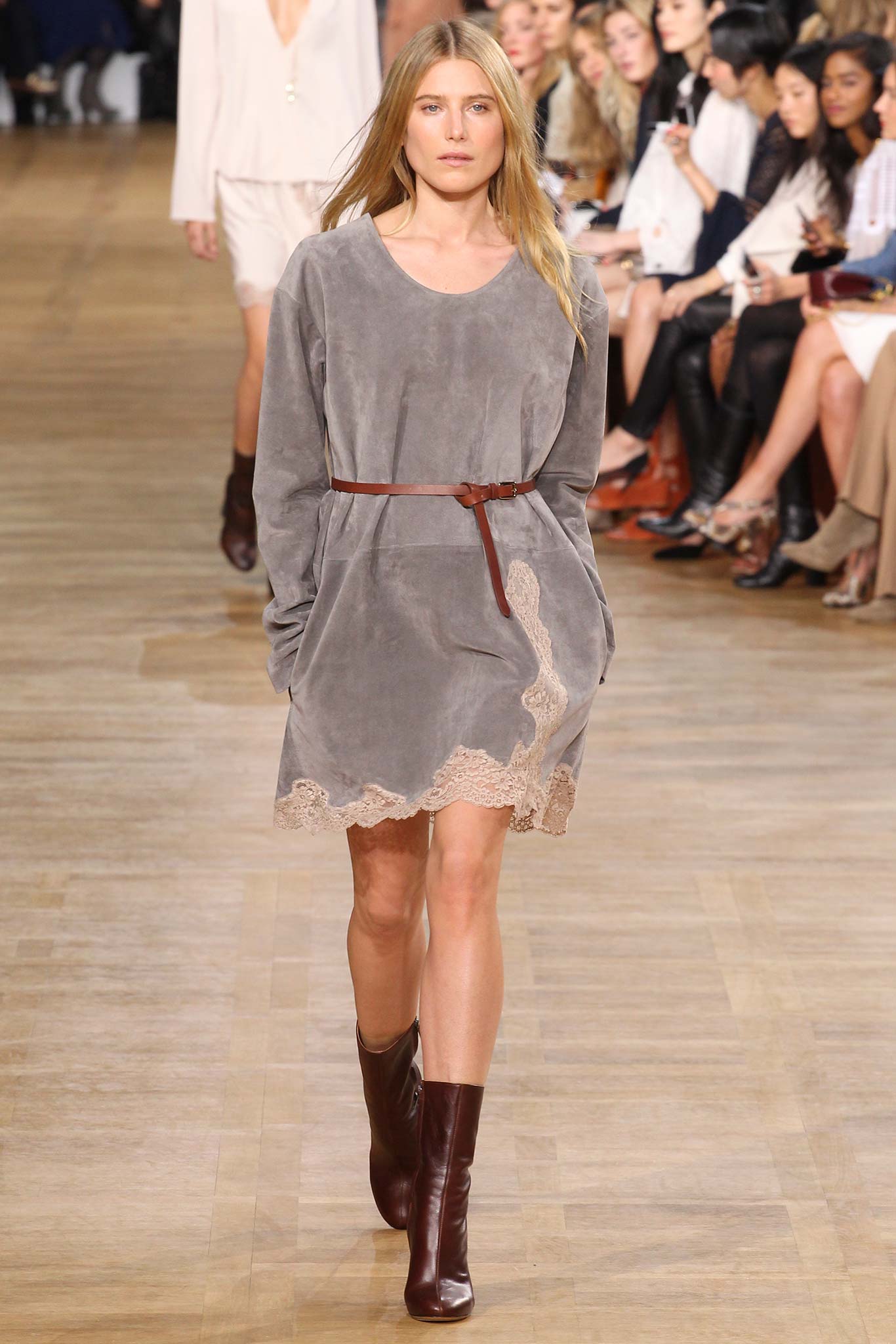 My personal favorite, the ironic slip dress in grey suede with lace detailing........calls for opaque hose and shoe booties.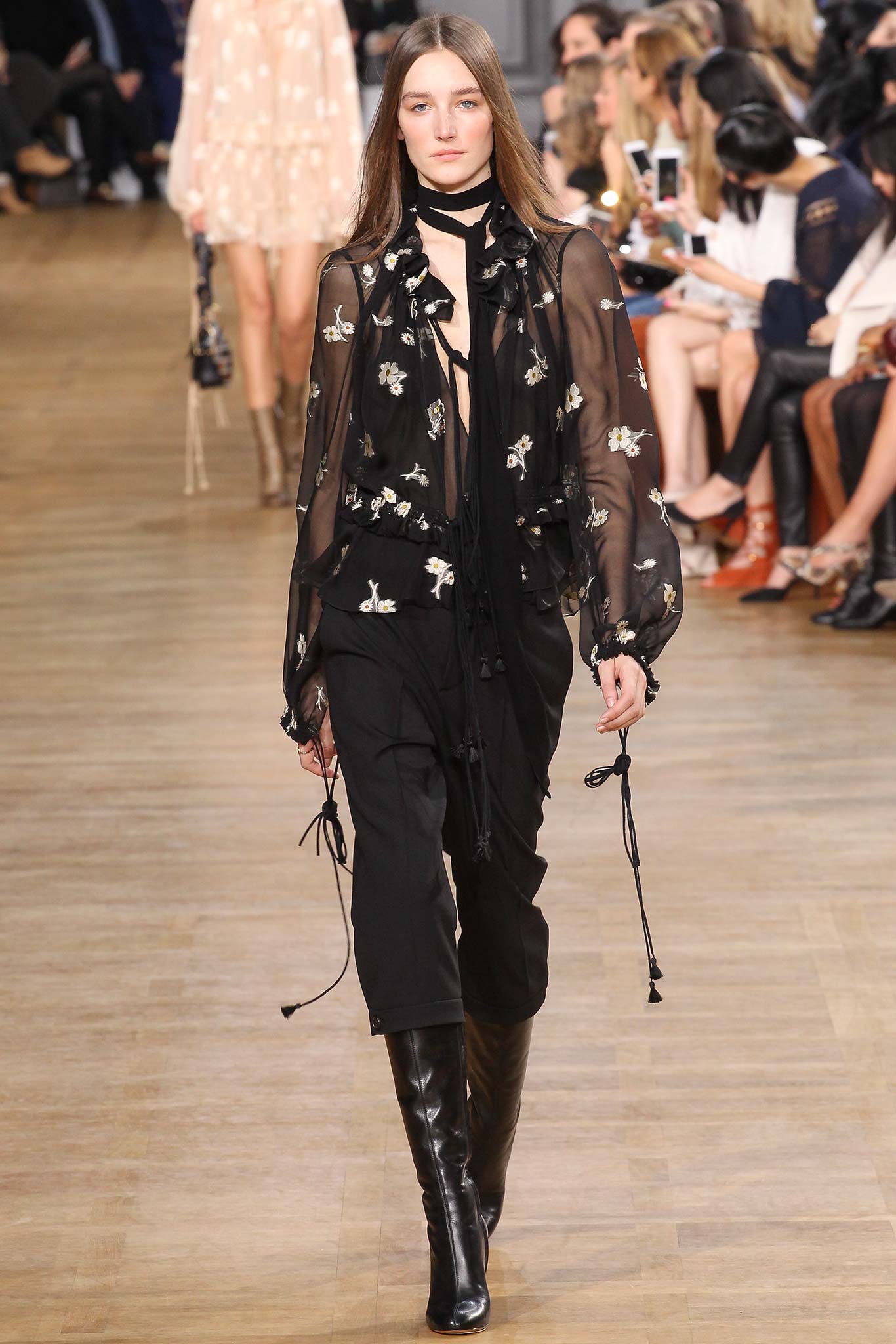 Now a few pieces of the flowy variety. Not exactly sure what the hanging do dads are all about, but should the occasion arise, pull a MacGyver and use for protection, as a modern garotte. Just make sure you don't strangle yourself in the process...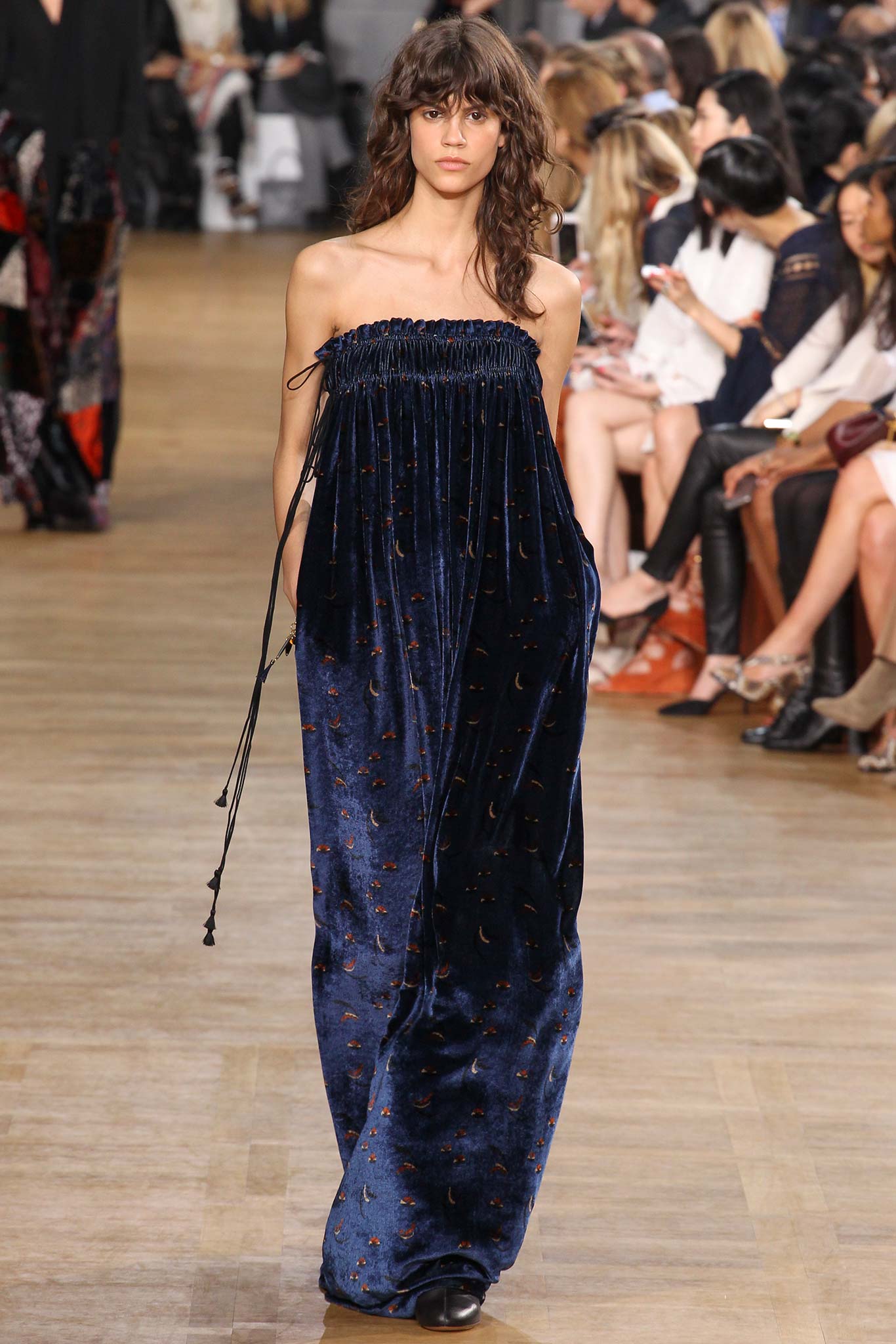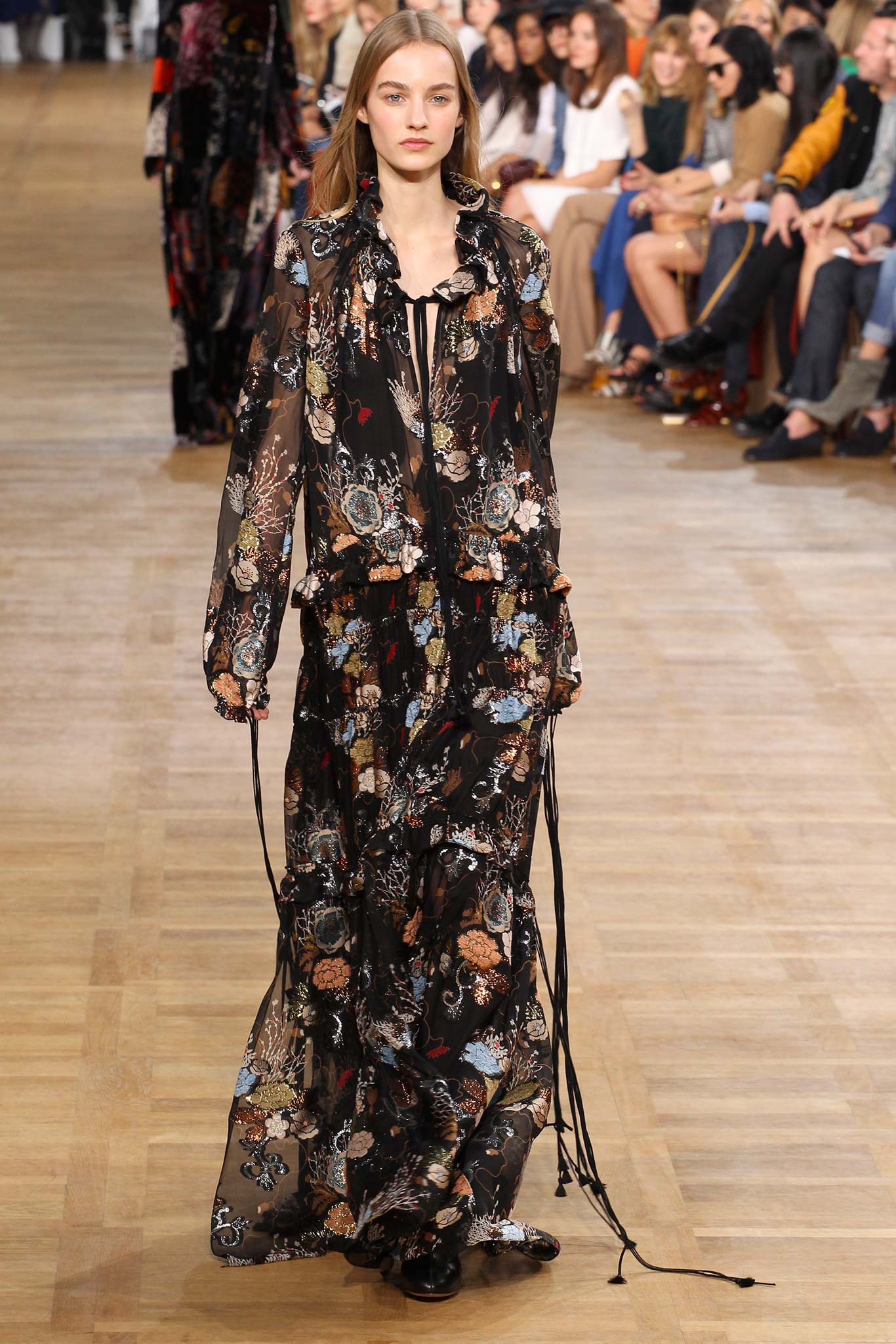 Good for end of summer, early fall before the arctic breezes set in. Of course once the temperatures drop, throw over wool leggings and under one of the fabulous coats!
MIU MIU:
As per usual, Miuccia Prada infuses zest, zany, and joie de vivre into her collection with bright fanciful colors in lively patterns. And you gotta love the faux component, keeps the price and guilt in check. The Python I believe to be real.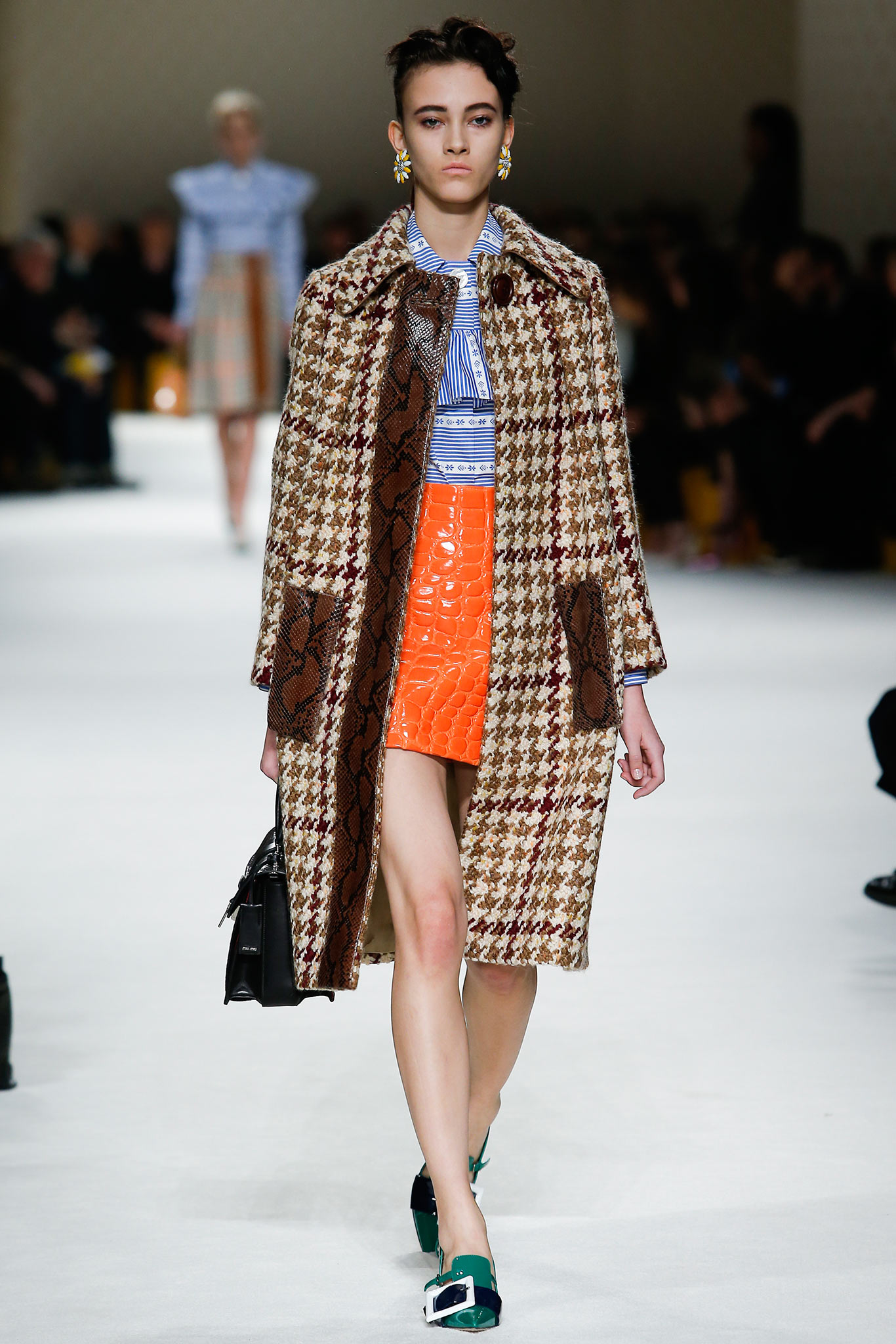 The mixture of patterns and color palettes result in a happy youthful exuberance. But really, anyone of any age would be right at home in these joyous coats. Great for spicing up a wardrobe of blacks and grays.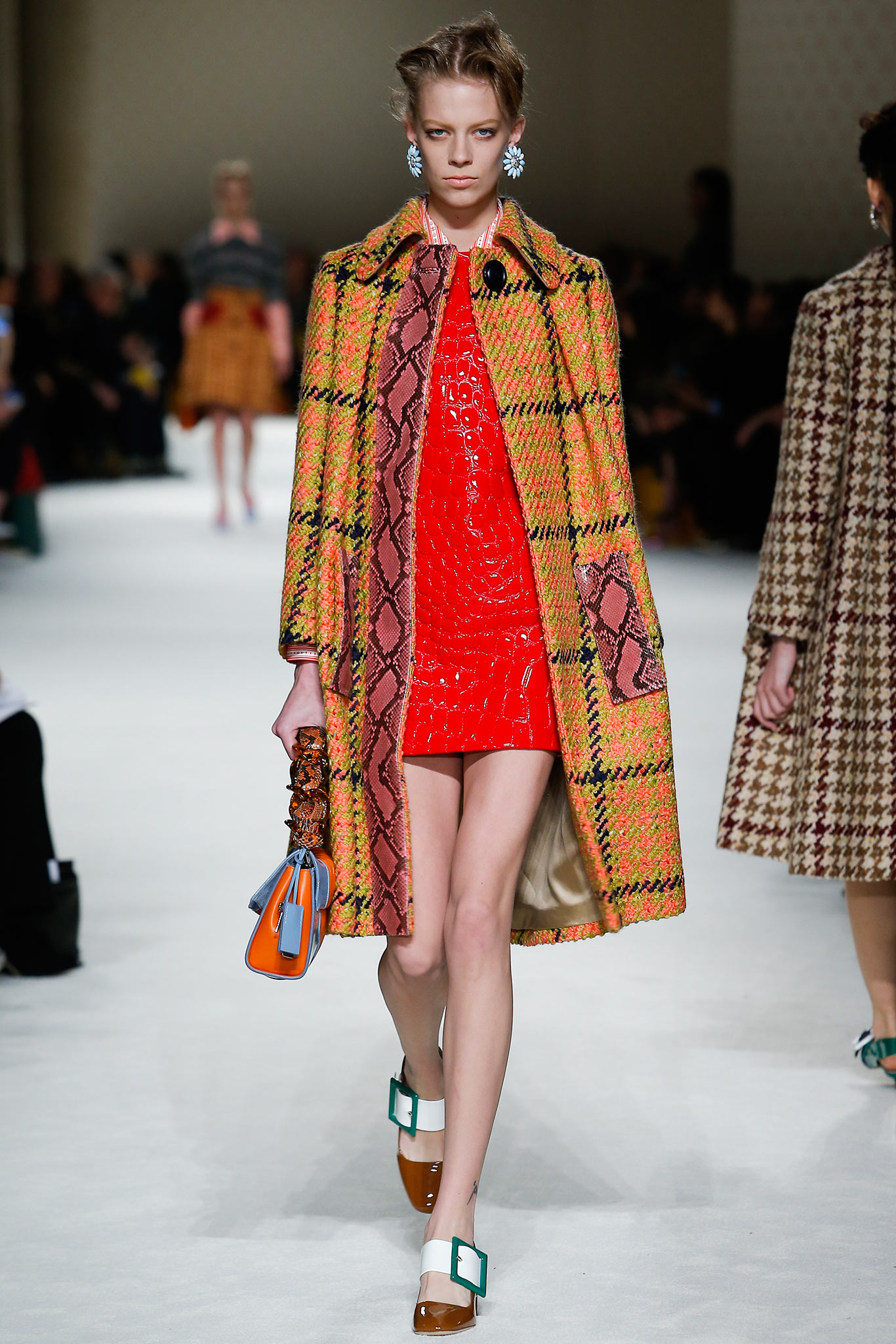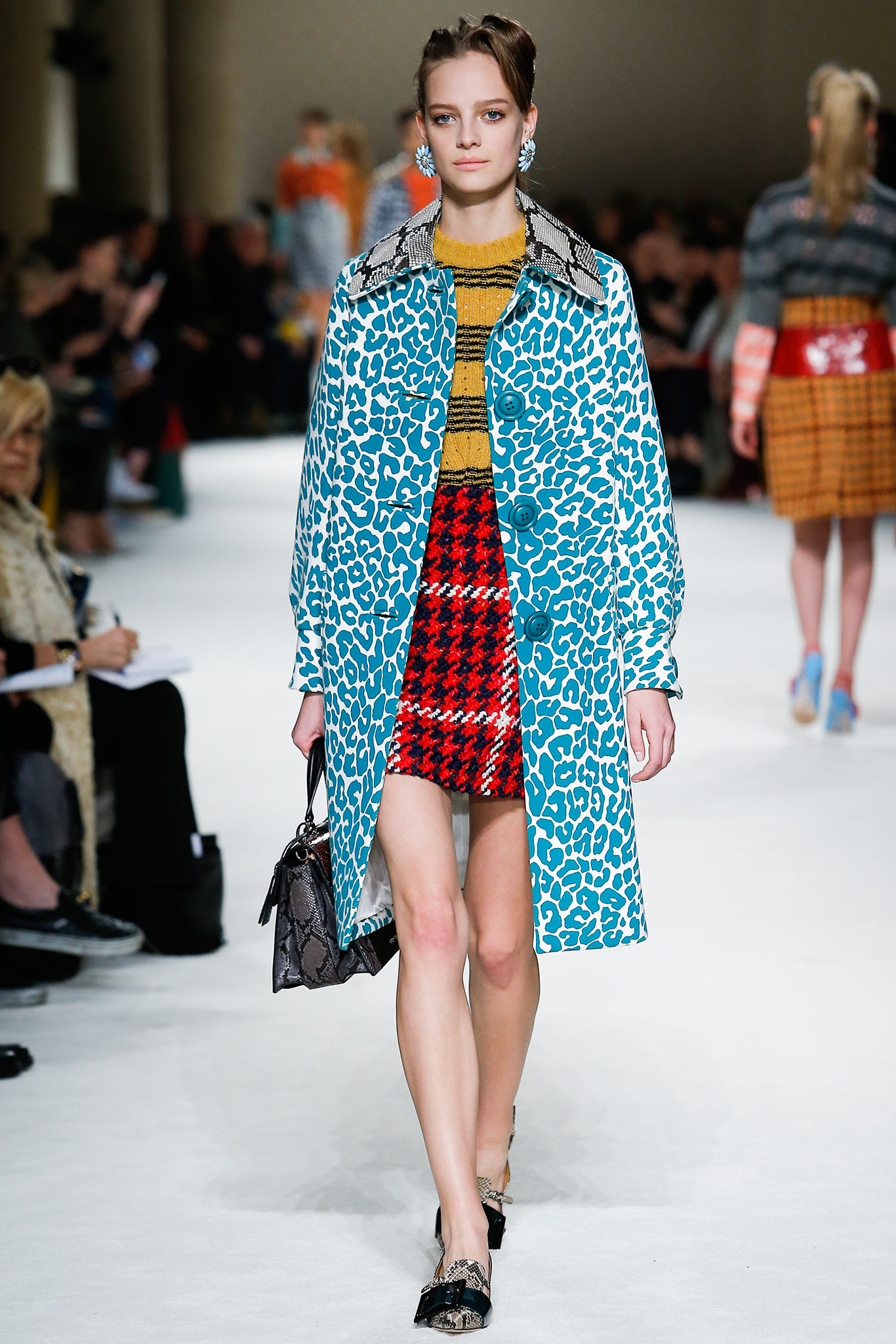 Casual take on the ubiquitous Leopard.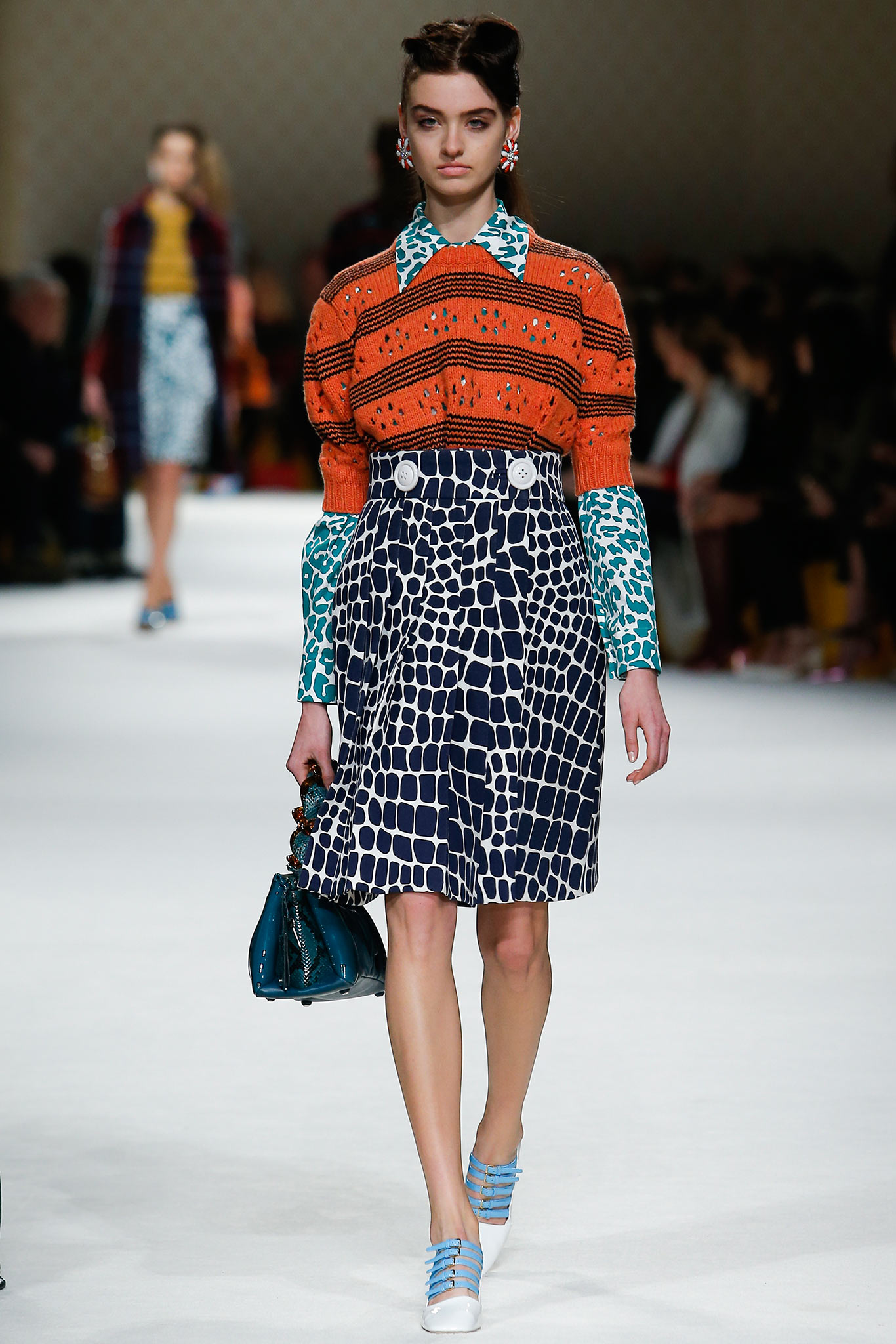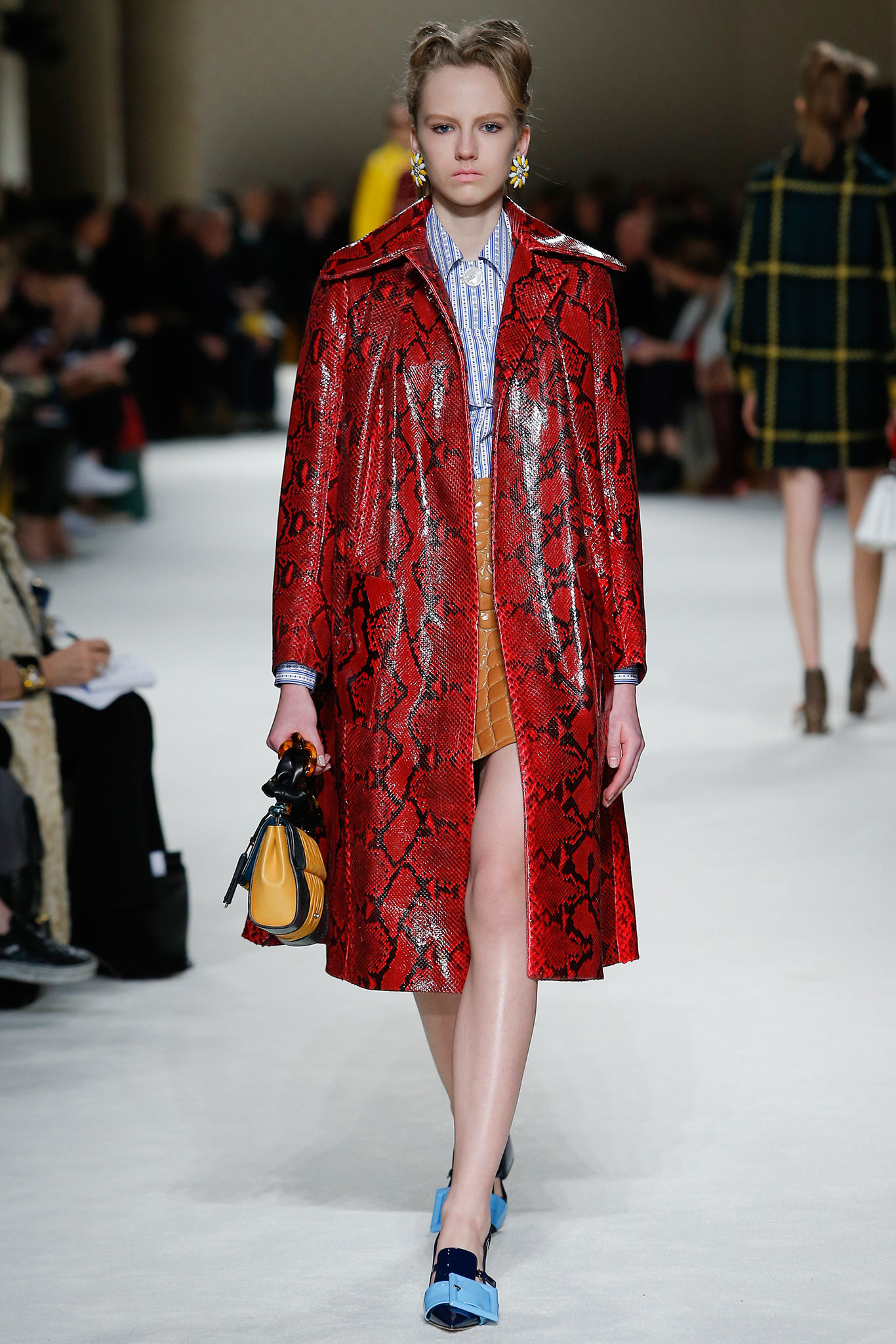 Oof, that is a WHOLE lotta Python! You won't stumble onto that on the random racks.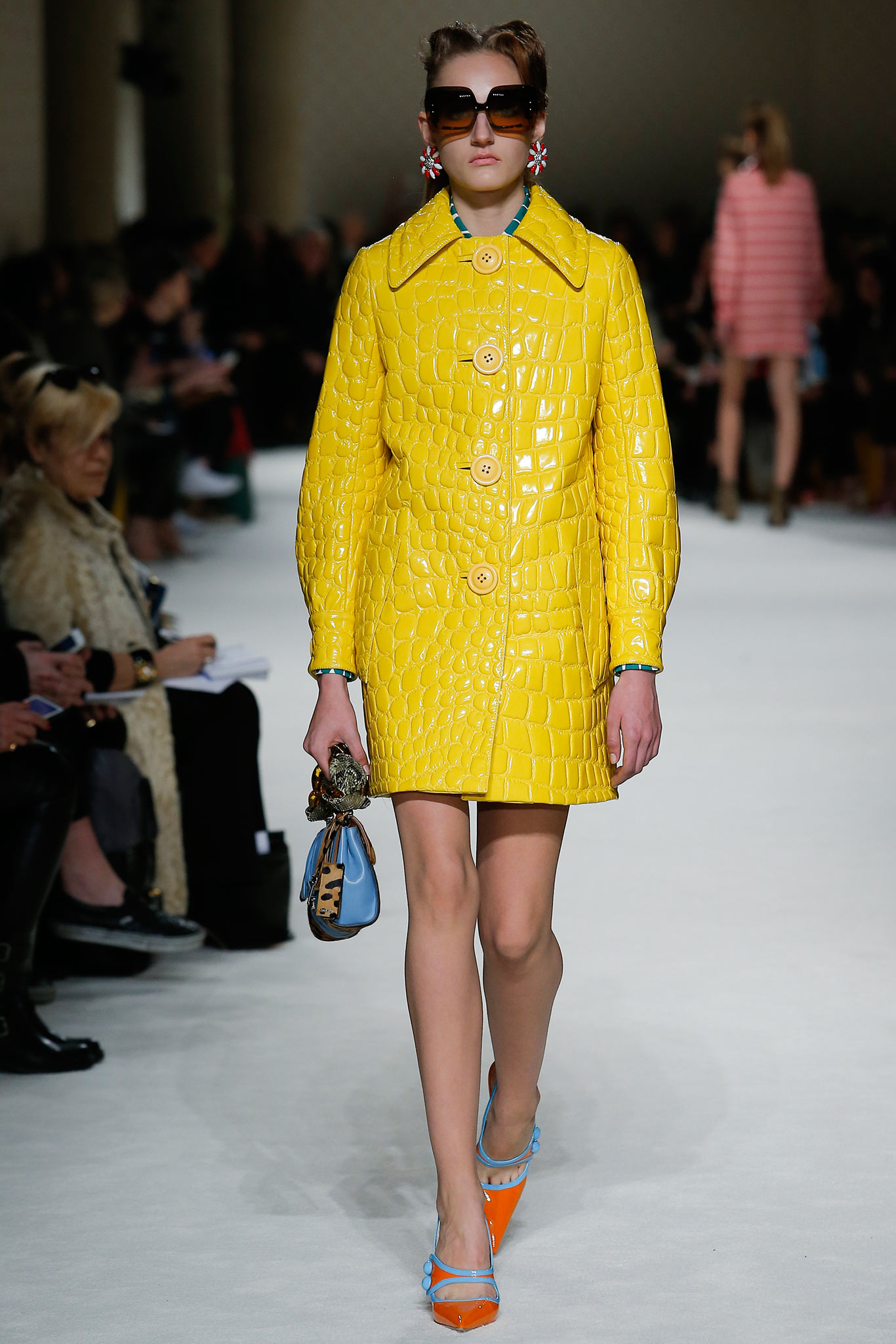 Mmmmmm, check out the shoes! A lively take on fall winter fashion with a shiny bright palette! A yummy smorgasbord of patent leather.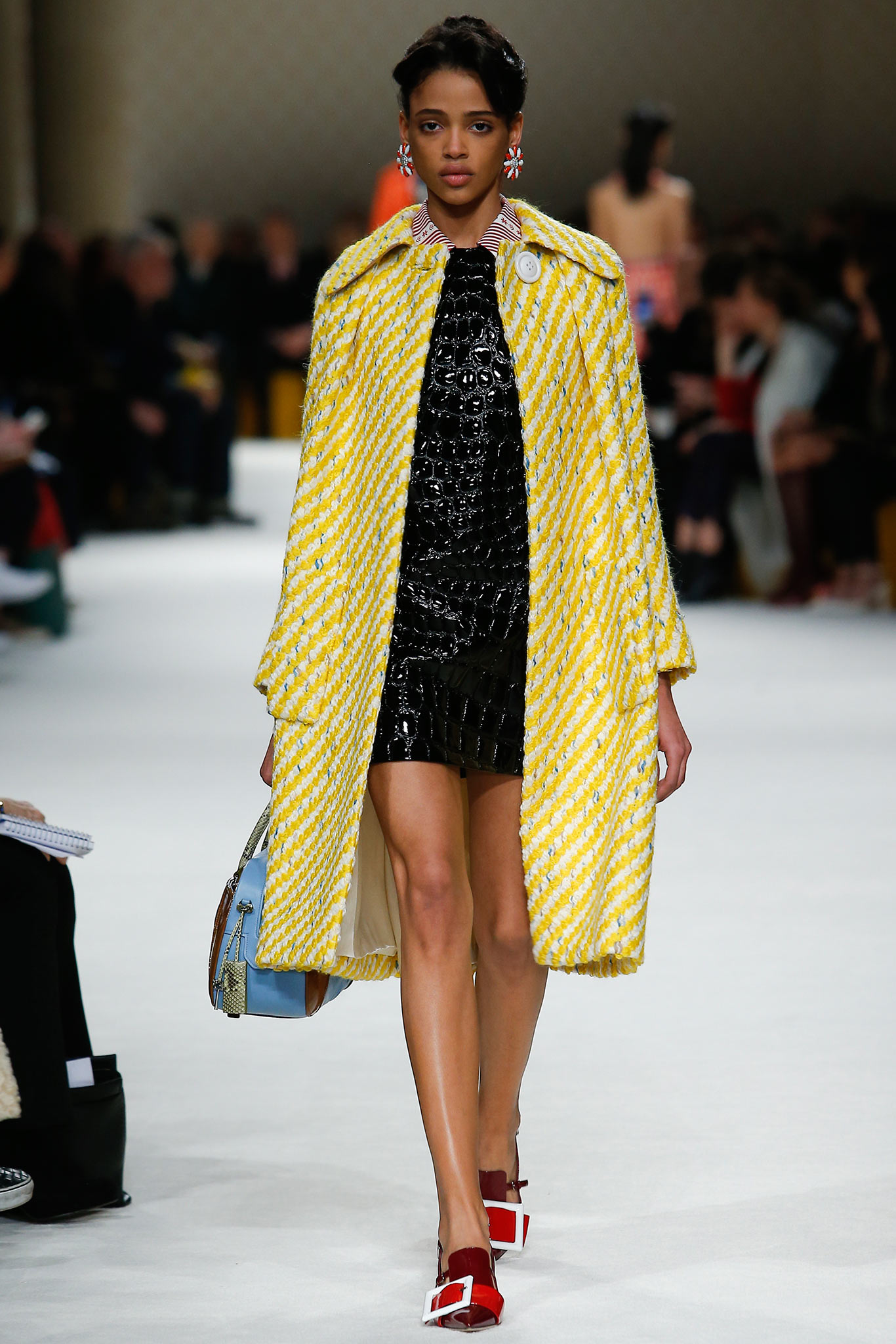 Yellow is THE happy color! This is perfect from spring to winter, a perfect antidote to doldrums of any variety. Love all these big shoe buckles. I'm endlessly amused by the contrast of the 50's style coat with the croco embossed black mini. Classic.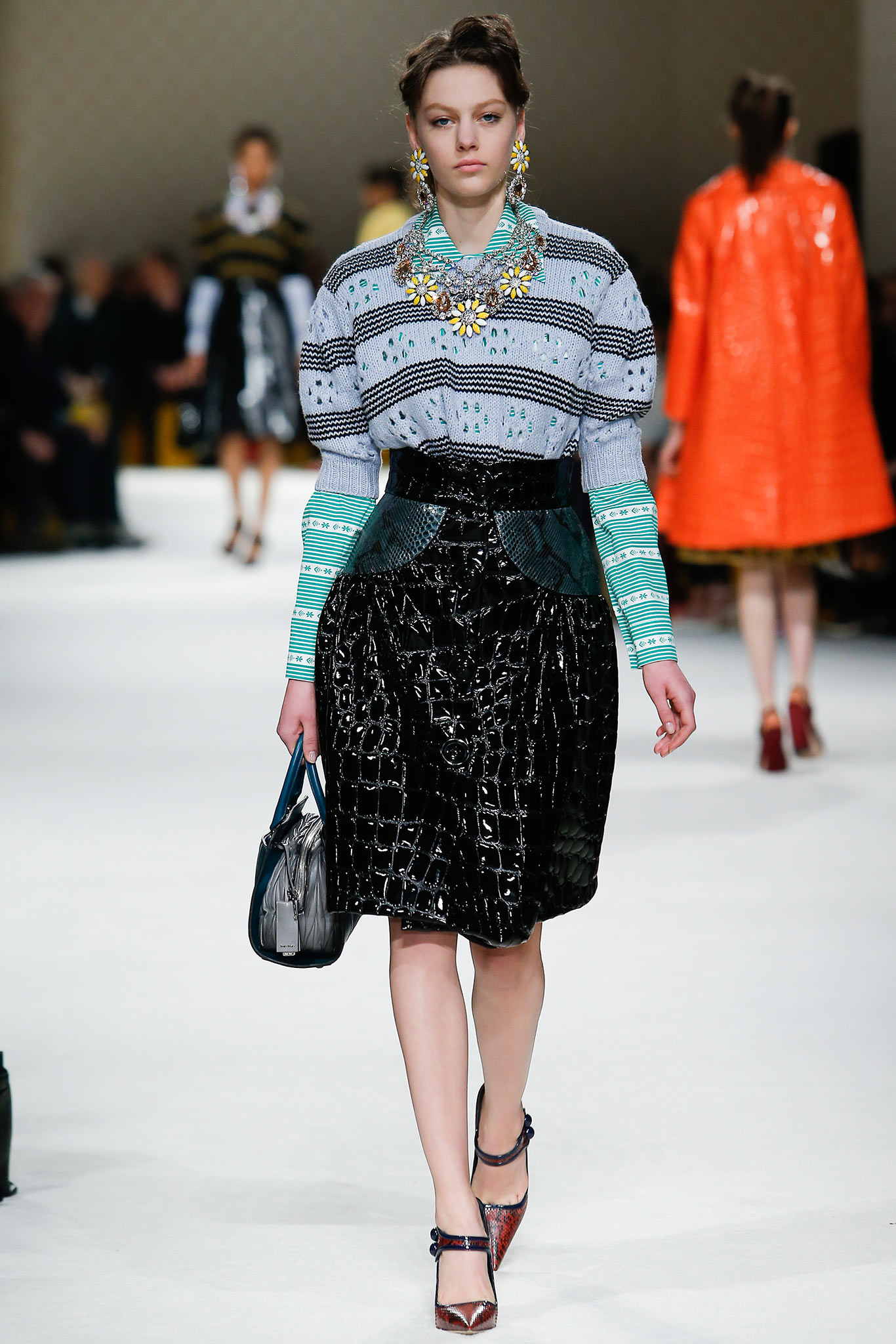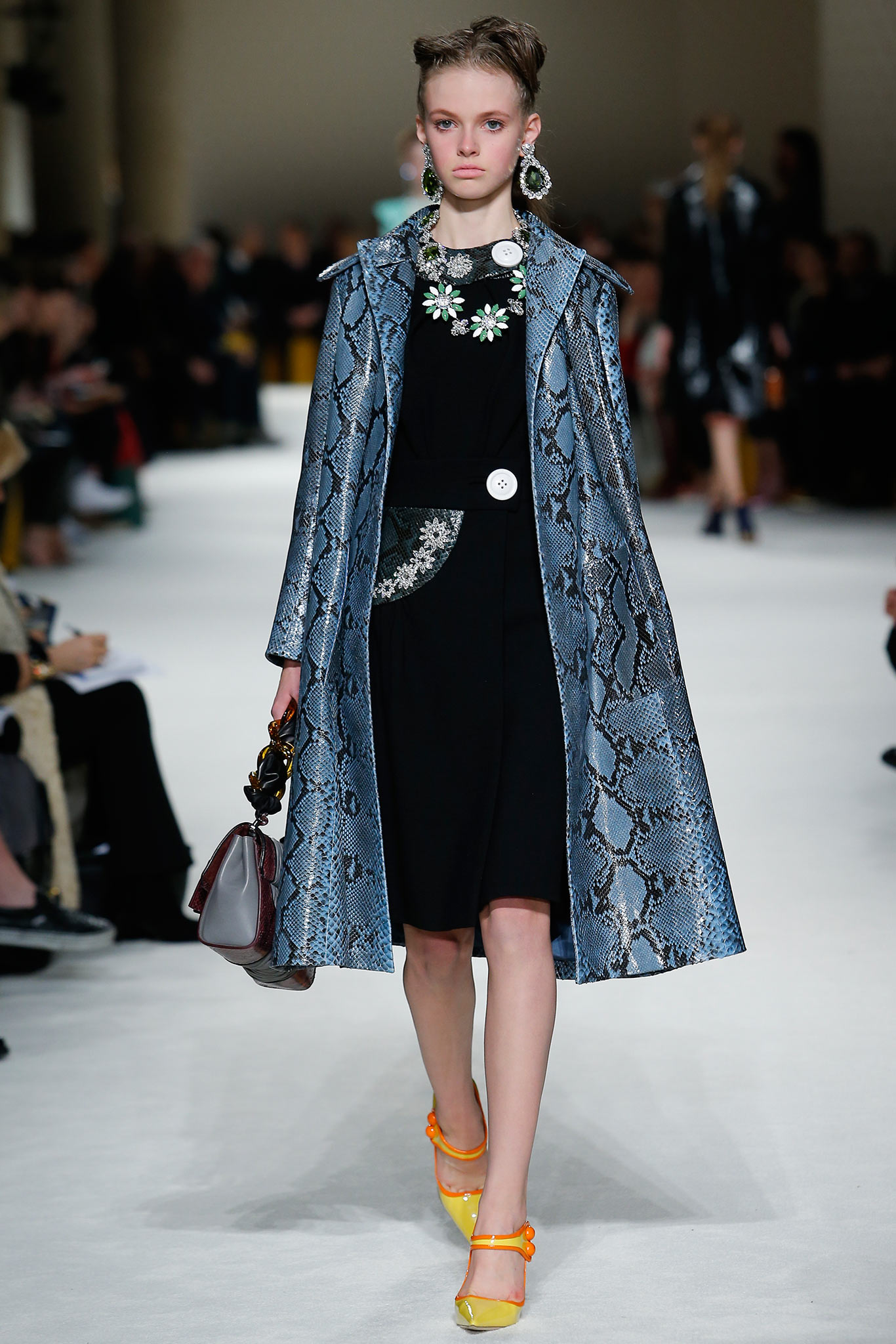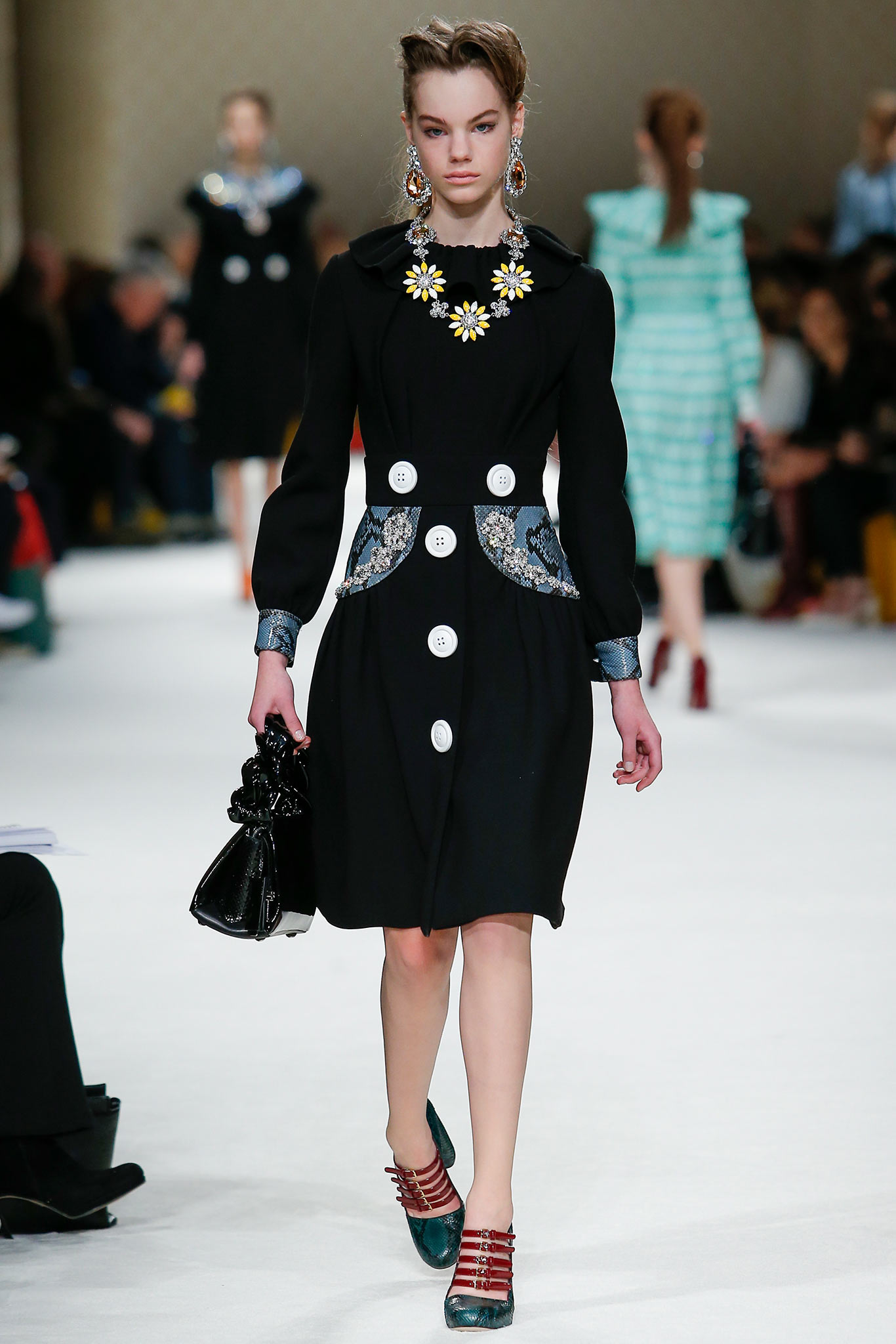 Another entertaining collection. If that didn't cause the corners of your mouth to drift up, its time for the mood elevators. ;)
GIAMBATTISTA VALLI:
More options fit for a princess, as per usual. Guipure lace, ruffles, and jacquard, oh my! This collection is fit for a 60's pop princess, a glamorous homage to "That Girl" and maybe even Goldie Hawn from her "Laugh In" days. Valli's entries are always some of THE most beautiful on the runways. Equal parts modern, feminine, and sublime. And, often over the moon g o r g e o u s!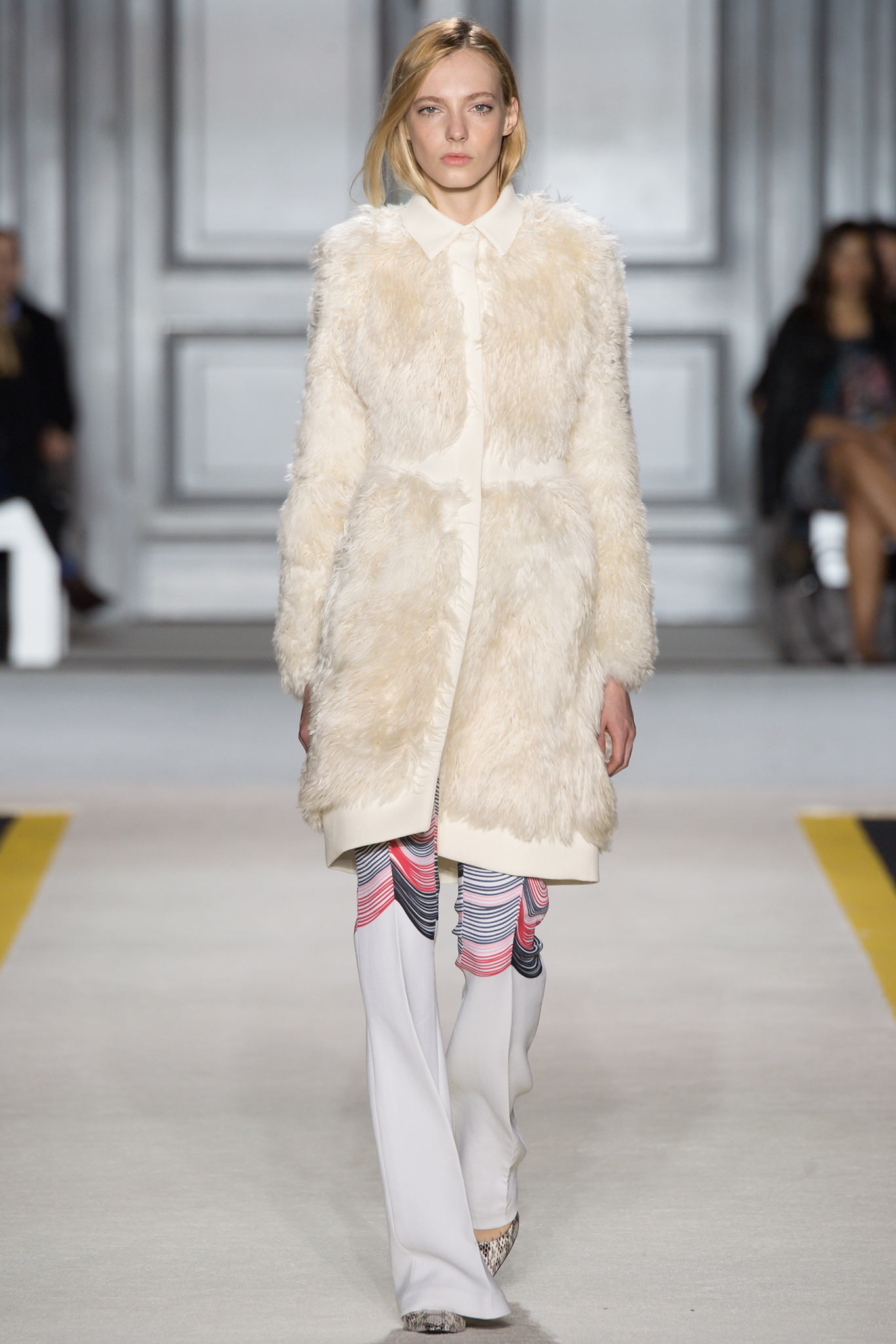 Hallelujah, the shearling contingent done to 60's style perfection.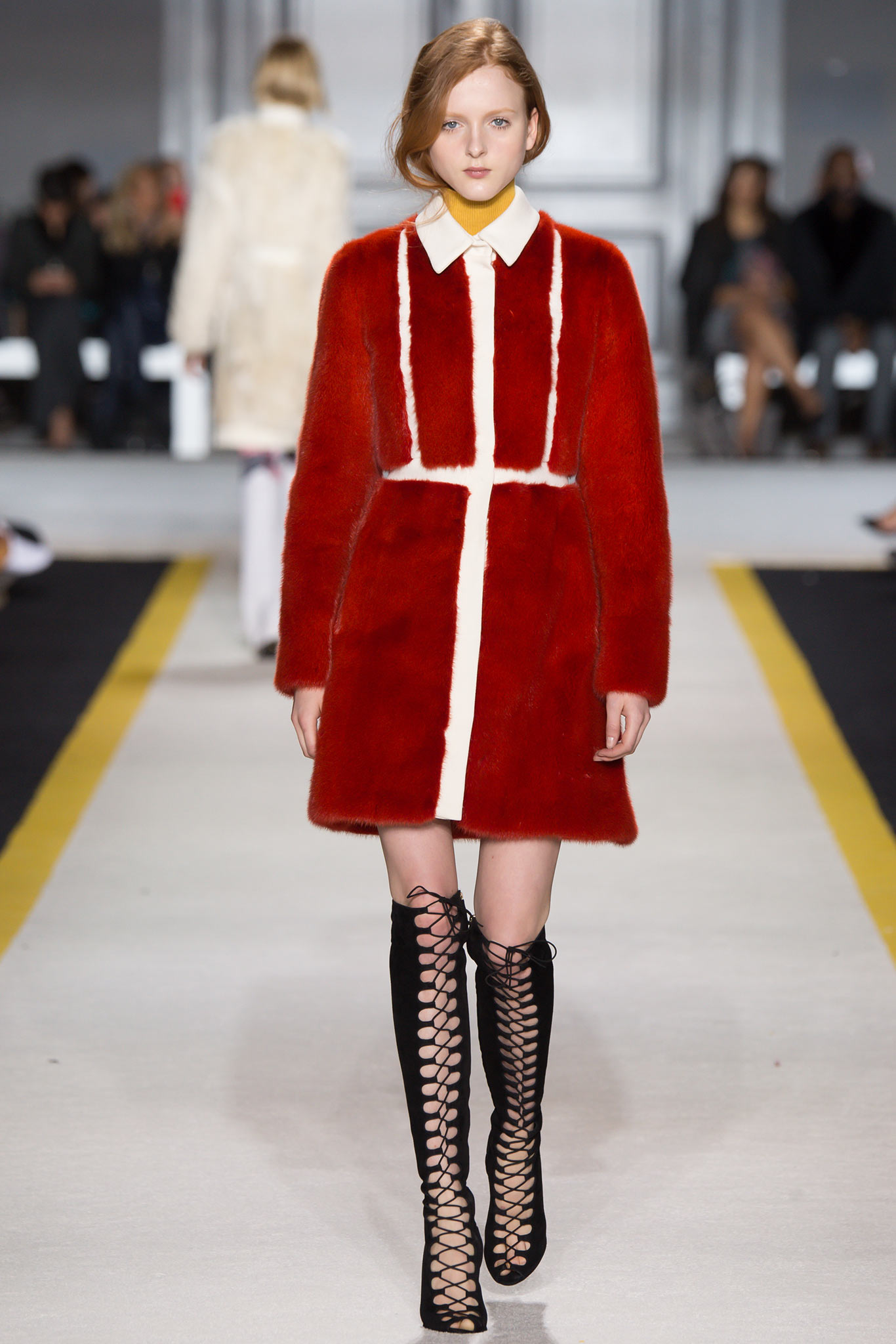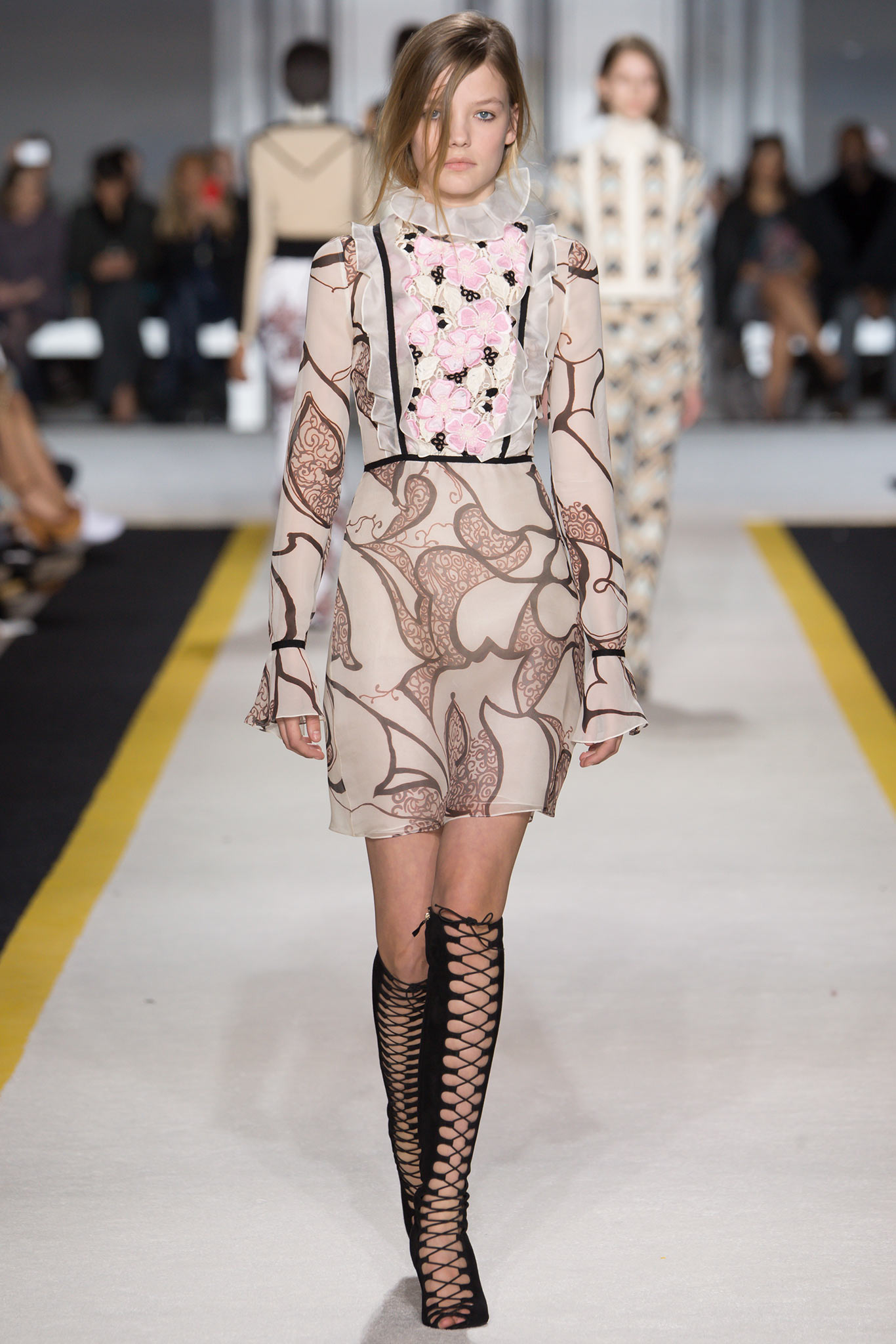 Sweet, coy, and substantive.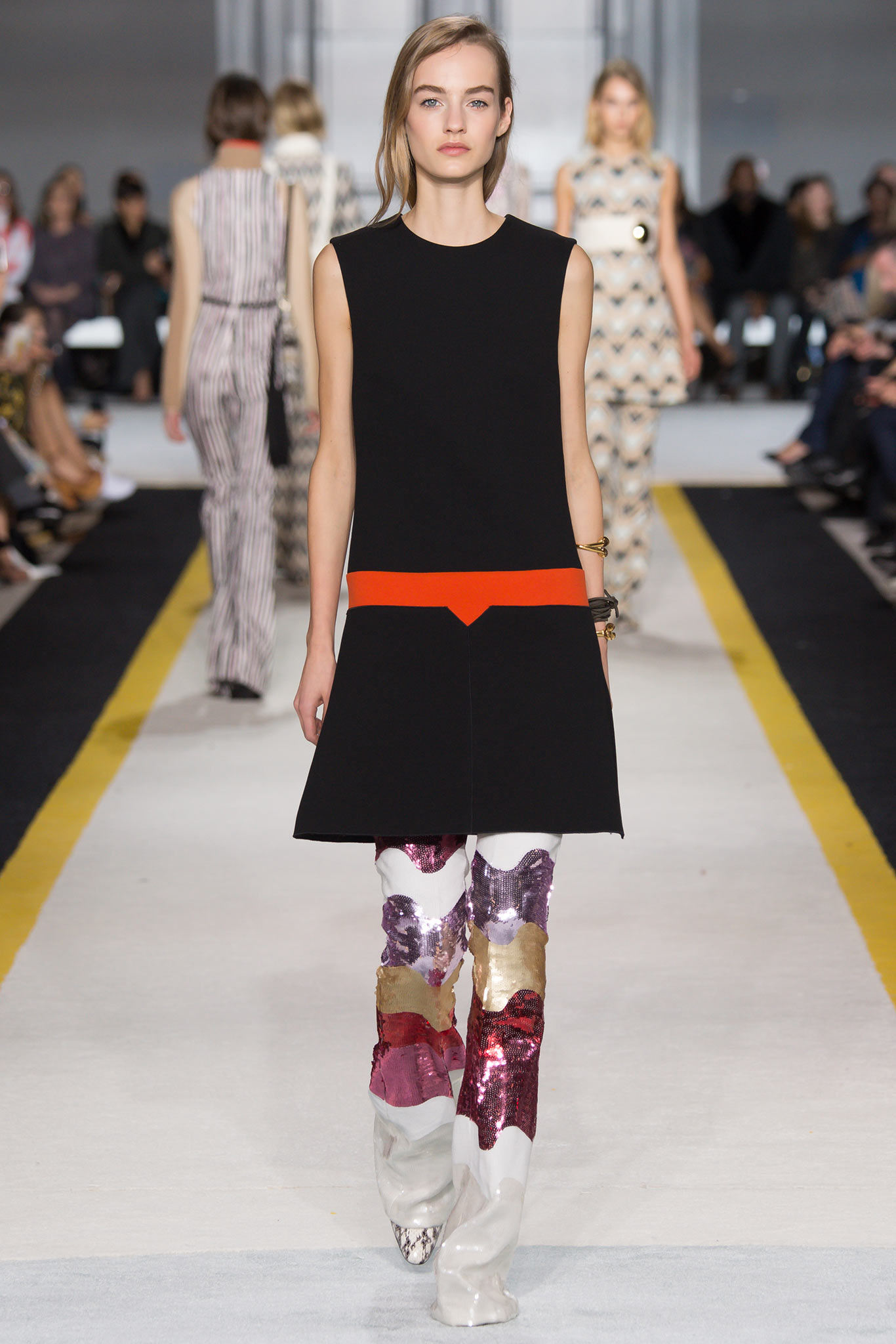 Zowie! These are my kind of pants! Tapered and then flared, with thick undulating rows of multicolor sequins. The streamlined black tunic with just a hint of red is the perfect adjunct, can't possibly steal the thunder of those blazingly fabulous pants.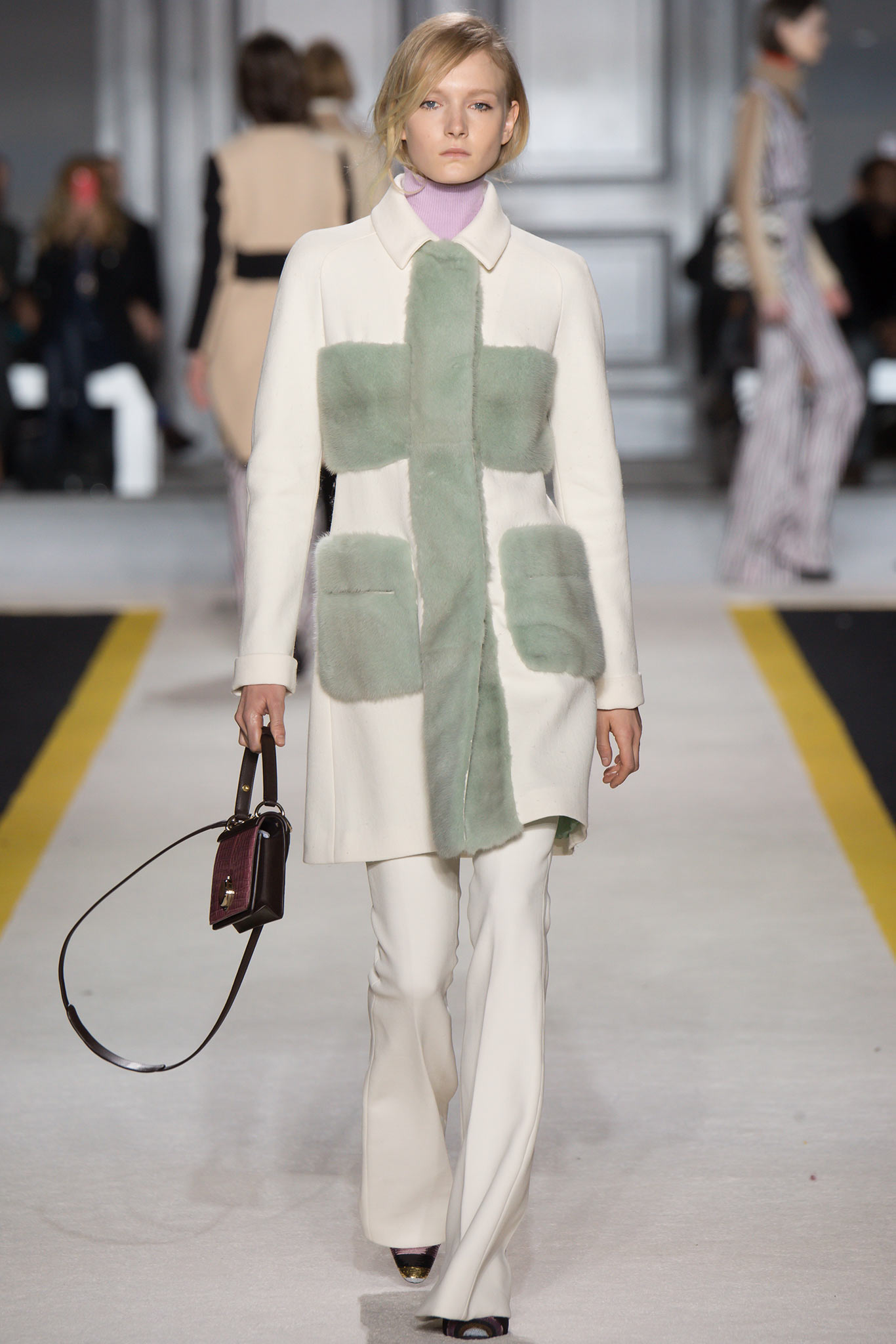 Inviting combination of winter white with celadon green mink detailing. Upscale casual. Wear with jeans and shoe booties.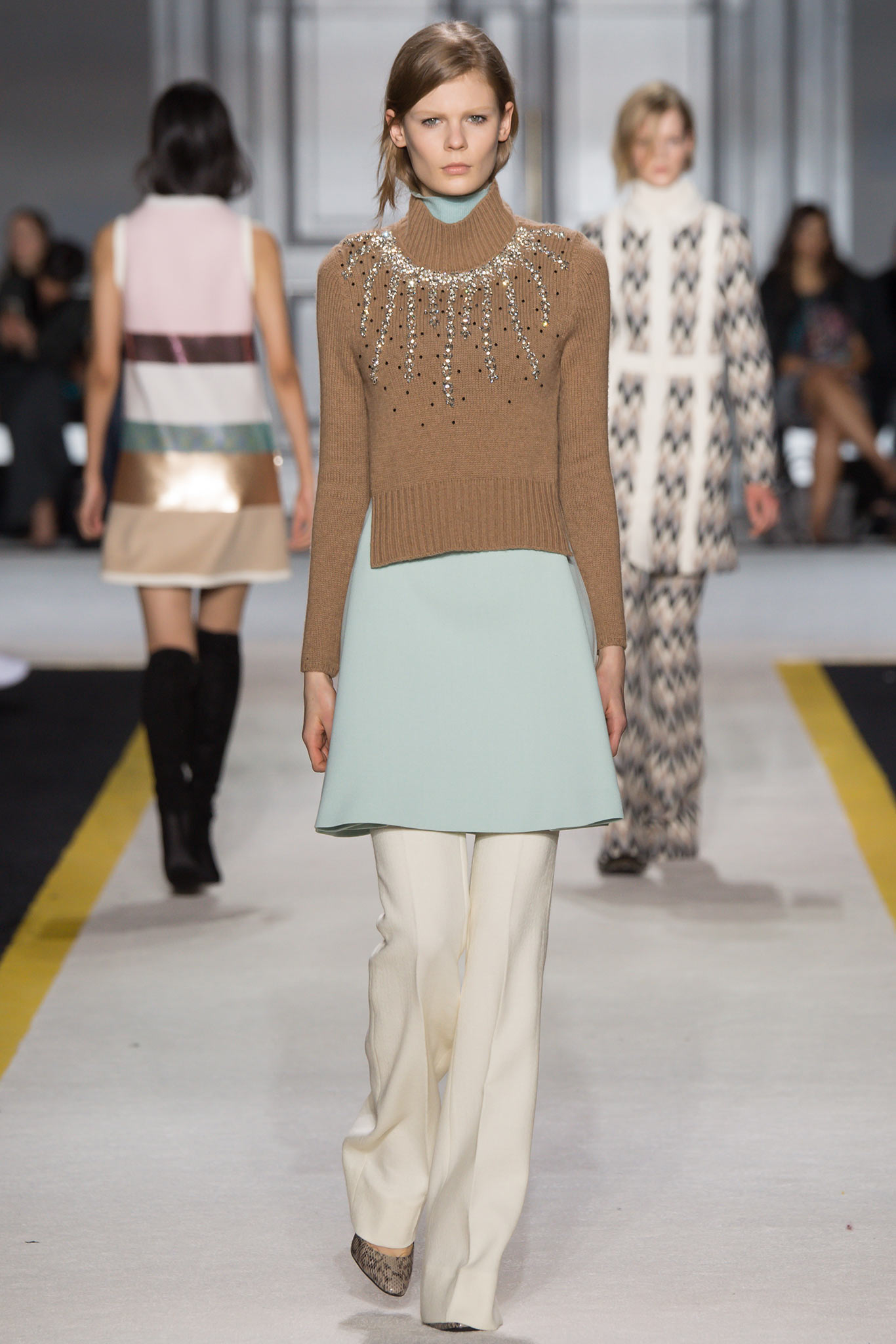 The perfect sweater, with just enough embellishments to be visually stunning but not verging on the ostentatious. Wear over jeans or a taffeta ball gown.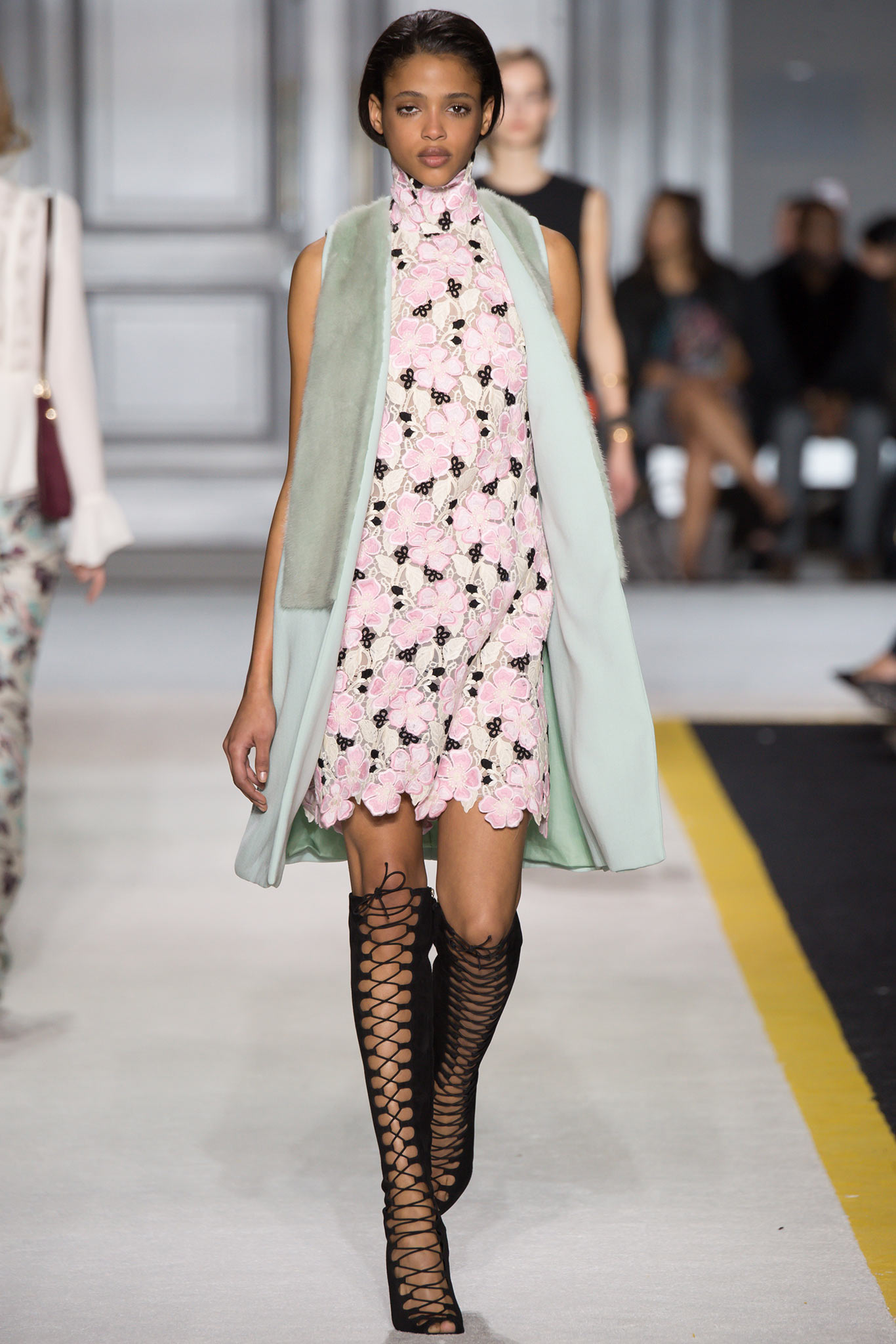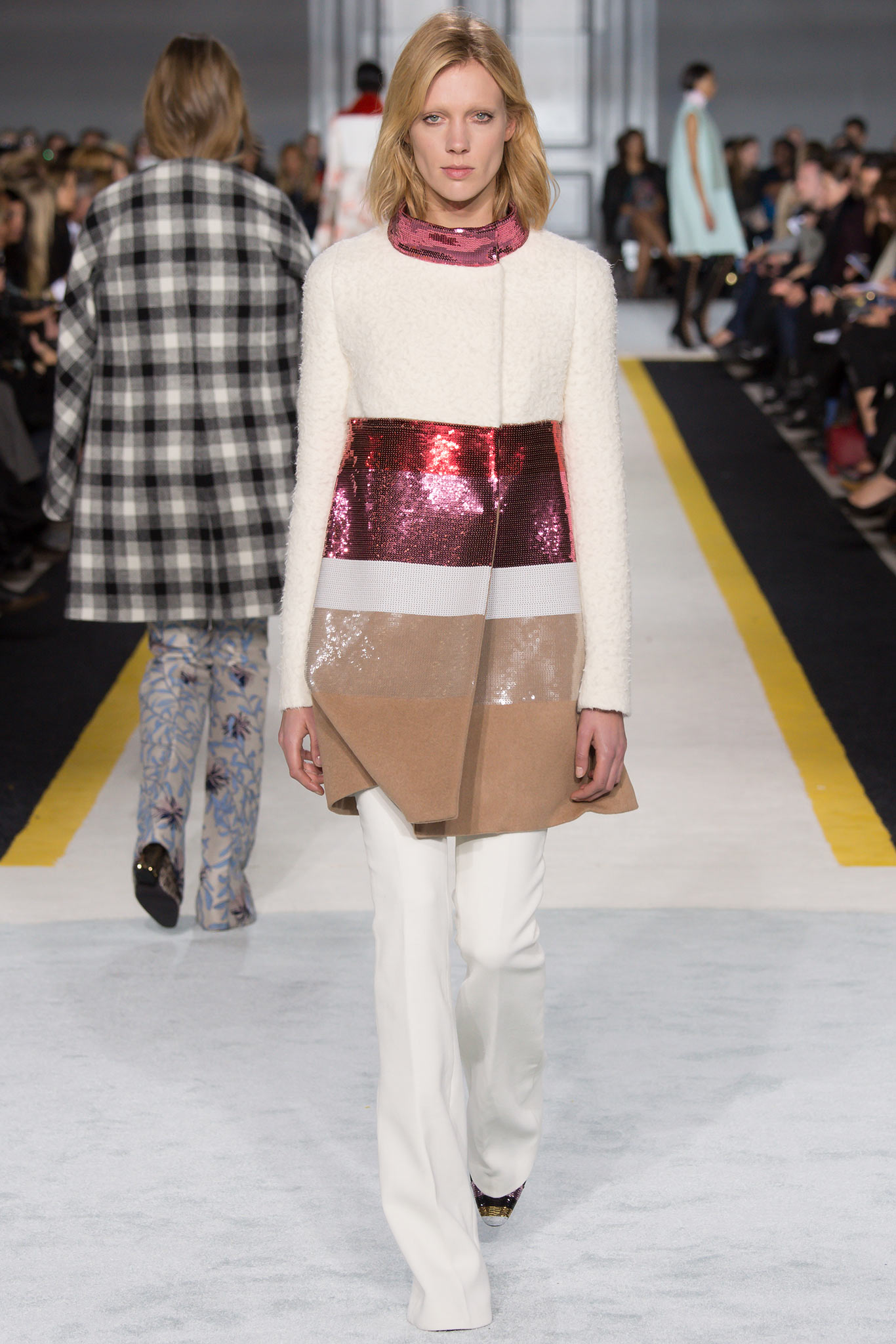 Yowsa, more sequins. I say go whole hog and wear with those stellar pants!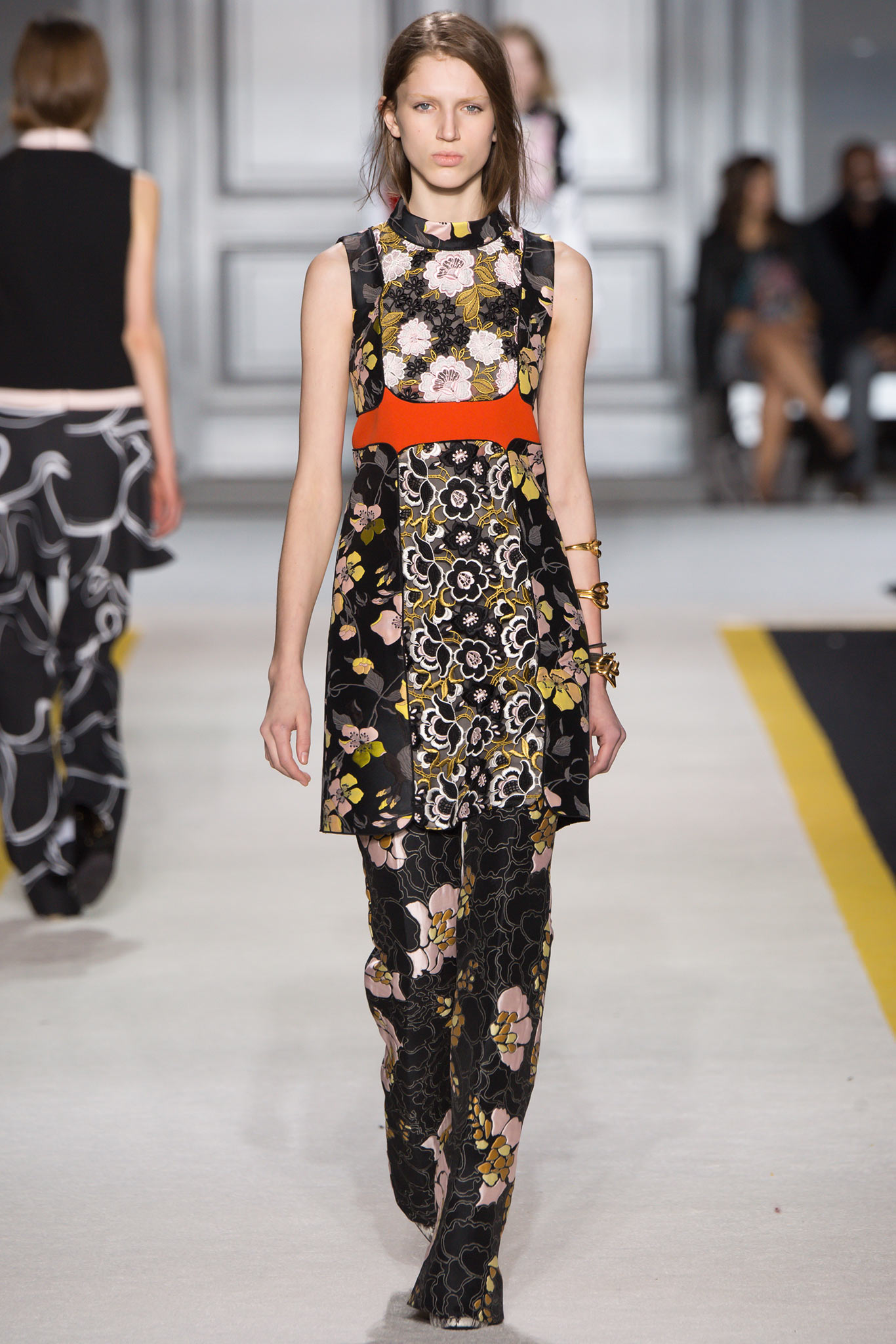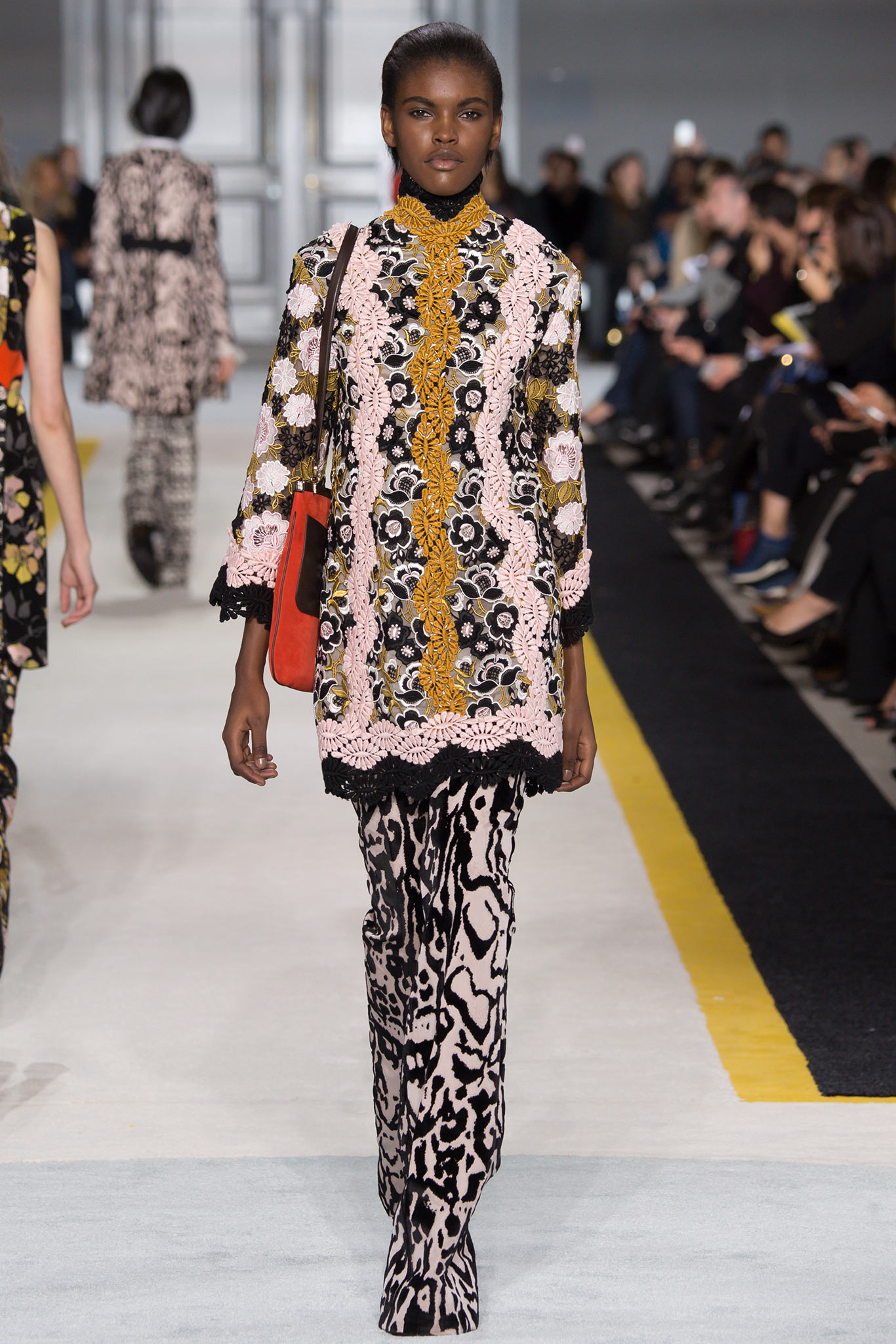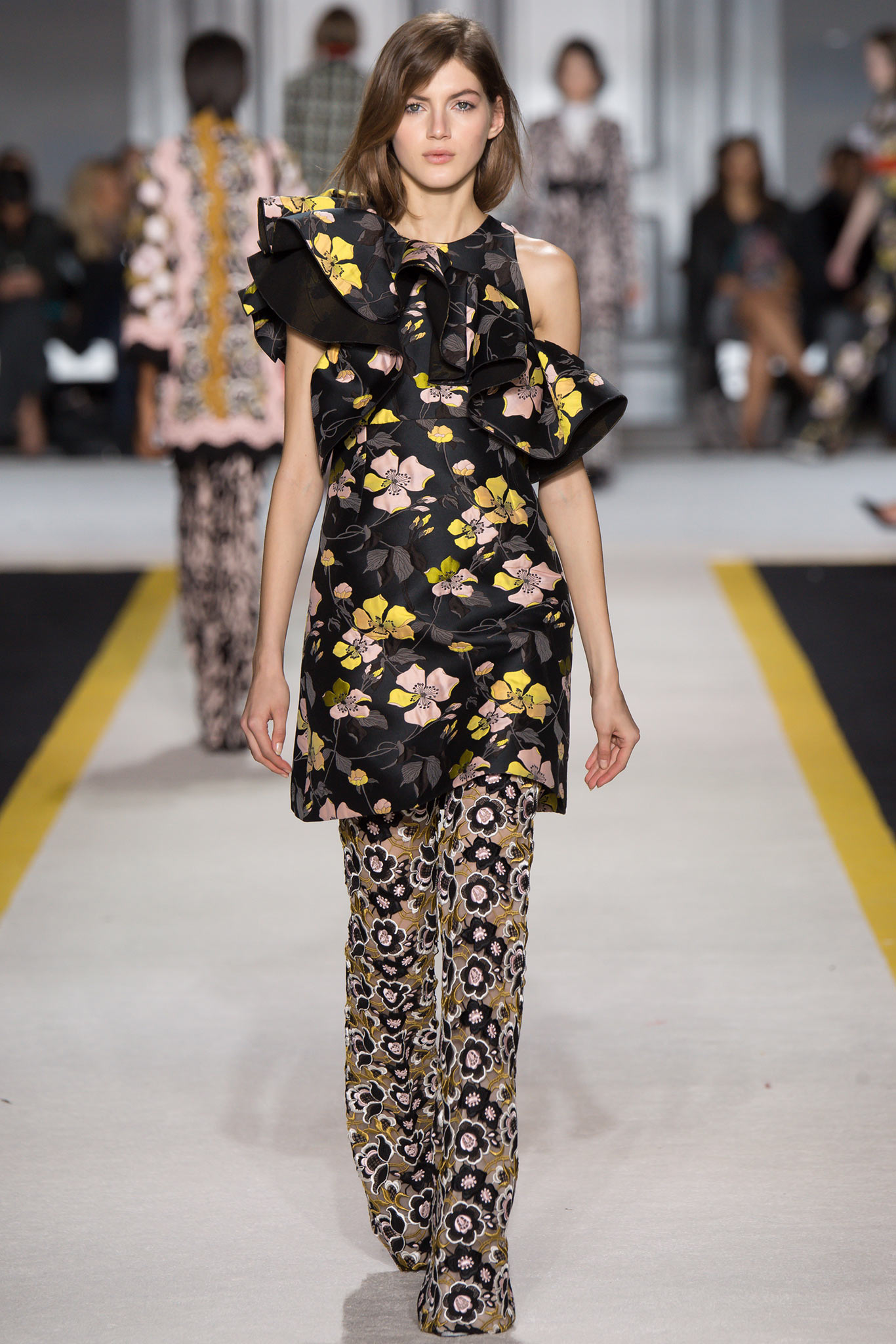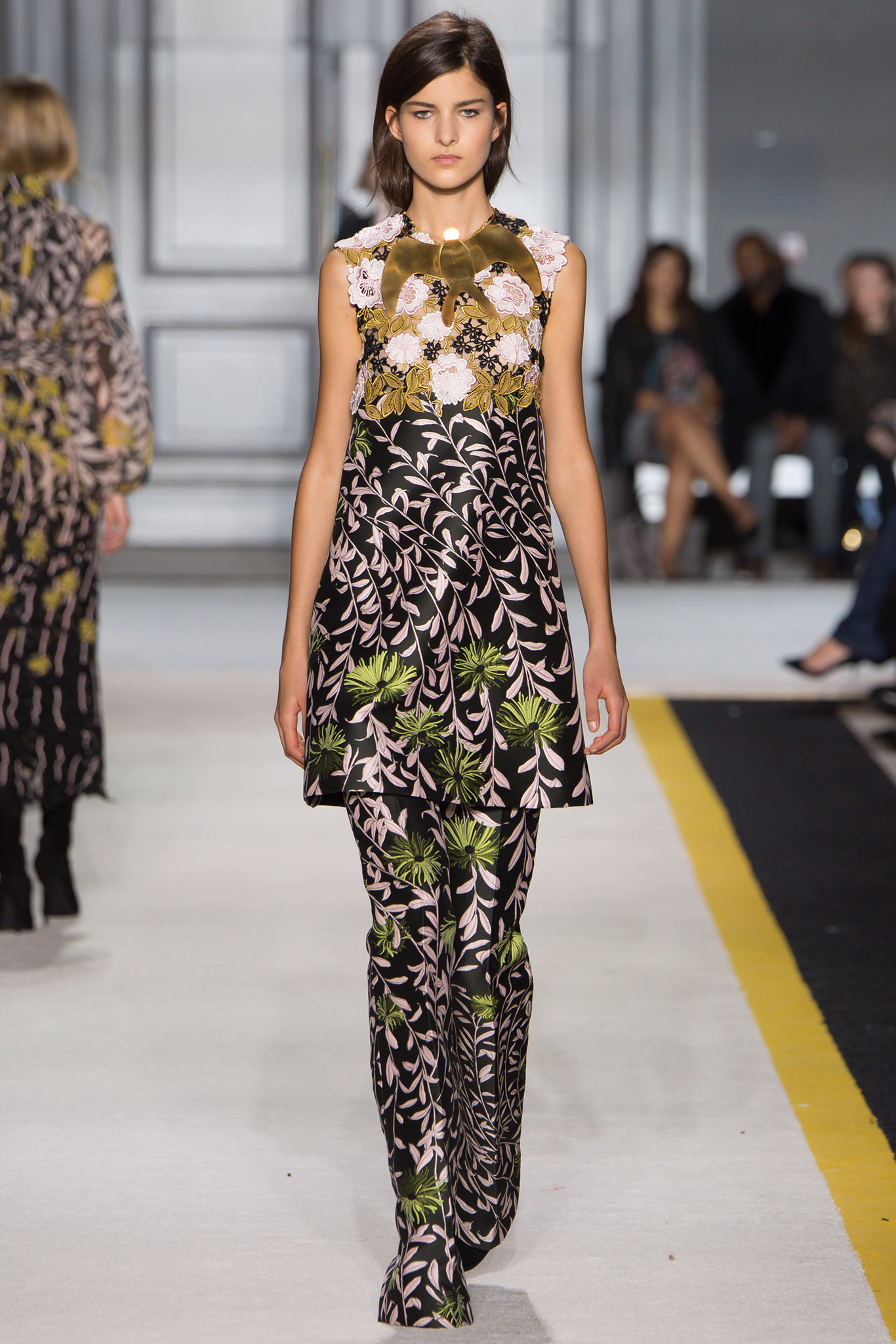 Several glorious feminine takes on the "pant suit". Only Valli would conjure up such a thing in guipure laces and floral jacquards. And he even throws in an asymmetric ruffles for good measure. These ensembles are timeless, to be released from the garment bags for any special occasion. Mix and match the tunic and pants with other separates. All of these slim pants would look smashing under a black tuxedo jacket. Add a ruffly chiffon blouse and some black patent stilettos, and its time for the opening du jour.
One can never go wrong with Valli.
More Paris to come!
Images brought to you from www.style.com