My interest in fashion began early, I can remember perusing items at JC Penny's in Junior High, being intrigued by Perry Ellis at Hink's (an old school retailer in Berkeley), and quite obsessed by Ralph Lauren in college. Somewhere in my attic lurks a multicolored wool Kenzo jacket (thank you 80's). My love of Ralph Lauren has endured since the late 70's, as he has continued to make timeless classic clothing without adhering to a fashion zeitgeist. Many of the things he designed way back when would be fashionable now. Well crafted clothing and paisley are forever. Over the years my fashion tastes have run the gamut, but I have not forsaken my previous obsessions for new loves. (Well, at least not for the most part). One of the benefits of being a hoarder, is that if you wait long enough, that which is "so last year", will be the IT look if one waits long enough. An approximate time line is as follows: Ralph Lauren, Laura Ashley, Ann Taylor, St. John, Bebe, Issey Miyake, Dolce and Gabbana, Dries Van Noten, Andrew Gn, Kiton, Luciano Barbera, Bogner, Louis Vuitton (Marc Jacobs), Brunello Cucinelli, Loro Piana, Girbaud, Commes des Garcons, Yoji Yamamoto, Marni, Prada, Lanvin, Chanel, Ralph Rucci (Chado), Giambattista Valli, Valentino, and Tom Ford. I've always had an eclectic aesthetic, which is good because no matter where I go to shop, I'm like a Magpie in a bijoux factory, endlessly entertained, and always finding someone new to be obsessed with. My accountant might take issue with this paradigm, but oh well. There is such an amazing array of talented designers out there with a wide spectrum of looks, if you are curious in general and observant, you will always find a new designer to be enthralled with, someone you want to champion to anyone who loves and appreciates great fashion. You'll wonder where you've been that this person has been under your radar. This can easily happen in SF, with so many wonderful and varied collections to choose from.
Today I wandered over to Wilkes Bashford, one of THE great habberdasheries for miles around (since the late 60's by the way) to see my friend Jeff, the manager (xoxoxoxo) AND to view the fall winter trunk show by DEREK LAM, a San Francisco baby. I must say that I will now add Derek Lam to my list of go to designers. I saw some of the pre-fall fashions already in the store and the TRUNK SHOW. And, just a note about the trunk show. This is a unique opportunity to view the pieces right off the runway, though often in a size 2, the sample pieces for a 5' 10" 110 pound model. There will often be some tweaking of the pieces before they end up on the racks of Wilkes, Neiman Marcus, or Saks, however. The representatives for any given collection know the pieces backwards and forwards and can alleviate your fears regarding length and size of the garments. (Not everything strolling down the runway will make it to production, for a variety of reasons. This means you can sometimes stop pining over a look you saw on style.com once you find that no one can have it because it will never be made beyond the sample).
This collection is spectacular in the range of designs and will likely satisfy any female in her right mind, no matter what age. The pieces are well crafted and made of luxurious fabrics with some innovative fabrications. There are tried and true AND fresh silhouettes, and a host of neutrals with a twist. We have black, gray, cream, navy, and camel, "curry" and dusty rose. The pieces can be mixed and matched with each other, with the pre-fall items, AND I submit that each and every piece can be worn with pieces from the collections of the panoply of designers I've mentioned above. Many of the items you will wear now and always. If you already love Brunello Cucinelli and Loro Piana, if you want lux and wearable but not fussy and difficult to negotiate, you will L O V E this designer and this collection. All I can say is, DEREK LAM, where have you been all my life?
I will start with some pre-fall looks.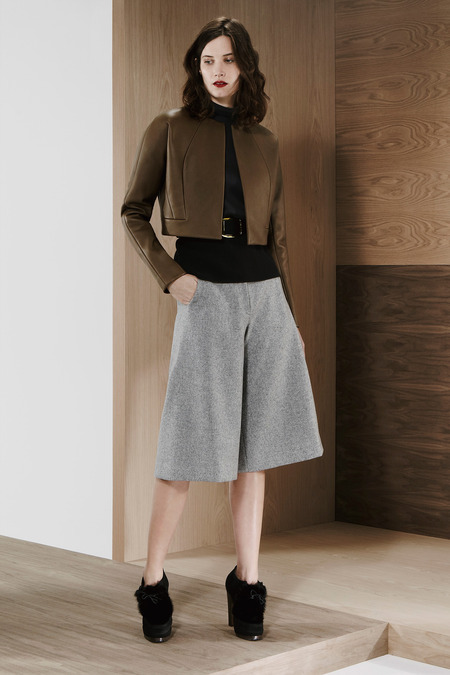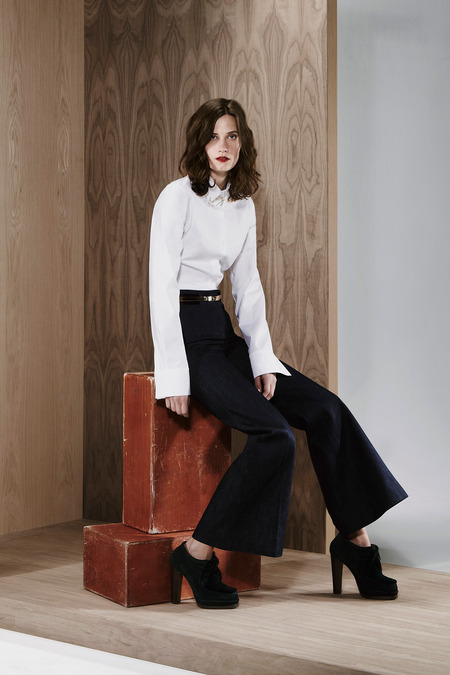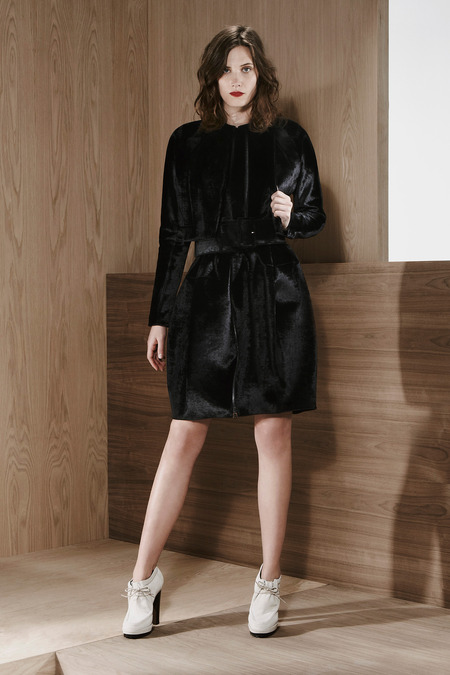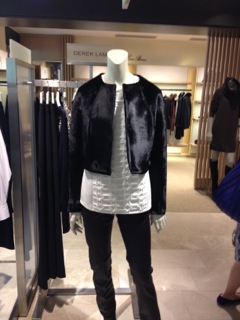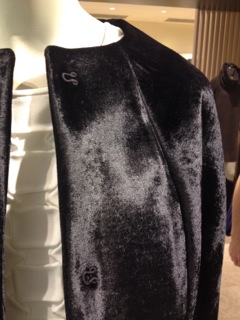 Ahhhh, one of my favorite looks, made of a unique fabrication. At first glance it appears to be pony hair. Its actually NEOPRENE VELVET! How cool is that! This jacket is smoking hot! You can imagine Emma Peel of the Avengers tooling around London in this jacket taking names and kicking some ass, but looking sexy at every turn. Underneath is an origami inspired silk sheath (must have) and leather leggings.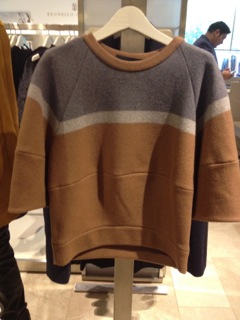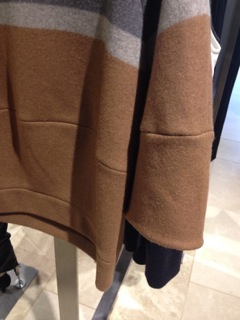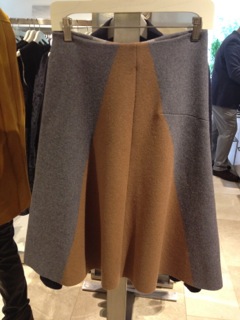 Again, easy, chic, flattering sihouettes that can be worn together or apart. Wear this outfit with boots in the winter or with black Manolo Mary Janes as fall approaches. Throw on a brightly colored pashmina or baby cashmere scarf for contrast!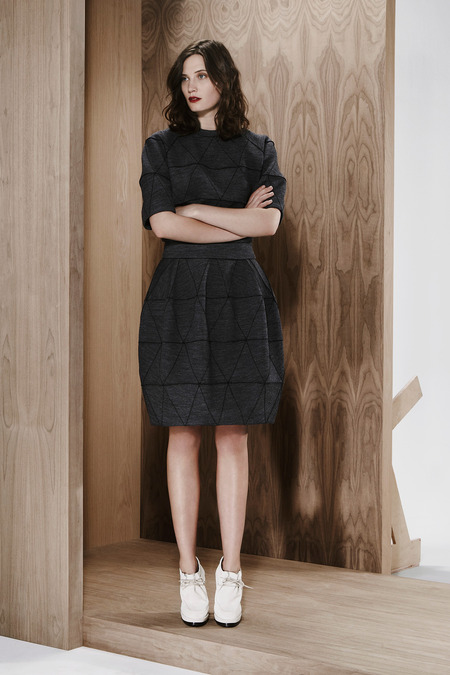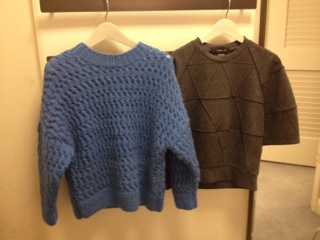 The model above is wearing seperates that in essence look like a dress. These wonderful, architectural and whimsical pieces would be at home together or apart. The top is to the right in the photo on the right. On the left is a blue ALPACA sweater in a familar silhouette but a cornflower blue you don't see everyday. Everyone should have some Alpaca in their wardrobe. Its incredibly soft, but textured, as well as relatively light and durable. (Never under any circumstances throw this into the washing machine, sigh).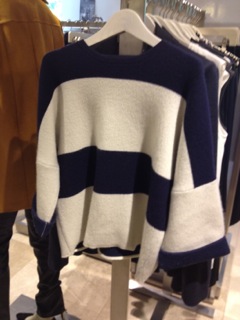 Another curious fabrication of "boiled cashmere". Again, easy, everyday lux, durable, comfy and cosy. A good piece to travel with. And stripes are forever.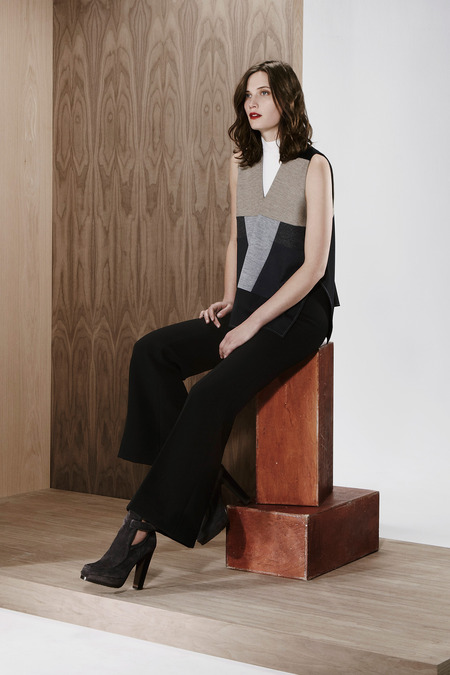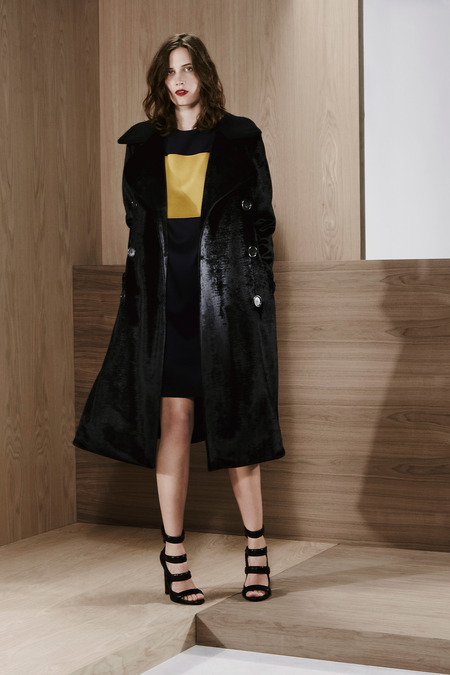 Now FALL WINTER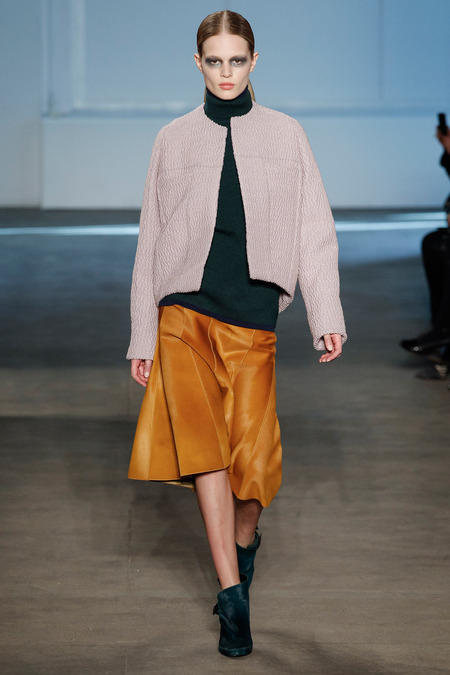 I'm obsessed wtih this look, its already making a second appearance on this blog! This "curry" colored pony hair skirt is the perfect, flattering silhouette in a unique, rarely seen color that will stand alone as the focal point of the outfit. But here, its paired with a lovely dusty rose boucle cropped jacket! Swoon. For dramatic effect one could combine the pony hair jacket and skirt, maybe with just a simple silk sheath or T-shirt underneath.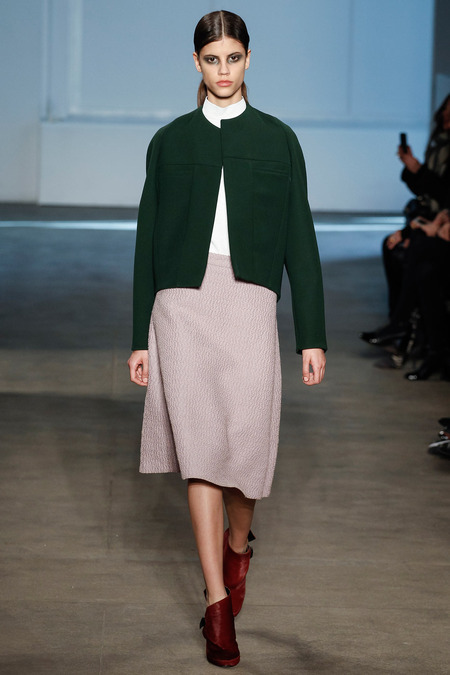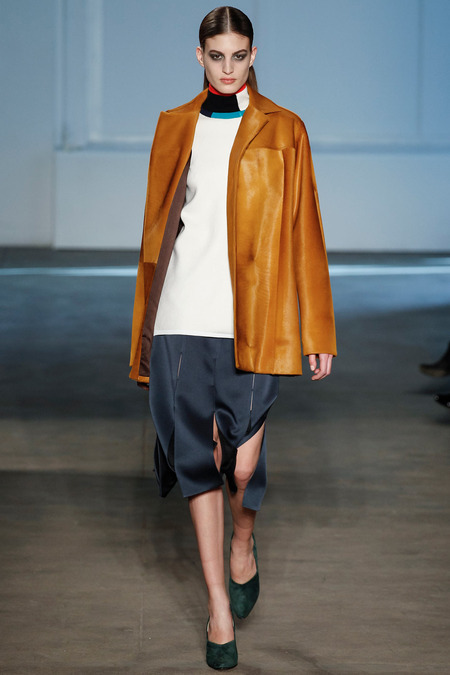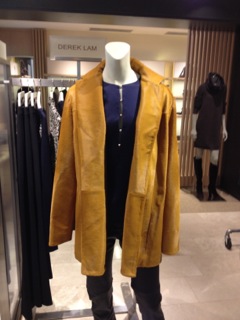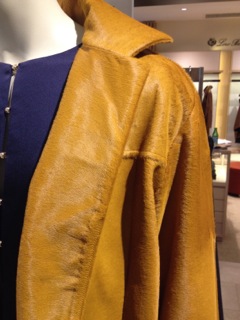 L O V E. Again, a neutral color that will spice (?!) up any black outfit loitering in your archives. Grab and go, throw on with black leggings or skinny pants (including DL's staple black pants), riding boots and a brightly colored scarf (Hermes comes to mind), OR a black pencil skirt and boots.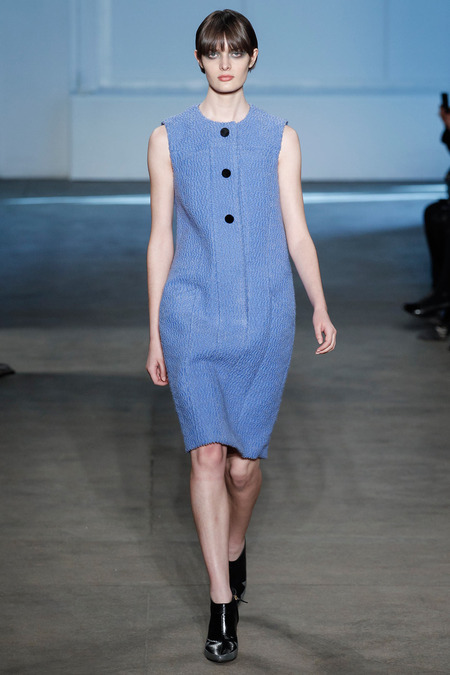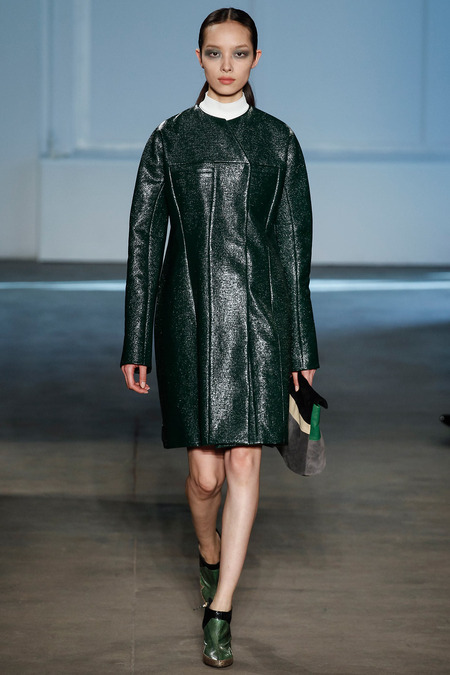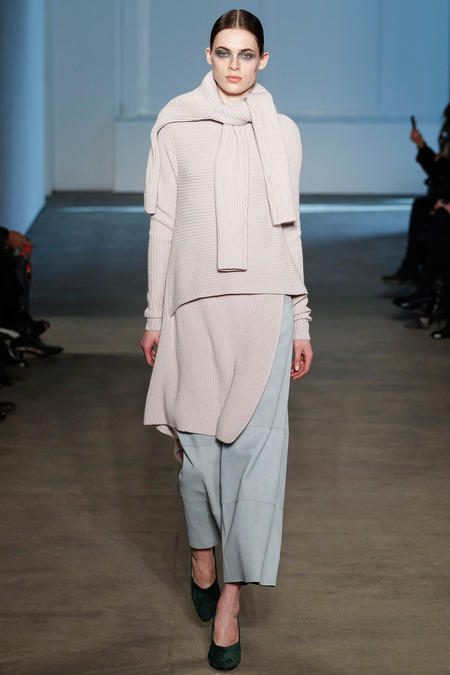 Comfy, snuggly, architectural, cool with the leather pants shown above, or leggings of any variety. This will also come in a Hunter Green, FYI.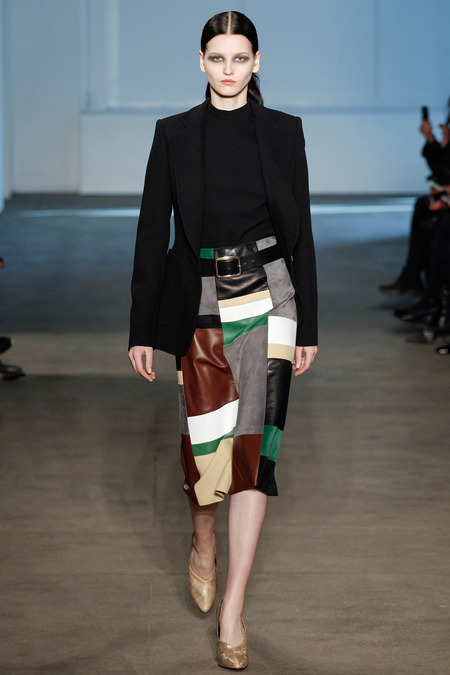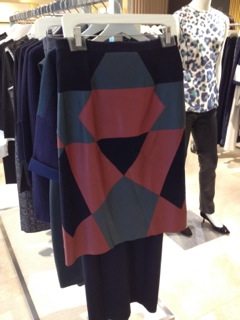 I love it! The 70's are back without the birkenstocks or the bong haze.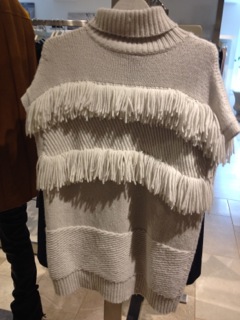 Never a huge fan of fringe, I put this on and fell in love. Its a cashmere sweater vest, what's not to like? Apparently the fringe will be less conspicuous, less puffy in production, although I loved it as is. I ordered it in the black.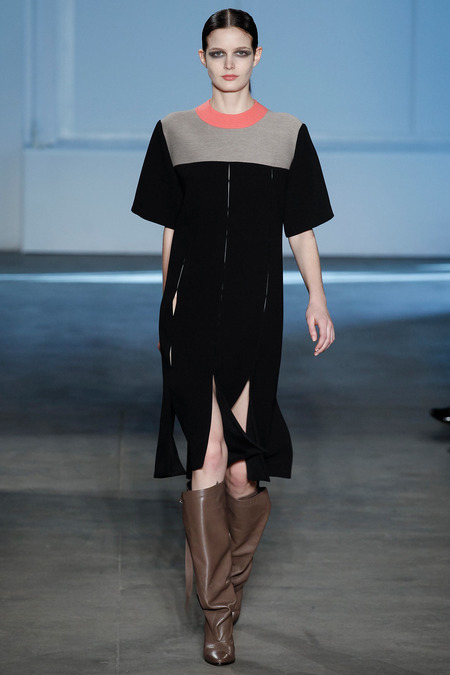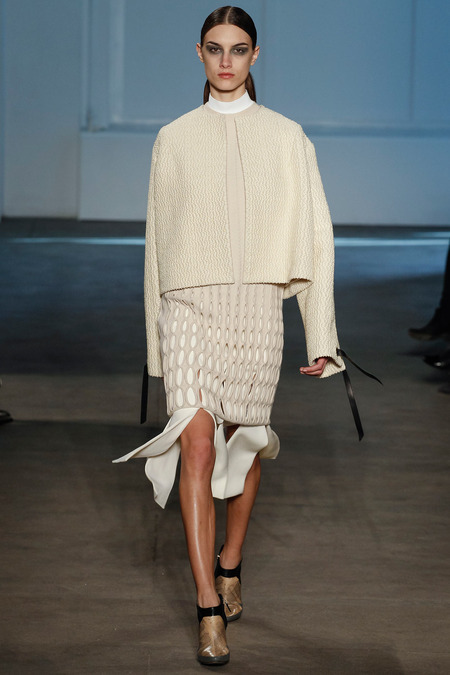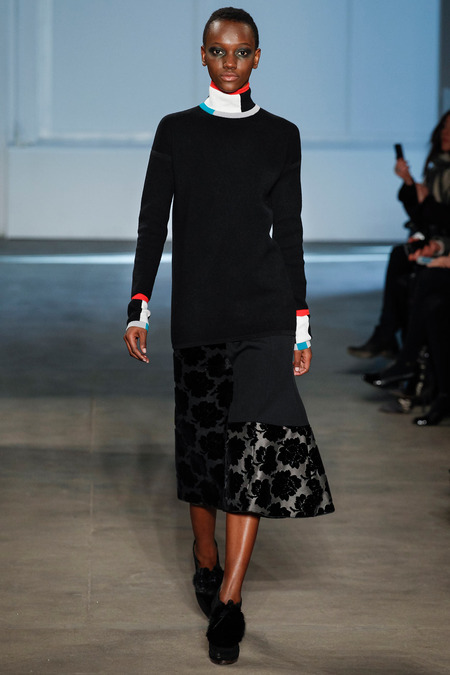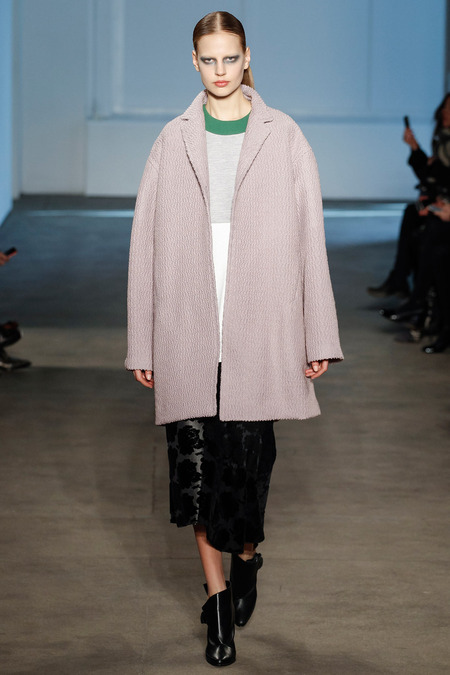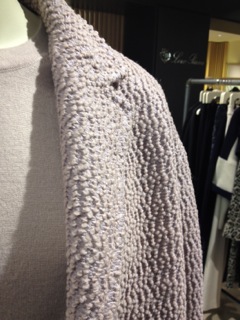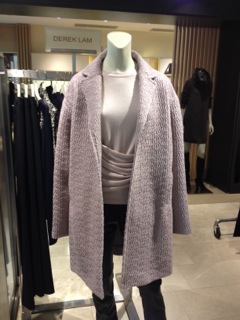 Another one of my favorites. Easy silhouette in dusty rose, with lurex peeking out amidst the boucle. Yet another fascinating fabrication I've never seen before. Throw this over EVERYTHING! If you want to stand out from the crowd (in a good way), to be swathed in non fussy luxury, this is the coat for you! I am a big fan of mixing and matching pieces from different designers, and I think this would be fantastic over a red Ralph Rucci dress, any of the cashmere concoctions by Brunello Cucinelli, or a wacky Marni dress or shift. On the mannequin, the coat is worn over a yummy pink cashmere top with rouging detail. You really have to see this coat to believe it.
Also in the collection were a black wool riding jacket (I had to have this as well) and a bias cut navy blue dress made of stretchy wool. Again, timeless classics everyone should consider adding to their closet. As in every runway collection, Lam also included some evening dresses perfect for any special occasion, romanesque lux.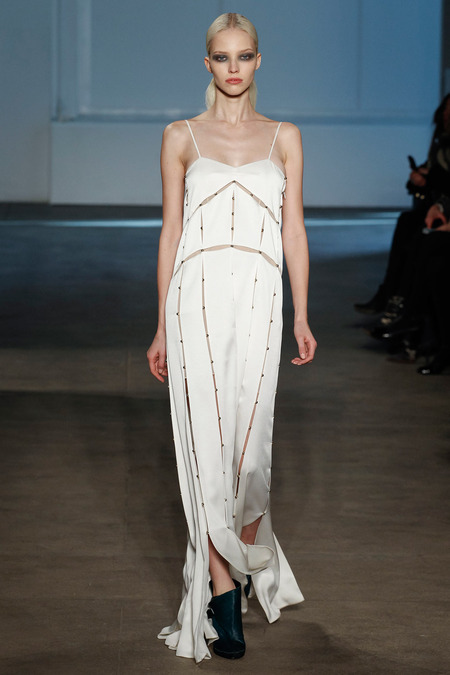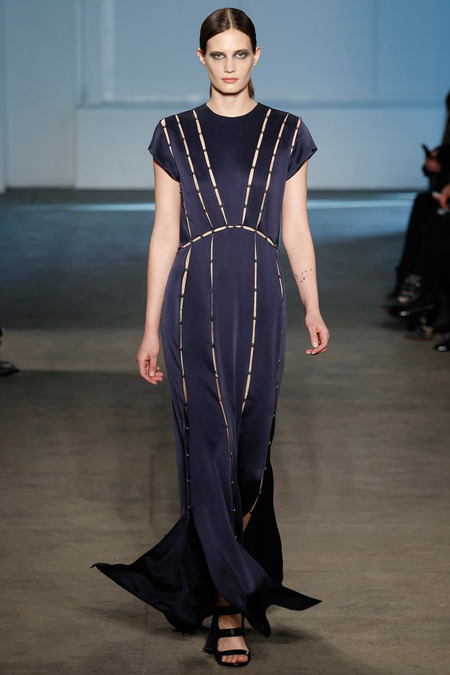 B R A V O!
Thank you DEREK LAM.
Runway images brought to you by www.style.com