We all have our obsessions. For many gals, its SHOES or purses. Unfortunately, most of us have a limited supply of shekels to throw at all things fashion. Typically, my ahem resources are funneled to jackets and the occasional Chanel shoe bootie. Purses typically take a back seat to something that might contain a sequin or bugle bead. Every once in awhile however I stumble upon a stunner (or maybe four) and attention must be paid!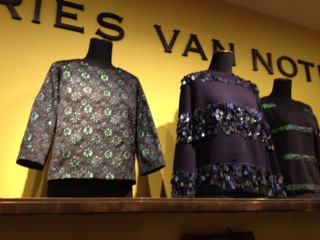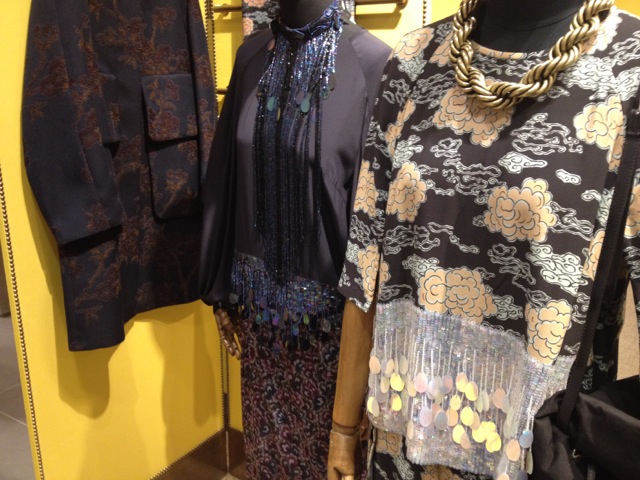 DRIES VAN NOTEN at Saks Fifth Avenue, San Francisco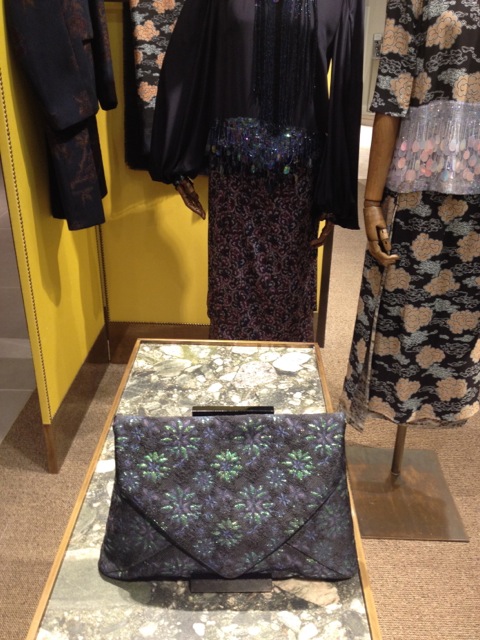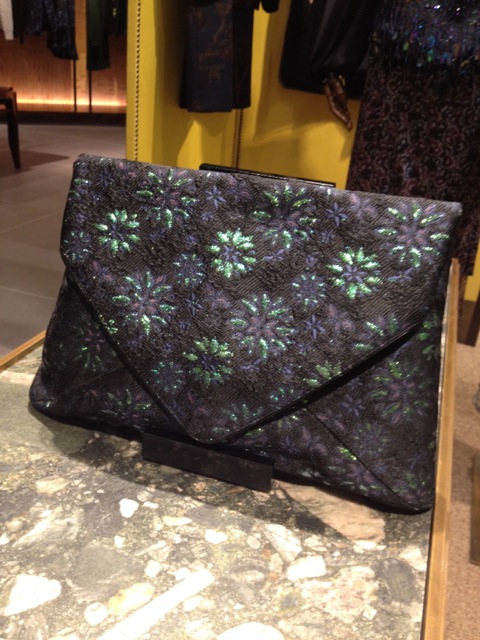 Jacquard is everywhere these days, in numerous runway collections and non-runway pieces, and for good reason. The multicolored patterns, often with metallic threads, can infuse low level opulence to any ensemble, or in this case a simple envelope clutch, with little fanfare (i.e., no embellishments). You get big bang for your buck, which was also the case with the fall runway collection by Dries Van Noten. This simple clutch catches the eye with the fanciful floral pattern, and since the background is black can be paired with any nighttime outfit. Of course this beauty would also be smashing with a Burberry trench or any Chinoiserie inspired fare. And the lightweight fabrication? Great for traveling, would slip easily into your carry on.
Now for some intriguing leather goods from FENDI, also care of Saks Fifth Avenue: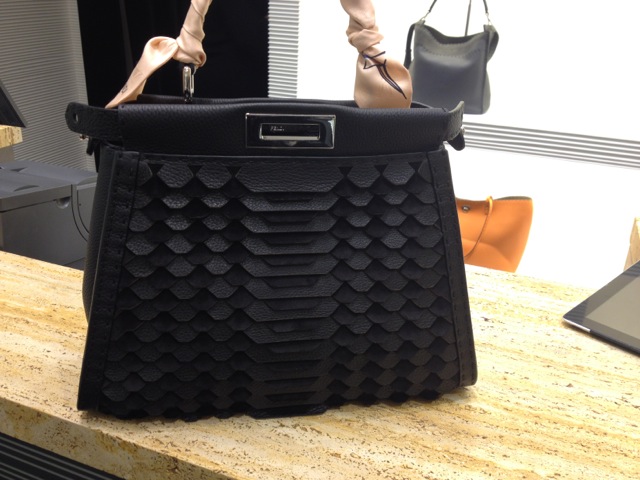 After some brief investigation, its become clear that these bags are impeccably made and typically off the beaten path (thank you Karl Lagerfeld). This would be a good go to everyday bag, big enough to fit an iPad, phone, some flats to change into once the stilettos become tiresome, and probably even a kale shake, and yet not so cumbersome you couldn't segue to the Opera with this baby! And notice the faux scales! Curious effect, and good for those not enamored of Python (not to mention you can't get this in California).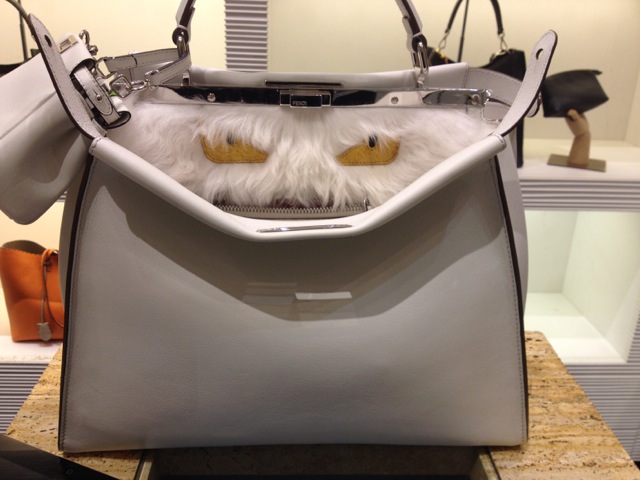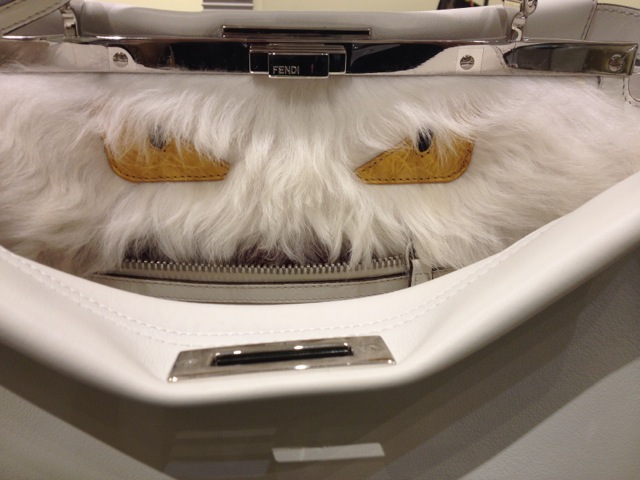 One of my all time favorites, an homage to the Abominable Snowman! The egg-shell color might be tough, you'd have to avoid soot and Italian food, but meh, its so whimsically fabulous, it would be worth it!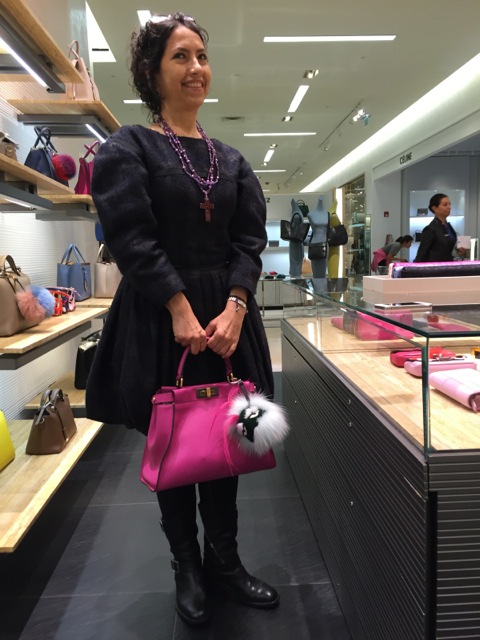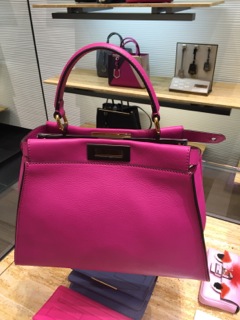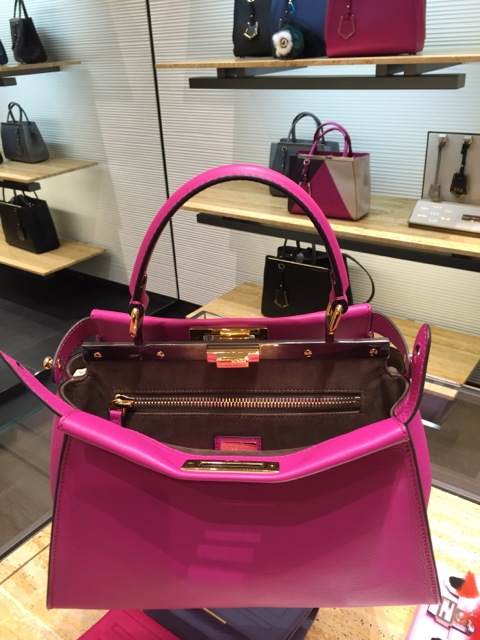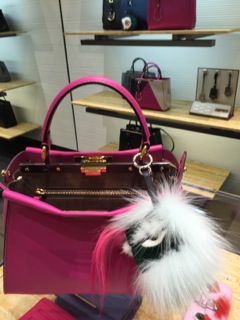 A smaller version without the fuzzy critter, gorgeous by virtue of that FUCHSIA! Feel free to attach as many adjunct whimsical and wacky keychains as you can get onto the bag. And check out the gorgeous deep taupe lining!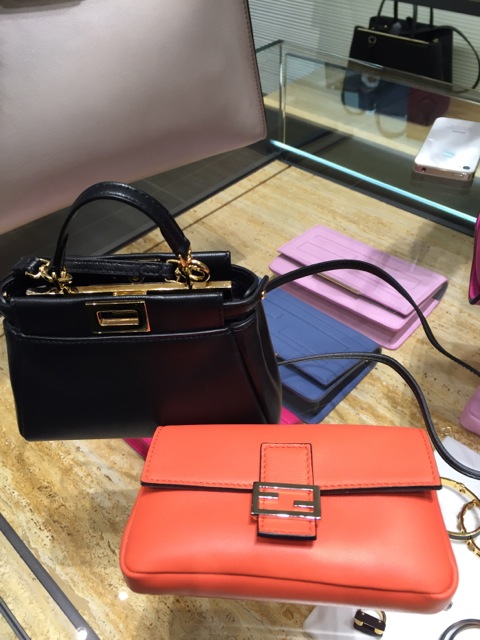 When just a wee bag will do! For keys, lipstick, and phone.
Have bag will travel.
Cheers!