Well, after three days of one of our rare "heat" waves, and me sweating like a whore in church (hat tip my Dad), its FINALLY cooling down. When the temperature hovers above 85 degrees in San Francisco, we of the hothouse orchid variety start swooning and praying for the iceage to make an appearance. Luckily when the pansies (myself included) are fainting dead away in 85 degree heat, the inland becomes a fiery inferno with temps heading up towards 110 degrees, resulting in a low pressure system and the subsequent rolling in of the fog, and not a moment too soon. This time it was different, with heat AND humidity, a rare combo in these parts. Enough already. Reminds me of all my years in Philly and Boston, with three months of miserable cold and blizzards and three months of sticky wet heat. Of course there is nothing so wonderful as those several weeks of spring and fall in the east coast, with the melting of snow, the emergence of buds and blossoms on the tree branches, birds chirping, and then the wondeful crispness of fall, changing of the seasons, the pleasant breezes before the sting of the cold sets in. Knowing that soon it will be time to find a pumpkin patch, the iconic fall colors and luxurious woolens, all makes one yearn for fall. Even that first blanket of snow as fall transitions into winter, clean and pristine, is ethereal bliss. Wonderful. And then, the snow melts and refreezes, leaving this treacherous layer of almost inapparent slickery ice. And more irksome still, the SALT LINE ALONG THE HEM OF THE COAT! Oof, that I do not miss. Thankfully, the temperature dropped today, allowing me to do what I do best, start perseverating about what fall winter has in store. The wonderful cuddly soft cashmere, alpaca, and wool sweaters in fall hues of orange, browns, and greens. An excuse to wear all versions of boots and shoe booties AND have perpetual ass coverage. Pants, leggings, jackets, coats, scarves, AND hats! Yay!
After perusing various and sundry recent fashion magazines, from the States and around the world, advertising things to come, I've learned three things, Jerry Hall (erstwhile paramour of Mick Jagger) is still ravishing, leopard print is IN, and I've apparently pulled a reverse Rip Van Winkle and awakened in 1974. All I can say is, how come we don't have movies like Godfather II anymore? Well, lamentations aside, there is an amazing selection of beautiful fall fare for all tastes, a remembrance of decades gone by. If you want to channel Audrey Hepburn (who doesn't?), Jackie O, or Grace Kelly, there are sweet femine non fussy pieces in pastels for you. If you desire Liz Taylor lux or wacky Japanese essence, those pieces have also made an appearance on the fall winter runway. Sequins, brocades, and multicolored fur is everywhere! After pouring through the collections, its clear that there is a perpetual theme of exuberance, a desire to embrace femininity and subtle sexuality at the same time. There is no depressing or dour sensbility as far as I can tell, just an old fashioned joie de vivre, as if everyone has had a shot of adrenaline. Leather is OMNIPRESENT, to be worn alone or mixed with softer silhouettes. Mix and match all of the usual fall colors of brown, green, camel, tan, maroon, burgundy, and the ubiquitous black, with versions of pink, taupe and cream. Wonderful shapes in mohair, cashmere, alpaca, fleece, and shearling in a rainbow of colors grace the runways.
And now, a taste of what is to come, all dreamy and wearable: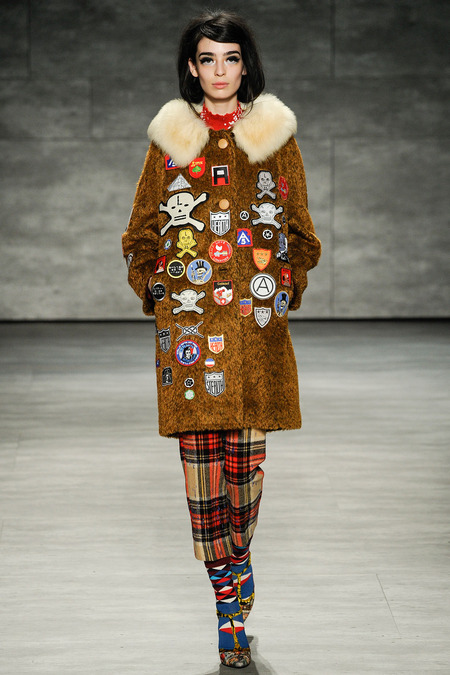 LIBERTINE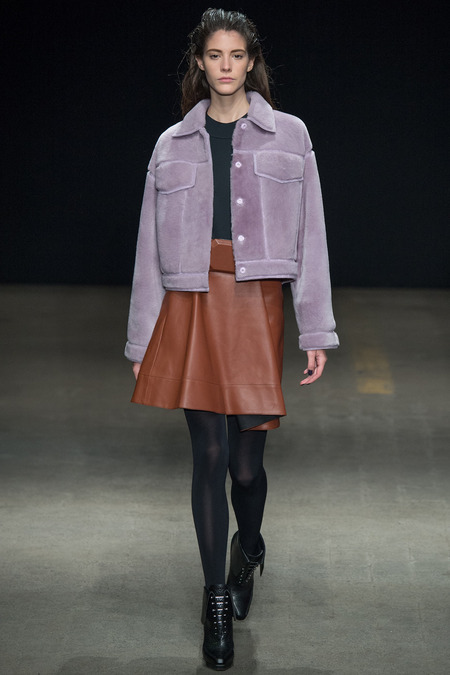 3.1 PHILLIP LIM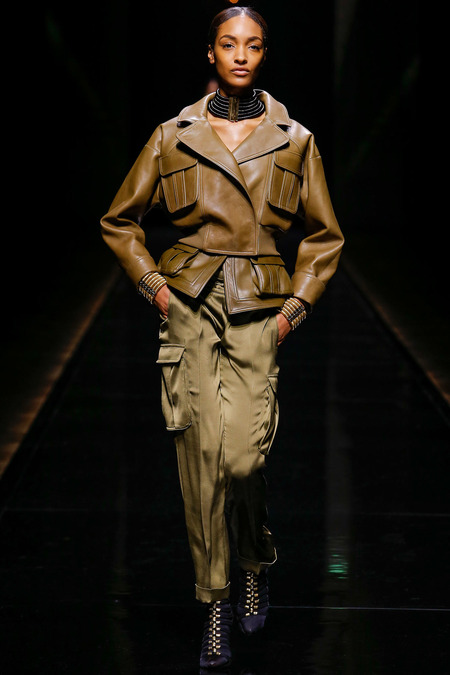 BALMAIN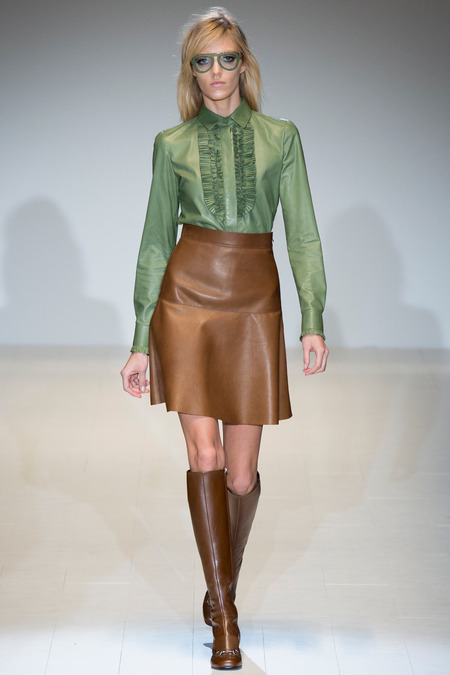 GUCCI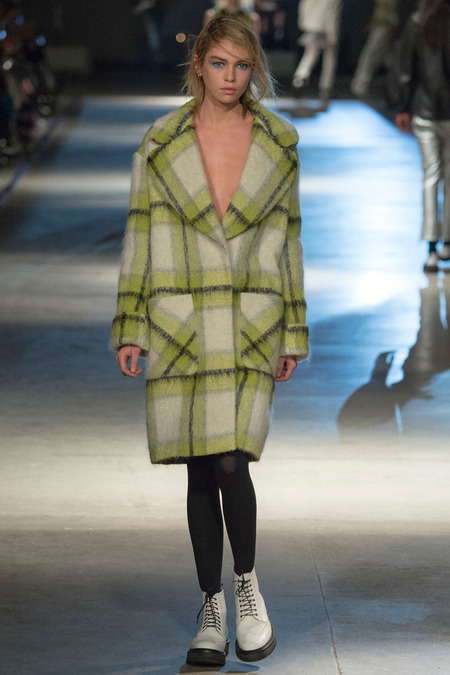 GILES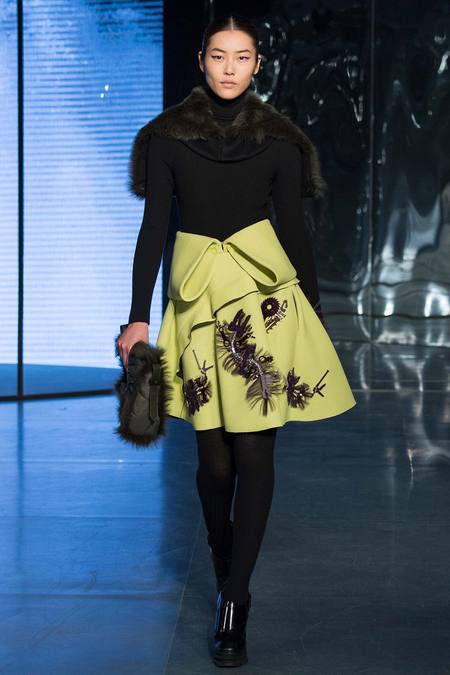 KENZO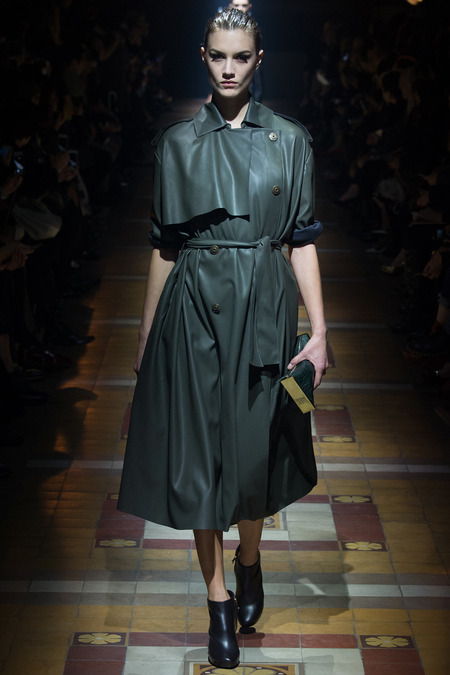 LANVIN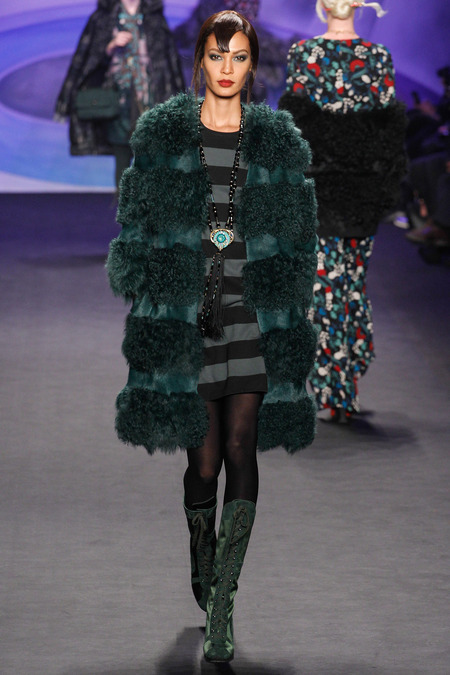 ANNA SUI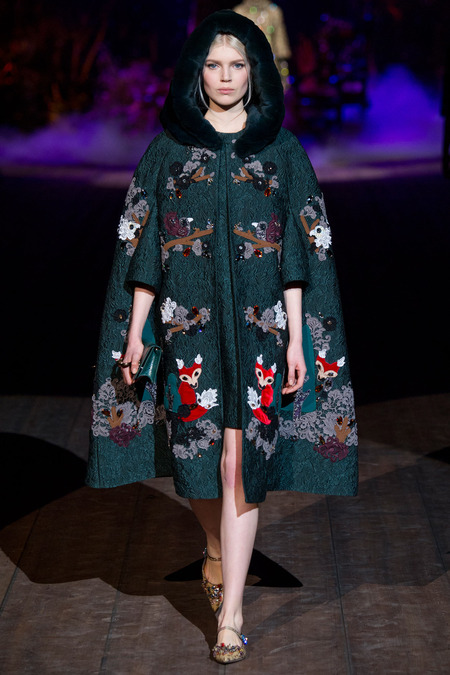 DOLCE & GABBANA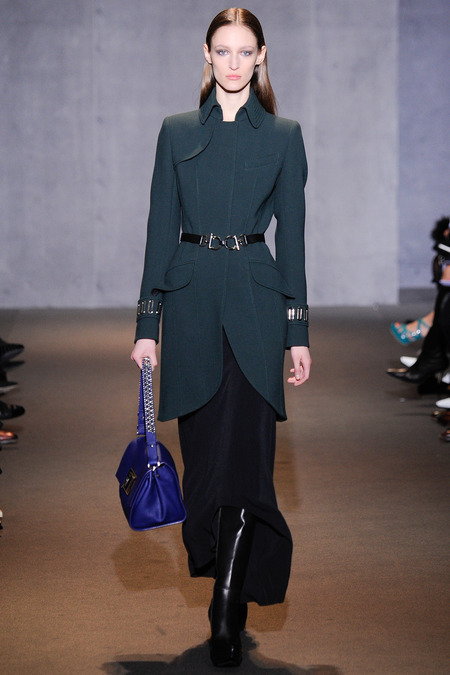 ANDREW GN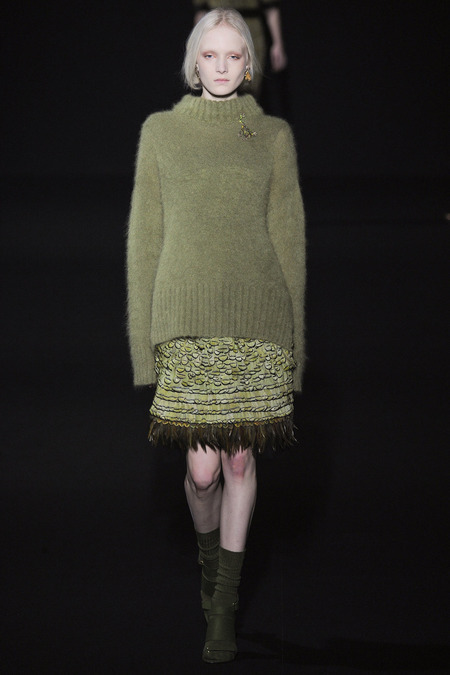 ALBERTA FERRETTI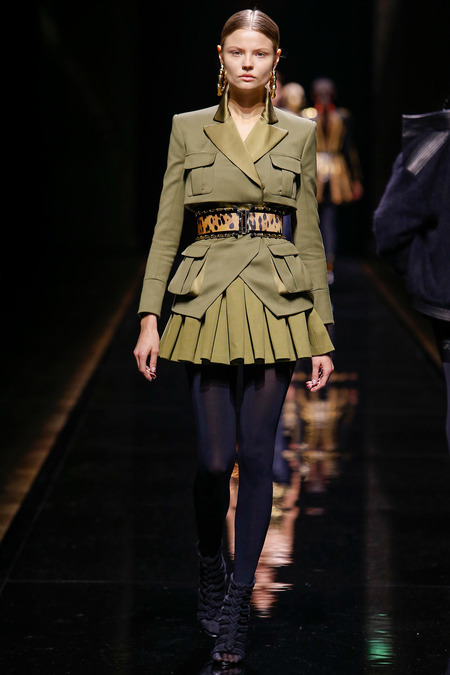 BALMAIN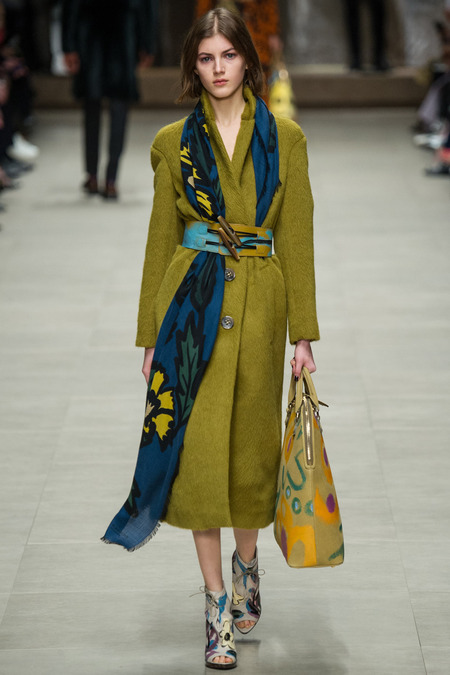 BURBERRY PRORSUM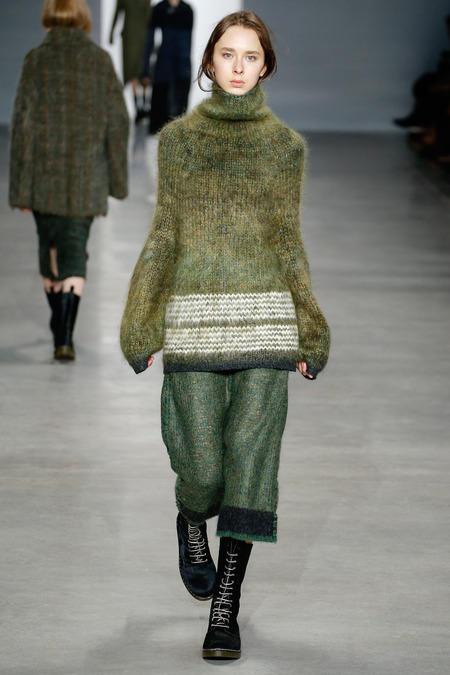 CALVIN KLEIN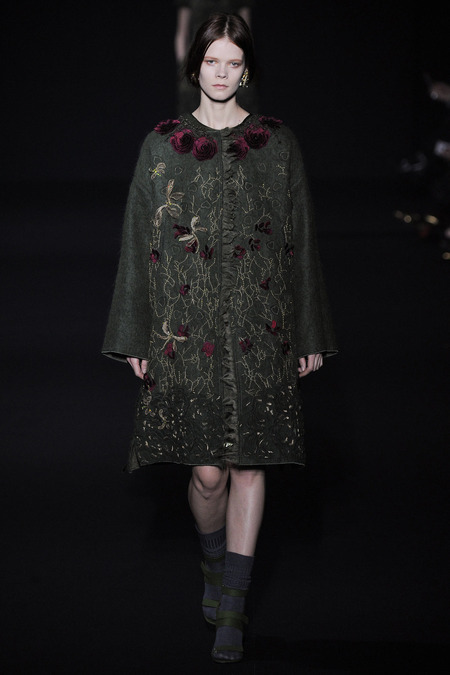 ALBERTA FERRETTI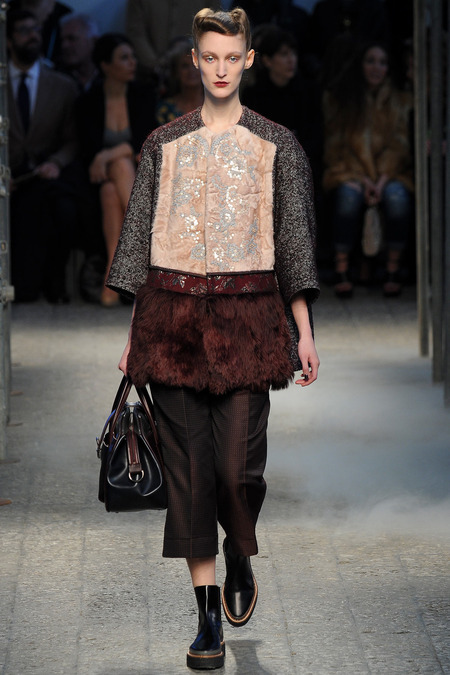 ANTONIO MARRAS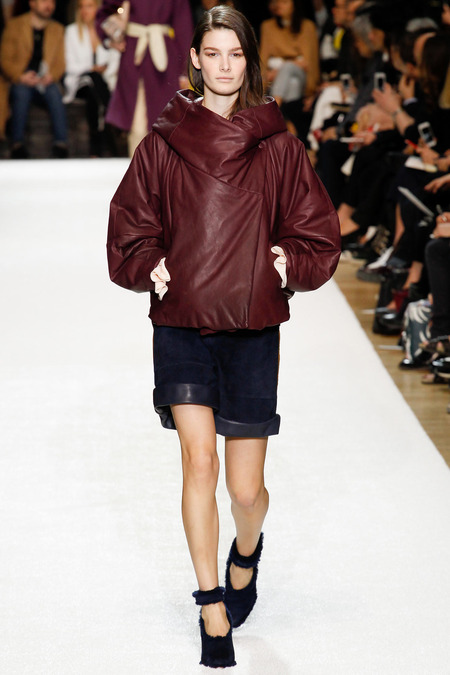 CHLOE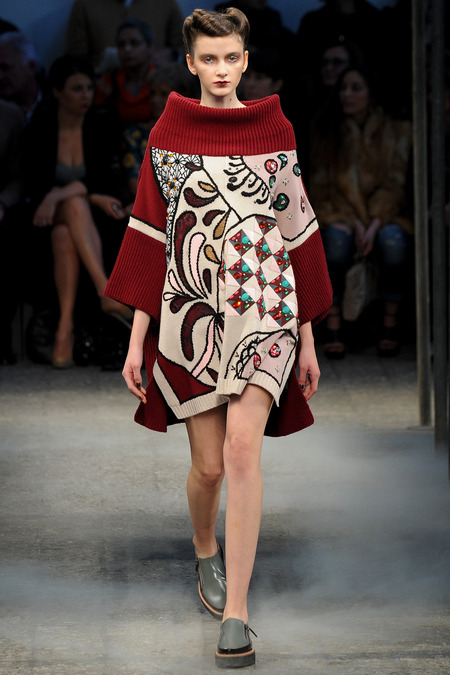 ANTONIO MARRAS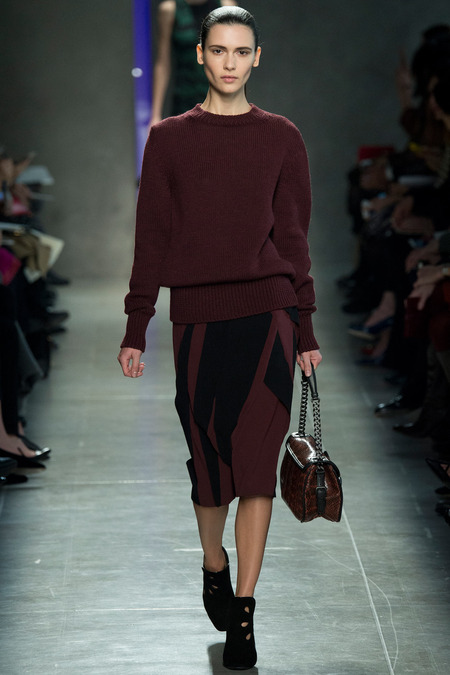 BOTTEGA VENETA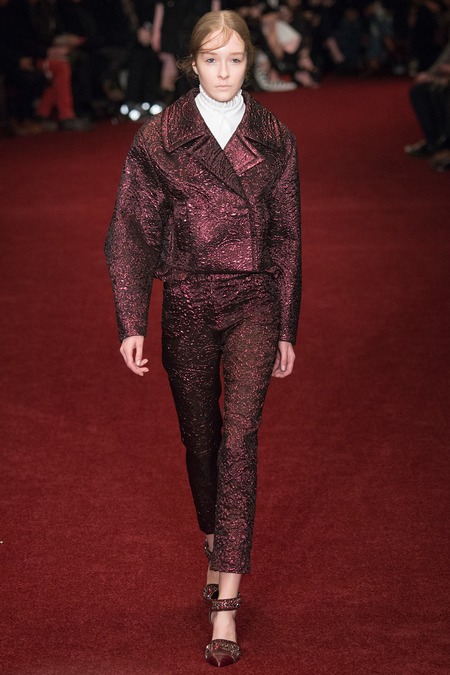 ERDEM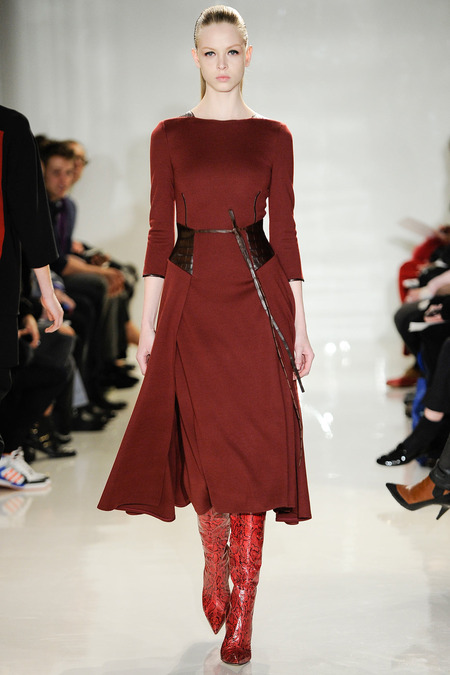 RALPH RUCCI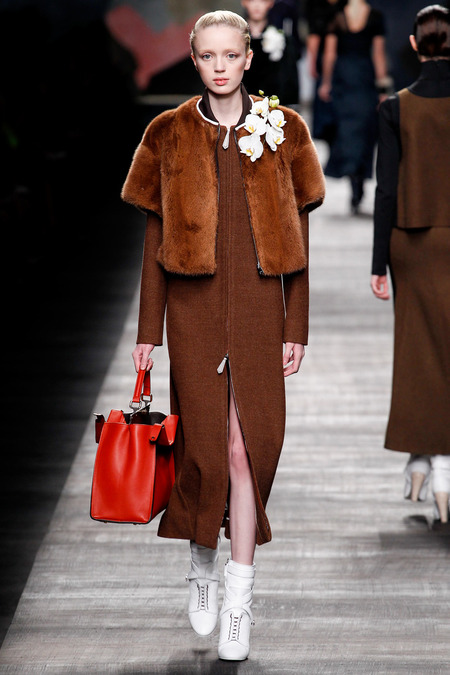 FENDI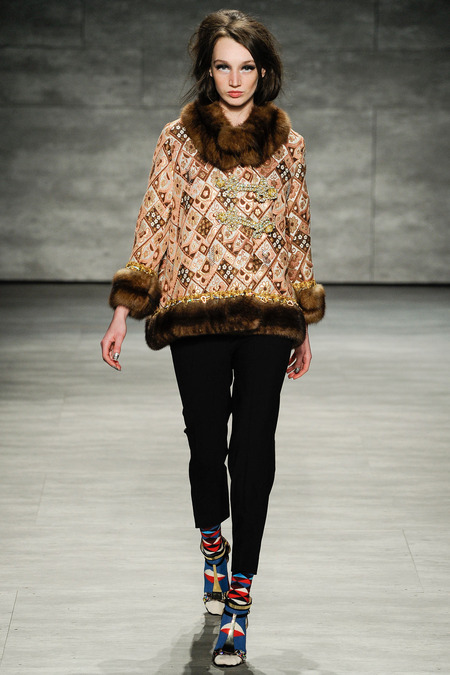 LIBERTINE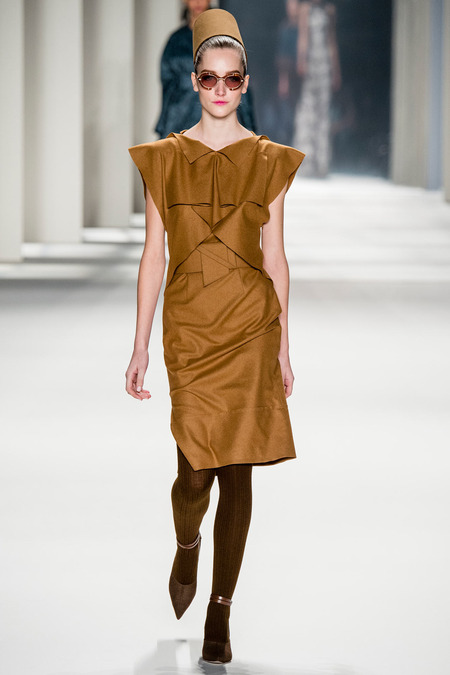 CAROLINA HERRERA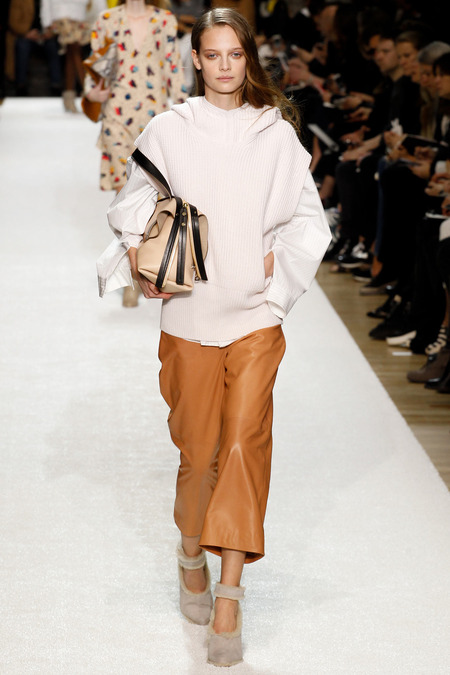 CHLOE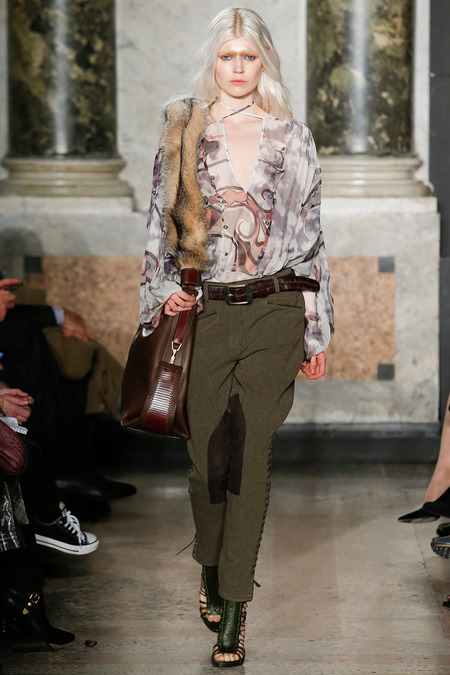 PUCCI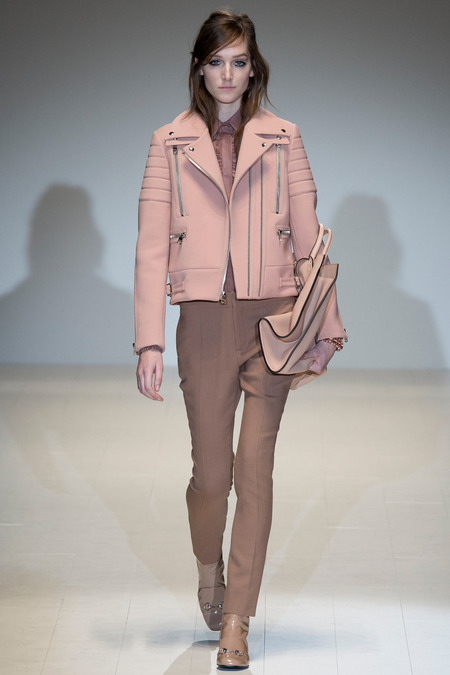 GUCCI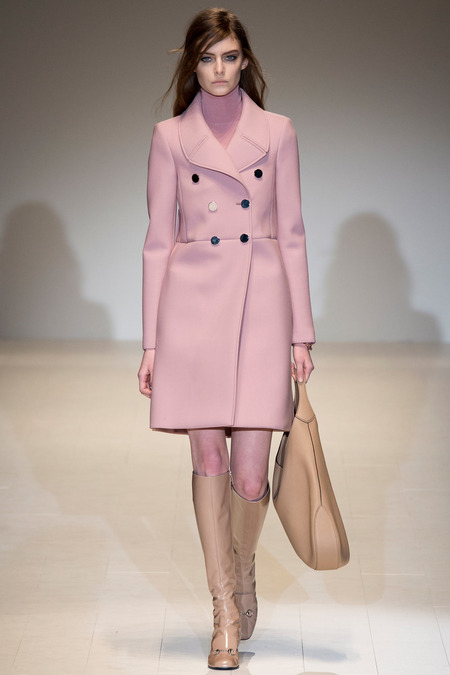 GUCCI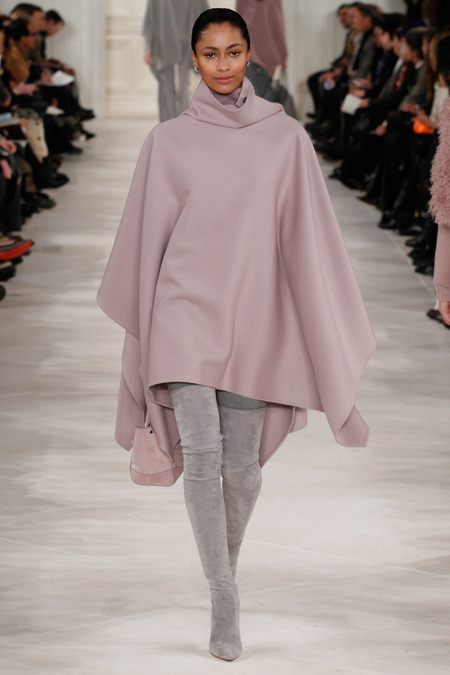 RALPH LAUREN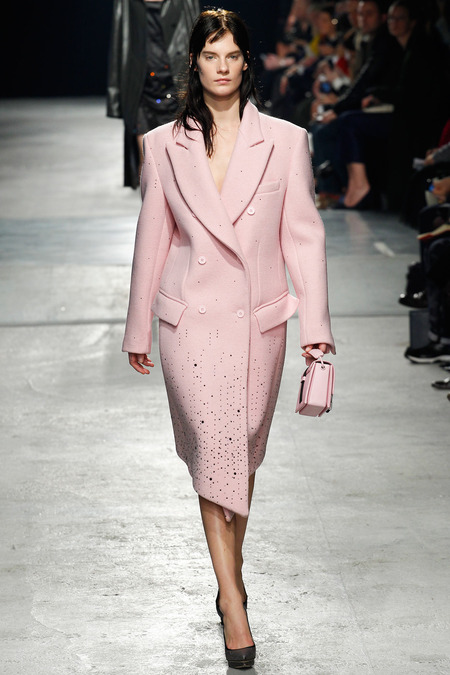 CHRISTOPHER KANE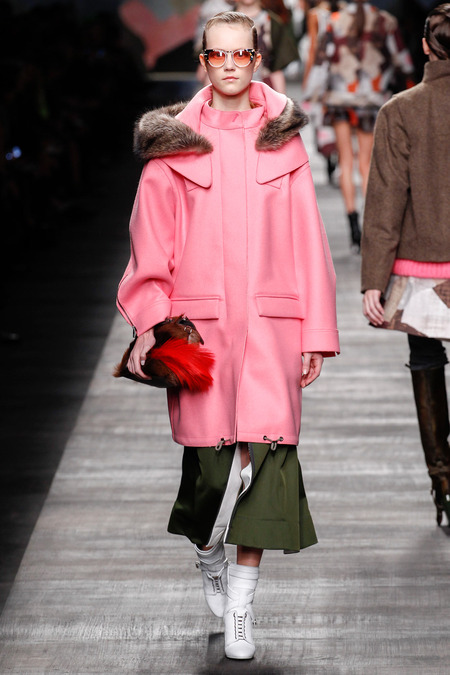 FENDI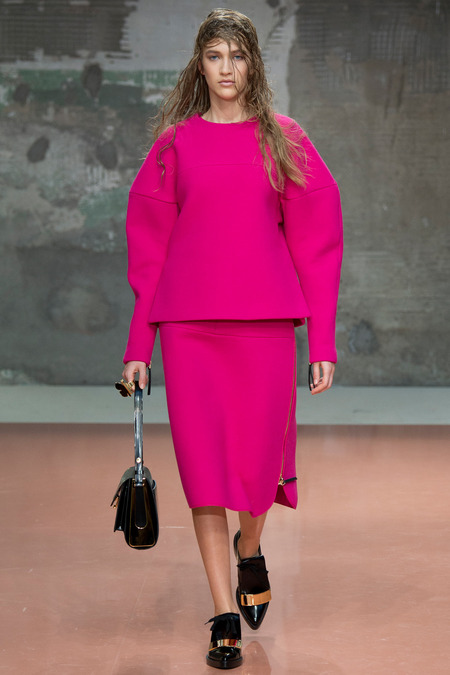 MARNI
This is a great option if the winter doldrums are getting you down. Wear it with the shoes shown above, or black boots with a brightly colored (that's right, bright with bright for dazzling effect) scarf or a stand alone fur collar.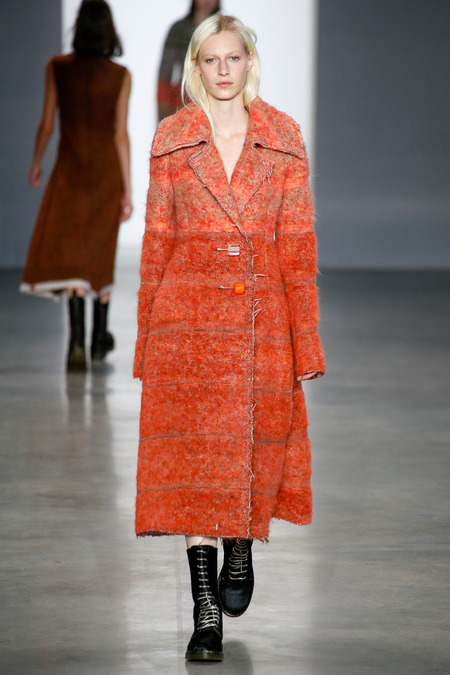 CALVIN KLEIN
This bright orange coat is one of my favorites, can't you imagine yourself strolling along the streets of New York swathed in this happy cuddly coat? I say, throw on a green cashmere scarf and maybe a brown fedora for full fall effect! Reminds me of "Its The Great Pumpkin Charlie Brown"....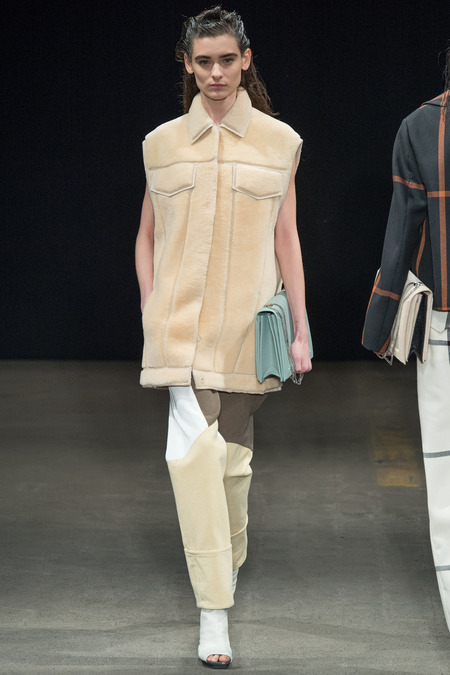 3.1 PHILLIP LIM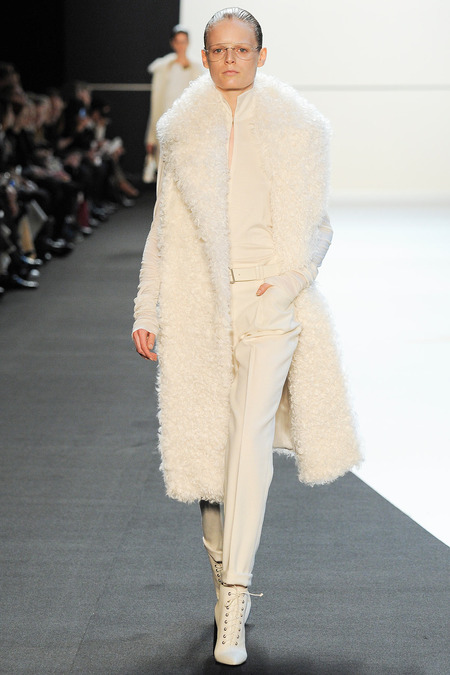 AKRIS
VESTS are in baby! I LOVE it! You stay warm but not constrained like Hannibal Lecter in a straight jacket. More versatile and often less bulky than many winter coats, AND no need to check at restaurants and the theatre.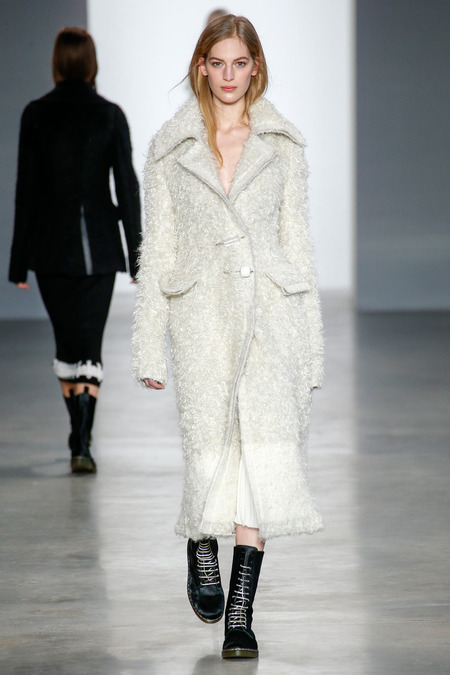 CALVIN KLEIN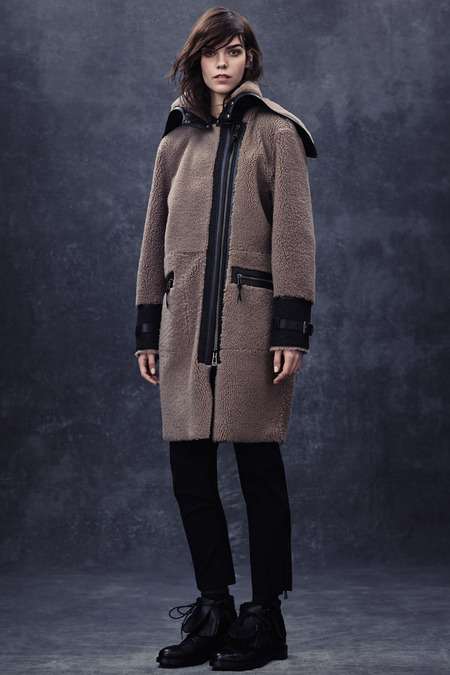 BELSTAFF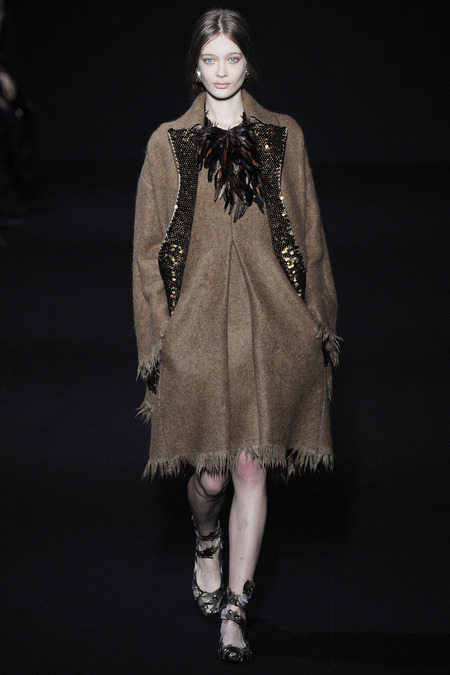 ALBERTA FERRETTI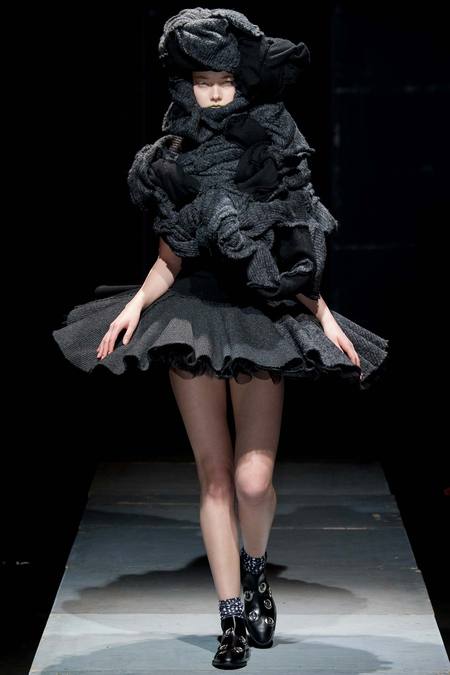 COMME DES GARCONS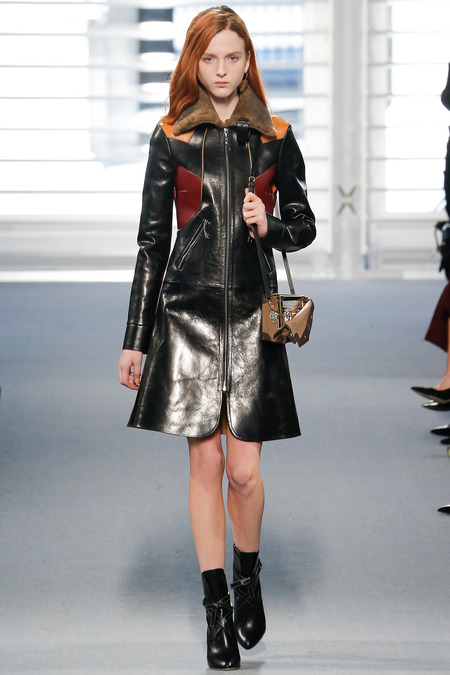 LOUIS VUITTON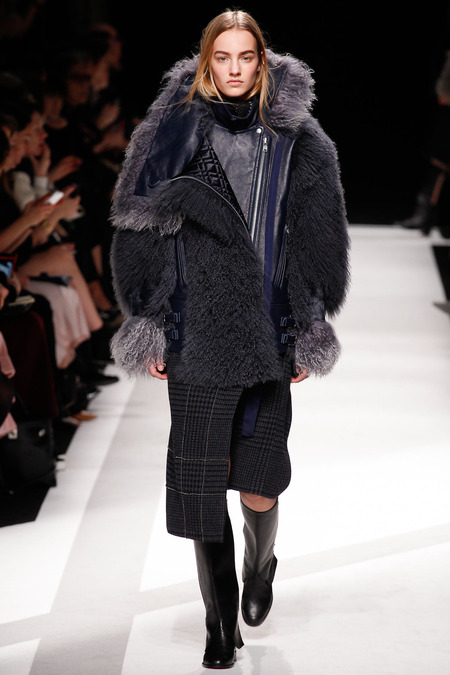 SACAI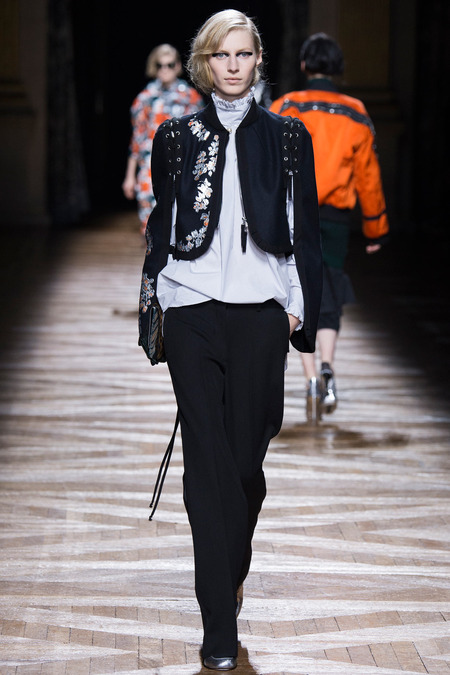 DRIES VAN NOTEN
No fall winter wardrobe would be complete without B O O T S.......
A great pair of boots will not only top off an outfit, but can sometimes be the focal point of the outfit depending how far outside the box one cares to go. If only a single pair of boots is in the budget, I suggest a neutral color that can be worn with just about anything: black of course, chocolate brown, and any version of wine, burgundy, or maroon. Numero uno would be RIDING BOOTS, as they are comfy, low key, old school regal, and just a tad masculine. They can be worn with leggings, skirts, dresses, Jodhpurs, and maybe even culottes! AND, you could actually wear these bad boys while riding a horse! If TWO pairs are in the plan, get some with studs, rhinestones, or grommets (which in general should be kept down to a dull roar).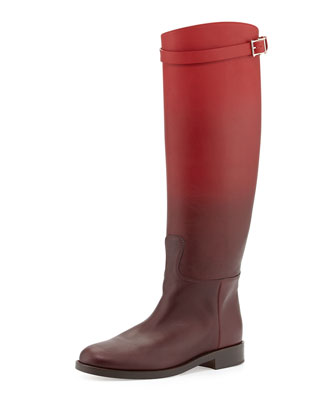 Pair these Ombre Valentinos with the Pucci jodhpurs and that CK orange coat.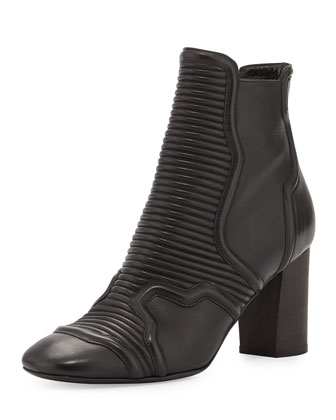 These well crafted beauties by BALMAIN will hold you in good stead in any arena. Not too high, good neutral color, can be worn with opaque tights and a pleated skirt or dress, leather pants, or jeans and a leather jacket. Latter day Roman legion.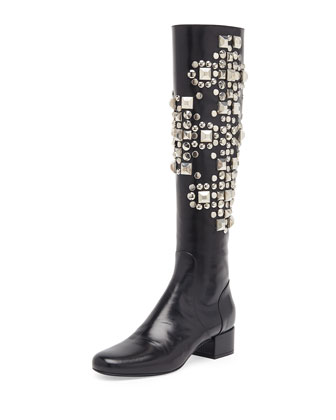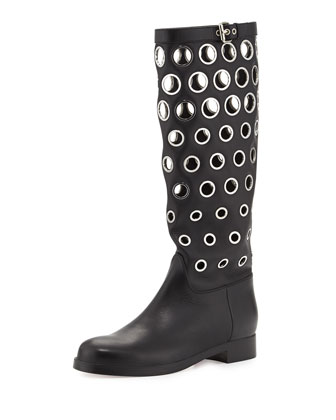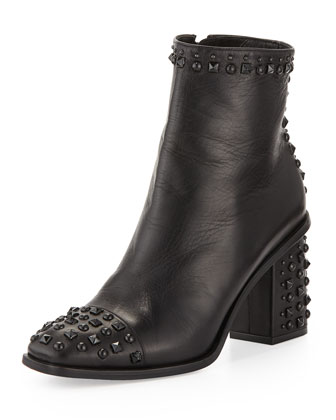 Standard black with a wacky wow factor! Saint Laurent, Louboutin, and McQueen.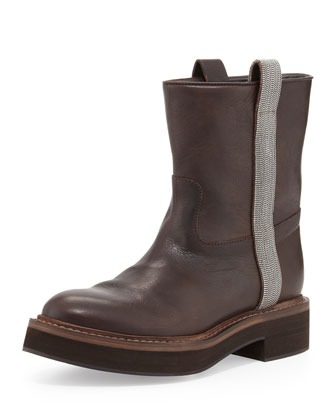 And my obsession with anything Brunello Cucinelli continues with these cool, funky, comfy but still lux neutral boots.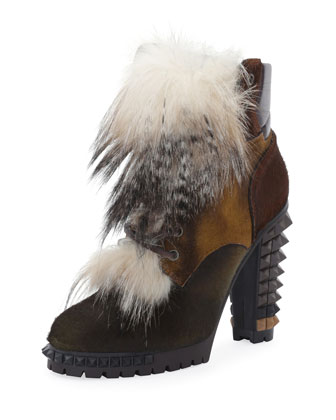 Vintage Fendi, rocking whimsy not for the faint of heart!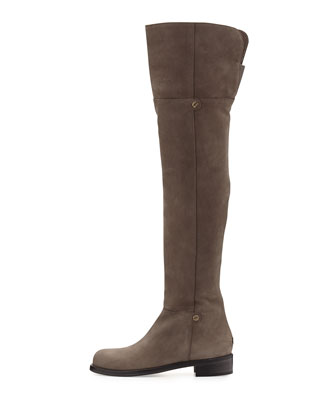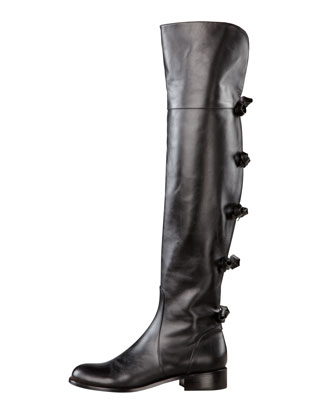 OVER THE KNEE BOOTS ARE IN, you heard it here first. This is more the buccaneer variety than the ones you'd see worn with torn mesh tights in the Tenderloin. Jimmy Choo and Valentino.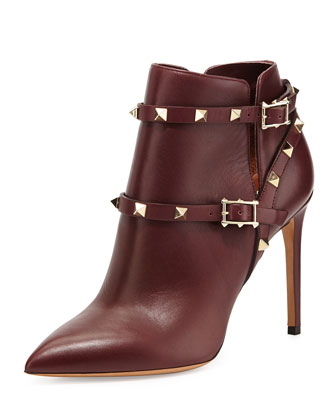 My favorite of the bunch! Iconic Valentino. This color can be worn with ANYTHING you'd wear with a black or brown pair of boots, but slightly out of the ordinary. Feminine bondage, meeow!
Cheers!
Images brought to you by www.style.com and Neiman Marcus on line.