I love a suit, or frankly any kind of menswear inspired chick attire. The suit is another chameleon in the ready to wear hot house. Wear as an ensemble or team up the separates with other pieces lurking in your closet. Throw a suit jacket over jeans and then add a wide belt ala Diane Keaton. Or over a pencil skirt, just add stilettos for that Lois Lane vibe. And really, pants are a gal's best friend---comfortable, pragmatic, versatile, AND you don't have to SHAVE YOUR LEGS or wear panty hose. Win win.
So far there has been a relative paucity, albeit a curious selection, of this timeless staple on the catwalks. And, most are in a somber palette, ie. BLACK. However, you can't argue with a black suit, for a gal or a dude, as it is often apropos for many a situation. It's a no fuss, no muss, no brainer which will slim and not offend. When segueing from work to a nighttime cocktail affair or lunch with the ladies, just change the shoes, maybe the blouse, and add visual interest with baubles and scarves.
Armani and Ralph Lauren offer up iconic silhouettes harkening back to the 80's in wearable yet lux fabrications as expected, and as two of THE most successful designers in the history of man, will always have an audience for such wares. A pant suit renaissance has occurred over the past several decades adding allure to the typically masculine pieces in the form of nipped in waists, posh jacquards and velvets, and the unexpected avant-garde contingent.
The eclectic assortment allows us to maintain a sense of power and gravitas (when needed) whilst remaining chic and feminine.
A few options from recent FALL WINTER 2016 collections:
GIORGIO ARMANI: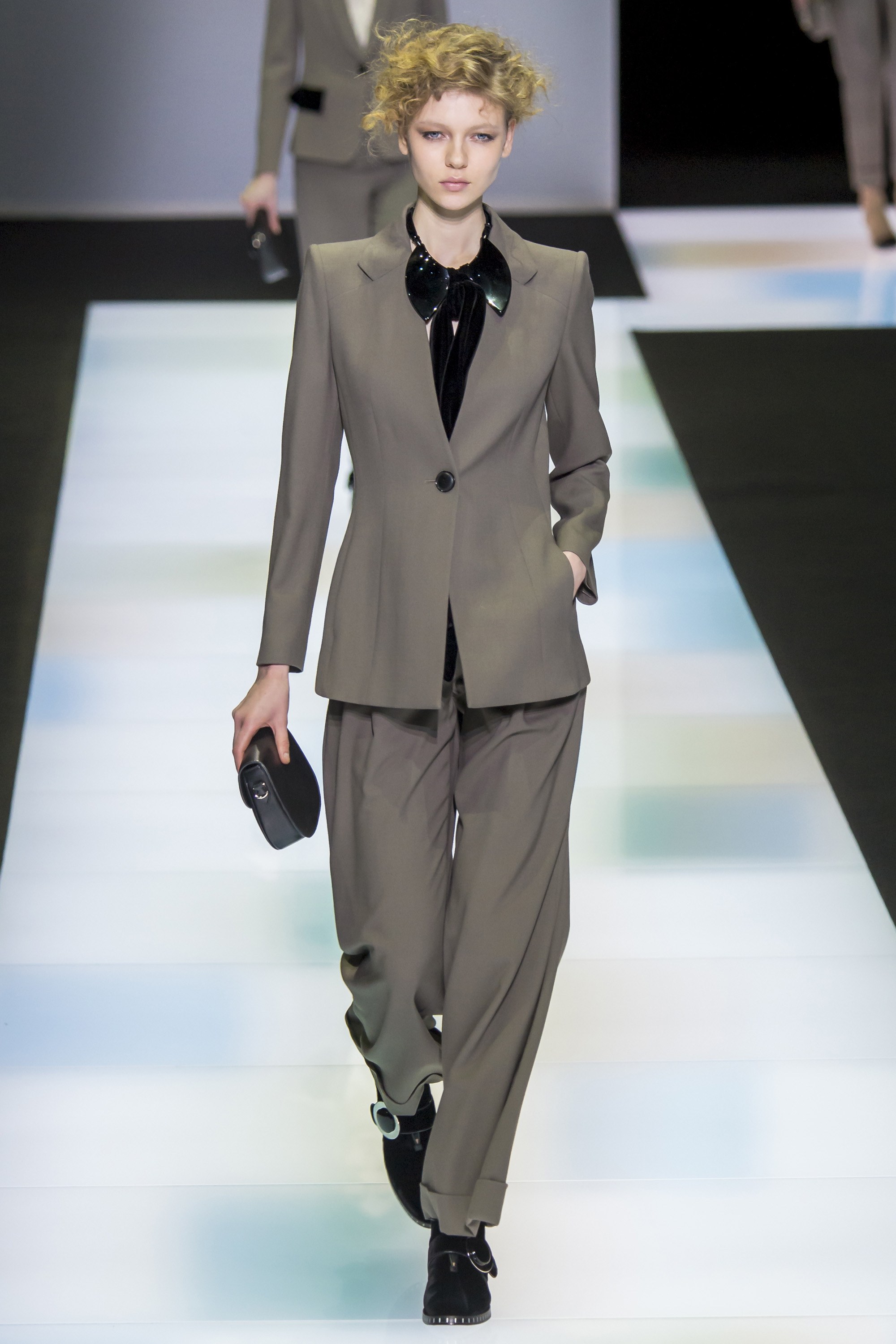 Vintage Armani, casually elegant and eminently wearable. When bells and whistles will not do. And let's face it, CUFFS will aways be "IN".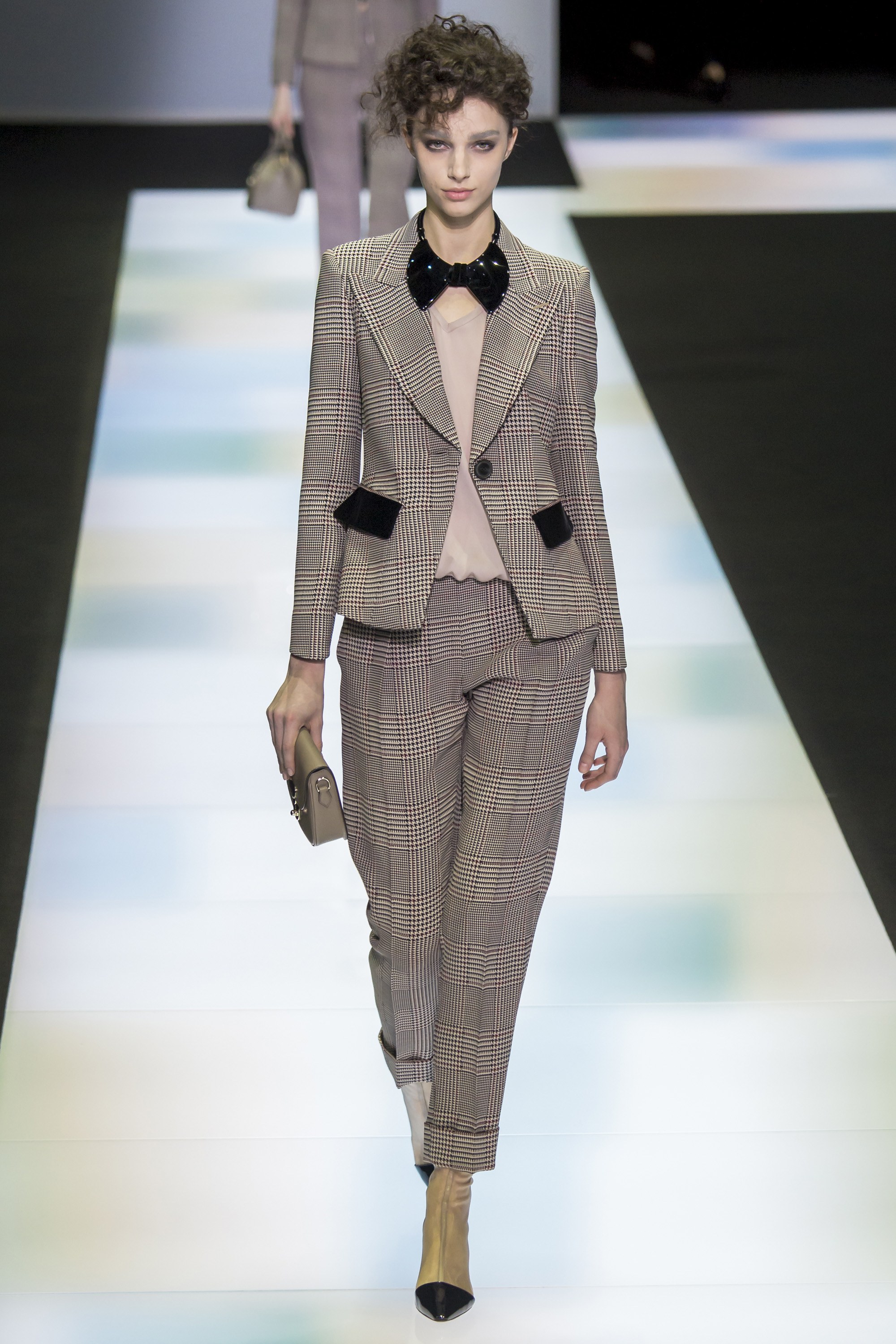 A younger more fresh and kicky Armani. The jacket could be paired with a ruffly blouse and jeans for a casual outing. Here the pants are tapered and cuffed. NO RULES.
RALPH LAUREN: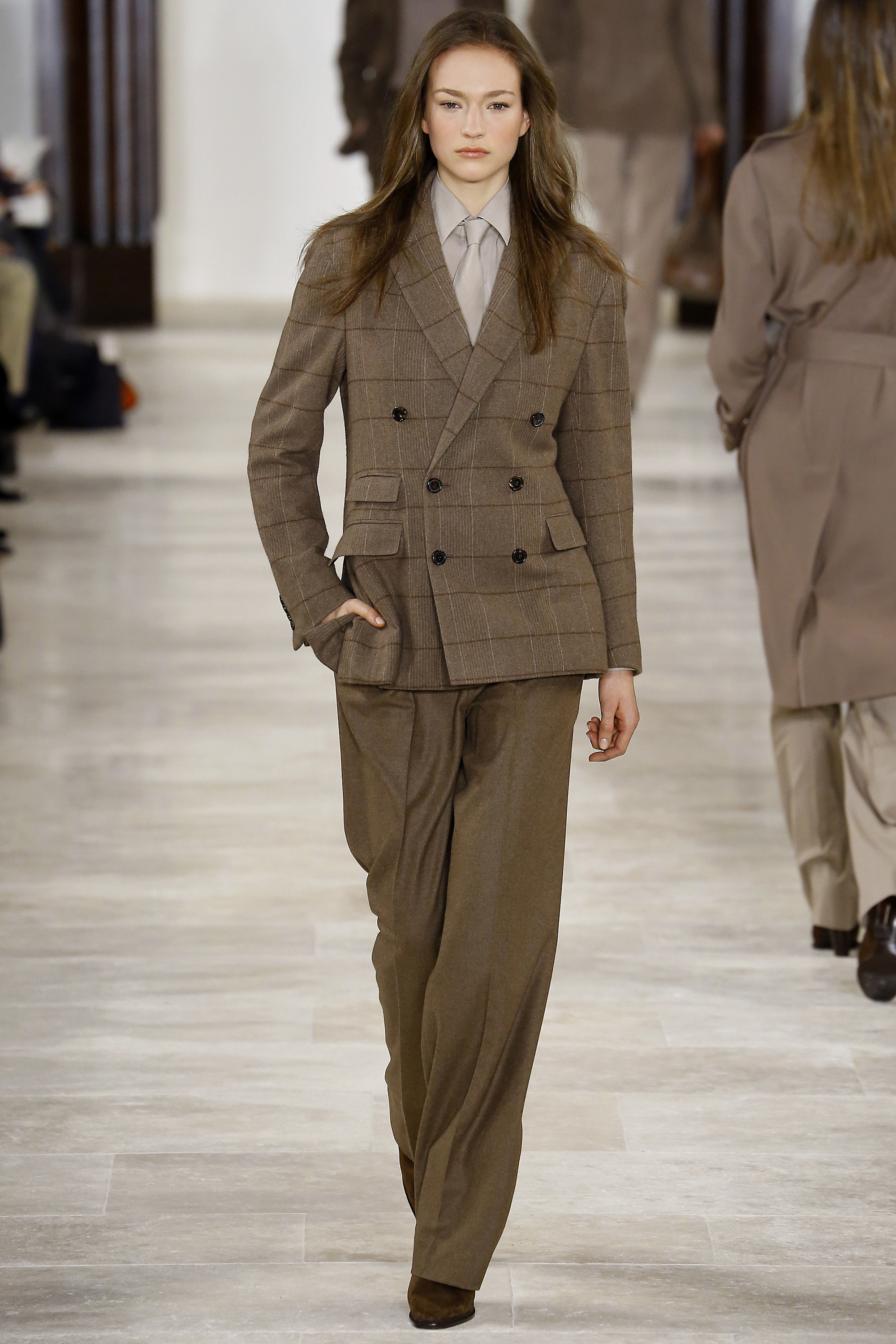 The 80's are back. Funk up with shoe booties. For contrasting glam? Get out the multicolored Hermes scarf (preferably with a wacky animal pattern or vibrant floral motif).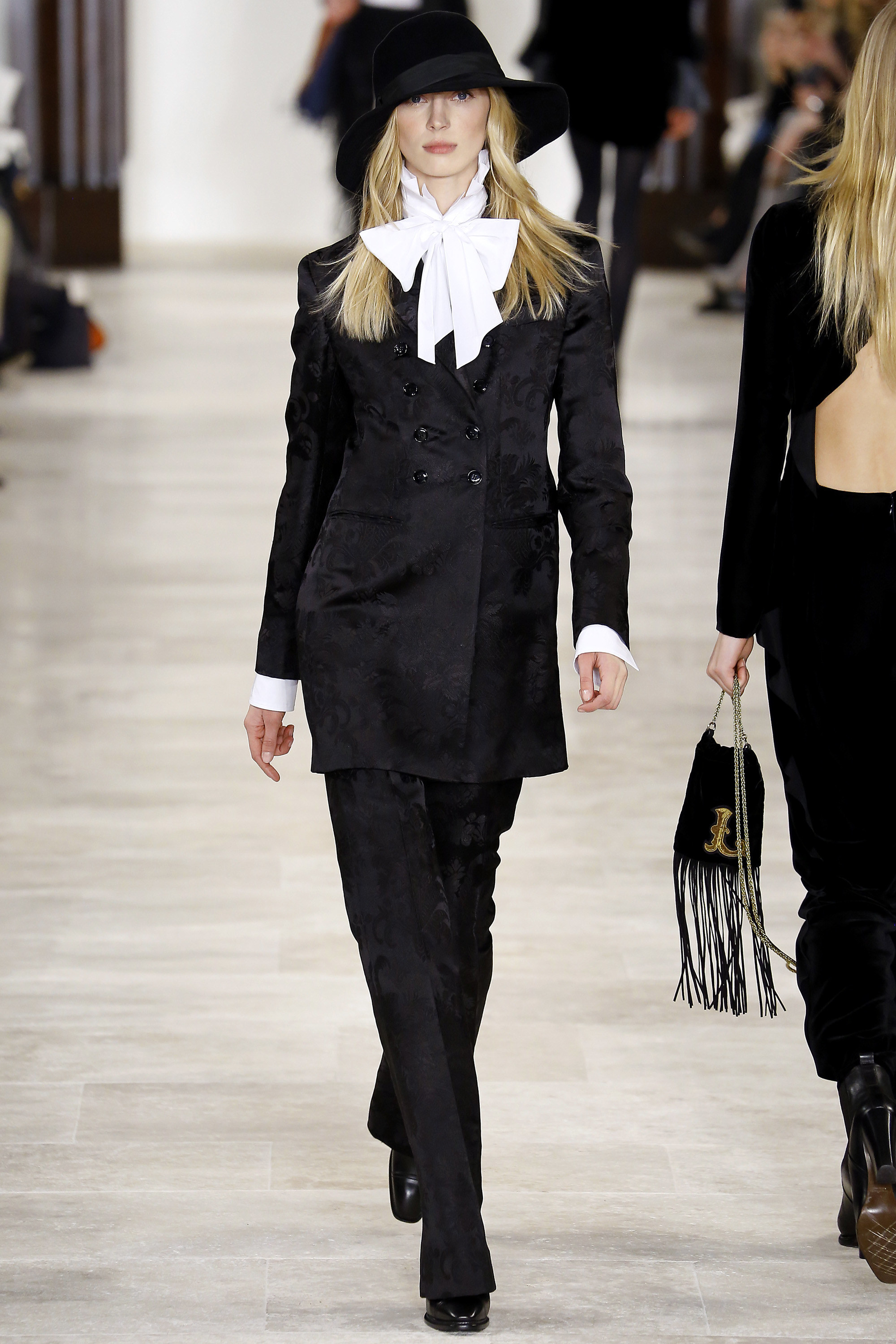 Black jacquard with a long Dandy jacket and a big bow. Swoon. Now THIS is my kind of suit! A feminized Dorian Gray!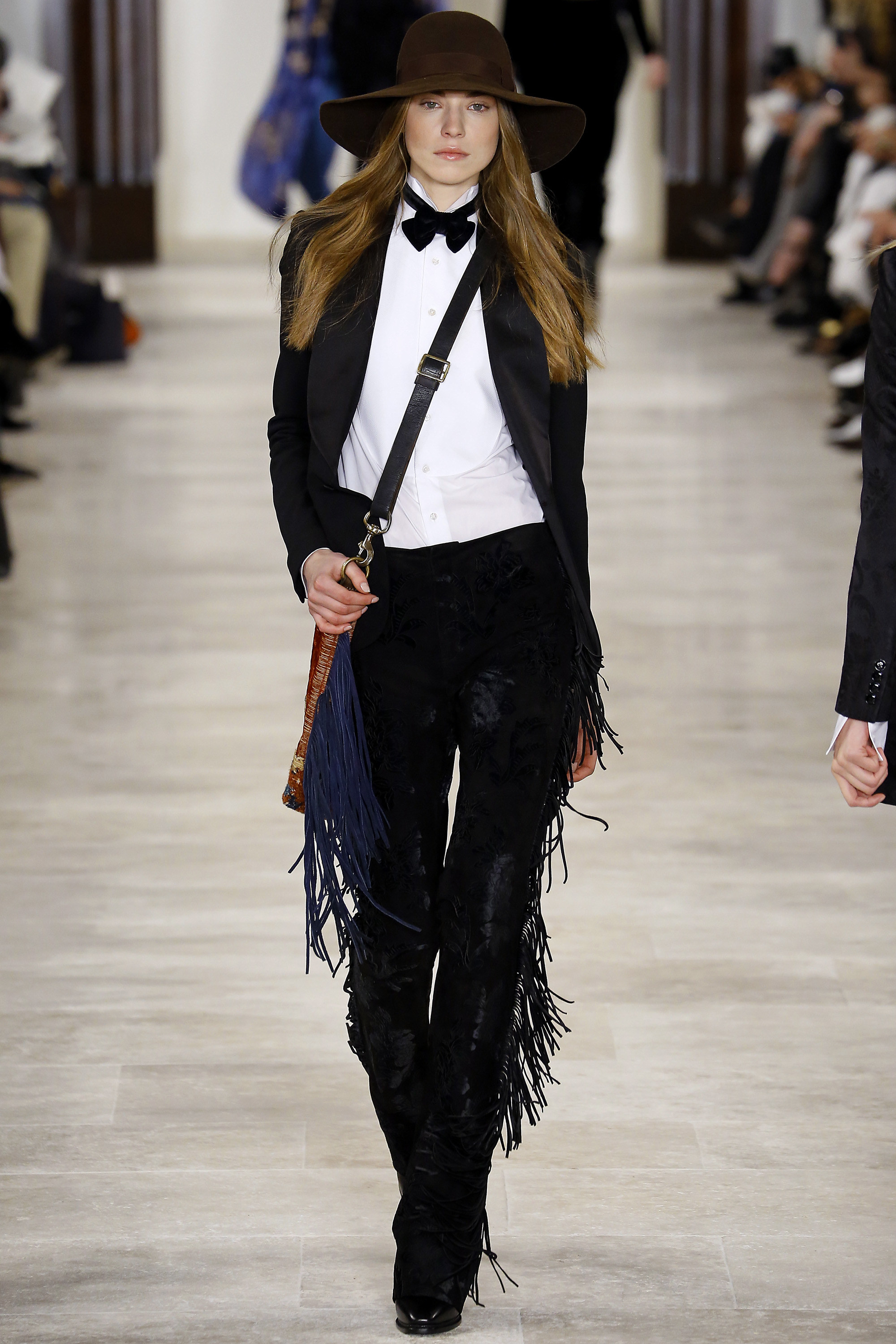 Love it. Equestrian Americana. Giddyup.
DEREK LAM: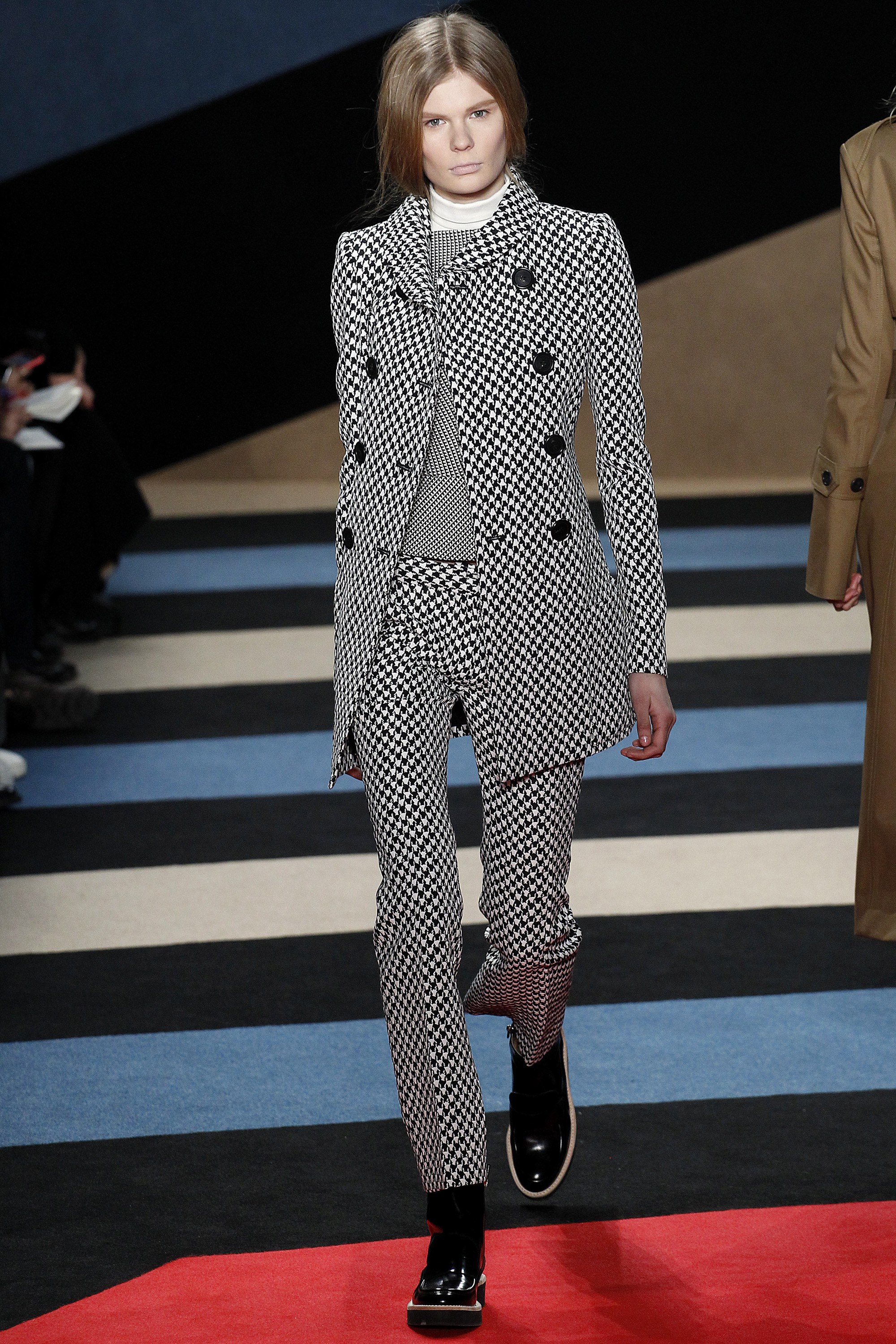 For some 70's funkitude.
GUCCI: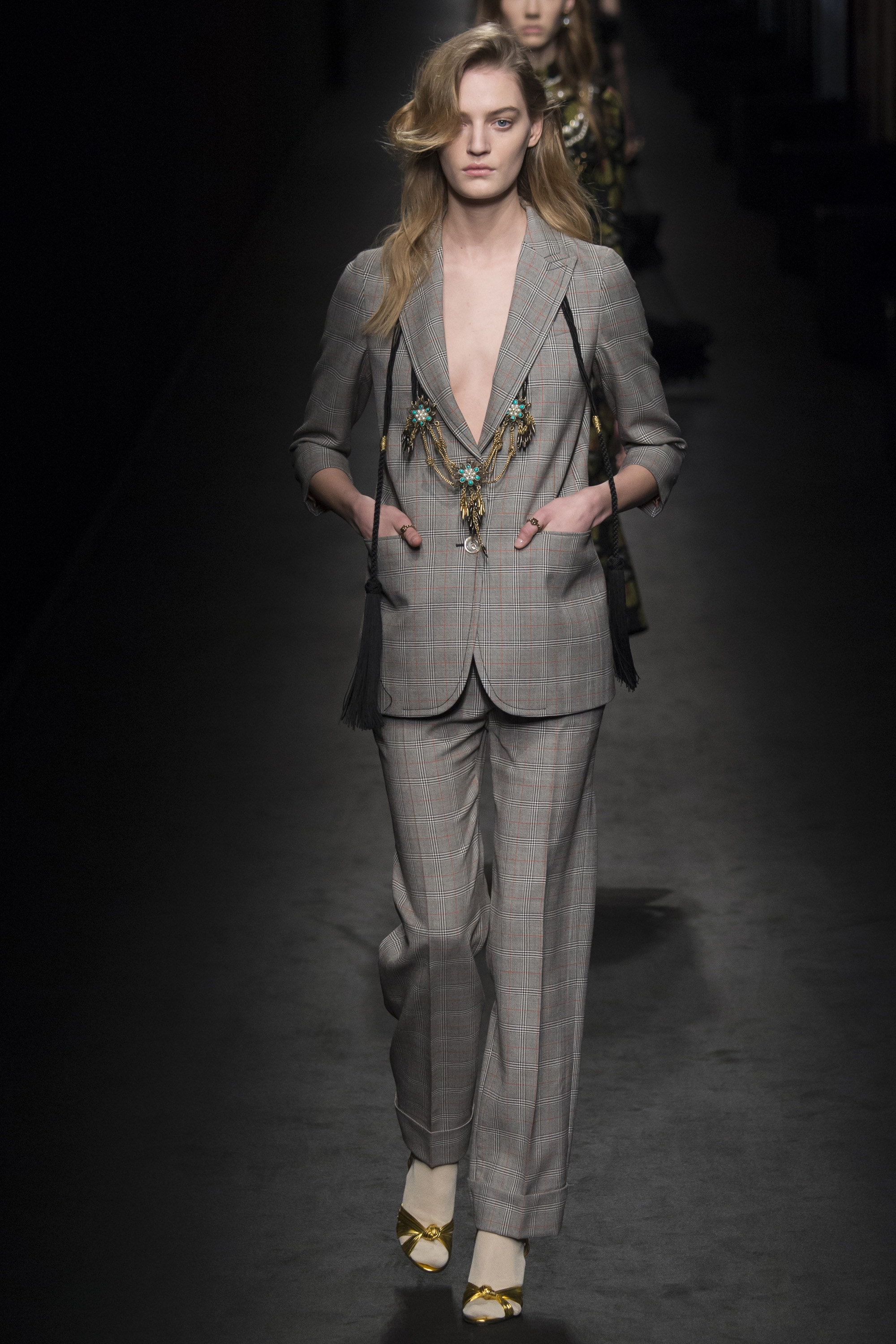 This is relatively staid for Alessandro Michele, and totally office friendly. Of course leave it to him to add low level pizzazz by way of baubles and tassels.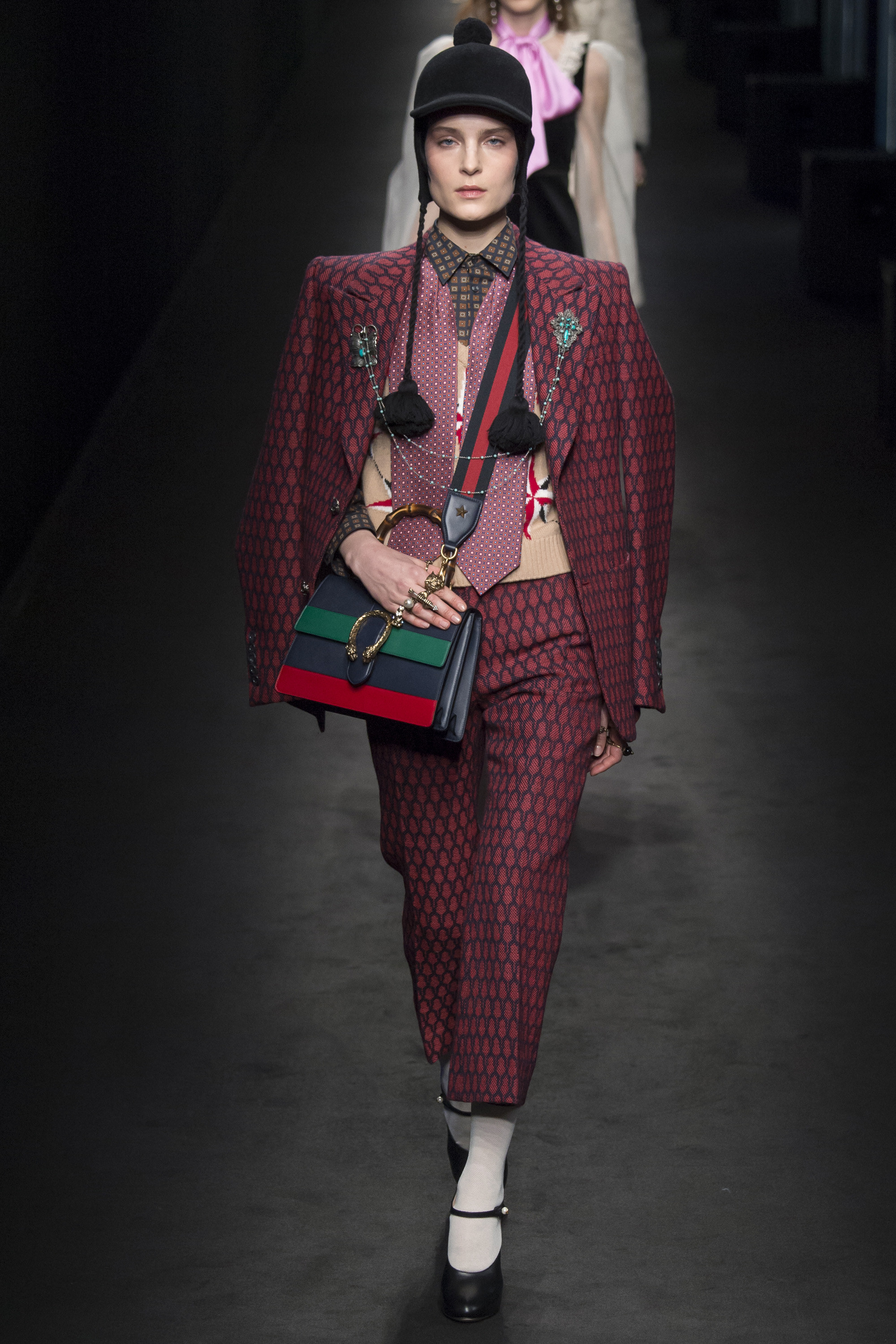 Wacky and whimsy, staples of a Gucci show. For the bold fashionista!
BROOKS BROTHERS: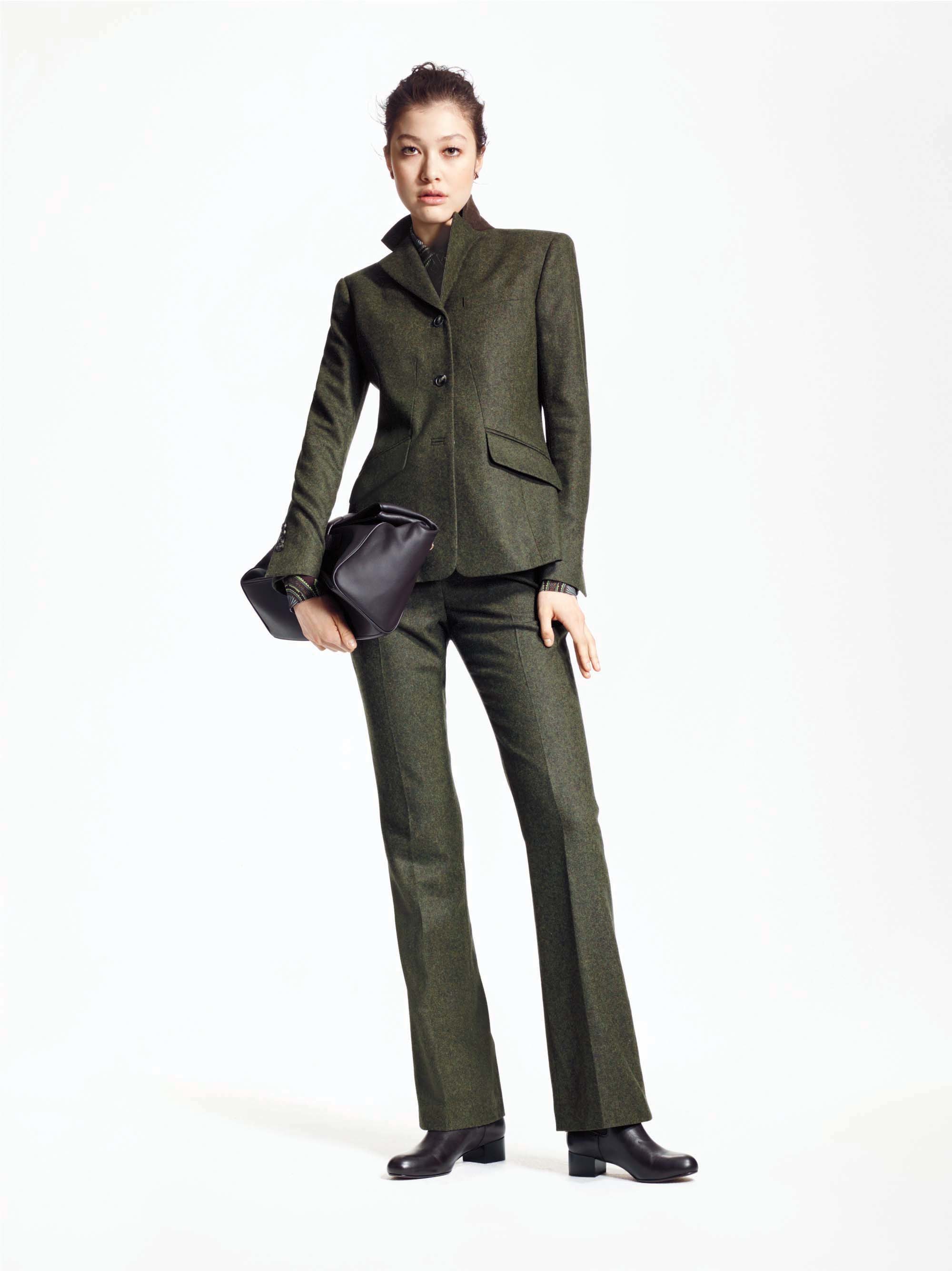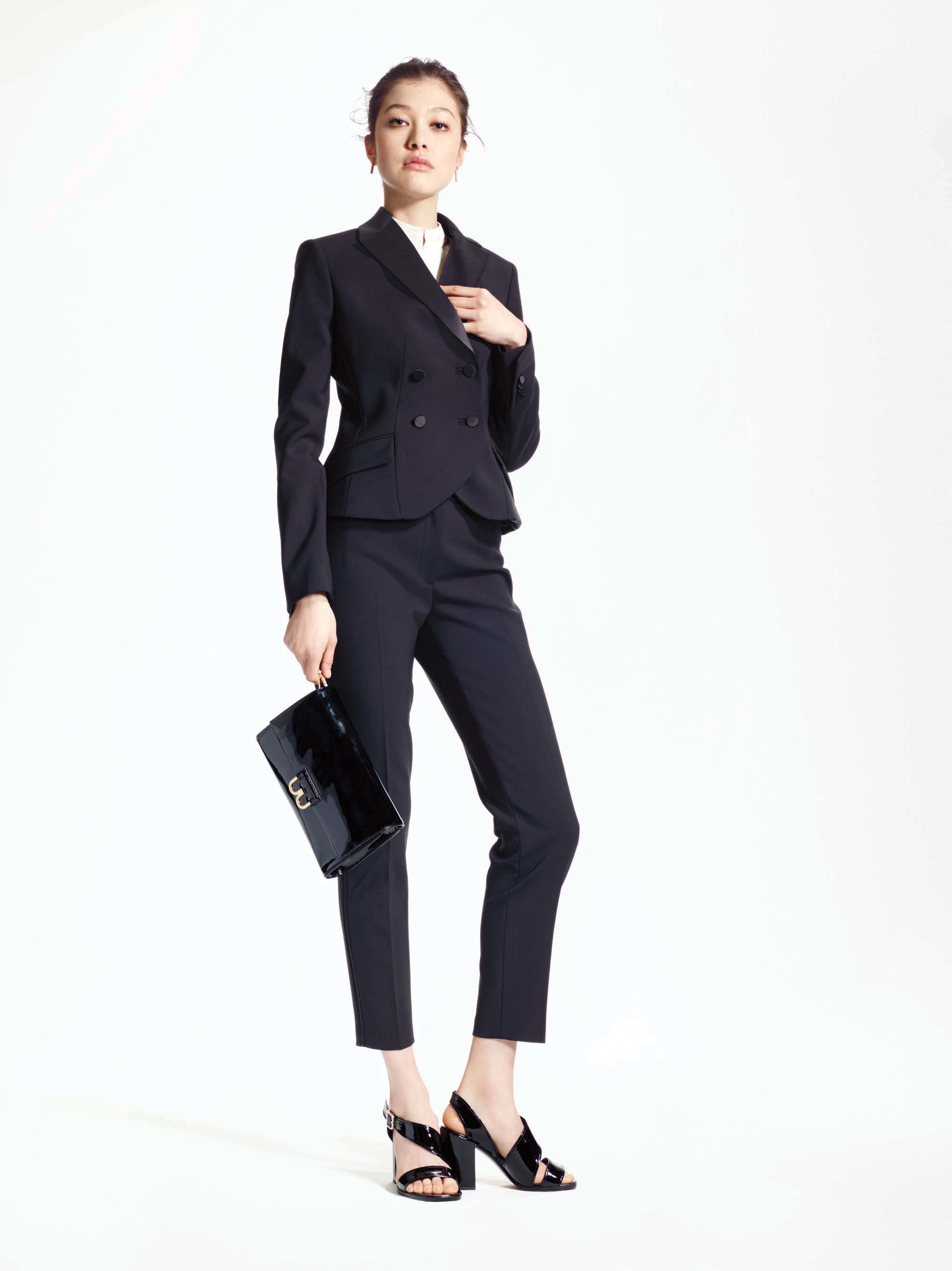 The shoes and underpinnings will set the tone.
DOLCE & GABBANA: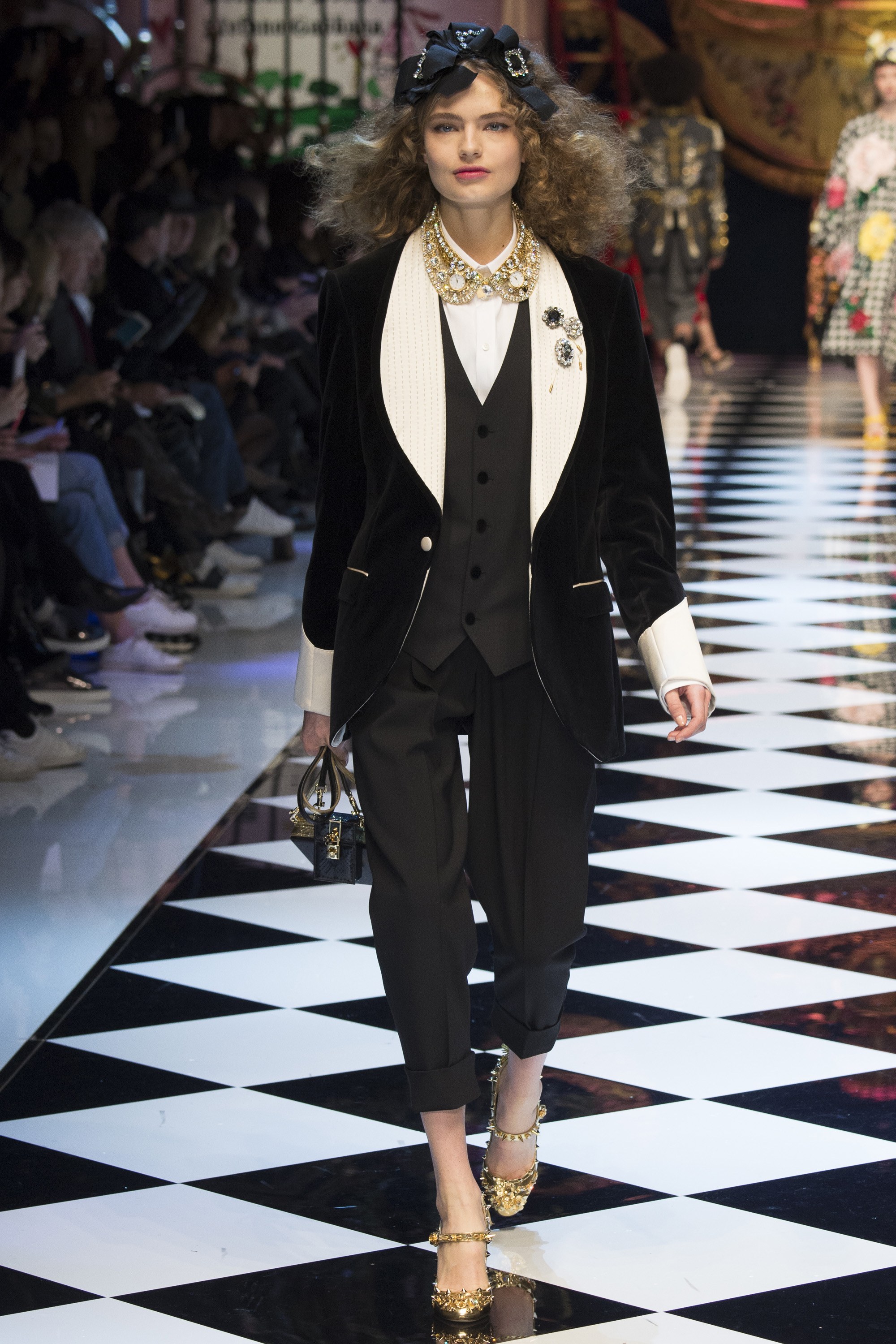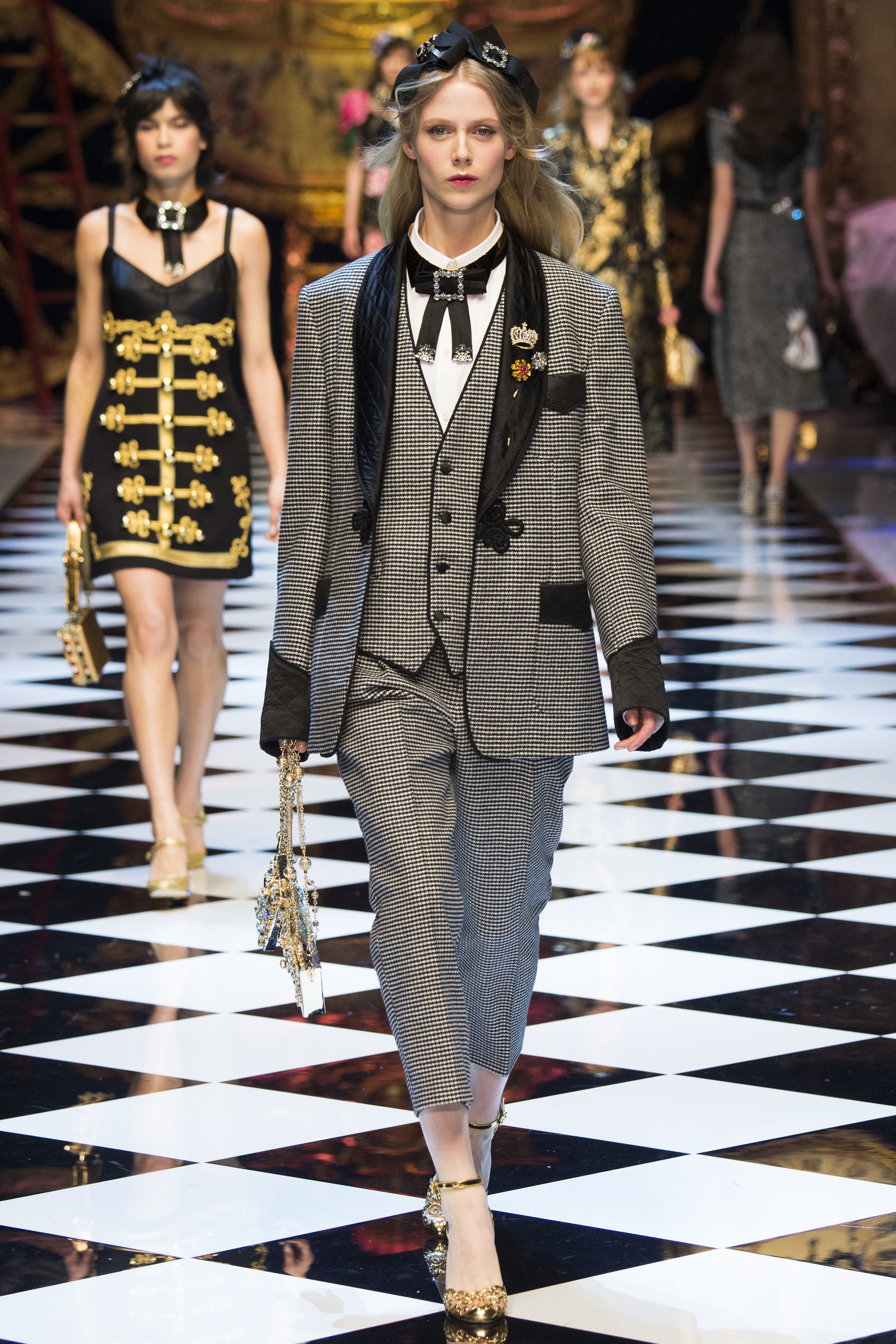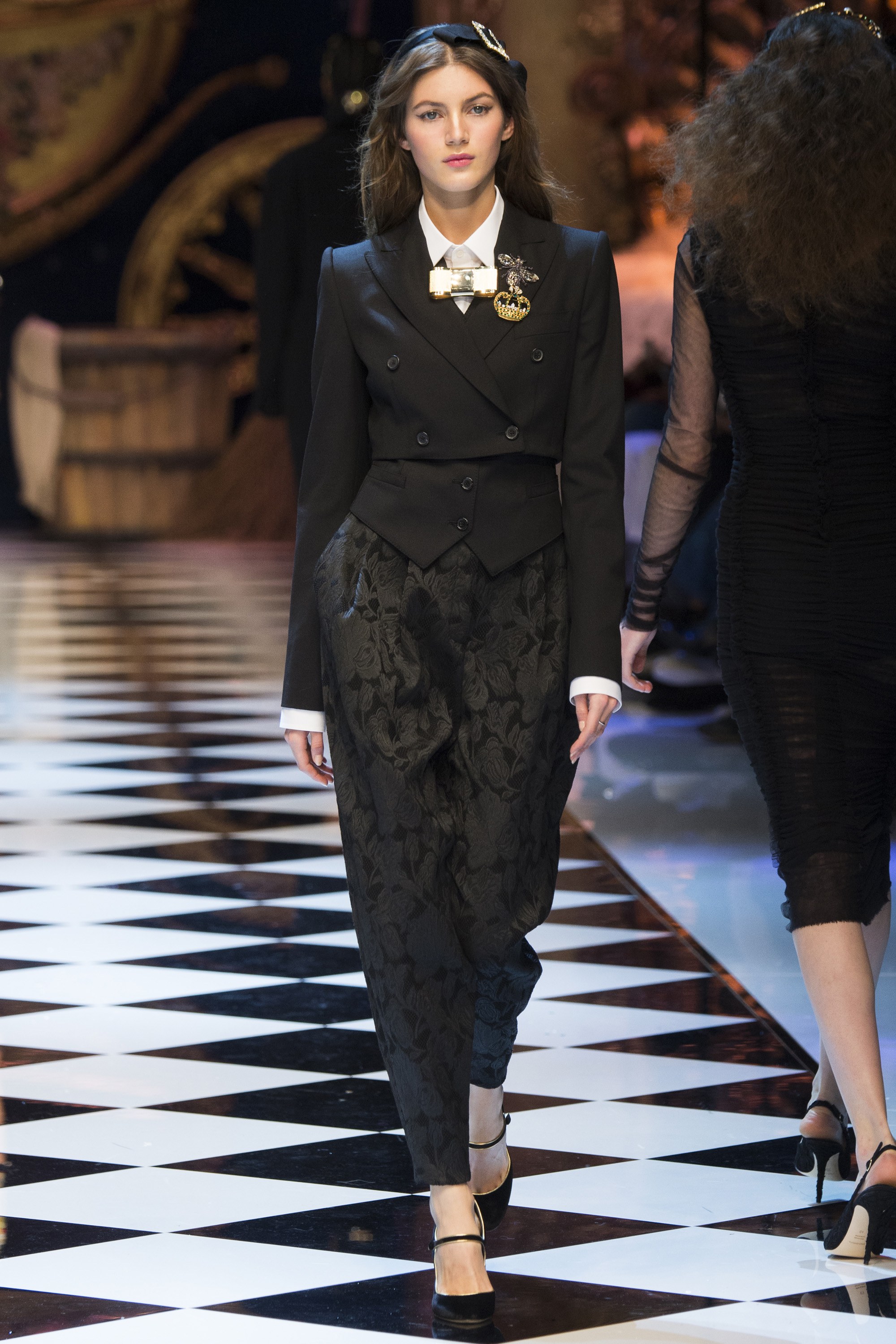 These aren't your usual office togs. Leave it to this energetic duo to turn a man's smoking jacket and tuxedo into "suits" fit for a night out at the opera. And not many can compete with their accoutrements and flourishes! To freshen up a jacket, suit, or coat, just add a big, bold, brooch….(or a cluster, the more the merrier!). I might rethink the vest however....
MARC JACOBS: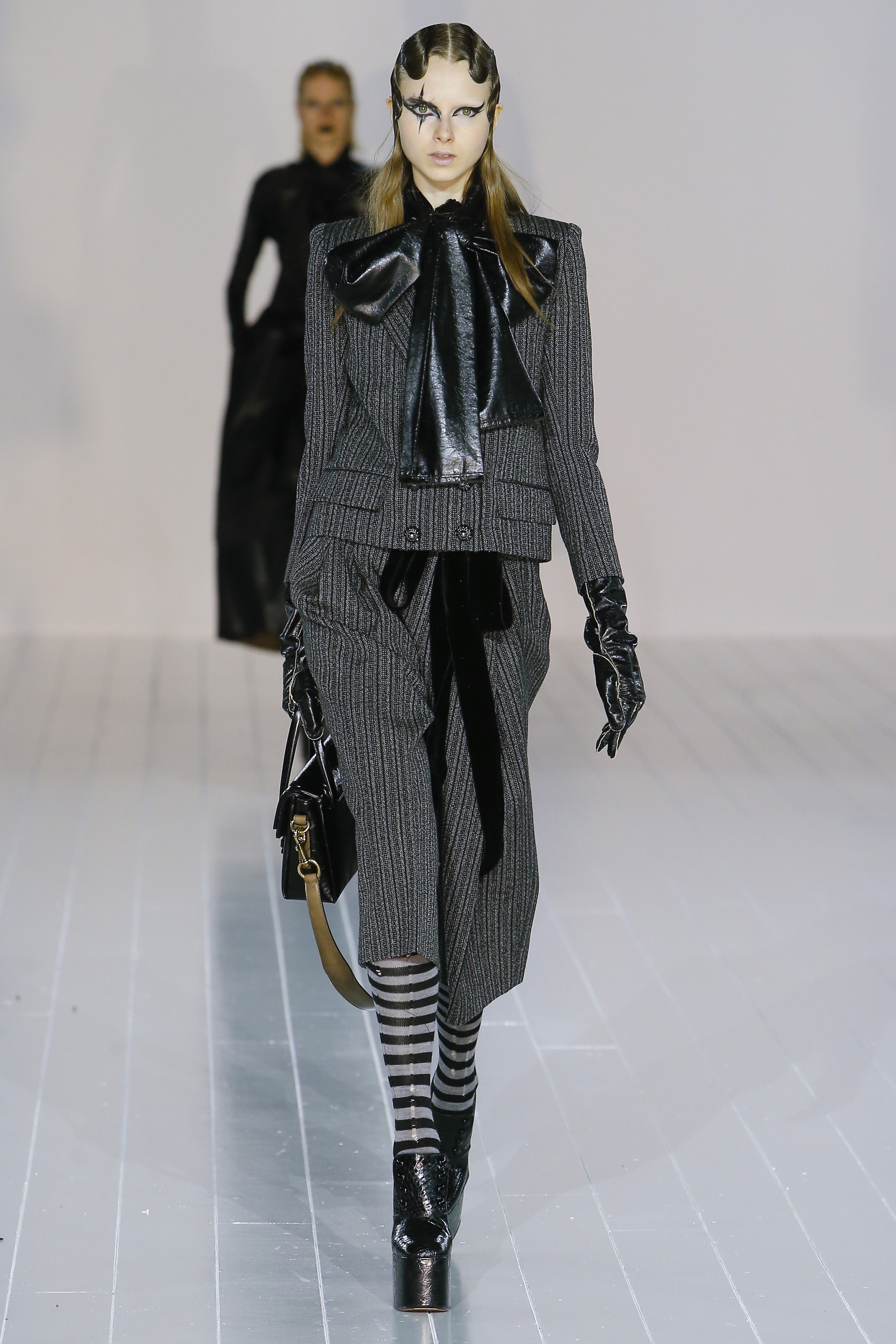 ANTHONY VACCARELLO: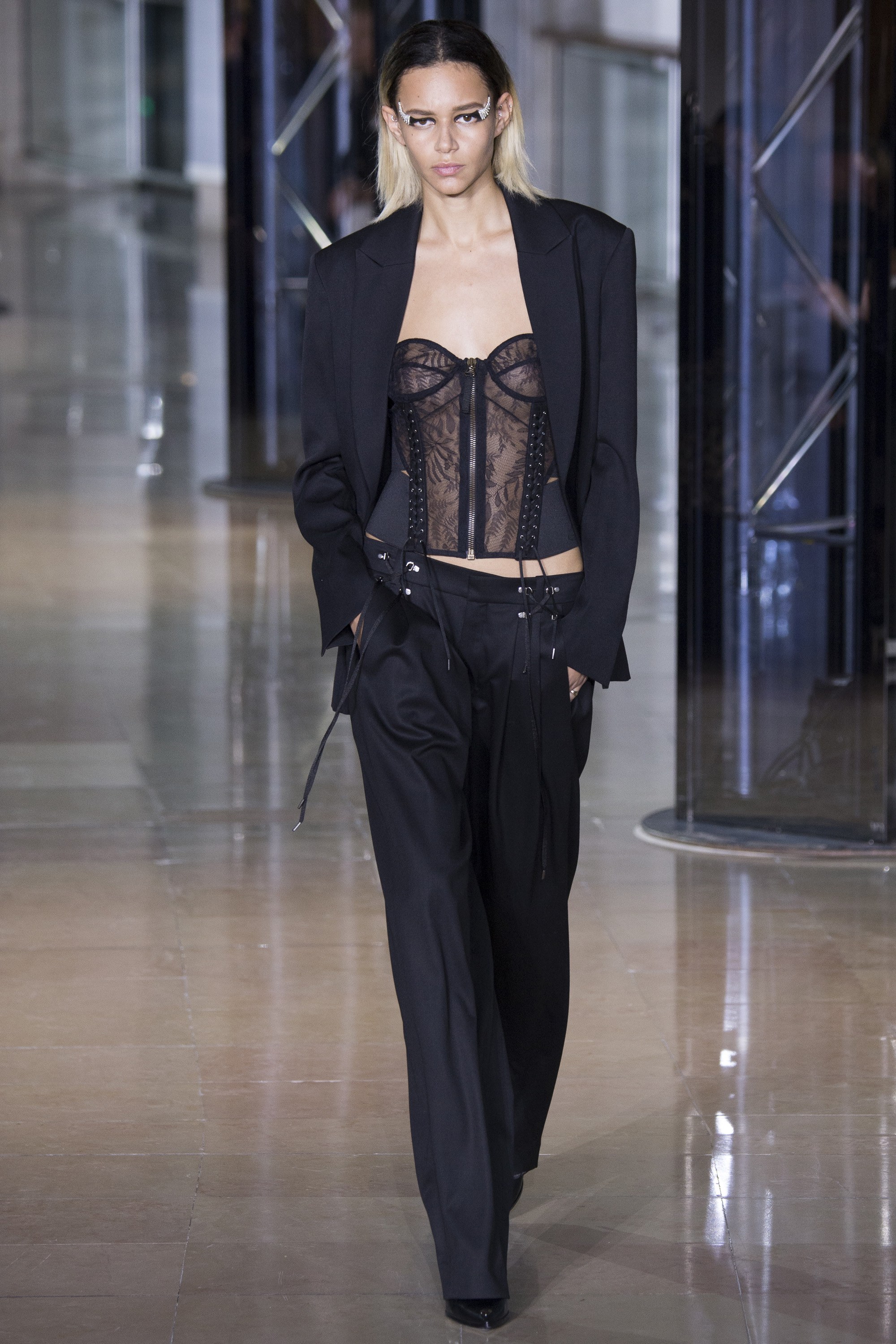 Now THIS is how one might infuse SPICY VIXEN into an otherwise chic yet subdued black suit. THE CORSET. It certainly works for Dolce & Gabbana.
ALTUZARRA: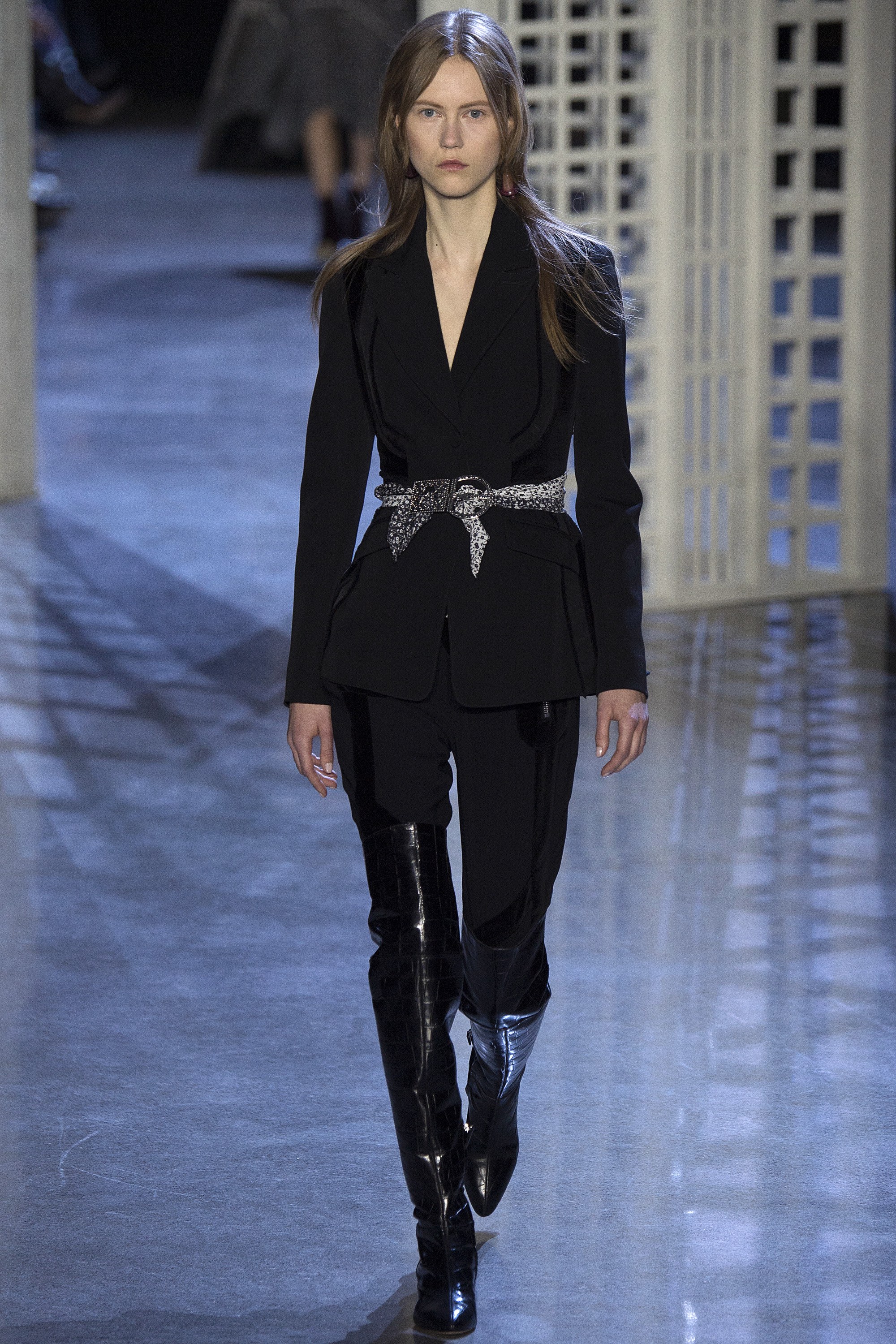 BOTTEGA VENETA: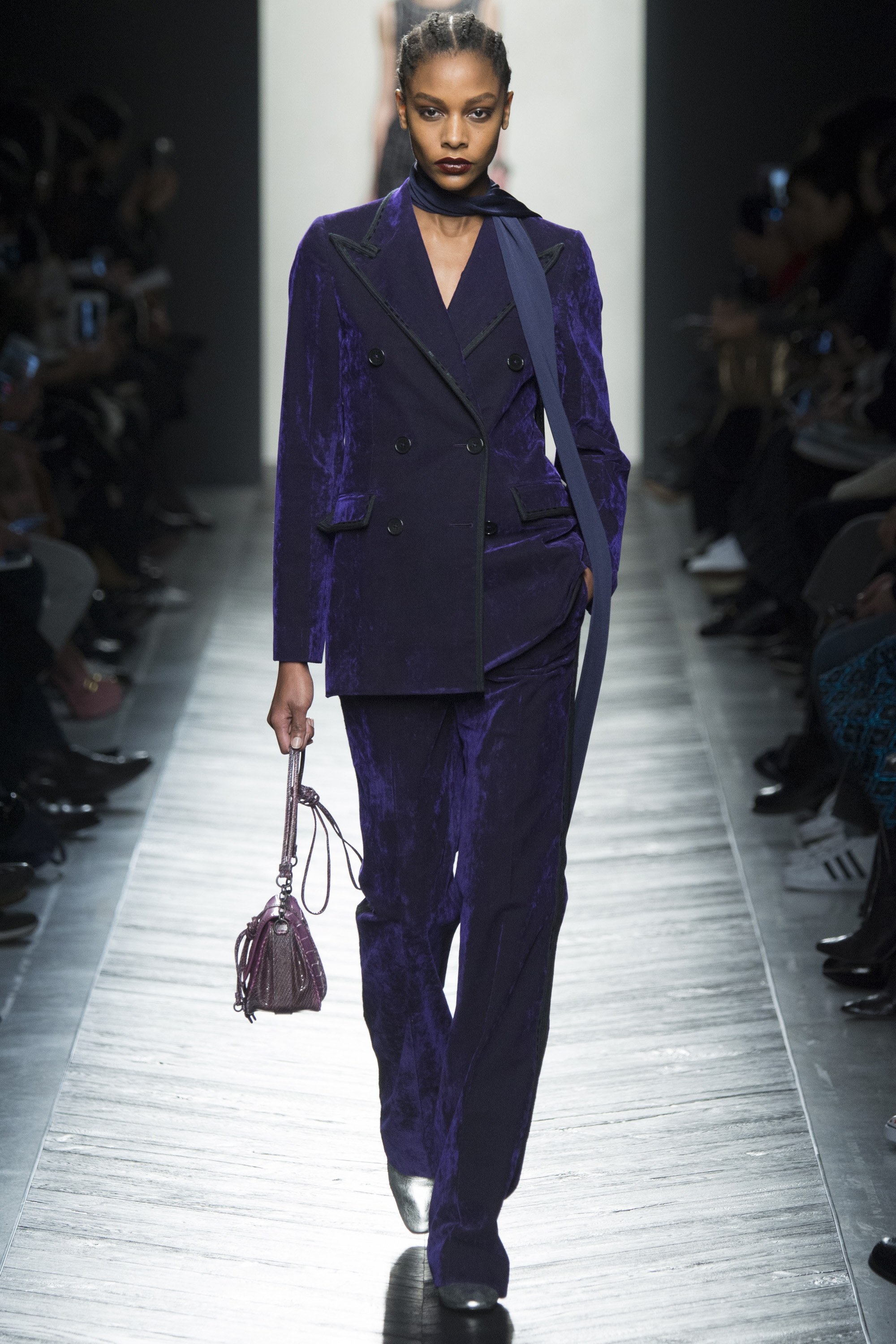 Double breasted PURPLE VELVET! Way to elevate a standard silhouette into the stratosphere.
ROBERTO CAVALLI: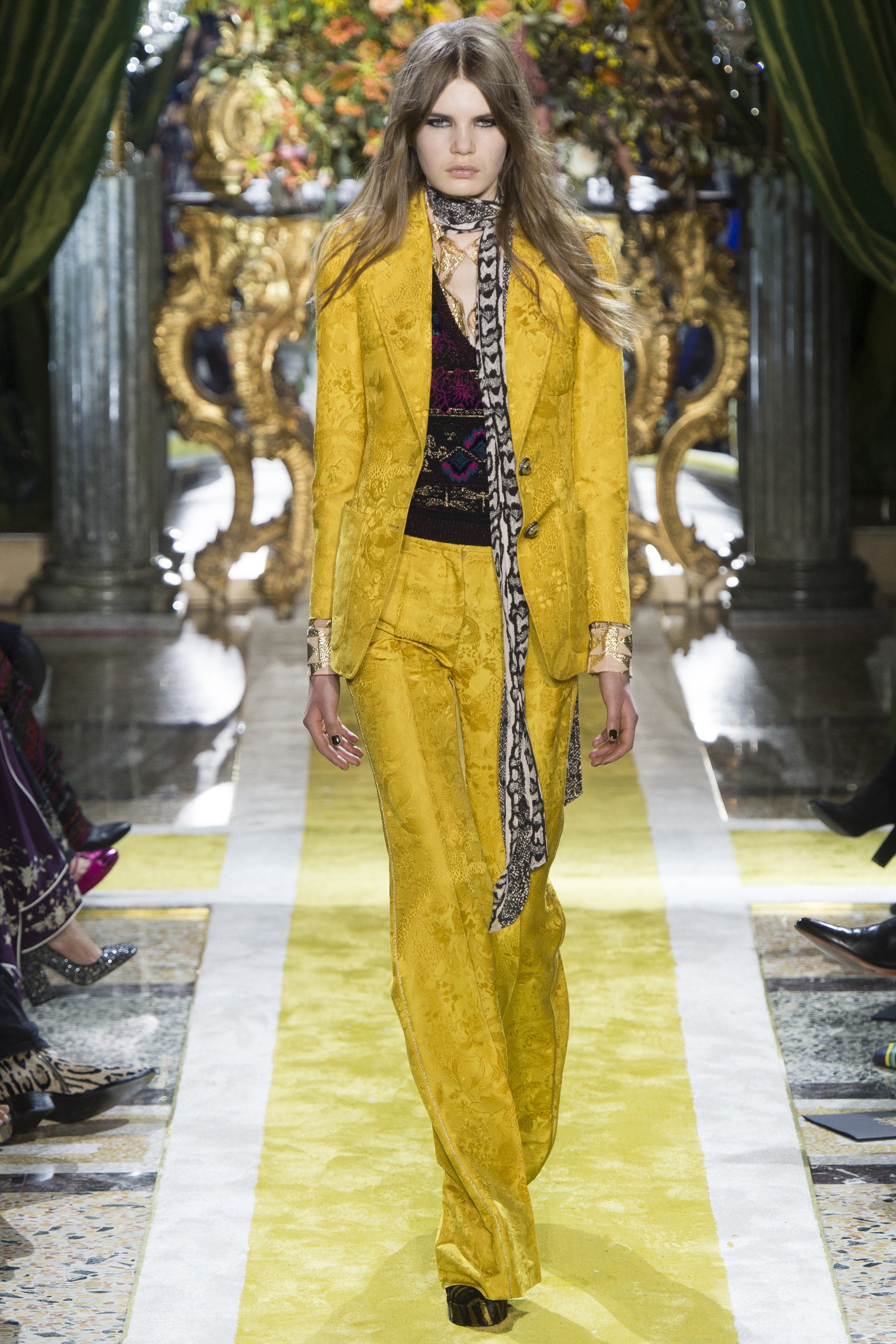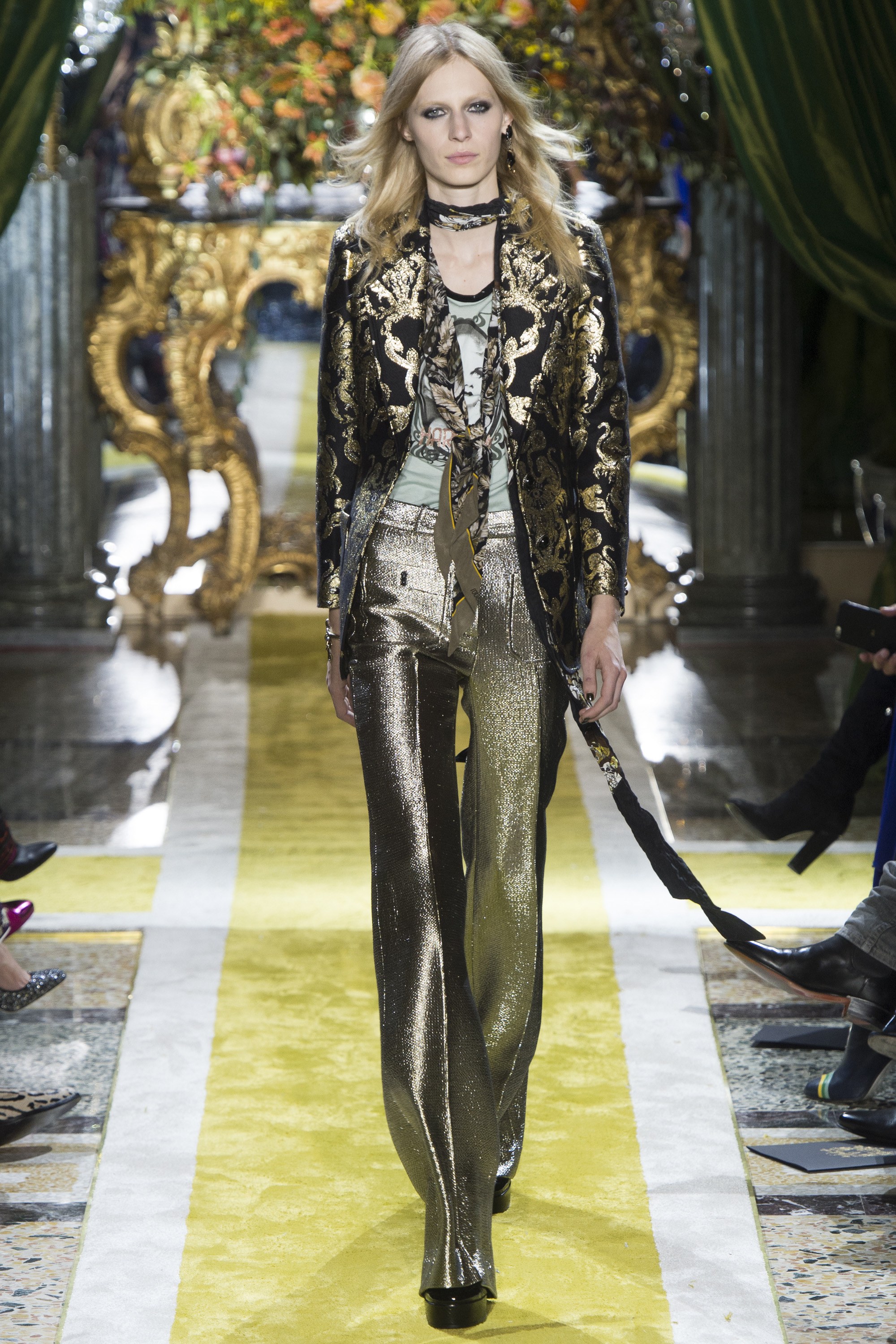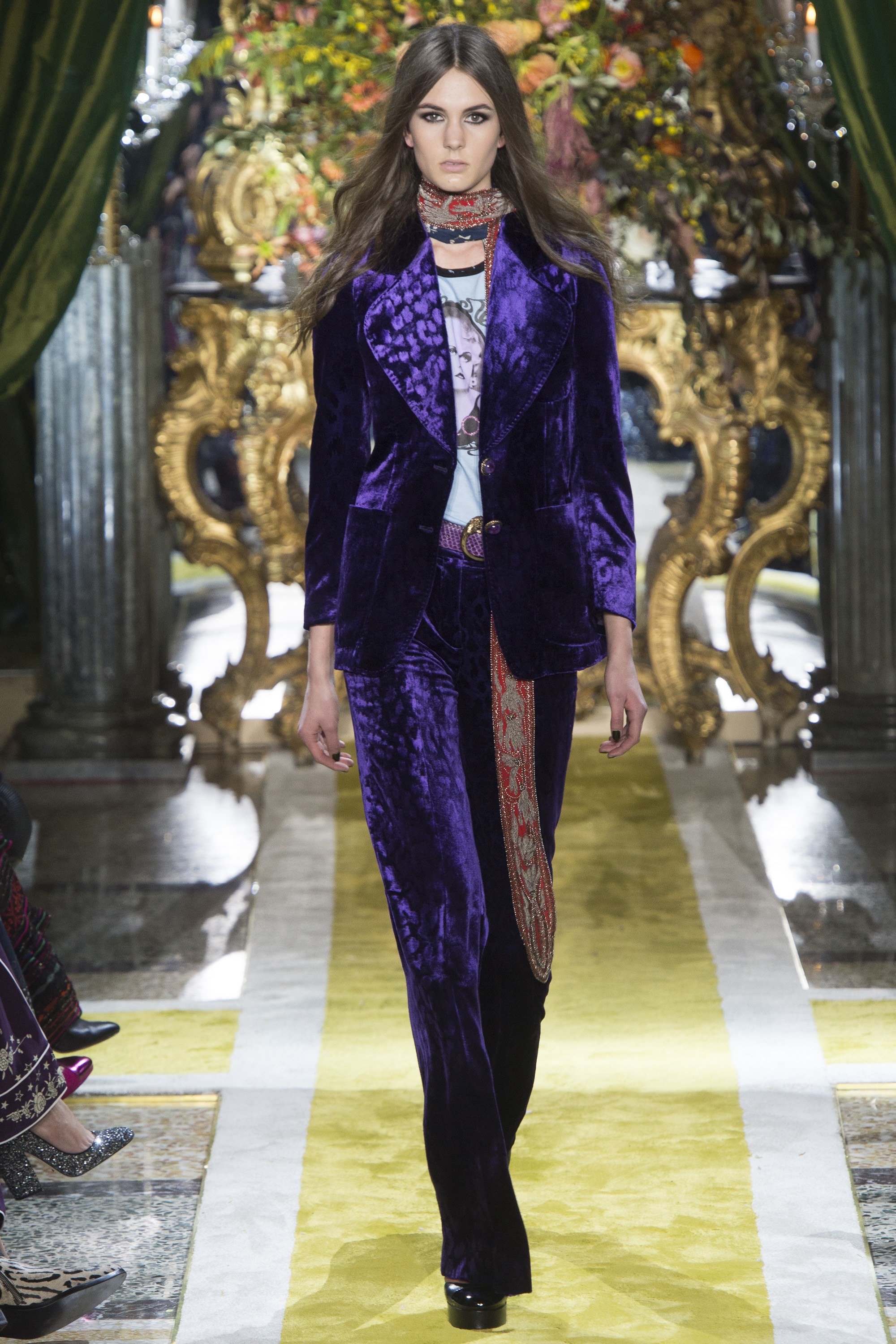 Peter Dundas is up to his old tricks honed during his tenure at Pucci, infusing a GLAM ROCK sensibility throughout the runways with 70's era silhouettes in opulent fabrications. MORE please!
ANTONIO BERARDI: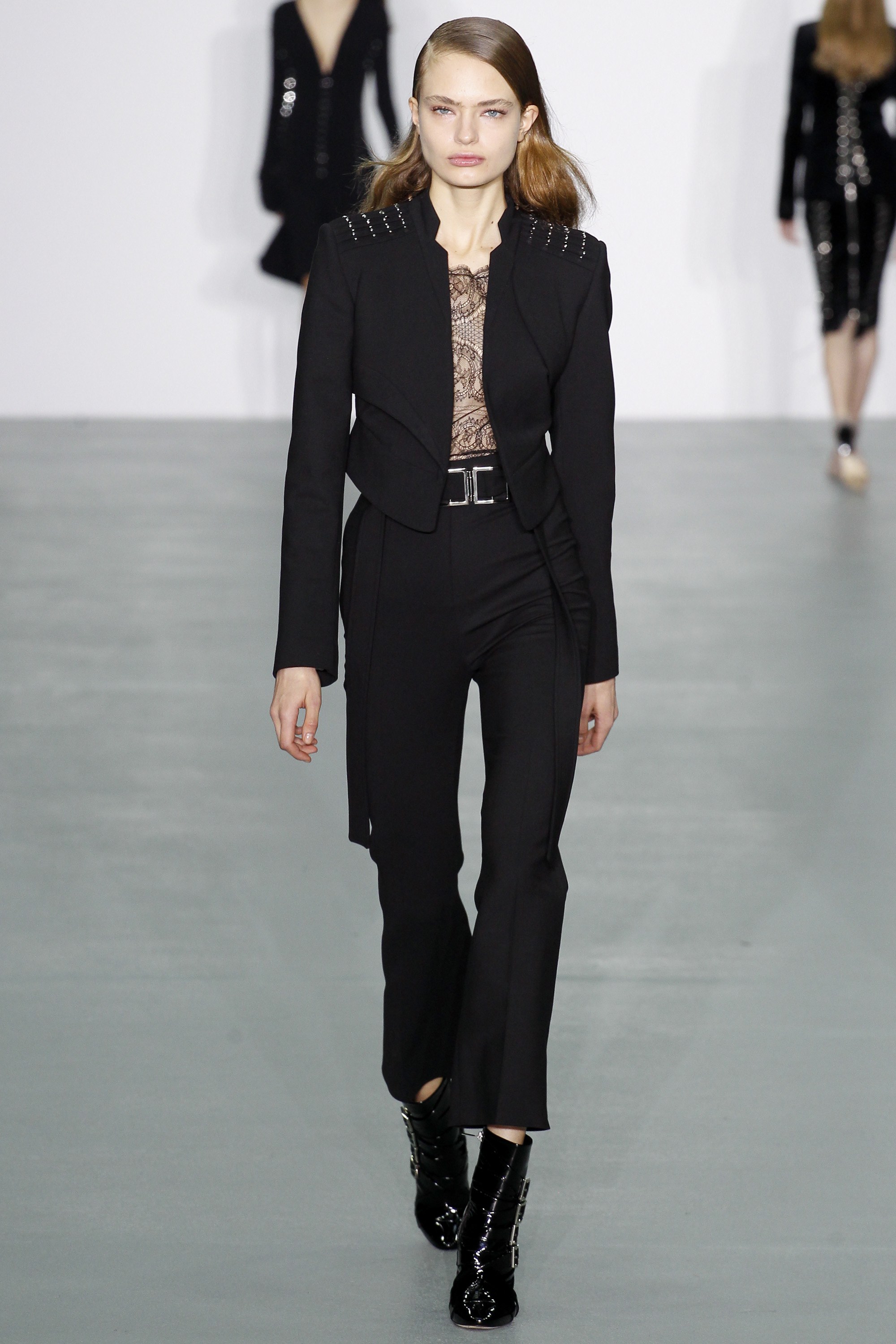 If the conventional silhouette is not for you? Go fo rthe waist length version in matador or military styles. (And for butt coverage, just add a white poplin tuxedo shirt).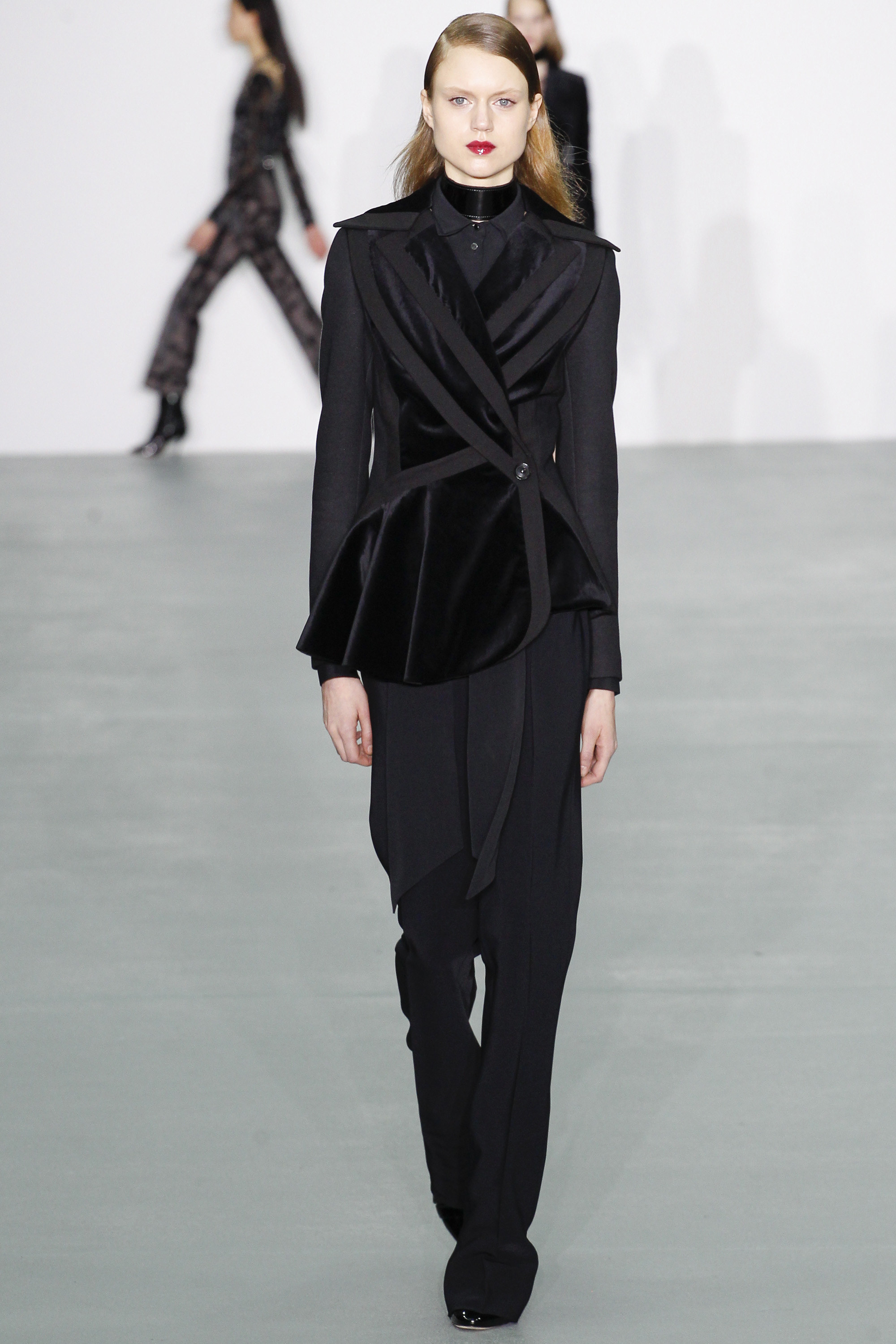 If you must have black, do it in a plush fabrication. VELVET is always the right answer.
ALEXANDER MCQUEEN: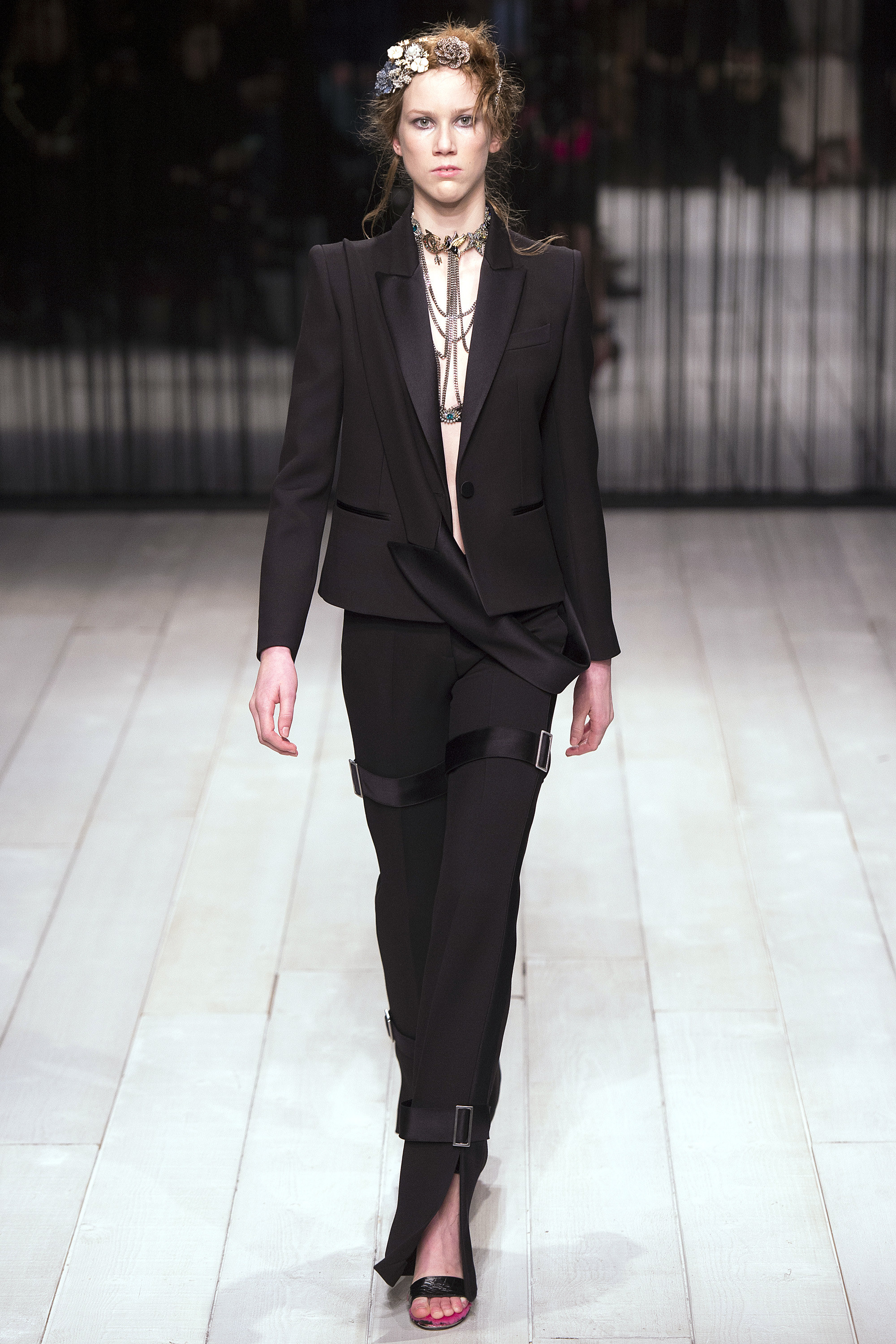 Is that a vestigial form fruste of a THIRD LAPEL? An unexpected surreal flourish.
JACQUEMUS: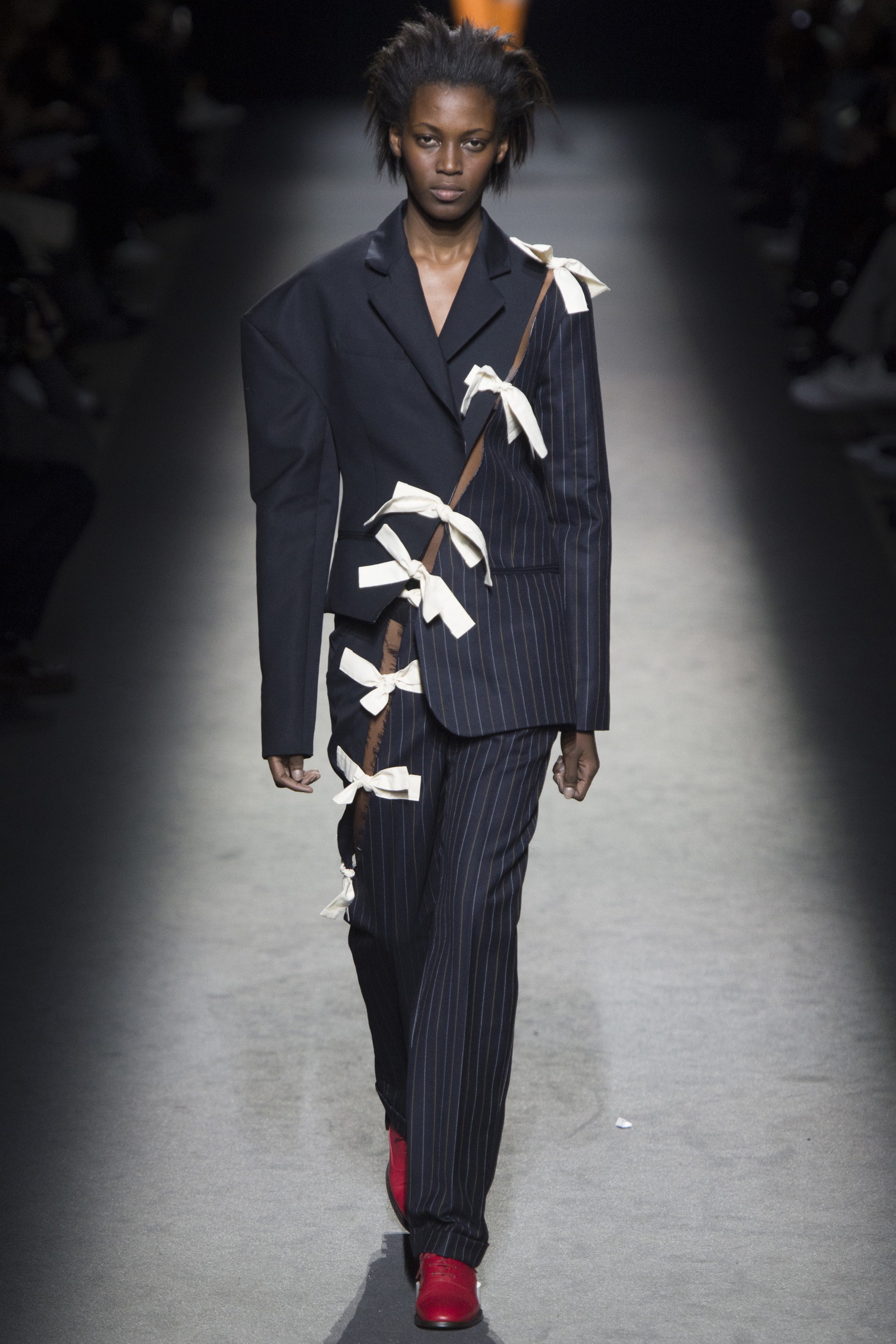 A little french avant-garde, a little Japanese deconstructed.
OSCAR DE LA RENTA: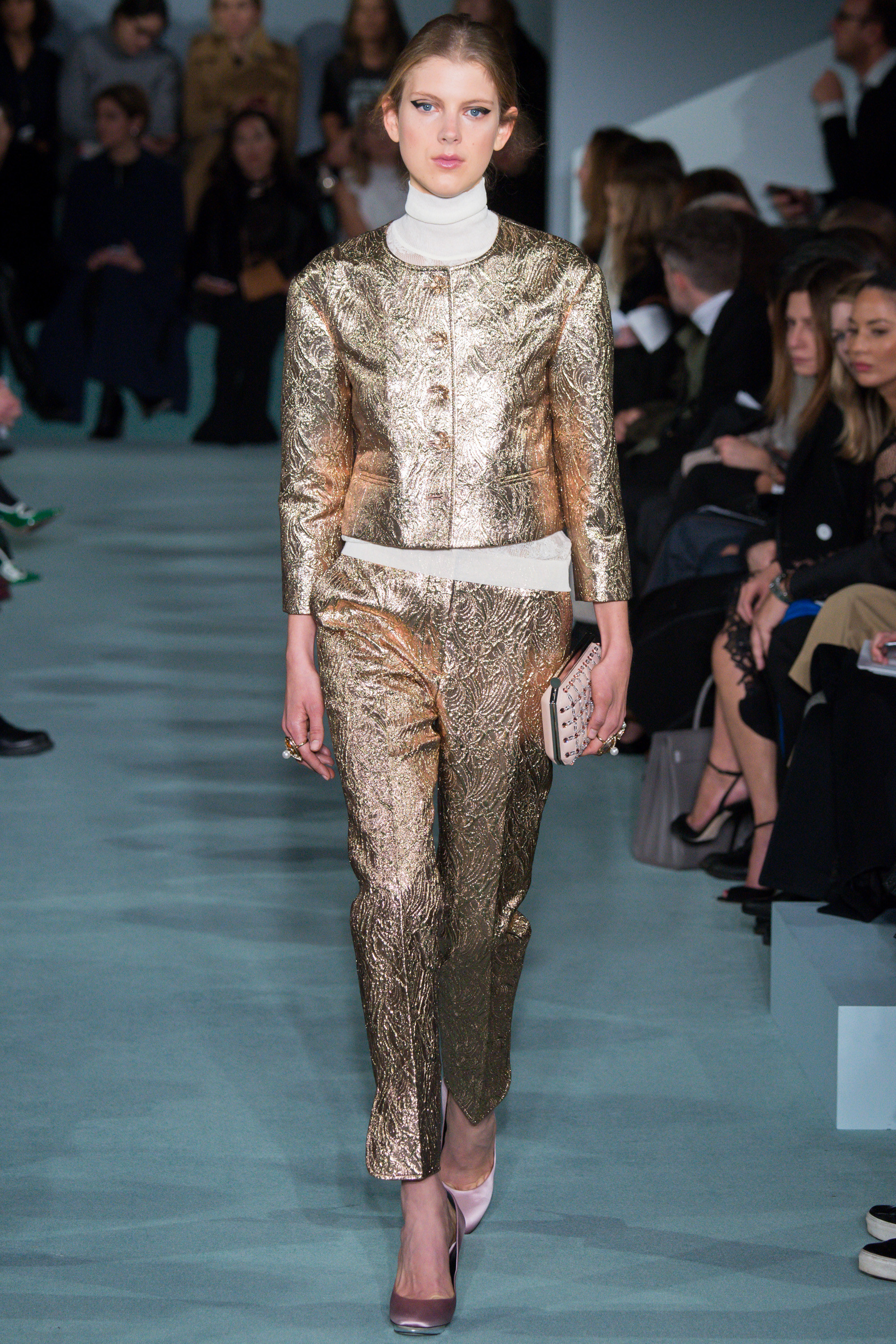 Who says you have to wear a BALL GOWN to the next gall affair? Ditch convention and wear a PANT SUIT! All the better in metallic jacquard! Just add some heavily embellished jacquard Dolce & Gabbana pumps!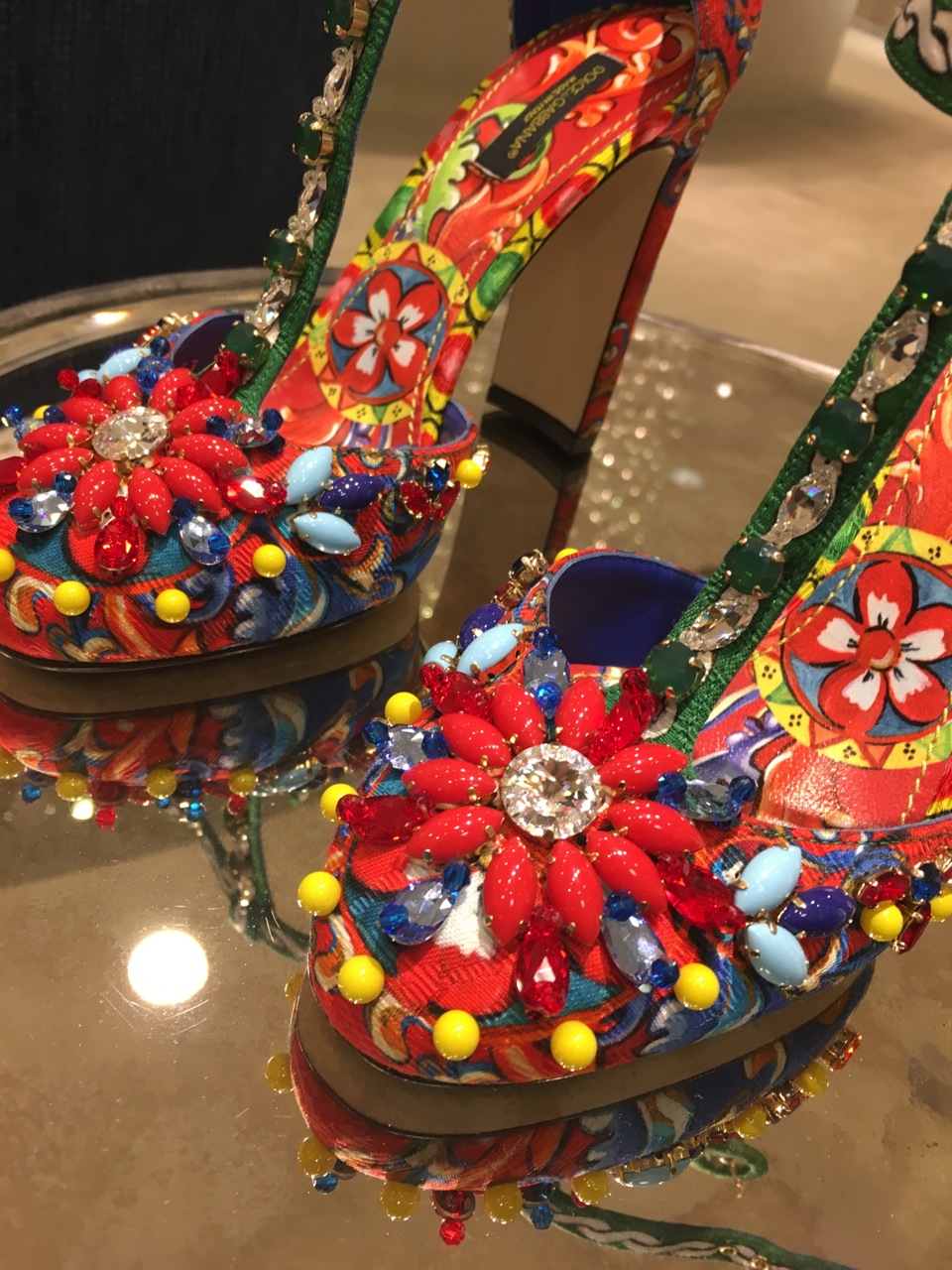 Images brought to you by www.vogue.com.