Well, its officially winter....the solstice is upon us. Which makes the pre-fall collections more timely given the large component of fall winter fare. The quickstep to fall continues with varied morsels from the usual suspects to swath us in runway glory....for those ever enamored of black and those in need of event pieces, to everyone in between, all bases are covered, with the tried and true for everyday goings on, motorcycle chic for the rough and ready, and the gloriously theatrical and ostentacious.
ALEXANDER WANG: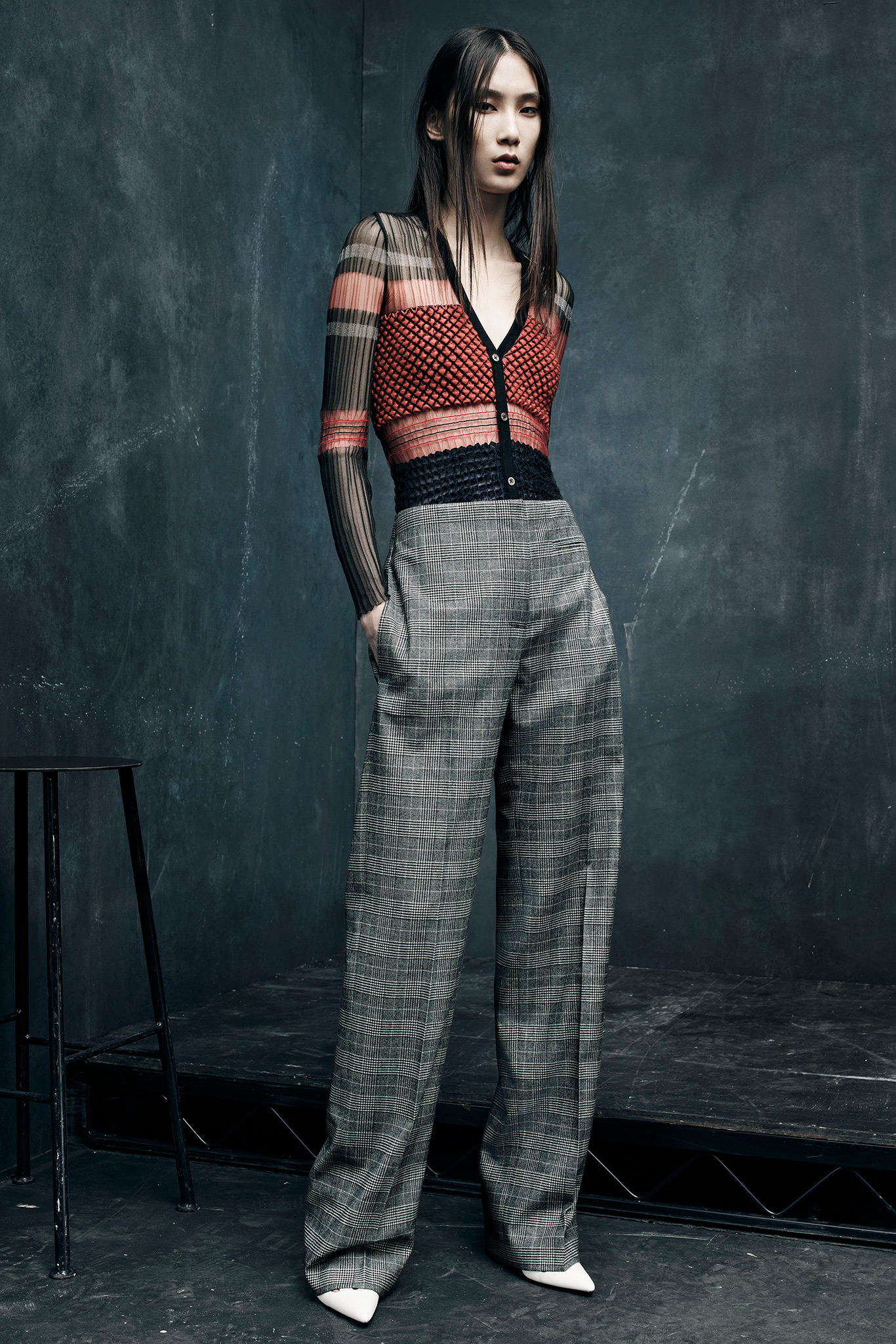 Because we must always be on the look out for a great pair of pants. These fit the bill, with the accented waist and flaired (but not bellbottom-oid) leg. These can be paired with a black Dior or Chanel jacket for a conservative feel or booties and a big sweater for more casual vibe.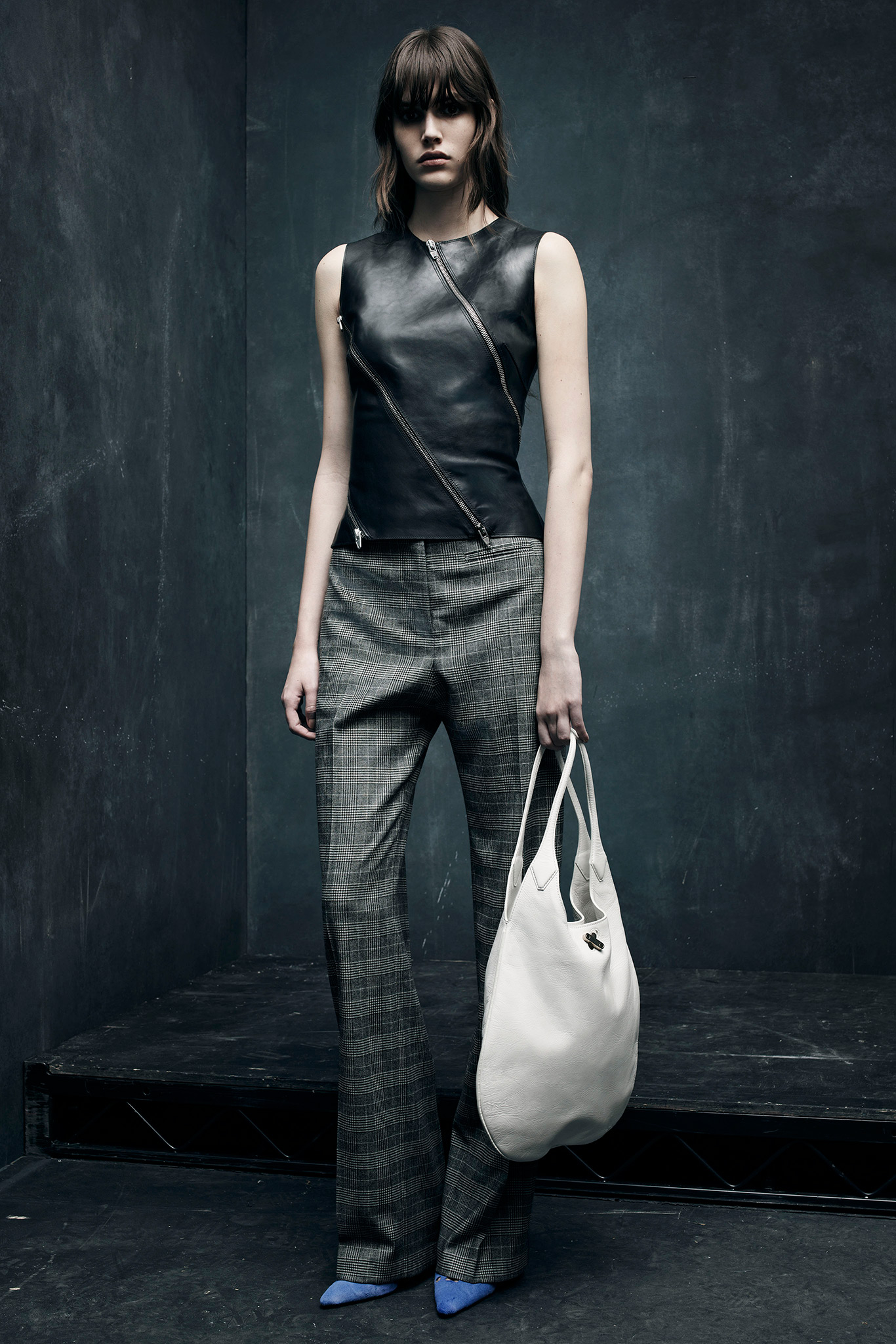 Black leather vest with zippers on the bias. Toned down rock 'n roll. Interesting juxtaposition with the more staid trousers. Love it.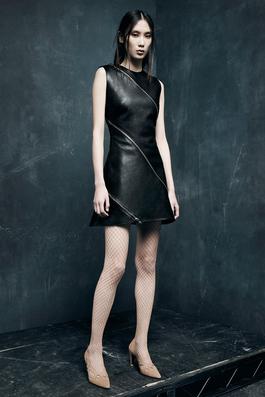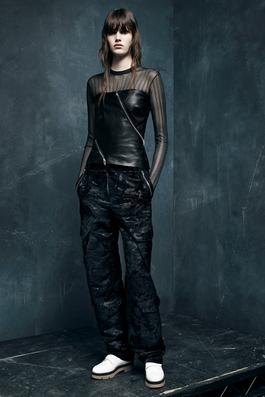 Black leather is sexy period. A little leather can go a long way, not everyone can pull off the dress, in that case, go for the vest or "blouse" above! And never forget a dress can double as a tunic as needed. If Patricia Fields taught us anything, its never be afraid to layer or infuse irony into everyday looks. Pair hard edged leather vest with a long ruffled skirt.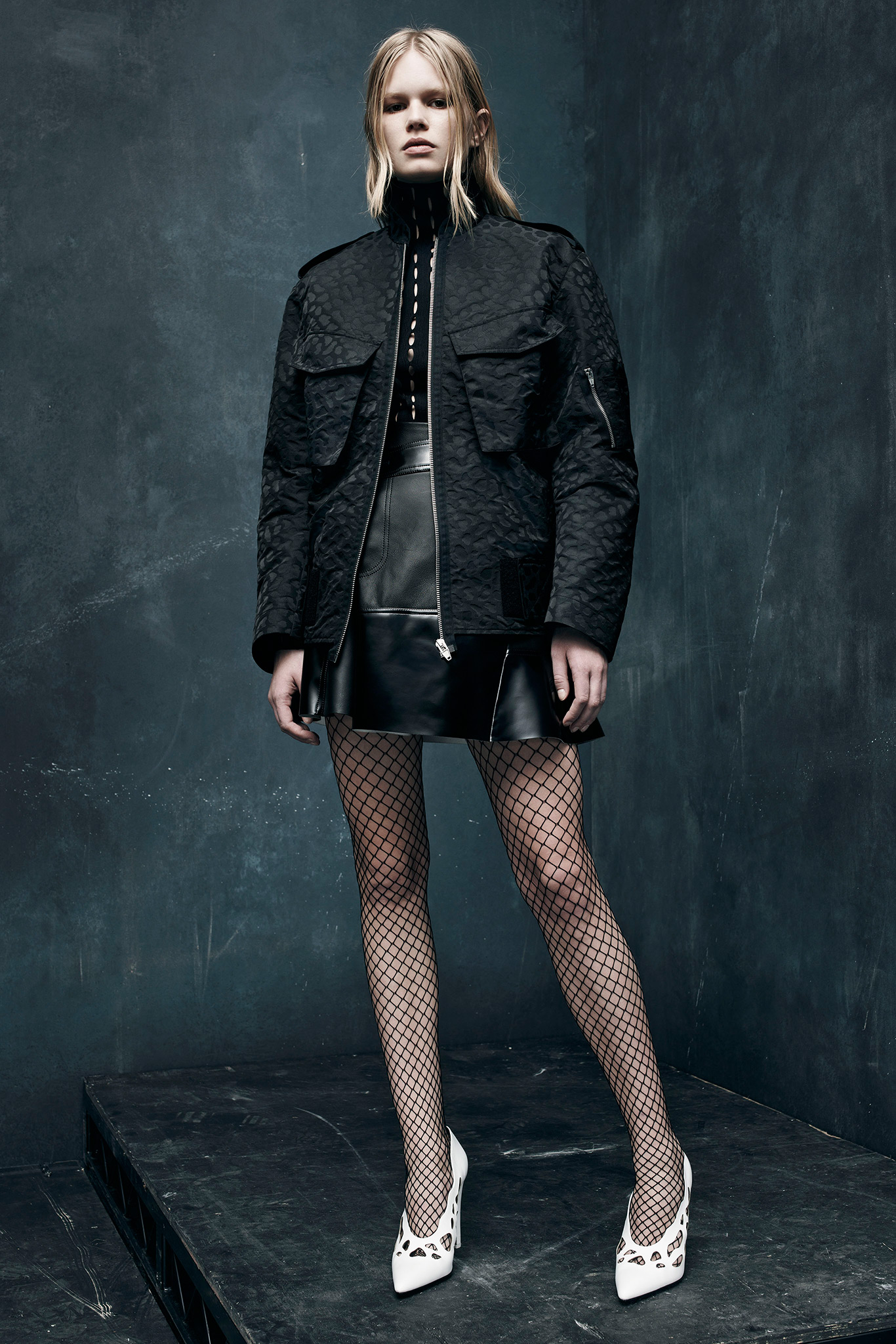 Ignore the hooker styling, and focus on the cloque bomber jacket. Throw over leather leggings and a white tuxedo shirt.
DSQUARED2:
These guys never fail to entertain and amuse with their wonderfully whimsical yet wearable separates and gorgeous gowns, offering up options for the office goer as well as the cool gal about town and the local vixen. (For the sake of sanity, ignore the incongruous strappy sandals....oof).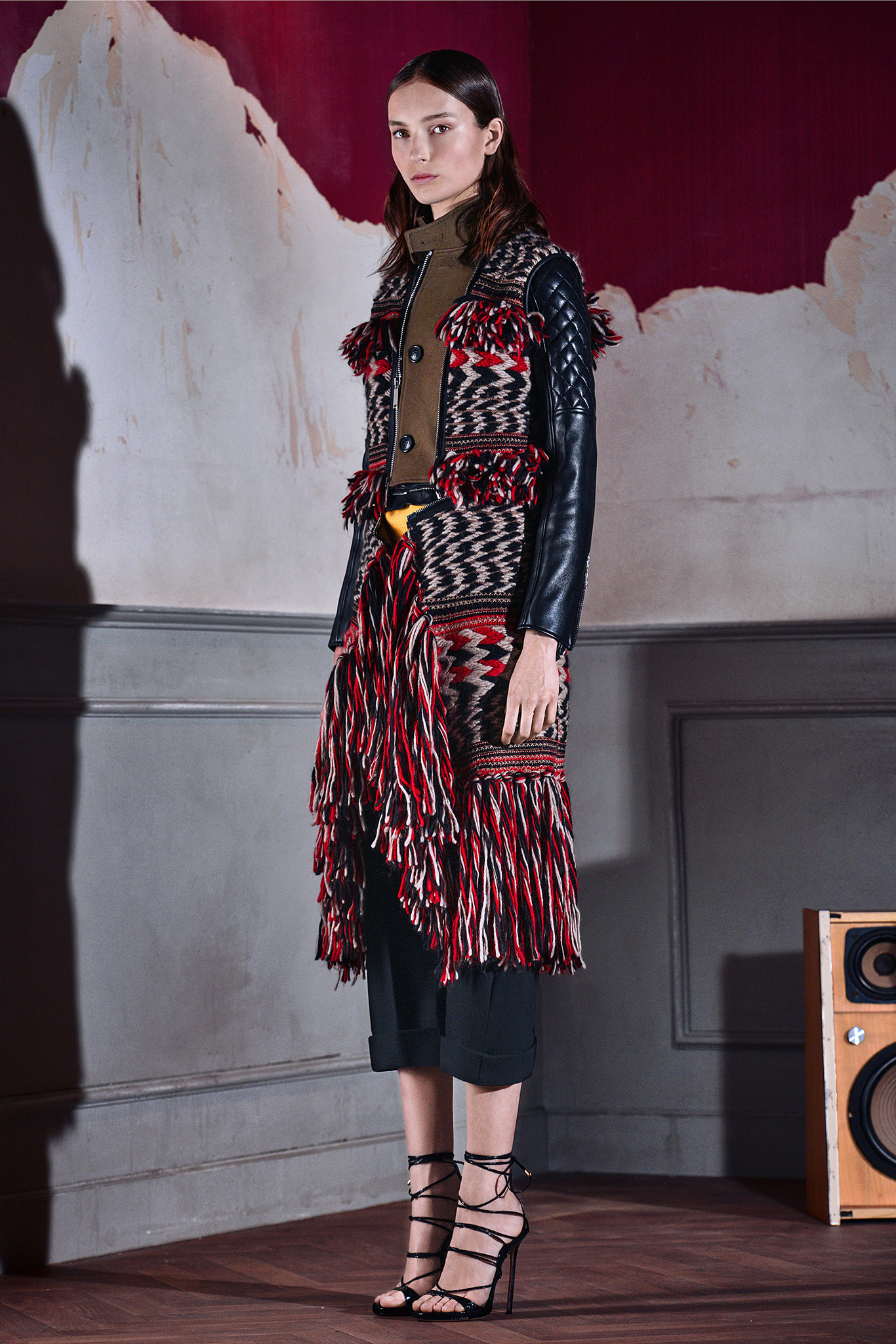 In general I loathe fringe, it almost never comes across as polished, but rather a worn and tiresome refugee from the 70's. Here just the opposite happens, it blends cohesively with the other elements in this lively curious jacket.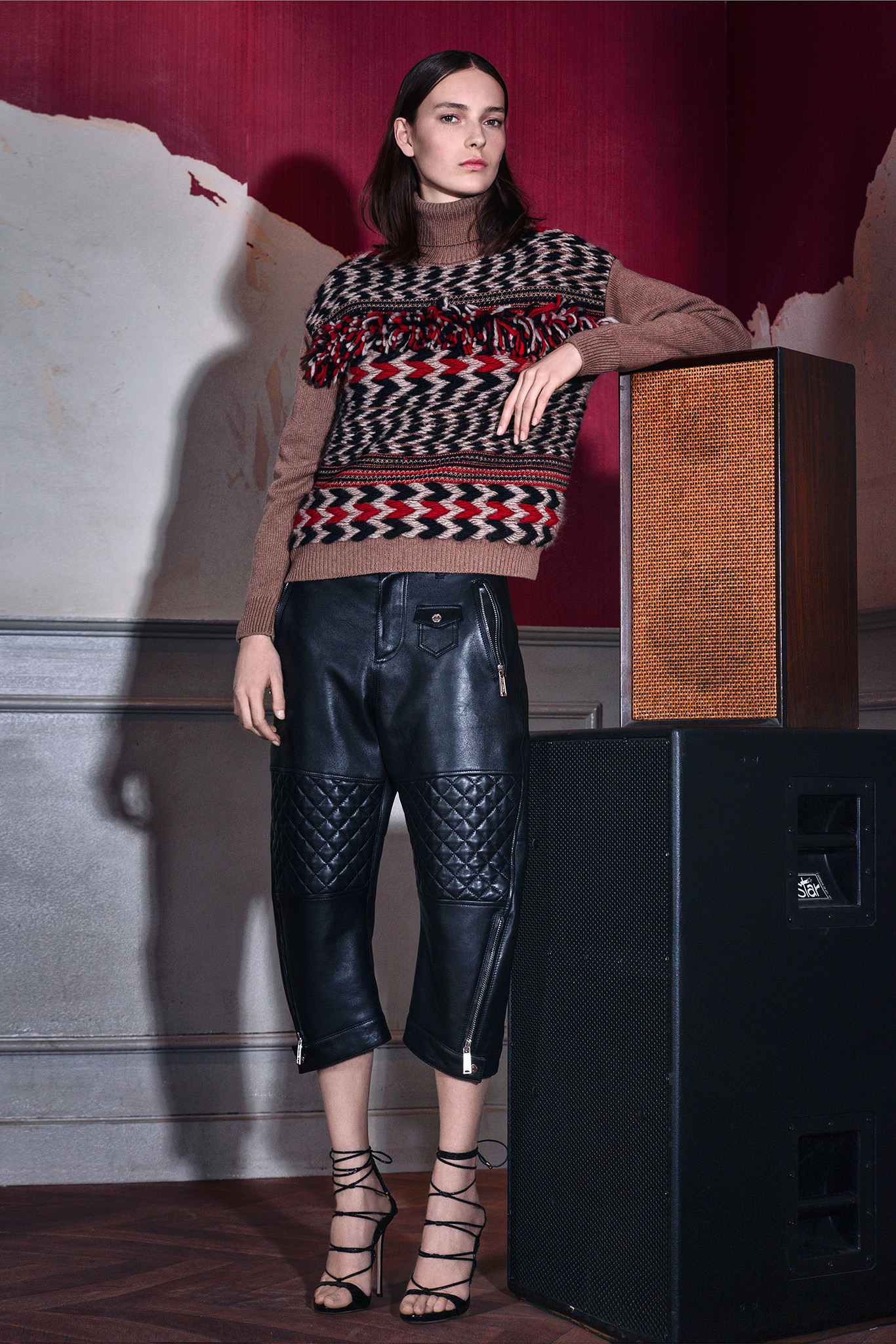 Motorcycle leather capri pants with a hint of boho in the sweater. Subtract those strappy sandals (as if) and add shoe booties, preferably with a platform.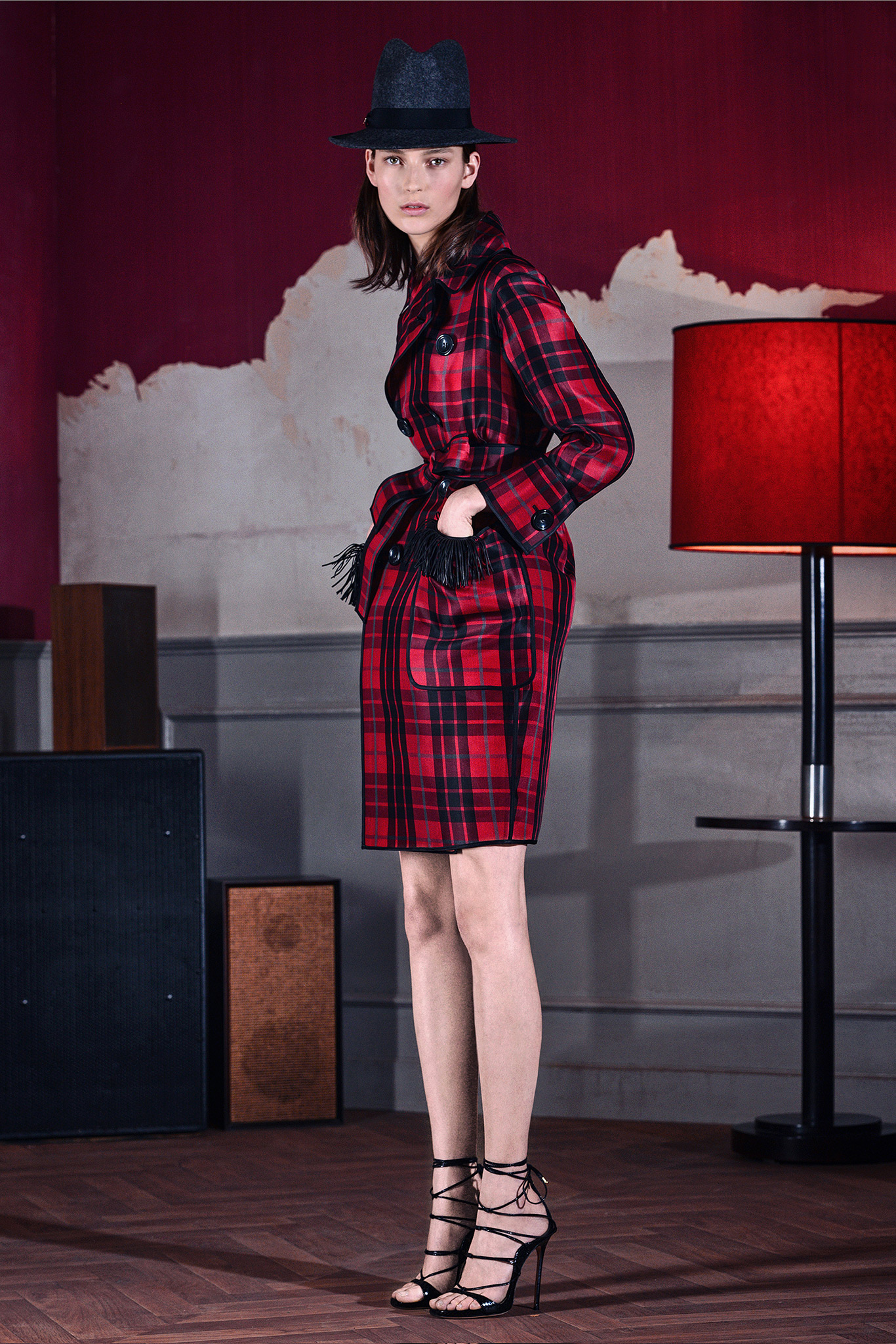 Plaid is a staple which tends to conjure up a traditional and sometimes staid vibe (calling Bunny MacDougal and her Mallards from Sex and the City). I am reminded of men wearing kilts and playing bagpipes. But here its fresh, festive and fun.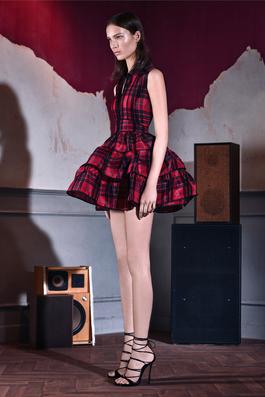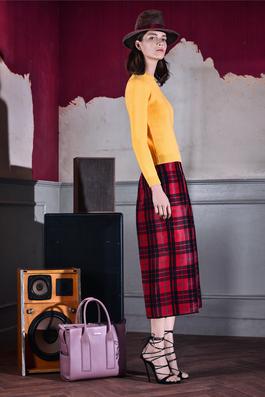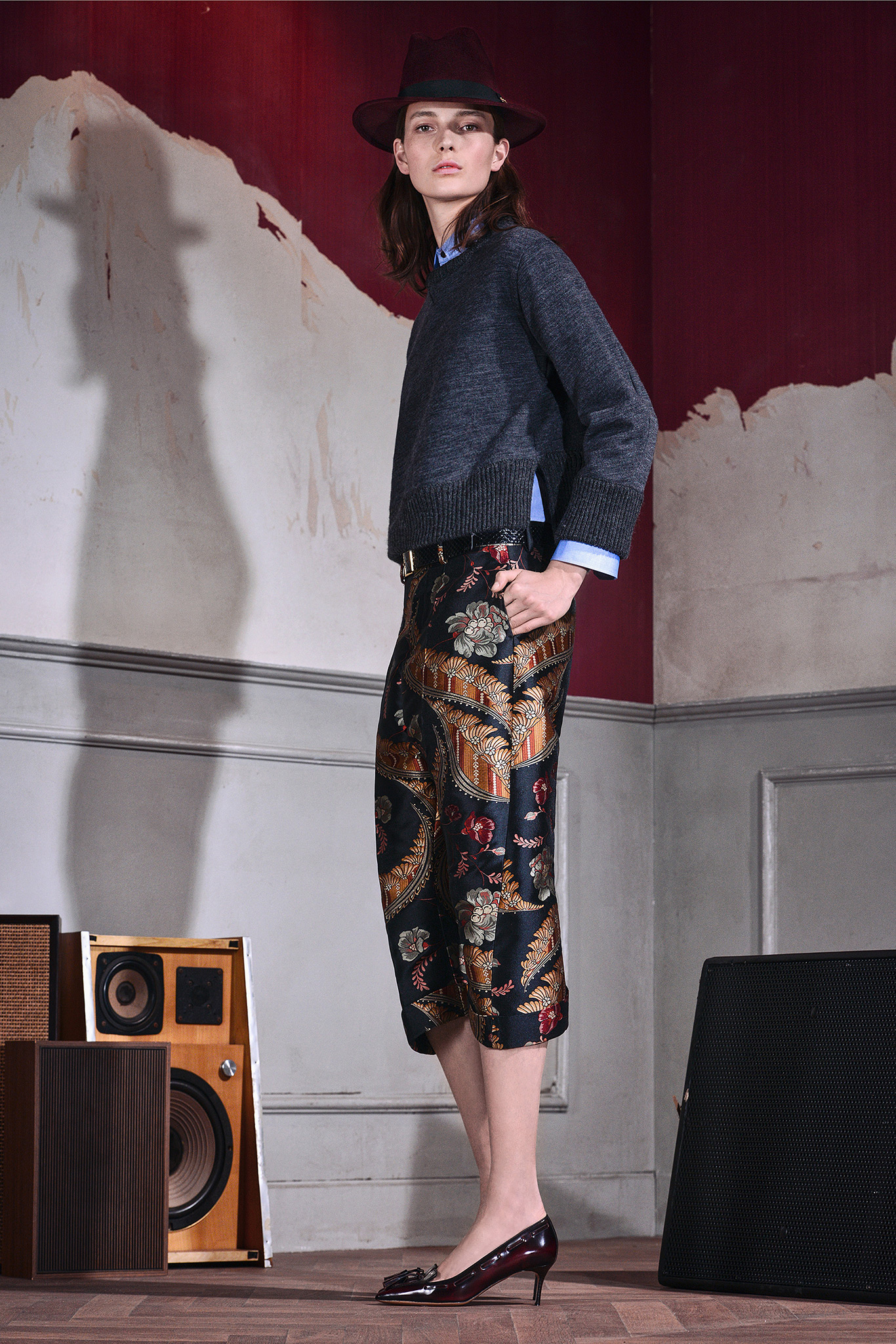 The new fangled pant silhouette in an engaging brocade. Easy and elegant. I'd add red patent leather stilettos.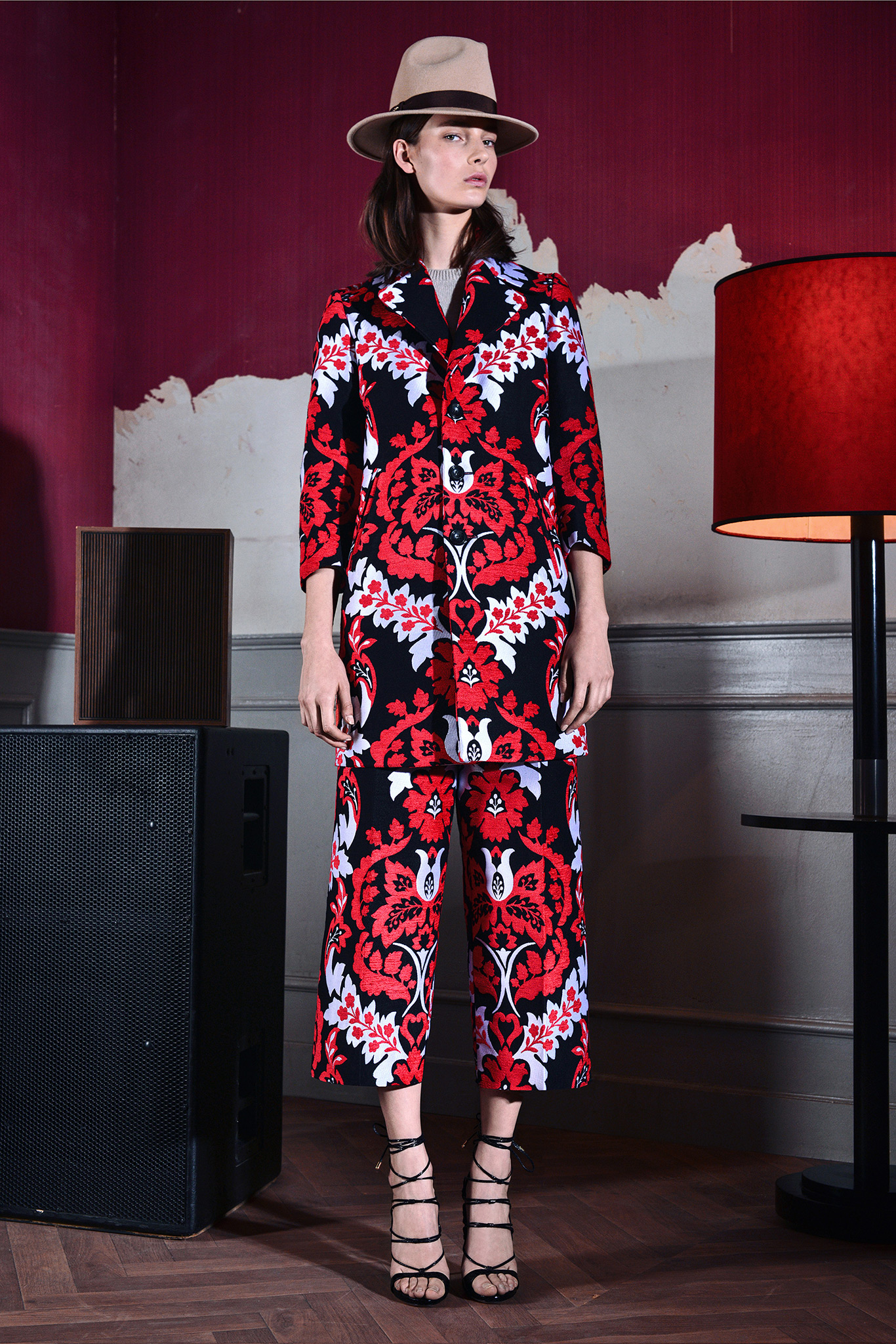 Love the pattern, would probably separate the jacket from the pants...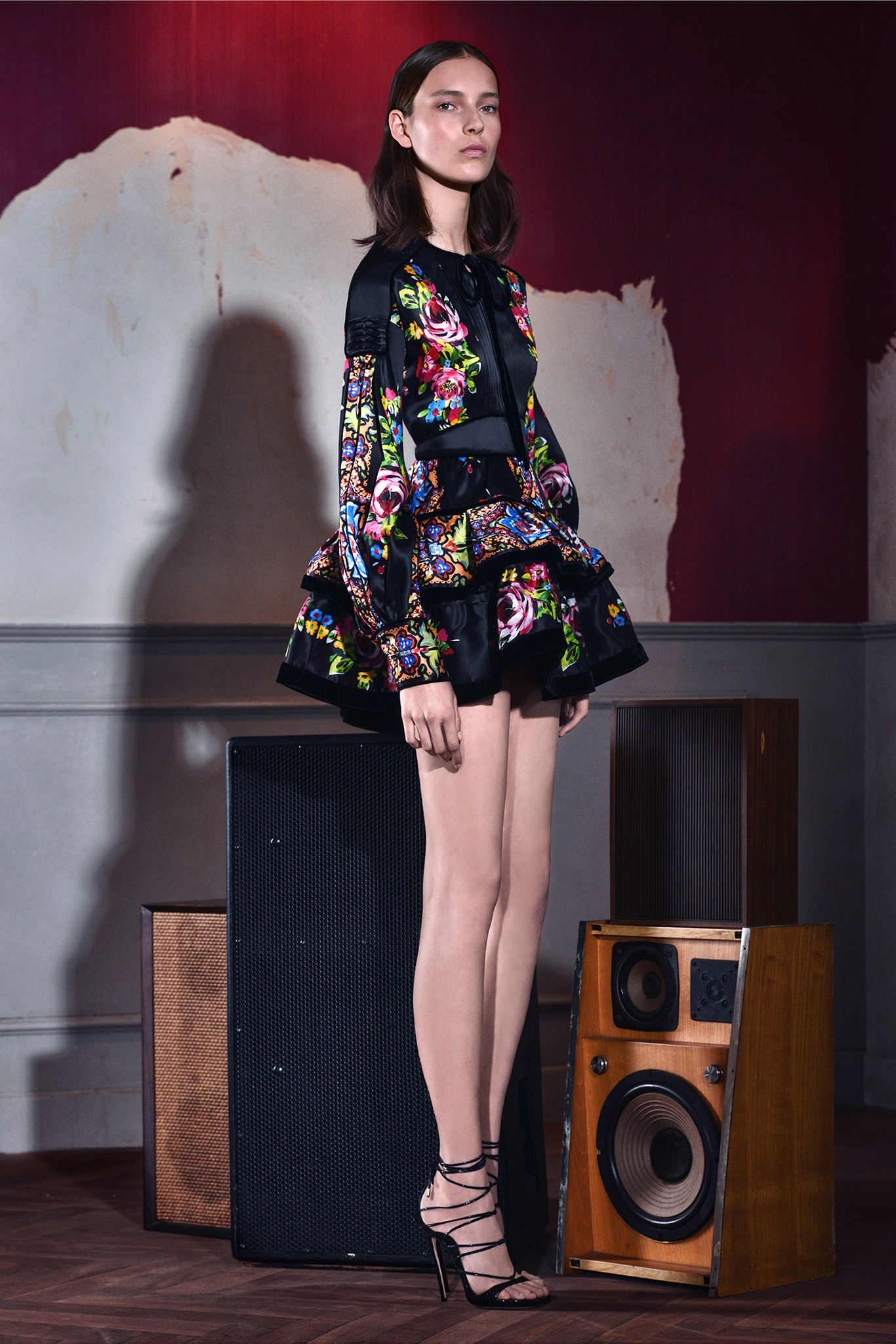 A wonderful option for the young fashion forward gal going to a black tie affair OR a runway show!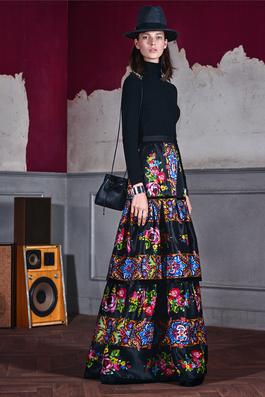 70's boho meets flamenco. This skirt calls for that Alexander Wang leather vest.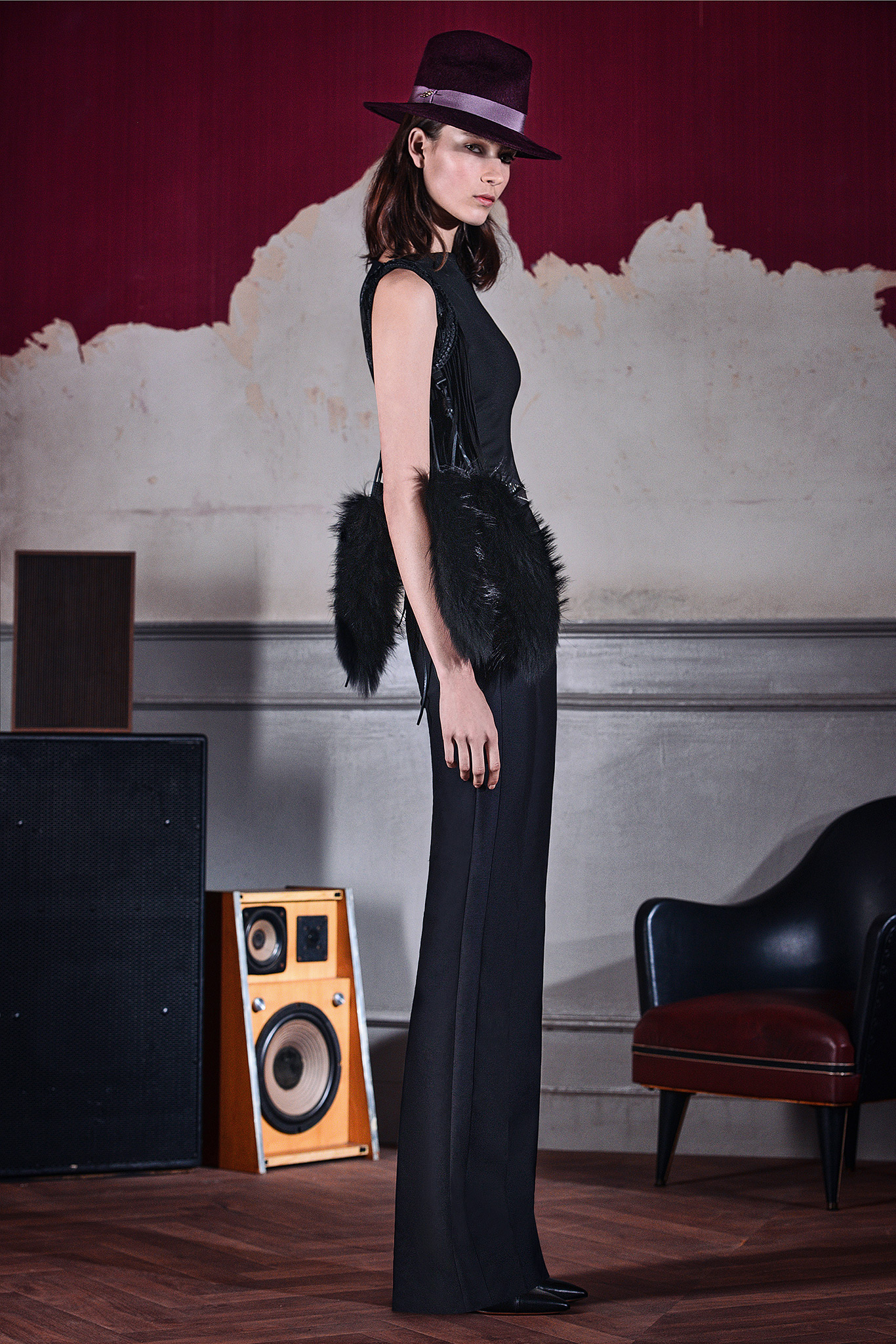 These are some f i n e tuxedo pants, sleek and sexy. Another option for a black tie event, just toss on an opulent brocade chinoiserie jacket for unexpected flare.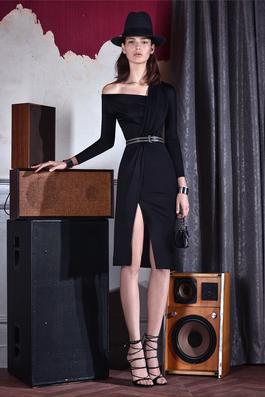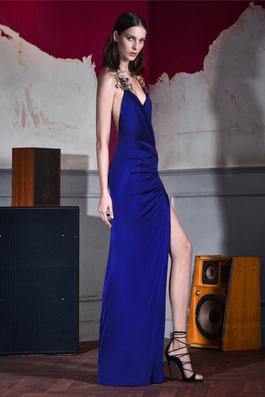 I love how this collection segues from menswear inspired items with an avantgarde twist to wardrobe essentials fit for Mata Hari.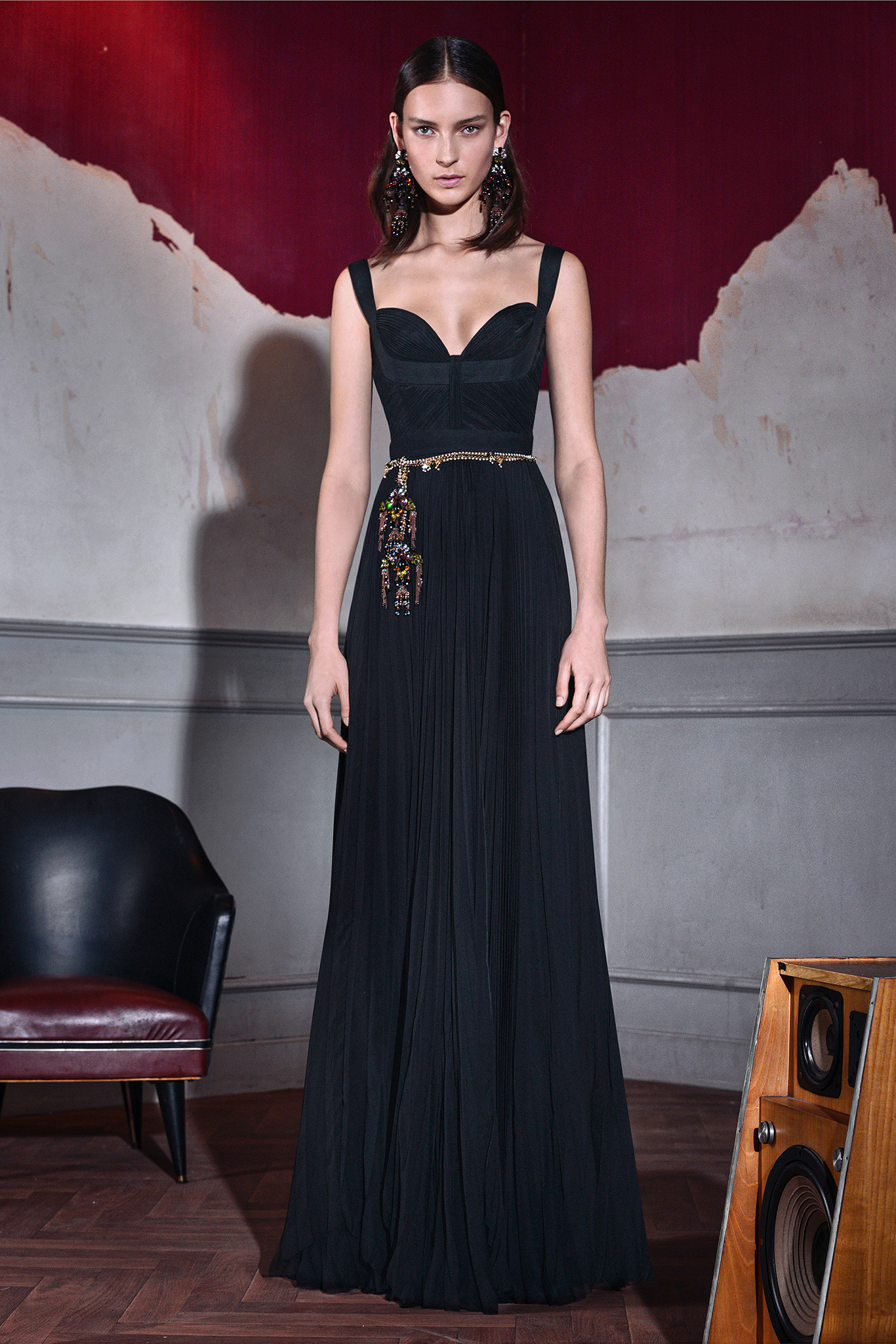 This is a low key sizzling stunner, something a Hollywood glamour queen would have worn in a technicolor spectacle from the 40's. I'm sure I've seen this in a Cecil B. DeMille movie. Structured yet sexy, without being tawdry. Would look spectacular under some over the top Dolce and Gabbana bolero or cape.
Add a fedora for extra intrigue.
BOTTEGA VENETA:
Now for some scrumptious concoctions in an unusual yet engaging color palette, in new and standard silhouettes, with duchesse satin (swoon) and shearling in the mix. The shoes and boots are not just the bit players one might expect after a deluge of dubious strappy sandals and other atrocious footwear we've been exposed to during runway festivities, but rather stand alone pieces that could serve as the focal point to an otherwise simple outfit. Mod, colorful, arty, and comfy.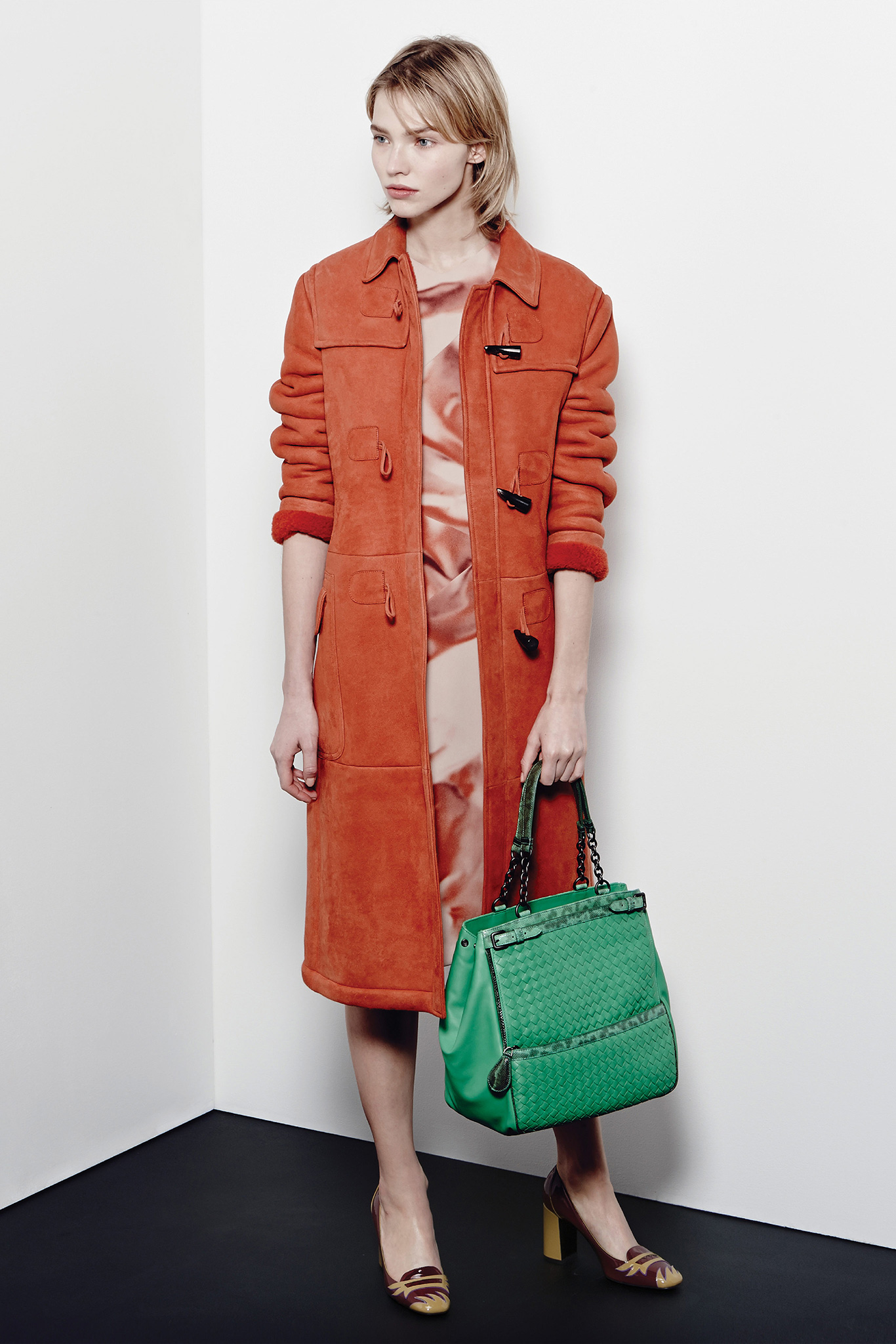 A more preppy version of the ever present shearling in a saturated tangerine. Throw over any of these wonderful pieces.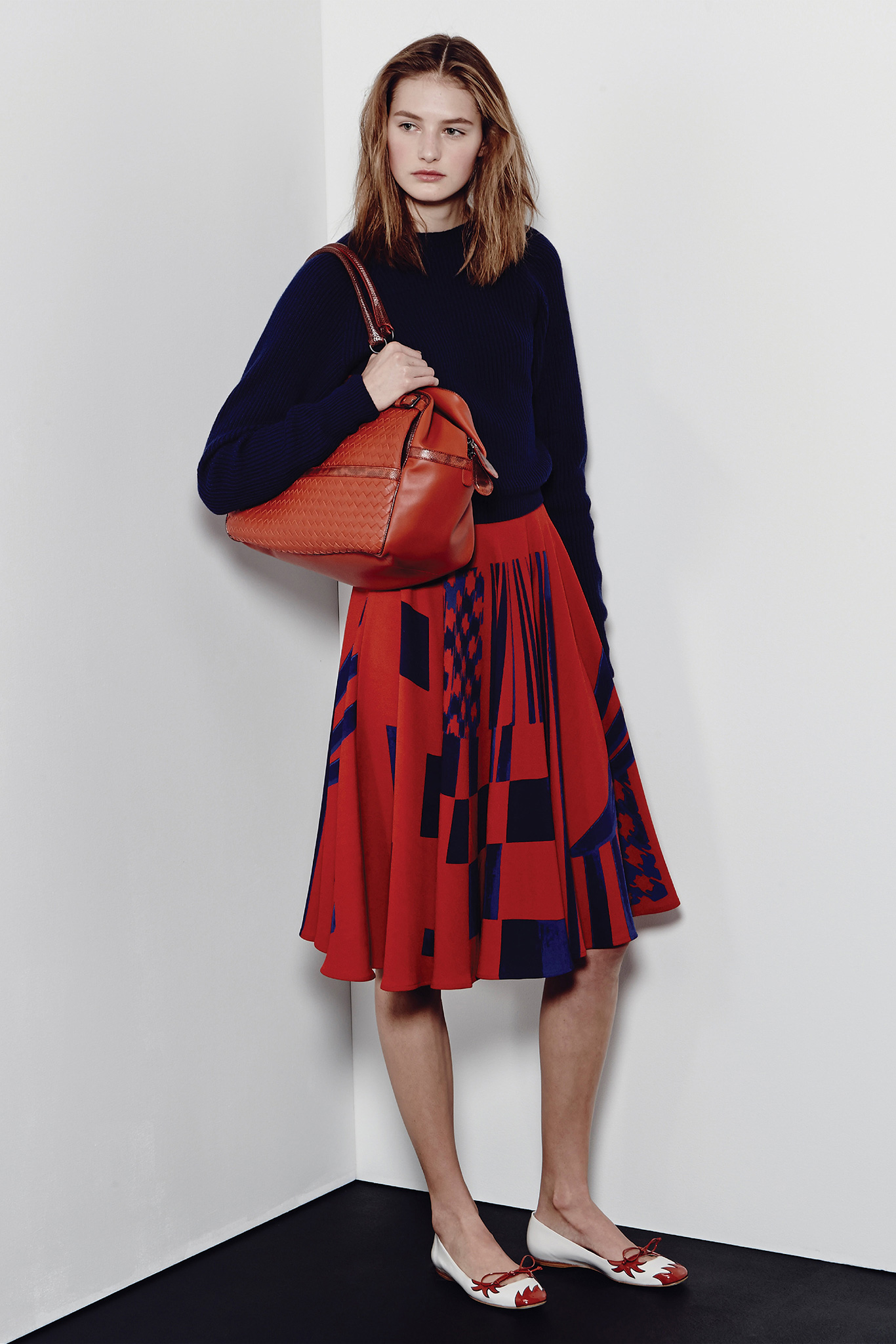 When just a hint of red will do in an interesting geometric pattern in a wearable silhouette, would also look smashing with patent leather boots.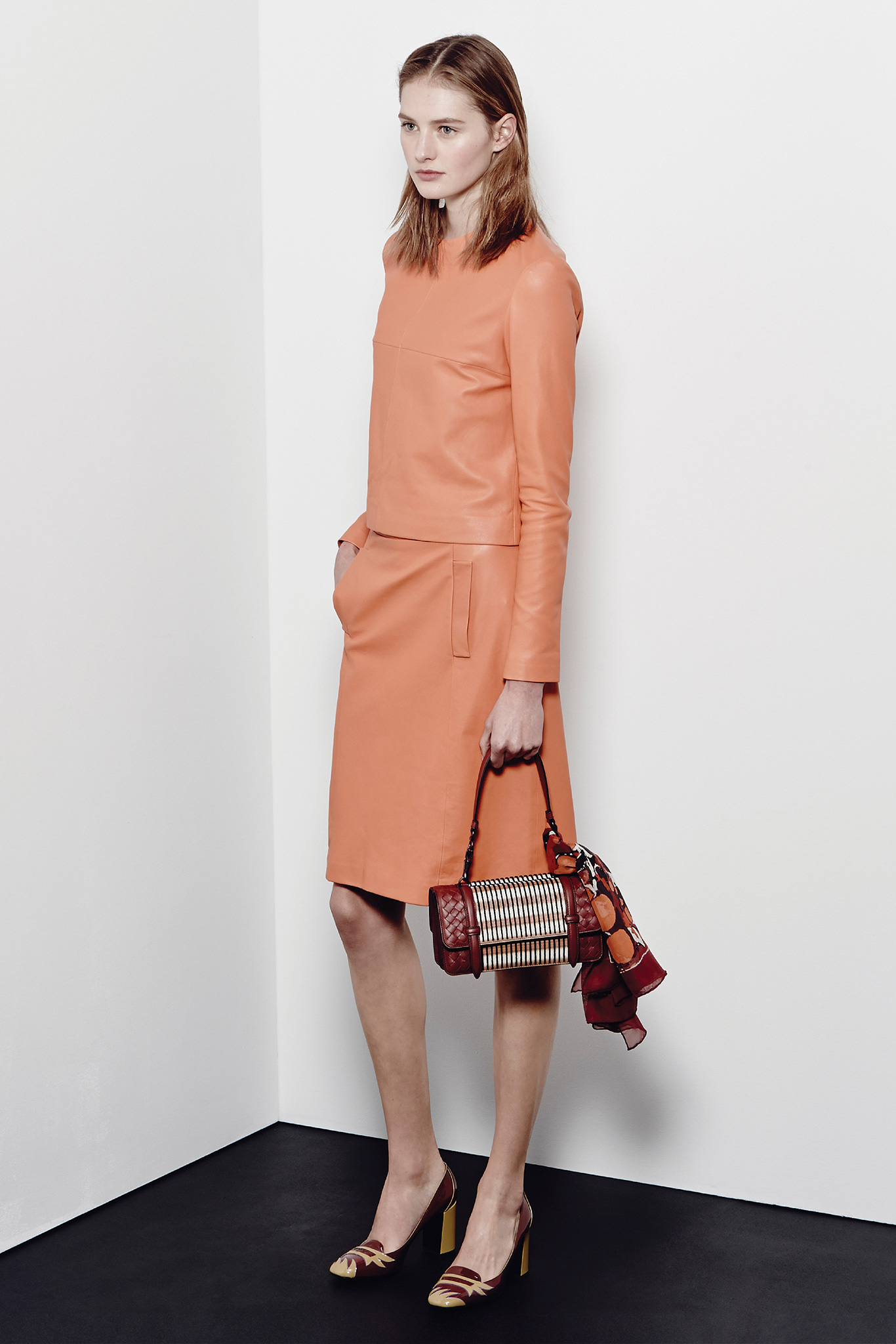 Yum, an orange creamsickle butter soft leather ensemble. Jazz up with purple or deep green accoutrement.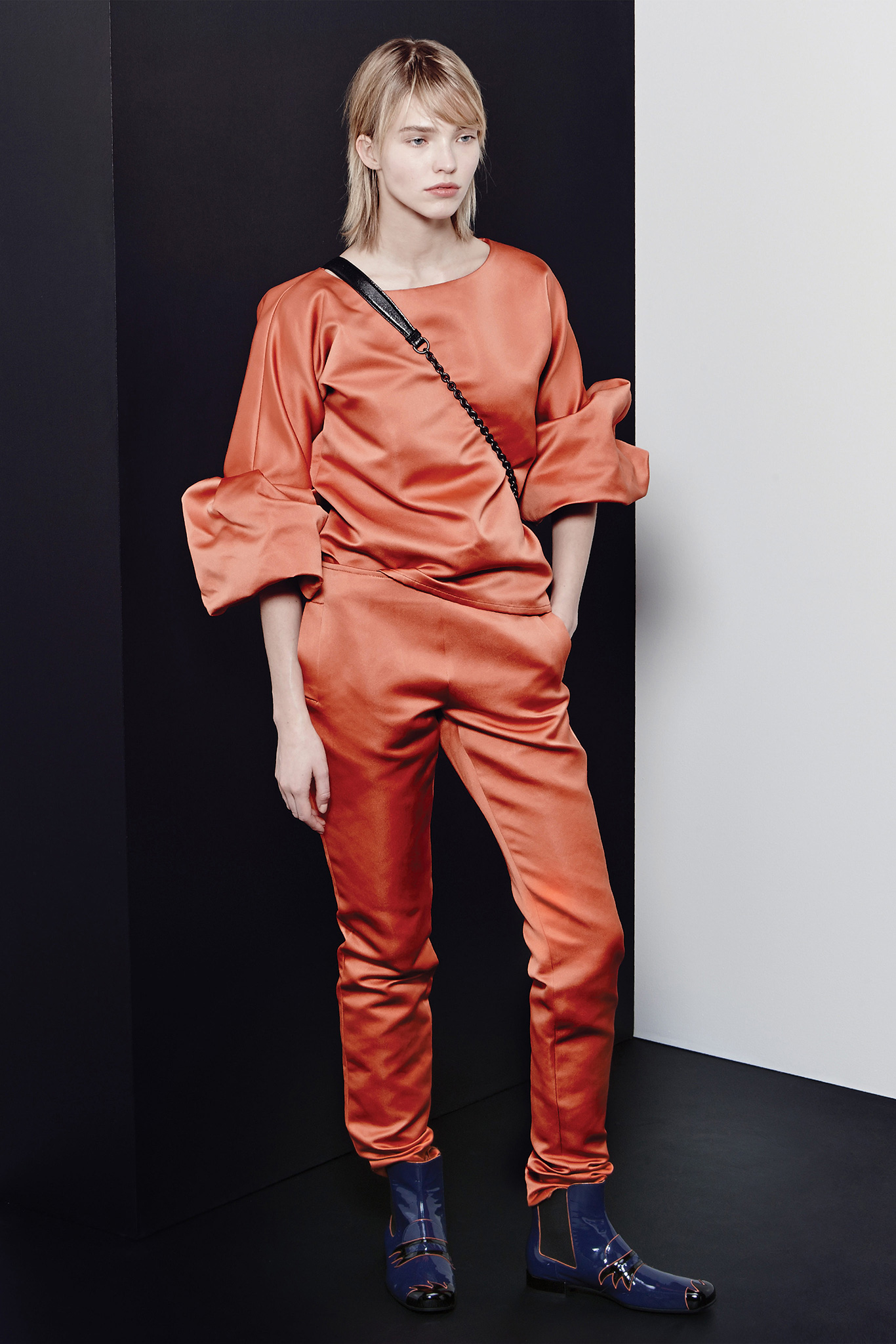 The pant suit contingent in this collection is like none other, with the duchesse satin fabrication, the colors....and those sleeves! Playful and fashion forward.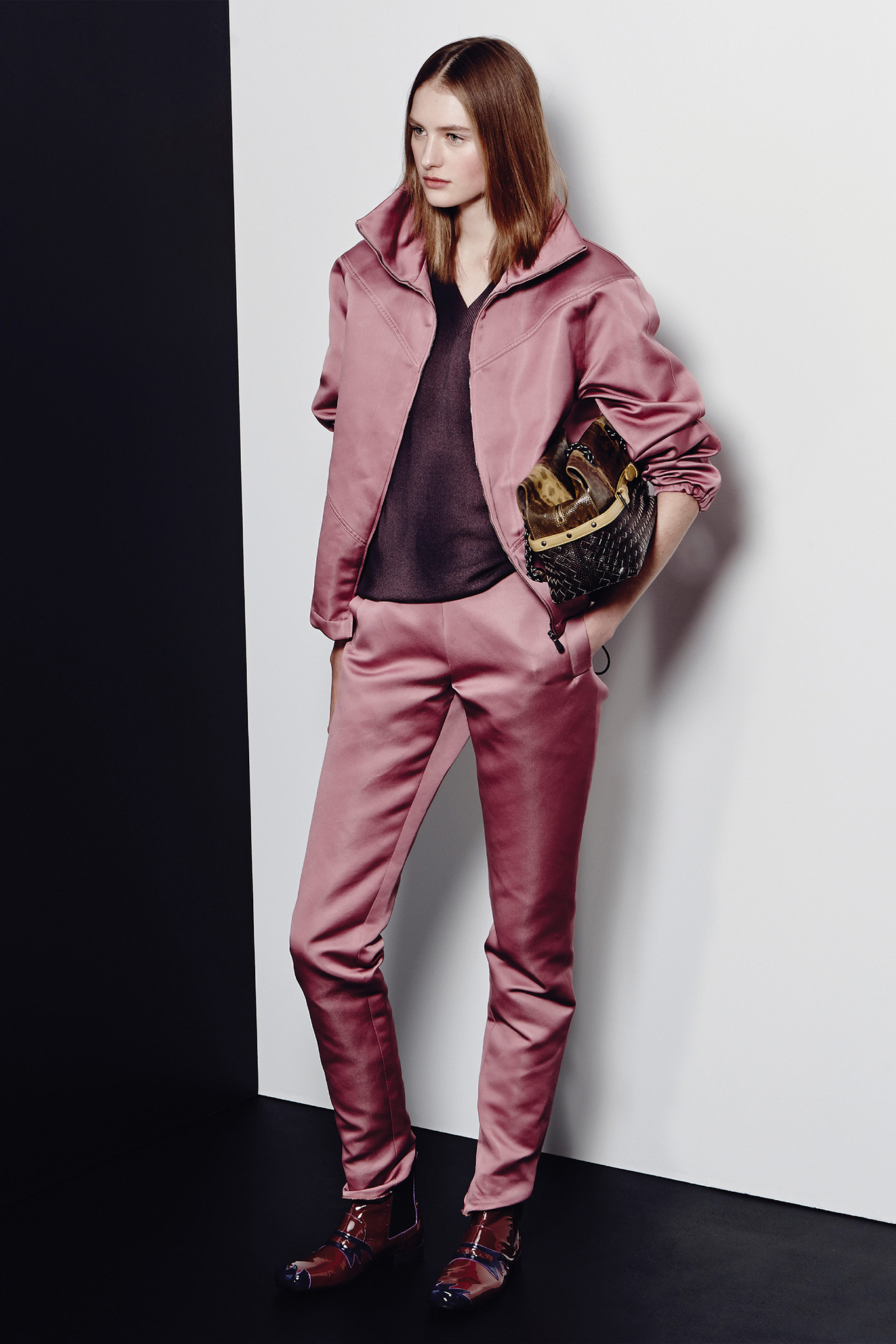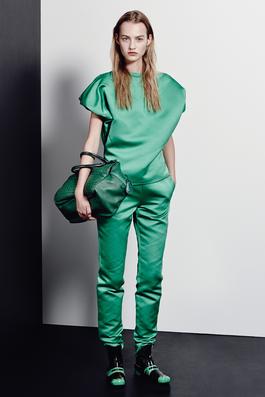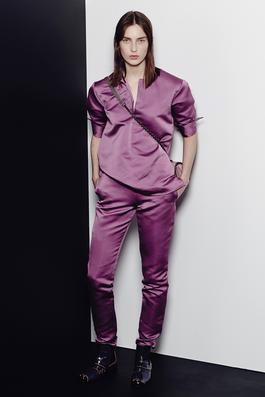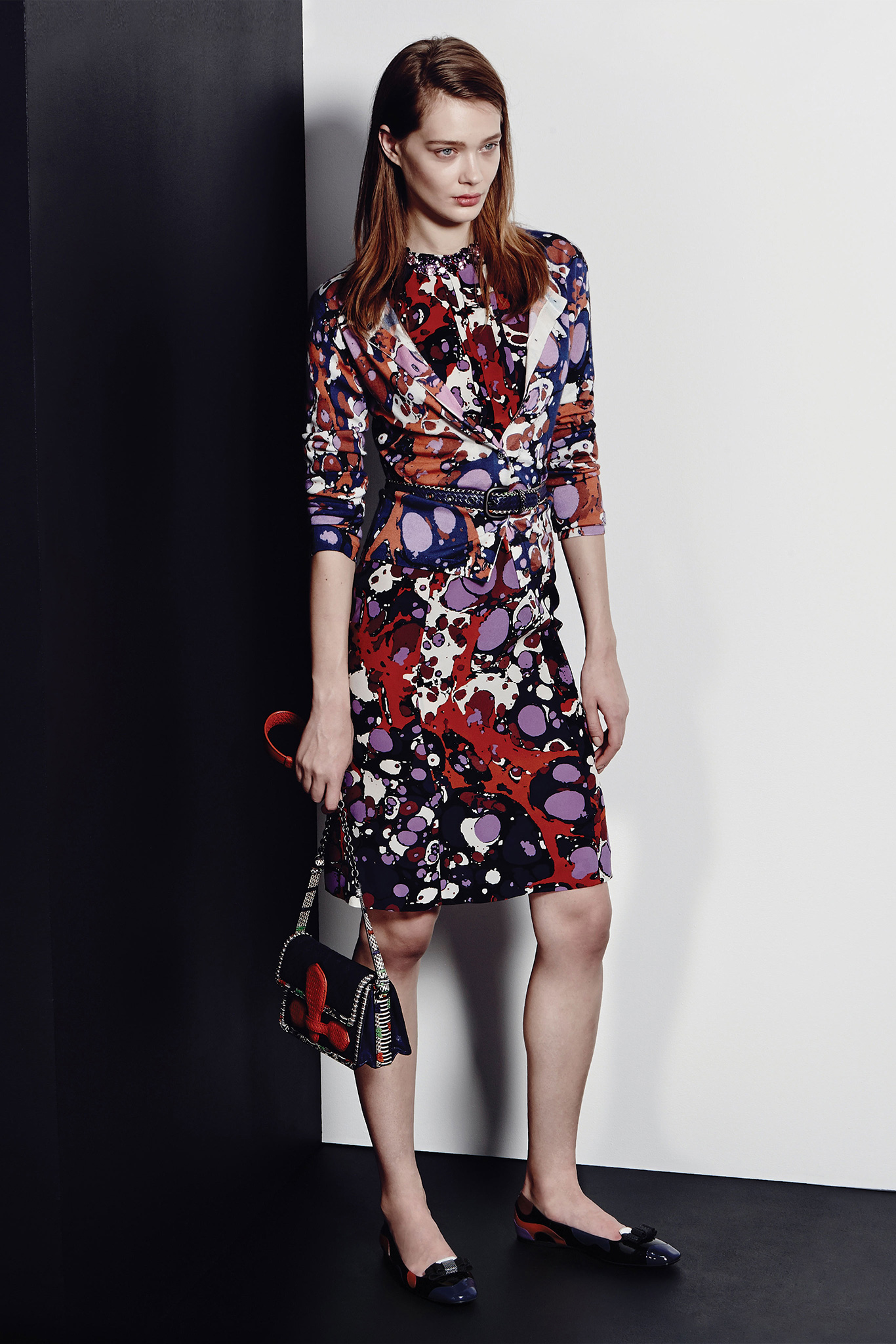 A clever curious option for the office when yet another black outfit will not suffice.
CHLOE:
More options from the house that has perfected casual luxury and bohemian chic.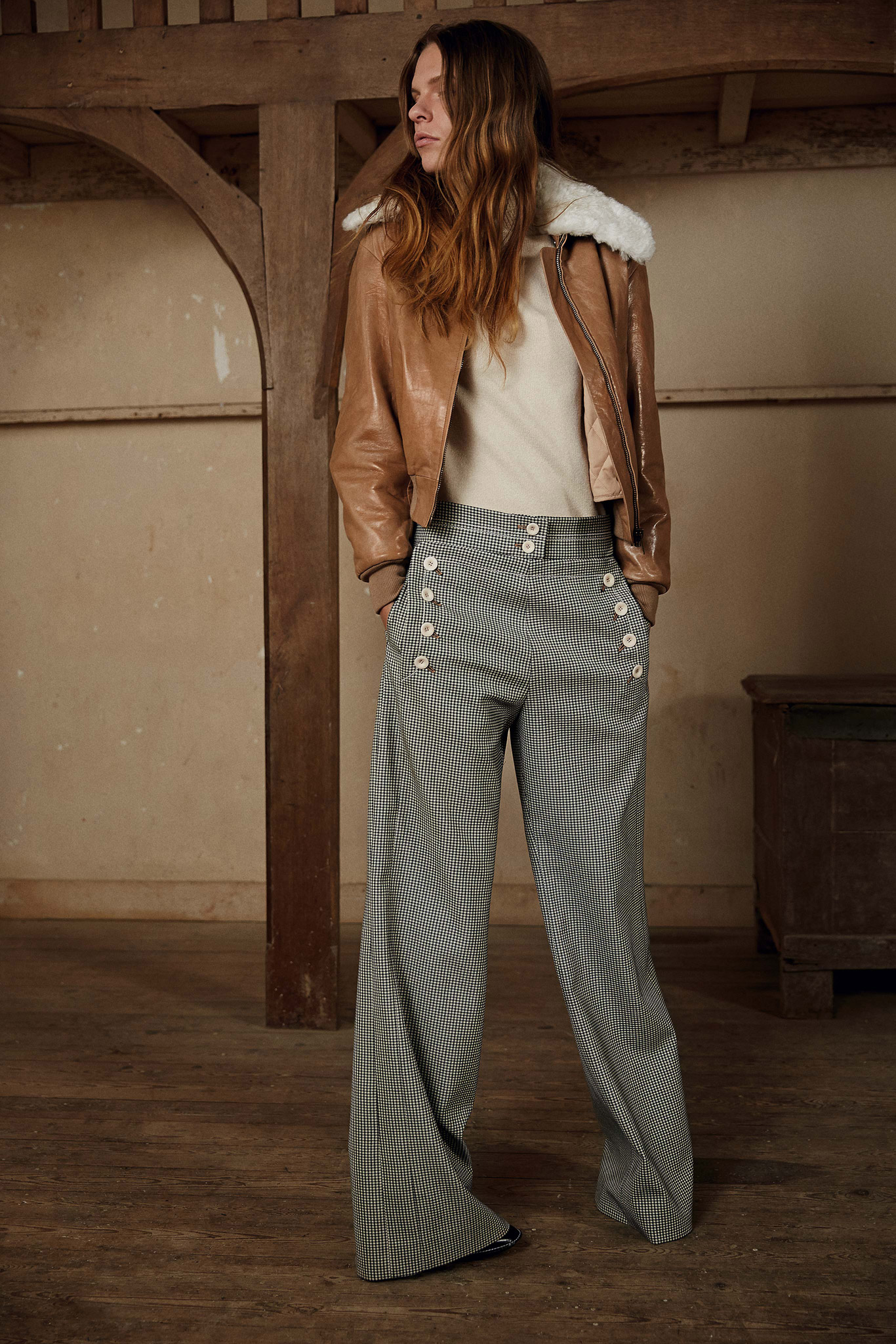 The sailor inspired pants are a timeless look, an easy flattering silhouette that can be worn with anything, from a T shirt, to a blazer, to a cashmere sweater set, or in this case, an Amelia Earhart leather jacket.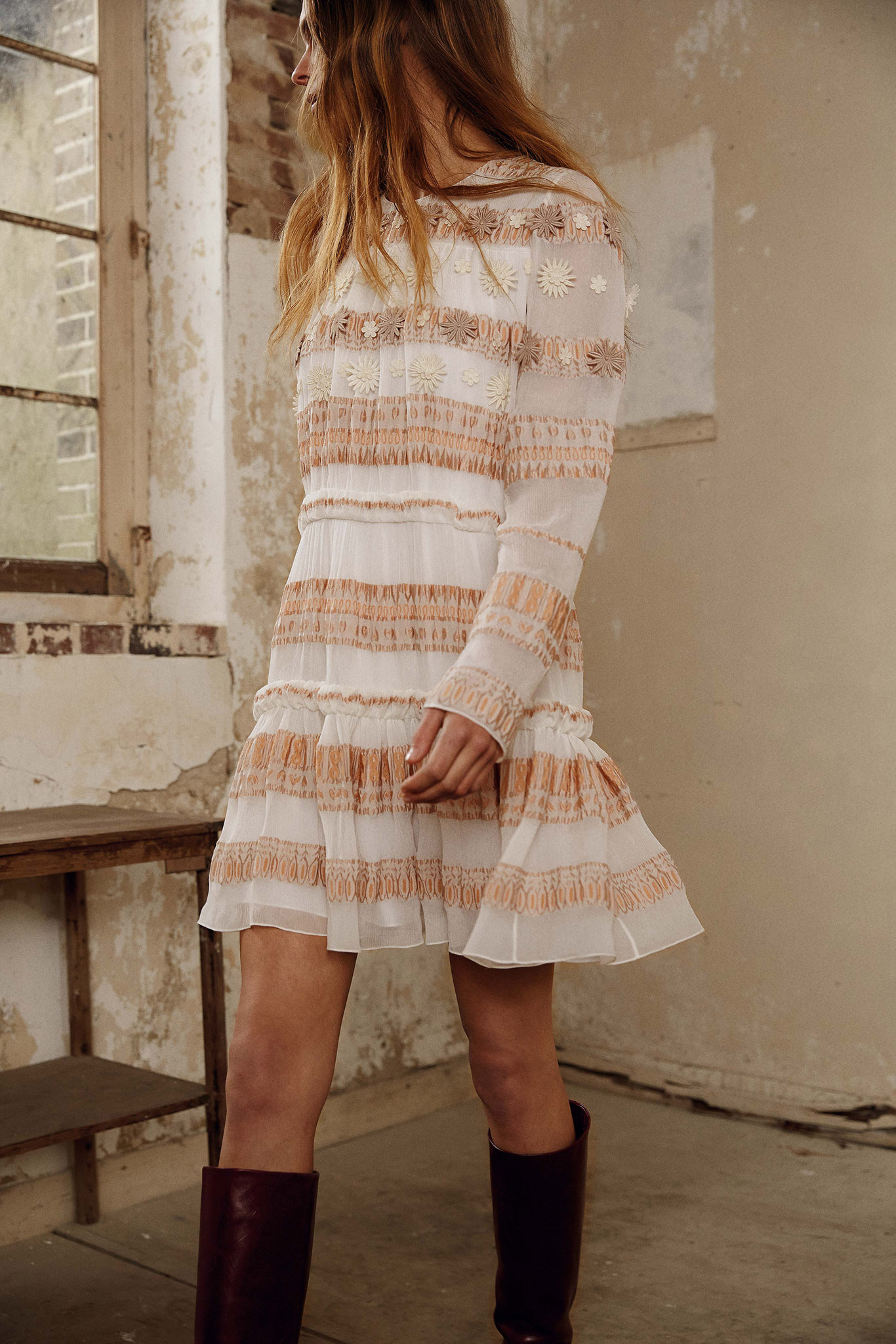 Vintage Chloe, feminine, flowy, elegant, and always posh.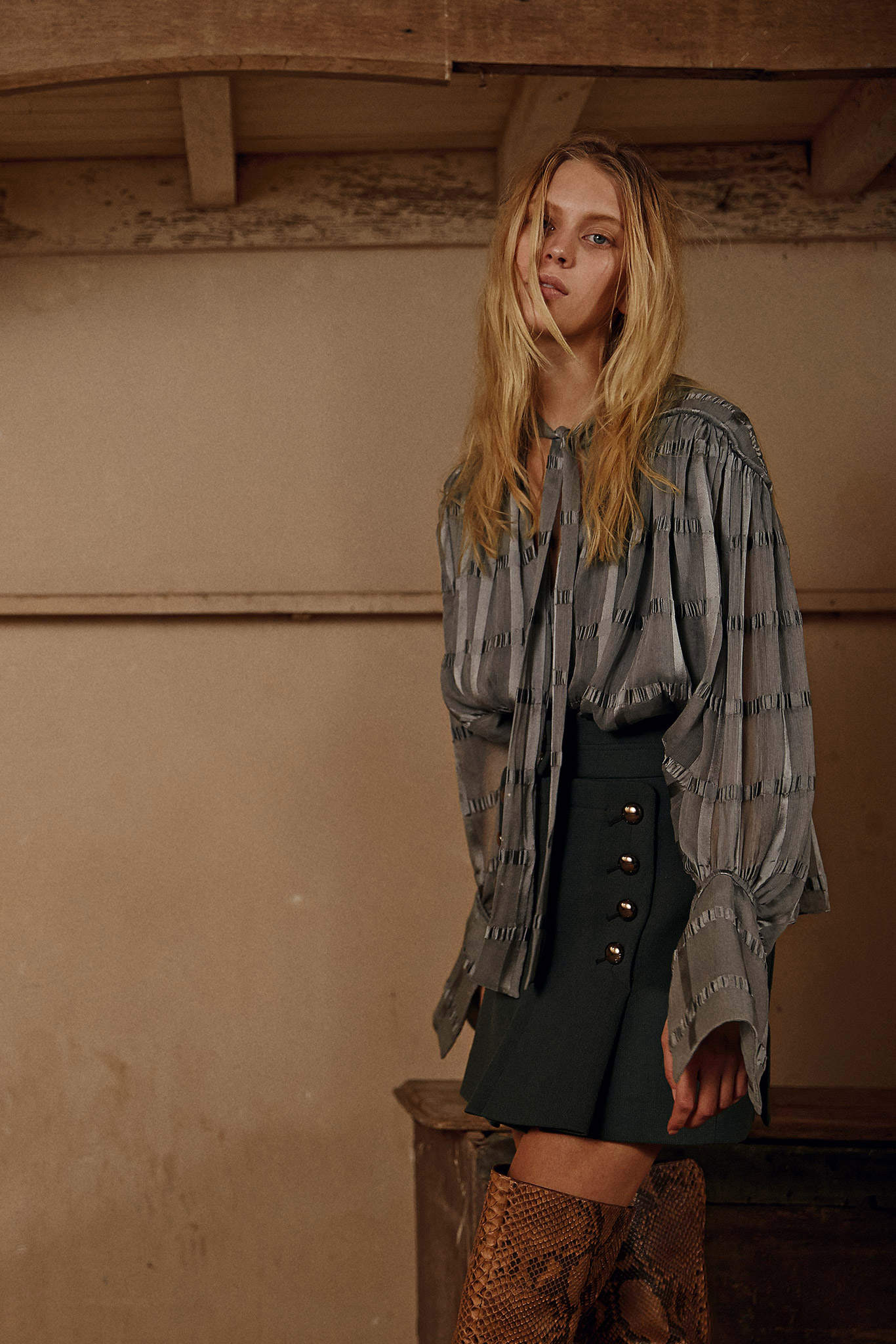 Flower child with a hint of buccaneer.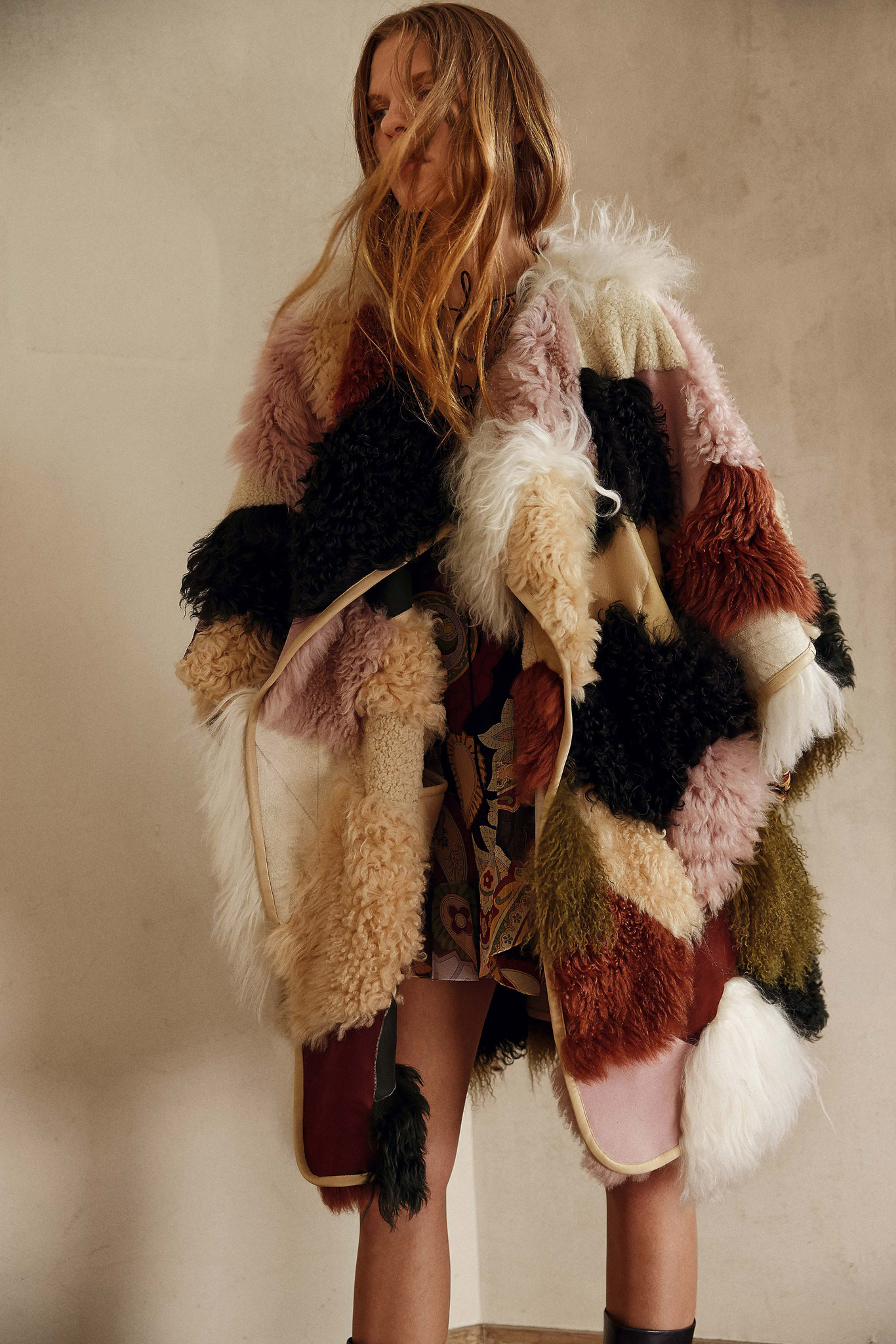 The 70's vibe continues with this patchwork shearling wonder. Its like a clashing of sherberts. Really inviting.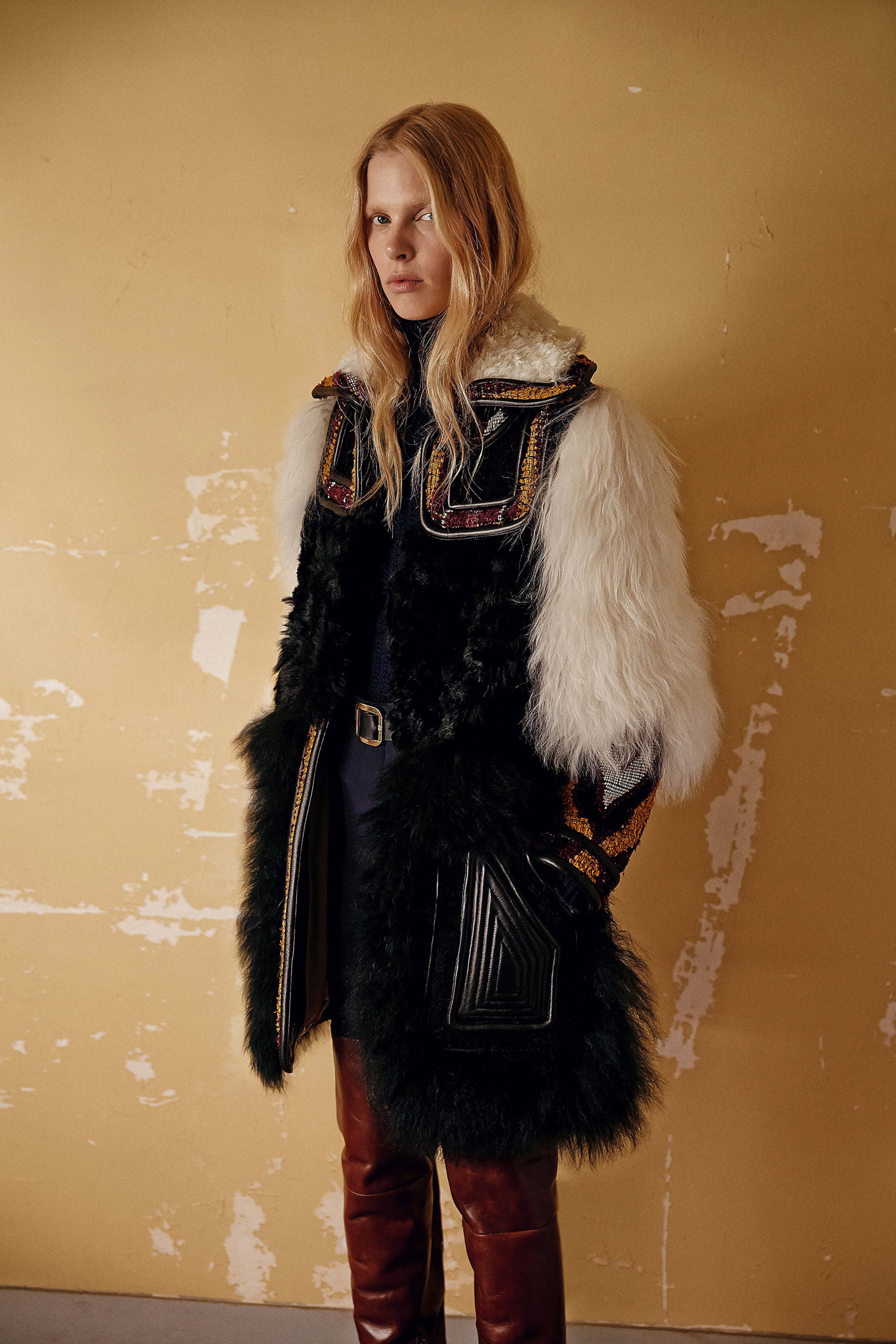 If you need warmth and theatricality, by way of Mongolia....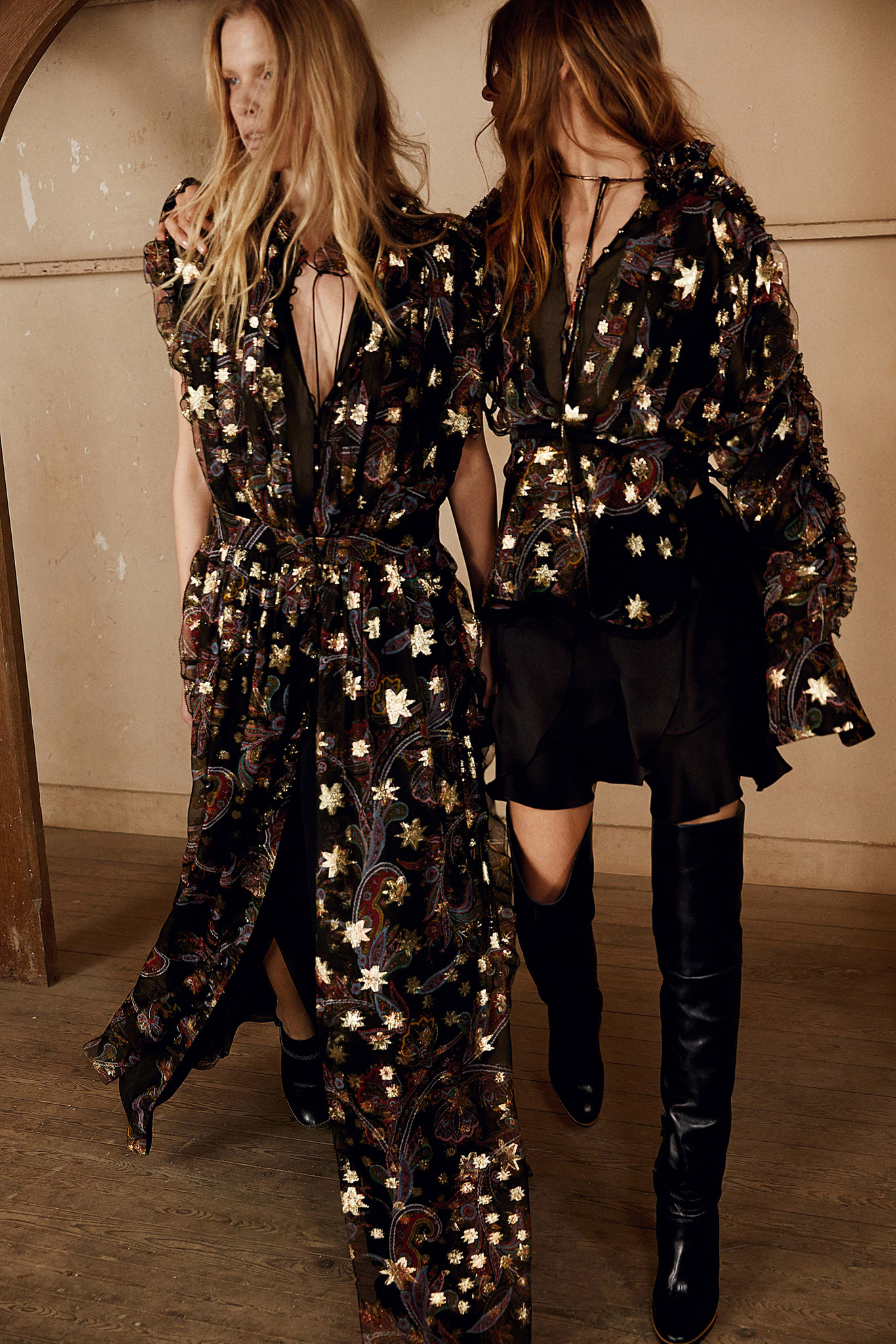 The master of the diaphanous casual dress, in two wearable lengths.
DENNIS BASSO: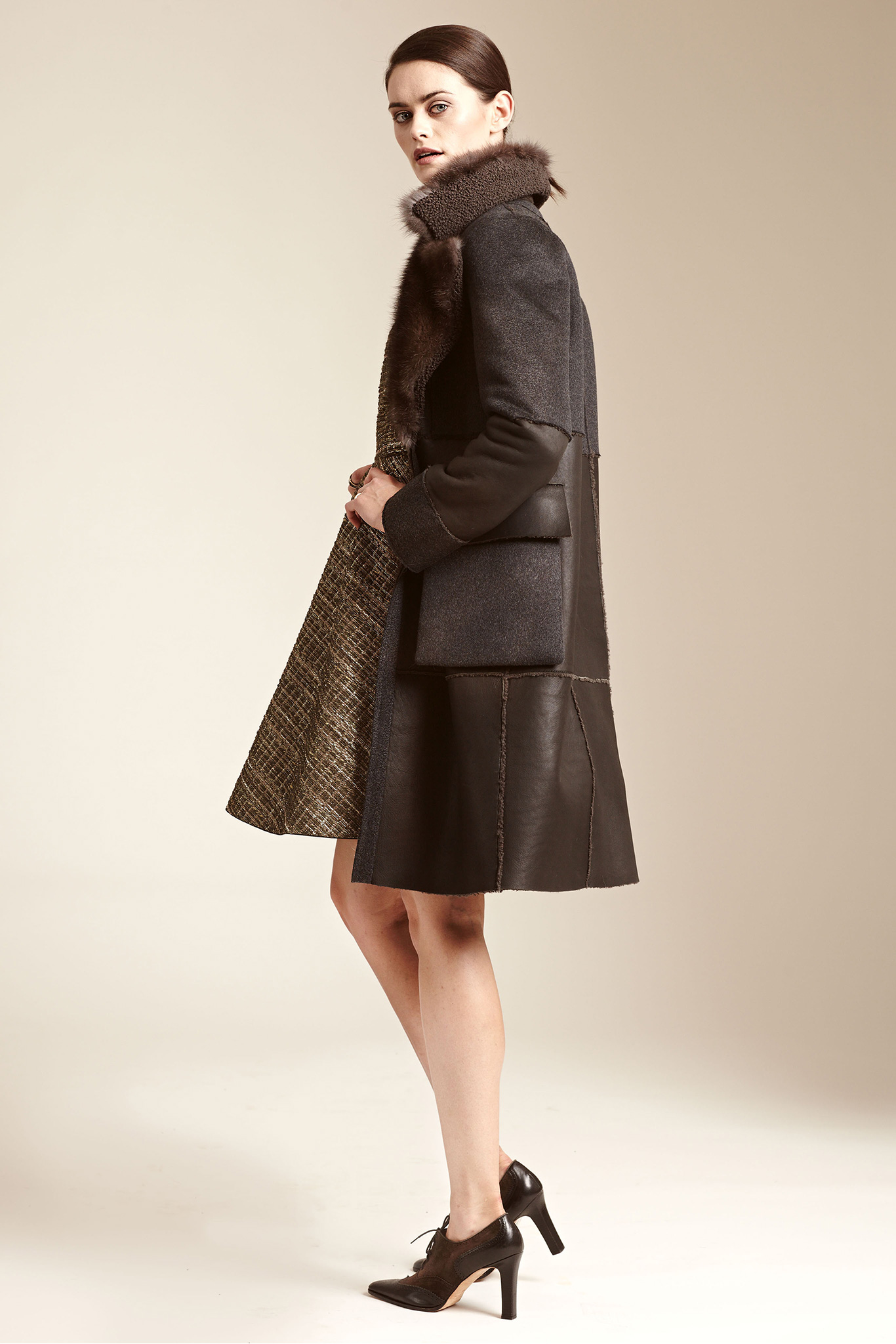 Upscale shearling as a constrast to the more causal versions peppering all the collections.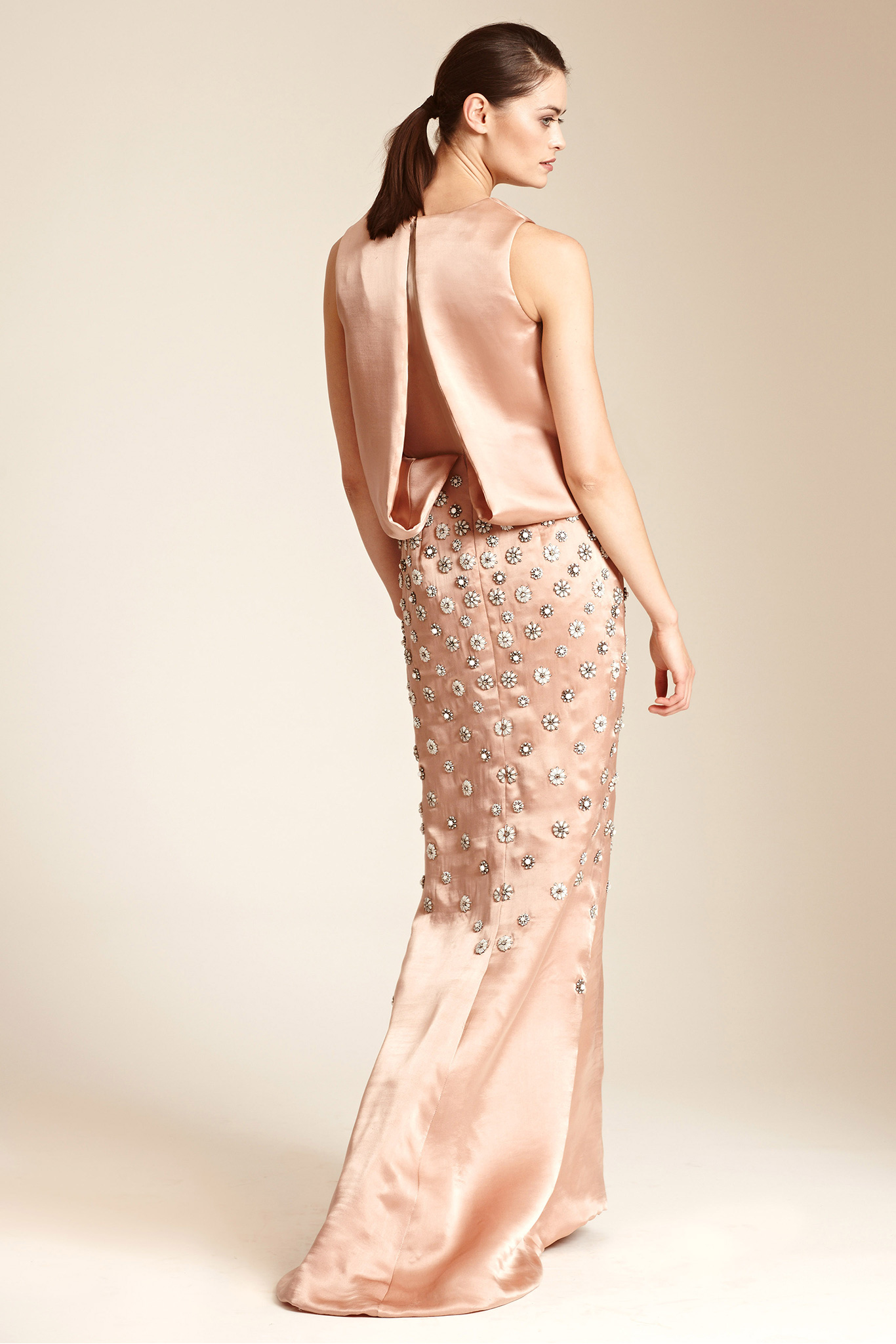 Old Hollywood glamour for the next opening. "All right, Mr. DeMille, I'm ready for my close up". You don't see this kind of fabrication and workmanship everyday.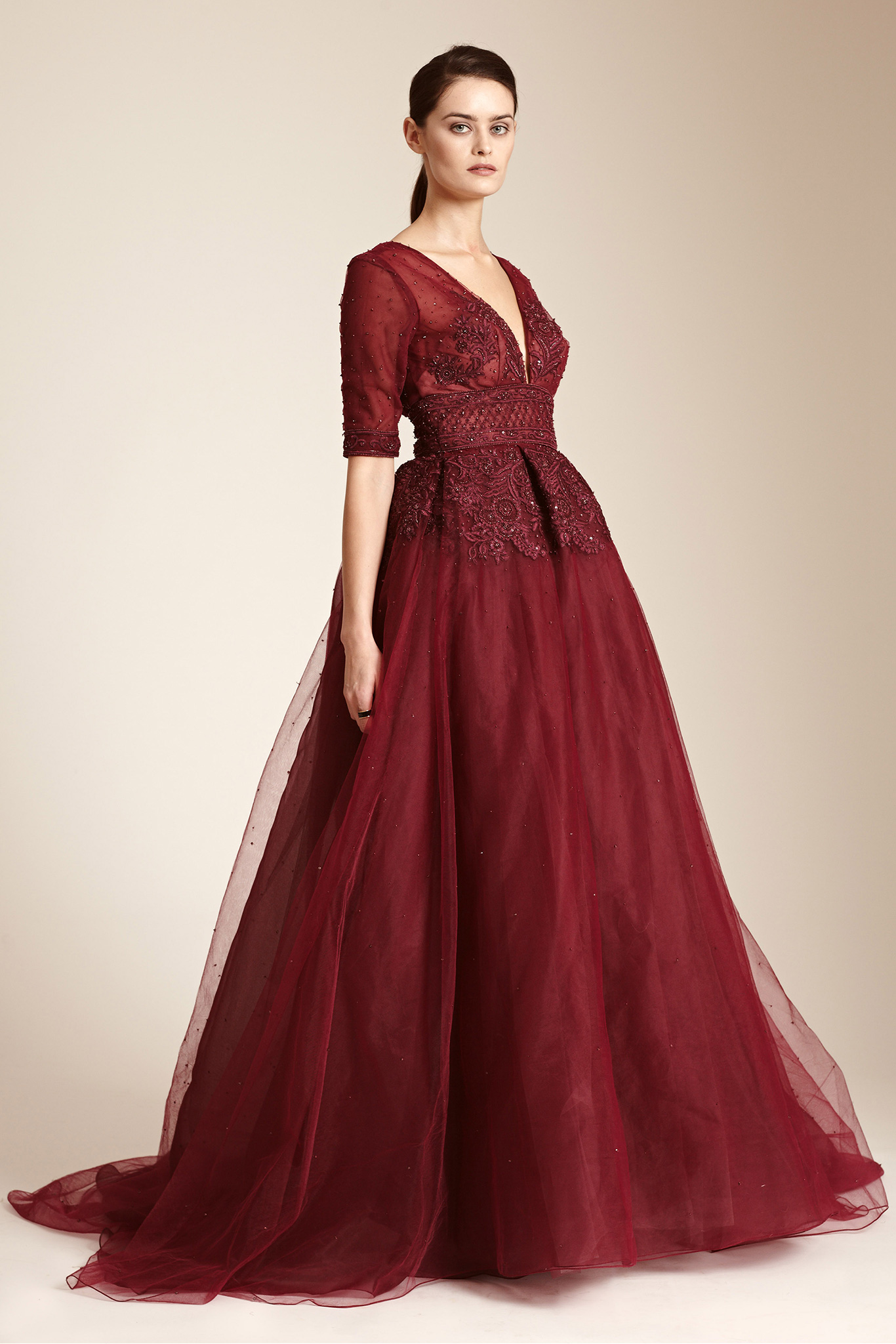 A conservative silhouette no doubt, but exquisite embellishments with a sea of tulle and in a stunning burgundy color. I can see Helen Mirren strolling down the red carpet in this beauty.
BADGLEY MISCHKA:
The Gownmeisters, when you need to shine at any black tie or red carpet event. Standard silhouettes in breathtaking brocades and duchesse satin in vibrant alluring red, raspberry, and fuschia.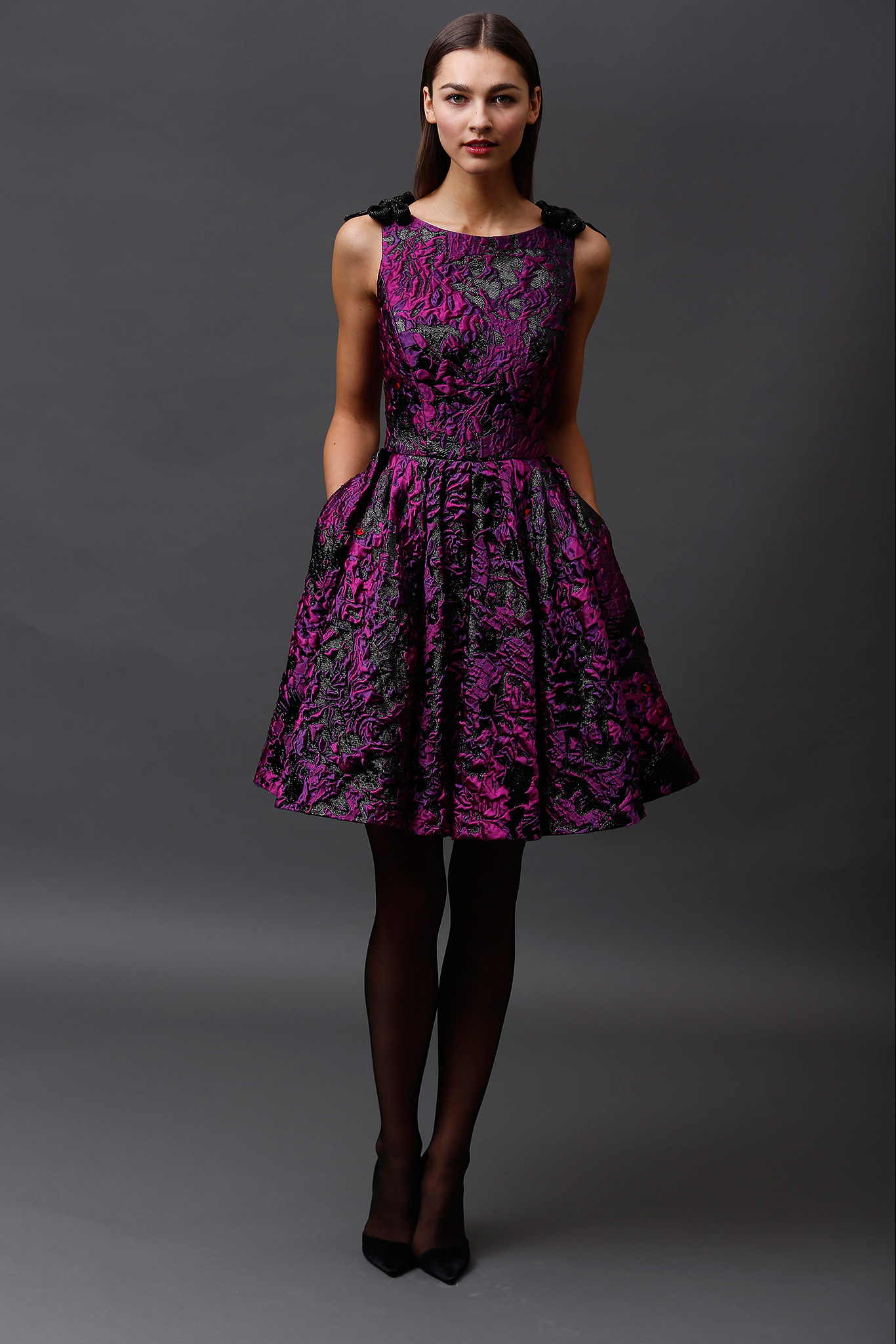 Coquette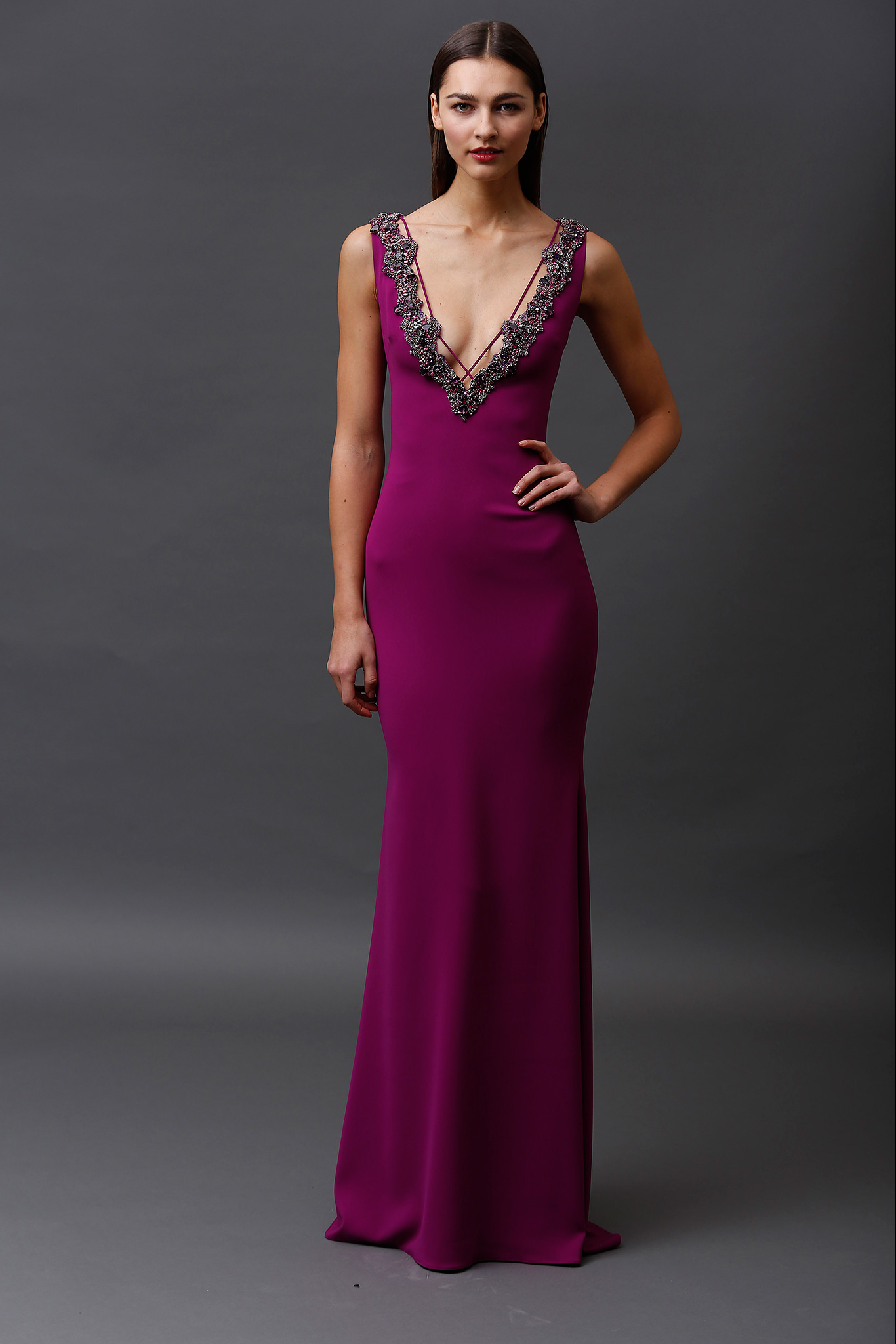 Va Va voom Vixen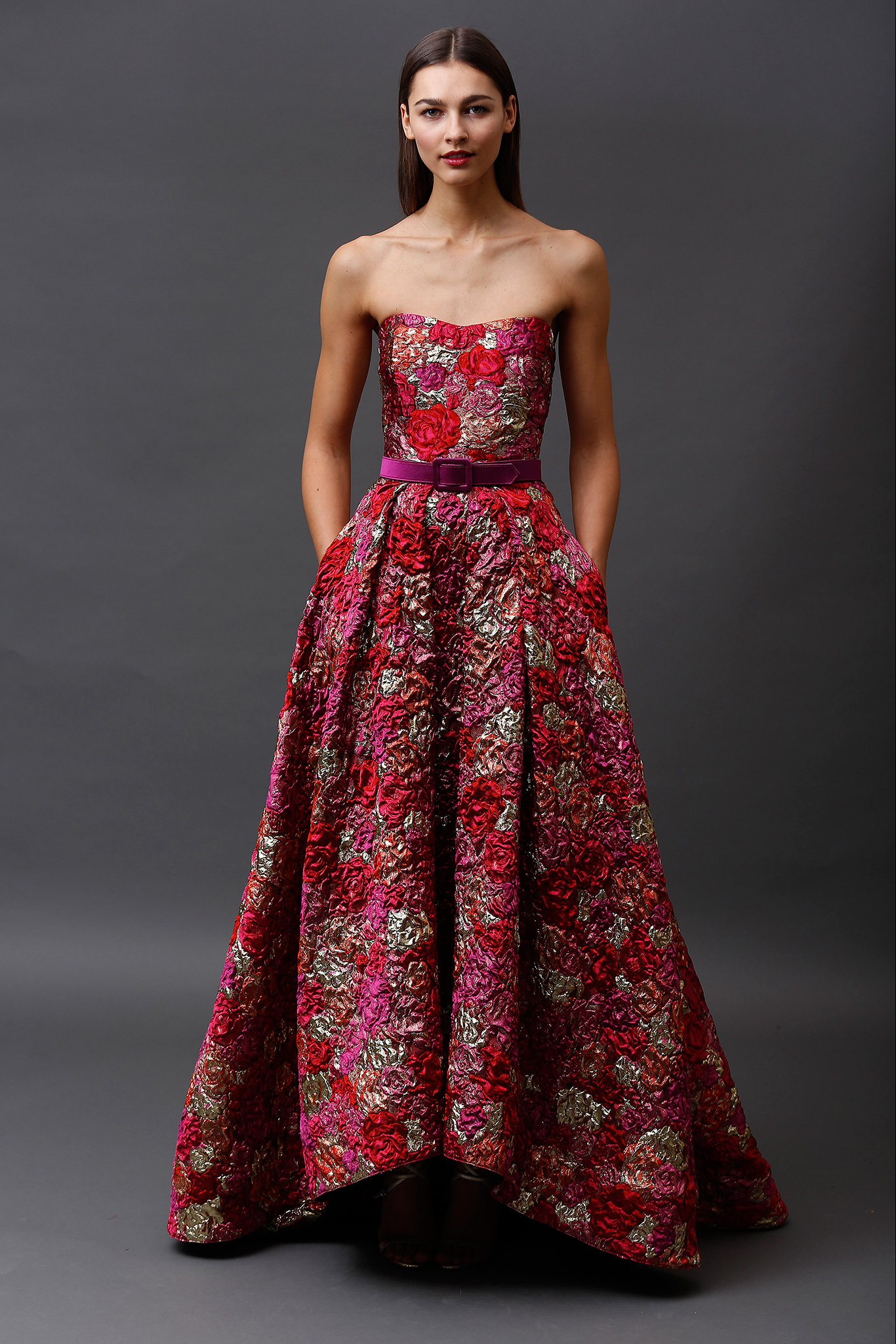 Debutante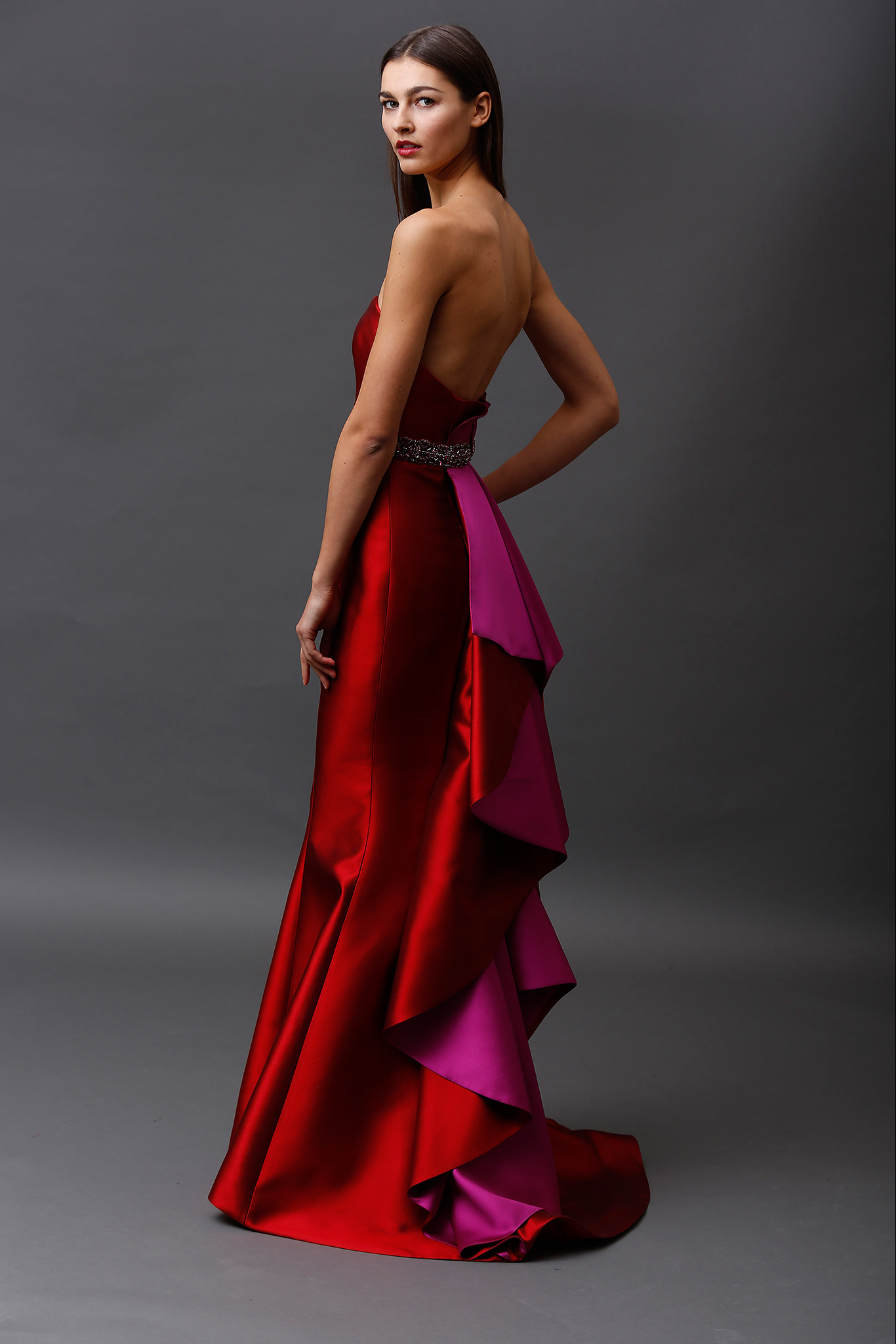 This stunner channels Carmen Miranda, sans the banana hat.
CAROLINA HERRERA: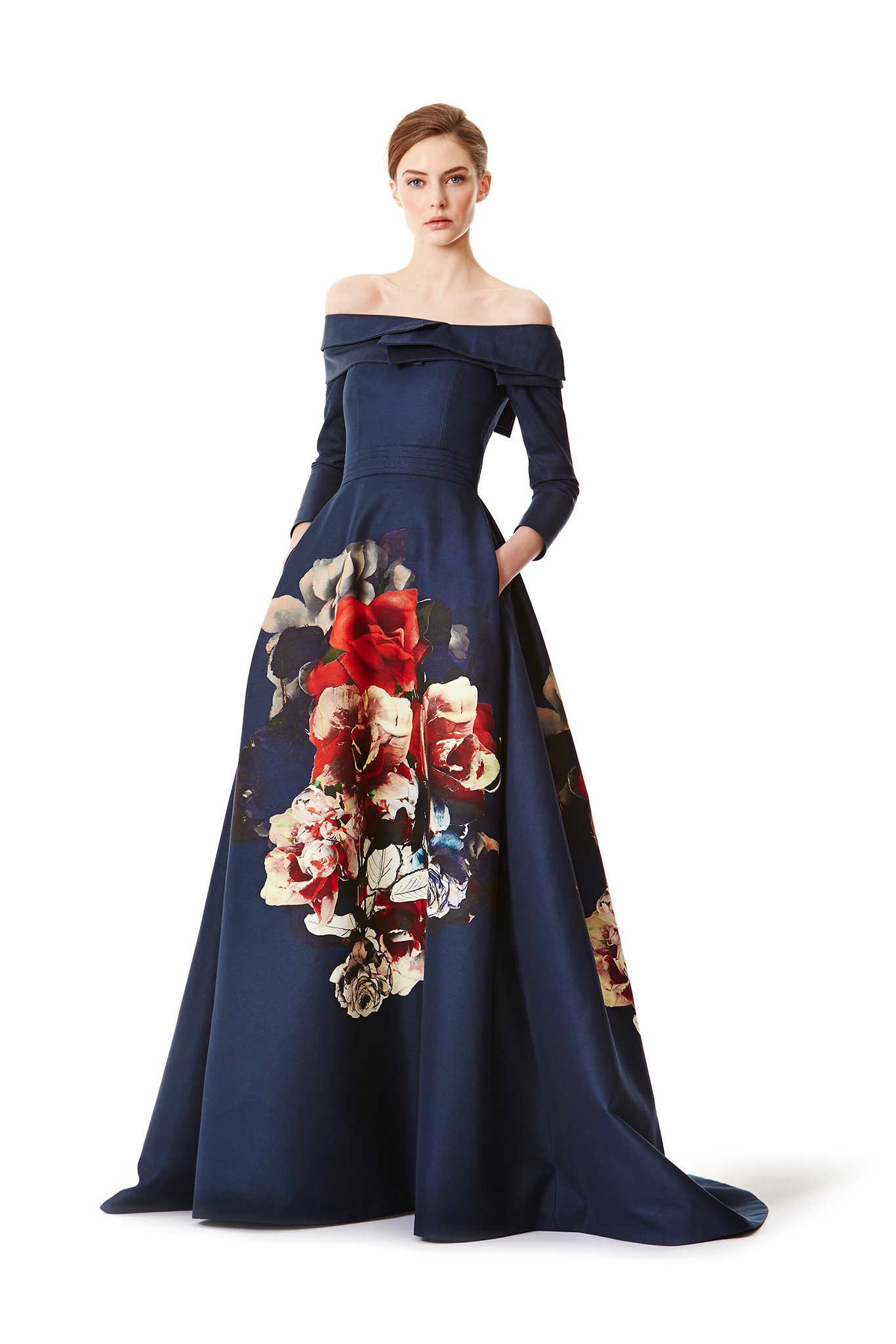 When you want to look pulled together and elegant but not over the top opulent.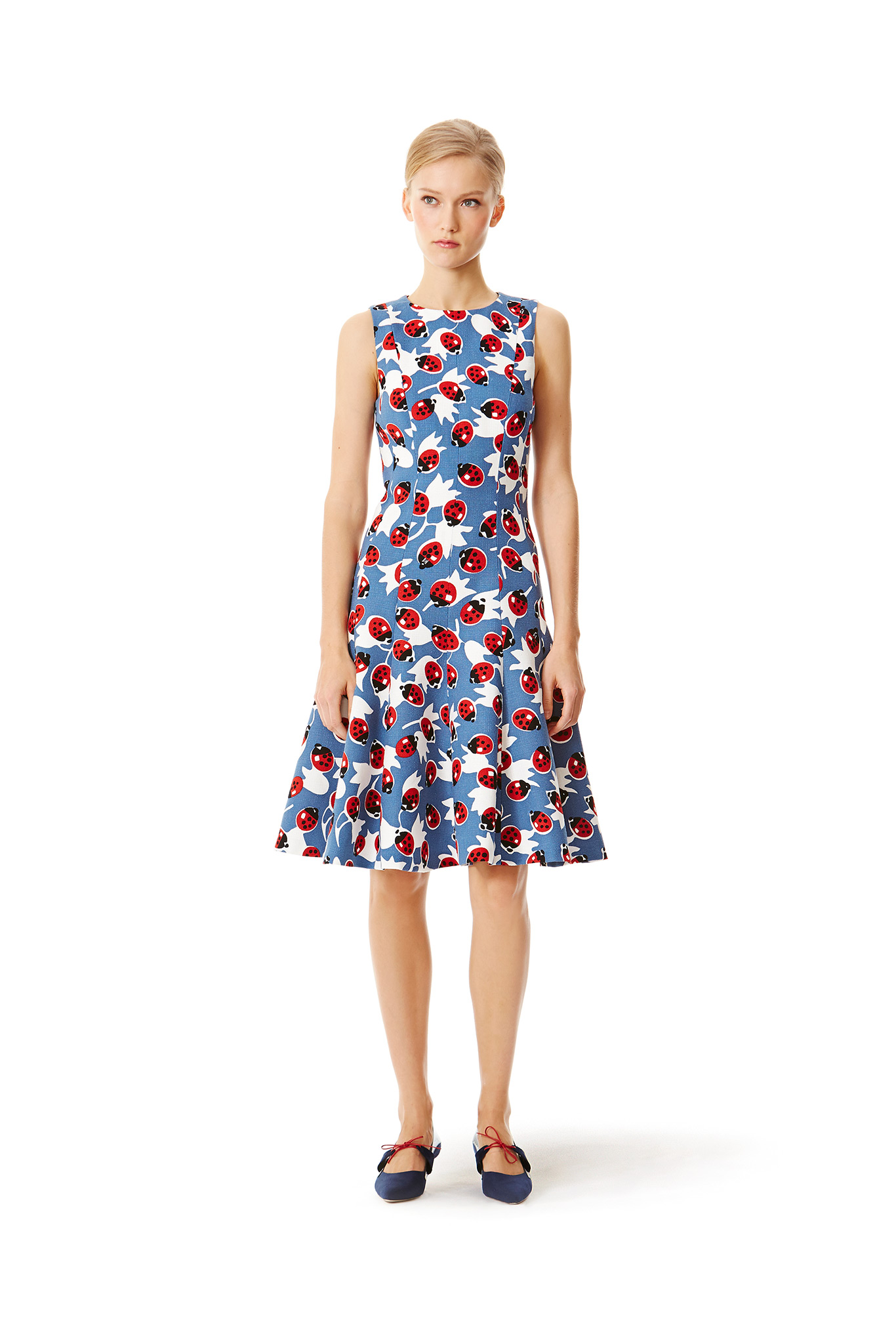 Perfect summer lady like frock, lightened by the ladybug motif. Throw on ballet flats, done.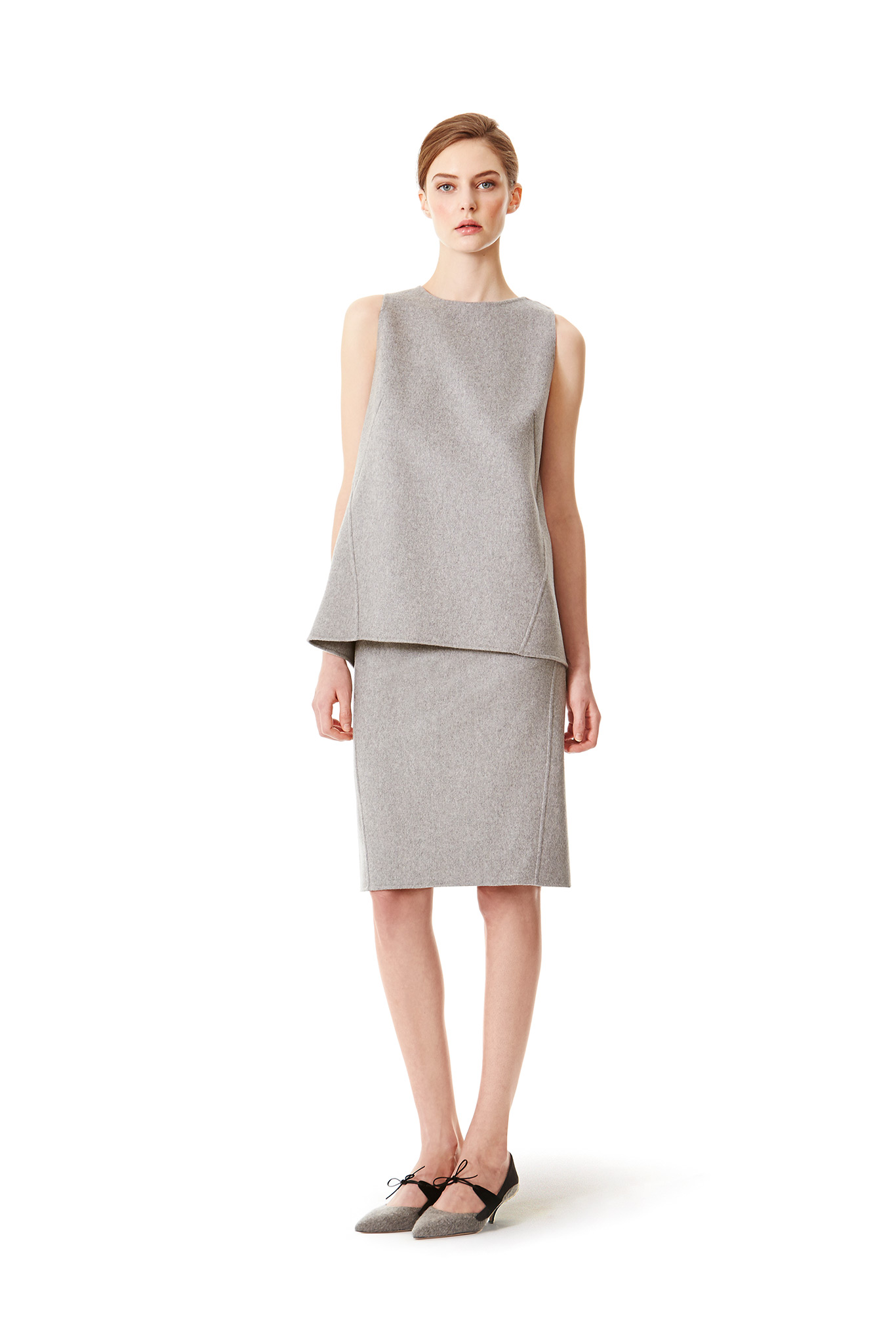 A safe standard neutral that can be gussied up with patent leather boots and a bright colorful scarf, Hermes or Loro Piana. Would work in an upscale office OR academia.
VERSACE:
Back in BLACK baby! Stream lined sexy and athletic, with just a touch of Emma Peel. Toned down for Versace but by no means timid.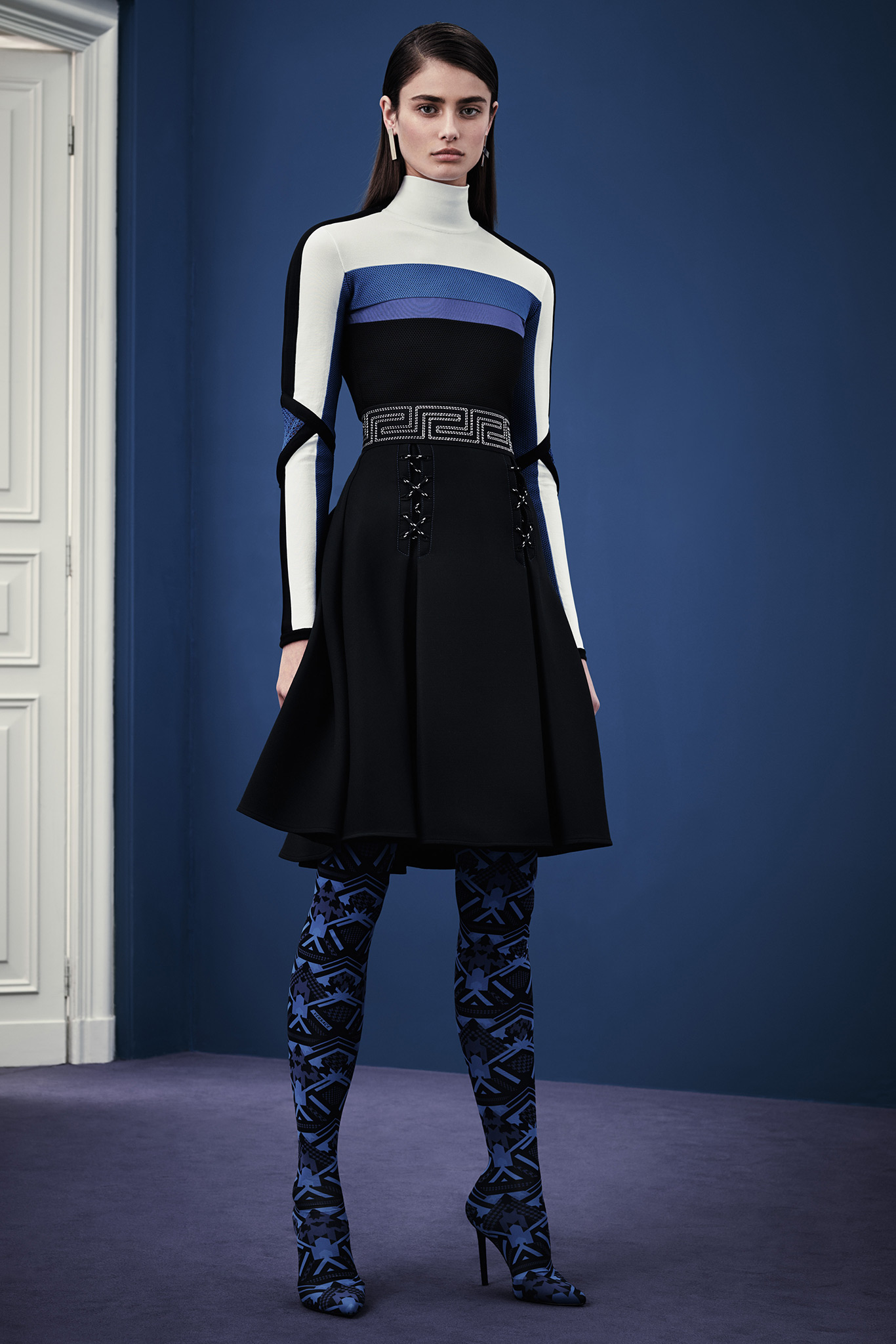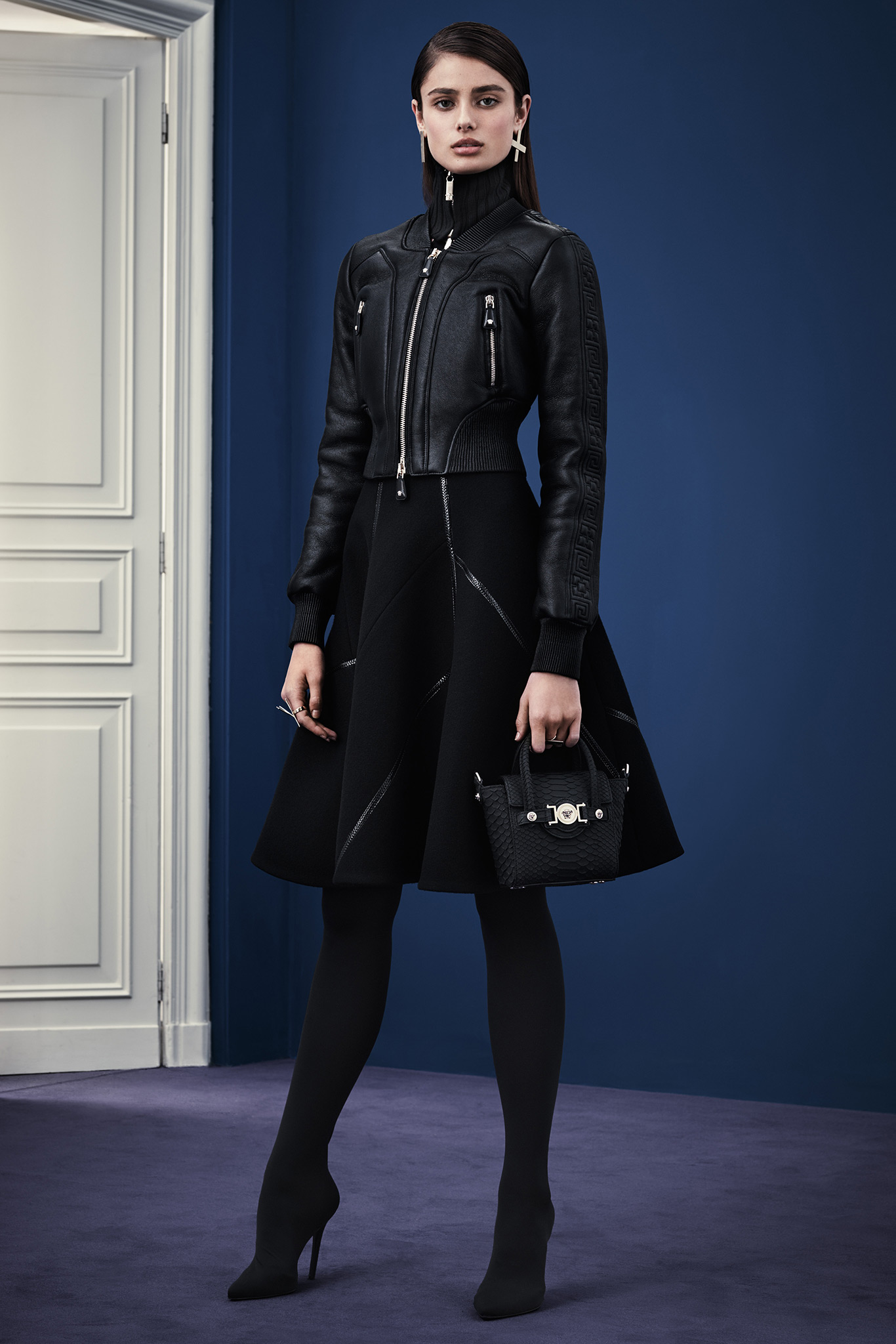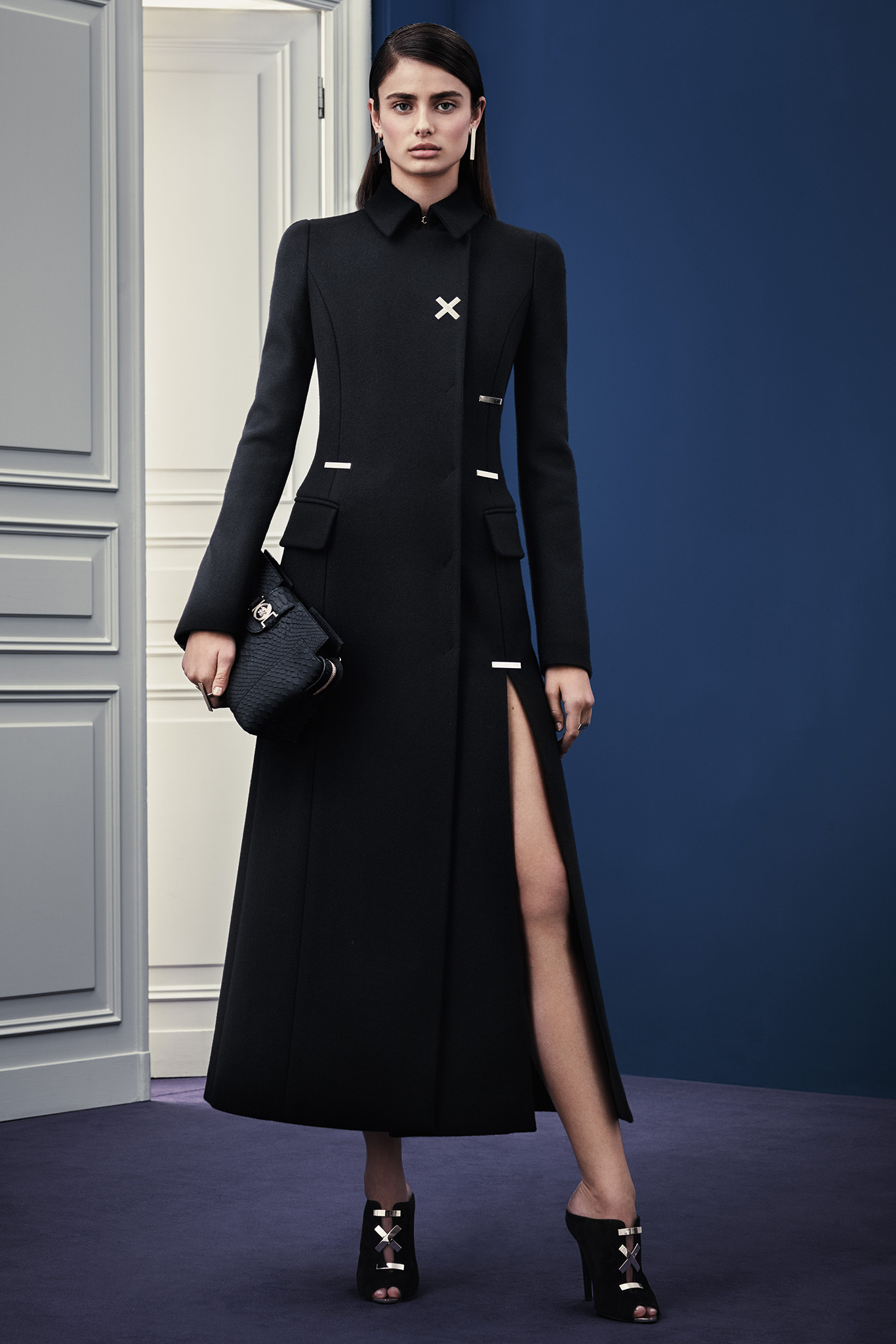 Matrix dominatrix.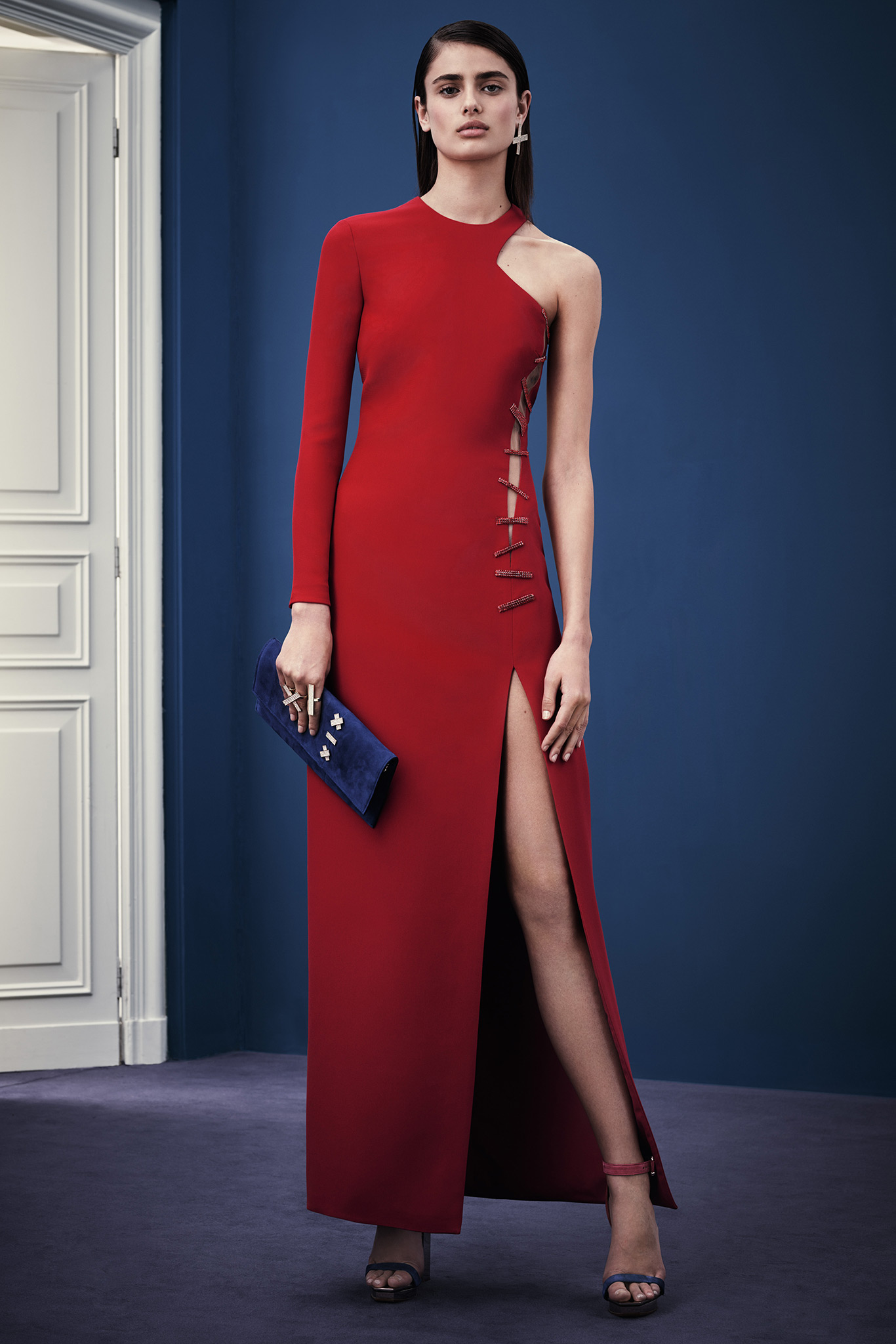 A simple yet sexy red carpet look...there is something sort of prehistortic about this, sort of Angelia Jolie meets Wilma Flintstone.
DIOR:
Another stellar collection by one of THE most talented designers out there, Raf Simons. A spellbinding mengerie of dresses and coats, with an engaging amalgamation of glitz and glamour, with shiny paillettes galor, a harder more modern edge with pared down leather tunic dresses and corseted minis, and a space is the final frontier contingent.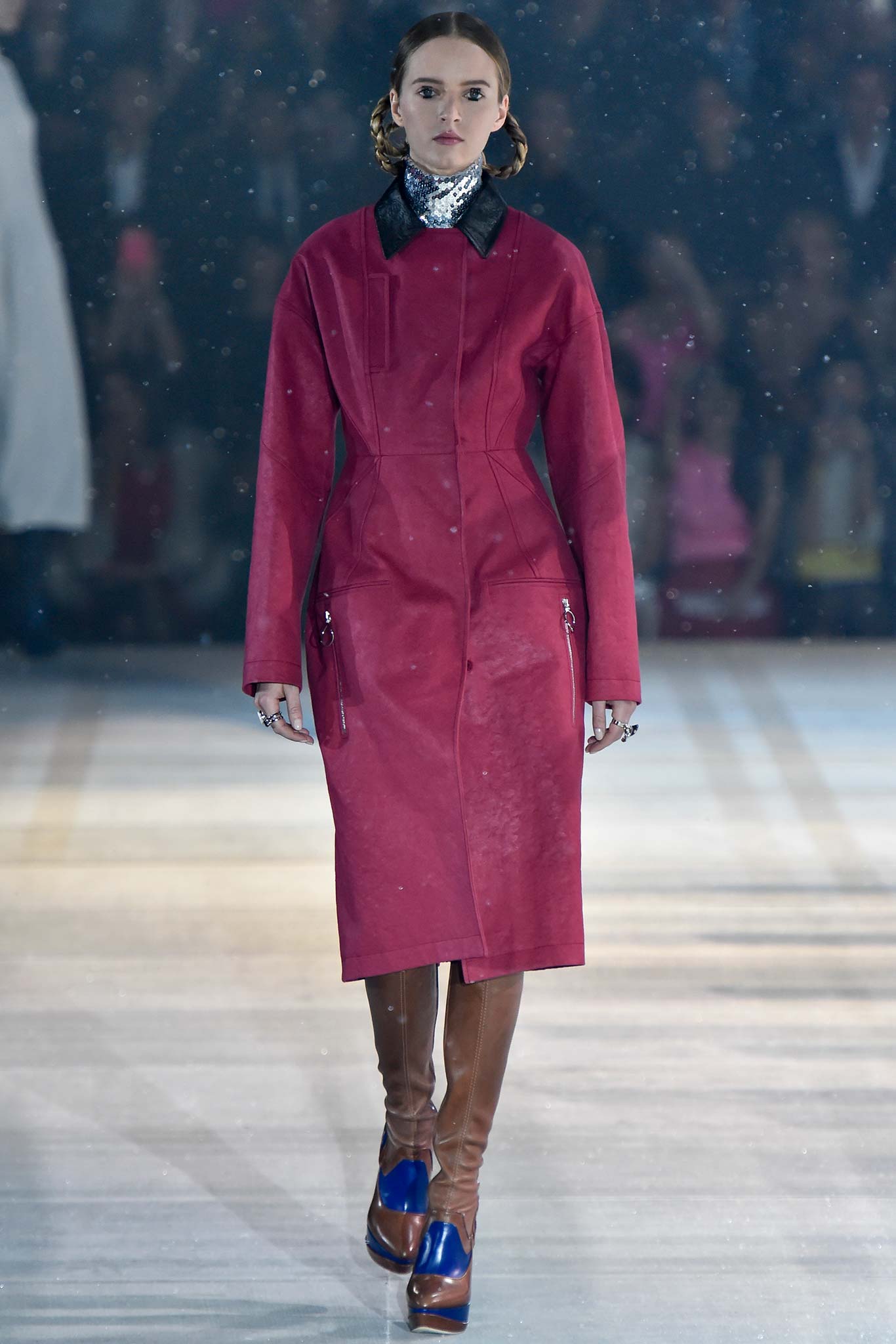 Stream lined modern silhouette in a luscious raspberry color, with black collar detail.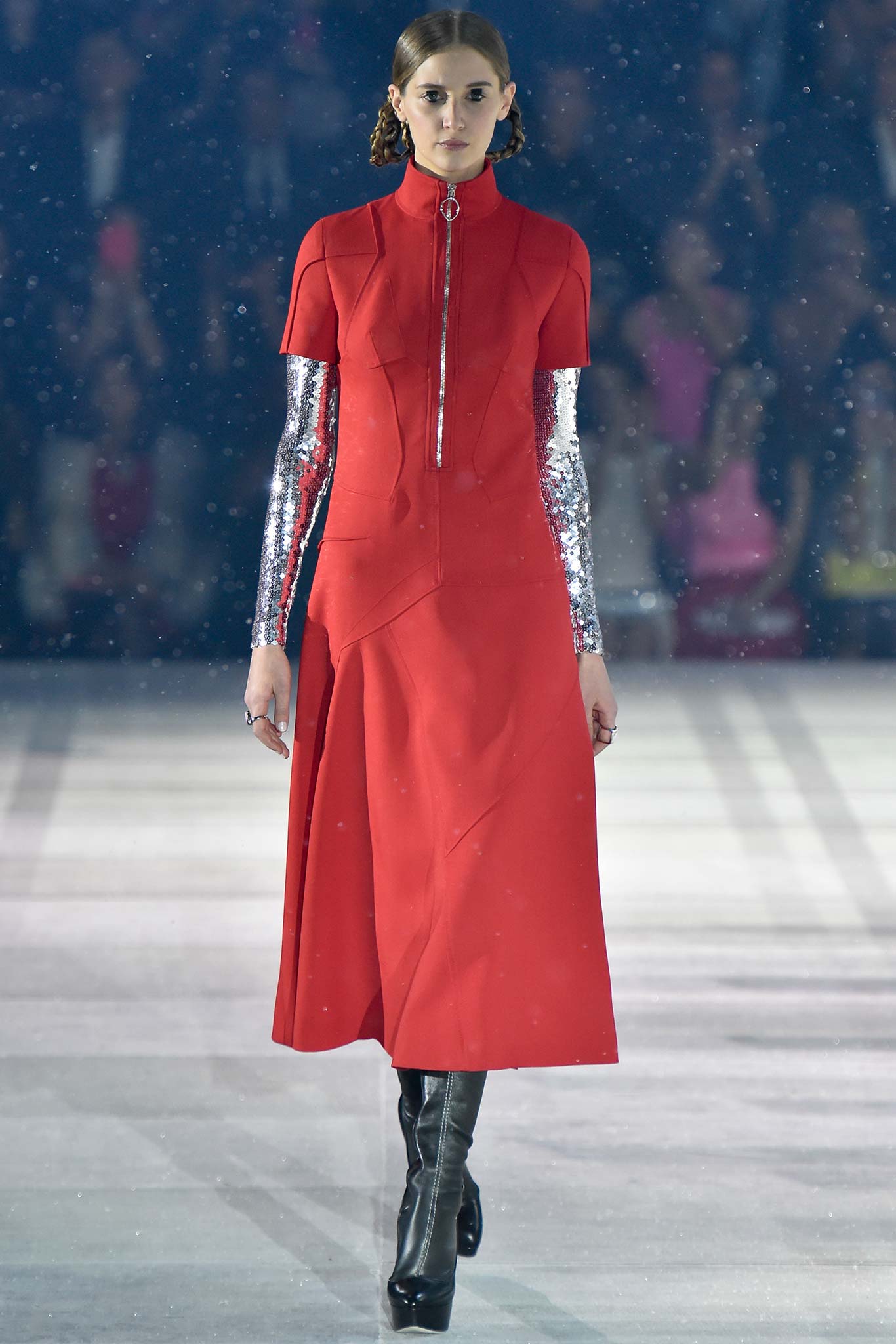 The always desirable red option.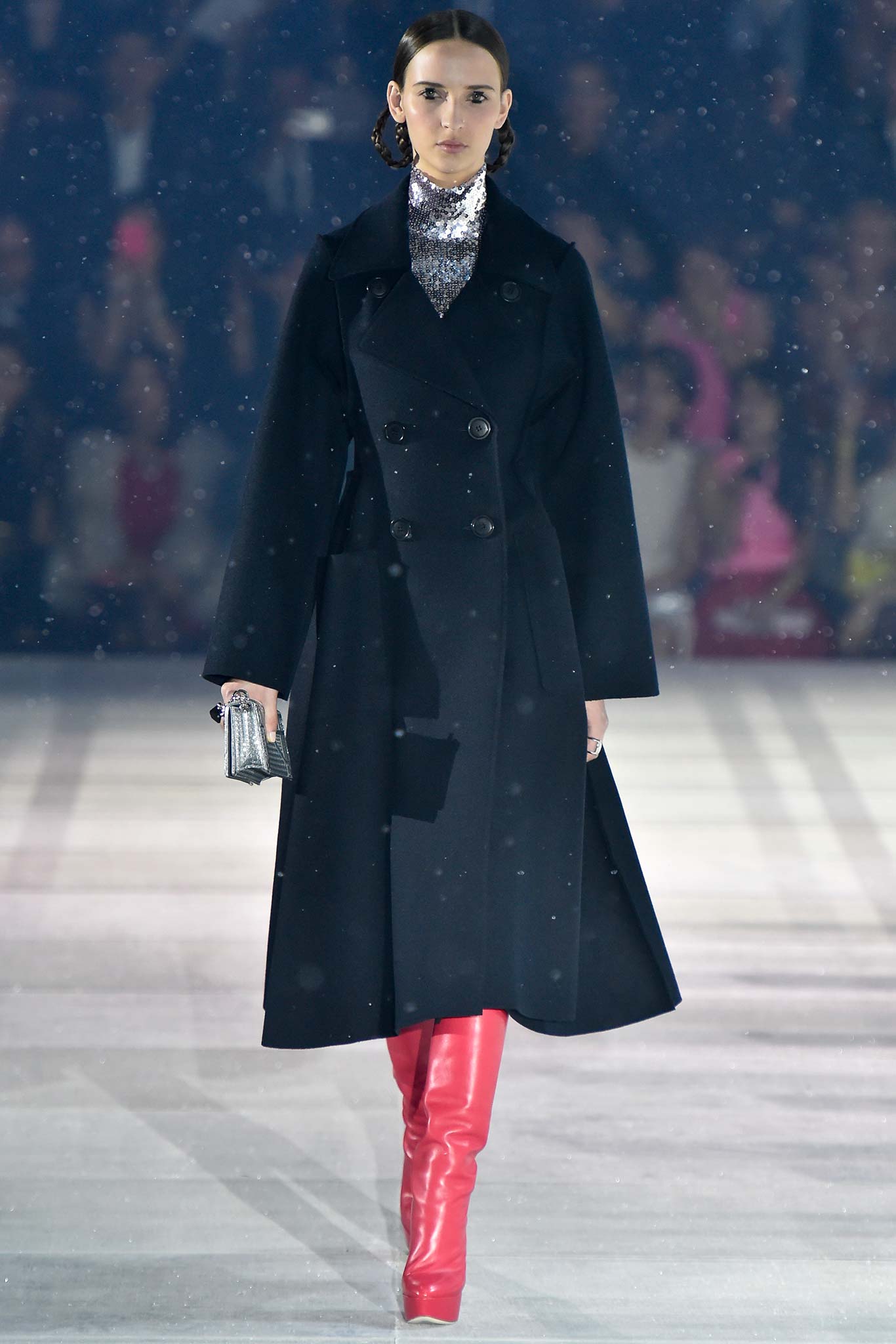 Raf Simons always includes the PERFECT silhouette, a mix of feminine and sexy, with the tapered waist followed by the tulip flare, and this coat fills that bill. Everyone needs a black coat in their wardrobe. A no brainer which can be thrown over almost anything. The double face cashmere is light as a feather.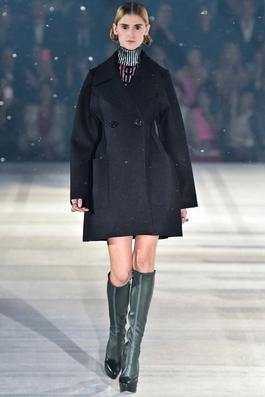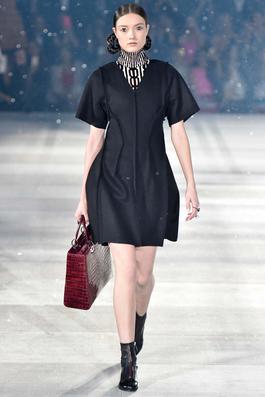 More great staples. No fuss, no muss.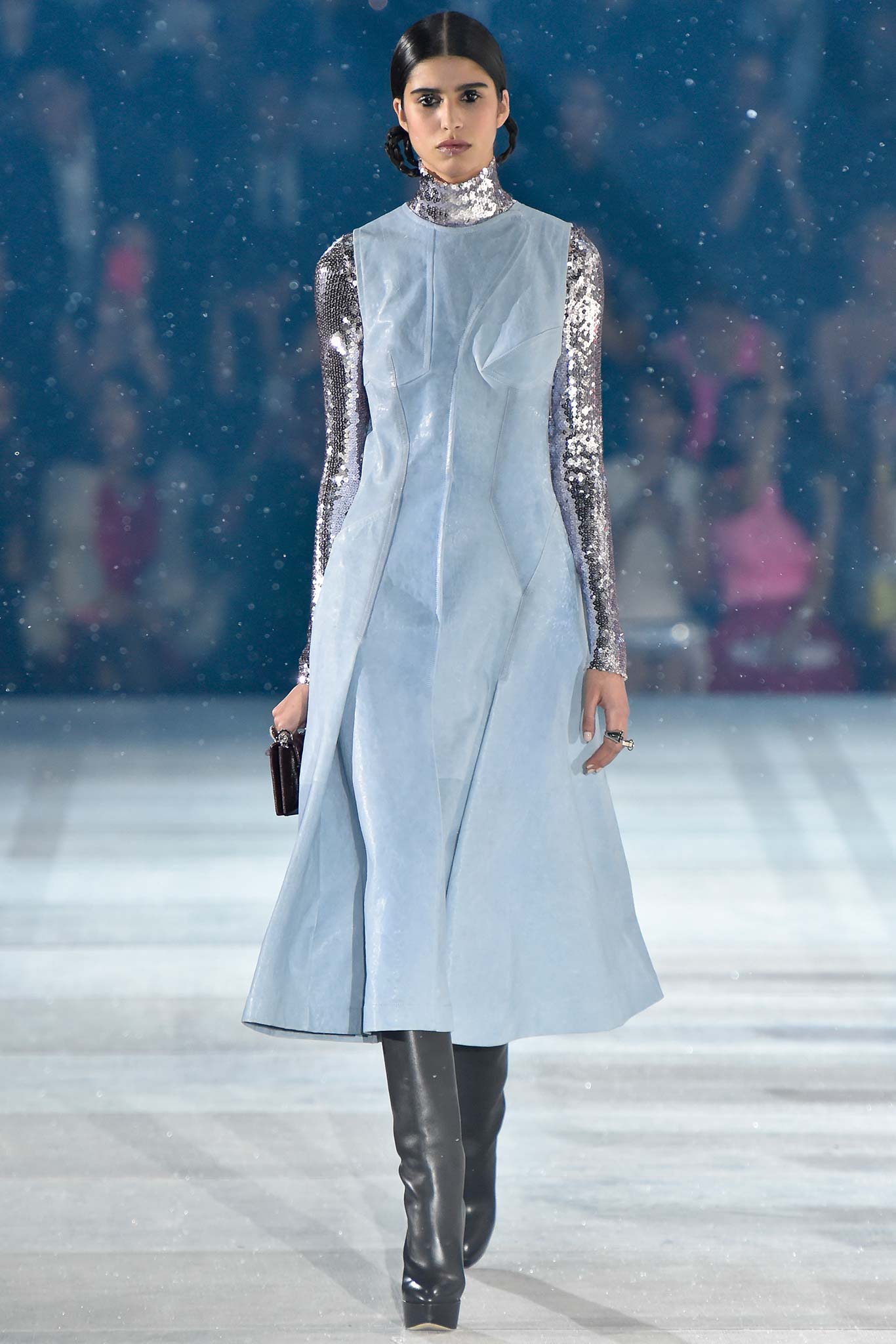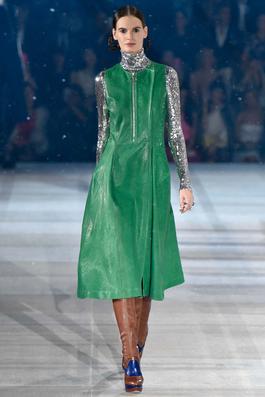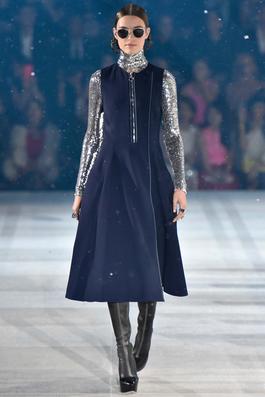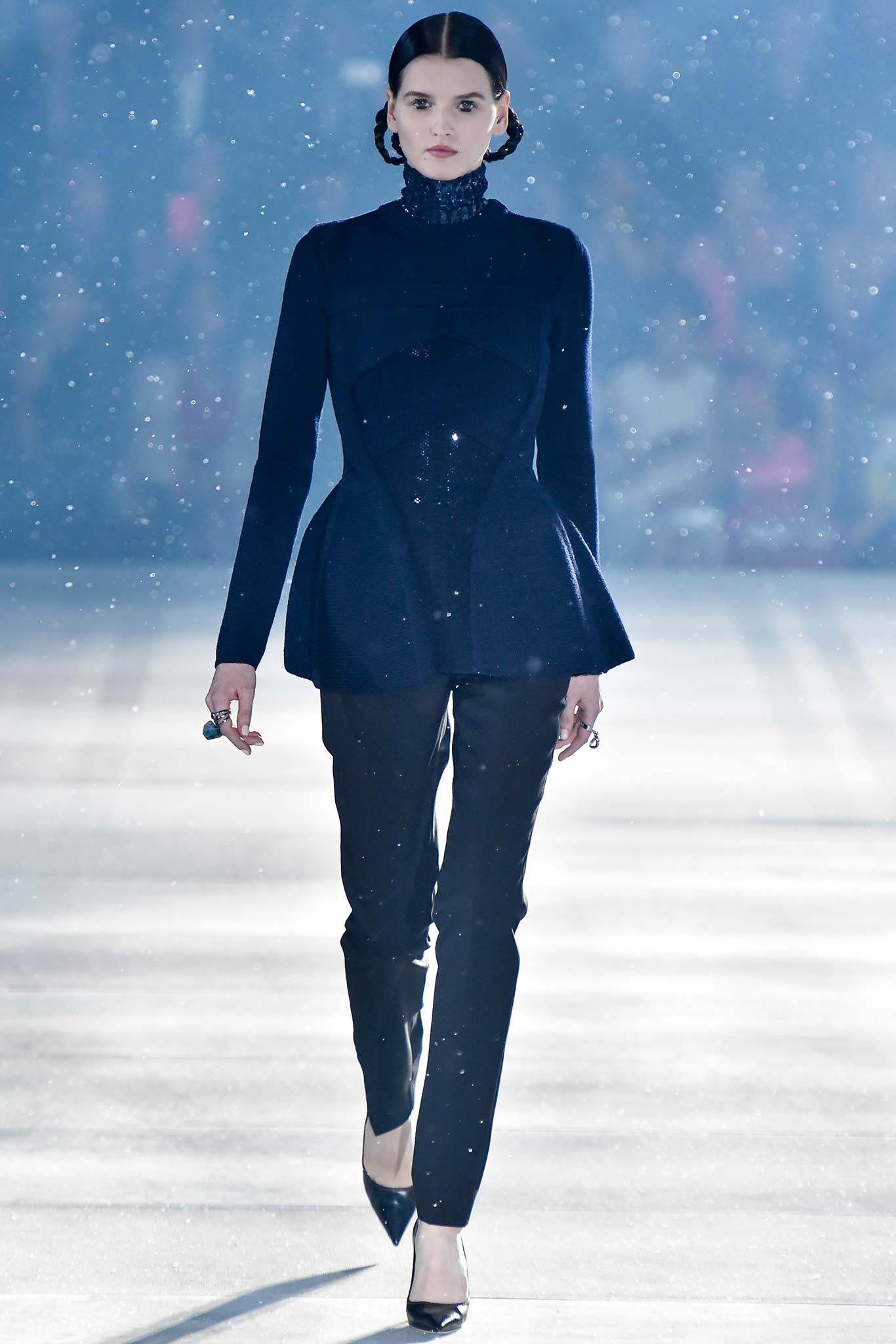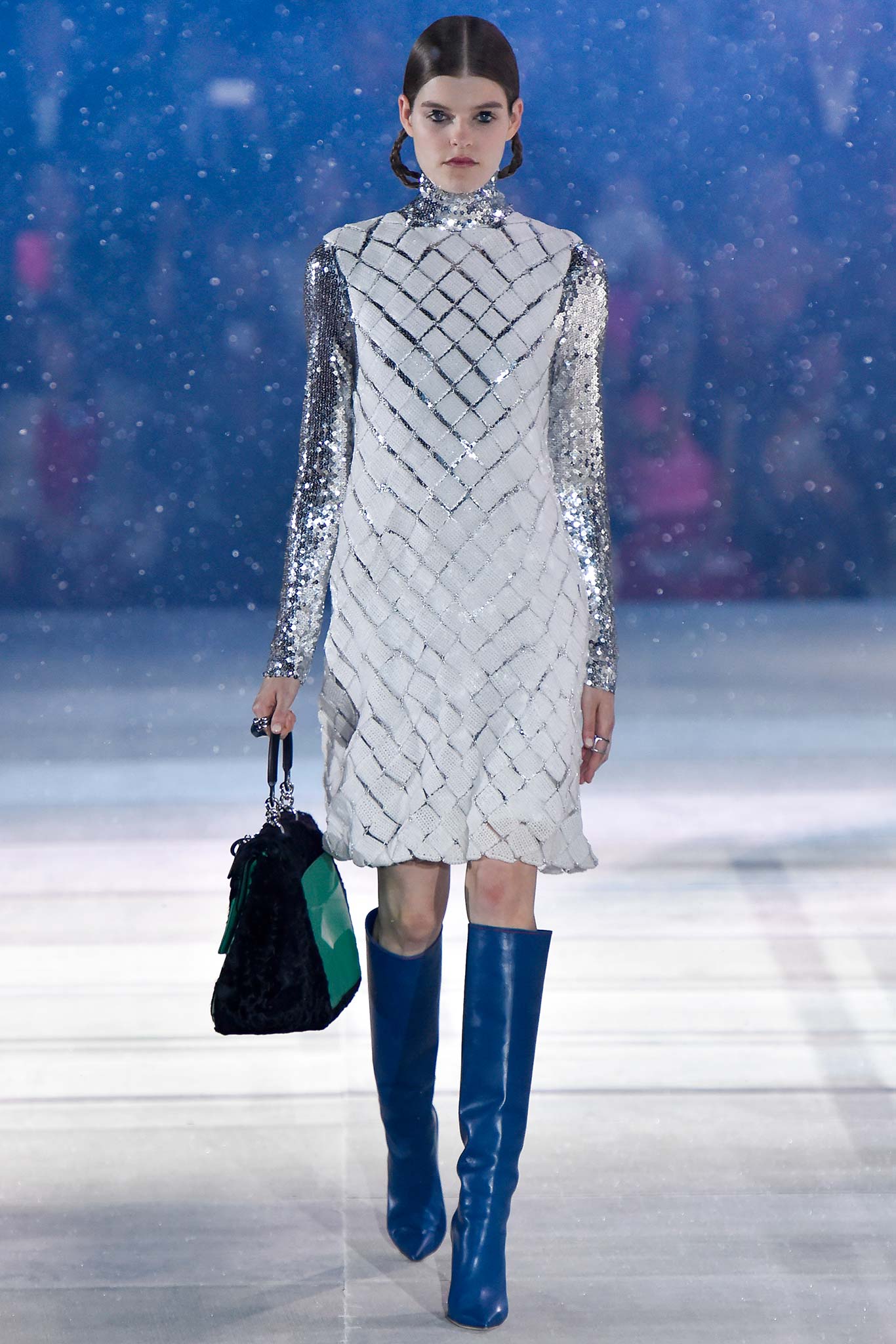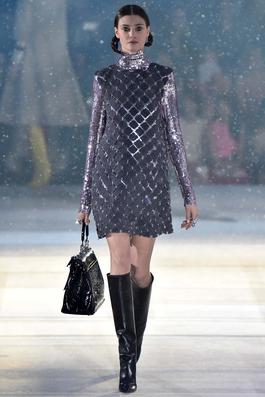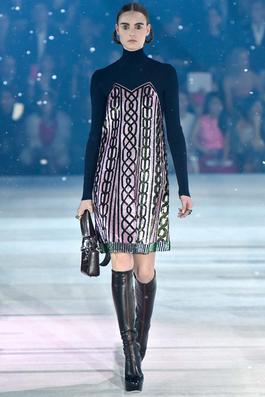 A space age glitterfest for the ages.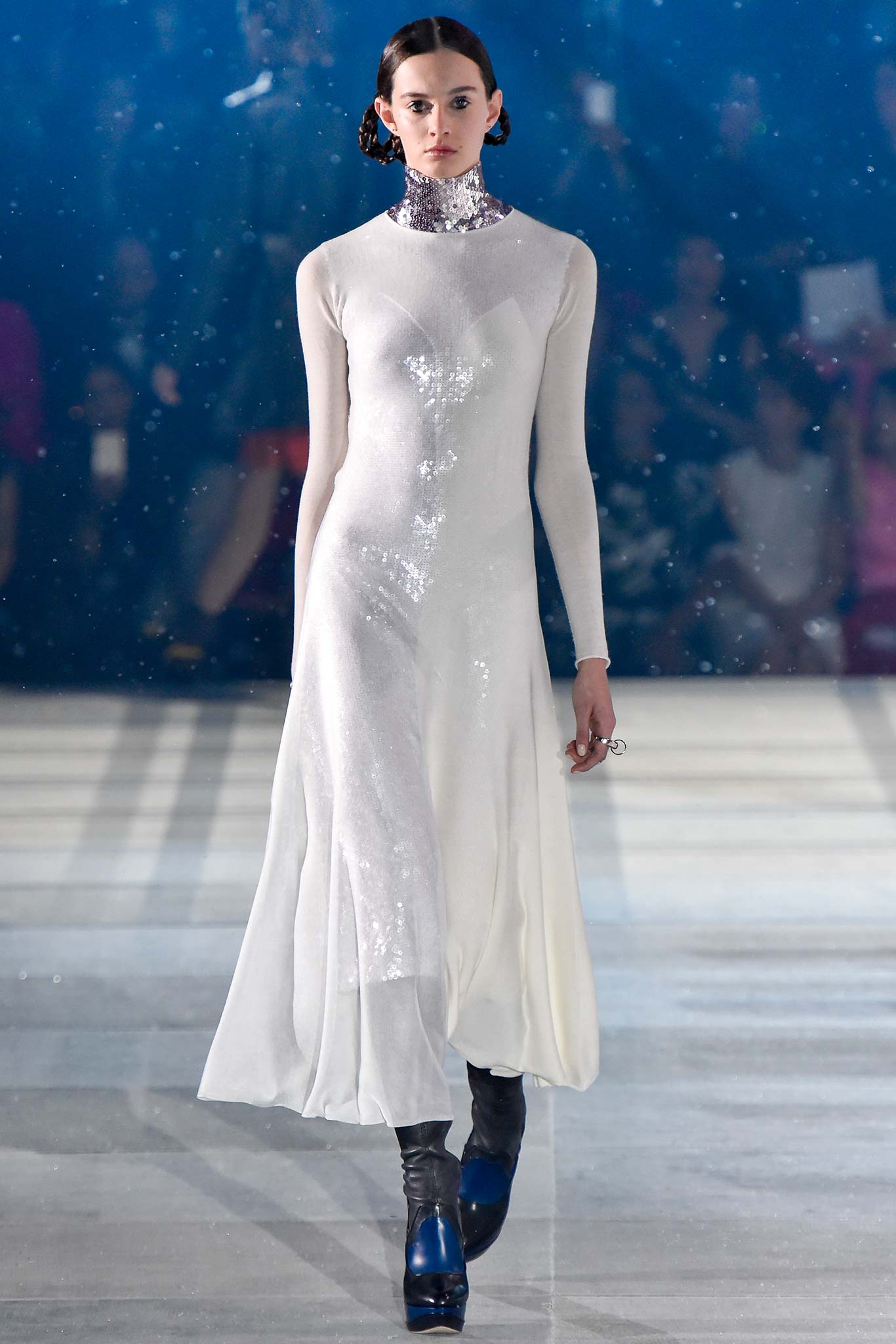 Glorious. Never has layering been so mesmerizing and alluring.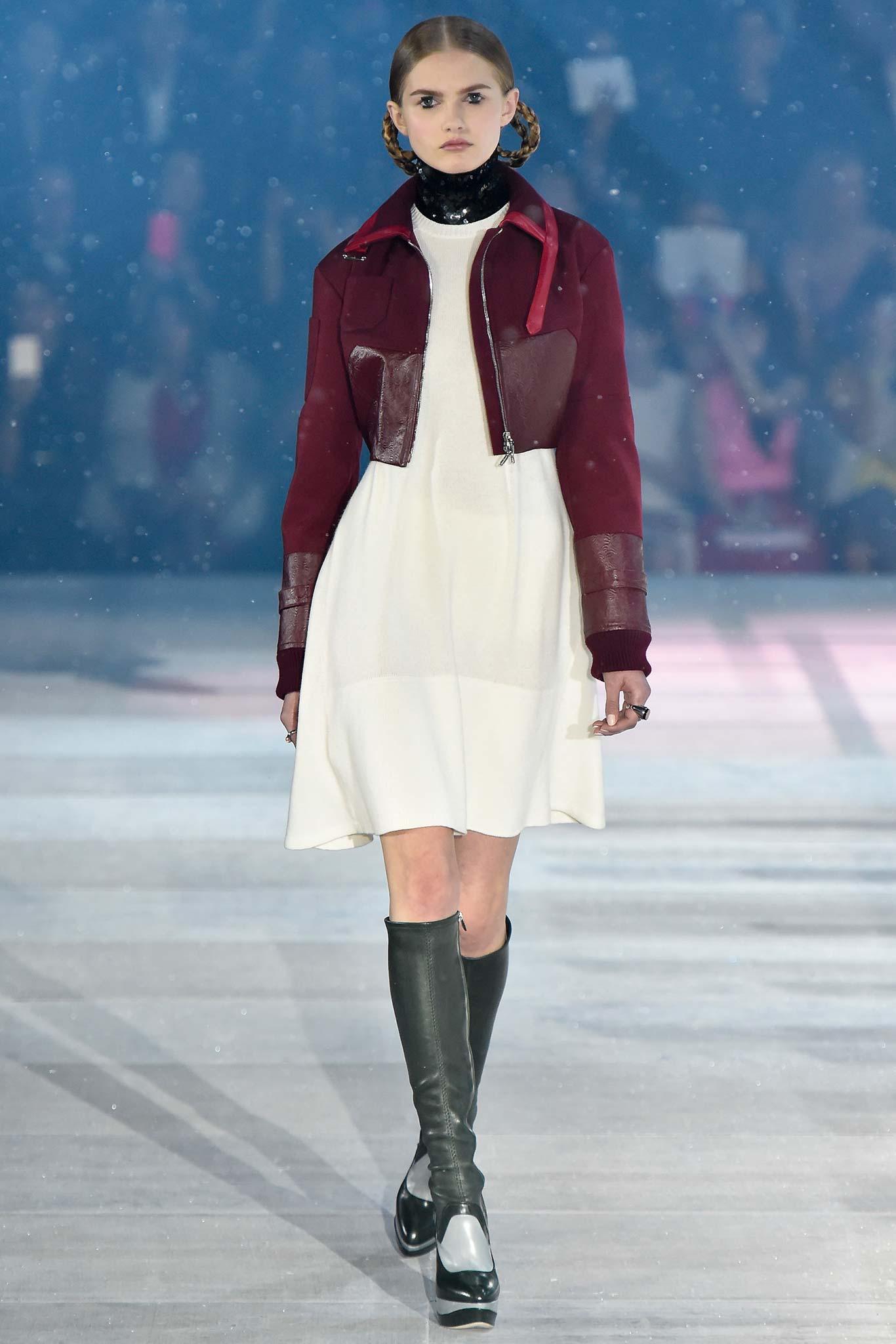 Love the styling, short burgundy cropped jacket over a sweet flattering cream dress.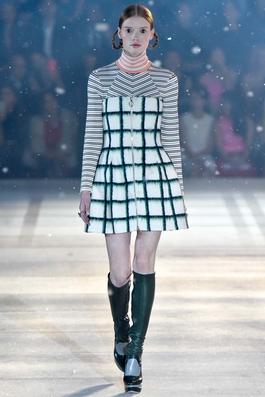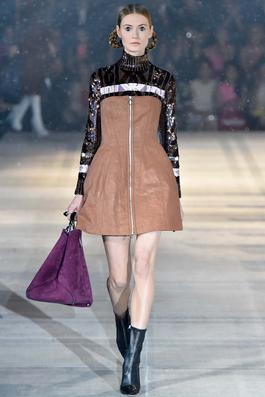 Always modern, always feminine.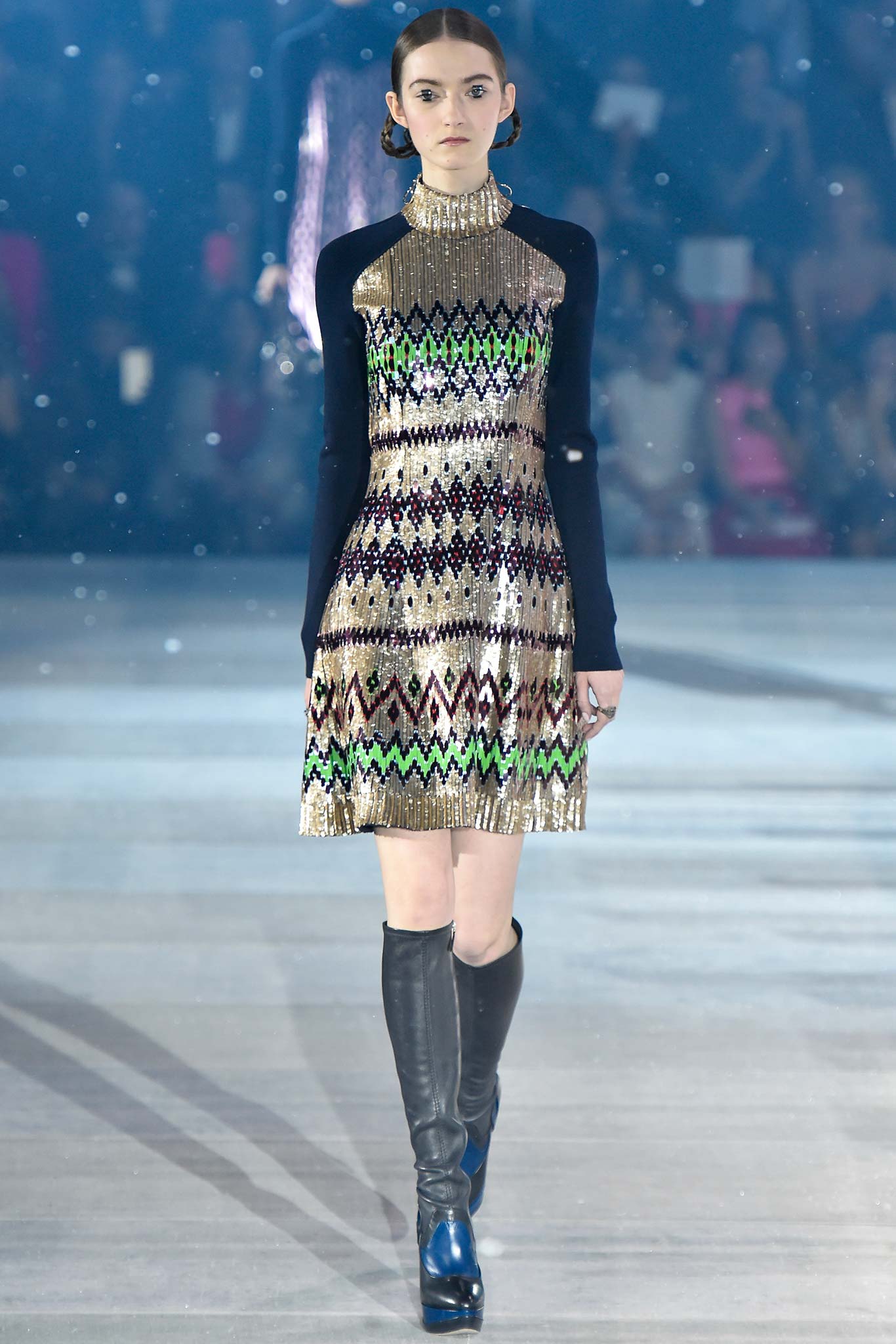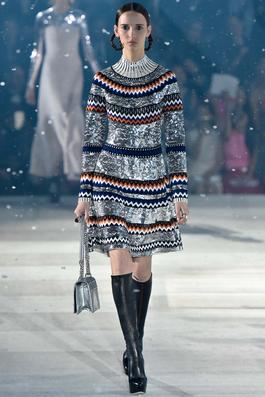 Ski wear inspired sequin festooned frocks, another unexpected option for the next hoity toity affair. And this silhouette is easy and timeless.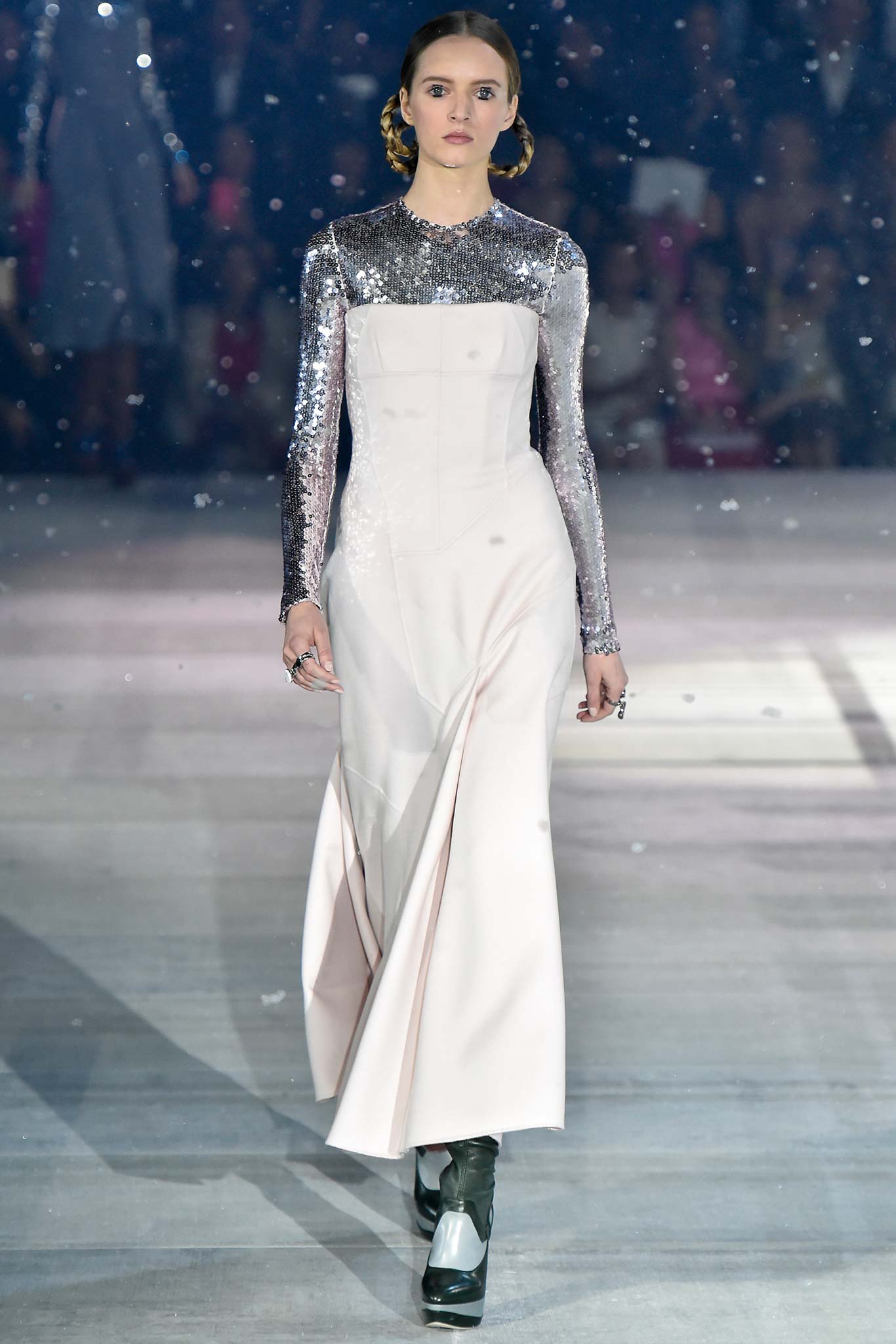 Another great option for an opening or black tie affair. Me thinks this silver sequined turtleneck underpinning shall be all the rage come next summer. Wear under any corseted dress, short or long for added visual interest.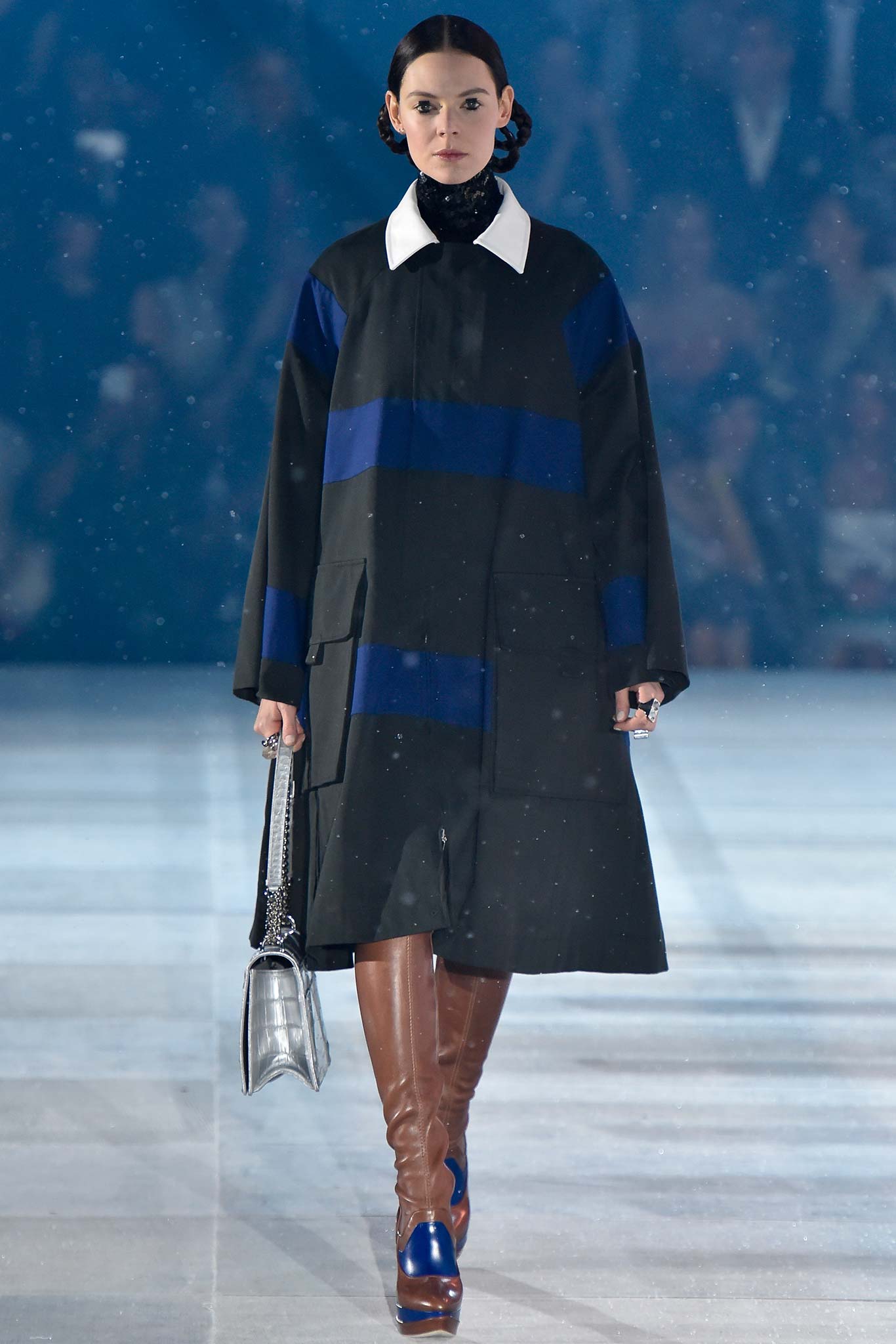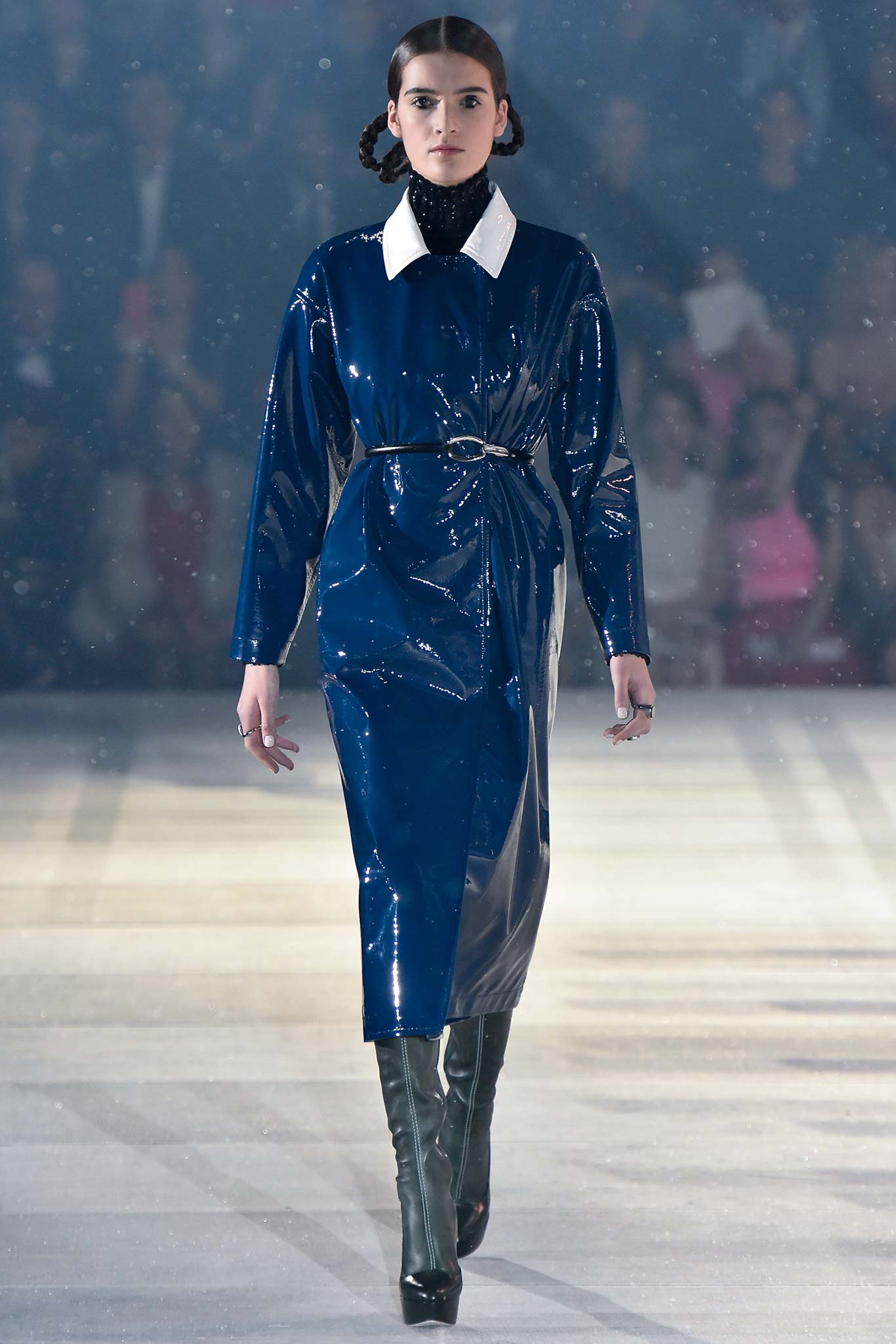 KABOOM! Leave it to Raf Simons to provide cool sporty and chic rainwear. An almost impossible feat. Not that one's foremost concern when in the midst of a deluge is the chic factor, but its nice to have options above and beyond the Christopher Robin standard.
Pre fall fashions start filling the racks of the boutiques and hallowed houses of fashion in June and July, right about the time the summer deep freeze strikes the Bay Area. And for those who live the land of seasons, when the heat and humidity are at their zenith, these collections provide the light airey spring options to stave off heat stroke. Something for everyone!
Images brought to you by www.style.com
MERRY CHRISTMAS TO ALL!