Pre-fall is an interesting beast, an amalgamation of delicate spring ready frothy wares and fall winter entries with more gravitas. Akin to resort, an eclectic group of pieces with the capacity to be worn all year round, with the tried and true and the new and avantgarde, something for all concerned. And though these fashions don't come with all the bells and whistles of a full on runway show, they are filled with luscious entries with spectacular accoutrement nonetheless, CALLING Karl Lagerfeld. In general these collections are more pared down, with the exception of Chanel, where ironically Lagerfeld uses this opportunity to premier some of THE most wondrous of fashions amongst his many yearly collections, including resort, spring, fall winter, spring and fall couture, AND Fendi. Honestly, I don't know where all that energy comes from, the man is a miracle of nature. So, on to a wonderfully varied series of fashions to keep one well appointed for all occasions, come what may. All icons are present and accounted for, including the Trench, the Leopard, and the Chanel tweeds.
ALTUZARRA
This is a nice compact casual yet perpetually chic collection of well crafted separates to take one from the spring through the fall and into the early winter, as you might expect from a "pre-fall" collection.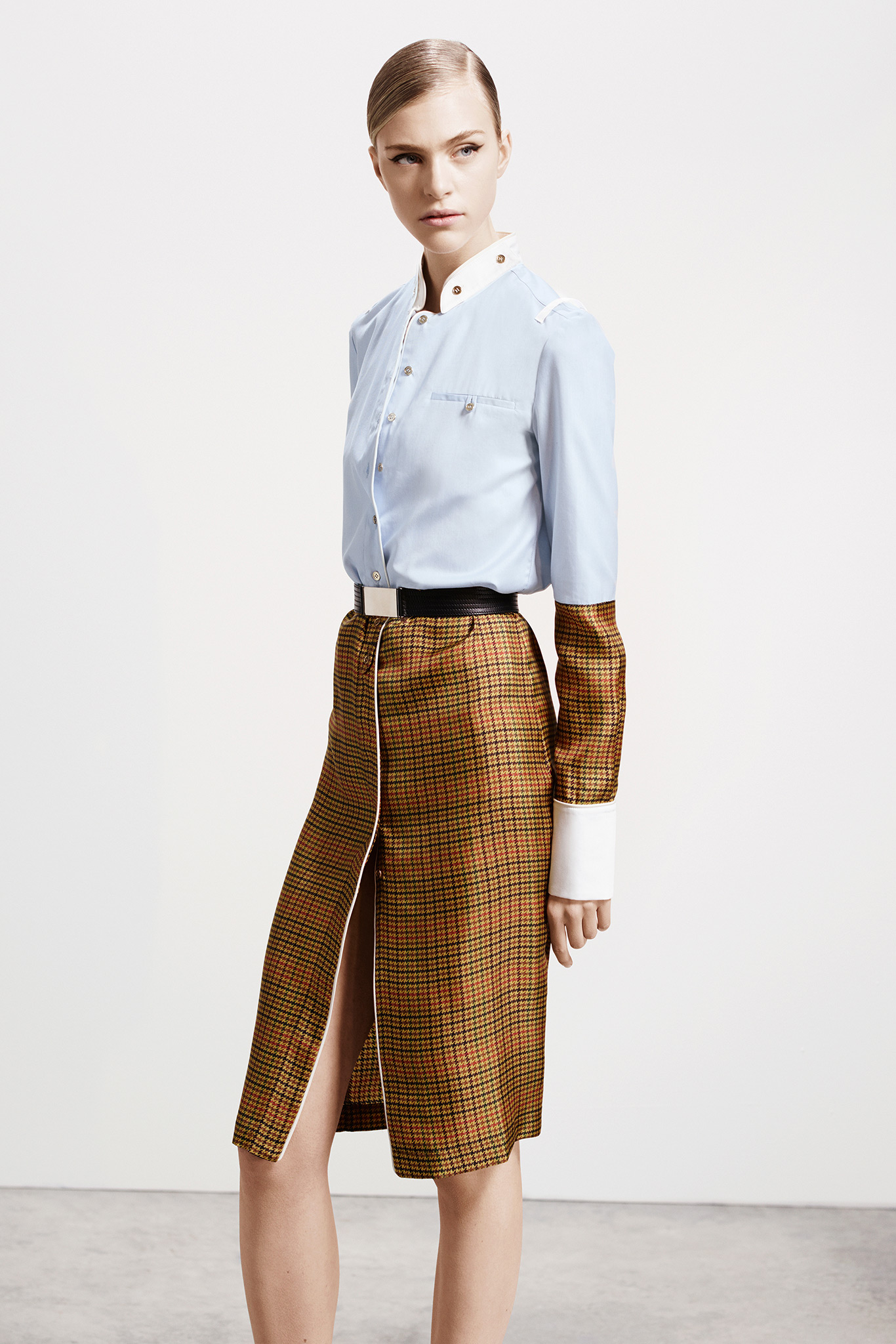 Great interesting shirt, no need to pair necessarily with the skirt. Smart yet casual, would be an easy interesting match with jeans, a pencil skirt, or a Dolce & Gabbana suit.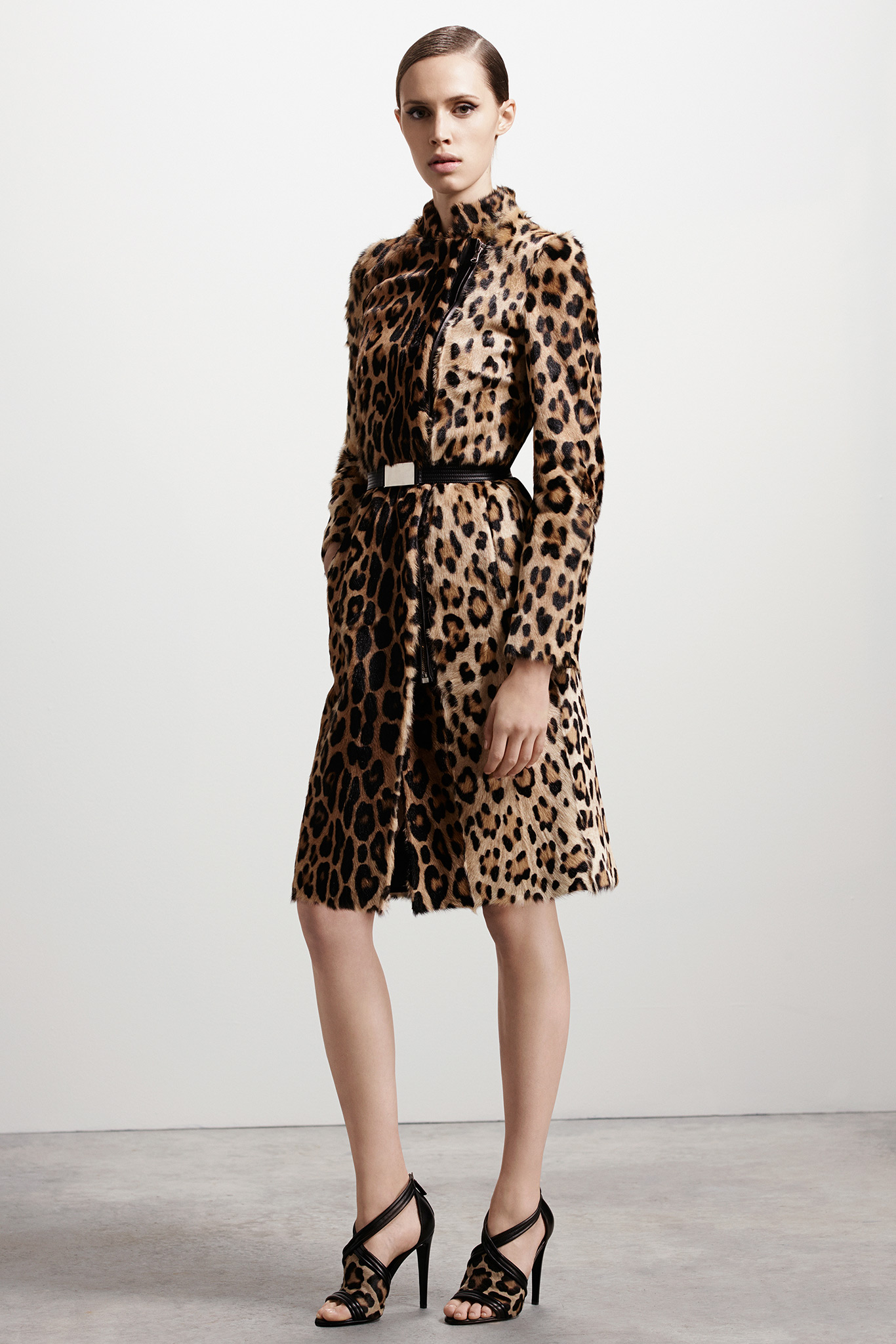 Leopard print is like the trench, ubiquitous throughout the collections, seemingly timeless. If the coat is too much feline, consider just an A-line skirt OR those outrageously fabulous shoes!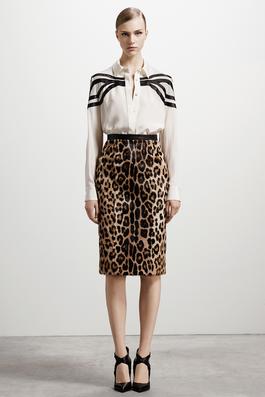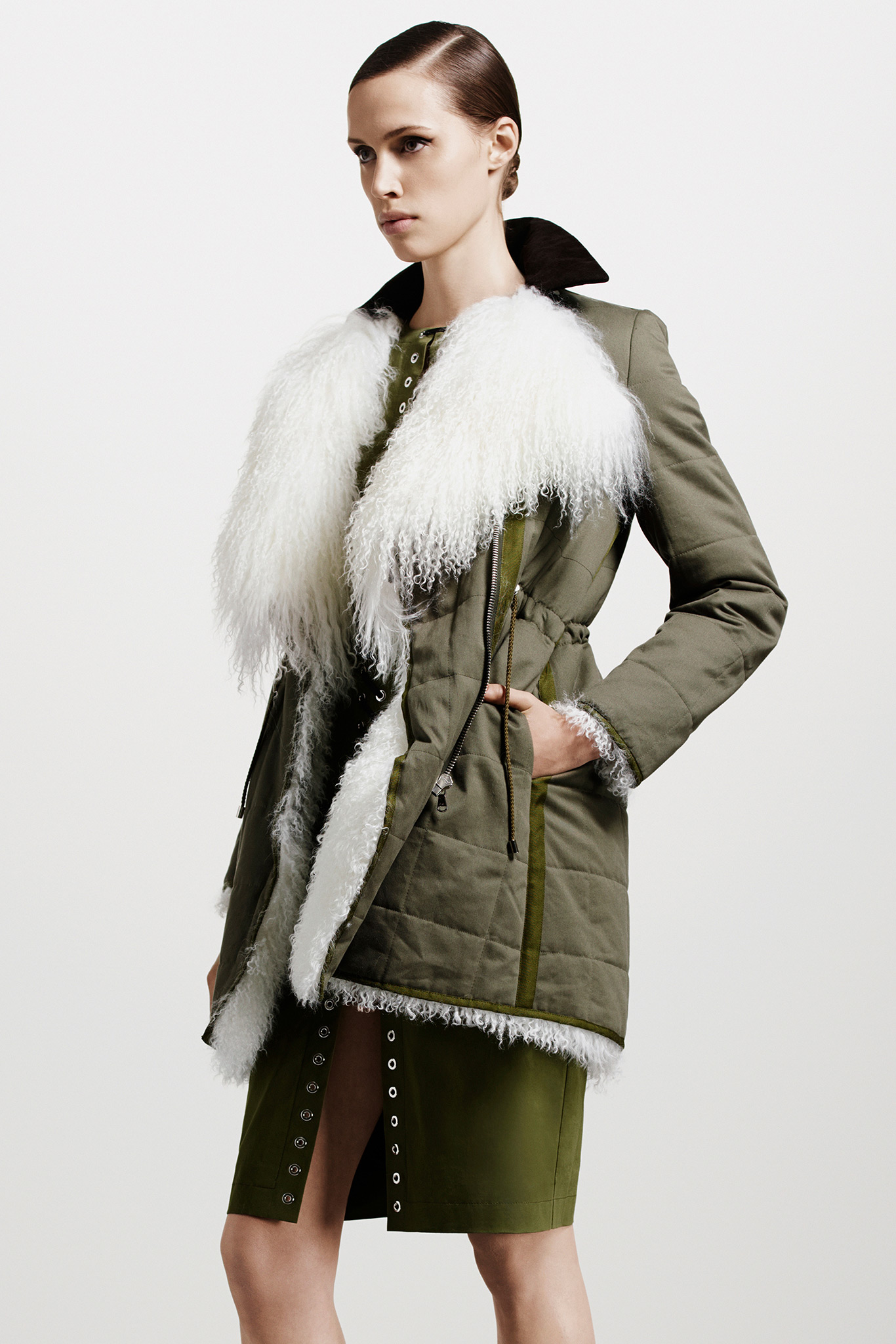 The white Mongolian lamb adds a kick of panache to the casual khaki topper. Great for tooling around on the weekends doing whatever. The jacket is hearty and low maintenance, yet stylish.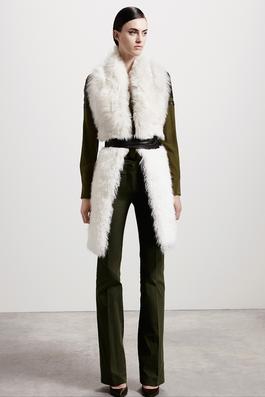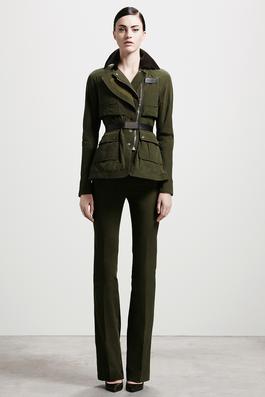 I am a HUGE fan of the gilet (aka vest), especially the shearling variety. The vest (like the big sweater) is the new black these days. Funky, versatile, all-purpose, with built in arm pit ventilation. All good. Throw the vest over the military inspired outfit to the right, and you're ready for a shopping expedition when the snow starts to fall.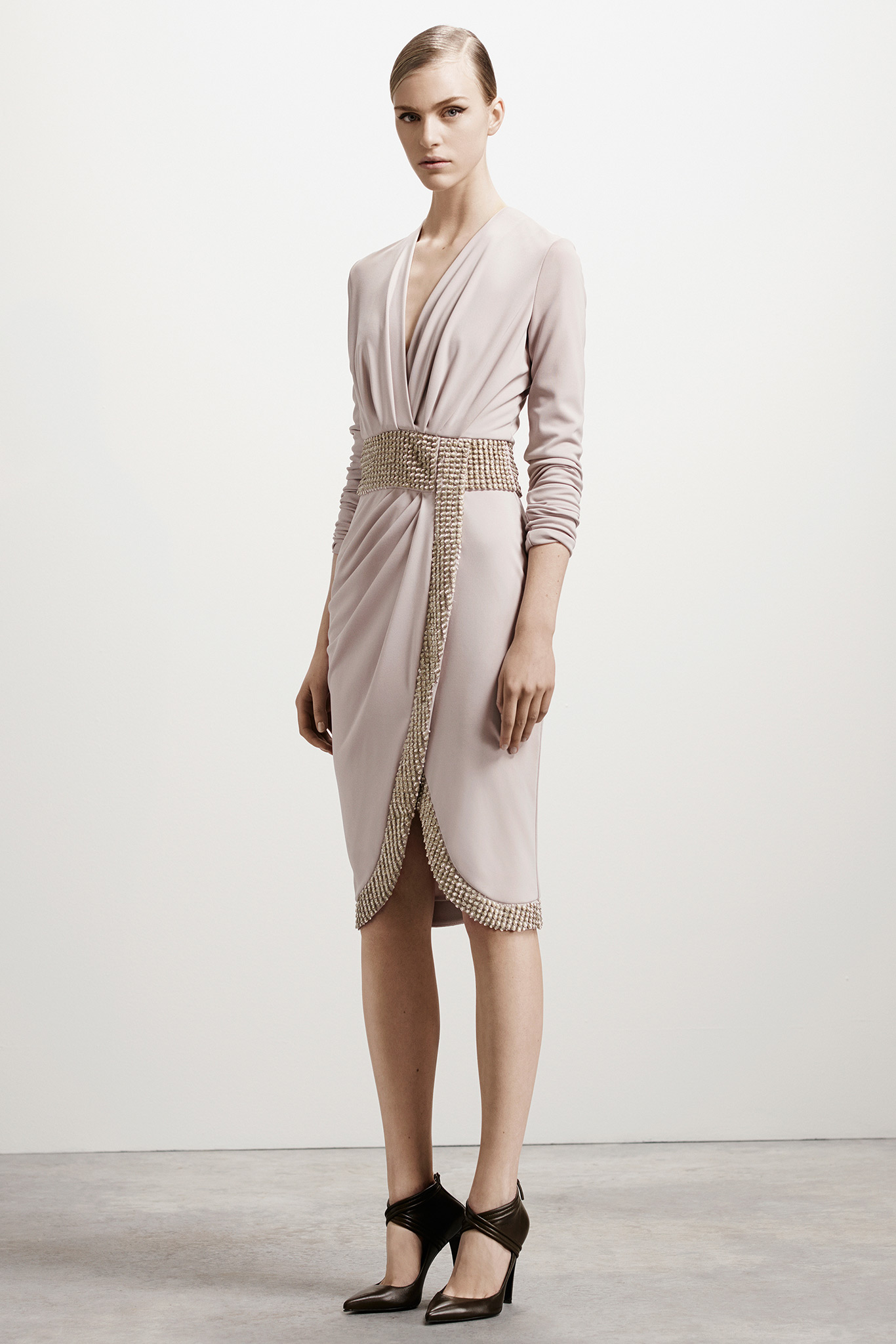 This is a wonderful option for a black tie event or cocktail party, easy flattering silhouette with just enough embellishments to be visually engaging, but not over the top Liberace. The dusty rose color is subtly elegant. Pair with embellished pumps.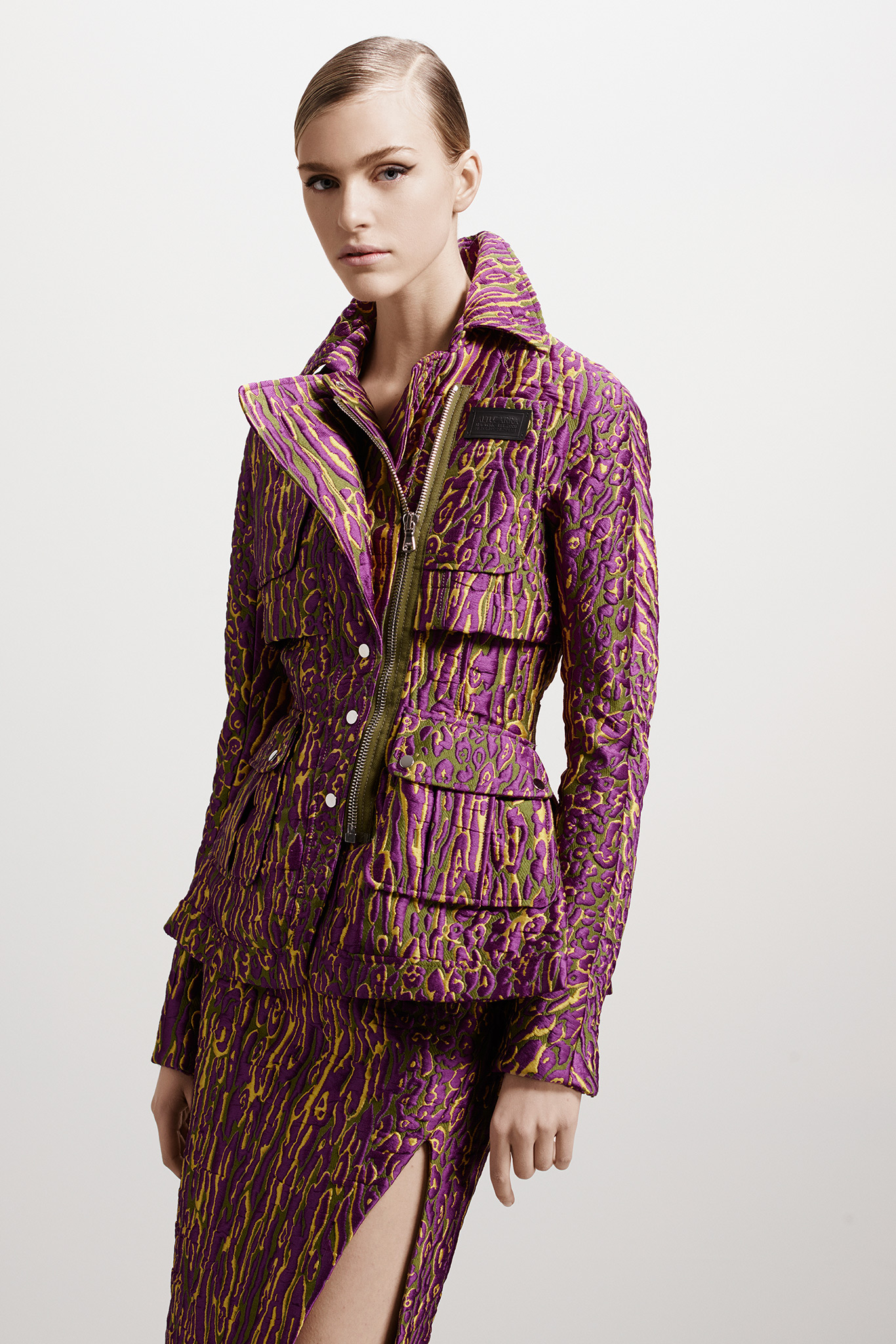 Multicolored jacquard is something to consider as an adjunct to black, for the visual interest and pop of color. Skip the matchy matchy duo and just throw the jacket over jeans.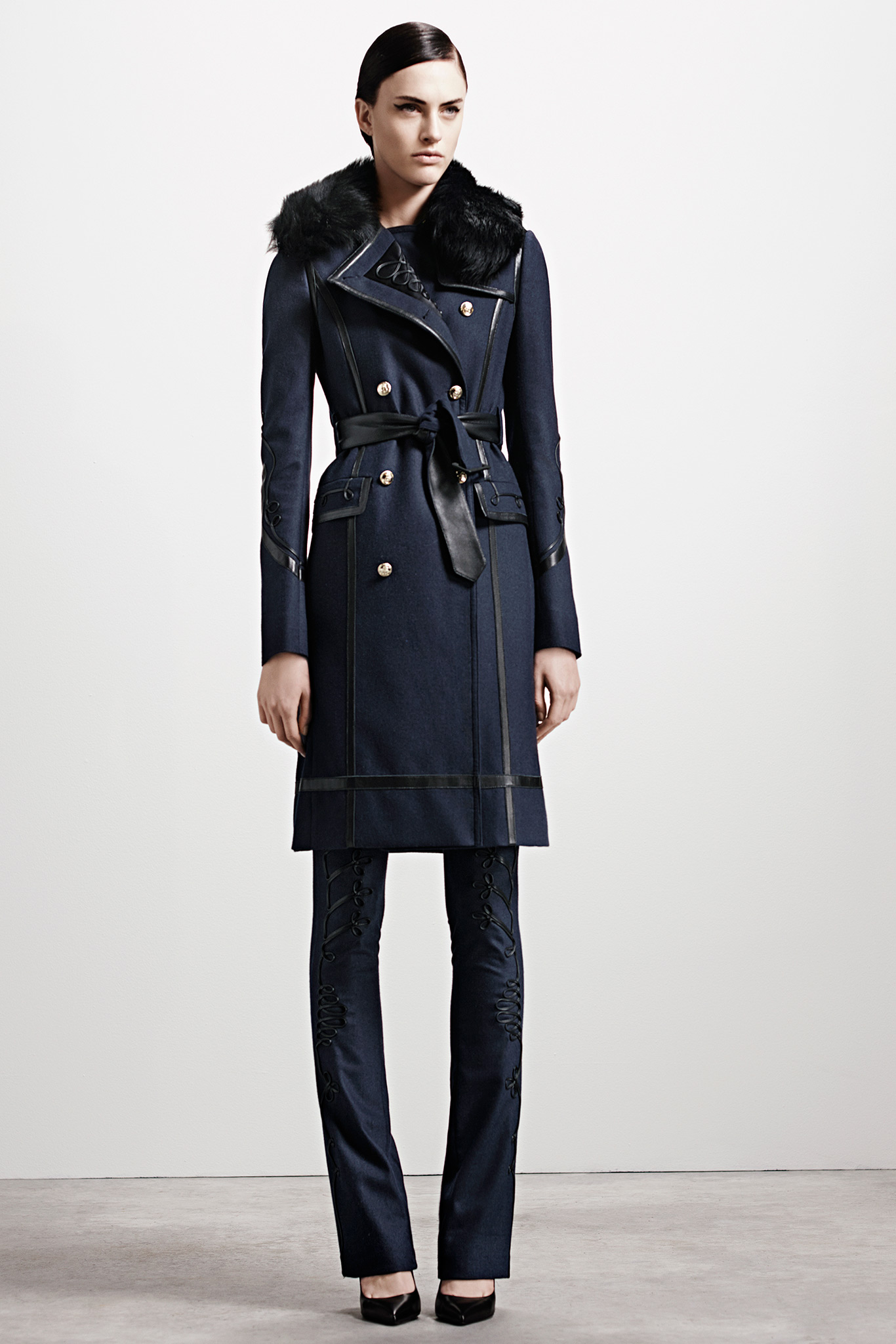 Now THIS is a great TRENCH, one of the best of recent memory, combining the always winning duo of navy and black, with 19th century military inspired detaling AND leather piping. Definitely calls for jodhpurs and riding boots. For a modern and unexpected twist, replace the belt with something akin to that worn by Carrie Bradshaw in the first Sex and the City movie: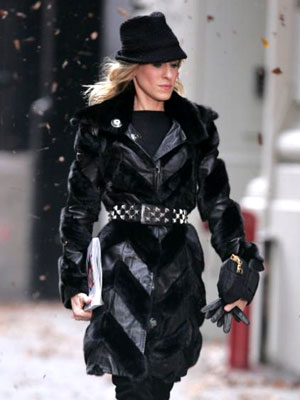 BURBERRY PRORSUM
Well, ironically, no trenches in sight, however Burberry covers all the requisite territory vis-a-vis fuzzy cozy coats, with all versions of shearling in wearable neutral colors. All of these wonderful options would be at home with sneakers or riding boots. The peeptoe stilettos? Ummmm, not so much. Protect your feet whilst you can. (Hallux valgus is not a pretty sight).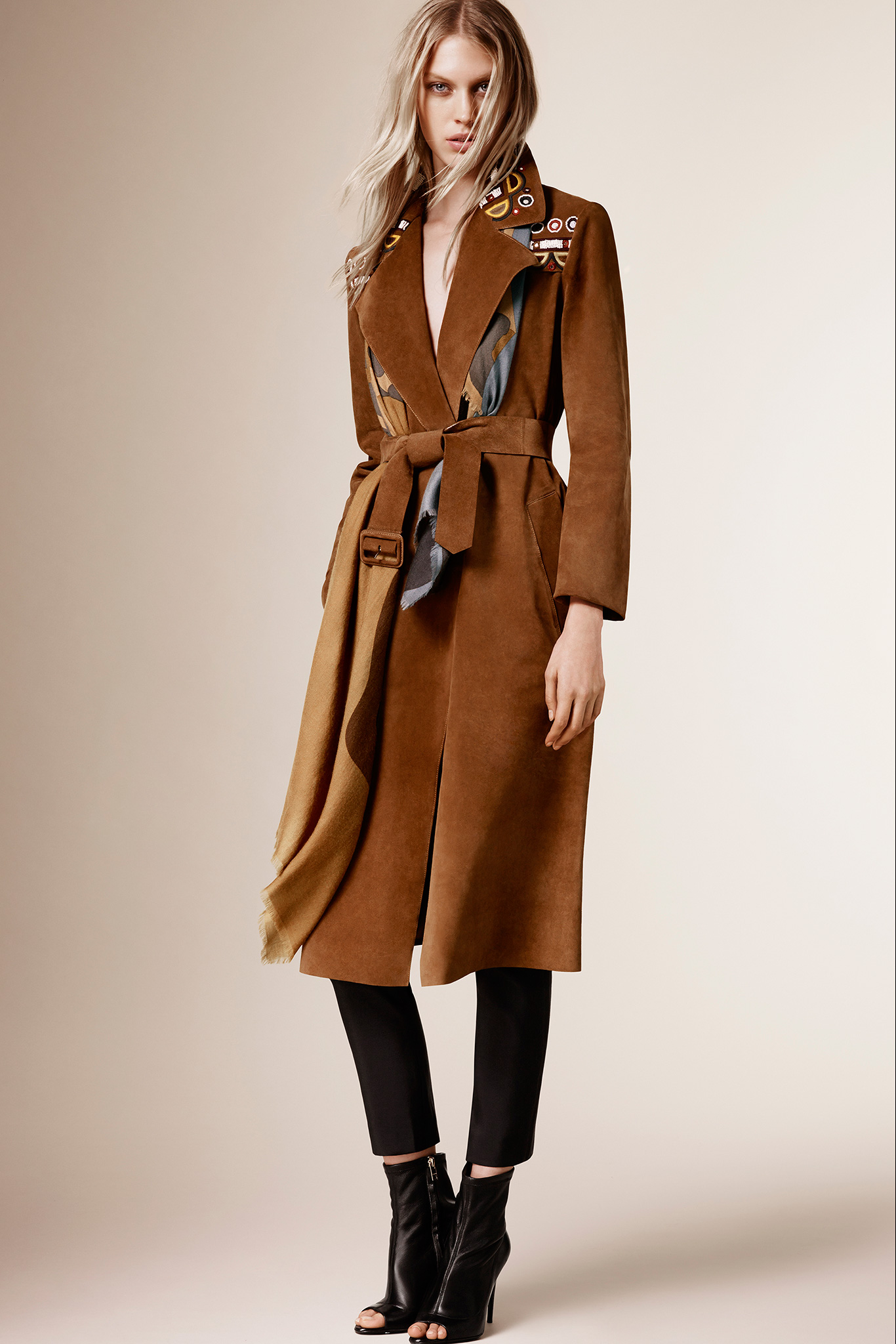 It looks as if we shall be traveling through the 70's for awhile longer, and shall one choose to partake in time traveling, this option in the classic neutral british tan is a wise choice, mainly because NO fringe or anything similarly distasteful, and just enough beading and embroidery to be curious. (My fringe exception being Alberta Ferretti's spring line, she did fringe proud).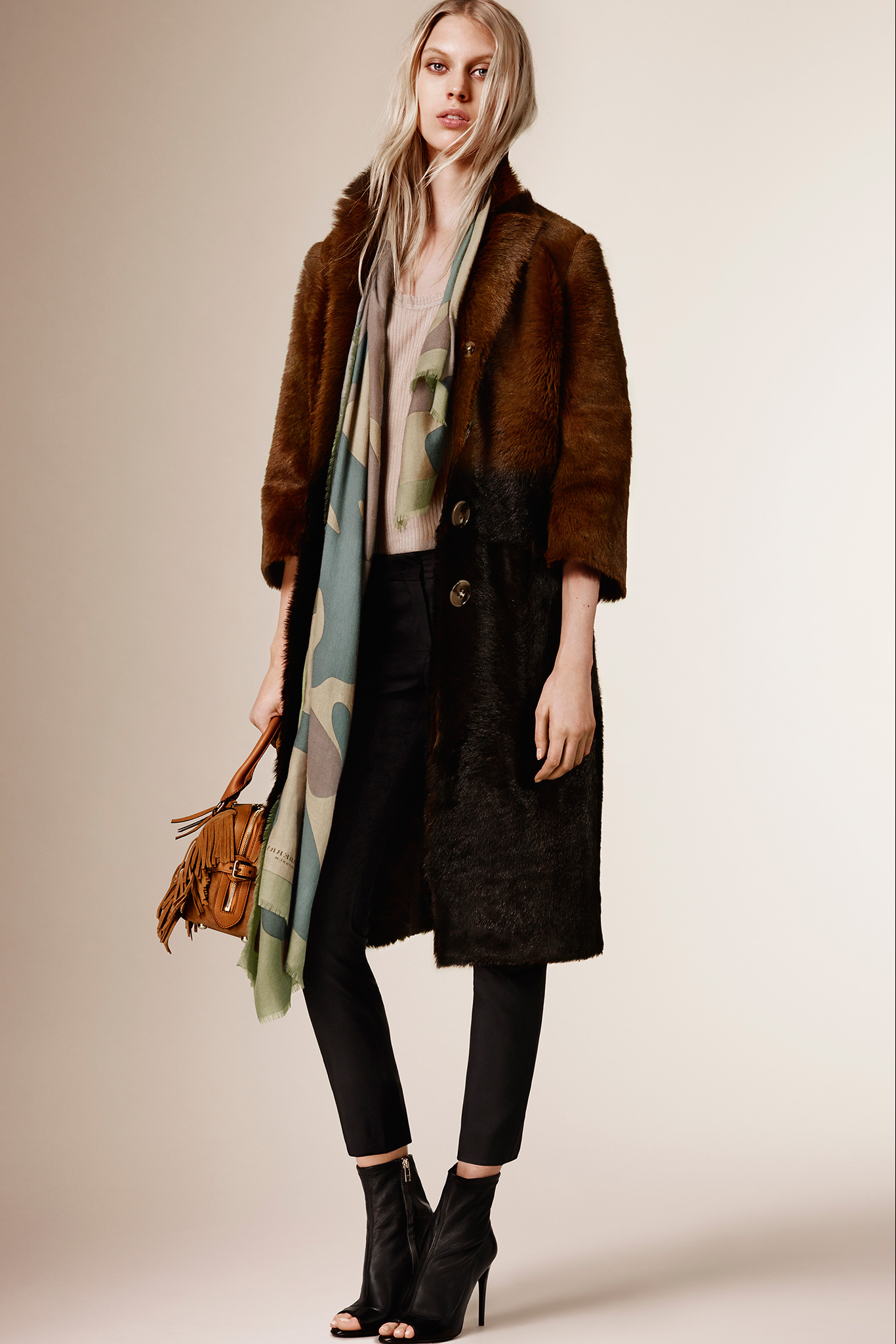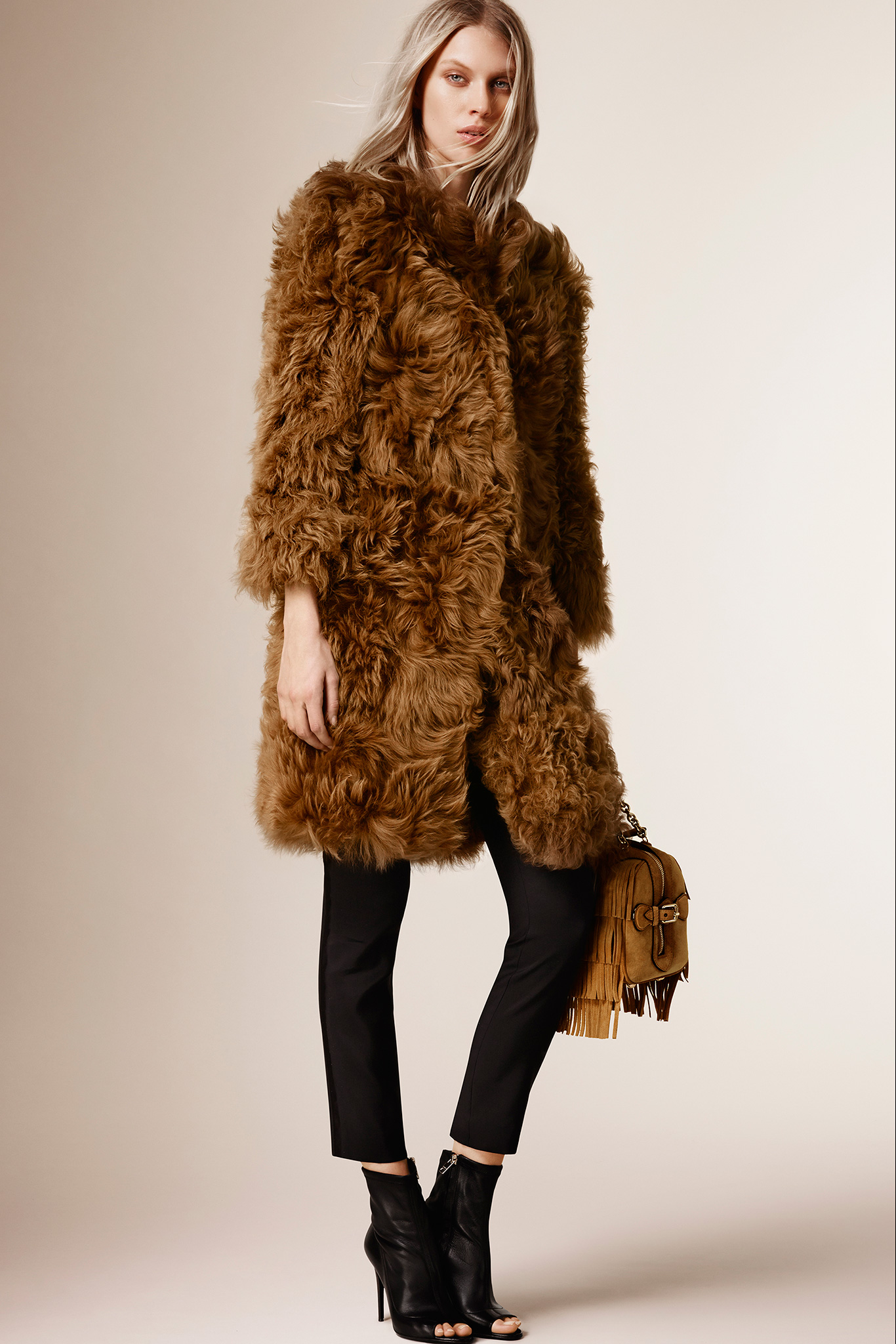 Yowsa, a nice addition to the Bigfoot brigade. Sometimes its just gratifying to walk around town looking like a Kodiac bear cub. Pair with a purple cashmere muffler.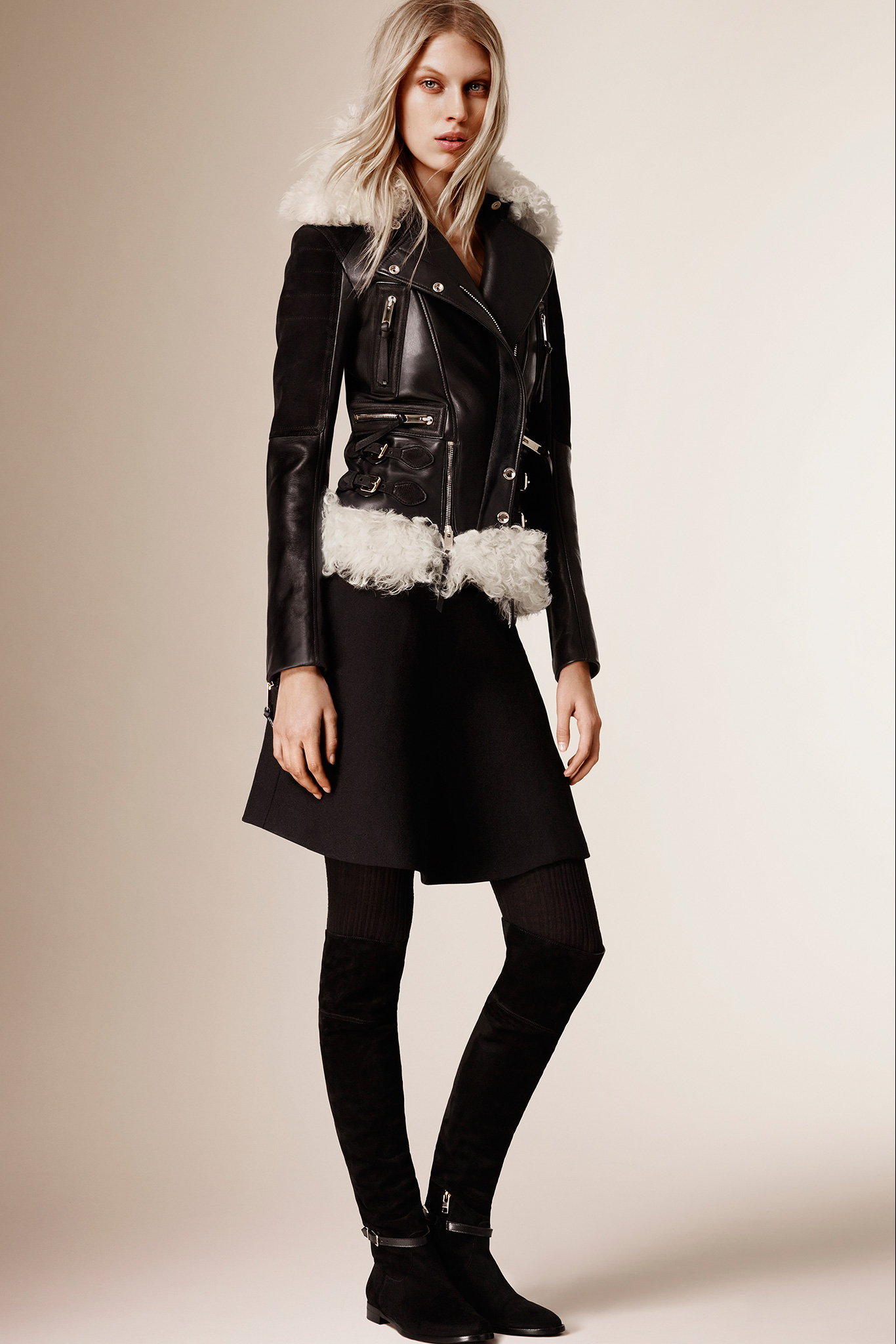 Burberry does the Wild One, a mod Hell's Angel without the tats or the motorcycle grease (shudder). Wear with these grommet laced Isabel Marant boots: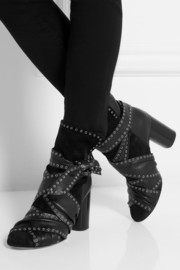 www.net-a-porter.com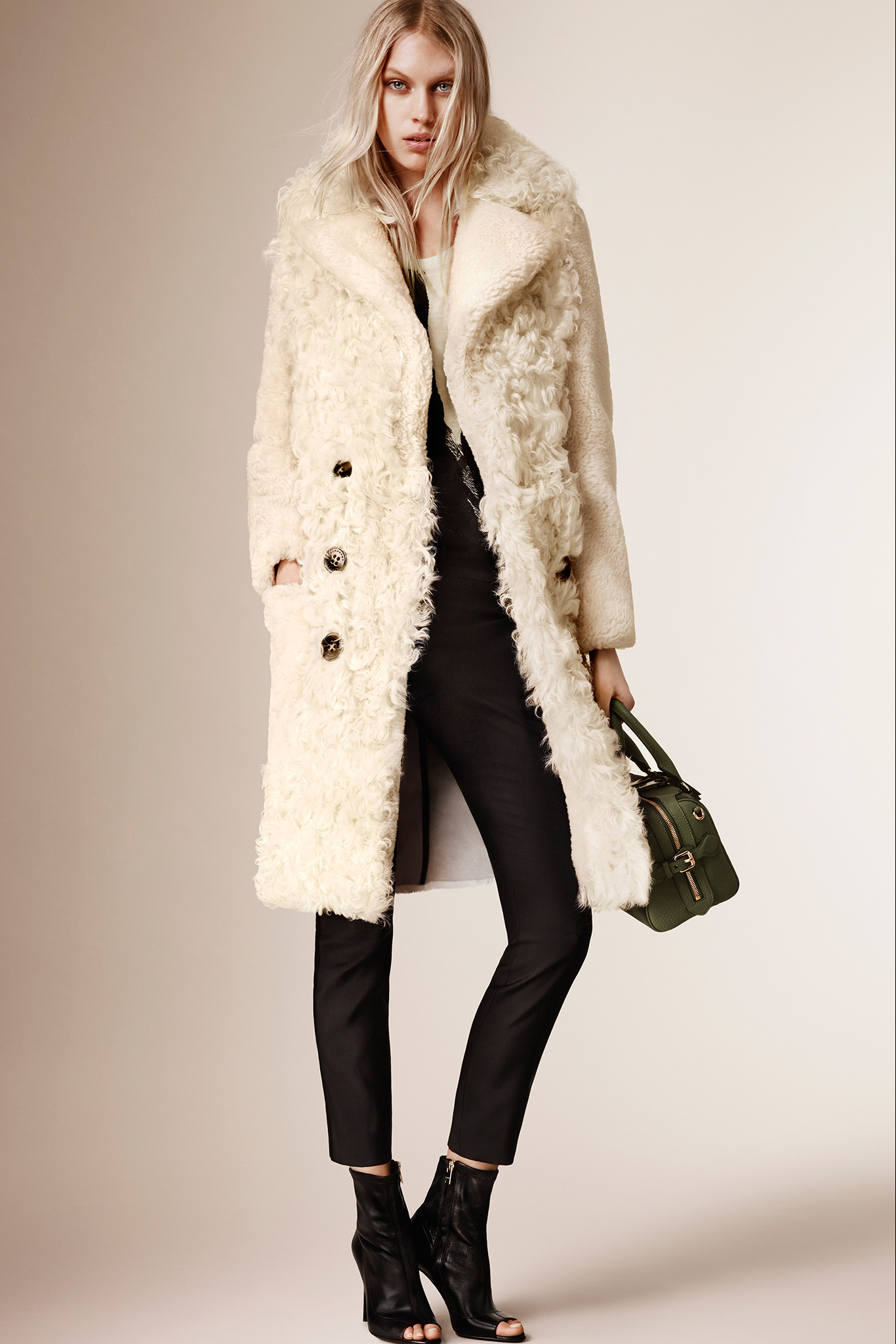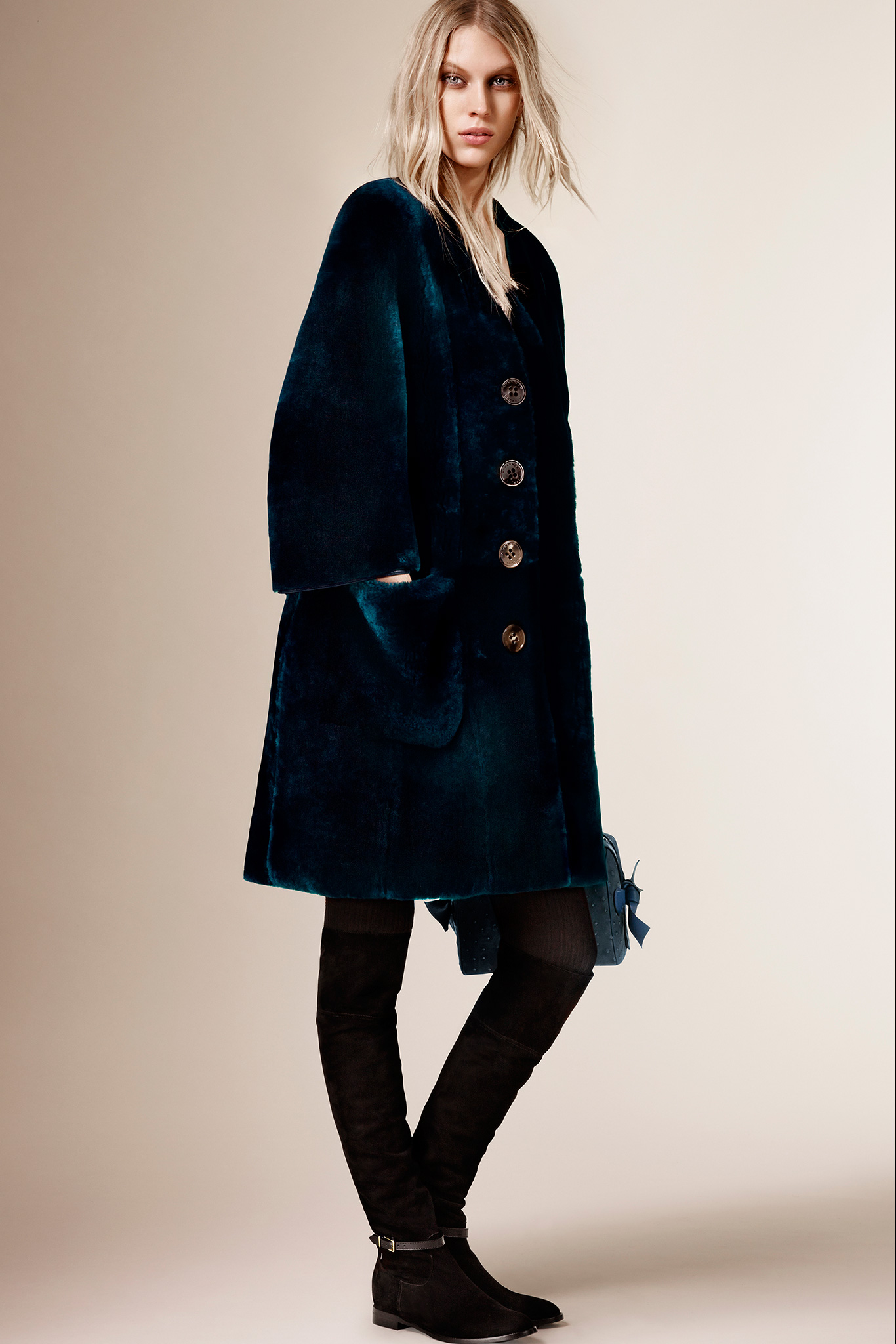 Blue shearling? Scrumptious. Love the big horn buttons.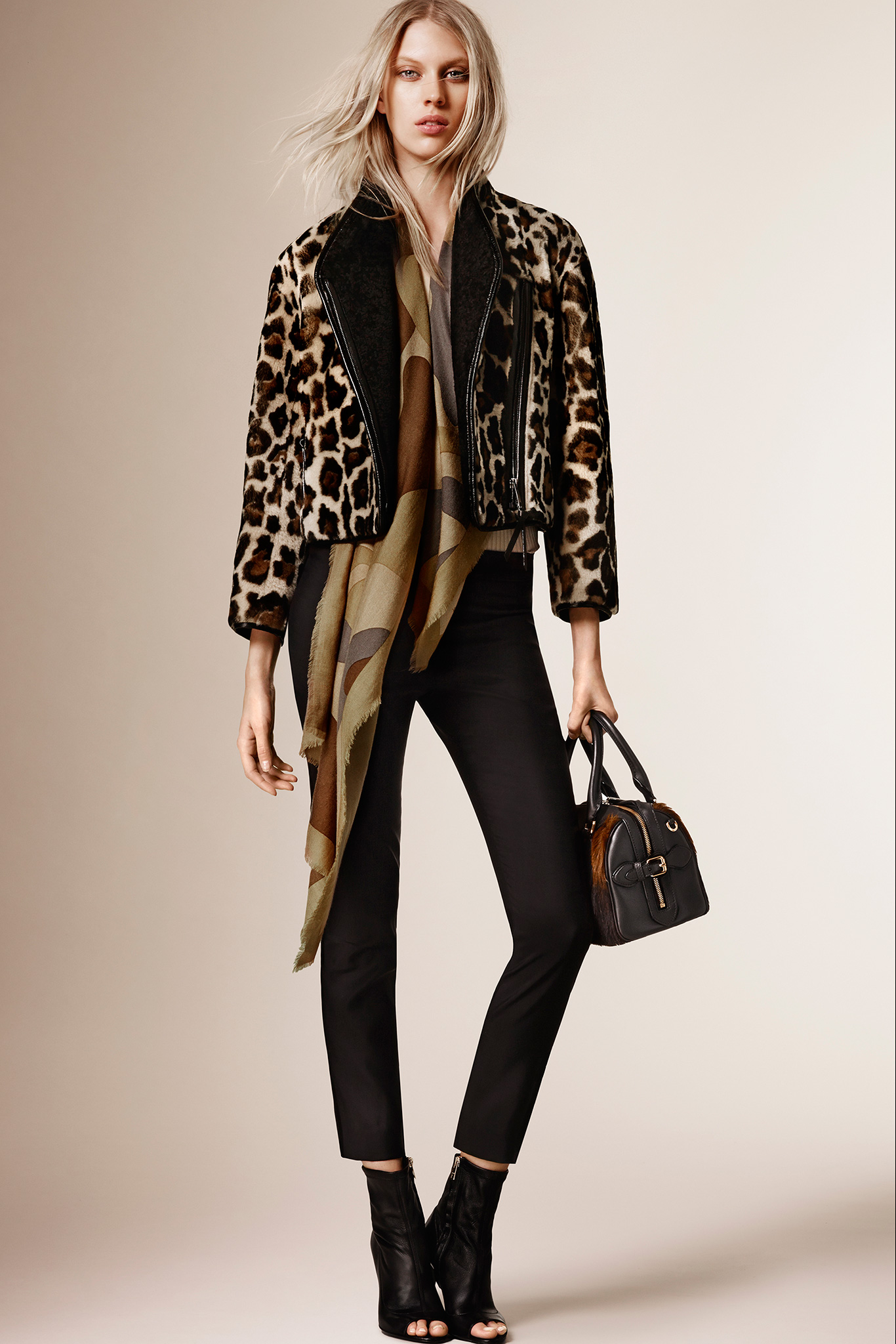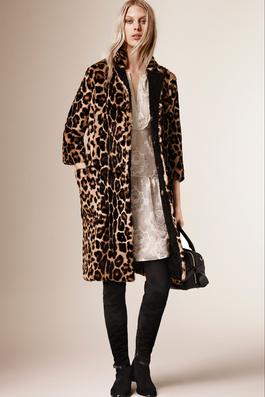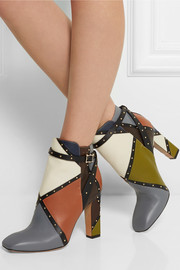 The short version is more rock and roll, but if you want more versatility AND ass coverage, go for number 2. Pair these spectacular Valentino boots with any of the Burberry coats for show stopping appeal. These babies are currently on sale at www.net-a-porter.com.
TOMAS MAIER
One of the busiest Germans in fashion, he also helms Bottega Veneta, a master of the casual lux. Here he treats us to a respite from black and neutrals with luscious concoctions in bright velvets and other engaging fabrics.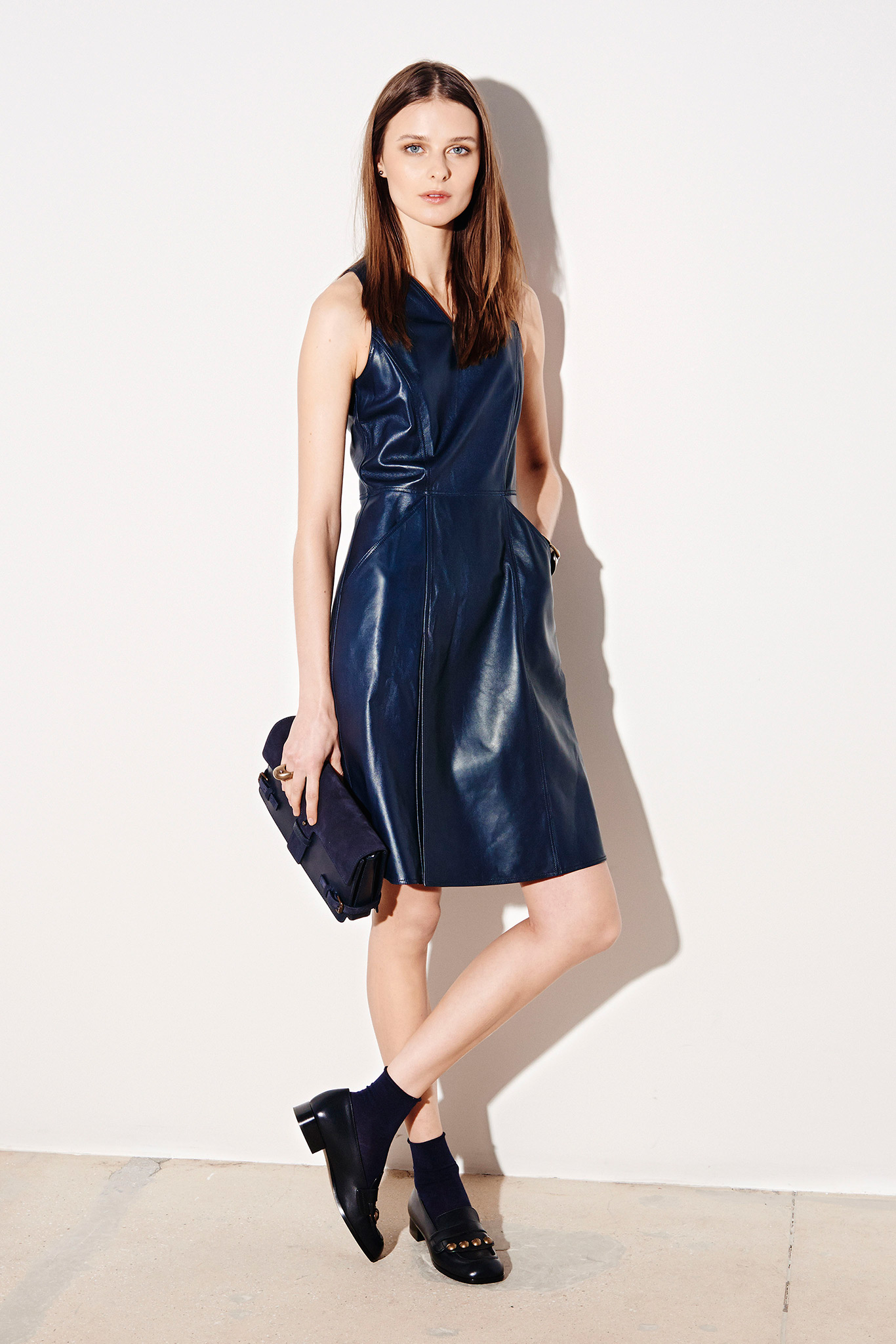 A low key way to stand out from the crowd, the blue leather dress. Throw over a crisp white shirt, add riding boots and a bright Hermes scarf to make the blue leather slightly more serioso.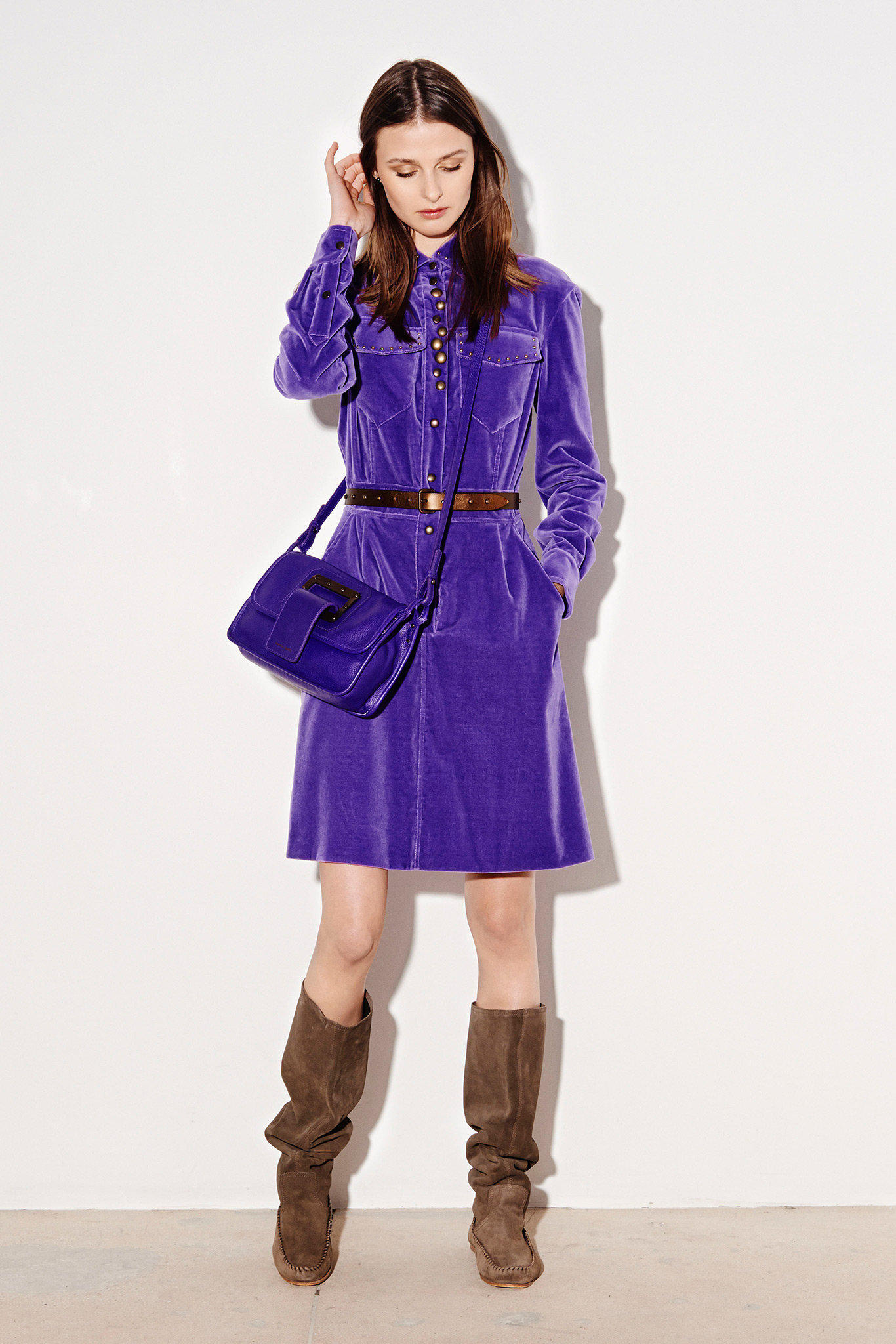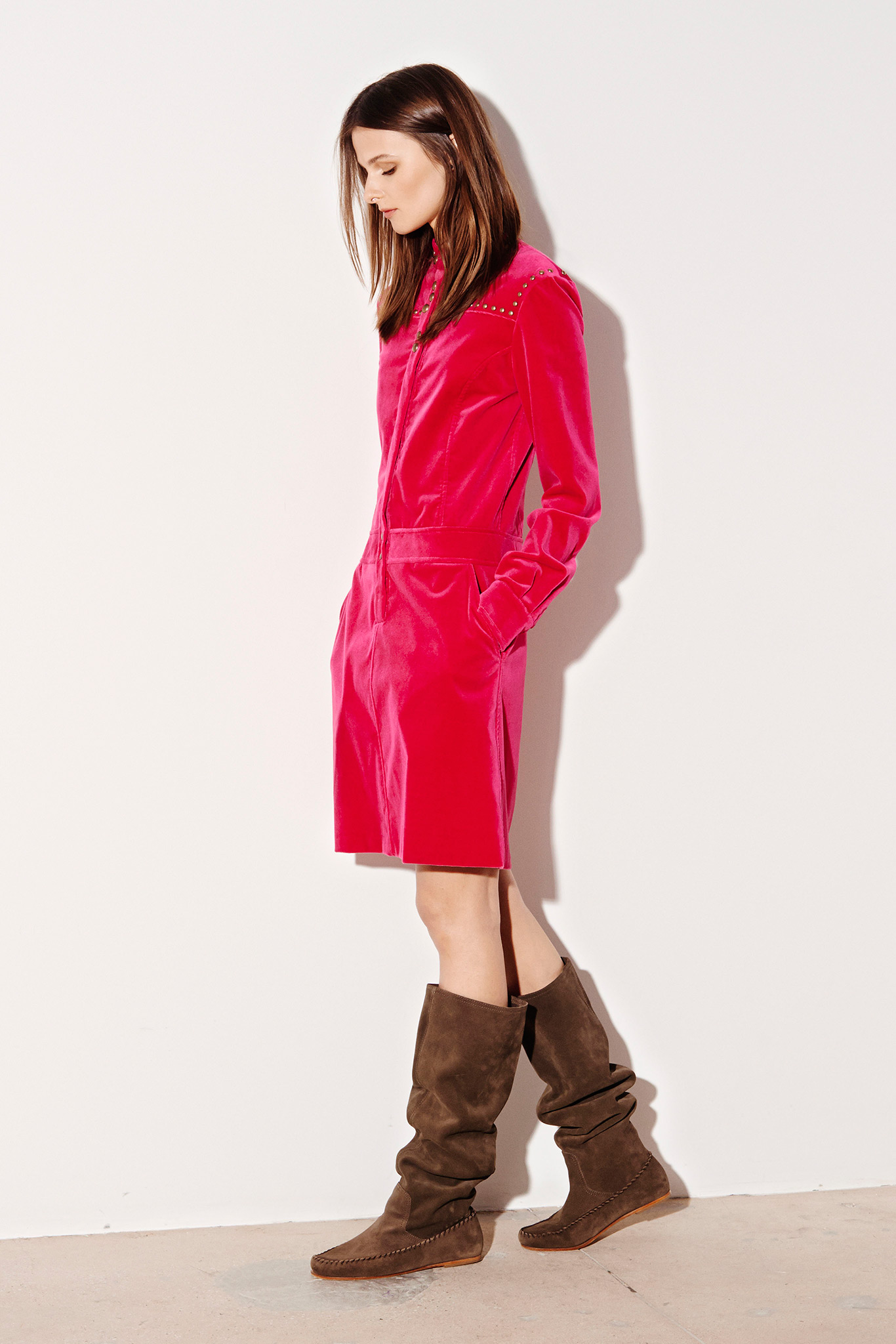 As comfy and allegedly adorable as these slouchy boho boots are, I'd ditch them like a bad cold and throw on some patent Chanel or velvet Charlotte Olympia flats OR the ever enduring goes with everything riding boots. Gravati makes stylish well crafted stellar options in a host of appropriate neutrals, including burgundy, at reasonable price points (when $3000/pair becomes a bridge too far...). This brand is well represented at Neiman Marcus and Wilkes Bashford.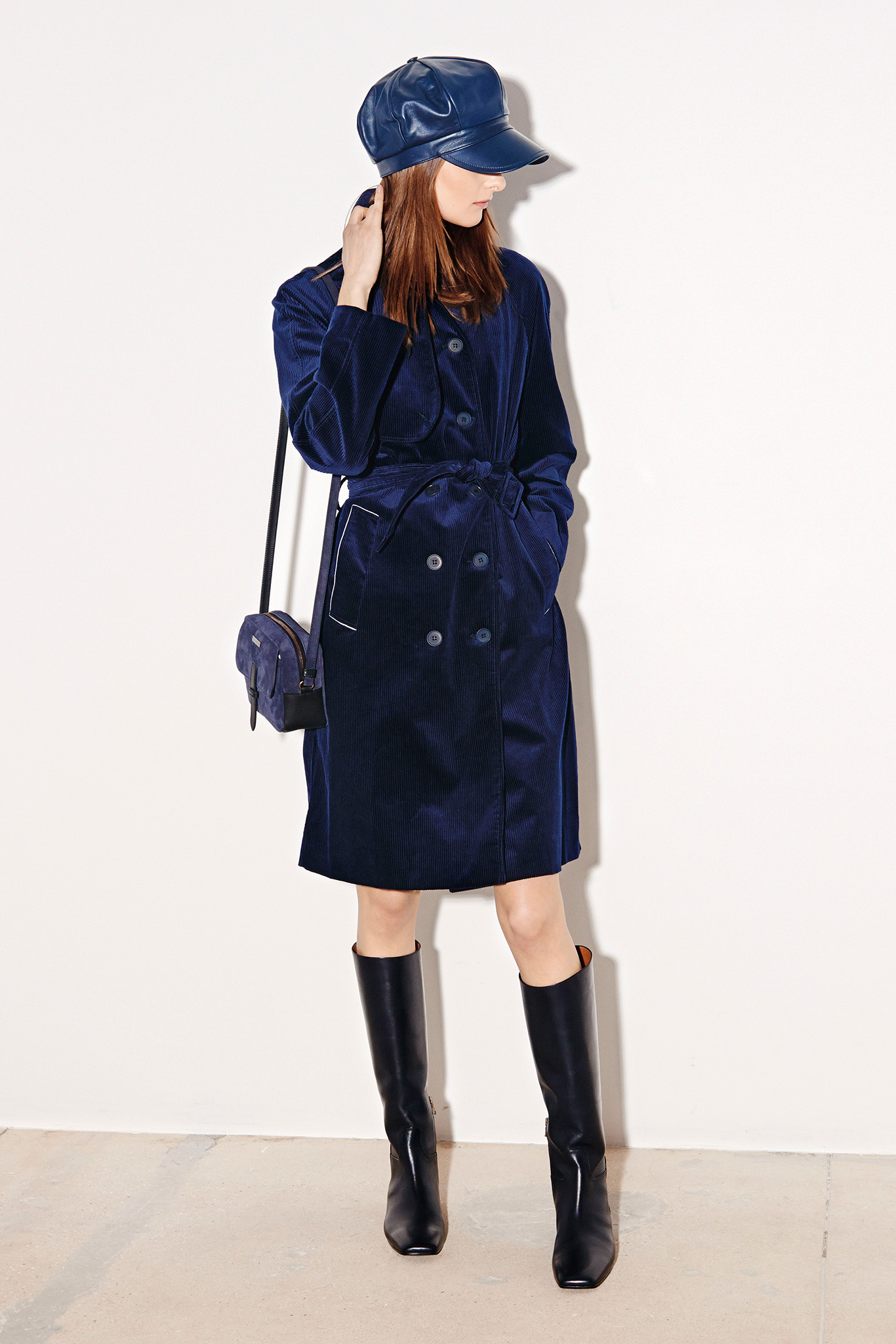 Love the square toed boots, just a bit masculine, a nice deviation from the usual round toed variant.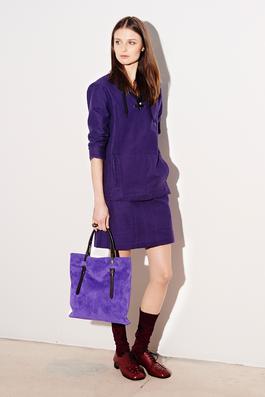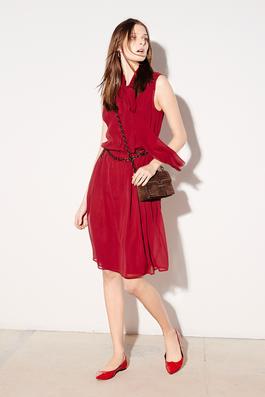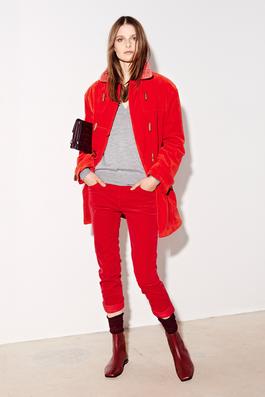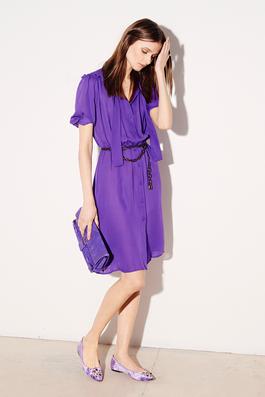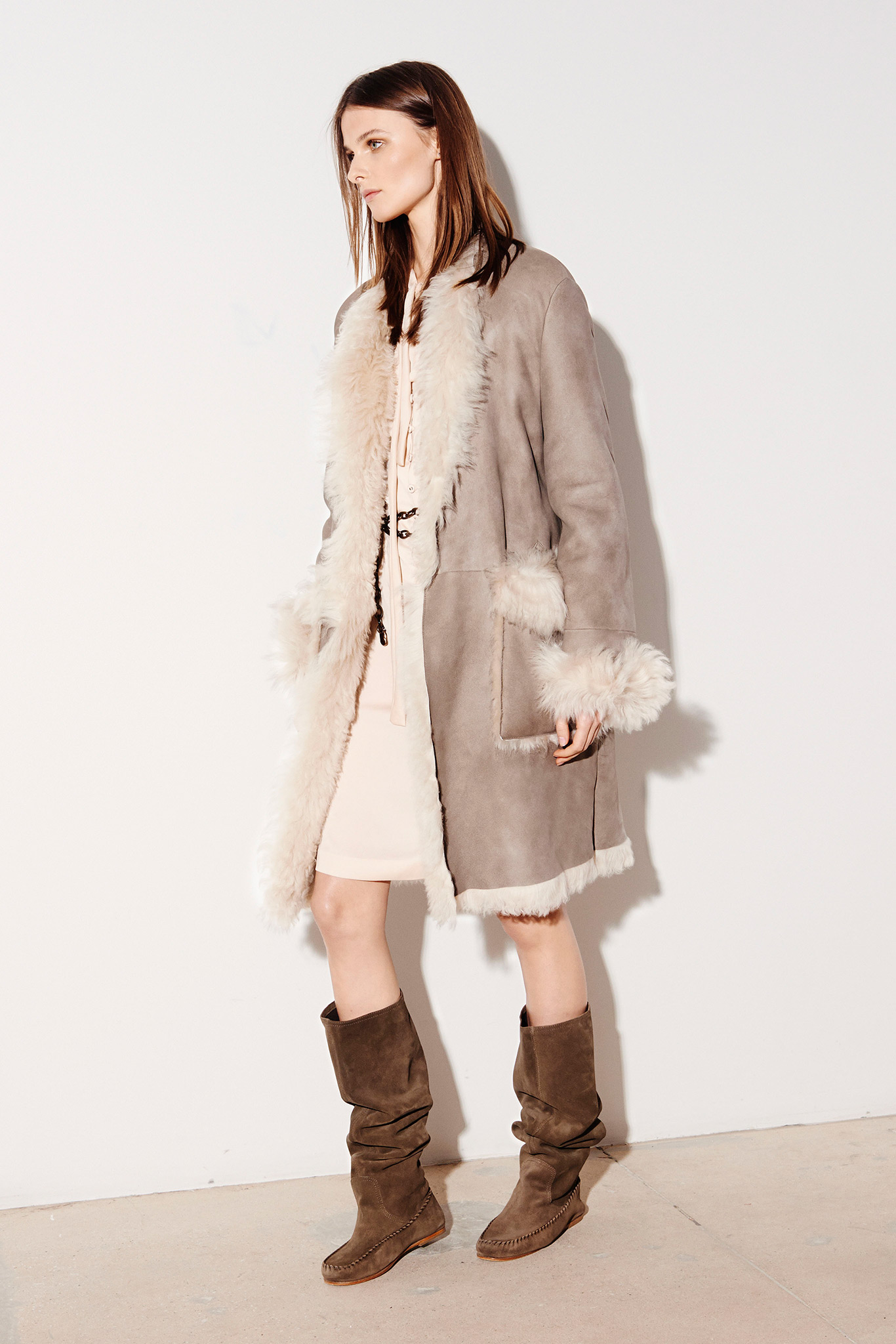 This is a D R E A M coat, just funky enough to be hip and cool, yet at the same time upscale given the luscious taupe color, a perfect compliment to all the pieces in this collection, especially anything in the pink raspberry family.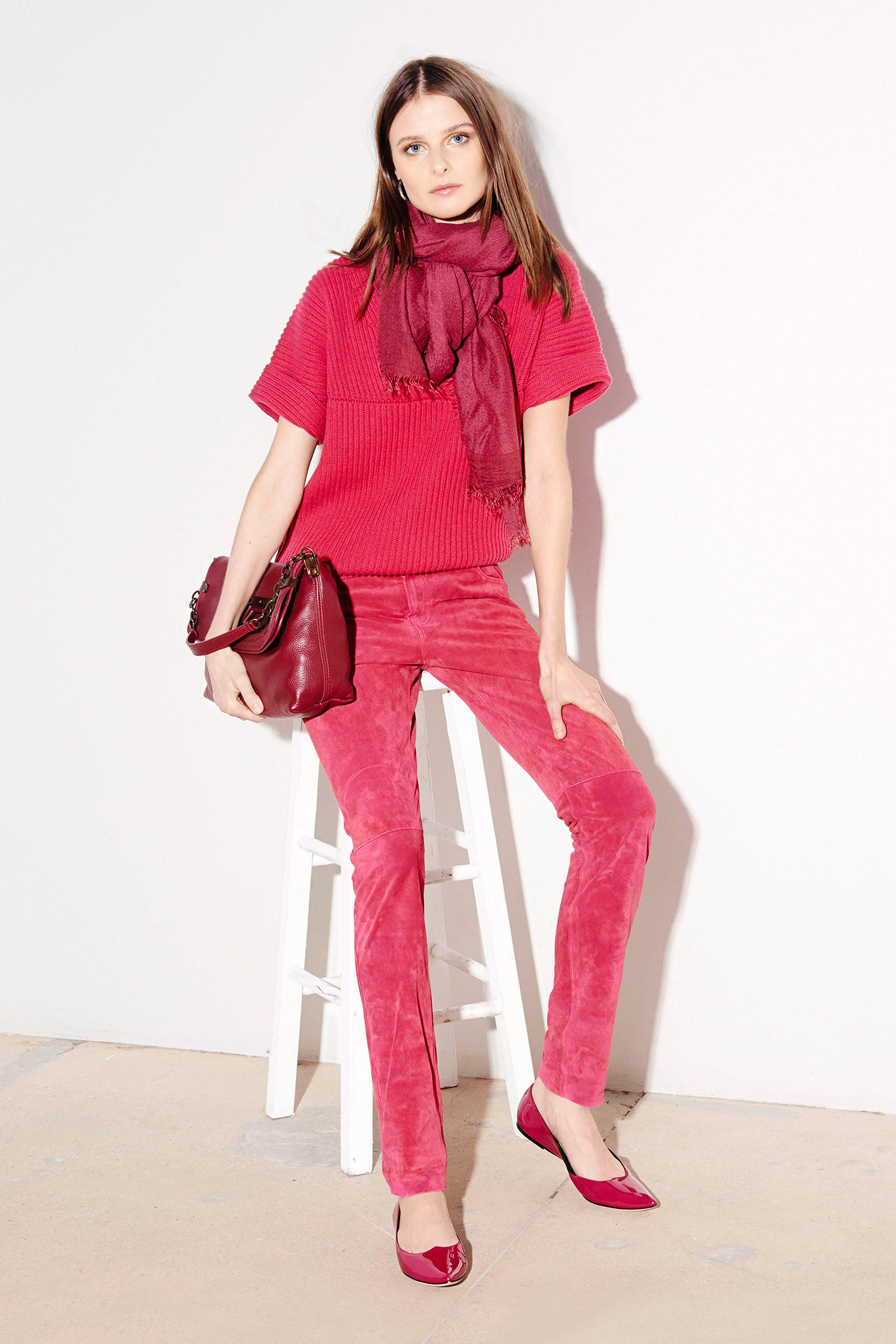 How happy is this set of separates? Bright raspberry leather pants, y o w s a!
MICHAEL KORS
Nobody does sporty casual yet lux like Michael Kors. This collection channels the spirits of Jackie O and Audrey Hepburn, with the knee length flared skirts and lady like silhouettes, to be paired with ballet flats, kitten heels, and boots. And of course, the requisite shearling and trench entries. Everything is polished and emintentely wearable.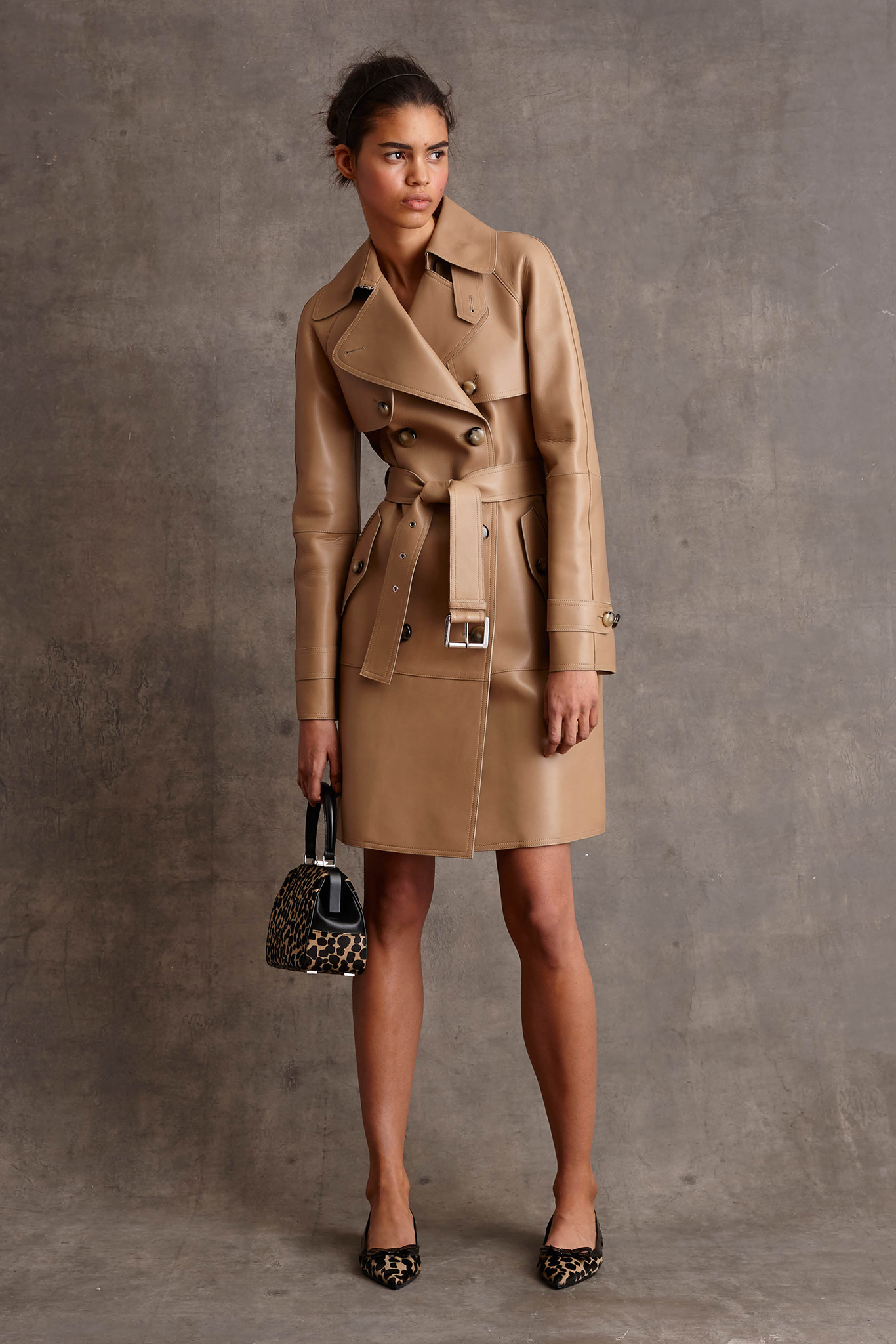 A leather trench is a sizzling updated adjunct to the vintage Humphrey Bogart Casablanca version that Burberry and Aquascutum have championed through the years, and which is a pragmatic fashion staple we should all have in our closets. Not great in the rain for obvious reasons, however, good for blustery weather and light foggy days (where the droplets dissipate before hitting the sidewalk forming micropuddles), and an easy way to add cachet to a casual weekend outfit. A tan version such as this will never go out of style (if that is ever of concern).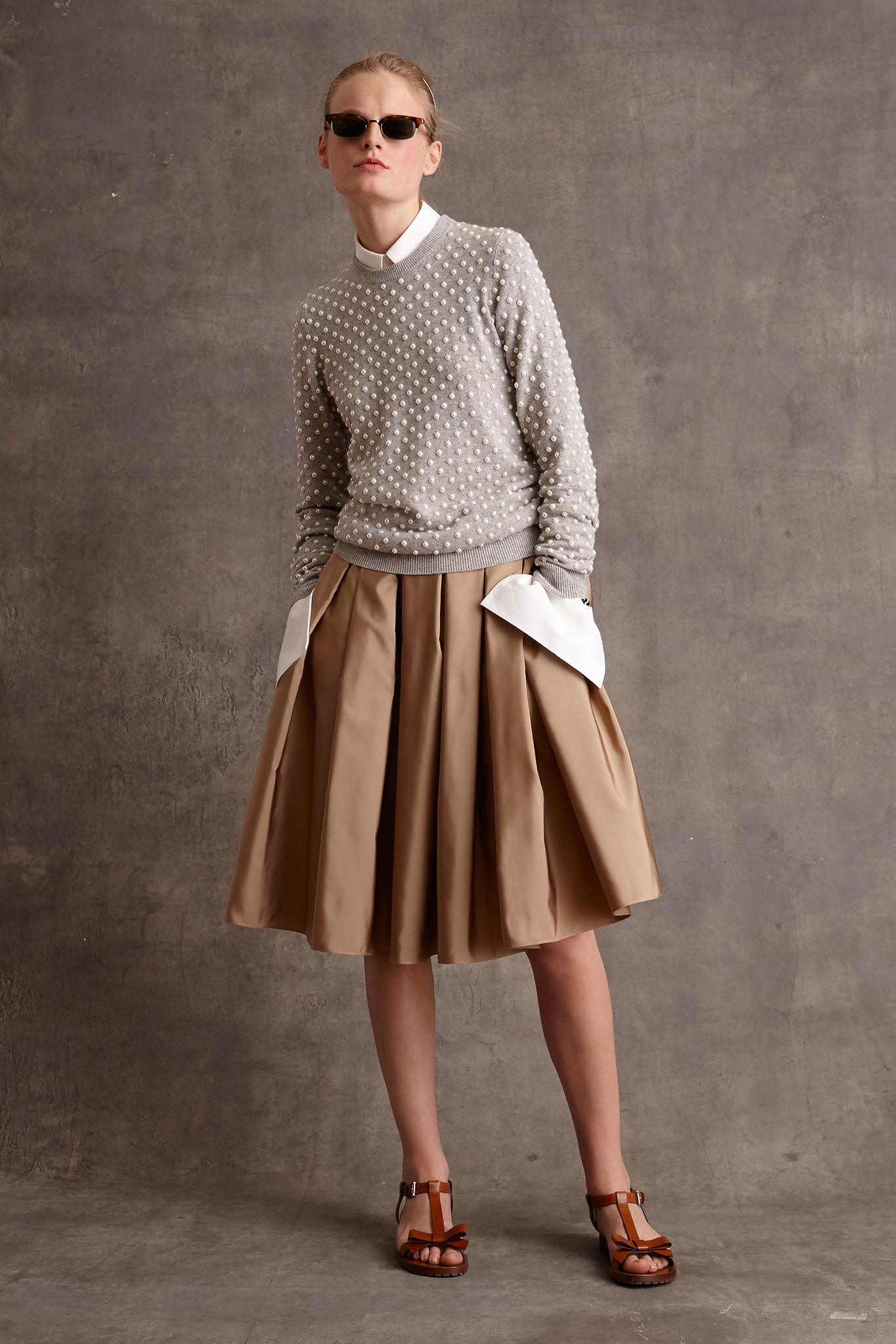 I am loving this outfit more every time I see it, casual lux and all that. Separates are always a good way to go, changing like a chameleon as needed. Jazz this ensemble up with some studded Valentino or Louboutin pumps, or dress down the skirt with a T shirt and Chanel flats. Pearls are pretty much the right answer no matter what. A lightweight sweater with pearl encrustation would be a clever addition to a more lux gown for an evening soiree, comfy and appropriate without being annoyingly fussy.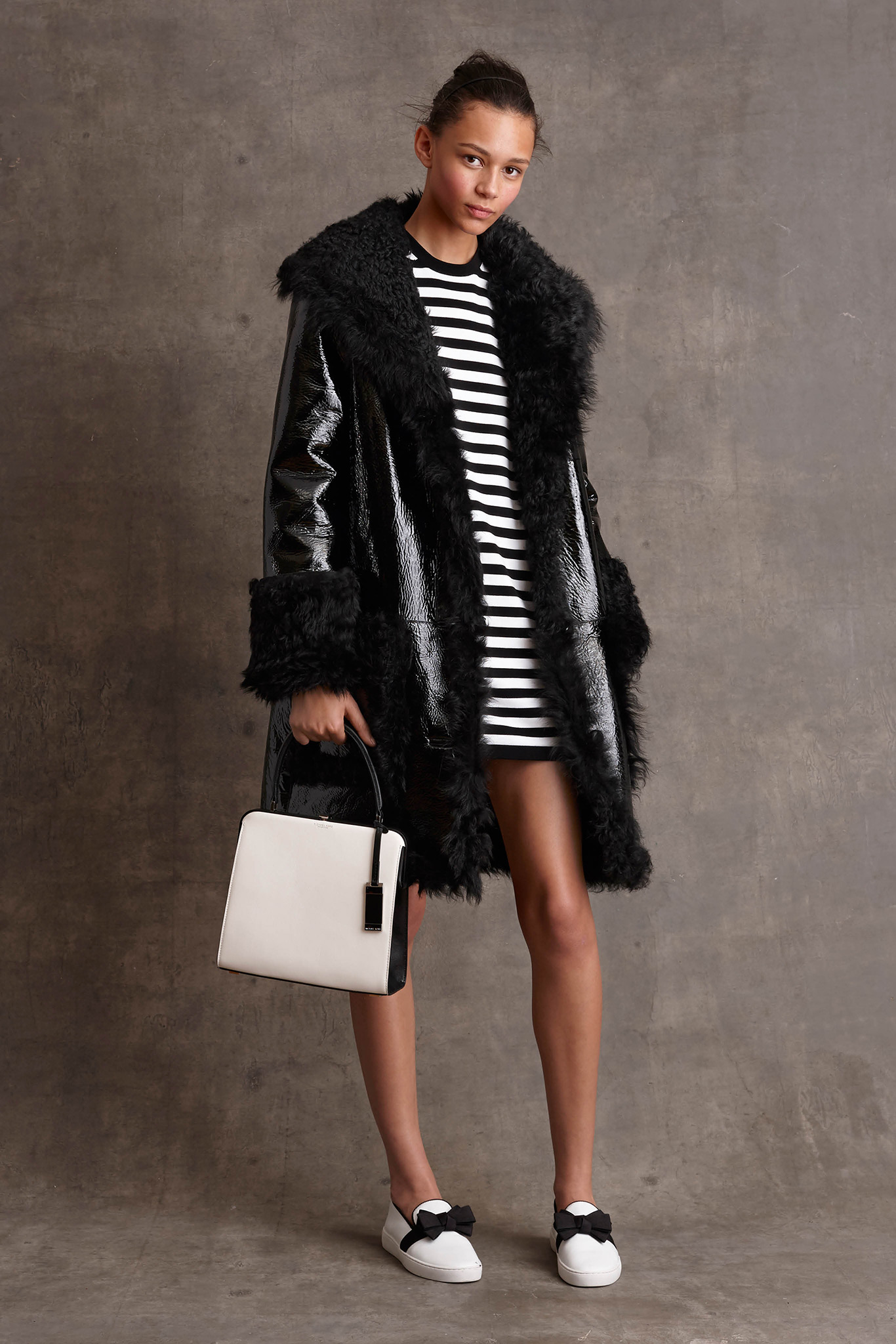 PATENT LEATHER + SHEARLING = perfection. This beauty is dramatic but slightly funky with a 70's rock and roll vibe.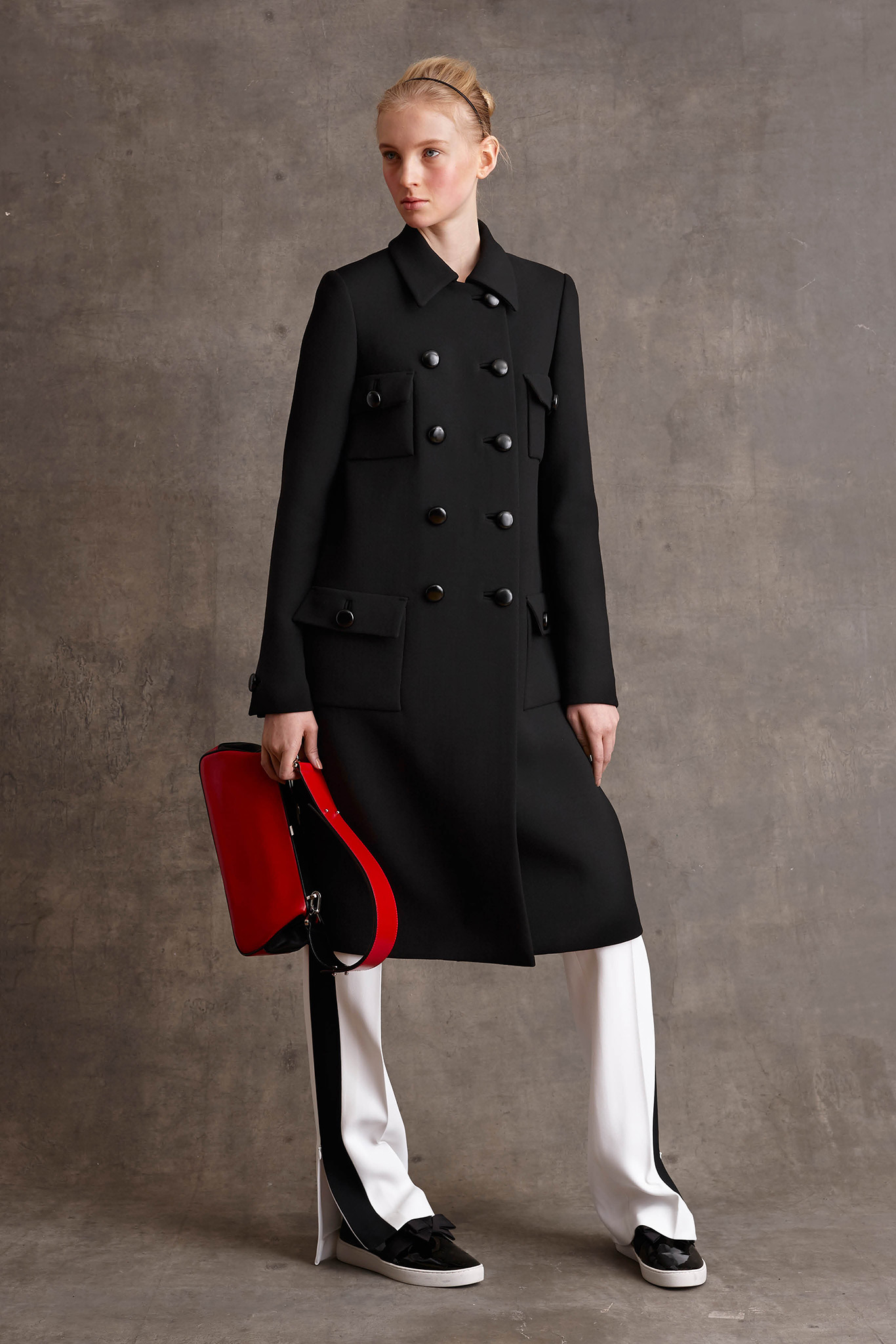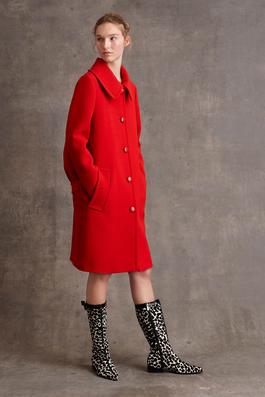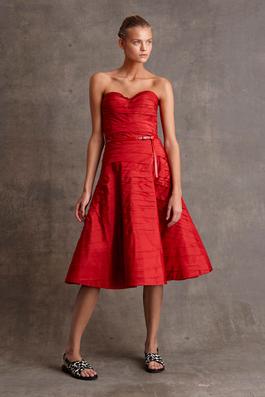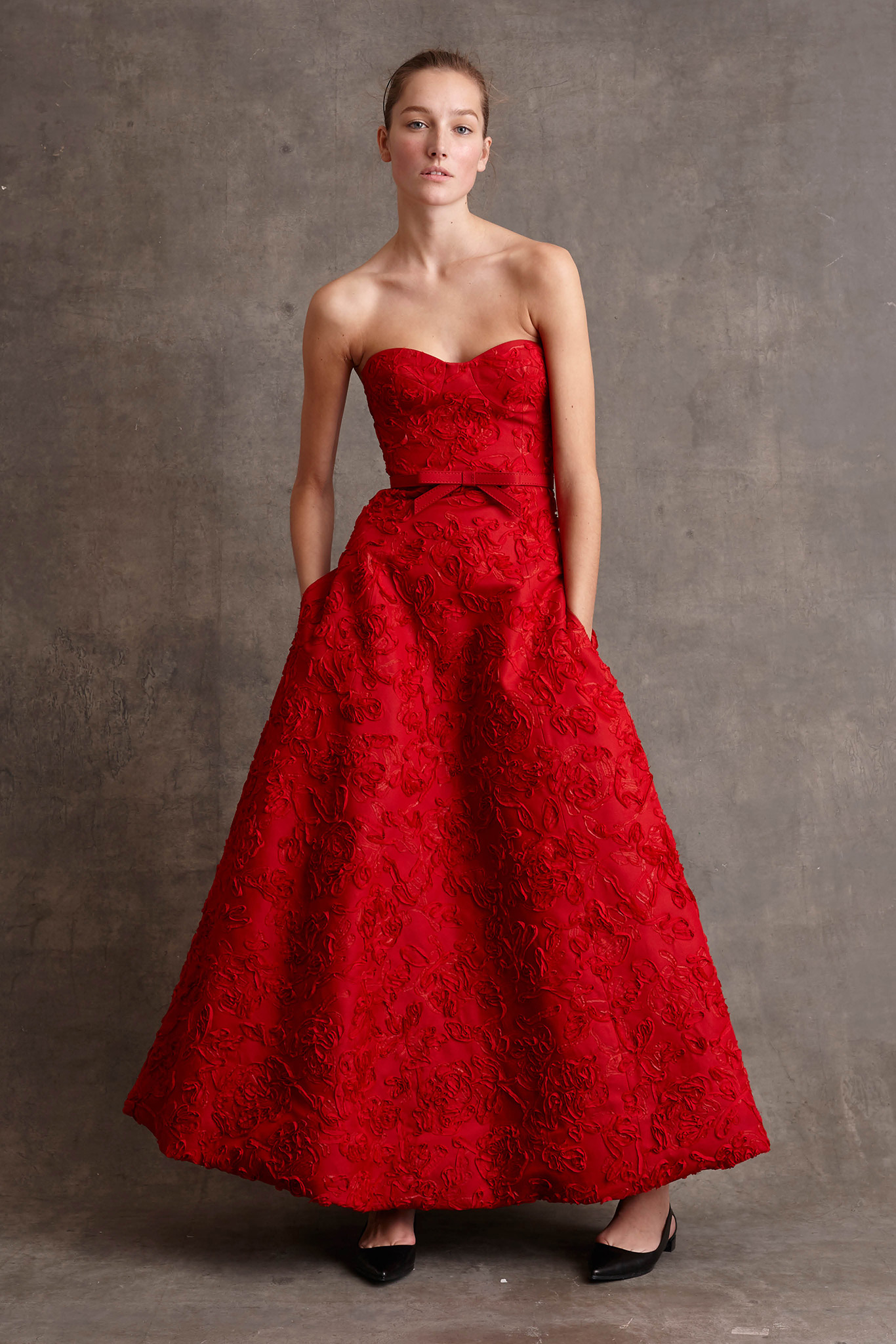 The red contingent, necessary in at least a few collections for brightening purposes. Men love red, nuff said.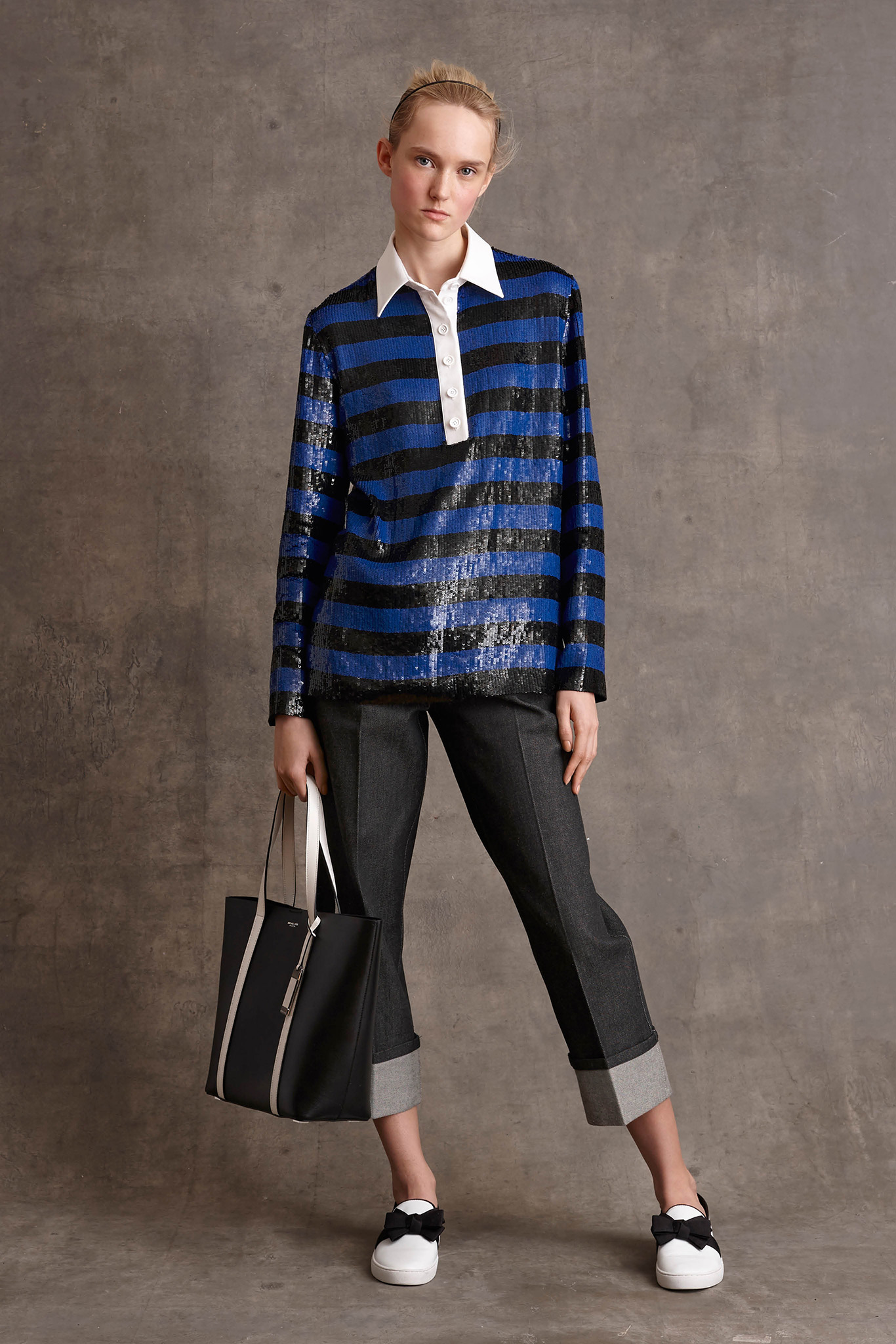 Rugby jersey festooned with sequins........reminds me of my freshman crush on the UCB place kicker and rugby captain......sigh....those were some good times. Wear over denim shorts, leggings, or how about a fitted A line leather skirt paired with patent Louboutins?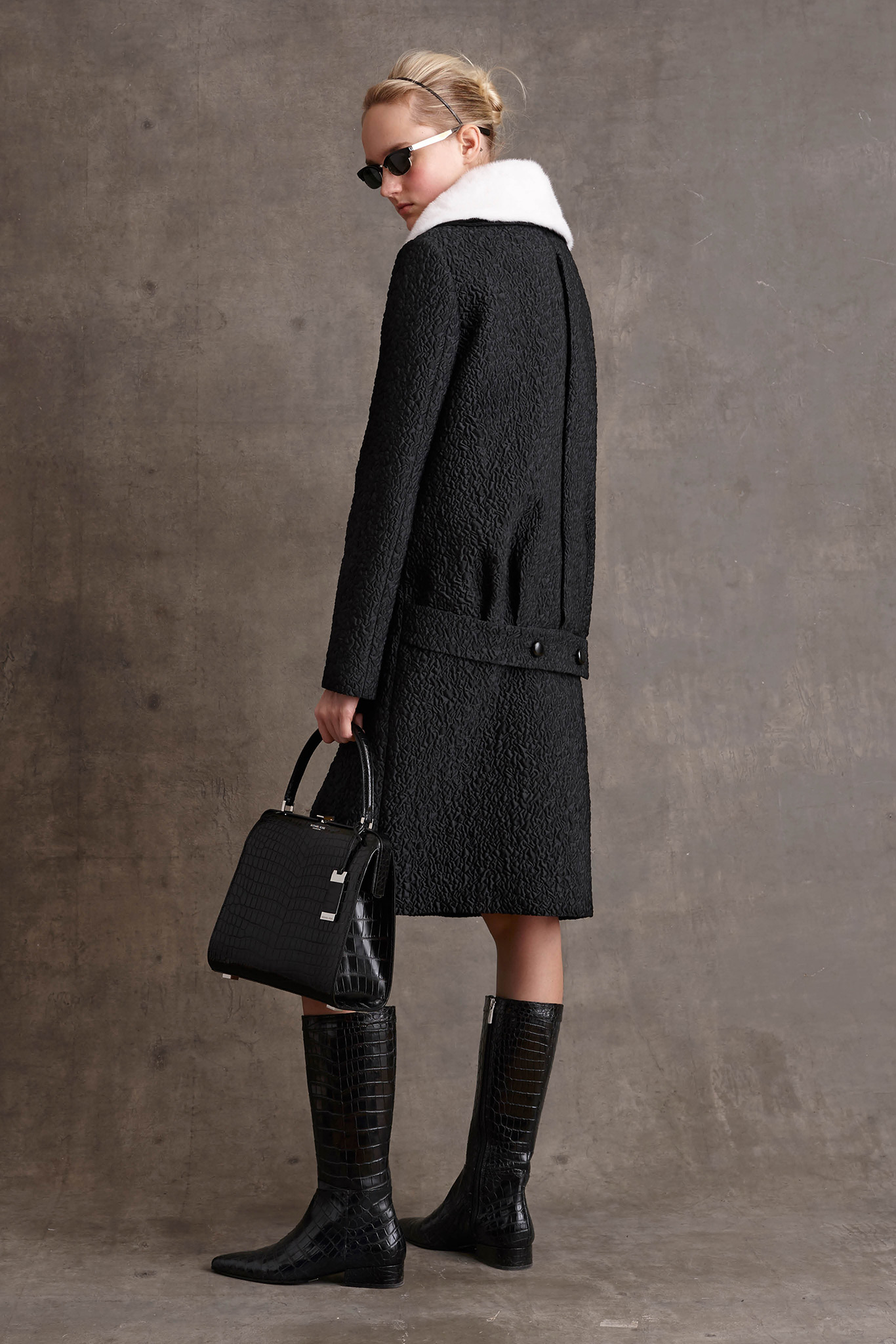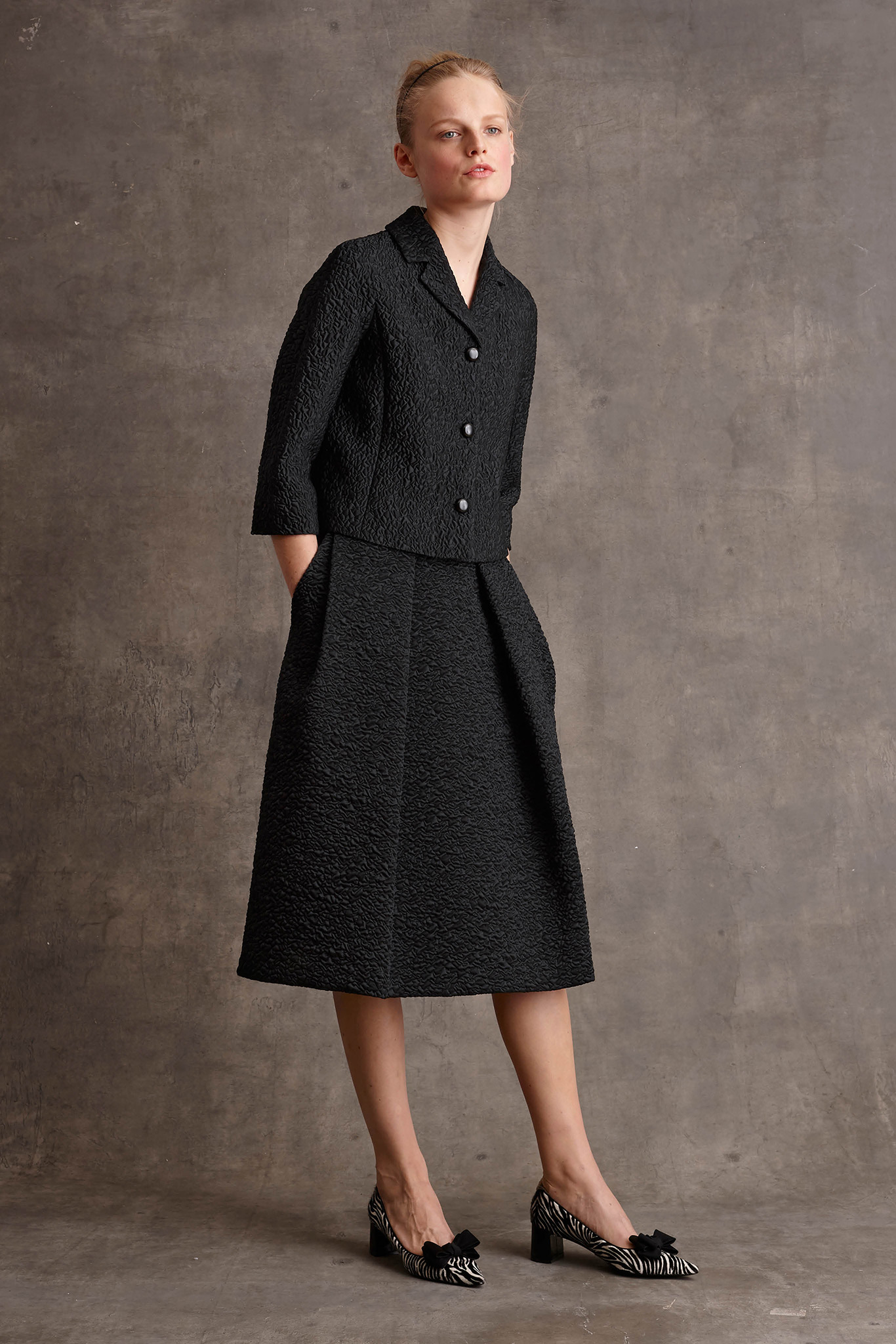 The cloque is in the house, and thank goodness for that. Dolce and Gabbana tend to use this fabrication liberally, it really adds an element of glamour to what might be a relatively ordinary silhouette.
ERDEM
Another sporty feminine collection brought to us by the man who is becoming the MASTER of the event frock for all occasions. (I'm still under the spell of his fall winter collection....). He manages to seamlessly blend flirty coquetry with sumptuous opulence AND wearability. Genius.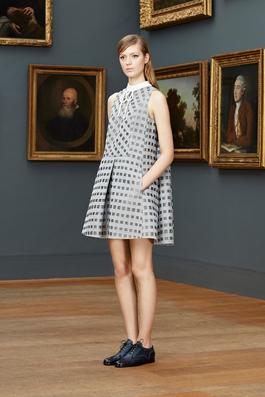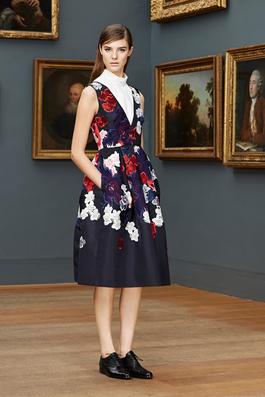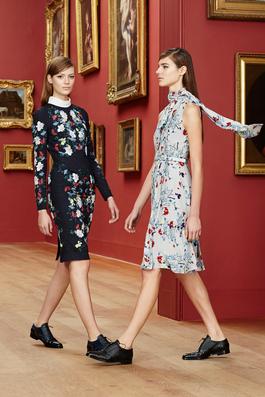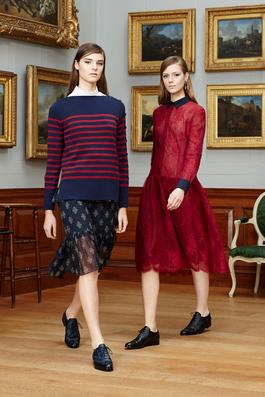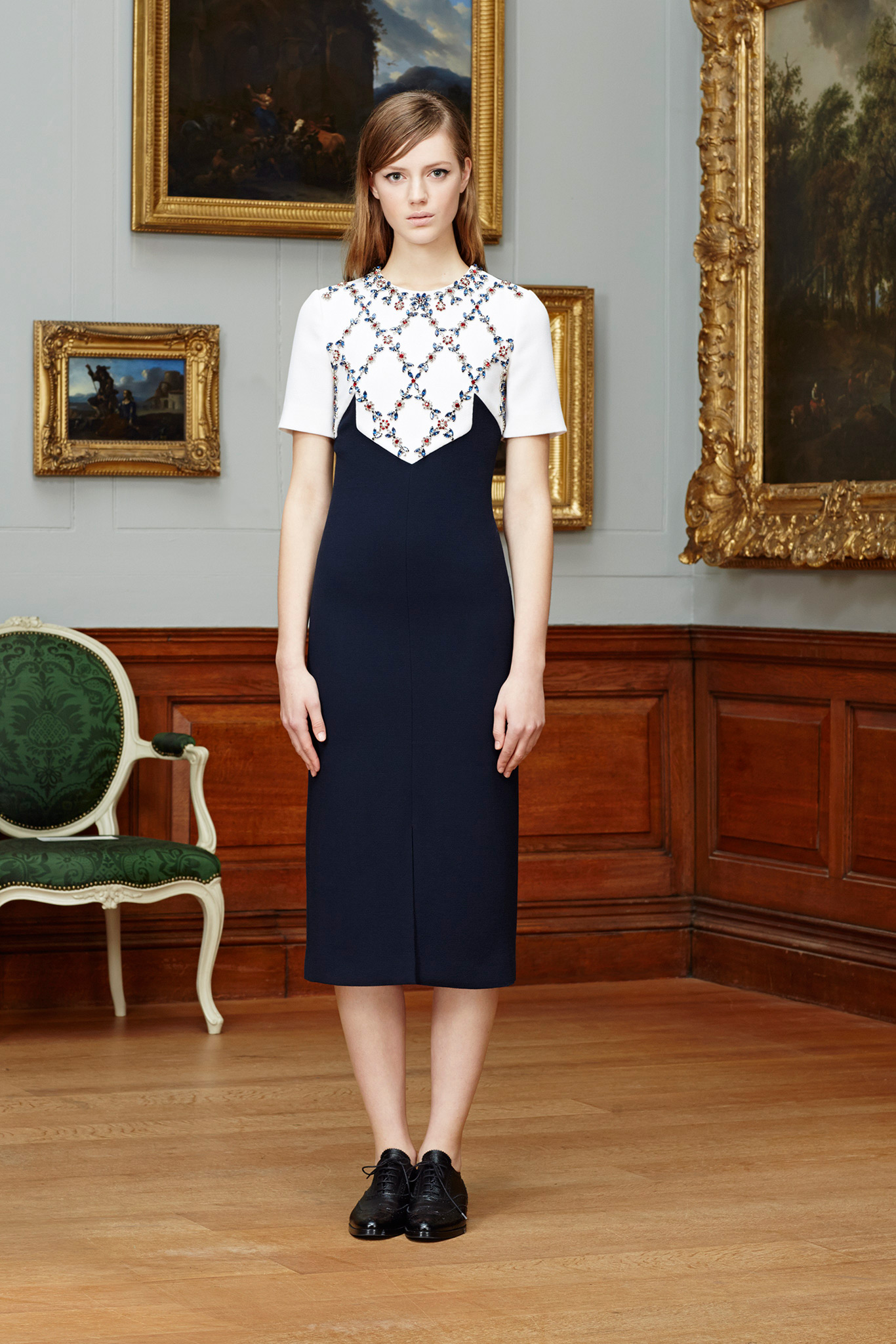 A welcome host of frocks in a variety of wearable silhouettes, priming one for an afternoon out with the girls, a cocktal affair, or holiday party. The dove gray A line dress would be a good option for the 20 something gal going off to a spring brunch. The great thing about anything A line, it covers a multitude of sins, allows one to hit the buffet at will, AND can be worn through the second trimester. Red lace in a dropped waste version is also always the right answer, wear with flats for soft feminine appeal or add Louboutin patent stilettos for sizzle. These are all stand alone pieces, stunning enough to be worn without need of the adjunct glamour jewelry and makeup provide.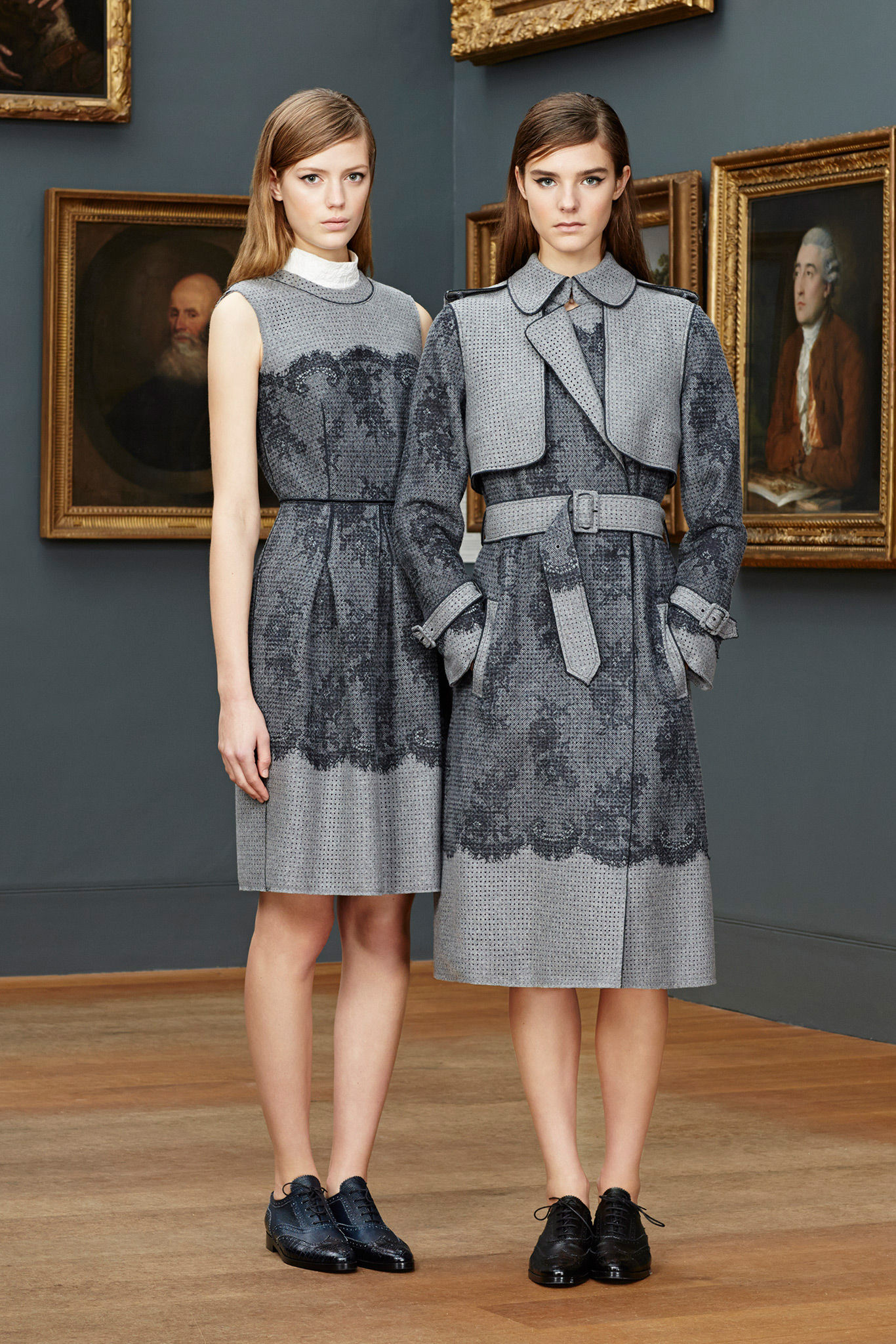 Another version of the trench, off the beaten path with the color and lace pattern. Definitely heading towards the girly, but could feminize those leather leggings and combat boots dwelling in your closet. Fashion irony.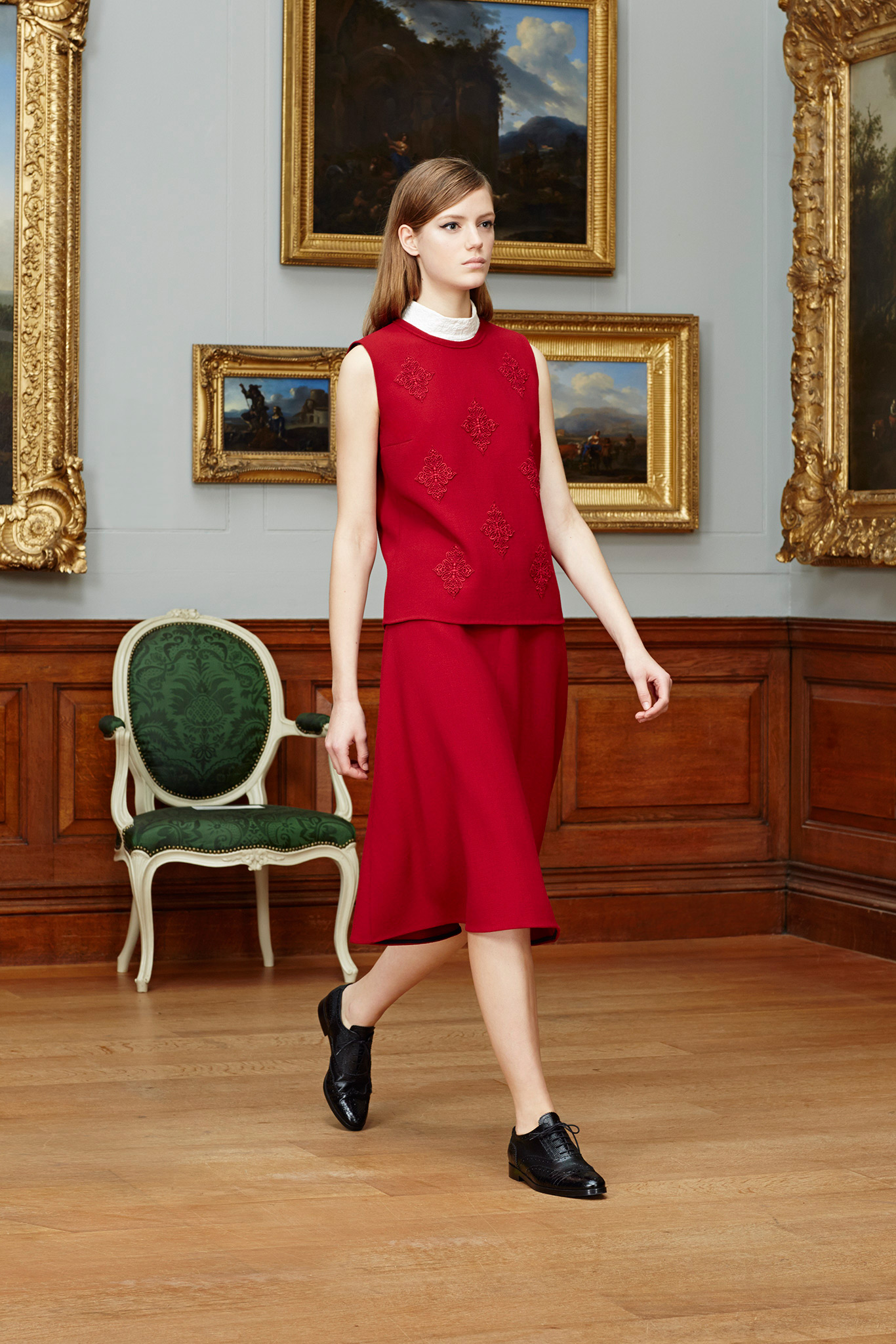 Simple, red, yet still elegant with the well placed embellishments. Reminds me of Christmas.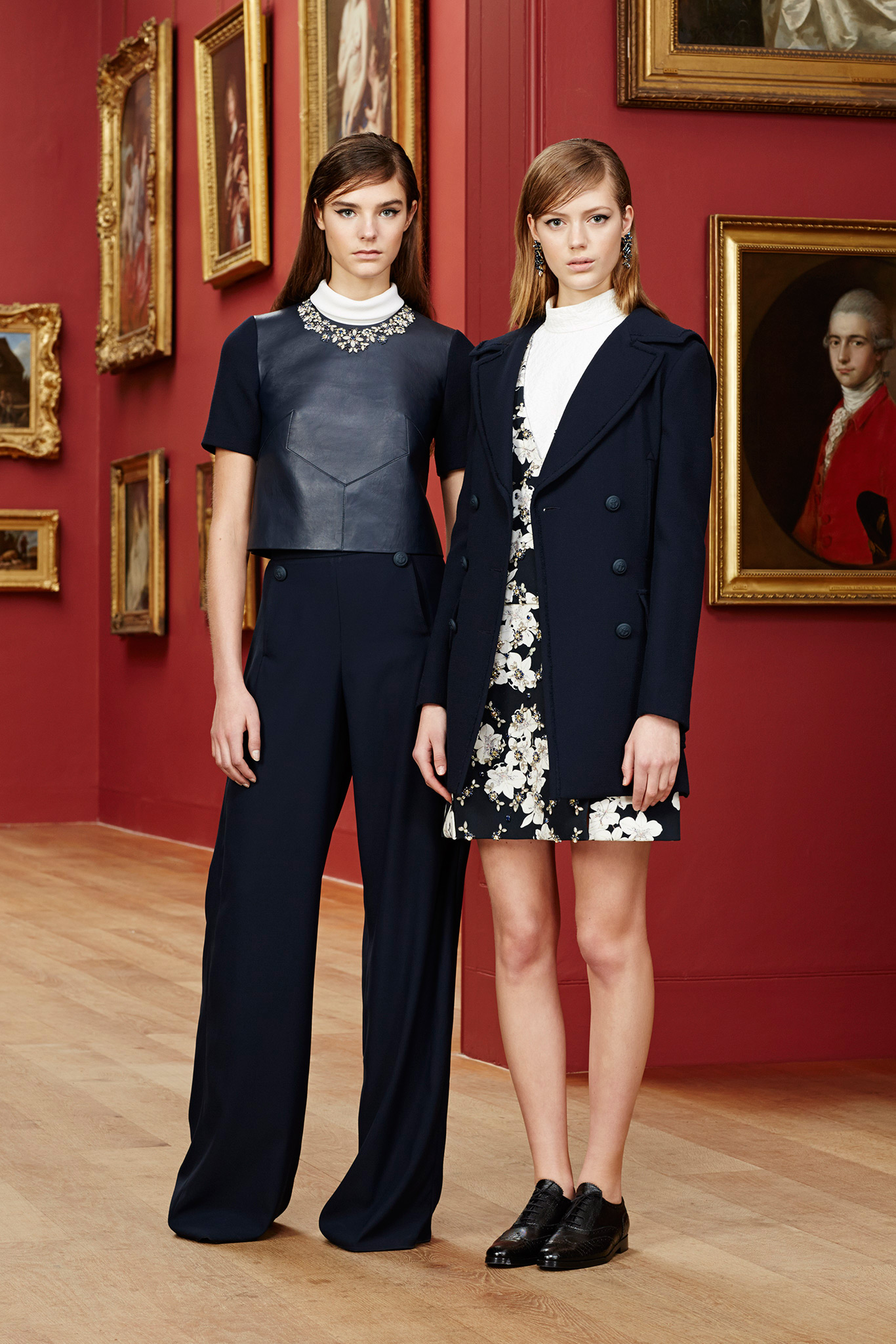 When we think of luxury, we tend to imagine black, red, maybe purple. Navy is a versatile color which can be worn with anything, and with the right jewel encrustation as luxurious as any other color. This gorgeous cropped leather top looks smashing with these sailor inspired wide leg trousers (always chic if appropriately tailored), however, could double as a vest, and be thrown over a white tuxedo shirt and jeans for casual goings on. Dress it up, dress it down, and all that (all those years watching QVC wasn't for nothing).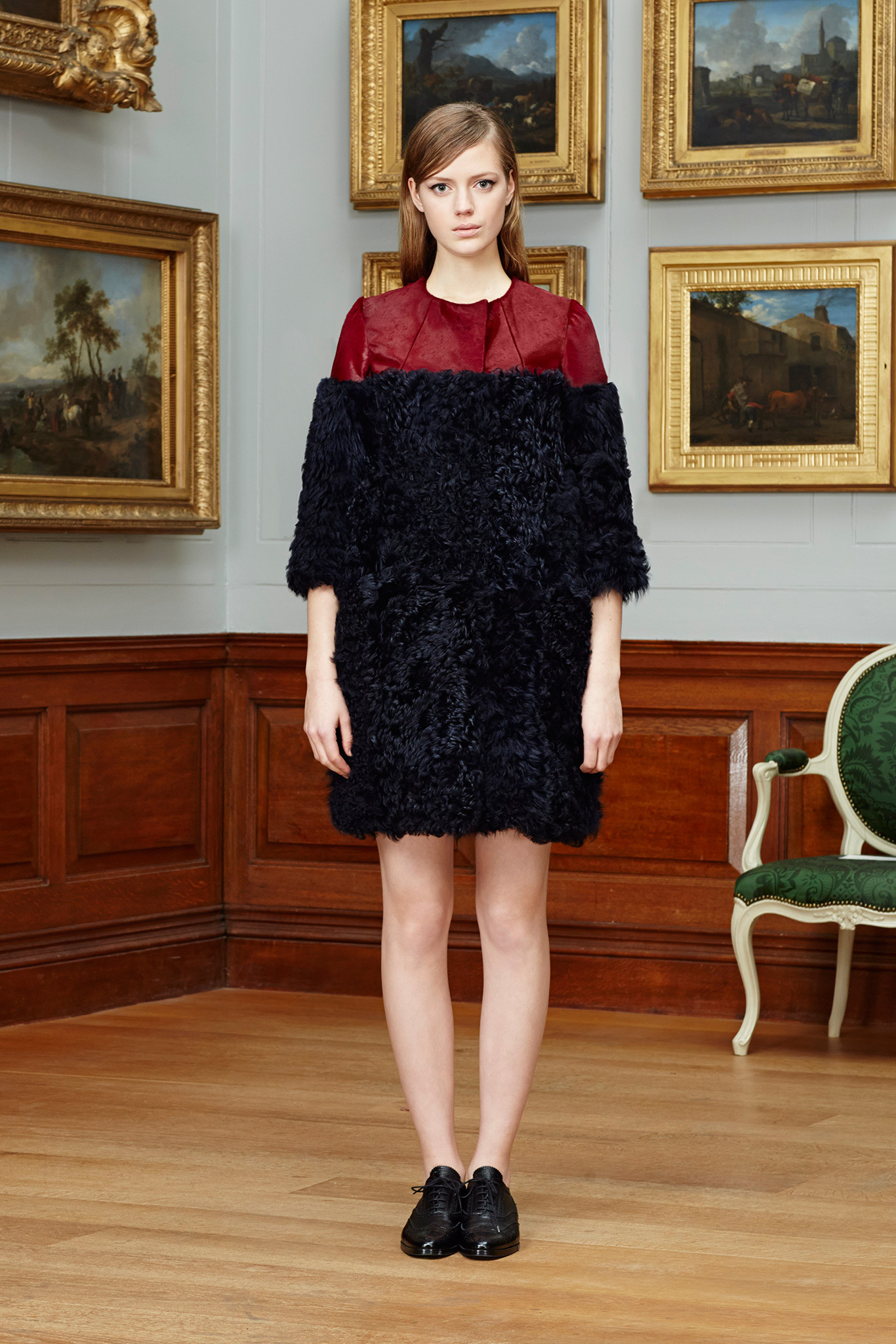 Christmas Bear. A big bold shearling isn't for everyone, but definitely a statement piece. Wear over leggings and a T shirt, with some black patent leather boots.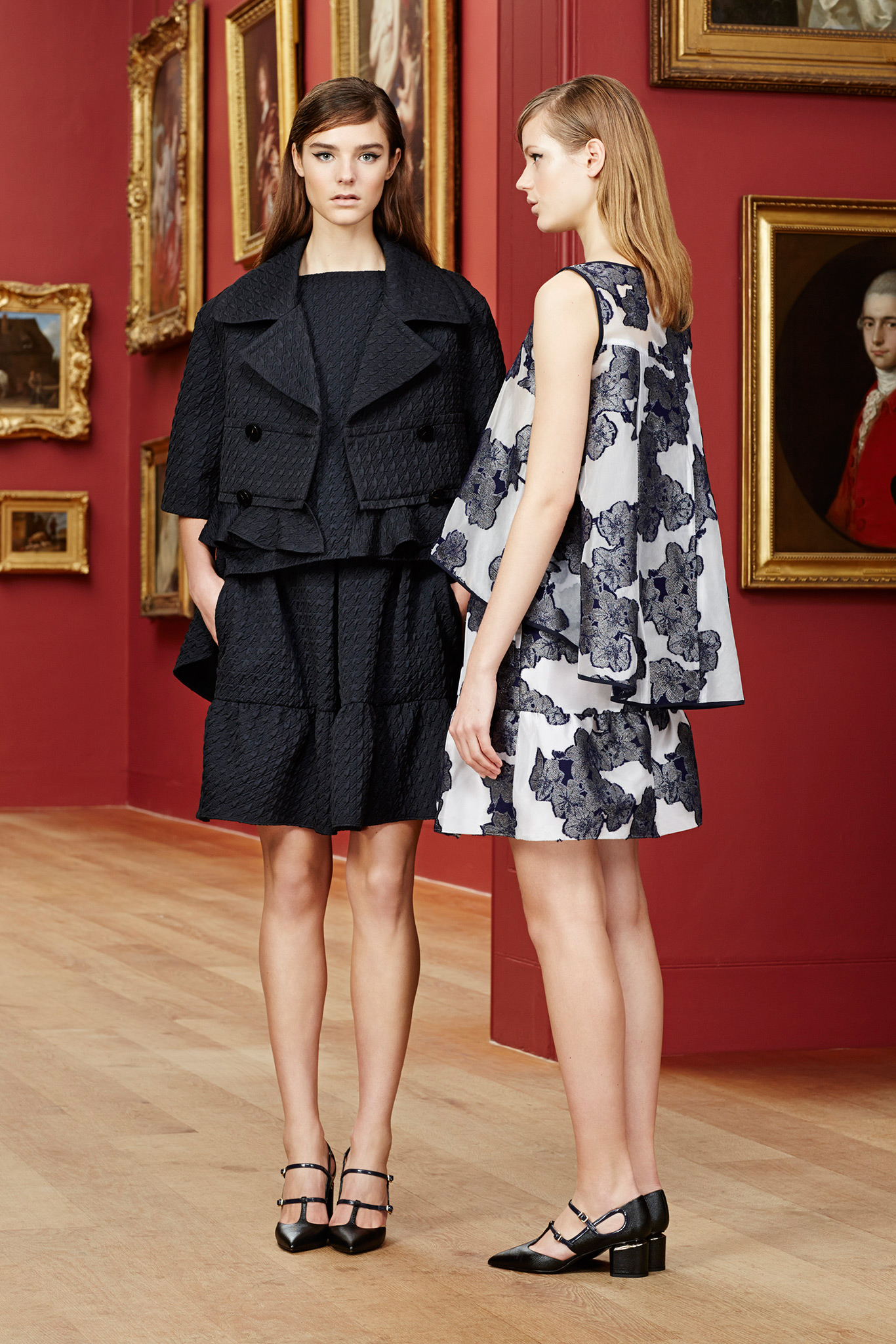 Love the black mutlipiece cloque ensemble. Easy, lady like, great for all occasions, easy to pack for a quick sojourn abroad.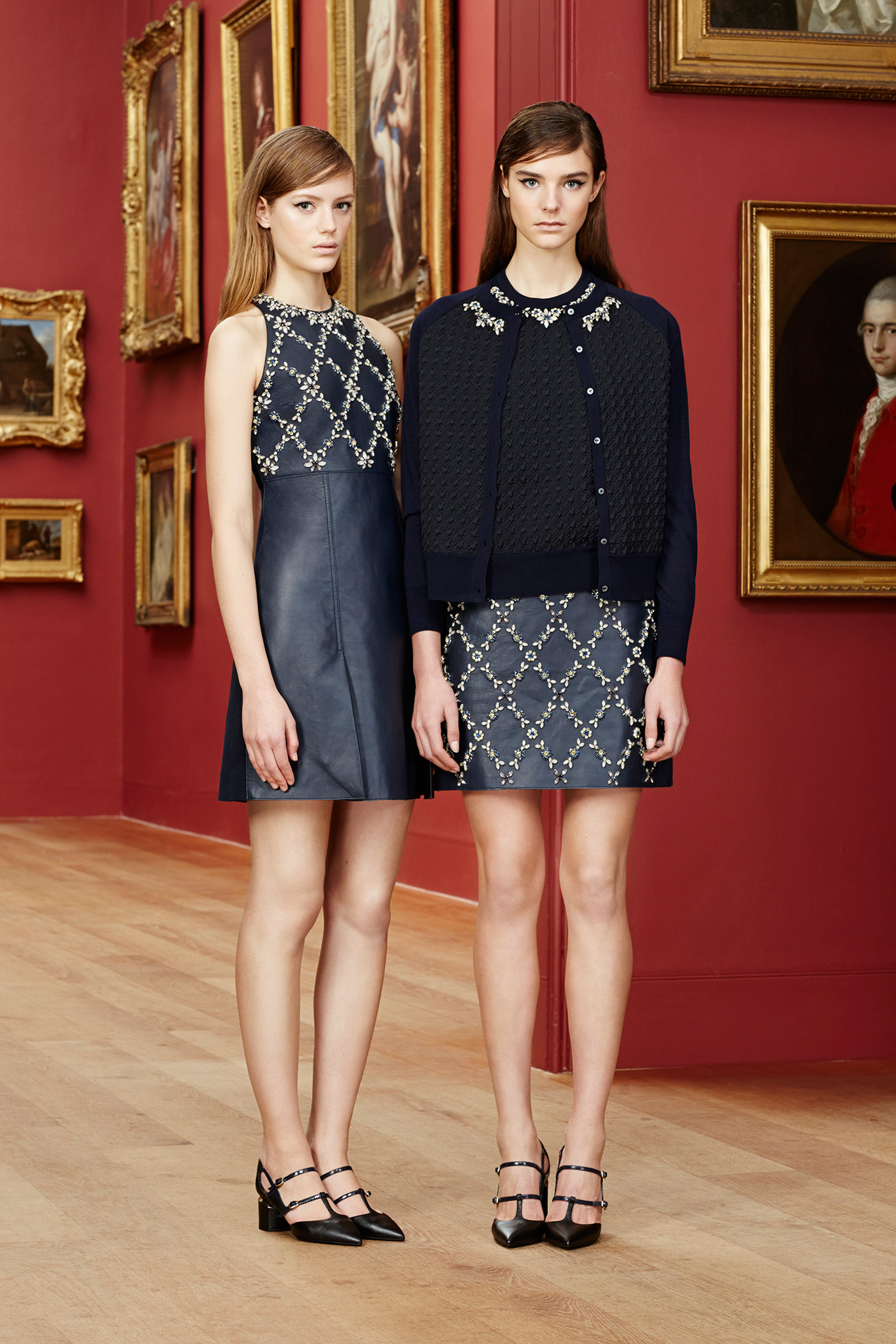 Who can't use a navy blue leather mini with rhinestone embellishments? Clever to tone down the mini with the festive sweater set.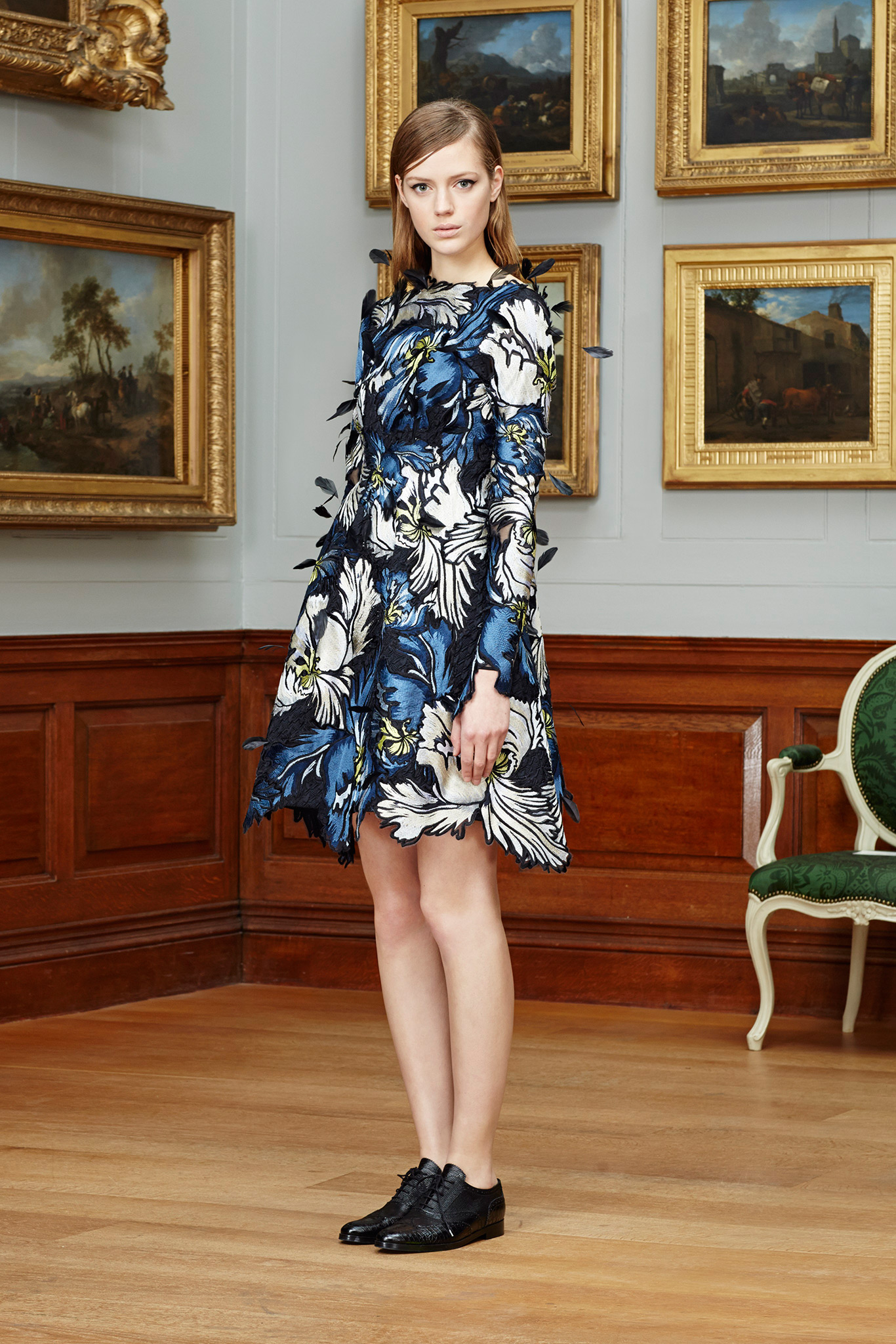 And the piece de la resistance, the showstopper of the collection! Flowers, feathers, embroidery, and I believe I spotted some cloque! Erdem has many tricks up his sleeves, and Lord only knows I'm mesmerized by them all.
CHANEL
Well, Kaiser Karl strikes again with an eye-poppingly gorgeous collection unlike any other with the iconic staples of tweeds in deep fall inspired colors (and of course RED), embellishments infused with whimsy and merriment, and gowns fit for old school Russian royalty. There are many reasons that pretty much everyone who has any interest in or knowledge of fashion is OBSESSED with Chanel, from the bags and shoes to the ready to wear and the couture. Viewing these pieces on a computer screen provides only a hint as to what one experinces when getting up close and personal to the ultimate in fashion. The intricate details, the glistening of the threads composing the iconic tweed fabrications, the lesage embroidery and beading can only really be appreciated in person. And frankly, no other garment has the same effect on the pleasure center in the brain as a piece of runway Chanel. Nothing is quite so mesmerizing. (I cannot speak to the couture for obvious reasons, I mean, who are we kidding, a couture gem might set one back the cost of a small house in ahem, San Francisco). The selections are substantial and never wanting for oodles of visual interest and opulence, and yet wearable. That is, unless you're running through a briar patch or Lion taming, in this case, let the paillettes fly. Each and every collection will pay homage to the fashions of Coco Chanel, but with a modern twist, as well as containing fashion forward avantgarde entries that only Lagerfeld could conjure up, usually with a fanciful theme. As for the pre fall collections, rather than merely an interlude between the more grand shows of spring and fall winter, with a pared down number of entries, Lagerfeld presents what is more a fashion tour de force or art exhibition than just a series of cohesive elements. As enamored as I am with Valentino, Valli and Dior, there is no gown contingent out there tantamount to what Lagerfeld presents in every collection. This is Chanel's 11th METIER'S D'ART event, which above and beyond being a runway show, honors the exquisite craftsmanship the artisan partners bring to the Chanel collections which in essence are responsible for making the house of Chanel the ultimate in high fashion. This feast for the senses was as per usual spectacular and awe inspiring, yet another testament to the limitless genius of the greatest living designer, Karl Lagerfeld.
With over 80 pieces in this collection it was hard to pare down to 30. The coats alone will have anyone semi conscious swooning. And now we go to Salzburg for a Tyrolean dream that Heidi could never have imagined: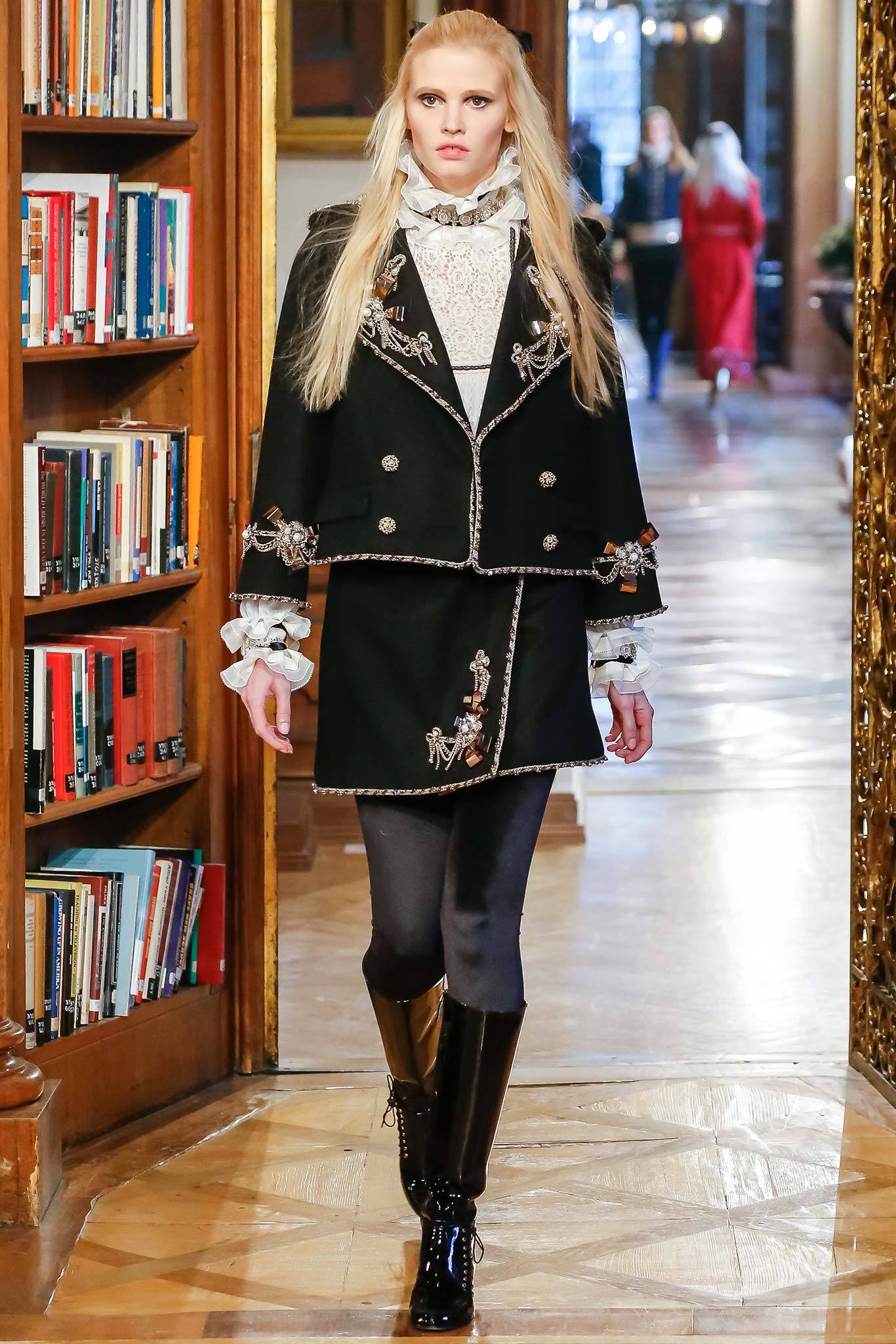 Pay attention to the embellishments and the buttons (jewelry in their own right) AND the styling of every "look", which is second to NONE. The shoes and boots are outstanding alone but add to the overall theatricality of the shows and YET are wearable and highly covetable.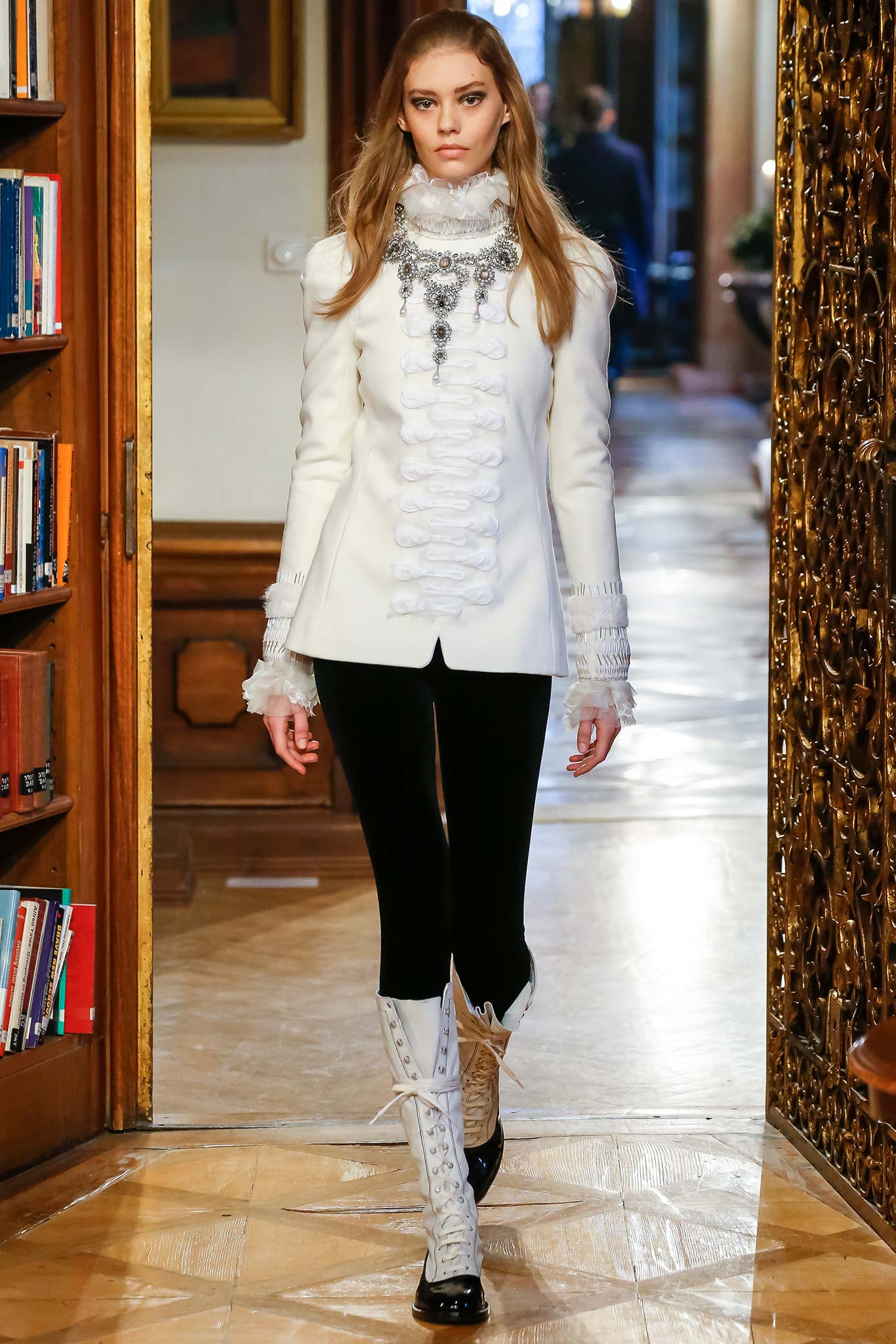 This is the perfect compliment to a sleigh ride through a winter wonderland. Wondrous indeed. (Calls for leather leggings and riding boots).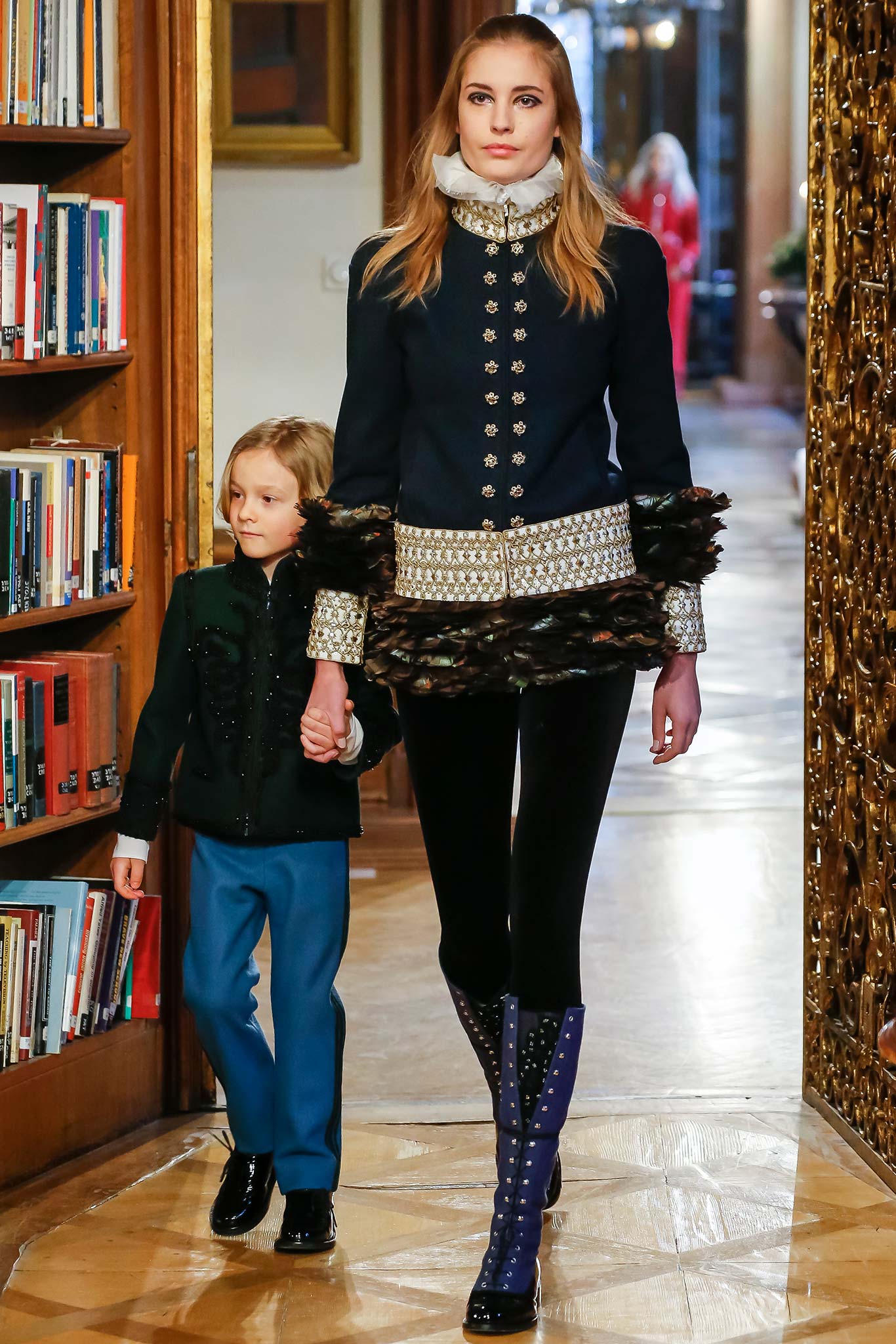 No words necessary, sigh.....Except, get a load of those fabulous boots!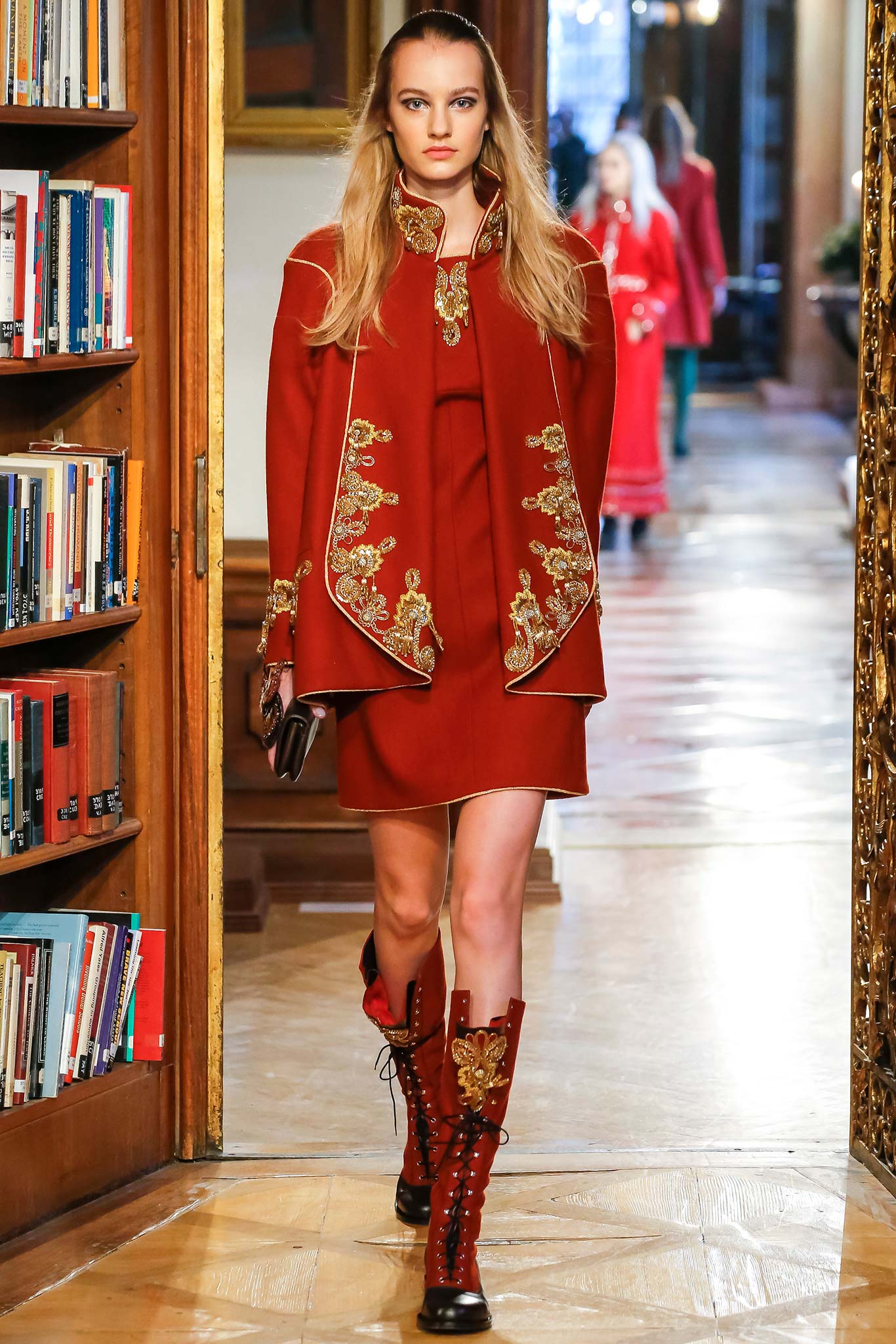 If you want the ladies that do lunch to faint dead away into their popovers and martinis, show up in this get up. The jacket stands alone like everything else in this gathering of splendors, so wear it over a more toned down ensemble for a more casual vibe.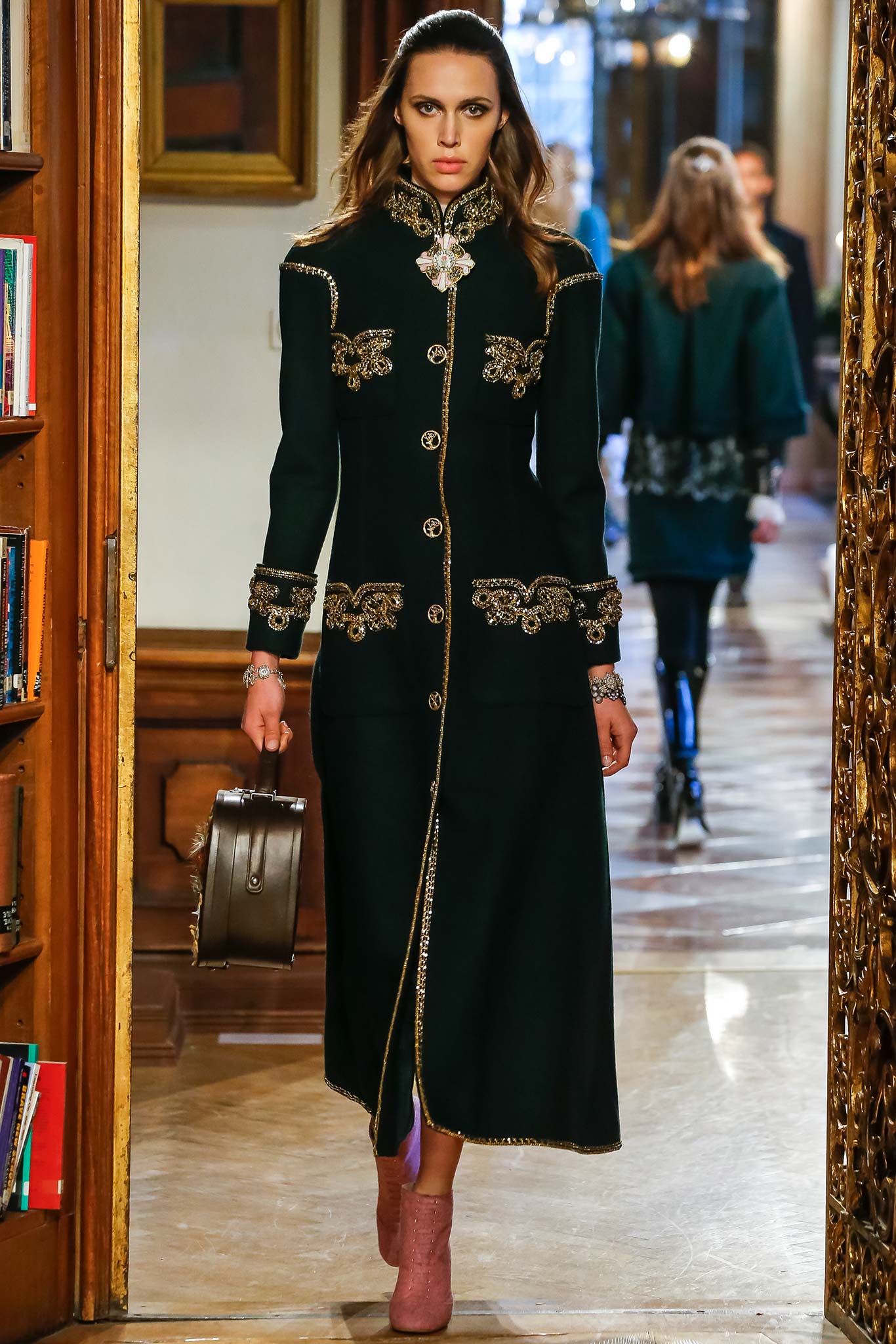 Good God almightly, but this is as they say drop dead gorgeous, something one of the Romanov women would have worn on their way to caviar perusing. And versatile, could be worn over anything, from the simple to the sublime. Even the shoes are out of the ordinary.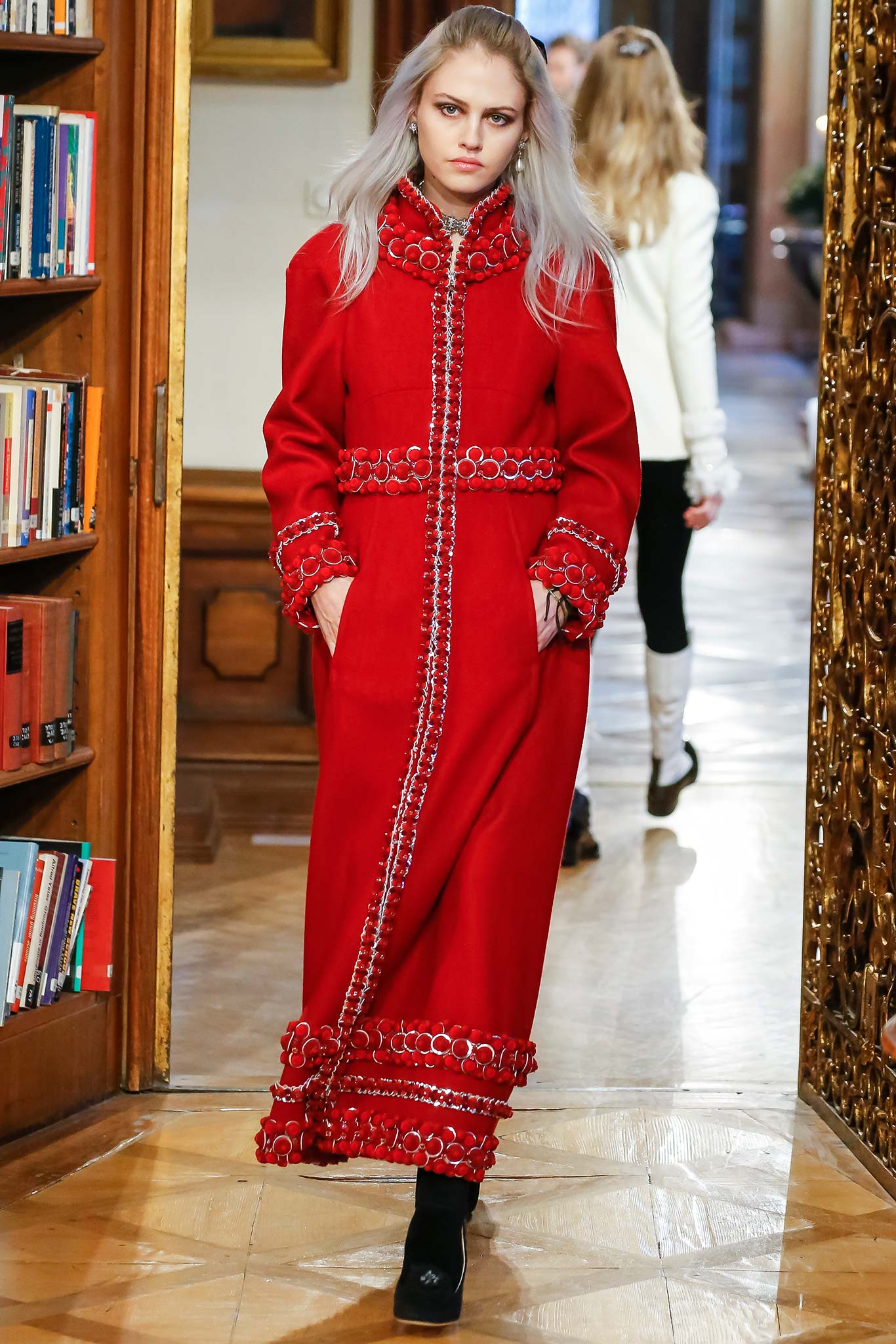 Santa's happy helper.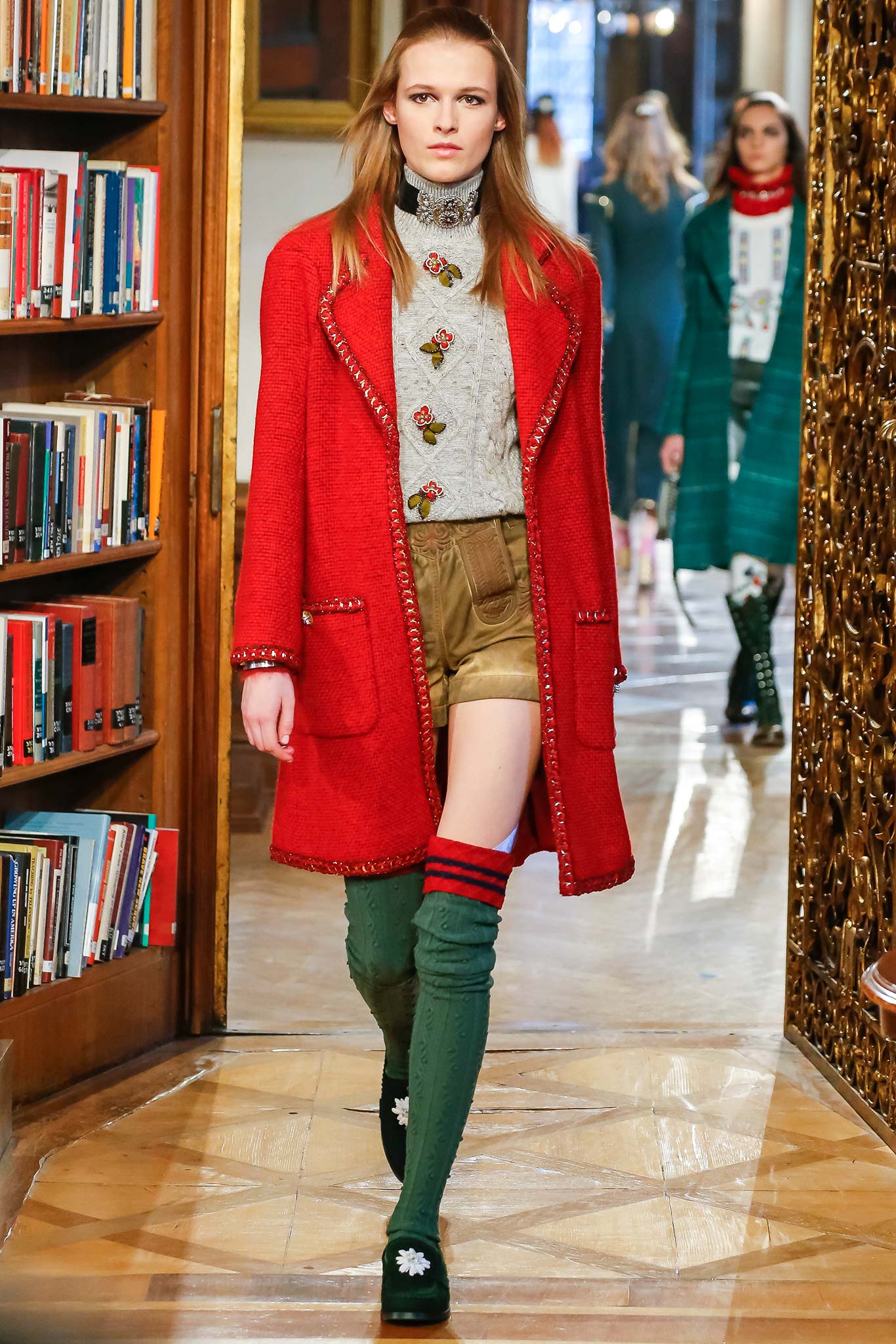 Here I go again with the RED obsession, for good reason. Exuberant, eye catching, and festive! This is vintage Chanel with the iconic tweed and jeweled buttons AND, a great first piece to get one's feet wet without having to sell one's soul or a major organ. This is a timeless easy silhouette which will spice up any casual outfit. If in doubt what to wear to a party, a Bat Mitzvah, or some tiresome school reunion, look no further. I personally would wear it to work with anything resembling jodhpurs, and riding boots. (I appreciate the irony of the Tyrolean leather shorts, er klein lederhosen, but they need to stay in the Alps).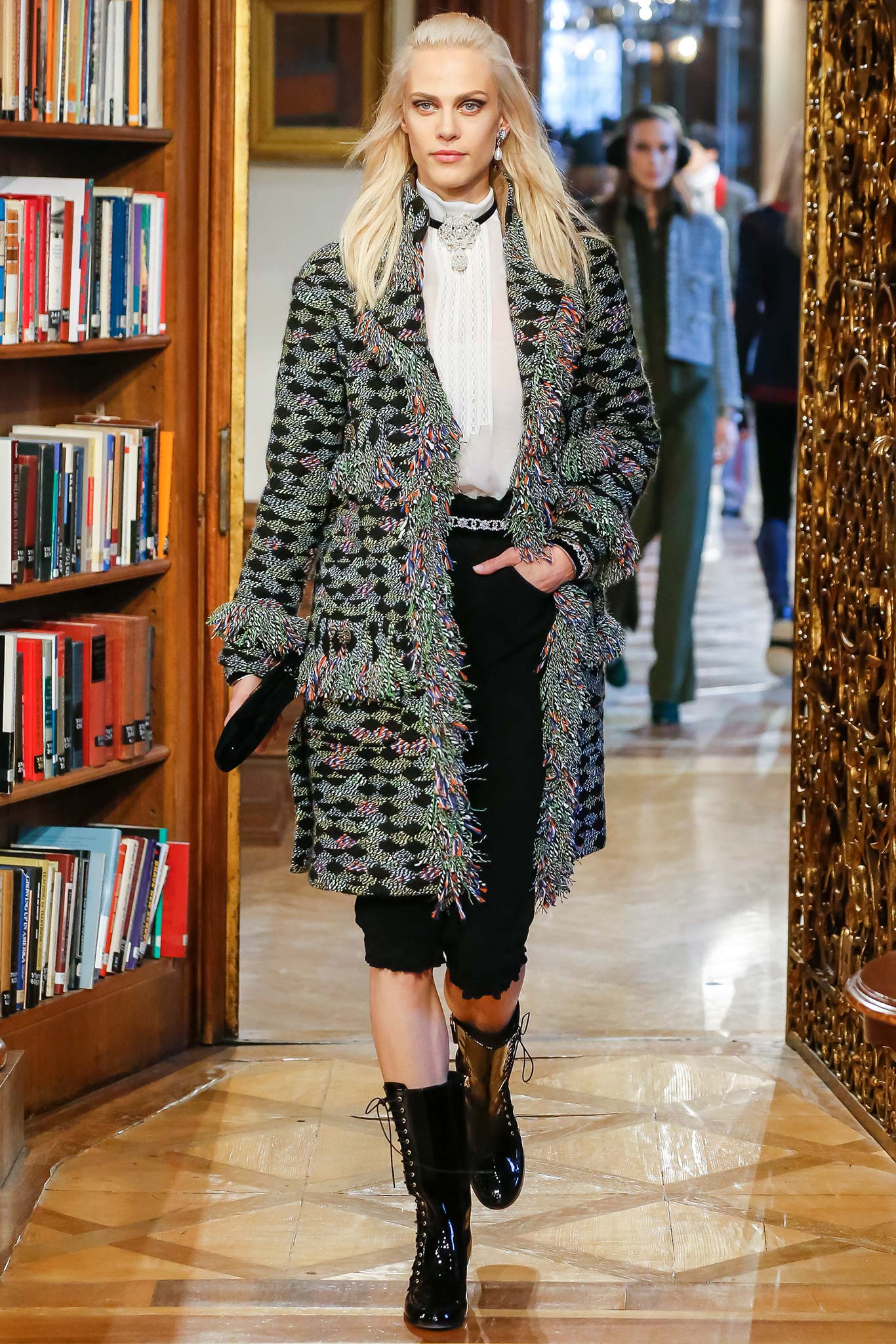 One of my favorites, not sure what it has to do with Heidi and her clan, but who cares, comfy Chanel chic. Acceptable fringe.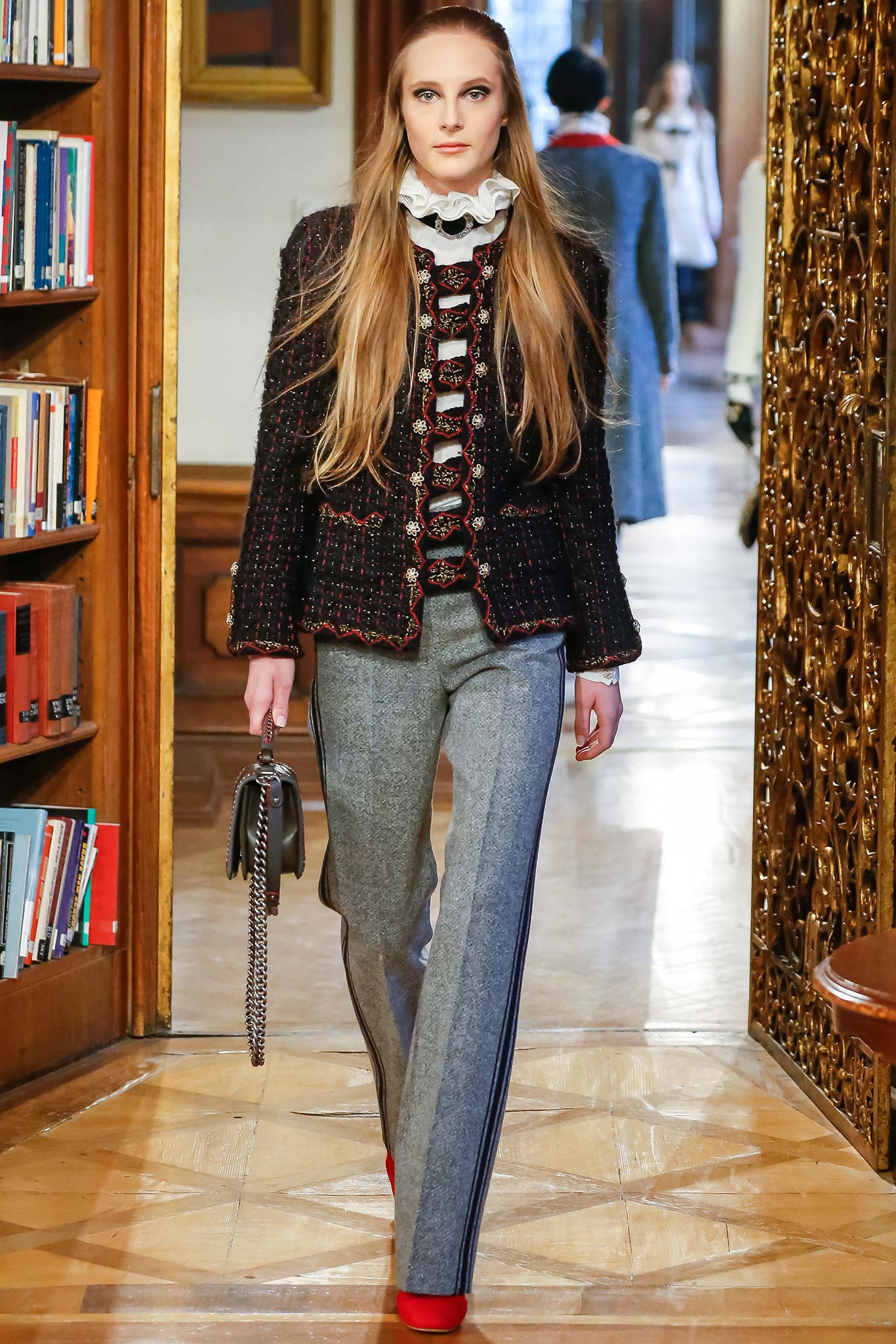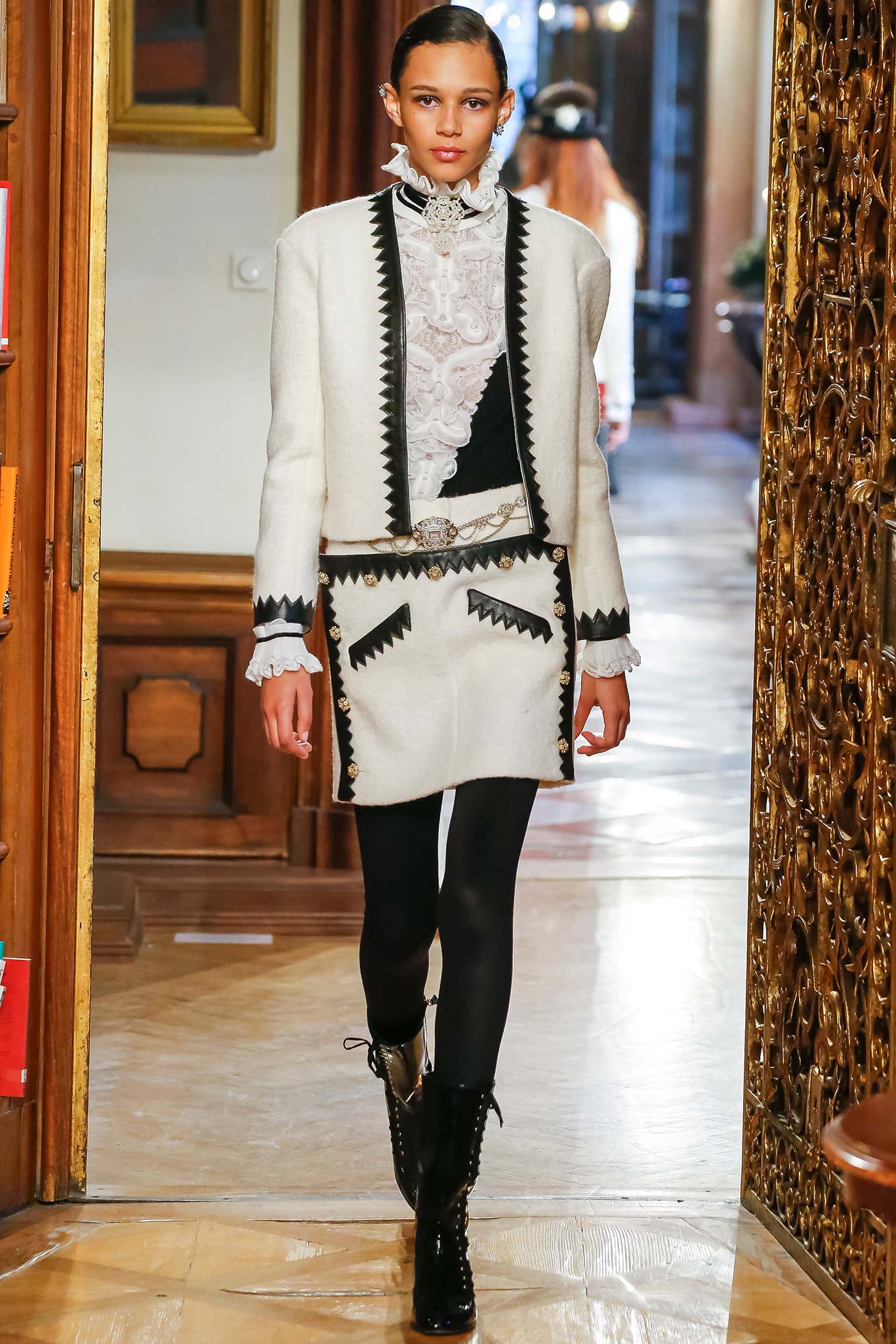 Heidi goes to Vegas but keeps her virtue intact.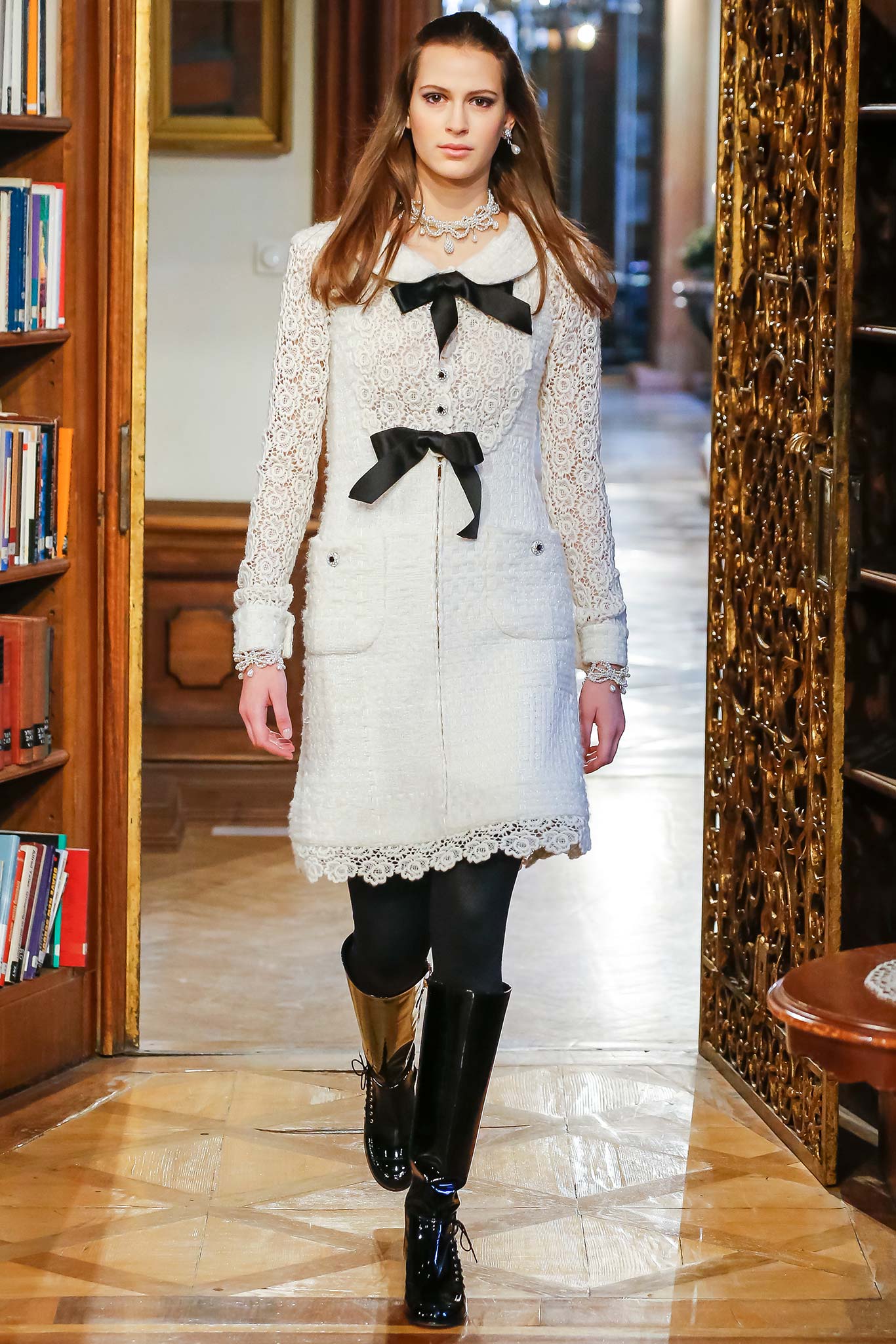 The perfect little OFF WHITE dress, with guipure lace detail, ribbons......wear with patent leather boots. Great low key regal option for an opening event. Who needs a ball gown when you can show up in this delicious creation?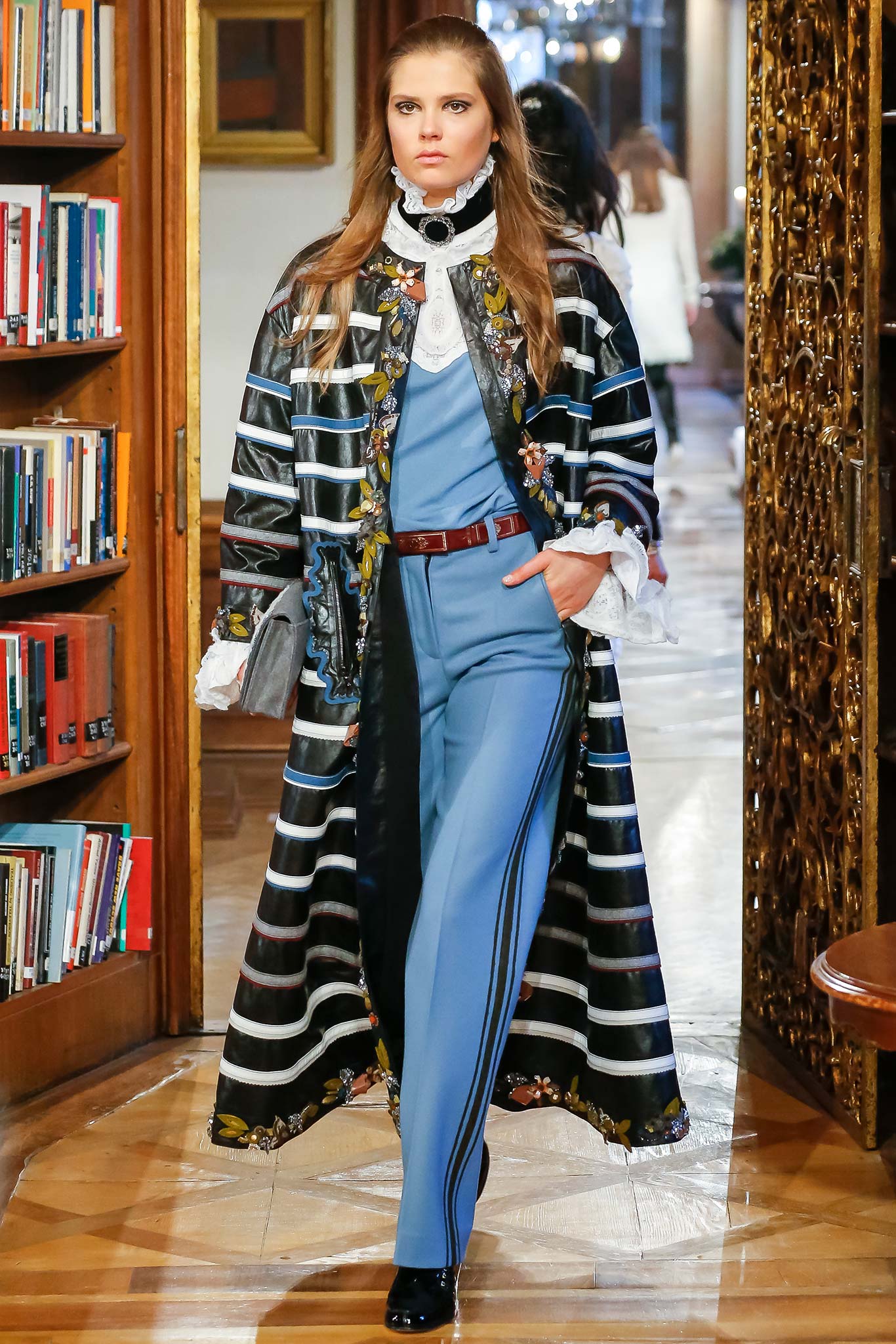 I think I just fainted.........long leather, with an infinity of embellishments....$$$$$$$, but worth every penny. If you want quality, impeccable workmanship, and the kind of intricate shenanigans that only the House of Chanel can provide, then you're going to have to pony up the shekels. However, this kind of artistry will keep one entranced forever, the kind of piece that almost belongs under glass like a rare kimono.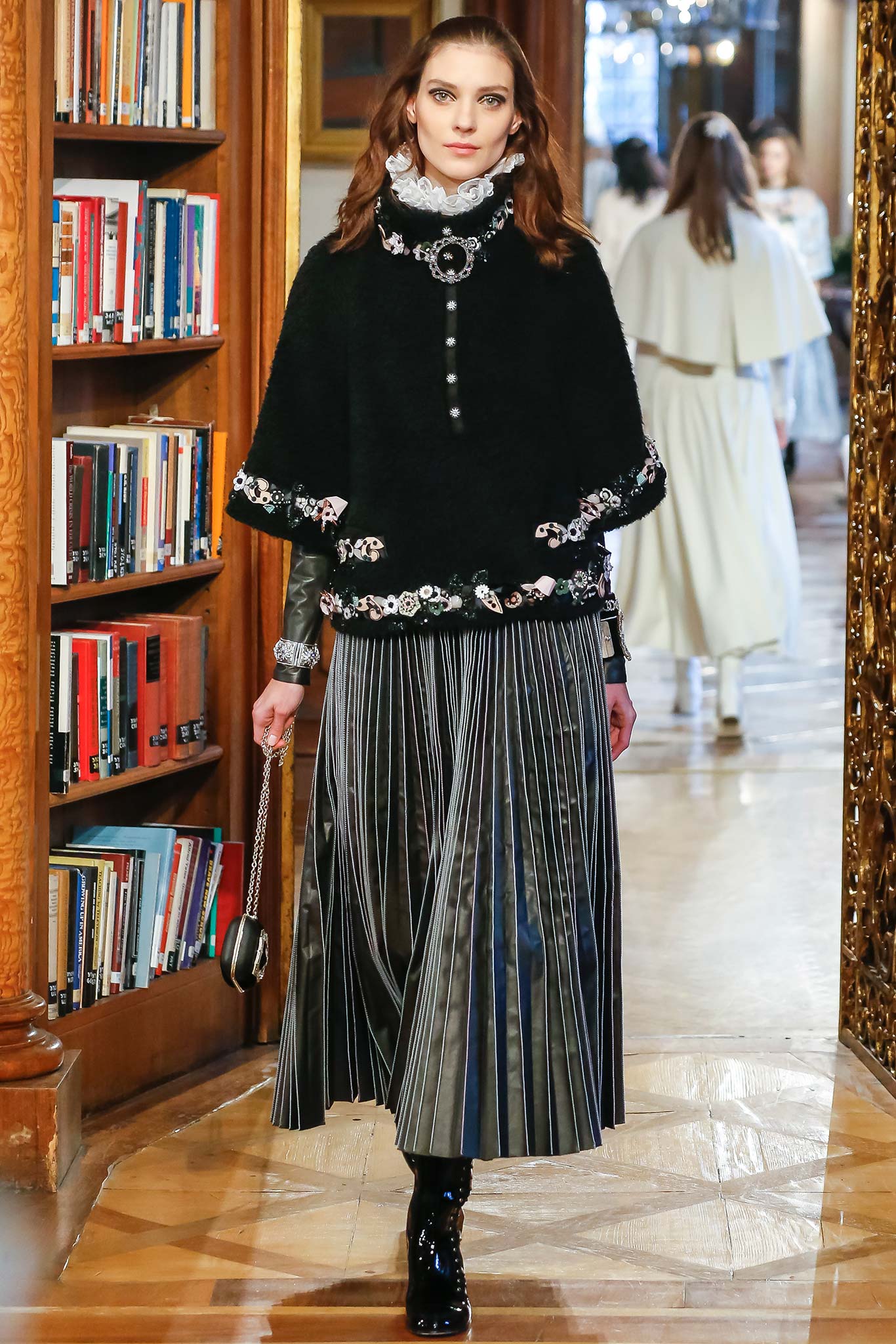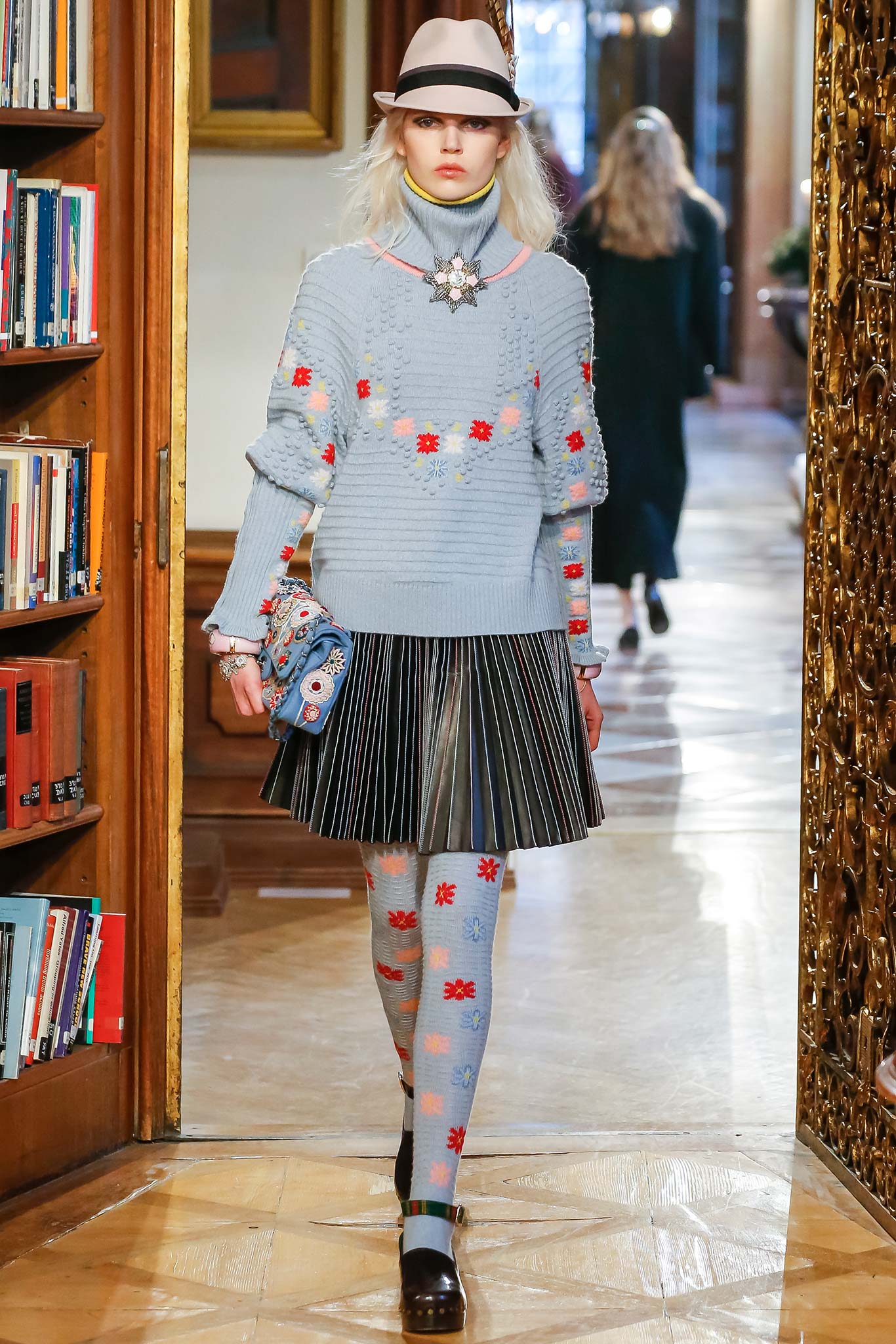 The powder blue sweater is sweet but not cloying and another good starter piece. Even the "man repelling" clogs are cute. If you are blessed with skinny gams, go for those crazy tights.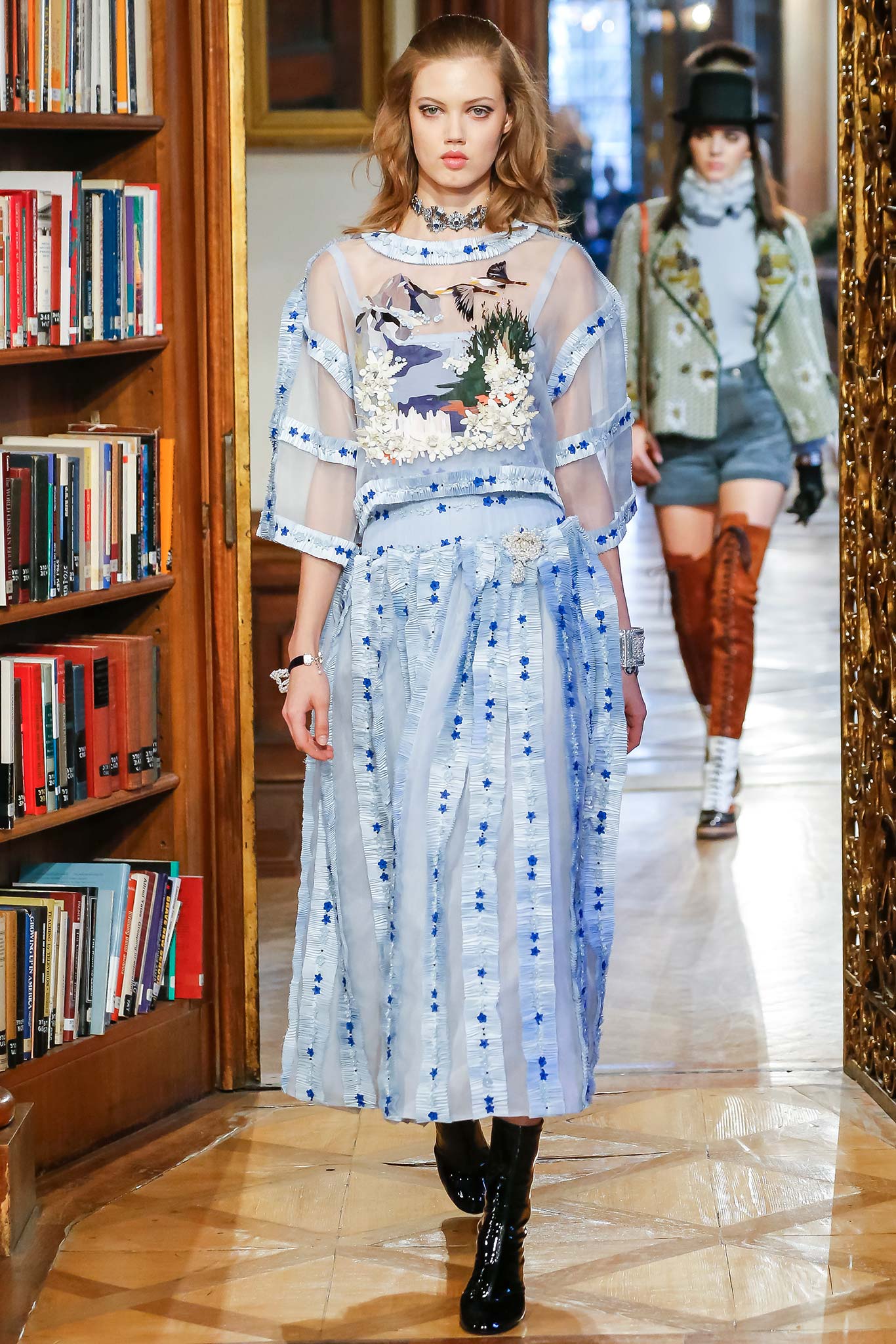 Light and airy pastel concoction fit to be under glass like so many other pieces in this fashion spectable.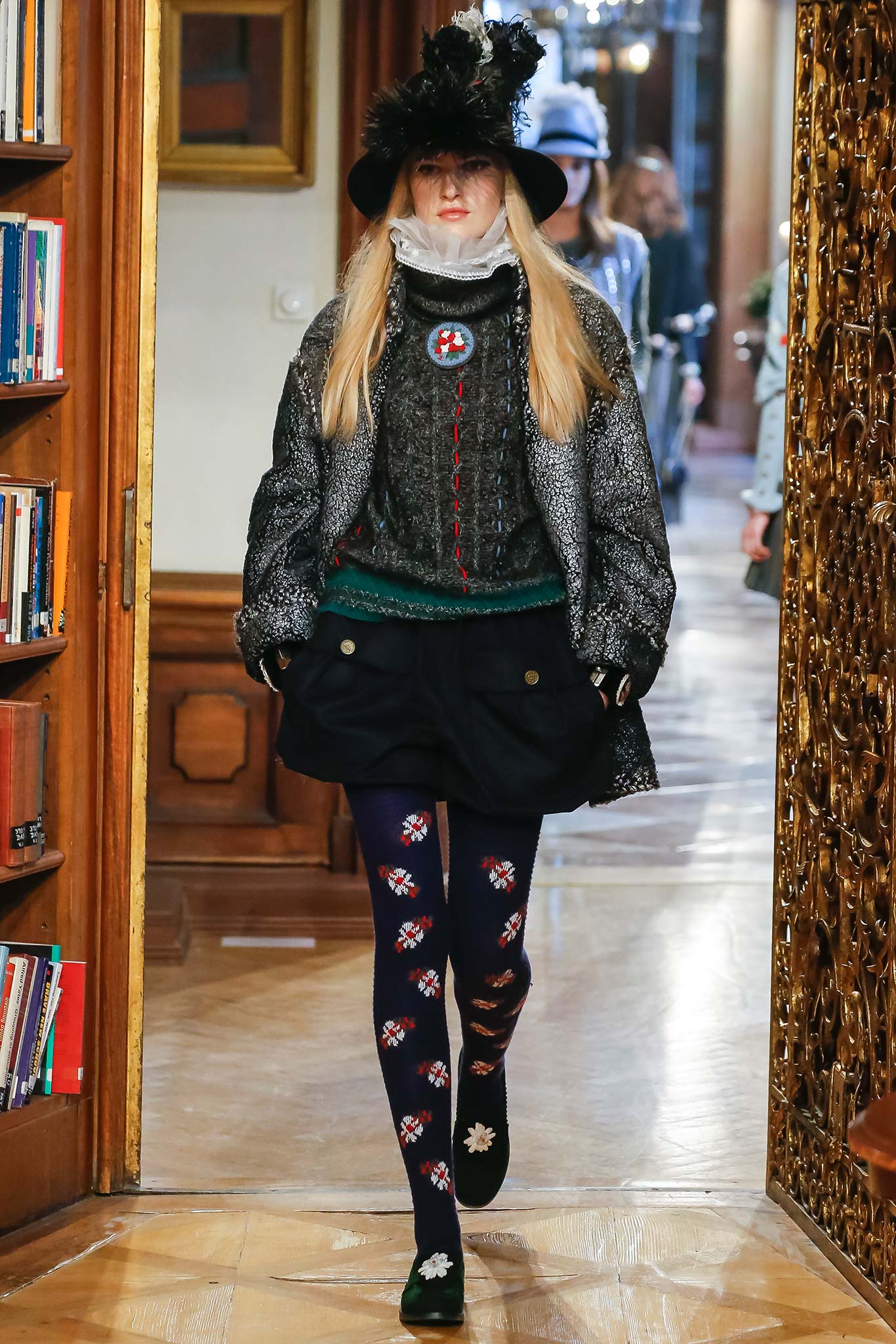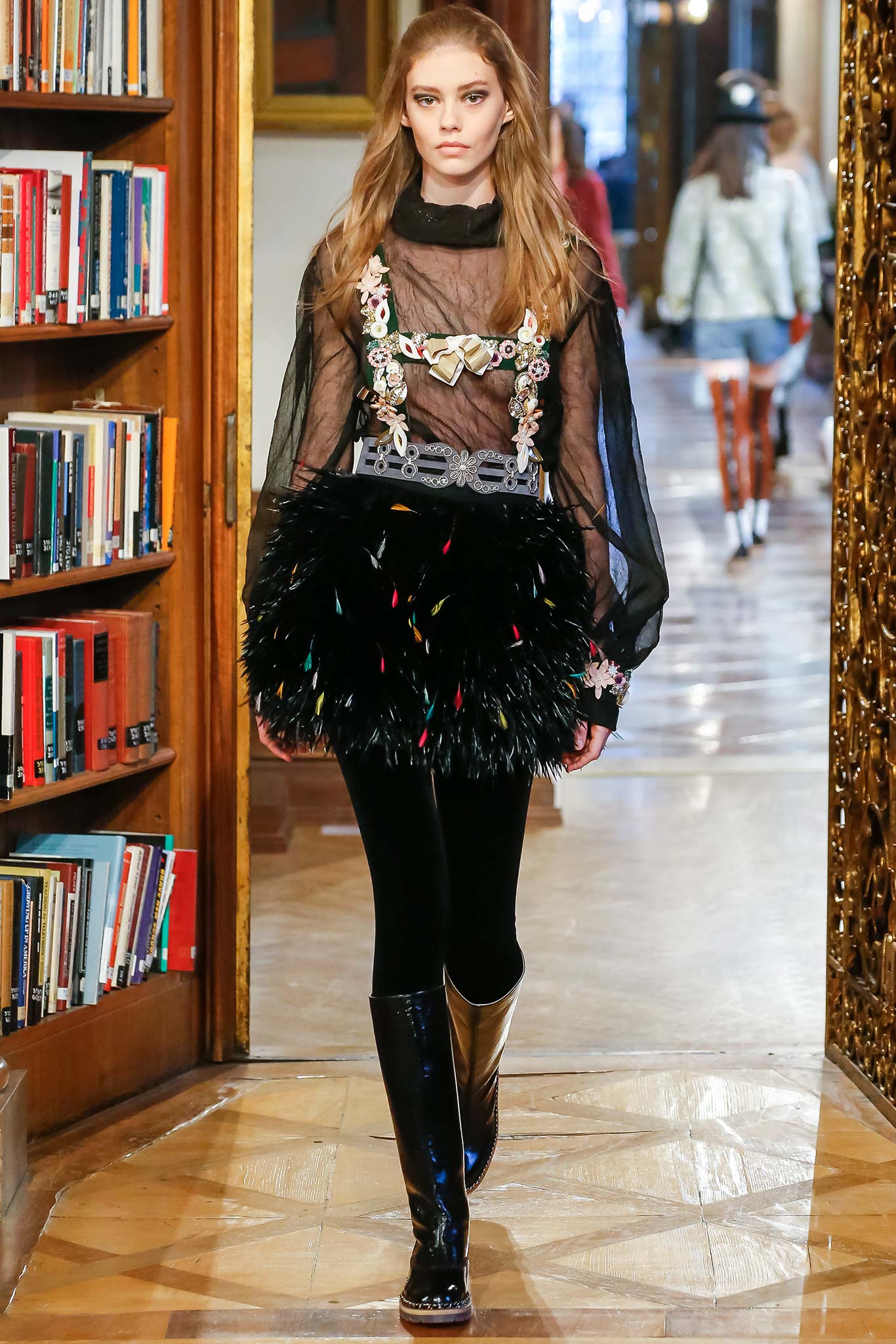 Mmmmm, feathered lederhosen, who else could conjure this up? ICH LIEBE!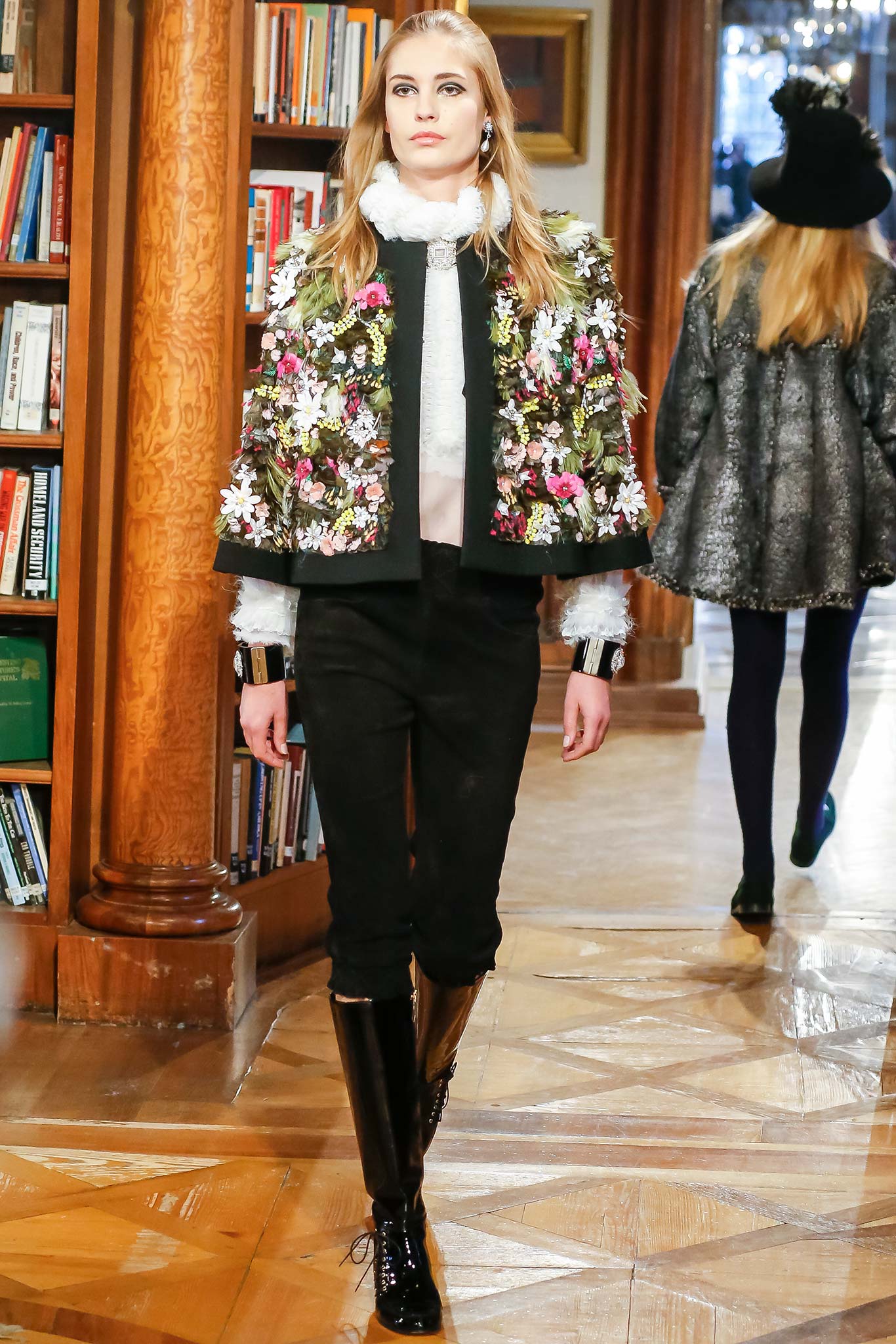 The craftmanship perpetrated by the various artisans almost defies imagination. Many of these pieces are truly wearable ART. Just stay out of wind tunnels.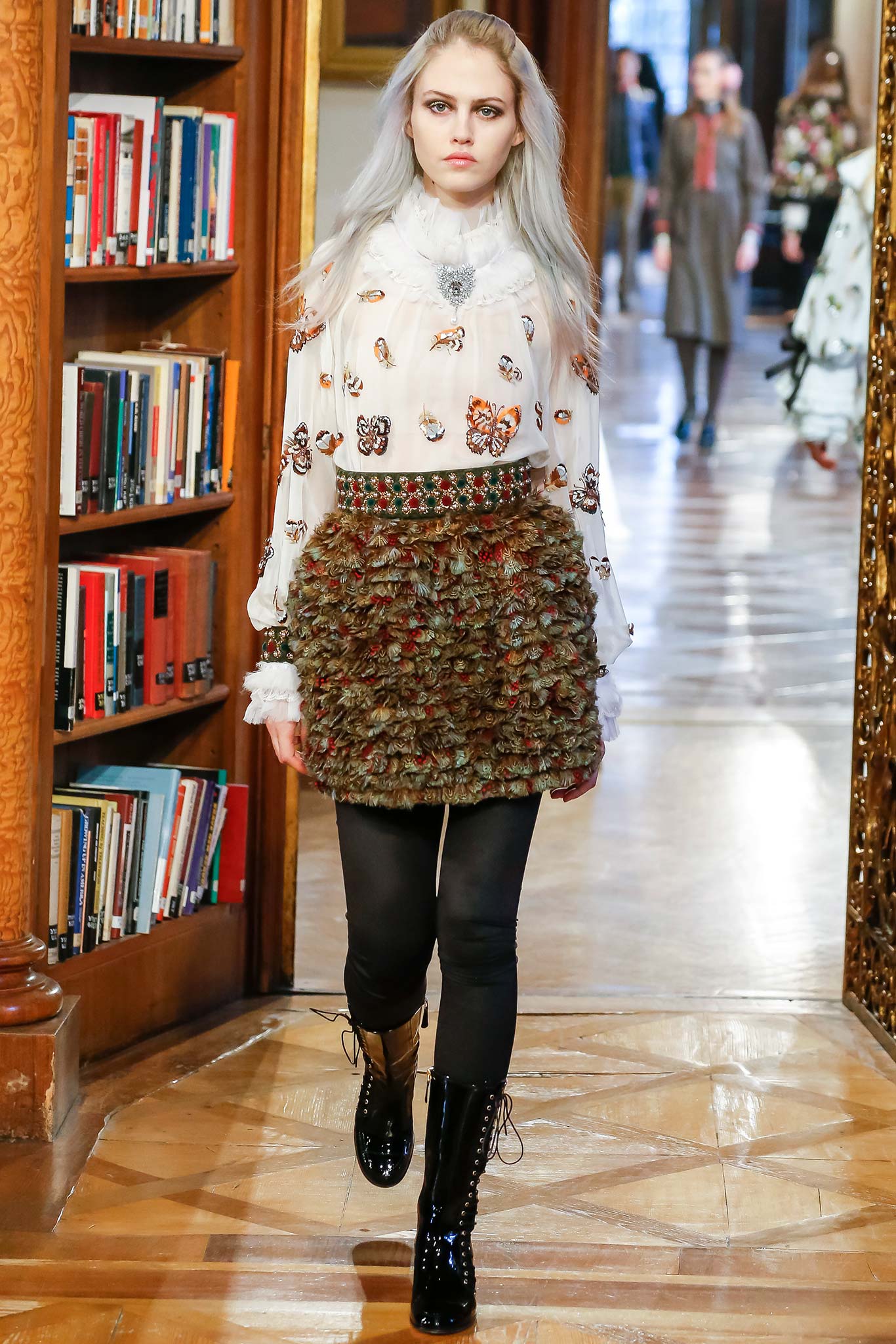 The enduring theme of rebirth and the cycle of life is captured in one of nature's marvels, the Butterfly, which makes a brief yet impactful appearance on this Austrian runway, here on gossimer chiffon, paired with a skirt composed of pure whimsy which may in fact take flight...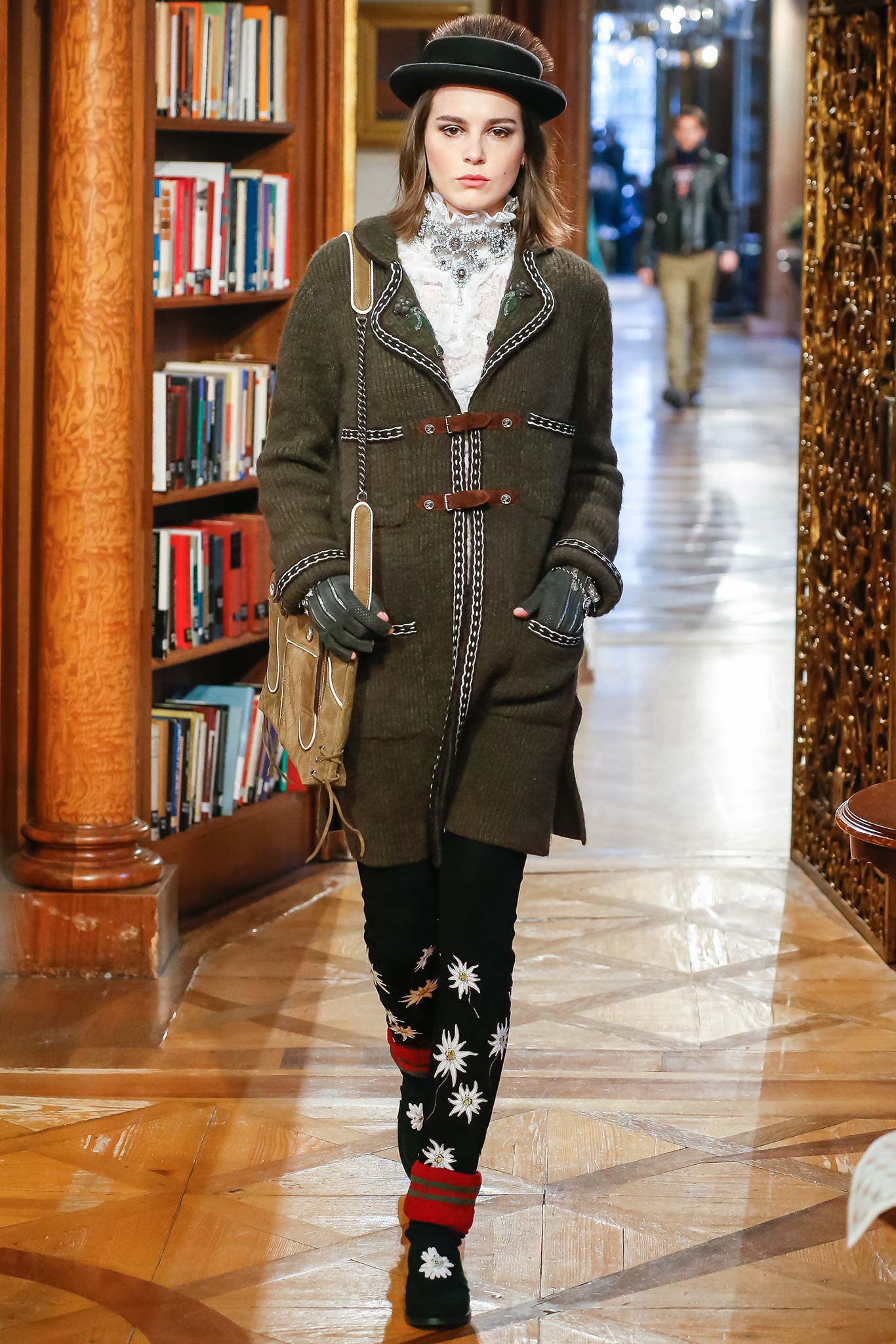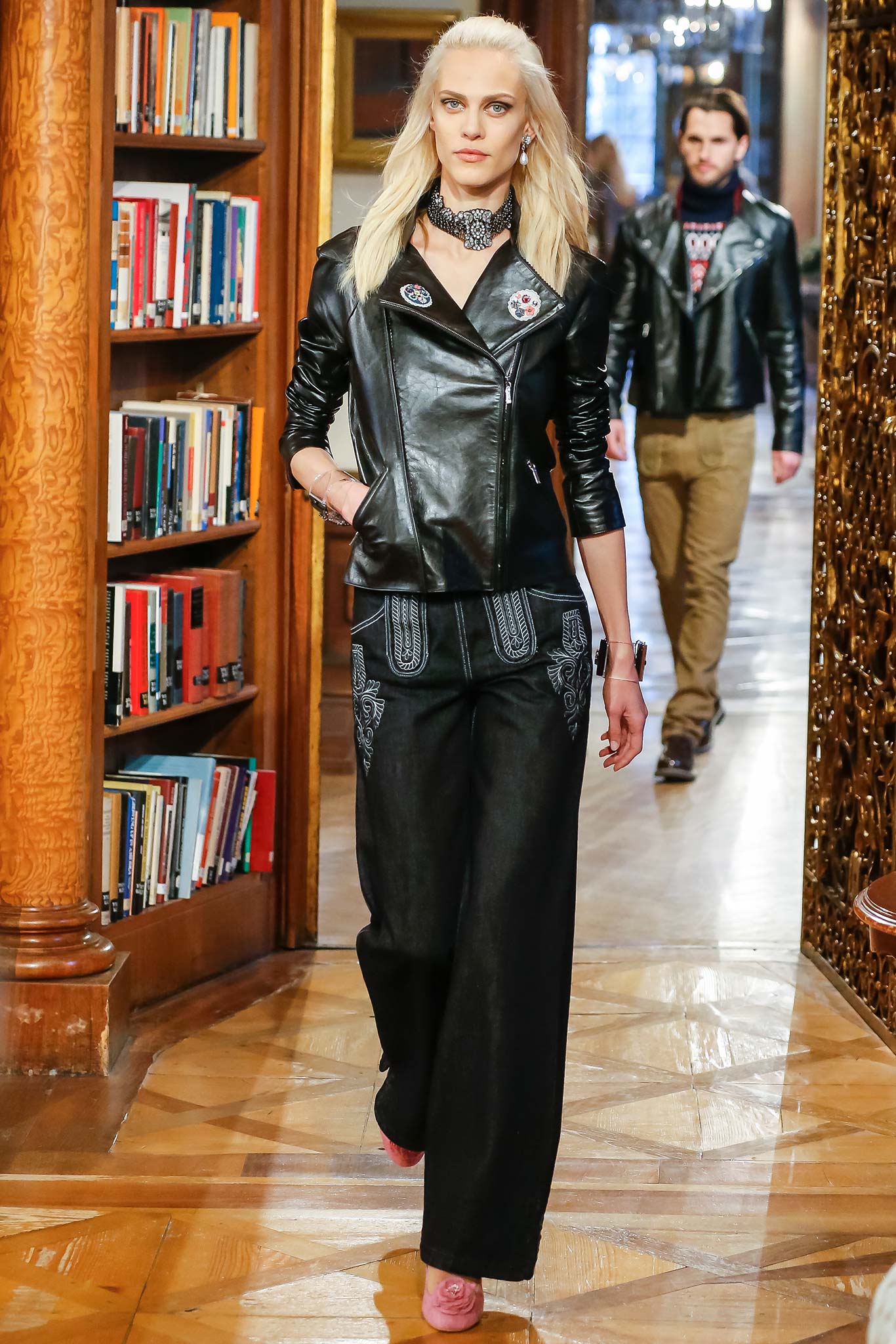 Now THIS is how to do denim and leather. And the pink camelia pumps are the cherry on this no calorie sunday. Drool.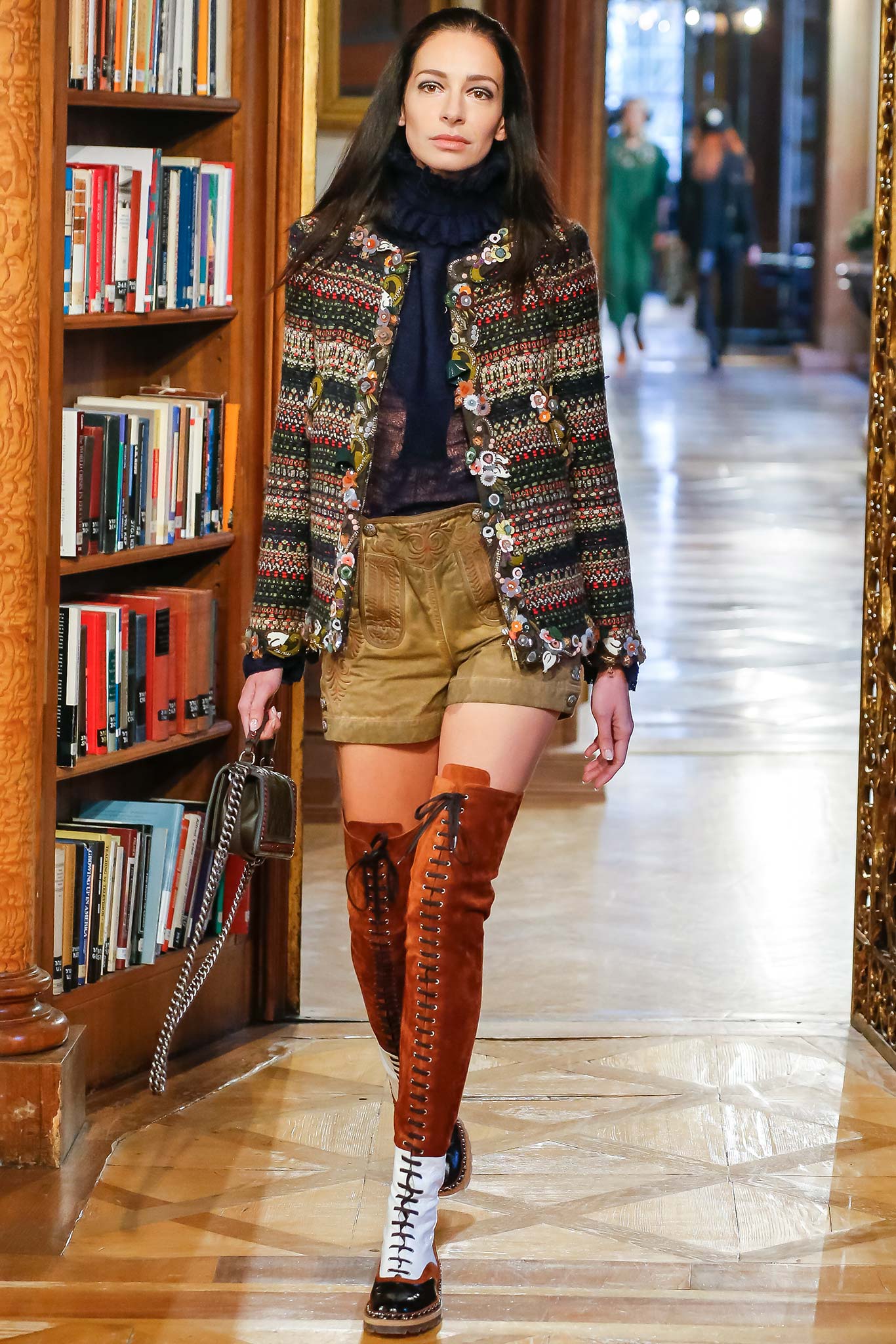 Sigh......well, this masterpiece will keep you entertained the hour it will take you to lace up these "boots". And check out the Elizabethan homage in that glorious blouse, which is almost overshadowed.....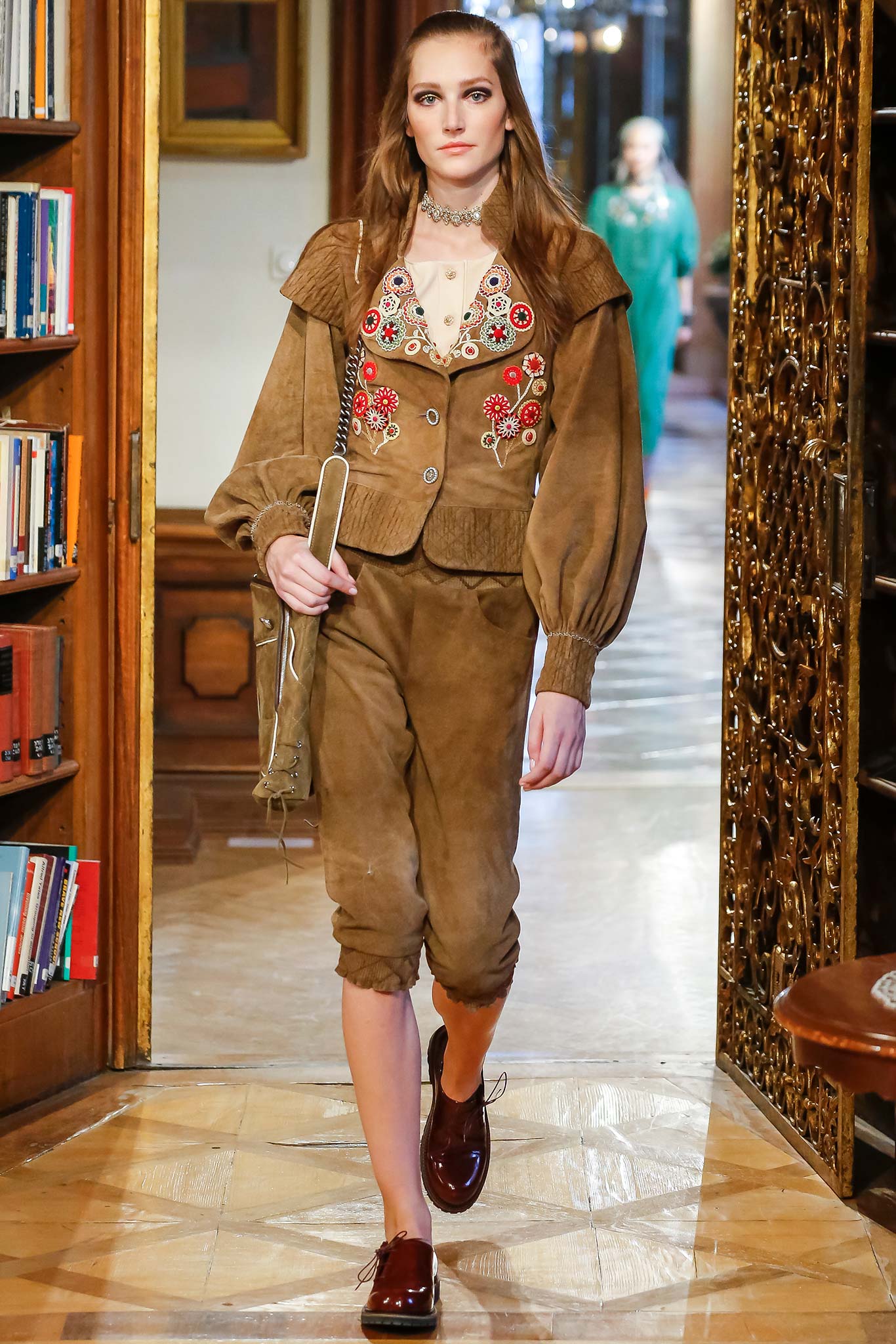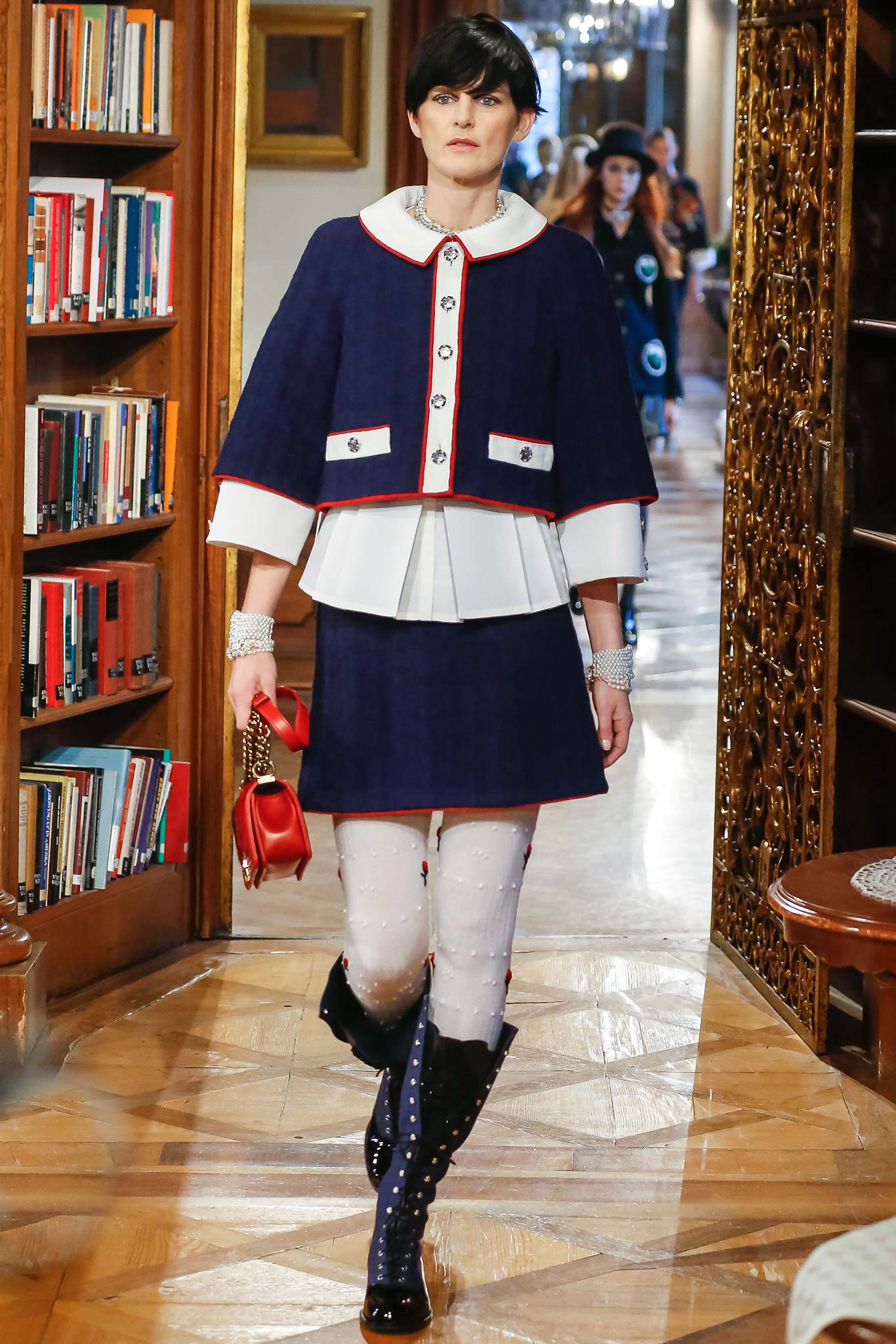 Skip the skirt, throw the remainder of the ensemble over casual fare including navy slacks.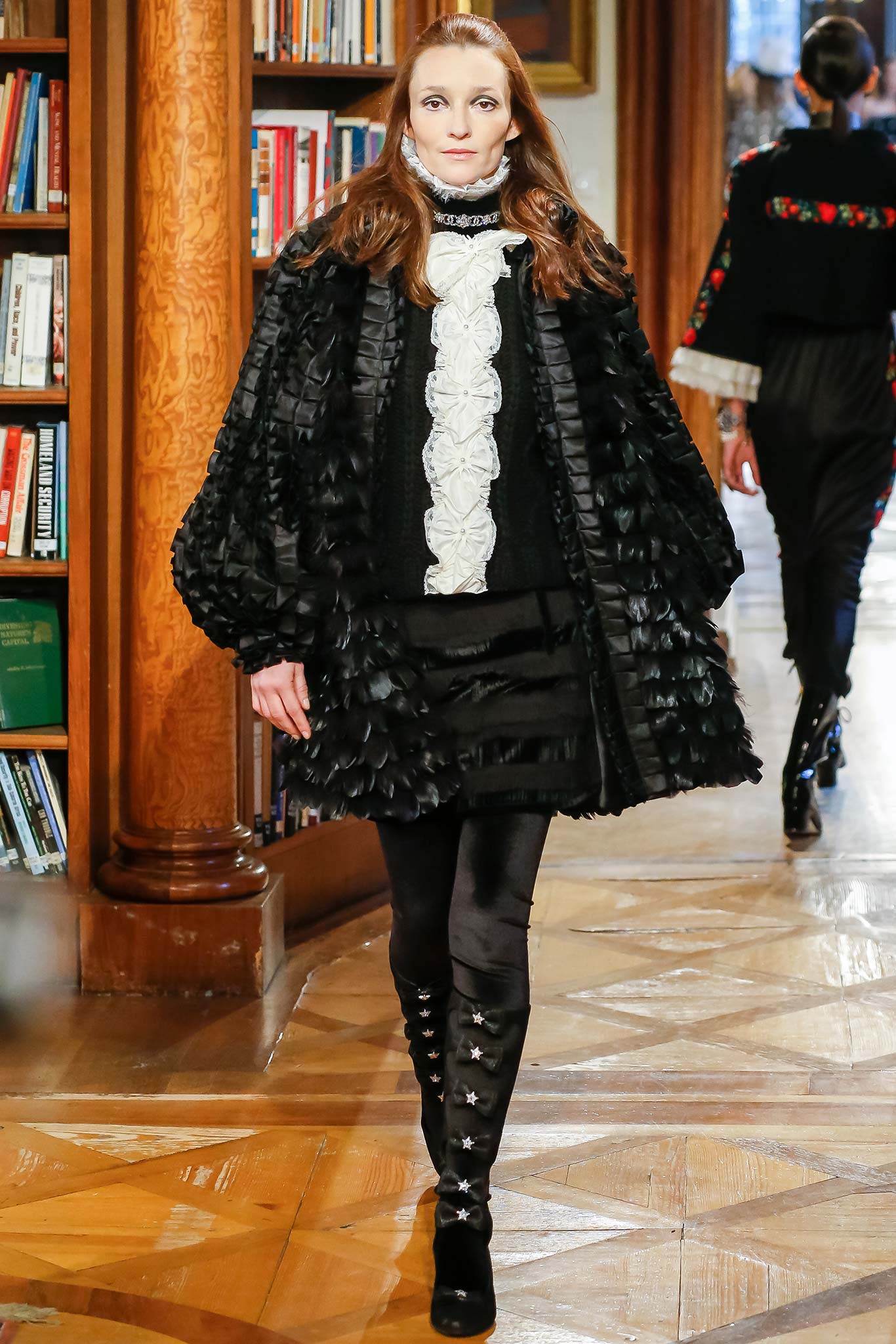 Jesus, words ALMOST escape me. King Henry VIII lands in the Austrian Alps. Just when you think you've seen it all, the Kaiser delves into Pandora's box and releases another mystery out into the universe.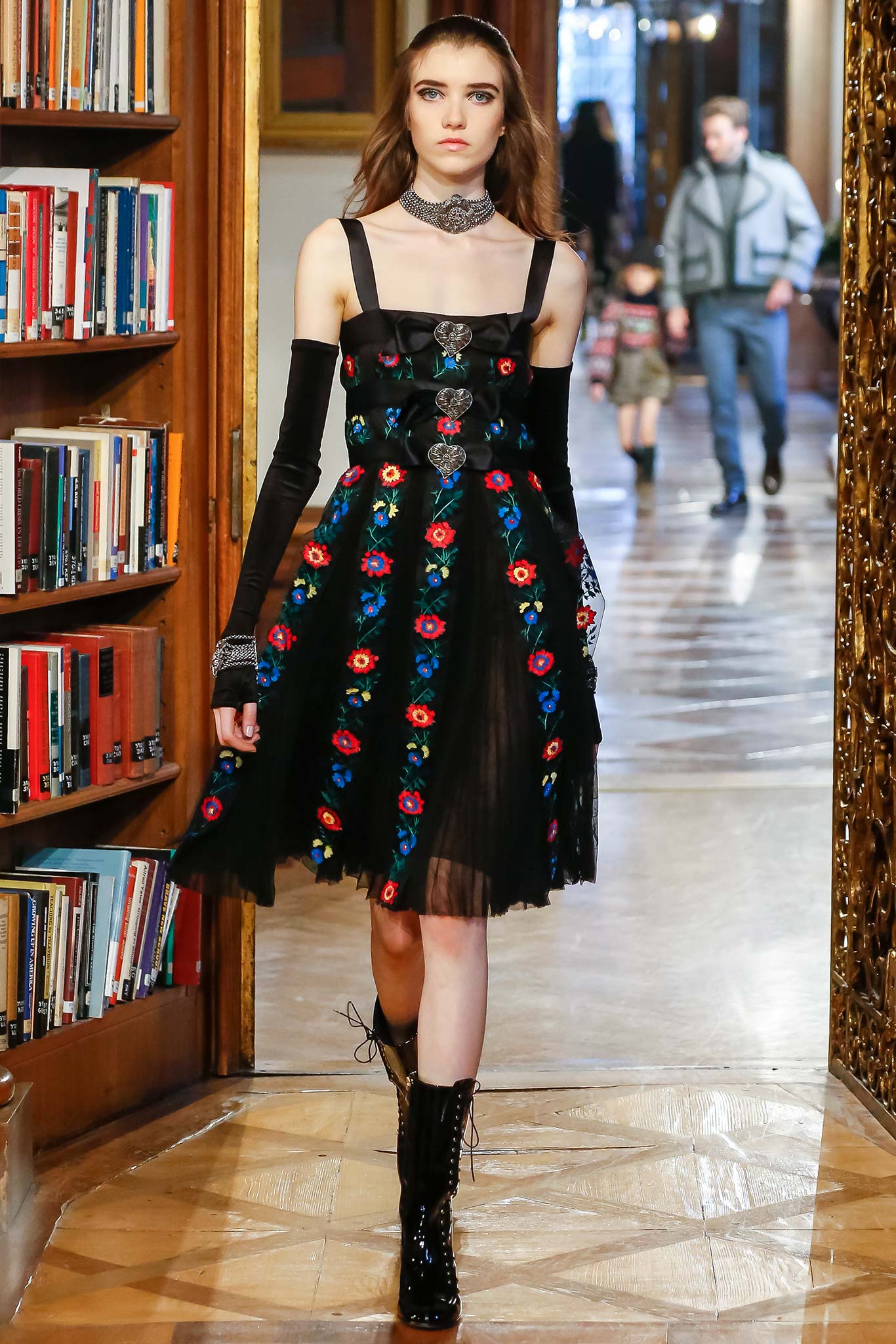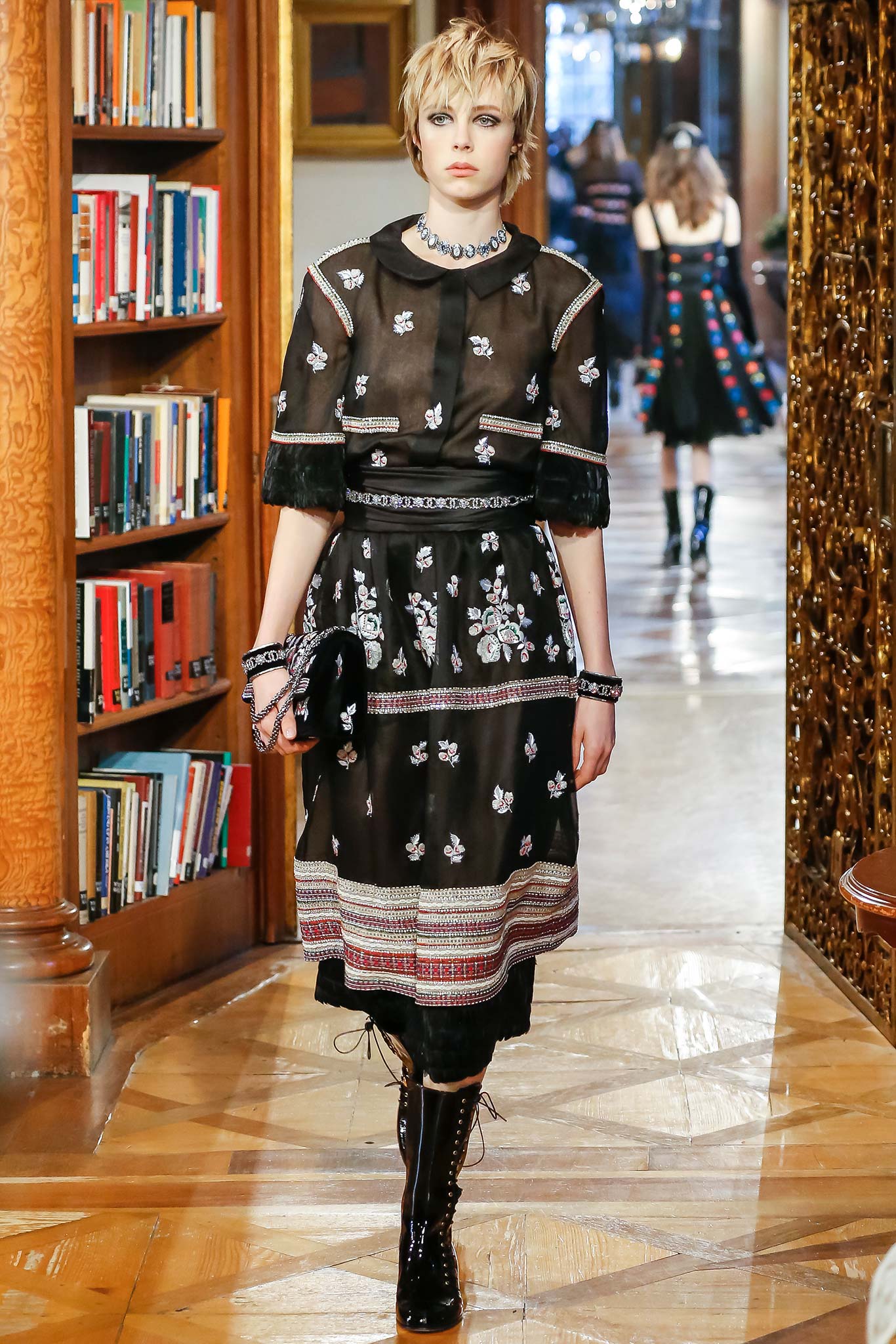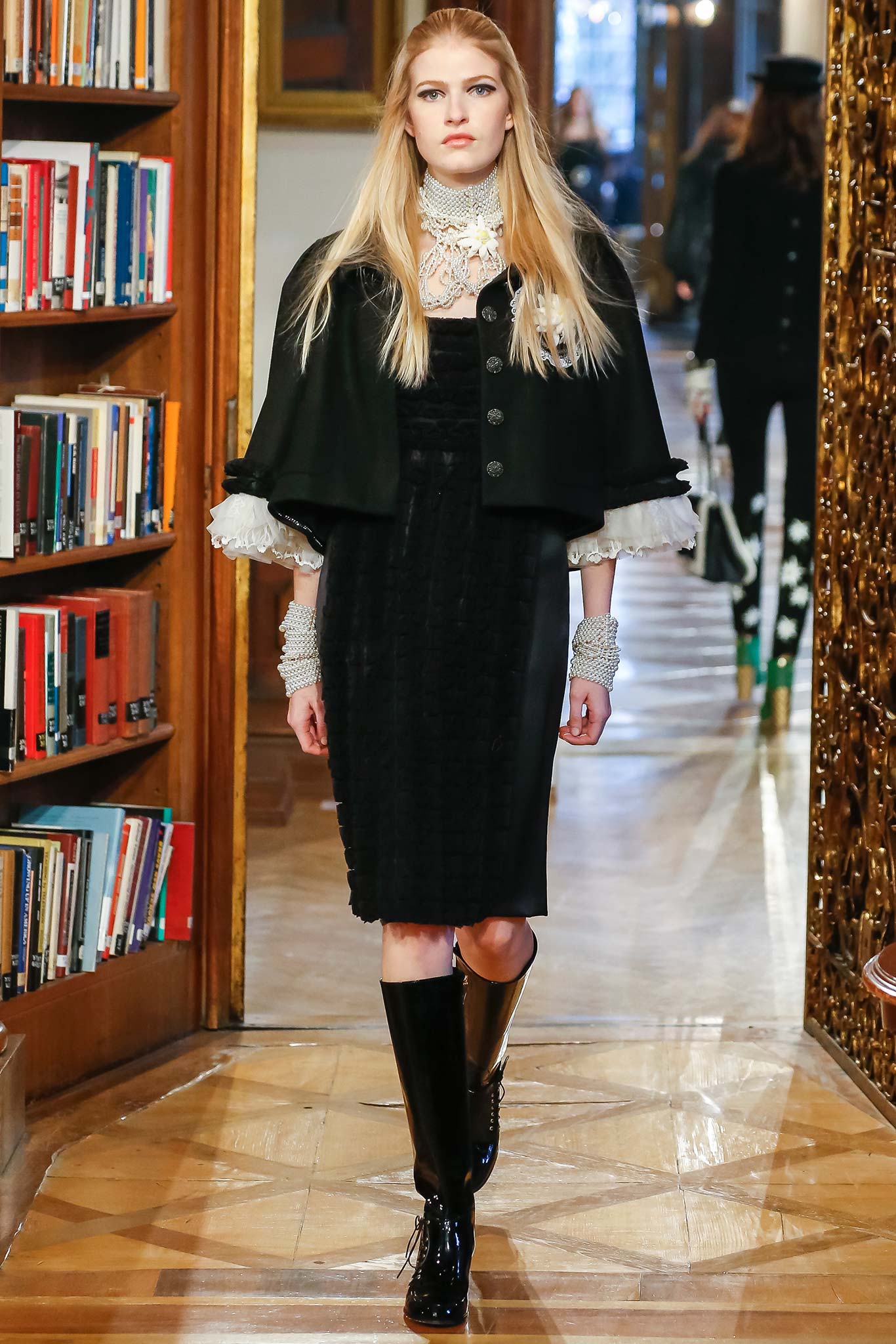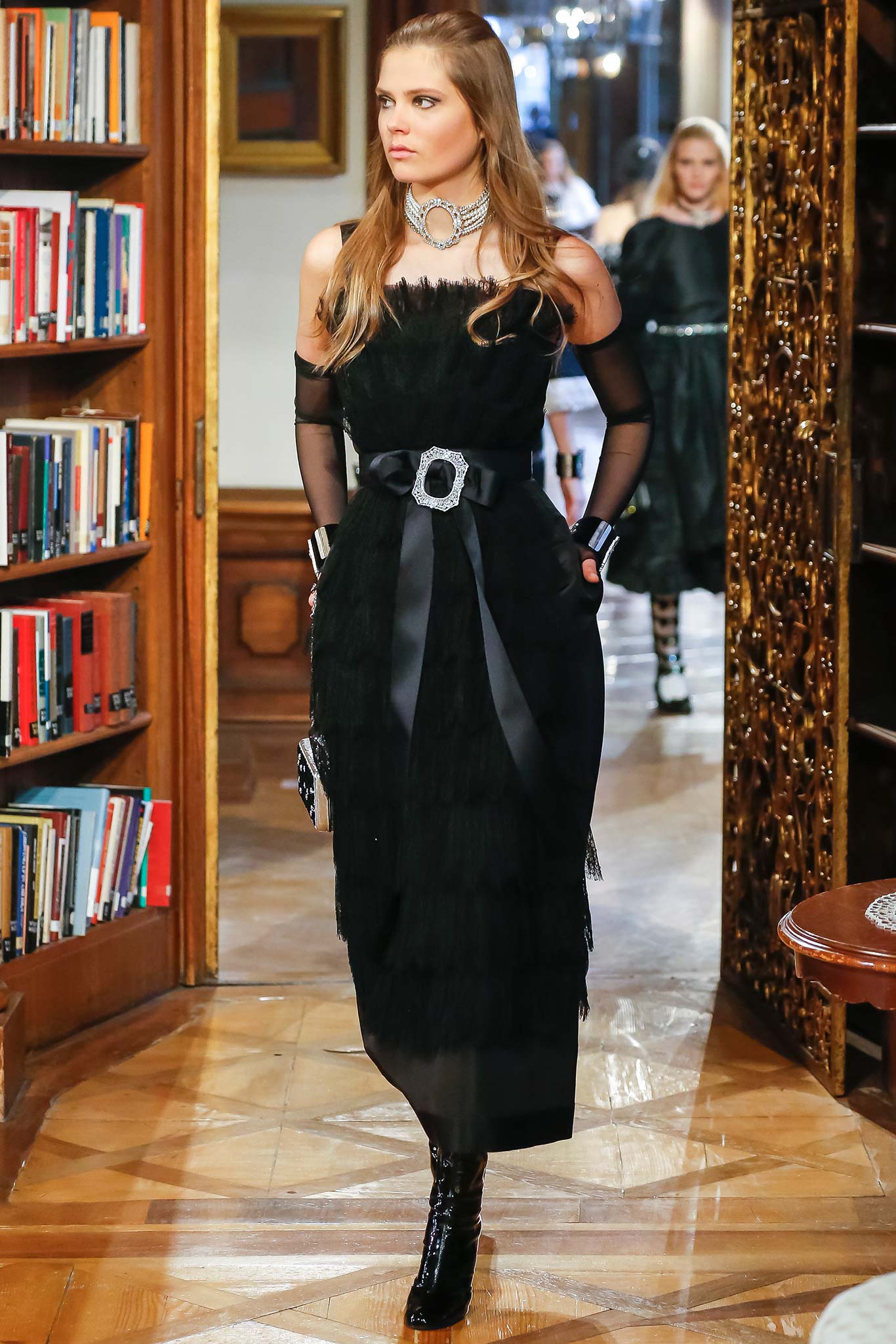 The black swan in human form........Goth Cinderella.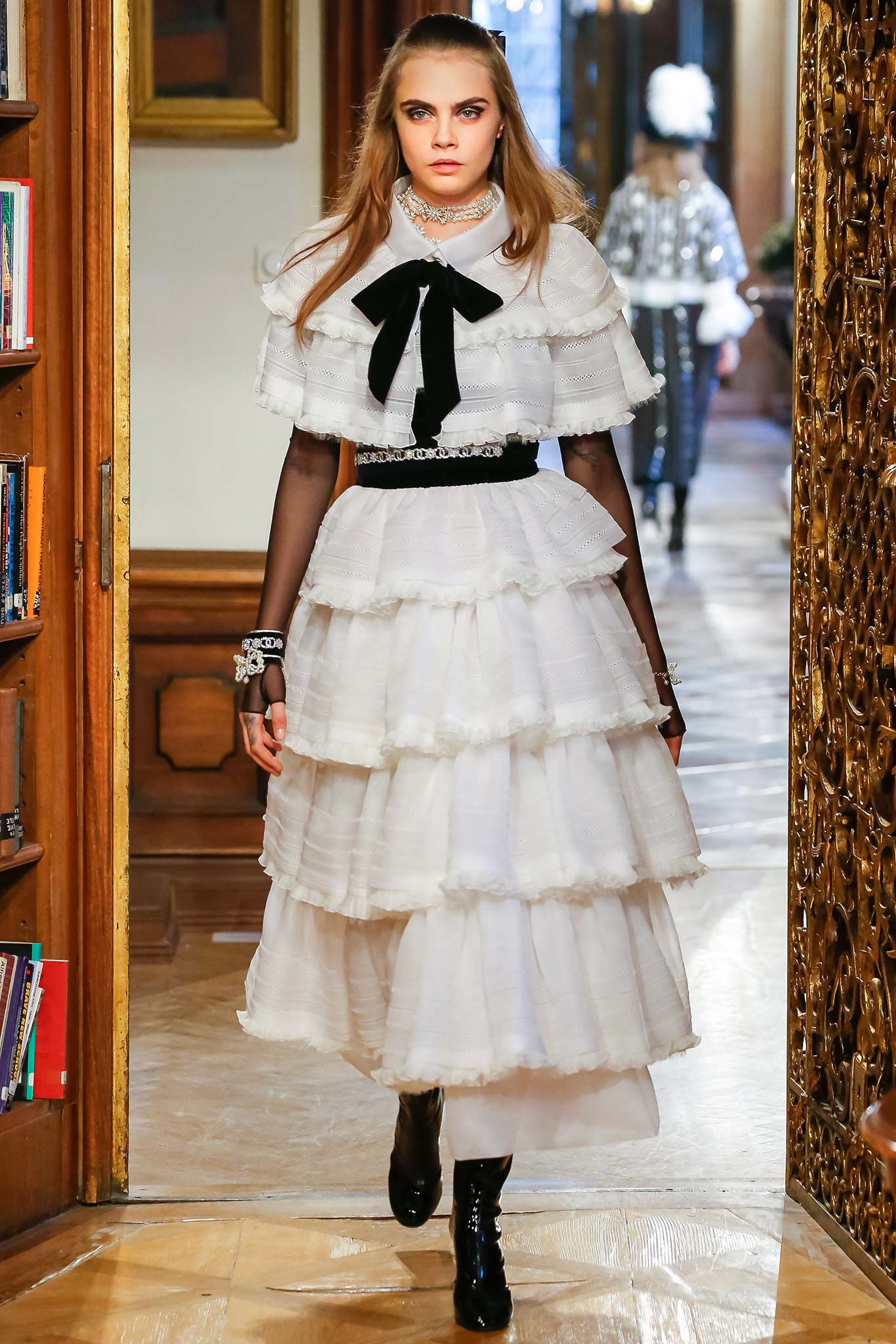 Metier's d'Art Artisans:
DESRUES: Costume jeweler and accessory maker
LEMARIE: Feather and flower maker
MASSARO: Bootmaker
LESAGE: Embroiderer
GOOSSENS: Jeweler and goldsmith
MAISON MICHEL: Milliner
GUILLET: Corsage and floral decoration maker
MONTEX: Embroiderer
CAUSSE: Glove maker
BARRIE KNITWEAR: Cashmere producer
LOGNON: Pleater
Clearly it takes more than a village to assemble a Chanel ensemble. Once again, B R A V O Karl Lagerfeld.
If these pre-fall collections are a sampling of what is to come, then fall winter should be grand indeed!
Images brought to you by www.style.com