Images brought to you by www.style.com
Well, PRE-FALL is upon is, a bridge between summer sales and the spectacle that is FALL season. This is not to say however that pre-fall is without pomp and circumstance, case in point, CHANEL pre-fall RUNWAY. One need only harken back to prior seasons to be reminded of this fact. Here is a short blast from the past, where Shanghai (2010), Byzantium (2011), Bombay (2012), and Scotland circa the 16th century (2013), were realized by the imagination of Karl Lagerfeld.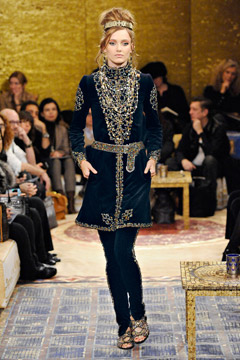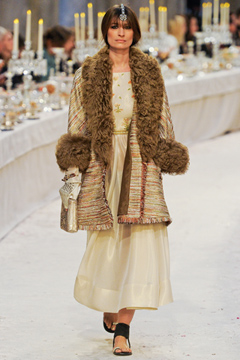 SHAZAM!!!!!
Now here we are in 2014, where Texas is the backdrop for the current extravaganza. SADDLE UP baby, The Kaiser is back in town! Go BIG or go home.
Its time to revisit those cowboy boots stashed in your closet!
Here are the usual suspects in a contined roll call of pre-fall delectibles. It ain't your Grandmother's pre-fall anymore.
D I O R
Often pre-fall collections are smaller in scope than those of resort, spring and fall winter. But more isn't necessarily MORE. The pre-fall collection by Raf Simons ilustrates this point. An outfit for every occasion, but not one superfluous item. The paradoxical yin yang feminine paradigm with a sexy masculine touch. Following in the footsteps of John Galliano must have been daunting indeed. Like Johannes Brahms following in the wake of Beethoven. What could be more agita producing? And yet Brahms went forth to become, in my opinion, the greatest composer to grace this planet. If you don't believe me, go listen to his Ein Deutsches Requiem. But I digress. Since I saw Simon's first runway collection, in the showroom no less, I knew that this was the man to rise to the challenge, to the gauntlet thrown down years ago by Galliano.
Now more of my favorites: GIAMBATTISTA VALLI, always stunning, impeccable, and eminently wearable.
VALENTINO
You can always count on Maria Grazia Chiuri and Pierpaolo Piccioli to bring whimsical well made pieces that run the gamut from a unique wearable outfit to tool around town in, to an etherial knock out one might wear to a coronation.
This collection has THE most beautiful shearling coats I've ever laid eyes on. I'd wear that Butterfly coat with jeans and a T shirt OR to the opening of the Opera!
ANDREW GN
I stumbled onto my first Andrew Gn coat, long pink with embroidery and mink trim, at Nordtroms circa 2002, on sale. It was a tad too small but I couldn't resist, it was from one of my favorite categories, what I refer to as "Russia before the revolution", ie, 19th century lux, before everything turned dour and gray under totalitarianism. And NO ONE did lux like the Russians, (except maybe the Sun King, Louis XIV), think Catherine the Great. Over the years, I've added a few more of his wonderful creations to my archives, from Wilkes Bashford (a San Francisco bastion since the late 60's) and Bergdorf Goodman. He loves velvet, lace, mink trim, and flattering feminine silhouettes, and every ready to wear collection I've seen is a feast for the eyes. Vintage sartorial spendor. And he has a loyal following. But these days his fashions are difficult to find, I don't know why......so if you don't know Andrew Gn, go back in time via style.com and acquaint yourself with this supremely talented man. And then PLEAD with any sales associate you come into contact with to talk to the buyers and GET HIS COLLECTION IN THE STORES!
LOUIS VUITTON
I have nothing but praise for some of my favorite ready to wear, EVER, some of the most well crafted clothing I've had the privilege of wearing. This will be the LAST collection of ready to wear from Louis Vuitton before the new man at the helm, Nicholas Ghesquiere, introduces his Fall Winter line.
Just this evening I stopped by Louis Vuitton in Union Square to gaze upon the new pre-fall line. Another successful collection of impeccably crafted, luxurious, yet non-fussy and wearable, and ALWAYS C H I C clothing. In general ALL the pre-fall looks can be worn all year round in San Francisco, would be practical during fall anywhere, and when layered, great winter fare.
And no ready to wear line up from Louis Vuitton would be complete without a pinch of whimsy and touch of merriment! If you only know LV for their purses and luggage, RUN do not walk to the nearest store which carries the ready to wear, you will NOT be disappointed!
CHEERS!