Molly Ringwald, Jon Cryer and Andrew McCarthy, vintage John Hughes 80's fare. Those were some good times. Knots Landing and Dynasty on the tube, Robert Palmer and Level 42 on the radio. Purple eyeshadow and shoulder pads were de rigueur. The A's and The Giants were in the world series. The only war we were in was metaphorical. Aside from that nasty Loma Prieta earthquake, the 80's were awesome! Which brings me to the concept of PINK. There is a reason little girls have their rooms decorated with all versions of this soft, pleasant, peaceful, calming color. I think everyone, of every age, even MEN (yeah, even the straight ones) look damn good in pink. Just a hint of pink, via a shirt or blouse can be enough to bring the desired effect of softening up an otherwise masculine black or gray suit. Pink around the face is flattering, and can set off a pop of pink lipstick or blush. You can always go full on Energizer Bunny with all over pink which can also be quite engaging depending on your accessories. Pink gives off a happy friendly and approachable vibe, however can be quite sexy depending on the richness and depth of color and the cut of the jib. Think blush, dusty rose, mauve.......and FUSCHIA!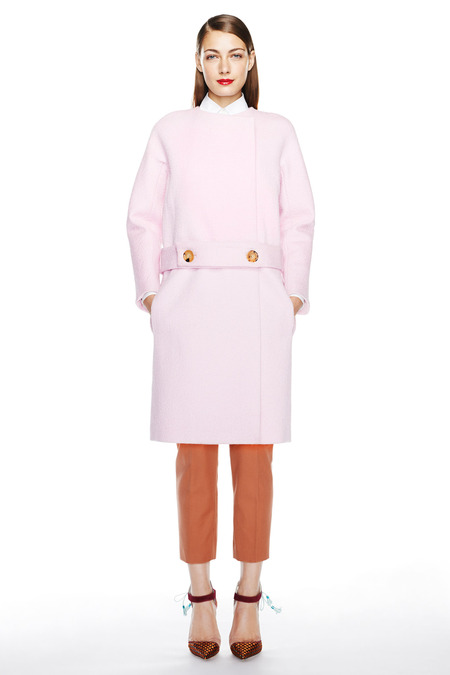 J CREW
This is an all purpose frock which would look at home with jeans, khaki slacks, flats or sneakers. Tool around town in this friendly fuzzy frock, or feel comfortable going to a movie or even a casual date. (Pink won't scare the men).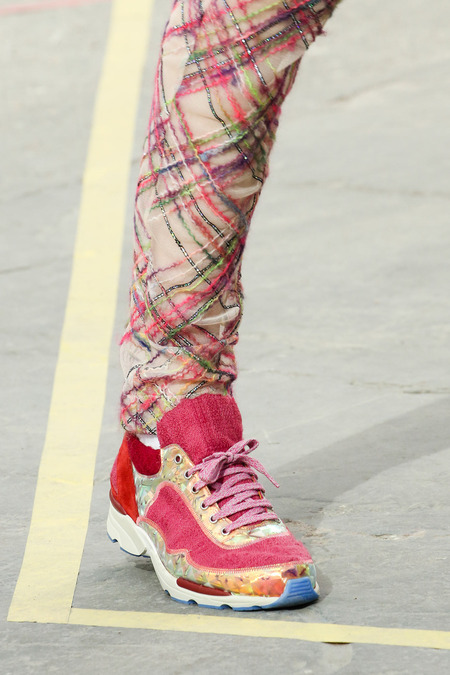 If you feel like splurging on versatile comfy shoes, go for the Chanel fall winter sneakers! These can accompany any casual outfit, certainly anything involving pink.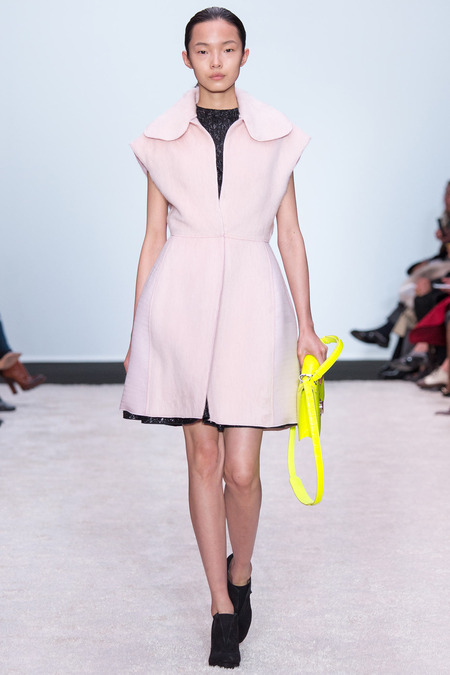 GIAMBATTISTA VALLI
This is a twofer of my favorite things, VEST and pink. This is quite a find, I saw it at the trunk show at Saks back in April, LOVED it. The mohair gives a visual interest to what might otherwise be considered somewhat ordinary. The texture doesn't quite translate on this runway photo, another reason to check out the never ending trunkshows. Again, the vest is IN for fall winter, but this aside, the vest has always been one of the most versatile pieces of clothing, less constraining than a coat, and just more mod.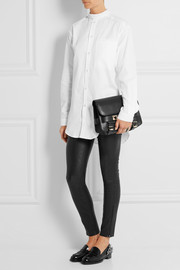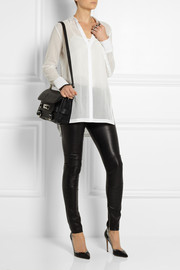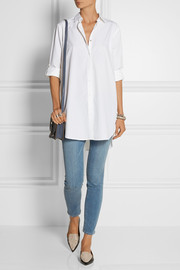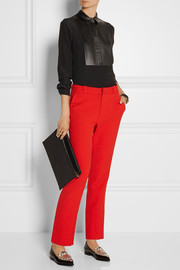 The light pink vest would provide subtle contrast to the white shirt black leather pant combo that likely lurks in most closets, but would also tone down the leather factor or a more vibrant color such as red or fuschia.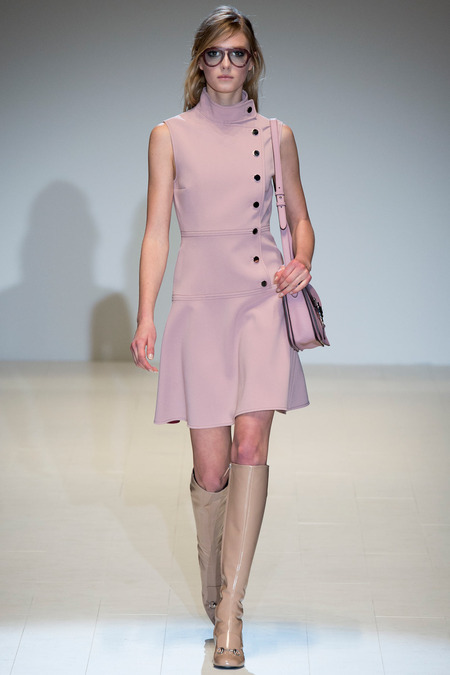 GUCCI
One of the most appealing dresses for fall winter, chanelling Jackie O, which is always a good thing. Flattering fit, soft engaging pinky mauve you rarely see, just enough buttons to be entertaining. The collar detail spares you the need for jewelry. This is the perfect dress to go over low heeled patent boots like those the model is wearing, but would also look hot but not hooch with some high heeled black suede boots.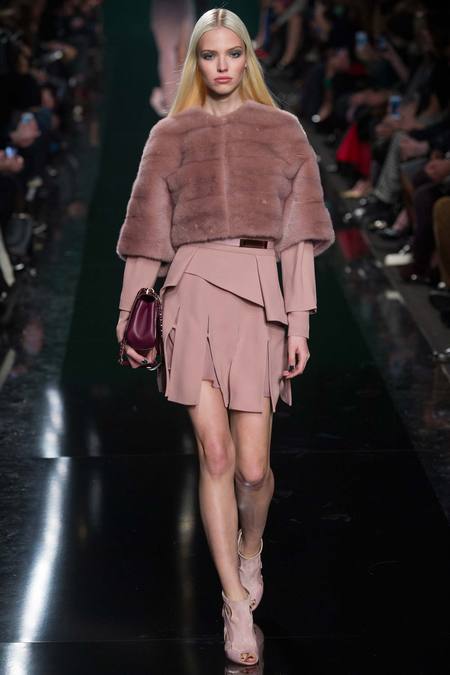 ELIE SAAB
More mauve, but slightly more sexed up, hot cocktail fare with the mink topper. Classic Elie Saab lux. Perfect if you plan to hit the casinos in Monaco.... ;)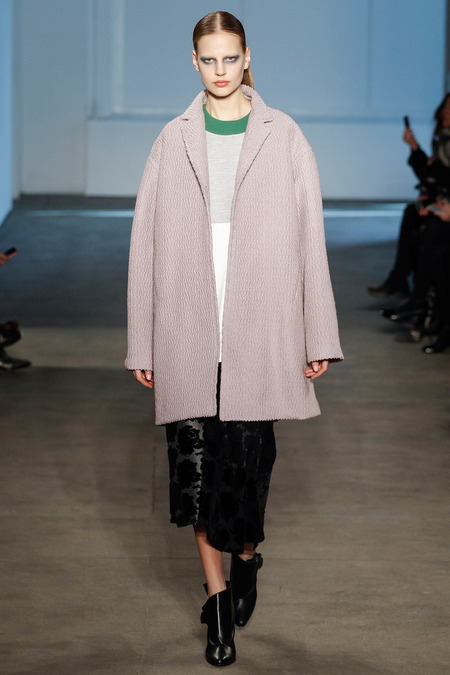 DEREK LAM
I've already expressed my love for Derek Lam in another post, but I just couldn't help myself. I had to throw this dusty rose boucle coat up again. Comfy, pretty, perfect over skirts, leather pants, jeans, or what the hell, even over your pajamas! All purpose and timeless.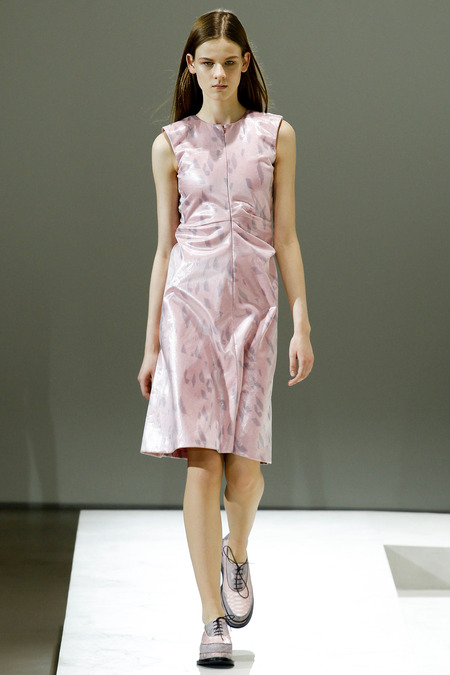 JIL SANDER
Love this. Shiny sleek silhouette with just a wee bit of rouging! For pink on pink fanfare, throw this on under the Derek Lam boucle! Think of this with black velvet flats or black patent boots.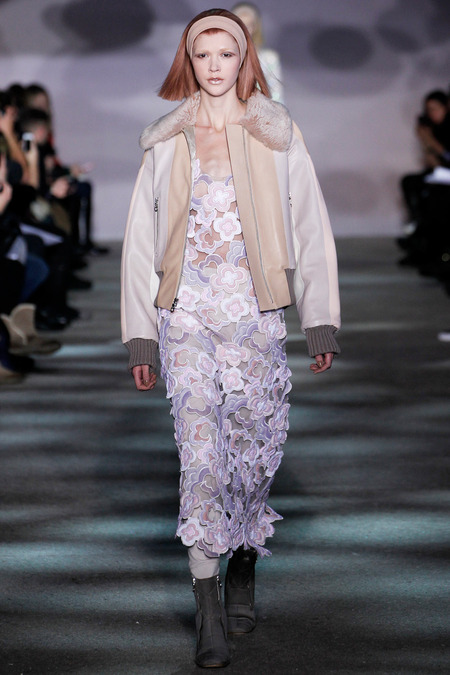 MARC JACOBS
Drool. Another knock out from the runways. Striking, but soft and feminine, well crafted, just scrumptious! Funking this up with leather jacket and shoe booties would be a good way to go.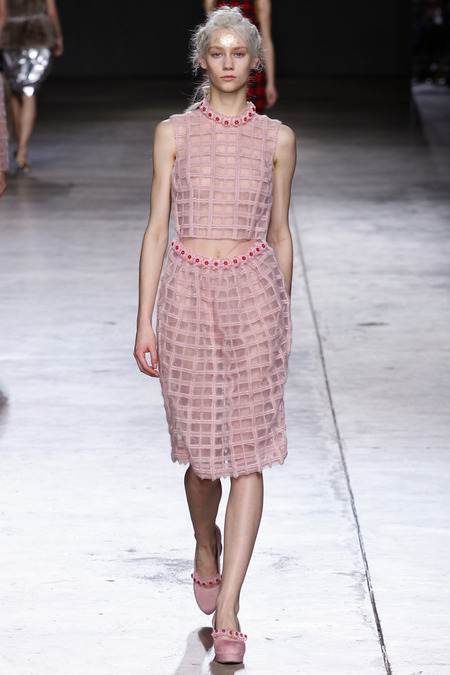 SIMONE ROCHA
The sensual side of pink.....um, would probably require an underpinning. Love the way its styled with those pink platforms! I'd throw this on under a more casual shearling coat, maybe in light blue.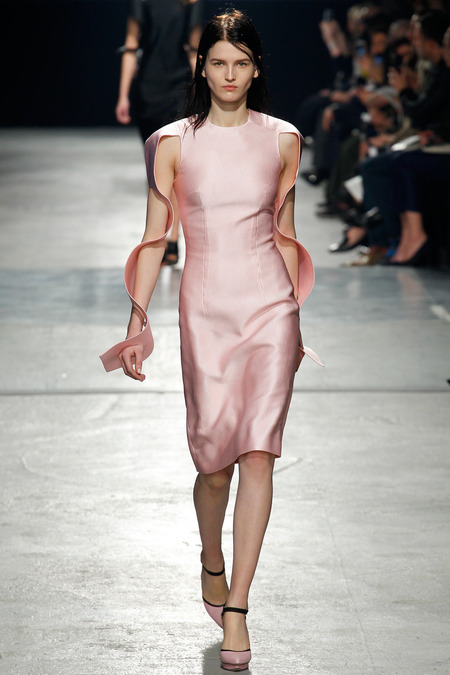 CHRISTOPHER KANE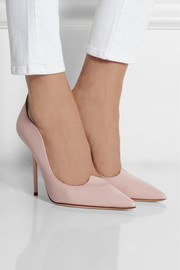 I don't care who you are, this is H O T! But not in an obvious way. Those crazy cut out sleeves remind me of my "pet" nudibranch in one of the tanks in the Life Sciences building at Cal. Pair this with the Versace blush heels to the right, and you'll be the belle of the ball.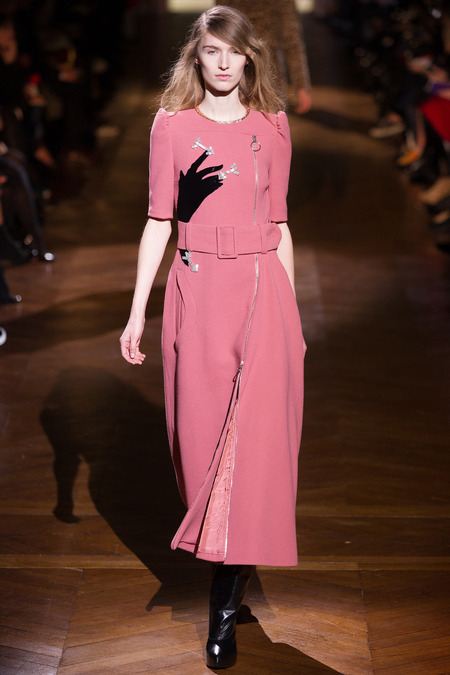 CARVEN
Wowsa! Casual whimsy in an unexpected silhouette, in a salmony pink, sort of a dress but sort of a coat, good all year round in SF, would look smashing with a little black hat and shoe booties. Layer with a sheer white chiffon blouse with ruffled flouncy sleeves.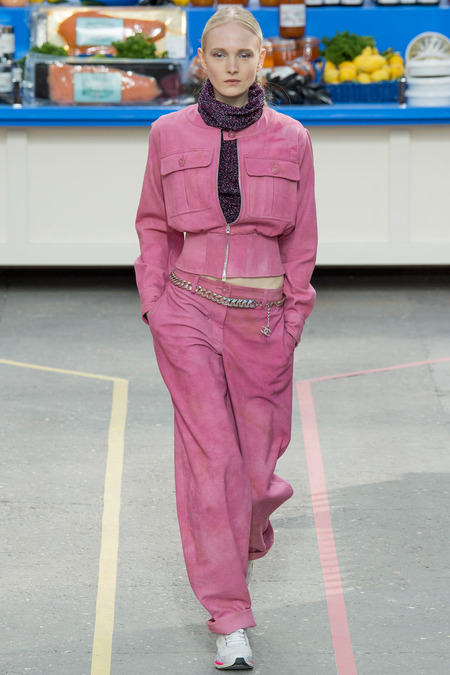 CHANEL
More of the comfy funky vibe. I'd do a black shoe bootie, Chanel usually has an amazing array of these any given fall winter season.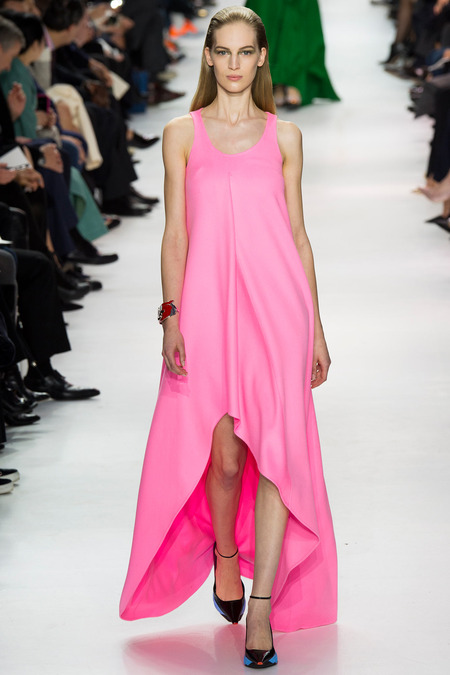 DIOR
Pretty much anything coming down the Dior runway these days is smashing, even this simple yet sexy silhouette. Match this with ladylike shoes like those shown above or some Charlotte Olympia cha-cha heels, depending on whether you are summering in the Hamptons or Miami beach.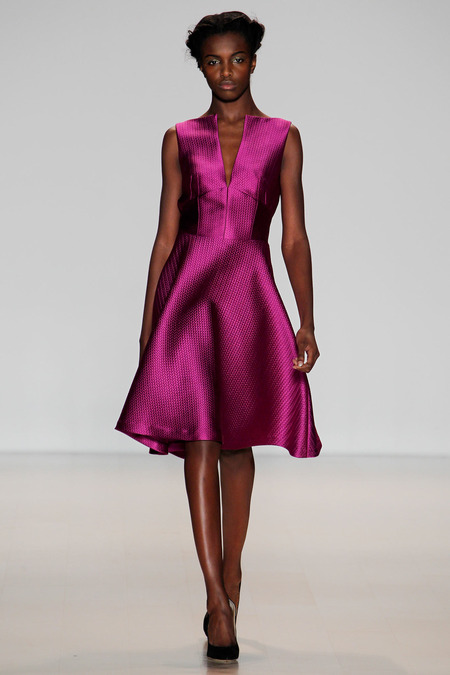 LELA ROSE
BAM! if heads aren't turning when you show up in this (go for the sky high black patent Louboutins if you dare), then you must have taken a wrong turn and ended up in a room full of blind monks. Classic feminine A-line cut with V neck, just low enough to be alluring without turning tawdry, in a luscious deep fuschia. This is a keeper, it will always be in style.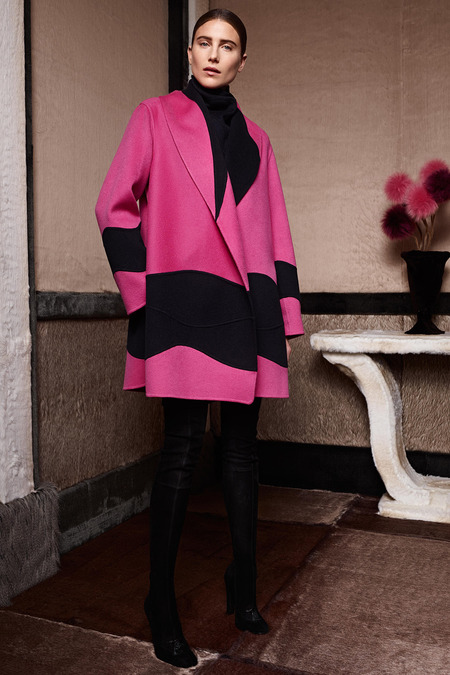 AGNONA
Sigh.........perfection. Great shape in luxurious fabric, throw it over that Lela Rose dress, or over skinny black pants and boots (my standard answer if in doubt).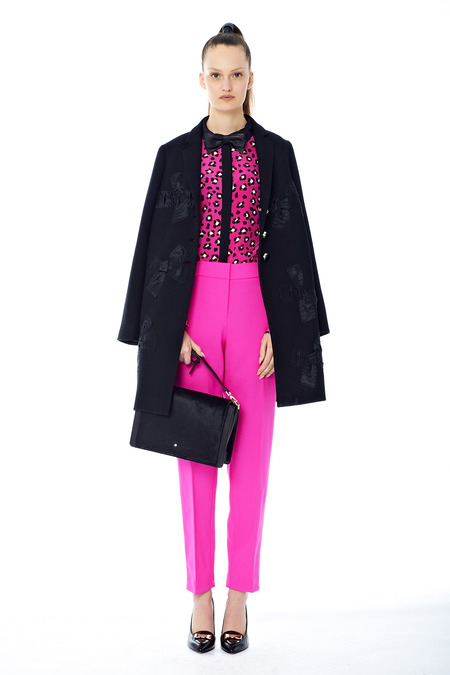 KATE SPADE
This is a bit of a contrast from the more conservative look by Agnona, but demonstrates how fun and flirty fuschia can be, especially with a hint of neon. If this is too much of a pink fest, throw a T shirt on with the pants and the black jacket.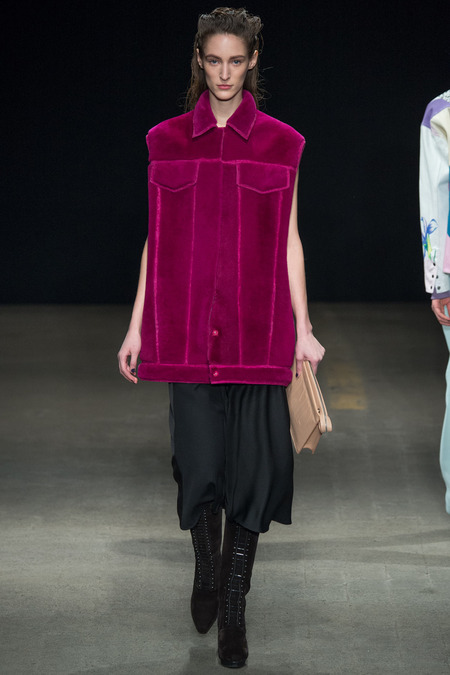 PHILLIP LIM
The great triumvirate, FUSCHIA--SHEARLING--VEST!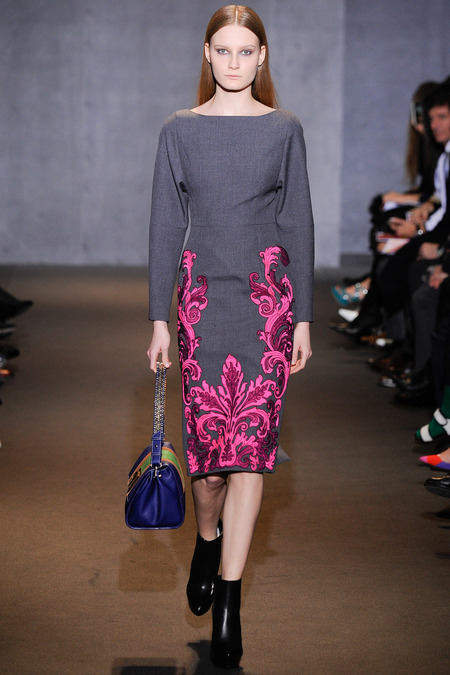 ANDREW GN
Ahhhh, my man Andrew Gn, a favorite of mine for many moons. Here we have just a hint of pink, but it really spices up a 50's silhouette. Heels, booties, standard boots, this dress would look good with a host of shoe selections. Great travel fare.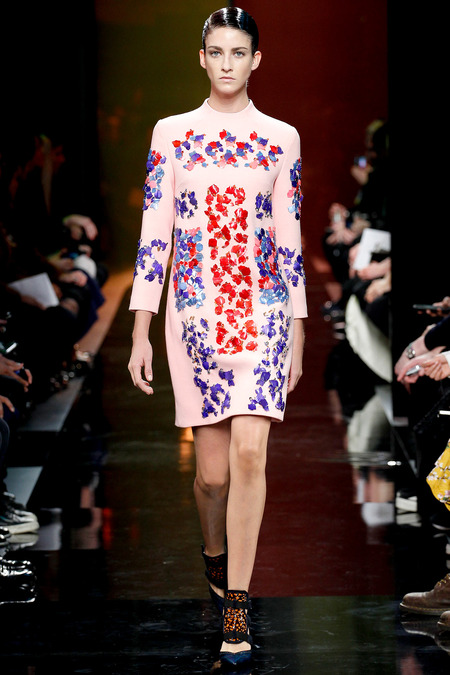 PETER PILOTTO
Pink with a twist! Leave it to Pilotto to put a new spin on pink, with the shallow collar and vibrant multicolored geographic shaped paillettes.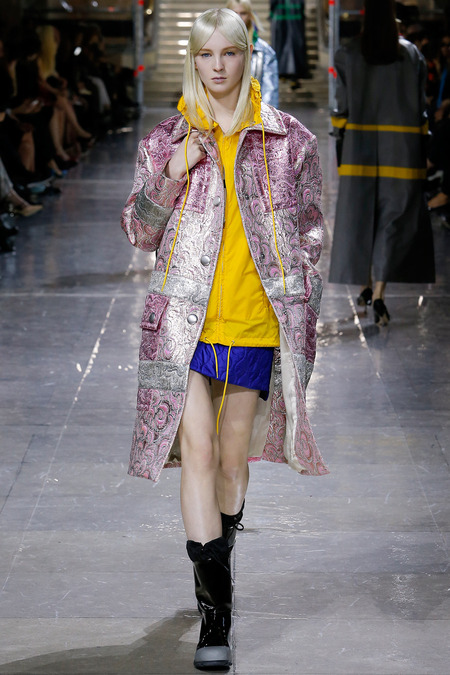 MIU MIU
Ok, call me crazy, but if $$$ were no object, I'd throw this on over that Peter Pilotto above. Too many notes you say? Pffft! Certainly would be a lot going on, but, it would keep a smile on my face all day! Like pink and black, metallic will aways be in vogue.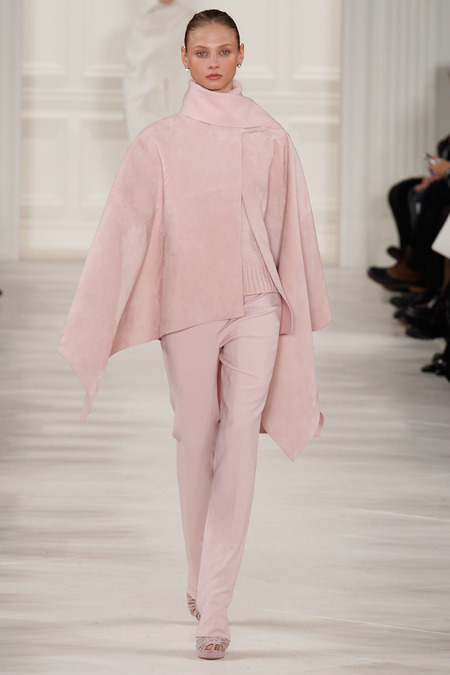 RALPH LAUREN
Casual elegance in inviting colors and sumptuous fabric, vintage Ralph Lauren. Nobody does it better.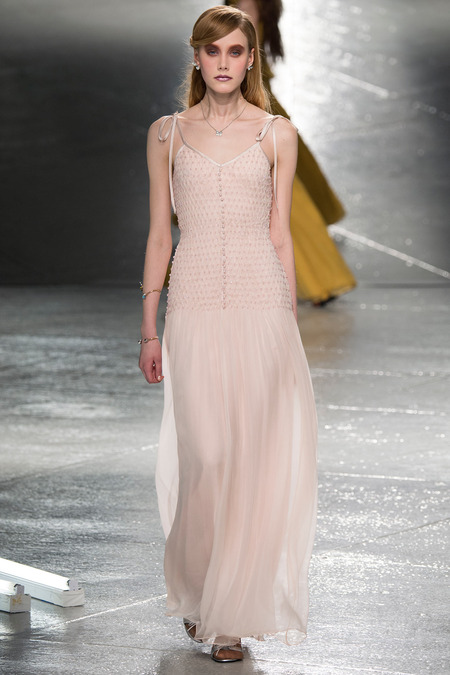 RODARTE
Feminine ethereal, great for your h o n e y m o o n.................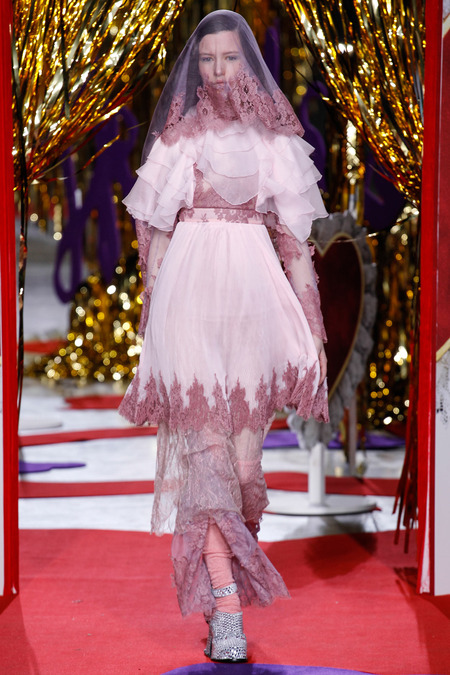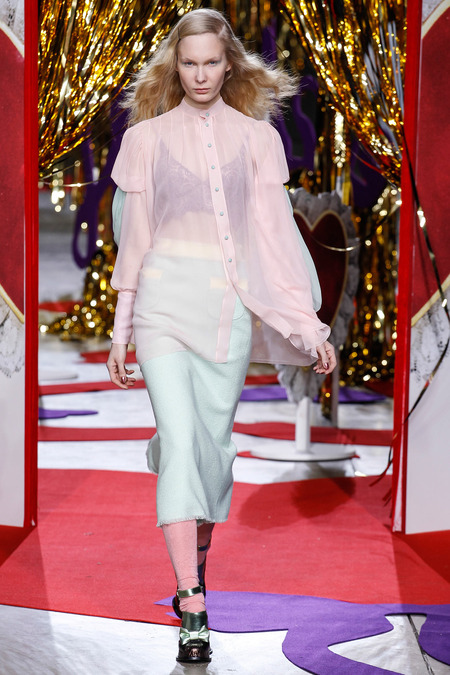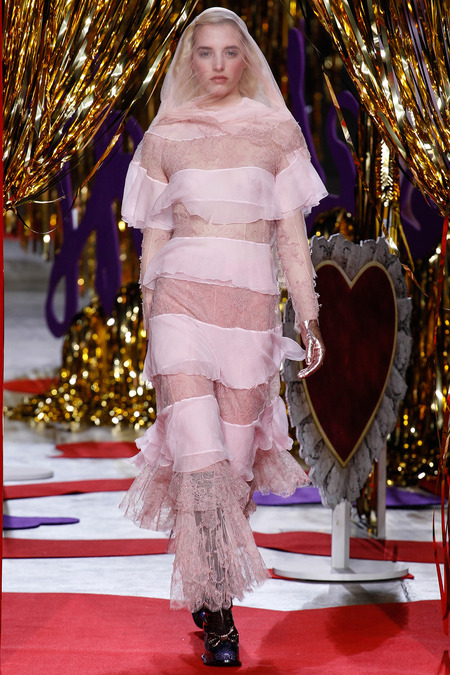 MEADHAM KIRCHHOFF
Along with the Japanese, these guys are the masters of wimsy! Flowy multilayered pink chiffon over boots, you gotta love it. Definitely one of THE MOST entertaining runway shows of any season. Fun, flirty, dazzling workmanship in resplendent fabrics. I wish someone in San Francisco would carry this stuff......just CRAZY GOOD.
REMEMBER TO THINK PINK!
Images brought to you by www.style.com and www.net-a-porter.com