Ruffles are REGAL, ruffles are RESPLENDENT, and ruffles are RESURGENT. These fashion details can be the focal point of an outfit OR just a kicky adjunct for easy visual interest.
Maybe you don't want to go all obvious girly feminine with ruffles aplenty, but rather you want to temper your take-no-prisoners suit. No worries, the easiest way to feminize such an ensemble is to add a shirt or blouse emboldened by a ruffle or ruffles.
They are rife on the runways in a varied palette in a vast array of form to entertain all comers. Subtle and shallow or flagrant and voluminous, there can be no dispute that ruffles add a beguiling charm. I don't care how avant-garde or edgy a collection is, there WILL be a ruffle contingent, if only one piece amongst many.
The newest fashion wear wunderkind, Alessandro Michele of Gucci, has fully embraced this ode to femininity, good news for those of us who have long ago become enamored of THE RUFFLE.
Who can explain the allure? Maybe it reminds one of ripples on a pond or waves upon the ocean, ebbing and flowing. OR, it represents this wondrous little sea creature: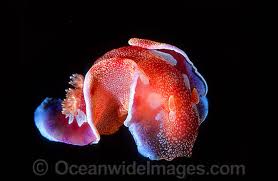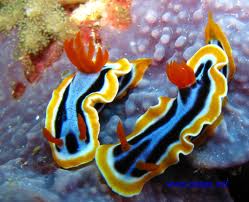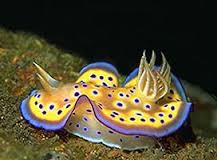 The NUDIBRANCH.
Maybe, we just want to channel Scarlett O'Hara, a swashbuckler, a Flamenco dancer, or a 70's era flower child. OR maybe even Jerry Seinfeld.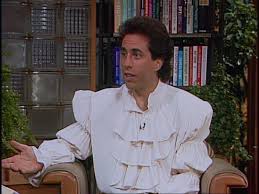 Now, from the SPRING 2016 runways, ruffles in all sizes and permutations.
LANVIN: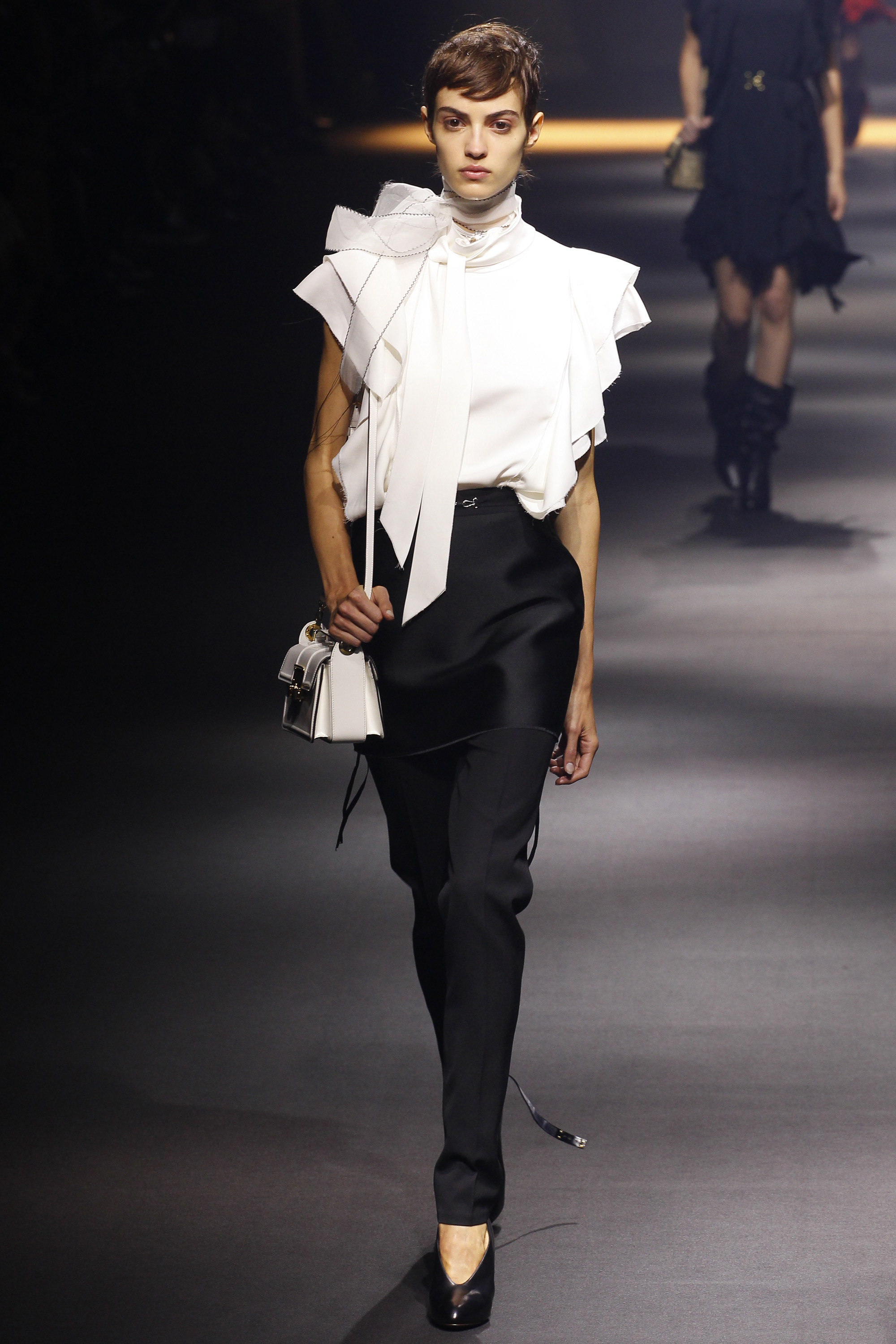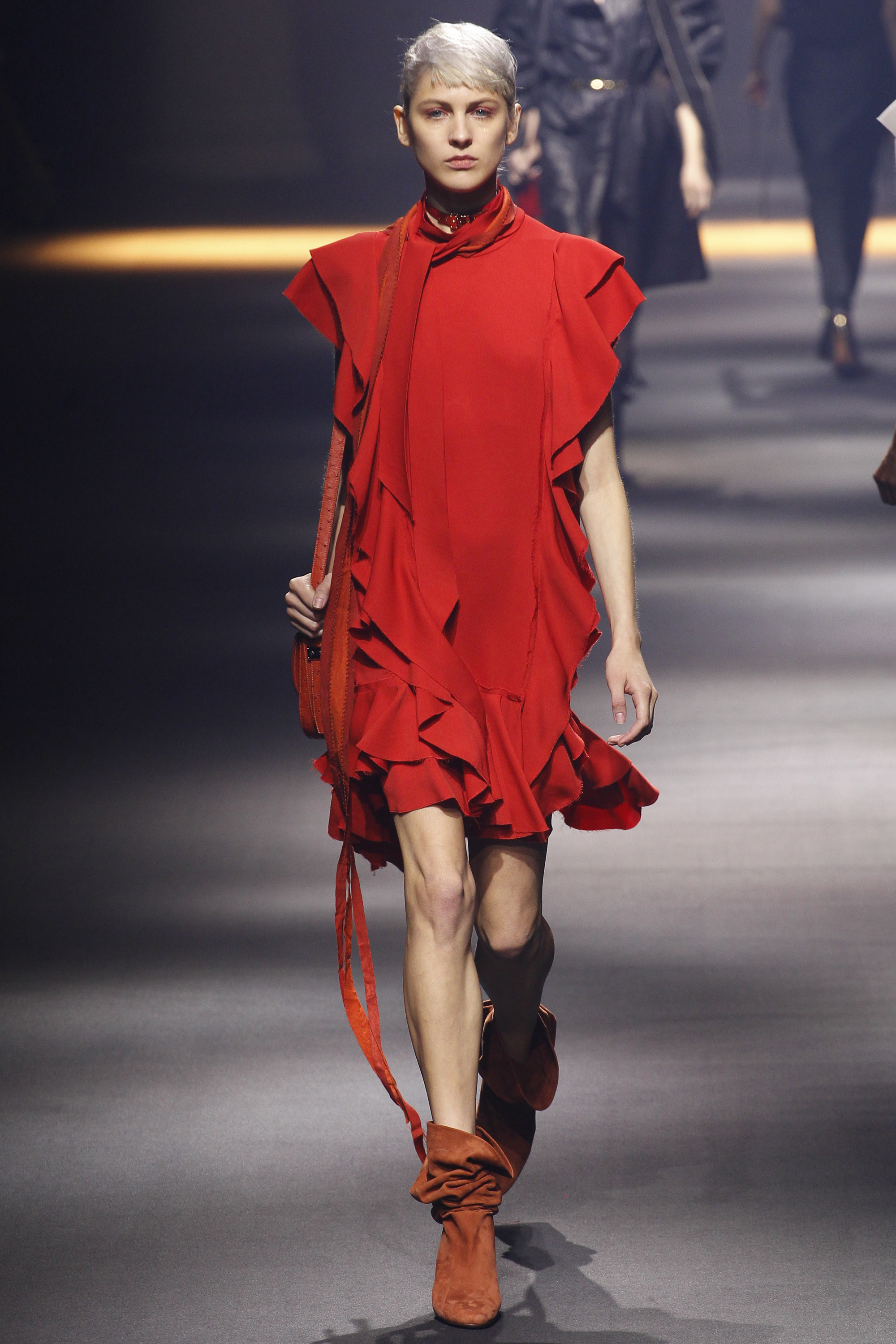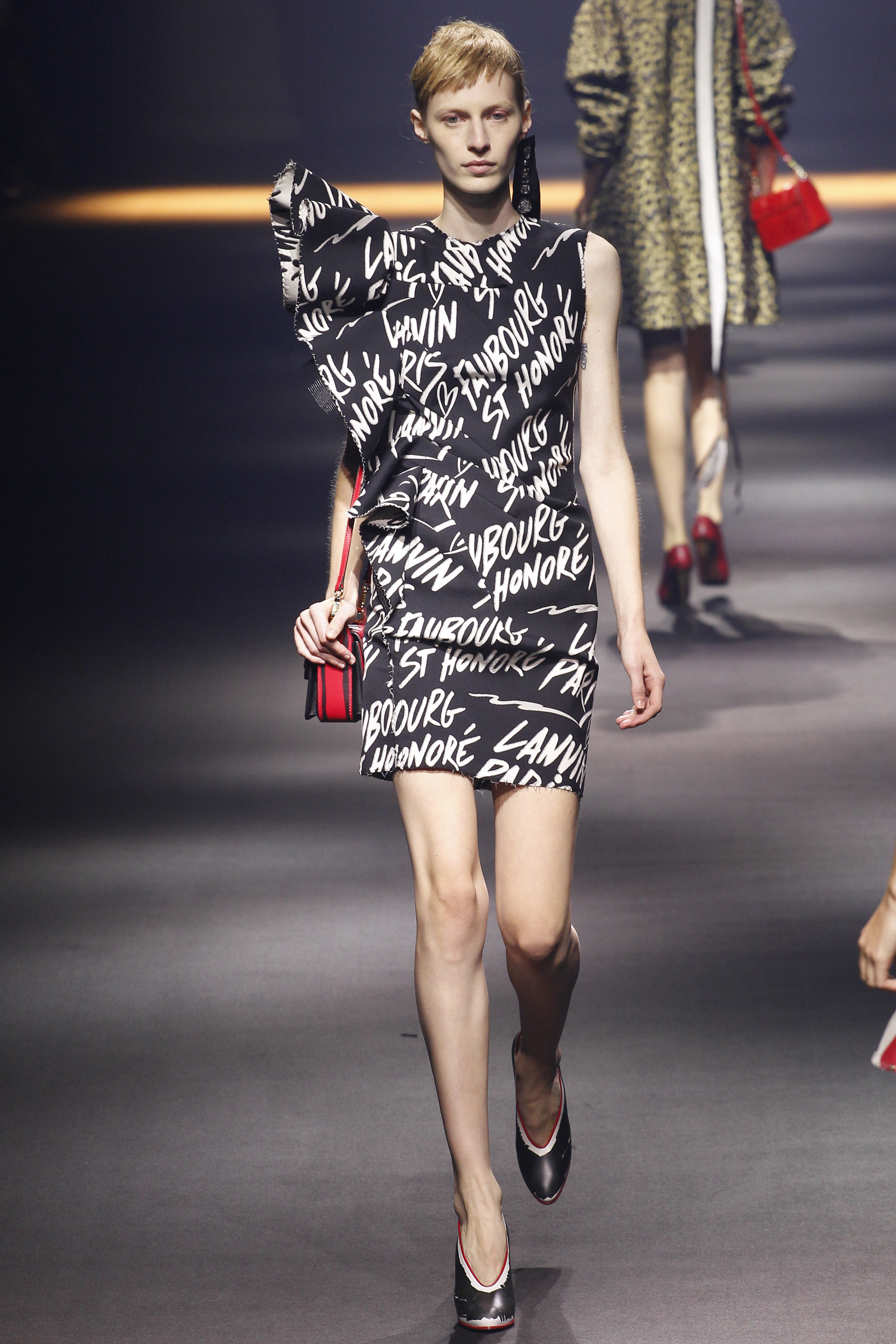 You only need ONE ruffle to make a big impact! Of course more can be better. Alber Elbaz keeps it fascinating, feminine AND modern. (His last collection for Lanvin by the way).
ANDREW GN: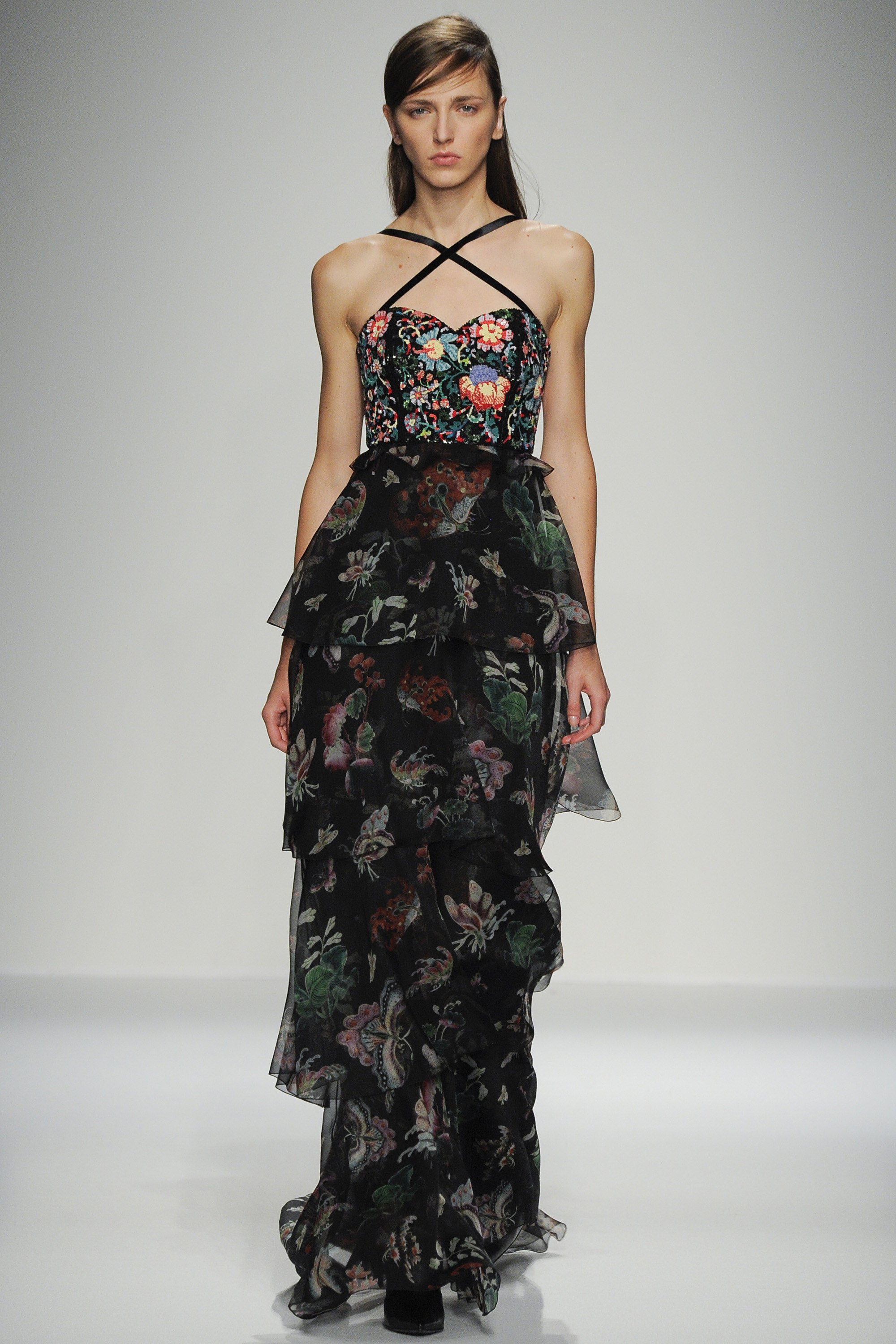 ALEXANDER MCQUEEN: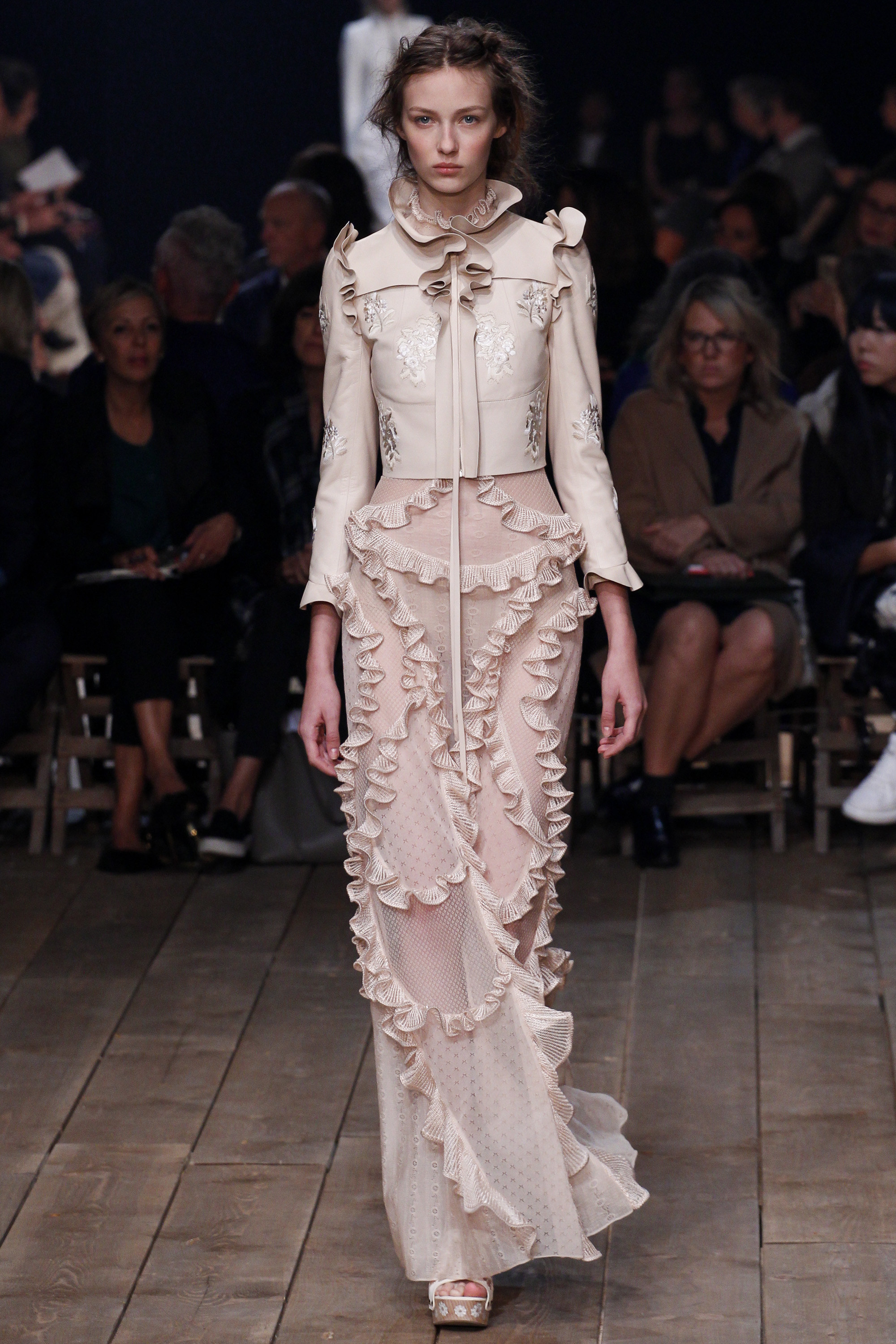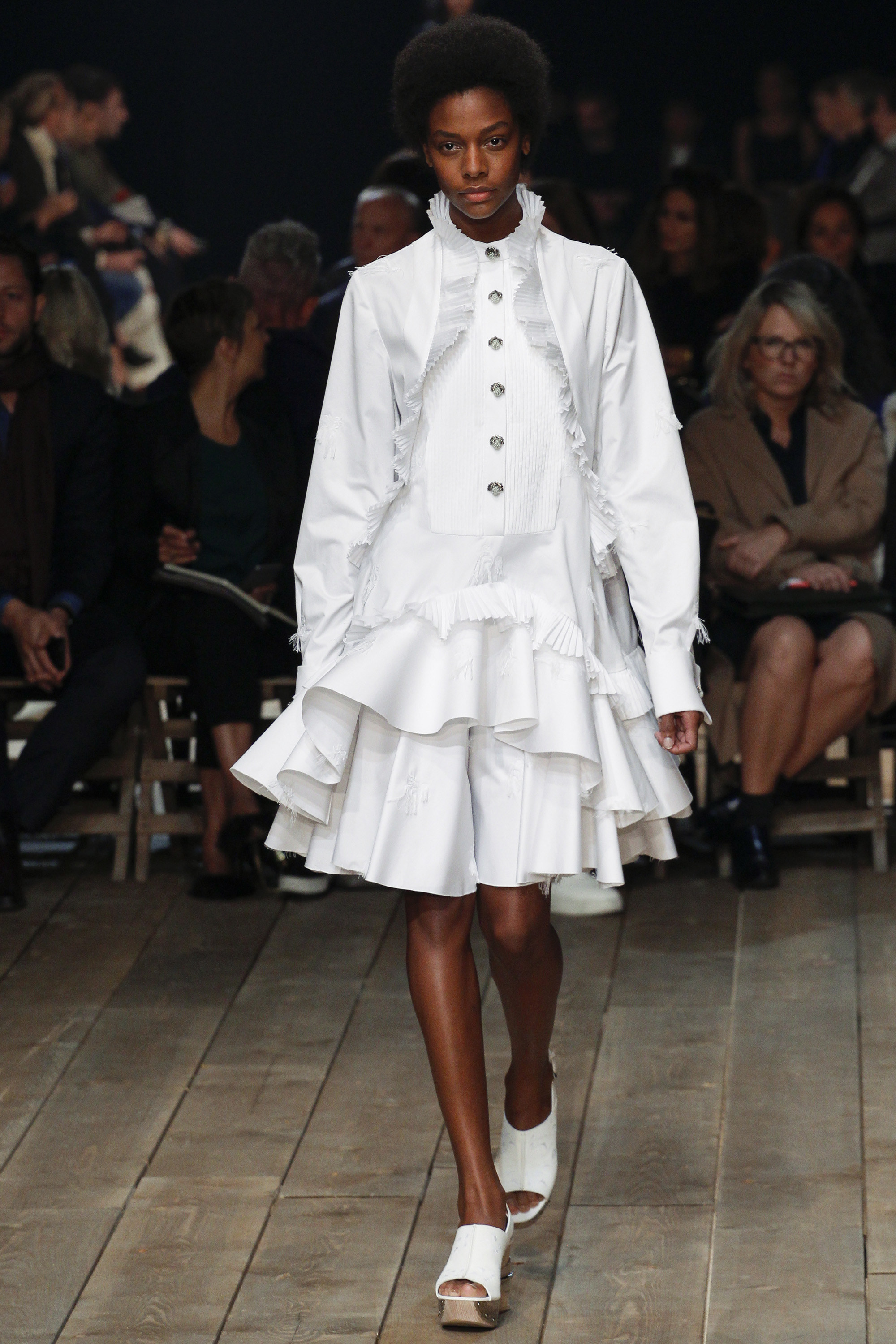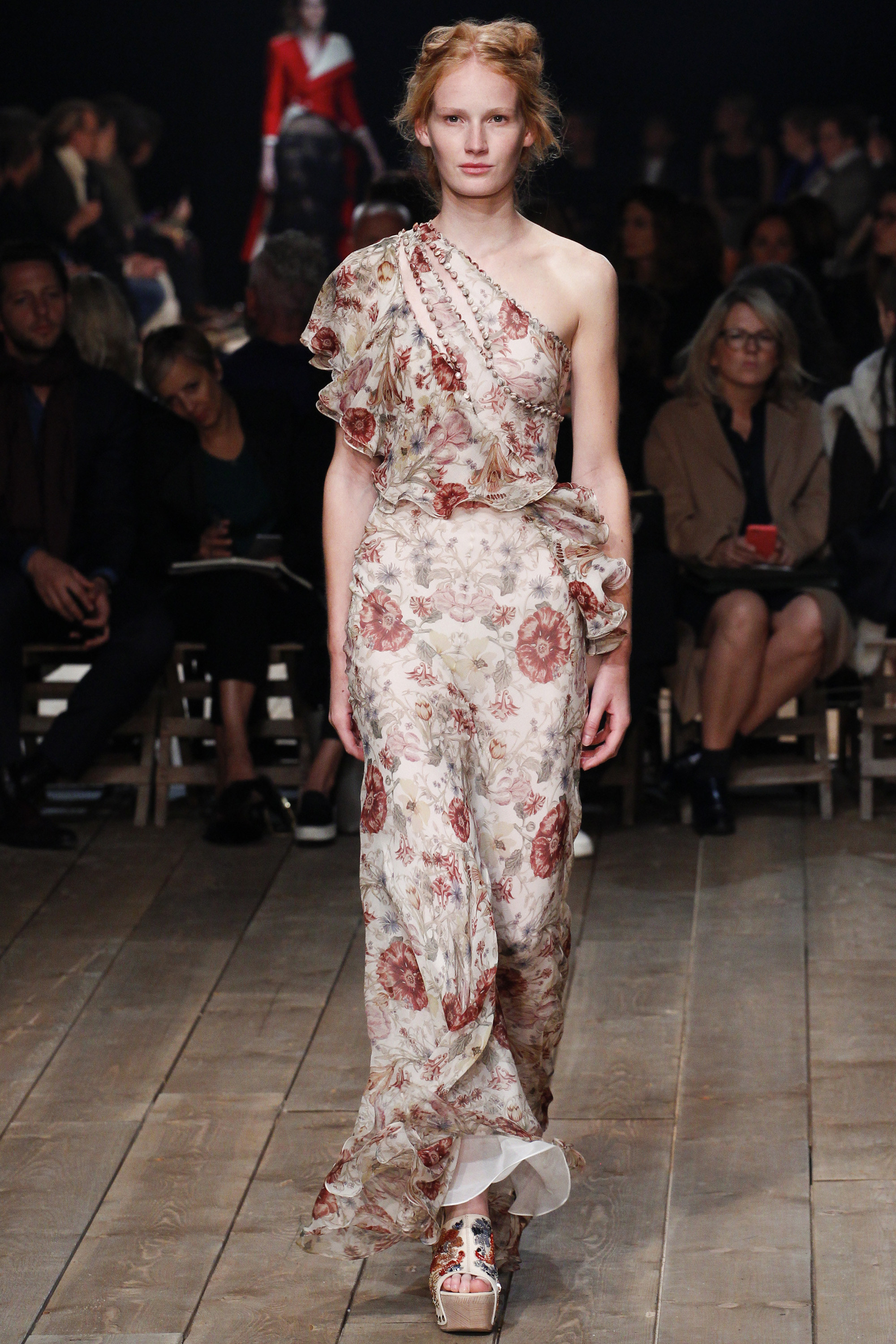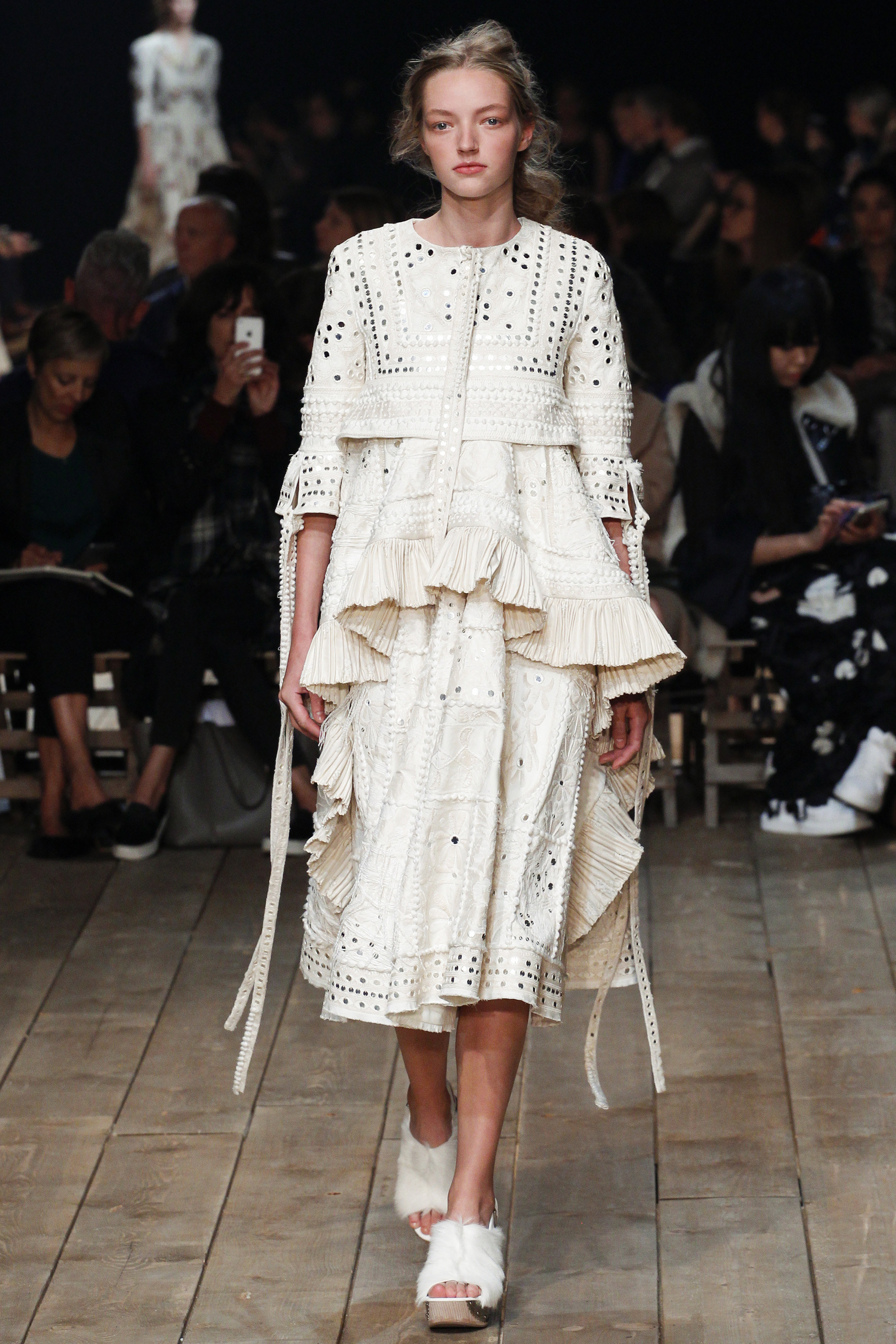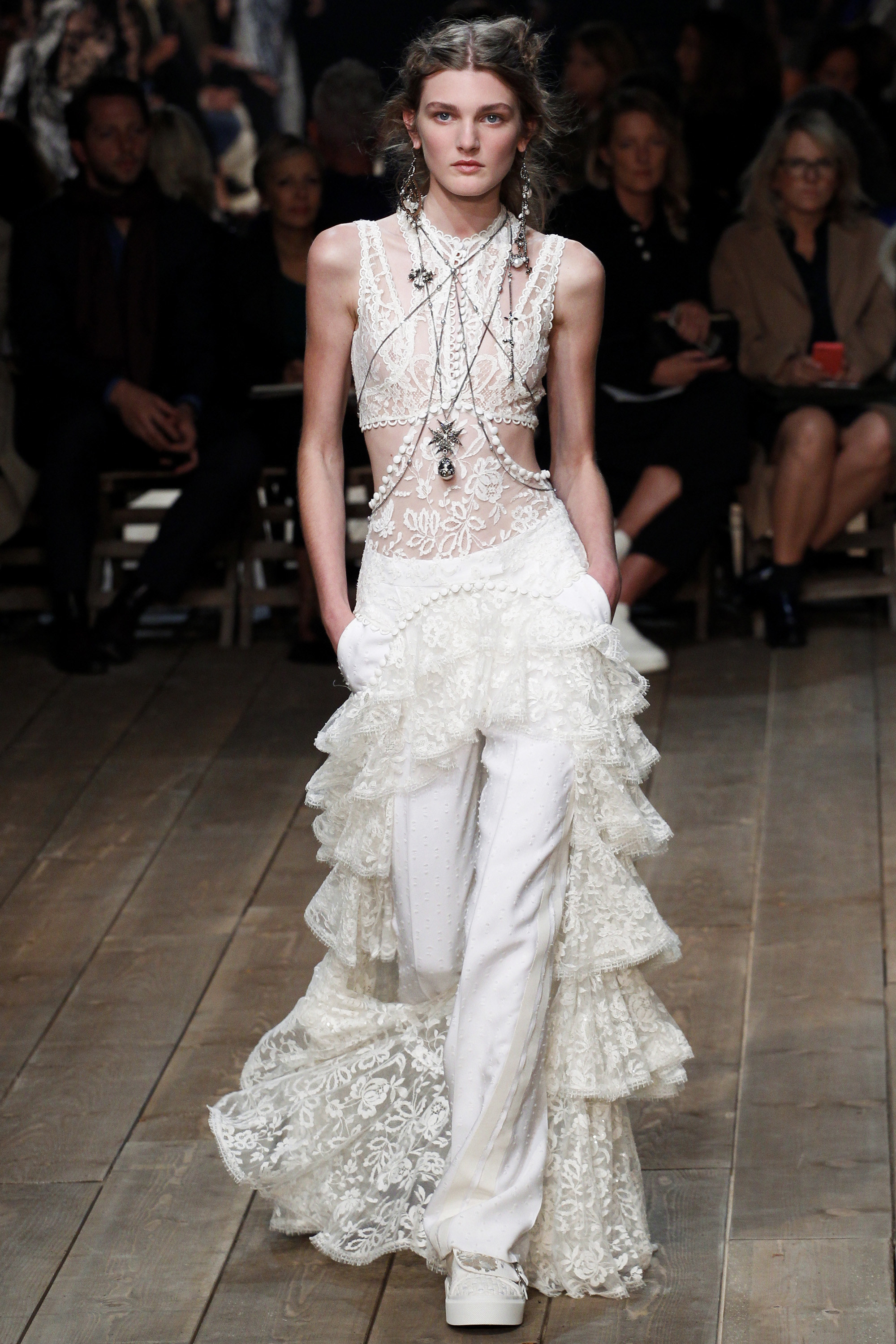 Whew, this was an assembly FLUSH with ruffles, in varied degrees of concentration. As per usual subversive Victoriana permeates this collection.
GUCCI: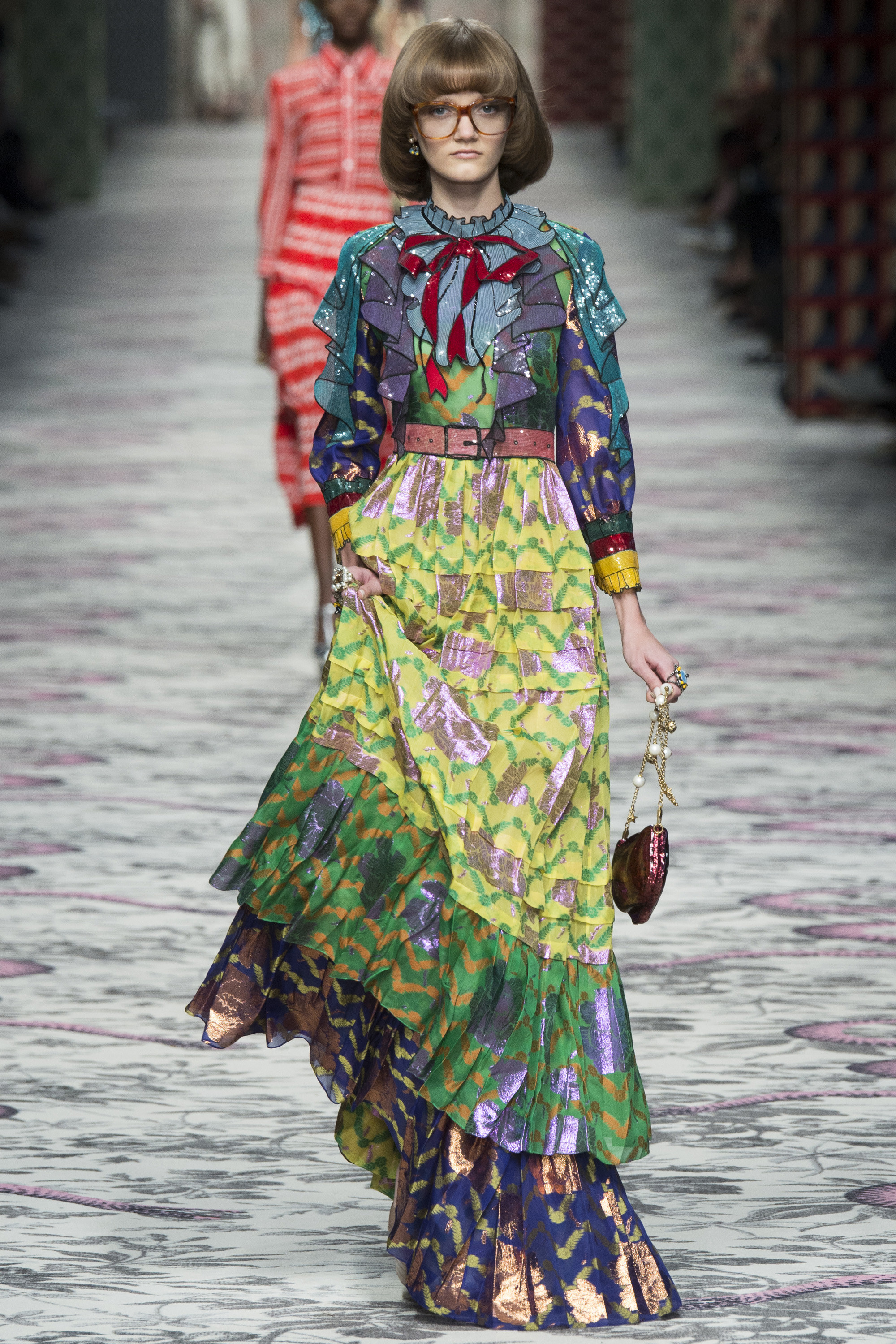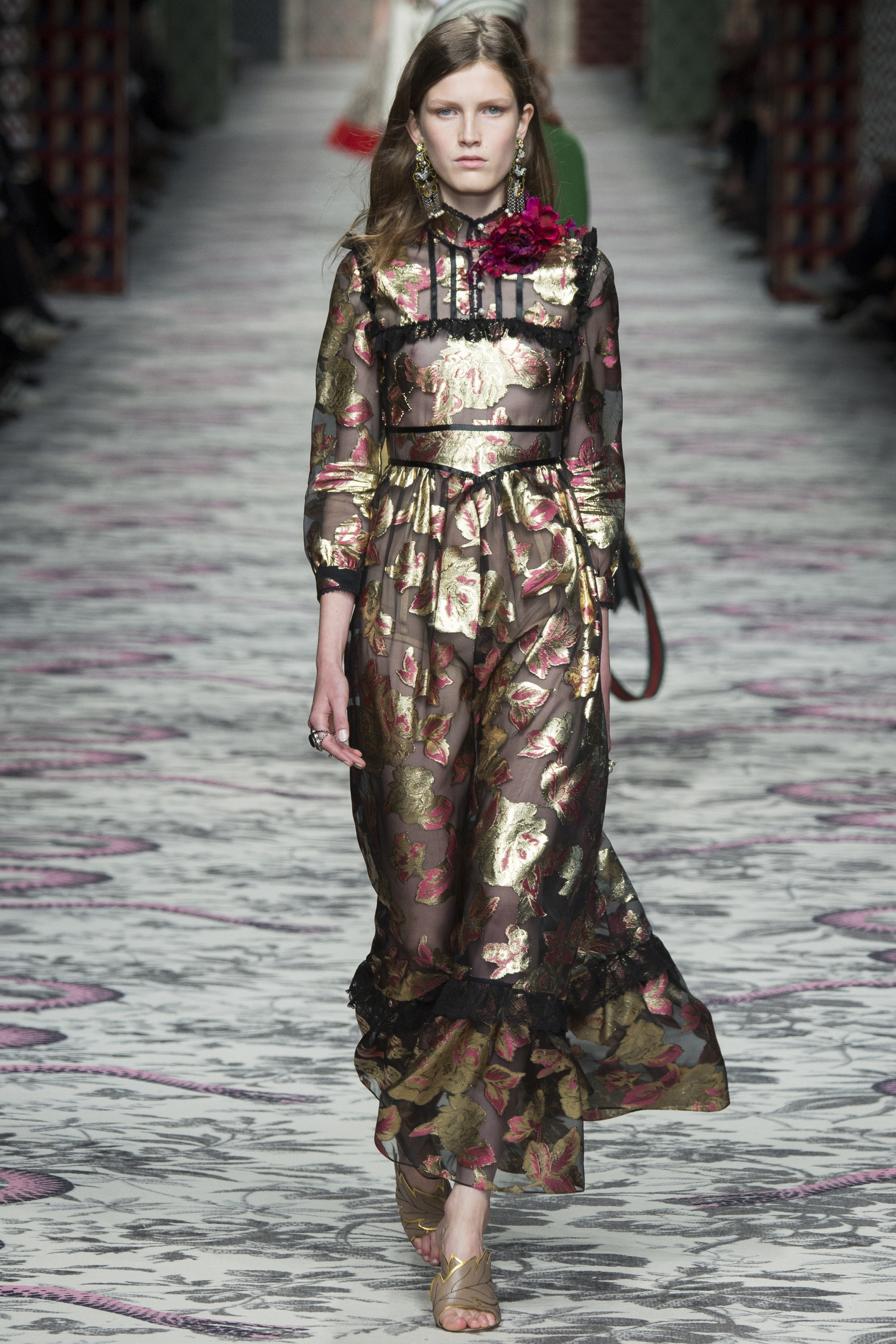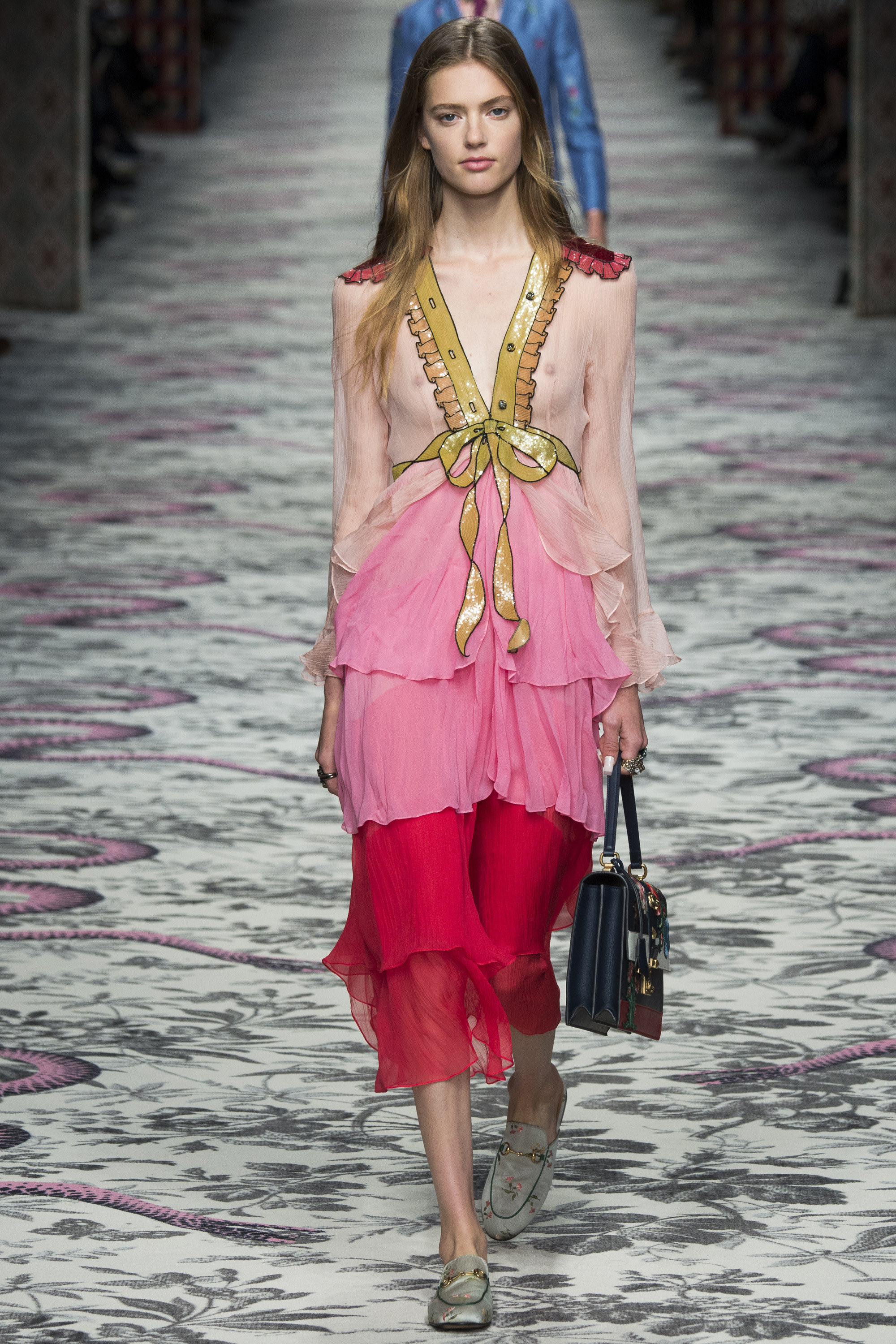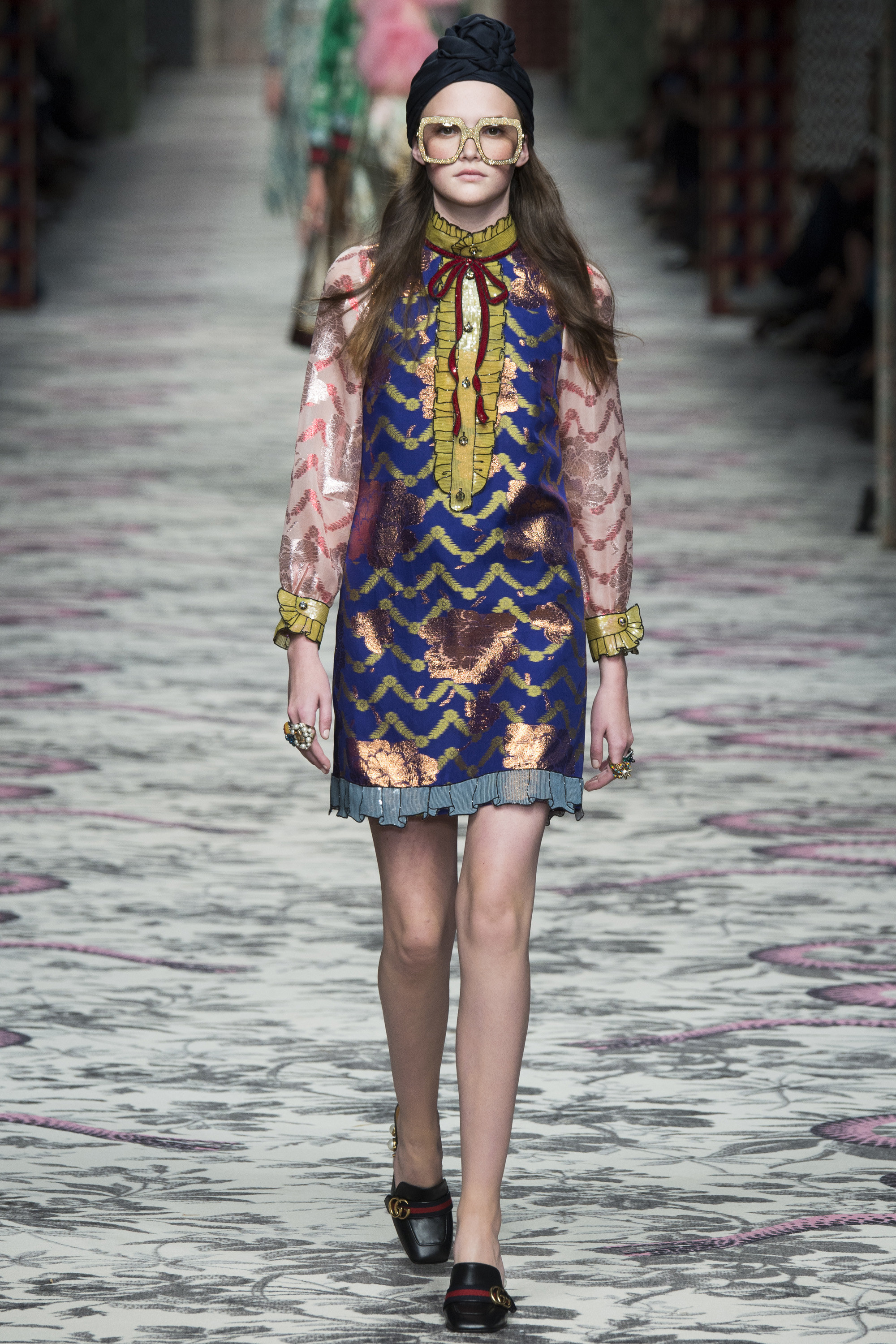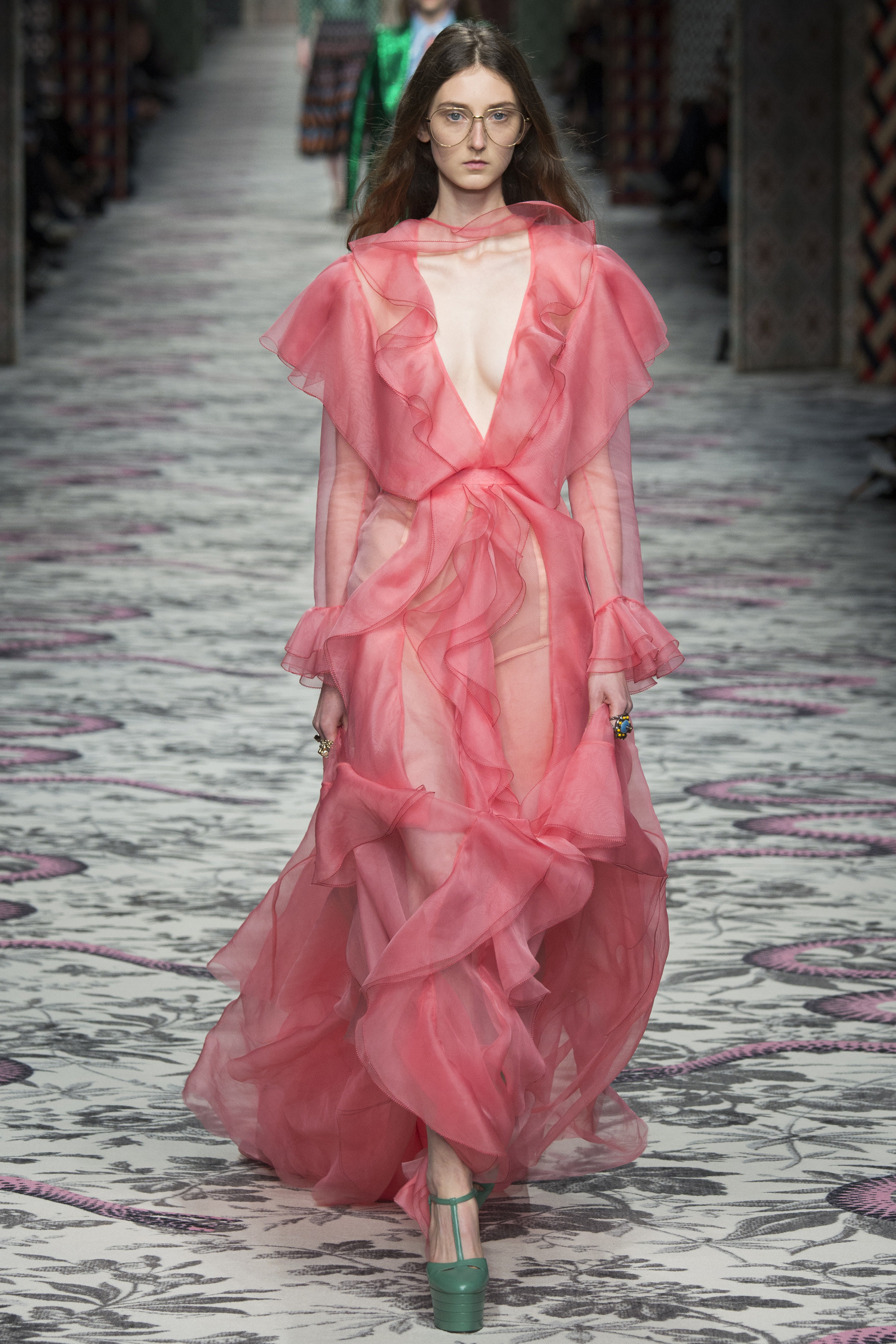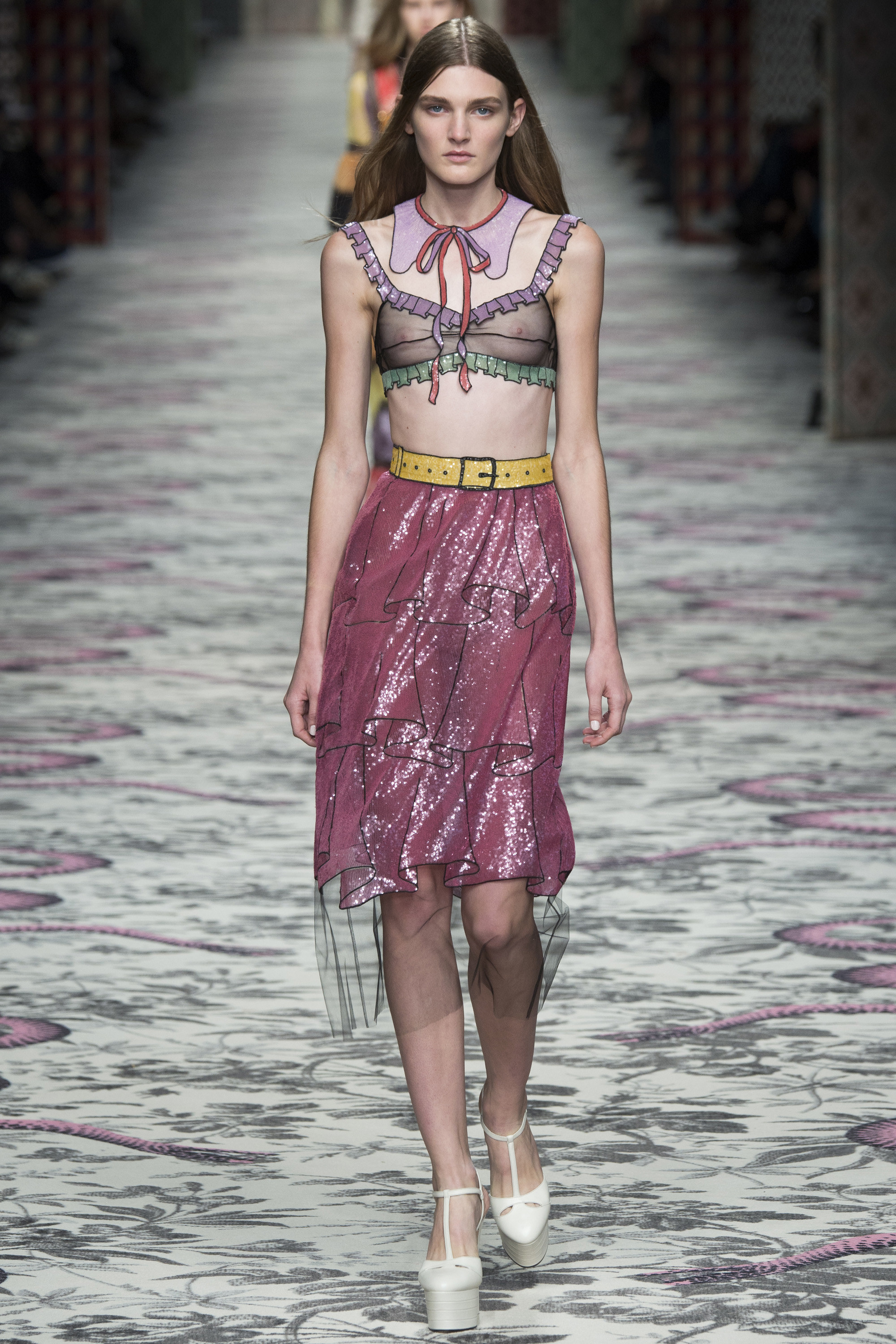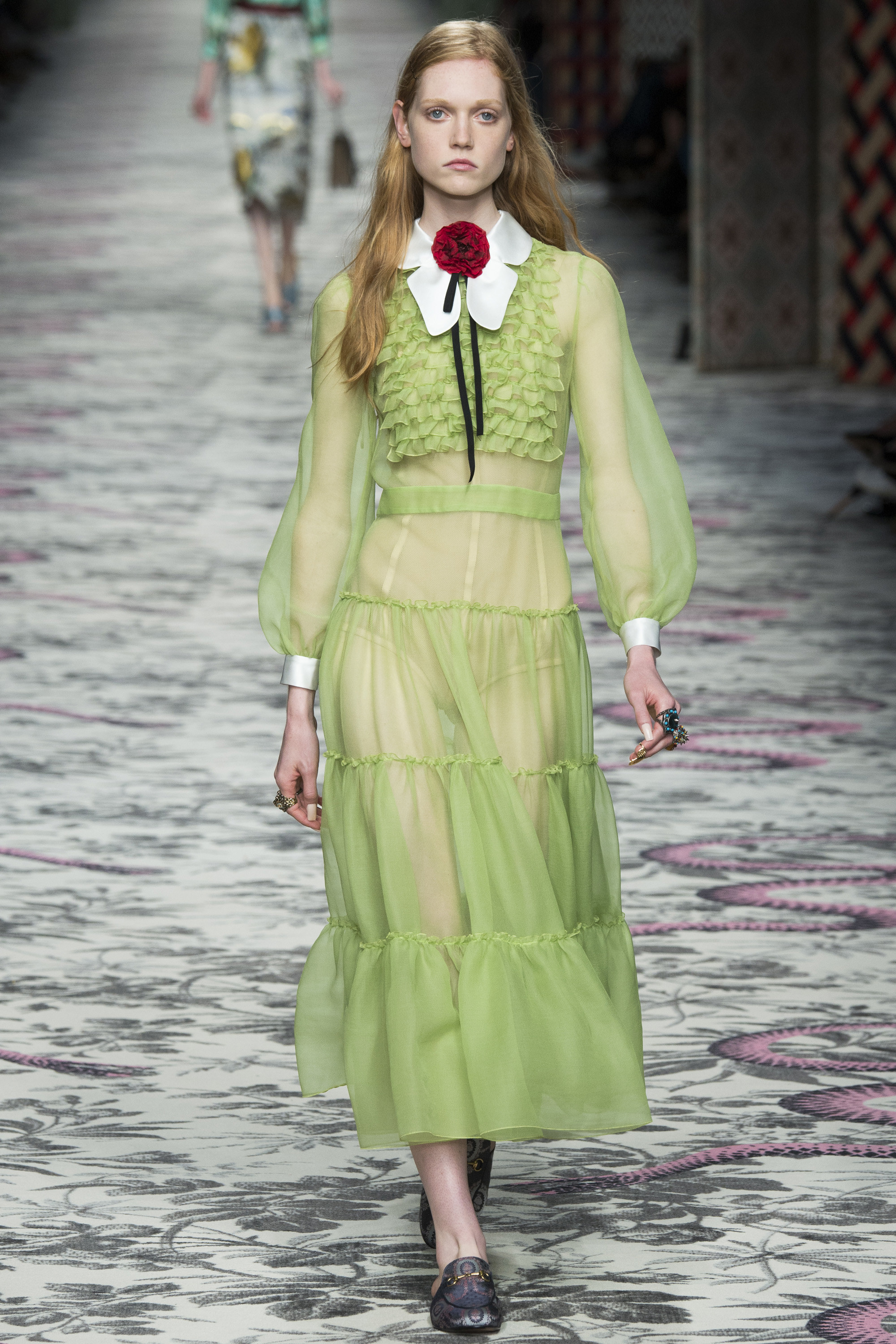 Tiny, medium and leviathan type RUFFLES in the most stellar array of colors imaginable. Primary, secondary, and tertiary colors commingling in harmonious fashion. And the faux tromp l'oeil cuffs and collars are the best kind of deception.
GIAMBATTISTA VALLI: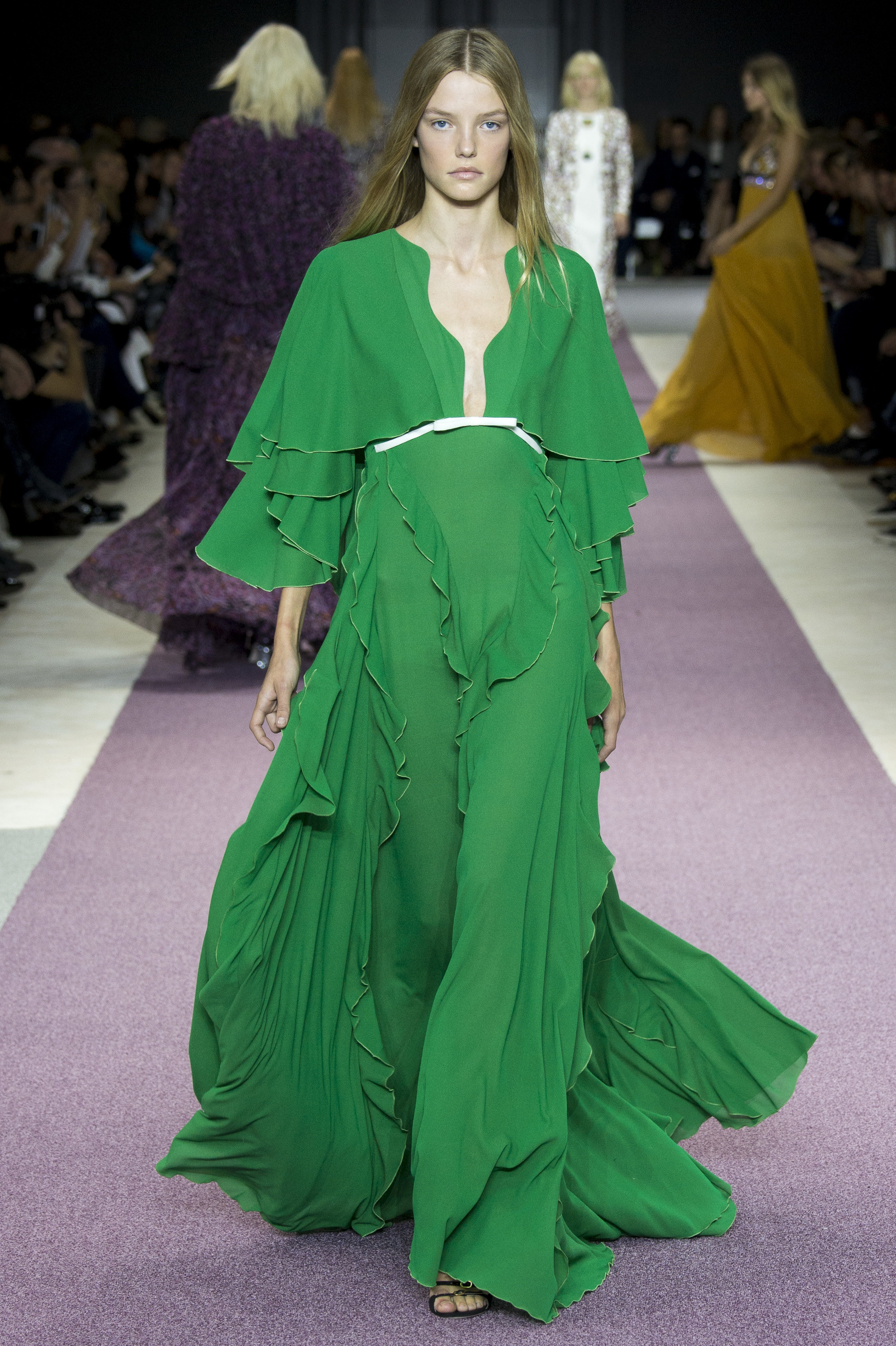 Major Nudibranch rufflage.
REEM ACRA: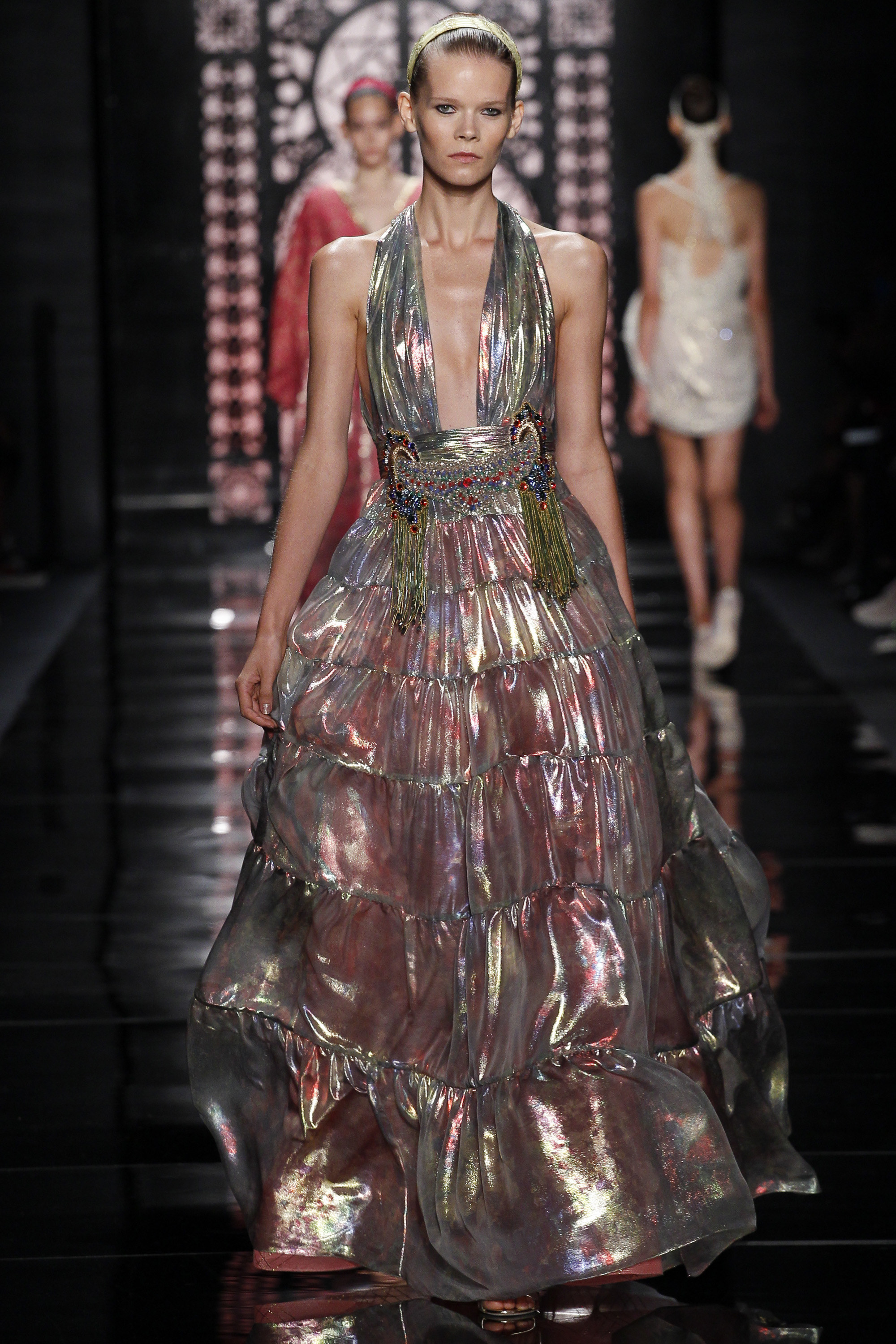 Little House on the Prairie meets Scheherazade. Reem Acra,the ultimate GOWNMEISTER.
DELPOZO: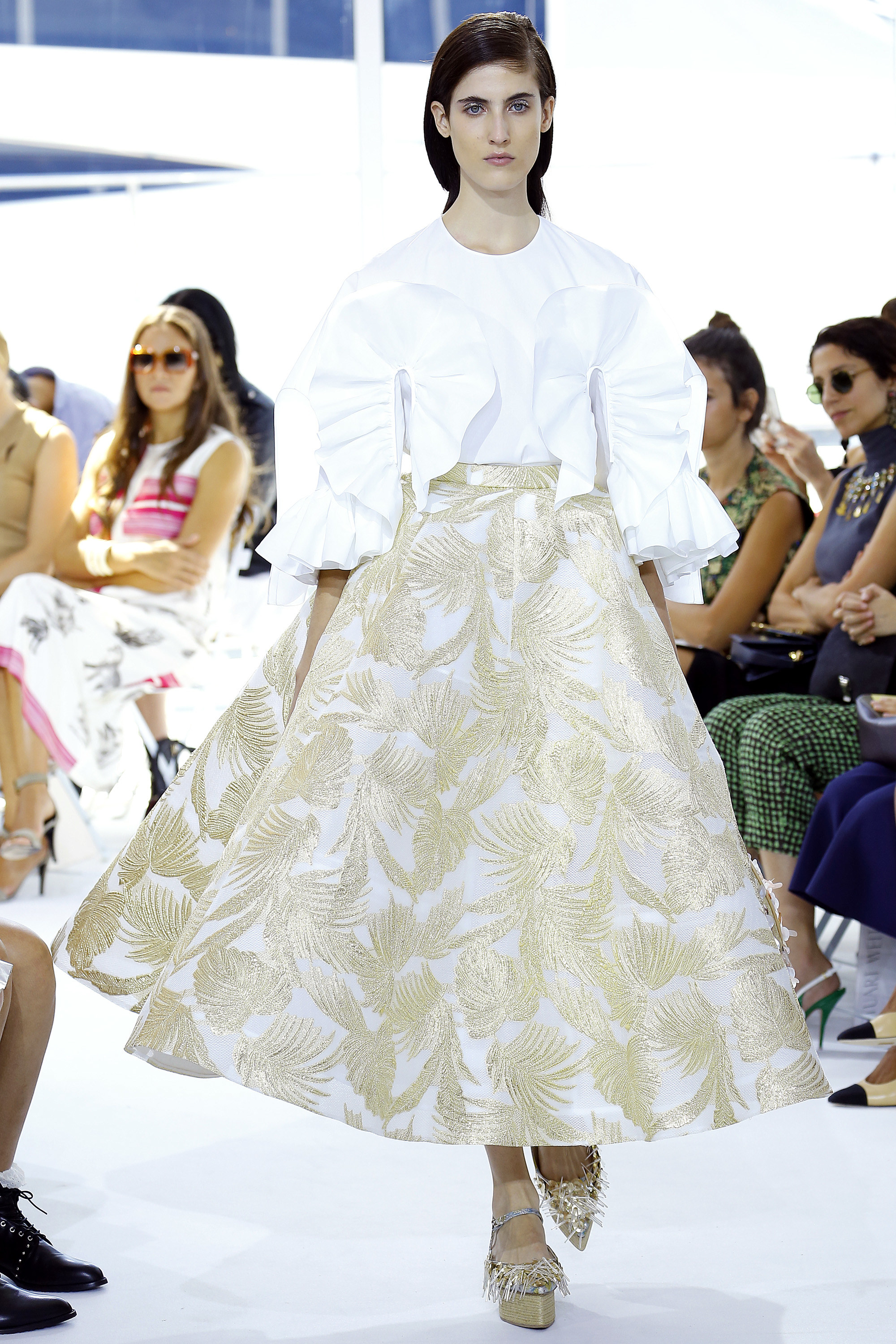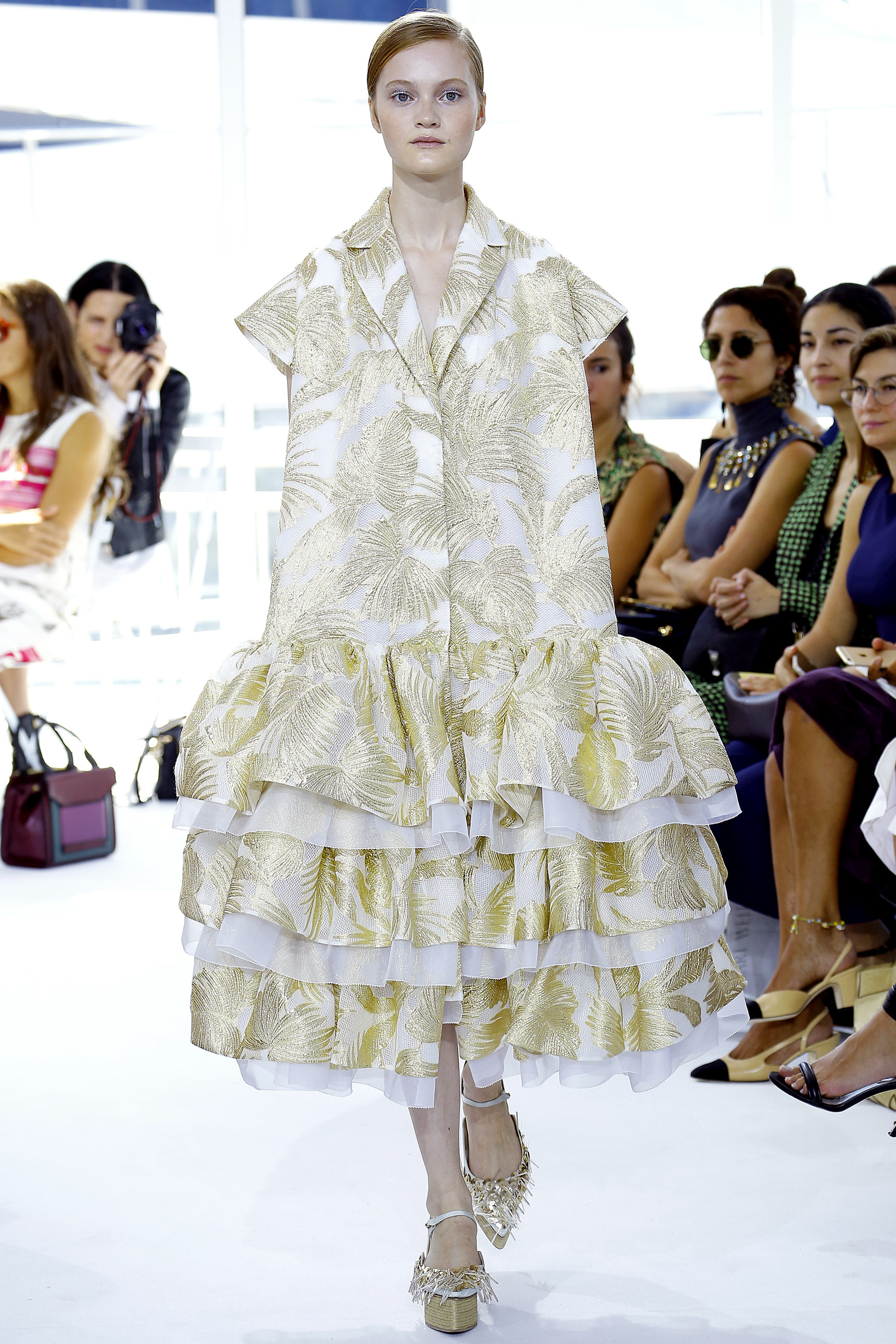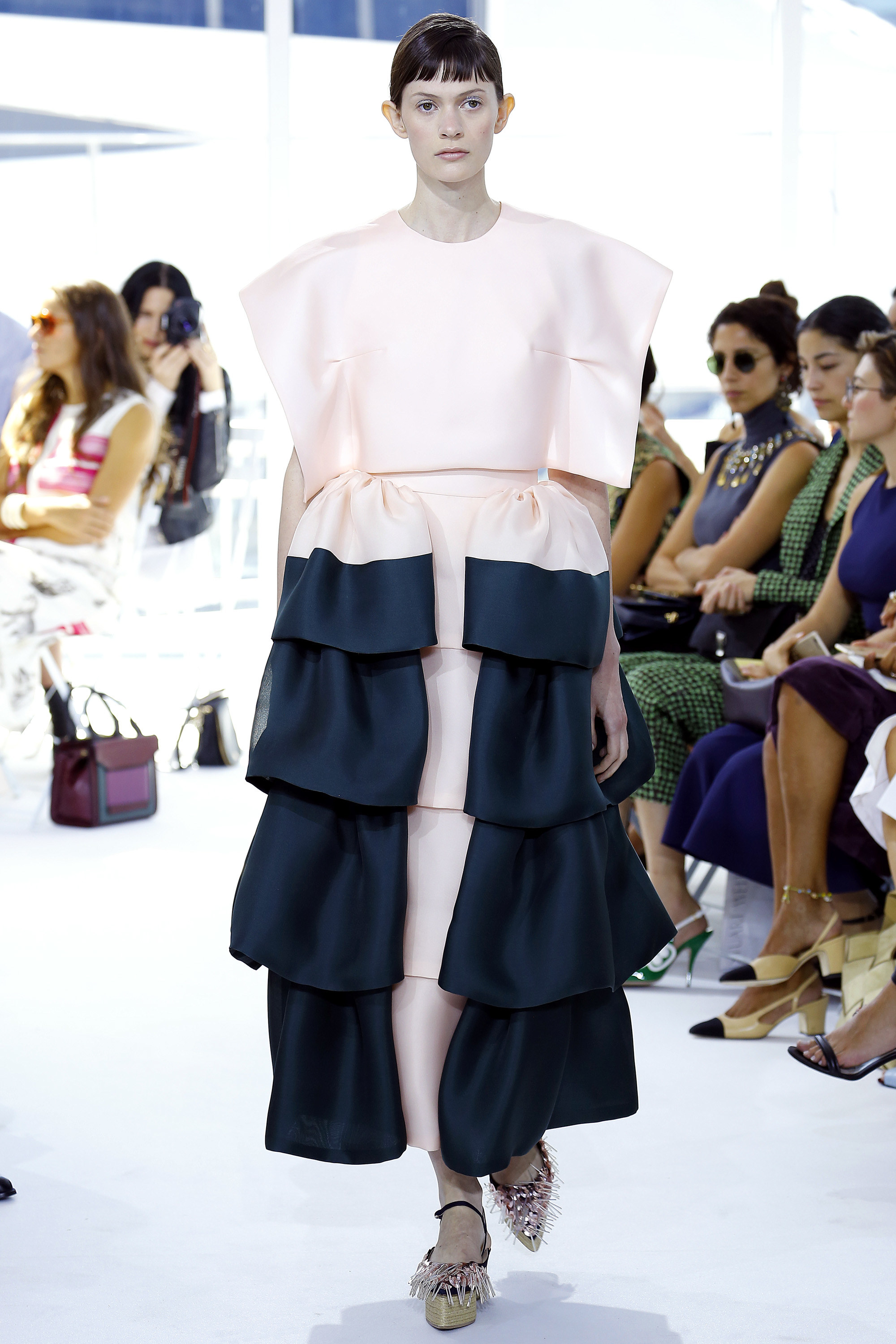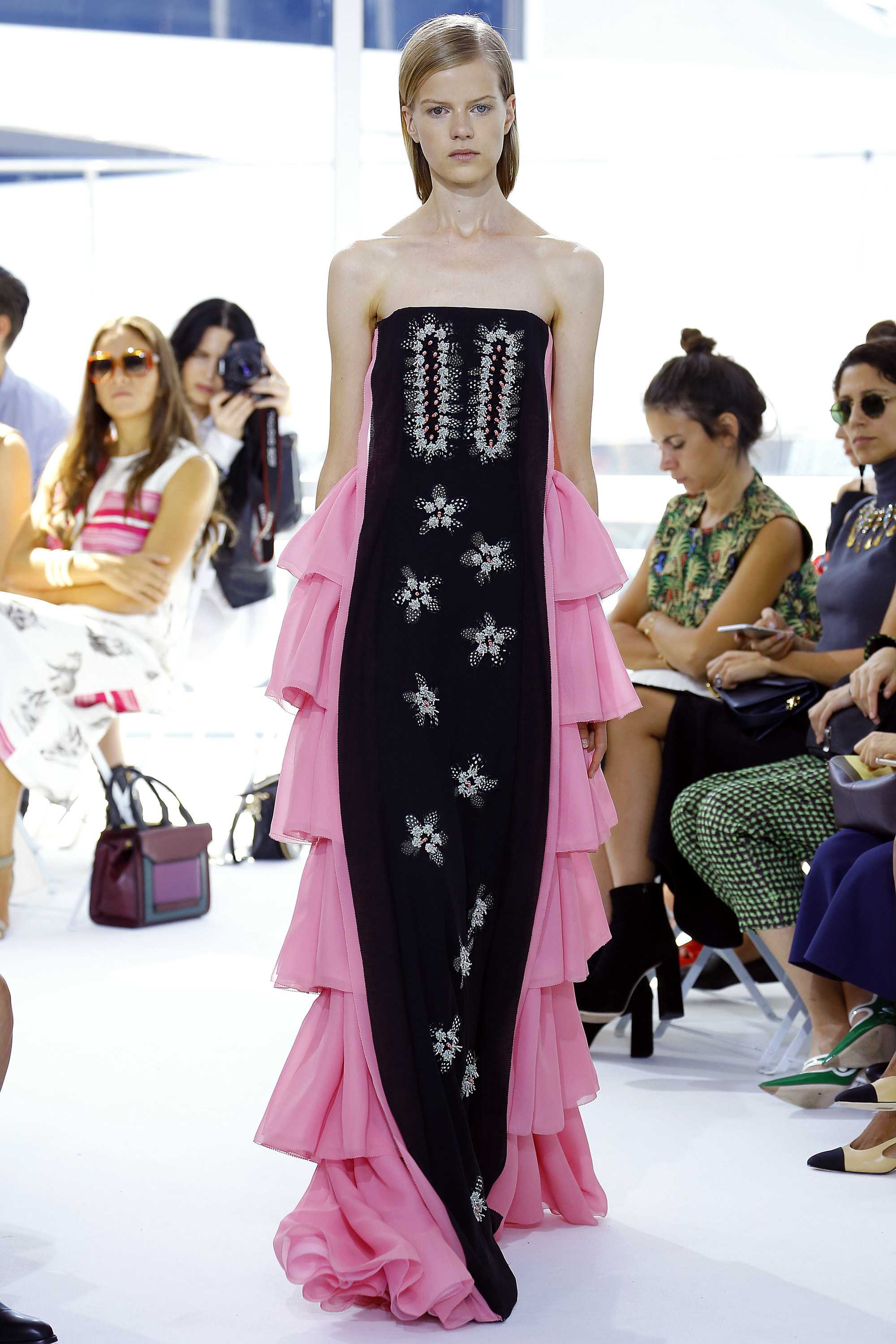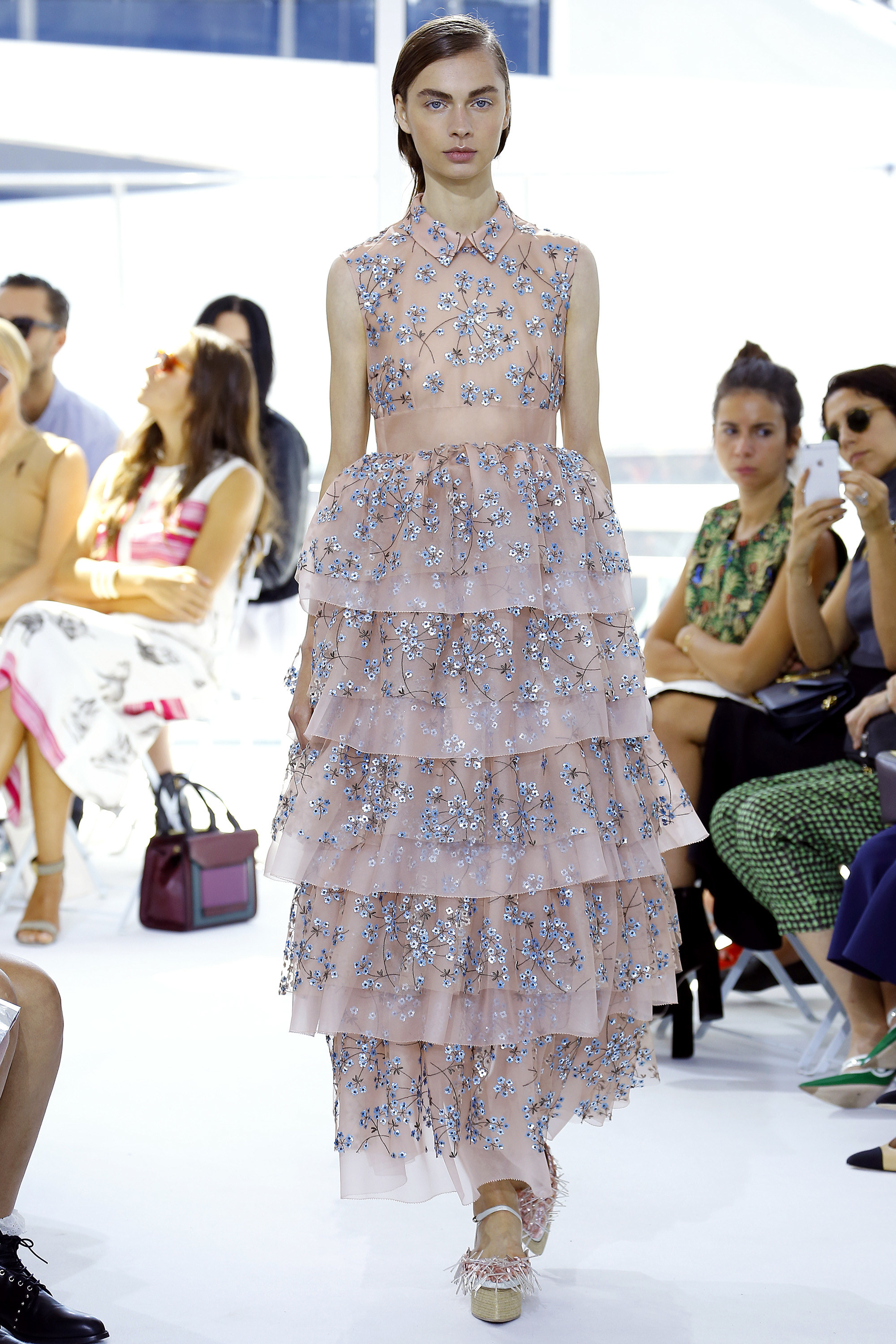 Capacious ruffles along with sculptural silhouettes, lux jacquards and opulent embellishments add up to a couture extravaganza.
ERDEM: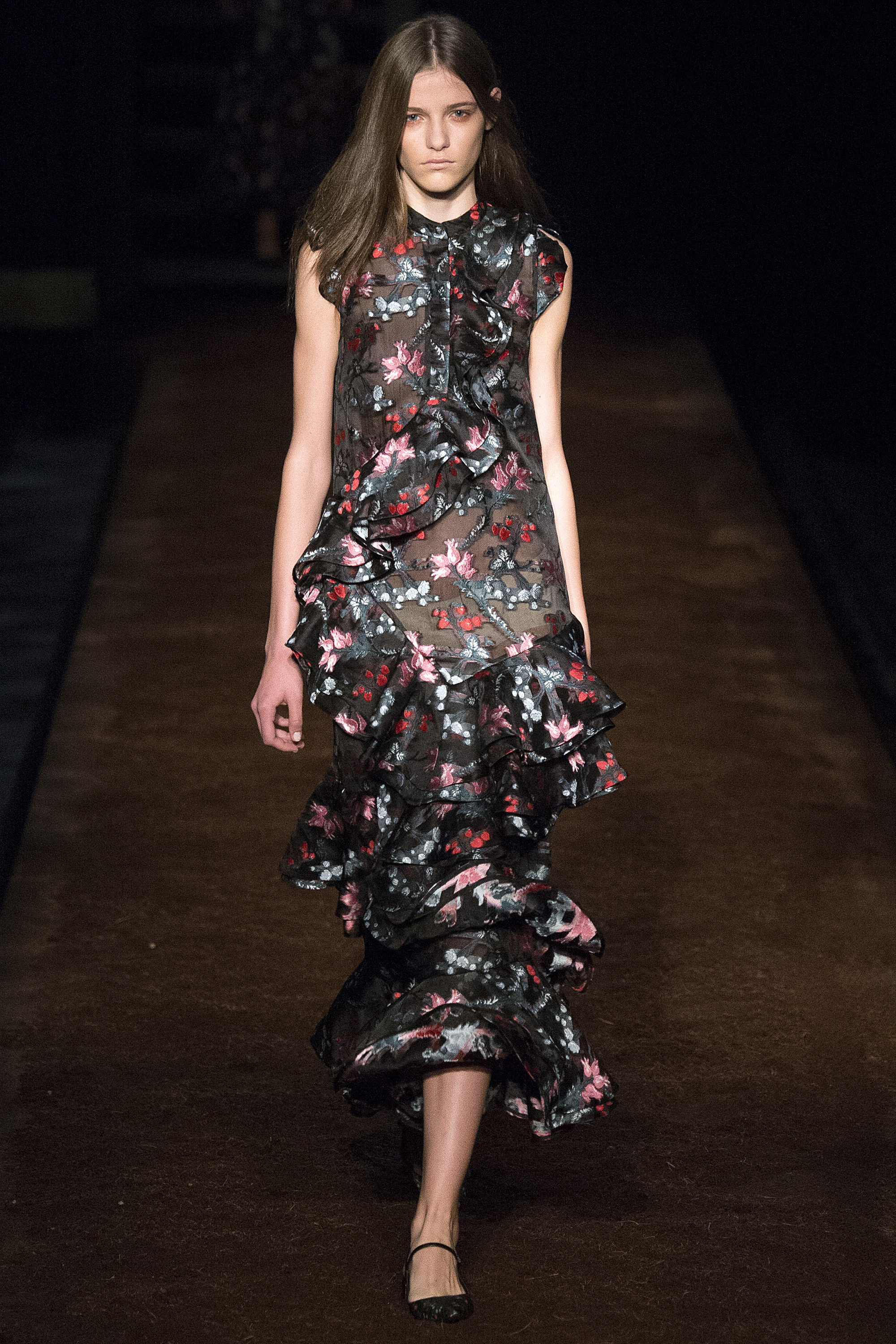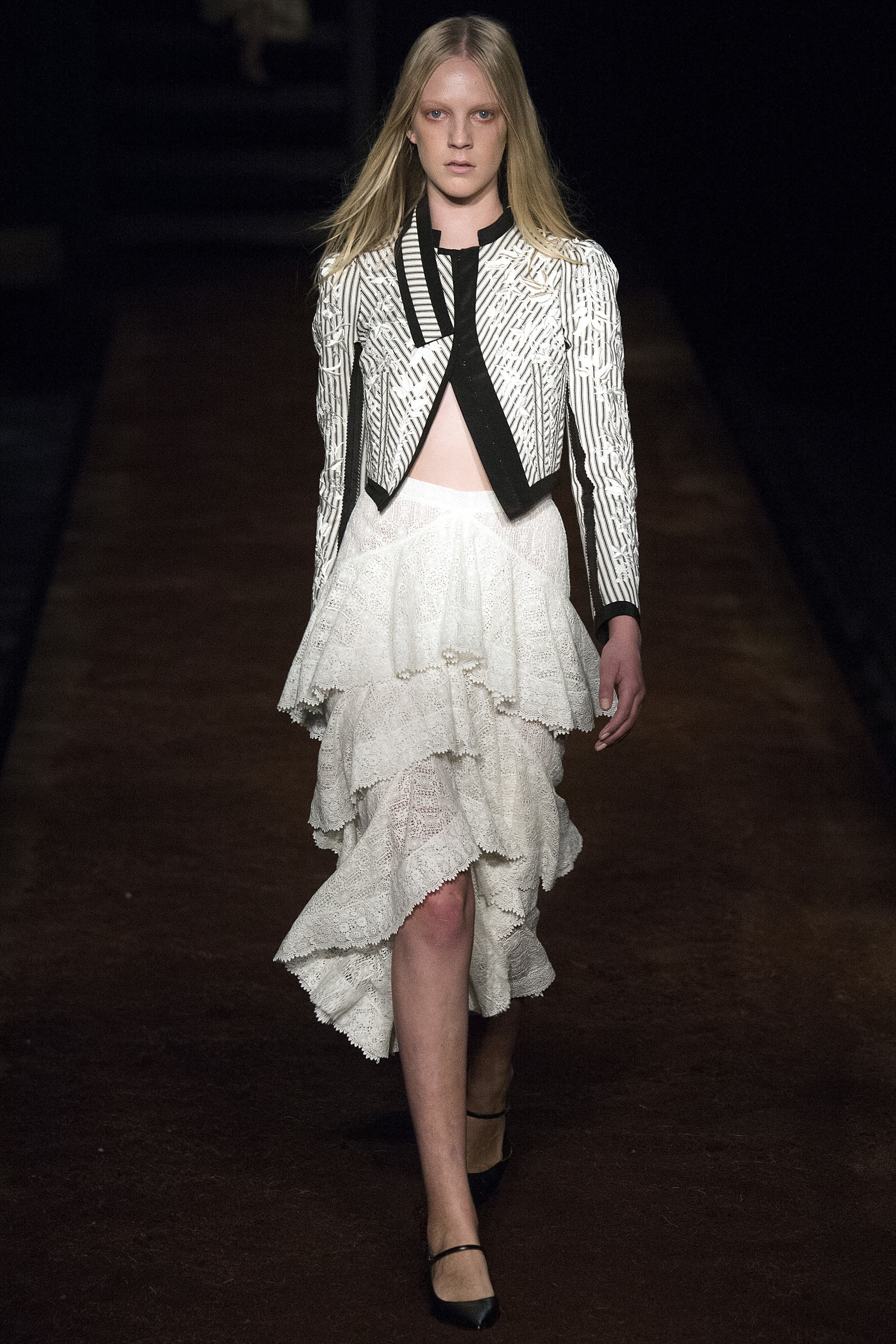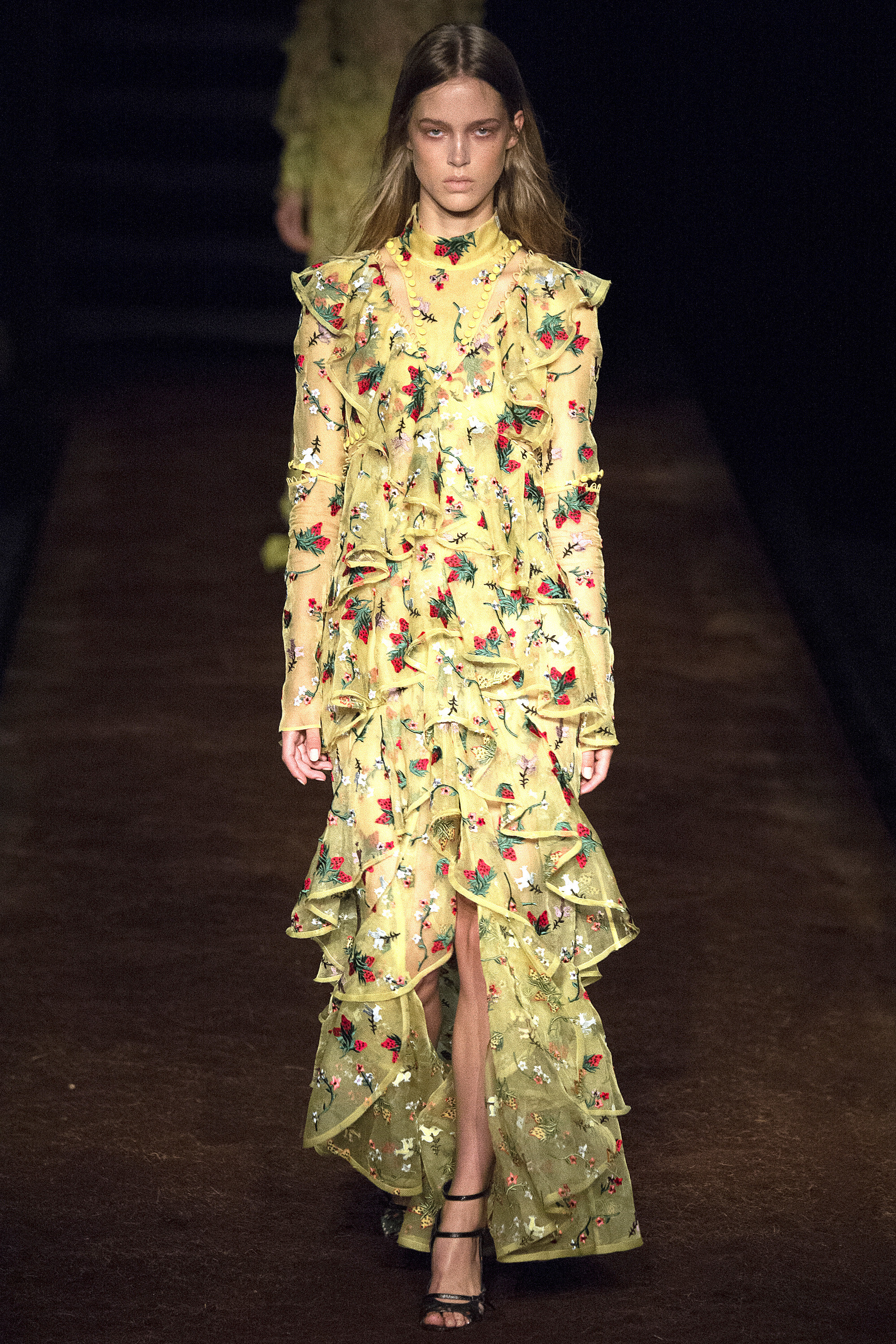 A perpetual trend is to combine the feminine and flowery with the more masculine and spartan. Yin yang etc. Our brains appreciate visual irony and unsual contrasts.
BALMAIN: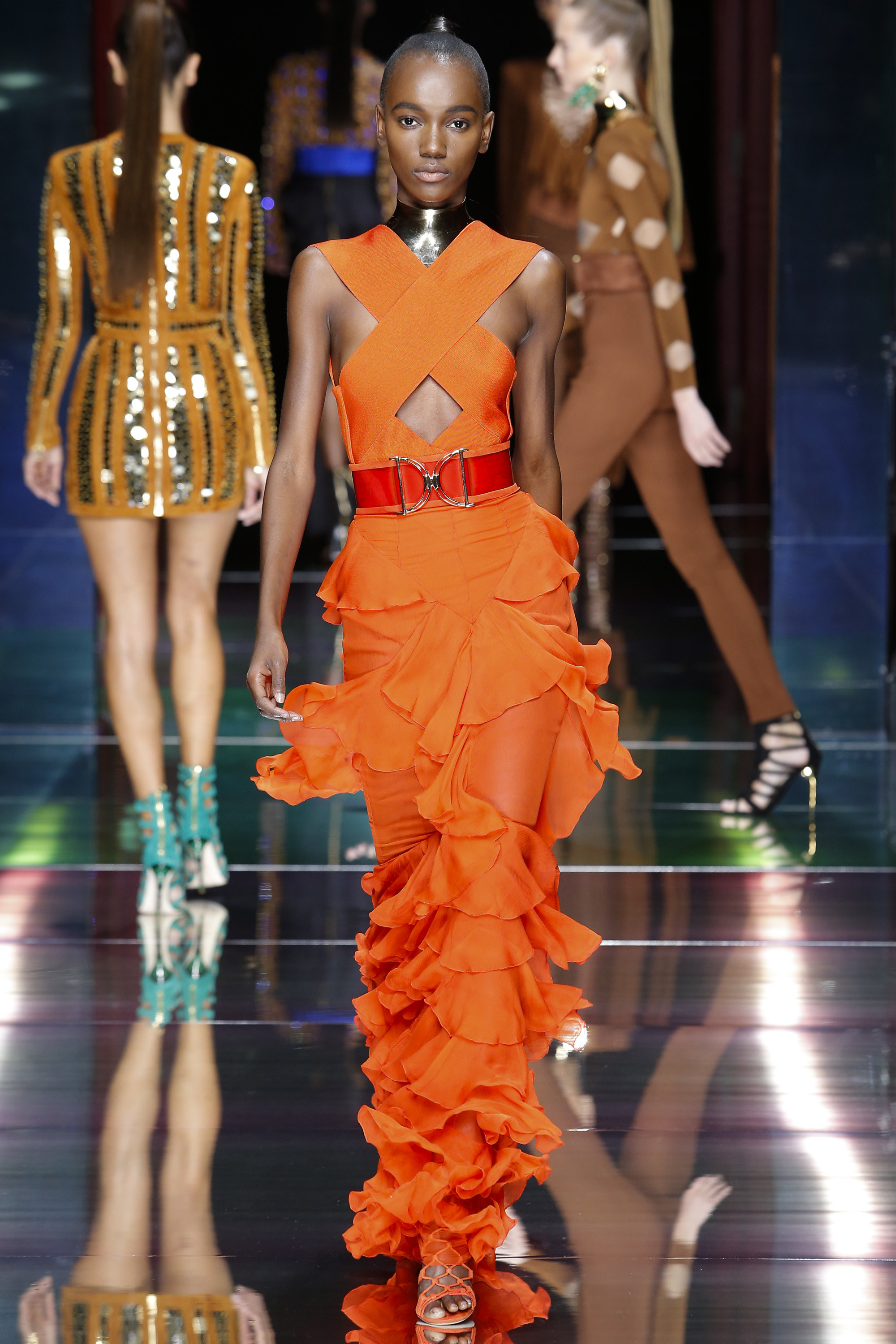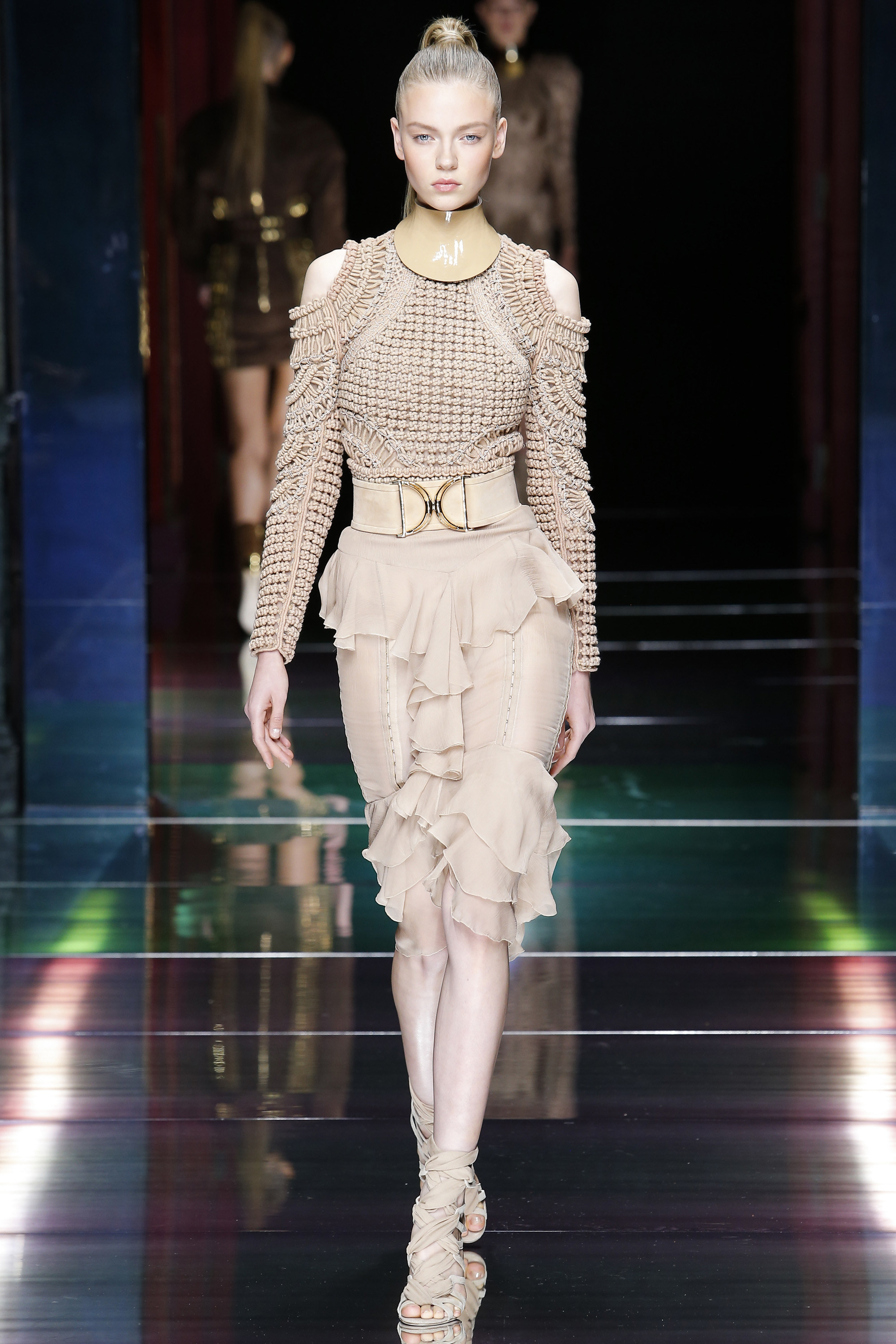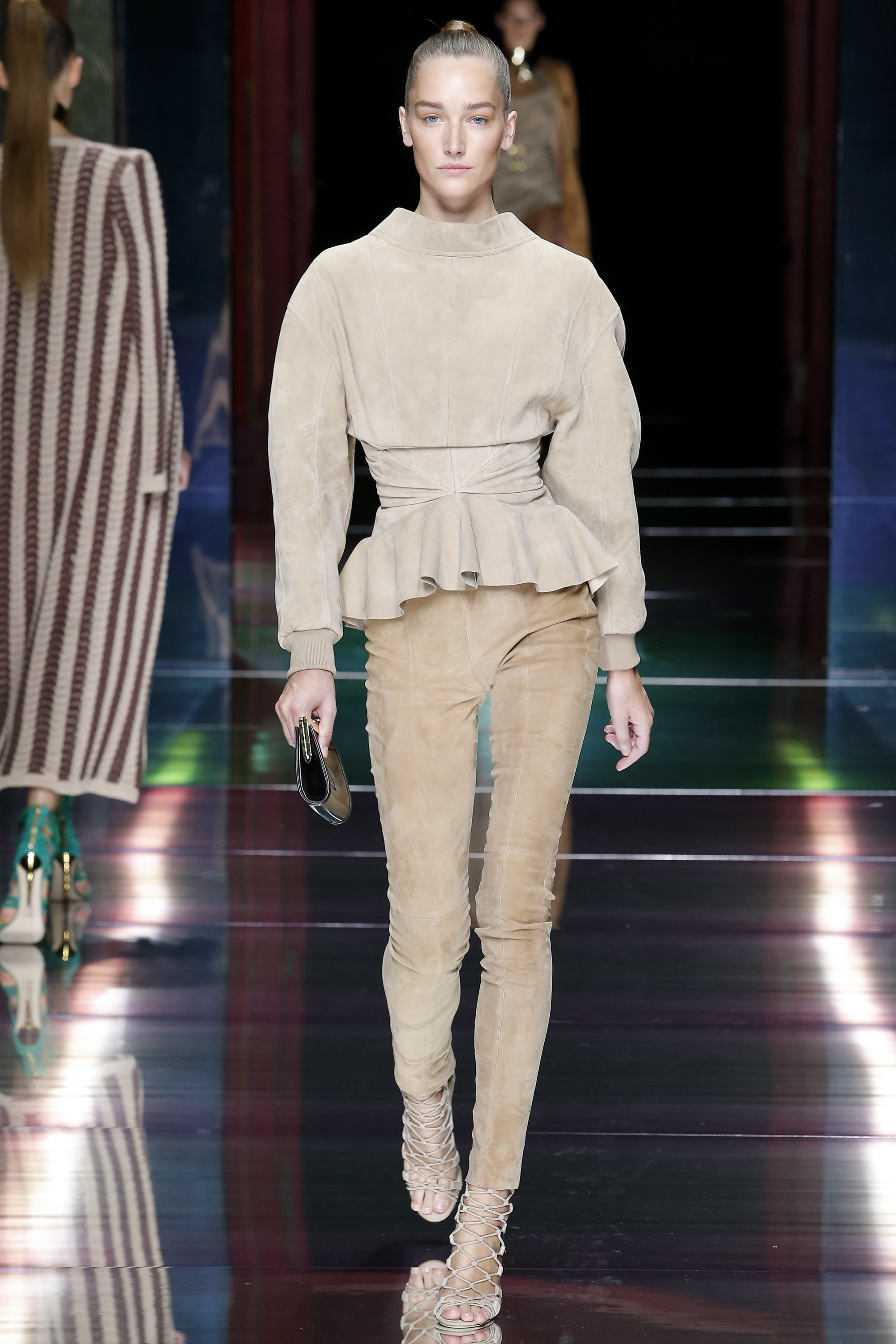 Like Tom Ford and Hedi Slimane (Saint Laurent), Oliver Rousteing excels in rock 'n roll VIXEN femininity.
HOOD BY AIR: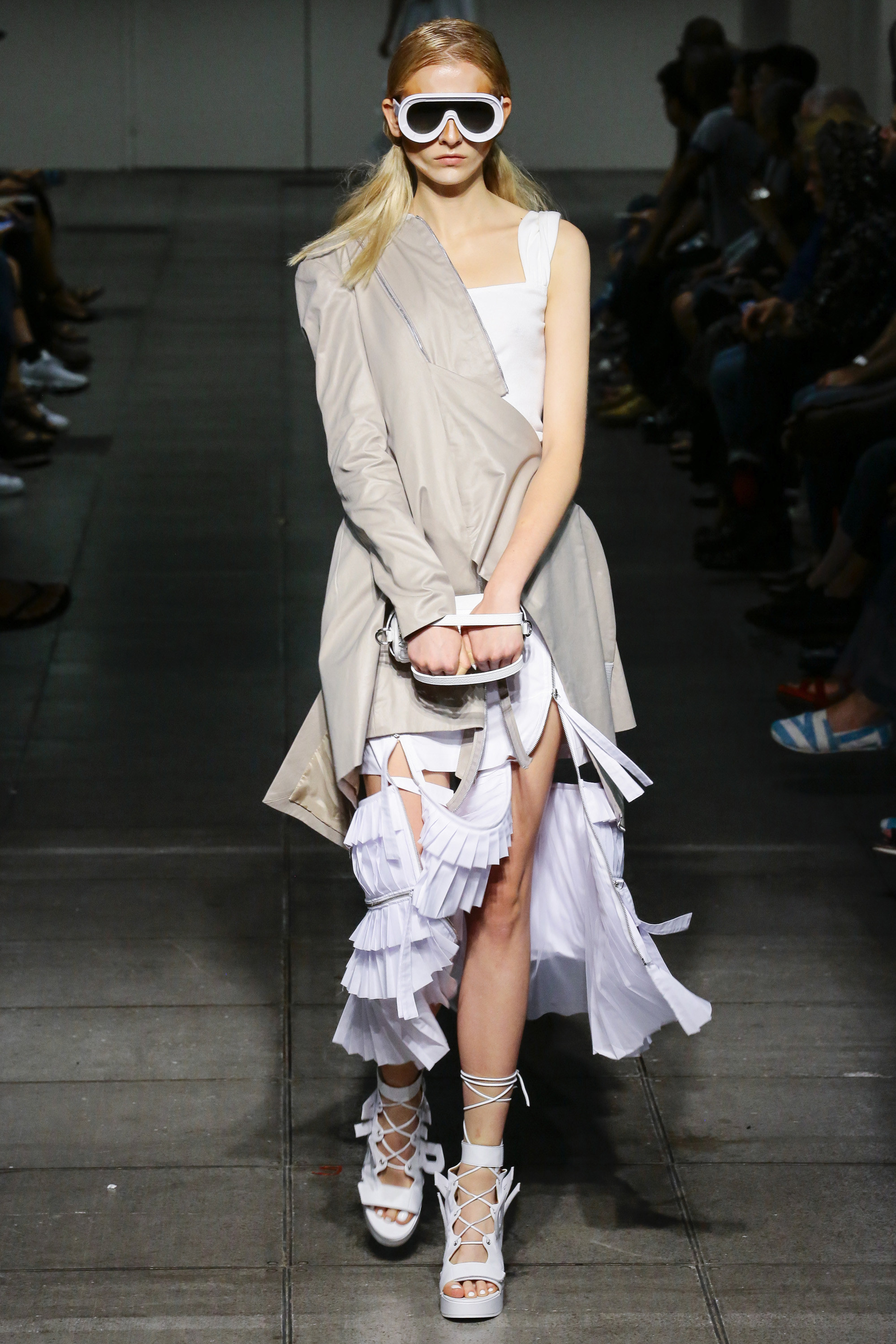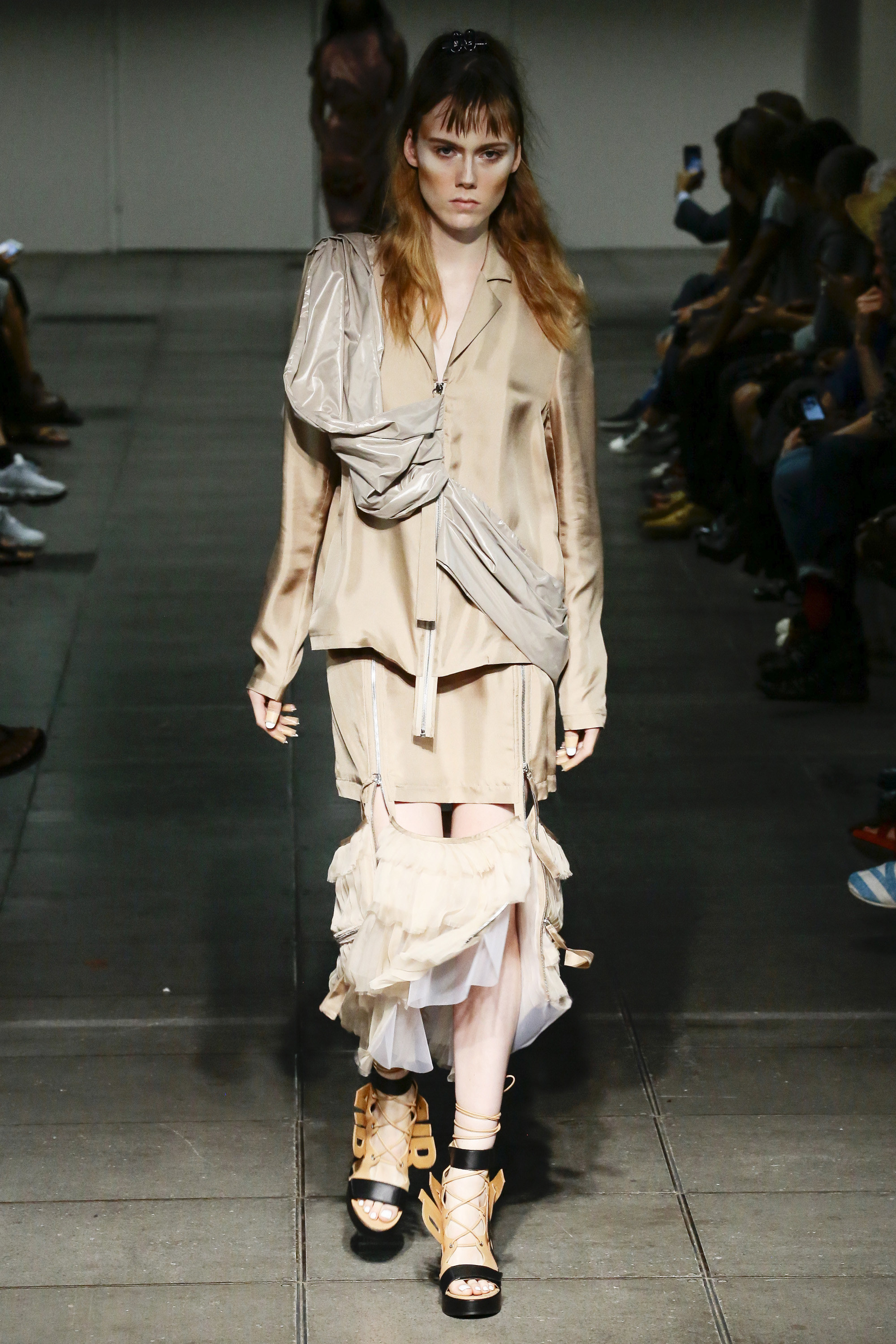 Even street style can't stave off the siren call of the ruffle.
BALENCIAGA: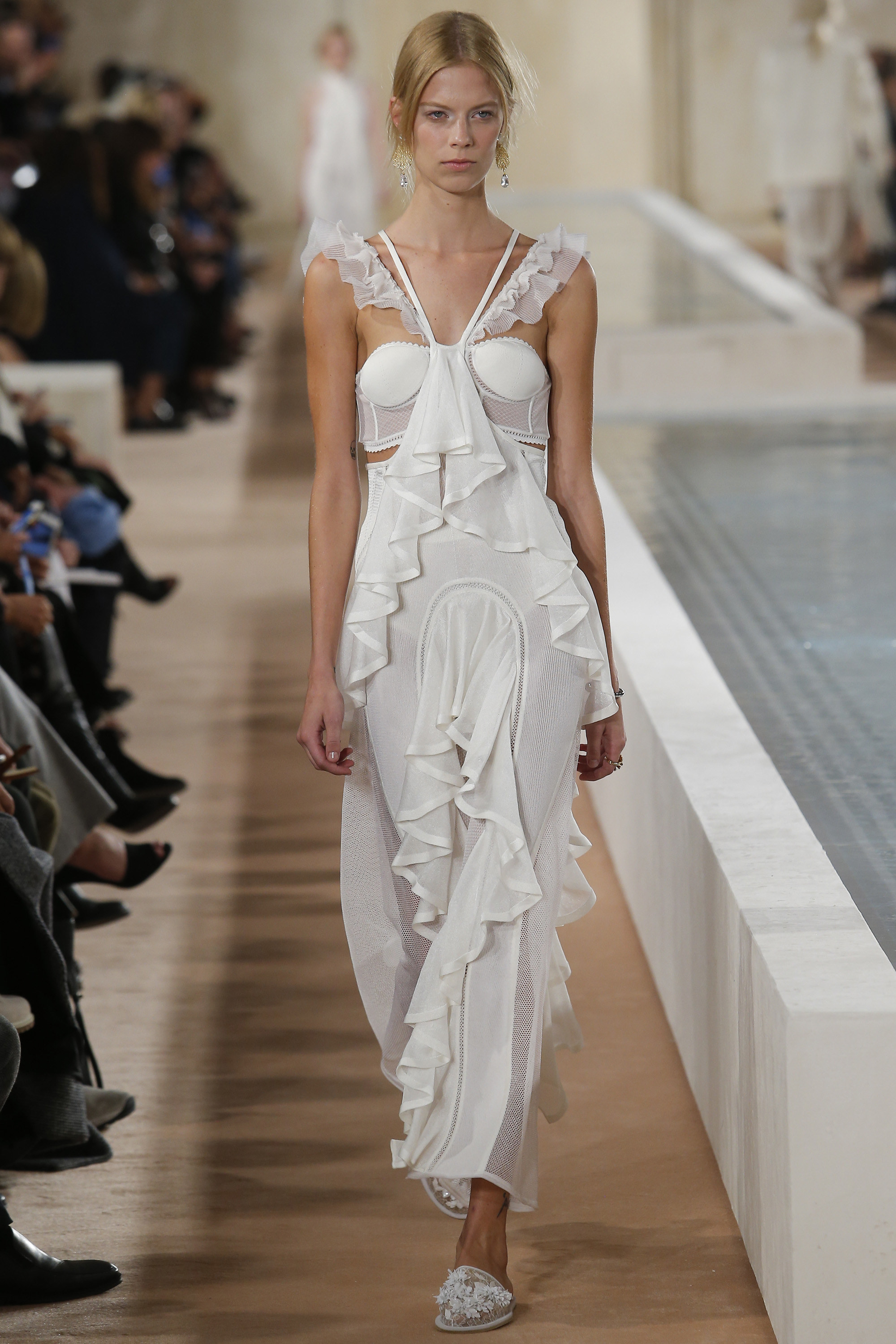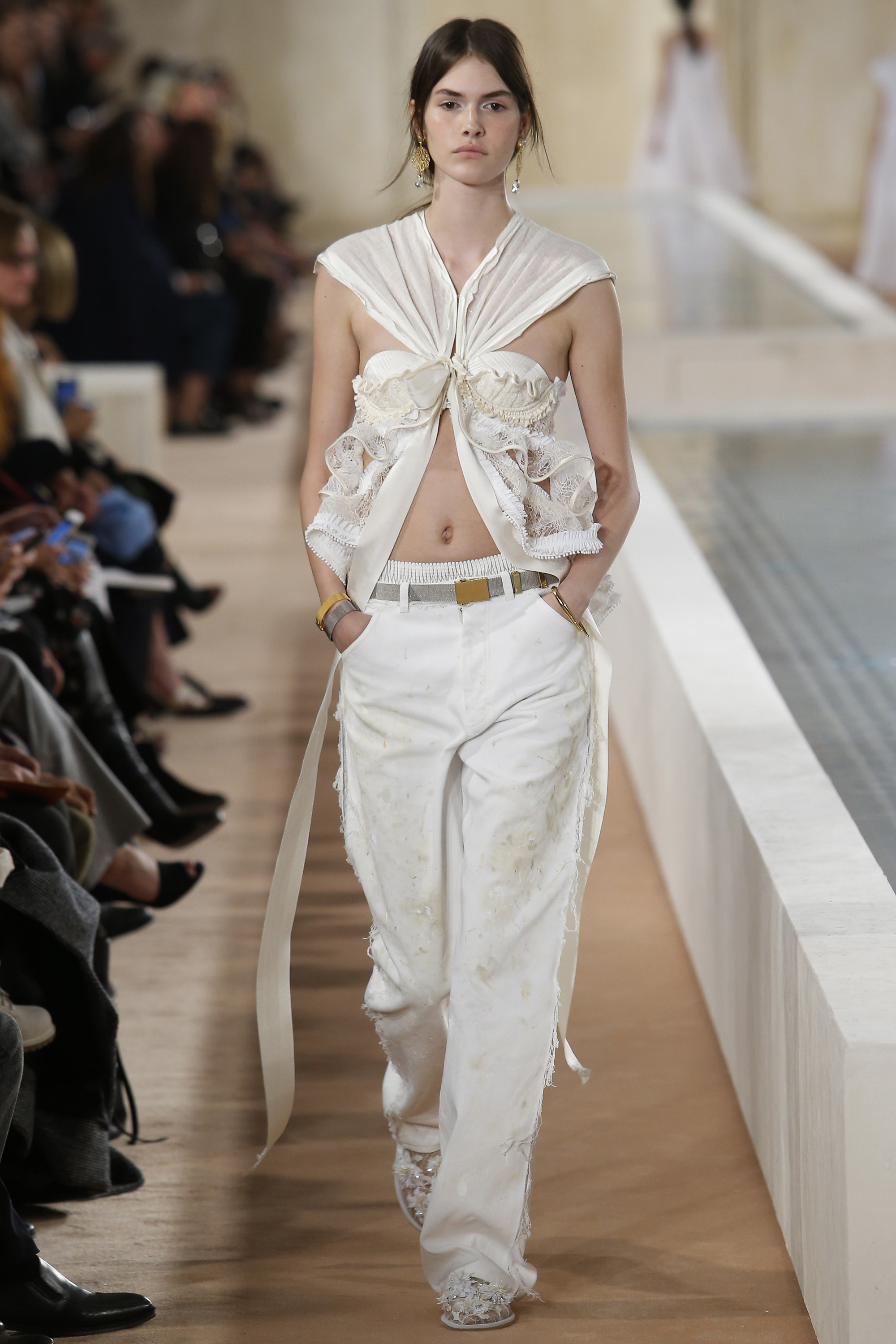 A little dab will do you! (Alexander Wang's last collection for Balenciaga).
OSCAR DE LA RENTA: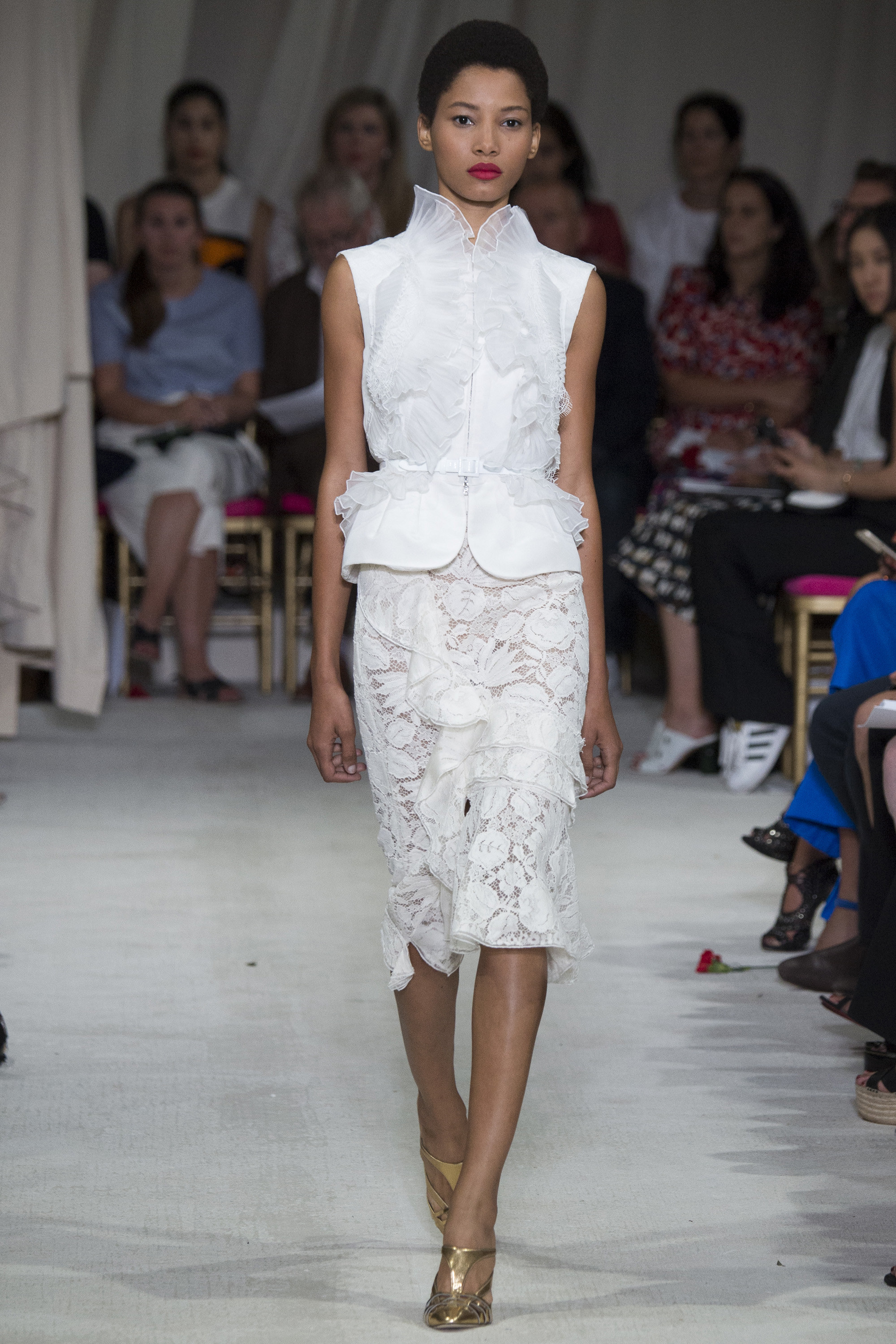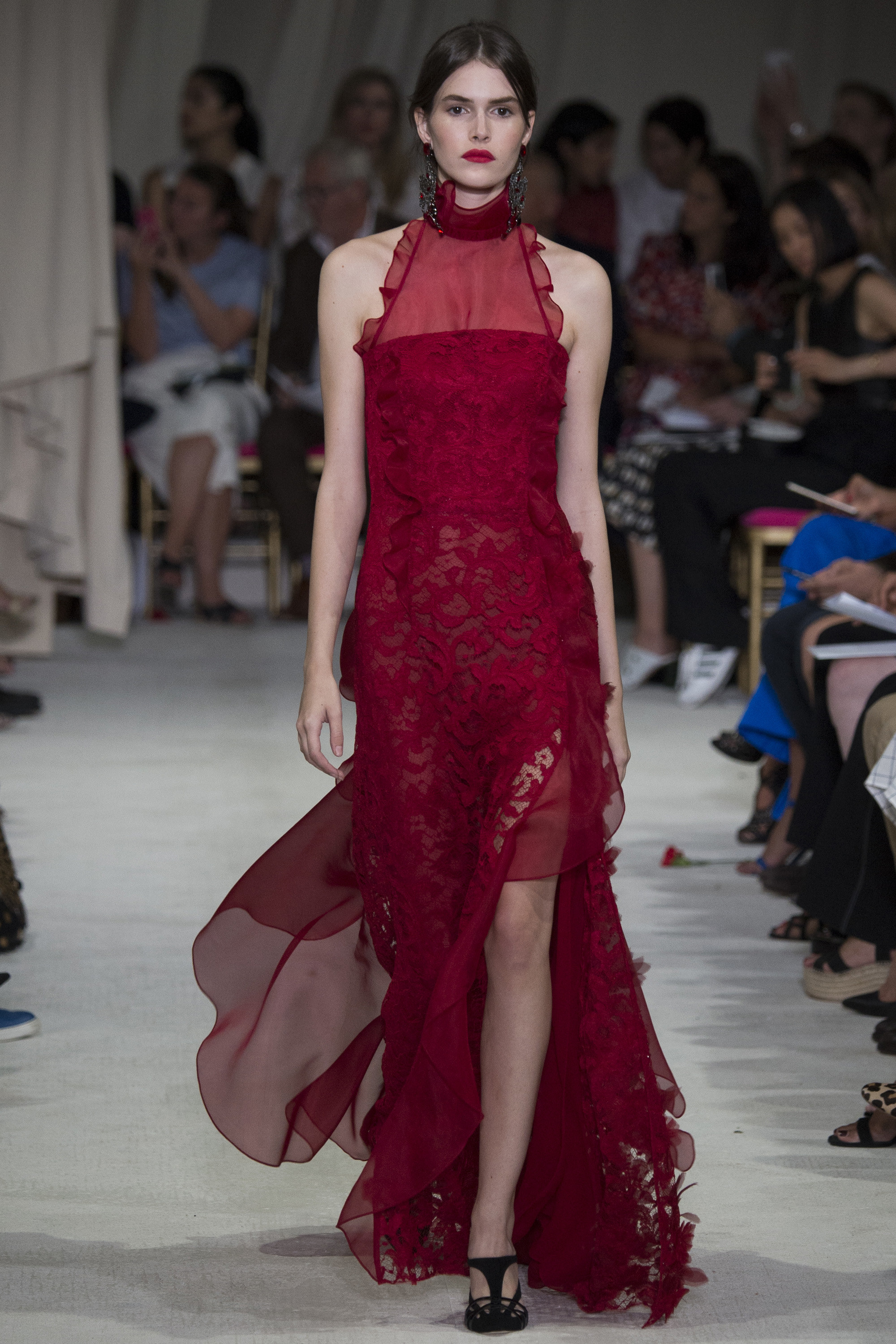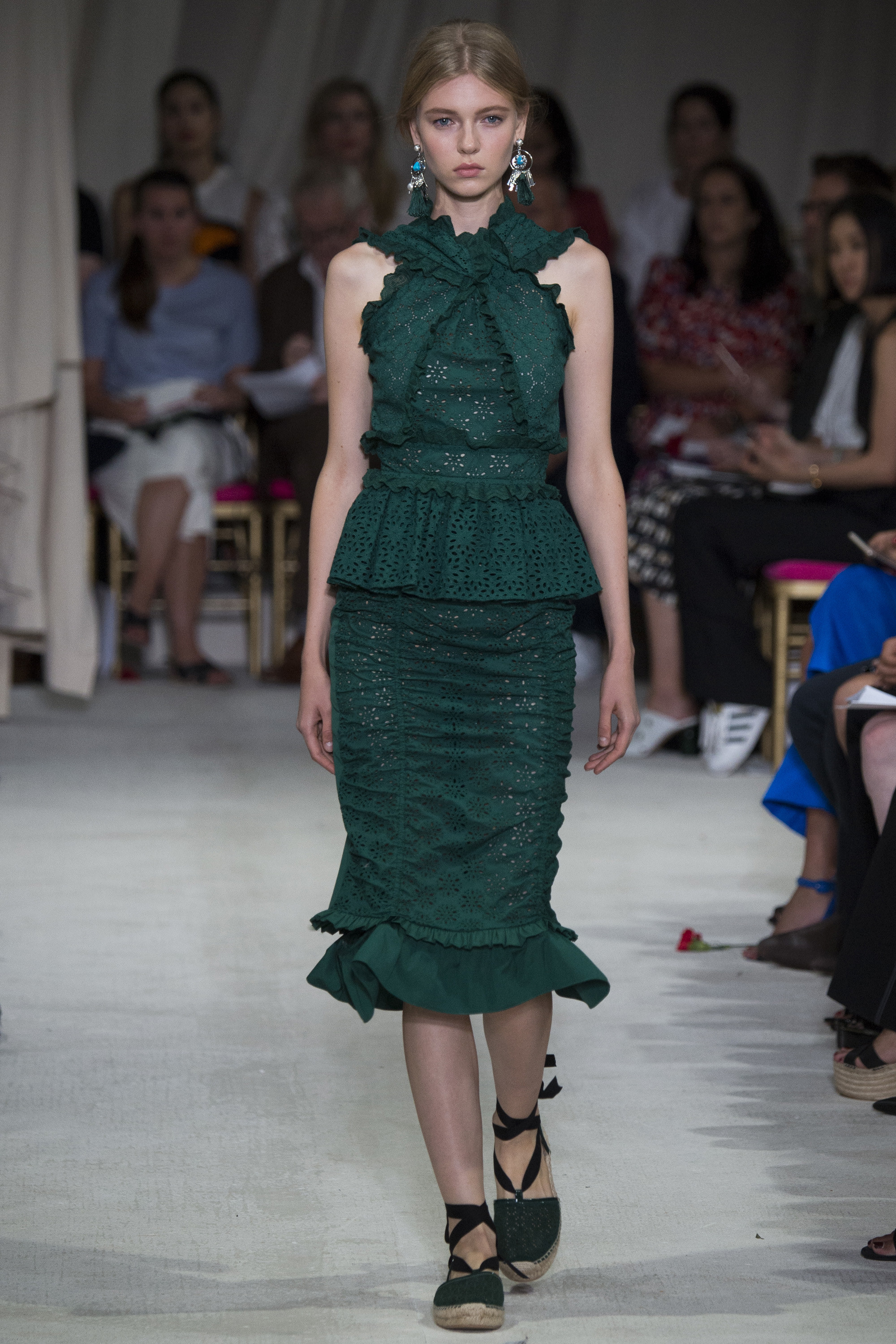 RODARTE: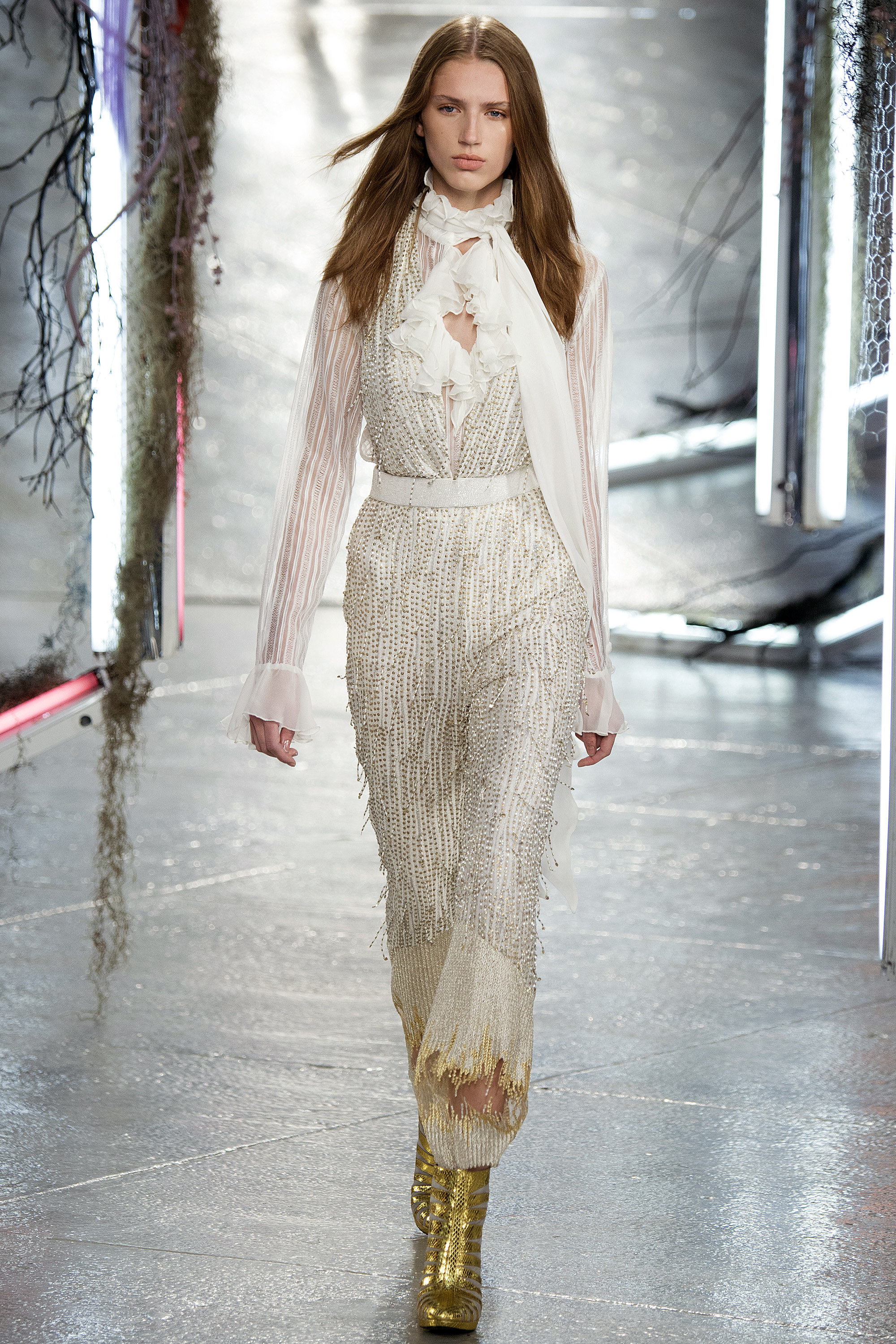 SIMONE ROCHA: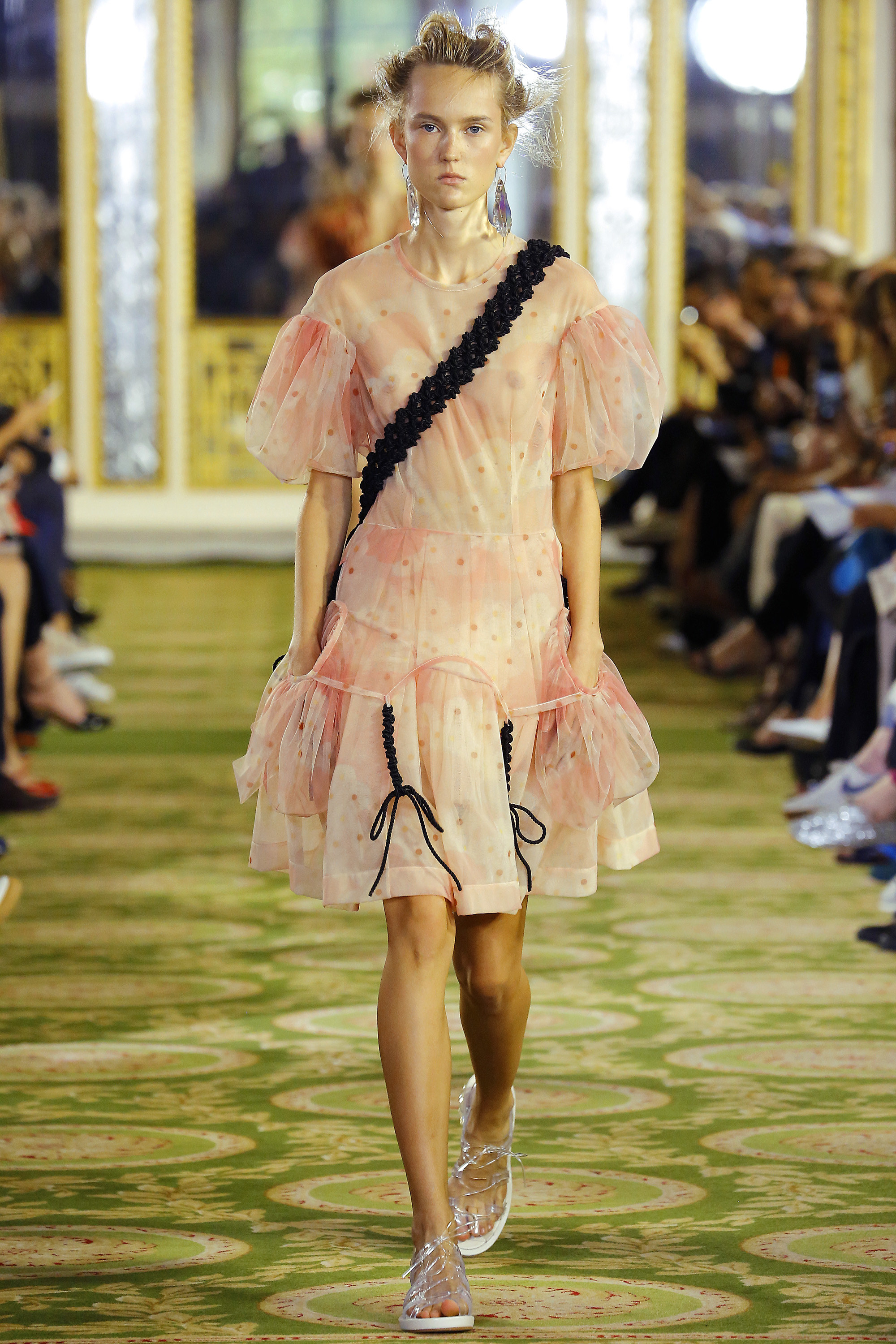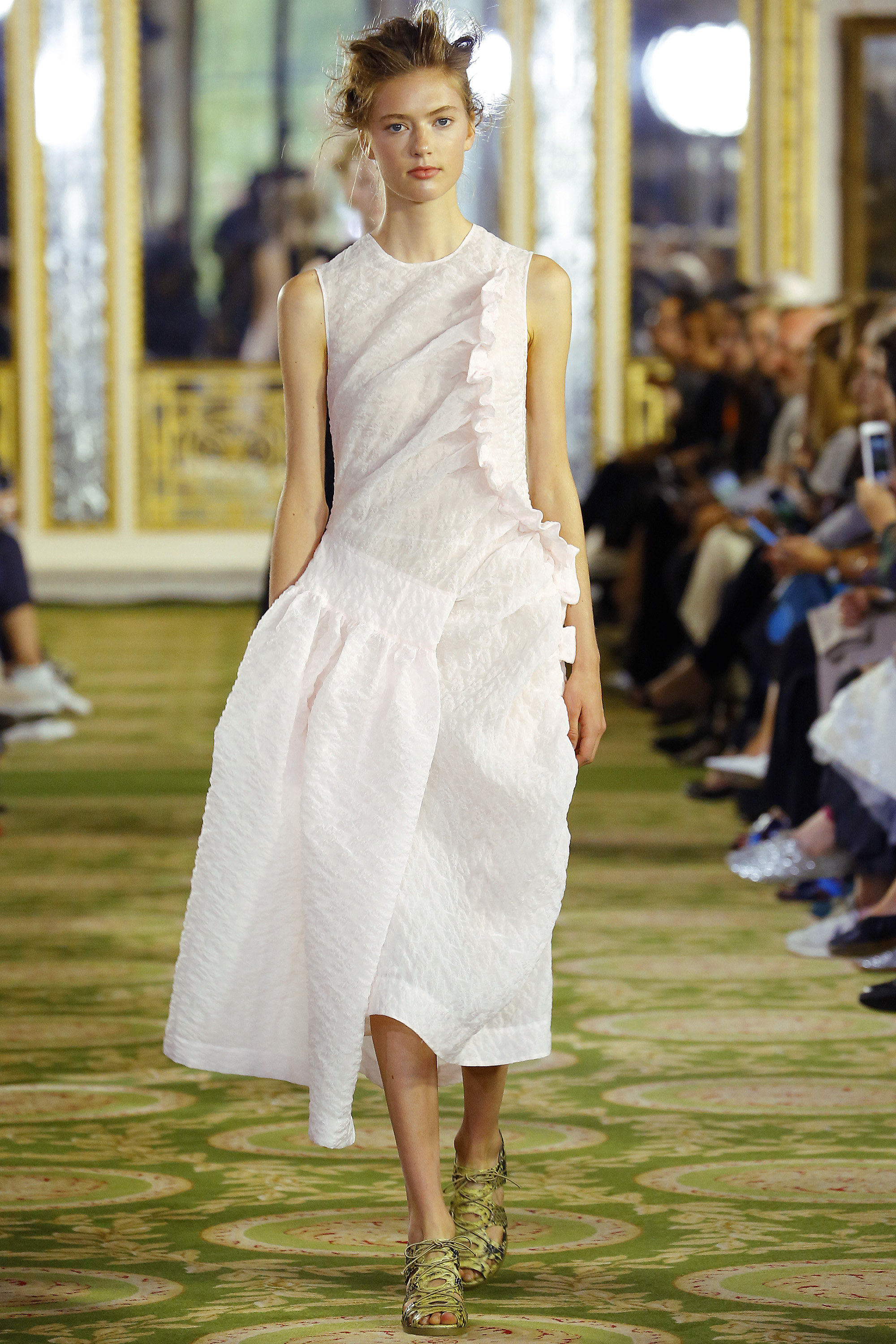 Modern Elizabethan.
CARVEN: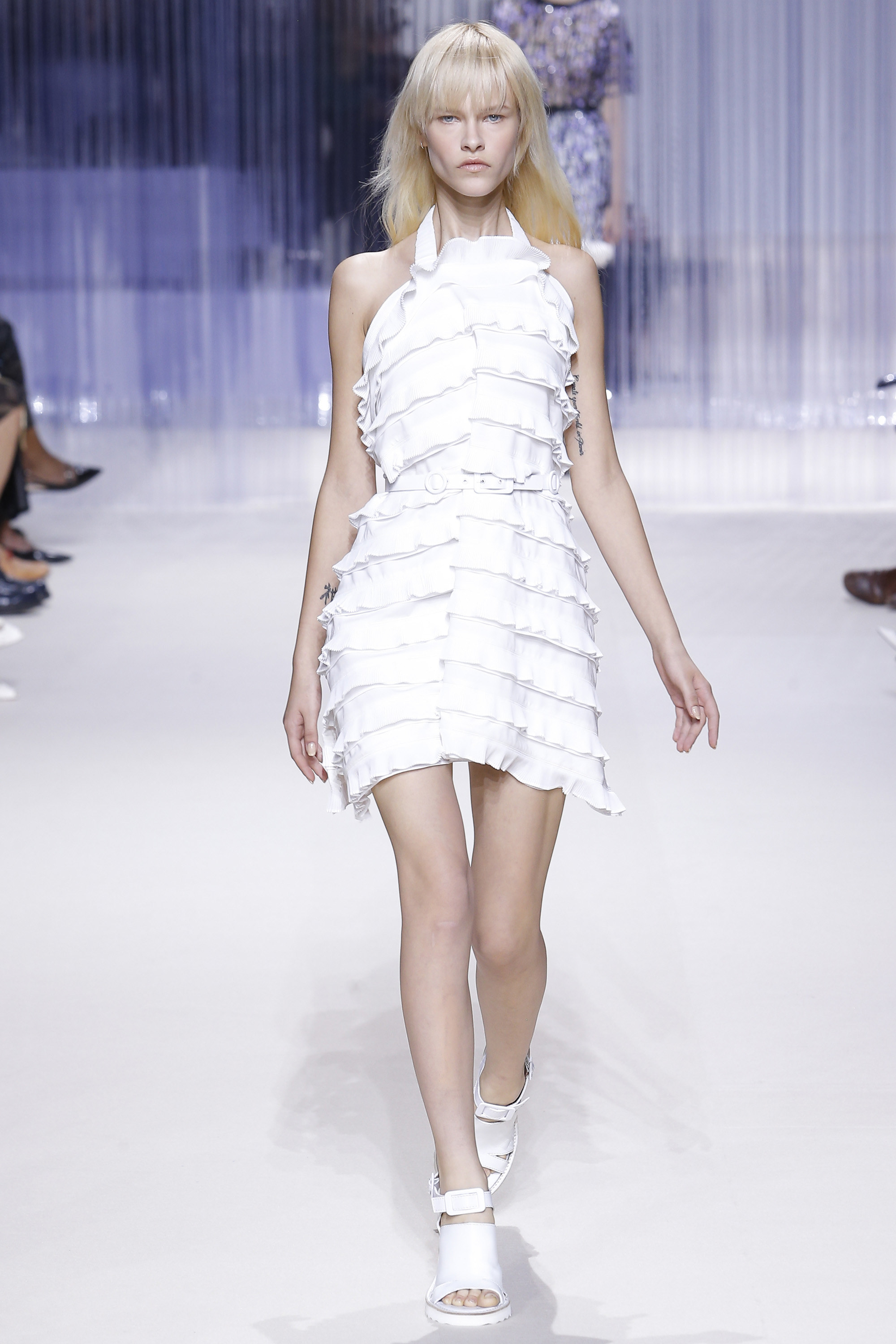 VETEMENTS: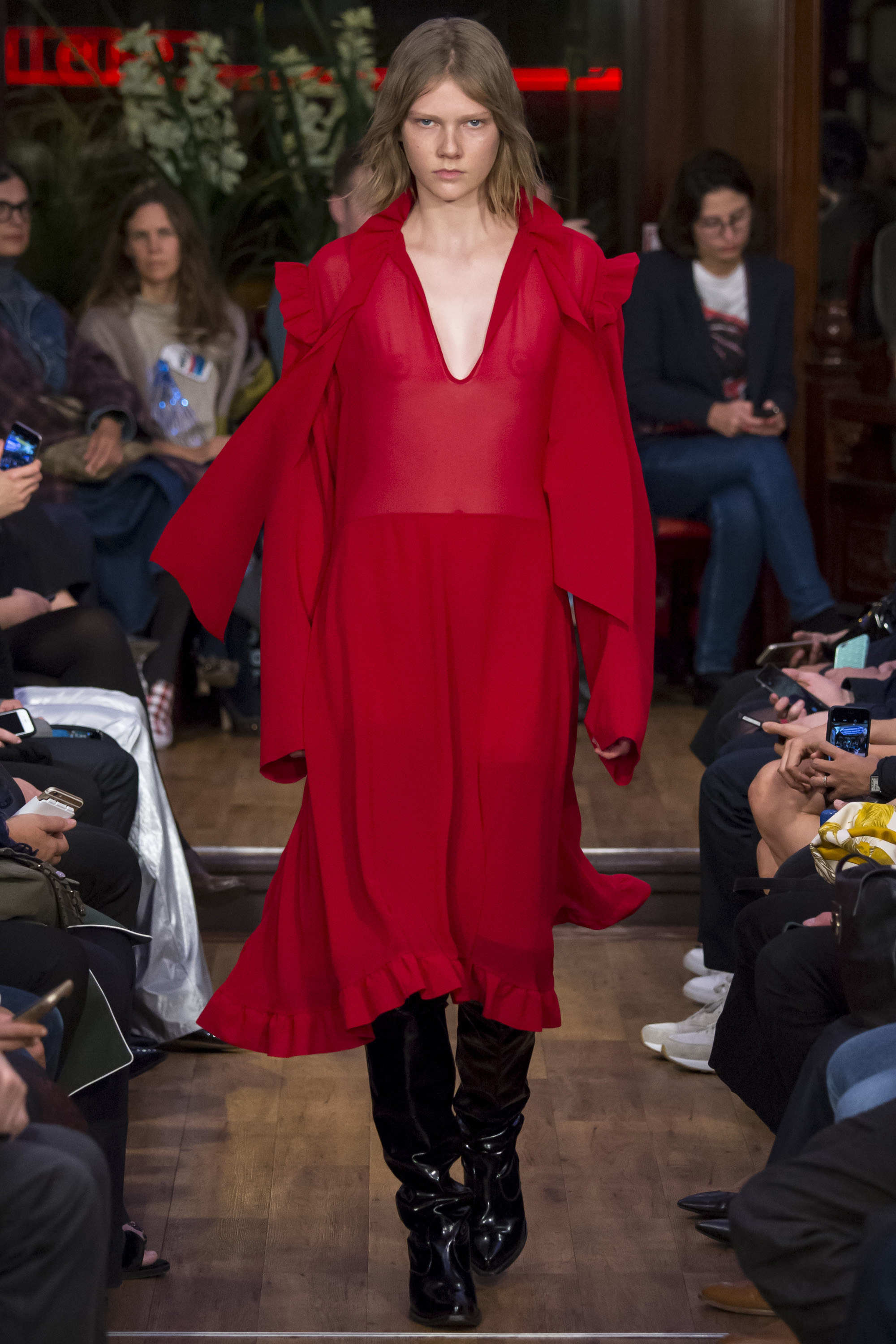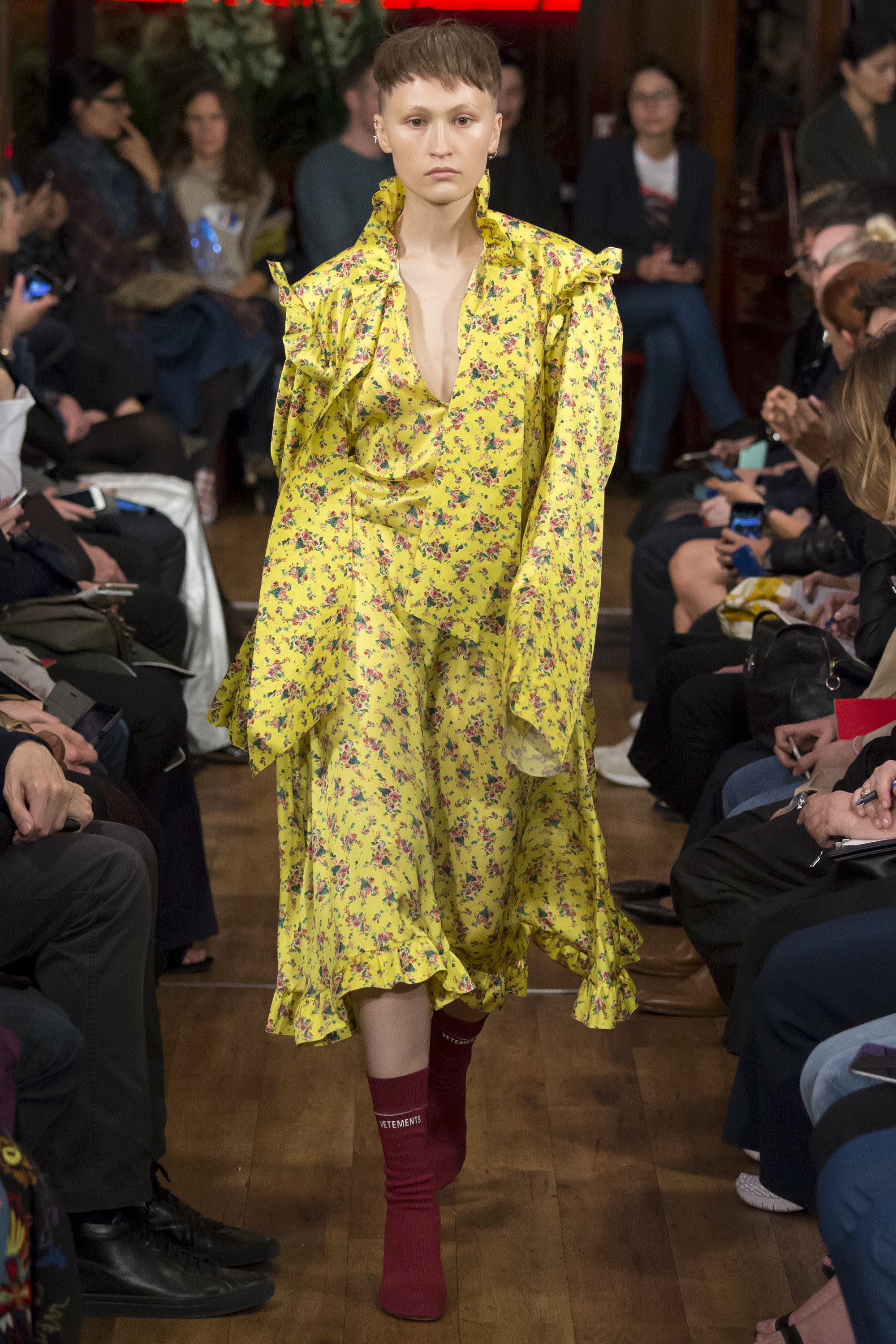 Tim Burton meets Laura Ashley……heh.
J.W. ANDERSON: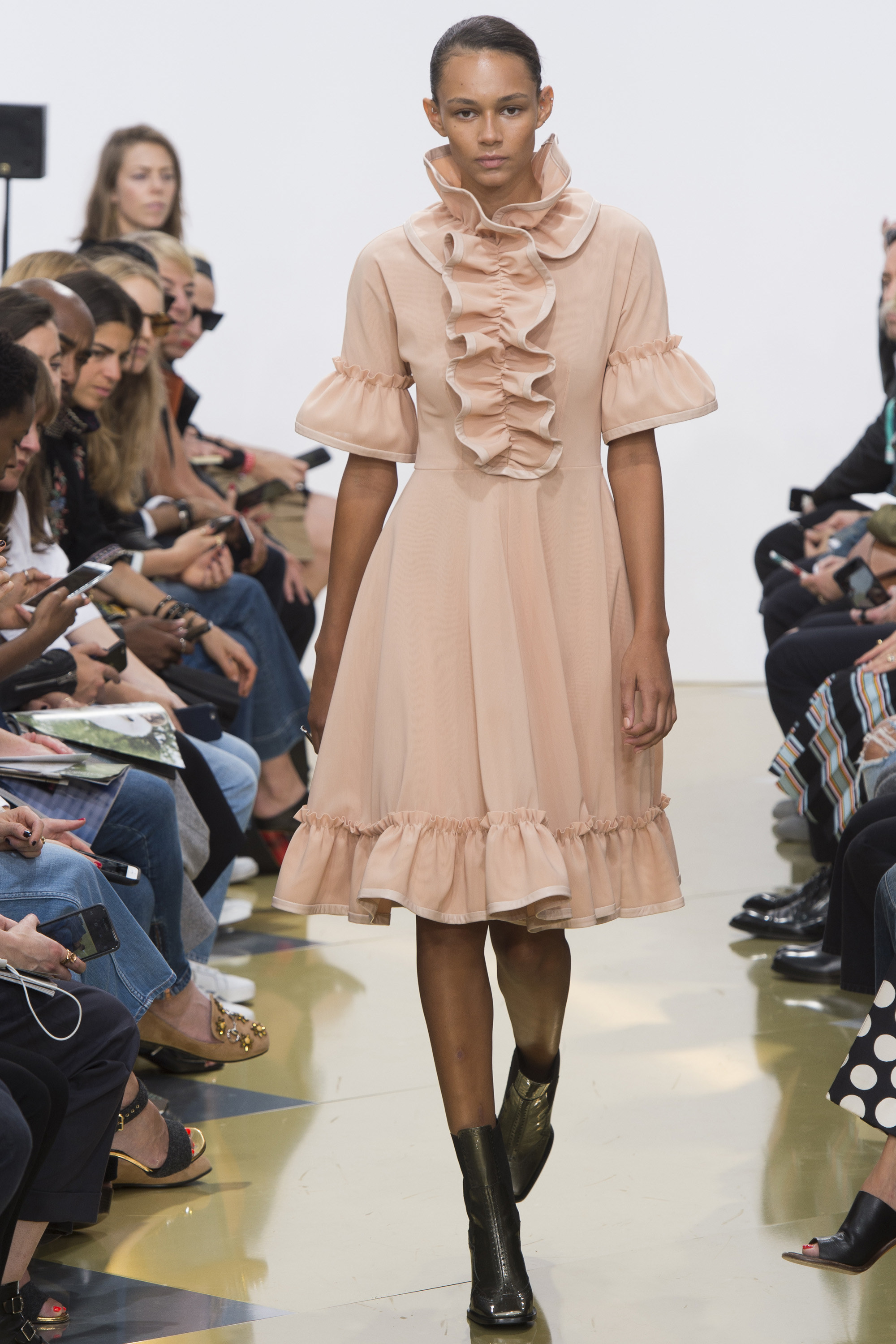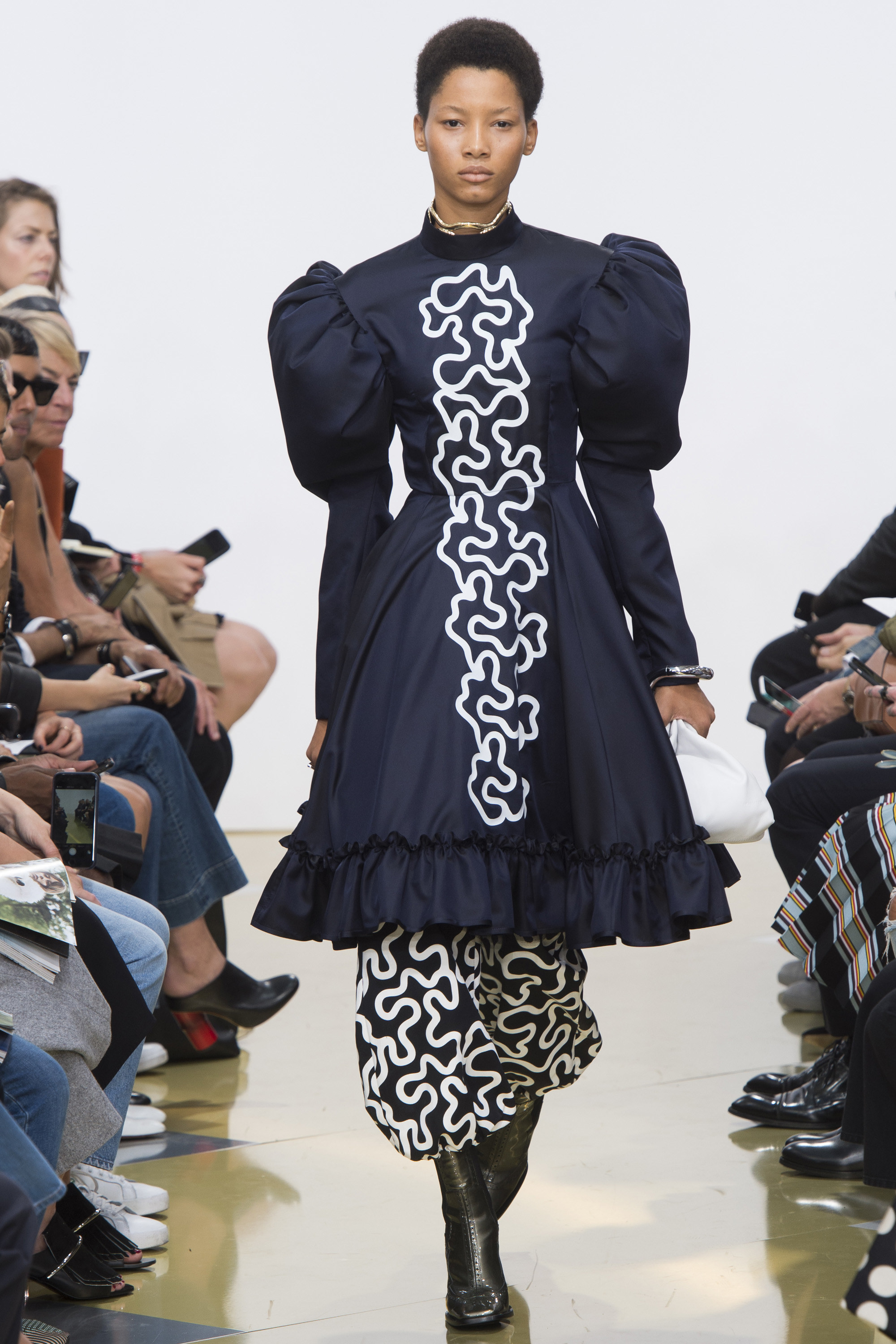 Feminine yet funky and curious. (I'd wear both as tunics over skinny jeans). The puffy sleeve is the perfect compliment to the ruffle.
LOUIS VUITTON: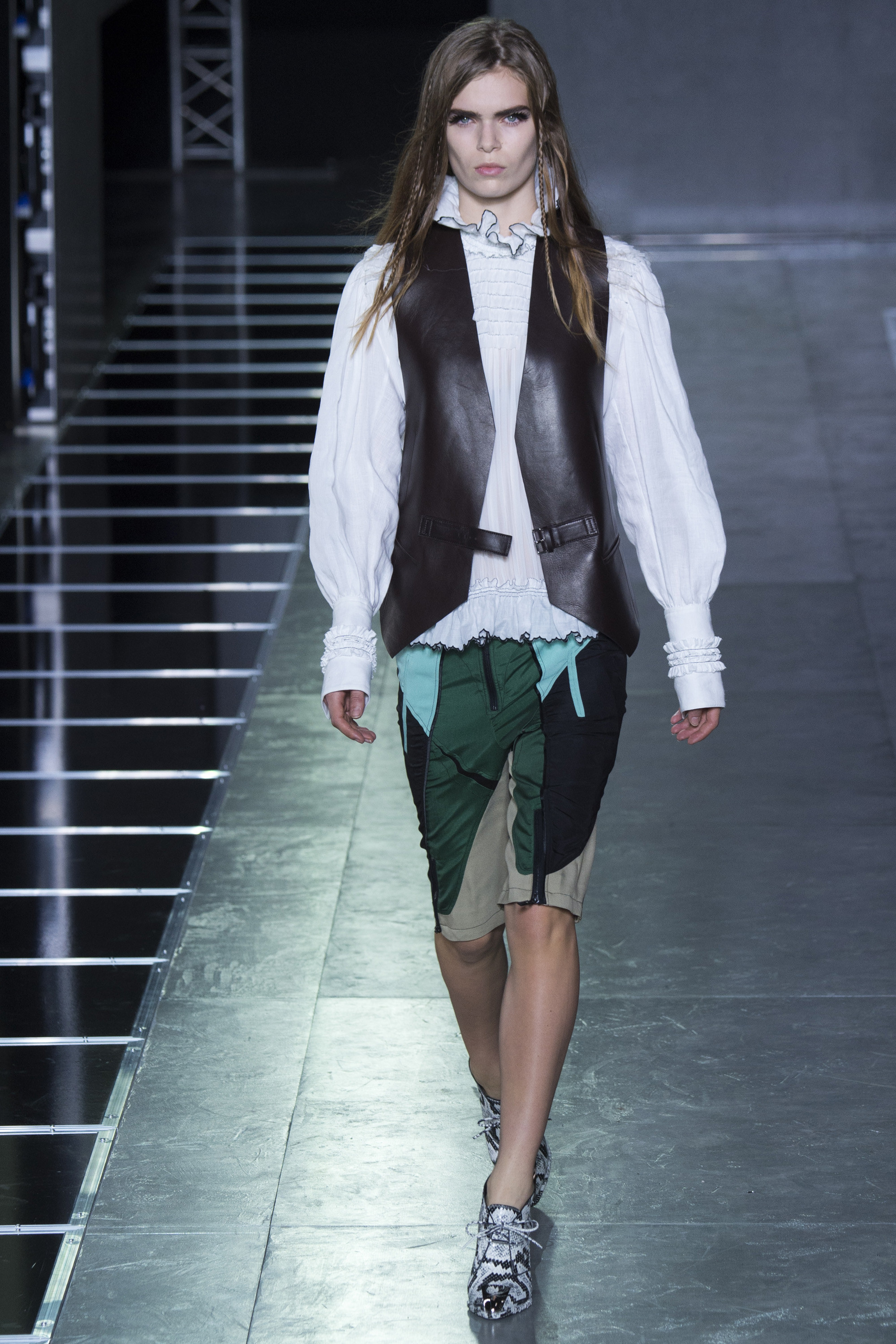 A modern pirate.
PETER PILOTTO: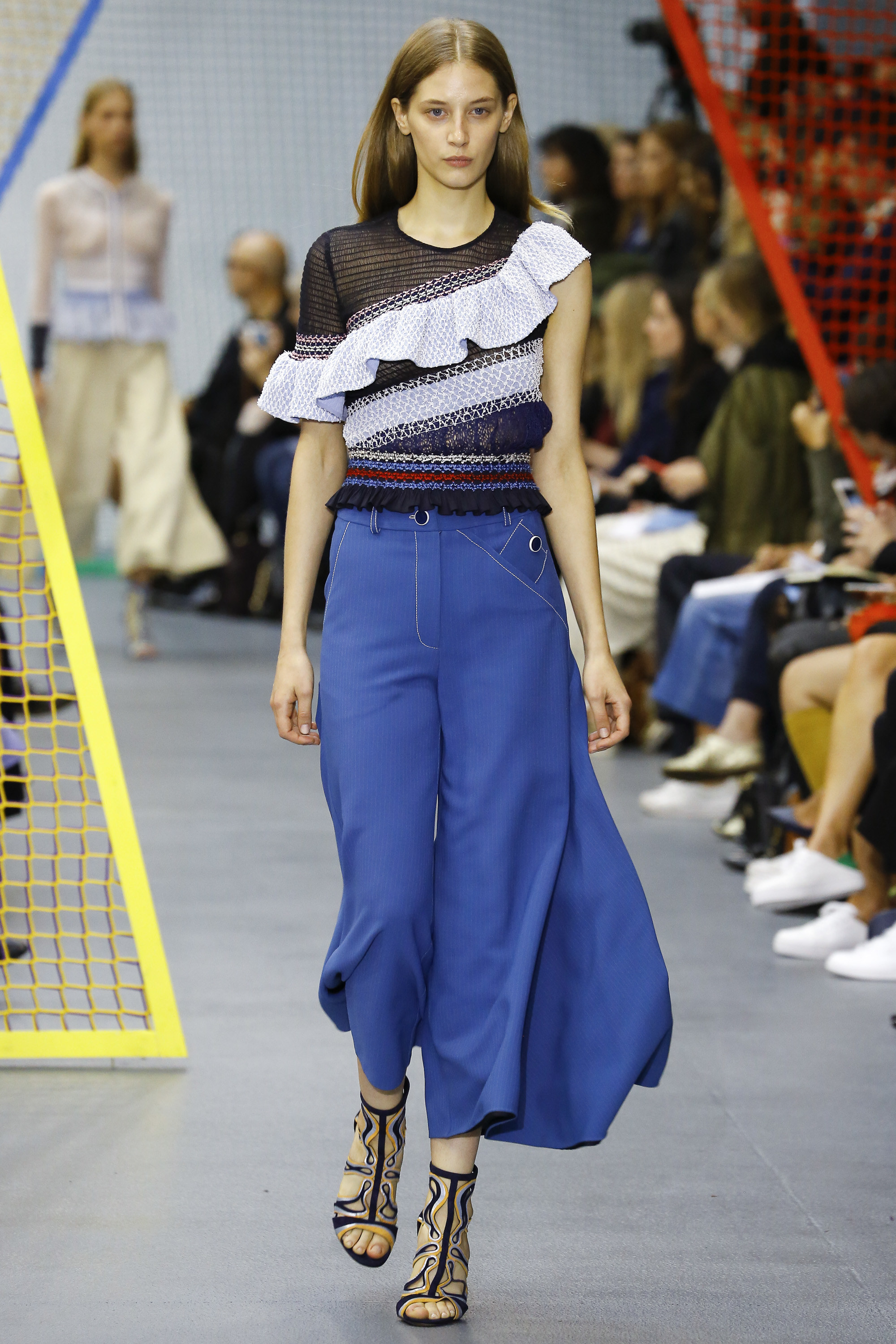 ROSIE ASSOULIN: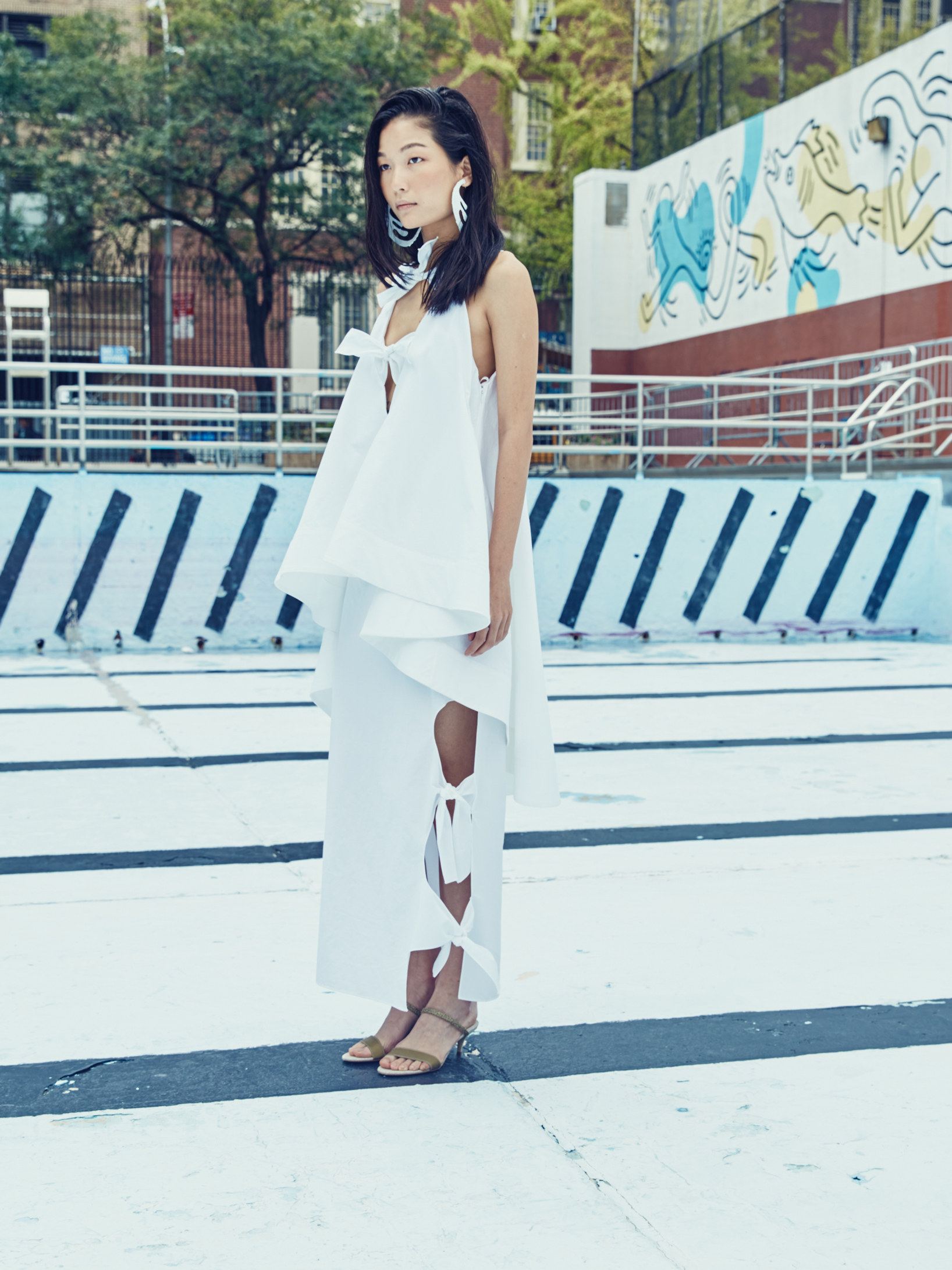 Ruffles can be modern, and will compliment all body morphs.
CHLOE: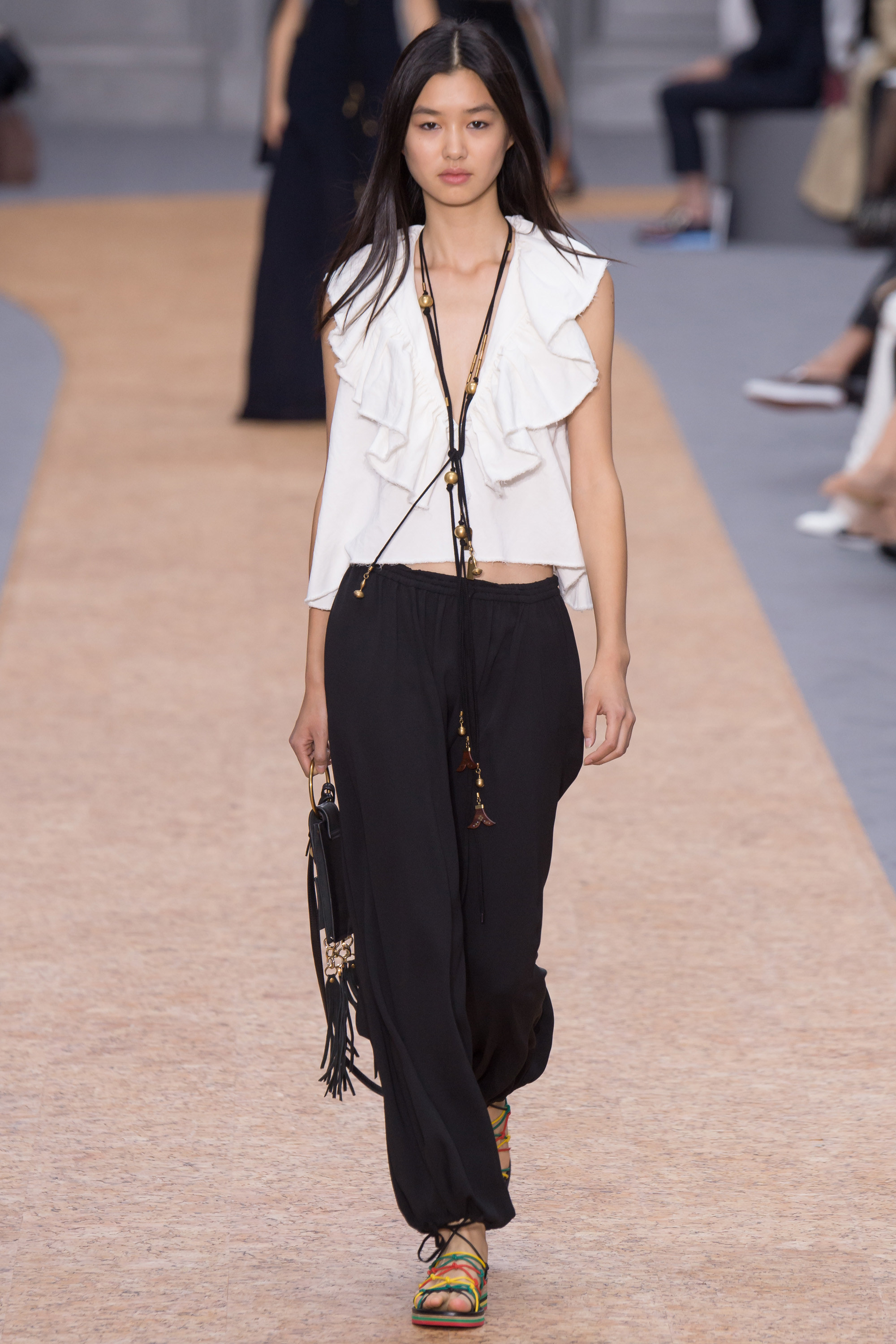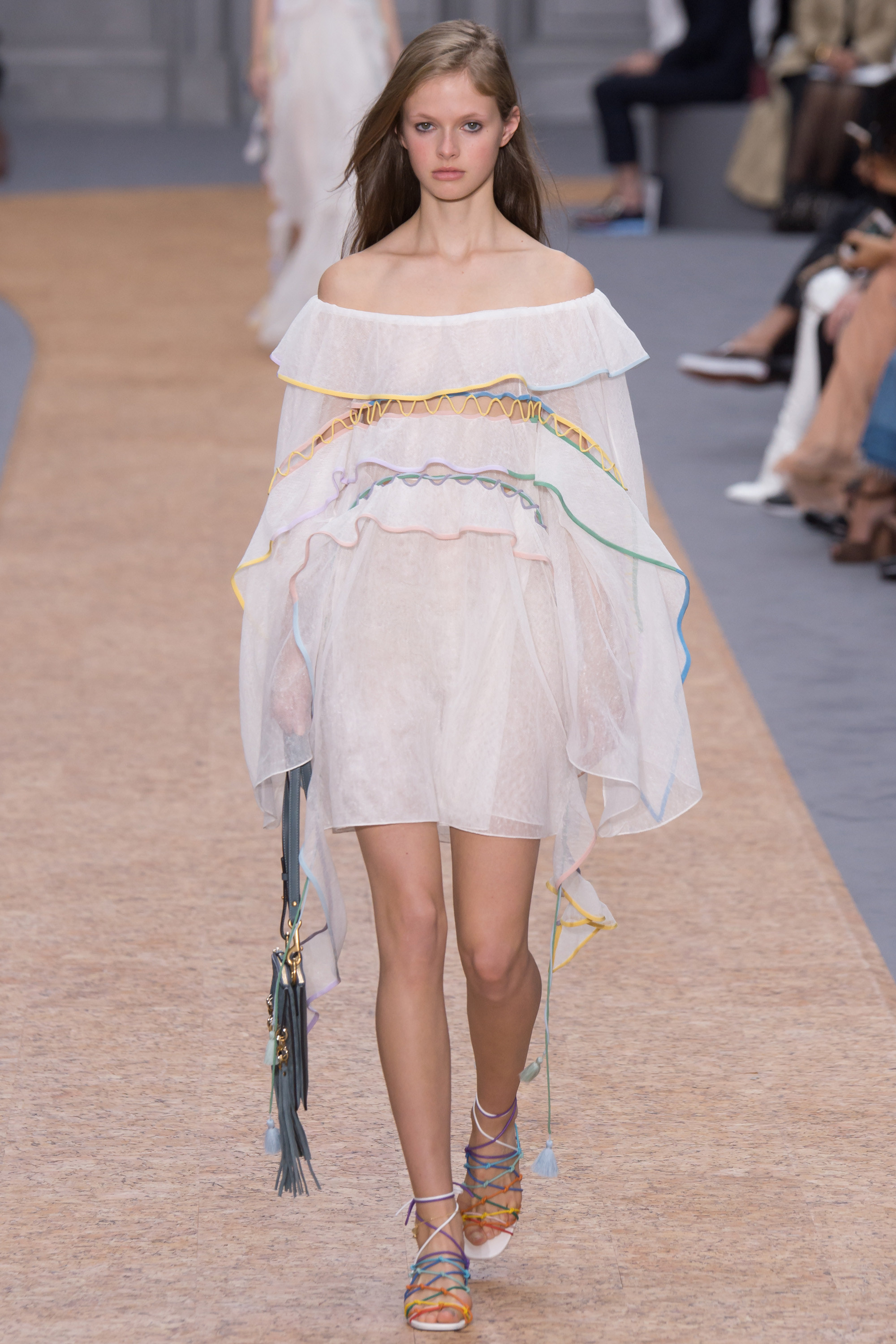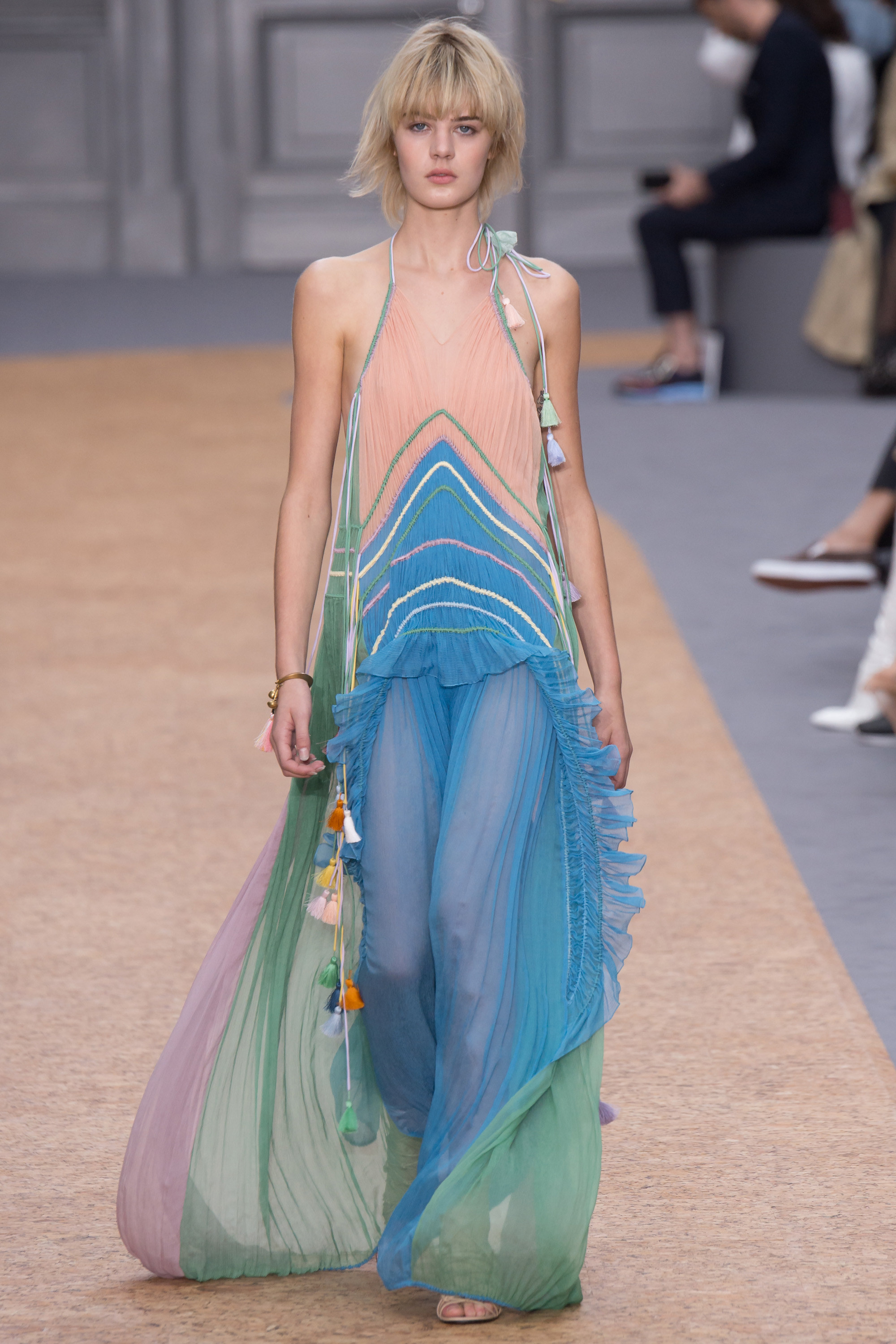 The current love affair with all things Bohemian and Folkloric, provides another route for the RUFFLE to enter the runways.
ROCHAS: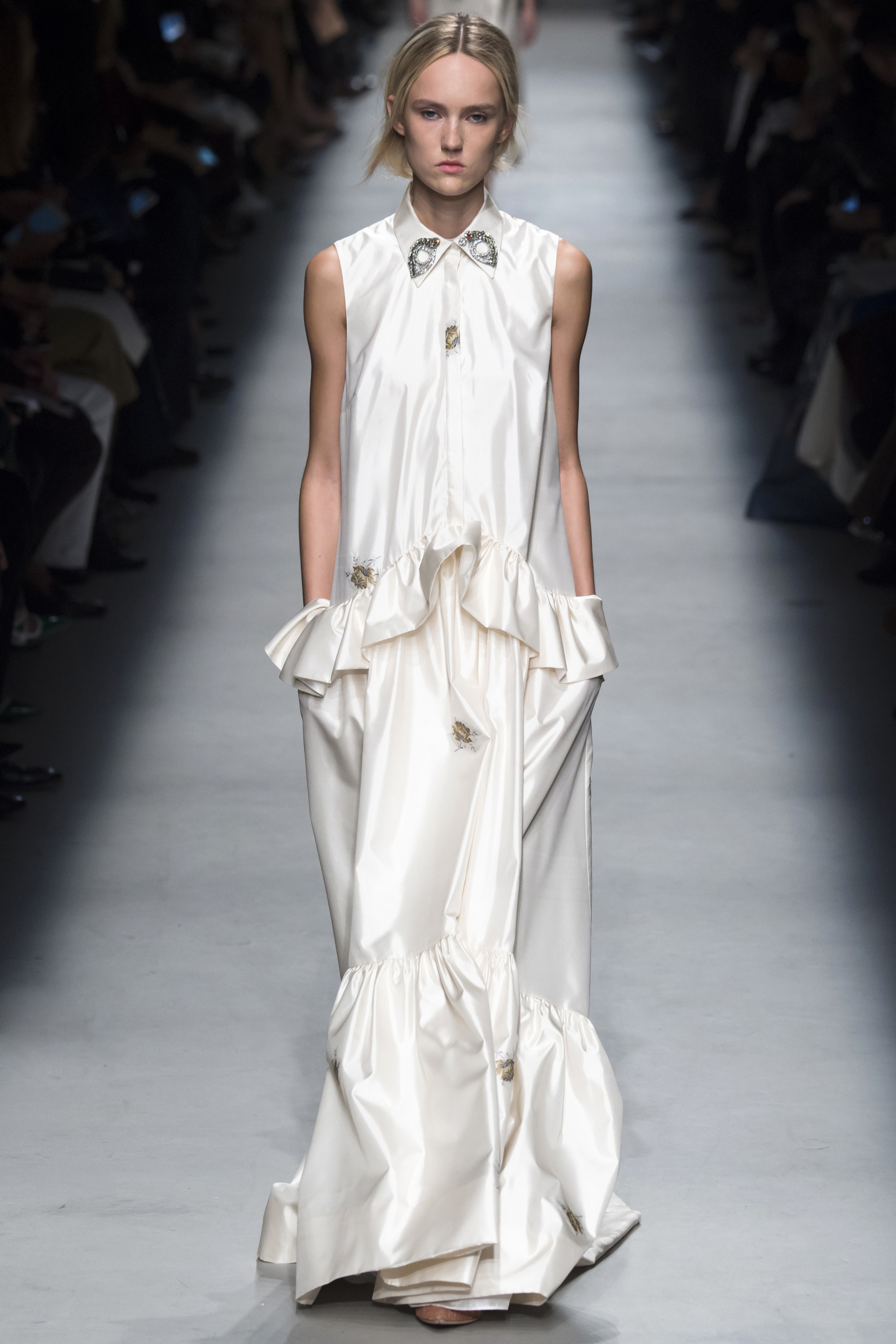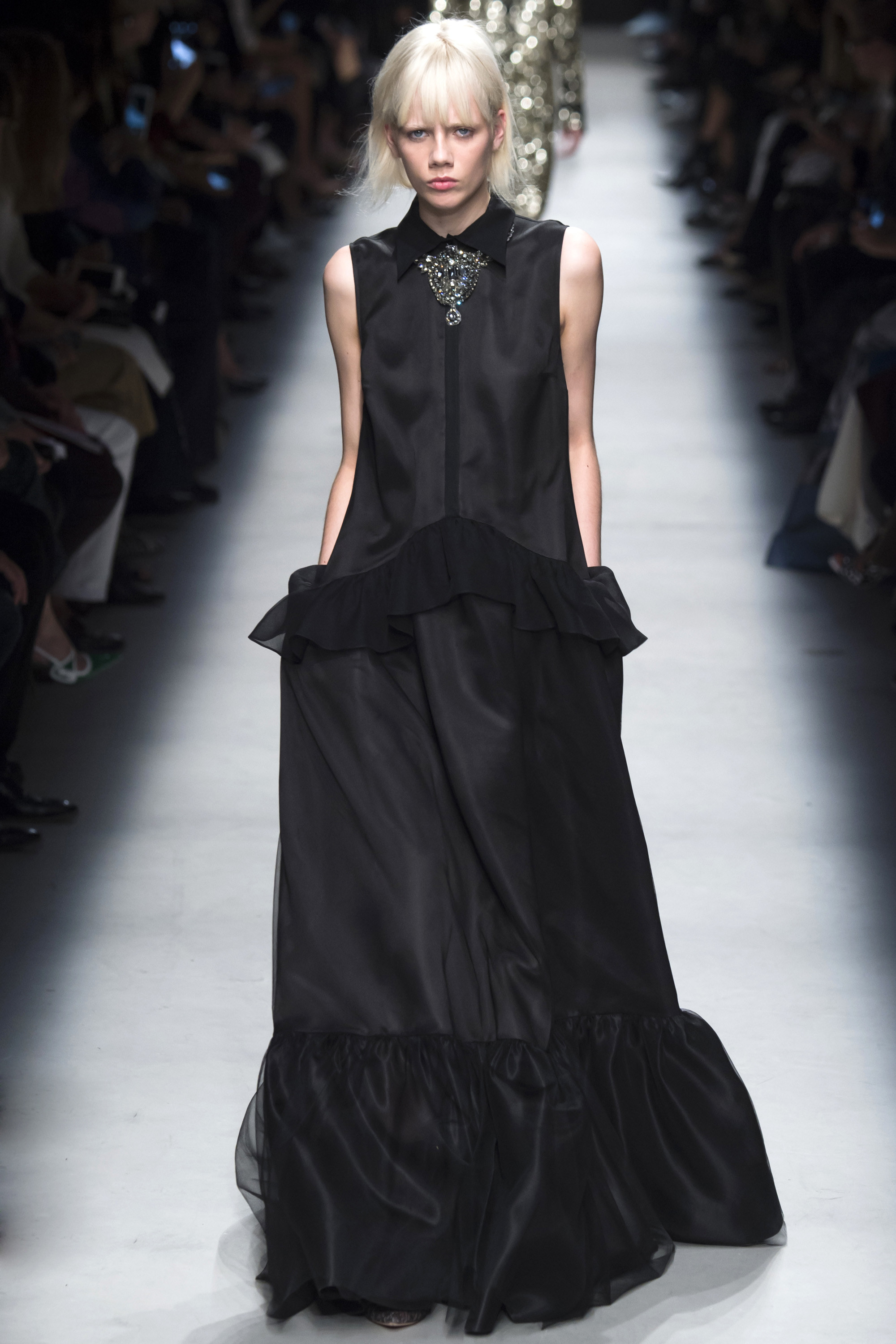 Casual yet dramatic.
MARCHESA: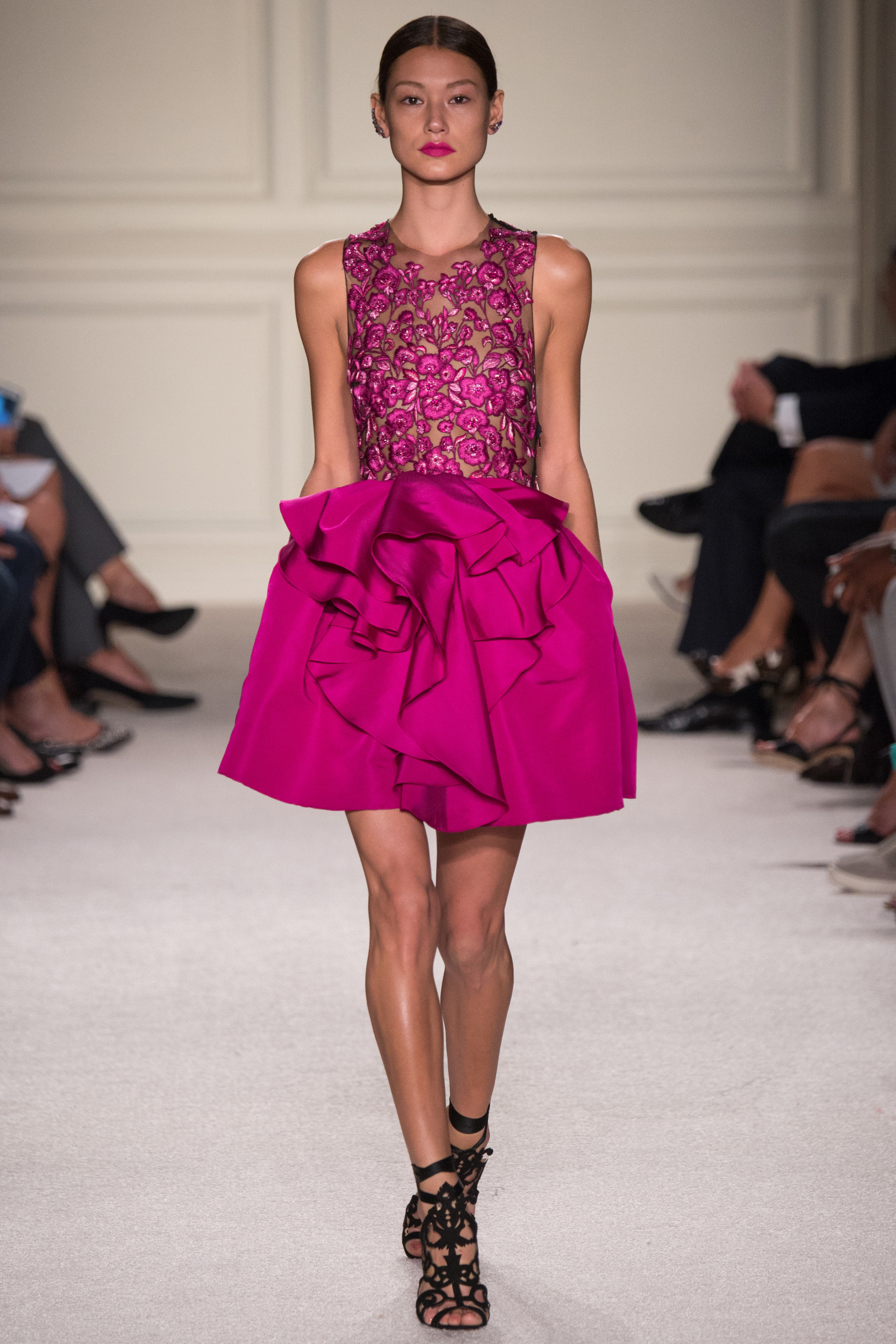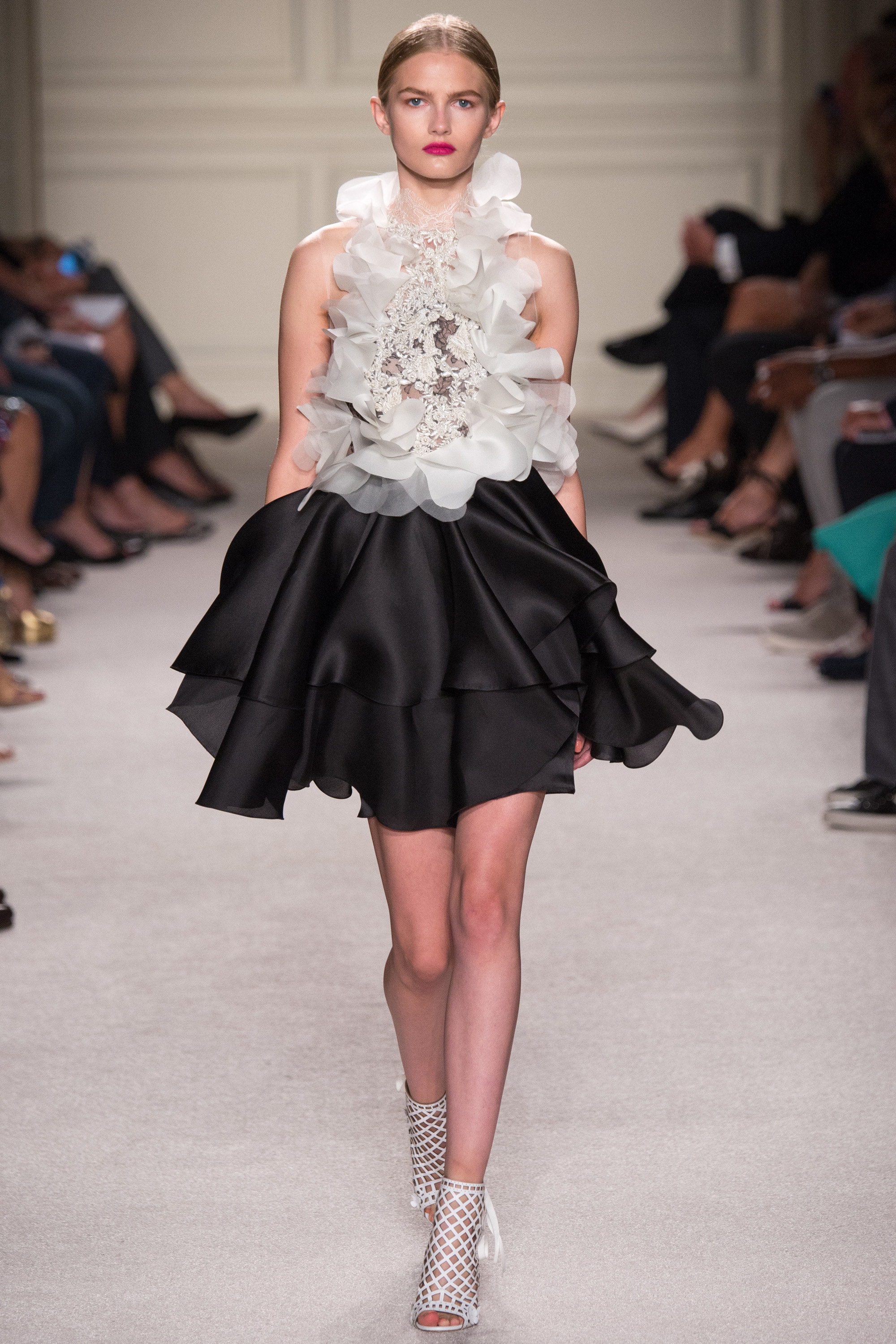 Its the rare gown collection which does not include ruffled theatricality.
ETRO: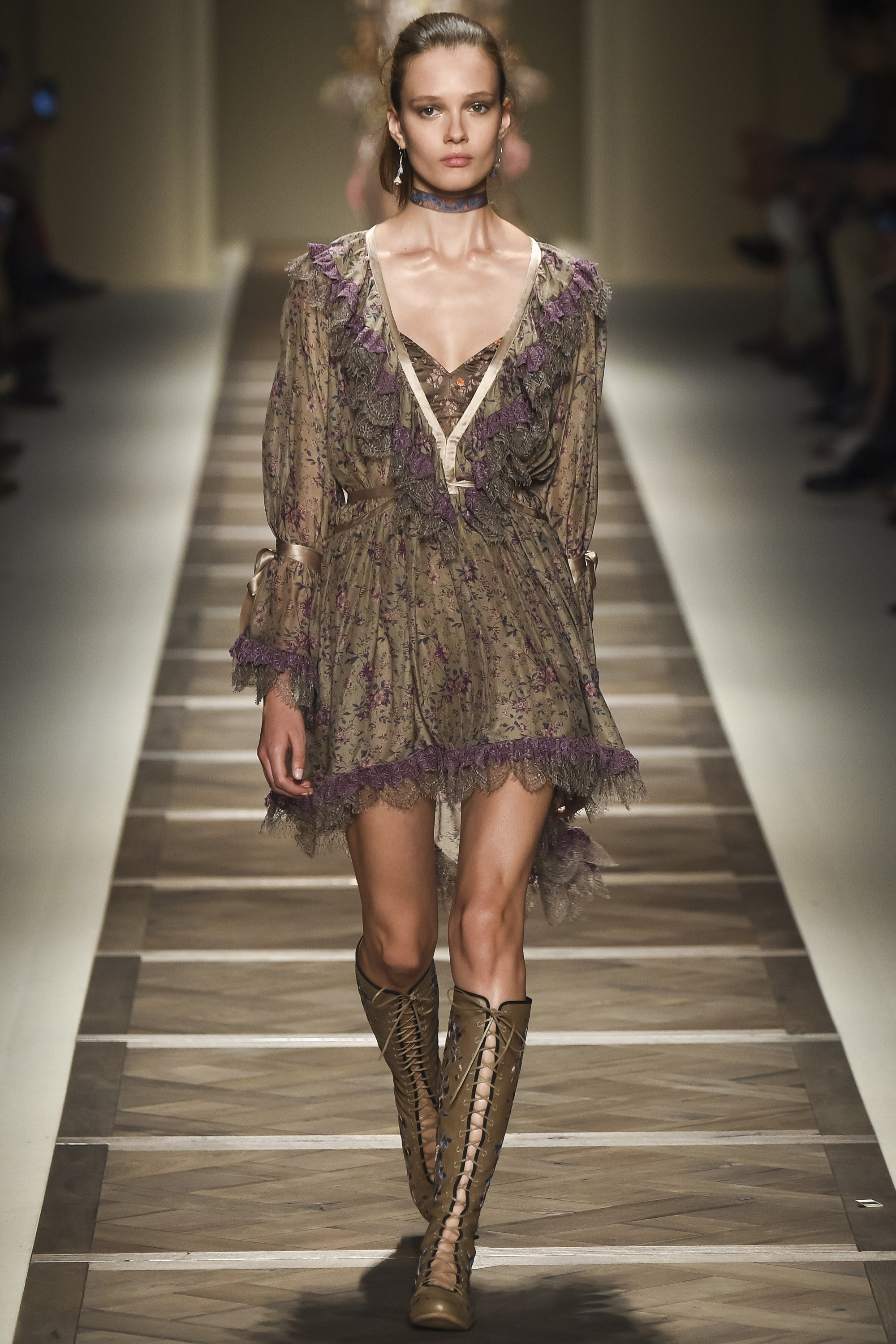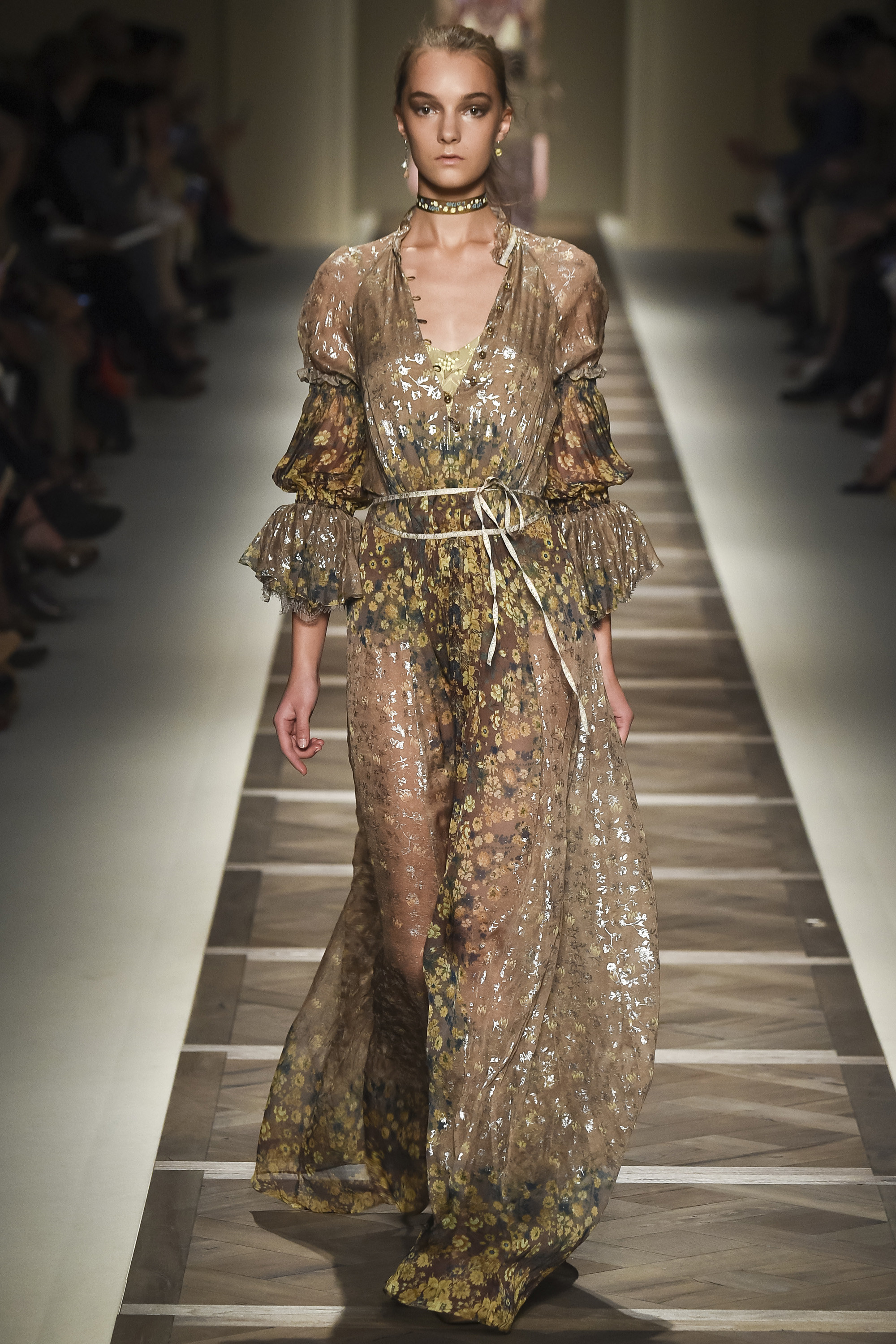 Two of my personal favorites from this assembly. Veronica Etro brings elegance and cache to Bohemian inspired frocks.
Its never too late to embrace fun and feminine finery care of the RUFFLE!
Runway images brought to you by www.vogue.com. Other images from the internet.