Drought, famine, death, war, 7.8 magnitude earthquakes shaking the very foundation of civilization, getting unceremoniously dumped by a jackass, locusts and leprosy, the trials and tribulations of humanity are never-ending. And as a respite from these numerous atrocities we have art, music and fashion, all mastered in heroic fashion by the Italians from antiquity hence. They can always be counted on to hoist us from what ailes us to a more lofty exhilerating plane. A few more designer spectacles must be included in the Milanese sojourn! We run the gamut from fun and flirty, to hearty and sporty, to evening serioso.
MISSONI:
Known for multicolored upscale knitwear with a chevron motif, this house brings us some festive vibrant comfy but stylish and sometimes sexy wares.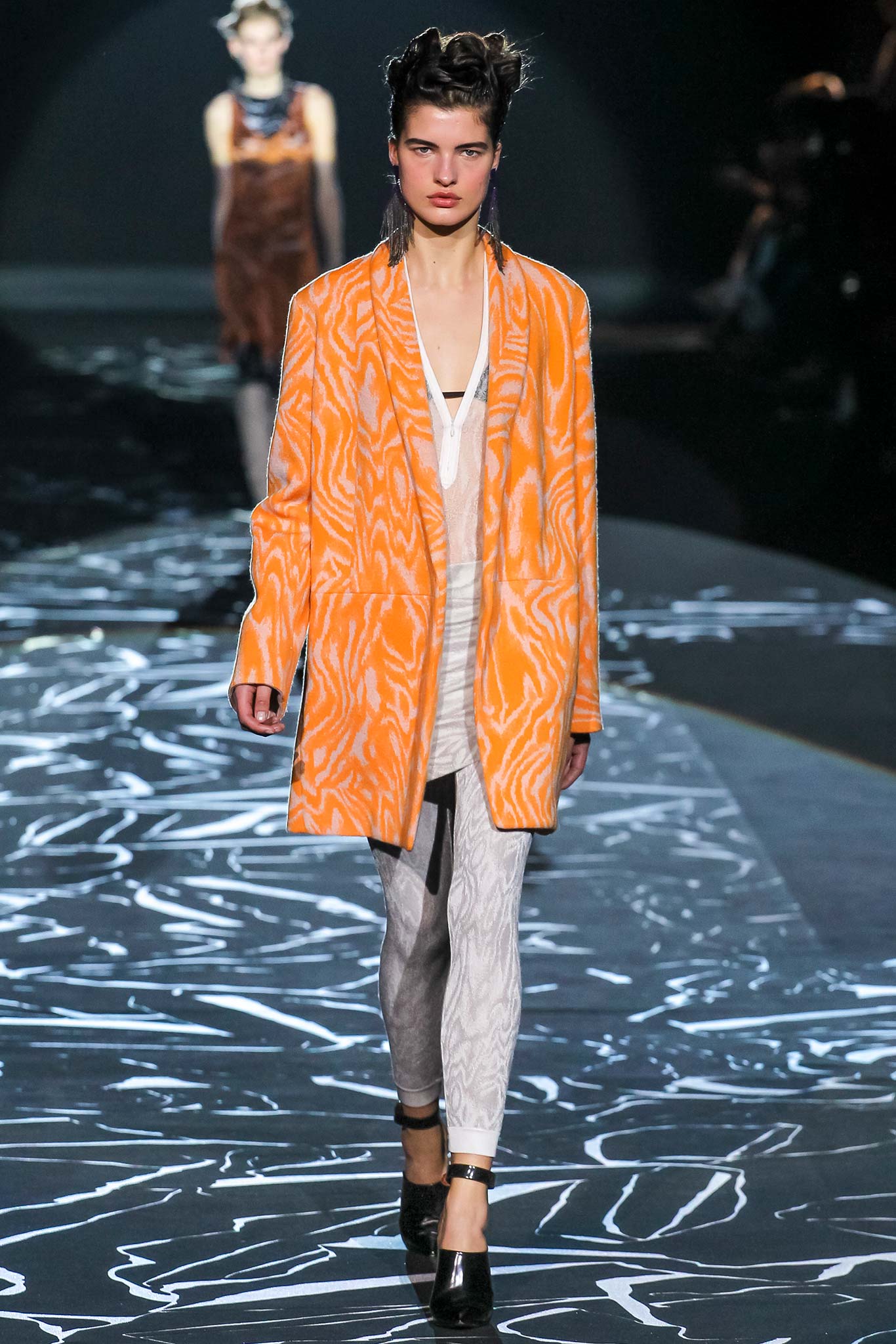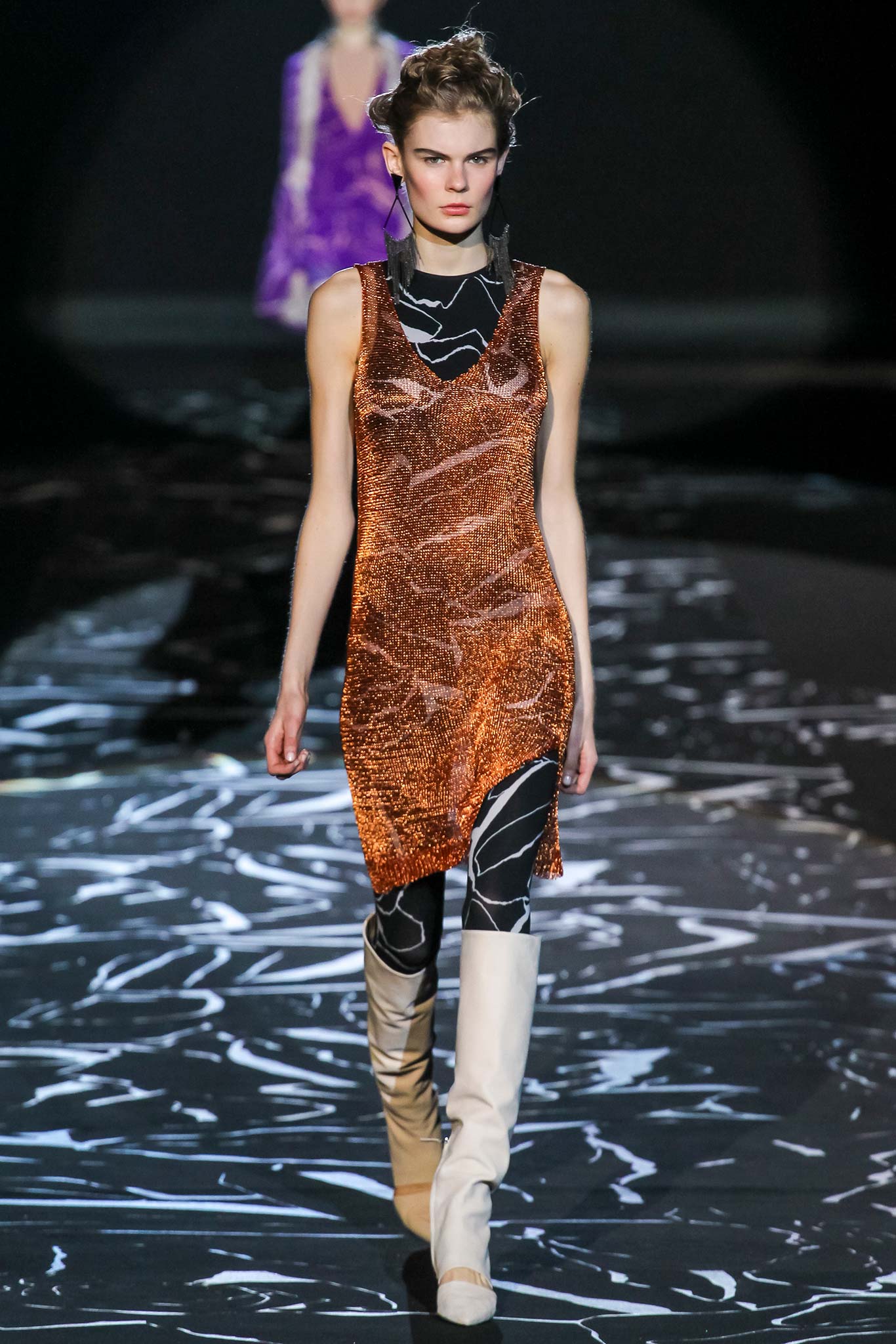 Yoga chic.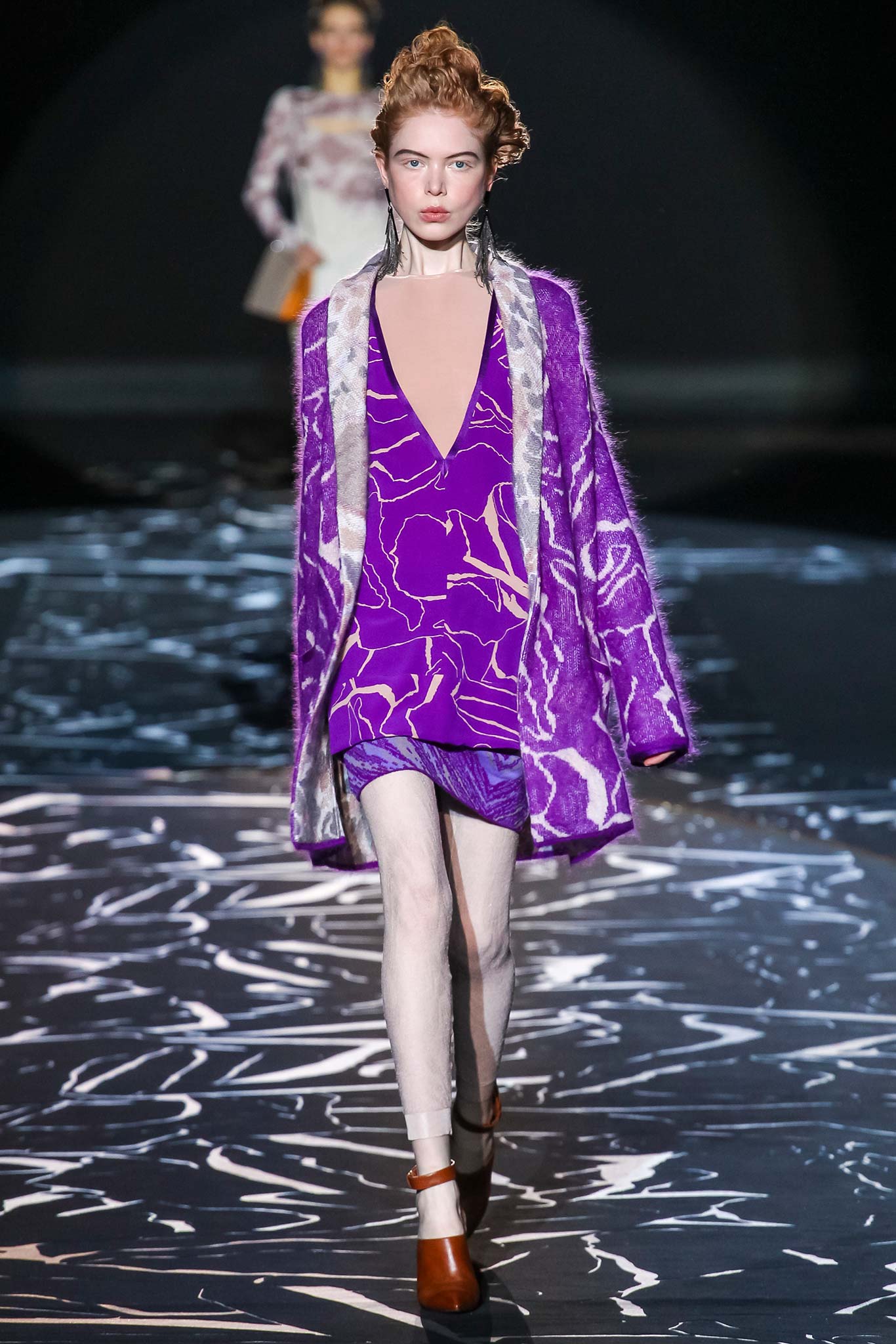 B A M! These fabulous sweaters are an easy way of making a memorable impact.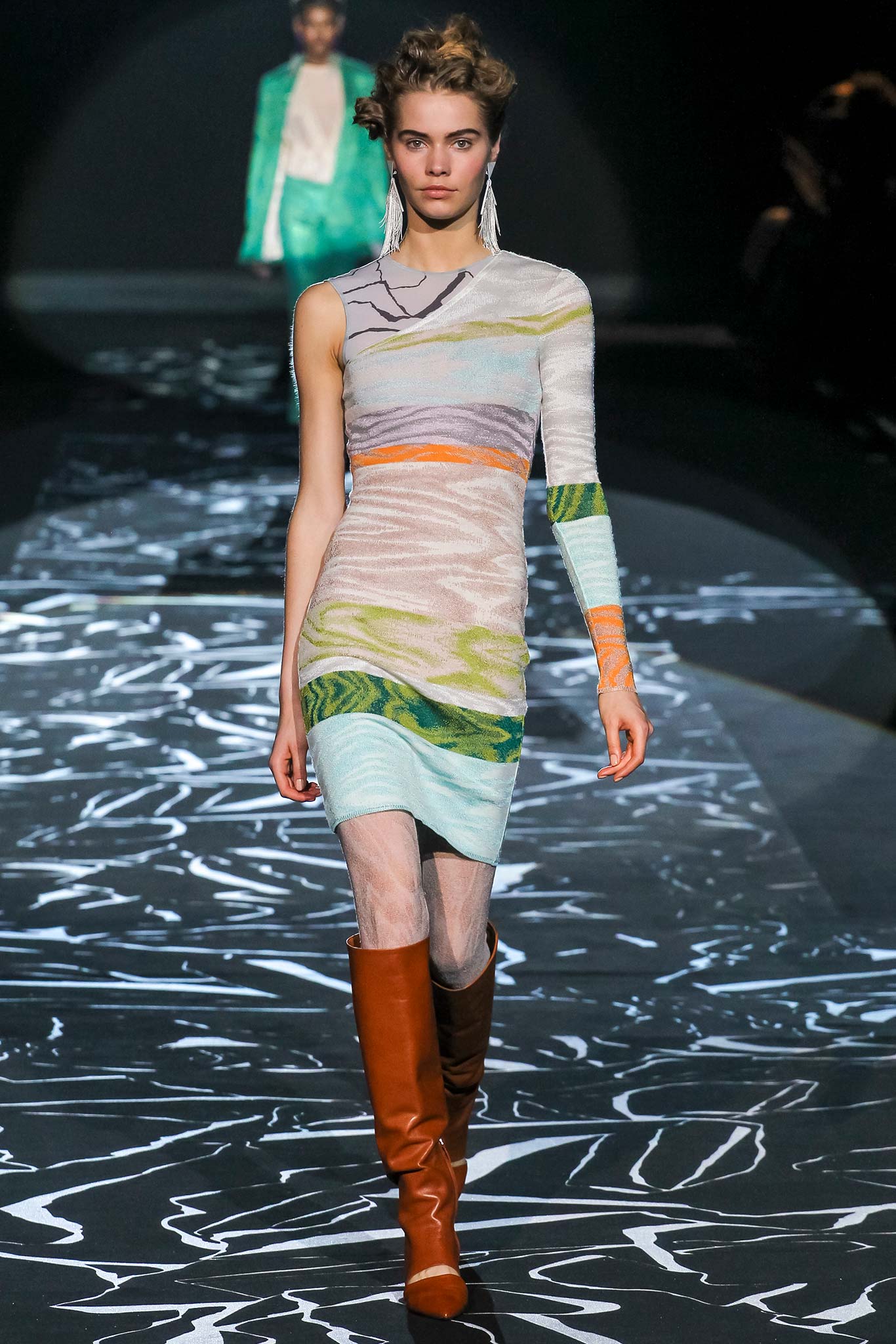 Good for a beach retreat, but easily layerable as needed for fall and winter. Throw over leggings.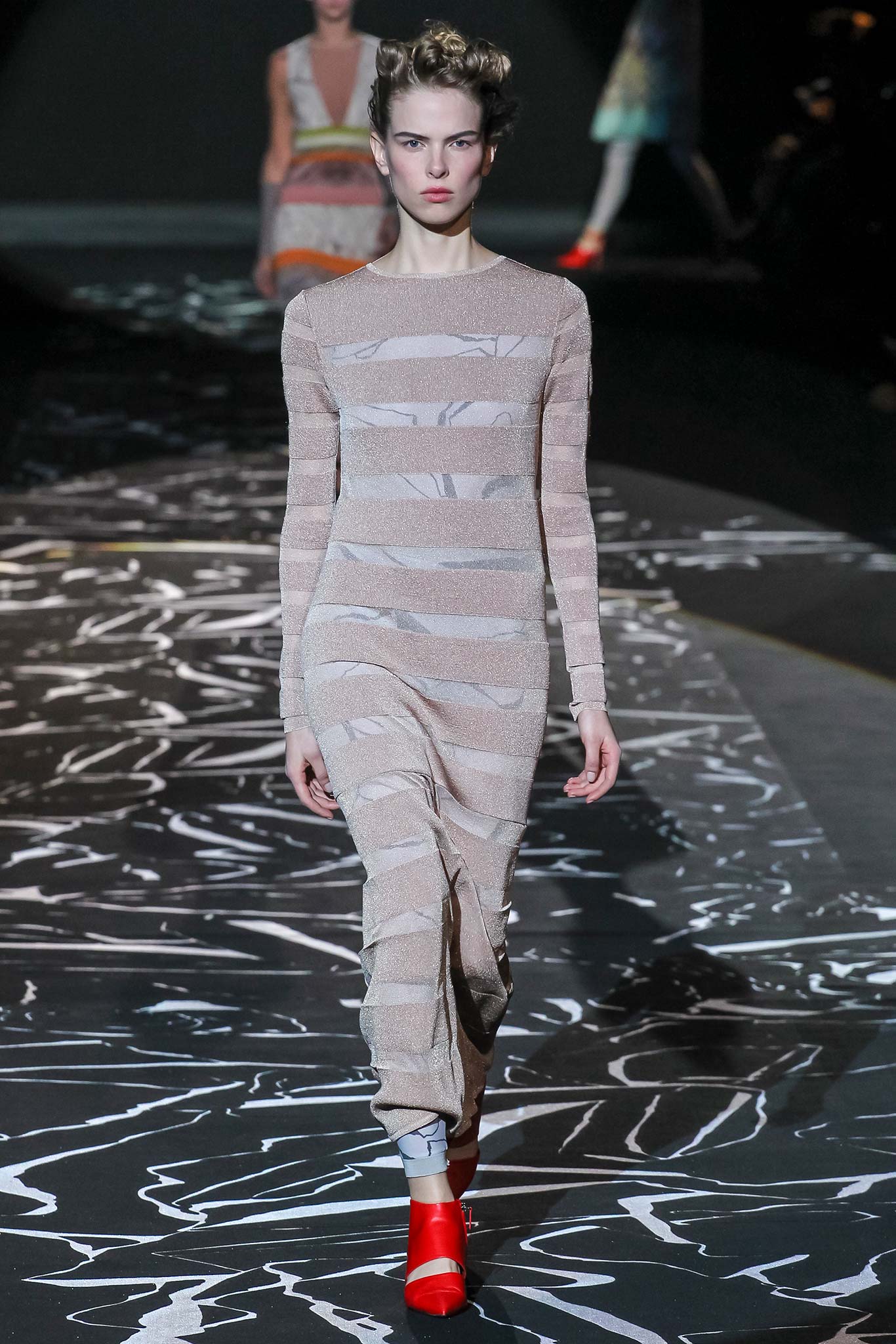 Low key LUX, wear this out on the town, clubbing (Real Housewives of Miami anyone?) or what the hell, an evening affair. Just jazz it up with a potpourri of bangles and baubles. Throw over patent stilettos boots.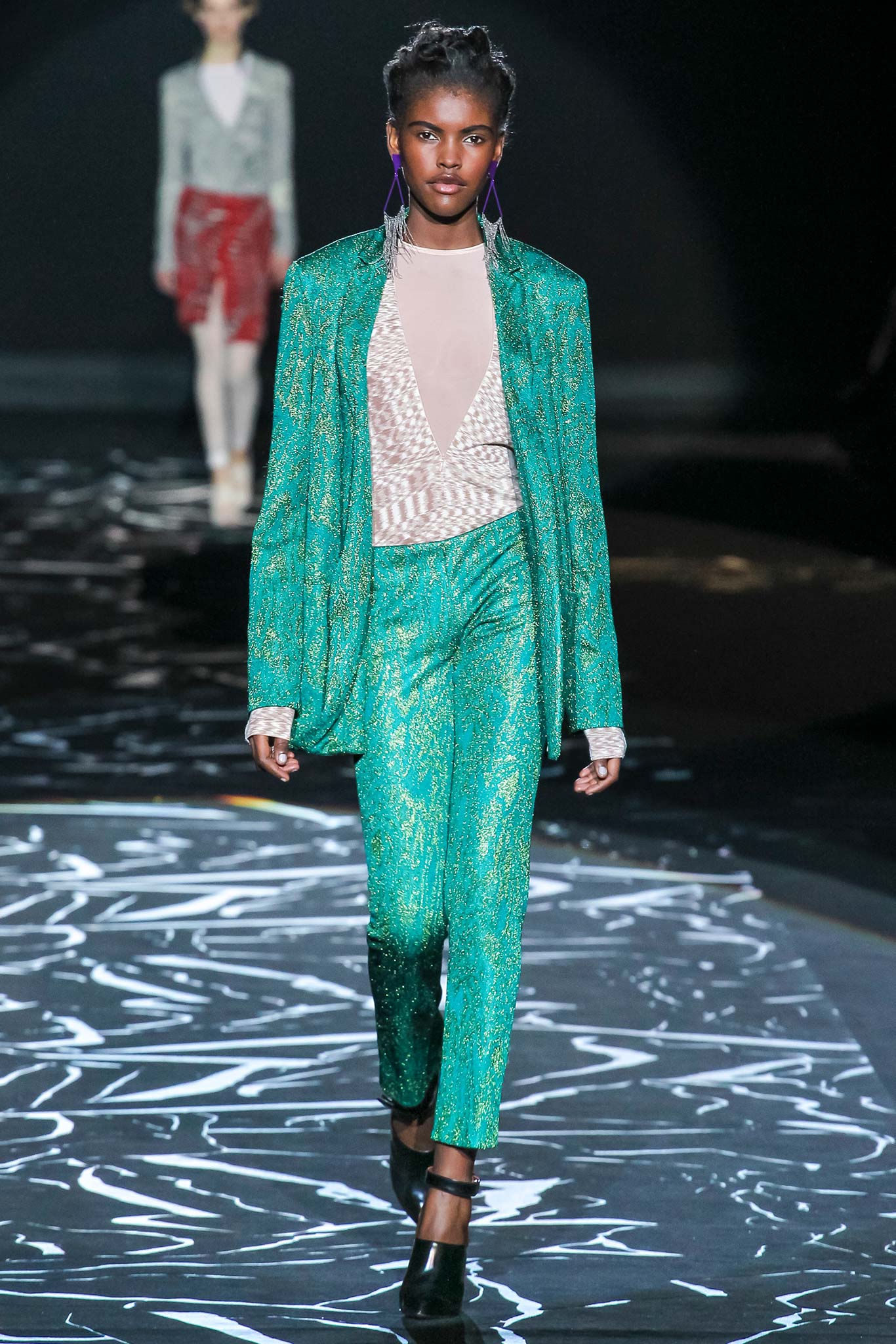 I love a fitted suit, a la Dolce & Gabbana, but this more easy breazy version of a men's wear staple adds relief in form and function.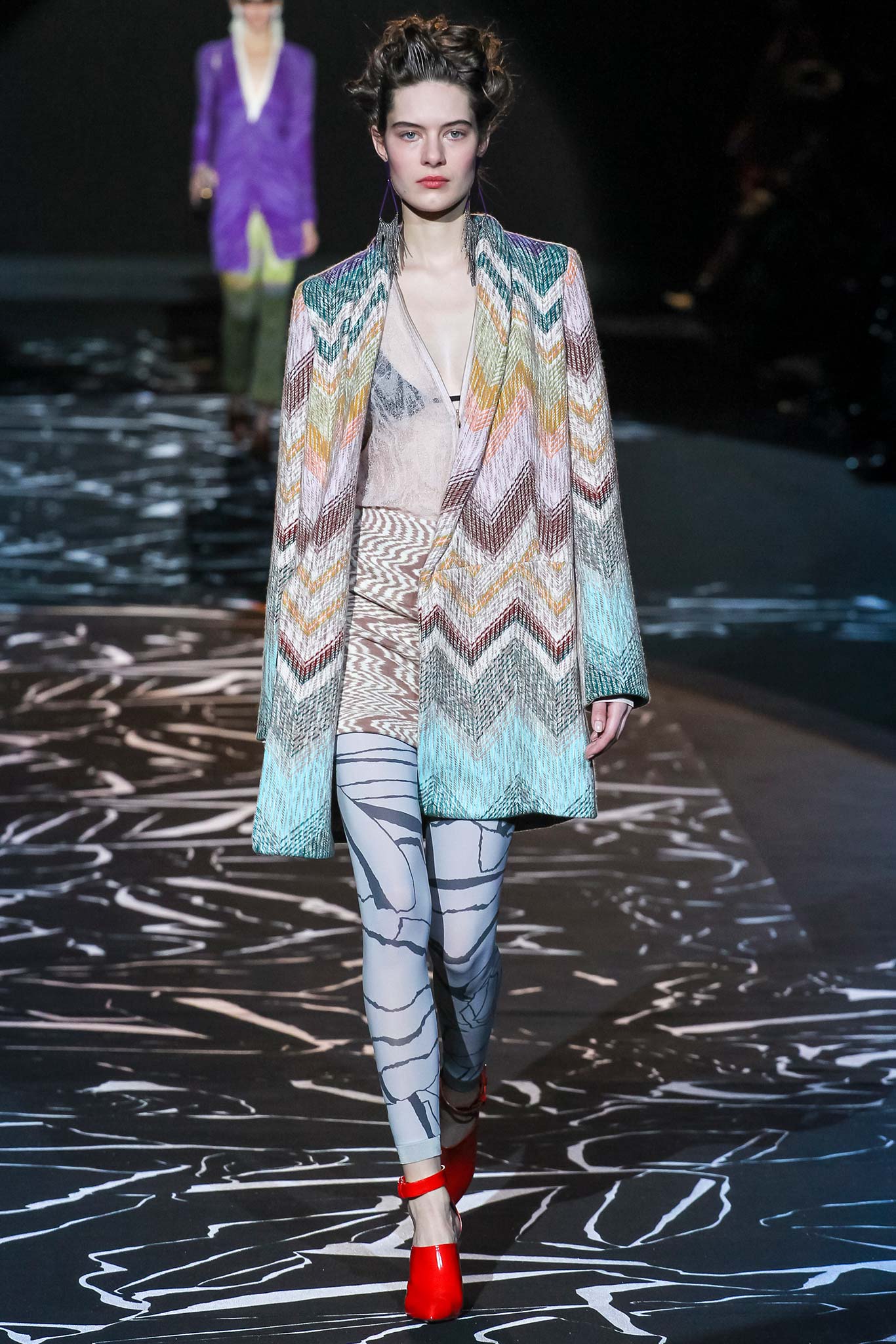 Ahhhh, the iconic chevron in as cozy, comfy, and stylish a sweater-coat one might imagine.
ERMANNO SCERVINO:
I'm loving the overlapping arcs in this collection, with all bases covered, from the upscale puffer you'd like to live in, through the substantial dresses with that rare combination of wearable lux and gravitas, through some covetable nighttime togs.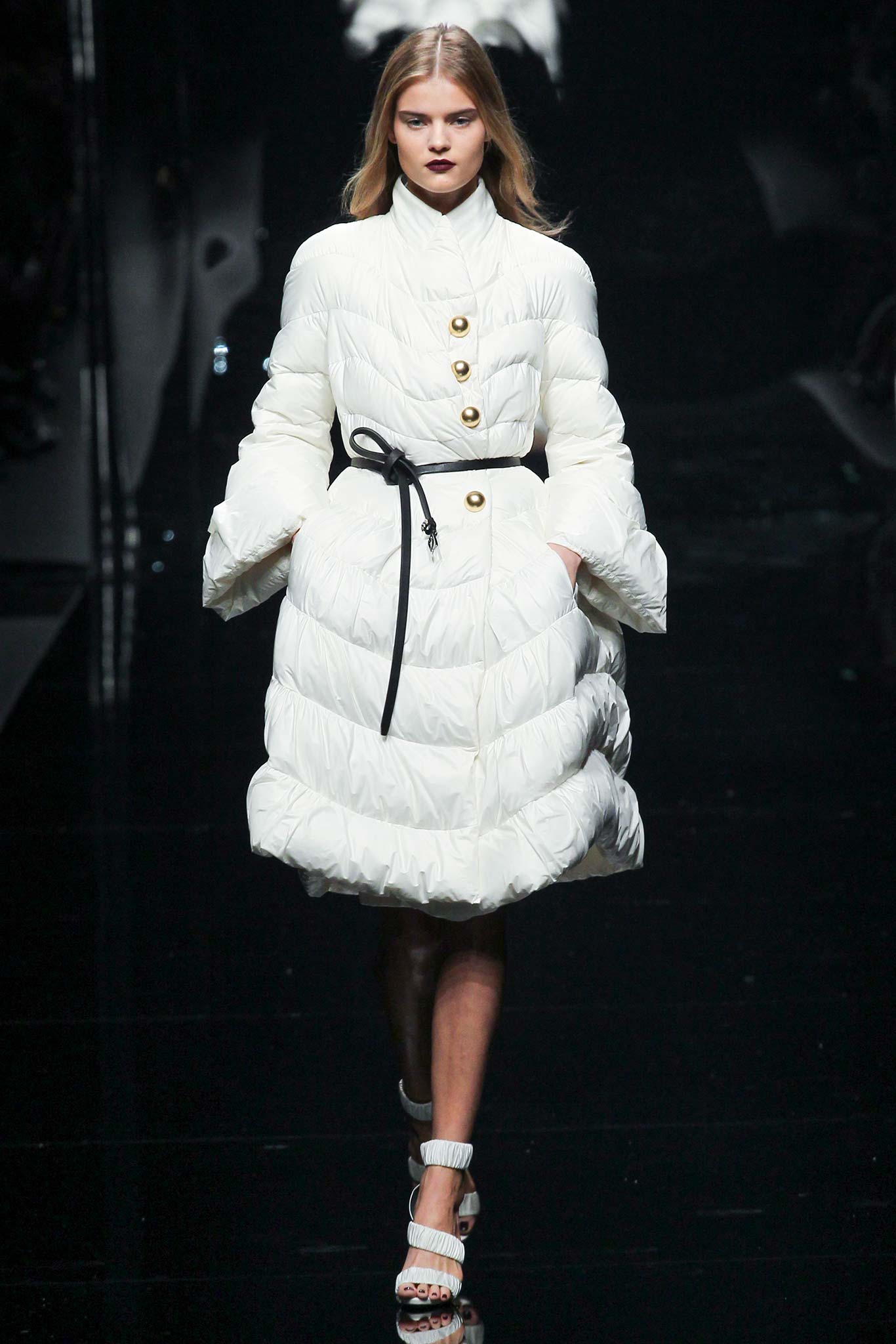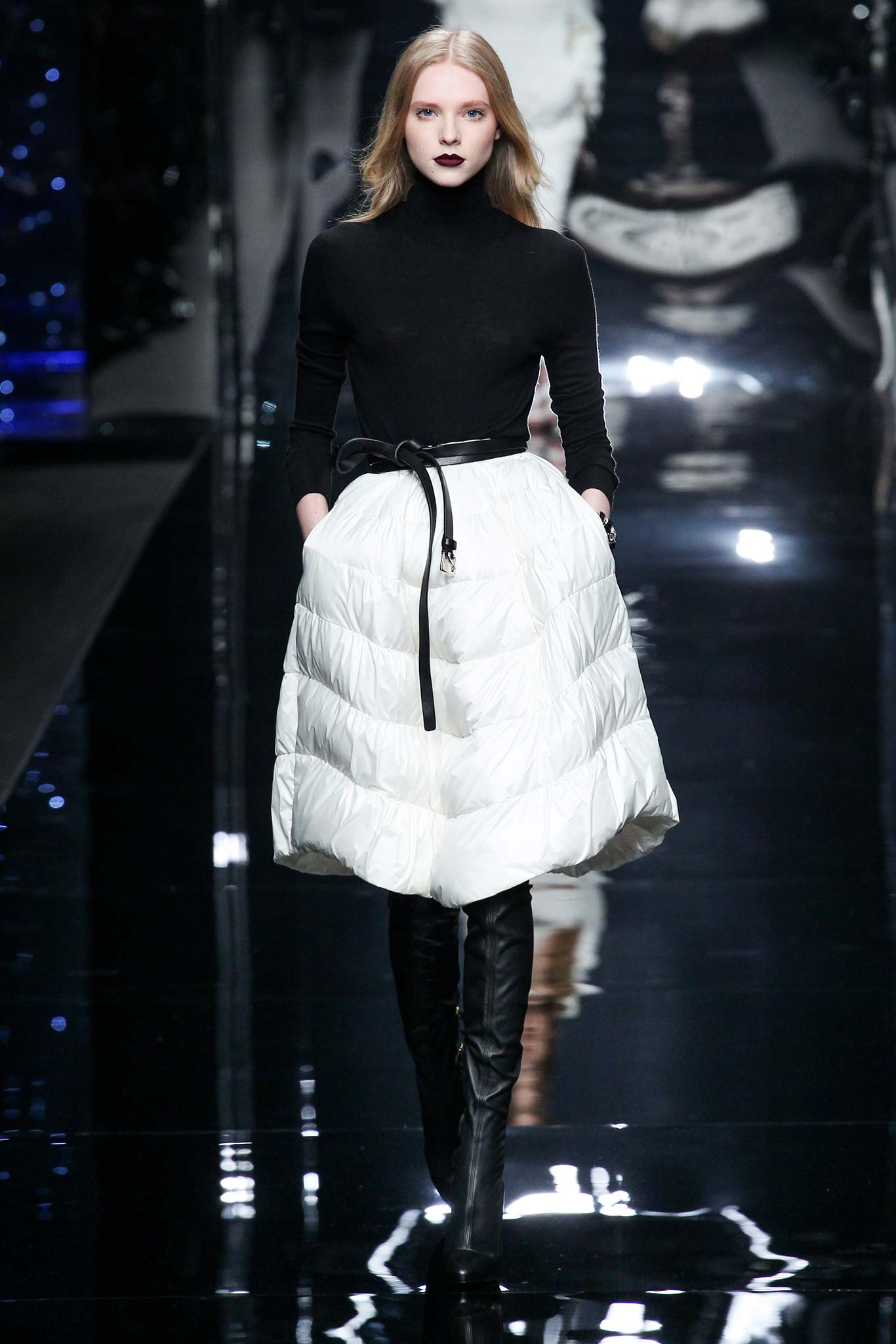 Yum, a puffer skirt, a wearable cloud, zany and practicle.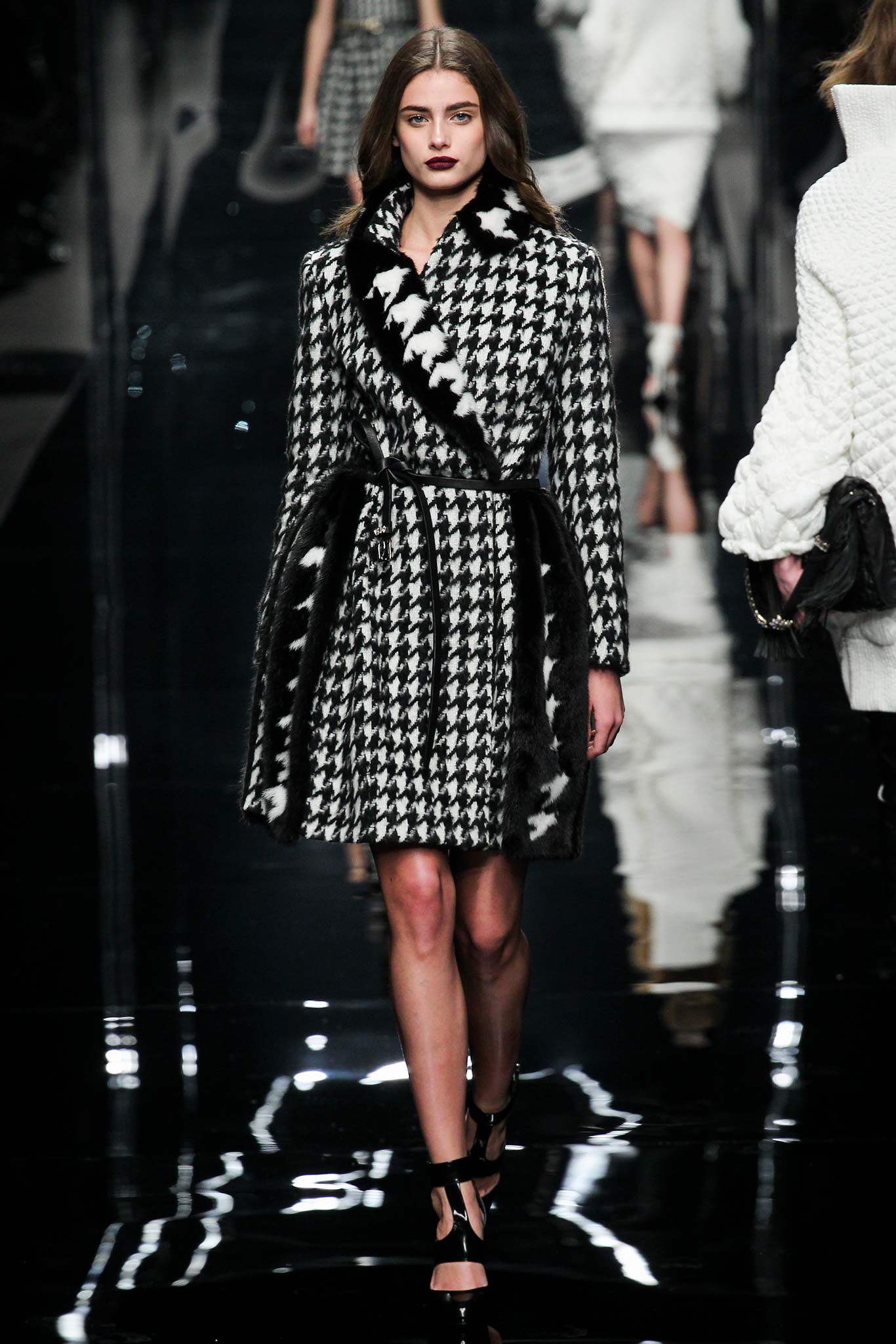 Houndstooth never looked so good.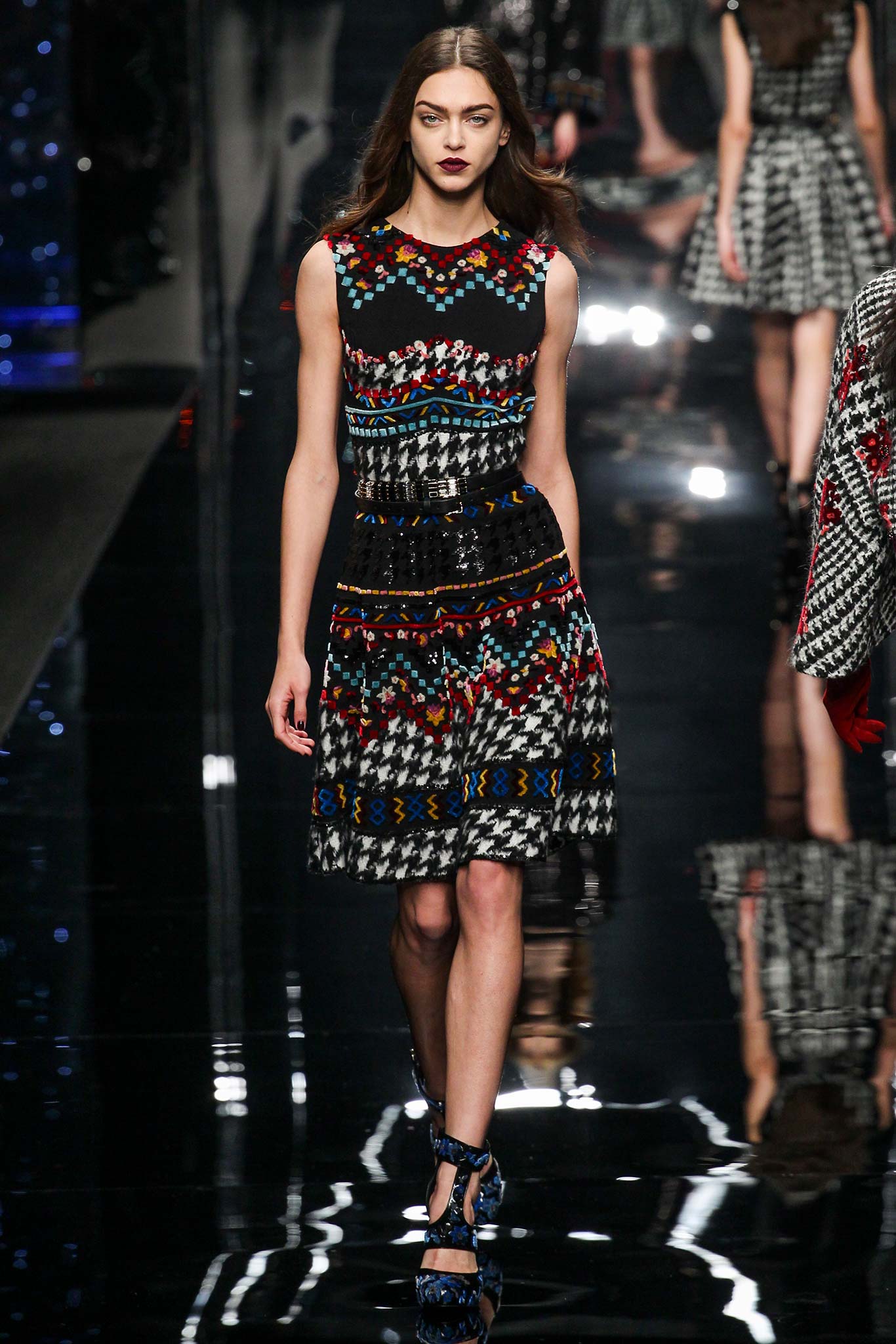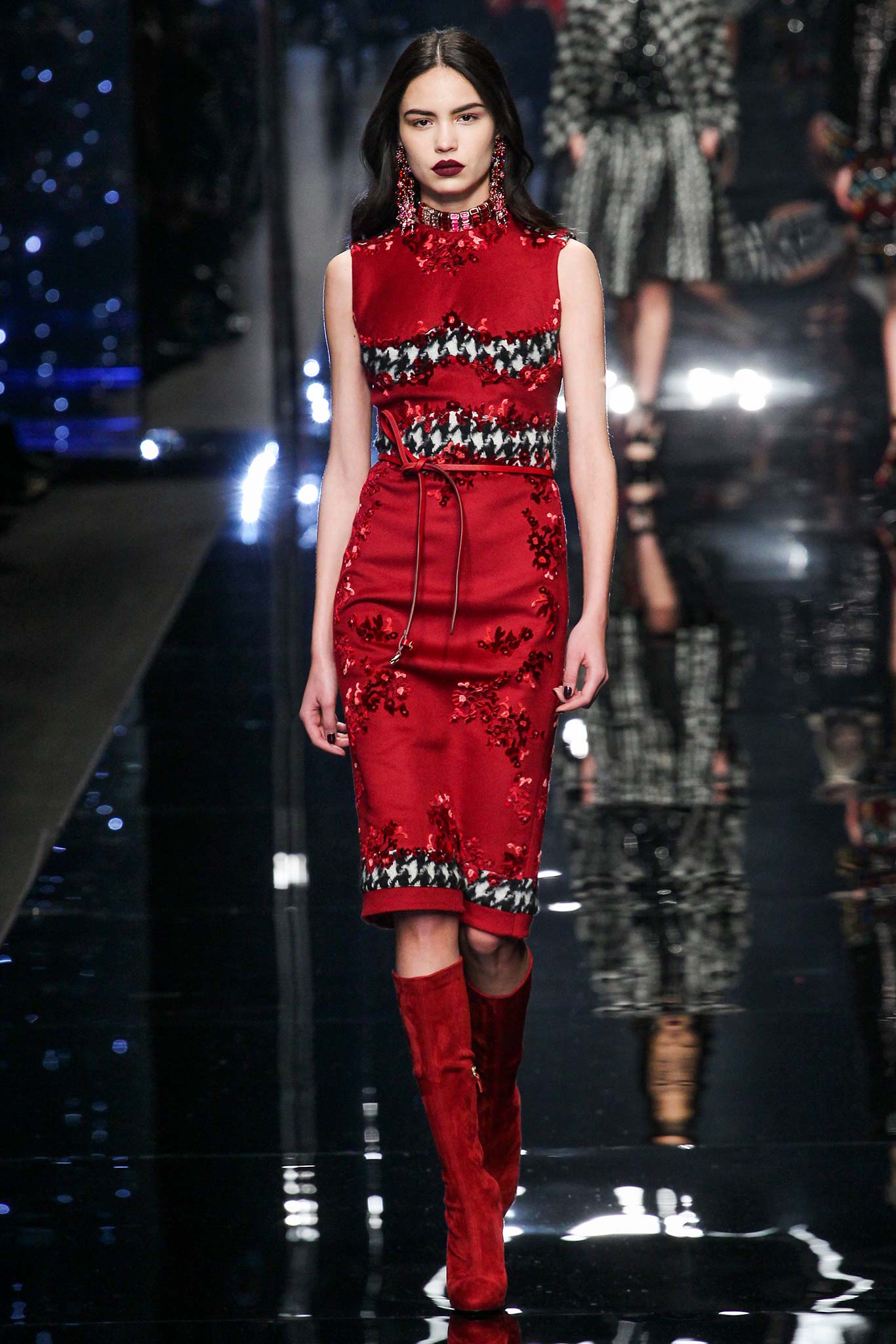 By virtue of their regal colors and sumptuous fabrications, these are frocks for all seasons. With patent stilettos or more conservative black pumps, these are pieces you'll adore forever.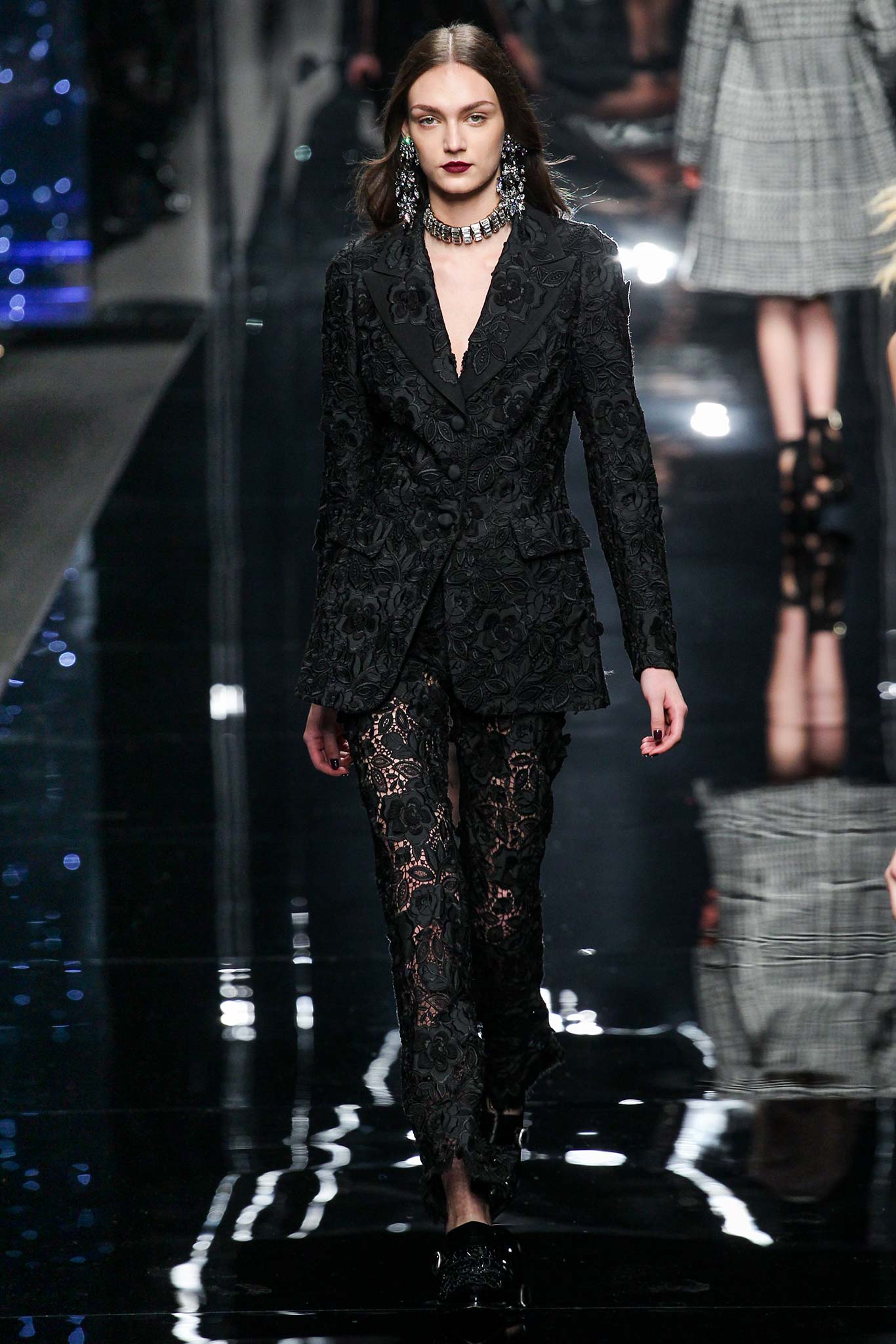 A tailored black jacket such as this will serve as a go to staple for FOREVER! Perfect over tuxedo pants and a pirate blouse for the usual gala type affair, over tapered slacks for a random night out, or with jeans and crisp white cotton tuxedo shirt for tooling around town. Truly timeless.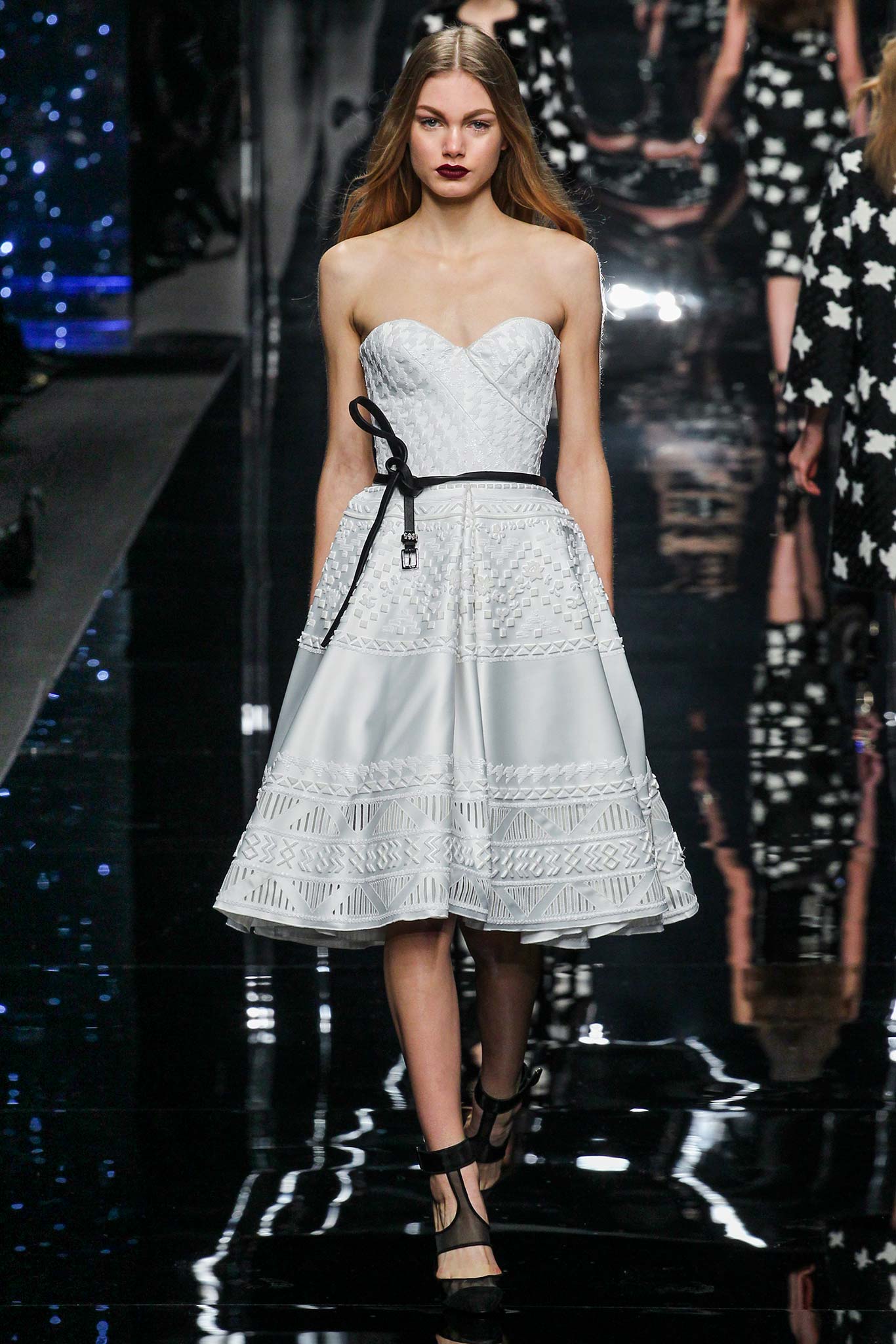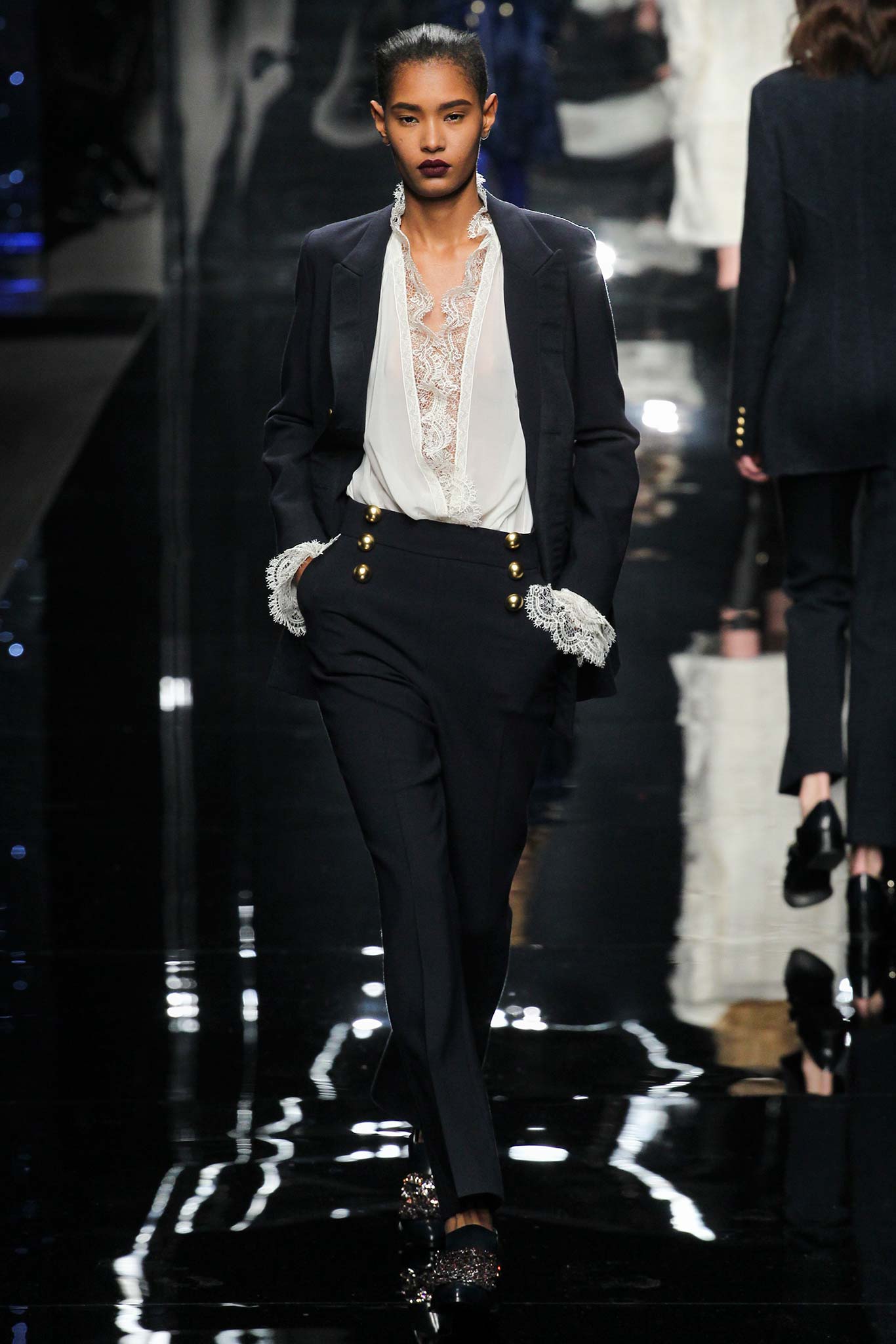 A lady like Jean Lafitte. Pirate togs are always in style.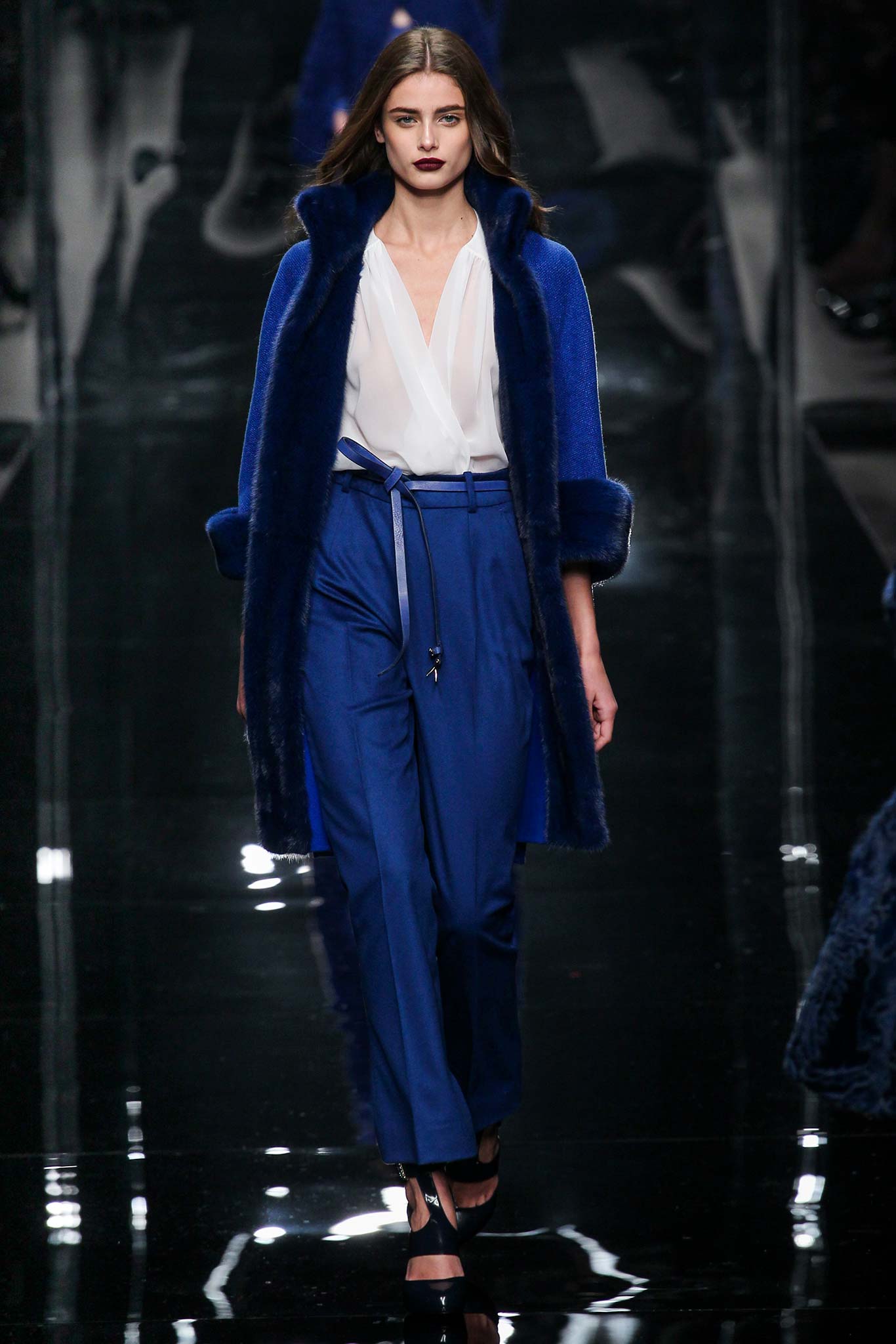 Old school glamorous in cerulean blue, always a mesmerizing color.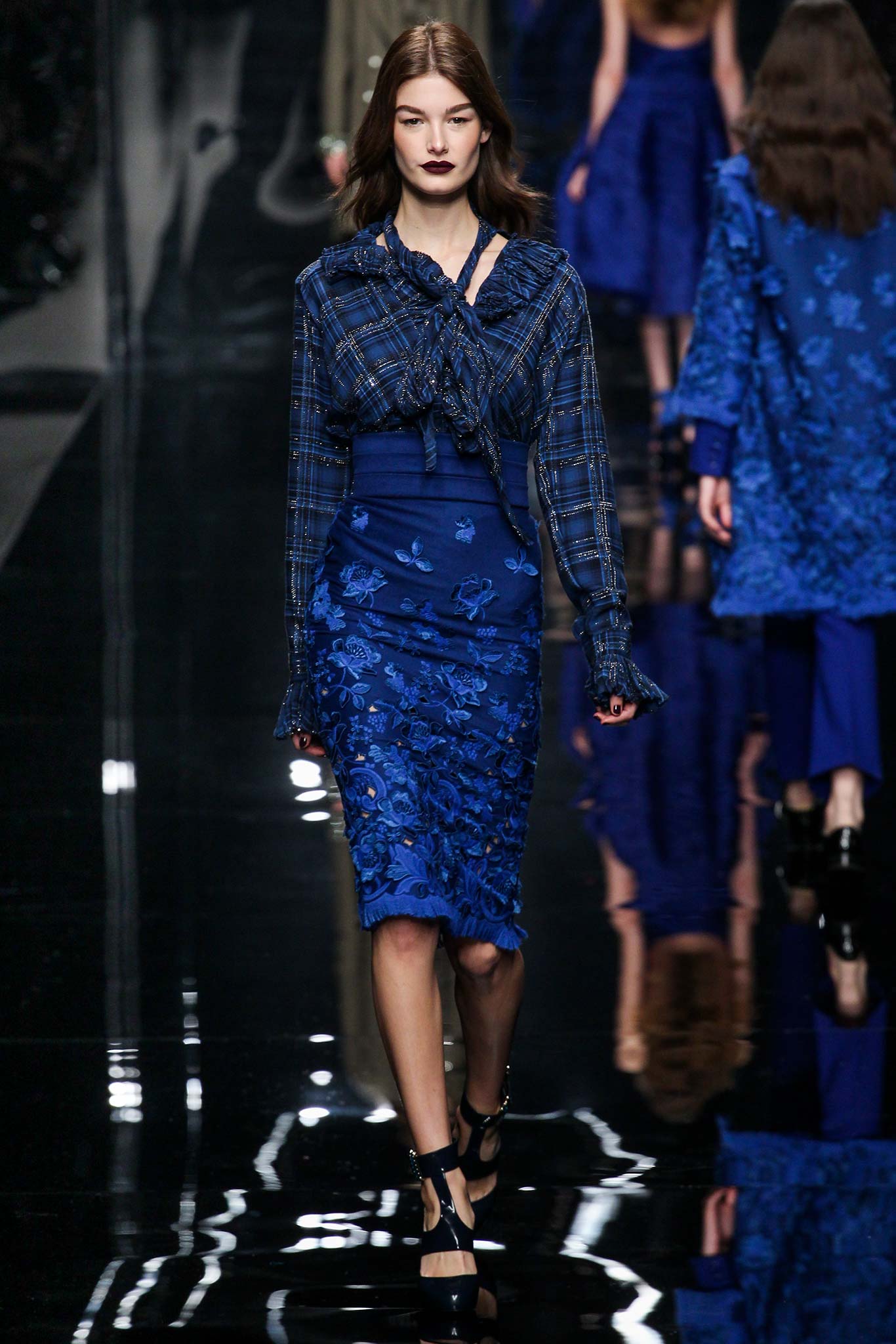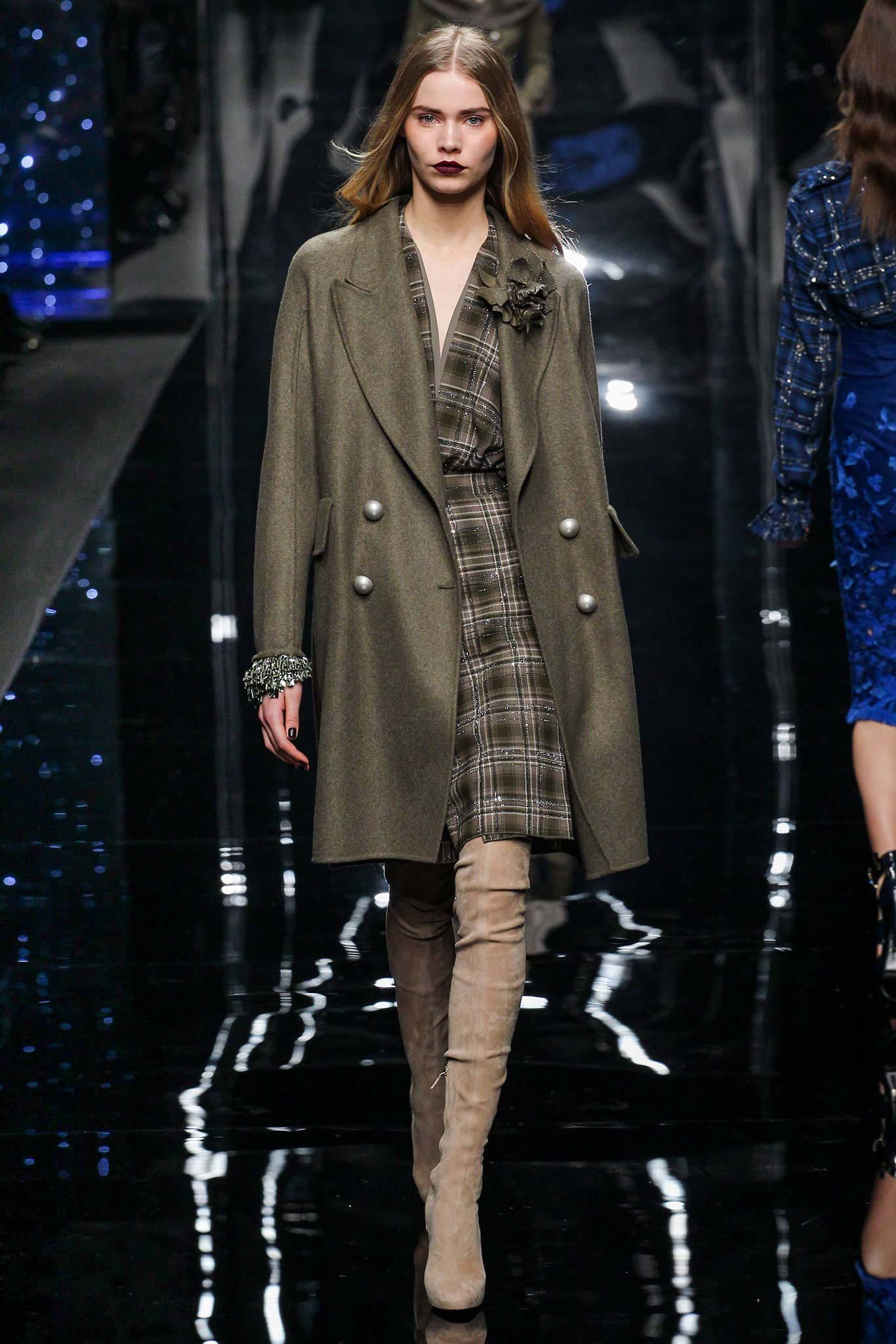 A somber color palette is glammed up with metallic plaid, floral adornment on the wide lapel, and some bold metallic buttons. The skin tight thigh high boots sex it up in an appropriate fashion.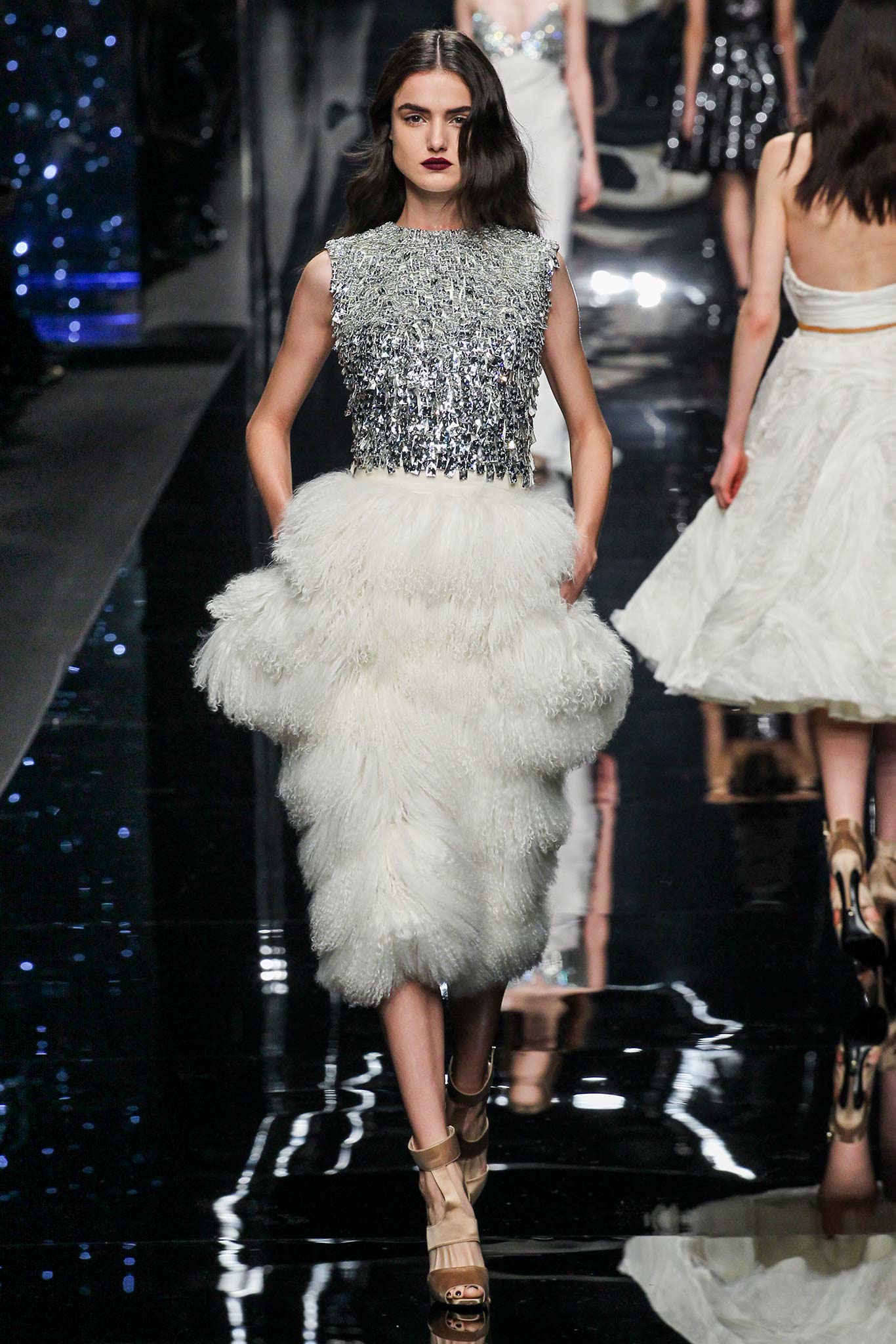 Never seen anything quite like this! Mongolian lamb skirt comingled with a fully embellished top! Funky and captivating.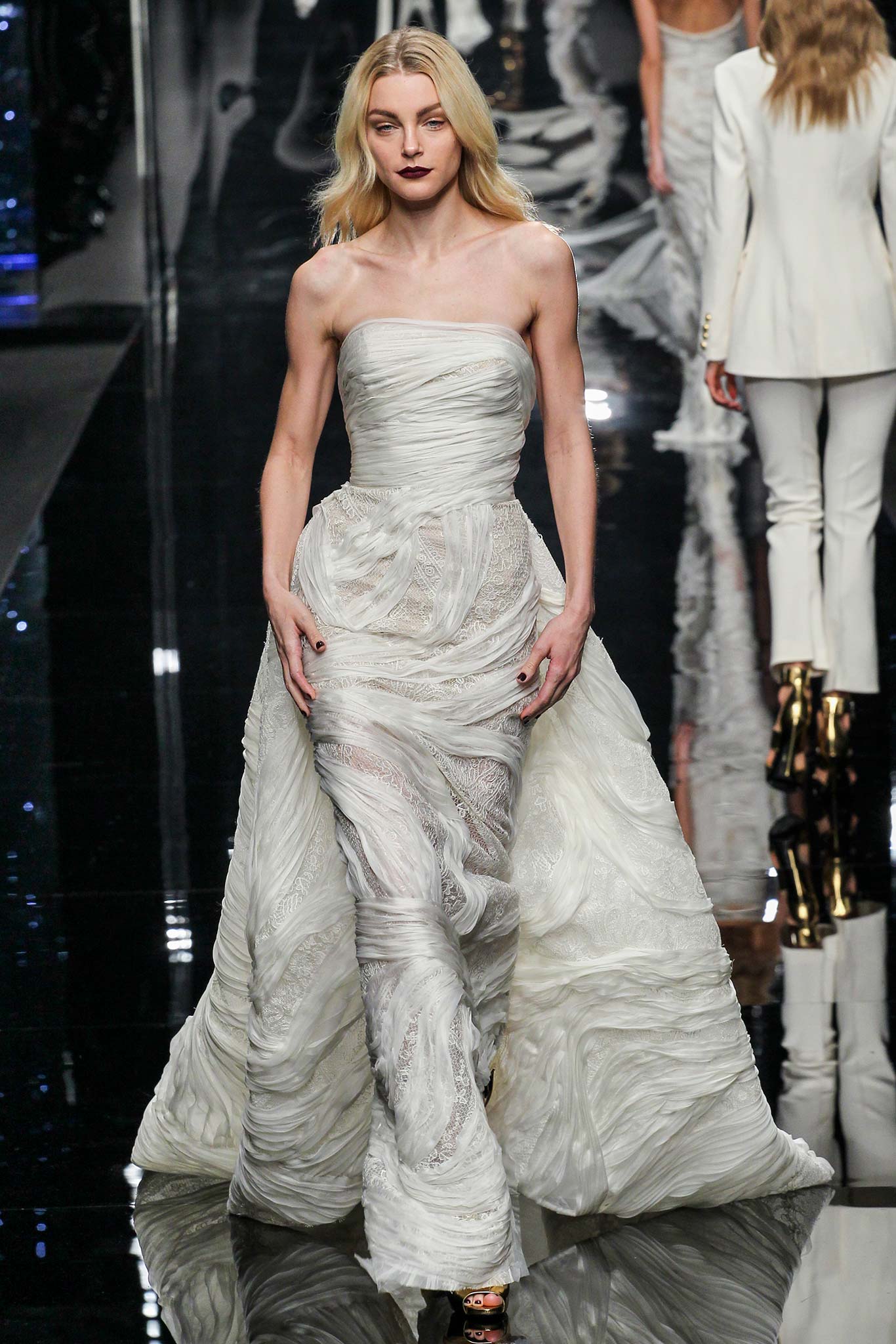 And of course, the show stopping confection with yards of lace and organza.
FAUSTO PUGLISI:
Ahhh, Fausto, up to his old tricks of amalgamating rock 'n' roll with regal, in high octane colors, resulting in another spellbinding collection for the gal with moxie and brass to spare. I could imagine Debby Harry of Blondie fame in any or all of these babies. Its time to whip out your fishnet stockings and put them to good use! Minis, tight leather leggings, and a steady infusion of coral reef are on hand for perpetual scintillation.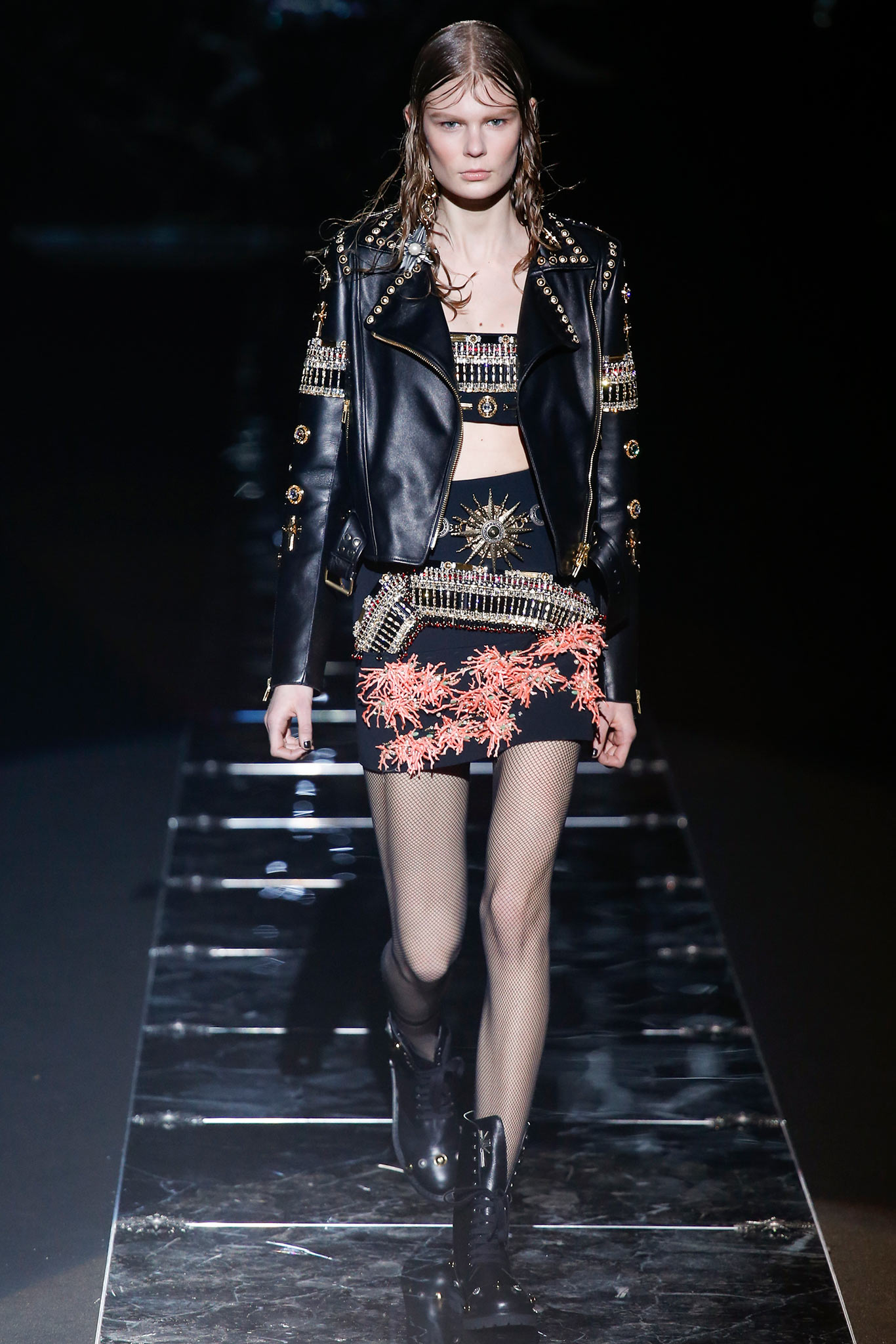 If you are in the market for a leather jacket, make it bedazzled.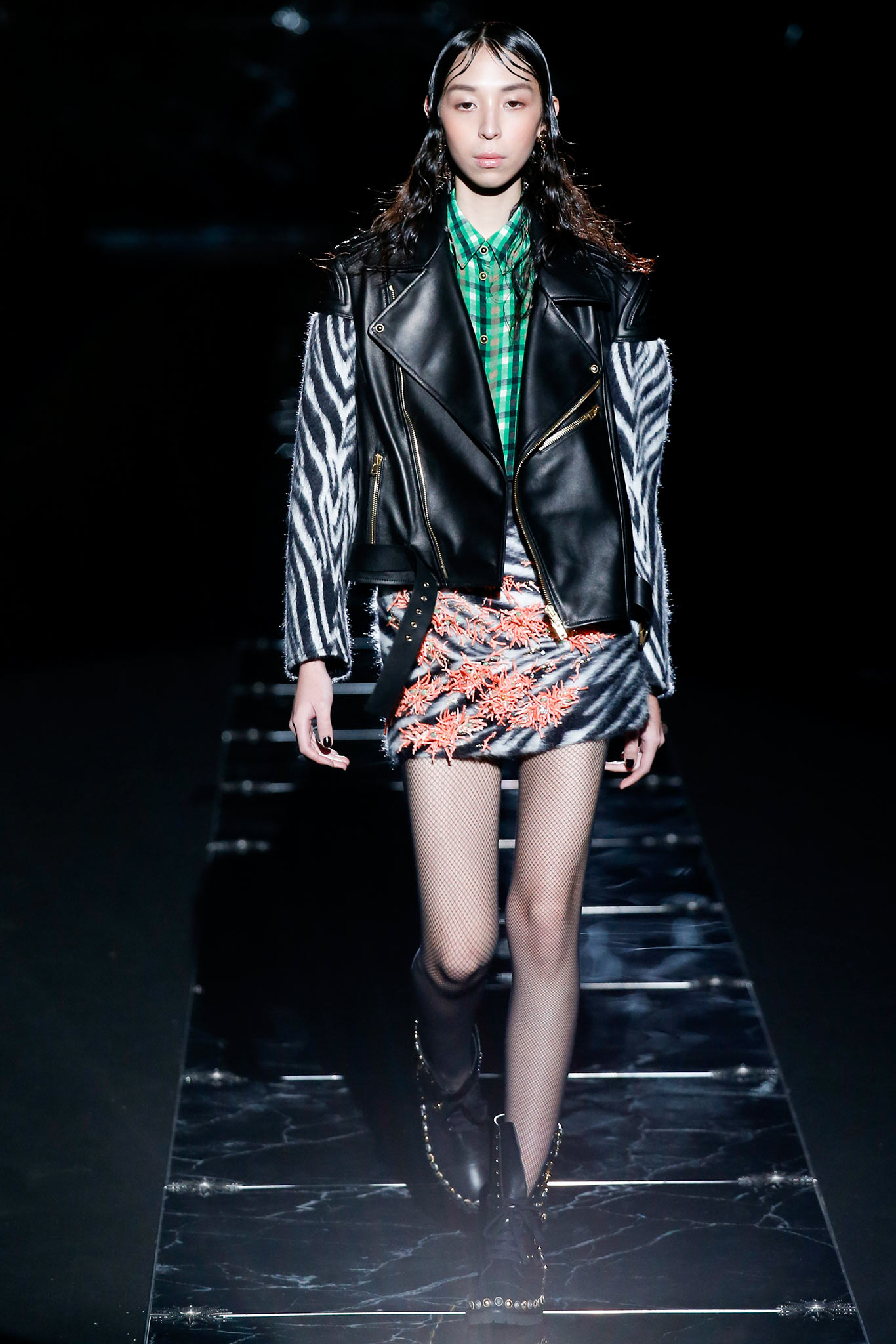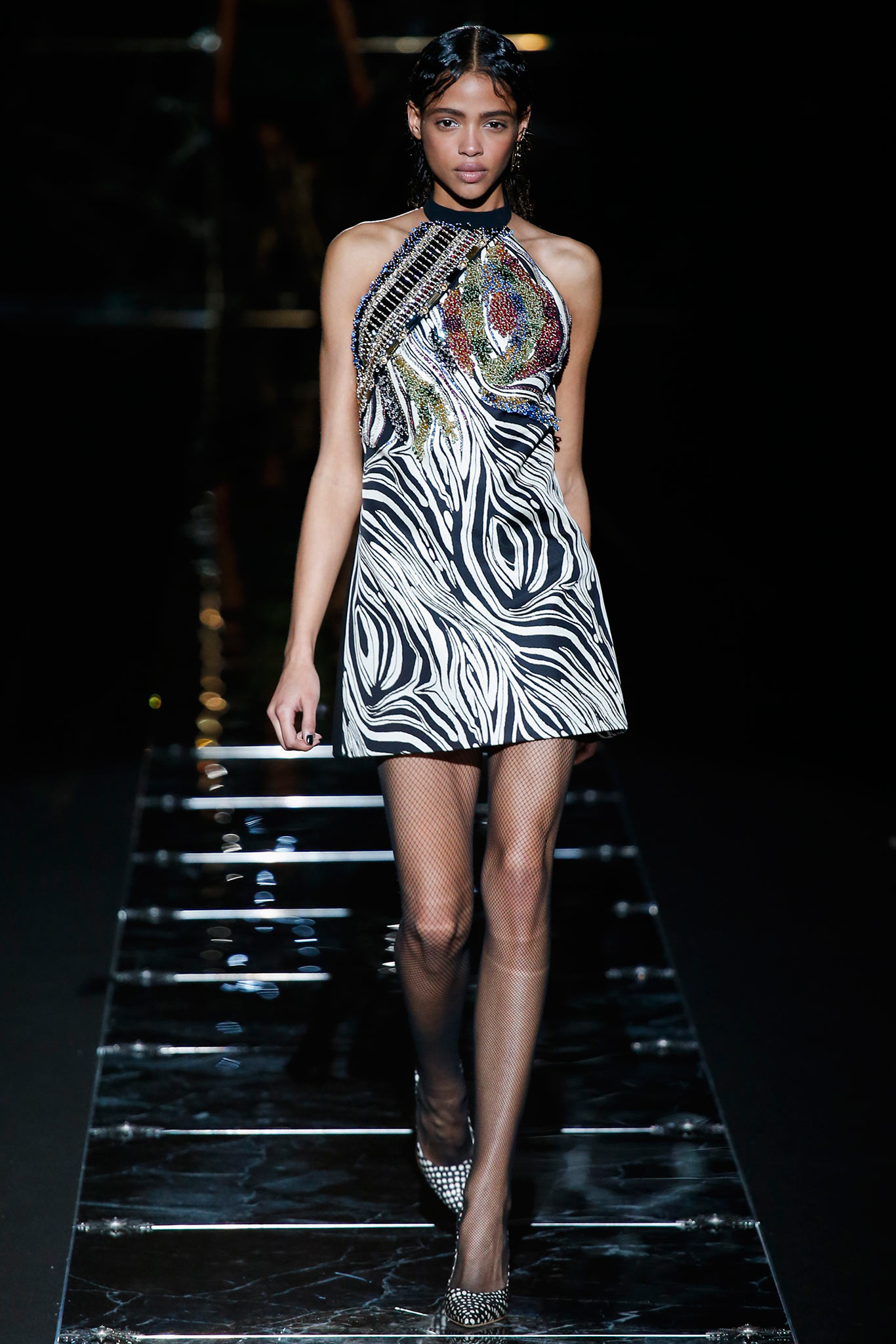 Love that jacket, but love those embellished moto boots just a bit more!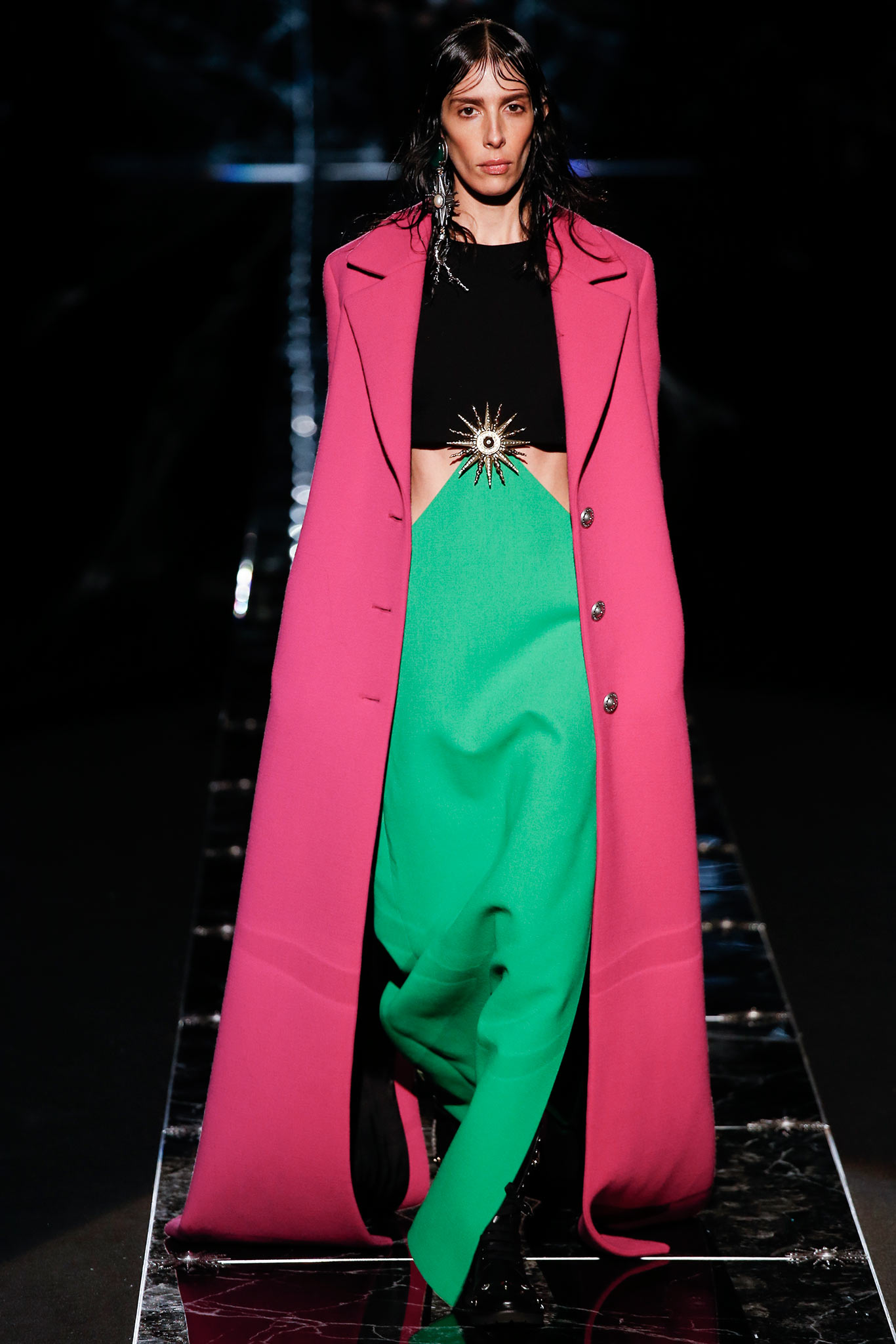 Modern High Priestess attire.
We wouldn't be rock 'n' roll without some feline and tight leather pants in the mix.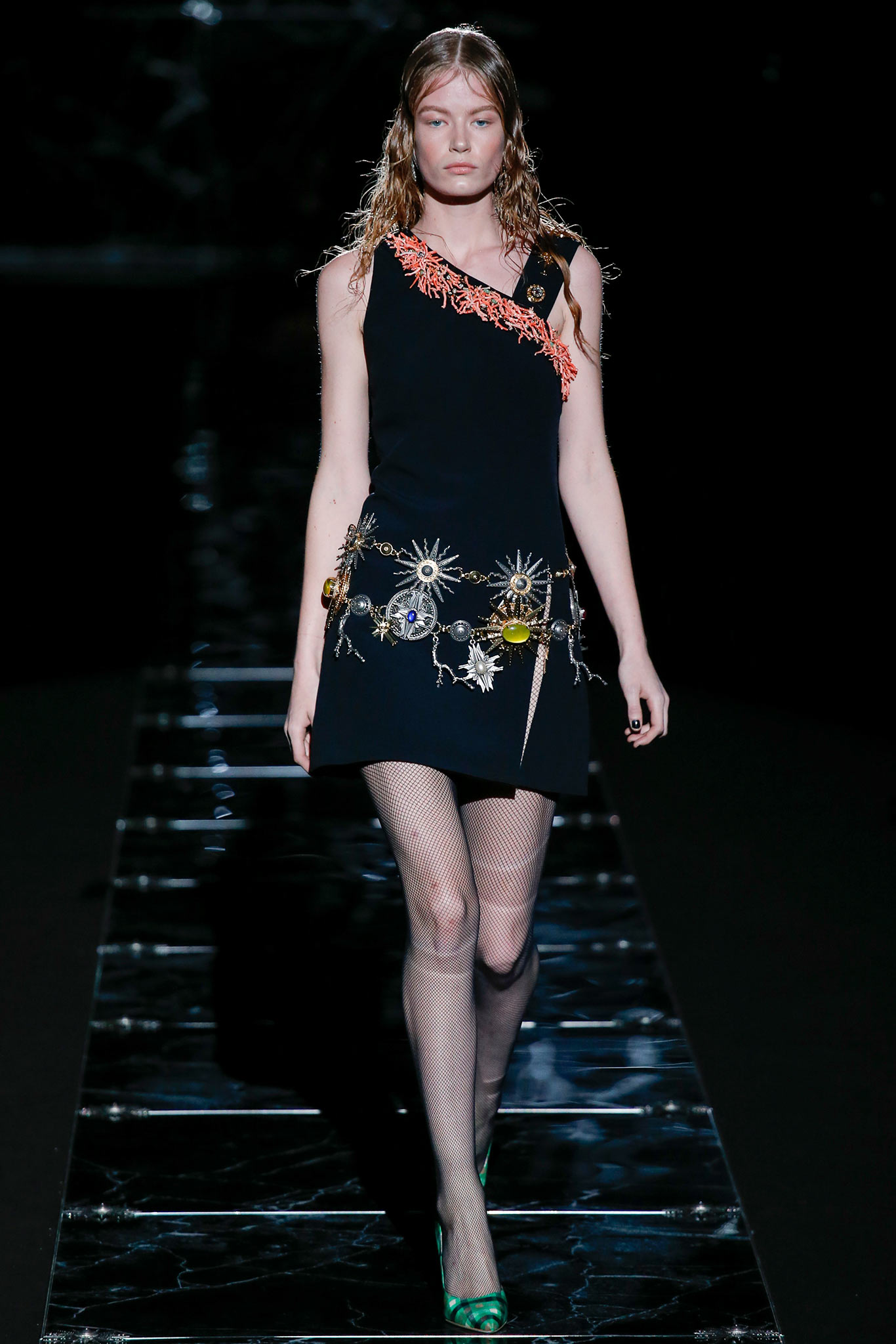 More latter day armor for the mod gal, with a Highland vibe.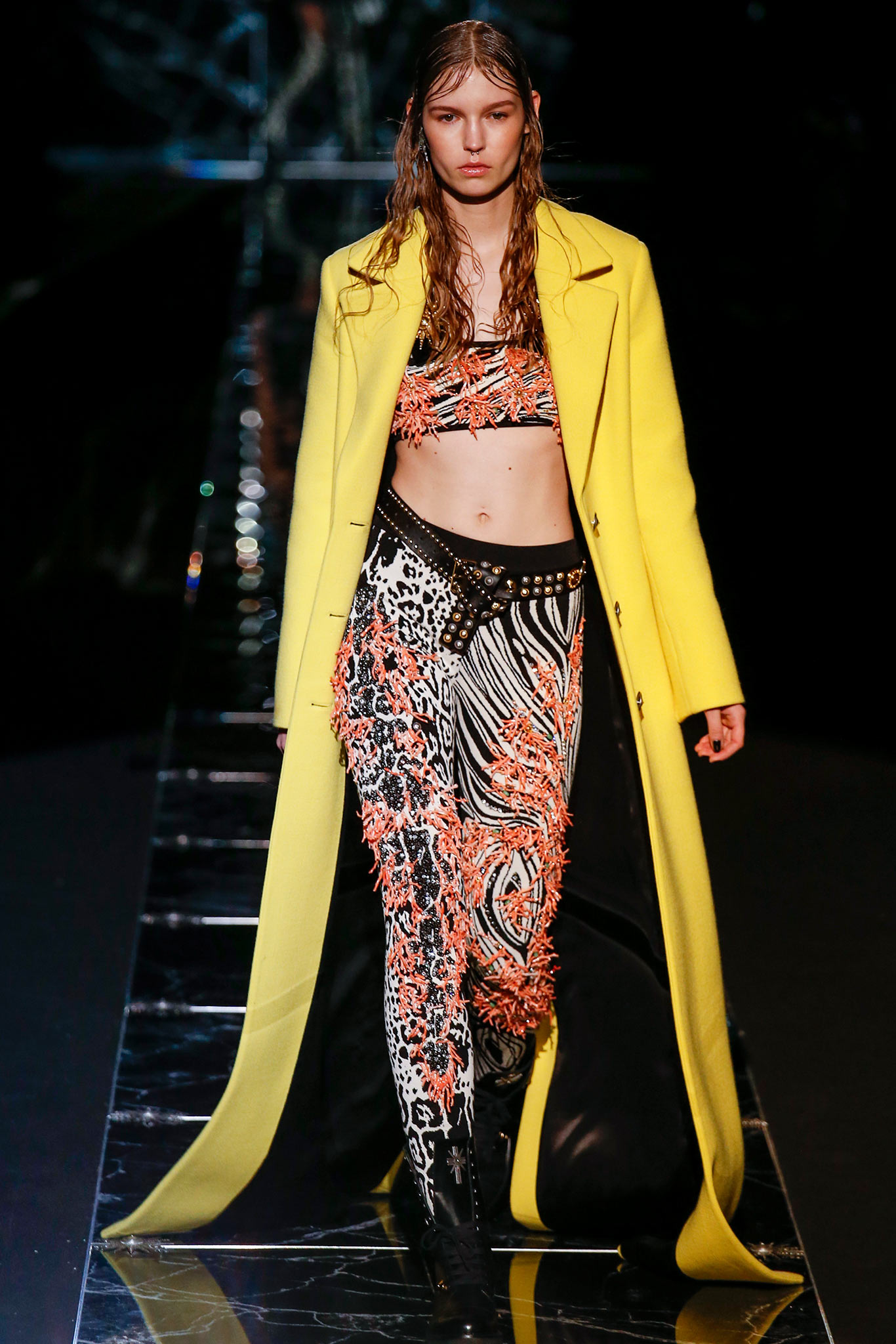 If that isn't brash and balsy, I don't know what is!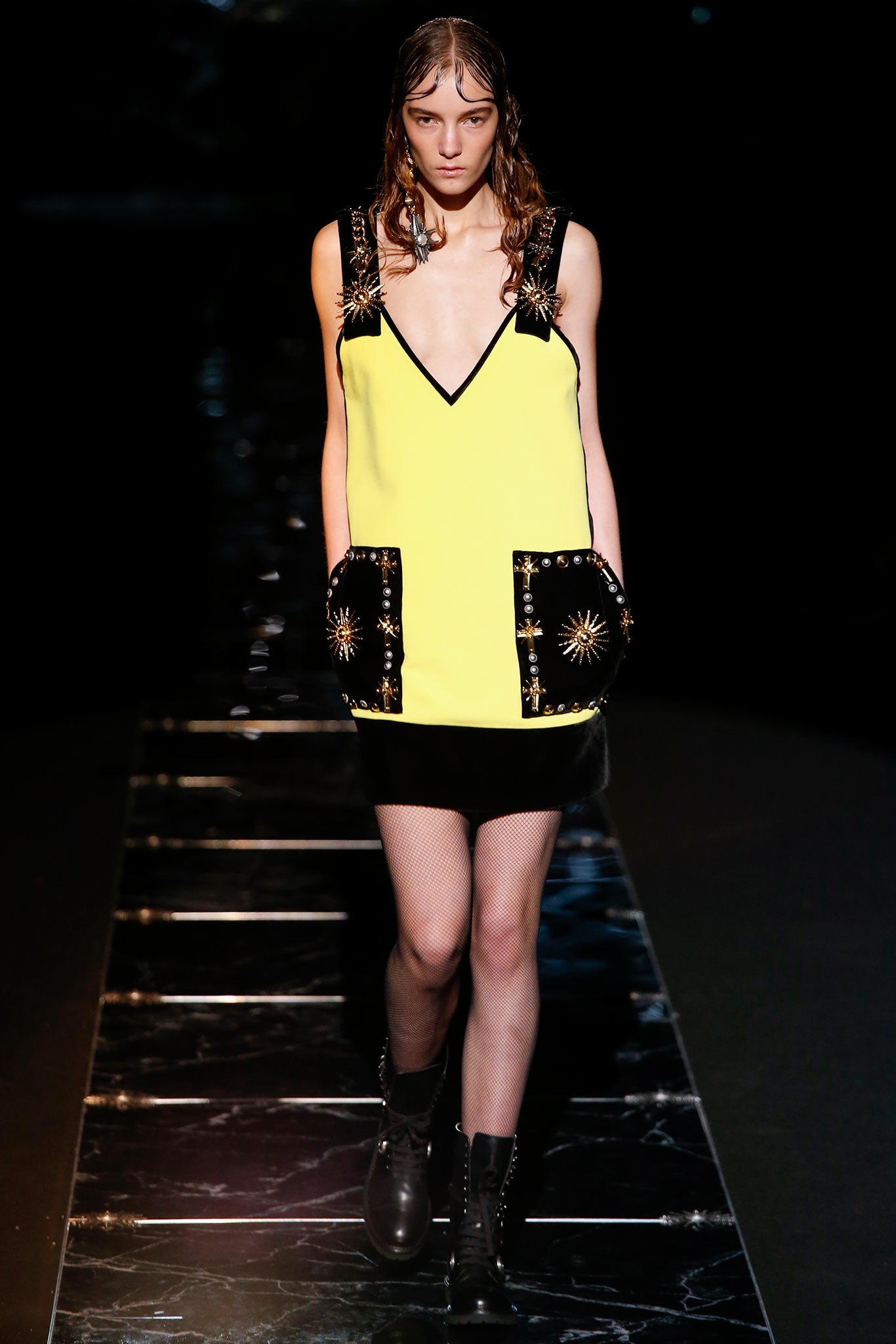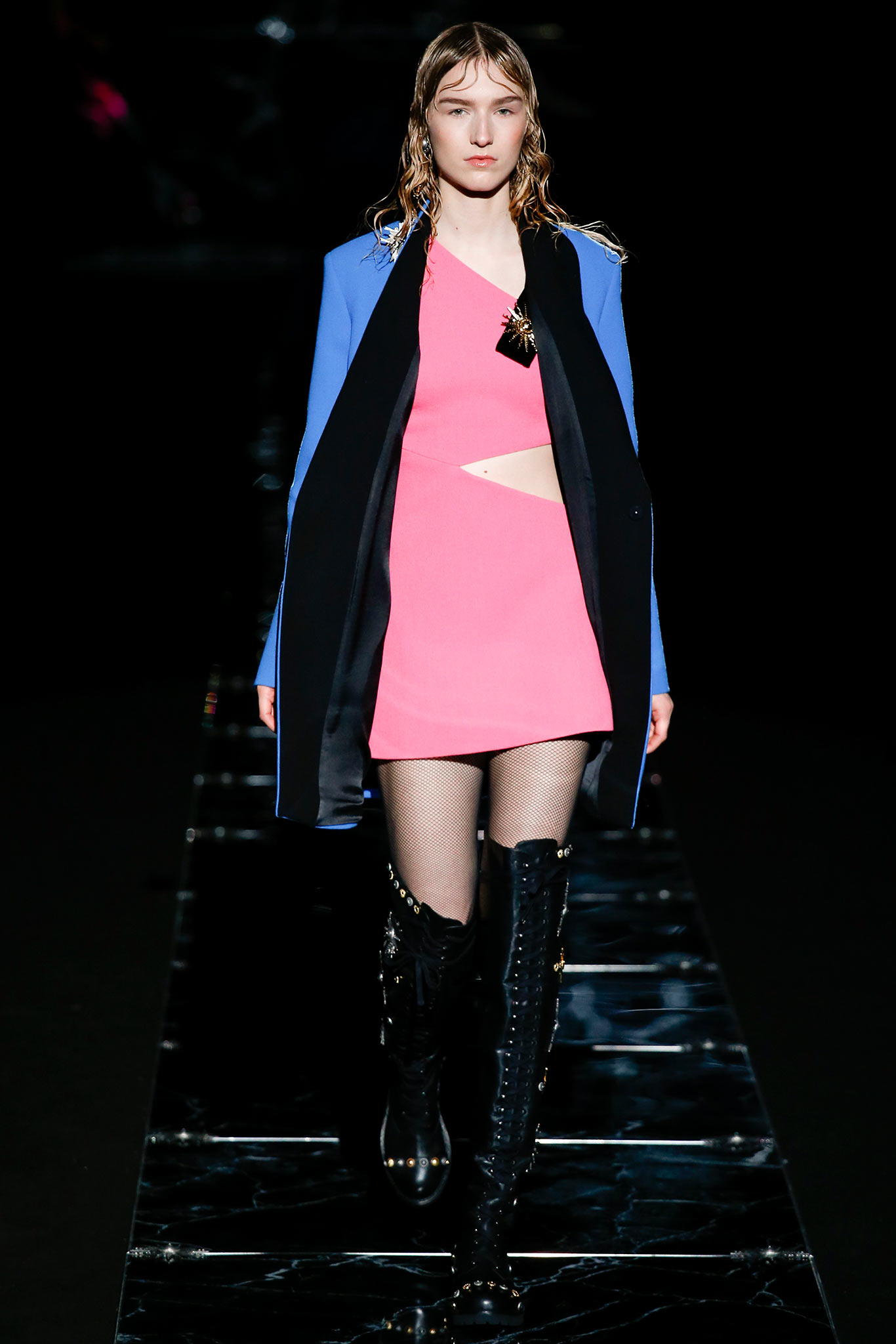 A new glamorous take on above the knee hooker boots. Bravo!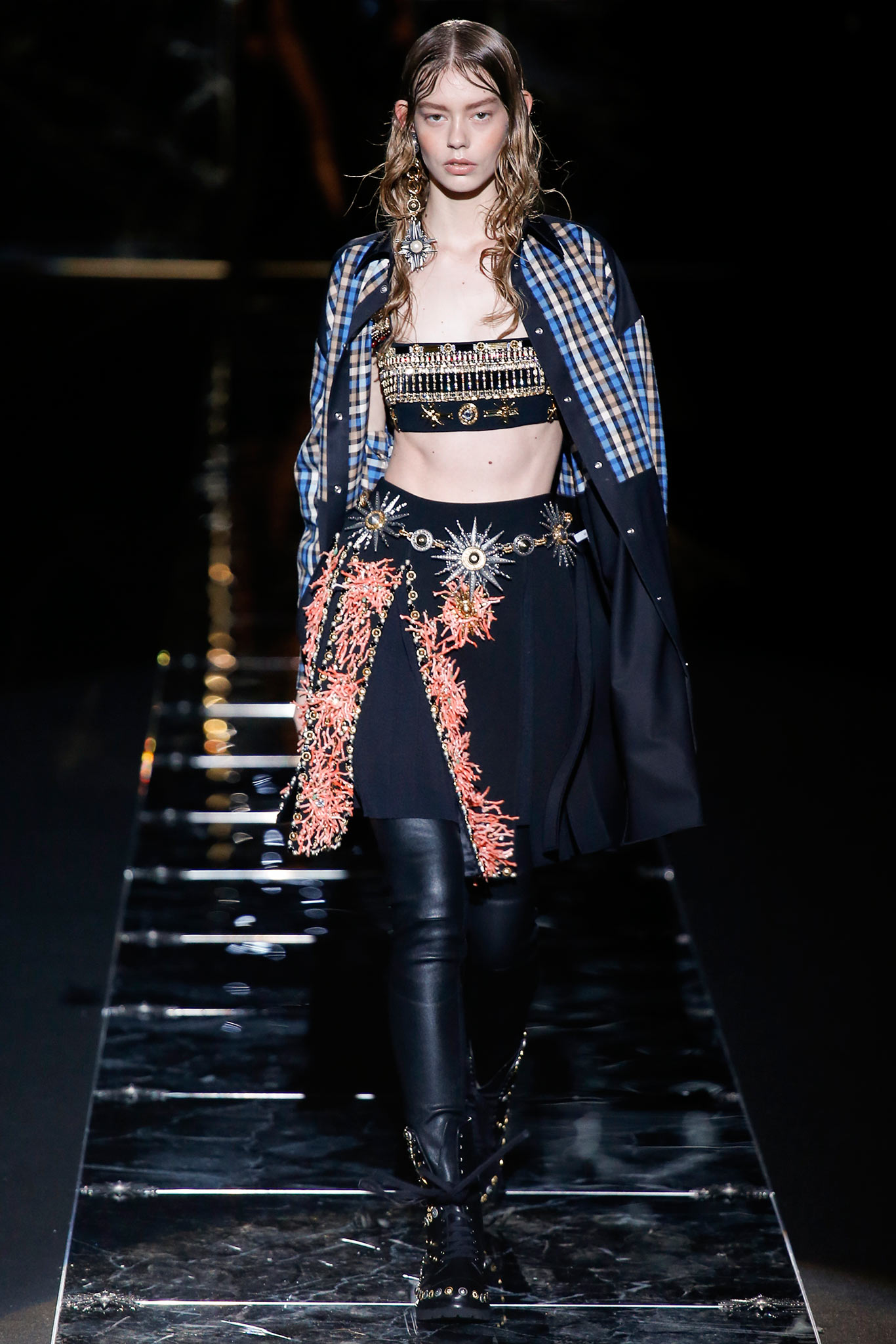 TODS:
Known for the iconic driving loafers and streamlined but impeccable bags in charming neutrals, the house has recently made the foray into ready to wear, and in quite the auspicious fashion. One of my personal favorites, a series of disparate yet captivating separates in a wide color palette in well crafted concoctions reminiscent of a box of multicolored macaroons. Sportswear to be sure, but infused with guts and glamor. Leather is a major player, fashioned with the finesse only imagined by those crafty Italians.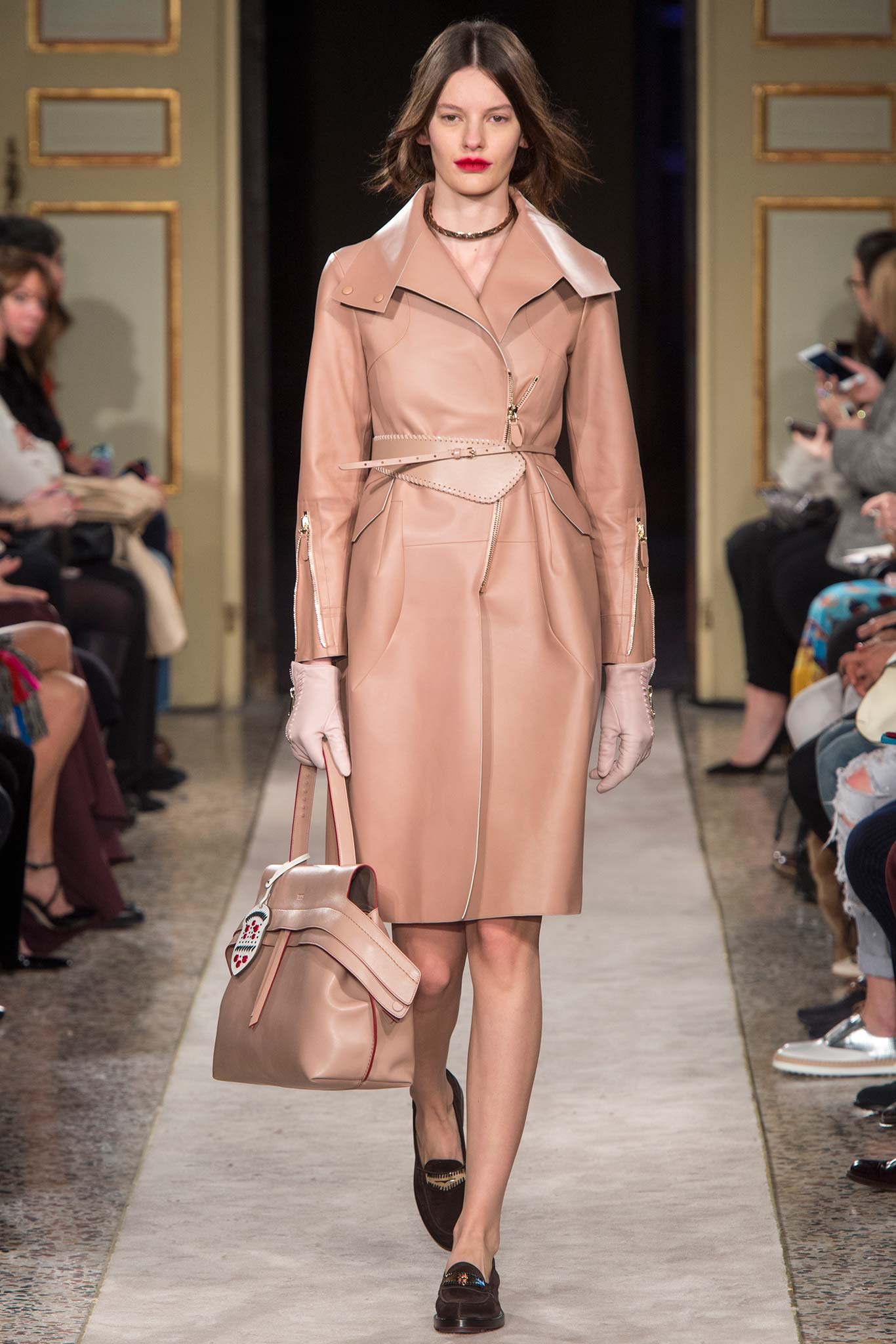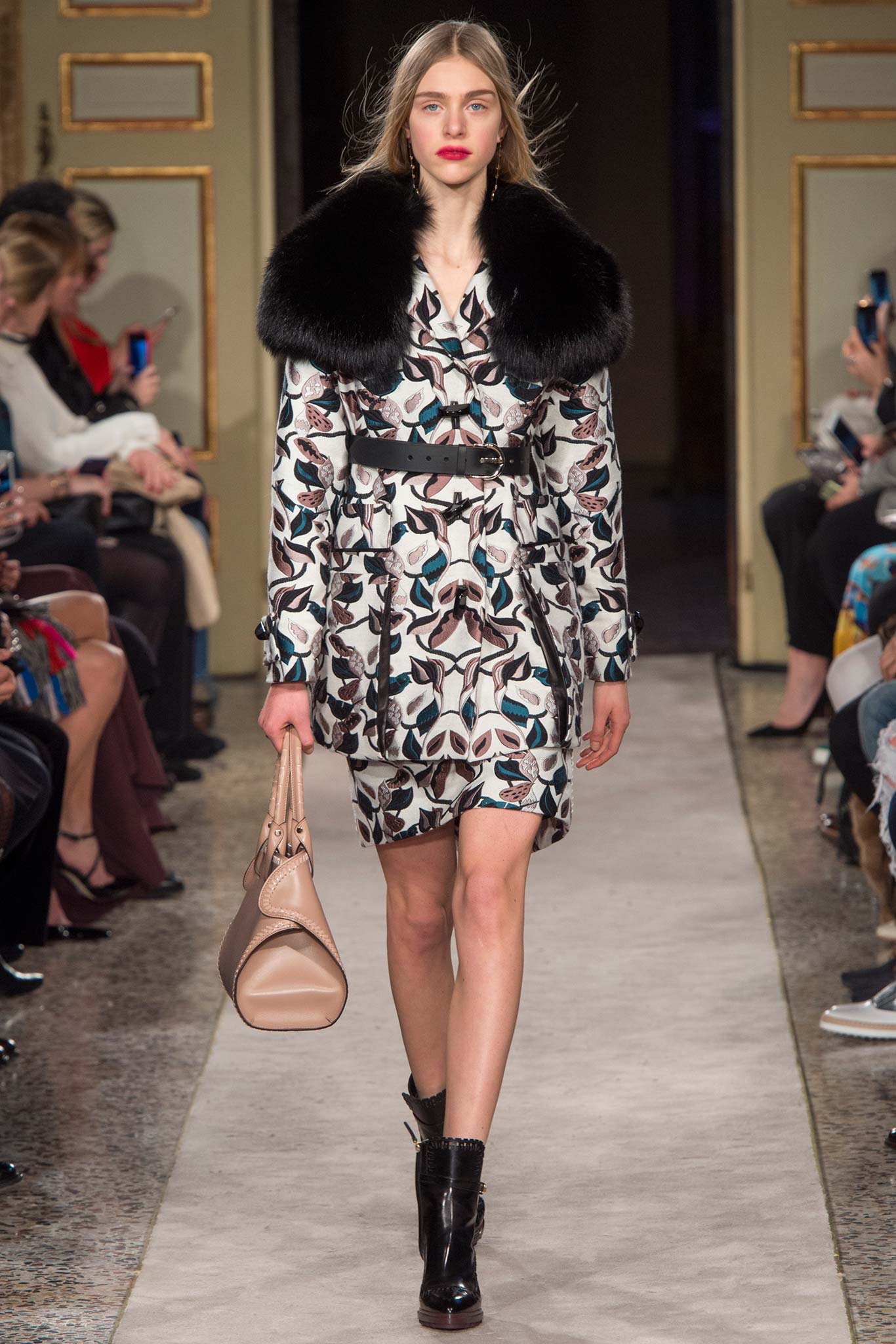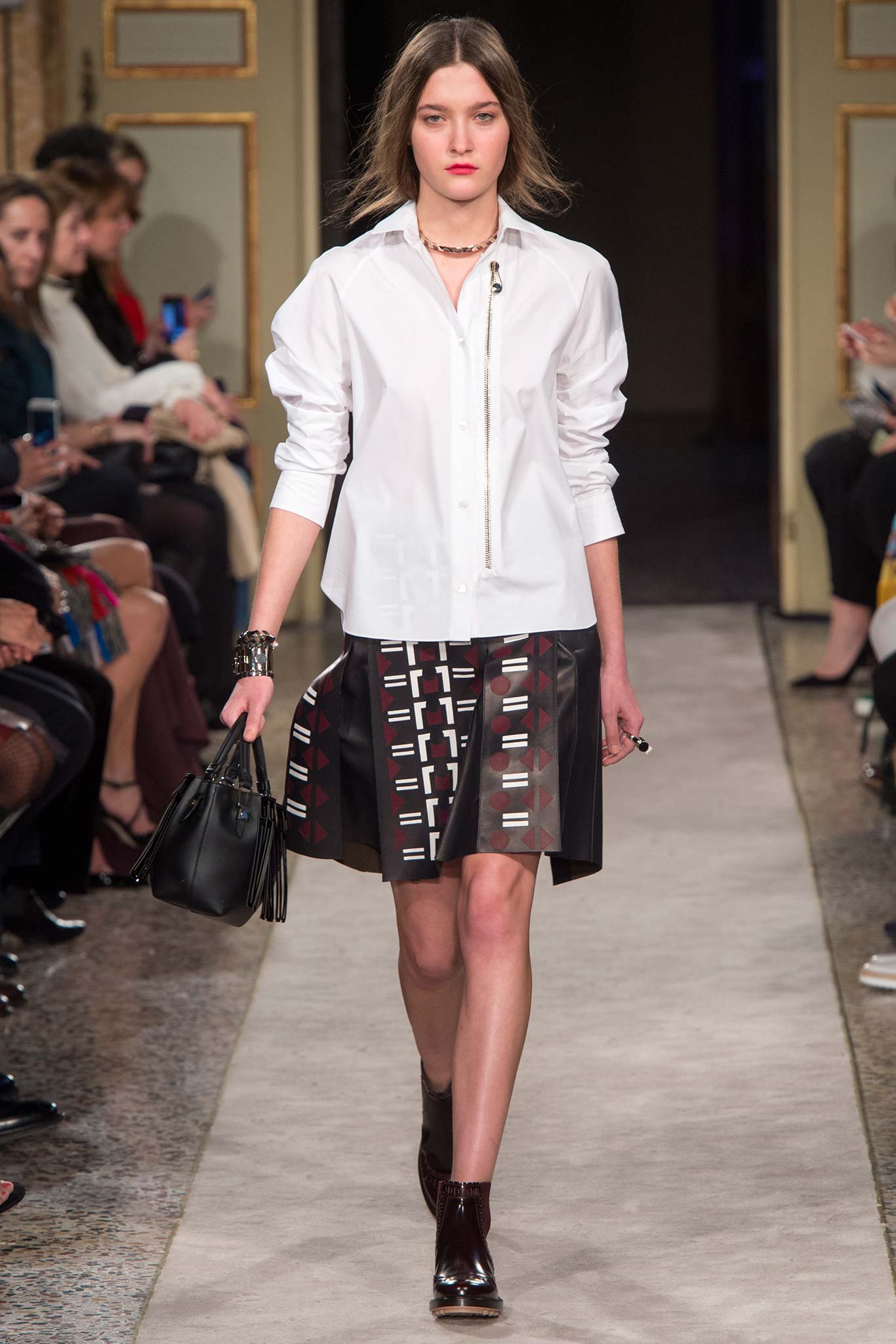 The casual spartan cotton top complements the focal point of the outfit, the pleated leather skirt. The styling is spot on with the vintage Tod's boots and bags.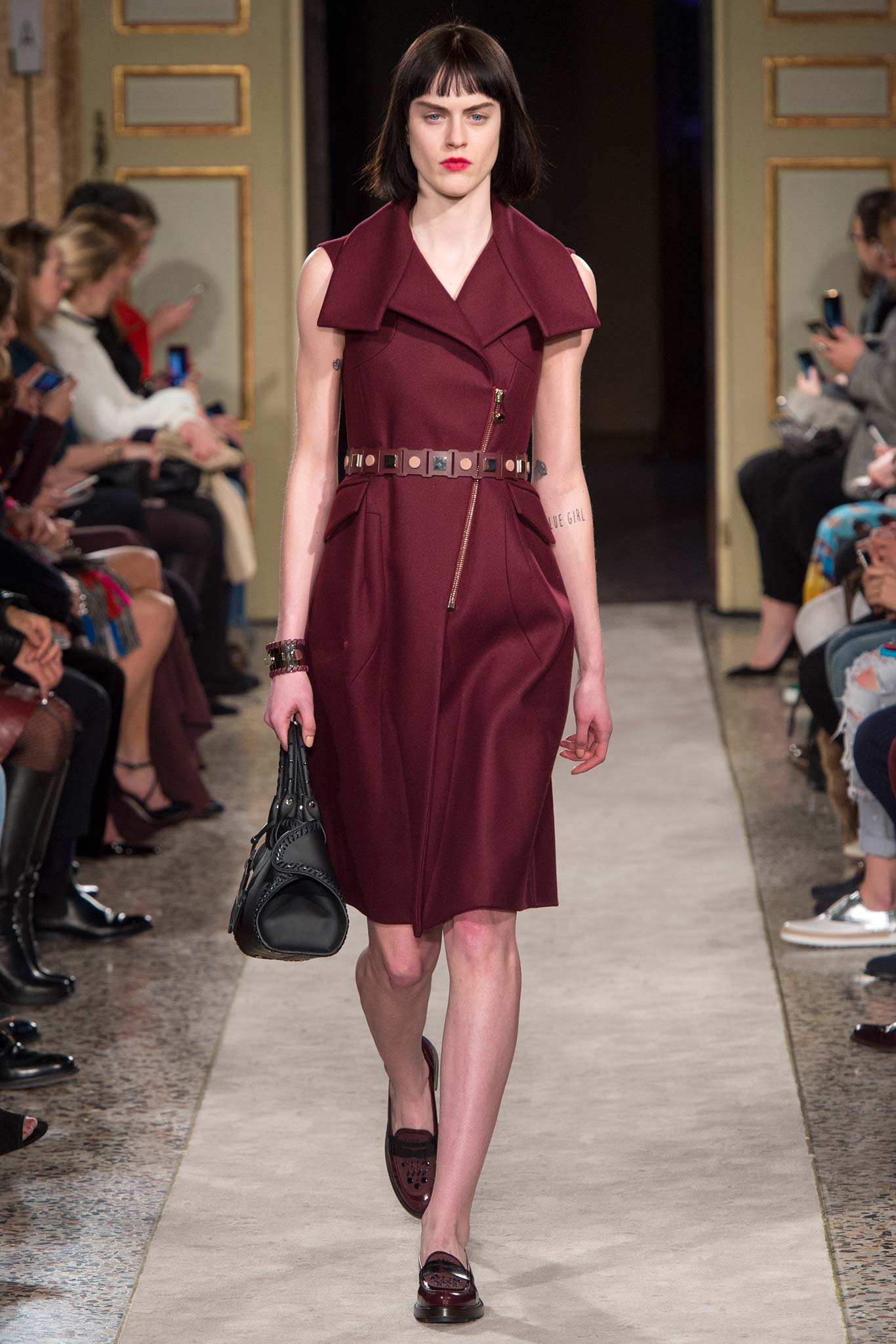 Modern, architectural, and easy, in a luscious claret.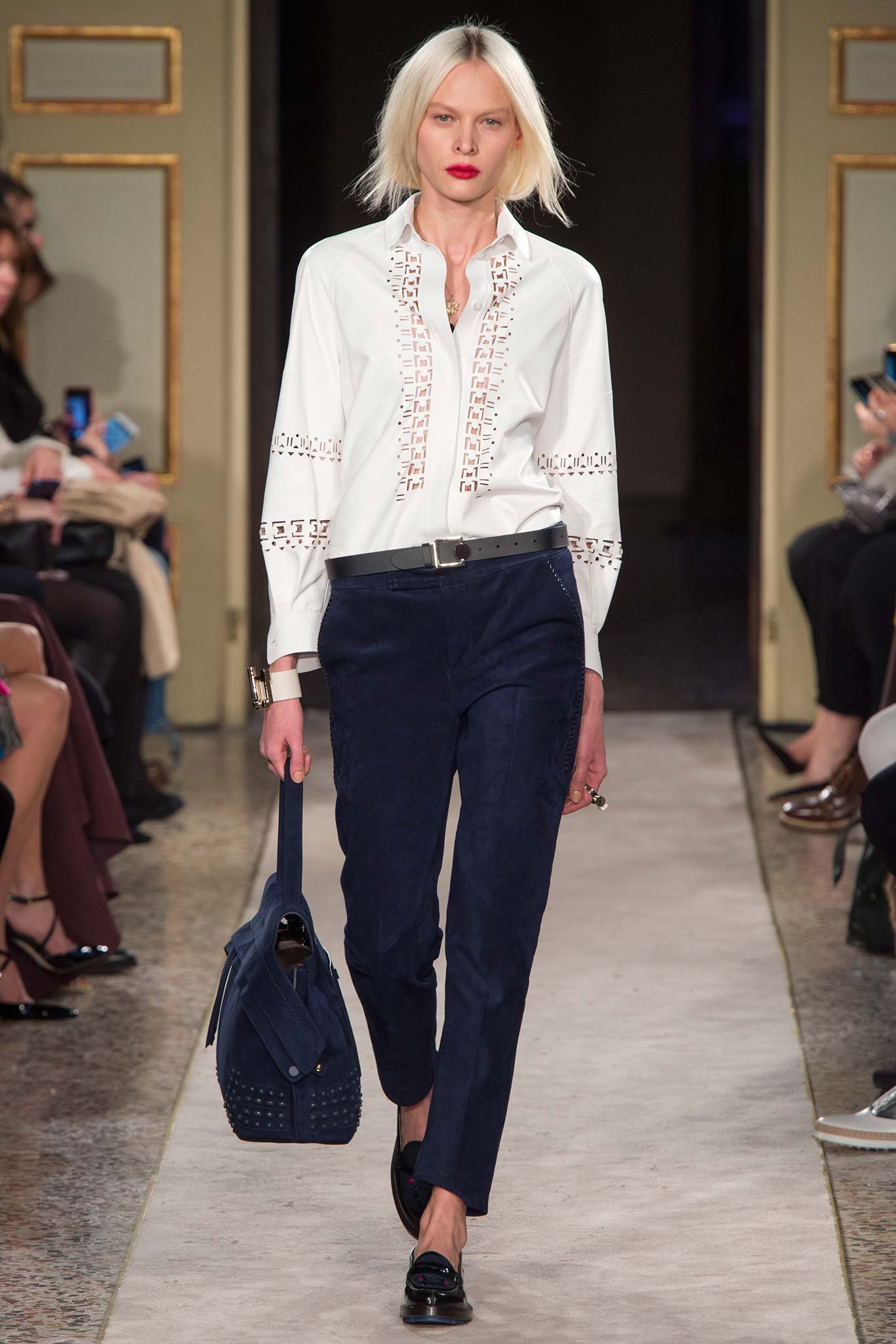 No one does low key luxurious like the Italians. No need for bells and whistles when you have impeccable tailoring in fabrics good enough to eat.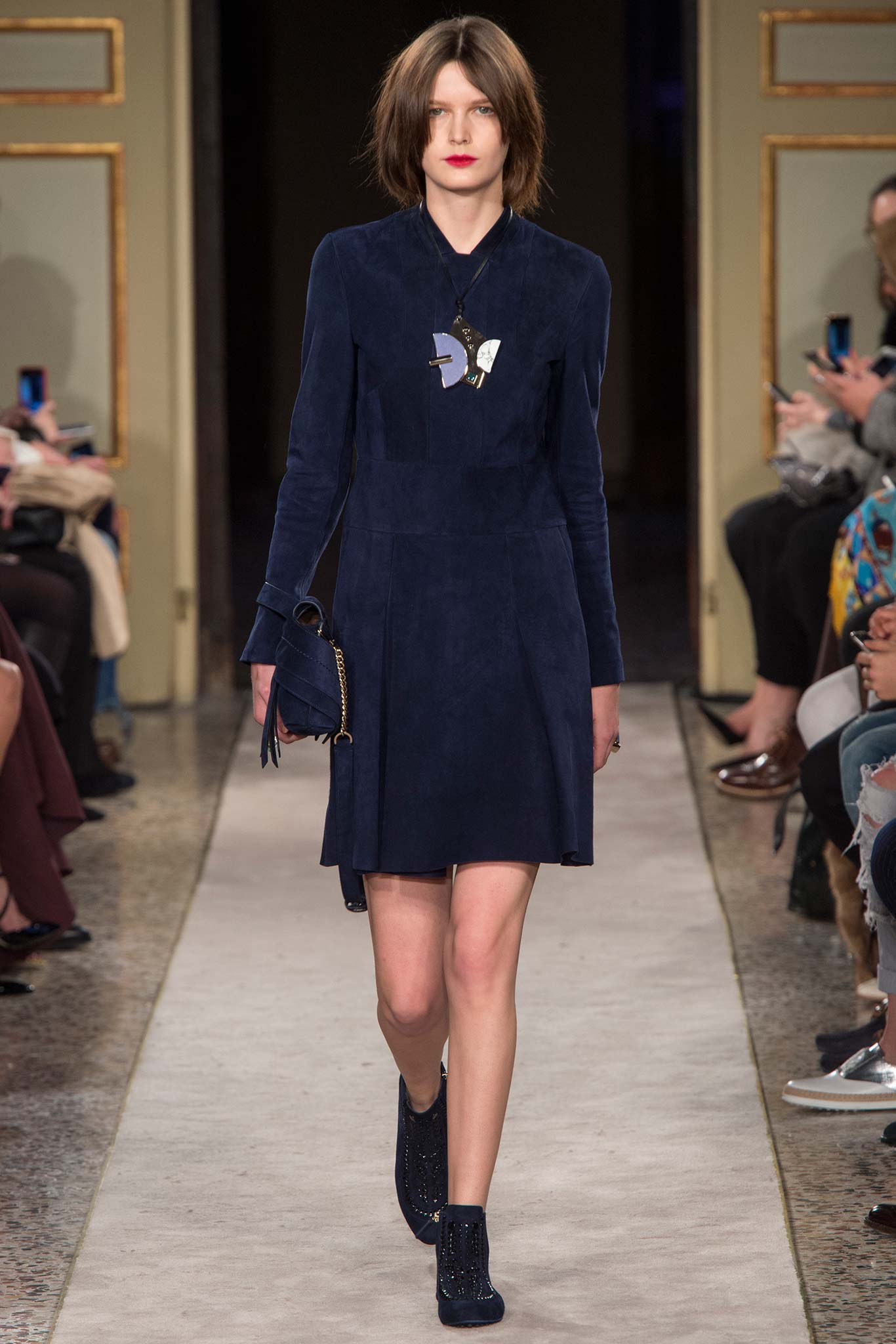 Spice up any outfit with some periwinkle zippered gloves.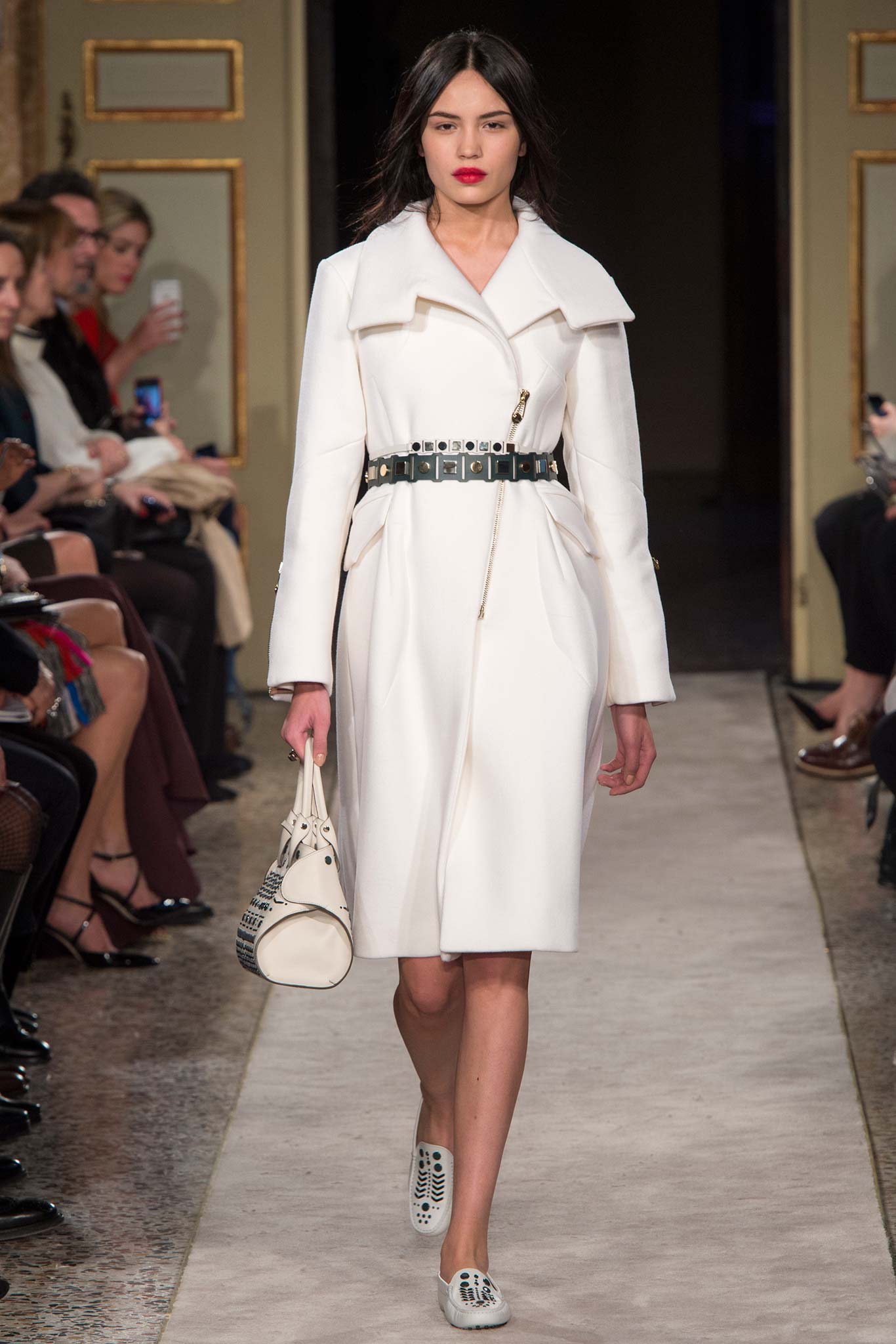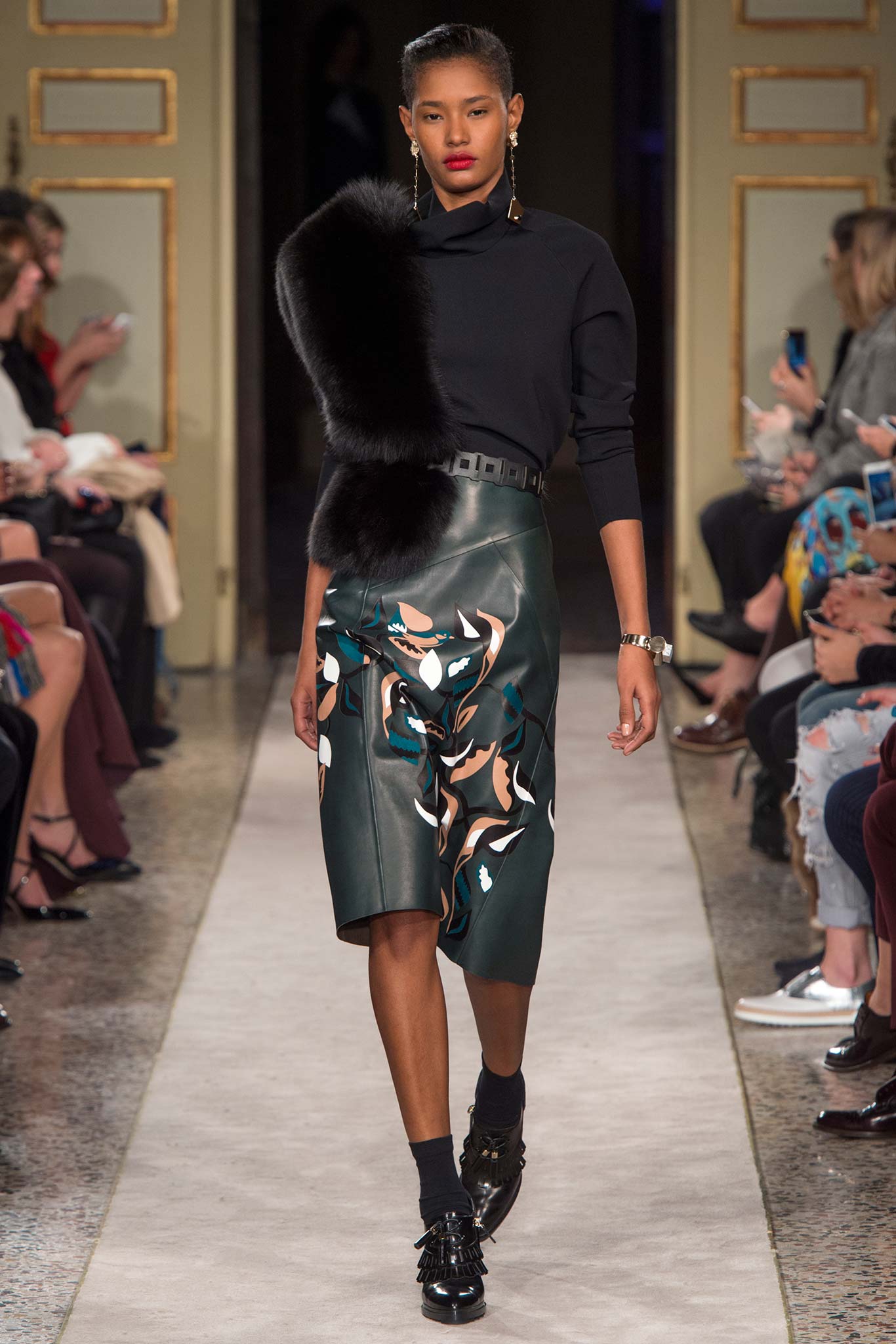 Inlaid leather, you won't see this everyday.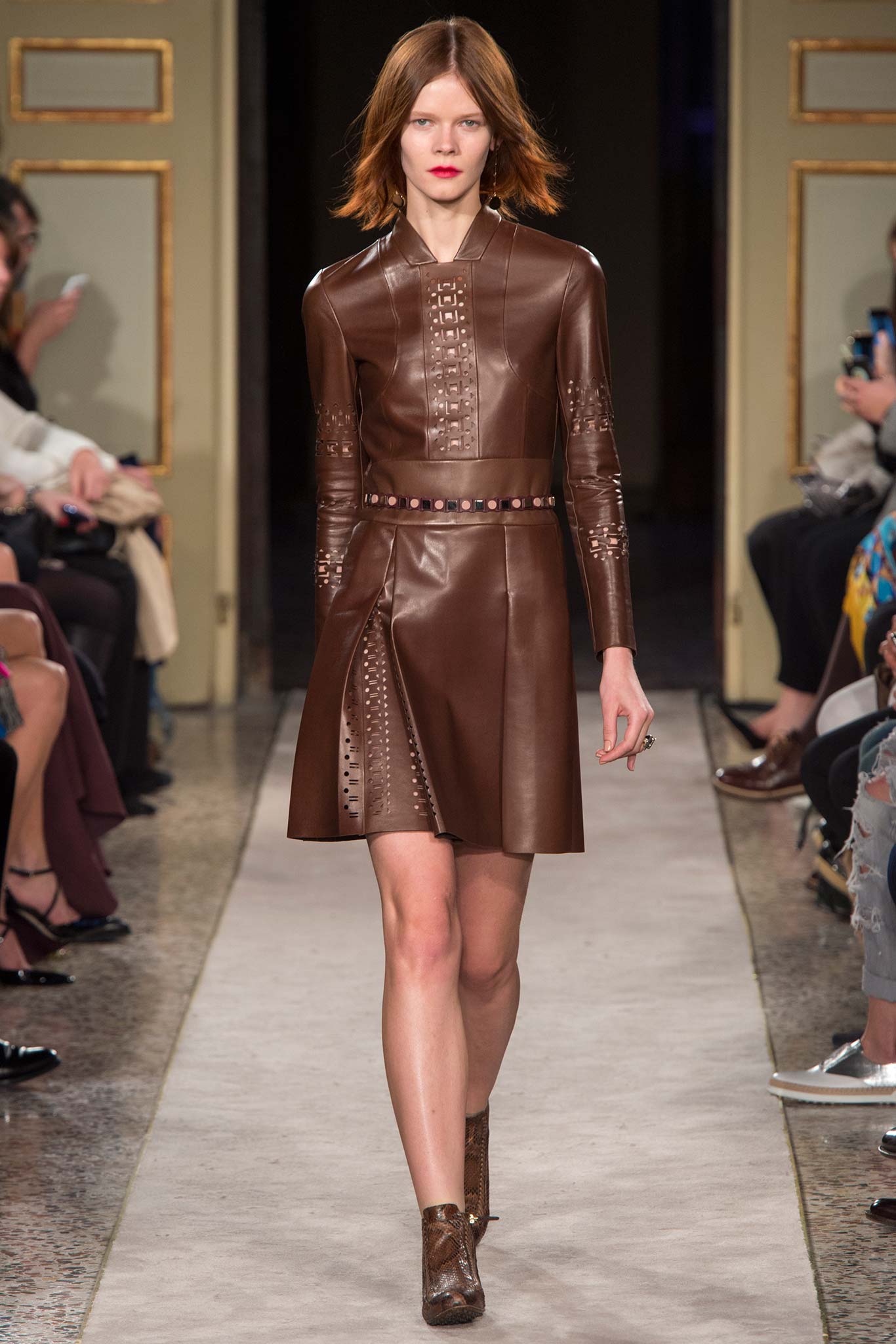 Nothing wrong with being fully adorned in glove leather, in a luscious milk chocolate brown. The geometric cut outs provide necessary ventilation. Ditch the moccasins (best to leave them in your trunk) for some shoe booties. Some fabulous examples shine on this runway.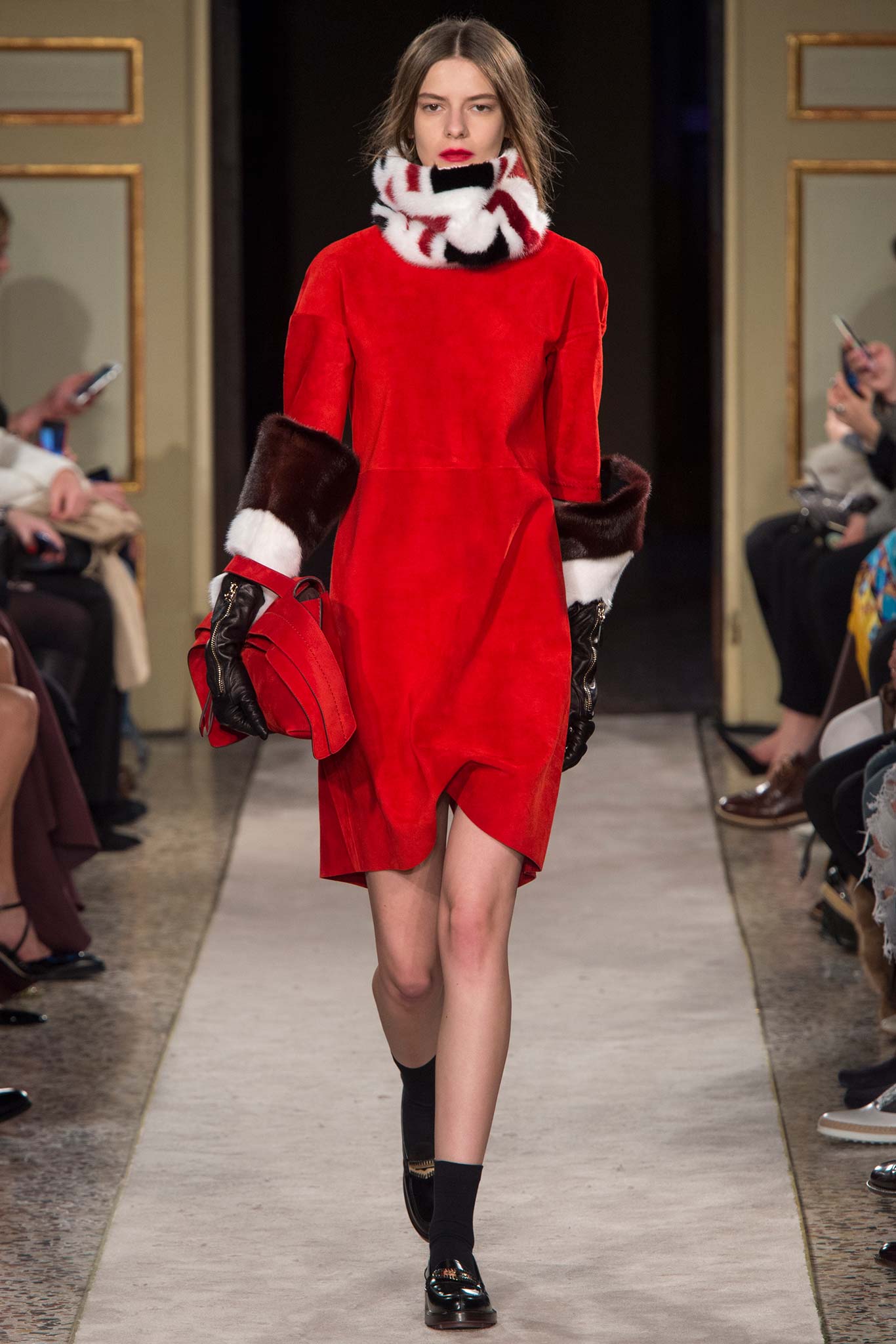 SHAZZAM! Red leather! Perfect way to stand out, but with ease.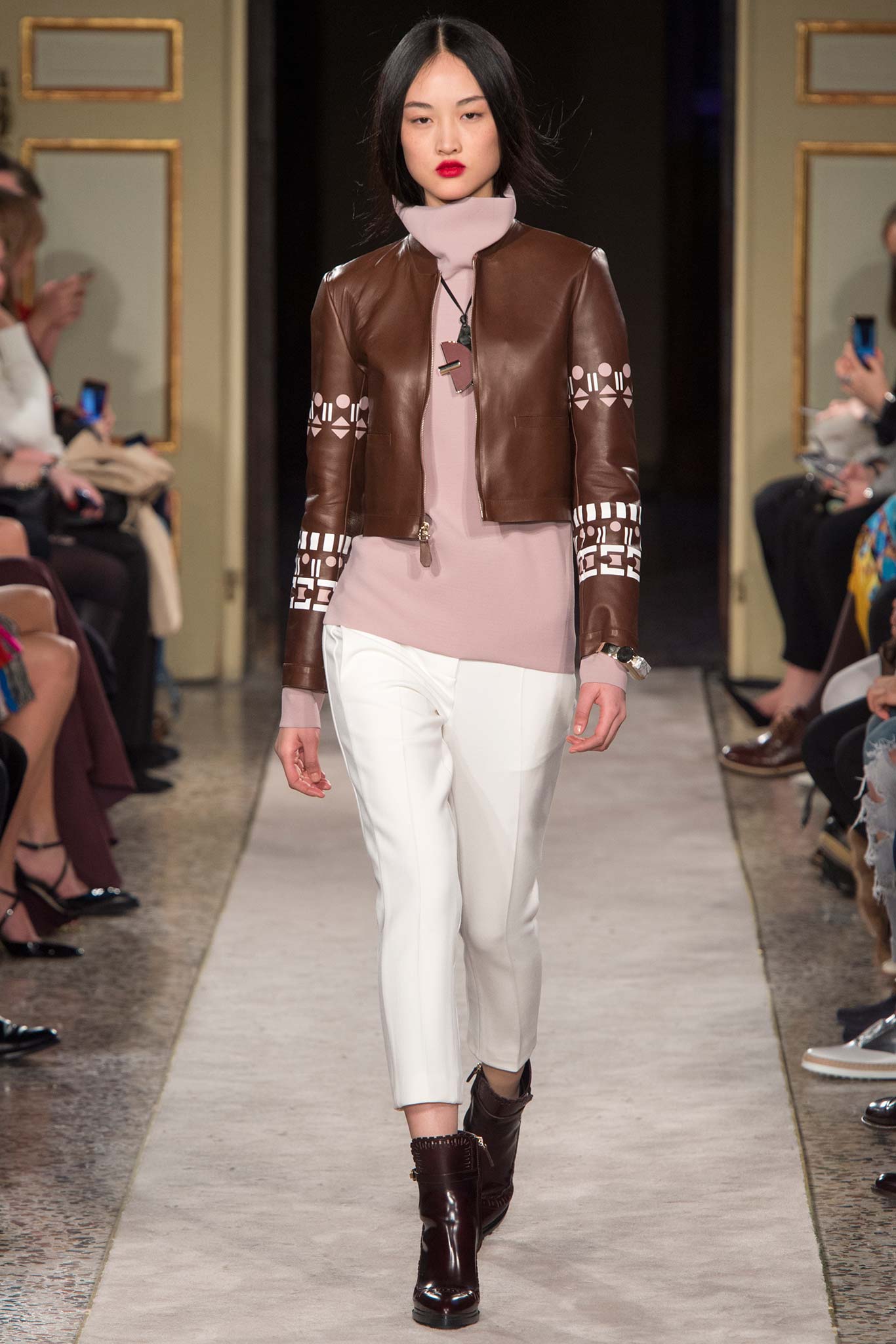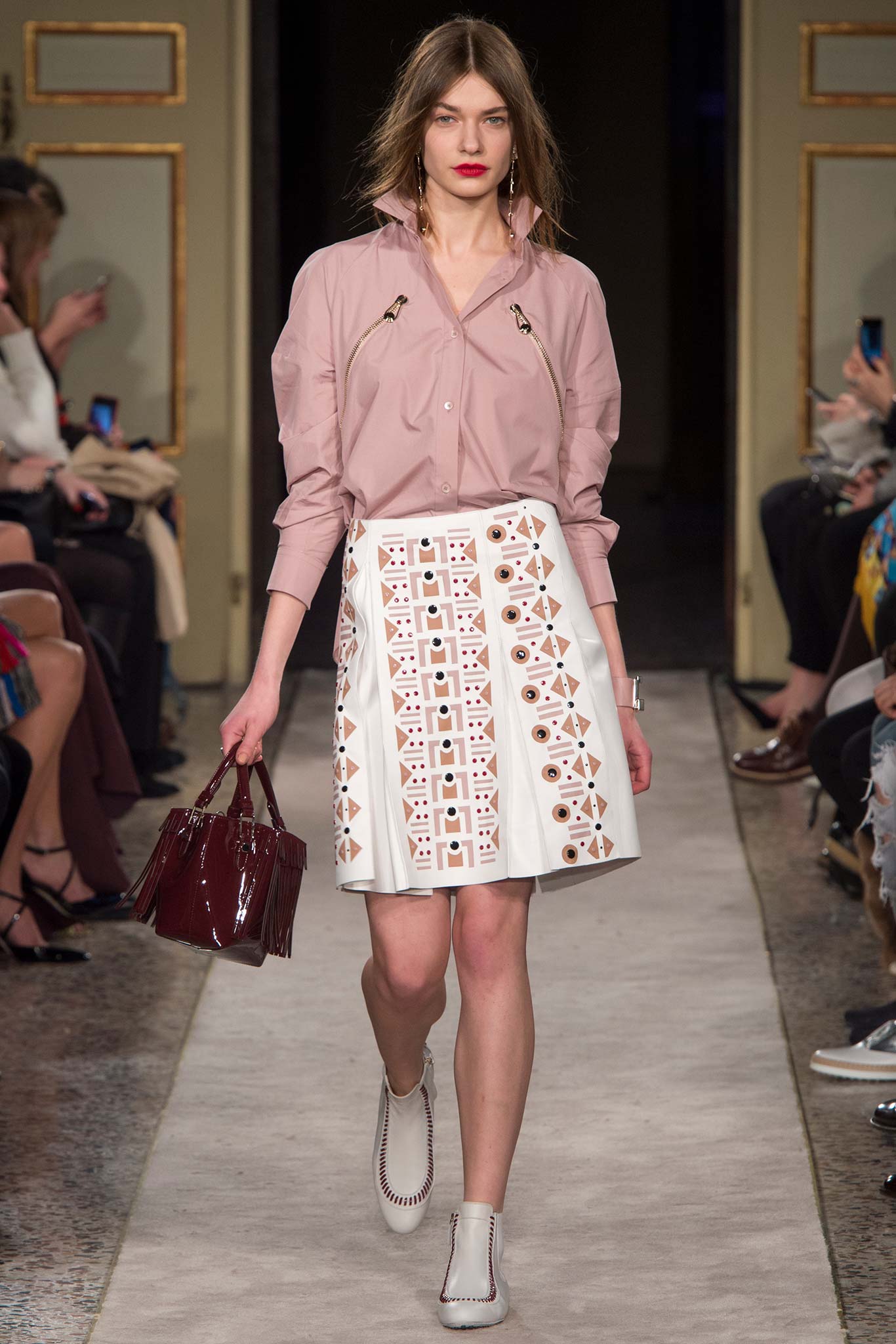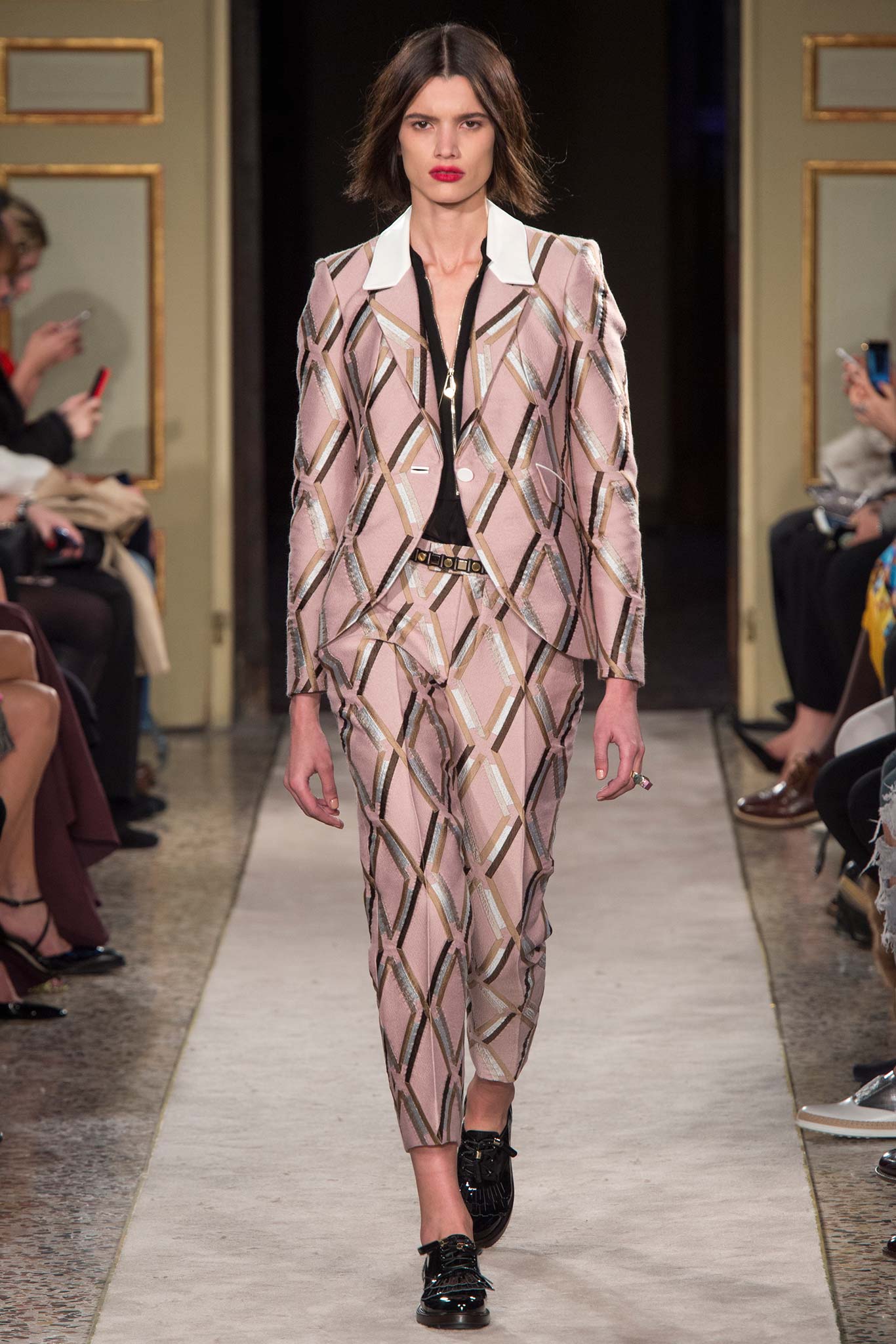 A bit Prada-esque, parting from the more low key vibe typified by this collection.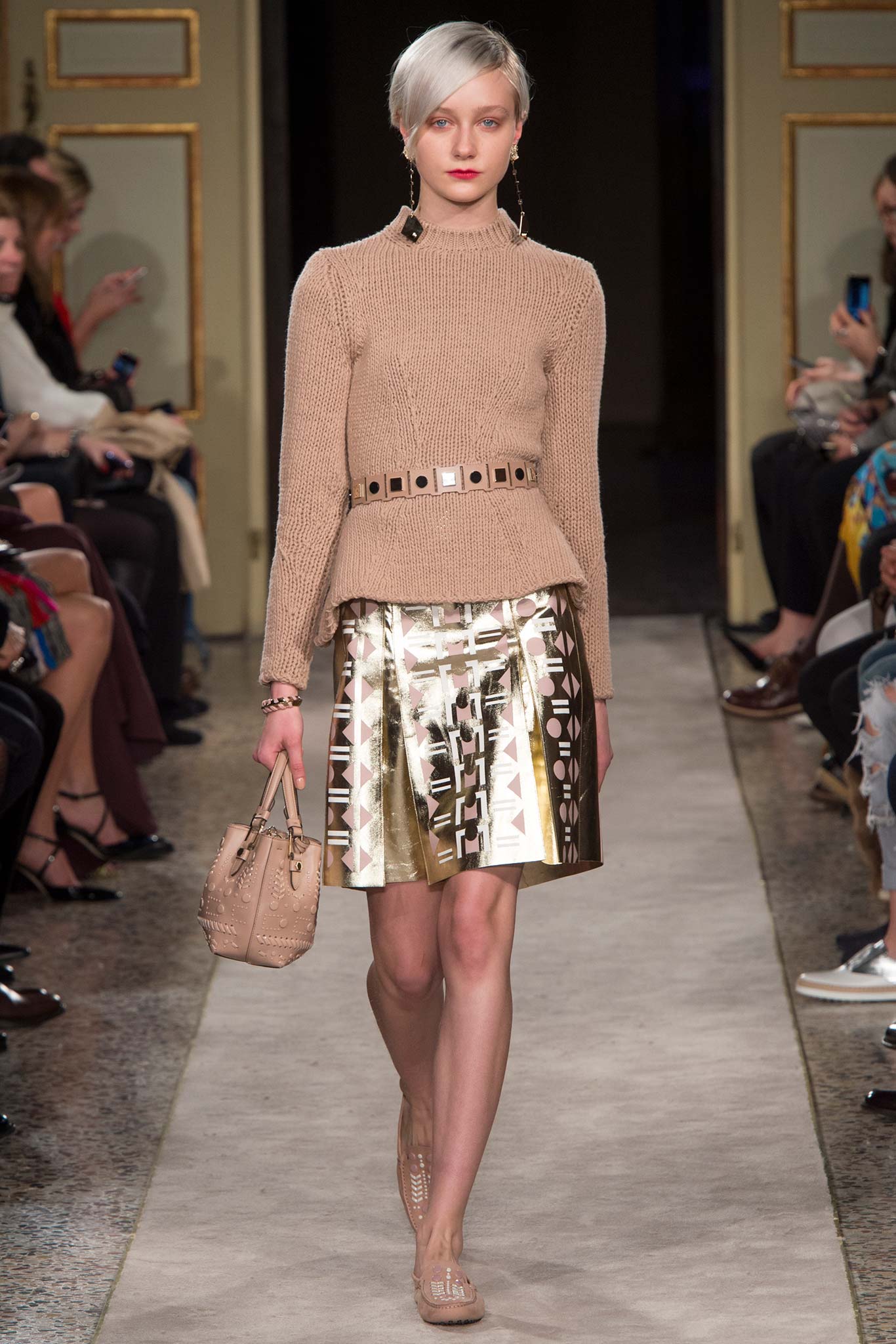 Tailored and Go-Go…..best accompanied by booties of some variety. NOT these flats! (S h u d d e r).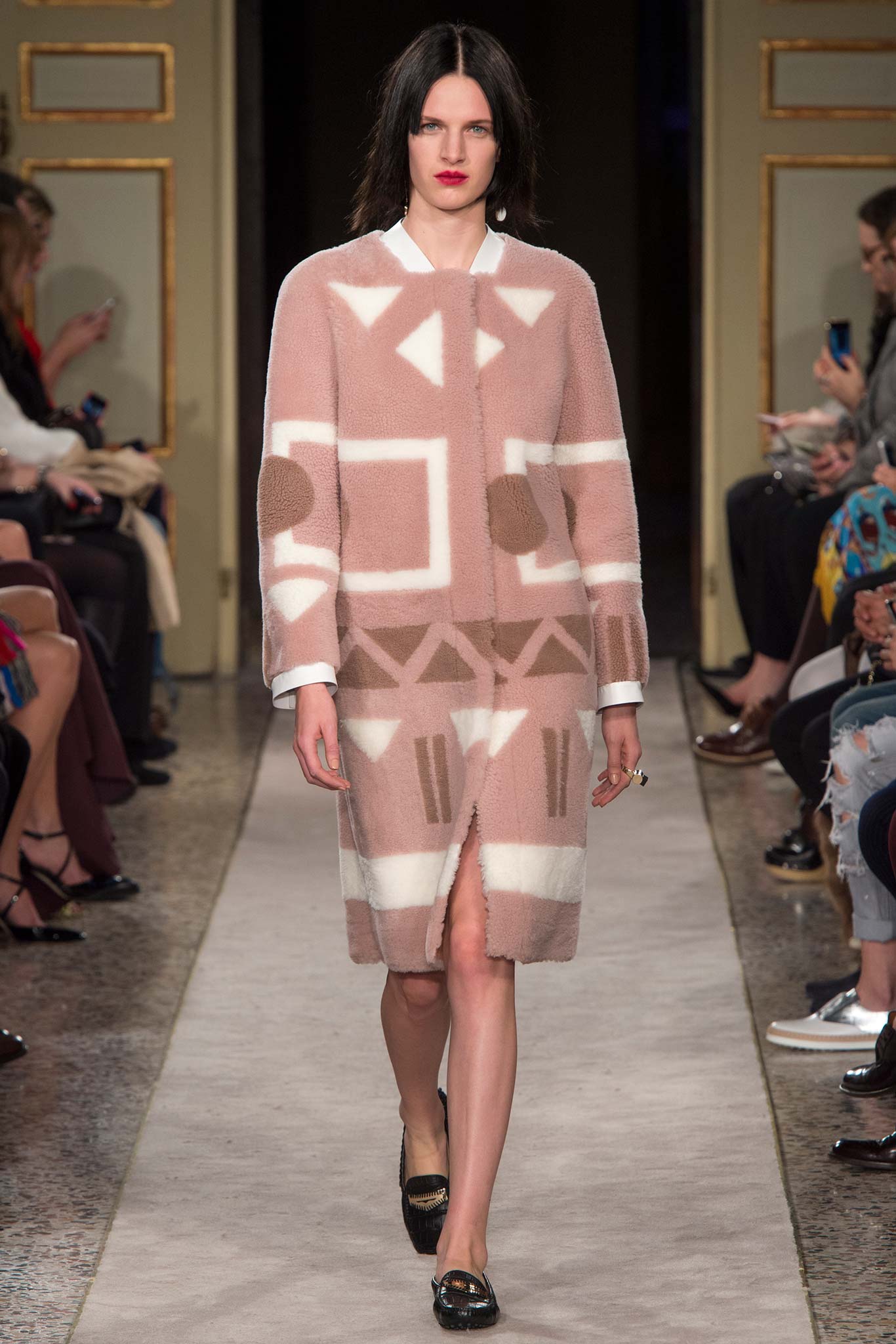 And thank goodness, the return of the shearling.
VALENTINO:
The ultimate in femininity when it comes to dresses of all versions, with modern and vintage themes, always tapping into the current zeitgeist, yet maintaining the standards set by Valentino himself. At once glamourous, regal, and modern.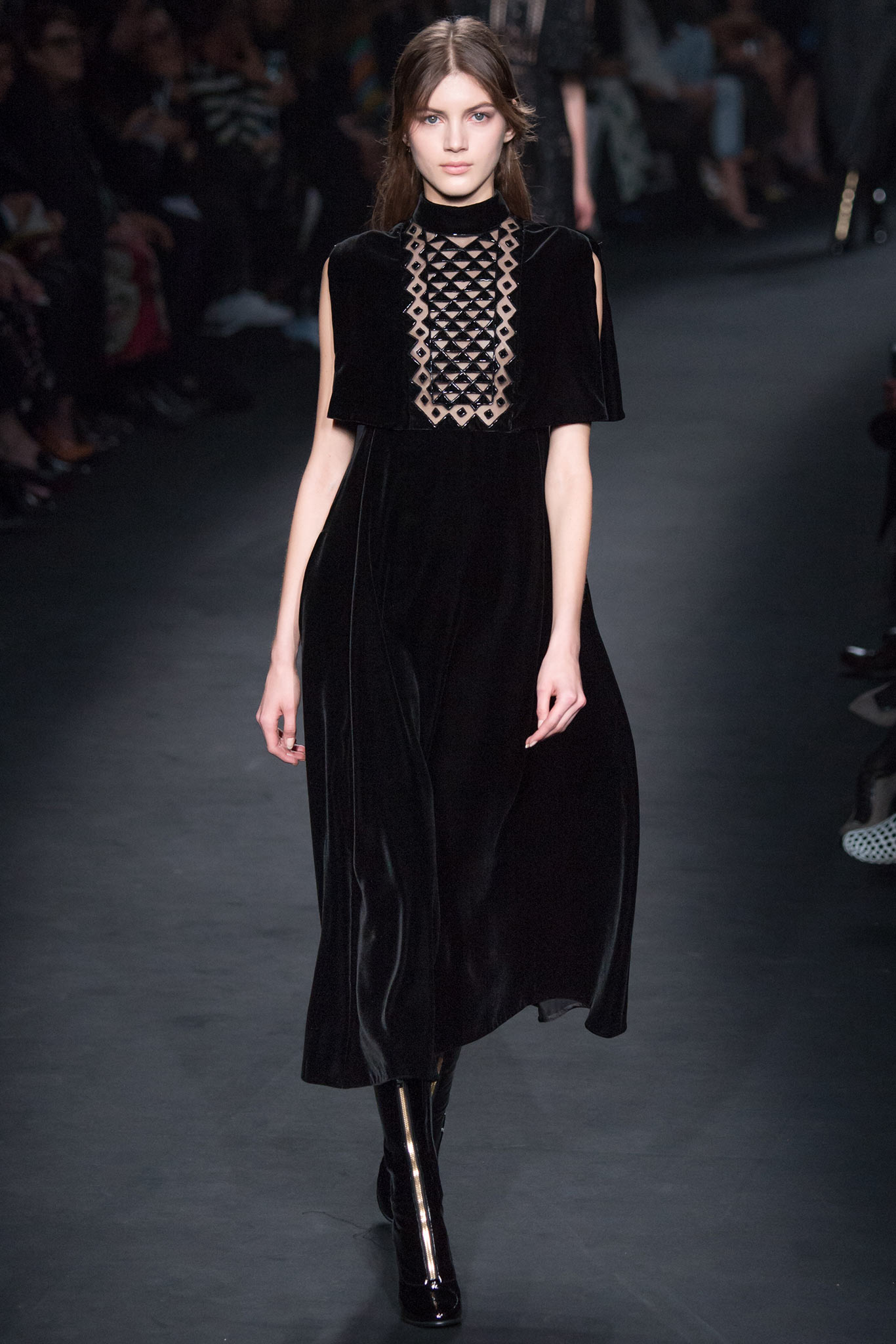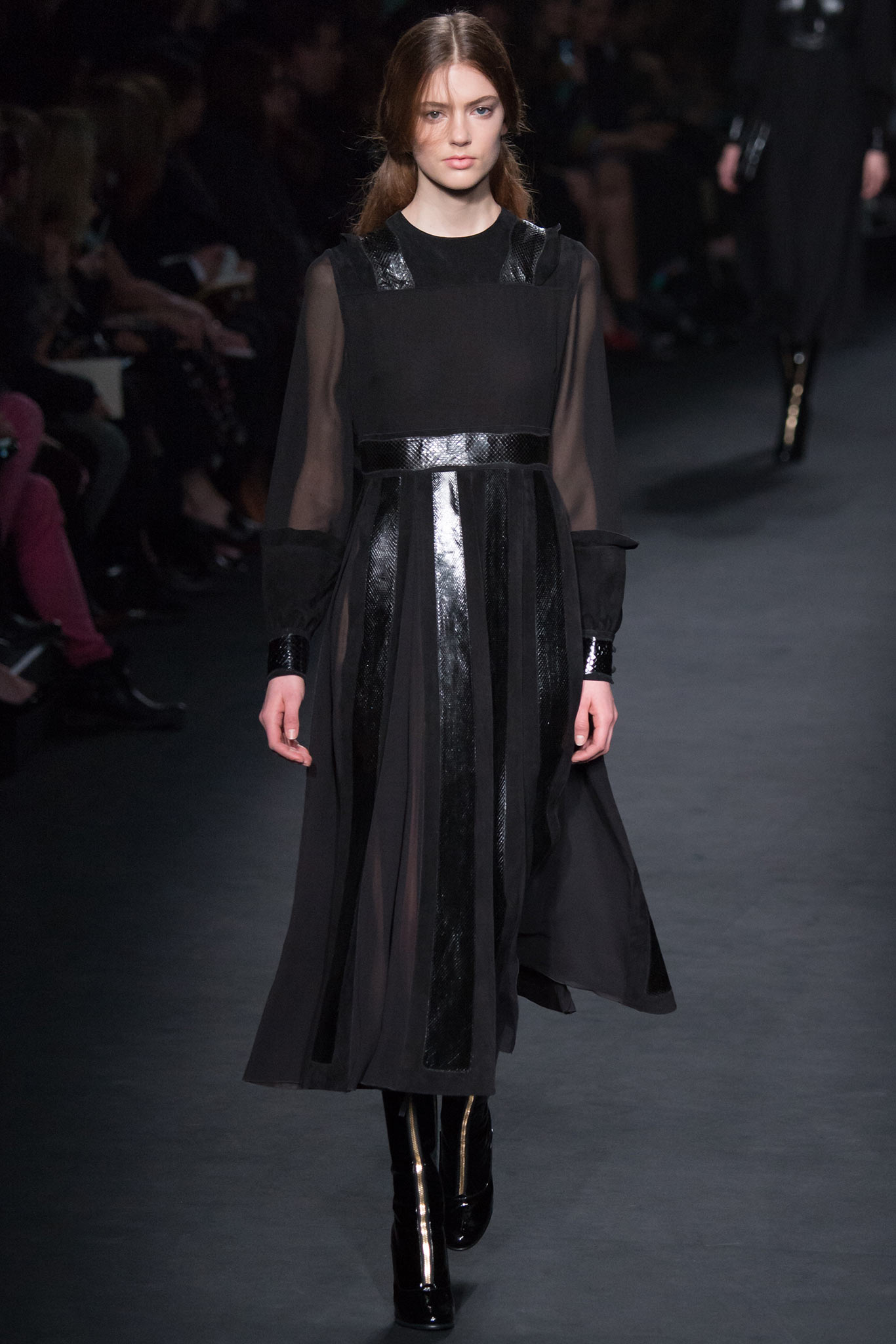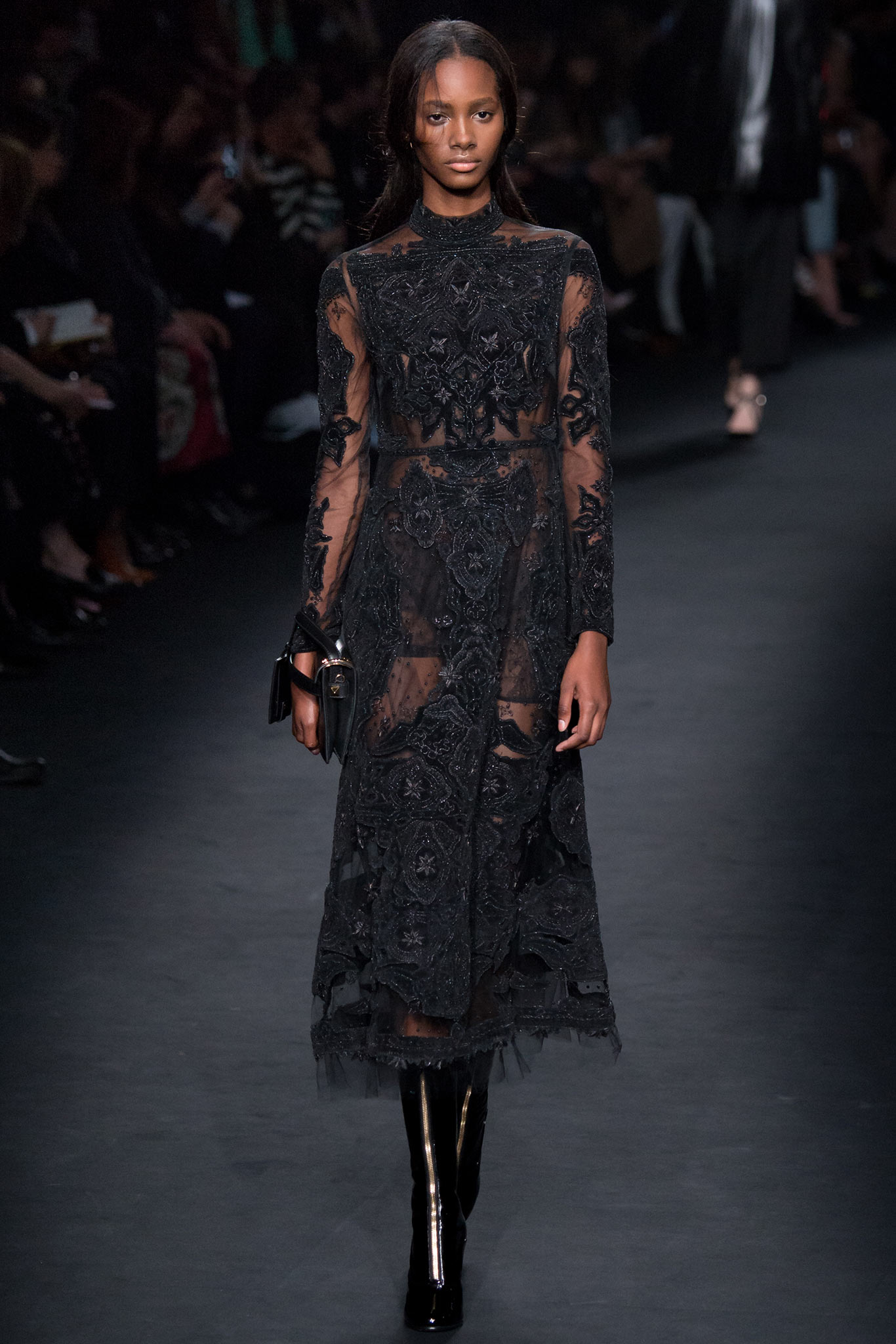 For anyone afraid of color, black made a strong showing in this vast collection.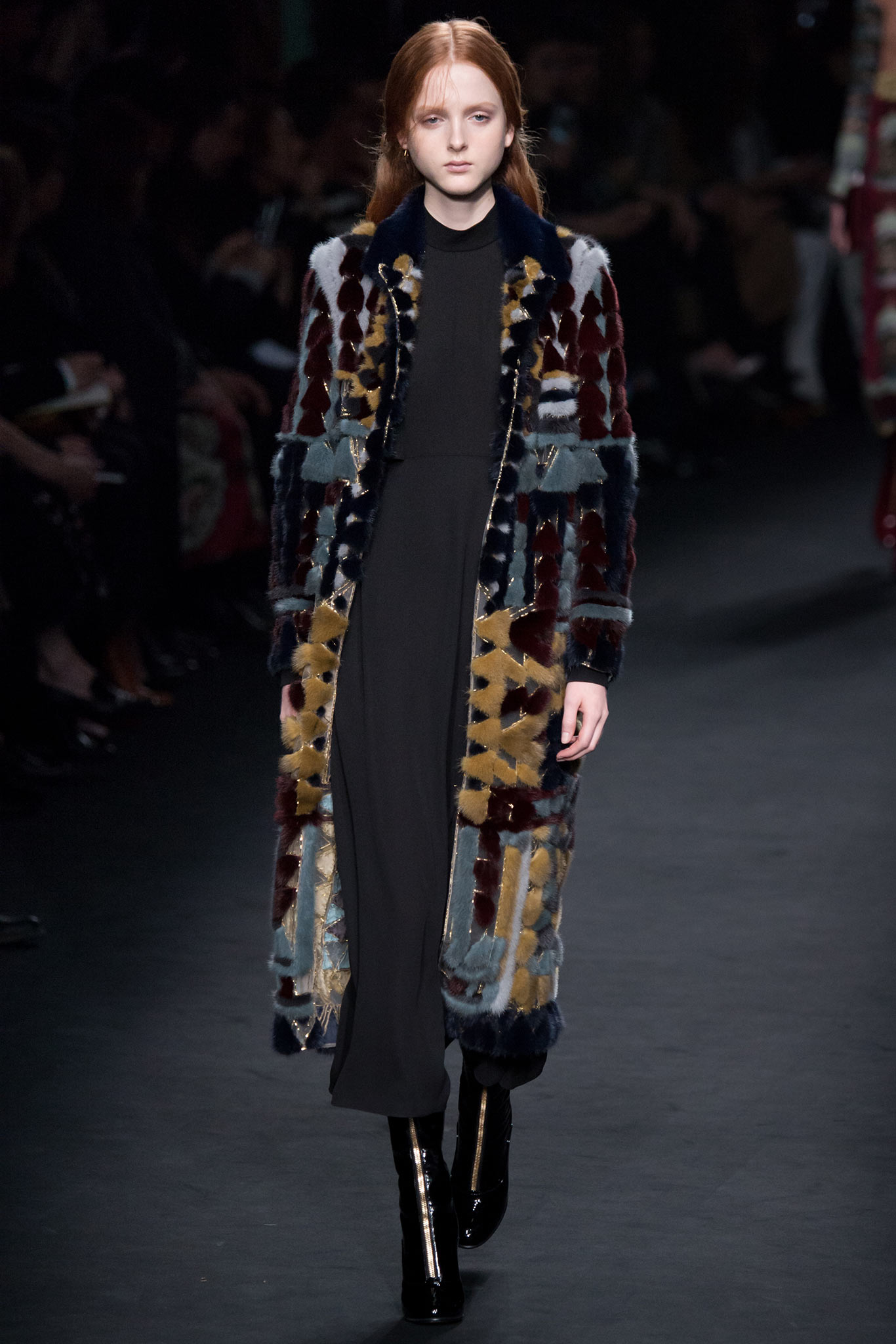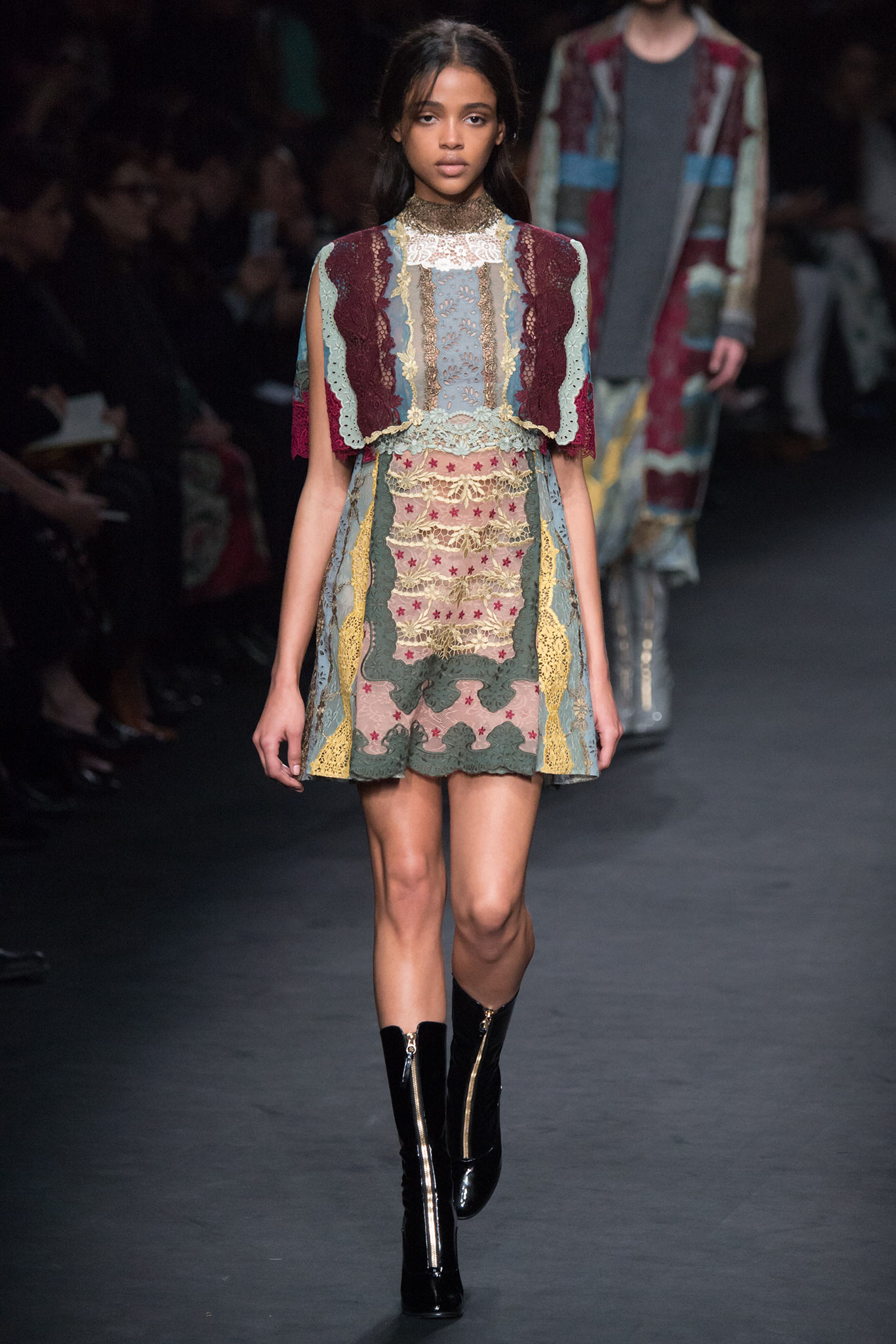 The most covetable minis out there are always light, festive, and charming with lovely assemblies of laces and silks, elevating the frocks out of dubious territory.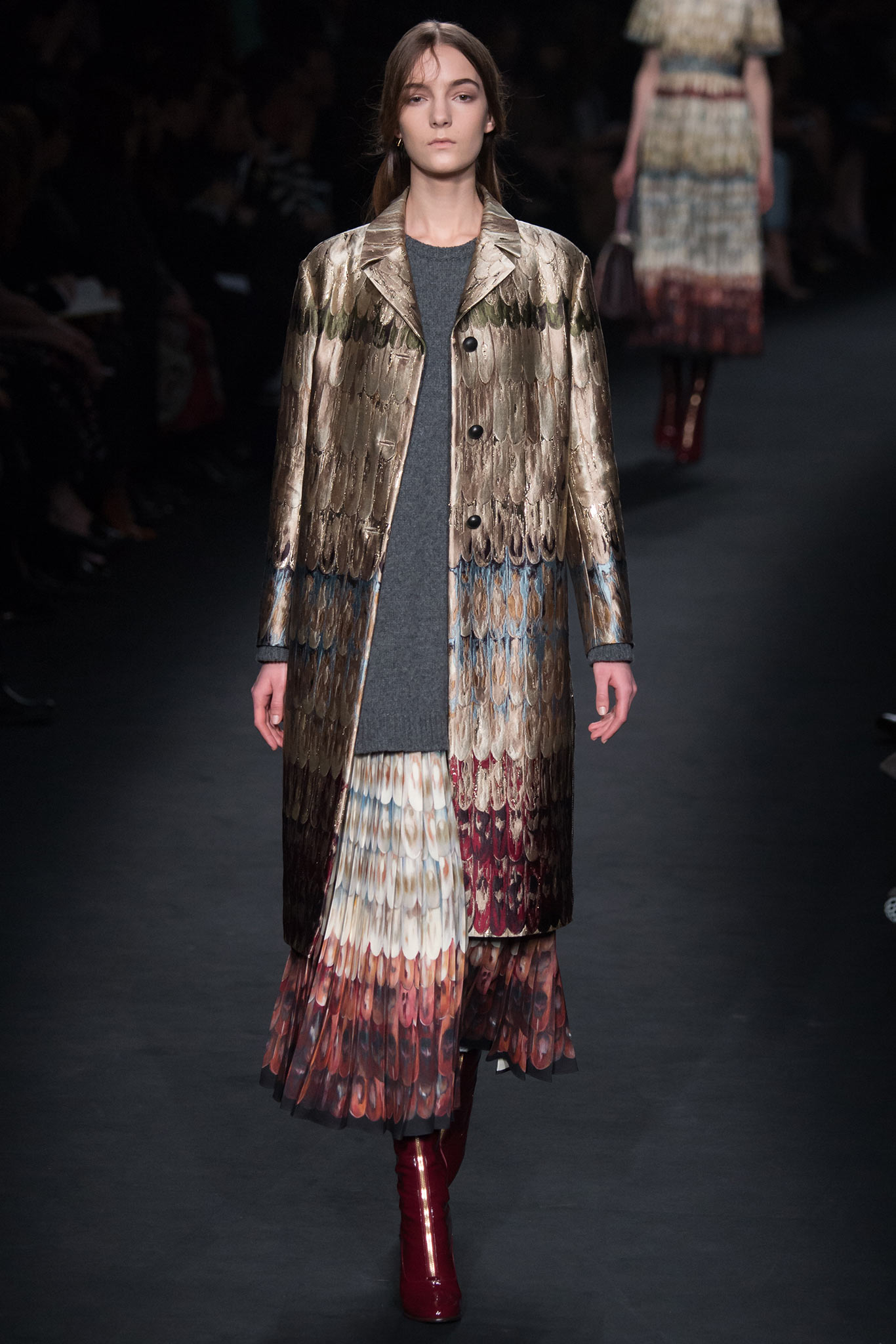 The silhouettes vary little between collections, yet the unique fabrications infuse a drool worthy quality into the pieces.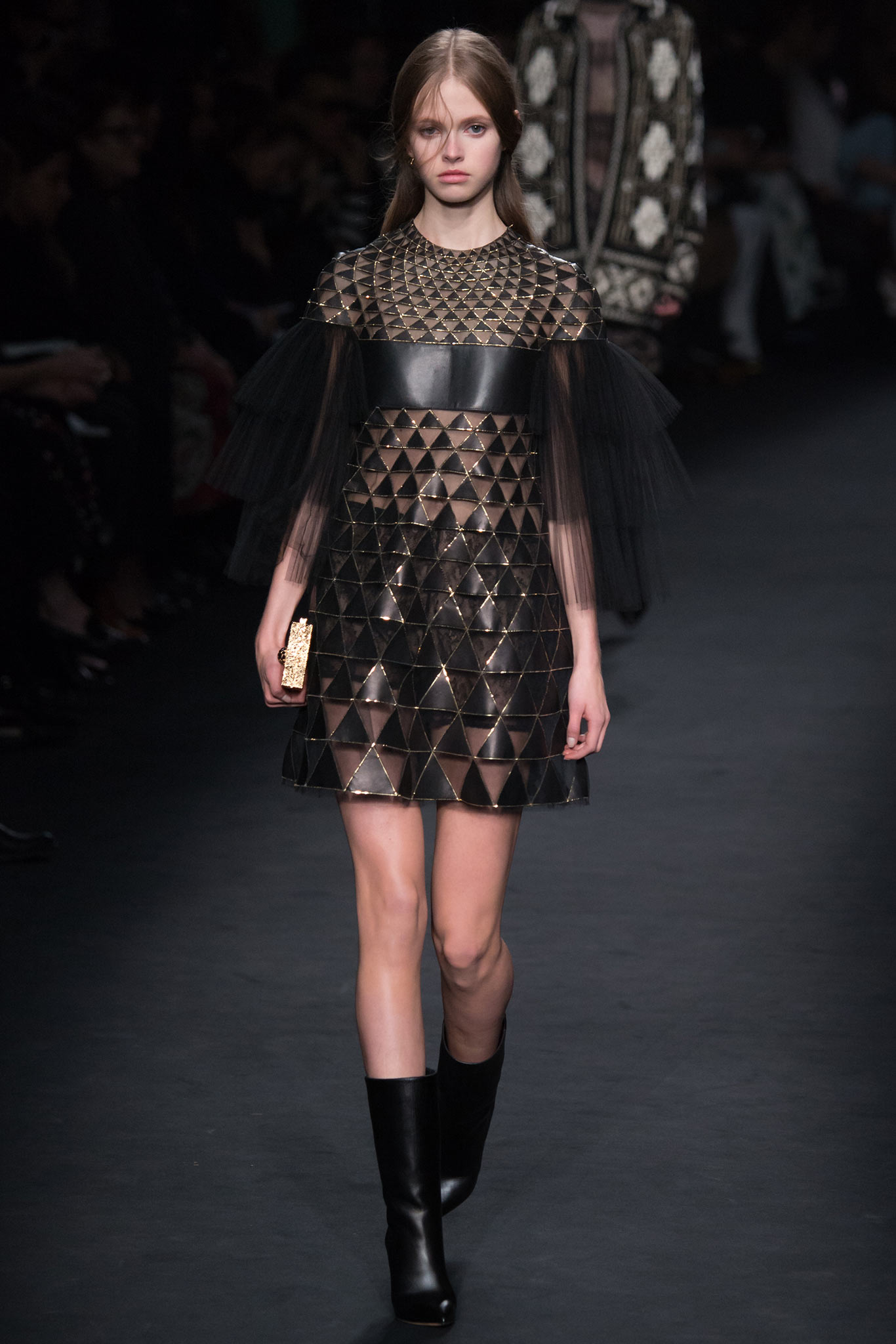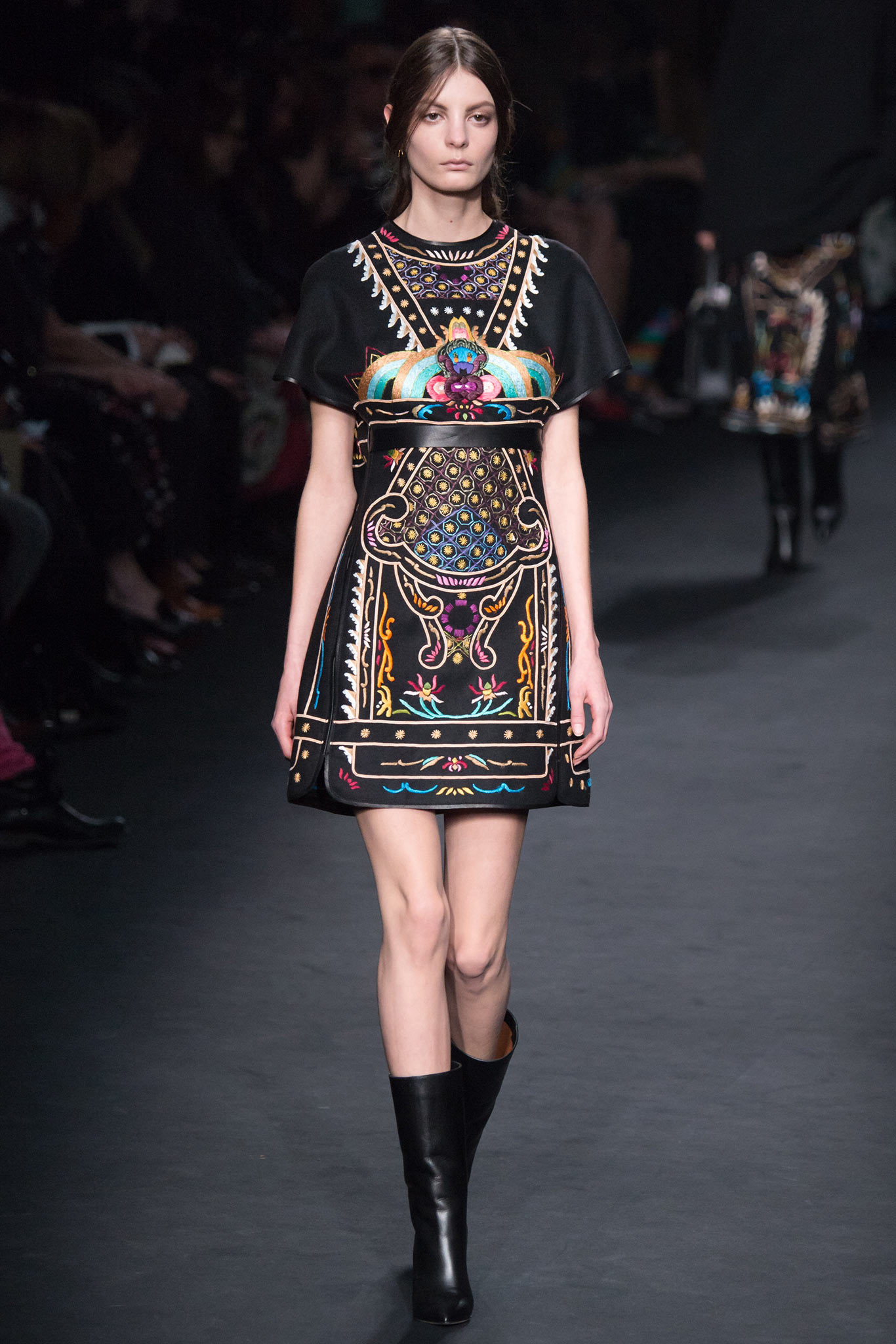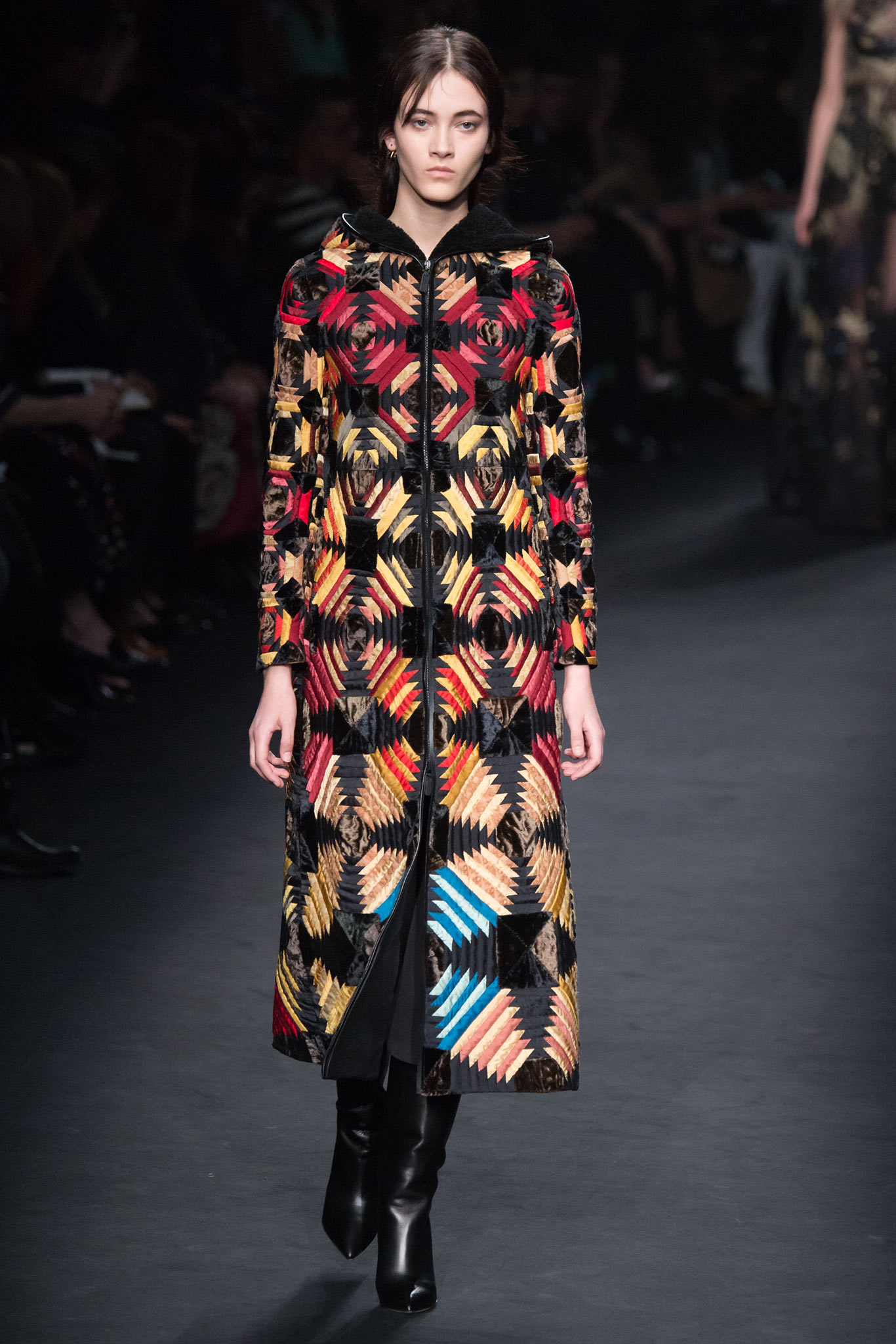 color, Color, COLOR! Another bullseye.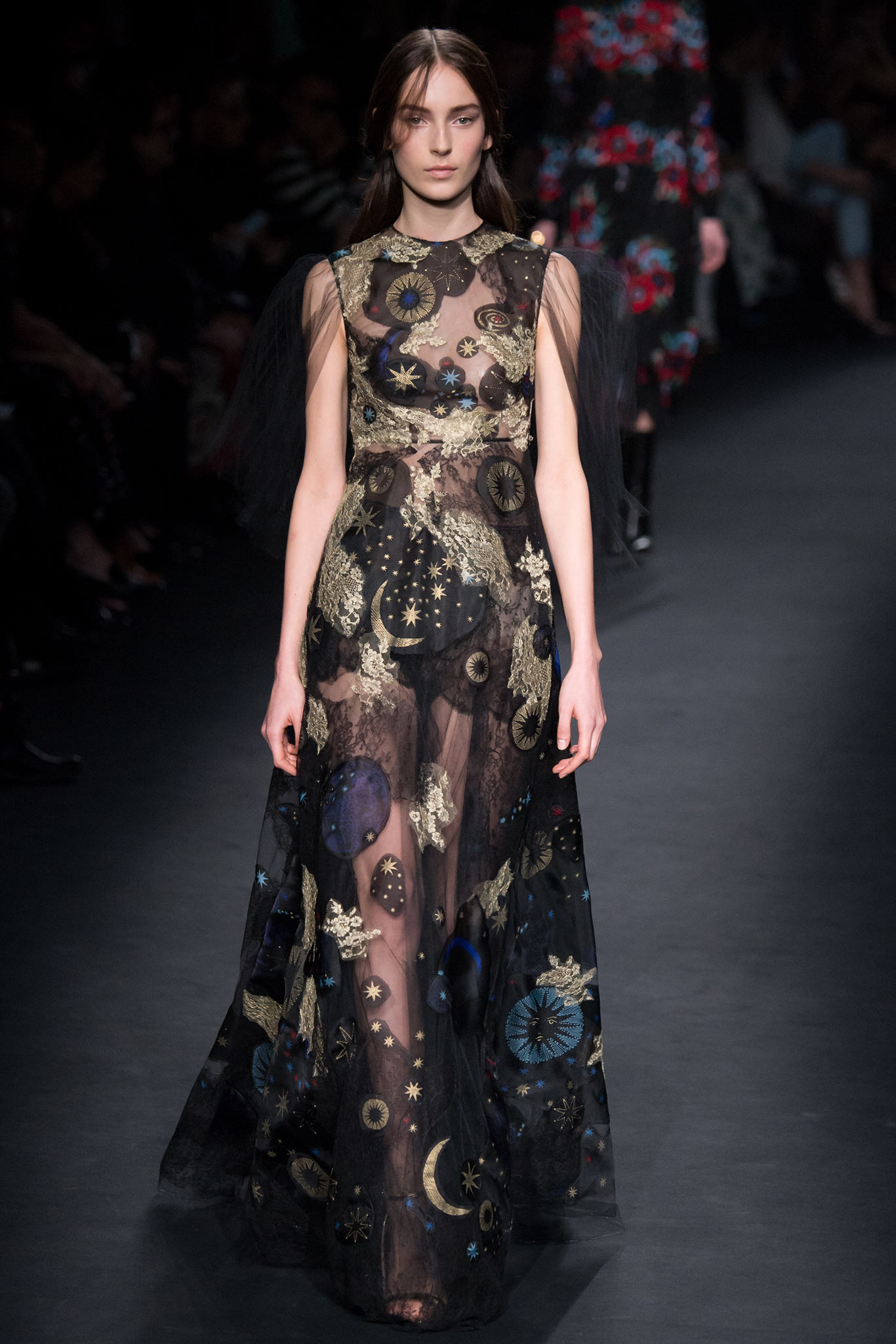 No one works yards of tulle and embellishments as this house, and to great perfection.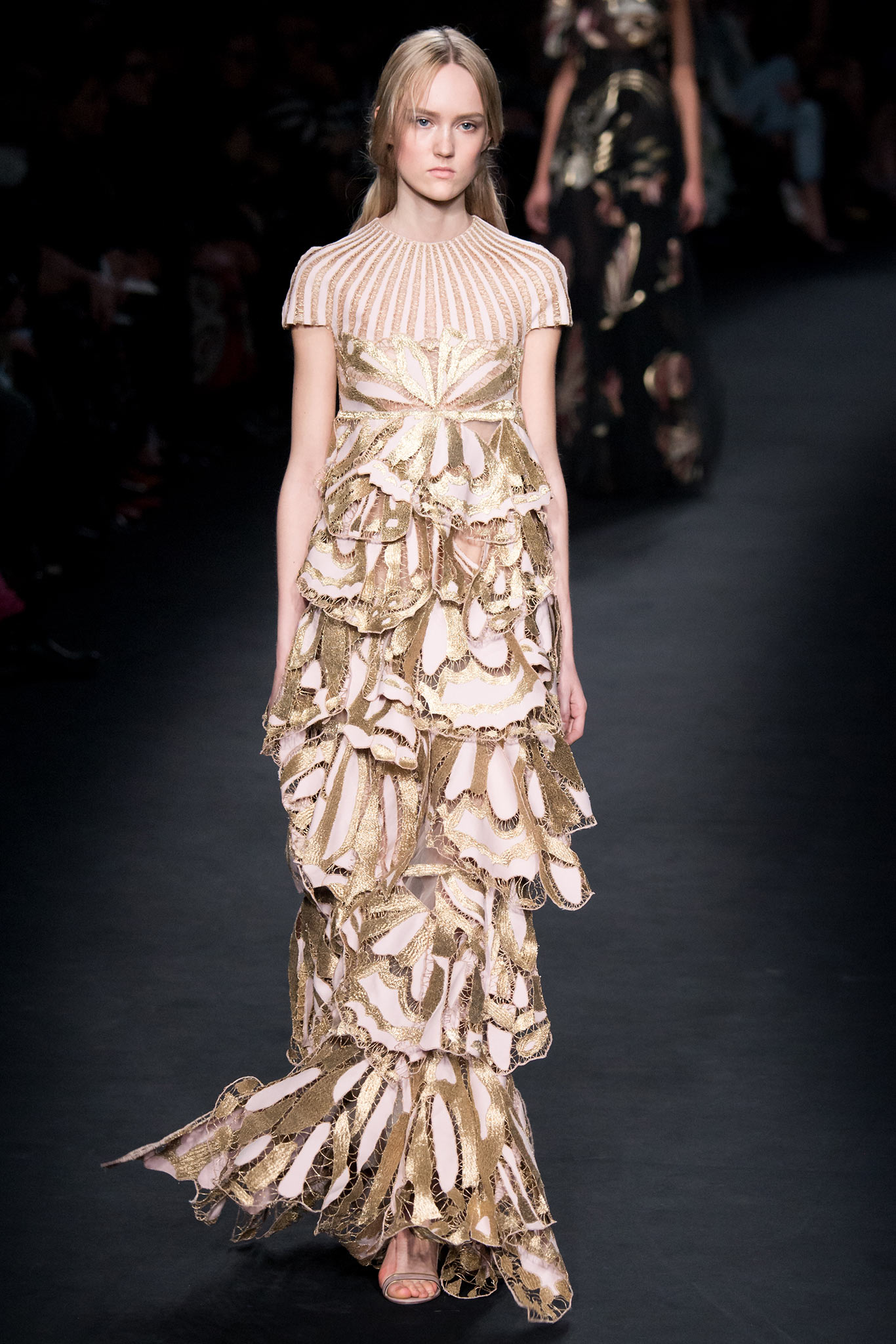 Cleopatra meets an enchanted forest.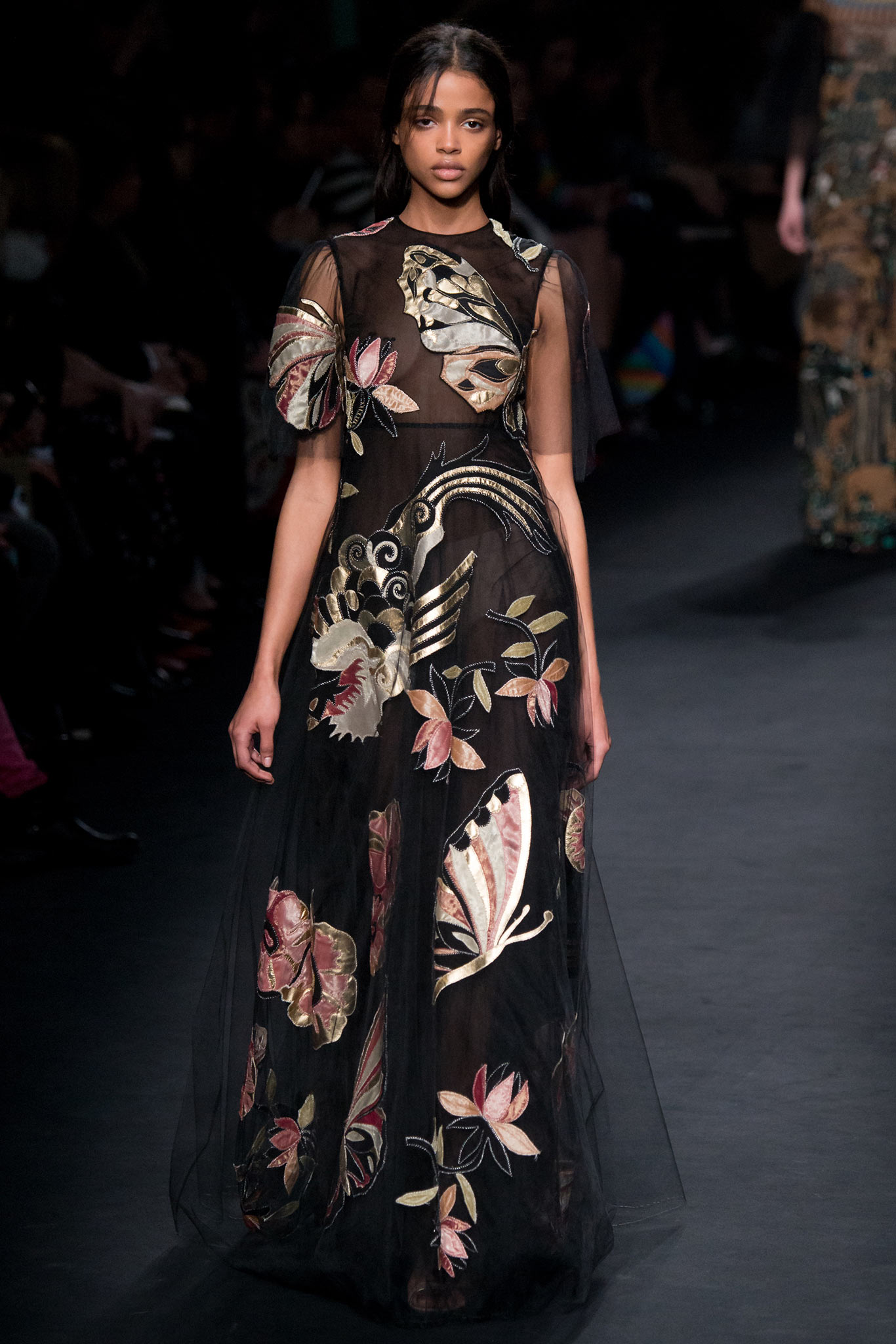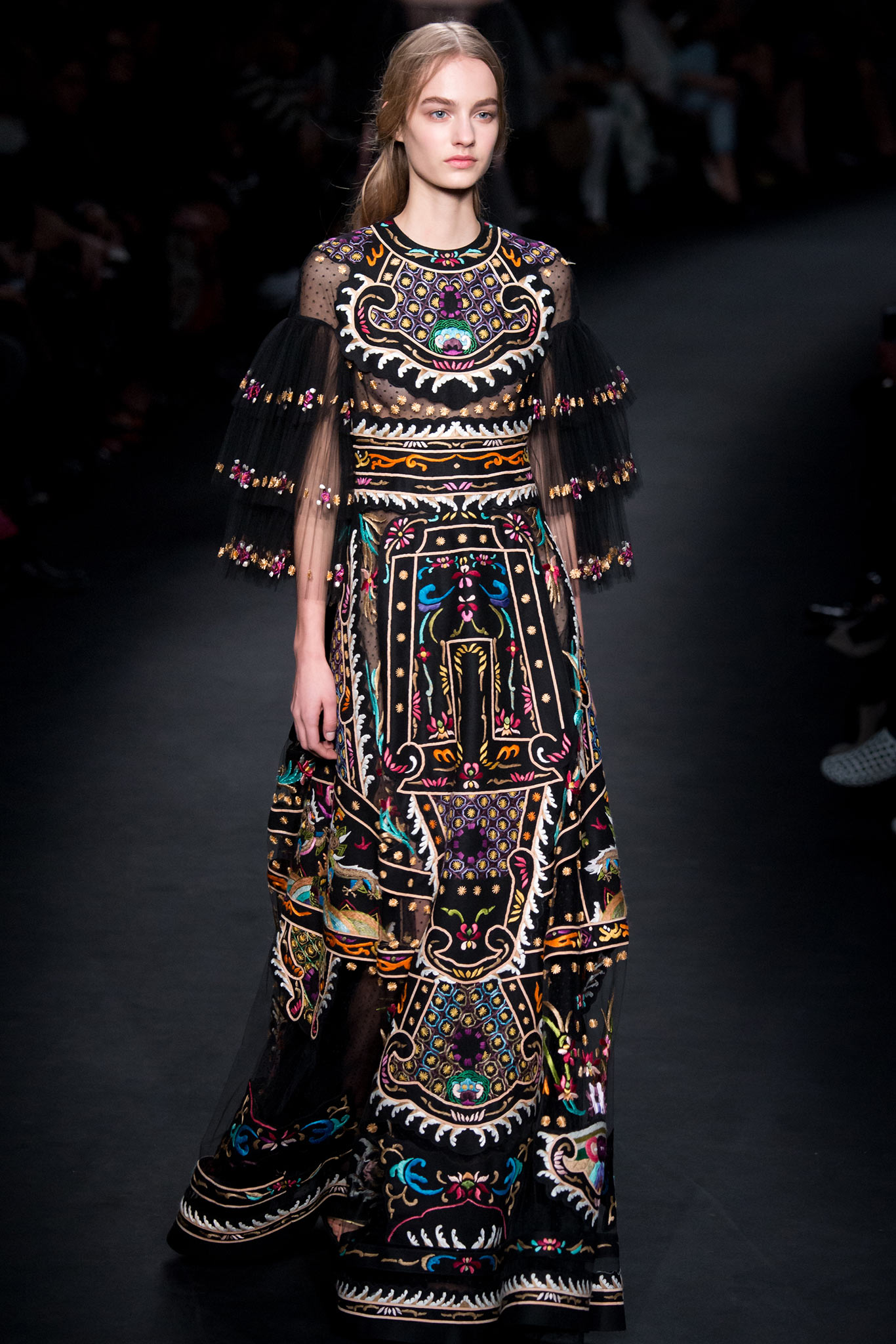 Ancient Egypt sensibilities invest this collection with a wondrous flamboyance.
Now, off to Paris.
Images brought to you by www.style.com