I always thought that spring and resort collections were lesser beasts compared with their more theatrical and luxurious fall winter cousins. Sort of second rate b.s. if you will. The genesis of this perception was the misguided thought that these collections were only practical if you spent your life on the beach or on a cruise (no judgement). Living in San Franciso, essentially a den of perpetual fog (rolling in as I write this) where "hot" days are sparse has led me to turn up my nose at these collections. Now that I am paying attention to all things spring, I must admit to having had a change of heart, in large part due to the recent additions. All I can say is brace yourself, and get ready to be impressed. Its time to swoon because sequins, tulle, beads, paillettes, chiffon, and all versions of finery are on display. And the best part about these collections? BRIGHT colors and wild whimsy are in abundance, to inspire a much needed collective joie de vivre. Anything to bring us out of our global panic induced by the specter of the four men of the apocalypse galloping at full speed towards us at all times.
The fantasy continues: (Some of these pieces are so spectacular they might inspire ole Punxsutawney Phil to ignore that damn shadow!)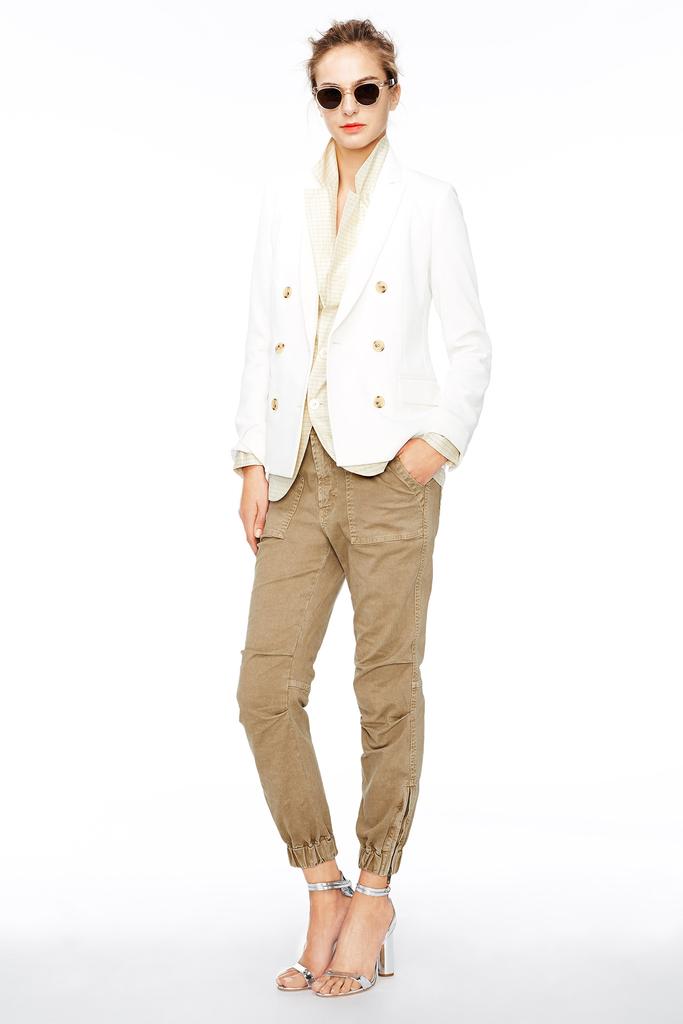 Ahhhh, I'm time traveling back to my freshman year at Berkeley with those brown pants with the zipper detail and the elastic cuffs. Had those same pants in gray, wore them everywhere, to all the football and rugby games, chasing boys........good times. Skip the strappy sandals (?!?) and wear these with flats, sneakers, or shoe booties. OR, under riding boots (a must have staple).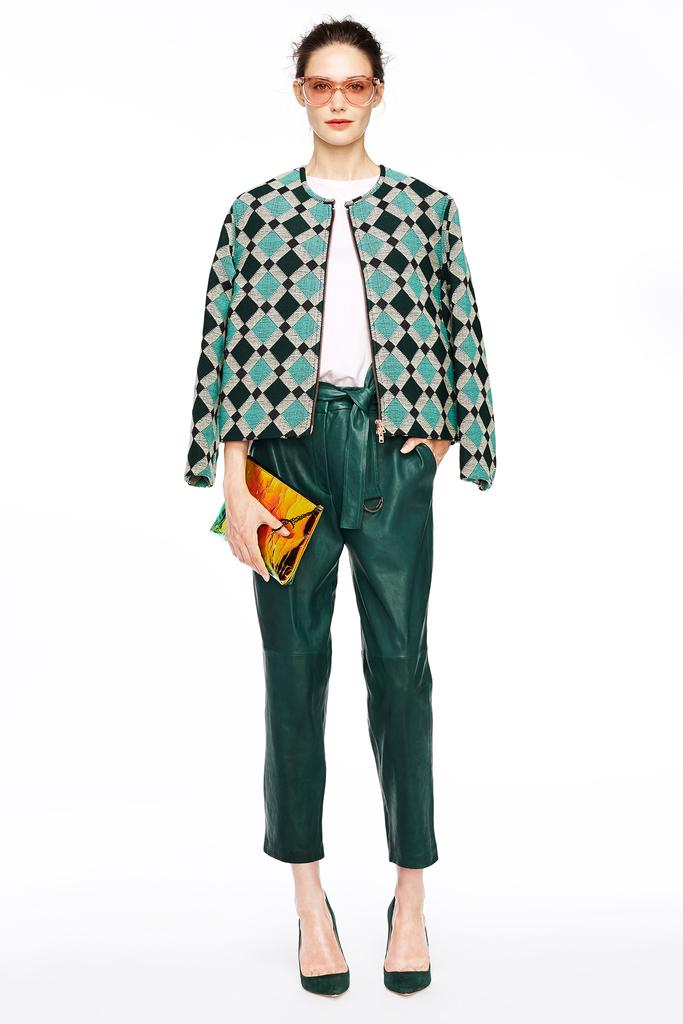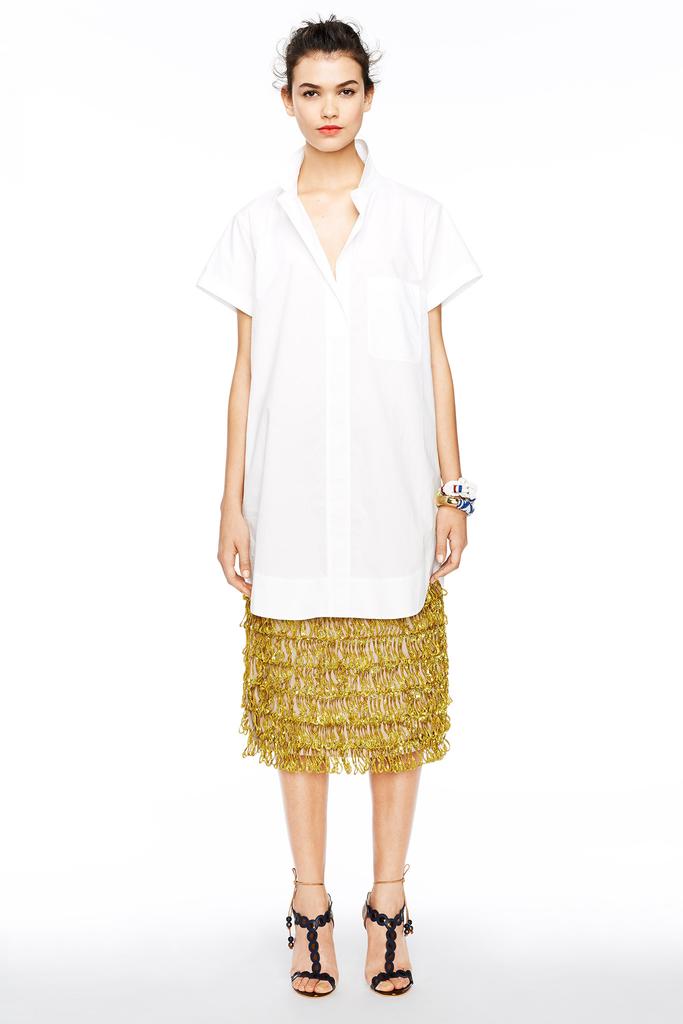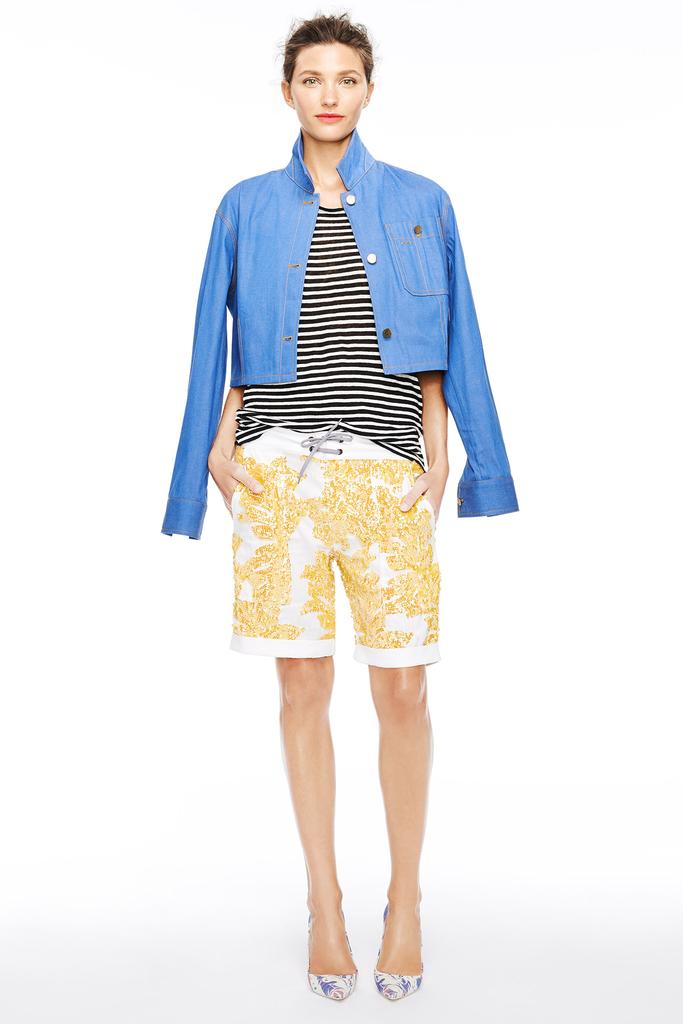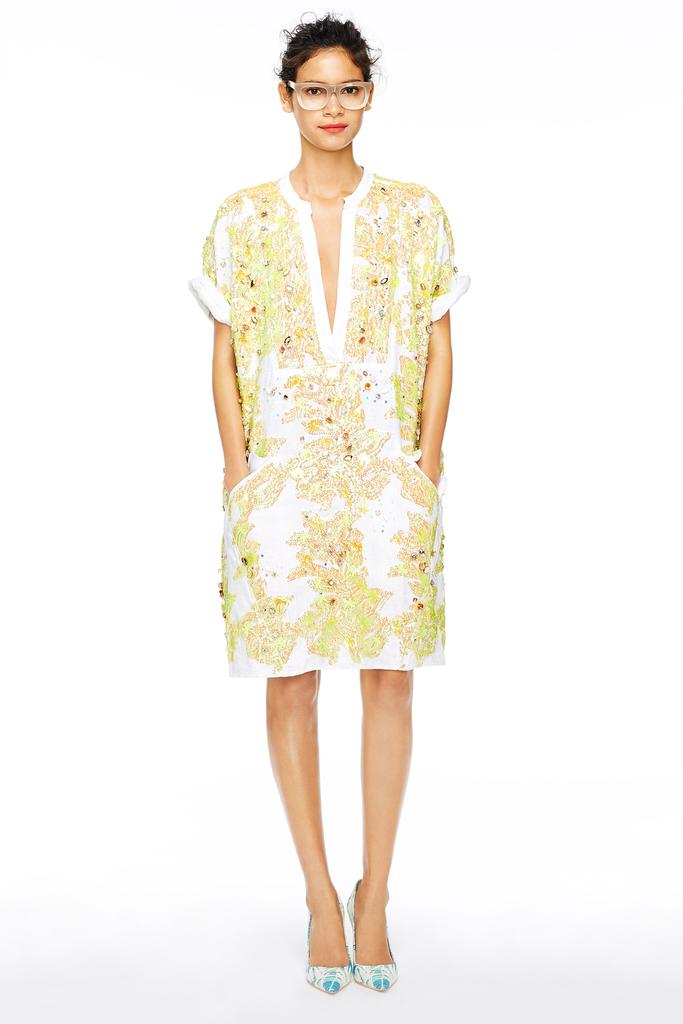 J CREW
What more do you need as proof of J Crew's fashion bonafides? All the pieces are wearable, visually engaging and happily variable! Do I care if the green leather pants are part of a more "cohesive" collection? Um, NO, WHO CARES? I want all these pieces, even those gold brocade board shorts! And I don't even surf. From jeans to rhinestone encrused tunic, all thumbs up.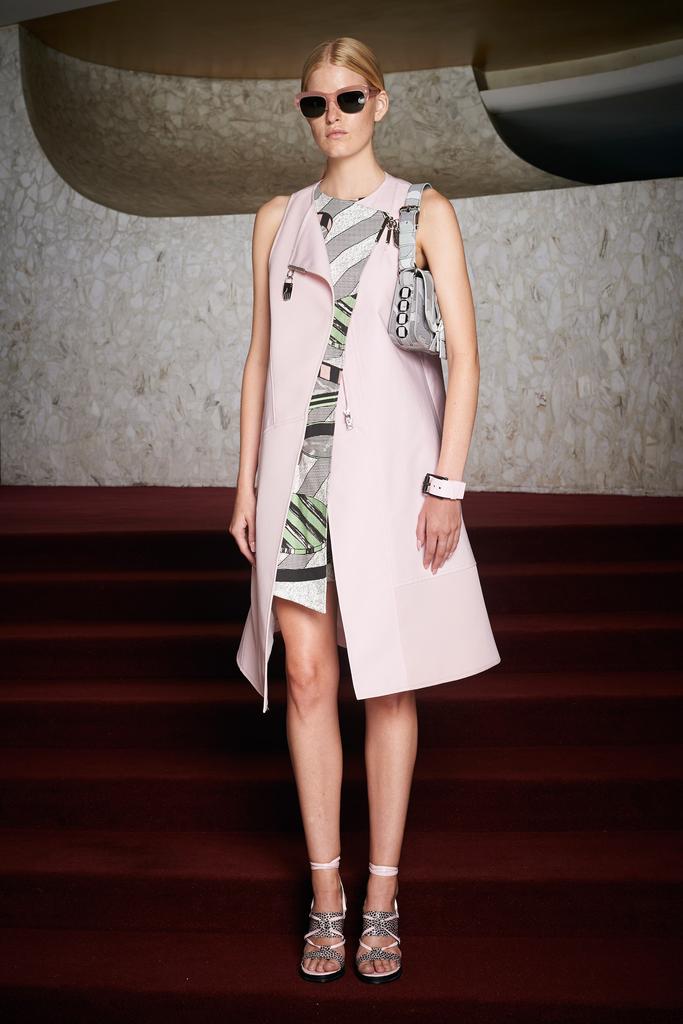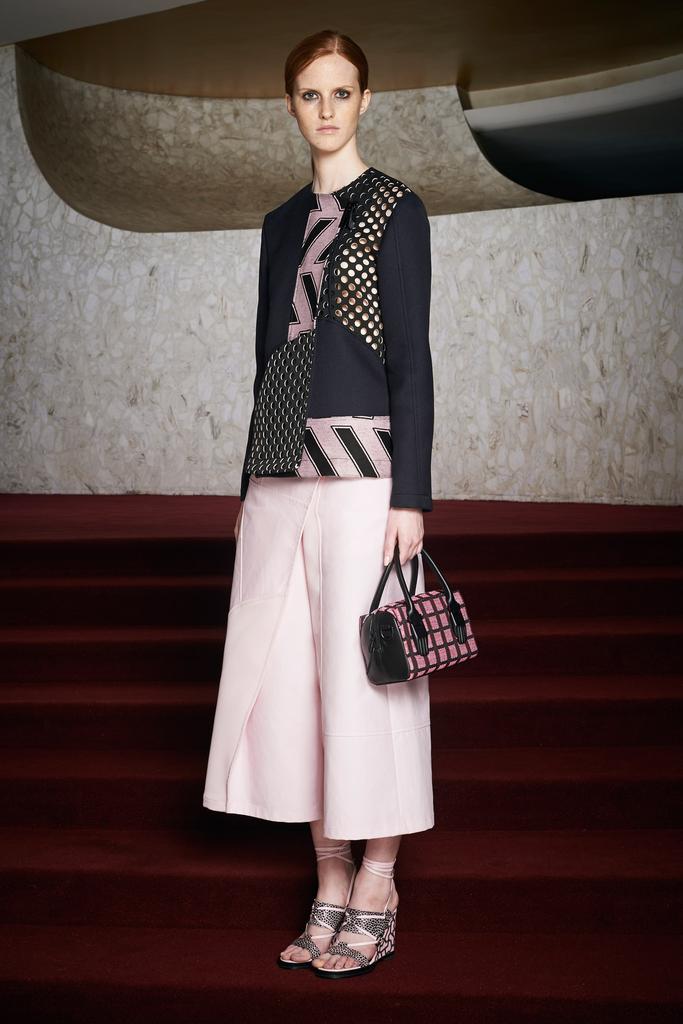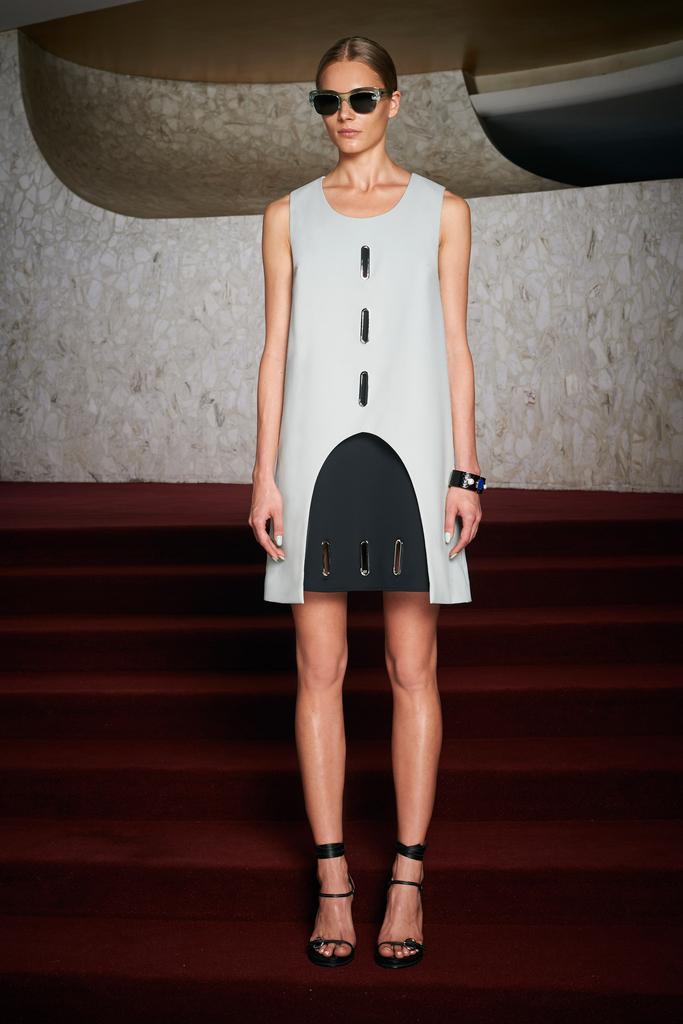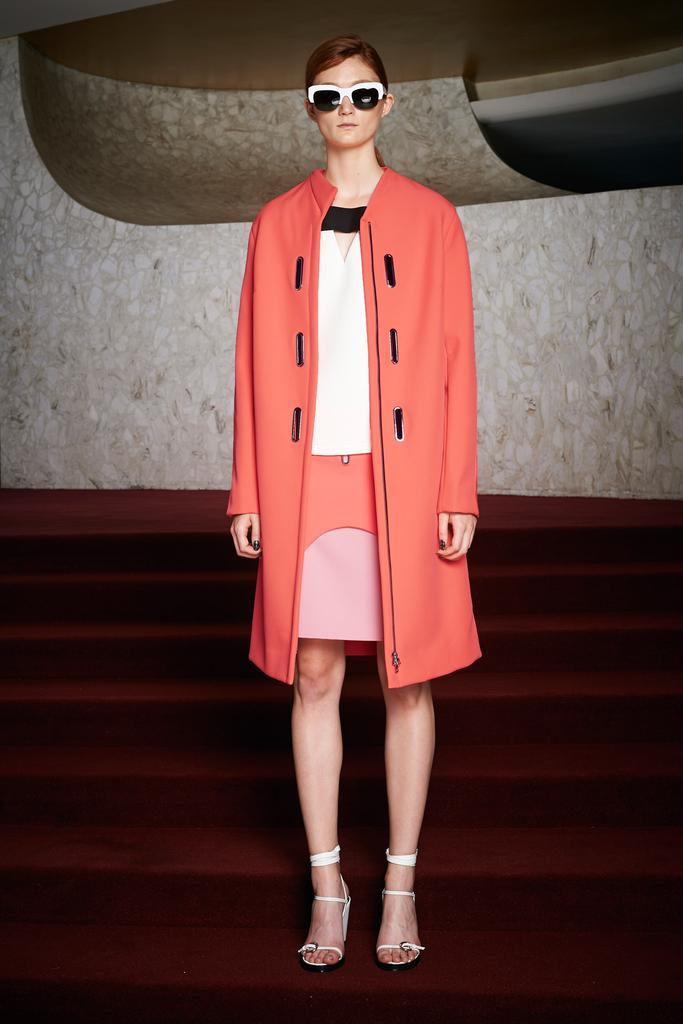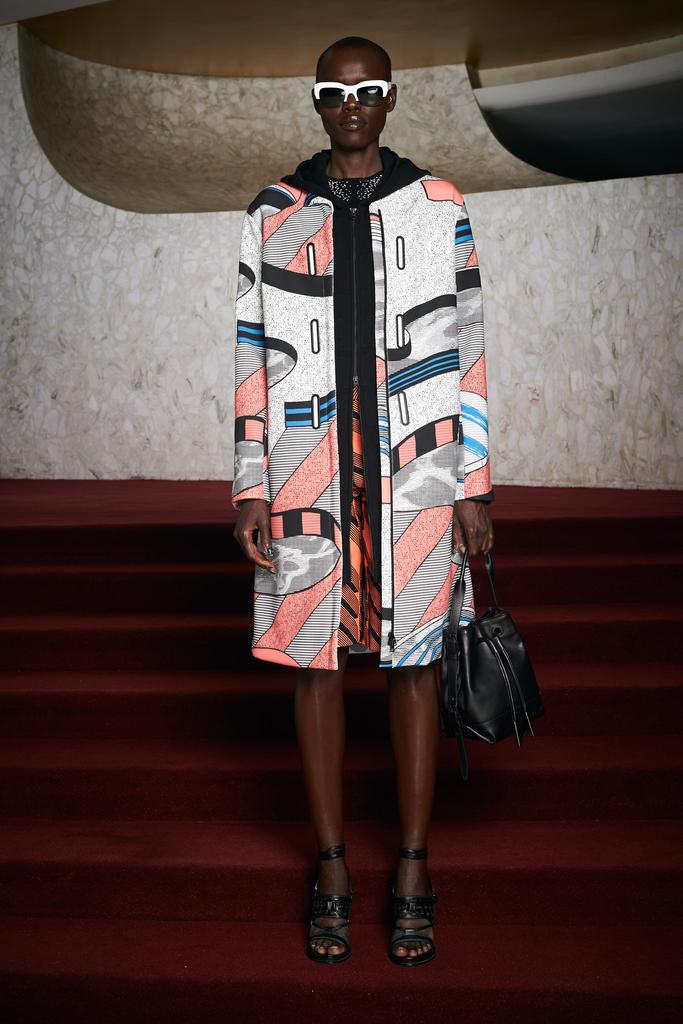 OPENING CEREMONY
For those who appreciate spring pastels with a modern vibe. The coral jacket would be a good staple piece and would look fantastic over skinny pants, pencil skirt, or jeans. Think of it with a crisp white shirt or celadon or powder blue silk top.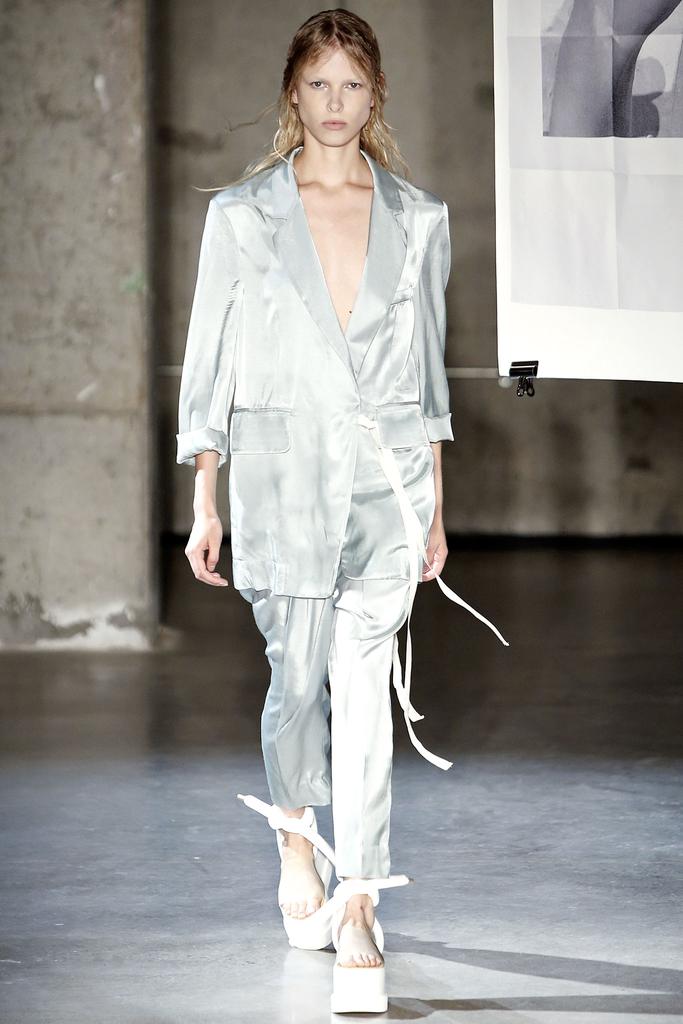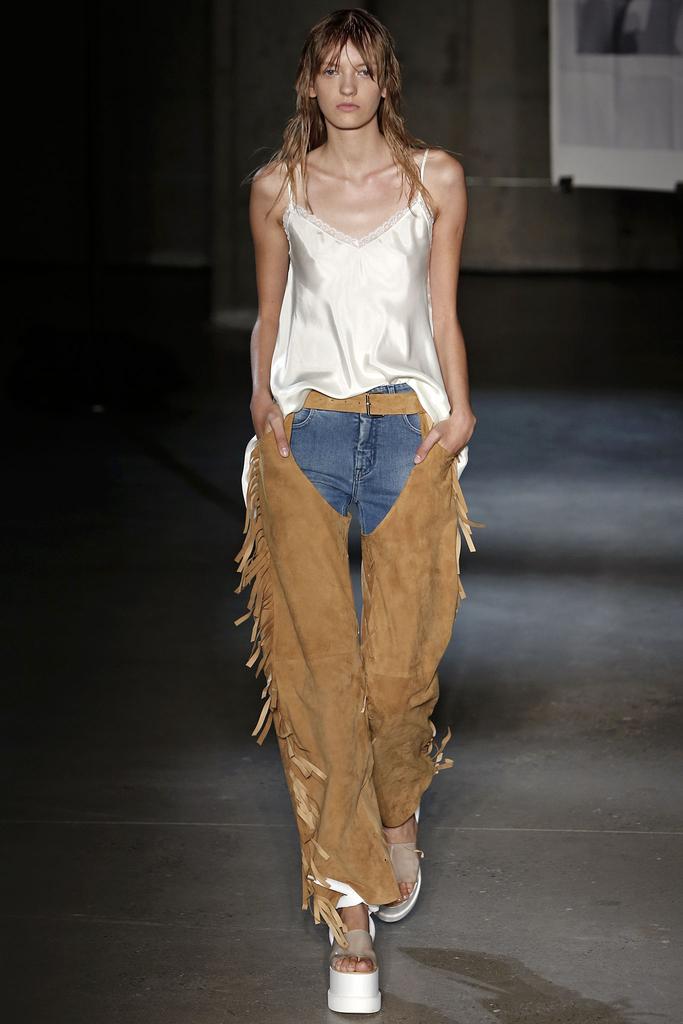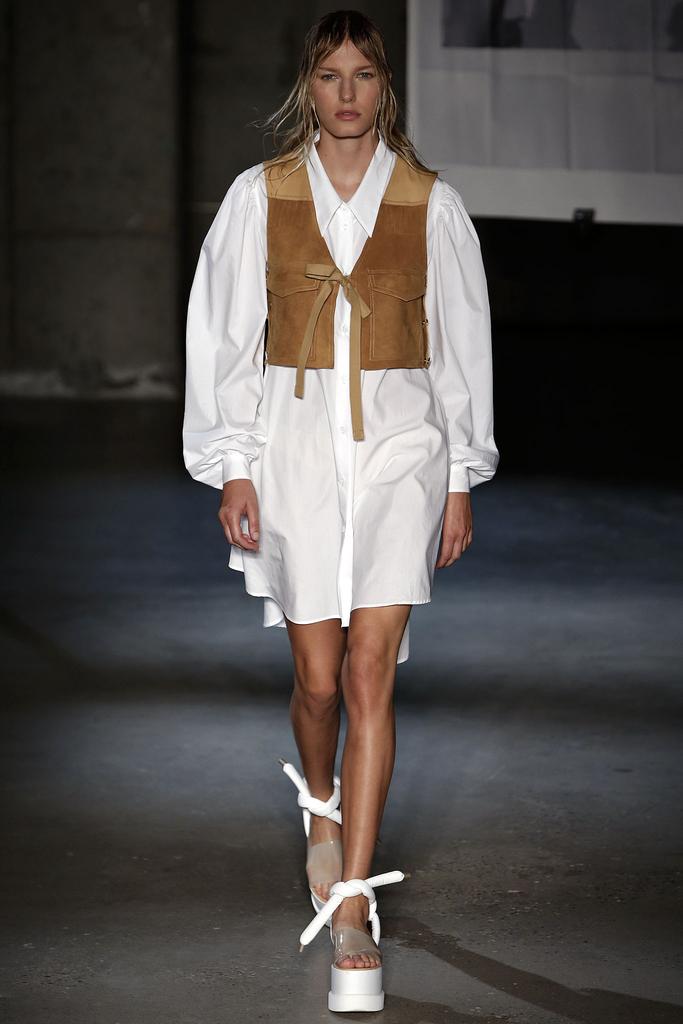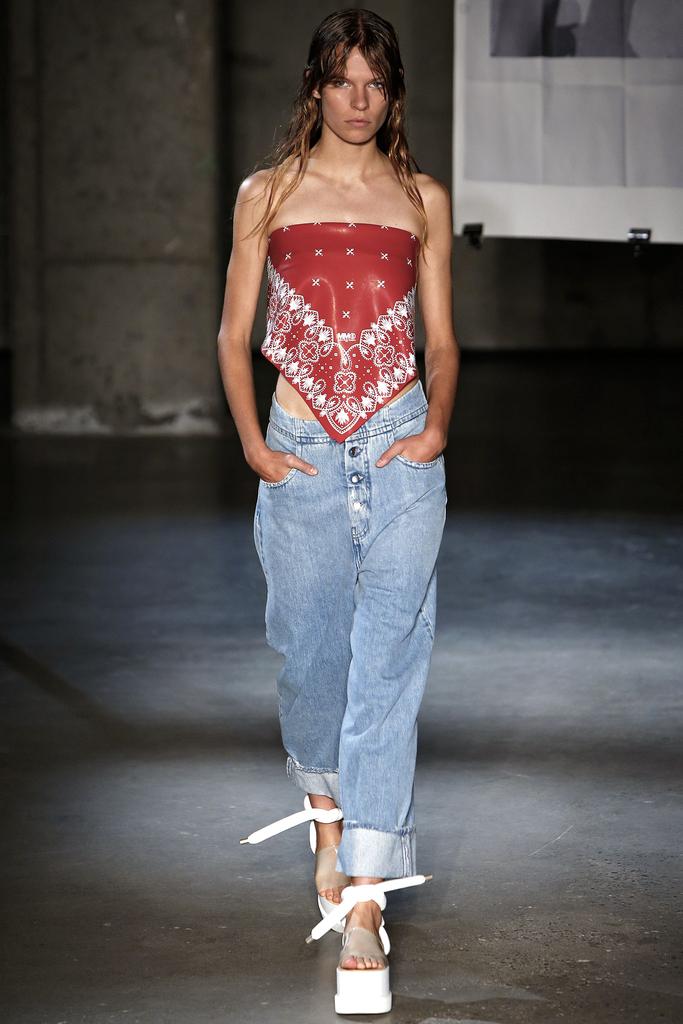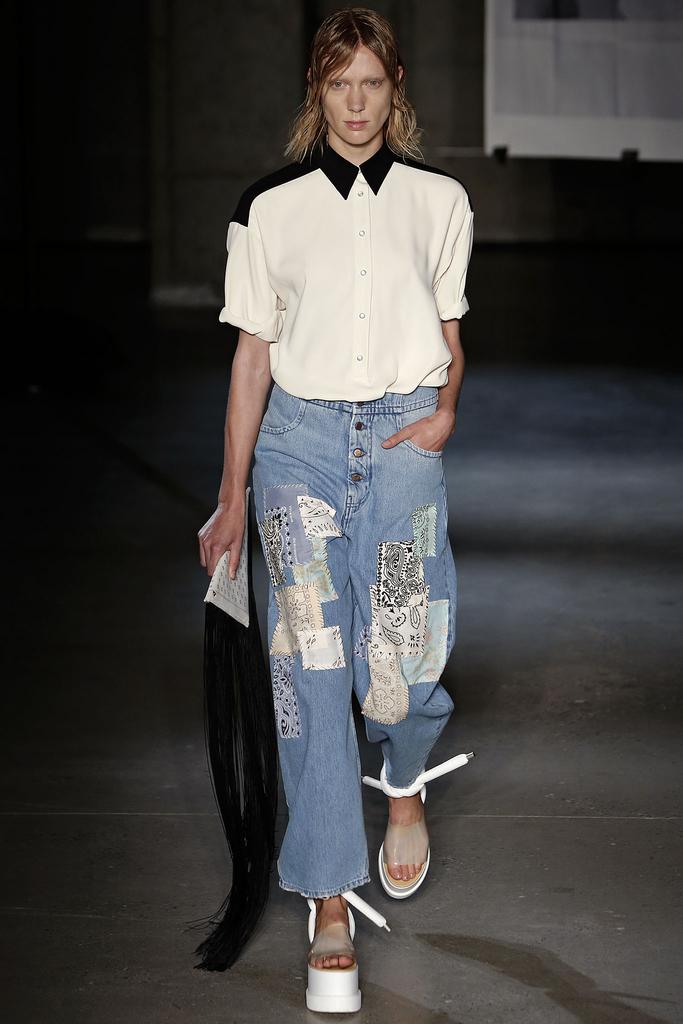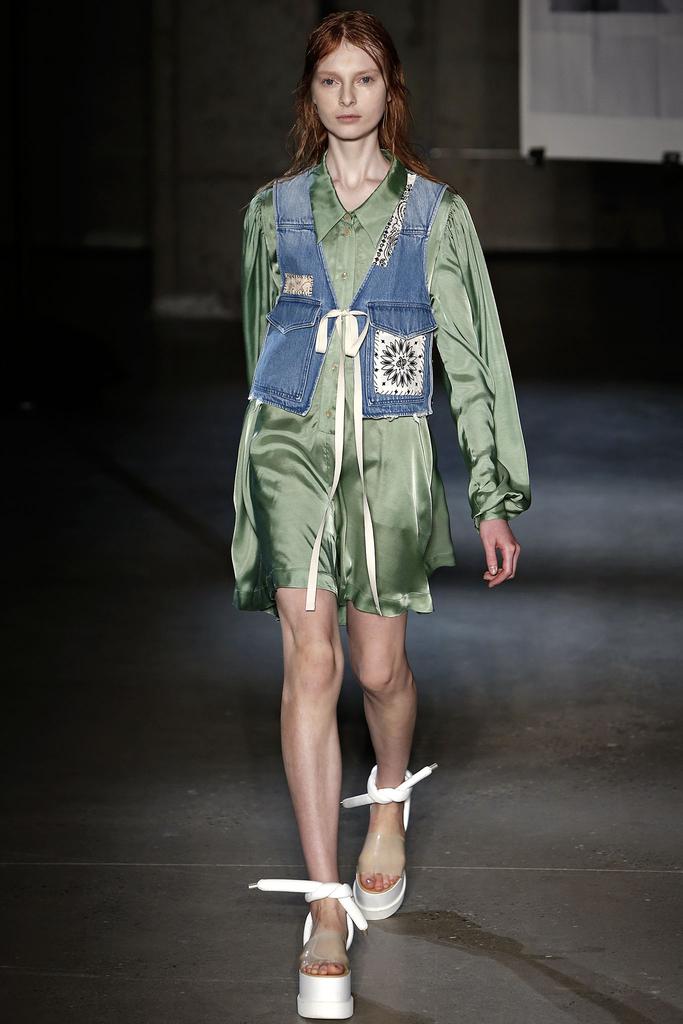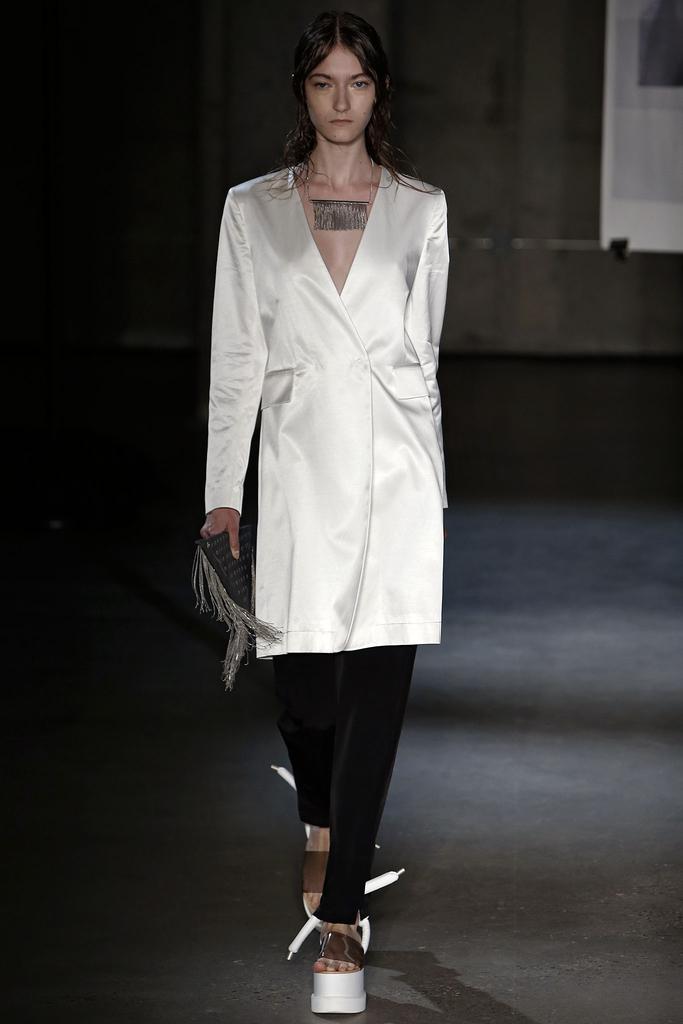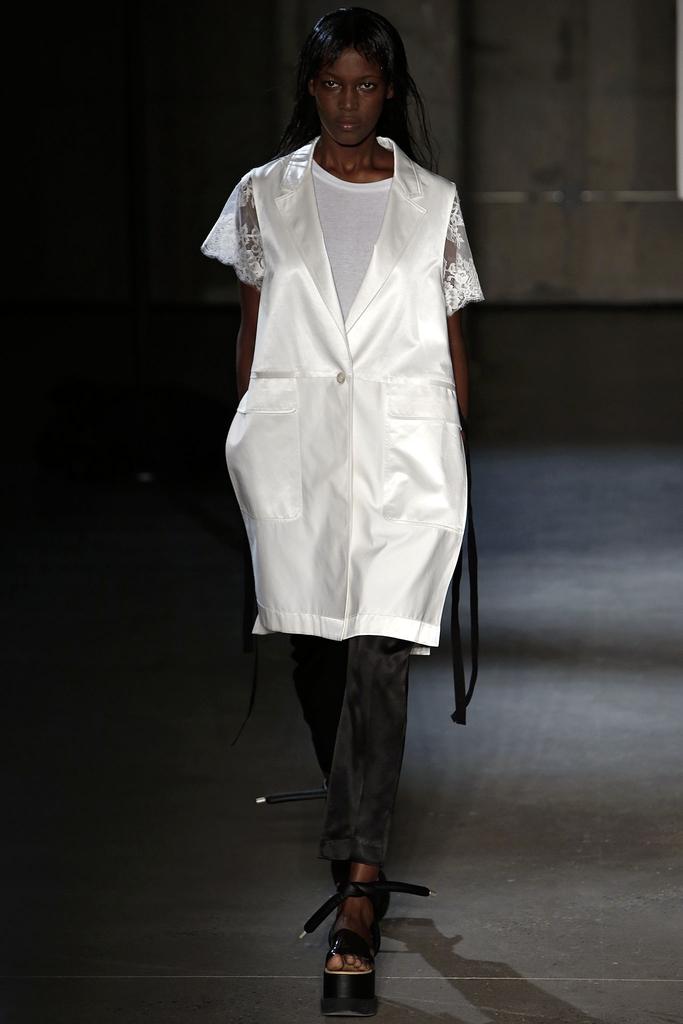 MM6 MAISON MARTIN MARGIELA
This collection provided us with an interesing blend of cowboy lux, prairie casual, pristine but cool white silks, and my personal favorite, THE BIG WHITE shirt (with the puffy sleeves no less), that could double as a dress or tunic. And see how the big white shirt has made a new friend of the little leather vest. Not everyone can pull off the red leather bandana top, but it was too fabulous to leave out. You could show courage without fearing an indecency misdemeanor by wearing that top over a white shirt! Moral of the story? Always have a stable of white shirts of differing styles for underpinning purposes.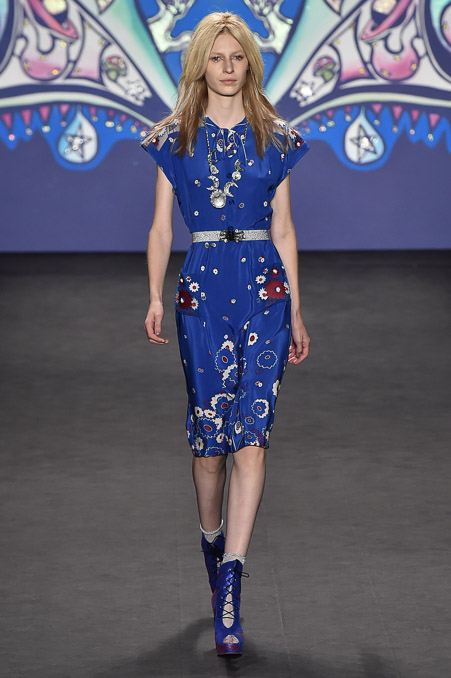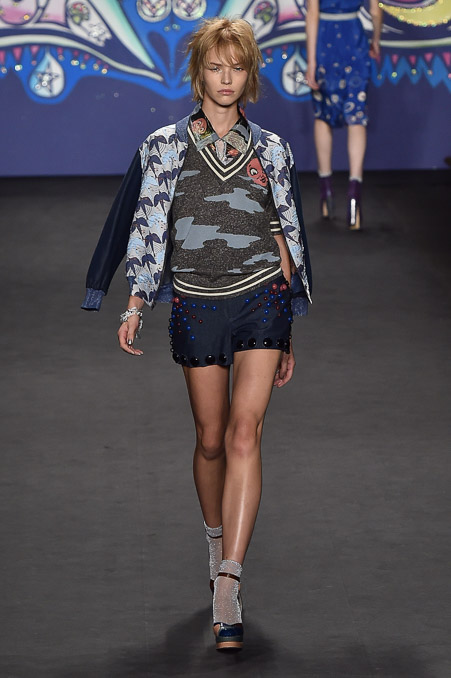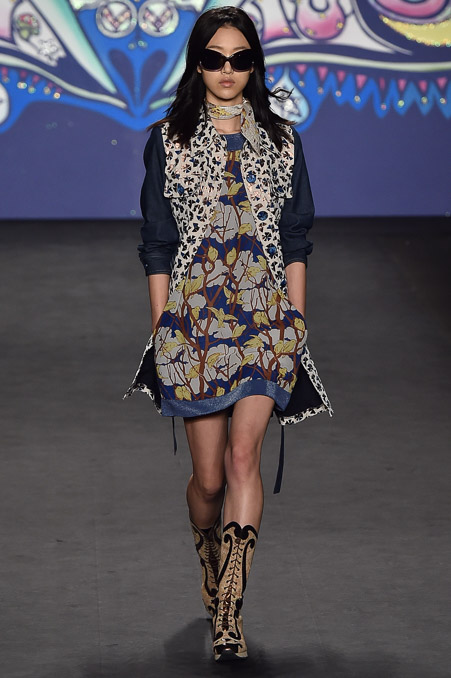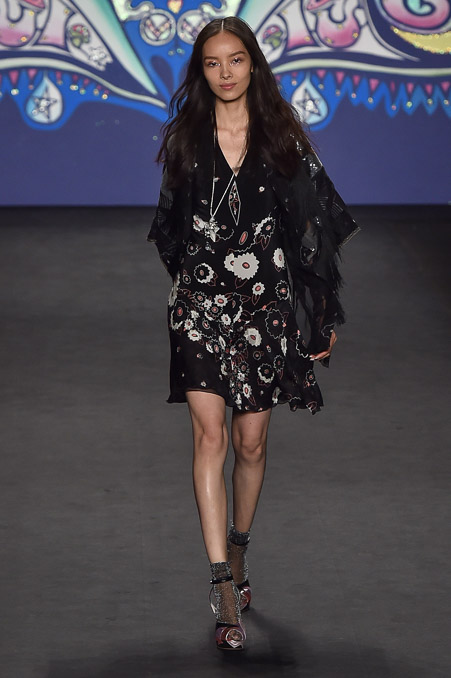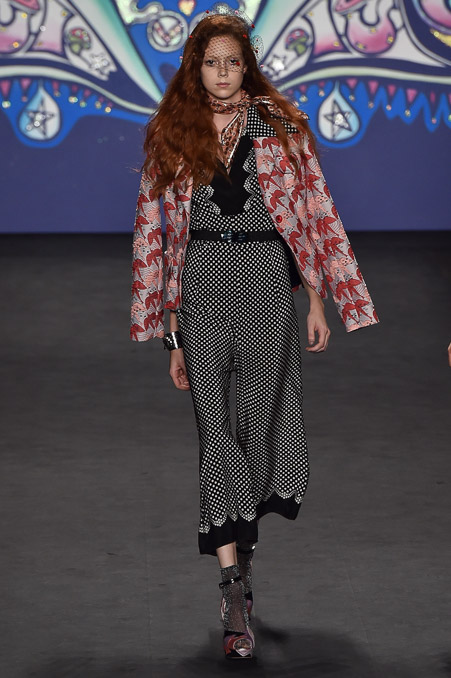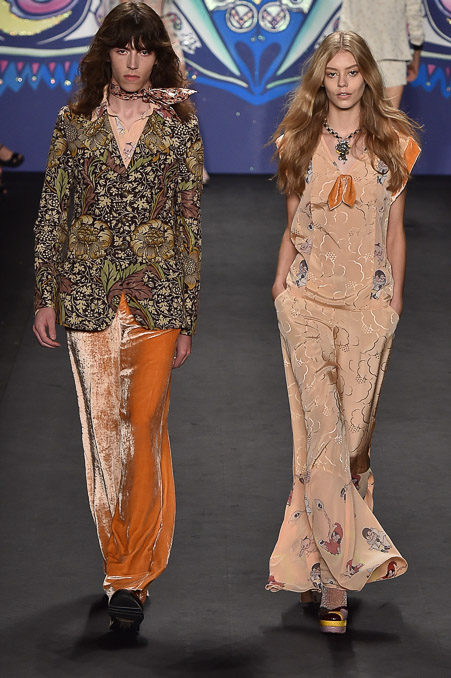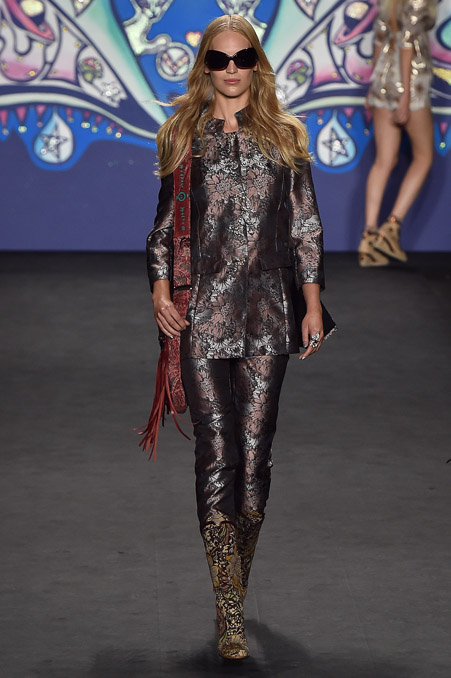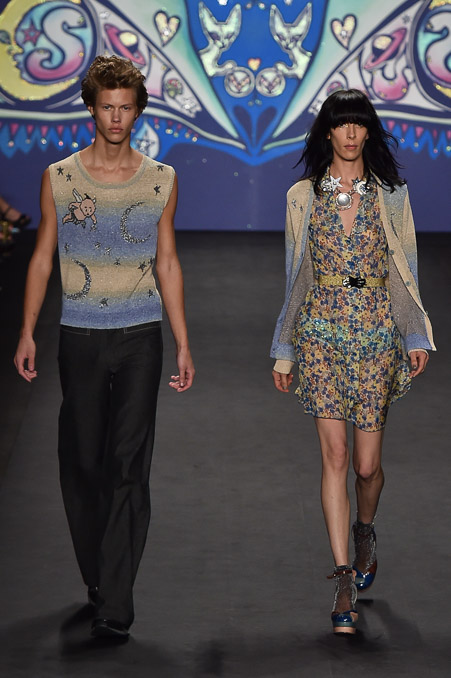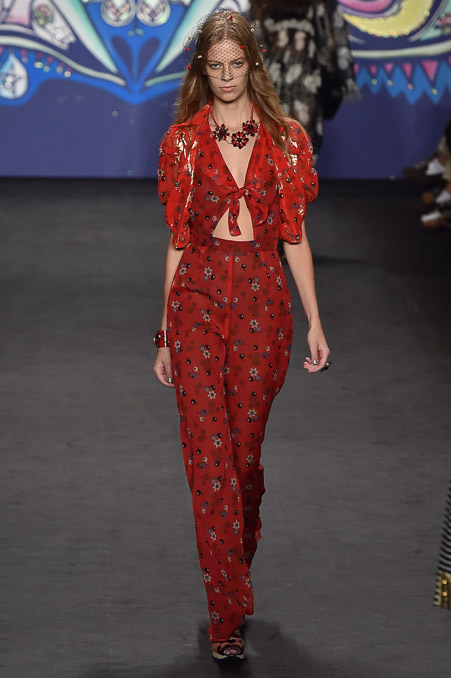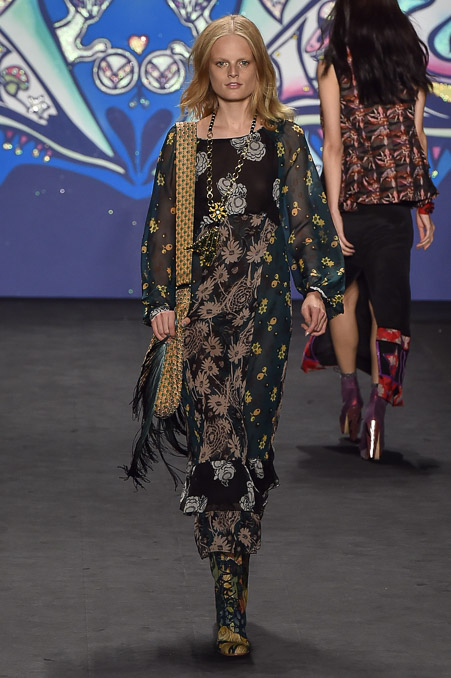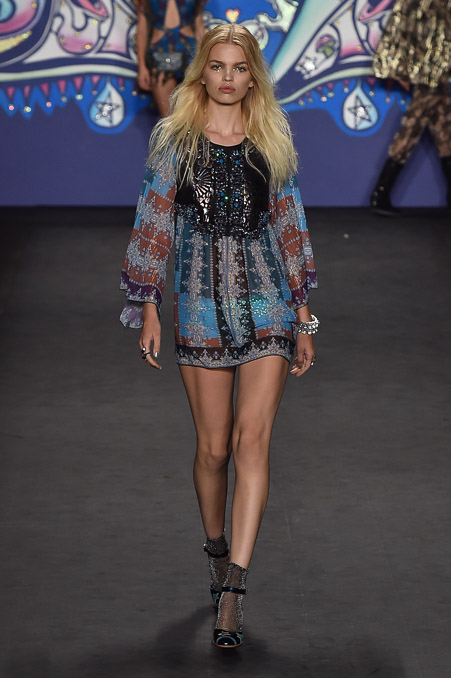 Get a load of that bedazzled mini! I would wear it as a tunic over skinny jeans, maybe even under a black tuxedo jacket. BAM!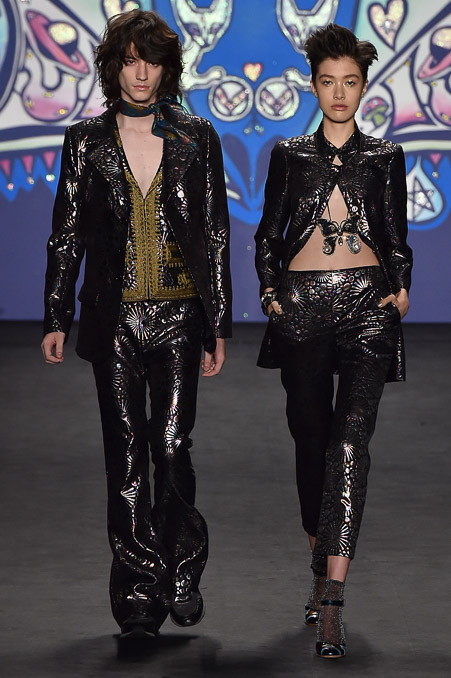 My favorite suit, and that includes anything from fall winter. Metallic floral jacquard. Wear over an off white chiffon blouse OR a white shirt for contrast with that brilliant fabrication, WITH shoe booties.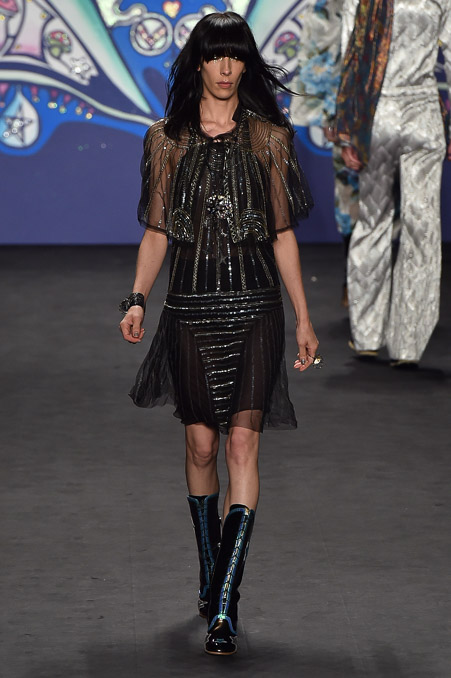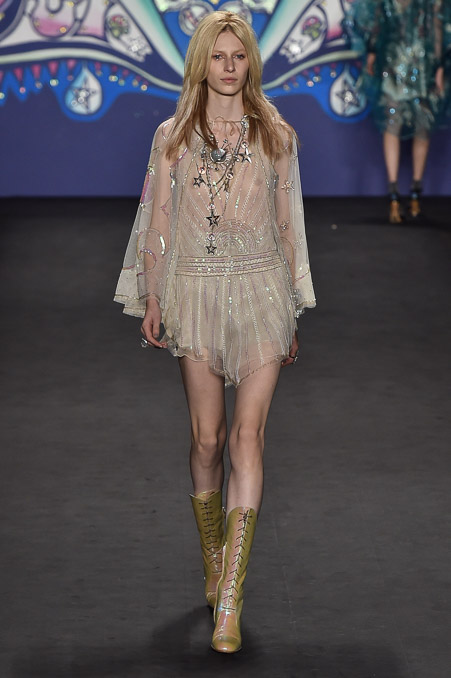 Sigh. It was tough to pick these few looks from the 48 shown. Much like Carolina Herrera and Oscar de la Renta are the go to designers for socialites and openings and Rick Owens ministers to the cool and hip chicks, Anna Sui is the designer of choice for all who live and die by bohemian 70's inspired flowy silken tunics and maxi dresses, BOHO chic. All these concoctions are delectable. Flowy, fanciful, feminine.......and don't forget, any mini can be worn as a tunic, and for the shockingly sheer pieces, a well placed underpinning will alow you to have no fear! The last piece harkens back to Marianne Faithfull during her Rolling Stone's days.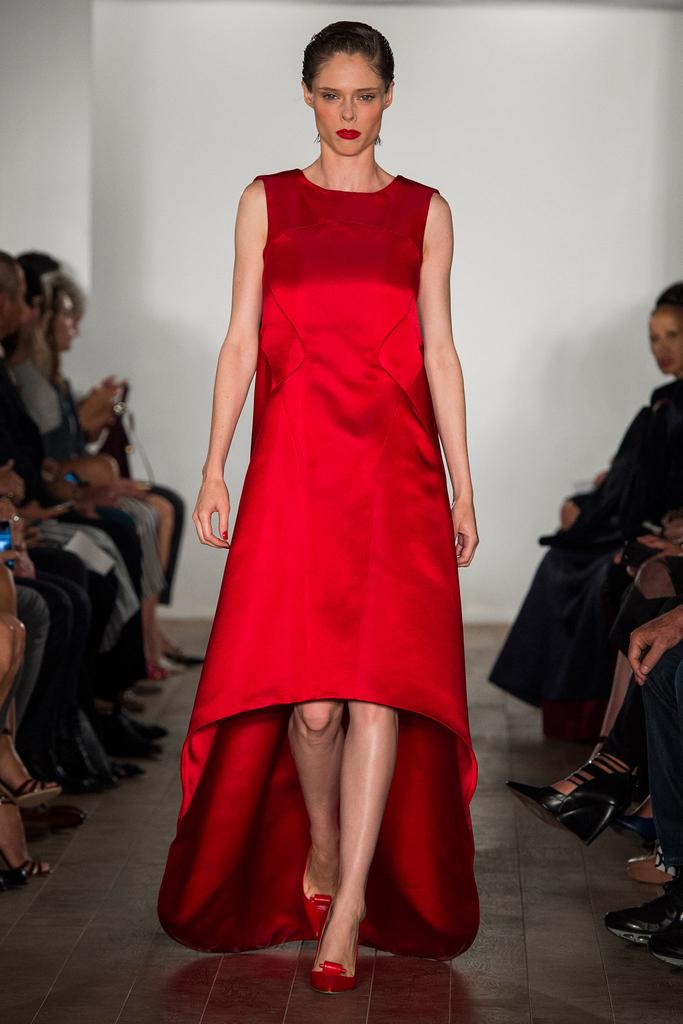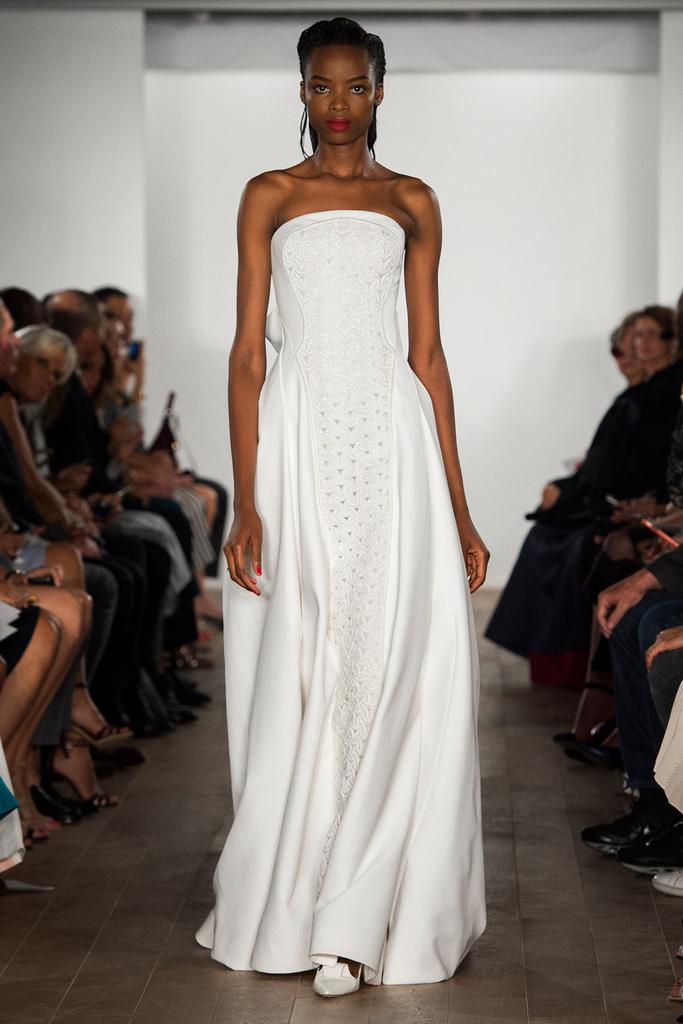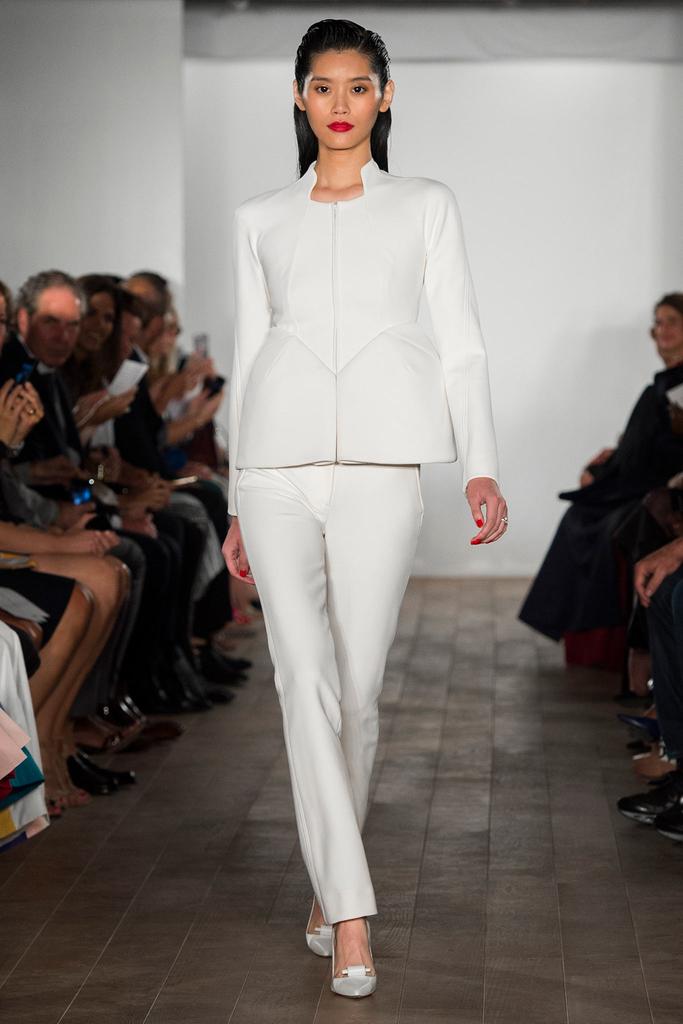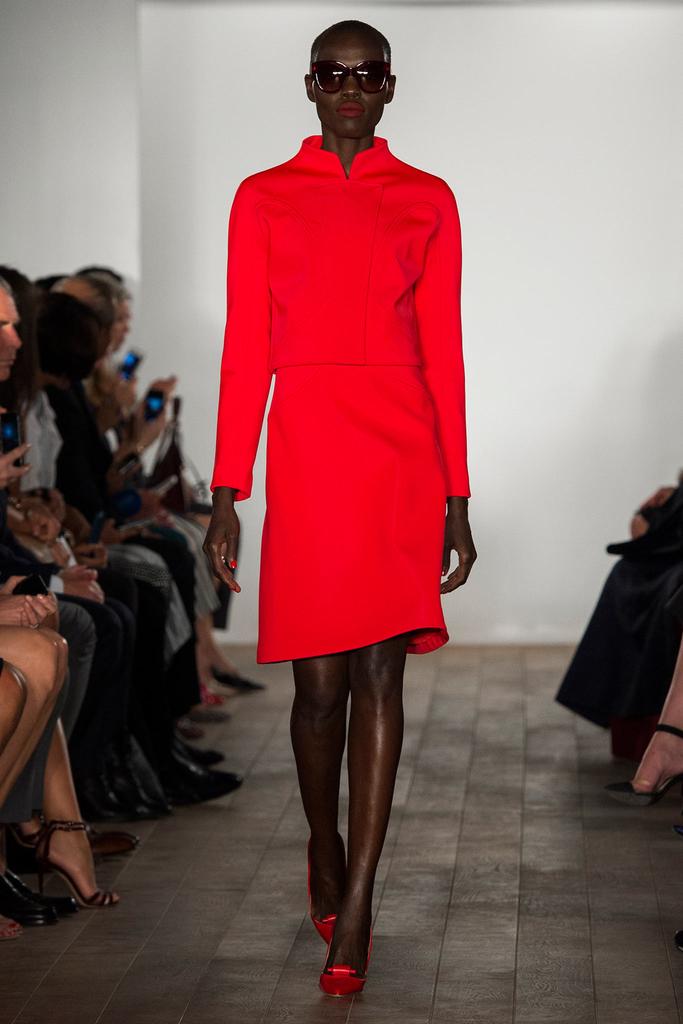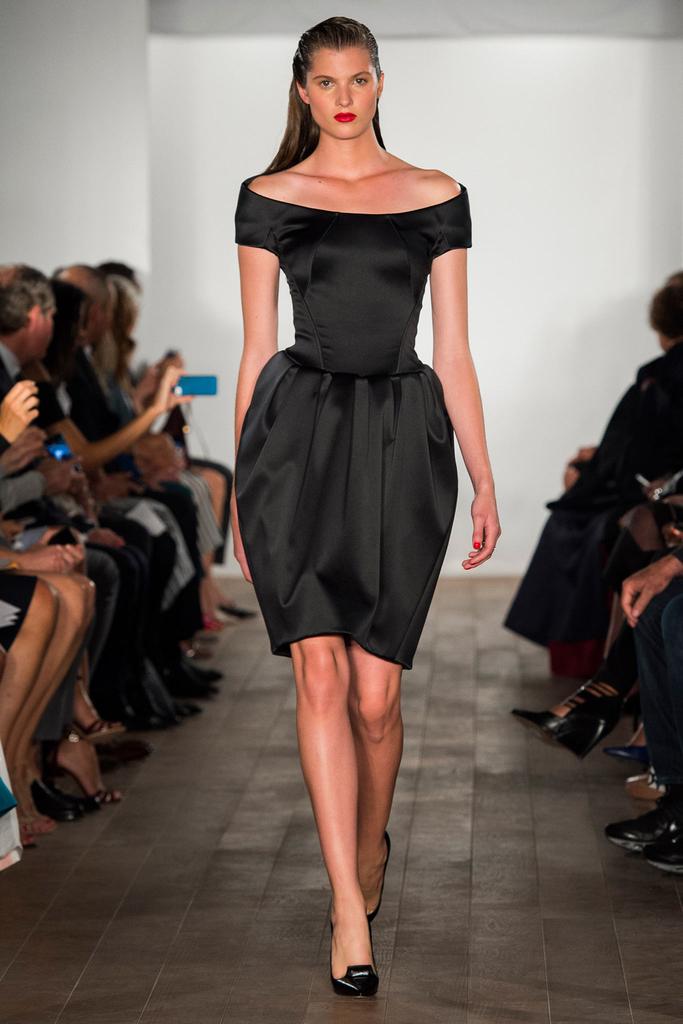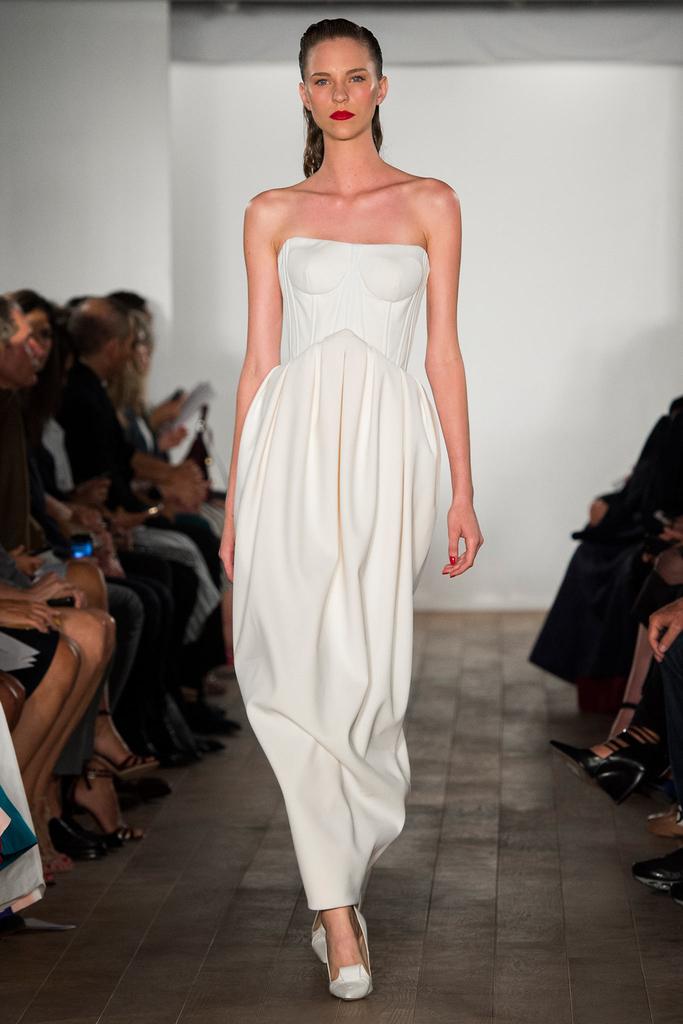 ZAC POSEN
Ok, no one knows construction like Posen. So when he raises an eyebrow on Project Runway, Danger Will Robinson, something is amiss! Posen loves a corset, and so do I, great for constructing or emphasizing a small waist. There was a reason Scarlett O'Hara always had a full dance card. These pieces are well crafted and quite pleasing to the eye even without bells and whistles. That black dress is perfection, with the tapering at the waist and the full skirt, just in case camouflage is needed. Keep that in your closet for any and all "events" you might have to attend at a moment's notice. And don't forget the black patent Manolo's.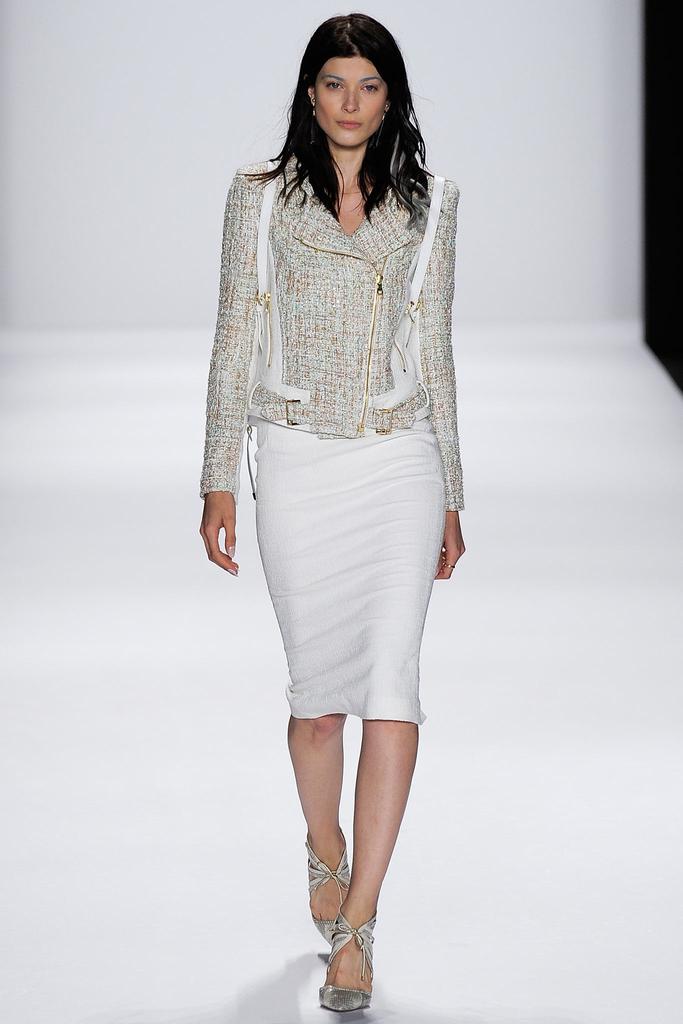 Love the jacket, would wear with white T-shirt and jeans.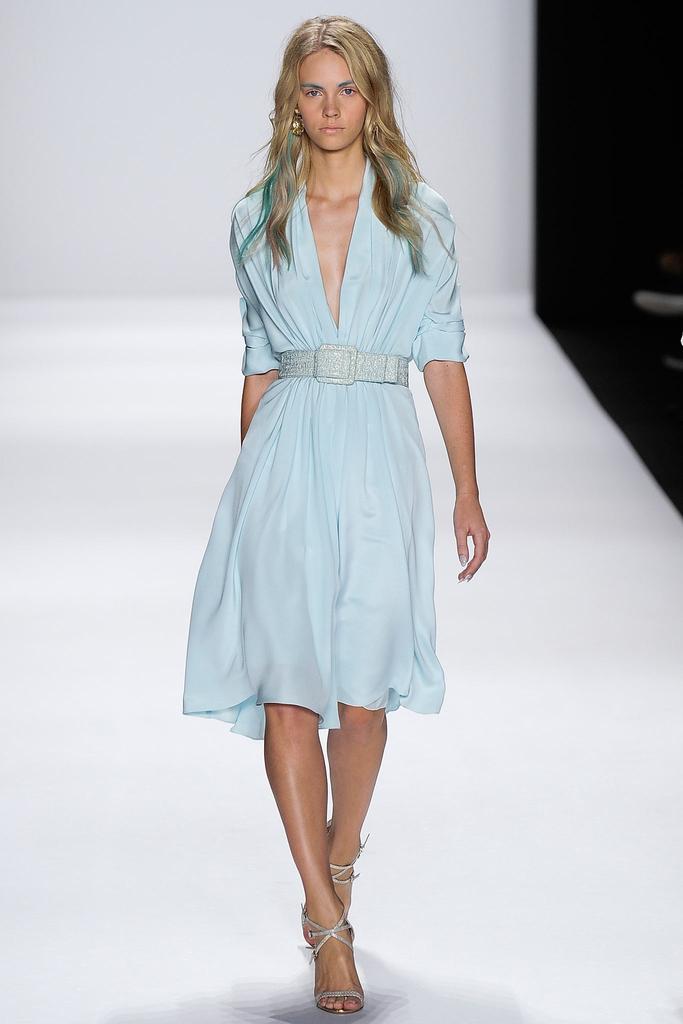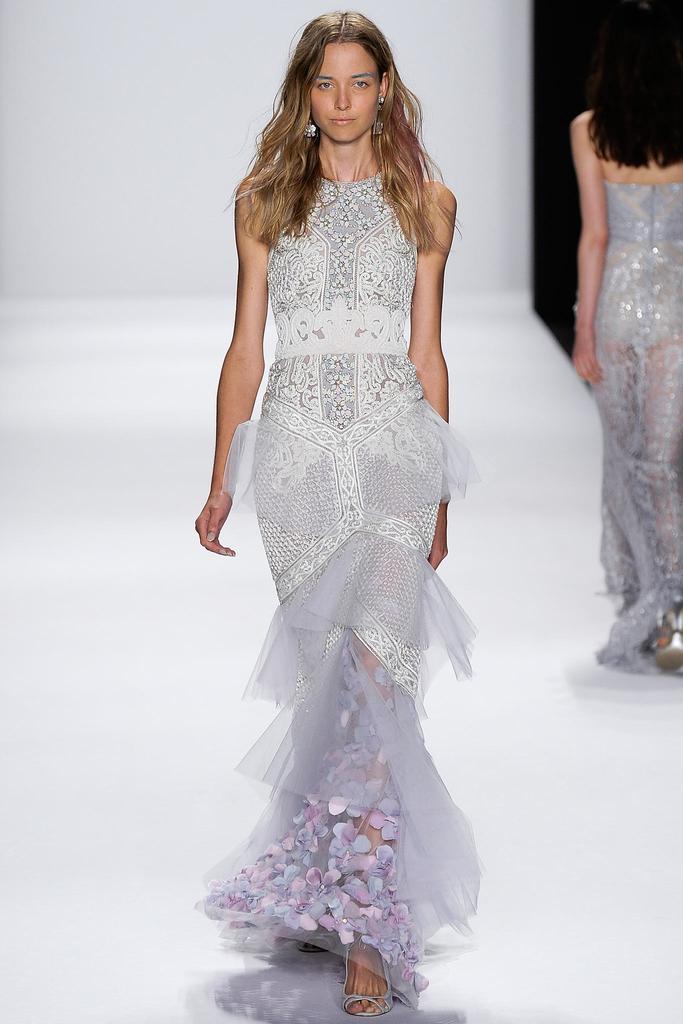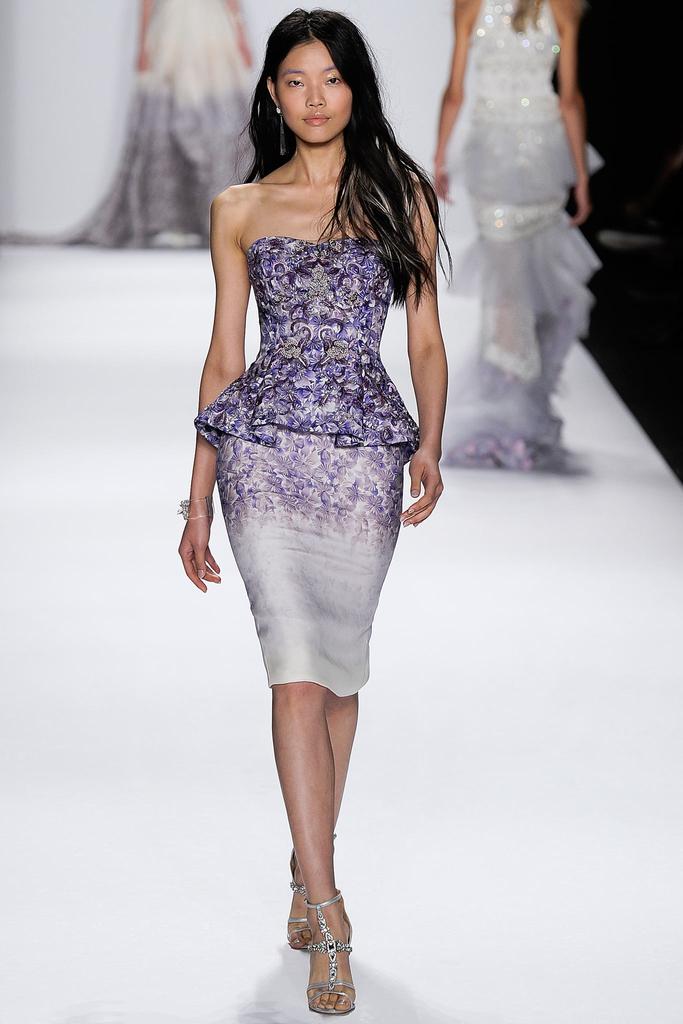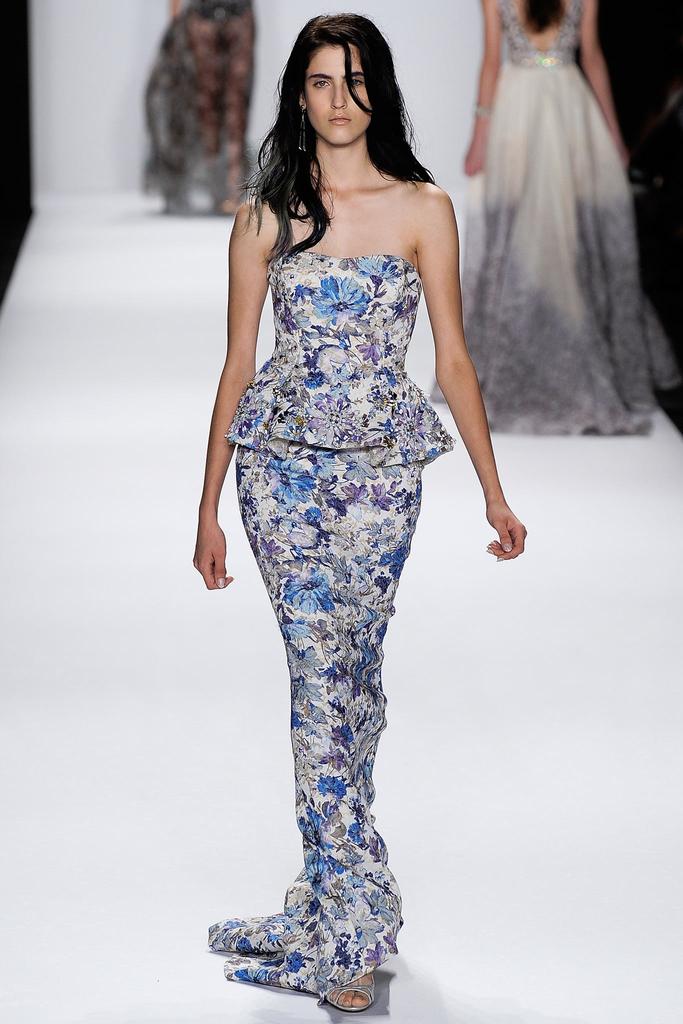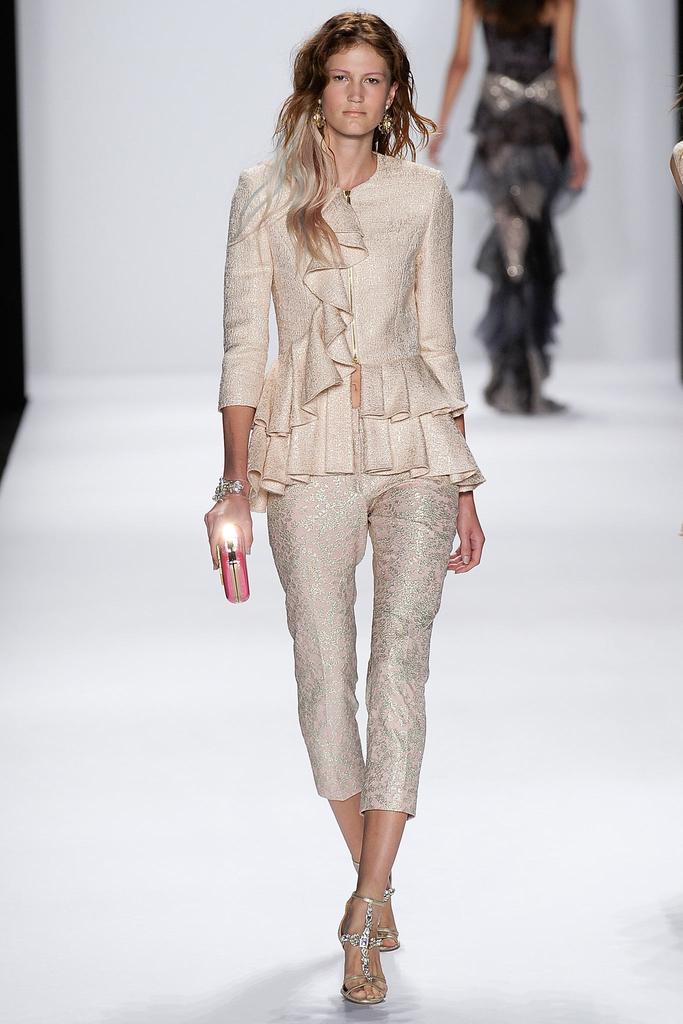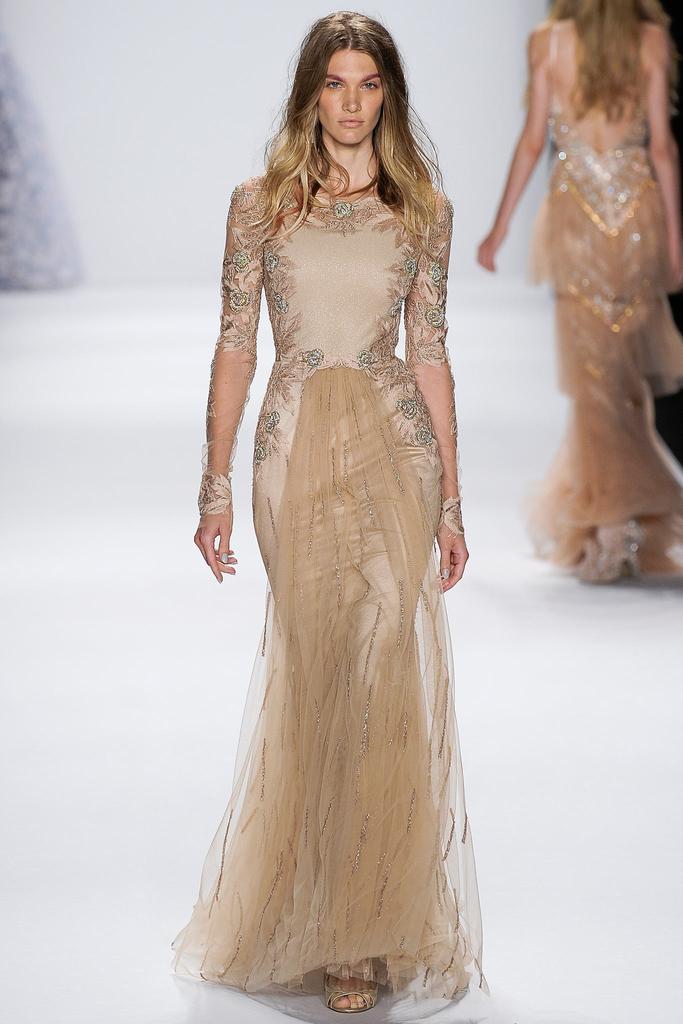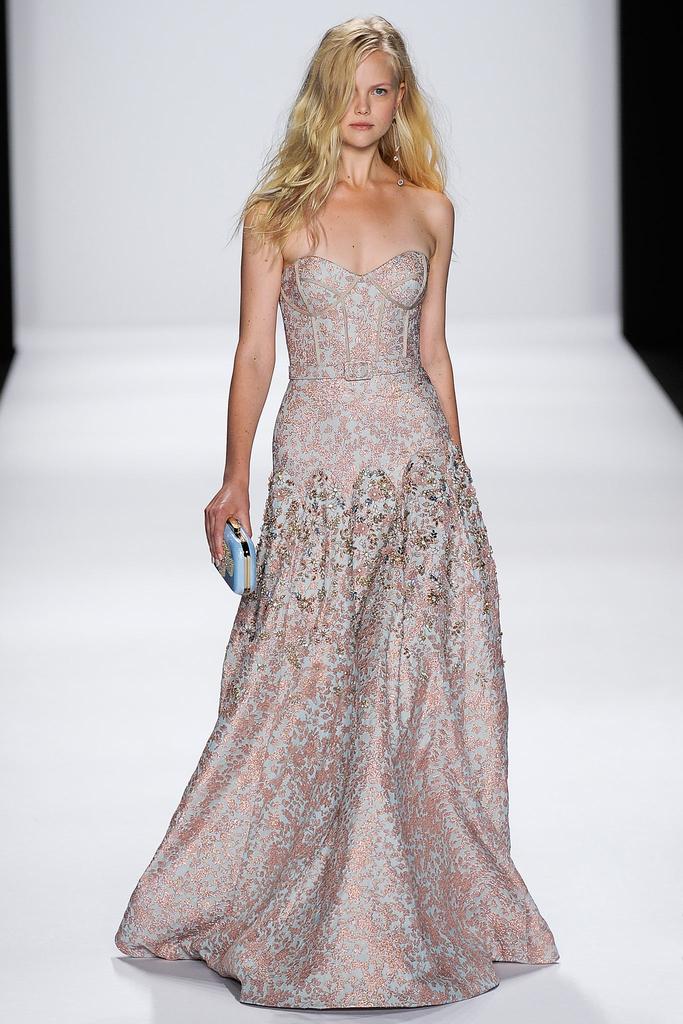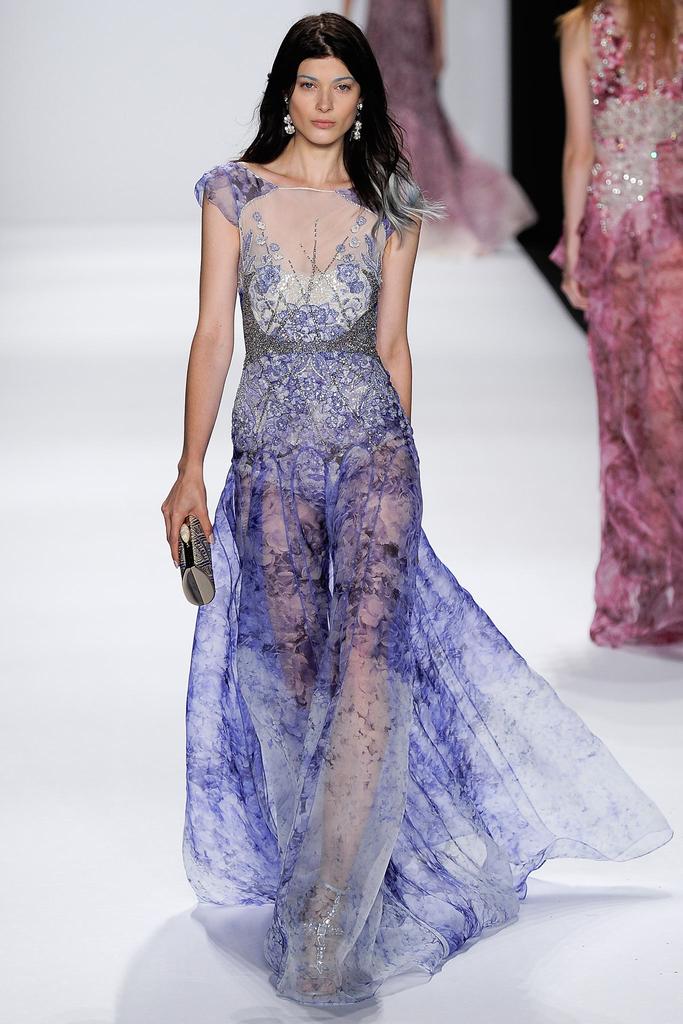 BADGLEY MISCHKA
These are the gowns you wear if you REALLY want to stand out as an old school GODDESS on the red carpet. Sitting down for a long (or short) symphony or opera might prove challenging, but hell, you'll have folks swooning around you as you stroll to your seat. Even that jacquard "pant suit' is spectacular. Start collecting these pieces for next year's openings. Just wow.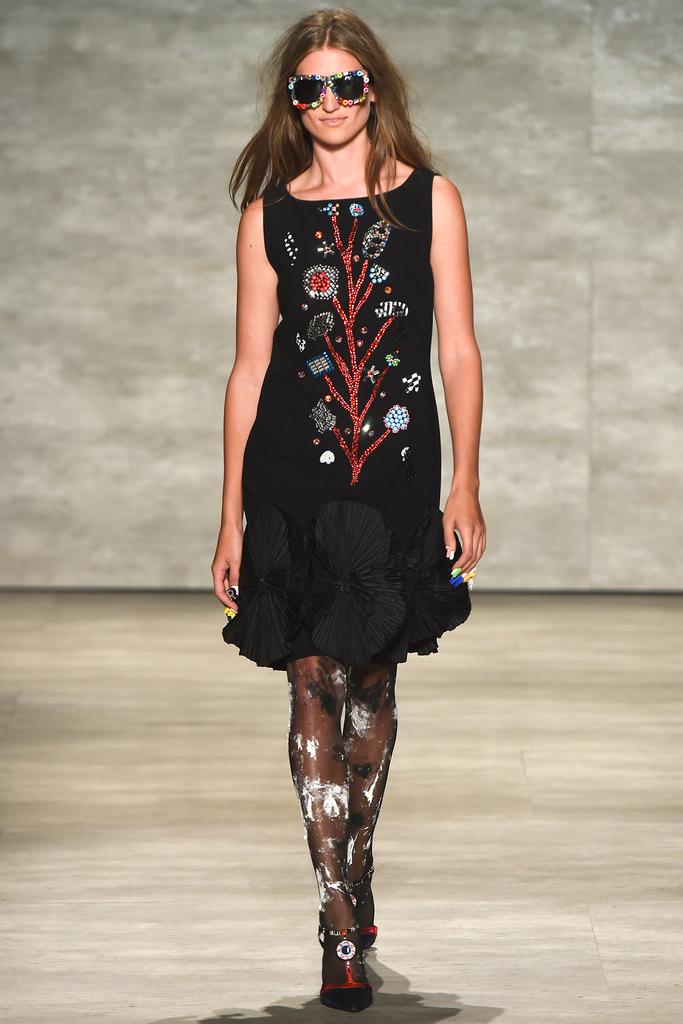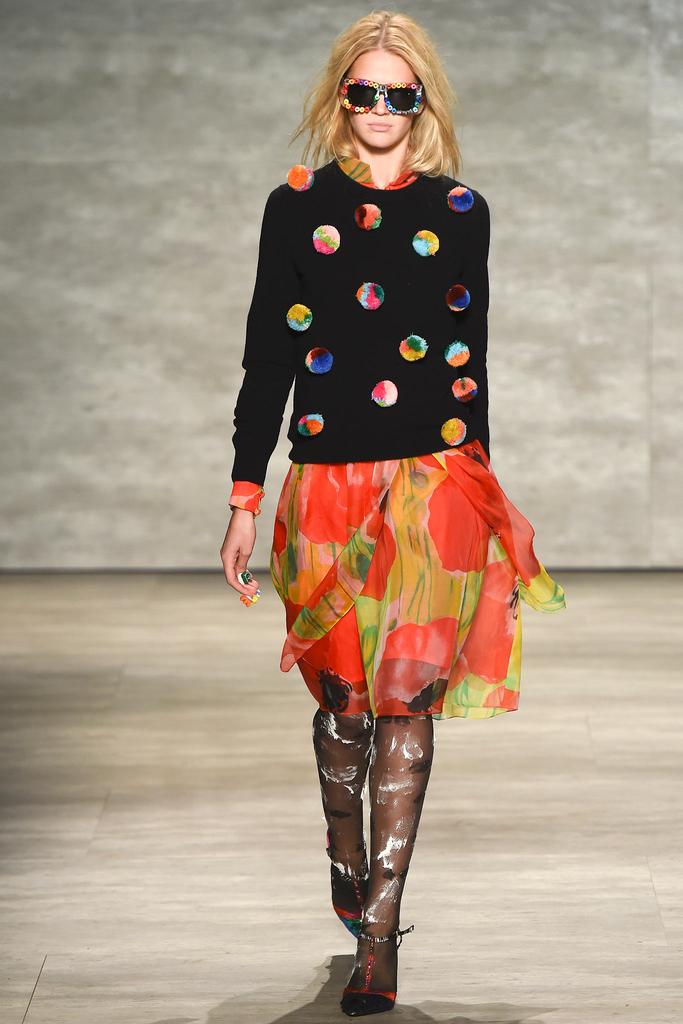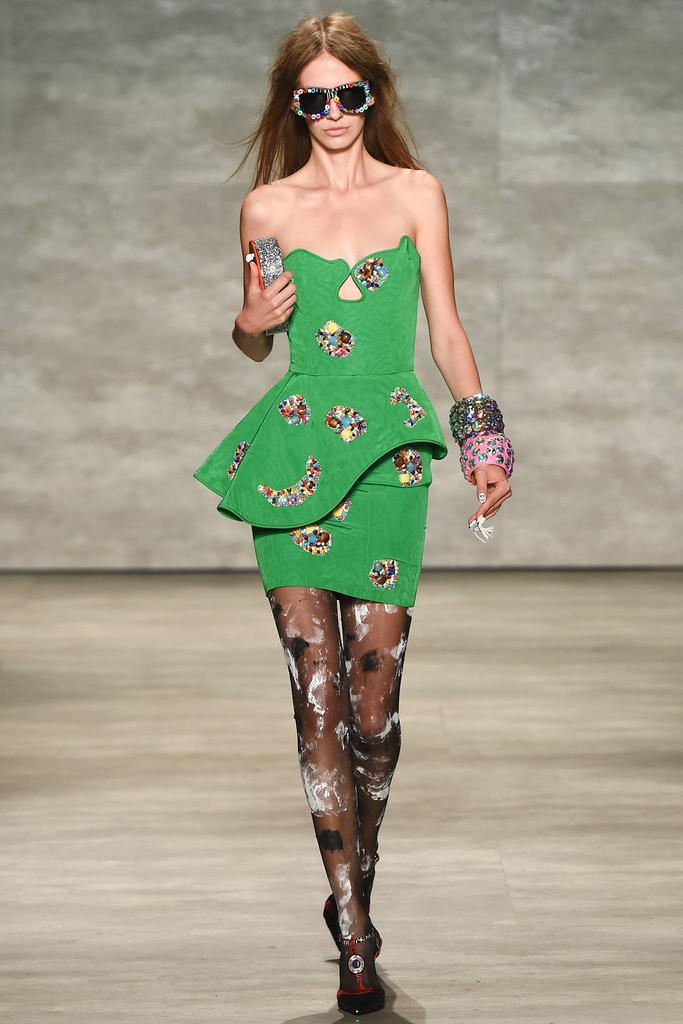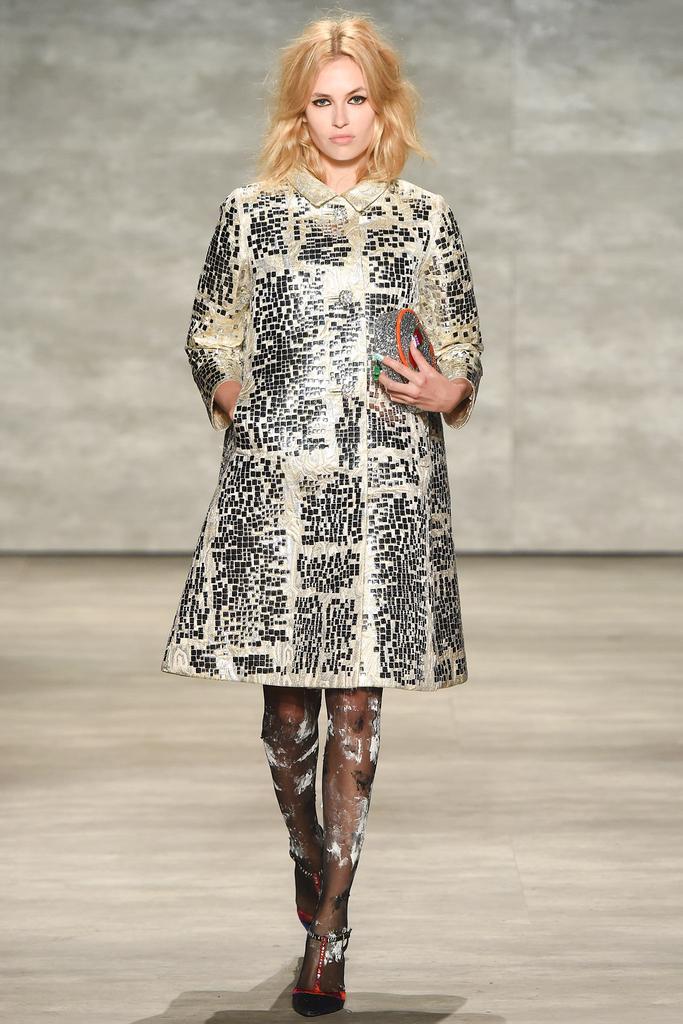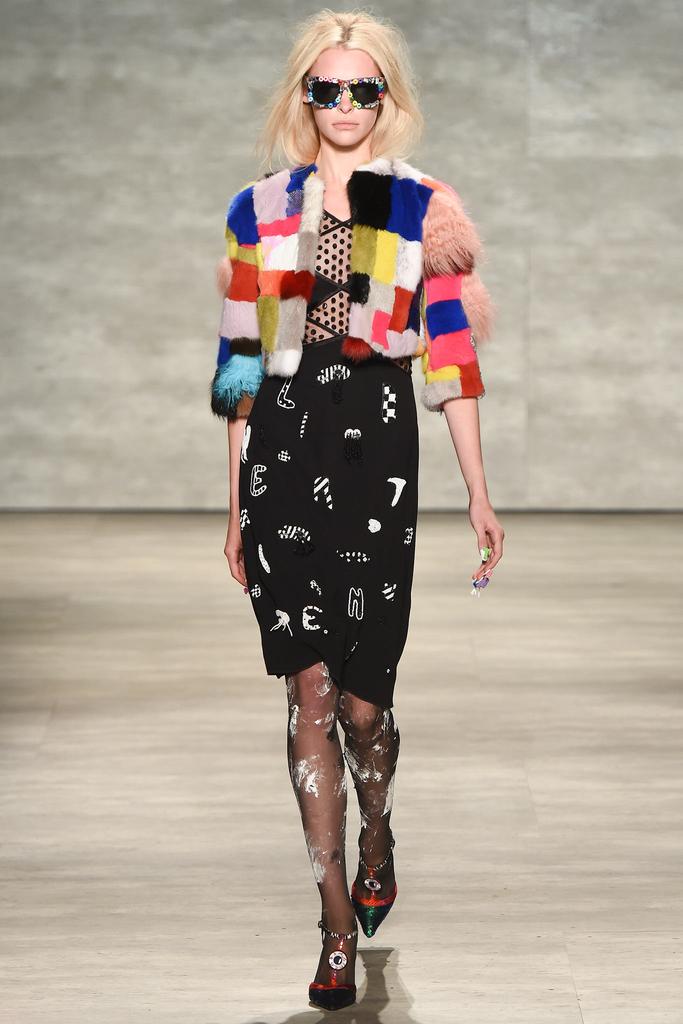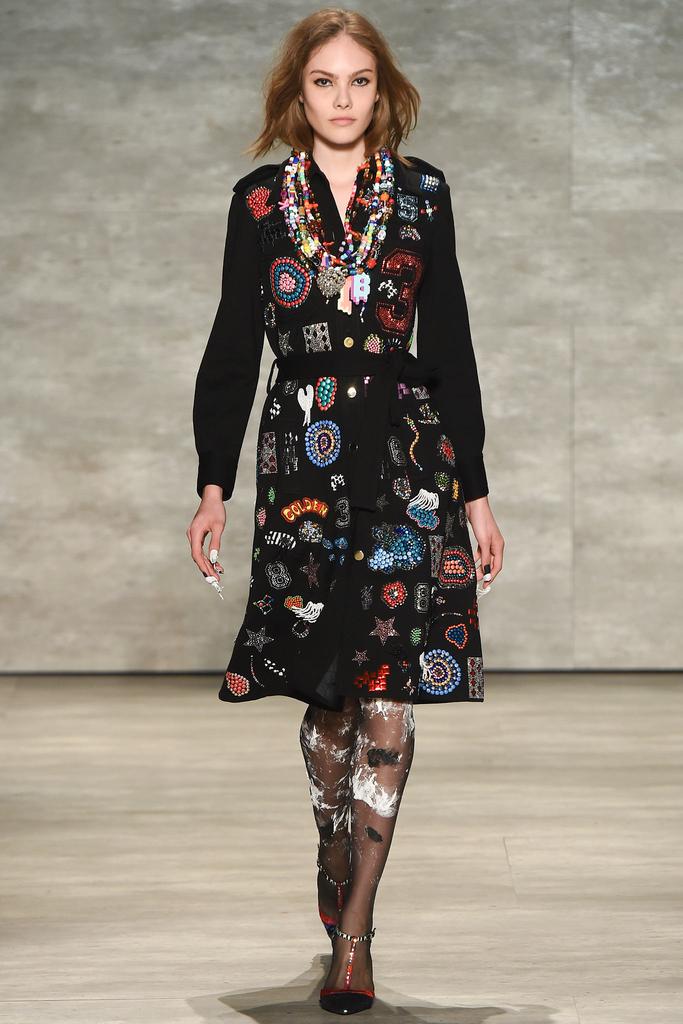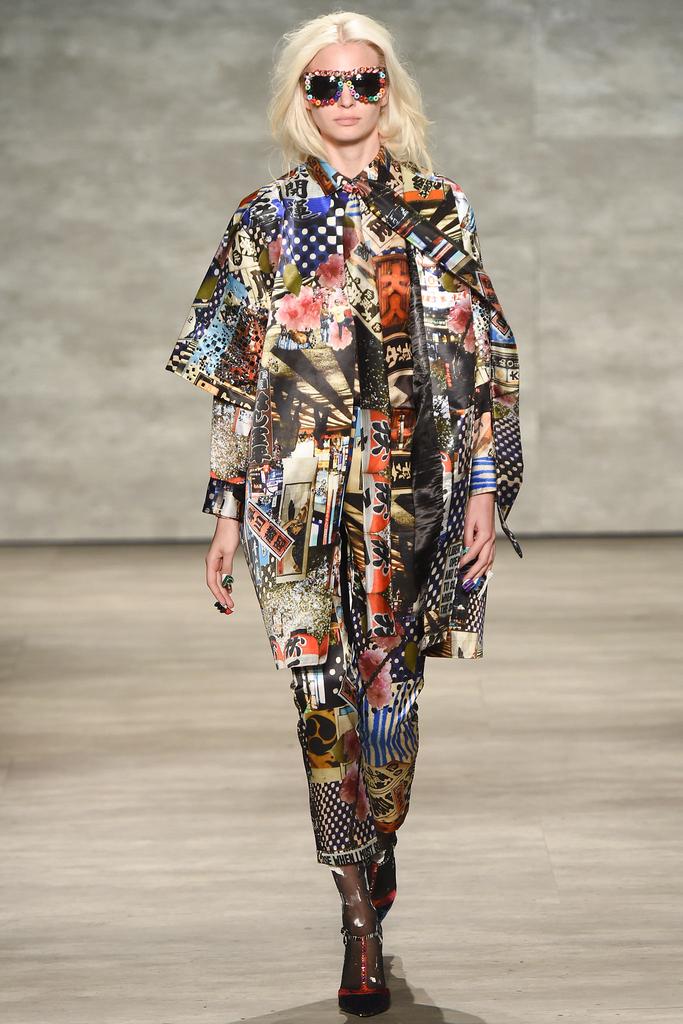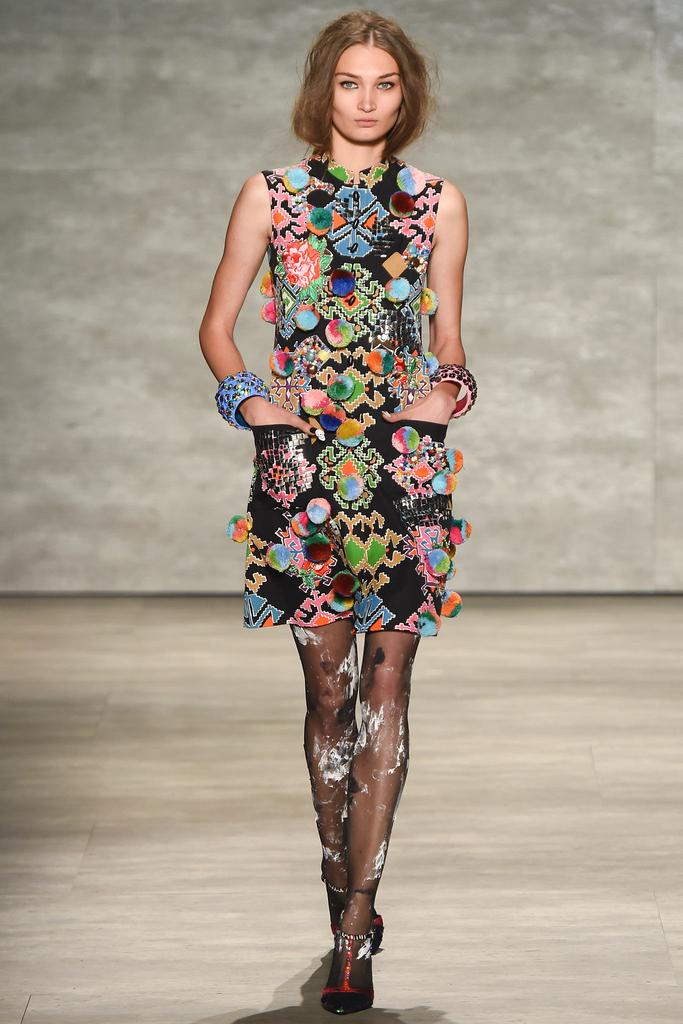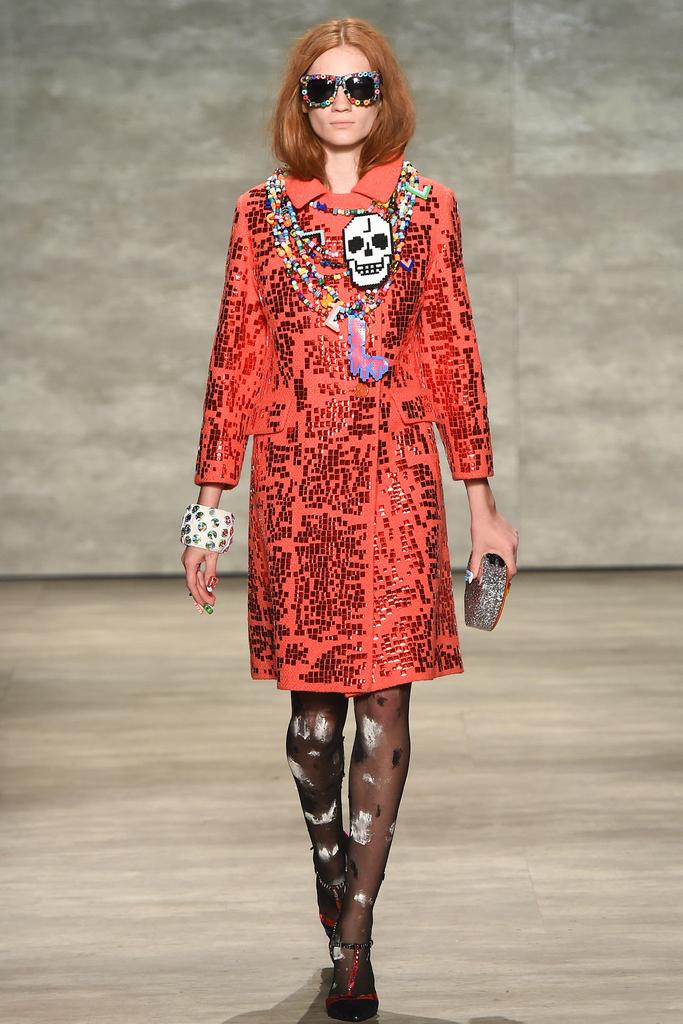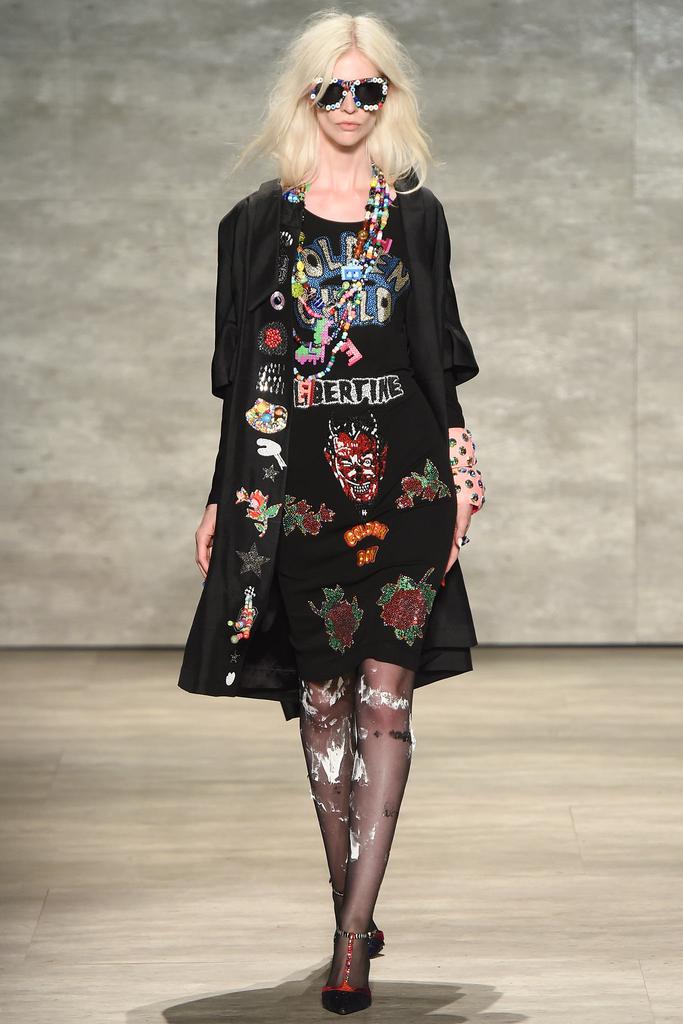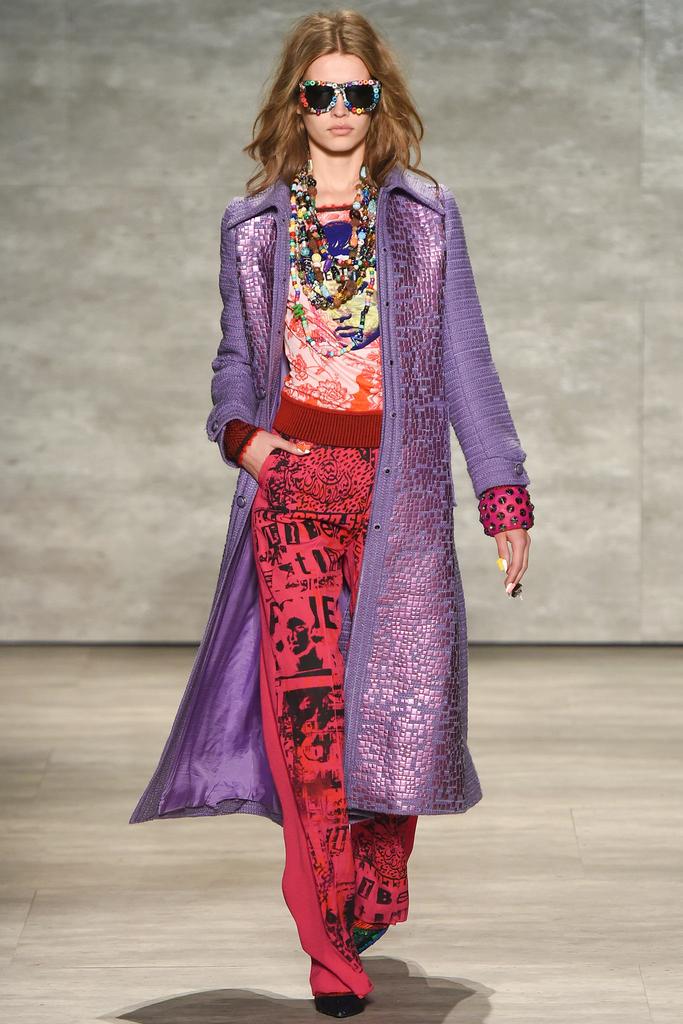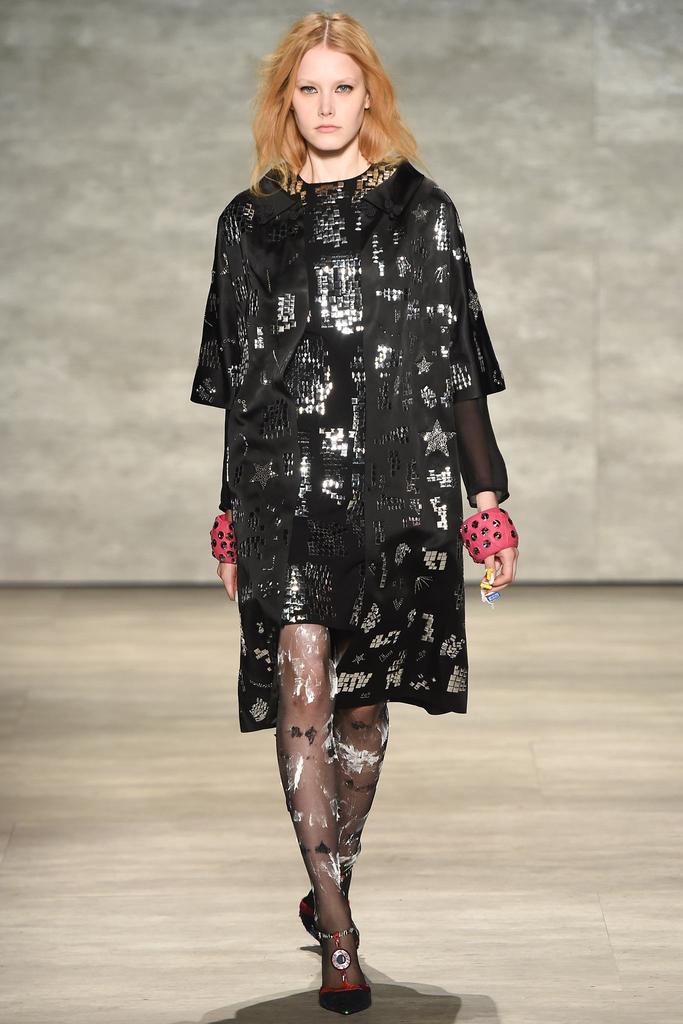 LIBERTINE
Always one of my favorites for the combination of colors, fabrics, wacky embellishments and the funky but paradoxically lux vibe. Who doesn't love pastels and skulls?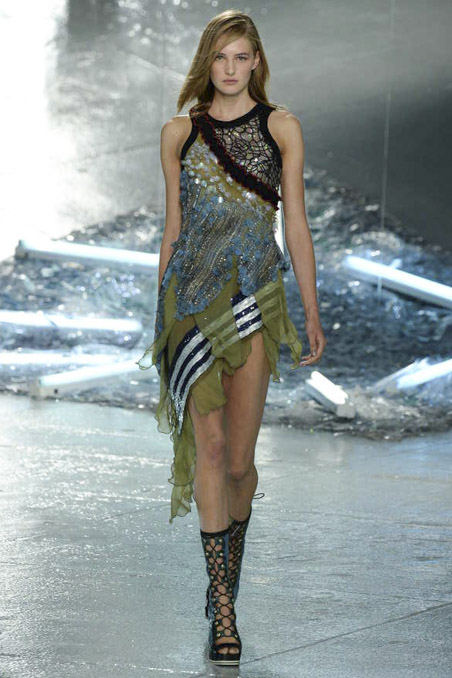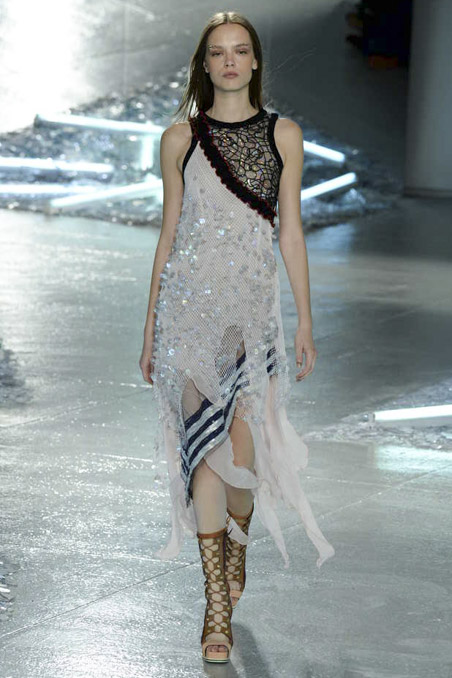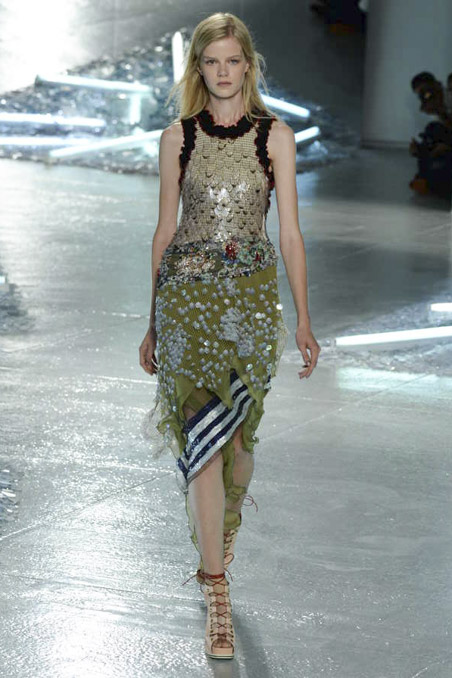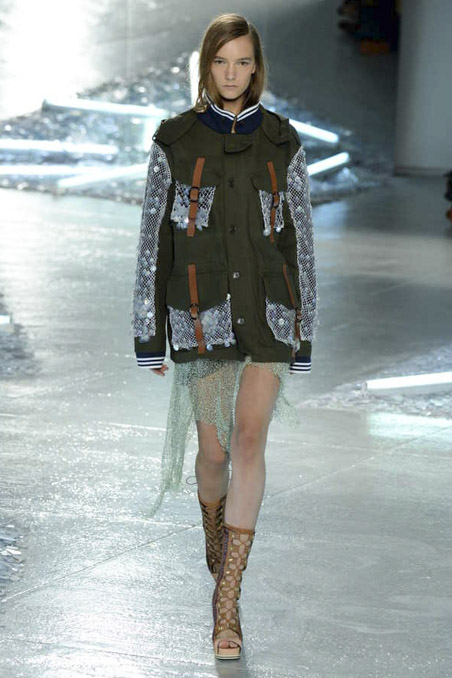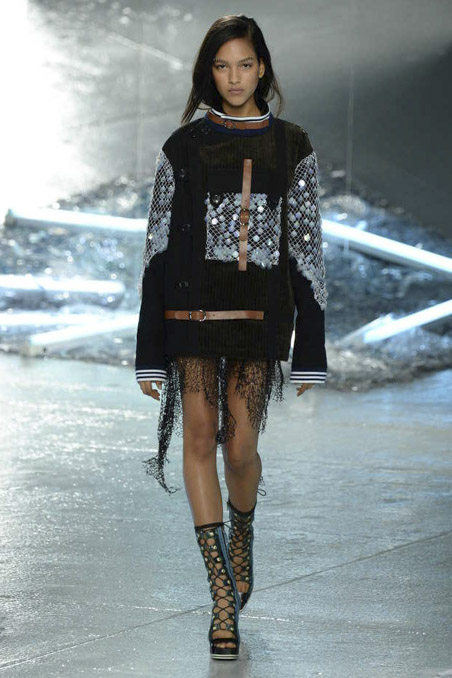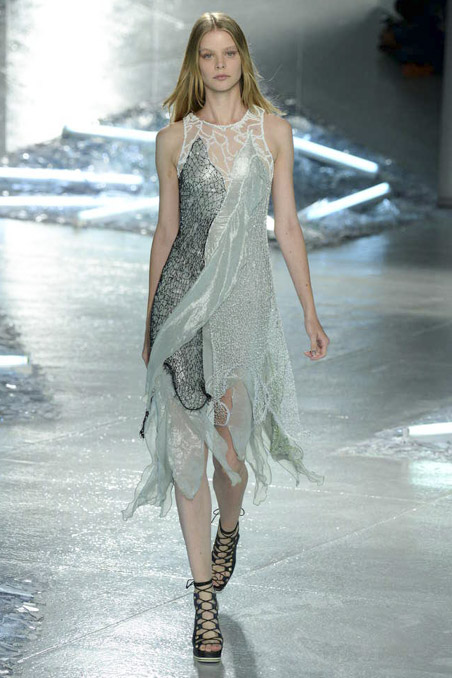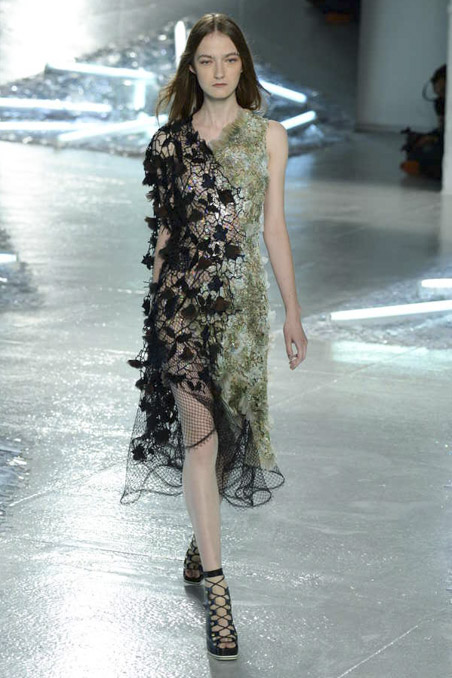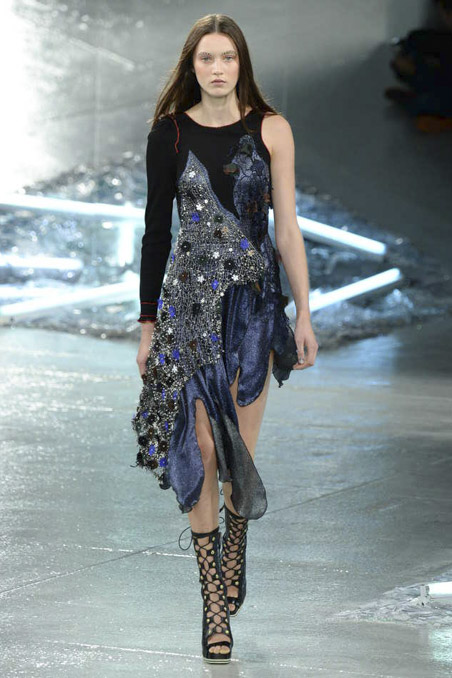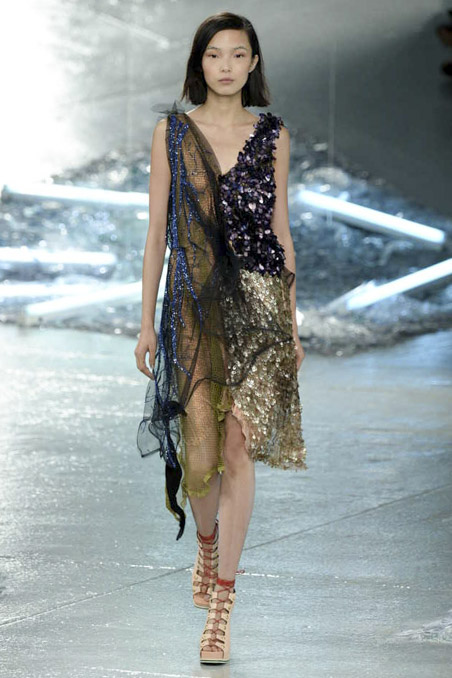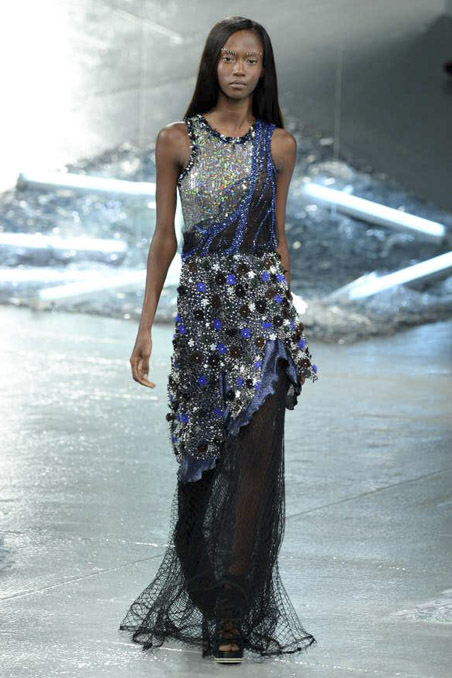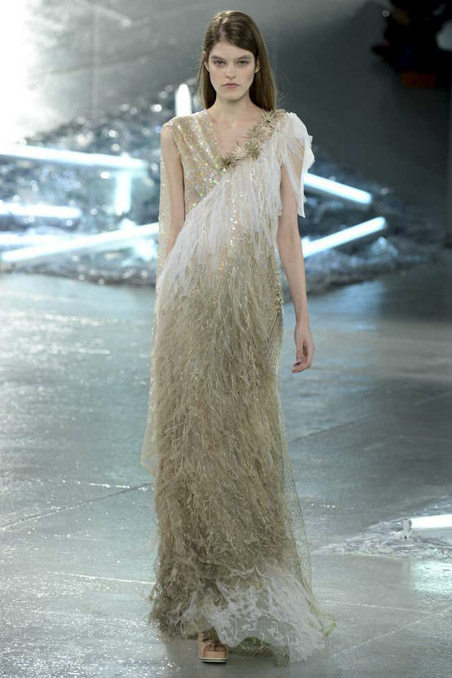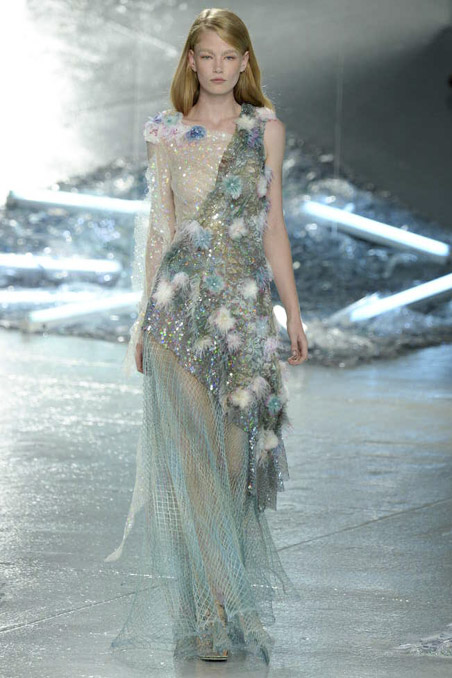 RODARTE
This really is whimsy at its best. The dresses are so striking and alluring, sexy and flattering. The little mermaid has undergone her transformation to human while ascending from the depths of Davy Jones' locker......bringing with her seaweed, jelly fish, and sea anemones........the two jackets are the everyday wearable contingent which harken back to the sea with the glistening paillettes and the netting detail.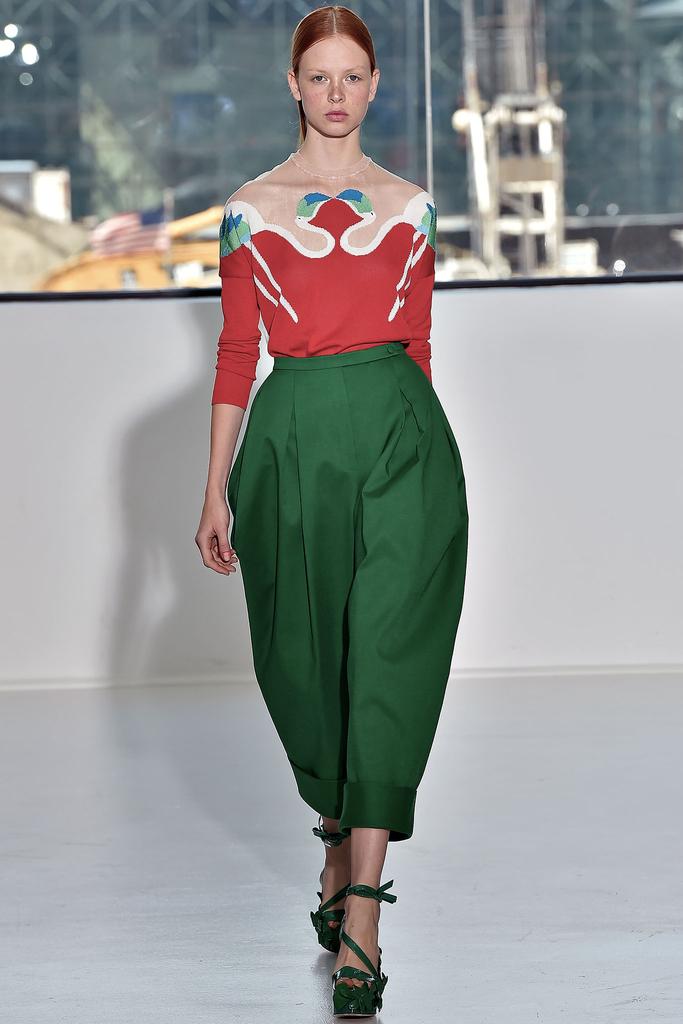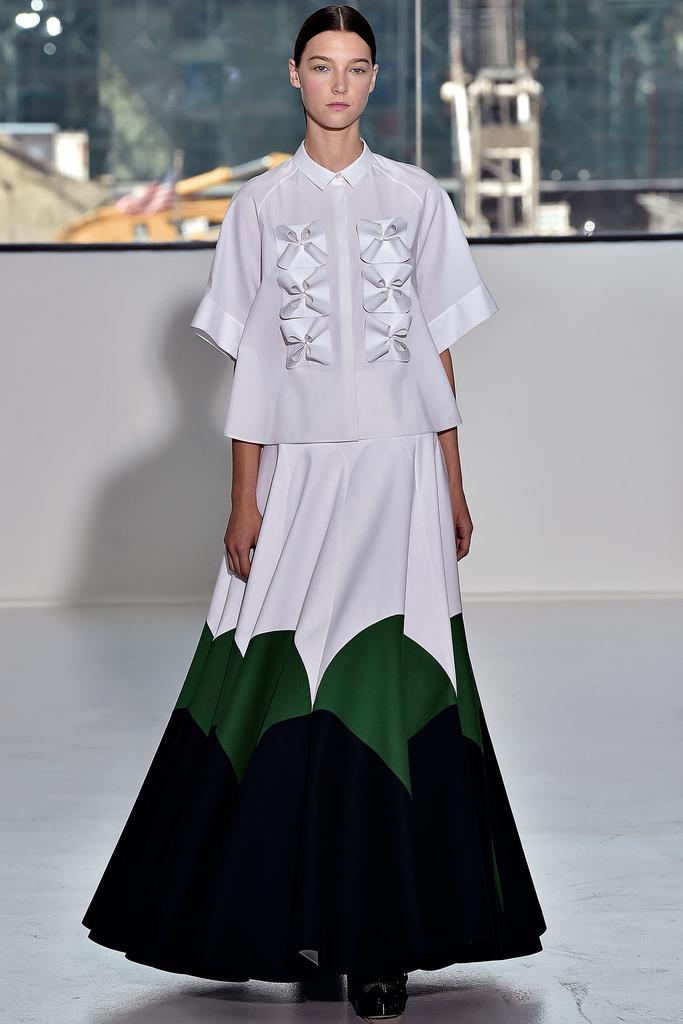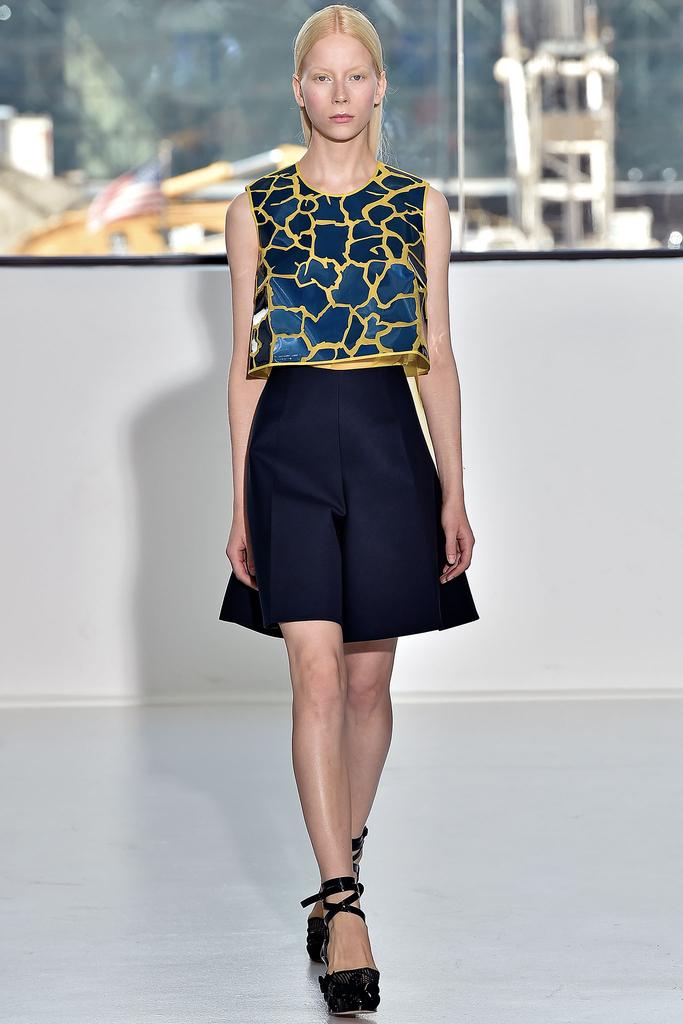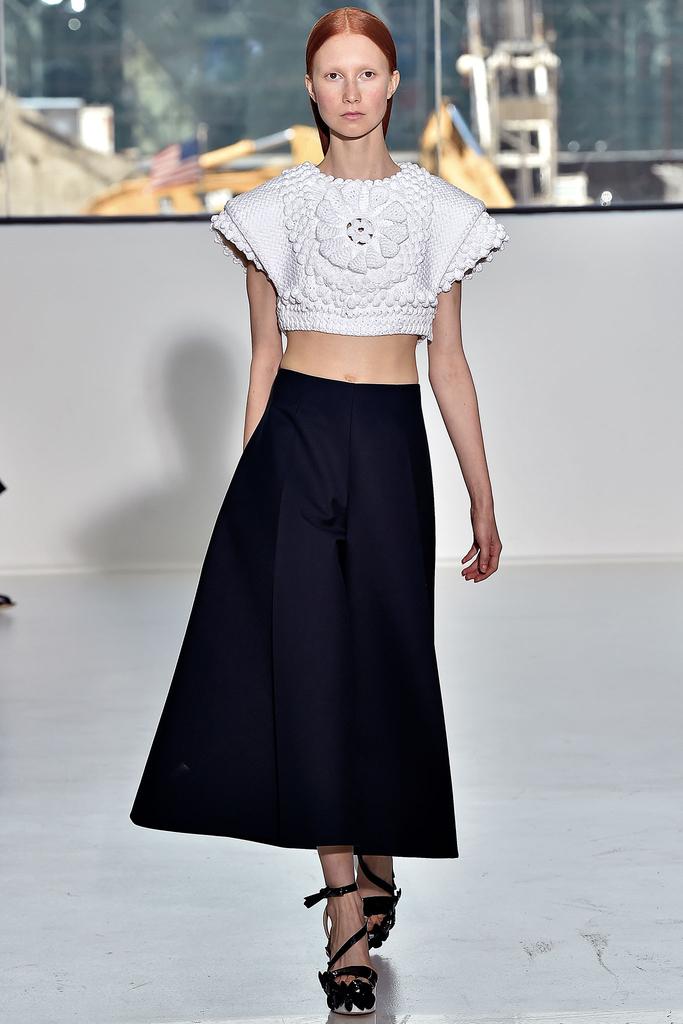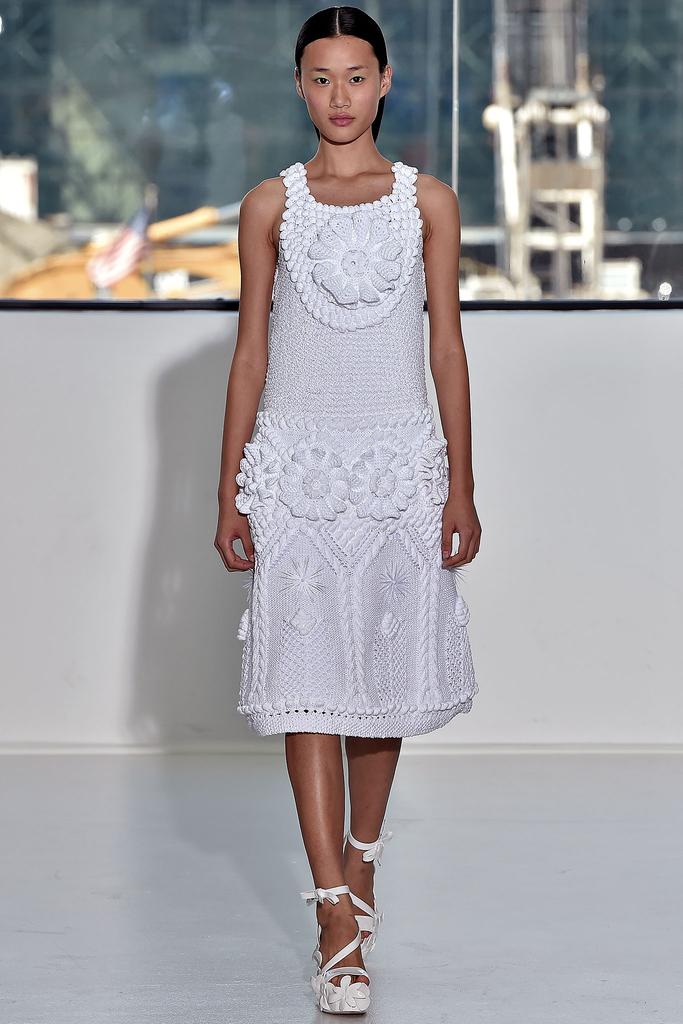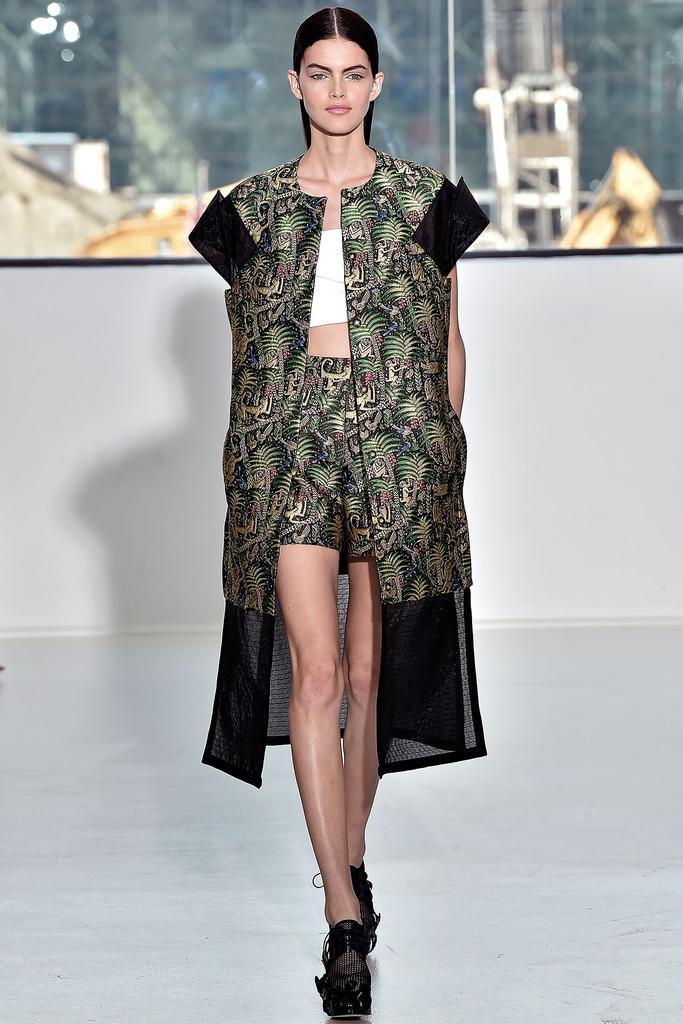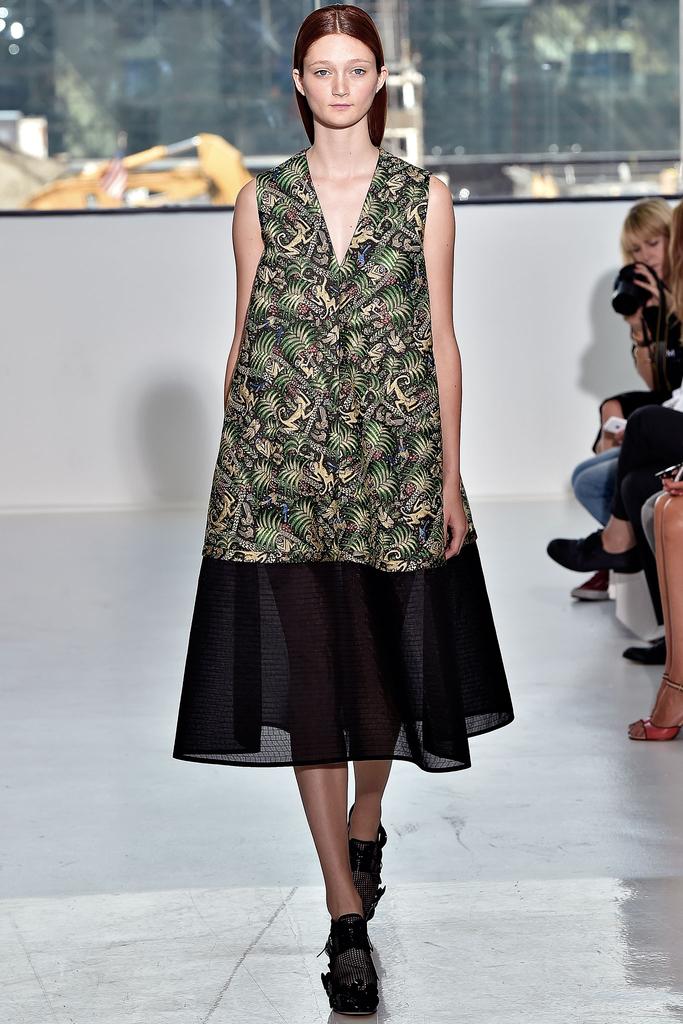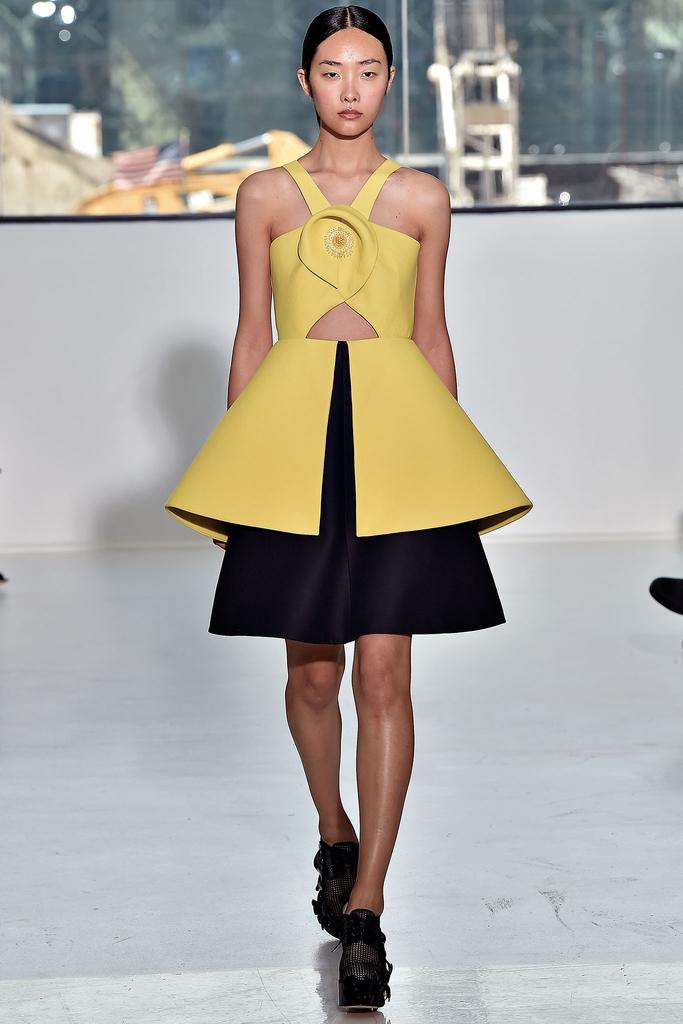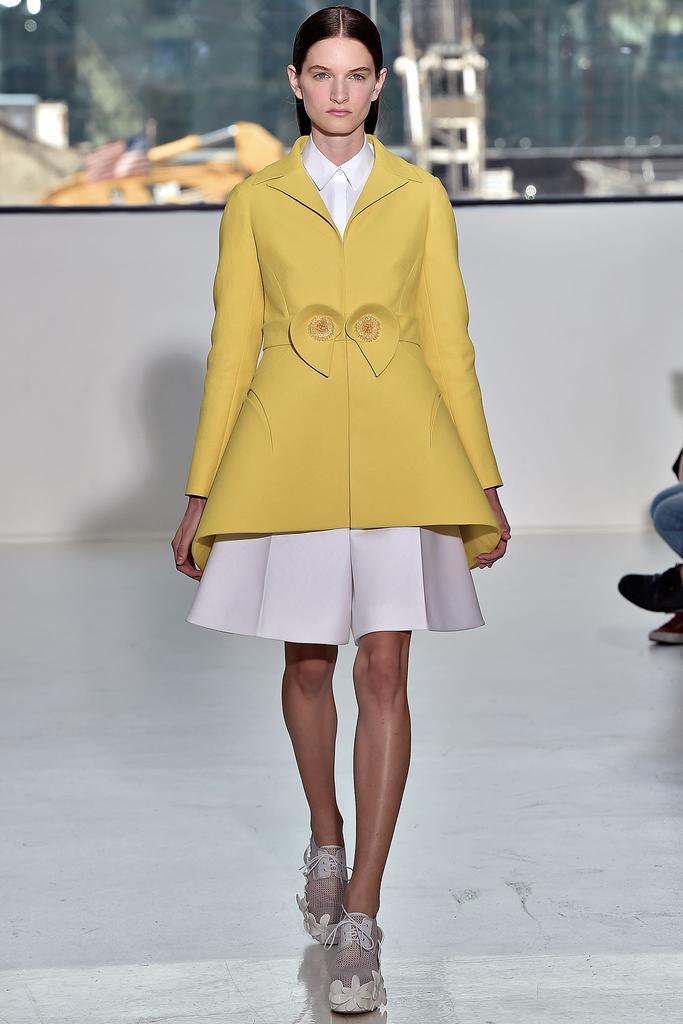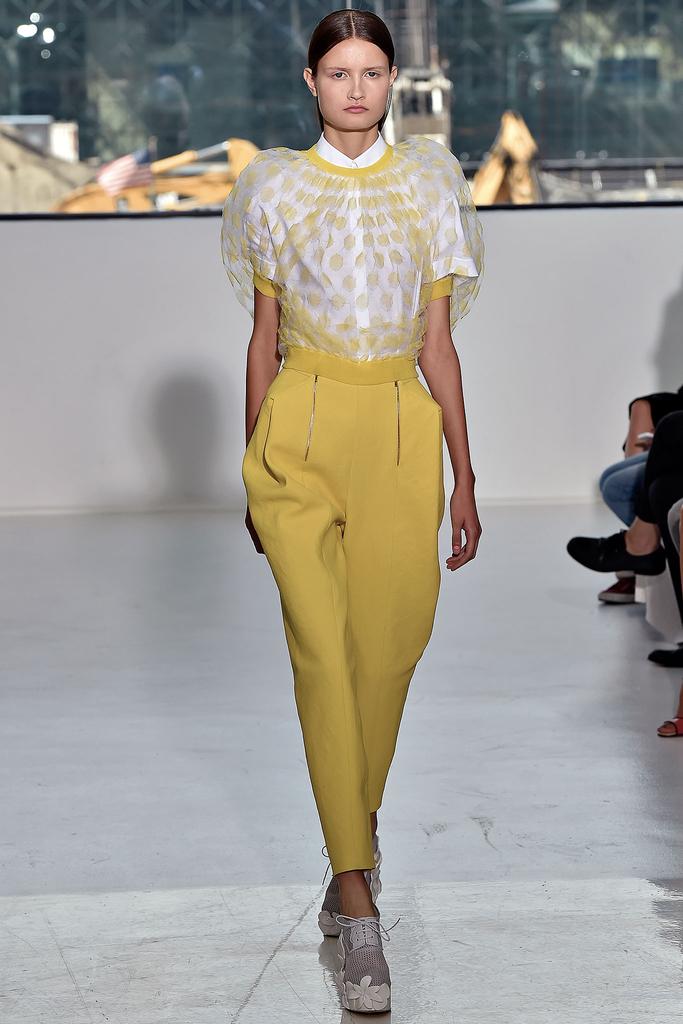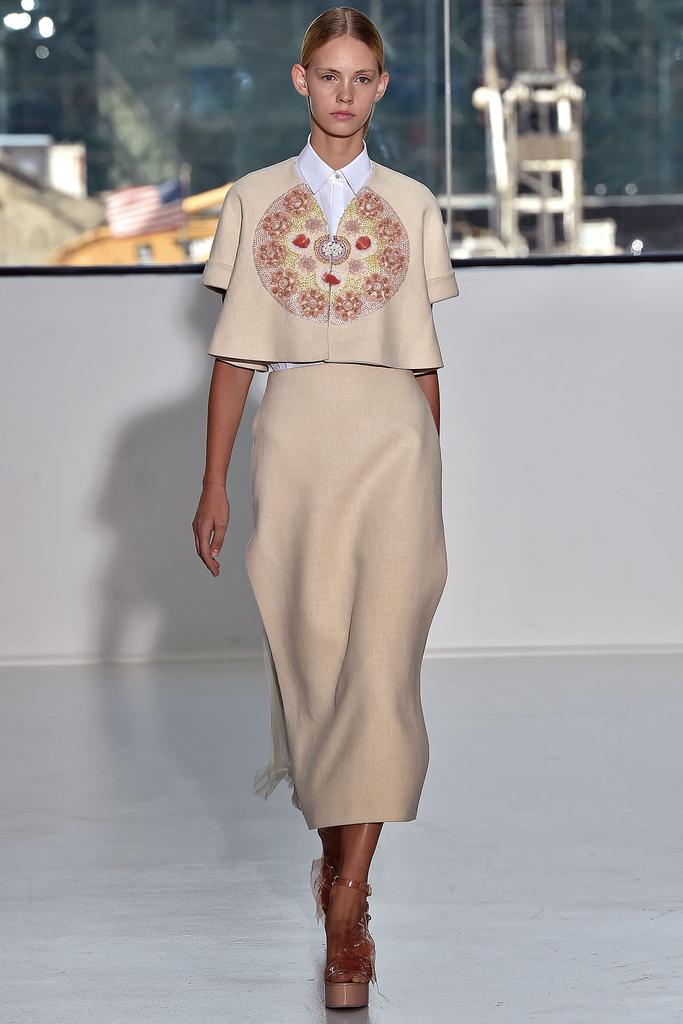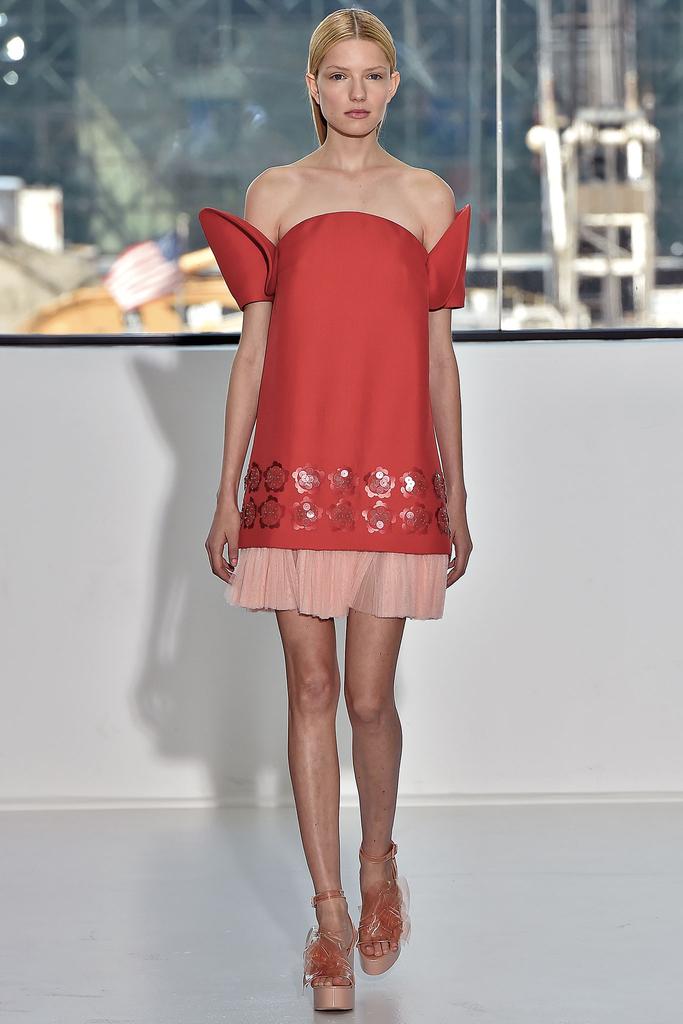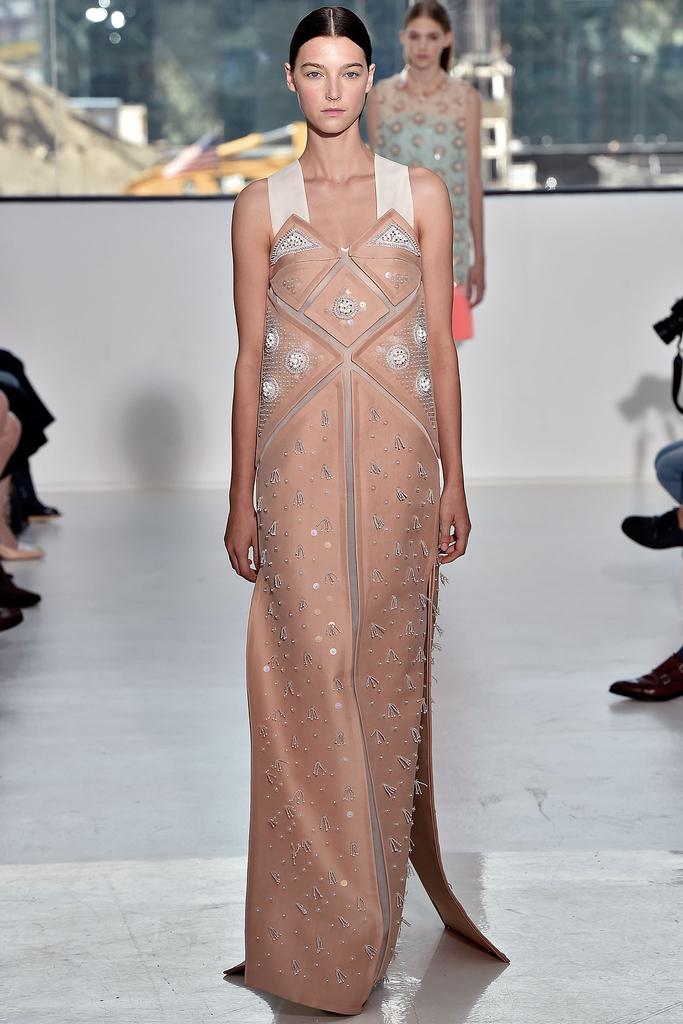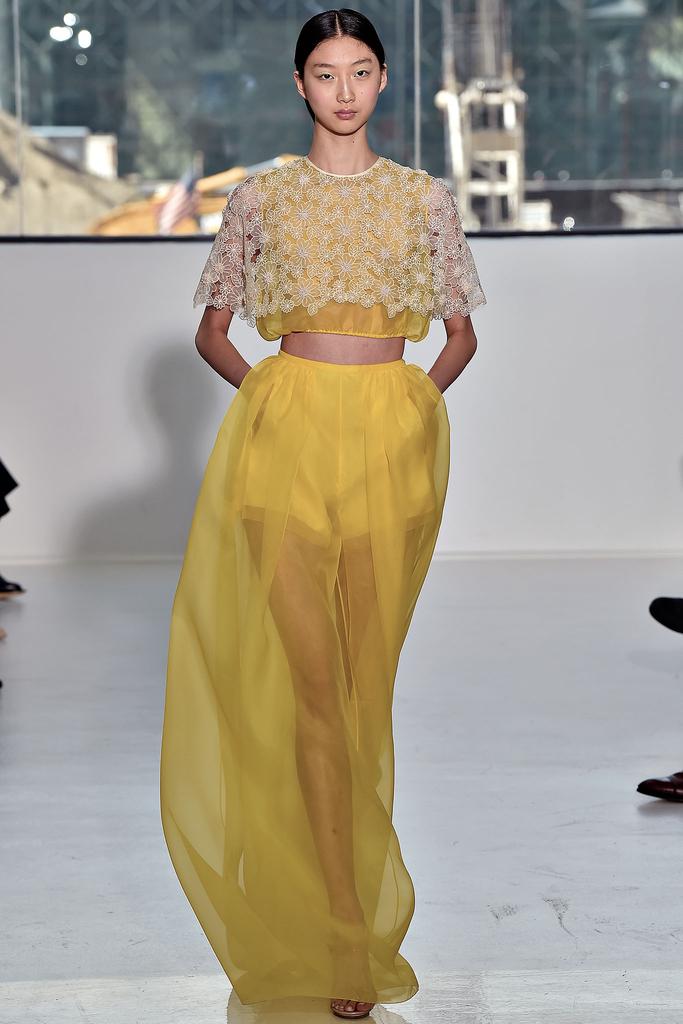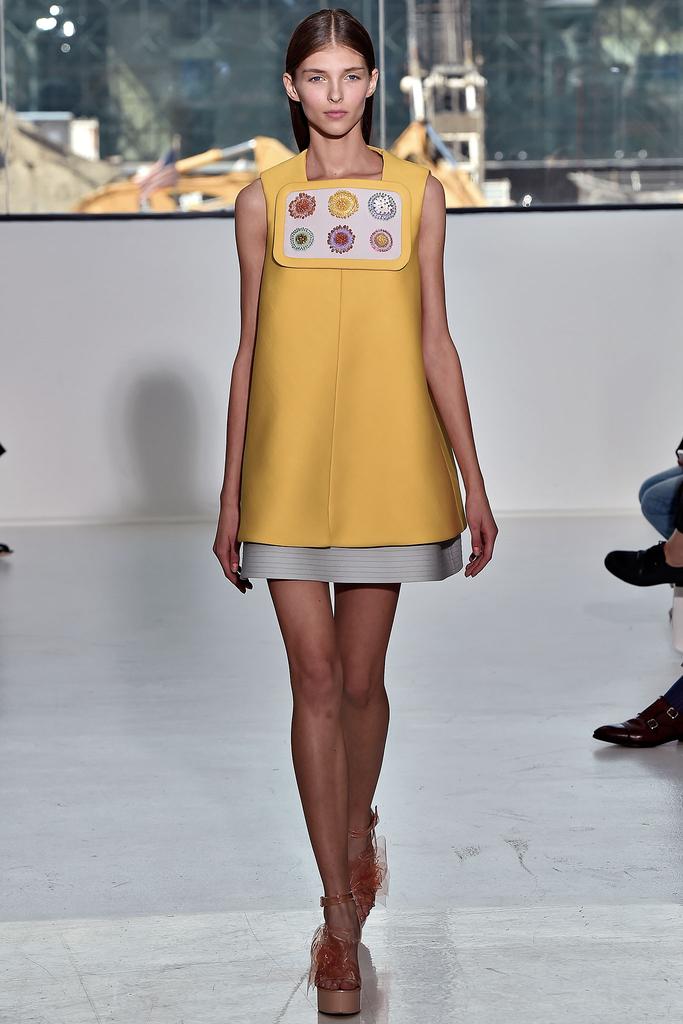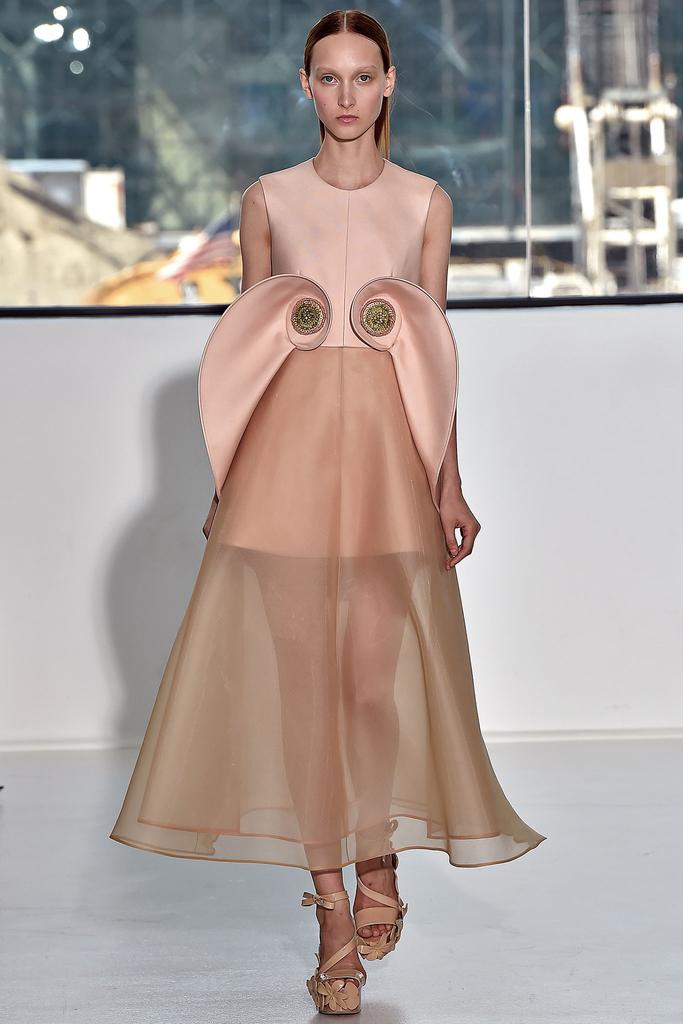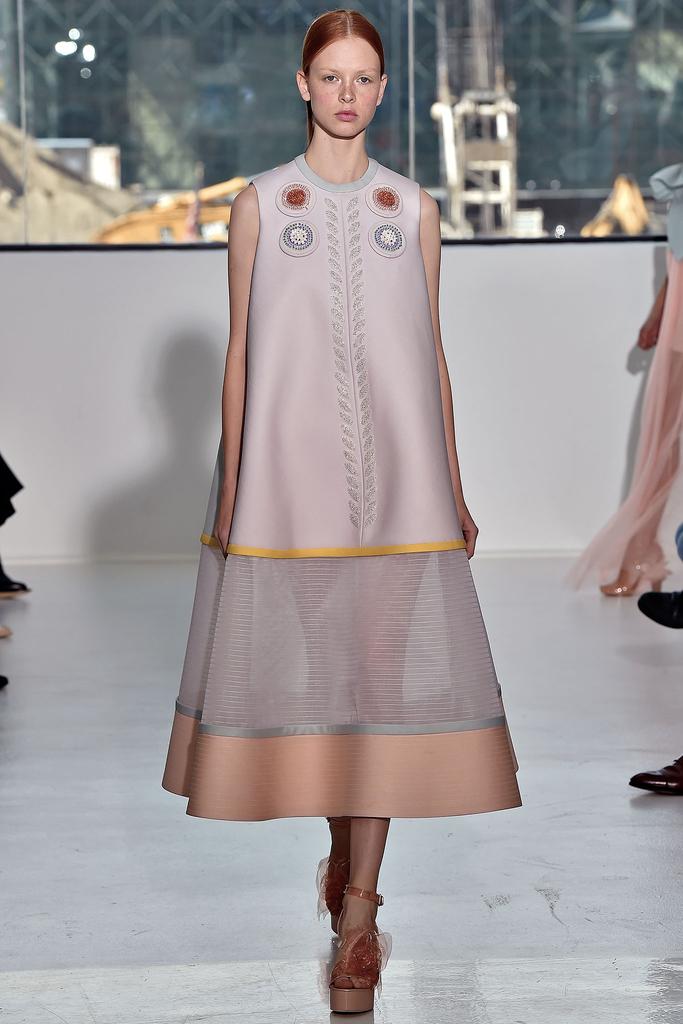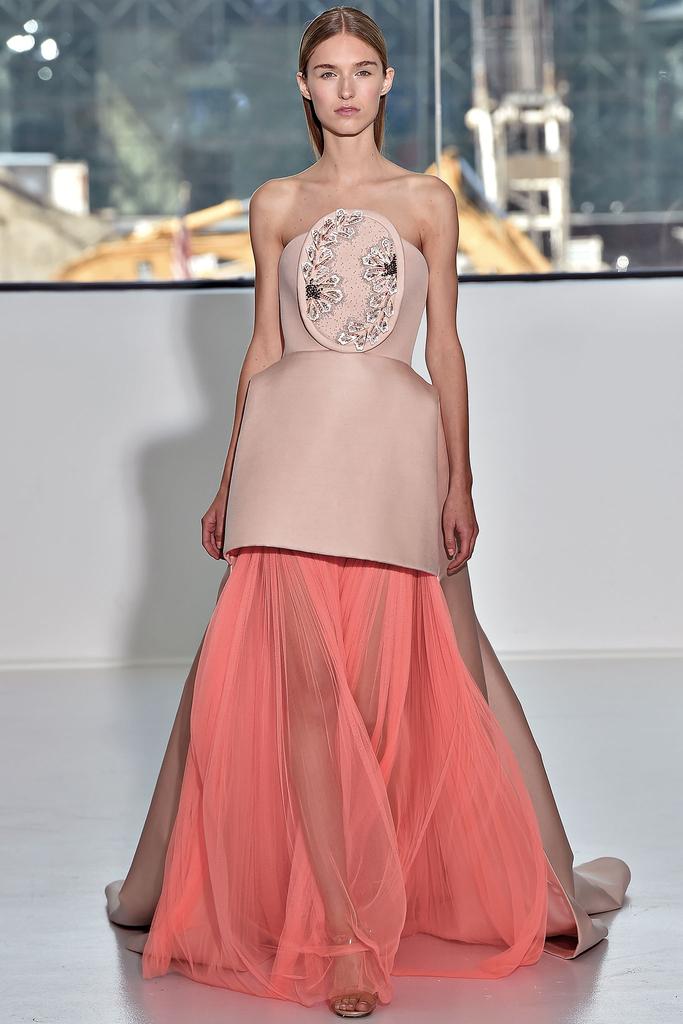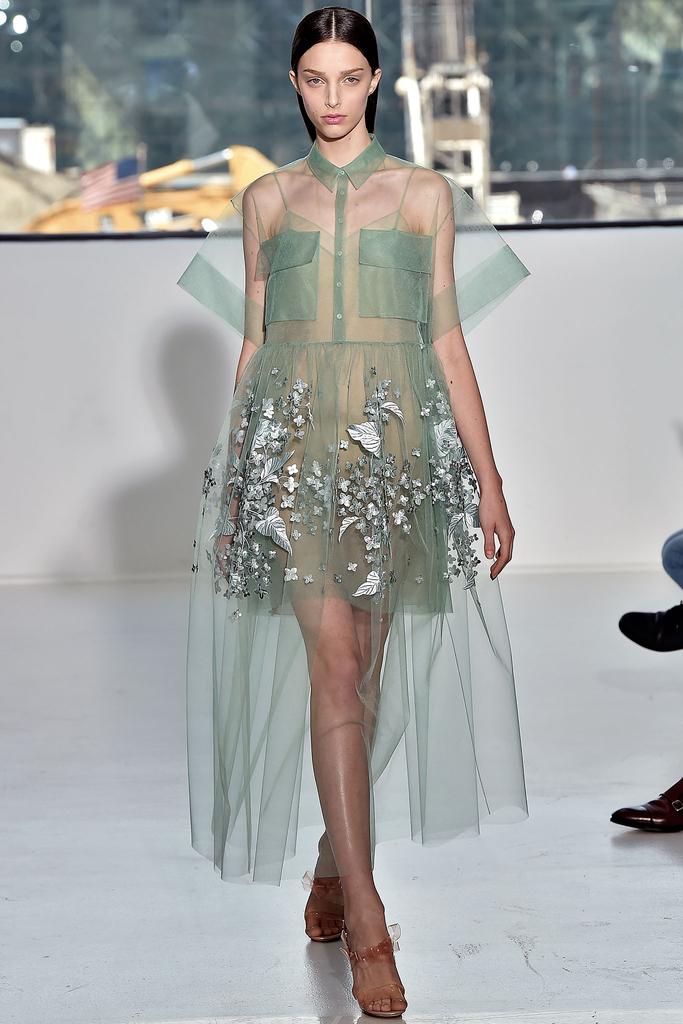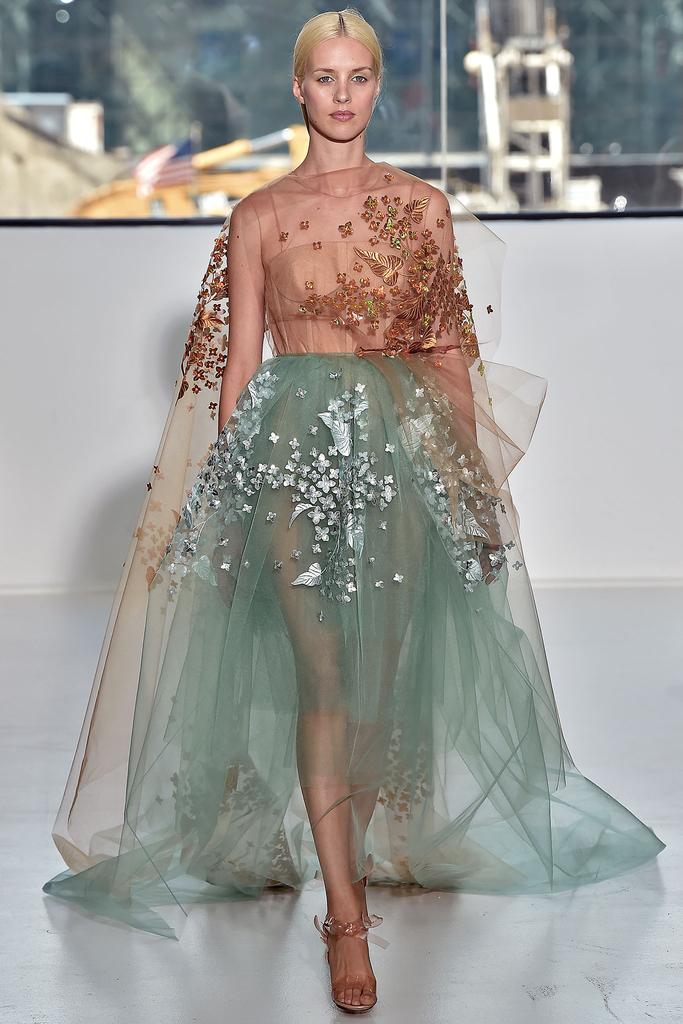 DELPOZO
This whole runway show was SHOW STOPPING and SPECTACULAR. I've never seen anything quite like it, one of the best of Spring 2015, no doubt about it. A mix of avant garde with respect to the shapes of the garments and the mix of hard architectural with soft fabrication, including a healthy dose of organza (always a good thing), and feminine whimsy, with soft pastels and metallic embellishments on tulle. A perfect amalgamation of everything I personally love about fashion. Even the white macrame (yes macrame!) dress was flawless and covetable.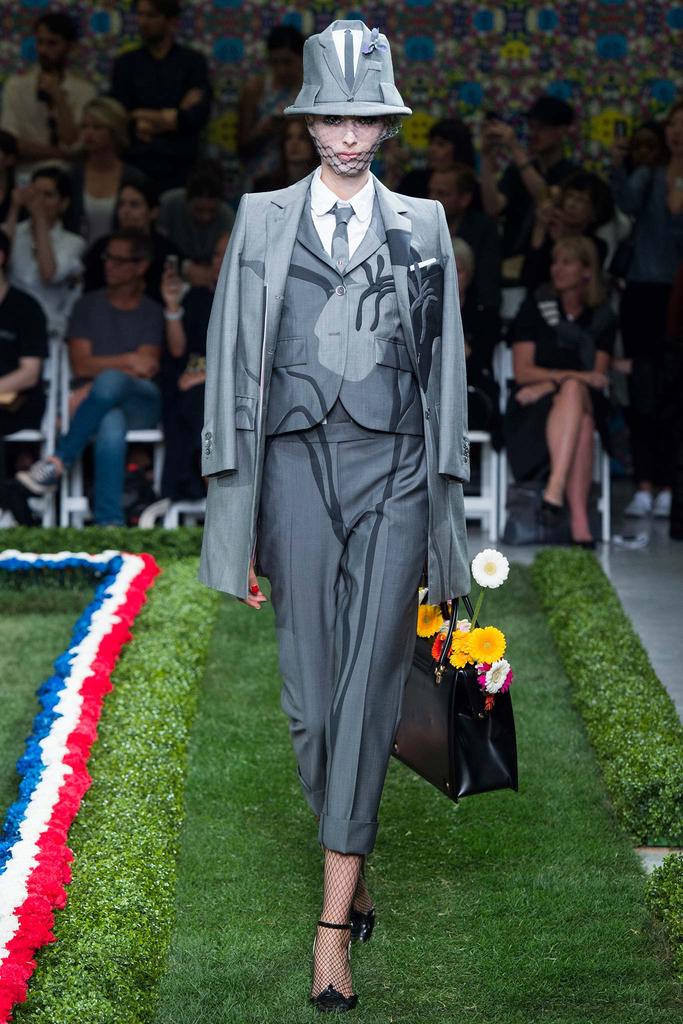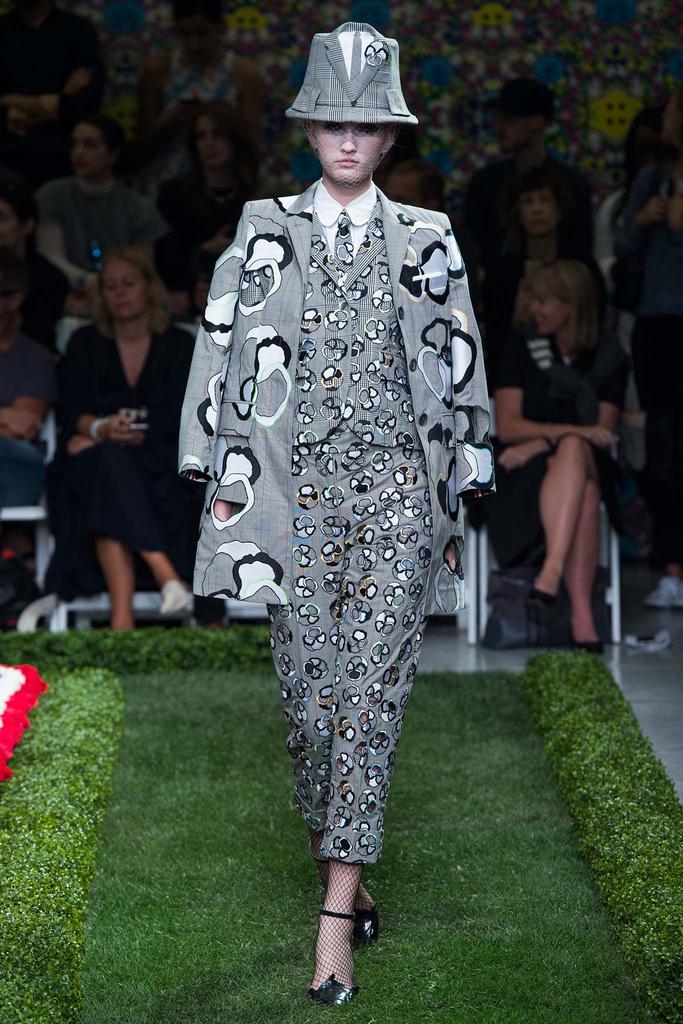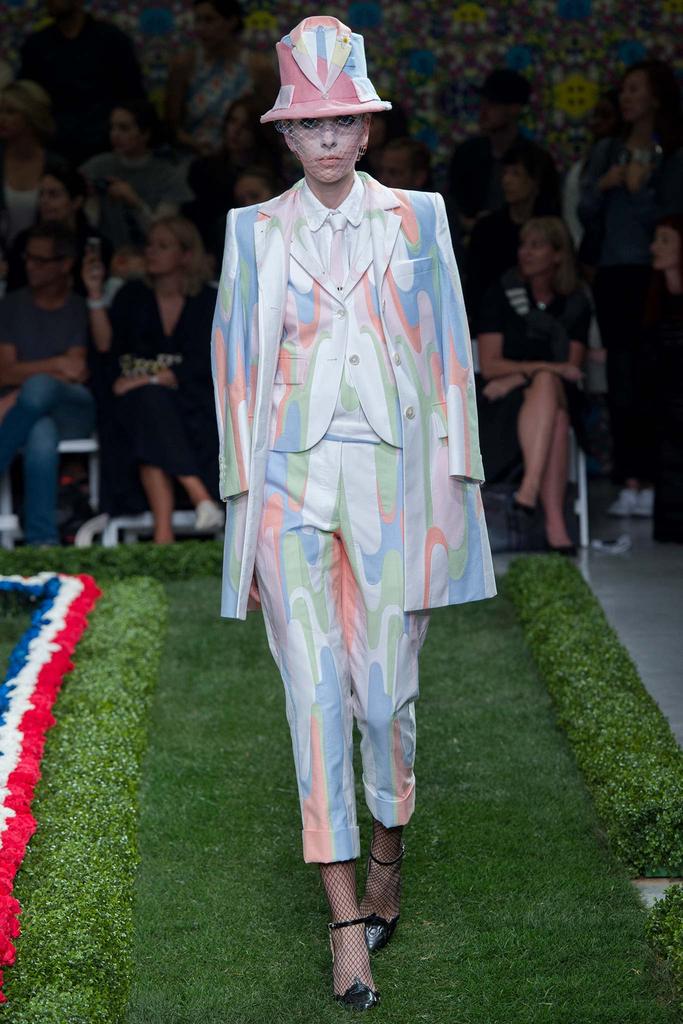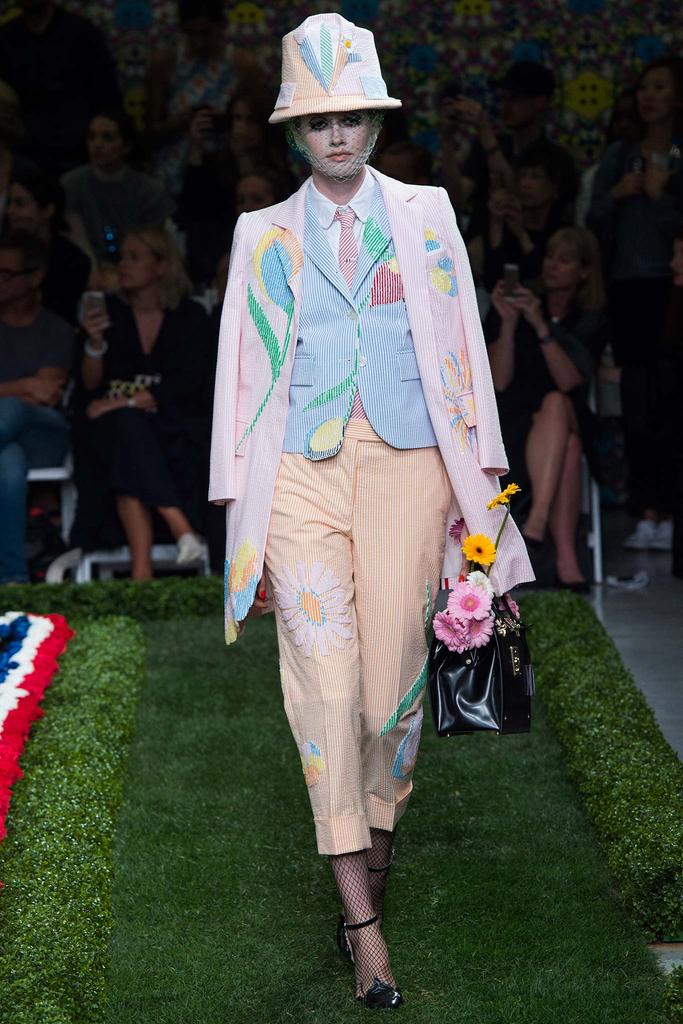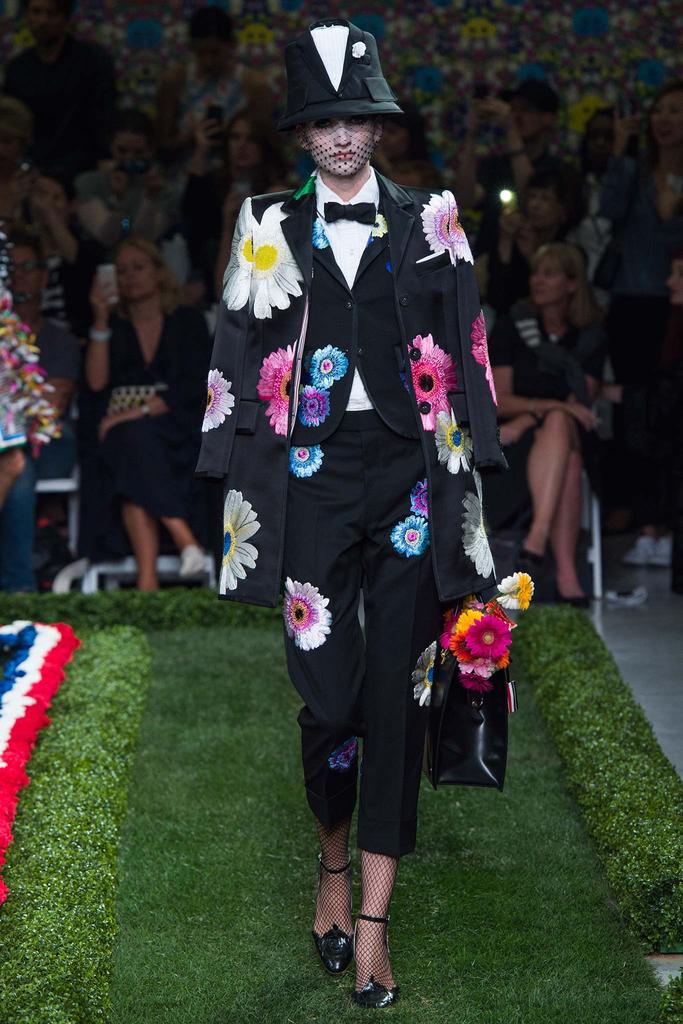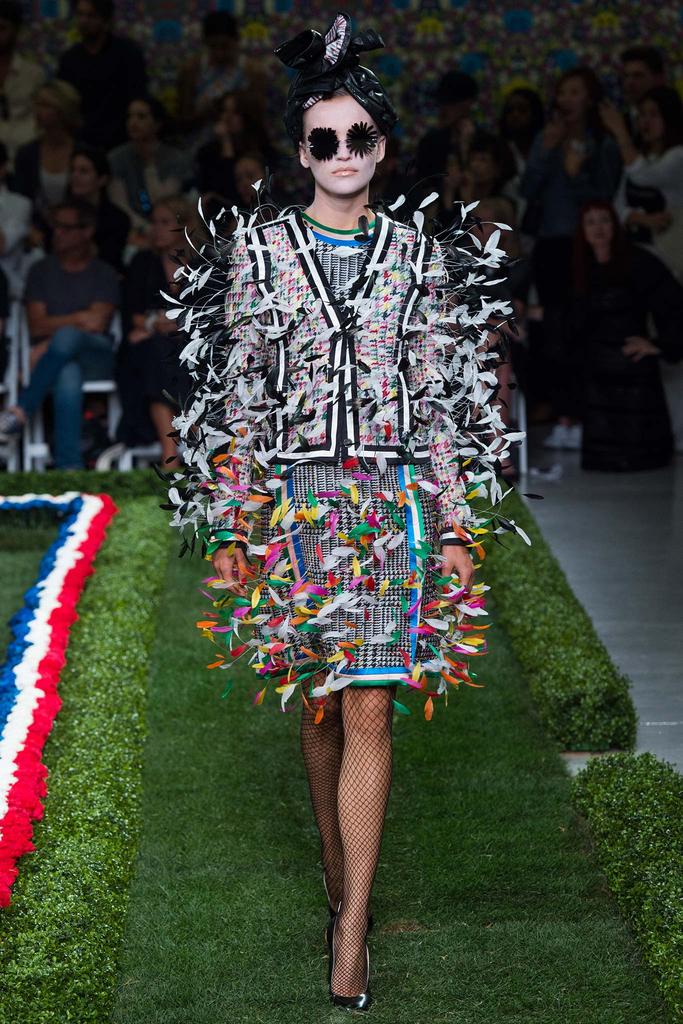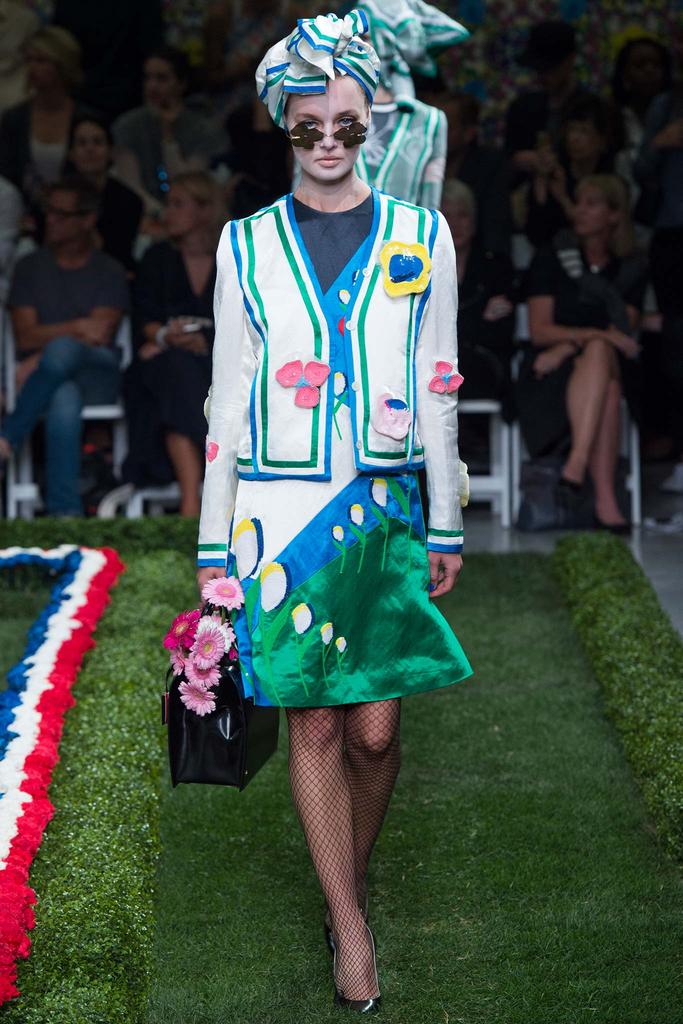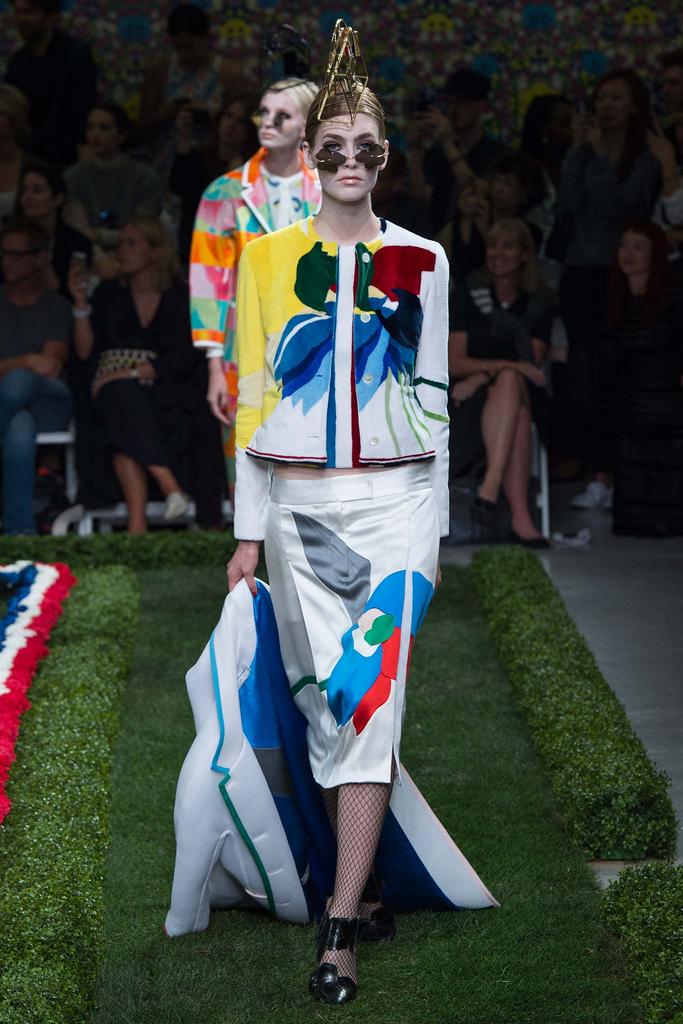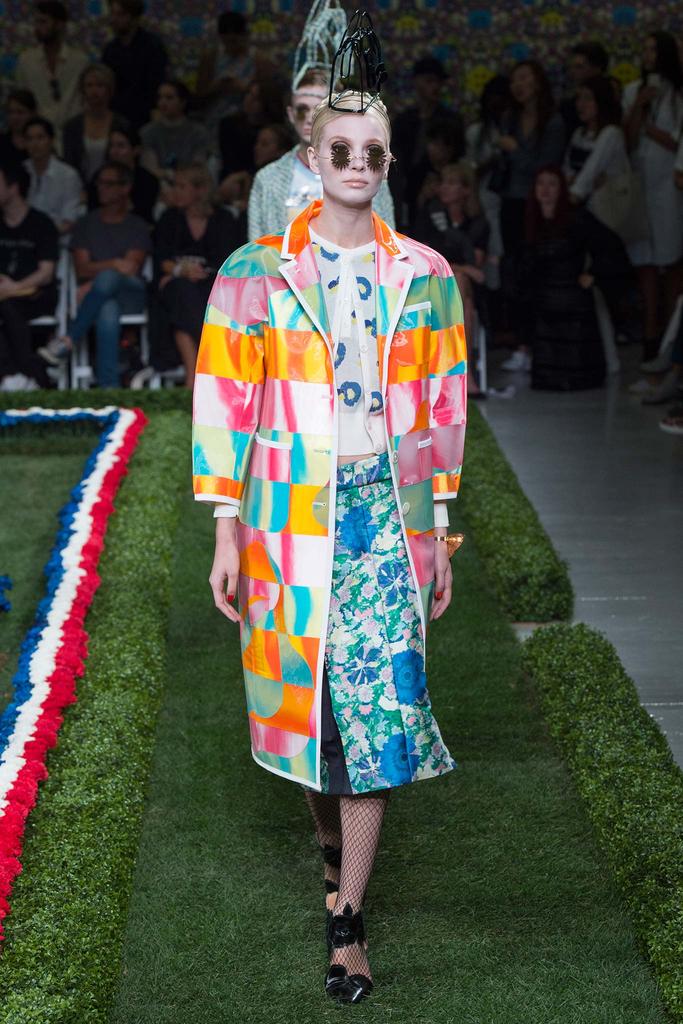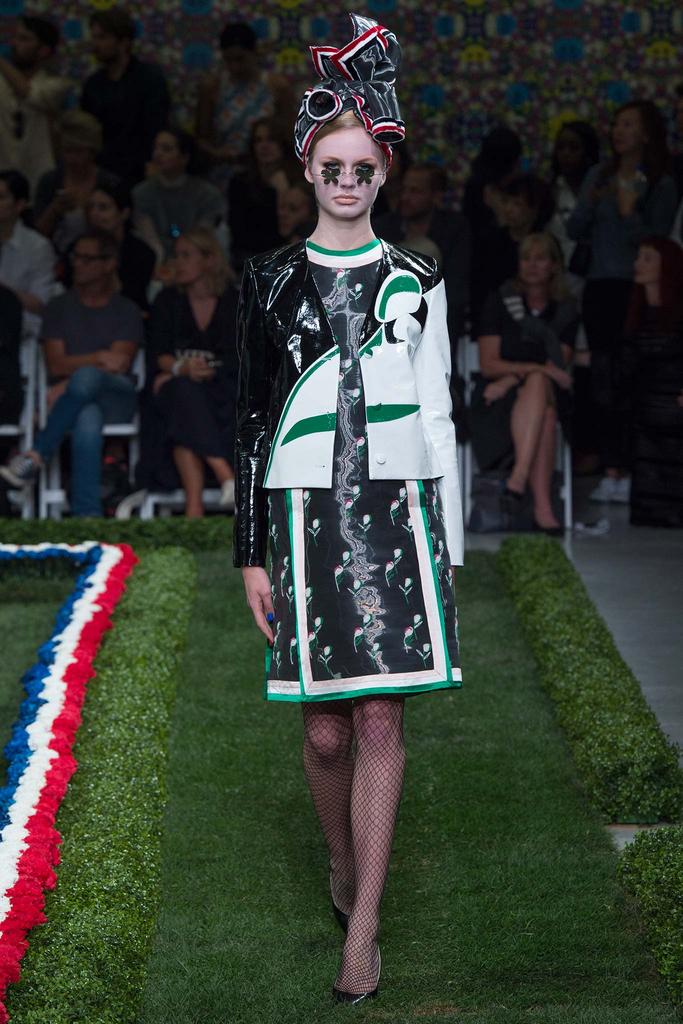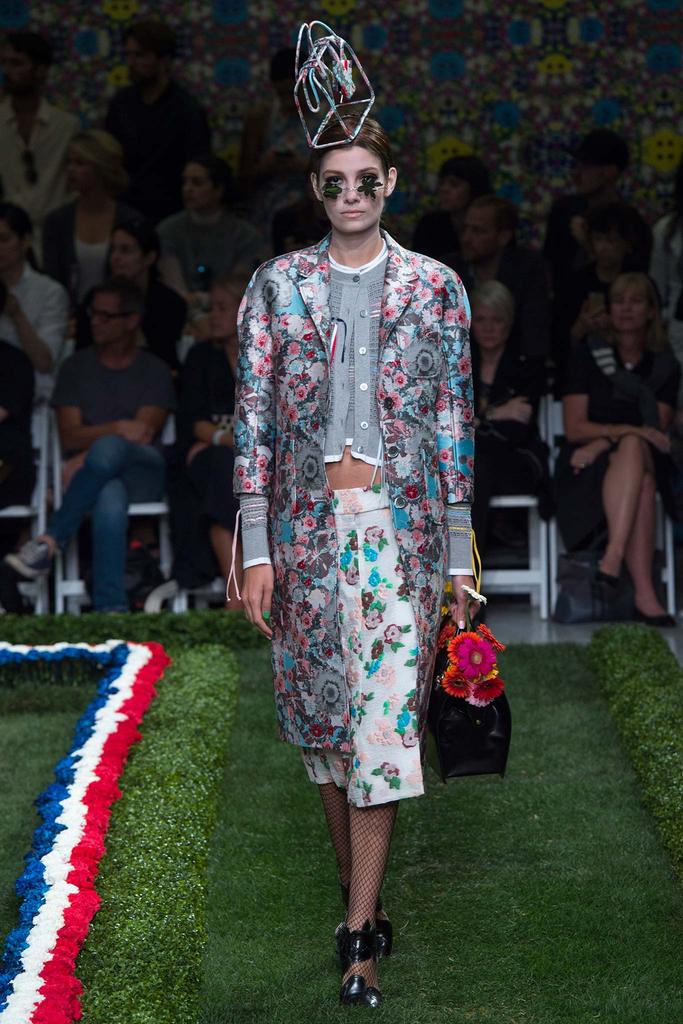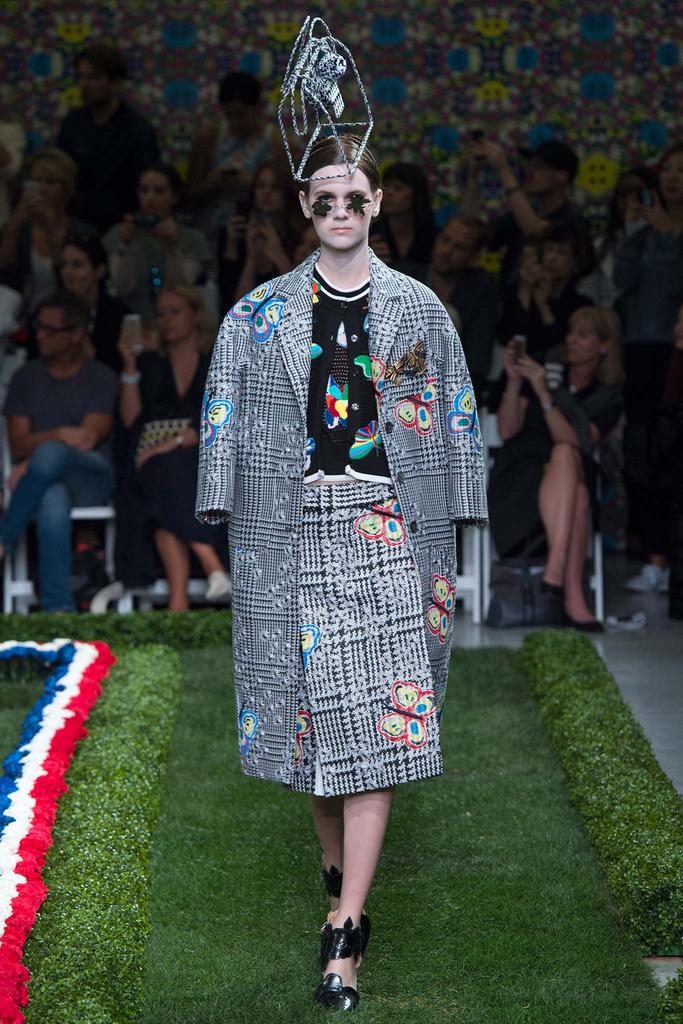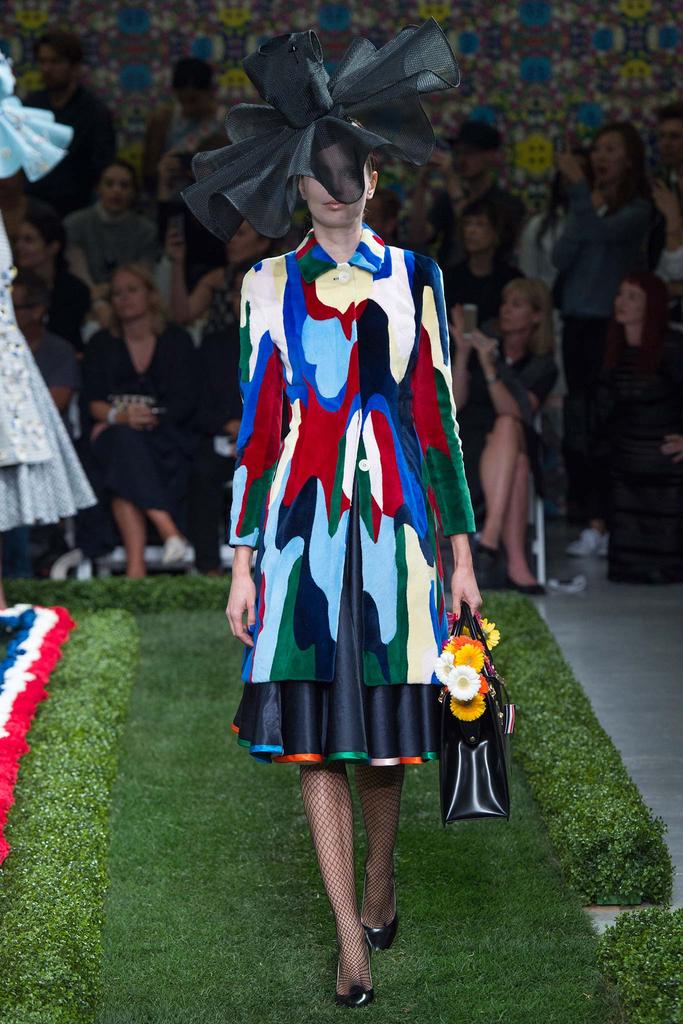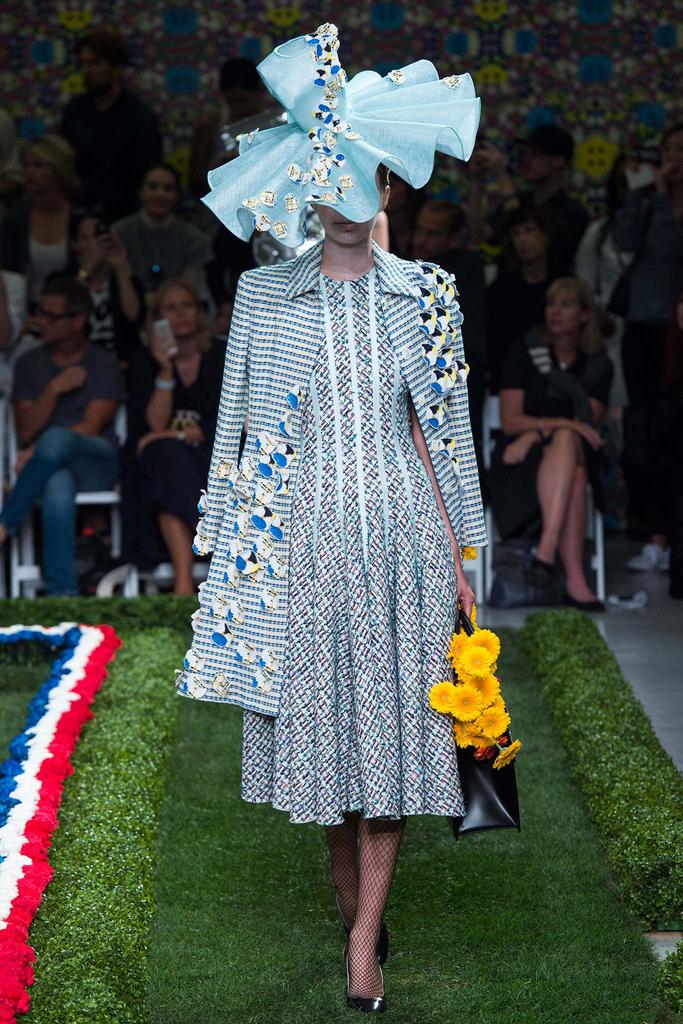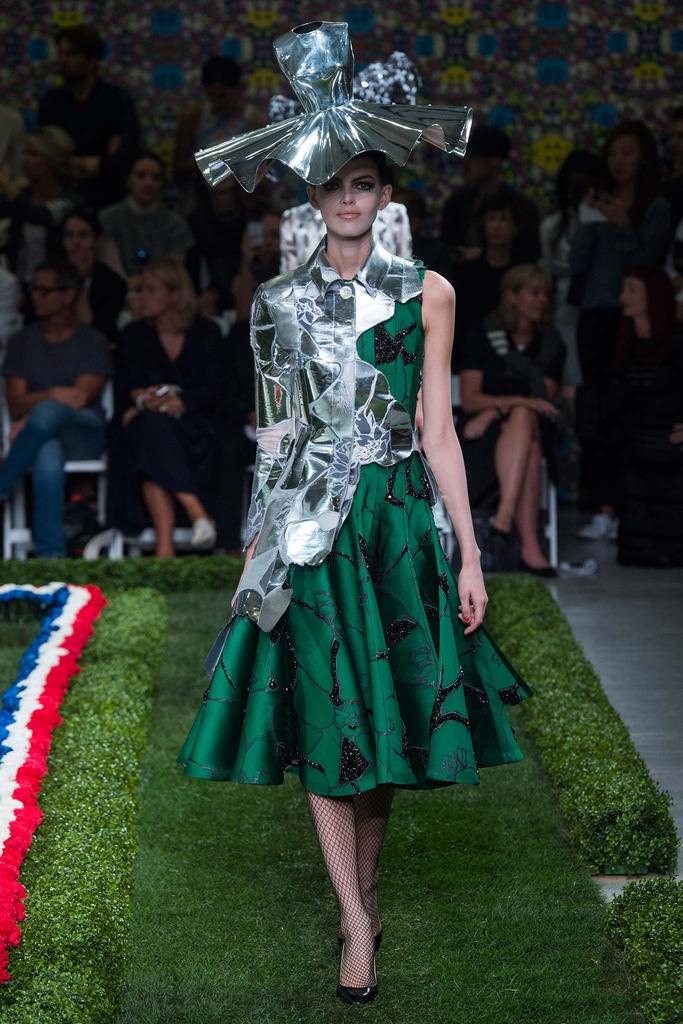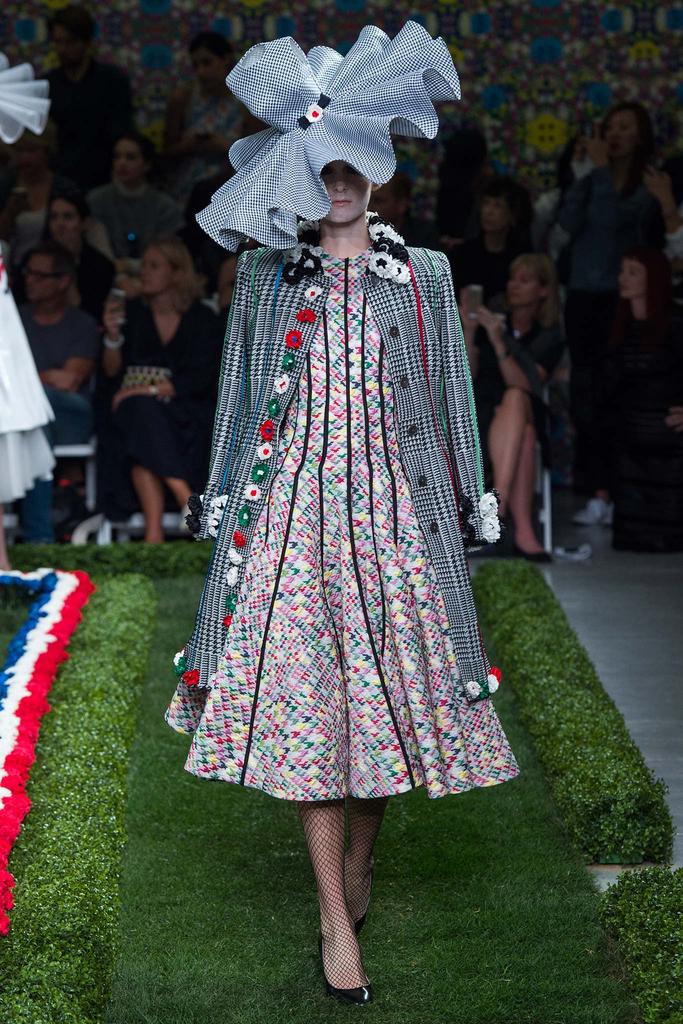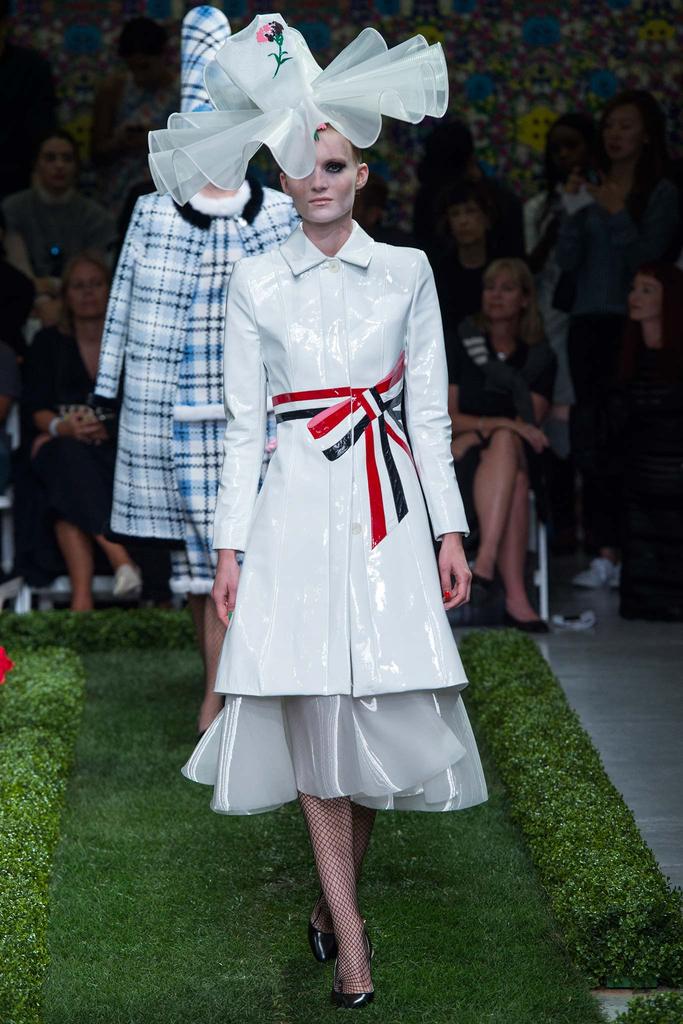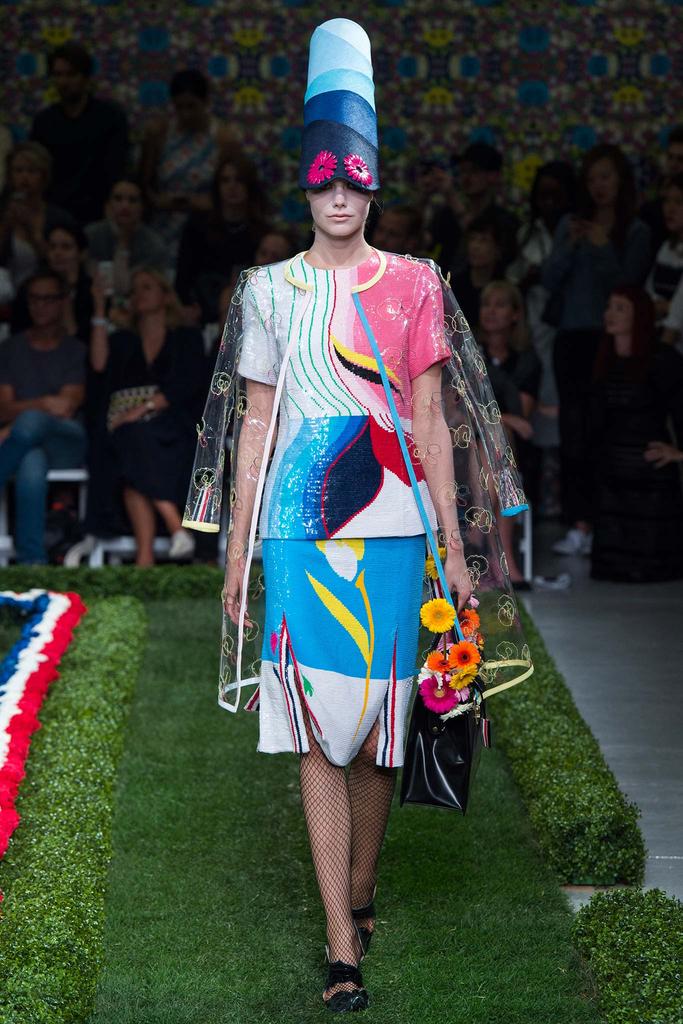 THOM BROWNE
In all the years I've been aware of fashion, since I first picked up a Vogue magazine in the 70's, I've seen some spectacular jaw dropping collections thanks to Yves Saint Laurent, Chanel, Valentino, Giambattista Valli, Dior and Alexander McQueen, you know, the usual suspects. I'm not sure any collection has put such a smile on my face and had me wondering which organ I was going to sell to obtain any one of these pieces. The combination of fabrics, embellishments, butterflies and flowers, feathers, pants, skirts, dresses, coats.......and seriously, SEERSUCKER in a host of pastels with Daisy appliques? I have no words.....at least nothing that aptly summarizes the impact of this collection on the pleasure center in my brain. Really just rapturous!
Now comes my personal crusade to find these pieces!
These wondrous images were brought to you by www.style.com