Well, summer fun is over, the kids are back to school, gala openings are upon us and resort but a distant memory on the runway. The first fall leaf has not yet fallen but the cycle of fashion dictates that SPRING has SPRUNG! New York Fashion week has begun! Now come the endless palettes of sherbet pastels and sweet feminine patterns in airy fabrics and easy silhouettes. Akin to resort, there are many wearable separates to mix and match for a host of occasions. There will be much fodder for the stylish but non-fussy traveler as well, with many tunics, skirts and slouchy sweaters to choose from. Always keep a look out for the well made separates that would adapt to being held captive in your suitcase for the duration of a vacation. Much like storing nuts for the winter try to accumulate packable pieces to add to your pre-existing repetoire of jeans, leggings, and T-shirts when the opportunity arises. The last thing you'll want to contend with in the days before a vacation is shopping. NEVER SHOP IN A PANIC! This is when inappropriate decisions are made and profligate spending perpetrated, with the ever looming threat of coming home with a neoprene jumpuit, or something equally as ghastly. SHUDDER. If one must violate this advice, always take a partner in crime, for the good cop bad cop routine. The aiders and abettors need not apply. Lord knows I've made some ahem, unwise choices under the influence of an endorphin surge which seems to be more common on the cusp of a vacation. Safety first, even when shopping! With this in mind, its time to indulge in the newest sporty spring samples.
Spring commences with flowers in bloom, birds in flight, skirts in all shapes and lengths (thank goodness) and of course the running leather contingent.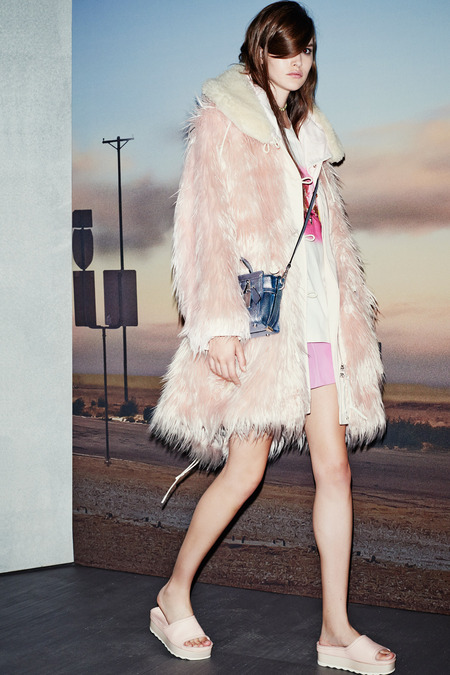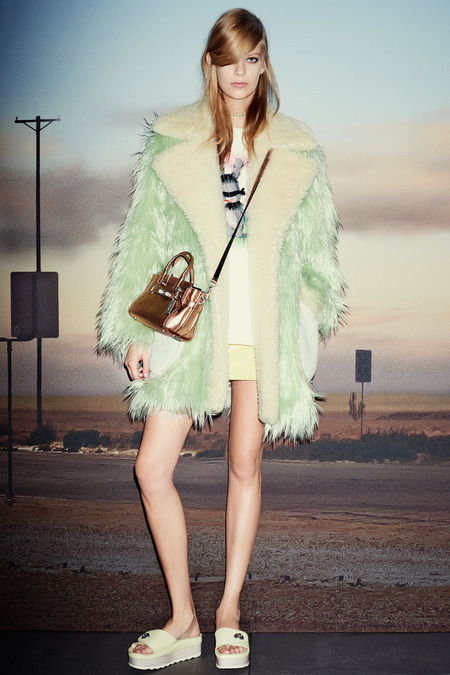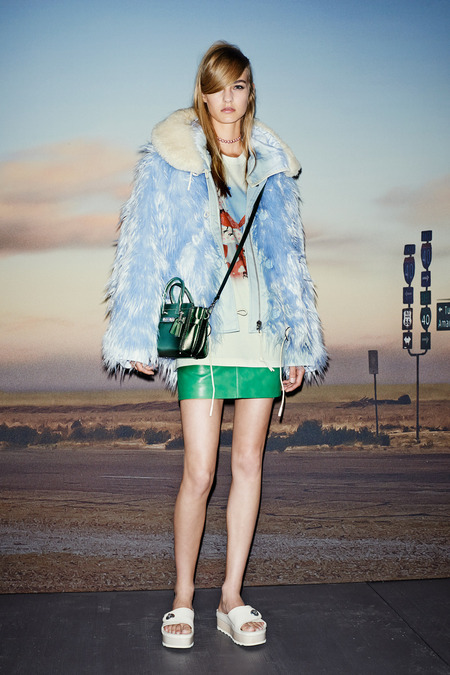 COACH
I am LOVING Coach runway! The pastels are so inviting, and its nice to have a synthetic contingent to choose from, especially for those not a fan of the real stuff. A little Sasquatch comes in handy during travels, waiting around in cold airports, keeping you cozy when the recycled air starts gusting through the cabins. And last but not least, its light.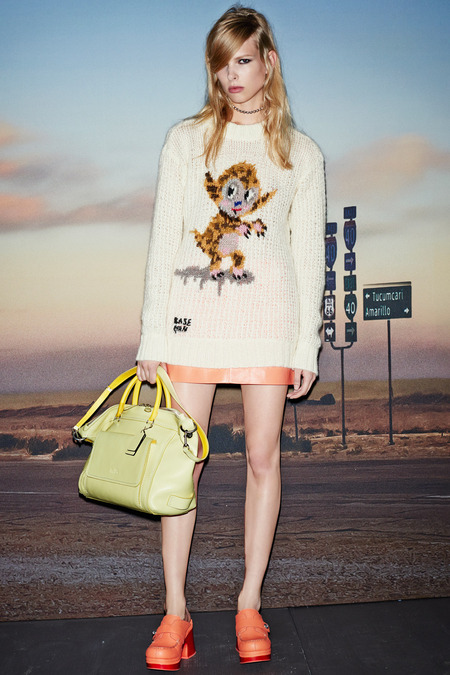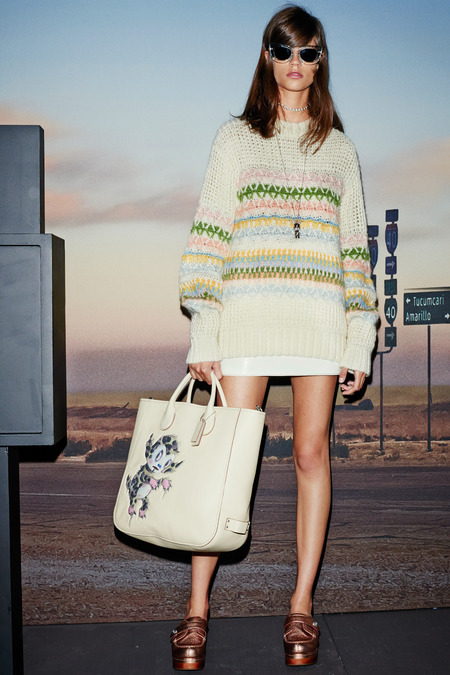 Into every spring some cold air will fall, so always practical to have some sweaters around just in case. If your suitcase is full, throw it around your neck! (Is that an alien lemur? Well, no matter, its very cute).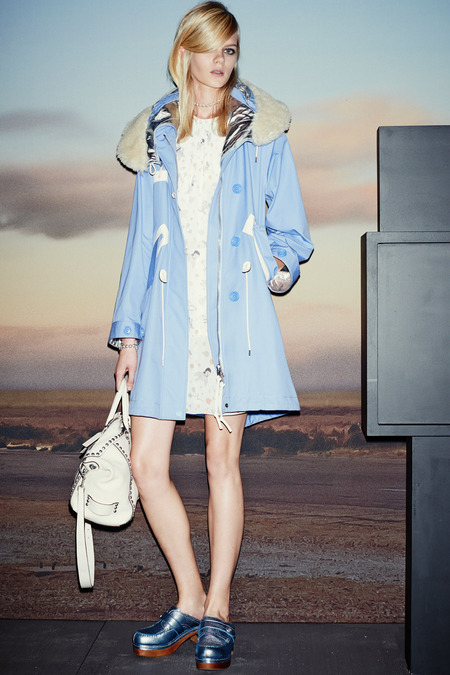 Love the powder blue parka-trench, but ADORE those metallic clogs. Win-win.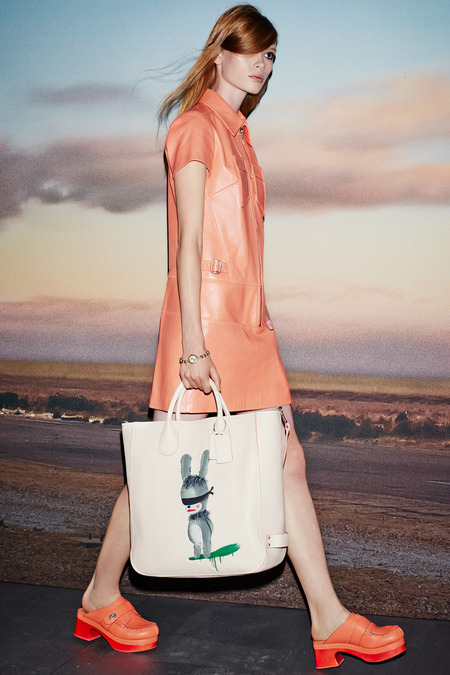 Peachy terracotta leather, LOVE THIS, along with anything in the orange spectrum. Would also work through the summer and fall.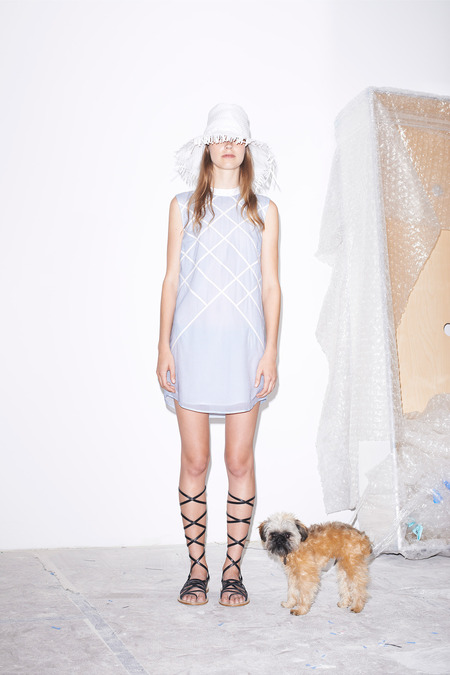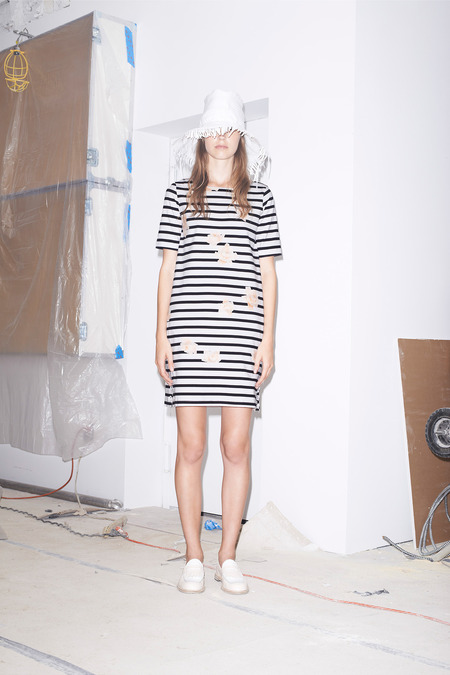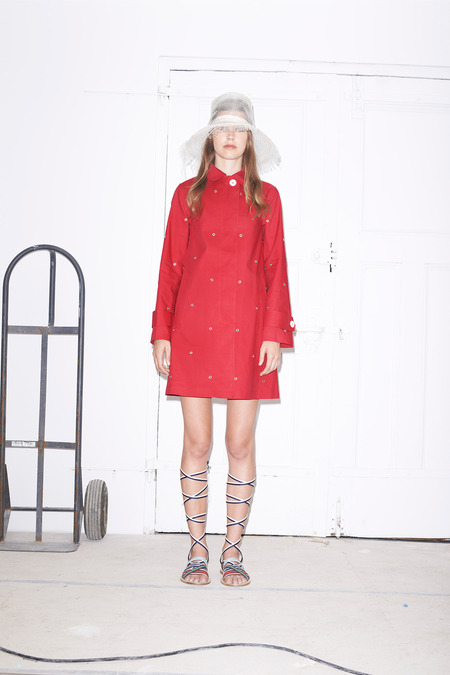 BAND OF OUTSIDERS
For a quick spring summer vacation, take these sweet separates, some jeans, a couple of T-shirts, and those blue Coach clogs. Done. A trench is a good versatile staple piece, and they are rife on the runways.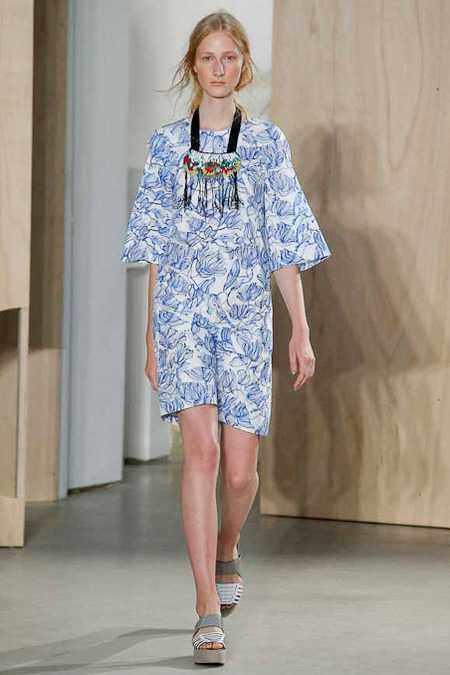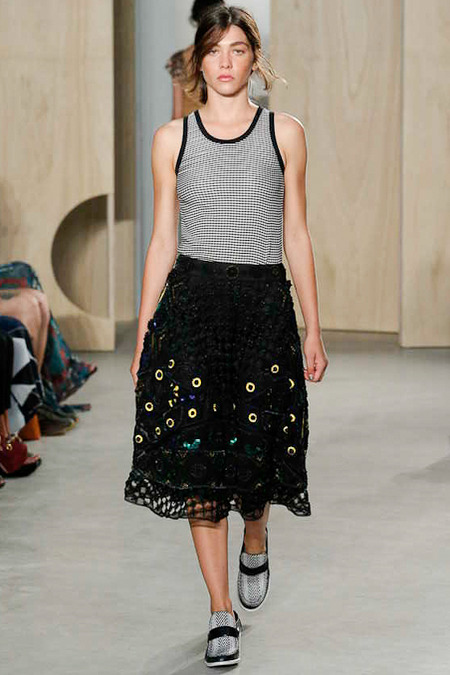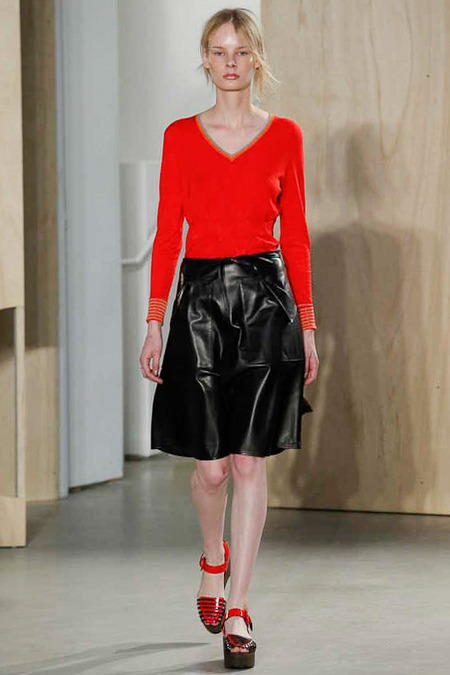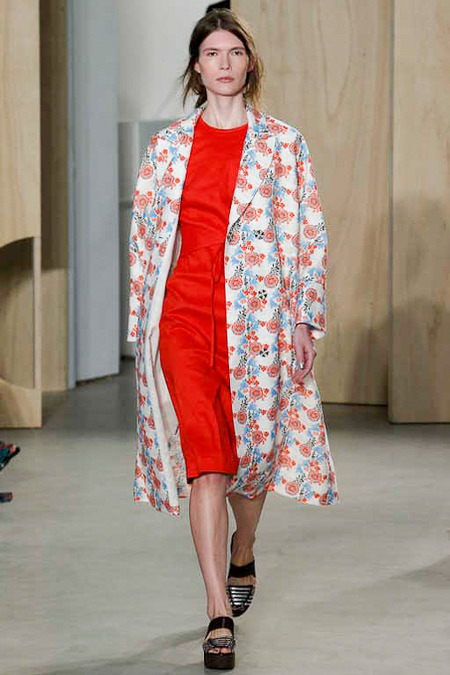 CREATURES OF THE WIND
You gotta love a collection which runs the gamut from white and wedgewood blue to black leather. Love the pops of RED.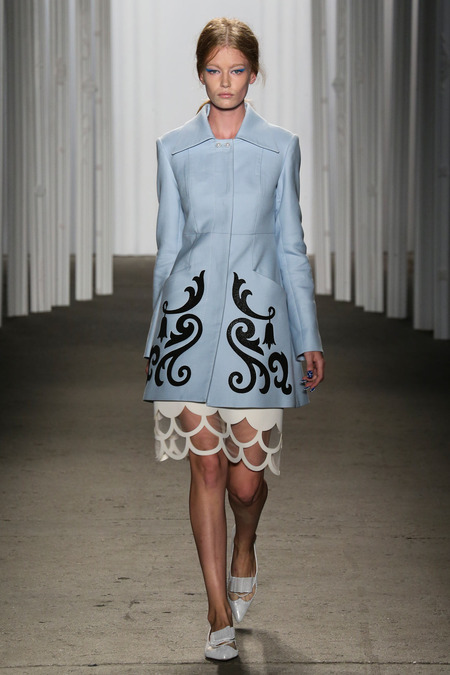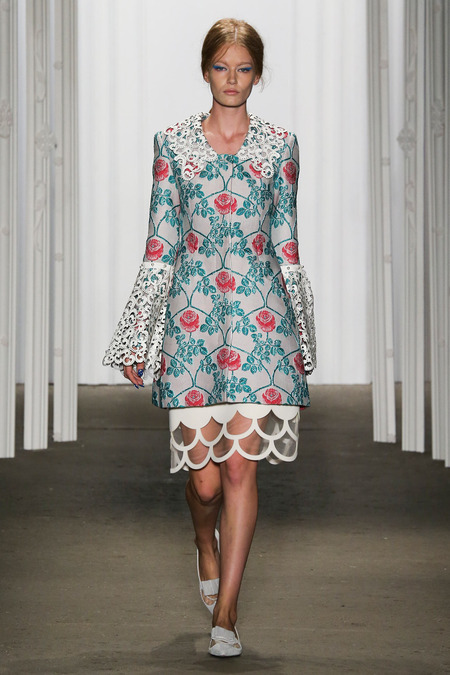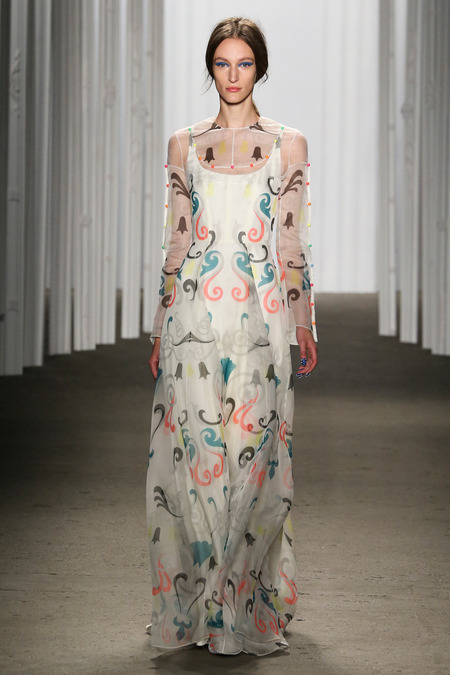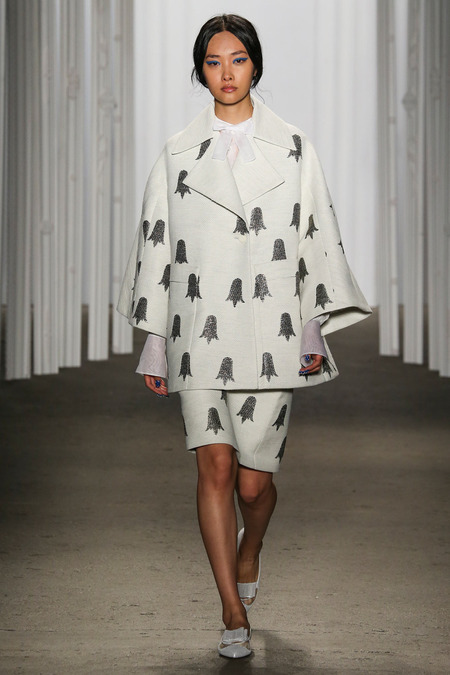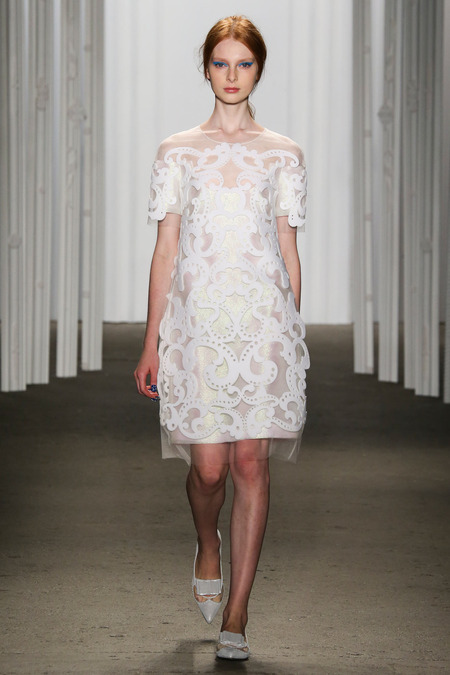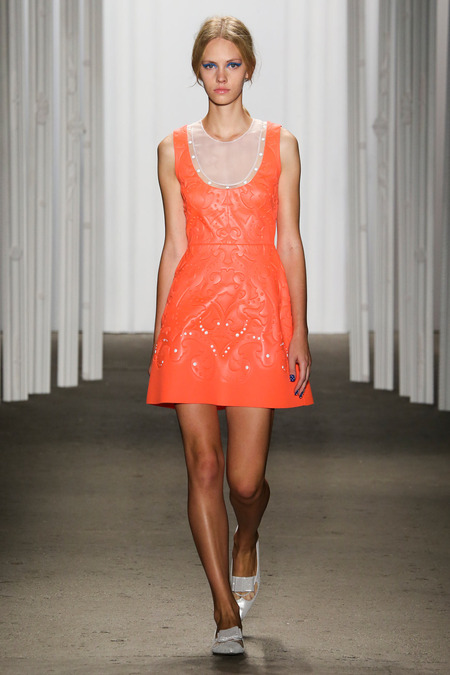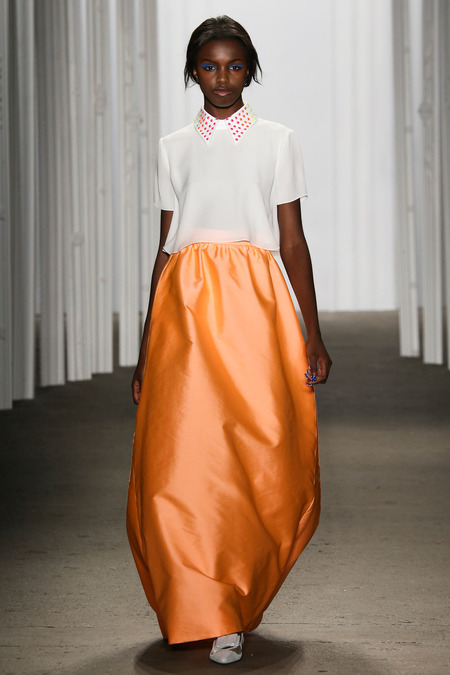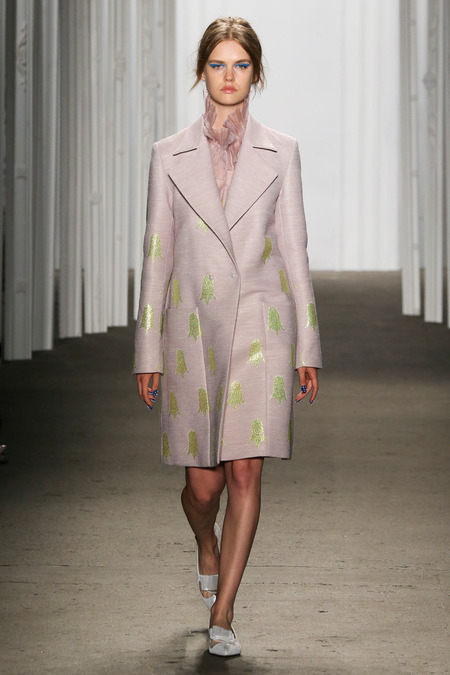 HONOR. This ENTIRE collection is covetable, I want ALL OF IT. So far the stunner of the runway shows, with the easy yet feminine silhouettes, impeccable tailoring, diaphanous silks, and laser cutout detailing. And the colors! Check out that tulip skirt in the orange sherbet (orangesicle ice cream bar anyone?), or that mauve jacket with the gold tulip accents! Just scrumptious! Until recently (as in two days ago), I had never heard of this house. What can I say? When it comes to fashion, there is a HUGE spectrum of design houses to choose from, and there are just so many hours in the day for exploration purposes. There will always be new designers coming onto the scene while the tried and true undergo the random paradigm shifts, surprising all with an about face from the expected.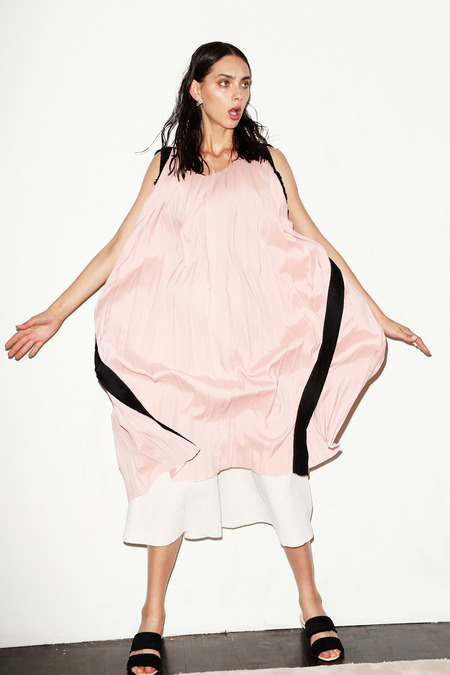 CHADWICK BELL
Wacky and comfortble as a dress or a tunic. Belt it if you dare. Wear with platforms, flats, or boots. You could eat a few burritos in this, and yet look stylish and fashion forward. Think boots and slouchy sweater when the fog rolls in.....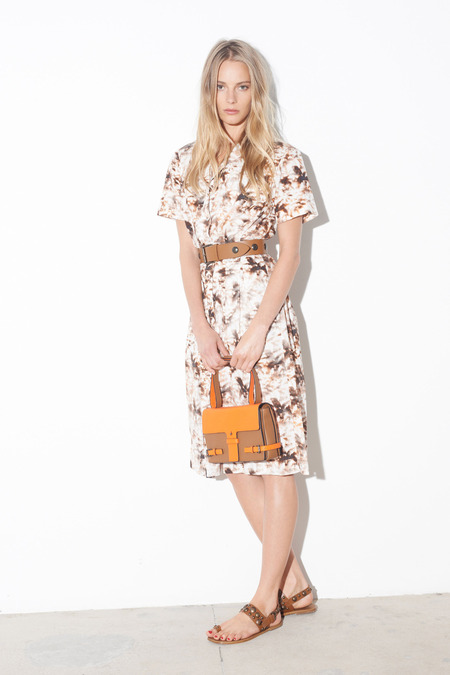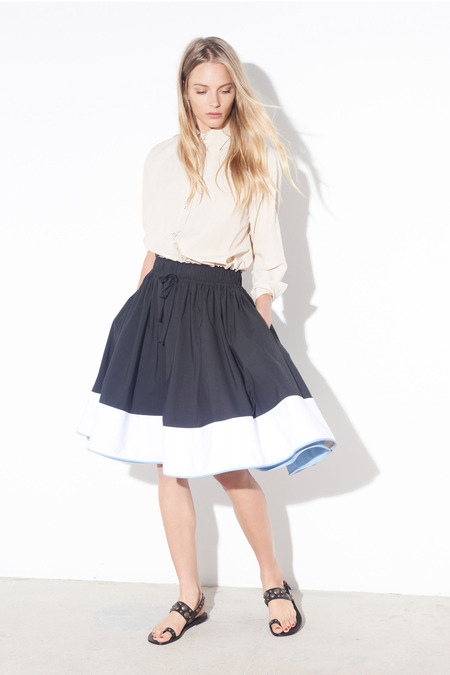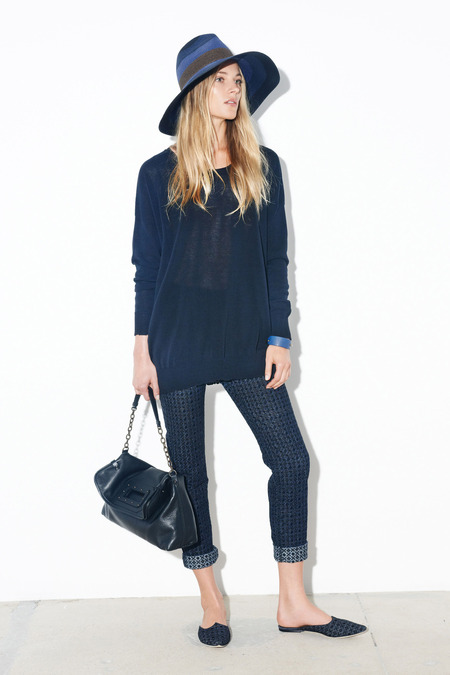 THOMAS MAIER
More practical and pretty pieces to while away the summer and spring days on the beach, on vacation........(see that elastic waist on the skirt? This is crucial for looming barbeques and crabfests).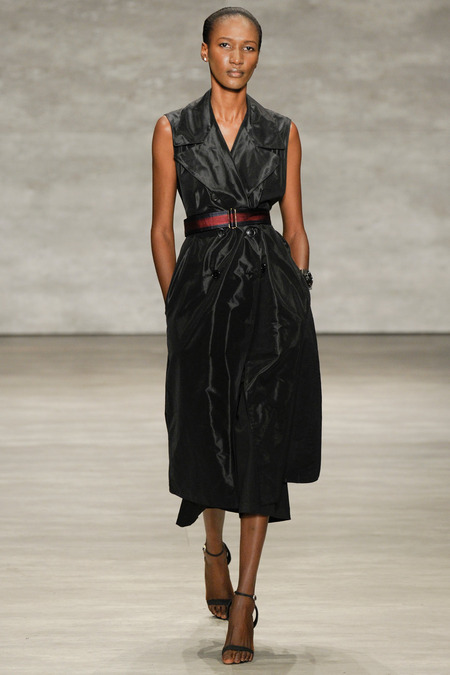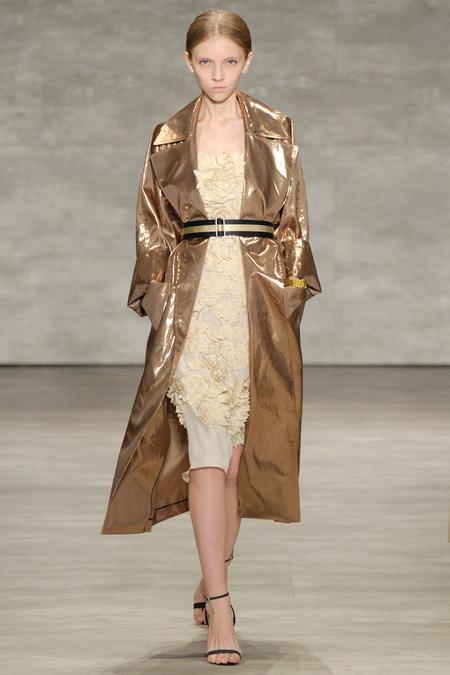 TOME
Another wonderful surprise I stumbled onto! Two versions of the trench! One in a silk dress that would also double as an evening frock, the other in a rose gold, the more rare of the metallics. Both unique layering pieces. And get a load of that beautiful dress with the floral appliques!!!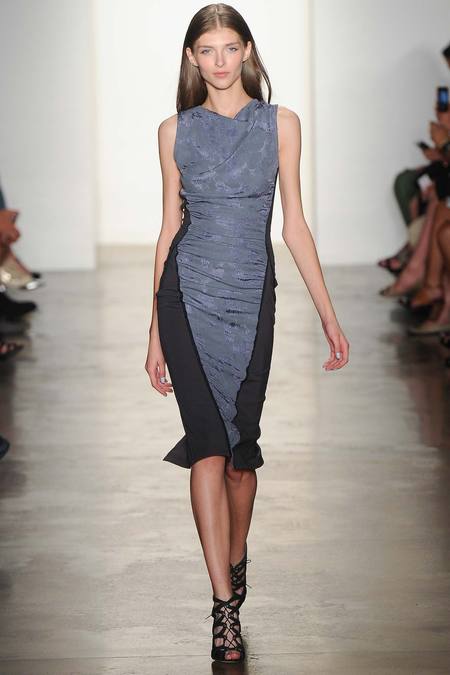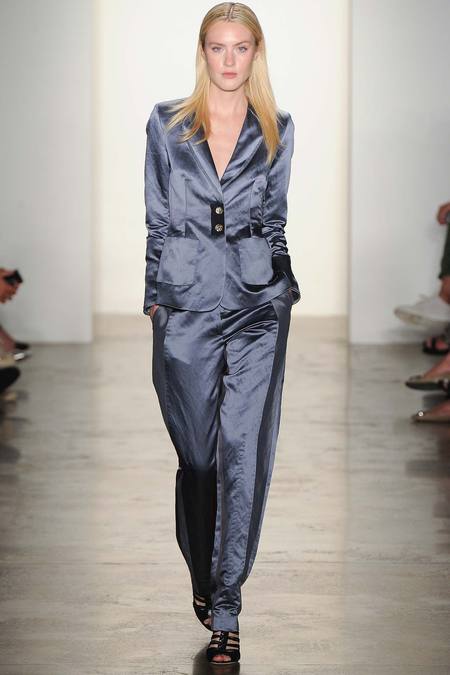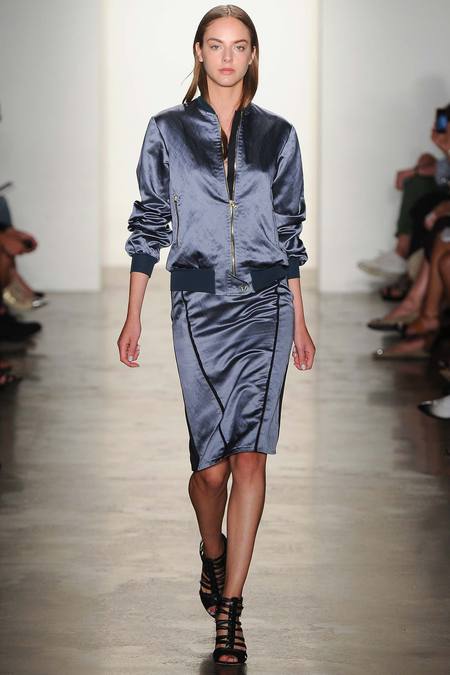 COSTELLO TAGLIAPIETRA
A triumphant trio in neutral blues. All pieces can be mixed and matched. The rouged dress is quite figure flattering and sexy without showing much skin and with nary a hint of hooch. You could devise a travel wardrobe around these eminently wearable pieces, and not have to resort to doing a trampoline act on your suitcase to keep it closed.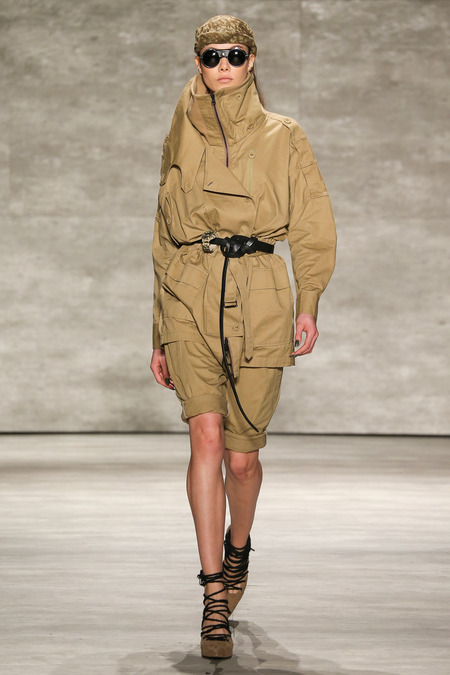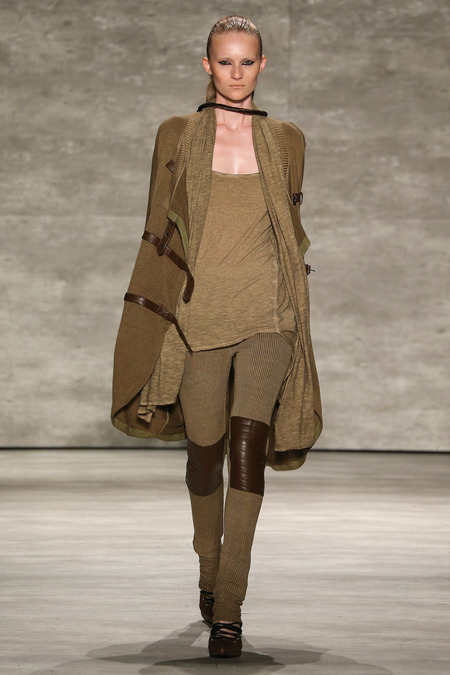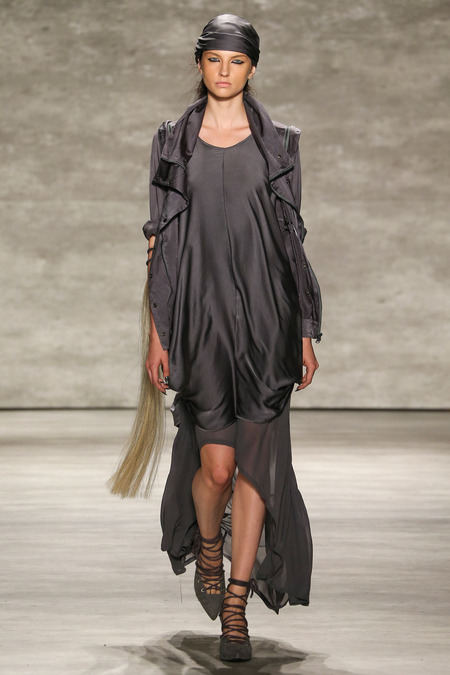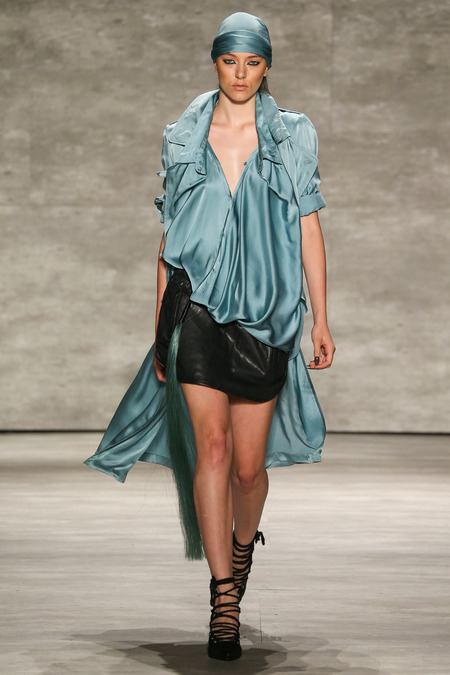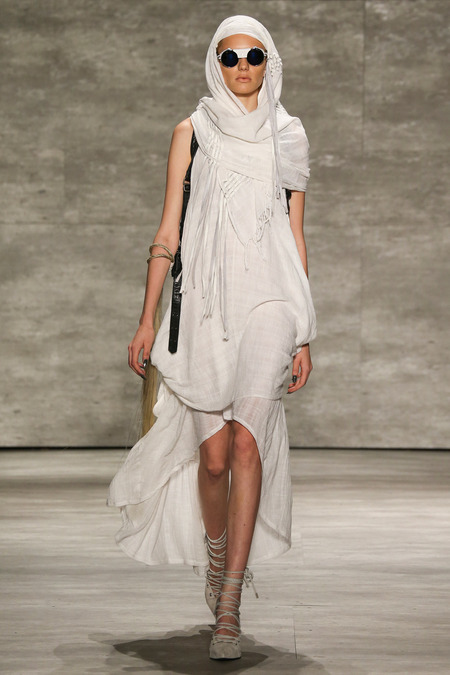 NICHOLAS K
Ok, this collection was a perfect combination of wearable and lux, with the safari inspired "casual" wear, the flowy dresses in gauze and charmeuse. Latter day Out of Africa. Now all you need to do is find the man that wants to wash your hair.......sigh. And those leggings with the leather knee pads? S W O O N. You could tool around Paris or Istanbul in these glorious separates on your way to East or South Africa for Safari!
New York Fashion week continues, more to come.....
Images brought to you by www.style.com