And the sojourn through all things summery and festive continues with wearable togs, cocktailing attire, and deliciously avant-garde non-sequiturs!
Black and white are infused throughout the collections but a ravishing theme colors the runway: RED AND RUFFLES! All good.
Lady like silhouettes rendered of gazar silk and guipure laces continue to brighten the day for ladies lunching whilst the usual suspects serve up exquisite finery for fall's gala doings.
So, as per usual, something for all concerned.
ISA ARFEN: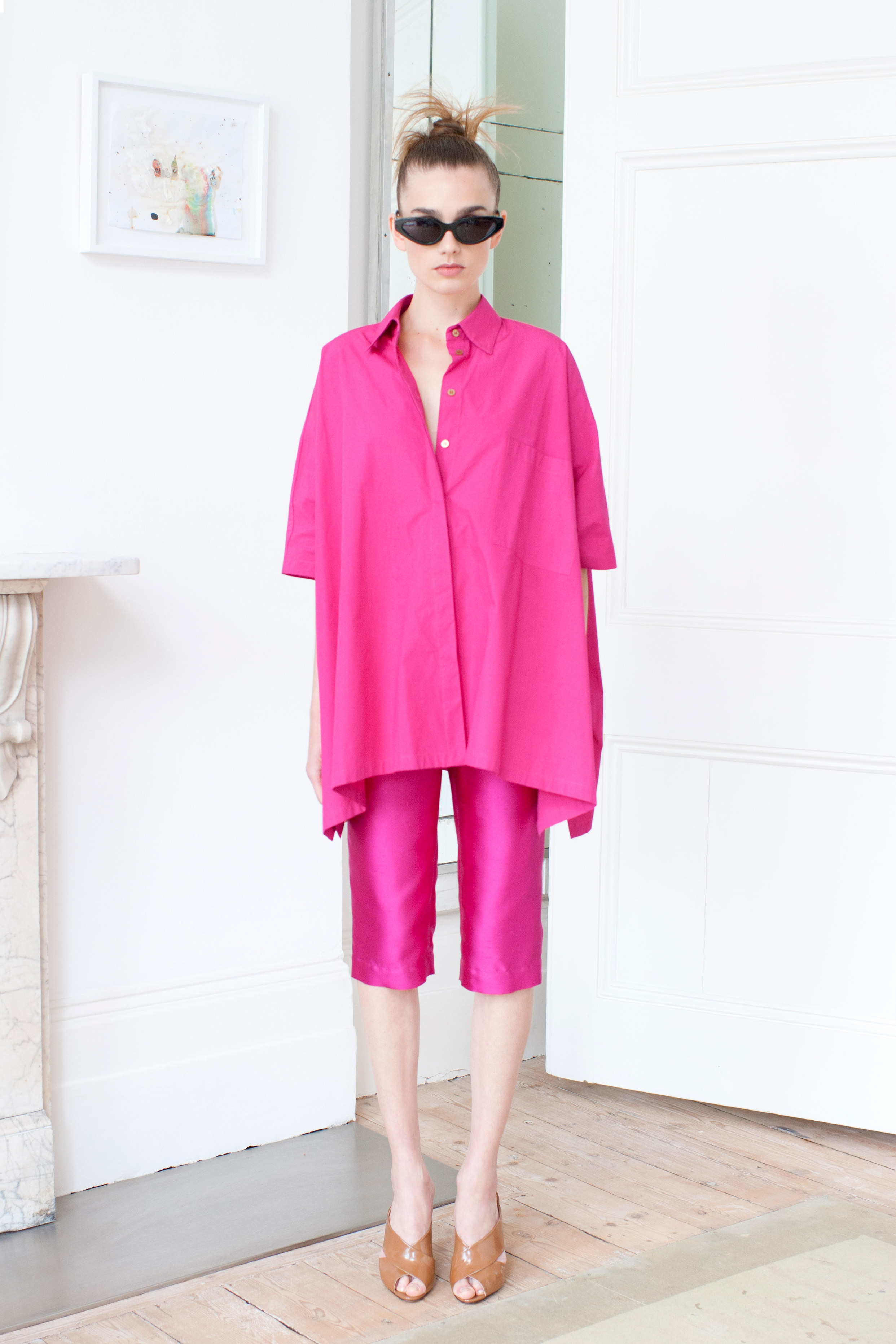 The big shirt, a perfect accompaniment to chic shorts, a bathing suit, or pedal pushers. And why not go for the gusto with a vibrant fuchsia? Dress it up with some big baubles for night time antics.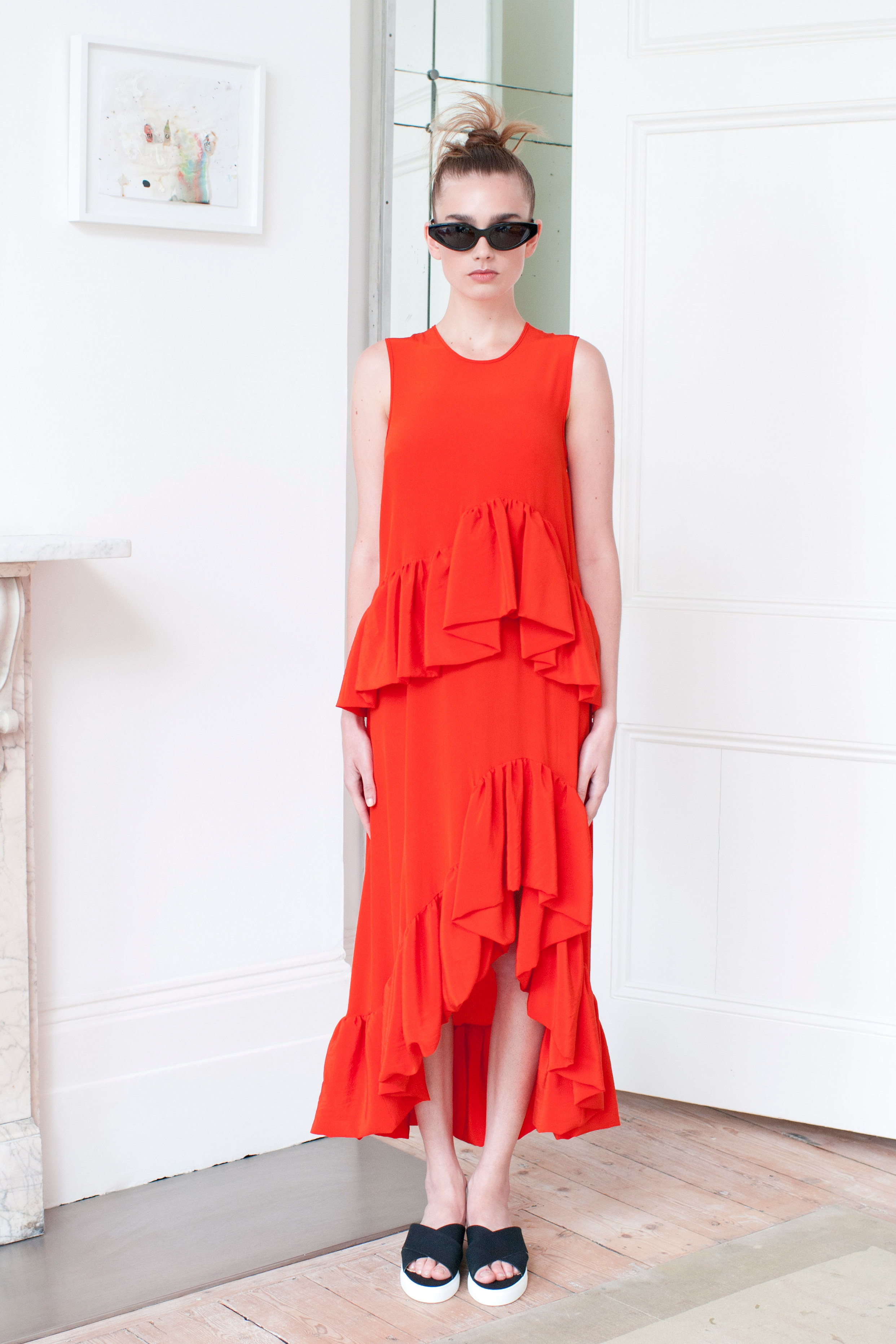 Red and ruffles x TWO! Fun and flirty, great for a beach vacation, or tooling around town at high noon. Get out the espadrilles!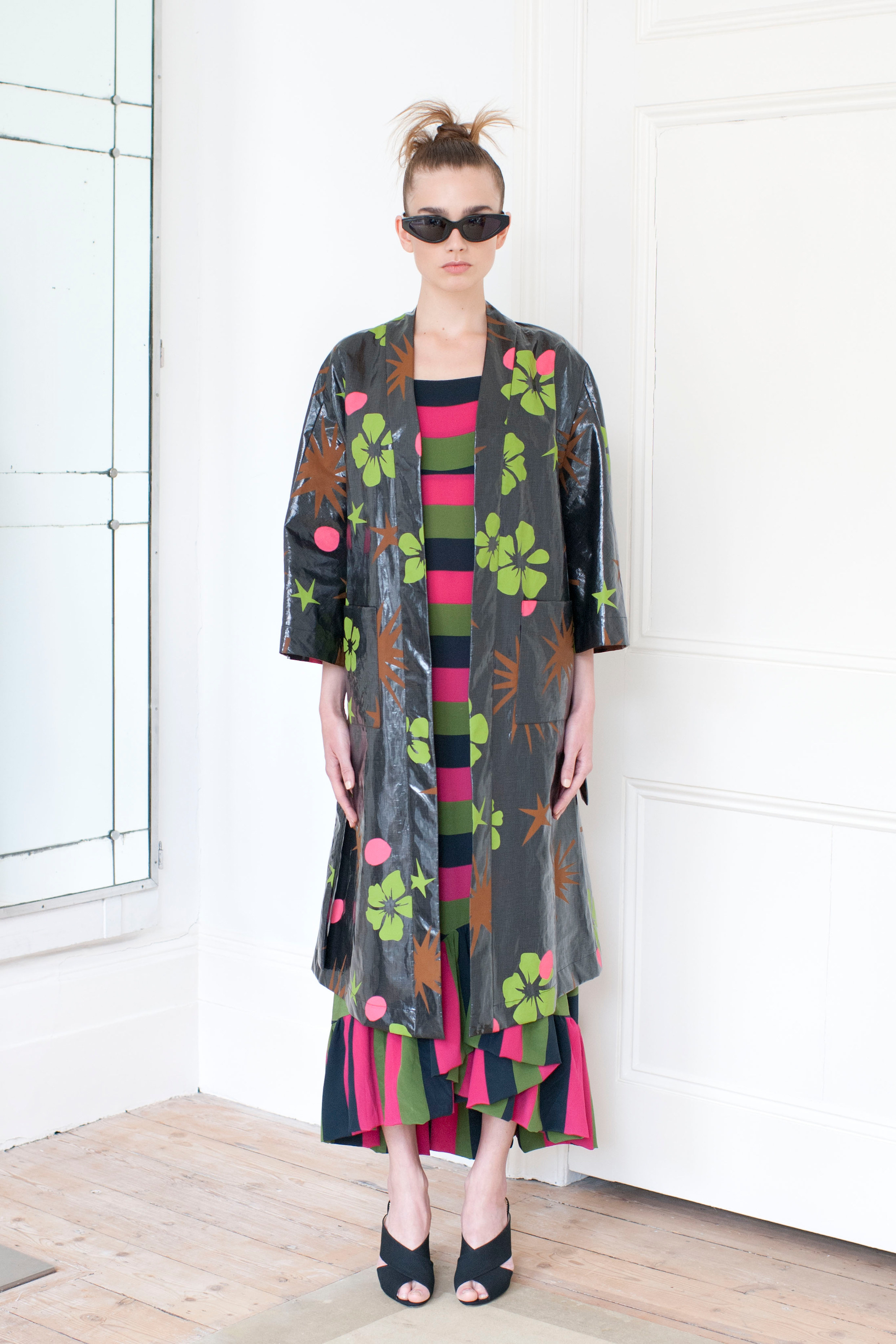 Never be afraid to mix patterns and colors. You won't scare the children, I promise. The last three outfits could all happily co-mingle for your next vacation, and make nary a dent in your suitcase.
CAROLINA HERRERA: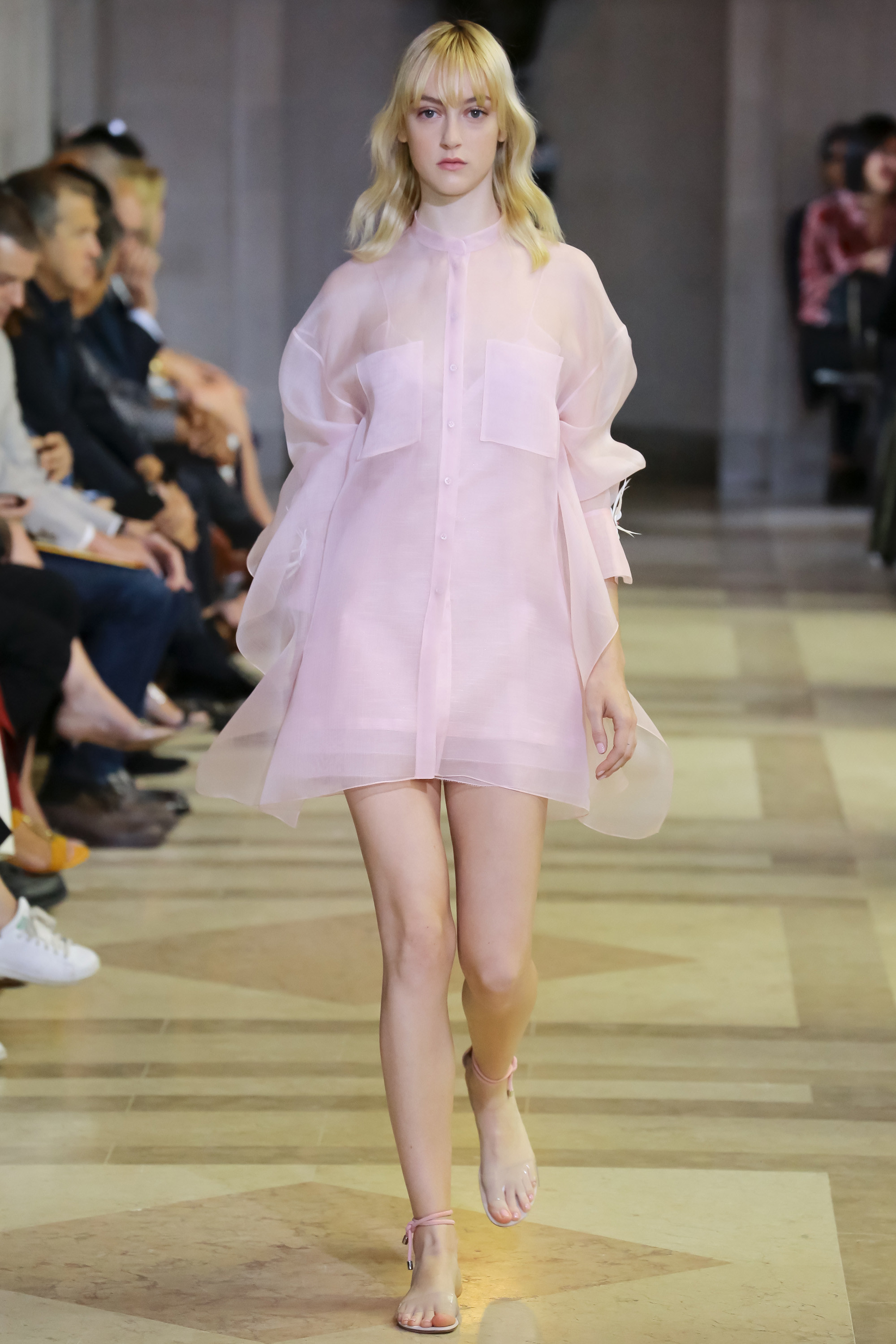 Ok, shoot me now, I've died and gone to cotton candy organza h e a v e n. Apparently "pastels" are poison in the world of retail.....go figure. Definitely for the light of heart and spirit. But how inviting is this? Its a big pink dream! For all you Sylvia Plath types out there, I defy you to burn one piece of black clothing and invest in a pastel. And if pink is a bridge too far, try powder blue or yellow. It will put a smile on your face for sure.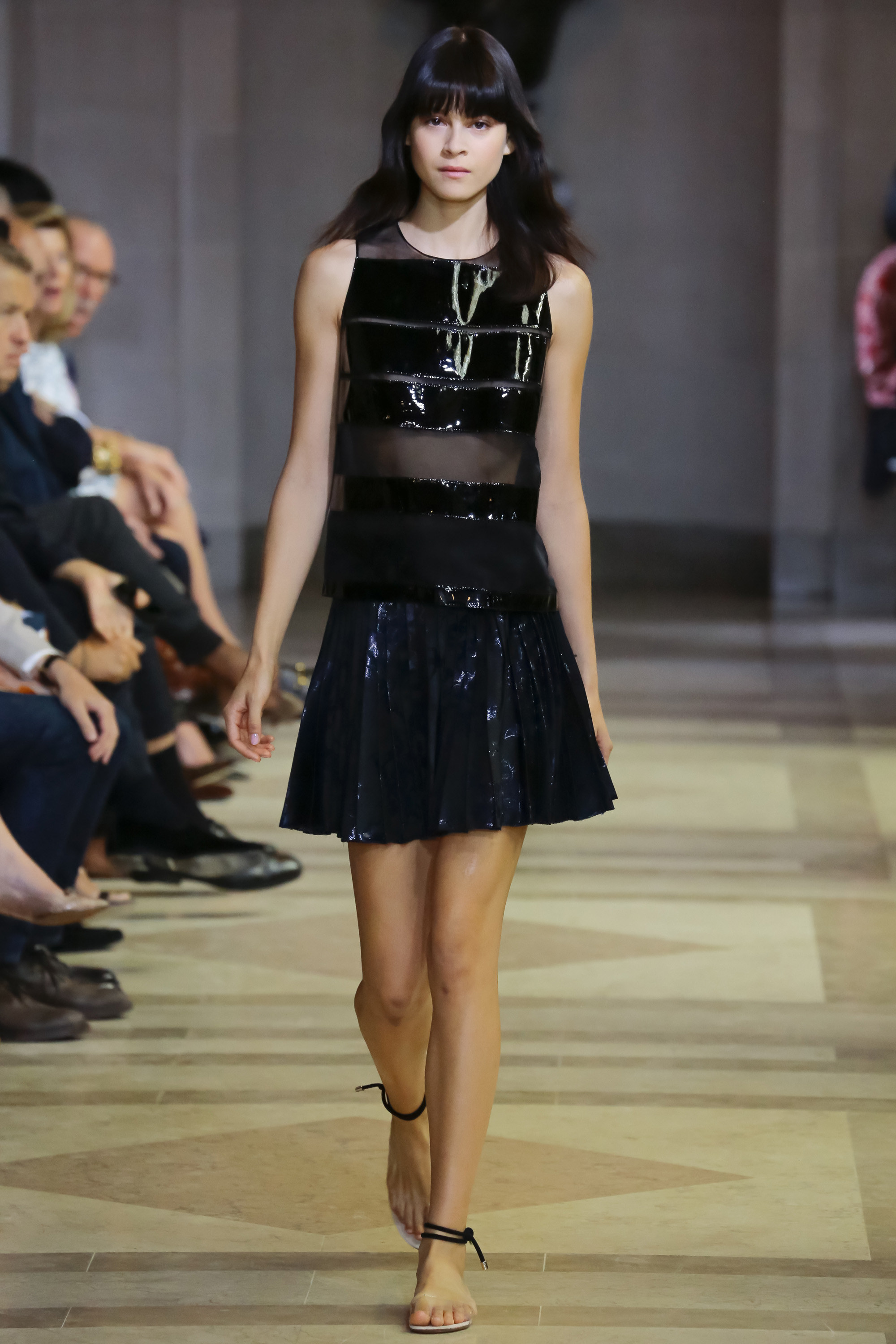 And now for the unexpected 180 degree segue into Barbarella territory. Not exactly iconic Carolina, but inviting nonetheless.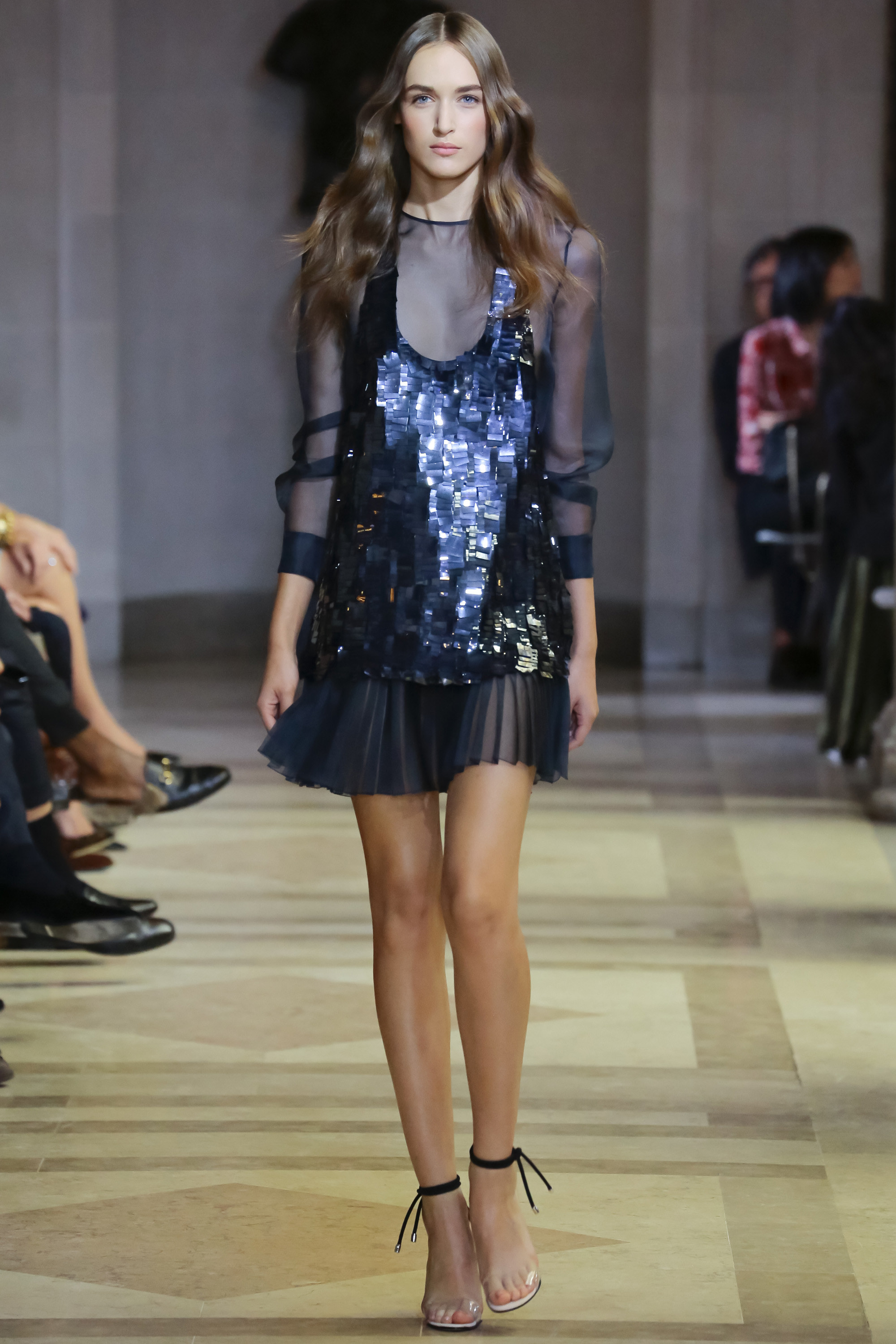 What stays in Vegas and all that.
OSCAR DE LA RENTA (PETER COPPING):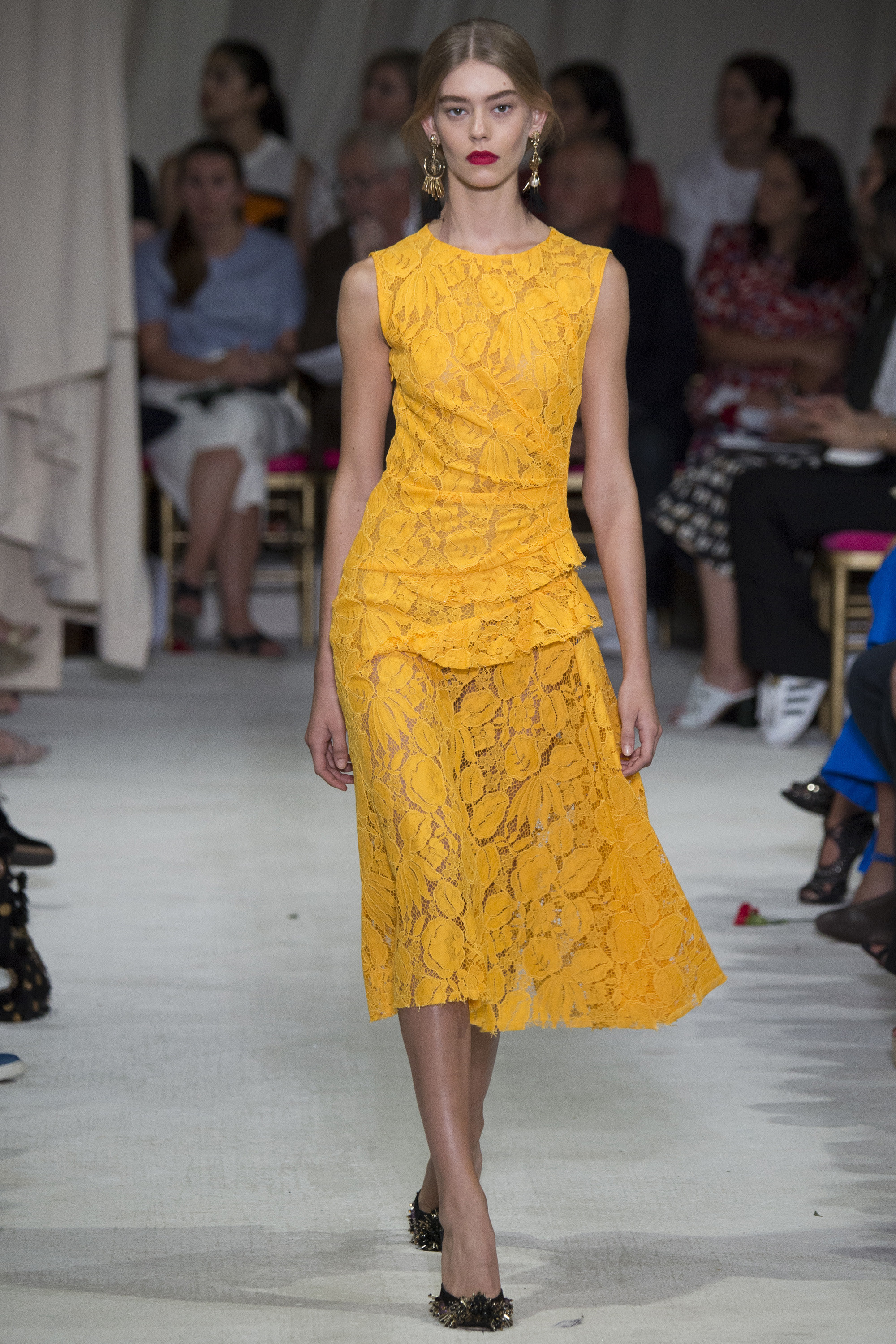 In this, his third pret-a-porter collection for the iconic brand, Copping continues to channel the Grandmaster of upscale lady like attire with a striking vibrant color palette, ever flattering silhouettes, and absolutely scrumptious fabrications. Bravo! This might be the perfect summer dress. The marigold color adds pizzazz, the bias cut sex appeal, and the guipure lace gravitas.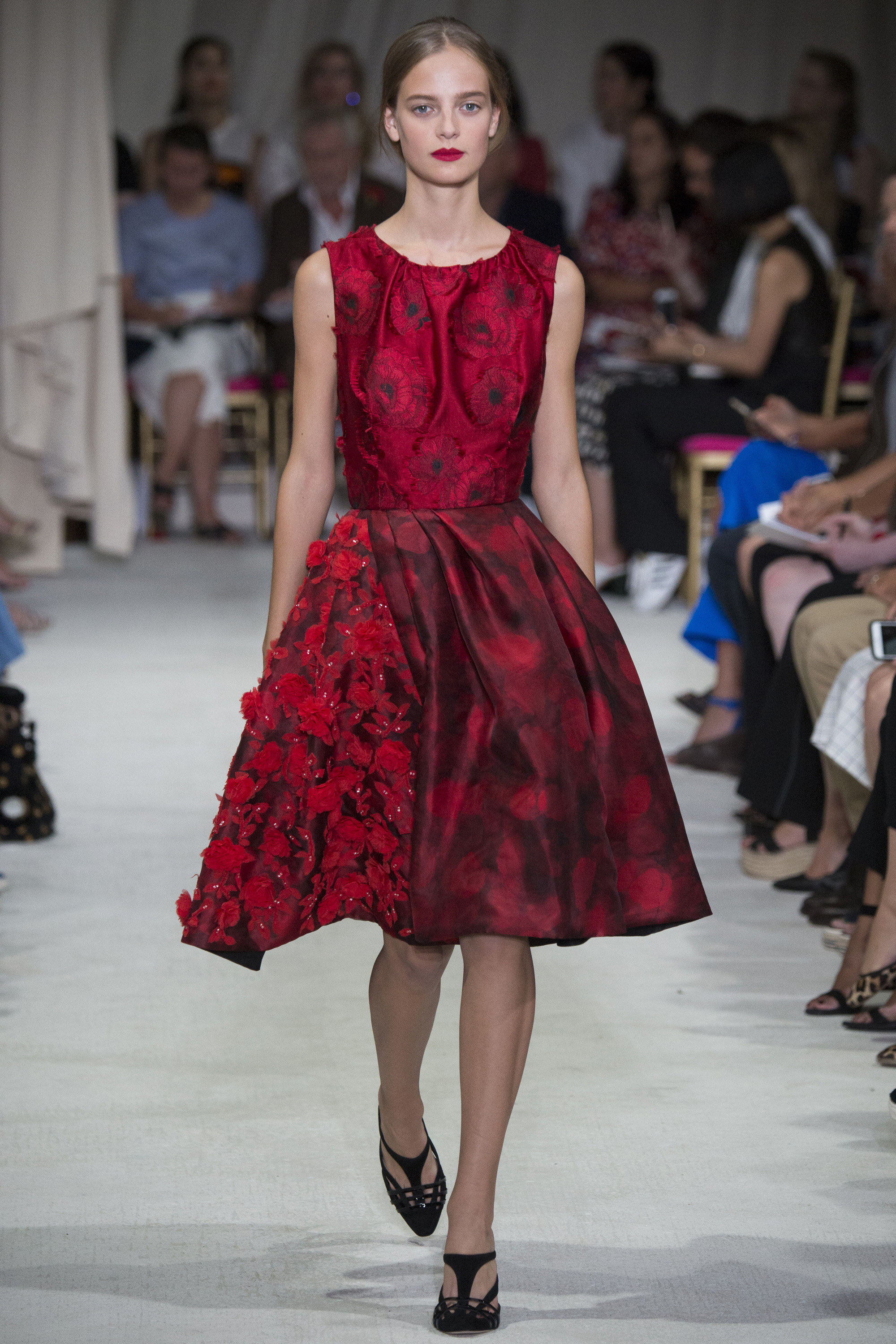 More red, with jacquard and embellishments, another winning winsome trio. When you're off to a night of dancing, Opera going, and generalized merry making, you want to be pulled together but able to move and breath. This is not the time for the Scarlett O'Hara corset or skin tight mini with a slit up to "there"….important to keep the silhouette rather simple and within the bounds of decorum.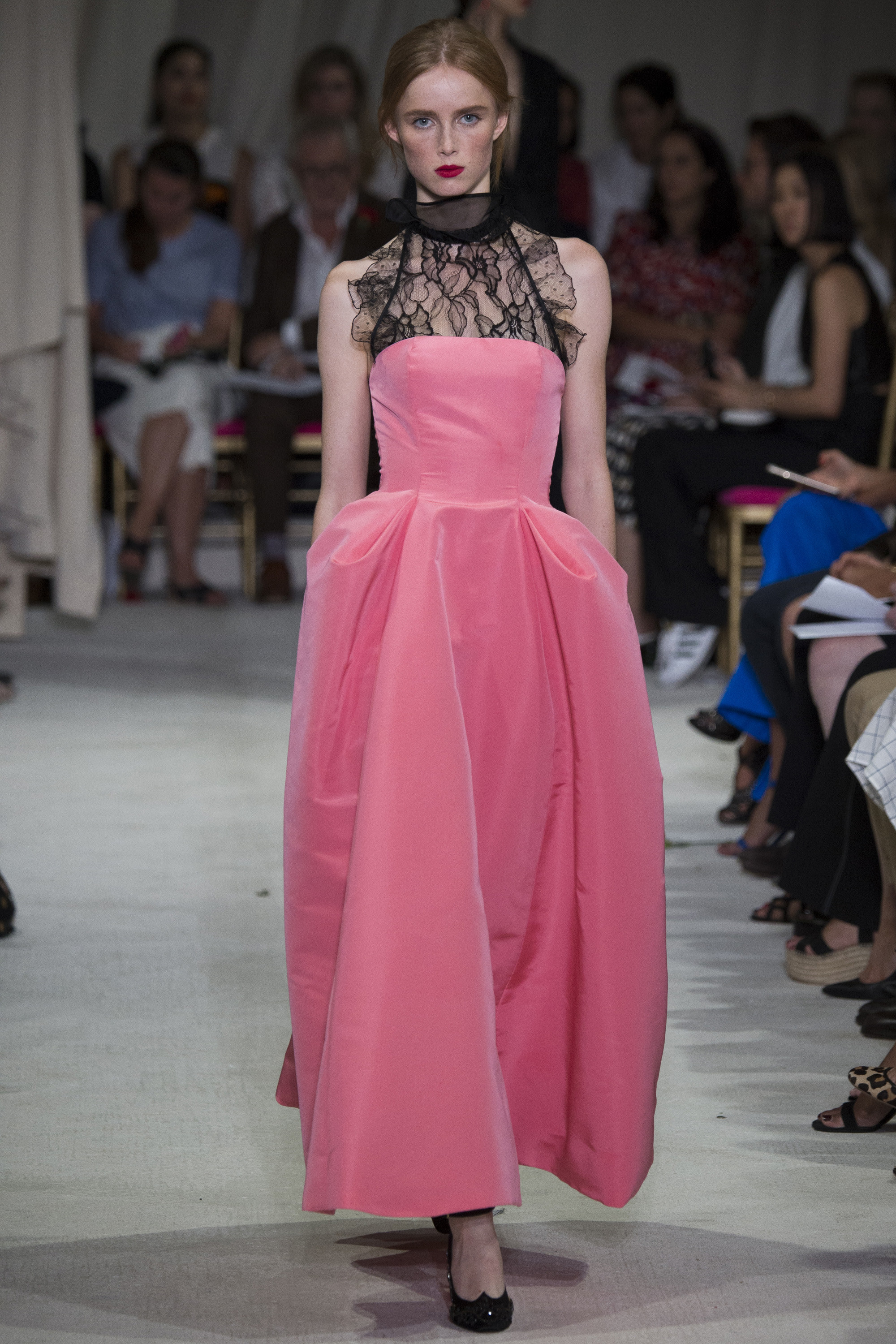 Stash this beauty away for fall winter festivities. Pink silk faille, akin to that used in that glorious and covetable dress SJP wore in a Sex and The City episode. It was and will always be glamorous.
MONIQUE LHUILLIER: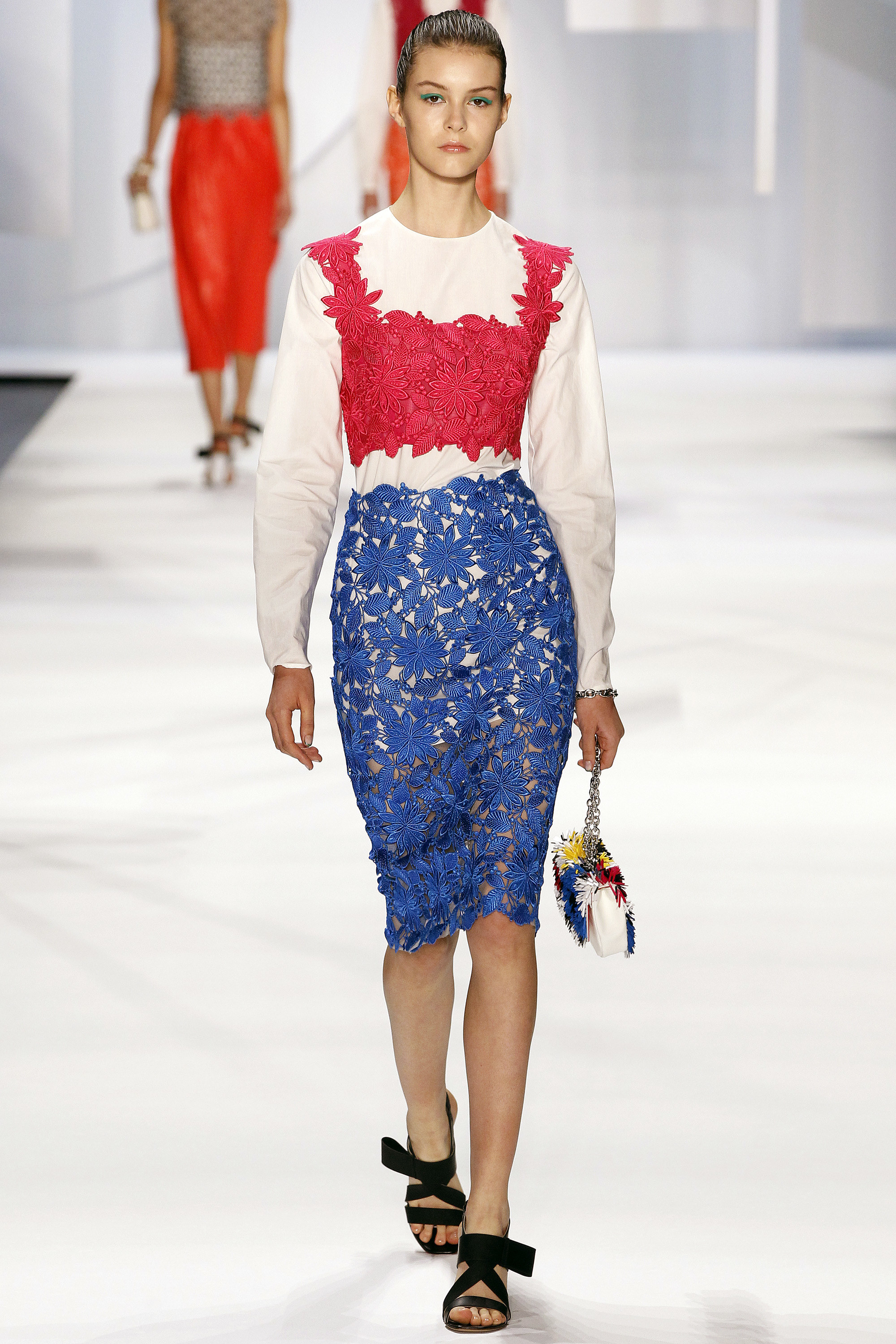 Another spellbinding ready to wear collection for the Magpie in all of us. More bright captivating colors combined with guipure and more guipure in wondrous daytime, cocktail, and red carpet looks. This particular frock would be apropos for July 4th goings on but would also be a perfect "go to" dress for any occasion. I'm clearly obsessed with guipure lace in ANY color.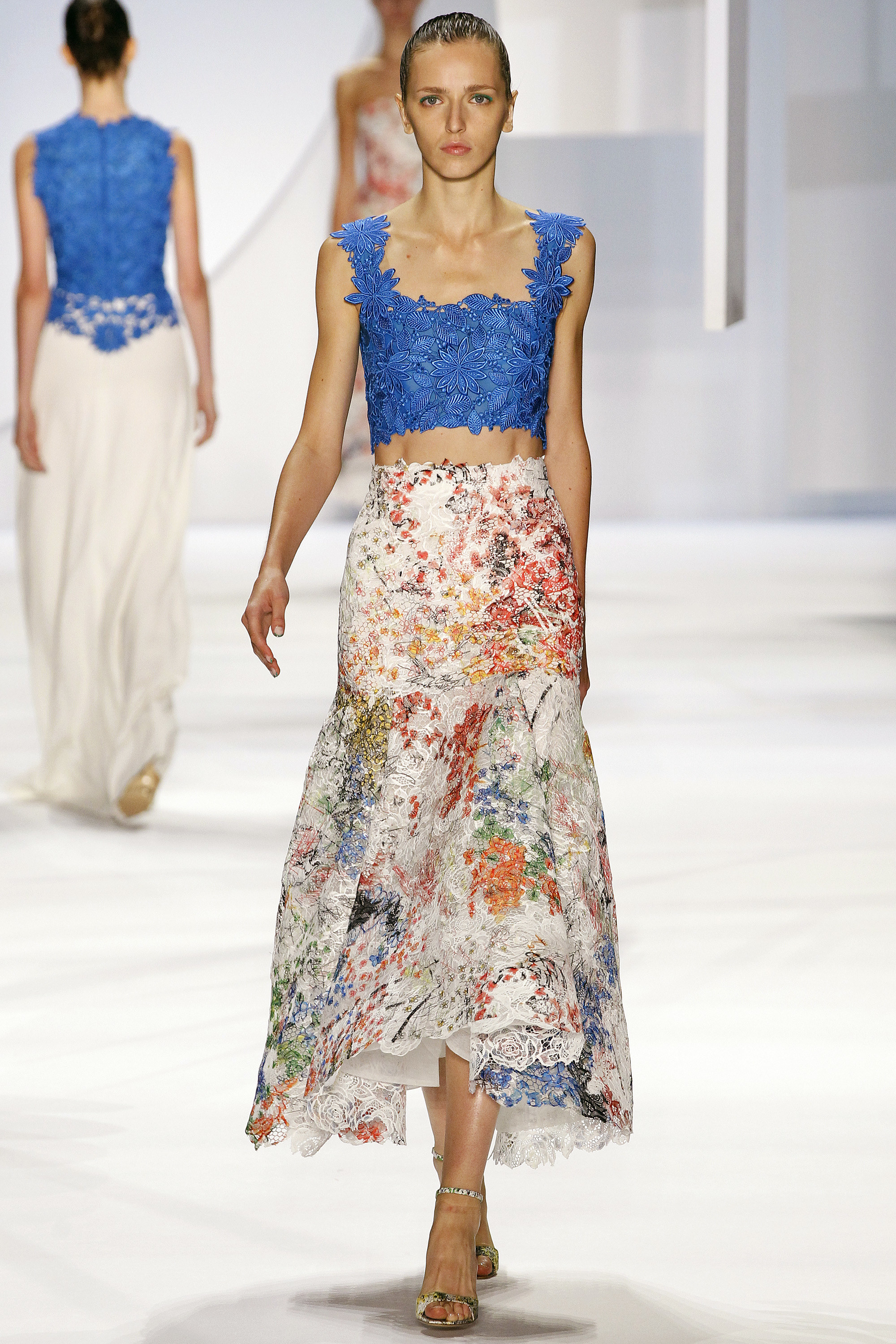 If in doubt, cerulean blue and guipure lace.....a mantra for the times.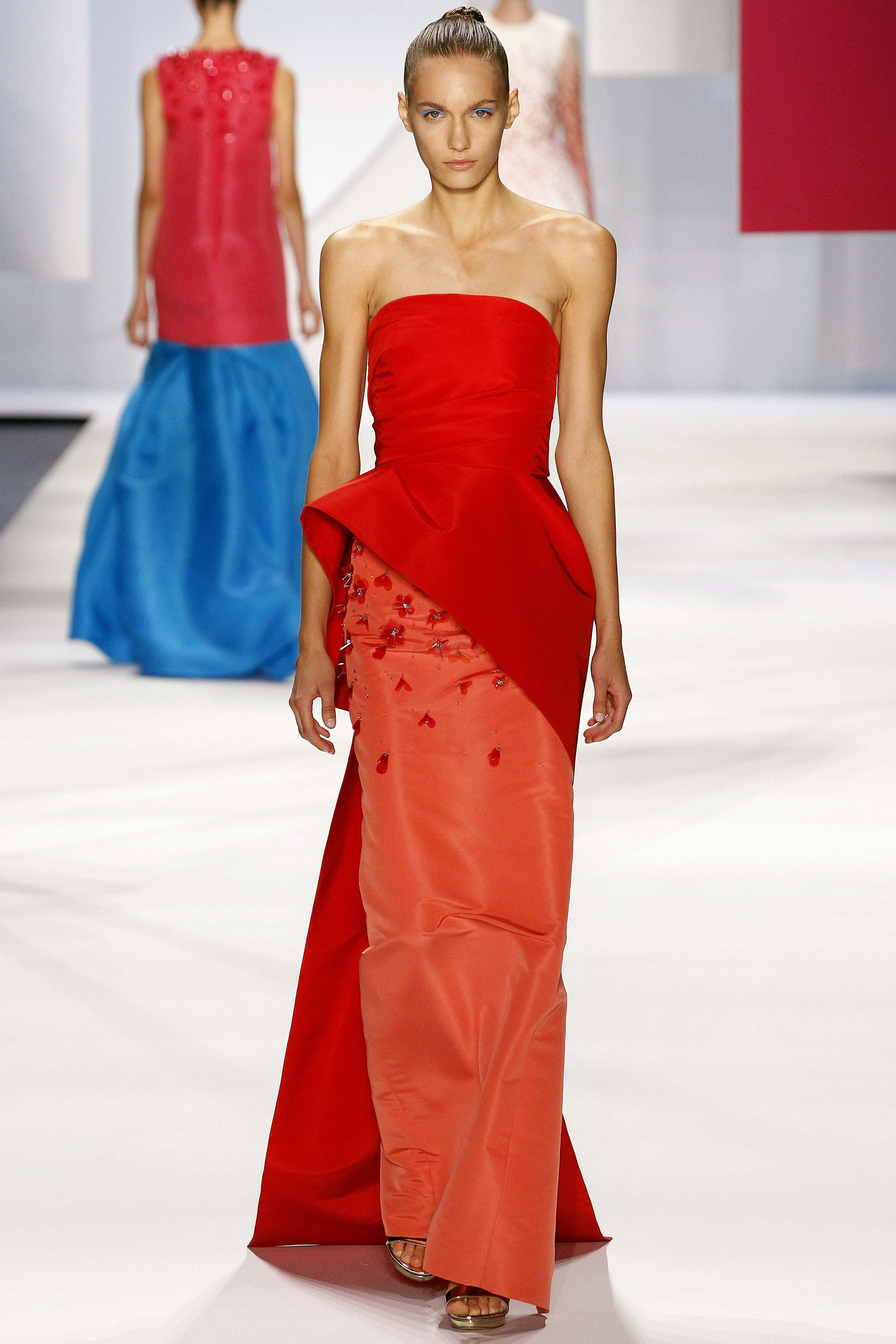 Another gala affair show stopper! Get out the big earrings and tonal stilettos and the outfit is complete!
RODARTE: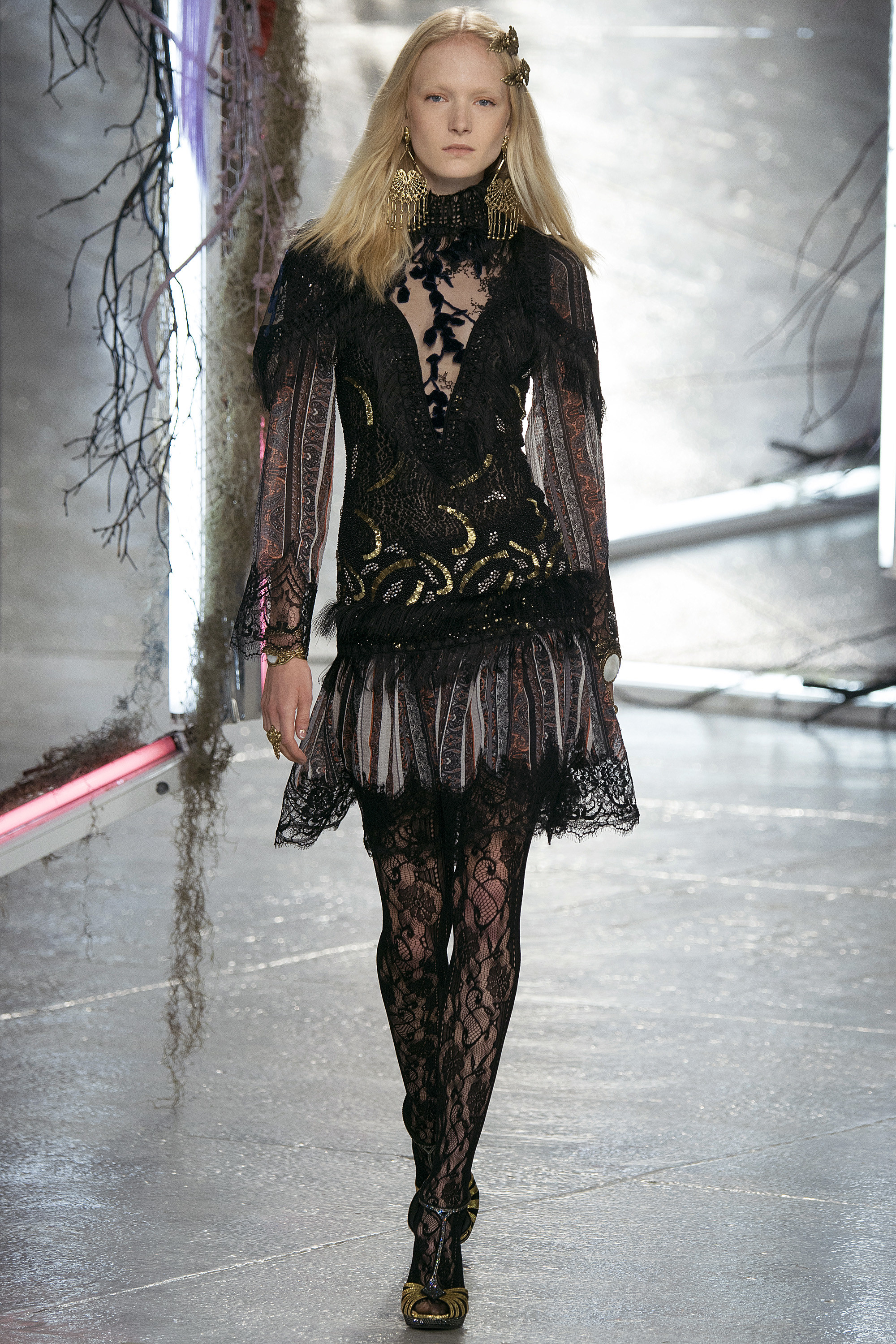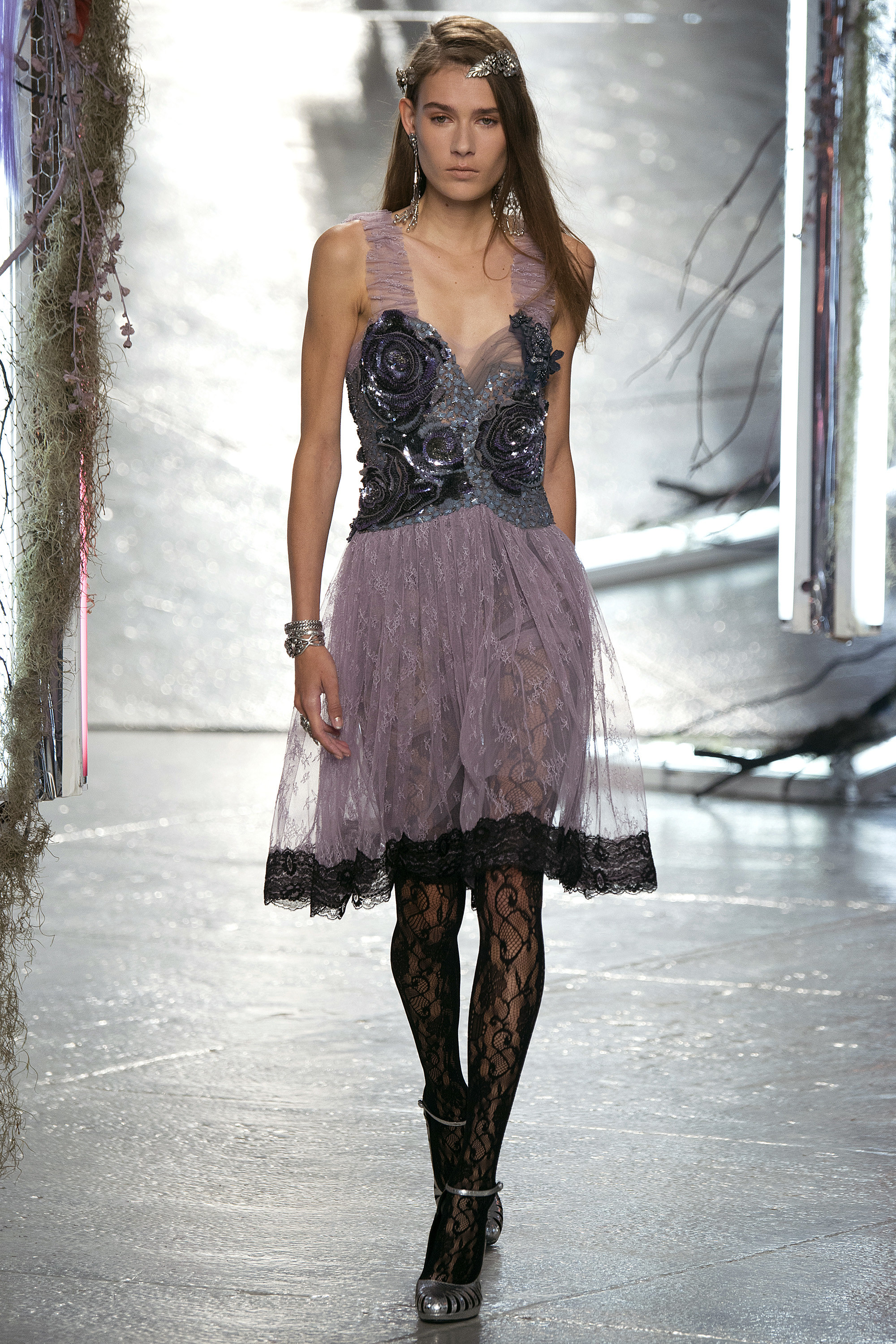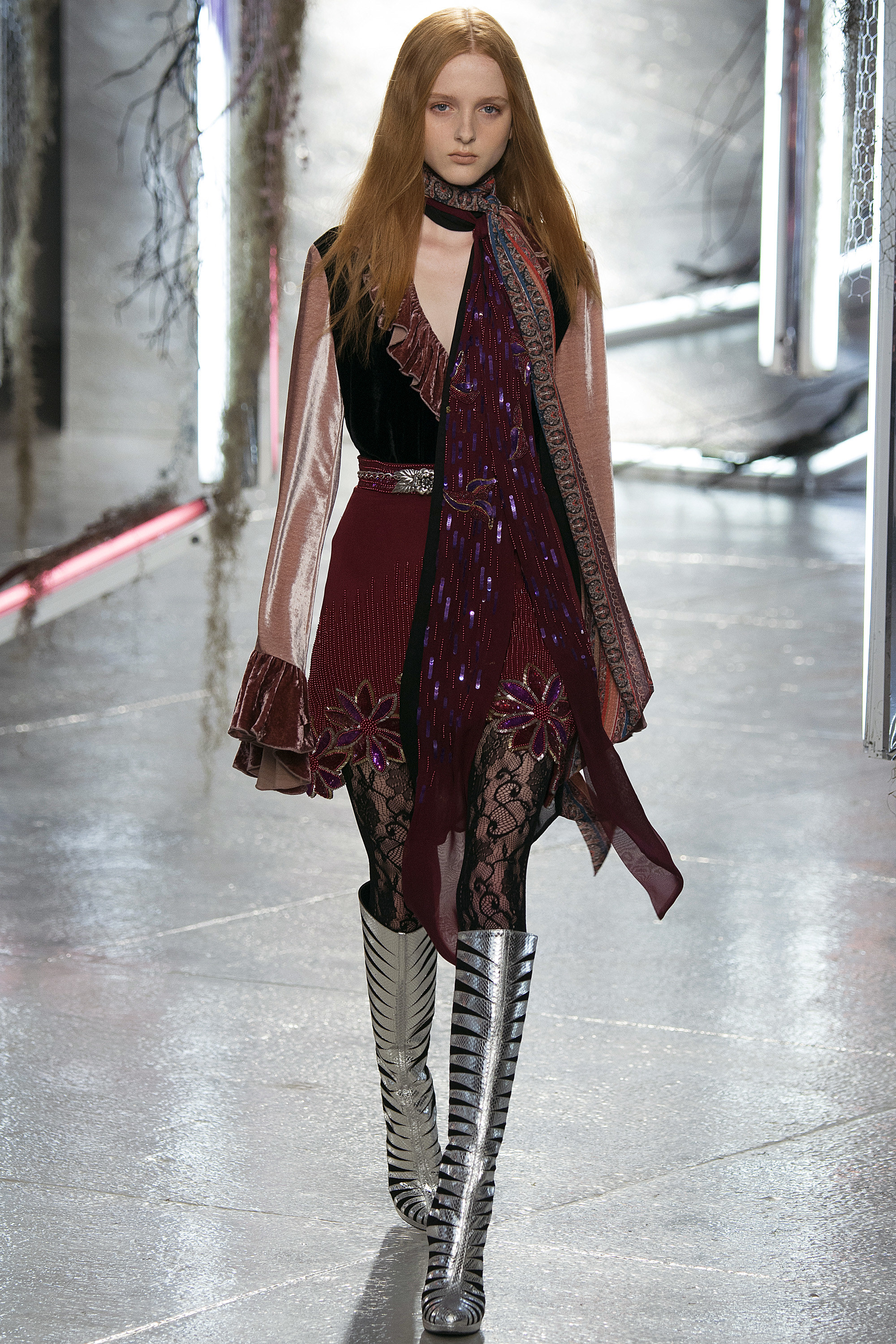 These gals typically serve up some of the most intriguing and intricate concoctions on the runways, with disparate collections season to season, always with an element of fantasy. Definitely in the wearable art category. Here, there is a curious admixture of boho-folkloric, gypsy and saloon. Love it. Pair with Anna Sui faux furs for full audacious effect.
DENNIS BASSO: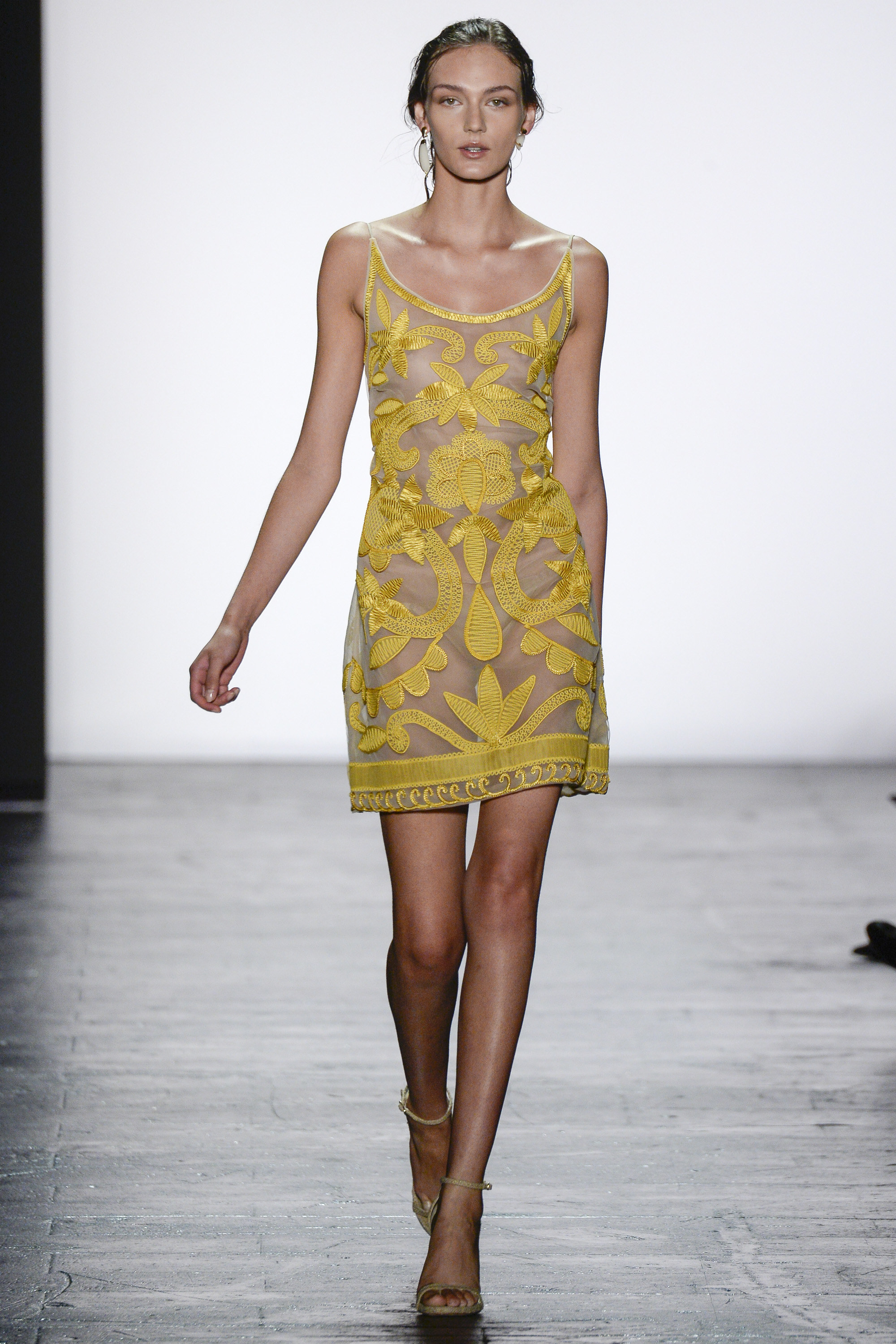 A statement mini which would function as a stunning tunic. If you find yourself cruising the Caribbean on a fancy yacht, throw over your bikini when its time for cocktails, or whatever….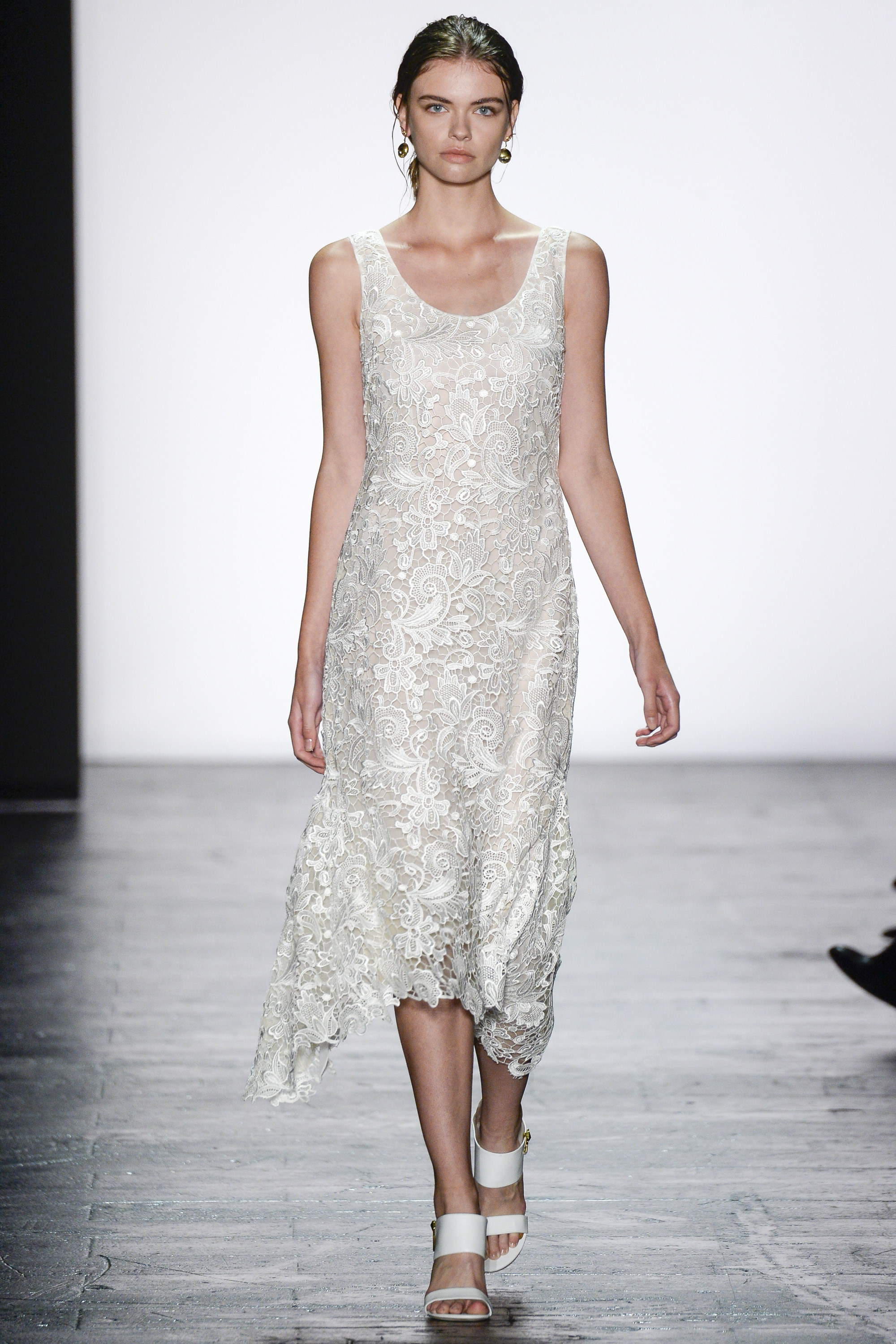 Bring on the guipure and the flowers.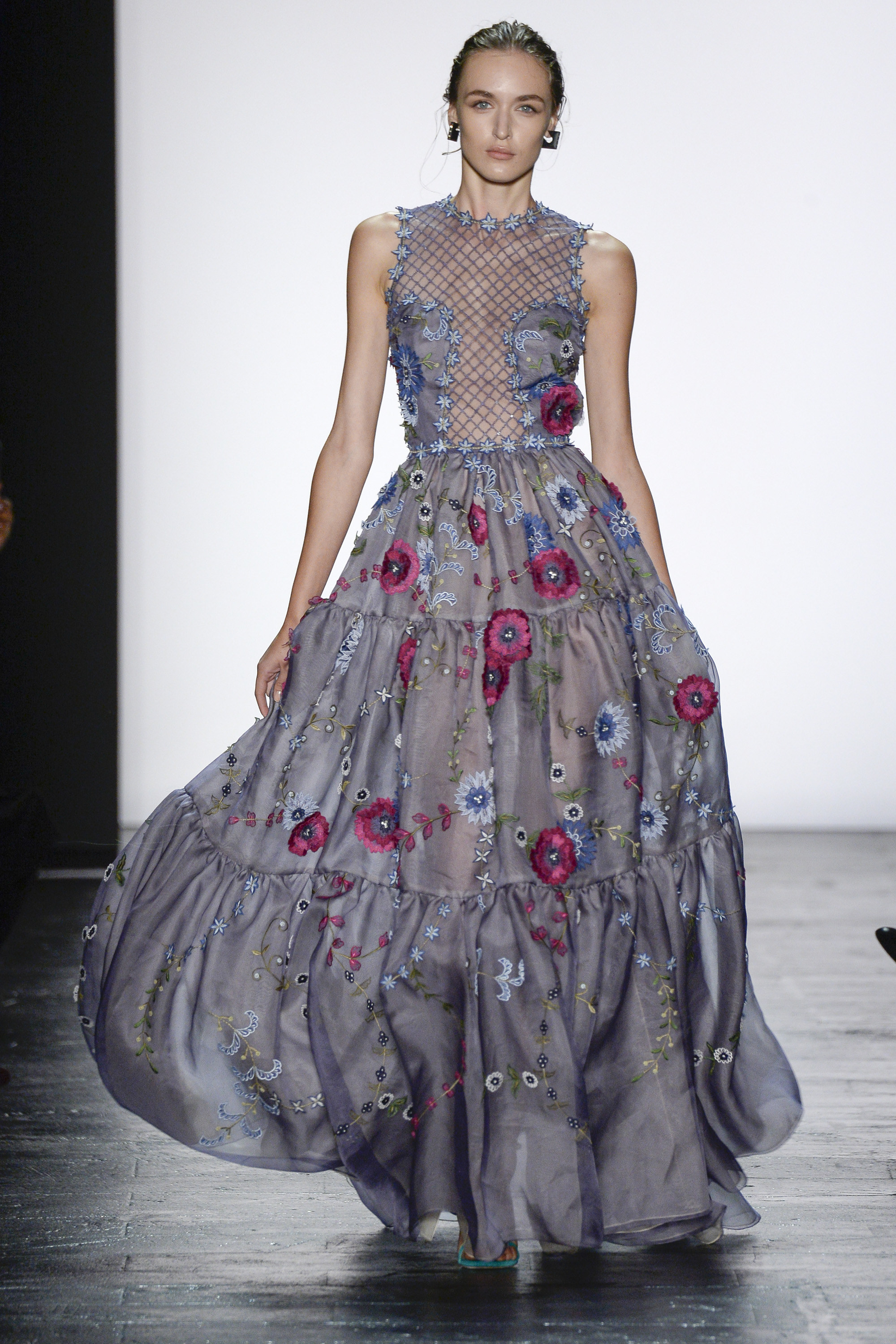 One of my favorites, what with the fitted bodice with lattic detail, periwinkle billowing organza and mesmerizing display of floral embellishments.....sort of upscale bohemian. Drool.
THREEASFOUR: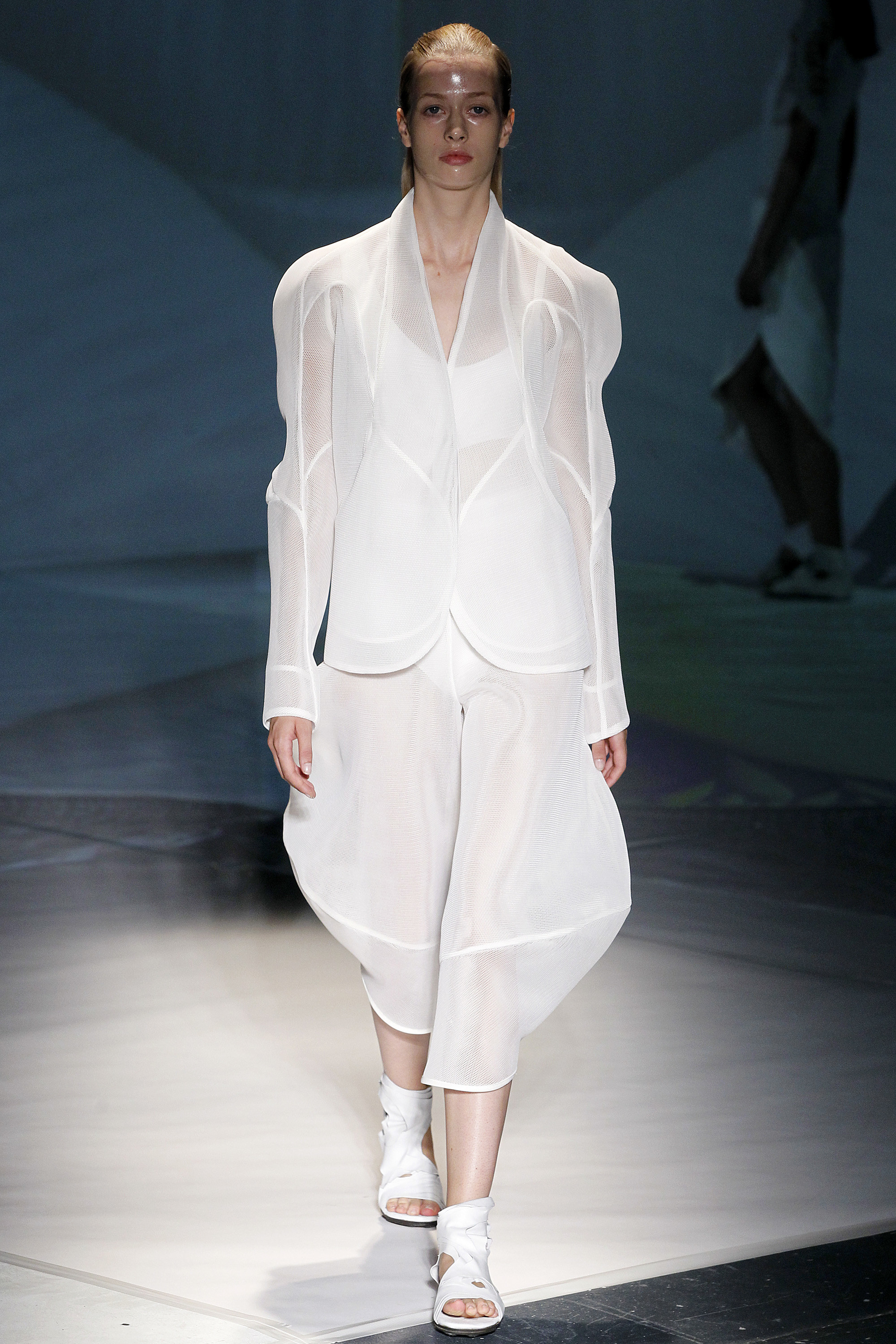 Again, white can be terrifying, but no guts, no glory!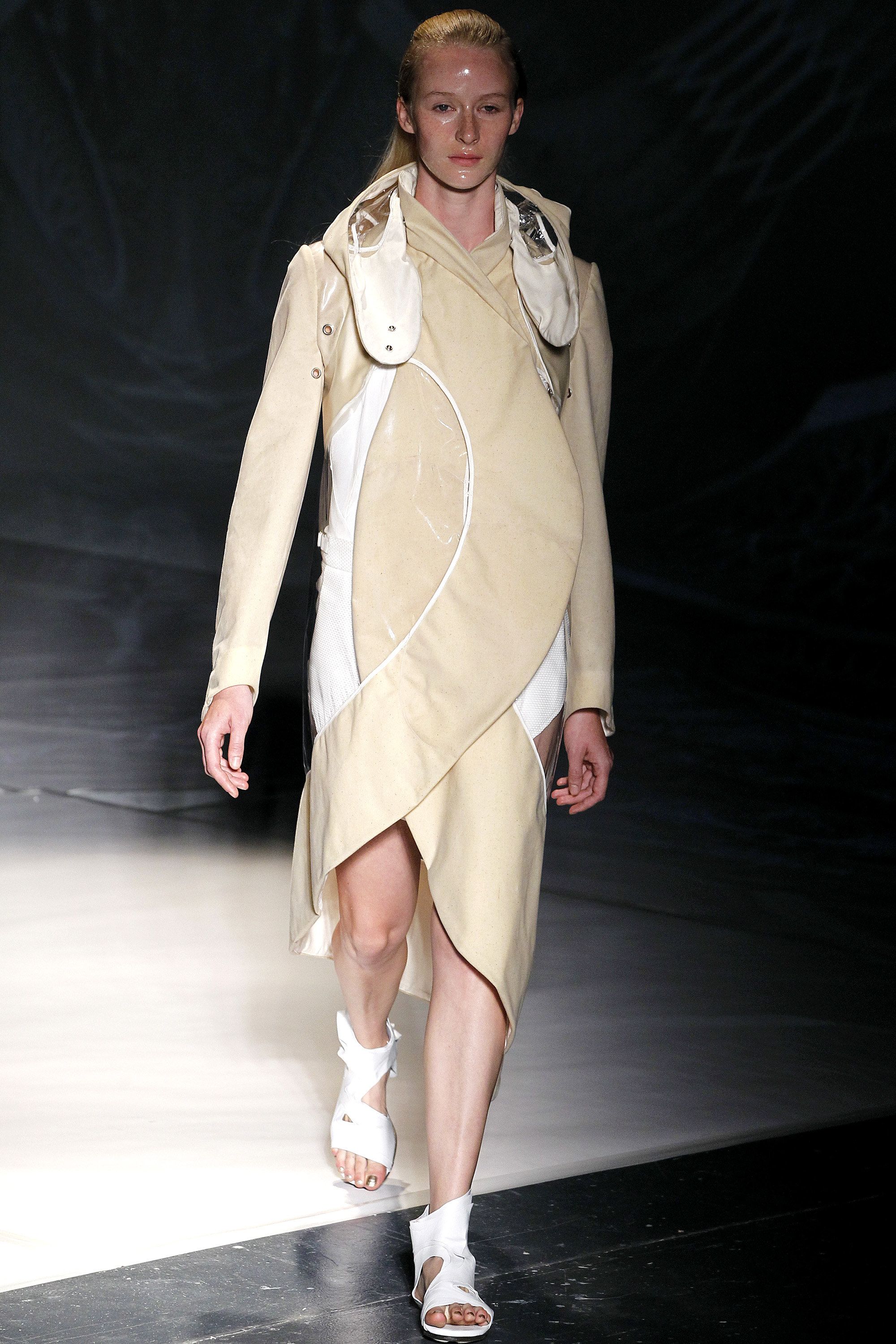 For the weekend AFTER the cocktailing and dancing till dawn. Throw over jeans and T-shirt. Another fabulous travel option, light and easy.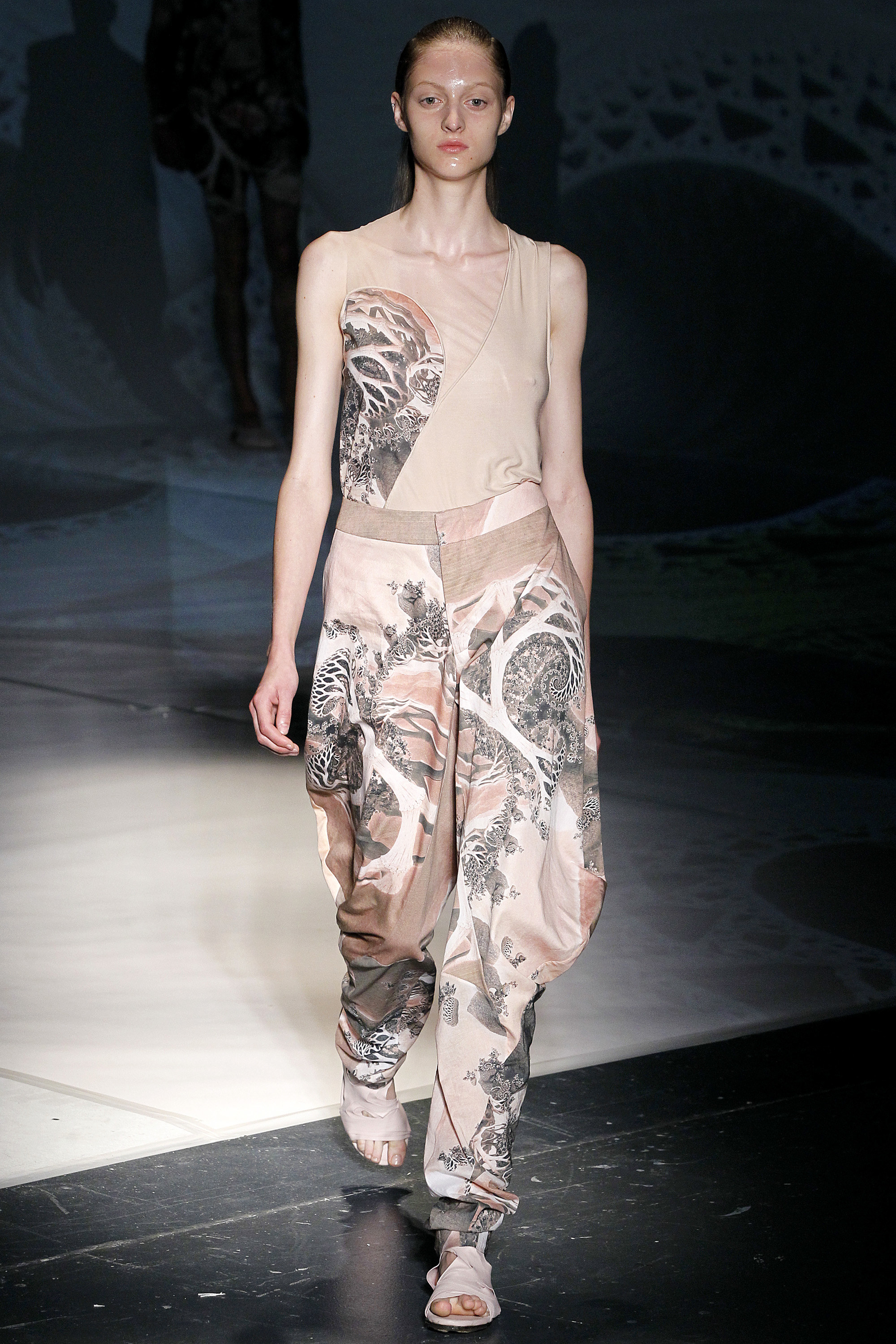 Variation on a theme of the JODHPUR! Casual chic. These pieces conjure a spartan Japanese sensibility and serve as a contrast to all the feminine frockery.
CHEERS!
Images brought to you by www.vogue.com