In some stroke of luck, after one of my favorite hair stylists up and left DiPietro Todd for greener pastures outside of all things hair, I was shuttled to the fellow who cut his hair, Frank. Initally I thought, uh-oh, new guy, yikes. As it turns out, I love this dude, he takes his sweet time, always gives me a SMASHING cut, and almost as important still, is a great conversationalist. In an hour and a half we aways manage to cover a host of subjects, including relationship trials and tribulations, love of Hounds, and movies. Somehow we segued to our mutual admiration for Clint Eastwood and I was reminded of Sudden Impact, the 4th of the Dirty Harry installments. Which then got me to thinking about my childhood, and my great fortune to have old school liberal bohemian parents who had many interests including a long and deep love of cinema, both American and Foreign, including French, Japanese, and Italian. I was the only kid in the 5th grade who had seen The Godfather, all the Bond movies, the latest Kung Fu movies, and of course any and all Clint Eastwood movies, my favorite being the Dirty Harry franchise. Didn't matter what the rating was, we saw it. My folks were not a couple of p*ssies who shrank from R rated movies with violence and cussing. As a matter of fact, one of my Father's favorite lines was "if they move, kill 'em" uttered by William Holden in The Wild Bunch, directed by the master of slow motion gore, Sam Peckinpah. My love affair with movies and anything theatrical has endured to this day, and might explain my fondness for the outrageous, dramatic, and avantgarde in life and in fashion. And I must say, after watching Sonny Corleone get riddled with bullets at the tollbooth as a 10 year old, not even those wacky Japanese creations can startle me. Dad, an artist and a musician also managed to instill in me a love of art, from Renaissance and Dutch masters to the abstract, with a special fondness for Rembrandt and Miro, which also affected my fashion sensibility, inspiring a love of the sumptuous and whimsical. If I thought I could resurrect Hieronymus Bosch from the dead and have him craft me a puffer for the upcoming winter, I'd run for the ouiji board posthaste! If you can embrace the dada masters, you'll have a ball rummaging through the bold and the beautiful and the out of the ordinary fare of the fall winter runways.
There are pieces of clothing which are so stunning due their shape, fabrication, color and or adornments and embellishments, they become a focal point to anyone nearby who is awake, alert and breathing. These pieces are not for the faint of heart, but rather for someone who wants to stand out from the usual crowd, who wants to break free from the usual black shrouds and schmatta. Now certainly I could have picked about two dozen big brightly colored fur coats or outfits showing a lot of cleavage and leg, but that would have been akin to a cheap parlor trick. I wanted to go for more wearabe durable pieces that will have passersby stopping dead in their tracks in sheer amazement not running for the nearest straightjacket. Not to mention pieces that will be coveted for years to come. Some of the criteria for the wow factor are: vibrant jewel tones, some kind of space age modernistic vibe, a whole lotta BLING, and or a body hugging silhouette. Any combination will suffice and if there is a hint of irony or armour, even better. These pieces stand alone and don't need to be cluttered up with fussy accoutrement. (My advice is get a pair of black patent leather Manolos in some form and keep those babies in good condition. They will go with ANY piece of clothing, whether skinny jeans, velvet, canvas, jewel enrusted or feather adorned coats, tops, jackets, and dresses). Think Carrie Bradshaw rather than Samantha Jones.
And now for a S U D D E N I M P A C T: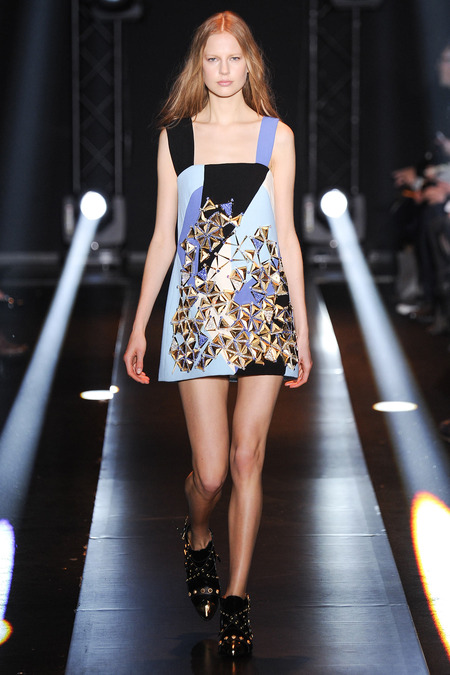 FAUSTO PUGLISI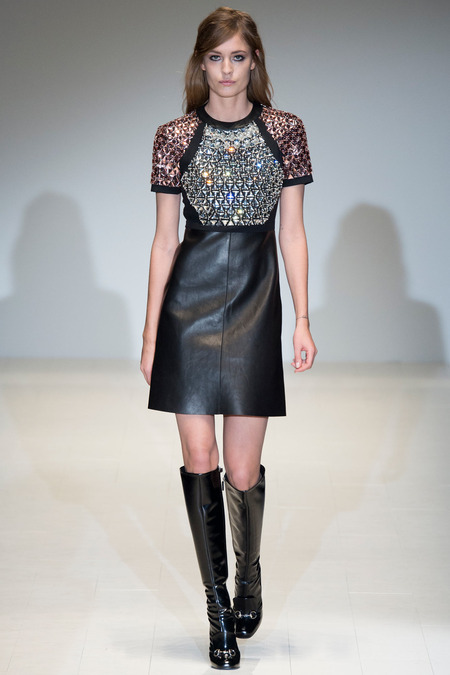 GUCCI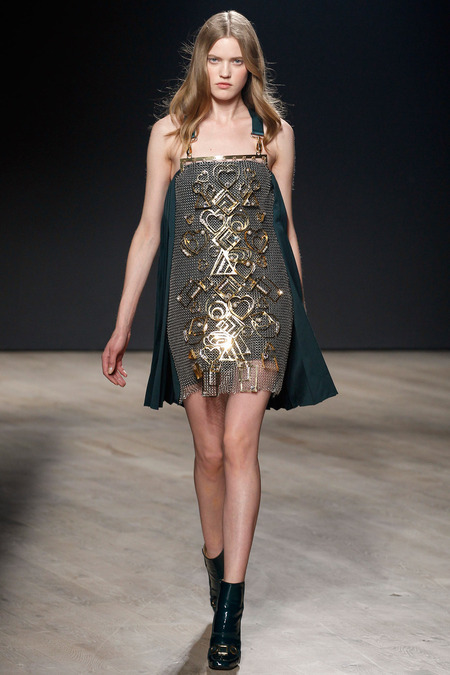 MARY KATRANZOU
If Dali were to have a dream where a purse ate a Kandinsky painting.............HUZZAH!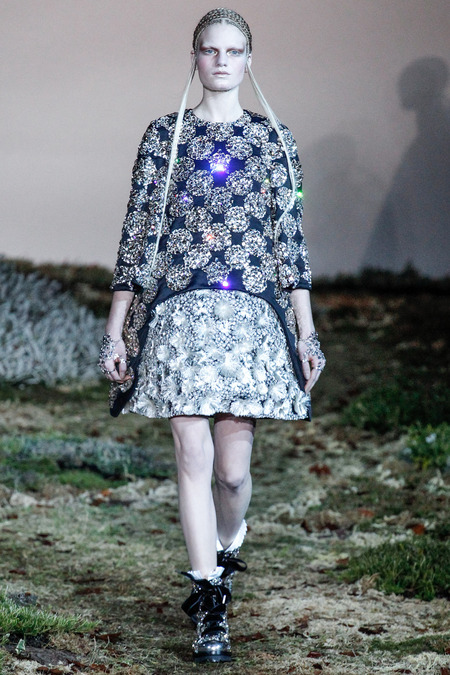 ALEXANDER MCQUEEN
Alexander McQueen (may he RIP) can never be replaced, but Sarah Burton has been able to channel his essence while bringing splendiferous avant garde lux to the runway. Every piece from this collection deserves a place in the retrospective. You want to get high without brain death? Just go take a gander at this collection!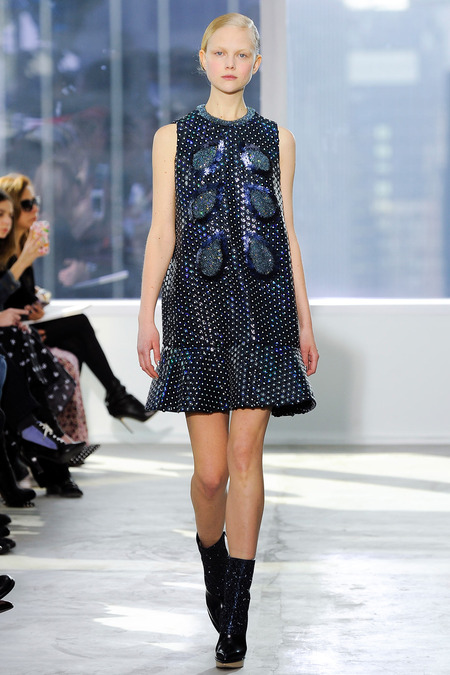 DELPOZO
More latter day armour.....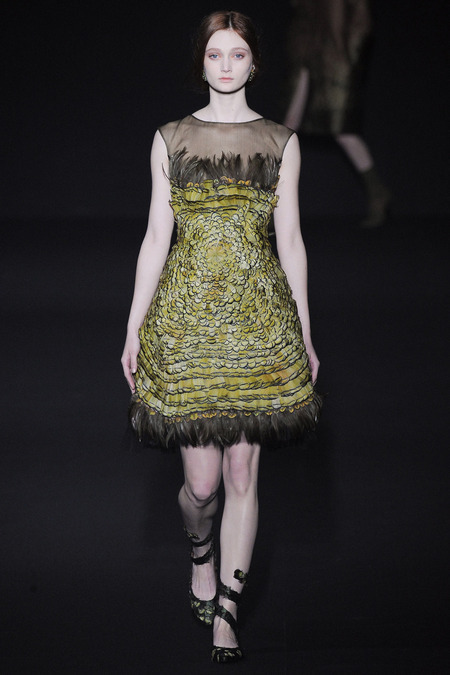 ALBERTA FERRETTI
I won't be happy until I can include every piece from this runway show in one of these posts. I love the shoes on the model, not too much. But this dress could be funked up with some shoe booties. Again, this is so intricate and spectacular, no need to dectract with busy footwear.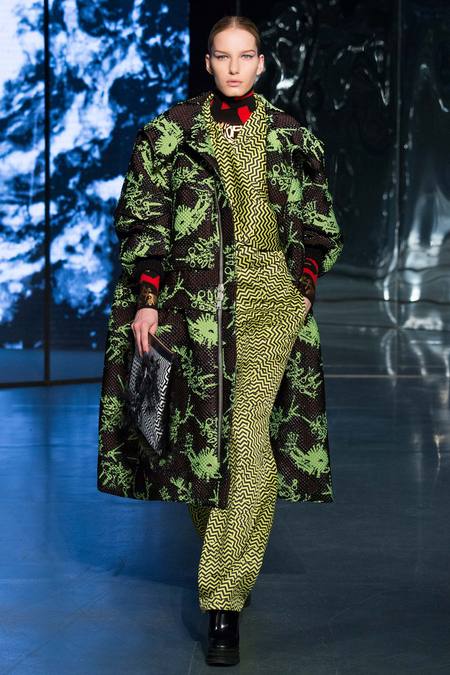 KENZO
The volume, the crazy green alien pattern make this a standout. Enough volume in fact that you might layer this over your favorite vest. Wear it over black whatever, and for even more drama, a bright red scarf.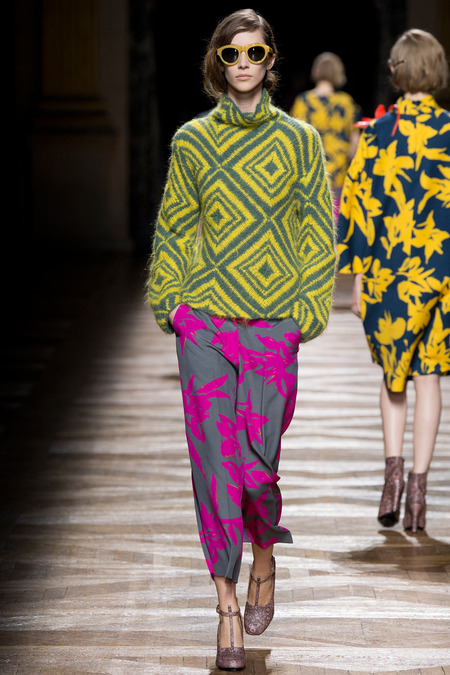 DRIES VAN NOTEN
Somehow, someway, the crazy patterns and colors work together because its Dries. Neon yellow and fuschia in mixed patterns? Absolutely. You'll bring a smile to many faces, going about your business in this type of ensemble.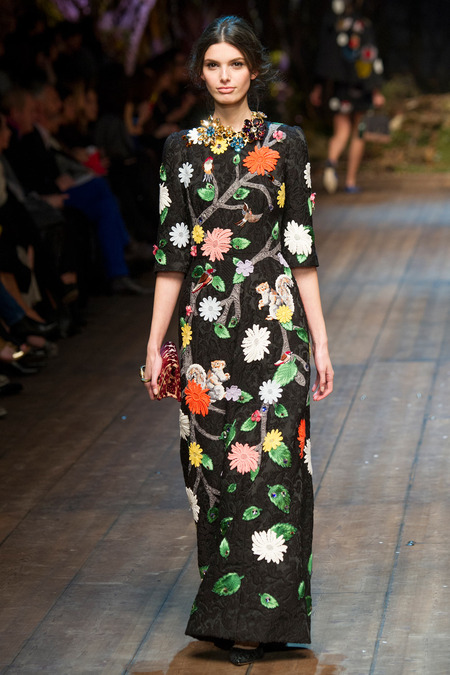 DOLCE & GABBANA
If you are blessed with long gams, just wear black flats. Black cloquet with flowers and forrest creatures. Birds, Squirrels, and ladybugs! Sweet and whimsical, a welcome depature from the usual "ballgown" (zzzzzzzzZzzzz) for a black tie affair.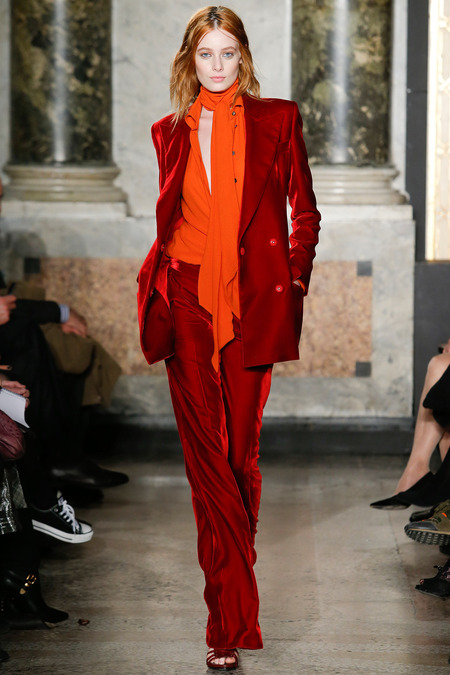 PUCCI
Bright orange and red are guaranteed to get the pupils dilated, even better in a sumptuous velvet or a big fuzzy coat. Audacious!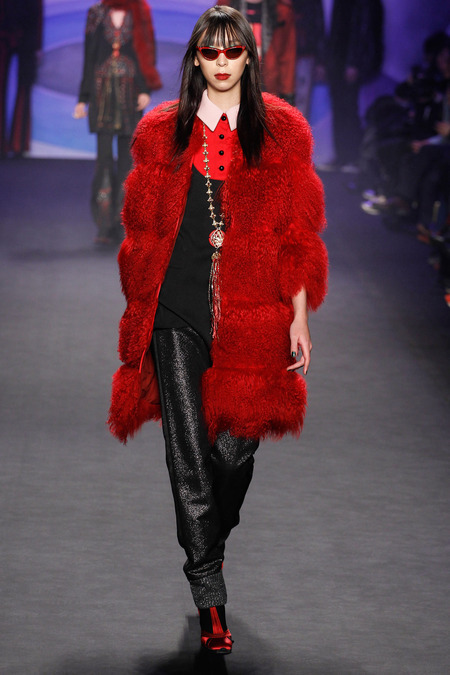 ANNA SUI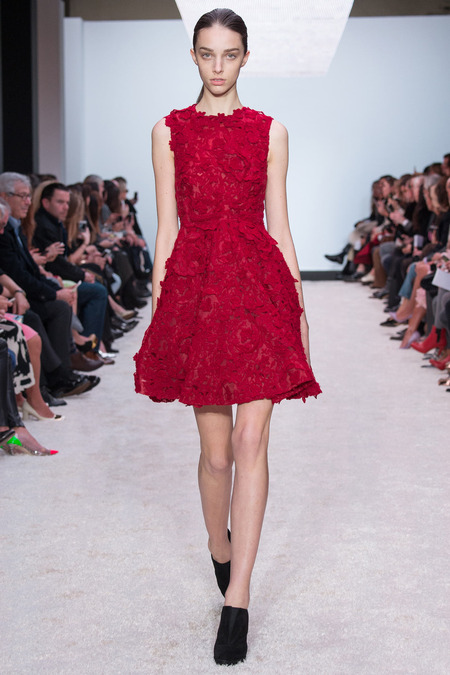 GIAMBATTISTA VALLI
Ok, here I go again, gushing over one of my MOST FAVORITE designers. The silhouette is lady like. What makes this glaringly beautiful and an eyecatcher is the scarlett red color and the guipure woolen lace fabrication. Needs to be seen up close to be fully appreciated.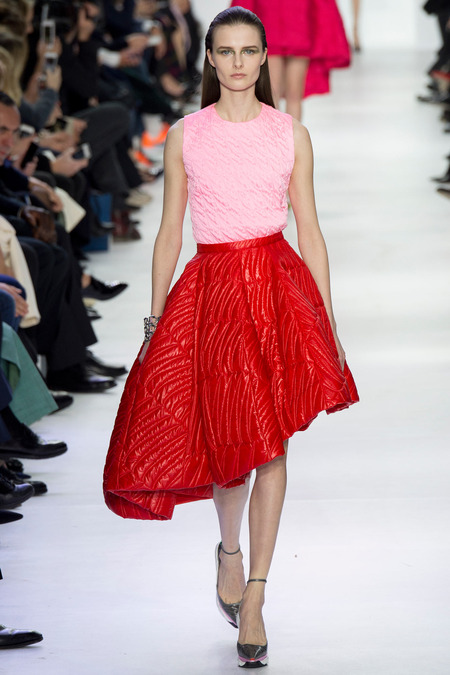 DIOR
Not a lot of skin showing, but stunning for the fabric, the asymmetric bright red skirt. Another smart forward option for the upcoming openings!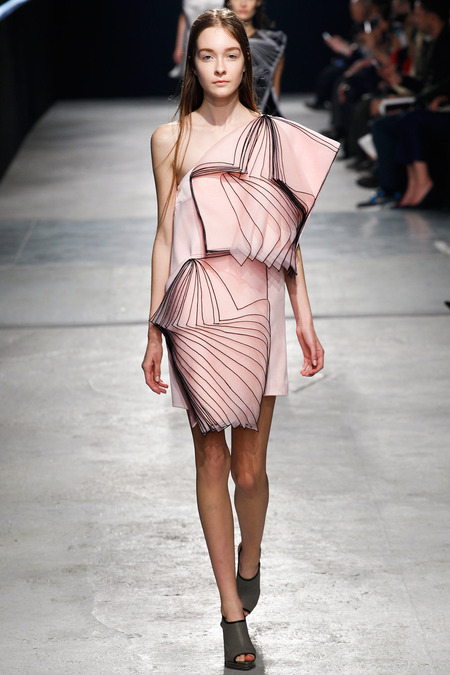 CHRISTOPHER KANE
Pink postcards from the edge?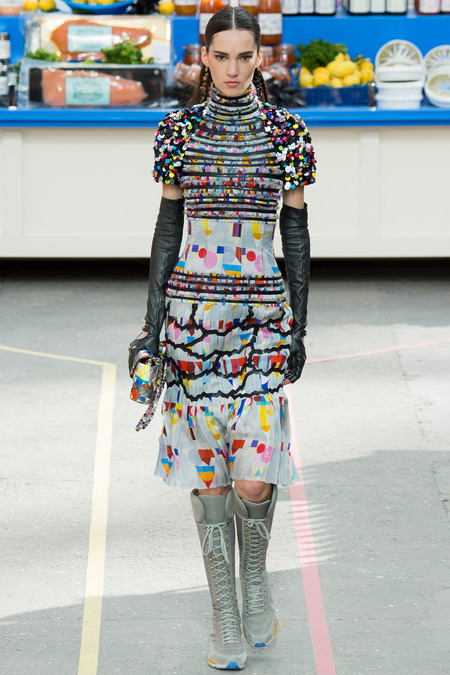 CHANEL
Whimsical bondage, only Chanel could pull this off. The tennishoeboots are ahem, a singular item appropriate for the runway show. If you plan to trade in your Mercedes for this lovely, put on something that won't detract from the desired effect.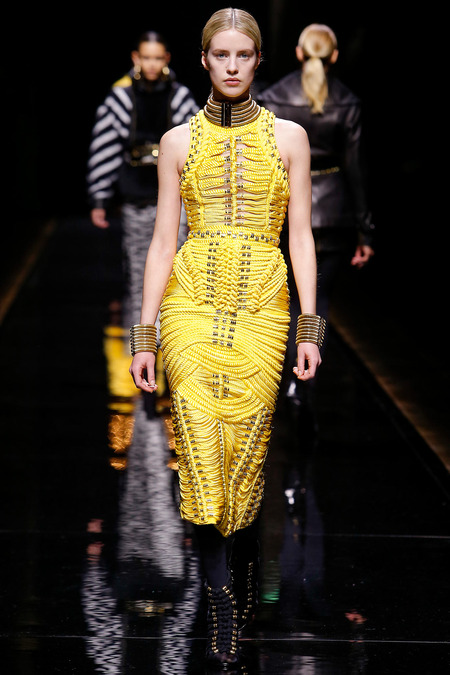 BALMAIN
Tie me up, tie me down. Blazing yellow, skin tight, just enough skin showing....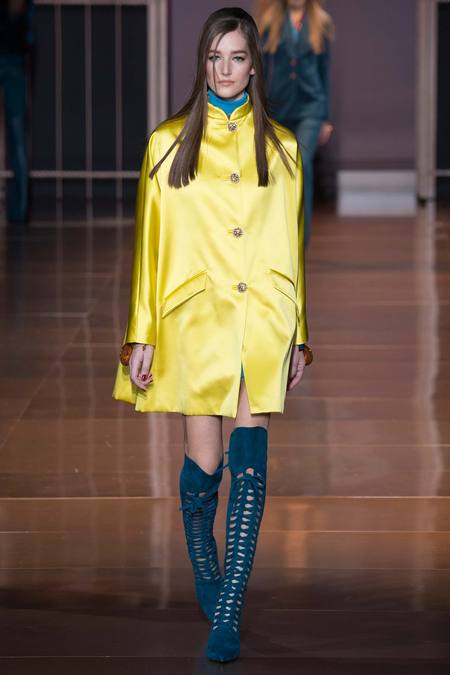 VERSACE
Vibrant yellow in duchesse satin, not iconic Versace....the boots however........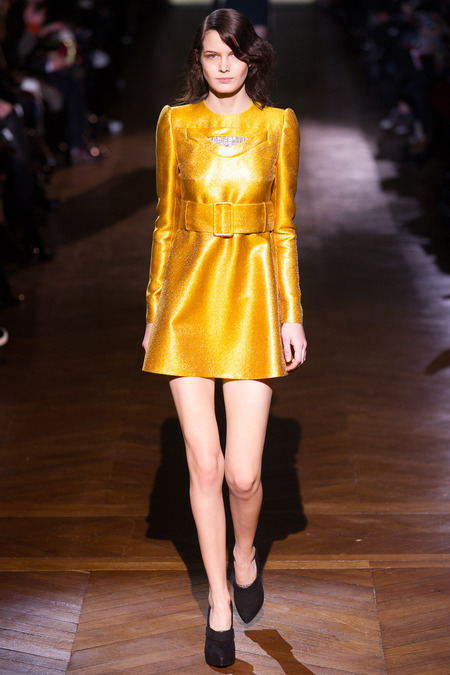 CARVEN
Reminds me of something my barbie doll would have worn. Funk it up with shoe booties.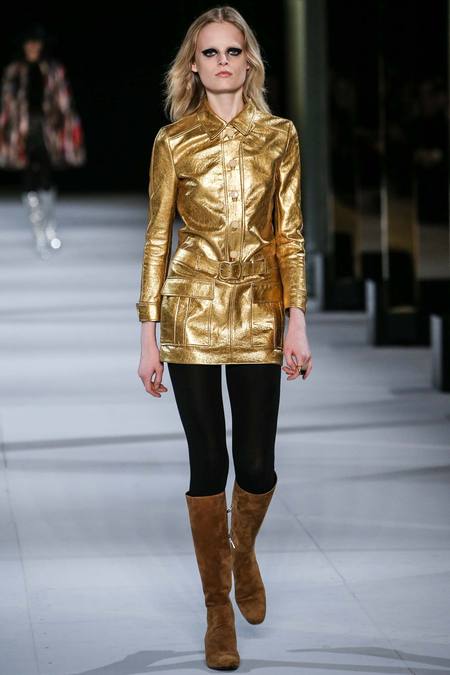 SAINT LAURENT
Hmmmmm, very Pussy Galore from Goldfinger. Wear Gucci or Saint Laurent patent GO-GO boots.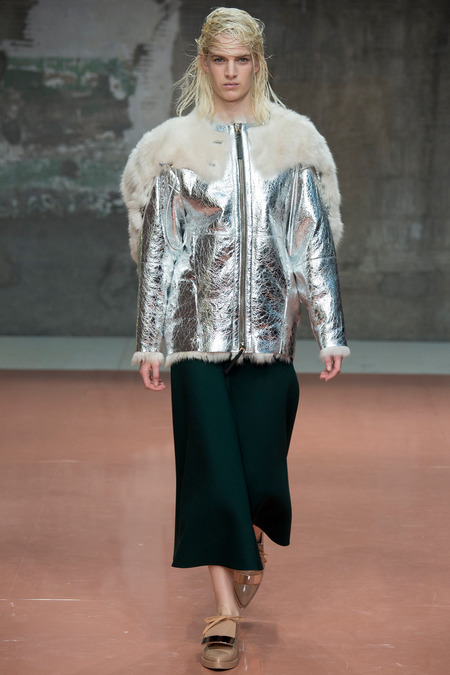 MARNI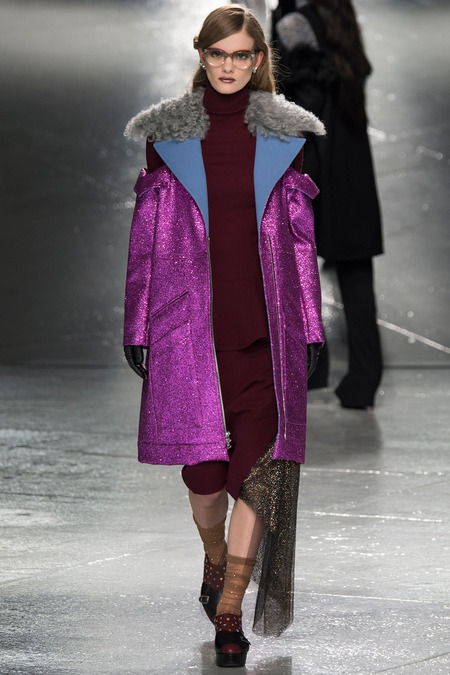 RODARTE
I like the metallic element to turn your wear around town casual ensemble into something striking and unusual. Just skinny jeans or leggings and T-shirt are all you need under these pieces.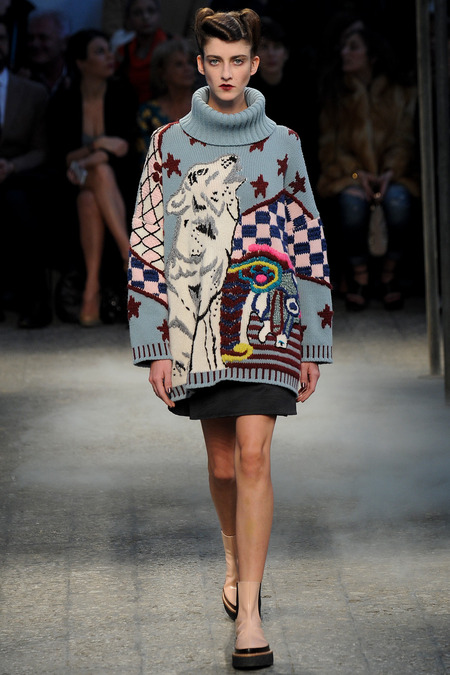 ANTONIO MARRAS
Nothing better in this world than a Hound, and from whence did they come? Yes! The WOLF! Marras went nuts with all the Wolf in his collection, I love it. You don't have to be a member of PETA to appreciate this. Much like I love a talking critter (calling Mr. Ed and Scooby Doo), I'm on board anytime someone wants to put a Wolf portrait on a comfy sweater I can throw over leather pants.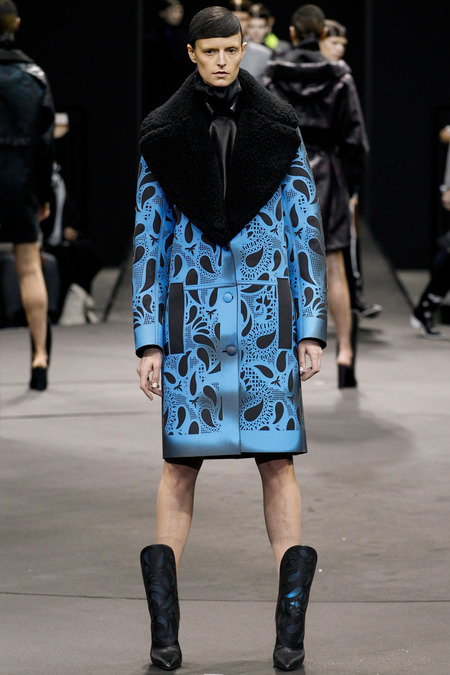 ALEXANDER WANG
Robin's egg blue leather, paisley and bold shearling collar? Where's the problem? Wear with black cowboy boots.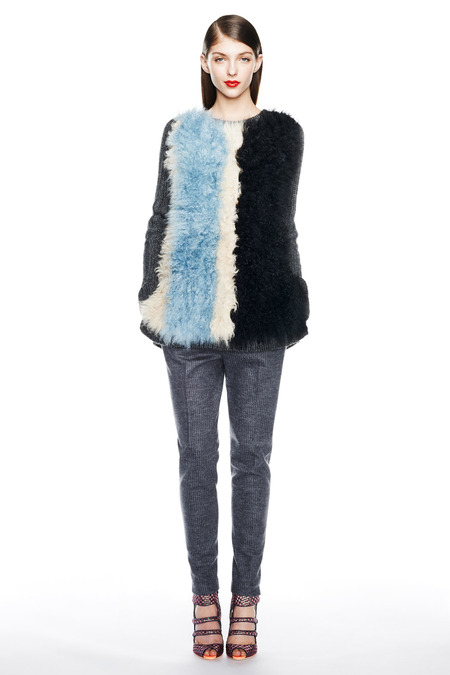 J CREW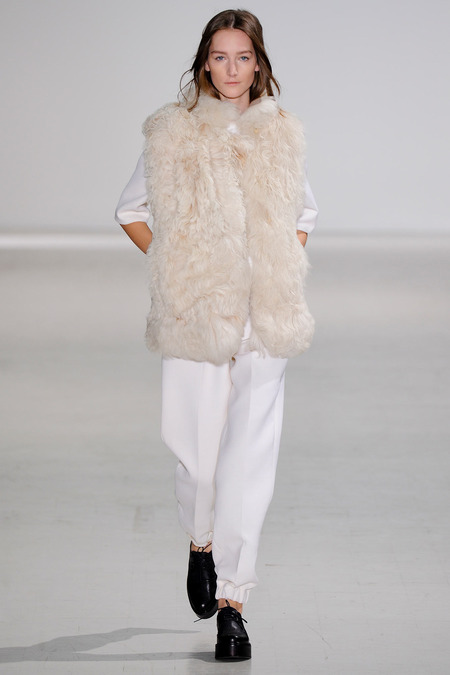 COSTUME NATIONAL
Big bold vests even in a low key neutral color will grab attention, you'll have folks wanting to touch...for double wow effect, put one of the vests over a bright riding jacket.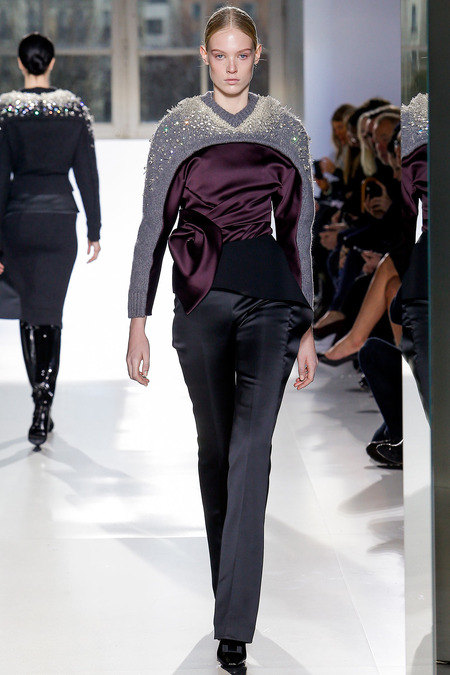 BALENCIAGA
This is another specacular piece that can spice up your skinny jeans, would look really smart over a slim charcoal gray pencil skirt with patent Manolo's OR over a duchesse satin ball gown in a contrasting color, maybe in a royal blue or teal green. When it comes to openings and black tie events, think outside the box.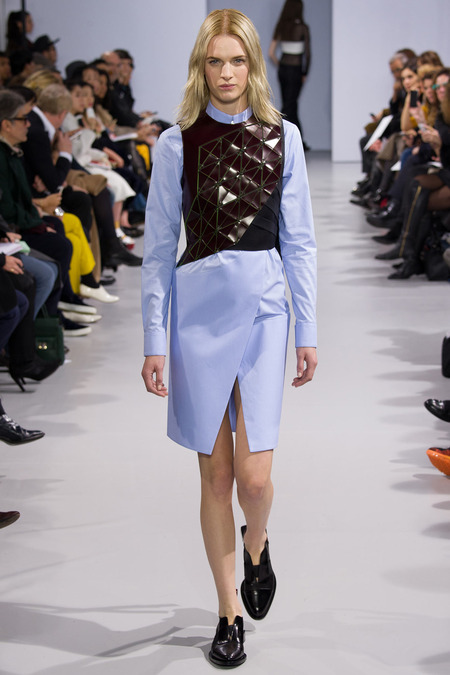 PACO RABANNE
There is definitely a running them of armour on the runways, with coalescent plackets and paillettes in varied sizes, shapes, and degrees of blingage. The contrast of the old school oxford blue shirt dress with armour vest is what makes this striking and cool.
NOW FOR THE W A C K Y, whimsical, and fanciful portion of this show!
Go for the VIBRANT colors, V E L V ET, and unusual embellishments.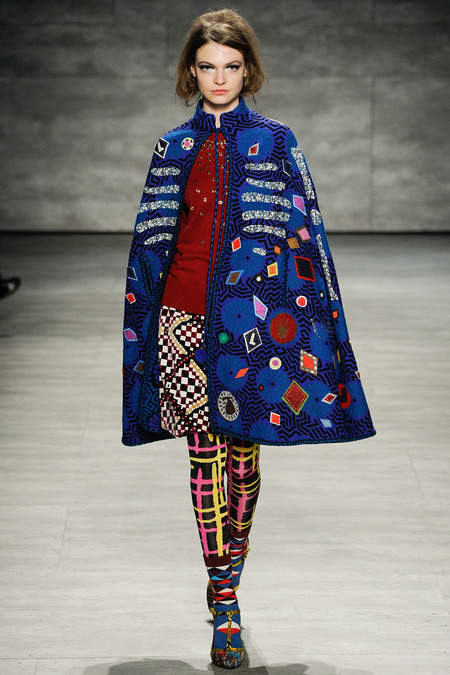 LIBERTINE
Pretty much everything from the Fall Winter Libertine show was a well crafted fun fest, a delight for the senses, wearable whimsy!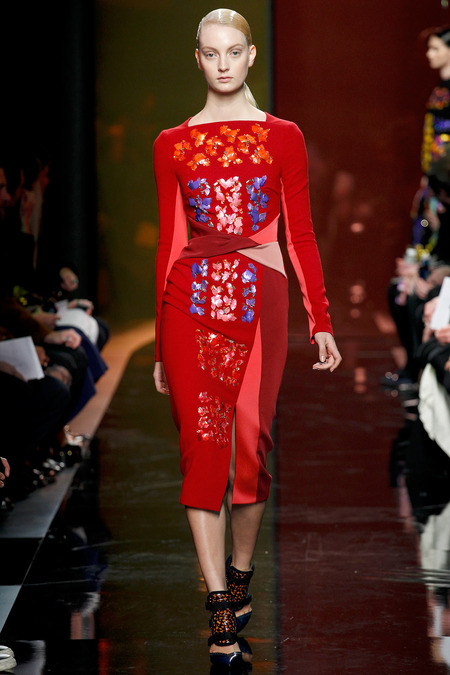 PETER PILOTTO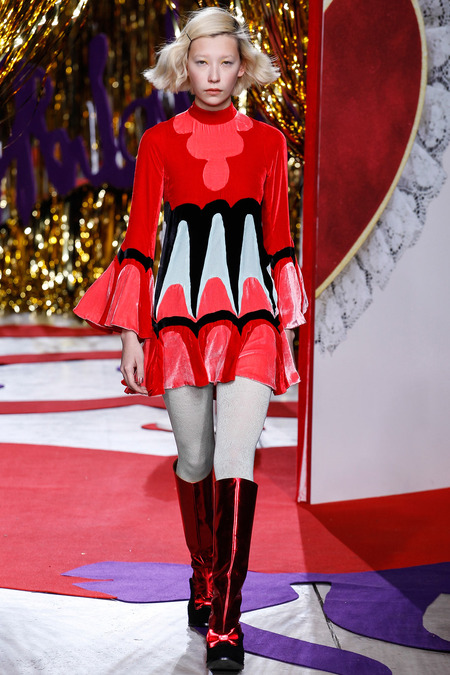 MEADHAM KIRCHHOFF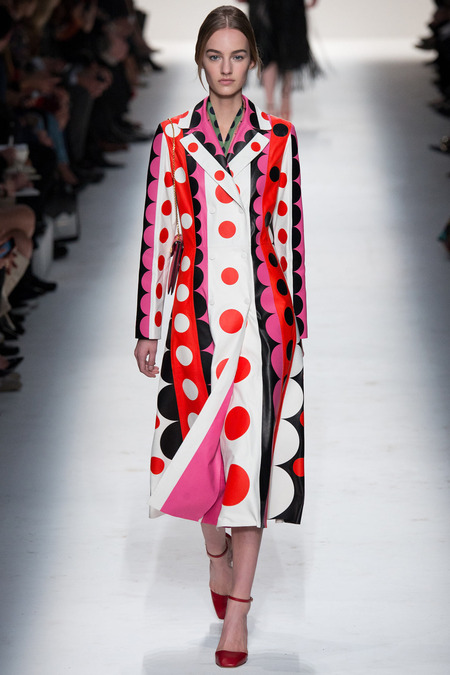 VALENTINO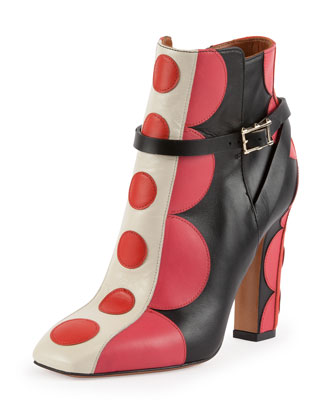 Pick one or the other, the booties and the coat are stunning alone. If you choose to wear both, you might as well throw on a big red nose.......(no judgement, I'm just saying).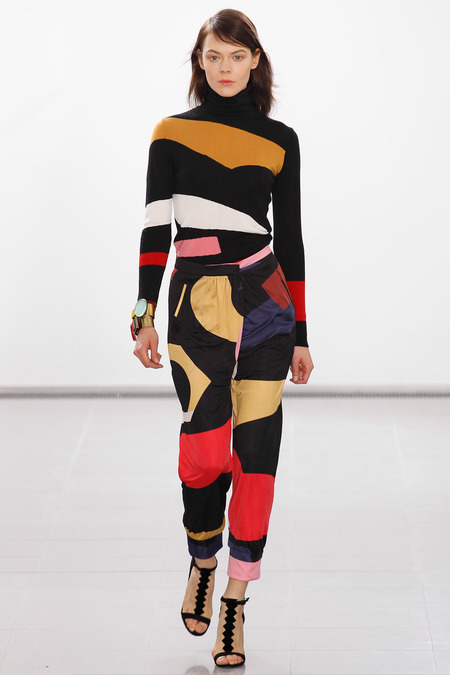 ISSA
Miro anyone? Great fall outfit, I'd do it with some type of a platform, either a sandal or a closed toe once the snow starts falling..........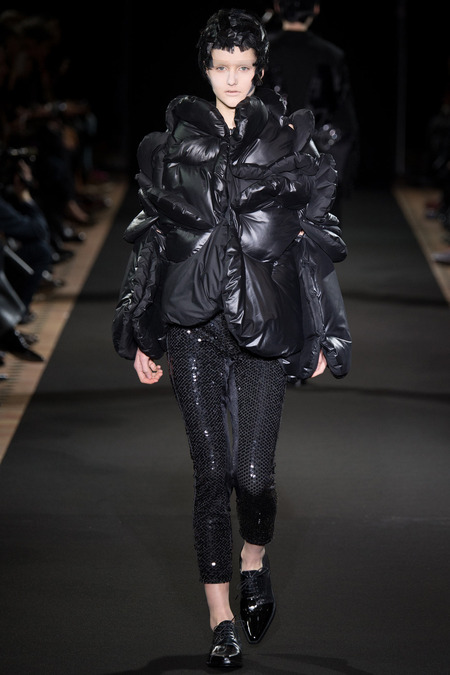 JUNYA WATANABE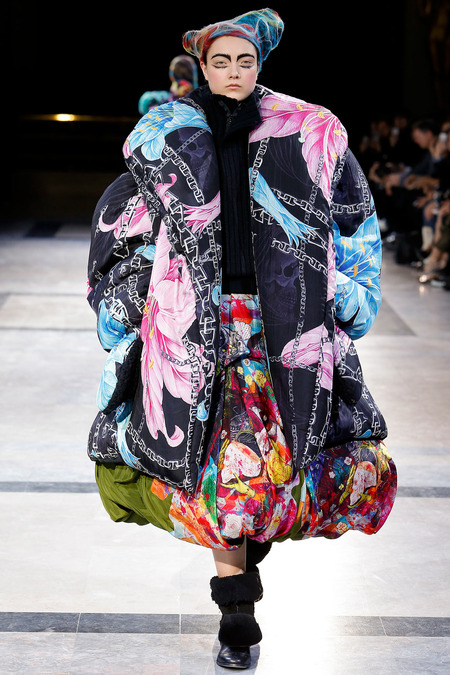 YOHJI YAMAMOTO
Leave it to the Japanese to put a new spin on the puffer.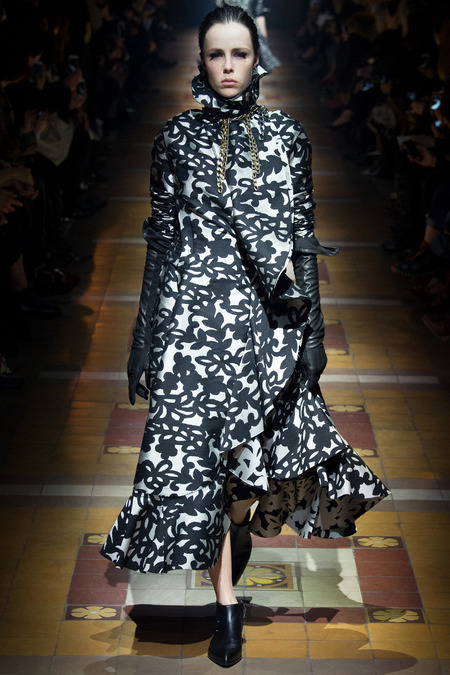 LANVIN
Another black and white stunner from Lanvin, and a great option as a special event garment for those who want to keep the hooch factor on the down low but the Queen Elizabeth I vibe at full mast.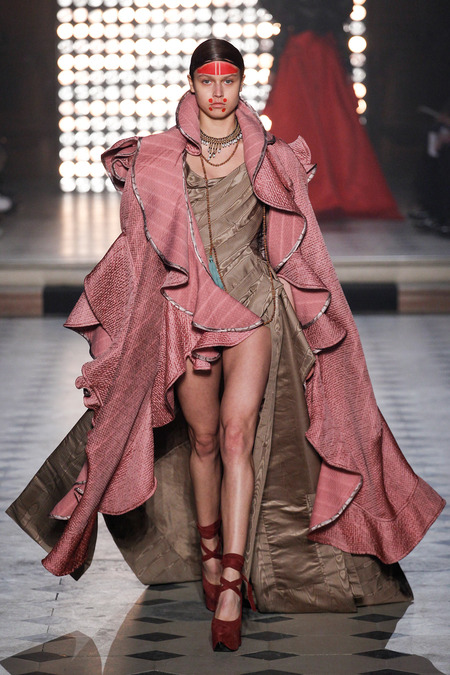 VIVIENNE WESTWOOD
This showstopper harkens back to the wedding dress Carrie Bradshaw wore for her first ill-fated marriage to Big. (And once again I am reminded of my pet nudibranch from college Biology with the undulating ruffles)......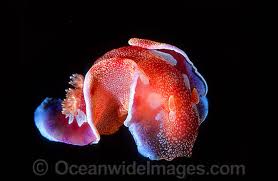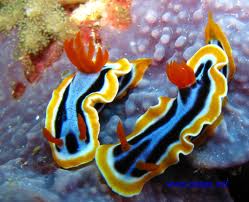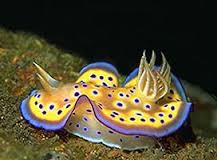 Here are a few pics of these marvelous creatures from the internet.
We can't all be as striking as these little invertebrate sea creatures, but we can have heads turning (in a good way) with these standouts from fall winter! Its time to embrace color, metaphorical armor, whimsy, and your inner nudibranch.
images brought to you by www.style.com