So, the Academy Awards have come and gone......Congrats to all those involved in The Revenant. Despite many hair raising moments (although I saw "The Wild Bunch" by the great Sam Pekinpah as a kid, so, I could take it), I found myself enthralled with the cinematography and of course TOM HARDY, now THE most watchable dude in film. Is he EVER bad?
Anyway, there were a few standouts in the red carpet follies, and as per usual, CATE BLANCHETT is the undisputed Queen of the night!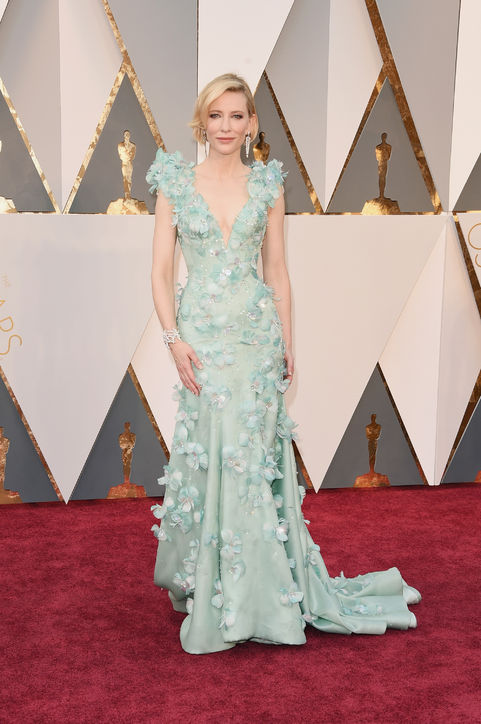 I've never seen her wear anything even approaching dubious. it doesn't hurt to be tall, svelte, and have a good understanding of self and aesthetics. And of course having a HAUTE COUTURE (Armani Prive) garment made only for you by the legendary Giorgio lends an aura of magic and allure to the whole affair. The hues of sea foam green compliment her skin tone, and the multitudinous feathered floral adornments are at once opulent and whimsical, a hint at the coming of spring.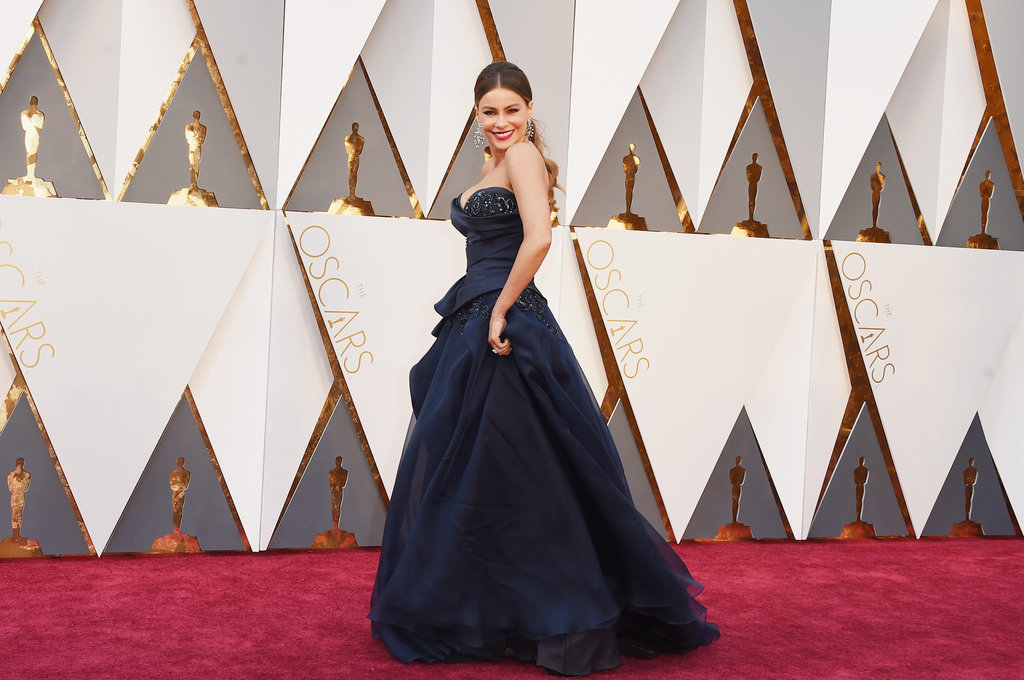 SOPHIA VERGARA, you've got to love her, and not just because she stars in the funniest tv show since Frasier! Can this bombshell ever look bad? NOPE! Here she embraces her curves and channels old school Hollywood glamour in Marchesa, with those time honored staples of corset effect, layers upon layers of flowy silks, and just a hint of bling.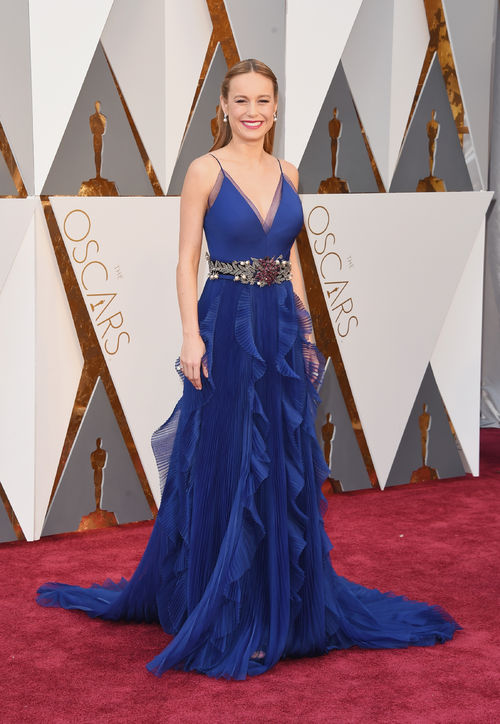 BRIE LARSON, the new "IT" girl in Hollywood certainly mesmerizes in this cerulean blue confection by Alessandro Michele for GUCCI. She manages to look stately and regal, yet the frolicsome nature of the gown compliments her age of 26. The major ruffle patrol offsets the relatively spartan bodice, and that belt is the cherry on the sundae. She goes easy on the accoutrement which is wise with such an eye catching frock. Alessandro Michele will have legions of new fans after her sojourn to the big stage.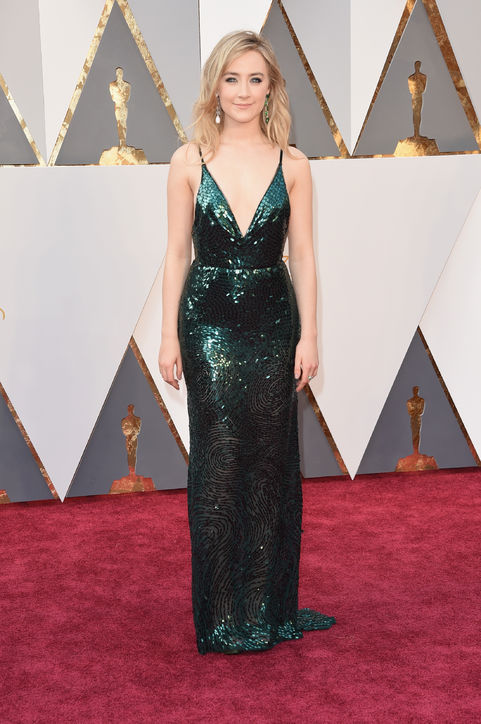 SAOIRSE RONAN makes an impact in Calvin Klein Collection. A streamlined silhouette typical for affairs such as this emblazoned from stem to stern by deep green embellishments with a hint of shimmer in an abstract ode to Van Gogh with just a hint of Vegas. Ironically the 21 year old opted for a gown with gravitas rather than going the pastel chiffon and bows route. Unexpected is usually welcome on the red carpet.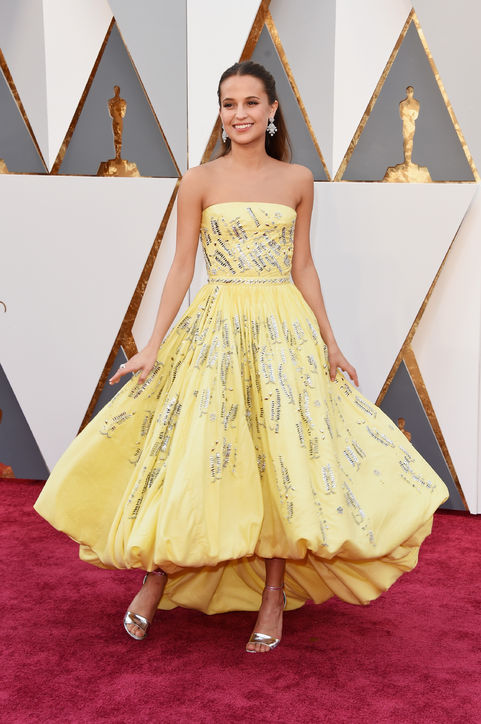 ALICIA VIKANDER in Custom Louis Vuitton. As Jennifer Lawrence is the brand ambassador for Dior, so is Vikander for Louis Vuitton, currently under the creative directorship of the much beloved Nicolas Ghesquiere. So, no matter where she might go, she is in Louis Vuitton, hence she always looks well put together in winsome often avant-garde creations. The vibrant yellow is a departure from the usual darker jewel tones rife on the carpet. The silhouette is feminine, flirty, unusual, and though thoughtfully bedazzled, not fussy!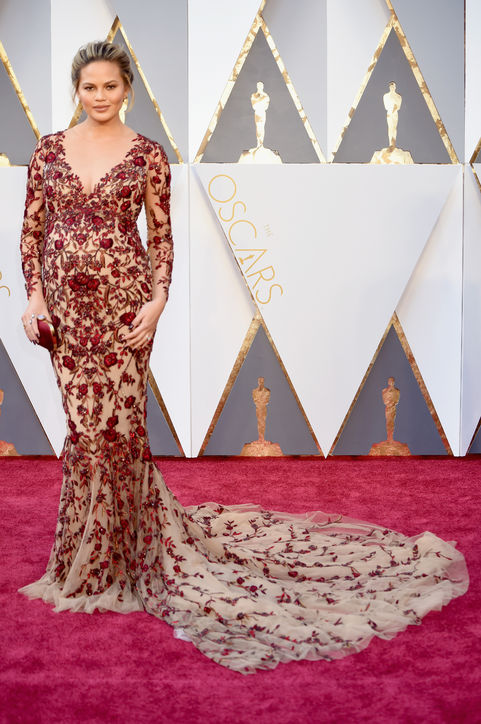 I mean D A M N, she's with child? CHRISSY TEIGEN in Marchesa. A glamorous class act.
Images snatched from the internet, from "Glamour Fashion" and 'Popsugar".
CHEERS and goodnight!