The Neiman Marcus and Bergdorf Goodman BOOKS have finally arrived, heralding the approaching Spring Equinox. Perusing the shiny pages of these fashion tomes reminds me how much the spring collections lifted my sprits and enthralled me. A running theme of lighthearted and playful 70's bohemia flourished along side iconic floral renderings and a more modern forward vibe. From the light white linen entries to the longer more serious festooned fare, pretty much all bases were covered. But more importantly, these catalogs share ALL the gory details with respect to the prices of the runway separates and ensembles. There is none of the irksome "price upon request", as if one might faint dead away at the sight of such a brash reminder of reality. So here we have it, some of my personal favorites, and additional looks that capture the essence of the spring glory!
(Maybe get the smelling salts out JUST in case....).
CHLOE:
It wouldn't be spring without upscale cottons and linens, and no one can conjure lavish from these low key fabrics as Chloe can.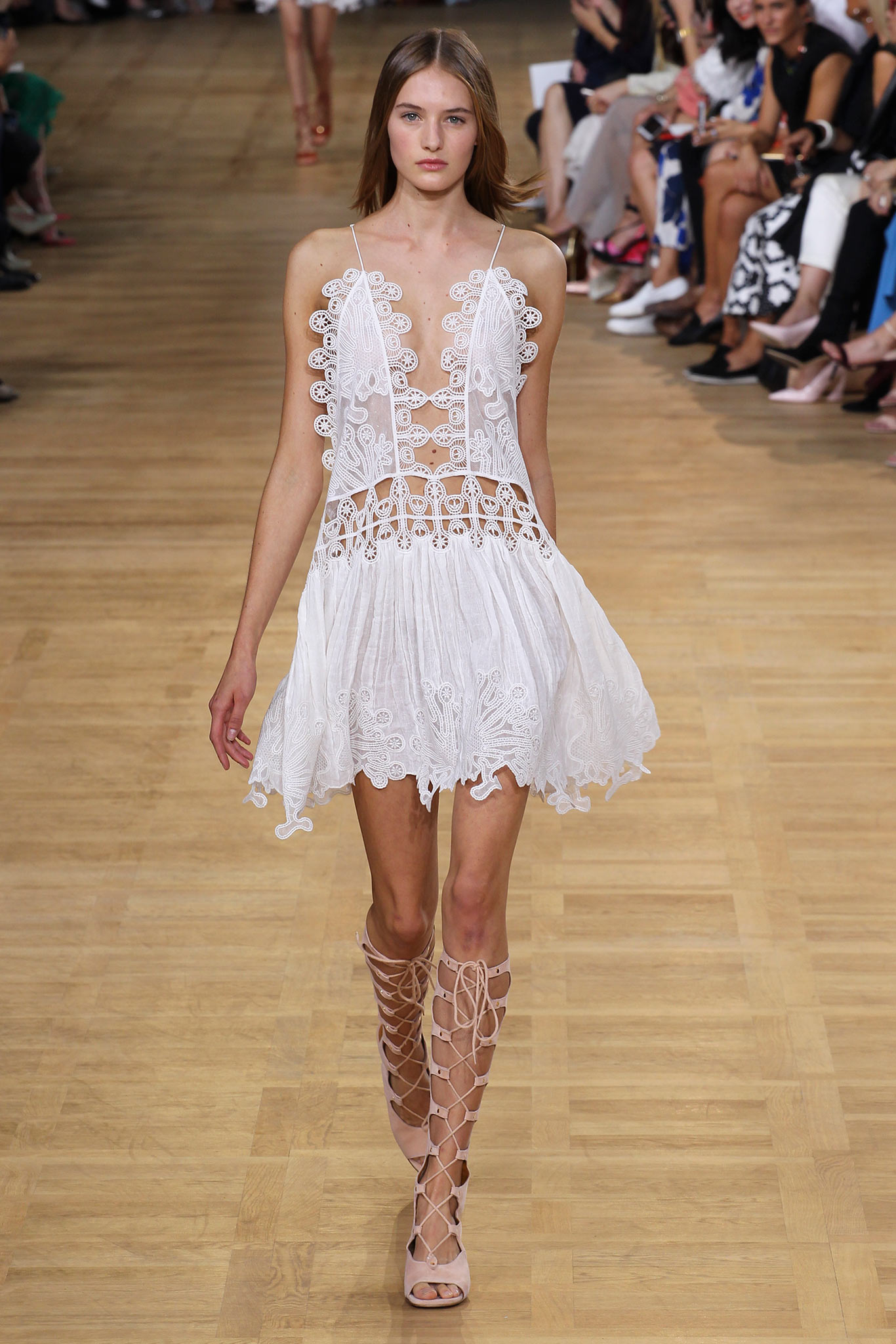 Embroidered white lace, linen: $3995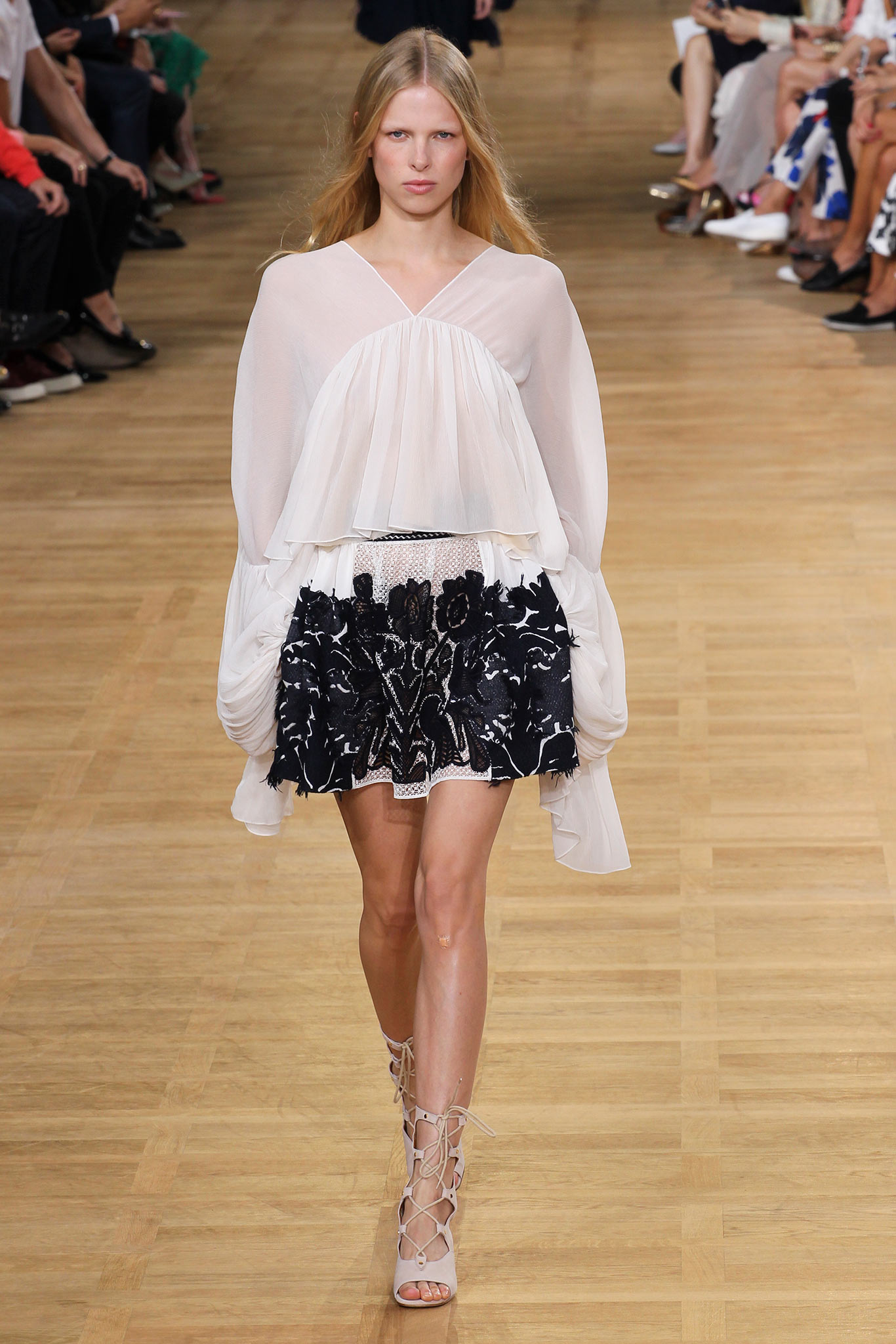 White silk blouse: $1995
White viscose and cotton jacquard lace skirt with navy lace embroidery: $3650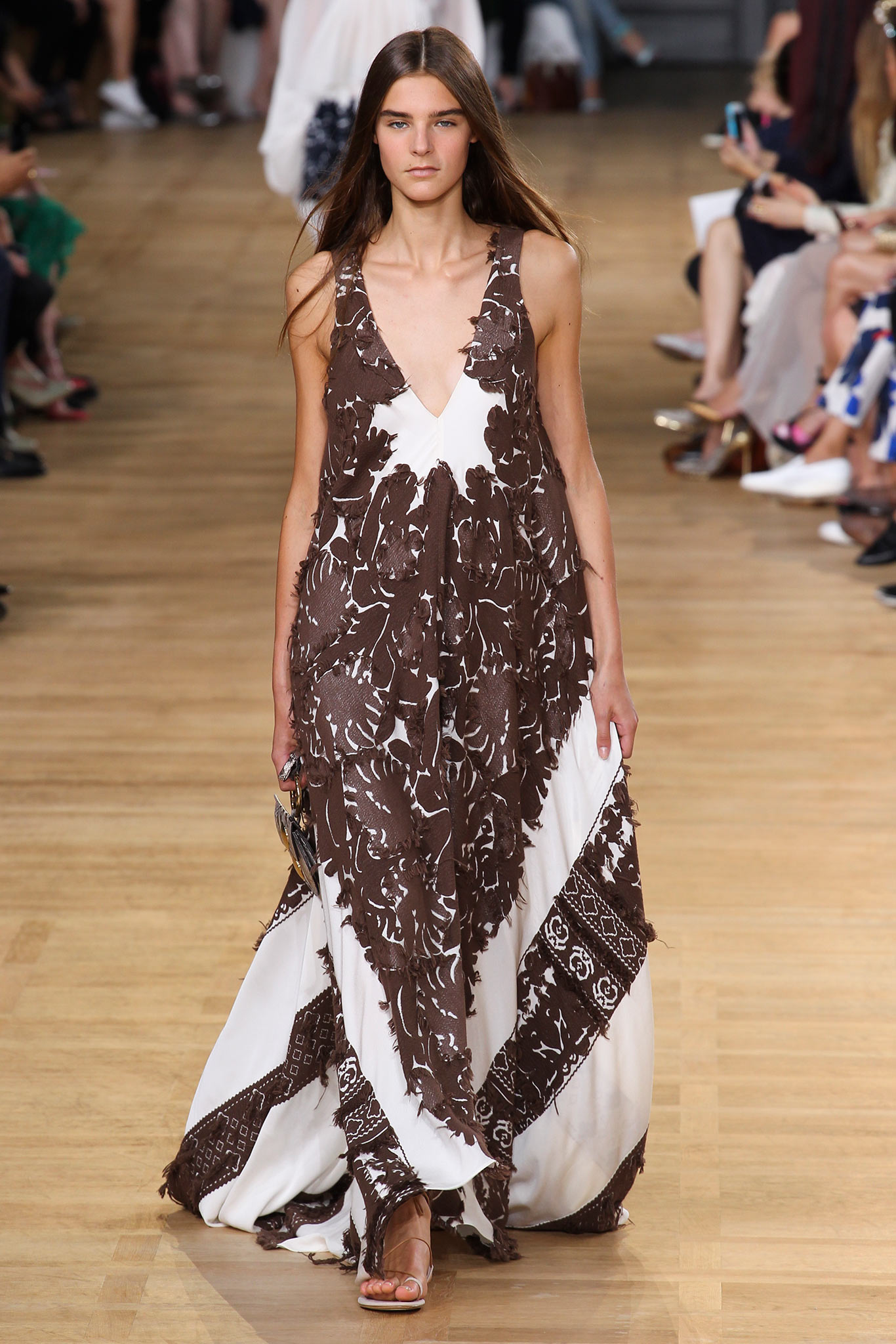 Princess Bohemia: $5595
MICHAEL KORS: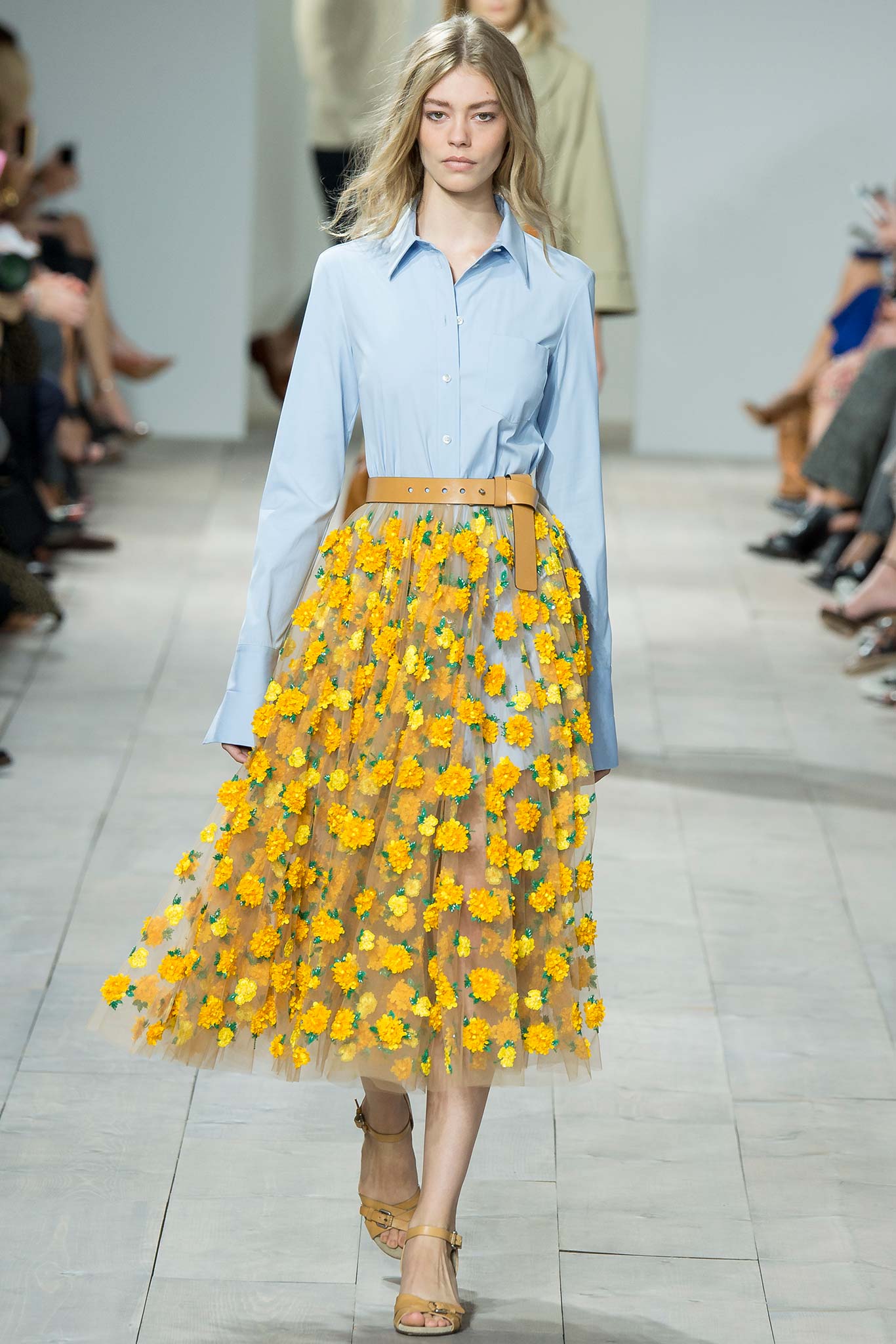 A personal favorite from this collection. Blue cotton poplin shirt with French cuffs: $595 (This is a timeless staple, and apparently a bargain). Long skirt in sheer polyamide tulle with hand-embroidered marigold flowers: $9995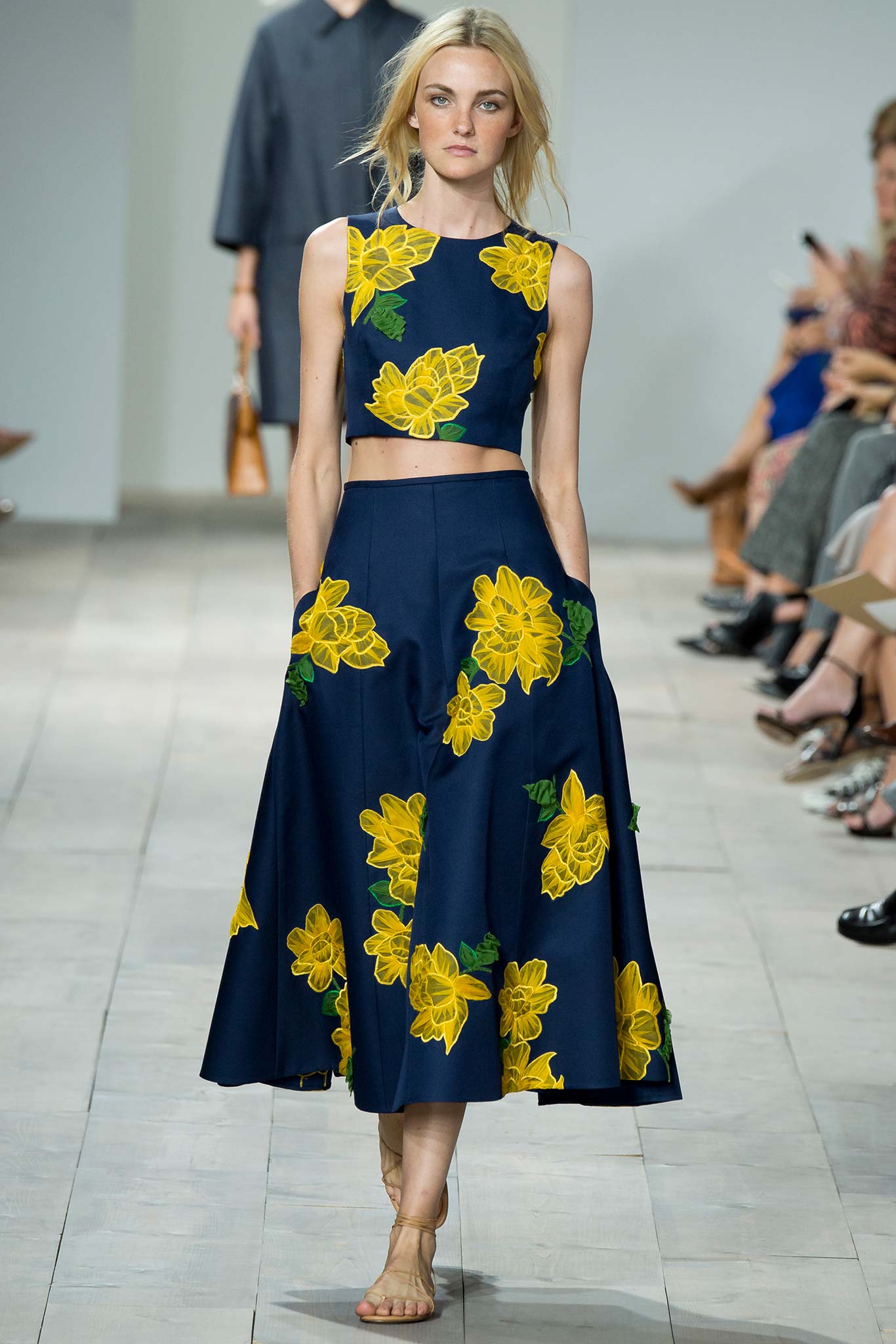 Indigo wool and silk cropped top and skirt with embroidery: $1995/$8995 (This skirt would be fabulous with a cropped fisherman's sweater and boots when the winter chill sets in).
DIOR: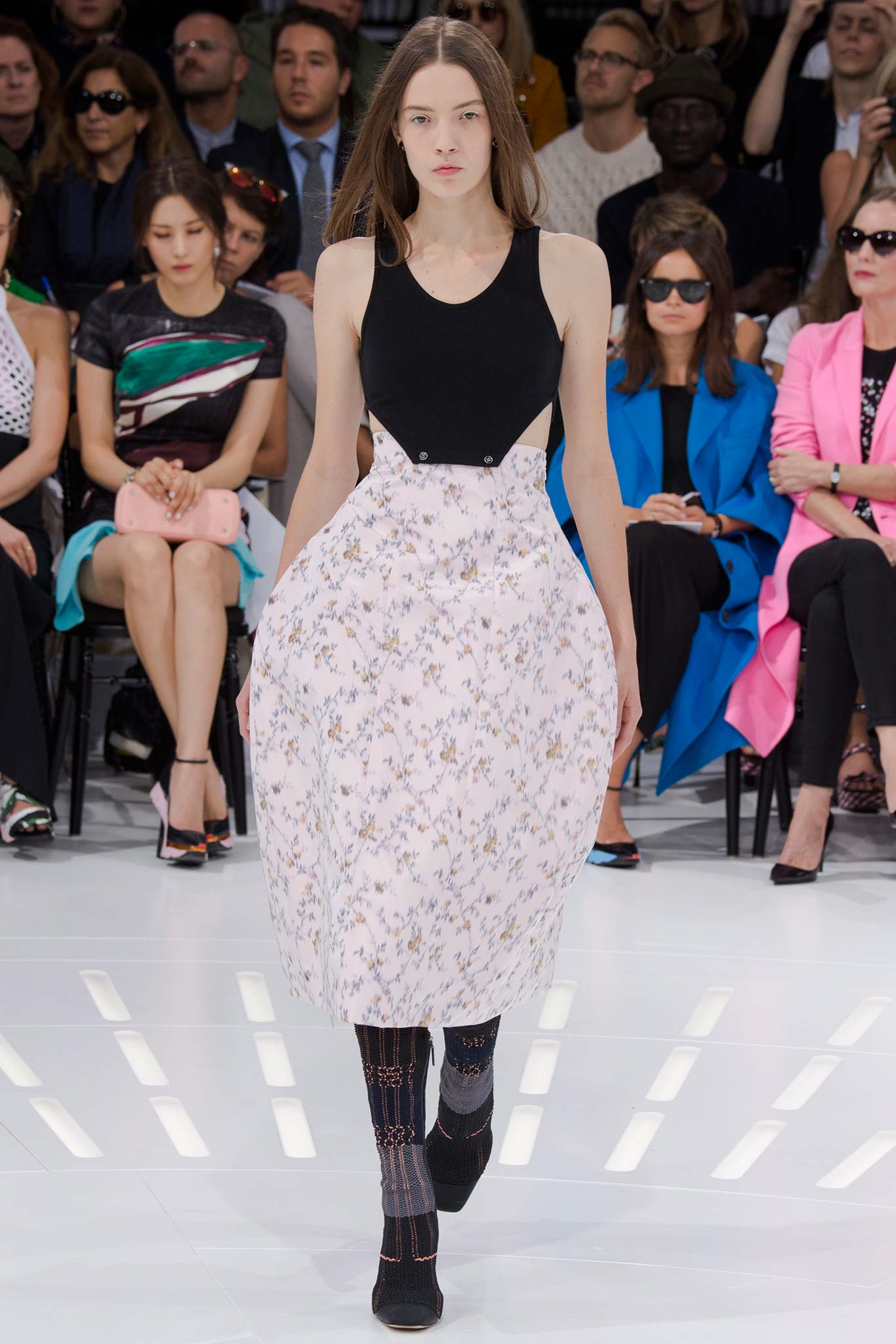 Laid back royal, epitomizing a lovely collection. Silk two part dress: $11,500 (I know, ouch, but it is Dior). And those boots, s w o o n.....
LANVIN: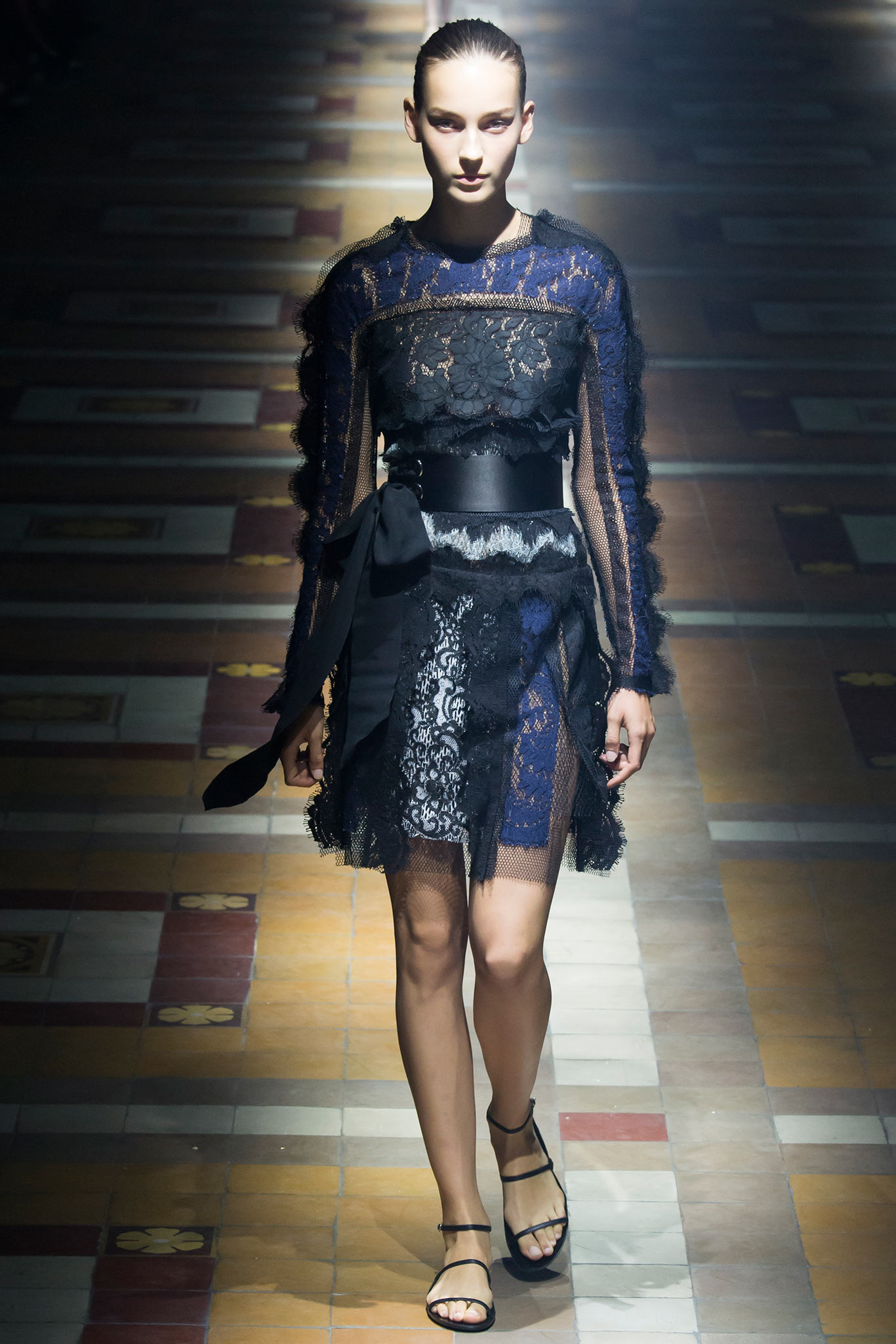 A standout in a striking if moody collection. Long-sleeve cocktail dress of black netting with black and blue Chantilly lace panels: $7355 (Wear as a tunic).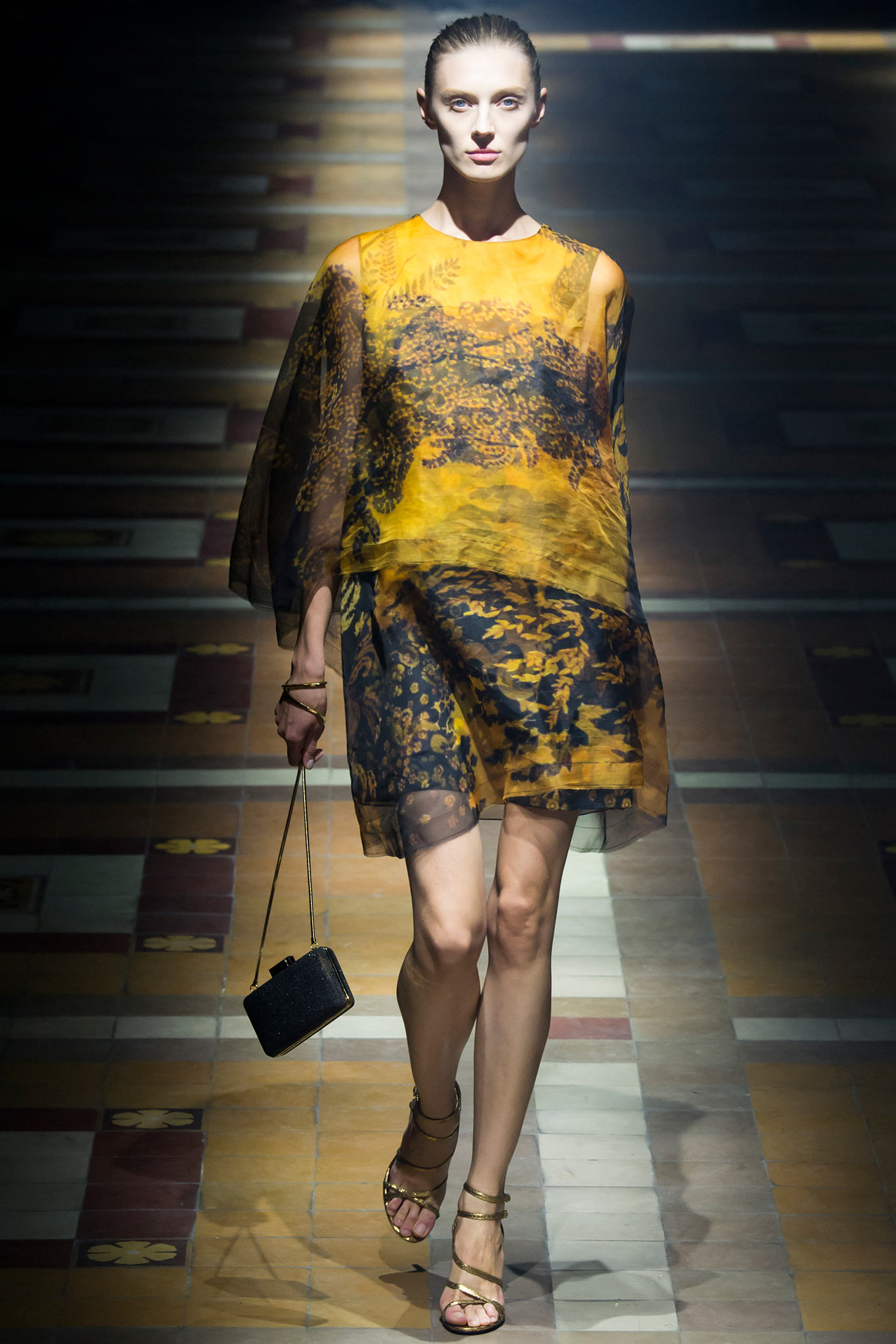 Darker forest whimsy. Black and gold silk dress: $3645
ERDEM: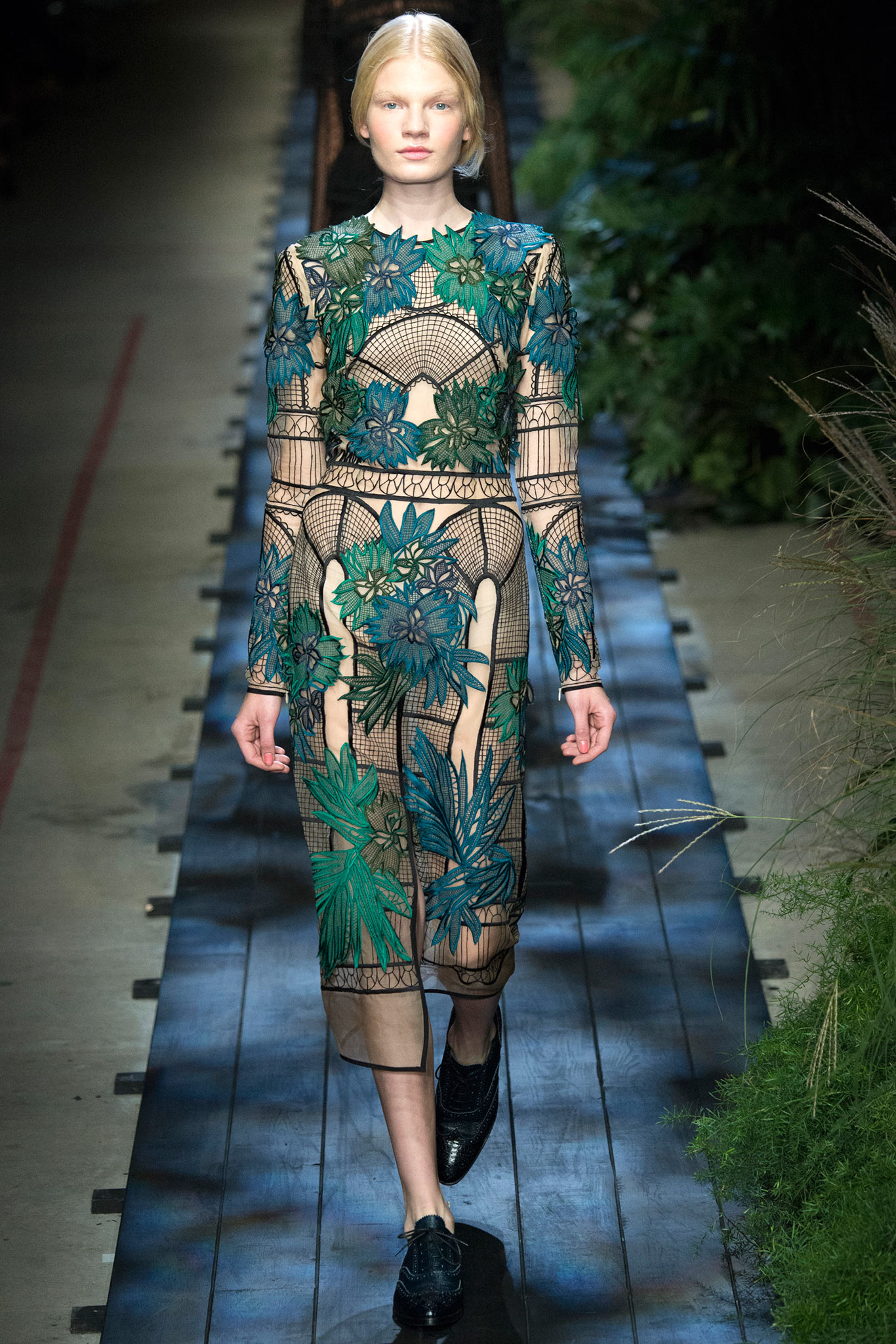 An interesting rendition of an arboretum and it's inhabitants. Long-sleeve crew neck dress in nude silk organza with lace and embroidery: $7425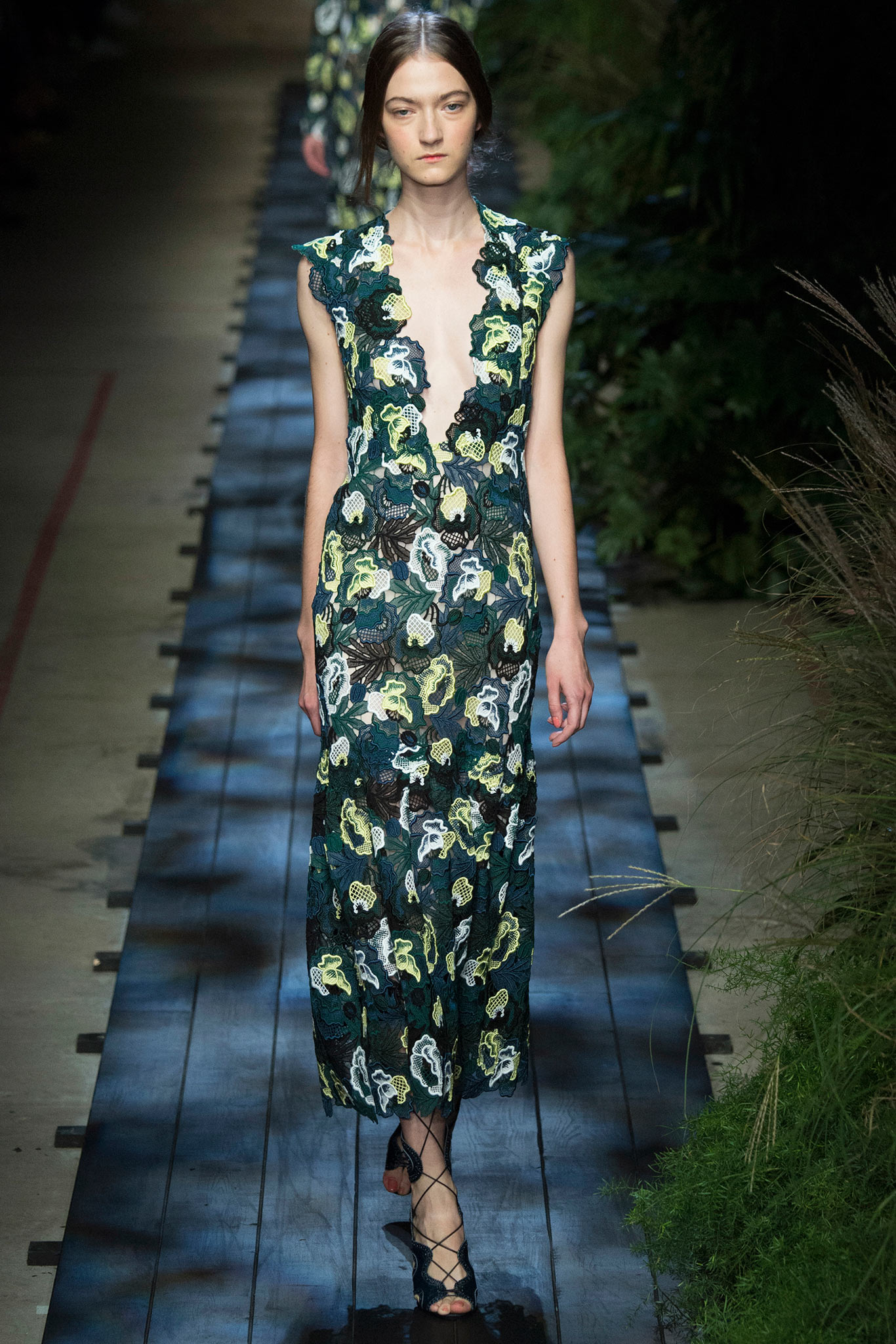 Typical Erdem dreamy. Multicolor polyester and cotton guipure lace dress with silk lining: $7425
MONIQUE LHUILLIER: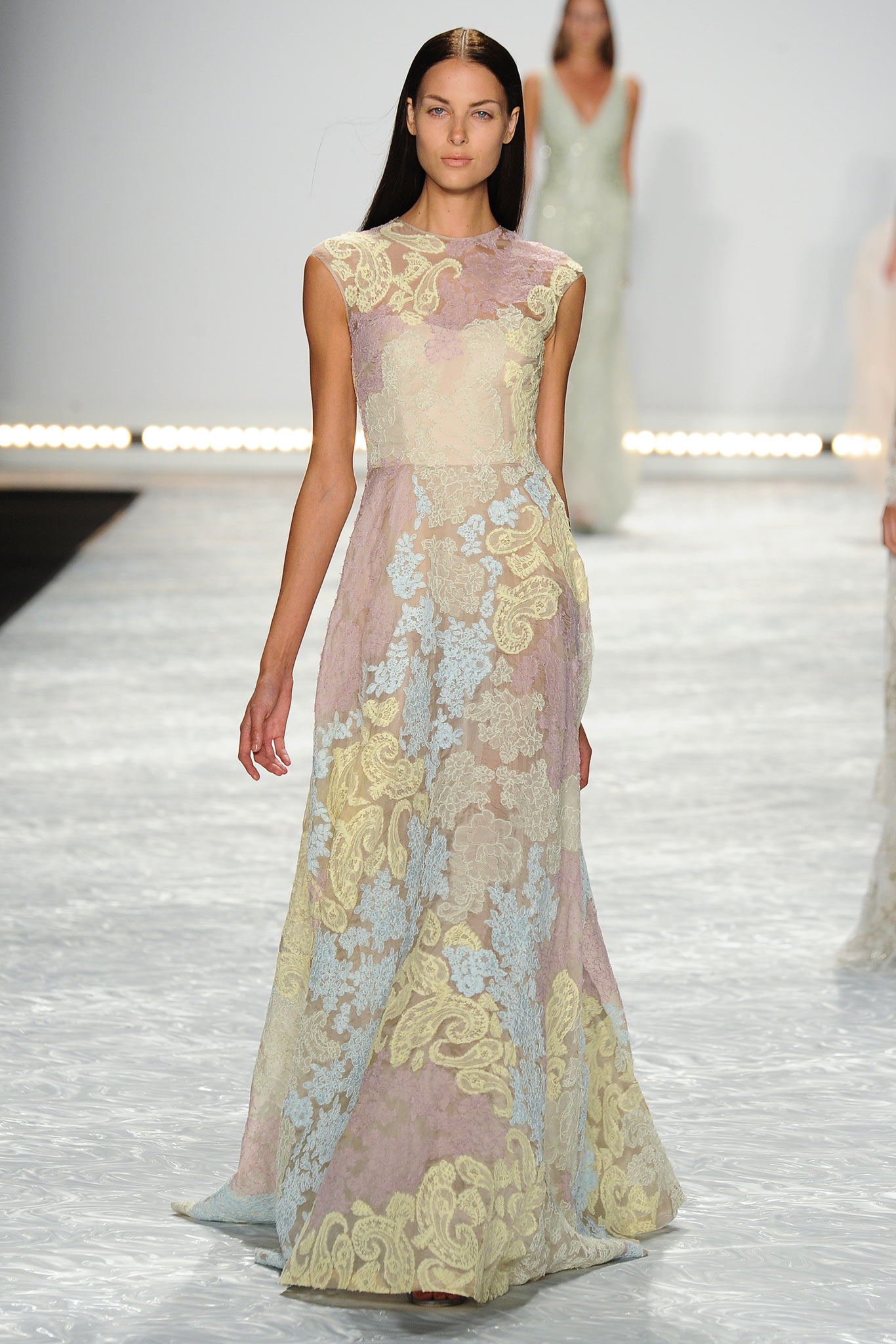 I say perfect for a spring wedding. Multicolor silk organza and chiffon gown with charmeuse (YUM) lining and embroidered lace of cotton and polyamide: $10,995
ANDREW GN: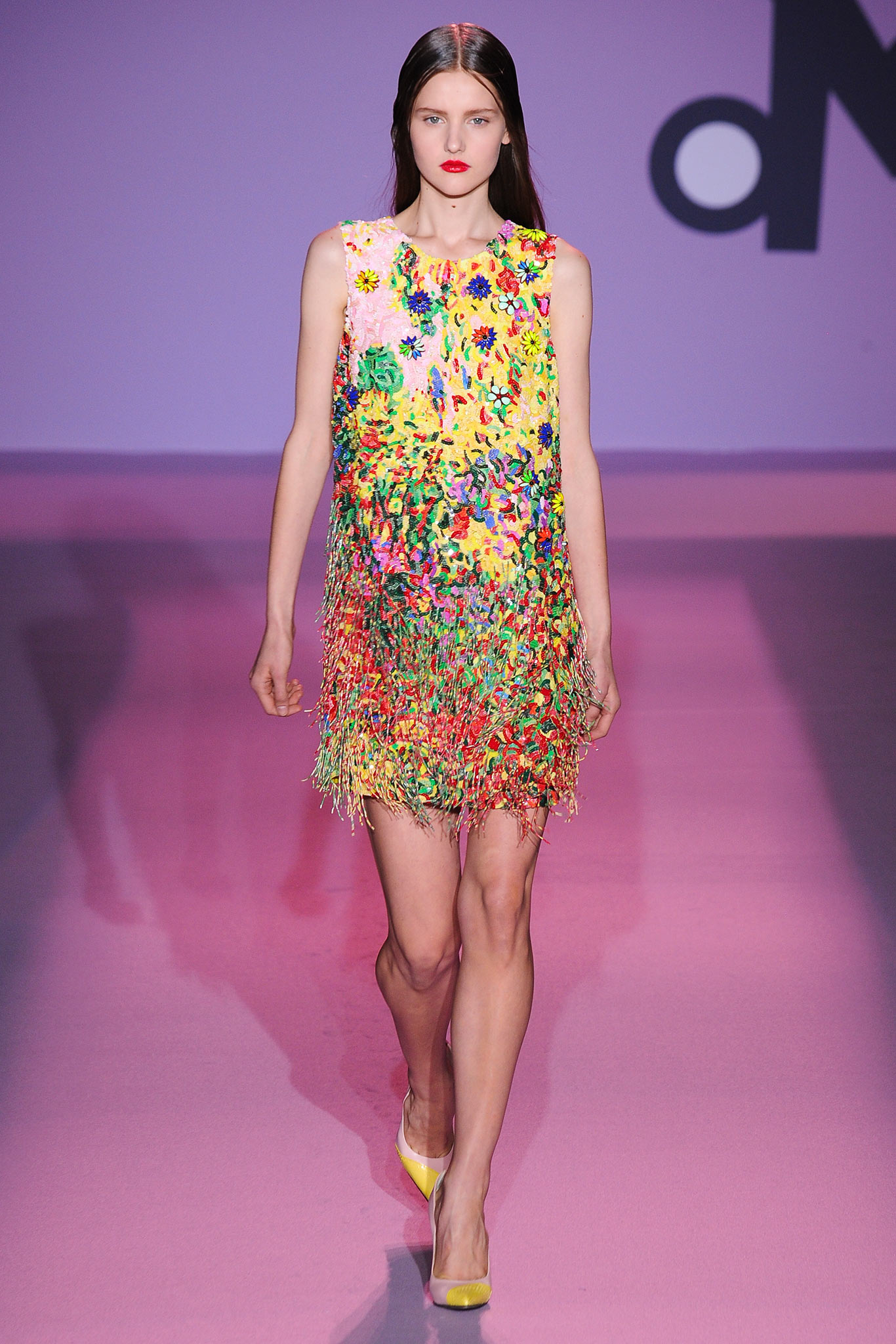 A favorite designer inspired by a favorite artist, in a glorious commingling. Sleeveless dress with allover impressionist inspired multicolor glass bead embroidery: $7695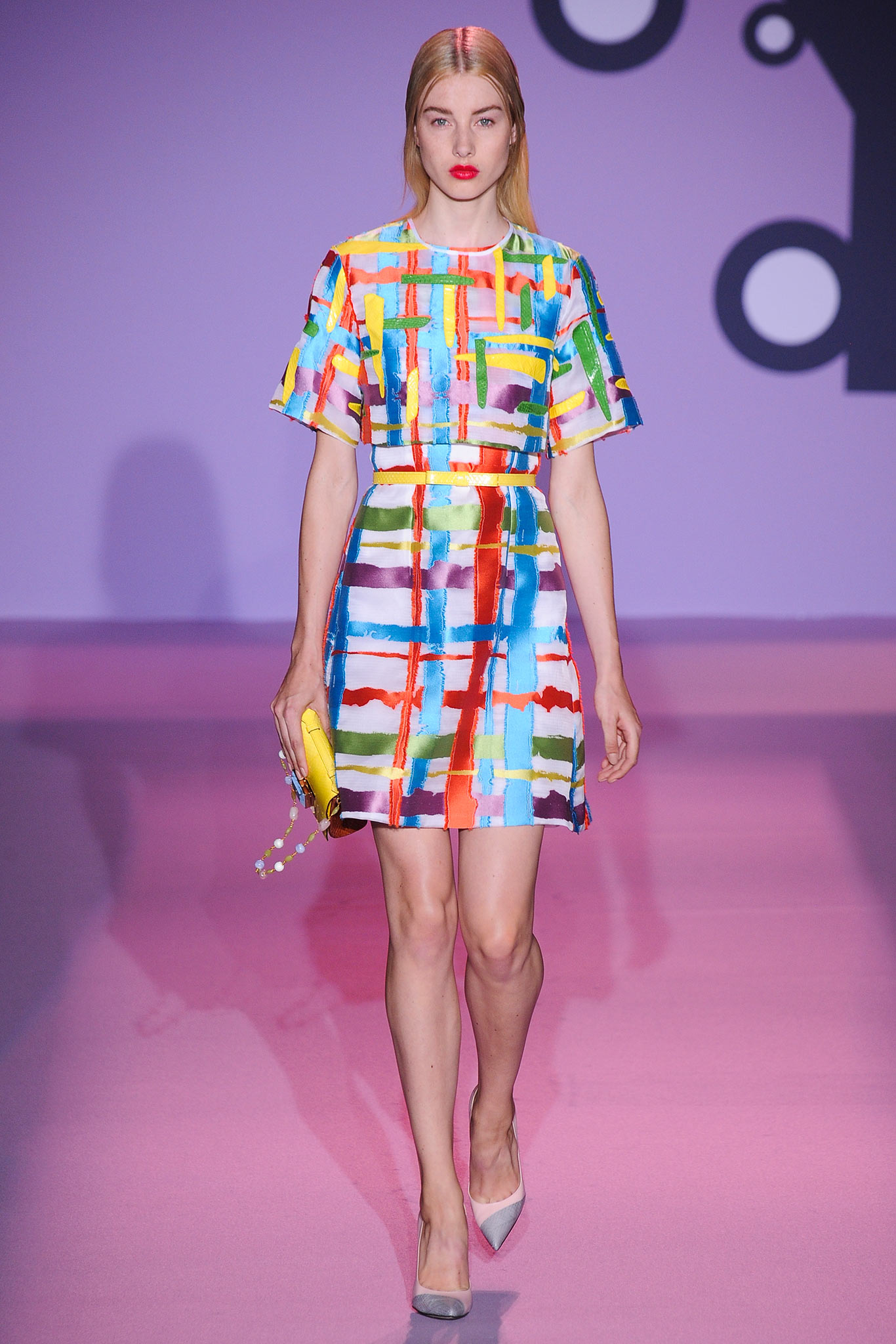 Perfect spring frock. $2320
CHANEL: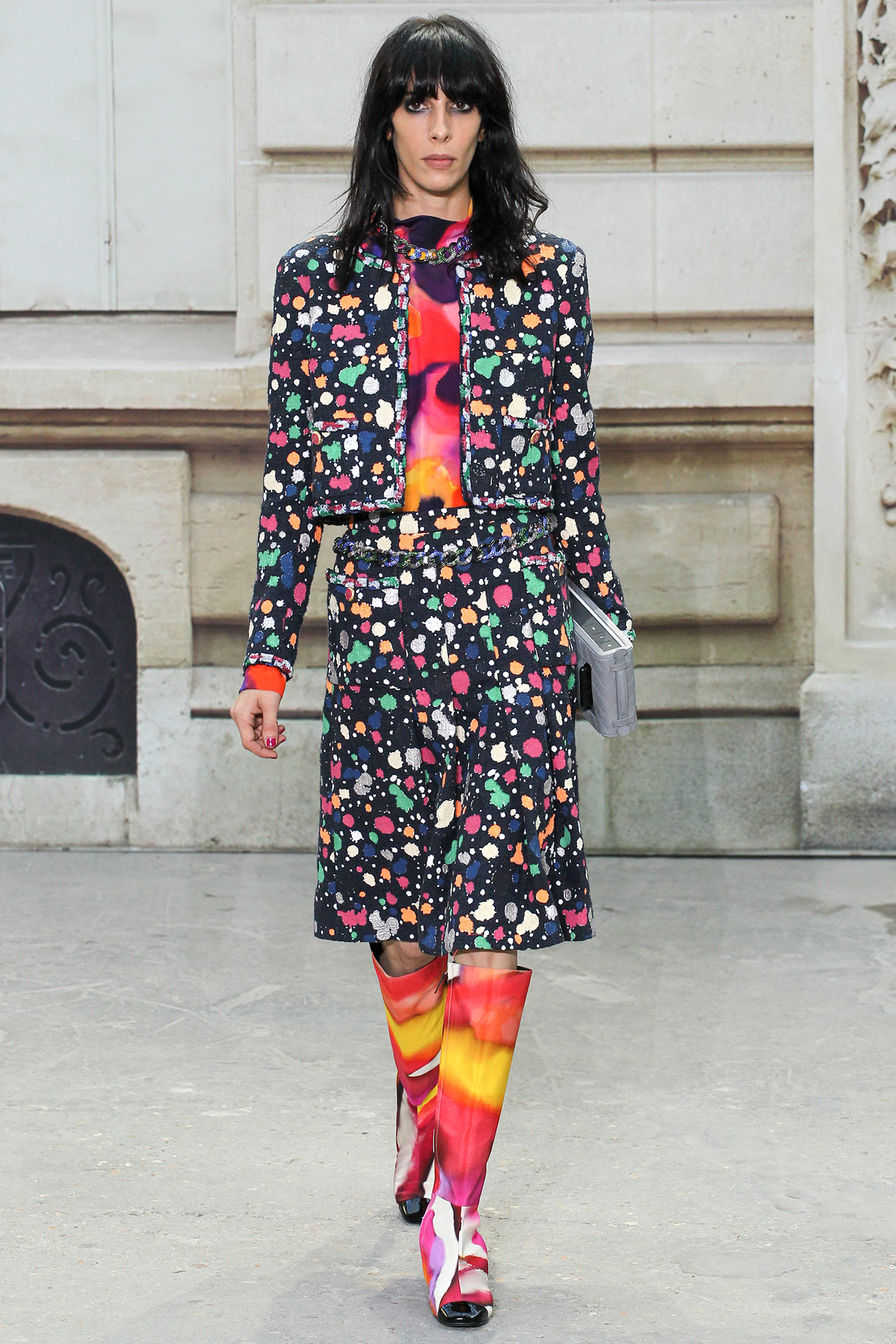 A sort of Jackson Pollack take in a timeless silhouette. (You can NEVER go wrong with Chanel, and no, it doesn't matter that I drank the koolaid). Navy multicolor painted cotton and rayon tweed jacket and skirt (if in doubt given Lagerfeld's voluminous collections, go with tweed) with multicolor printed cotton trim and silk lining: $7800/$3750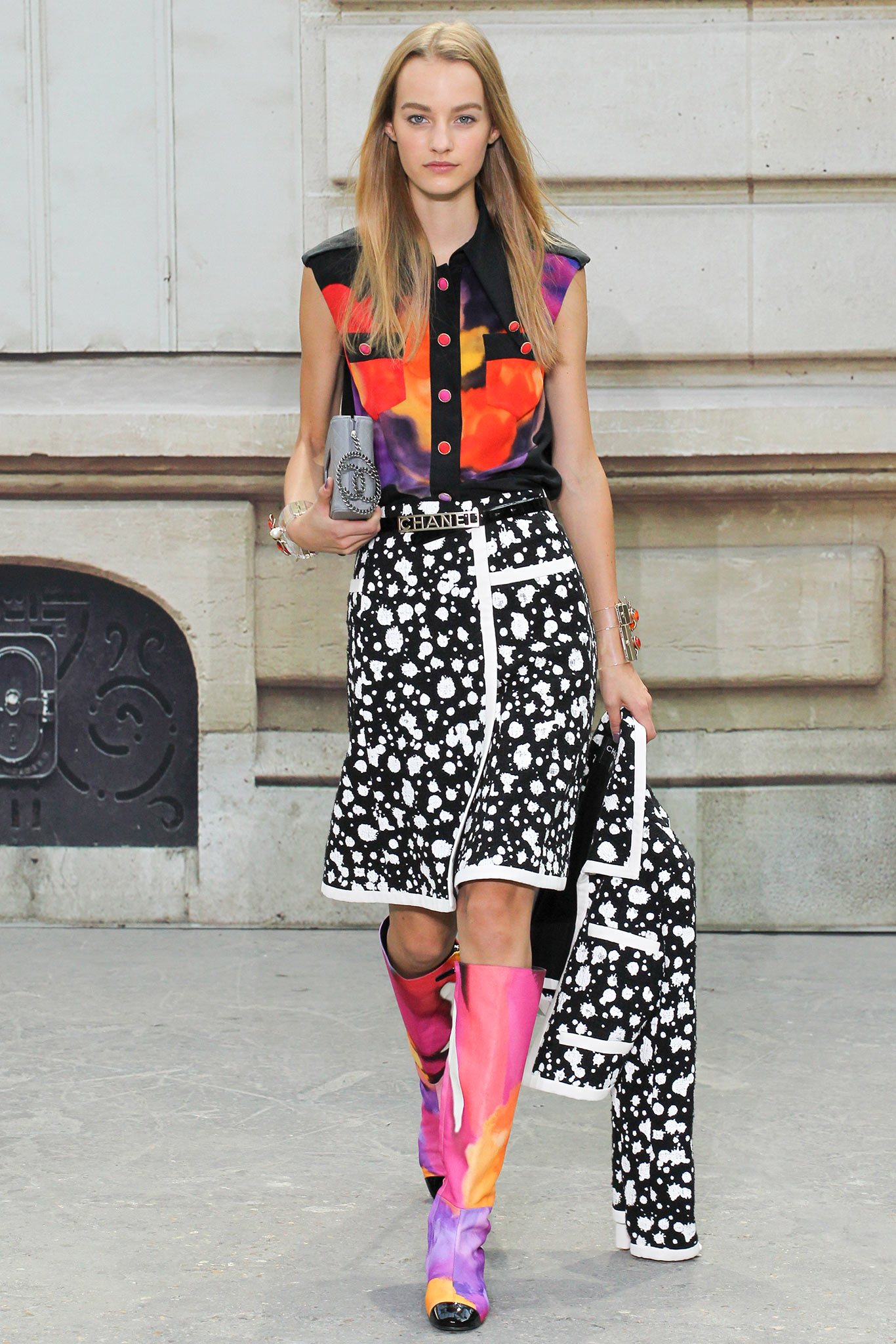 Four pocket jacket in black and white painted cotton/rayon tweed: $6200 Panel front skirt in same material: $2500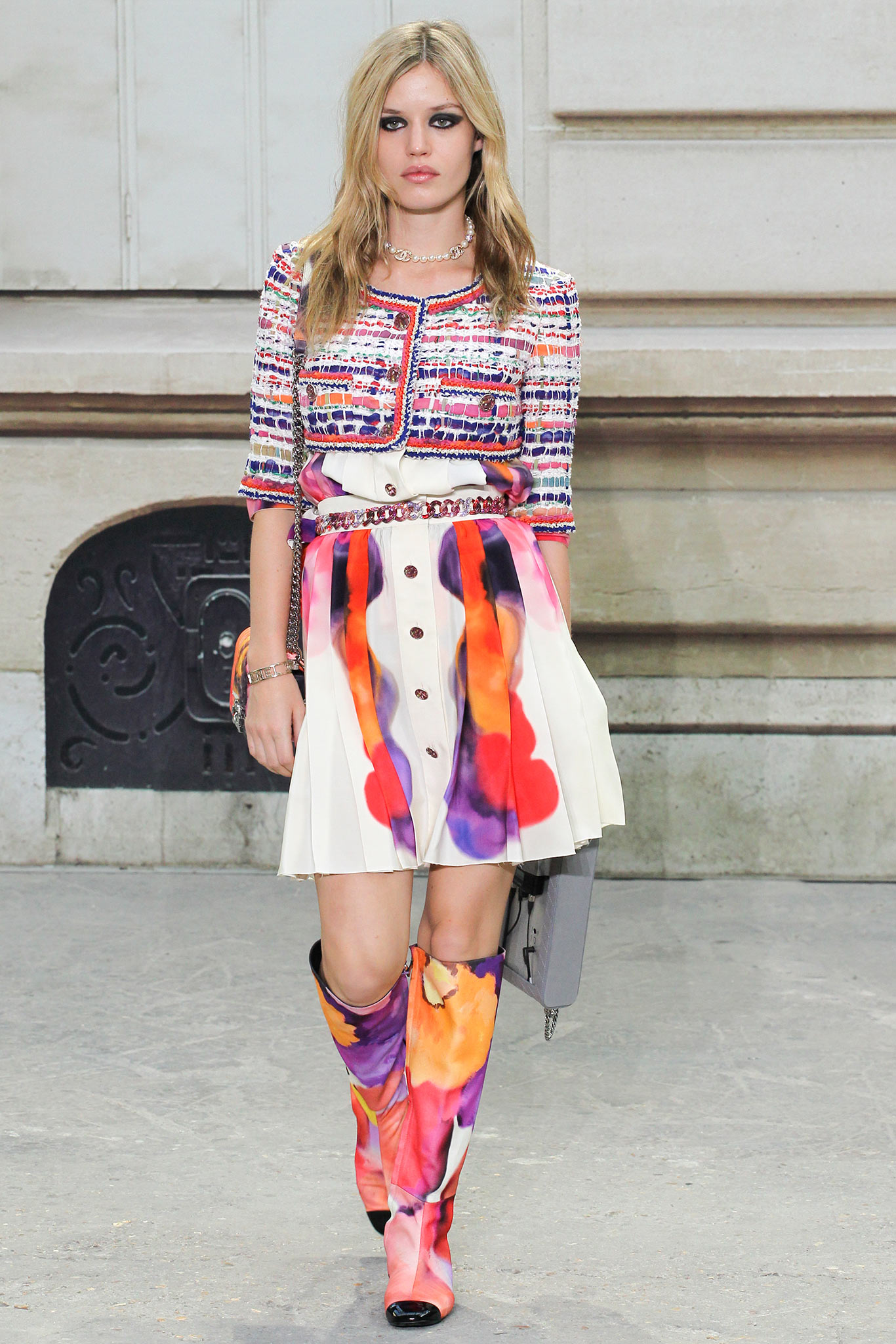 Ecru/multicolor silk crepe de chine dress with attached multicolor tweed cropped jacket of cotton, silk, nylon, acrylic, and rayon: $15,800 (Only Lagerfeld could pull a wacky stunt like this and make it work)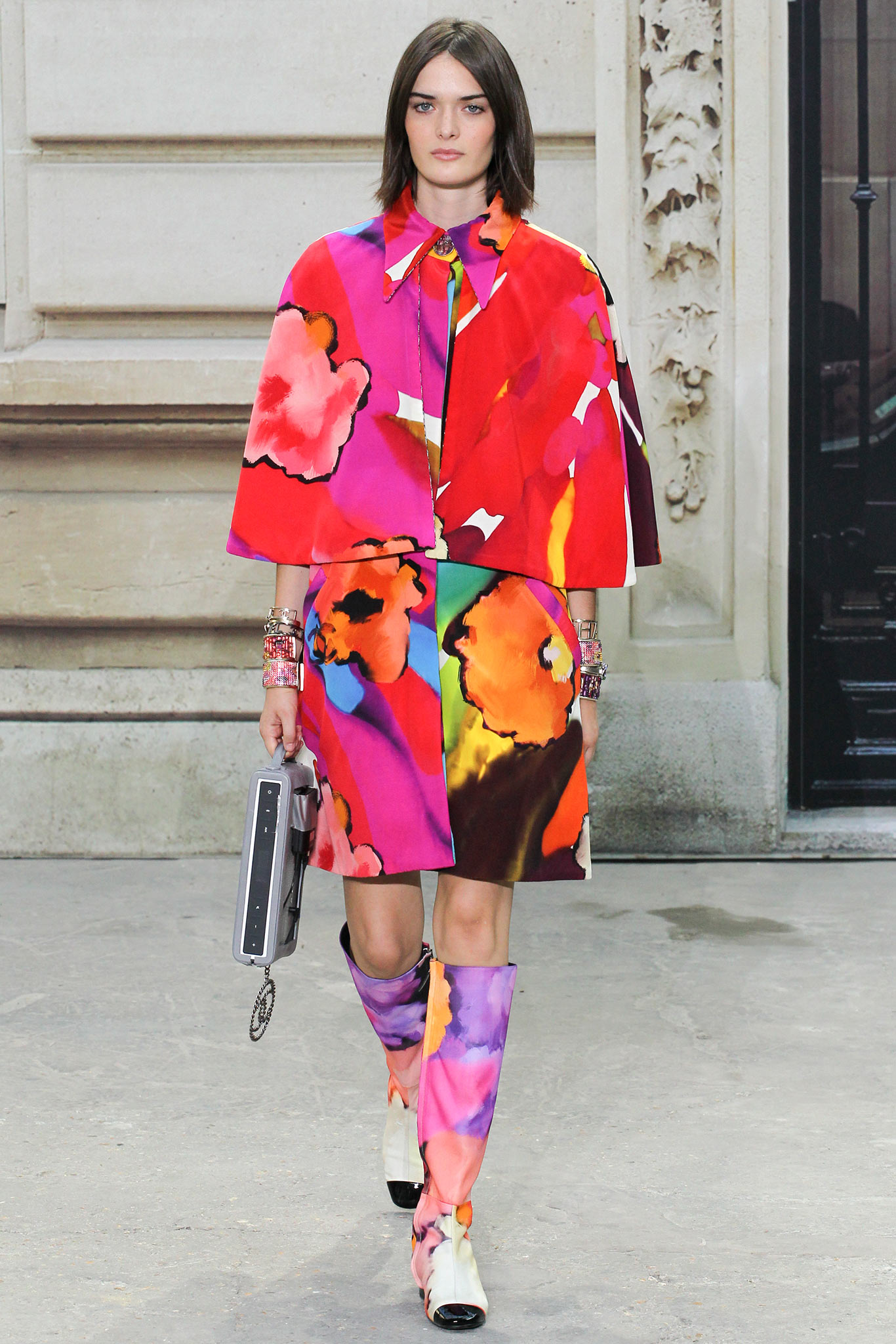 Georgia O'Keefe brash. If you wear nothing but black, consider something akin to this piece to spice up your wardrobe. $7000
BURBERRY PRORSUM: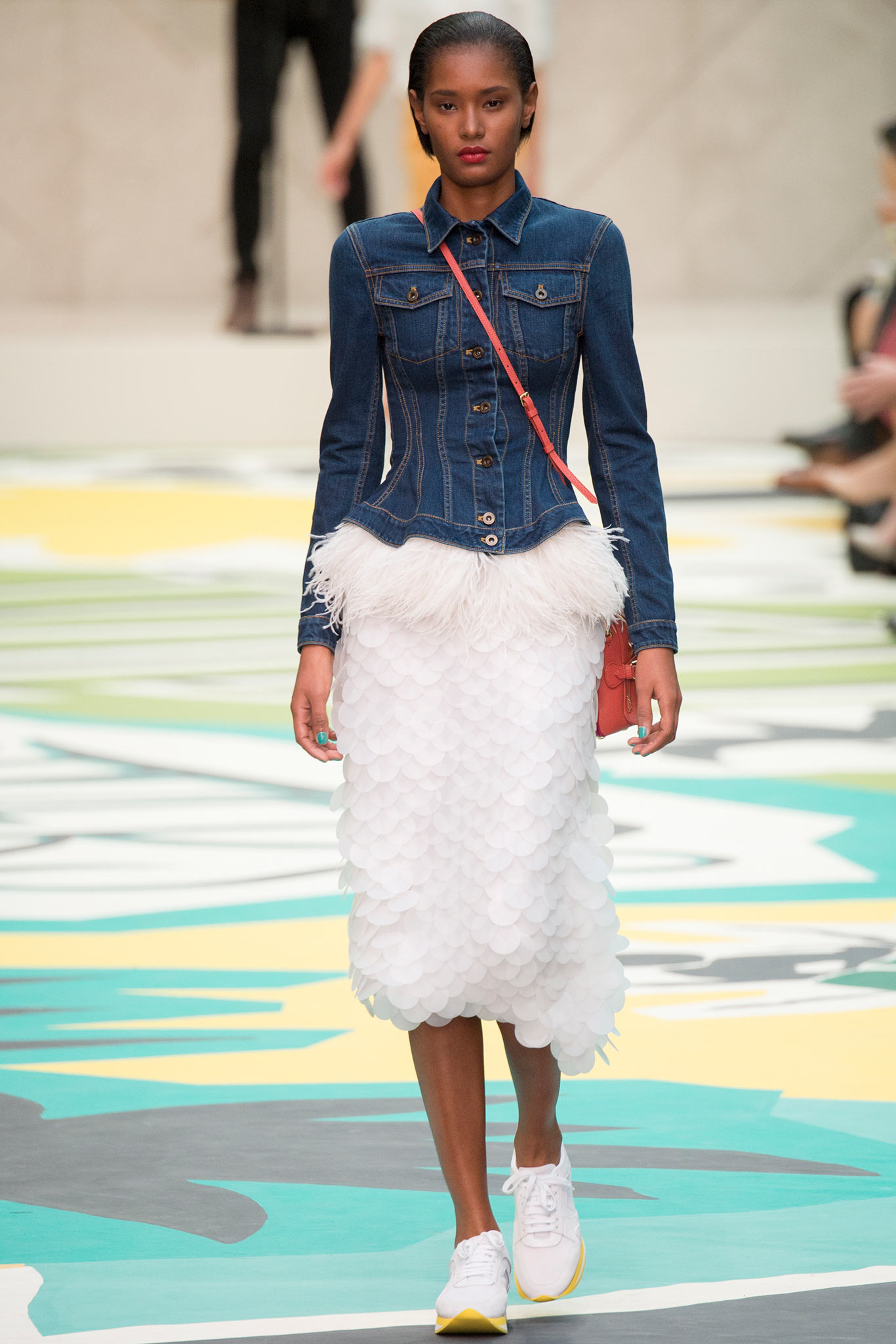 Narrow waist (always flattering) cotton denim jacket with white ostrich feather hem: $3095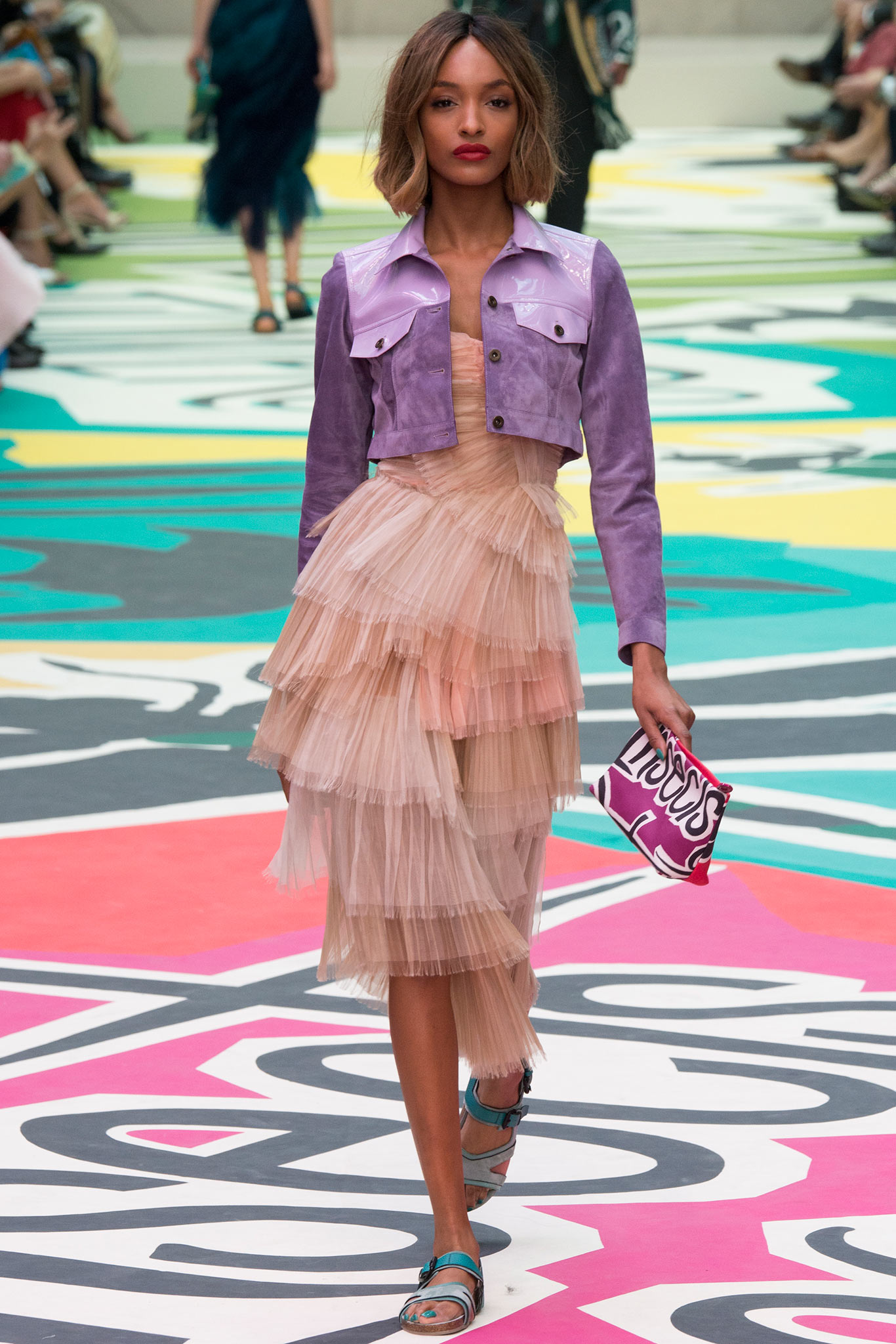 Lavender suede cropped jacket with patent leather trim: $4295 Pale rose bustier dress of mulberry silk organza: $5750 Interesting juxtaposition.
DEREK LAM: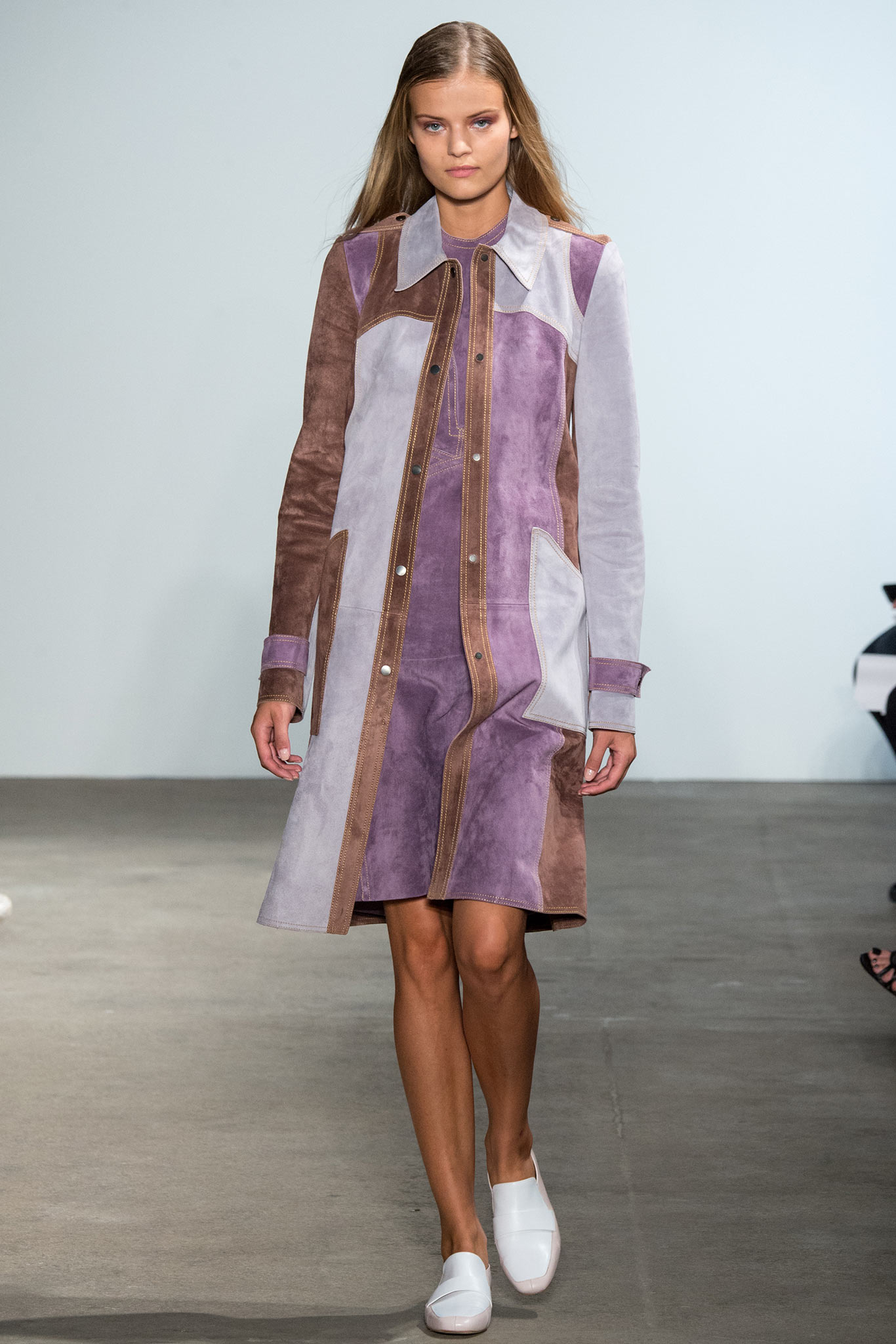 One of my favorite in a constant homage to the 70's. Tricolor trench coat with multicolored suede panels and topstitching: $5990 Matching sleeveless shift dress: $3790
EMILIO PUCCI: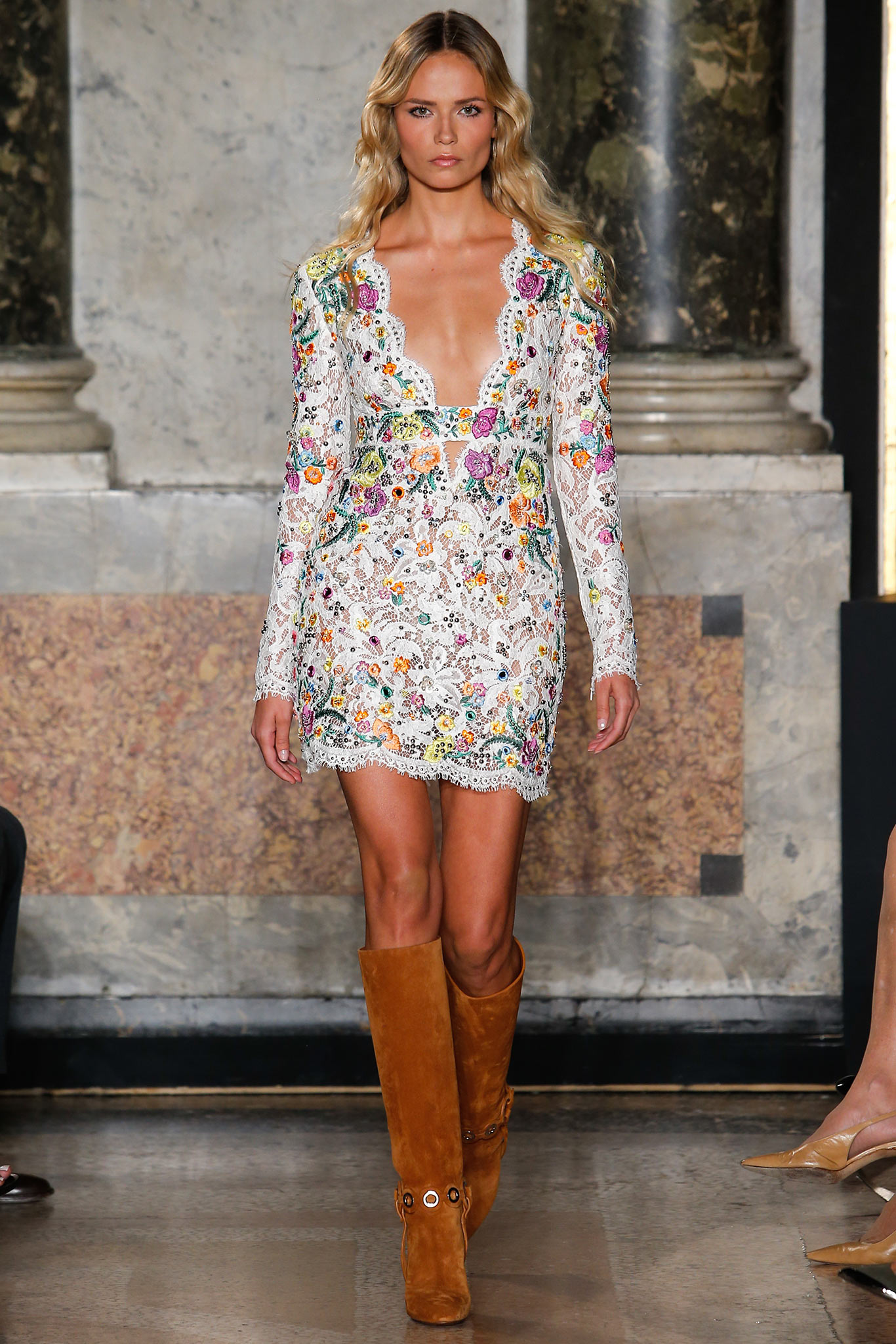 Long-sleeve double V-neck coctail dress in white lace with multicolor floral embroidery (D A M N): $7800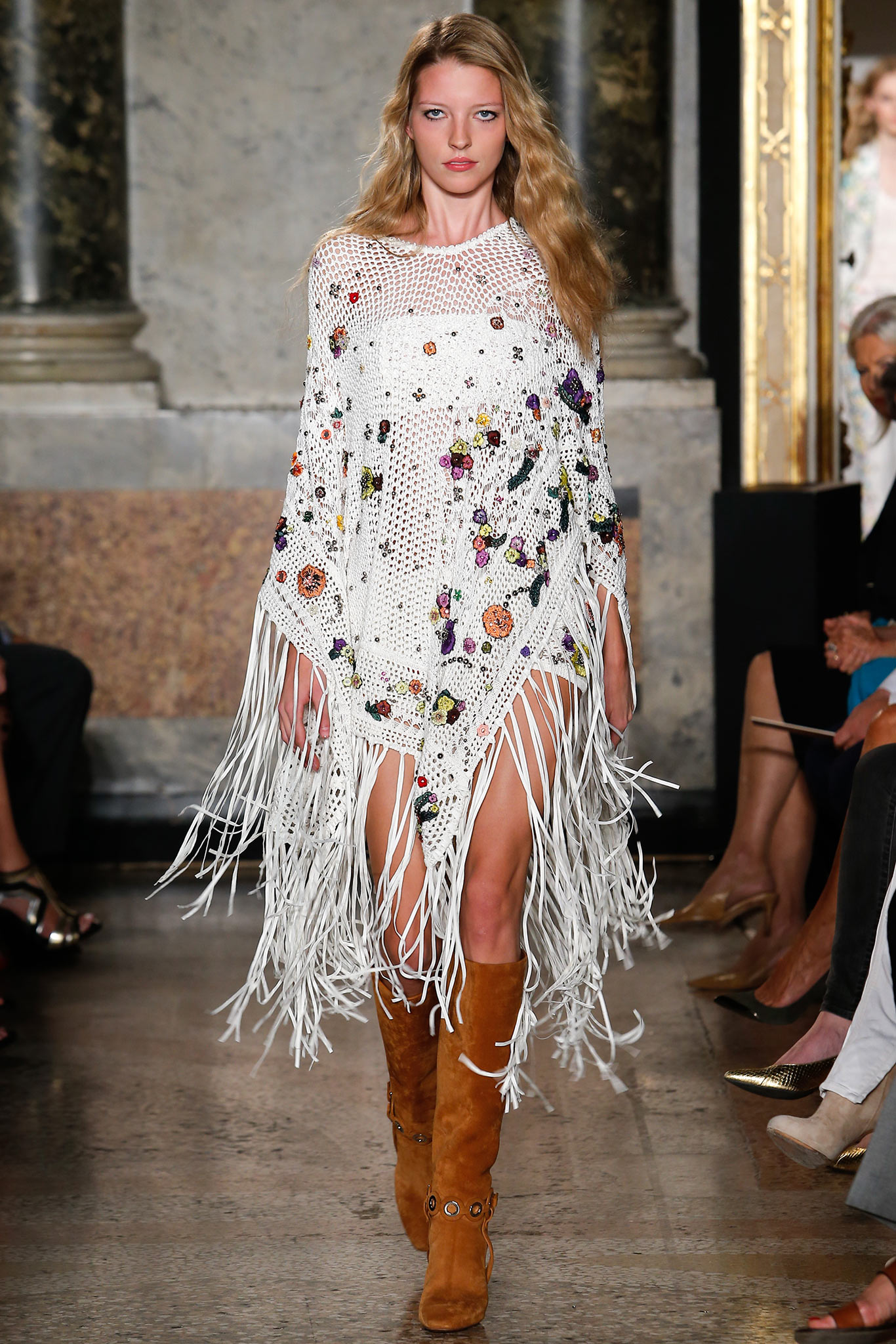 Never a big fan of the poncho, I'd wear this confection any day any time over anything, even my pajamas. White crocheted poncho of cotton, viscose, and polyester with fringe and multicolored embroidery: $4640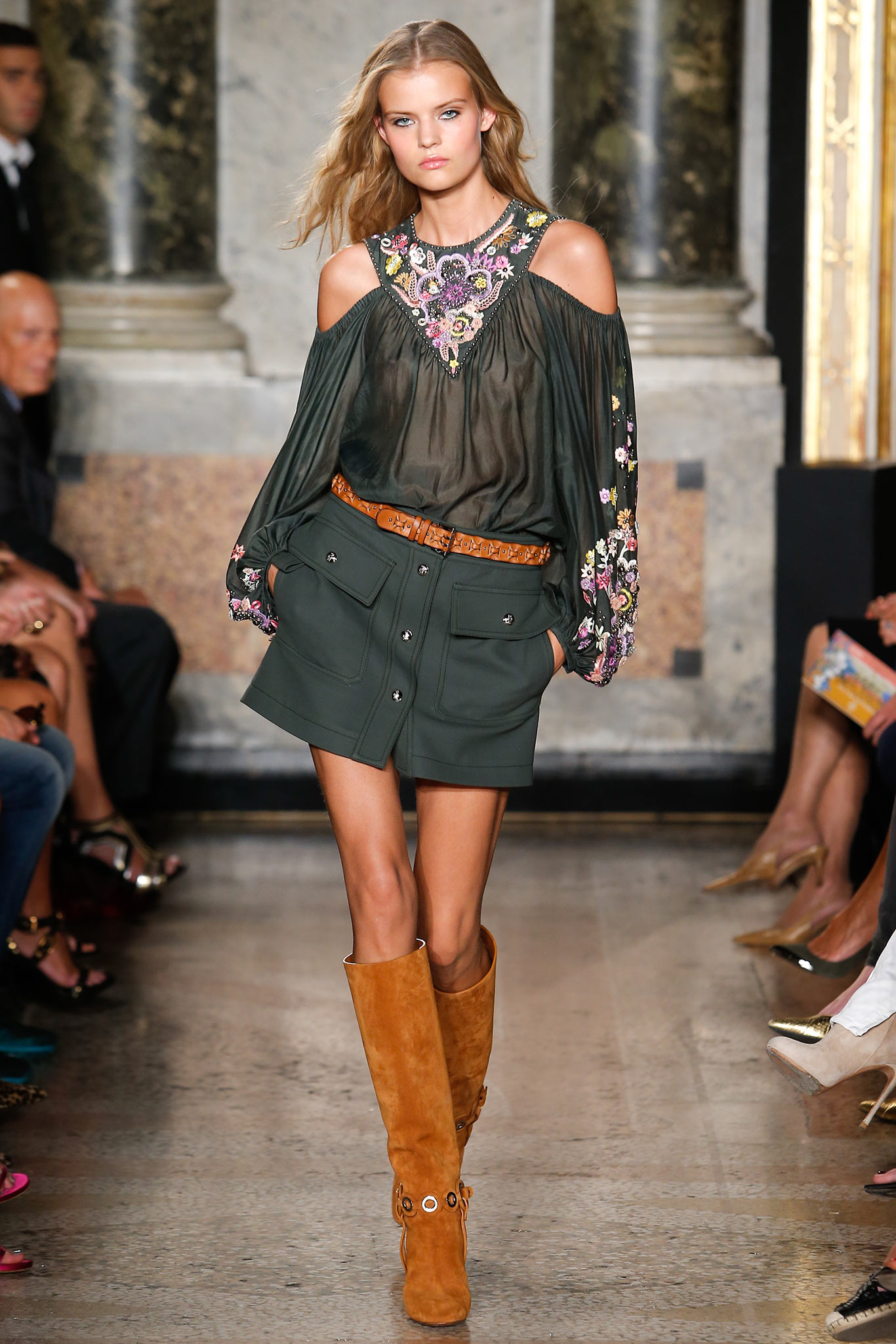 Not your Mother's peasant blouse. $2990
DOLCE & GABBANA: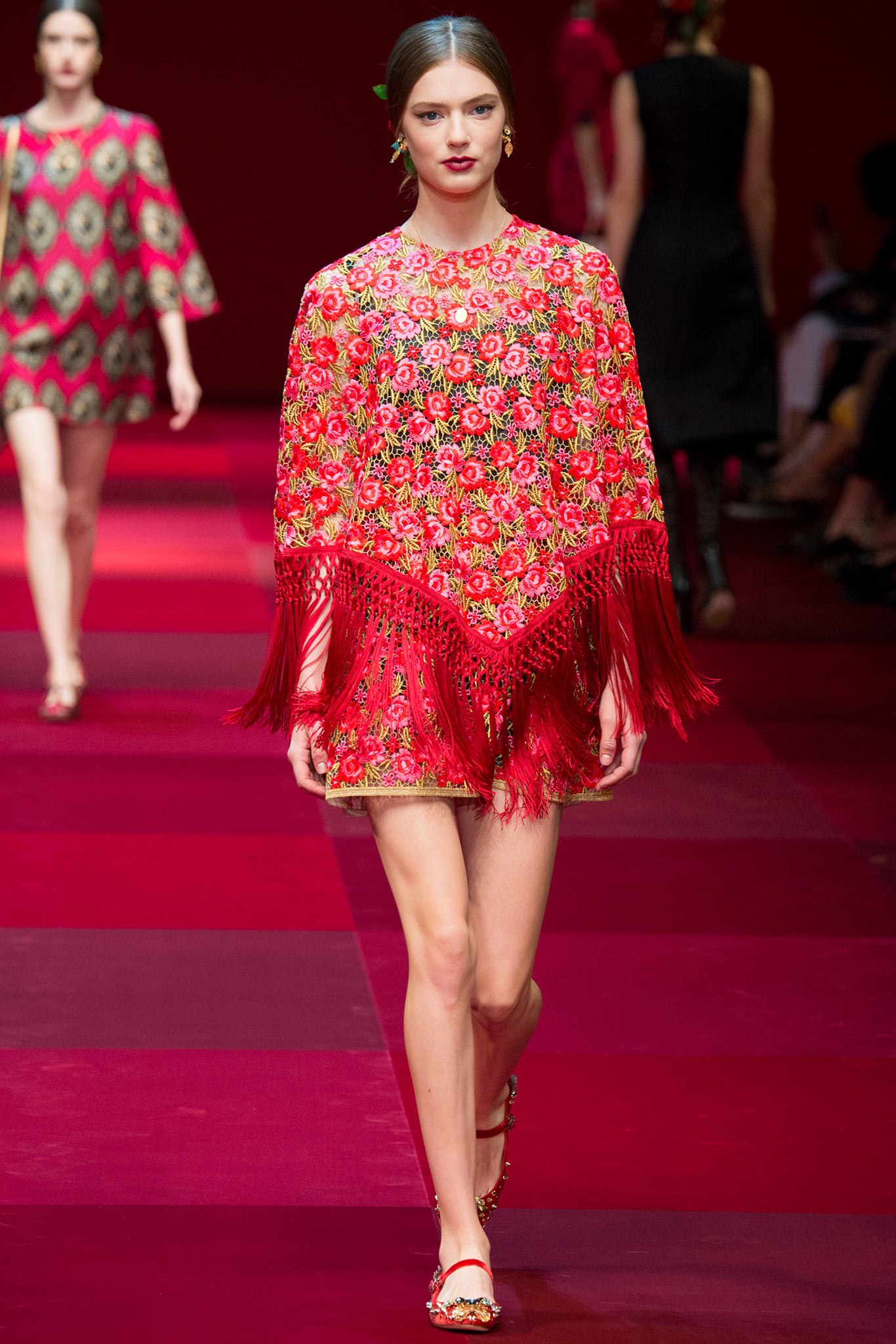 And here we have a different version of a poncho, with flavors of old Spain. Embroidered lace of rayon, nylon, cotton, and polyester with red fringe and black lining of silk, cotton, nylon, and elastane satin: $12,500 O L E!!!!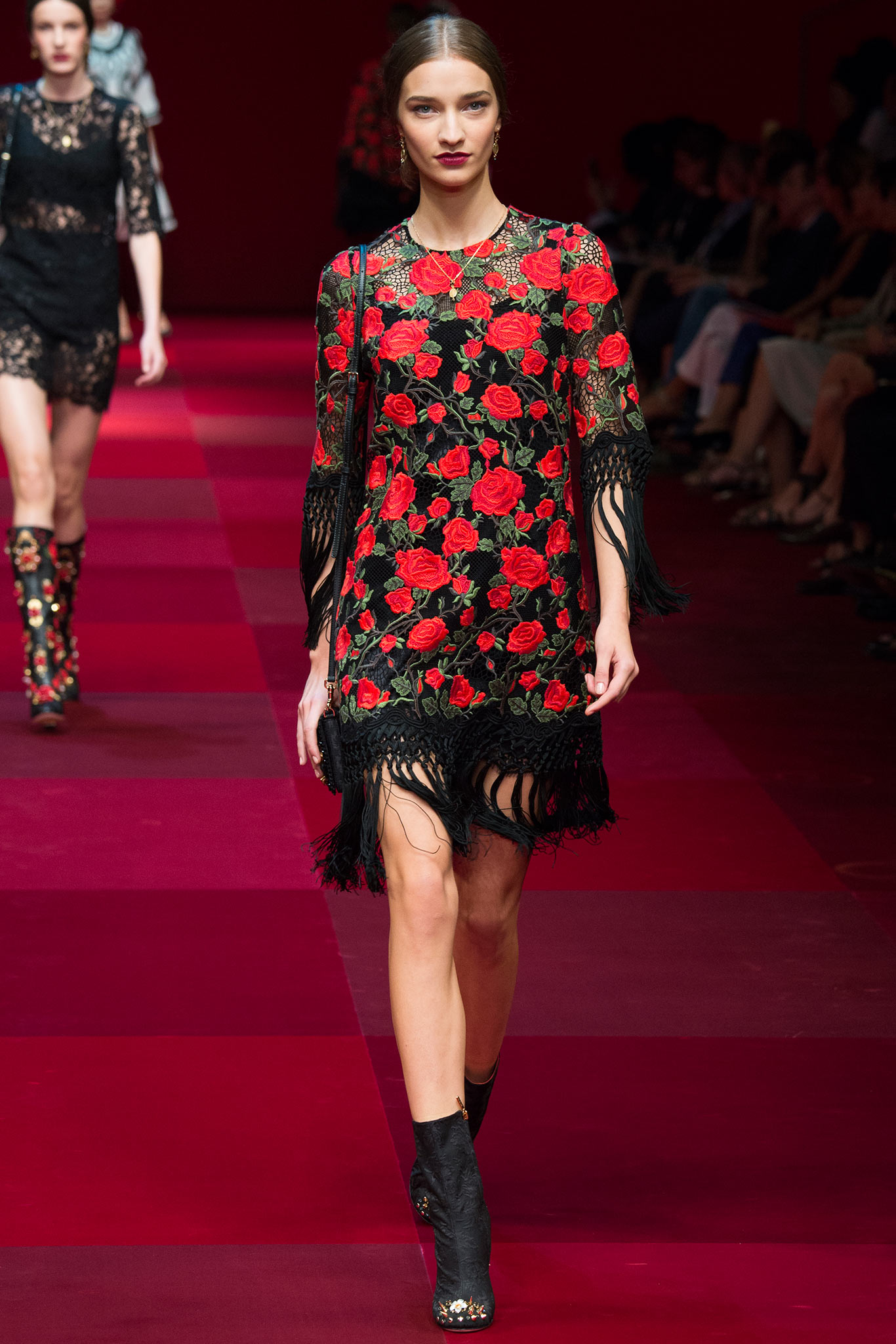 Cocktail dress in black macrame lace with red rose embroidery and tassel fringe details: $7995
VALENTINO: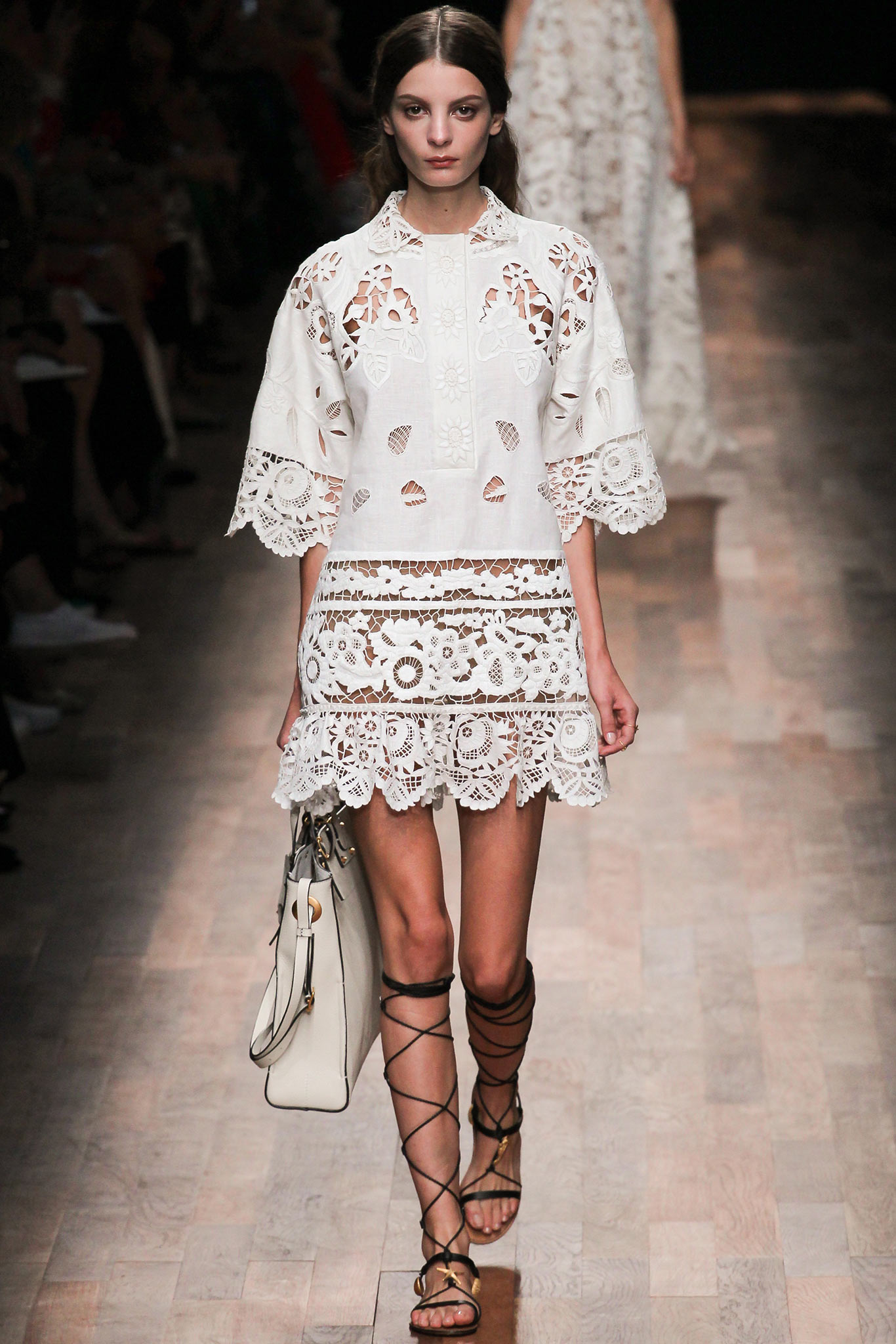 Three quarter sleeve dress in ivory handmade linen with embroidered flower cutouts on white cotton lining: $6990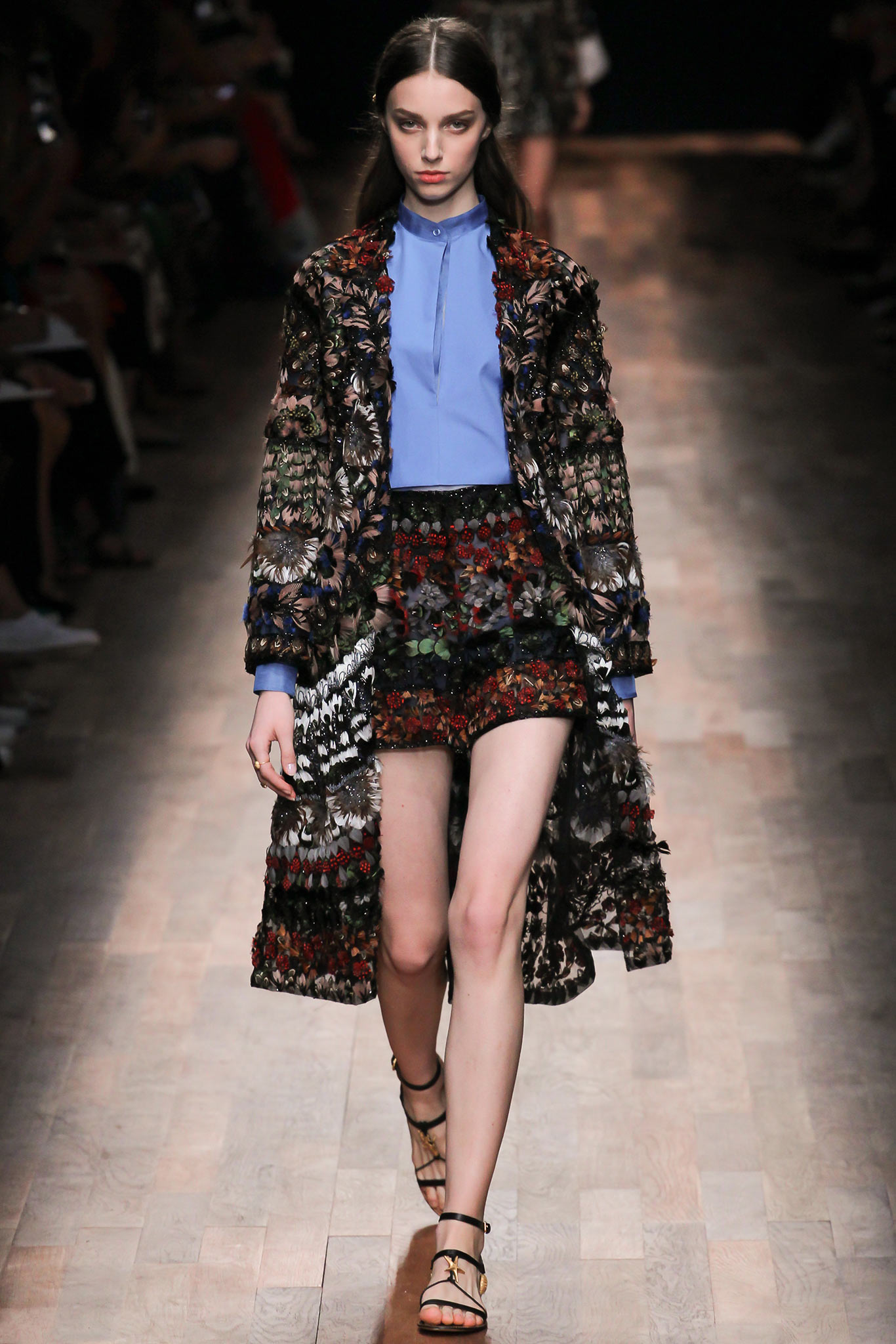 Just WOW! (and double yikes). Black/multicolor embroidered polyester duster with with natural feathers: $27,000
BRUNELLO CUCINELLI: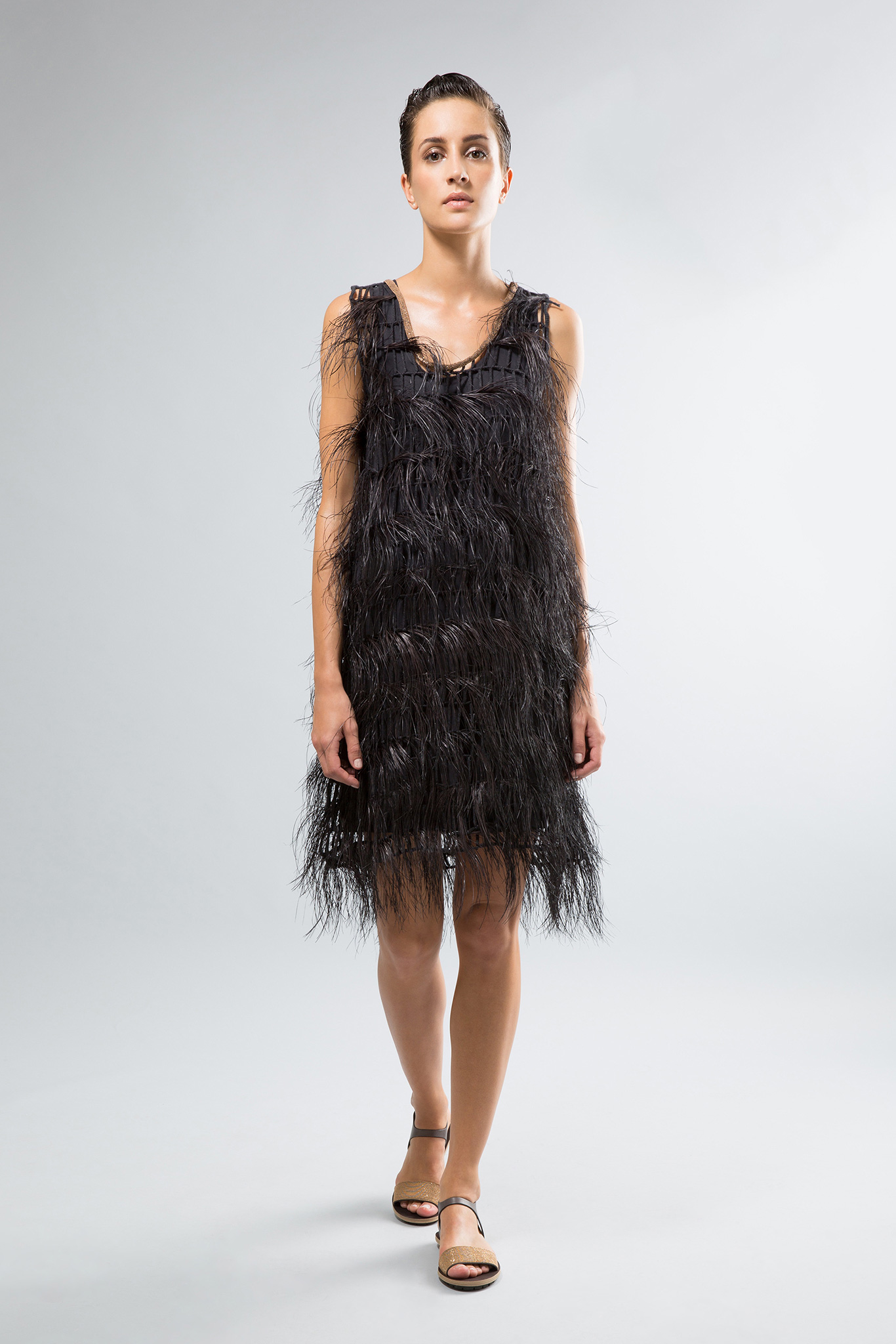 Volcano (nope, not a typo) cotton and polyamide dress with ostrich feathers and monili trim with silk and elastane tank dress: $5350 Wild and ethereal.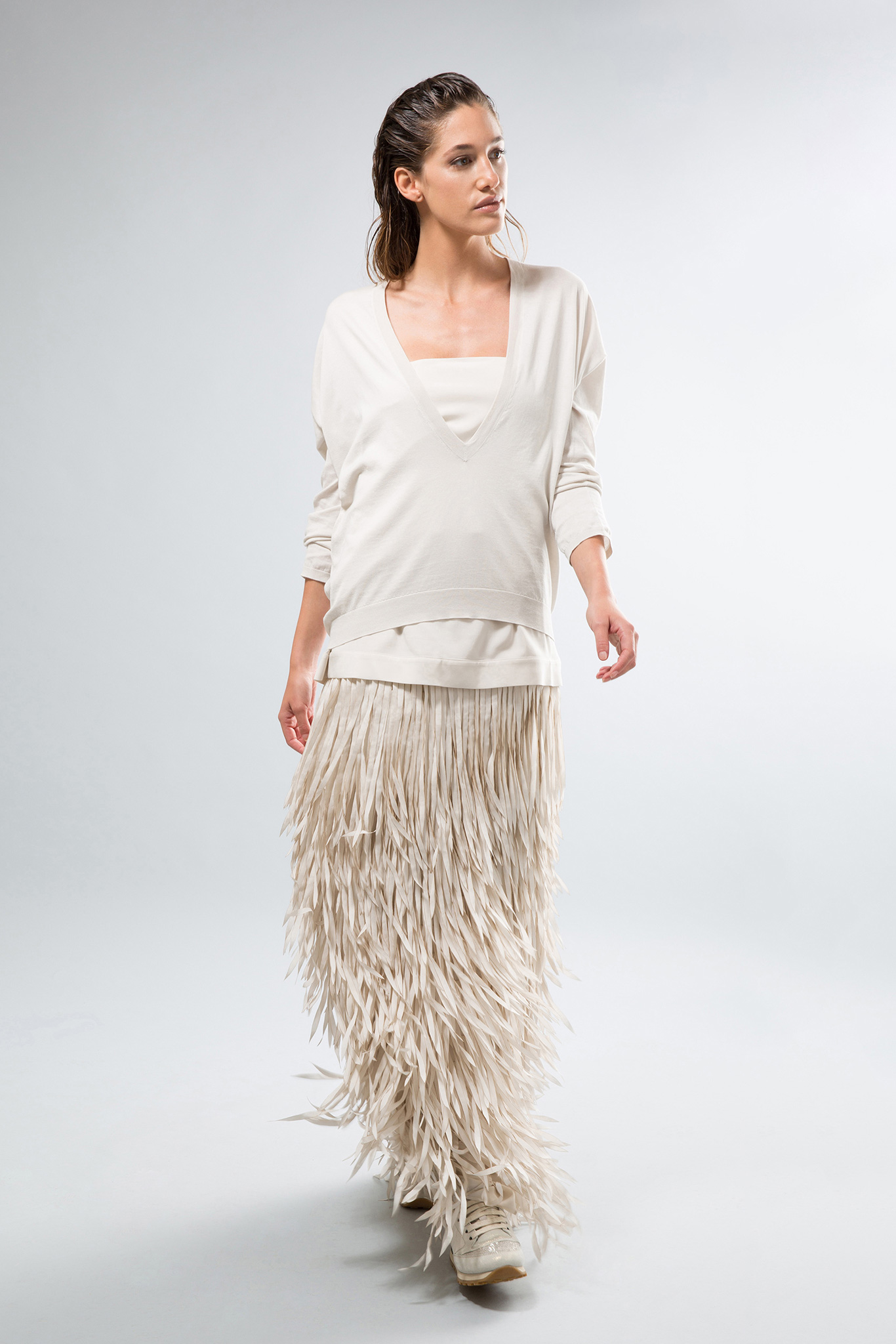 Vanilla silk gown with laser-cut fringe: $5995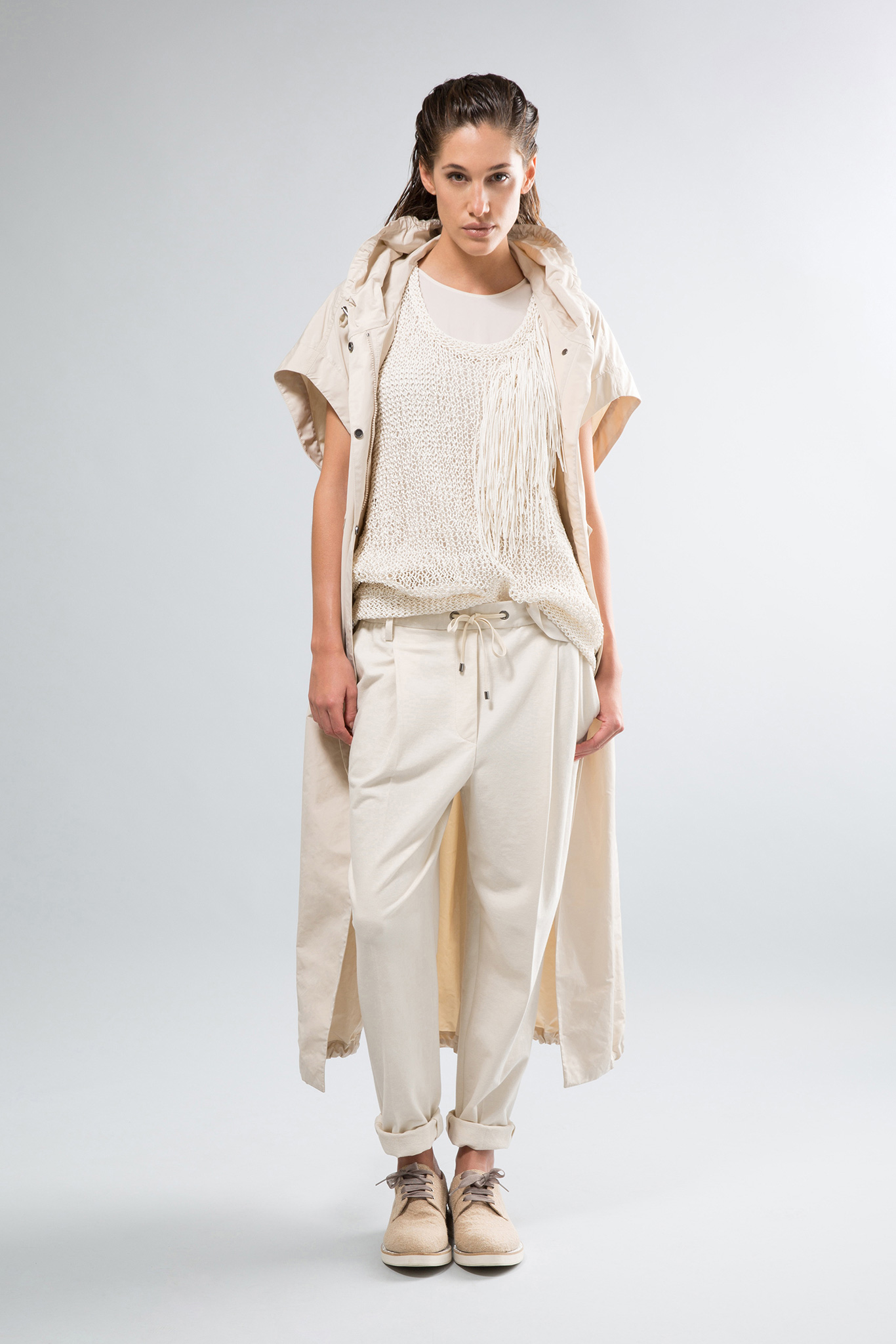 Vanilla polyester and silk taffeta anorak: $3245 (Versatile, easily layered, and most importantly, EASILY packed in a small carry-on suitcase).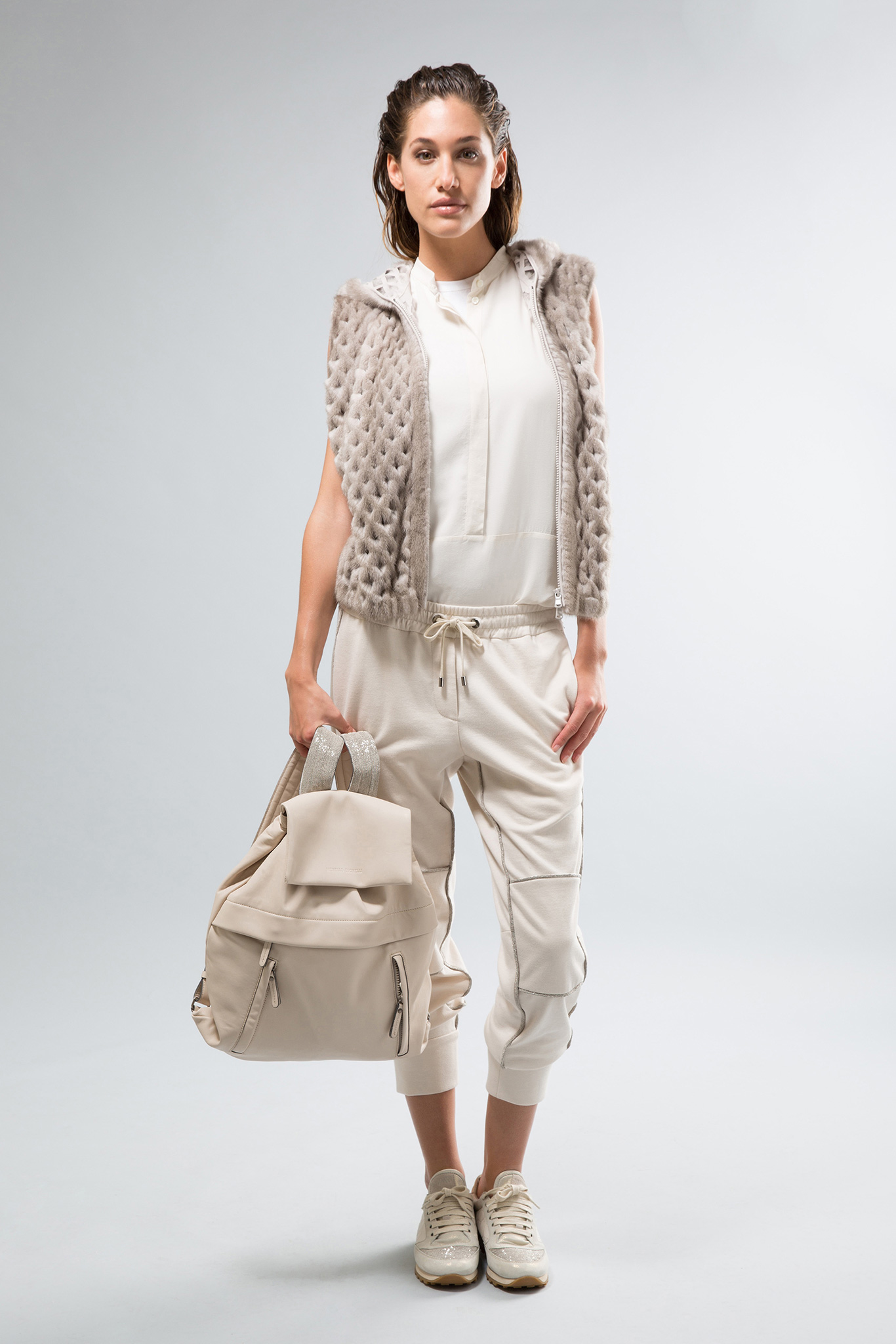 Oat dyed mink perforated hooded vest with silk and elastane lining: $19,995 (Well, if a critter must give its life, I say we should have to pay for it).
ETRO: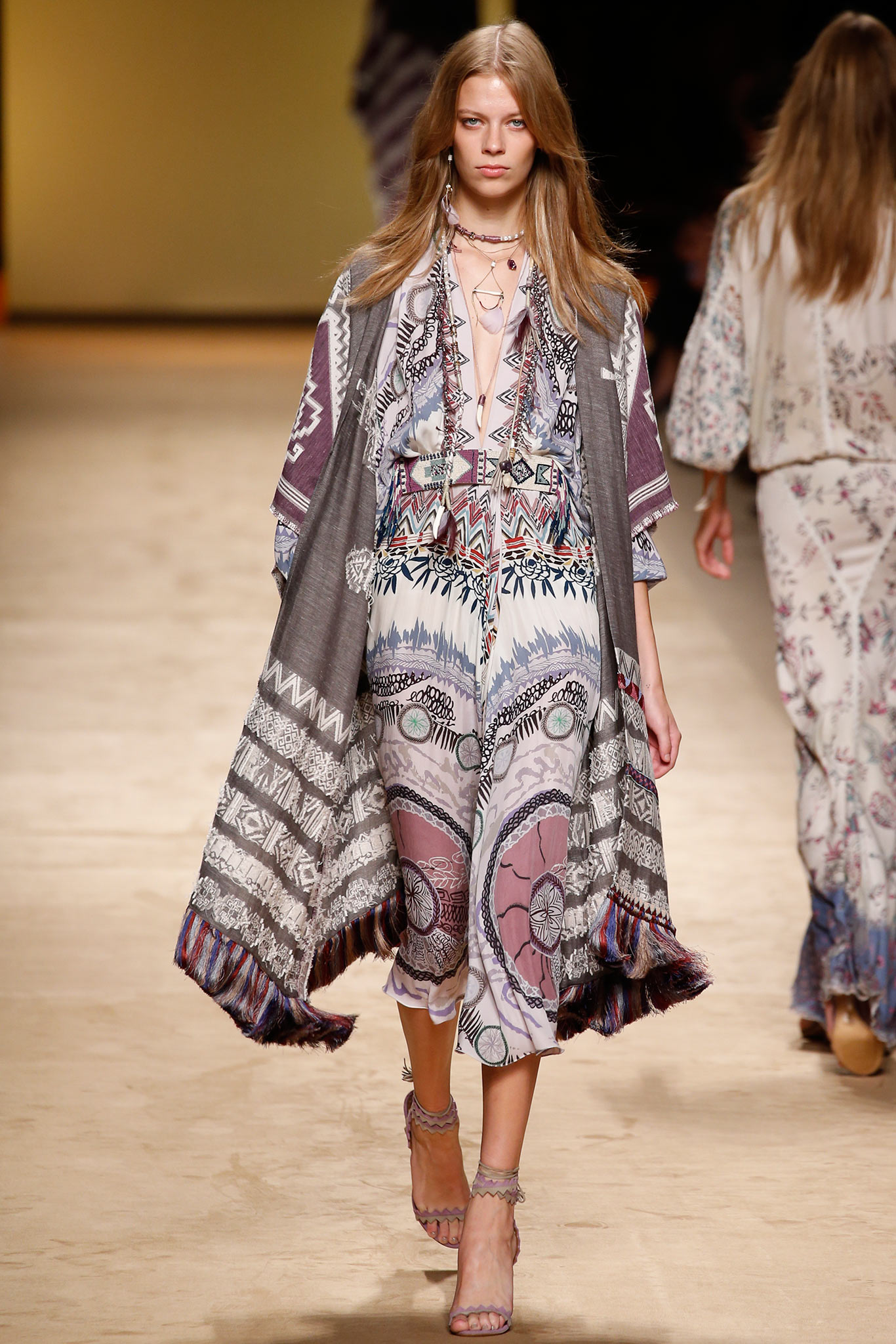 Dress and jacket: $4065/$9295
PETER PILOTTO: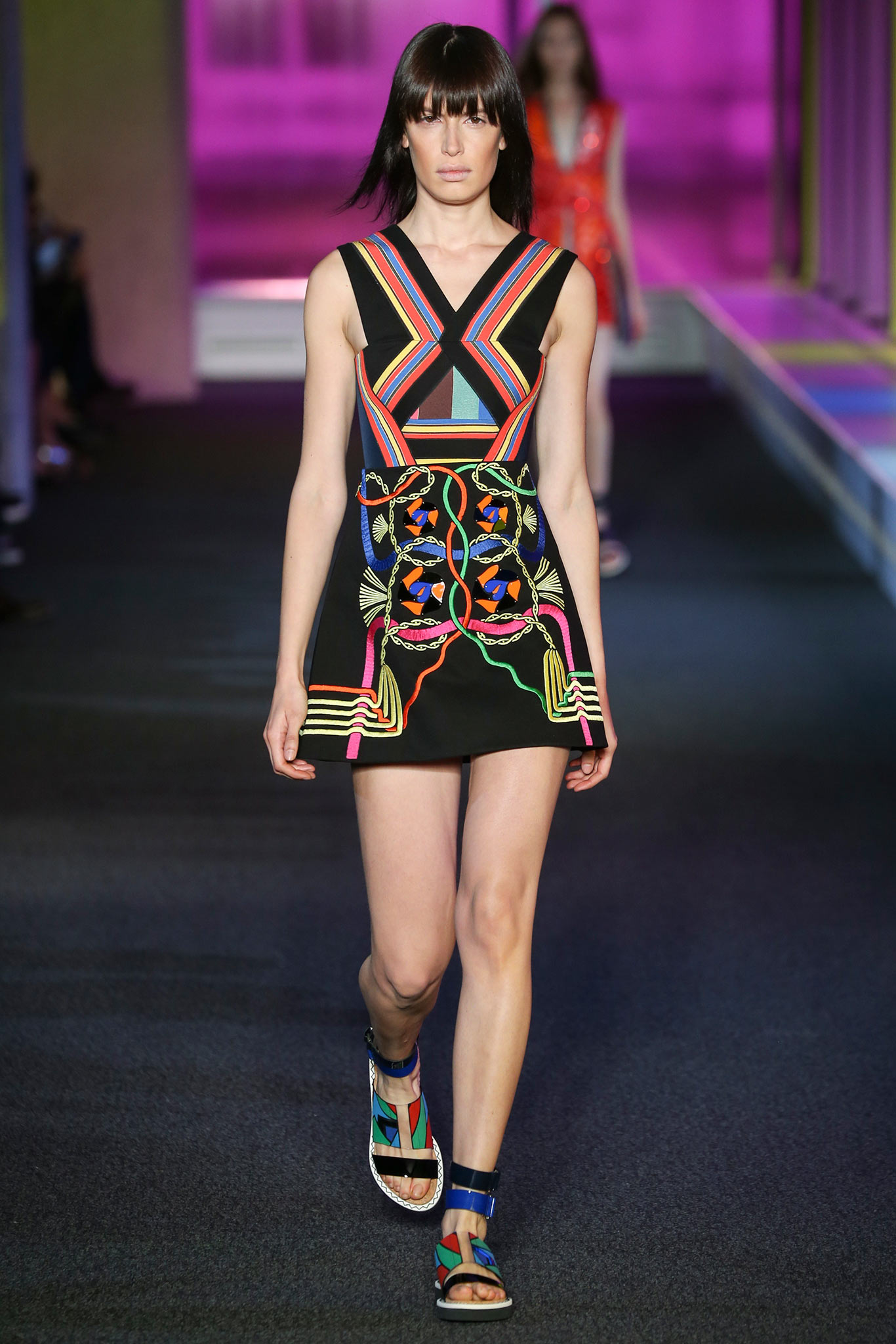 The crayon box exploded once again on the Pilotto runway! $1920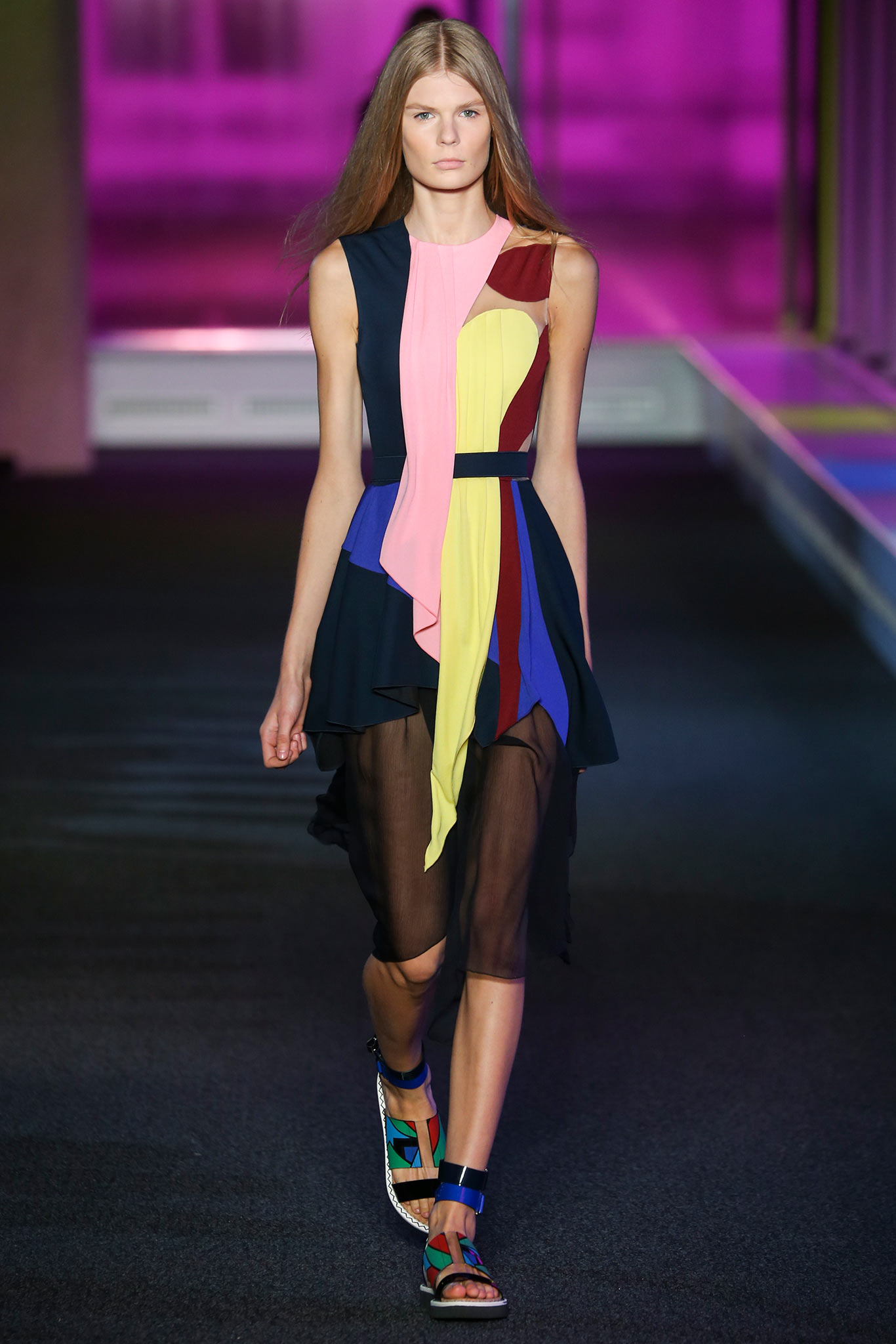 Crewneck dress in black with draped colorblock panels, asymmetrical ruffle hem, sheer underlay and black elastic waistband in viscose and silk: $3465 Our cones get a perpetual workout on this runway.
MARC JACOBS: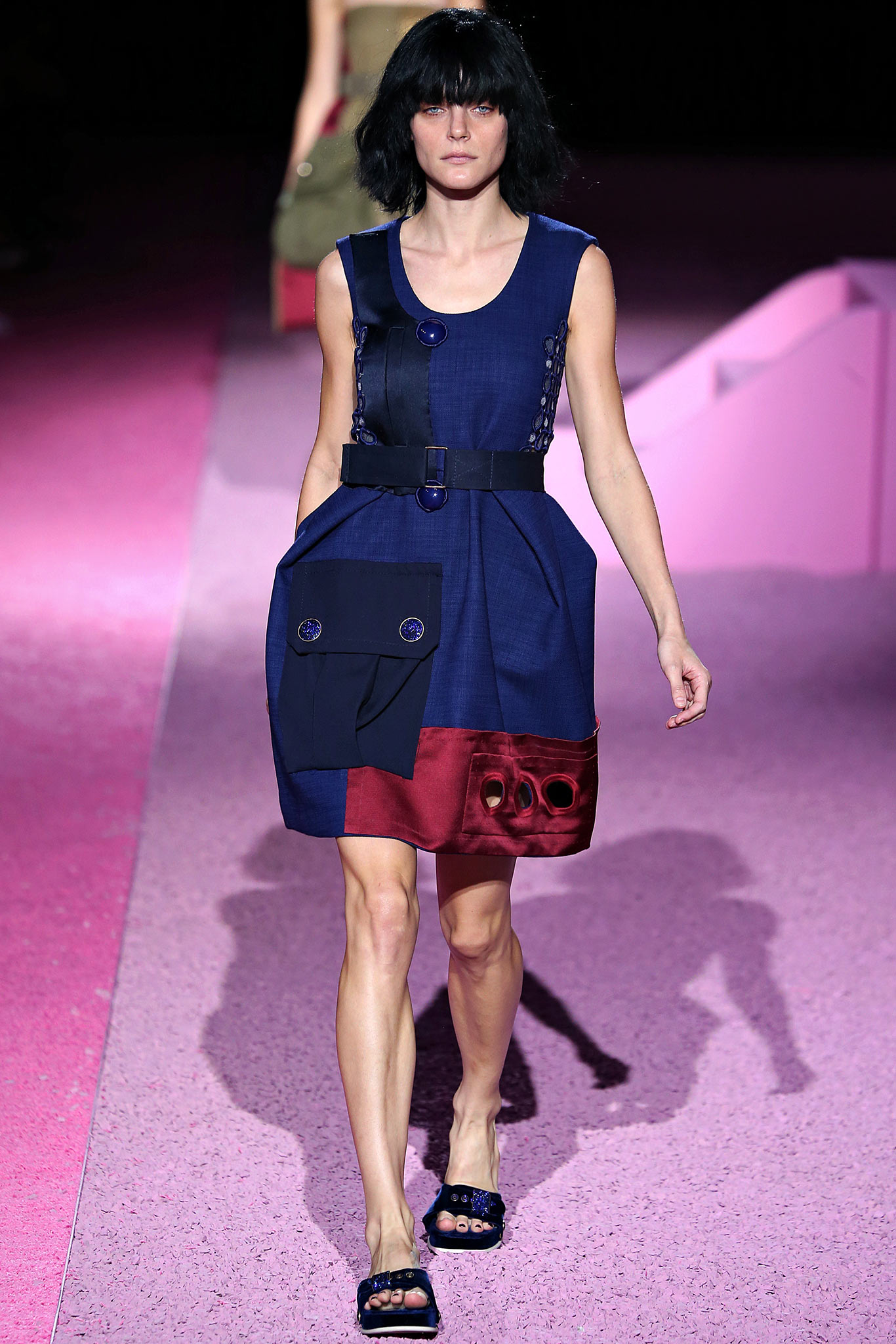 Blue wool dress with guipure lace inserts, blue cotton belt and pocket, blue/red silk trim, and buttons with pave crystals: $4700 Vintage Jacobs, with many fascinating elements thrown together in a pleasing silhouette.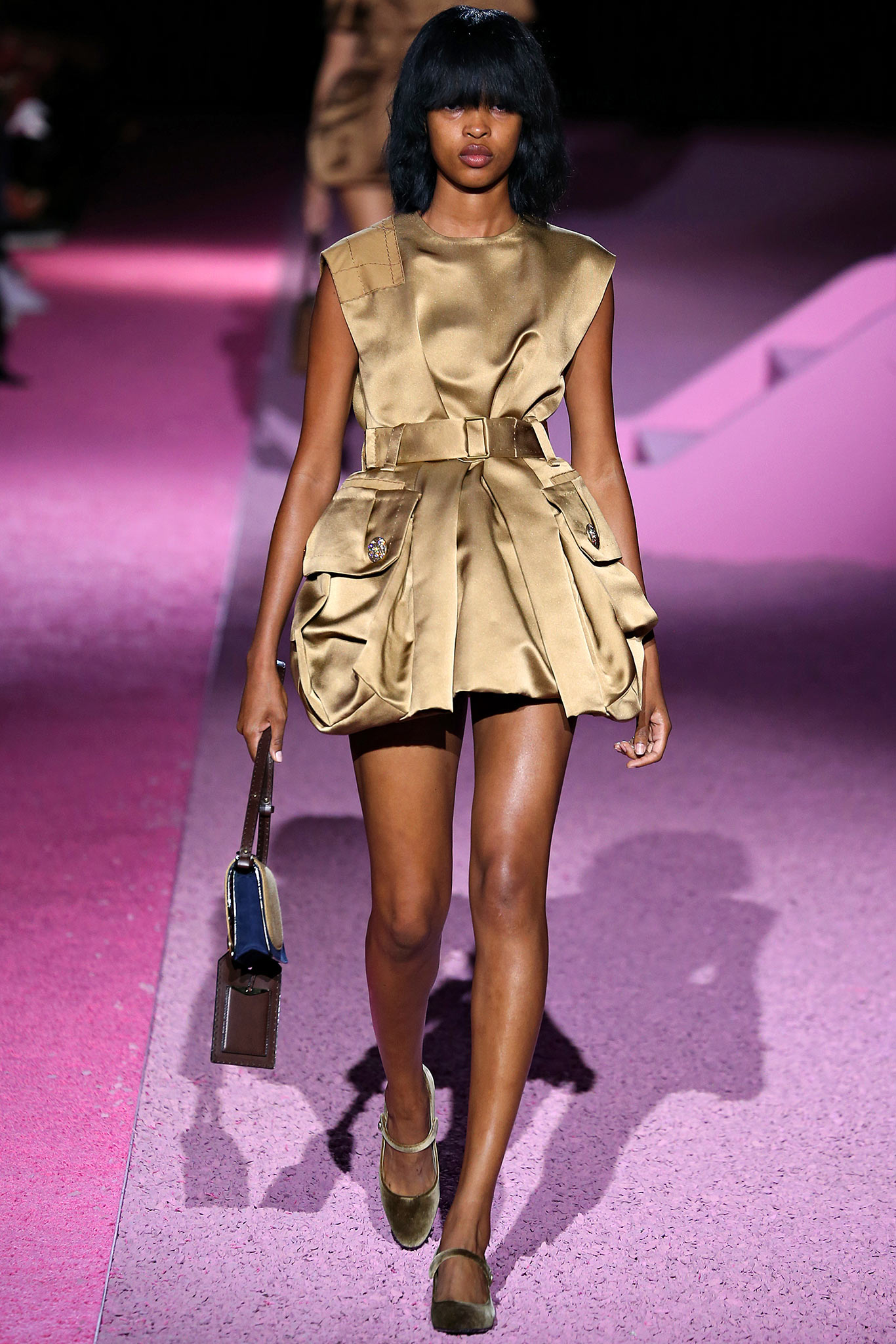 Sleeveless crewneck dress in gold silk satin twill with pockets, pave buttons, and guipure detail (delicious): $3700 (Another veritable bargain).
TOM FORD: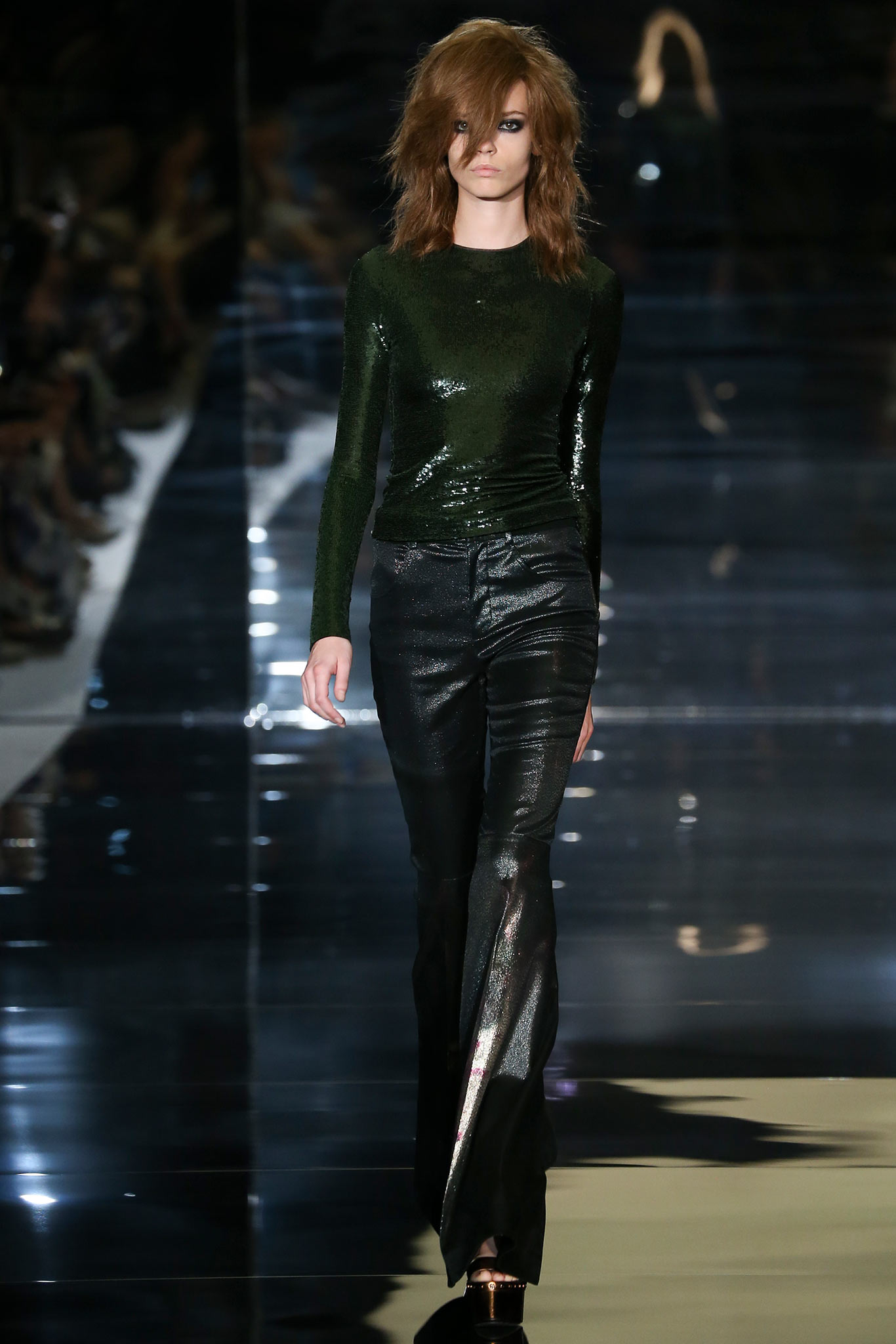 Bottle green sequined viscose tulle T-shirt: $4500 Bottle green jeans of cotton, polyamide, metallized polyester, an elastane with print: $1990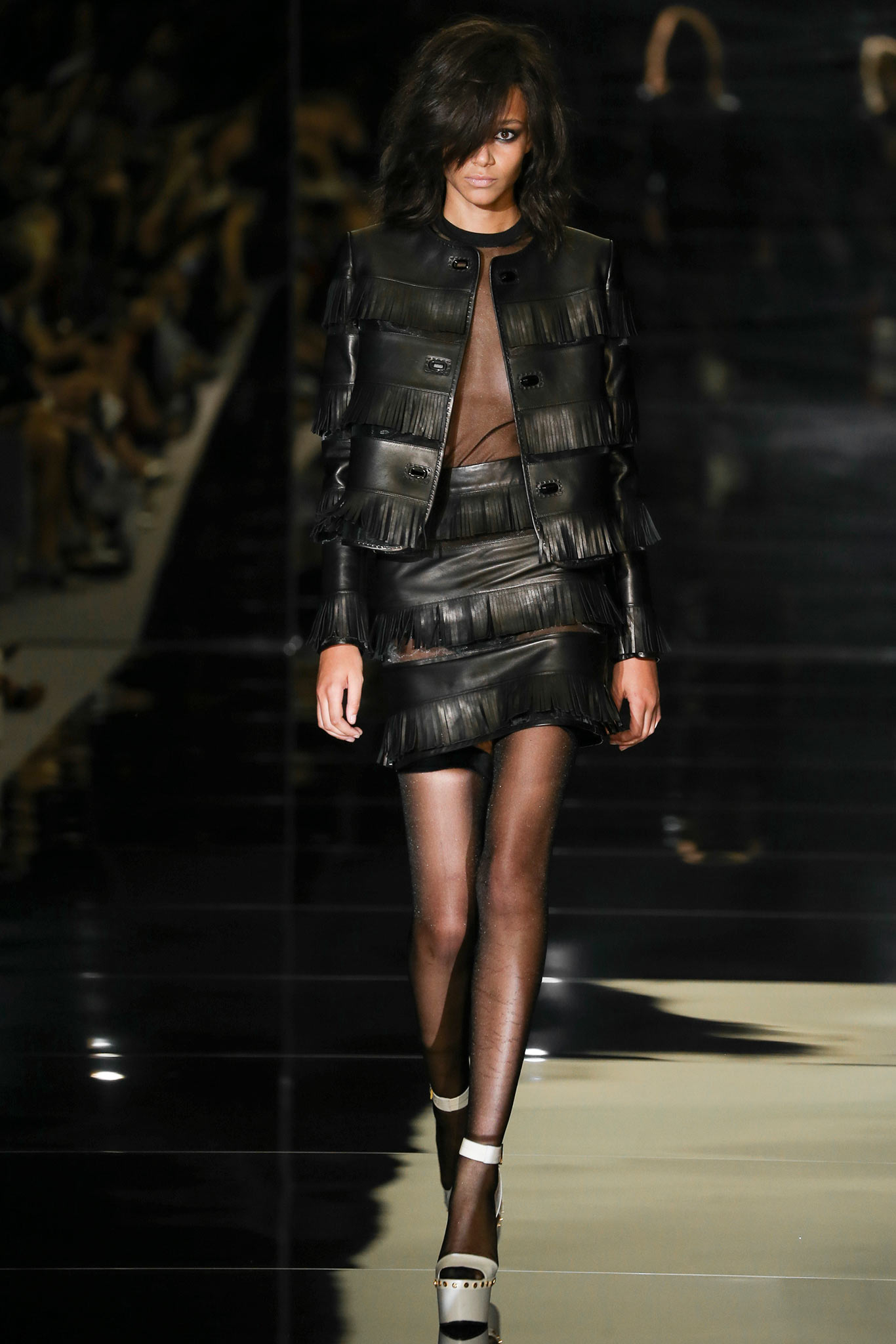 Fringe jacket and miniskirt in black lambskin: $7900/$3900 Its rare to see finished button holes these days no matter the cost….sigh. No one does upscale Vegas like Ford.
NAEEM KHAN: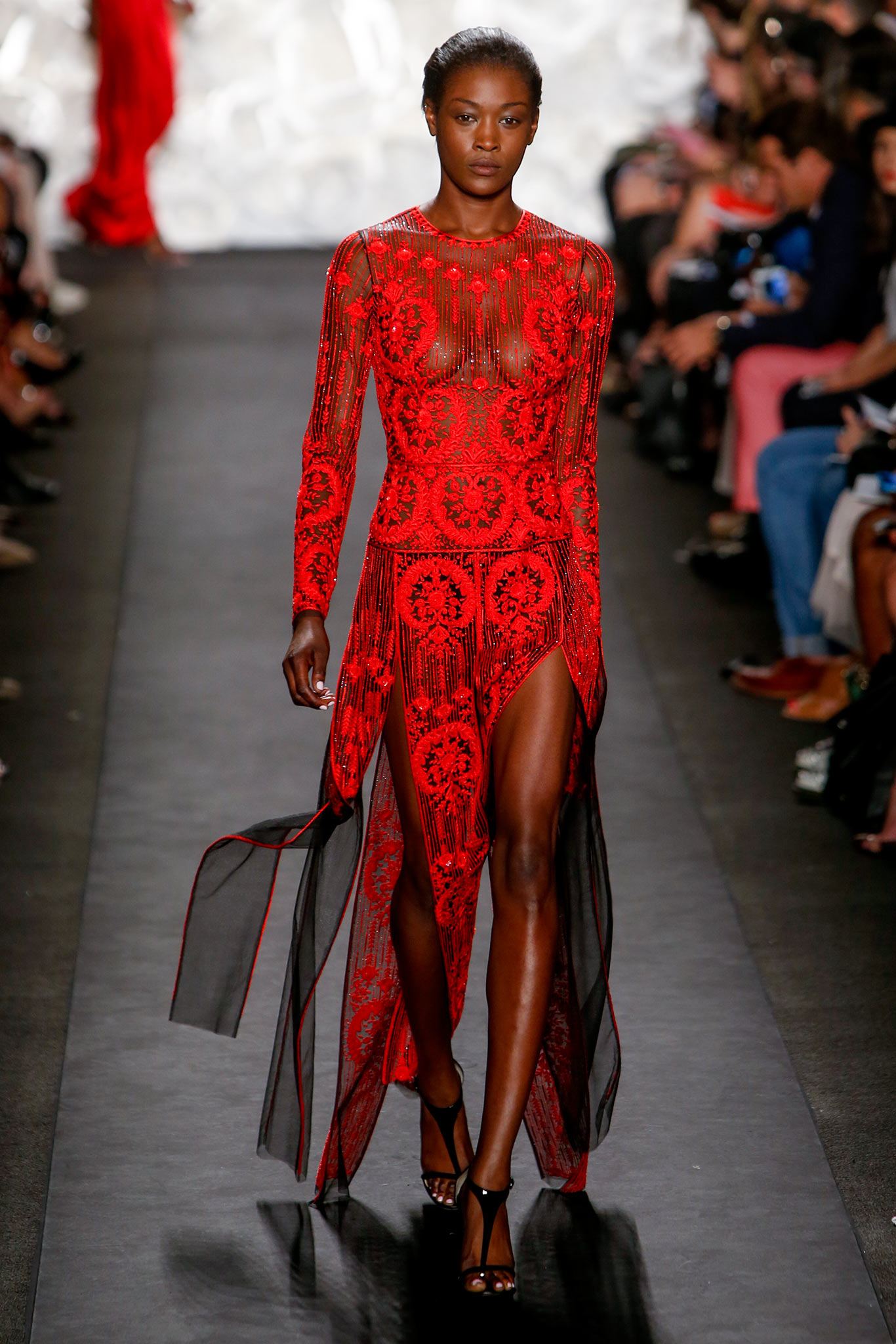 Long sleeve panel gown in red floral threadwork embroidery: $11,990 Red carpet ready…...
CAROLINA HERRERA: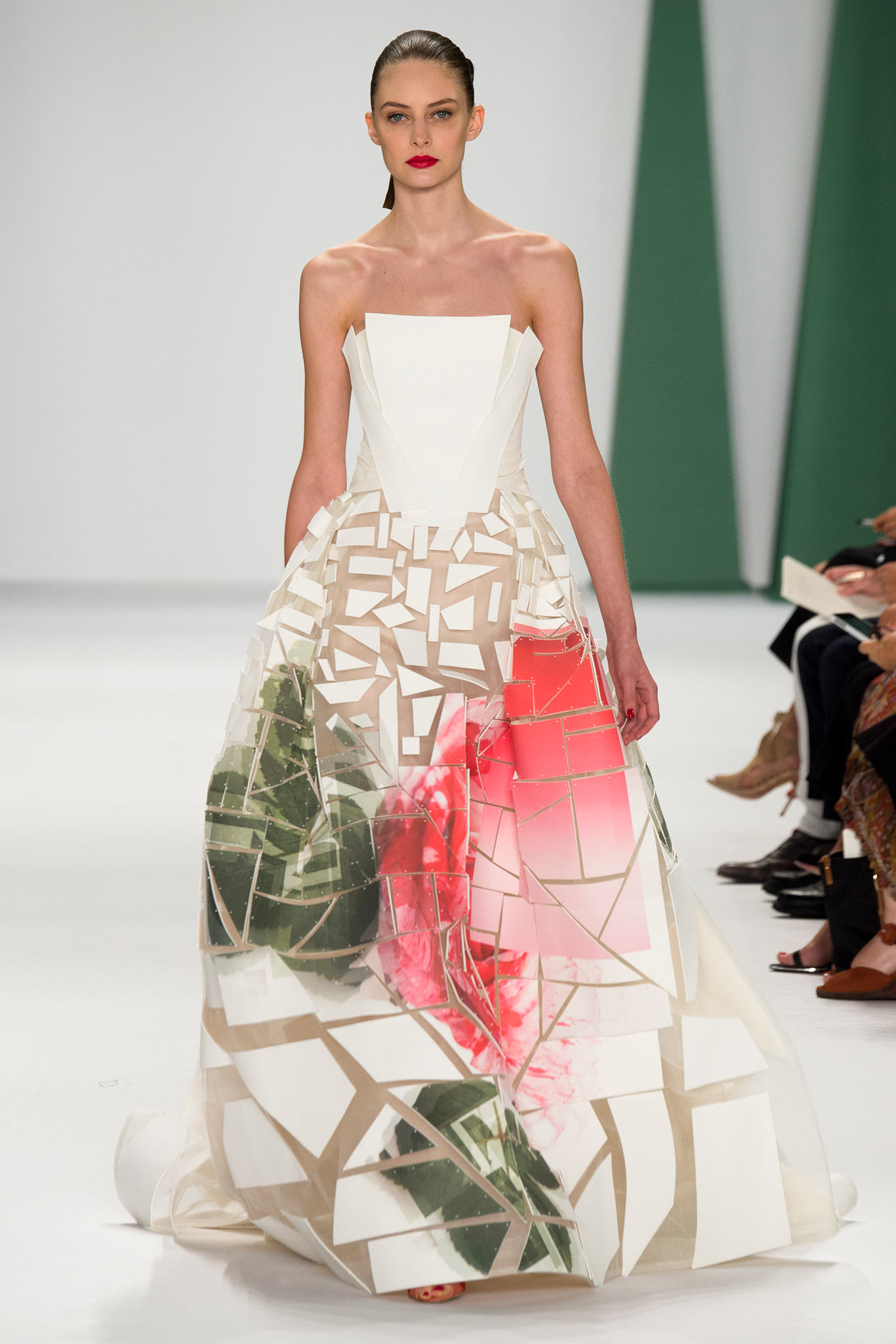 The bloom remains on this shattered rose. Strapless gown with white paneled fitted bodice and rose photo print mosaic appliqué sheer full skirt: $14,990
RALPH LAUREN: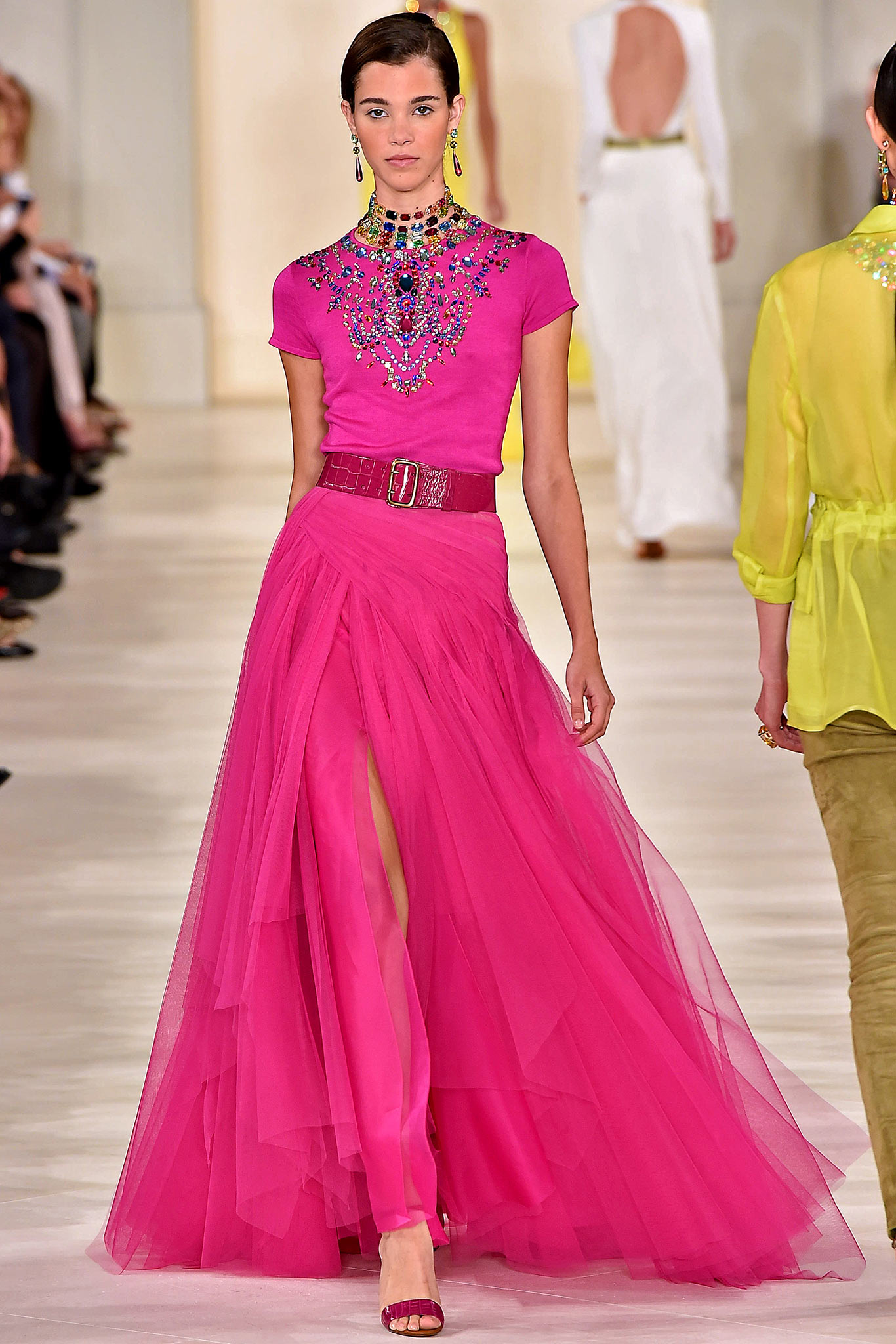 One of my most favorite ensembles mainly for the vibrant fuchsia color (the more the better). The bedazzled bejeweled T shirt is the definition of captivating and will add regal flare to anything in its orbit. Silk and cashmere knit top with multicolor beads and embroidery: $2695 Nylon tulle skirt: $5995 Alligator belt: $2500
Images brought to you by www.style.com Prices and descriptions care of the Neiman Marcus and Bergdorf Goodman catalogs.
Let the expedition through the runway wilds begin!