Reminds me of the classic 1979 movie "Breaking Away" with Dennis Christopher as a bicycling enthusiast enamored with the legendary Italian cycling team, waiting with the intense anticipation that can only be manifested by a starry eyed teenager, for said team to come race in his home town of Bloomington Indiana. He wanders around in a happy haze singing opera much to the chagrin of his old school Dad. One of my all time favorites. As New York and London fashion weeks have come and gone and thrilled us with glorious fashions, we finally have the Italian contingent coming to us from Milan, and as expected, I for one am over the moon over the abundance of wondrous wearable finery brought to us from the likes of Fausto Puglisi, Dsquared2, Brunello Cucinelli, Alberta Ferretti, Antonio Marras and of course Dolce and Gabbana. We continue to wander back in time with eye catching renditions of iconic 70's fashions and a long series of opulent options for soirees and assorted events that require eye popping extravagance. The running theme of "flower power" continues in various and intriguing forms after being born as a concept in Berkeley during the 60's, the brainchild of beat poet and counterculture hero Allen Ginsberg, as a symbol of non violent opposition to the conflict of the time. Somewhat ironic that these runway shows paralleled our entrance into yet another conflagration. Well, given the state of affairs in the world, the Italians are here to provide a respite of merriment and a reminder as to why most of us are enthralled with all things Italian. The art, the architecture, the storied history, visions of Roman legions brought to mind as the Colosseo comes into sight. The food, the men (SWOON), and of course the fashion. These are passionate folk who take family, fashion, and the art of living of life seriously. It was a challenge to pick out the best representations from the collections given the unmitigated gorgeous renditions of flowers, leather and fringe. This is not my Mother's bohemian hippie-wear. These are well orchestrated collections that remind us of the changing winds in the 70's, with easy silhouettes and care free whimsy, to contrast with the severity of the times, but done with impeccable tailoring in sumptuous fabrications and a desire to keep allure on the plate, as you would expect from no one but the Italians. Bravissimi!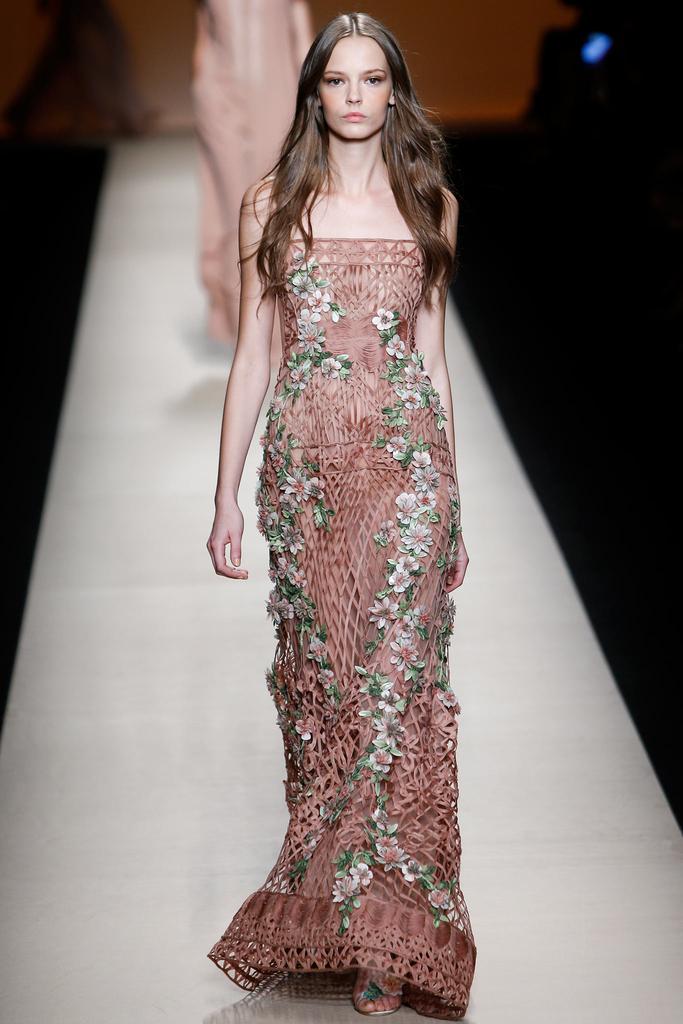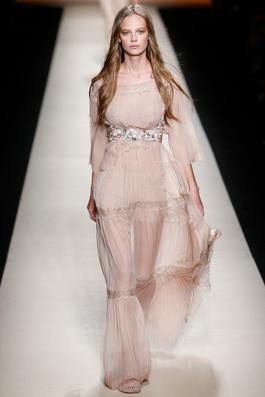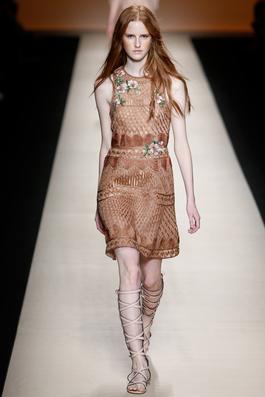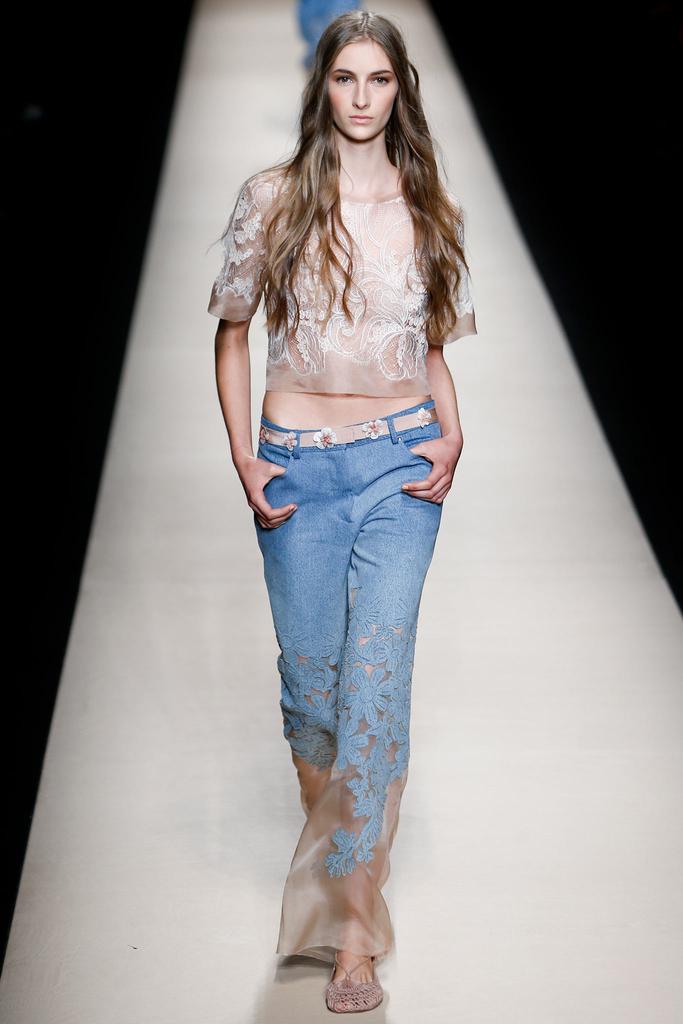 Now THESE jeans can be worn to the Opera, even on opening night. As a matter of fact, this entire collection is runway worthy (with or without the underpinnings). You could wear one of the breathtaking tan leather vests over these "jeans" without fear of Puccini or Verdi rustling in their graves. (And happily the "macrame" is left to the obligatory runway shoes).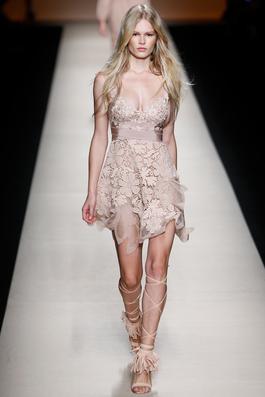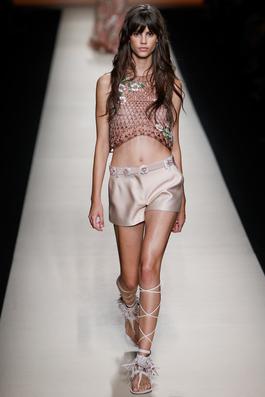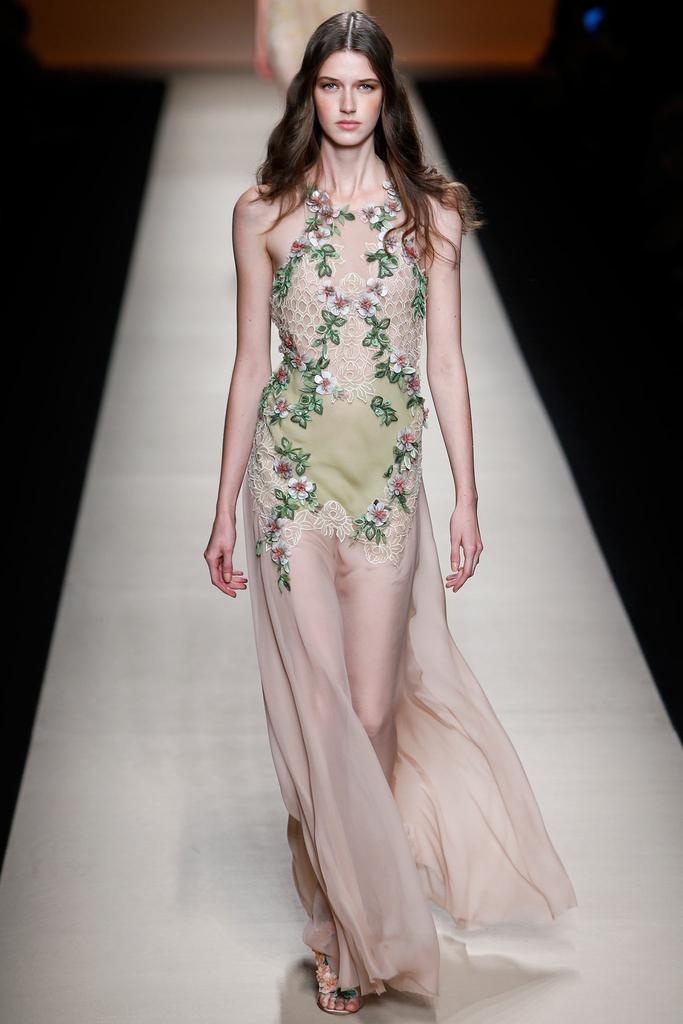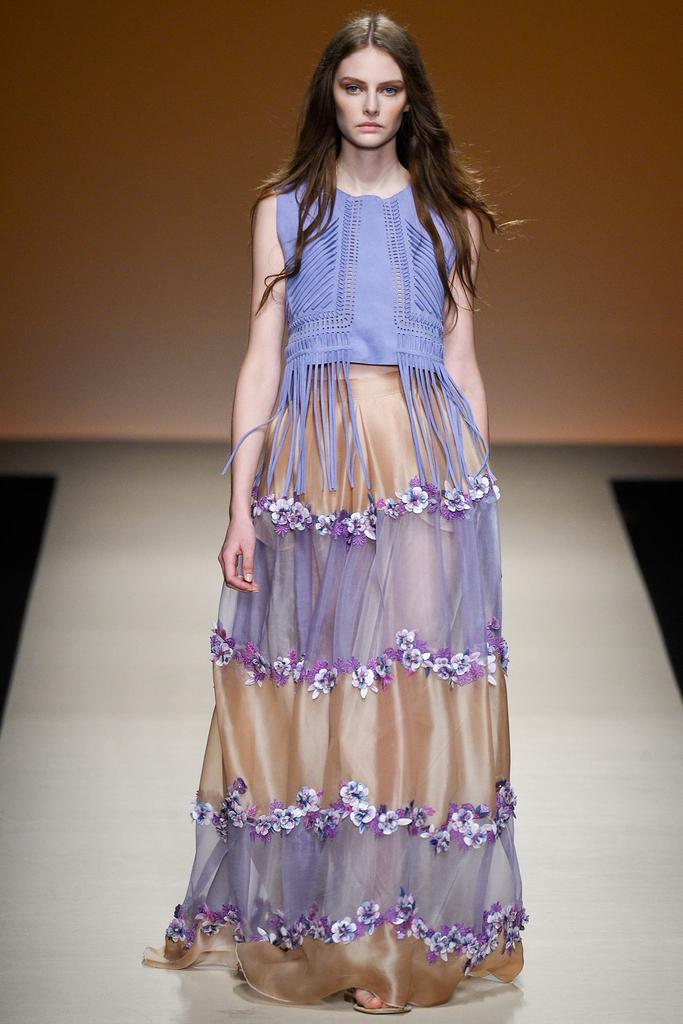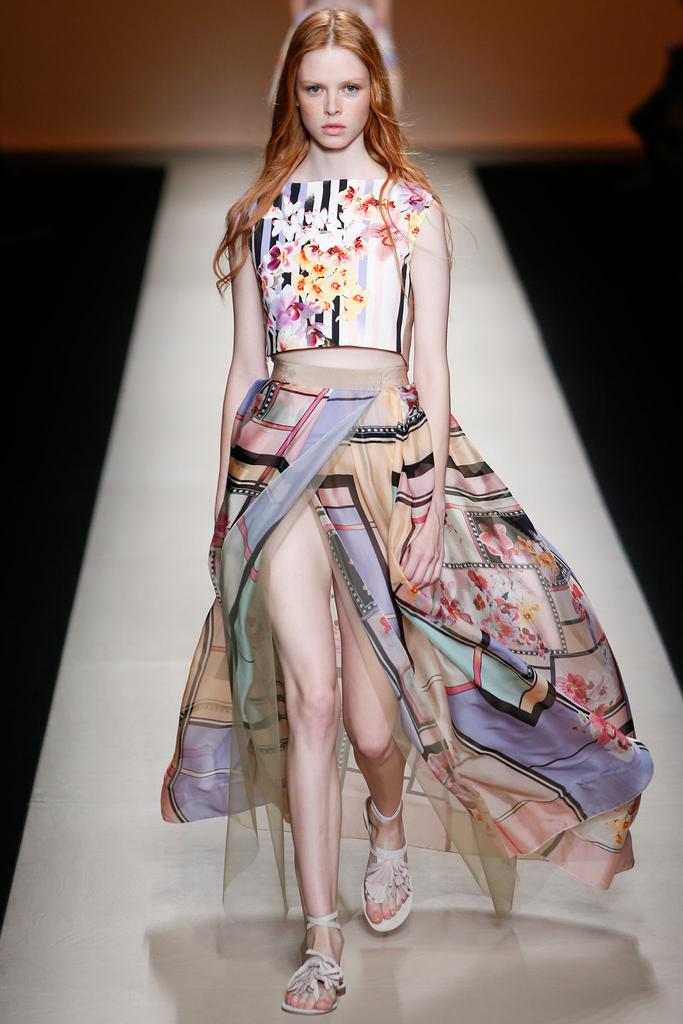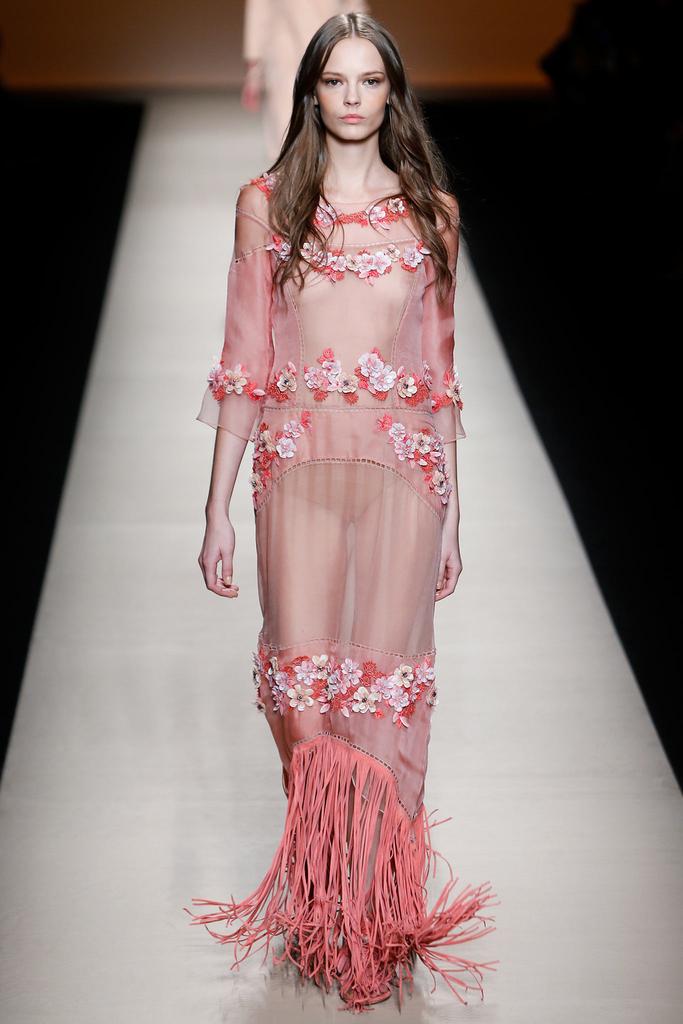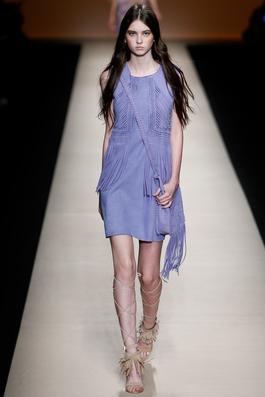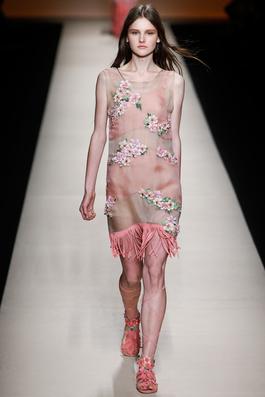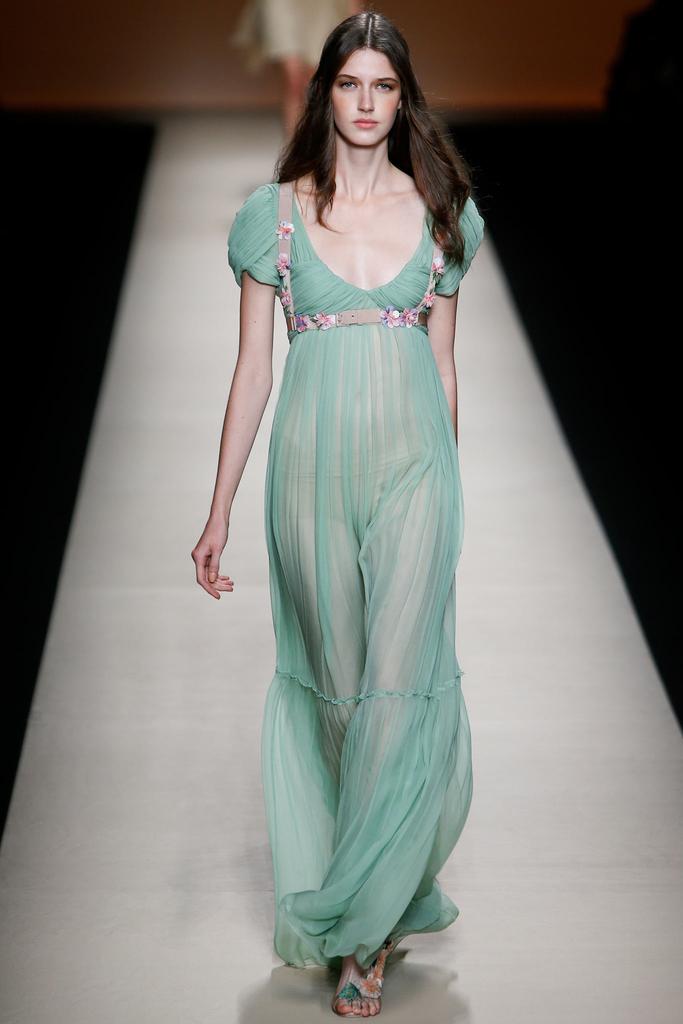 Float away on a seafoam cloud of delight...........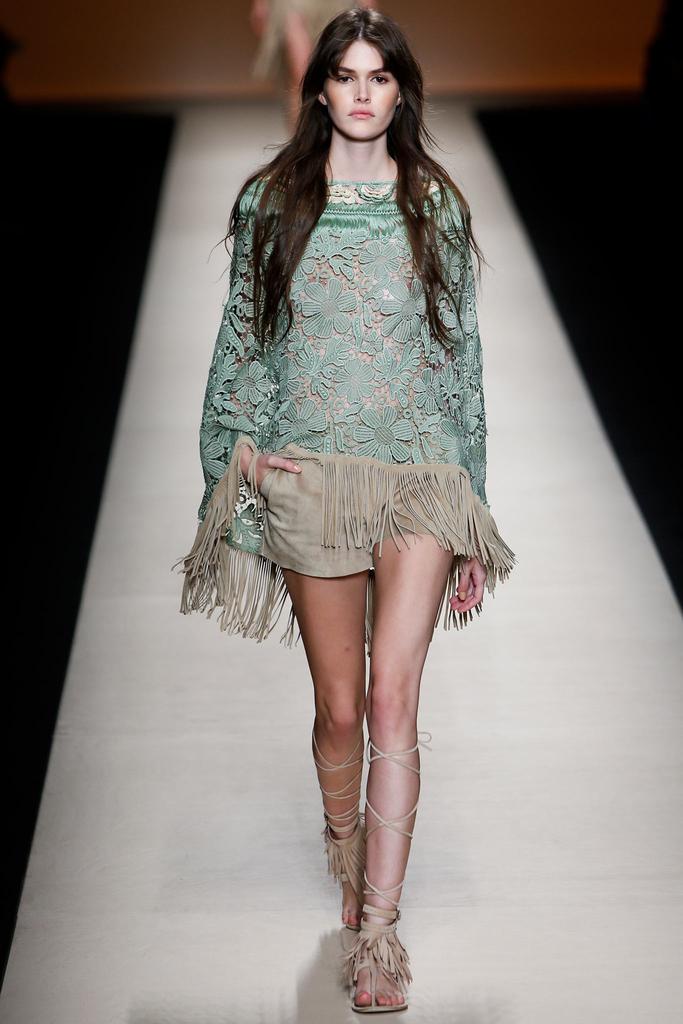 Best looking thing I've seen on the runways. Who can't use a poncho in seafoam green devised of guipure lace? I normally loathe fringe, but this is spectacular. Over jeans is perfect, the sexier the better.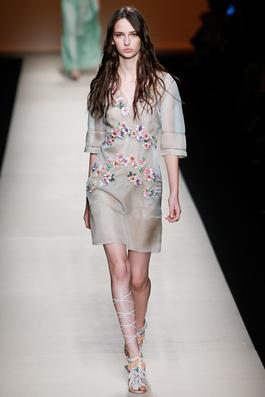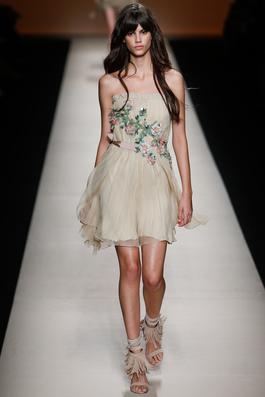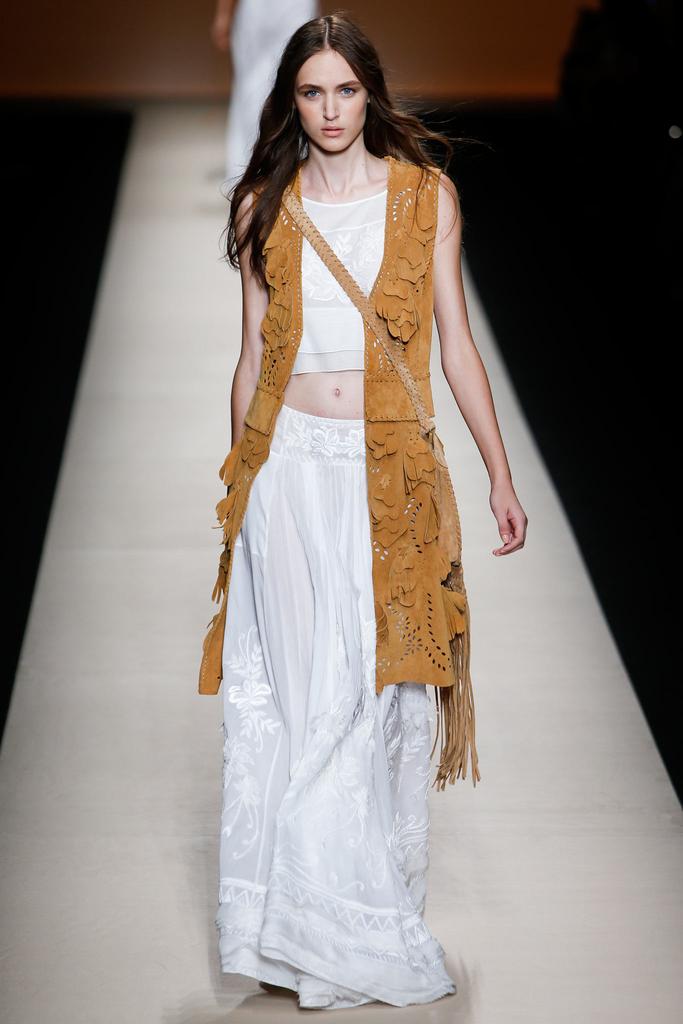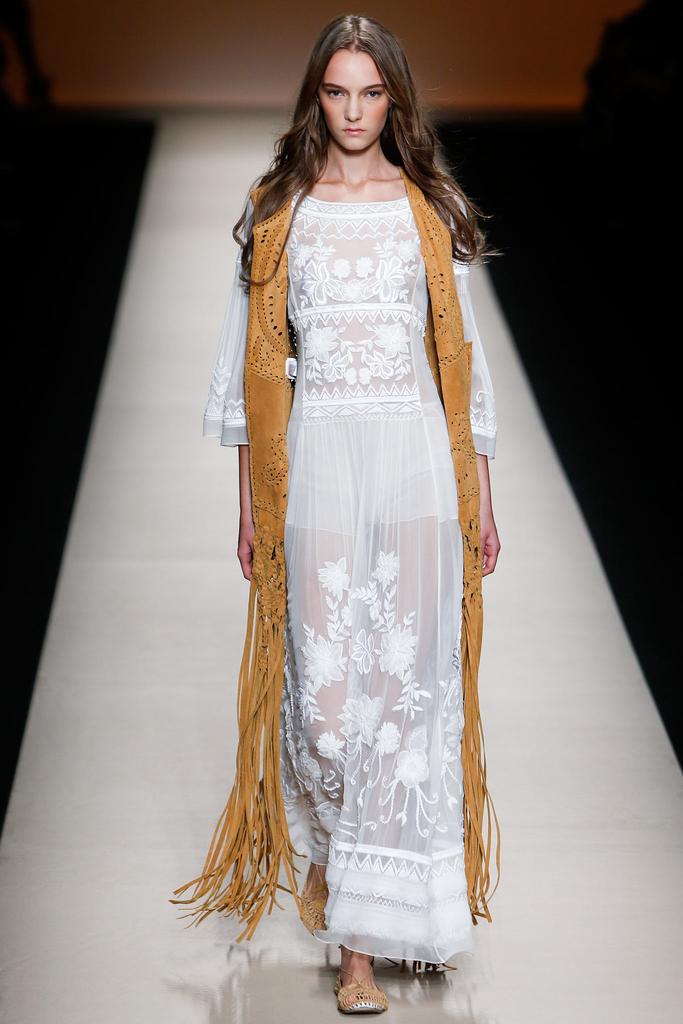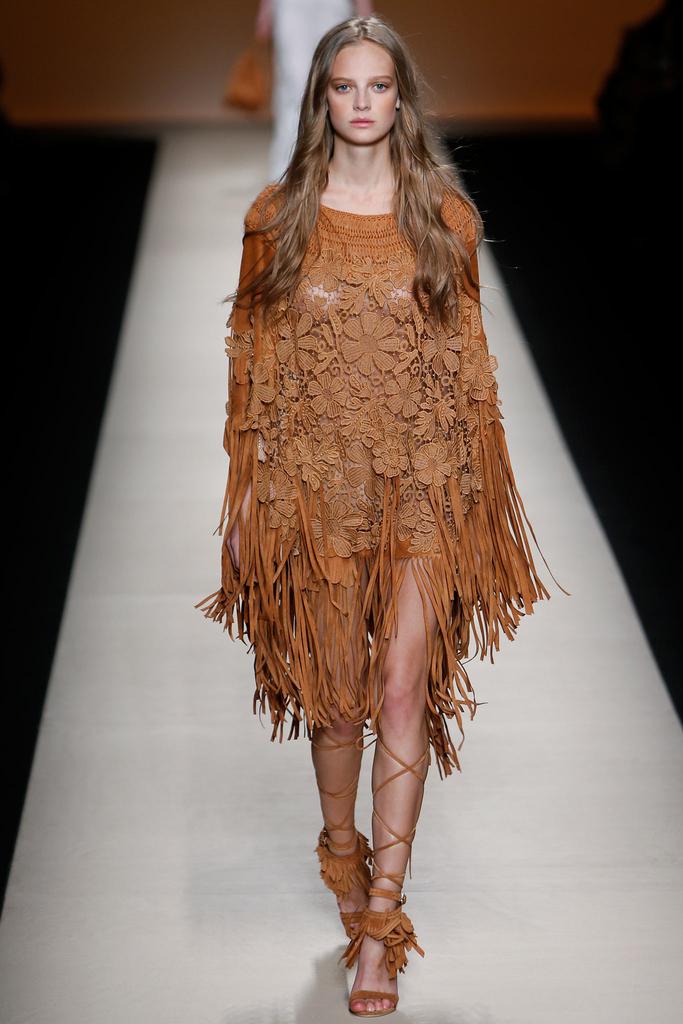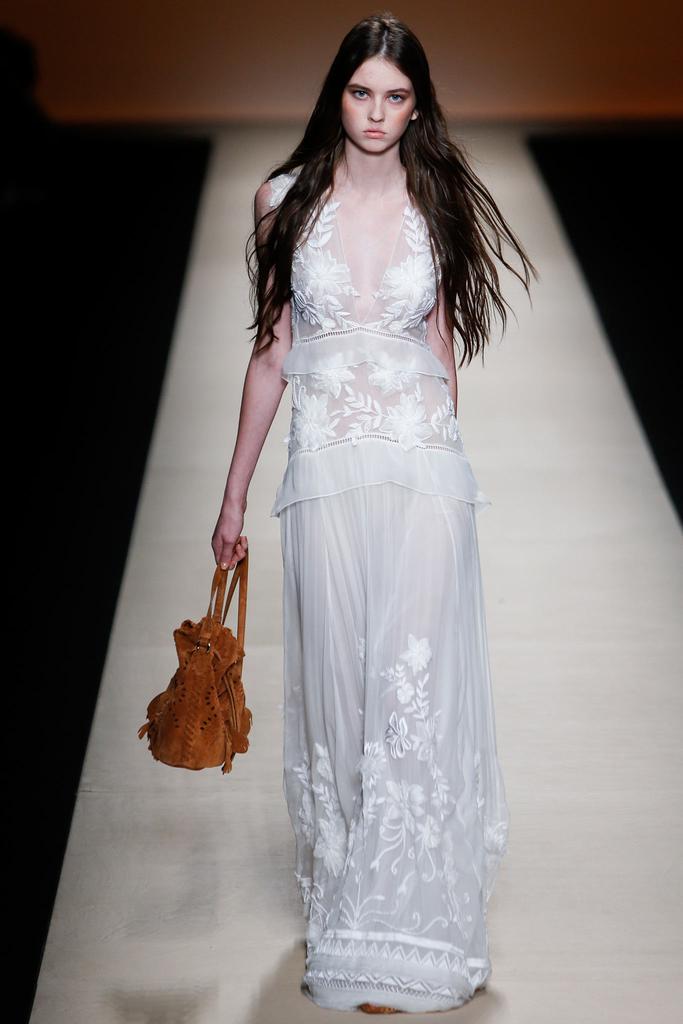 ALBERTA FERRETTI
For the hippie goddess in us all....After endlessly swooning over her fall winter feather festooned frocks I knew Ferretti would captivate with her spring line. Who else could seamlessly blend the iconic 70's touches such as fringe and floral appliques with lady like organza and flowy diaphanous gowns? And periwinkle suede fringe no less.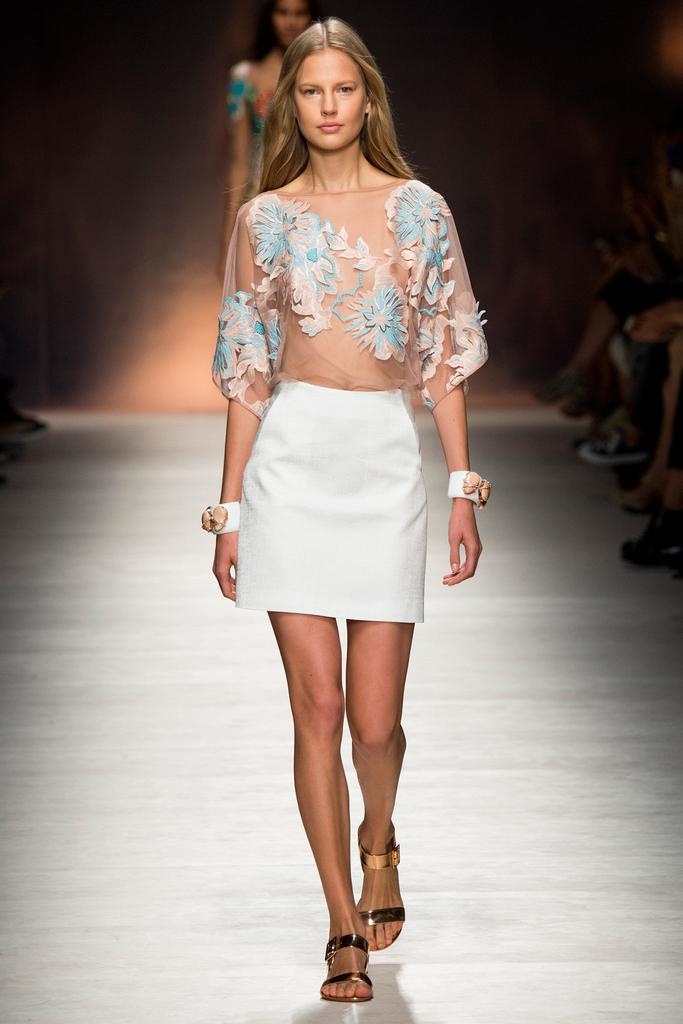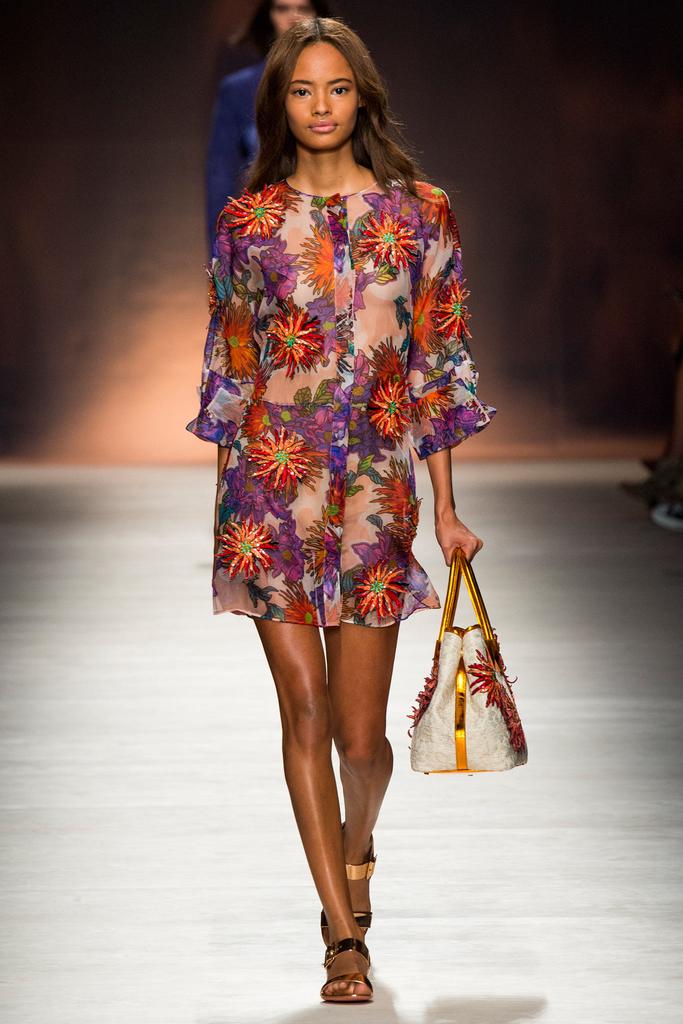 Another spectacular organza entry which would work over a bathing suit on a vacation where just a wee bit of coverage is desired, or where you want to make an entrance, because who wouldn't be mesmerized by this? (I'd wear it over jeans, but that's just me).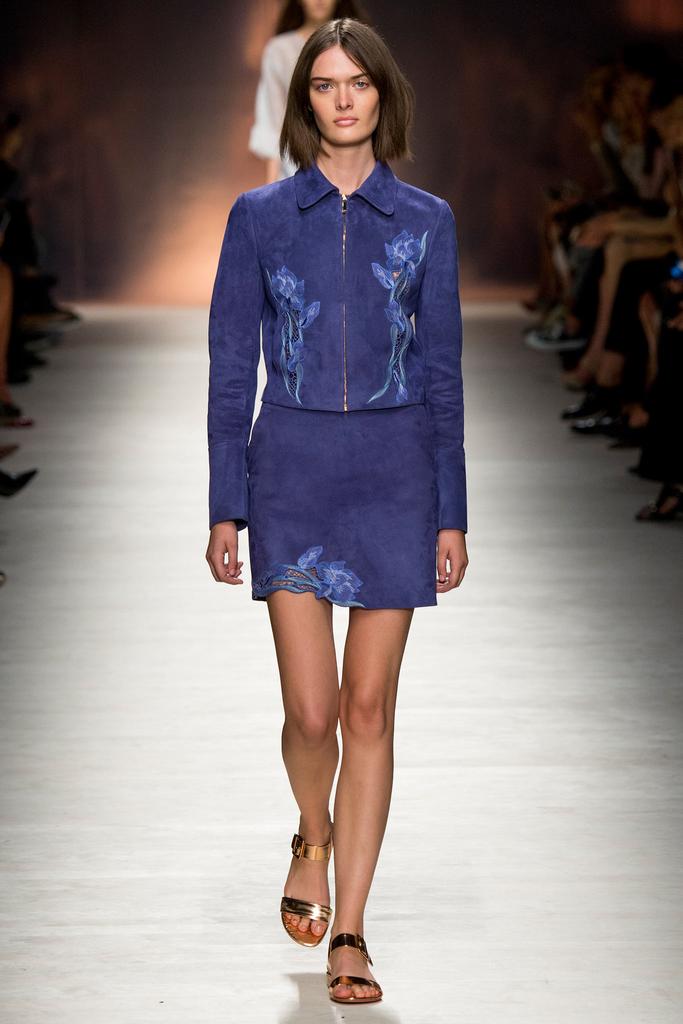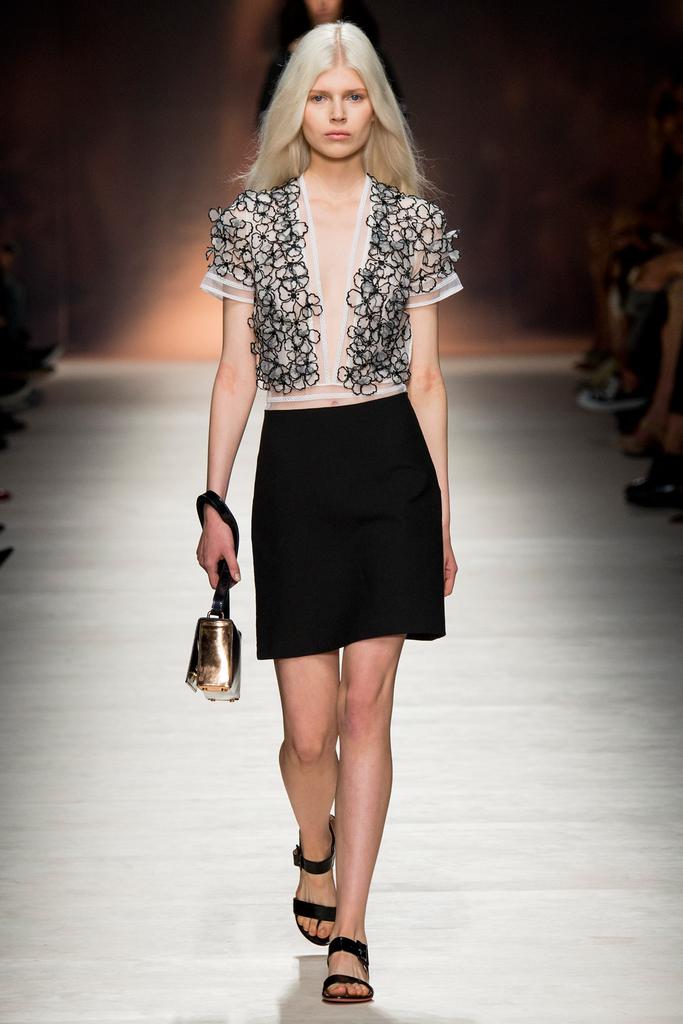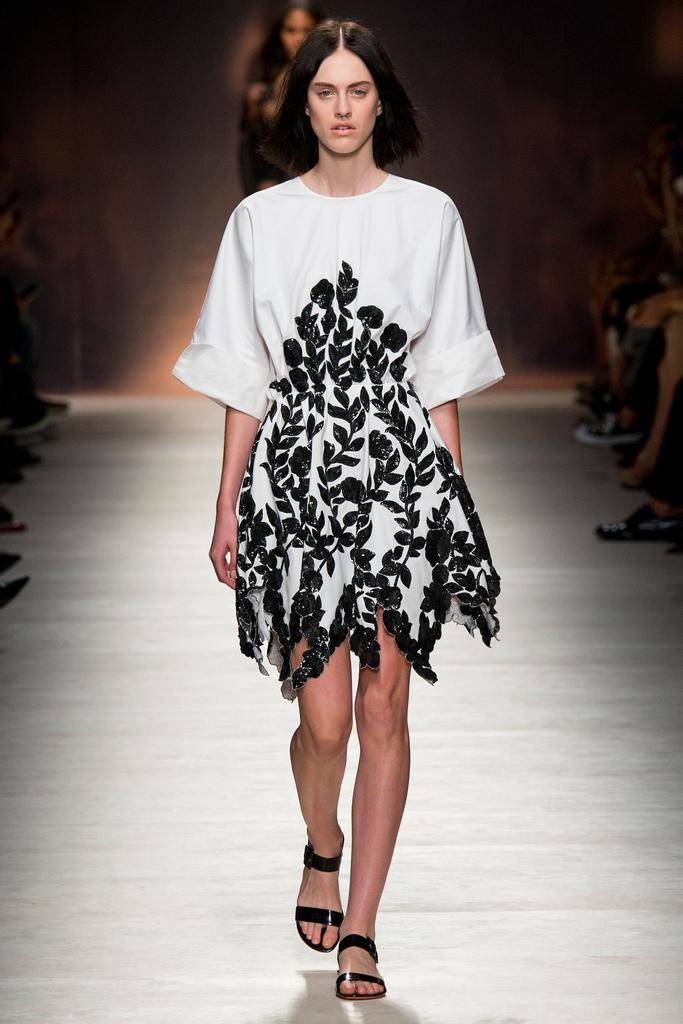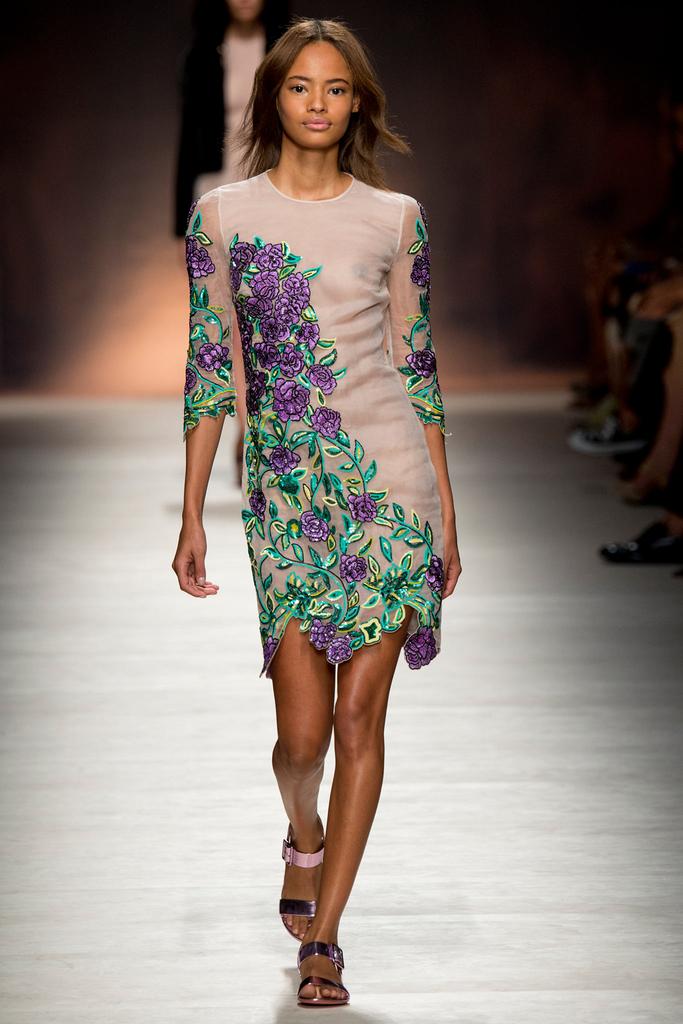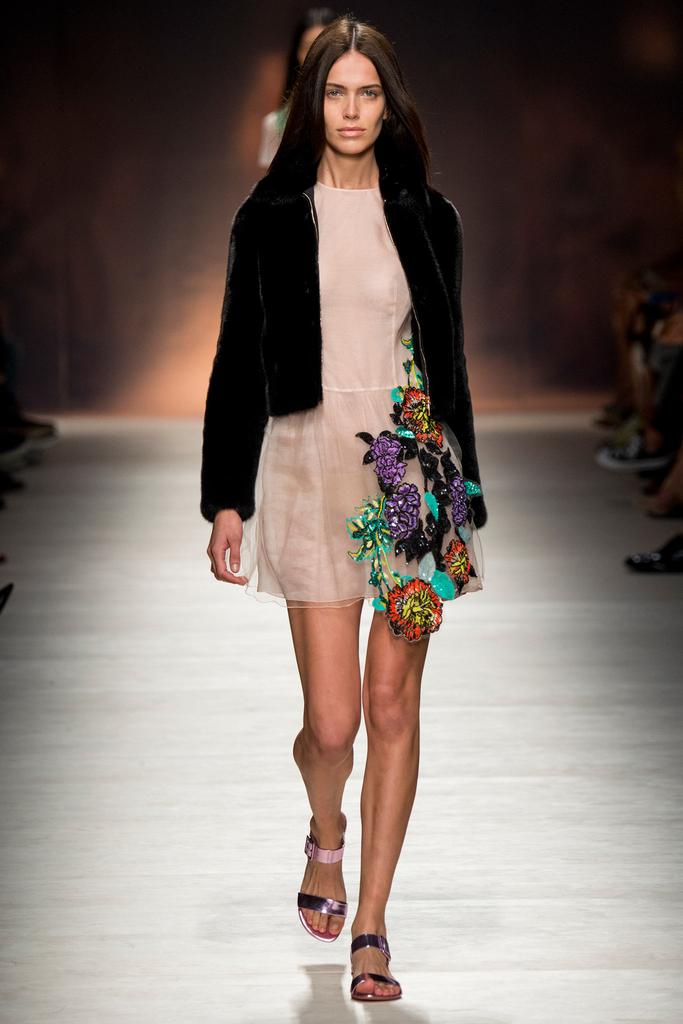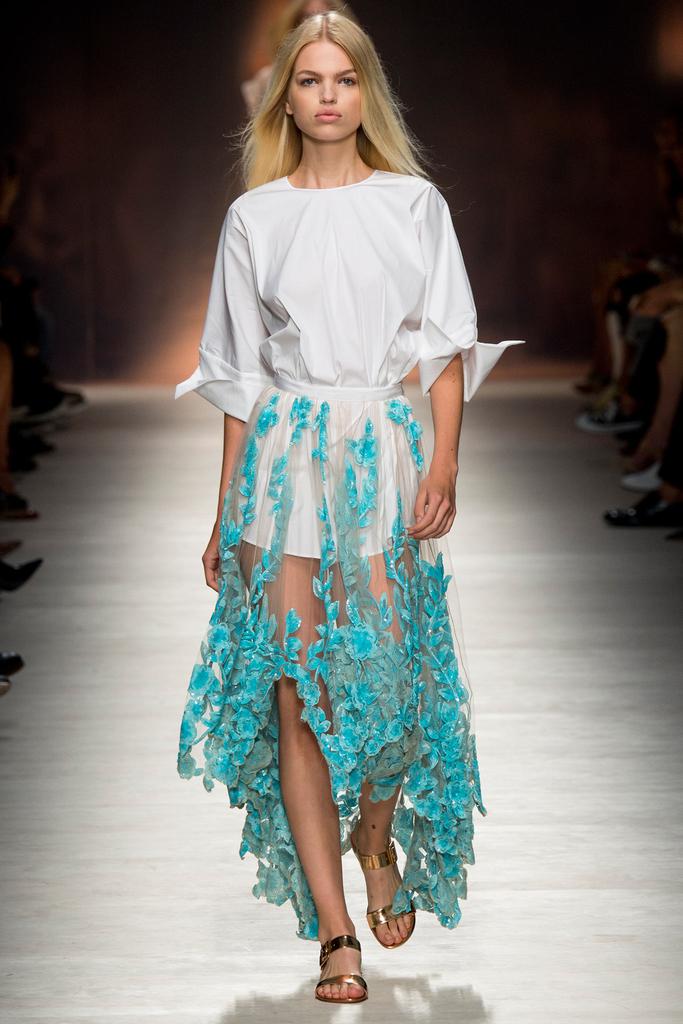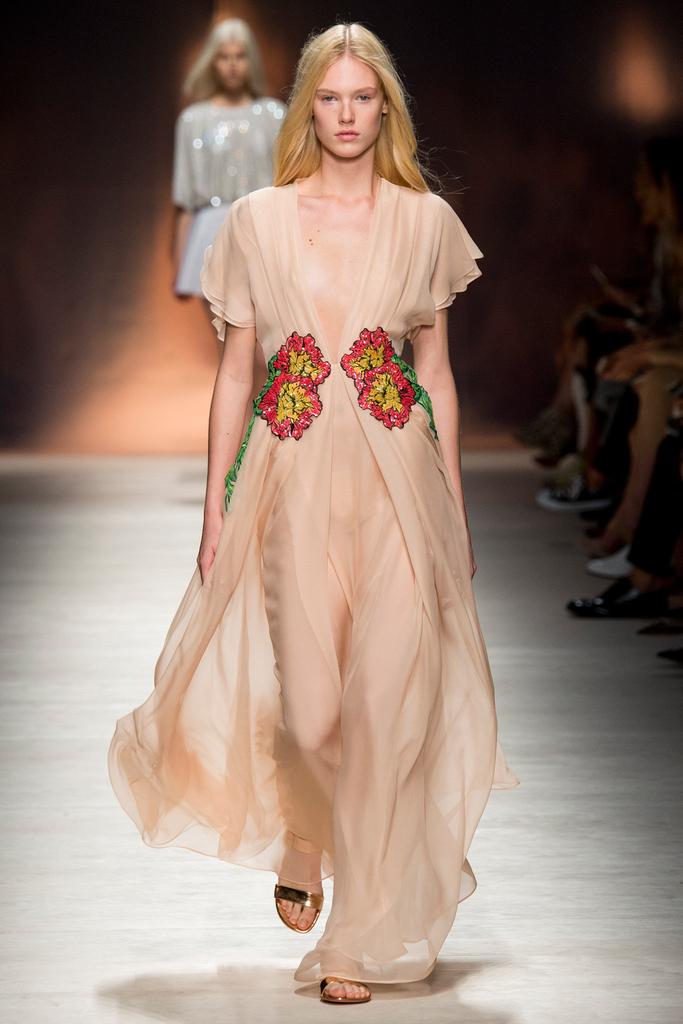 This channels screen goddesses of yore such as Carole Lombard and Jean Harlow.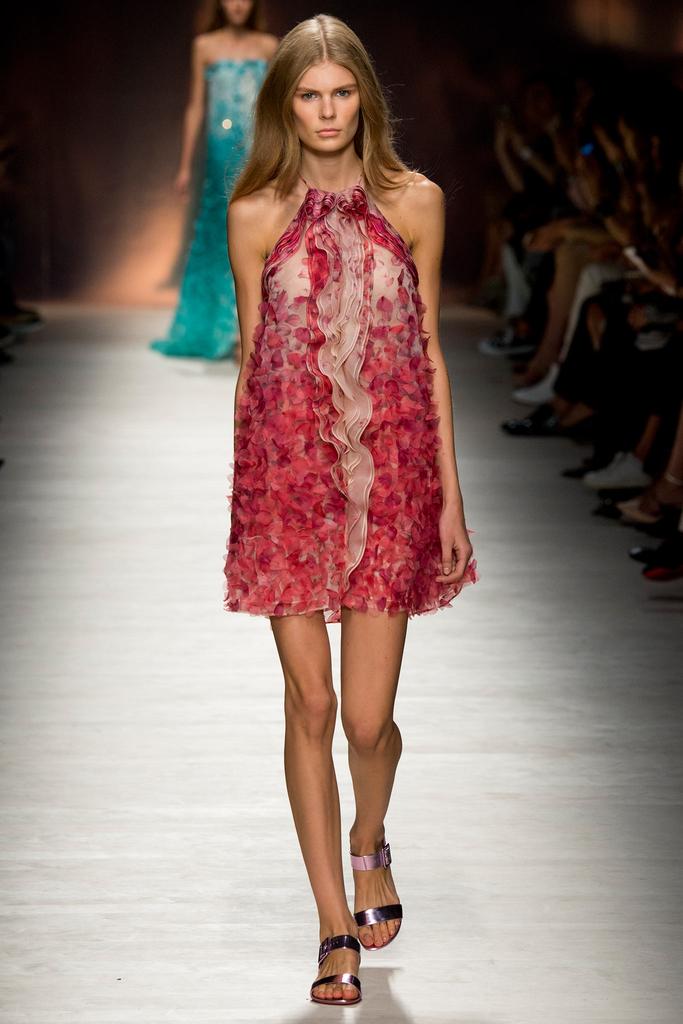 BLUMARINE
Anna Molinari continues the flower power theme with feminine romantic dresses in all shapes and sizes for everyone who wants to harken back to another time without the stench of bong emissions and other associated odors. A modern and opulent take on styles of years gone by. More stunning fashions which stand alone without the need for baubles, bangles, and excessive makeup.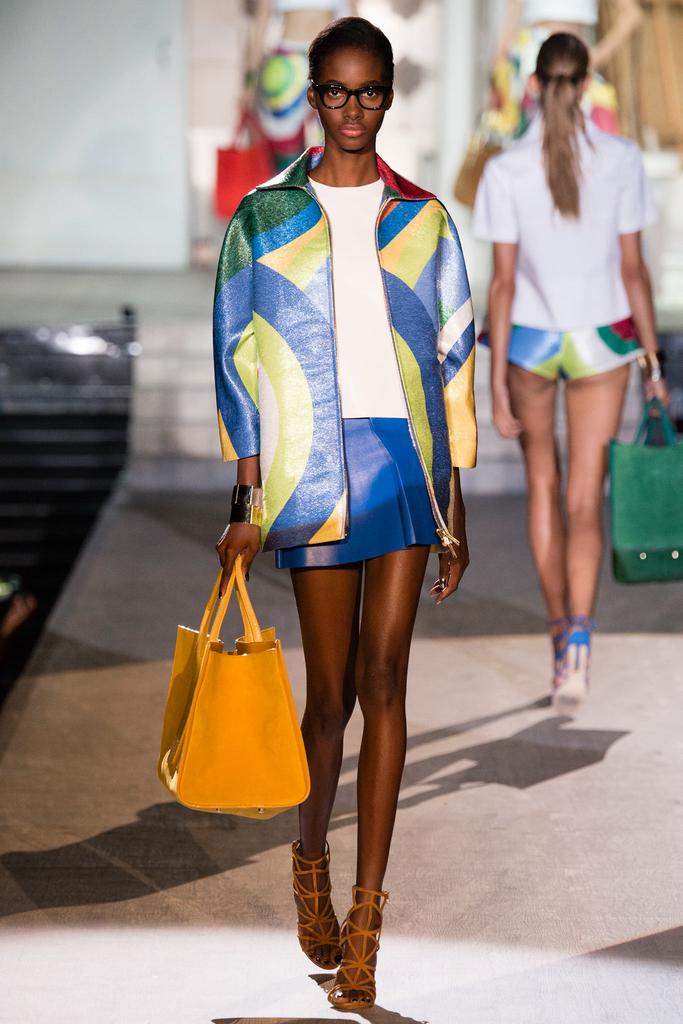 This collection represents a bit of a departure from the stroll down hippie lane, with the geometric prints, multicolord ostrich feathers, and eclectic vibe. We're off to see the wizards of Dsquared2!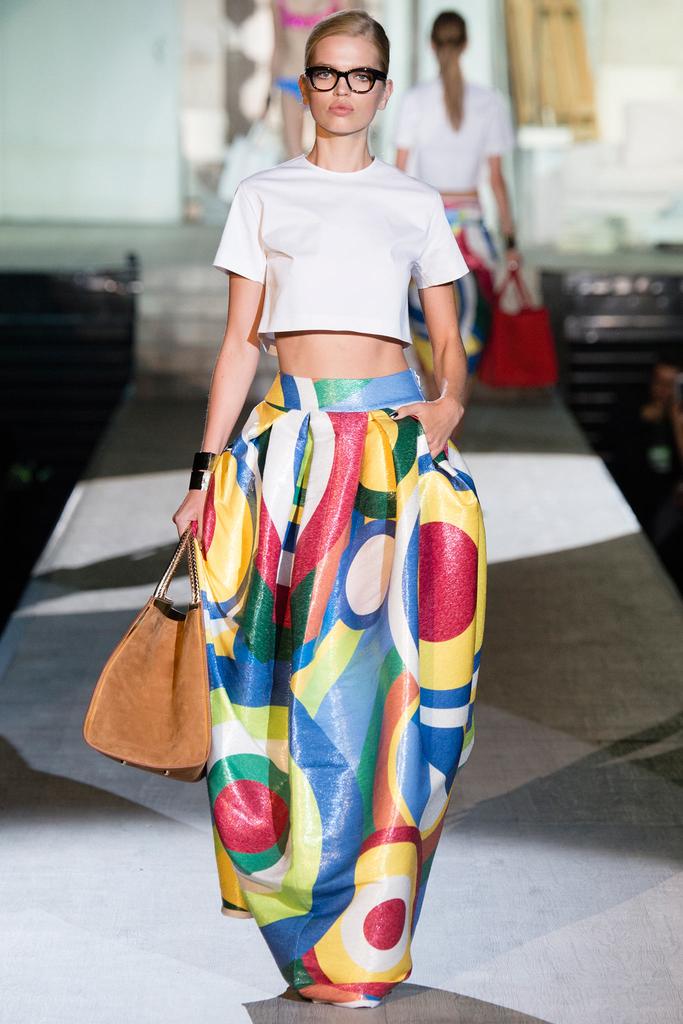 Mmmmm, visions of Miro on a tulip shaped skirt. Perfect with just a white T shirt. Another great option for the non fussy chick who wants to stand out at any high fallutin' event!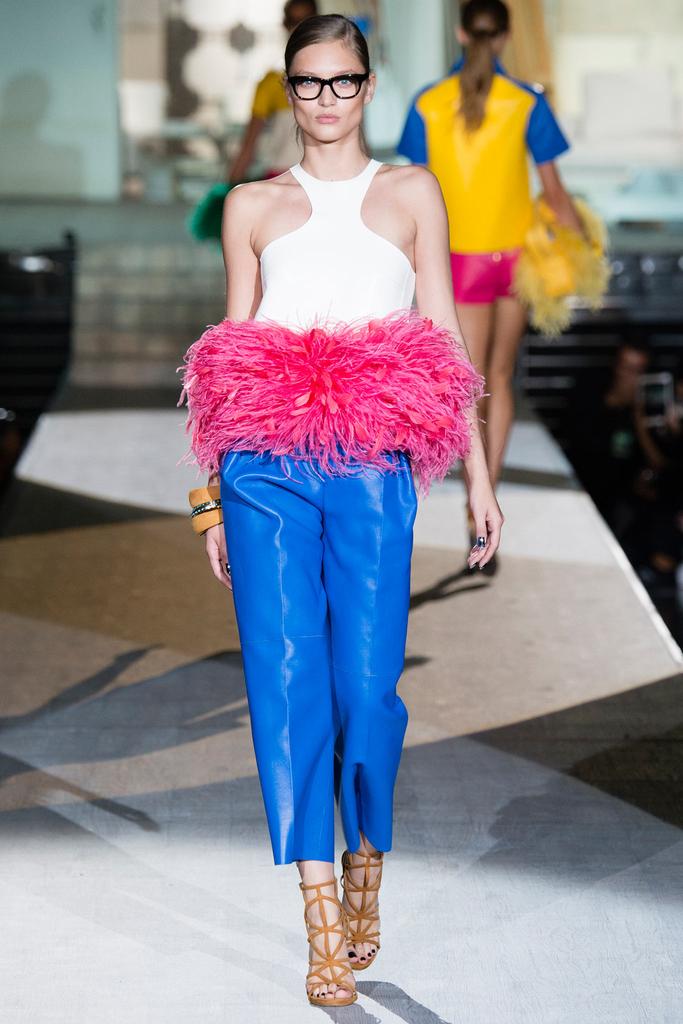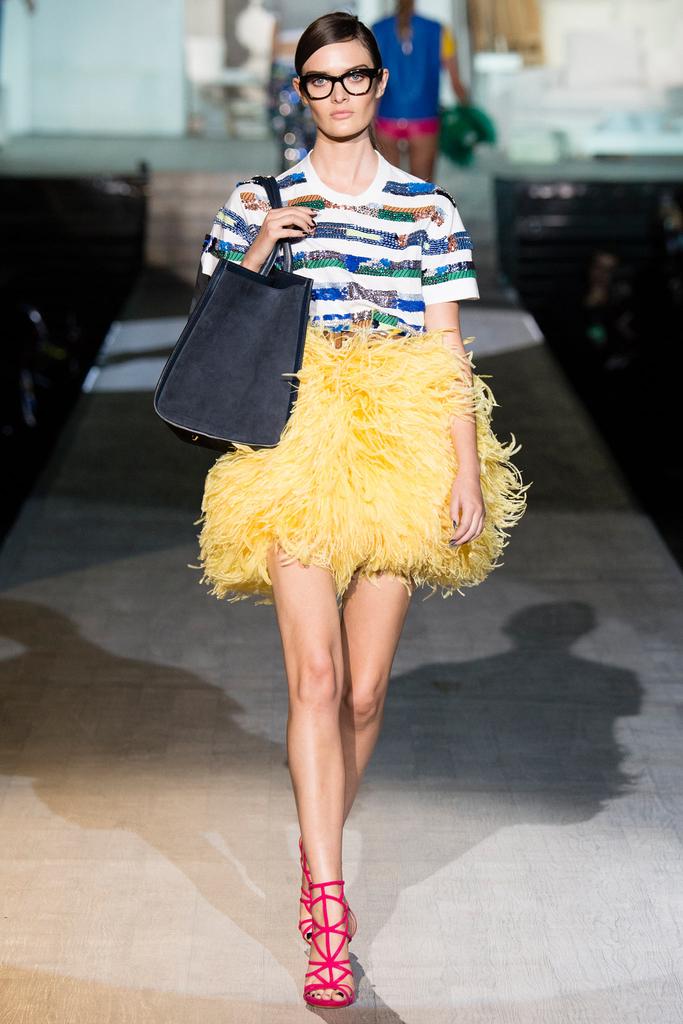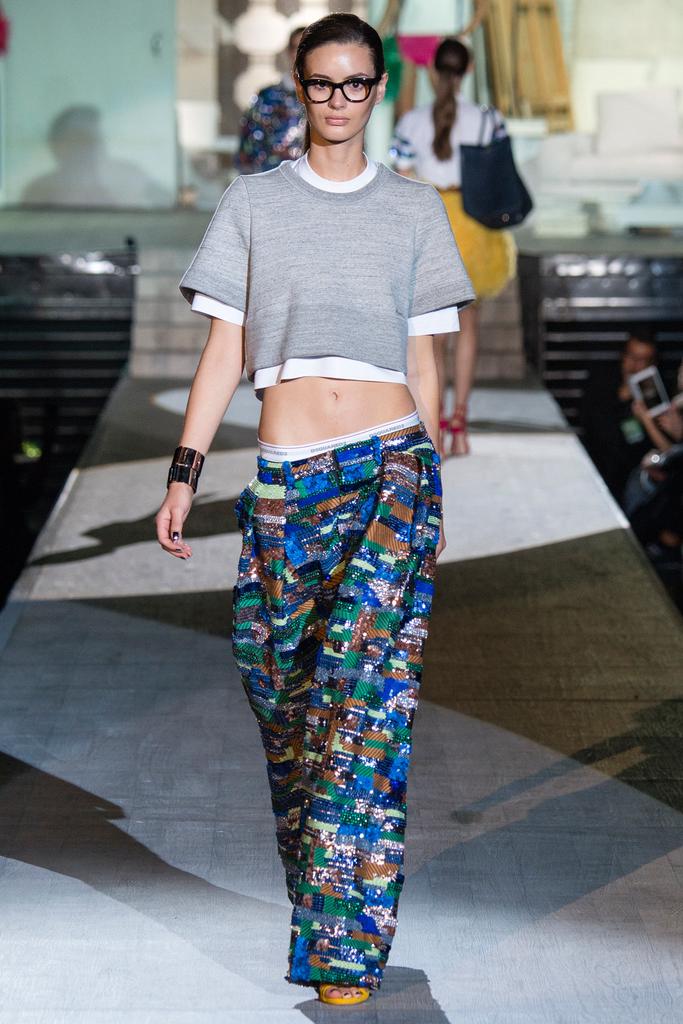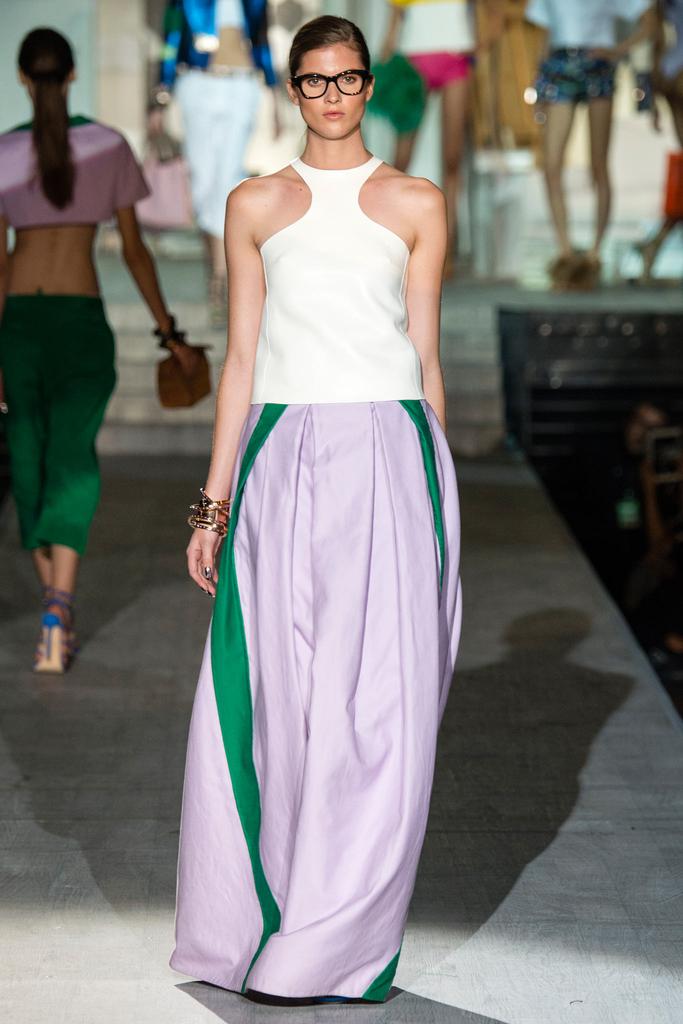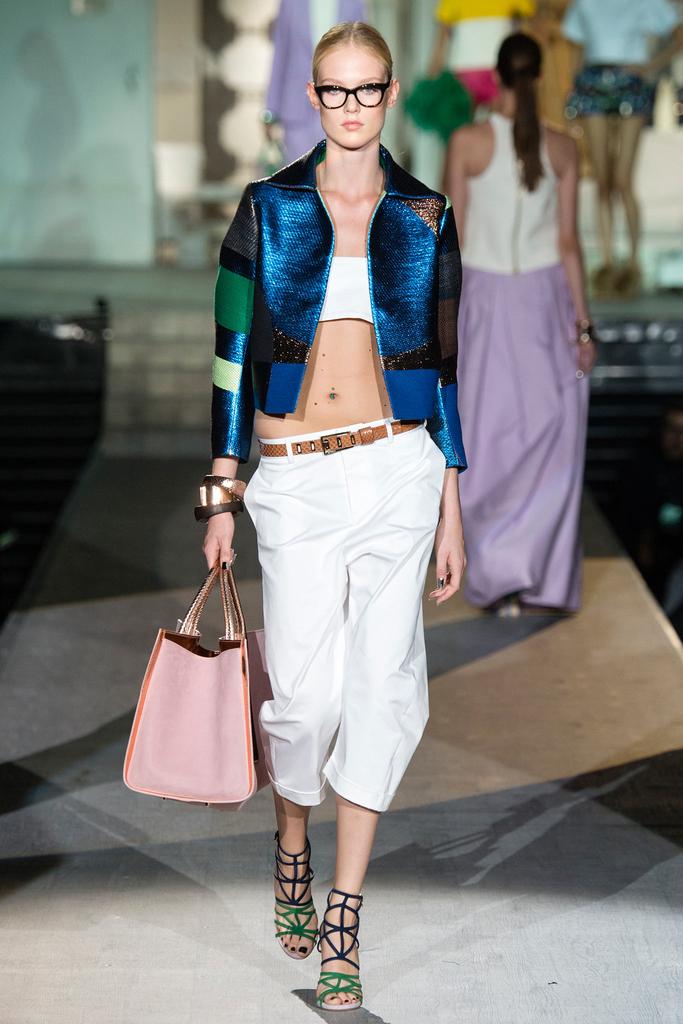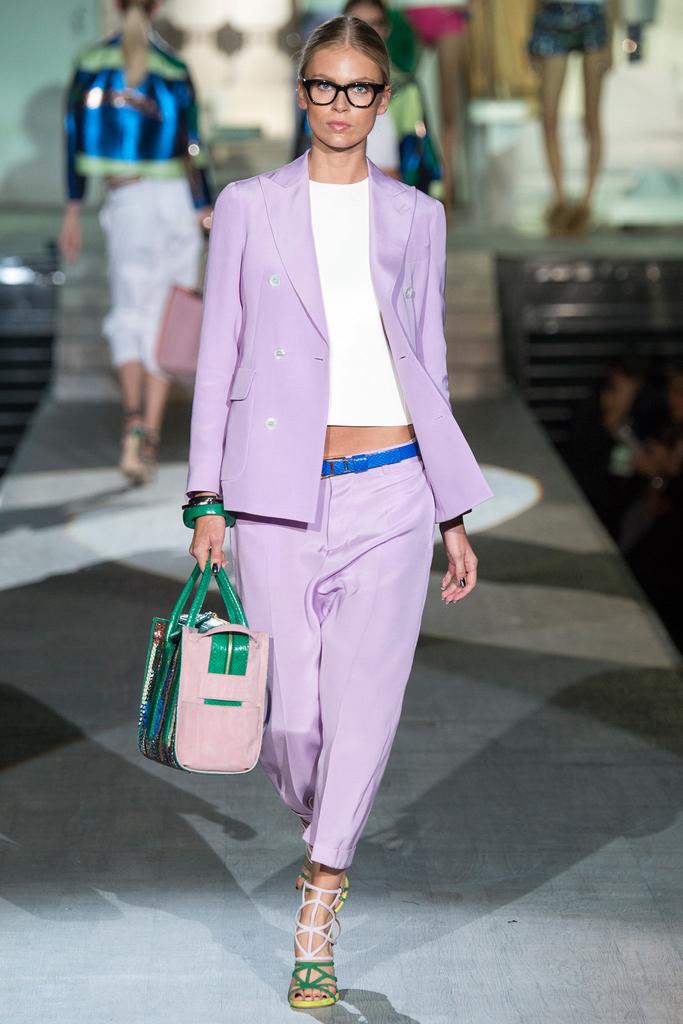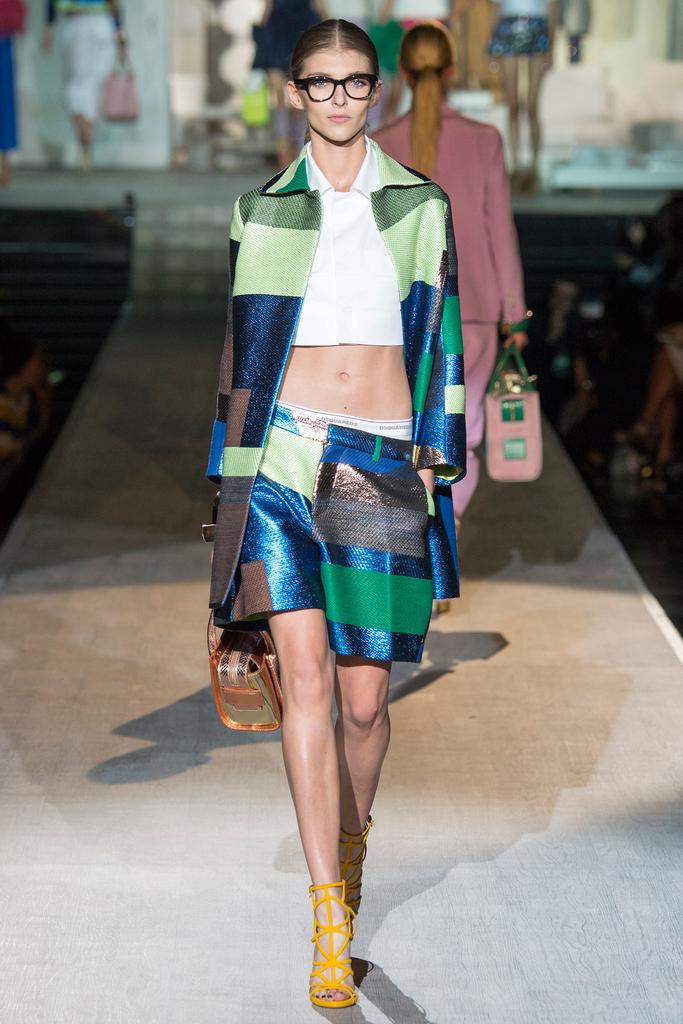 Matchy matchy can always be acceptable, and I am a fan of MORE IS BETTER, but I'd throw the lavender pants under this jacket for some unexpected contrast. White T shirt underneath will do.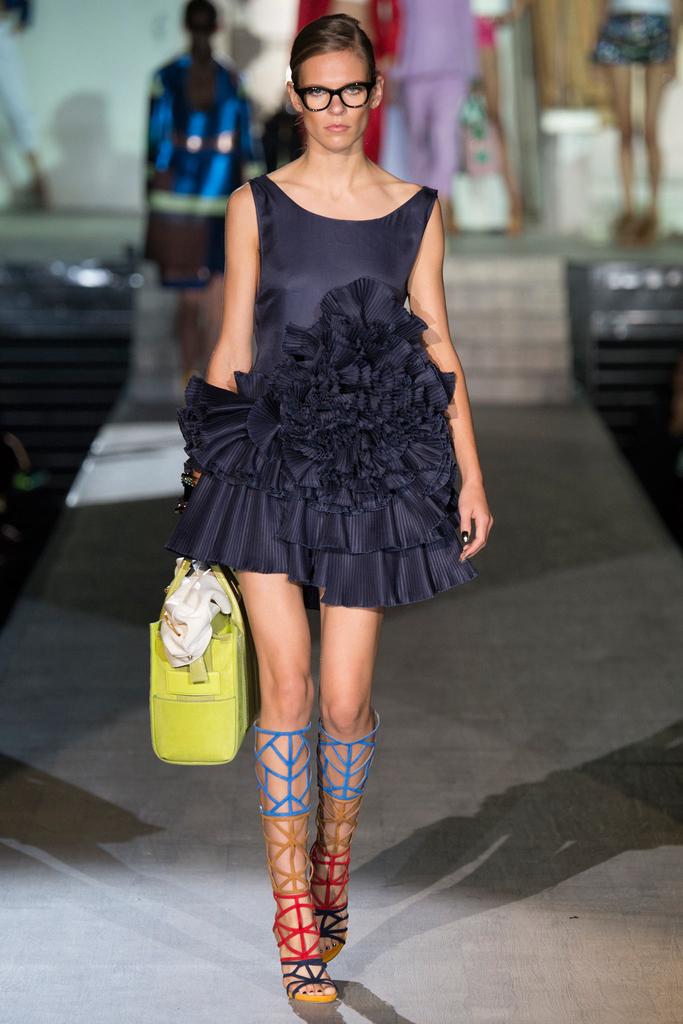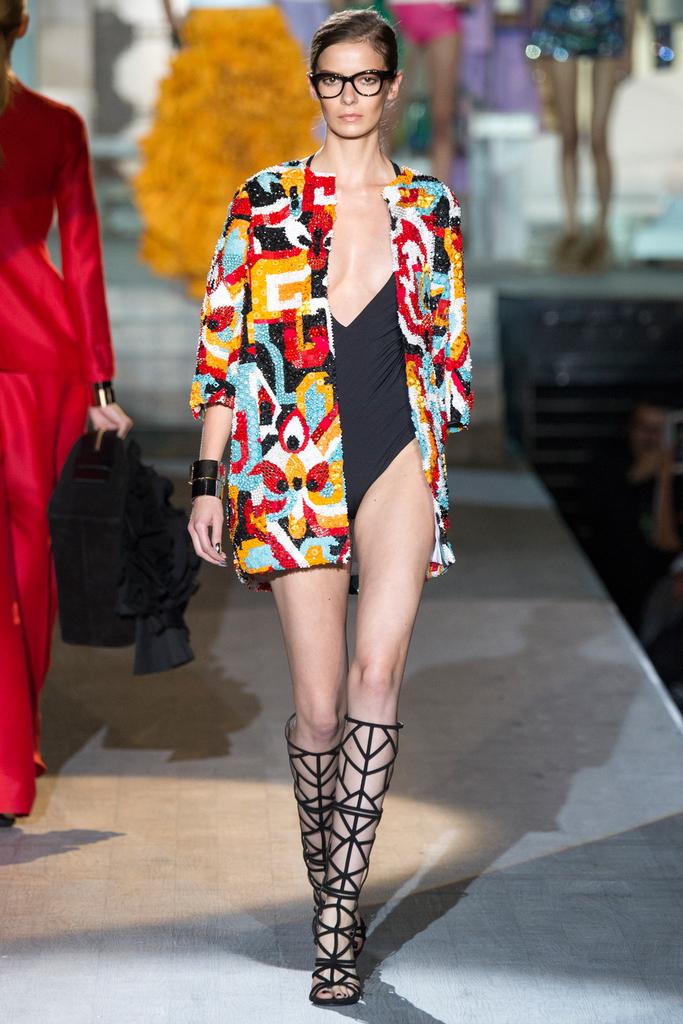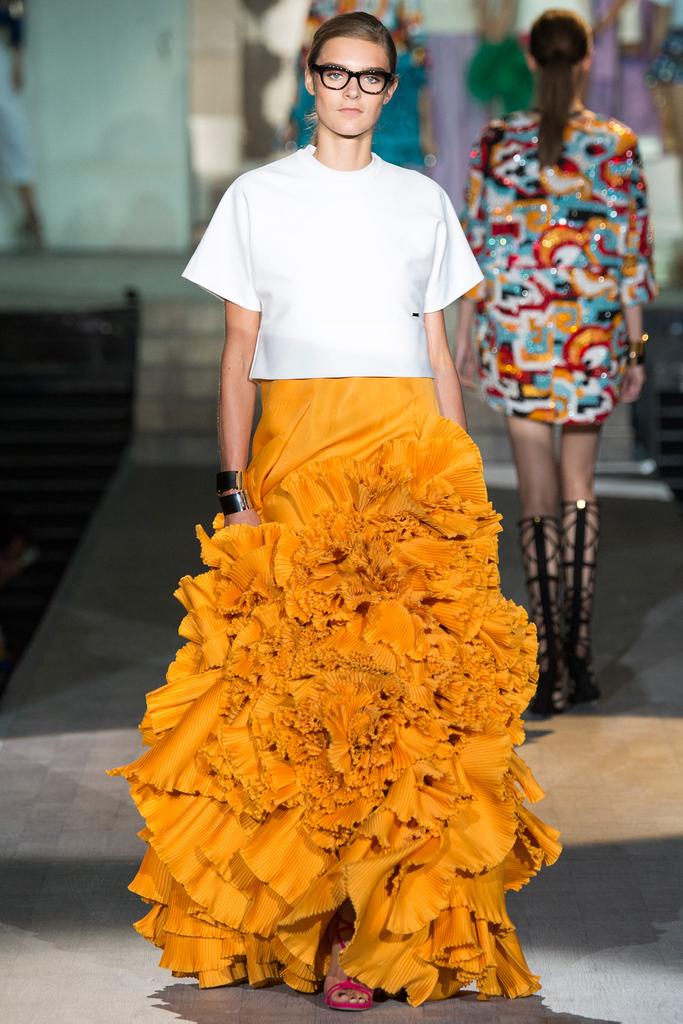 Carmen Miranda anyone? This definitey calls for some SKY HIGH brightly colored cha-cha heels. And if you're feeling the need to entertain, some castanet bracelets.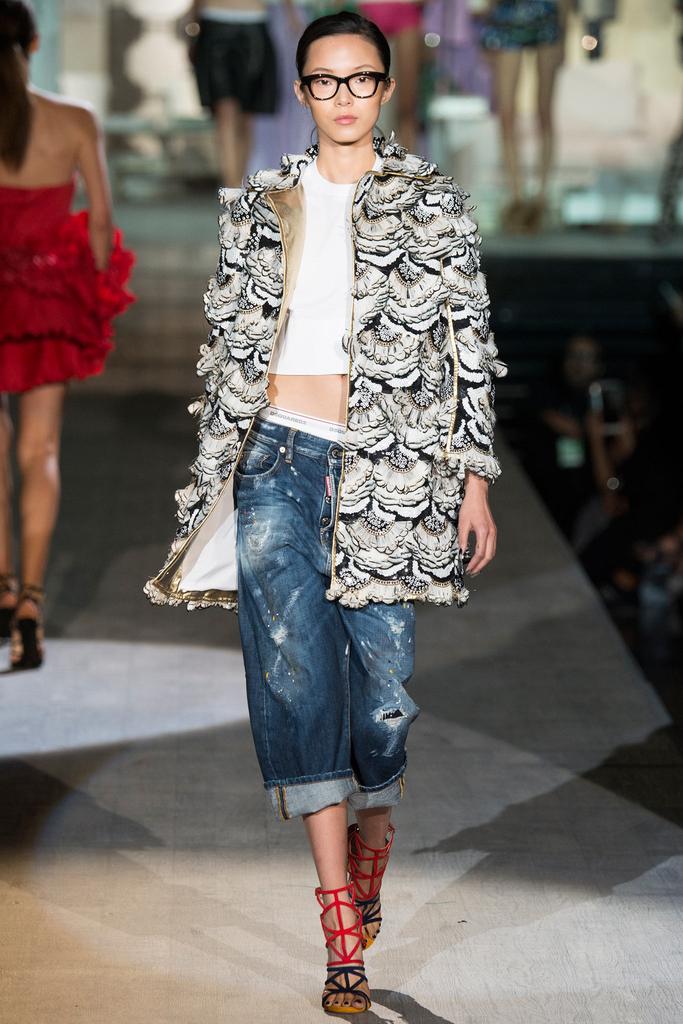 God, this jacket, drool. Fun, fanciful, and intriguing, and I for one appreciate looking like one of our fine feathered friends. I mean for real, who doesn't want some whimsy injected into their wardrobe? This kind of piece, and frankly everything in this collection will make you and anyone gazing upon you happy!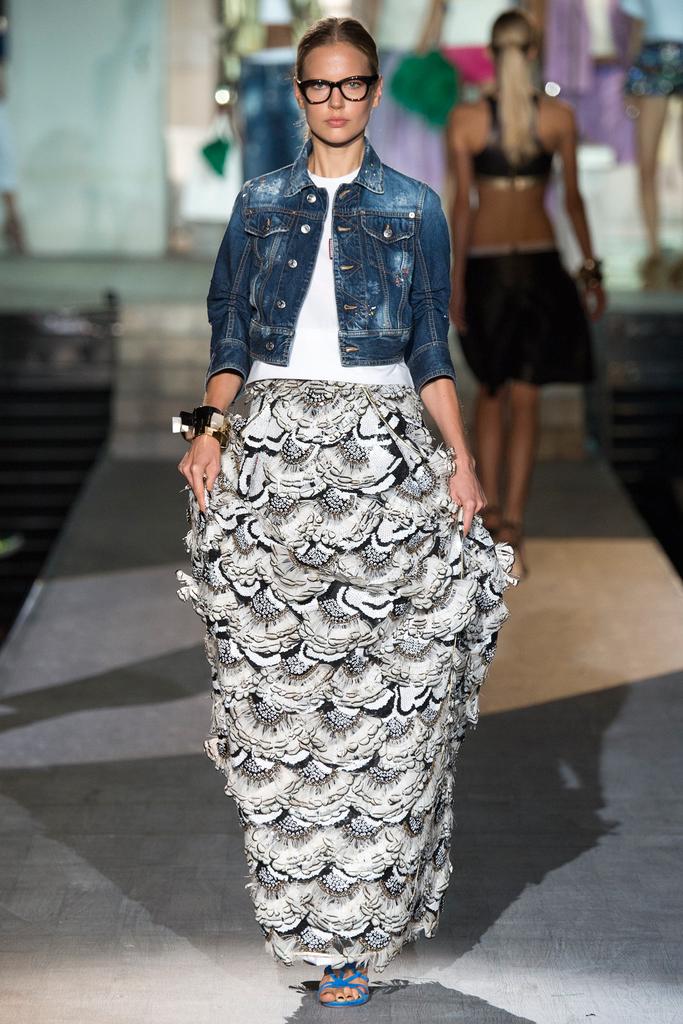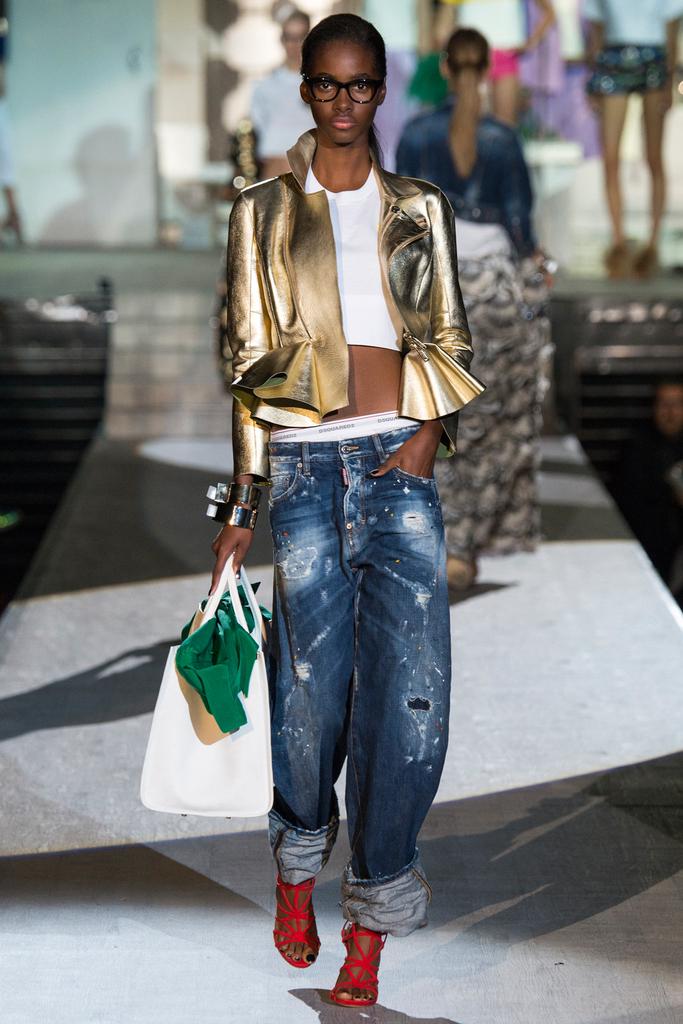 A little metallic goes a long way, and the peplum makes this young and flirty. Throw over a long tuxedo blouse if you need extra below the waist coverage. I even love those red strappy sandals!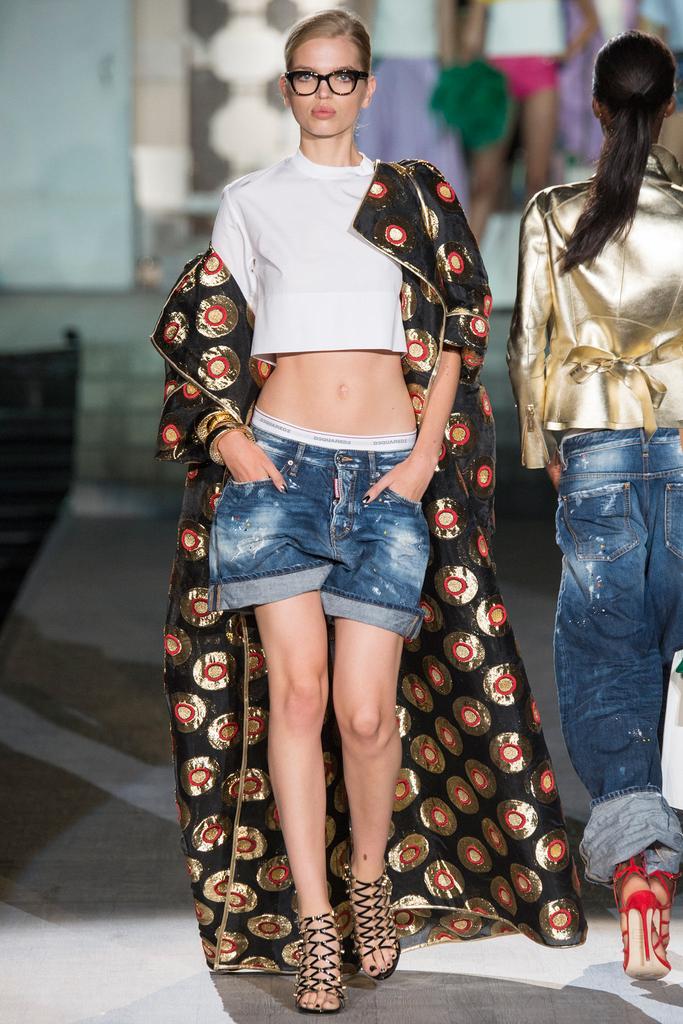 DSQUARED2
This collection is a wonderful and welcome contrast to the diaphanous floral brigade (and not as naked) we've had, and gives one a chance to channel their more wacky and avant garde self. The silhouettes are modern and cool, and importantly wearable!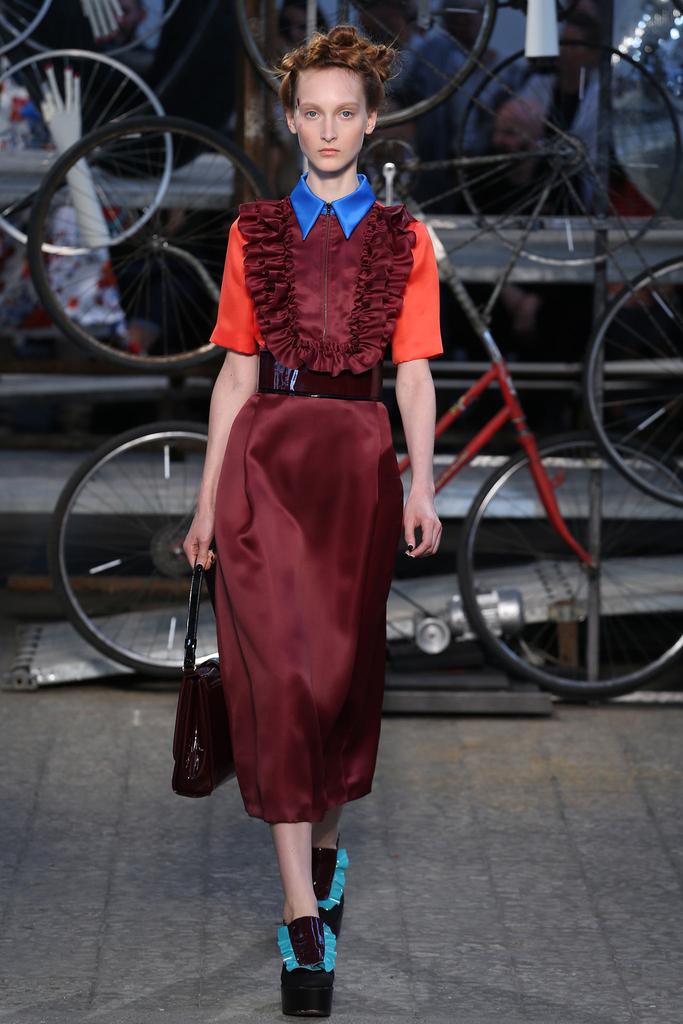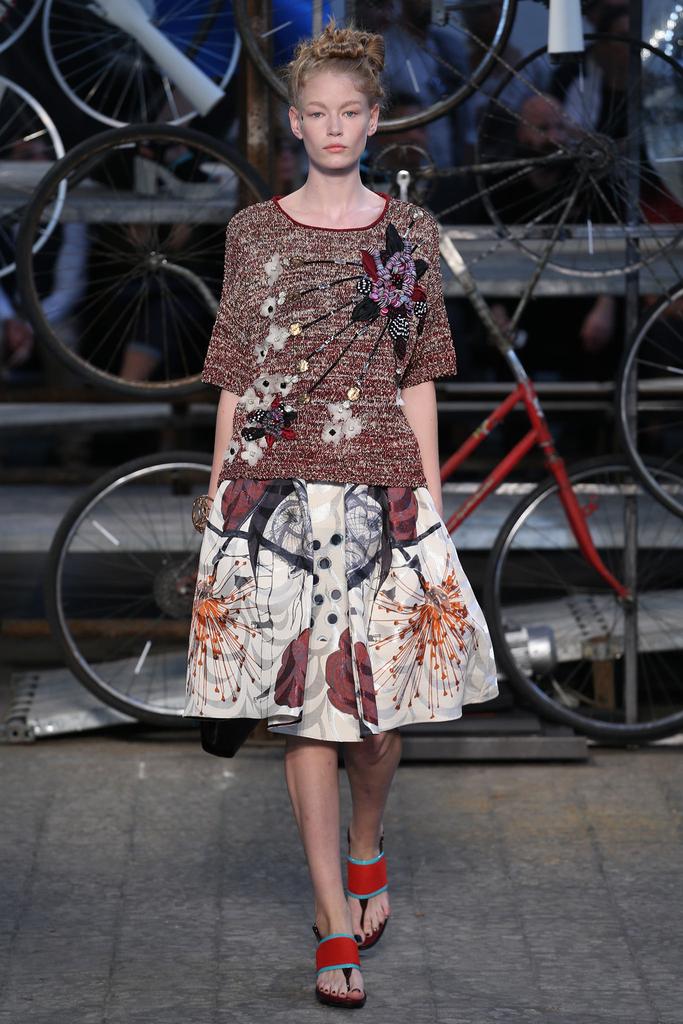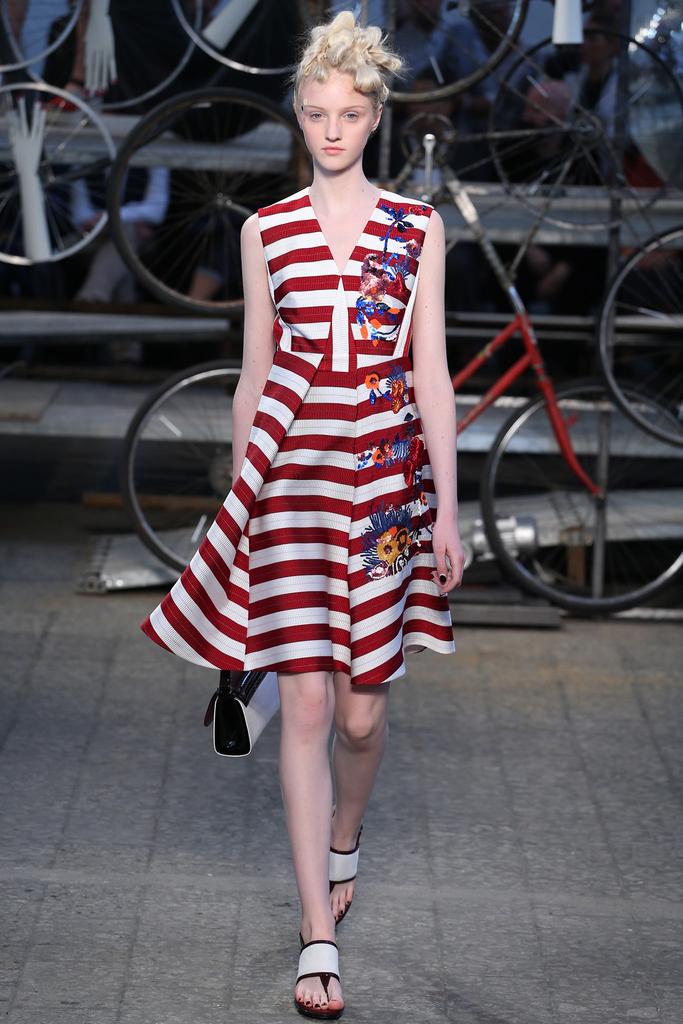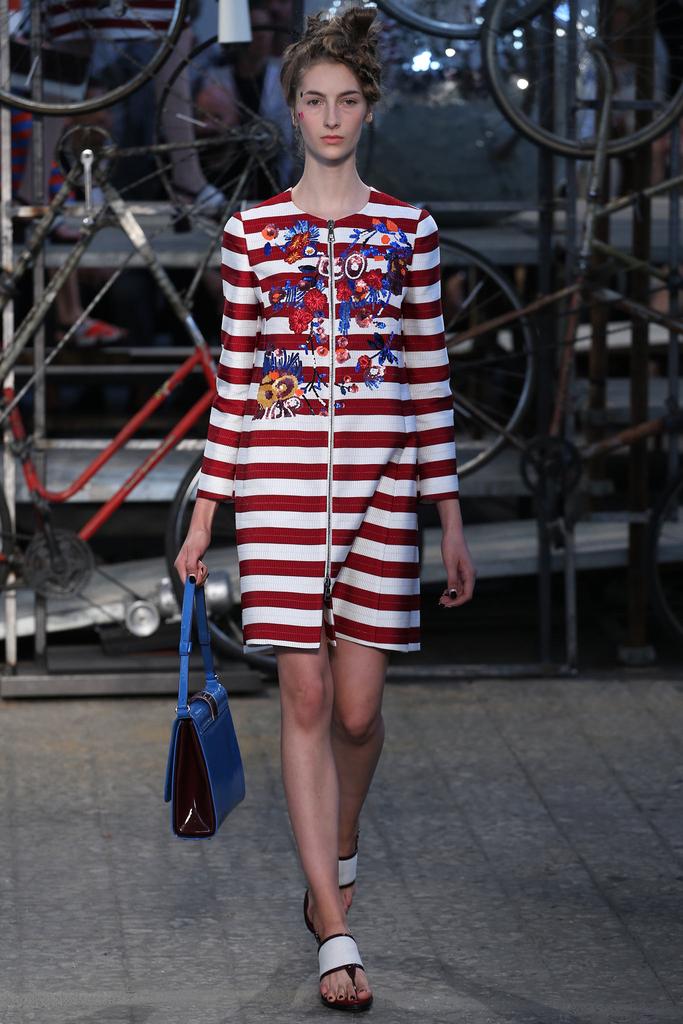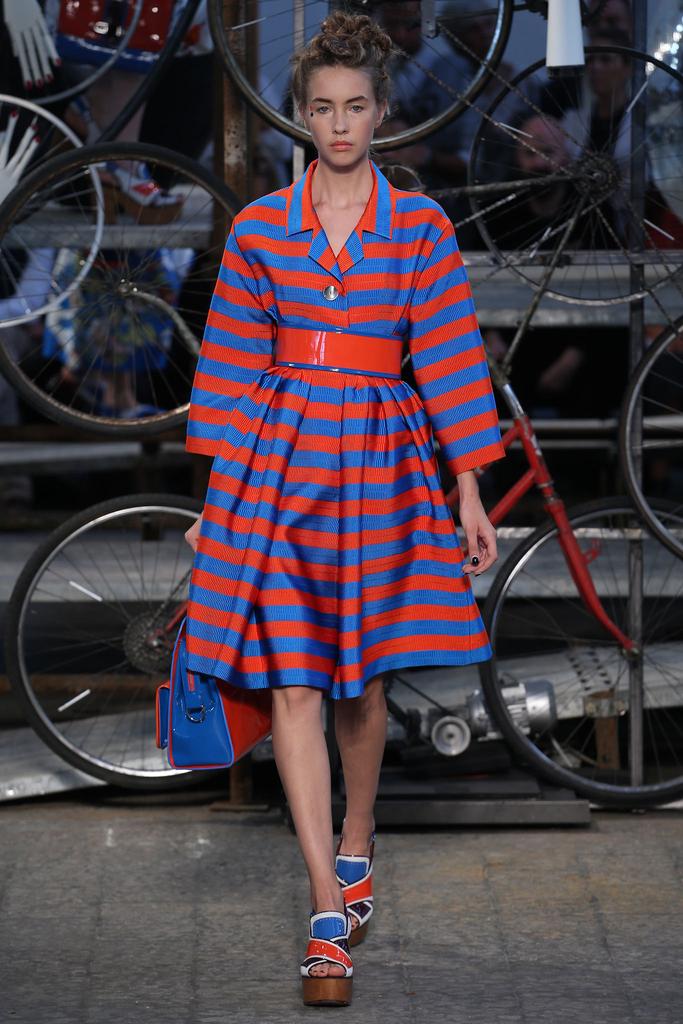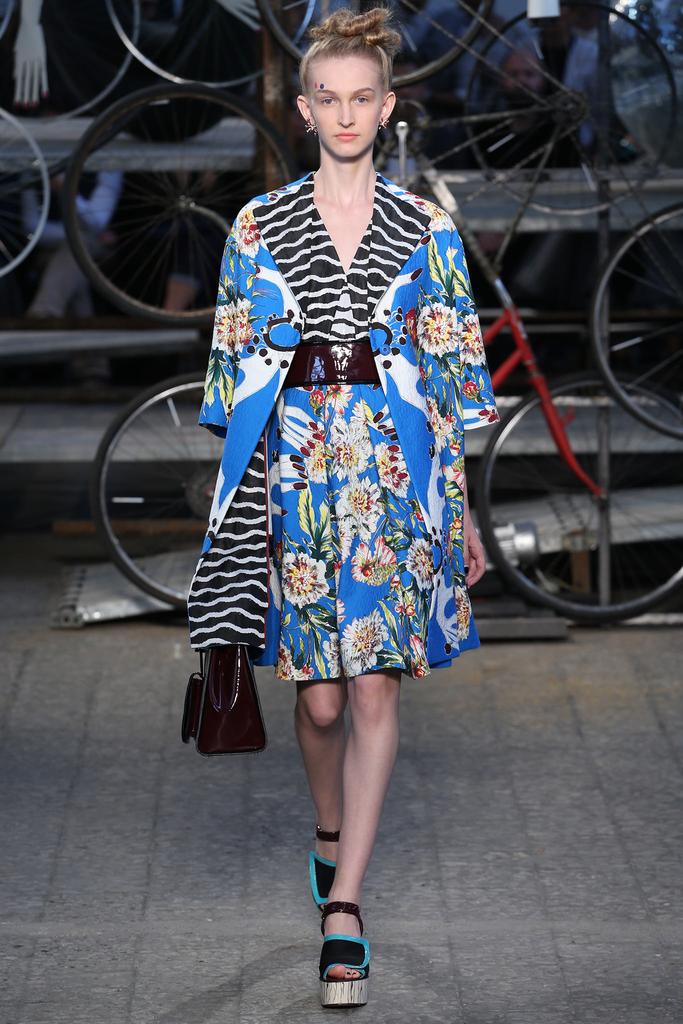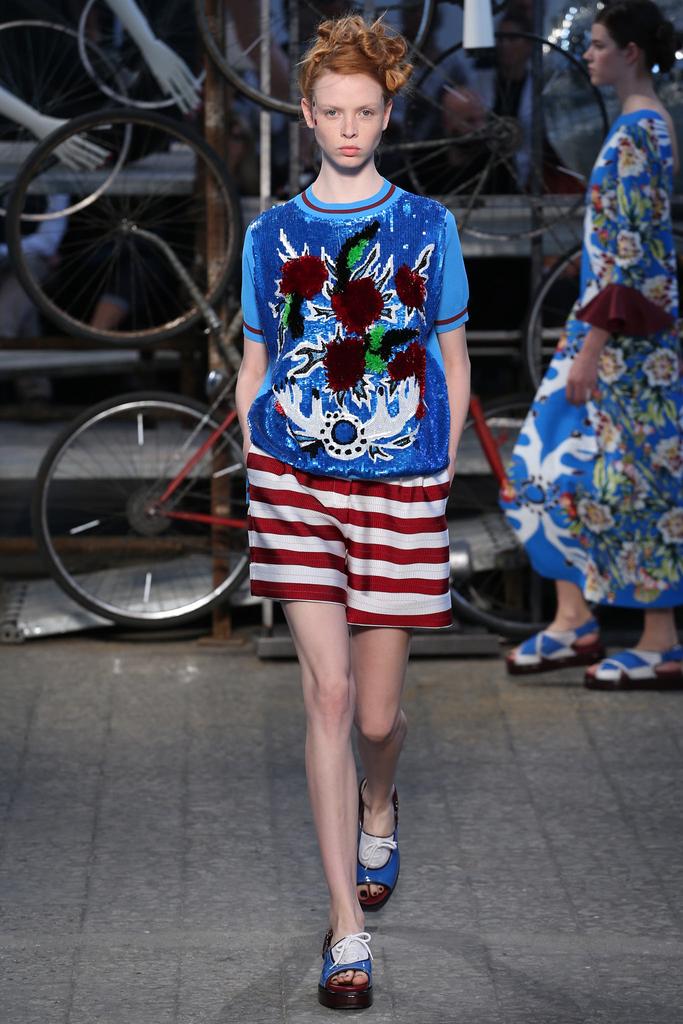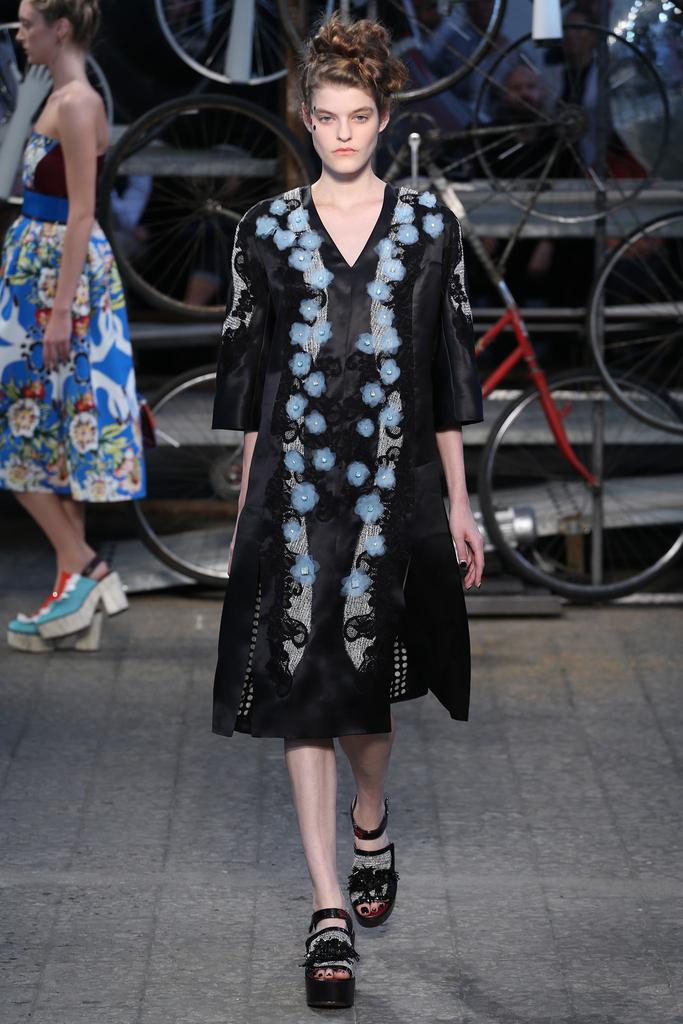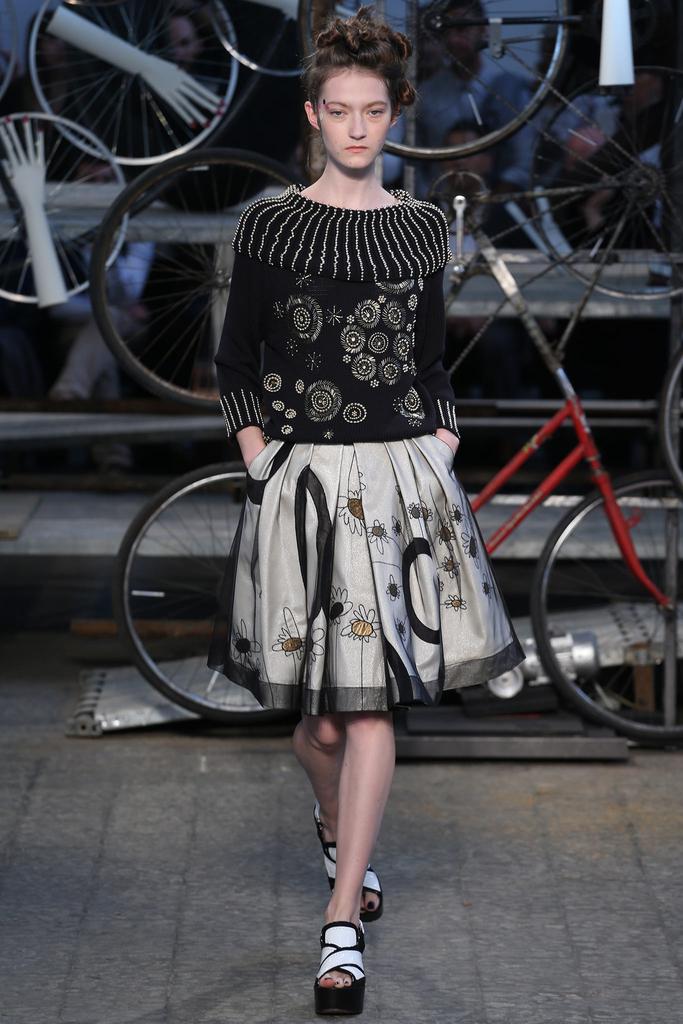 ANTONIO MARRAS
More covetable selections from the man who brought us that fabulous fall winter collection, including a substantial homage to the Wolf, is luxe in a low key way. Comfortable easy silhouettes in stunning fabrications. The slightly dada prints add visual interest and whimsy, and blend well with the floral contingent.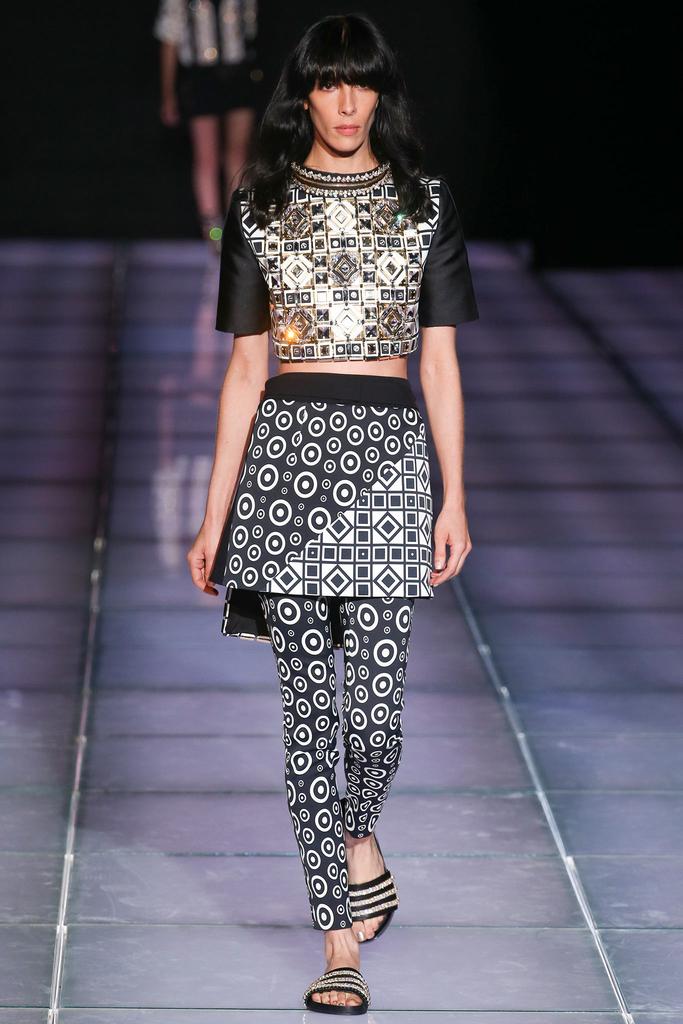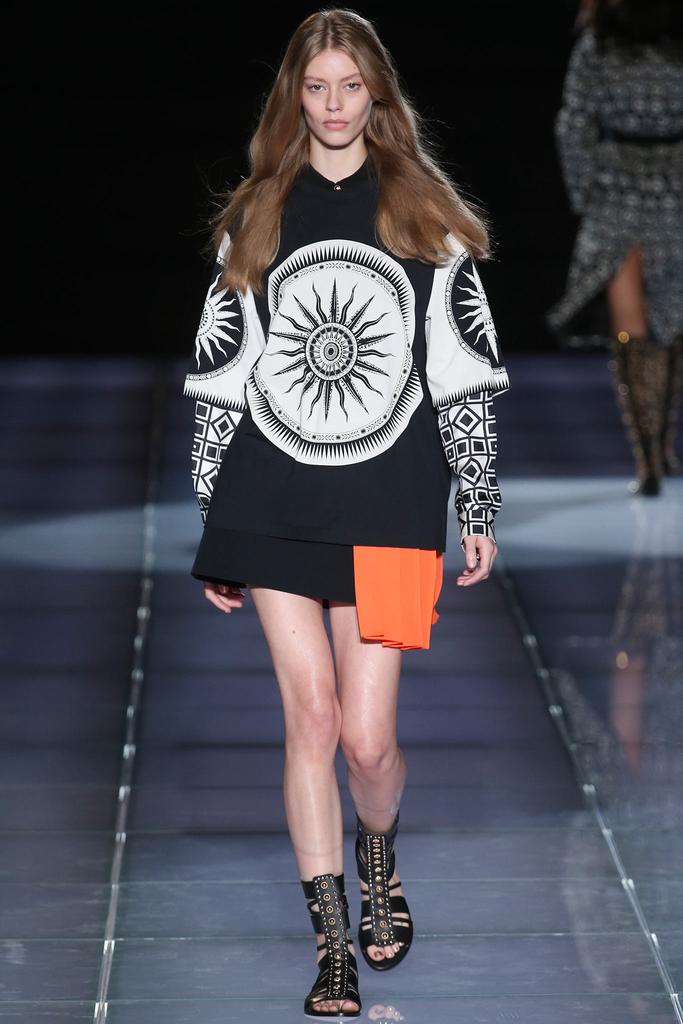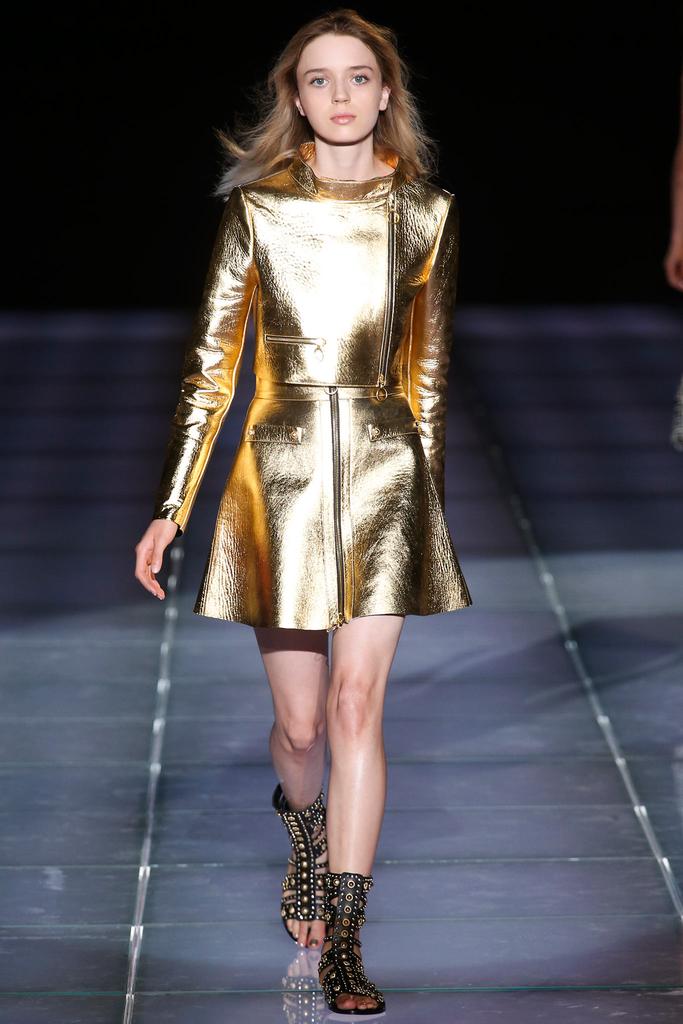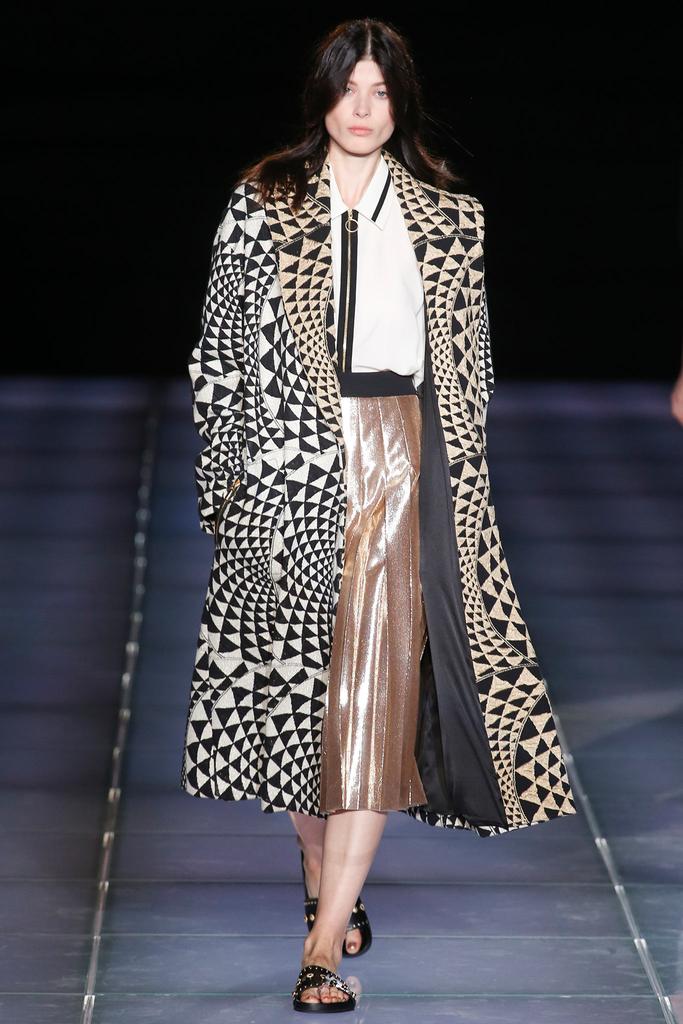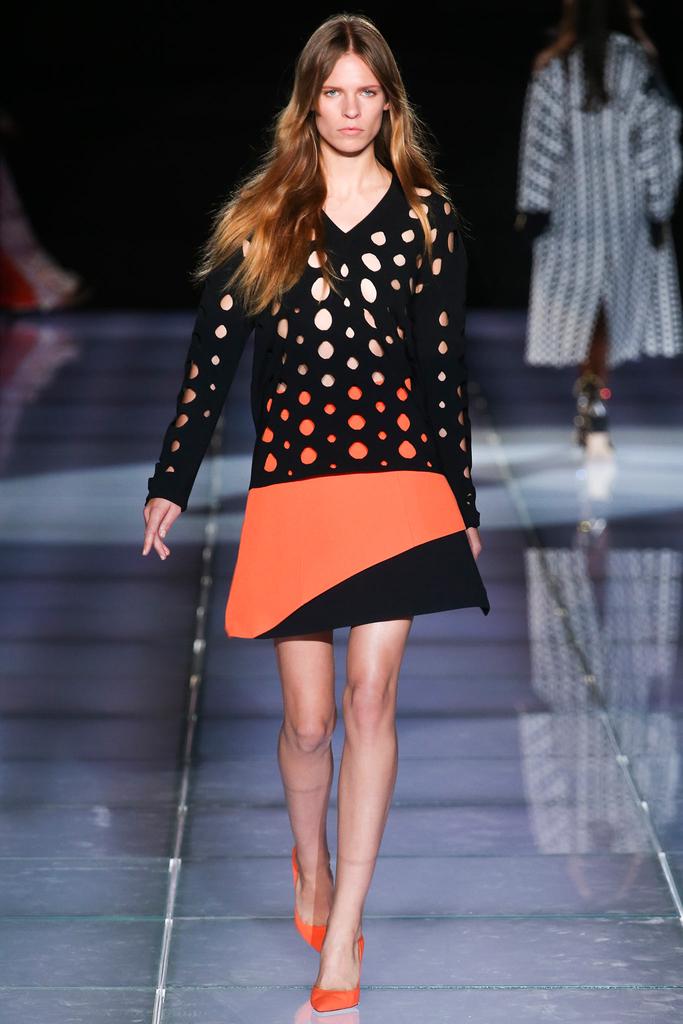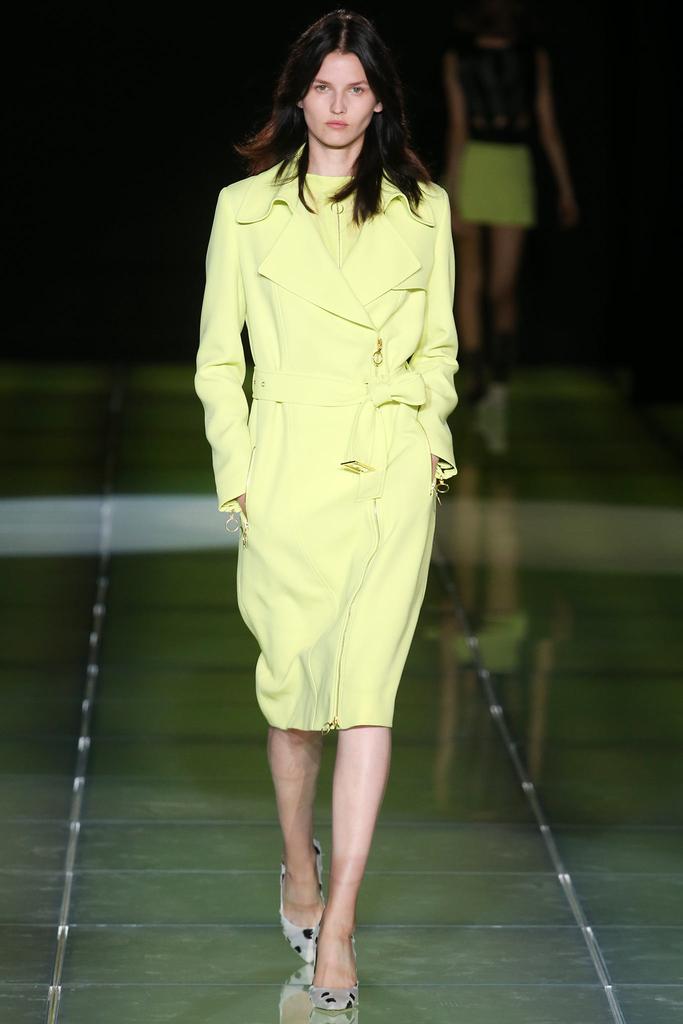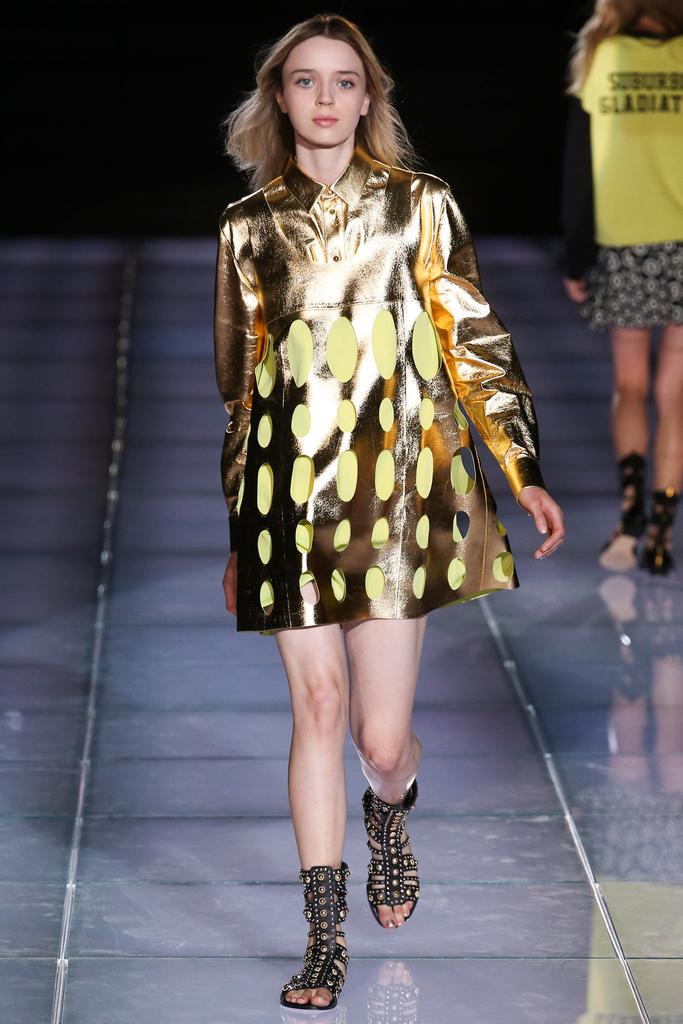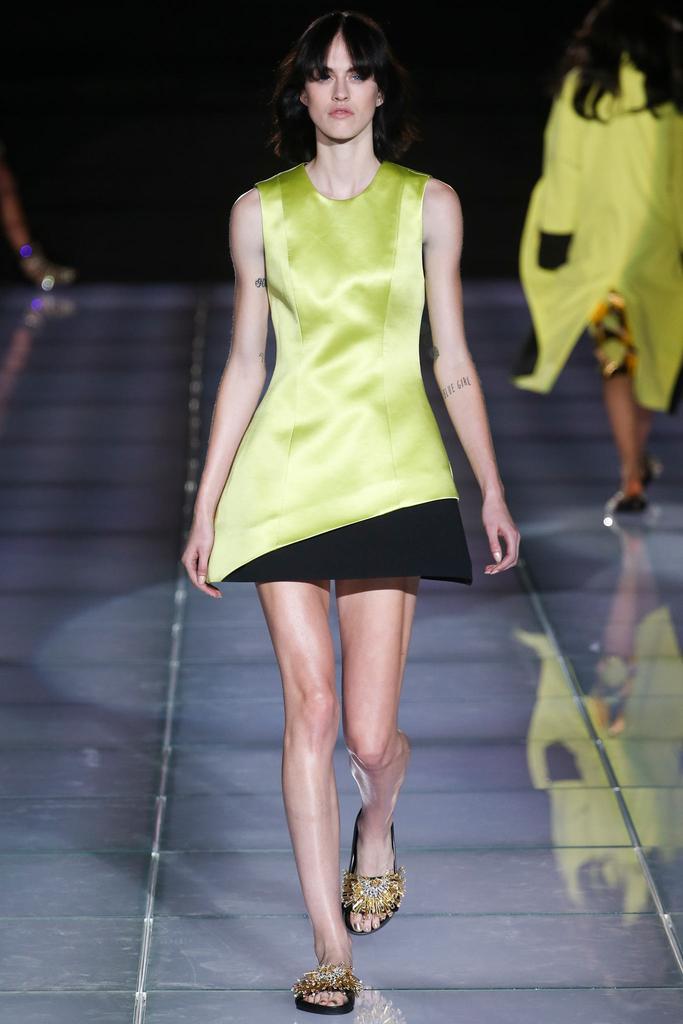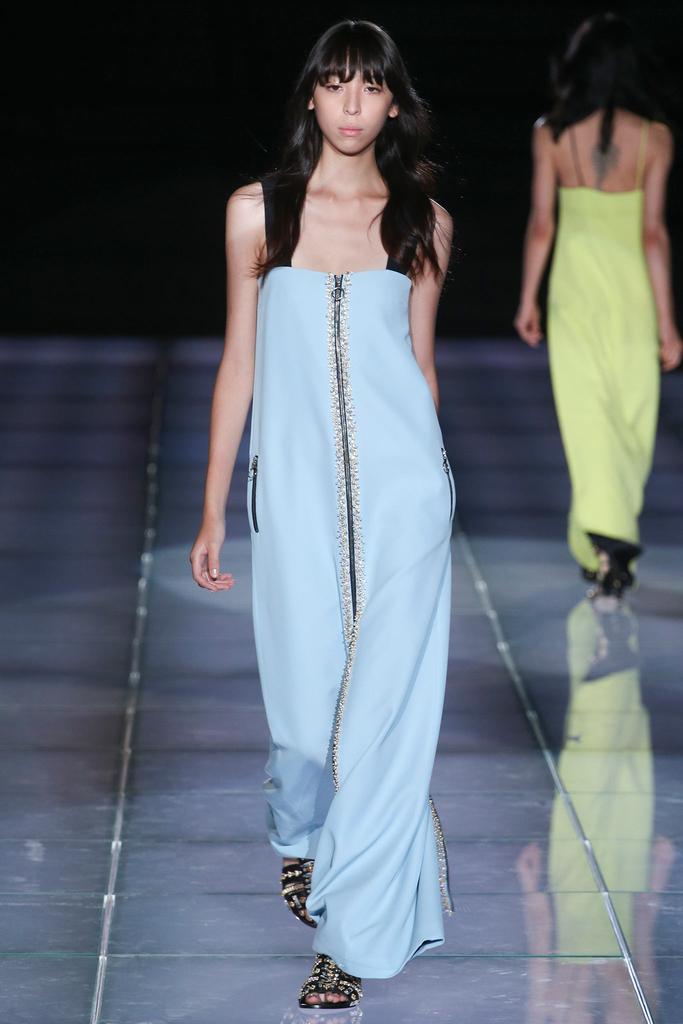 FAUSTO PUGLISI
Avant garde latter day armour in metallic leathers admixed with embellishments and a space age vibe. Dresses in all lengths for all of us, of ALL ages. The gold mini with cut out detail would be a fantastic tunic over jeans and leggings. These modern pieces will take you from a first date, to a romp around London or Paris, to the red carpet. All wearable, unique, and non fussy!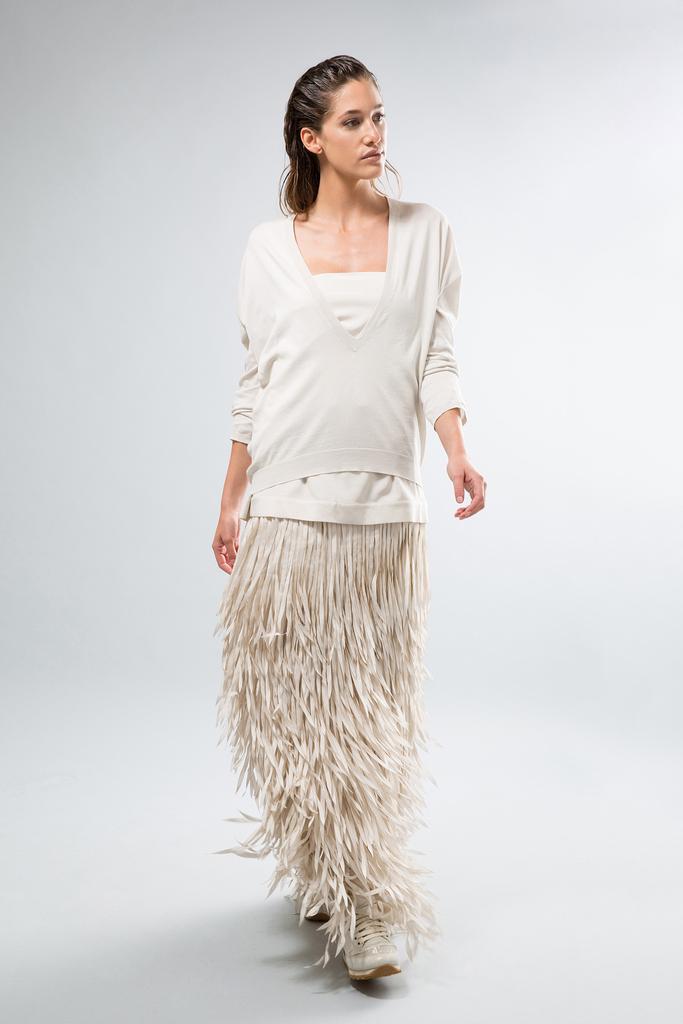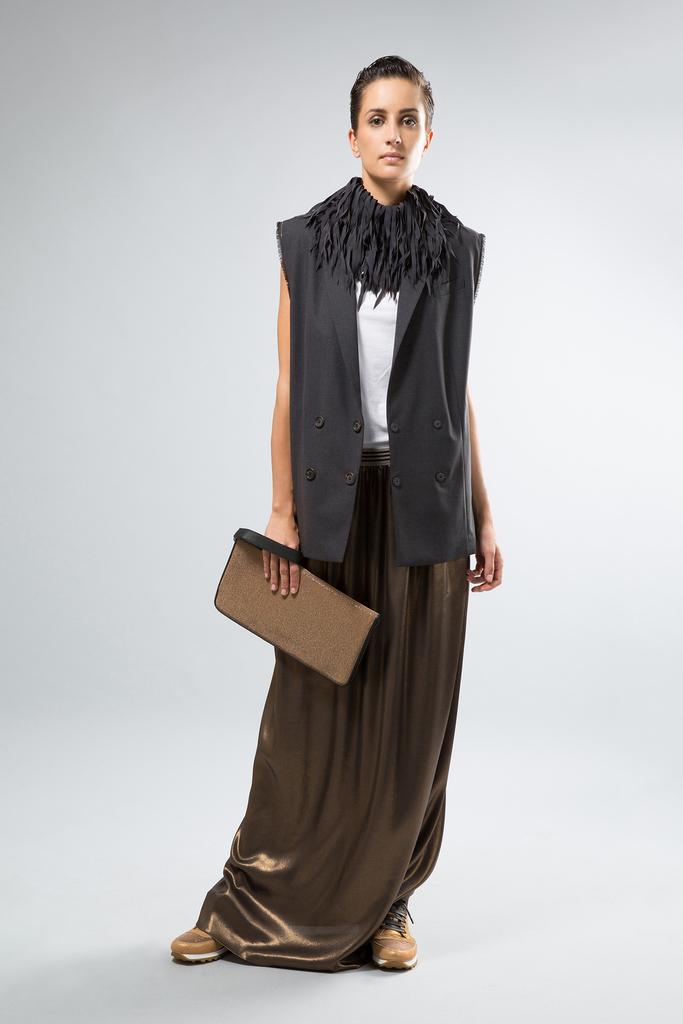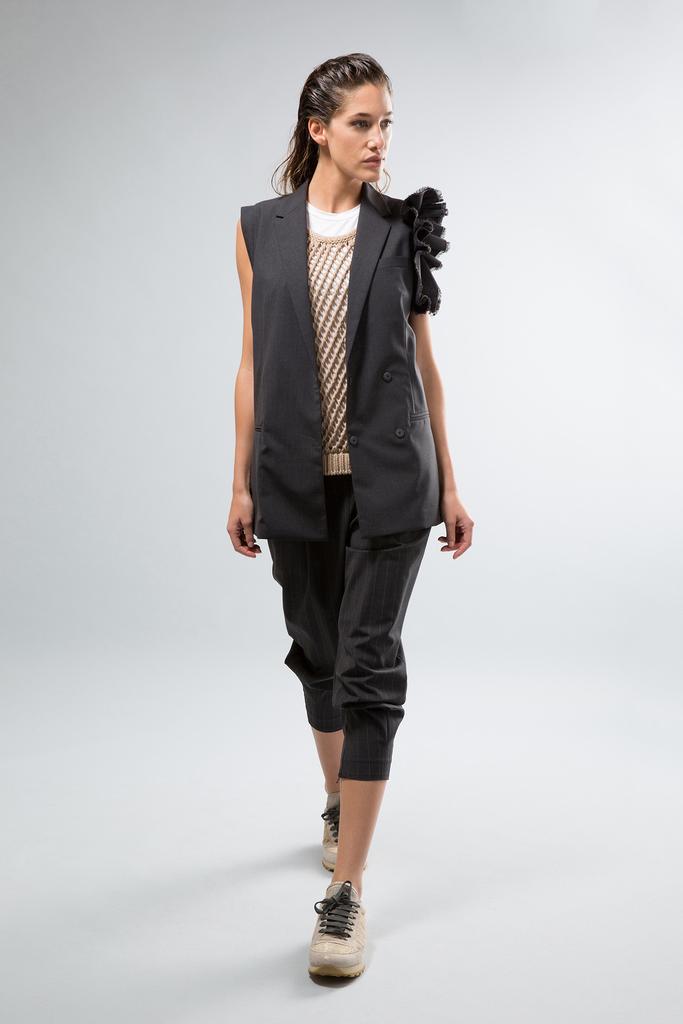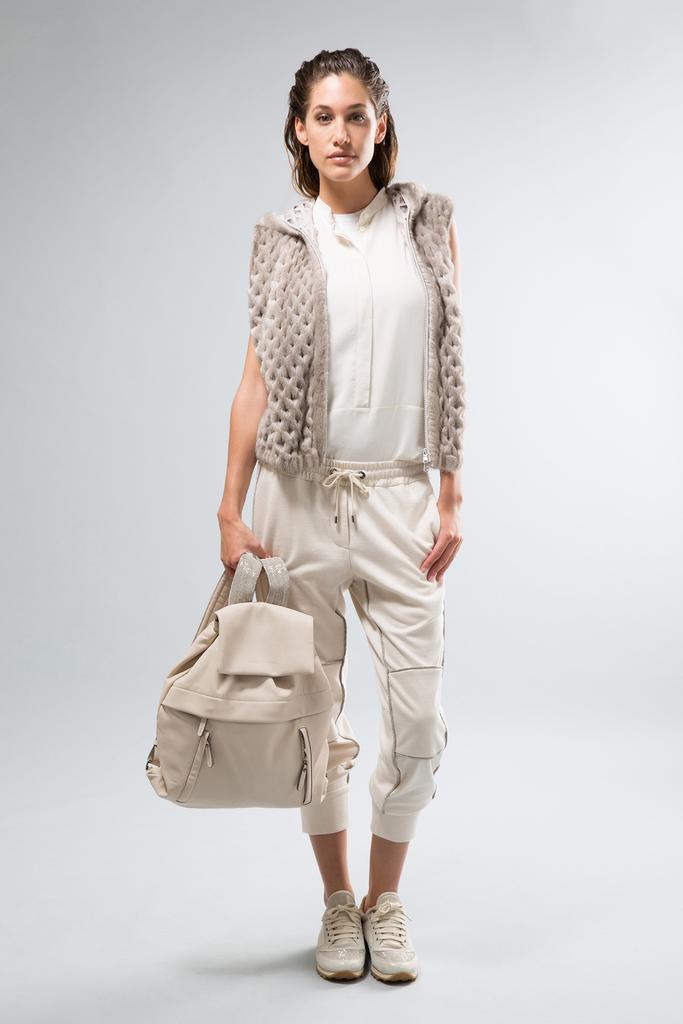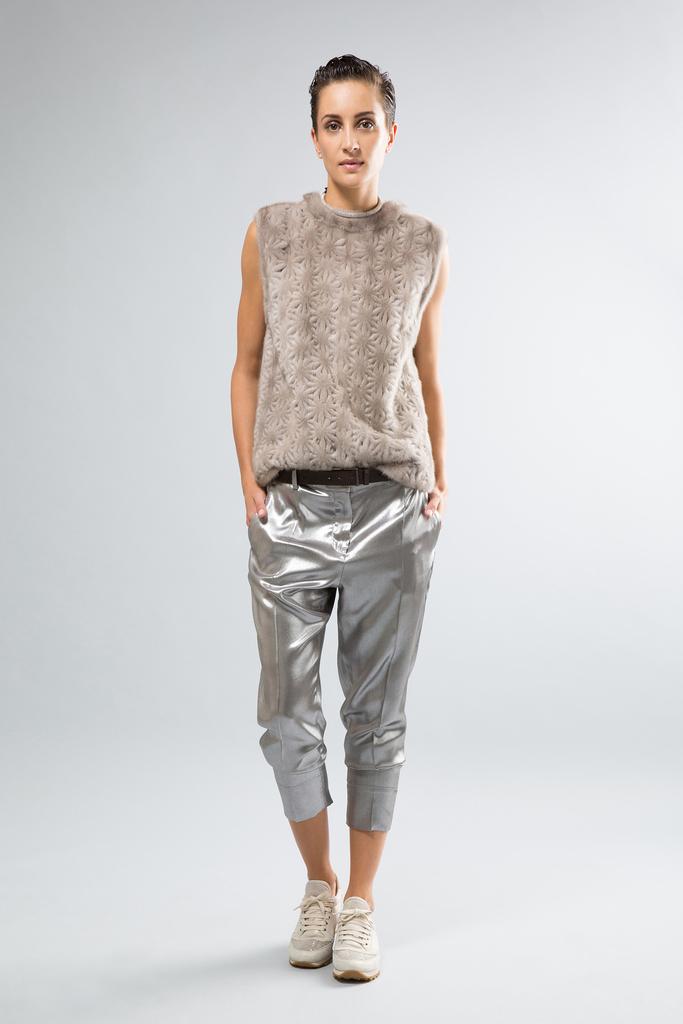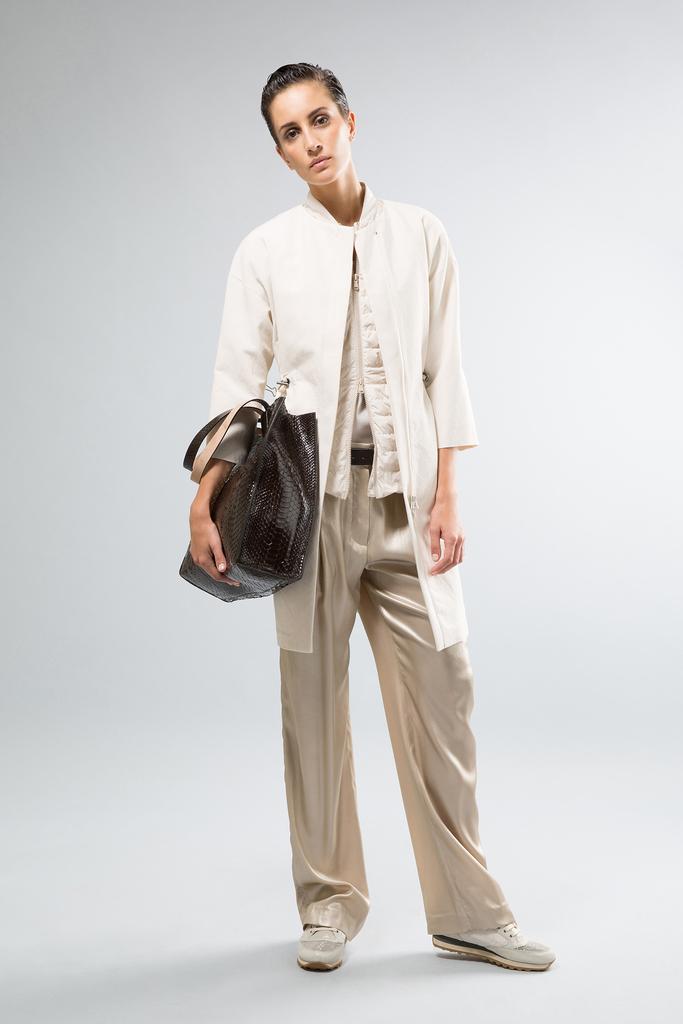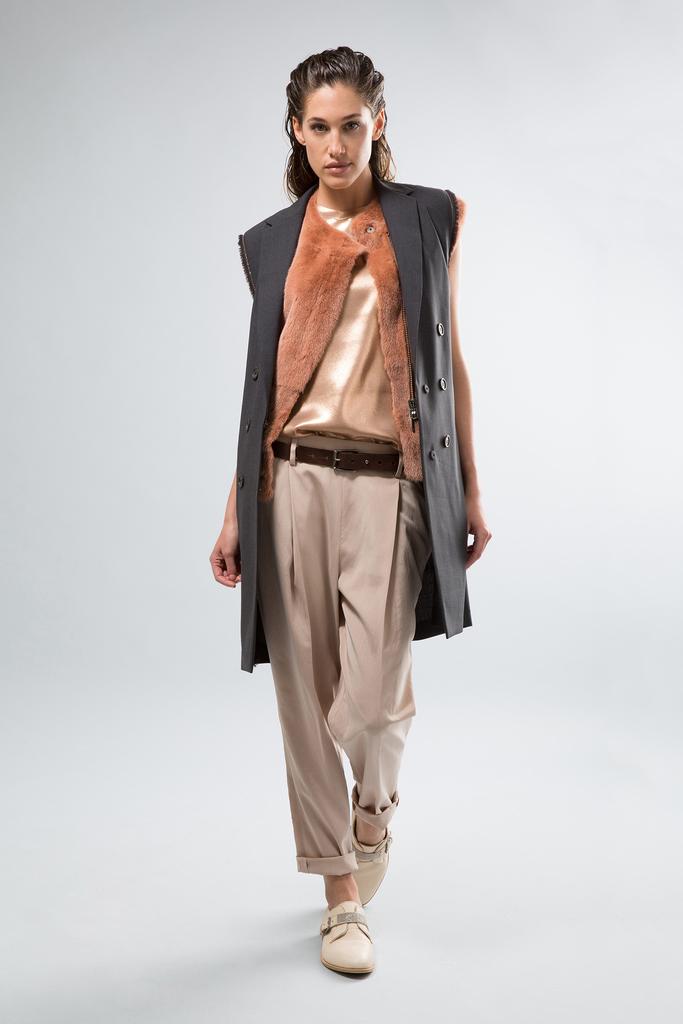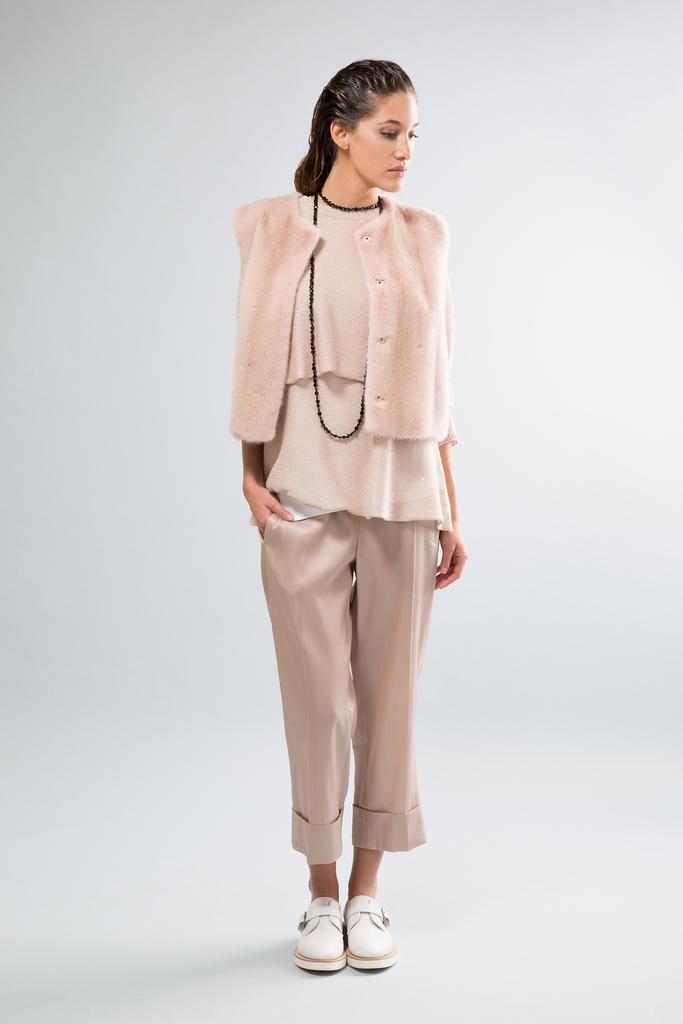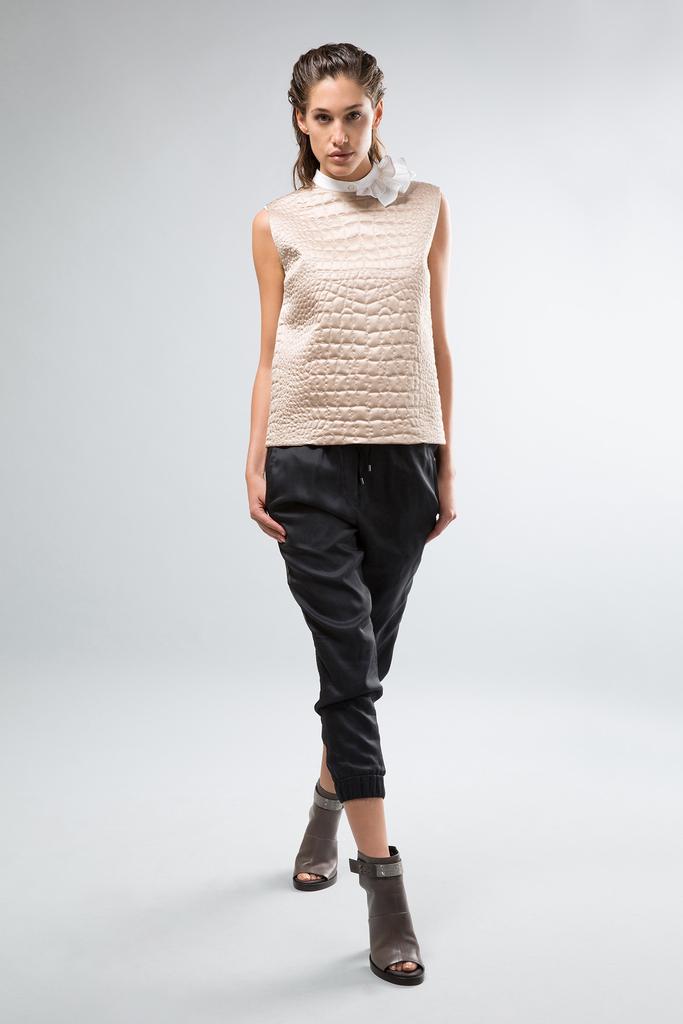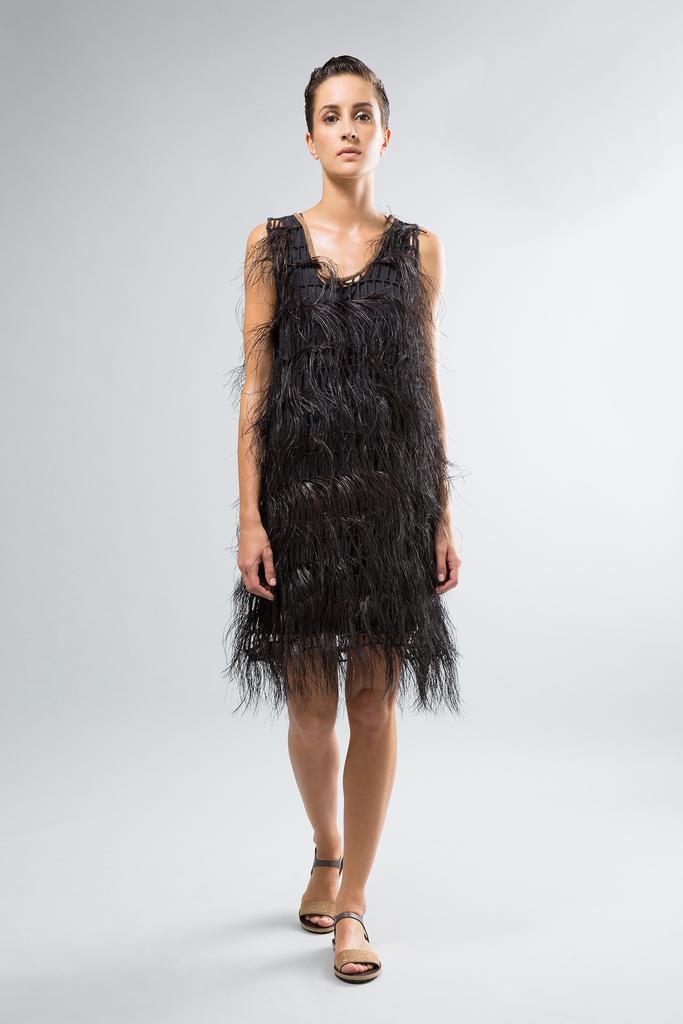 BRUNELLO CUCINELLI
So, if I have to decide WHOM to take to my desert island, it would be Chanel, Dolce & Gabbana, and anything and everything by the masters of luxurious sportswear Brunello Cucinelli. You'll be eating grilled cheese sandwiches and ramen noodles, but when all is said and done, you won't regret adding these pieces to your fashion repetoire. The clothing is well made, cool, and assembled from the most sumptuous fabrics known to man. The colors include a wide spectrum of pleasing neutrals which become a happy adjunct to whatever is dwelling in your closets, from black to any vibrant color in the crayola palette. Throw one of the shearling vests over one of the floral wonders from Alberta Ferreti or Blumarine to mix things up. There is the sequined contingent in every collection for low level blingage when you need that sparkle to add to jeans or khakis but don't want to get too fussy. The clothing is perfection and will pack easily for any possible sojourn you could imagine. And for the drama queens, there are the feathered entries!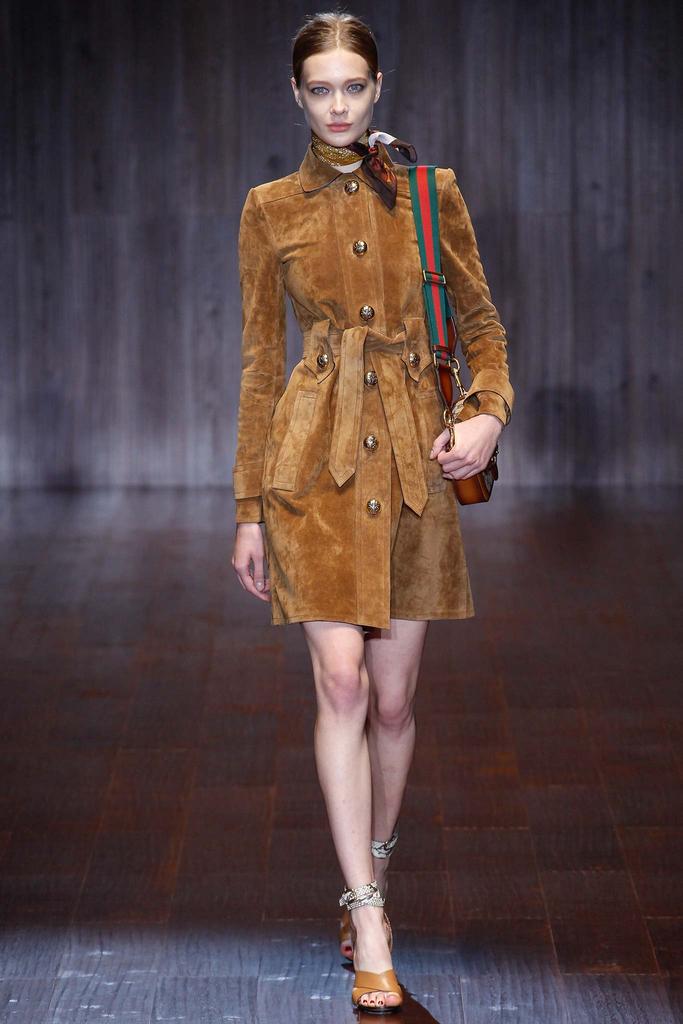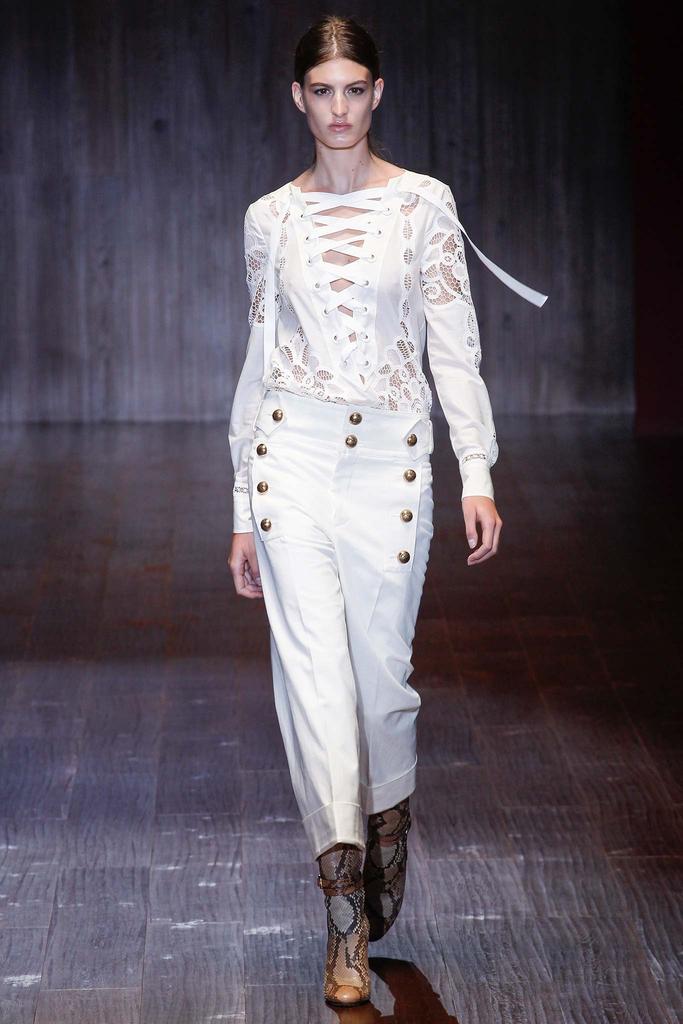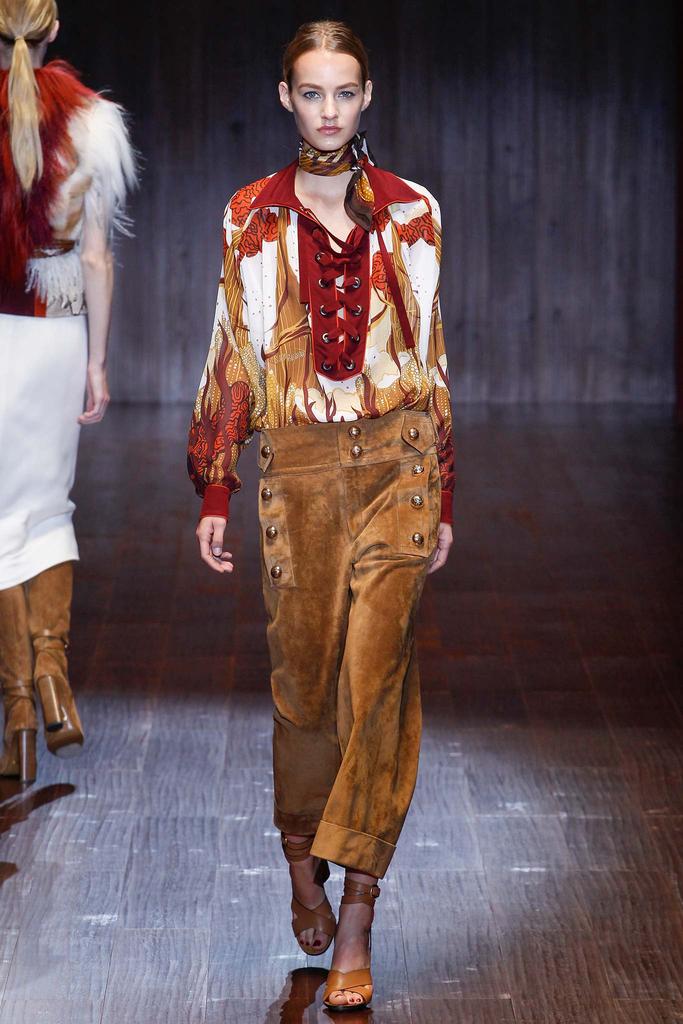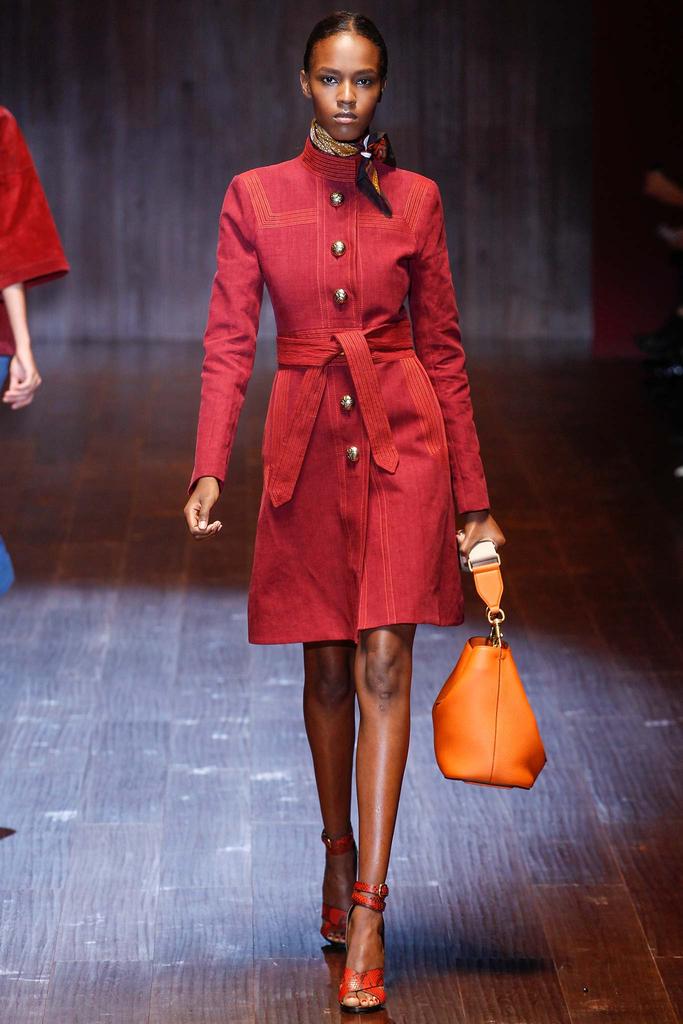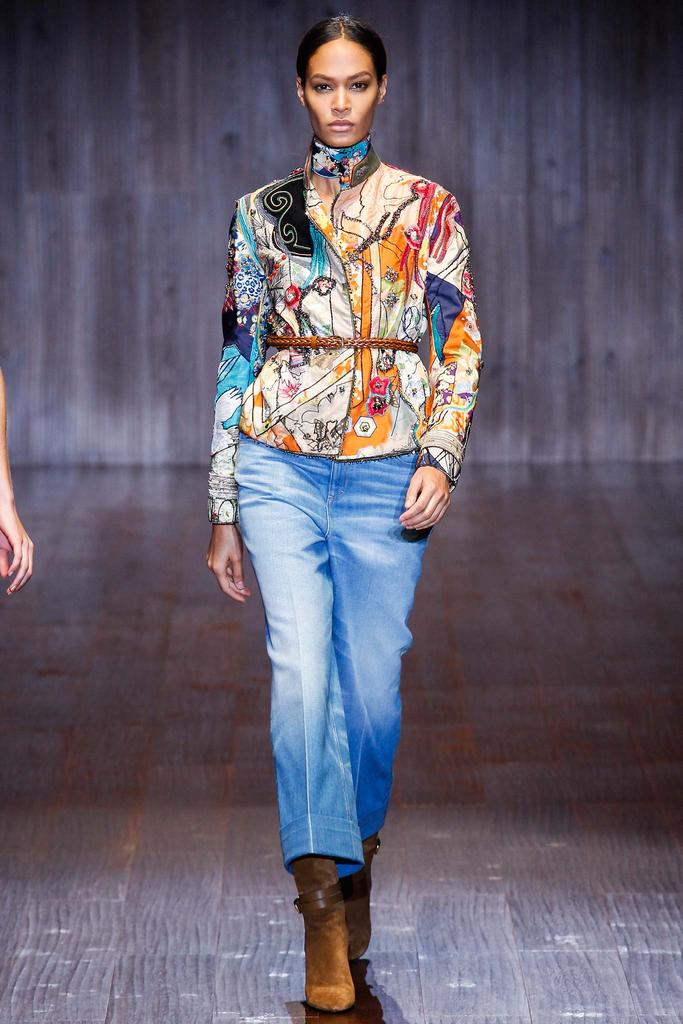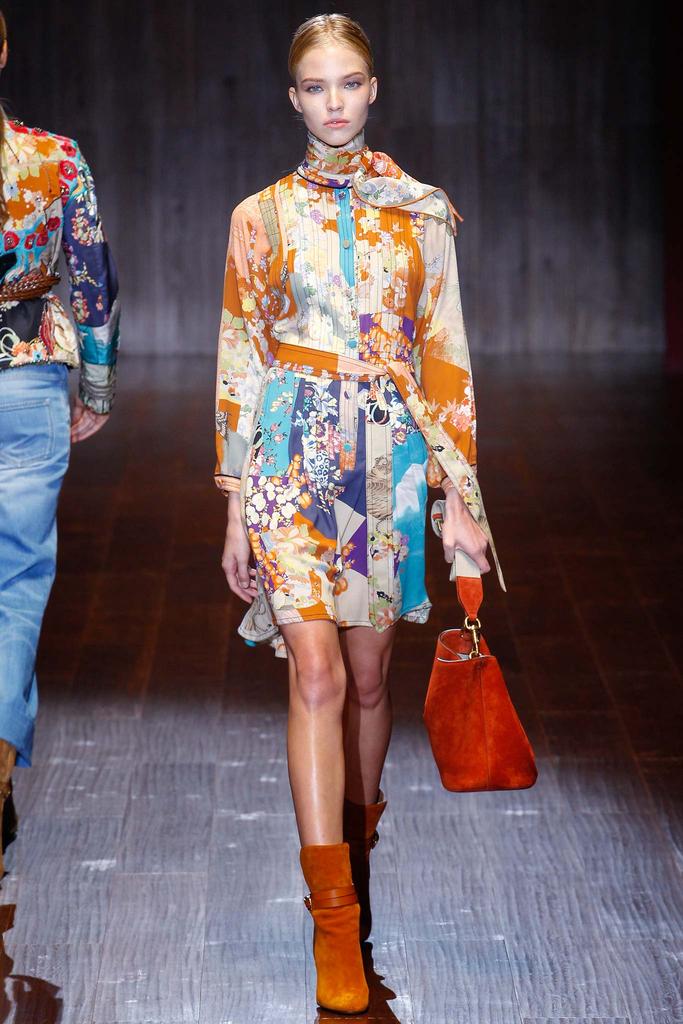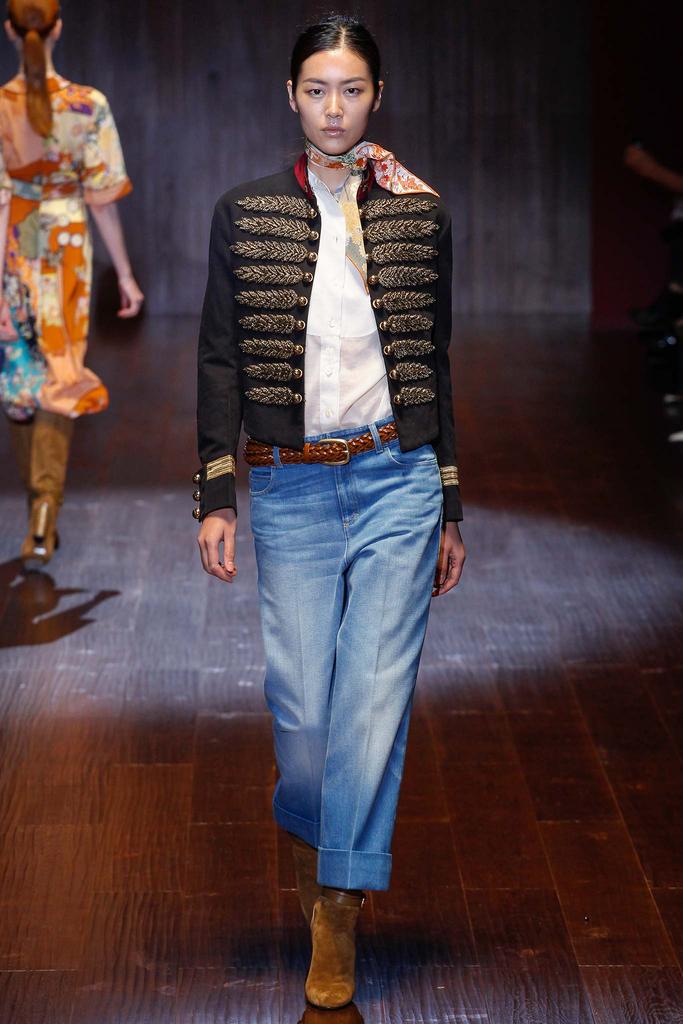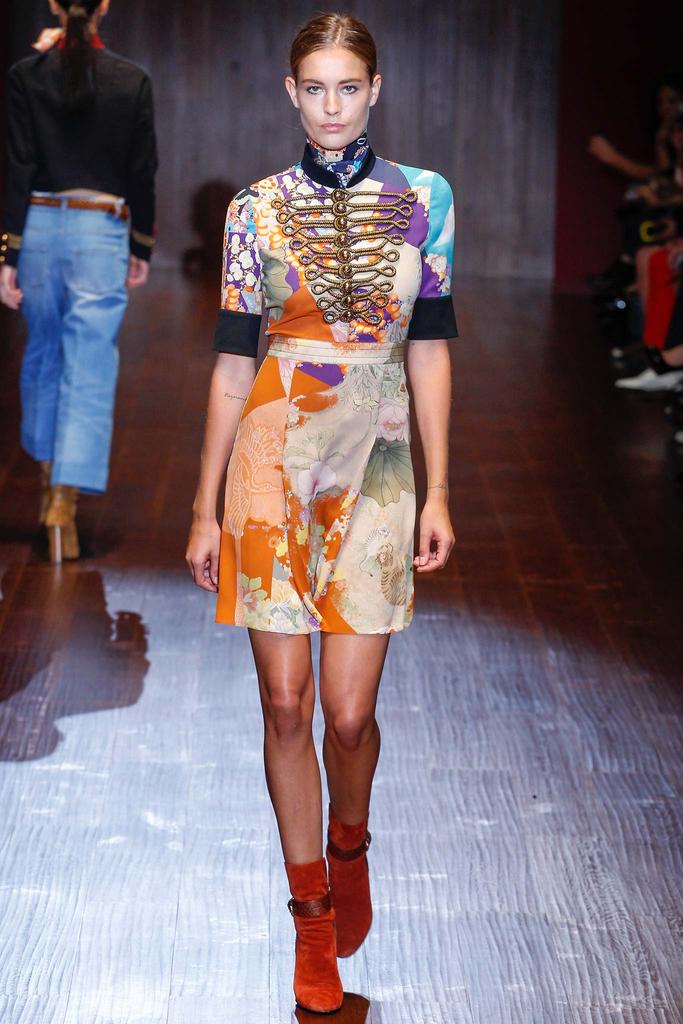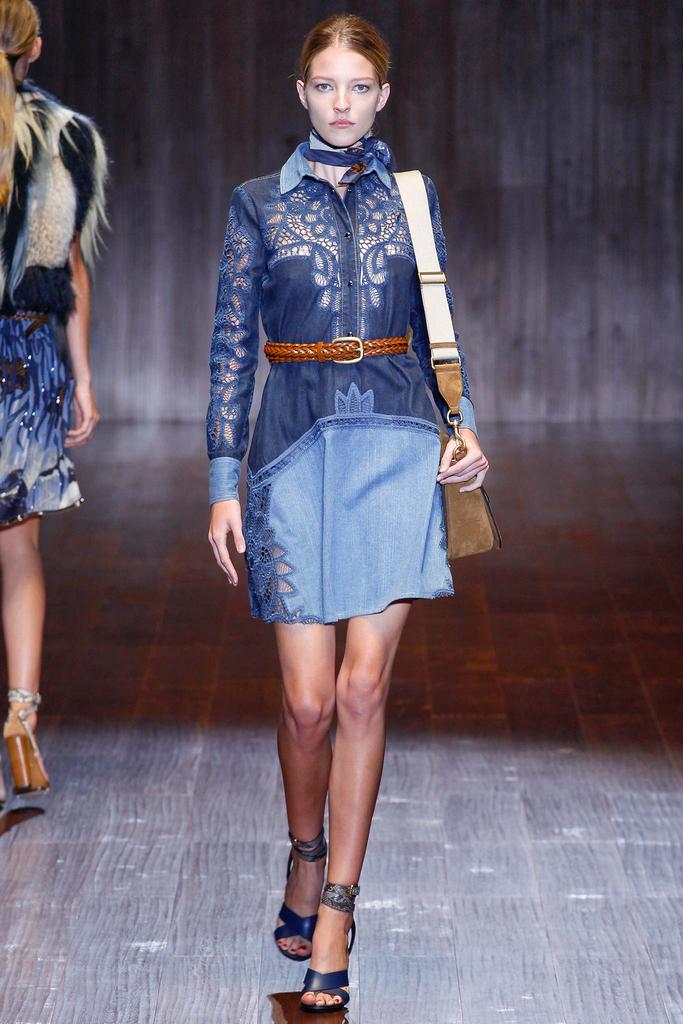 Broderie anglaise is a recurrent element in this collection, and gives the denim a straight laced (?) feel.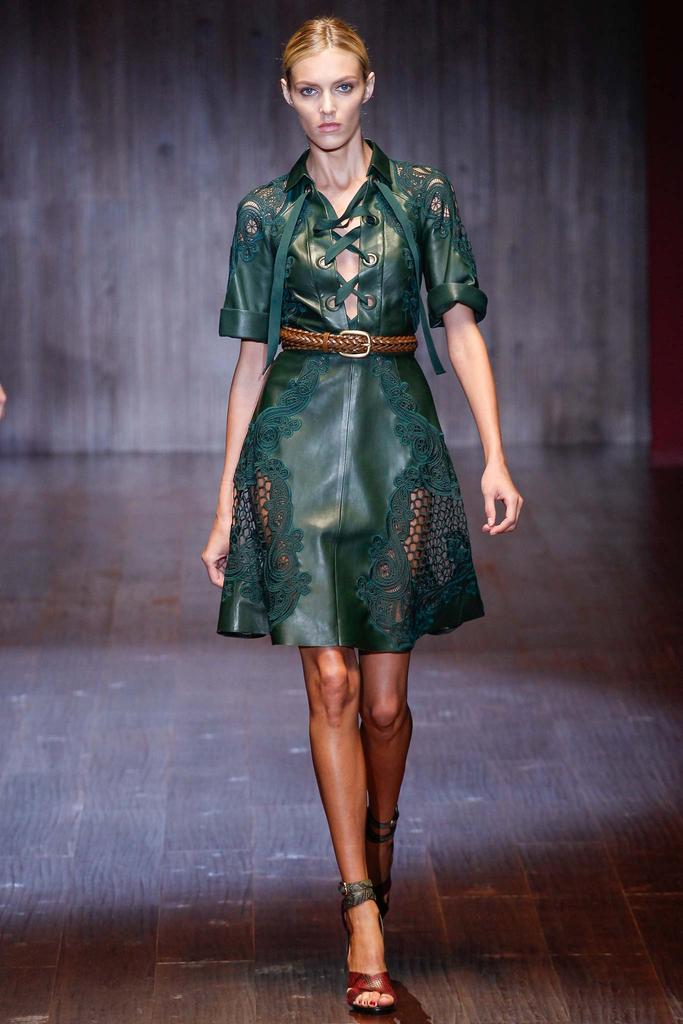 Another favorite amongst spectacular spring entries that proves all was not lost when Tom Ford departed Gucci. Broderie anglaise admixed with green LEATHER, in a wearable A line silhouette, with the bold grommet details. Go barefoot, wear with flats, over the knee boots, shoe booties.........Every thumb up on this masterpiece.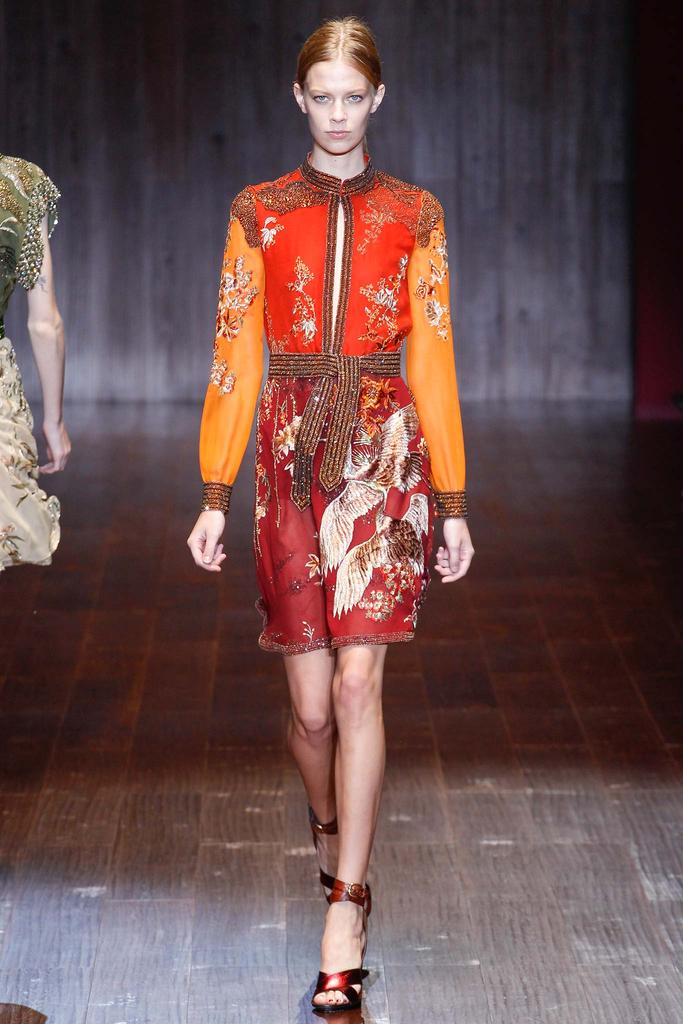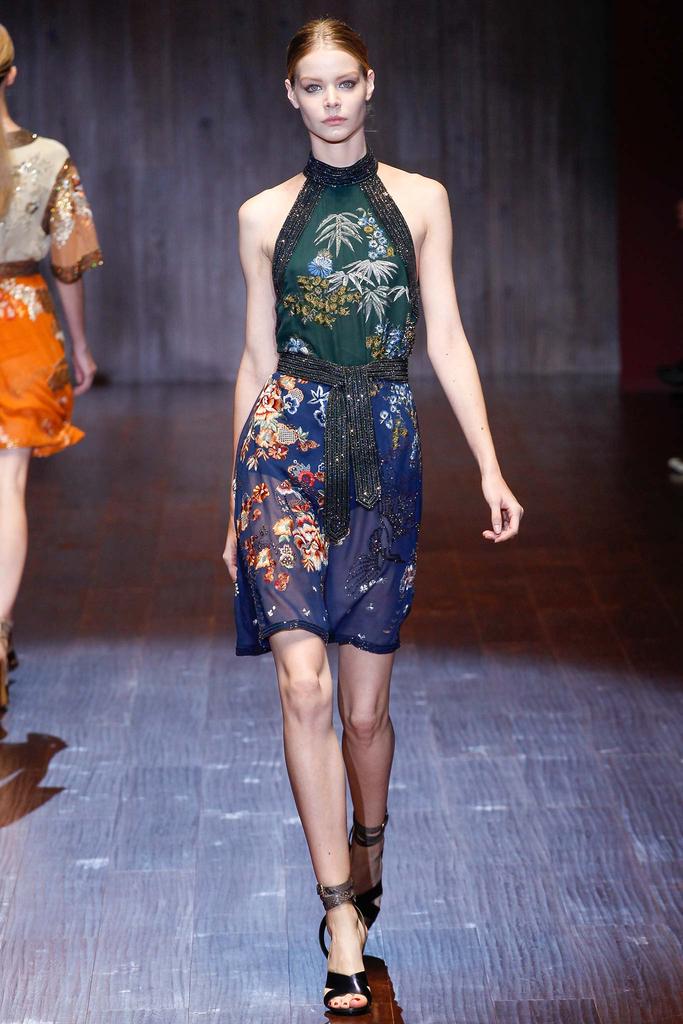 GUCCI
After flawlessly taking us back to the days of Jackie O with that dazzling fall winter collection, Frida Gianinni transports us back to the 70's with paradoxical semi casual yet opulent selections of well crafted finery. Adding chinoiserie and military elements to a collection including the iconic belted leather jacket, mini skirts, and hip hugging pants, was a stroke of genius. And then the coup de grace? Those spectacular chinoiserie silk frocks with flowers and cranes as focal points. Breathtaking.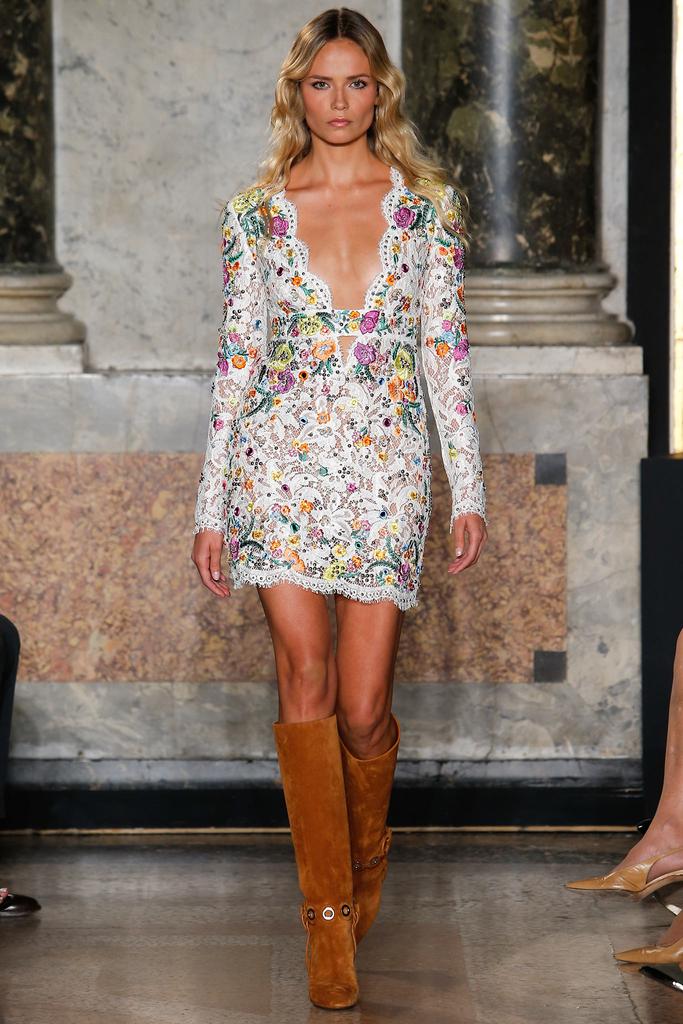 OK, BRACE yourself, its going to be a whirlwind of a ride through the 70's reimagined in THE most opulent runway feast yet. No piece of lace, bead, embroidery, or fringe has been left off the docket, thank goodness! I love ALL OF IT!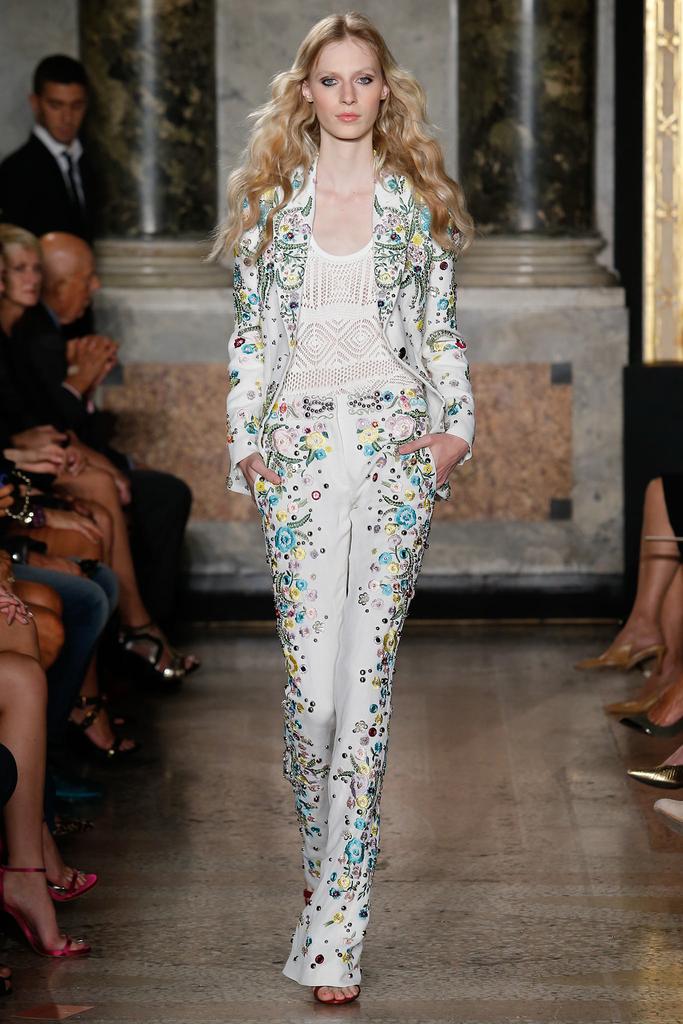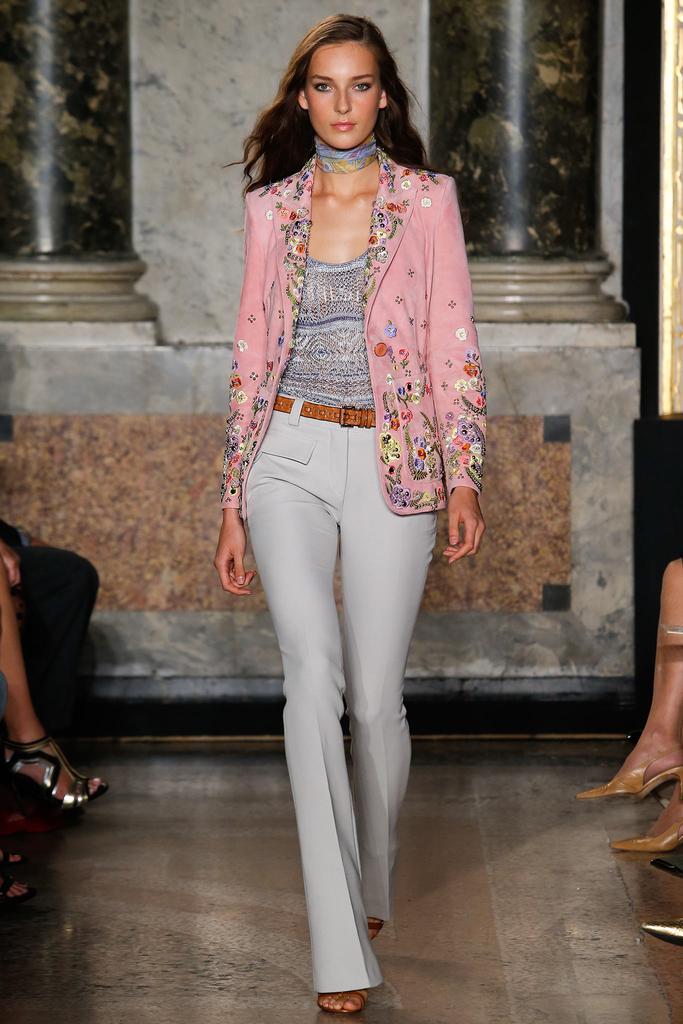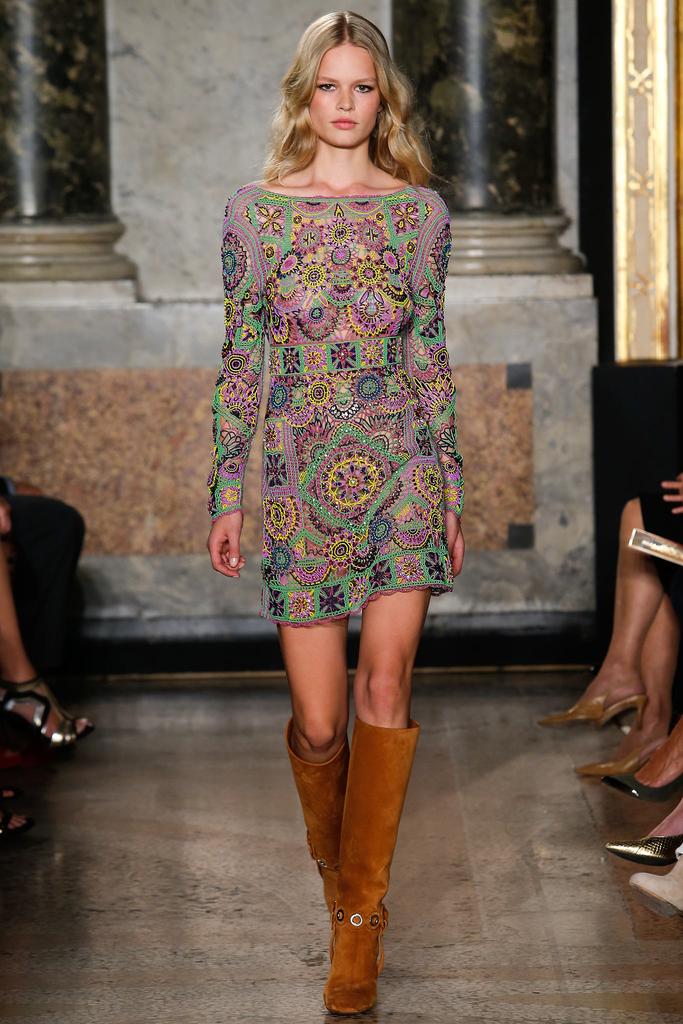 Just like all the fabulous Valentino minis, would work as a tunic as well.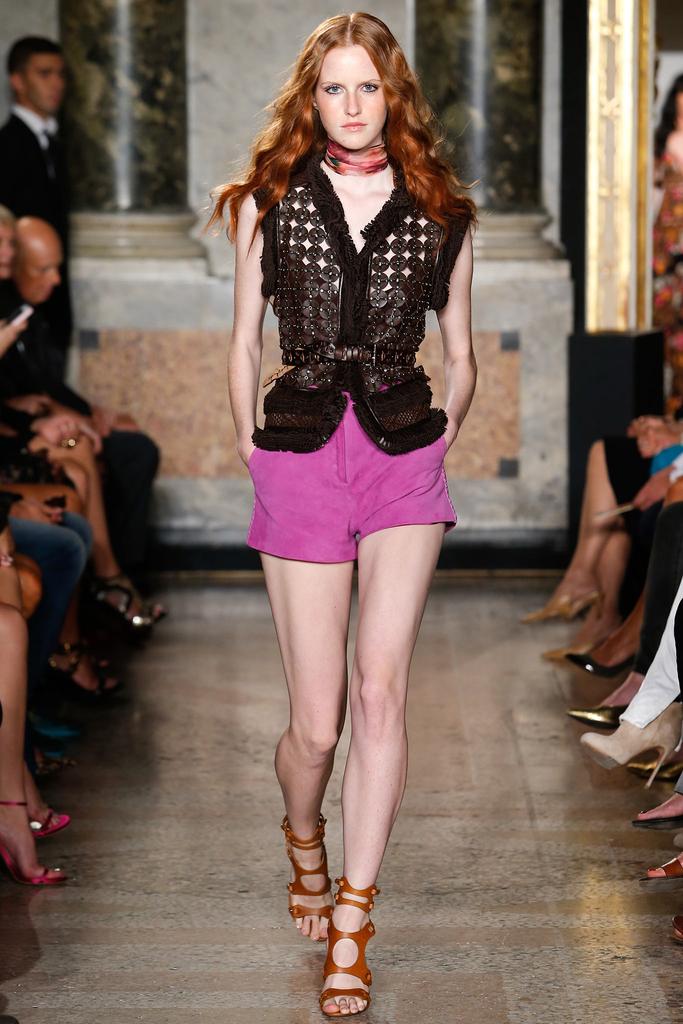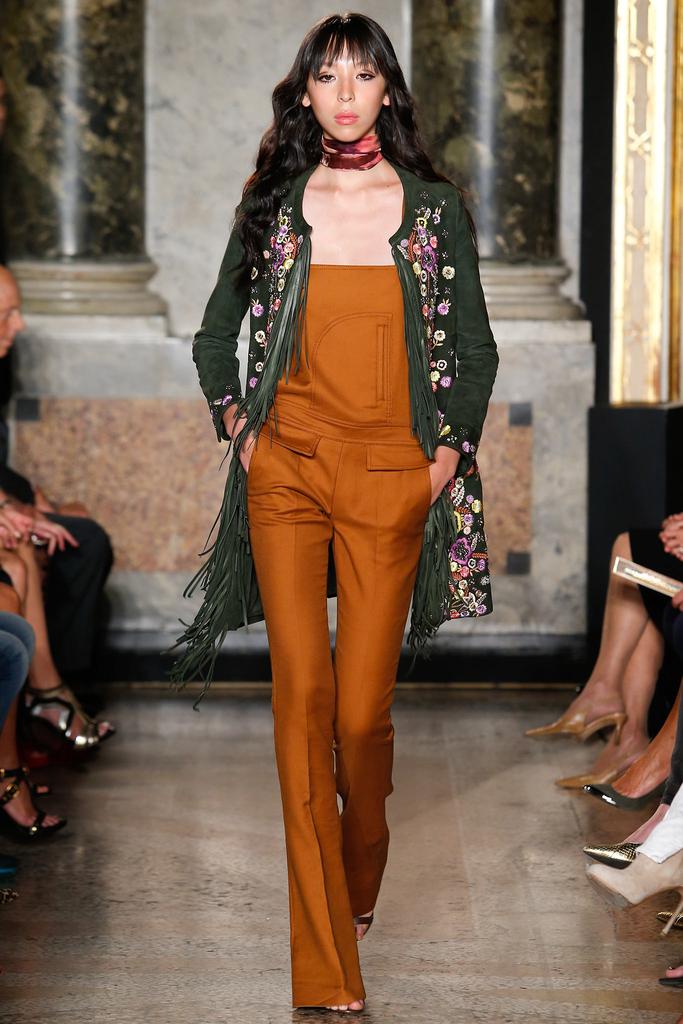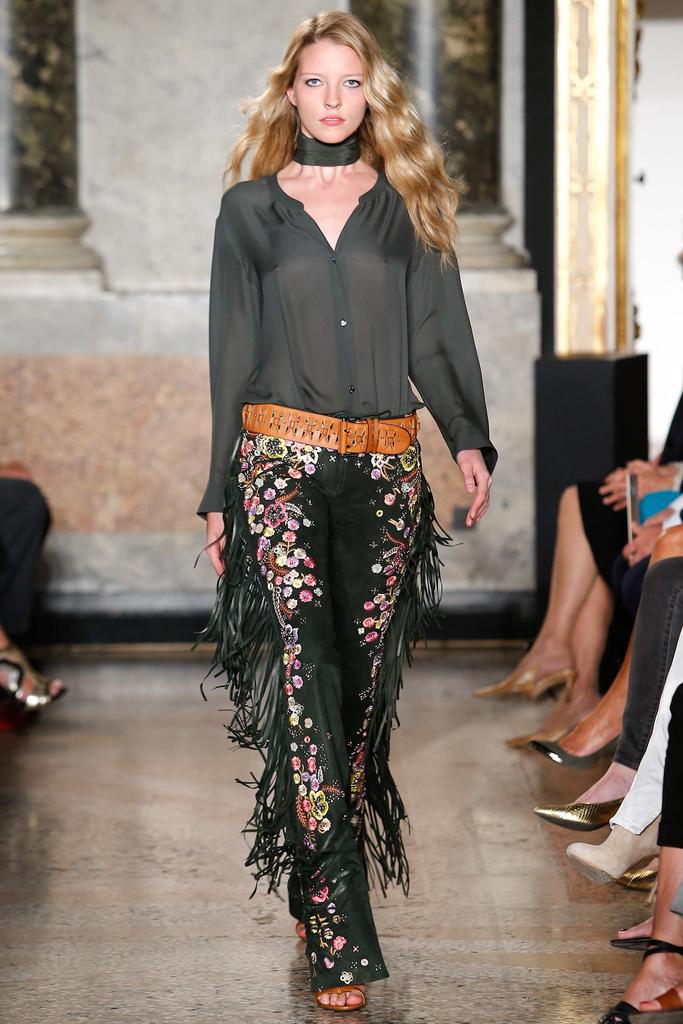 Embroidery as far as the eye can see with full on fringe, on GREEN leather. Only Pucci could pull off something so audaciously over the top. Get the jacket, get the chaps, they will be collectors items.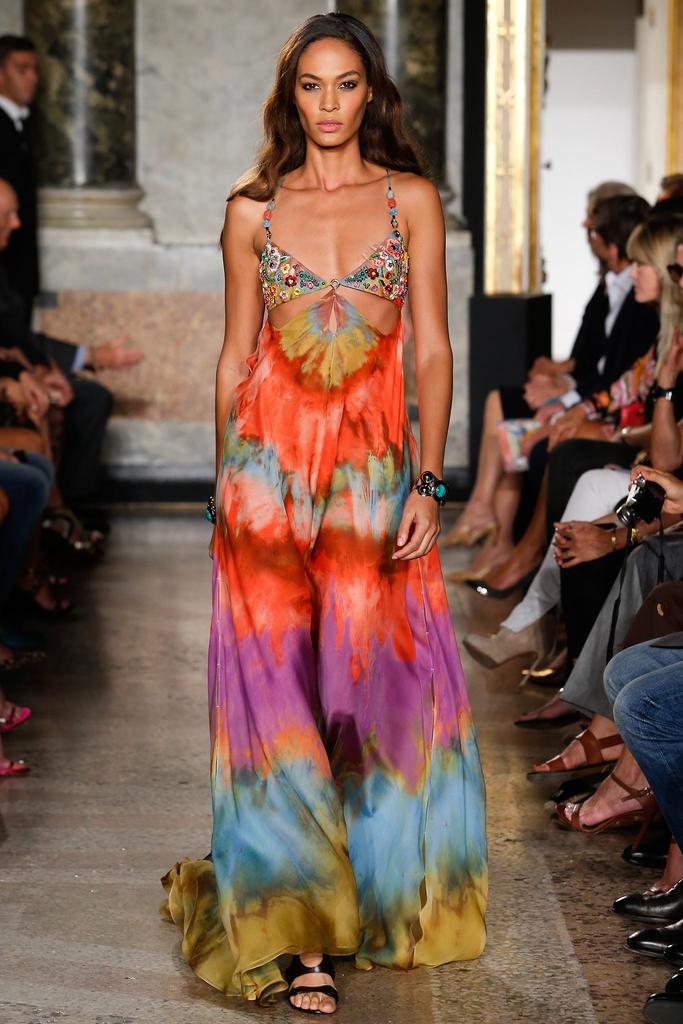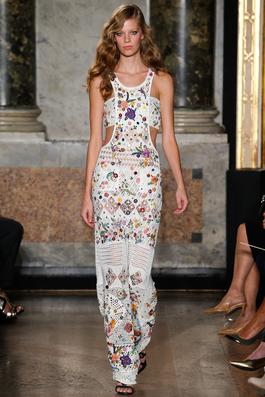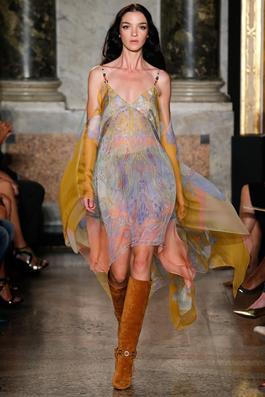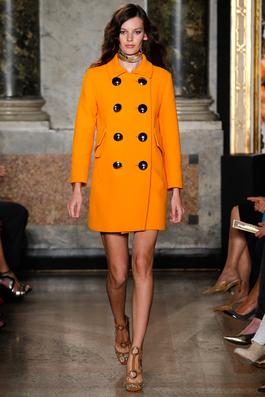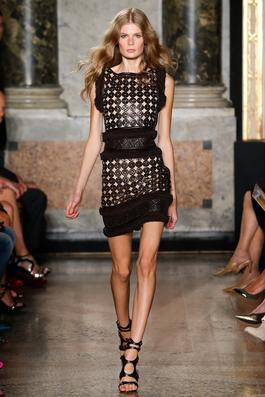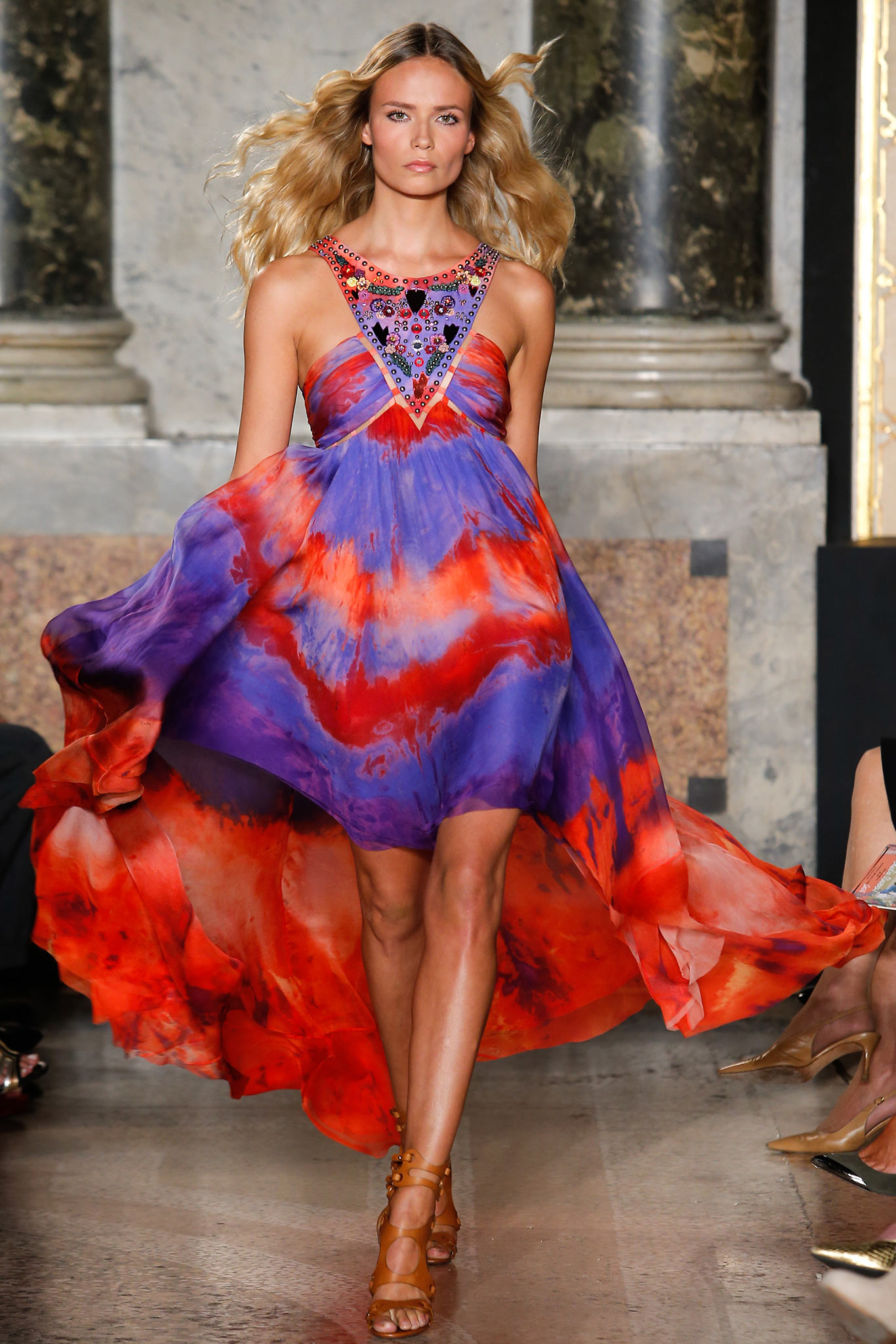 Ahhhh, the bejeweled tie died flowy diaphanous maxi's, you gotta love boho chic with a flair. Elvis and Liberace are in the House!
More Milan to follow....
Images brought to you by www.style.com.