As per tradition, Louis Vuitton is the ultimate show in the glamorous runway follies that begin in New York and end in Paris. I don't know the origin of this tradition, but it somehow makes sense in that both Marc Jacobs and Nicolas Ghesquiere have produced some of the most heralded and anticipated collections, up there with Dolce & Gabbana, Chanel, and Valentino. These houses produce quite disparate assemblies that have in common a unique vision brought to fruition by many talented artisans, and a vigorous loyal following. I can only imagine the breathless sighs as the 52 looks came ambling down the runway.
Ghesquiere has cobbled together yet another engaging series of collectibles that include edgy motorcycle chic with an air of Mad Max Fury Road, upscale modern sporty togs, boho with a twist (cue the multicolored sequins), and even what seems an homage to Dior and the Bar jacket!
I love these collections as they always include unexpected elements rendered in figure flattering silhouettes with impeccable tailoring. The palette tends towards wearable neutrals with the occasional wacky print or motif. Usually there will be just a hint of RED. And of course just enough non-sequiturs to keep things endlessly interesting.
LOUIS VUITTON FALL WINTER 2016: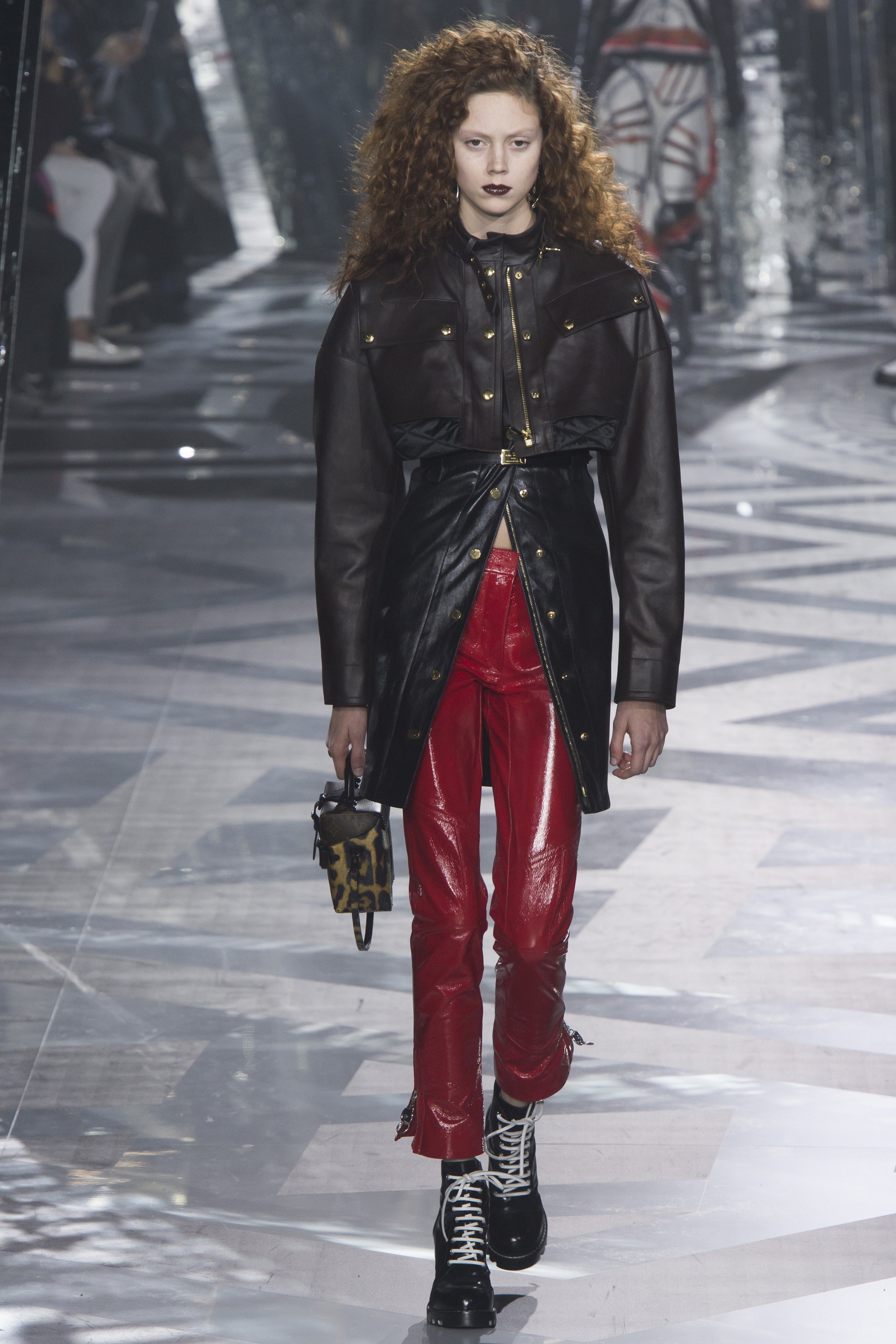 The jackets and coats give the most bang for the buck, and the leathers are some of the best in fashion today. The moto pants are a running theme that always strike a modern note. And for the pragmatists, you can wear these babies with pretty much anything.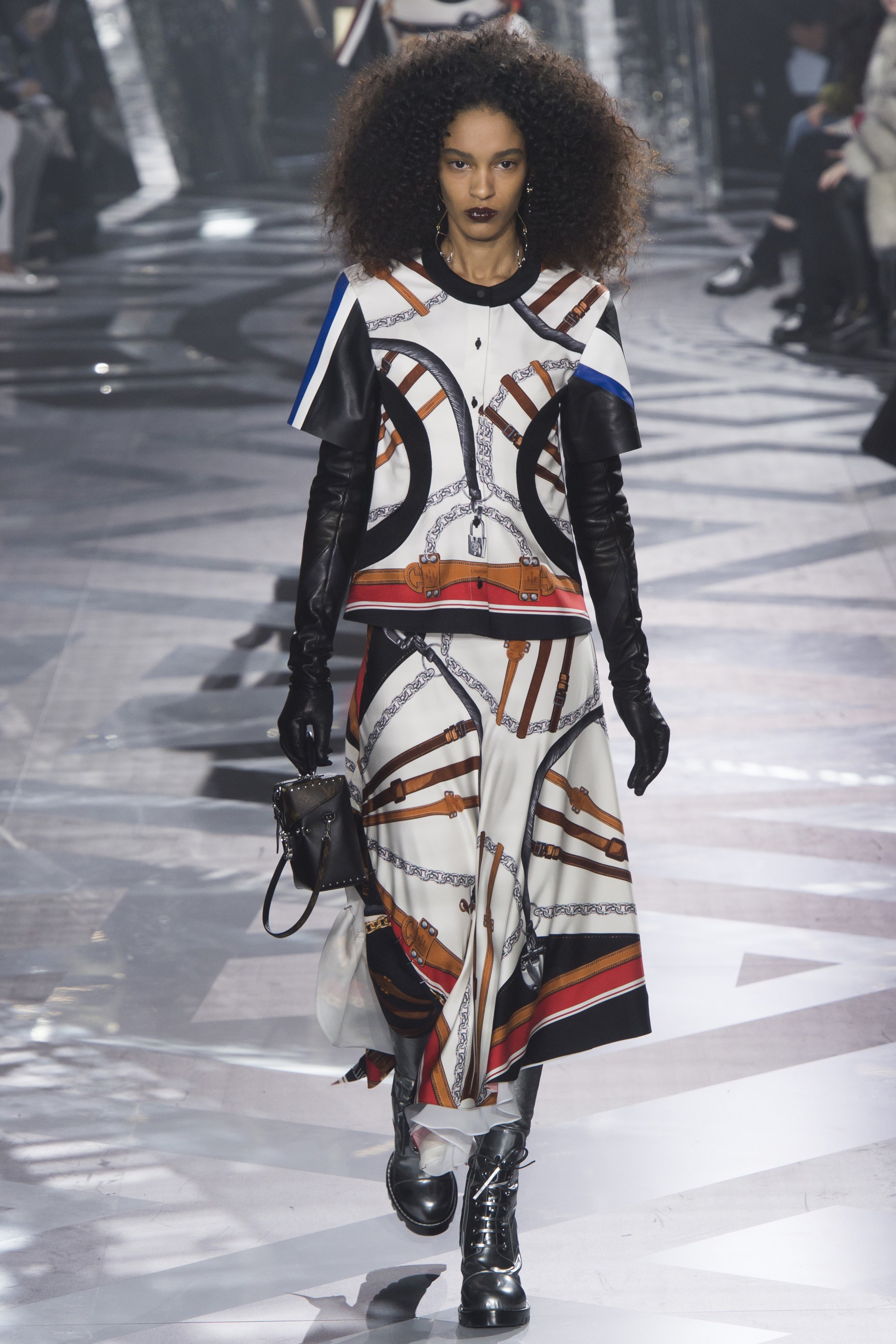 There always seems to be an abstract equestrian beat to the tune. With surreptitious bondage as well? And the tony motif and feminine ruffle presence are tempered by funky combat boots. Always think to mix the iconic feminine with something masculine to avoid ennui.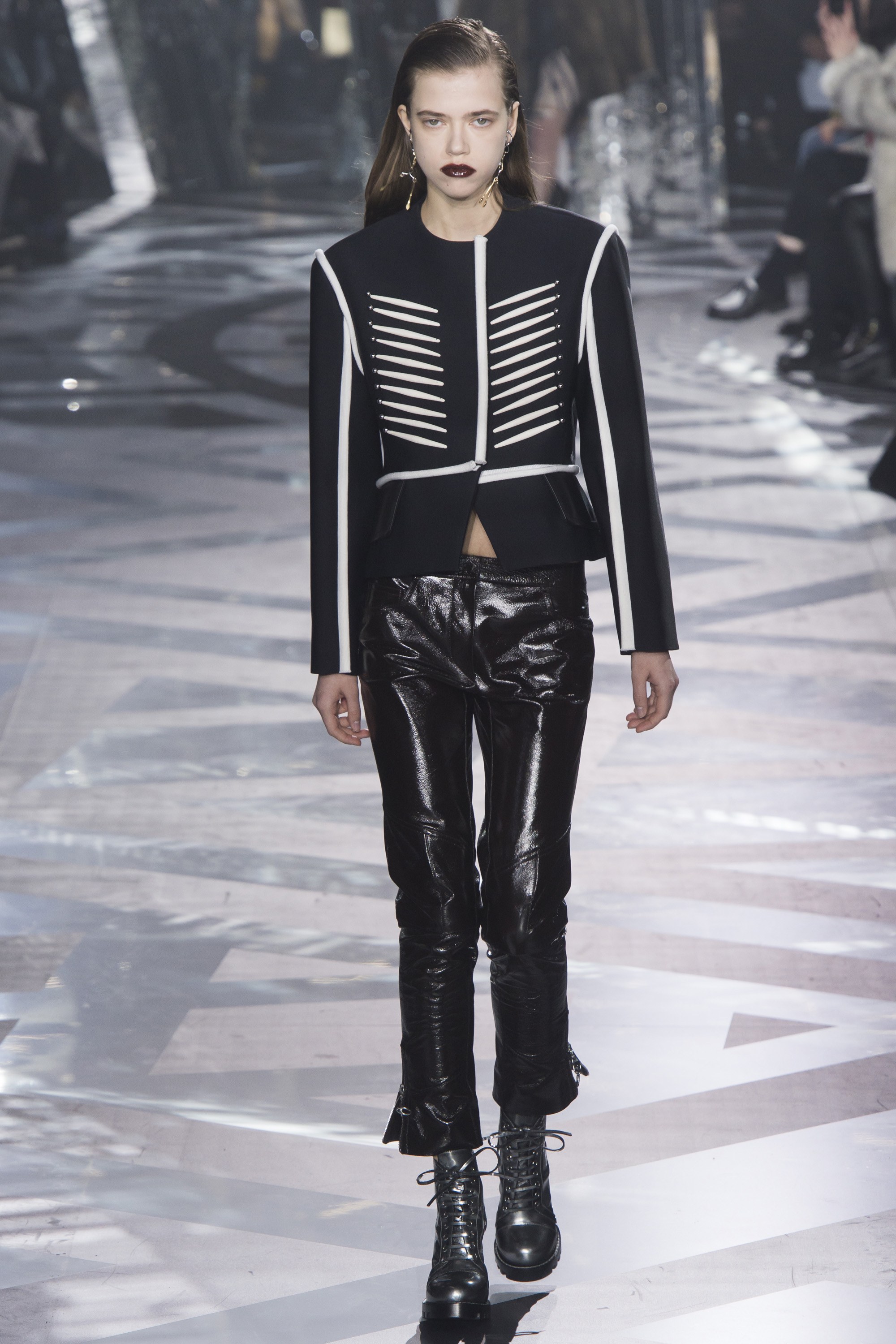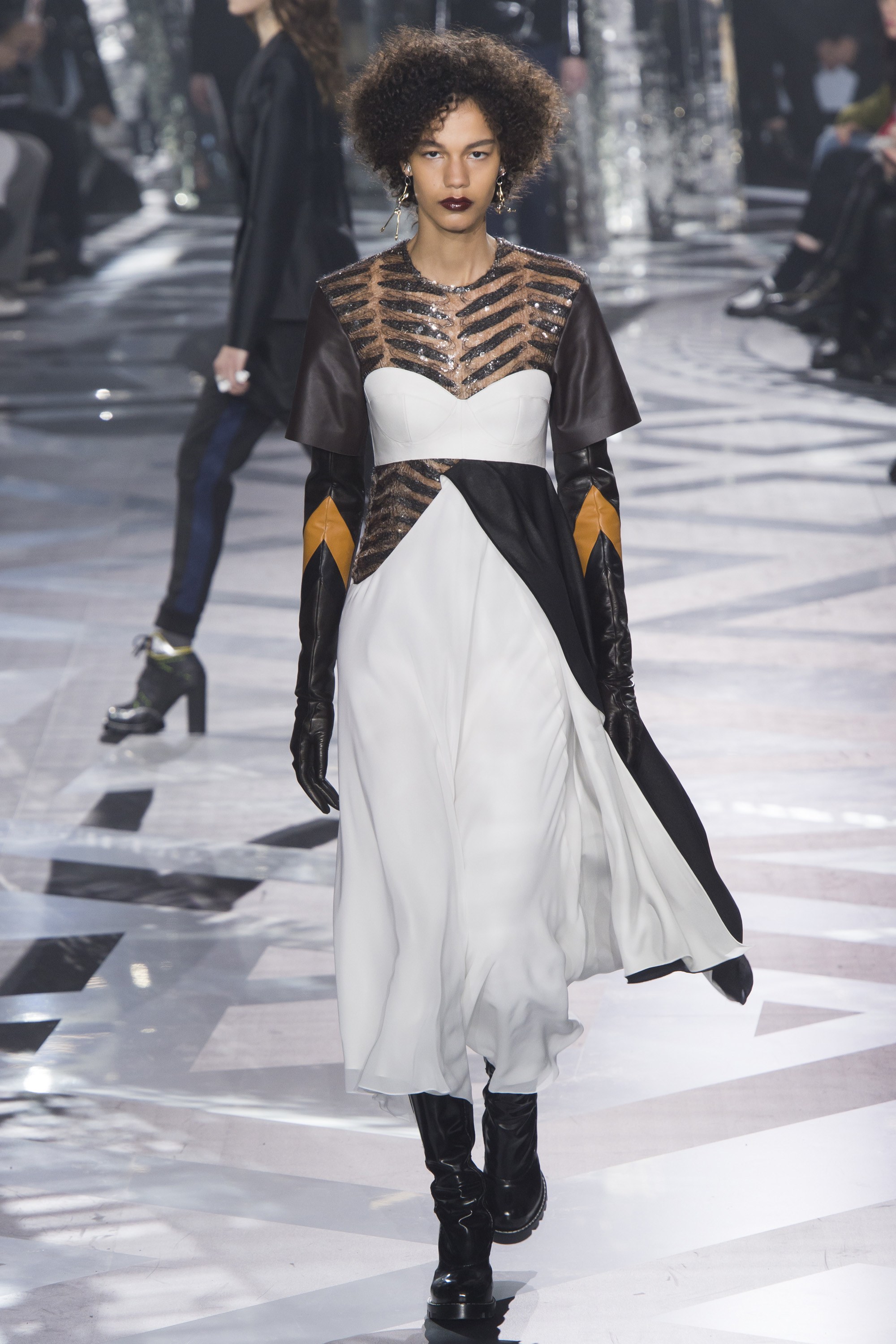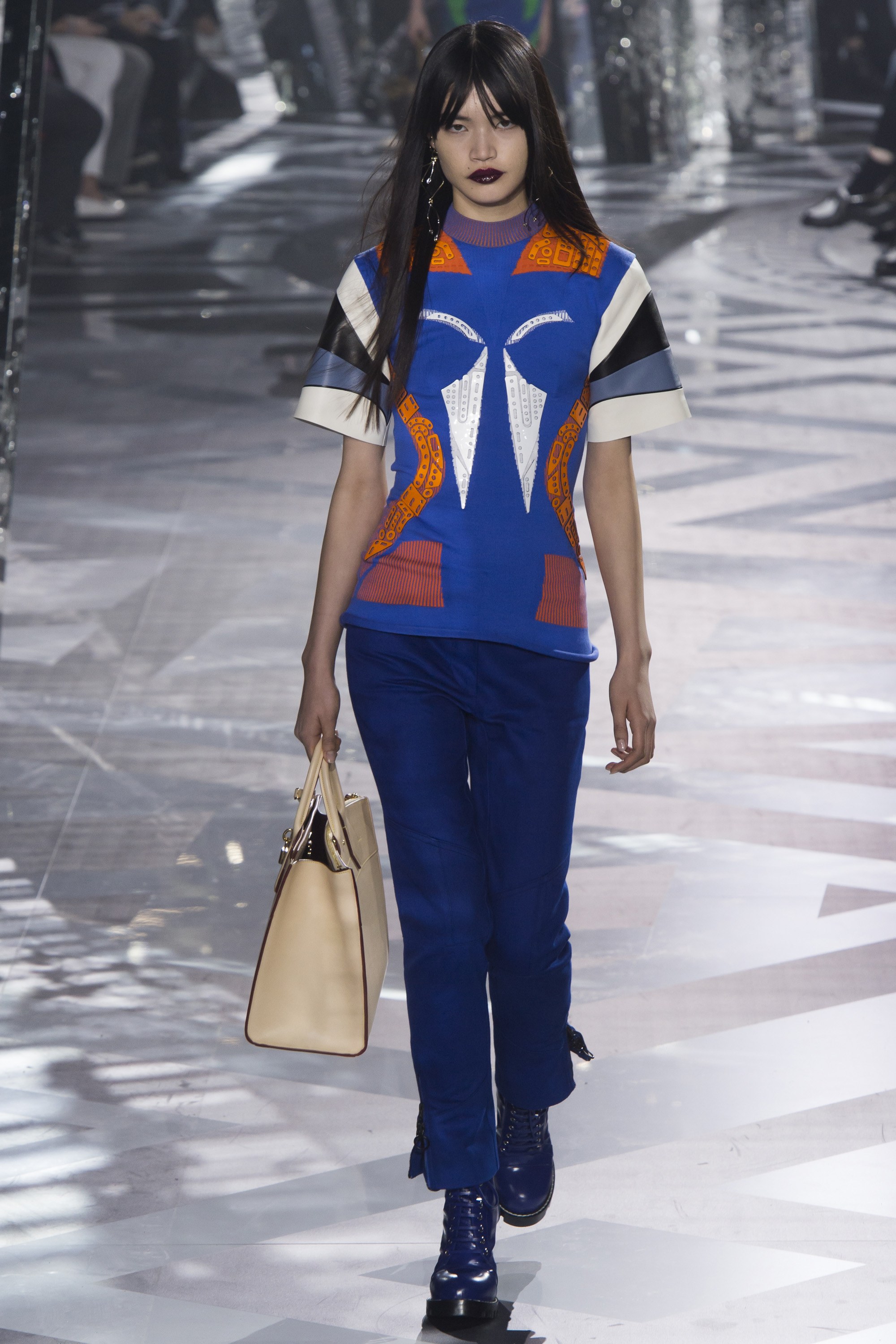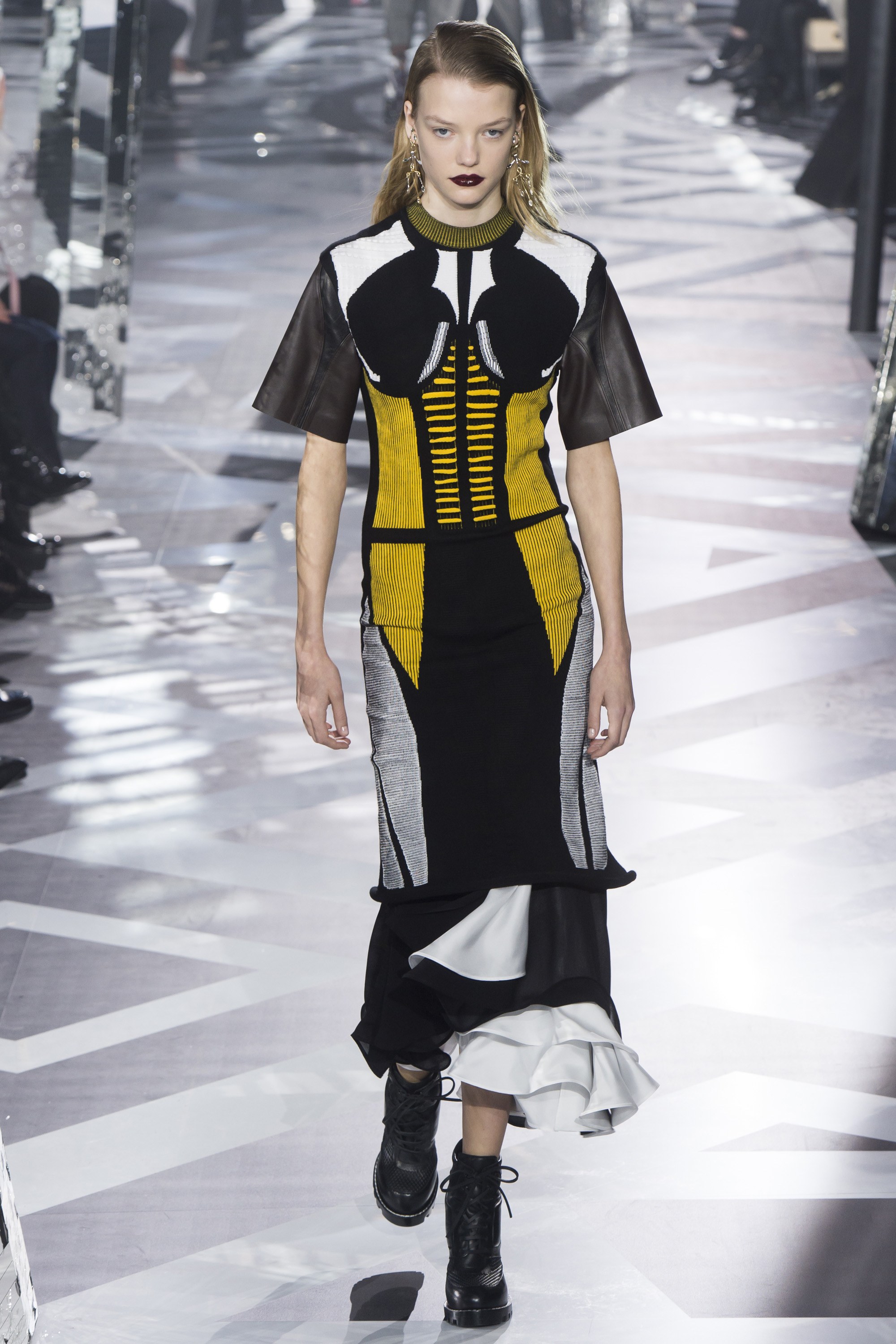 I love the competing elements to many of the looks, with fitted tops emblazoned with an abstract pattern (bringing to mind a surreal anatomy lesson) thrown over silky flowy skirts.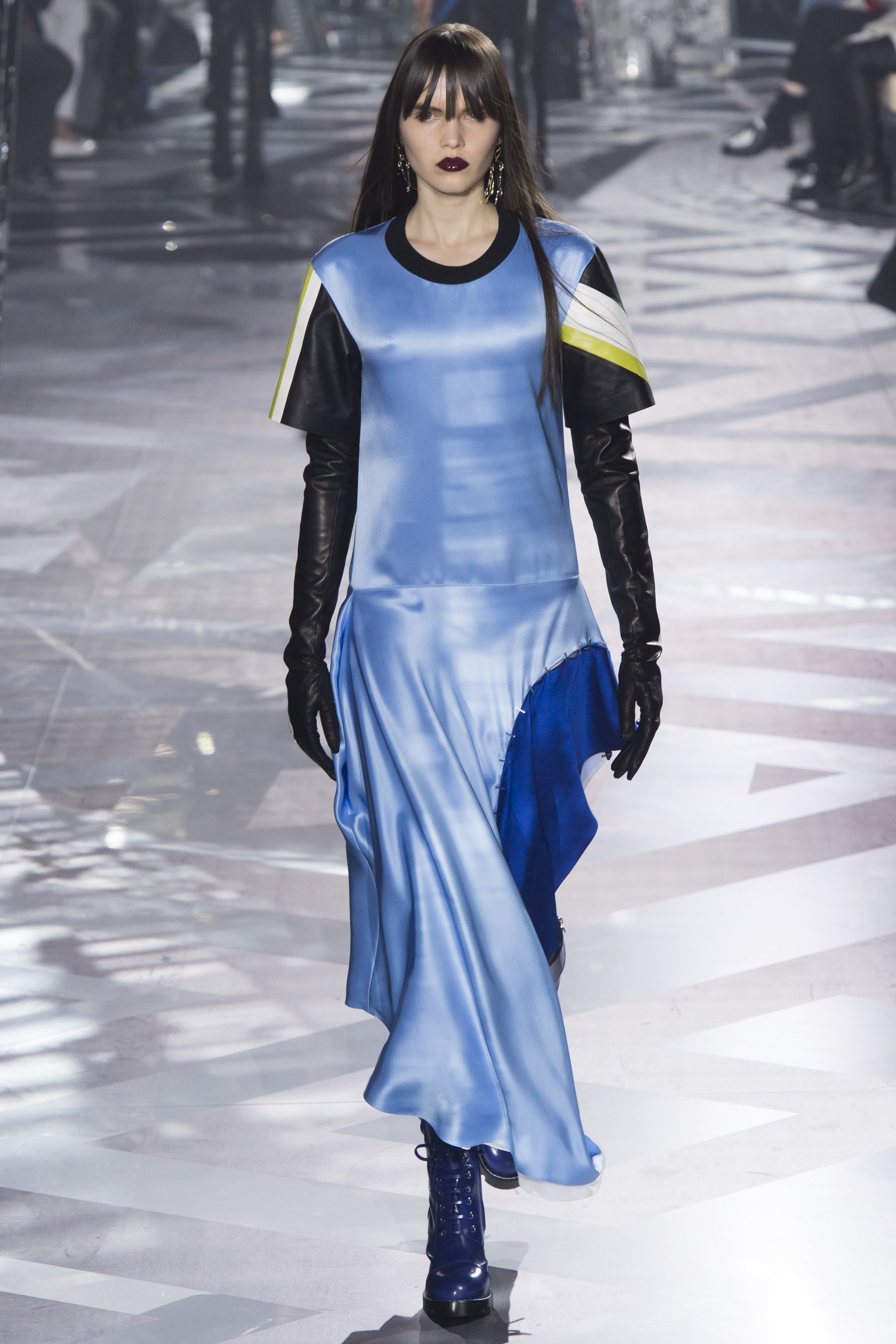 Love the latter day Frankenstein cut of this jib.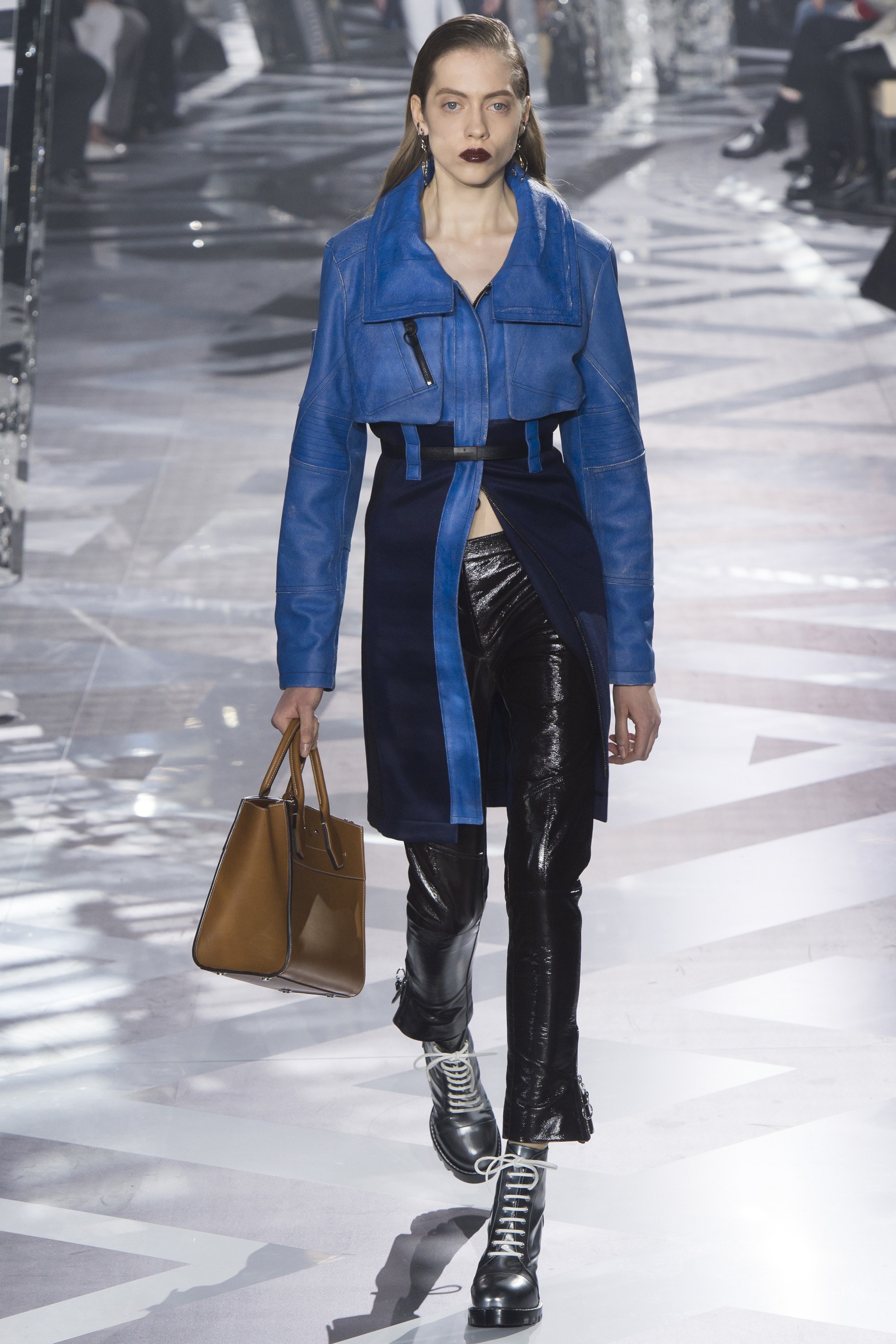 A motorcycle jacket mixes its DNA with a trench, and the result? A hip alluring jacket we've never seen before.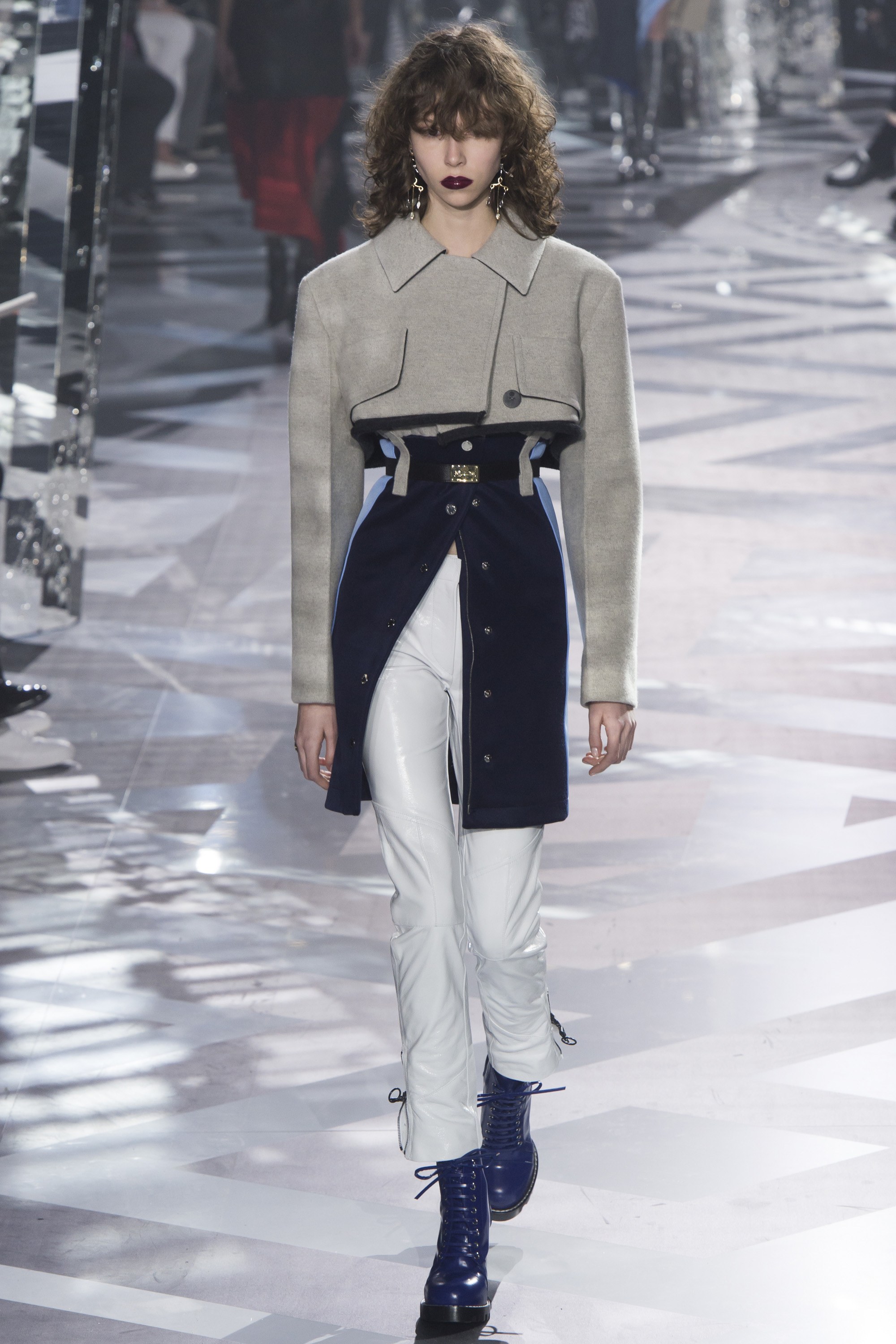 Another curious genetic experiment from LV.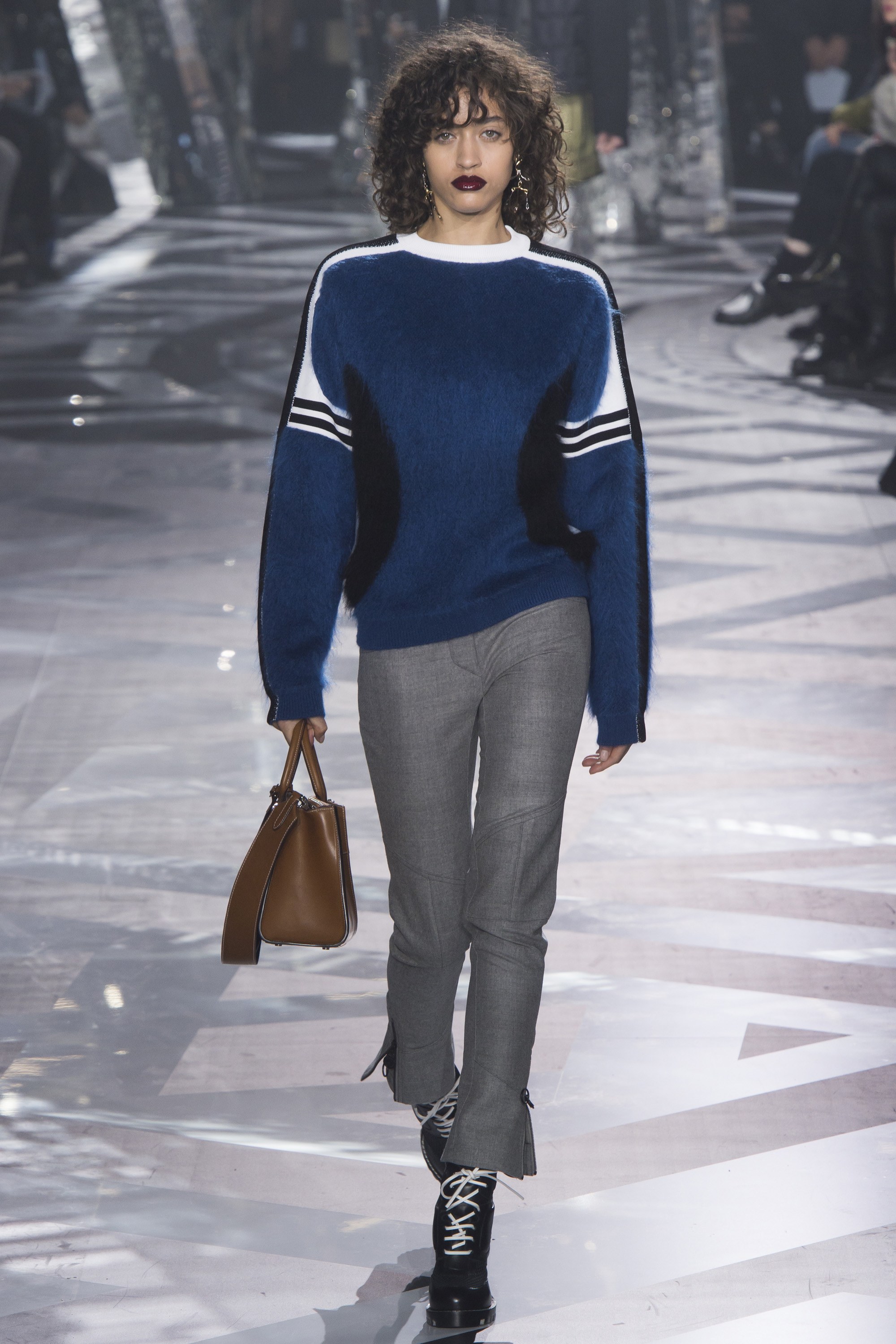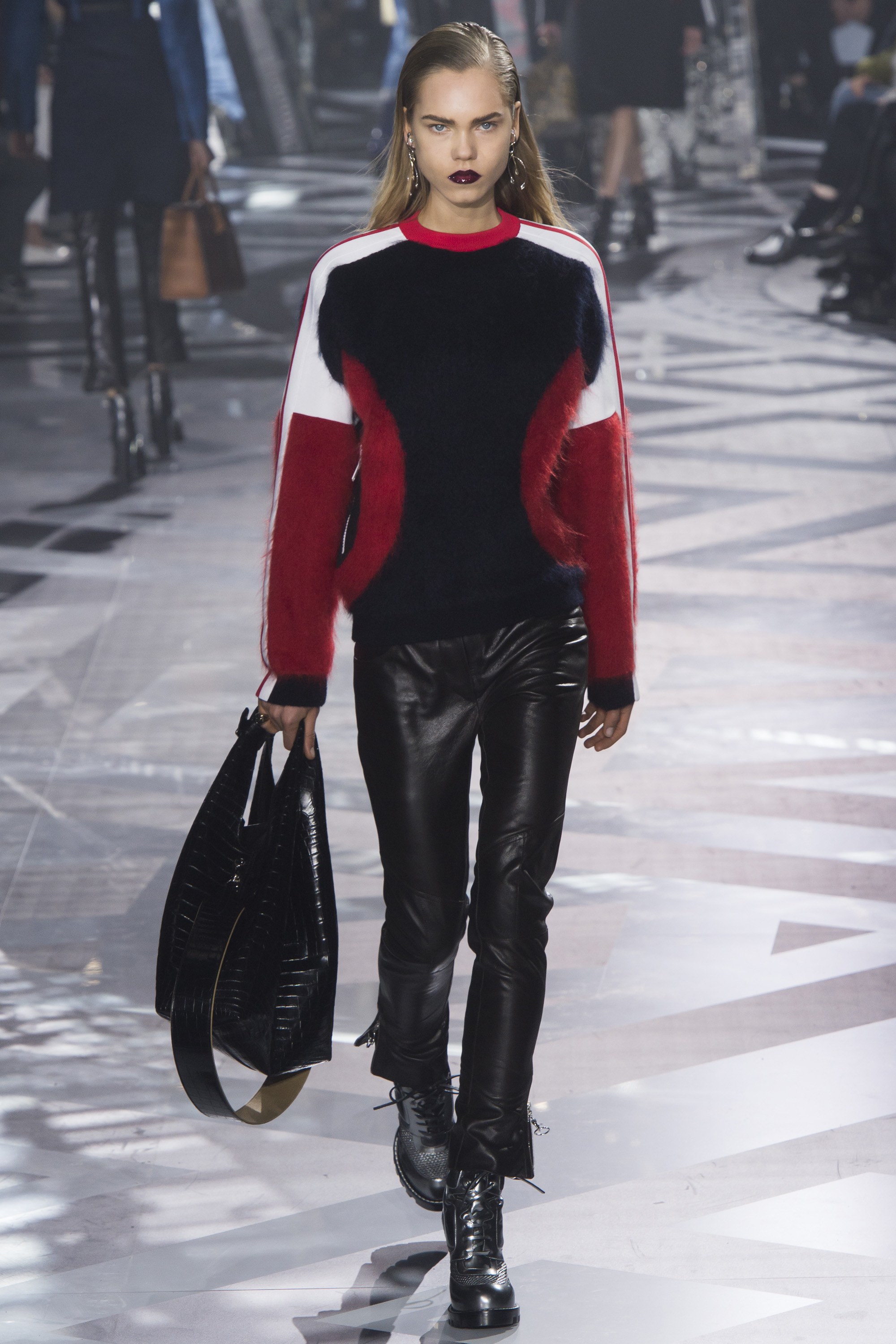 For weekend shenanigans when you want to be hip, chic, comfy, AND warm. We all need a big go to sweater and leggings.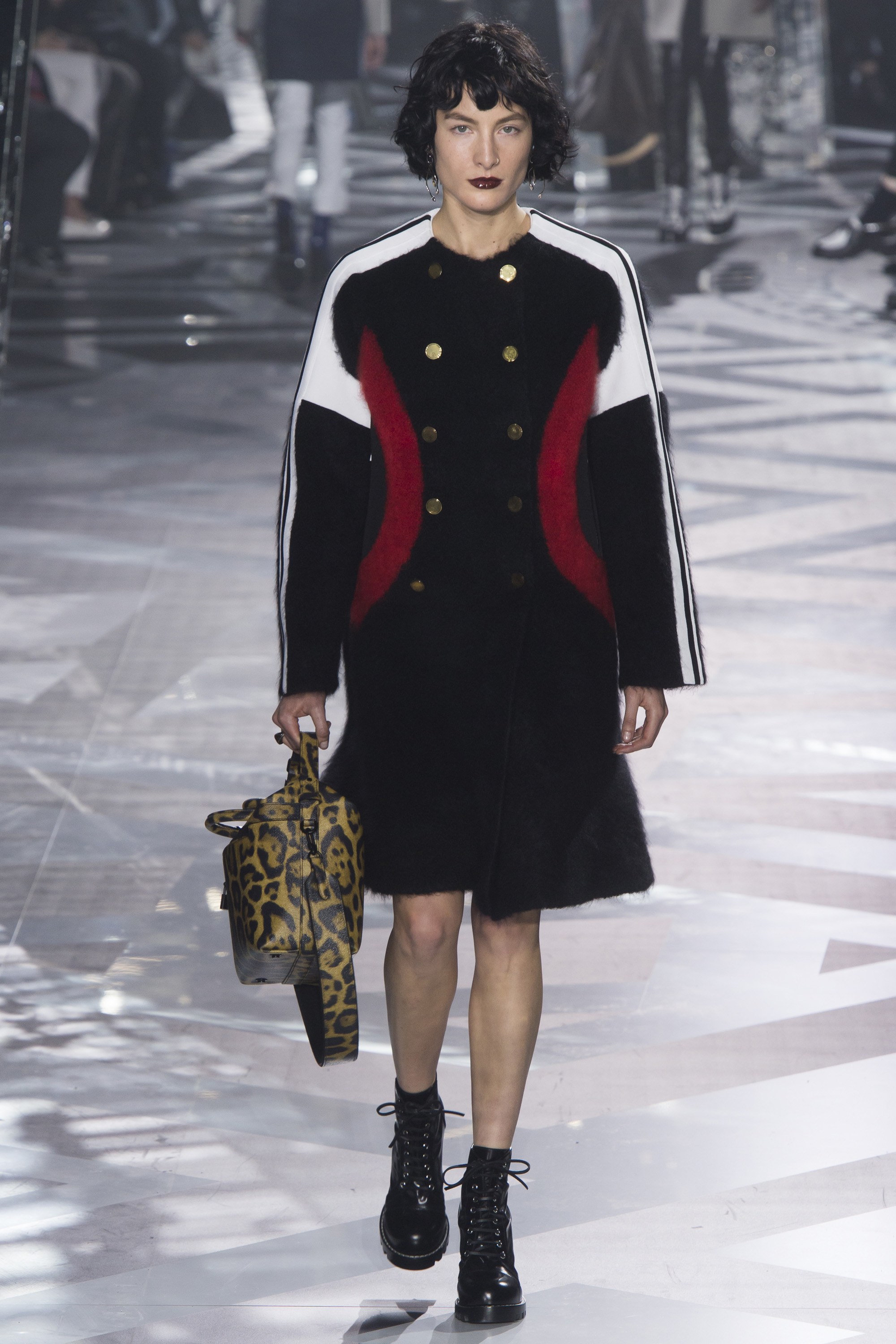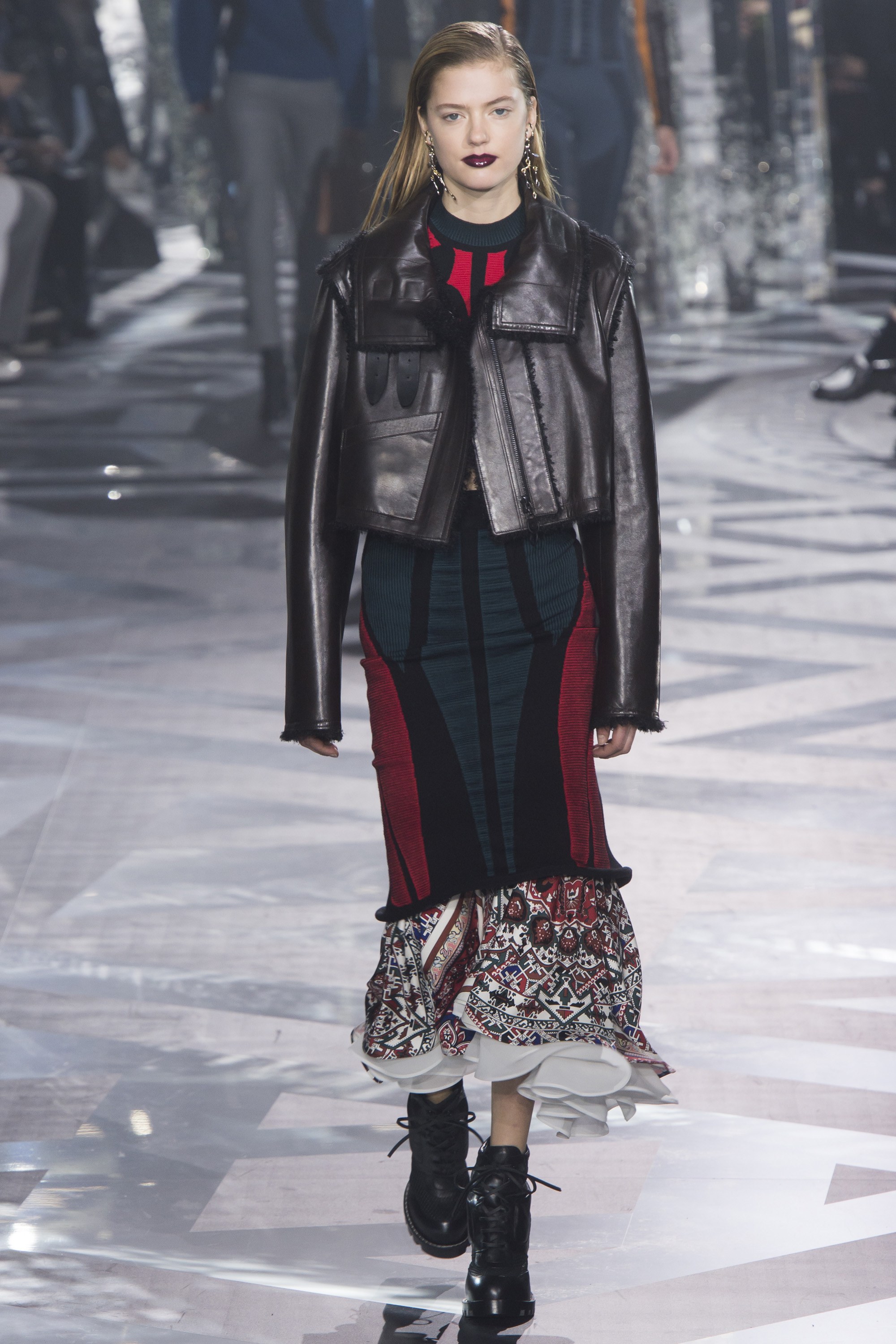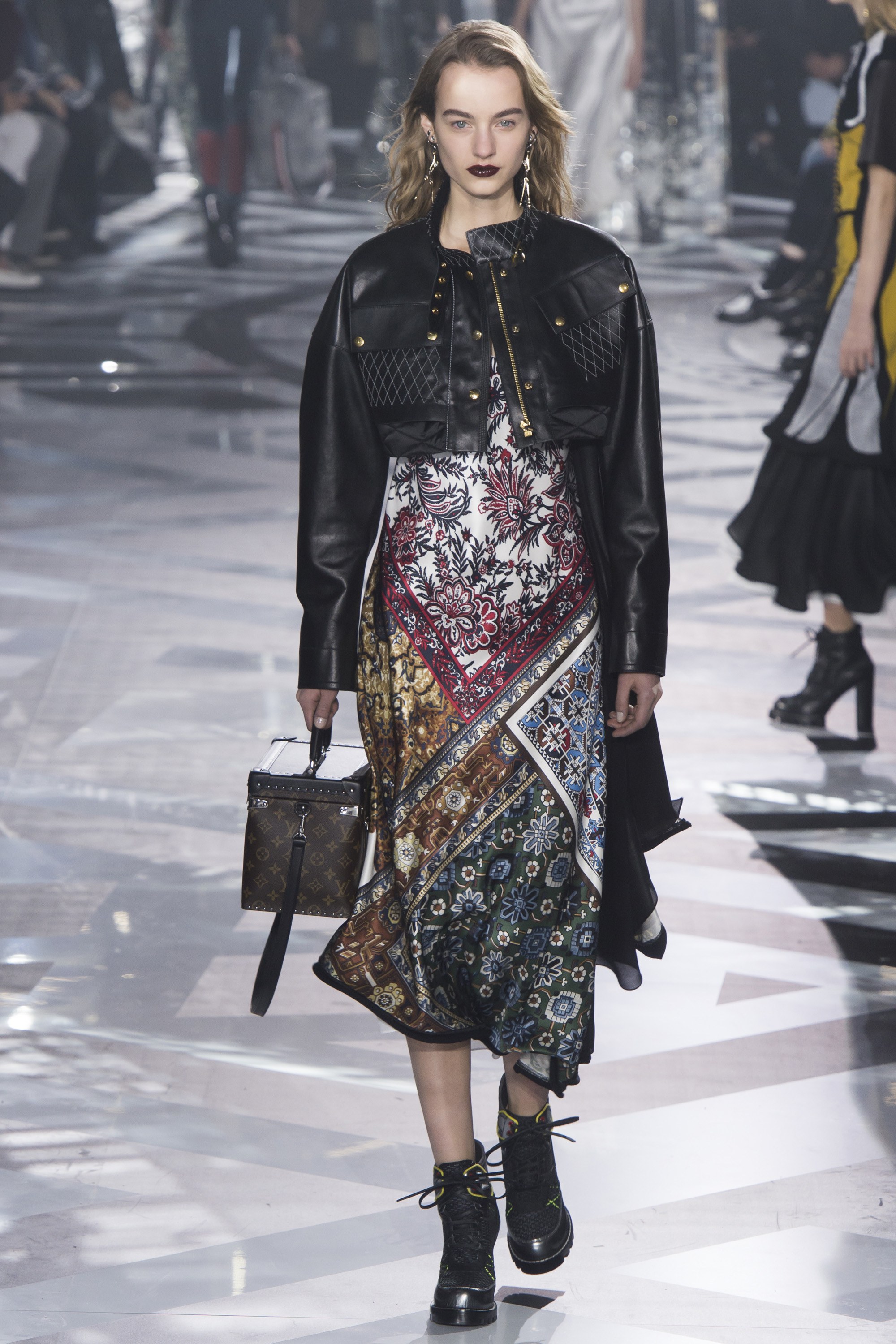 This has become a recent common theme, the airy and feminine frock paired with the edgier short leather jacket.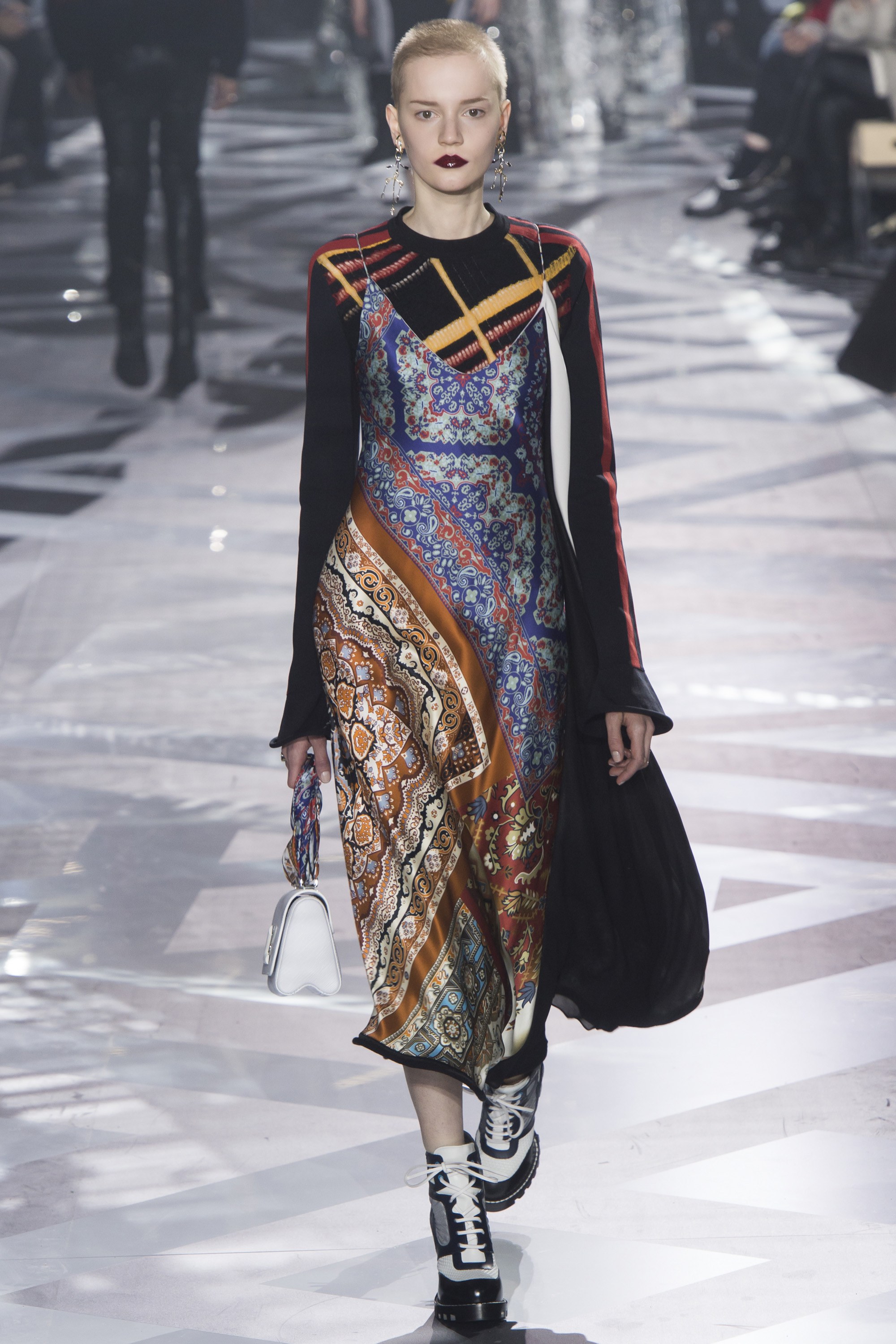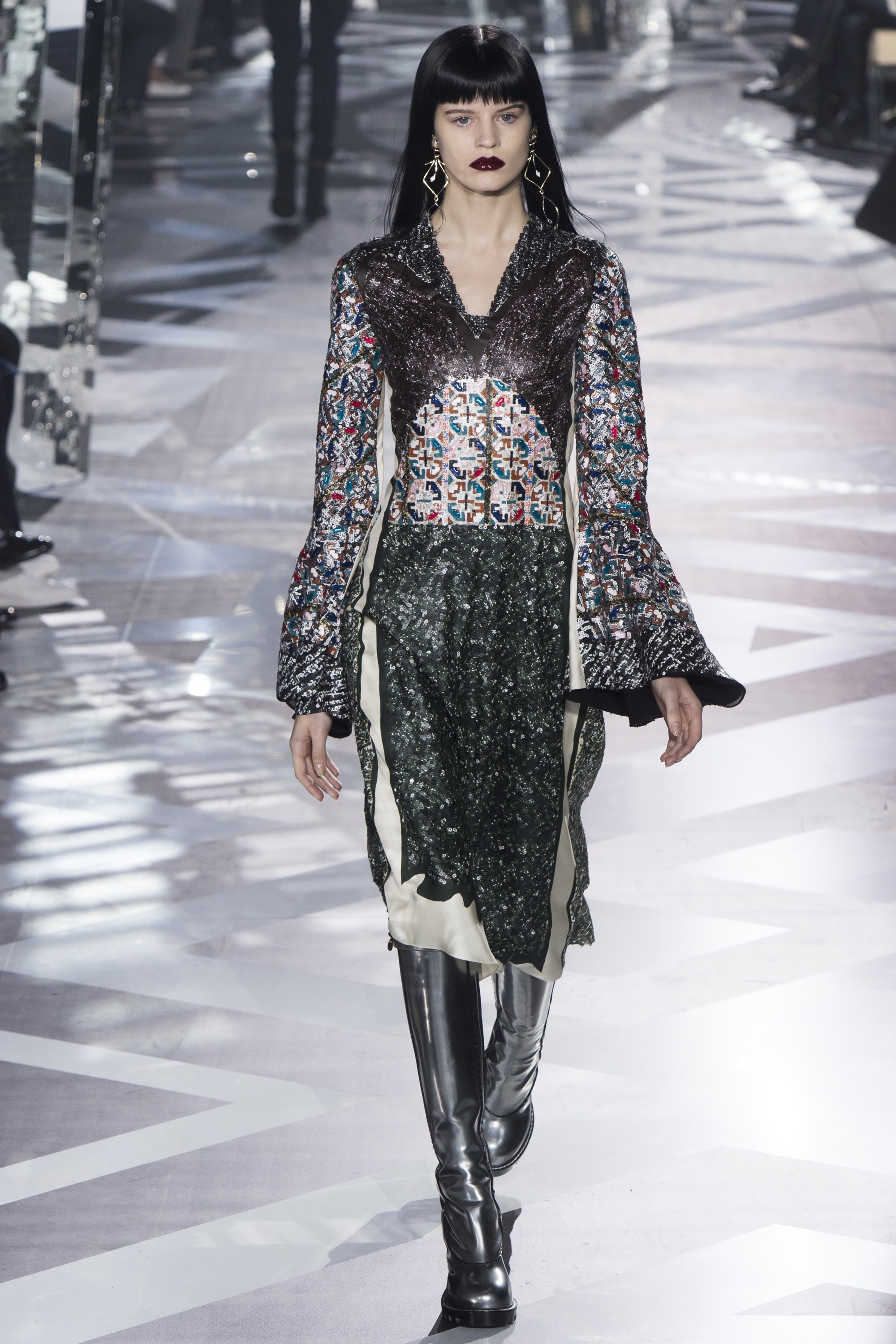 New age bohemian.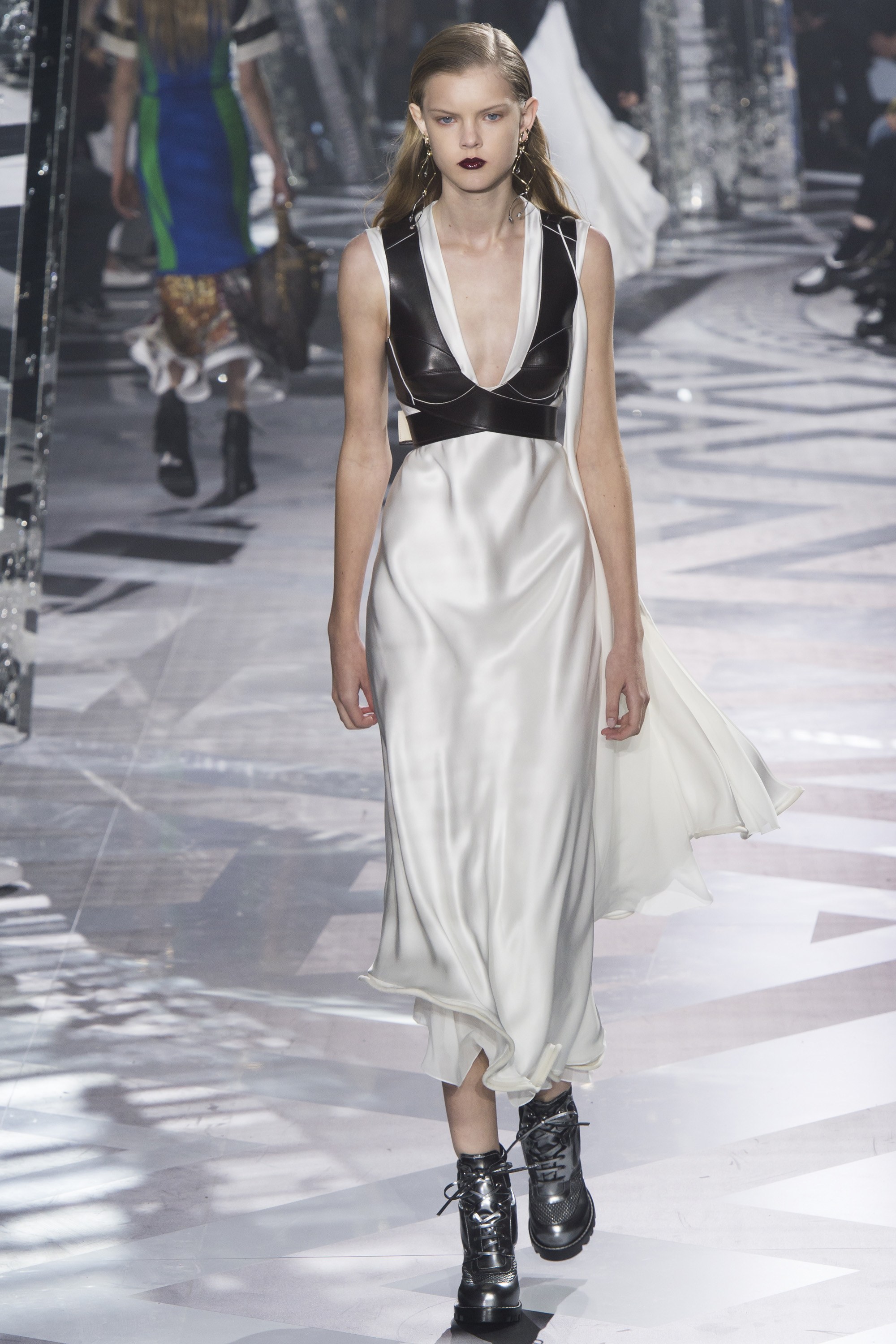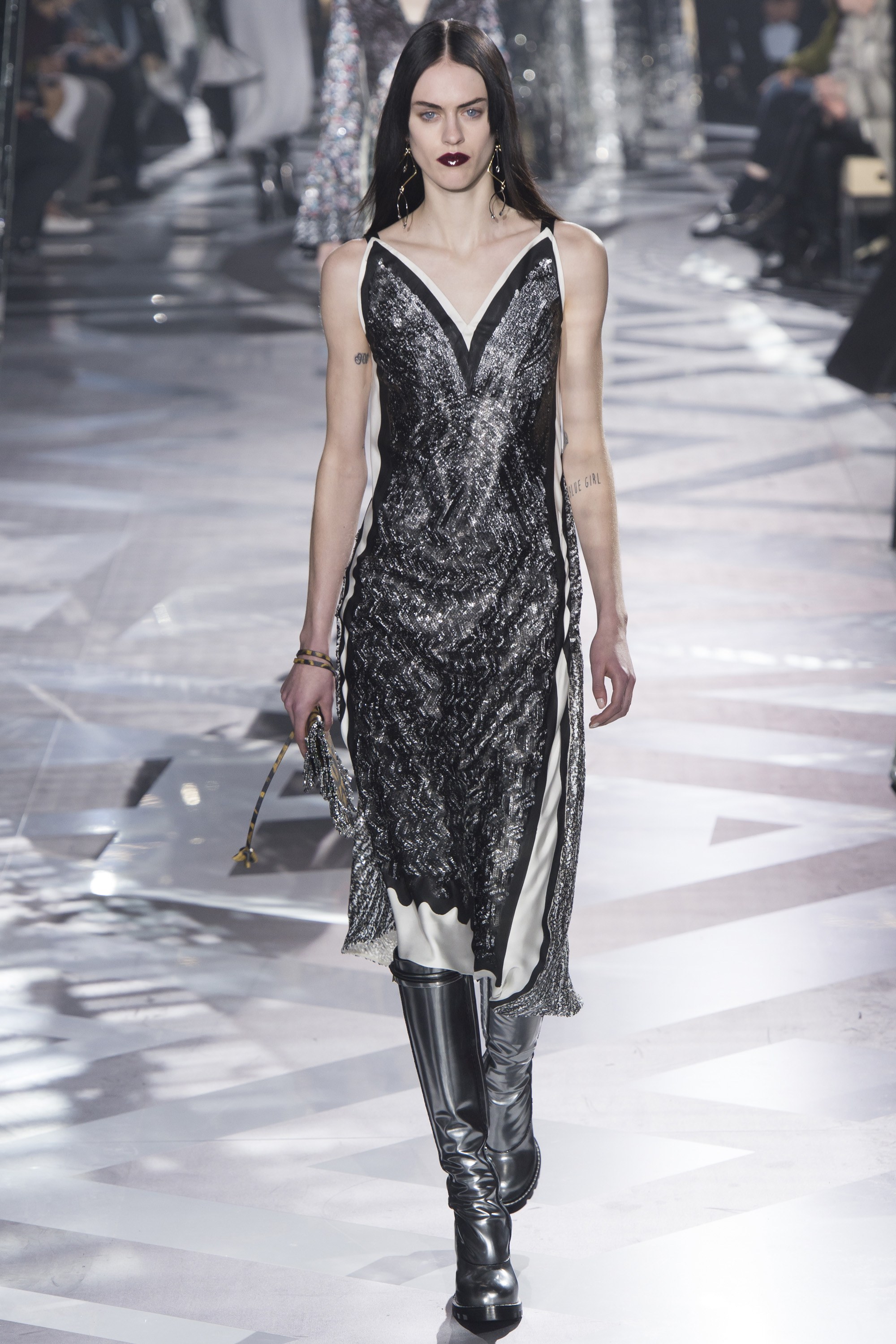 Ghesquiere covers MUCH territory in this collection, to include the underwear as outerwear contingent which has become ubiquitous on the runways. However he changes the paradigm slightly by adding a bit of bondage for one look, and multitudinous sequins for the look above.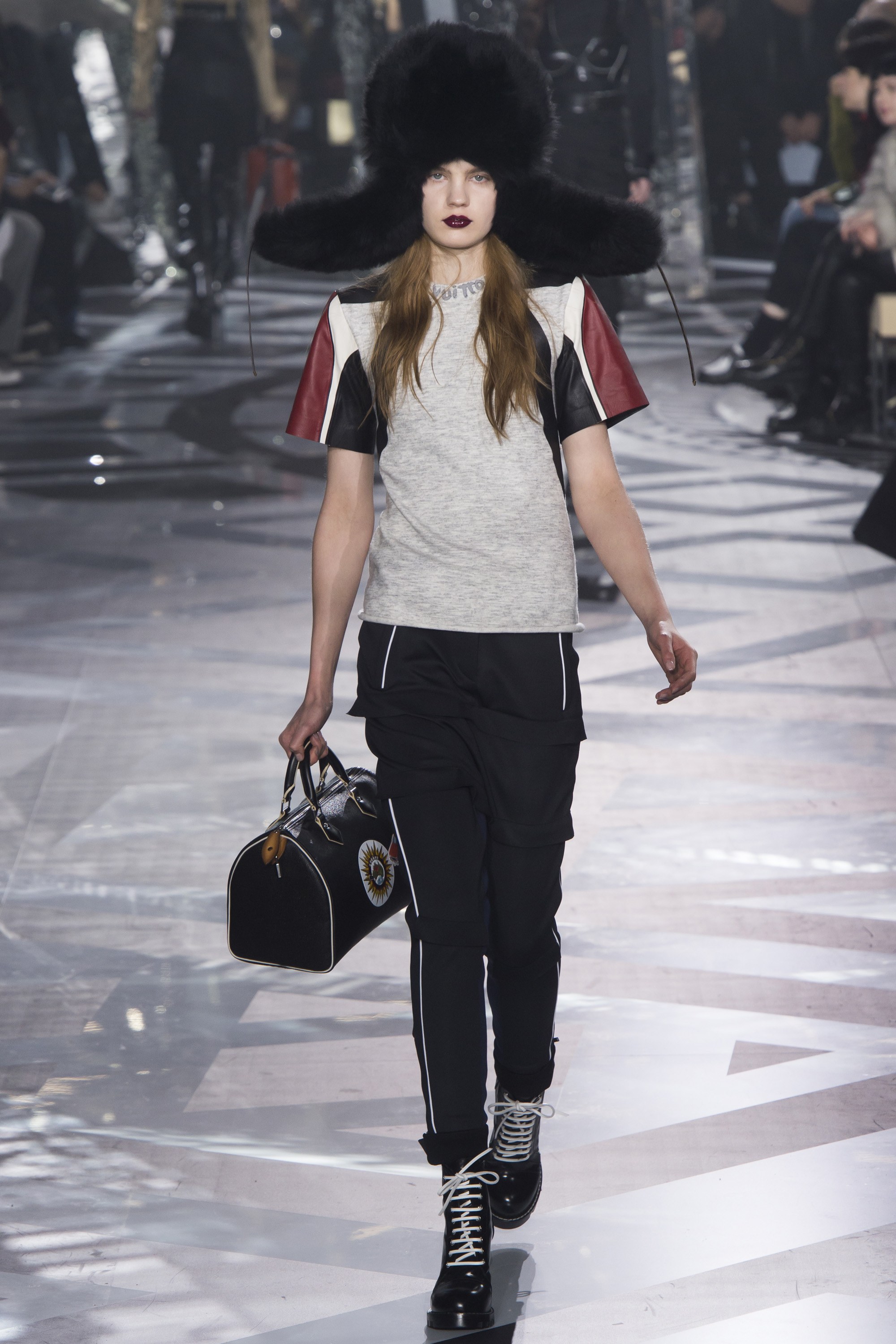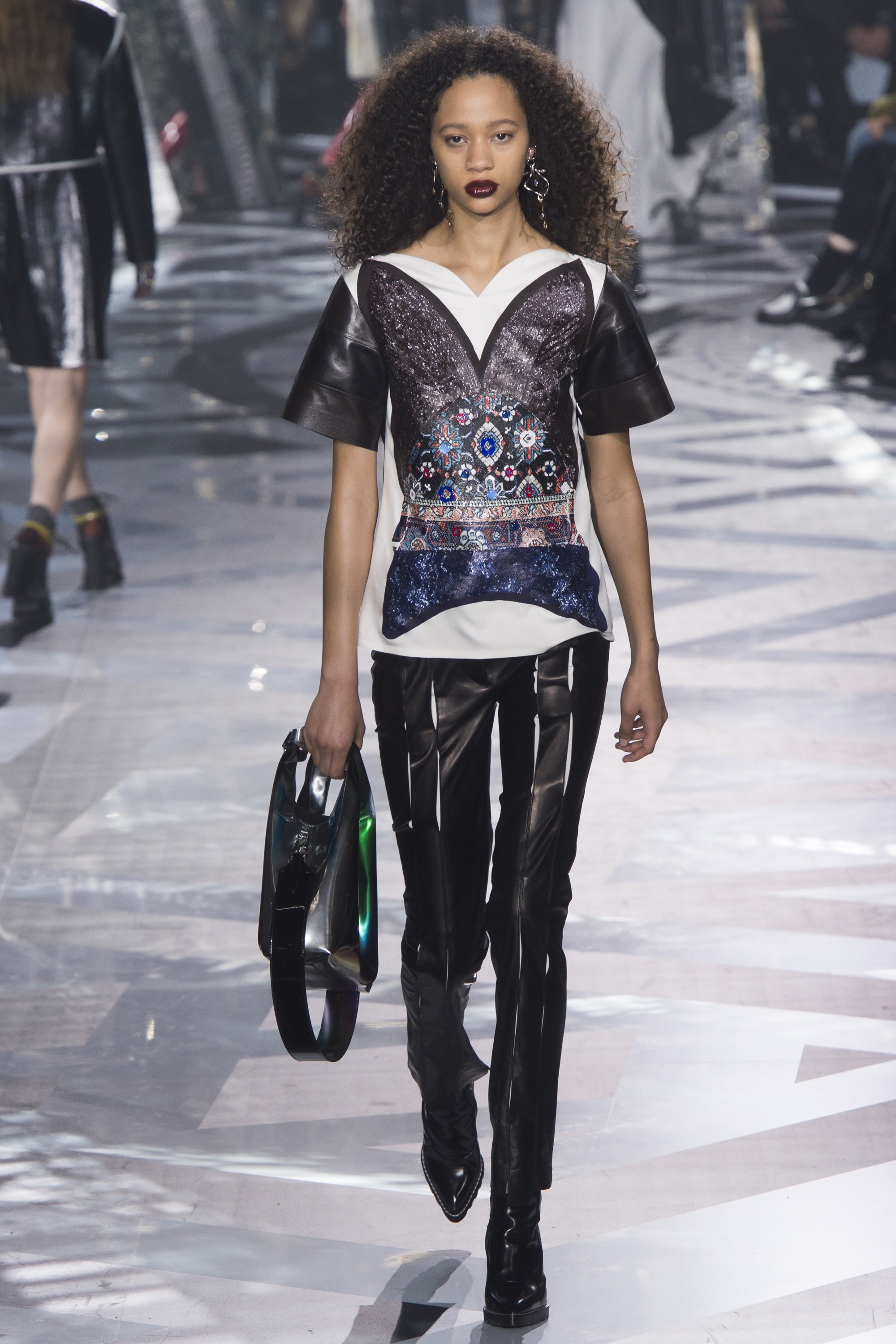 Let this be the new cocktail attire! Who says you have to wear a fit and flare flock to the next soiree? Think outside the ruffle and ribbon box.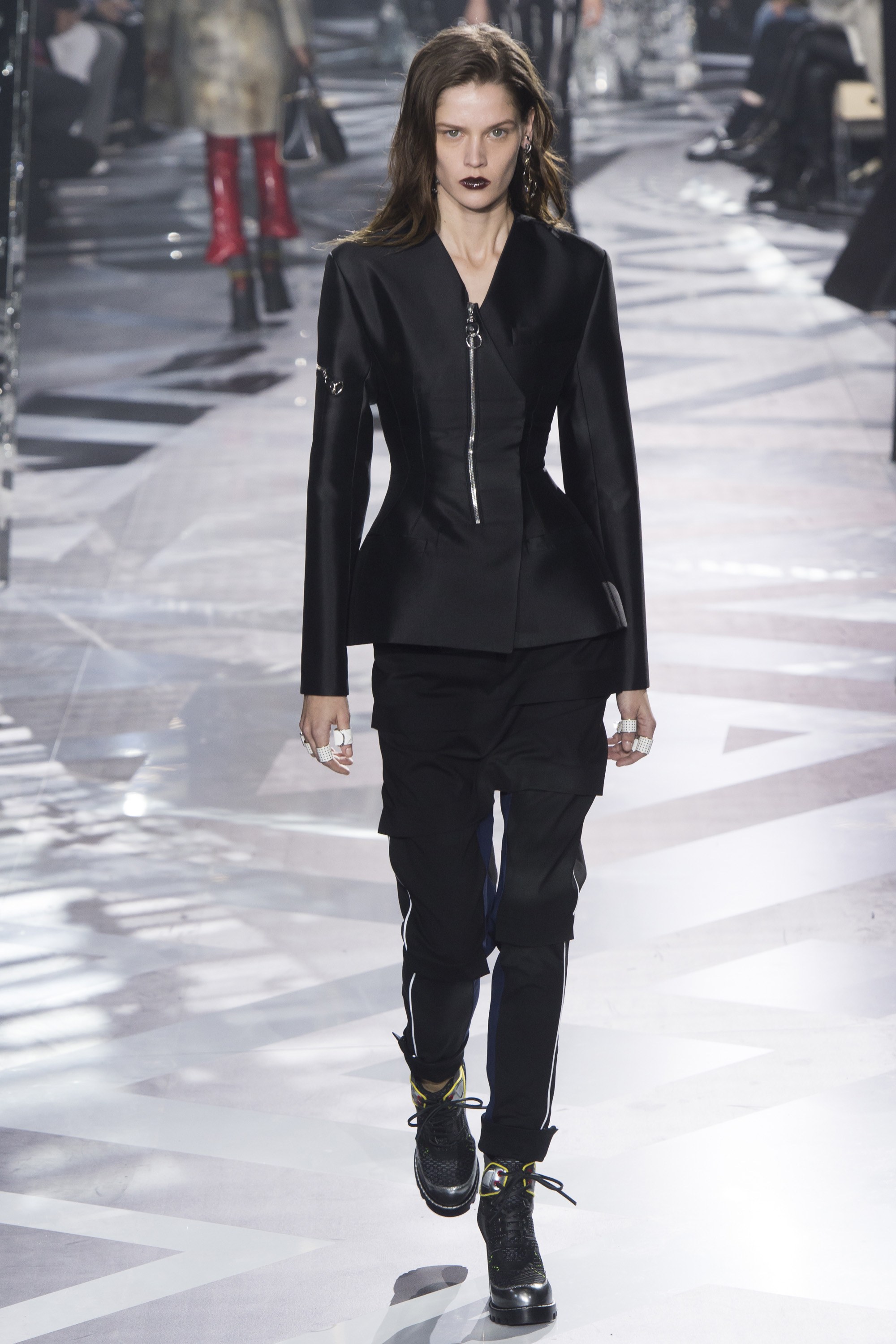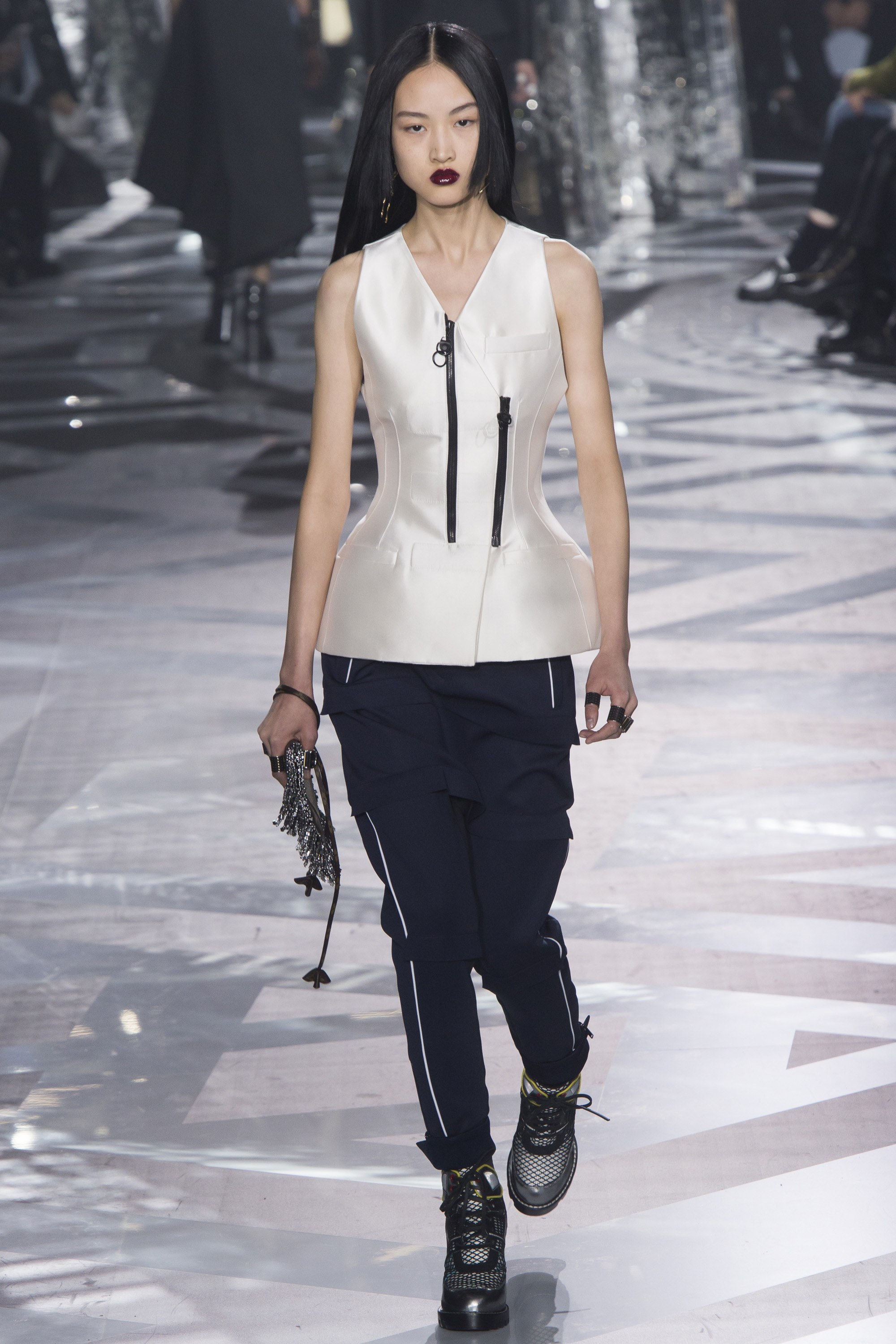 You can never go wrong channeling Monsieur Dior.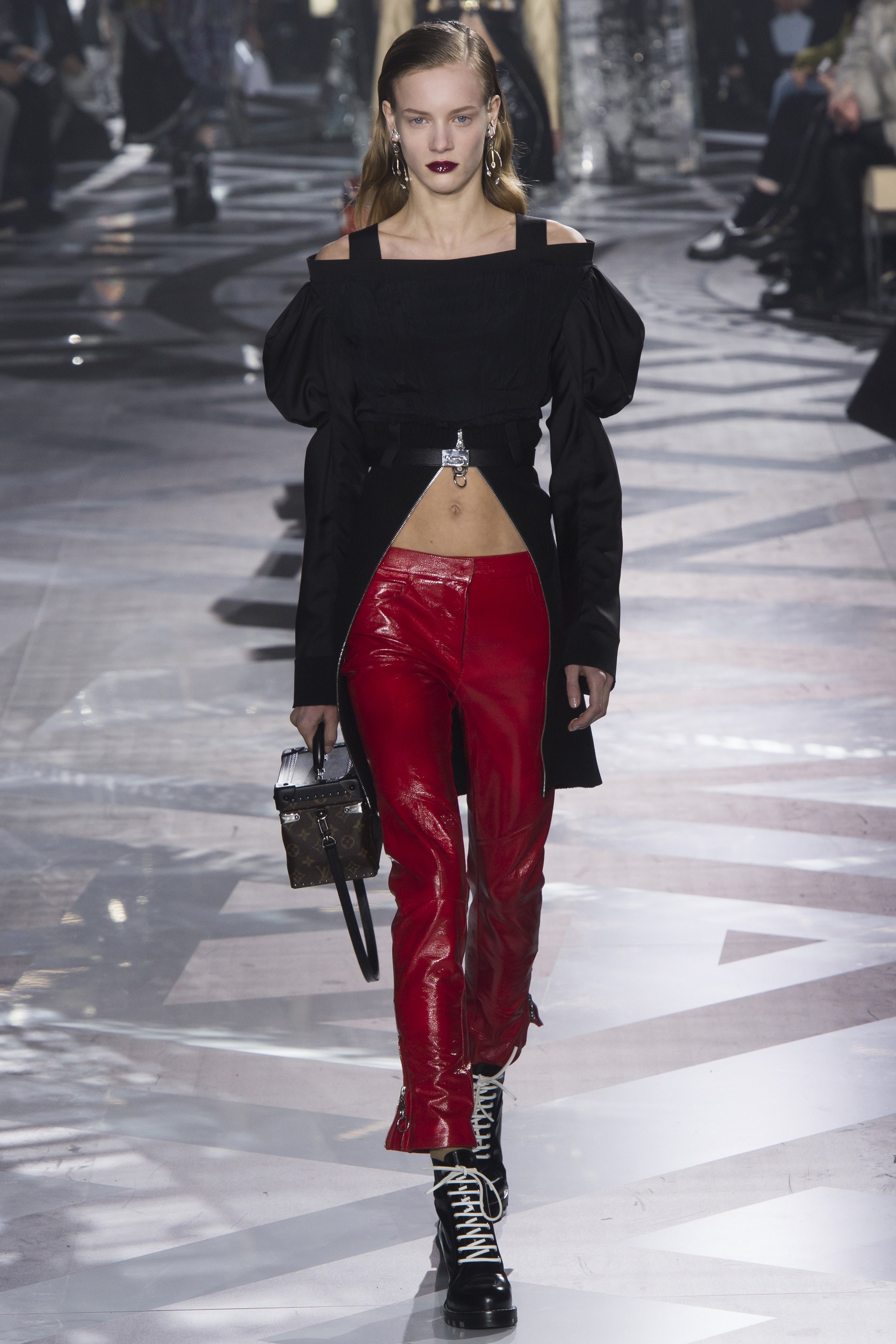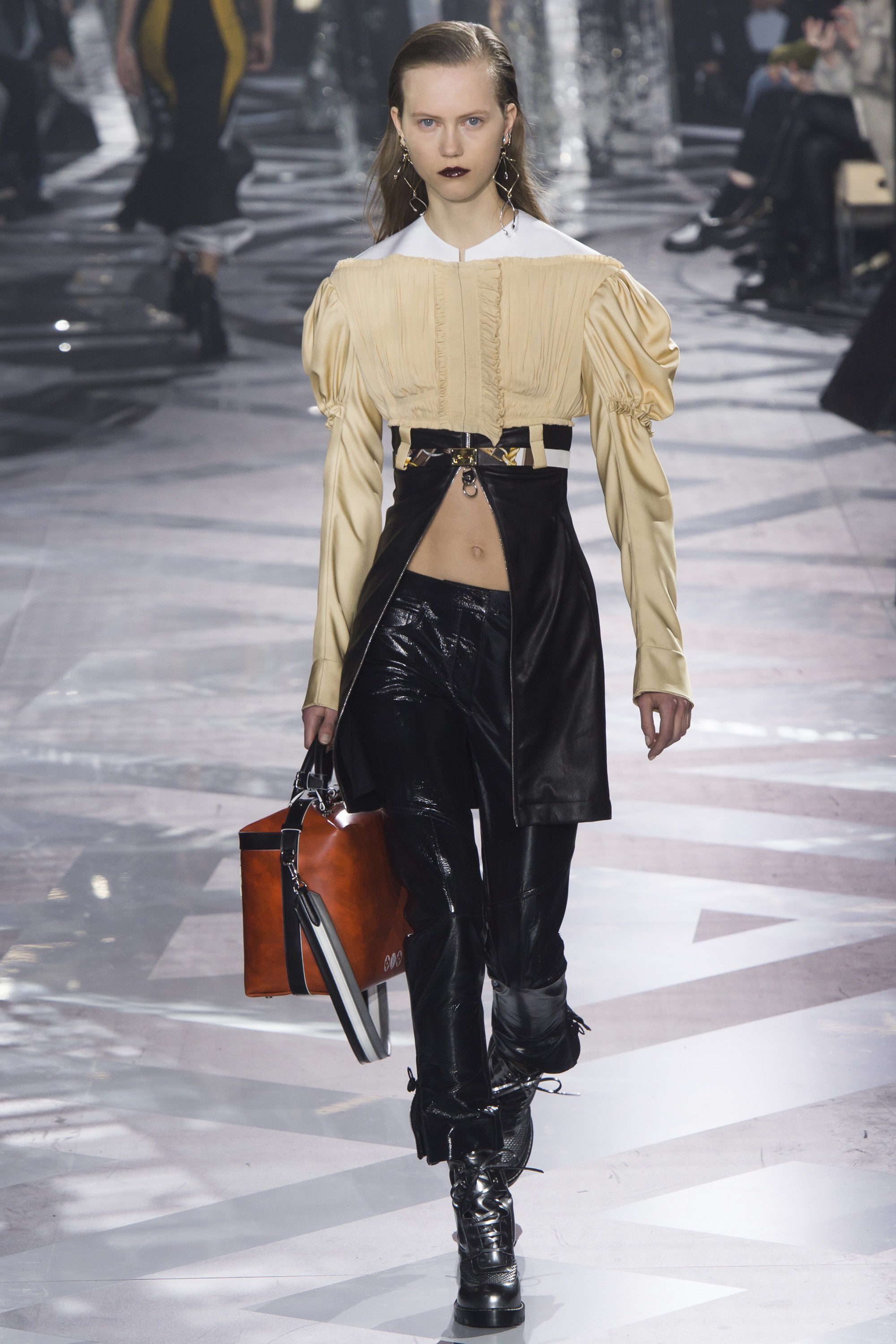 And my own personal favorites? SUBVERSIVE VICTORIAN.
ALWAYS PAY ATTENTION TO THE ACCOUTREMENT in the form of Crazy Good Purses, long gloves, and Boots!!!!
Images from www.vogue.com.