The runway shows are coming so fast and furious, it's almost impossible to keep up! I'm constantly stupified by the bountiful cornucopia of talent emanating from our Eastern shore. The infectious potpourri of light and airy, athletic, feminine flowery and folkloric, and menswear inspired finery continues to amuse and amaze. In other words, sporty, posh, and baby spice are in the house!
3.1 PHILLIP LIM: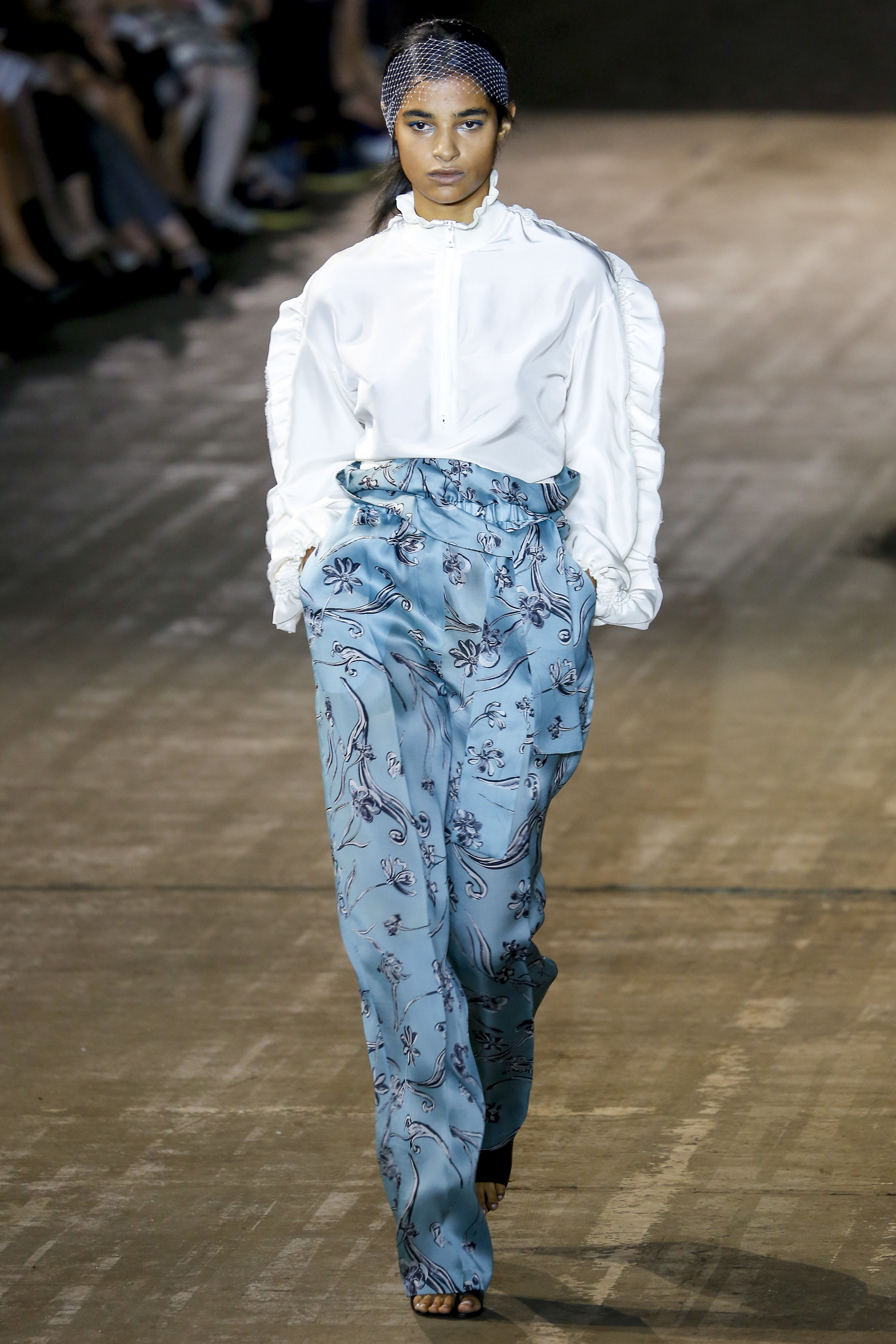 This was a perfect spring summer collection, rife with casual yet luxe separates to include the slouchy pajama type trousers with the matching belt. And what could be more fetching and pragmatic than the white poplin blouse with the ruffled sleeve? The perfect adjunct to any pants, skirt (think leather pencil skirt) or jumper. The ruffle adds visual interest without sliding into fussy, and the zipper adds some sporty spice.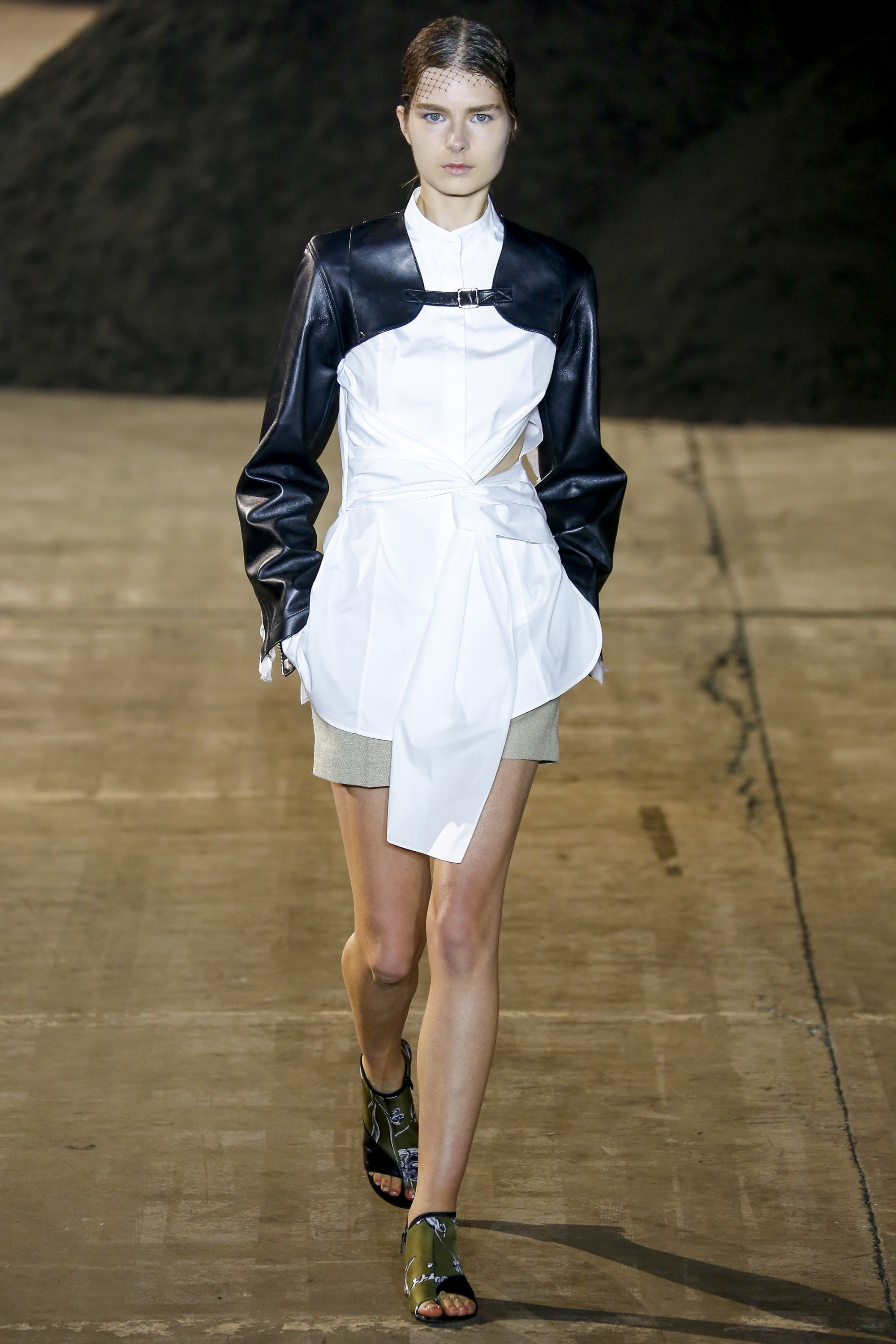 The leather shrug, something you won't see everyday, when just a bit of coverup is needed, perfect over that peek-a-boo white tunic blouse.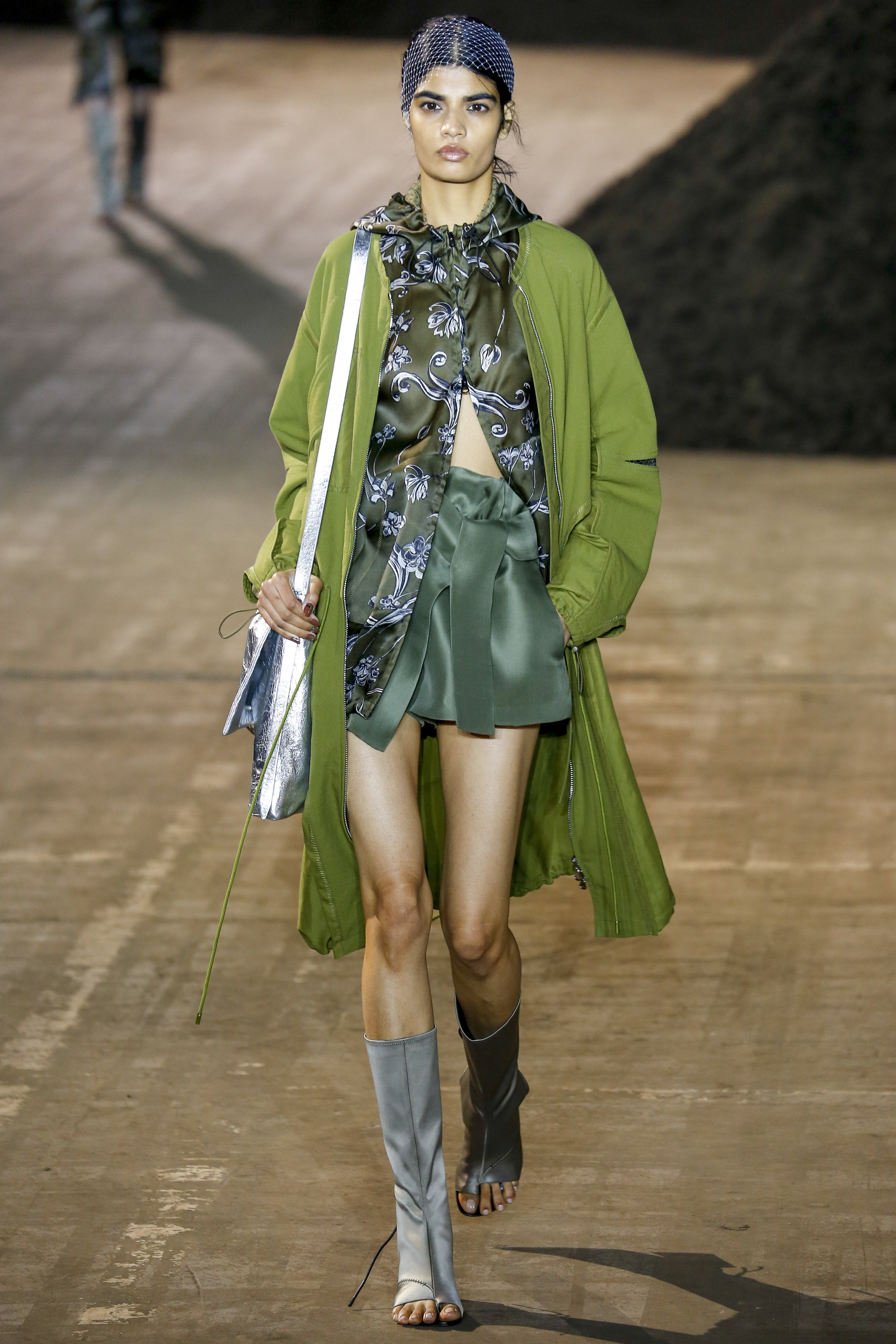 Variations on a theme of pea and forrest greens, the hues just different enough to be vaguely unsettling yet intriguing. And the curiosity continues with the combination of long casual jacket and upscale mini. And for the feet? Espadrilles or platform sandals.
DEREK LAM: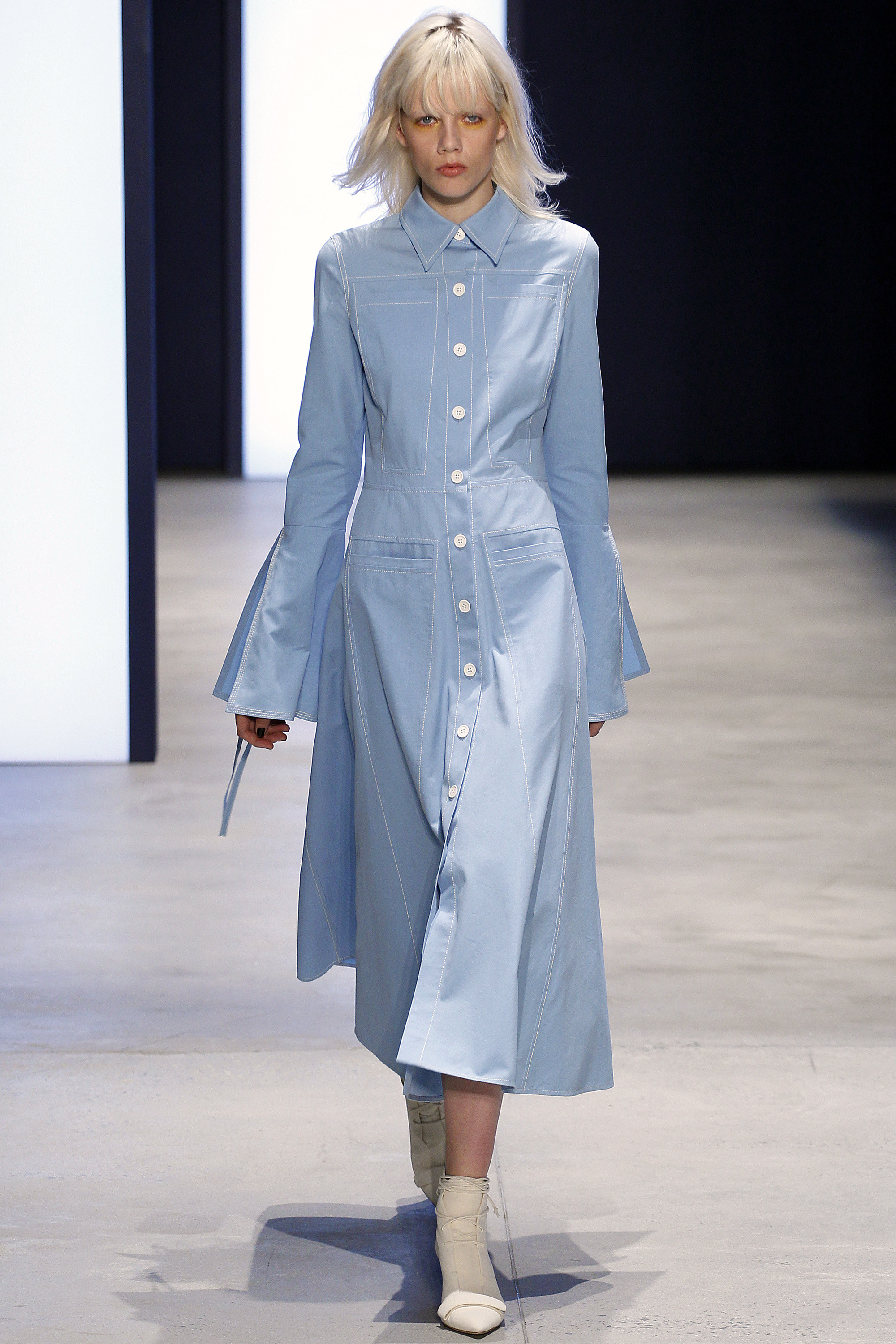 Lam has perfected casual sporty chic.....we've all seen the denim dress, but with the flared sleeves and contrasting topstitching?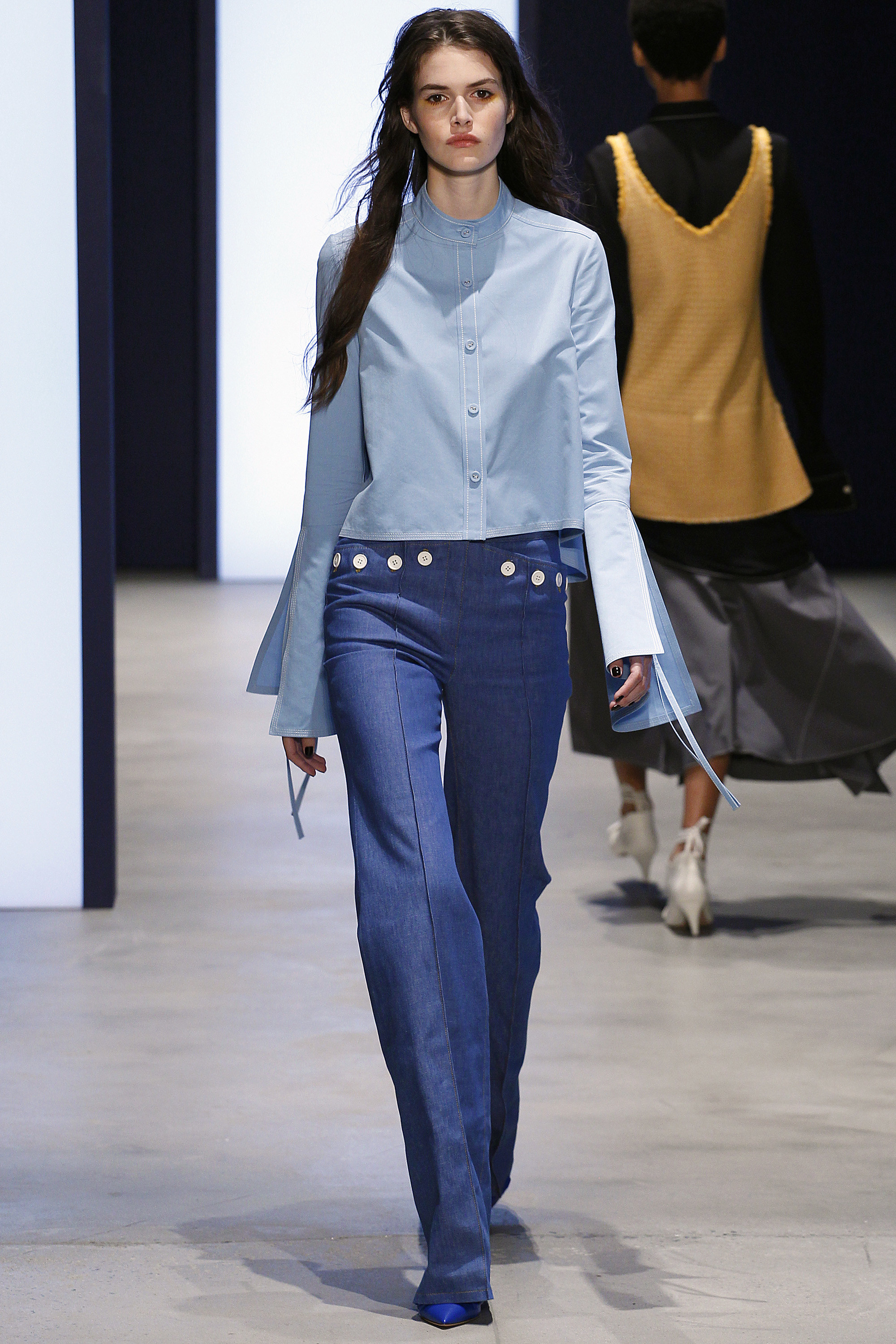 Denim done right. The light and dark denim, the latter in the form of appealing Navy inspired trousers, are a harmonious duo. Get out the RED espadrilles. Perfect for picnics and parties on yachts.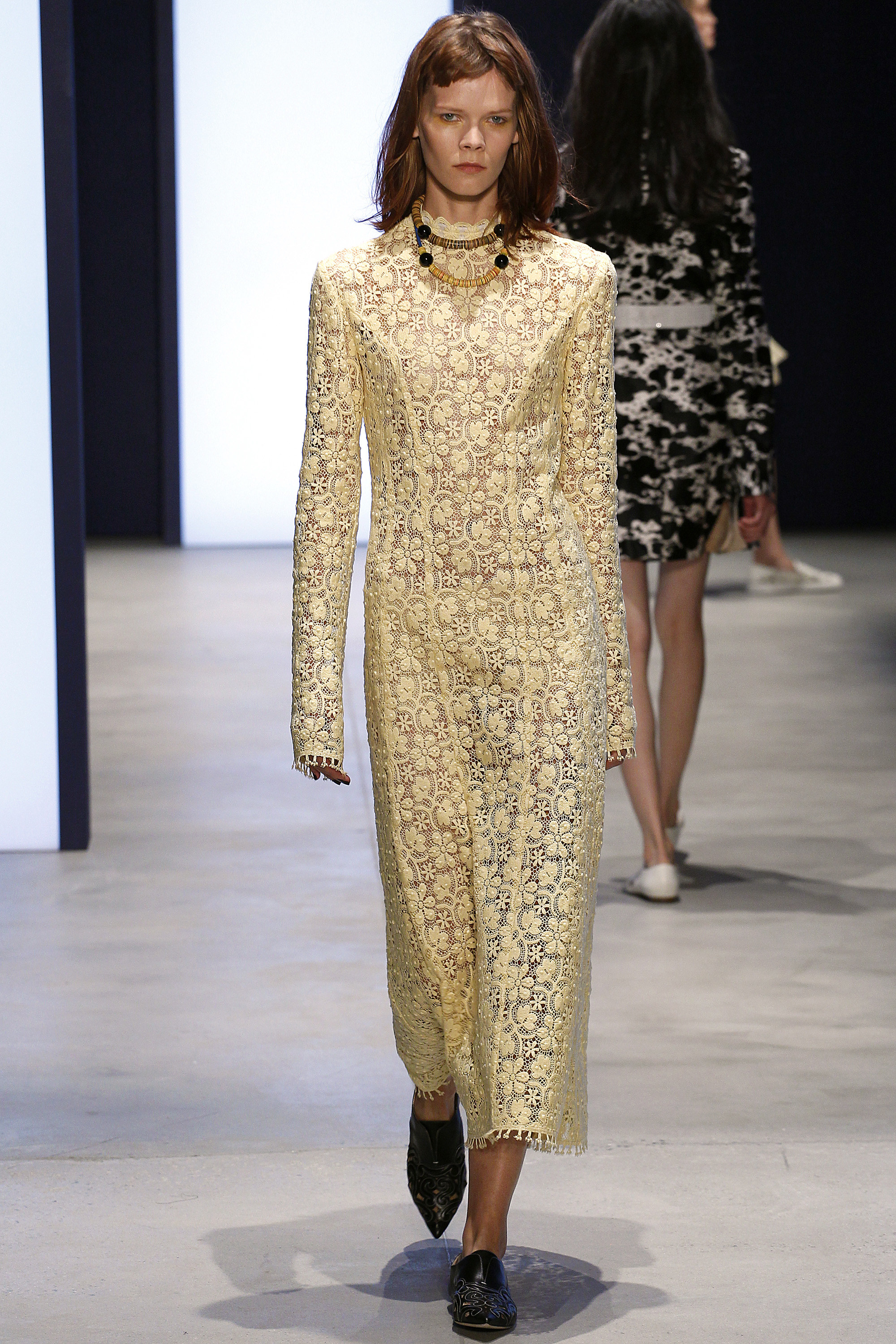 Lam hits a home run in the flower power frock sweepstakes. The fine macrame fabrication translates as casual with a vague 70's homage, yet elegant nonetheless. Wear this barefoot on the beach or with stilettos at a spring ball.
ELIE TAHARI: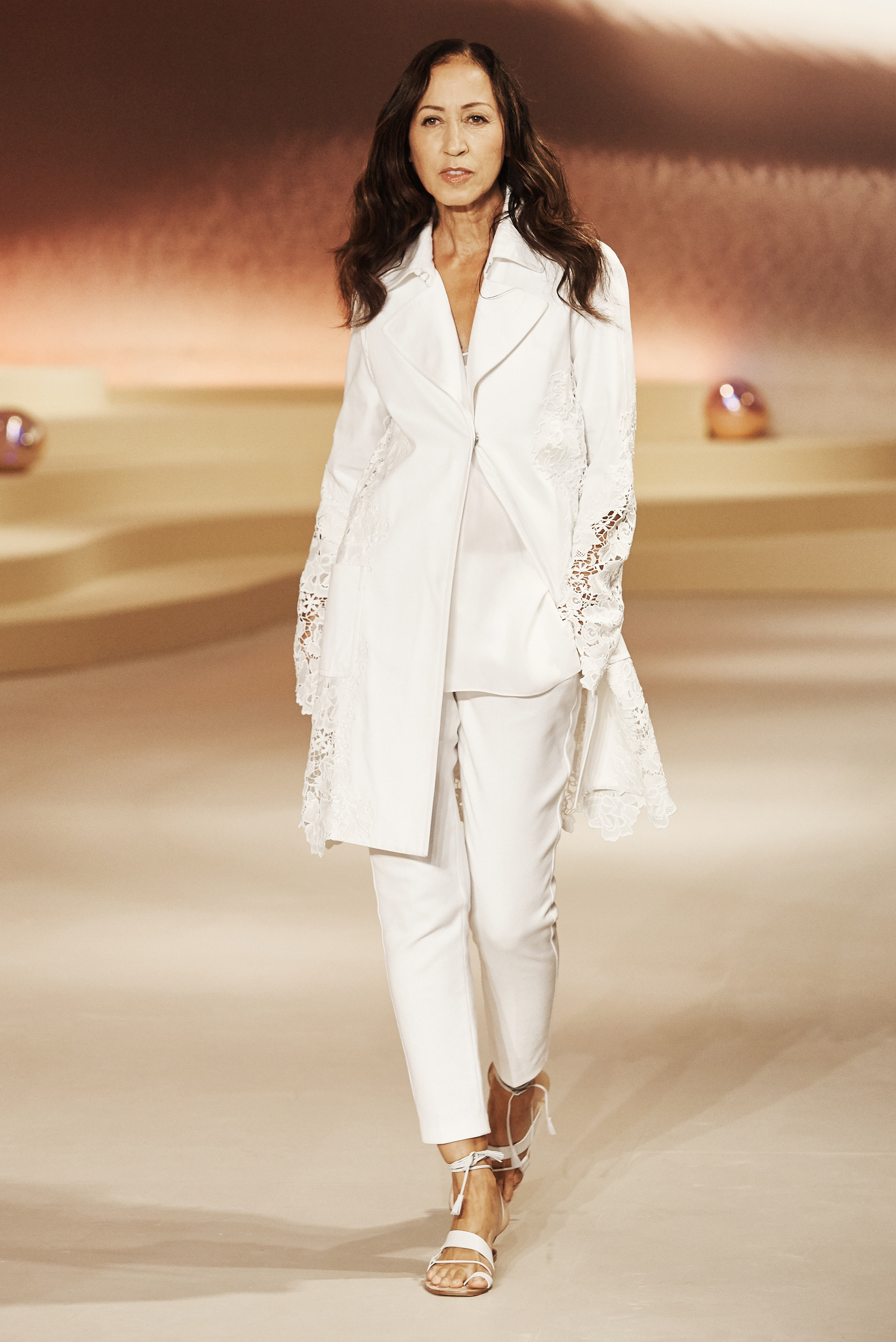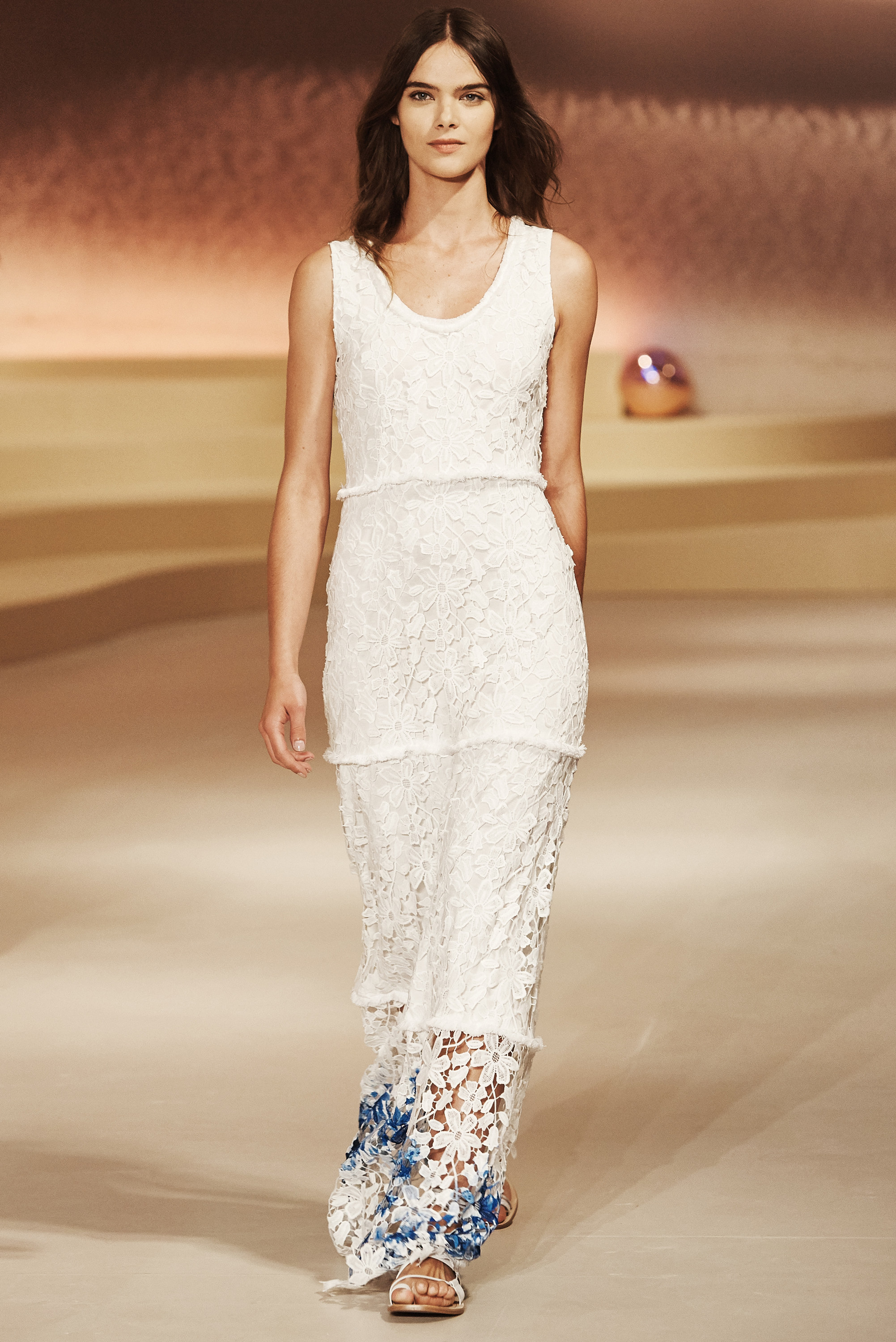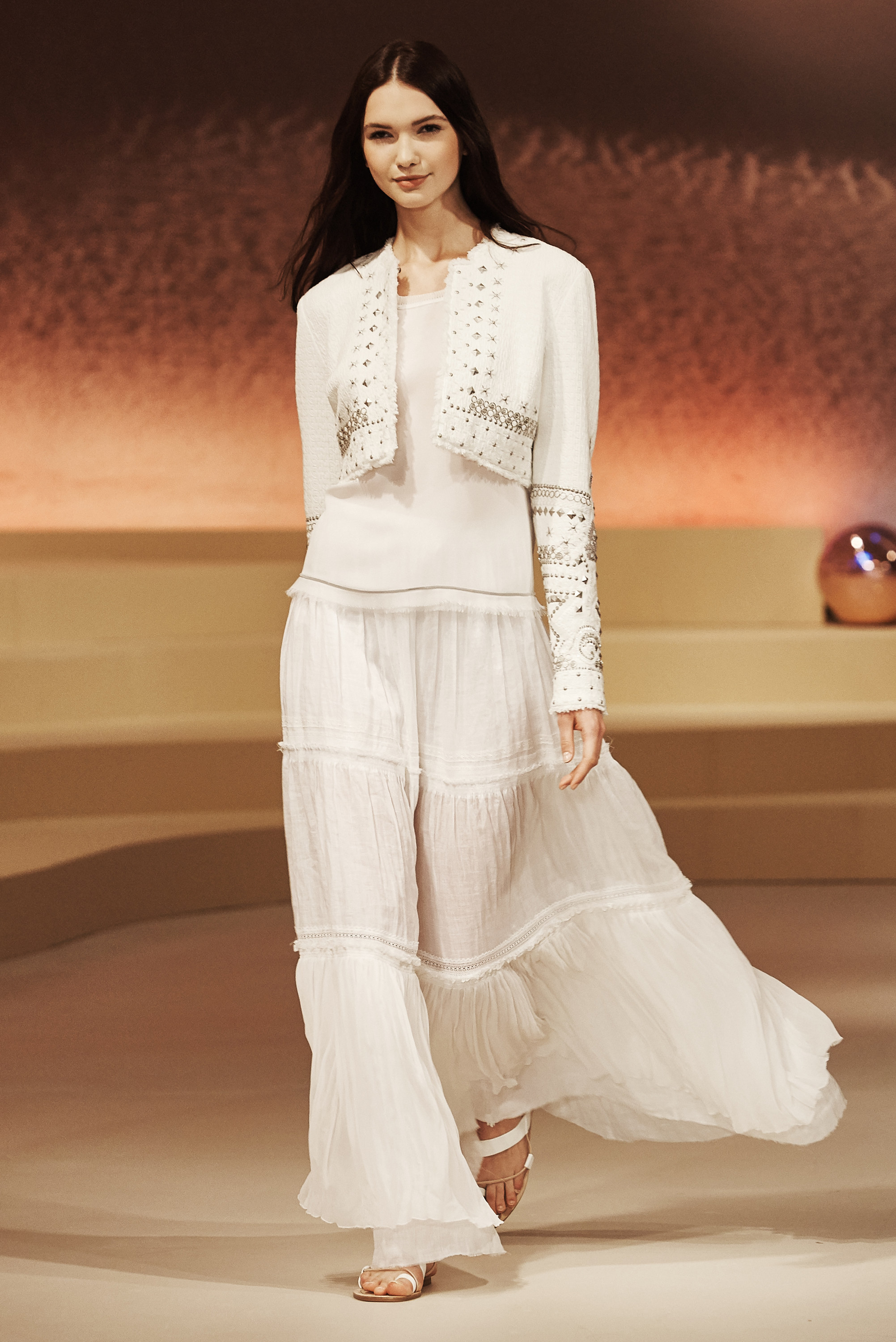 You've got to have guts (and ZERO OCD) to pull off a white ensemble without going stark raving mad, what with the ubiquitous soot and spaghetti sauce in the atmosphere. Tahari does a wonderful job at creating casual spring fare that is eminently wearable and yet quite lux. The topper is captivating with the guipure lace detailing and matches well with the white trousers, but would be stunning over silk cigarette pants or skinny jeans. And the head to toe guipure lace maxi dress with just a hint of blue along the hem? Absolutely drool worthy. The spirit of the 70's wafts through runways with the embellished folkloric bolero jacket atop the flowy boho maxi skirt. White doesn't necessarily mean spartan or banal…….
GIULIETTA: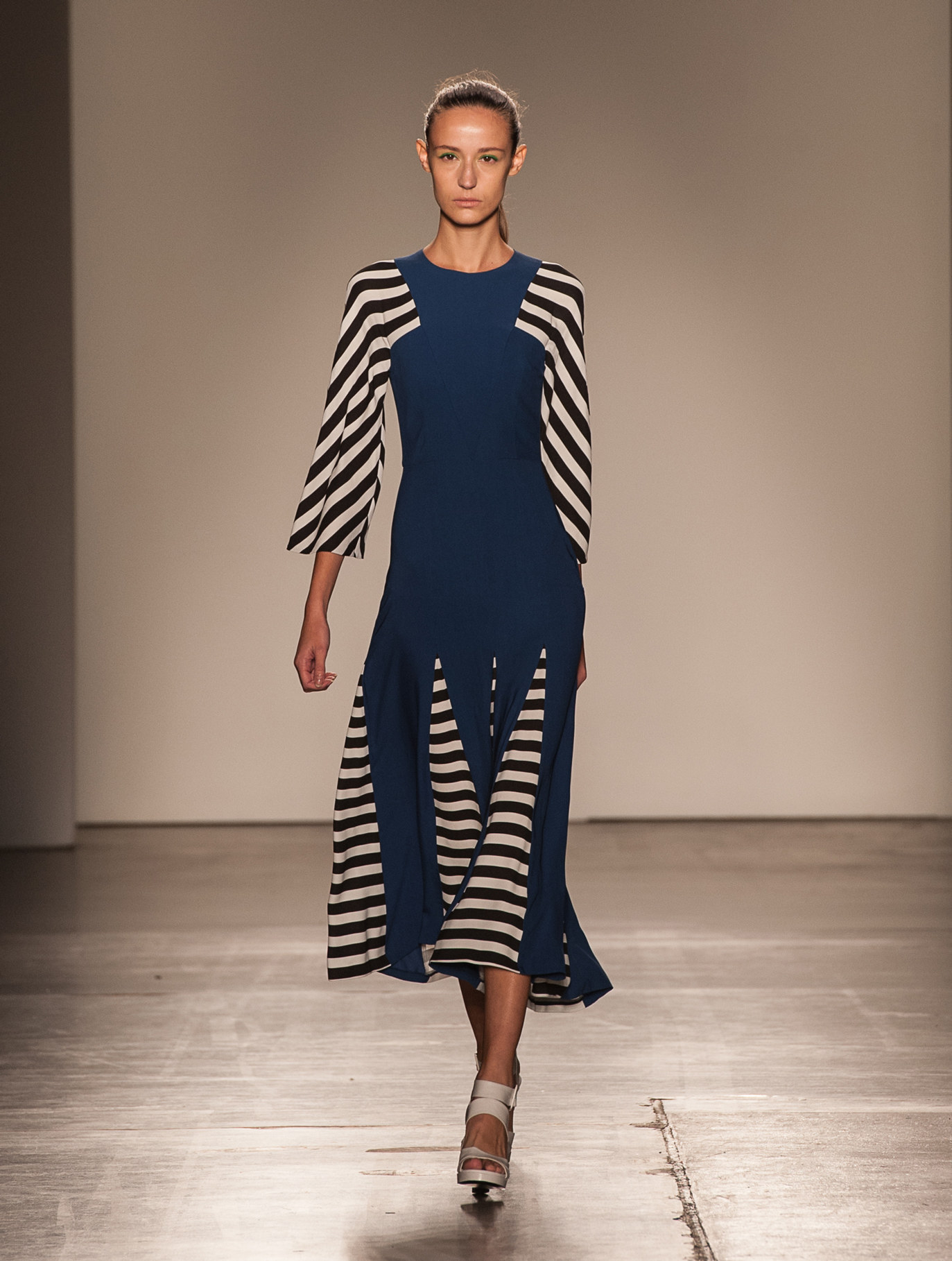 Anchors away! Perfect for summer sojourns and sailing the seven seas!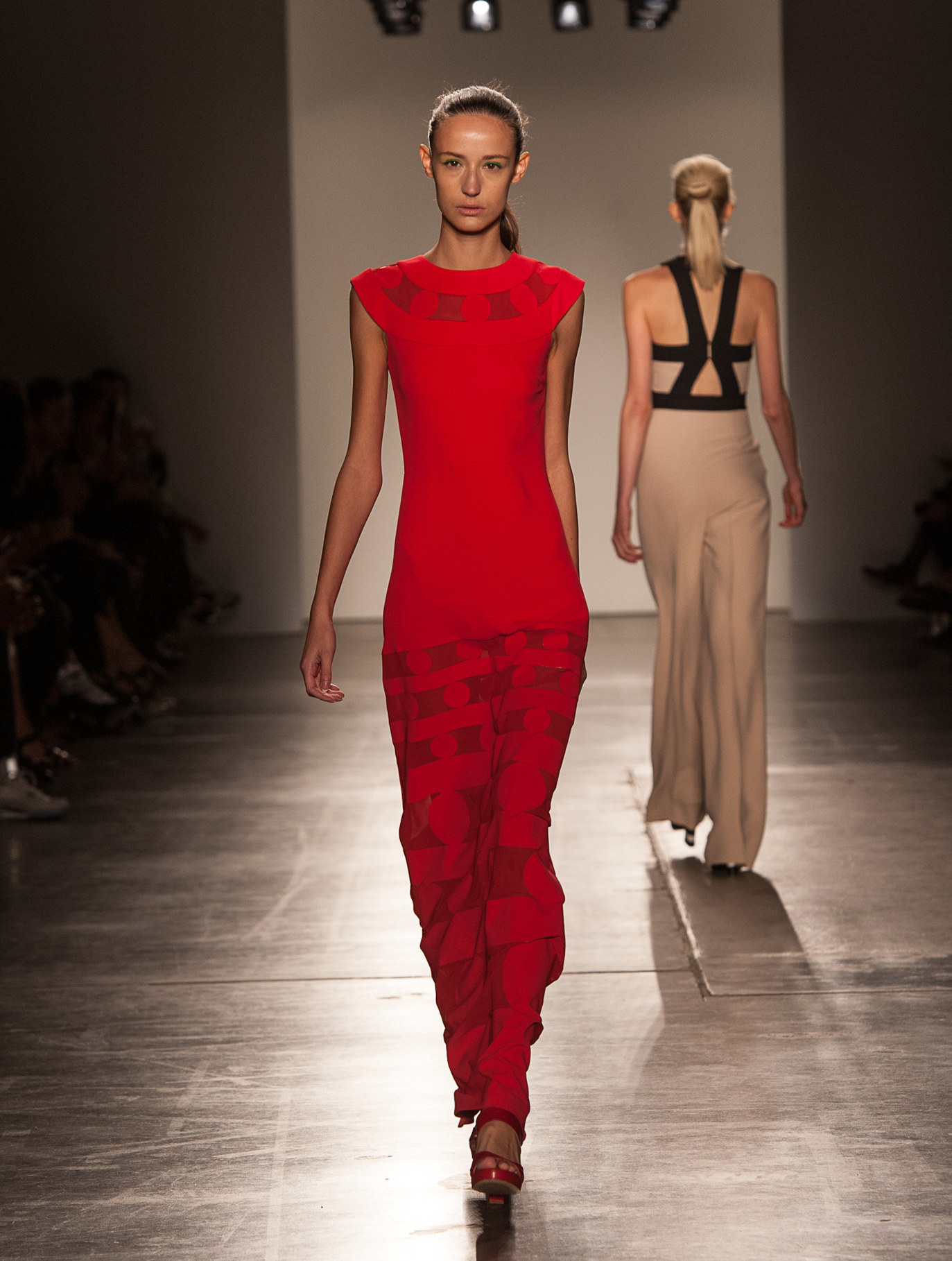 About time for some RED, A LOT of red! Something about the shoulder design reminds me of a latter day Egyptian princess.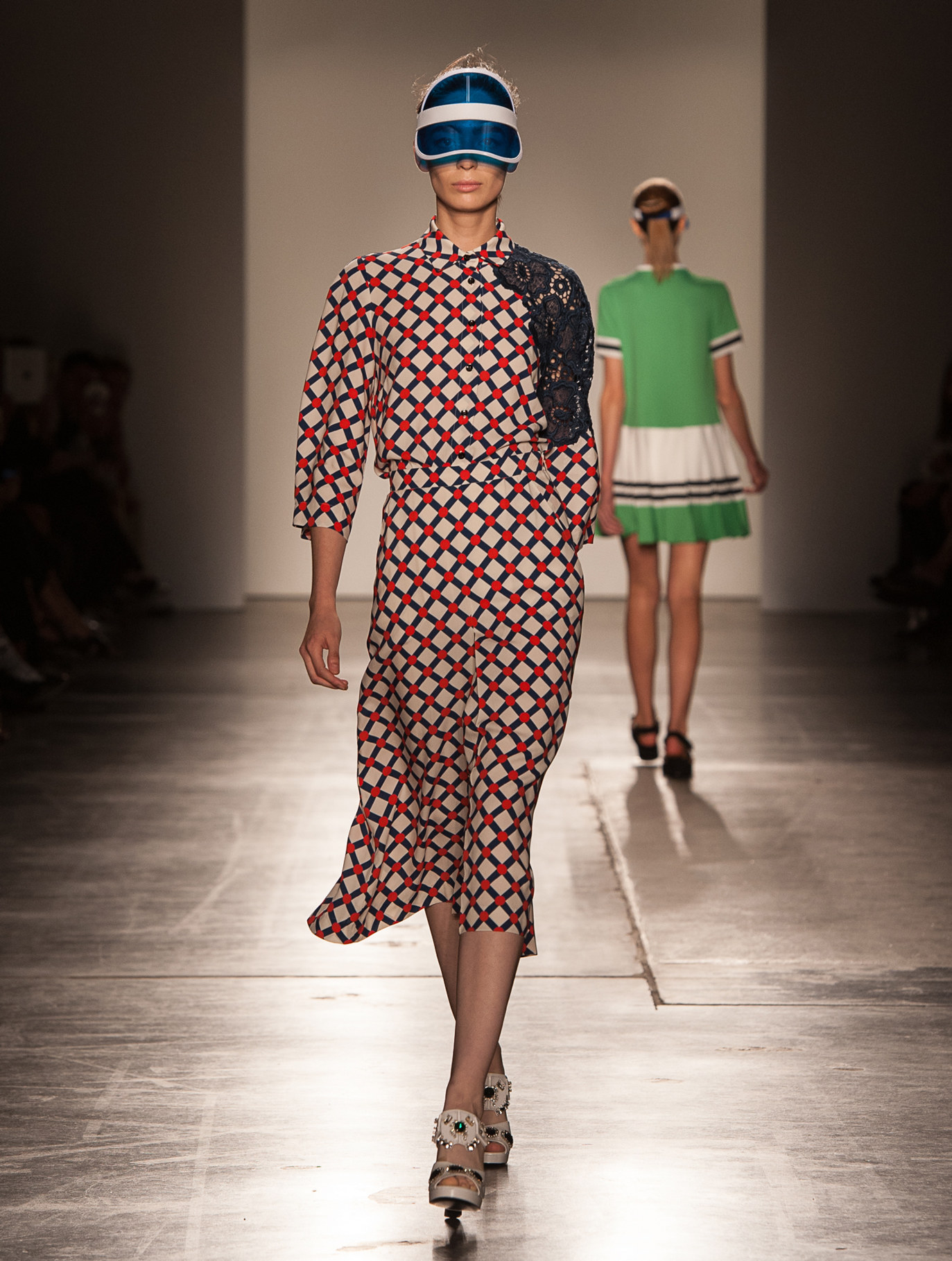 Engaging ensemble with the kicky pattern and unexpected guipure lace detailing along the shoulder and sleeve. A sort of blast from the 40's one might imagine seeing in a Poirot mystery.
JENNY PACKHAM: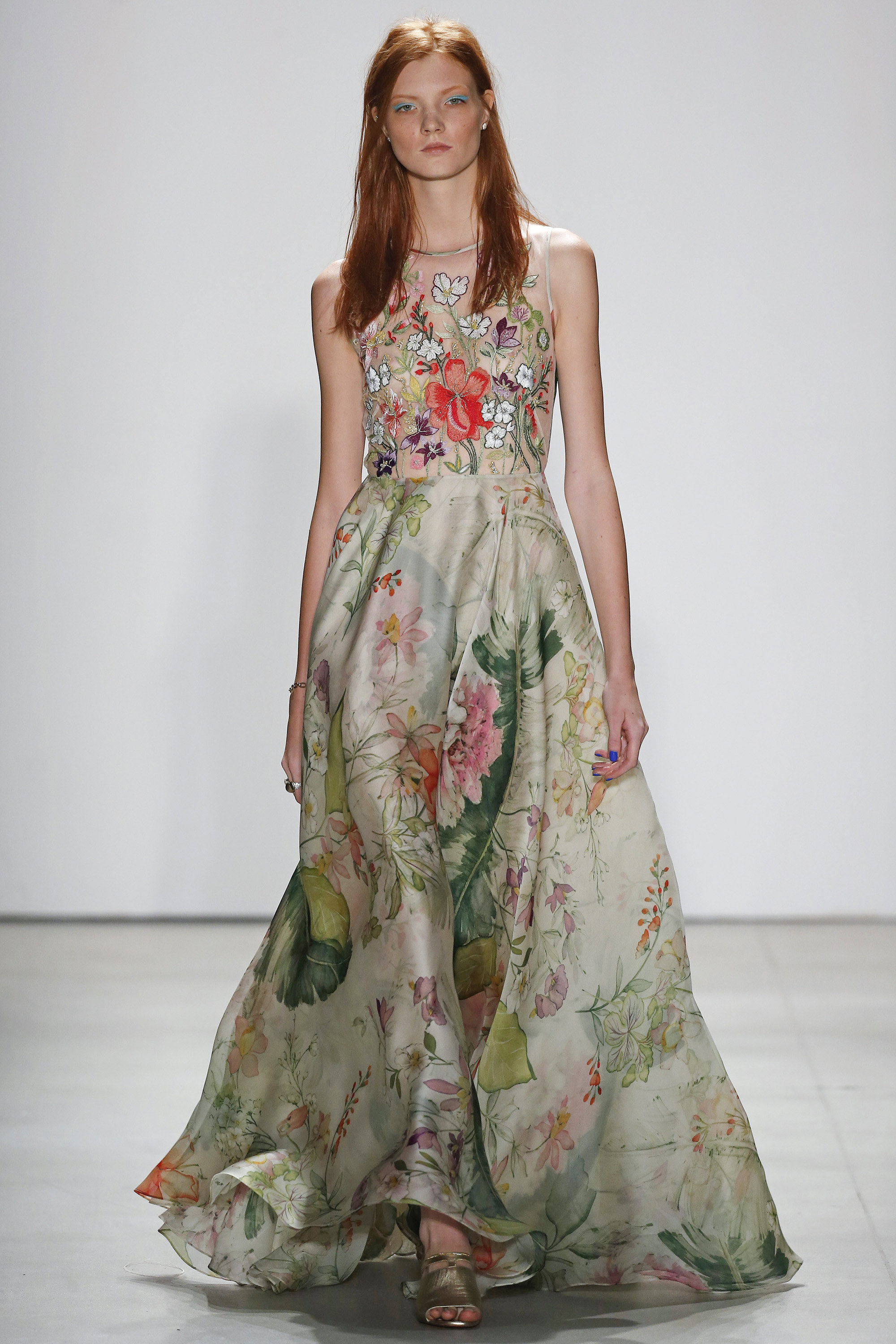 Flowers in all their glory were a welcome theme in this collection, in a beguiling array of patterns and permutations. Though a "spring" creation, this beauty could be worn to a gala affair in any season. (Those Opera houses and Symphony halls can become sweltering at any time of the year, and sometimes only chiffon and organza will do!).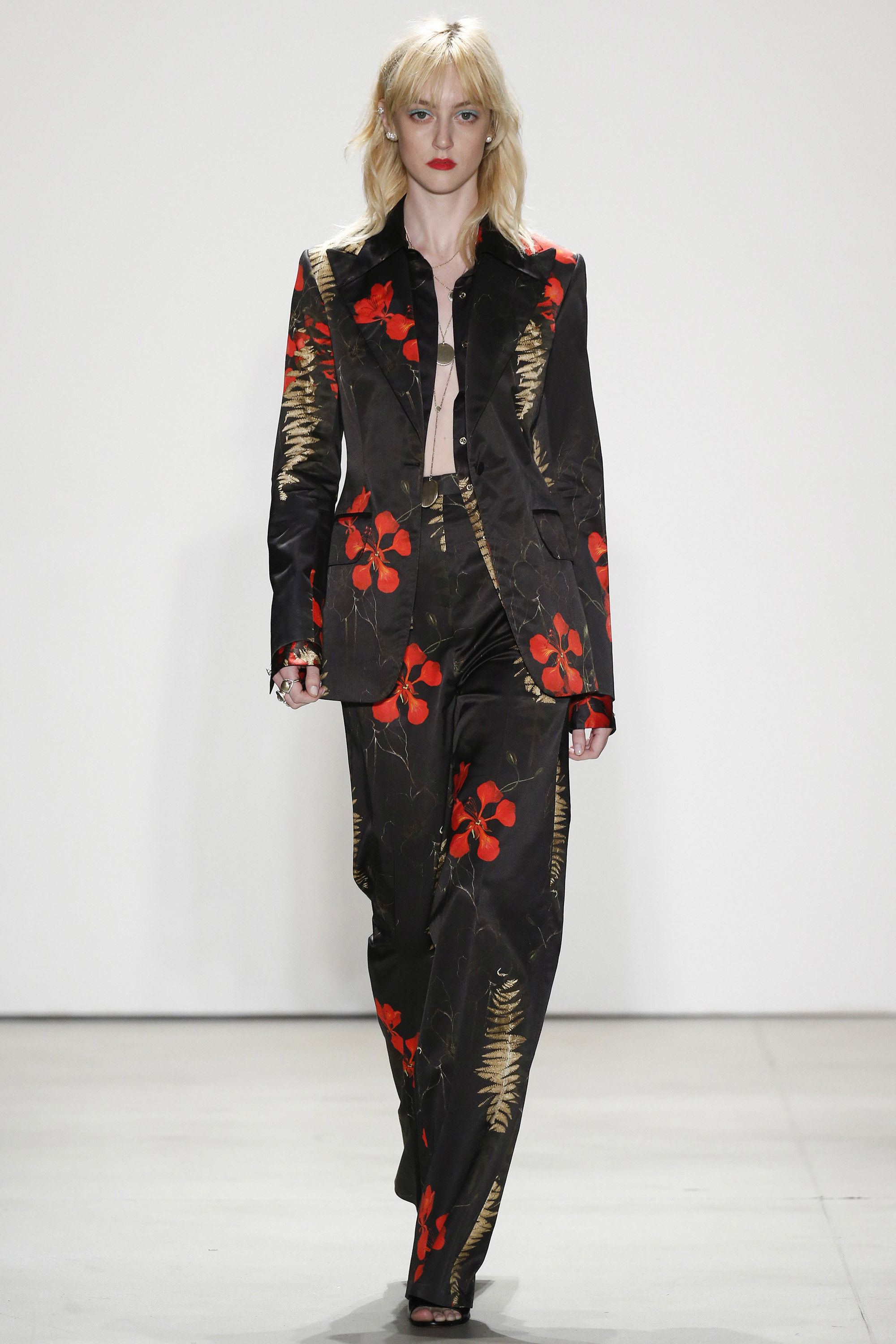 A floral motif, even abstract, will help feminize a more masculine silhouette. Add strappy sandals to further glam this up!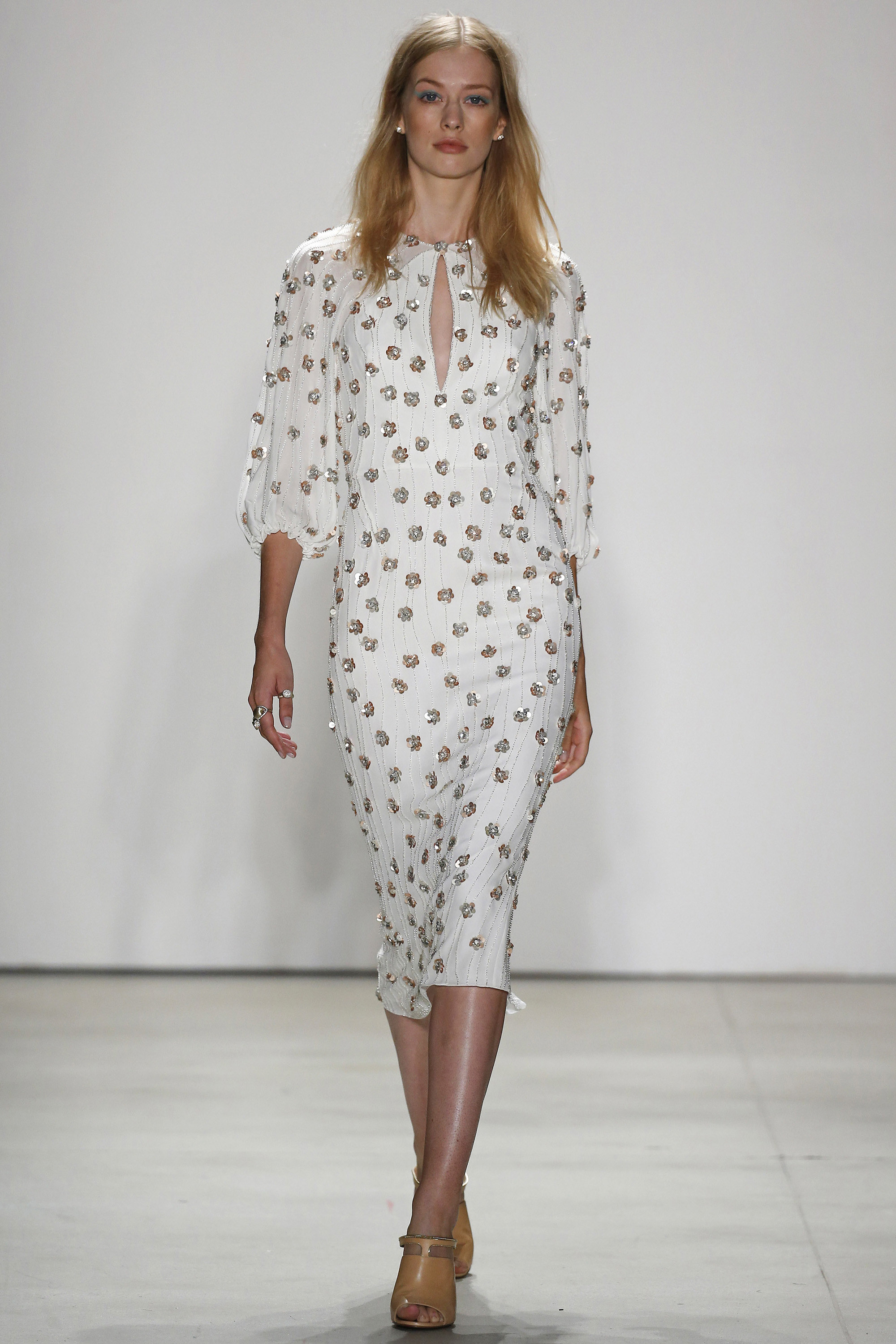 JASON WU: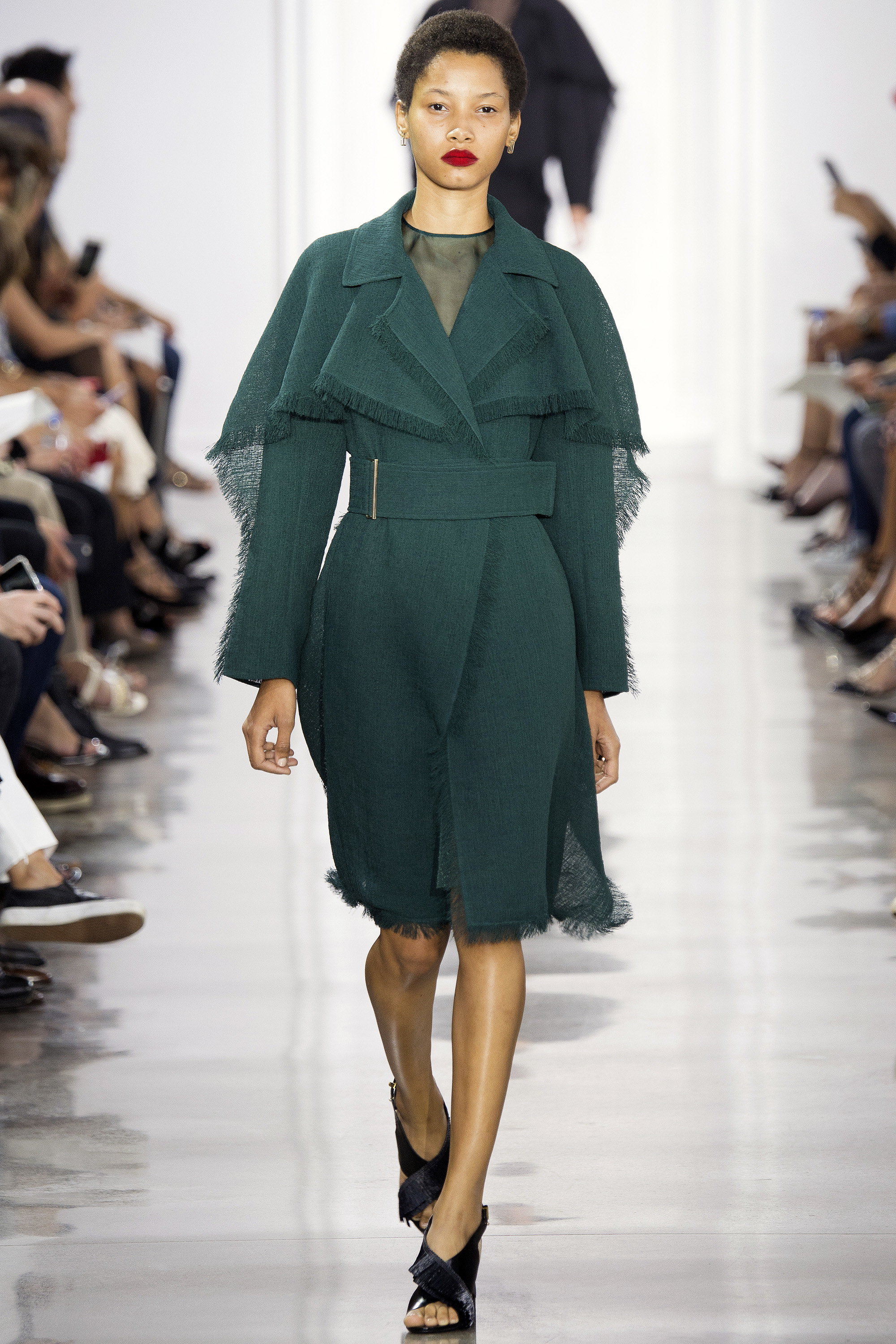 The TRENCH is a staple. And in general, you won't find much green on the racks, especially this version of teal. Black, navy, gray, and tan, yes. Green, yellow, and purple? Not so much. And something about the undulating folds atop reminds me of an alien insect. Think of this as a neutral.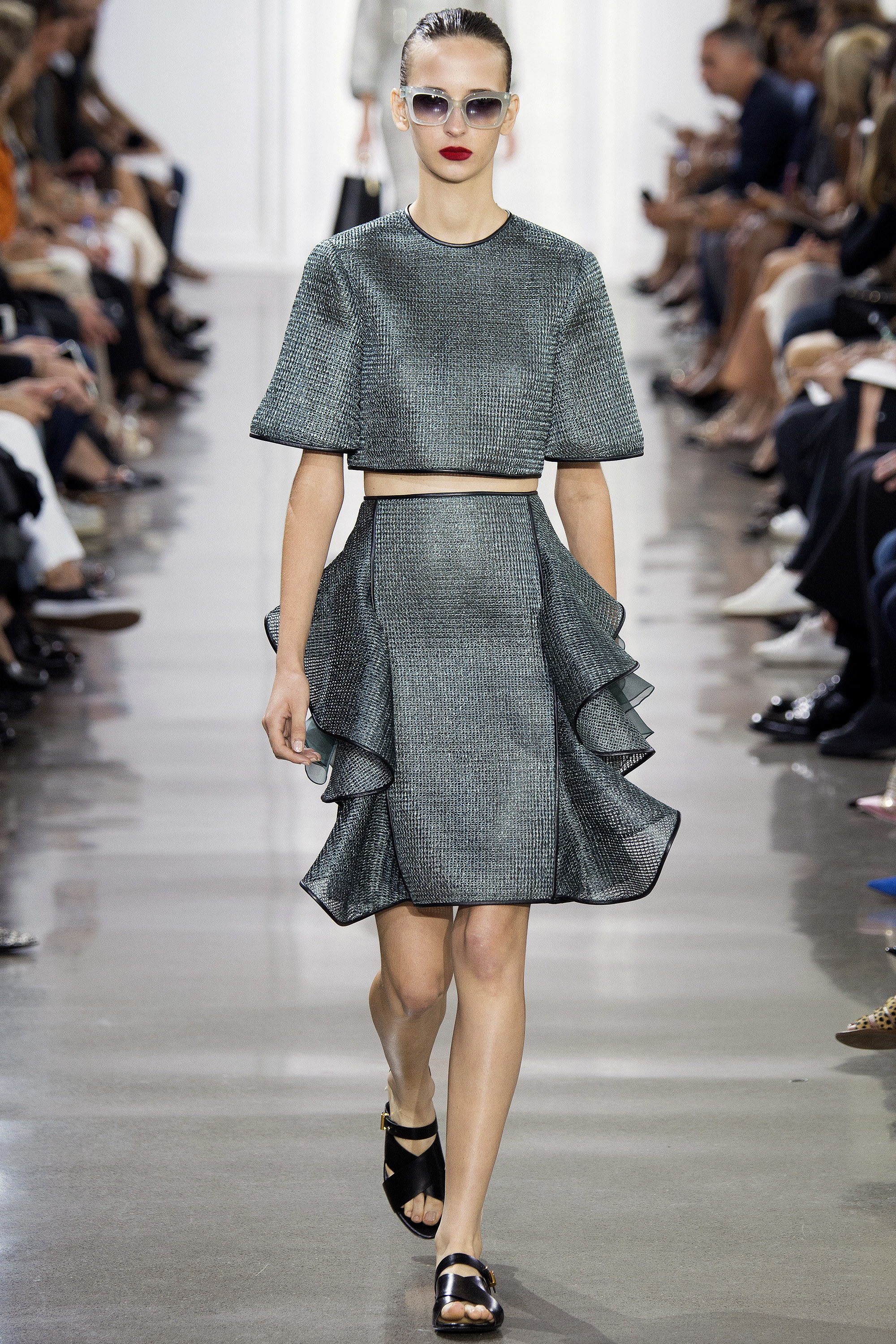 Young, flirty, and casual but out of the ordinary with the fabrication and bold ruffles.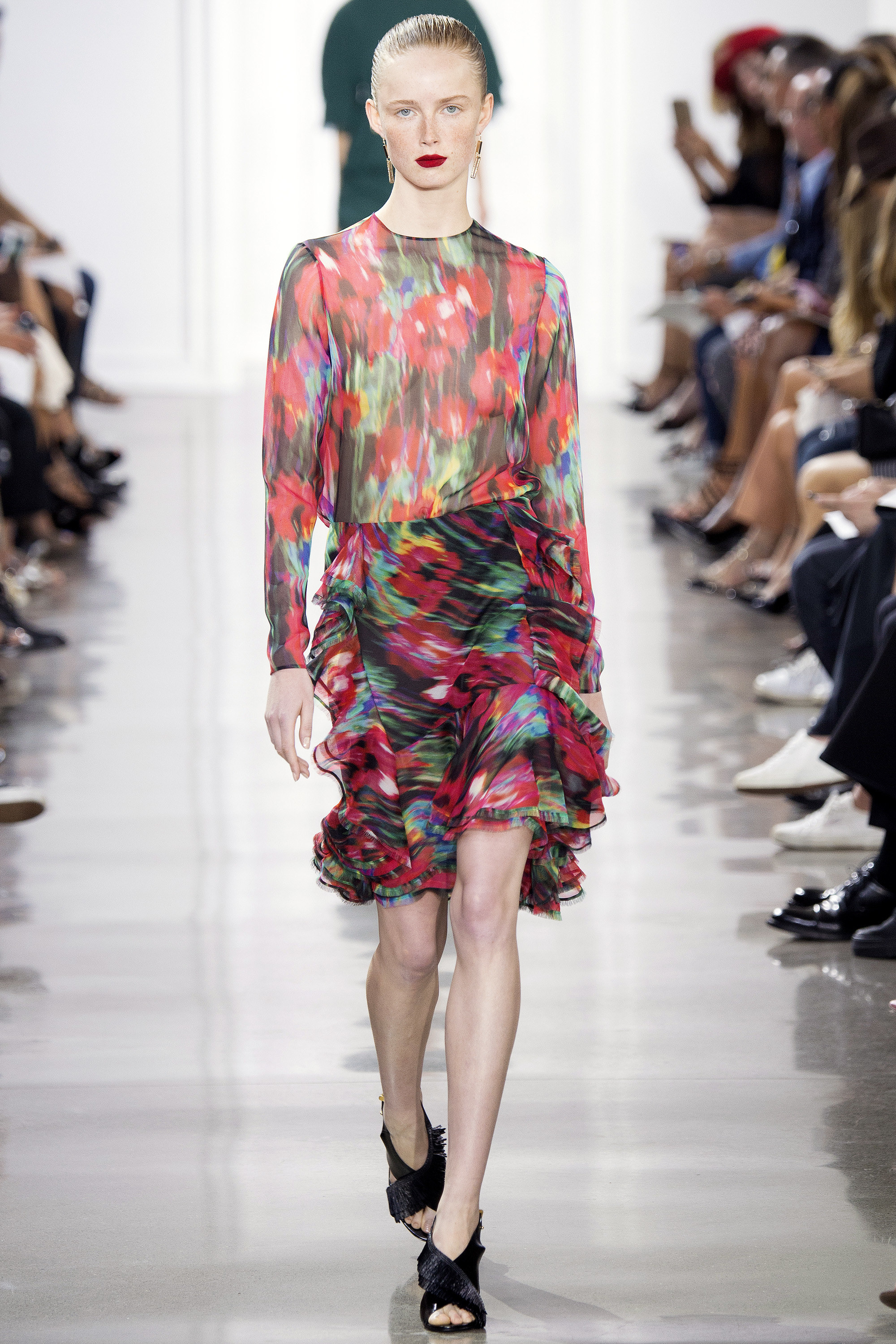 And here we have not only RUFFLES, but a floral watercolor with many a pretty color from the crayola box!
LIBERTINE: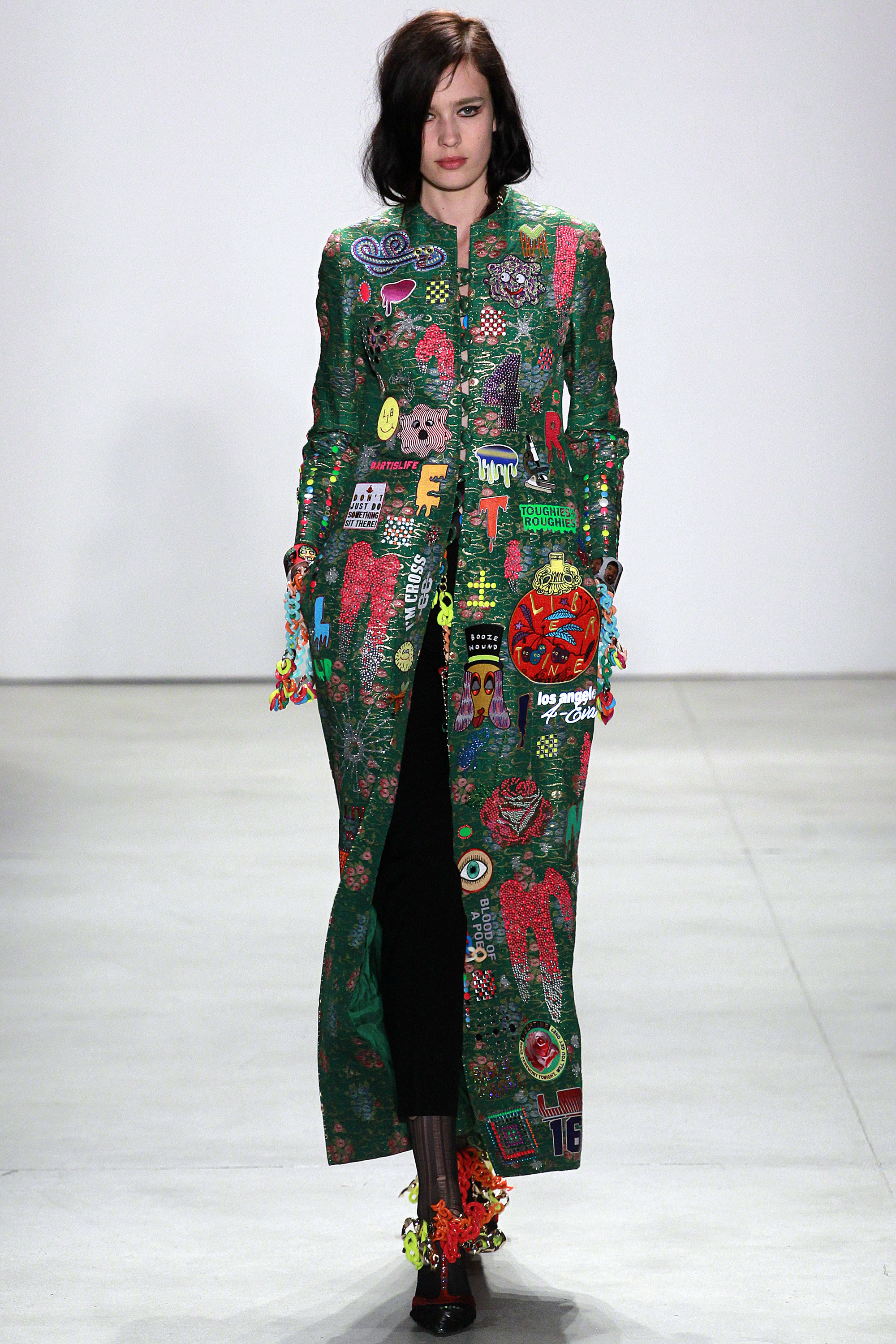 Johnson Hartig strikes again with a smile inducing razzle dazzle collection rife with vibrant embellishments and a healthy dose of whimsy. All versions of sumptuous fabrications and festooning as far as the eye can see compose yet another tour de force collection.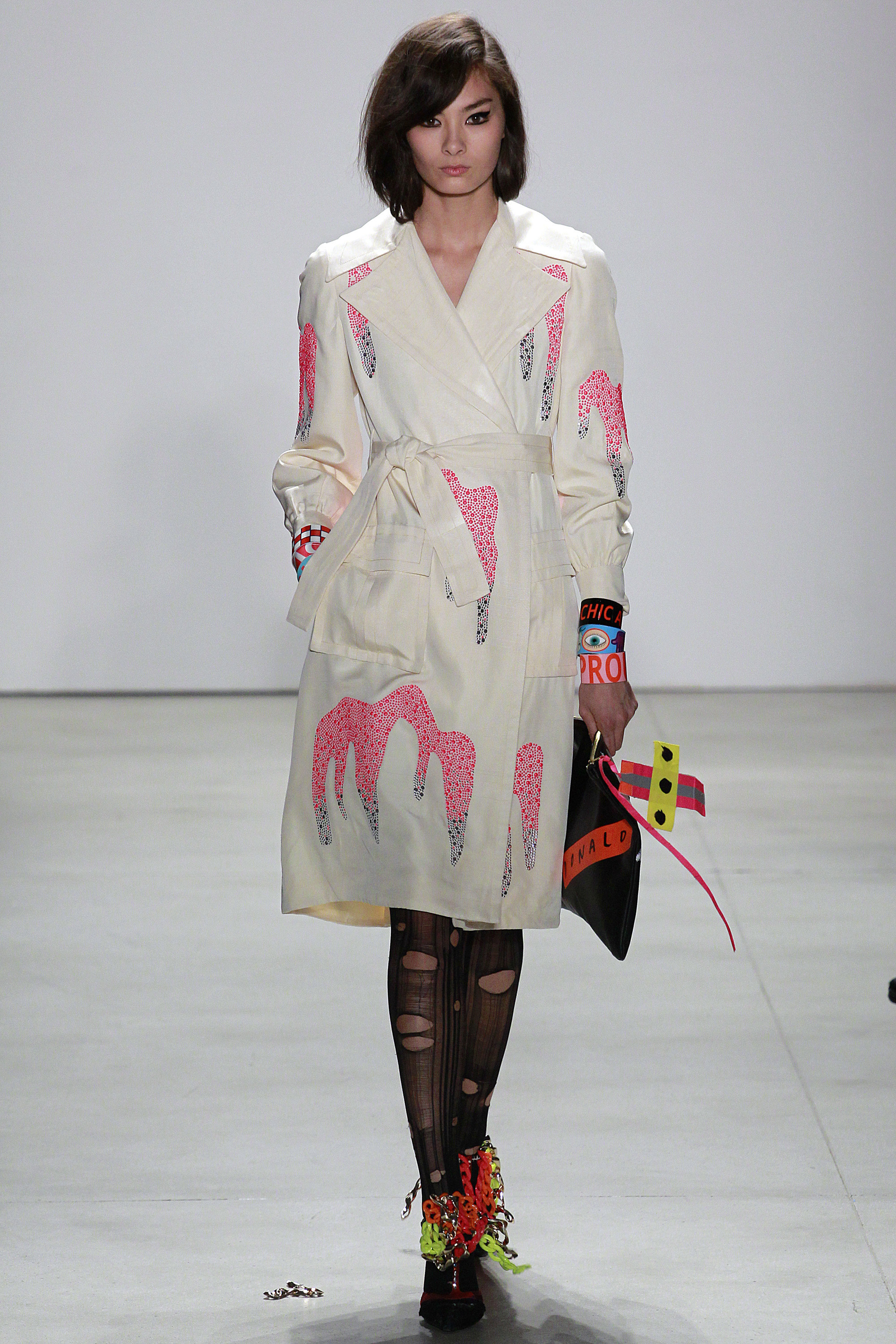 The tried and true silhouettes, many of which harken back to the 60's, are emboldened and modernized by the wacky adornments and abstract patterns of embellishment. A wonderful iteration of the perpetual staple, THE TRENCH.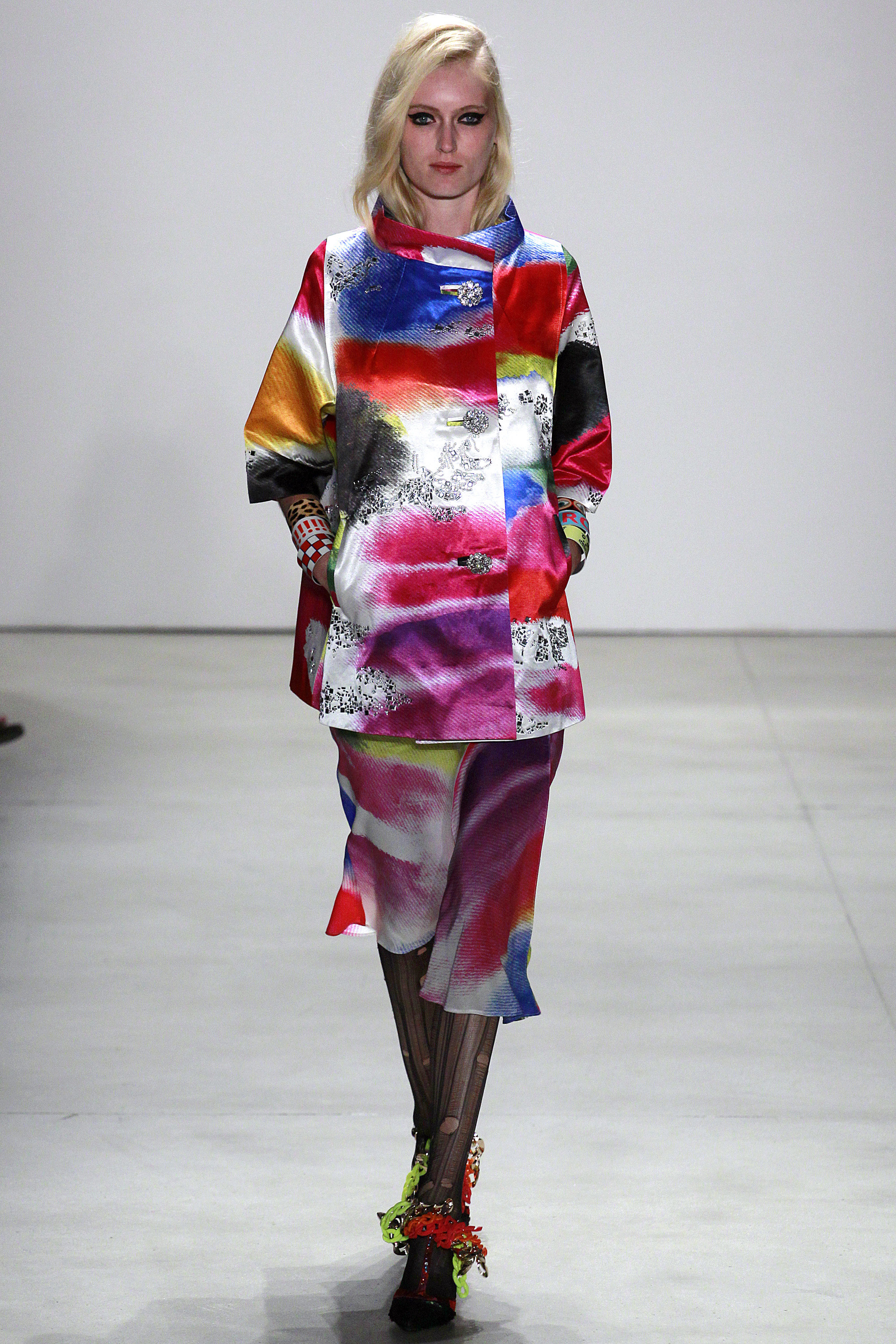 Ok, I want this one! The silhouette is right out of a Mad Man episode. Then add an abstract painting composed of vibrant colors, a smattering of embellishments, finished button holes (more rare than one might imagine) and those JEWEL buttons!!!!! HUZZAH! Throw over a gown for the next soiree, or over skinny jeans.
Another covetable collection! The fall winter Libertine selections are lining the racks of Neiman Marcus as I write this and they are OUTSTANDING!
More NYFW to come!
Images brought to you by www.vogue.com