Maybe its because there is a gay man inside of me screaming to get out, but I've been obsessed with all things menswear since I first stepped foot into Wilkes Bashford in the early 80's. Ah, the days of American Gigolo, his convertible Mercedes and the renaissance of Georgio Armani.....Perry Ellis, Alexander Julian and Ralph Lauren were the big men on campus, spinning both men's and women's wear, I loved all of it. At this time, Wilkes was THE specialty boutique in San Franciso (and frankly, STILL is), with an emphasis on lux men's wear. I just remember seeing this vision of heaven, stacks upon stacks of colorful men's sweaters lining the shelves of this exclusive bit of paradise on Sutter street. It was the 80's after all, no holds barred. COLOR was de rigueur. Although women's wear has run a broader gamut of styles through the years, with we gals more willing to embrace the vibrant, zany, and avant-garde, often more attention to detail is paid to clothing for the menfolk. We must be more susceptible to the endorphin surge that happens frequently, leaving our judgement paralyzed, but not our dominant signature hand. Through the haze, we can always manage to sign that receipt. Sigh… When the limbic system overwhelms our critical thinking abilities, the savviest of sales folk could sell us a burlap sack with the appropriate number of bugle beads and the right credentials, no many how many zeros on the tag. Neon neoprene raincoat that makes me look like Jabba the Hut, but it's RUNWAY PRADA? And I'll be the only one for miles around stumbling around in this thing? Ok then, SIGN ME UP! Men, not so easily swayed into parting with their hard earned shekels unless it involves electronics, muscle cars, or strippers. In general, those in possession of a Y chromosome need to be plied with impeccable tailoring, subdued colors, and major handling before wandering beyond the usual khakis, jeans, and corduroys. And if possible hooch on hand never hurts. Of course I refer to the random straight man, as the metroexuals and gay men are more open to the new, the wacky, and the color imbibed fare, all on hand in the fall winter collections.
A favorite piece from my younger days was a men's cashmere muffler composed of blue, cream, and soft red stripes with an ombre effect, the colors subtly blending into each other. Like Linus and his blanket, how I loved that thing. Not sure what happened to that baby, possibly being held hostage by an erstwhile boyfriend. Thirty plus years hence, during a random weekend pilgrimage to the mothership of Louis Vuitton, I see this glorious concoction at the entrance to the men's department: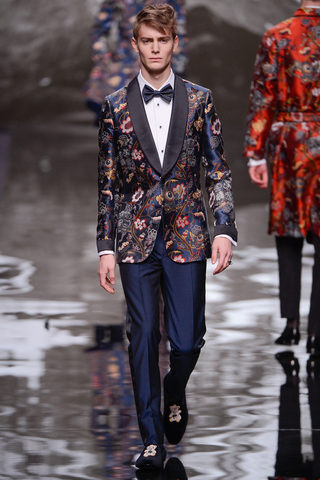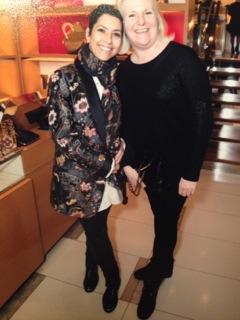 Because it was on a manequin I could get up close and personal, but not so close that I could officially DROOL all over it. A tuxedo and smoking jacket in one spellbinding blast of jacquard silk in a pattern imagined by the Chapman Brothers, so called provacateurs and bad boys of the art world. Wearable art for real, like a deranged yet lavish rendition of "Where the Wild Things Are". After seeing in on one of my homeys at the LV Holiday party, I thought, I GOTTA HAVE IT! So, several days later I returned to my favorite space on Union Square, and after 20 minutes of slight of hand pinning by a Russian wizard, it was ready for a looming transformation. This wee picture cannot do this wondrous piece justice, but it does illustrate the impressive talent of the tailors and seamstresses on call at Vuitton who took a jacket made for a 6 foot tall dude and reimagined it to fit my 5 foot 3 inch frame. The moral of the story? If nothing in the chick section strikes your fancy? Yup, thats right, head over to the MEN'S DEPARTMENT!
Now off to the wonderful world of Men's Fall 2015:
DIOR HOMME:
For the up to date hipsters and socialite types comes a sleak chic series of separates, suits and yes, TUXEDO jackets! Fashion forward but always harkening back to the tried and true silhouettes.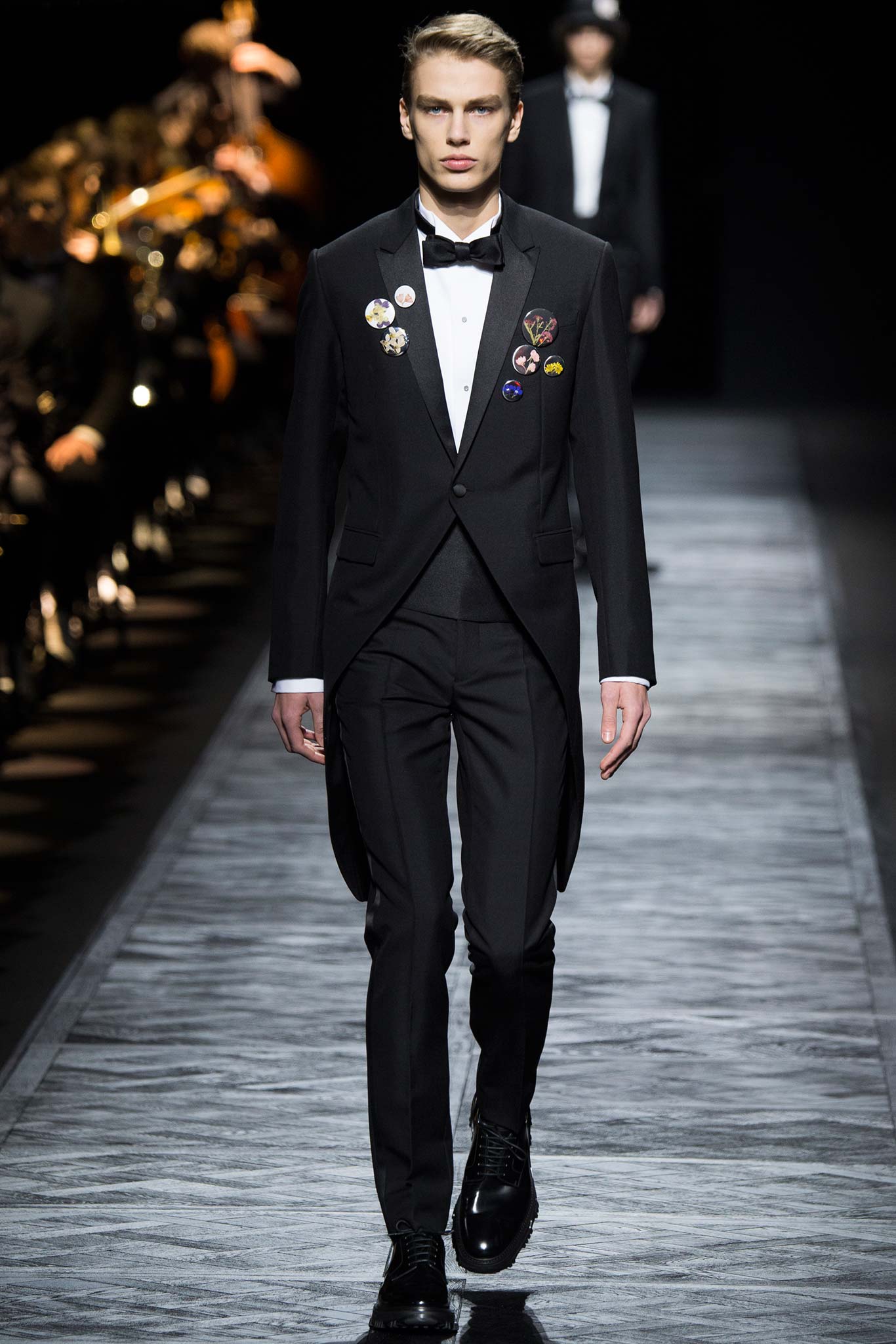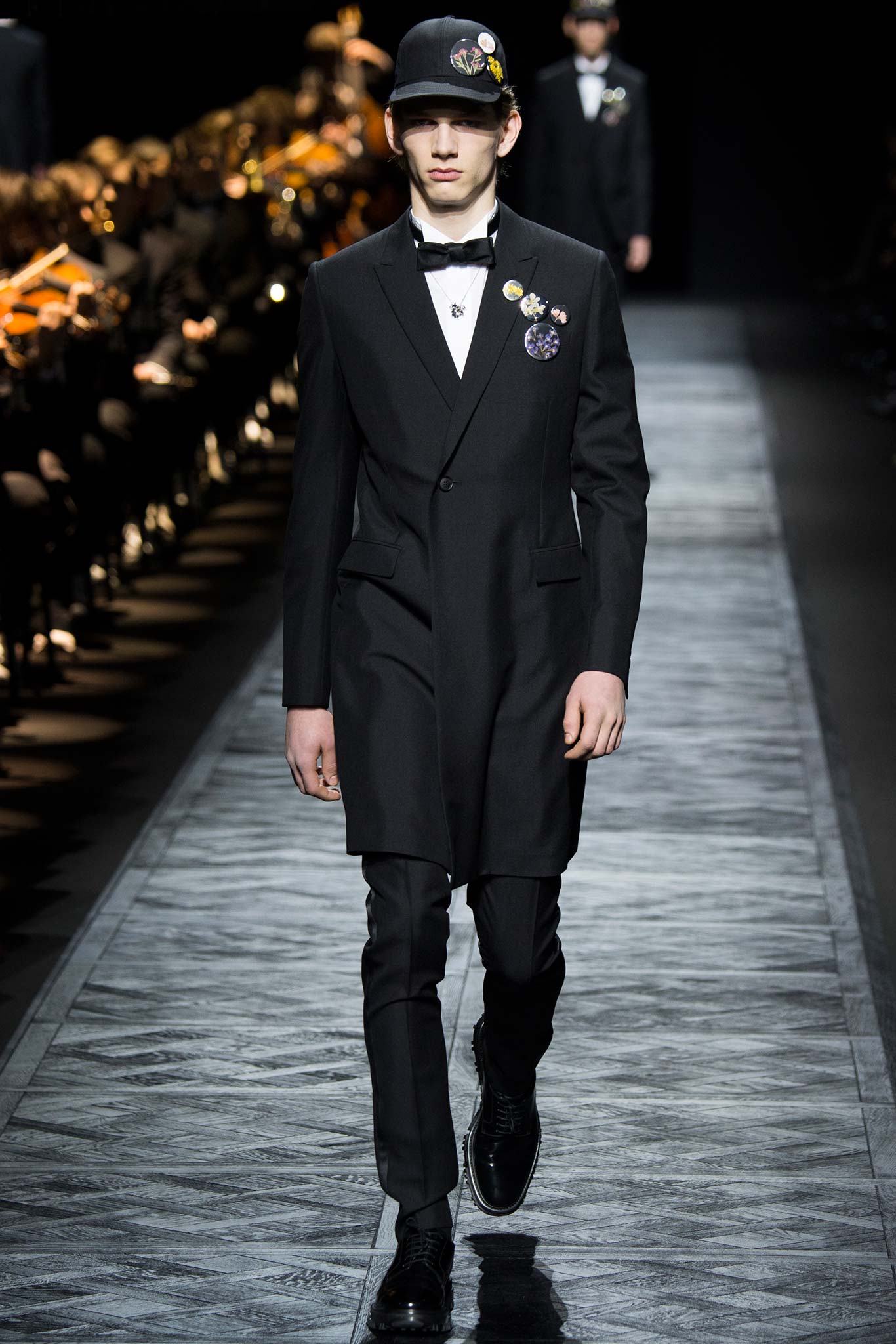 Two stunning stream lined Tuxedos when its time to wander outside the standard realm.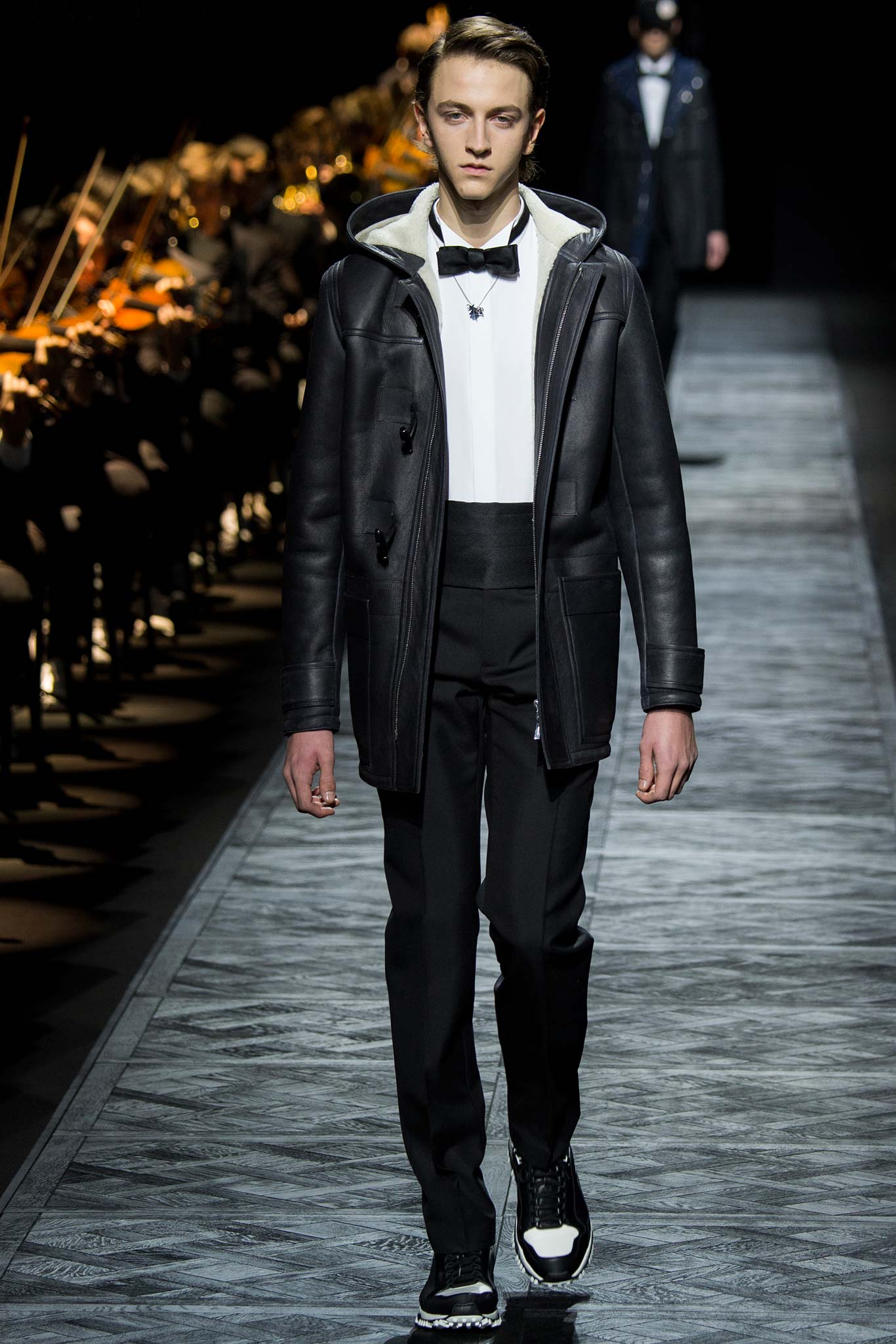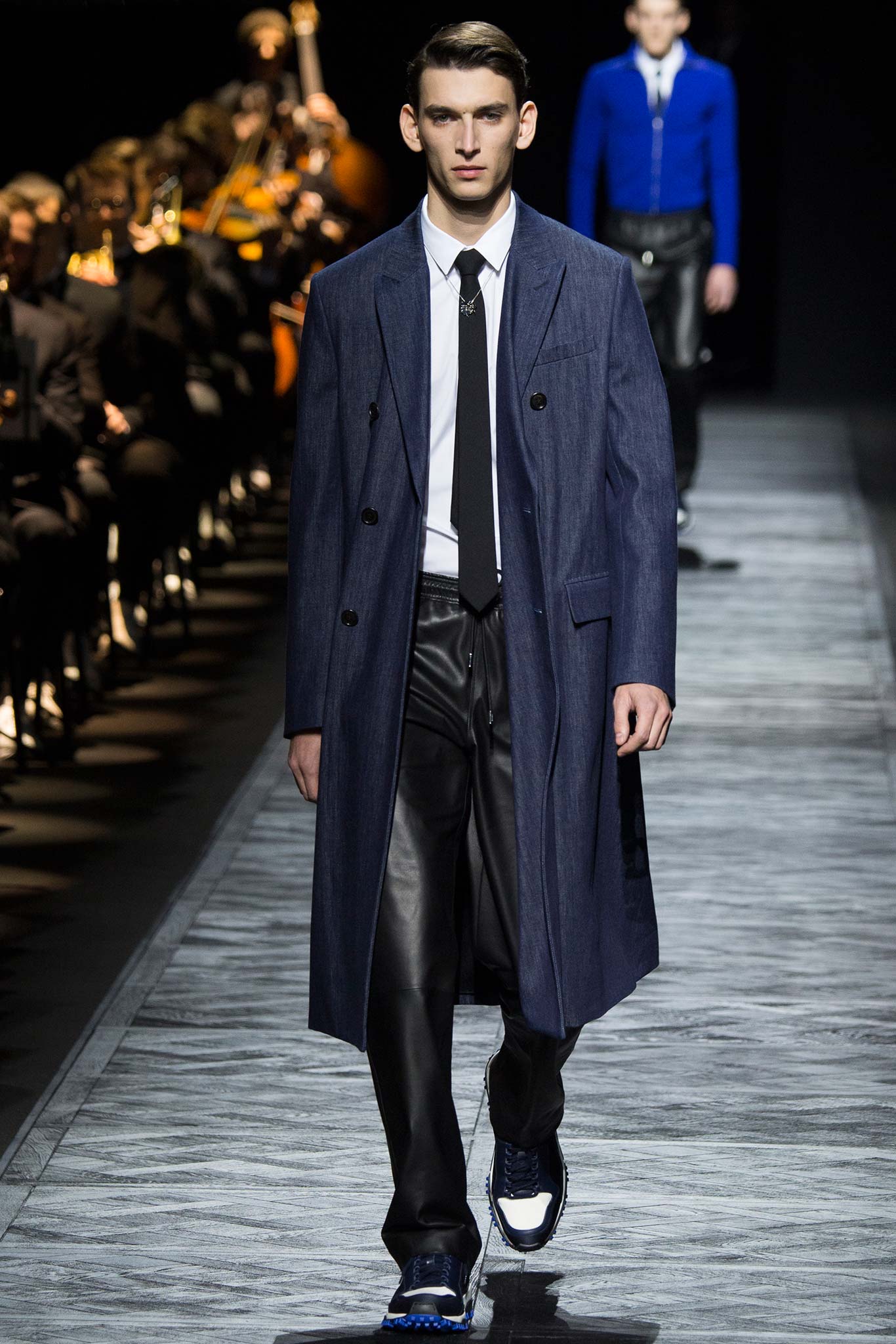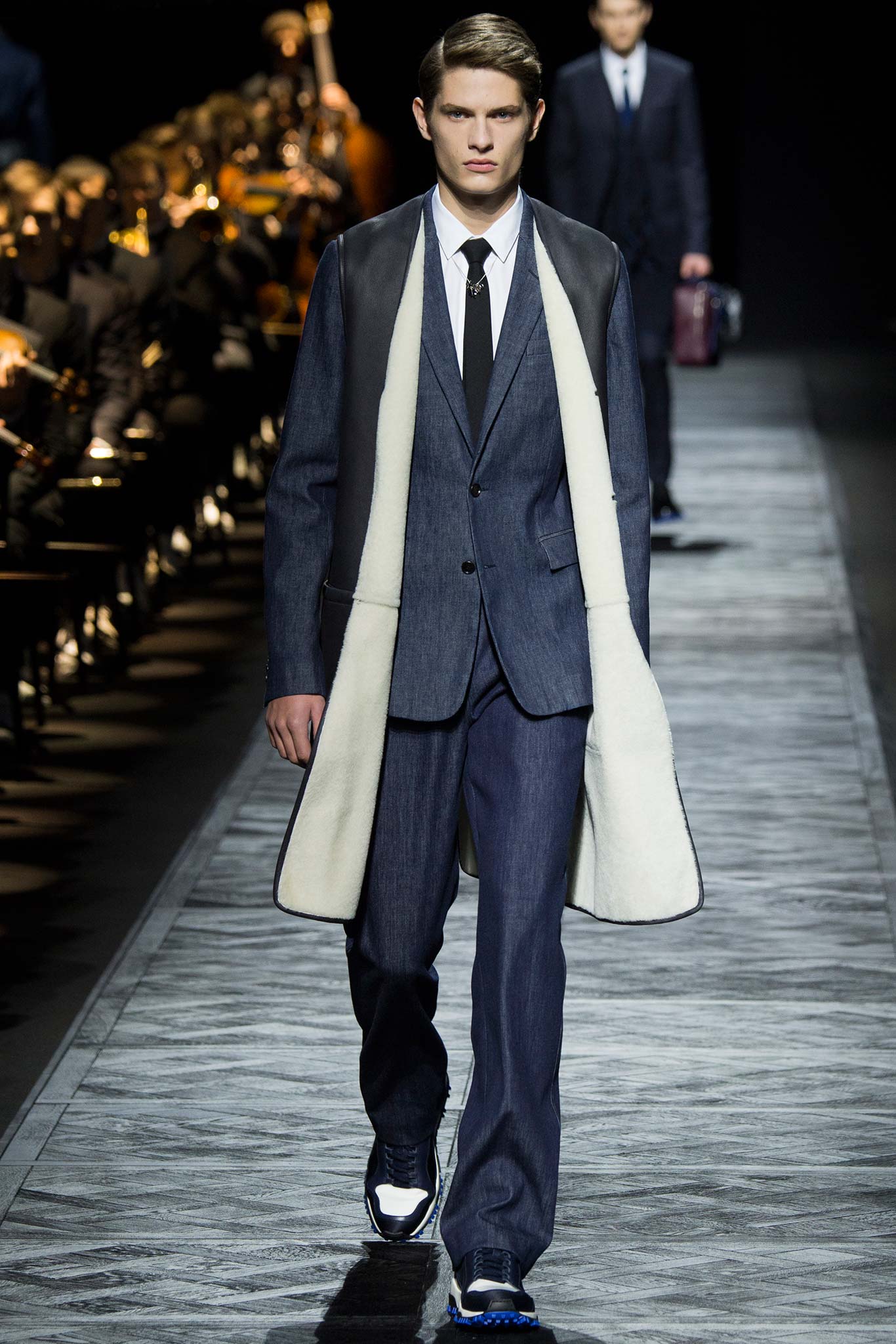 The versatile VEST looks right at home over this suit.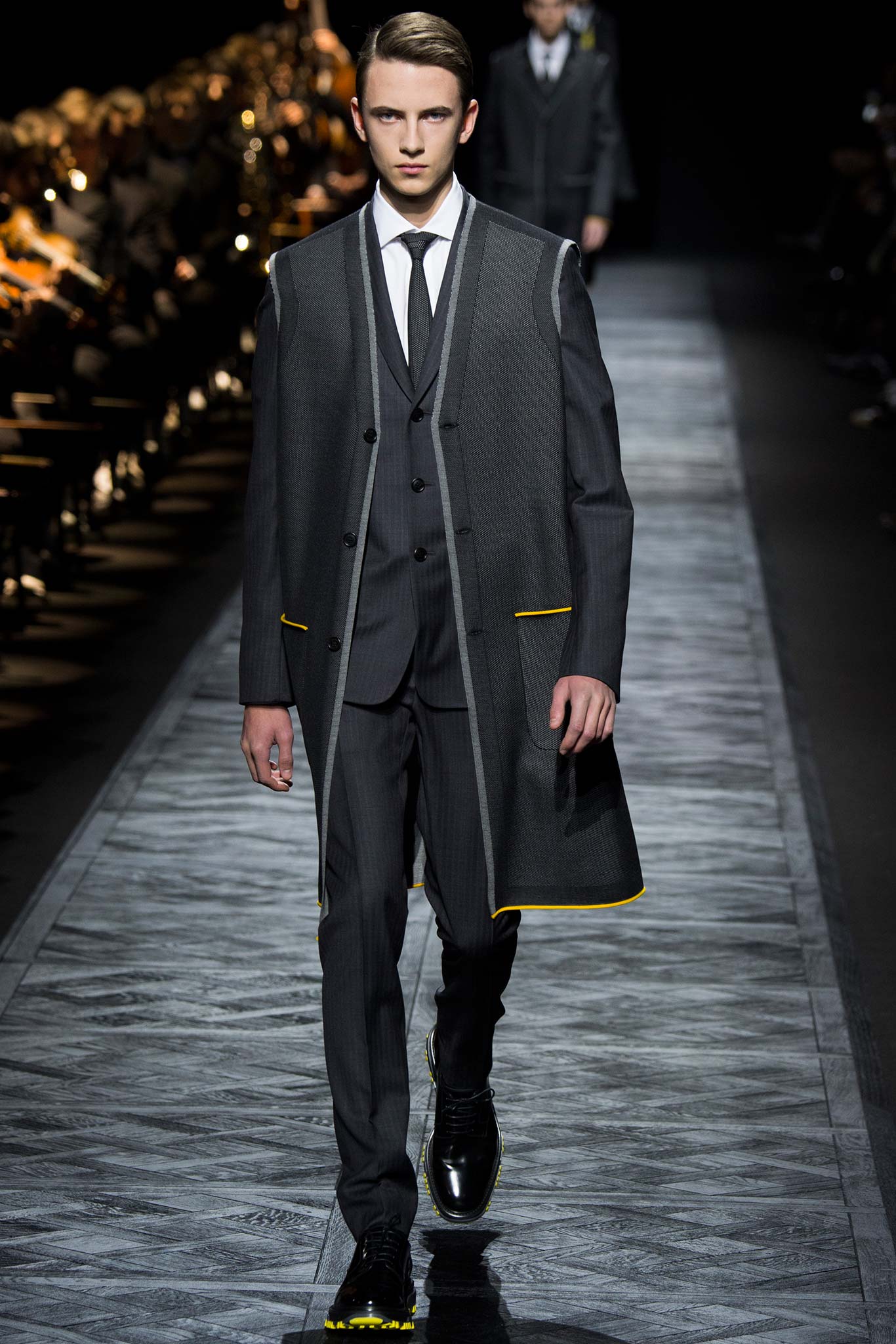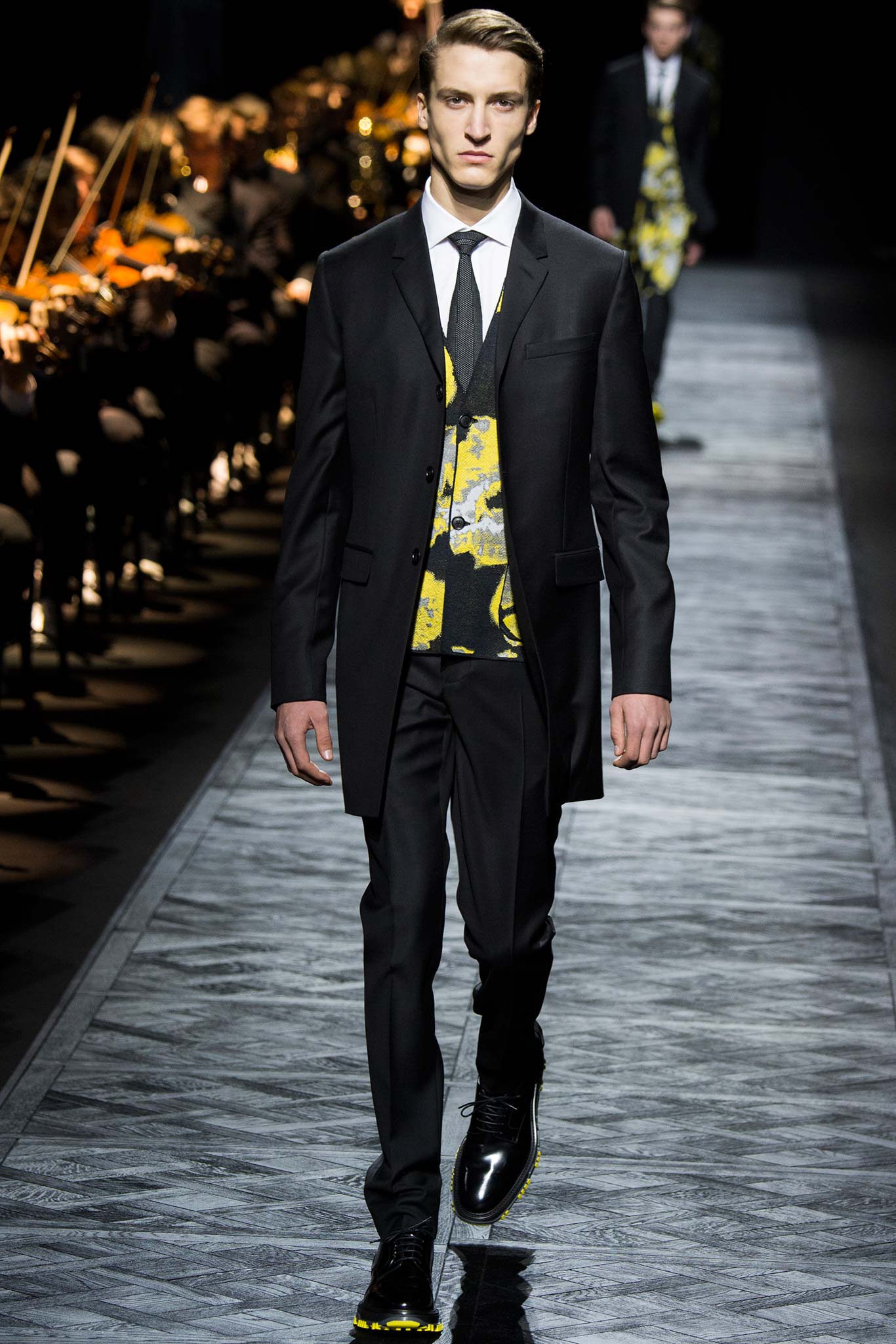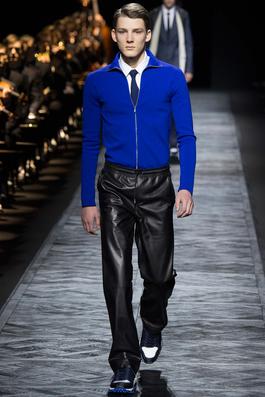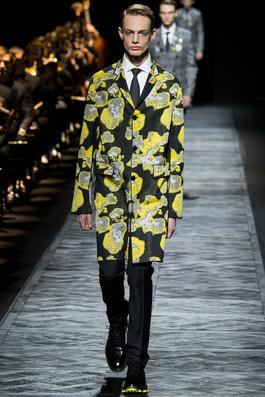 Cerulean blue, always vibrant and welcome! The black and yellow number with the floral motif has a hint of the feminine about it for the more flamboyant menfolk.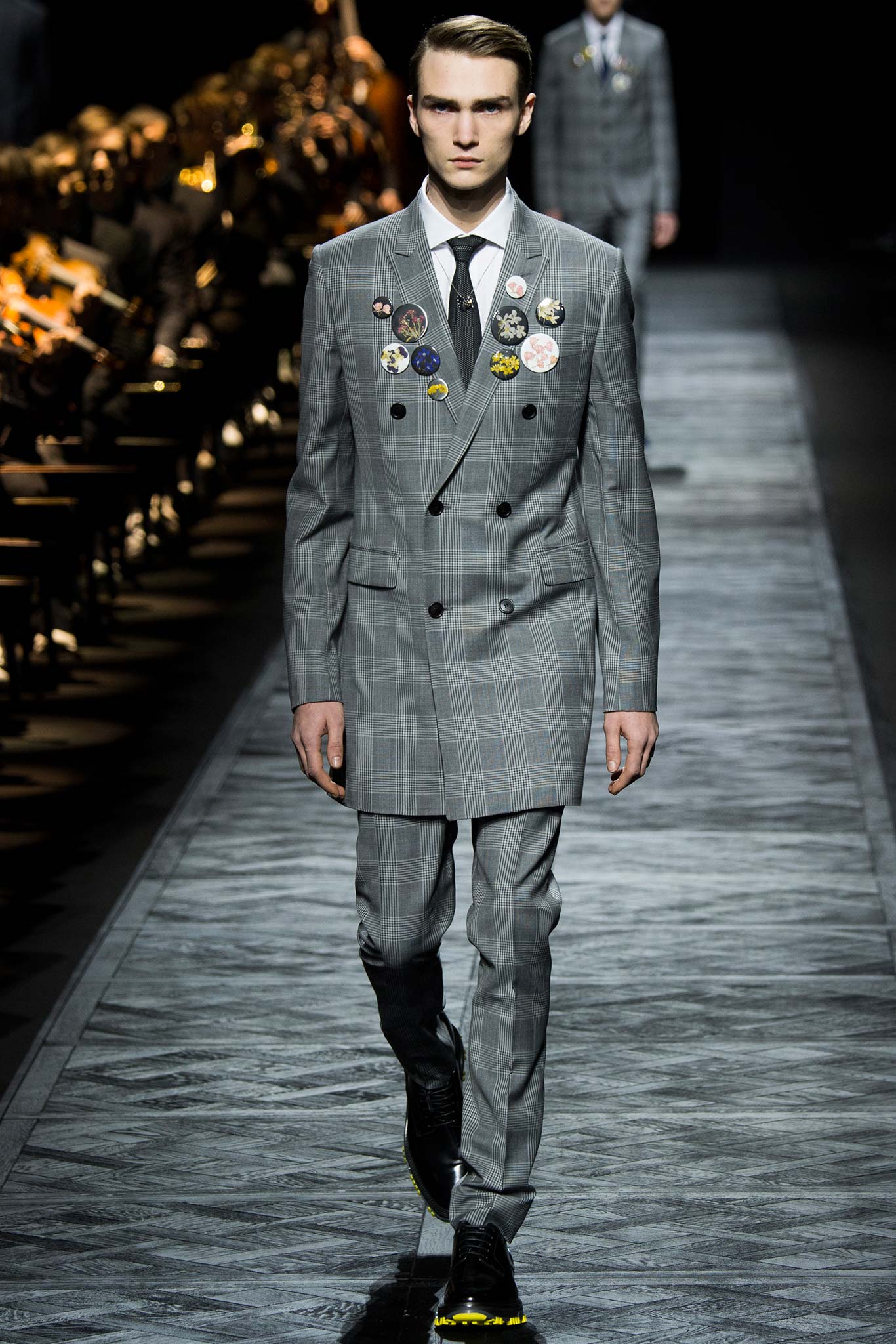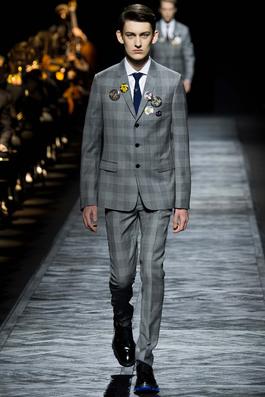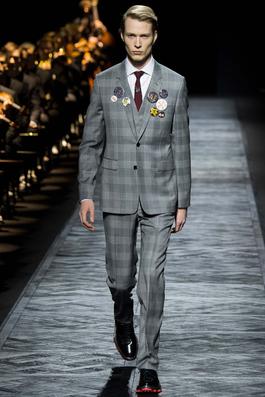 The perfect men's attire to accompany the concoctions brought to Dior by Raf Simons.
BOTTEGA VENETA:
Thomas Maier brings his love of color and penchant for lux sports wear to the men's contingent as well.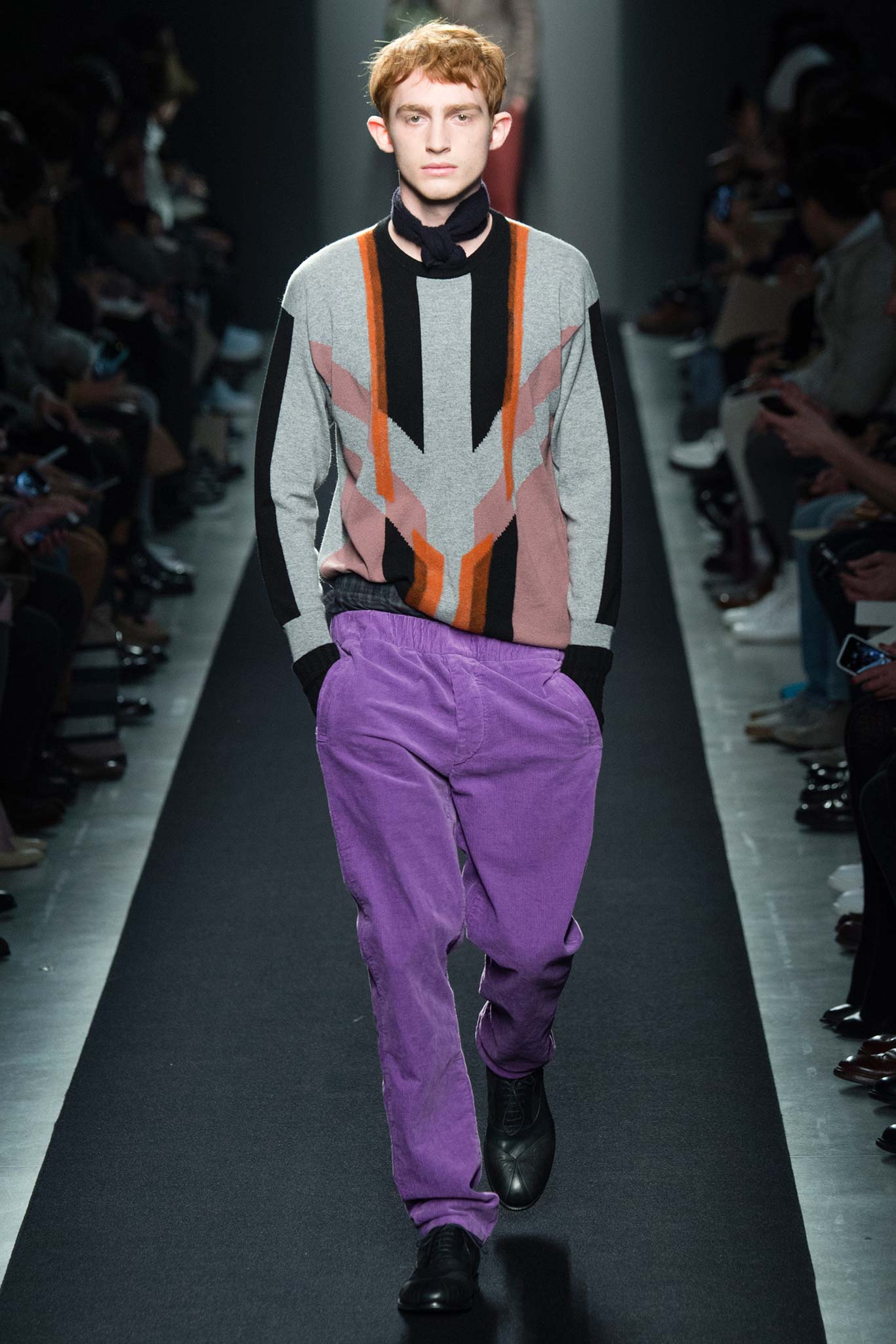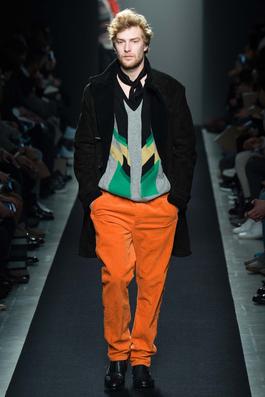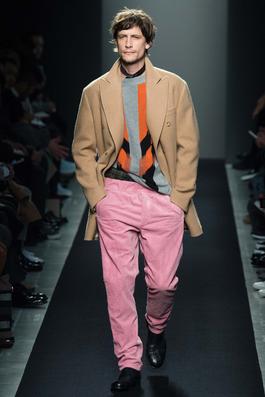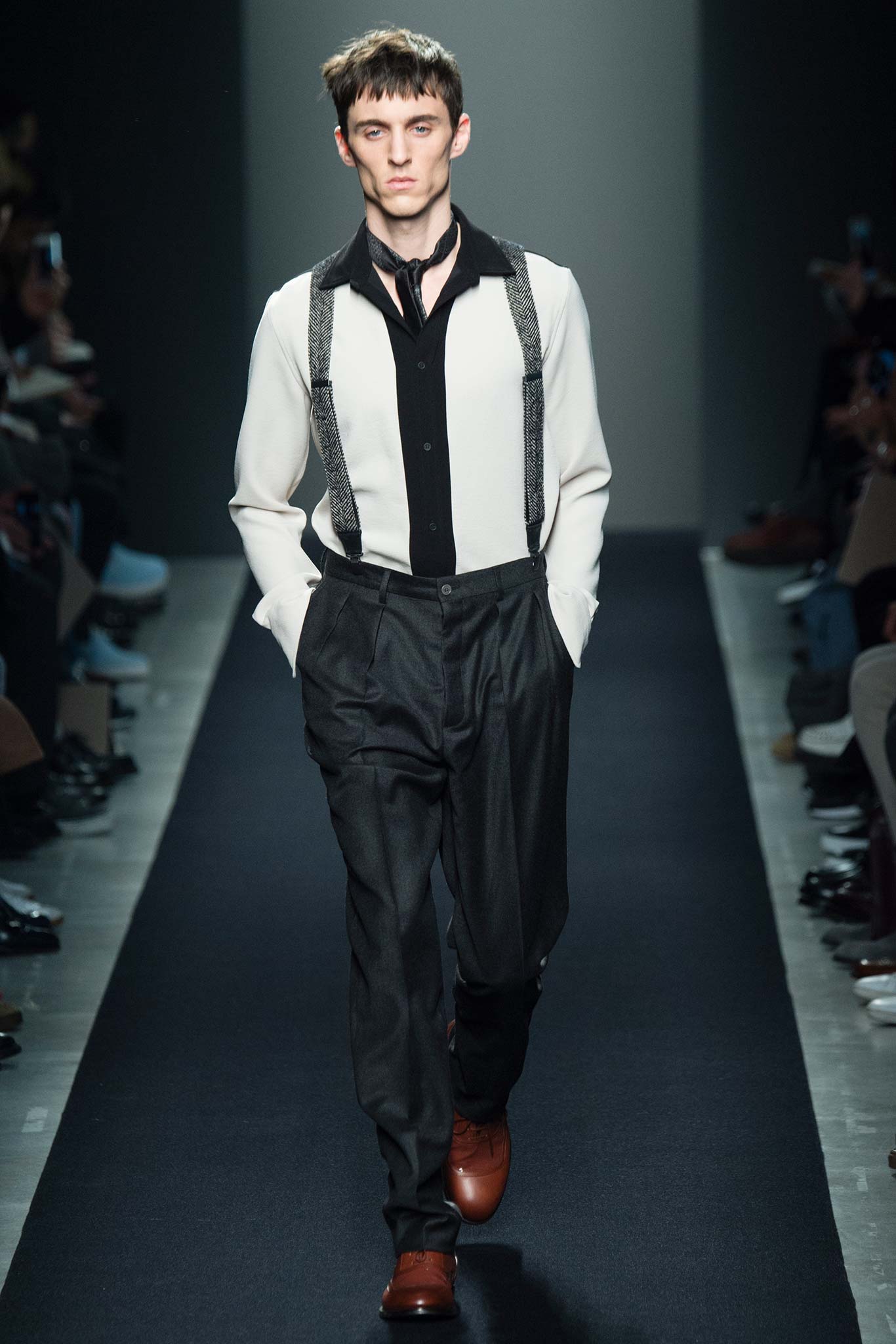 Are suspenders back? I'm not sure but WHO CARES when they look this smashing?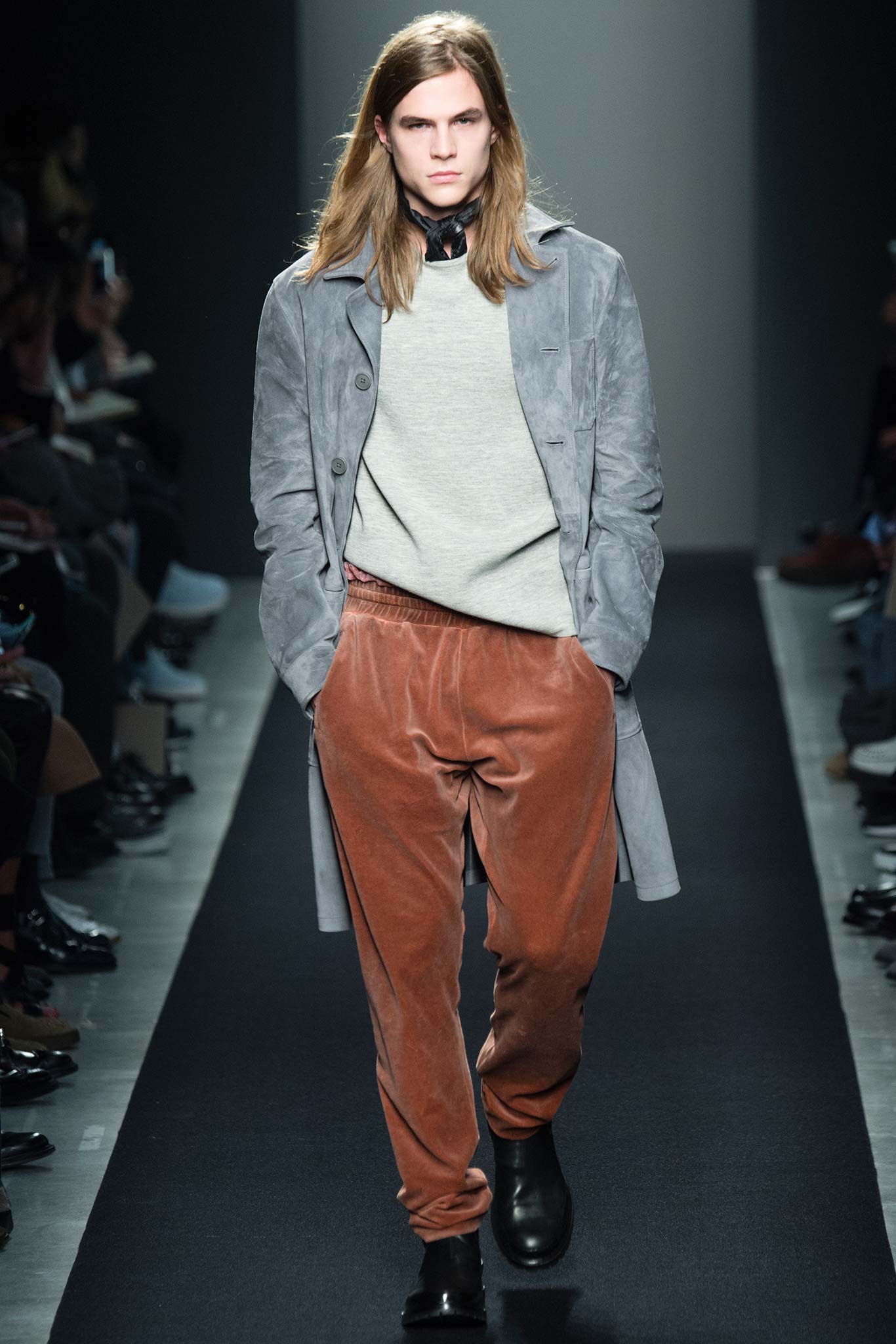 Ok, I want this outfit, it looks so snuggly and cozy, and simultaneously elegant and chic.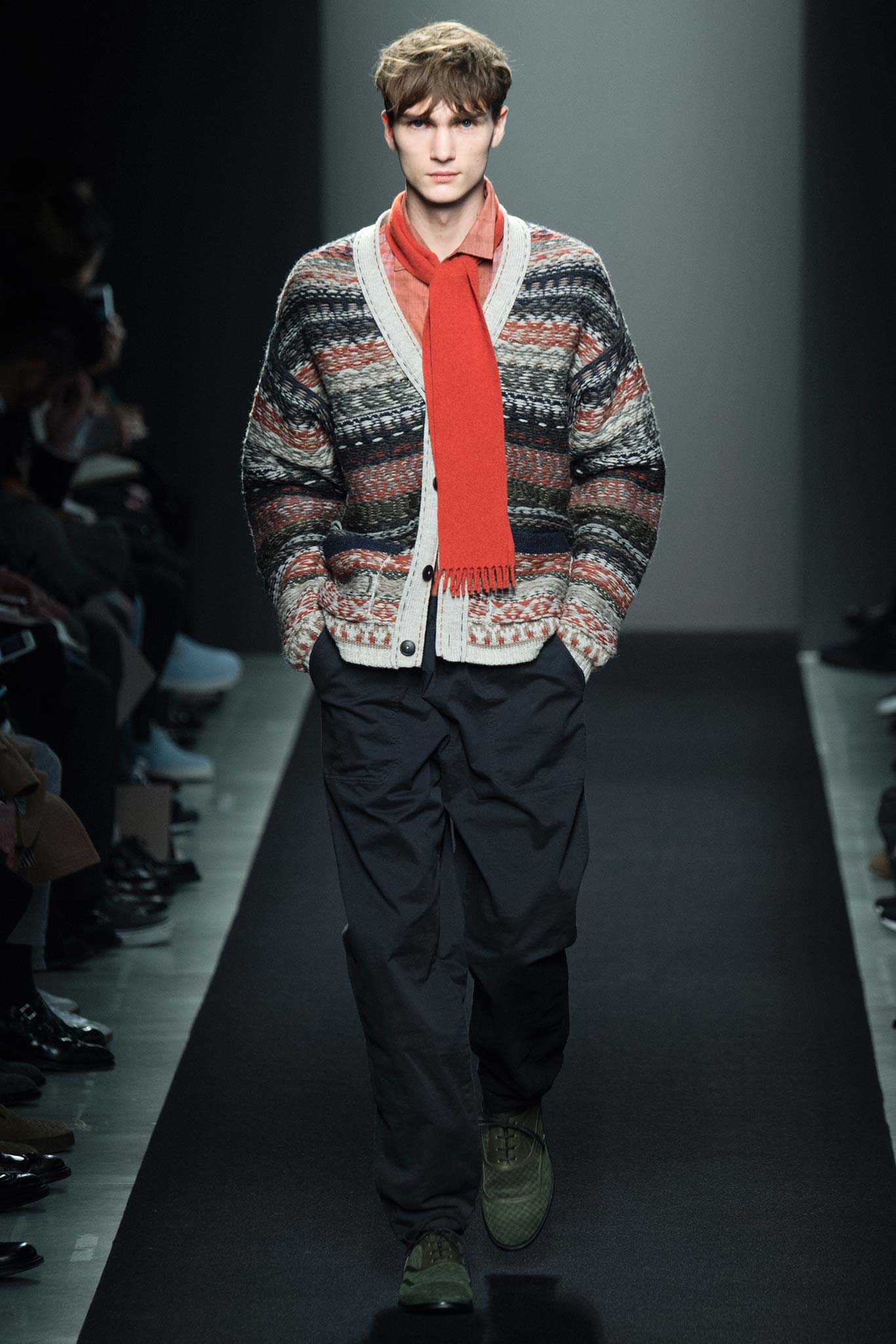 Yummy, like gazing at a box of Macaroons.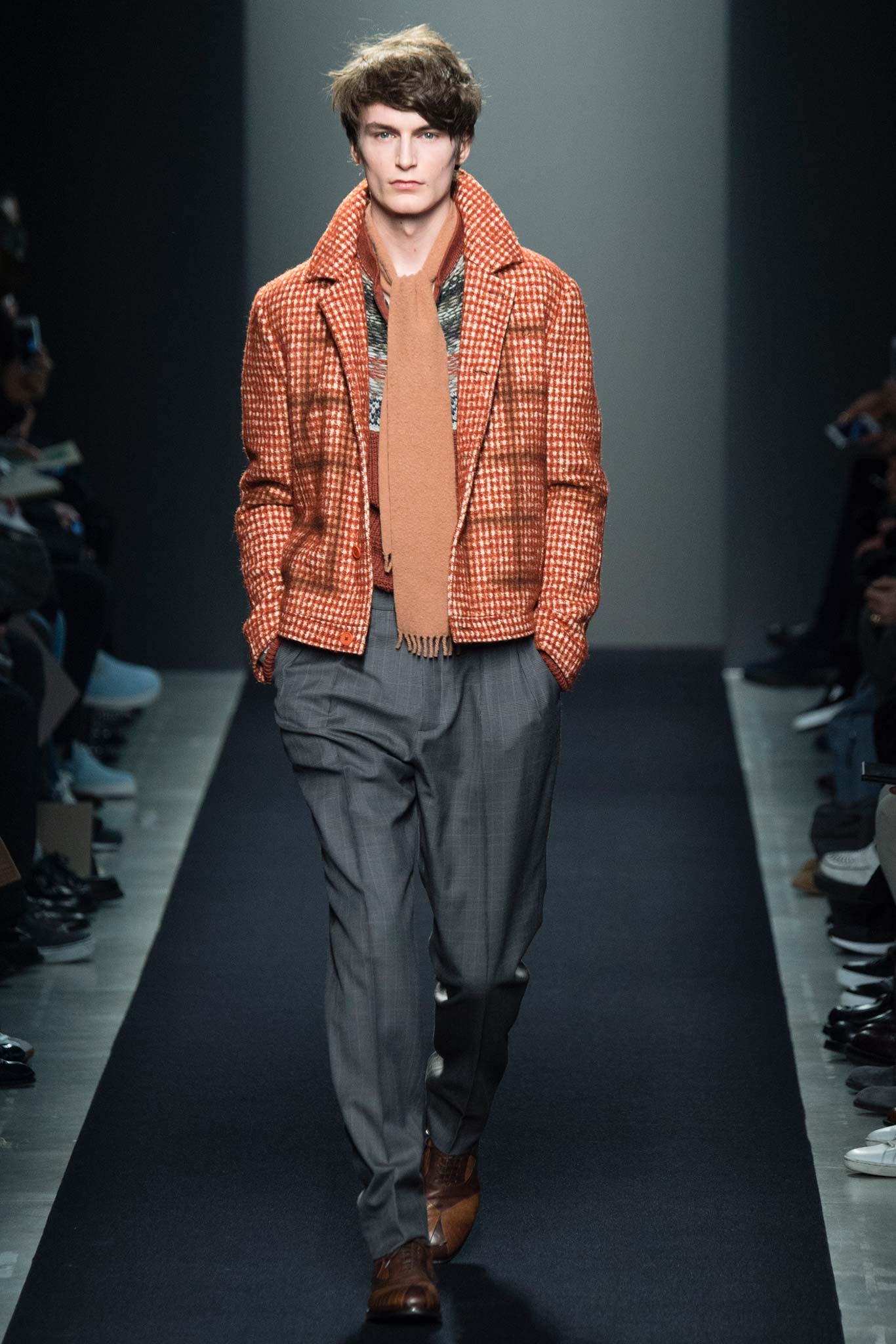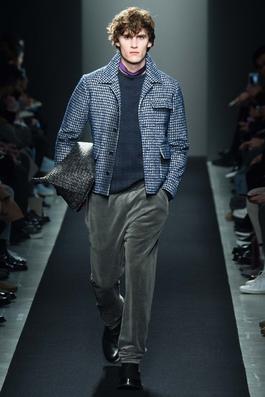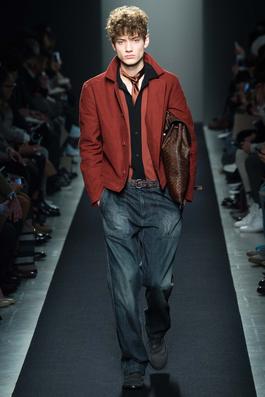 Easy, enticing, insouciant….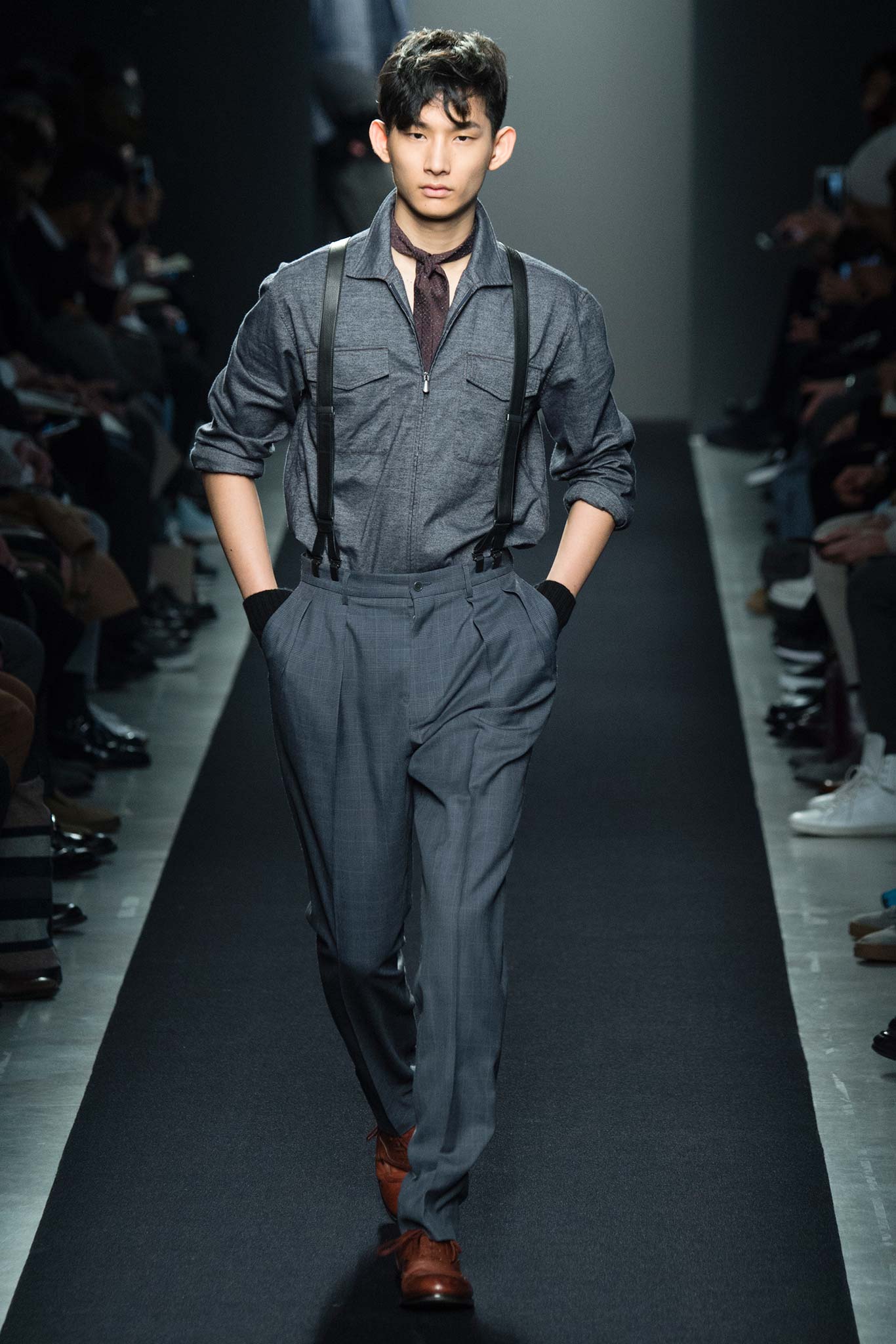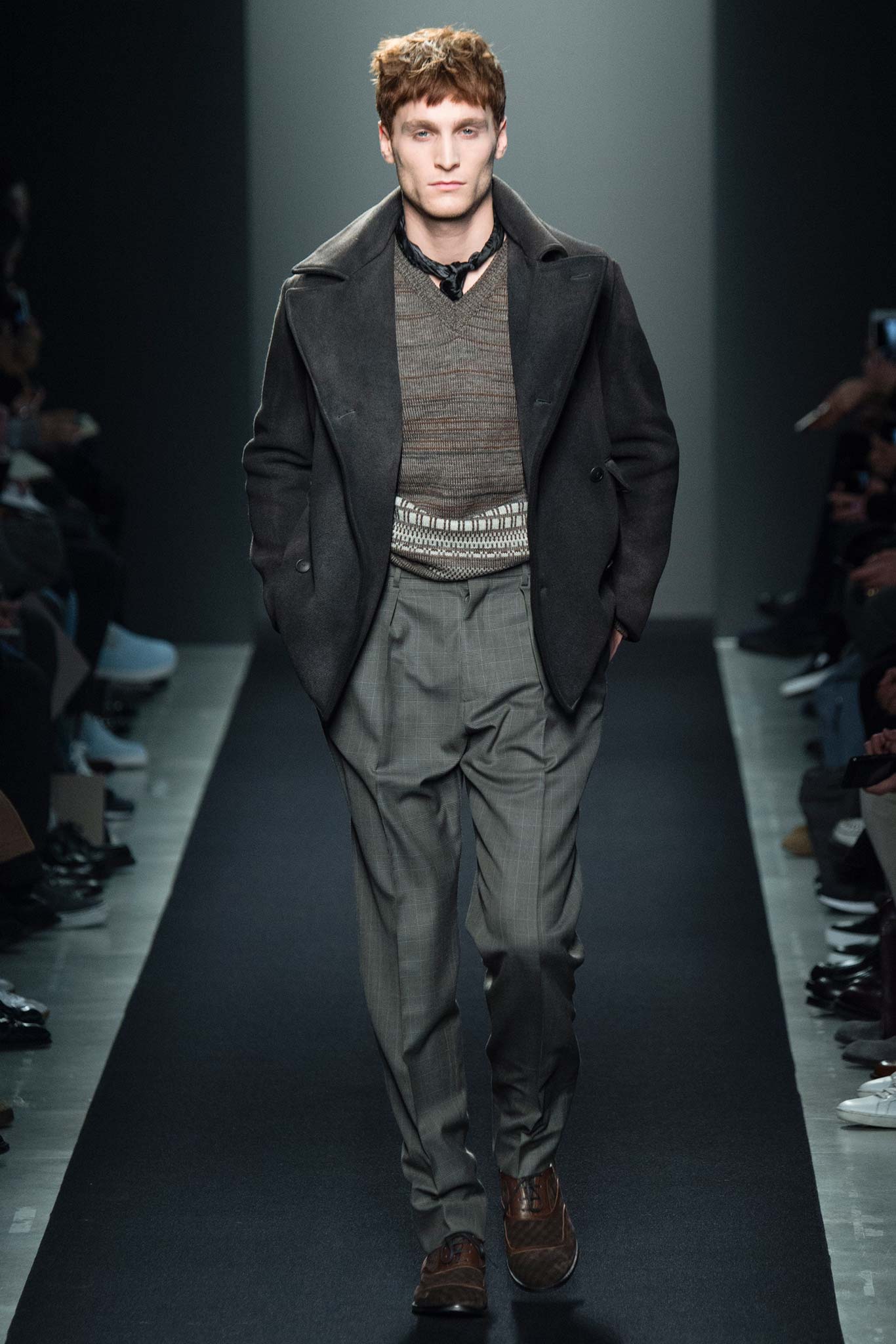 A wonderful collection of scrumptious separates suitable for the man with a taste for wearable finery and a sense of humor.
ANTONIO MARRAS:
As with the women's line, there is an eclectic assortment of separates that are unique in their amalgamation of colors and fabrics, with a running fur contingent, just enough for visual interest, but not completely over the ledge. His collections are always intriguing, never trite or banal. The theme of camouflage continues, with more kicky options than you might find in a surplus store.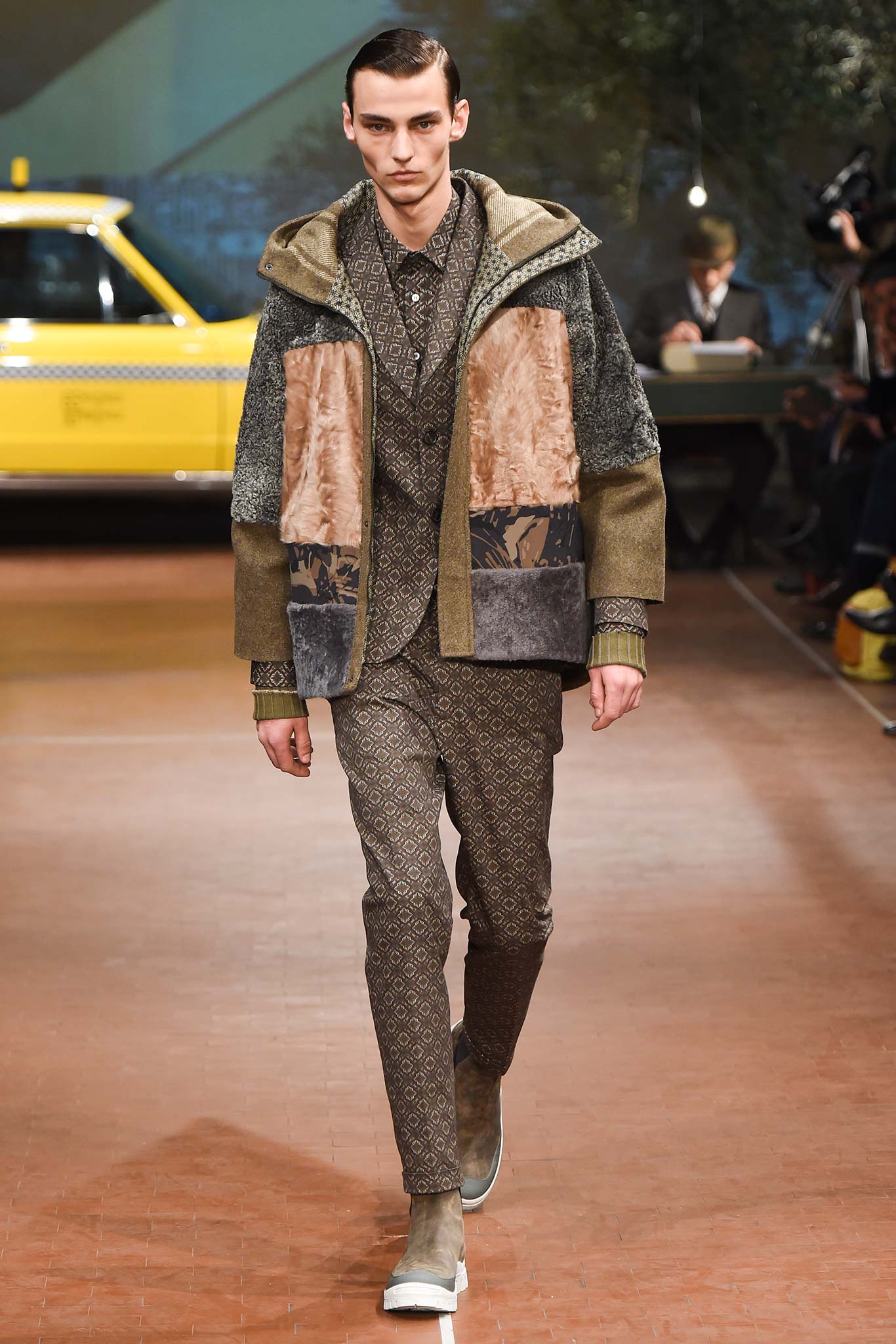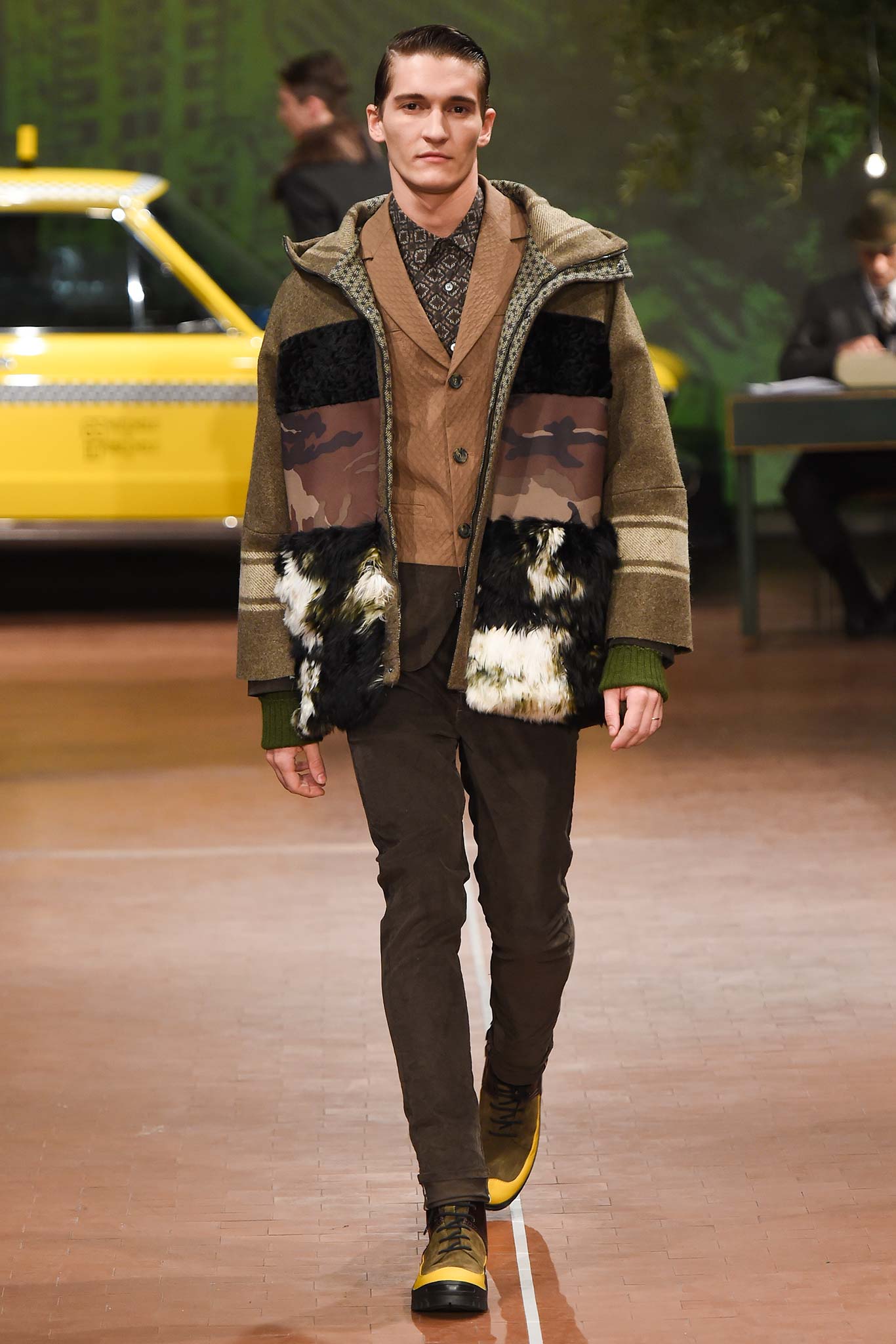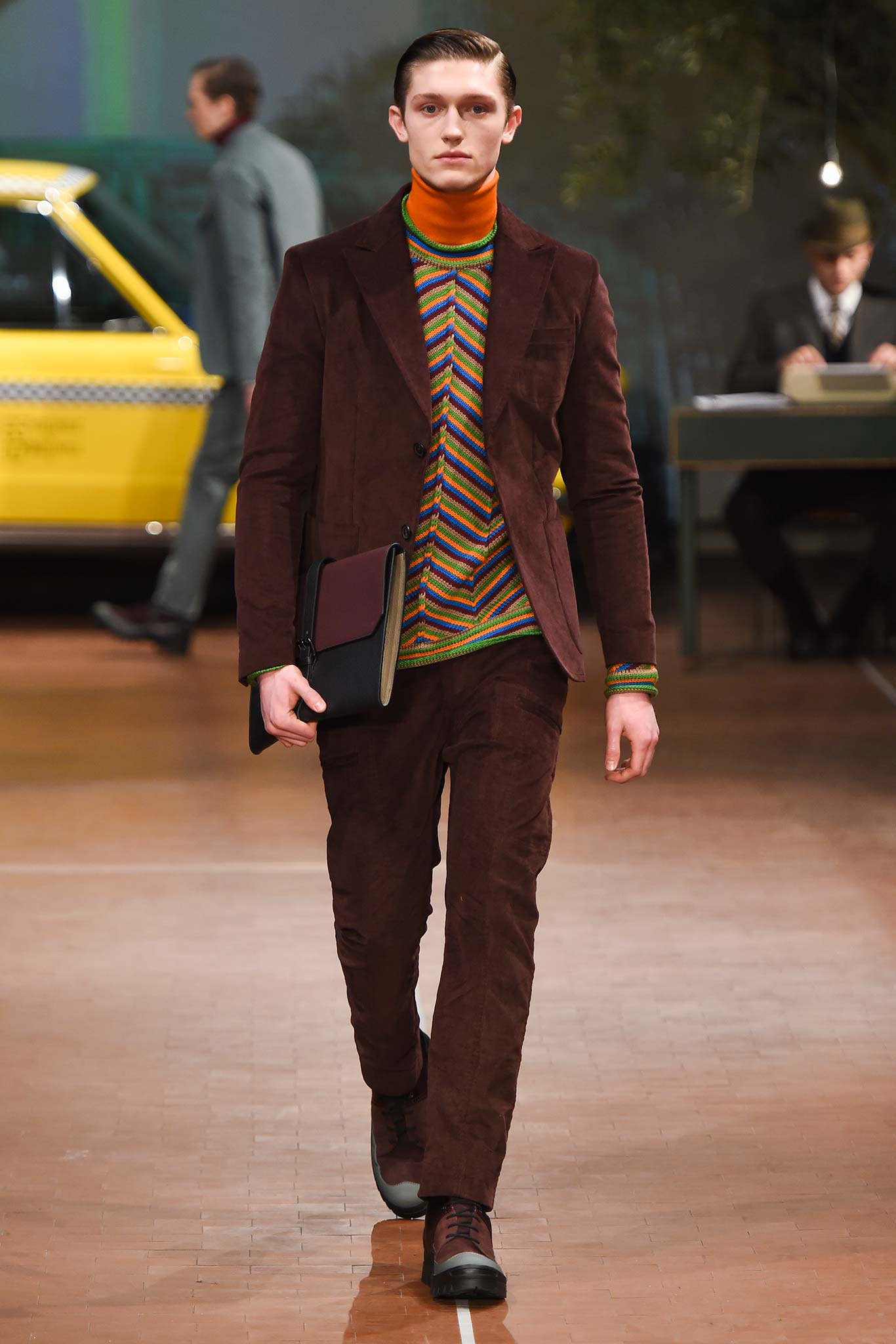 An infusion of the 70's....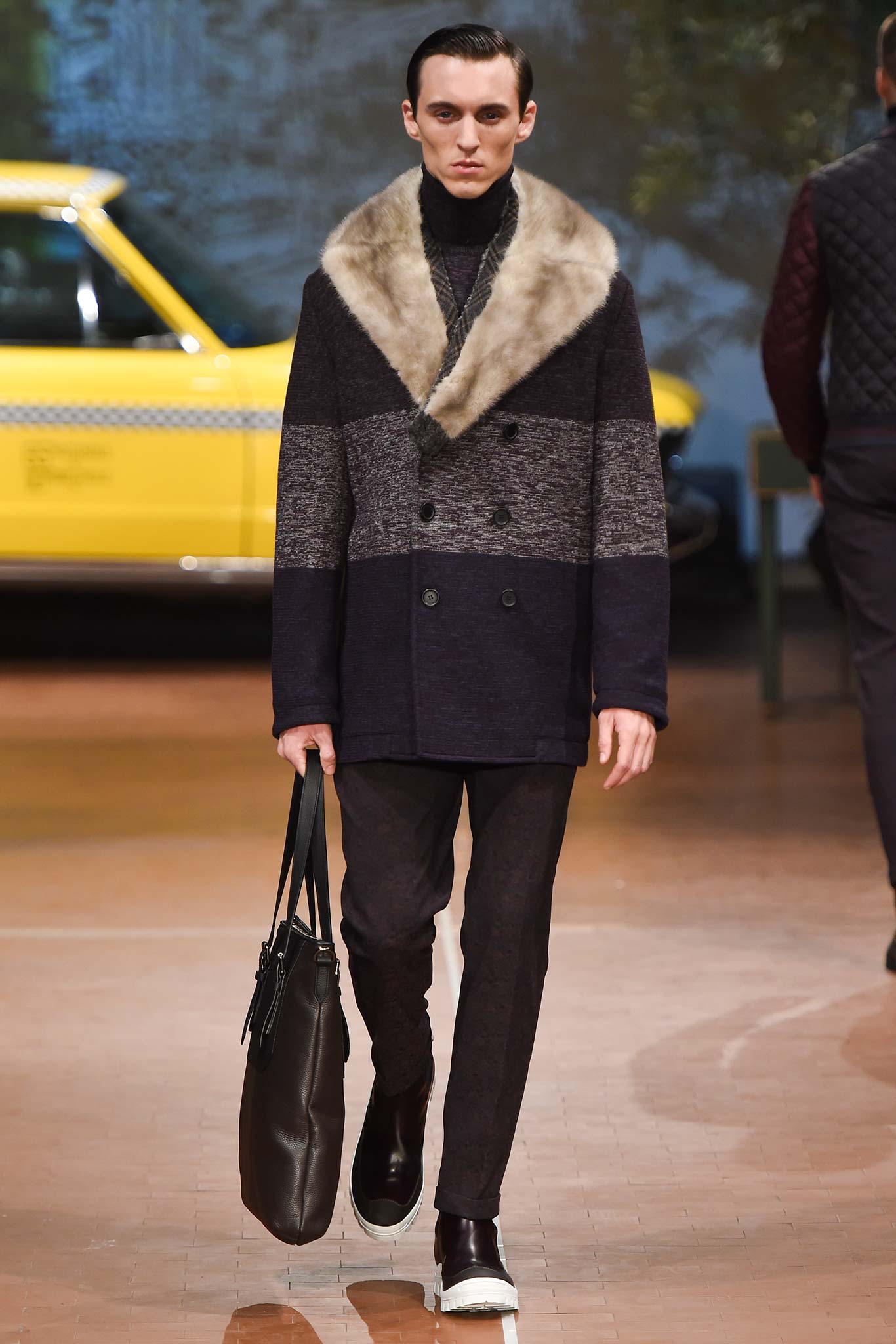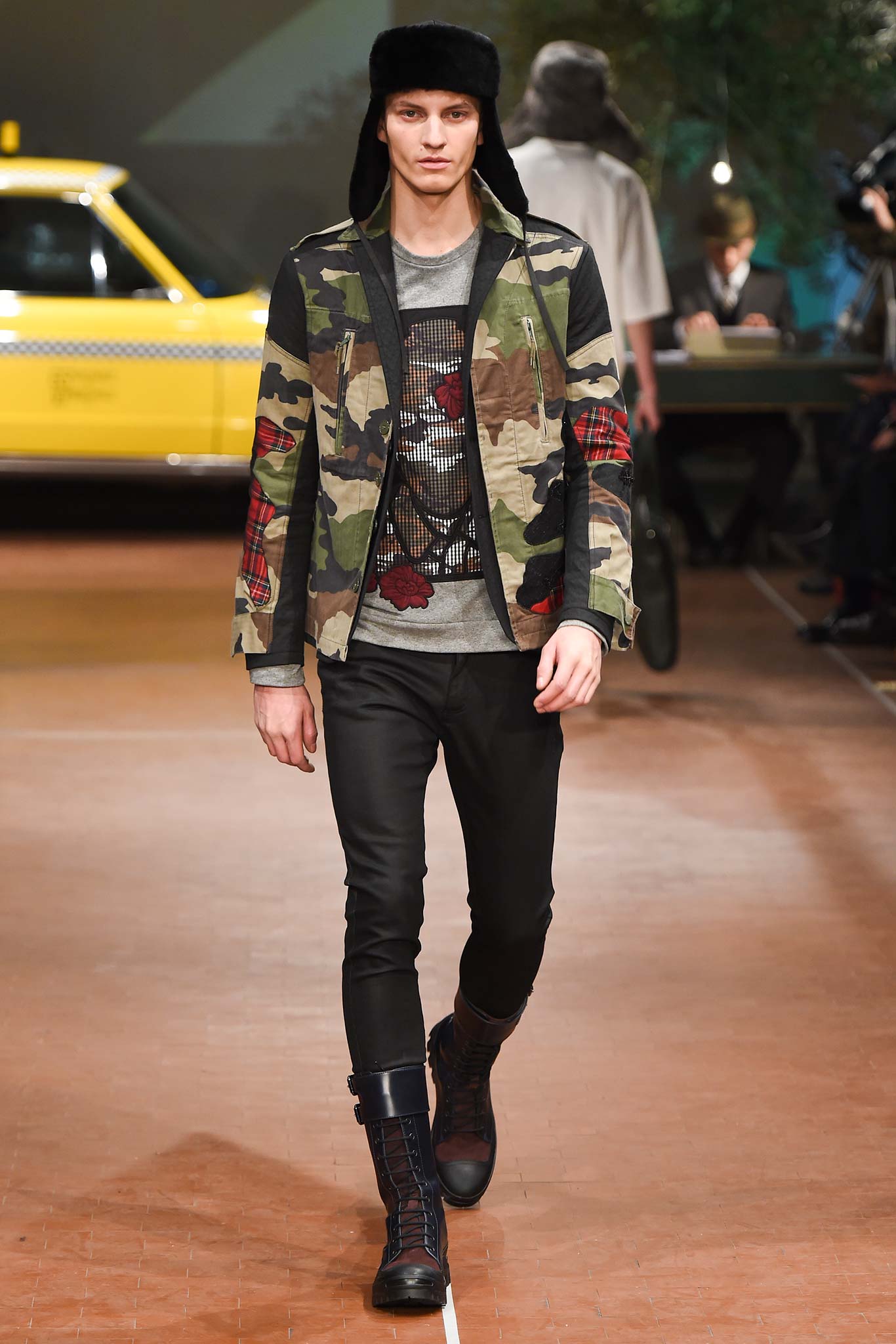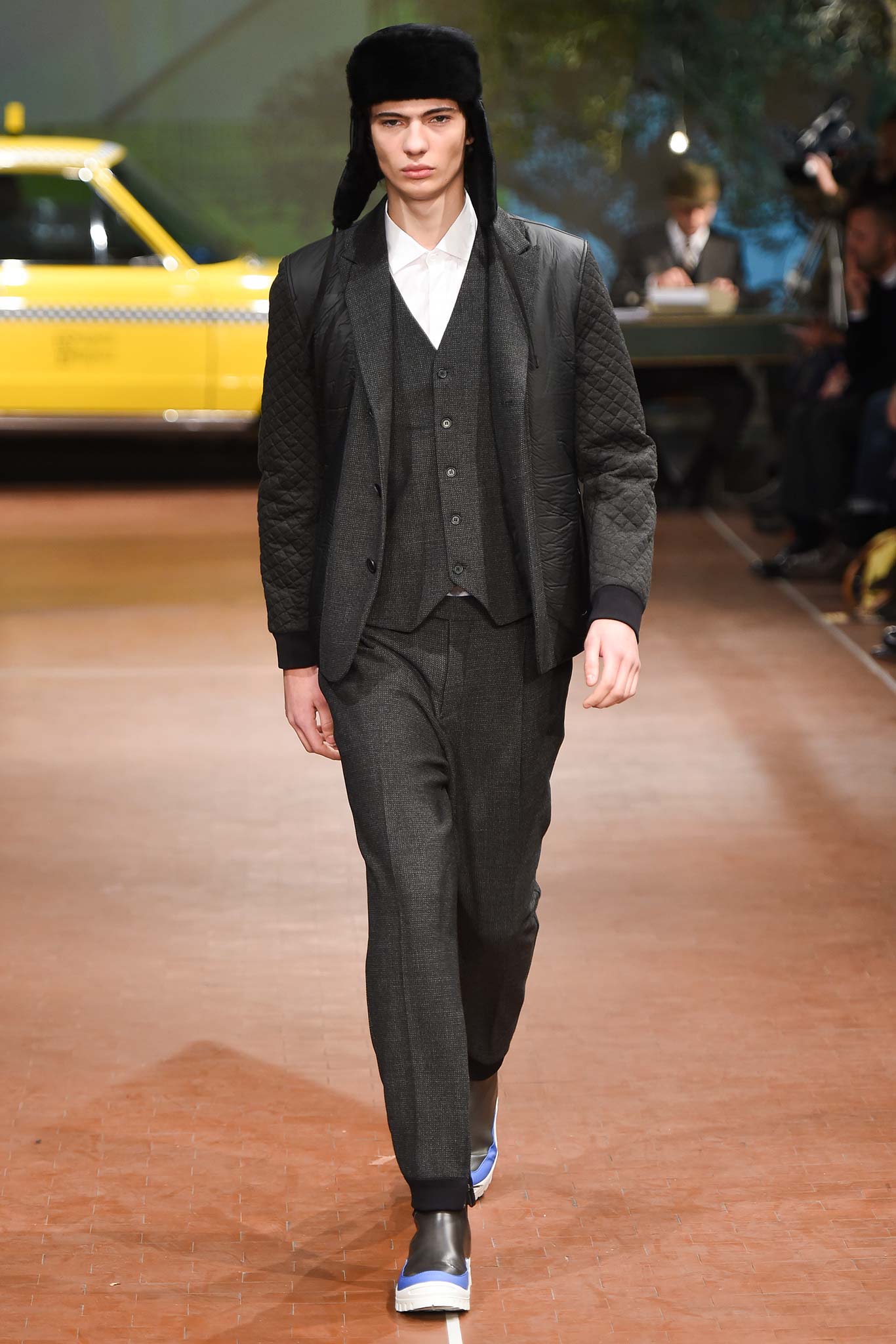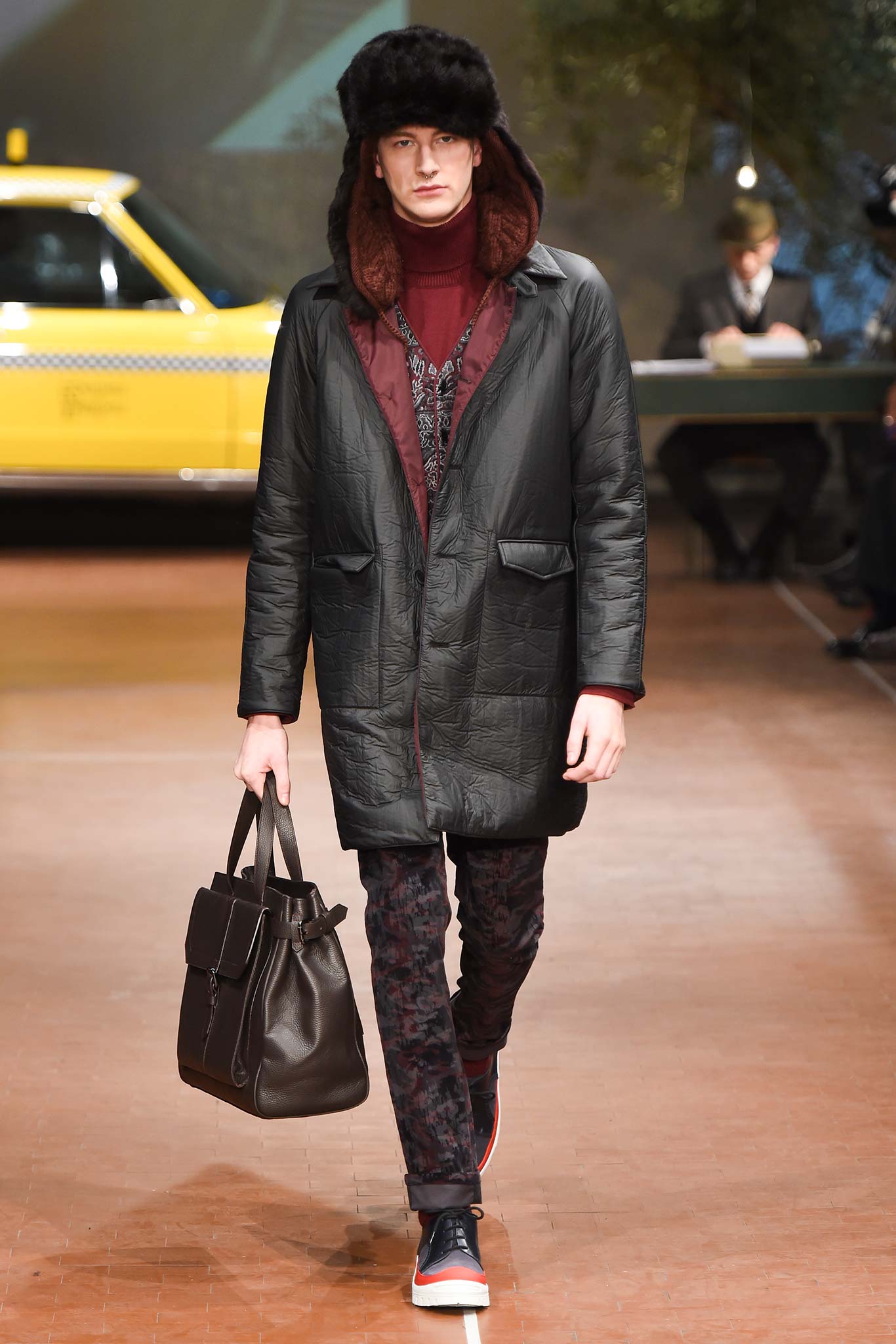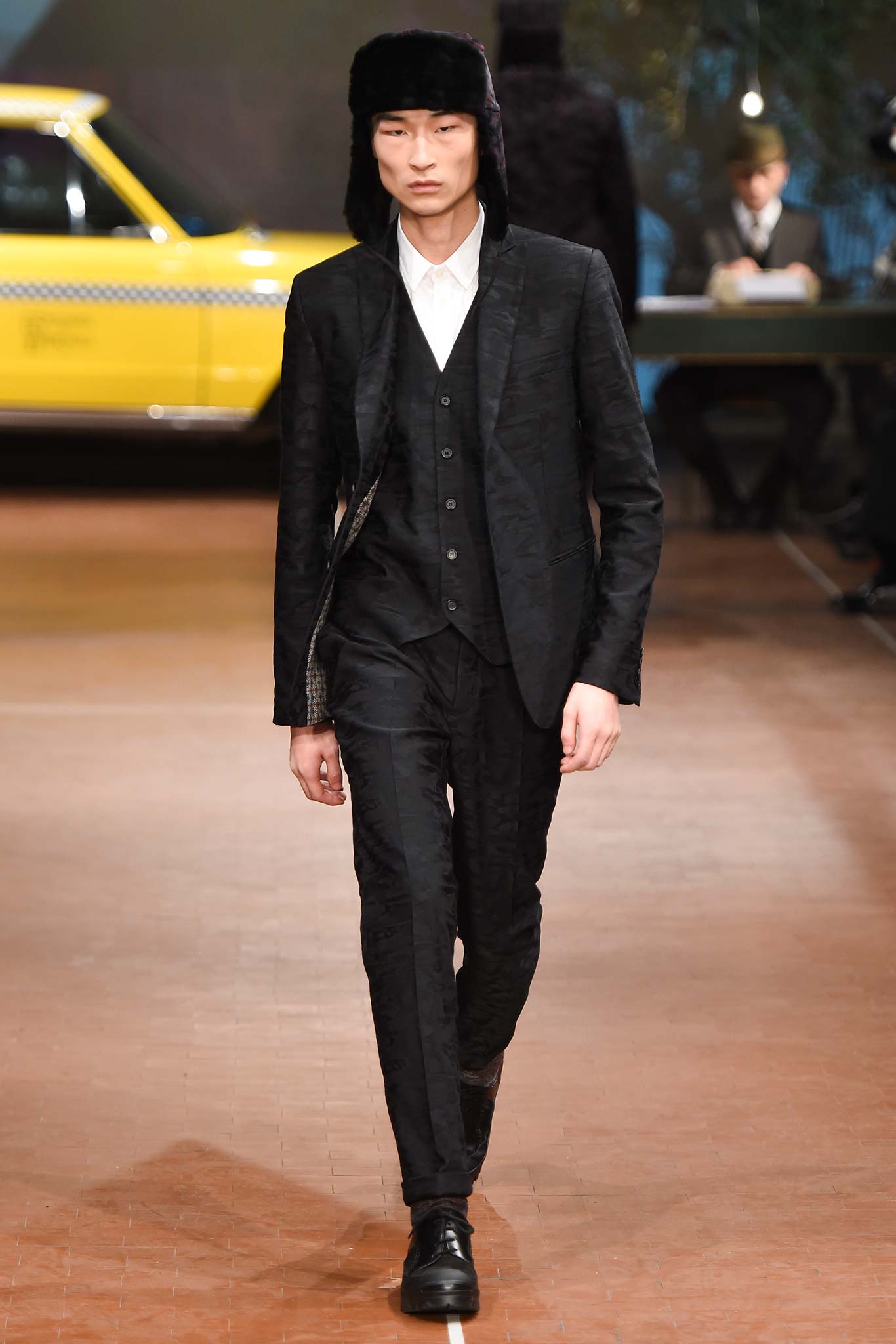 Mmmmmm, subtle camouflage in the form of a MOD suit, masculine and sleek.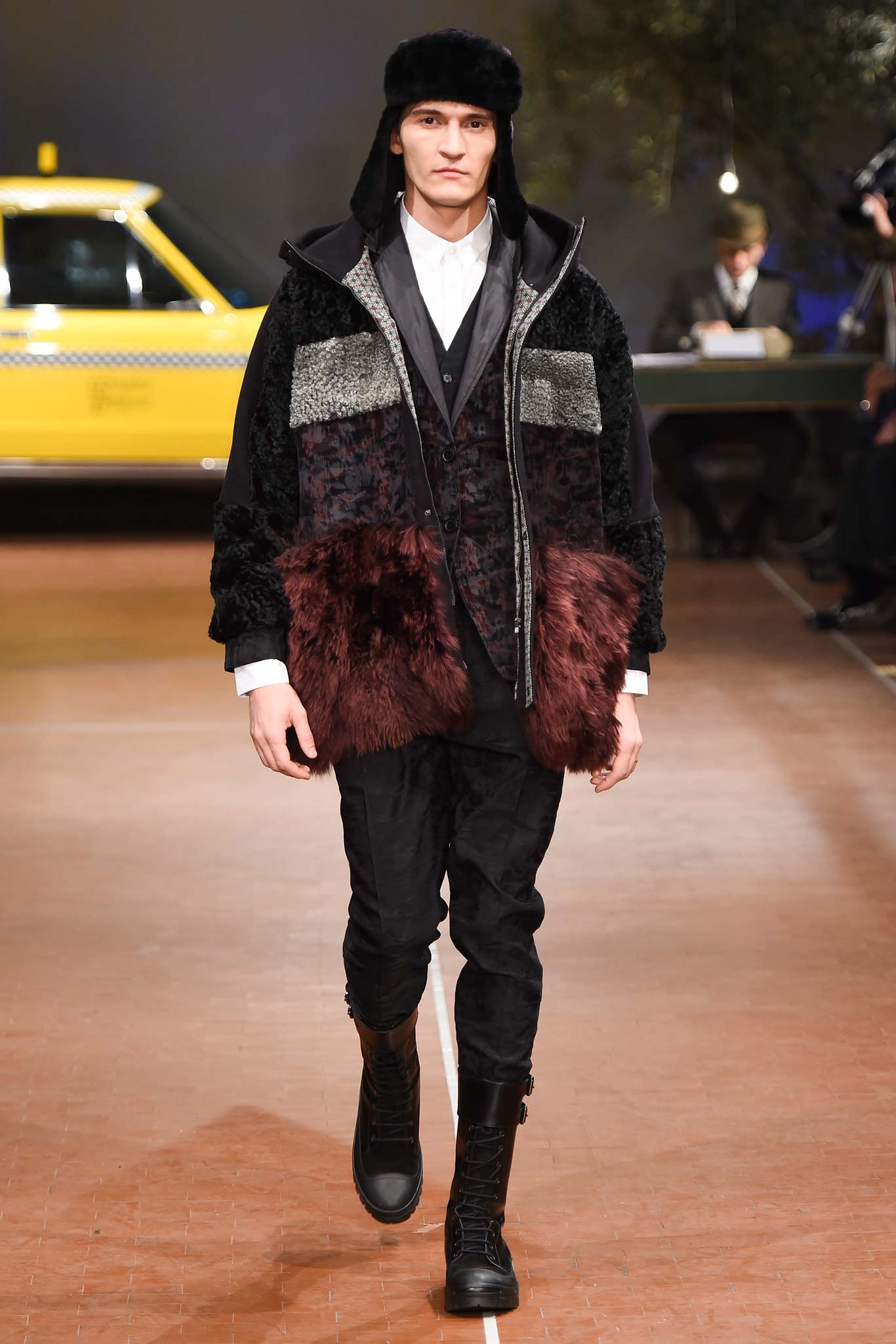 Ok, this may be SLIGHTLY over the top for a dude, but whatever, its fun, festive and folkloric. Waldo wears this when he wants to be found.
BRUNELLO CUCINELLI:
Well, what can I say? This is THE ultimate brand when it comes to understated casual luxury apparel for both men and women. CASHMERE to infinity and beyond. There is a running emphasis on layering, and somehow nothing looks more inviting and intriguing than a series of cashmere confections layered upon each other......the equivalent of a Mille-Feuille that won't settle on your ass.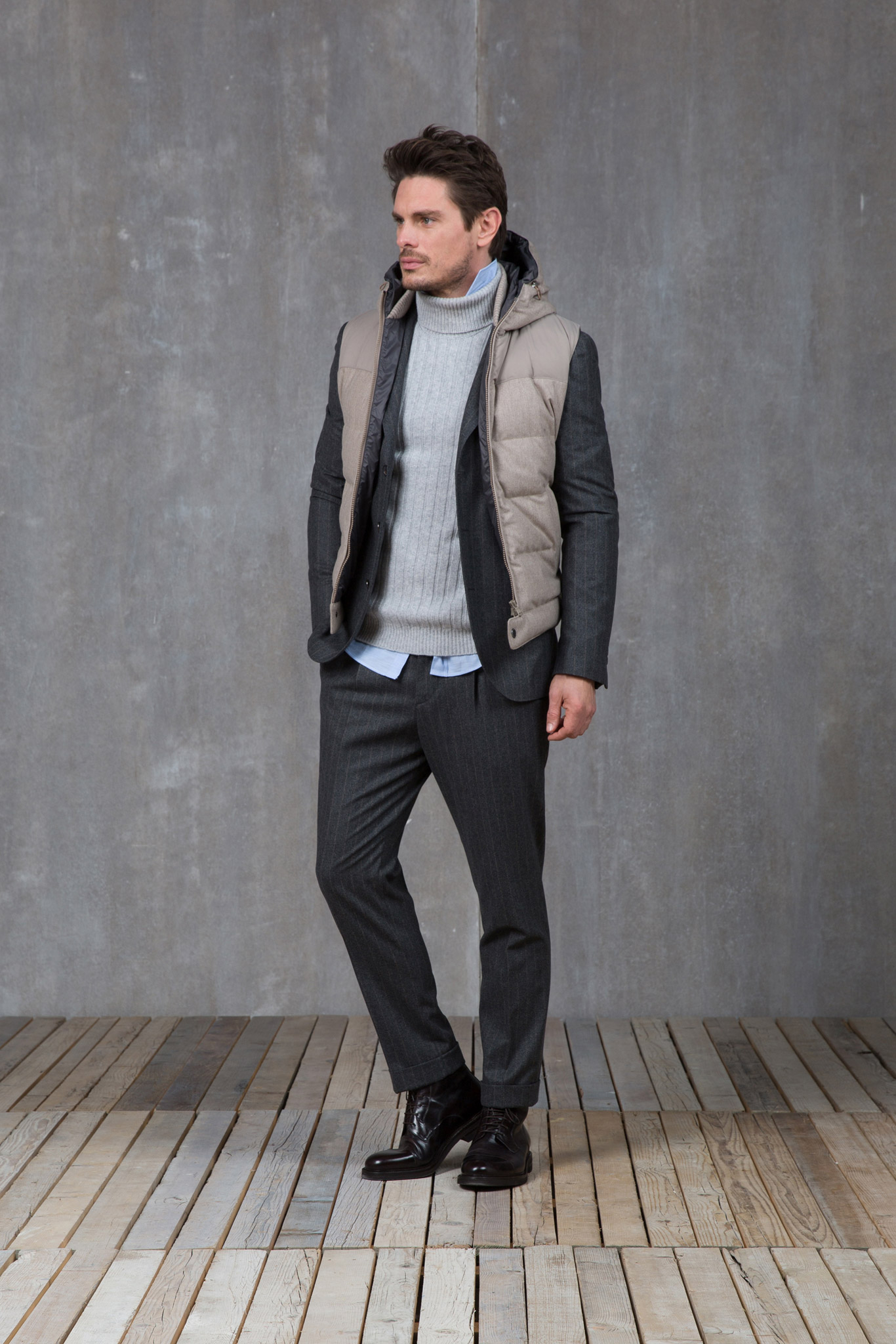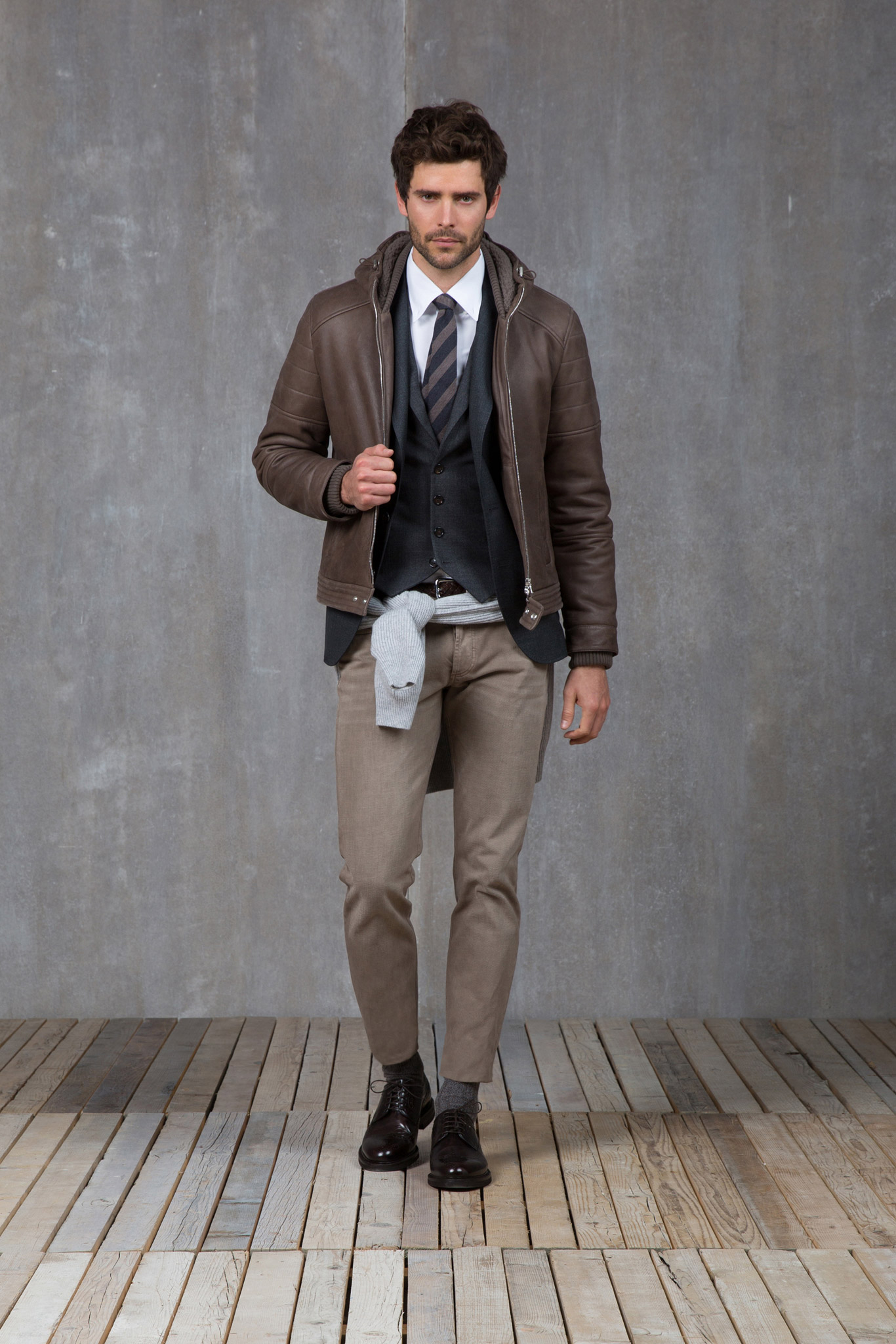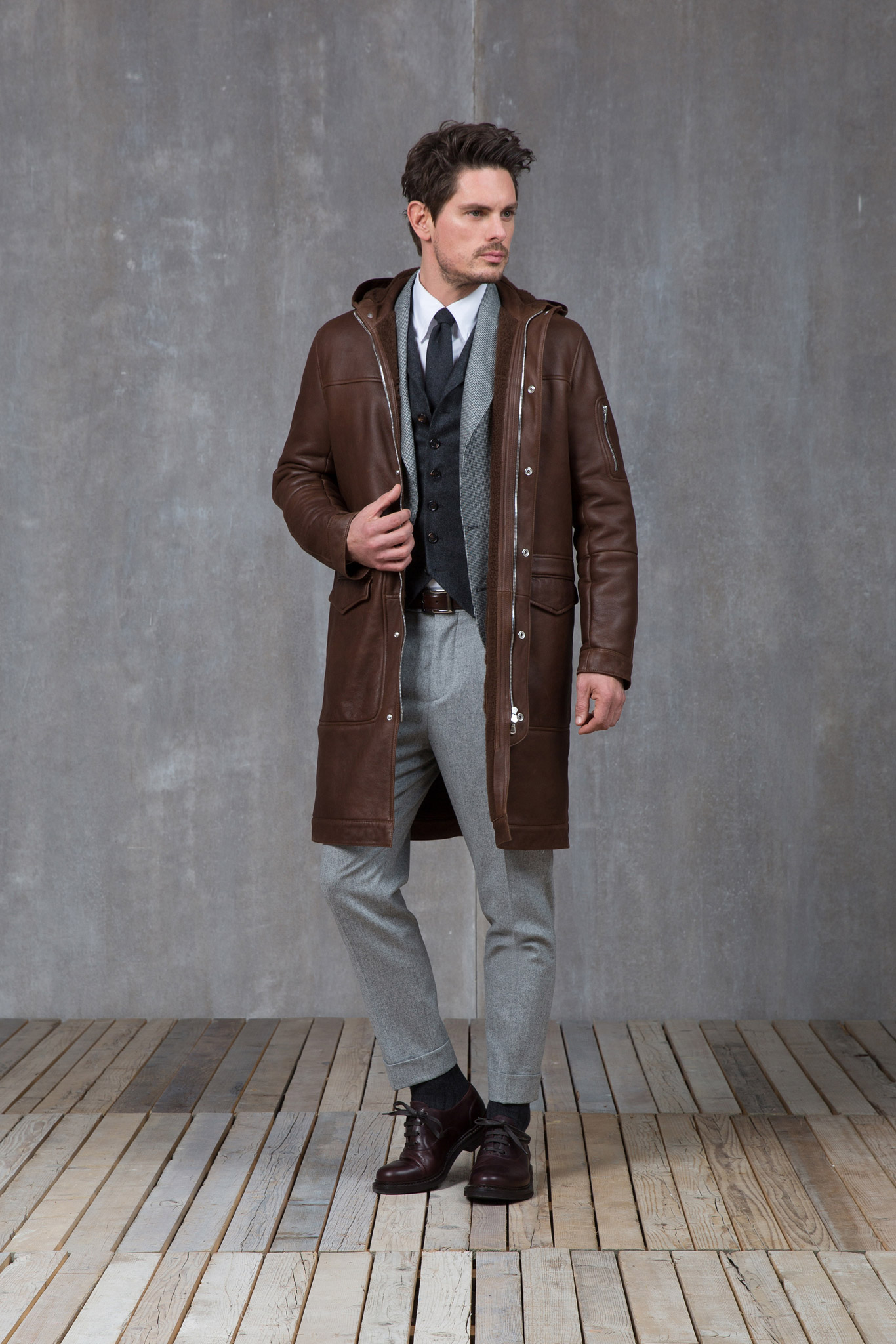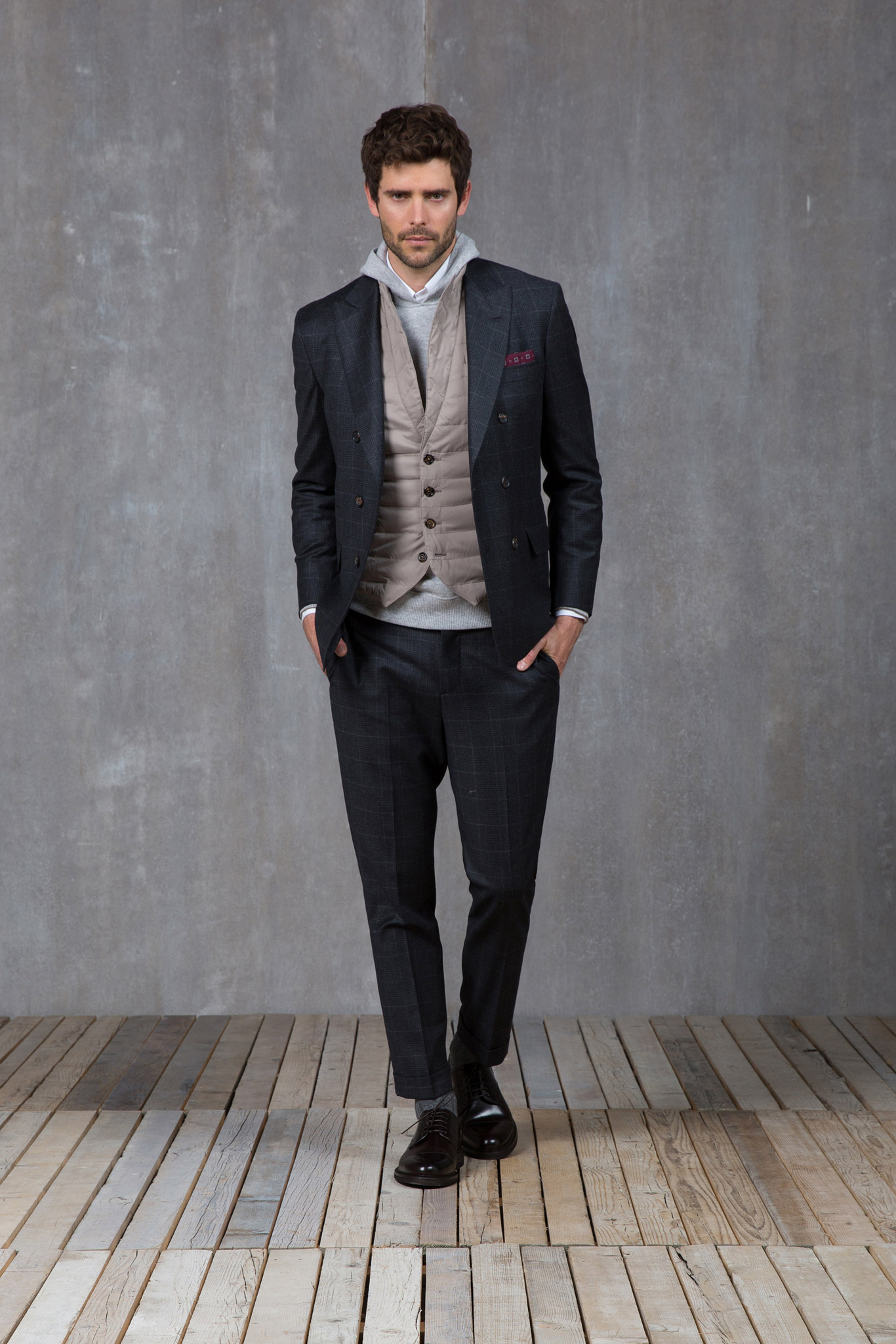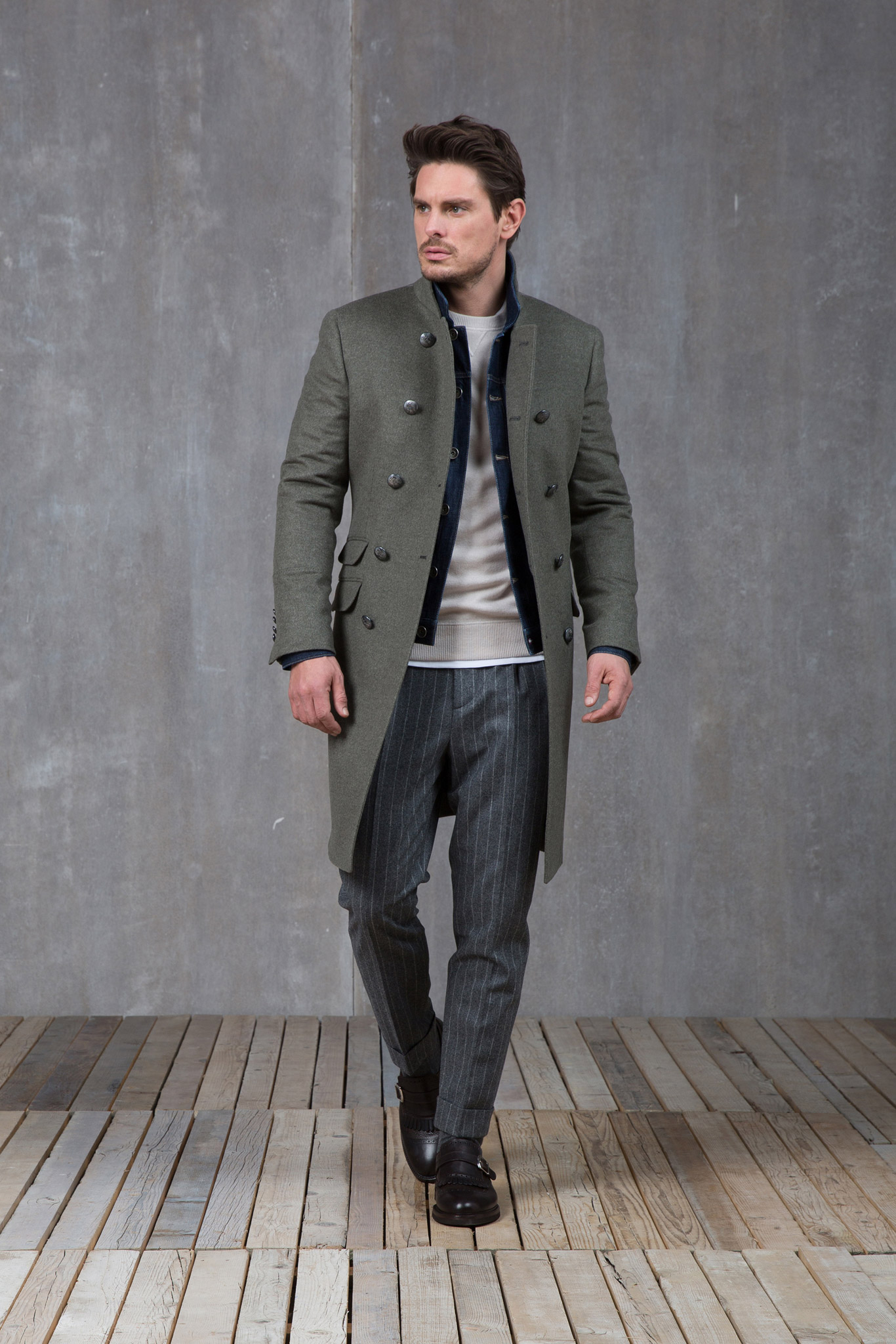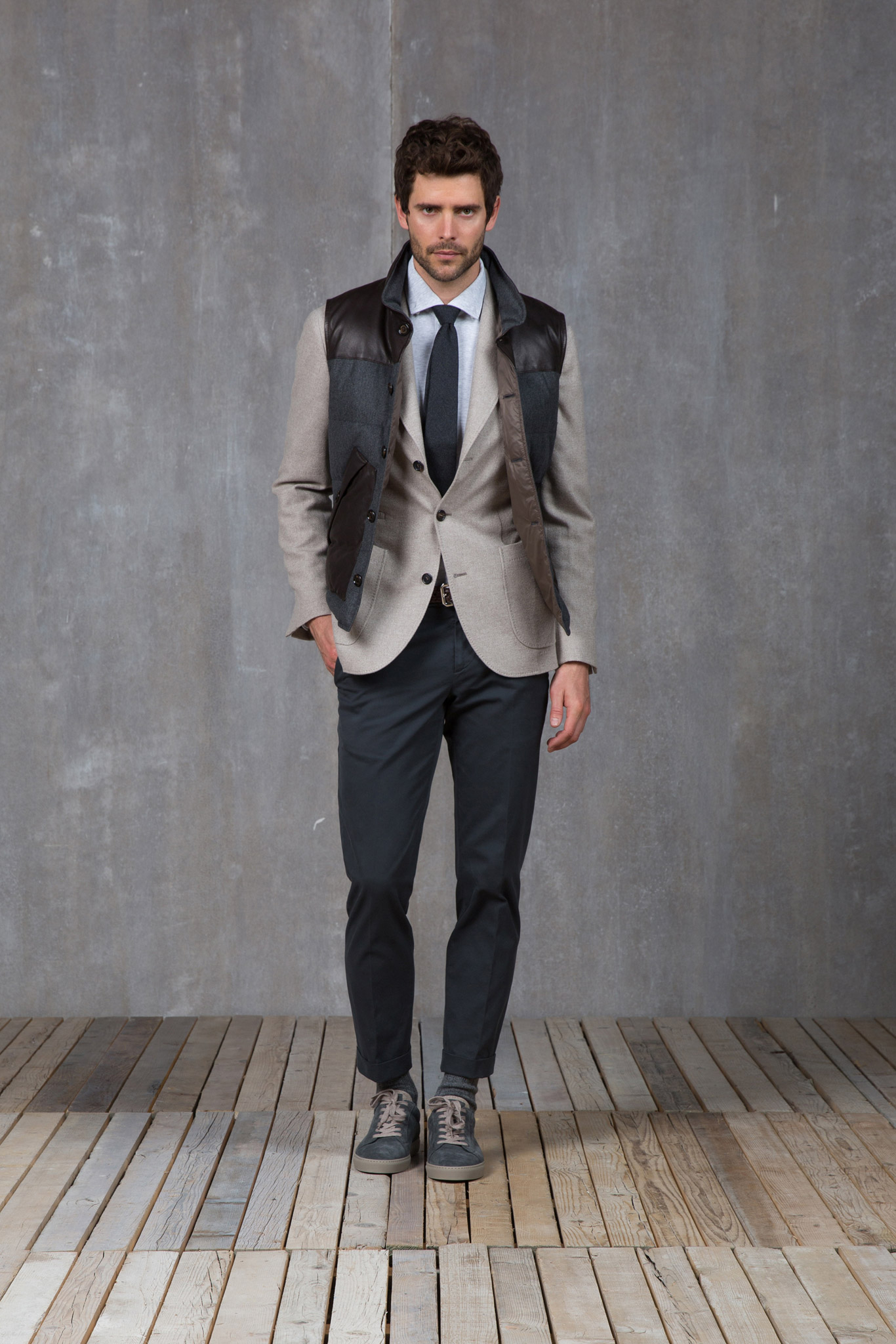 And, the VEST brigade continues. Wear it over or under any jacket, stylish and pragmatic!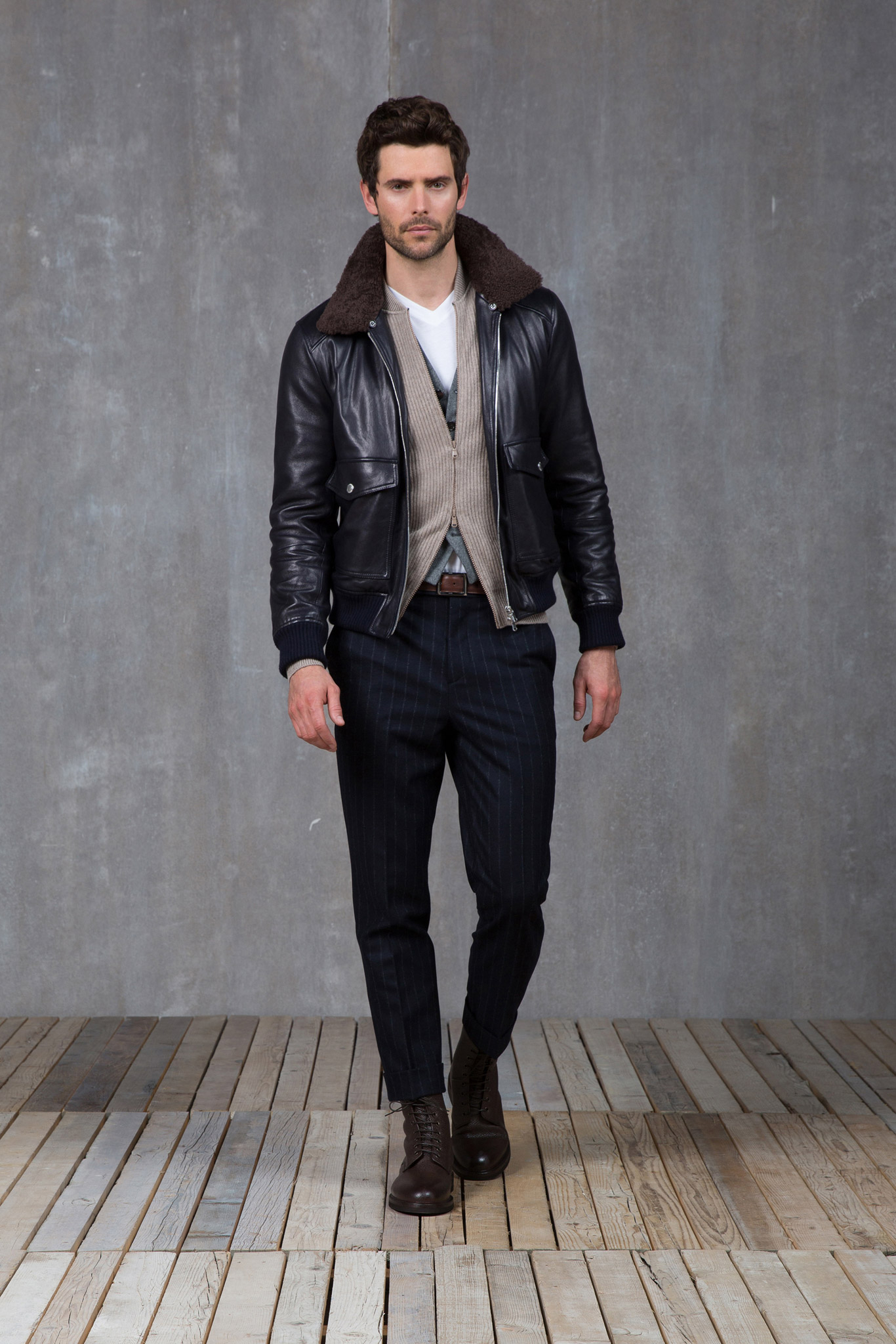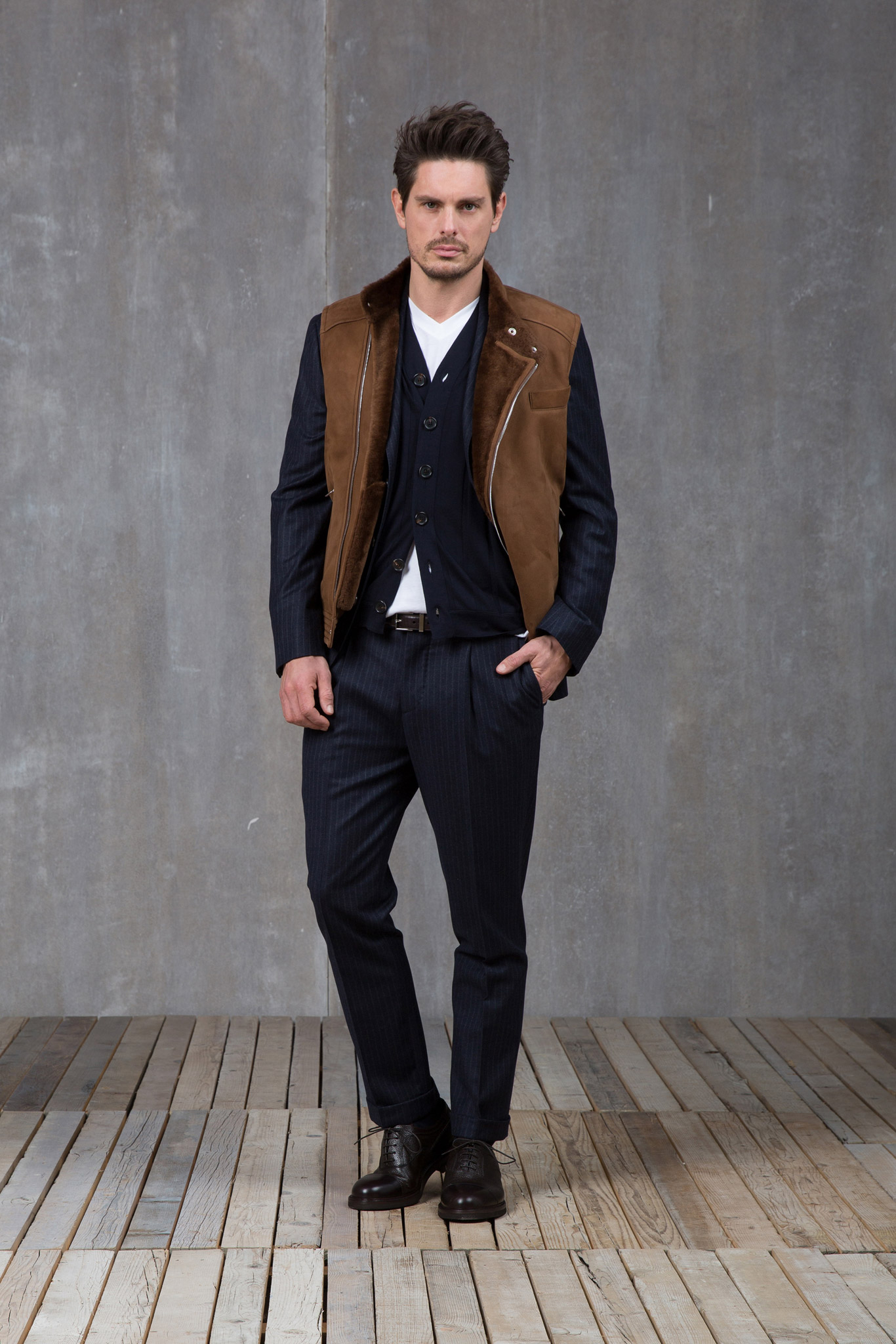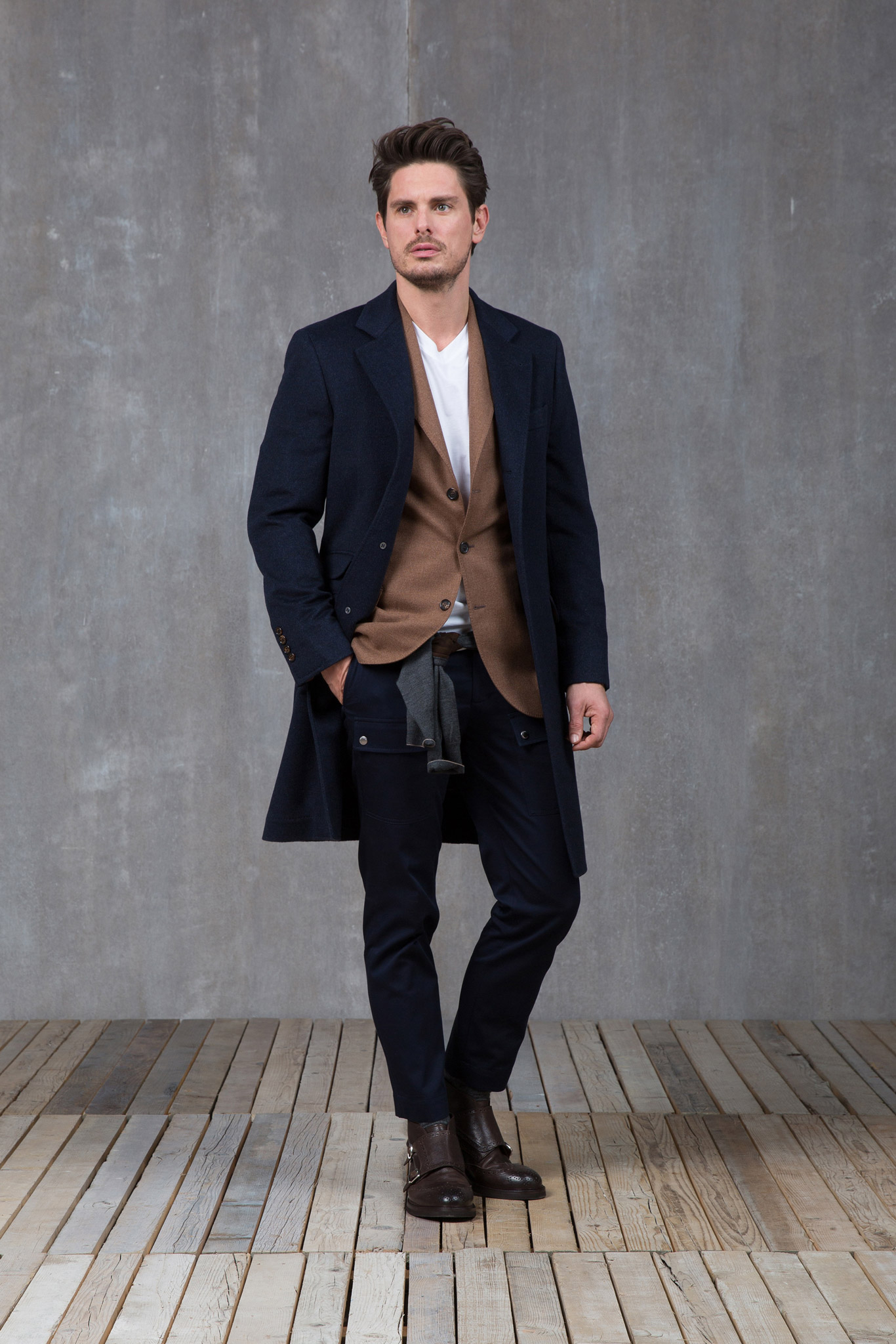 I really cannot gush enough about this line. Because the separates are perpetually in neutral hues, each and every piece goes with any other piece from current and prior seasons. The clothing is well crafted from the finest cashmere around, you just cannot get tired of these wares. These are the pieces you will reach for time and again when you wander into your closet, no matter your destination for the day. Perfect for traveling as well with limited space allowances and such. And don't even get me started on their leather goods. Needs to be seen up closed and fondled for full appreciation. S I G H.
ALEXANDER MCQUEEN:
Theatricality is in abundance in this collection, akin to that expected from the woman's wear line. The pieces are bold, gorgeous, with form and function well blended into wearable eye-catching fare.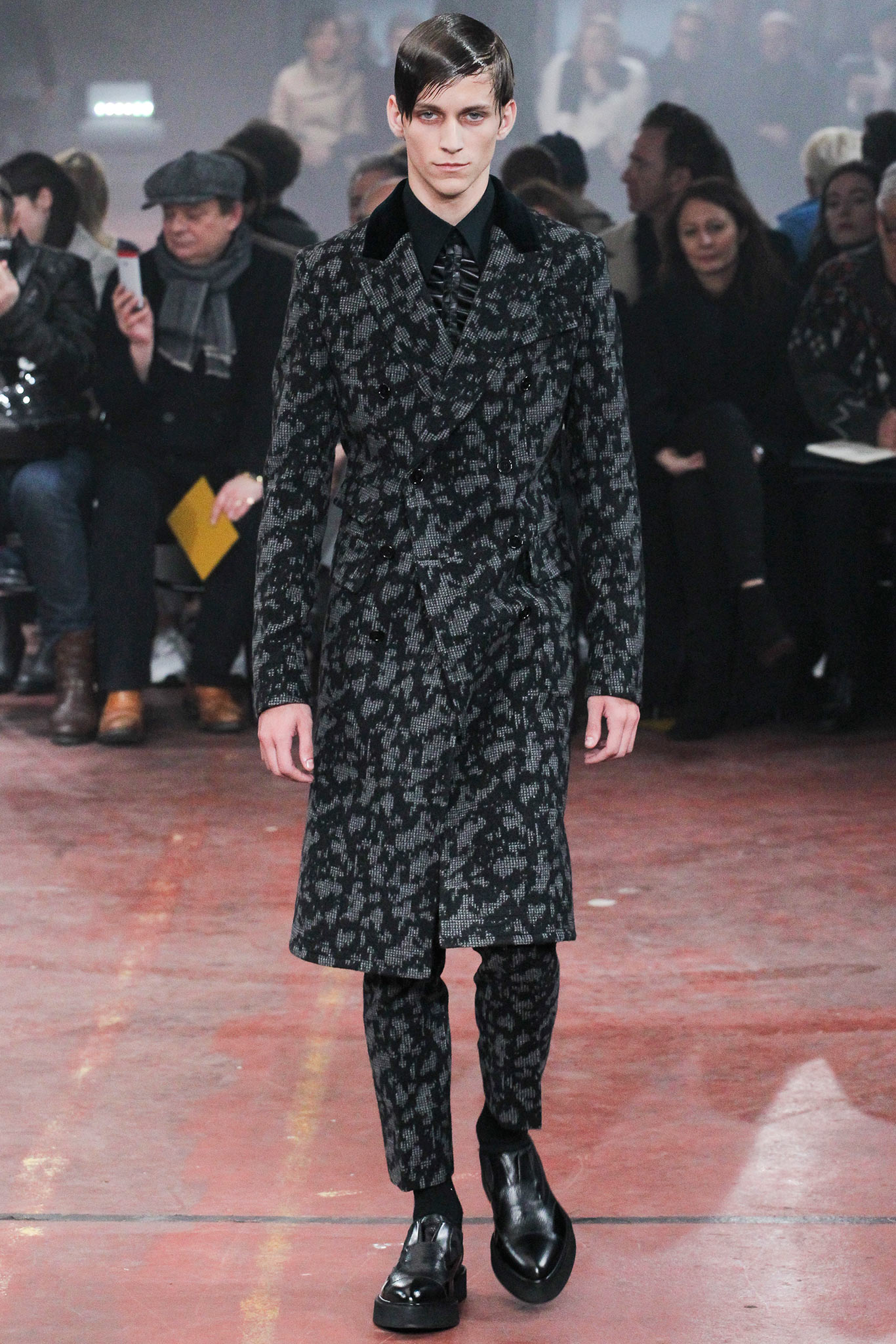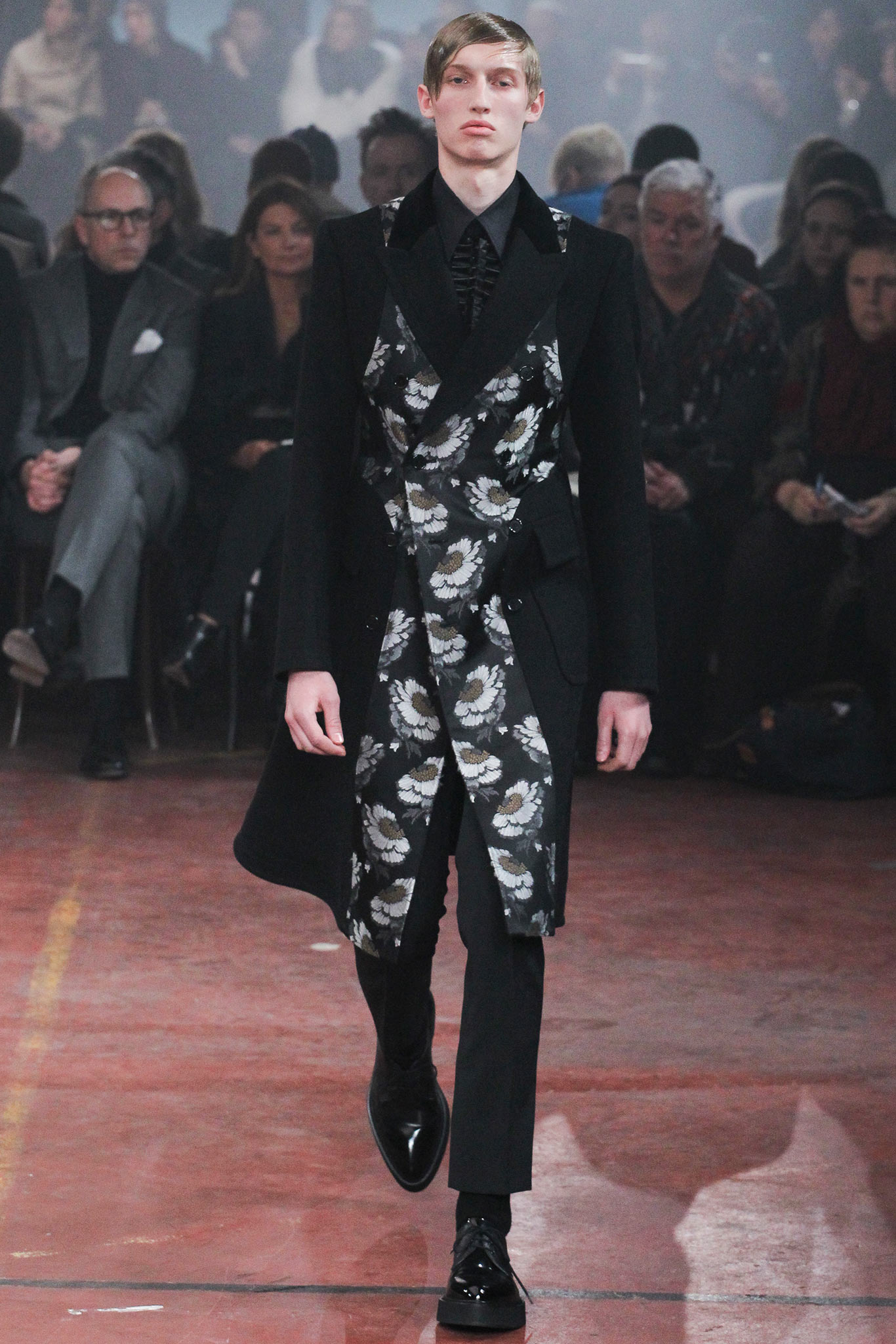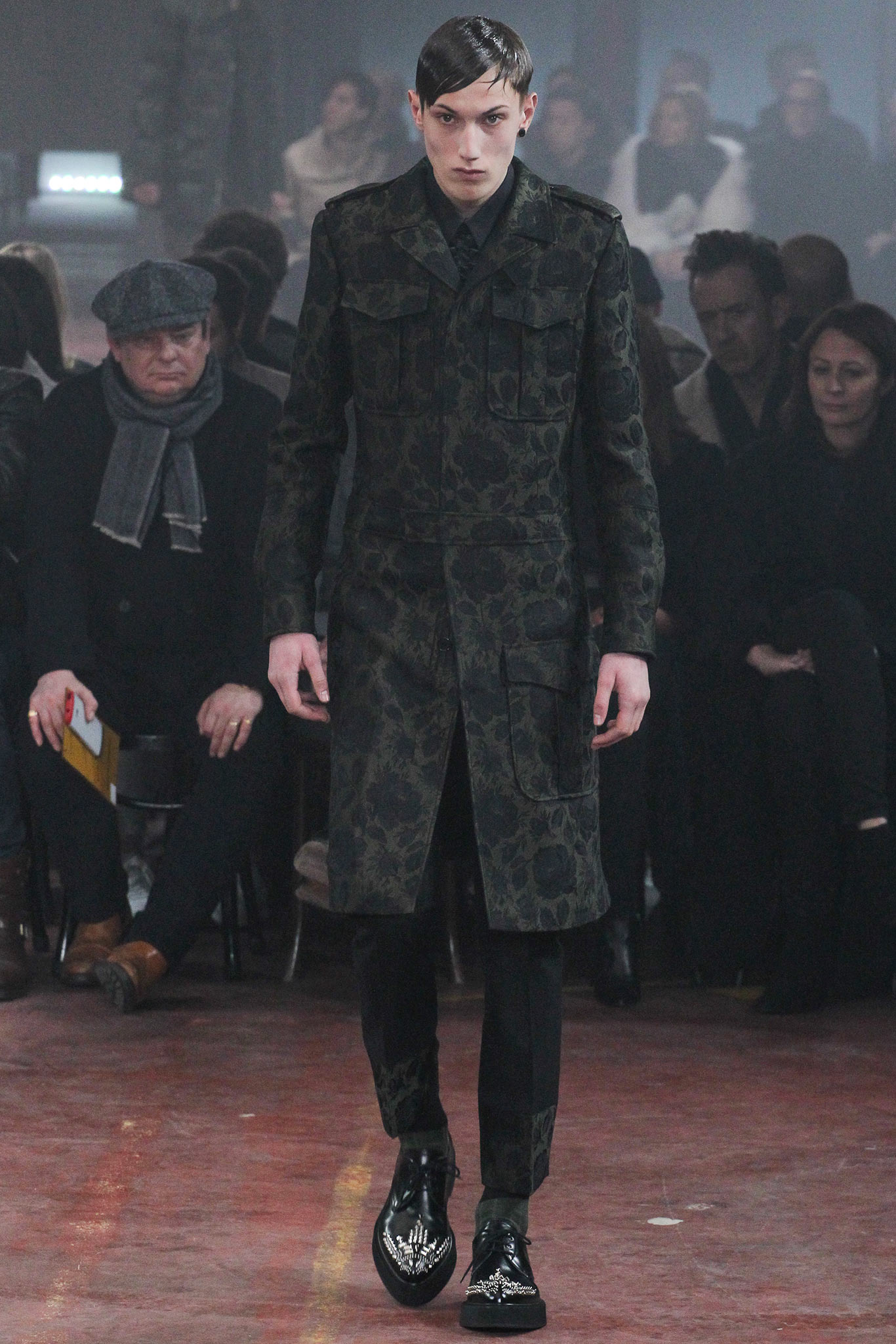 Military jacket in khaki green with floral pattern, gotta love the contrast.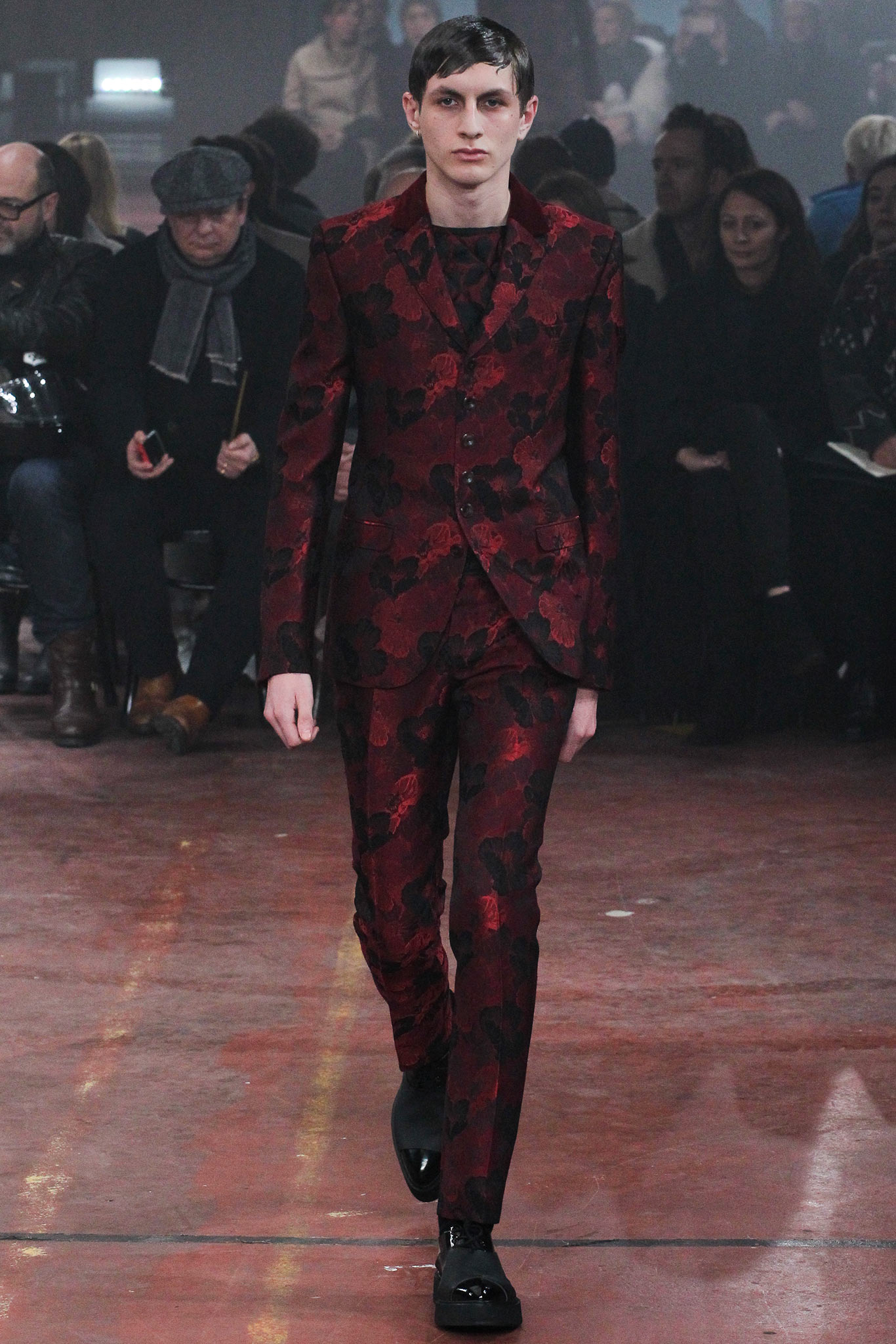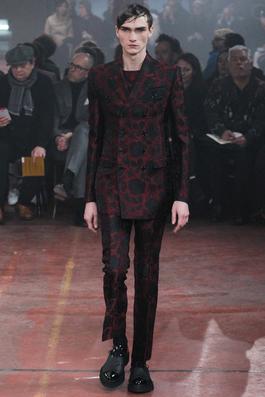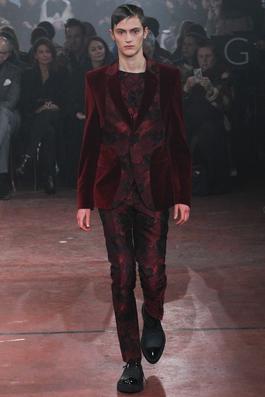 A cheeky chap might even consider these jovial jacquard delights for his wedding day! Calling all men with a modicum of moxie! (These jacquard beauties could easily be tailored down to fit a gal as well).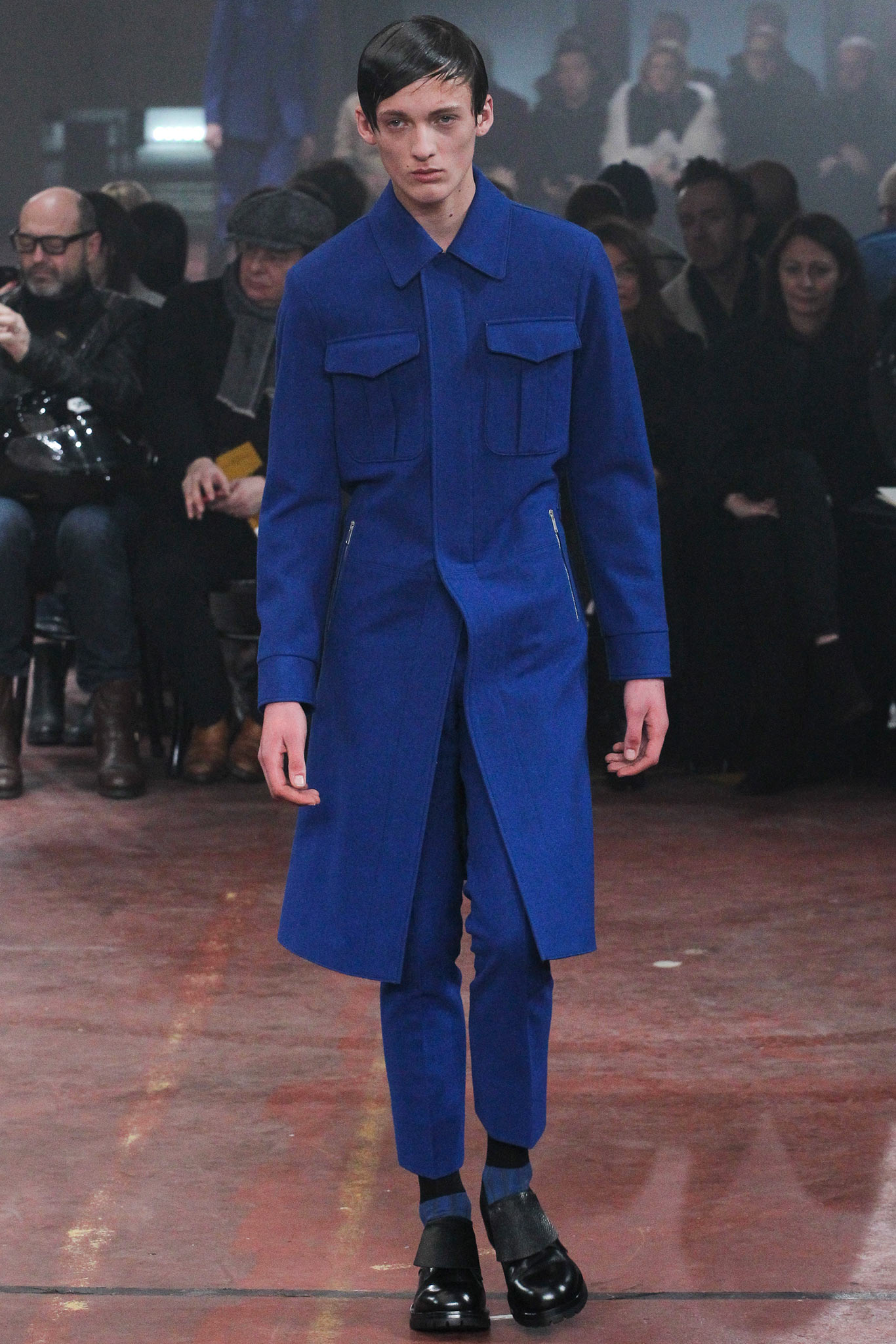 Jeez, this coat is spectacular by virture of the blazing cerulean blue color alone. Not for the wall flower.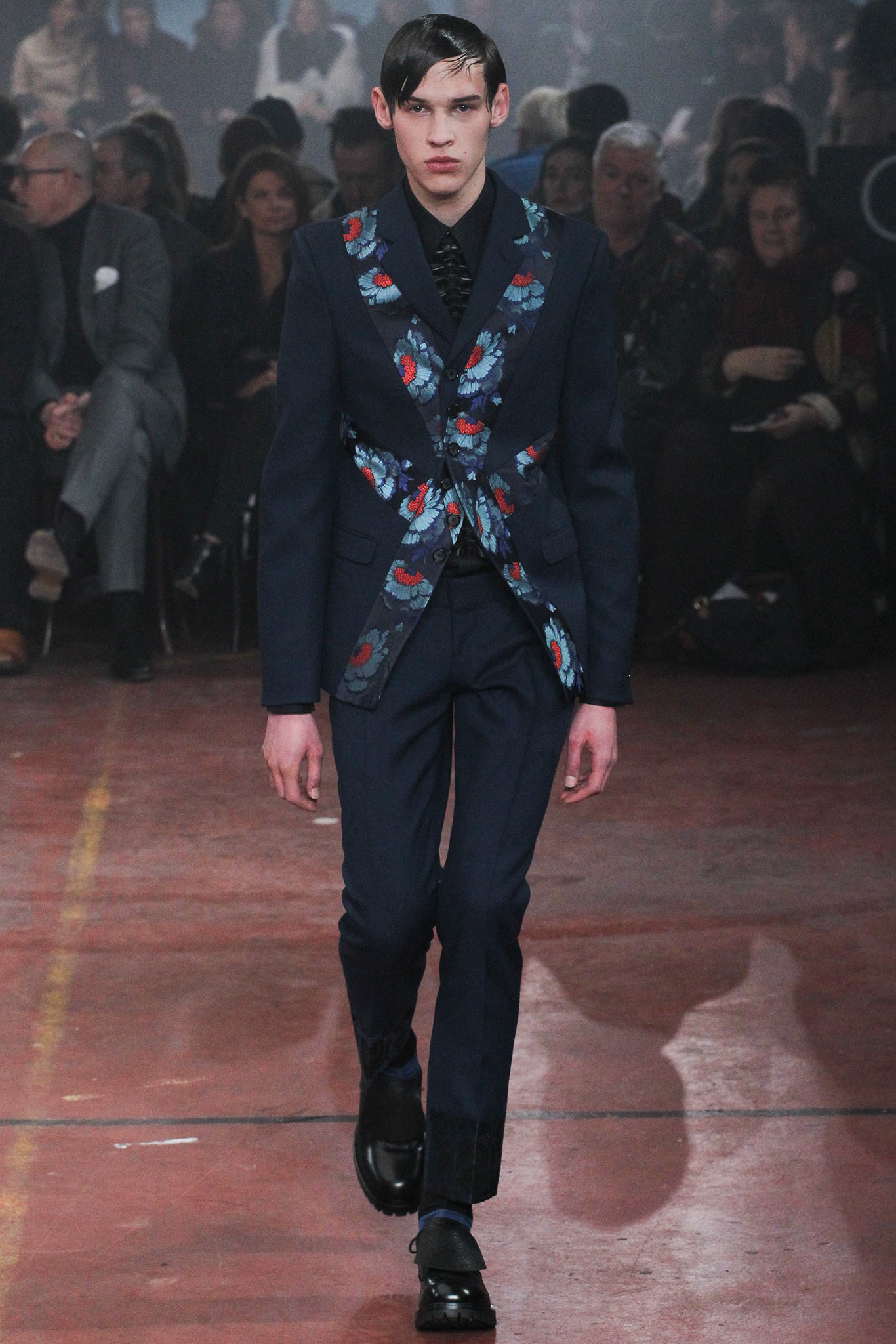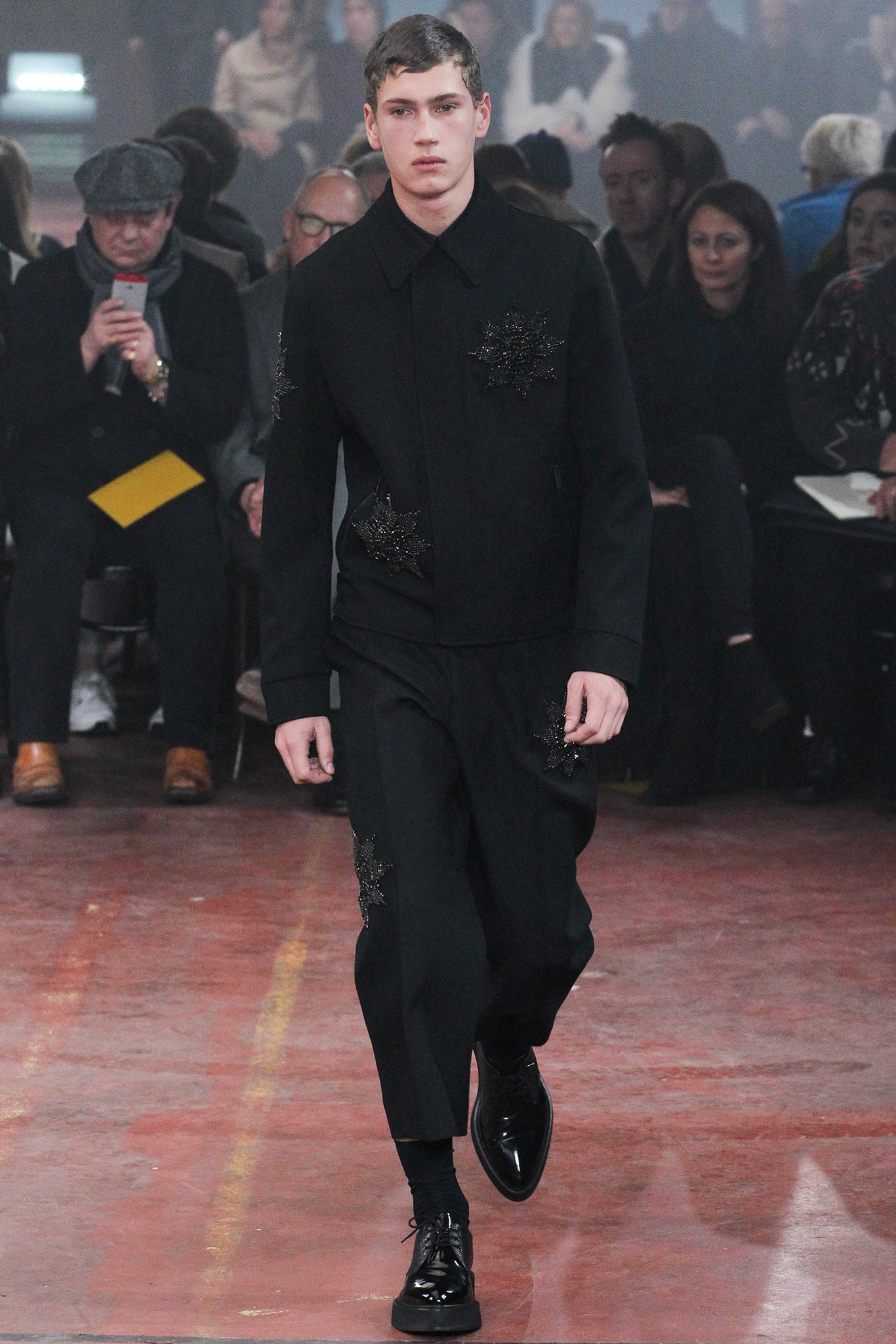 An intriguing option for a gala affair when a tuxedo won't do.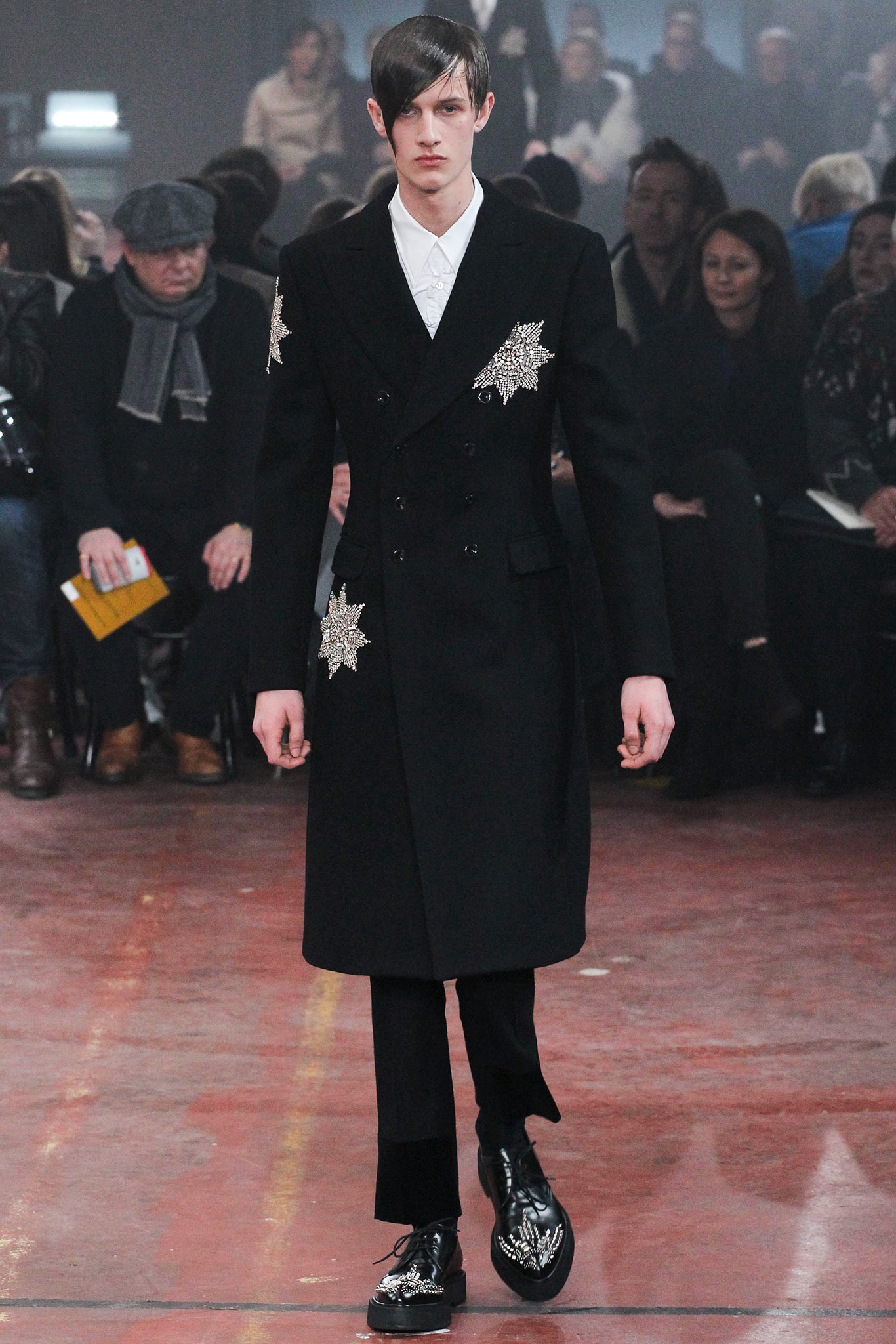 Well, I doubt my boyfriend would cotton to this, but I know I want it!
BRIONI:
This is akin to Chanel for the women. For the man who has everything, and wants to be swathed in sumptuous non fussy garments when tooling around in his private yacht or out walking his Weimaraner. Along with Kiton and Loro Piana, the ultimate in old school luxury constantly updated yet never trendy. Get the drool bucket out. I think I officially swooned when gazing upon this collection. Thanks to some grade A photography, you can feel the cashmere and smell the leather……….It doesn't get any better than this, the pieces positively o o z e luxury. That 50 shades of grey dude could learn something from this show.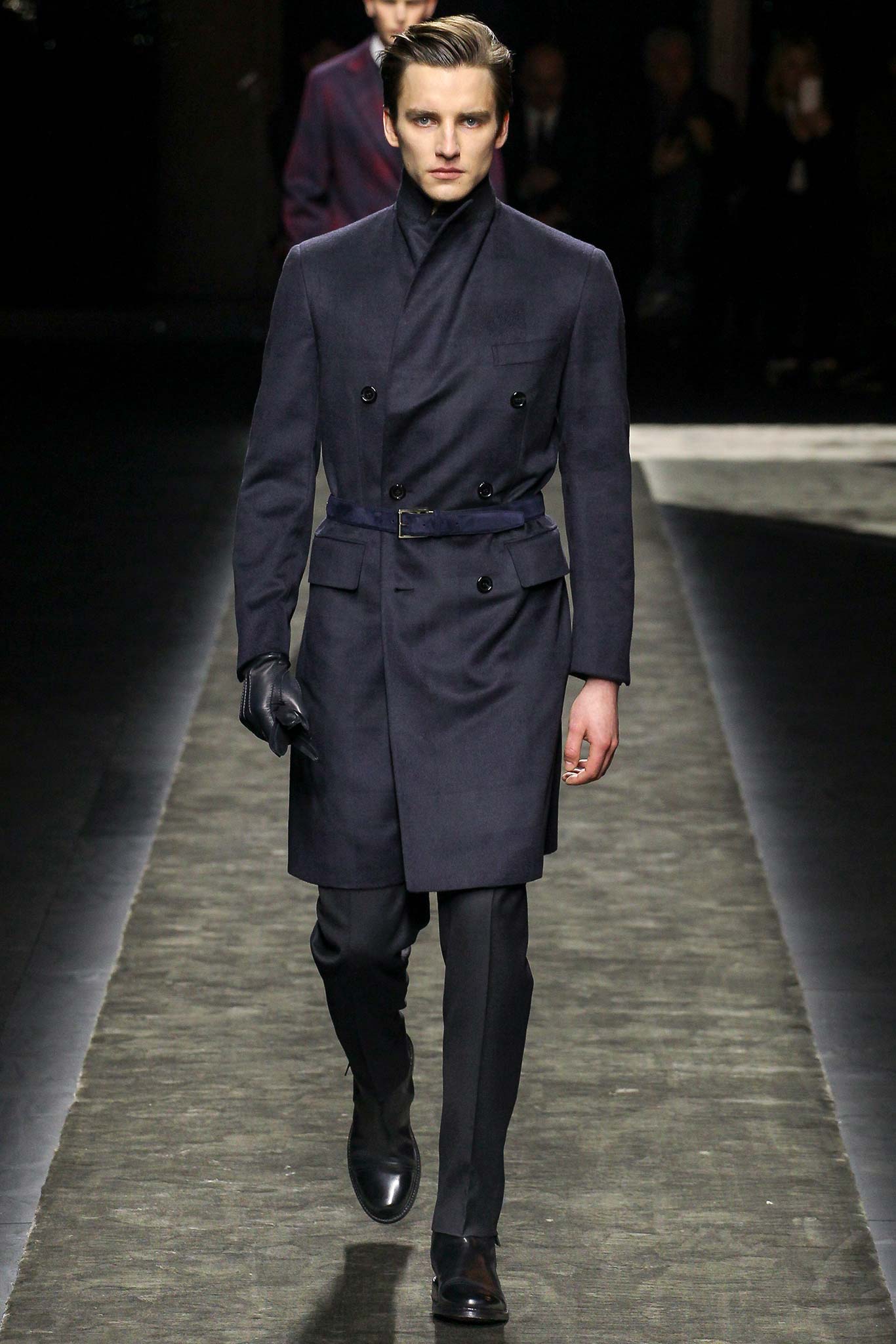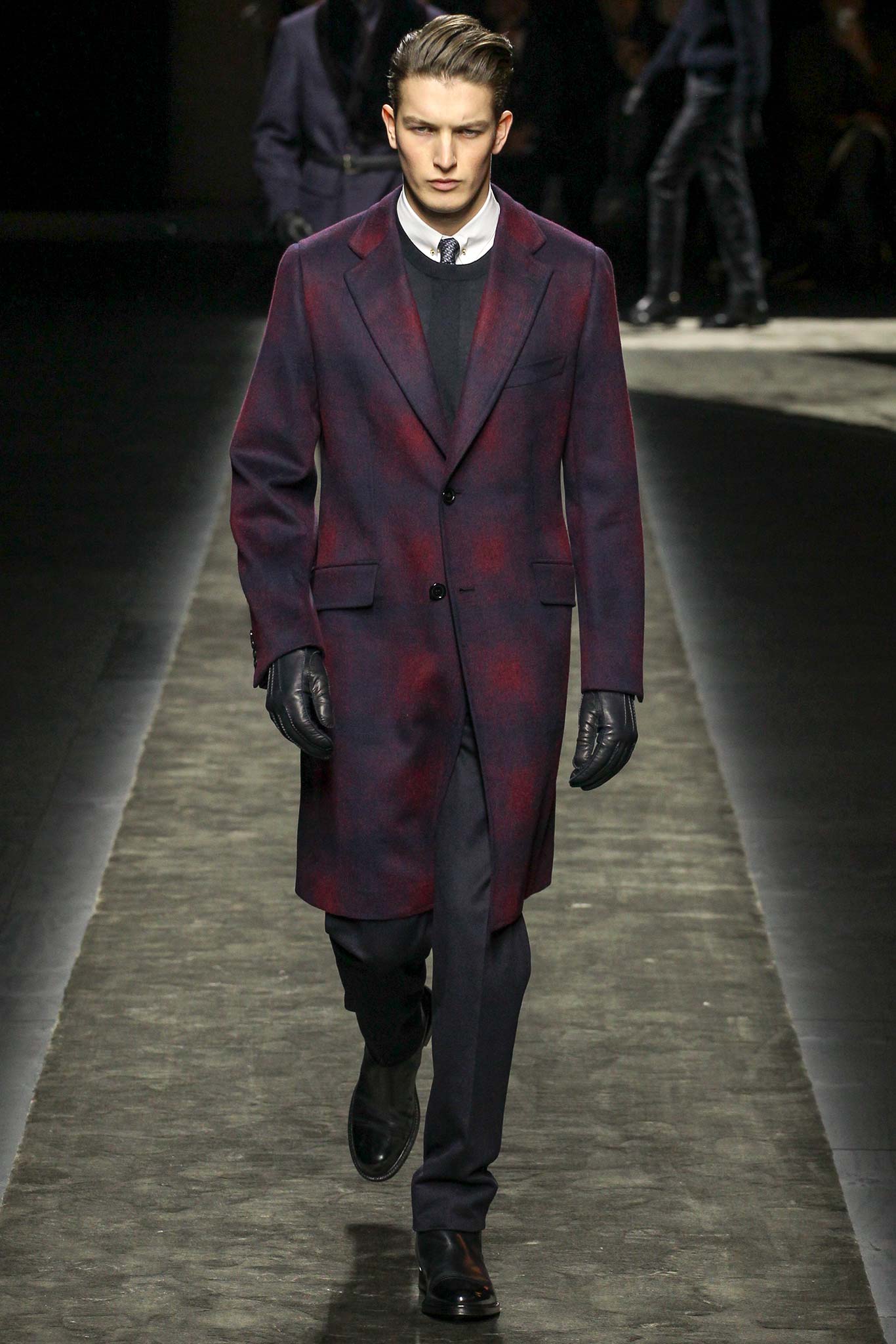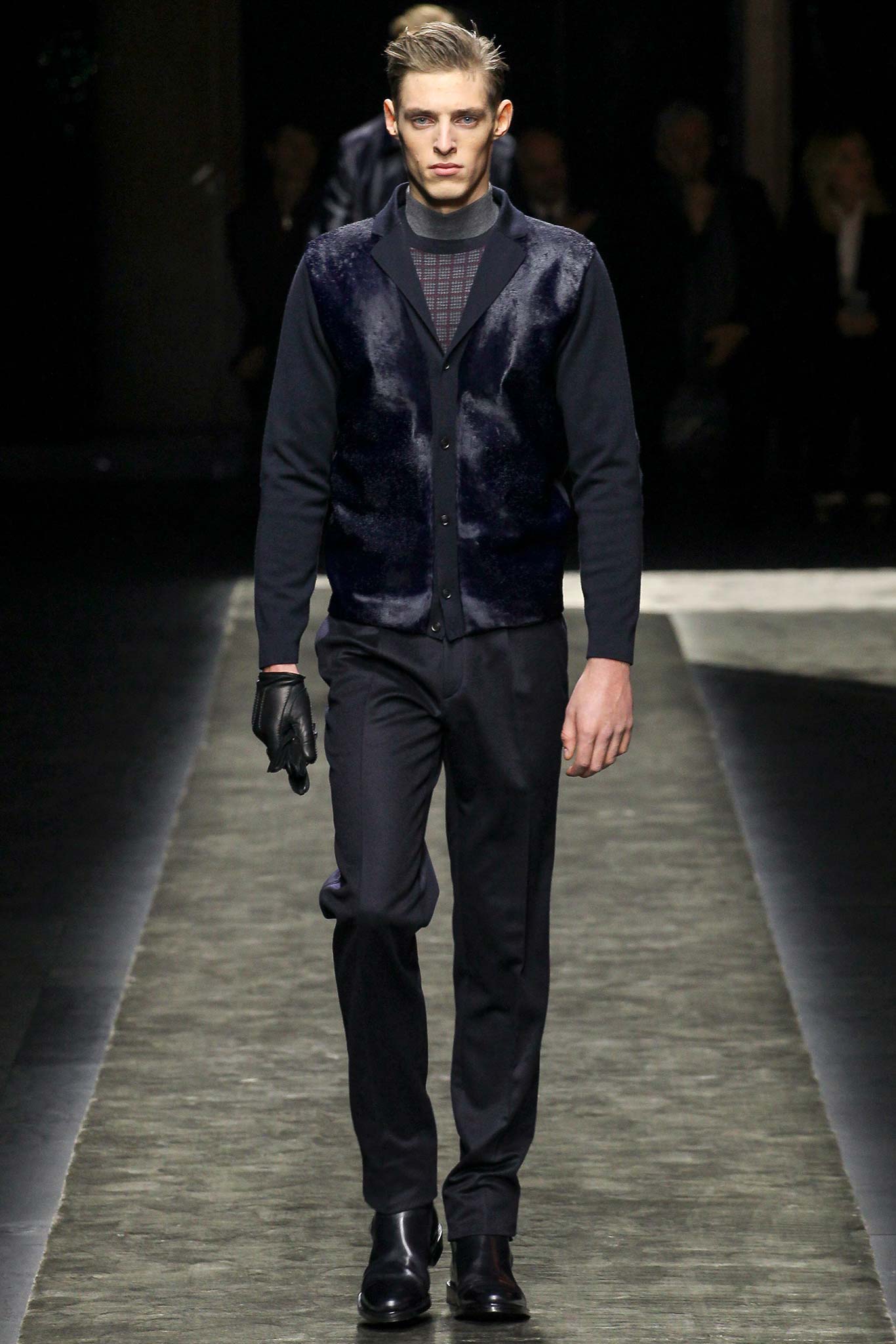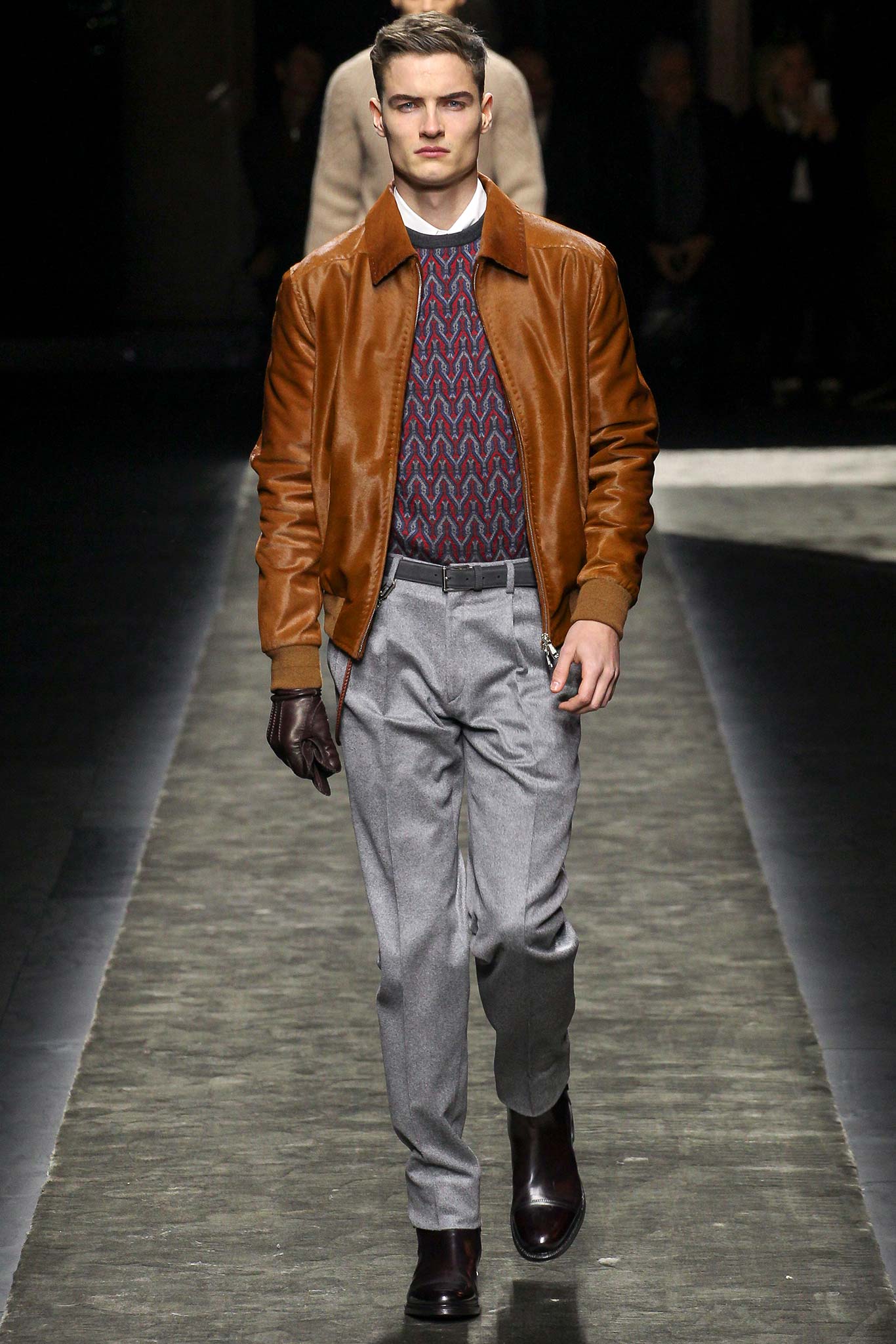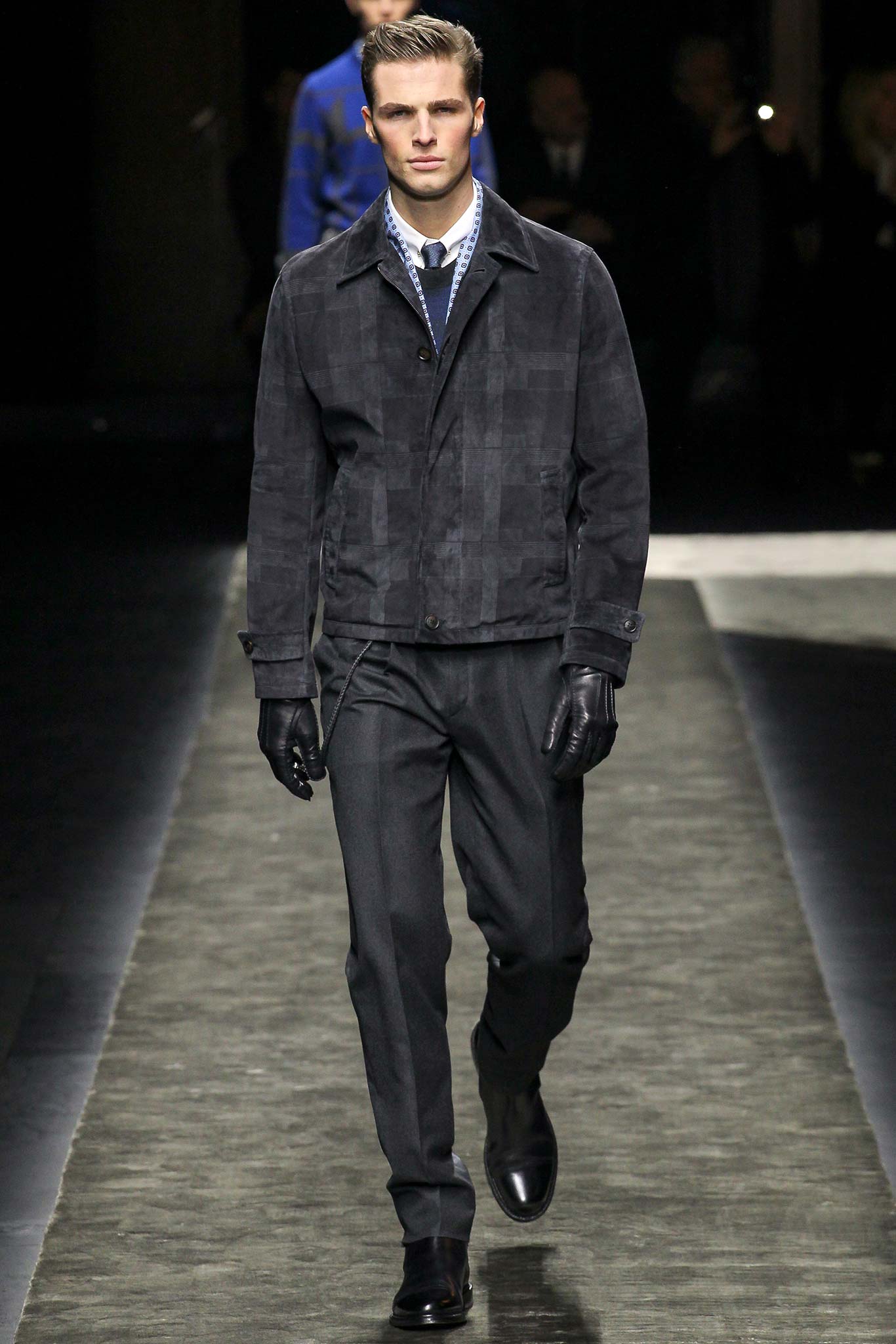 The gloves add that mascuilne touch, yum.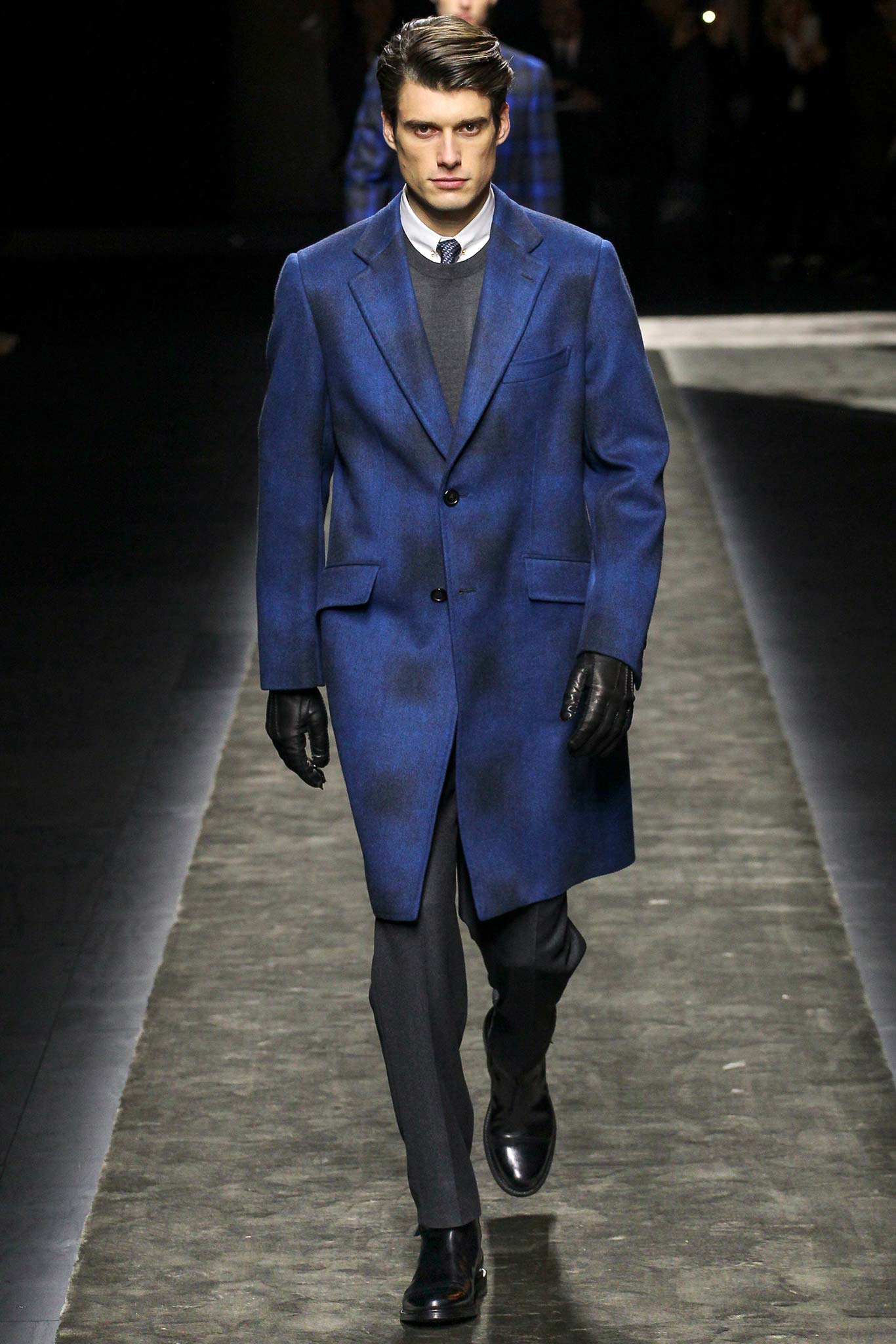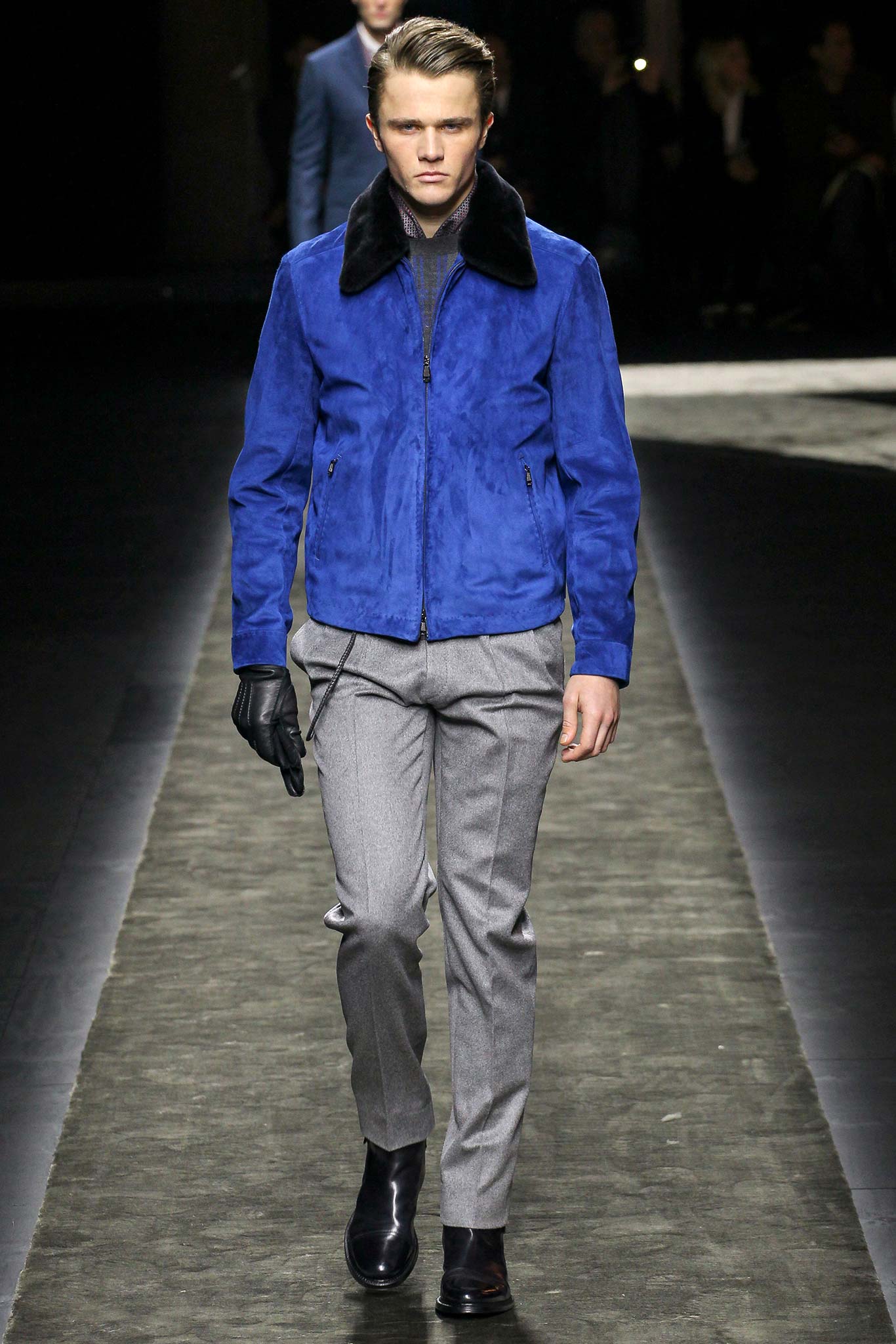 Oh Dear Lord, I was momentarily blinded by that BLUE!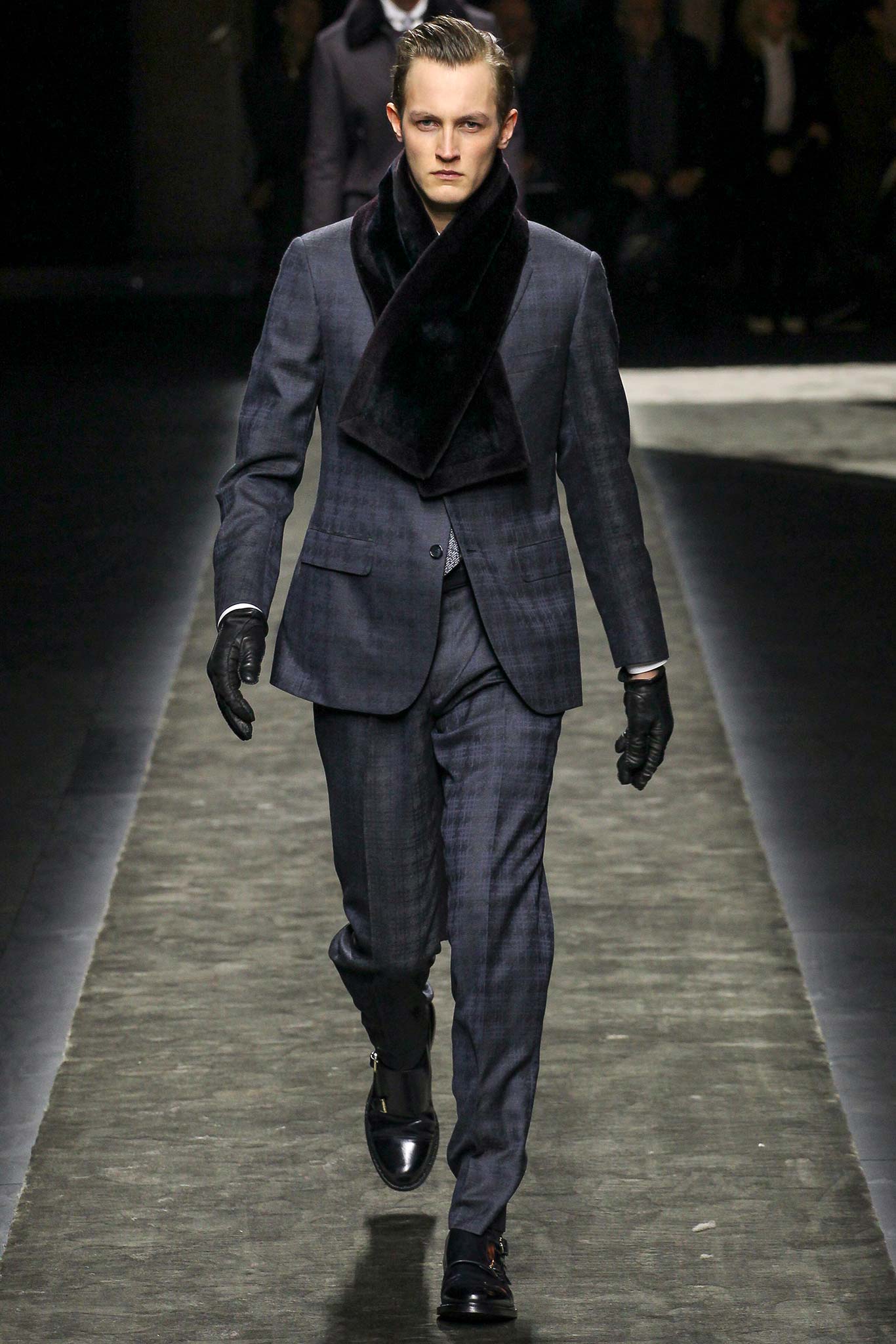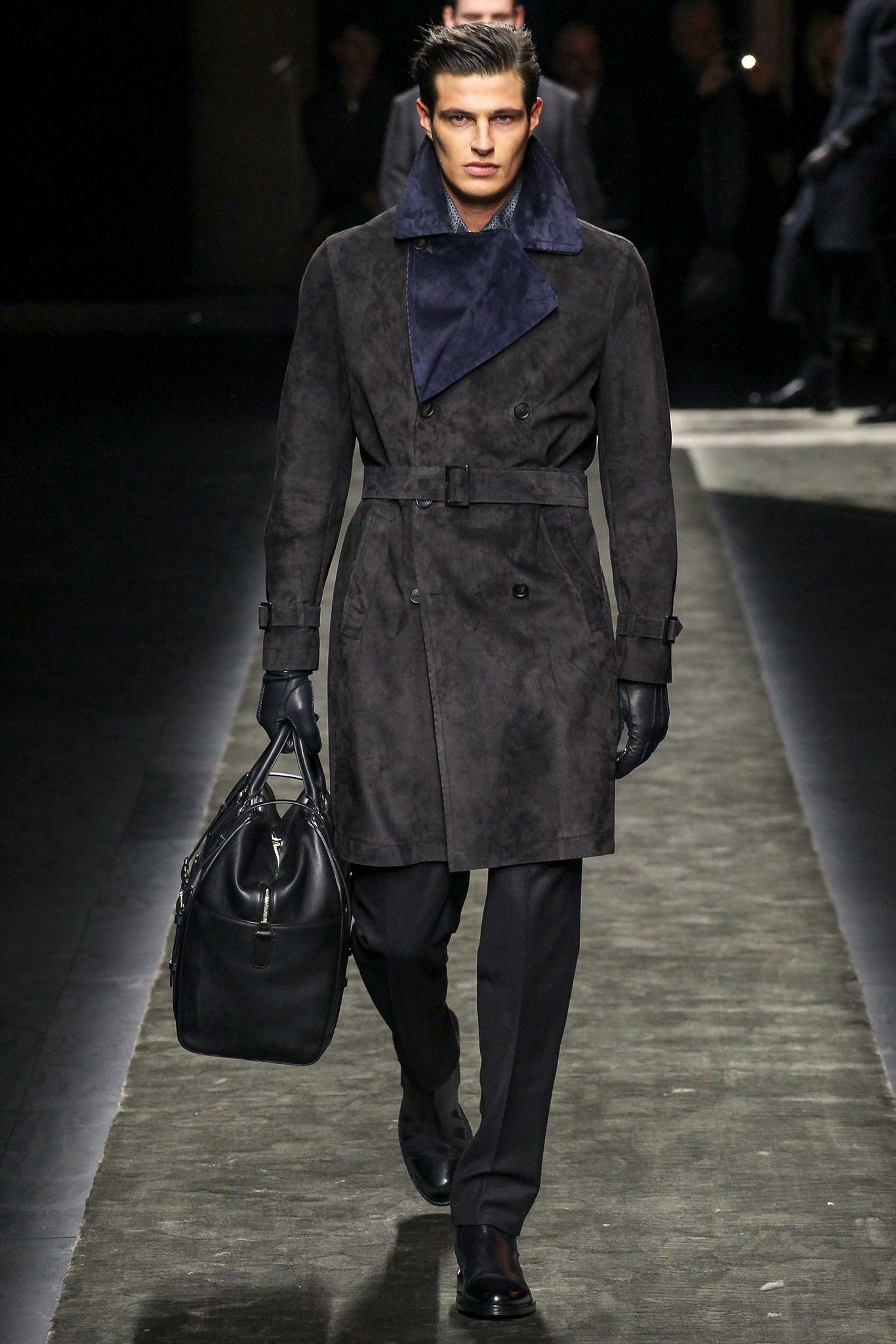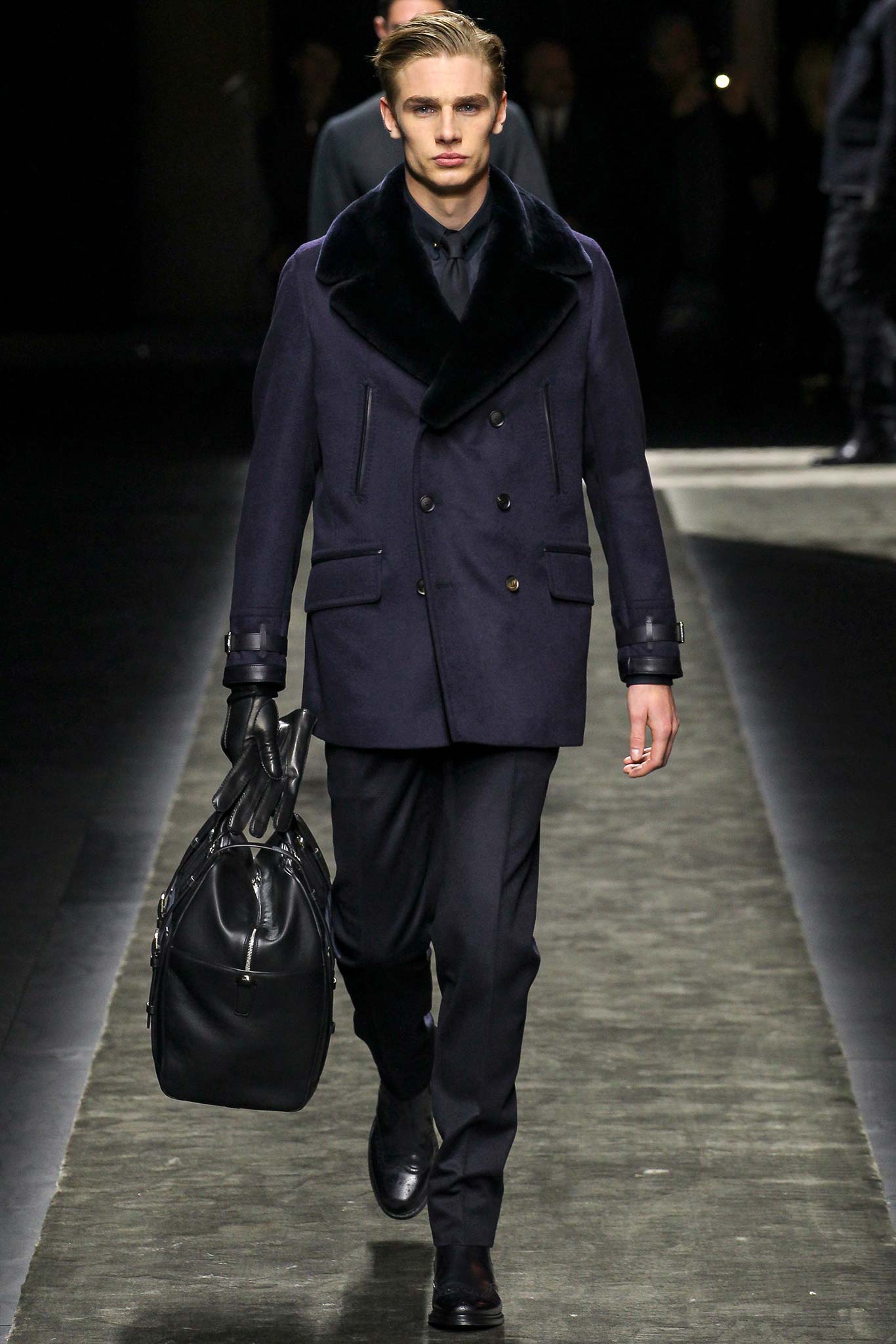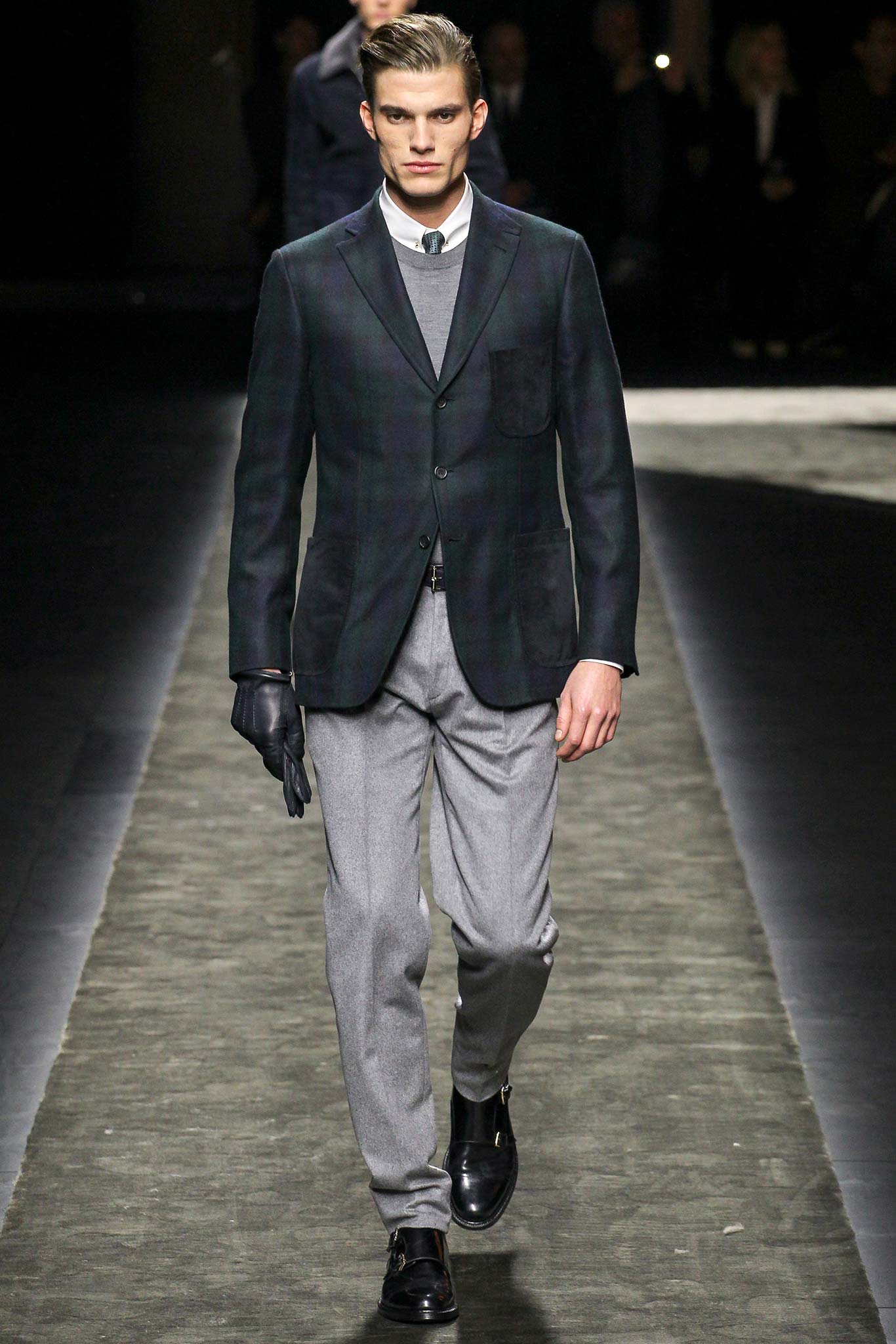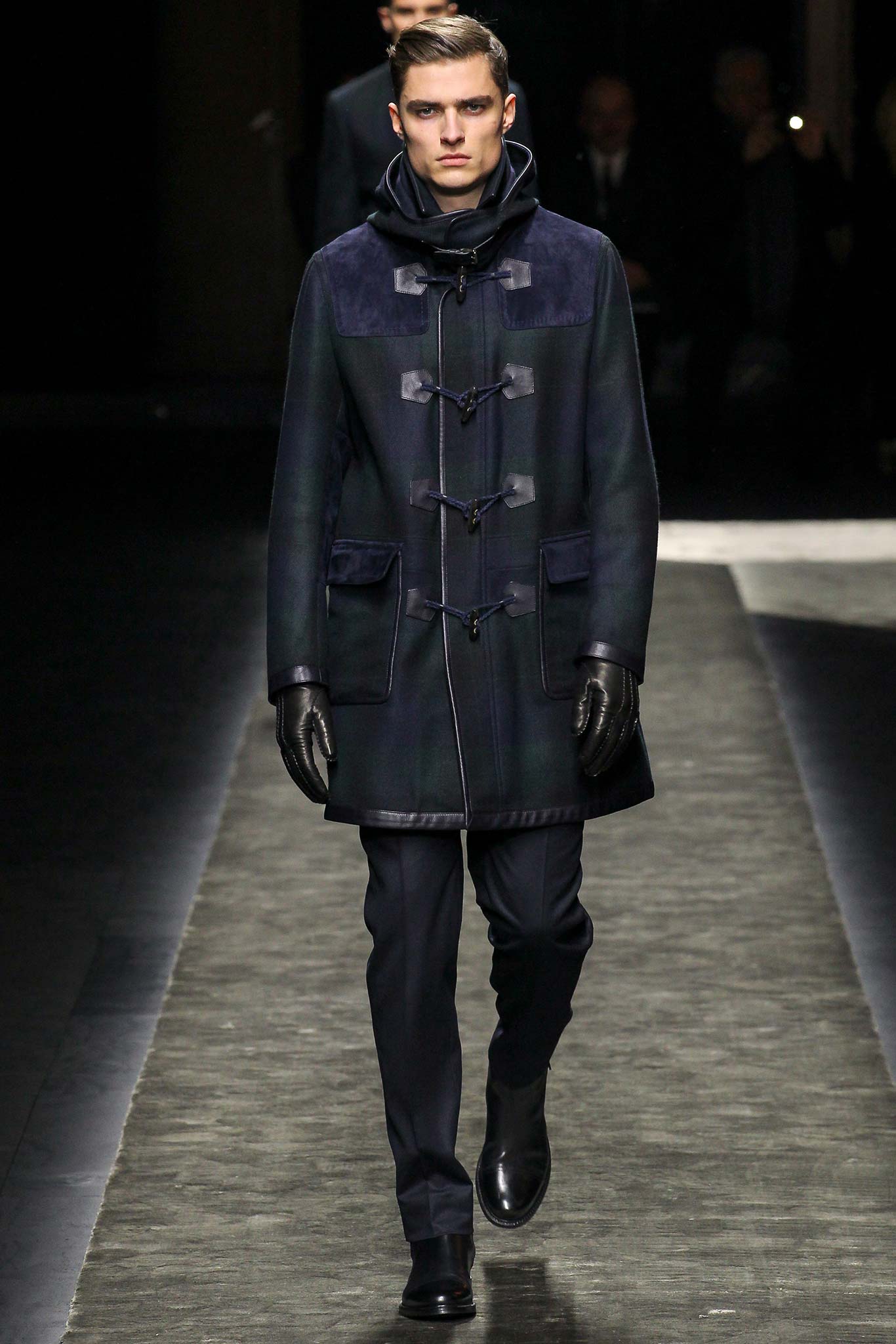 The last entry is one of my personal favorites, not your Father's toggle coat!
So, for the man who wants to step outside the metaphorical jail cell of the usual, and dip his toe into a sea of wonders, its waiting for you in the fall collections.
And the wonderful thing about gorgeous menswear? It can be tailored down to fit we gals! Like a trustworthy mechanic, a talented tailor and seamstress are indispensable.
This post is dedicated to Jim, Jeff, James, Jerry, Eric and Rodrigo! ;)
Images brought to you by www.style.com