Oof, the polar freeze has enveloped the bay area in unexpected actual winter like weather! I can see my breath.... Just like being in the east coast without the charm of the snow, OR the salt stains on the coat hems. Back we go to some more pre fall selections that will remind us why we L O V E the crispy cool nose tingling weather. Yeah, some of us have to shovel snow and keep the antifreeze in check, however, we look forward to a series of sumptuous shearlings, spectacular mohair and woolen concoctions, and of course a spectrum of boots to complete and elevate any outfit! Paradoxically, with pre-fall we are also gifted with a host of fashions to be worn as summer turns to fall, for work, for fun, or for a fabulous festive affair!
ANTONIO BERARDI: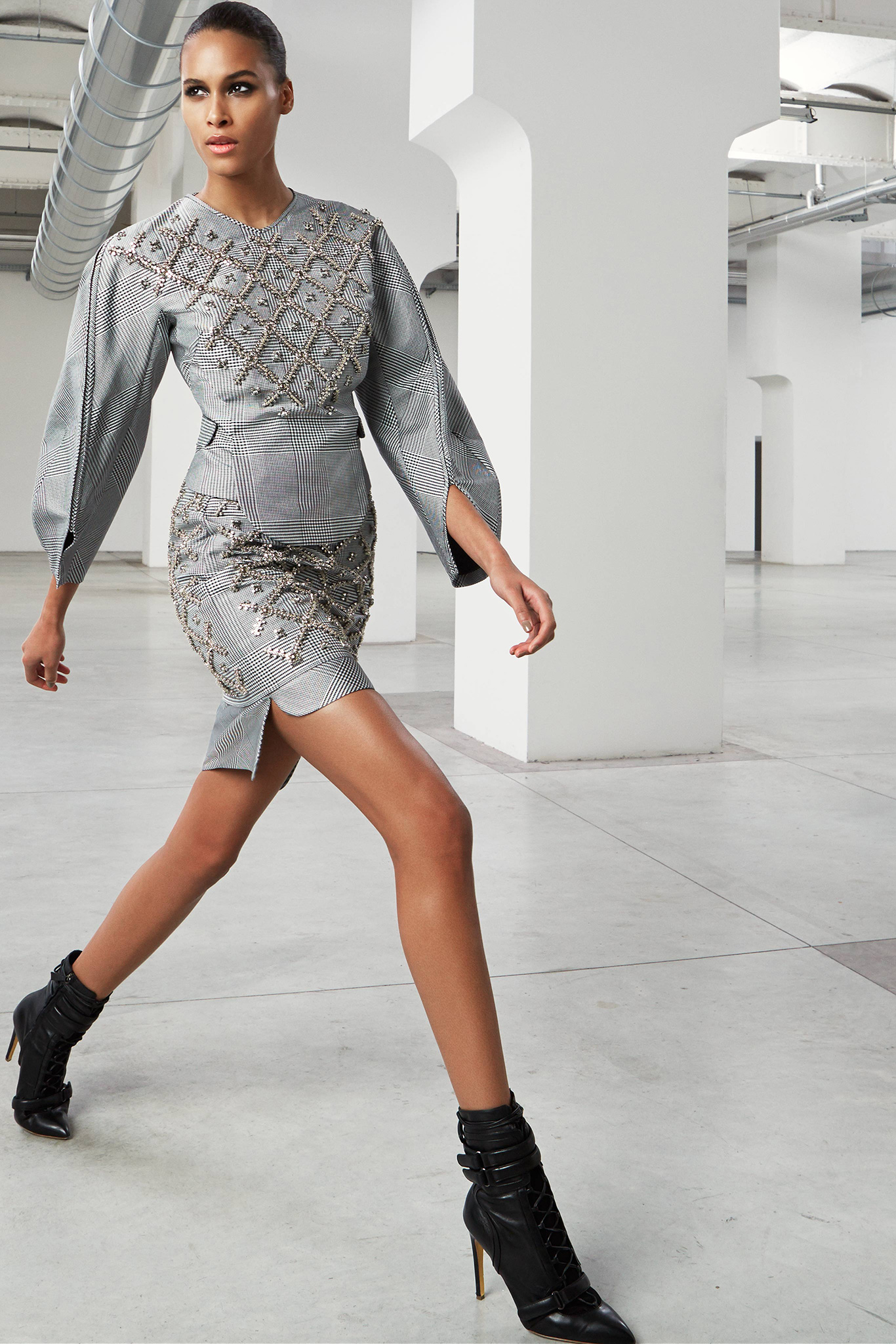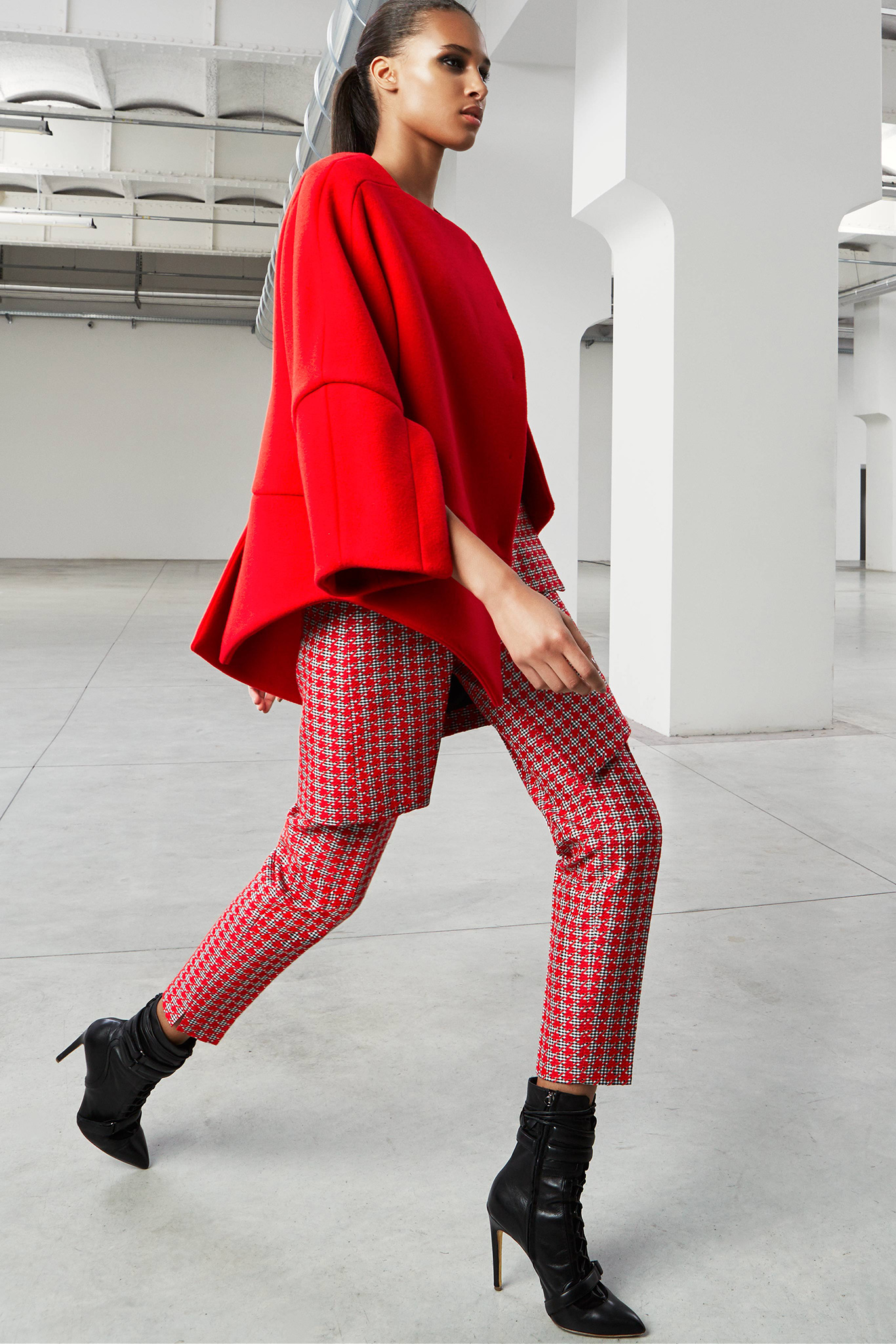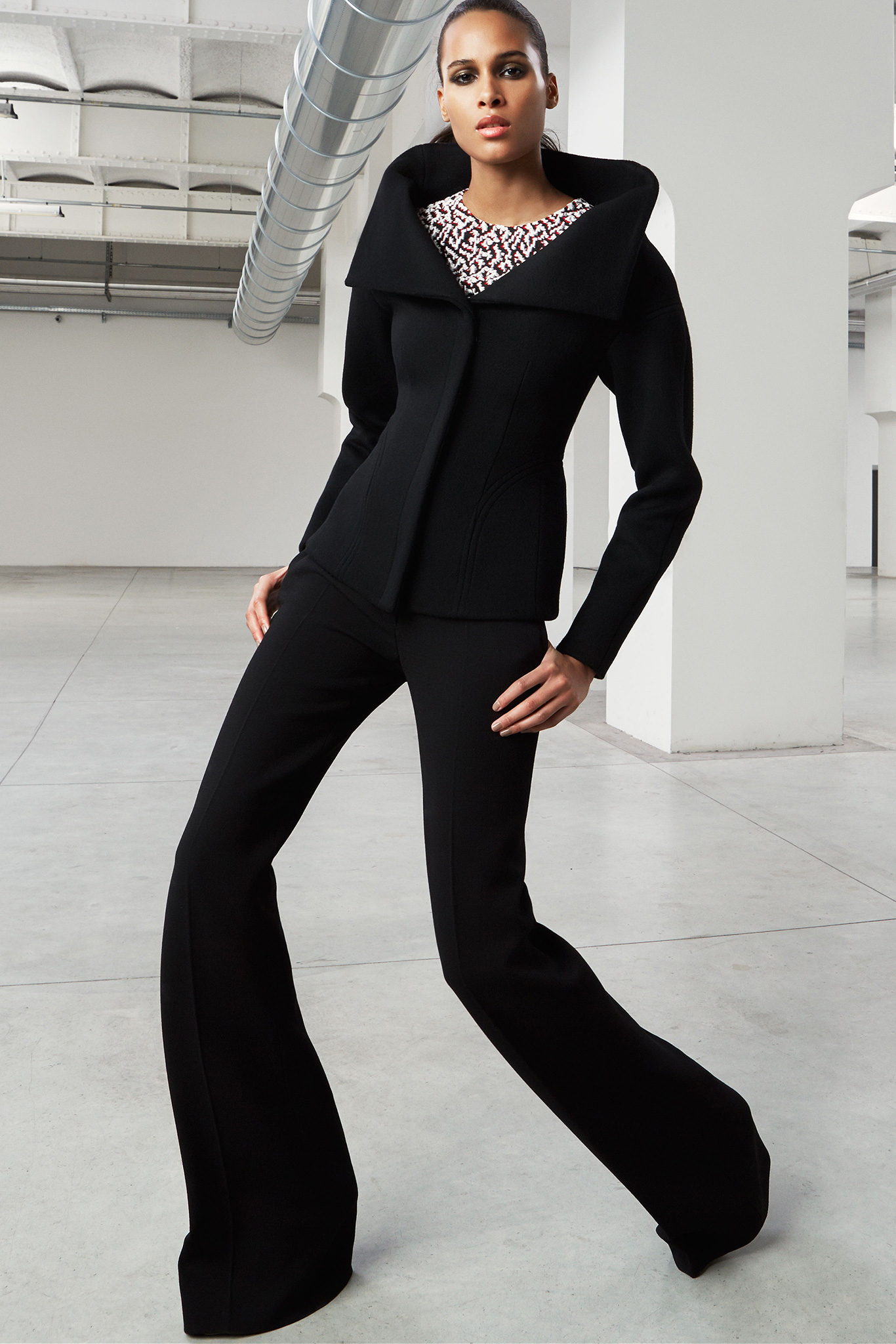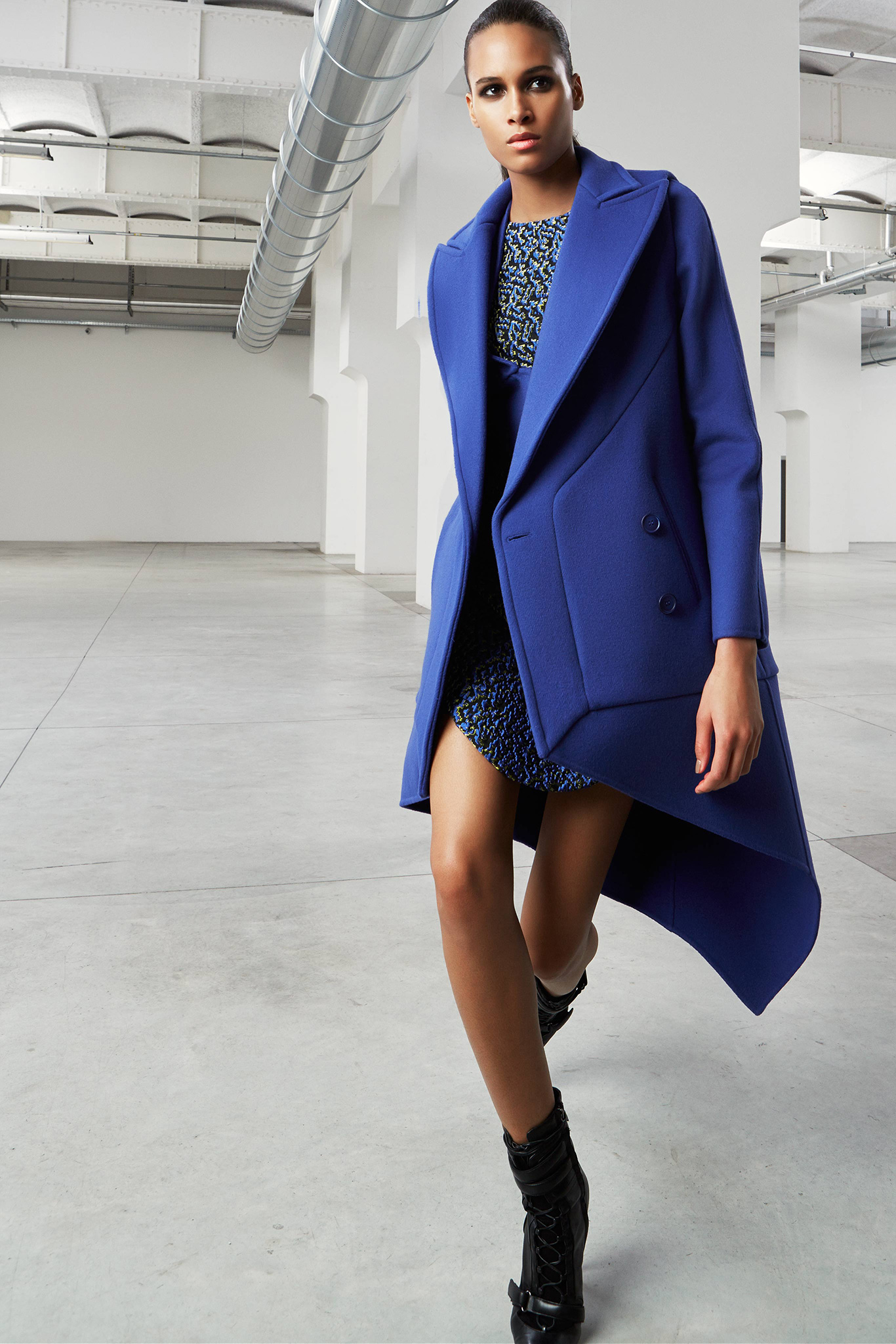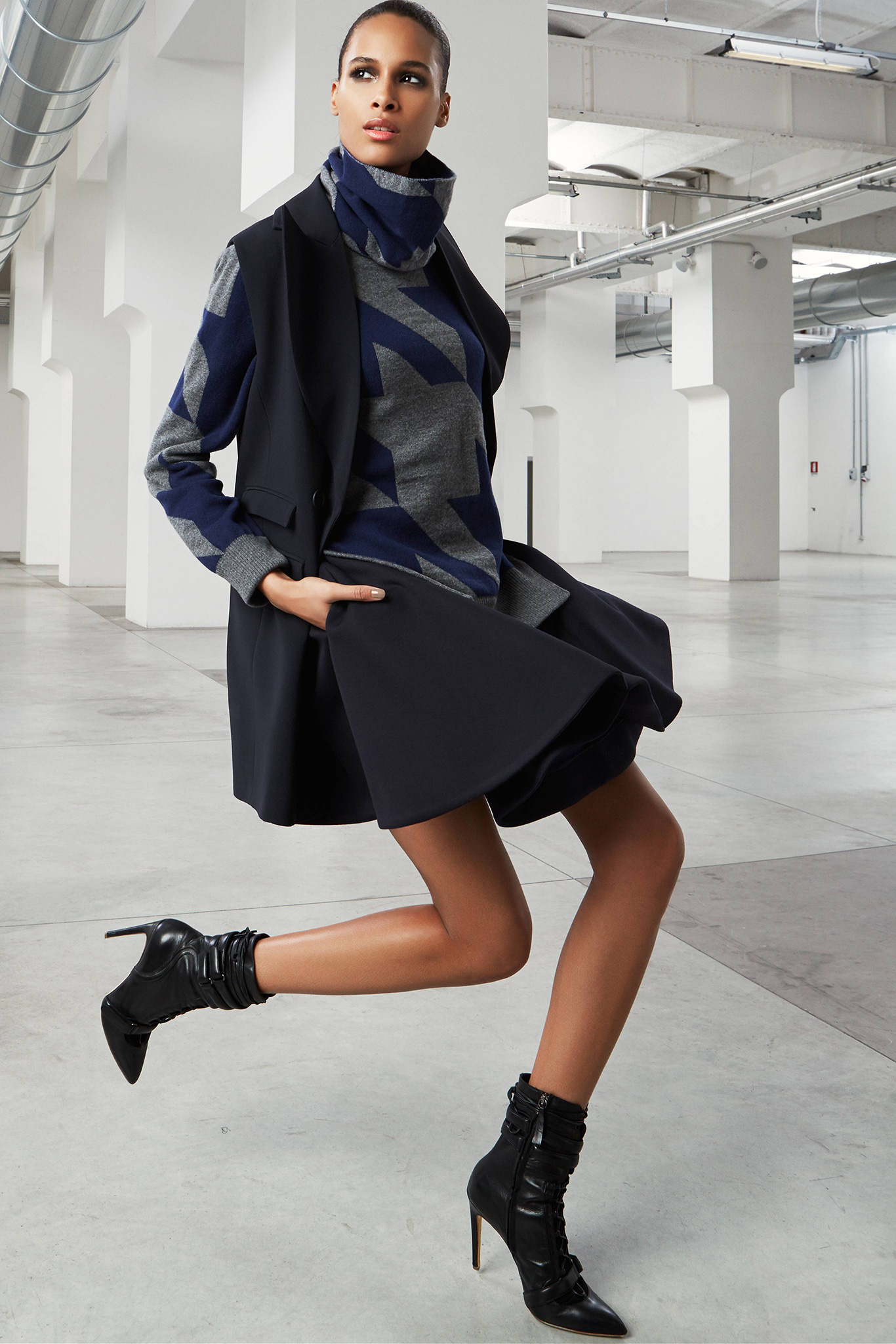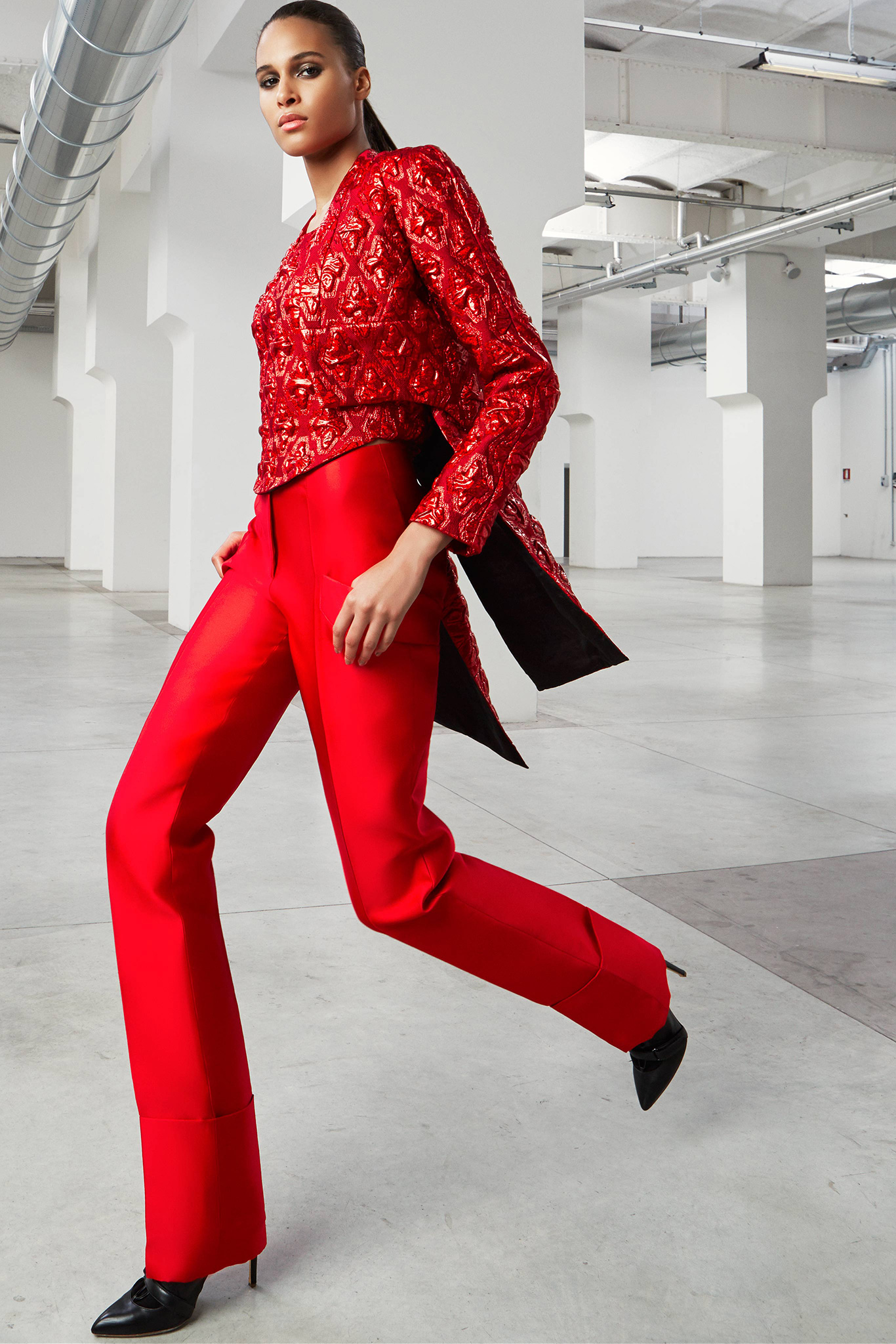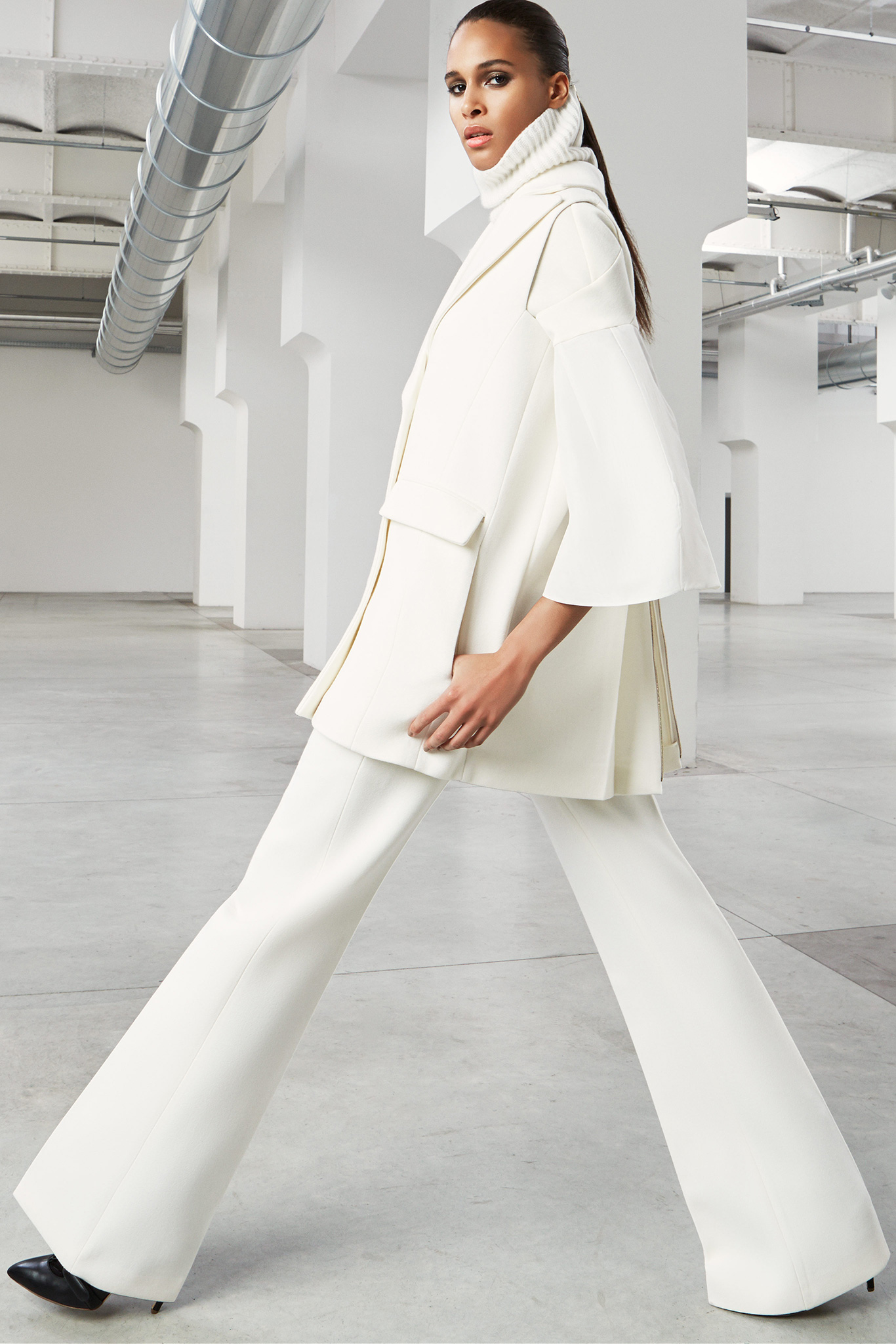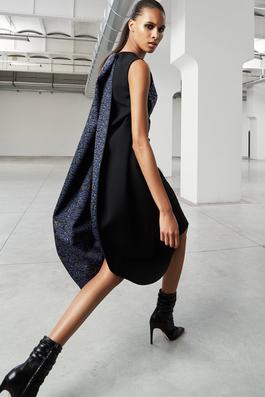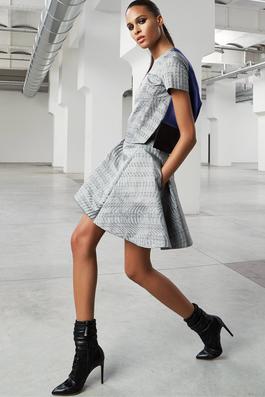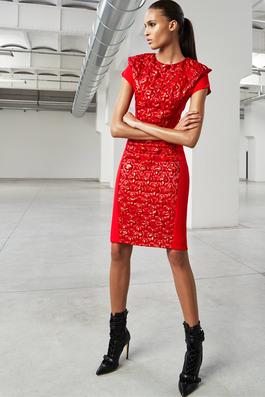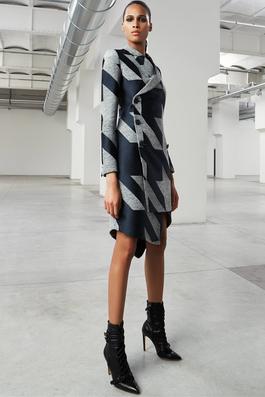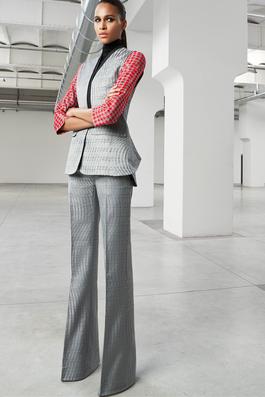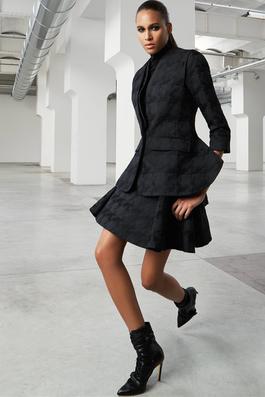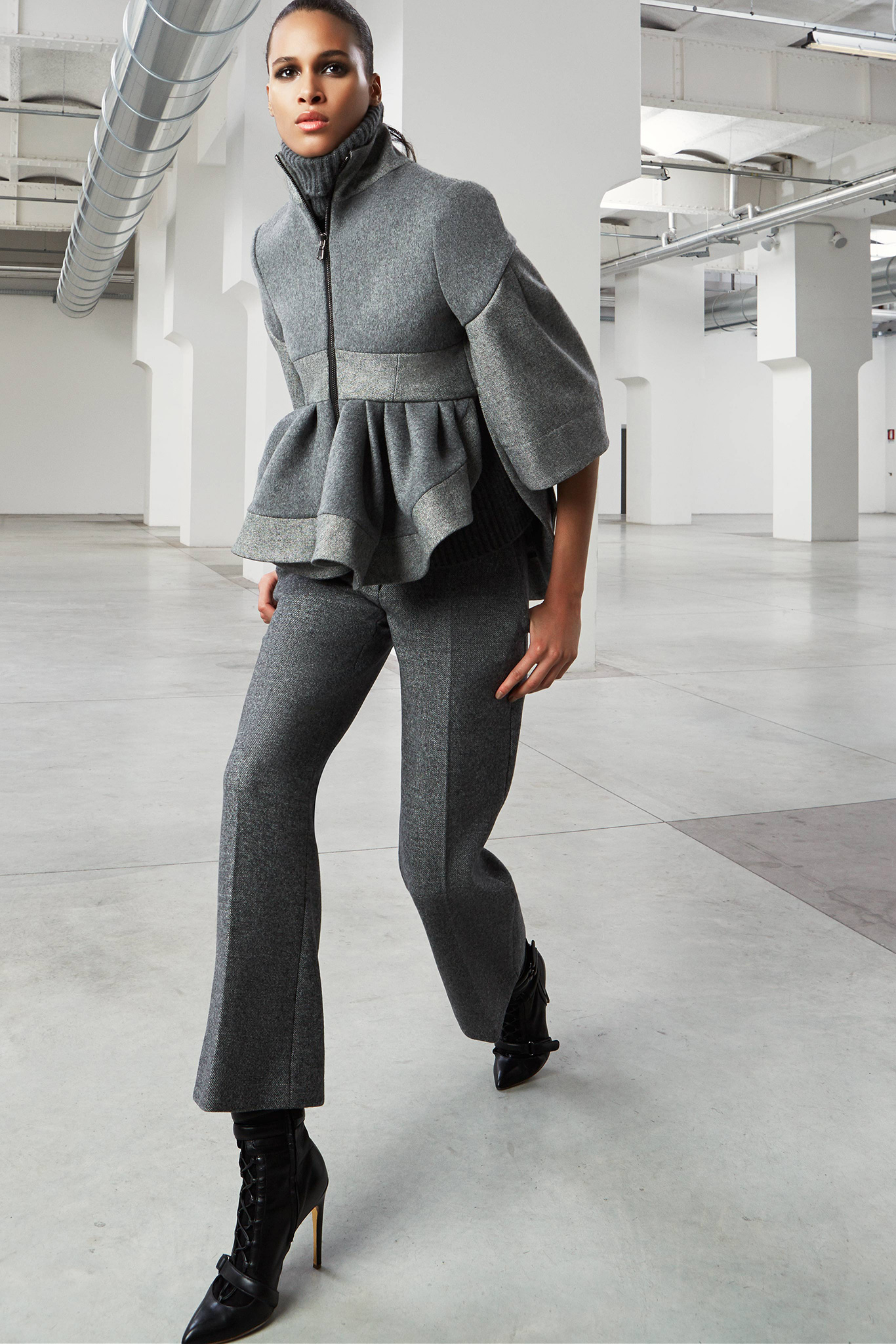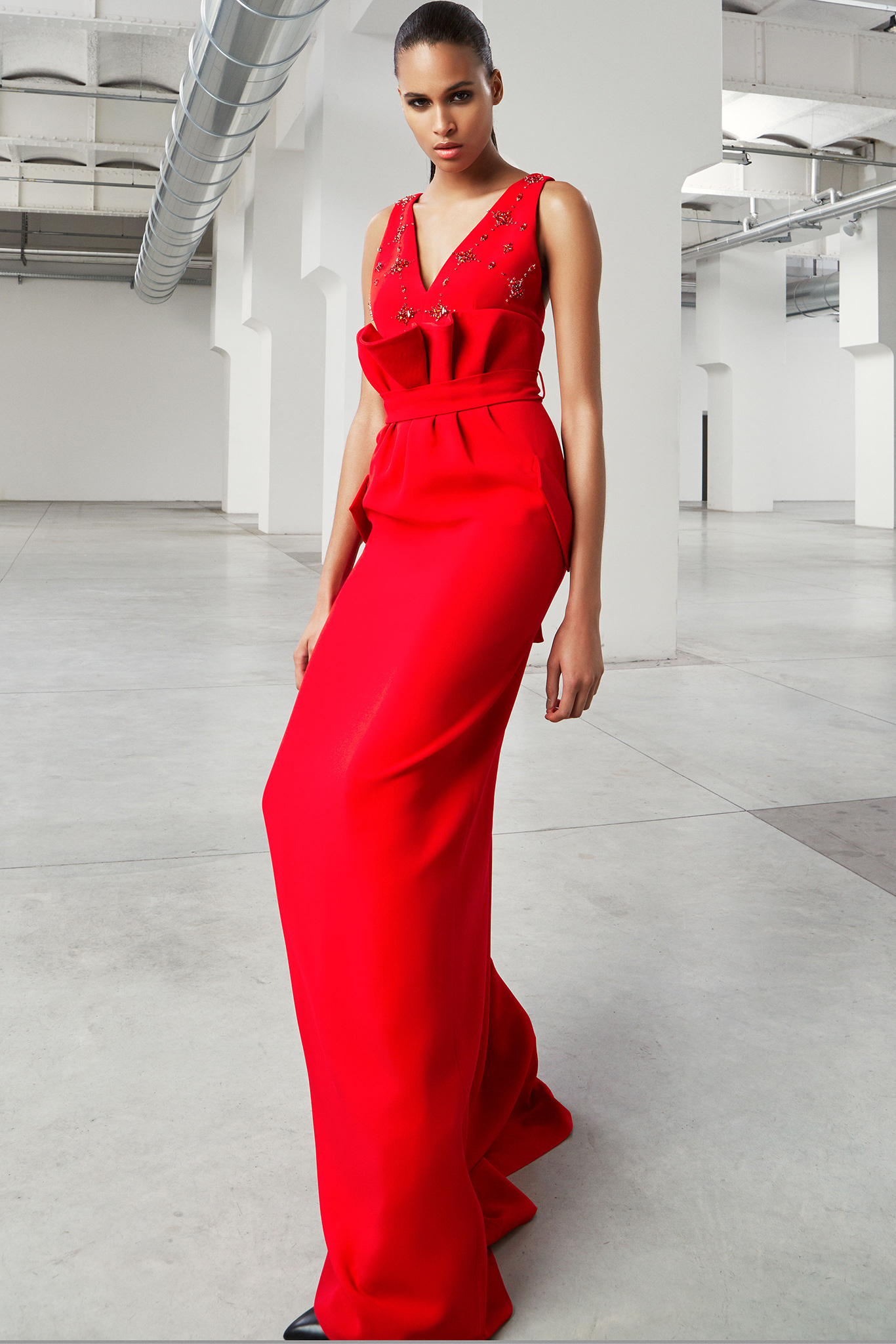 Talk about a modern STELLAR (or even Interstellar) collection! MOD separates using a bold yet understandable color pallette, with an engaging spectrum of looks to carry one from the office to the opening du jour. For some reason Berardi seems to be flying under the radar, or maybe I just get distracted by the usual suspects when I'm tooling around Neiman's or Saks, but now I'm wondering why his pieces aren't nestled in between Dior and Lanvin, because his collections are THAT good! He always seems to have an architectural somewhat masculine bent, yet the frocks and suits are ever feminine and alluring. The suits are perfect for the gal who requires some gravitas to her look in this male dominated world (I mean who are we kidding?), and yet who refuses to foresake her inner feminine self. Yin-yang. And we also have the appropriate compliment of RED. The star piece? The red jacquard tuxedo jacket. Throw that over the gown of your choice for unexpected piZazz! And for the daring gals? A perfect winter white outfit.
CHRISTIAN SIRIANO:
The man of Project Runway fame has found his niche with glamorous frocks and gowns for any and all special events. Here he adds the always desirable black cigarette pant, another versatile staple that can be worn with a dramatic blouse OR under a host of tuxedo jackets as part of an event ensemble, as a gown equivalent.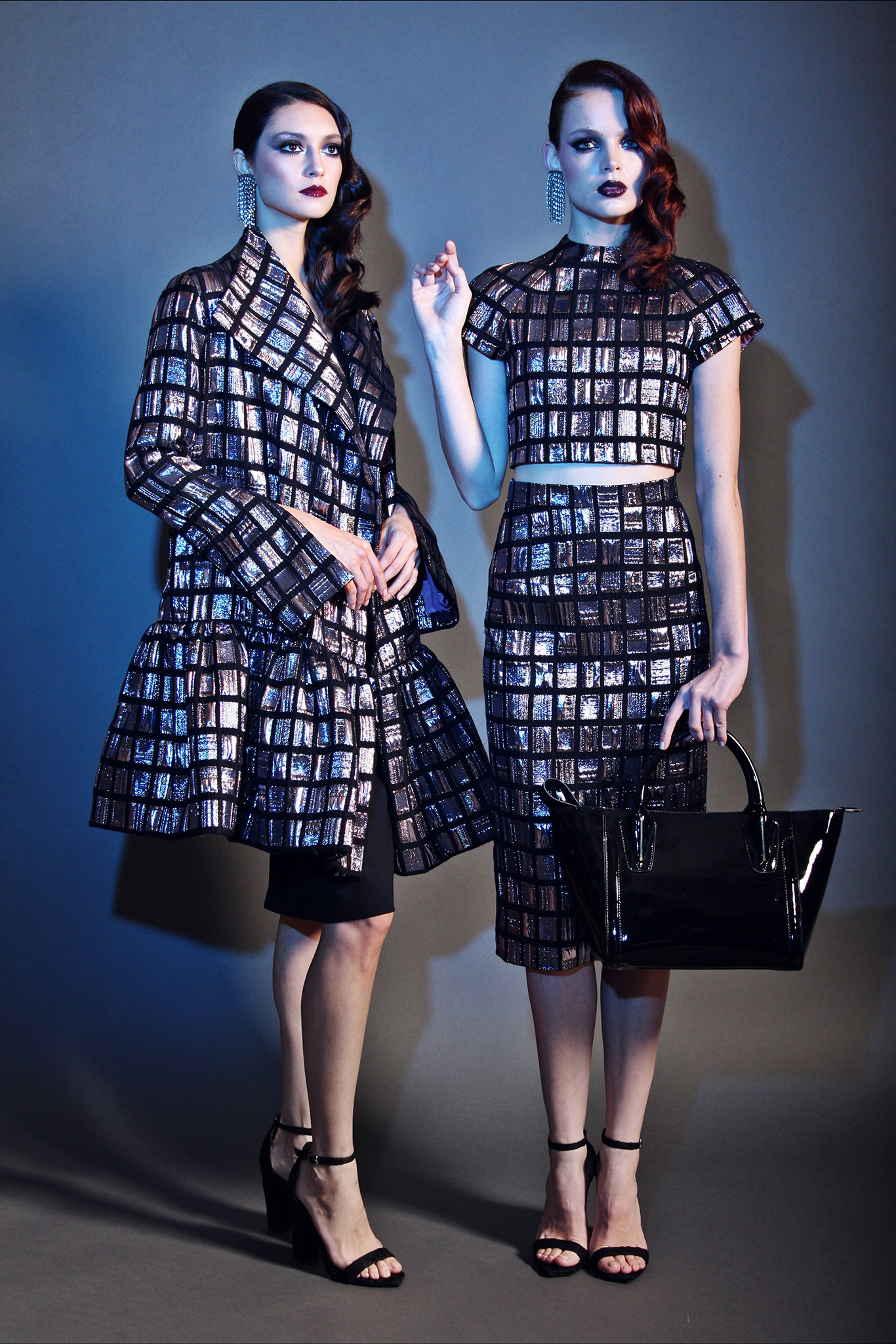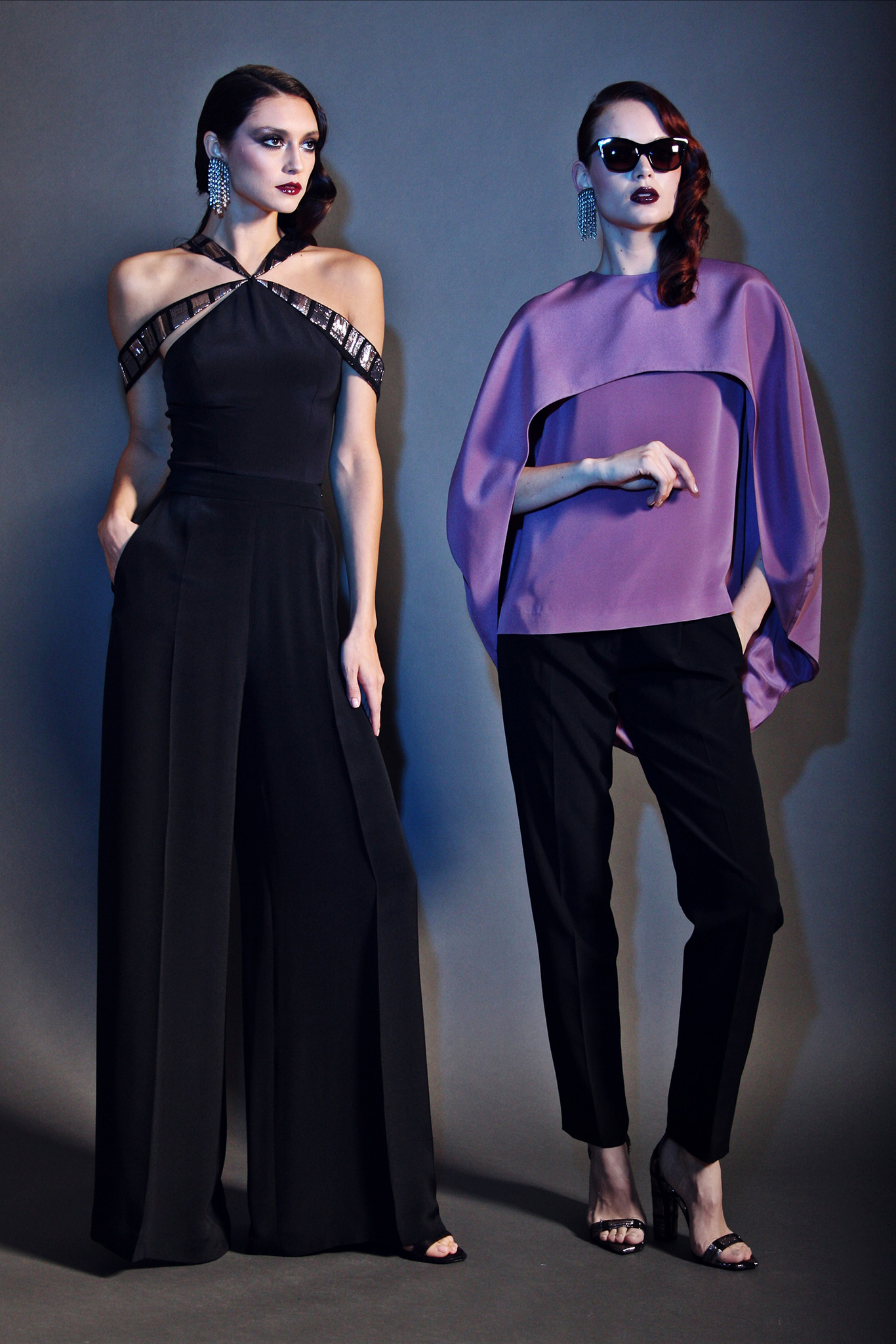 Like Dsquared, Siriano seems to be channeling Mata Hari. The purple blouse is striking and dramatic what with the eyecatching color and unusual shape, but non fussy, low key lux with those pants. A good entertaining outfit.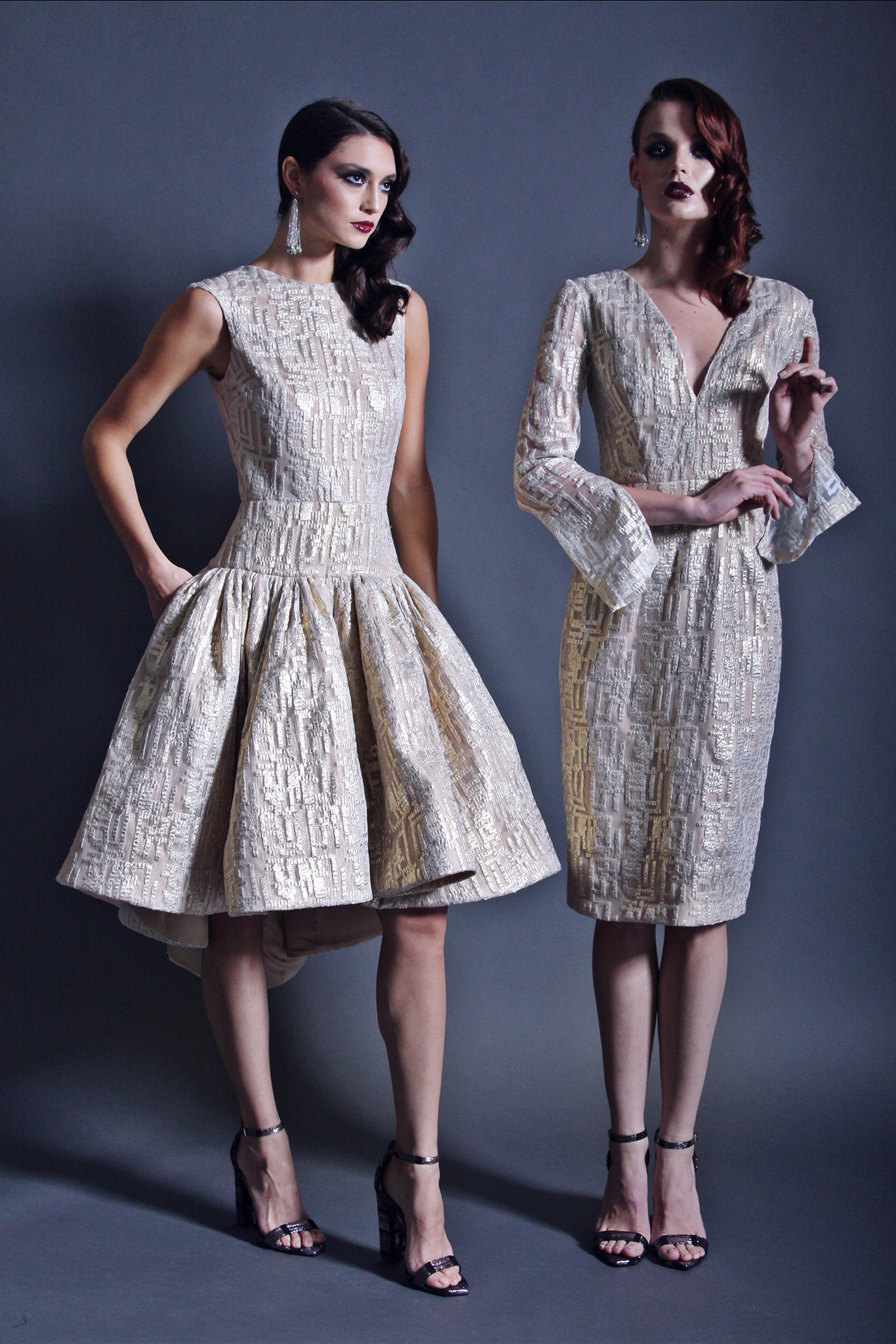 Metallic brocade is always the right answer.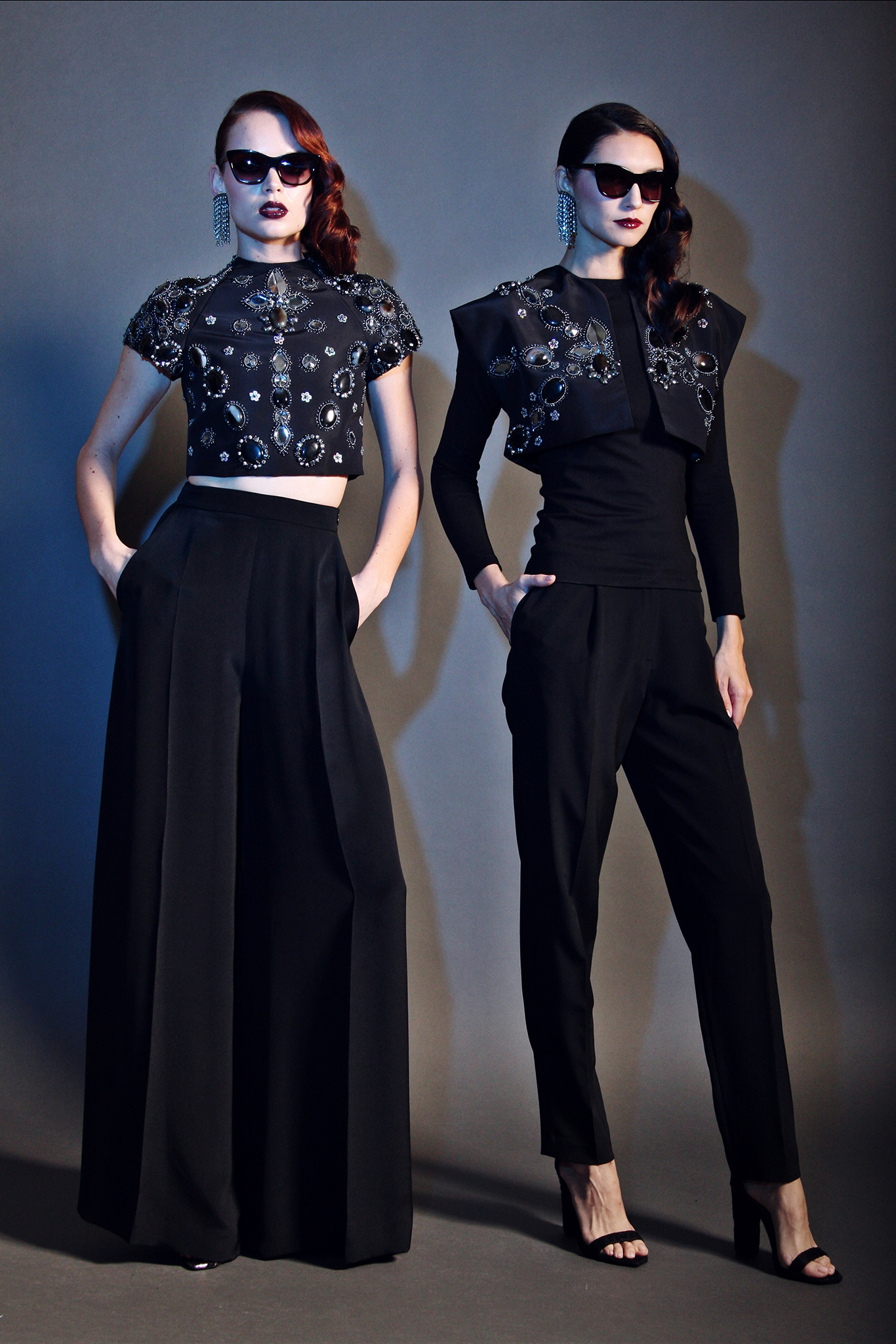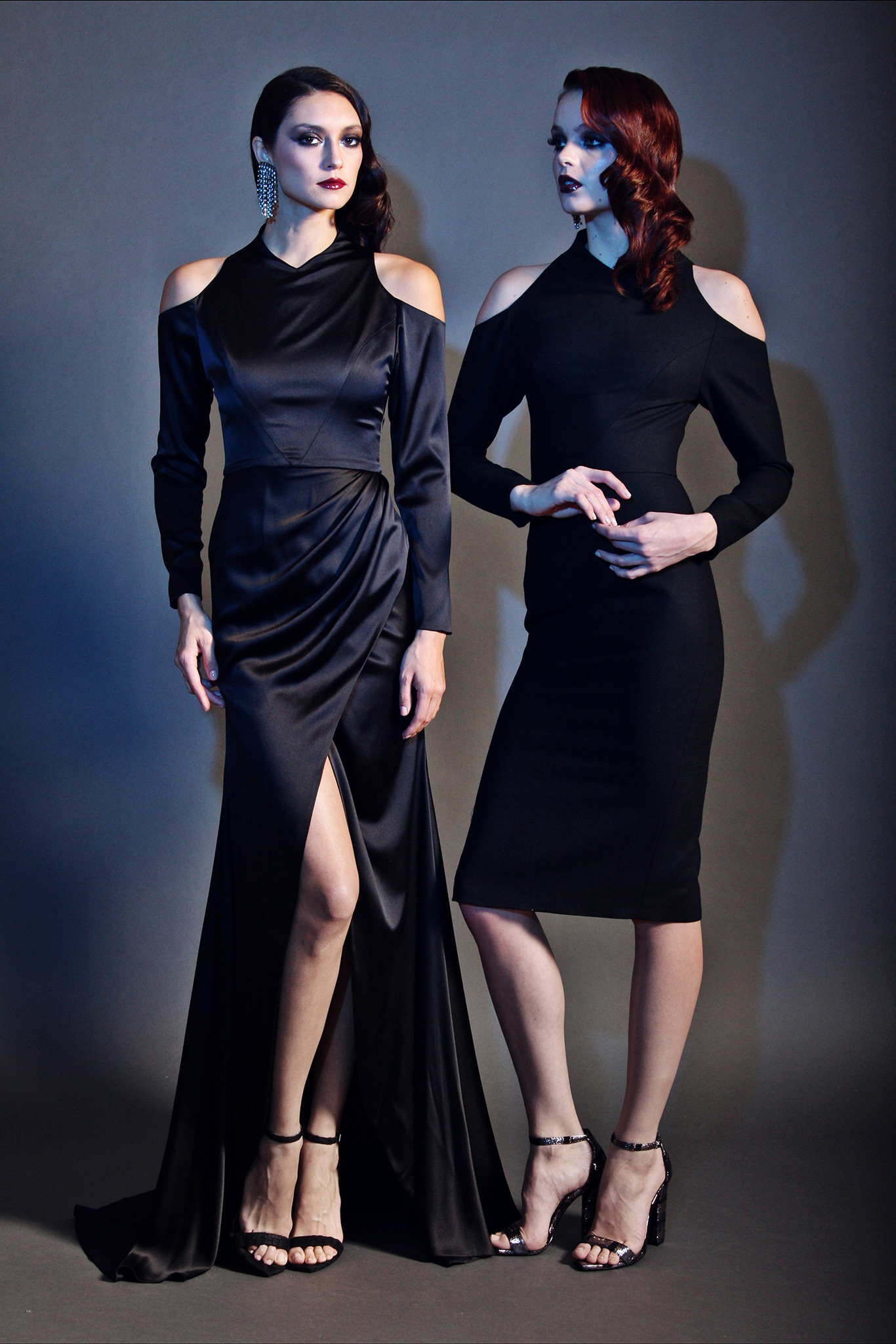 The S E X Y vixen contingent.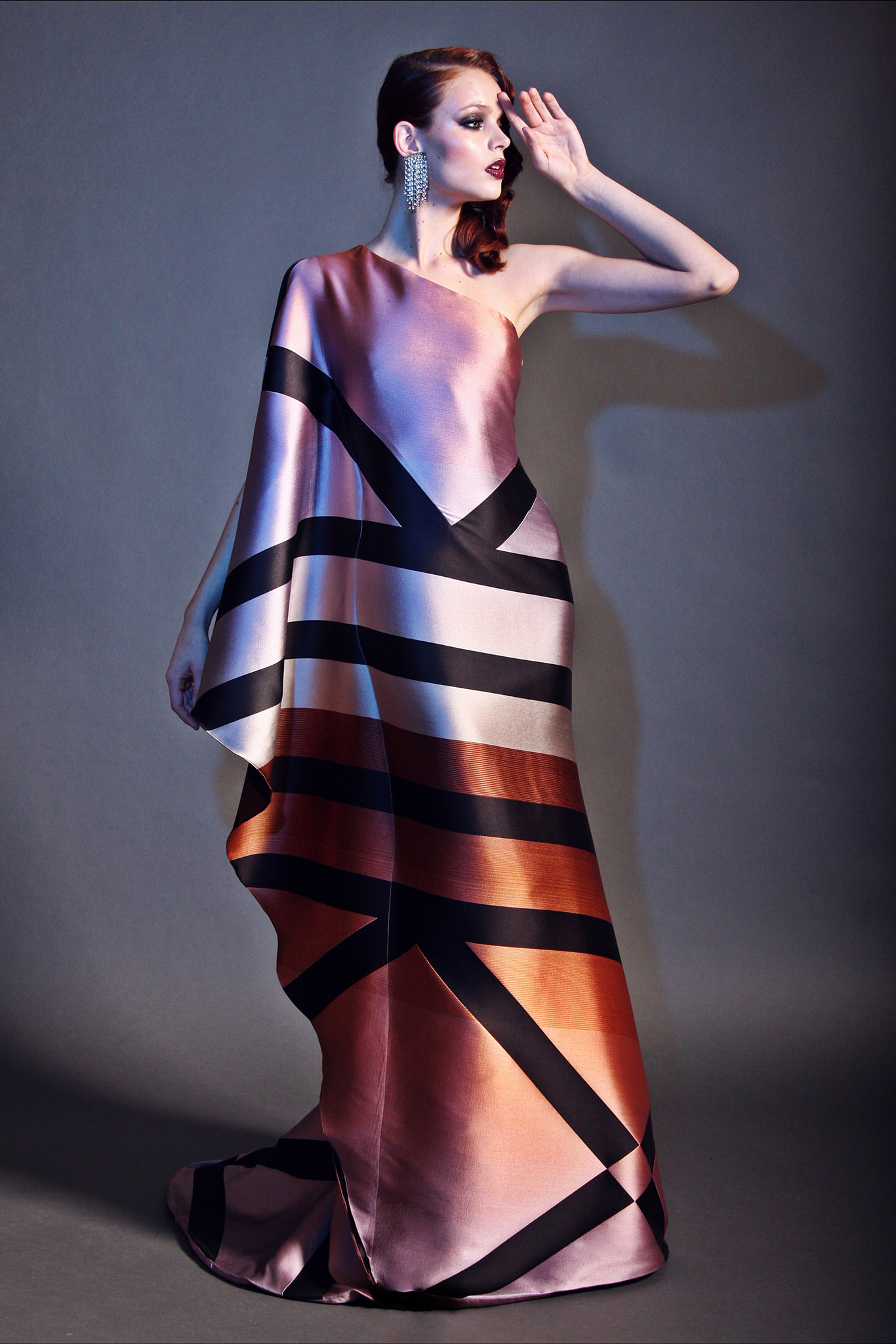 Mmmmmm, charmeuse, old Hollywood glamour. I think this one comes with a cabana boy.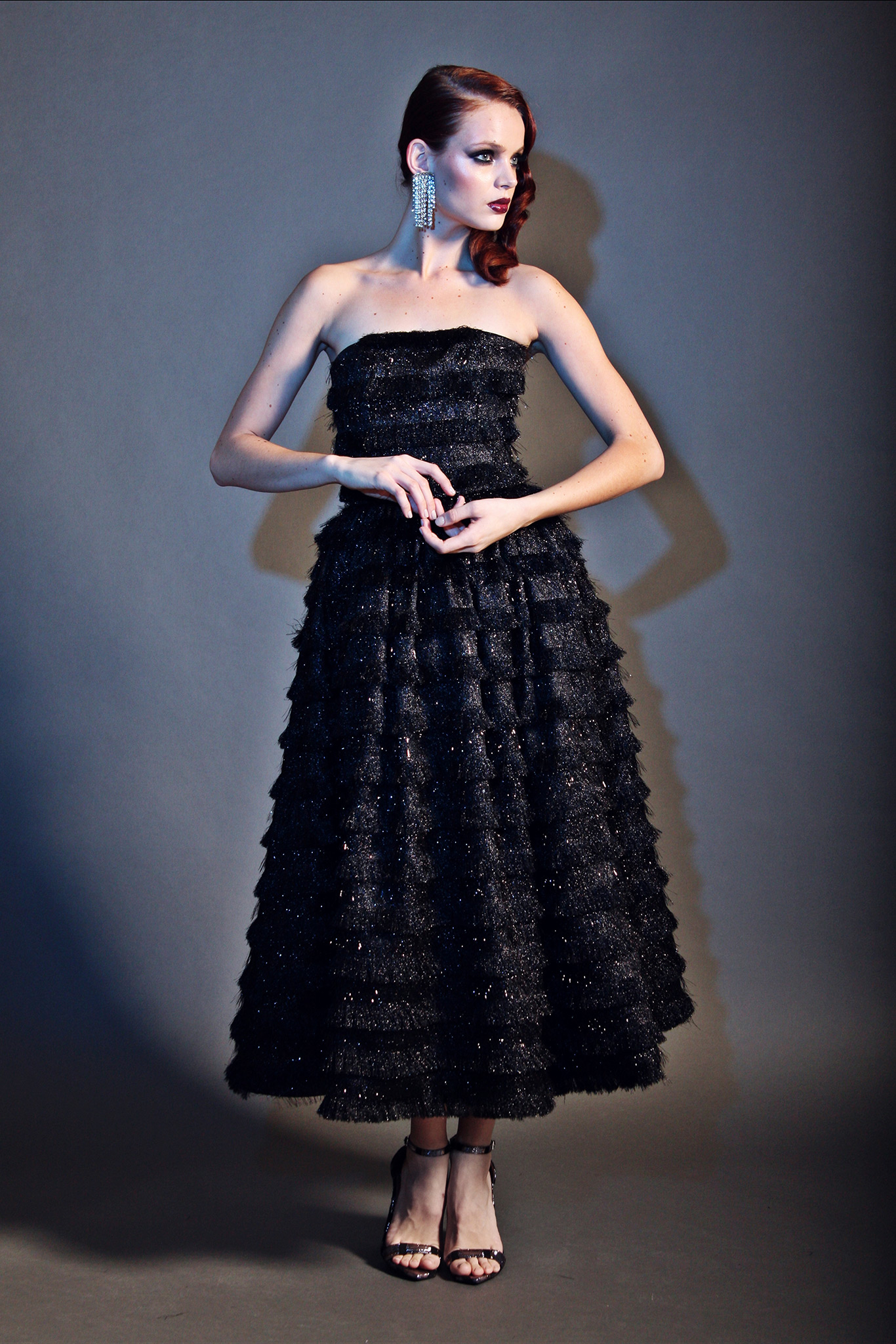 Love it, looks like something Grace Kelly would have worn during her Hitchcock days....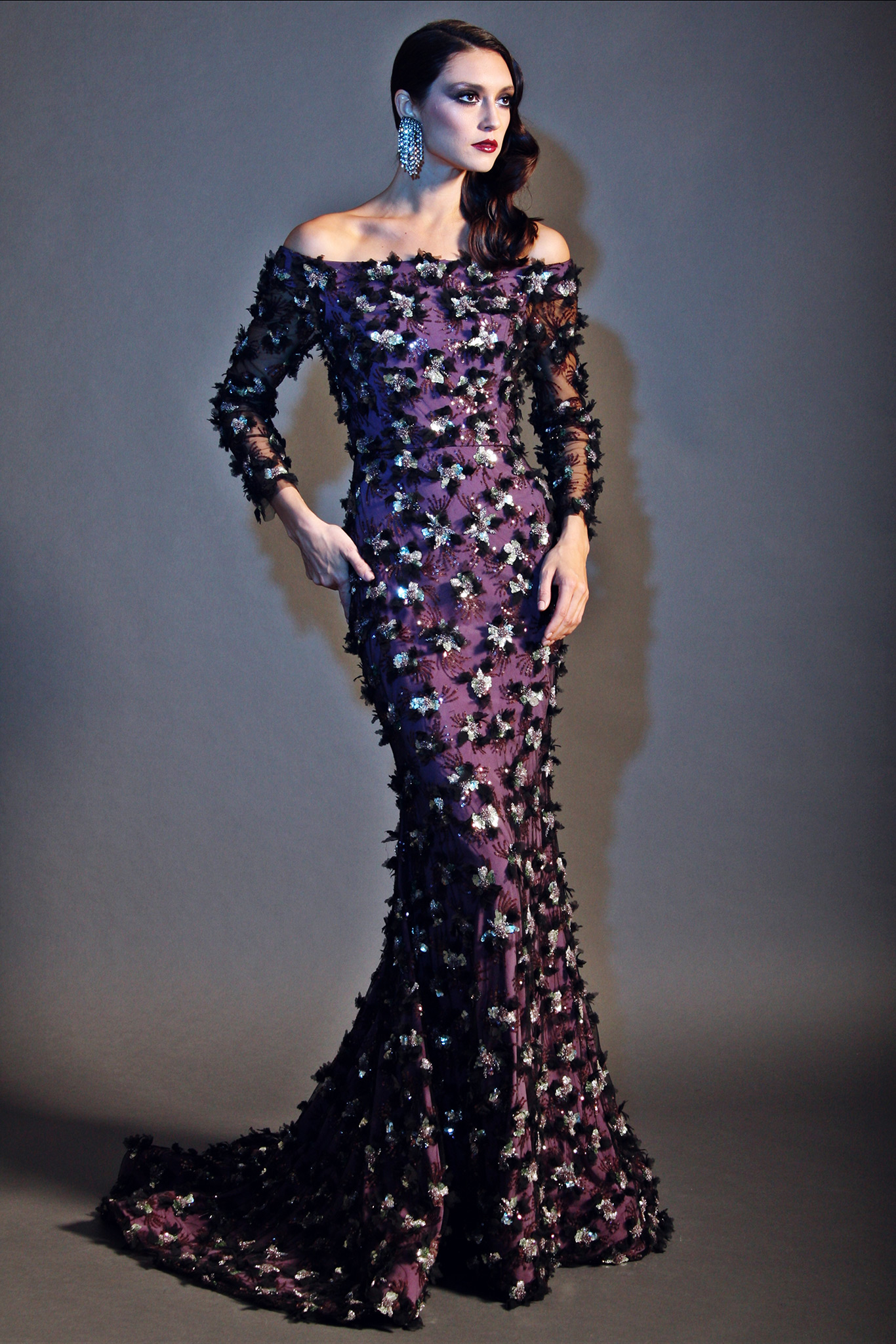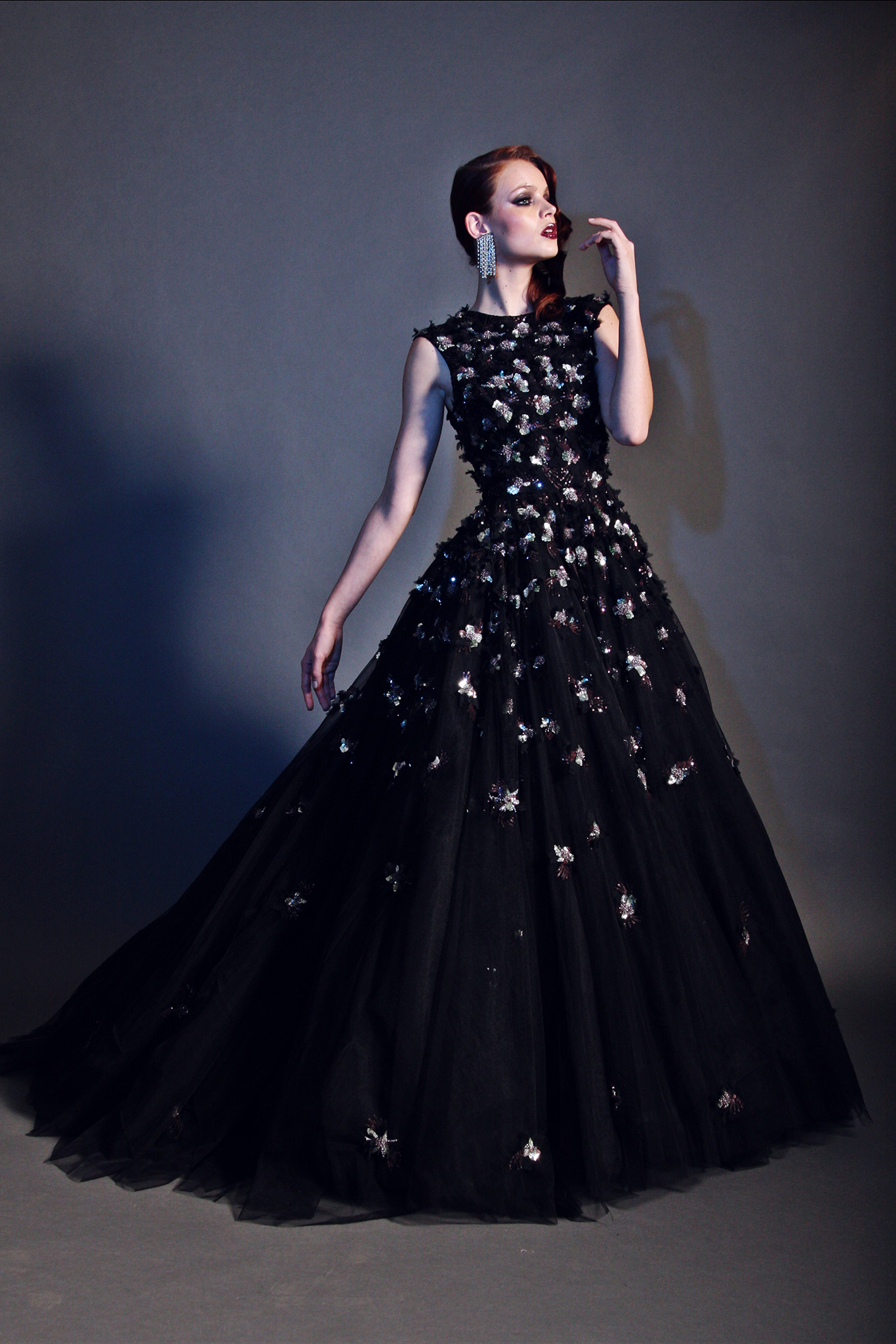 Latter day Scarlett O'Hara, for the belle of the ball.
DEREK LAM:
One of our sportswear masters, bringing more wearable, well made staples to be worn all year round.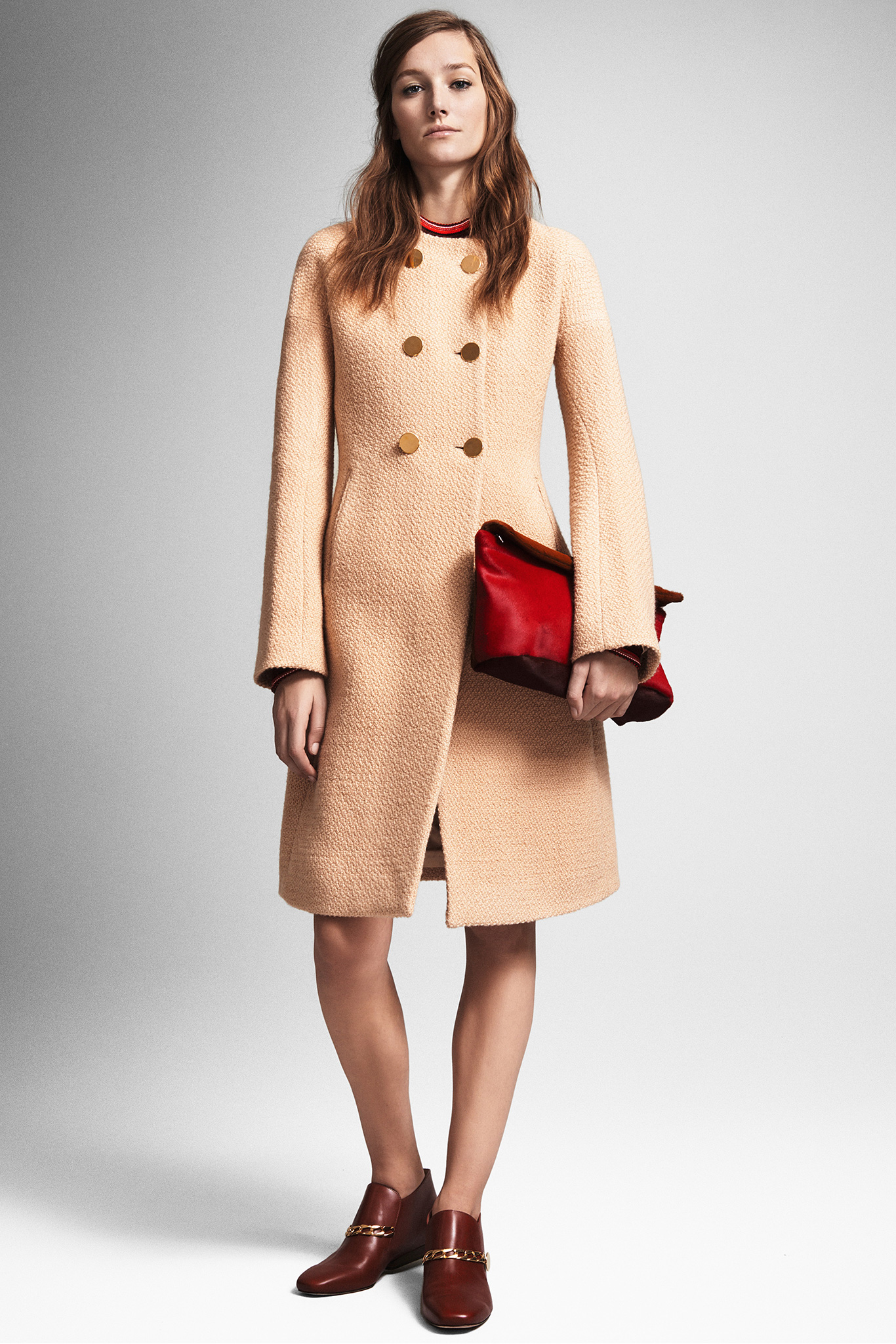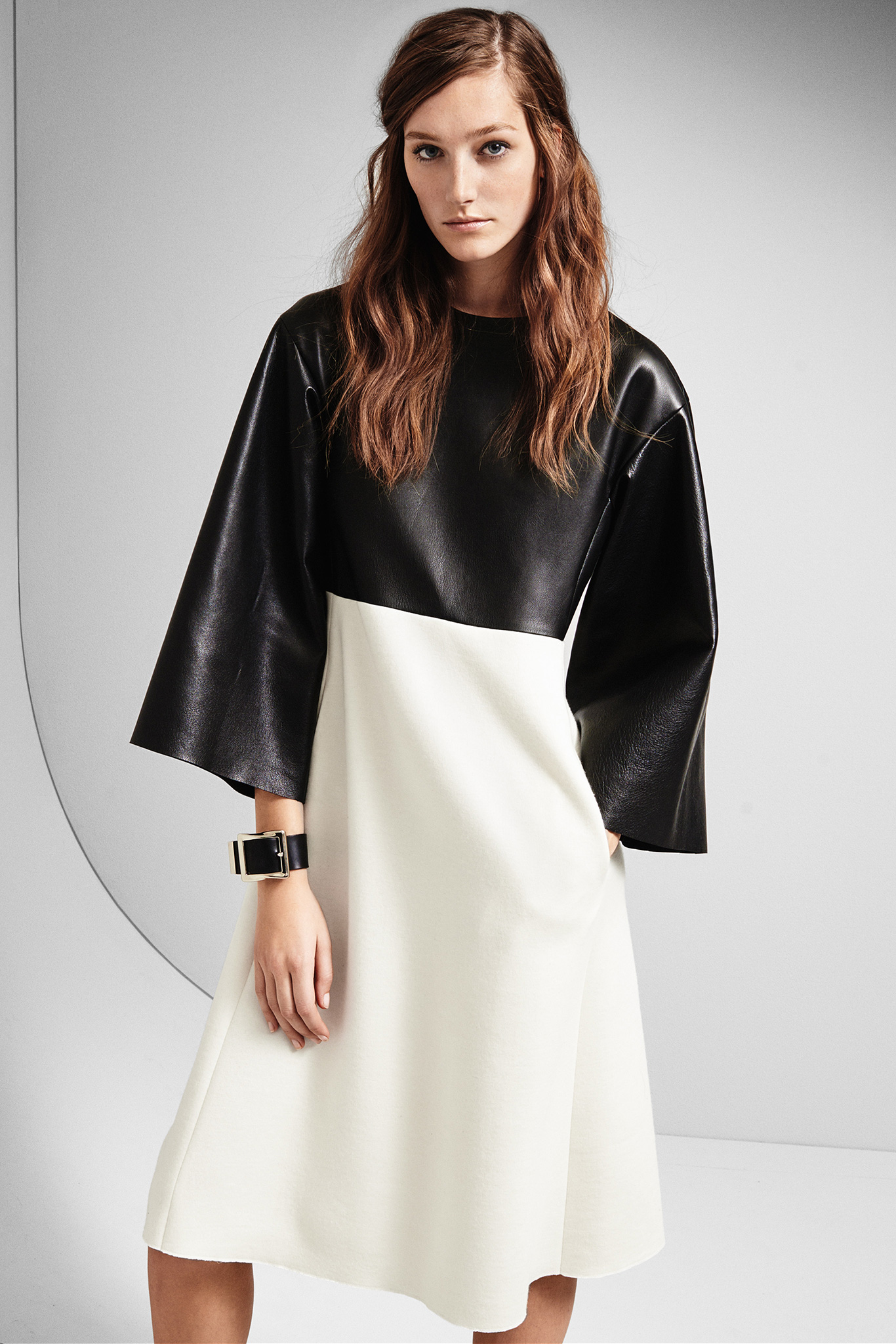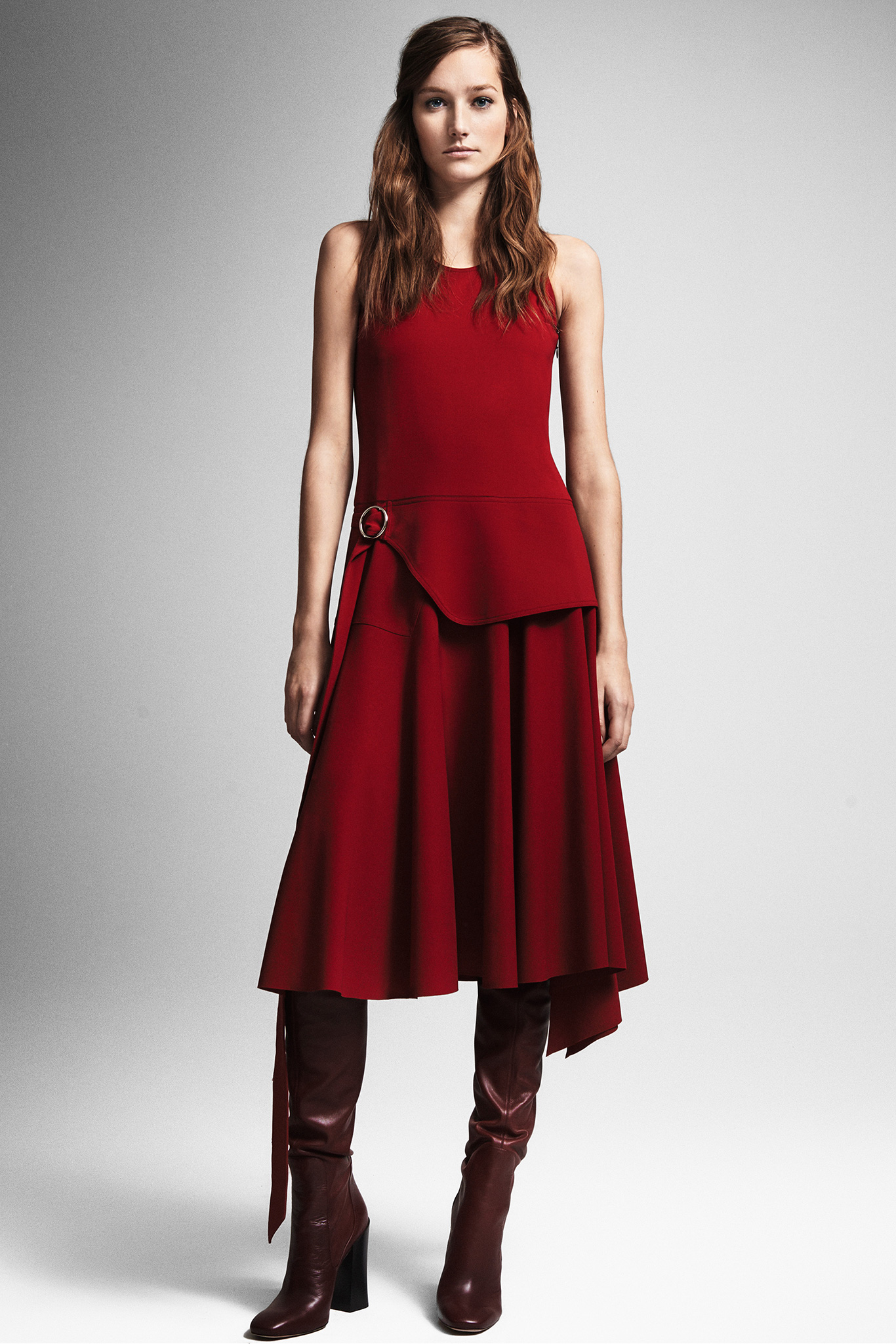 A bit of equestrian vibe is always a good thing. Love the boots in the burgundy, a more interesting neutral than the usual black or tan. Would be ultrafab under one of the ubiquitous shearlings drifting along the runways.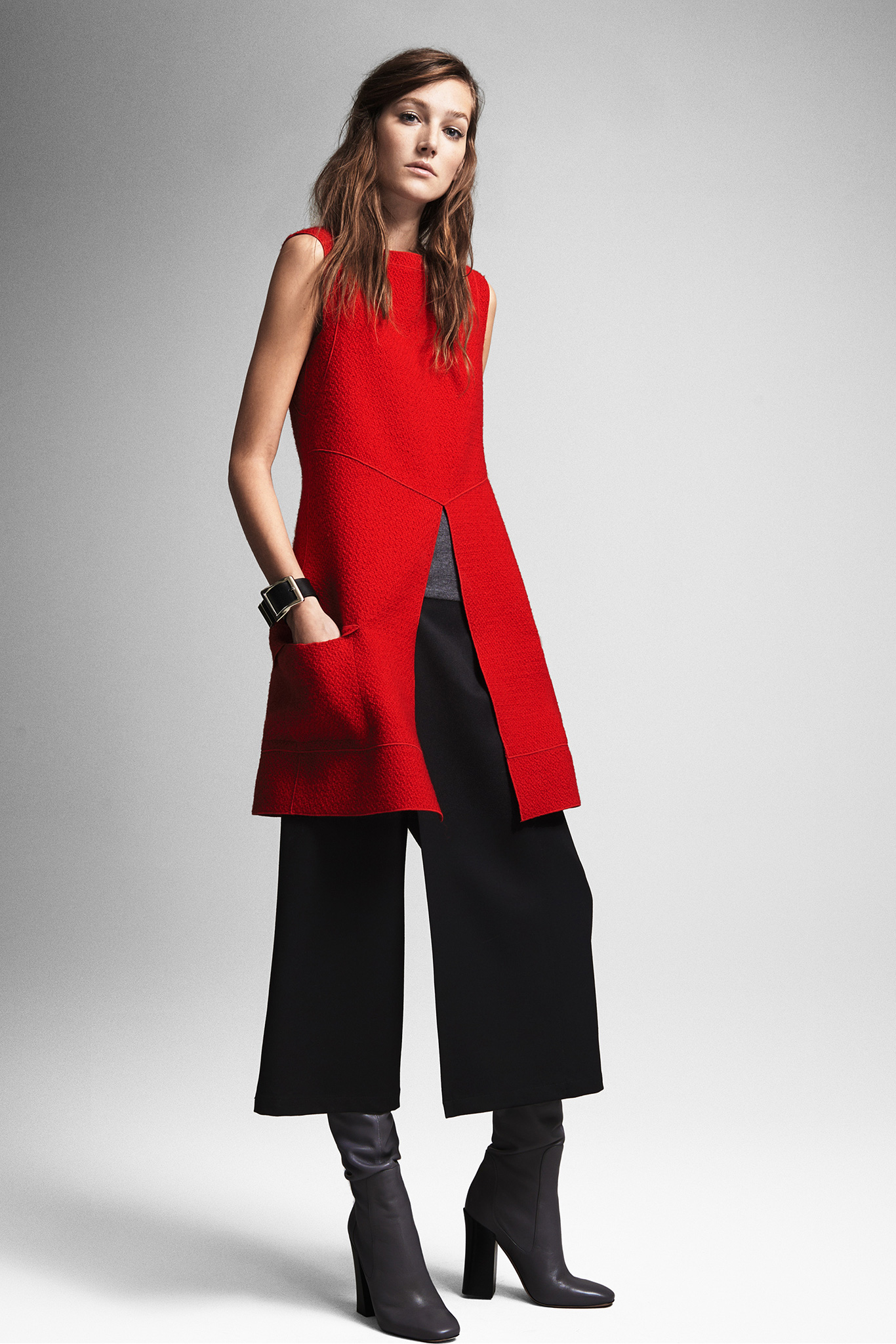 RED + VEST = good staple to be thrown over whatever.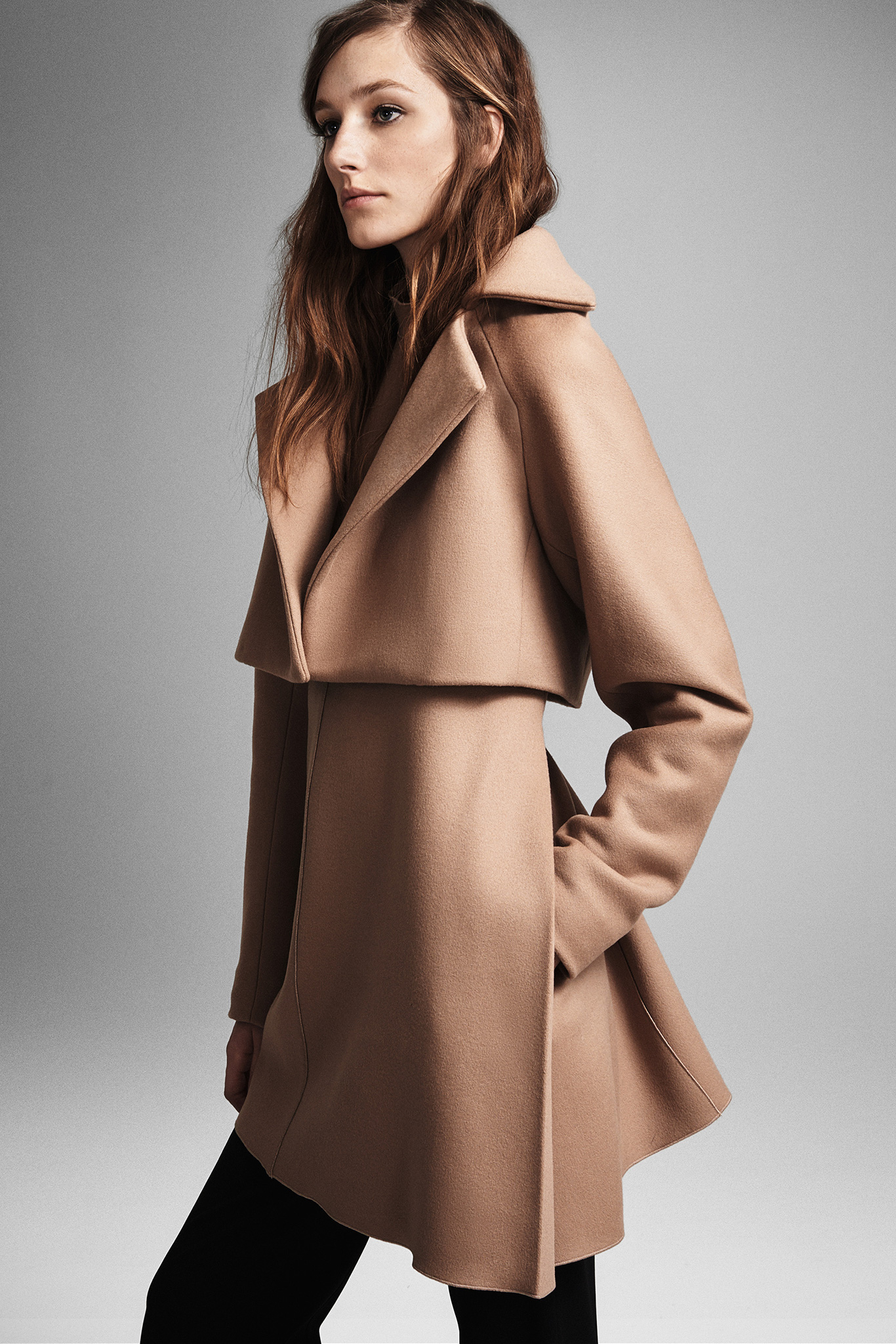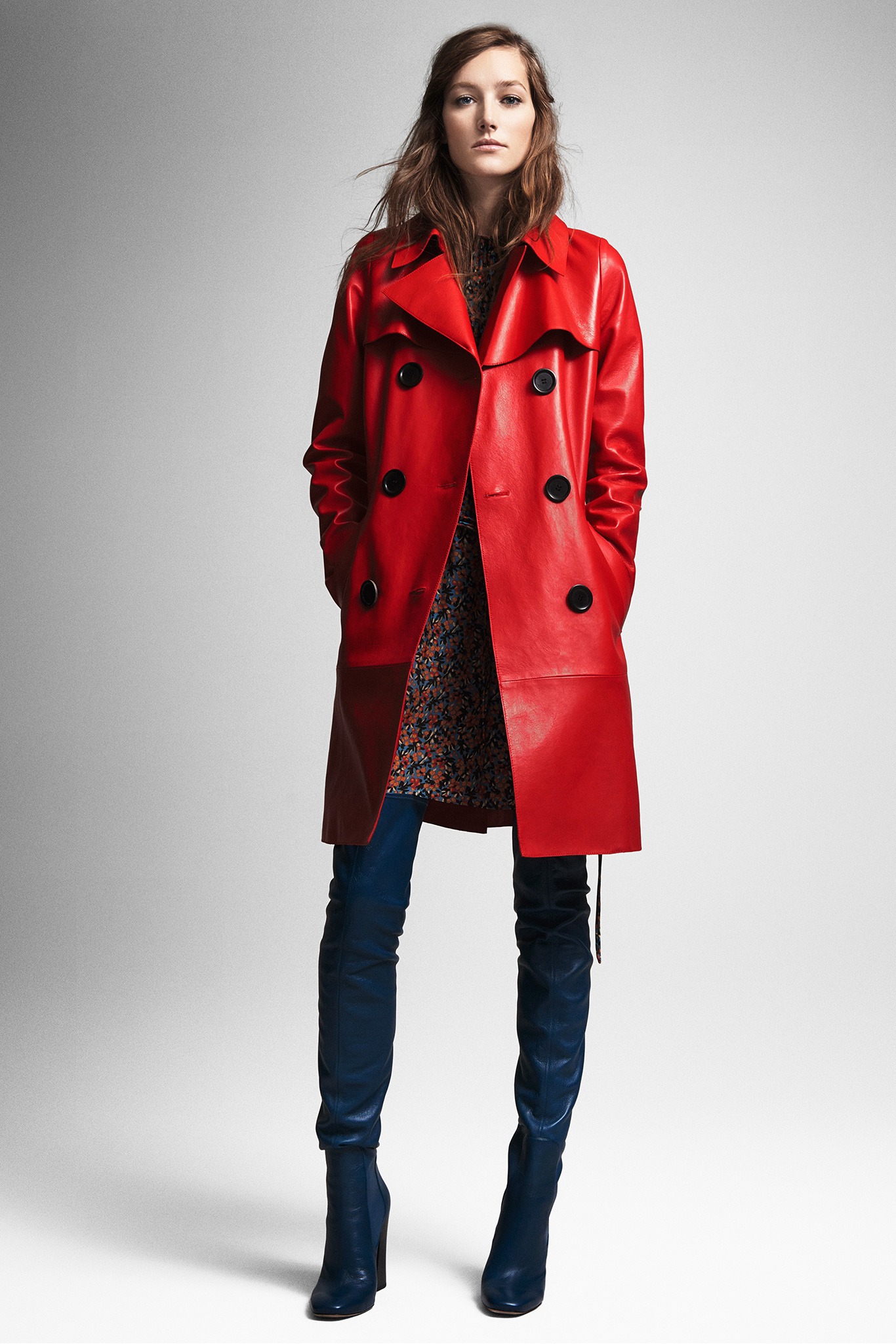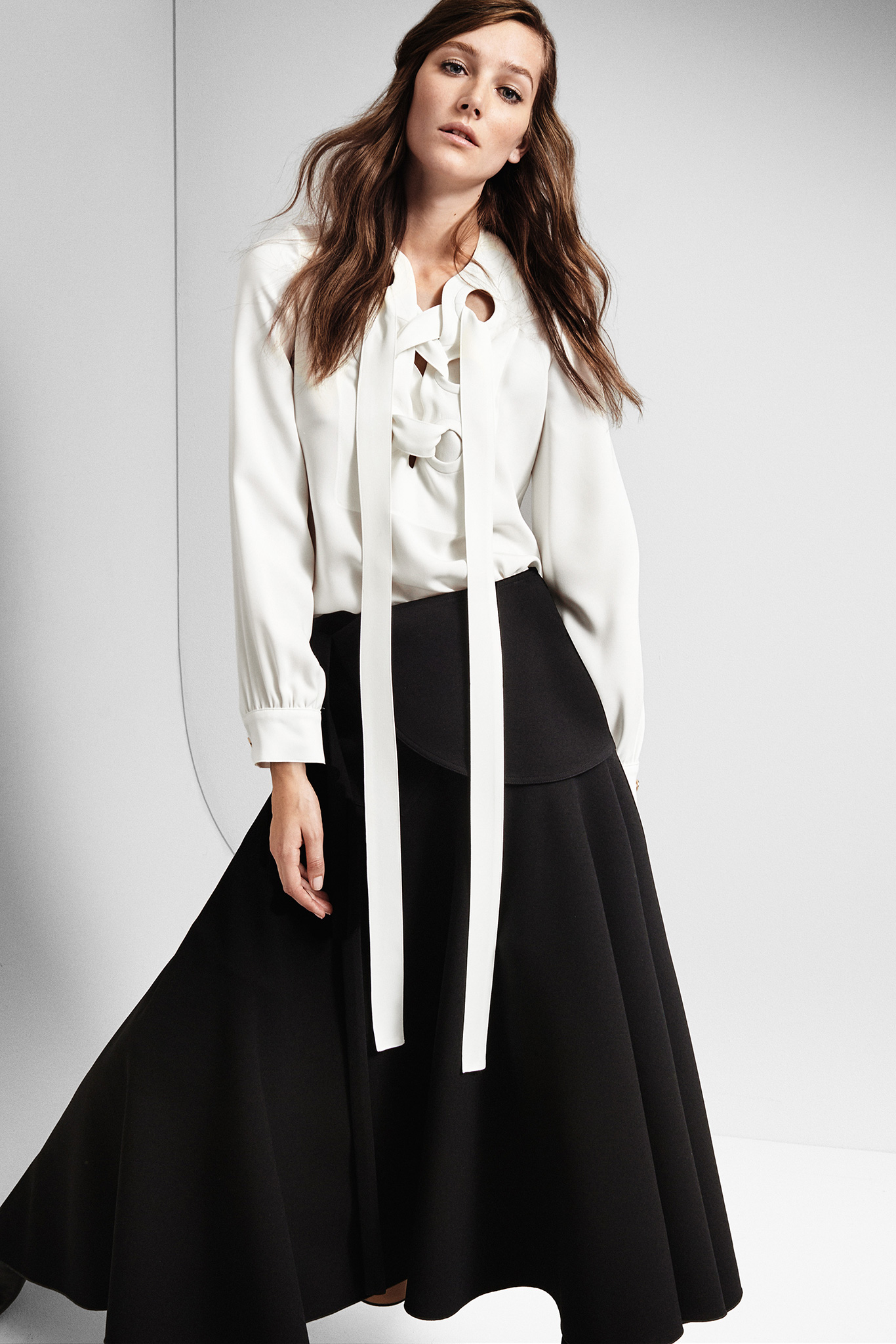 Love the giant grommet details, for a bit of upscale boho. The silk georgette is a good versatile fabrication, light enough to be worn under any jacket or vest. Could funk up a more conservative tuxedo jacket.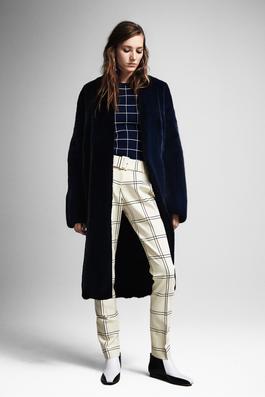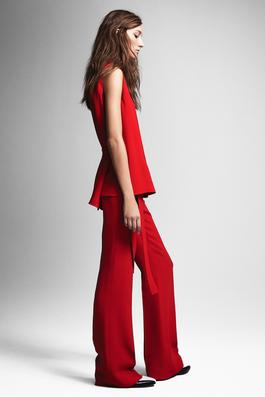 Easy, interesting, and timeless separates. Lam continues to include the 70's vibe in a low key way that keeps the collection "on trend" without being too over the top fringy or trite.
ELIE SAAB:
The ultimate gownMEISTER, for breathtakingly gorgeous gowns for red carpet dwellers and all purpose drama queens.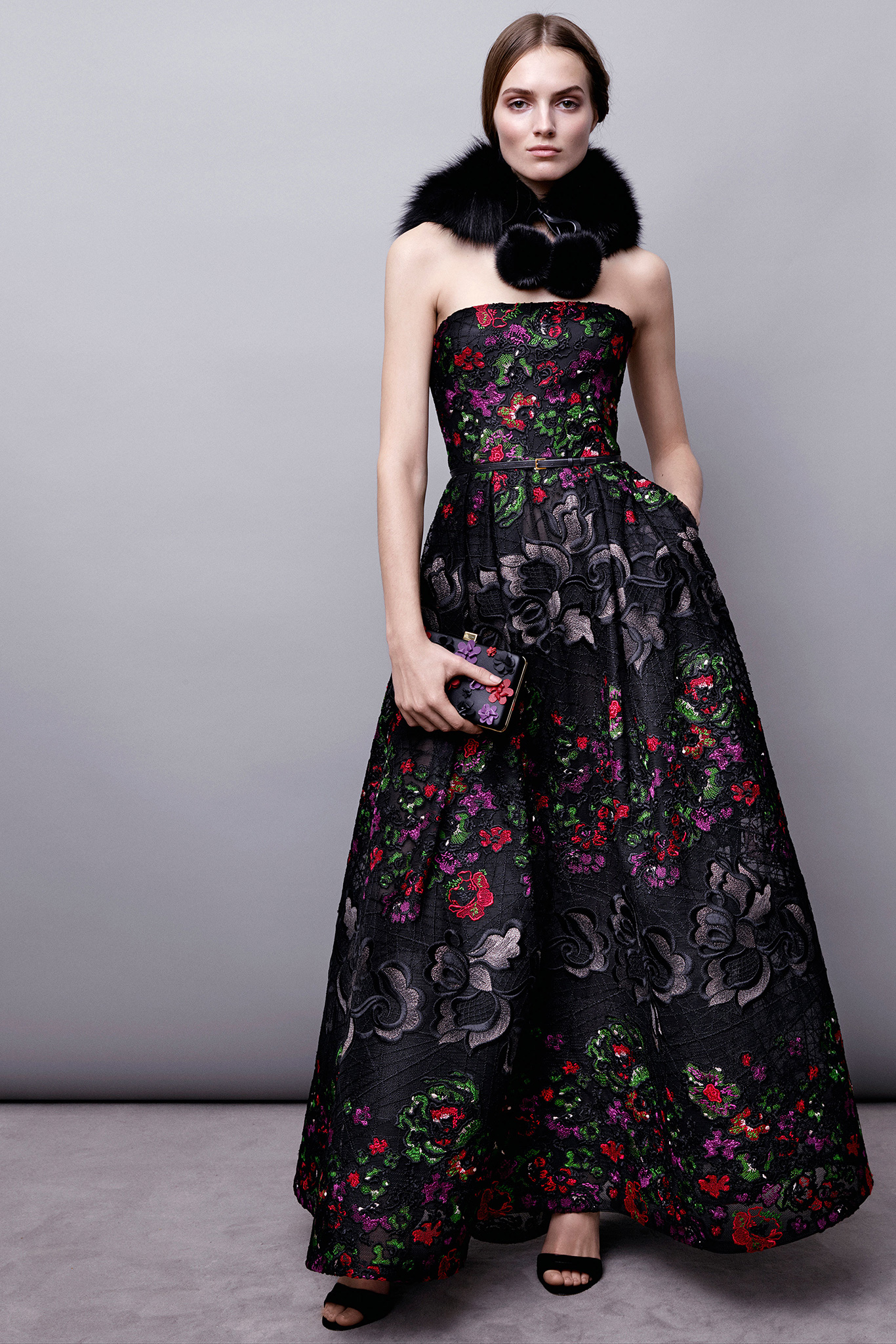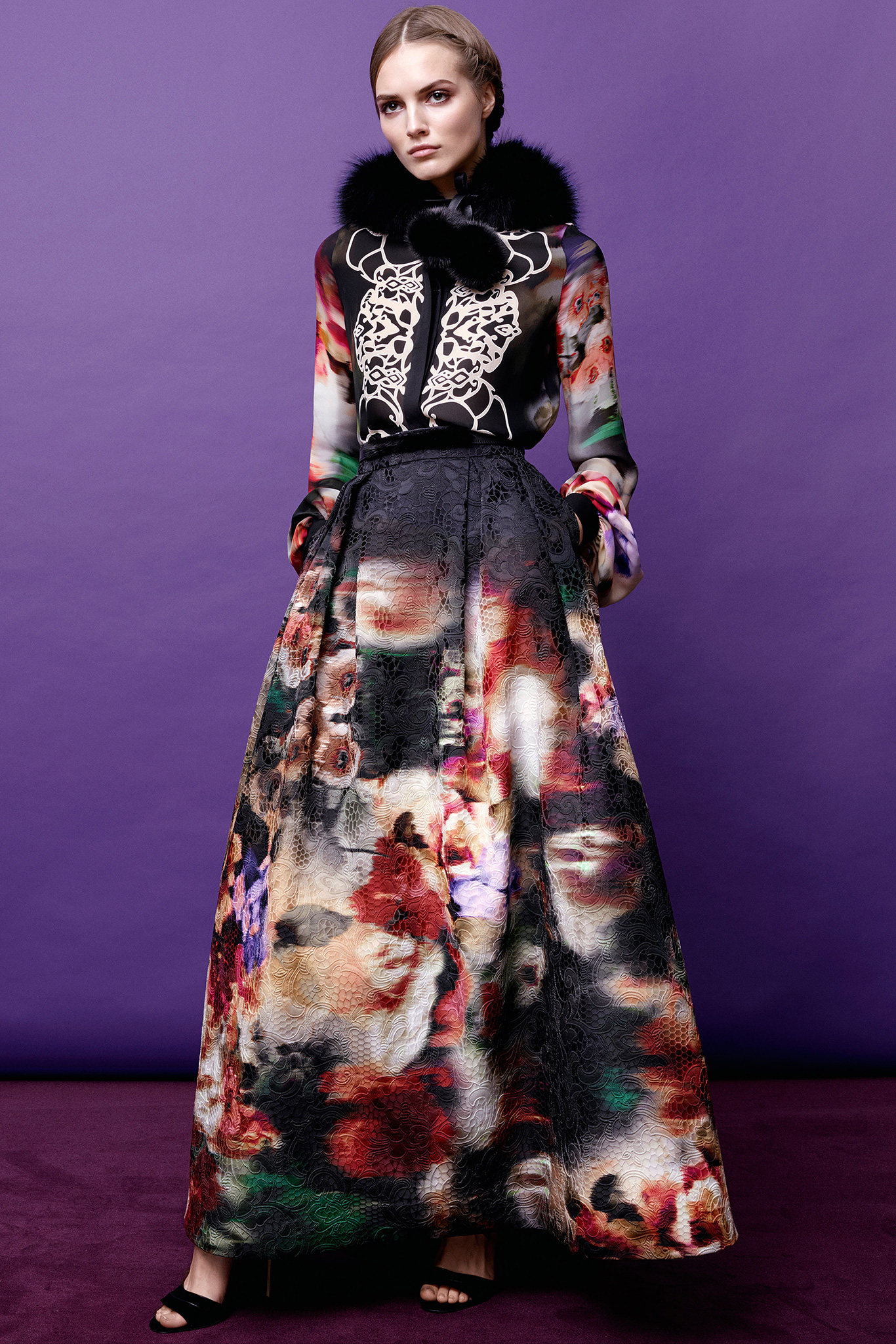 One of THE most beautiful E V A H. Lace themed brocade, I think I just fainted......(Ignore those "shoes").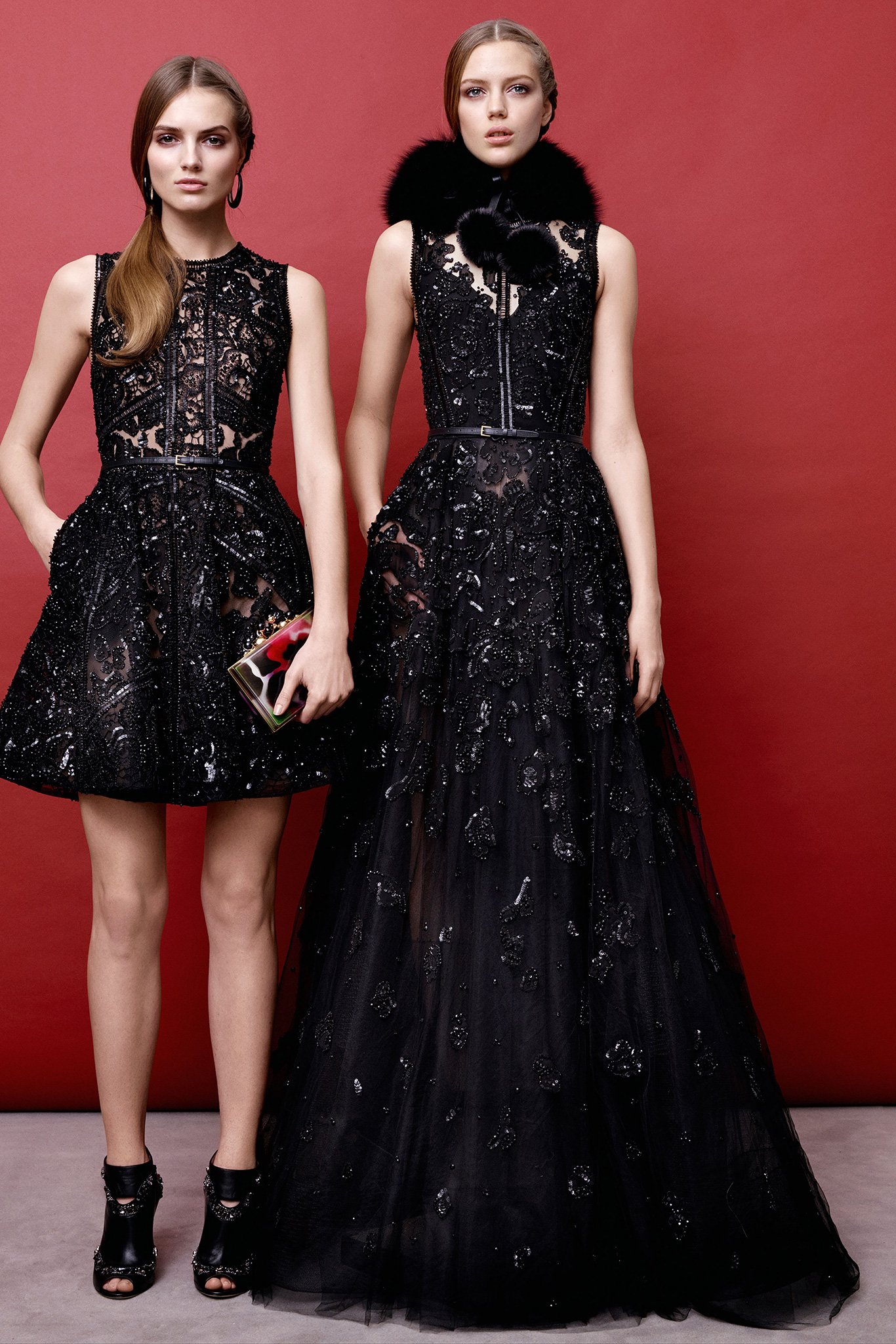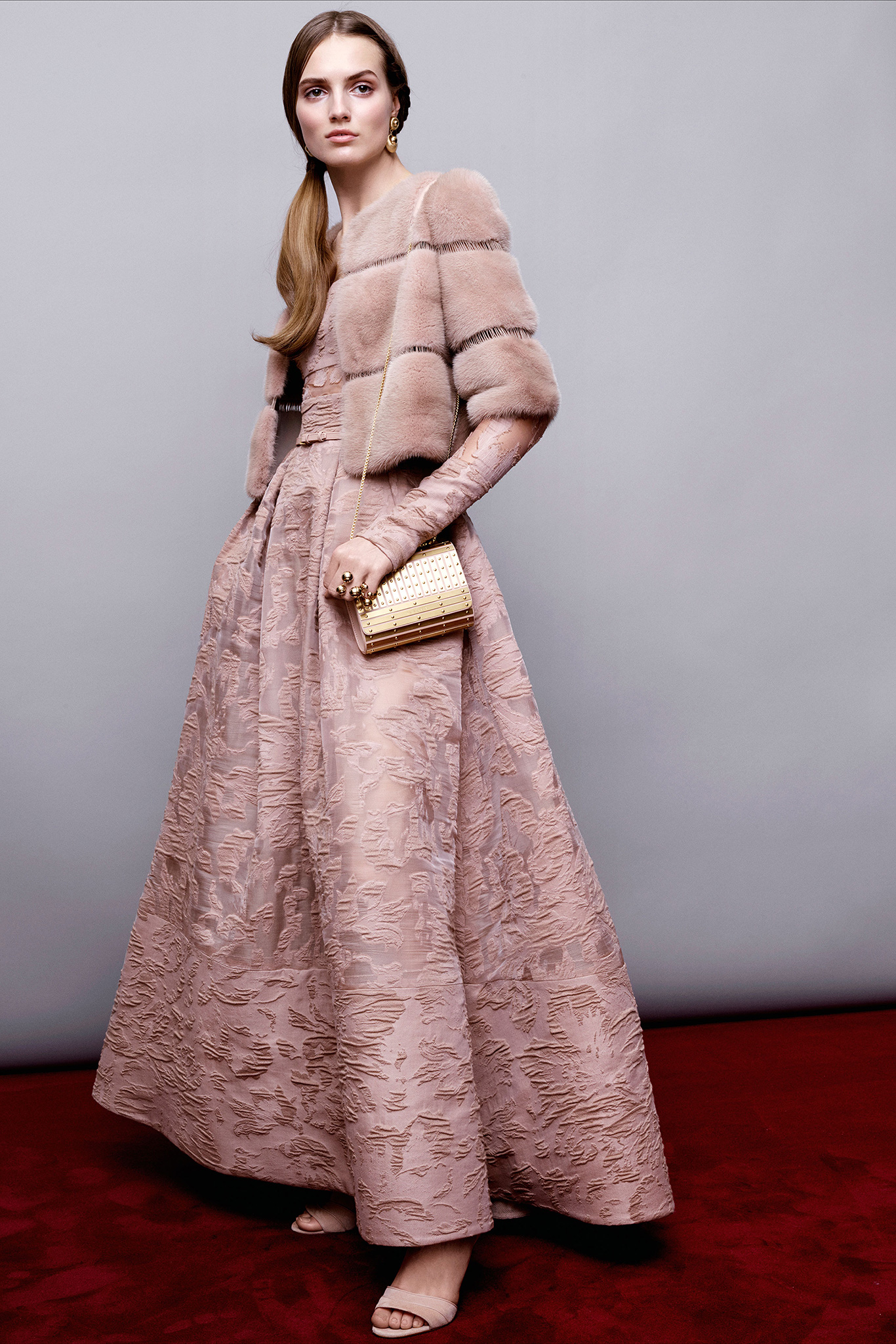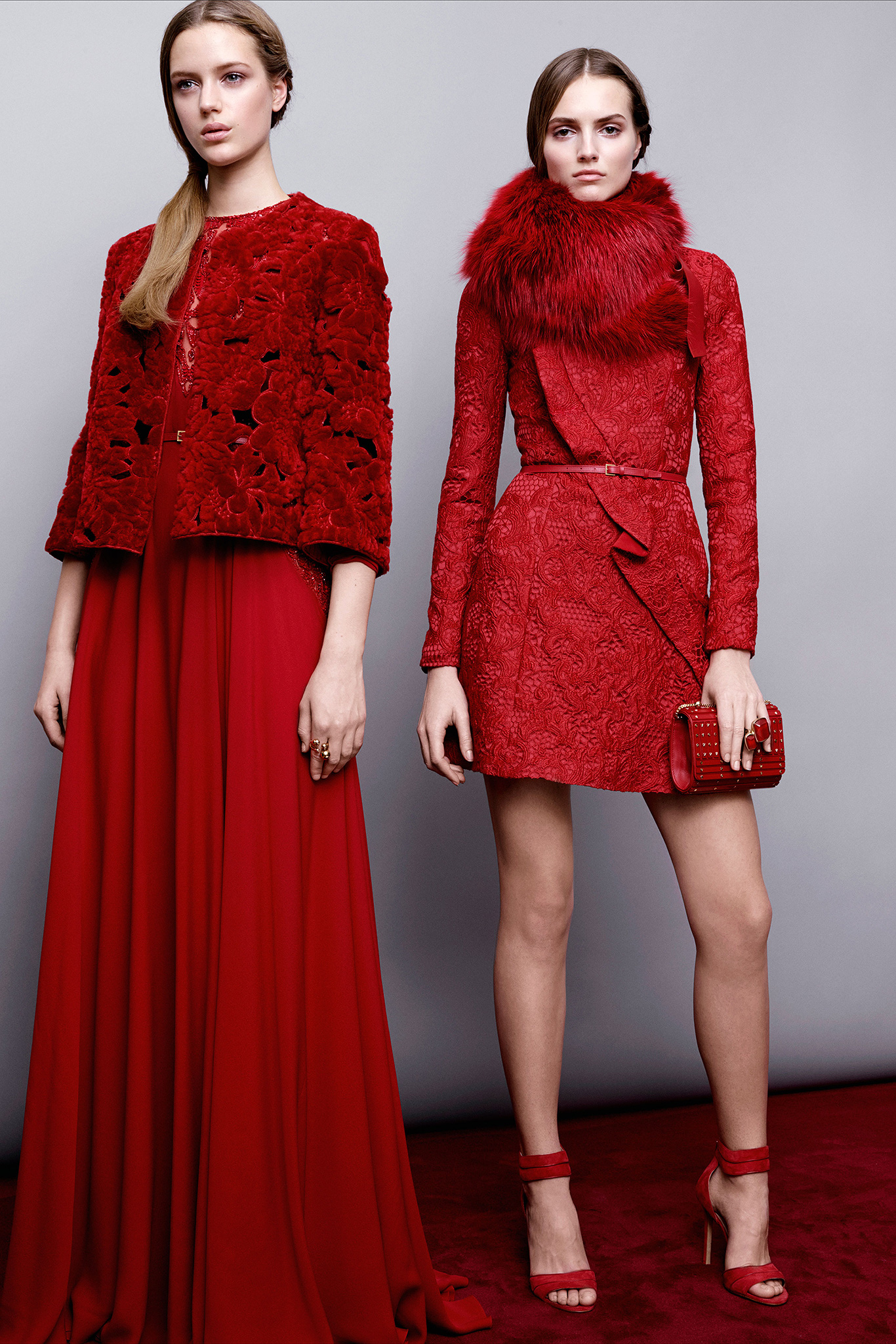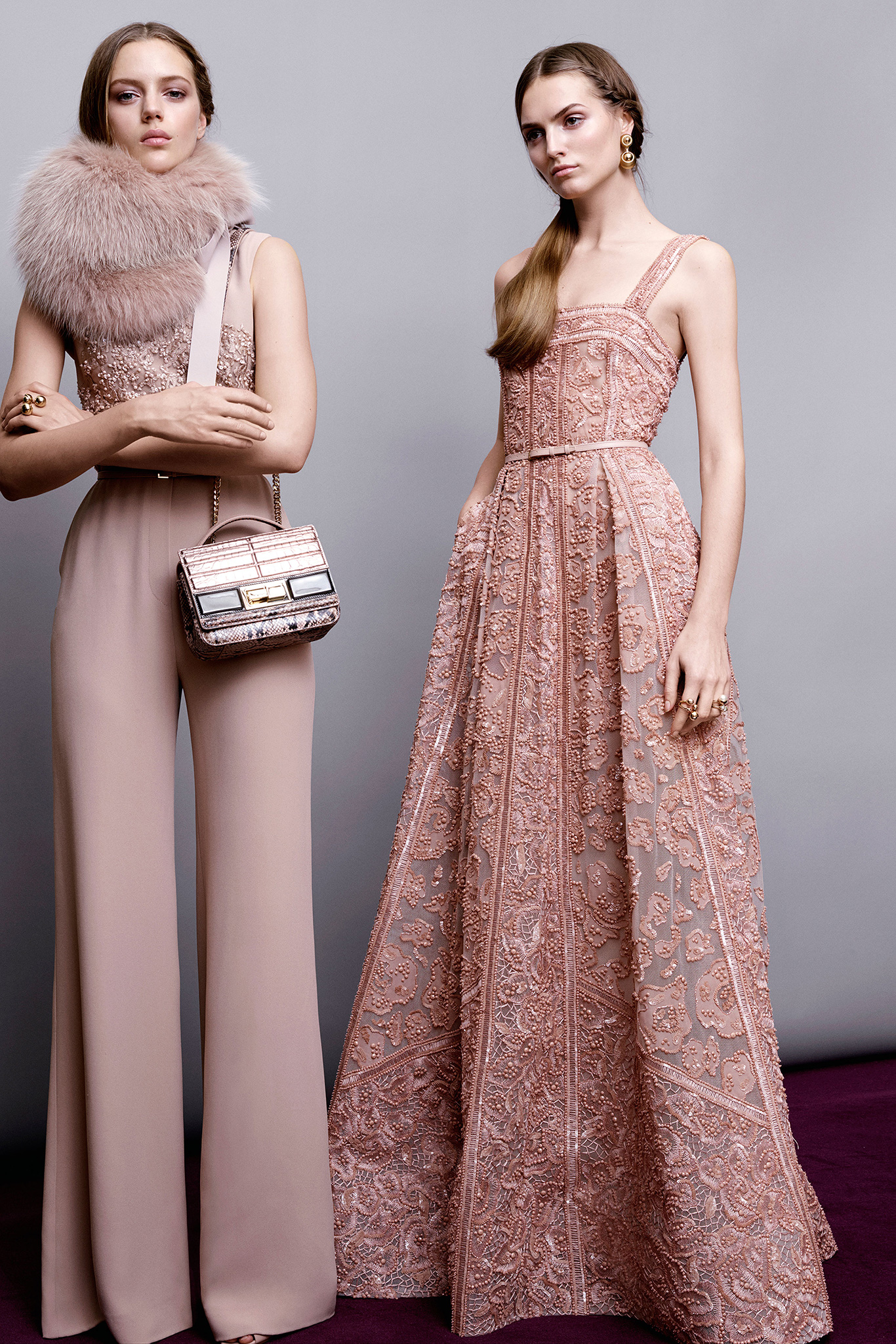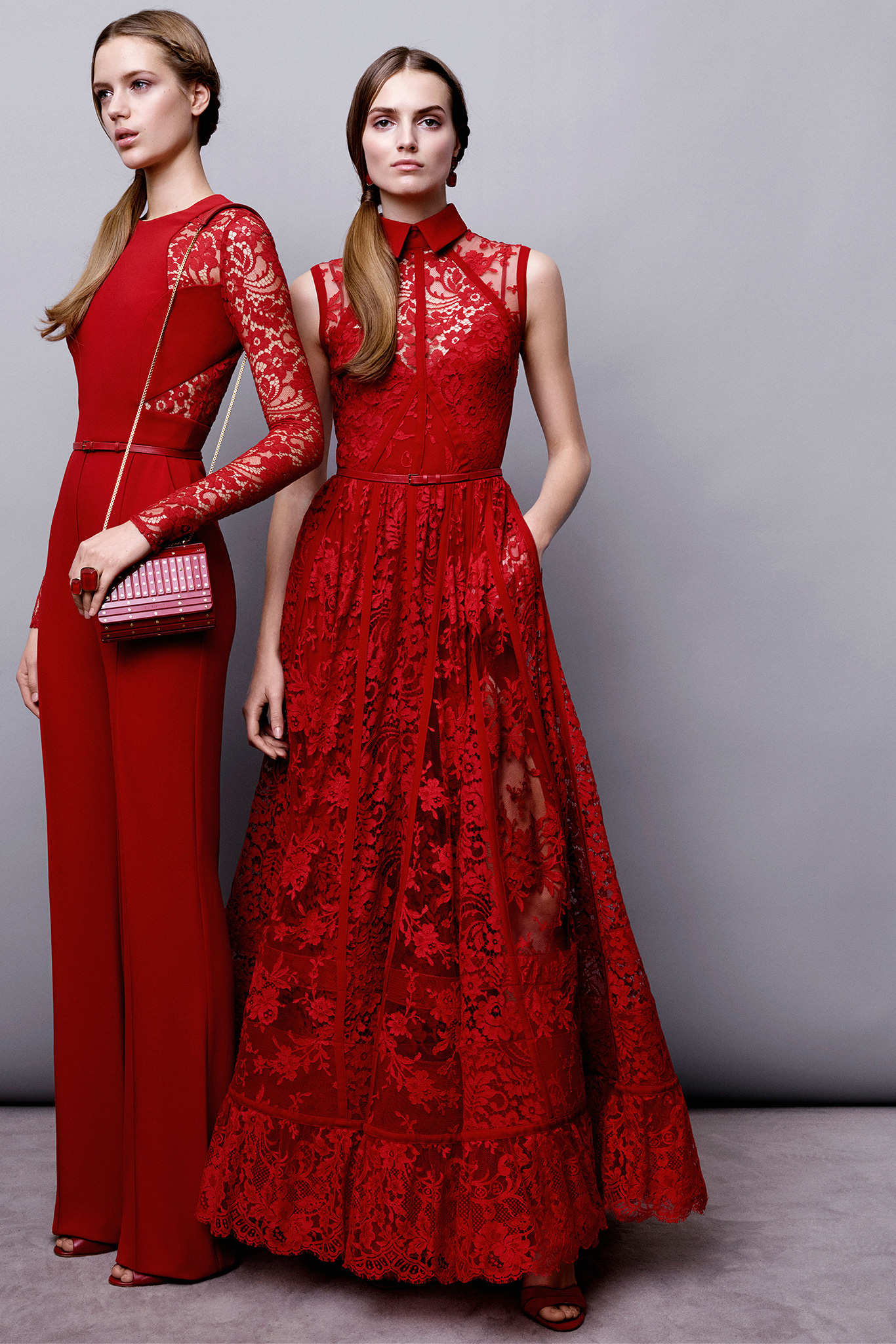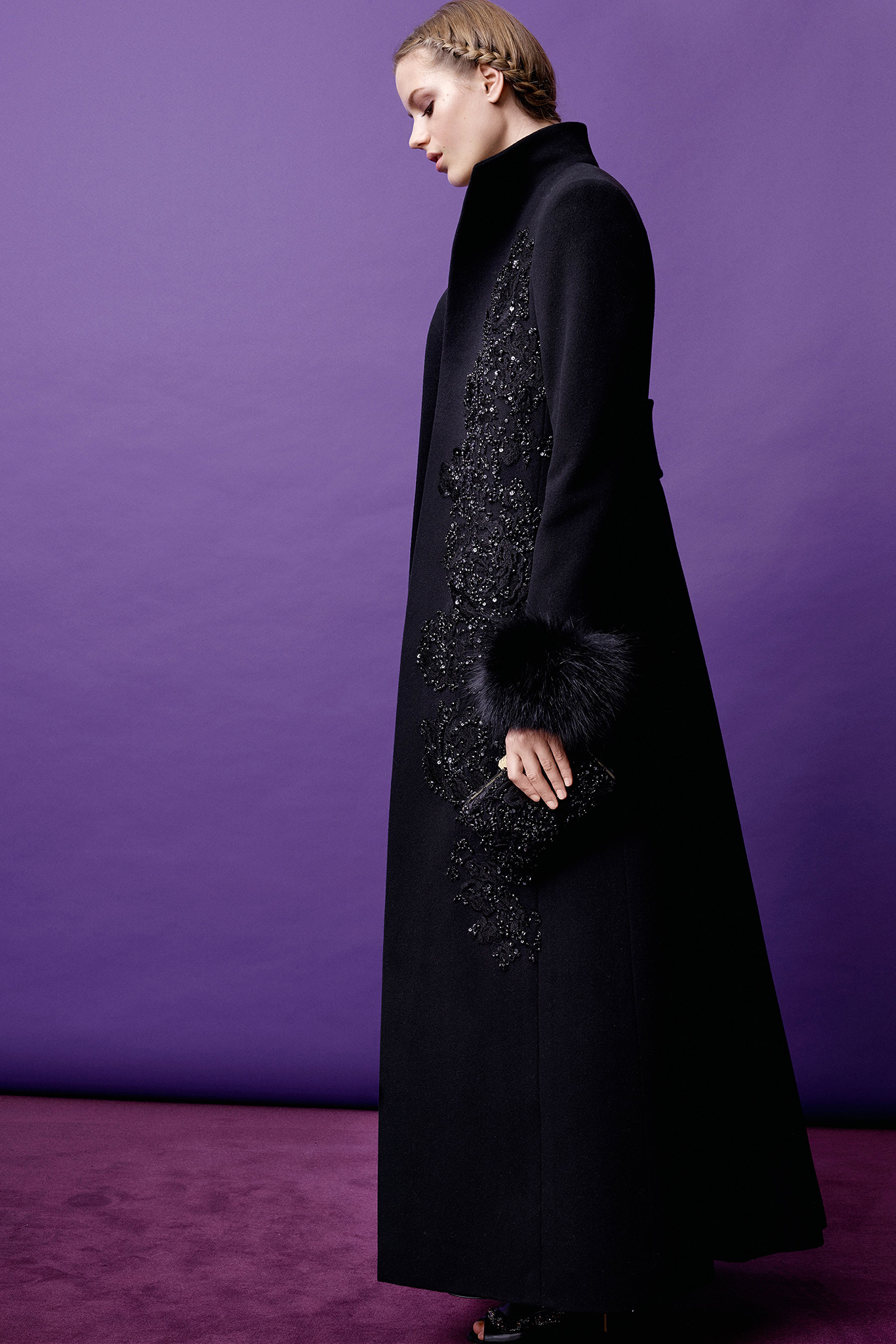 And to top off those outrageous opulent gowns, this dramatic Opera coat.
Nobody throws together laces, brocades, tulle, beads and associated accoutrement like this crafter of wearable regalia.......sigh. When its time to accept your academy award.
GIORGIO ARMANI:
All I can think of is Richard Gere in American Gigolo. Anyone remember that? (Its always in reruns on the cable channels fyi.) After being momentarily mesmerized by Gere in his Armani finery back in the early 80's, I've thought of Armani as being relatively staid, and ahem, slightly predictable. For the gal who is loathe to show any sense of individuality or whimsy. (The couture is another story entirely). But I think I must amend my old notions what with this collection of varied impeccably crafted pieces in pleasing fabrications and colors.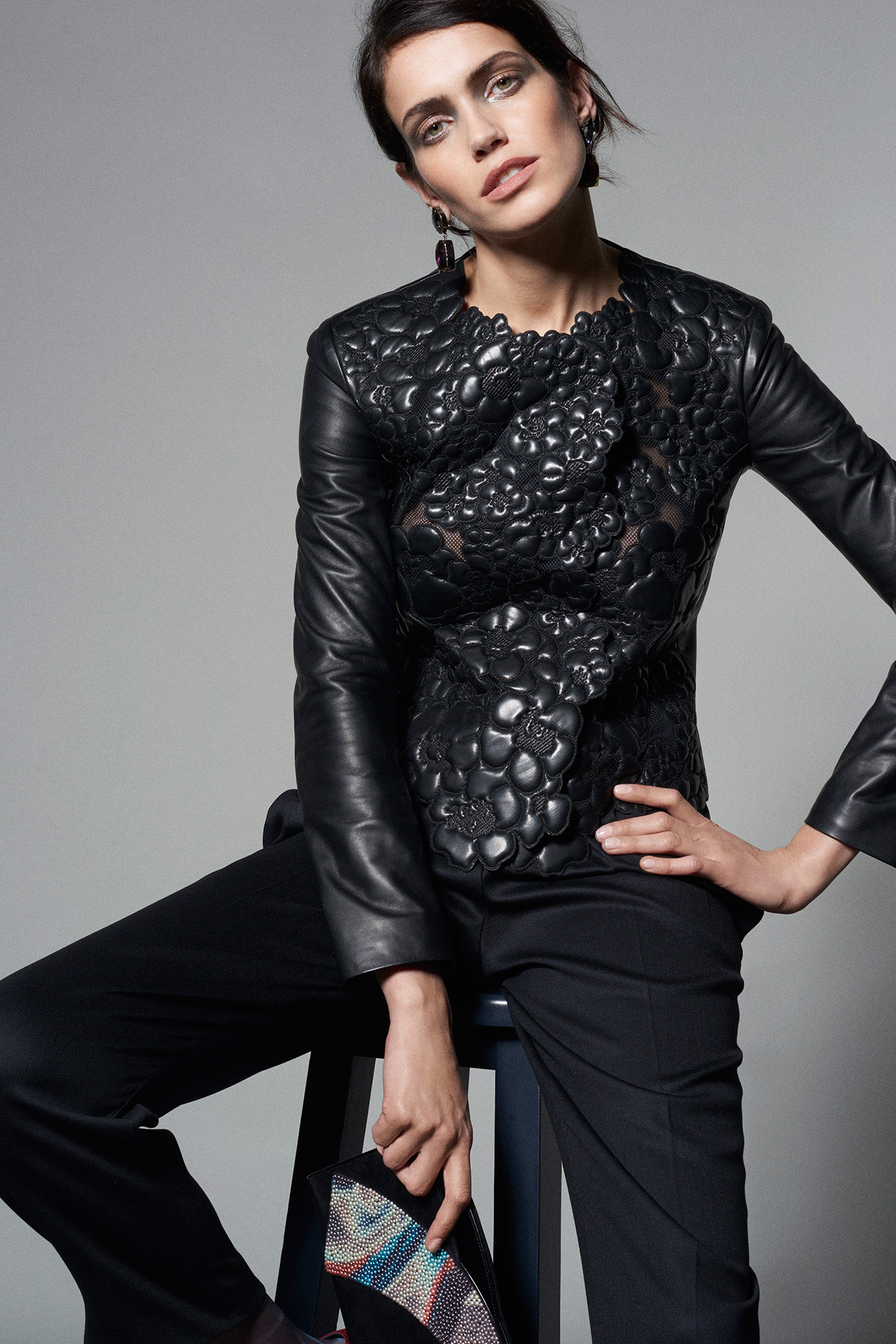 Leather cloque? Never seen anything quite like this. I say wear it over a tulle ball gown for ironic effect. But would also be smashing over a long white shirt and black tuxedo pants.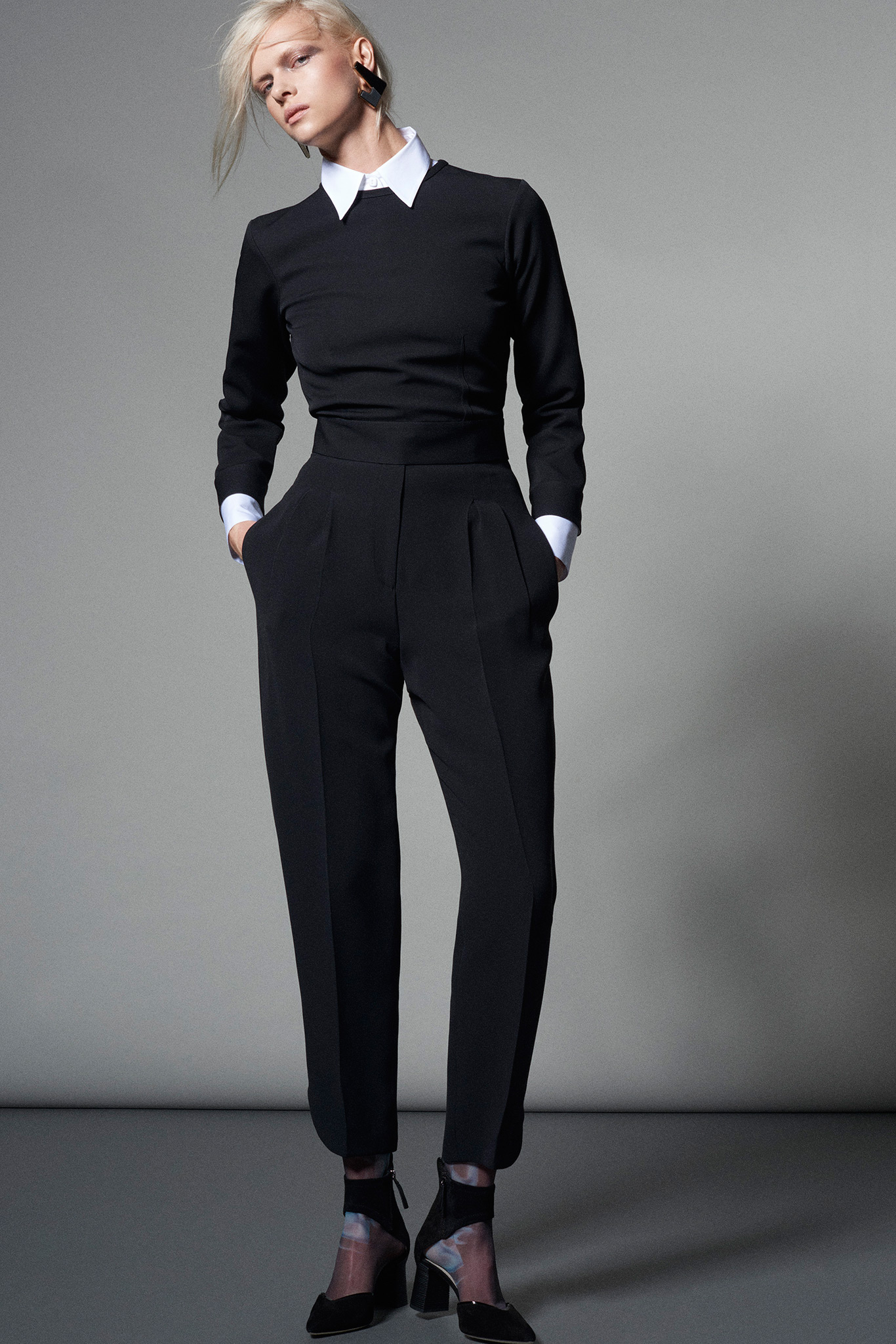 Iconic Armani. Spartan but elegant. Glam up with a leather trench and patent leather Louboutins.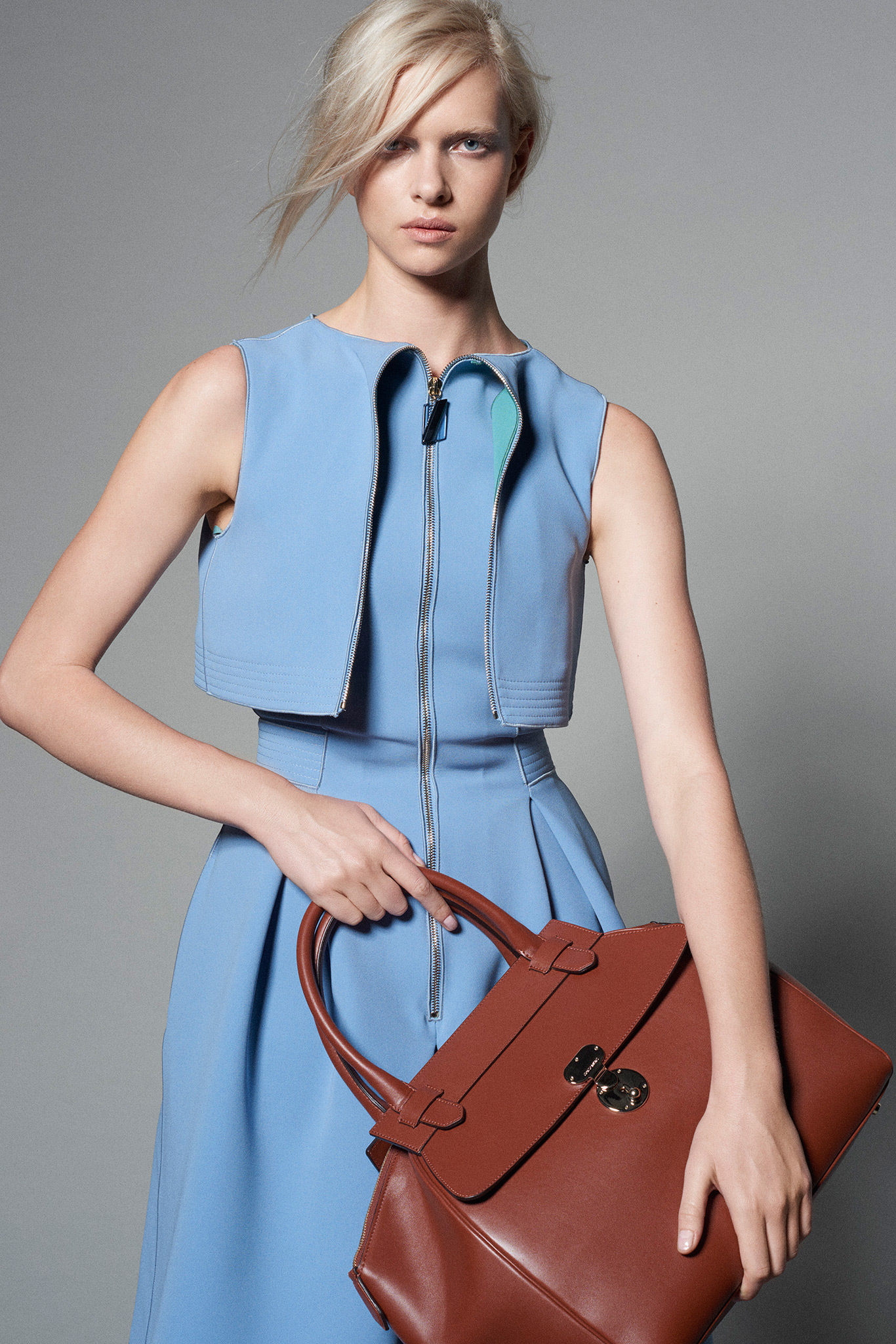 If its got zippers, I'm a fan.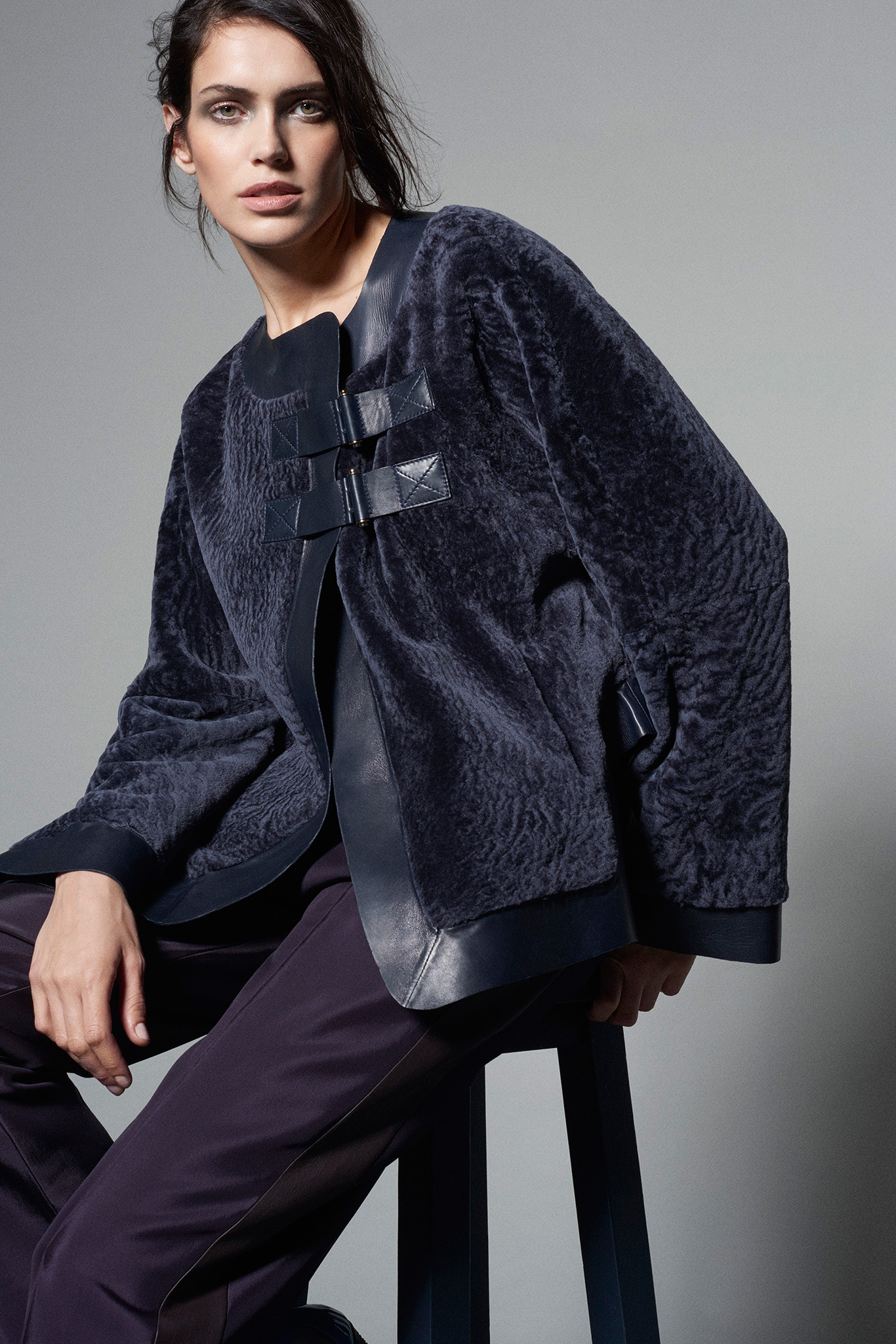 Purple with aubergine, leather and silk, a sumptuous elegant feast for the senses.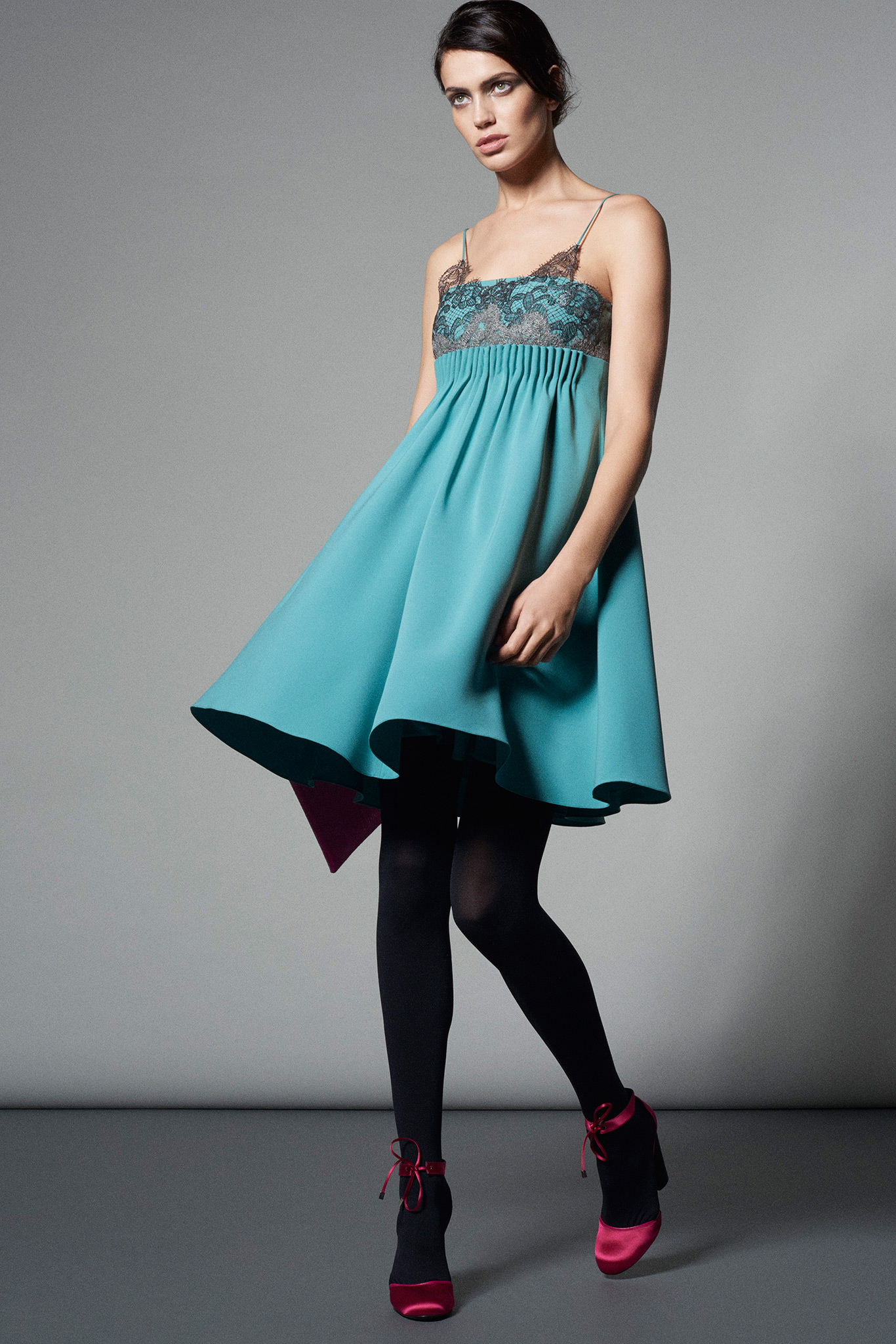 Teal baby doll dress, akin to a slip, but wearable with the opaque hosiery. Lolita goes uptown. Love the ruby slippers for contrast.
FENDI:
(Also known as, what Karl Lagerfeld concocts when he isn't running the world)....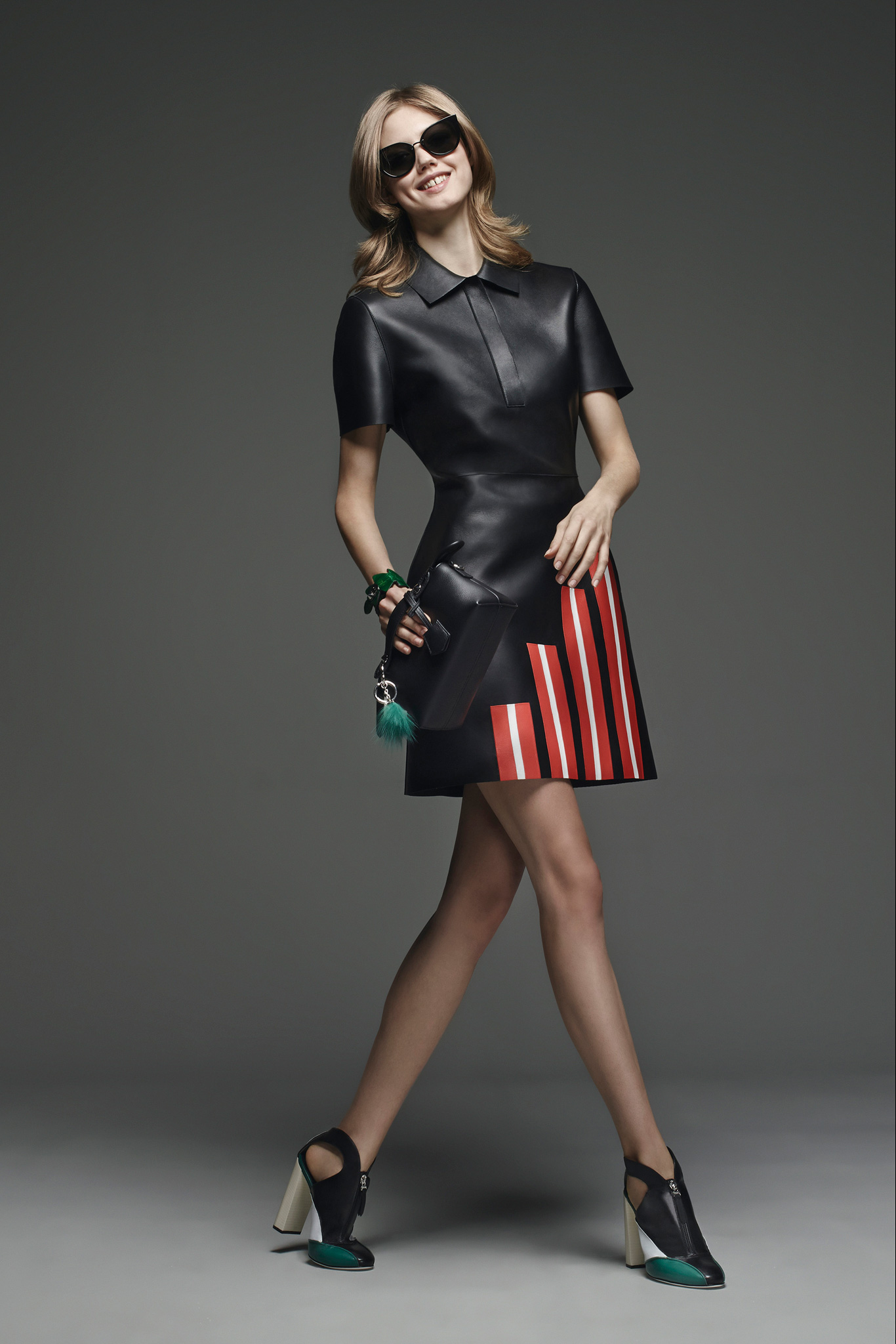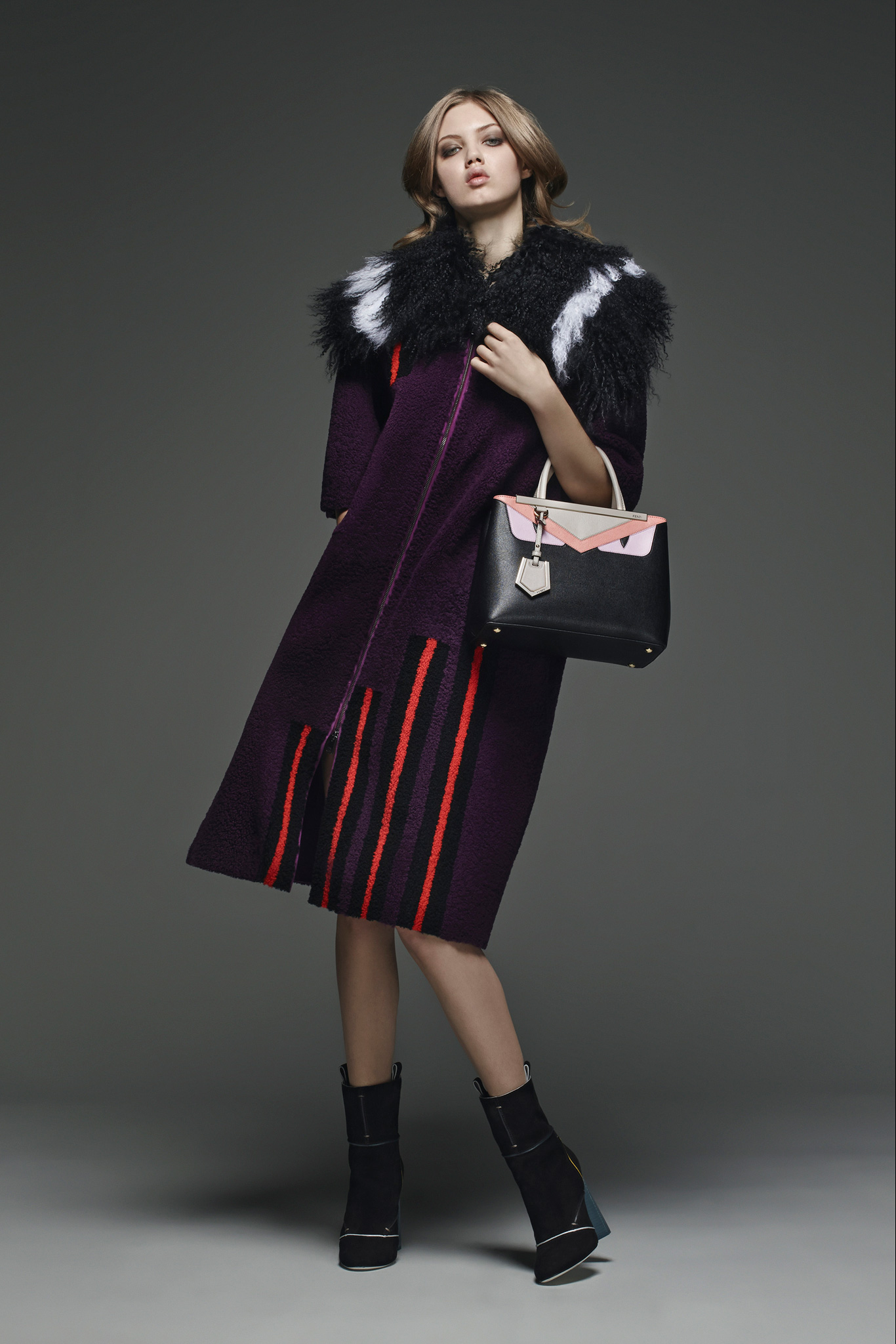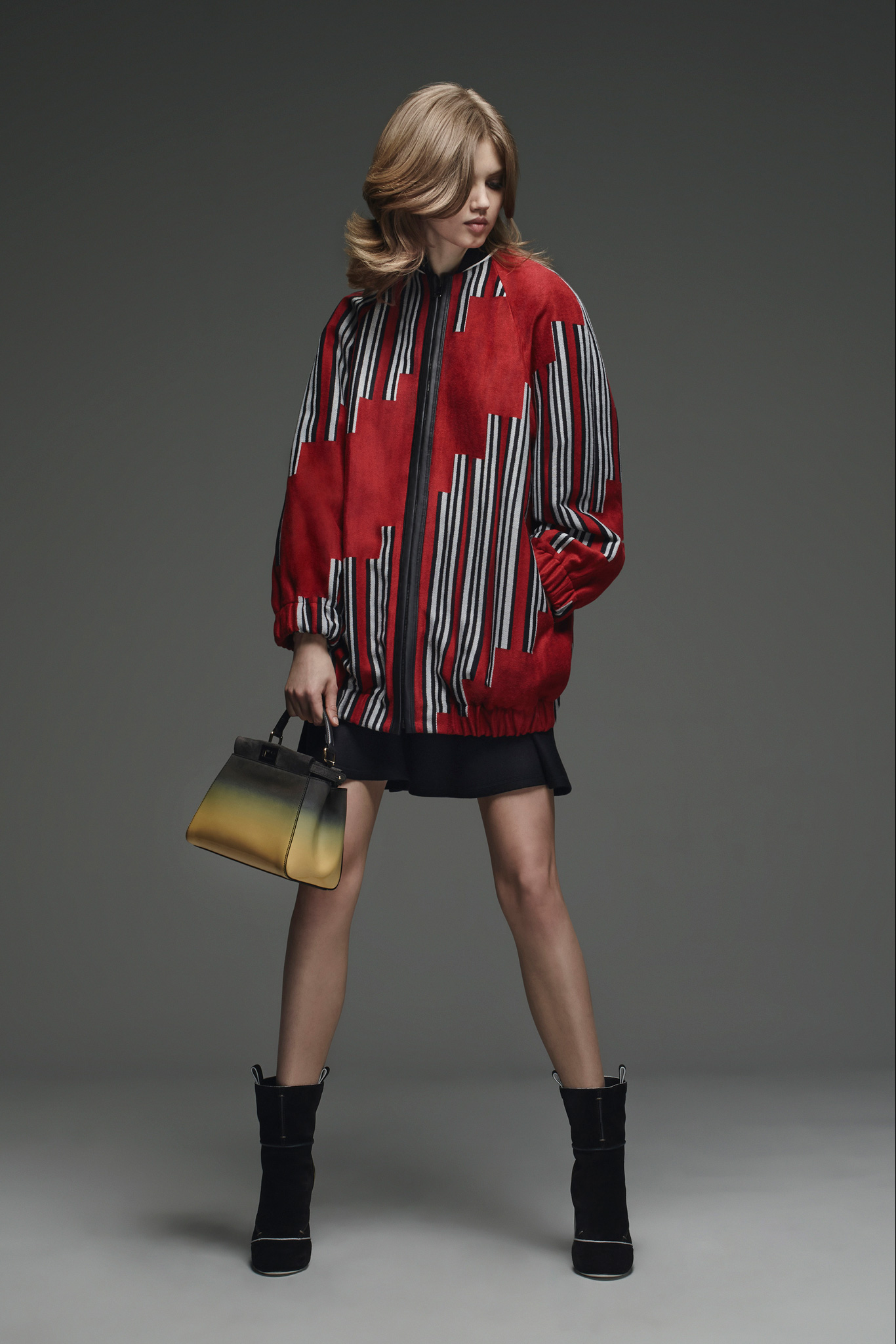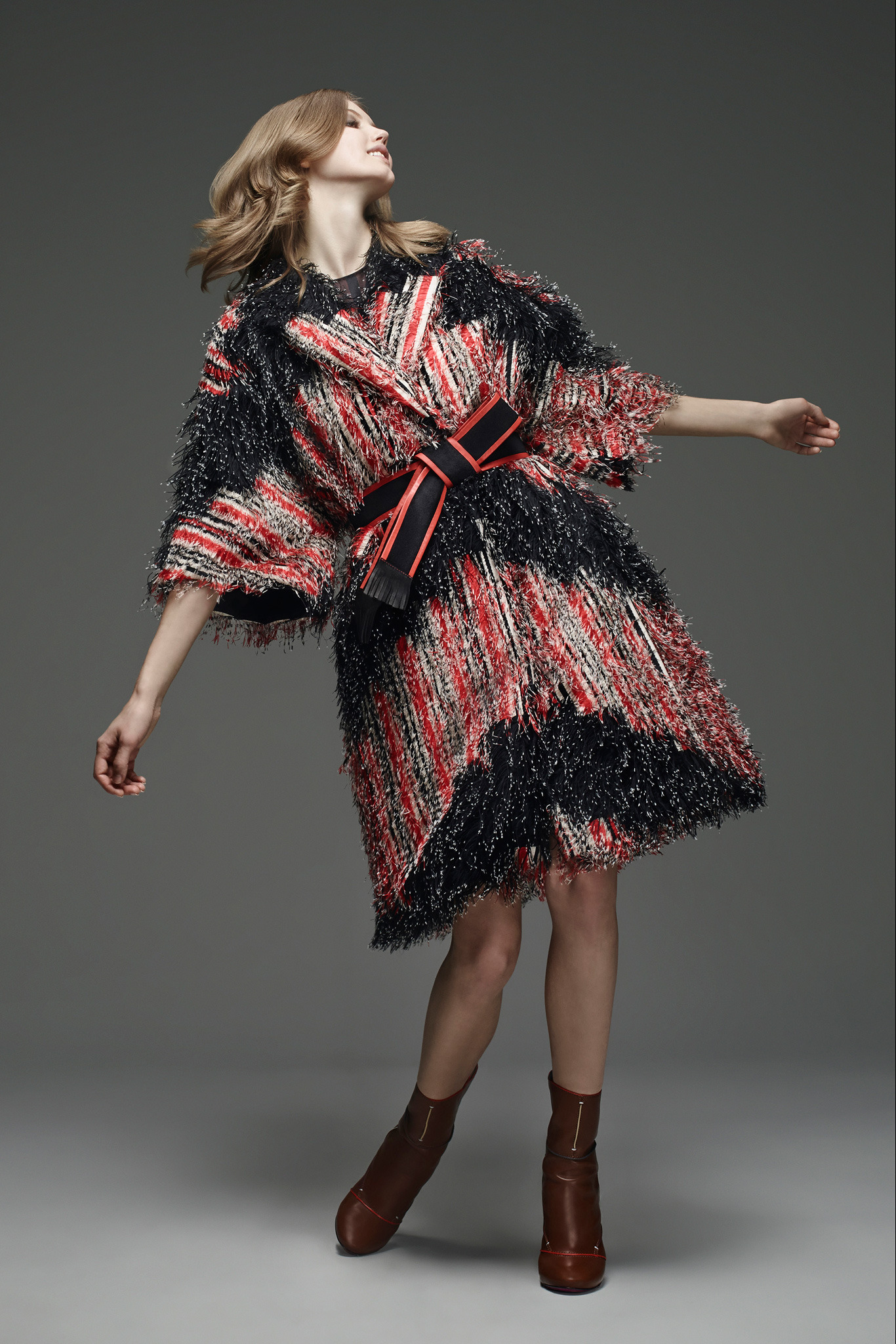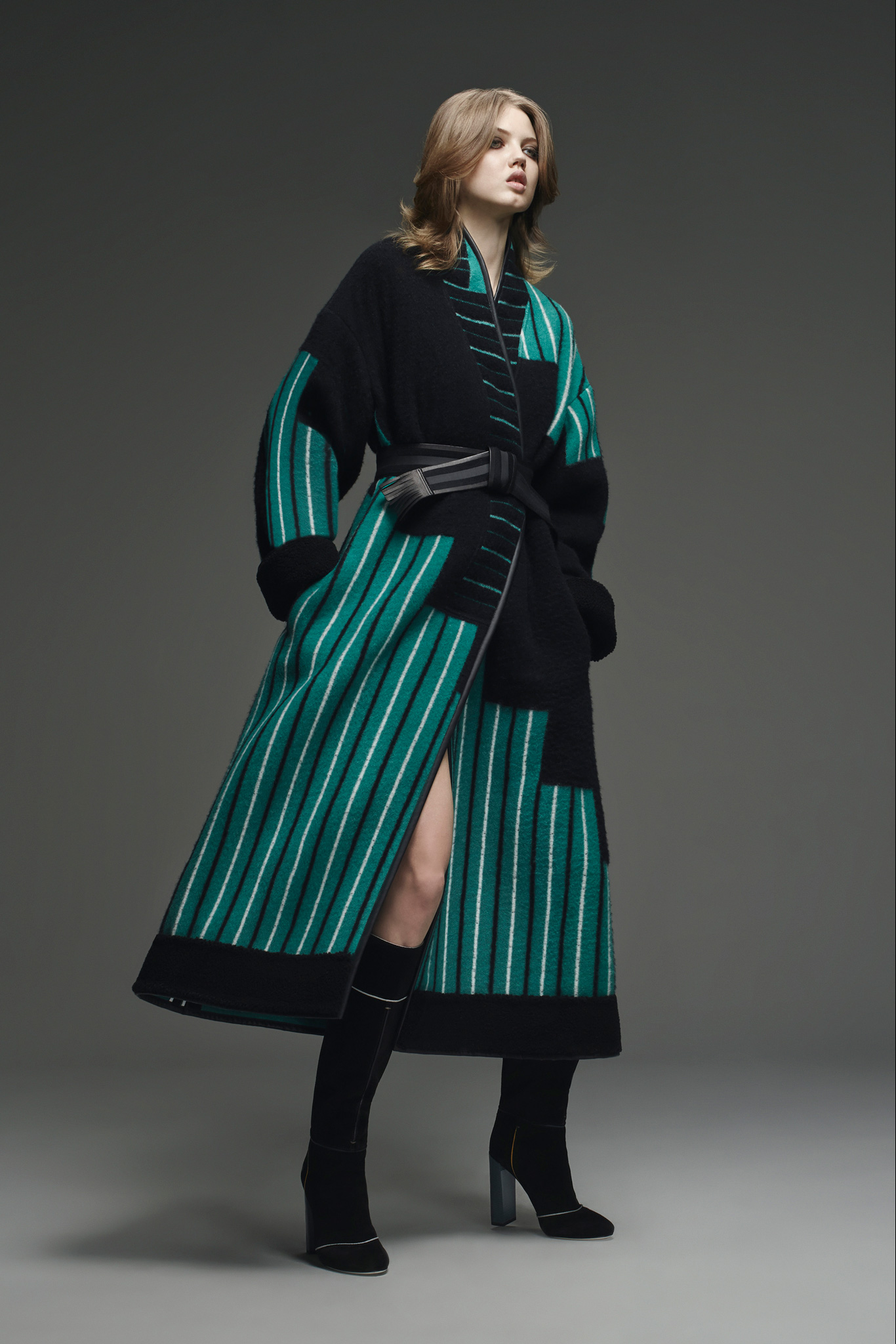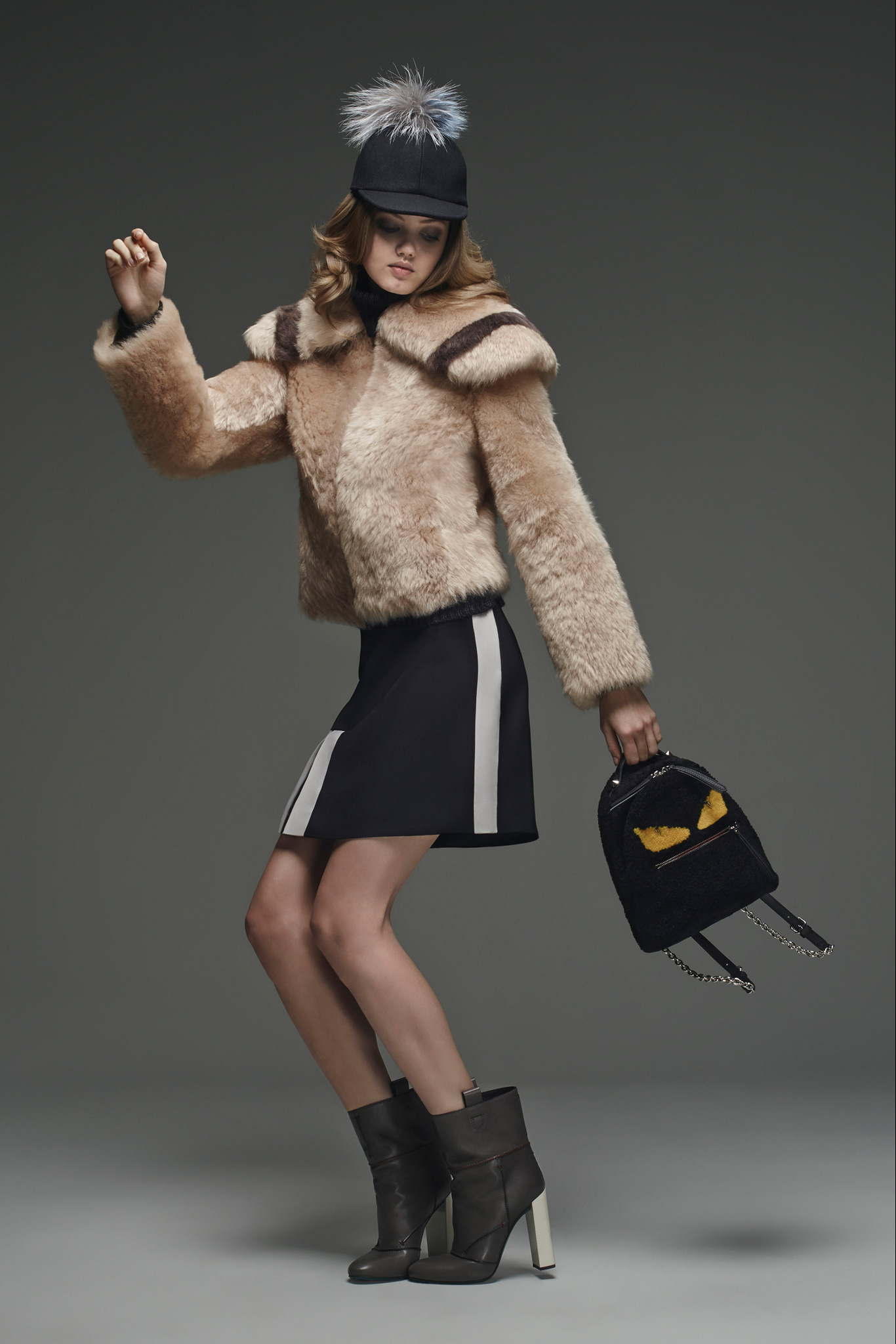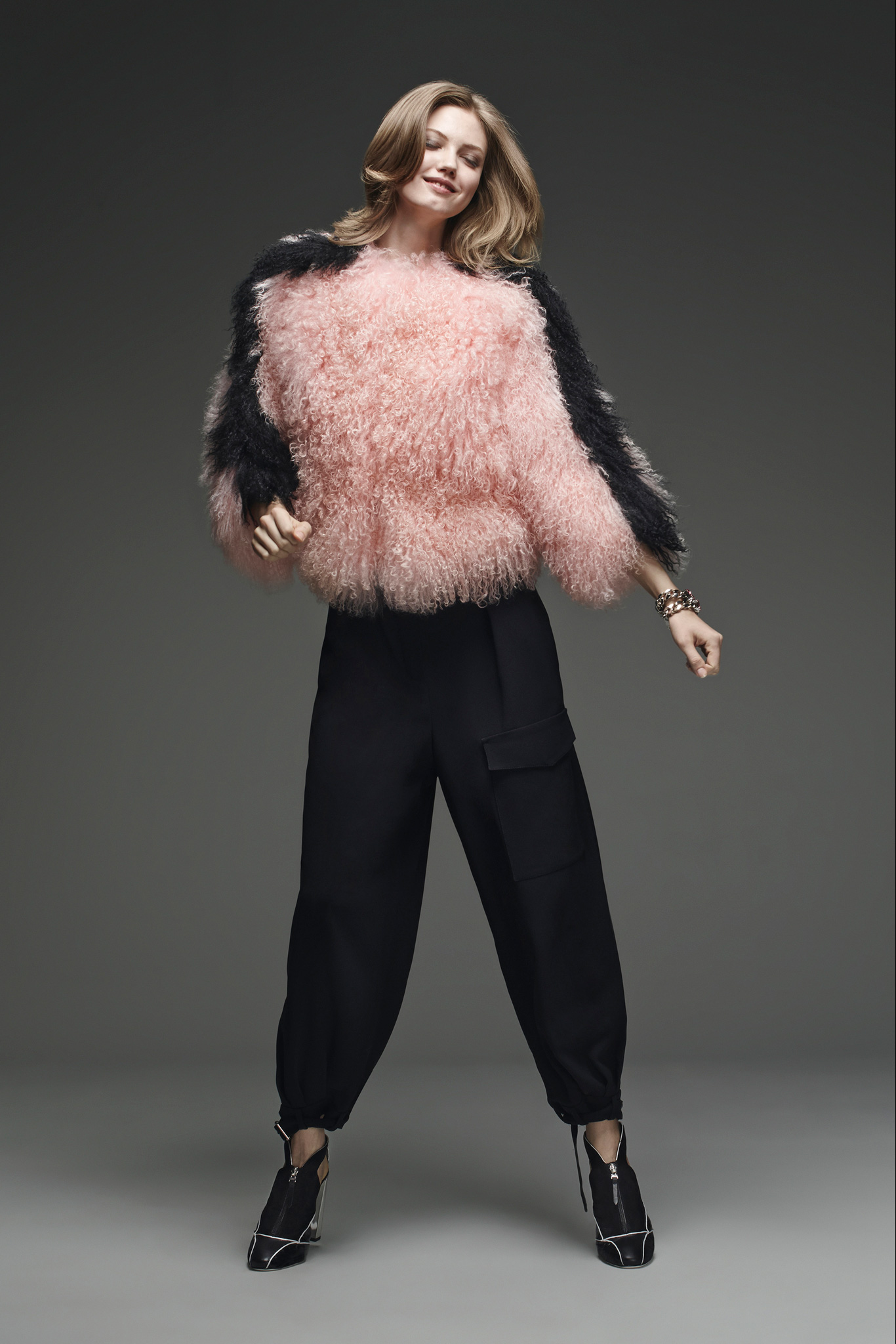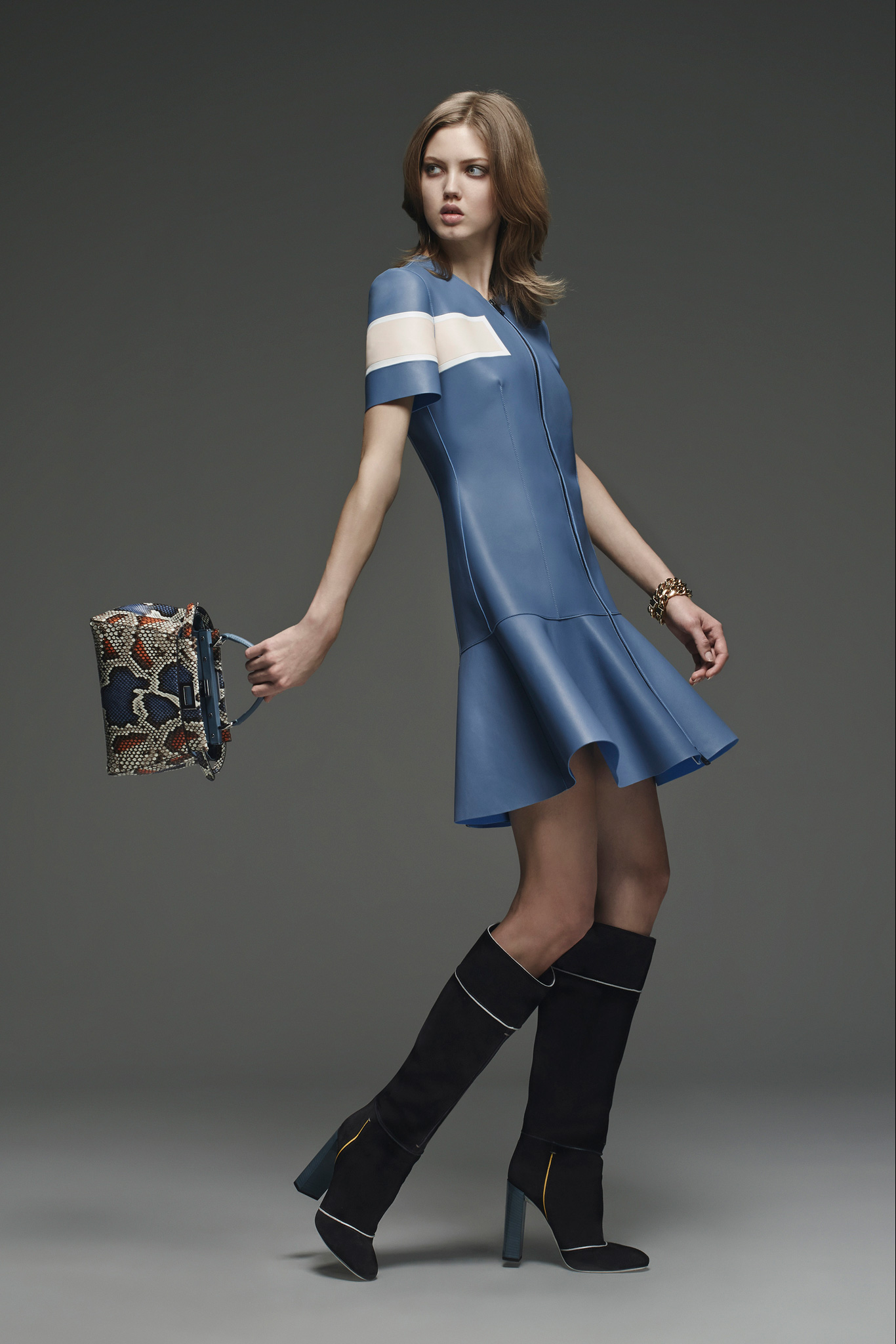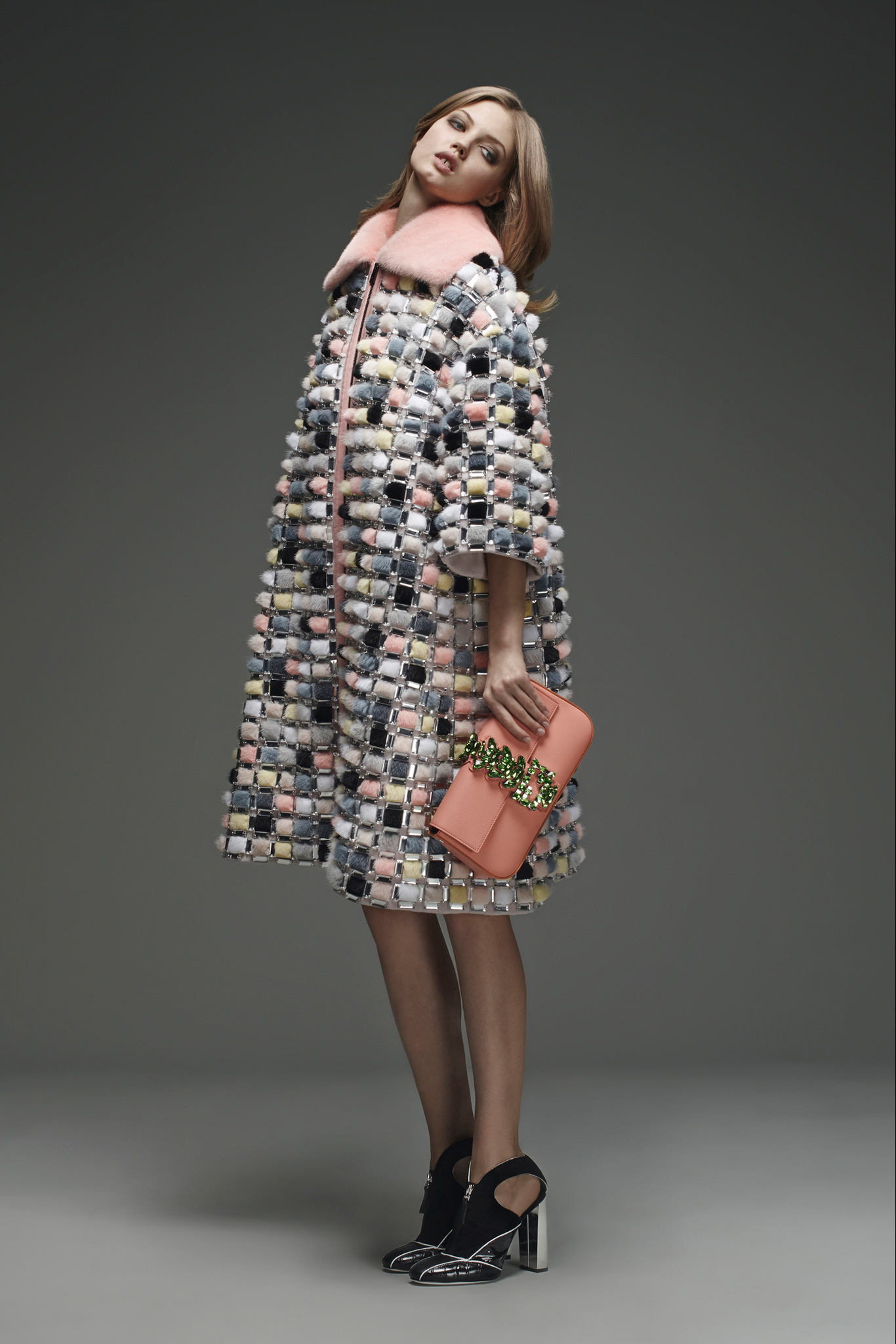 K A B O O M! THE most outstanding coat of recent memory, with a space age vibe. Who else but The Kaiser could have perpetrated this?
Lagerfeld's DNA is all over this collection, ie, if you love Chanel, you'll be over the moon with this set of fun, fabulous, wacky and often ostentatious furs and coats, admixed with an eclectic assortment of separates. Blue leather mini dress with a peplum hem anyone? The big bold shearlings are in the house in pastels and stripes no less.
Fall winter sales are almost over, with last call at Neiman's and such, and if you missed that fabulous coat or pair of boots, fear not, as we go into hibernation mode for the next several months, conserving energy and shekels, we have the anticipation of what is pupating in the form of spring and pre-fall collections, to be released once Punxsutawney Phil's prediction comes to fruition!
HAPPY NEW YEAR'S EVERYONE!
Images brought to you by www.style.com